We bring you new AMEX SPG Starwood & Delta Offers, how Basic Economy spreads, the worst hotel review, avoid douchebags, travel to Seychelles, St. Helena and Amalfi Coast, get the top 25 credit cards, sign up for more SPG bonuses, Hyatt blows it again with its Oasis rentals, a great list of all bank anti-churning rules, look at the best photos always, we may get a stupid trade war that will hurt us all, which cards avoid the dreaded 5/24 and more for you. Freeeeee! Because I am addicted to the Amazon money…said no blogger ever lol.
TBB Blog Mission: To Entertain. Educate. Inspire. In That Order!

A few days ago I blogged about how a family member was thinking about starting a business. And then someone upstairs read my post and ordered Amex to raise the offer for the Amex Starwood Business card to 35,000 SPG points (from 25,000). In a bizarre way, the personal offer was left at 25,000 SPG points. Anyway, this is now available with my links! I have on top the limited offers currently "on sale". That AA card for 60k and the ThankYou Premier at 50k are pretty good too. Go for the Delta cards if you are desperate lol. Thanks for your support. Support good blogging practices. And lets move on.
The hobby starts here: The Top 25 Credit Cards by Mile Nerd.
Try to see if you were targeted for any SPG Member-exclusive bonuses. I am never targeted for these things! But son was targeted for 2+ Nights=2X STARPOINTS. Earn double Starpoints on stays of two or more nights.
Something died inside of us travel hackers with these news, sad!  American Airlines and British Airways to Offer Basic Economy Fares on Transatlantic Routes. I expect The Points Guy to raise the miles valuation number for this "currency" lol. Hey, anything to sell more plastic!
I was really excited to see how Hyatt is going to include Oasis Rentals in its World of Hyatt program. Until I read that you can redeem 15,000 points for $200 off your stay. And then I lost interest, yawn. This program is becoming a joke…
How to do the Amalfi Coast with miles and what to do there.
AccorHotels will do another mother of all buying sprees. I should have a contest which company they buy next 🙂
I think this is great! New Hotel Industry Program to Offer Debt-Free College Degrees to Employees.
Eligible employees of 10 participating hotel companies across 1,500 properties will be able to complete a free associate degree and a low-cost bachelor's degree.
I was going to save this one for Sunday but I am adding it here late last night so I can be, hopefully, FIRST. And I can then bitch about how so many bloggers blogged about it without giving me an HT! Not the Worst Hotel in the World, Perhaps, but 'the World Is Very Big' via The New York Times. It's the Grand Hotel in Pristina, Kosovo. You won't believe your eyes. The pics (and the sounds, watch that elevator, yikes!) are super creepy! Some "gems" from the review for your entertainment:
…a maze of dimly lit corridors that are littered with pigeon feathers, strung with cobwebs, lined with doors of dark wood and haunted by even darker memories of Kosovo's past. Two floors have been reduced to rubble…
Service is minimal to nonexistent, the marble lobby stinks of cigarette smoke and the green carpeting that covers most of the floors is stained and scarred. And then there are the cockroaches.
On my first day at the hotel on my recent visit, a group of revelers from a grimy nightclub on the top floor took rooms in the middle of the night and boosted the number of guests to five — an occupancy rate of 1 percent, which is about as good as business gets at the Grand these days.
It is, he added, perhaps not the world's worst hotel but ranks near the bottom. "It is really terrible," he said. "How can you stay there? How can anyone stay there?"
Chinese travelers are changing how we travel:  Chinese Tourists Are Taking Over the Earth, One Selfie at a Time.
When we talk about junkies we come to terms with people who look the part about to overdose. But what about them?  Inside the secret lives of functioning heroin addicts. Amazing how long you can stay a "functioning heroin addict". Sad!
You can do something at retirement. You can troll sites online and call them all basement clowns or you can do something bigger than yourself. Ummm, I don't know, save lives like this guy perhaps?  At Japan's suicide cliffs, he's walked more than 600 people back from the edge #Respect
This is magically bizarre wow!  Every 10 Seconds This Film Zooms Out 10 Times Further.
These are awesome! 26 real places and landmarks that look like they're straight out of a Wes Anderson film.
These are amazing: Winning Shots From The 2017 International Photographer Of The Year Awards.
There is a famous tortoise named Jonathan in St. Helena. The dude is 186 years old. Seat 31B paid him a visit recently.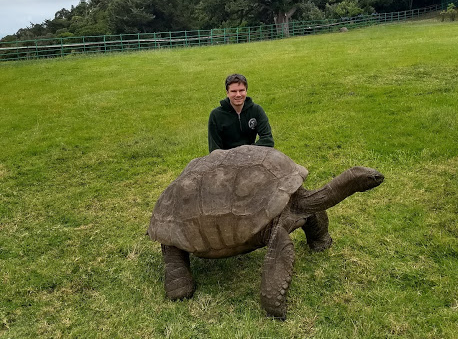 Well, this is interesting having Rapid Travel Chai to be the first guest. We should know how much was paid…to save me for reading the rest of the post 🙂  It does not look that impressive anyway.  I'm the First Guest at the Four Seasons Resort Seychelles at Desroches Island.
Stop bitching everyone. These 6 Charts Show How the World is Improving.
The phucking moron is going to start a trade war because China is so bad, so bad…We start with steel tariffs, see China?
BLOG BUZZ
This section is for advanced level hobbyists and veteran blog readers & personal rants & stuff.
For Best Offers credit cards, click HERE
List of Anti-Churning Rules. Must bookmark.
Good reminder of What's the best Chase card that is not subject to 5/24.
Another reminder too
I slept in yesterday and was playing catch up all day…
The Pizza In Motion guy did a post asking if you should redeem Hyatt points on Oasis properties. And never mentions that 15k points are worth just $200 here. All these experts out there! No worries, he will link to his Boarding Area idols soon to get the record straight, smh.
Every time we have some new juicy card offers the bloggers go wild. That and lately the shocking "news" clickbait shit. With videos!!! It is just awful to watch.
Fight dangerous bullshit. I prefer my blog with the occasional conversion. Best part of that when it happens is…imagining Ingy's face #priceless.
Short Blog Buzz section today, I am just short of time. But I am always proud of my blog product. Because I don't phone it in. Because I am too proud of my legacy 😉
And I leave you with this classic:
TBB
travelbloggerbuzz@gmail.com
Follow TBB on Twitter @FlyerTalkerinA2
You can subscribe to TBB below, winners only!
Opinions expressed here are author's alone, not those of any bank, credit card issuer, hotel, airline, or other entity. This content has not been reviewed, approved or otherwise endorsed by any of the entities included within the post.