We explore West Africa travel, learn about the Jamaica lottery scam industry, laugh at the worst men products, learn about anglerfish and their mind boggling mating method, learn how started the high five and watch the Ghosts of Arctic video.
TBB Blog Mission: To Entertain. Educate. Inspire. In That Order!
As always, click on the headline to be taken to original source. Sometimes I insert my incendiary comments on article excerpts between [brackets].
I slow down blogging down in the weekends, just some selected links that made an impression to me during the past week. Now only on Sundays!
Starting in September, I intend to take the weekends off going forward. I am sad too, I will miss you guys!
If you enjoy my blog, please pass it on to someone you care about so they can enjoy it too.
Thanks to all readers who have been supporting the site with your credit card and donation clicks, greatly appreciated. Support good blogging practices!
Time to introduce to you a new, to me at least, travel website. I really liked this series, all in West Africa! This is as real as it gets you guys, no Hyatt suites anywhere in the vicinity!
This is an incredible story of an FBI agent taking on a deadly scam that has taken over Jamaica. Jamaica you say? Yeah…I thought it was going to be Nigeria as I had not heard of Jamaicans pulling this shit. Well, after you read this article you will think of Jamaica differently. I find it so amazing that people fall for these scams. And so devastating for the victims. This shit makes me so angry, it makes bloggers pumping plastic to their readers with every post look like angels! Very educational article, you learn from my links. And laugh too. Once in a while you may get inspired, so consider that a bonus!
Jamaicans specialize in the lottery scam. Here's how it works: Fraudsters trick victims into paying taxes and fees they say are needed to claim a nonexistent jackpot. The scammers work in teams, using internet calling services to mimic familiar U.S. area codes, and they may pose as the IRS, the Nevada Gaming Commission, or the Federal Reserve, in addition to the FBI. The targets tend to be retirees over 80 who live alone.
It's impossible to say exactly how much money is lost to the lottery scam. Official guesses have ranged from $120 million a year to as much as $1 billion, according to one estimate cited by the Justice Department. That means it could be nearly half as much Jamaica's tourism industry, which is worth about $2 billion annually.
More than 141,000 people contacted the FTC last year to lodge formal complaints about lottery scams. But as an estimate for the number of victims, these figures are on the low end; scamming often goes unreported because people are too ashamed or afraid to come forward.
I have always wondered about this, have you? Tell me in the comments. Okay, don't tell me, I really don't care and in my blog I don't ask lame questions. Great investigative piece. It goes down the wrong path at first but then zeroes in on the guy who started it all. And is this a sad story or what? Glenn Burke, an LA Dodger baseball player, apparently started it all and the article has his story. It is sad about his life, how as a gay man it was not cool to be out in those days, how after retirement he got into drugs, etc. So, next time you do a high five you will know more!
If you don't laugh by looking at some of these products…there must be something seriously wrong with you, please get professional help. As in, how in the world products such as an electric belt, the prostate warmer, the spermatic truss (WTF is that!!!!, it will shock you lol), the glow-in-the-dark striptease tie and others. If you ever bought any of these please leave now, thanks.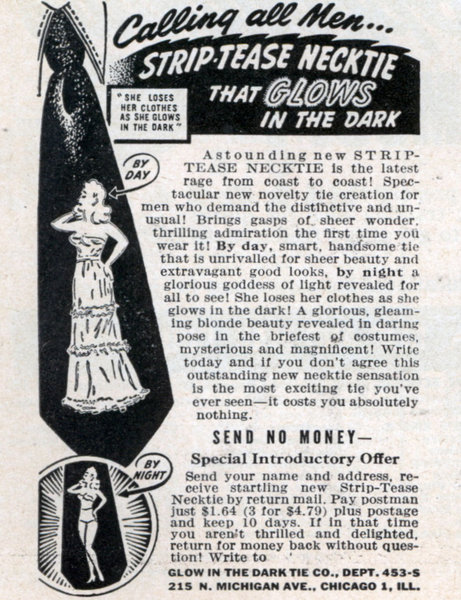 I knew nothing about anglerfish. A quick look at them and it is easy to see how butt ugly they are! After watching this short video you will be as amazed as I was to learn about them. How massively different the two genders look. And yes, how they mate is the most insane thing I ever heard or imagined. You see, I would rather blog about educational stuff like this and skip all the fake drama out there in the blogosphere designed to make you click on credit card affiliate links. Anyways, if you are going to watch one video today in my blog, make it this one!
Amazing video too!
"Ghosts of the Arctic" was the type of passion project that my boyhood dreams were made of," says Abraham Joffe, director of the recent Vimeo Staff Pick. But it was a hard-won battle.
Together with cinematographer Dom West and photographer Joshua Holko of Untitled Film Works, Joffe trekked over 120 miles per day in the Arctic region of Svalbard to capture a glimpse of the elusive polar bear. They spent 16-hour days in the frozen tundras, braving -30º and enduring frostbite. Often, their equipment failed; they suffered the death of at least two cameras and had to find creative solutions to keep the others alive and running.
I just LOVE this, I see myself in it… #inspiring #tomeatleast
By Thomas Dekker
To awaken each morning with a smile brightening my face; to greet the day with reverence for the opportunities it contains; to approach my work with a clear mind; to hold ever before me, even in the doing of little things, the Ultimate Purpose toward which I am working; to meet men and women with laughter on my lips and love in my heart; to be gentle and kind and courteous through all the hours; to approach the night with the weariness that ever woos sleep and the joy that comes from work well done—this is how I desire to waste wisely my days.
And I leave you with this…
Thank you for reading my blog.
Check out my updated blog lists: Blogs I Love, Blogs I Like, Blogs To Ignore
TBB
travelbloggerbuzz@gmail.com
Follow TBB on Twitter @FlyerTalkerinA2
You can subscribe to TBB below, winners only!
Opinions expressed here are author's alone, not those of any bank, credit card issuer, hotel, airline, or other entity. This content has not been reviewed, approved or otherwise endorsed by any of the entities included within the post.