We bring you the basics of flying Southwest, Saudi Arabia opens up, the hottest new cruise ships, RIP 9 tax deductions, visit the National Valet Olympics and Faroe Islands, laugh at some vintage swinger ads and shaved alpacas, we celebrate how the CSR affiliate link was freed up from the hands of TPG Inc and how you will get your under 5/24 family members to get the card HERE so I can continue blogging for freeeeee, unlike Steve Bannon who is on his book promo tour spilling the beans 🙂
TBB Blog Mission: To Entertain. Educate. Inspire. In That Order!
This should be a good series for Southwest newbies: Southwest Airlines 101: The Basics of Flying Southwest.
The biggest news out there in the travel world is how Saudi Arabia is undergoing a seismic change and now wants us all to visit! A tourist visa will be available sometime in the first quarter of 2018. And get this, please sit down, you can apply for it online!
The hottest new cruise ships coming in 2018.
Let us travel to Faroe Islands with Megan Starr…
Did you know there is a National Valet Olympics? This was destined to be in the best of web posts but since it appeared in another blog post elsewhere I am adding it here because it is a LOT of fun to read!
We always have a fun weird link for you to enjoy. And this one is so TBBish lol: The Wild Weird World of Vintage Surreal Swinger Ads. MEGA lol material you guys! I am not adding any pics because…cough!
Your personal finance fix of the day: 9 Tax Deductions Are Going Away.
What a shot, wow! Light Pillars over Moncton, New Brunswick, Canada.
I bring you alpacas. Shaved alpacas. Lol
BLOG BUZZ
This section is for advanced level hobbyists and veteran blog readers & personal rants & stuff
How Dan at DansDeals burned 1,375,570 miles/points in 2017. Pfft, I burned almost one million again without even trying 🙂
Comprehensive post over at Lazy Traveler on the subject: Free Airport Lounge Access With the Right Credit Card.
I was not aware of this…Then again, I am no Marriott fan and sure as hell I do not pursue to pay for hotels to earn elite status! Marriott pays up when they fail to deliver elite benefits.
I saw posts about the all glorious Chase Sapphire Reserve card. You almost never saw these as The Points Guy had the exclusive affiliate links. Well, it appears TPG Inc. no longer has the exclusive and SUDDENLY the bloggers discover the CSR card now that they can get paid for it, amazing hey! Both Boarding Area poster boys (View From The Wing and One Mile at a Time) had posts up reviewing the card posted almost within the same hour! And then you get the wanna be Titans at Upgraded Points to post "The Top 5 Reasons to Get the CSR"…Just five, sad!
Having said that, the card is now available with my links if you ever make it out of your basement 🙂
I bring you just a select collection of content ONLY designed to…make money by selling credit cards and increasing clicks with hideous click-bait. STOP CLICKING! Having said that, I may join Mile Nerd in retirement you guys and let Ingy win, sad!

And I leave you with this…My button is the best!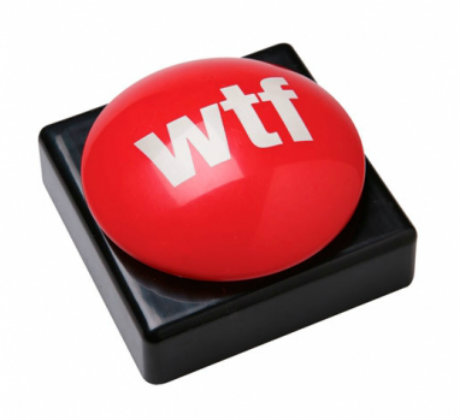 Check out my updated blog lists: Blogs I Love, Blogs I Like, Blogs To Ignore
TBB
travelbloggerbuzz@gmail.com
Follow TBB on Twitter @FlyerTalkerinA2
You can subscribe to TBB below, winners only!
Opinions expressed here are author's alone, not those of any bank, credit card issuer, hotel, airline, or other entity. This content has not been reviewed, approved or otherwise endorsed by any of the entities included within the post.