Another TBB post featuring the most eclectic links around the web such as retiring right, endless crypto hacks, the craziest roads, I am now a 2022 Berlin Marathon finisher, warnings about scammers, stay away from market "news" these days, devastating Ian, travel to Scandinavia and Michigan, Putin leading his country to ruin in his stupid war, latest on Covid, Nick Cave family tragedies continue, some amazing finds in the Oddz and Endz section again, the latest in the ever evolving miles and points world and some pics from the 2022 Berlin Marathon. Enjoy your weekend and see you next week!
TBB Blog Mission: To Educate. Entertain. Inspire. In That Order!
Support TBB by applying for CREDIT CARDS or visiting our

LINKS

or Donate

You like my blog? Send a link to someone please!
Heads Up: This blog post will be a bit low on my own commentary as I just got back from Berlin and dealing with jet lag and trying to catch up and stuff like that…
This blog publishes every Friday these days.
Best of Web articles are truly exceptional and MUST reads in their entirety, imho.
Welcome to all new blog readers from George, your diligent curator of the BEST web content I find and share with you. No ads, no clickbait, just amazing content I discover along with my sometimes witty and seldom incendiary commentary.
PERSONAL FINANCE
Excellent article by Jonathan Clements: Retiring Right. I agree with these conclusions:
Travel early in retirement
Plan for long-term care (LTC), but don't necessarily buy traditional LTC insurance
The big win isn't claiming Social Security late
Downsize before it becomes too daunting
Simplify, simplify, simplify
Time is more valuable than money—and that means good health is priceless
We need to retire for a reason
Best of Web: How Americans Spend Their Money, By Generation. Some really surprising conclusions…
In the news in the height of the meme stock insanity last night, a billionaire investor highlighted Hometown International, a public company with a deli and joked "The pastrami must be good".  Well, no one was shocked of what happened next! Owners of a small deli are charged with fraud for valuing business at $100 million. Be careful out there!
Amazing story, lock this guy up! How a Fake Billionaire Scammed Rich Buyers for Millions With Bogus Ferrari Build Slots: FBI Are people born this way? He scammed his own parents too!
We had many fun years in the stock markets in the recent past. 2022 is not one of them. They are necessary though for the next bull run. Nobody knows where the bottom is, stop listening to "experts" in the financial media and looking at your portfolio, it is a complete waste of time. Stick to your long term financial plan, keep costs low, rebalance and don't do stupid tax moves. Rinse and repeat and focus on what you can control. Better days are coming…eventually. Same message in this blog post: My Third Hanging.
Market veterans will recognize this pattern. The market grinds lower, the doomsayers come out, a historian will announce the end of the American empire, every rally will be called a "suckers' rally," your neighbor will tell you that the market is rigged, and you'll be tempted to sell it all just to make the emotional pain stop. The only advice I have for you is to tune it out. Don't check your statements. Don't read The Wall Street Journal. Don't listen to bloviating investors on CNBC, except for maybe good ol' uncle Warren Buffett, who famously quipped, "I don't pay any attention to what economists say, frankly… can you name me one super-wealthy economist that's ever made money out of securities? No."
To all affected by Hurricane Ian the country is thinking of you, better days are coming, be strong and persevere! I think my client's home in Fort Myers Beach may be a total loss 🙁 Also, brace for scammers of all kinds coming into Florida too! Beware: Land sharks & recovery scams follow every disaster. This article also has great disaster related resources.
CRYPTO
Were you expecting more articles about scammers in this section? Of course! The crypto world attracts so many of them. And they get more brazen, wow! How a self-proclaimed Satoshi sold investors and SEC officials on his coin scheme. So many shit coins out there…
They just keep on coming: The Crypto World Is on Edge After a String of Hacks. More than $2 billion in digital currency has been stolen in hacks this year, shaking faith in the experimental field of decentralized finance, known as DeFi. Archived Link.
TRAVEL
There are some ridiculously low fares to fly to Europe these days with more low cost airlines. Review: What's it Like to Fly Norse Atlantic Airways? Looks fine, just be aware of all the fees that can add up!
Be careful driving on them ok? These Are the Craziest Roads in the World.
Looks amazing! Denmark and Germany now building the world's longest immersed tunnel.
Is it just me…many places keep building attractions to attract tourists or what? I guess my state is in it too: SkyBridge Michigan, world's longest timber-towered suspension bridge, to open Oct. 15.
UKRAINE RUSSIA WAR
Every time Putin escalates, the West hits back. We'll see what happens after Putin's speech tonight annexing four Ukrainian territories. We'll see who blinks first. On the ground though, the Russians are getting embarrassed and annihilated. I think by this time more Russian men escaped the country to avoid the draft mobilization than ones who responded to it! What a freak show it has been…Iranian women protesting appear to have more guts than all the Russians who follow this madman. Expect the unexpected which has been the norm ever since Covid entered our lives imho: Putin's Next Move in Ukraine: Mobilize, Retreat, or Something in Between?
I think this is becoming apparent every day: Russia's chaotic mobilization unlikely to change Ukraine war's course.
"The problems undermining Putin's effort to mobilize his people to fight, finally, are so deep and fundamental that he cannot likely fix them in the coming months—and possibly for years. Putin is likely coming up against the hard limits of Russia's ability to fight a large-scale war."
This may bring you in tears, you have been warned. Glory to Ukraine!
COVID-19
Best of Web: Ed Yong's latest: Long COVID Has Forced a Reckoning for One of Medicine's Most Neglected Diseases. Only a couple dozen doctors specialize in chronic fatigue syndrome (ME/CFS). Now their knowledge could be crucial to treating millions more patients. Archived Link.
Roaming around Berlin for more than a week made me realize that, for almost everyone out there, the pandemic is over. 11 COVID Questions People Still Have, Answered.
ODDZ & ENDZ
I have followed the career of Nick Cave over most of my life. From the super angry young days of the Birthday Party band in Australia to some amazing haunting melodies in recent years. Mostly derived from the death of his 15 year old son years ago after a hiking accident. And then earlier this year his other son also died unexpectedly, we can not imagine the pain. Nick Cave Lost Two Sons. His Fans Then Saved His Life. Performing kept him going and his replies to fans in The Red Hand Files are absolutely wonderful. Saw Nick Cave and the Bad Seeds many years ago live in Detroit and it was awesome. Archived Link.
What an amazing life story: A life of remarkable resolve: The story of Shaul Ladany, survivor of the Holocaust and Munich massacre.
This was disturbing. It is about the mother of serial killer Ted Bundy and I must admit I did not know anything about her: Mrs. Bundy. For the mother of a serial killer, a chance to connect with victims on live TV offers a shot at redemption.
I am in awe and fully support the Iranian women protesting against the clerics ruling over them for almost a generation. And watch Egypt's Nasser make fun about Muslim Brotherhood's hijab requirements back in, please sit down, 1958! And in 2022 we have the Iranians and the Taliban in Afghanistan preaching morality and purity and other BS.
Also, in 2022, we shoot stuff at asteroids floating maybe towards us and potentially saving us all…
These are amazing: Macro Photography Highlights Beauty of Extinct and Endangered Insects.
MILES & POINTS
HOT CREDIT CARD OFFERS: 80k CITI Premier, 60k CHASE Sapphire Preferred, 75k Capital One Venture X, 75k CHASE Ink Cash, 75k CHASE Ink Unlimited, 100k CHASE Ink Business Preferred, 60k CHASE World of Hyatt Visa, 60k CHASE Sapphire Reserve, 70k Bank of America Alaska Airlines Business Visa, 50k Bank of America Alaska Airlines Personal Visa, 20k CHASE Freedom Flex, up to 30k CHASE Freedom Unlimited, 140k IHG Rewards Premier AND 1 Free Night, 20k CITI Custom Cash, and many more, including many AmericanExpress cards, including Delta, Marriott and Hilton cards! Please check out my Affiliate links. Terms apply to American Express benefits and offers. Visit americanexpress.com to learn more. If you do not see a credit card with my affiliate links, perhaps I could refer you?

This section is about my hobby addiction of collecting frequent flyer miles and hotel points since the early 1990's! SKIP if you are not into it!
As of today, I have burned 828,851 miles/points year to date and have 4,779,519 miles/points in the bank. Some do drugs, I do miles lol!
BEGINNERS
The Beginner's Guide to Getting Started with Credit Cards, Points & Miles
BASICS: This travel hacking hobby is mostly about getting the fat Signup Bonus of travel rewards credit cards while of course NEVER EVER carrying a balance. Banks have a marketing budget and are willing to give us many THOUSANDS of miles/points to travel mostly for free hoping to hook us to charge 20%+ interest rates on our balances. The poor souls who fall for their marketing paying these ludicrous interest rates end up subsidizing us responsible consumers who enjoy taking advantage of, cough, such bank marketing budgets! Some of us have been doing this for thirty years creating amazing travel memories…Feel free to ask me questions or post them in the comments.
BASICS: Prefer credit cards from the proprietary points programs of banks, such as Chase Ultimate Rewards, American Express Membership Rewards, Citi ThankYou Network, Capital One Rewards Miles because they are a lot more flexible and are not devalued as frequently. Over pure airline and hotel travel rewards credit cards. Pure cash back credit cards may work for you best and they are getting more valuable as airline and hotel loyalty programs keep getting devalued. Sometimes, a pure no annual fee 2% cash back card works best for simplicity!
If you wanted nothing to do with these miles and points activities and just wanted a no annual fee 2% cash back card, you can not go wrong with the Citi Double Cash Mastercard. And right now it has the highest Signup Bonus ever. Ok, it is only $200 but still it is the highest ever lol. It comes in the form of 20,000 ThankYou Points which you can cash out for $200 if you decide not to transfer them to any of the ThankYou airline and hotel transfer partners. Available here under CardIssuer/Citi.
Citi Double Cash now featuring $200 welcome bonus
TOP TRAVEL REWARDS SIGNUP BONUS CARDS
Master Guide to Credit Card Applications: All the Rules You Need to Know, Bank by Bank 
Citibank increased the Signup Bonus for the Citi Premier card from 60,000 to 80,000 Thank You points. Annual fee is $95 and the minimum spend to score the Signup Bonus is $4k in the first three months. The Citi Premier card has a solid earning structure as it earns 3 points per dollar on gas/groceries/dining/travel and 1 point on everything else. Of course, you can transfer your points to mostly foreign airlines and JetBlue. Or you can cash out at one cent per point. Therefore, 80,000 points means $800 less $95 annual fee——-> BOOM! Read the newbies paragraph above and always think…taking advantage of bank marketing budgets! Available HERE, thank you!
 Citi Premier's Incredible Sign-Up Bonus Is Worth 80,000 Miles Or $800 In Cash
The Capital One Venture X card offers a 75,000 point Signup Bonus after a minimum spend of $4k in the first three months. If you like simplicity and are looking for one (premium) card, I highly recommend this card (and yes, I have it myself!). It has an annual fee of $395 but it comes with a VERY easy $300 statement credit for travel booked on its excellent travel portal, essentially turning it into a $95 annual fee card. But wait…there is more! On each card anniversary you earn 10,000 points essentially making it FREE! Every dollar of spend earns 2 points and flights booked on the travel portal earn 5 points per dollar. You get access to Capital One and Plaza Premium airport lounges and a Priority Pass Select lounge membership and, this is important, you can add FOUR authorized users FOR FREE who can also have their own Priority Pass Select airline lounge membership. You can transfer your Capital One points to up to 18 Transfer Partners. No foreign transaction fees. Free Hertz President's Circle rental car top elite status. Cell phone protection and PRIMARY rental car coverage. Awesome seats at baseball stadiums for just 5k points each. And lots more. Available with my Credit Card Links, thank you for your support!
 Why the Capital One Venture X Annual Fee Shouldn't Scare You Off
Alaska Airlines miles can be very valuable. Right now, the Signup Bonus offer for the Bank of America Alaska Airlines Visa Business card is 70,000 Alaska Airlines miles. The minimum annual spend to earn the 70k miles is $4k in the first three months. The annual fee comes to $75 and it is not waived. The card comes with a Companion Fare starting at $121 which could be extremely valuable in selected itineraries. No foreign transaction fees. The card earns 3x per dollar on Alaska Airlines purchases and 1x on everything else. Free bags for up to six people in the same reservation. Available HERE, thank you!
If you are looking to stay in Hilton hotels for free…you can not go wrong with these two Limited-Time Welcome Offers Available for Select Hilton Honors Cards. The Hilton Honors No Annual Fee card gives you 100,000 Hilton Honors points AND a statement credit for $100 after spending only $1,000 in the first three months. THINK about it, stay in Hilton hotels for free, be a taker lol. And the Hilton Honors Surpass card gives you 130,000 Hilton points after spending $2,000 in the first three months. The annual fee is $95 but it is WAIVED in the first year. I wish I could get these cards again…Available HERE.
NEW: Four new offers for up to 100k Delta Skymiles are out, fyi. Available HERE. Not going to make a fool of myself trying to sell them enthusiastically. Because Delta Skymiles suck!
Big changes in the Marriott Bonvoy credit card front below!
NEW: Are you eligible for a new Marriott card?Great table explaining very confusing rules!
We have two new $250 annual fee credit cards, the Bevy card and the Bountiful card. Both are as underwhelming as a while back when the first rumors surfaced. I am not going to make a fool of myself trying to sell them with ridiculous "X reasons I love the Bevy/Bountiful card" type posts, this is not THAT kind of commercial blog! I also have a feeling that the two banks may raise the Signup Bonus because at these levels they may not have as many takers for them? Just a gut feeling, I can always be wrong of course.
And then there were changes in the premium Brilliant card with the main changes being you get Platinum status and that $300 Marriott travel credit has now become a $25 per month coupon book dining credit. Oh, the annual fee goes up to $650 from $450! Oh, wait, the banks also increased the Signup Bonus offers for the two $95 annual fee cards too.
Here is a post going into more detail: Marriott releases its new card lineup: Is it a Bevy of Bountiful Brilliance? Most of these cards can be found HERE, also check Card Category/Hotel.
Remember, you are NOT allowed to ever carry a credit card balance if you ever get a credit card here!
NEWS/PROMOS/MY ACTION
The latest IHG One Rewards promo is HERE. Nothing to shout about as usual…
Probably not a great use of our time but…we can't resist more miles, it is an addiction lol: Play the United Airlines Mile Badge Game.
I agree with most of the points here: My Thoughts On Marriott's Credit Card Shakeup: A Bunt Single In 4 Opportunities.
Some good redemptions here…while they last: The Best Ways to Redeem AA Miles with American AAdvantage.
Virgin Atlantic makes it official I guess and here are Actions to Take with Virgin Atlantic Joining SkyTeam. Because the following are likely to happen:
Delta award availability will get better, but cost more (#bonvoyed)
ANA, Singapore Airlines, and Air New Zealand award redemptions will go away since each of these airlines is in Star Alliance, a SkyTeam competitor
Virgin Atlantic award availability will probably get better for SkyTeam partners
The 50,000 Virgin Atlantic mileage redemption for Delta business class to and from Europe loophole will likely be closed
This is an excellent review of this card. From a blogger without a conflict of interest and who was not invited to be wined and dined from this company: Bilt Rewards Credit Card Review.
The Berlin Grand Hyatt was fantastic. And the 6 night credits posted right away taking me to 34 World of Hyatt nights this year. I am owed 15 night credits from the World of Hyatt Business card promo for doubling night credits in my past three stays (5 at Detroit/Livonia Hyatt Place mattress run, 4 at Huntington Beach Hyatt Regency for a conference and 6 at Berlin for the marathon/vacation). Which takes me to 49. And the World of Hyatt Business card gives 5 elite nights credit every $10k of spend. 5 elite night credits will post shortly along with the Signup Bonus of 60,000 World of Hyatt points taking me to 54 night credits and now working on the second $10k of spend and eventually will hit 59 night credits. I need one more to hit 60 to retain my World of Hyatt Globalist status. I think I am going to make it you guys…Oh, when I passed 30 night credits I earned another free Hyatt night certificate and now I have four of them. And I also now have 8 Club Lounge passes which are useless as Globalists get free lounge entry anyway. The Berlin Waldorf Astoria was disappointing in comparison. Bad location, no upgrade as Diamond, subpar breakfast spread, refused late checkout, sad! In both hotels at checkout there was a $0 owed. Because, je suis TBB and I stay for free lol. I used World of Hyatt points and a Globalist Elite Confirmed Suite Upgrade for six nights and used two Hilton free night certs in the two hotels. And miles to fly to and from Berlin. Because why pay when you have so many miles and points in the bank hey?
BUZZING
A section where I go on and on about some stuff that happens in my life and anything else that just does not fit in another section above.
I am now a four time marathoner, can you tell how happy I was earning my Berlin Marathon medal?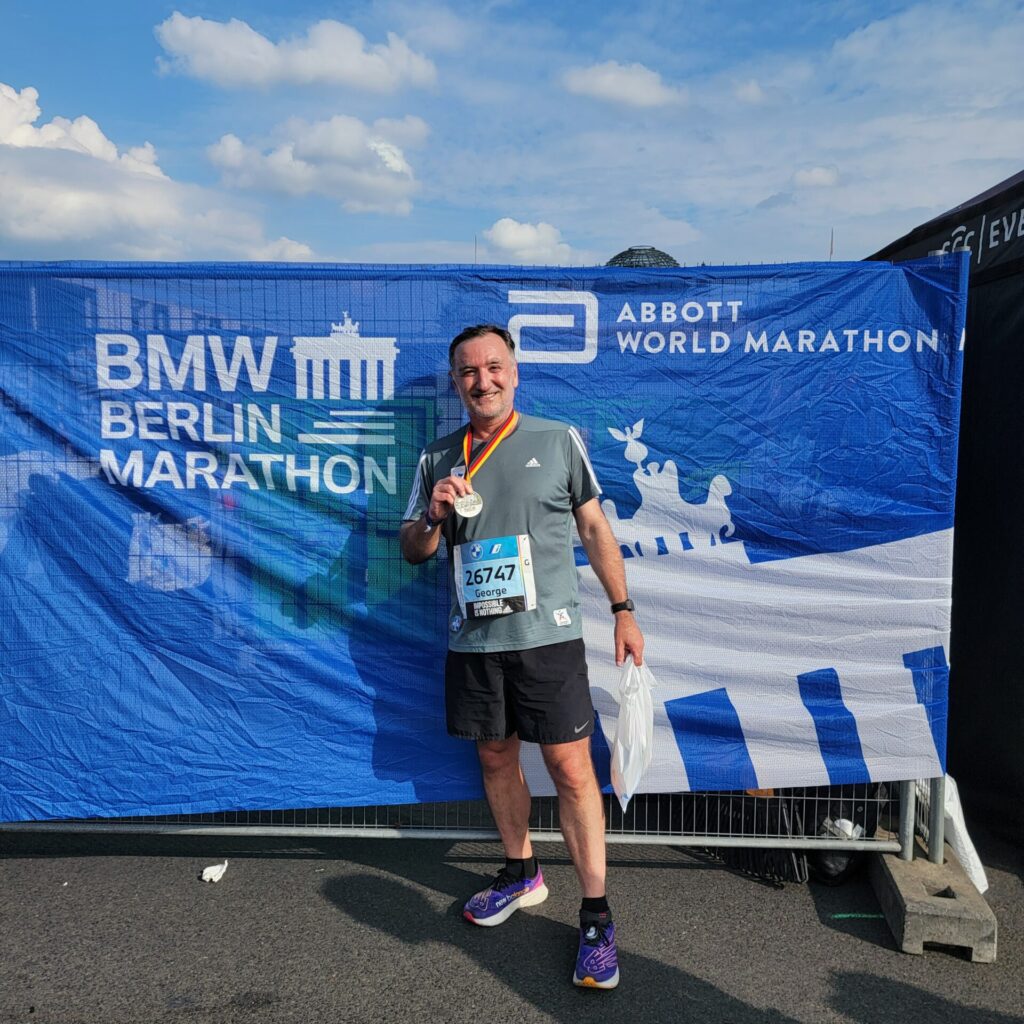 The whole 2022 Berlin Marathon was a fantastic experience and I have been smiling ever since. My first major marathon is in the books. It was wonderful running all over Berlin, especially when the last time I was here was in 1987 when the Wall was still standing! Pretty flat course and amazing crowd support. Weather was great all around. So many runners, almost 35,000 from all over the world, by far the most runners I have ever ran with. At times, I had to accelerate to get out of traffic jams lol. And at water stops it got really crowded. Thankfully, my wife was tracking me in the app and managed to give me a Gatorade battle around Mile 11 which was incredibly helpful to keep going. I had a three week interruption in August in my training which almost made me cancel it. But I persevered with physical therapy and rest and my goal was to enjoy the whole experience, learn from it and finish. I executed my plan and finished just two minutes off my PR based on marathon chip time and, more importantly, I beat my PR by 1 minute based on my Garmin watch. Met many runners from around the world. It was kind of interesting to see so many Mexicans and Brazilians in this race. Of course, I always expect Japanese runners to show up in marathons. A world record was set in this race which is so cool to be part of it. I signed up for the 2023 Toledo Ohio Glass City Marathon again where I am definitely going for a big PR, key is to stay healthy! Just a few more pics: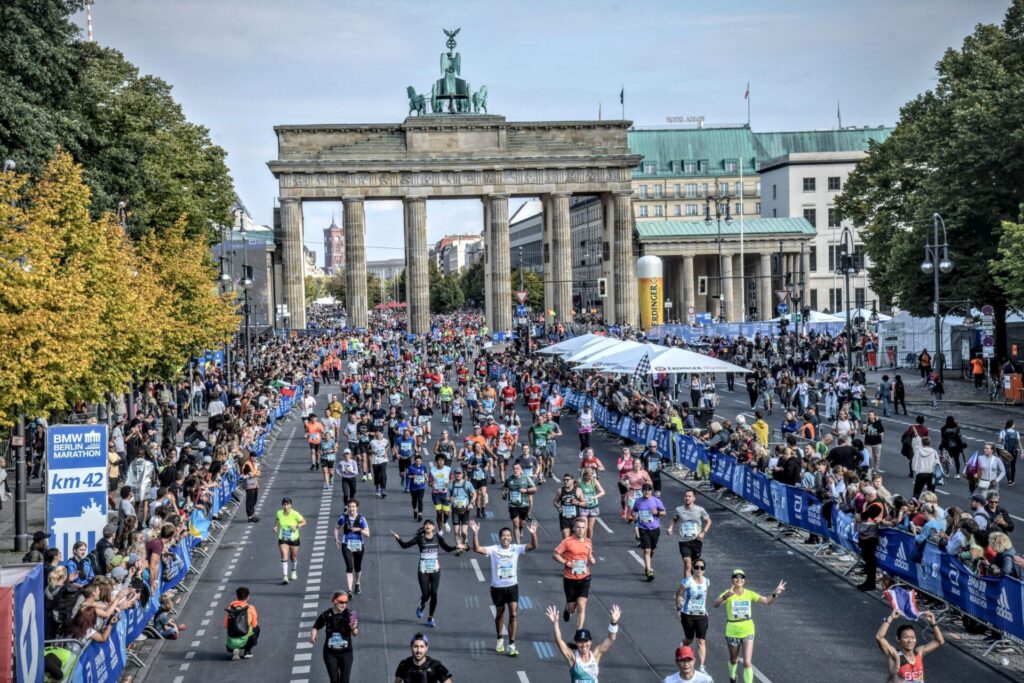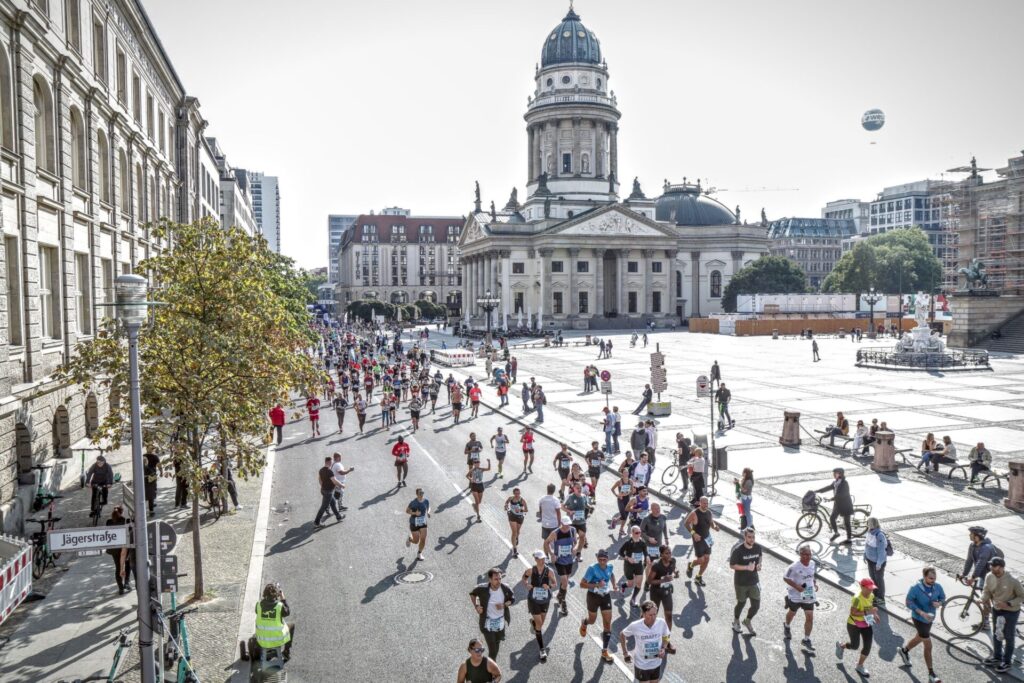 Let me leave you with this…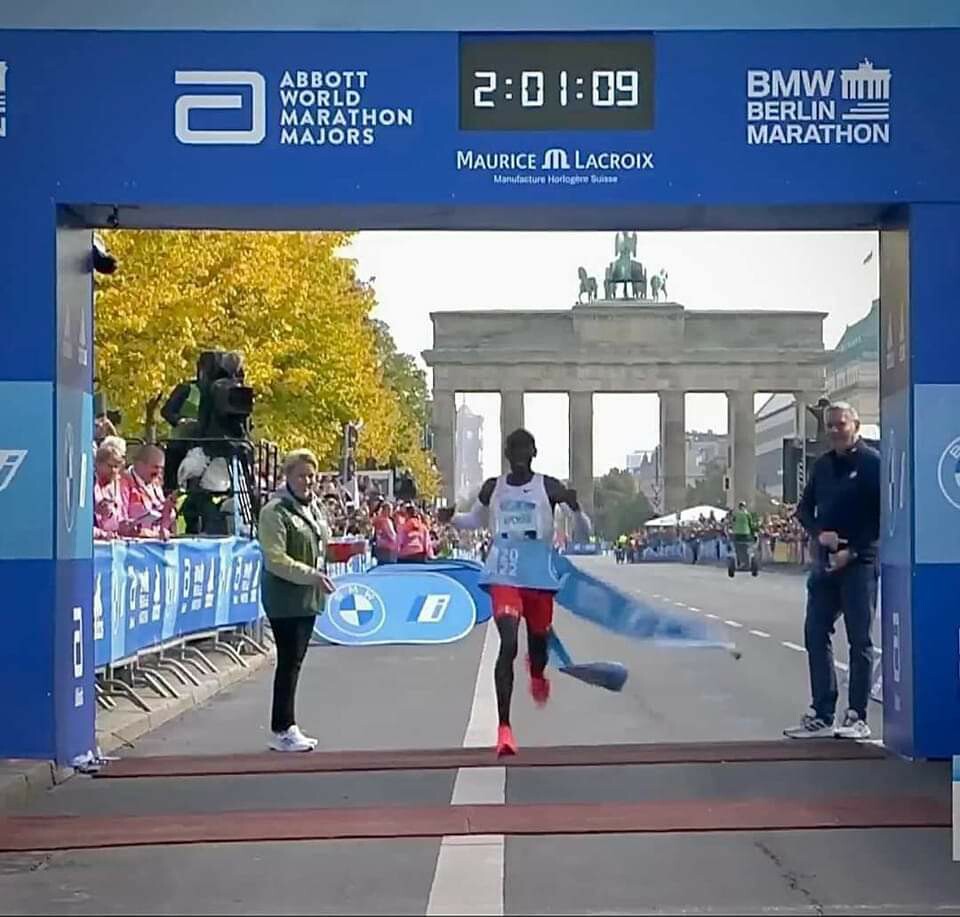 Thank you for reading my blog. If you enjoy it please pass it on to a family member or friend, thank you!
Some of the links are behind a paywall. You can try to read them using Archive.is. Or use 12ft Ladder.
TBB
travelbloggerbuzz@gmail.com
Follow TBB on Twitter @FlyerTalkerinA2.
You can subscribe to TBB below, winners only!
Opinions expressed here are author's alone, not those of any bank, credit card issuer, hotel, airline, or other entity. This content has not been reviewed, approved or otherwise endorsed by any of the entities included within the post.