We bring you a story how bots beat humans, the birth of modern news, John Roberts graduation speech, and videos of free diving and must watch Awaken!
TBB Blog Mission: To Entertain. Educate. Inspire. In That Order!
As always, click on the headline to be taken to original source.
I slow down blogging down in the weekends, just some selected links that made an impression to me during the past week. Now only on Sundays!
If you enjoy my blog, please pass it on to someone you care about so they can enjoy it too.
Thanks to all readers who have been supporting the site with your credit card and donation clicks, greatly appreciated. Support good blogging practices!
This theme about robots has been present in my blog for a while…They are now beating us in all board games, what is next?
Every single computer scientist who works on games whom I've ever spoken to has uttered to me, often with a twinge of contrition, the phrase "test bed." It's not about the game, man, it's about what comes next. Here's a more or less complete list of what exactly they've told me all this game work has been a test bed for: airport security, antiterrorism, auctions, biological adaptation, business negotiations, cancer treatment, crime prevention, cybersecurity, diabetes treatment, DNA sequencing, finance, legal work, PTSD treatment, robots, steering evolution and warfare.2
If you are not going to read this long story, at least click on it and see the home page with the chopper spinning…You are in for a treat. This is the incredible story of Jerry Foster. Who you may ask? Yeah, so did I. This is the guy who is probably responsible for the birth of modern news as he was the one who started it all by getting to the news event FAST with his helicopter. Just a fascinating life story…
Well, if you want to read about farting incidents you know where to go. But I like to post eclectic stuff in my blog and sometimes even inspiring. This speech by this guy is inspiring indeed. You can read the text of the speech in the link or you can watch the video. Please fast forward through one of the longest and most boring intros ever and even the beginning of the actual speech. Start at about 9 minutes in. "I wish you bad luck". You are in for a treat!
The byline of the article tells you exactly what it is about. And it is right on in my humble opinion! I long for the days that credit card salesmen bloggers will have a legal duty to place YOUR best interests first. And no I am not going to bet that this will happen in my lifetime, sad!
Financial advisors want to rip off small investors. Trump wants to help them do it.
Maybe one day I will do a post with the most preposterous destructive "advice" I have seen in this industry. And you thought encouraging people to open seven travel rewards credit cards all in one day when you just wanted one cash back card was bad…
This one has fascinating data! Like the table below. Conservative101.com first, WTF!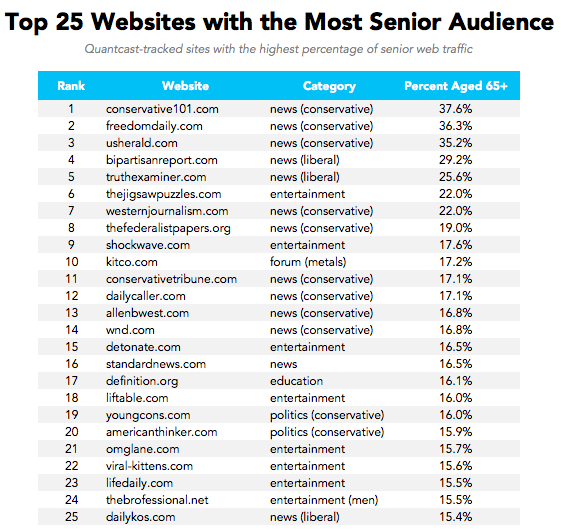 This is a must watch. A documentary full of arresting imagery. You will be stunned, I guarantee it! If not, I'll give you your money back! Oh…wait.
3 minutes of pure beauty. Goes perfectly with my blog #wink

This pool is outta of this world, wow! It is in the hotel Terme Millepini in Italy. Yet another link that will be the subject of own blog posts around the blogosphere littered with affiliate credit card links while I get the praise with clicks I can count in one hand. And that is starting to really bother me after almost five years…
Y-40 "The Deep Joy" pool first opened on 5 June 2014 and was designed by architect Emanuele Boaretto. It is 40 metres (131 ft) deep, making it the deepest pool in the world. It contains 4,300 cubic metres (1,136,000 US gal) of thermal water kept at a temperature of 32-34 °C (90-93 °F). The pool features underwater caves and a suspended, transparent, underwater tunnel for guests to walk through. It includes platforms at various depths, ranging from 1.3 metres (4.3 ft) to 12 metres (39 ft), before the walls of the pool narrow into a well-like funnel which plunges straight down to 40 metres (131 ft). The hotel offers tickets to freedive and scuba dive.

And I leave you with this…
Check out my updated blog lists: Blogs I Love, Blogs I Like, Blogs To Ignore
TBB
travelbloggerbuzz@gmail.com
Follow TBB on Twitter @FlyerTalkerinA2
You can subscribe to TBB below, winners only!
Opinions expressed here are author's alone, not those of any bank, credit card issuer, hotel, airline, or other entity. This content has not been reviewed, approved or otherwise endorsed by any of the entities included within the post.