I have done many trips in my travel hacking career but this one is my favorite, my epic masterpiece!
TBB Blog Mission: To Entertain. Educate. Inspire. In That Order!
You can support TBB by applying for CREDIT CARDS and clicking/forwarding any of our REFERRAL LINKS
August 17 – September 2, 2012
This trip report is VERY long you have been warned. I do like to make my trip reports entertaining and educational as I do focus more on the destinations. I do have a long intro focused on the miles/points "score". Oh, and you don't have to read this in one sitting….I think it's impossible! I made slight edits noted by [ brackets ]
Here we go….
_______________________________________________________________________________________
Please note that you can click on any picture to enlarge it!
This blog post will incorporate some of my travel "hobby" habits and will explain in some detail some aspects of how it was put together. In addition, it will be my "own" version of a trip report. Excuse the long intro!
So…sit back and enjoy it, we sure did!
Some people collect stamps, others collect coins, I like to collect airline miles and hotel points. It is an addiction, there is no cure…you just live with this disease and manage as best you can:-) As miles/points balances get higher and higher (presently somewhere in the middle seven figures and growing…they are somehow always growing!) we take action by…booking travel. It's like what the doctors order as prescription after making such a "fatal" diagnosis:-) Aim has always been to see the world in style while maximizing the value of the miles/points spent, minimizing cash outlays in travel bookings and savoring moments together as a family while we still can!  It is my strong belief that travel is good for humanity; heck, it is a necessity! My favorite quote is from Mark Twain: "Travel is fatal to prejudice, bigotry, and narrow-mindedness."
In the summer of 2011 I settled on three travel "first" goals for 2012 using miles/points . One was to go on a cruise (fully paid for by Capital One Venture Reward points) which was accomplished in February 2012.
The other two travel goals were to ride an Amtrak train across the US and visit South America (Argentina primarily, maybe stopover in another South American country). I then got the crazy idea to combine both of these trips on back to back weeks ending just in time for the kids to start school! Therefore, I jokingly called this one "The Megatrip".
THE ART OF MILES & POINTS
(Or, in other words, how to maximize your travel experience without spending a fortune!)
Feel free to skip this section as it may get a bit mile/point technical!
 
The booking of the trip came together sometime in March of 2012. I found out from Flyertalk friends that Amtrak allows you to get a "2 zone" award in a bedroom sleeper car for just 30,000 Amtrak Guest Reward points. (Price increased to 40,000 as of April 1st 2012 and award is no longer viable with points as of December 2015, boo!). I decided to get us two Bedroom Sleeper Cabins and the process was very easy by calling up a very helpful Amtrak Guest Rewards agent. Be aware that there are blackout dates around major holidays! Other than that, there is plenty of availability the farther out you book! This is the itinerary for just 60,000 Amtrak Guest Reward points: 4 Business Class seats on the local Ann Arbor to Chicago train, 2 sleeper First Class Cabins on the Southwest Chief Train from Chicago to Los Angeles and 2 sleeper First Class Cabins on the Coast Starlight Train from Los Angeles to Seattle. The cabins come with all meals paid! There were no fees or taxes for this award, zip nada! Points were transferred into Amtrak from the Chase Ultimate Reward program (200k points were earned by just two Chase Sapphire Preferred card signing bonuses). Full retail value for this trip was about $5,700!!  Needless to say, like the rest of our travel arrangements, there is a method to this madness as this hobby affords us to have experiences we will likely never pay with our cash!
We would spend three nights in Seattle. The first night would be just a hotel to sleep in as the train gets us into Seattle late at night. After searching around, I booked the Hyatt Place Downtown for $110 (corporate rate) per night plus tax. I am going to use a combination of gift cards for it: $75 from cashing out my last batch of Citibank Thank You points and a $50 gift Hyatt gift card I received from volunteering at a seminar. The bill came out to $129.60 so out of pocket cash cost was…$4.60 only! I failed by $4.60 to get the whole travel arrangements accounted for with just miles/points….I promise to do better next time:-)
After that we will move on to the Westin Seattle Downtown for two nights at a cost of just 10,000 Starwood Preferred Guest (SPG) points per night (from Starwood AMEX card signing bonus).
19,500 Starwood points (20,000 less 500 for choosing the Green housekeeping option)
Retail value per night is around $350 per night.
Then we will catch two Southwest flights from Seattle to Denver to New York's LaGuardia airport. Cost? About 39,600 Southwest Airlines points (from Chase Southwest Visa card signing bonuses). Fees were $5 each ticket for a grand total of $20.  Retail value of Wanna Get Away fare varied greatly…Avg appeared to be close to $250 per ticket.
Plan is to spend one night with cousin S. and his family in Brooklyn. Then we get to JFK the very next day to catch a flight to Santiago, Chile on LAN Airlines and two days after that on LAN to Buenos Aires, Argentina. After four nights in Buenos Aires we return on a direct flight to New York's JFK. Cost for the flights? A total of 240,000 British Airways Avios Miles which paid for: 4  Business Class seats (Flat Beds!) from JFK to Santiago, 4 business class seats from Santiago to Buenos Aires, 4 Coach seats from Buenos Aires to JFK. These miles were acquired primarily from the mega 100k signing bonus Chase Bank offered for their British Airways Visa cards & the rest were transferred into the BA program from American Express Membership Rewards points. The fees/taxes for this award amounted to about $550. Taxes are an unavoidable cash expense, no way around it! The trip was booked in mid November 2011 a few days before British Airways changed their mileage program and made such redemptions to South America totally unreasonable!
Total Retail value per each airline ticket is almost $4,000, so easily over $15,000 total for all 4 tickets!
In Santiago we will stay two nights at the W Hotel at a cost of 10,000 Starwood points per night.
20,000 Starwood points
Retail value per night is around $400 USD.
Update: After a few emails back and forth with Starwood and hotel management, due to some legitimate service complaints (renovation work in room across, housekeeping forgot us, shower water temperature boiling hot!), we were refunded 50% of the points we burned on this hotel. Therefore, the cost was only 10,000 Starwood points for two nights!
In Buenos Aires we will stay at the Hilton Buenos Aires hotel at a cost of 135,000 Hilton Honors points for four nights. We will meet with my brother and his wife who are flying into Buenos Aires from Sao Paulo where they live. As a good brother, I got them hotels as a wedding gift for the same four nights as us: Two nights at the Hilton (80,000 Hilton Honors points) and two nights at the nearby Sheraton Libertadores  hotel (14,000 Starwood points).
Retail value of the Hilton is at least $300 USD per night (suites start at around $500 USD and up) and the Sheraton about $250 per night.
After our return to New York city and staying at S.'s Brooklyn house one night we fly back to Detroit on American Airlines out of LaGuardia: Cost for four coach seats is just 18,000 British Airways miles and $20 fees/taxes! Retail value per ticket was around $200.
Final Tally for travel arrangements:
Retail Value:  $26,500.00
We paid: $594.60
And now for the trip as it happened!
AUGUST 17 – 20 AMTRAK CROSS COUNTRY TRAINS:
We decided to pack one carry on bag each so we can move faster (& maximize bump opportunities). We would have an opportunity to do laundry in New York in the middle of the trip. Our Amtrak ride started in the small station in Ann Arbor. D. gave us a ride and we arrived around 7.25 am. There were quite a few people waiting to board to our surprise. It was a beautiful day. Sun was so bright!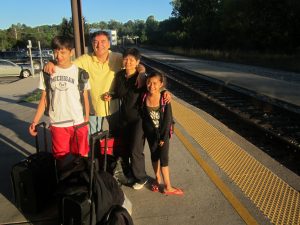 Train was pretty long. We turned left as we boarded to get to the Business Class car.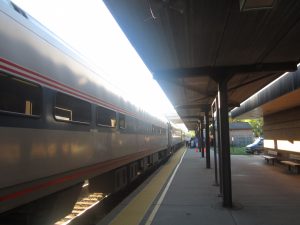 Seats were very comfortable. There were about 14 business class seats in total and we had to split up: kids were in the front two and mom and dad at the last row.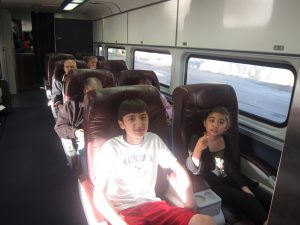 Absolutely fantastic legroom space!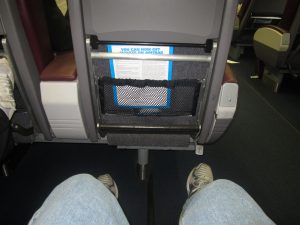 A beautiful ride in a gorgeous day, we were in Chicago in about 3.5 hours to 4 hours.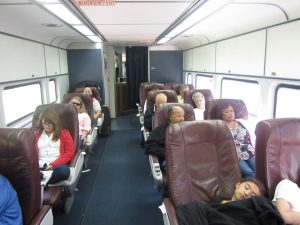 Several coach class cars behind us. We are each entitled to a free beverage in Business class. We had a few coffees, son had a Starbucks frapuccino and daughter had a hot chocolate.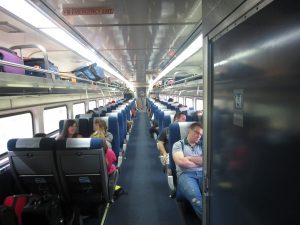 It was a very enjoyable ride to Chicago. We rolled into the Union Station a bit before noon.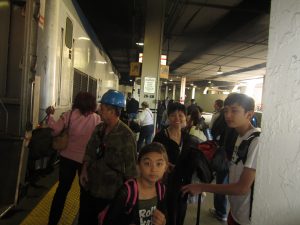 I always liked the sound of the engine trains. Growing up in Larisa, Greece close to the city train station I used to go and watch the trains go by…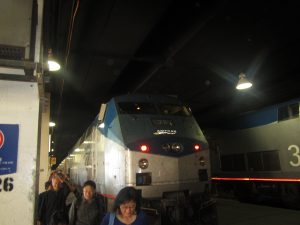 Our next train, the Southwest Chief, was departing at 3 pm.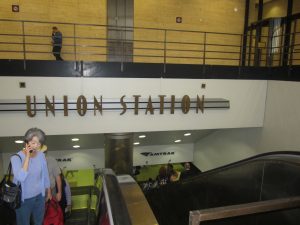 As First Class sleeper cabin passengers we have access to Amtrak's Metropolitan lounge. Nice but nothing compelling of course. Free drinks and water and some crappy snacks. Plenty of space, crappy lighting and severe shortage of power outlets! We checked our luggage with the attendant and searched for a place to grab a bite to eat nearby. Chicago's Union Station is a huge train station!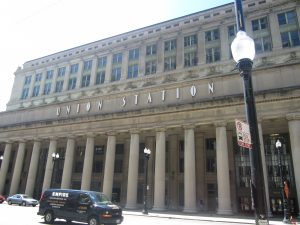 After the boys had a fantastic meal at a Mediterranean place nearby (Haifa Café) and  the girls at Panda Express (completely shocking!!) we got back to the Metropolitan lounge to hang out before they announced our turn to start boarding.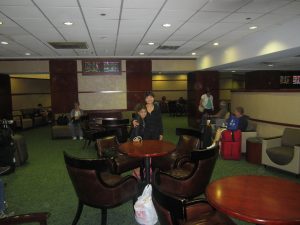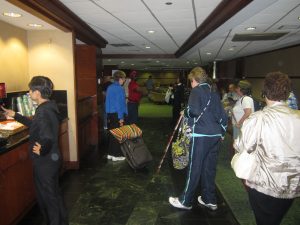 Being completely newbies at this train thing…we ended up saying yes to the guy who drives you to the train cabin, usually used by seniors with mobility issues. We had to tip the guy of course. We could have easily walked with the others…oh well, it was an experience. I had to follow by foot kind of laughing all the way and son shaking his head at me!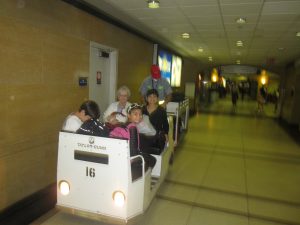 First impression of the Southwest Chief train was…holy cow, this train is so much bigger than the train we came in with! Double decker and longer!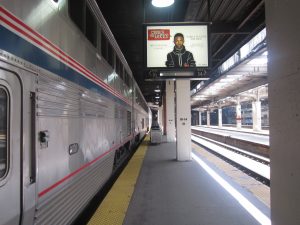 Our cabins were next to the Dining and Observation cars, very convenient. Michael, a 40 year Amtrak employee, gave us a little lesson on how things work in the sleeper cabin. Very nice. Small and cozy but comfortable.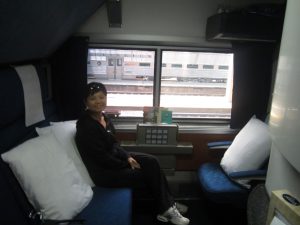 Each cabin has two bunk beds and a bathroom/shower and a chair. Michael also opened it up so the rooms are converted into one suite which was a very welcome surprise!
The observation car is just fantastic, love it! We would spend lots of time here!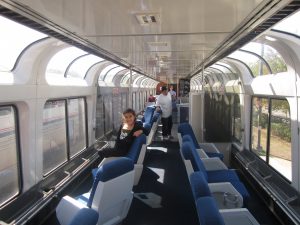 Dining car where breakfast, lunch and dinner is served.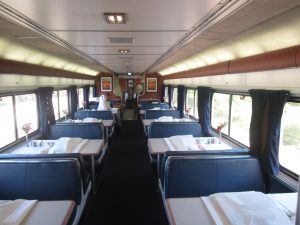 Hanging out in the cabin…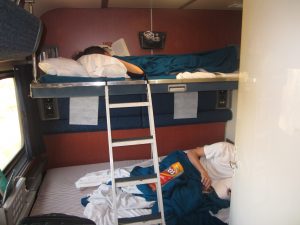 Passing through Illinois, Iowa, Missouri and Kansas all we saw was some very boring scenery and corn…lots of corn! Suddenly, we faced a huge wind mill farm in the middle of nowhere!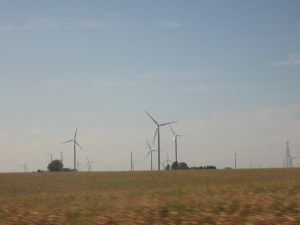 Mississippi River…yes, it is BIG!It is the second longest river in the U.S. It runs through 10 states and was used to define the borders between them.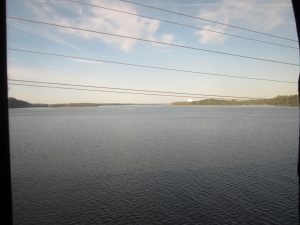 Galesburg, IL: 4 minute stop to stretch our legs outside and take a few pics. The new National Railroad Hall of Fame is being built in this city. George Reeves, TV's Superman, Charles Rudolph Walgreen, founder of the drug store chain of the same name, and George Washington Gale Ferris, inventor of the Ferris wheel are famous Galesburg residents.
This is probably one of my worst pictures ever. Not born very friendly to the camera, runs in the male part of the family:-)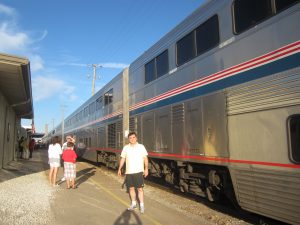 The menu: Attendants come by the cabin and take reservations for a specific time. It is community seating! Therefore, if you are single or a couple you will share a table with another couple or person(s). We were stuck with each other which was fine:-)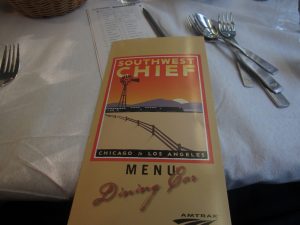 Did I mention that passengers in the sleeper cars get all meals free? Oh yes, I did. Look at the prices others who wanted to eat in the dining car had to pay!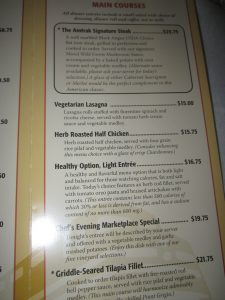 Bread and salad and beverage (coffee, tea, milk are free while soda and alcohol is not) come with the entree you order.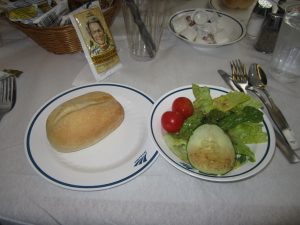 We decided to order four different dishes: Special of the day was Spare Ribs which were great. The steak was excellent. Fish was fine. The "healthy" option (some fish and antichokes) was awful and was never ordered again! We all finished with small Hagen Danz Raspberry Sorbet ice cream, yum! Quality was very good. The steak was the best!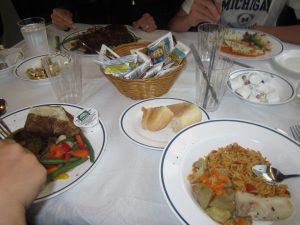 Riding away on the choo choo train…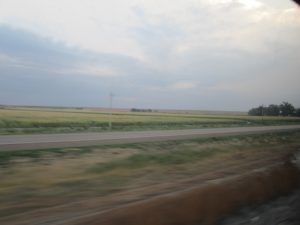 Kids enjoyed hanging out by their beds, daughter the reader reading books she brought and son on his cell phone as he screwed up and forgot to bring his laptop charger…Good lesson for him, he will never forget it again!
Mom and Dad slept together in the bottom bed while the kids took the bunk beds next to us. With shades closed it was complete darkness.
We slept really really good, surprisingly good I should say! I decided to use the showers downstairs in our car in the morning. Showers in the main floor of the train are much bigger than the tiny ones in the sleeper cabins that share space with the toilet! Mommy was up, we had no idea what time it was!…With all the different time zones we are going through we lost our sense of time! We just wait for the Amtrak dining car employees to announce the time to eat:-) Breakfast was open around 7 am and we decided to let the kids sleep a little more while Dad went to hang out in the Observation car to continue this report.
All day Friday we just enjoyed the ride through Colorado and some vast areas.
Passed through Lamar, first stop in Colorado. It is the planned northern site of the Pierre Auger Observatory of ultra-high energy cosmic rays. The other international site is in western Argentina.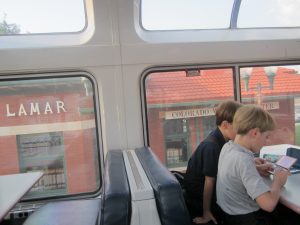 Sometimes you see wild horses.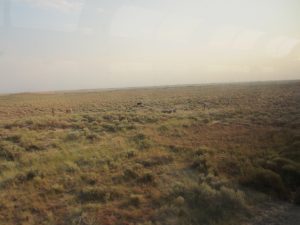 Breakfast was great, we had omelet, scrambled eggs and French toasts. All were good to very good.
On our train we had an Amish family. They got off at the next station and a big van picked them up.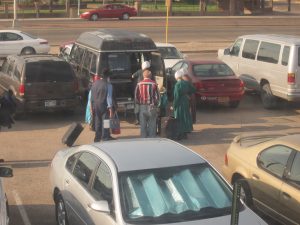 Trinidad, Colorado: For many years it housed coal miners who worked the Raton Basin. Its location at the foot of the Raton Pass has made it a favored route for travelers by foot, horse, ox-drawn wagon and railroad.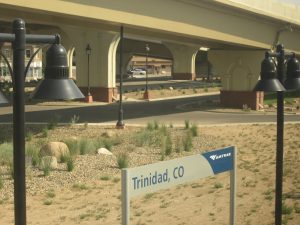 More horses and plenty of cows. I did not take any pics of the cows, horses just look better.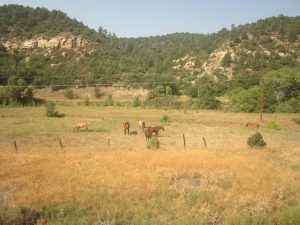 Choo Choo train rolling along across the US! It is so relaxing rolling along while you look out the window of your cabin and ponder the meaning of life…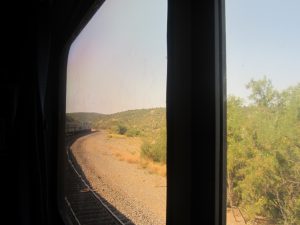 Vast areas.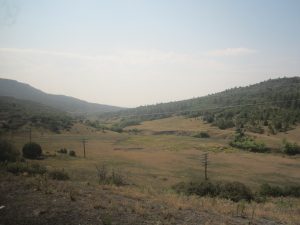 Raton, Colorado where we stopped for about 10 mins. I did 30 pushups. Raton was founded in 1880. The town was a stop in the Santa Fe trail and it quickly developed as a railroad, mining and ranching center for northeast New Mexico.
Hanging out in our cabins.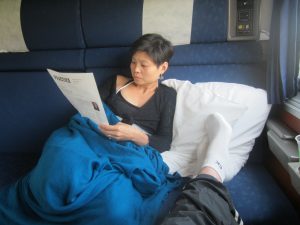 Out in the desert a lonely tree stood…amazing site!
Just crossed into New Mexico state. Las Vegas, New Mexico…definitely NOT the other Las Vegas! This Las Vegas was established in 1835 and soon prospered as a stop on the Santa Fe Trail. During the railroad era, it boomed. By the turn of the century, it was a thoroughly modern city, one of the largest in the Southwest.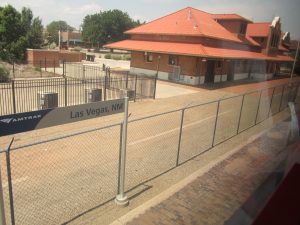 Lunch time! We had a cheeseburger, soup and salad and the kids had macaroni & cheese. Good quality again, not the greatest but well done! For deserts we all had Haagen Danz ice creams after almost each meal…so spoiled!
This site reminds me of a movie with extraterrestrials….forgot the title!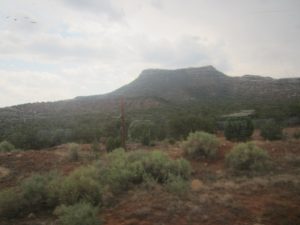 More nature: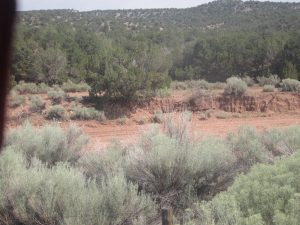 A few pics from Lamy, New Mexico.  Lamy was originally a railroad town. Today only 137 people live here. It remains a significant railroad junction.
Goofing around with the kids in the Lounge/Observation Car.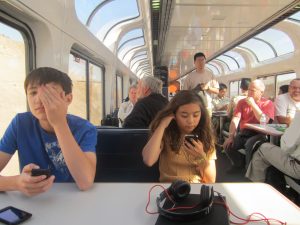 Albuquerque, New Mexico: It is the largest city in New Mexico and is the central crossroads of the state. It was founded in 1706 as a Spanish colonial outpost. By 1900 it had become a tidy town boasting an electric street railway. Sandia National Laboratories is here which would make the city a key player in the Atomic Age. It has one of the highest elevations of any major city.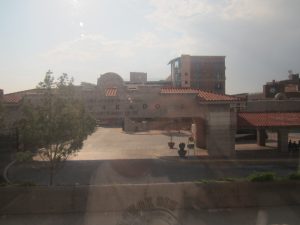 More nature!
We slept like babies again our second night! I have never slept better!
San Bernardino, California: It is part of the so-called "Inland Empire" of Southern California, some 60 miles from Los Angeles and one of the oldest communities in the state. In 1948, the McDonald brothers founded the McDonald's brand and its innovative restaurant concept here. Since then, the world has been bombarded by its crappy food!
In one of our cabins: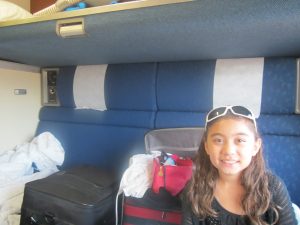 In cabin studying for another city we will soon be visiting!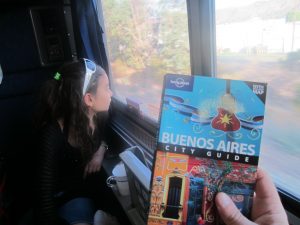 Fullerton, California: A major transportation hub of Orange County. Steven Segal is from this place…sorry to hear it!
Los Angeles! Its official name is actually El Pueblo de Nuestra Senora de la Reina de Los Angeles. It was founded in 1781.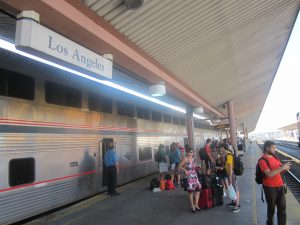 A few pics around Union Station in Los Angeles.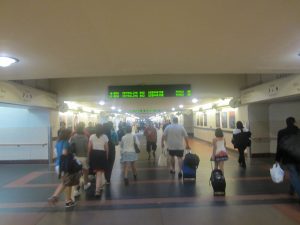 It was opened in 1939. It was the last of the great "Union Stations" serving multiple railroads.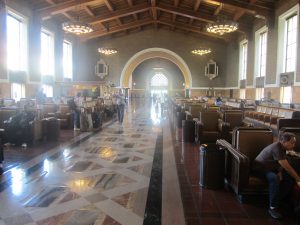 Los Angeles is home to people from more than 140 countries speaking over 200 different languages.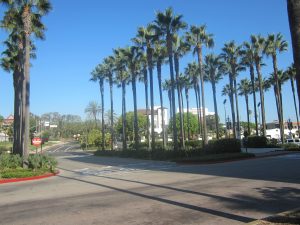 We spent some time at the Traxx Lounge, where all the sleeper cabin  passengers for the Coast Starlight train to Seattle can hang out until boarding. The Amtrak lady checking us in was wonderful; the guy at the bar was the complete opposite, no sense of customer service skills what so ever!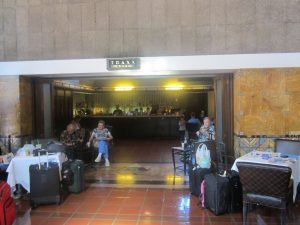 And after a wait of about a few hours we were off on our next train adventure, riding the Coast Starlight train from Los Angeles to Seattle!
LA skyline: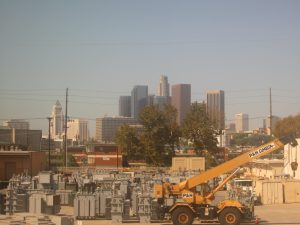 California fields…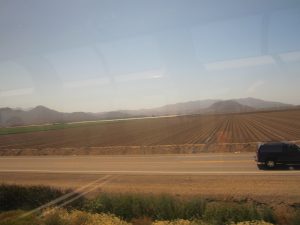 Incredible beach pics from the train going North next to Hwy 101.
Santa Barbara, CA: It was discovered in 1602 and Mission Santa Barbara was established in 1786. Very popular with tourists! It is referred to as "American Riviera" due to its Mediterranean-like climate, spectacular beaches, culinary delights and 130 nearby wineries. Lots of celebrities live here and scores of memorable Hollywood films have been shot here.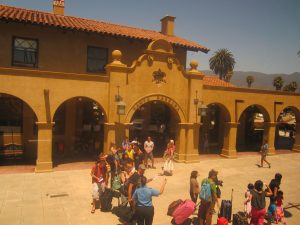 More glorious beaches along the Pacific Ocean…
Another meal in the Dining Car, one of the highlights of our train adventure!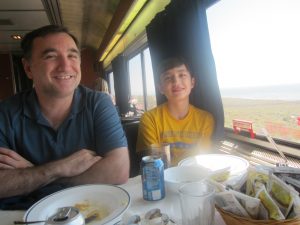 As we traveled north, the landscape turned to cattle ranges…
This is Coast Starlight's Parlour car where the First Class bedroom sleeper cabin passengers have access to and we spent most of our time. More privacy, less crowded with separate wifi (did not work most of the time though!). We could choose to have our meals here but it was a limited menu. We preferred to have all our meals in the dining car where we had the full menu.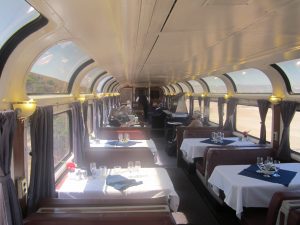 So many cows…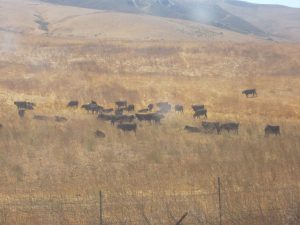 Here is the movie room directly below the parlour room where Sophia got to watch a few movies.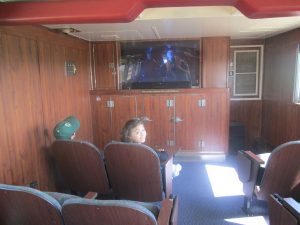 Some great pics of houses built on the top of mountains. I would not want to be in them during an earthquake!!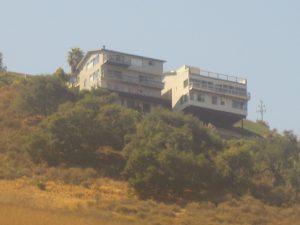 Lots of agricultural land from now on!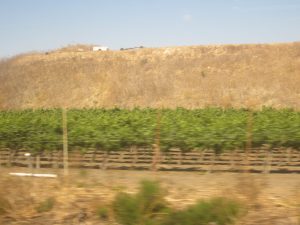 San Louis Obispo, CA: It was founded in 1772. It was the first city in the world to ban smoking in all public areas in 1990!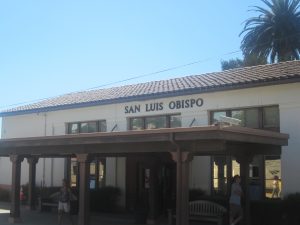 Some great shots of our train!
Salinas, CA: It is often referred to as the "Country's Salad Bowl" because of the many varieties of vegetables grown here. Major professional rodeo stop, yihah!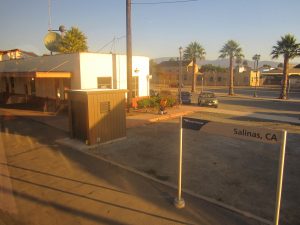 Fields and more fields of goodies.
We slept the rest of California. And, like the first couple of nights, we all slept wonderfully again!
We woke up to some magnificent scenery in Oregon!
Klamath Falls. First stop in the state of Oregon. Near Klamath River, people can access Crater Lake, a vibrant blue body of water occupying the crater of an extinct volcano. In May 1945, a Japanese balloon bomb killed a woman and five children on a church outing near the city, only such casualties on the US mainland during World War II.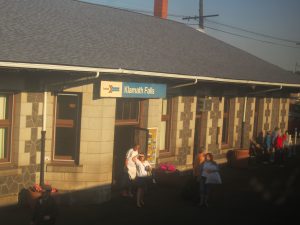 Oregon shots:
Hanging out in the Parlour car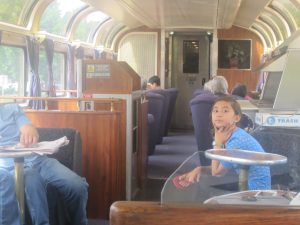 Both days we had complimentary (for First Class sleeper cabin passengers) wine and cheese tasting in the Parlour car….different cheeses with 4 different wines produced locally…another highlight of the trip!
Presentation of the wines in the wine and cheese tasting: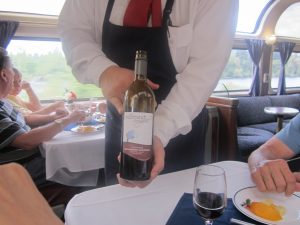 More beautiful nature:
First stop in the State of Washington: Kelso/Longview. It is known as the "Smelt Capital of the World". Why? Because each January and February thousands of tiny silver fish swim up the Cowlitz River to spawn. Main employer is the timber giant Weyerhauser Company.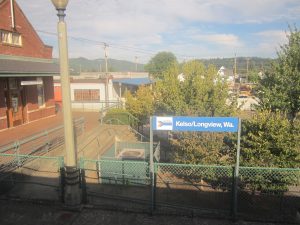 The chef makes some mean angus steak, definitely the best dinner choice available…spare ribs very close second!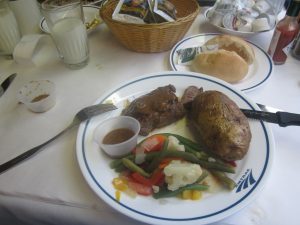 Olympia-Lacey, WA: Getting close to Seattle and the end of our journey! Olympia is the capital of Washington state. It is the southernmost point of Puget Sound. Ted Nugent lives here, watch out!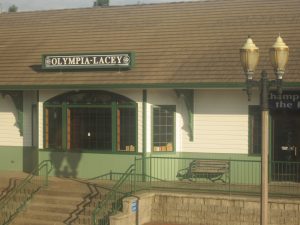 Closer to Tacoma, WA. Amazing beauty
Just outside Seattle:
The end, Seattle's train station!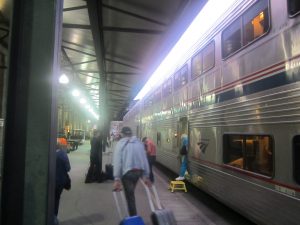 AUGUST 21-23  SEATTLE:
We took a short taxi ride to the 
Hyatt Place
where we stayed just one night.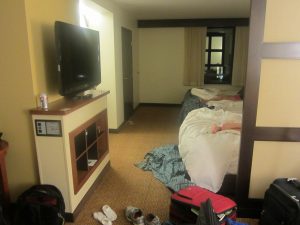 Hyatt Place proved to be much better than we all thought! Huge room, best wifi connection we ever had in a hotel, very nice breakfast included, shuttle to anywhere within a mile, extra small living room where Sophia slept on the couch.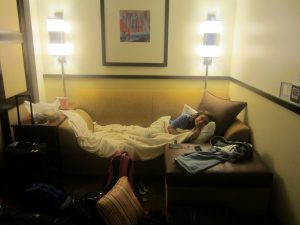 View from the hotel at night, Seattle's famous Space Needle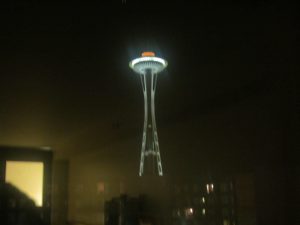 Very nice health exercise room and pretty nice pool. Yes, mom and dad exercised!
Breakfast area: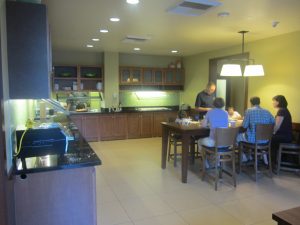 Lobby:
We were given a nice "grand view" room that came with free wifi due to Dad's being a Gold Starwood Elite member.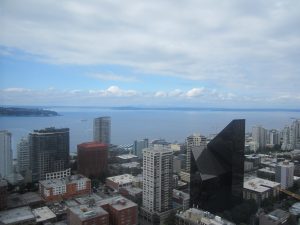 Interesting building: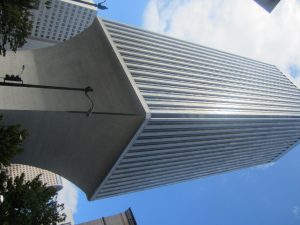 We walked to the Fairmont Olympic hotel to check it out down the street: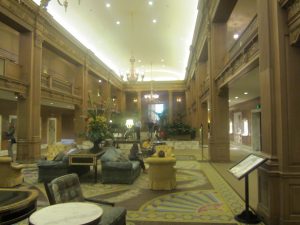 Street view. Very hilly, similar to San Fransisco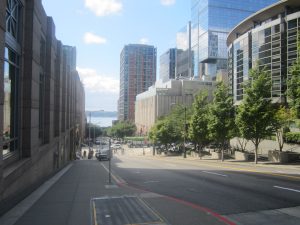 Of course we toured around the Pike Place Market area like everyone else.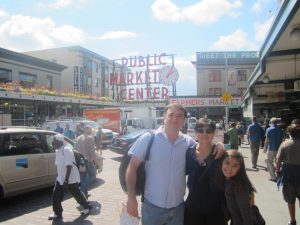 In the Second World War, the market almost went out of business as most of its "wet stall" vendors were Japanese and were all interned:-(  Somehow, it survived and in 1971 there was an initiative to restore it and now it attracts nine million visitors every year.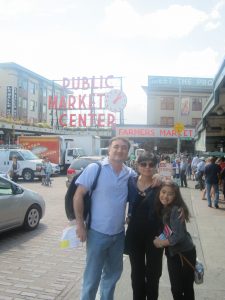 First Starbucks store in 1912. Still going strong obviously🙂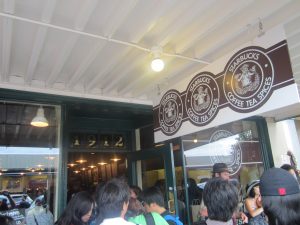 Some more shots around the Market:
Multi talented ghost of Kurt Cobain? Back in the 1950s, Seattle was one of the centers of American counter culture and culture of protest. Before grunge, it was hippies, batcavers, beats, and fringies (local Seattle term).
Surprised to find a nice cheese platter gift from the Westin management! I am convinced that Starwood hotels don't like me as we almost never had perfect/memorable stays…so this was quite a shock! Of course no suite upgrade and free internet was only limited to two machines which made both kids very upset and they wanted to move back to Hyatt Place!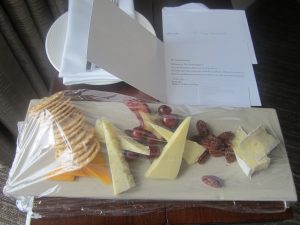 We walked all around town, here are some more pics around Seattle:
As Lifetime Platinum at Fairmont, I receive many dining certificates. We decided to burn some for dinner at the Fairmont Olympic hotel. We had an interesting dinner for two that cost us, after applying $75 in certificates, about $2.50 plus tips. What can I say?
Here are some pics of our dinner: salmon w/ fried mushrooms on top and apple slices at the bottom, scallops dish, and an okay local green salad with a mojito!
View from our Westin hotel room on the 44th floor: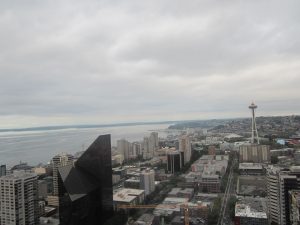 Westin room. The Hyatt Place room was bigger w/ free breakfast & kick ass wifi. I guess you pay for the view here!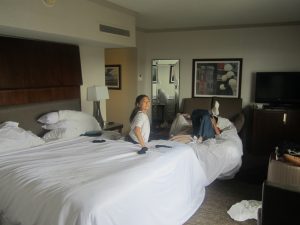 Westin pool: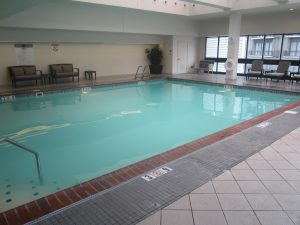 Westin exercise room (huge). Dad worked out…once.
Some more pics around Seattle…
Views from the ferry leaving the port to Bainbridge Island
Pics around Bainbridge Island…
Mora Ice Cream  sooooooo delicious. Thanks for the recommendation!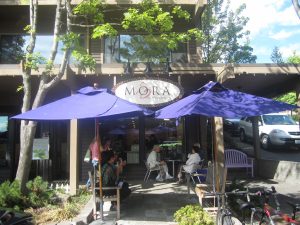 Bainbridge port: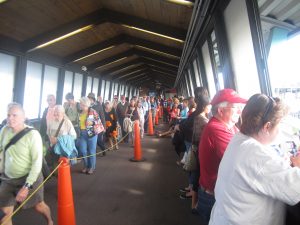 Fantastic shots approaching Seattle on the ferry boat…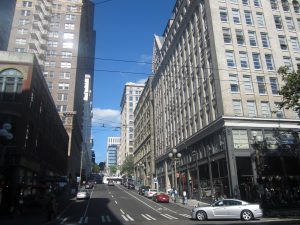 We decided to attend the 
Seattle Underground Tour
which was very informative and fun with some fascinating facts about the 
city's history.
  It has  a history of boom and bust! It has been through at least five such cyles: the lumber industry boom, the Klondike gold rush, the shipbuilding boom, the Boeing boom and the Microsoft/high tech boom.
The tour started with a presentation right off Pioneer Square.
Seattle was built underground until it all burned in the great fire of June 6, 1889. It started by a single glue pot and, amazingly, nobody died! After the fire, the city established a new zoning code: no more wood buildings, brick and stone only. And they raised it up to stop the flooding from the tide. We went underground to see some of the original structures.
The flush we all use now was invented here! No boring white hotel toilet pics in my trip reports, here is the original thing baby!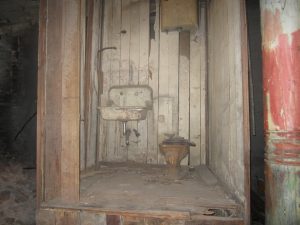 Seattle had a reputation of anything goes. You can see that in its tolerant culture.
This helicopter kept hovering for a while over us. I bet there were several people under influence freaking out thinking about that scene in the Goodfellas movie with Ray Liotta running away! If you don't know the scene, don't worry about it, scroll down:-)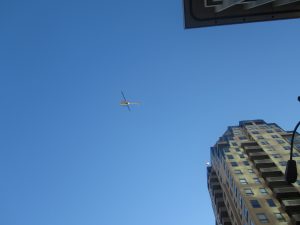 This tiny store on First Avenue and Pike Street had the most amazing shawarmas we have had!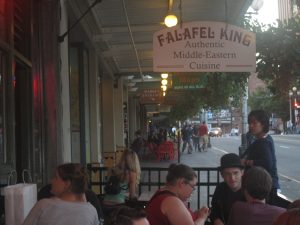 Fun pics around town: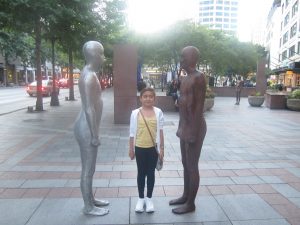 This is how you make a wall in soccer!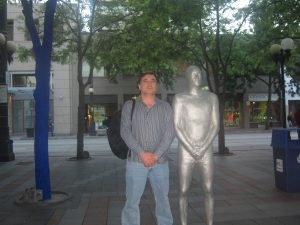 You talkin to me?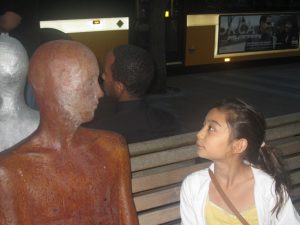 Our kids did what again?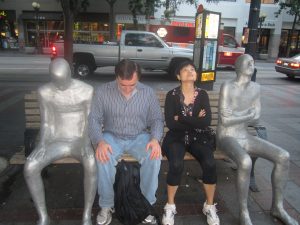 Cutest puppy ever!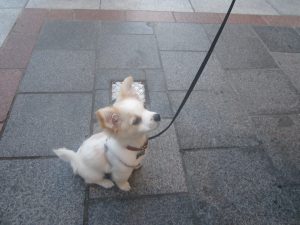 We took the nice light rail transportation to the airport to catch our flights to New York City.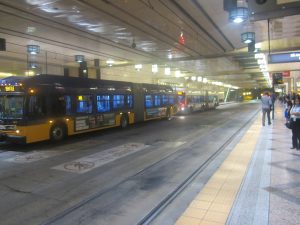 Seattle's Sea-Tac Airport was a zoo!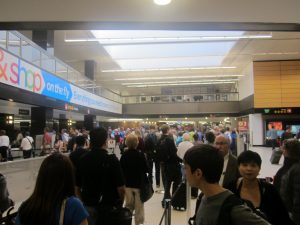 Second flight ever on Southwest. The boarding process is, well, just different! We all had Zone C Boarding passes as we were on award tickets. Meaning we will likely make it to the back of the bus and may not even get to seat together. Could not get to do online checkin 24 hours before departure time to avoid the dreaded C Boarding zone…we were out in Seattle!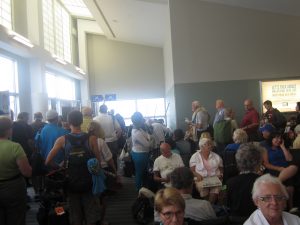 Amazing shots of  Mount Rainier from the plane!
Yea, last row. It was fine. Every seat packed. We connected in Denver.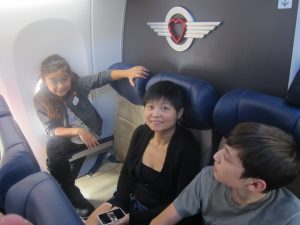 We stayed at cousins' house in Brooklyn for one night. We did laundry and went out to eat dim sum and Malaysian food.
A nice shot in Brooklyn, NY.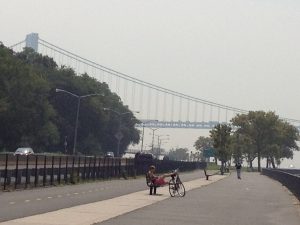 AUGUST 25 – 27  To Santiago, Chile
After an enjoyable day in Brooklyn, we headed to JFK airport to catch our LAN flight to Santiago, Chile. It was our first trip for ALL of us together in Business Class. I made sure we were going to be on a flight with LAN's flat bed seats to maximize our experience. Other friends' experiences with LAN Business Class have been great so we were really looking forward to it.
We usually have these pics in the Detroit airport. On this trip, we had them at the tiny Ann Arbor Amtrak station and in New York City's JFK Airport!
We were given passes for the AA Flagship Lounge which was very big but nothing to be ecstatic about.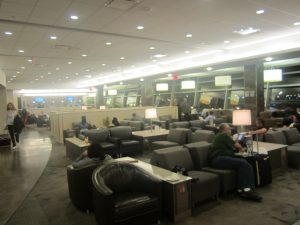 LAN Gate, boarding was pretty efficient: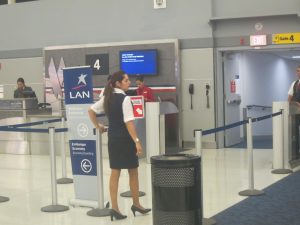 And here we go, woa!!! The girls just loved it!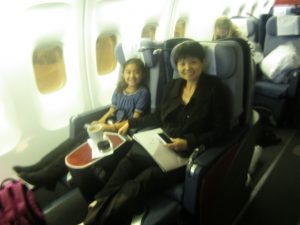 24 seats in Business Class. Our family occupied 1/6th of them, high five!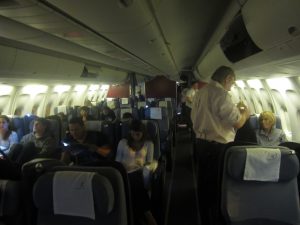 Pre departure drink. I could have anything I wanted…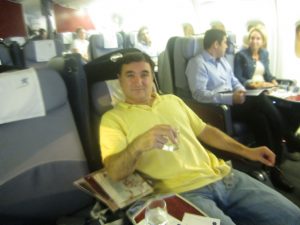 The food menu…it's very different than the coach menu!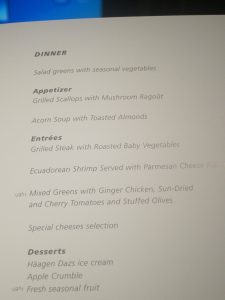 Acorn soup with toasted almonds was delicious!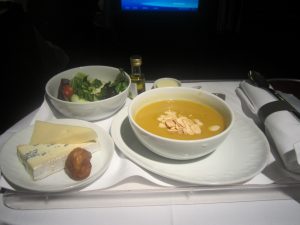 Grilled scallops with mushroom ragoot:
Grilled steak was fantastic!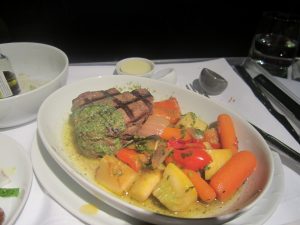 This is the salad dinner offering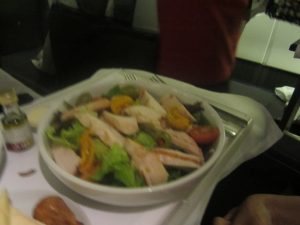 We slept like babies in our flat beds!
Our "direct" flight included a stop and change of planes in Lima, Peru to our surprise. Same flight number. Having to change planes in early morning was not a very welcoming experience, especially when we thought we had a direct flight to Santiago!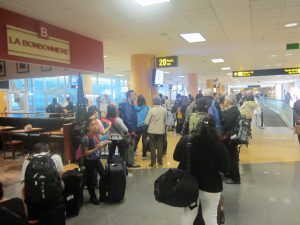 We kept the same seats and same type of plane. And we continued with breakfast aboard…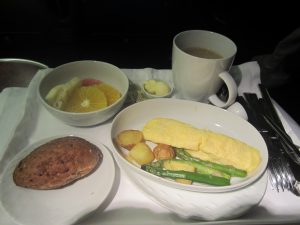 Kids went back to sleep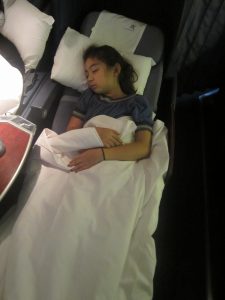 Passing over the Andes was AMAZING!
Some pics from Business Class to get an idea of our experience: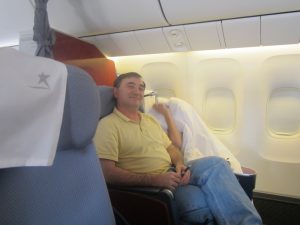 Sweet dreams, zzzzzzzzz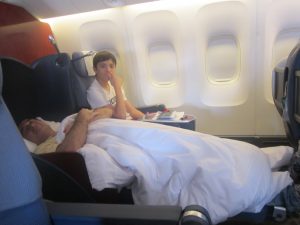 Hello, Santiago Chile! Warning: USA charges Chileans $160 per person to enter the US. Therefore, Chile does the same. "Visa" is good for the duration of your passport. Definitely NOT the welcome we wanted. Having these types of fees definitely cuts down tourism! [Update: The reciprocity fee is no longer being charged as of May 1, 2014!]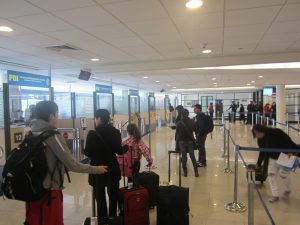 Here is more information about  Reciprocity Fees
Avoid the aggressive taxi/transportation sales types and look for a regular cab outside. We paid about 15,000 Chilean pesos for the taxi ride to our hotel, about $30 USD. Do not fall for the sales men hawking their "approved" and "private cars", they wanted at least 20,000 and some up to 30,000 pesos for the ride! I always avoid these hawk sales types…remember, they need to get paid and guess who pays them? YOU!
We arrived in our hotel the Santiago W in the Las Condes neighborhood. We had booked it for two nights. The hotel was picked because it looked really good in the pictures and tripadvisor.com reviews were mostly positive. W brand stands for style. Well, it is a little too much style over substance as we found out. Anyways, more on that later.
We were early for check in, so we had to wait in the lobby which is stunning!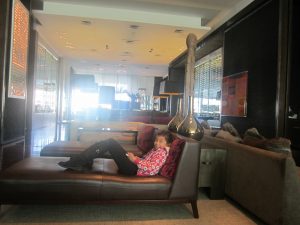 At check in we were, as expected, shot down for a suite upgrade. Instead we were given a Spectacular room. The only spectacular thing about it was the very nice balcony, pics coming.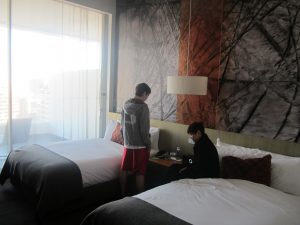 We then went to walk around and ended up eating at an Italian restaurant and were served by a German who moved to Chile 8 yrs ago because Germany was too boring!
View of Santiago at night from the W rooftop bar!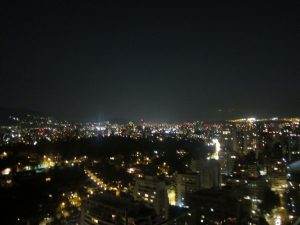 Santiago is the capital of Chile and its largest city. It isn't quite the popular destination in South America. It has a population of 6 million people and its history dates back to 1541. It is bordered by the snow-fringed Andes mountains which is a major ski destination with several ski resorts. Nearby you can find world class wine regions. In the last several years it has developed to a bustling international destination with a burgeoning restaurant scene and trendy nightlife.
Sunday August 26th was a full day in Santiago starting fairly early in the morning. We made our way towards the subway's El Golf station.  The W is not downtown, it is located in a very nice upgraded area of Santiago which is very safe and walkable.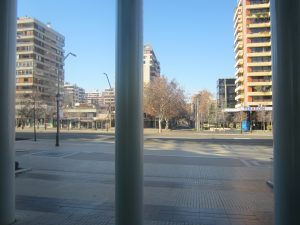 We walked to the subway station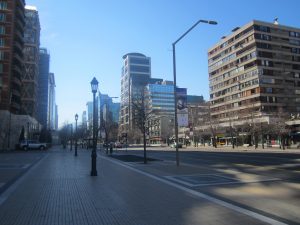 Santiago has a fantastic subway, super modern and super clean. I used to say that the best subway is in Athens, Greece. I am not so sure about that after riding here!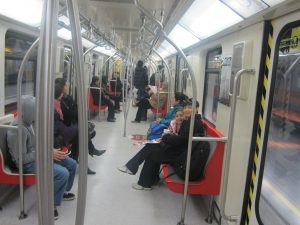 As soon as we came out of the subway U de Chile station, we were almost run over by so many runners doing a very well attended 5k and 10k race…they just kept coming and coming!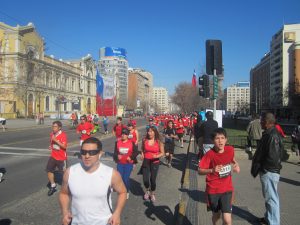 Running on Avenue Providencia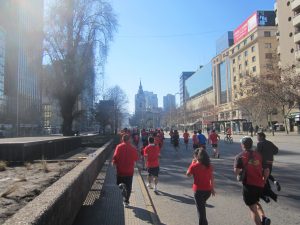 Chilean University students protesting. They want free education.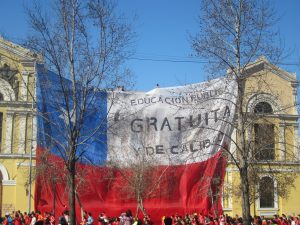 Club de la Union building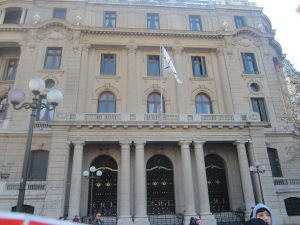 Governors Palace or Palazio de Gobierno La Moneda and Plaza de la Constitucion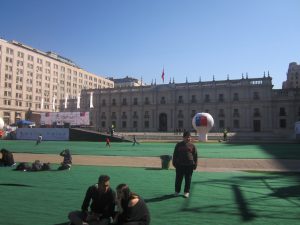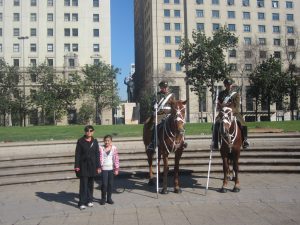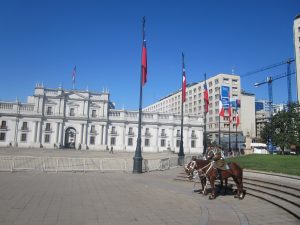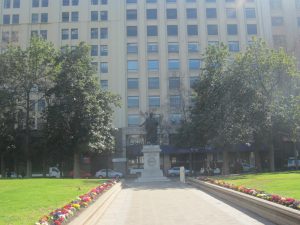 Ex Congreso Nacional…I think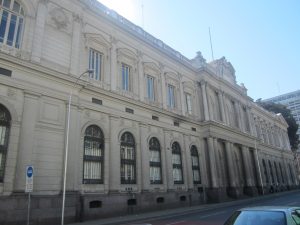 Palacio de los Tribunales de Justicia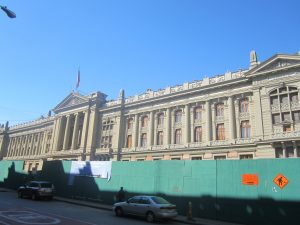 Palacio de Septiembre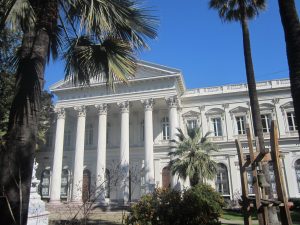 We are now at the central square of Santiago called Plaza de Armas. Santiago was founded here by Pedro de Valdivia.
The Metropolitan Cathedral of Santiago was built in the late 1700's.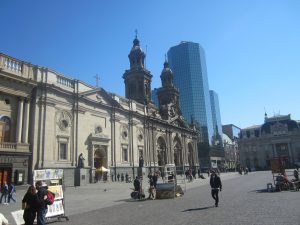 Some pics around the square:
The Historical Museum
The Metropolitan Cathedral of Santiago:
We went inside the Cathedral of Santiago in the middle of Mass, it was AMAZING! The sound system and the setting made for a very moving experience, another one of these moments that only travel can bring and you feel so grateful and thankful of being alive and able to take it all in!
See this short video from Sunday Mass and you may understand…This was a Travel MOMENT I will never forget, it was surreal:
Temple de Santo Domingo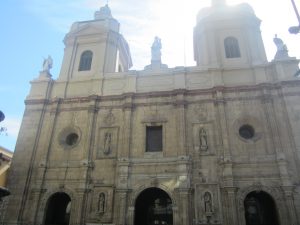 Mercado Central de Santiago Chile has over 3,000 miles of coastline so plenty of fish!
Many small eateries here with some very aggressive hawkers almost grabbing you. We instead blew them all off and looked to find a place with no salespeople outside and locals in it. We found a tiny place staffed by three older ladies that was serving about four tables, all locals! We proceeded to have one of our best meals ever!
Wow,that was heavenly!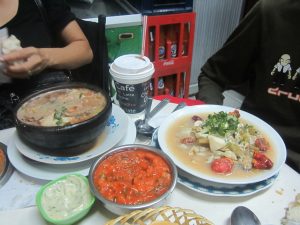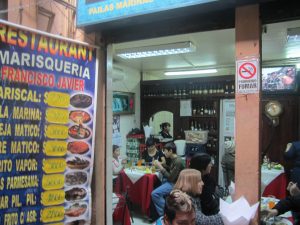 Then, to walk it off, we started walking along the parks by the river…
Fruit seller kiosk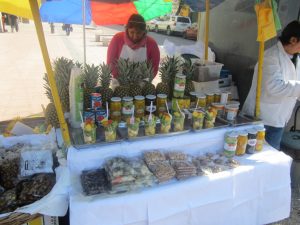 More walking…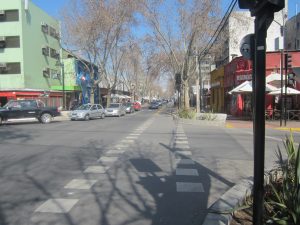 We continued on to visit Cerro San Cristobal with its Zoo and the Funicular cable car to take us up to the Rio like San Cristobal statue, the city's highest point…When we made it there, just as we were about to purchase tickets for the Cable car, we were notified that it went out of order! Off we went again…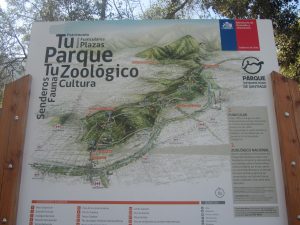 We saw this while walking: Nino a Bord (Baby on Board) and Motorhead  I am not so sure this baby will develop well:-)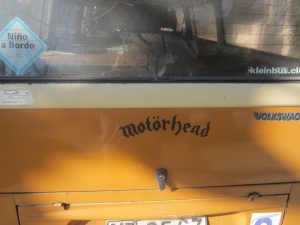 This is a famous house shaped like a ship called the "La Chascona", built by a Nobel prize winning Chilean poet for his third (and final) wife.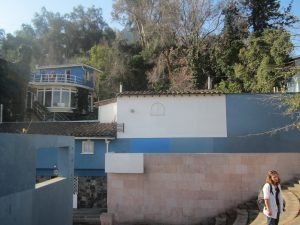 We then went to the trendy Bellavista street area. Bellavista is like the Montmartre of Santiago, tucked into the wooded slopes of Cerro San Cristobal, its quaint streets lined with vendors and cafes where the young people of the city gather in the evenings to share drinks, cigarettes, and friendly conversation. It is also home to Santiago's new culinary scene.
We then started walking south looking for the Santa Lucia park to catch some glimpse of the Andes from a high point as the darn cable car did not cooperate!
Several pics in Santa Lucia park…
As we were heading to the subway stop, we encountered the filming of a movie! Apparently someone was going to speak and the cameras took several shots of the crowd told to start cheering. Notice how excited the little kid in the blue is, "Look ma I am in a movie!"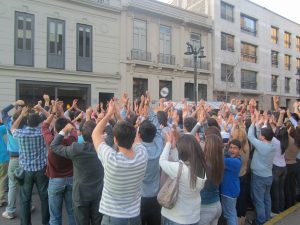 Statute of Santa Lucia!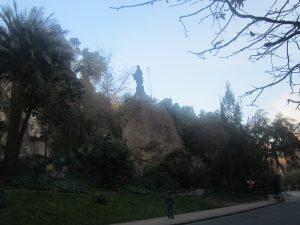 This is the balcony, the truly spectacular aspect of our W room.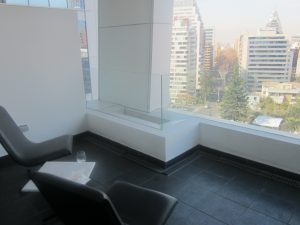 A few pics of our hotel room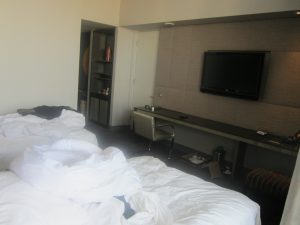 Shower water temperature has only one temperature: Boiling hot!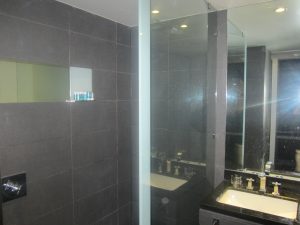 Style everywhere
But no substance…Woke up in the morning with loud bangs as they decided to redecorate the next room to us. Housekeeping forgot us. And we may have suffered burns from the boiling hot water in the shower!
Waiting for the same cab driver. I managed to make an appt with him with my broken Spanish when he picked us up from the airport.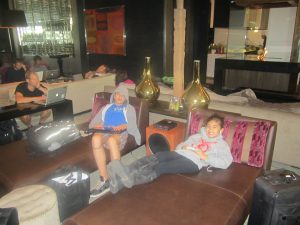 Stylish lobby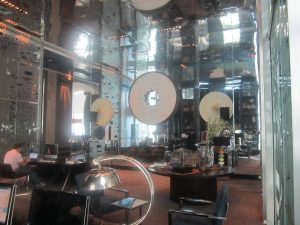 Wish it was warmer to experience the great swimming pool at the roof top!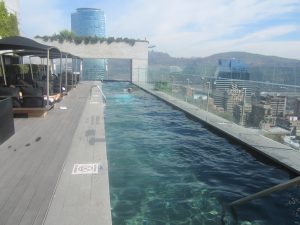 View from the W rooftop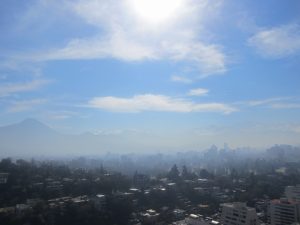 Restaurant area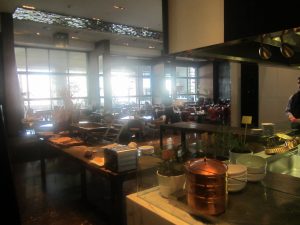 Front of W hotel
After a quick ride to the airport we had a surprising encounter at the LAN gate. We thought we were going to fly Business Class to Buenos Aires but surprisingly we found out we were flying Economy! British Airways had screwed up with our tickets. No big deal as the flight is less than two hours long. Nice LAN agents gave us passes to the Naruda Lounge to make us feel better…
Again, passing over the Andes is unforgettable!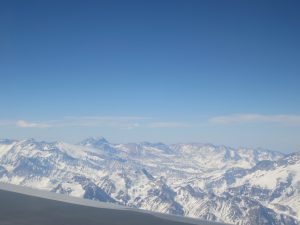 AUGUST 27 – 31 Buenos Aires, Argentina

Argentina also has the same reciprocity fee as Chile. Another $160 USD per person! It can be avoided if you fly into another Argentinian airport. We knew that and due to the lack of time we decided to cough up the money. The "visa" lasts for the duration of your passport too so we may have to come back then:-)  I knew this planning the trip. Looking back, perhaps we should have just skipped Santiago altogether and spent all of our time in Buenos Aires. Oh well, live and learn…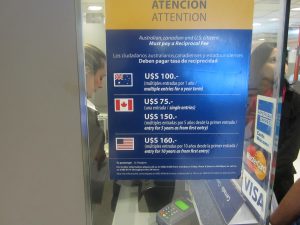 We decided to check a few of our carryons so we can travel light. Picking up our luggage at the Ezeiza (EZE) International Airport was uneventful.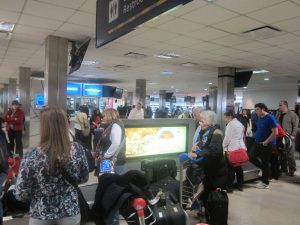 Again, some aggressive salemen hawking their own transportation methods. Not as bad as in Santiago, which is interesting as I was expecting the complete opposite considering the state of their respective economies.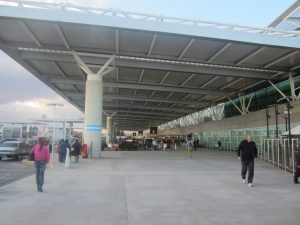 We changed some money at the Banco de la Nacion bank branch. Take a sharp right just outside the doors into the reception hall. Please note that in some restaurants in town you can pay with USD with much more favorable rates; I saw exchange rates up to 6.30 AP per USD. Avoid changing money in the streets of Buenos Aires ( you will keep hearing "Cambio, Cambio") as there are many who specialize in ripping off tourists with fake bills and other methods.
With the trusted Lonely Planet guide book, we decided to play it safe and booked an official Ezeiza car at 198 Argentinian pesos (official exchange is $1 USD=4.61 AP), about $43.
First impressions of Argentina: There are lots of people living here, big roads and lots of traffic. It does not take long to start noticing signs of the economy. This place imploded in the early 2000's when the country's economy completely collapsed and many people lost their life savings. At the same time, they appeared to be doing well, it was lively and felt "alive". And then you saw another broken car stranded by the highway…I was expecting more signs of that decay…it felt surprisingly better than expected! Will Greece follow the same path eventually?…Hmm…let's not go there por favor!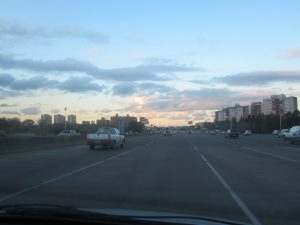 Up to about 1910 Argentina was one of the richest countries in the world. Ever since atrocious governance has resulted in an ever sinking of standard of living. We will be seeing lots of buildings like this depicting their lost glory days!  This one was seen driving from the airport to the city.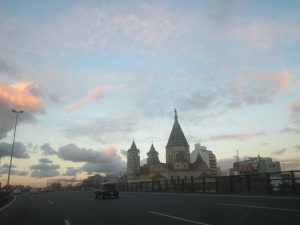 One of the highlights of the trip would be our stay in the Hilton Buenos Aires. I arranged before hand that me and my brother's rooms would be upgraded to the Executive Floor with Lounge access. The hotel manager also promised that they would do their best to upgrade at least one of the two rooms to a Suite. And they did by giving us a fantastic suite in the 5th floor, Room 532. It was huge!
Pics of bedroom
Huge walk in closet, the girls were beside themselves:-)
Main bathroom
Hallway (door at the end is the entrance door)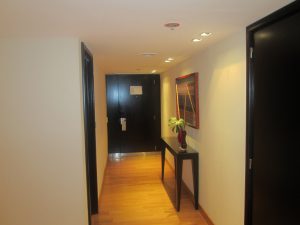 Huge living room! The conference table was fantastic!
Wow!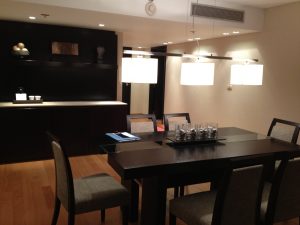 Guest half bathroom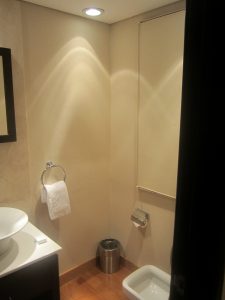 View coming in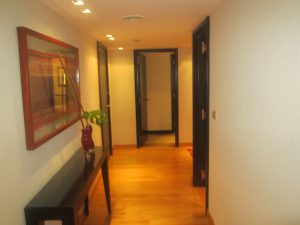 Inside of the Hilton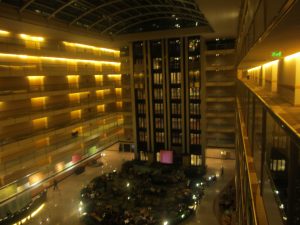 We had a meeting with my brother and his wife at 8 pm the first night. We decided that we will head out to get something to eat as we missed most of the food up at the Hilton lounge. I am glad we did as many buildings at night are uniquely lit.
Casa Rosada, or the Pink House. It is the Presidential Palace. The offices of "La Presidenta" Cristina Kirchner are here but she does not live here. (Prefers to have an easier way out and not by helicopter from the roof if it gets to that again!). Juan and Eva Peron preached to the masses from here when they needed to generate public support. Madonna also was here for her Evita movie.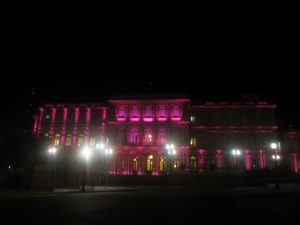 We will hit the same buildings again during the day and will write more about them then.
We ended up walking around the Centre and decided to eat some very tasty empanadas.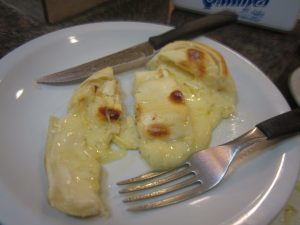 Now a few pictures of the Hilton lounge on the 8th floor. As Gold Elites, we were given access to the lounge and we enjoyed our time here eating breakfast and plenty of food/snacks throughout the day and unlimited drinks. Yes, Elite perks, no charge!
Yes, sushi too!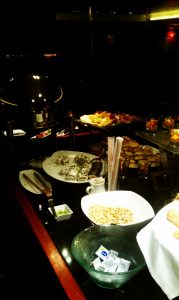 Just outside is an outdoor swimming pool and plenty of chairs/beds. As the seasons in South America are reversed with ours in North America, it was definitely not warm enough to dip into the pool, too bad!
The girls at the Hilton lobby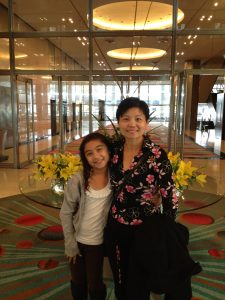 A view of the Hilton lobby area and restaurants from up high
We started our city exploration. My brother speaks very good Spanish so we moved pretty easily around town.
We started walking North until we arrived at Plaza San Martin  at the heart of Retiro. Retiro is one of the ritziest neighborhoods in Buenos Aires. It was designed by French landscape architect Carlos Thays. Here we see the country's liberator Jose de San Martin riding his horse. Important foreign dignitaries often come here to lay wreaths at the base of the monument.
Around the square are several important landmarks, including San Martin Palace and the grandest palace of all, Palacio Paz .  It is an opulent, French style palace of 12,000 square meters and full of marble walls, salons gilded in real gold and halls boasting beautiful wood-tiled floors. Nearly everything came from Europe. Too bad no tours in English were available when we visited.
We then walked south to the Galeria Pacifico , an elegant shopping mall.
The ceiling murals are outstanding. Sometimes there is free tango here, we missed it!
This is 9 de Julio Avenue , considered to be by many the world's widest street. At its widest, it has 16 lanes!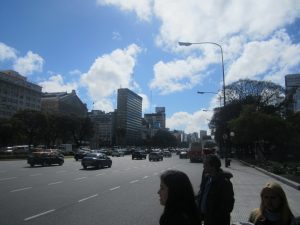 Teatro Colon , a world class facility for opera, ballet and classical music. It was the largest facility of its kind until Sydney Opera house was built in 1973. Opening night here was in 1908.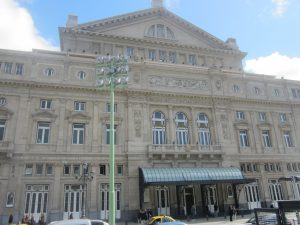 We walked towards Av. Corrientes, which used to be the theater district of Buenos Aires. Now there are a lot of bookstores on this street, almost all in Spanish.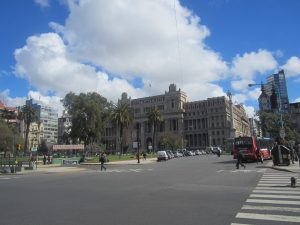 The Obelisk , the 67m city's premiere landmark. It is ground zero for measuring distances from the city center. It is also where soccer crazy fans go and honk their horns after their teams win a major victory.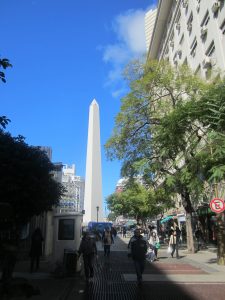 Another view of the world's widest street here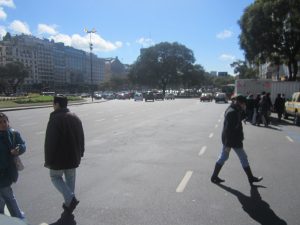 The Obelisco from another angle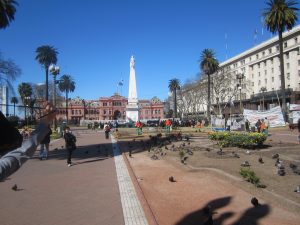 We then started walking toward the hotel as we were all getting tired and hungry.
We passed through several monuments and buildings but lost track of what they are, sorry!
Back at the Hilton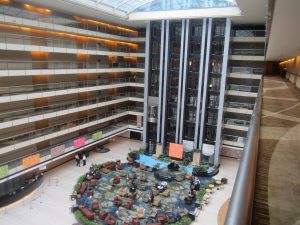 We ended up staying at the hotel the rest of the day as I felt very sick. The stomach had some major issues and I think it was the cheesy empanadas from last night! Went to bed very early and slept many hours. The others enjoyed the suite and the lounge.
The next day we headed to the Cementerio de la Recoleta , Recoleta's cemetery which is a top tourist destination. Recoleta is the Rolls Royce of Buenos Aires. The rich live here in luxury apartments and mansions while shopping at Cartier and Armani. Watch the crap from the pampered poodles, they are everywhere! Ok, now to the Cemetery. You will NEVER see anything like this, an amazing necropolis where the elite went to rest in style! In the long run we are all dead, I say…And now on to the show.
A map of the graves, yes you need a map!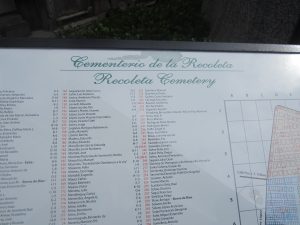 You can wander for hours here…
You can peek inside and look at the coffins, creepy!!
All the important people are here, past presidents, military heroes, top politicians (cough) and super rich are laid to rest here and, in a truly Argentinian way, they show off!!
Argentines have a saying "It is cheaper to live extravagantly than to be buried in Recoleta". It costs mega bucks to get a spot here!
And of course Evita is buried here!
We stopped for a quick bite to eat at Recoleta Mall next to the Cemetery. Here is a pic of it from the Mall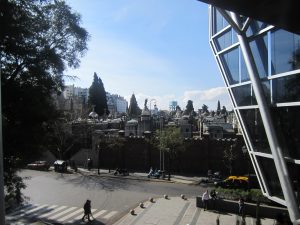 Facultad de Ingineria building. Neo gothic style engineering school designed by Uruguayan architect Arturo Prins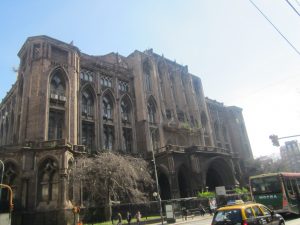 We then visited Museo Nacional de Bellas Artes .  It is Argentina's most important national arts museum. We really enjoyed our visit here looking at many Argentinian and international artist works.
Law school building in the background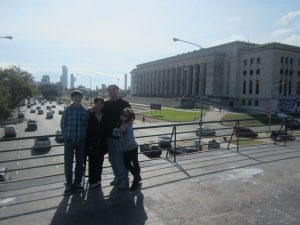 Floralis Generica . It is a giant metal flower sculpture, designed and funded by architect Eduardo Catalano. At night, the petals used to close like a real flower…but the mechanism broke and was never fixed. I can not imagine what the creator is thinking about his work now after the "little" mishap:-)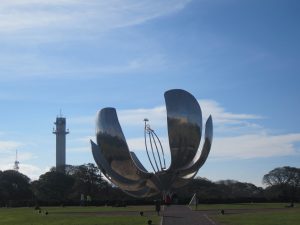 Bolt 1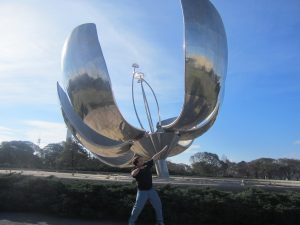 Bolt 2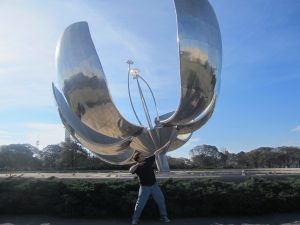 There is a very nice park at the back of the Museum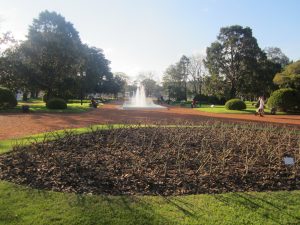 Hanging out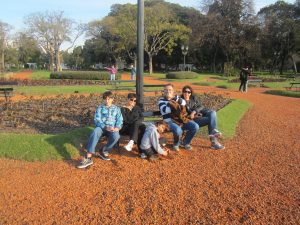 Impressive tree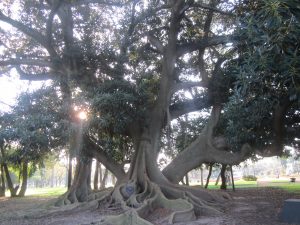 Monument of General Carlos M de Alvear: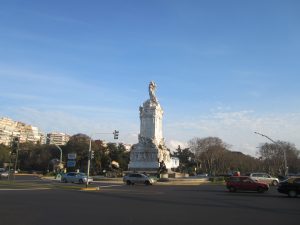 On our way to get some ice cream now…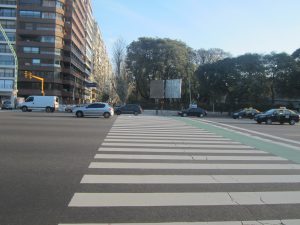 Success! At Ultra Altra Volta, highly recommended! We bought a kilo and we all went at it!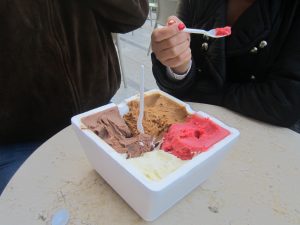 Full moon in Buenos Aires: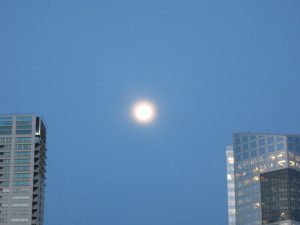 This is a floor plan of the 5th floor at the Hilton. Our room 532 is the one at the top right corner. You can see it was easily the biggest room/suite on the floor. Thank you Hilton HHonors or, I should say, American Express;-)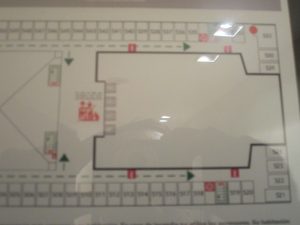 I let both the Sheraton and the Hilton hotels (where my brother and his wife stayed 2 nights each) know that they were newly married. Only the Hilton did this for them along with a bottle of wine. It is the little things that create loyalty! Ok, upgrading to Suite helps a lot too!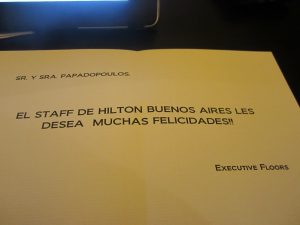 Late at night, daughter did not feel well. It was a stomach issue again. She was not much better in the morning so we decided to leave her behind with Mommy to sleep it off like I did. We were off to the La Boca neighborhood with son and my brother and his wife.
We rode the local buses several times. It is dirt cheap to ride the bus here!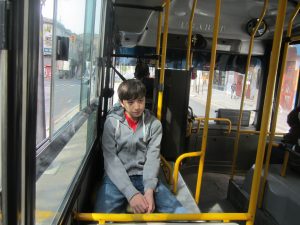 El Caminito is a famous street and very touristy! It is really just a short alleyway that offers a colorful panorama that has inspired a million photographs.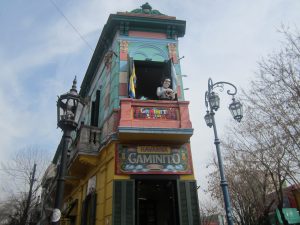 Brother and his wife: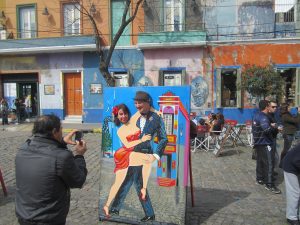 Tango anyone?
The symbol of La Boca is its Boca Juniors soccer team, the former club of mega star (and drug addict) Diego Maradona.  The team plays at La Bombonera stadium, just a few minutes walk from El Caminito.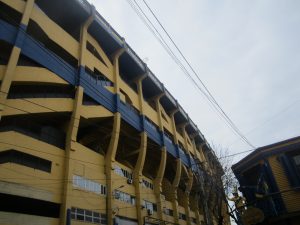 Diego Maradona
We had some amazing BBQ stuff at a local restaurant/stall just outside the stadium….Mmm, I can still smell the amazing BBQ smell!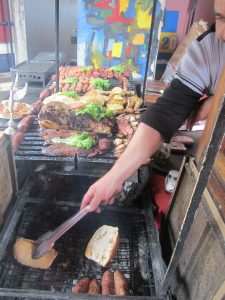 View of the abandoned port from the terrace of Fundacion Proa, an elegant art Foundation which invites only the most cutting edge national and international artists.
Love the architecture of this city…So much of it reminds me of Athens, Greece!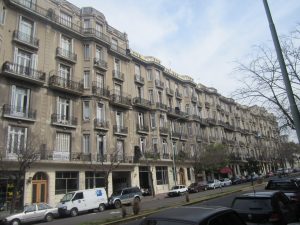 Even dogs know how to play soccer here! At Parque Lezama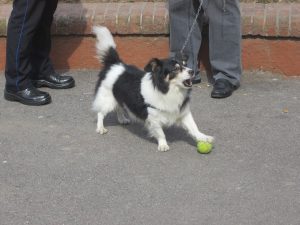 I think we are still at Parque Lezama…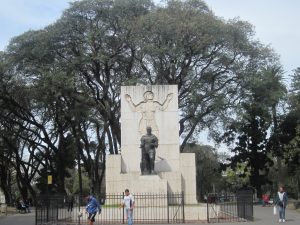 We strolled through Pasaje de la Defensa, an old mansion built in 1880 and used to be owned by the Ezeiza (yes like the airport name!) before they packed up for northern pastures in San Telmo. It then became a conventillo (tenement) and housed 32 poor families!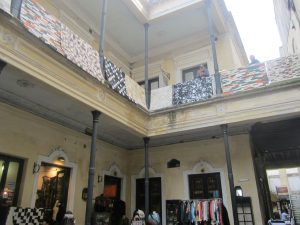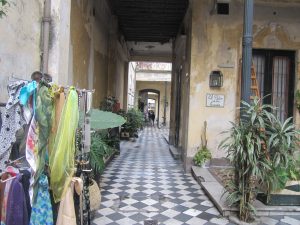 Plaza Dorrego , the heart of San Telmo. It has a wildly popular Sunday antiques market. This is the supposed place where Buenos Aires was first founded in 1536.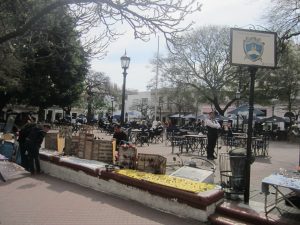 Iglesia Ortodoxa Rusa, a late 19th century Russian Orthodox Church, the work of Alejandro Christoperson and built from materials shipped from St. Petersburg.
Iglesia Dinamarquesa, an architectural oddity, a neo Gothic Lutheran church built in 1930 and designed using blueprints from two Danish architects.
Continuing to walk North on Calle Defensa street…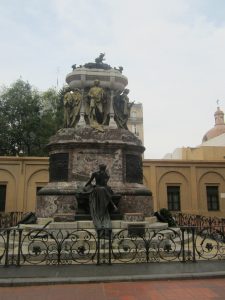 Convento de Santo Domingo. It is an 18th century Dominican building that has a colorful history. British troops holed up here during the invasion of 1806 and you can see some shrapnel in the left tower.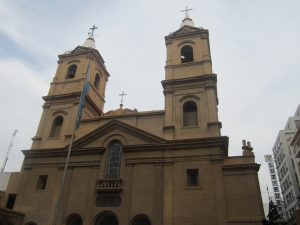 Basilica de San Fransisco?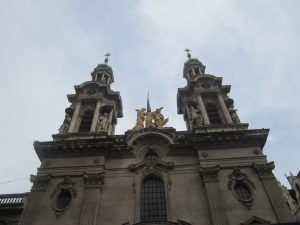 Basilica de Santo Domingo again, you can see the shrapnel better in the left tower in this pic: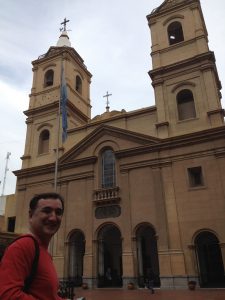 We are back in the Plaza de Mayo again.  Why the name? Because Buenos Aires declared independence from Spain on May 25, 1810.  This is the square the locals usually use to launch their most vehement protests. Totally by coincidence, we arrived here shortly after 3.30 pm on Thursday when the mothers of the disappeared (the ones who are still alive, not many left) still come here and march looking for their children taken during the Dirty War against the communists by the military rulers between 1976 and 1983.
Headquarters of the Banco de la Nacion…this is where they print money? Apparently, the Argentines have this down pat!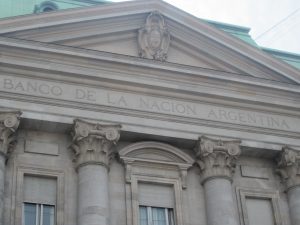 Edificio Libertador, the Army Headquarters. Traditionally, it has been the place where real power emanated from for many decades.
Crossing over into the Puerto Madero neighborhood now…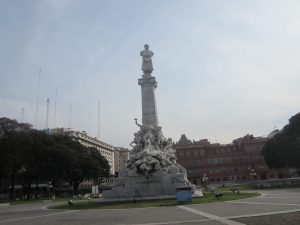 Reminds me of my indoor soccer team "Gasping for Air" back in Ann Arbor, I miss them…
A lone kayaker…
Museo Fragata Sarmineto: This vessel traveled around the world 37 times between 1899 and 1938. Oddly, it never participated in combat. US President Roosevelt was a guest here.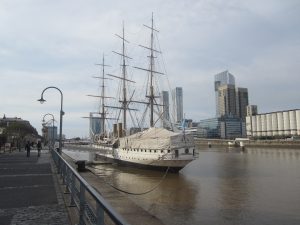 Puente de la Mujer : It was designed by Spaniard Santiago Calatrava. It is supposed to represent a couple dancing the tango….yeah…right.
Me thinking "Oh my god, how in the heck are we going to fly back in coach after flying here in Business Class?" 🙂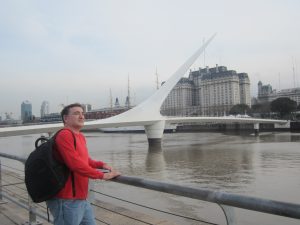 Last snacks at the Hilton lounge, sushi time again!
We decided to go out for a real Argentinian steak. Several people recommended La Cabrera. While waiting for a table they serve champagne and appetizers!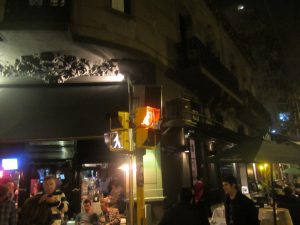 Are you ready?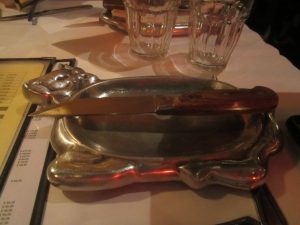 Set, Go!
It was a fantastic meal. Steak was heavenly!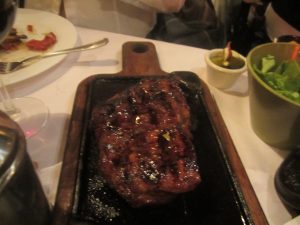 Friday last day in Buenos Aires
Family pics, the brothers together again after our father's funeral in 2009!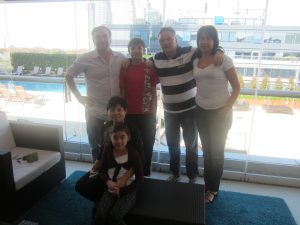 The Hilton Gym…visited…once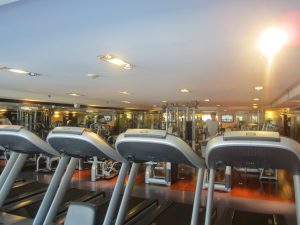 Taxi ride to the airport, gave the driver 200 pesos. Ezeiza airport, no lounge access now 🙁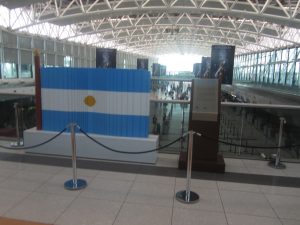 The baby to take us home…It was an uneventful flight other than having the whole Argentinian national rugby team seated around us.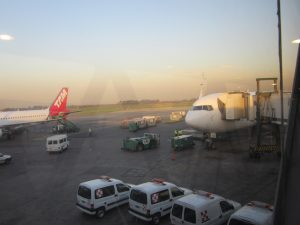 Again, we made a stop in Santiago, Chile and changed planes.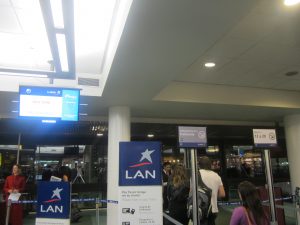 We arrived in JFK early Saturday morning.  I always love the approach to New York's JFK airport!
S. picked us up and we spent the whole day in Brooklyn, New York. We went out for Malaysian food for lunch. We mostly played with their cutest baby M.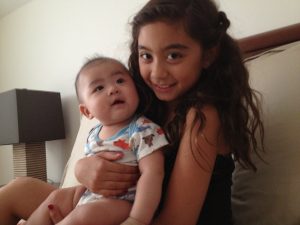 And then S. grilled for us, gracious hosts, thanks!
And now the obligatory family pic in the Detroit airport!