Follow along my crazy last moment trip to Brazil for the 2014 World Cup!
TBB Blog Mission: To Entertain. Educate. Inspire. In That Order!
You can support TBB by applying for CREDIT CARDS and clicking/forwarding any of our REFERRAL LINKS

It all started with my tweet late on Thursday night "I am having this crazy thought…going to Brazil for the next Greece game at Fortaleza to join my brother who was on the bus there after the game against Japan". And then the magic of Twitter happened! THANKS to Amol @PointstoPointsB of Travel Codex, Jamison @jamucsb of PointsSummary and Kenny @KennyBSAT of Miles4More who were instrumental in helping me book this last minute award trip! As you know I was too busy reading blogs and making fun of them to find the time to sit down to this myself. Besides, I thought it was a pipe dream! A few frenetic hours later to put it all together and voila I was off to the Brazil World Cup on Saturday late afternoon!
I still think the right strategy is to earn and burn your miles/points because they will undoubtedly be devalued. But do not underestimate the power of having a stash  of miles/points in several loyalty programs and being opportunistic at certain times. I like using my miles/points to save money AND have experiences otherwise I would not have the opportunity to be a part of. Just like last year I decided to tack on a trip to Norway from a trip I won to London, here was my opportunity to:
1) Keep the word to my brother that I will join him in Brazil and go to the games Greece plays. Well, call it the difficulty of putting it together, the fact that the Greek team games were very far from his home in Sao Paulo, the non too encouraging reports about crime, unrest and of course there was no way in hell I can take all this time off! I…conveniently decided to watch the World Cup in the comfort of my own living room. Well, amazingly, the Greek team was still in it after the first two games and they had a chance to advance with a win against Ivory Coast (and assuming Japan did not beat Colombia).
2) It's the World Cup come on! The greatest show on Earth in my opinion. I have been watching it since 1978.
3) Be a part of history if Greece managed to win in Fortaleza and advance to the 2nd round (first time ever). I can say "I was there!" Which may mean I will look to stay longer…oh oh.
4) It's my birthday and I deserve it and need a break from miles/points blogs!
5) Why the hell not, we only live once!
FINAL TALLY OF MILES/POINTS & TAXES/FEES

55,000 United miles & $90.13 in taxes & fees : Detroit to Newark on United Economy Class &  Newark to Sao Paulo GRU on United First Class & Sao Paulo VCP to Fortaleza FOR flying Azul Airlines Economy Class
10,000 AA miles & 84.69 in taxes & fees: Fortaleza to Sao Paulo GRU on TAM Airlines Economy Class
62,500 AA miles & 131.15 in taxes & fees: Sao Paulo GRU to Miami on American Airlines First Class & Miami to Detroit on American Airlines First Class
Holiday Inn Fortaleza 3 nights for 15k IHG Rewards points per night. Total 45k points
Notes: Shocked that these were available at this time and I pulled the trigger!
The fees include the punitive and confiscatory $75 close to ticketing fee (Delta does not have this shockingly!).
Everything booked online except the inter Brazil flight.
I could not get the British Airways website to work for the inter Brazil flight, it hanged in the last screen telling me "the flight was sold out in the last few minutes" Really?"
Therefore, I called AA and got the TAM flight. It was dicey for a while waiting many hours for the ticketing to occur (tip: call and ask to "escalate")
I was shocked that the Holiday Inn was available!
The fees were charged on my Barclays Arrival card and will be reimbursed.
My brother went to the first two games Greece played. He managed to find me a game ticket for the Fortaleza game so I was all set.
So I was off on a very uneventful United flight from Detroit to Newark. There I hanged out at the United lounge: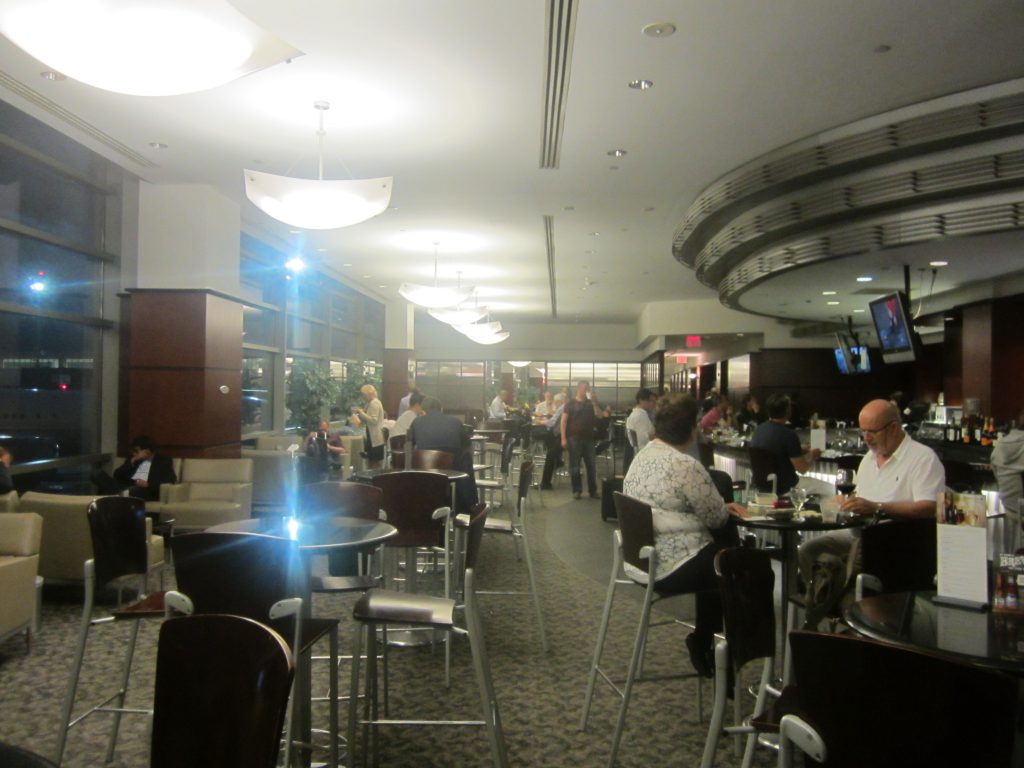 There was mass confusion about the state of the flight as agents and monitors were not in sync. So I hanged out at the bar and was having a good time with some other folks going to see USA play in the World Cup!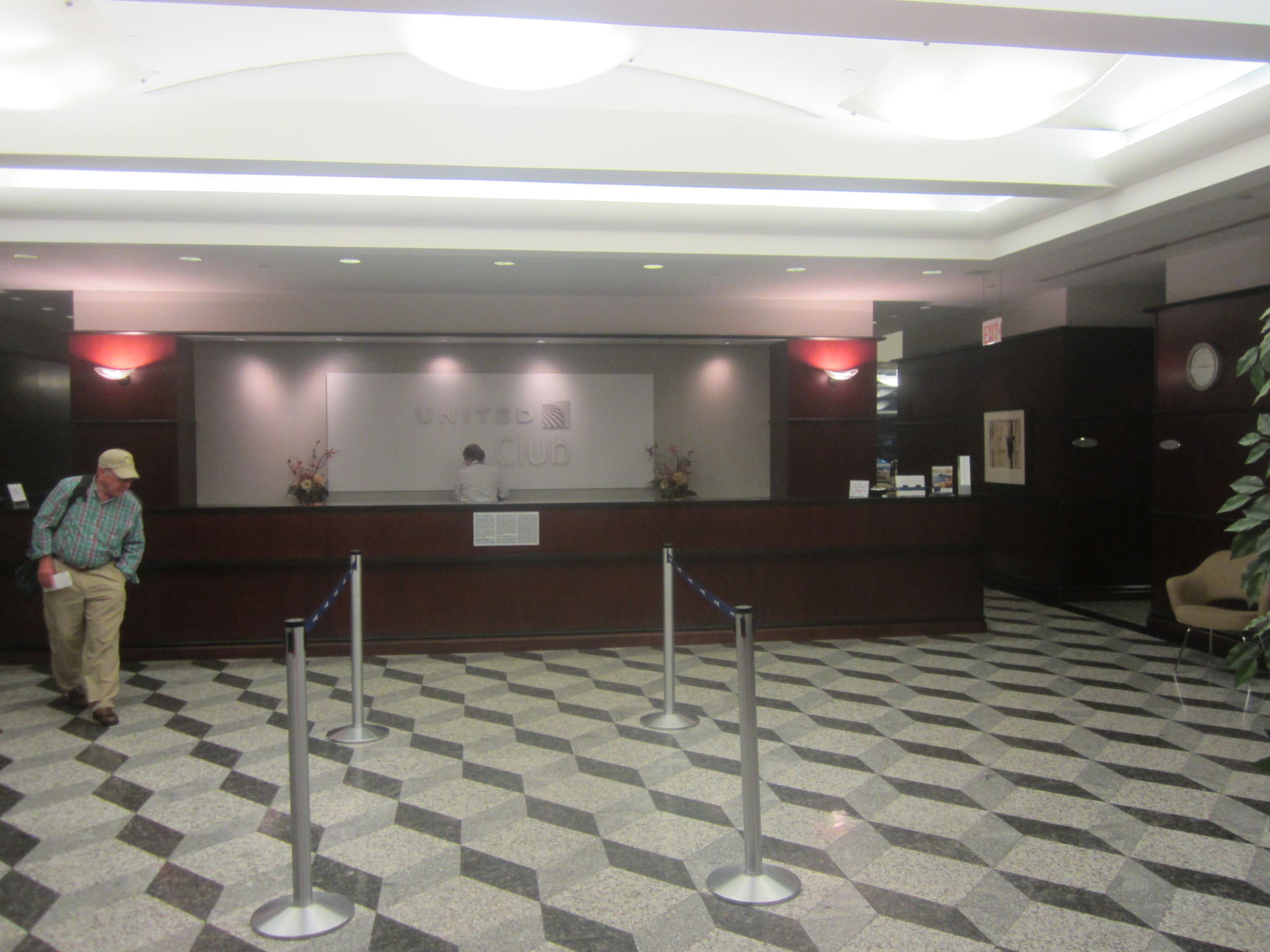 Finally, we were cleared to proceed to the gate. We were about an hour late now, close to midnight…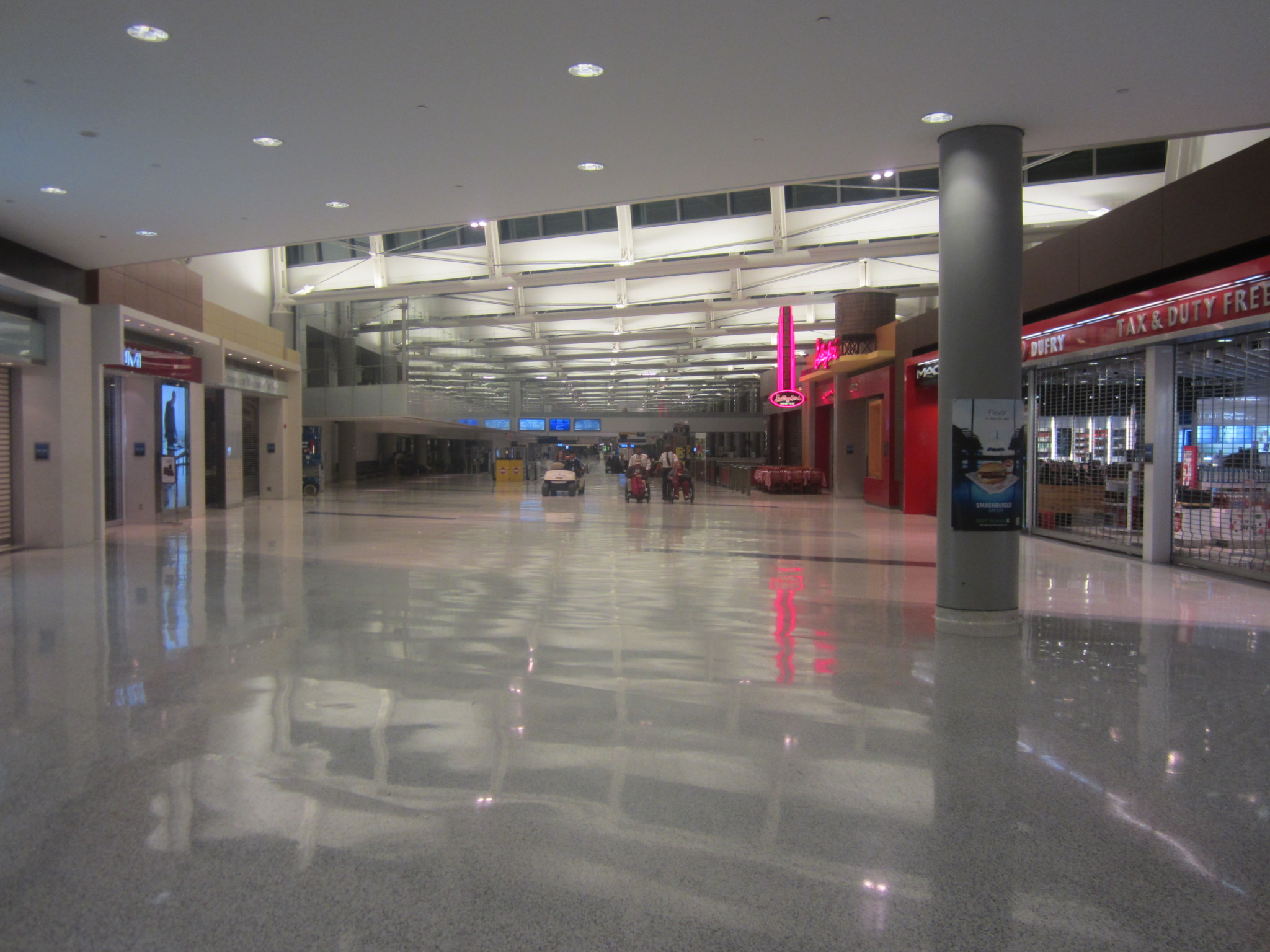 This would be my first time in United's First class. Because I am not a Titan hehe. I finally got good use of my second (Greek) passport, no visas needed, hooray!
Well, I found the first class experience very nice and nothing to write home about. The seats were fine, the food was decent, the service was good. I slept like a baby!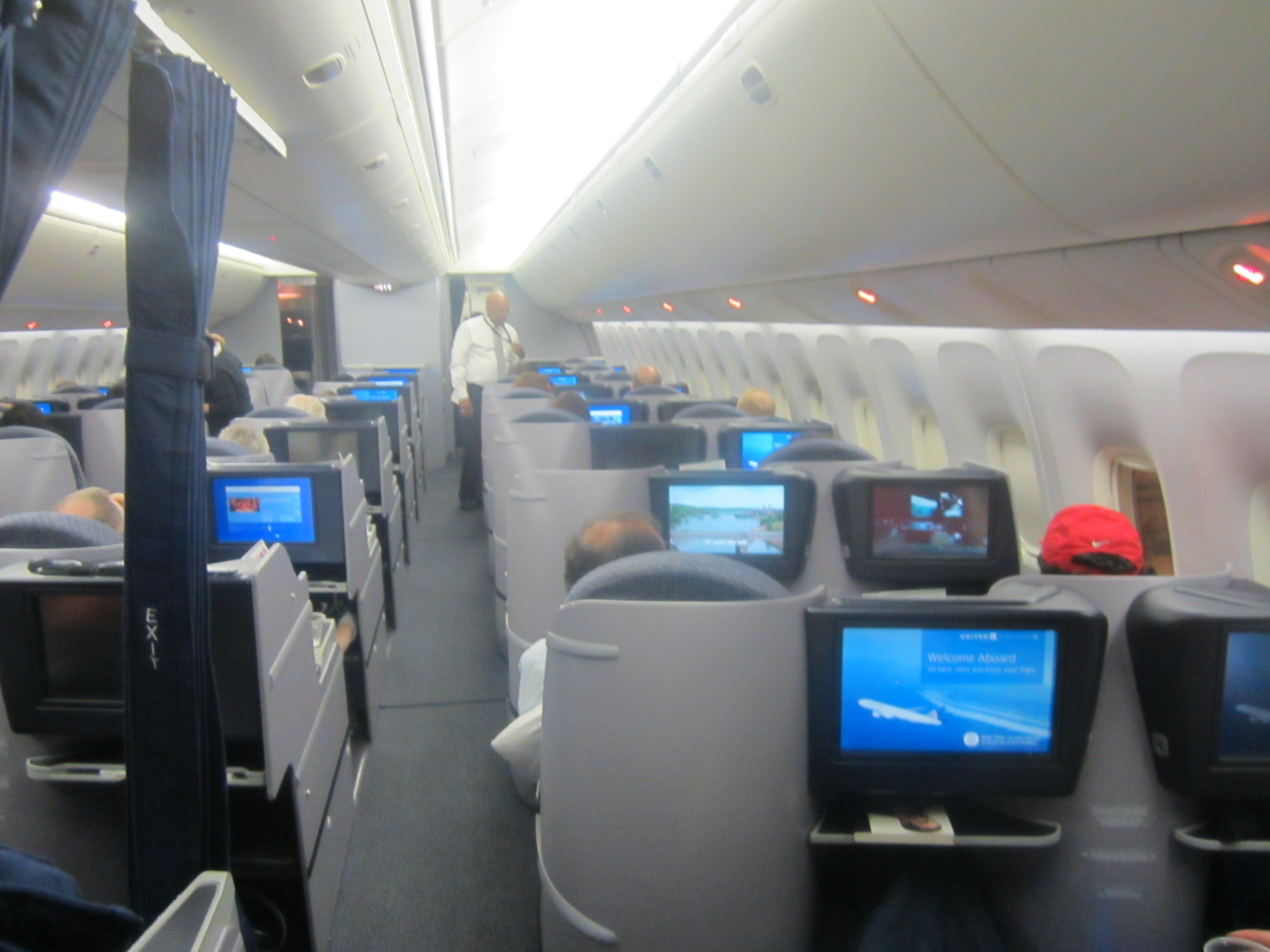 No, I am not going to stand up and start taking pictures of everything, I am NOT that kind of blogger. Everything was fine. It does not compare to the Cathay Pacific experience of course, I just felt grateful for having the opportunity to experience this!
Passport control was slow but smooth in the GRU Guarulhos airport.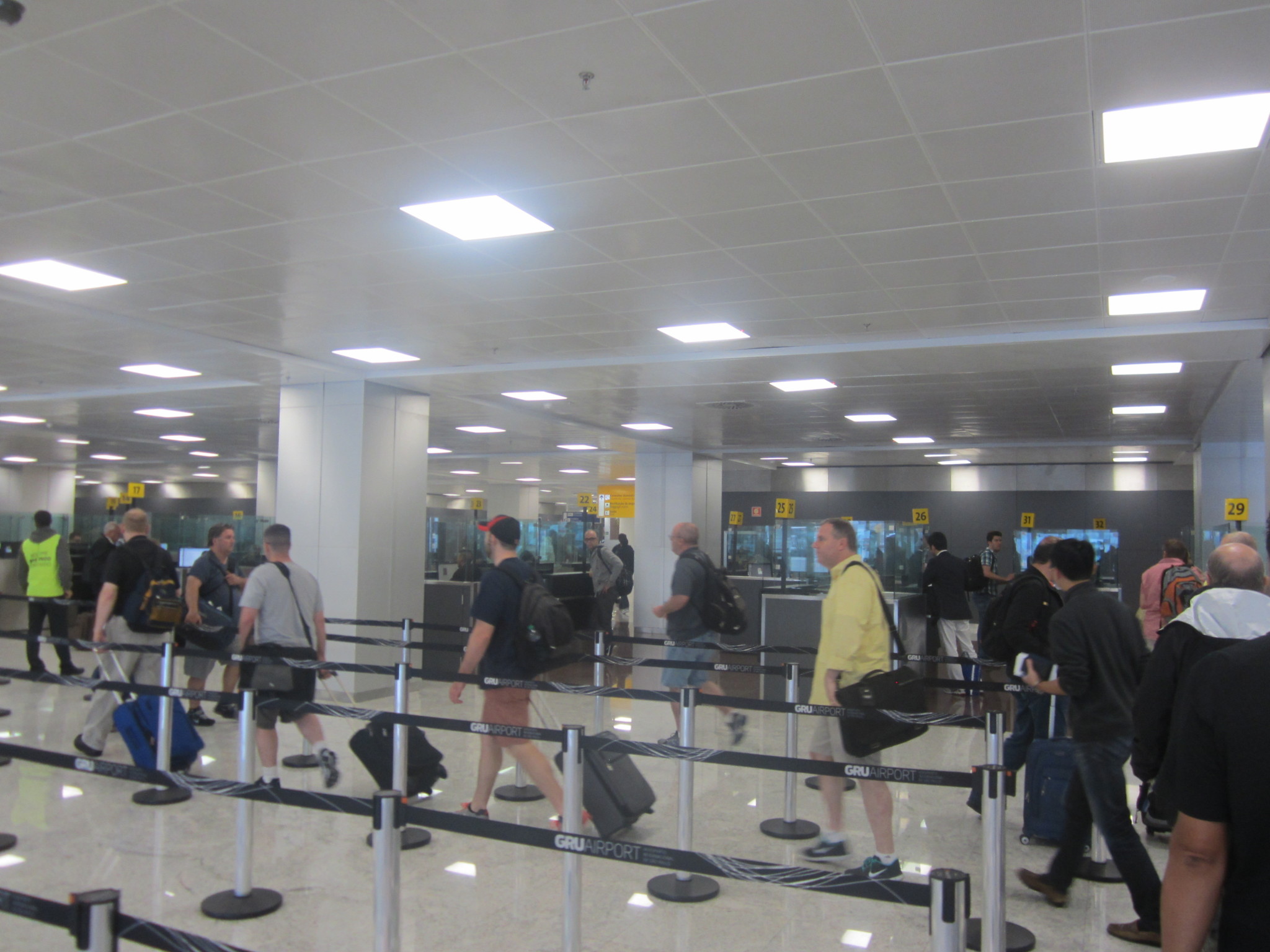 The way my ticket worked, my next flight to Fortaleza was later that night from a different airport in Sao Paulo. So I had to find my way to Congonhas airport! Thanks to a tip by the FlightDeal guys, as I was in a Azul airline flight, I was eligible to ride the Azul bus for free to Congonhas, hooray! Bus ride was great!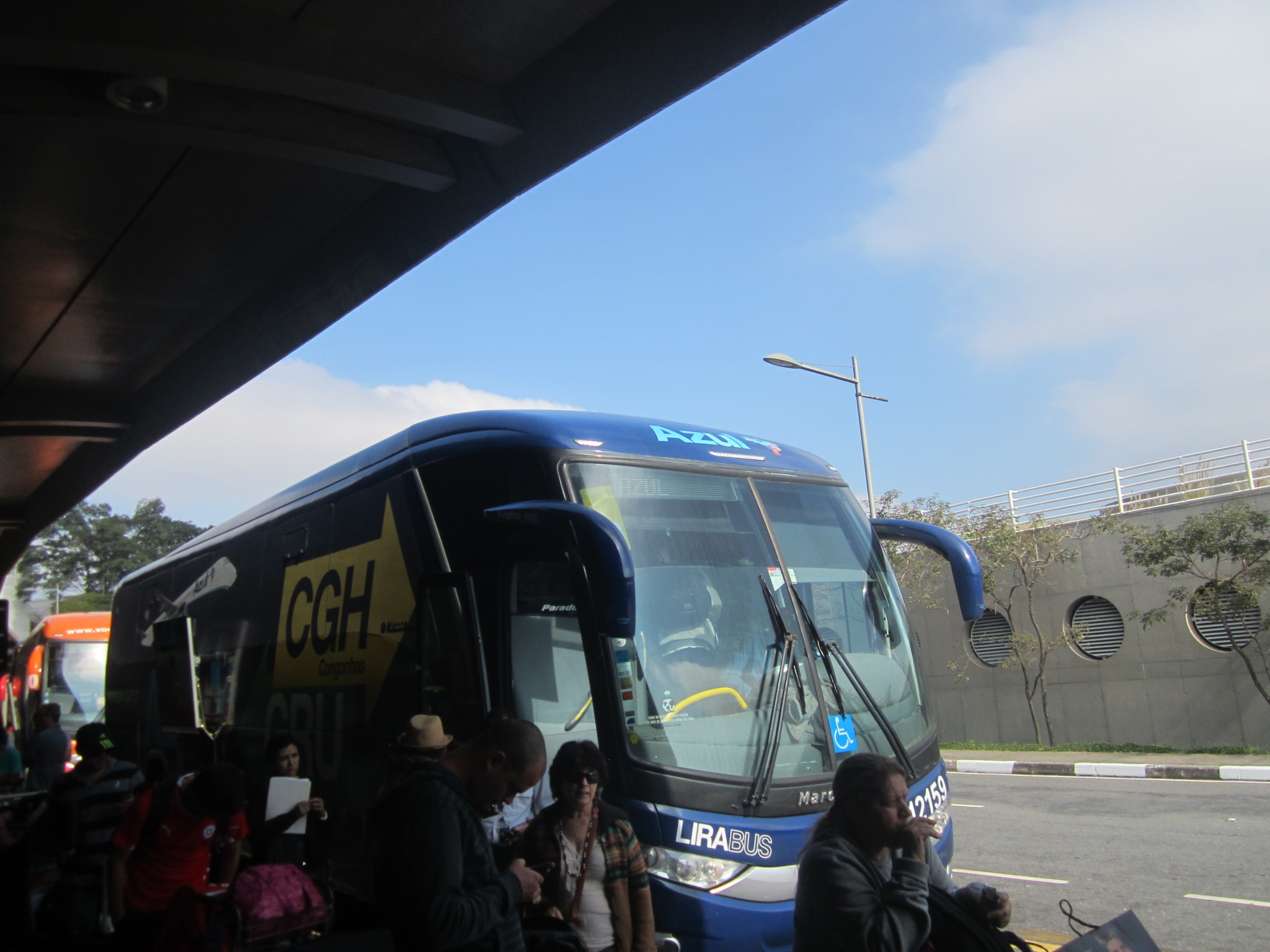 I had several hours in the airport and all I was thinking about was how to watch the next two soccer games and, most importantly, the USA game against Portugal!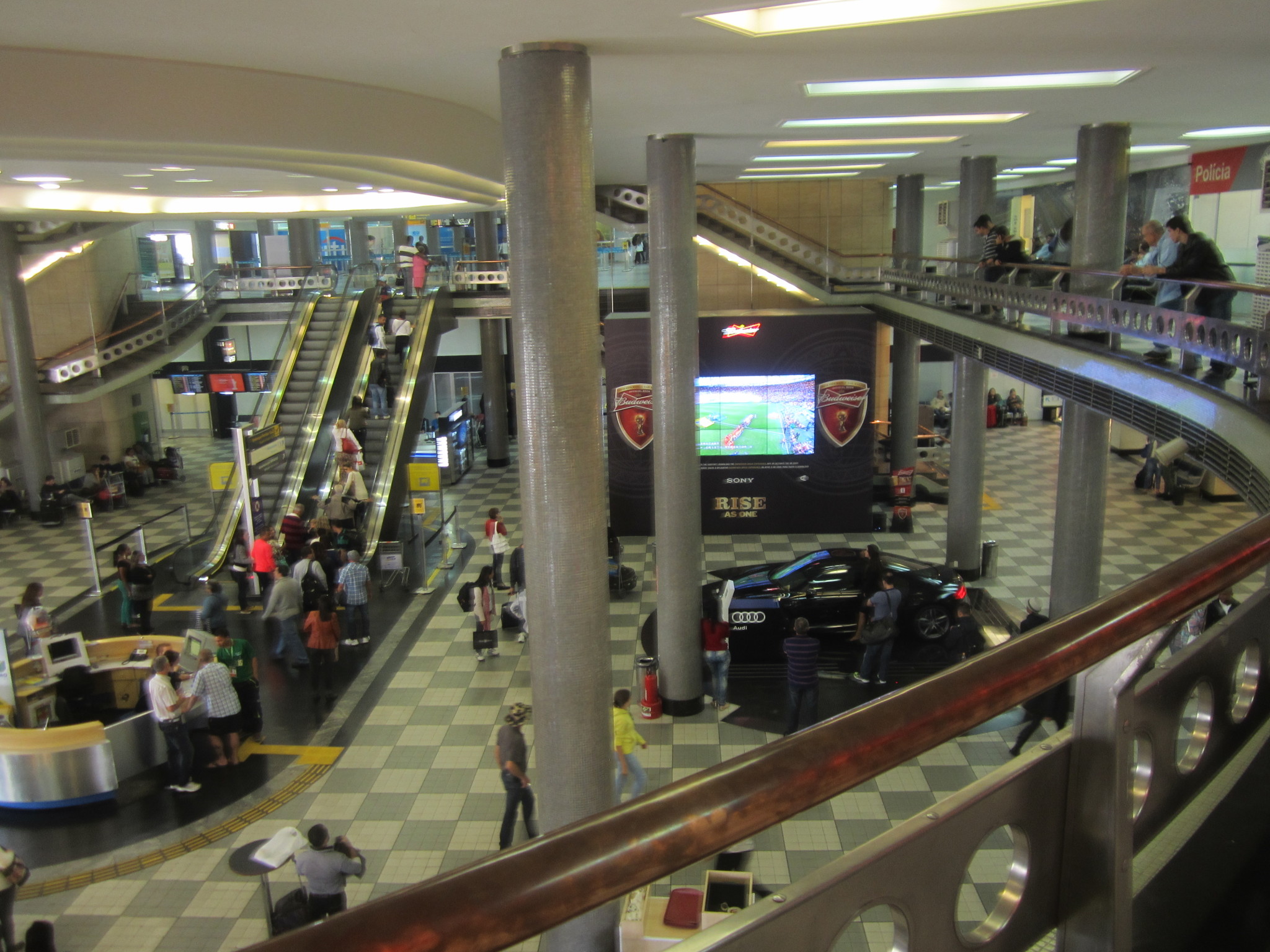 The Azul bus operation is very smooth, they shuttle many passengers between the two airports!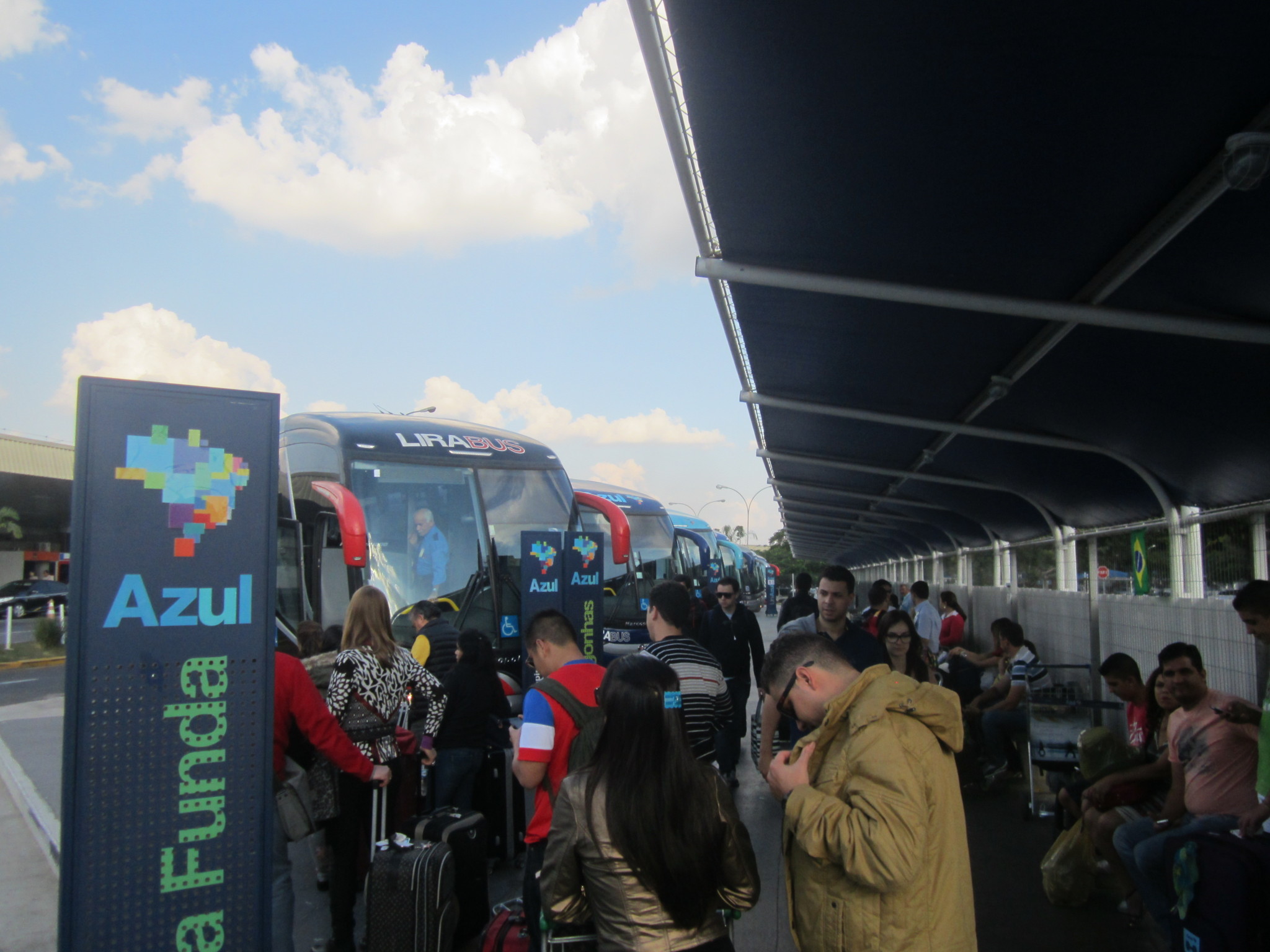 This is where I watched USA vs Portugal, laying down on a nice mat in Congonhas airport, what an experience!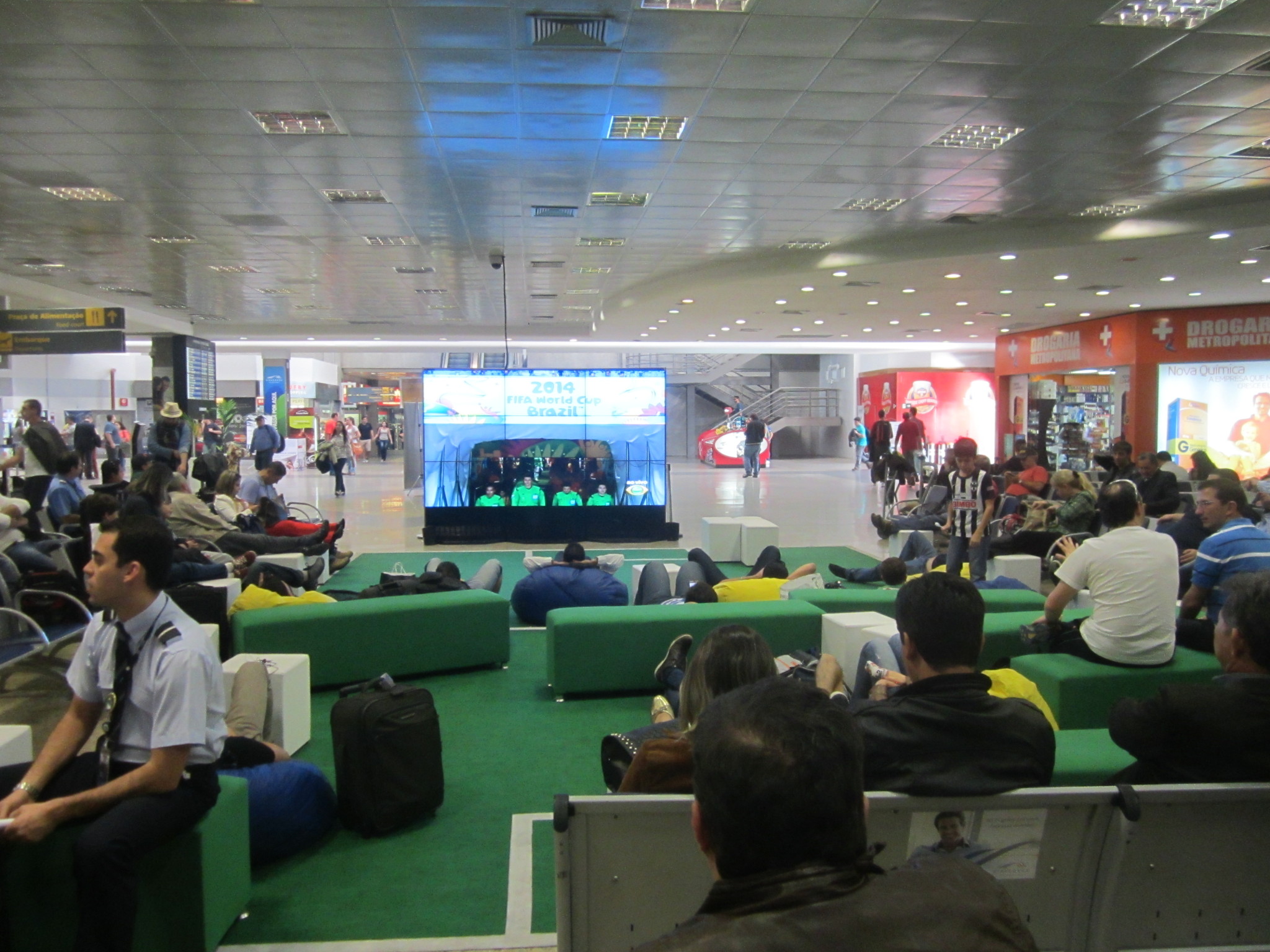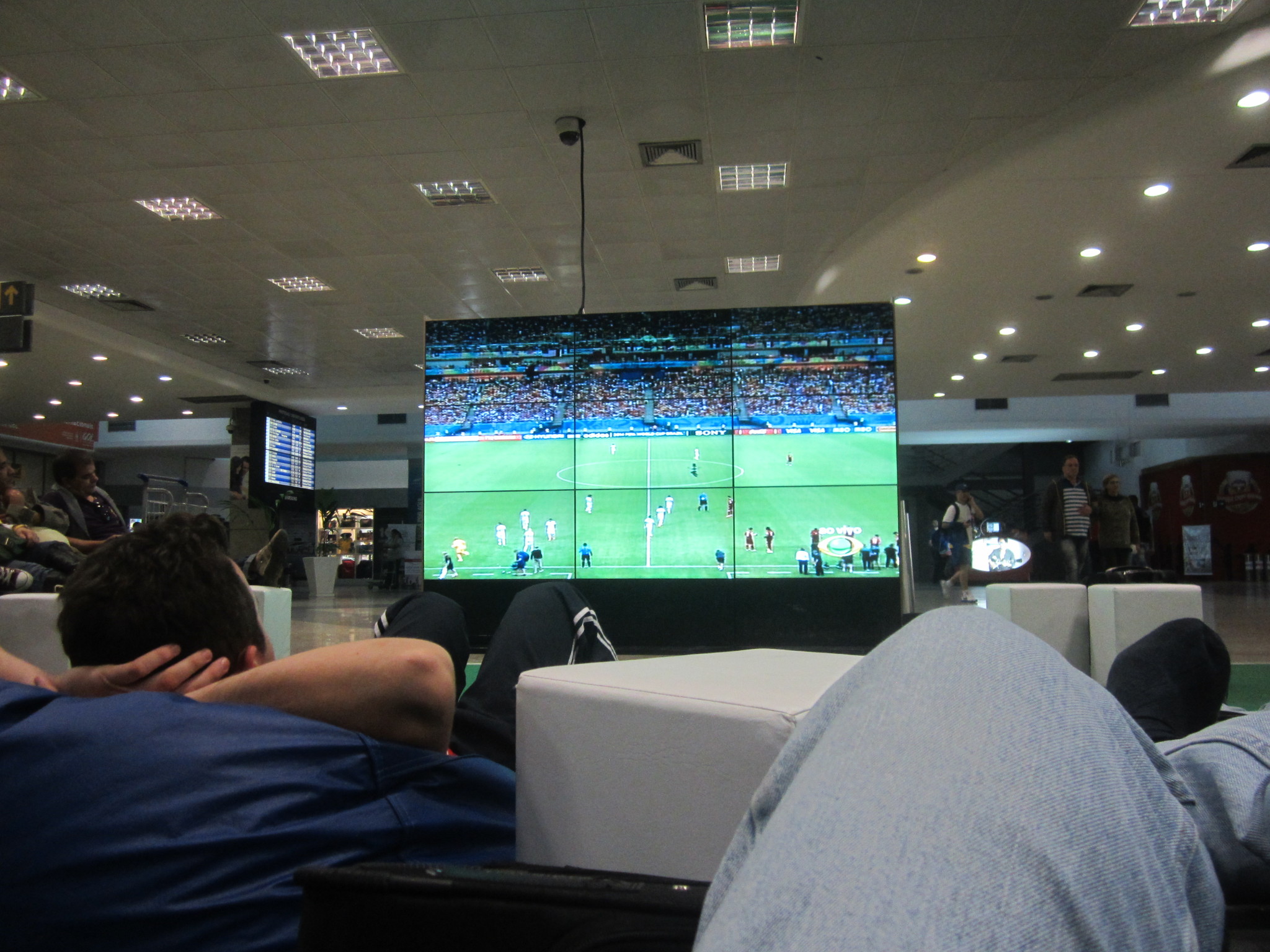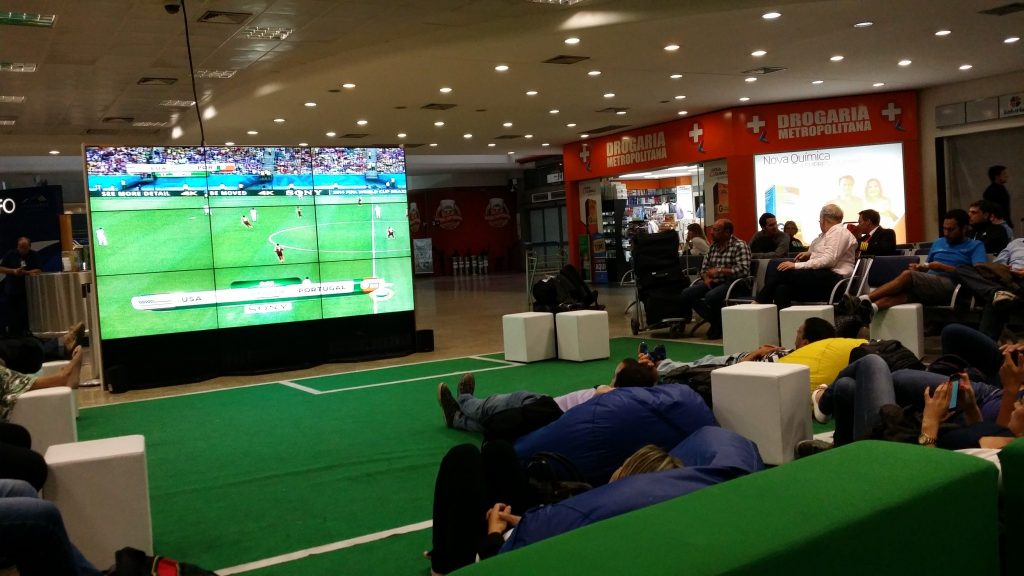 Then it was off to the gate for my first Azul flight to Fortaleza in northern Brazil.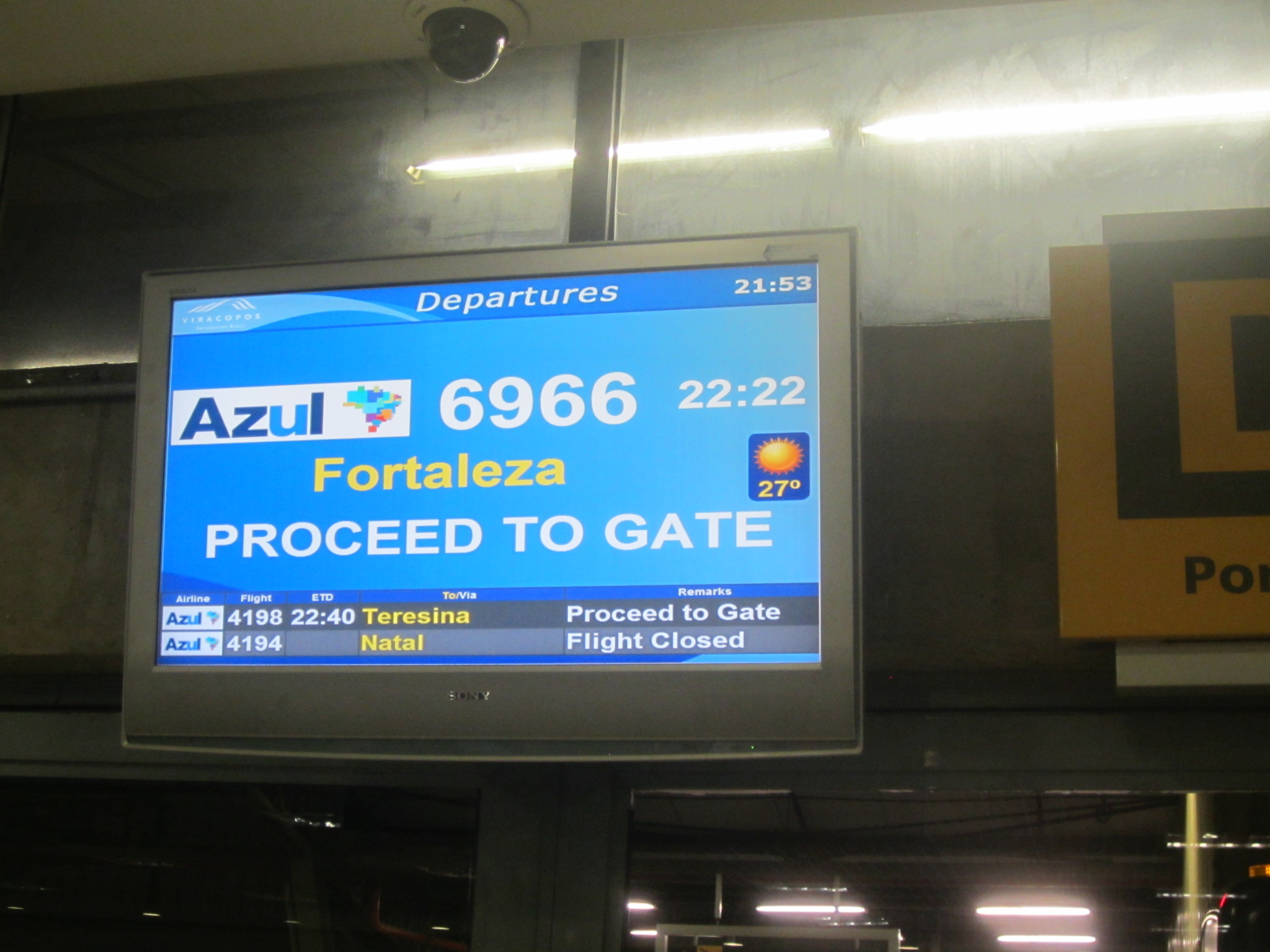 Apparently, this company is run by the same guy who started Jetblue.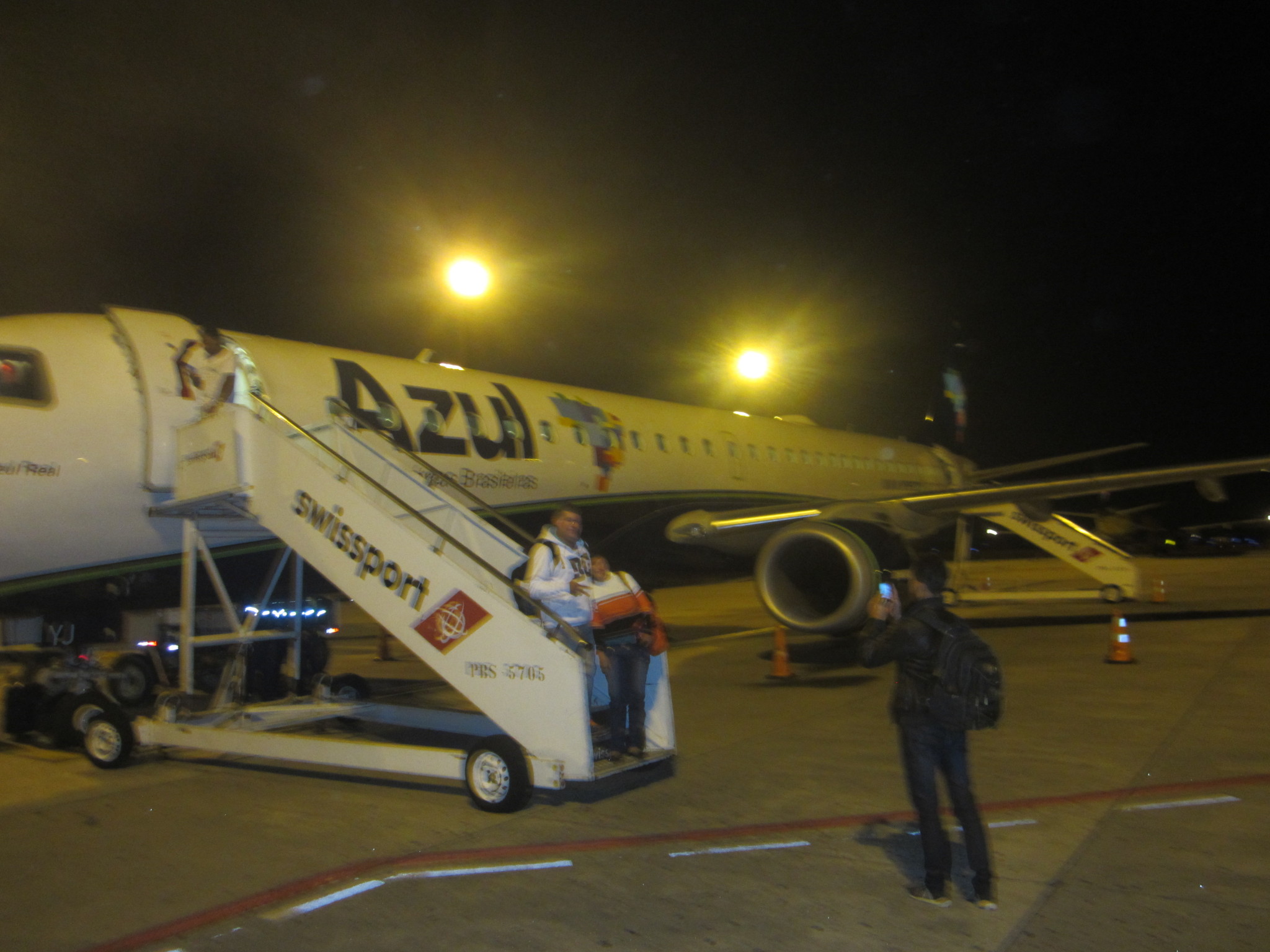 Is this Randy Petersen moonlighting as a model in the Azul magazine?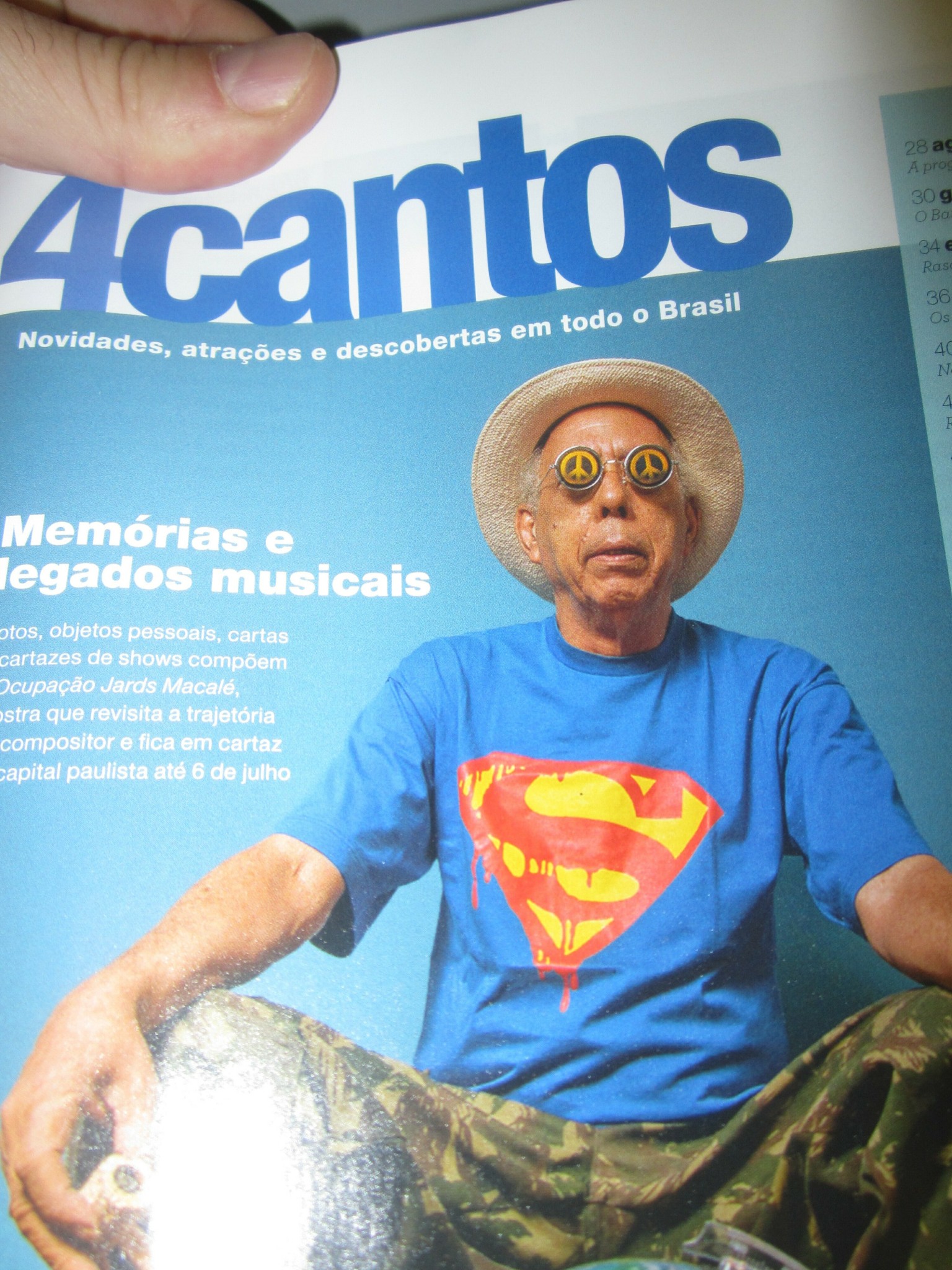 Flight was a little crammed. Service was fine. Not going to bother you with the finer details of the seat, the toilet or the food, I don't care and neither should you, I wanted to get to Fortaleza safe! My brother with a friend of his from Sao Paulo were there along with a Couchsurfing guy who had a car and they gave me a ride to the Holiday Inn Fortaleza. Pretty nice hotel with great location! As Platinum I got us breakfast which was not very good but hey, it was free!
The FIFA fan fest was right in front of the hotel. Awesome!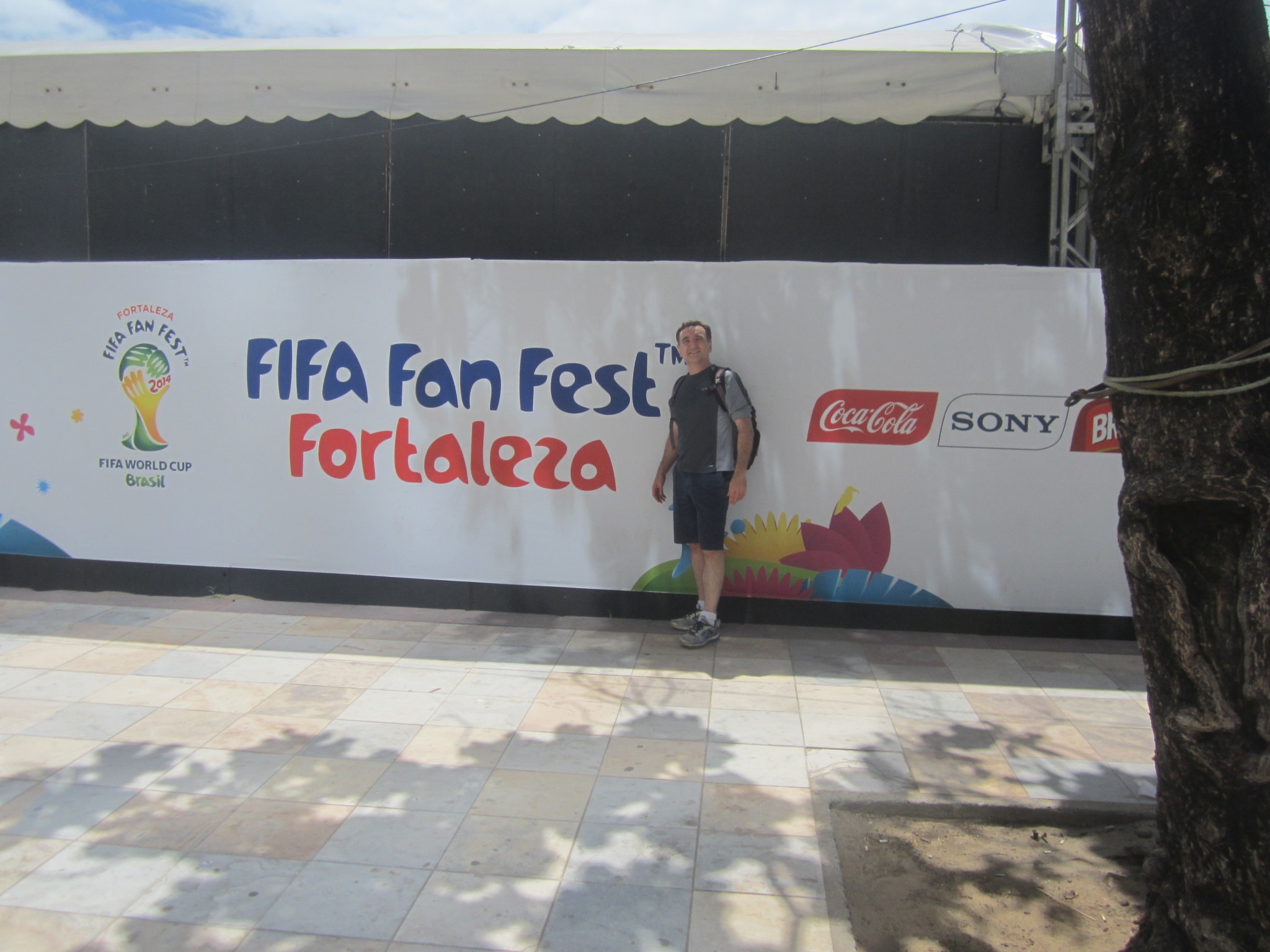 This is the Holiday Inn from the front.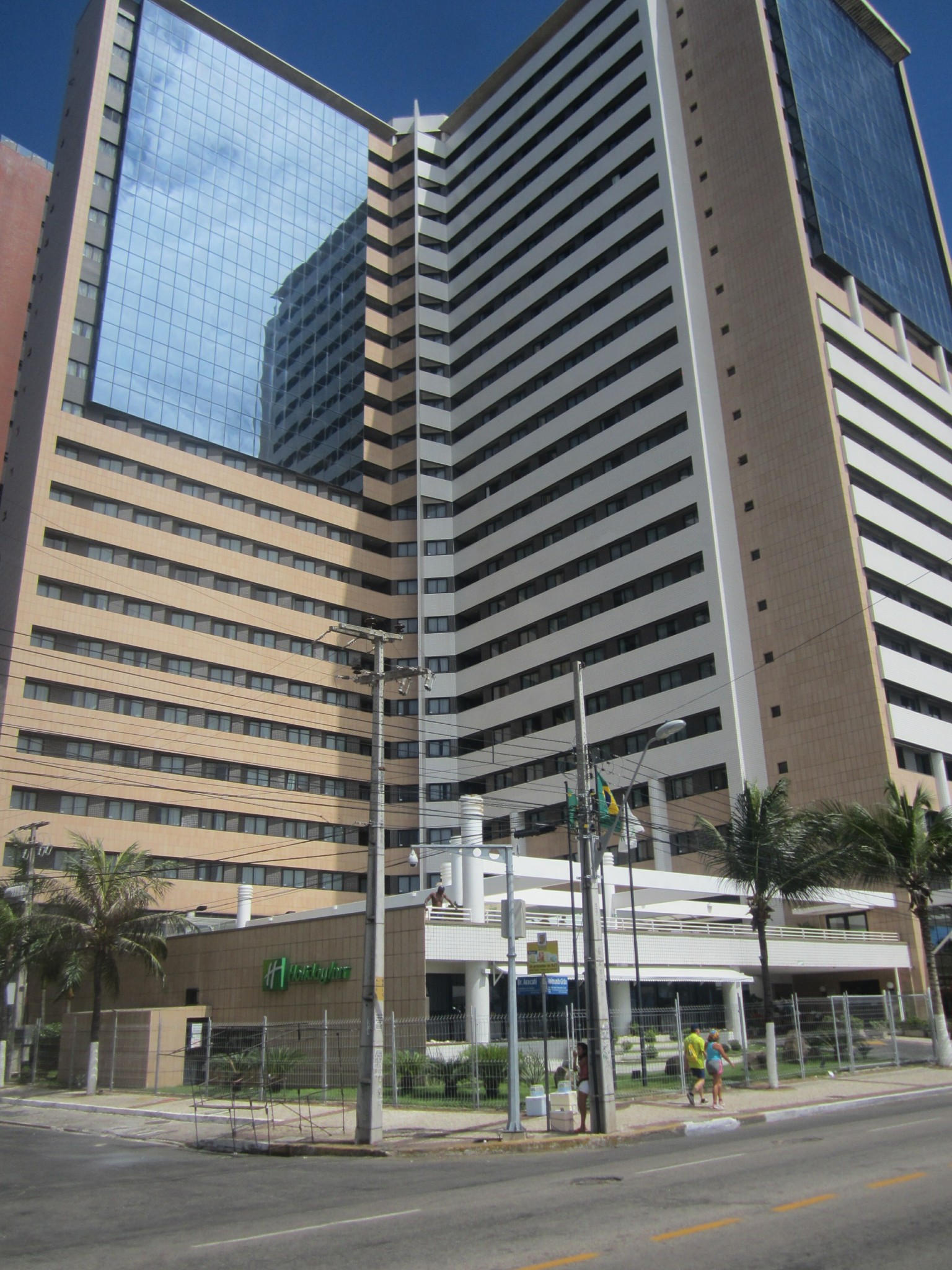 Pretty cool experience being here.
Fortaleza is a pretty big city.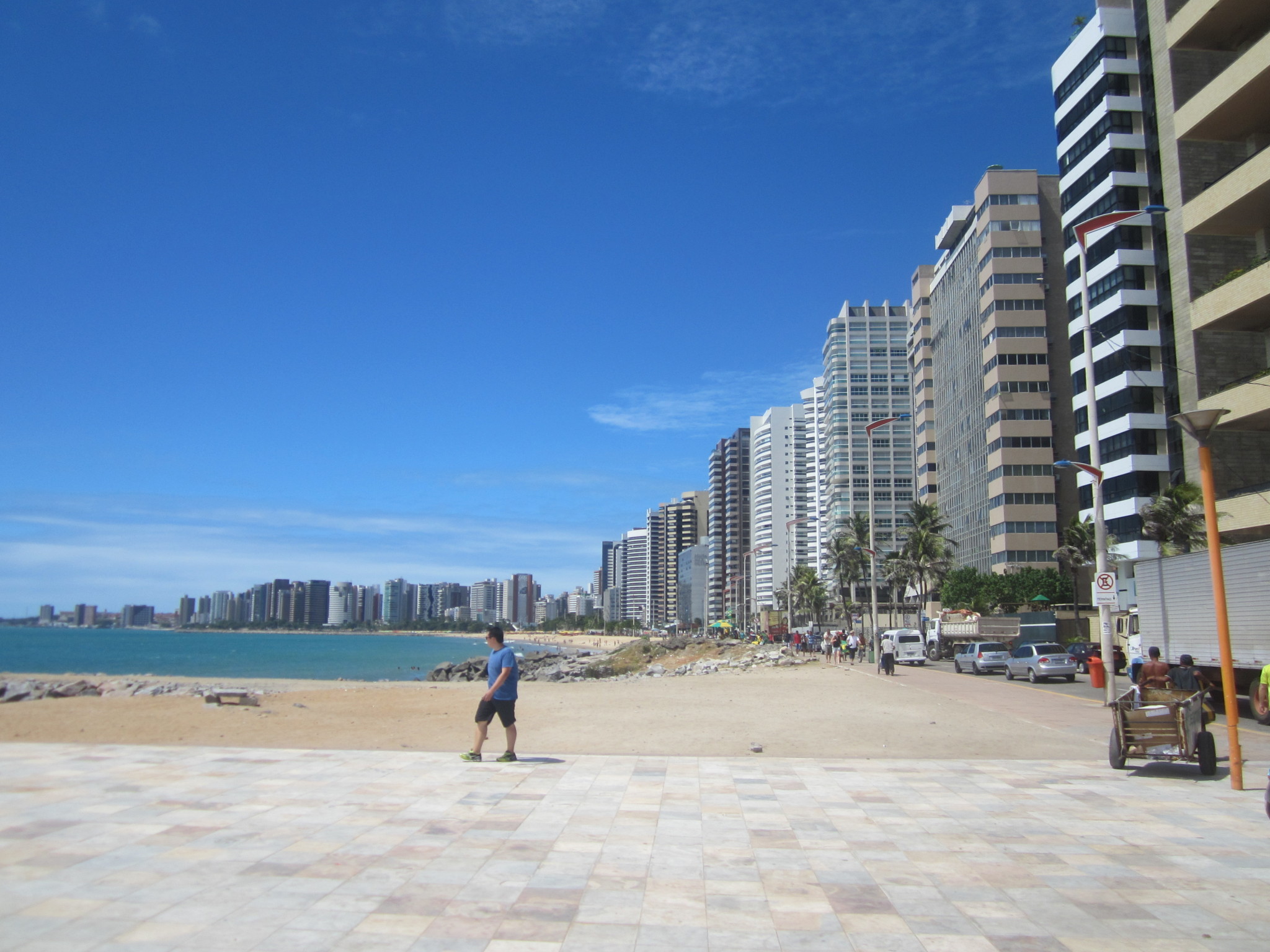 You can see security around the city in the central spots.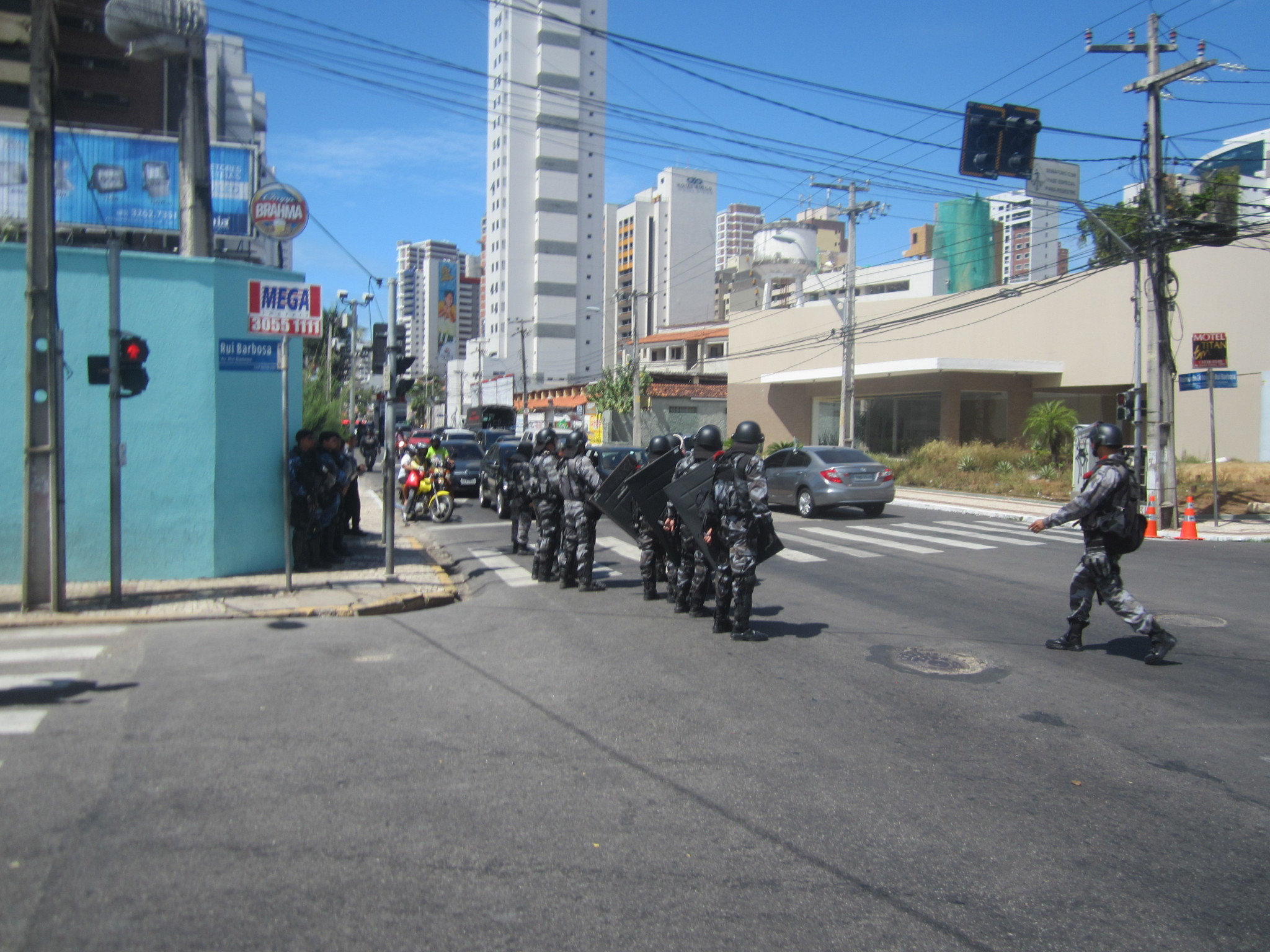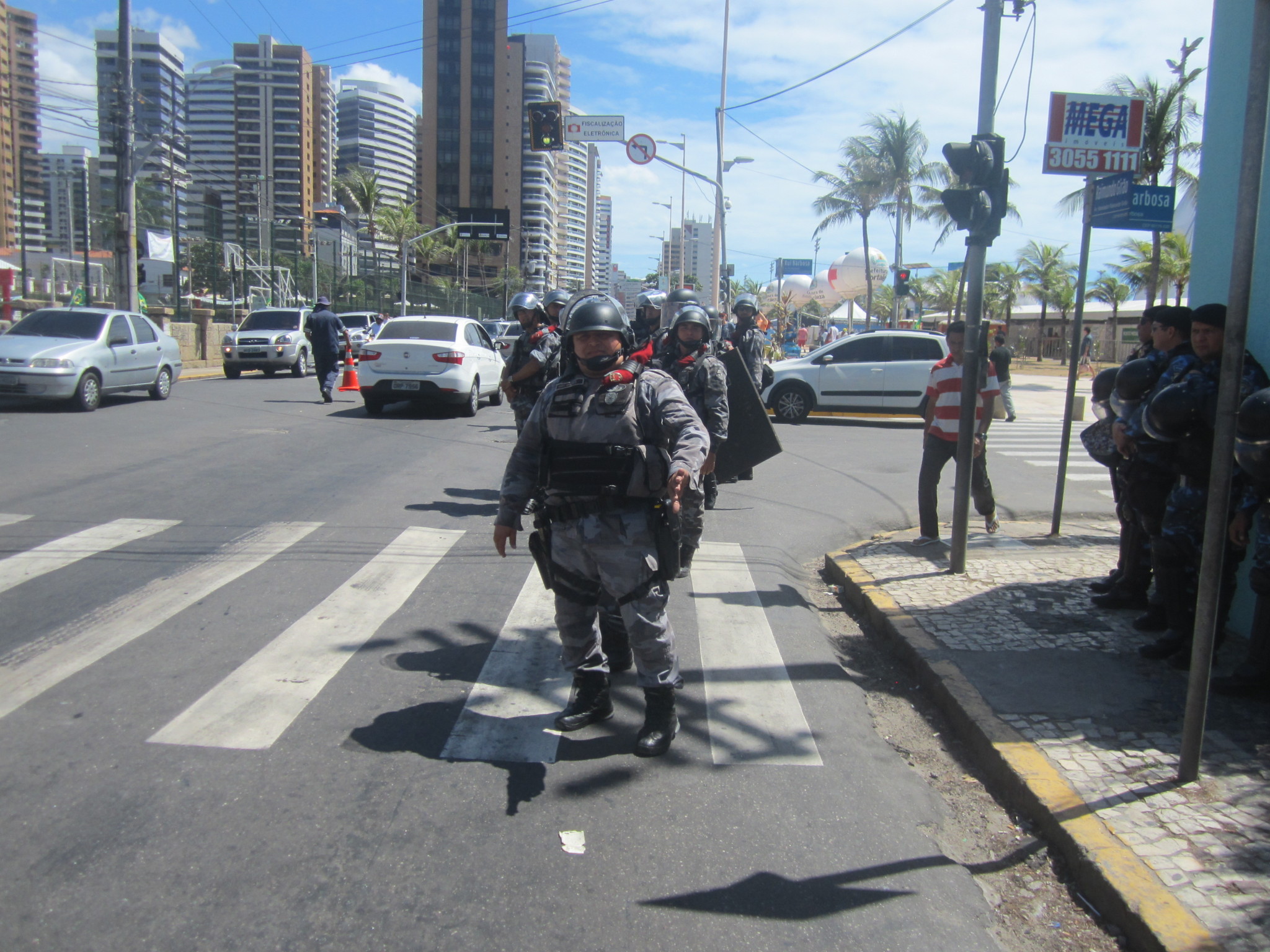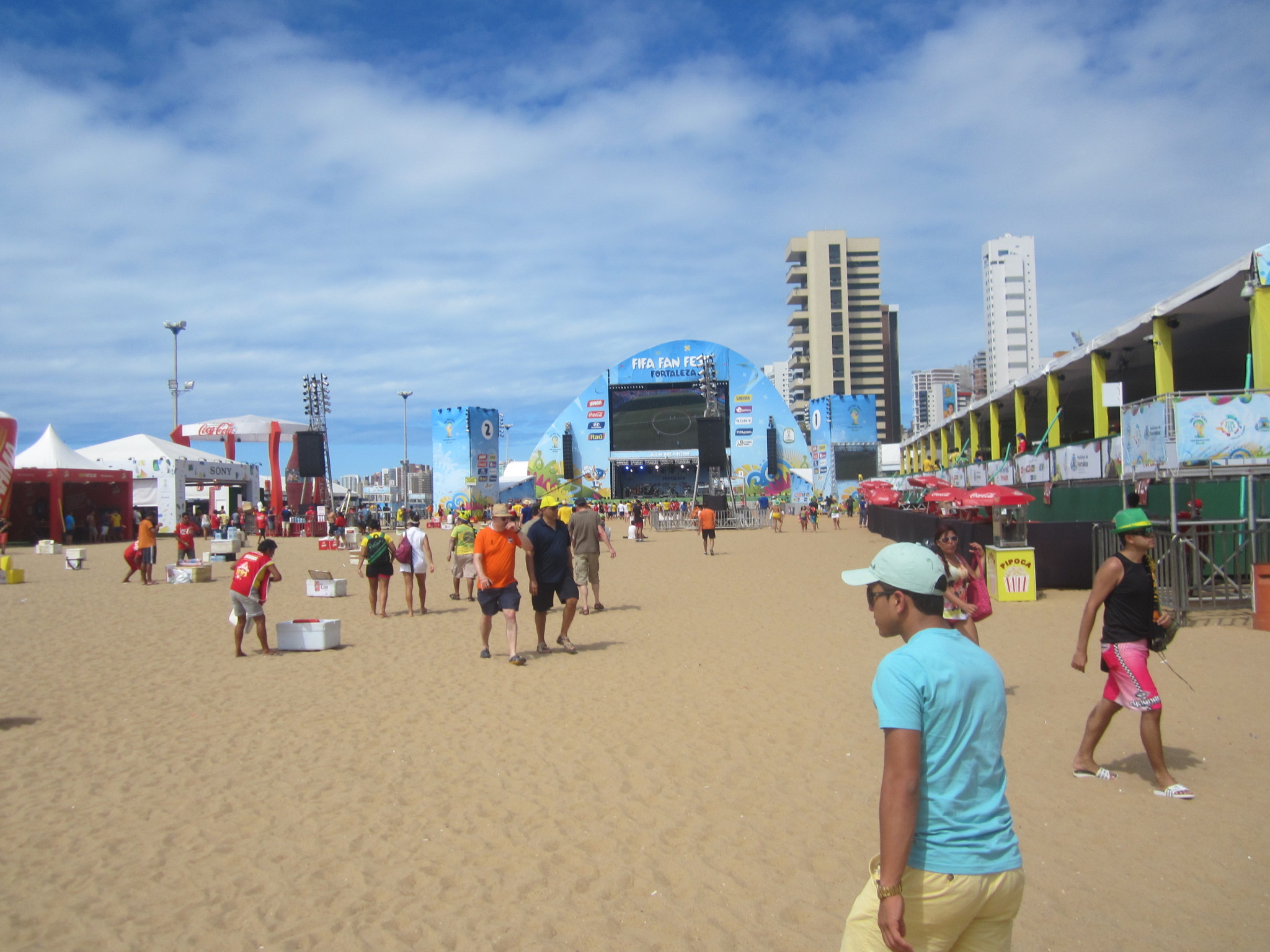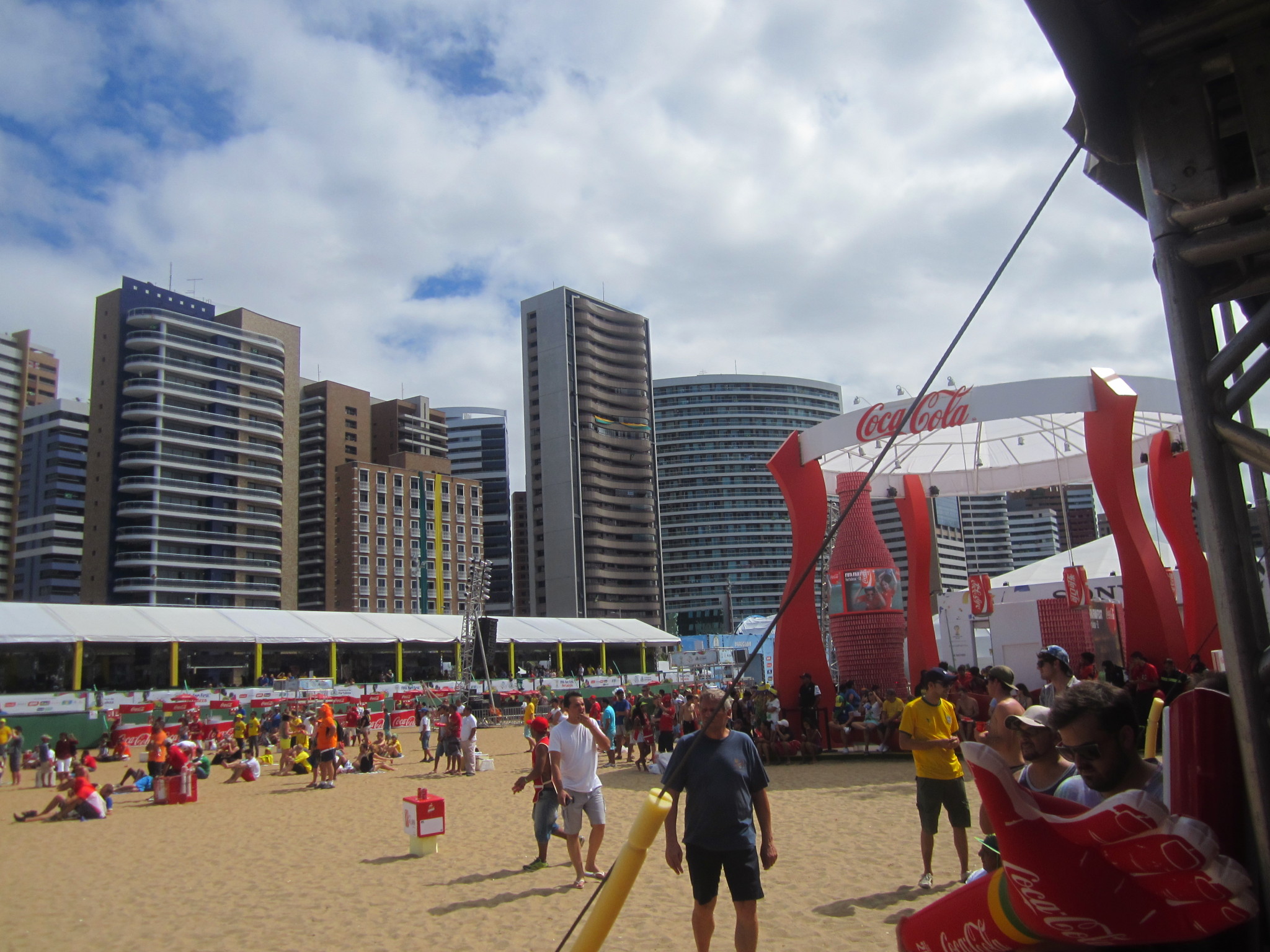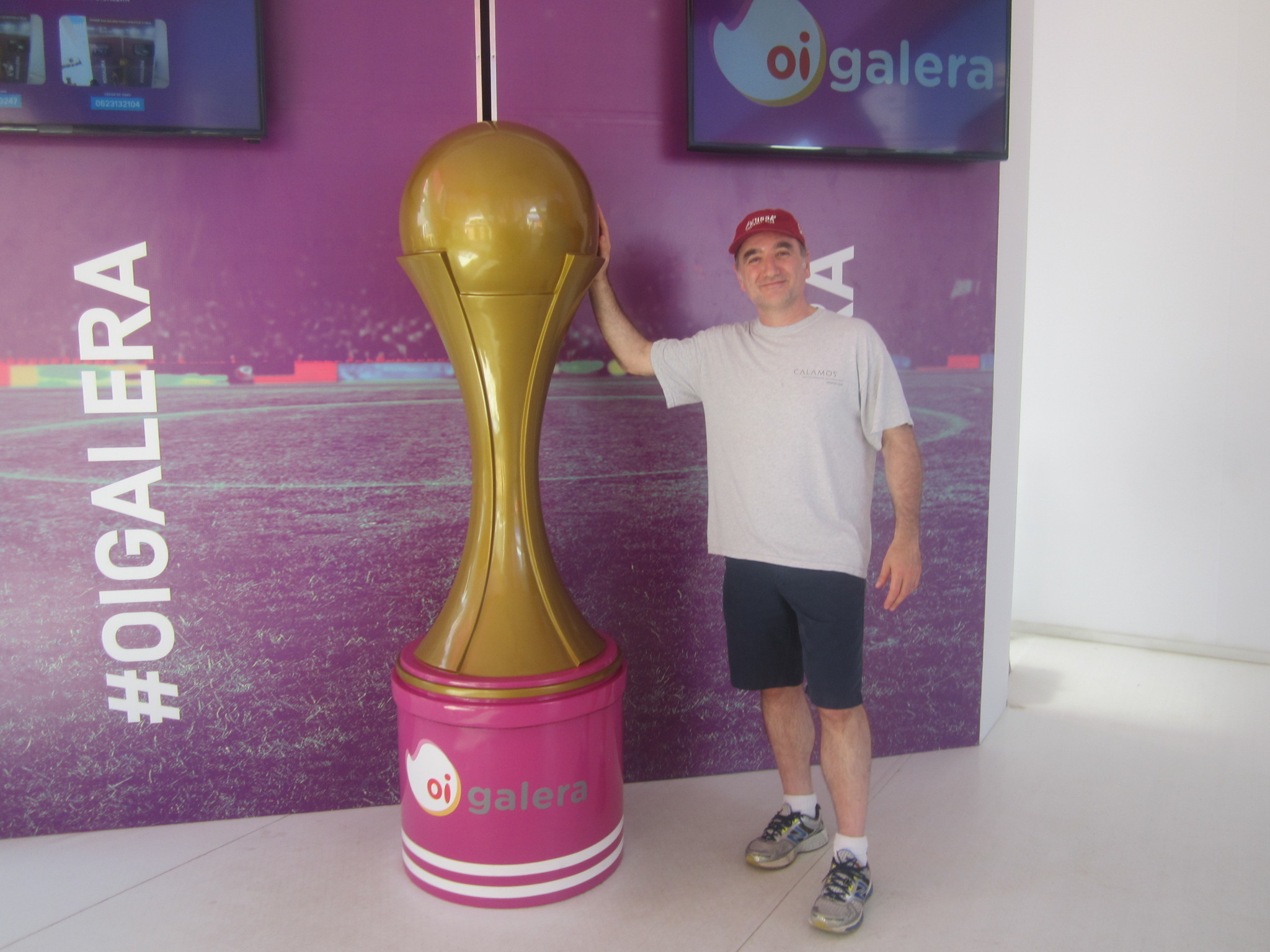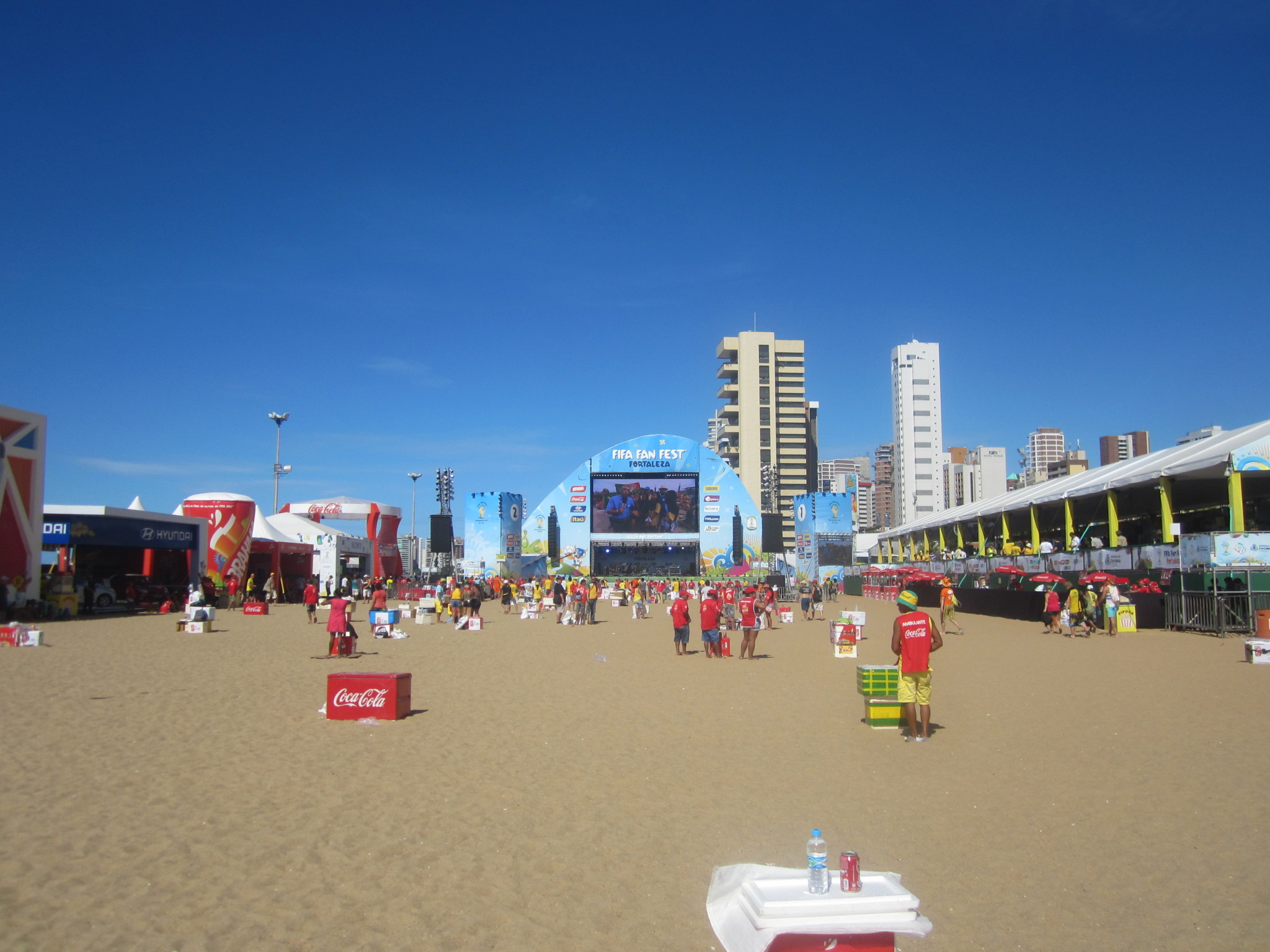 The part I love about the World Cup is the festive experience. Everyone loving to be there, no hooliganism crap anywhere! I highly recommend it for you to go to a World Cup, this was my second one (first one was in 1994 in the US).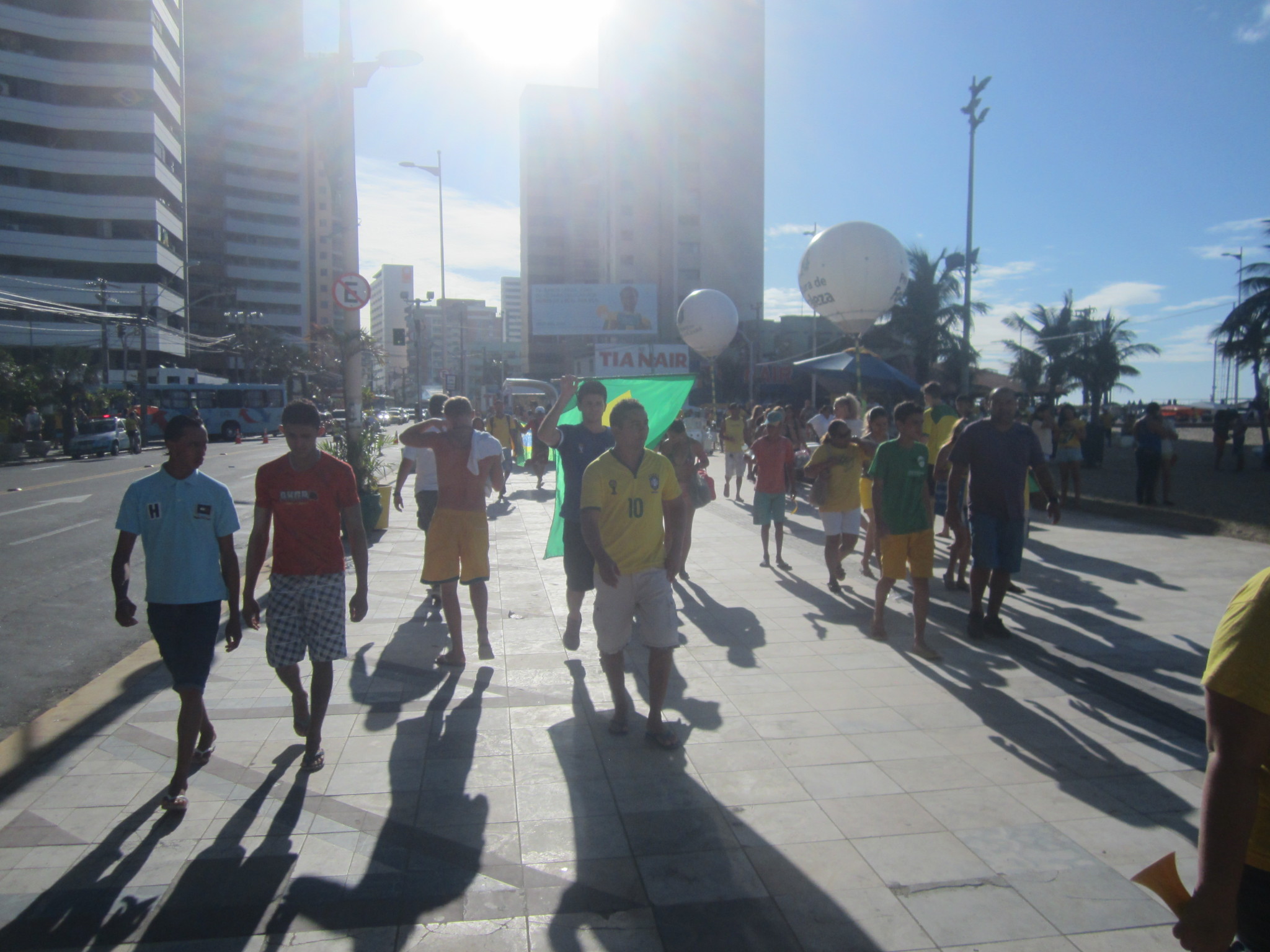 We met this Greek guy who is making gyros famous out of this truck.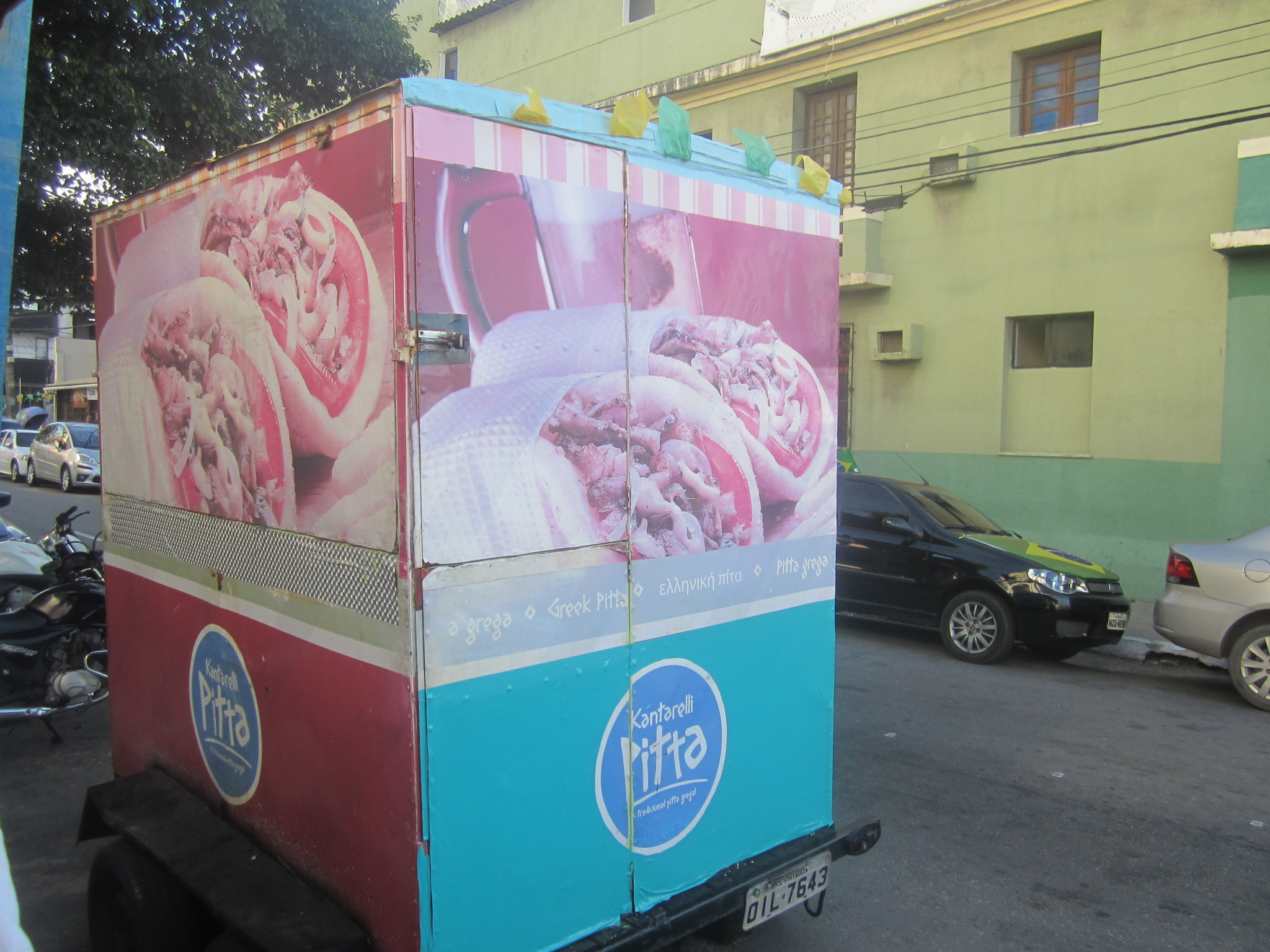 World Cup games are on everywhere. And when Brazil plays you just can not escape it, everyone watches it and I mean everyone.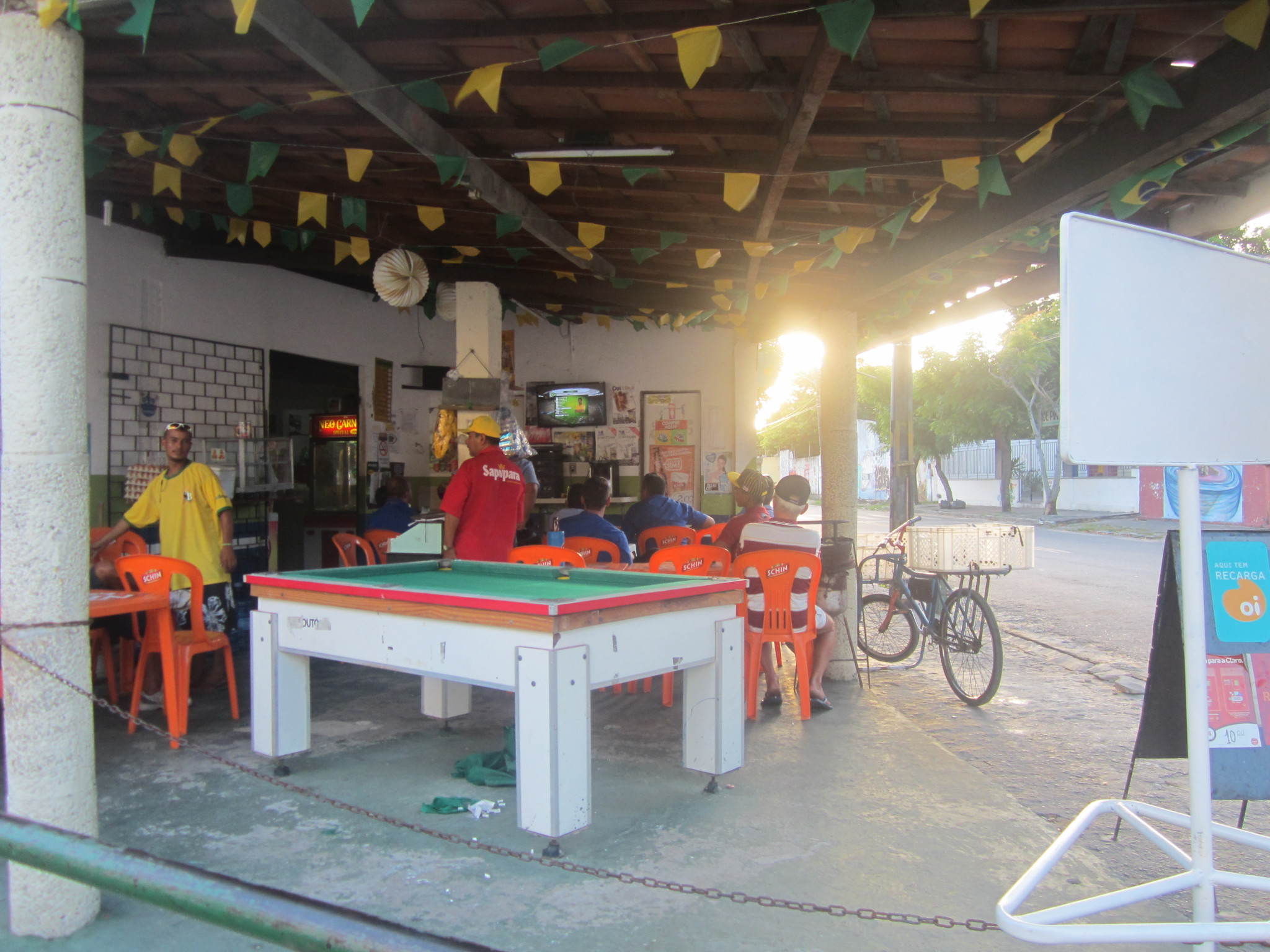 So we were invited to this party at the house of another Brazilian who is well known in the…couchsurfing community. This is my first time among so many couchsurfers. It was…weird. I met some real characters from several countries. Mostly youngsters. I think me and my brother were the oldest!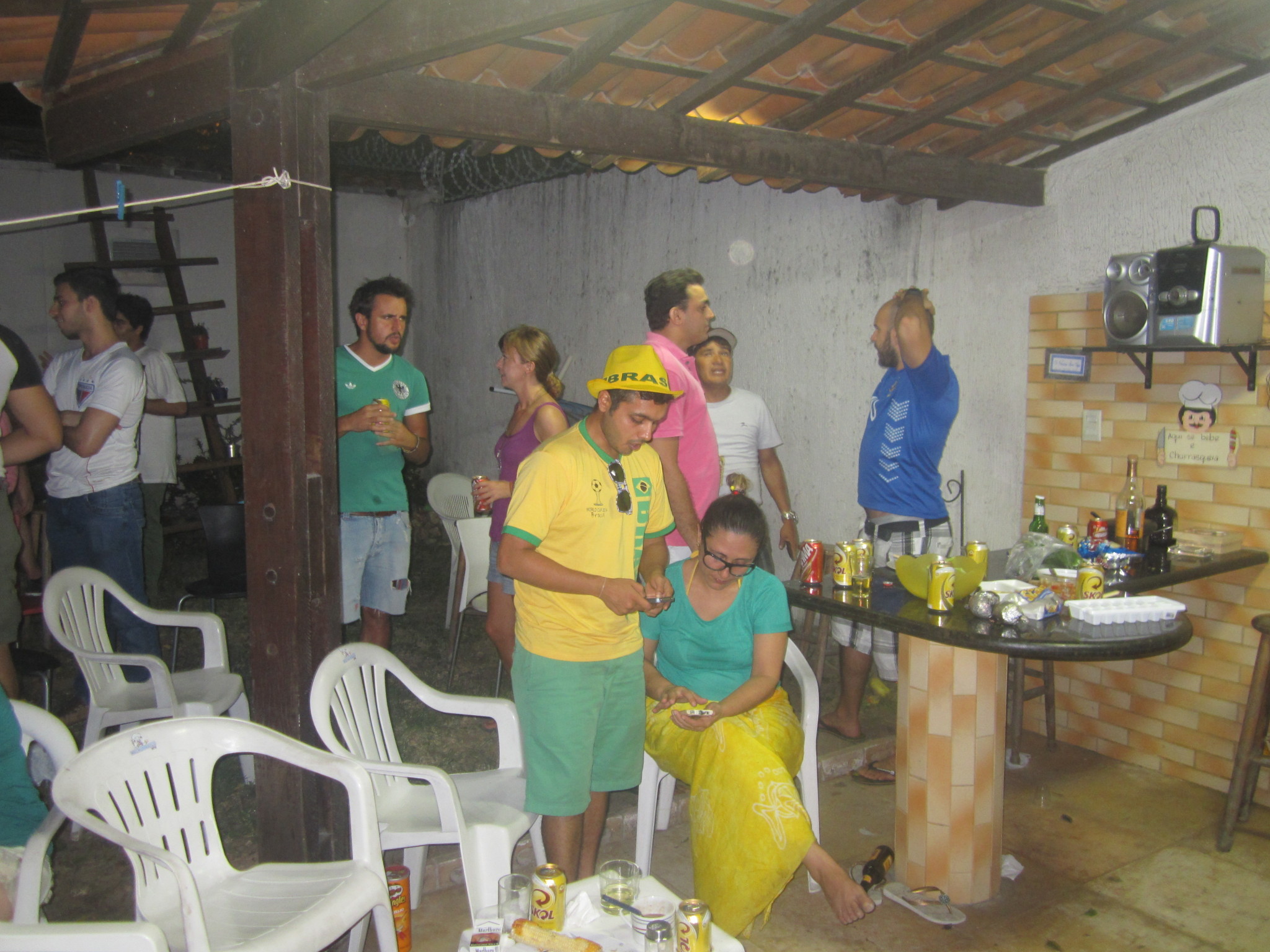 It was nice to experience how they party and watch Brazil play.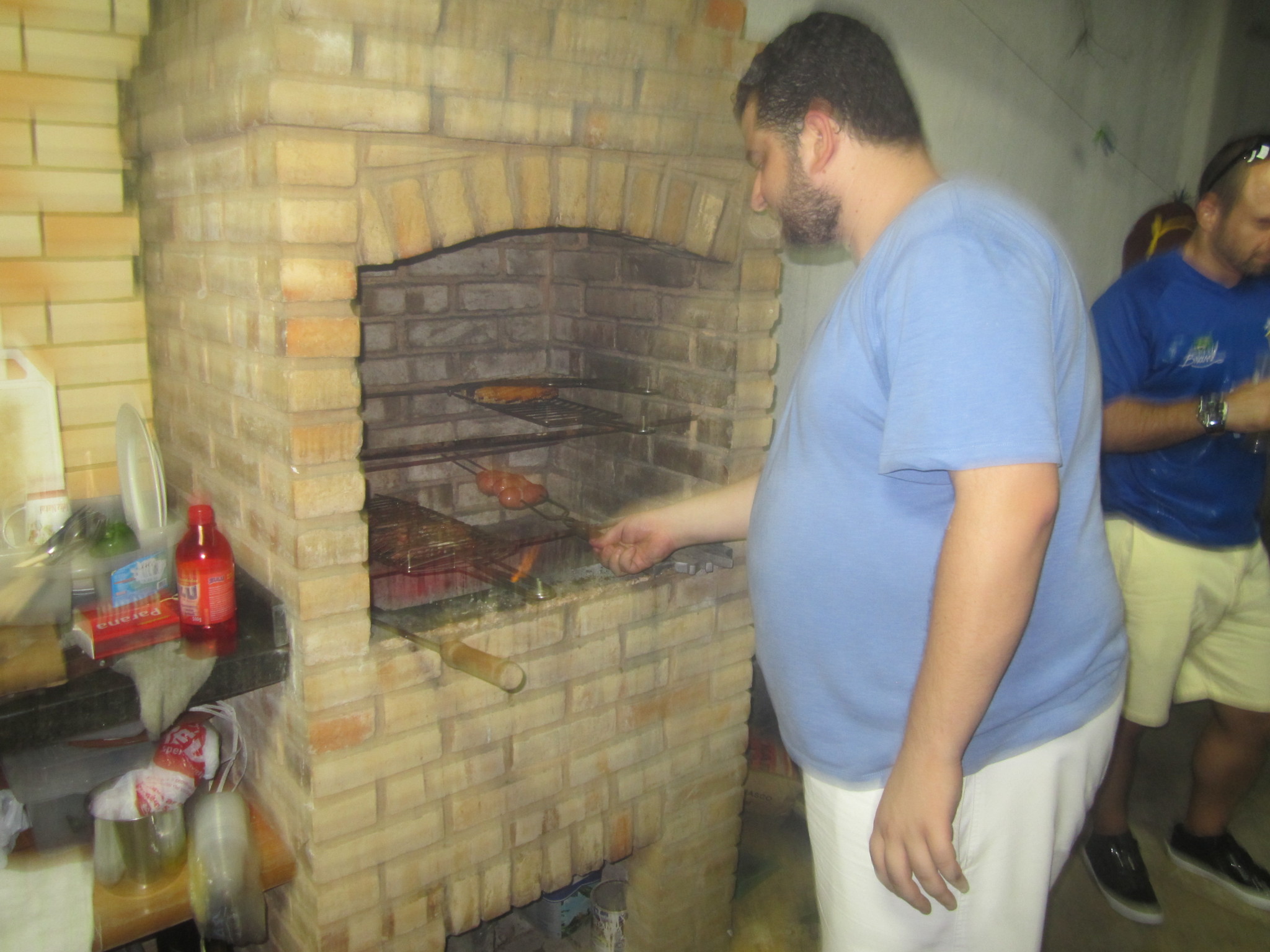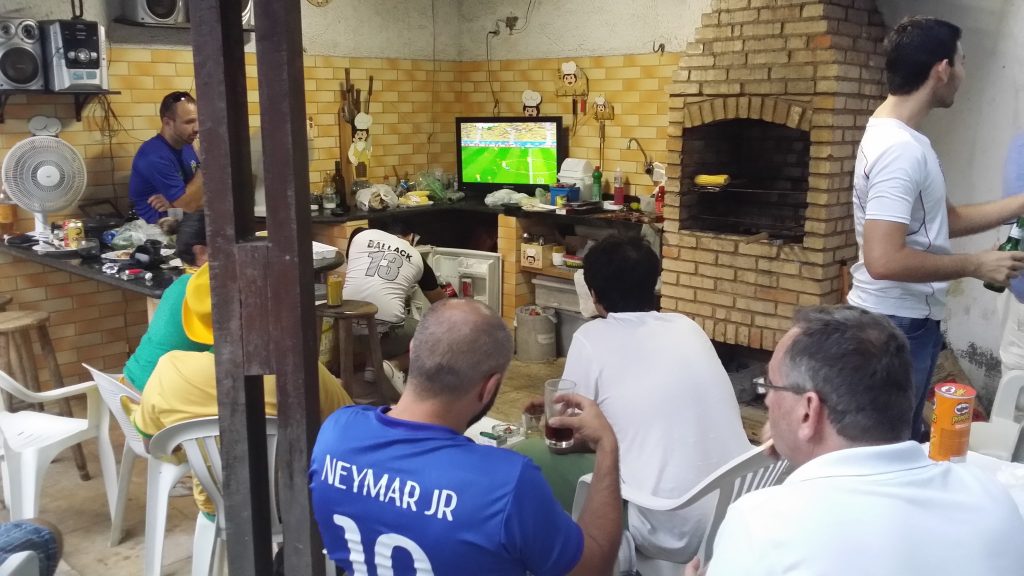 This is the view of my room at the Holiday Inn in Fortaleza.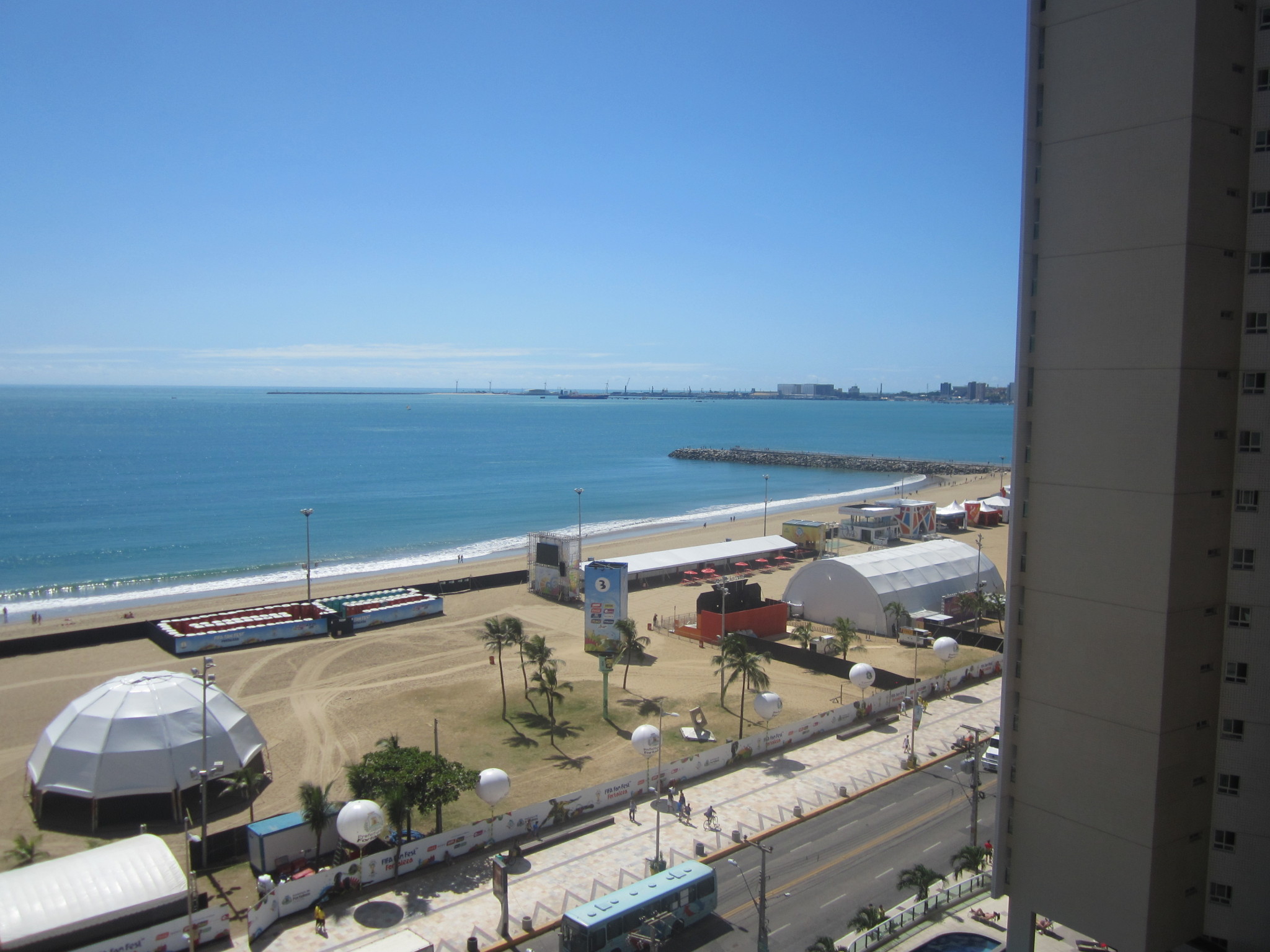 Next morning we finally met the guy who is the head of the Greek national team fan club who had promised my brother a ticket for me and he delivered…for 135 USD. Not bad actually!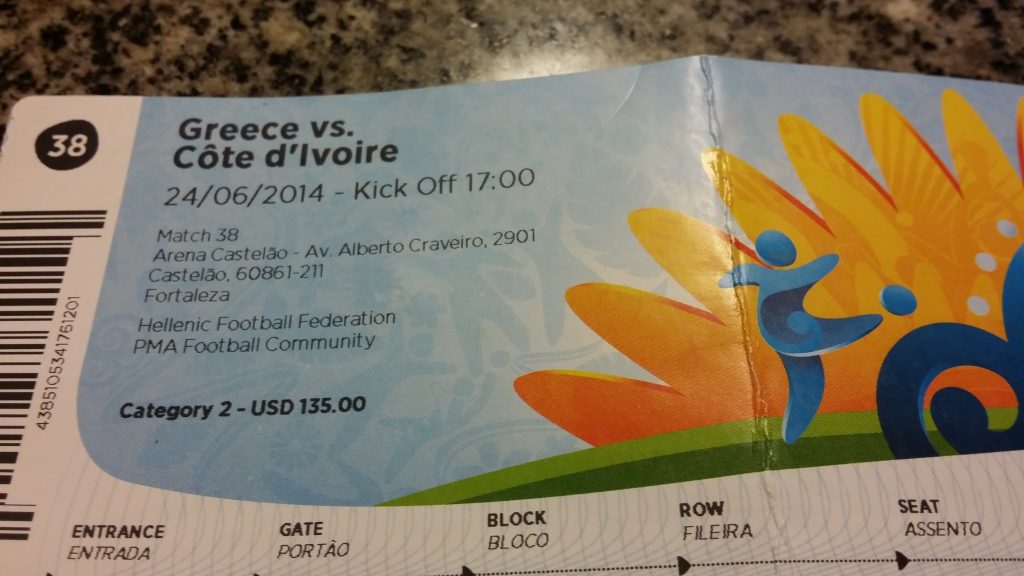 Then we went to eat and watch another game in a restaurant near the hotel before we head off to the Greece vs Ivory Coast game.
FIFA run buses from downtown to the stadium which is some distance outside the city. The ride was interesting. We passed by some really poor areas.
You can see the stadium in the distance.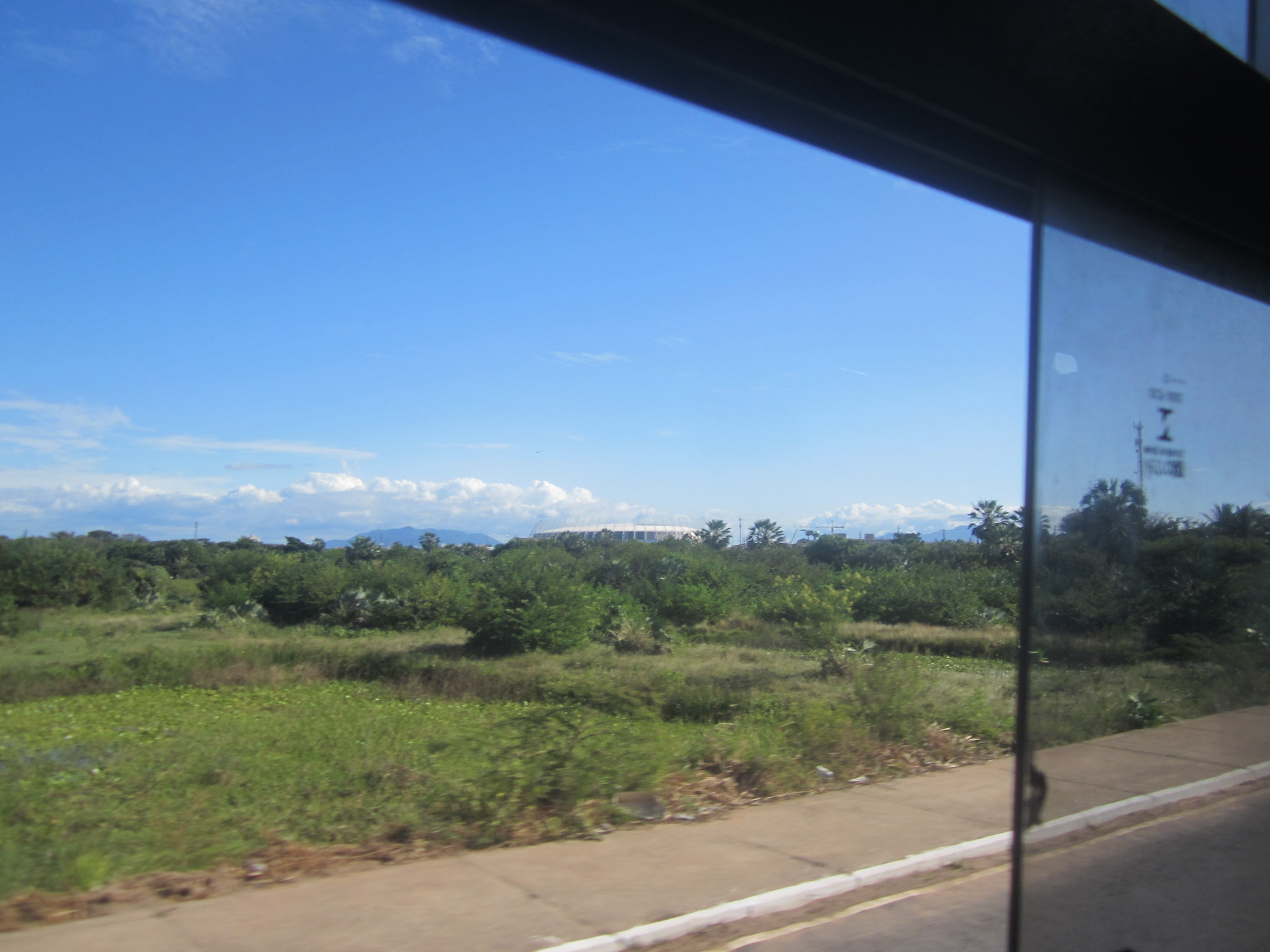 The walk from the bus drop off point to the Stadium was very long!
Locals asking for tickets in Greek, thanks Google Translate. "My dream is win a ticket for the Greece game"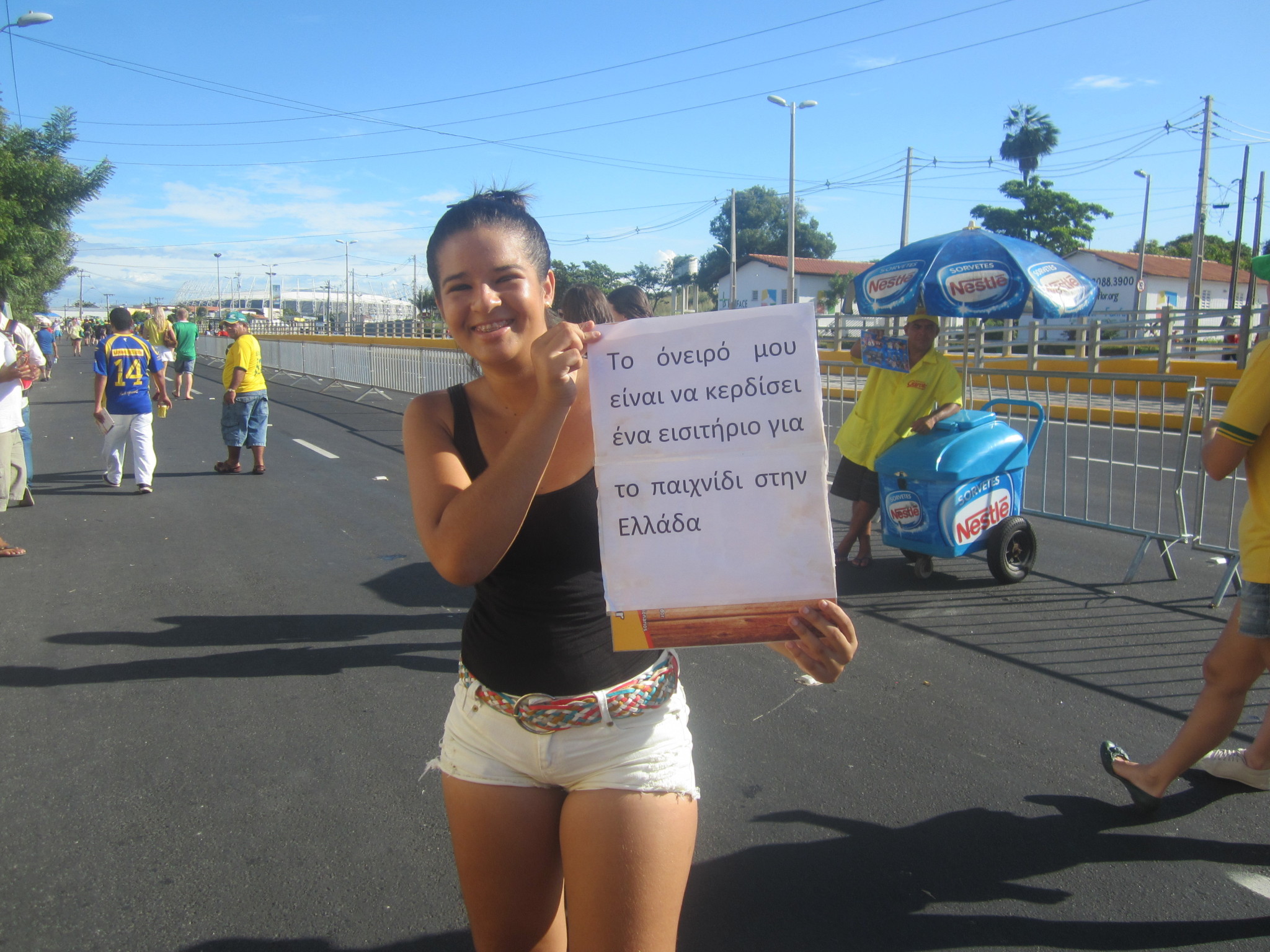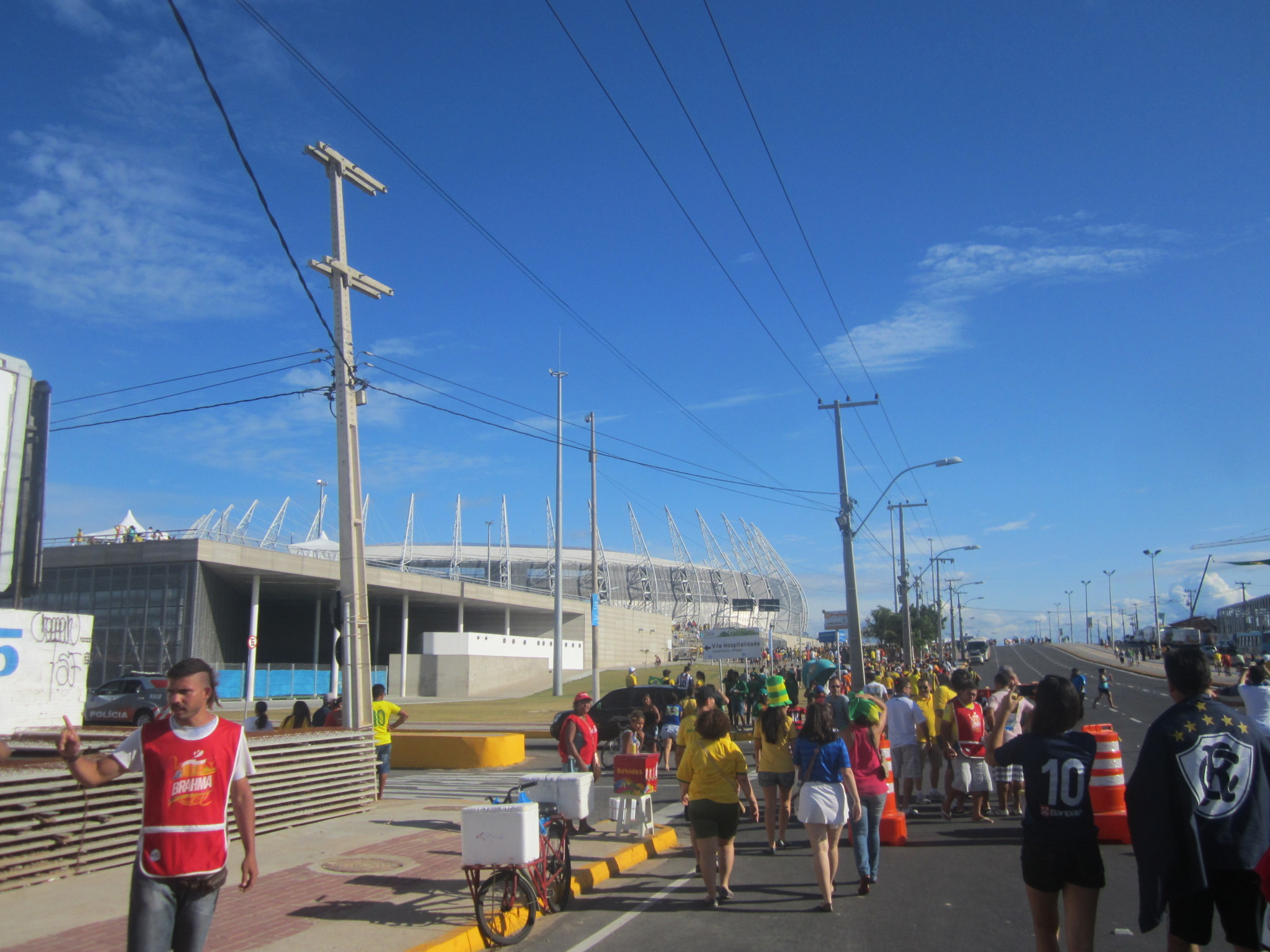 Bunch of crazy Greeks and Brazilians enjoying World Cup festivities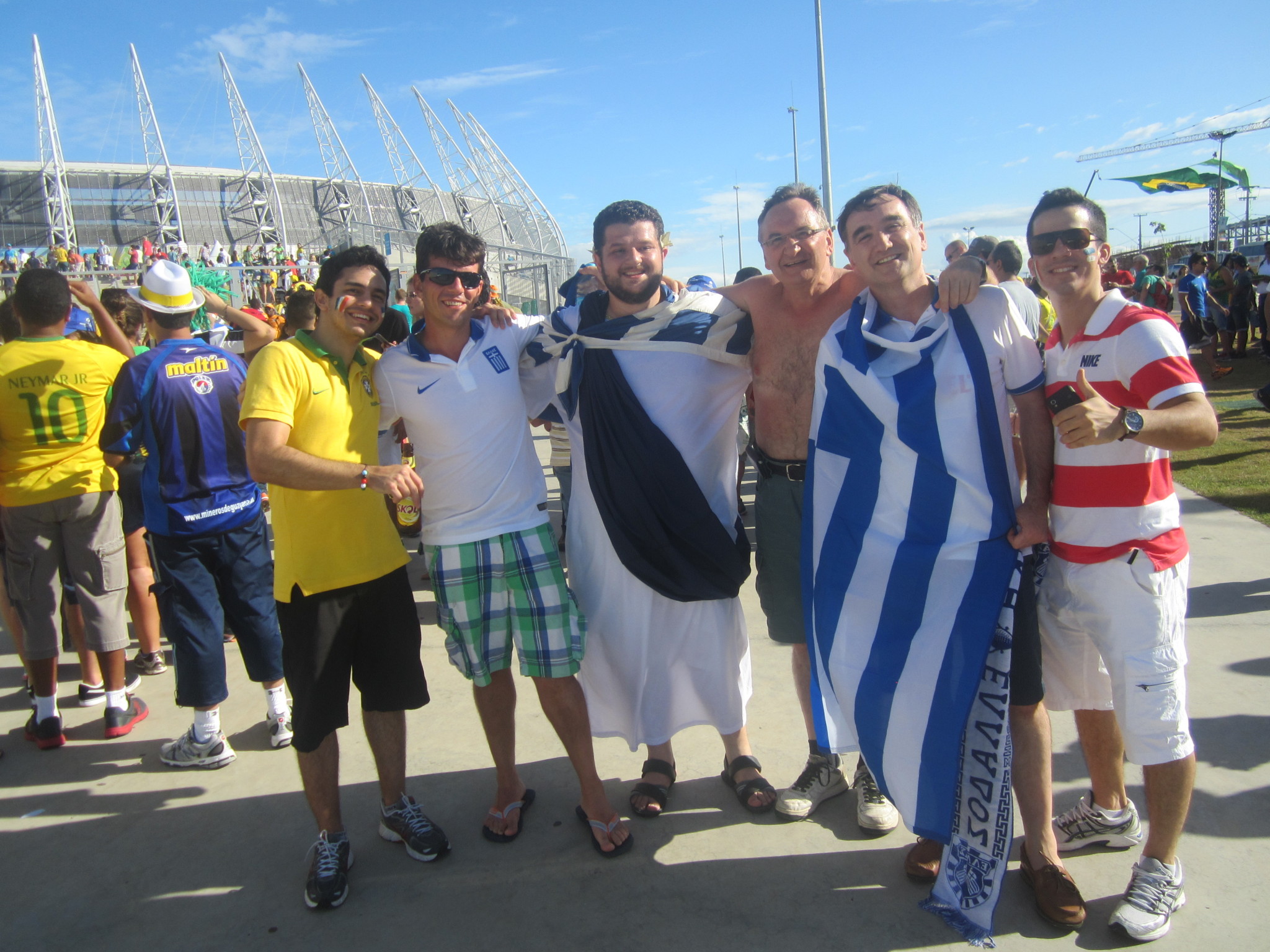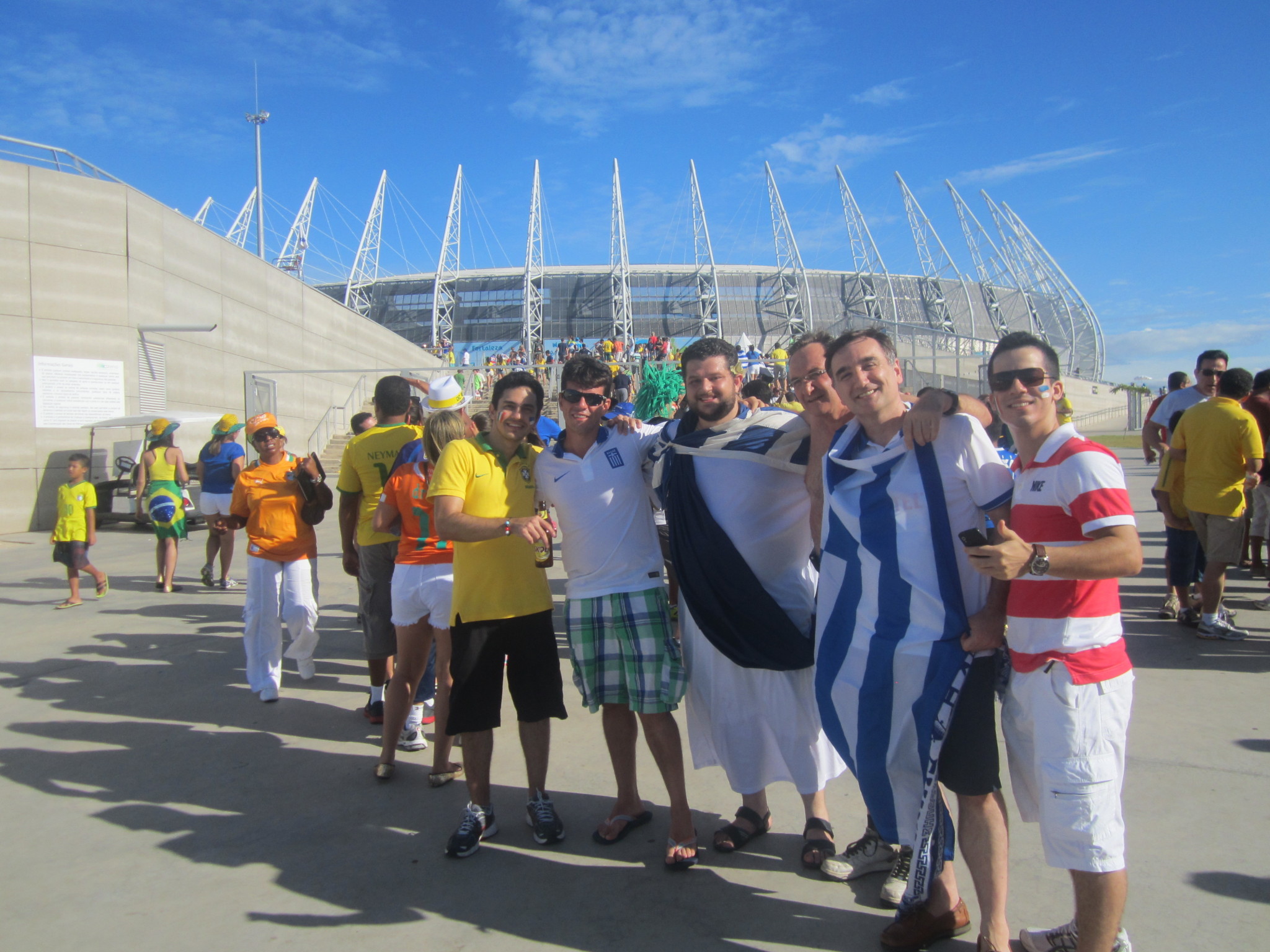 Many Greeks from around the world here for one reason.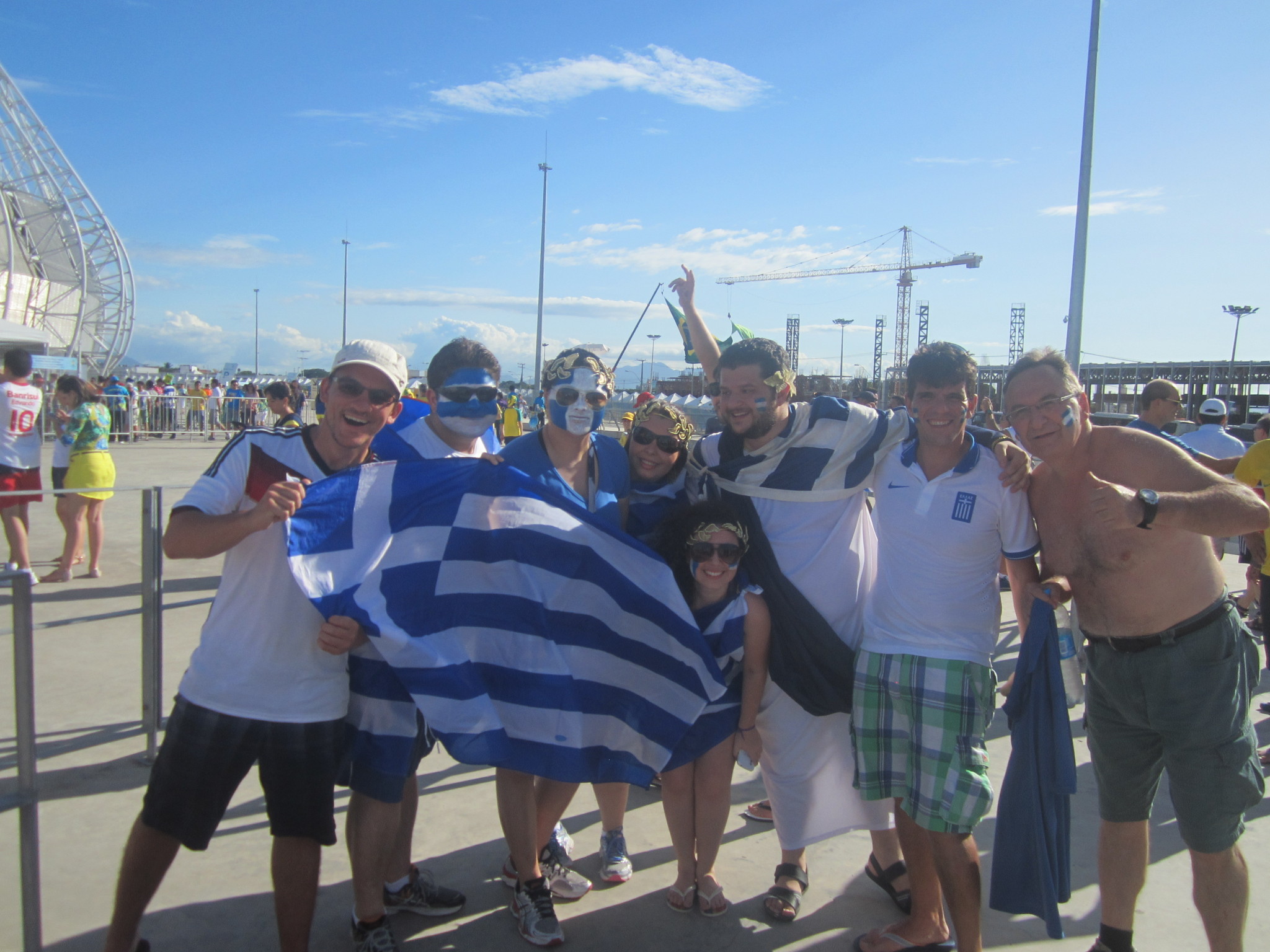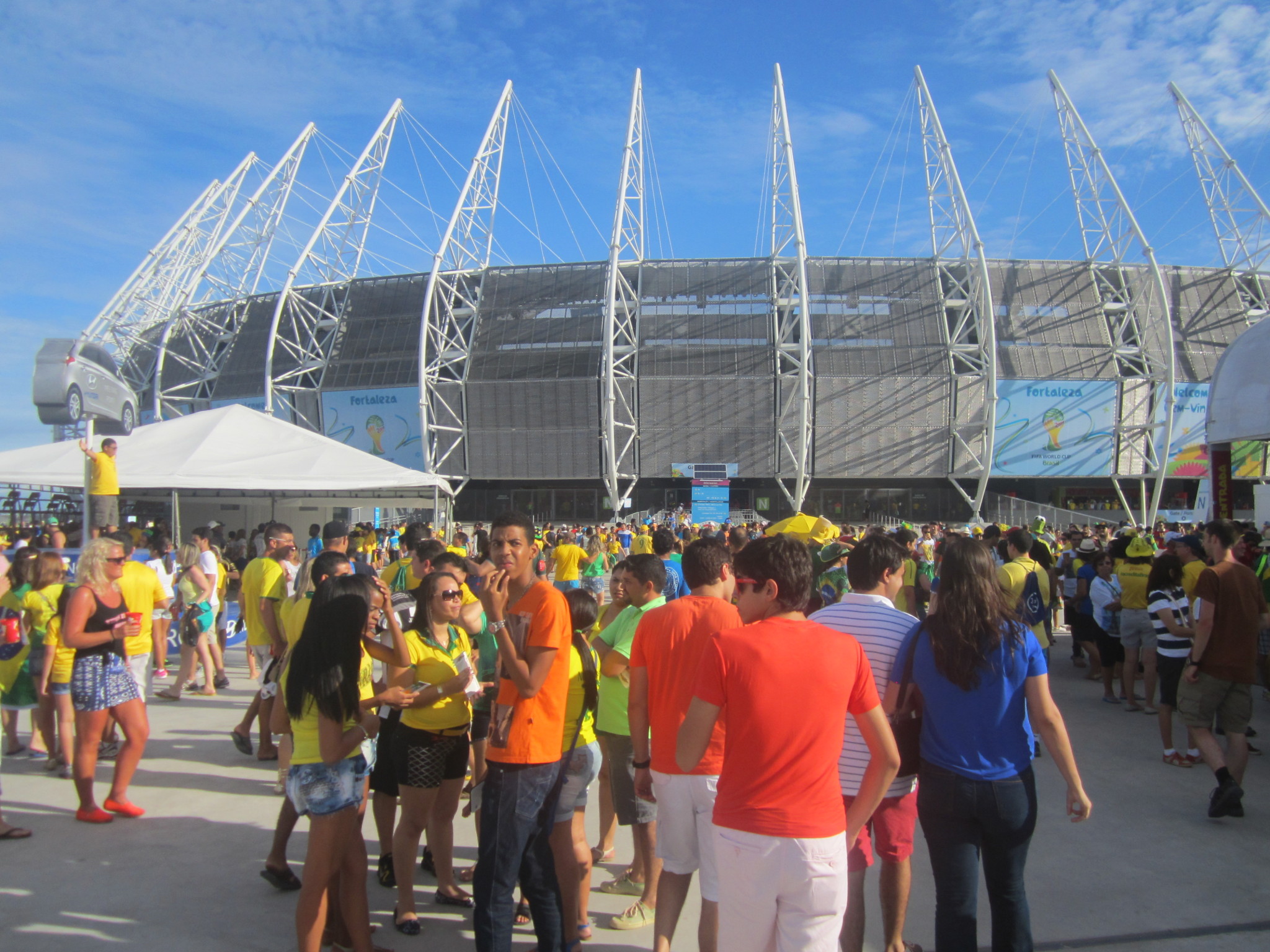 Stadium is very impressive.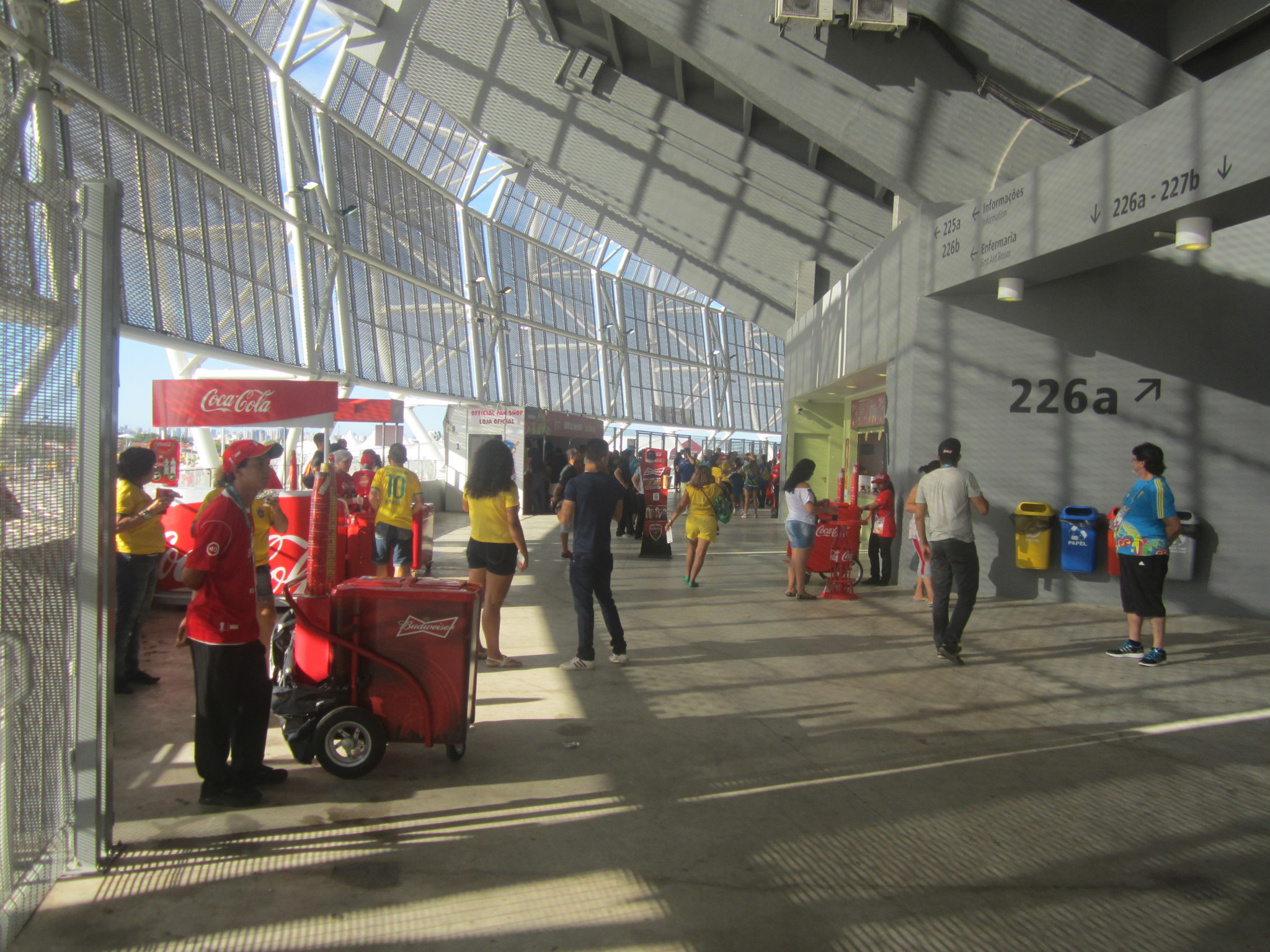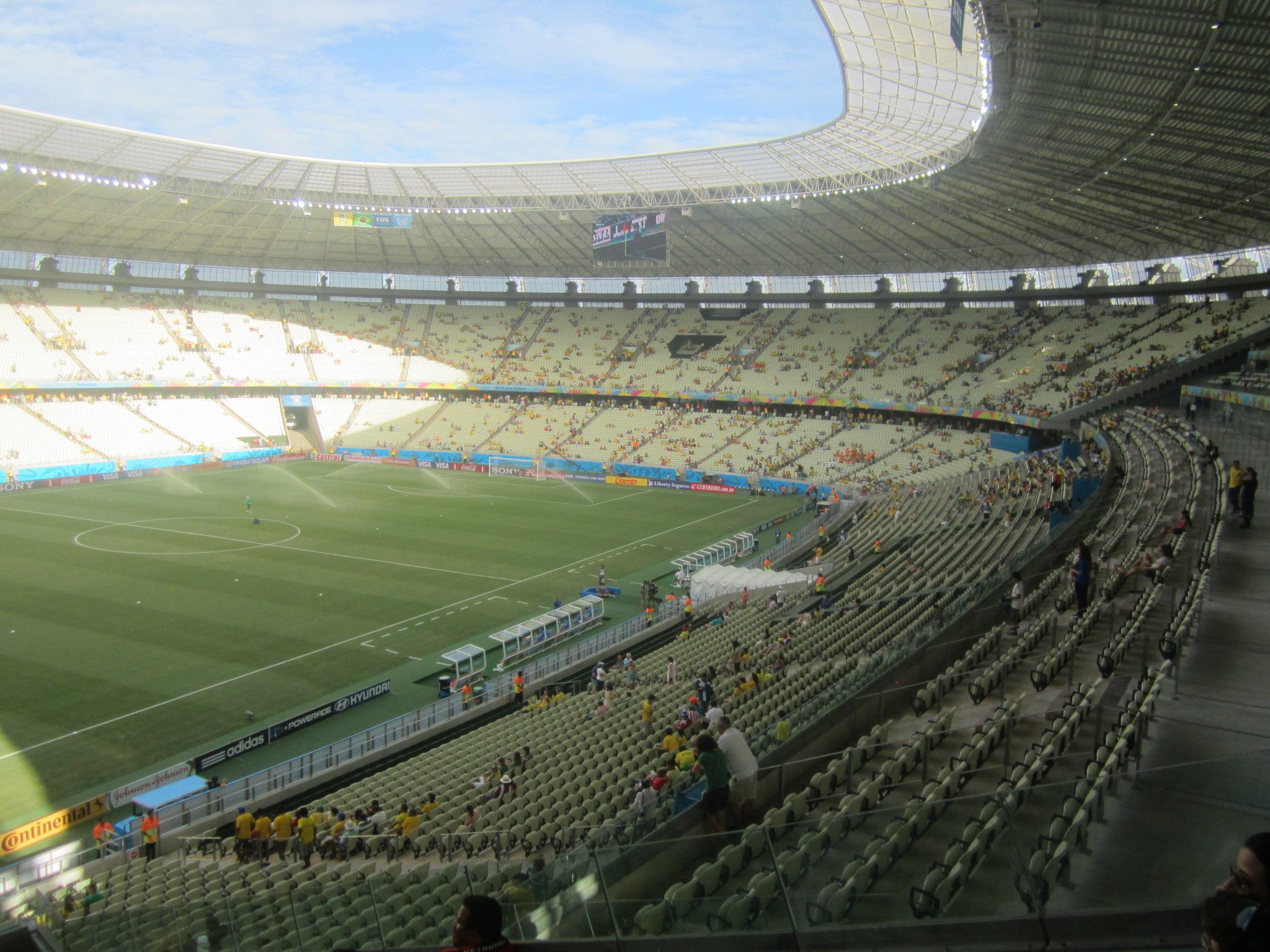 The atmosphere was electrifying, it is hard to put it into words. Thank you Lord for allowing me to experience this. Or maybe I should thank Chase 🙂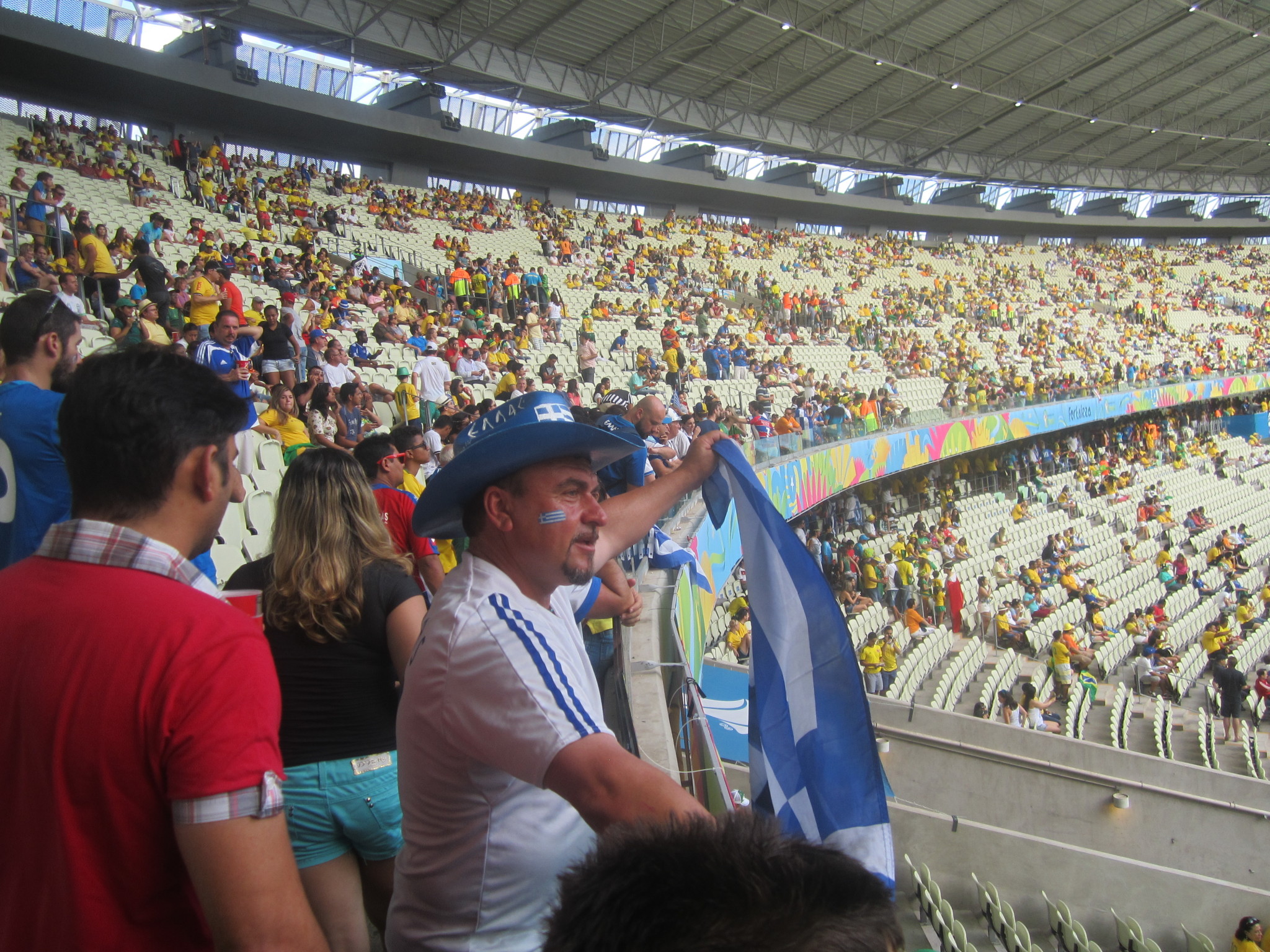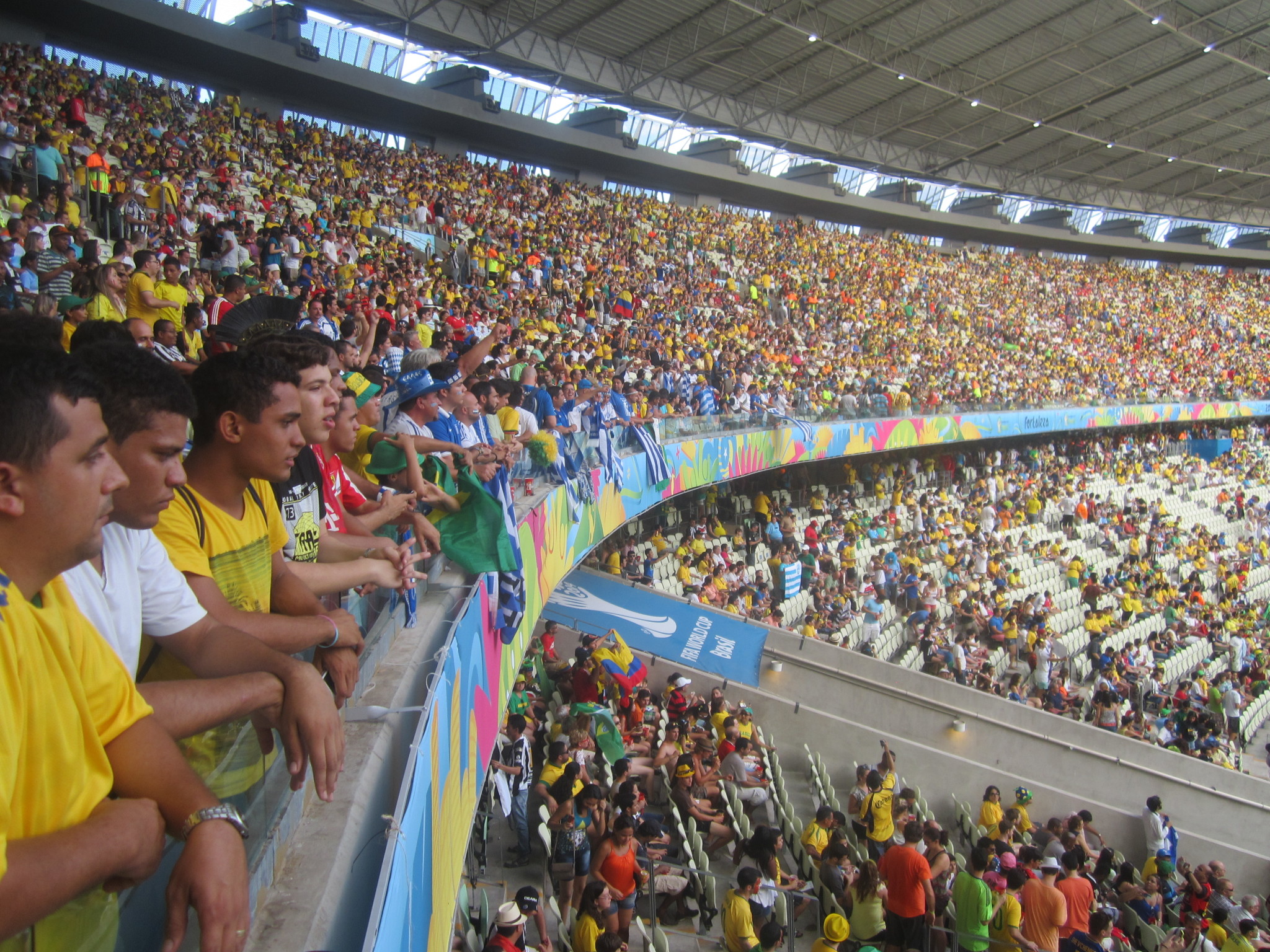 The national anthems, always a moving moment…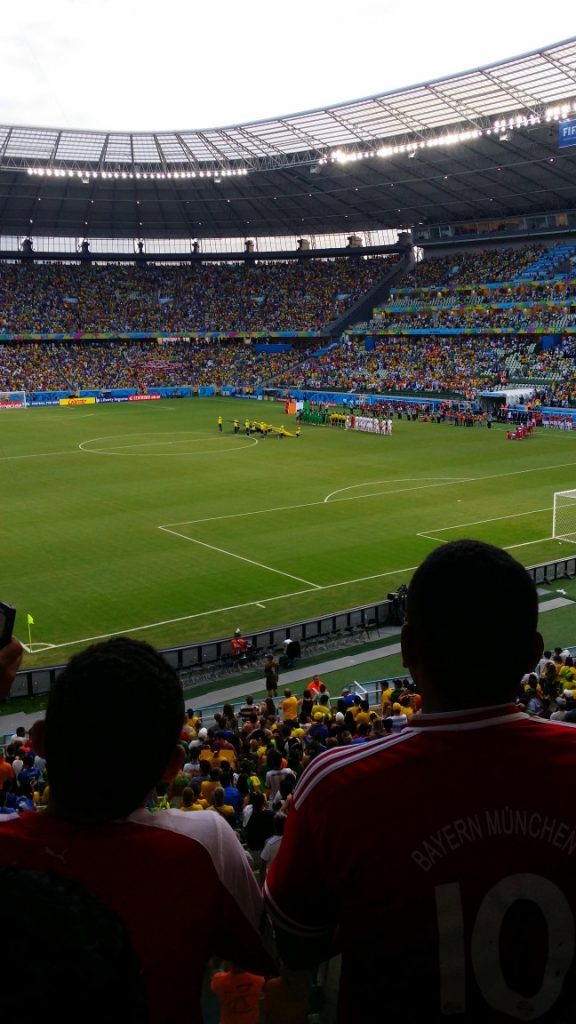 This is a video from the national anthem, all together now!
My favorite pic: My brother and some Greek dude with the helmet in the World Cup, wow!
I was asked many times for pictures from local Brazilian ladies. Sure, my pleasure. There are probably dozens of my pics floating around in Brazil, maybe I am a Titan there hehe.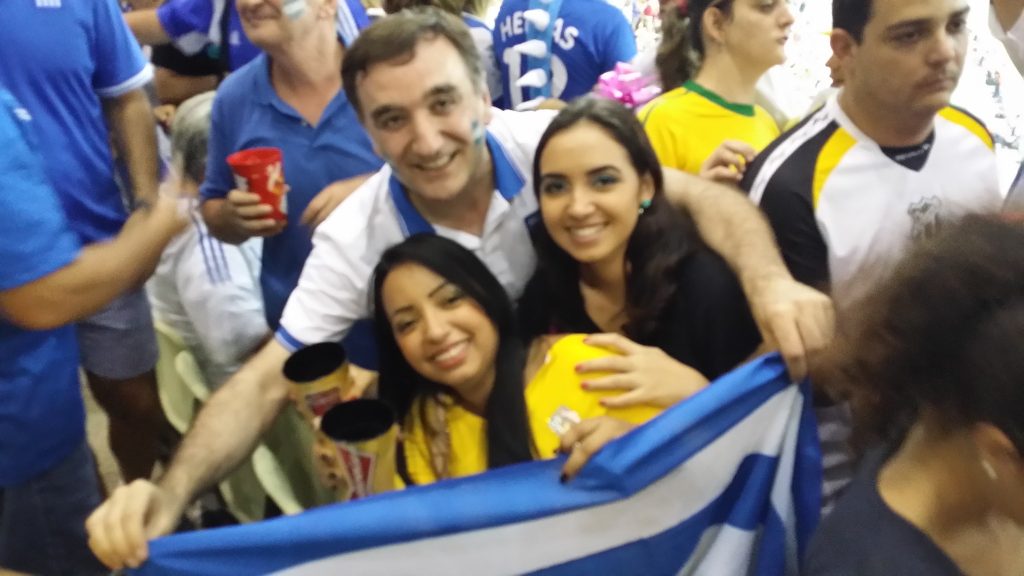 The game was fantastic. The Greeks finally played their best game in the history of the World Cup and surprised the favorite Ivory Coast side. Greeks needed to win to advance, a tie would not do.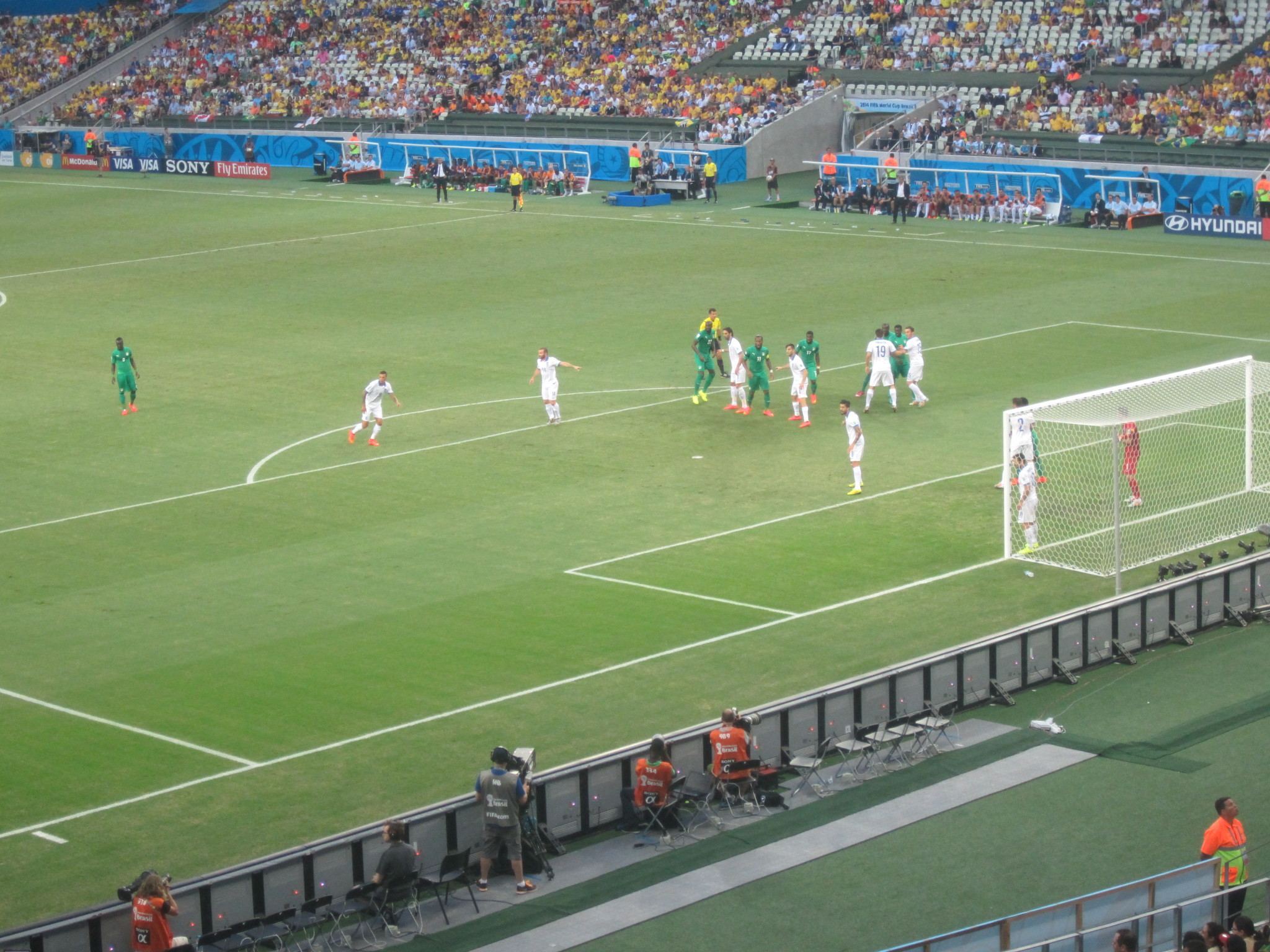 A very rare selphie!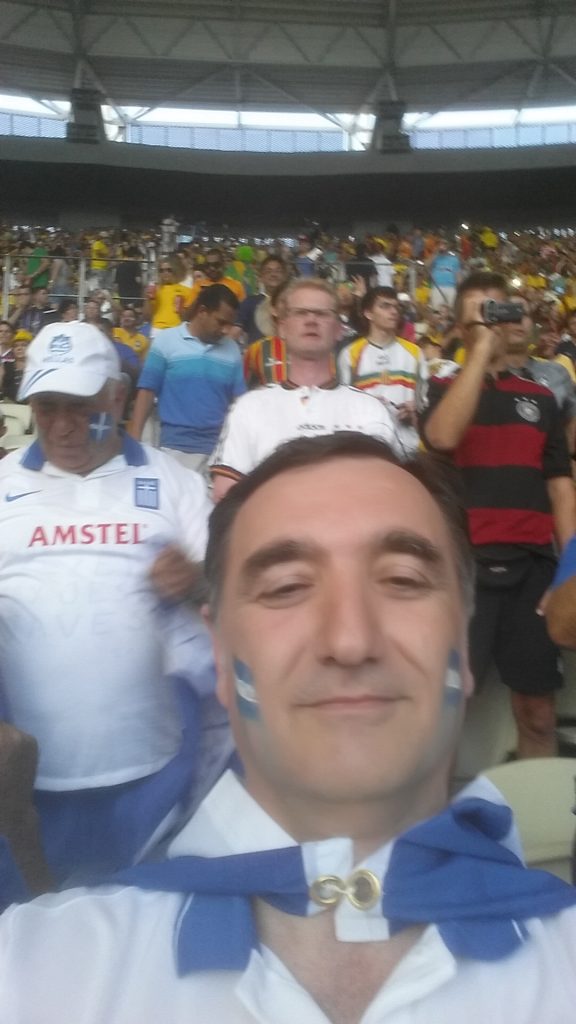 Game was tense throughout. Greeks took it to the African side and we went ahead late in the first half 1-0 with a substitute who came in for an injured player. We actually had two injuries and substitutions, one was the goalie! We should have had another goal at least as we hit the post three times! This was the scene after the first goal, we started believing then!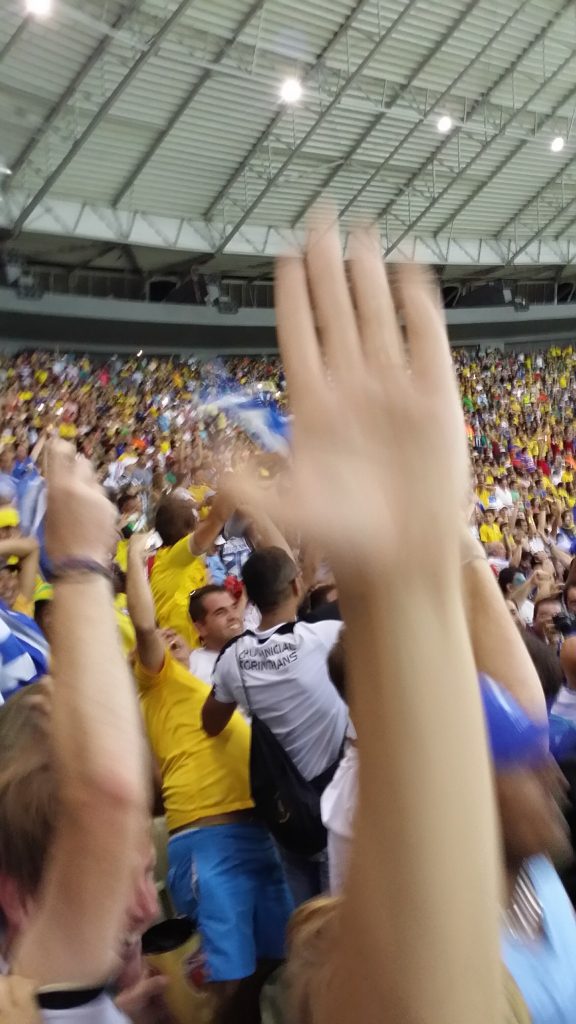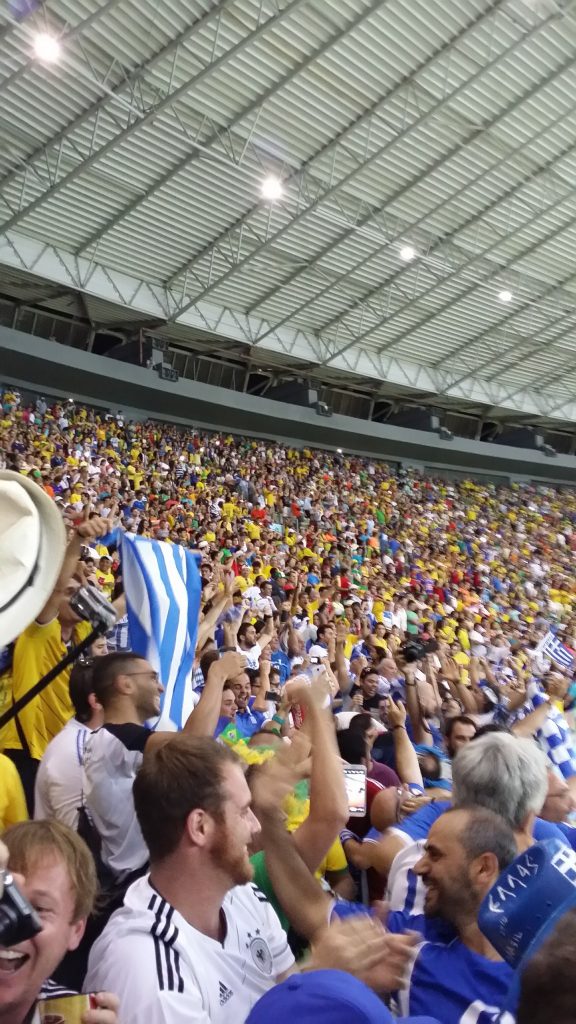 I was even on ESPN TV typing GOOOOOOL on Twitter, my two (timed) seconds of fame, woohoo!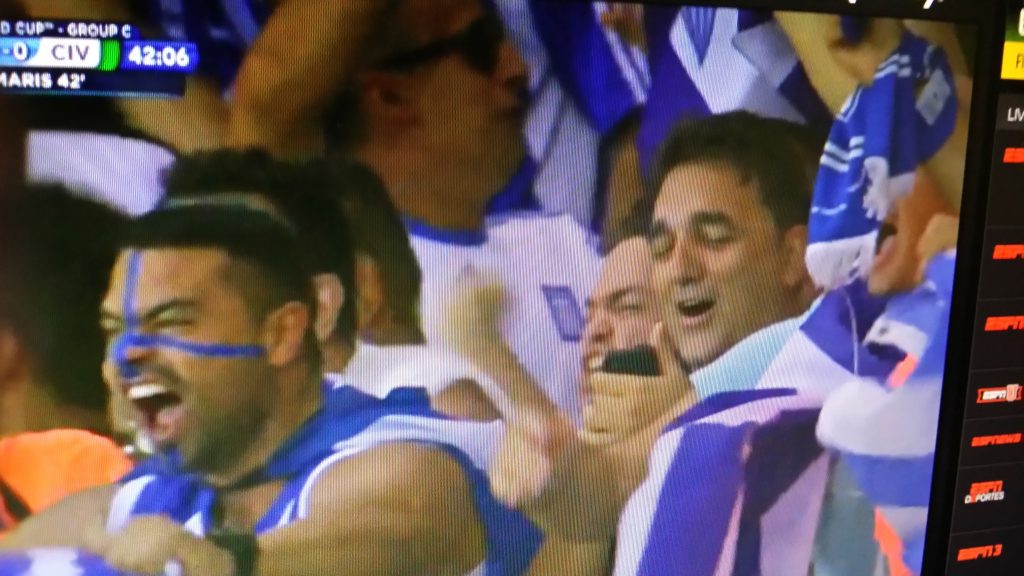 But in the second half it was more even and around the 76th minute Ivory Coast tied the game which sent the Greek fans to a major downer and the Greek players just had to give it their all. Attack to score to win or leave it on the field. And they did. Won a PK in injury time! The tension before the most important kick in the nation's history was something I will never ever forget! He steps up, he shoots, he scores! PANDEMONIUM. DELIRIUM. ORGASMIC. One of the happiest moments of my life so far. I am overcome even as I am typing this…
The older guy with the white hair, he burst in tears, he kept looking up and saying "Thank you God for this". Many of these guys had to pay a lot of money to travel from Greece and most of them were going back as they could not afford to stay for the second round game. Among all the economic hardships of the nation the national team gave them all something to be proud. It is hard for me to describe the emotions.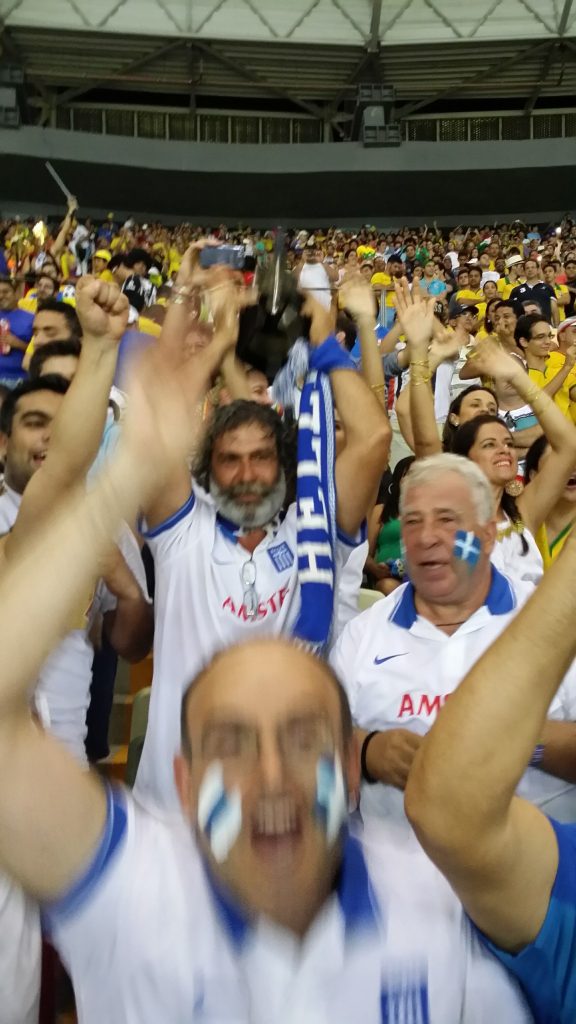 Can you tell we were happy?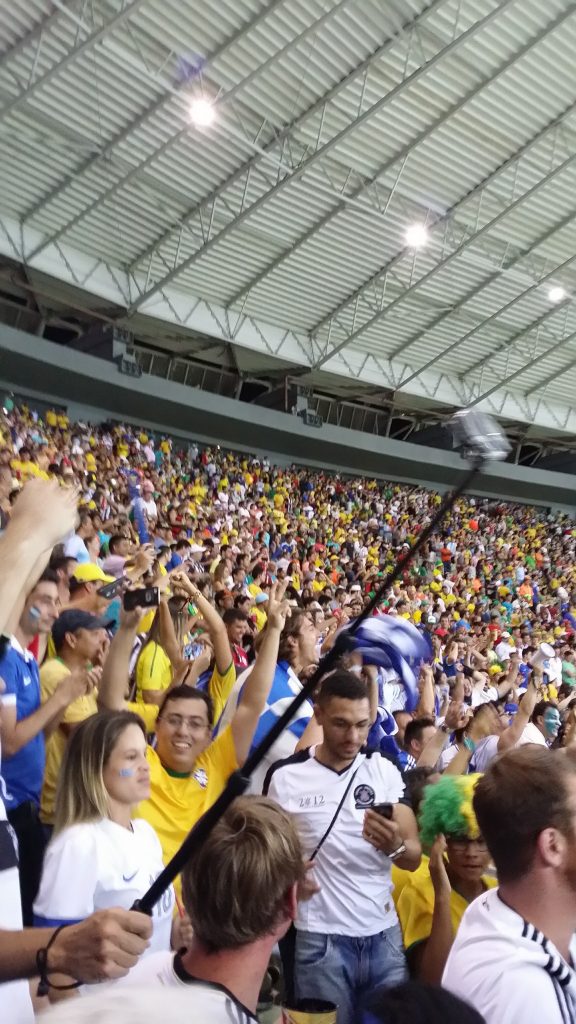 The players came over to thank the fans…Still on Cloud 9. We still can't believe what we just witnessed. It was epic history!
The party went on outside the stadium.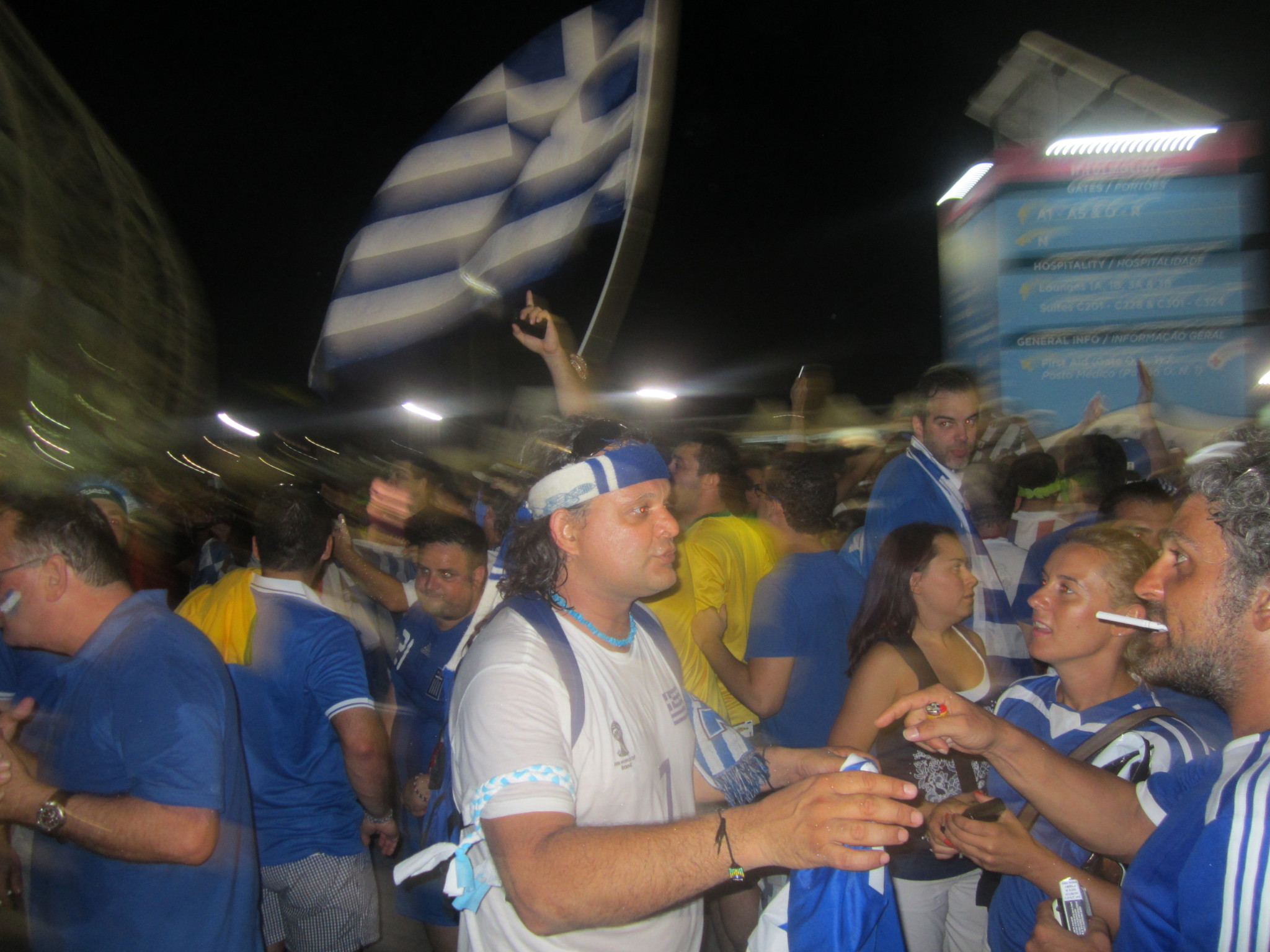 and it went on…
It continued downtown
I had this meal at this place very late at night after the game, it was not more than a few dollars and it was awesome!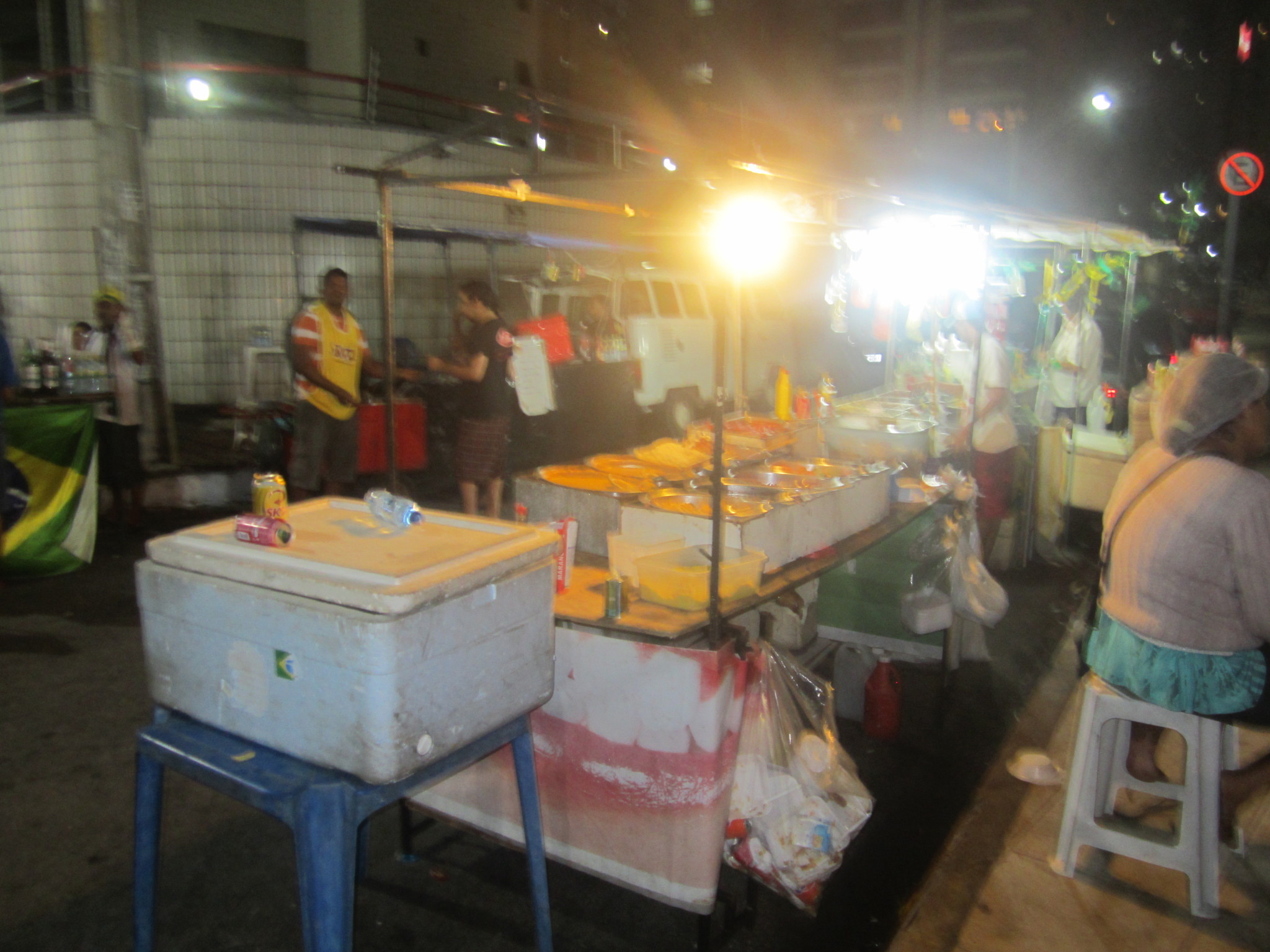 The party continued at an area of the city full of bars.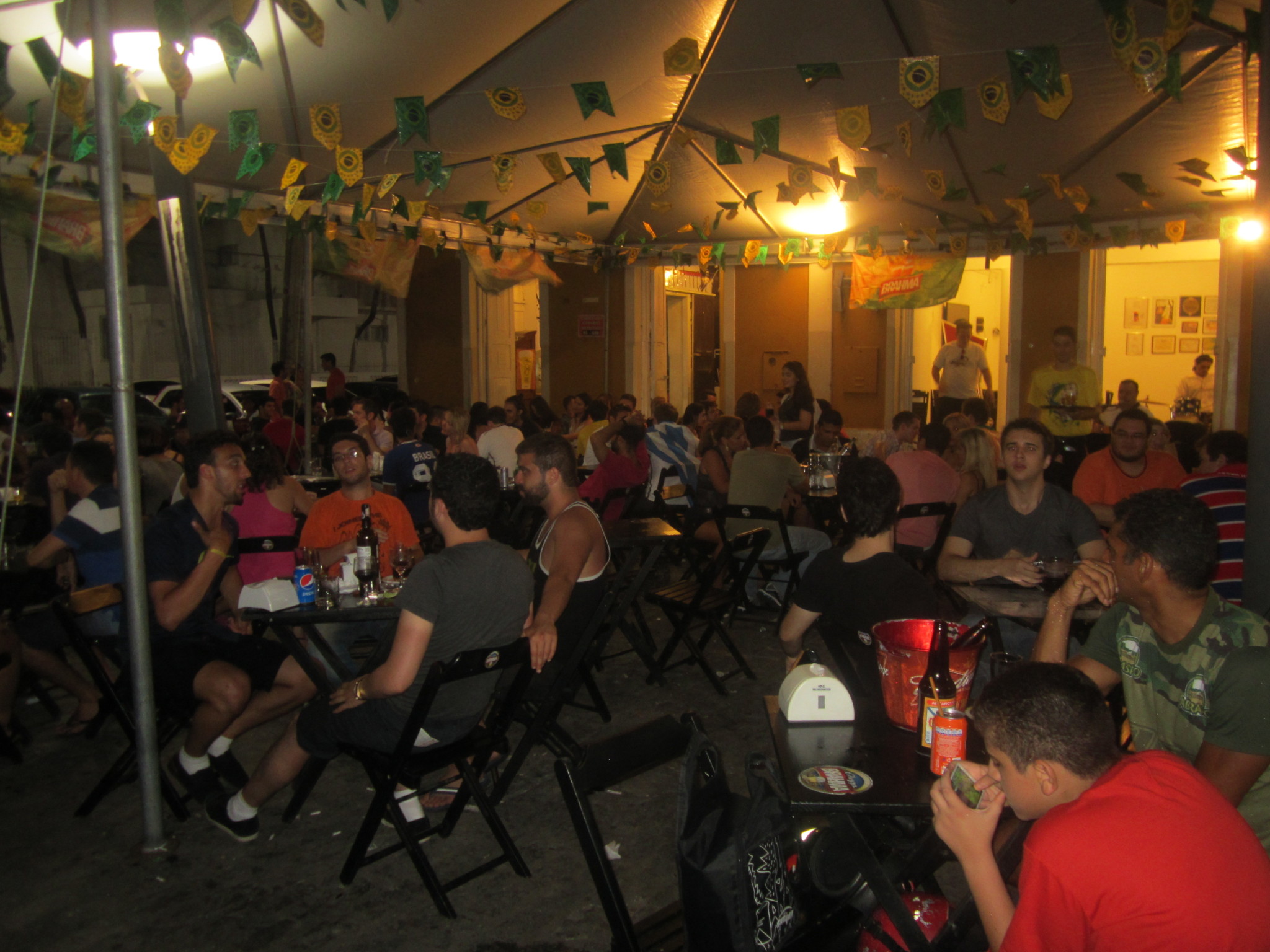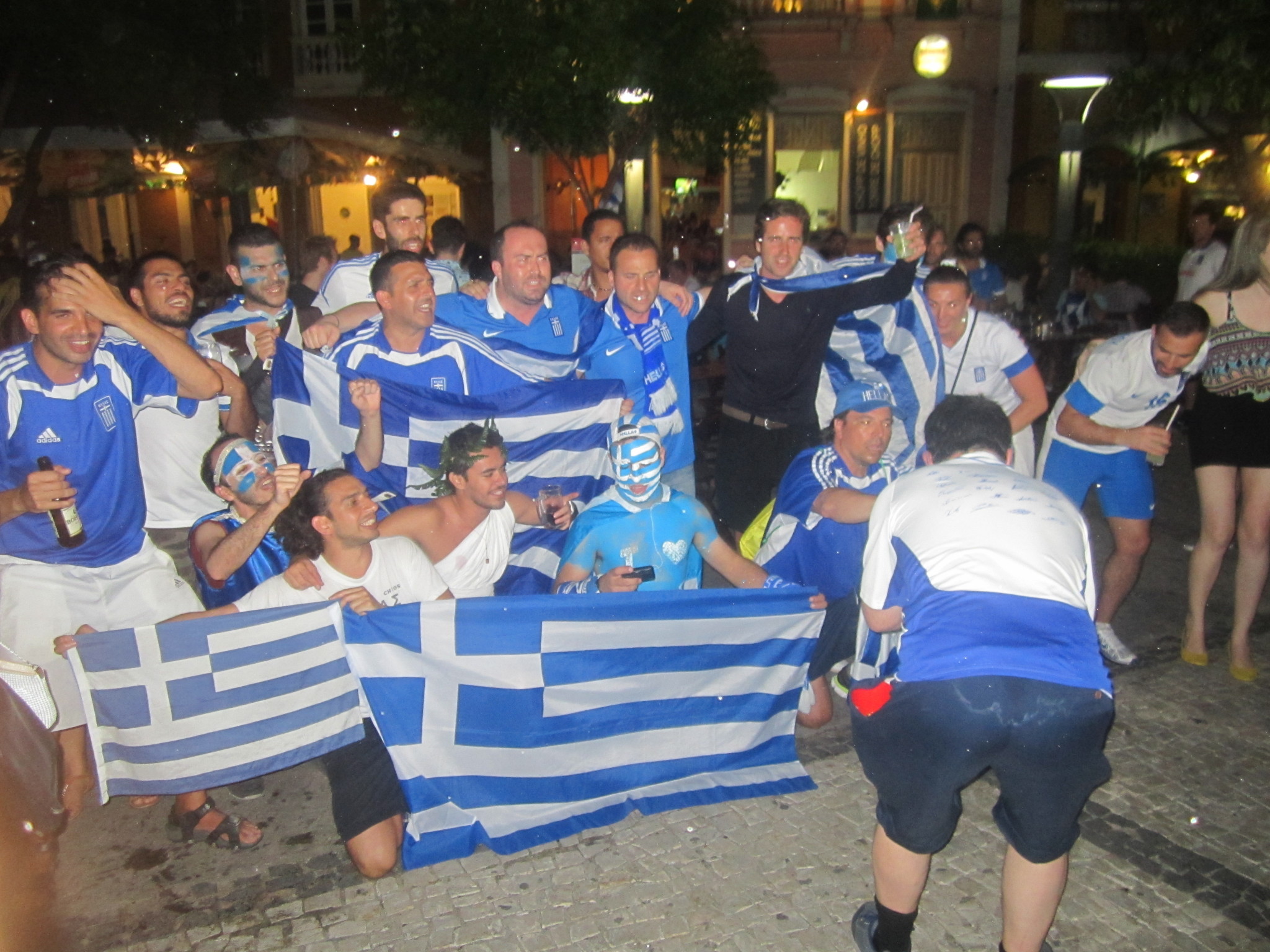 Some pictures of my room at the Holiday Inn.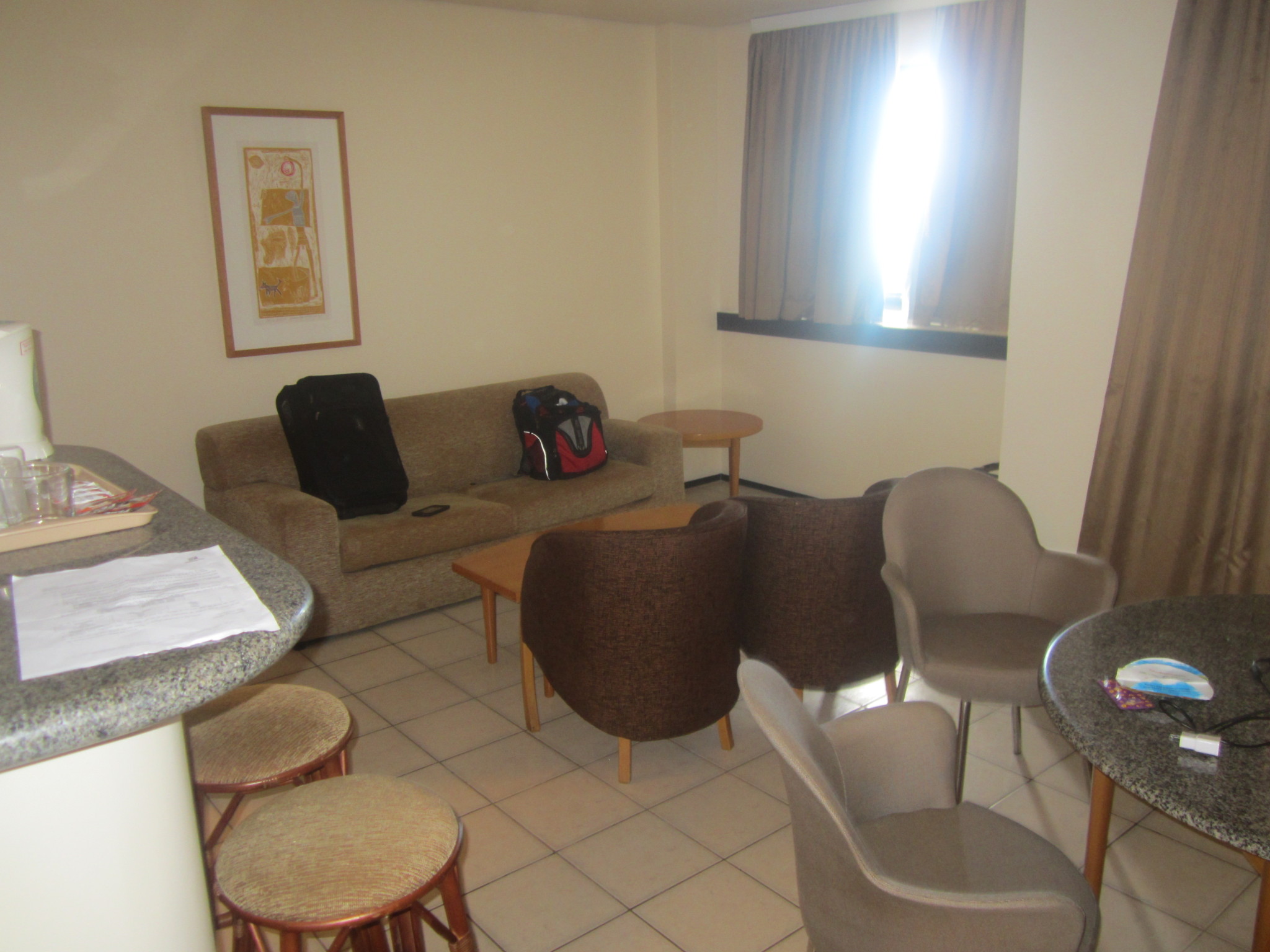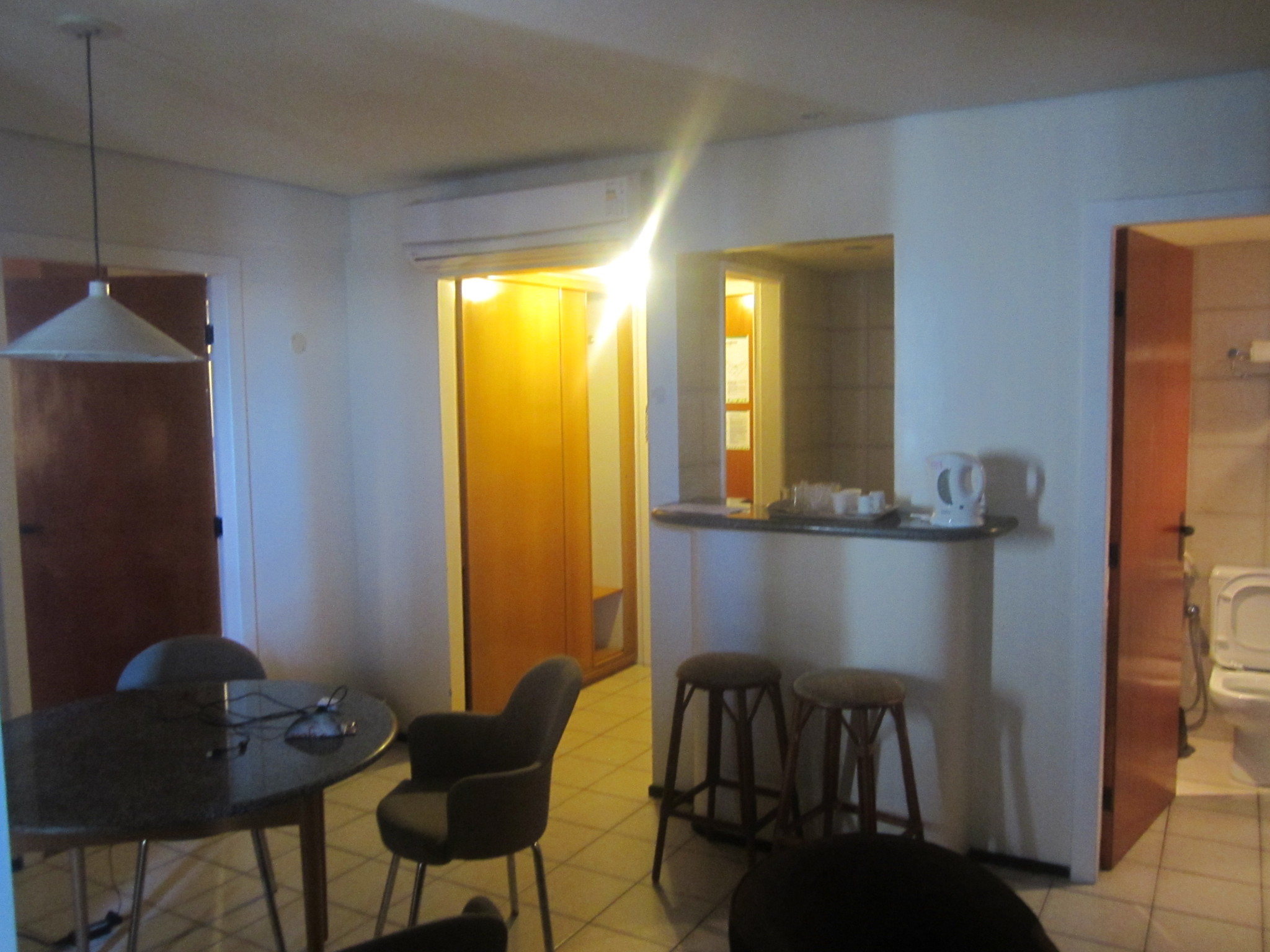 The second round game against Costa Rica was in a different city up north. We all had tickets to return to Sao Paulo because, frankly, we never expected to be in the second round! I made some attempts to look around to change my flight back to the US but only available dates were several days later. But what made me stick to my original return flights were how hard it would be to get flights, hotels and tickets to the next game. And I just could not afford all these days in Brazil. So I took my flight on TAM back to Sao Paulo Guarhlhos airport. First fight in TAM too.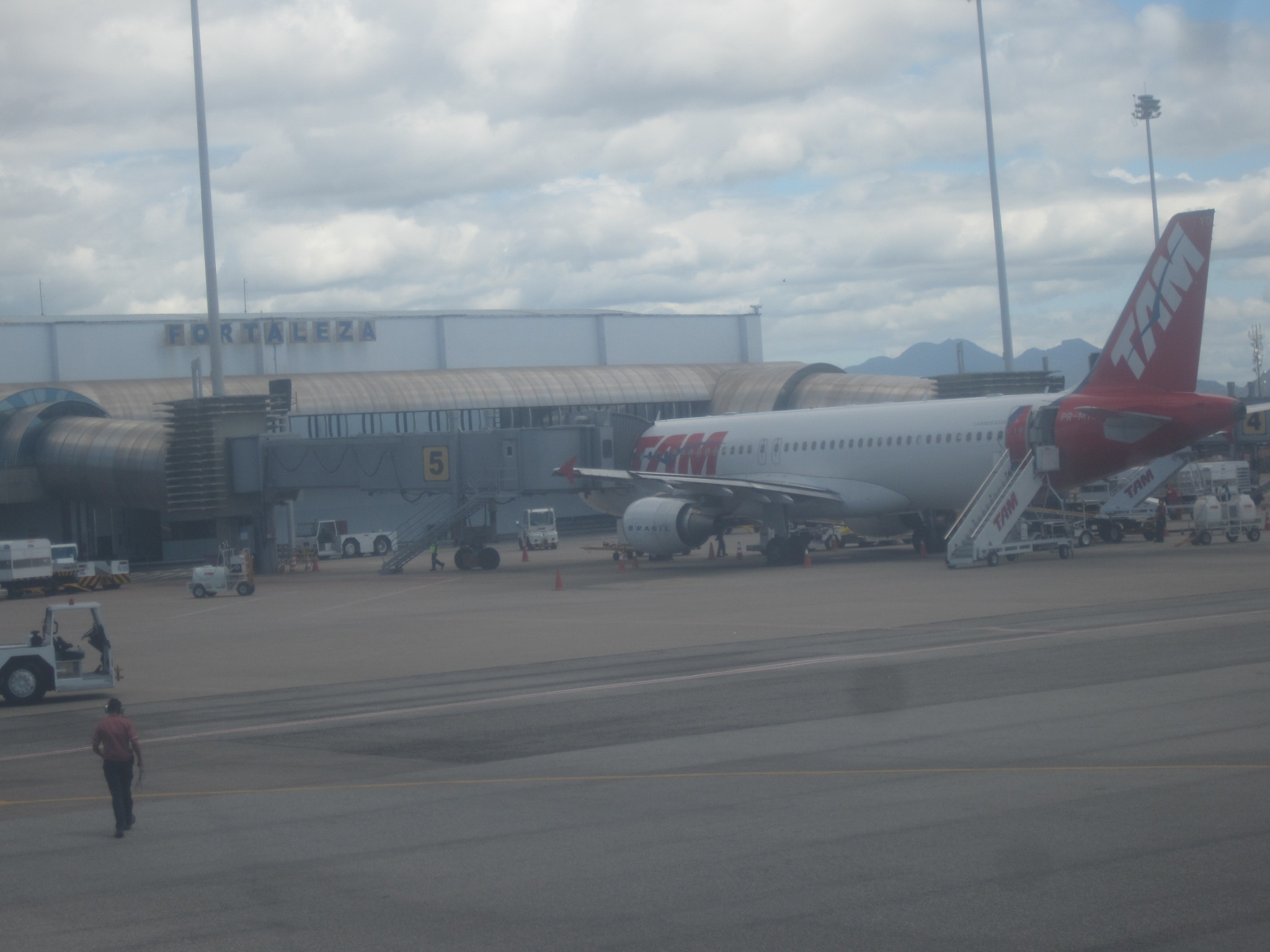 Flight was uneventful, more crammed than Azul blah blah blah.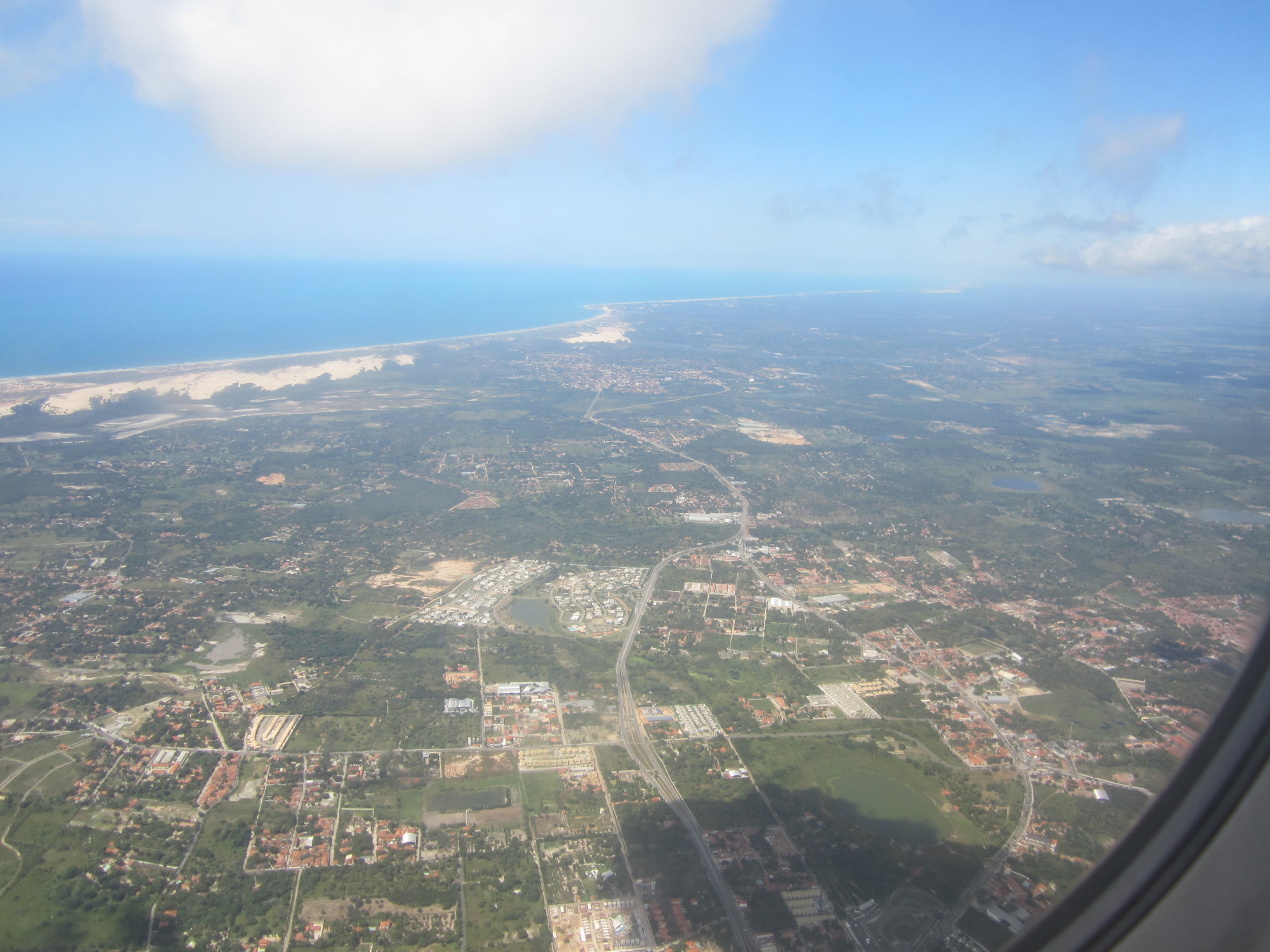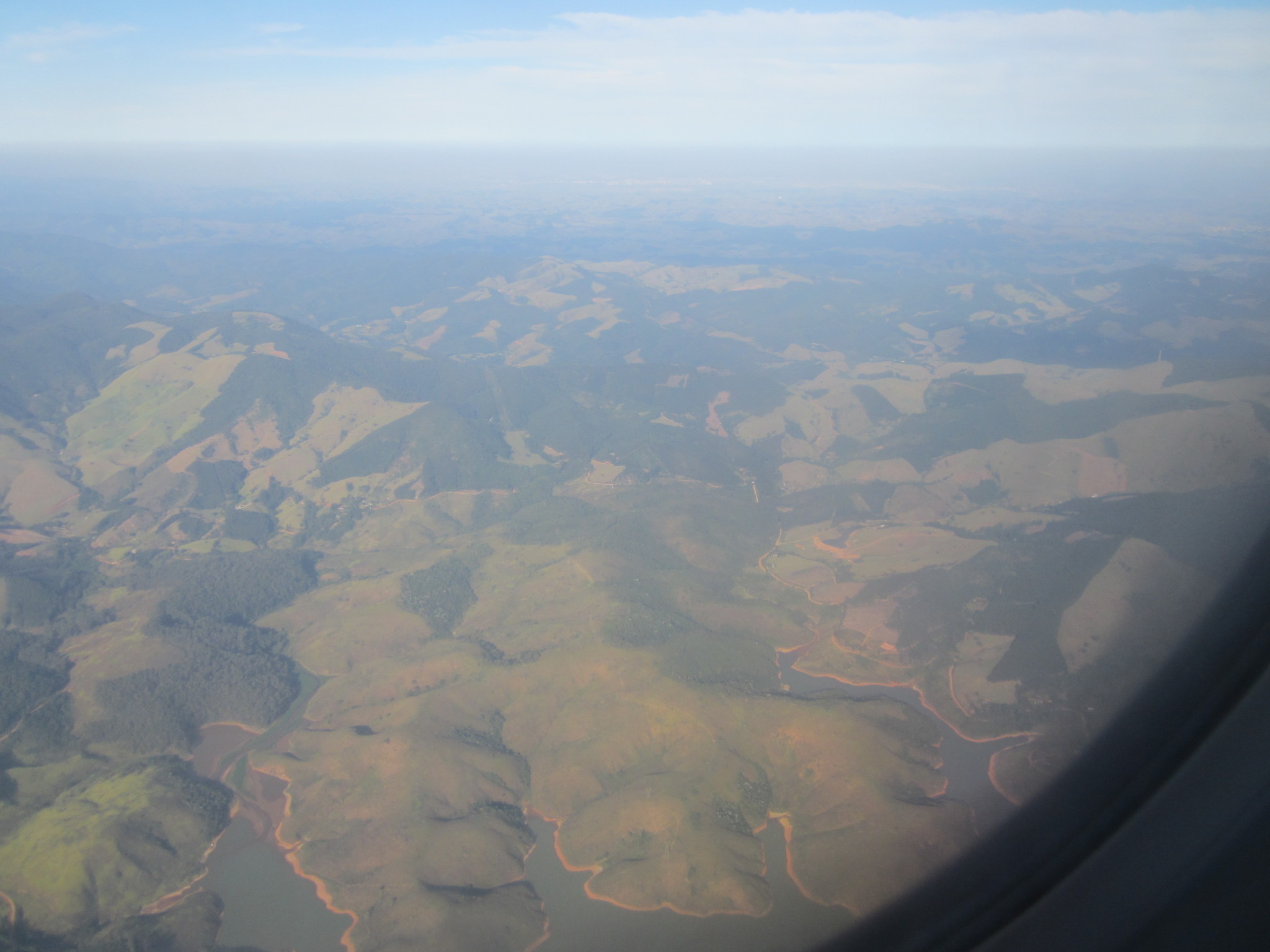 Flying over Sao Paulo you realize how amazingly huge this city is!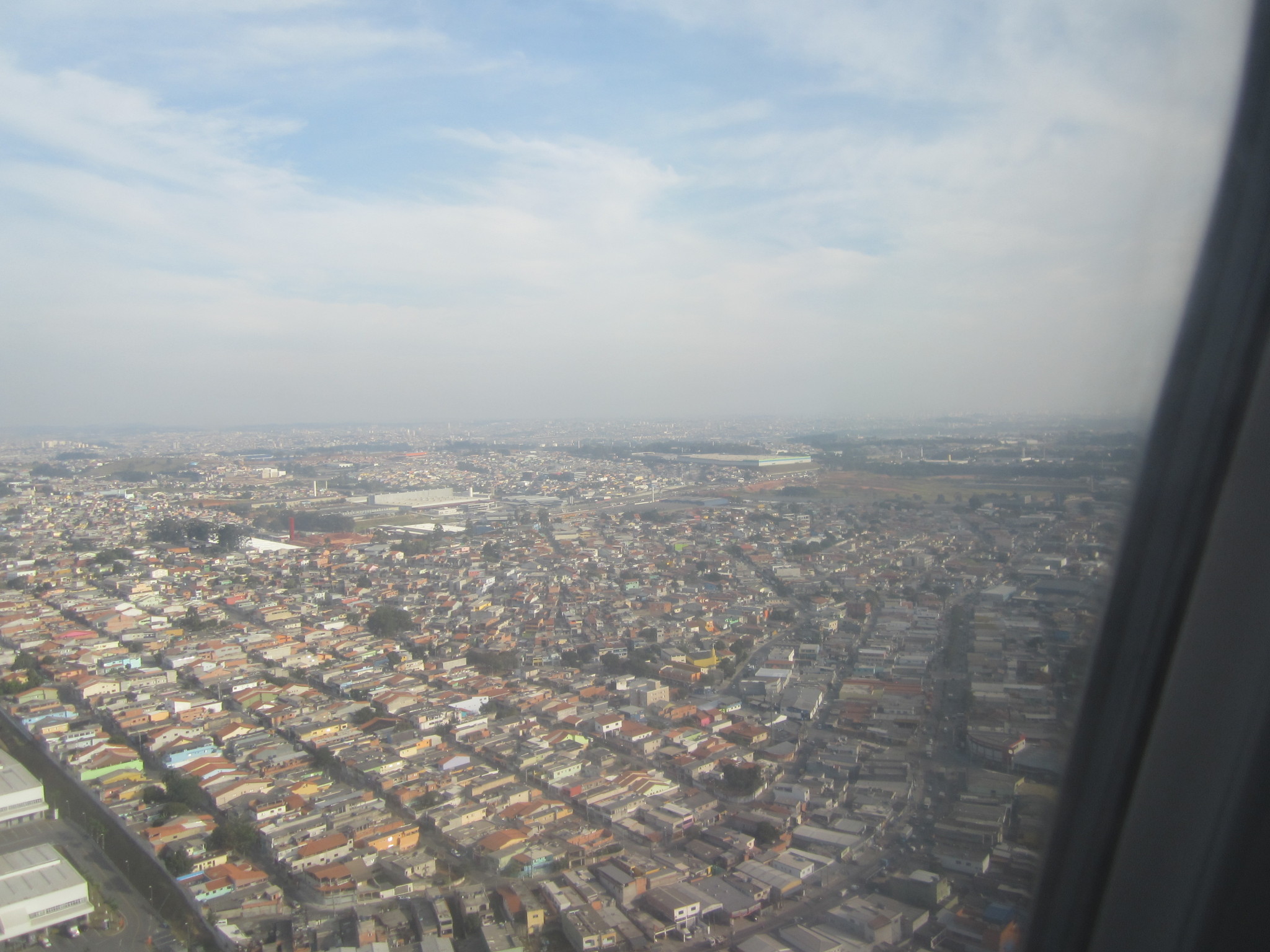 My brother picked me up and we made it back to his downtown apartment through some hellish traffic!
Got to walk some around the city near his place, I only had one night here before my return flight to the US.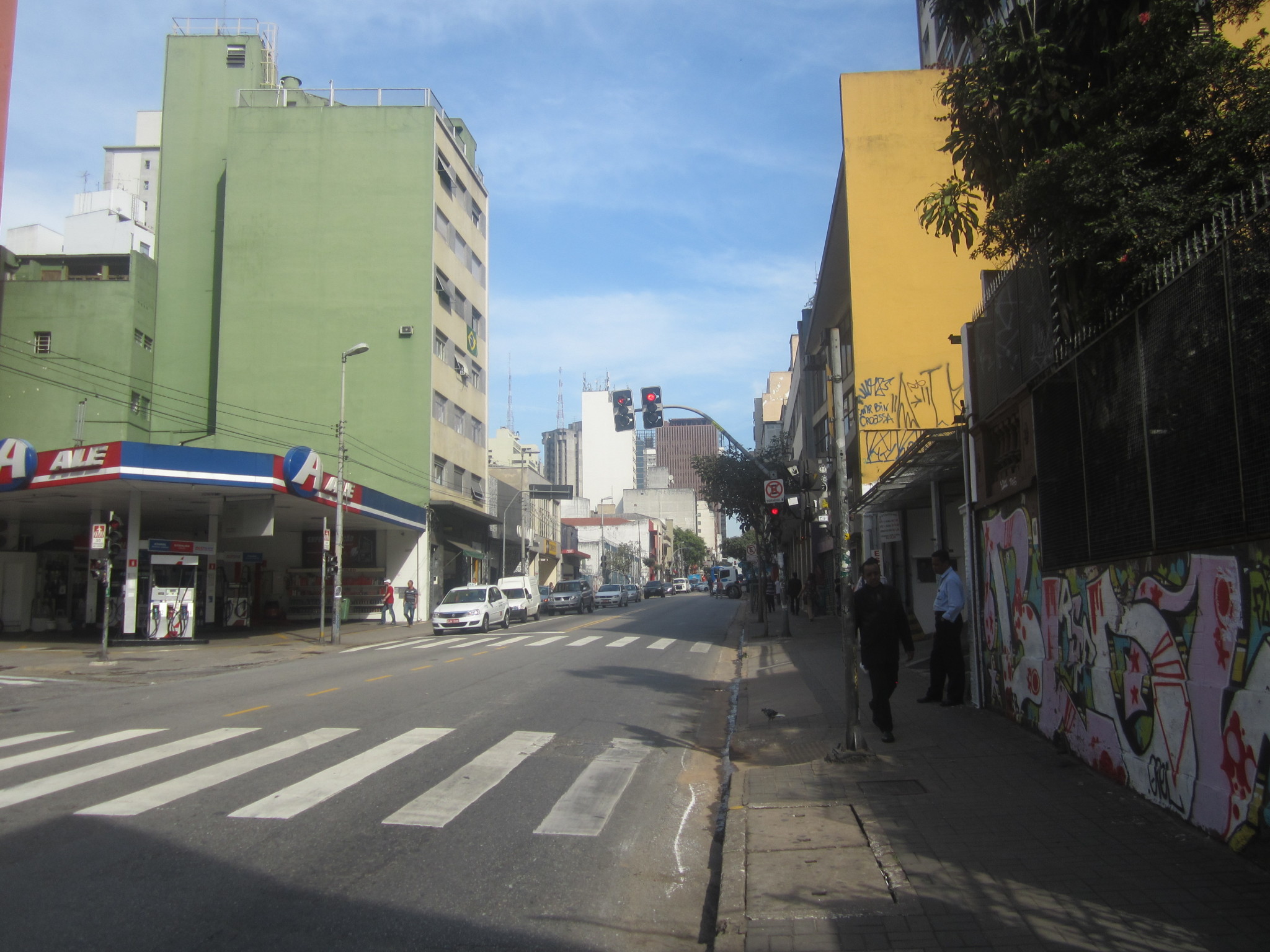 Noise, construction, traffic, not too clean.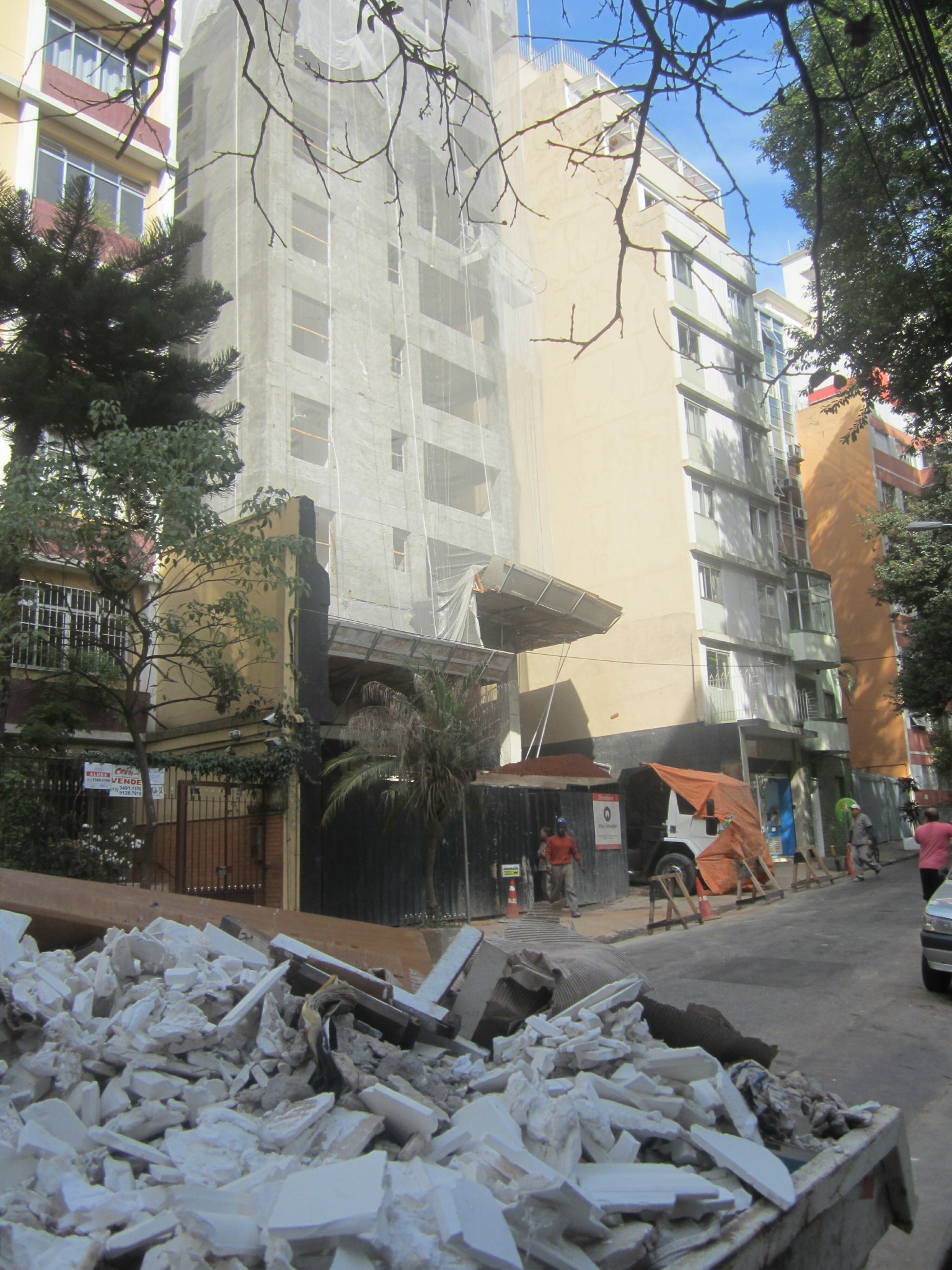 I love walking around local markets.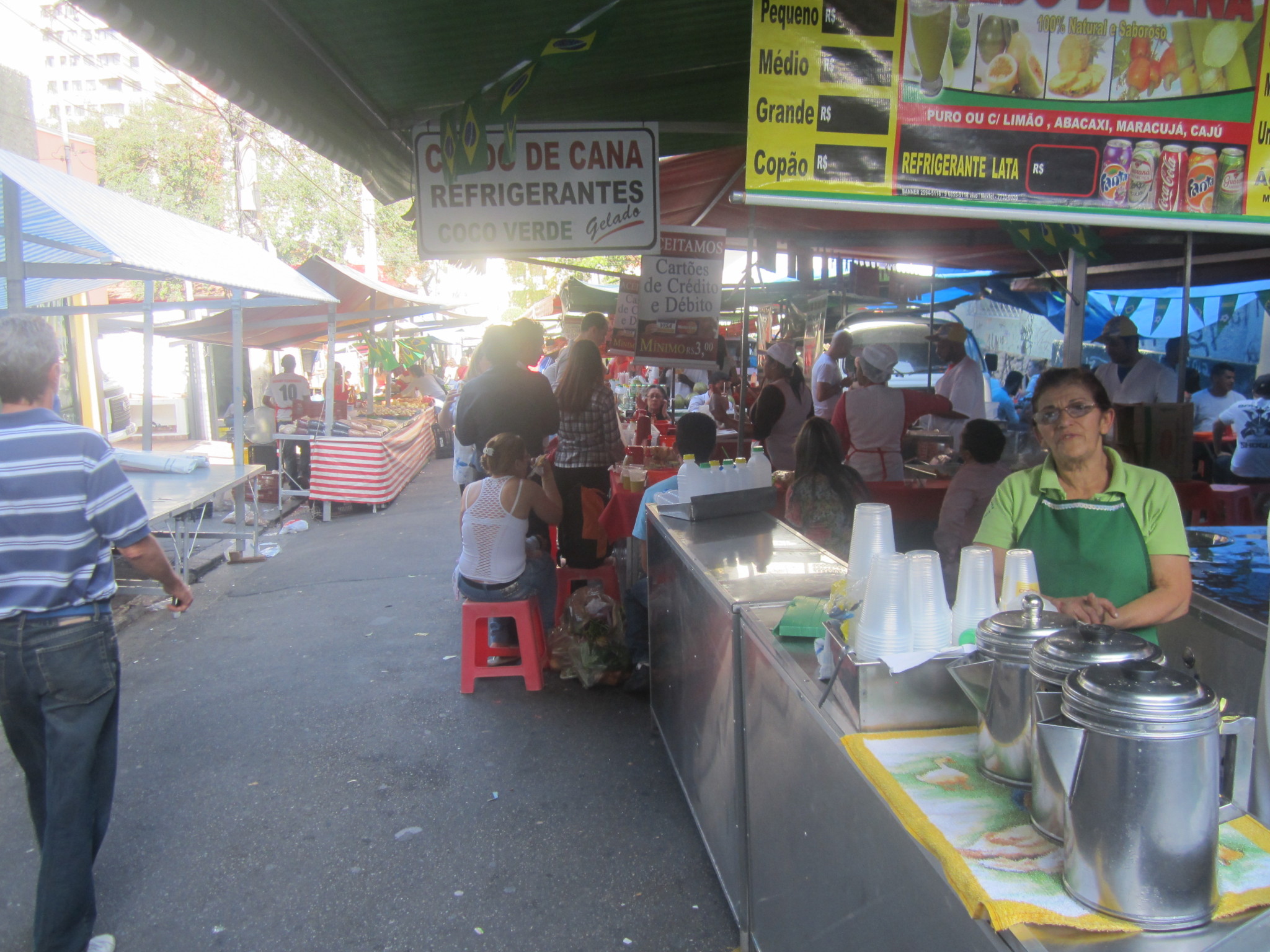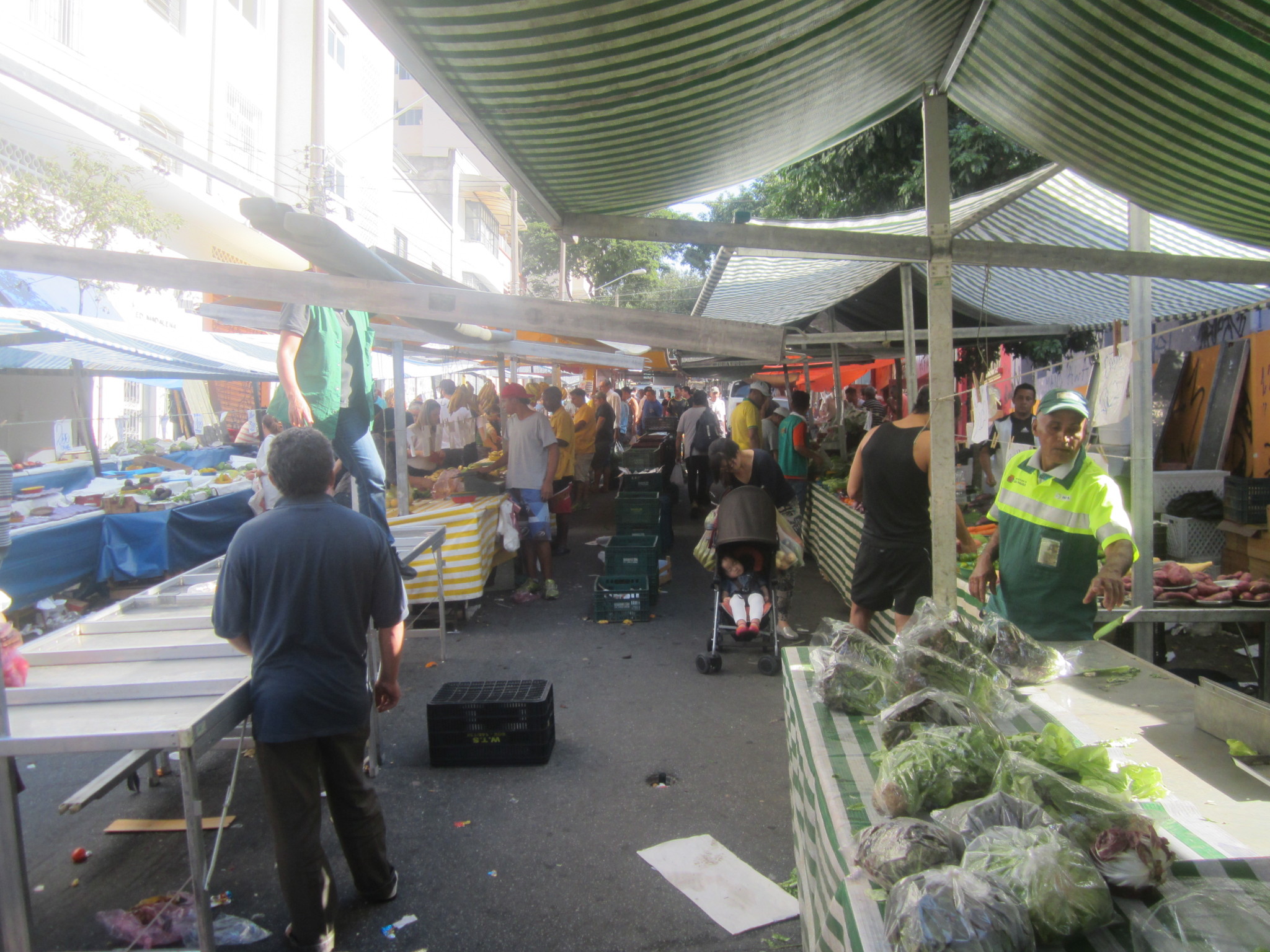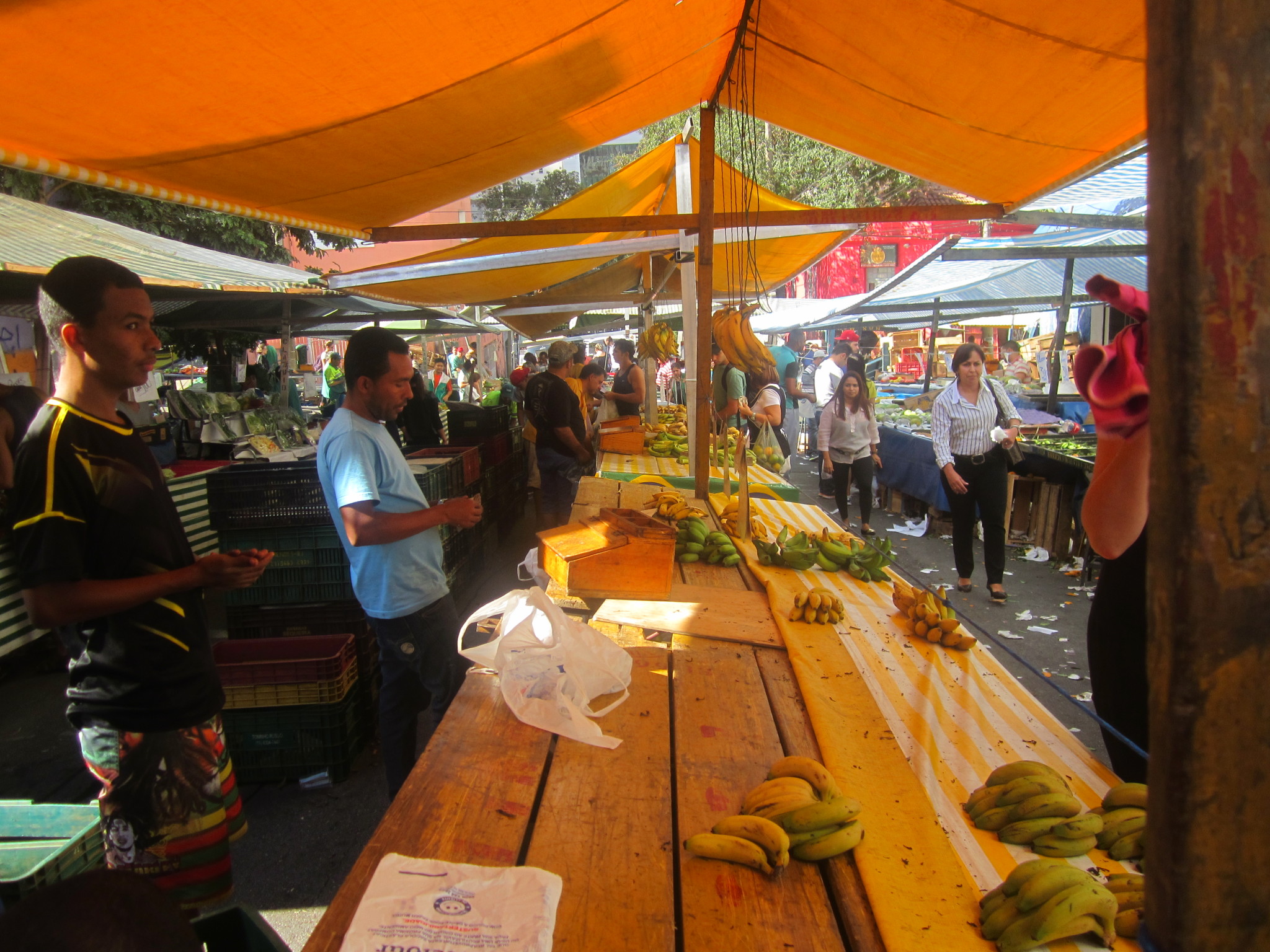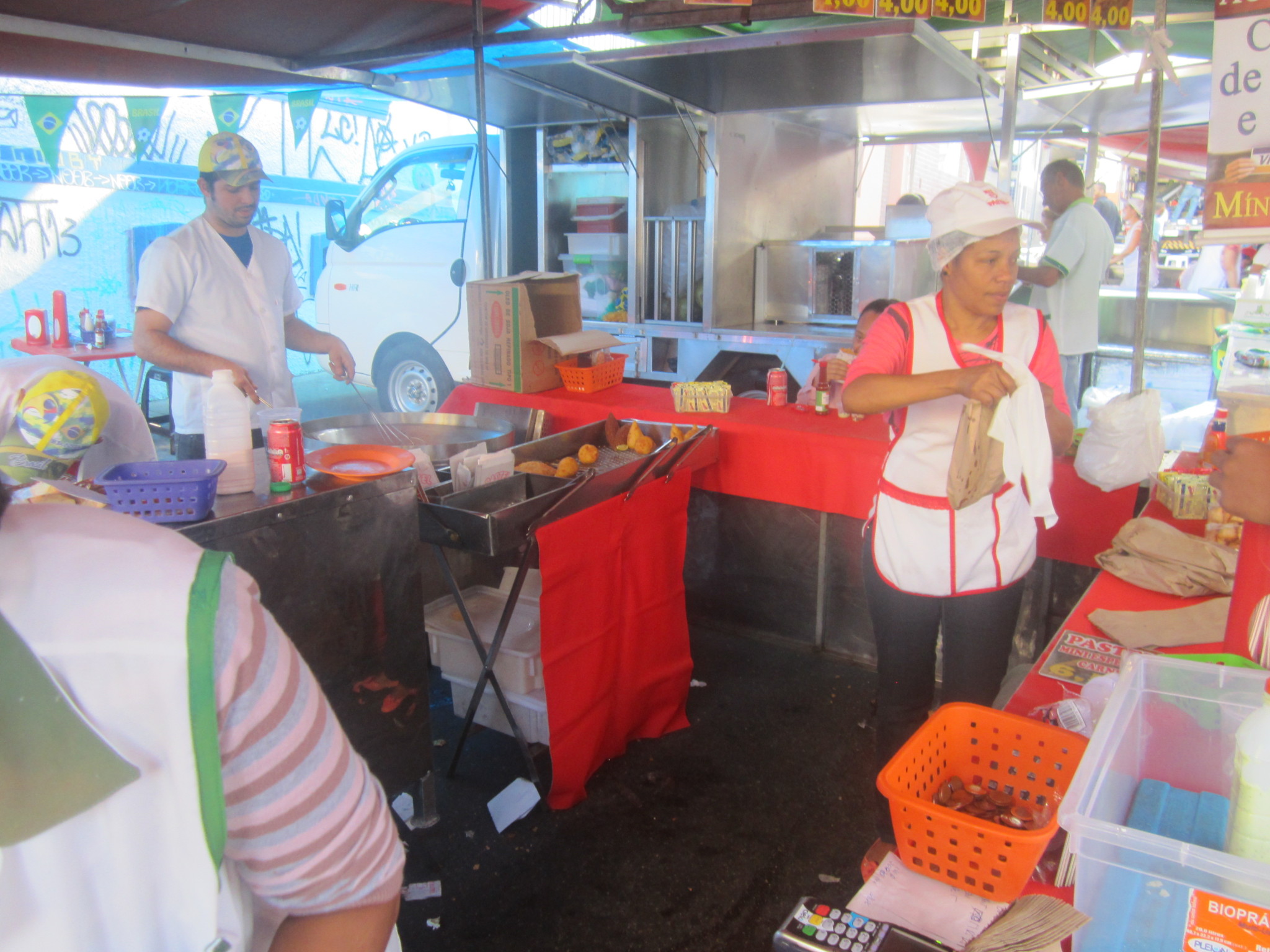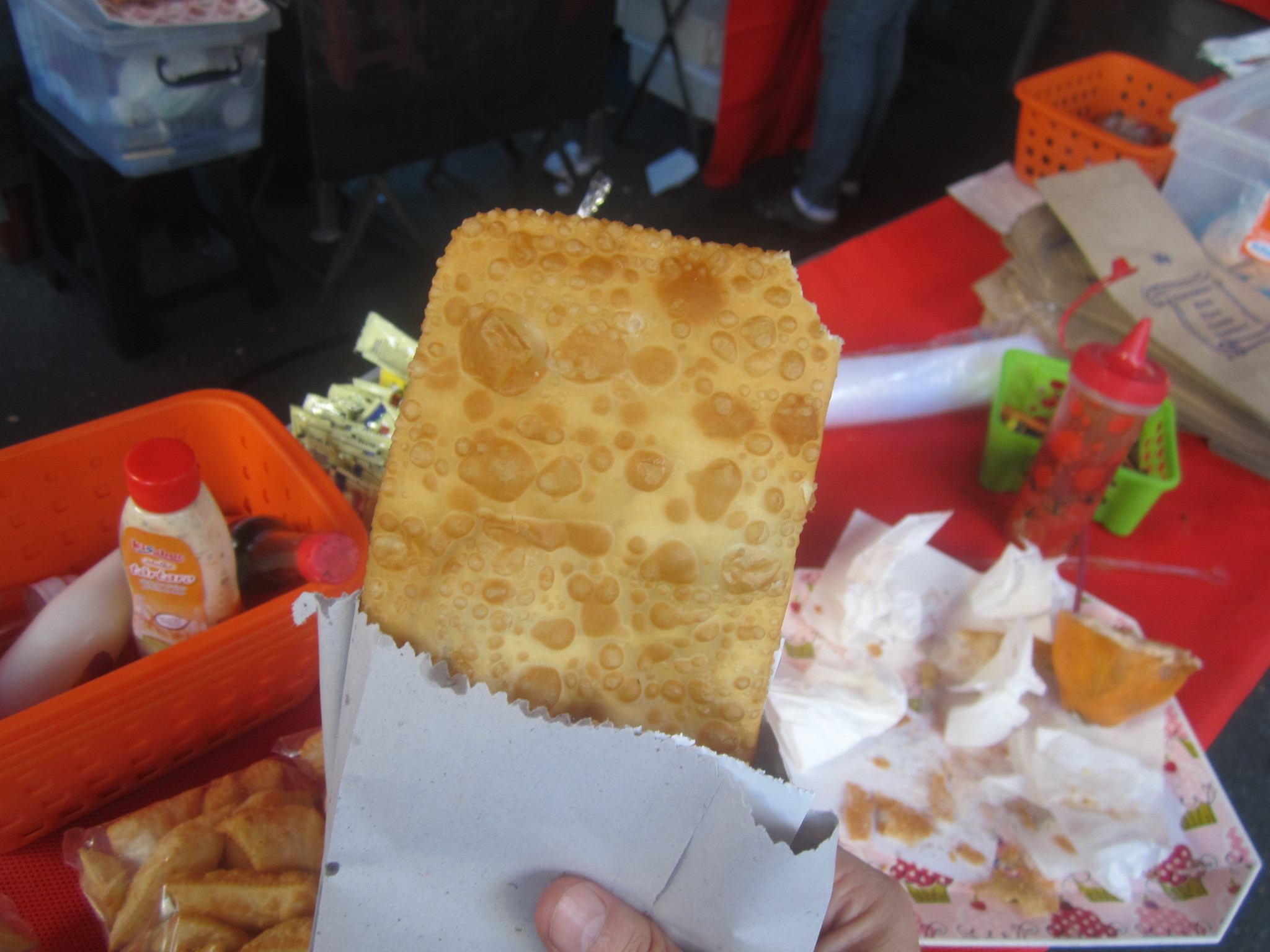 With brother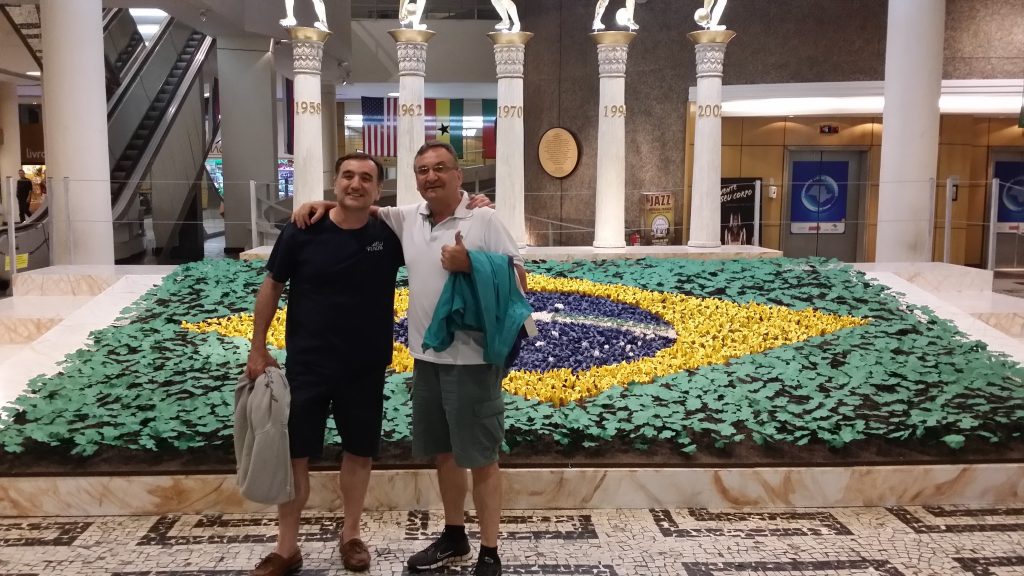 Some interesting shots on the drive back to the airport.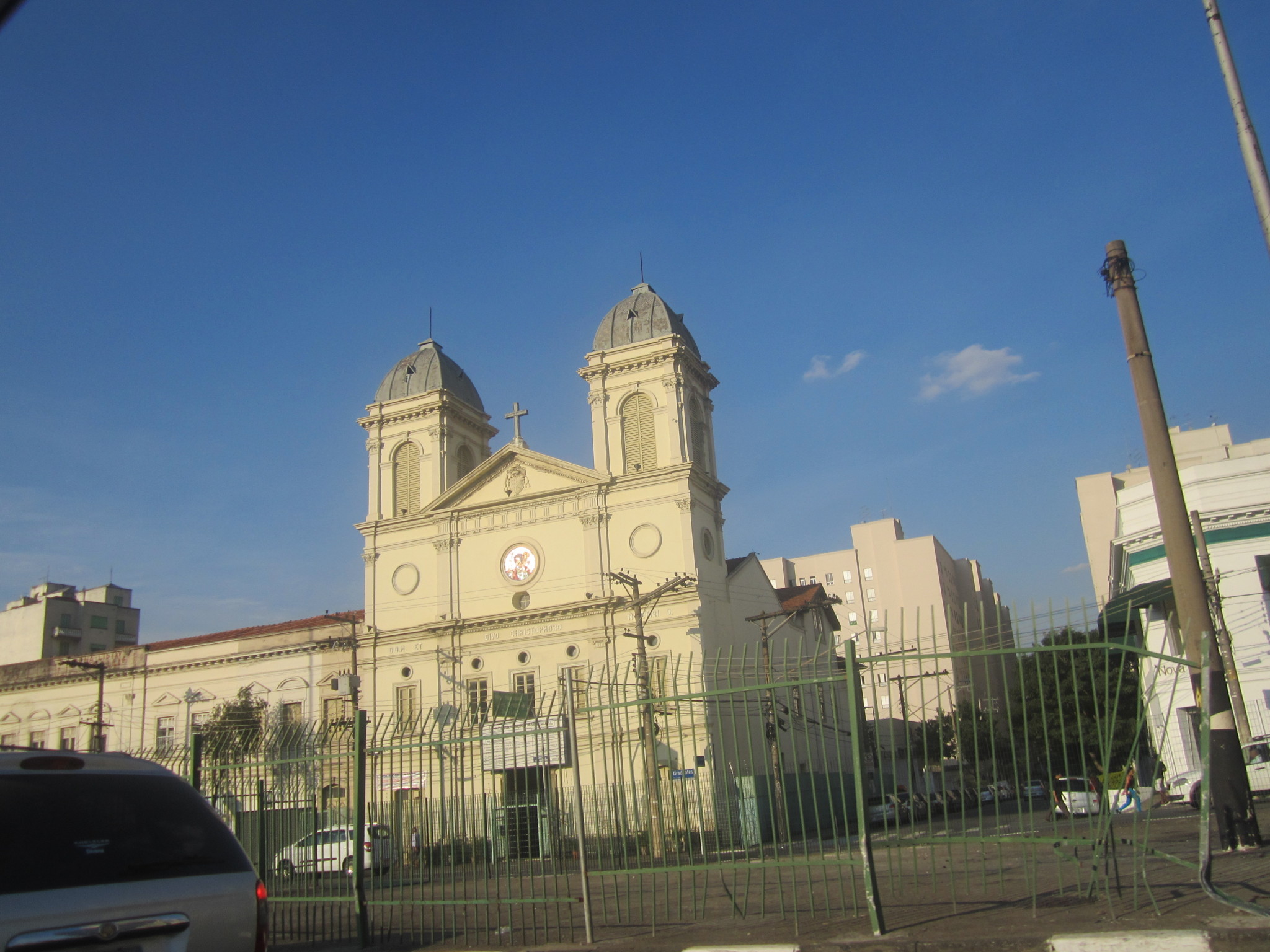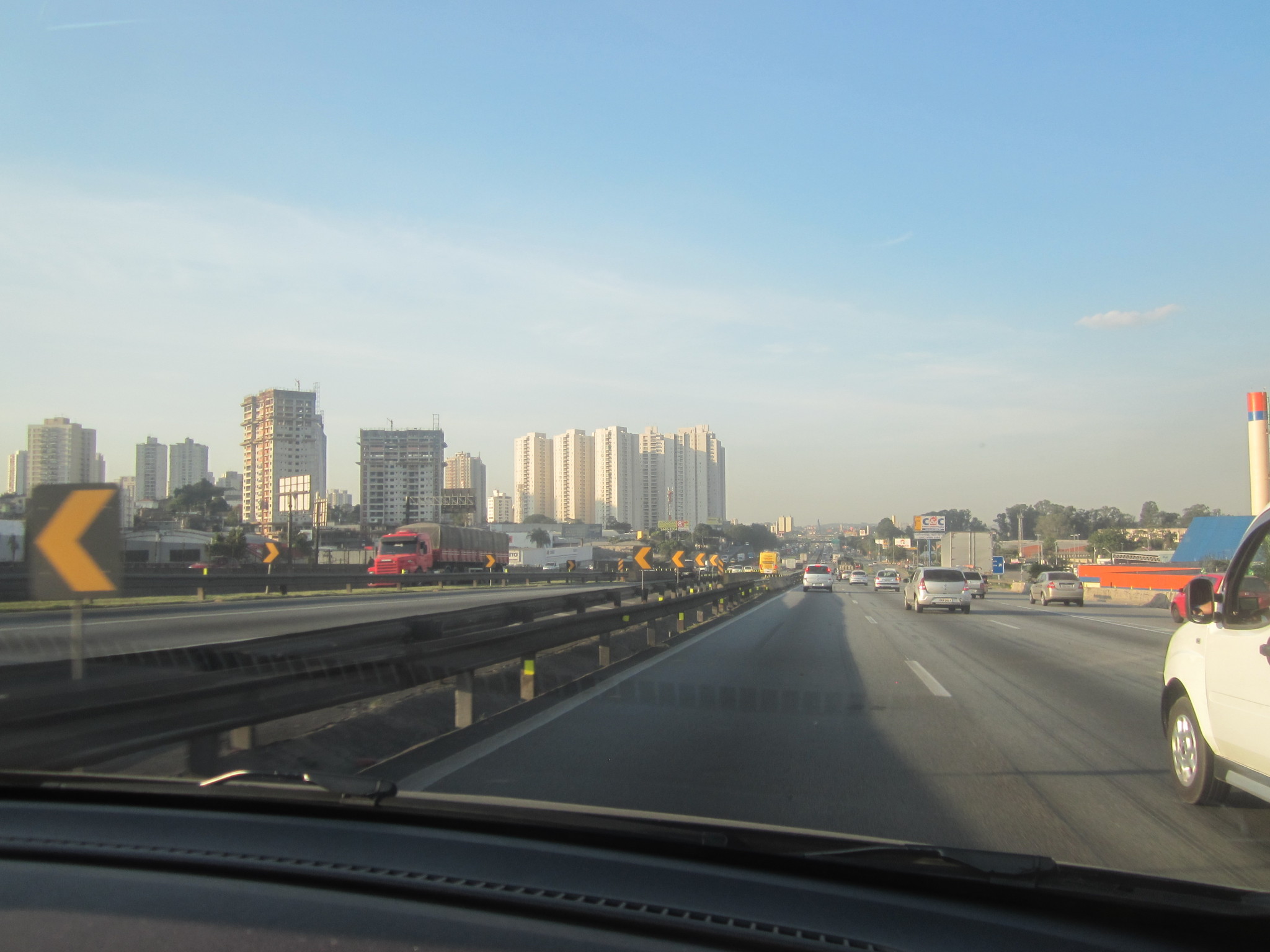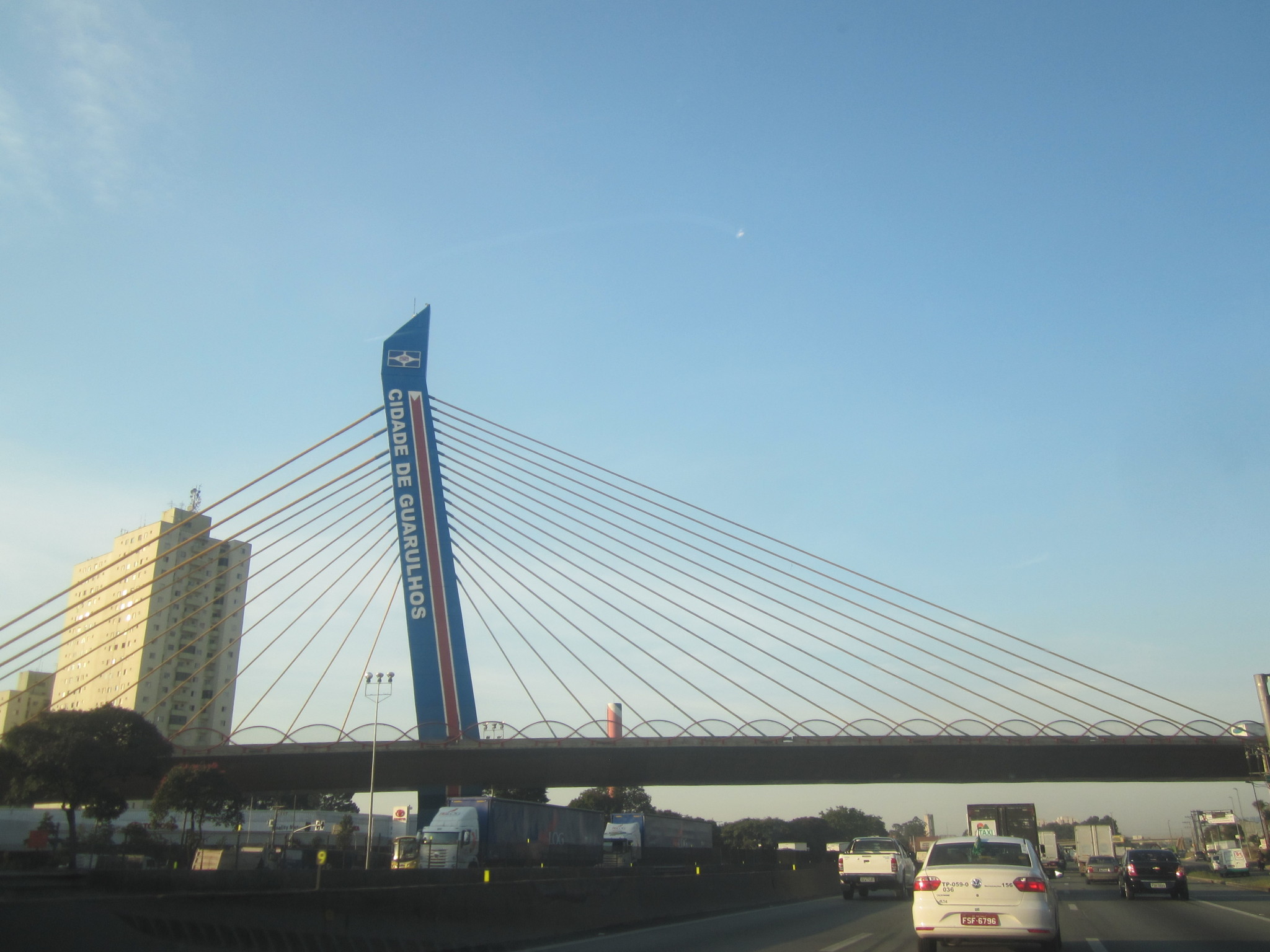 First time flying American Airlines First Class too! I think.
My seat. This is not Singapore Airlines you guys, please don't laugh.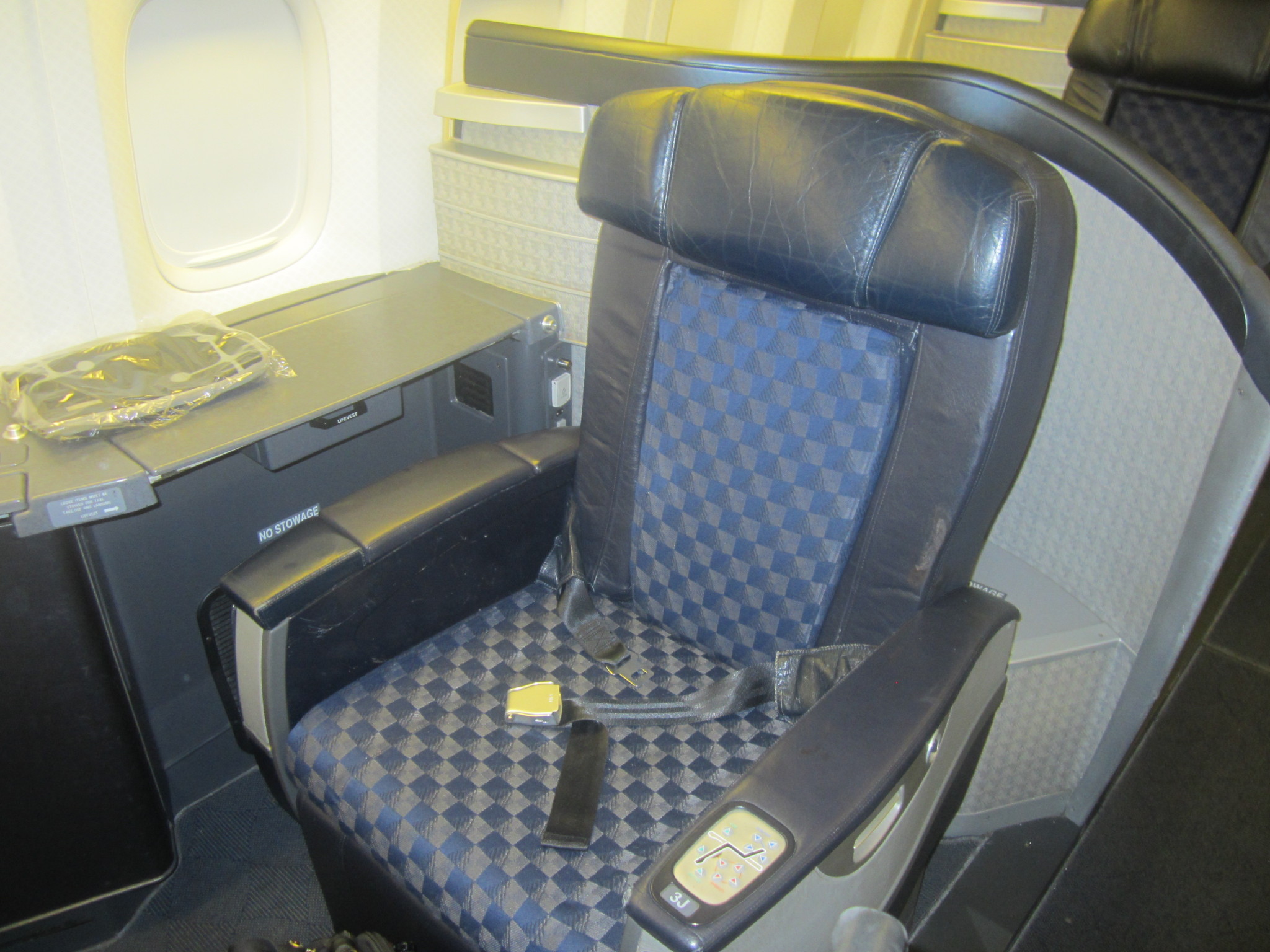 I slept like a baby and really love the pajamas, I wear them, they are my favorites!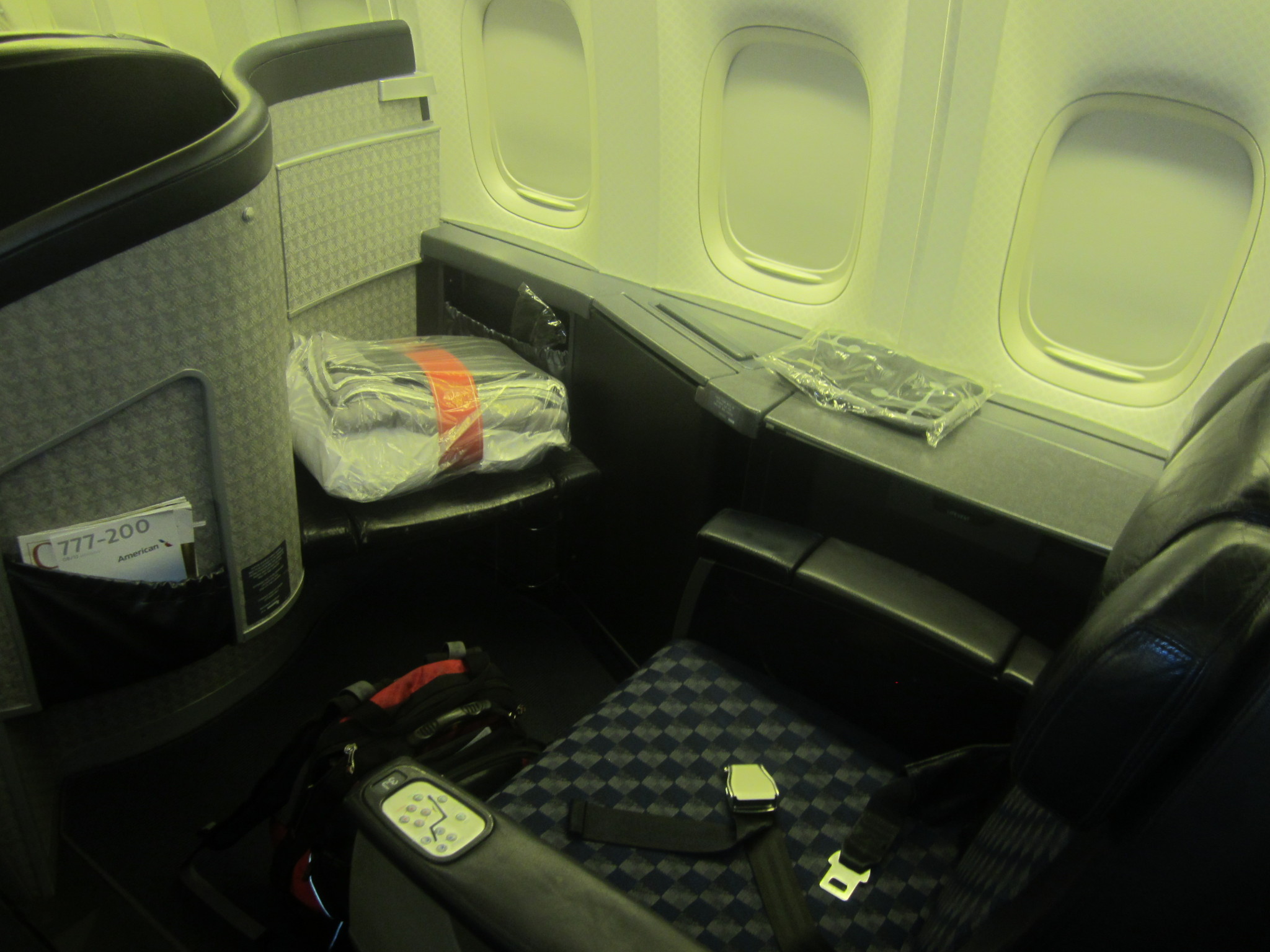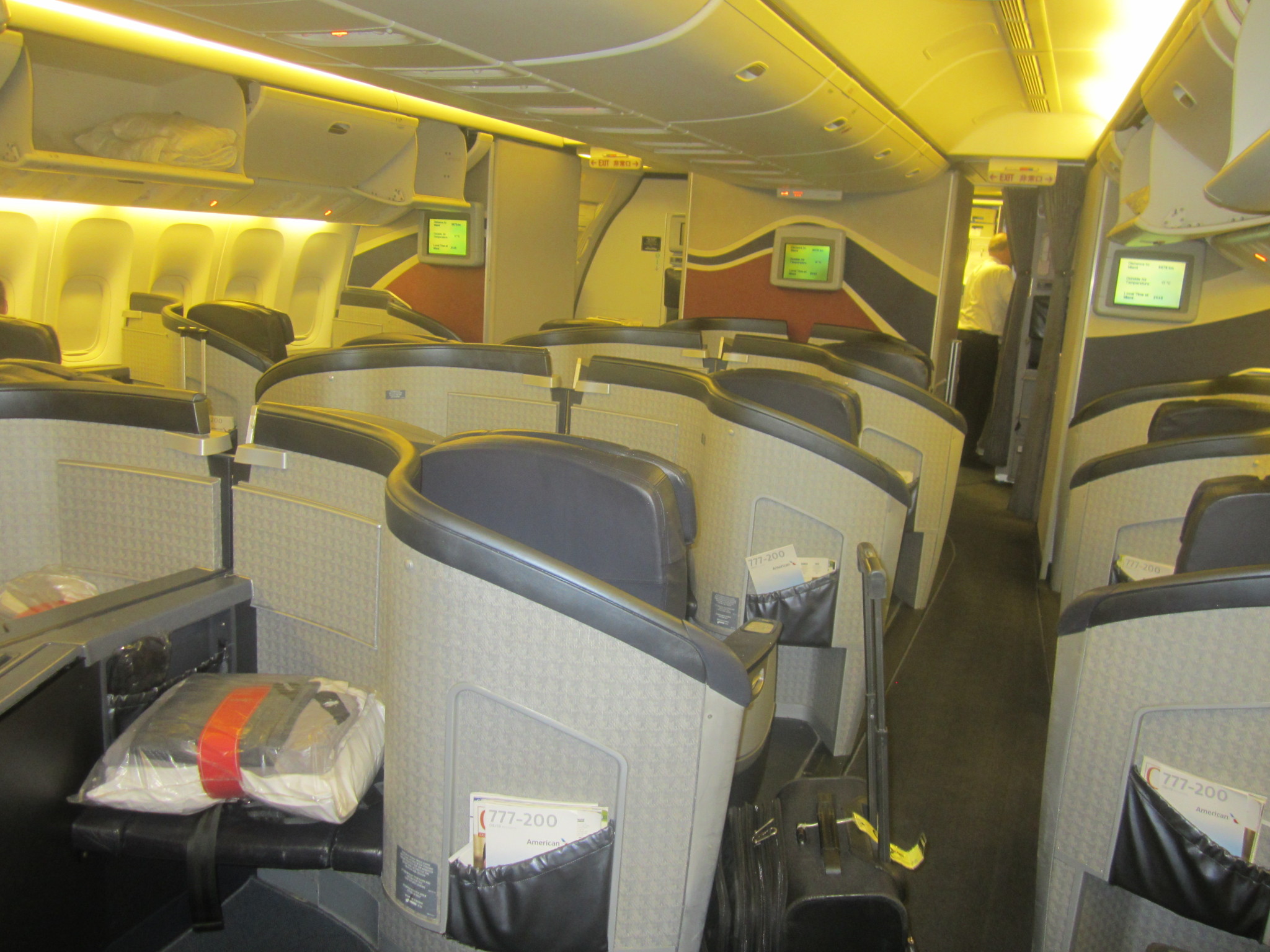 I had a nice layover in Miami where I spent it at the AA lounge. Packed and nothing to write home about. I just wanted to get home. Final flight on AA First to Detroit was pretty nice, I remember the warm nuts. I did not touch the cookie, which, apparently from what I hear, is pretty awful #justkidding #it'saphuckingairlinecookieforpete'ssake
And this was it. I'll be telling my grandkids one day or showing them this page…
Thank you for reading.