In the summer of 2016 we decided to spend our precious vacation time in Asia. My father in law was turning 80 years old and his kids (including my wife) decided to throw a big party in his honor. So I sent my wife and daughter there first while I took my time to get there with stops in Tokyo and Hong Kong to satisfy my travel addiction. In the meantime, our son was spending two months studying in Hong Kong so I stopped by to see him and we flew together to Kuala Lumpur. We spent several days all together and then son flew back to Hong Kong to continue his studies while I took my sweet time returning back to the US . My wife and daughter stayed in Asia and went on for two weeks to Southern China to be with my daughter's dance tour group. It all worked out great actually. Hey, we like to keep it challenging!
So, here is a list of what miles and points were used:
110,000 Delta Skymiles for two Business Class tickets from Detroit to Singapore (flying Delta and China Eastern via Tokyo and Shanghai)
12,500 Delta Skymiles for one way Economy Detroit to Newark for son
35,000 AA Aadvantage miles for one way Economy ticket Newark – Hong Kong on Cathay Pacific Coach for son
50,000 AAdvantage miles for one way Detroit to Narita/Tokyo via Dallas on AA First & JAL Business
30,000 AA Aadvantage miles for one way Tokyo Narita to Hong Kong on Cathay Pacific Business Class & to Kuala Lumpur on Malaysia Airlines Business
2 Free Nights at the Hilton Conrad Tokyo using Citibank Hilton Reserve signup bonus
160,000 Hilton HHonors points in the Hilton Conrad Tokyo (for a total of four free nights)
1 Free Night at the Hong Kong Intercontinental using the IHG Rewards Club Visa anniversary night
21,375 Barclay points to reimburse two nights at the Kuala Lumpur Doubletree (upgraded to fantastic suite as Diamonds)
20,000 British Airways Avios for one way Business Class from Hong Kong to Tokyo Haneda for son (side trip while studying)
70,000 Delta Skymiles Business Class from Kuala Lumpur to Seoul to Detroit on Korean Air & Delta
55,000 AA miles for one way Hong Kong-JFK-Detroit on Cathay Pacific Business & AA First for son
70,000 Delta Skymiles for two Economy tickets from Kunming, China to Detroit (flying China Eastern and Delta via Shanghai and San Francisco)
Total miles/points used: 633,875
Total free hotel nights: Seven
We paid to fly from Hong Kong to Kuala Lumpur together with my son on Air Asia. We got him a ticket to fly back to Hong Kong on Air Asia as well. He paid his own one way ticket from Tokyo Haneda to Hong Kong on Hong Kong Express Airlines (not sure about the name, does not remember, I smh). He does remember that "it sucked". You need to teach them young ones the value of miles and points as he much highly preferred going to Tokyo in Cathay Pacific Business Class.
My wife and daughter bought own tickets from Kuala Lumpur to somewhere in Southern China and then flew a few local airlines to different cities ending in Kunmig KMG. That part of their stay included a few nights at an airport hotel in Kunming recommended by a TBB reader which worked out very well. The rest of our nights we all stayed with family while wife and daughter were hosted in dance team group members' homes. A grand time was had by all! Not all free but hey, we'll take it!
The interesting thing was that we all left in different times within three days! Son left first on Wednesday June 15, the girls left the next day on June 16 and I left on Friday June 17. The really sad part starting out this trip was that I arranged for our awesome cat Fluffy to go in peace at our vet's clinic late on June 16 because I did not want them to experience it. Letting go was so damn hard but it was time, we miss our cat who kept us company since 2001. Maybe one day I will do a post about Fluffy, he was the greatest. Lets have a moment of meows, thank you!
The AA flight from Detroit to Dallas in "First" class was exactly what you thought, so uneventful I don't remember anything at all from it! Them 6 am flights are always a good idea at the time booked but, oh man, they are so so brutal!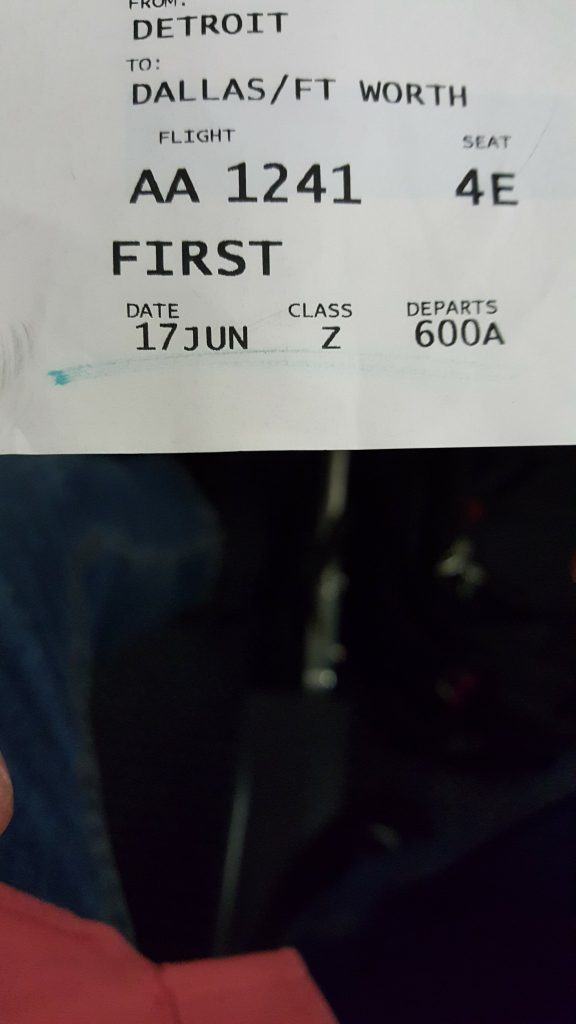 Wait, the omelet was pretty darn good for US domestic standards that is and you could not ask for better weather. No delays ahead for sure, well you never know but it sure looked good!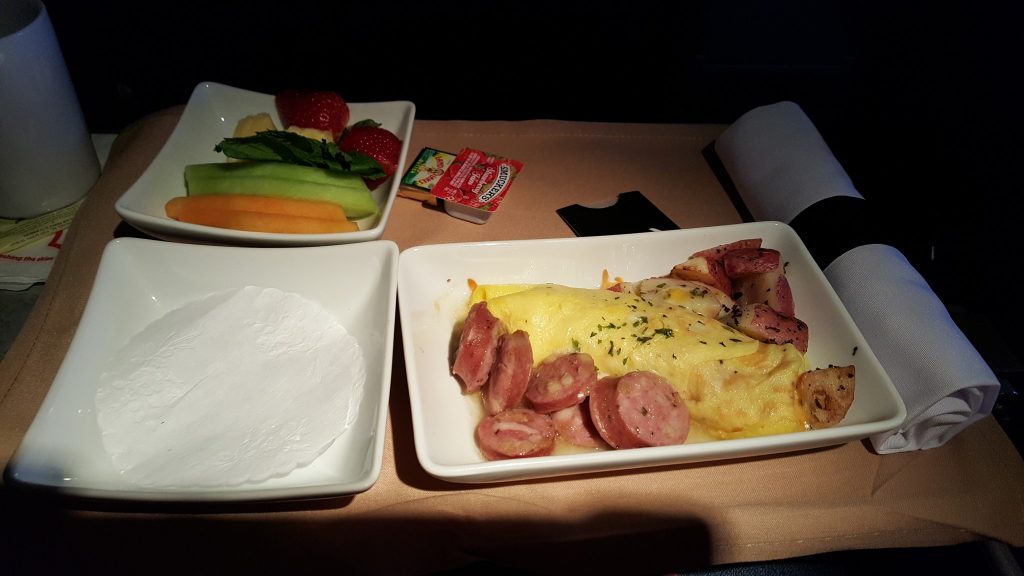 Of course I spent my time at the glorious Amex Centurion Club in Dallas eating and drinking away. A long time ago I flew there so I can "review it" in my usual style. I tell you , I am no typical blogger kissing corporate asses…Perhaps, this is why I don't get invited in bank events for free, I pay my own way, so sad #notreally. I ran into two travel friends and we had some drinks while we talked about blogs and miles and ripped on Trump and stuff like that. I am getting really tired of this lounge, too busy and the food is just not very good in my opinion. But the mixed drinks are great!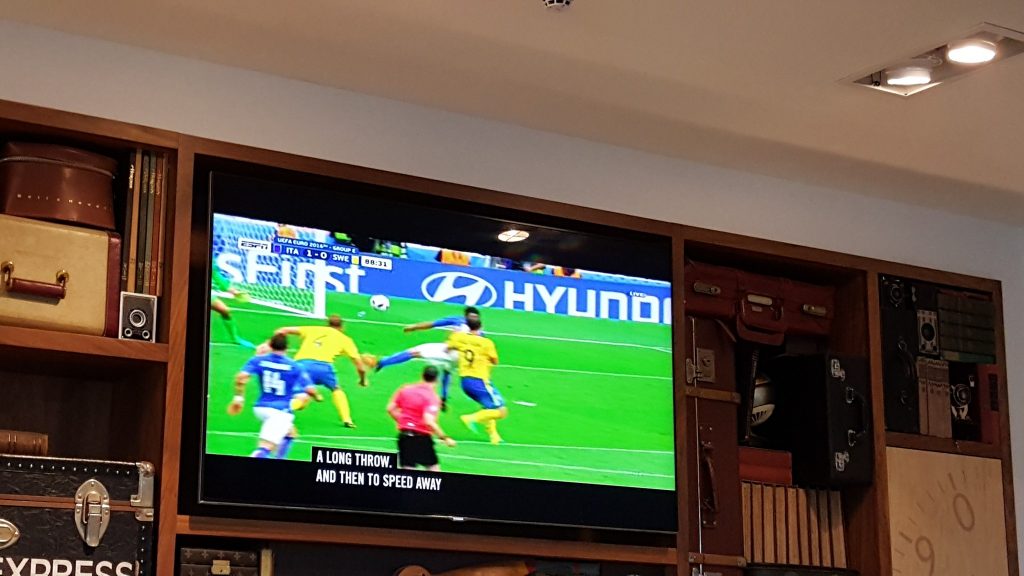 We then had to go to our gate to get on Japan Airlines flight 11 to Tokyo Narita. Business Class. First time trying out this "product". If there is one pet peeve I have is calling a flight "product". It just sounds so WTFish, like I am an expert on something. I just burned some miles, that's all. So, I lined up with all the other seemingly important people who paid thousands of dollars for the privilege and here I am burning AA miles. There is a certain addictive satisfaction to this, it never gets old!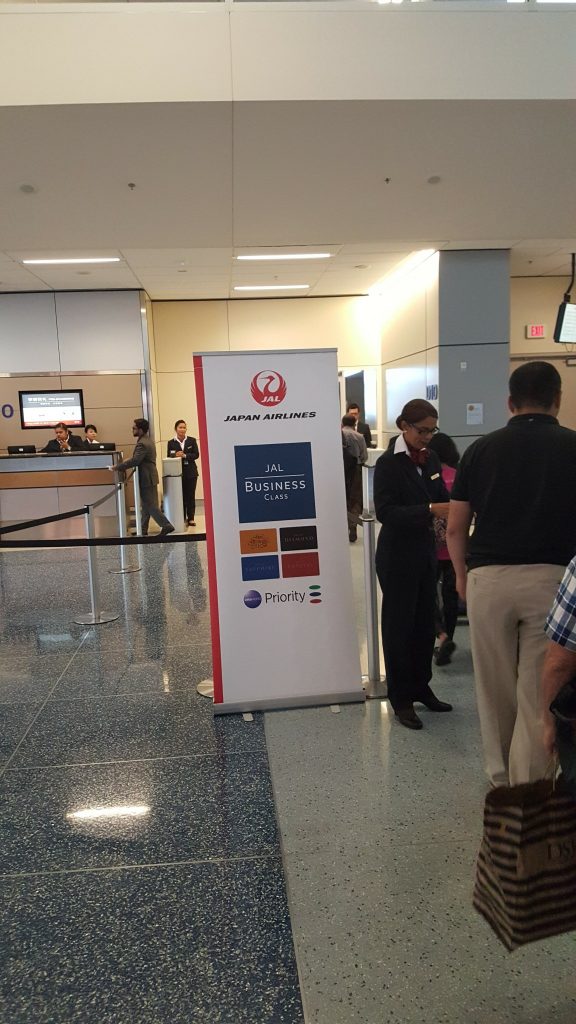 Here is the bird taking me to Tokyo. I am no airplane geek. It is not the A380, okay? My record locator paper says it is a 788. It looked nice.
Hello Business Class seat, how are you? First impression was pretty good but, you know, I had better.
I was on the seat at the right with aisle access. I love the aisles so I can escape to the bathroom quickly without interrupting anyone. I could go on about every darn little feature of the seat…but I find that stuff excruciating, there are other blogs that go on and on about stuff like that boring me to pieces so I won't do the same.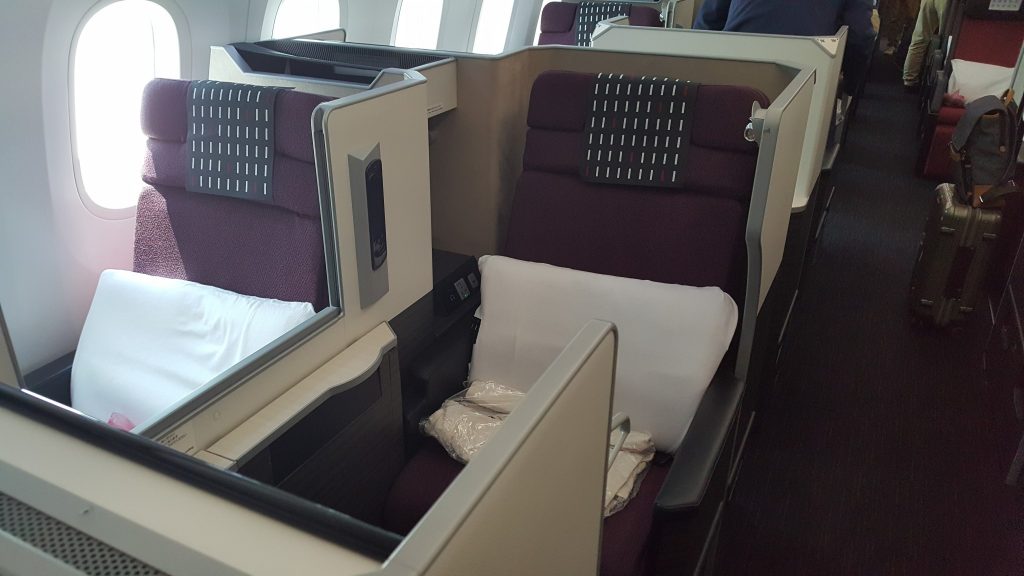 I believe every business class seat was taken, business must be pretty good.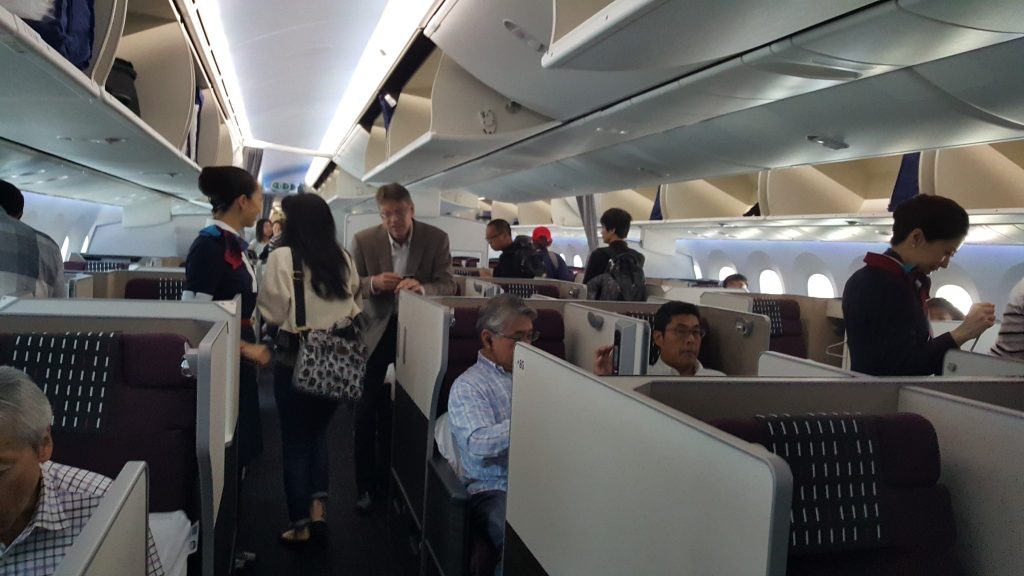 The obligatory menus to make you jealous are next. I had everything. If it did not contain shrimp I ate it. With red wine. Because this is how I roll!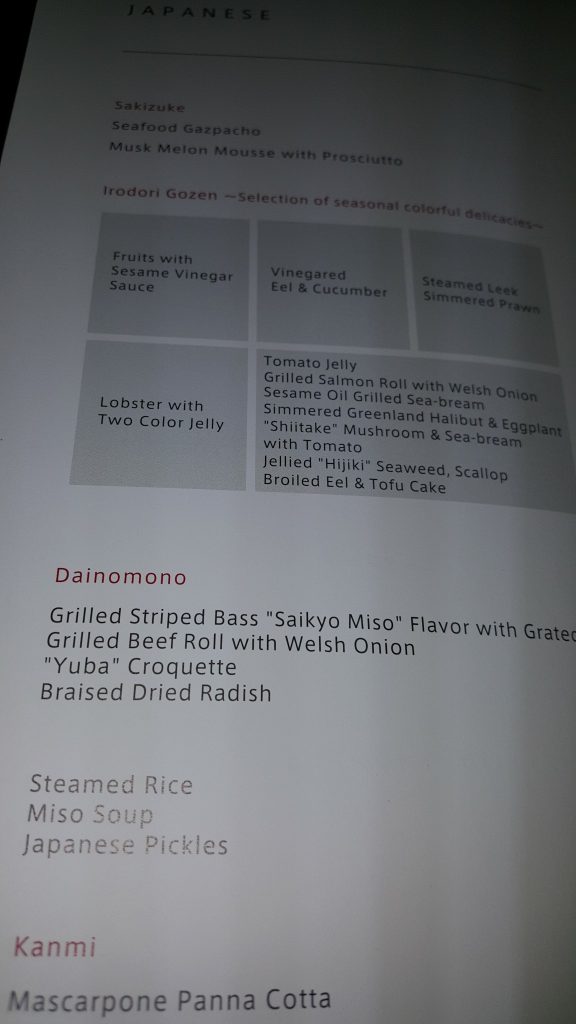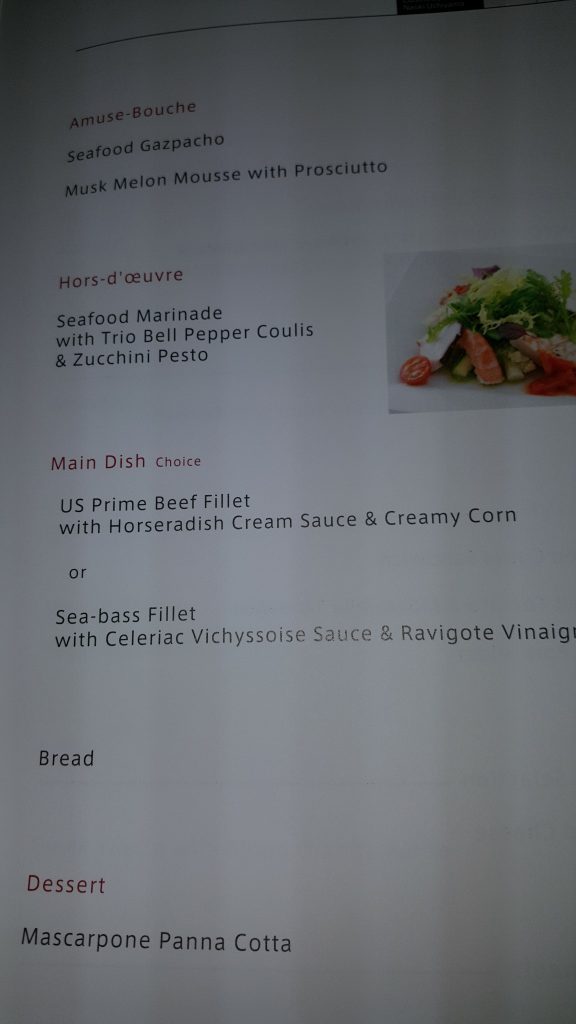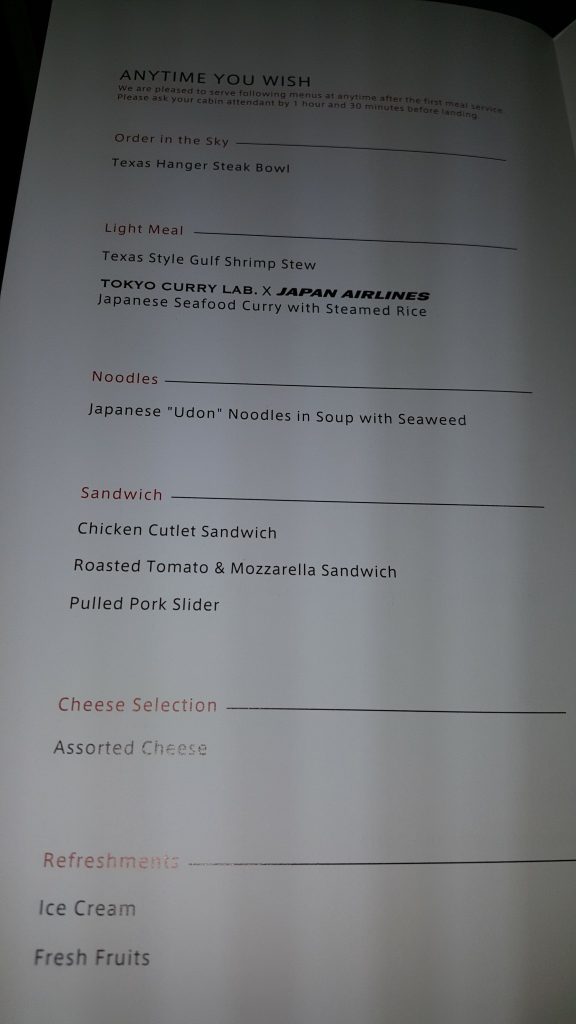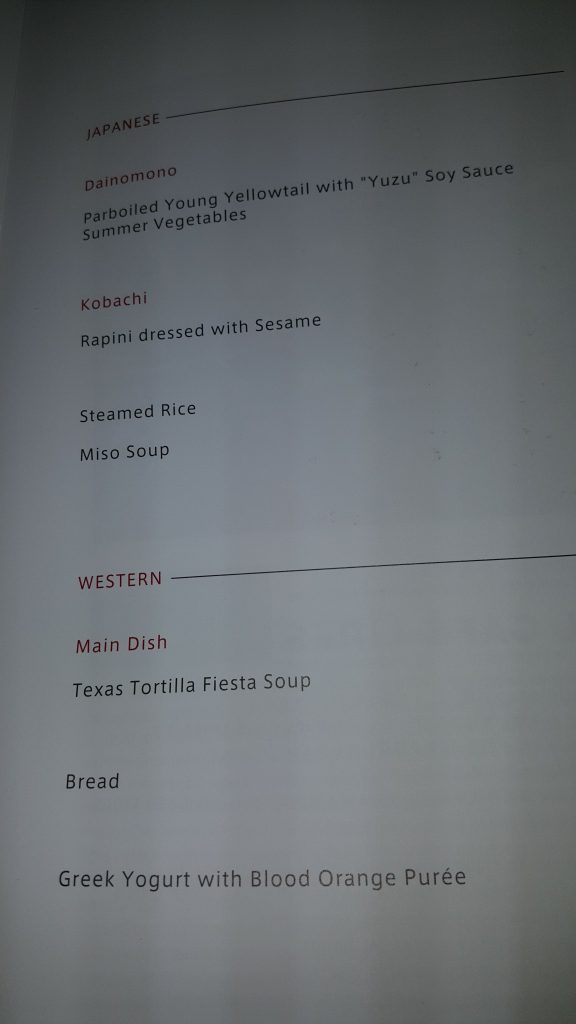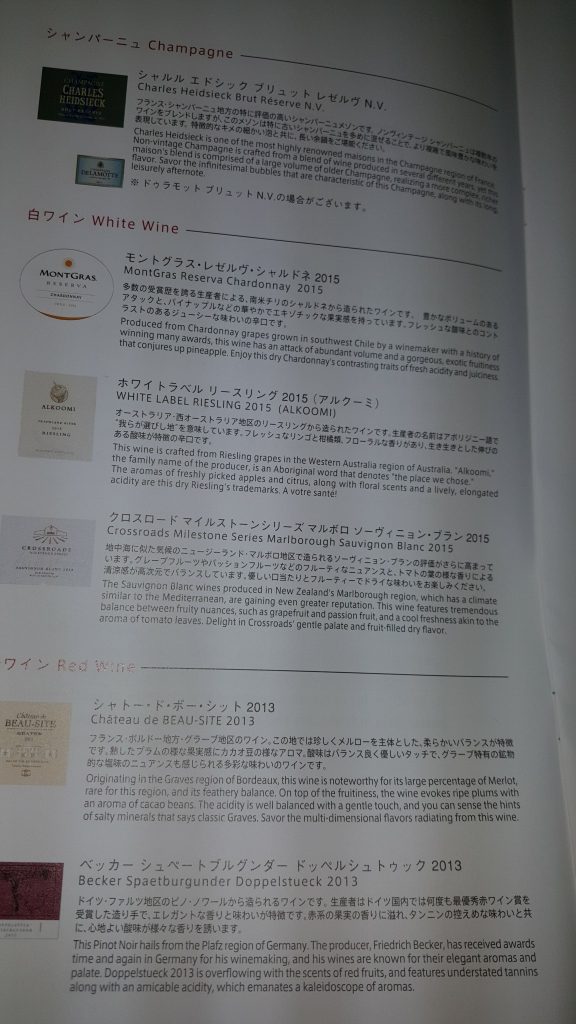 Lets get the party started, hors d'oeuvres. They were okay. Ok, I am not going to hold back. Maybe my expectations were too high? I found the food on Japan Airlines average to less than average. And I usually enjoy Asian foods. Just did not have that flavor…bland tasting all around. No, I did not complain of course.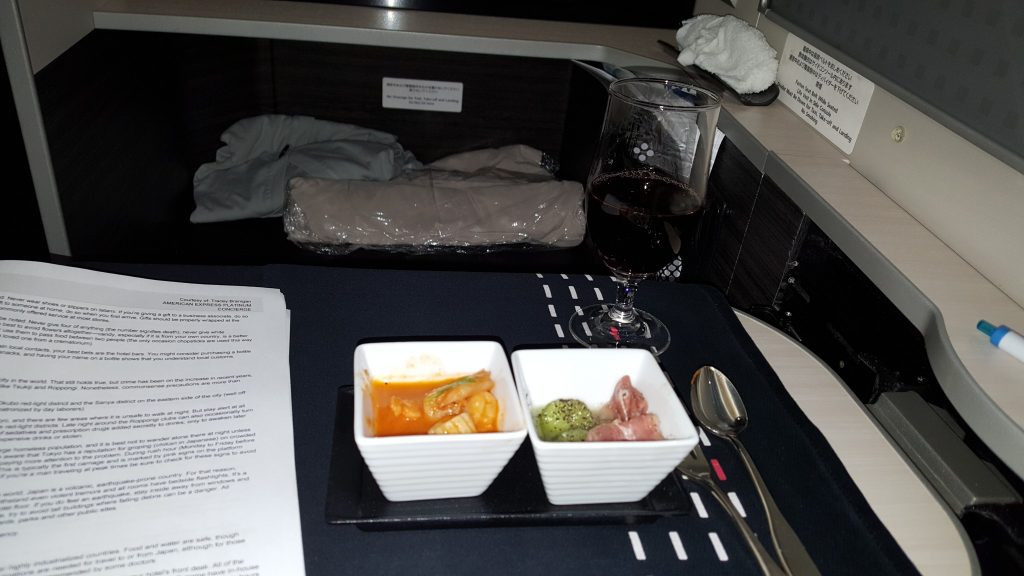 Me and my brother are not good in front of cameras. We joke that each other is worst in pics and the other comes second. I mean, look at this, I look so awful…Perhaps waking up at 3.45 am to catch a 6am flight, eating and drinking at the DFW Centurion lounge and eating those two things in the pic above probably did not help. At all as you can see. Please hold the boos, thank you. I tell you, I have no staff here to touch up my pics to make me look like The Points Guy, okay? Yes, I am inhaling.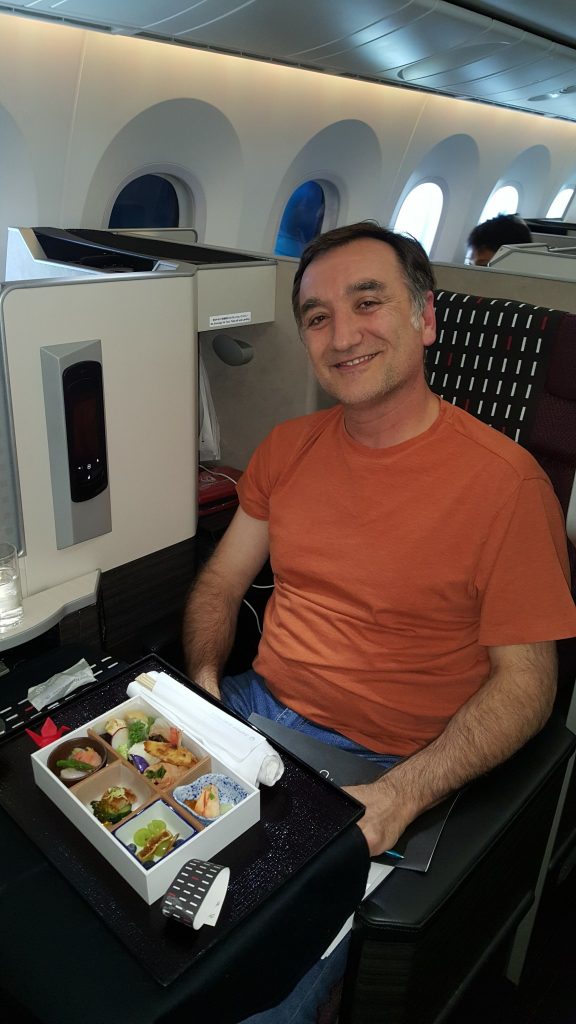 We go on. Lets talk about the service now. I do not want to sound like an elite snob. But, again, maybe my expectations were too high again. I found the service to be pretty good but…how shall I say this…robotic?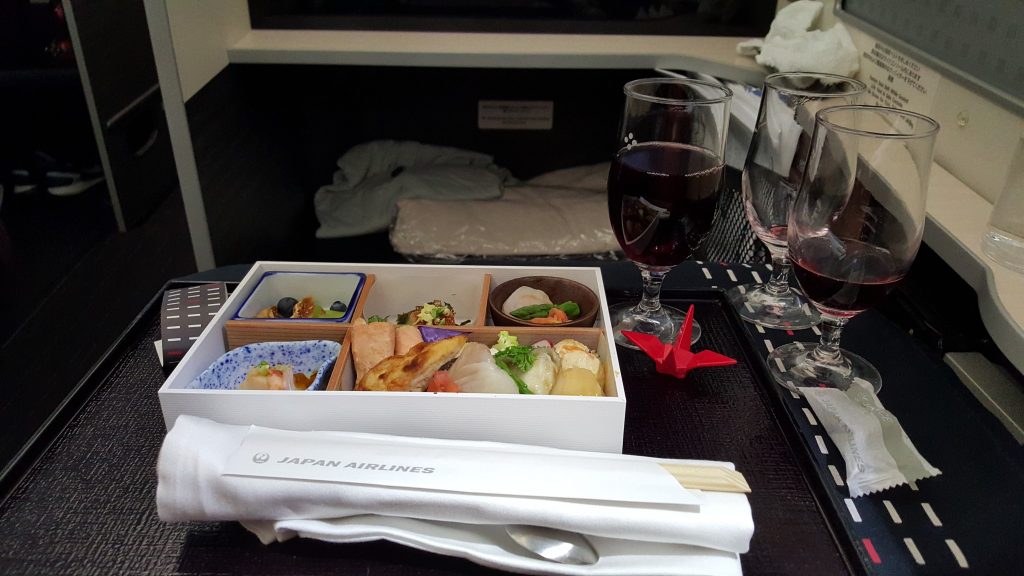 I don't mean to brag or anything but my wife's cooking beats the crap out of this, just saying.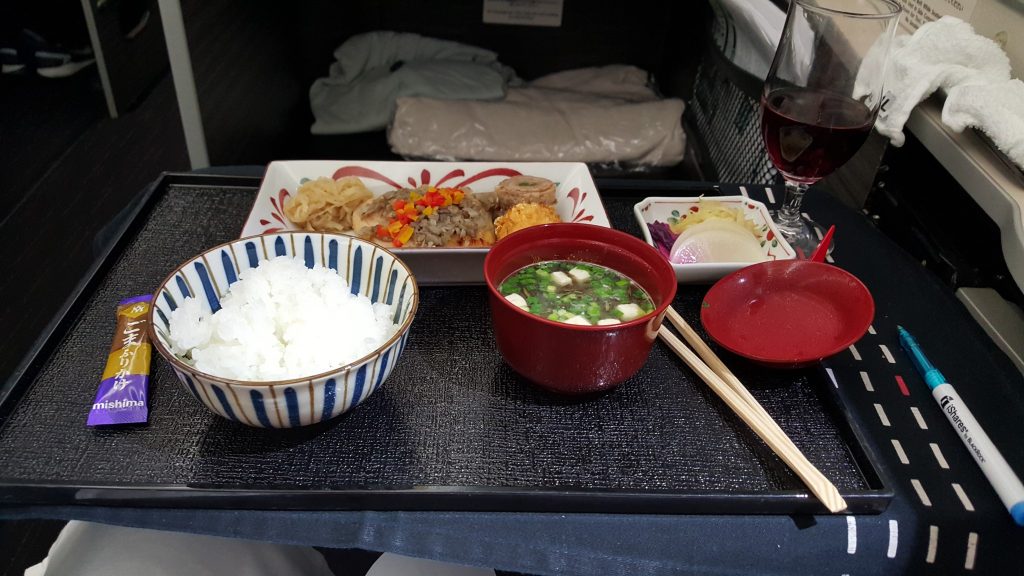 I am starting to lose it again…it happens when I get stuff to eat for free….in the air especially. I have no control sometimes. I am working on it.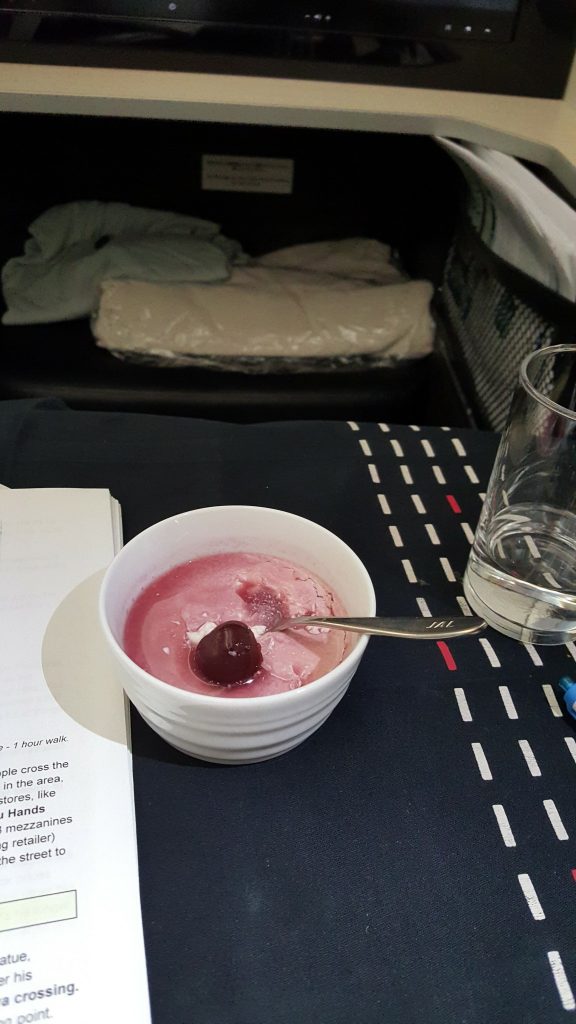 I remember this was pretty good.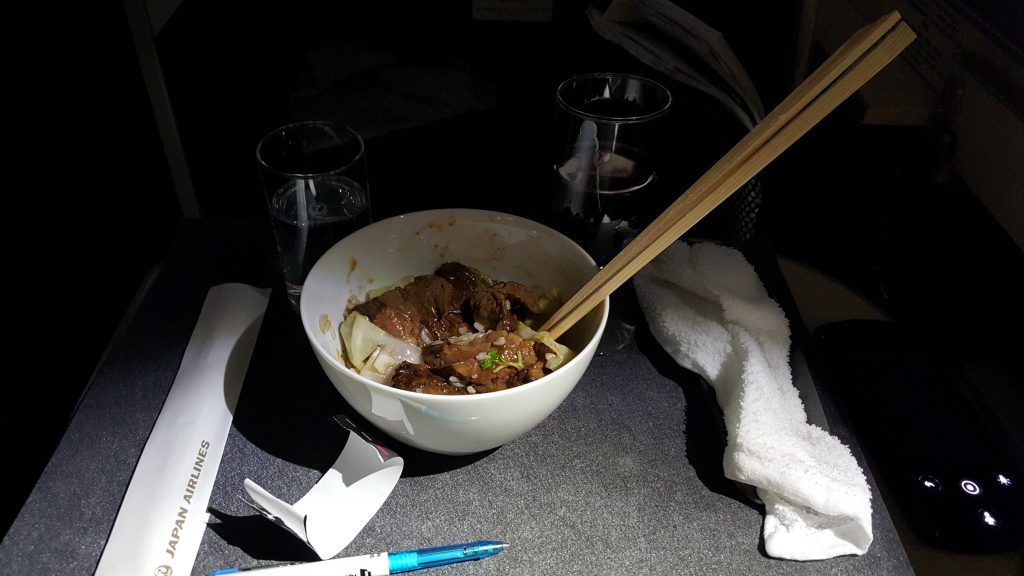 I watched this movie, about someone communicating with someone in the future over ham radio. Yes they still exist. Movie selection was not that great if I chose to watch this! And then the final hit came to shatter all my impulses to control myself:  Häagen-Dazs ice cream. The end.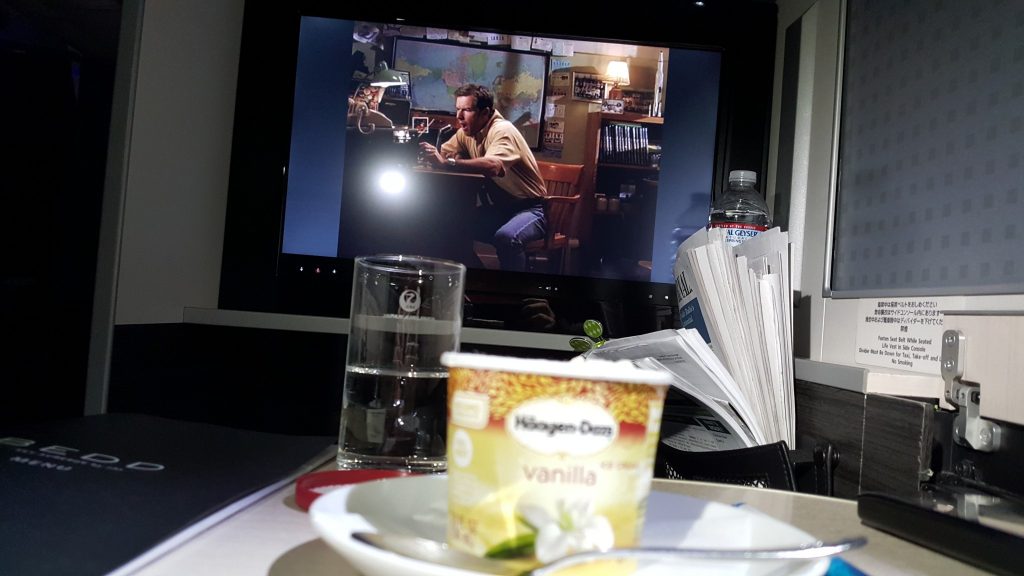 My boarding pass for proof so you don't think I am faking it. Anyways, I fell asleep like a baby and woke up when we were landing! A few other thoughts: I found the seat pretty good but, again, not as good as I expected like every aspect of my flight. Not that impressed with Japan Airlines Business Class I must admit. Maybe they make it up on First Class? My other flights were better, stay tuned! Other than that it was a pretty smooth uneventful flight.
Except one thing I did not mention until now as I did not want to ruin it for you. Because it sucked. There was an older Japanese man at the seat next to me and I swear he never stopped coughing. Thank God he did have a mask on. And kept going to the bathroom coughing non stop. You start getting visions of horror films you have seen pretty soon after the constant barrage, especially after one time when he popped up without the mask on…We all thought, oh shit quarantine is coming, we are screwed! So, you know, Japan Airlines flight was just not one my best flights. Oh well, we did not get sick and I hope the guy got better.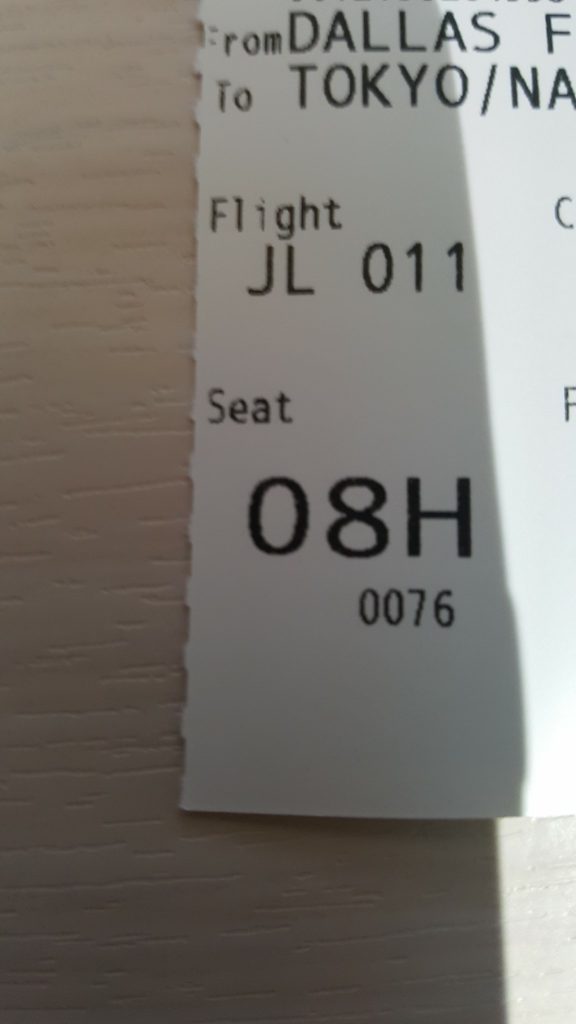 We'll pick it up when we land at Tokyo Narita Airport NRT…
This is the first time I finally exit from a Tokyo based airport, I have transited through them several times but never before got outside. Well, never say never. Tokyo here I come!
Of course everything is very efficient here. Before I knew it, I was outside in the Arrivals hall: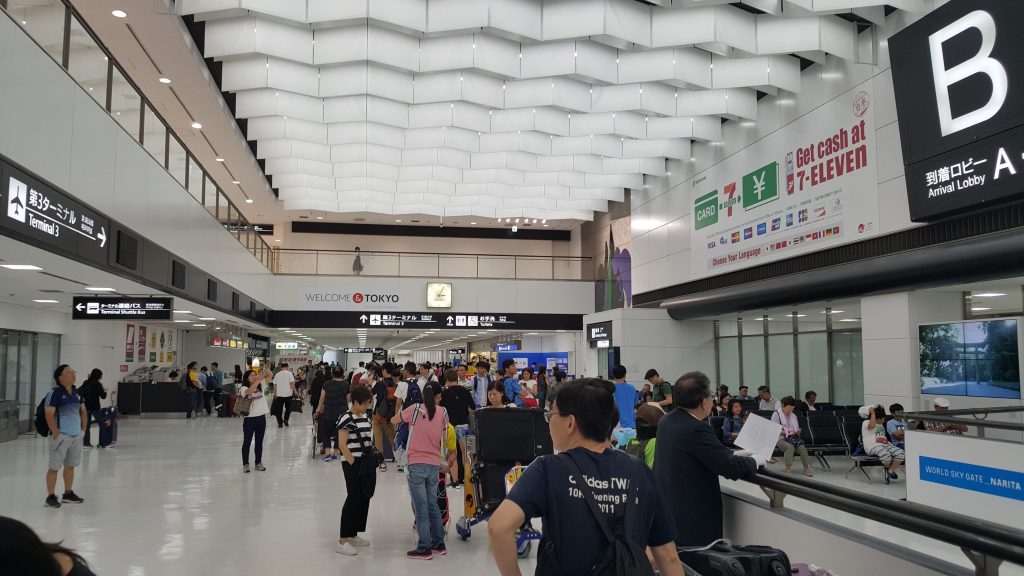 For some reason, I always just LOVED looking at these. Maybe it is in my blood to explore? Or maybe just use miles?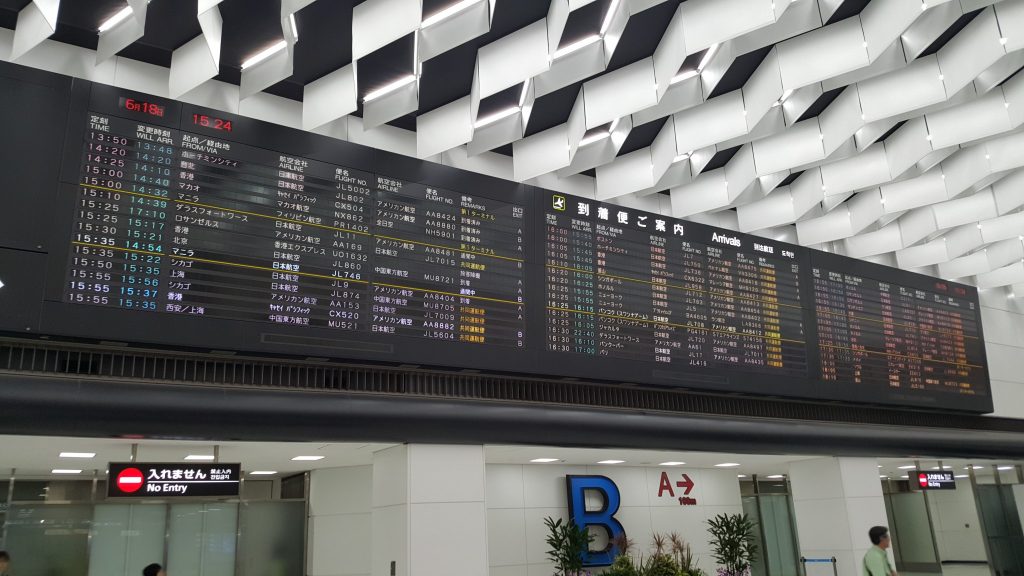 TBB readers gave many good tips for Tokyo. One of the best was to take this company "Airport Limousine" to drive me to the Conrad hotel. Before that I had to find an ATM to get me some cash. Not many are US bank friendly but I found one, I forgot where exactly it was. So, I bought my round trip ticket to/from Conrad. If you are staying at the same hotel, I highly recommend you do the same as the bus drops you off right at the hotel door, so convenient! Small buses, highly efficient. Attendants bow as the bus slowly comes to a stop. Get used to seeing Japanese bowing constantly!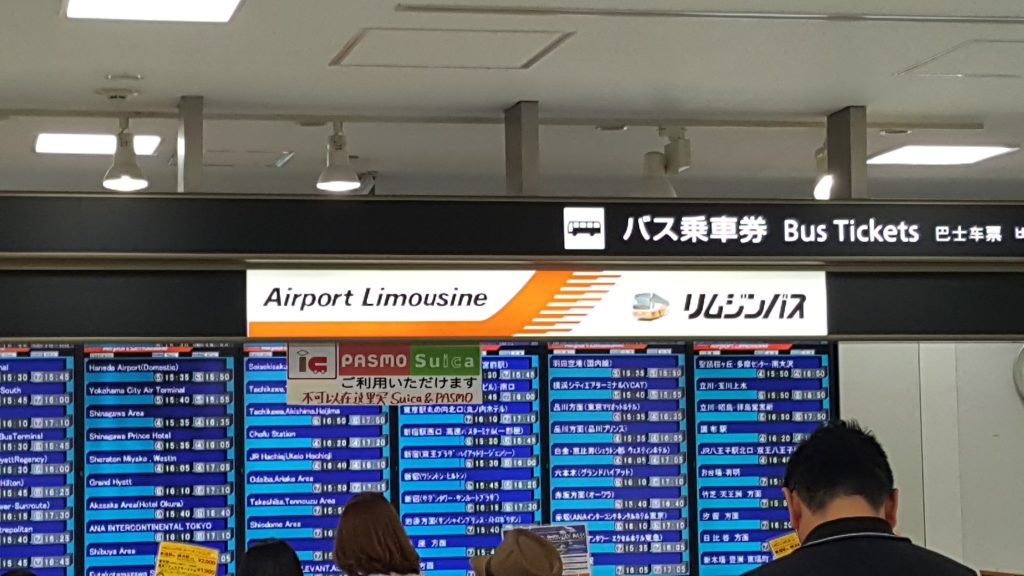 I couldn't sleep of course the first night. Jet lag all the way. So, I tried to get to that famous Tsukiji Fish Market as it was near the hotel. I believe this was the last year before it was relocated to a more modern compound as the whole area is being upgraded for the Olympics. I got there at 3.30 am. Big mistake! Too late, all tuna auction tickets were gone!
Next day, after a decent sleep but still quite jet lagged, met a friend and we started visiting some places around the city.
The area around Tokyo Station: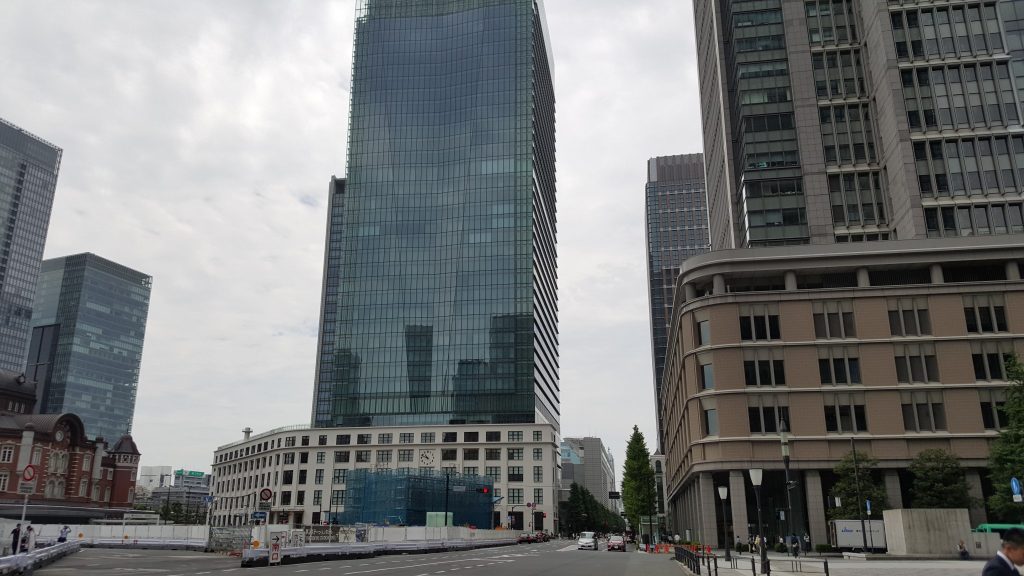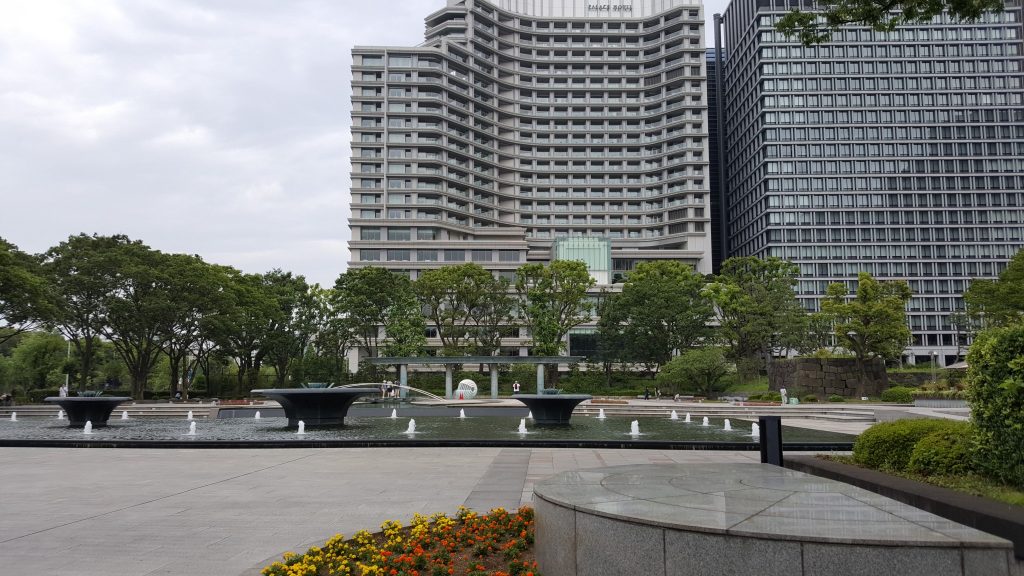 The Imperial Palace area with its walls and its gardens. Very nice area to stroll through…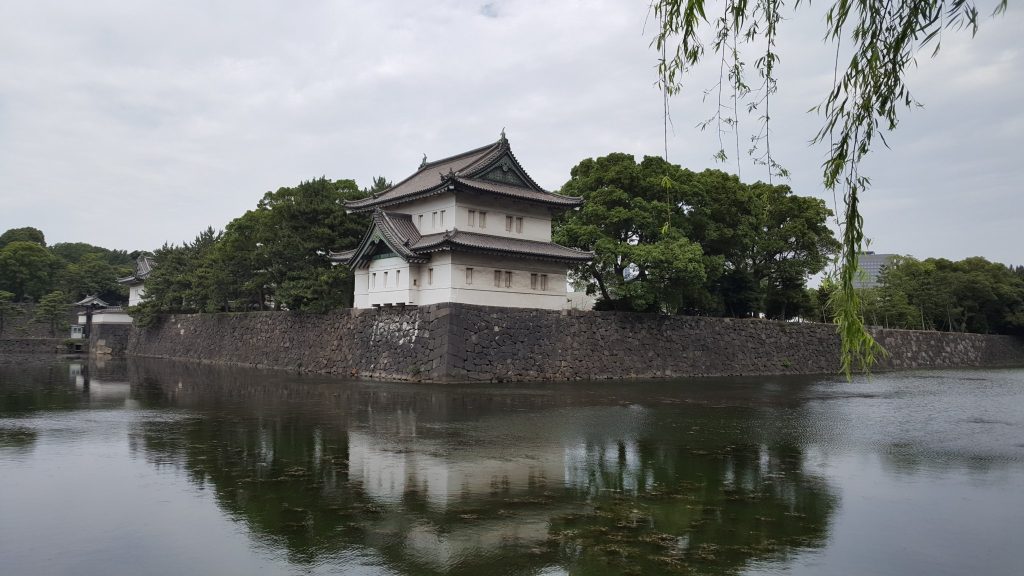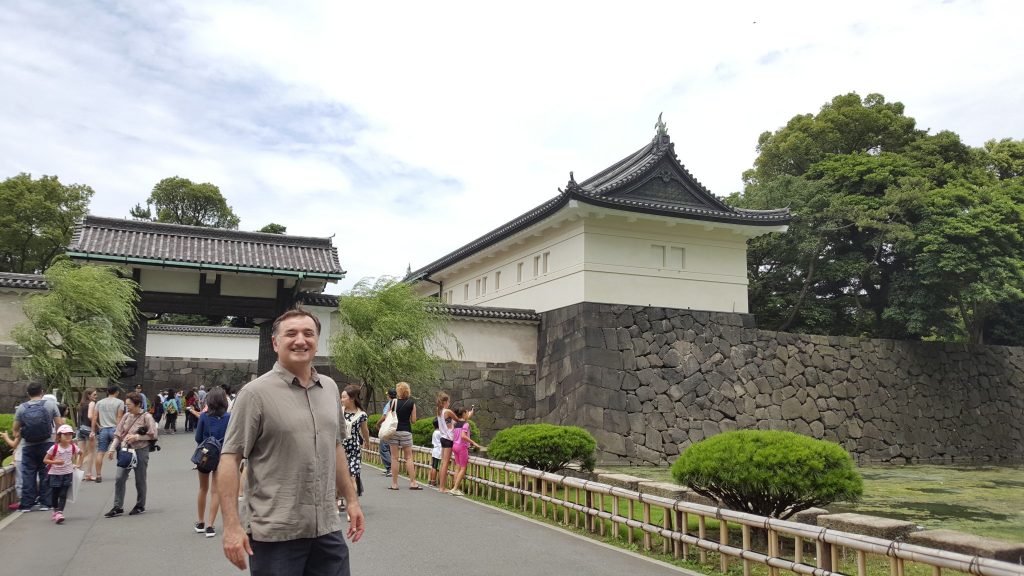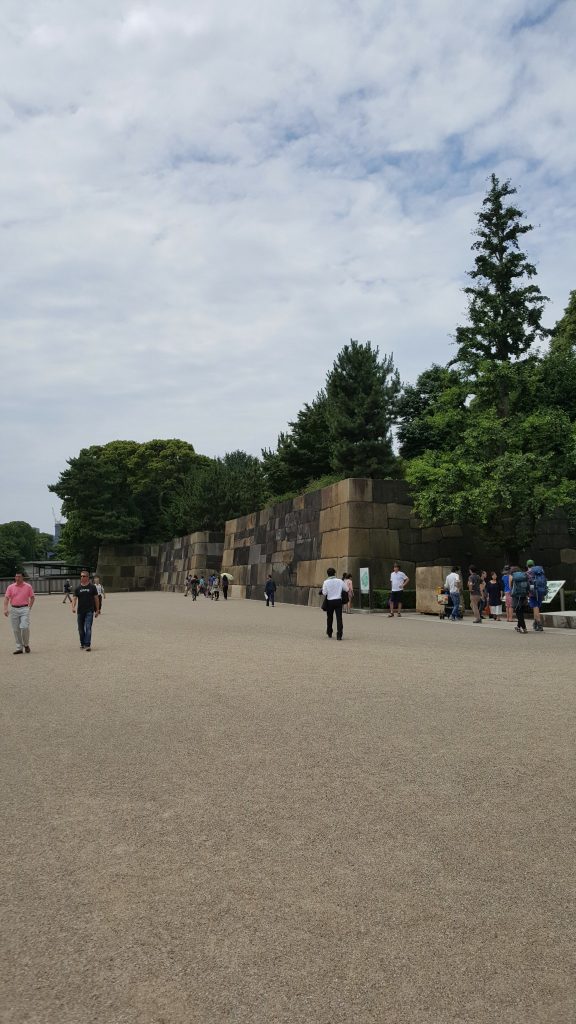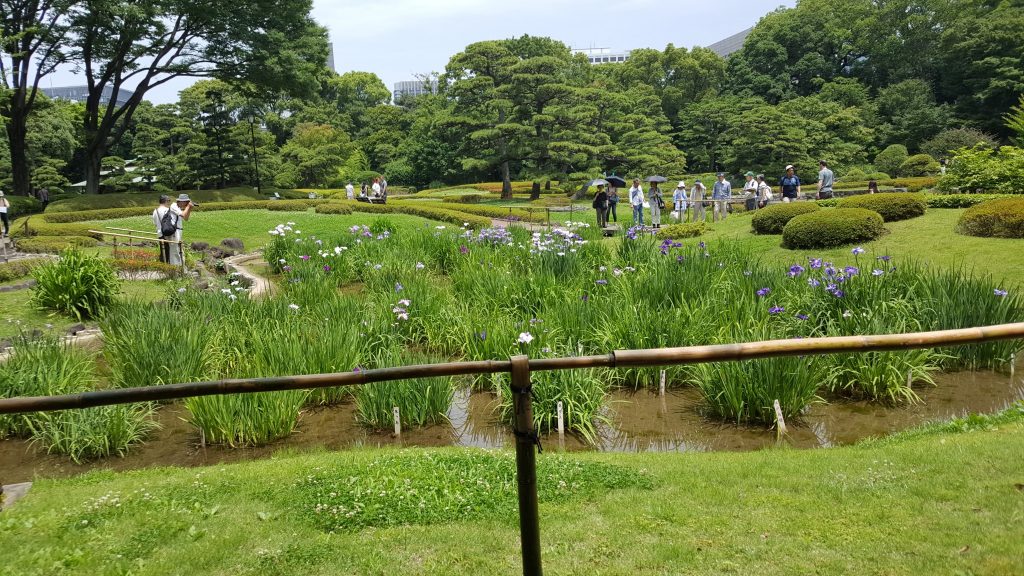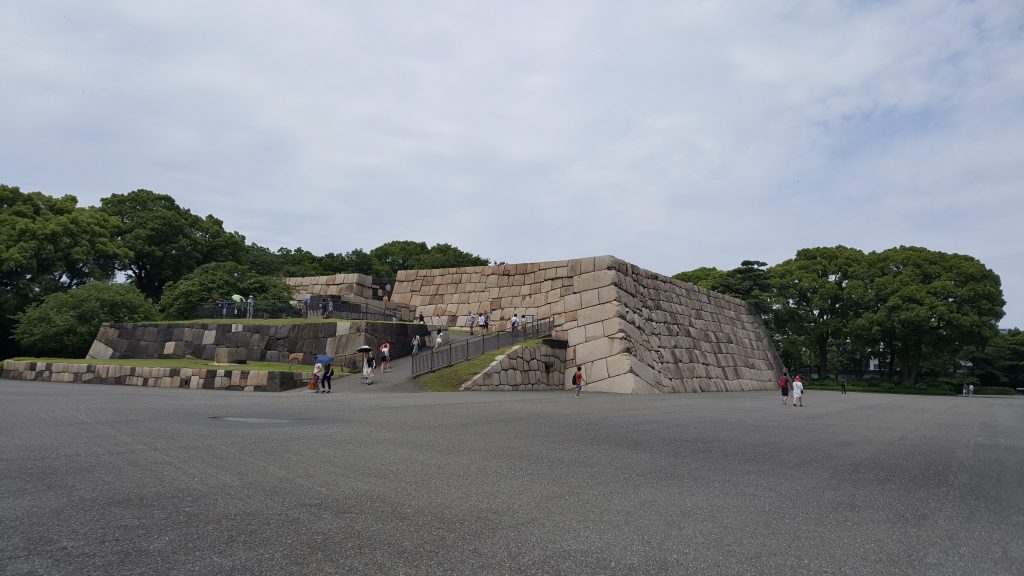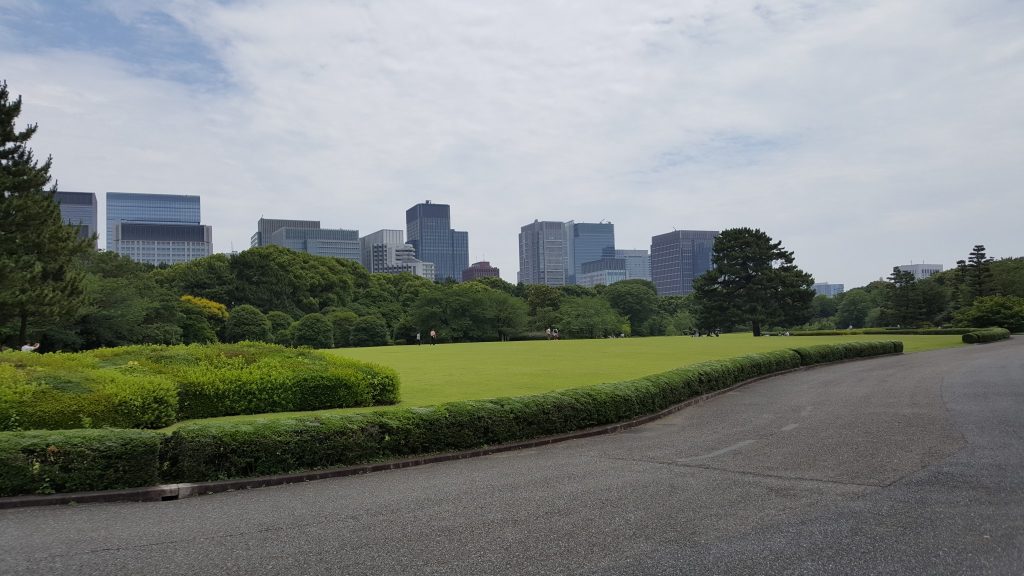 Here is a shot of the actual Tokyo railway station: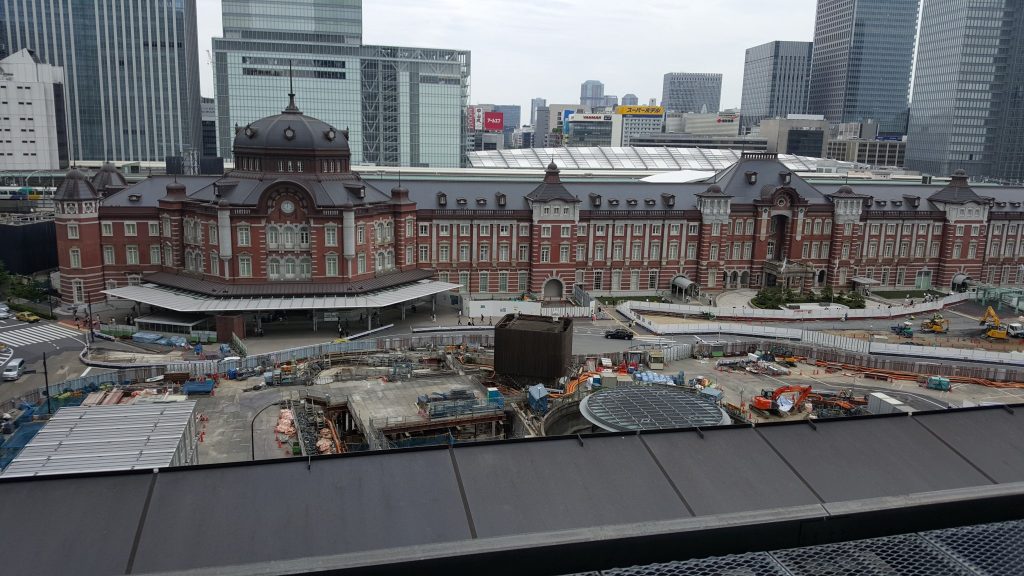 I believe we then went to the Shibuya-Harajuku area and visited Takeshita Dori and crossed the mother of all street intersections!
Visited a maid show establishment. Yeah, a tourist trap I know but it was a lot of fun. There were some patrons there who were totally into this. Japanese can get into these characters sometimes….WAY into it sometimes. I will withhold my customary WTFs for another post…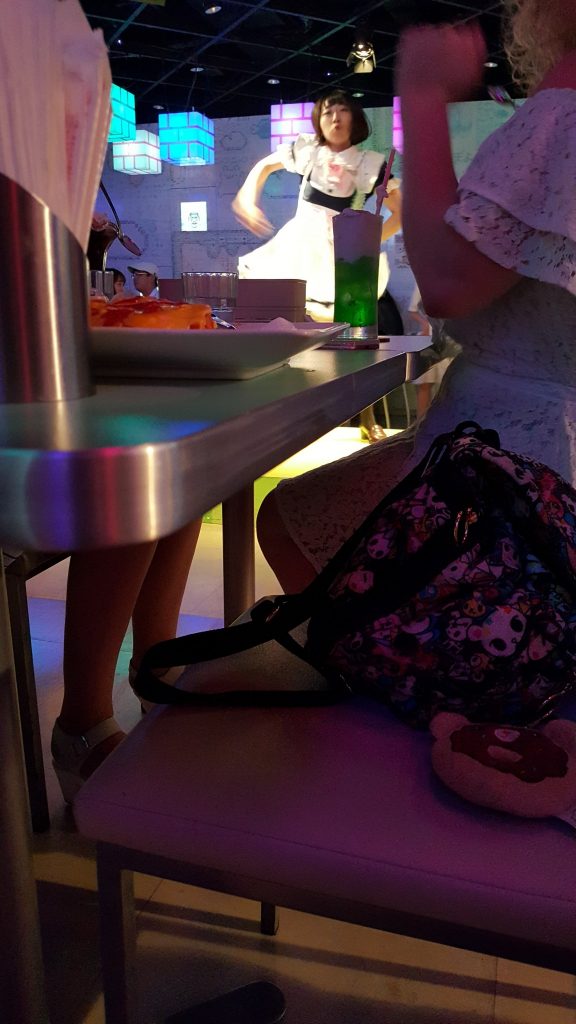 The beauty and the beast. And yes, there is a package that includes photos with your drink/food.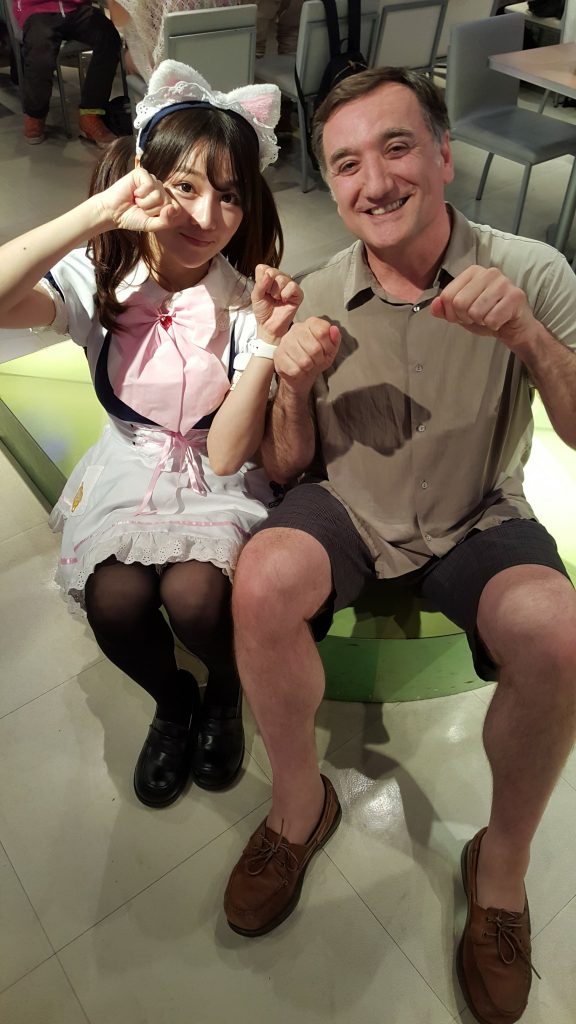 Give me some credit (ha!) at this point. I am super jet lagged and started not to feel well at this point. But I soldiered on. Sadly, the second the pics were taken she was to the next customer right away! Like I said, the Japanese are very efficient!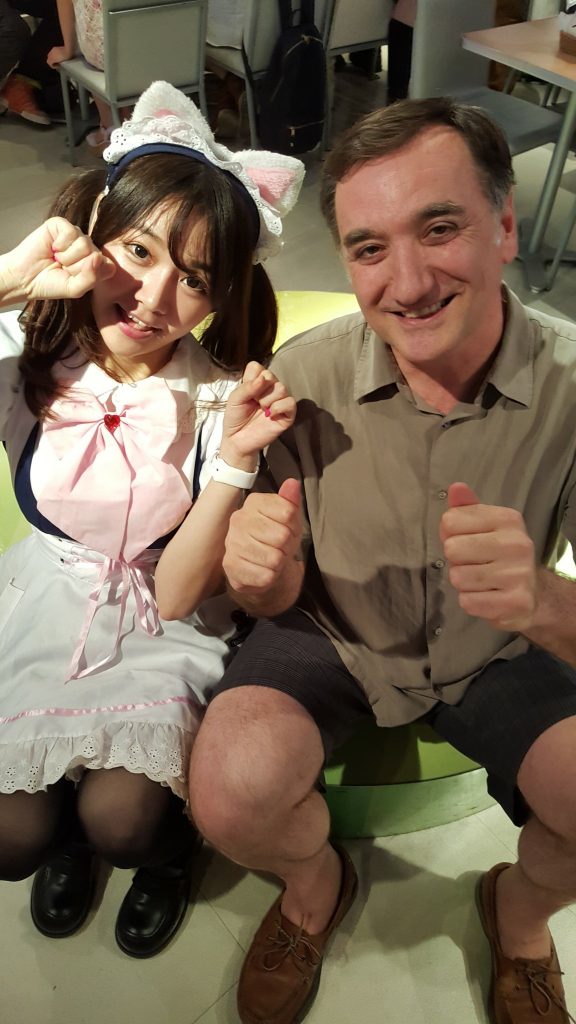 Japanese punk rockers in the streets, yeah..whatever.  Kind of soft for me, like punk lite or something.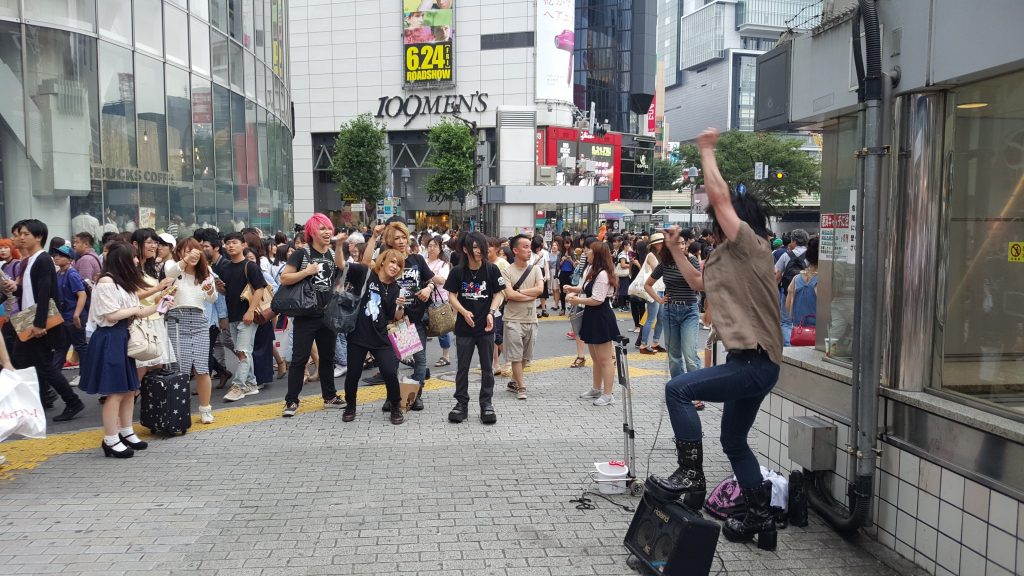 And then I saw a protest against the North Koreans so I had to join in!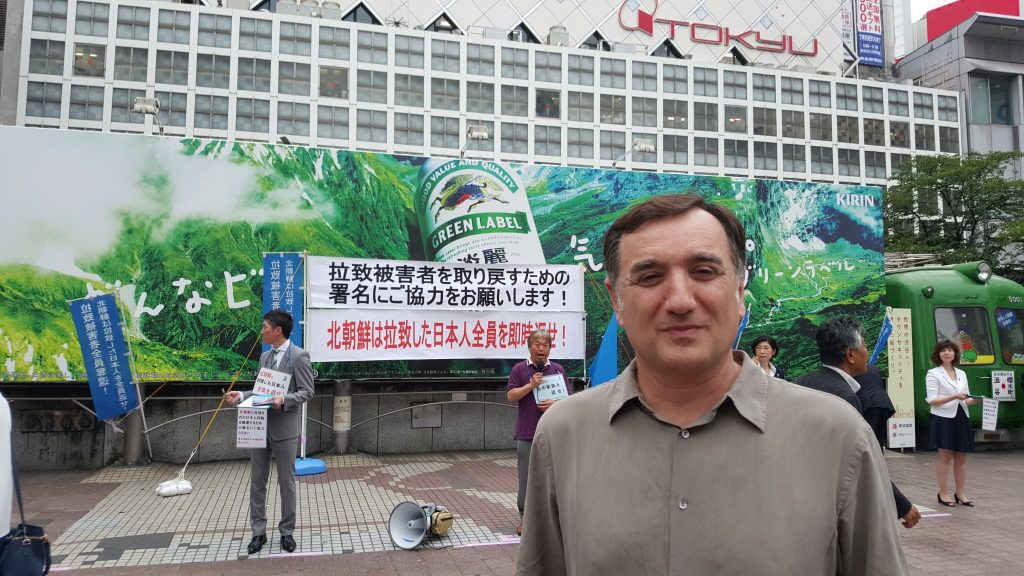 The actual Takeshita Street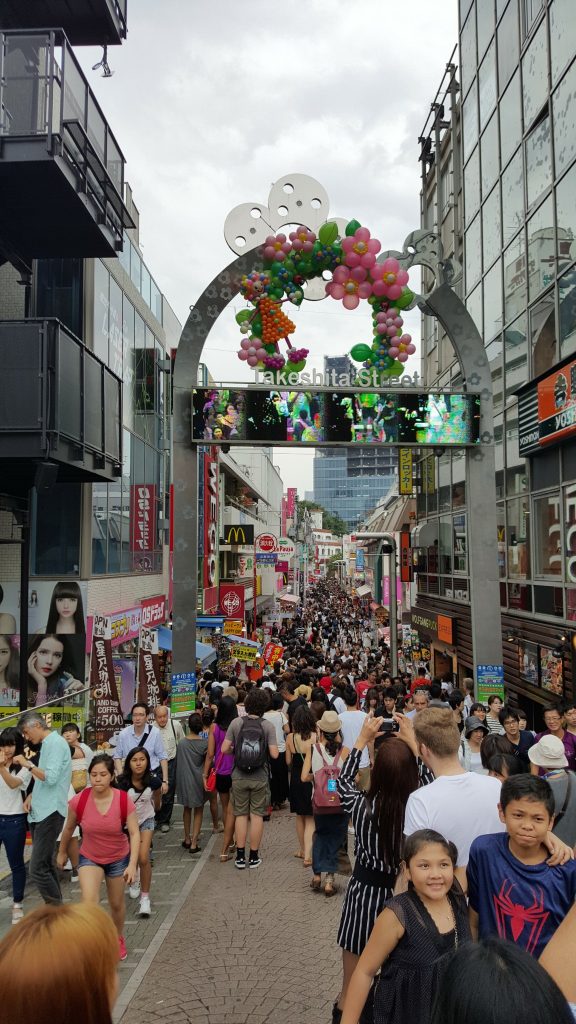 At this point I realized I had forgotten my Benadryls and epipen shots so I am very very wary of eating something that will trigger my allergies so we looked for something safe to eat. And we found it. In a Turkish kebab stand. And it was really good. Here I am in a Turkish kebab stand in Tokyo and watching two Turks arm wrestle. Wow!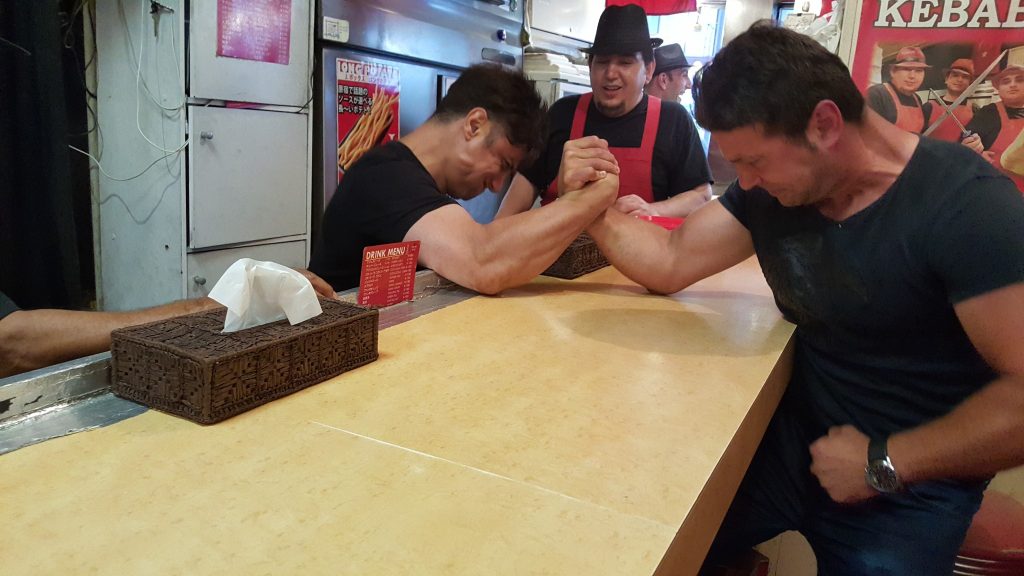 You see many shots of the Tokyo subway in movies. And it was exactly as I imagined it. Actually, Tokyo is the only city that was not too different from what I expected. Which is weird. Yes, they are efficient and orderly like I said. And they pack them!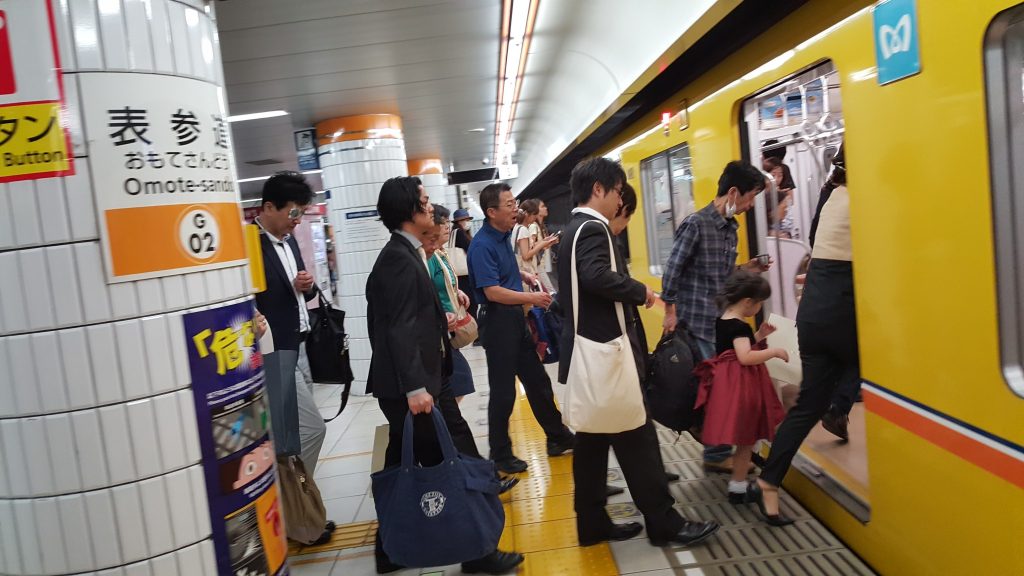 I can not remember what exactly happened but I made another unsuccessful attempt to attend the tuna auction at the Tsukiji Fish Market. But I barely missed the cut…again! Story of my life, sad! So I hanged around and took some pics of the shops in the area: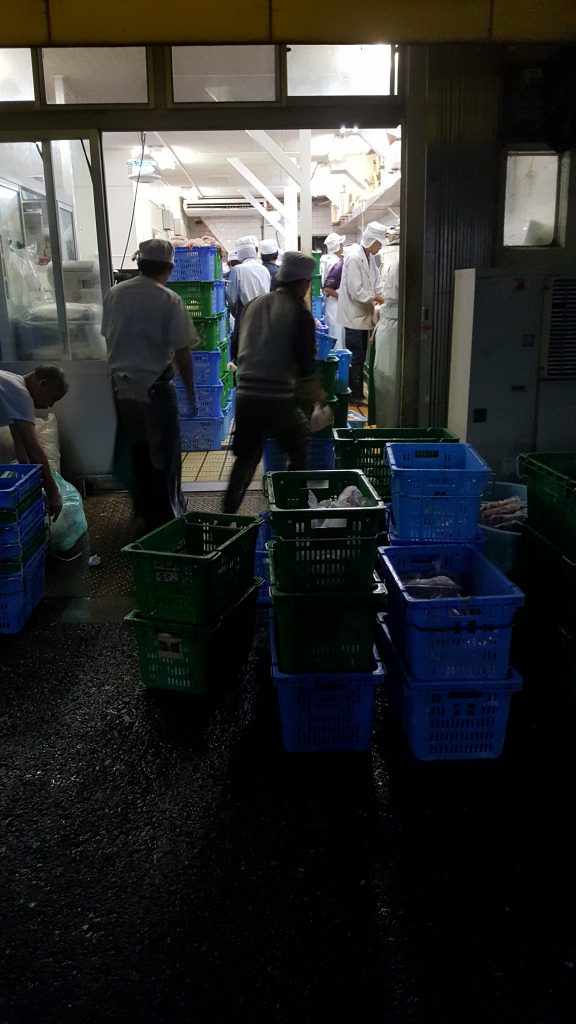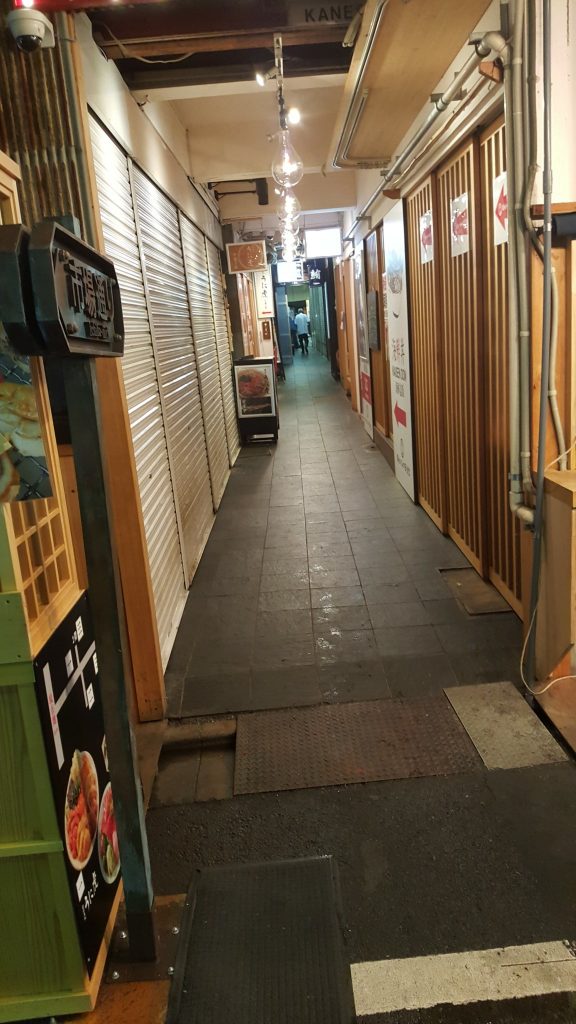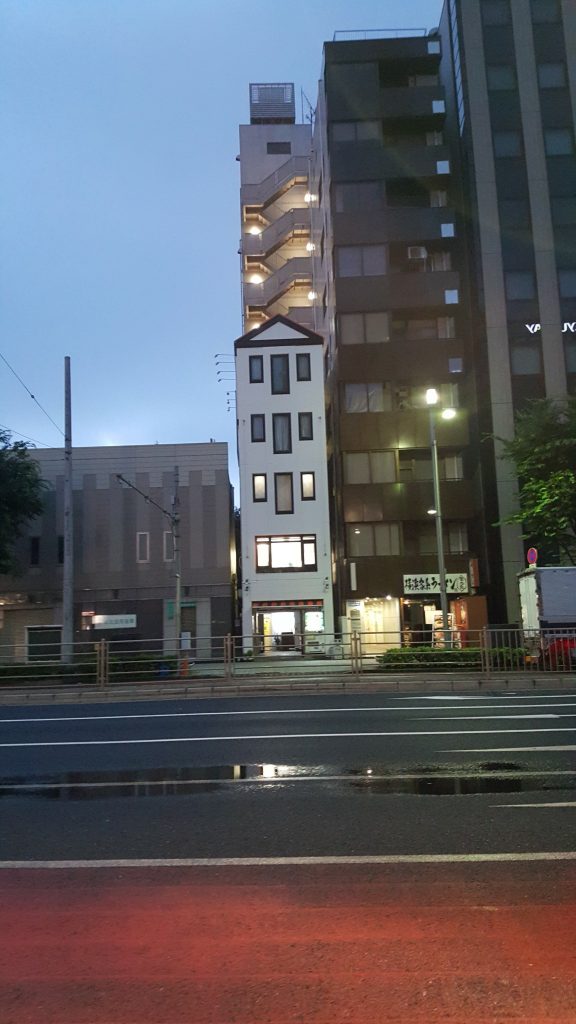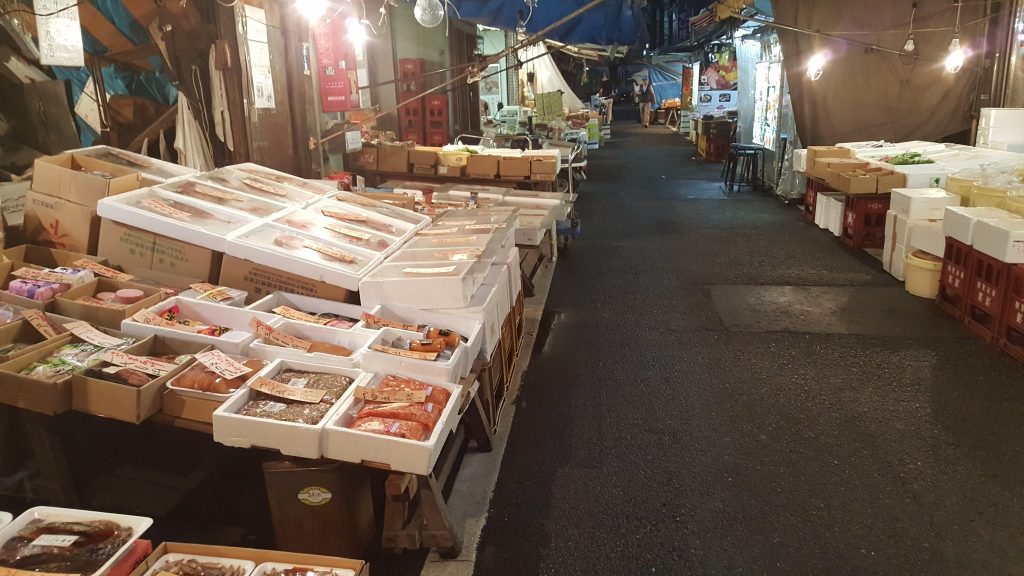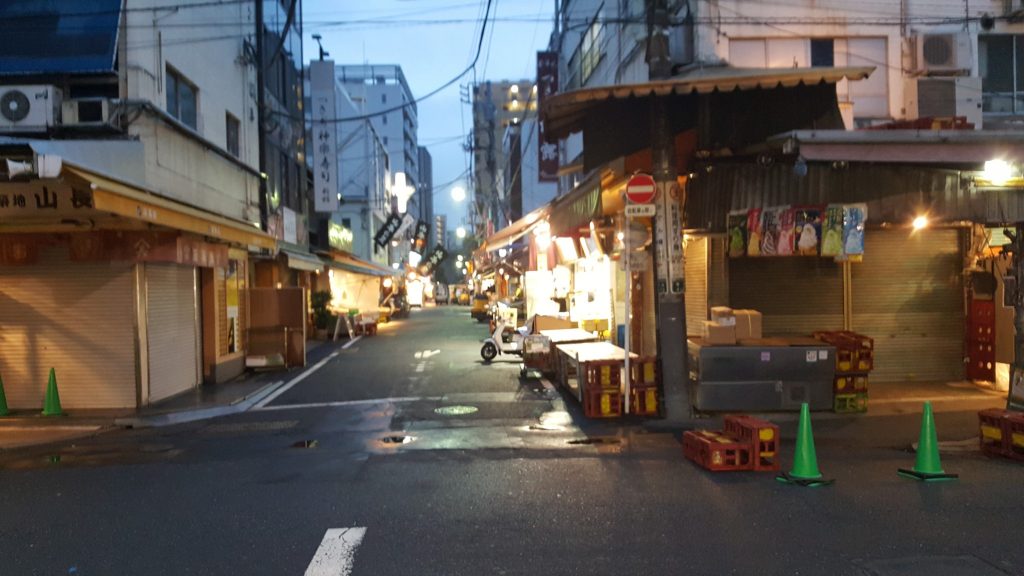 So, I ended up staying four nights at the Tokyo Conrad. 2 free nights with the Citi Hilton Reseve card and then blew 160,000 Hilton Honor points for two more nights. In retrospect: the use of the two free nights with this Citi card is a great use in this property as it is top notch, no doubt about it. Maybe one more with points, fine. But I think burning another 80k was an overkill. But I just did not want to move for one night so there.
This is the entrance where the bus will drop you off from Narita airport. Nice cars!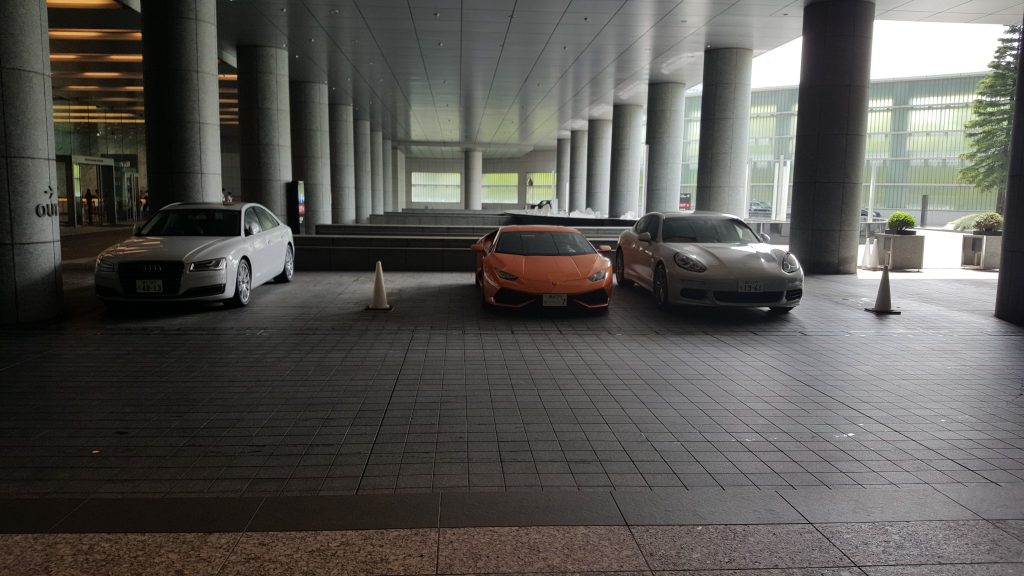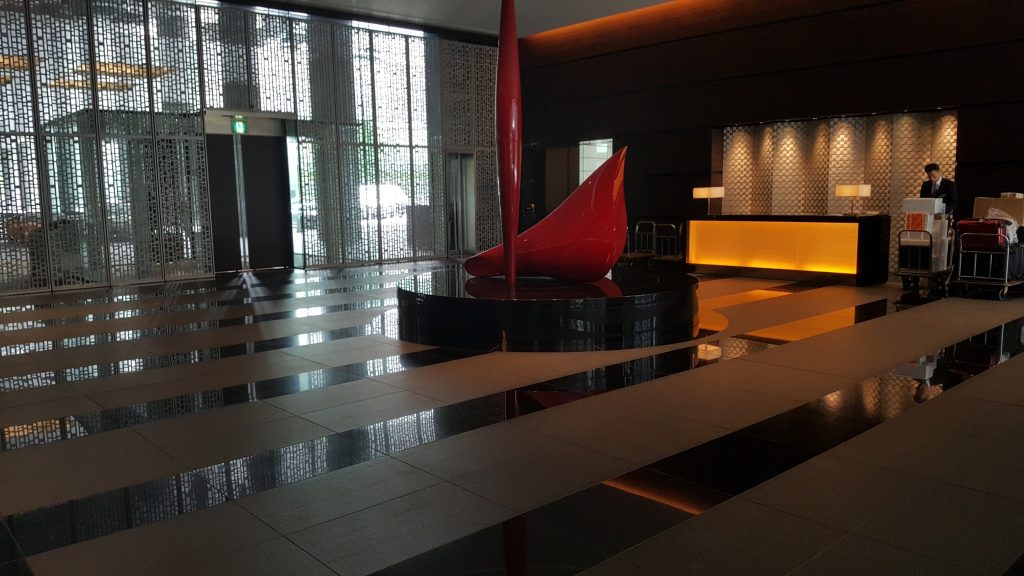 After you take the elevator up…you come into the lobby. Bowing non stop. It makes me feel important but it gets old pretty quick.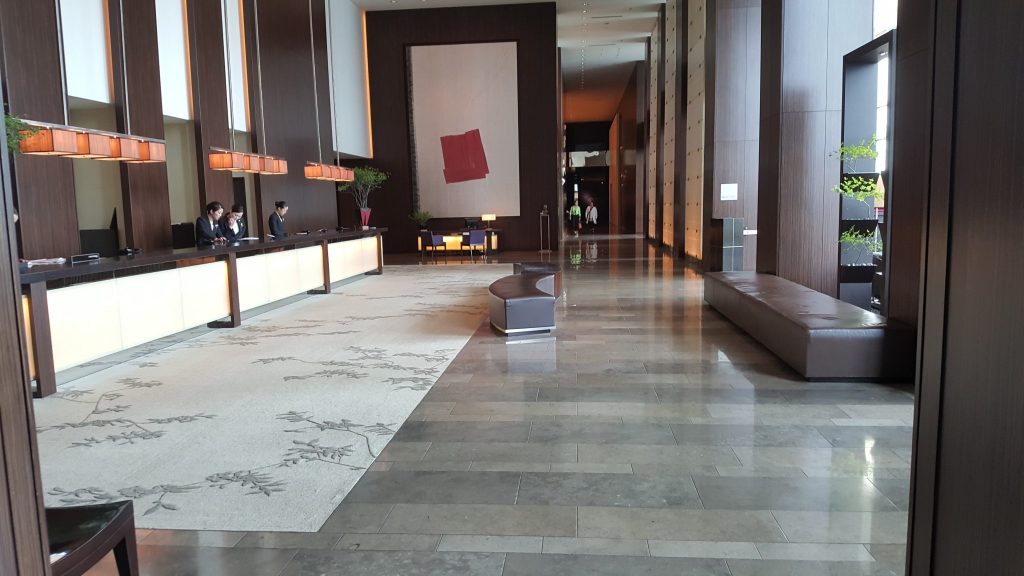 View from the bar across the lobby. Many business people impeccably dressed found here usually. I was dressed kind of causally because I am a rebel.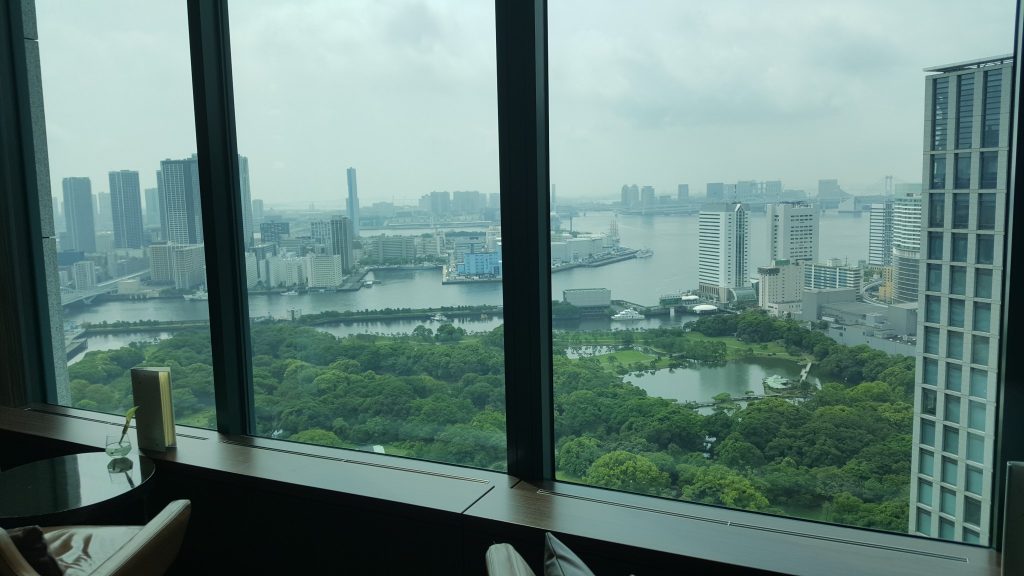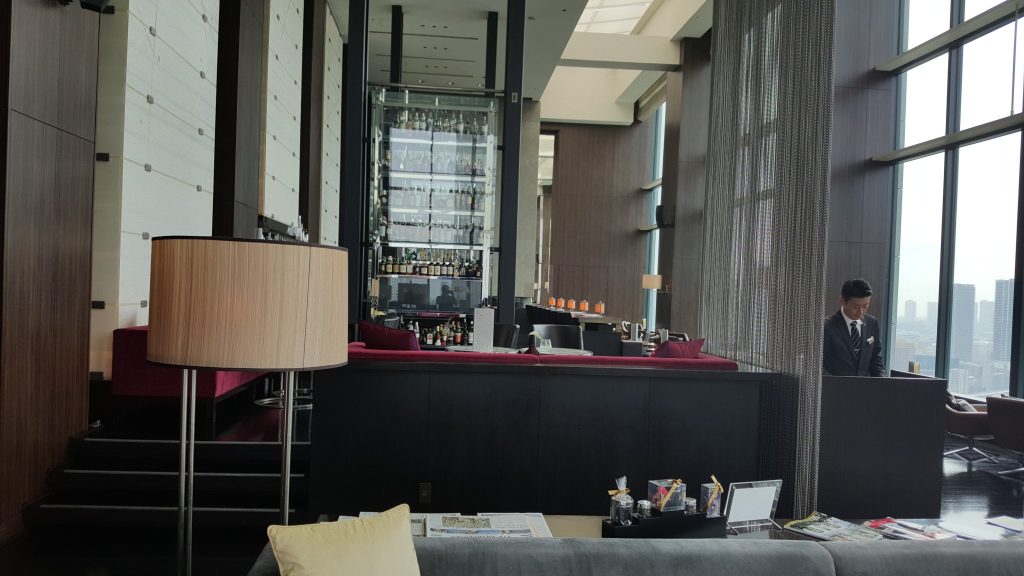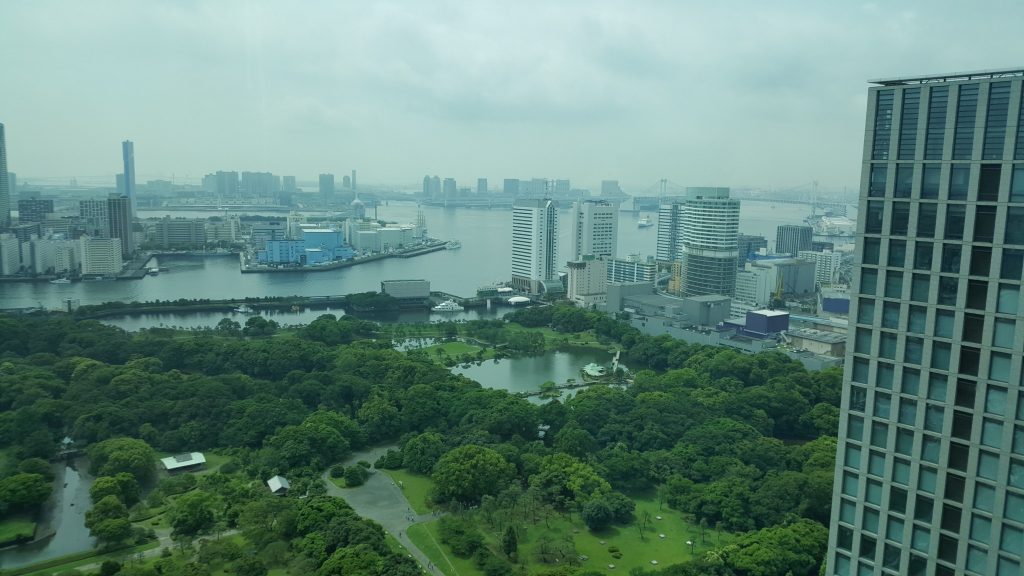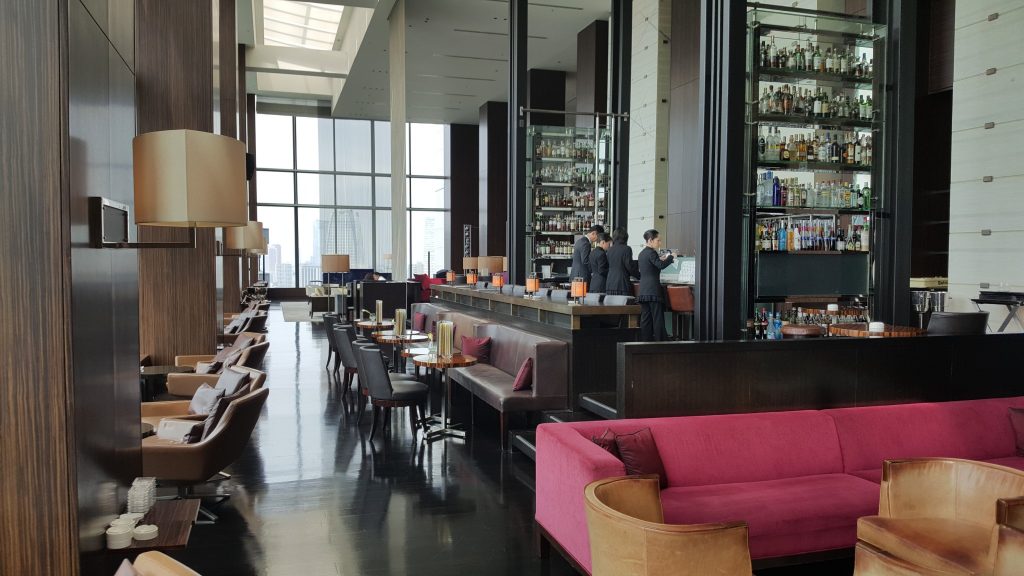 Yes I visited the gym a few times. It is very nice but not as high end as I expected from this hotel. I do not want to sound like an exercise snob or something, it was very adequate for me to huff and puff and burn a few calories from all the eating I did during my stay.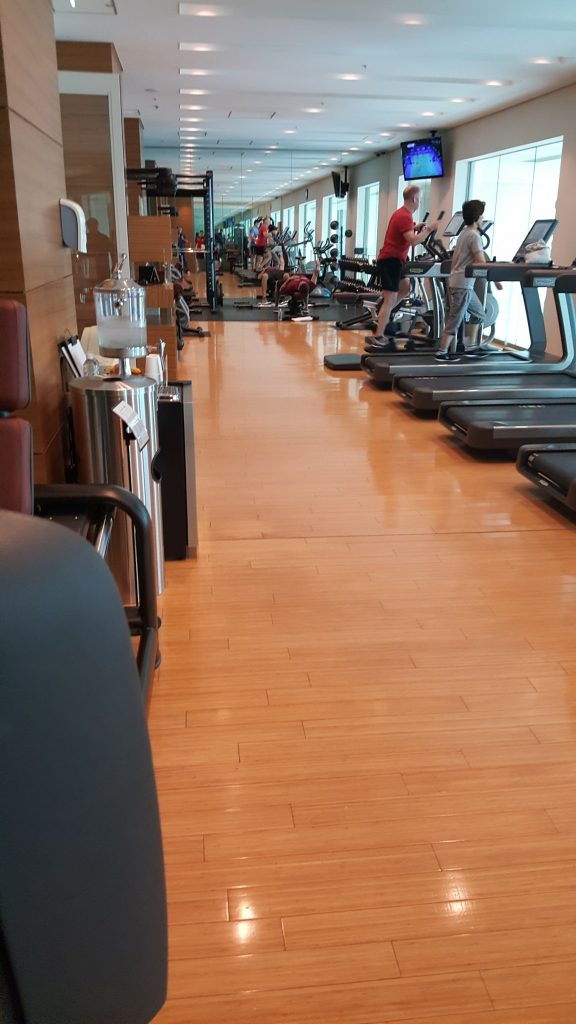 The swimming pool. Impressive but I did not actually swim in it.
The spa. I did not buy anything as it was not free.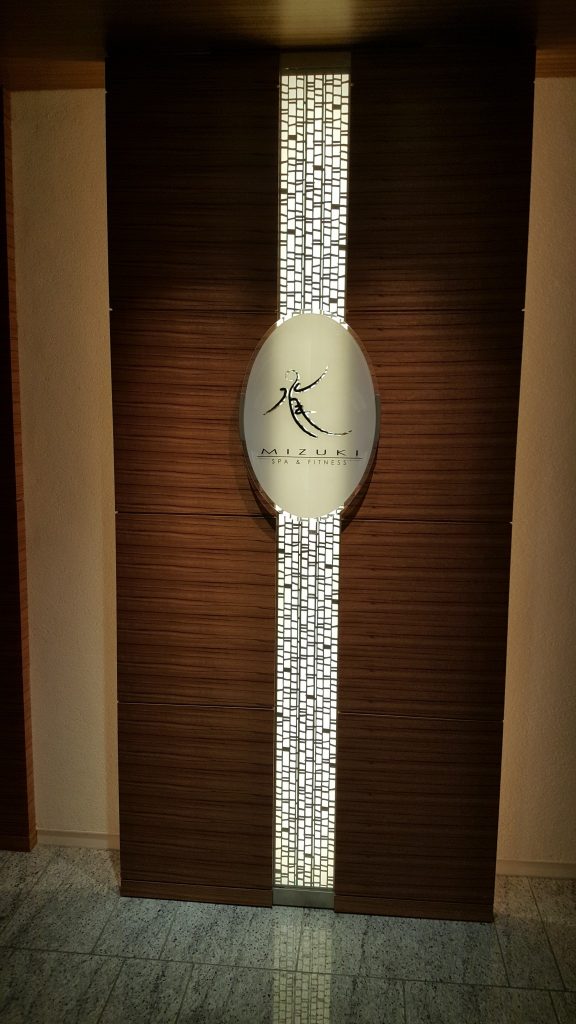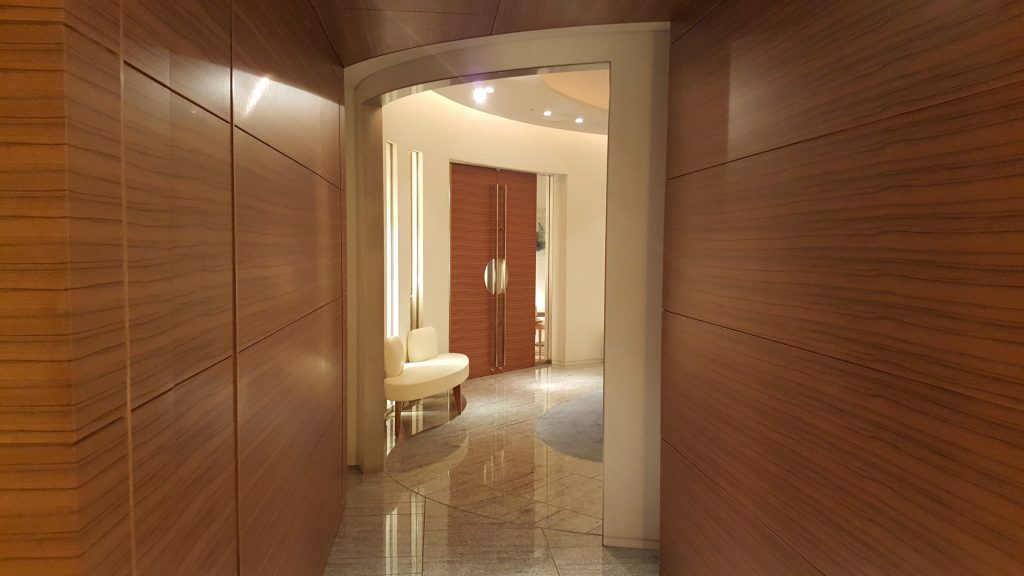 Very modern feel to this hotel. Everything spotless. All staff well trained. But again, that robotic feeling came to mind…This is how the hallway looks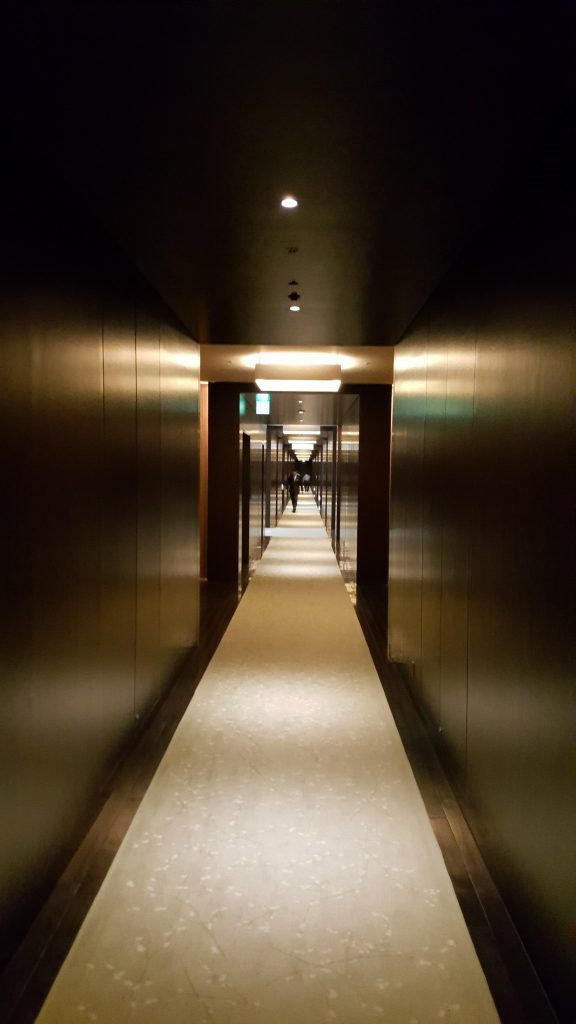 My room, definitely not a suite. It was some type of upgrade, deluxe something. I was too tired when I checked in and then I did not want to bother moving. It worked for me. Very comfortable bed, awesome couch, nice TV, very modern bathroom with tub, that fancy type toilet. I liked it. I was hoping it would be bigger but hey, I managed. Sometimes you settle when it is free, don't be a hog!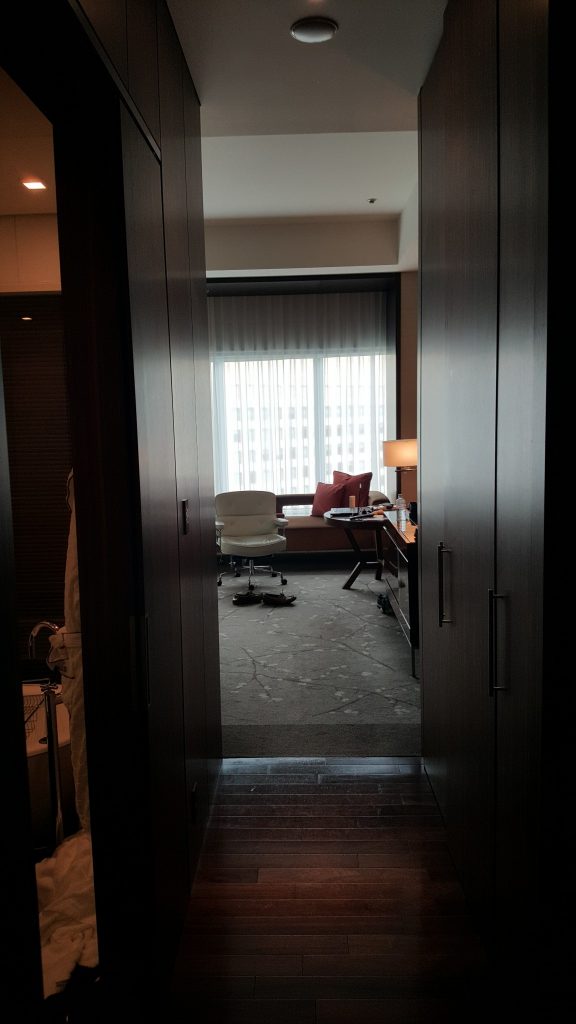 And oh the lounge. The favorite part of my hotel stays. Excellent quality, great service, wine receptions in the evening. I lose control in such places, I have a problem, I am working on it. I will book Best Westerns from now on to keep me from eating…NOT!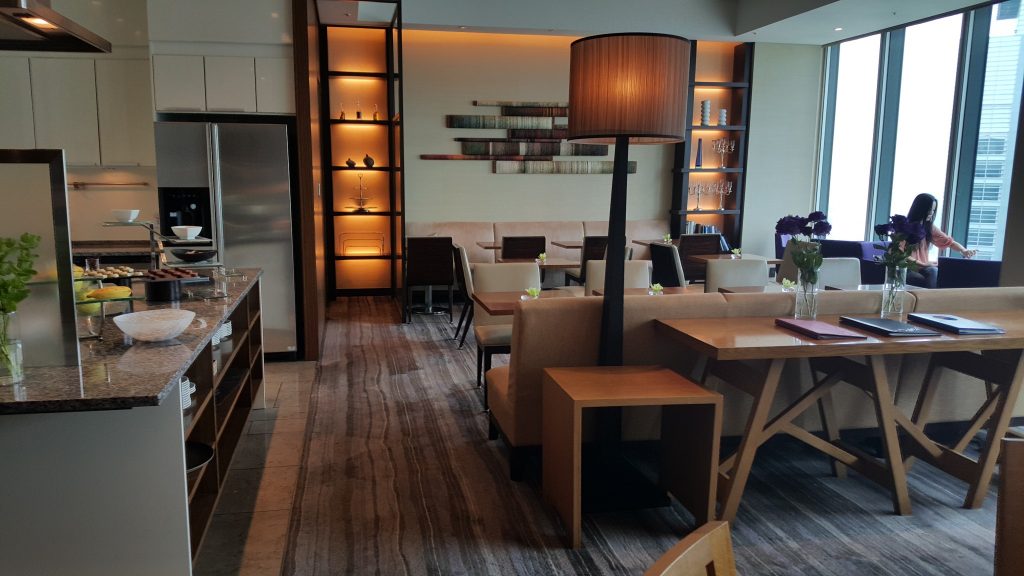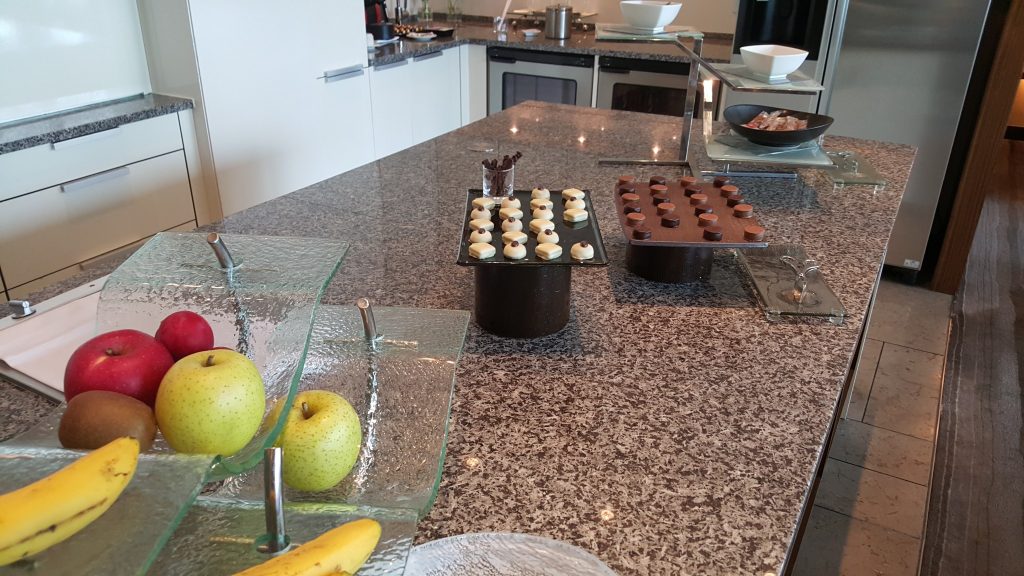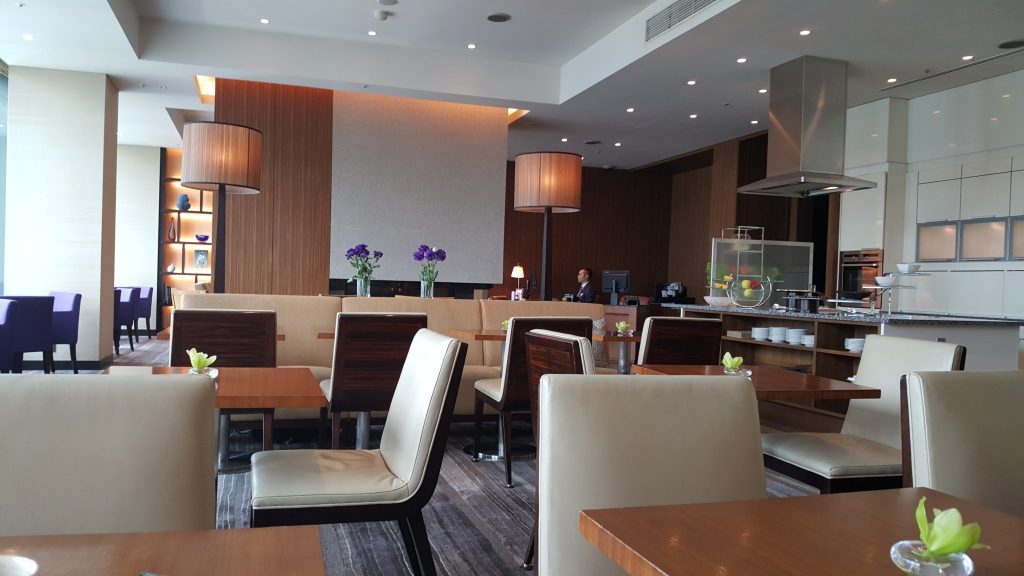 Another day in Tokyo. I am seriously hurting by now. I am not feeling well, my internal body clock is totally messed up, moving around is getting a bit more laborious (am I getting old?) and of course I had to watch soccer games starting at 4 am Tokyo time!
Subway…everyone on their phones…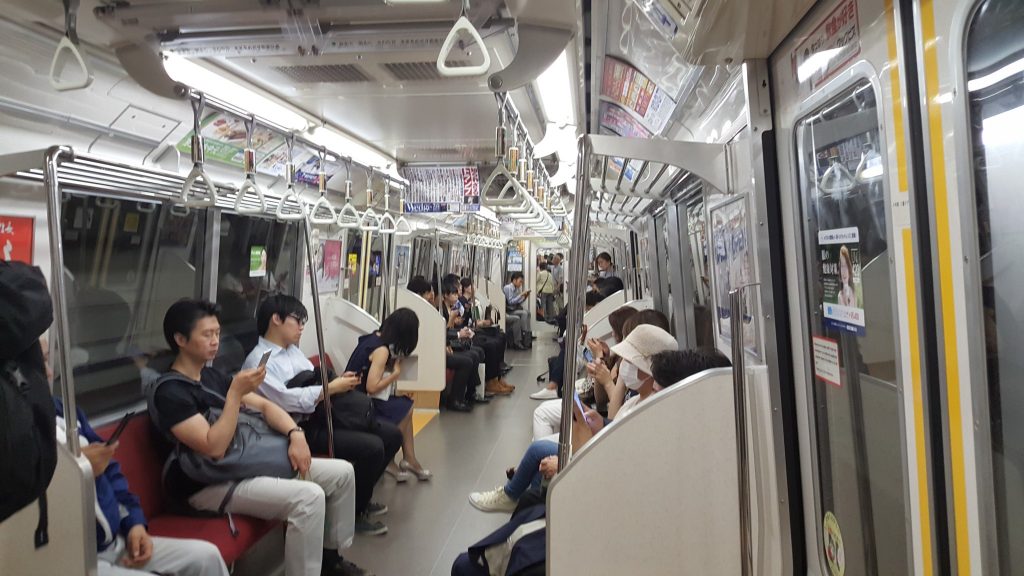 Some stick to paper, some try to catch some sleep, school children going to school. I love people watching riding subways…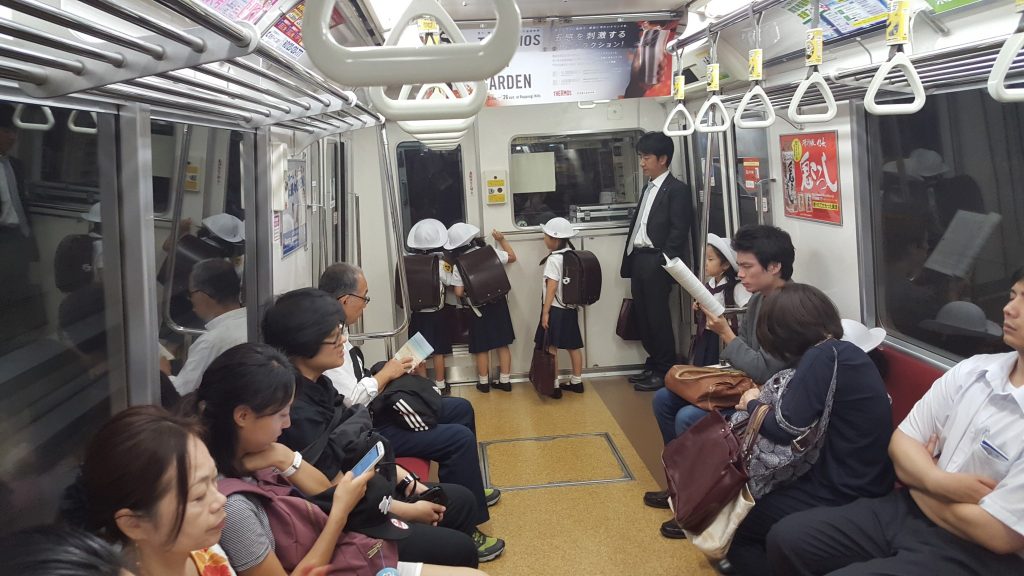 I visited the Tokyo Tower next. It is only a few stops away from the Conrad. Yeah, kind of touristy too.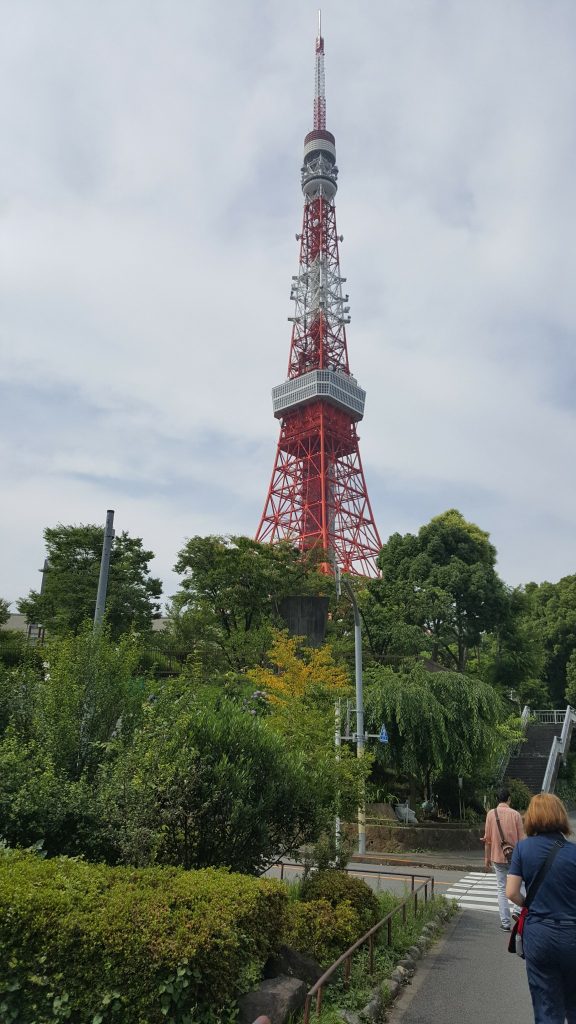 You have a full breakfast at the main restaurant as a Hilton Diamond. And yes I did. Every morning!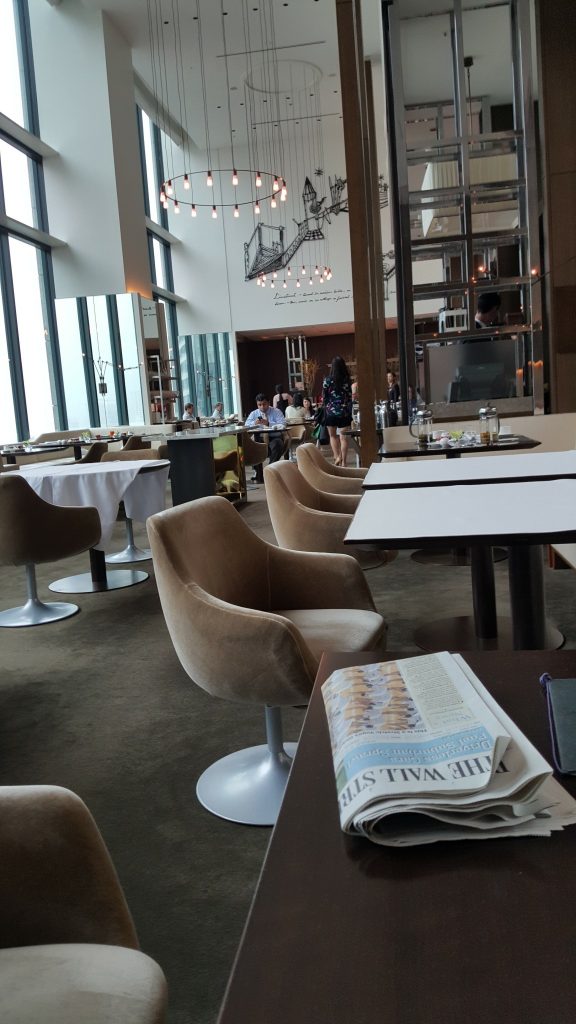 This is one of my favorite subway pics from my trip…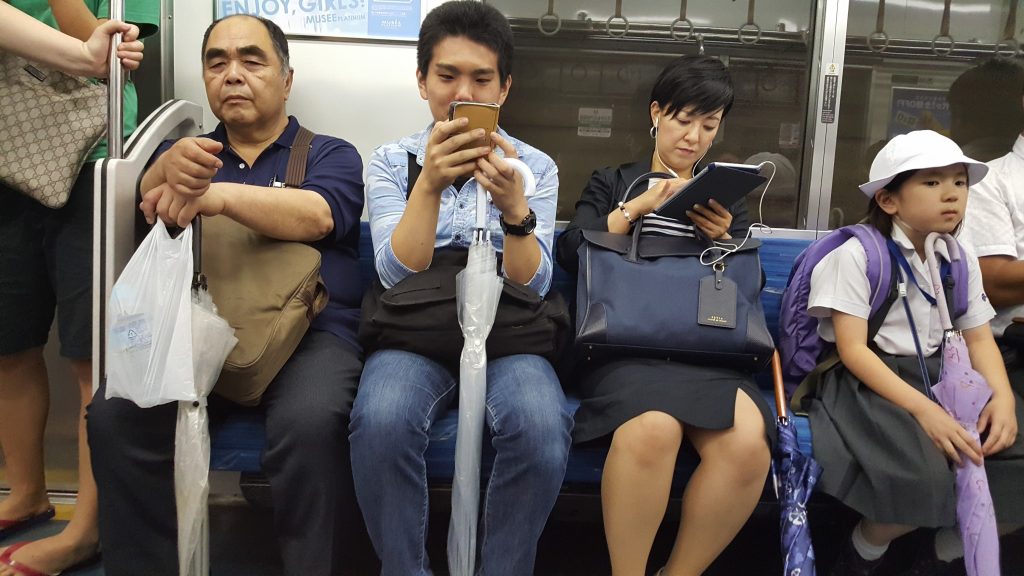 Then I visited the Asakusa area…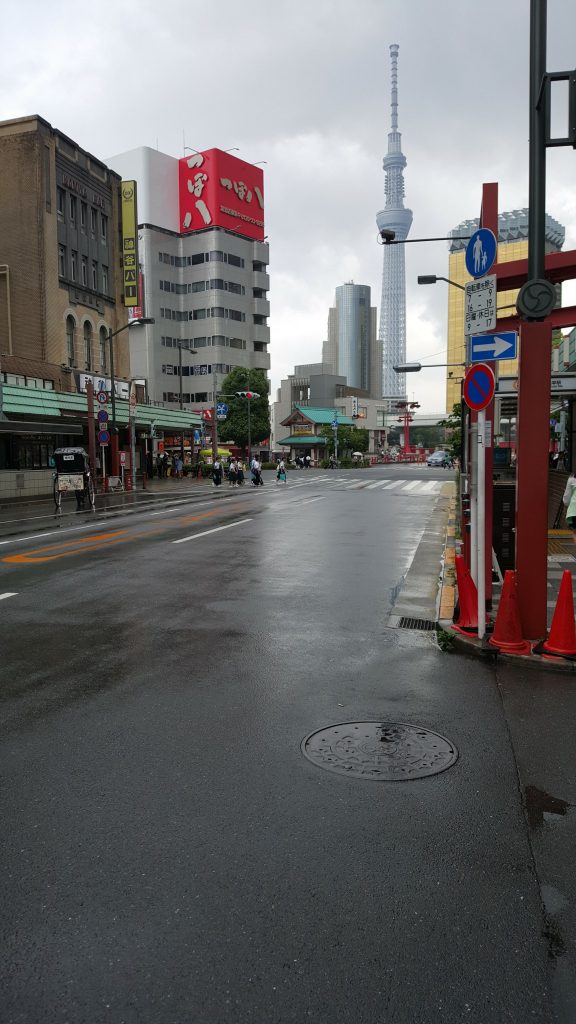 Nakamise shopping street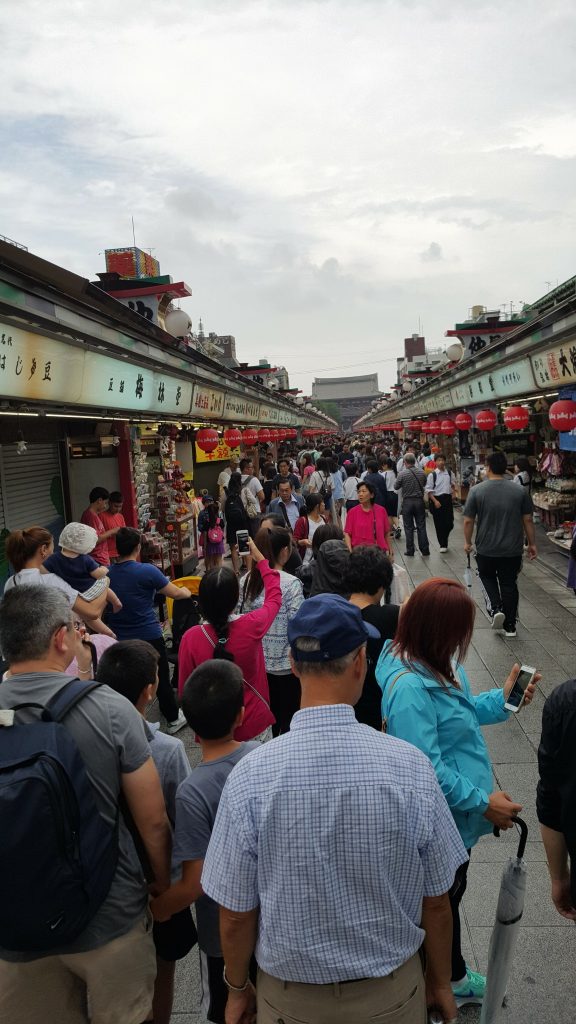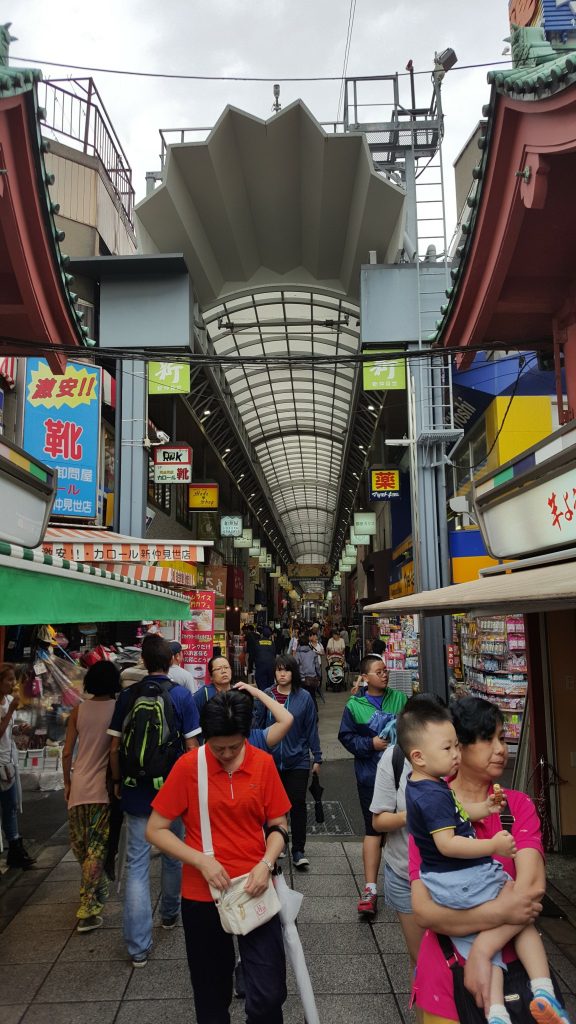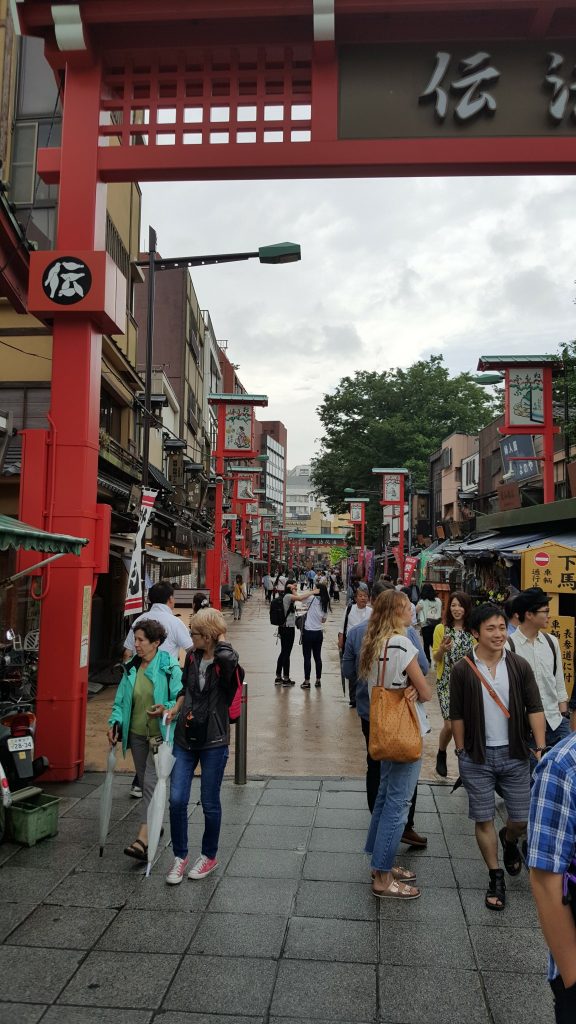 Sensoji Temple, Tokyo's oldest and most significant temple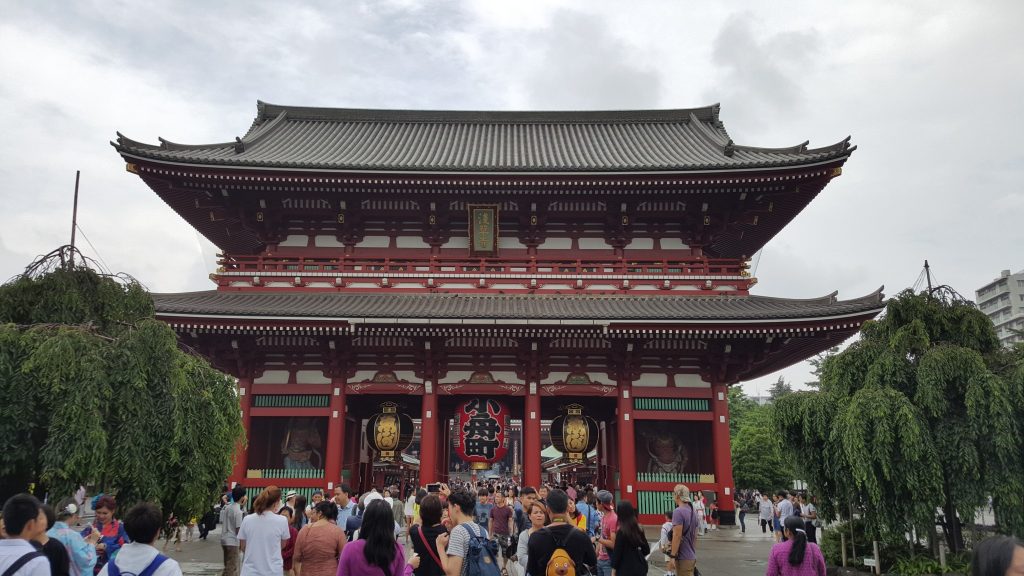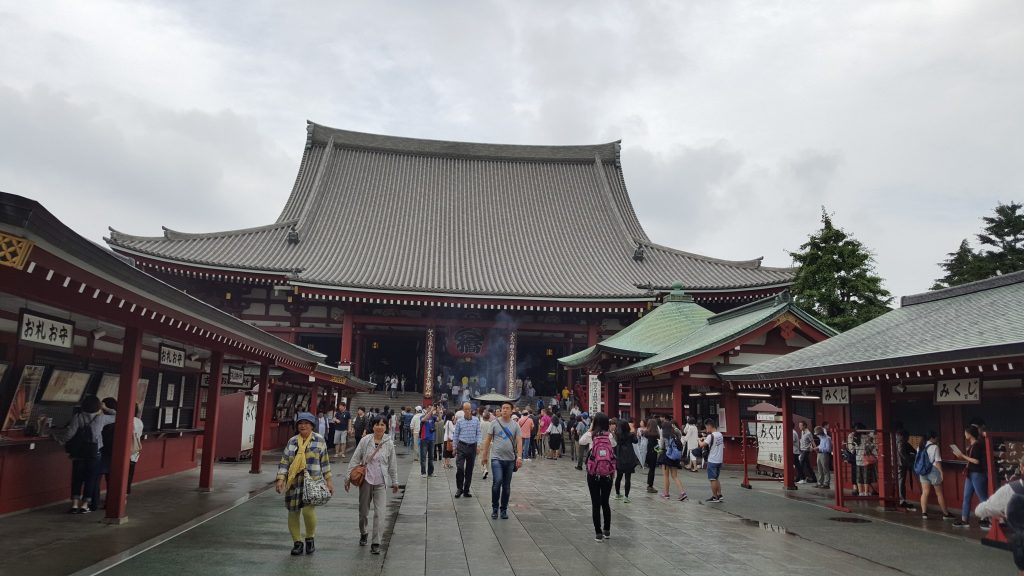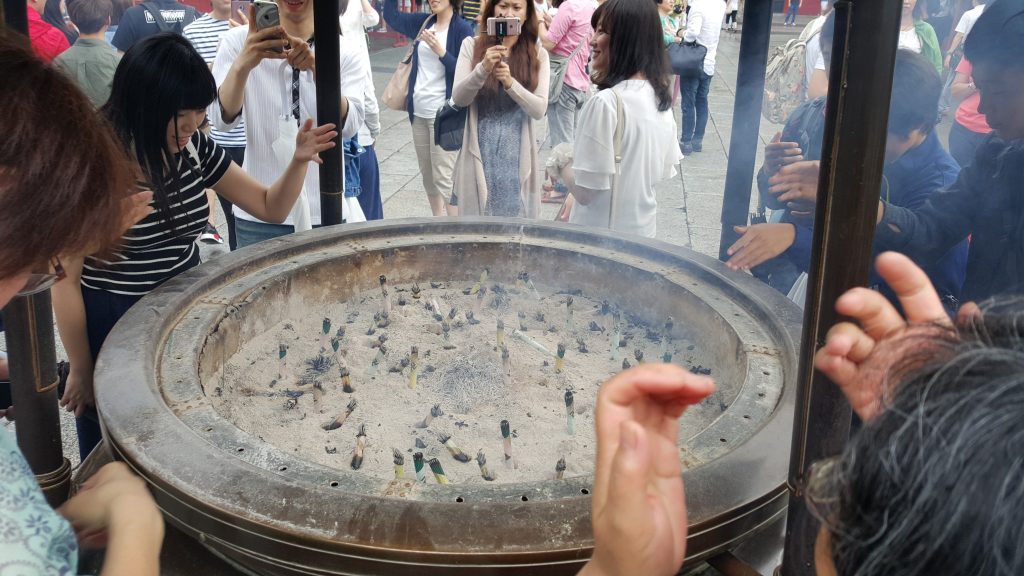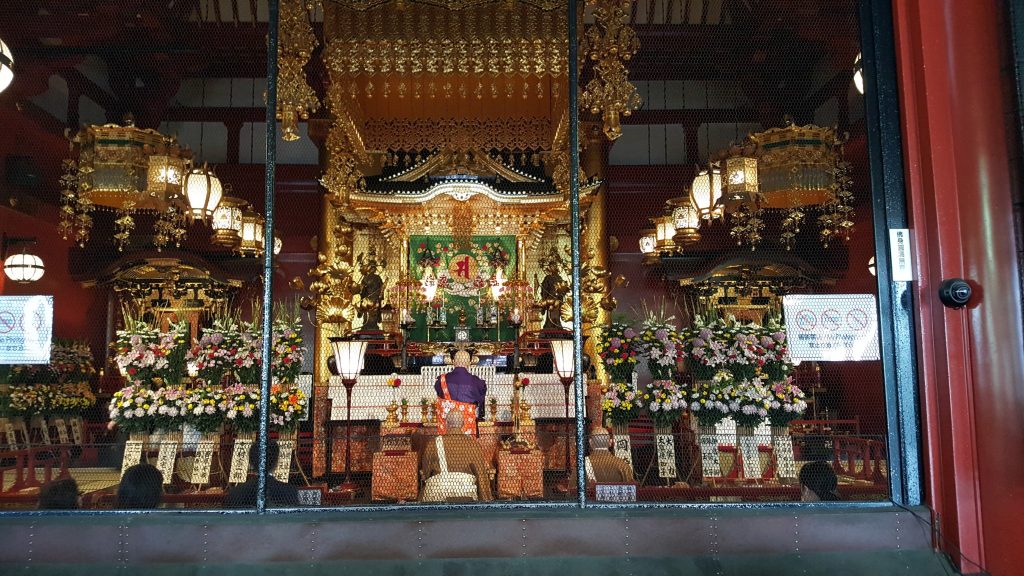 Then did some walking around, roaming the streets which I love doing in places I have never been to.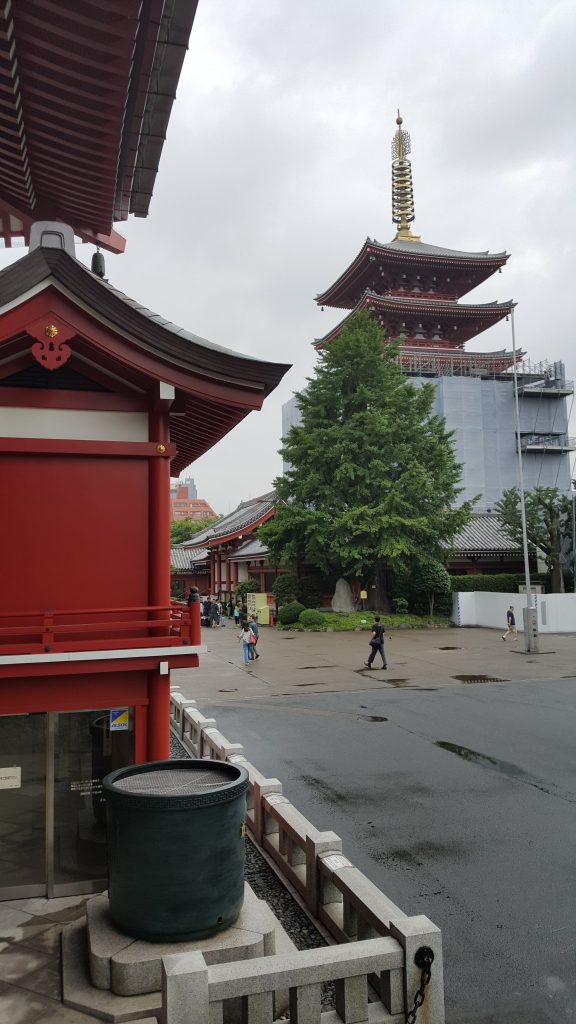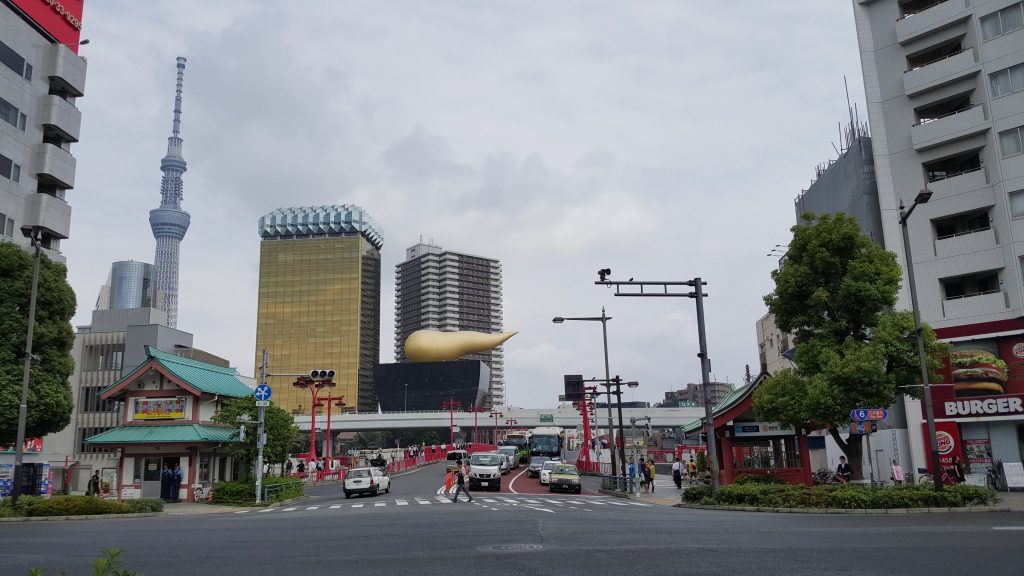 I also love local market scenes…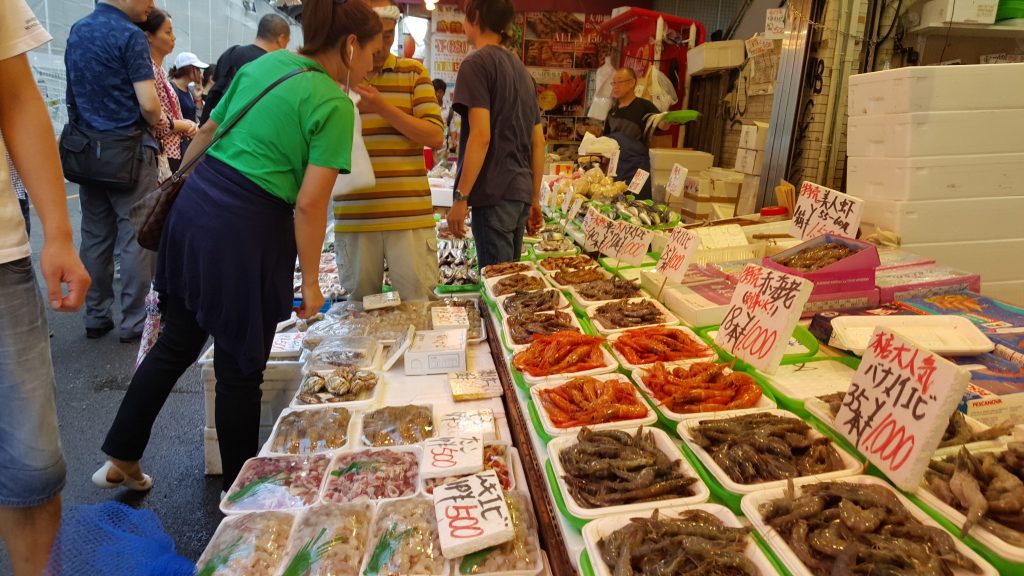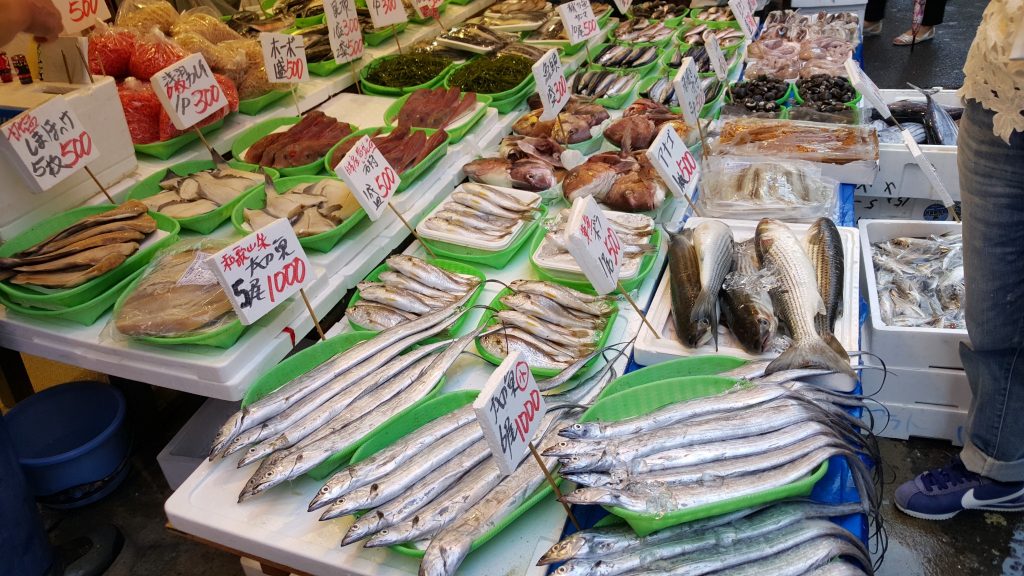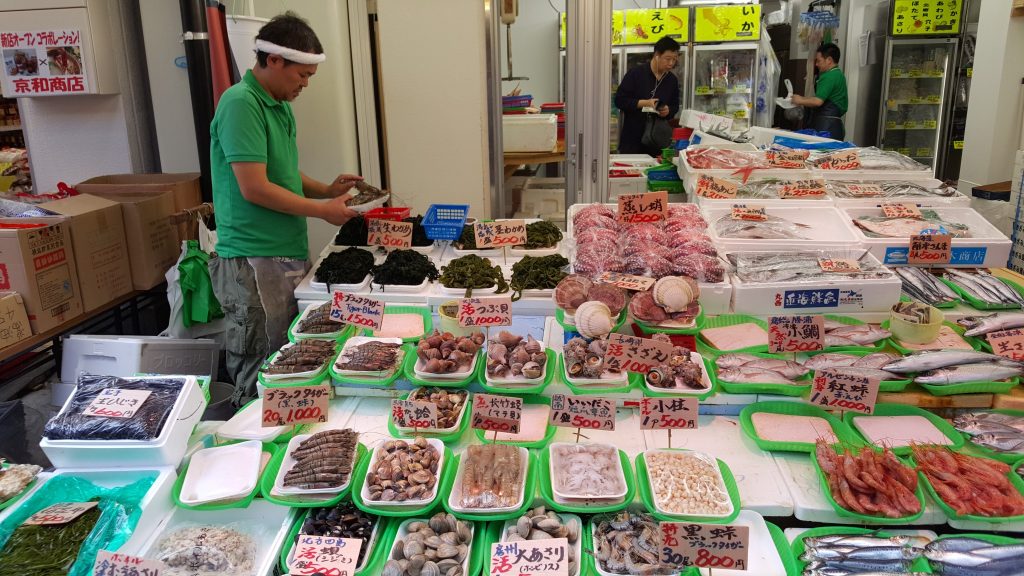 And then as I was walking around I saw an arrest happen in front of me! That was cool. Not sure what the guy did. But I could tell the police men were polite. This will never happen here in the US. I want to lol but I won't because I may come off like a jerk. Or something.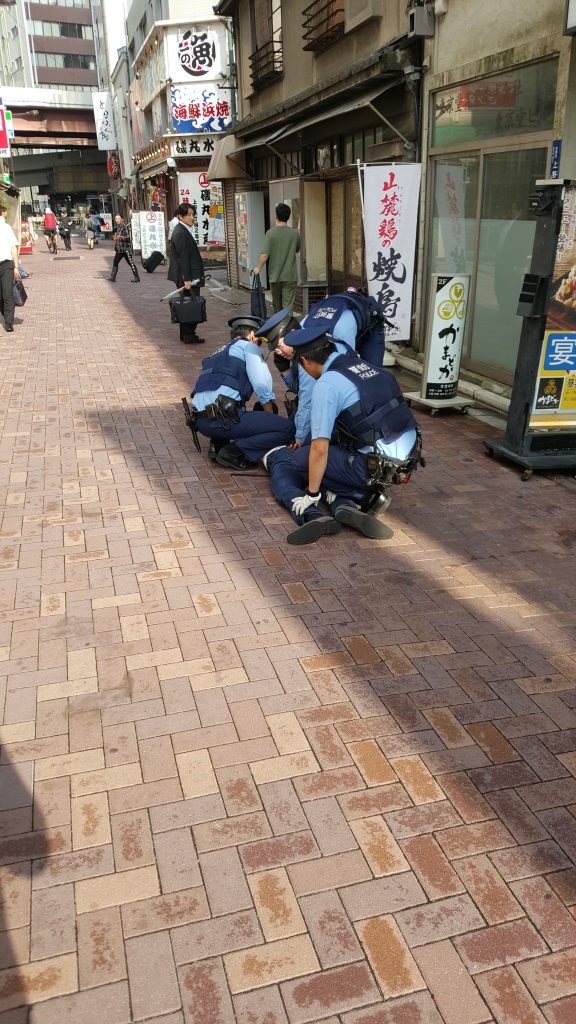 By the third and fourth day I was actually looking forward to move on. Tokyo just did not do it for me. I can not pin down exactly why. Just too many people crammed into the city, too much bowing, people felt too controlled, way too disciplined. There are some cities you fall in love with. And some you don't. Tokyo I was ready to move on.
But wait. We have more fun times at the Conrad lounge oh yeah!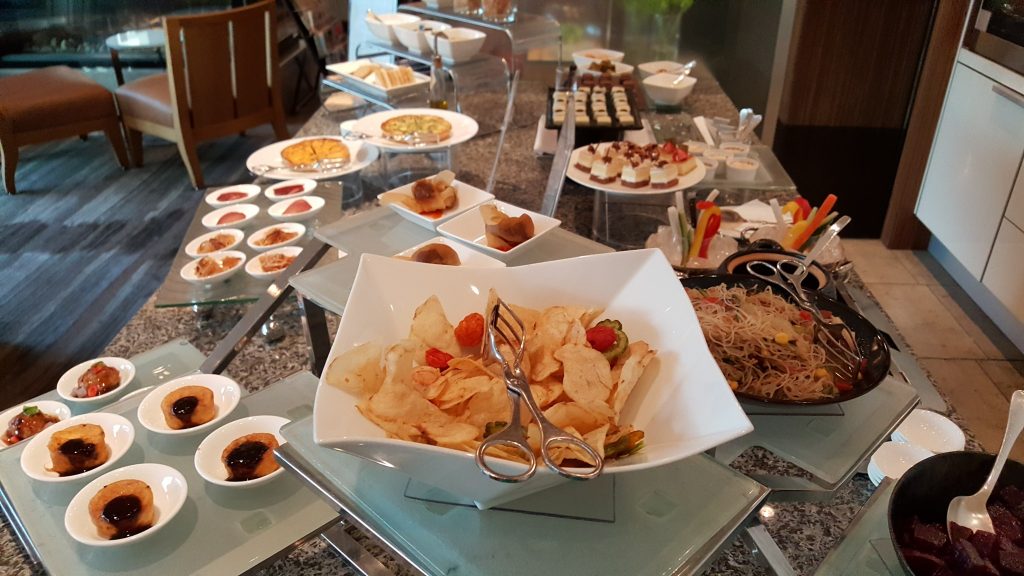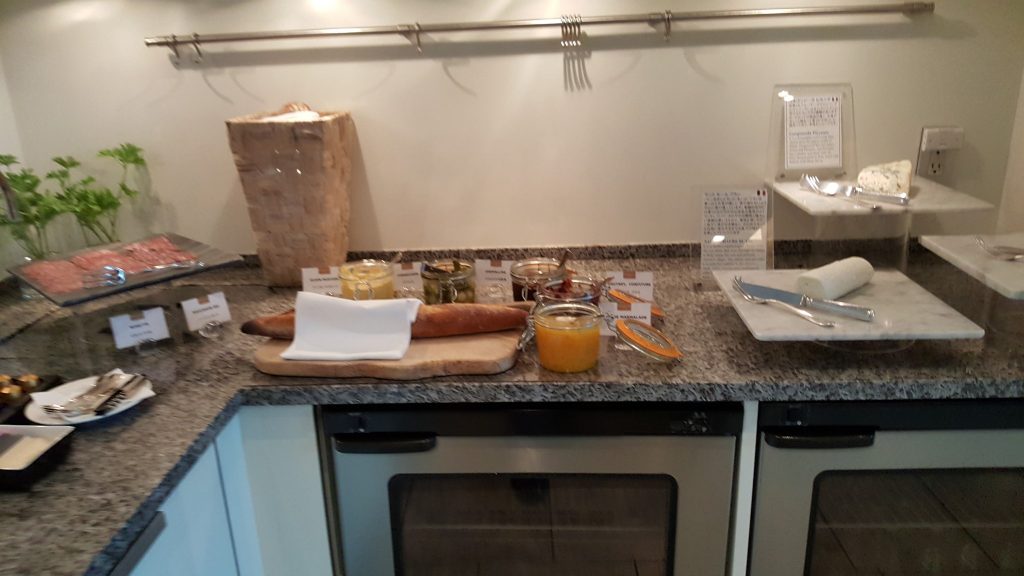 Oh yeah the wine reception time in the lounge from 6 to 8 pm.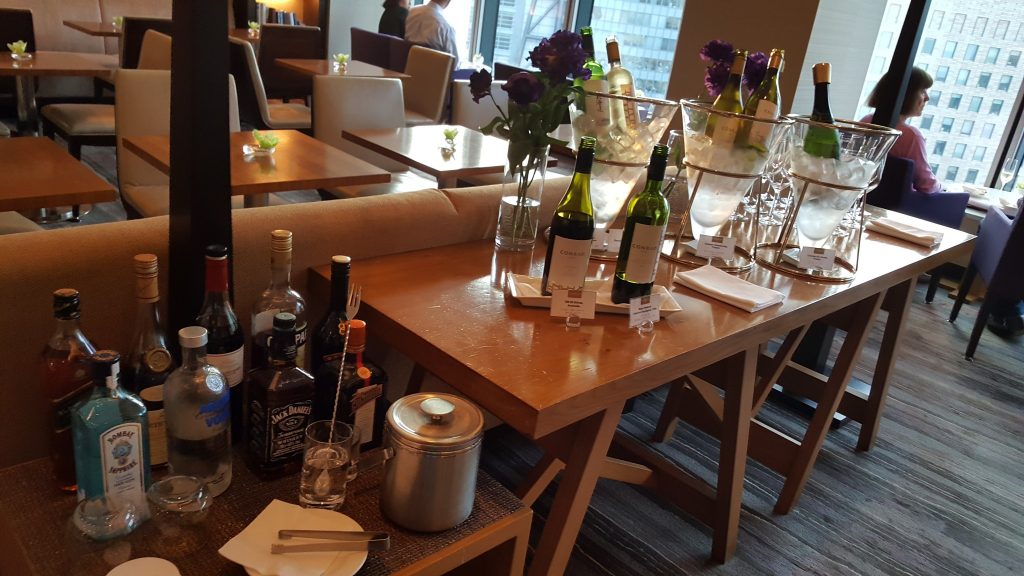 View from the lounge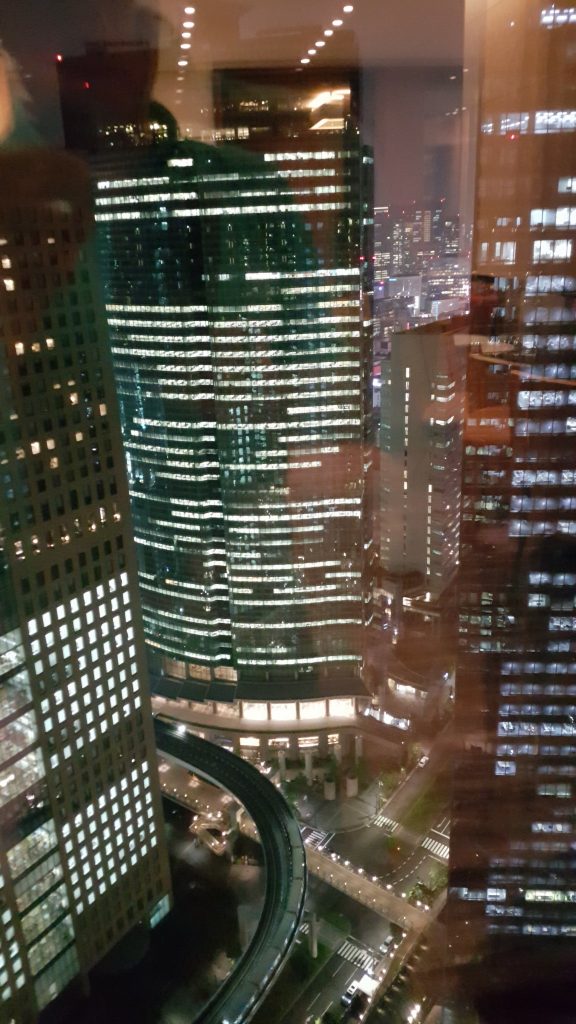 Got my little Conrad bear! At last!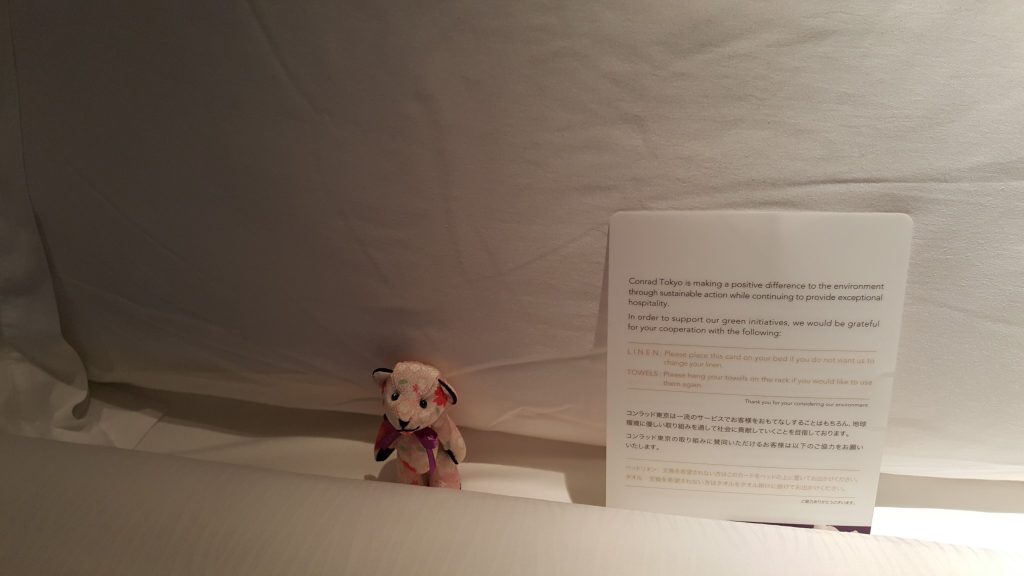 More shots from the breakfast area in the hotel restaurant. The selection is huge and the service is great here. And some entries are excellent!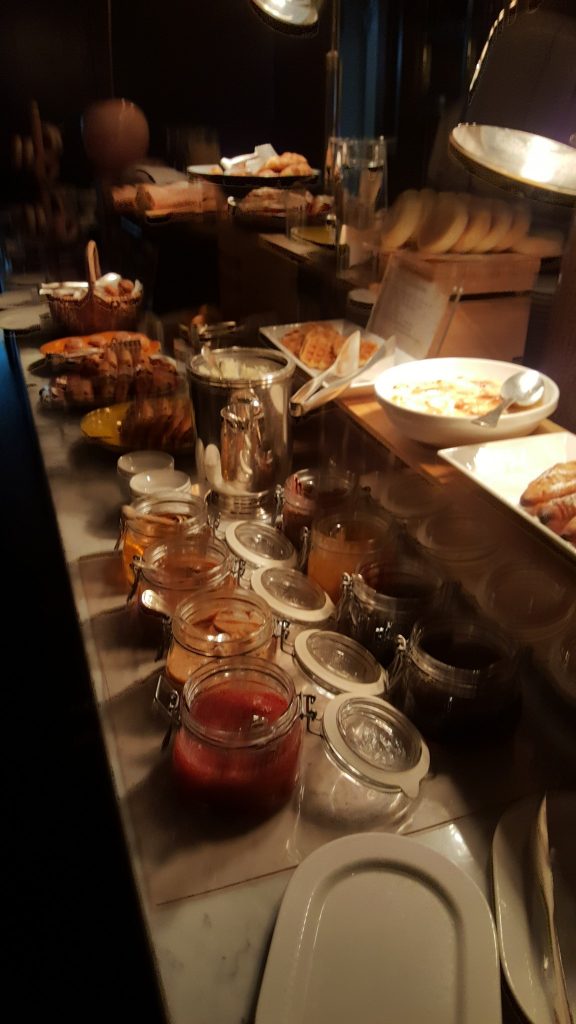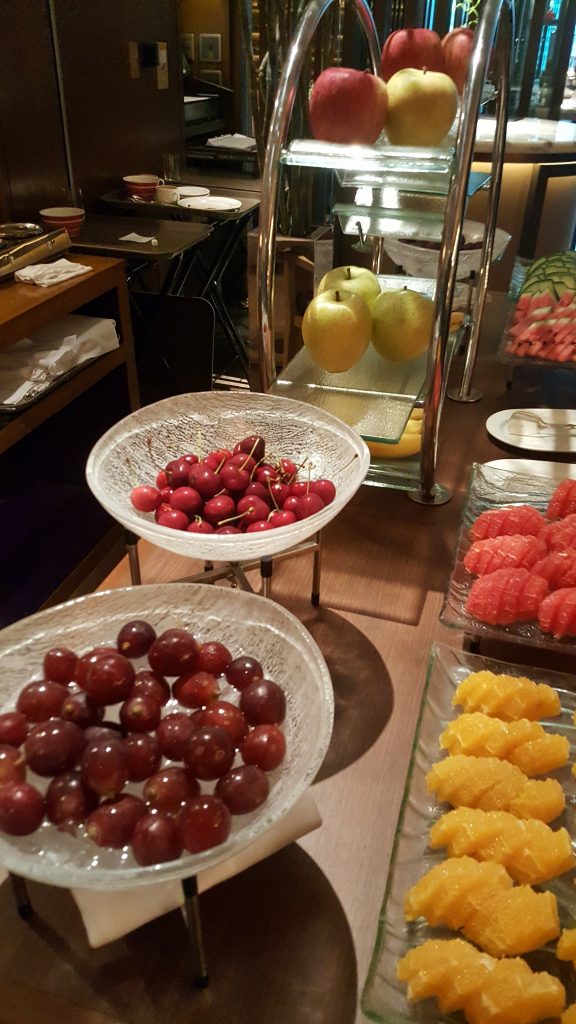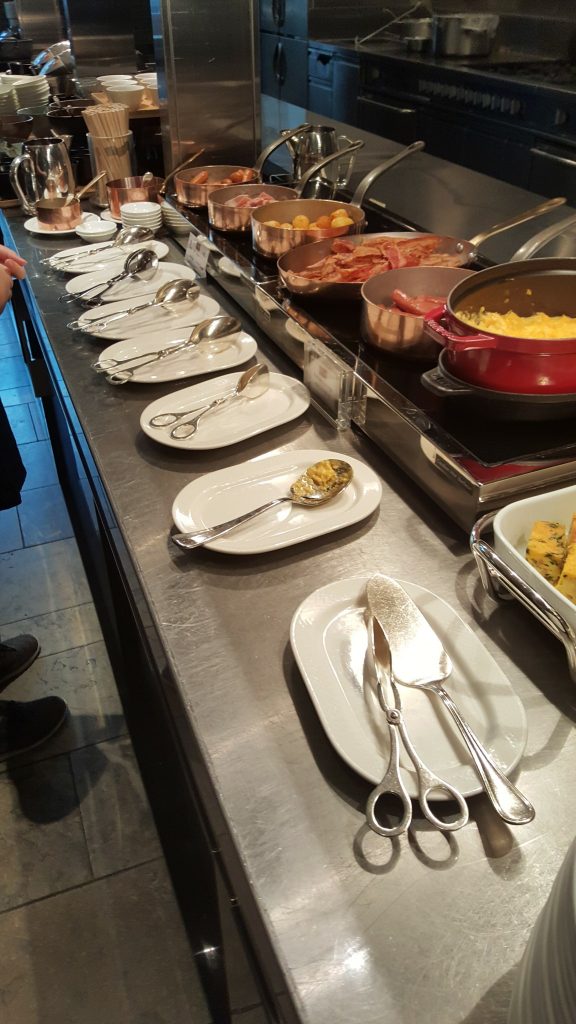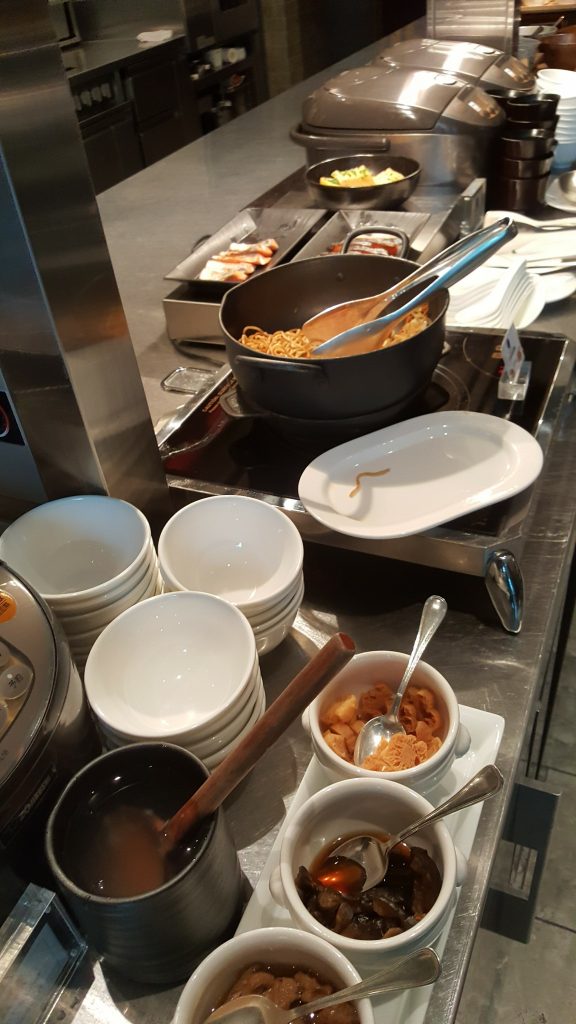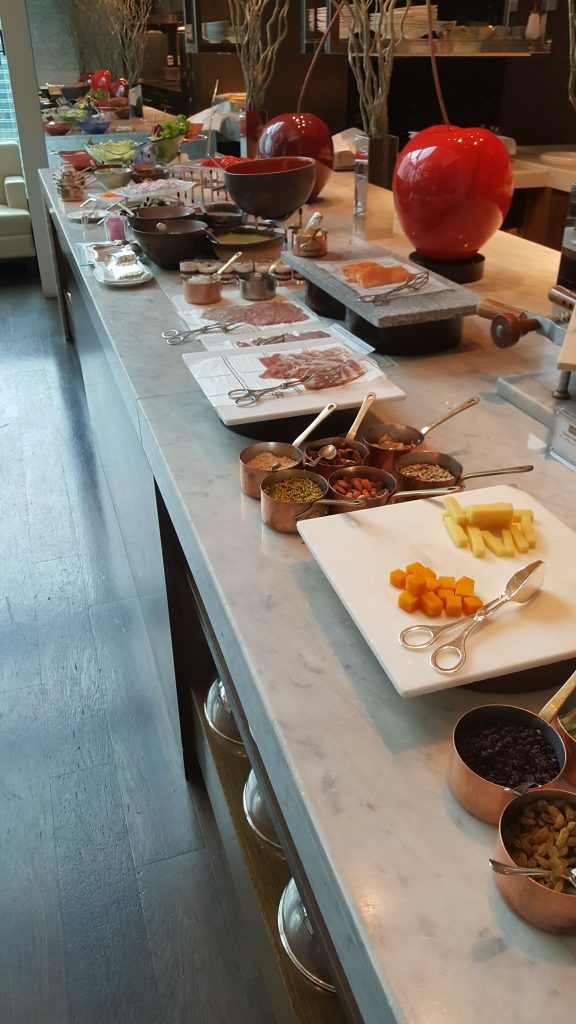 It was time to say goodbye. The Airport Limousine bus was of course on time. Smooth ride again to Narita….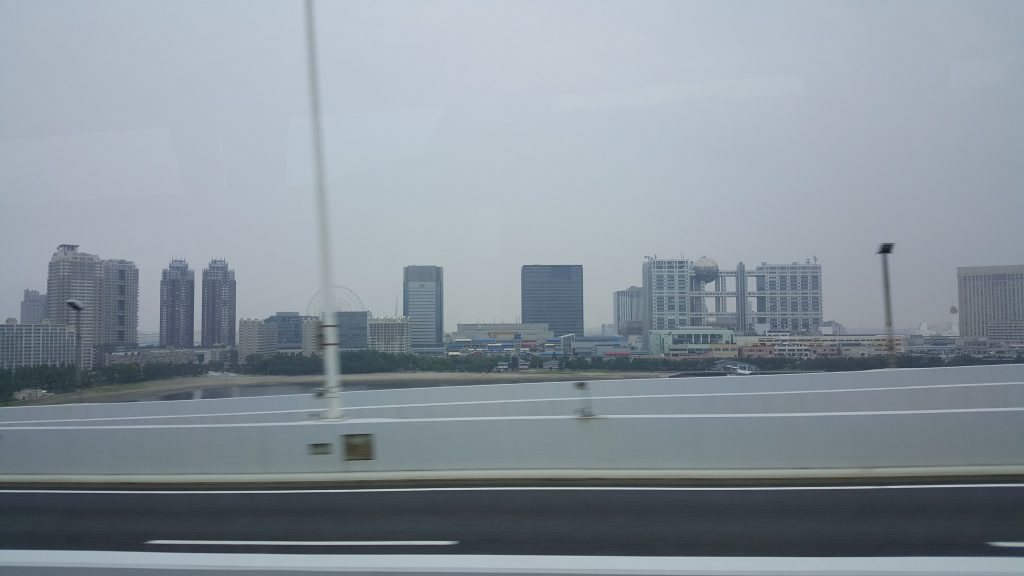 Hello Narita, I am ready for the next trip to Hong Kong flying Cathay Pacific Business Class.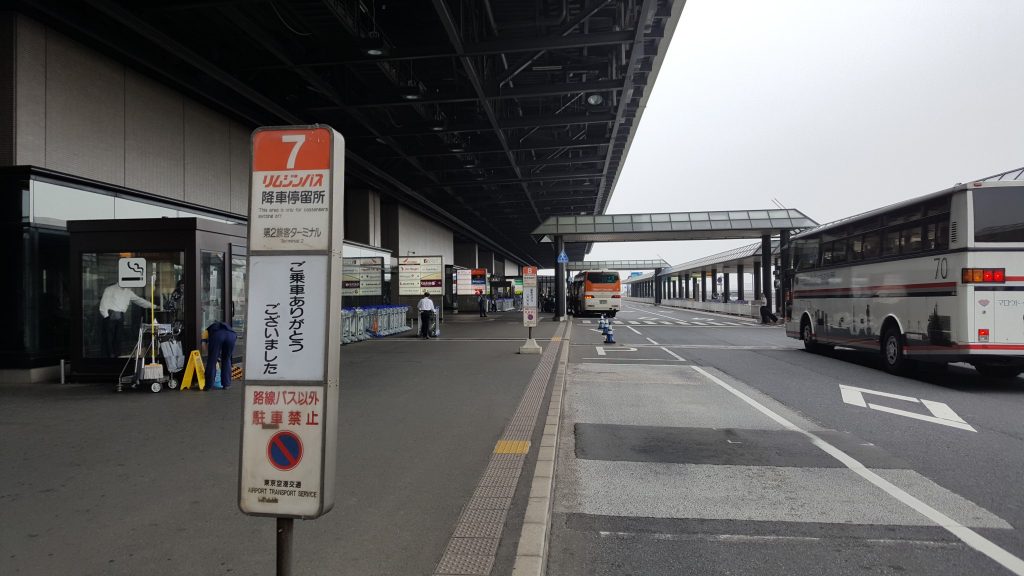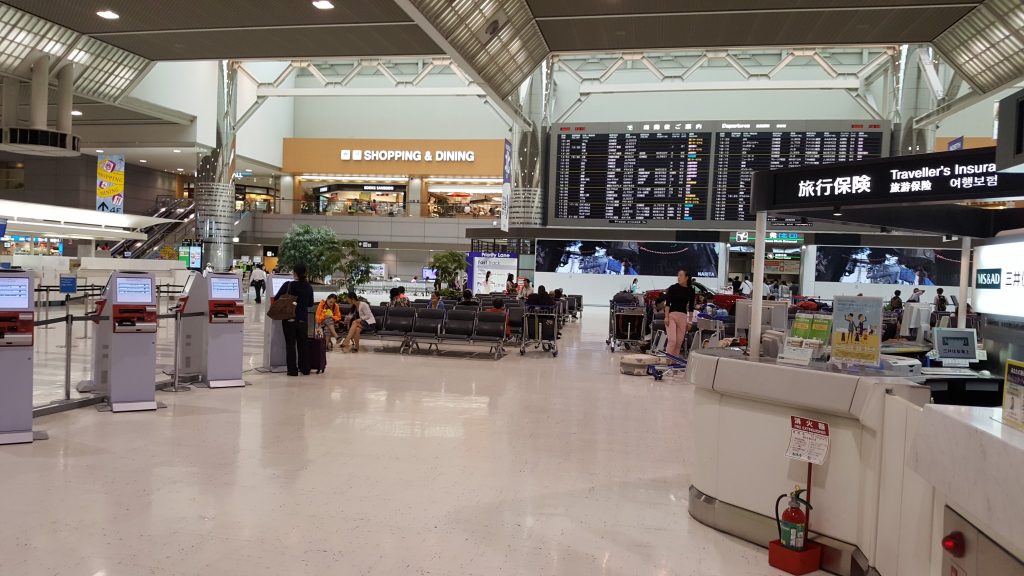 I spent some time in the subpar Cathay Pacific lounge in this airport. There are no views from it, not good food selection. Kind of surprised actually.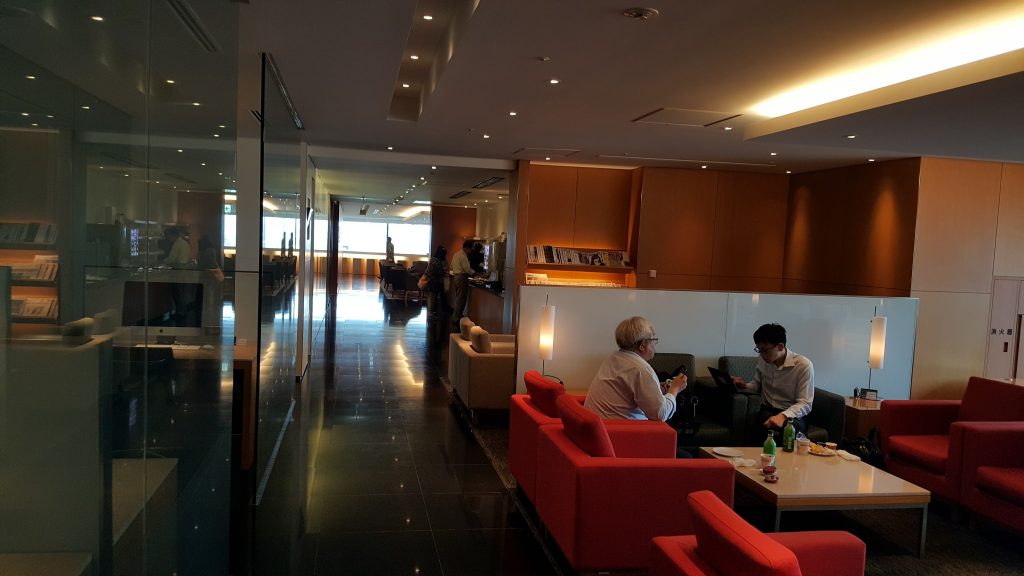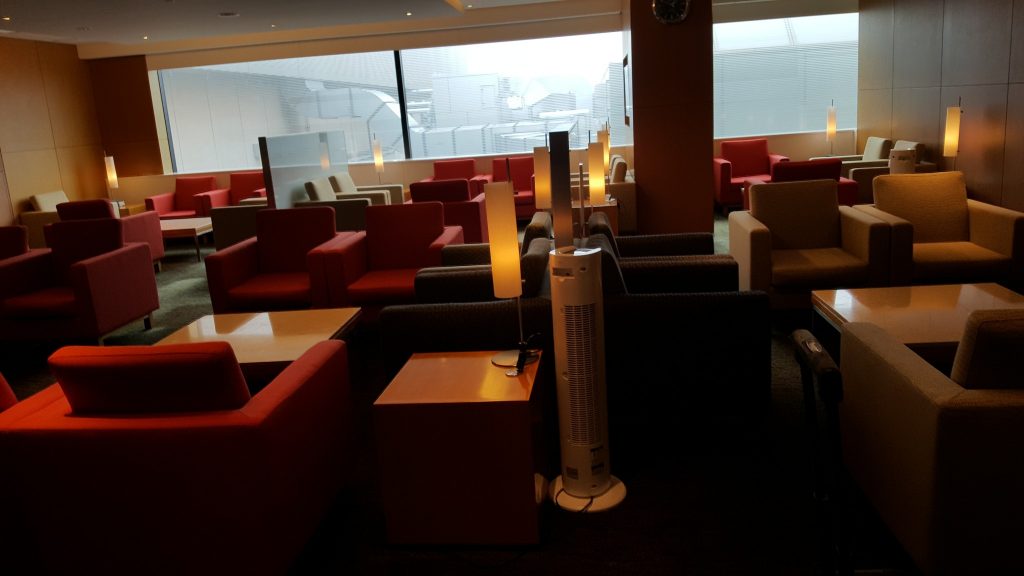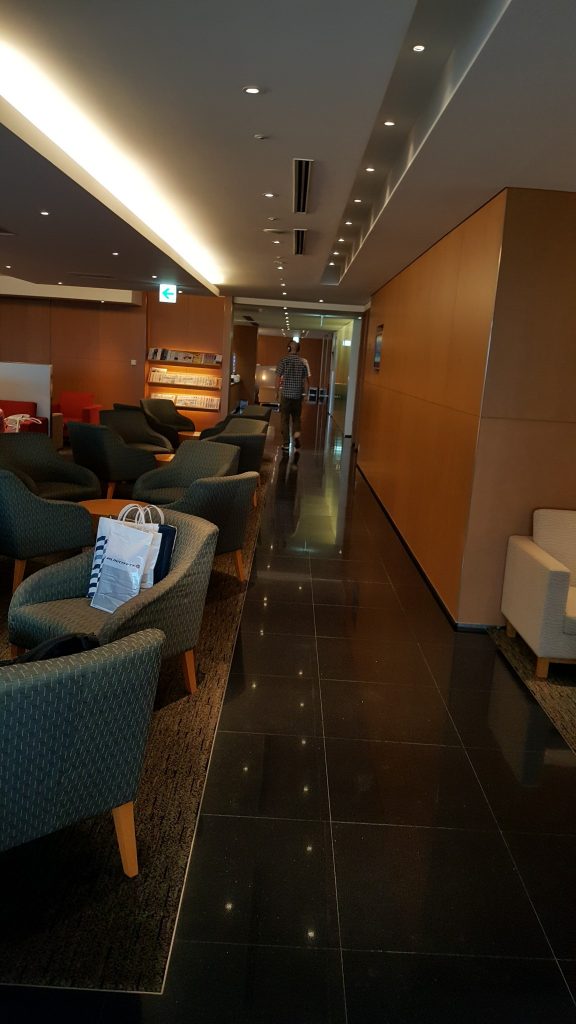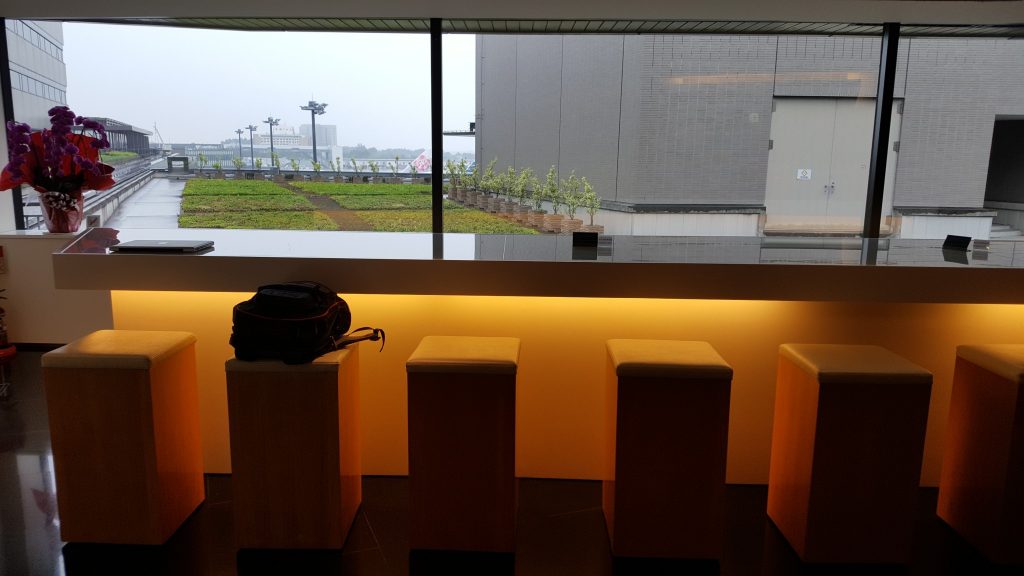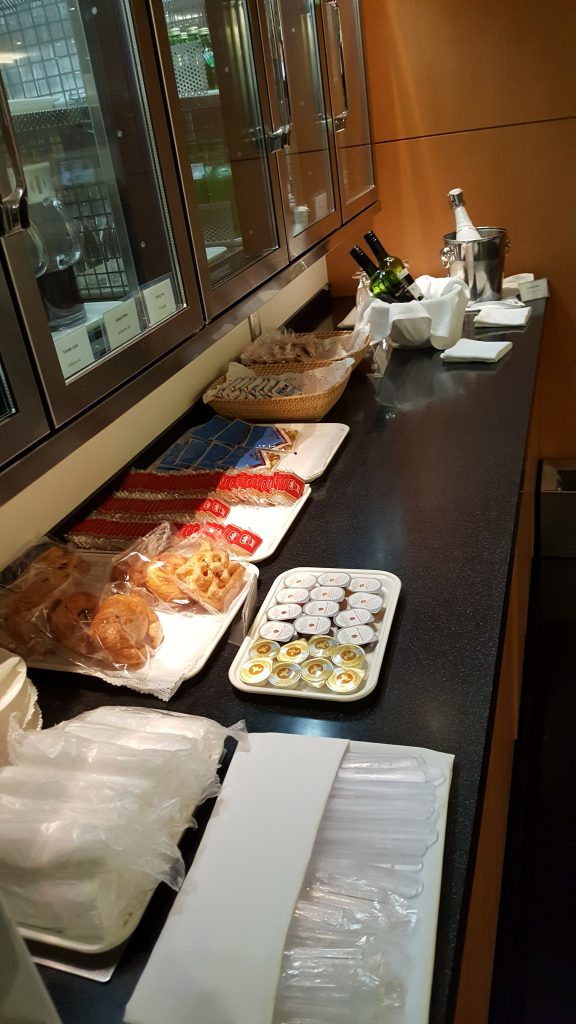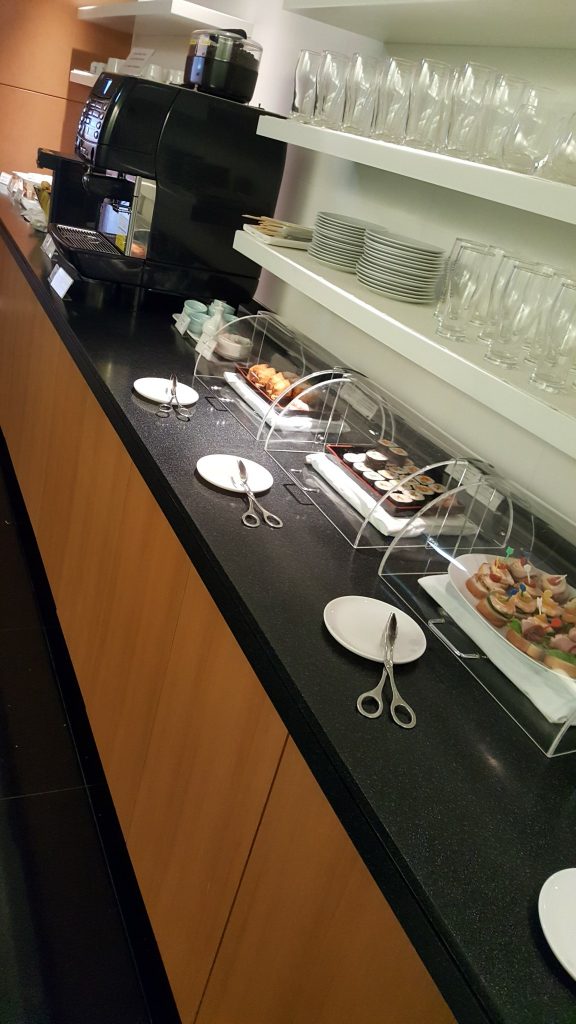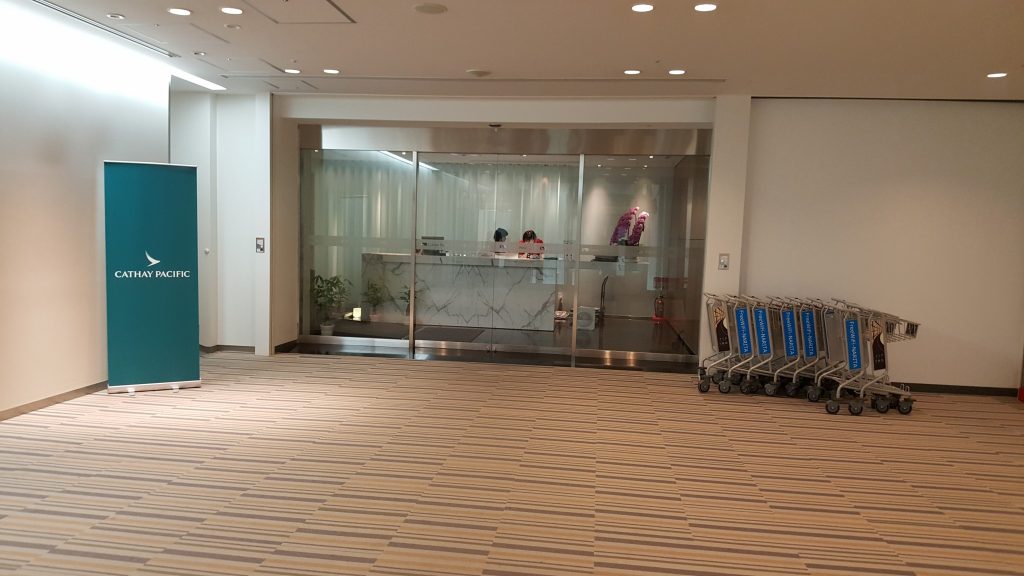 The gate to board CX 521 to HKG at Narita airport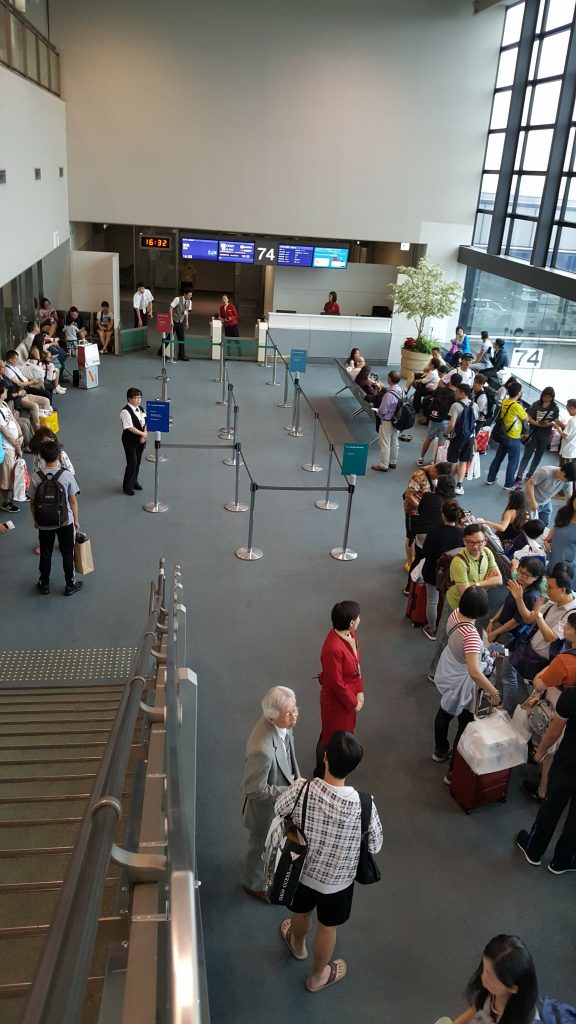 Boarding for Cathay Pacific CX521 was smooth. As usual. I was assigned Seat 14a in Business Class. For some reason, I really enjoy these intra-Asia flights…If you gave me a choice between JAL and Cathay Pacific Business Class…I would choose Cathay. Every time. Remember, we are all different.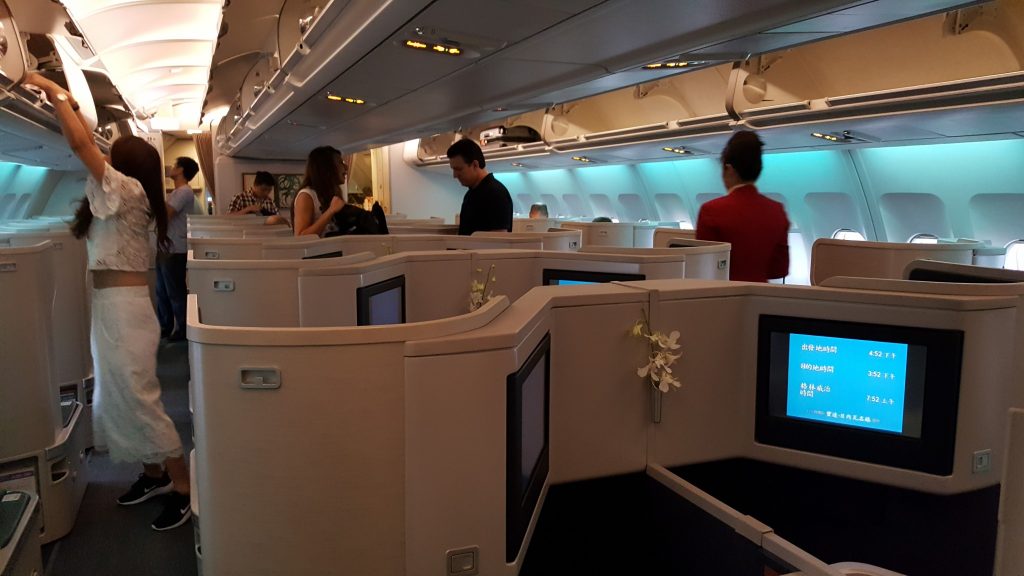 I like my seat, very comfortable. It really helped that no other passenger around me coughed like that other guy on my JAL flight.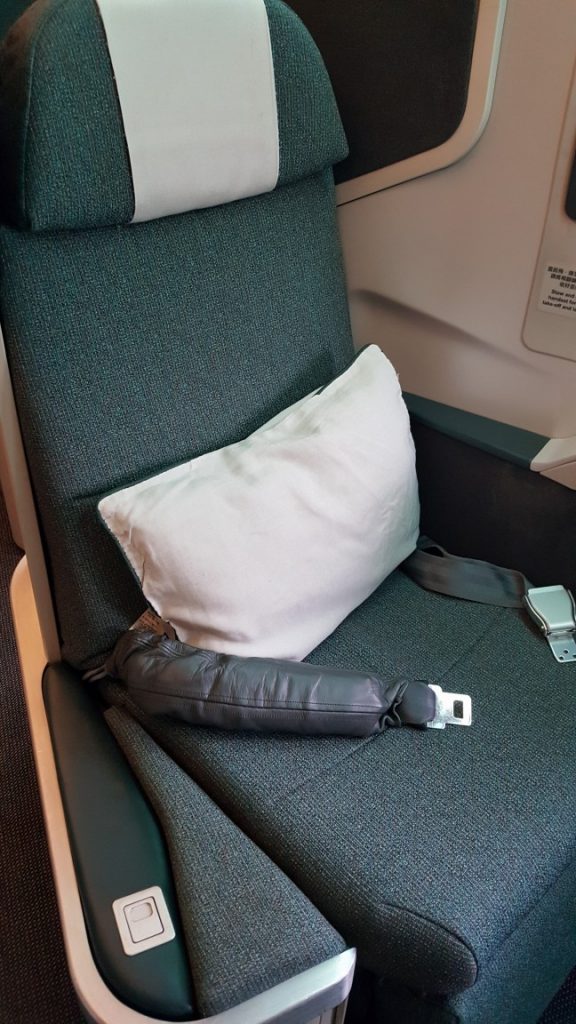 Great leg room you guys.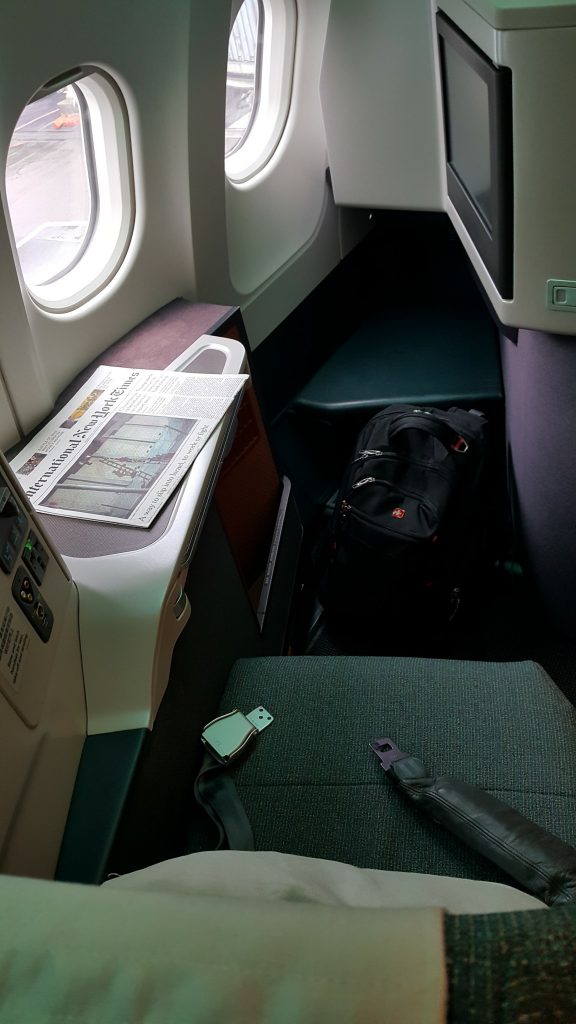 Okay, my trip reports are exhausting. This is what was served. I had everything that did not have shrimp! Again.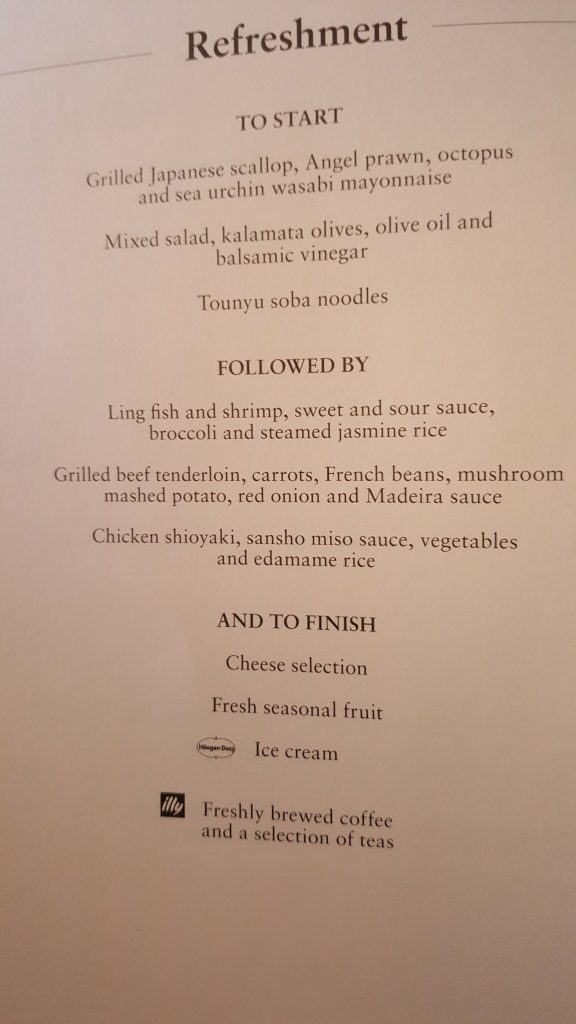 I watched Zoolander 2. Definitely not as good as the original but still had some good laughs. Or maybe I had a little more wine than I thought which made the  jokes funnier. I don't know. Who cares! I also watched the documentary about Edward Snowden, which is really good and I recommend it.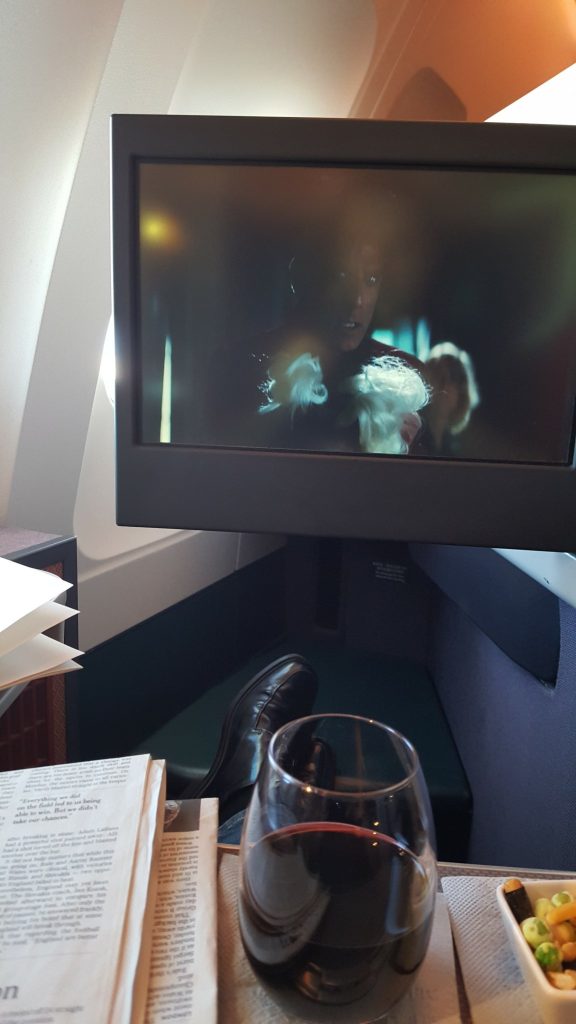 Like I said, I kept ordering. I have no control when I fly up front, I want to make it worth it how much I paid for the ticket. Ok, that was a joke. Of course I don't pay to fly up front, I use miles because this is what I do!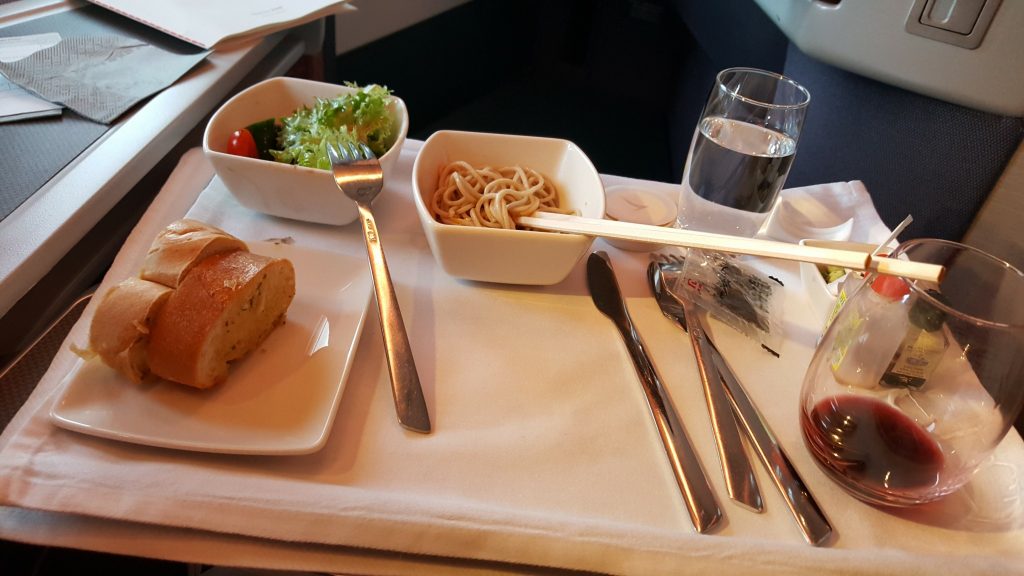 I remember the steak Cathay Pacific cooked for me flying First Class a few years earlier. Again, it did not disappoint!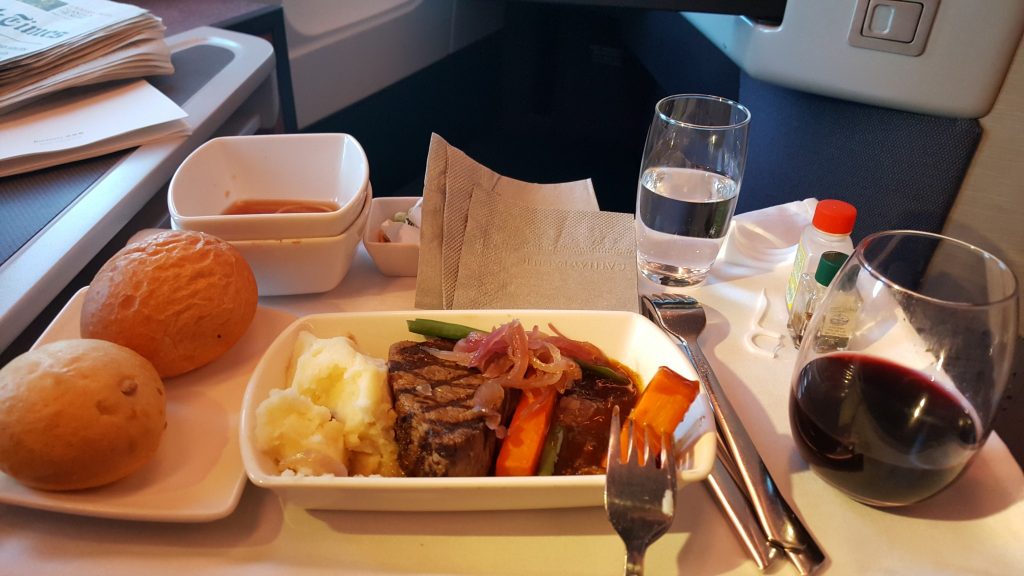 I am a pig. I felt bad about myself afterwards #notreally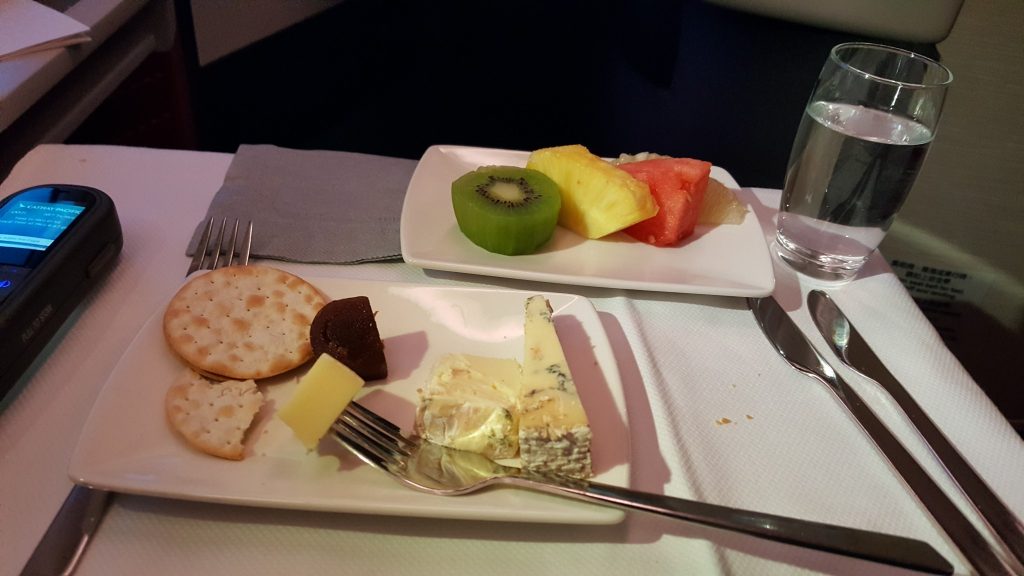 I really like the following pictures landing in Hong Kong International Airport.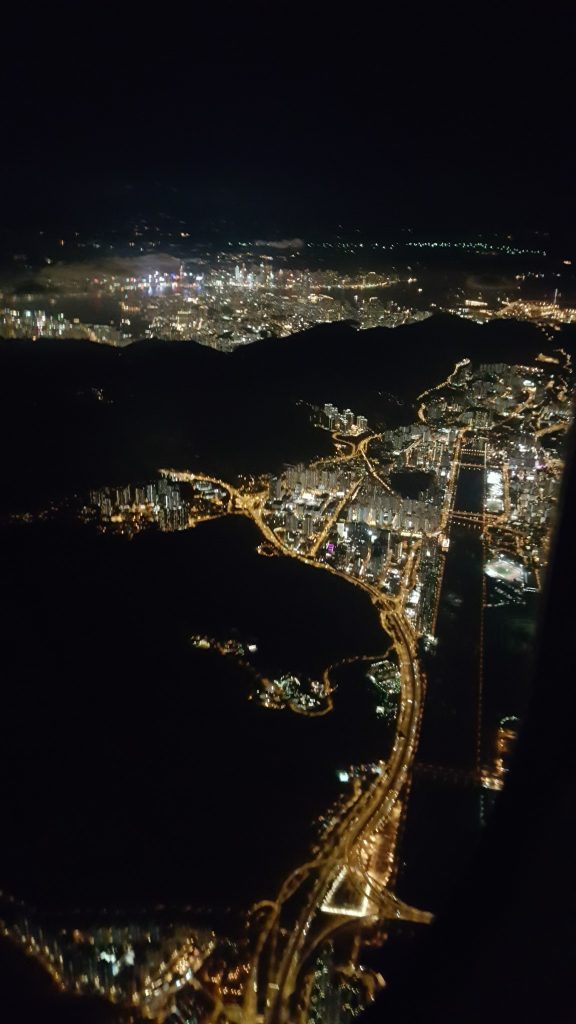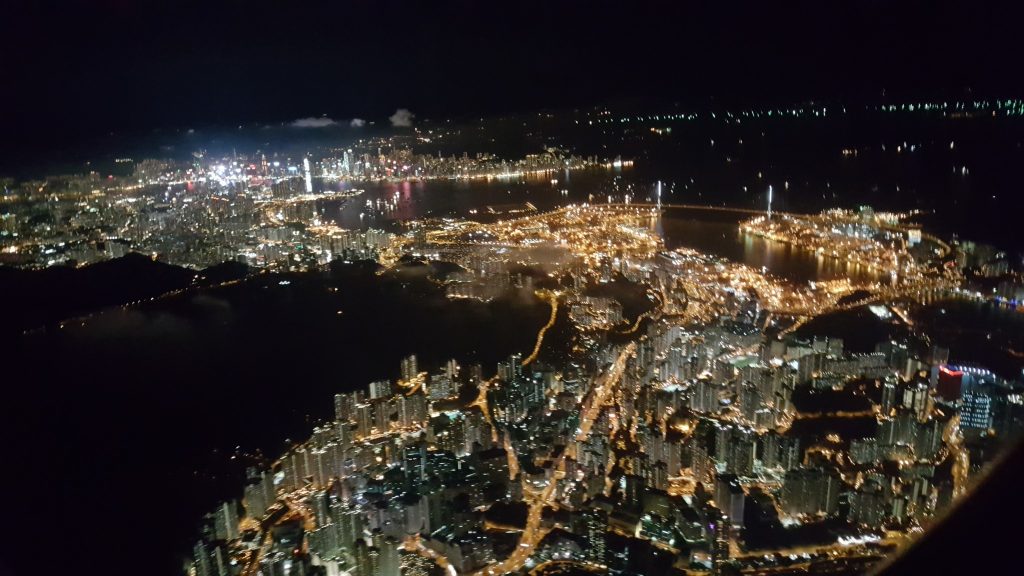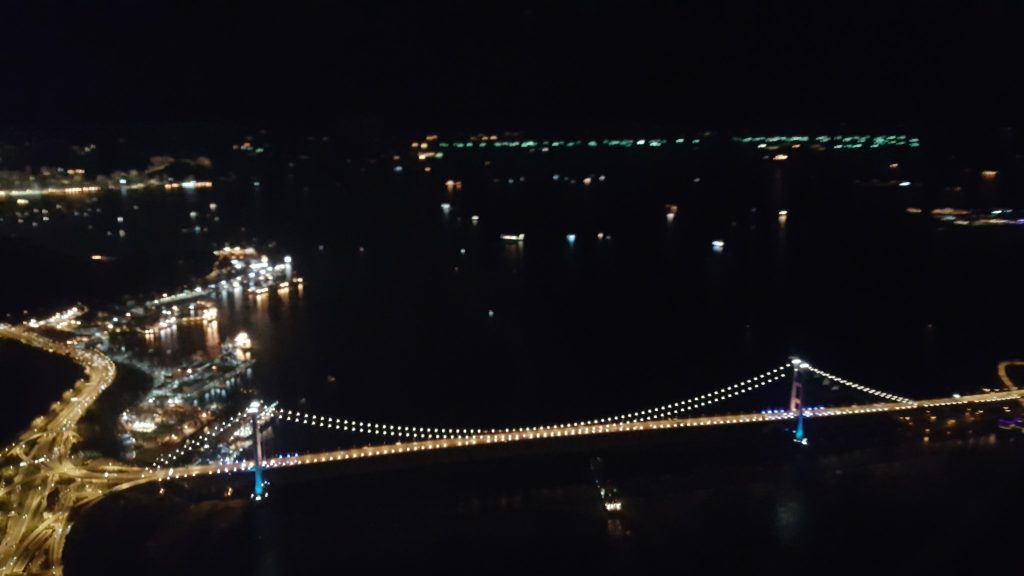 Hello HKG, we meet again!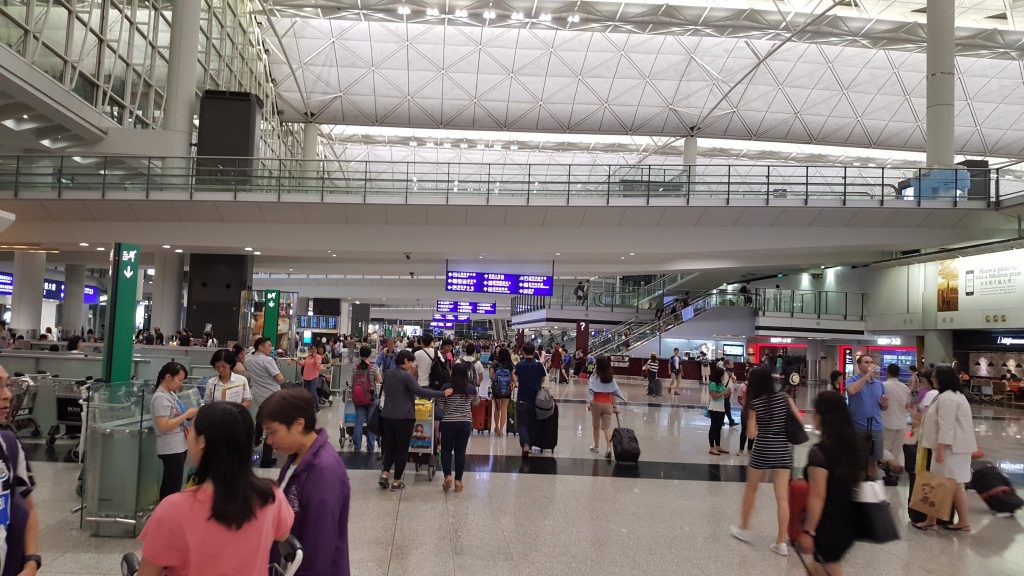 I stopped at the Plaza Premium lounge (part of Priority Pass lounge membership FREE with my Platinum Amex card ) to take a shower and change.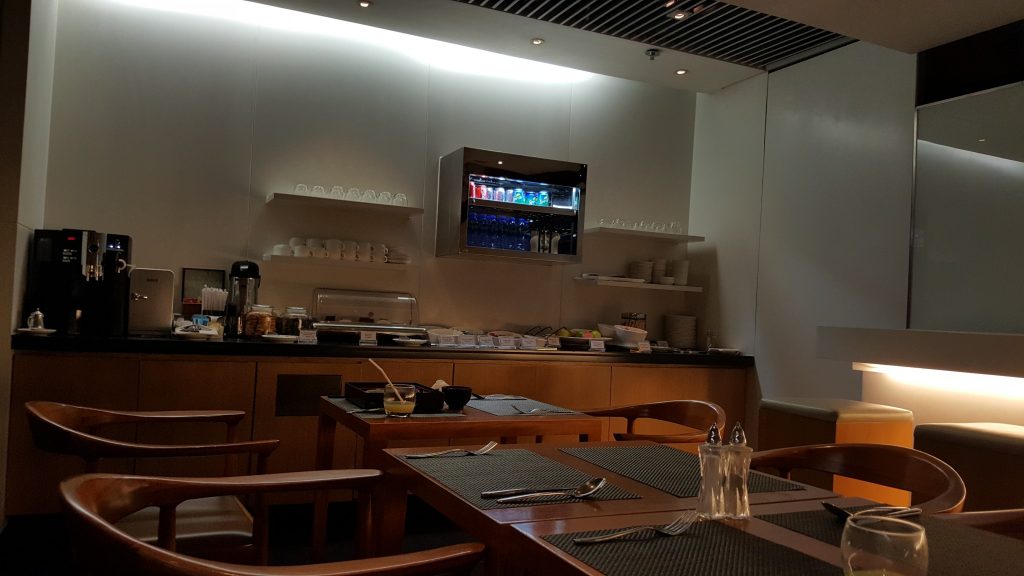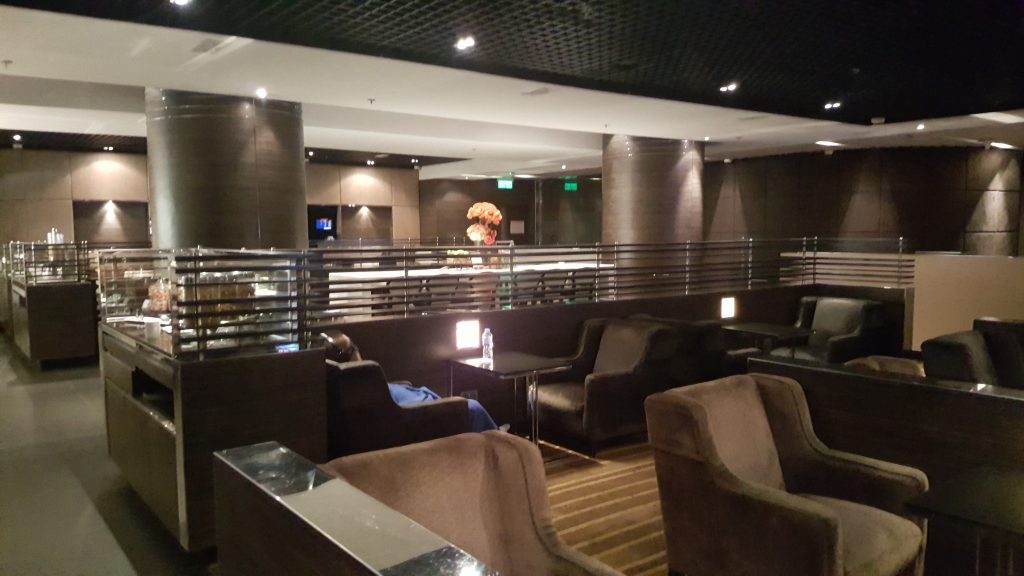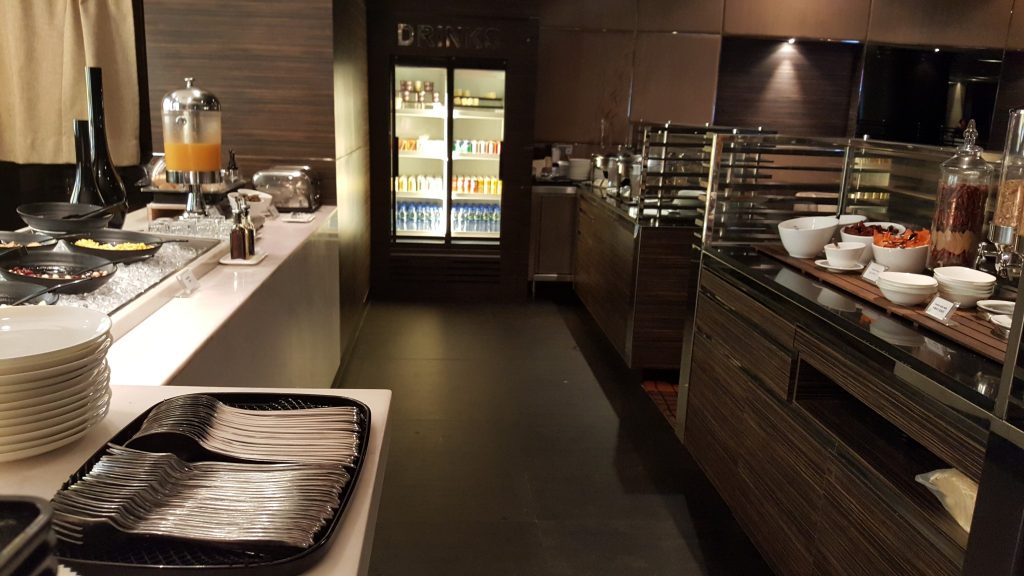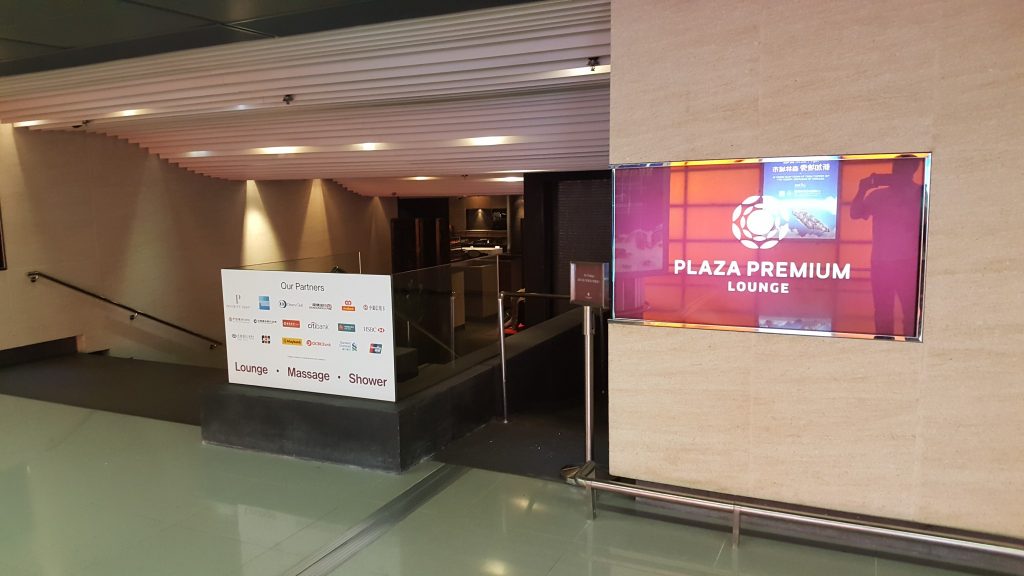 My pictures get a little out of order at this point, not sure what happened. But here is what went down. The plan was to go stay with son at his dorm room at Hong Kong University of Science and Technology, where he was studying for the summer. I take a taxi to the campus, we meet and then the security guard won't let me in to the dorm building, WTF! Anyway, she would not budge. At all. So, the choice was to stay up all night (it was already past midnight at this point) or take a taxi back to the airport and go hang out at the same lounge above, thank God it was located outside security and open 24 hours, yes. Well, that's what I did! I got me a few chairs together and slept like a baby.
In the morning, I took a taxi to the Intercontinental Hong Kong to burn my free IHG Rewards Chase Visa anniversary night.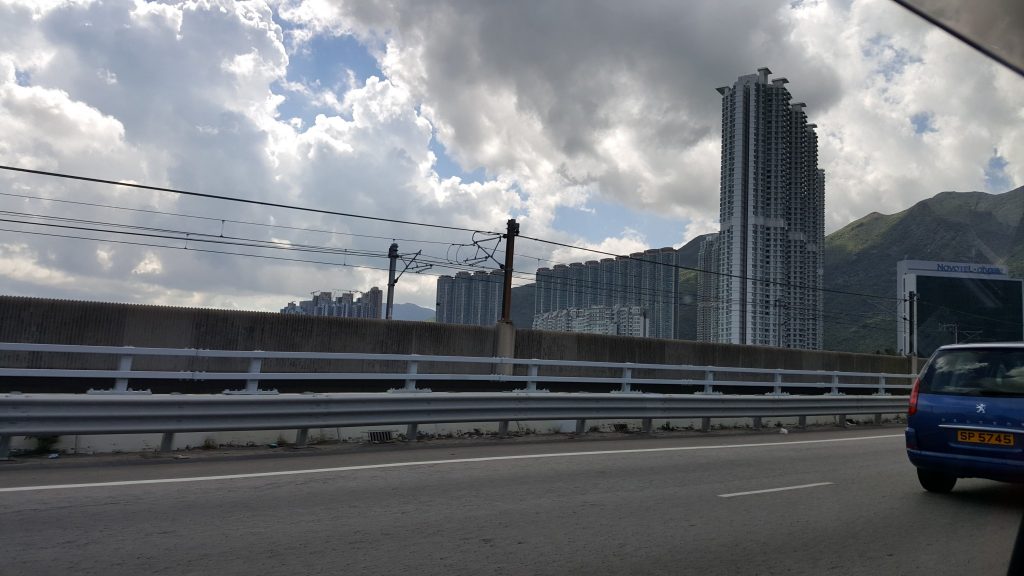 For some reason, this reminds me of science fiction movies…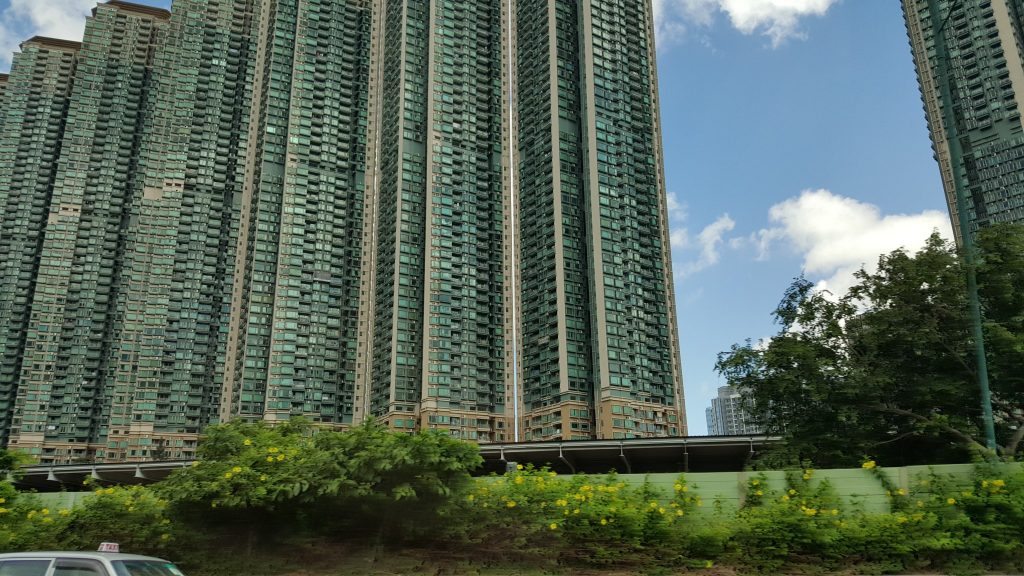 Ok, lets talk about my second stay in the Intercontinental Hong Kong. I stayed here back in December 2014. For my first stay, I really worked my mega travel blogger status angle and had arranged me a nice room with this amazing view, free drinks and even a tour of the Presidential Suite with the hotel manager. Well, this time I didn't do much in advance and was charged a supplement for the room with the view. I believe it came out to something like $75. Worth it? You tell me!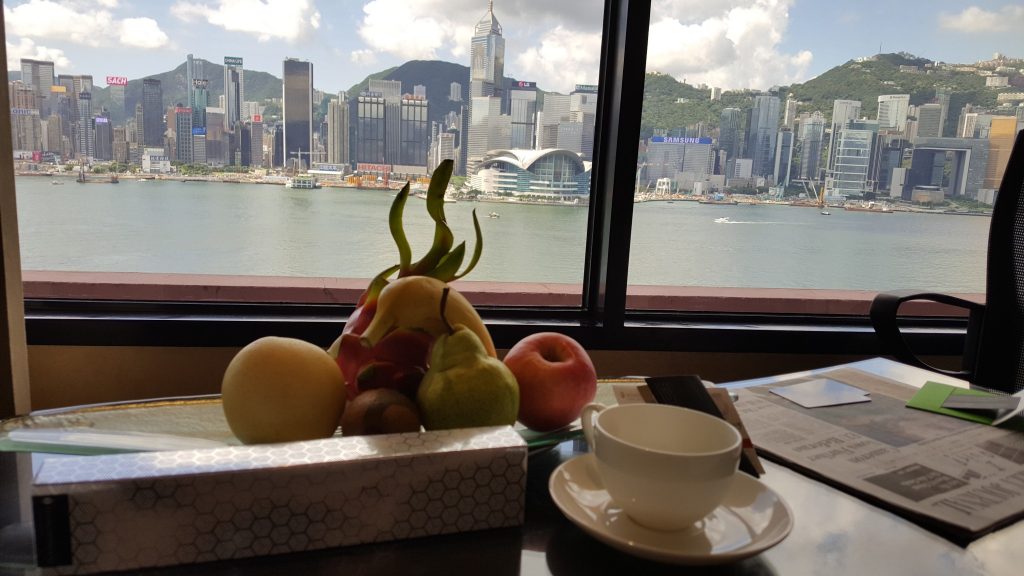 So, they let me check early and just enjoyed the hotel until son finally made it in the afternoon. Here is the view from the pool which I did use this time.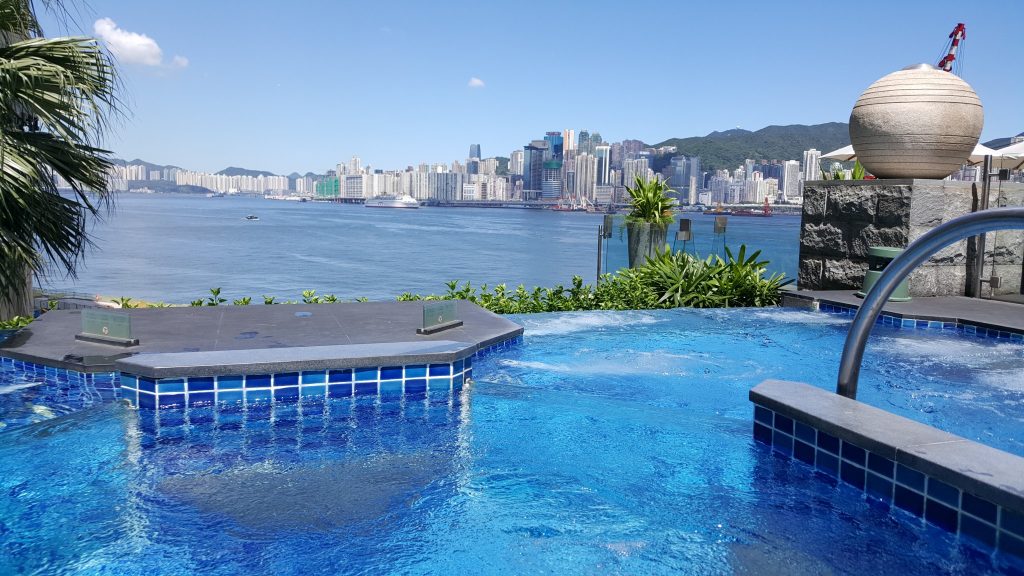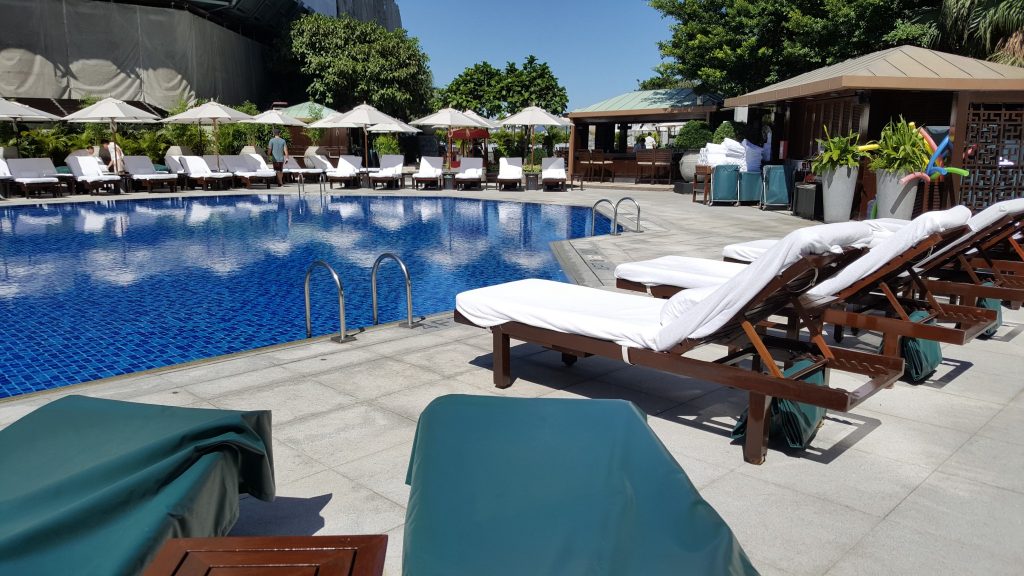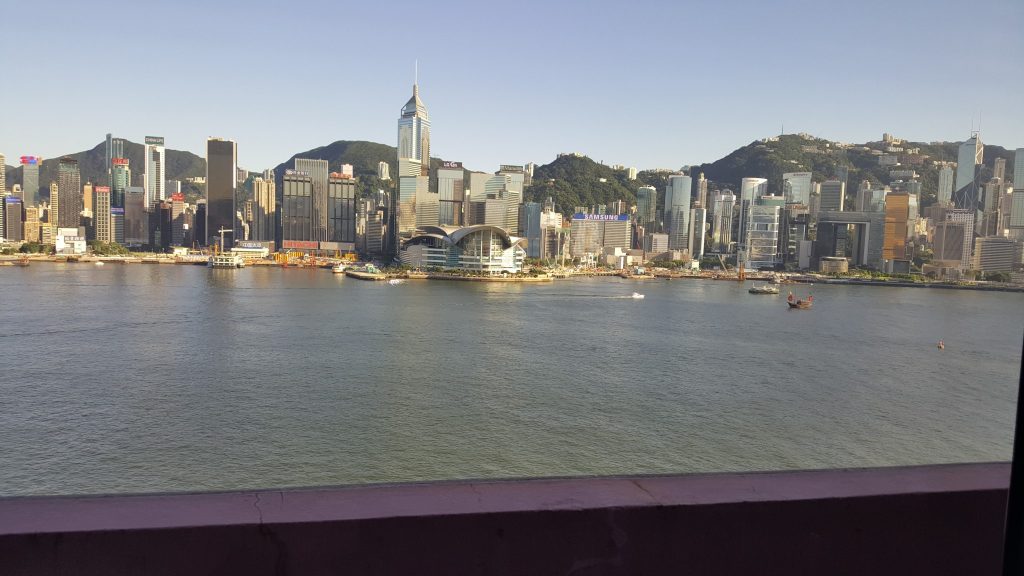 We went out with son who showed me around some spots he and classmates hanged out. I love the vibe of this city. I would come here before Tokyo every single time!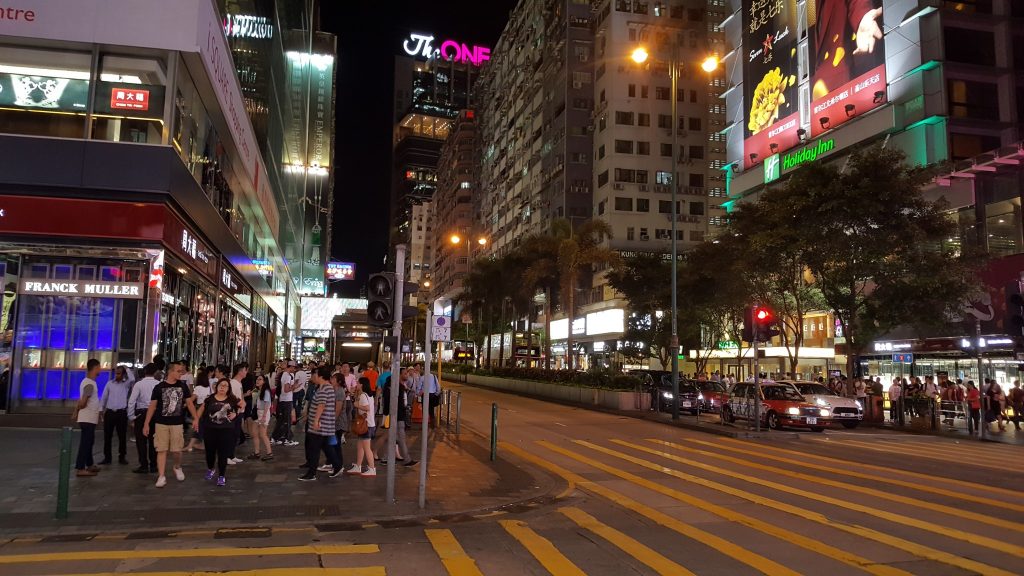 We went out for dumplings at Din Tai Fung. Famous joint, yummy!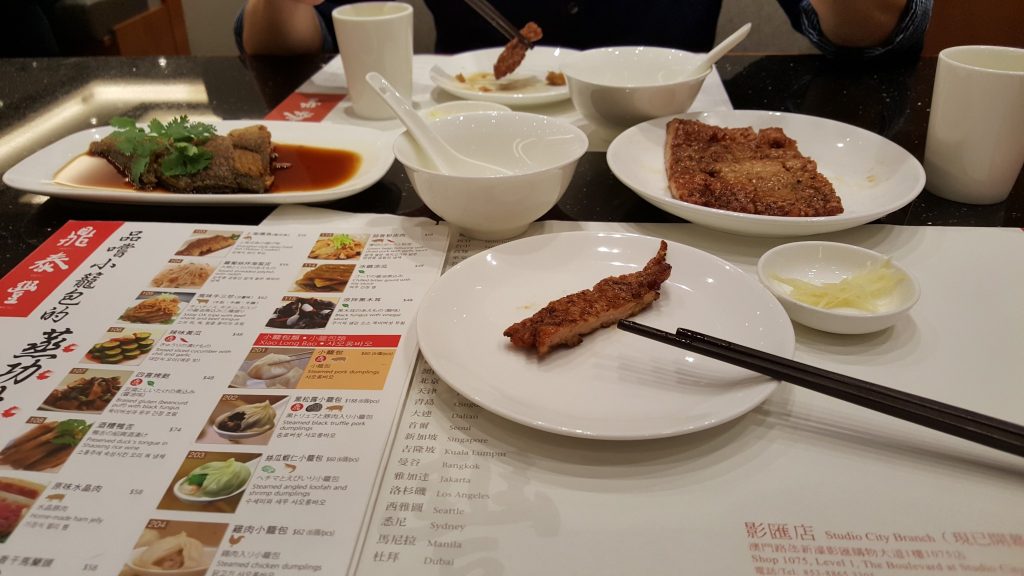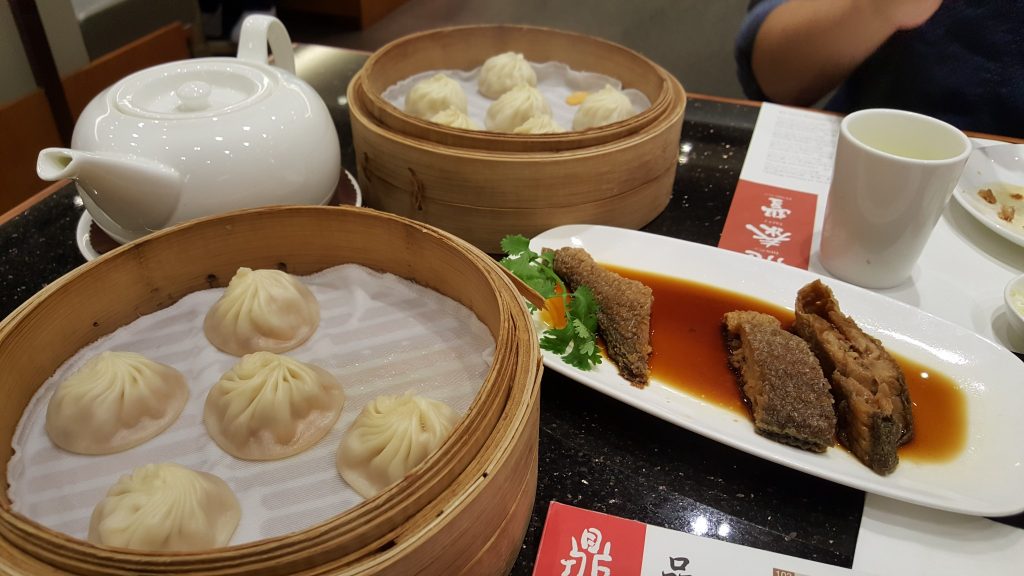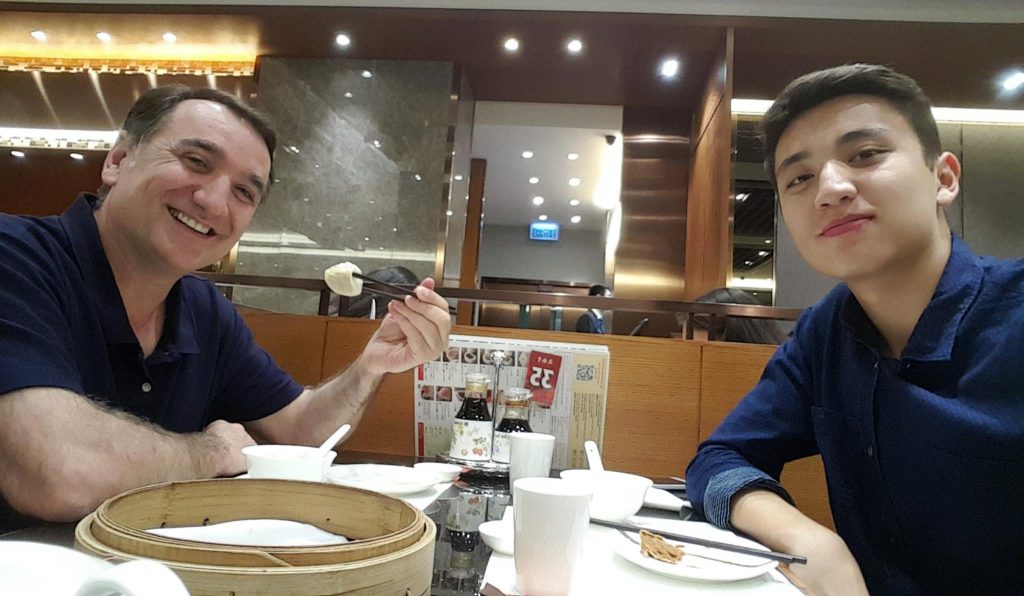 Walked around a lot, we both love local market scenes. Because we are men of the people. Lol.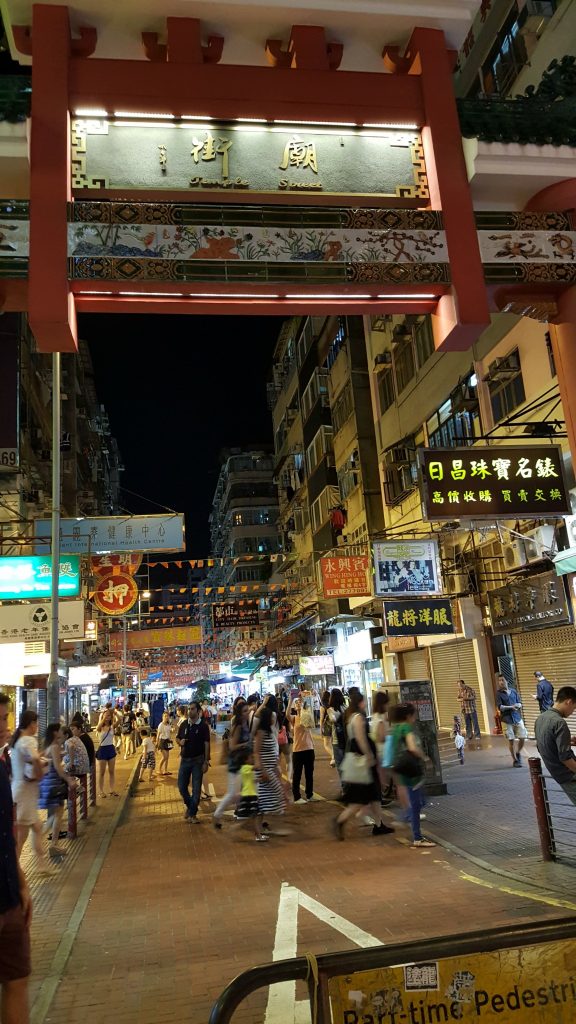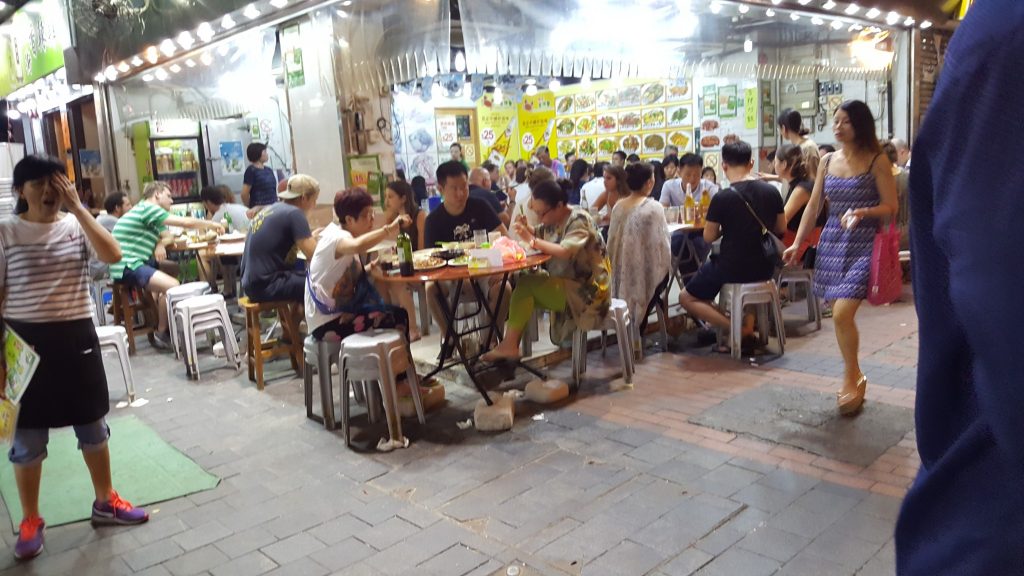 Son loves street food. And eats some very adventurous stuff. Like this stinky tofu thingie. First, I can't stand tofu. You make it stinky and there is no way in hell I am going to eat that!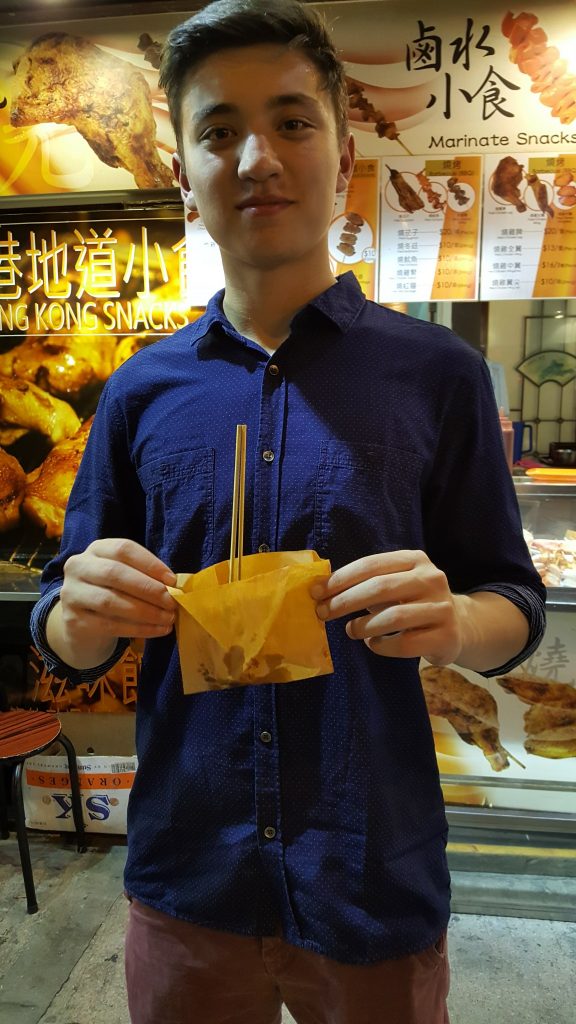 I think son loved that picture so much…he had it in his Facebook profile.
Late at night I treated him to the ridiculous expensive burgers at the hotel. Mine was good again. But his was just awful, he went with some different kind of burger, I forgot which. Anyways, very disappointing for the price I ended up paying. I think that was the last time I burn my free Visa night here, time to move on.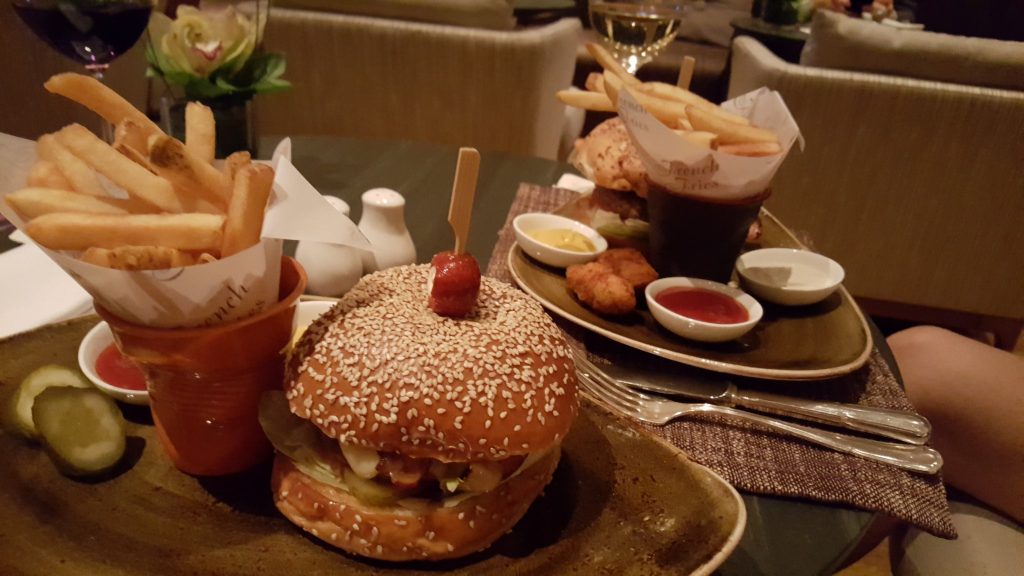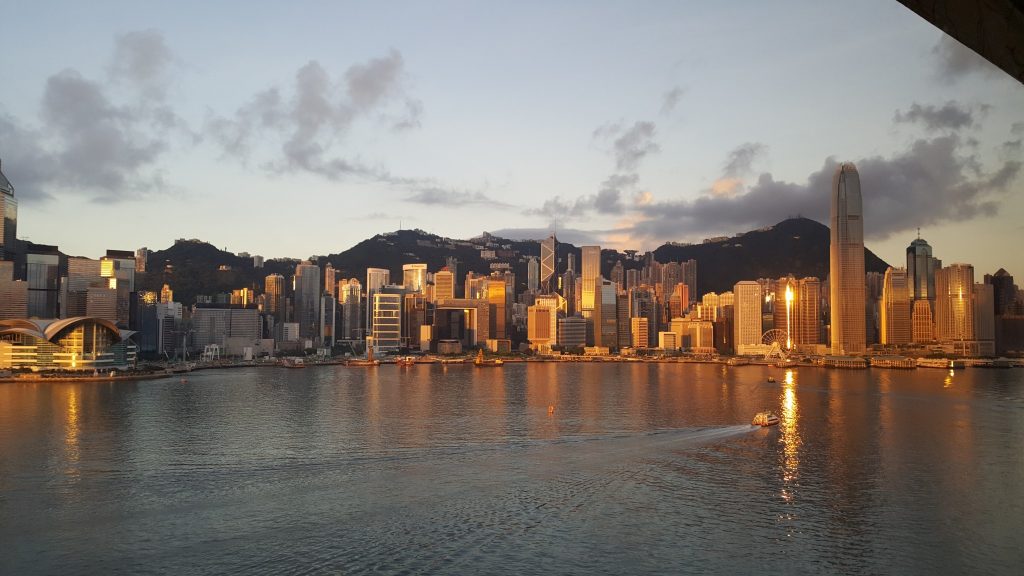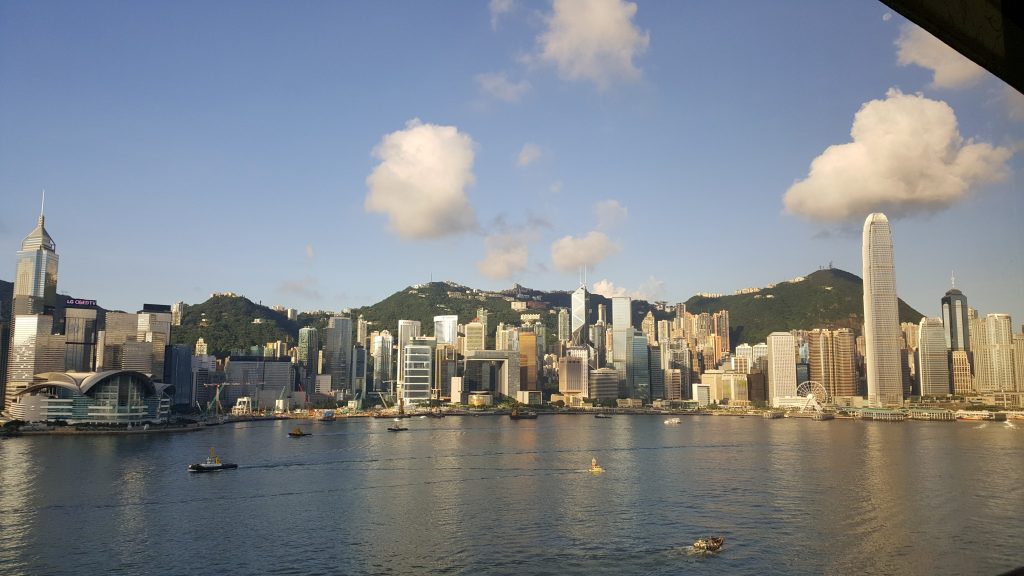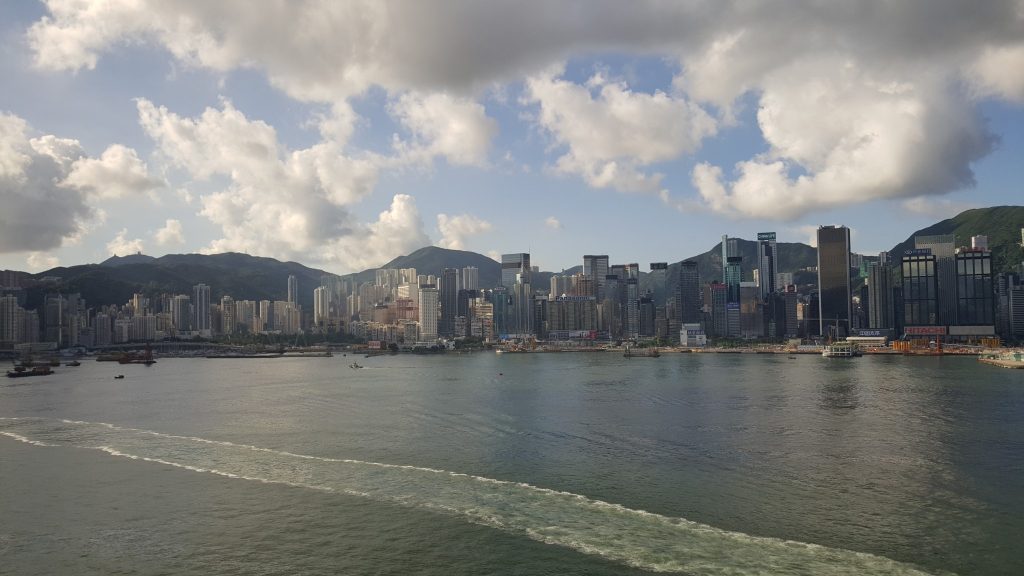 Yes I used the hotel gym the next morning to atone for my sins lol.
I am going to miss waking up and making coffee and just gazing out at the harbor…Just love it!
We headed out to the airport and had lunch while waiting for our Air Asia flight to Kuala Lumpur. We made a great choice, both of these dishes were delicious!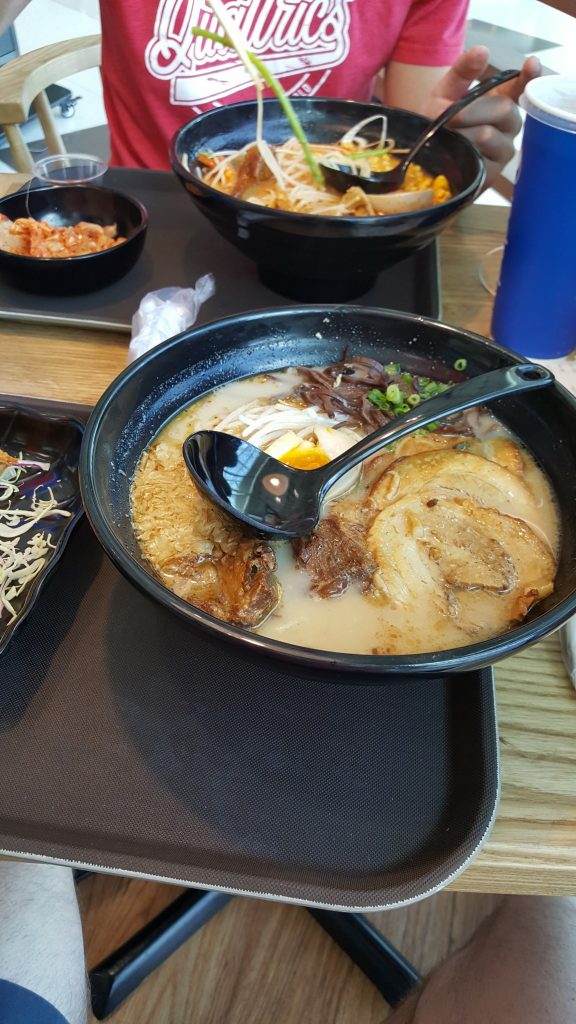 The gate to board Air Asia AK135. We paid in advance for these flights. Less than $100 each.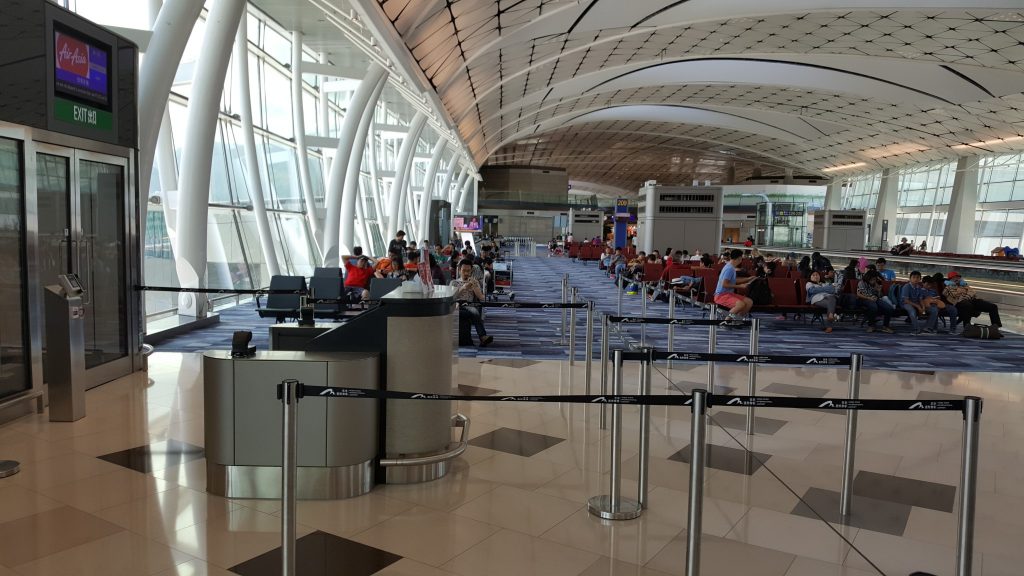 The bird to take us to Malaysia to see mommy and daughter!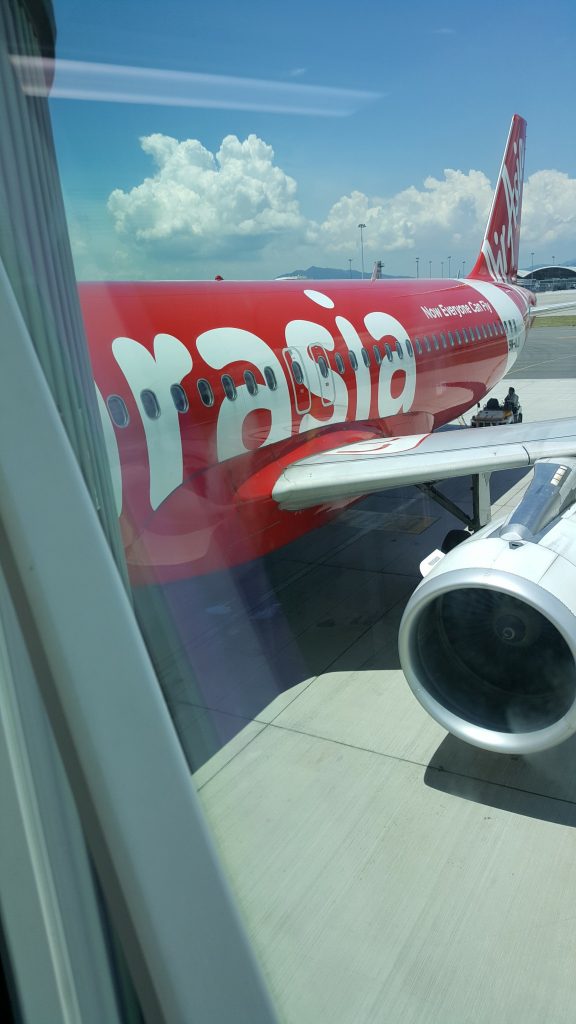 Just before landing in Kuala Lumpur, we were sprayed on. Something about health regulations. That was kind of weird.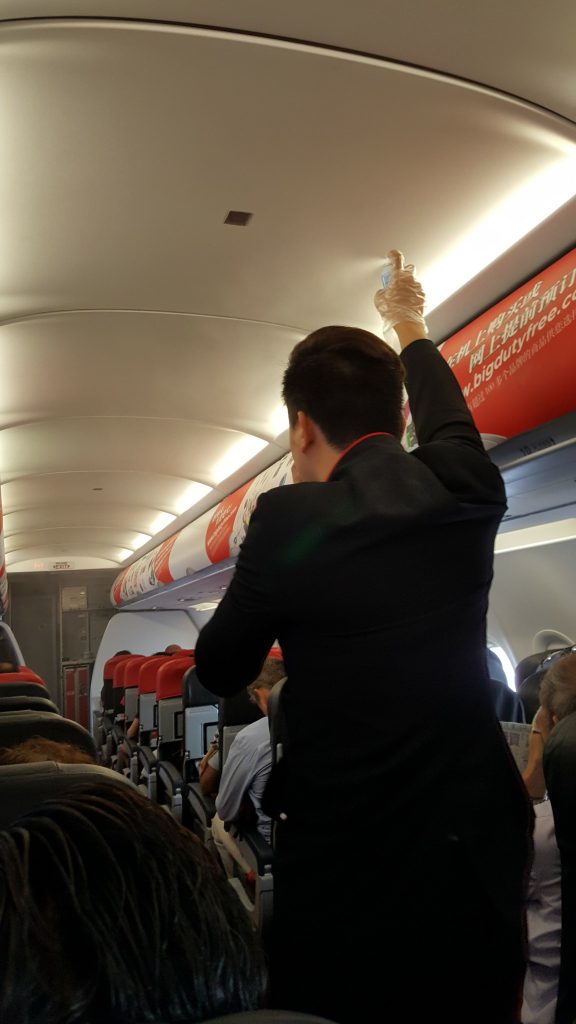 Our Air Asia flight from Hong Kong to Kuala Lumpur was uneventful. We had some food with us as I decided not to risk ordering ahead of time any food entries aboard. I must admit the choices we saw others eat look decent and the prices were very reasonable. Oh well, next time I guess. So far every flight we had with Air Asia was a good experience. Hope the streak continues!
Hello Kuala Lumpur Airport, we meet again!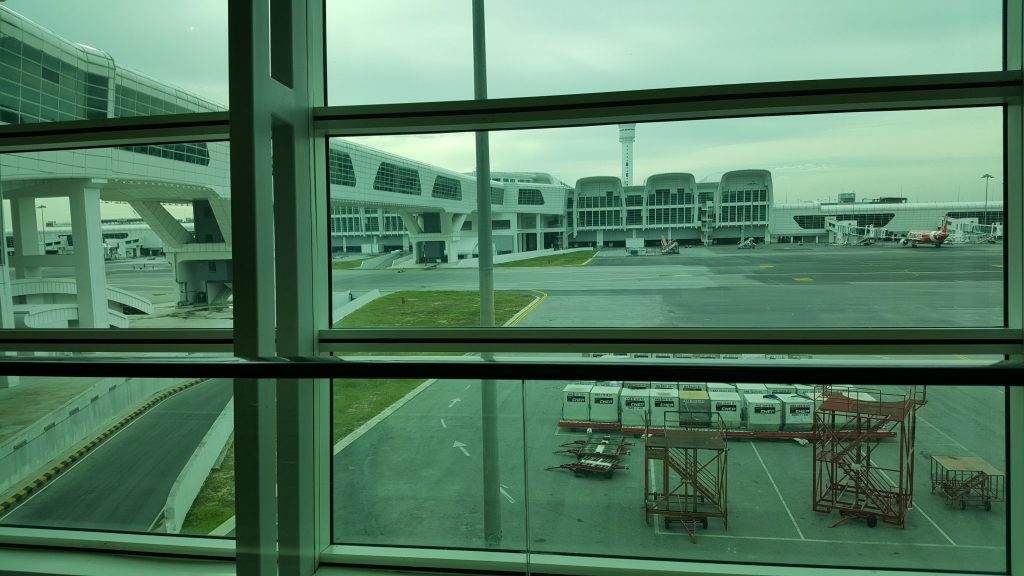 This is a really nice airport, very impressed by Malaysia. Again.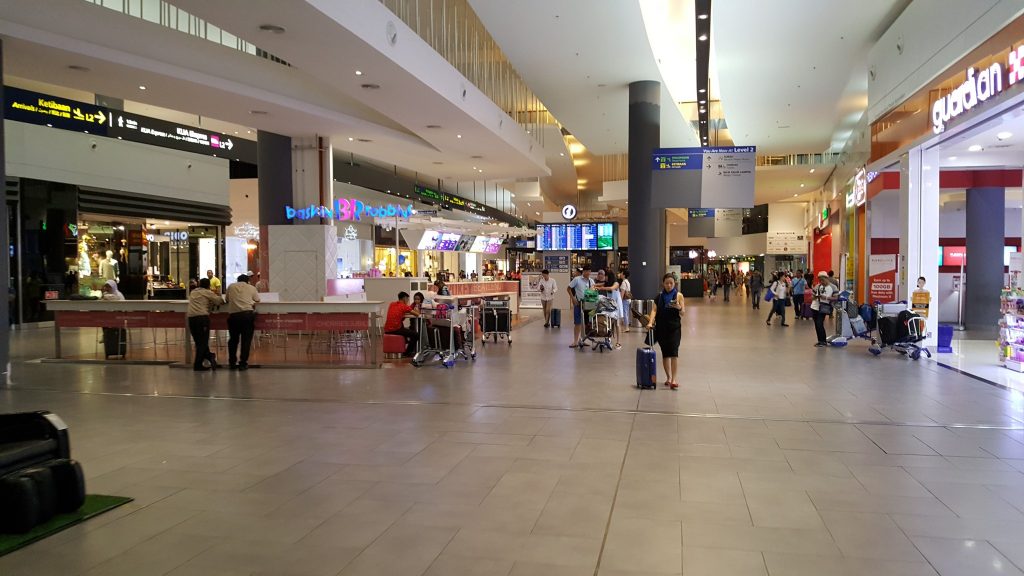 Due to some scheduling conflicts that arose just before we left, we would need to get to Sitiawan, 240 kms north of Kuala Lumpur, that night to be able to make it to the huge family gathering the next day to celebrate my parent in laws' 80th birthday. So, they arranged a driver to take us straight to Sitiawan. He did not speak any English but found us in the arrivals area. Nice fellow, did not speak much. Definitely not a Mercedes like some of you may be accustomed to at some airports flying First Class and all…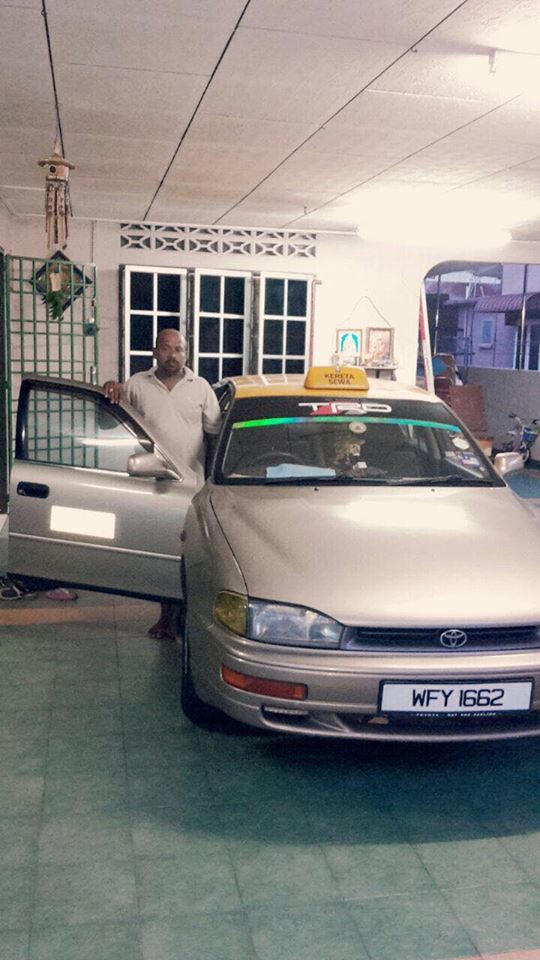 The ride was nice. Looks like the country has been upgraded again. It amazes how much progress has been here while Greece, with all its natural beauty, sometimes it feels like it is regressing instead!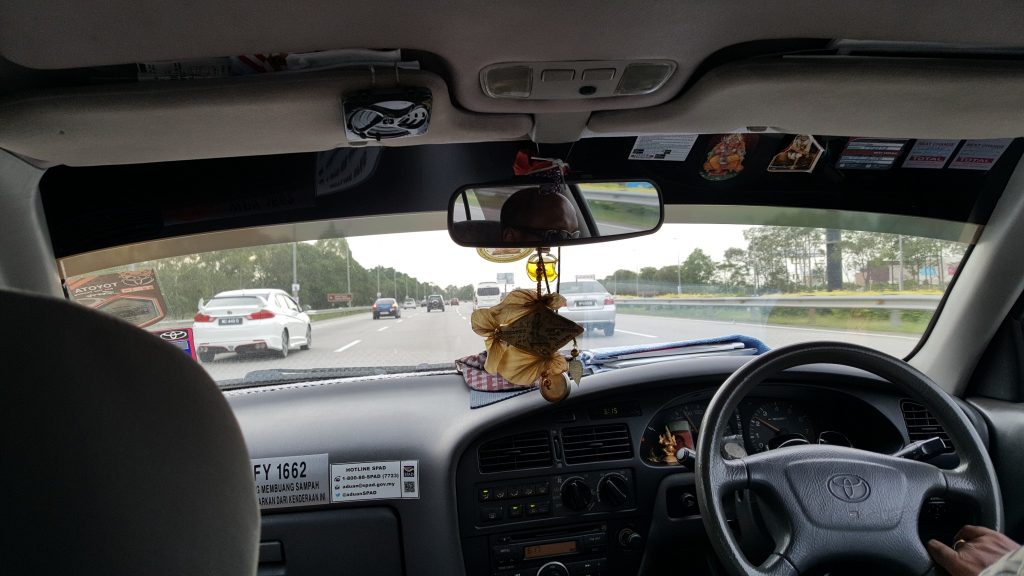 I remember the first time I visited Sitiawan. We stayed at great grandma's old house, the matriarch of this large clan. Only one room had A/C. And it was very old. I still have nightmares about it. She passed away since then and there is another relative living there now, I can't believe it is still standing! The relatives who live here now have all moved to very nice houses in new subdivisions. I think we filled three of their houses. Here are all the nephews and nieces. My wife has six other siblings, one brother in New Jersey, two brothers in Malaysia and three sisters living in Singapore.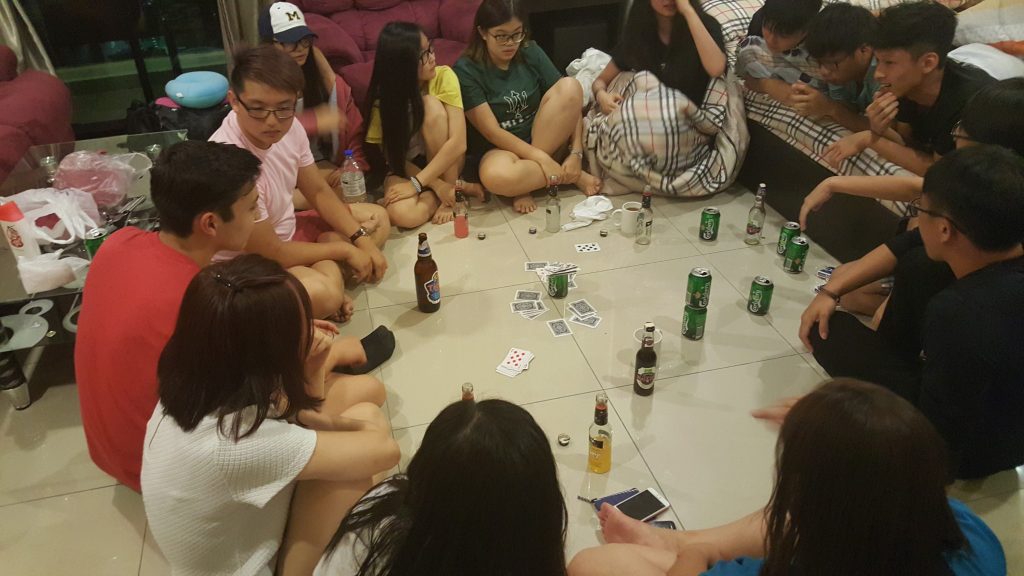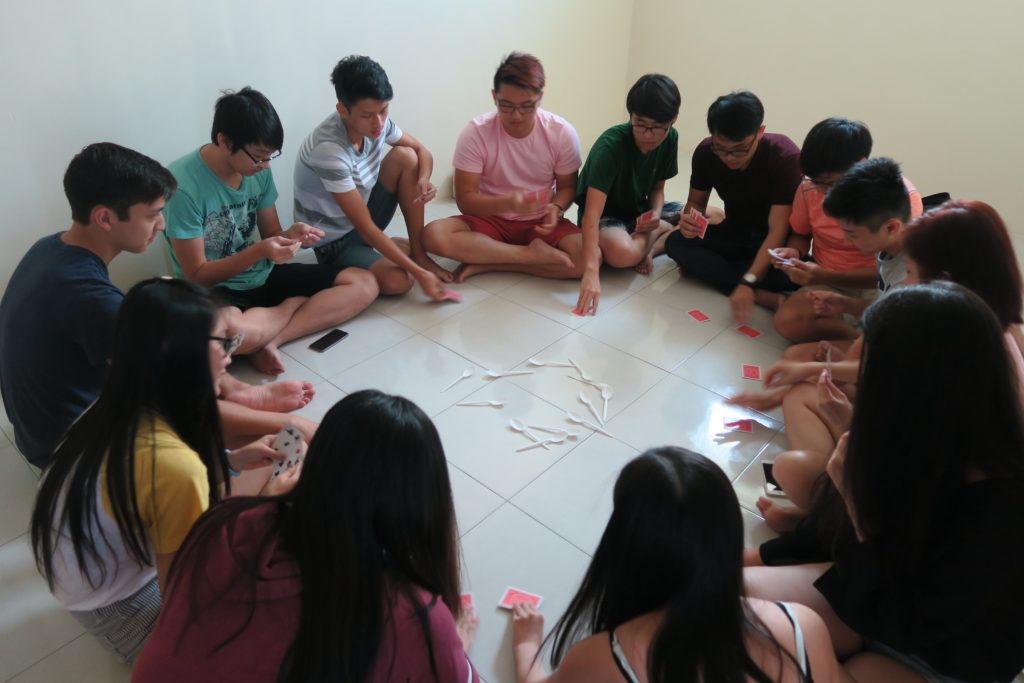 Of course, eating is a big part of the culture. Lets go out to eat! I love these old style Chinese restaurants here!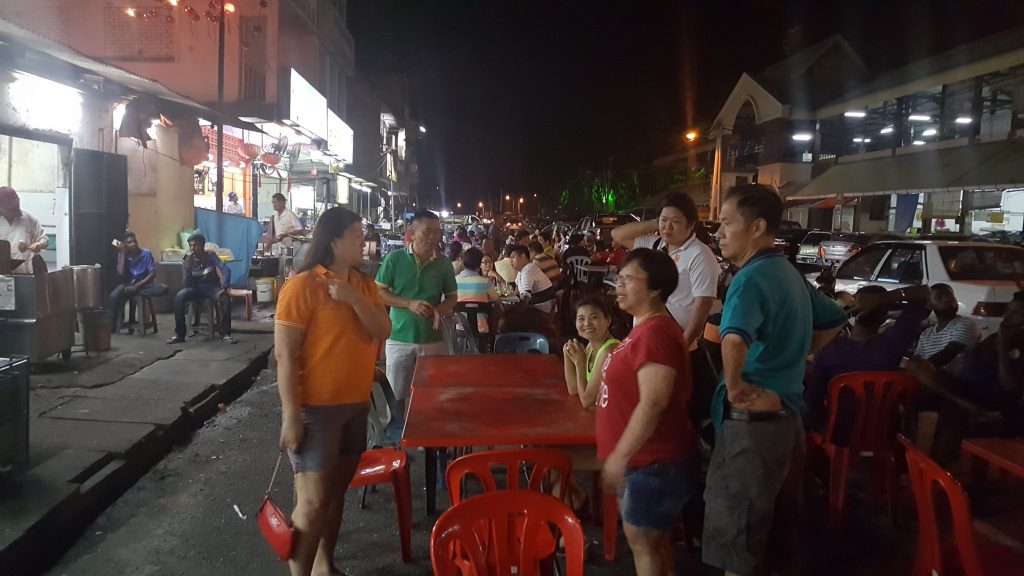 Supposedly, this dude is famous in cooking noodles in some old authentic style. They did taste yummy!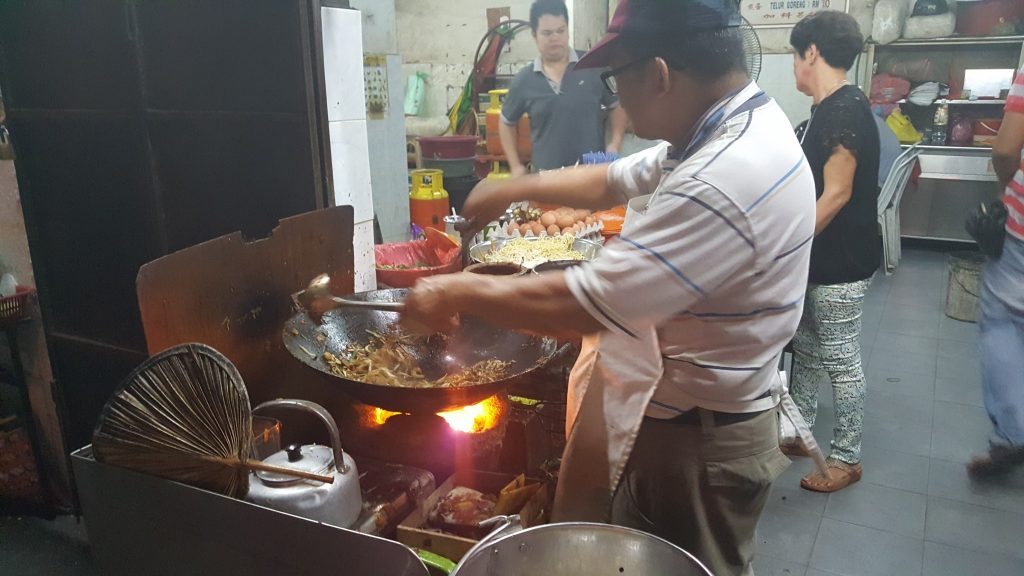 And next morning, the marathon celebration started with a giant buffet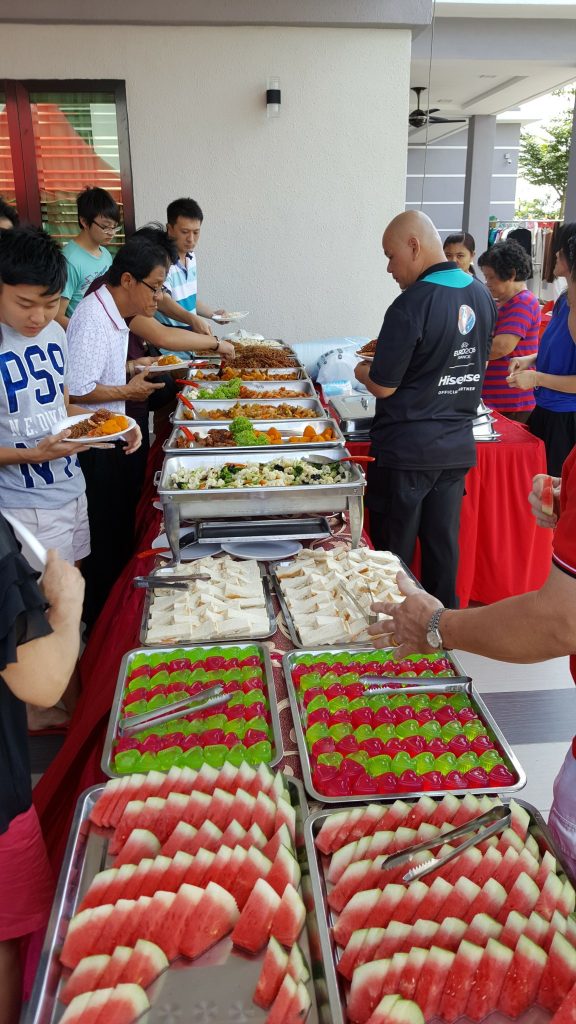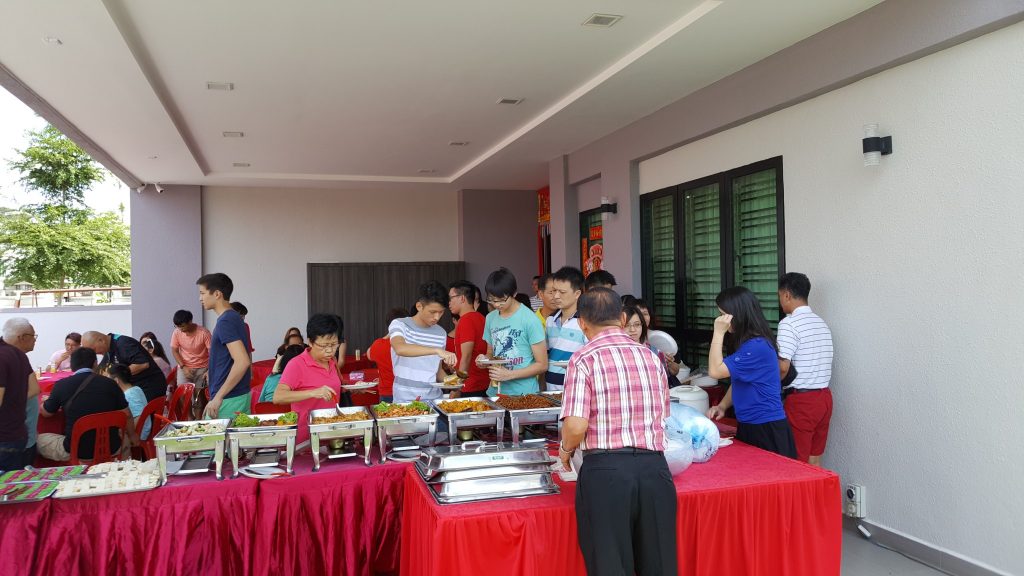 And after that we visited some graves of relatives in the town cemetery. Paid respects to the matriarch, thank god for the wifi, we were connected at all times, tethering unlimited data plan from a brother in law, thanks Bro!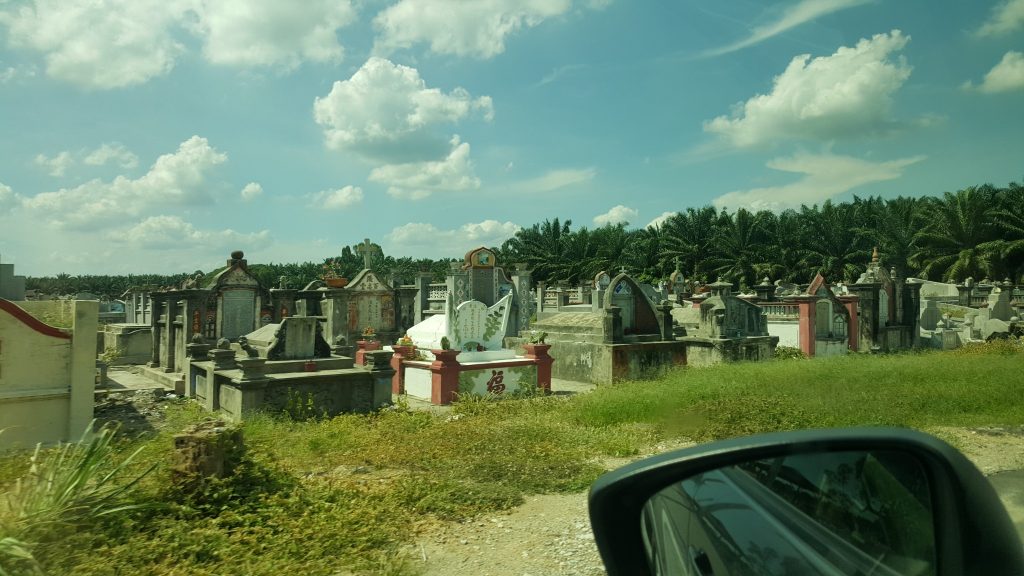 This is the old house where great grandmother lived. My wife spent her school years here.  I was first here in 1995 during Chinese New Year, I thought I was under bombardment from all the firecrackers, without air conditioning. Needless to say, since then Sitiawan was associated with not great memories. When I heard we are not going to stay here, I cried from happiness!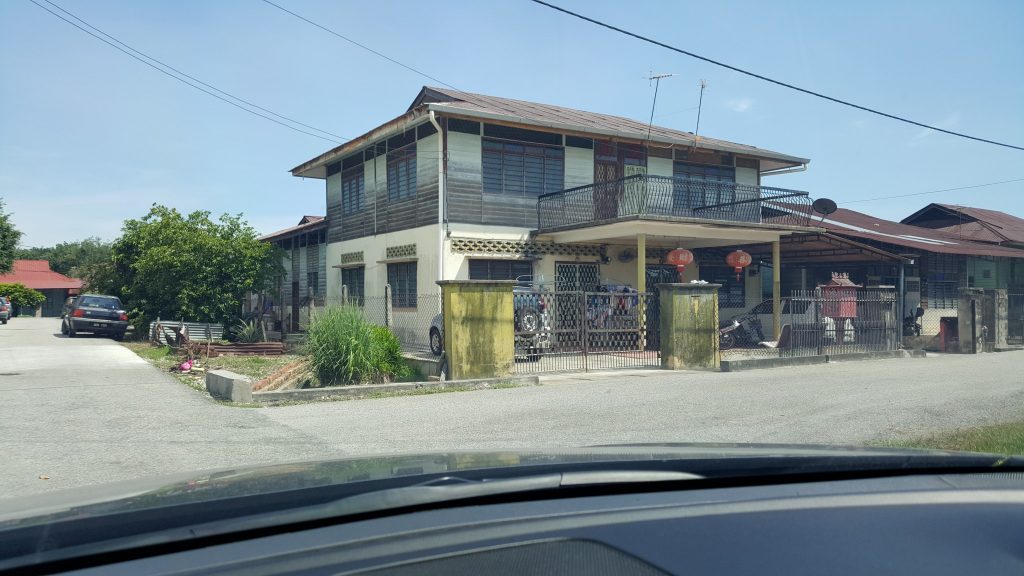 And then we started visiting some temples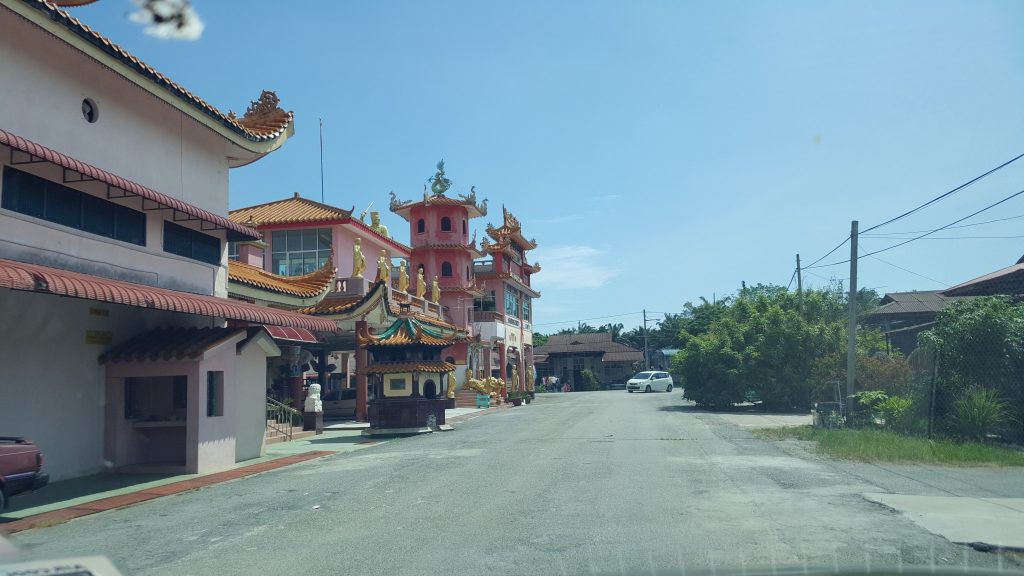 No TBB groupies here #sosad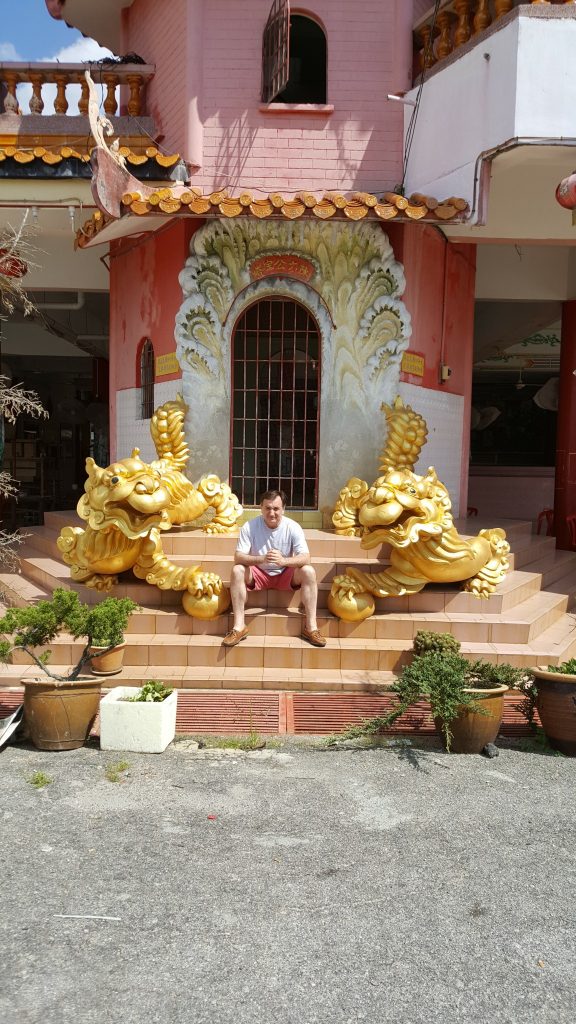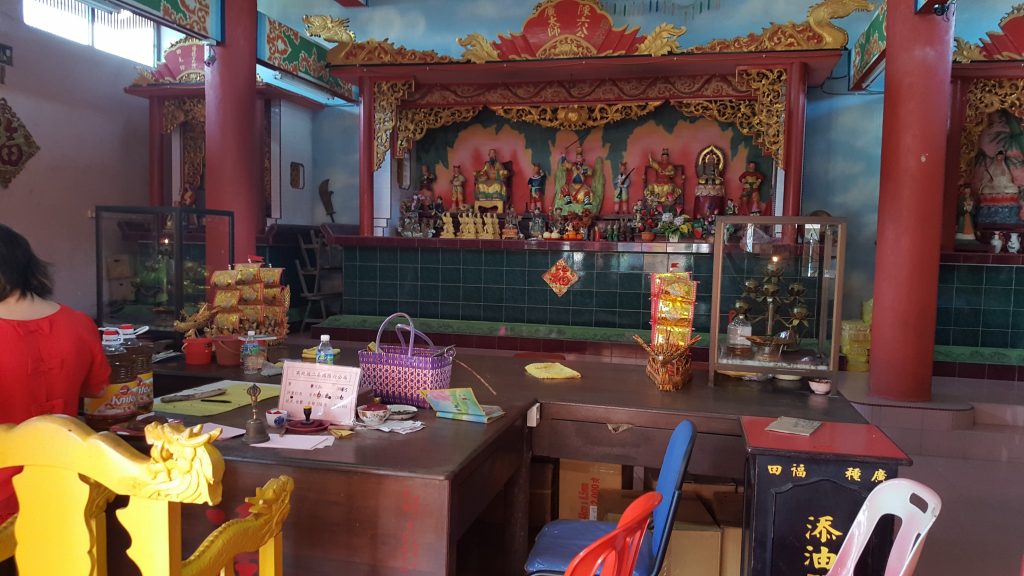 I was given these things I am holding. We then copied what my wife did. There are no videos of this, good! Hey, I do what I am told.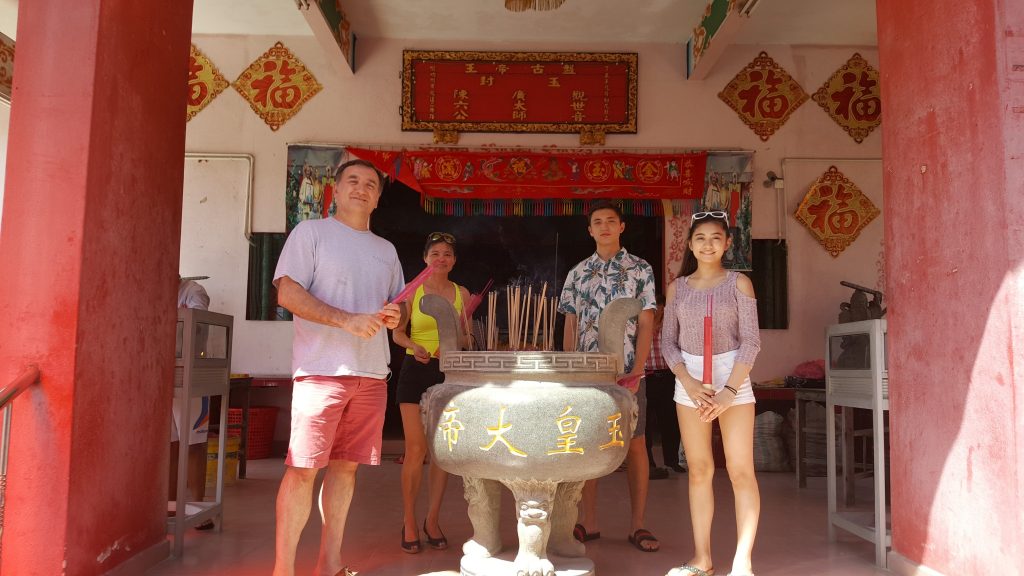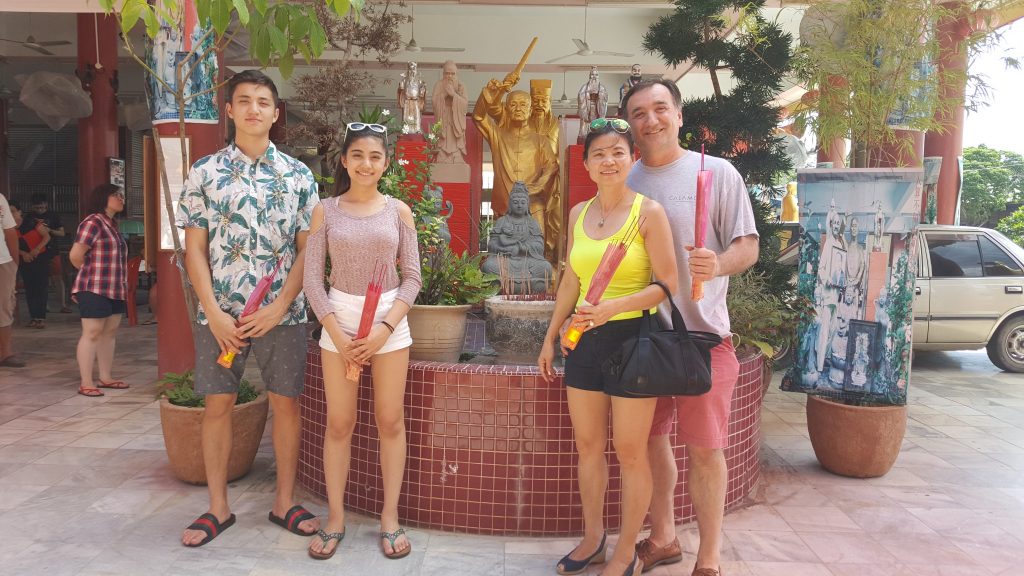 Ok, now, it's really hot out here, can we get to the dinner please!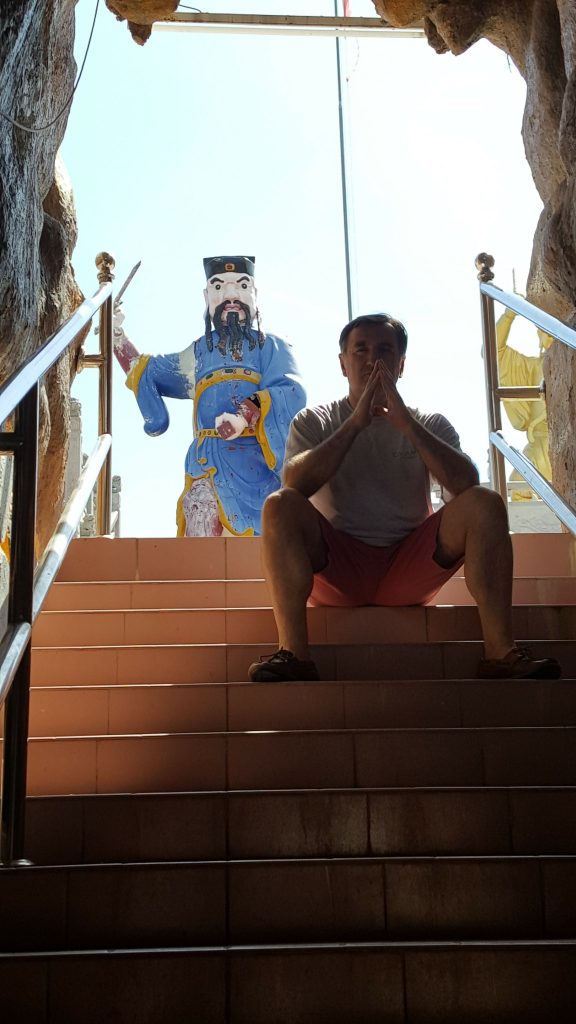 Bad ass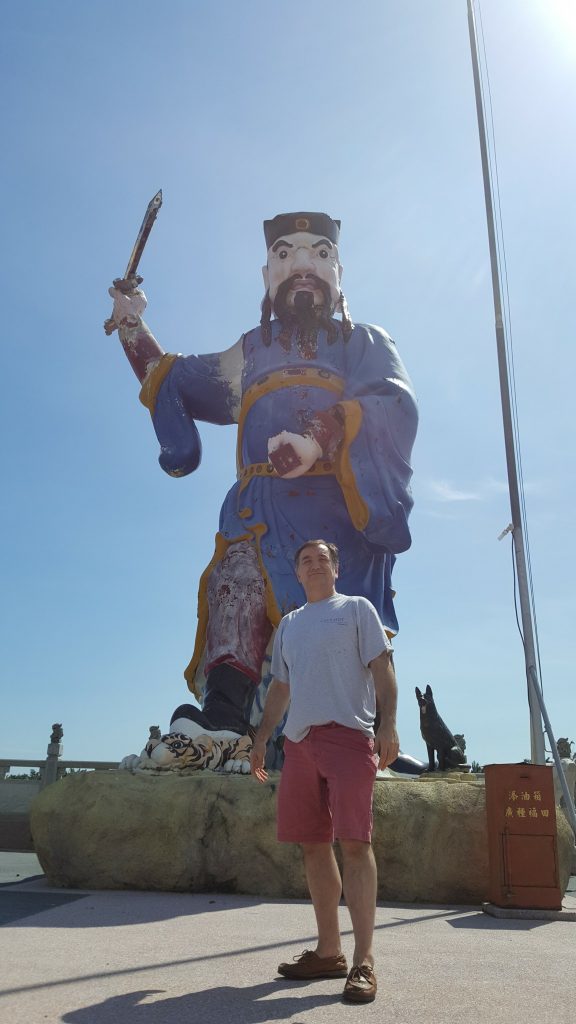 Pic from the top of the temple, old style houses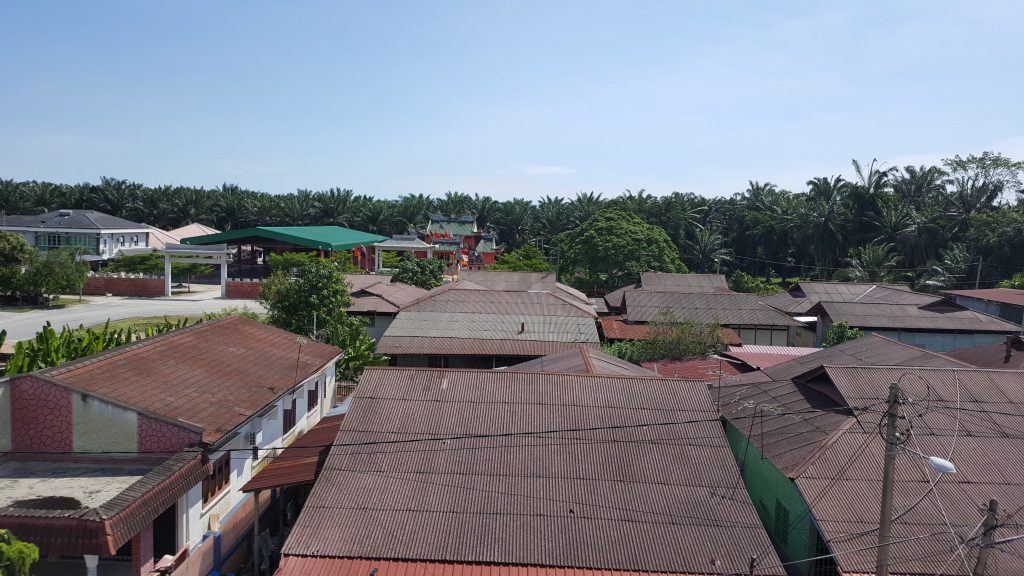 There are several new temples here.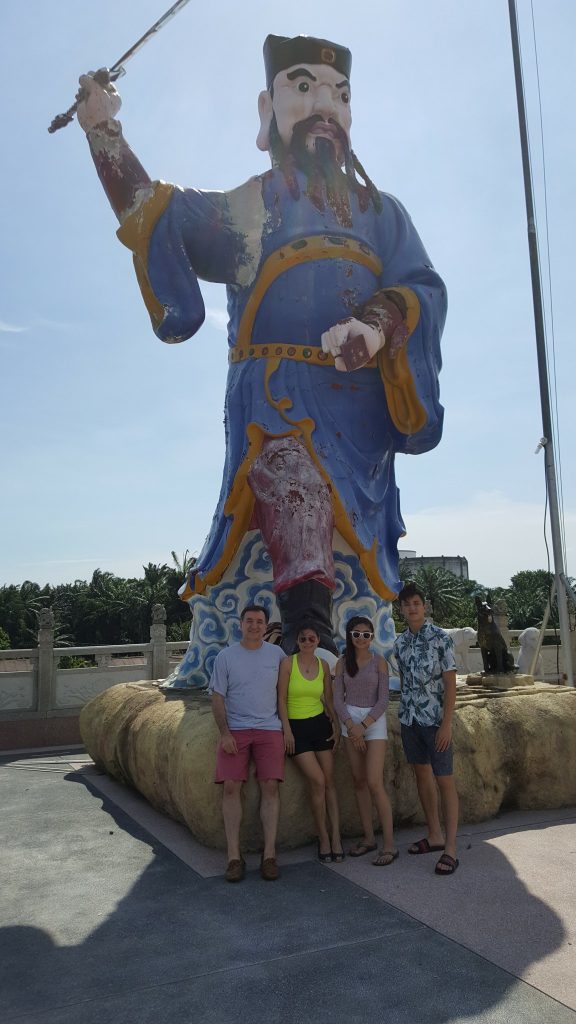 Goofy son of TBB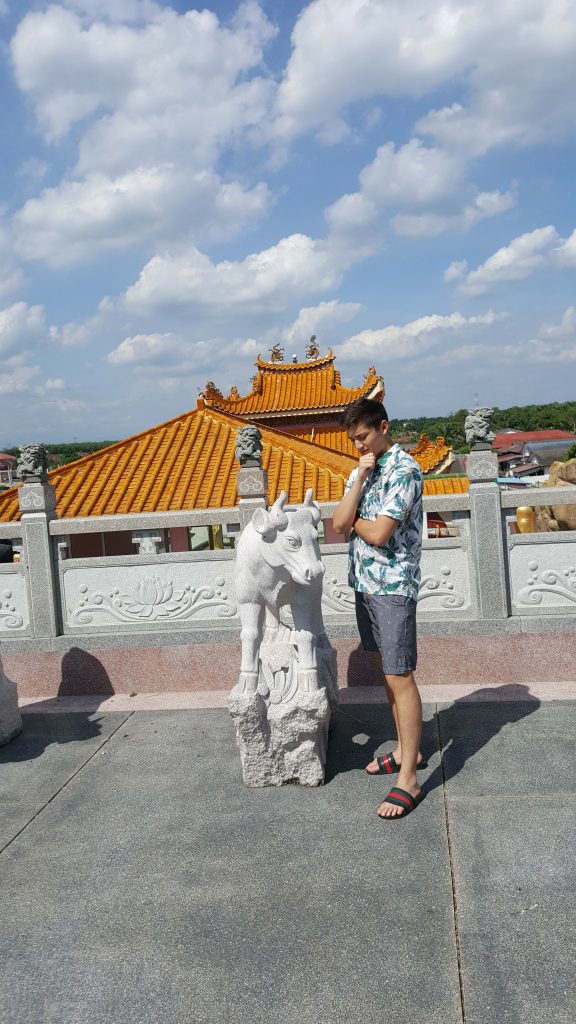 Diversity!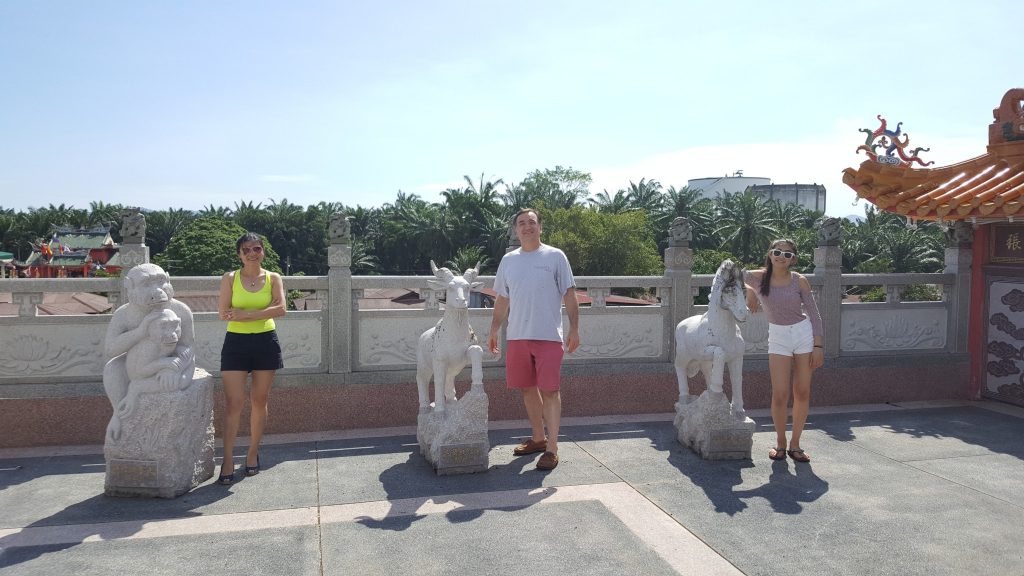 All the kids rented this banquet hall for the mega dinner celebration. Yes, I am the only white guy, lol. I will let the pictures speak for themselves.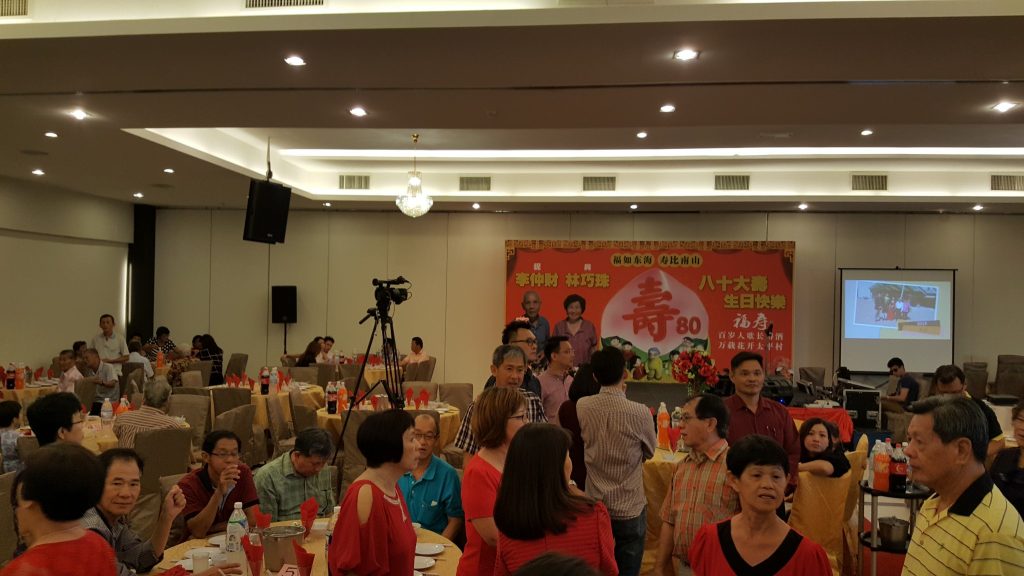 The inlaws walk in, holding hands. The room erupts. Well, not really. But their heartfelt appreciation was evident, they have done well.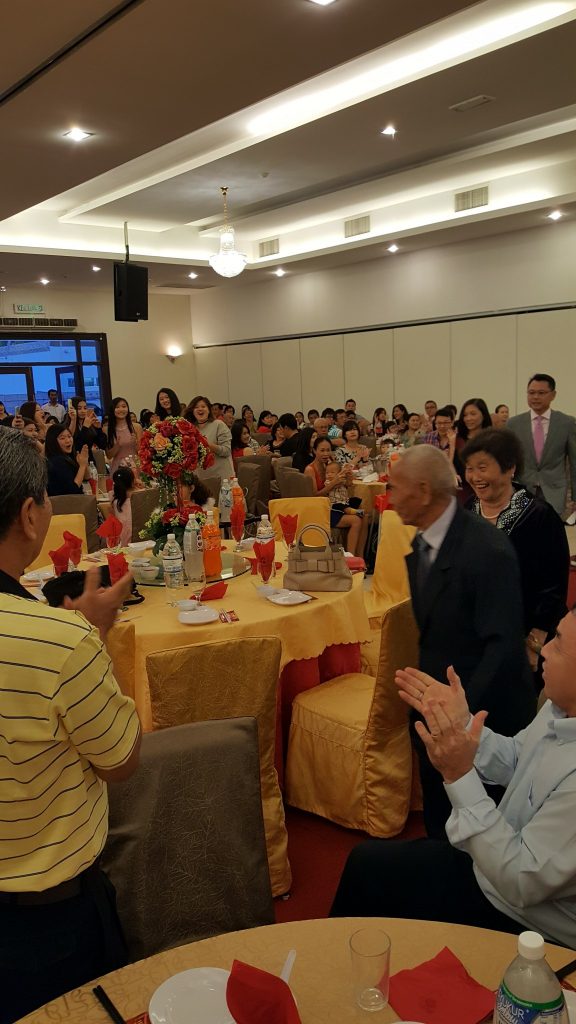 Brother in law…from New Jersey.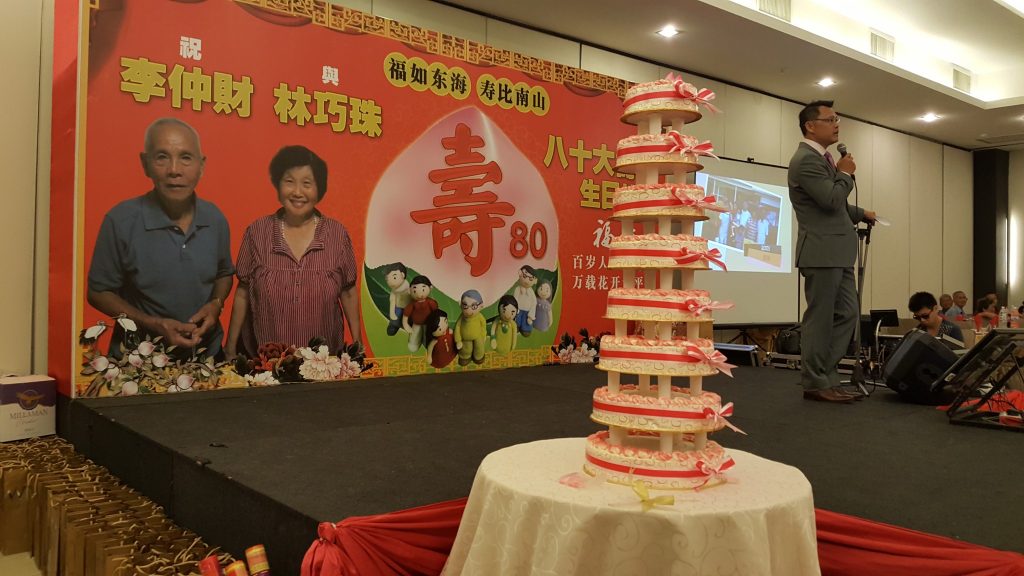 All the grandkids, I think it's eighteen, I lost count!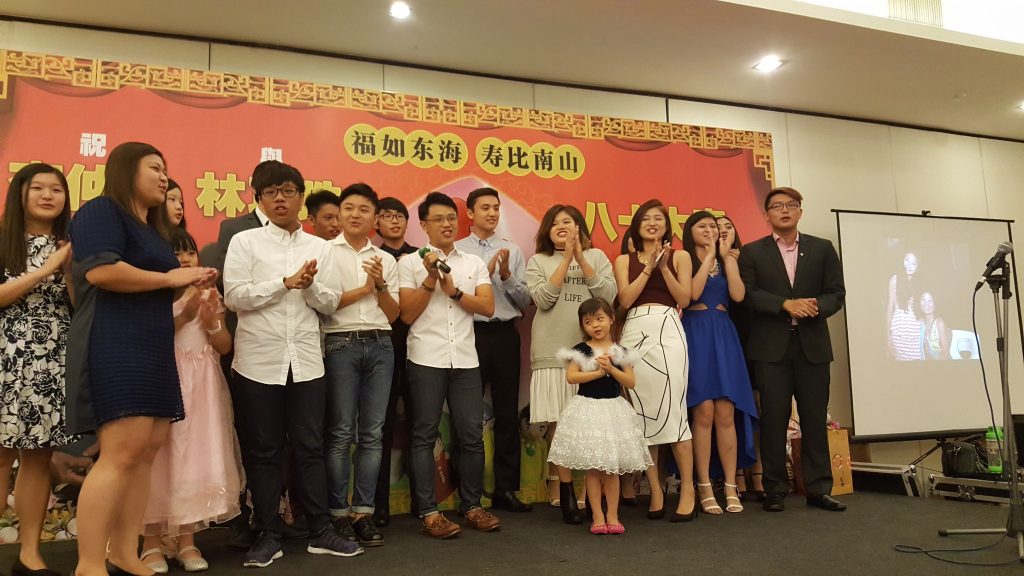 Not a huge beer fan but I drunk that night, it tasted pretty good!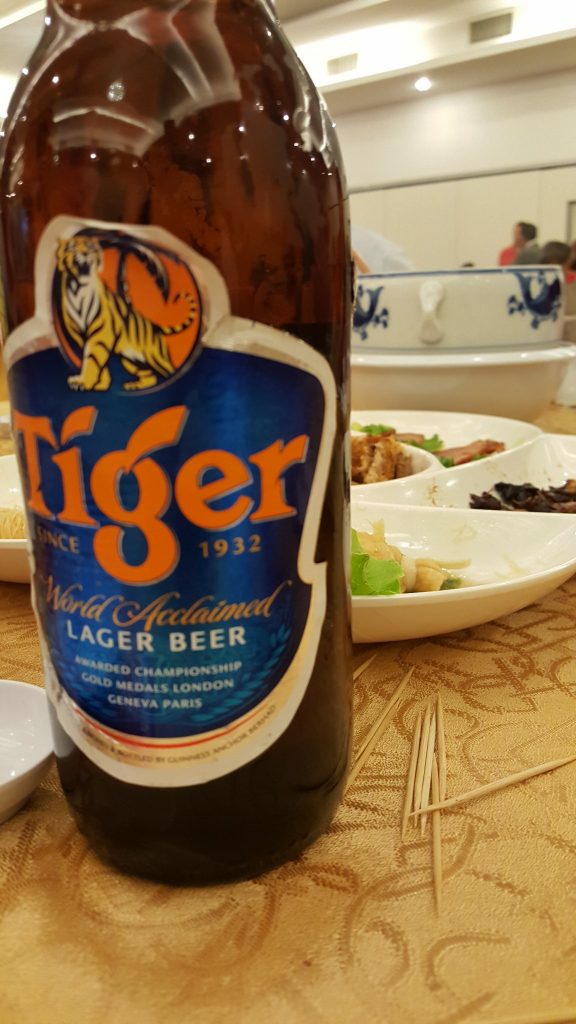 10 course meal, it was epic! I should have taken more pics of the dishes but I was busy!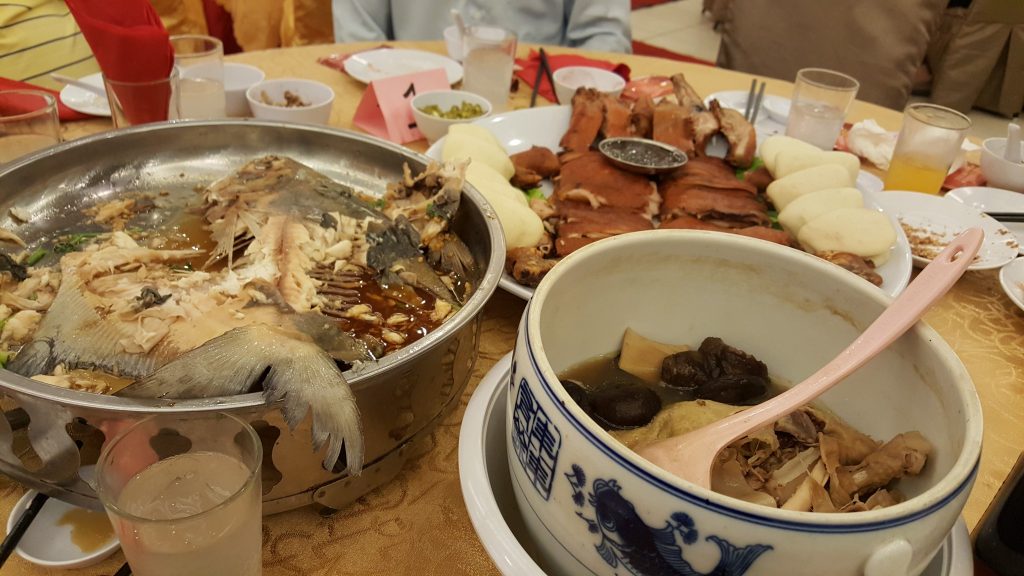 Karaoke time, the two American grandkids under the influence lol.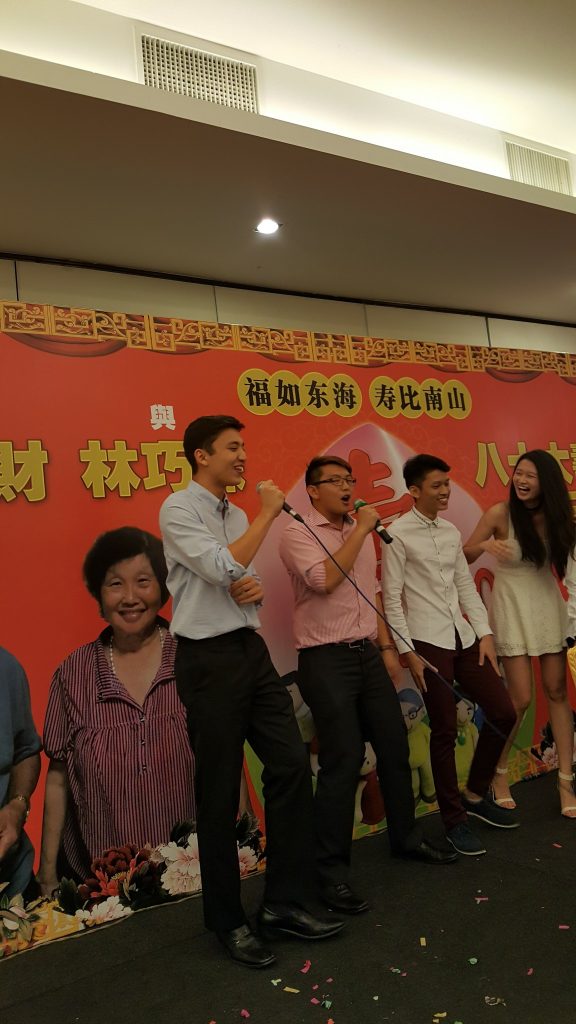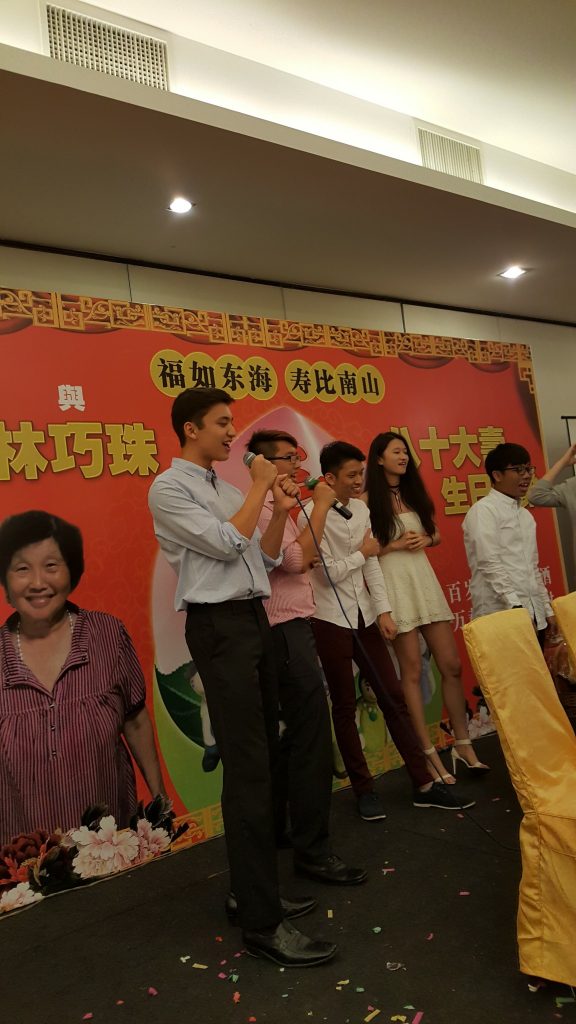 Good to see our friends, the couple to the left, they used to live in Ann Arbor but moved to Penang a few years ago.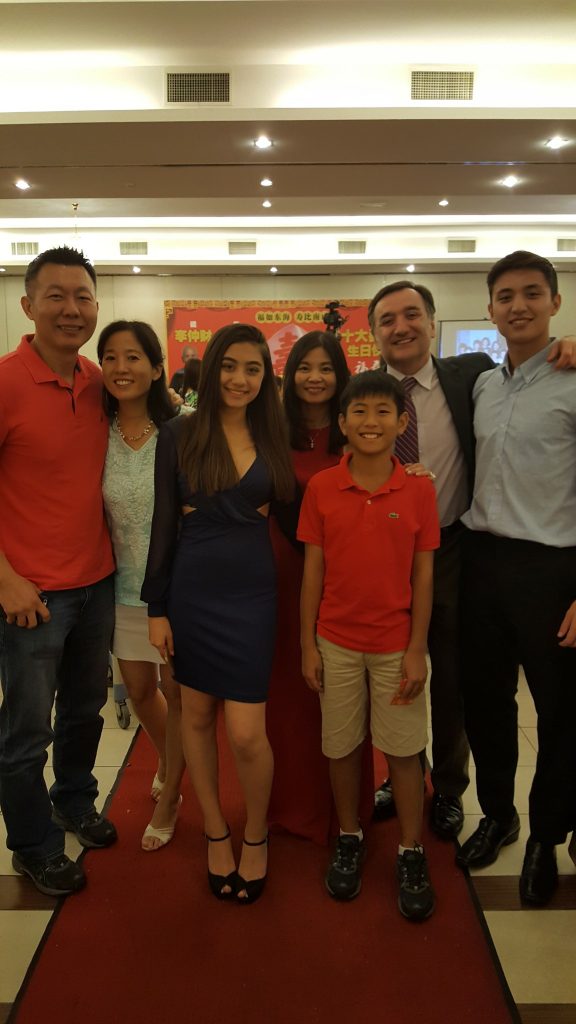 Can I see some ID? Nah, screw it, go for it!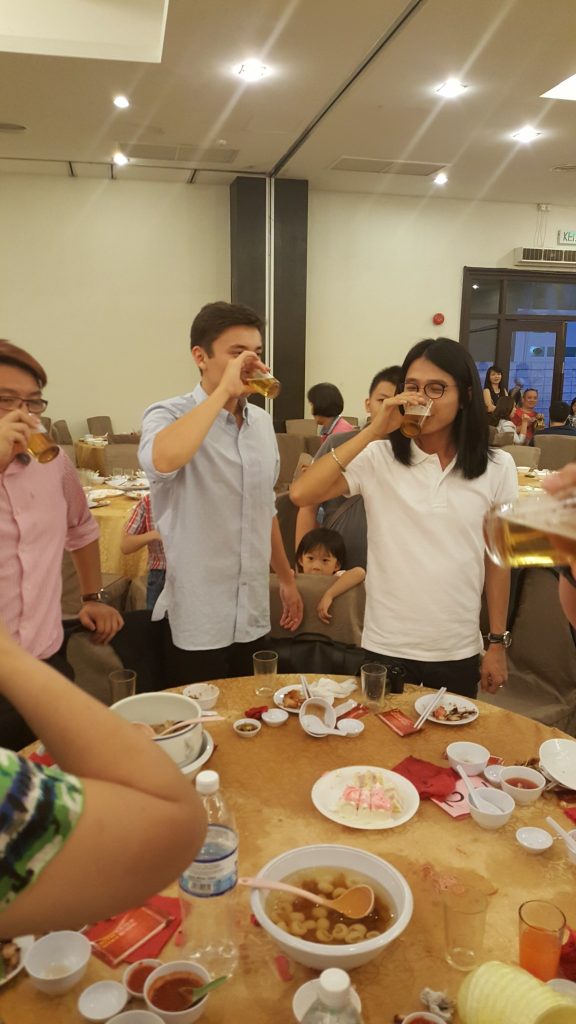 And the obligatory family pics follow. Parents with the families of their three boys.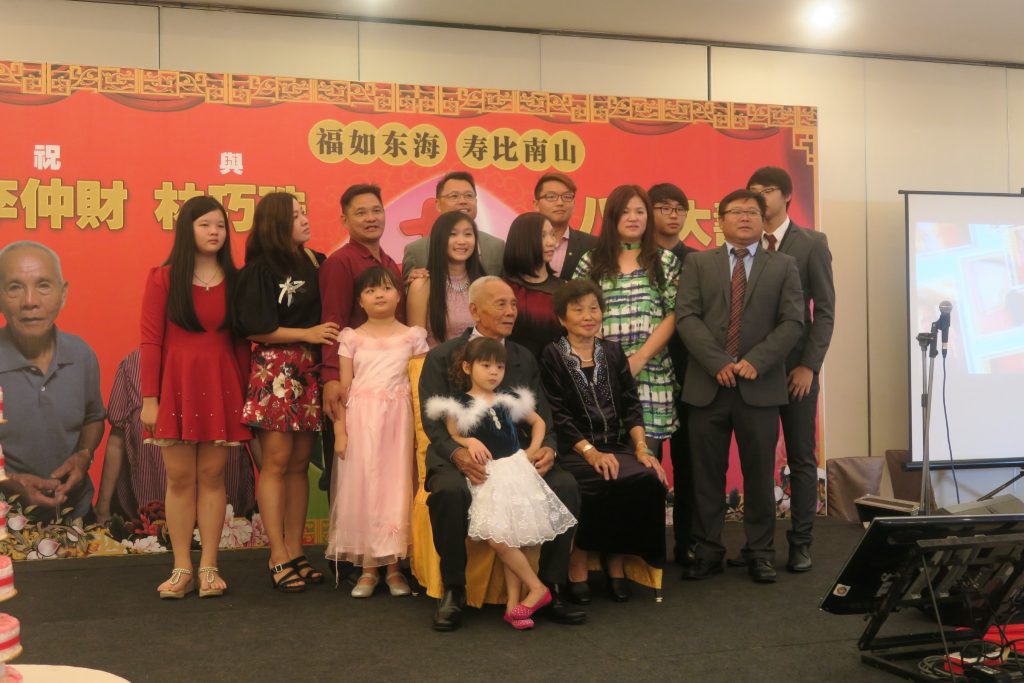 With their 7 children and their spouses.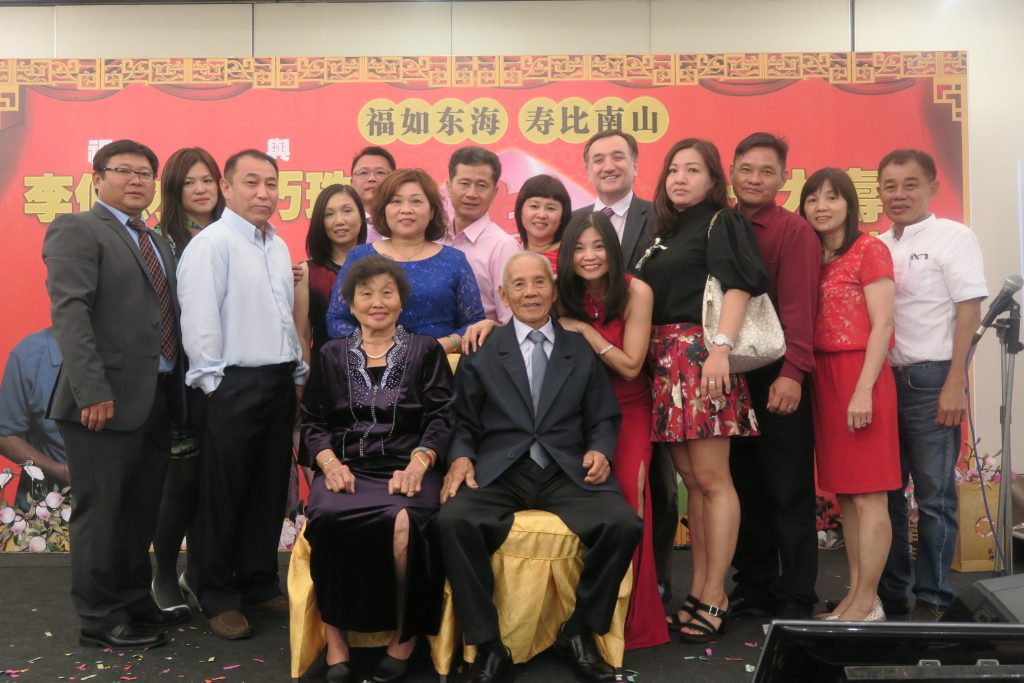 All right, can't keep up. Relatives!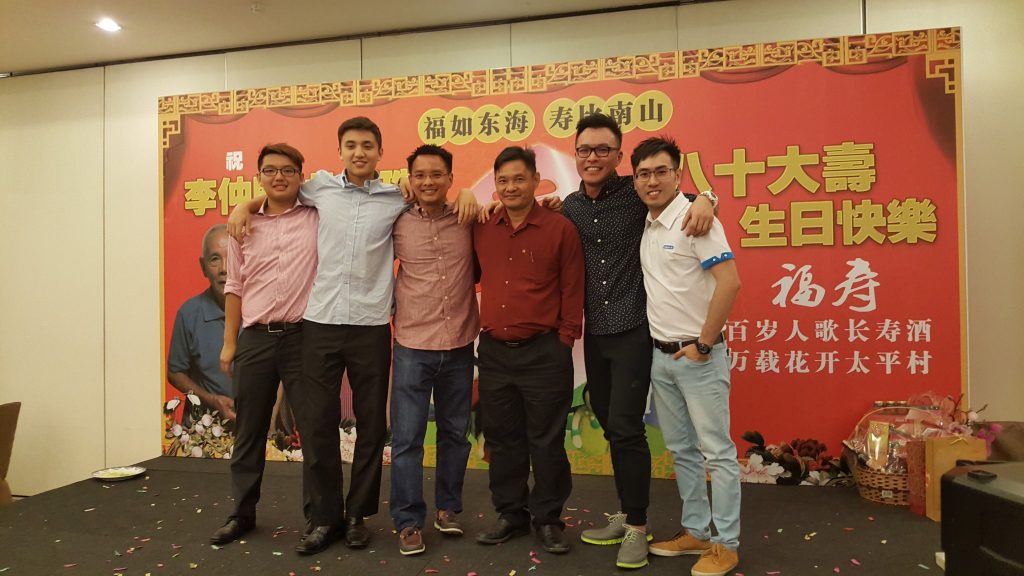 I don't know who she is, relative who wanted a picture with my daughter so badly.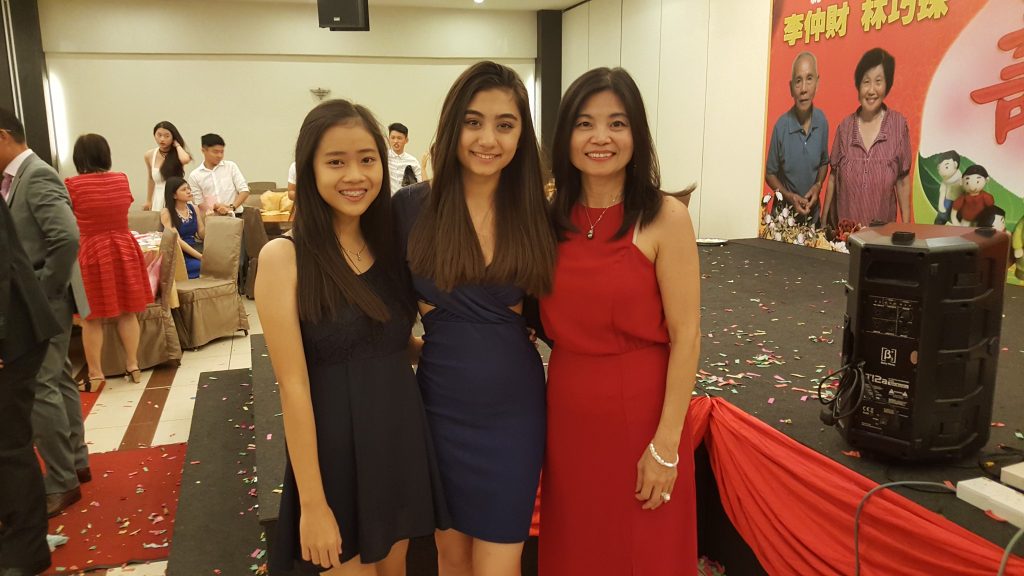 Thought about giving them a few credit cards to model Emily style but I came to my senses…
Ok, I think the number of the grandkids are 19. 16 of them are here, three youngest had left, it was pretty late by this time.
Next morning breakfast, Needless to say, there was no gym nearby 🙂 Love this type of noodles!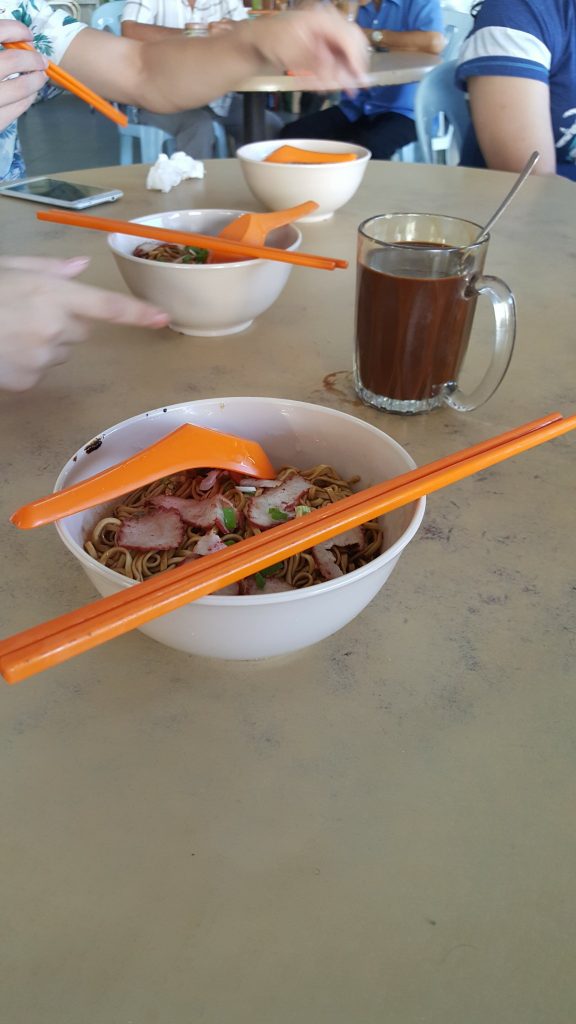 Love these old style restaurants. Did I say that already?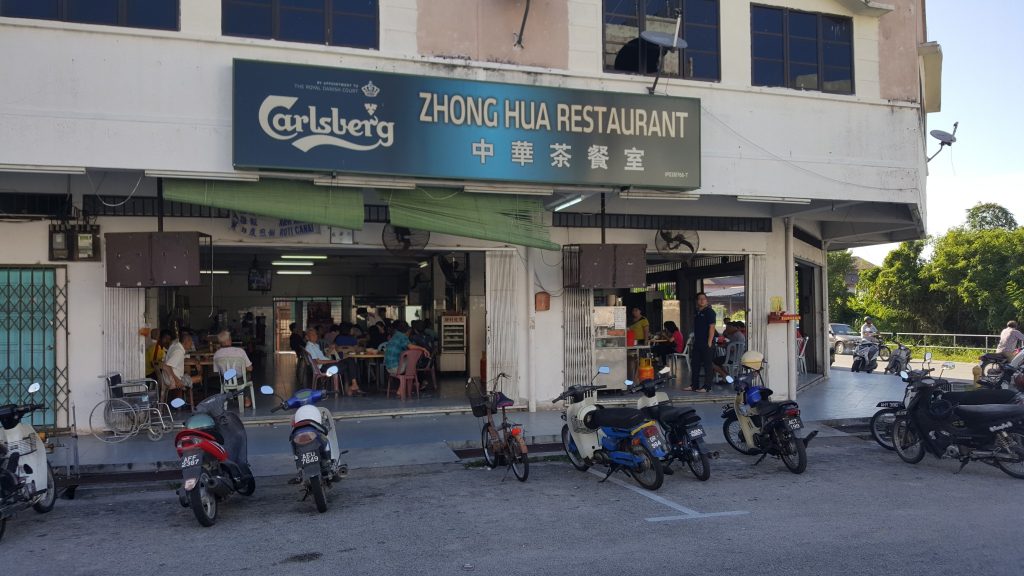 The grandkids don't get together much, so they really enjoyed hanging out. I went for a nap.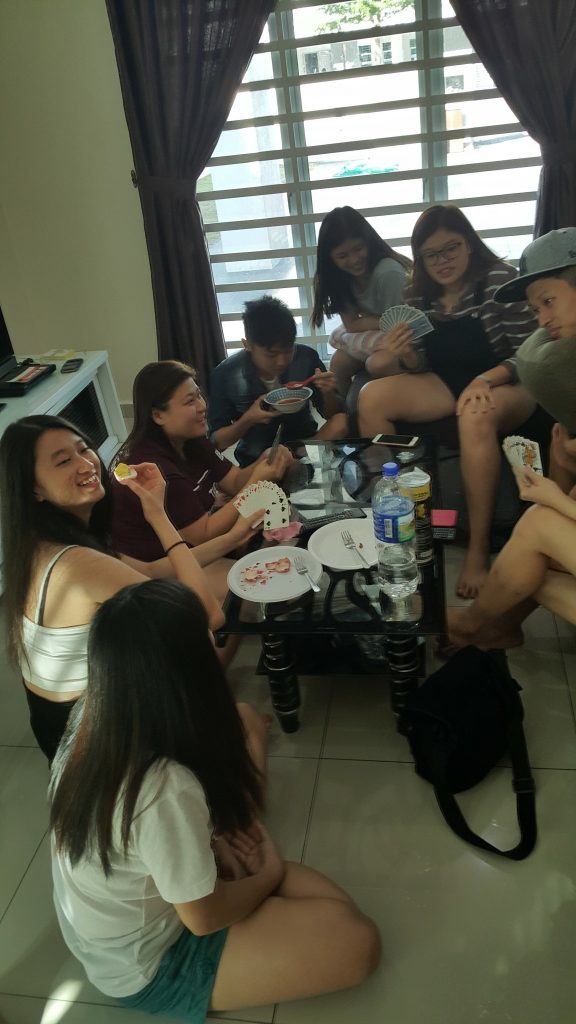 Good to pretend you are popular, it helps my self-esteem. Actually, I am so tired writing this trip report. I can use a break!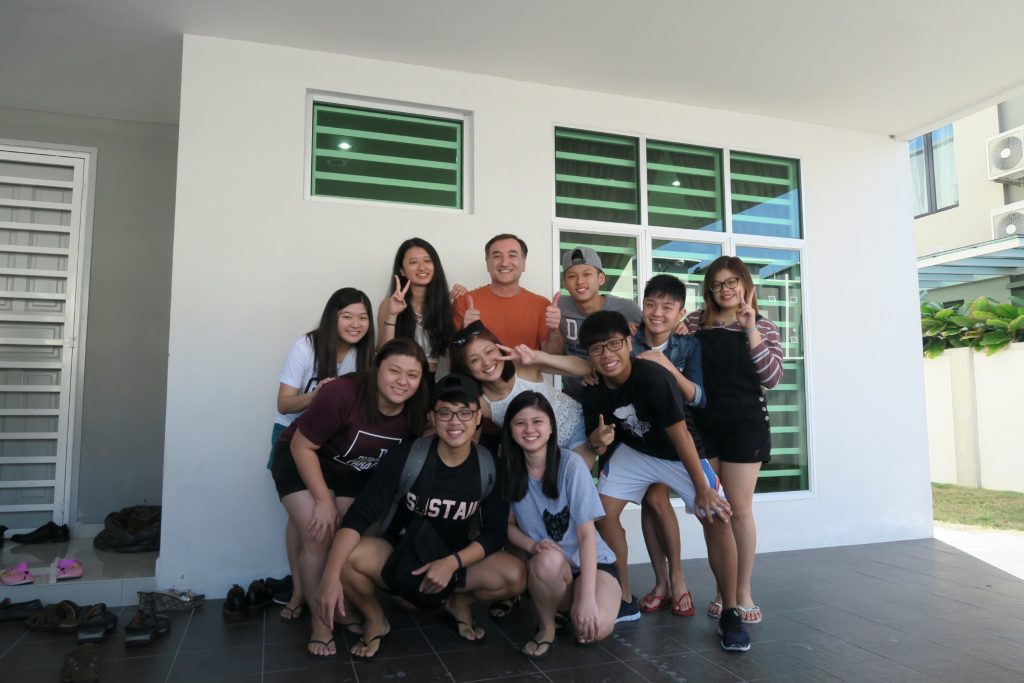 More temple visits followed, this is a really big one!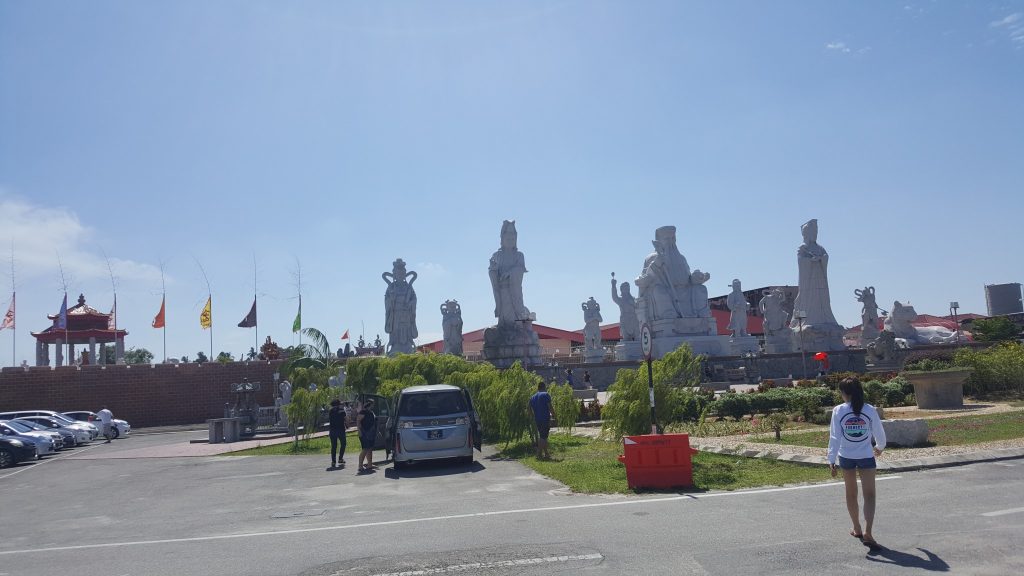 Turtles, I did not ask!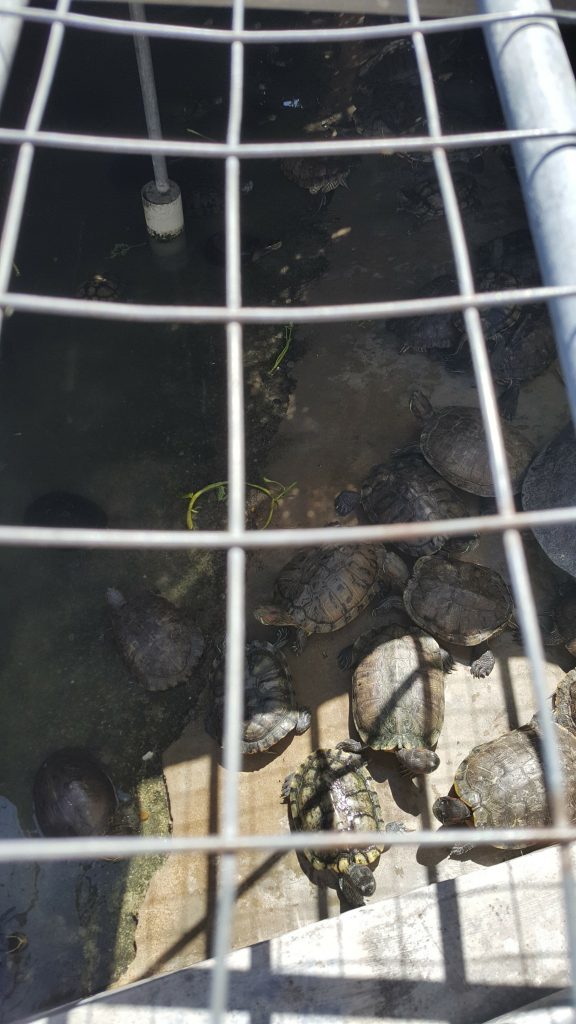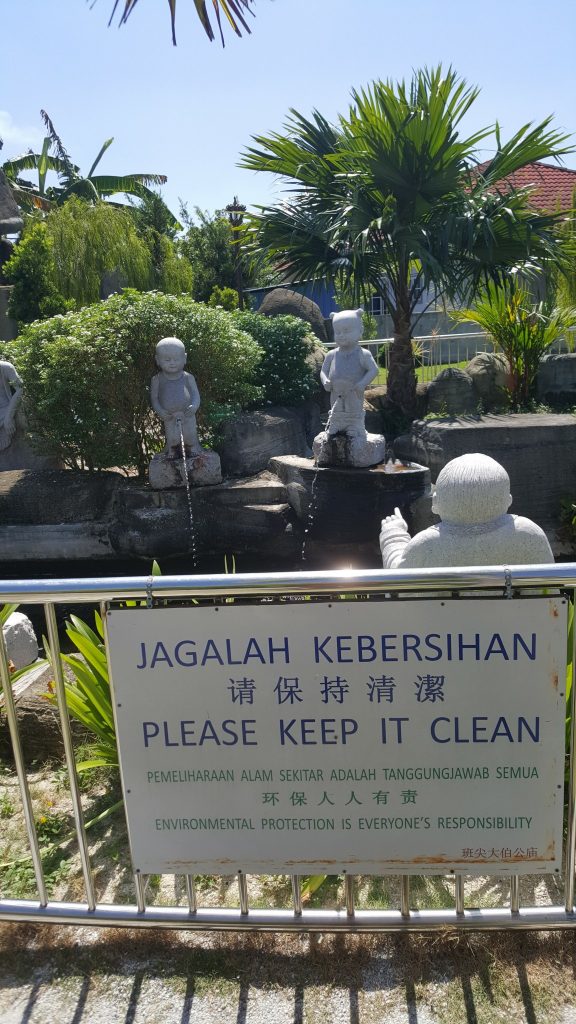 And then we were off back to hometown Raub. Nice ride through the country side.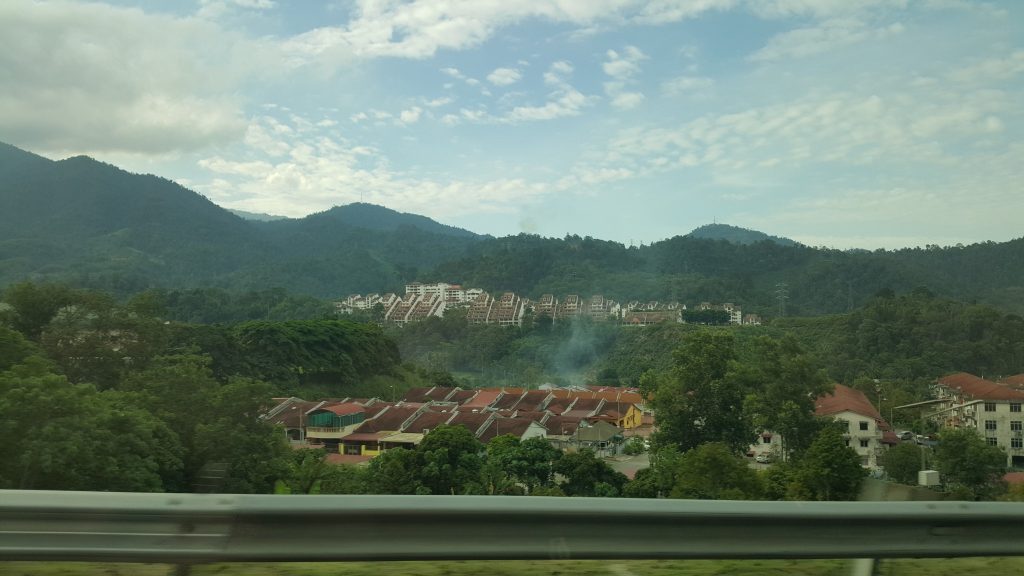 We stopped at this restaurant to eat. Yeah, we ate a lot while here, you may have noticed?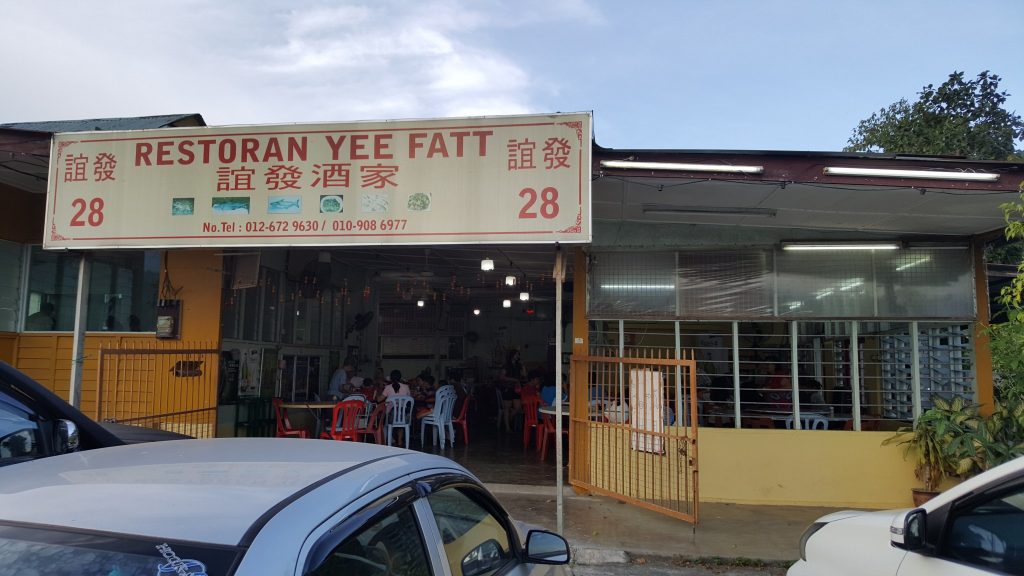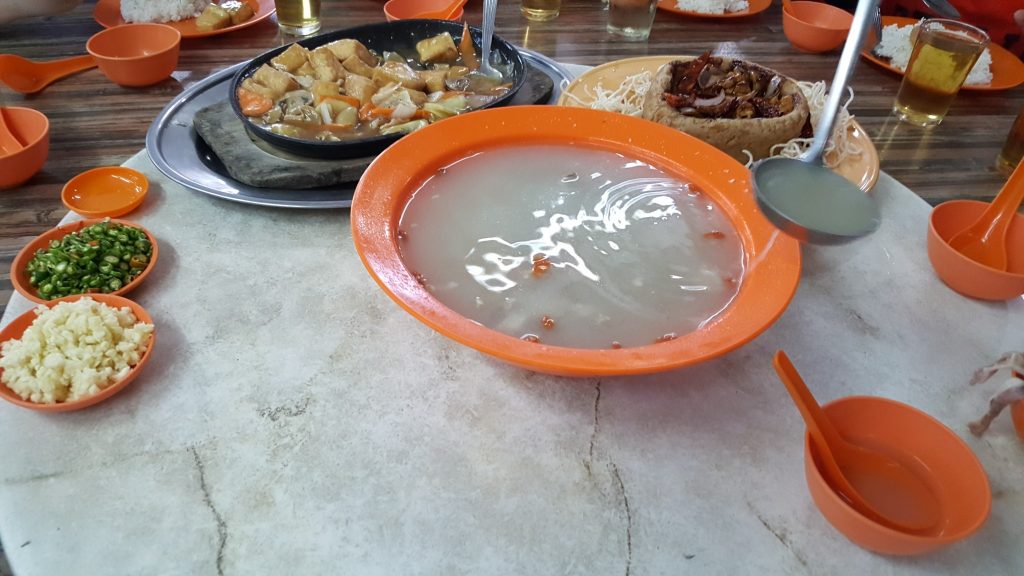 We stayed at the house of one of my wife's brothers who built a second home here (they live in Kuala Lumpur). Apparently, this small village has also grown a lot. Many KL city residents escape here in the weekends for its elevation, clean air and authentic old style restaurants. After getting settled in, we went out to an outdoor market.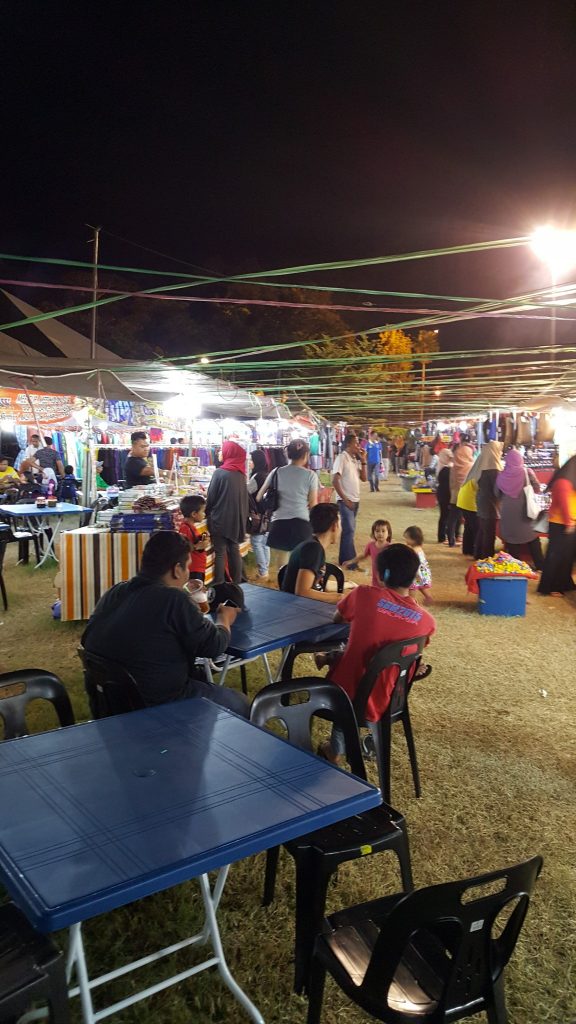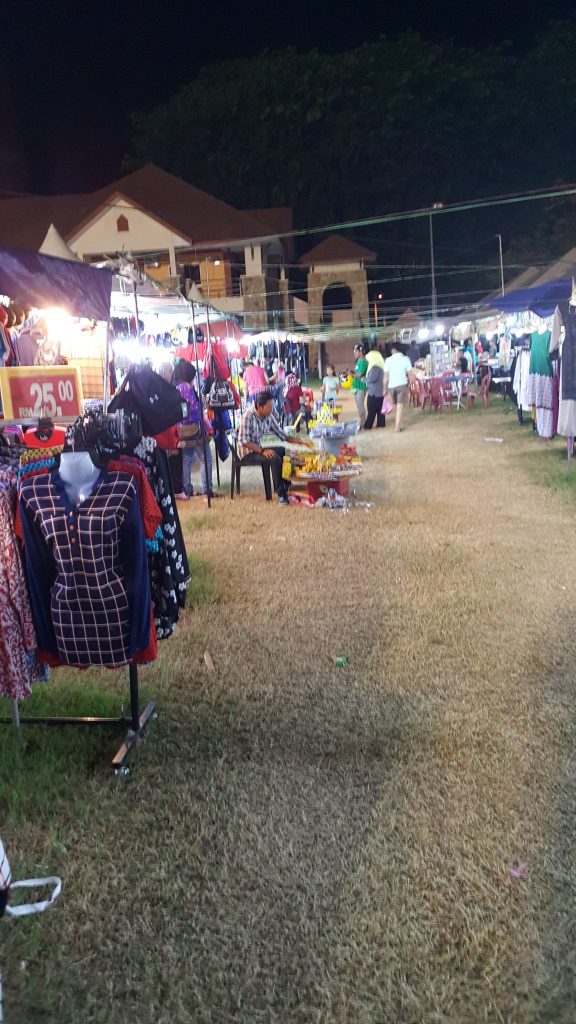 Next morning breakfast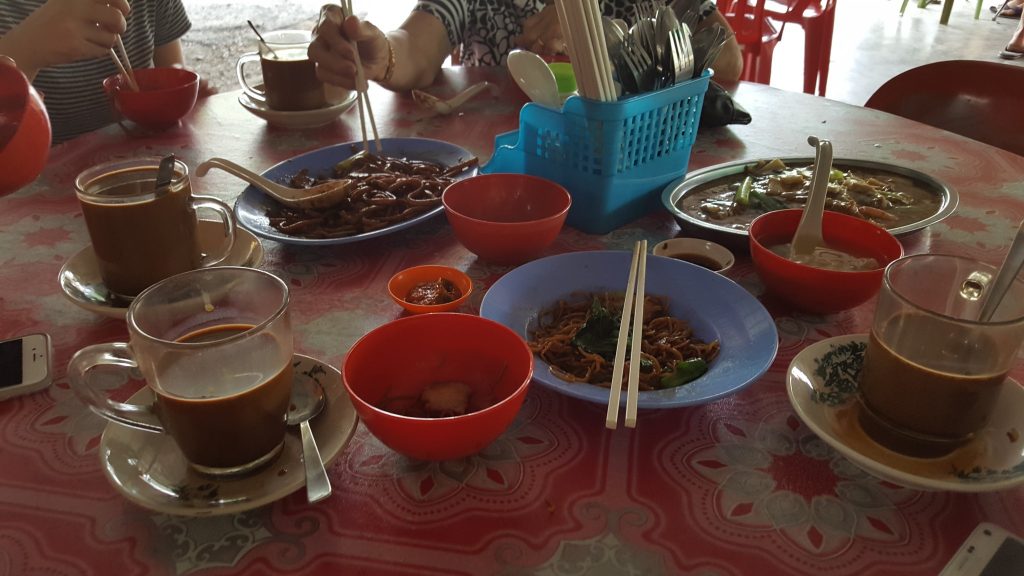 This dish was amazing! Yeah, just 5 Malaysian Ringgit. Which is $1.16 #wow. Madame Wong's Noodle Stand. THE BEST!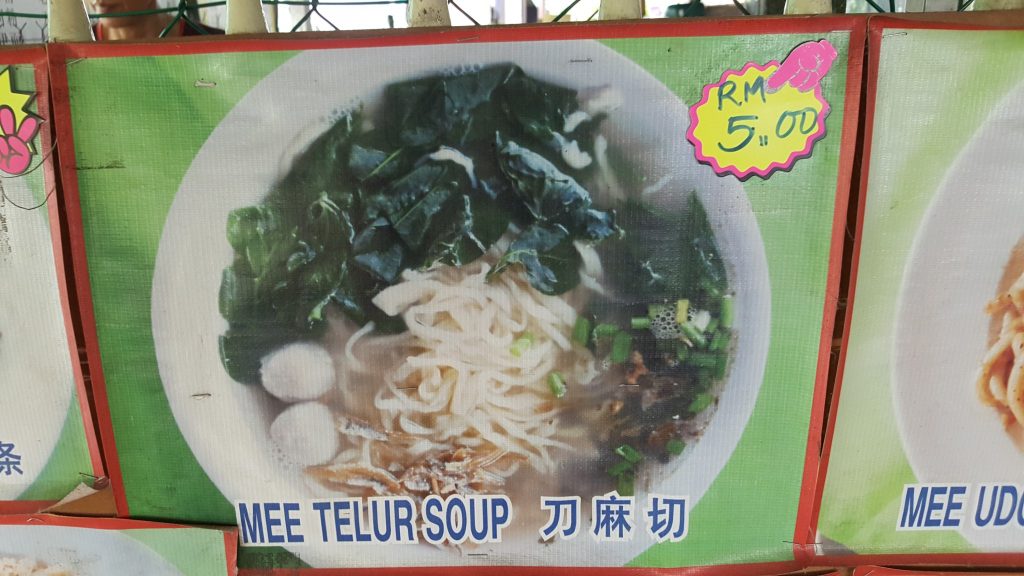 They made me stop at this roadside vendor, I did not want to. Yeah, this is the "king of fruit". Durian. The most horrible fruit you will ever smell and taste. But some people like it. Like my wife and son. My daughter does not like it. I absolutely hate it. First time I came in encounter with it, I thought there was a dog corpse nearby, no kidding!
3 generations here. Son messing with me, telling me how good it is. I wanted to kick his ass so bad!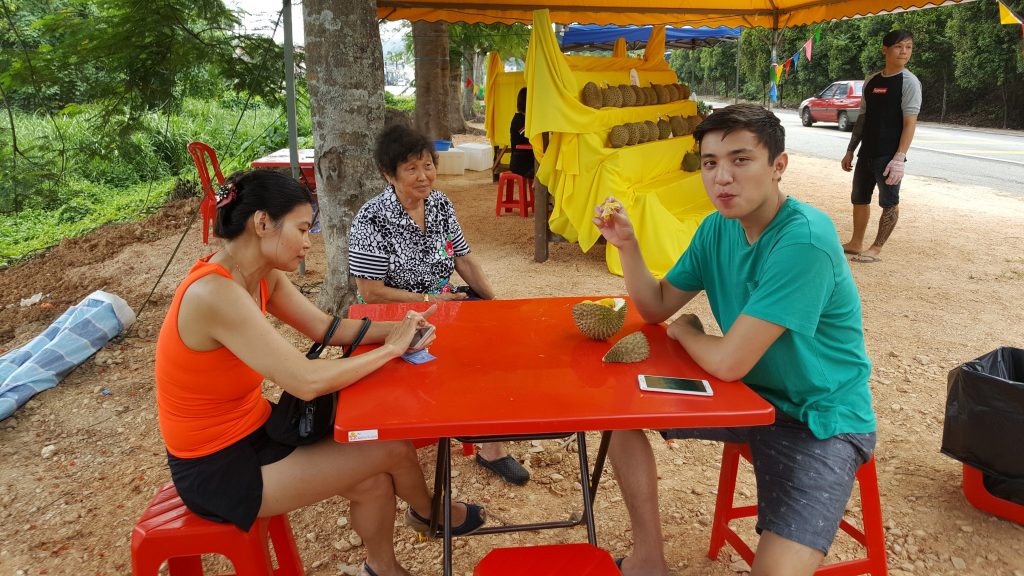 After dropping off grandma to her home in Raub and saying our goodbyes, we were off to Kuala Lumpur. We had one of the KL based brother's car with us, so nice.
We rolled into Kuala Lumpur, following Google Maps for directions…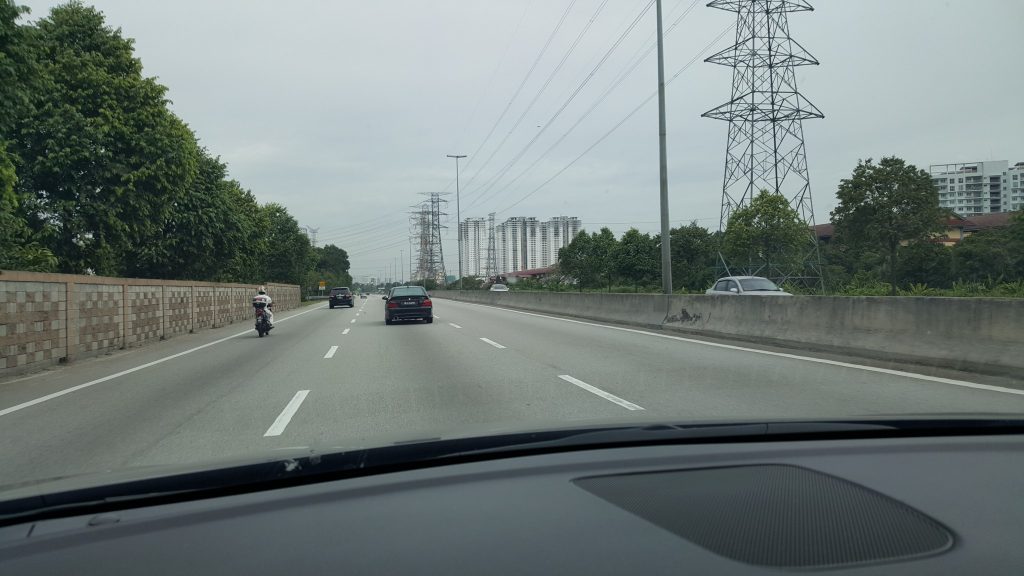 We found the Kuala Lumpur Doubletree hotel , very nice!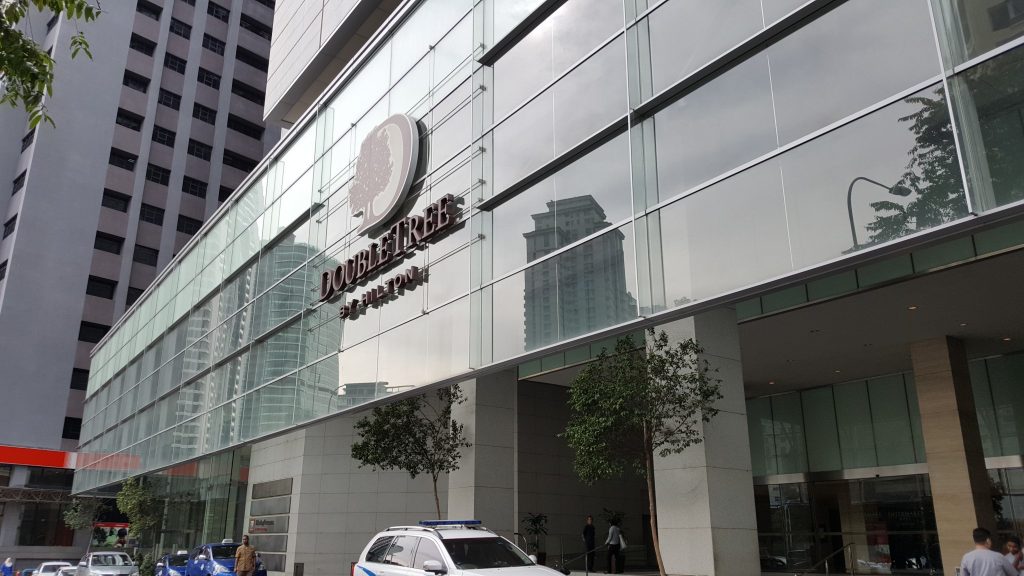 My welcome gift, as a Diamond elite Hilton Honors. Because, this is how I roll 🙂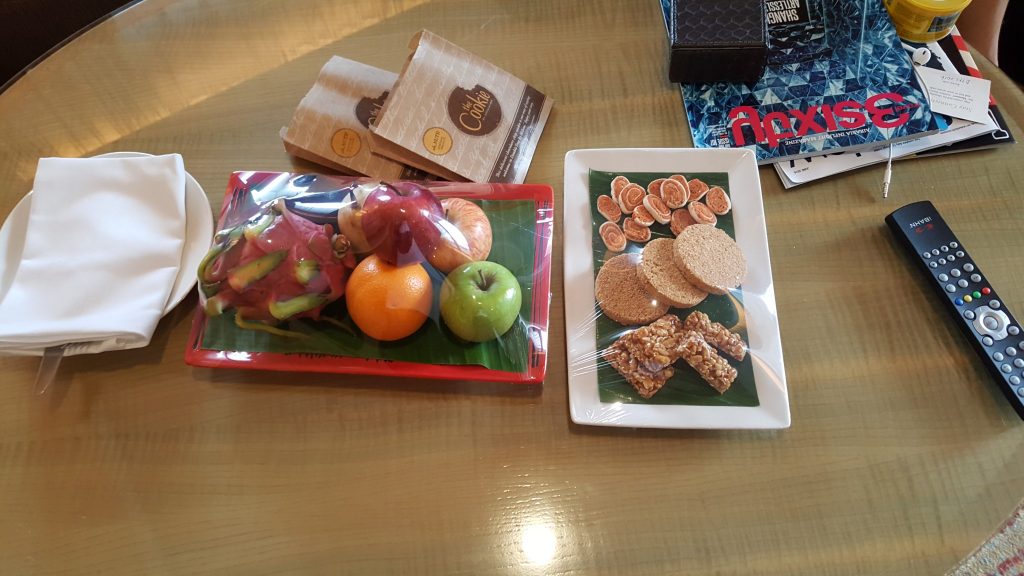 Very nice suite upgrade!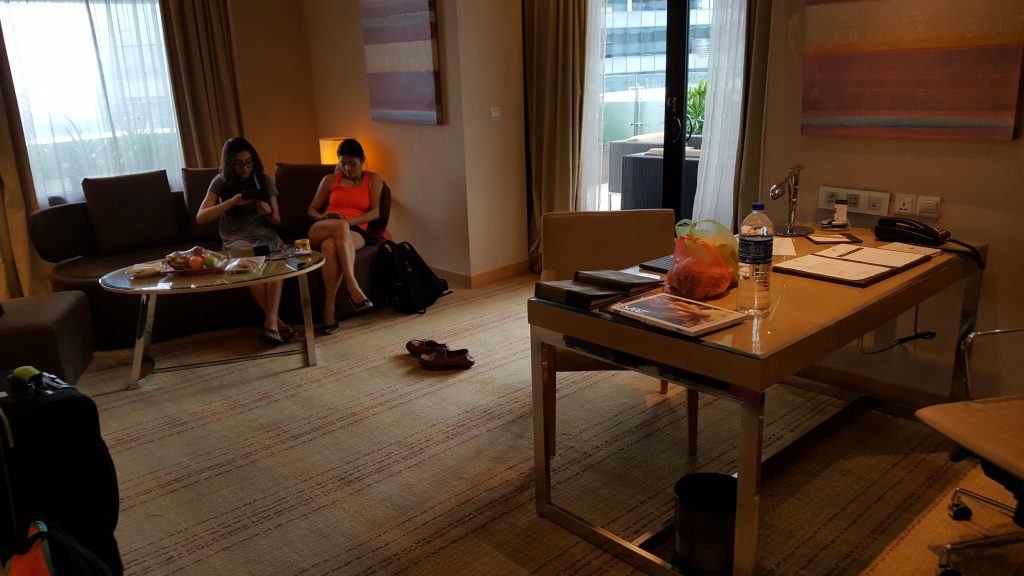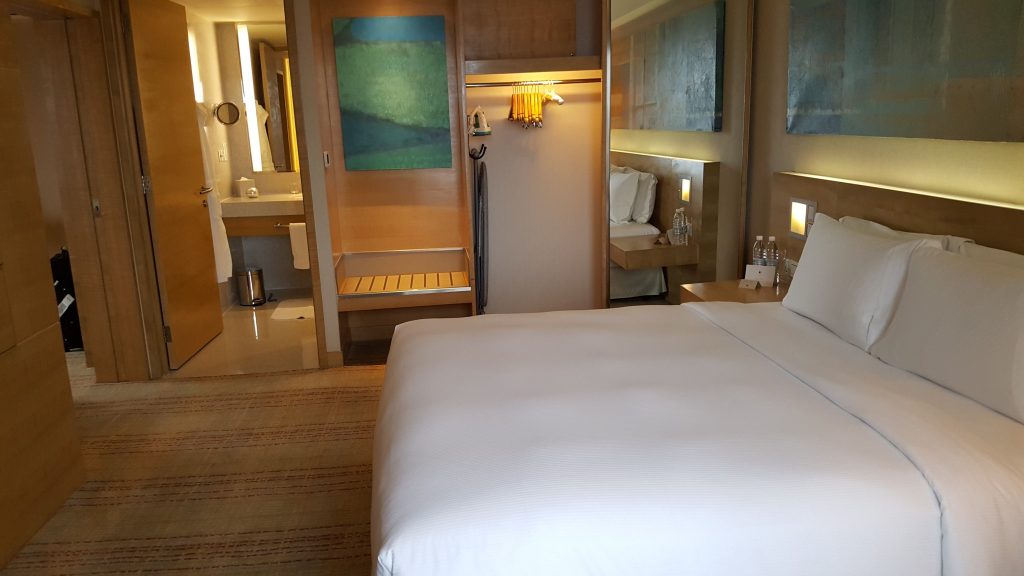 The lounge of this hotel is fantastic!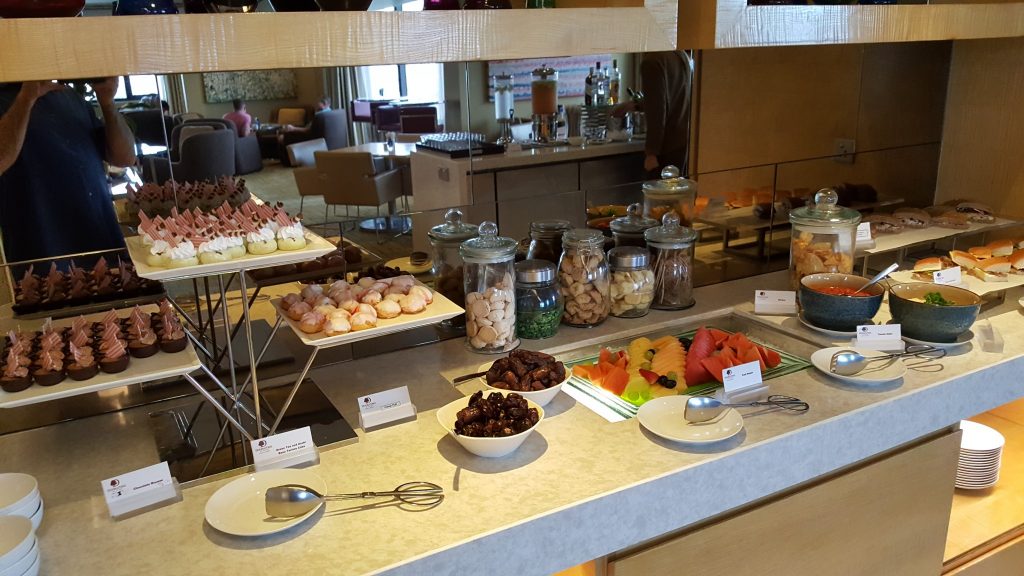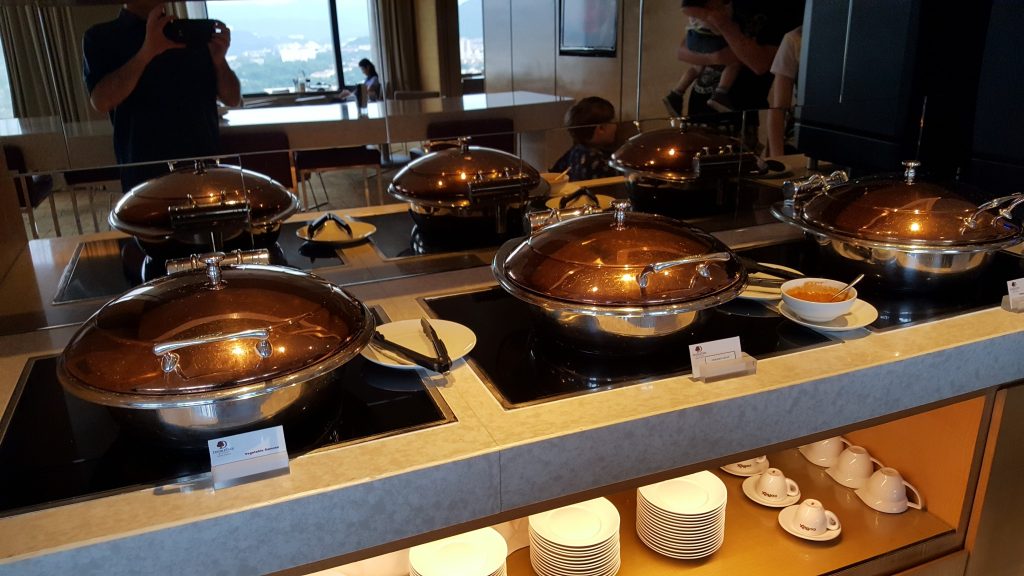 The view of the Petronas towers from the lounge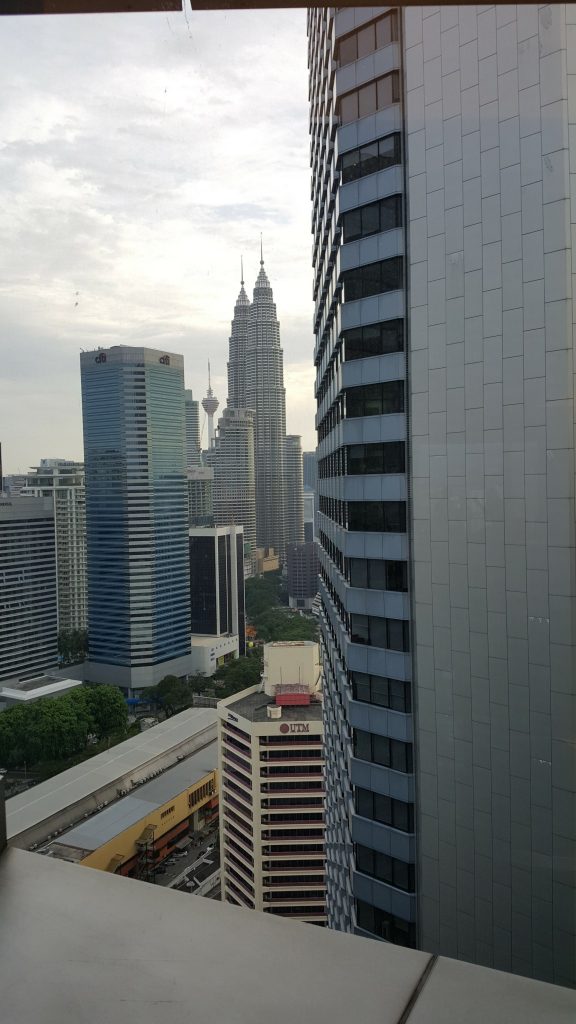 We went out to meet brother in law's family and had dinner at a Japanese restaurant at the Pavilion shopping mall.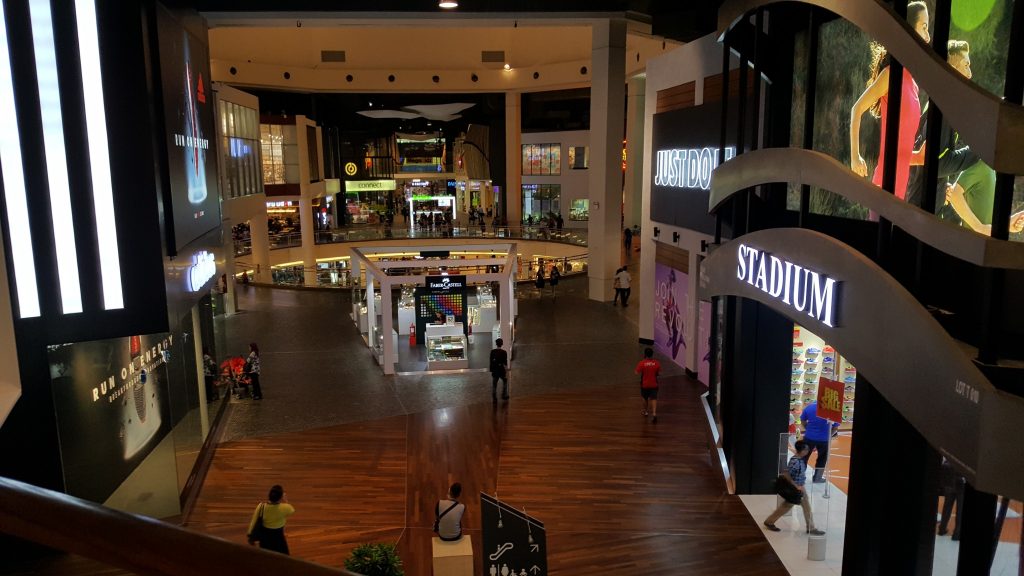 Next morning, we started the day at the hotel lounge. With my laptop. Brexit had just happened, I had to prepare email to clients not to worry about it, this too shall pass. I downed several lattes that morning!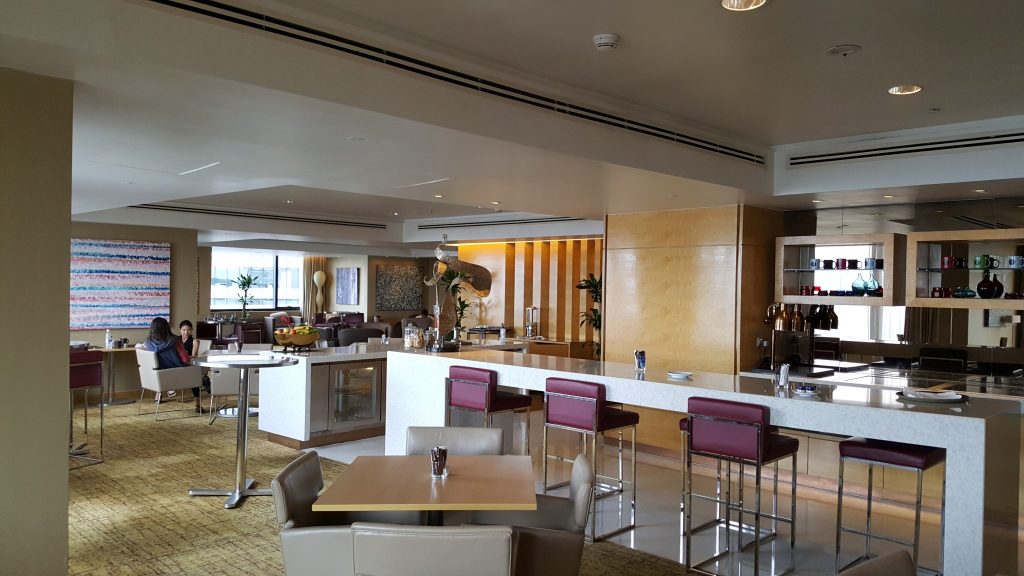 Room hallway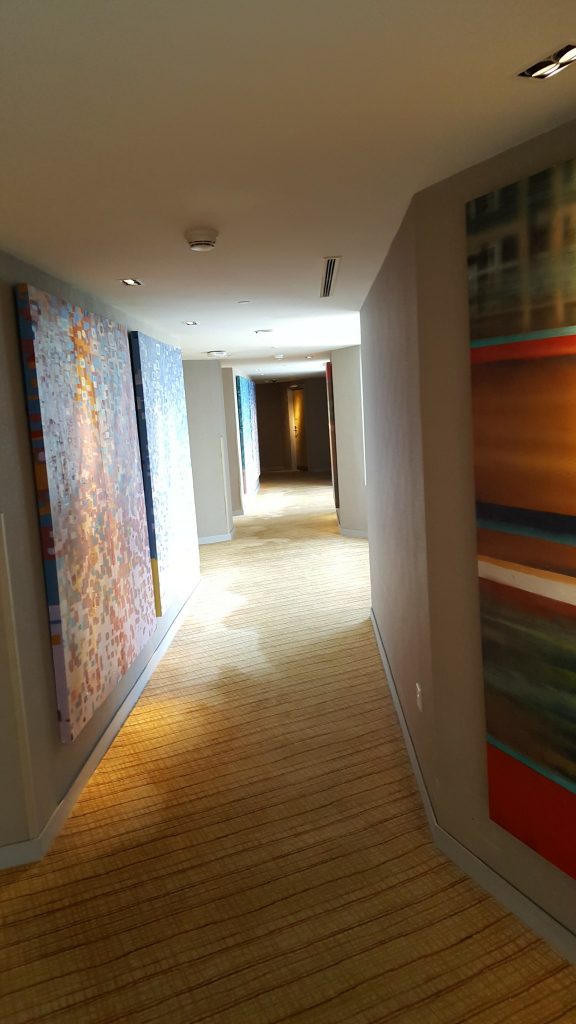 Very cute smallish outdoor pool of the hotel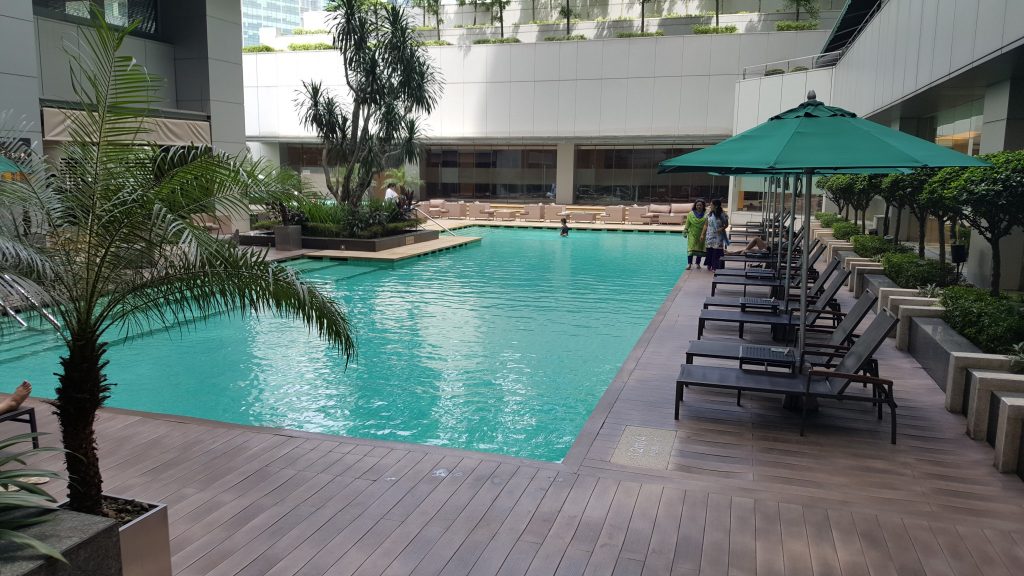 We went out again, through some more malls, they are all over.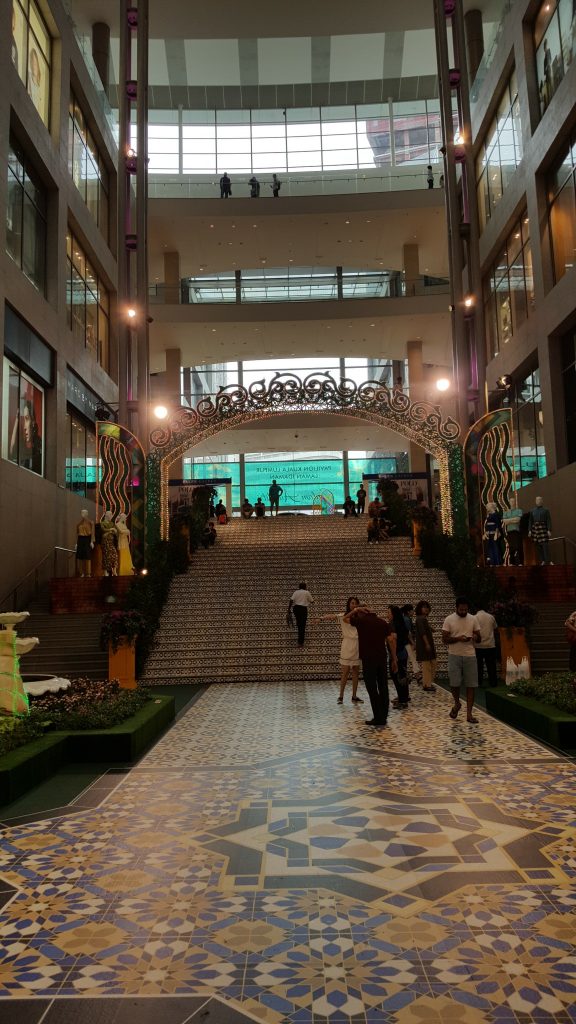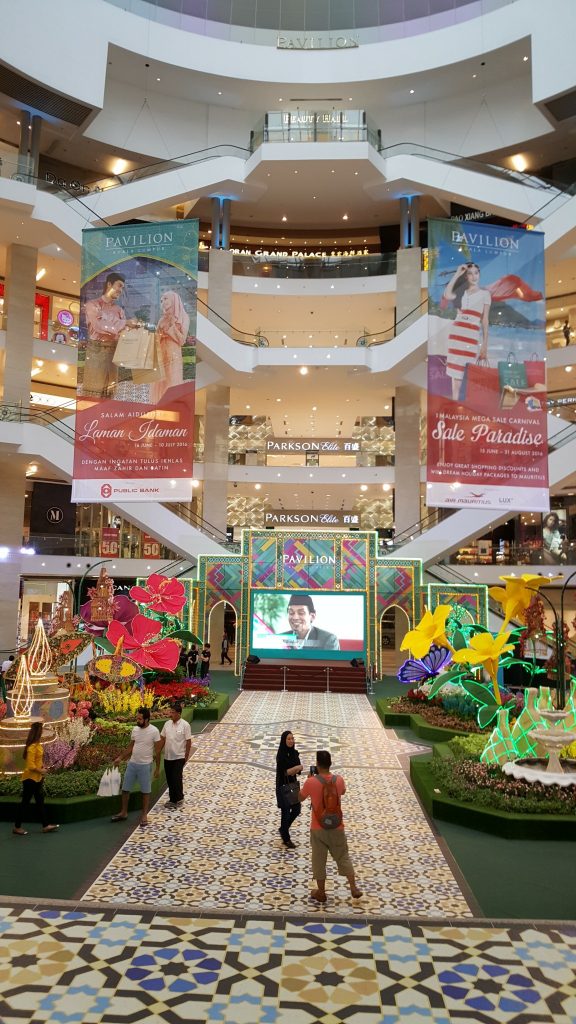 Rare selfie, I am just not a selfie kind of guy, all right?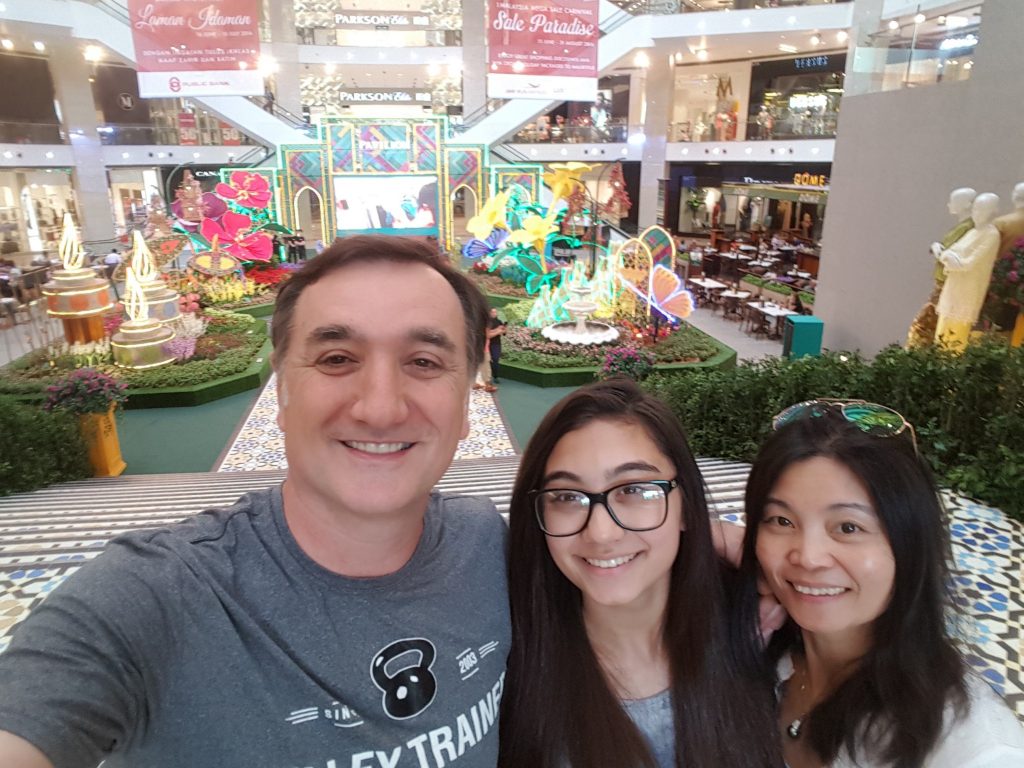 More food!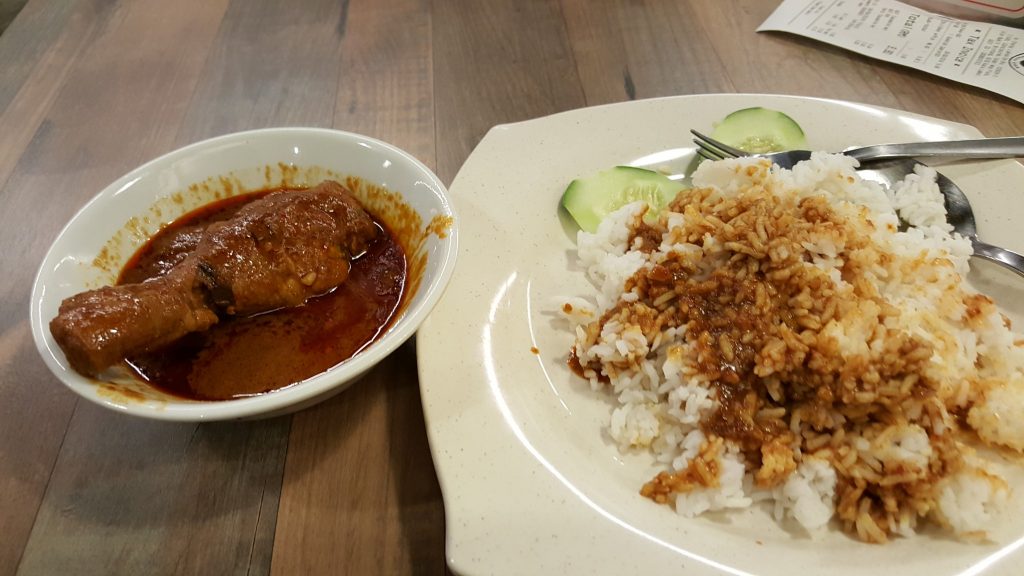 Two cousins came over to hang out at the lounge.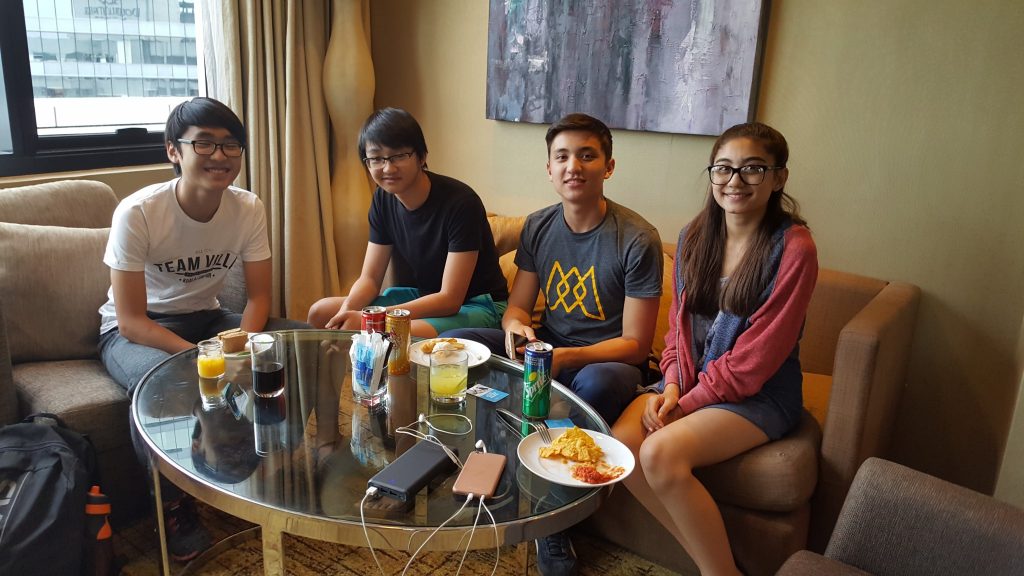 View from our suite, not bad hey?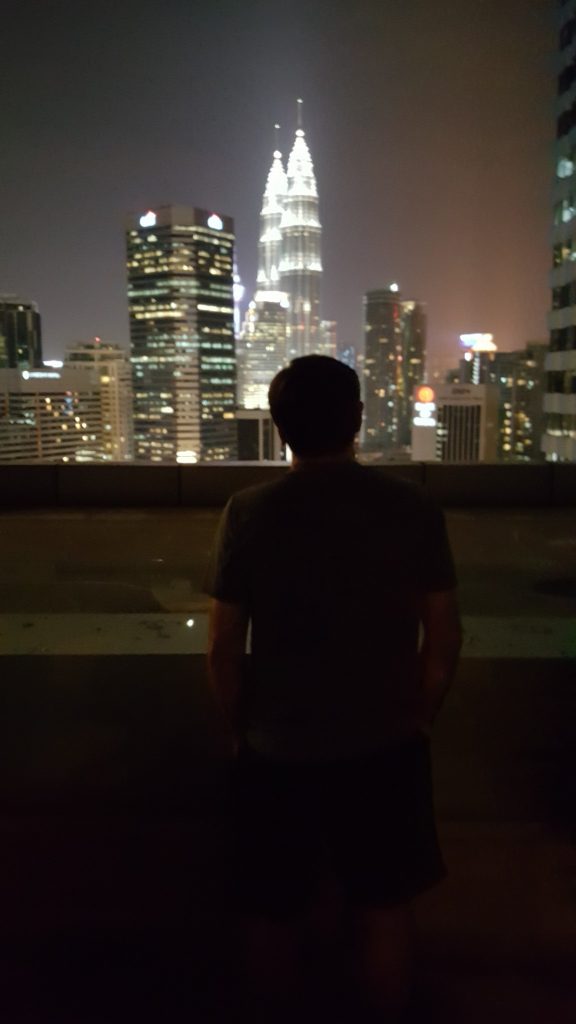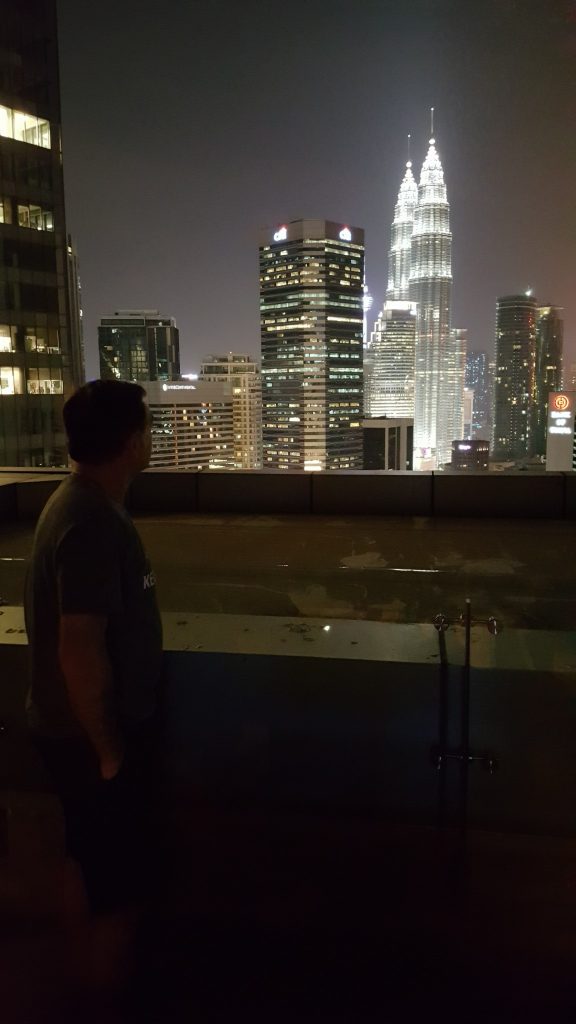 Took daughter out to a late snack across the street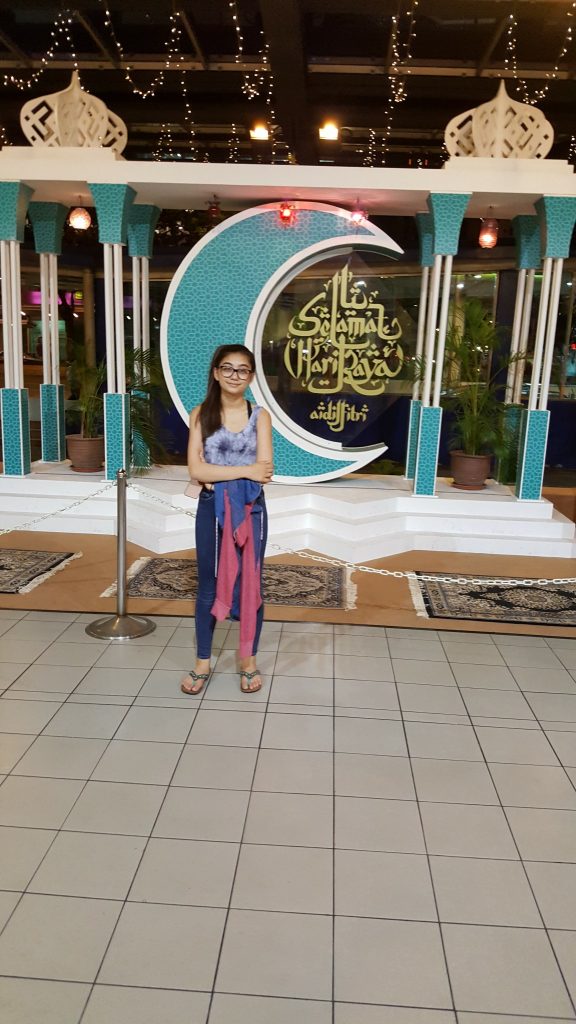 Next morning, we had a magnificent breakfast at the Doubletree restaurant. Free of course, Hilton Honors Diamond elite perks!
Many food stations, you won't be disappointed!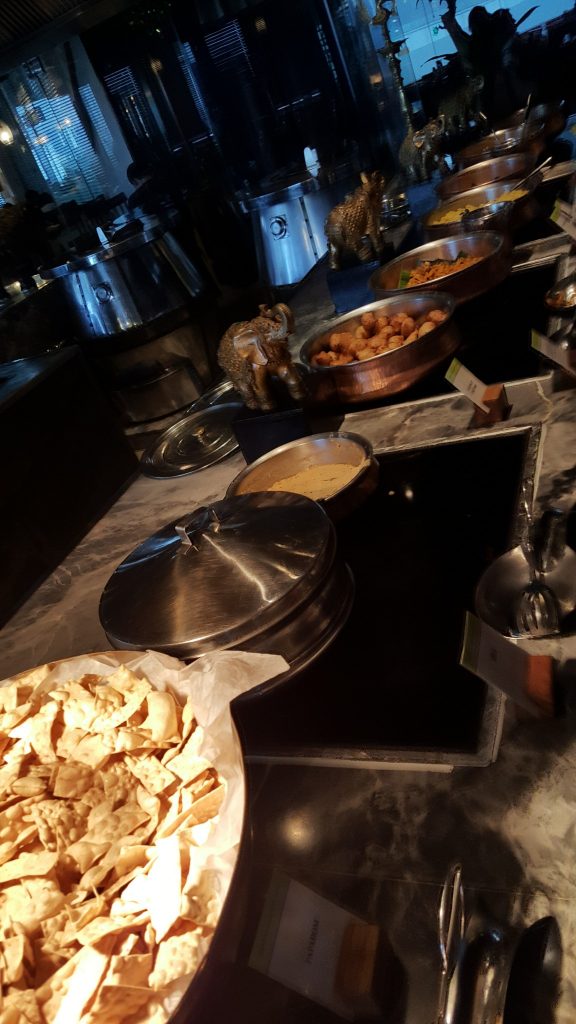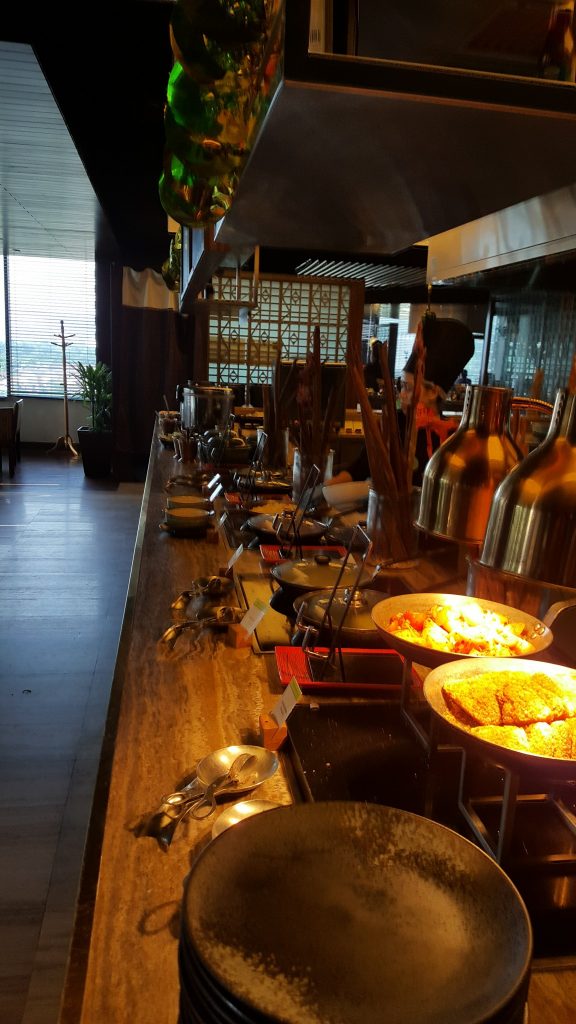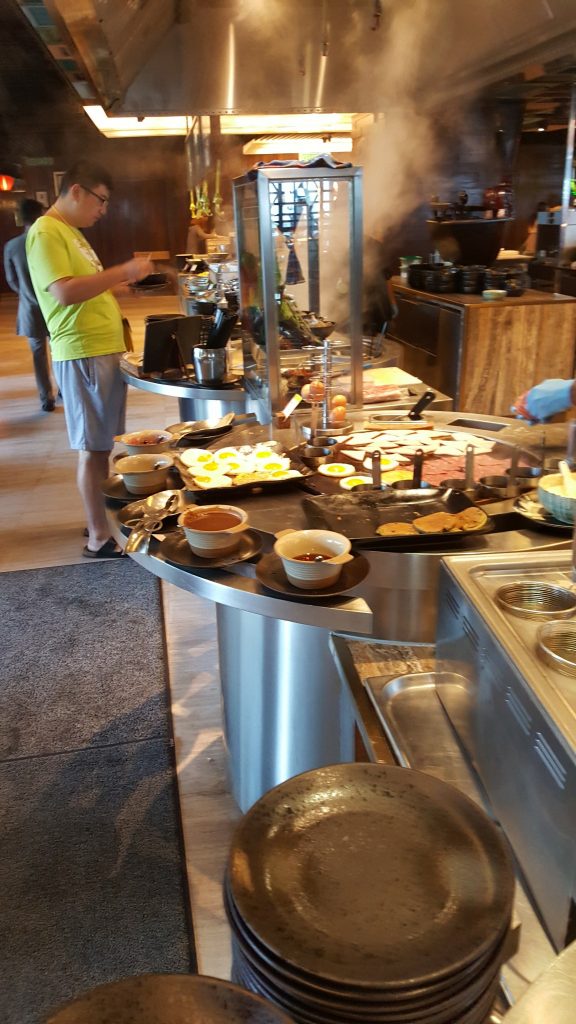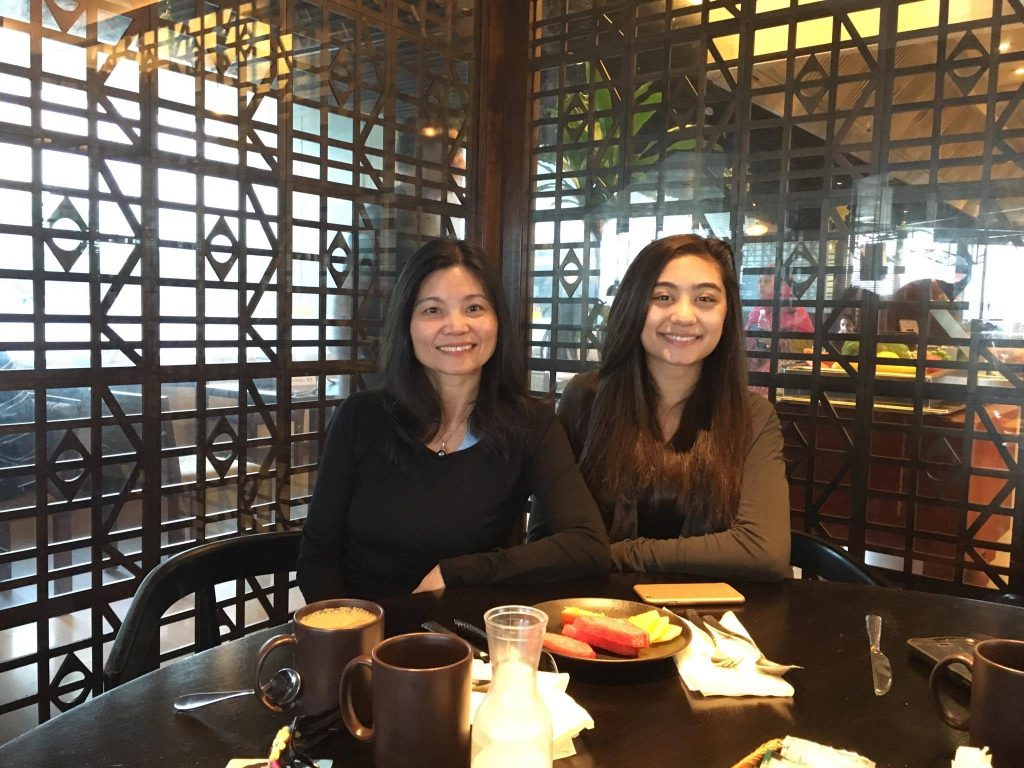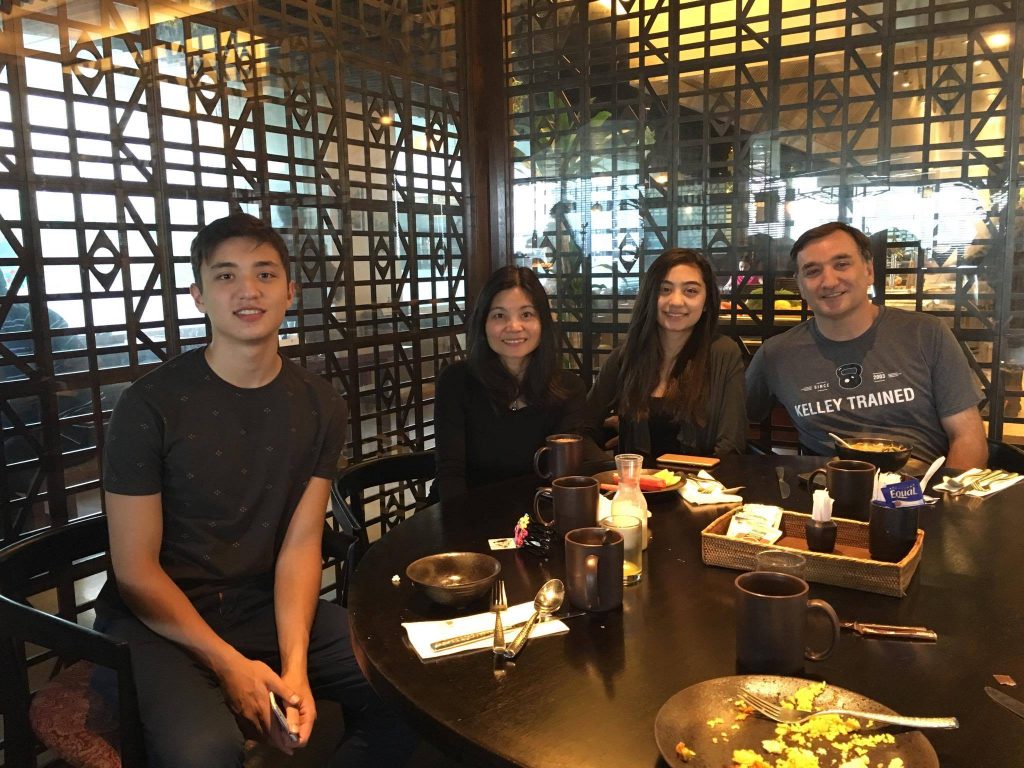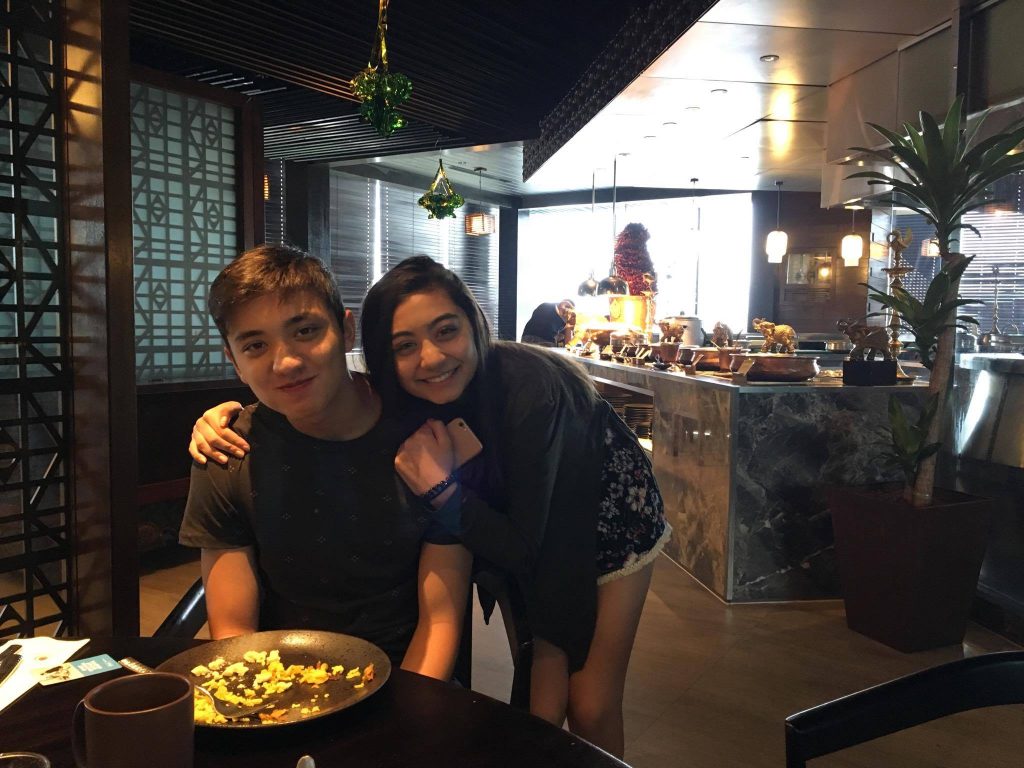 I don't get along with cameras, you may have noticed? I get this constipated look…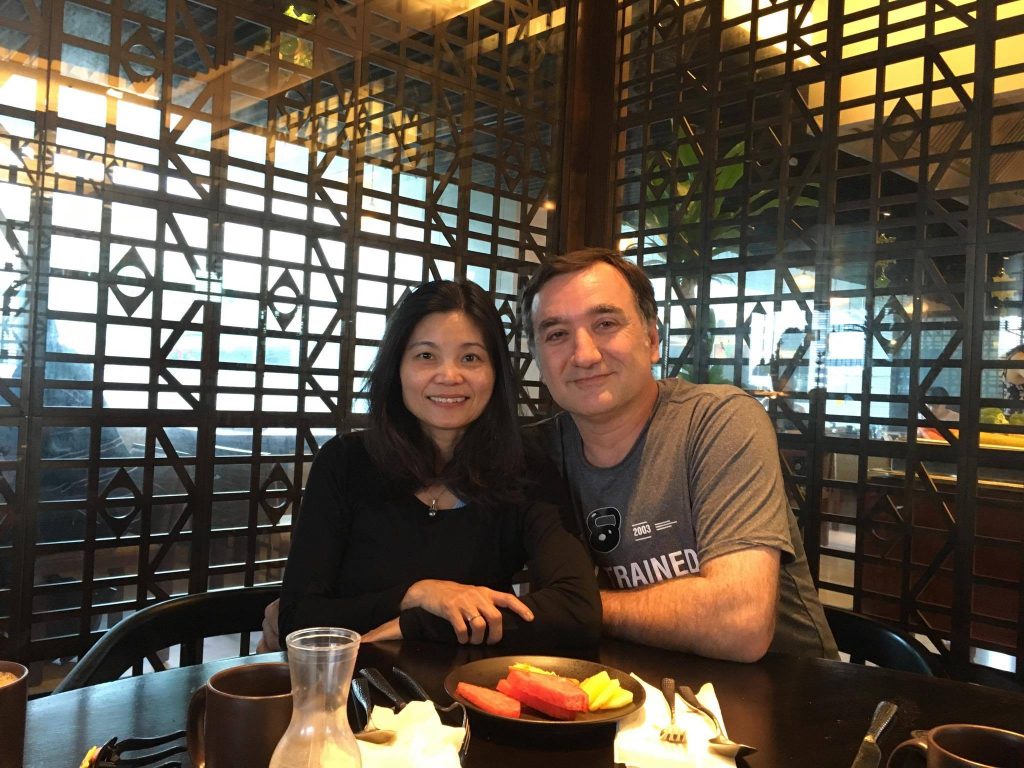 Doubletree hotel lobby area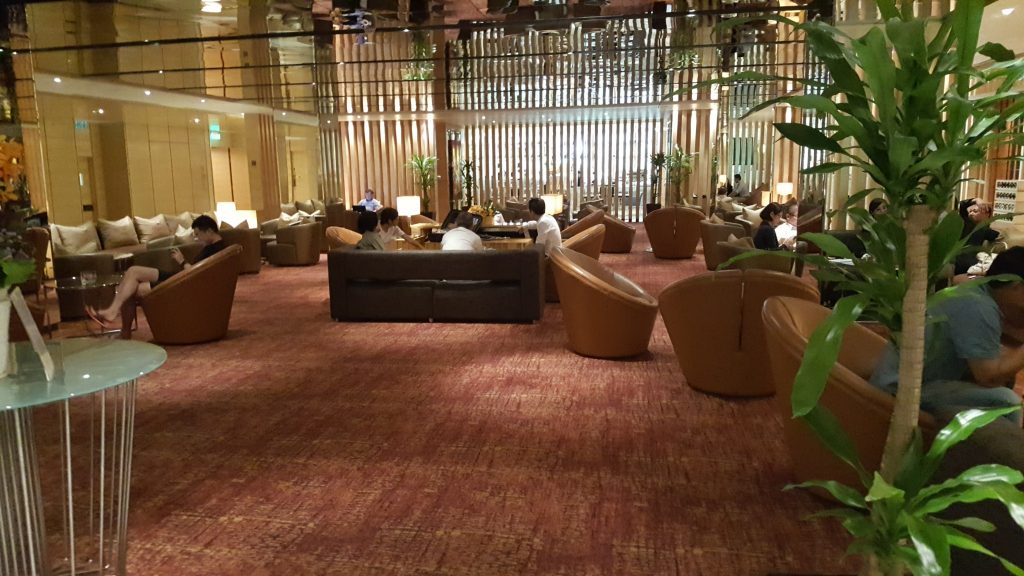 Check out time.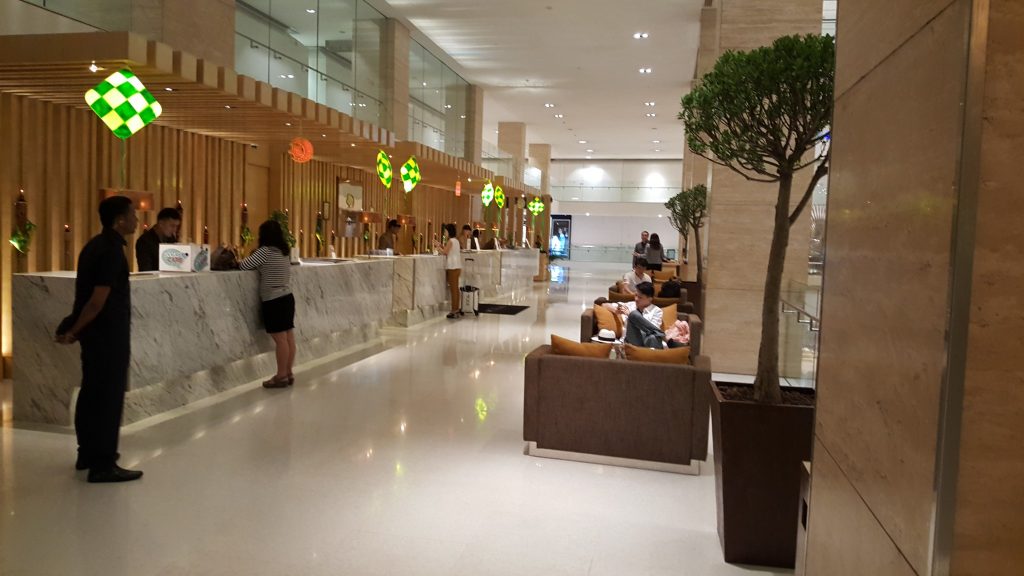 We drove to the Kuala Lumpur KUL airport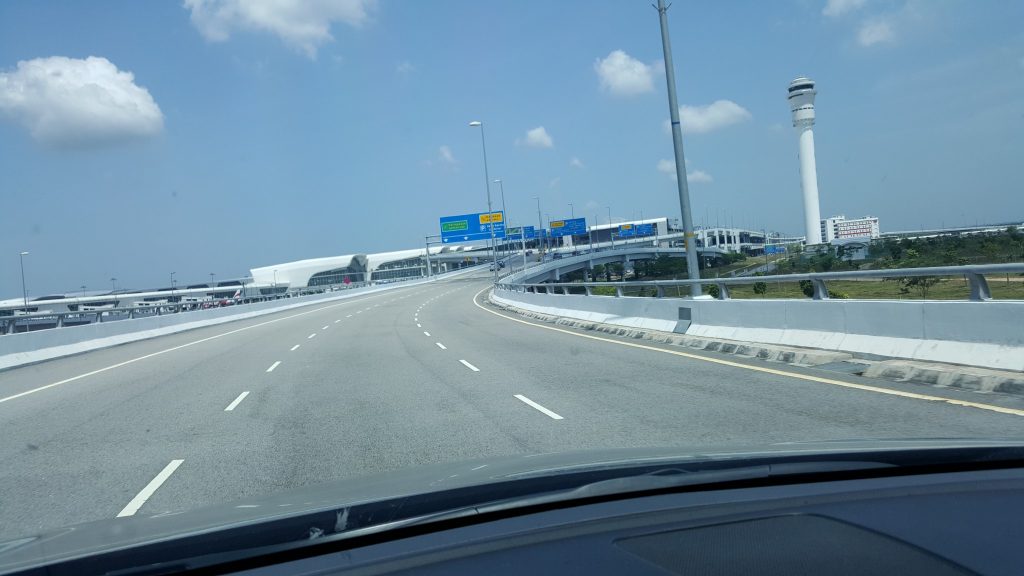 And it was time to say goodbye, wife and daughter would go to stay with brother in law before they go on a two week tour adventure to China with daughter's dance team. Son flew back to Hong Kong.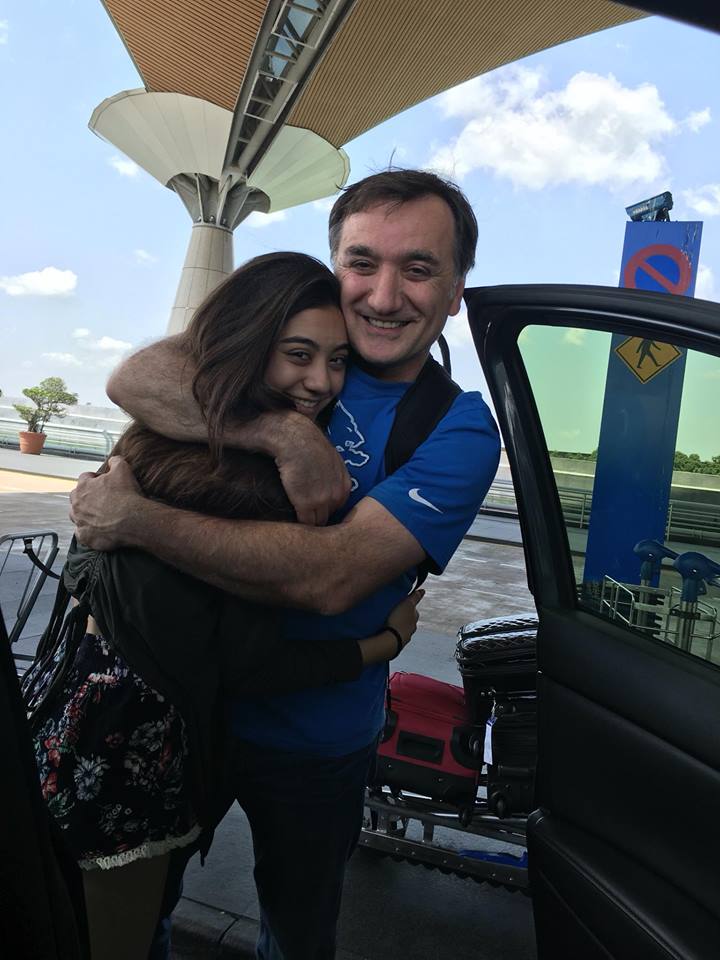 I had several hours to spend. The KL Express train comes from KL downtown and then also connects the KLIA terminal 1 to KLIA terminal 2. I had to take it to terminal 2.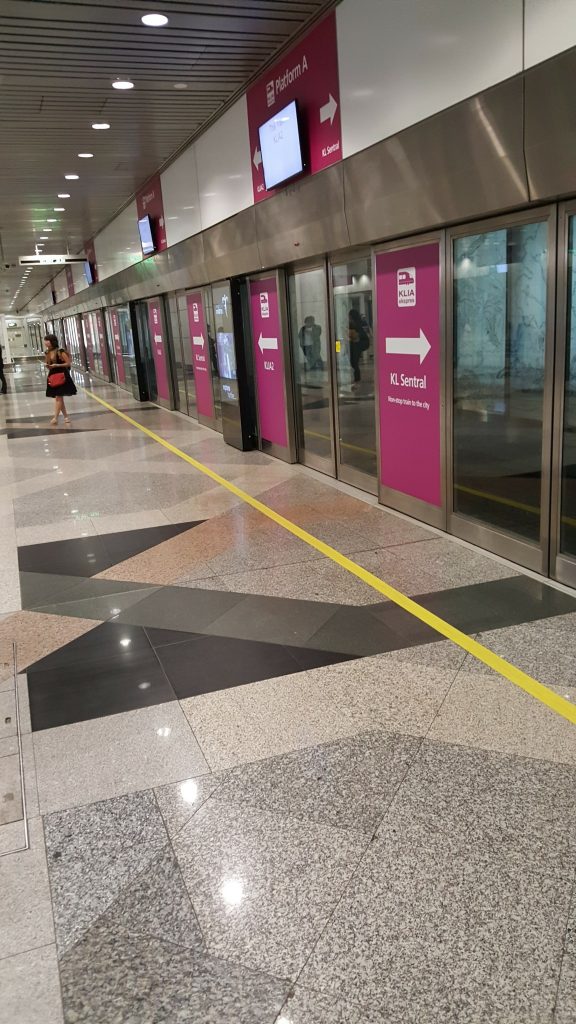 Some shots around KUL airport. Puffy Buffy, don't ask!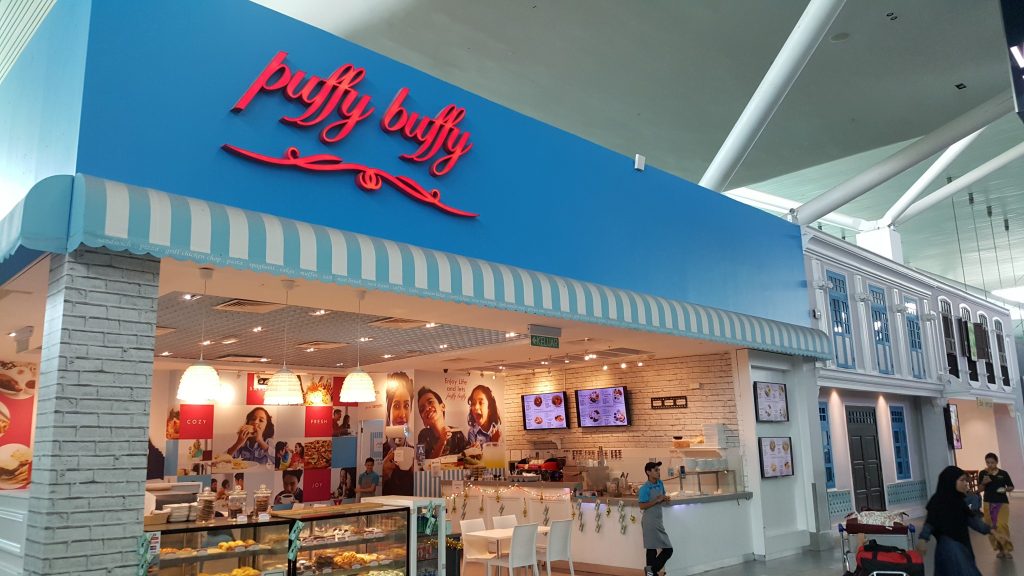 I spent some time at this Plaza Premium lounge, pretty small but adequate.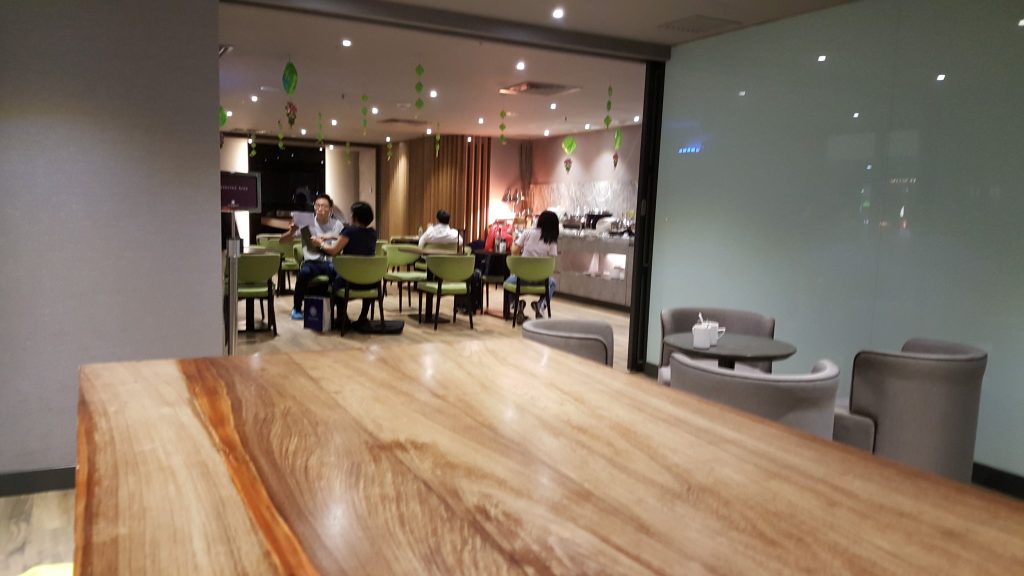 I went through security when I was allowed to, pretty smooth process here.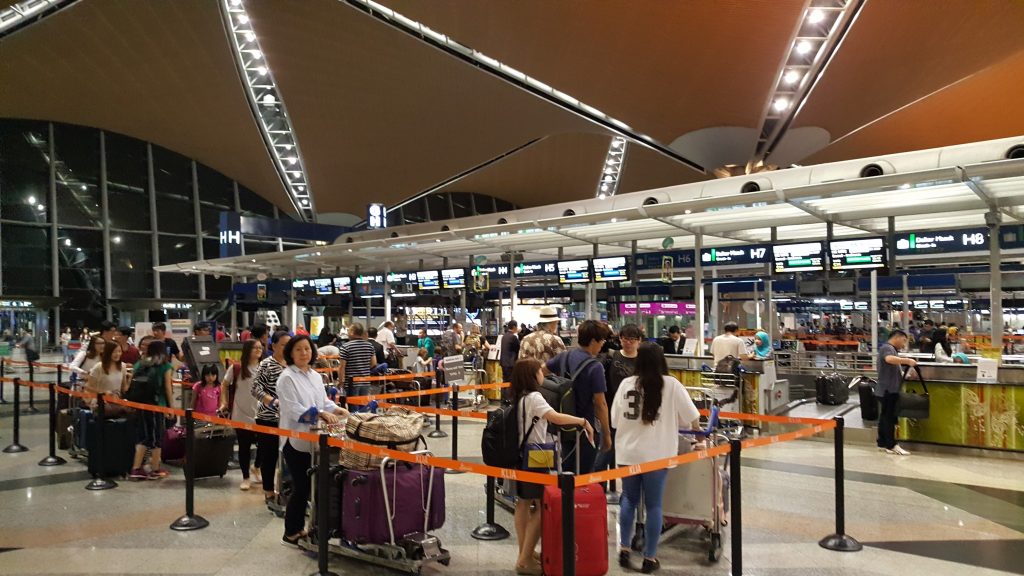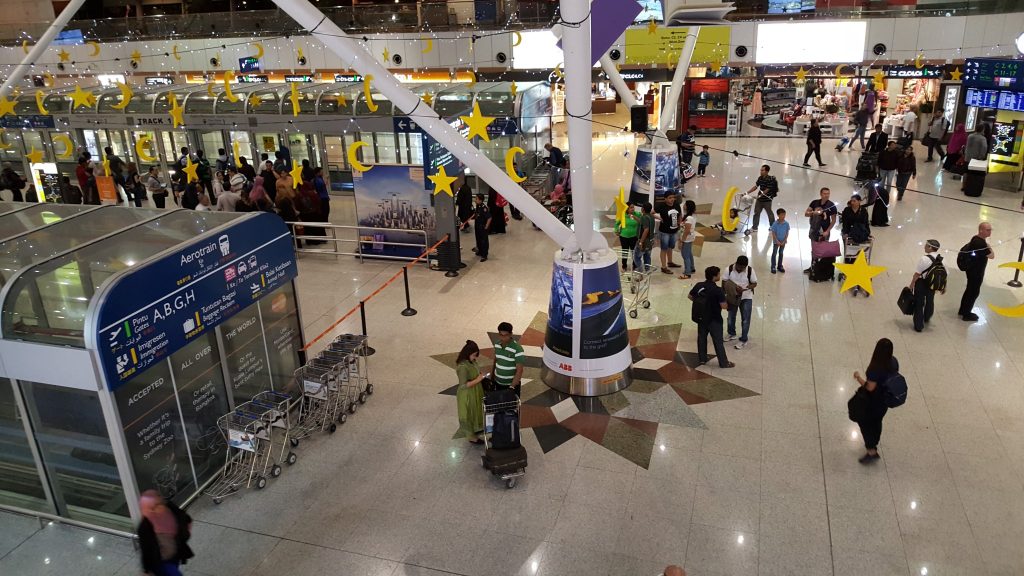 I proceeded right away to the lounge I was entitled to enter with my Korean Air Business Class ticket. It is the Malaysia Airlines Golden Business Class Lounge. I really enjoyed my time here, I was on my way back baby!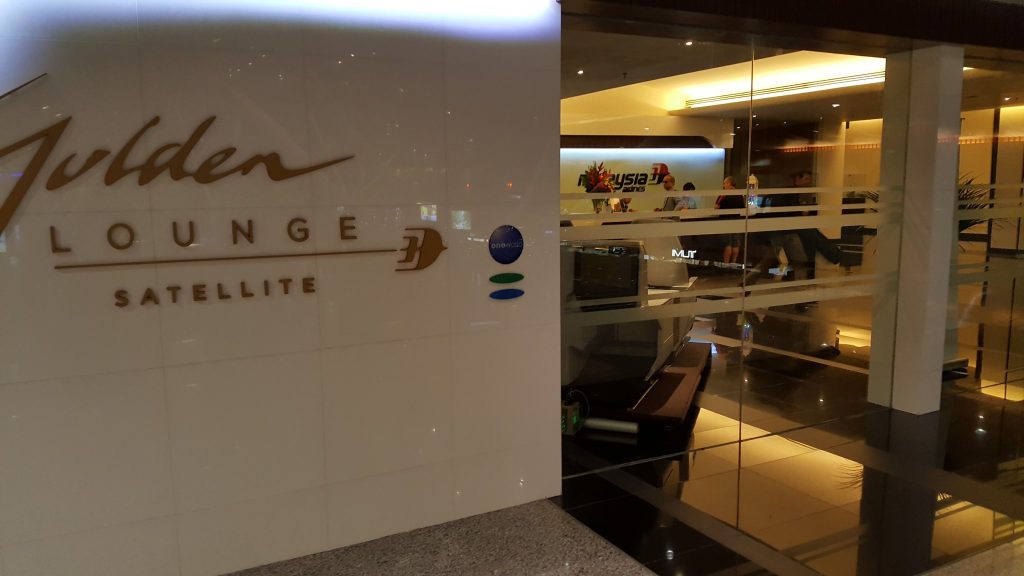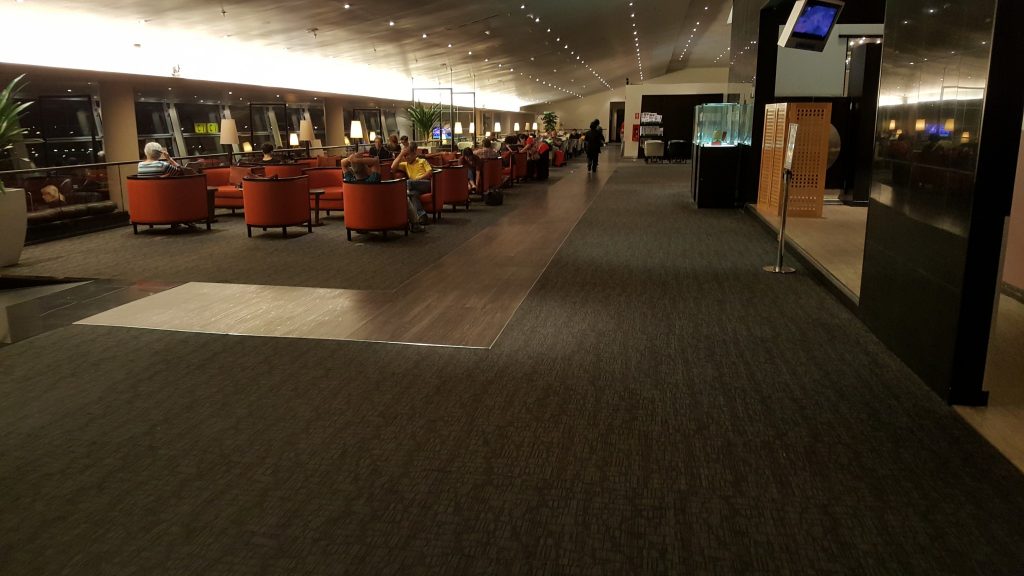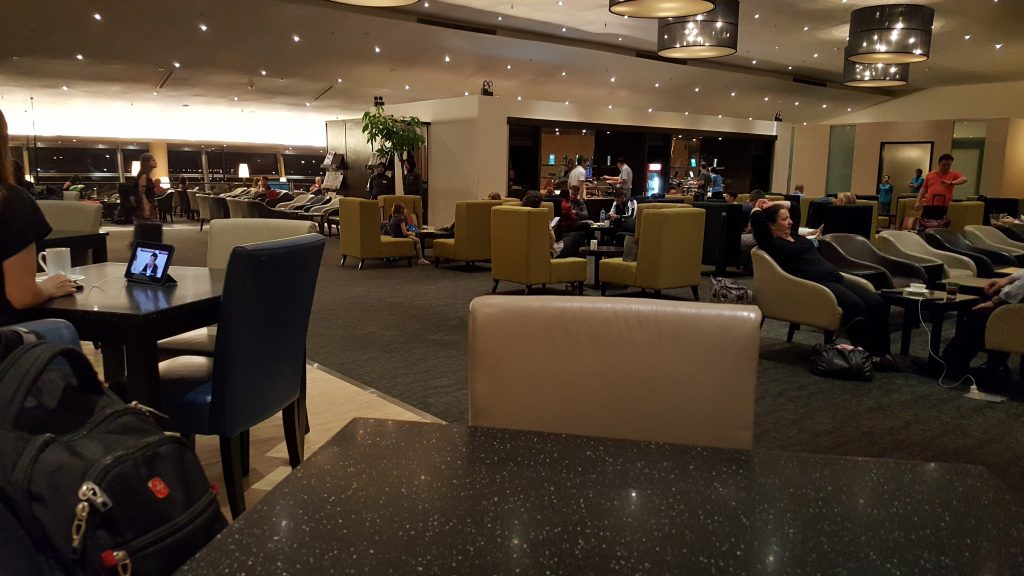 This was my first time flying Korean Air. And in business class. Nothing really stood out now that I look back. I can not recall anything, everything was nice as expected. Or am I just exhausted for writing such a long trip report?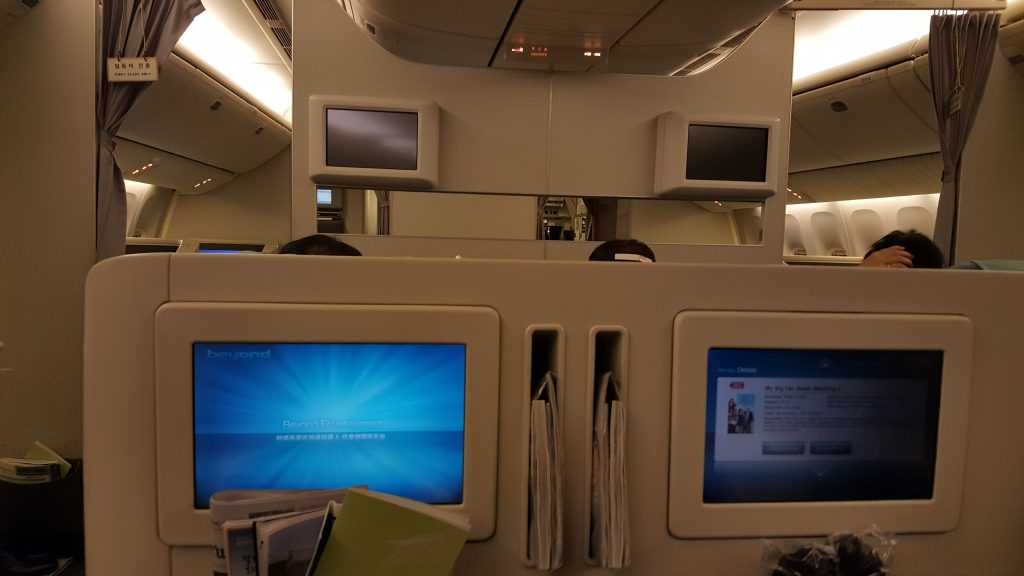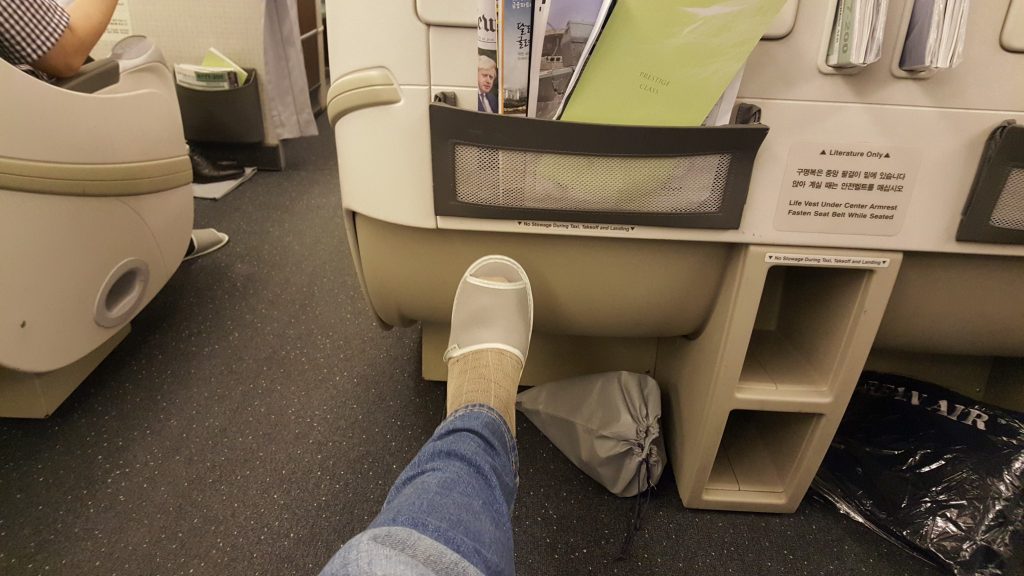 I found the service better than JAL. Food was a bit better as well but not by much. I still like Cathay Pacific's food much better.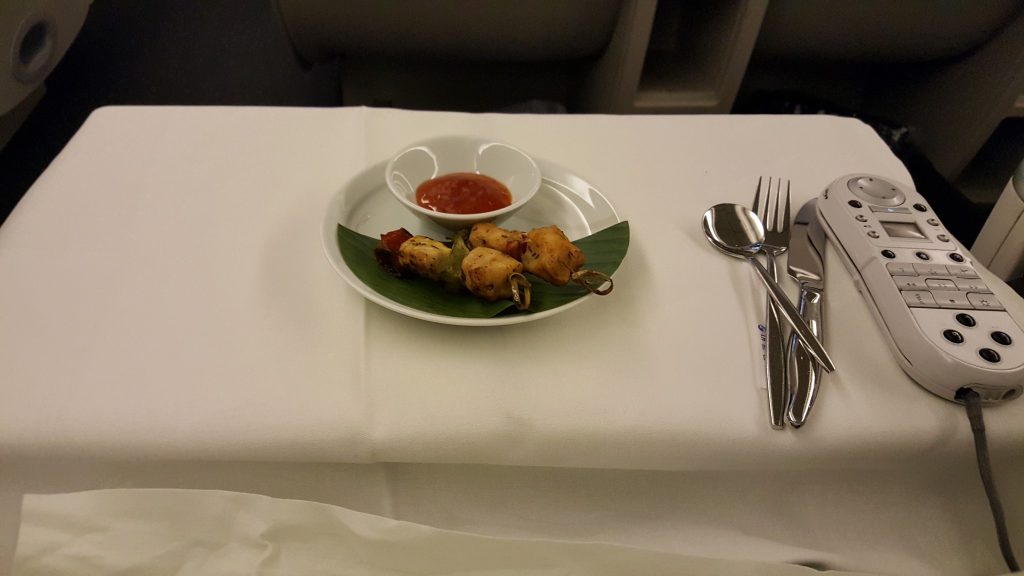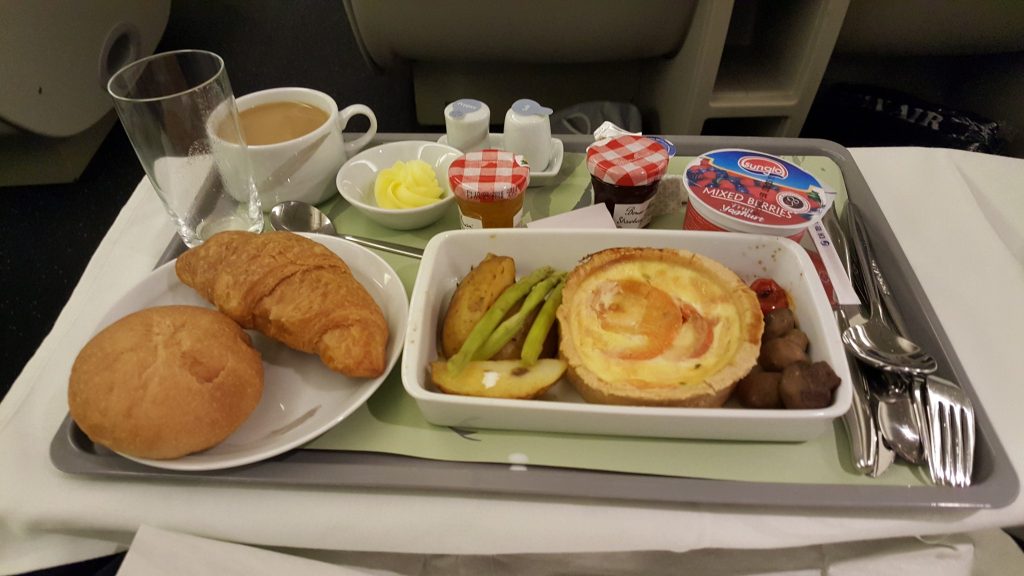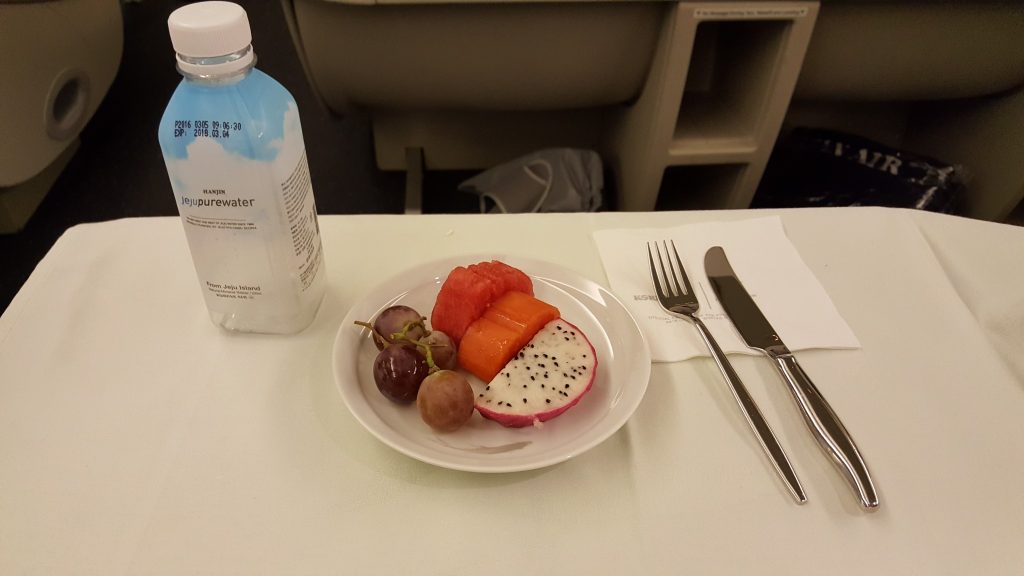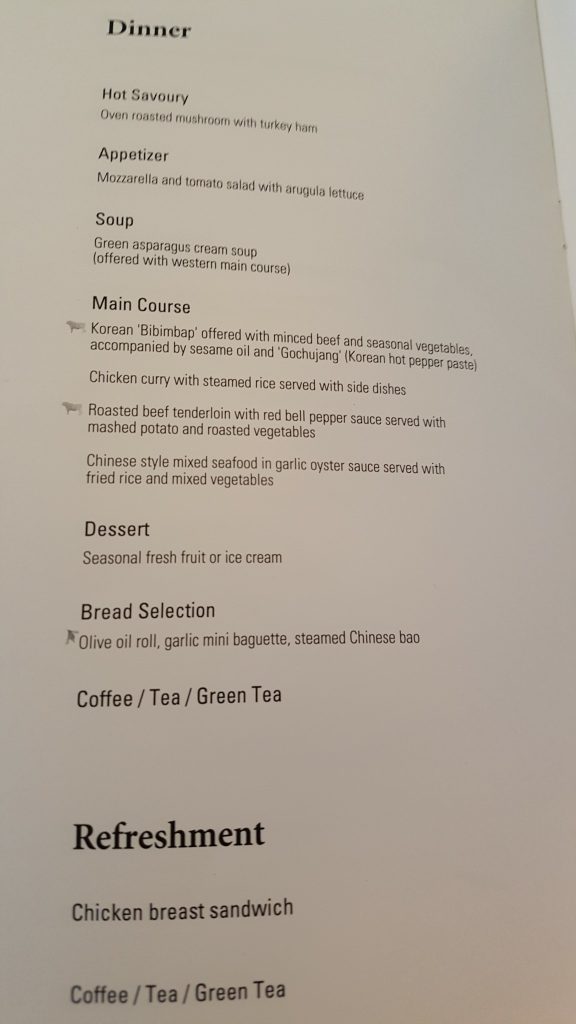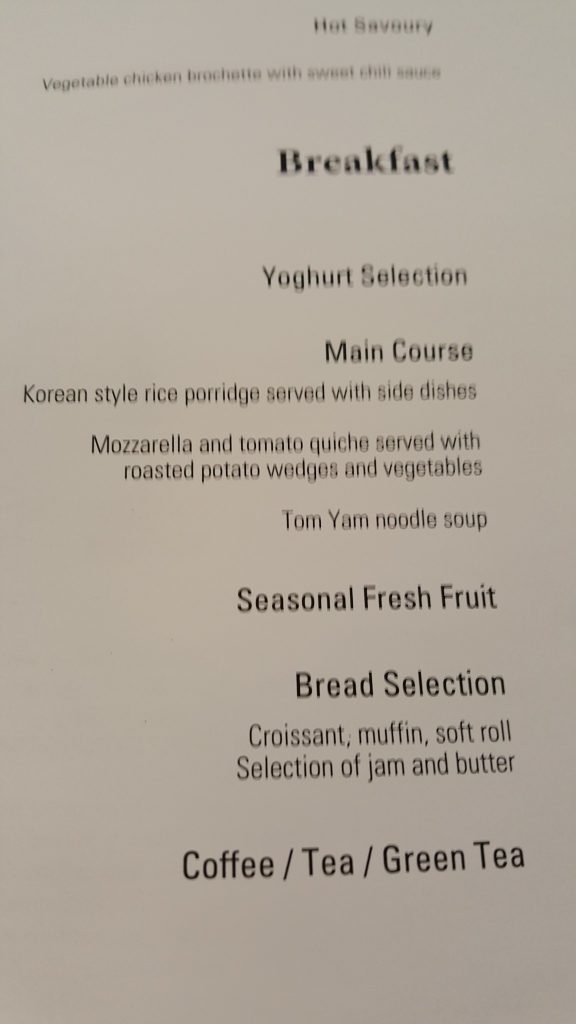 Landed in Seoul's Incheon Interrnational Airport ICN. And this is one of my favorite travel pictures. I am not sure why, maybe it is the precision of it all…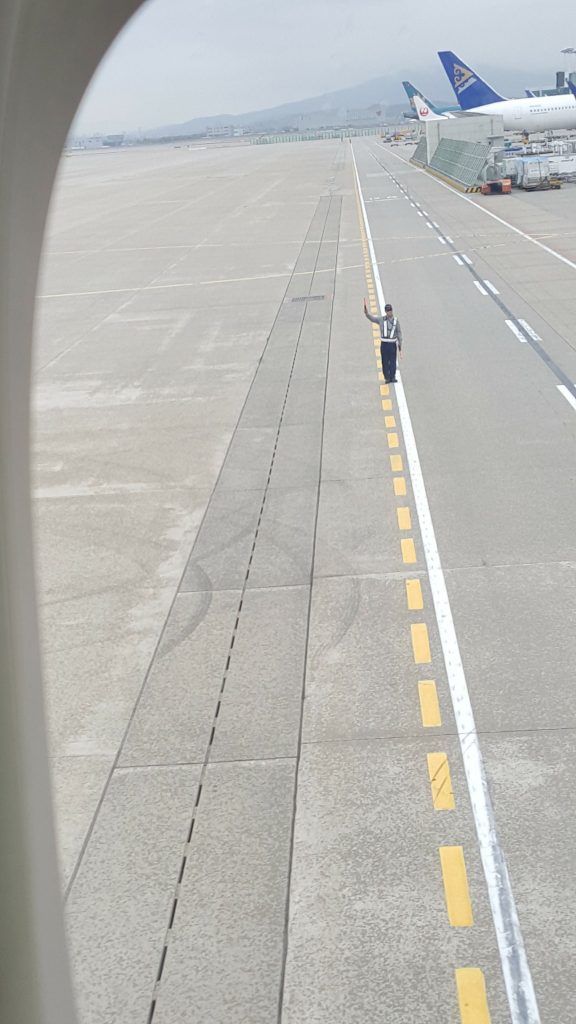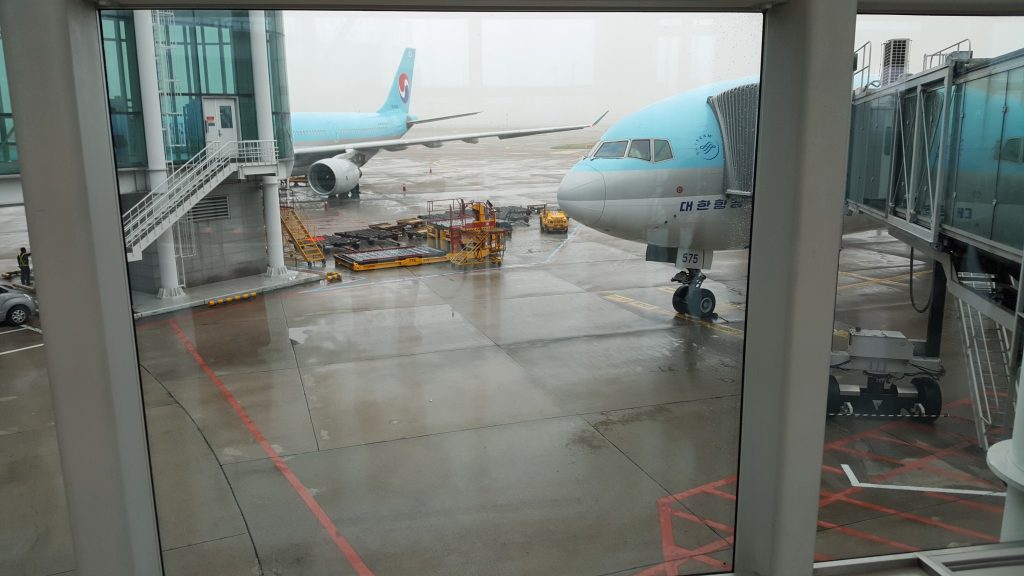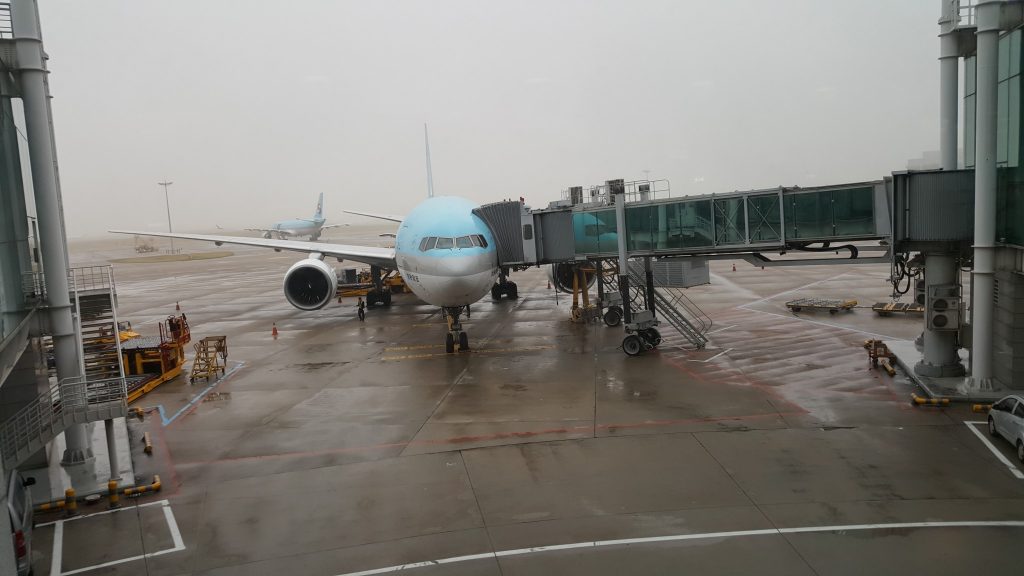 I found this airport to be very congested. So I made my way right away to the ICN Korean Airlines Prestige Business Class Lounge which was just decent, nothing spectacular about this lounge. At all.
And then I was off to catch my Delta Business Class flight to Detroit!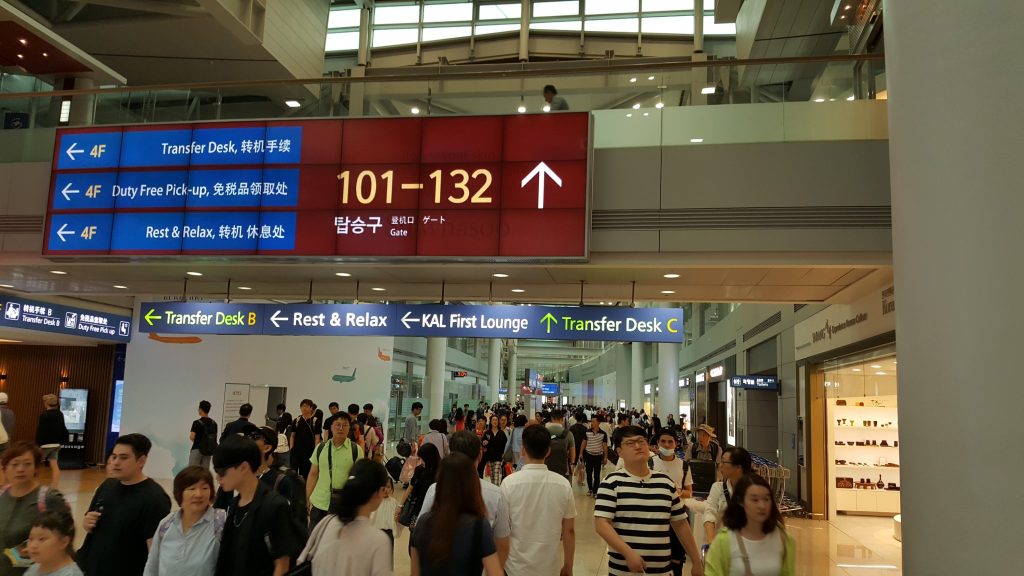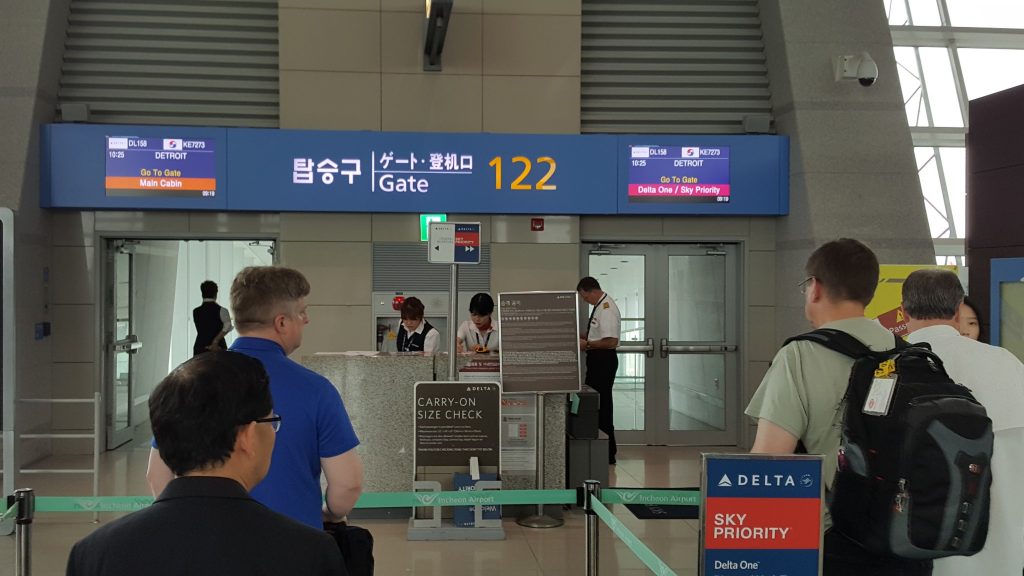 I have to admit, I really liked my Delta Business class flight!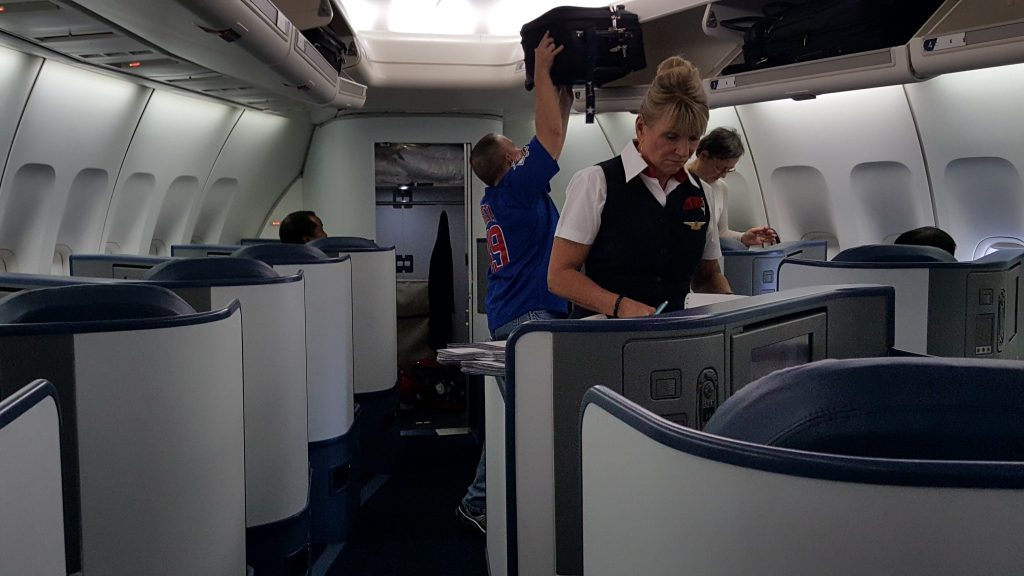 The food and service was great. There is something about the older Delta flight attendants, they are very experienced and the one I had cracked several jokes during the flight #cool.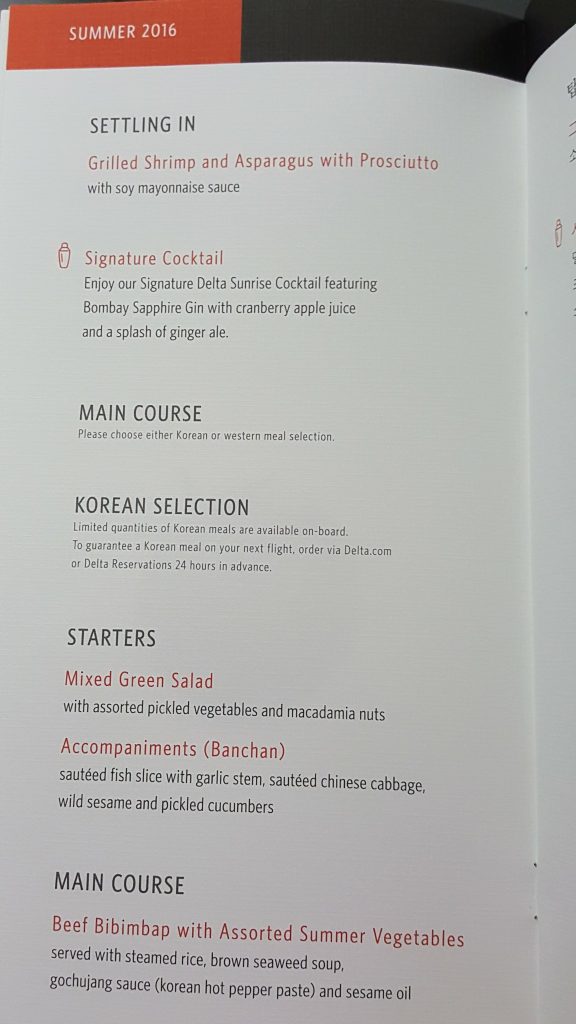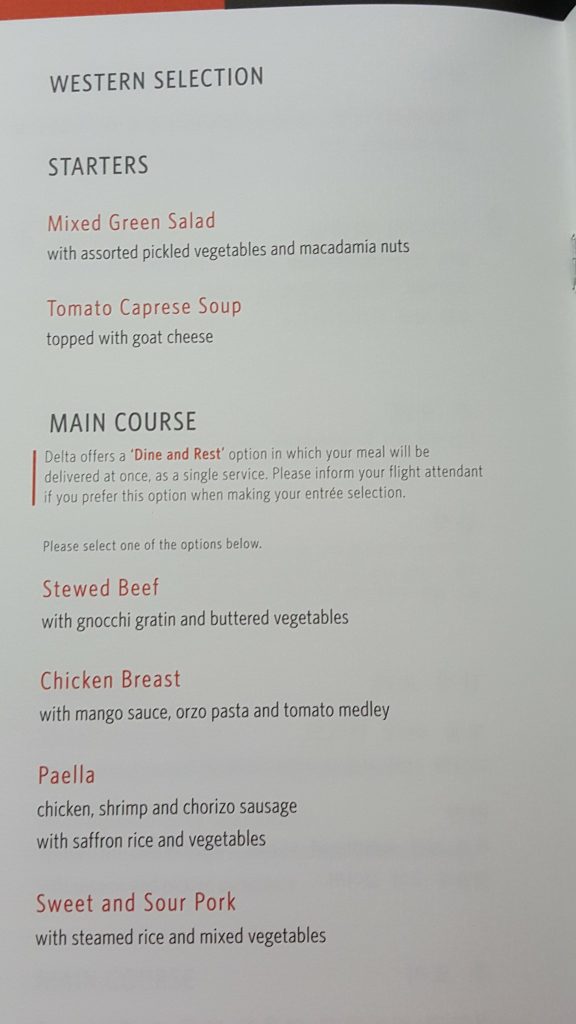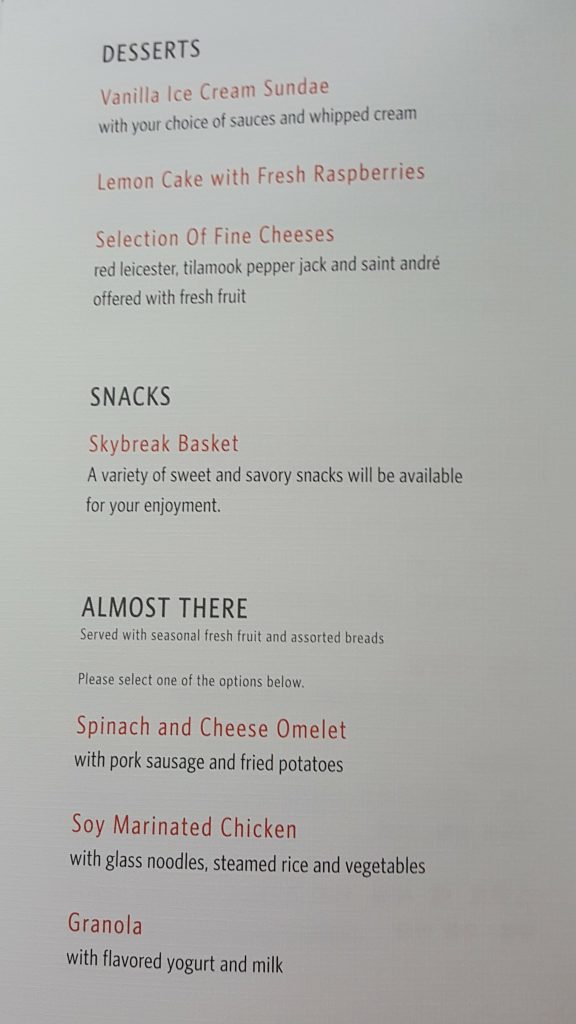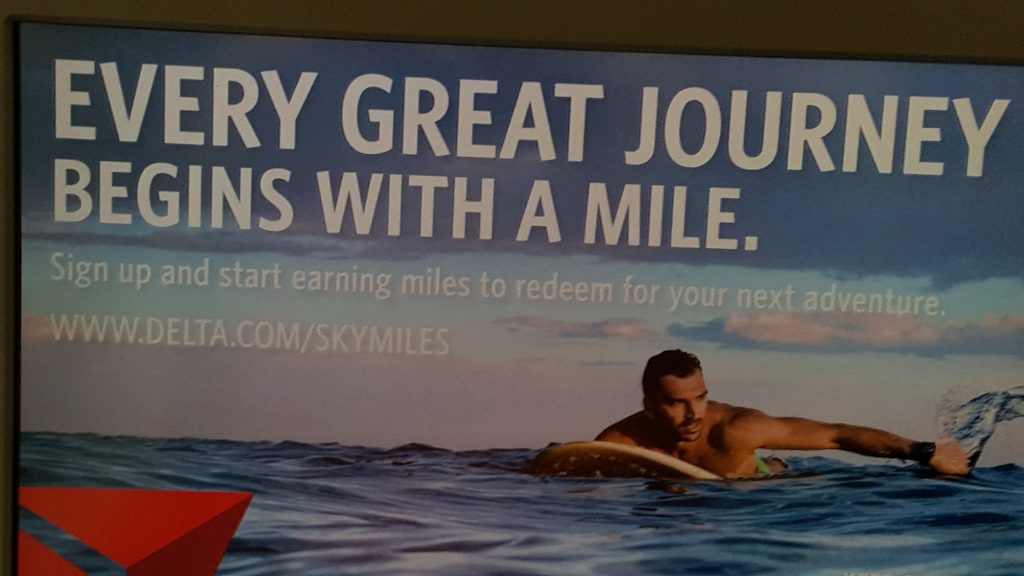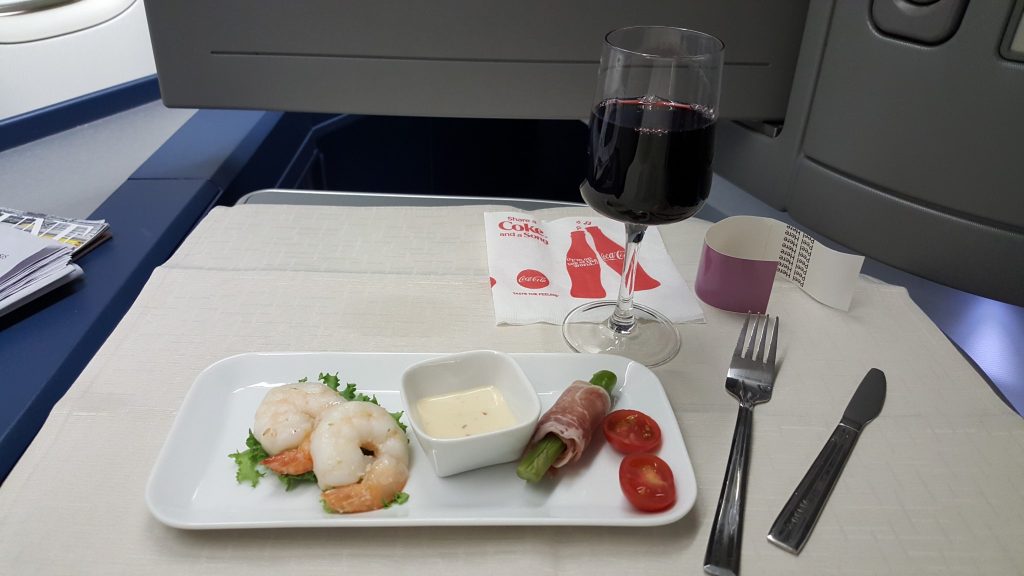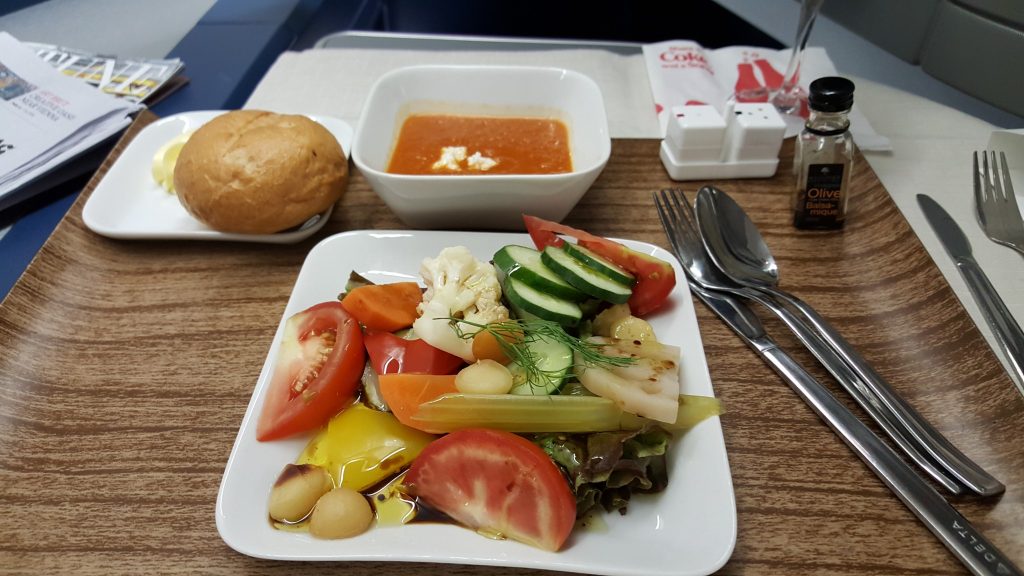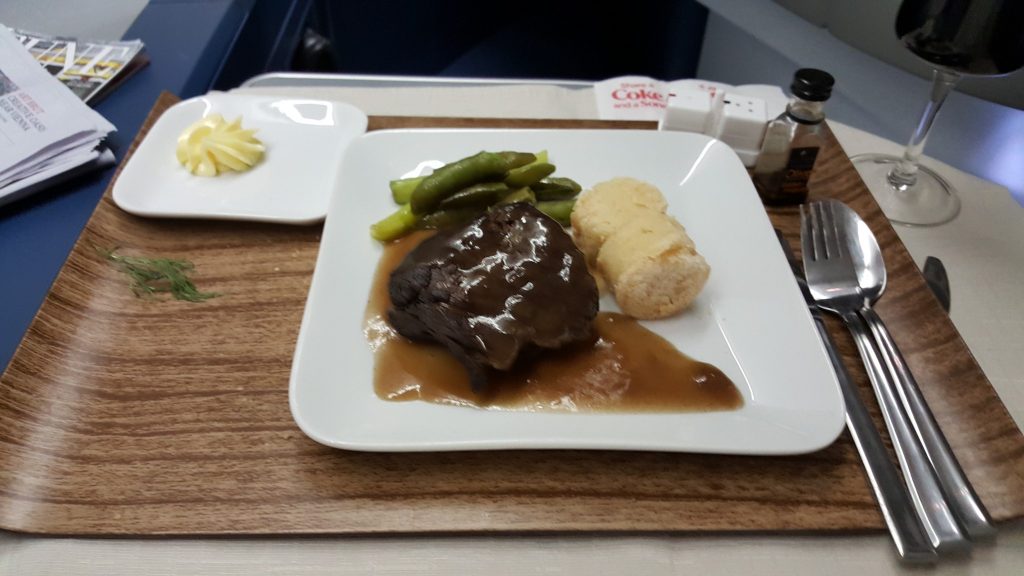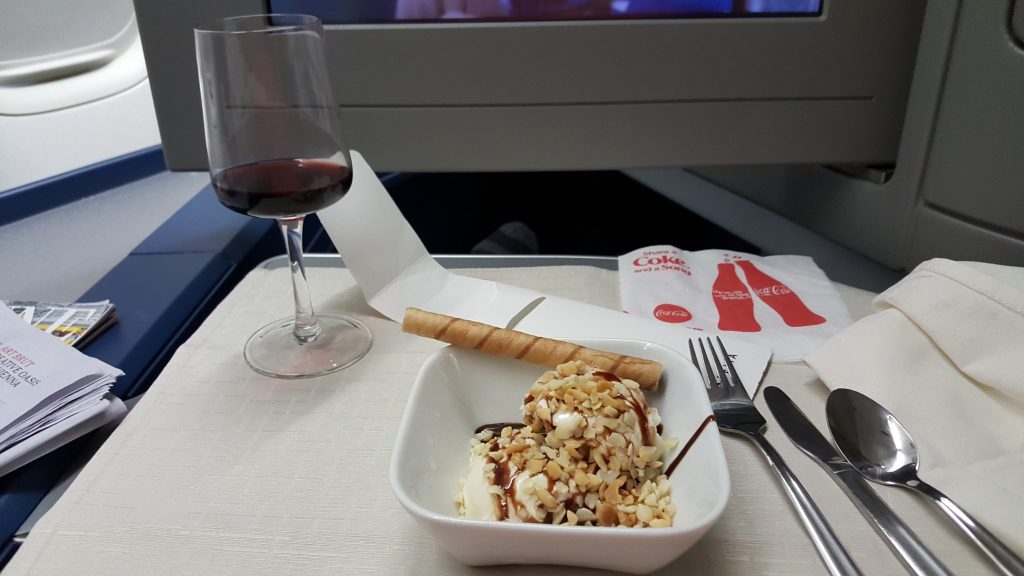 As you may have figured out by now, I am no flight reviewing type blogger who will take 7 different pics of the seat and stuff like that. I found the seat to be very comfortable. Heck, I found it to be the best one of the flights in this trip! And the entertainment system was tops too. And I found the service a lot more personable than the robotic cold feeling from the (admittedly cuter younger) Asian flight attendants. Dang you Delta, I can't believe I just wrote this. But, you know, I am calling it like it is or comes to me, whatever.
Hello Detroit, hello Global Entry. If I had an intern and direct credit card links, I would have him/her blast you with all the ones allowing you to get it for freeeeee. But I don't.  I just can not see myself lining up with all the others after you get this. Once Global Entry, you never go back 🙂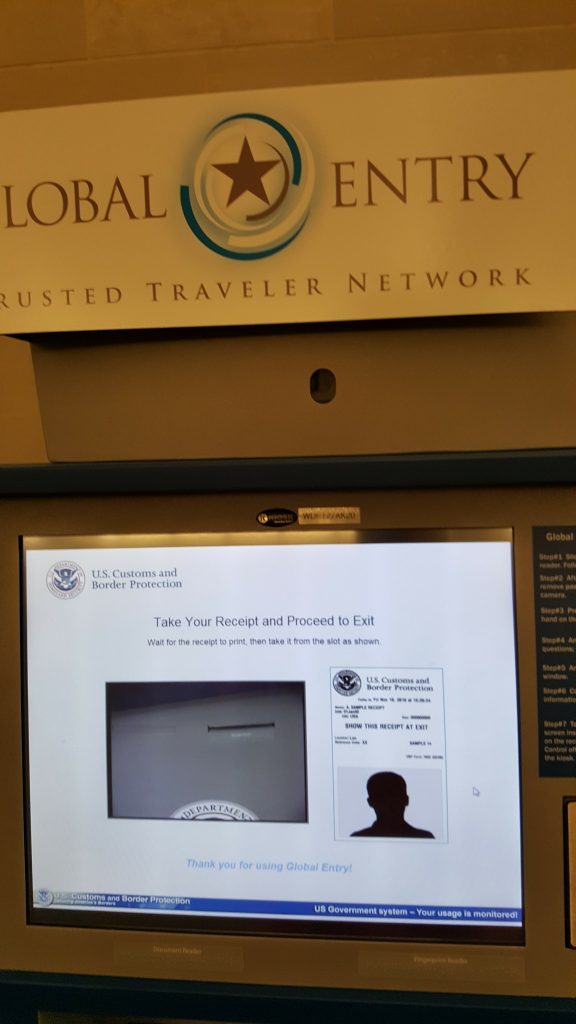 And it was over. I hope you enjoyed it as much as I did.
Thank you for reading!
TBB
travelbloggerbuzz@gmail.com
Follow TBB on Twitter @FlyerTalkerinA2
You can subscribe to TBB below, winners only!
Opinions expressed here are author's alone, not those of any bank, credit card issuer, hotel, airline, or other entity. This content has not been reviewed, approved or otherwise endorsed by any of the entities included within the post.