This is the full Trip Report from our trip to Greece in June of 2015. It was split into six different segments:
Part One: On the Way to Greece Part Uno
Part Two: Thessaloniki and Larissa
Part Three: Larissa Beaches Agiokampos Velika
Part Four: Meteora
Part Five: Lake Plastiras
Part Six: Thessaloniki to Frankfurt to Detroit
TBB Blog Mission: To Entertain. Educate. Inspire. In That Order!
This site is AD-FREE! You can support it by applying for CREDIT CARDS and clicking/forwarding any of our REFERRAL LINKS

JUNE 2015

We burned some miles and points to go see grandma in June of 2015.
120,000 AA miles for 4 economy seats flying Detroit to New York City La Guardia on American Airlines, New York City JFK to Madrid on Iberia to Dusseldorf, Germany on Air Berlin to Thessaloniki, Greece on Air Berlin.
10,000 Starwood points for one night in Sheraton Dusseldorf, Germany
12,000 Hyatt points for one night in Hyatt Thessaloniki, Greece
1 free night cert in Hyatt Thessaloniki, Greece
50,000 Hilton HHonors points for one night in Hilton Frankfurt, Germany
120,000 United miles for 4 economy seats flying: Thessaloniki to Munich on Aegean Airlines, Munich to Frankfurt on Lufthansa, Frankfut to Detroit on Lufthansa
89,424 Barclays Arrival points to cover all taxes and fees charged by American Airlines and United for 4 award tickets
That 6 am flight on American Airlines to La Guardia is always a better idea when it is booked and always a bitch getting up so early. Obligatory family pic in the Detroit airport, it could be one of the last ones as son is heading to college and we are just not as cool anymore to travel with.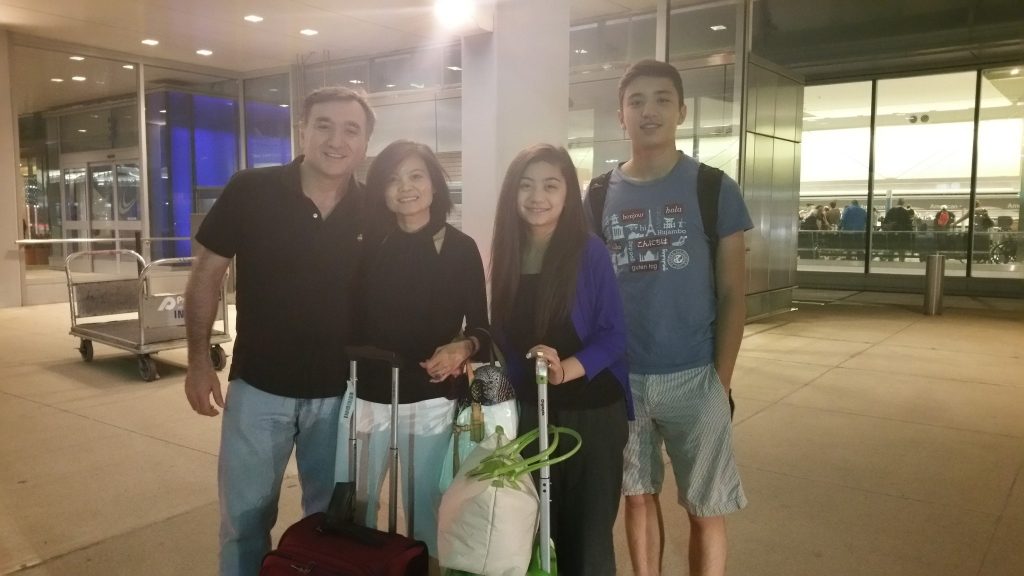 Of course, as experienced travelers we know how to fly faster 😉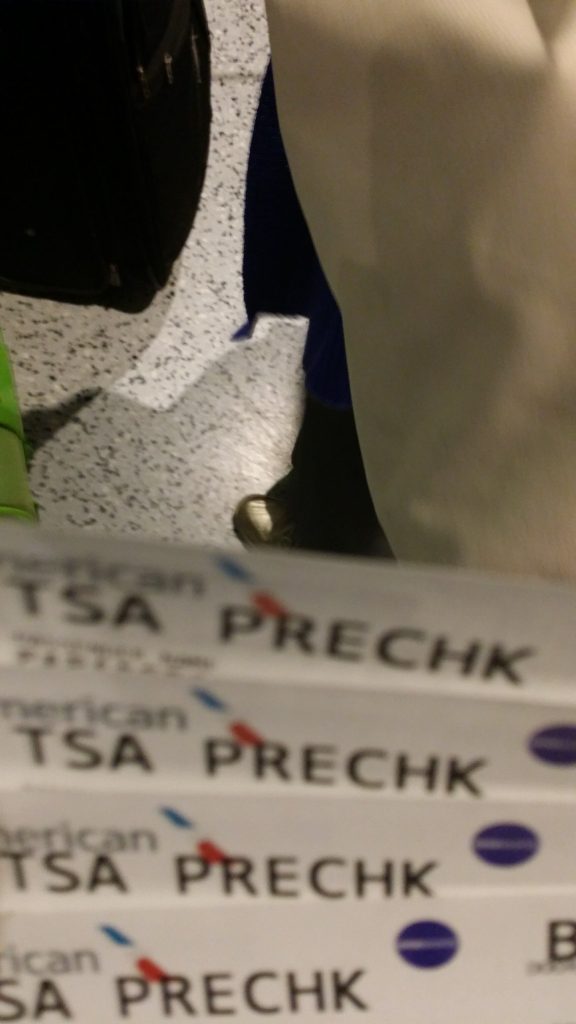 Uneventful flight as usual. We crashed in the La Guardia AMEX Centurion Lounge for several hours.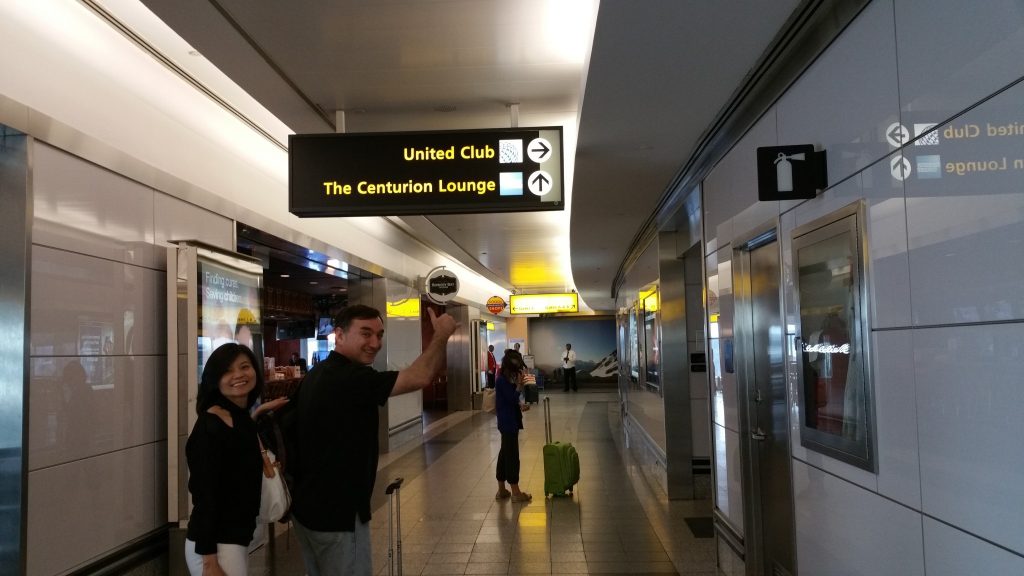 It' s a love story. You can visit too!<——–Click on my credit card links. Ooops, excuse me, I got a little carried away you guys. That Titan blogger DNA, what can I say, woohoo!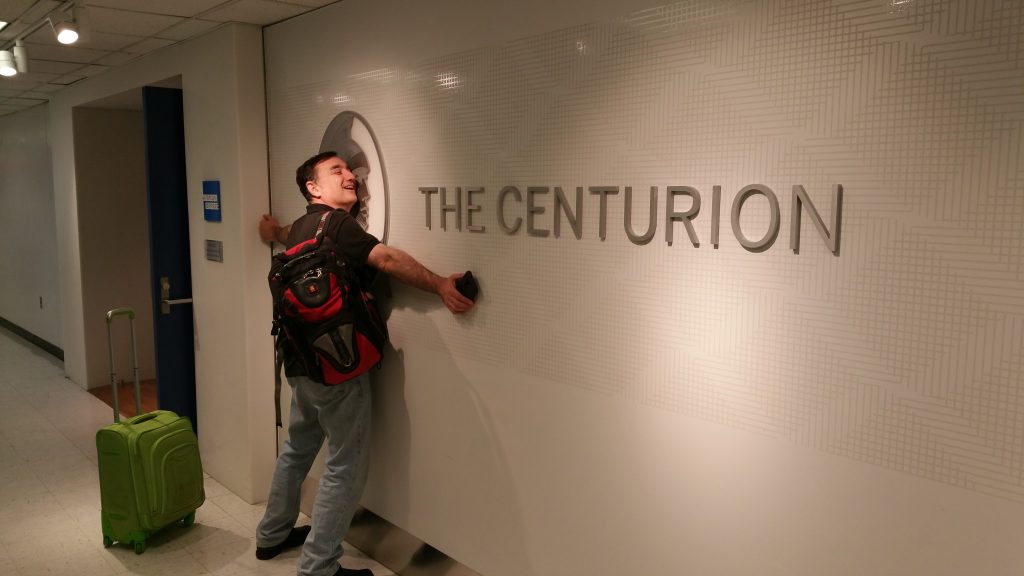 Do you call yourself a human if you have not entered the amazing luxury of this lounge? Really? Huh? I didn't think so!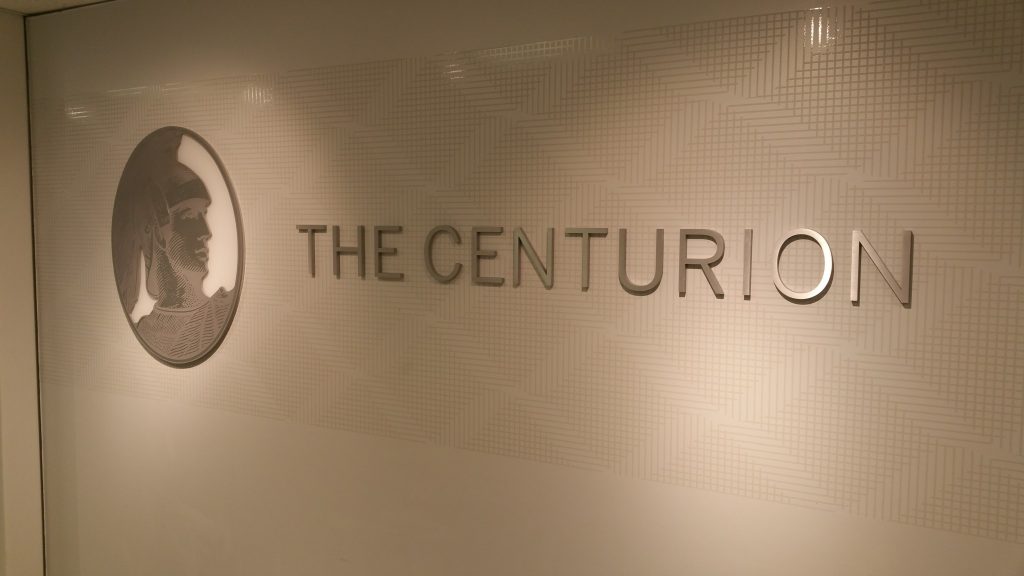 It was empty when we got there but it was soon over run by many other travelers…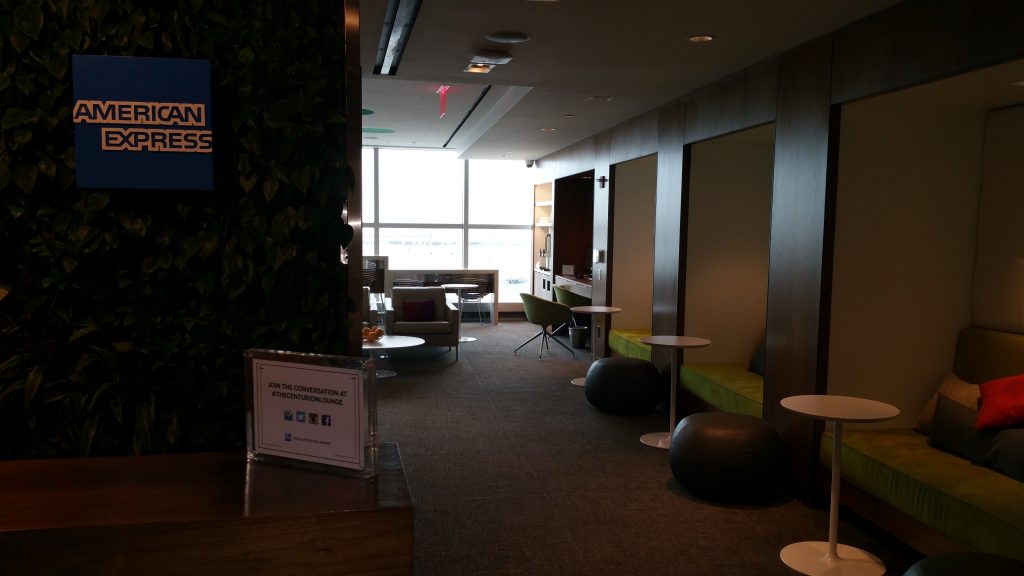 She feels important for some reason. Have I created a monster? Wait, an economy class seat awaits her. Enjoy this girl, for now!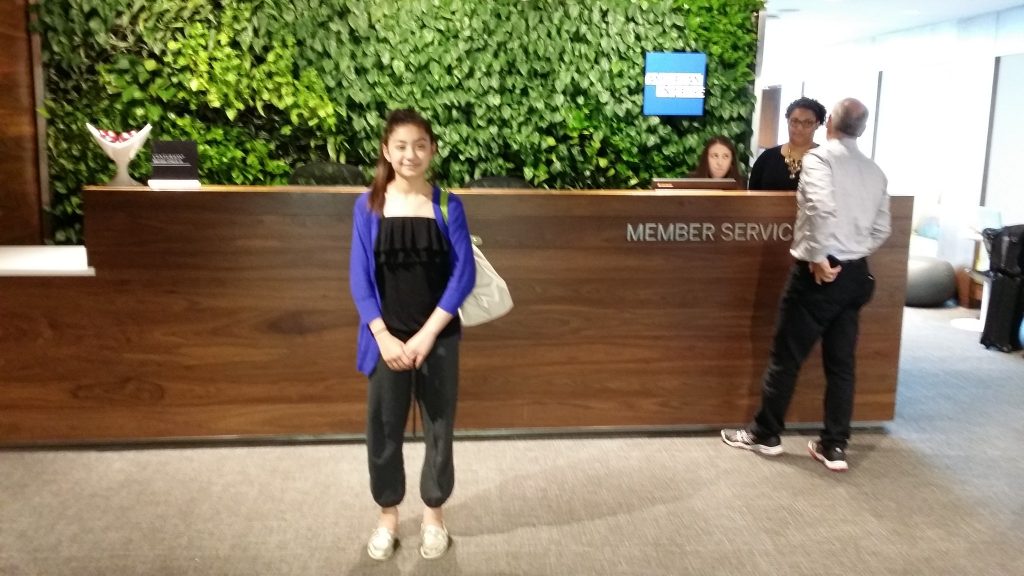 Like I said, this place was over run by more Amex Platinum card holders soon after we got there…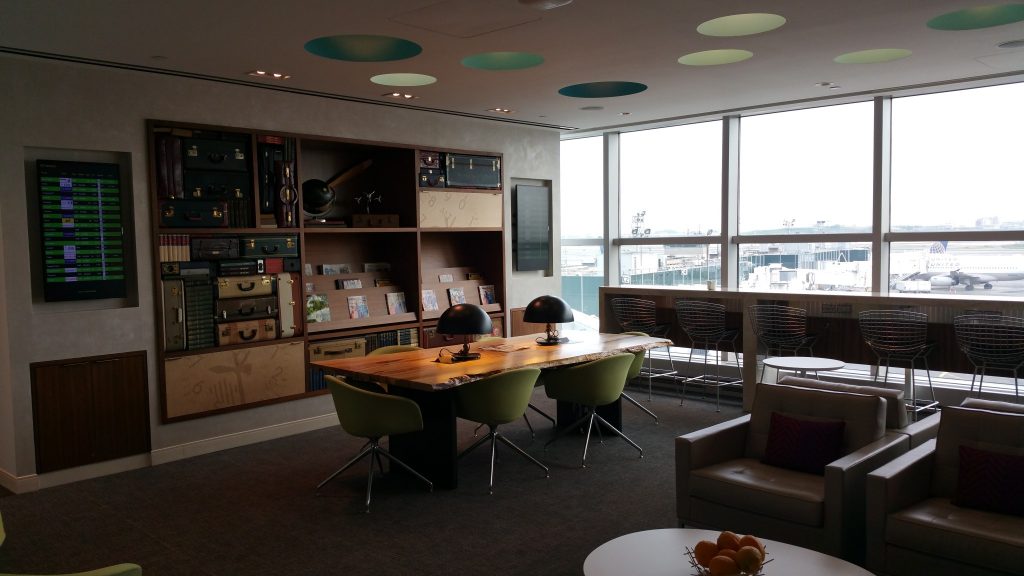 When it is empty, it is a really nice lounge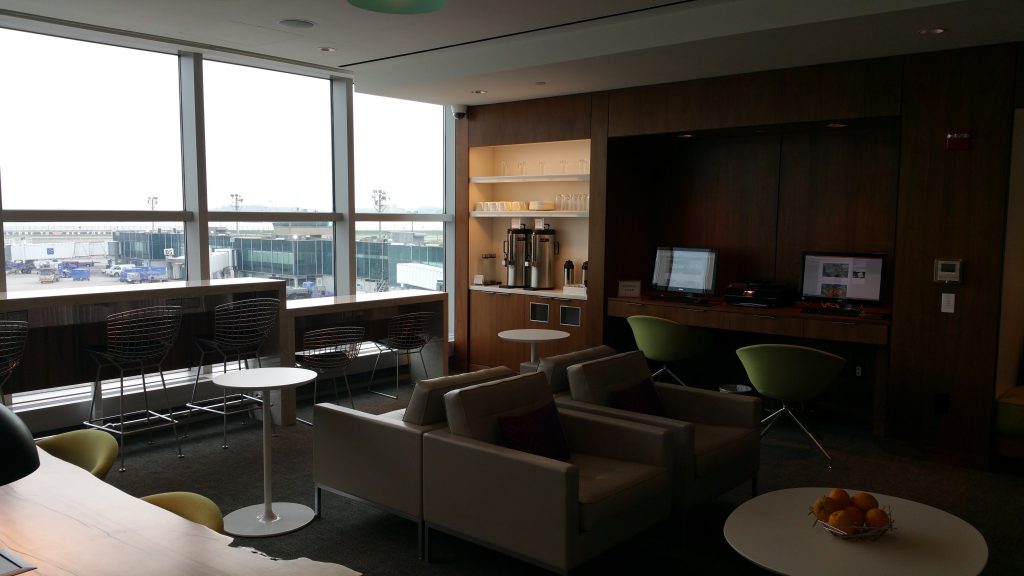 Naturally, we had breakfast…and lunch too!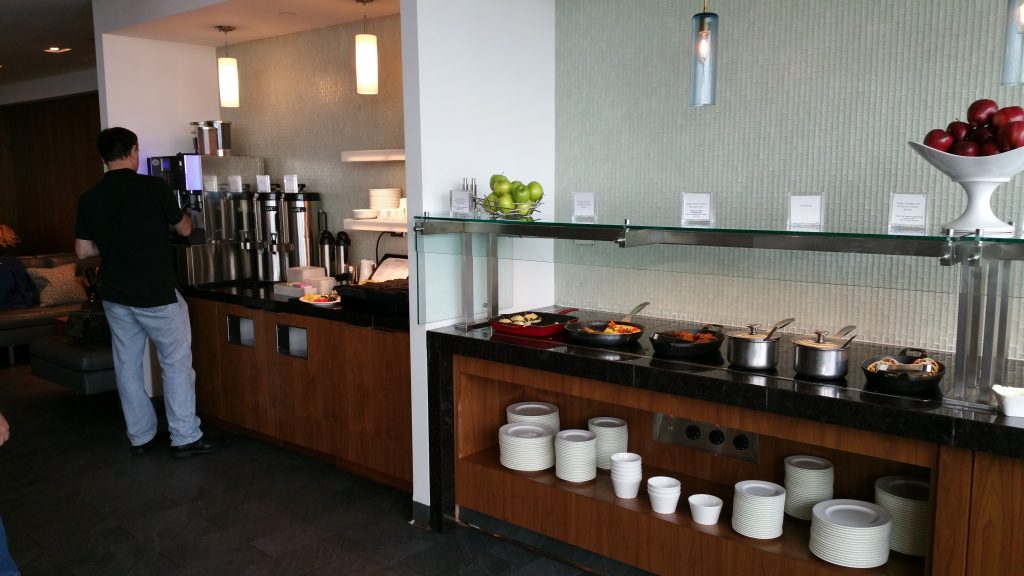 We caught up on some sleep after waking up at 4 am, phew!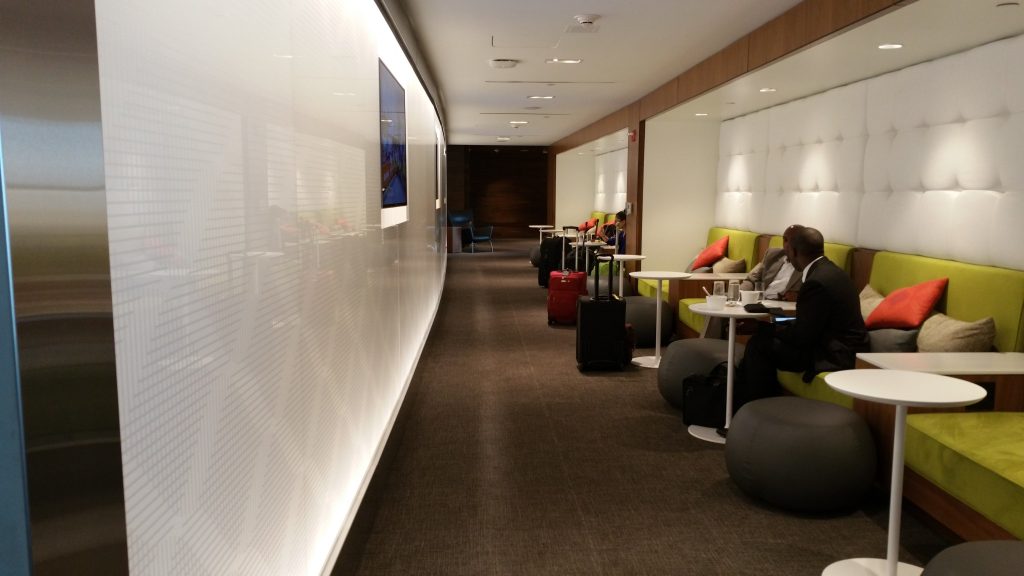 Quality family time drinking beverages and focusing on our own electronics!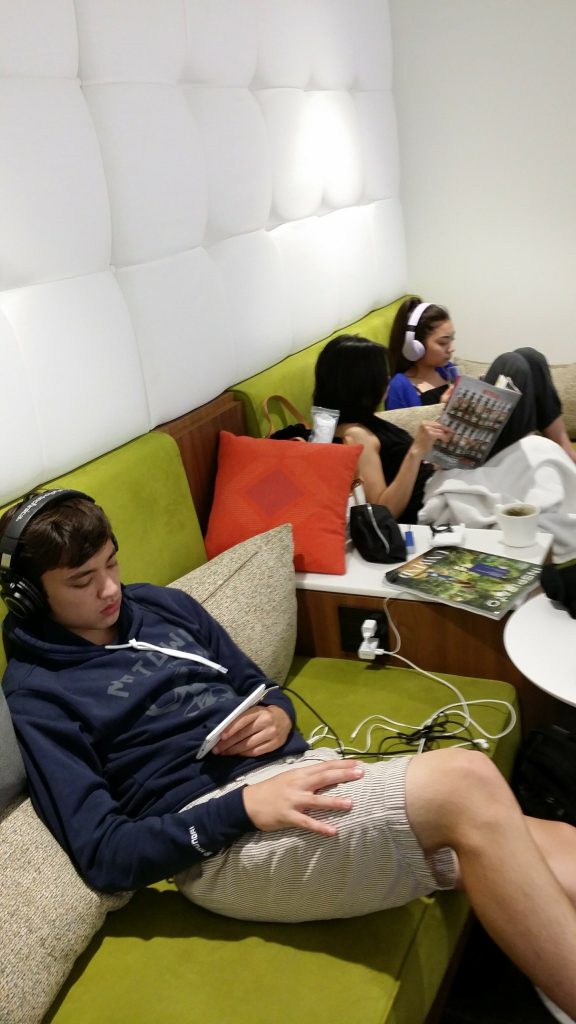 Amazingly, this is one of the few places in the world where my laptop can not connect to the wifi!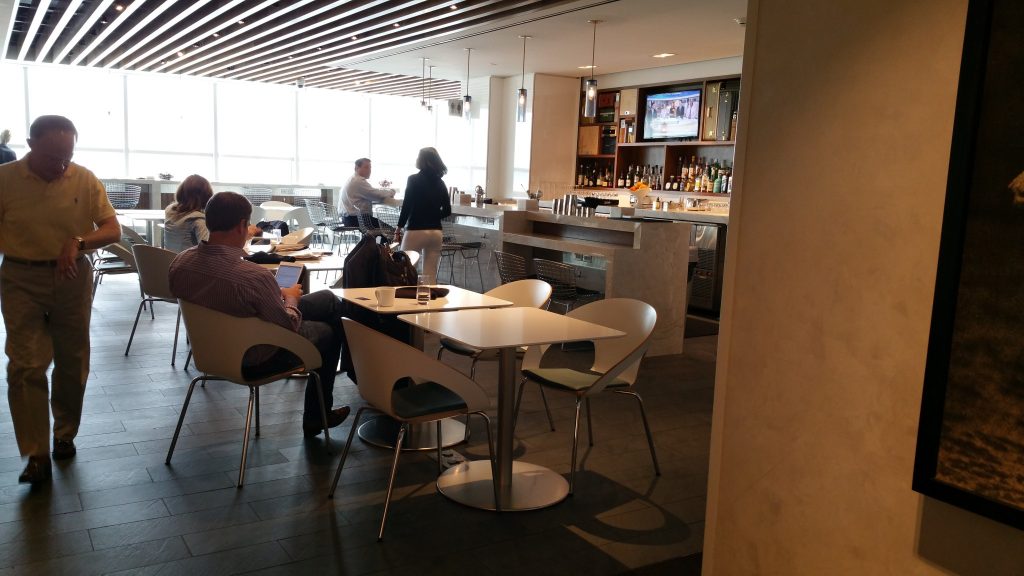 I think we ate enough for the rest of the day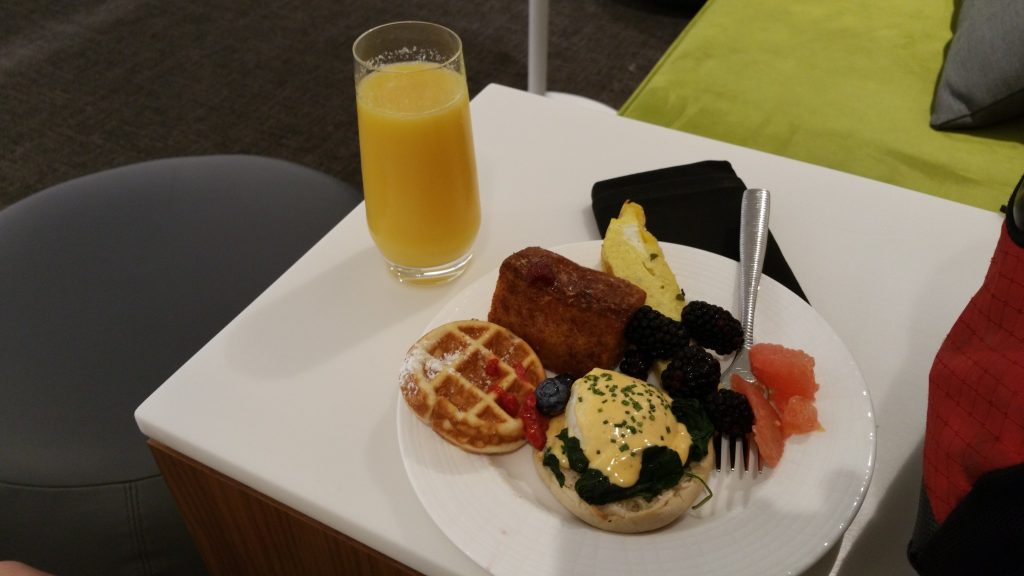 Not bad, it will do.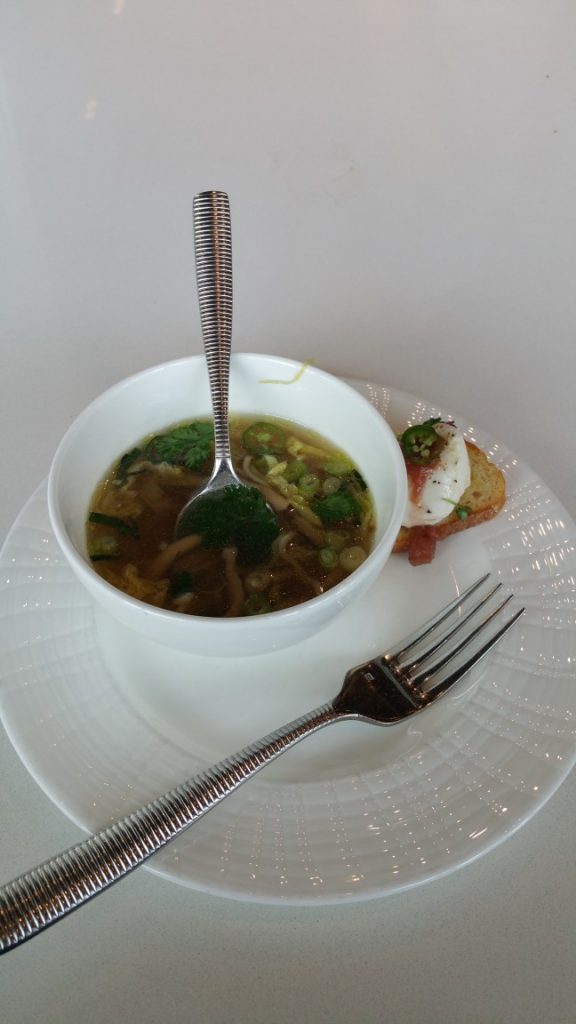 After we rested and completely full, we went outside at the NYC Airporter bus shuttle stop.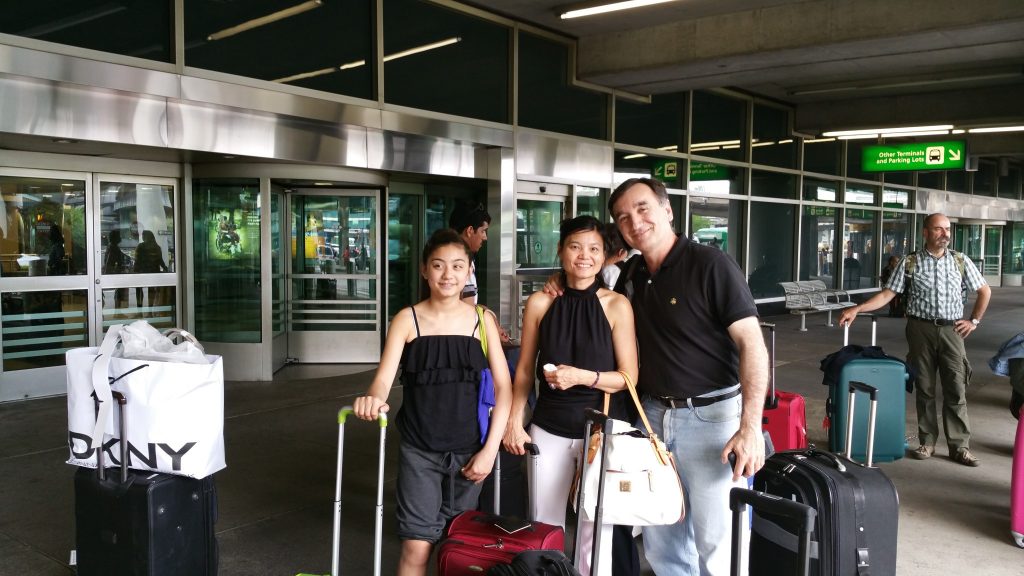 Bus ride to the JFK airport, definitely not a limo or Uber black which I could have done I guess but I had no more credits. You can change that by clicking on my Uber affiliate link, gracias!
Checking in with Iberia in JFK. I think this was our first time flying Iberia Airlines.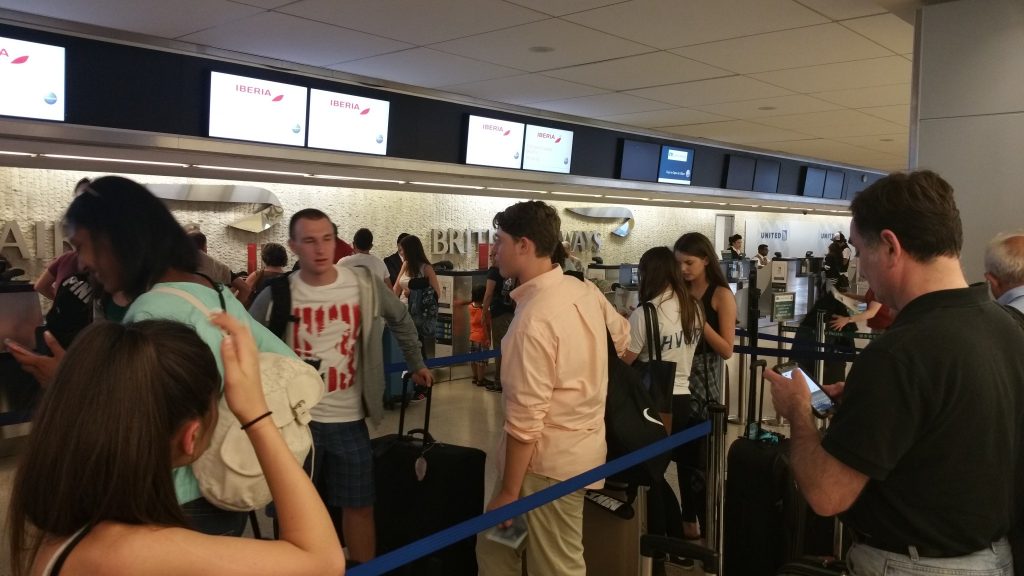 From La Guardia to JFK. It's like going from worst to just worse. Come on America, we can do better that this!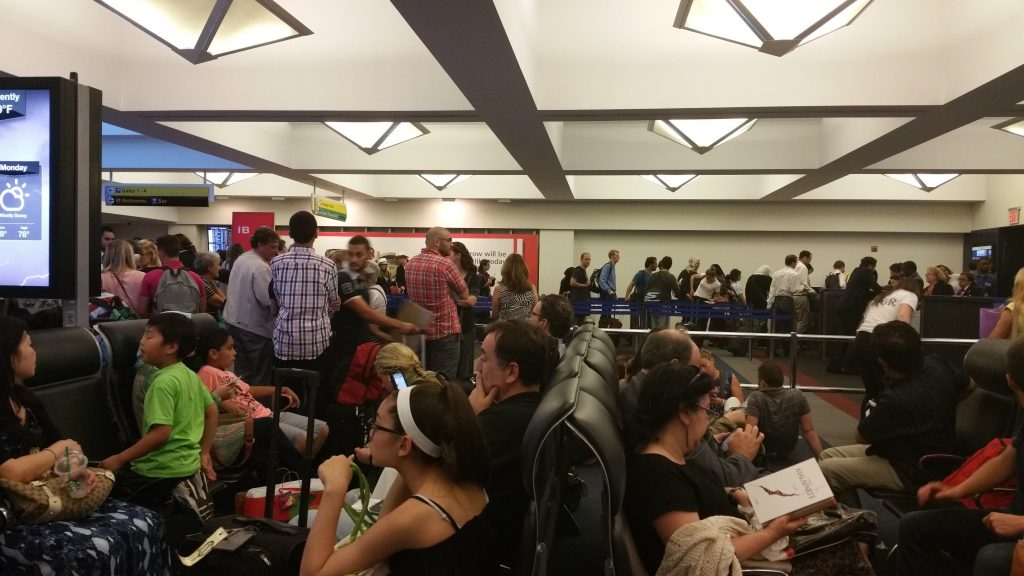 We must admit we enjoyed flying Iberia. Nice service, decent food, comfortable seats, on time.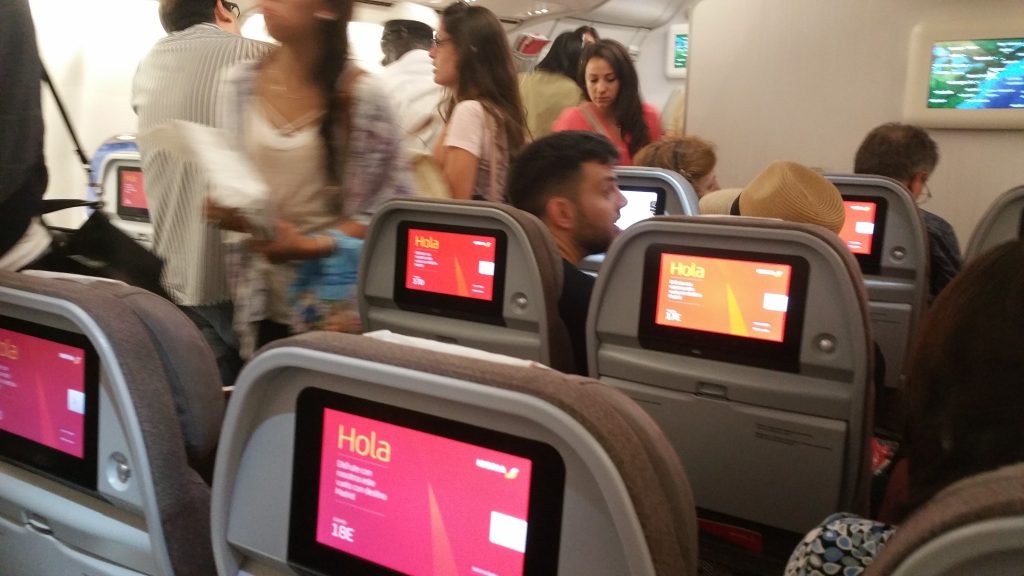 Entertainment selection was very good as well.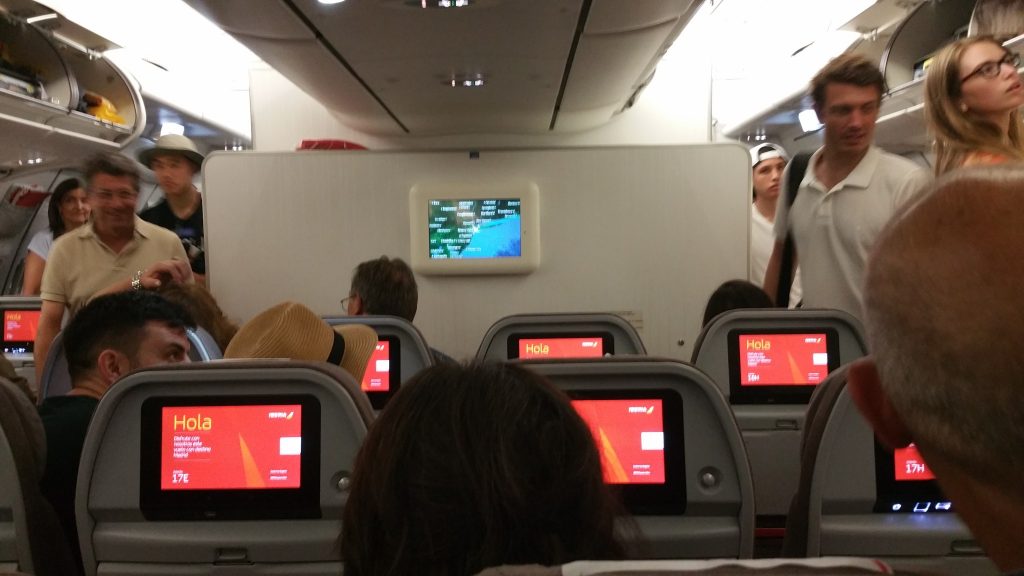 I always feel like an idiot taking pics of food on the plane. Chicken was good.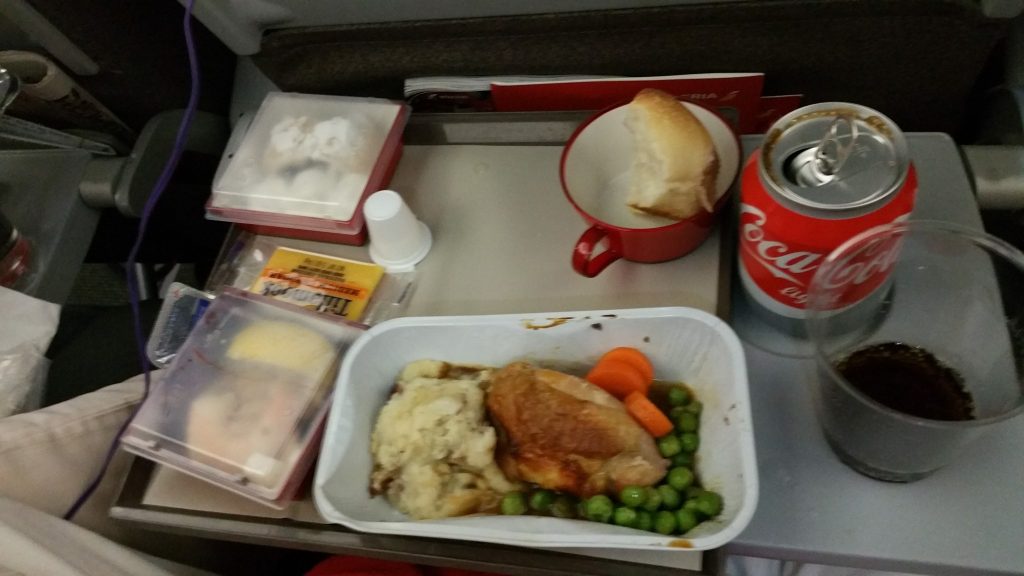 I took a pic of the business class section. With four tickets I only splurge in limited occasions. I want my kids to be normal and not snobs lol.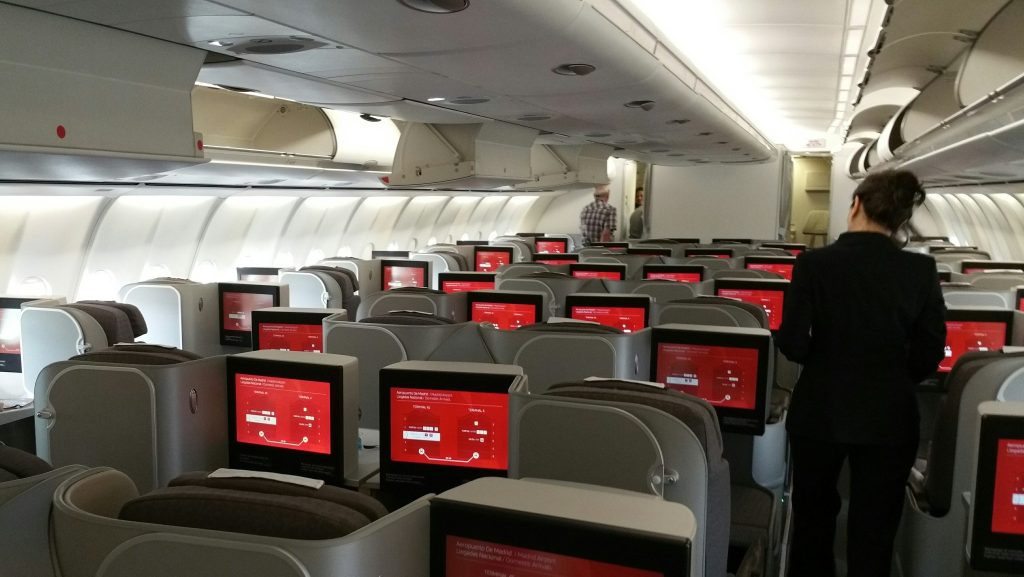 Hello Madrid Barajas airport! This was the bird that brought us here.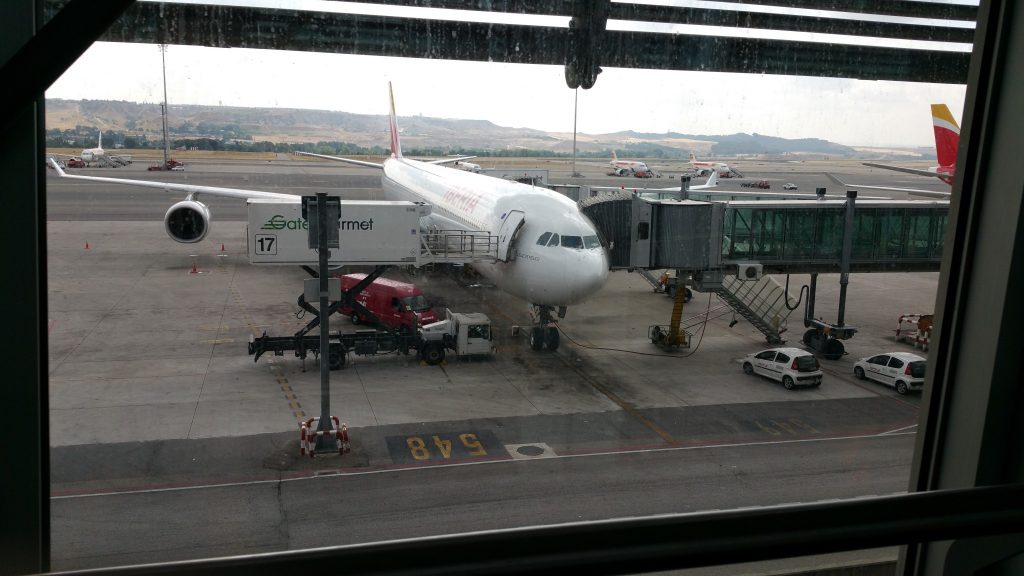 Long walk to passport control…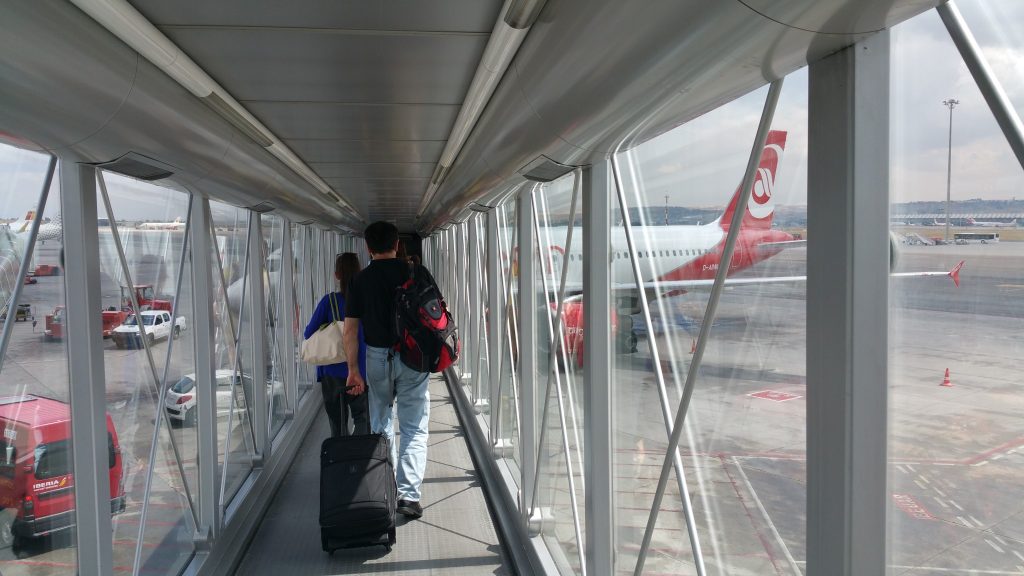 Like I said, we are still walking!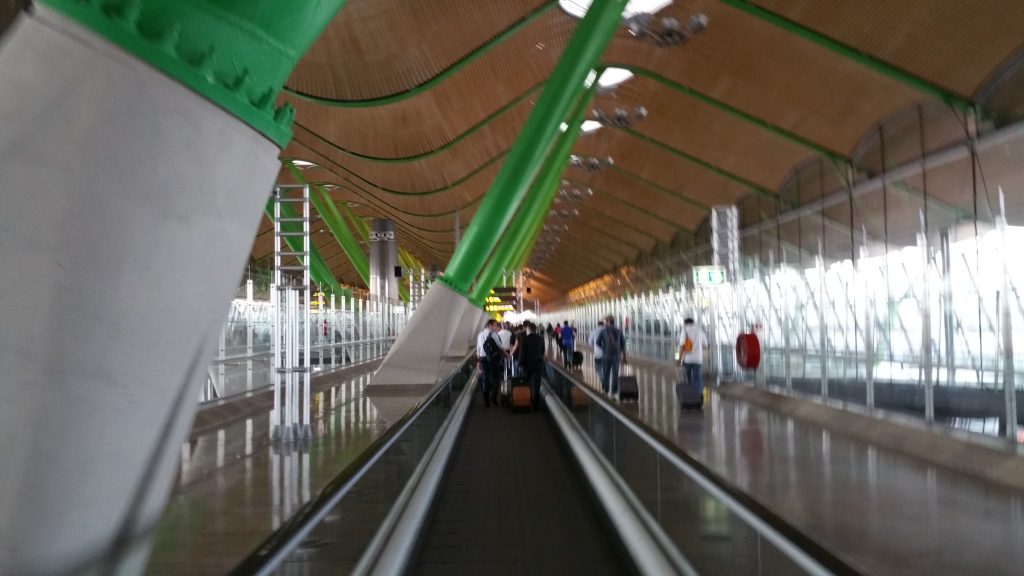 We had a few hours layover in Madrid and then we boarded Air Berlin to fly to Dusseldorf, Germany. Uneventful flight again. We also liked Air Berlin too.
Hello Dusseldorf! We have been here before in another trip to Greece. We walked across the terminal to the Sheraton where I have stayed before. Just 10,000 Starwood points for one night.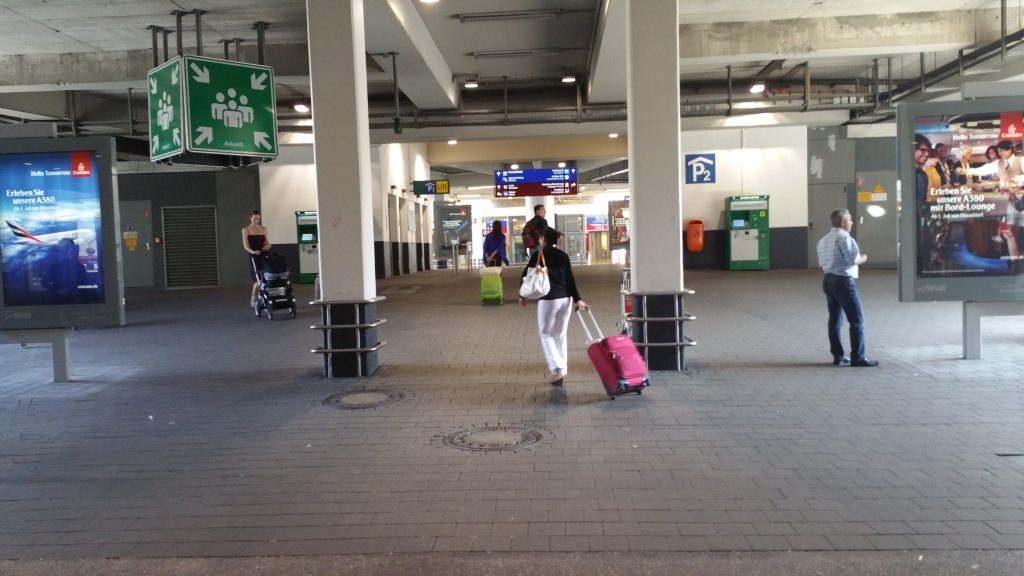 It only hit me that I stayed in this hotel before as we walked towards the entrance. Deja vu time. Always weird!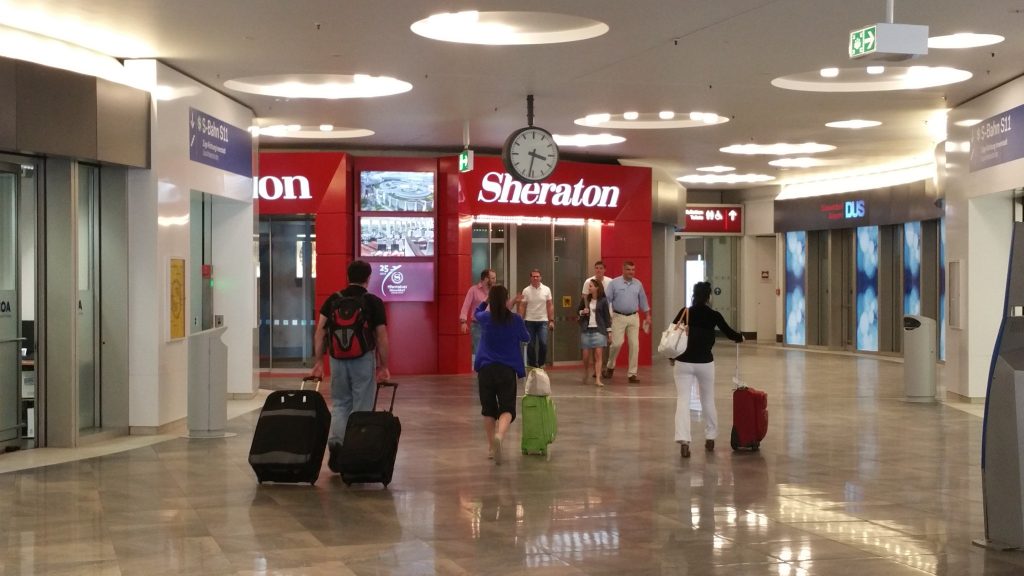 I remembered this entrance, you take an elevator up. This hotel is shaped in a kind of weird circular design.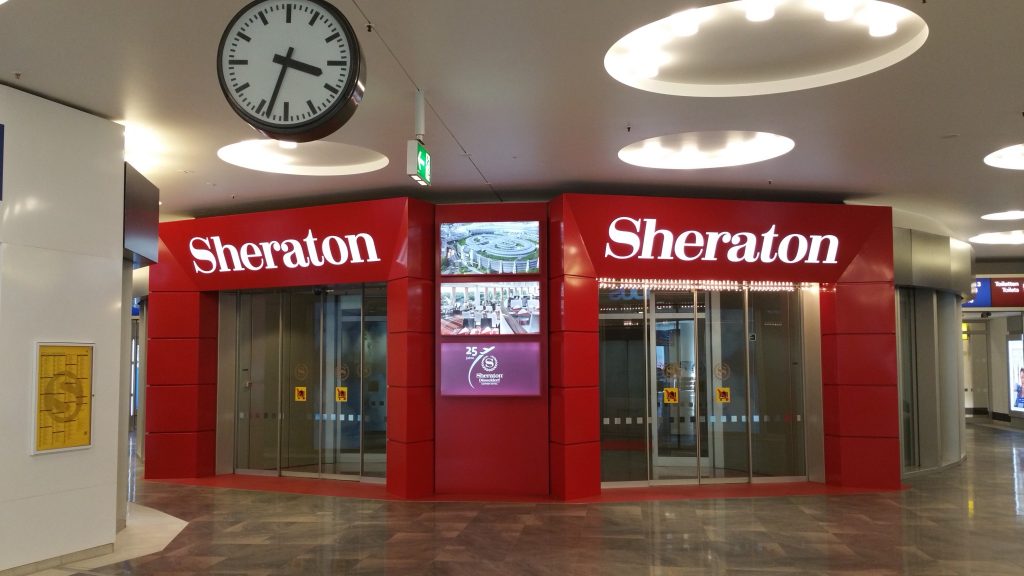 This hallway goes all the way around, in a circle. Like I said, what a weird design. Those Germans!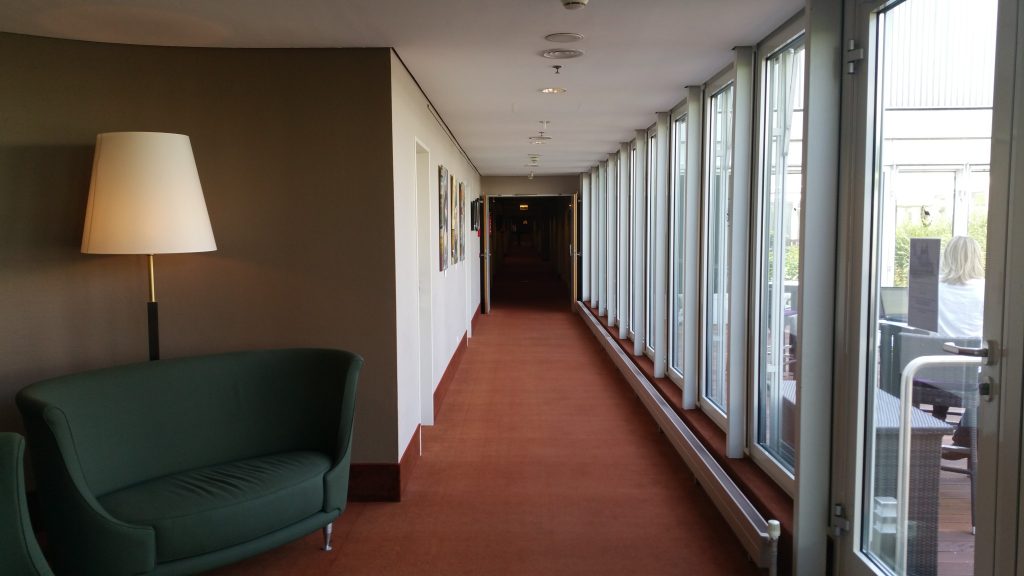 It has a small open air patio, nice.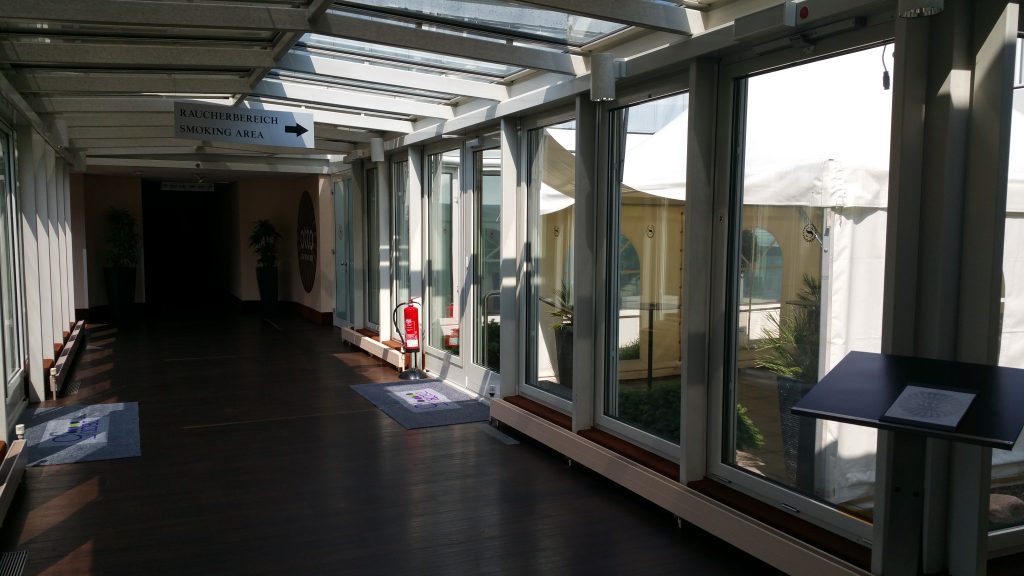 Hotel's restaurant: Otto, how German. We did not eat here, we walked across to the terminal where they had plenty of other more reasonable options.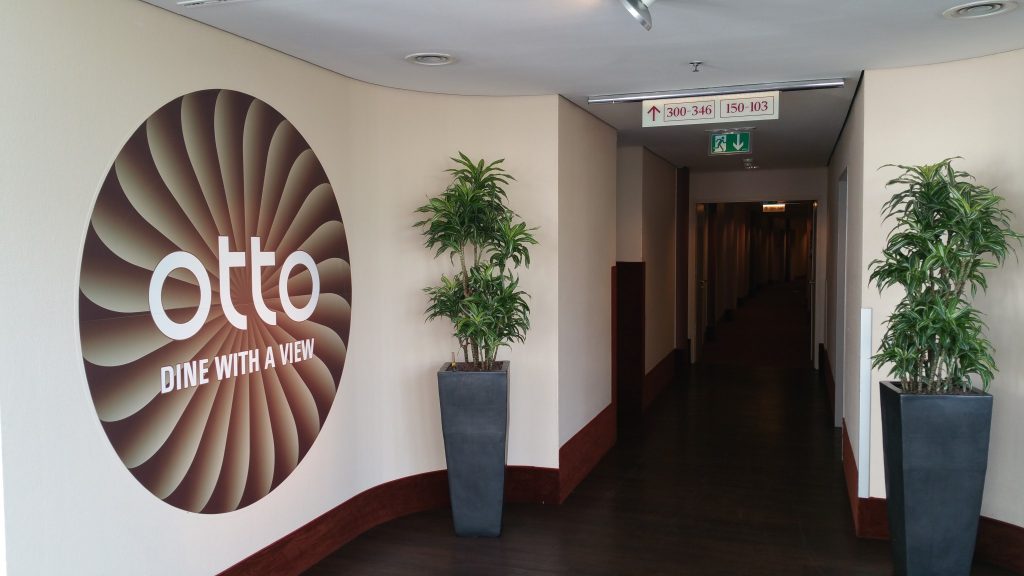 '
We slept like babies. Even found time to pay a visit to the hotel's gym #winning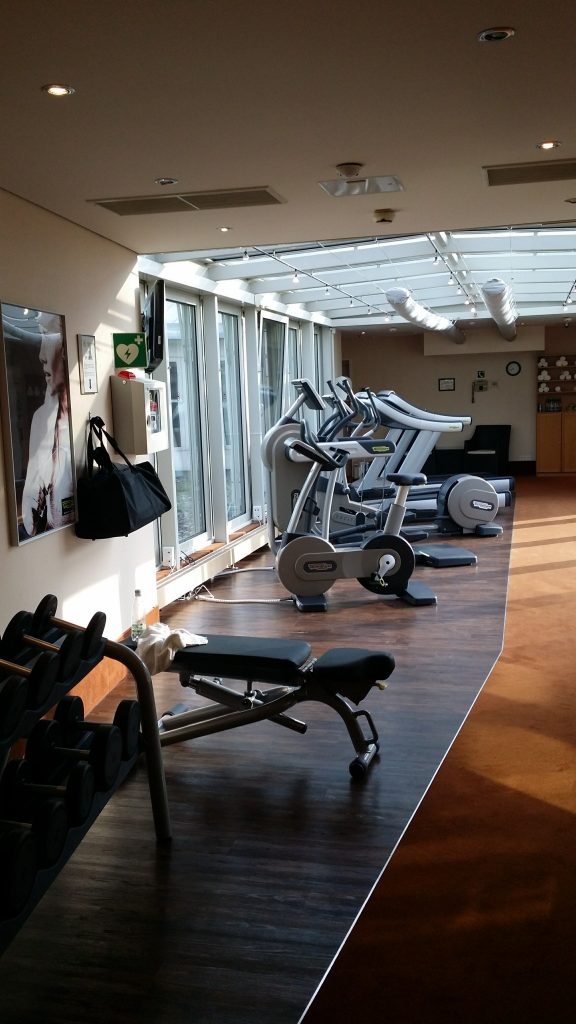 Sheraton Dusseldorf, the lobby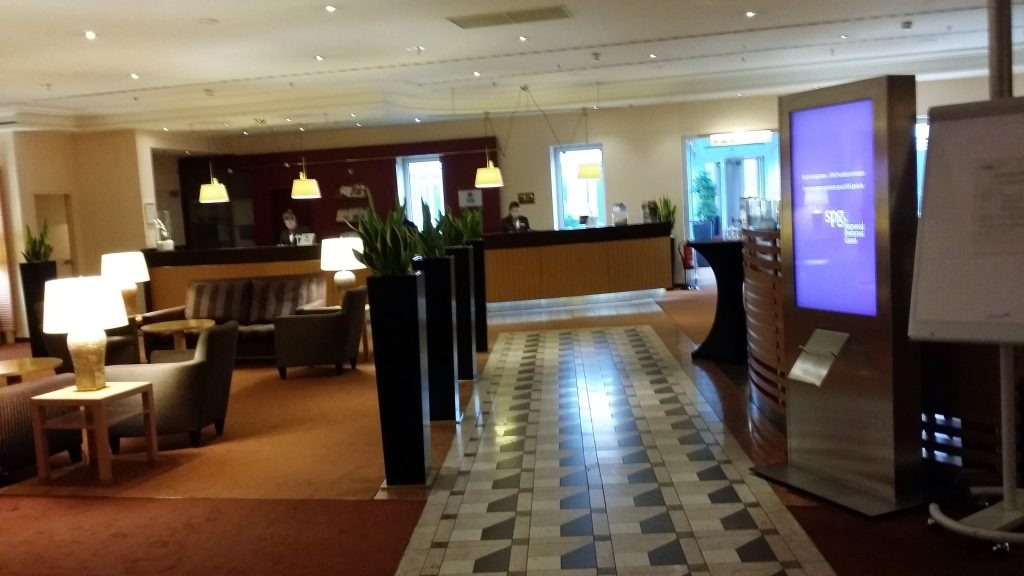 Just a few pics of our standard room. As Starwood Gold I almost never get any special treatment and they always let me know it.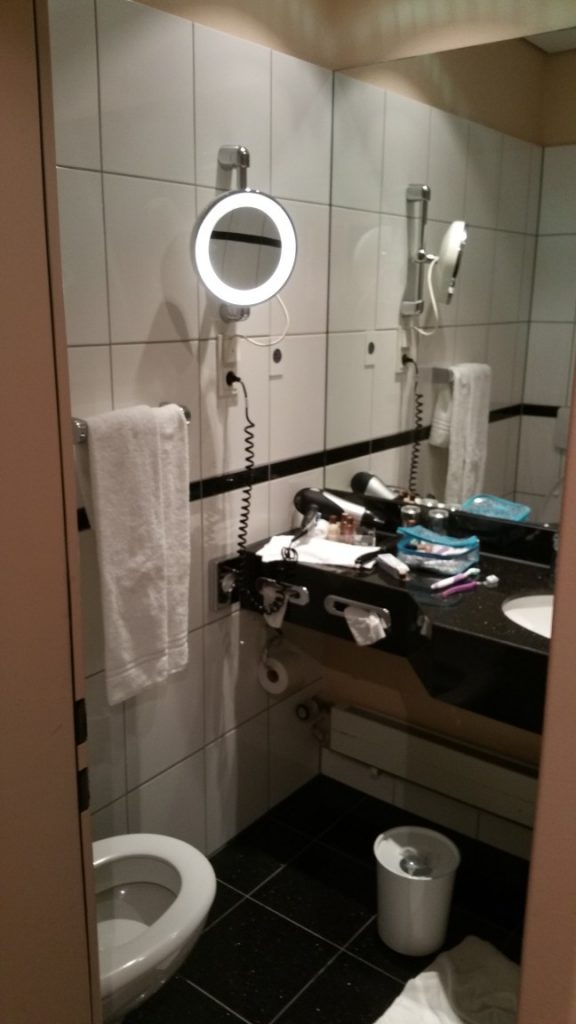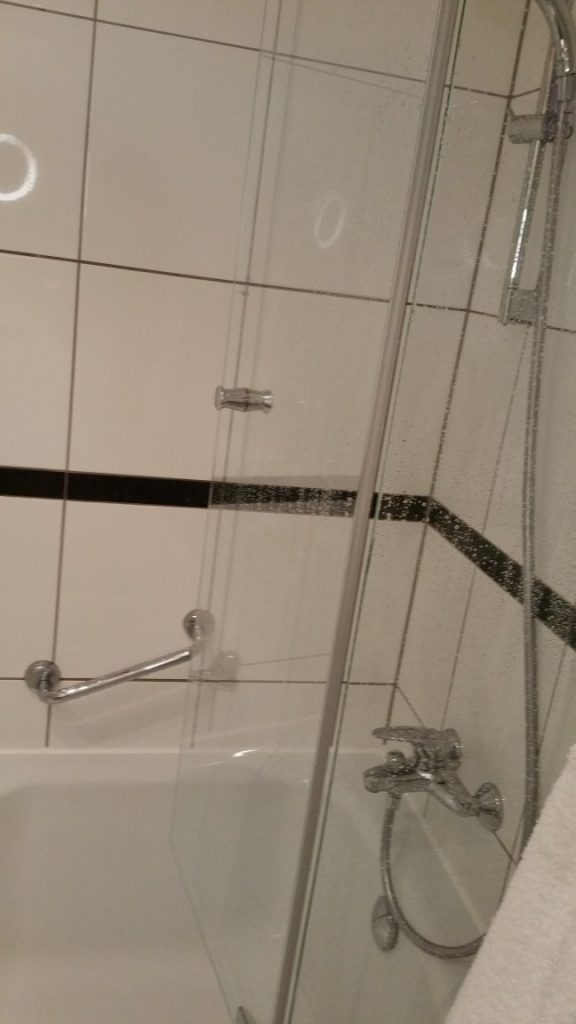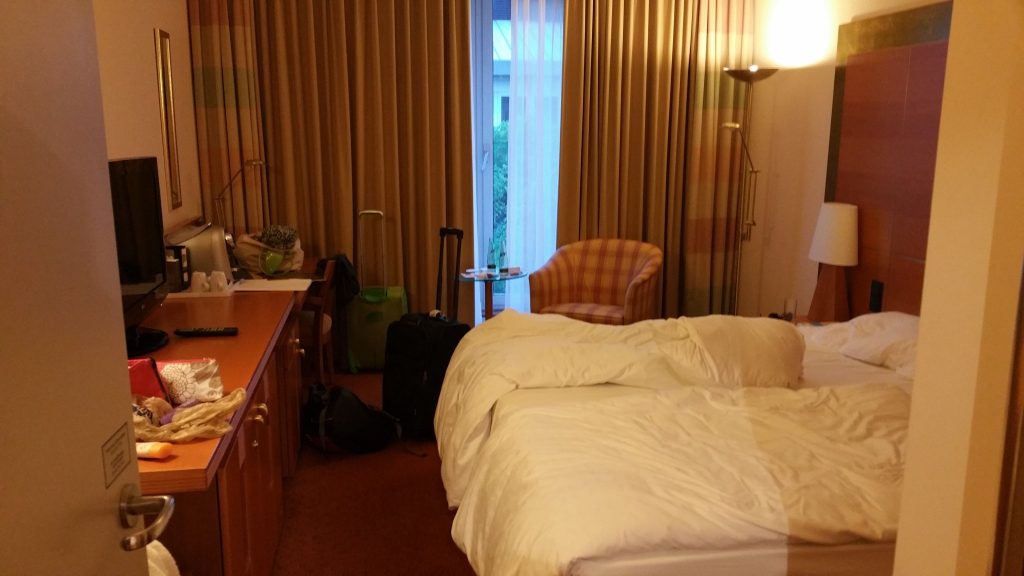 I always enjoyed the open feel of the Dusseldorf airport.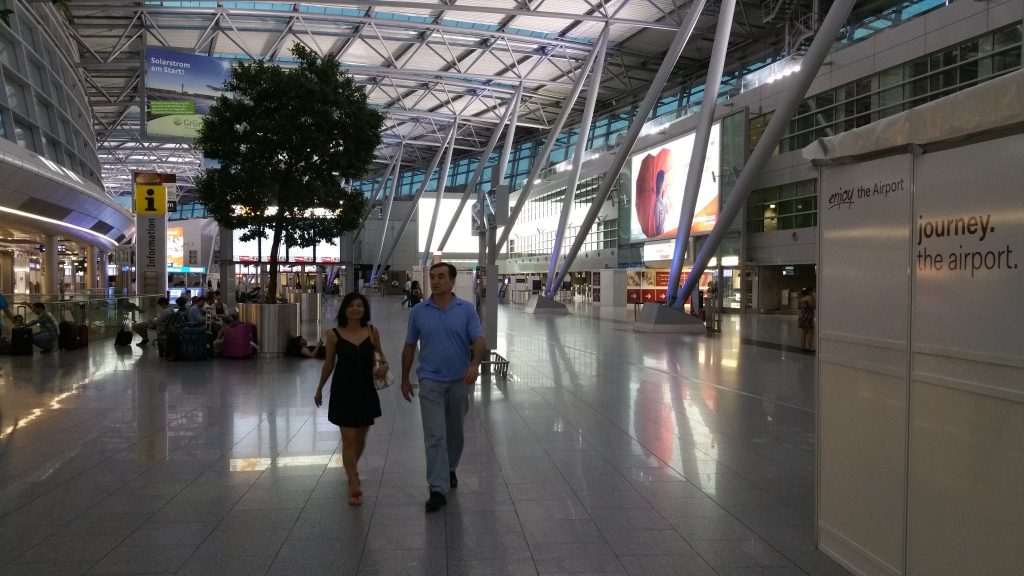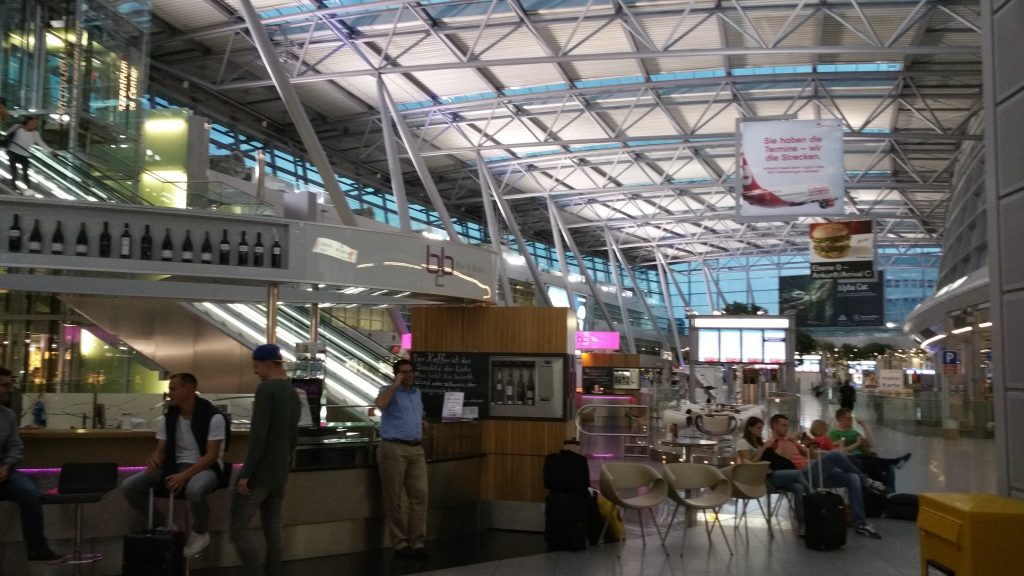 It has plenty of eating establishment choices as well. We hunted for something to eat.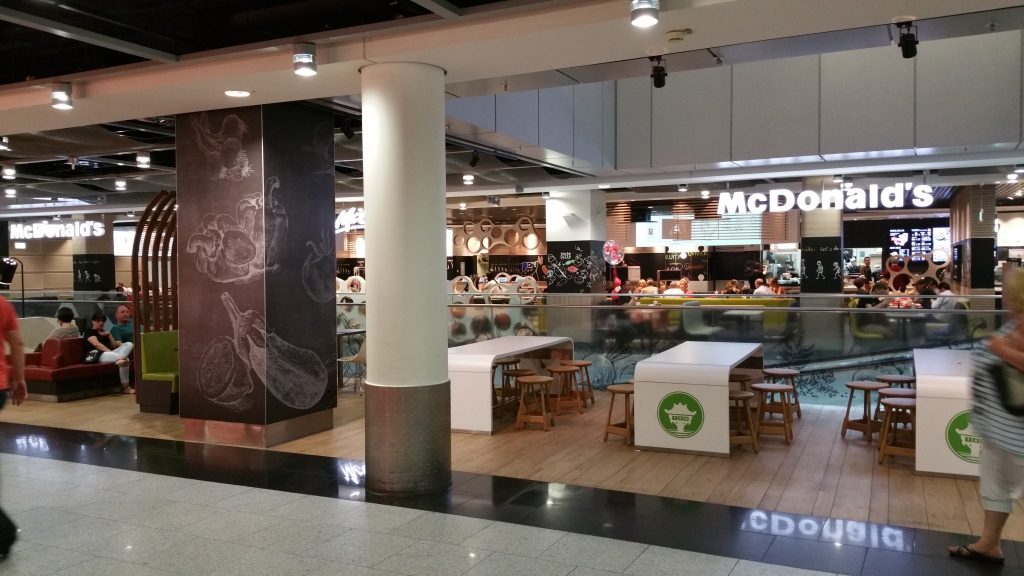 Mrs. TBB saw an Asian option. It will be a long time before she saw another one so she went at it!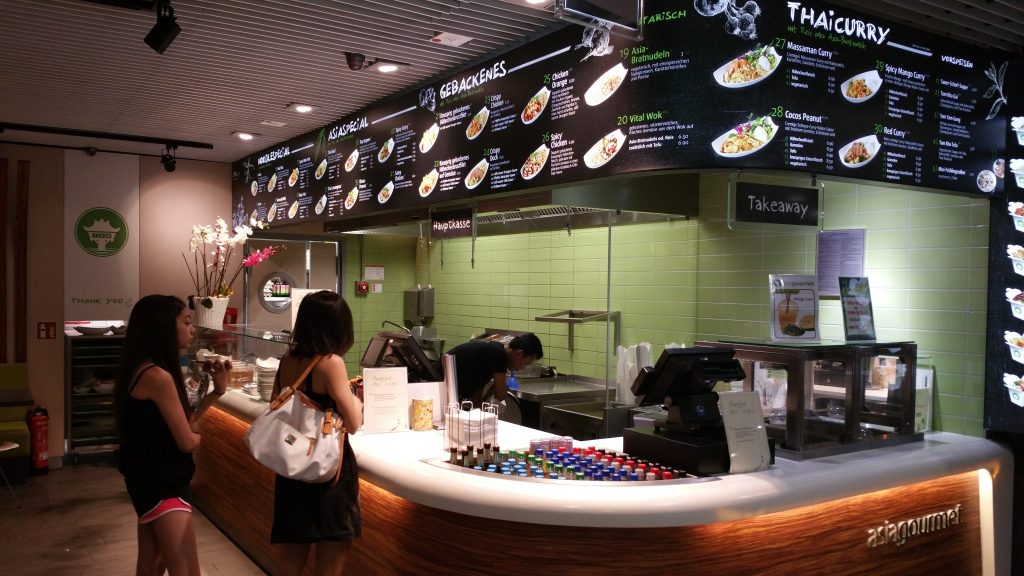 They wanted a picture with Chanel and Dior in the background. Don't ask!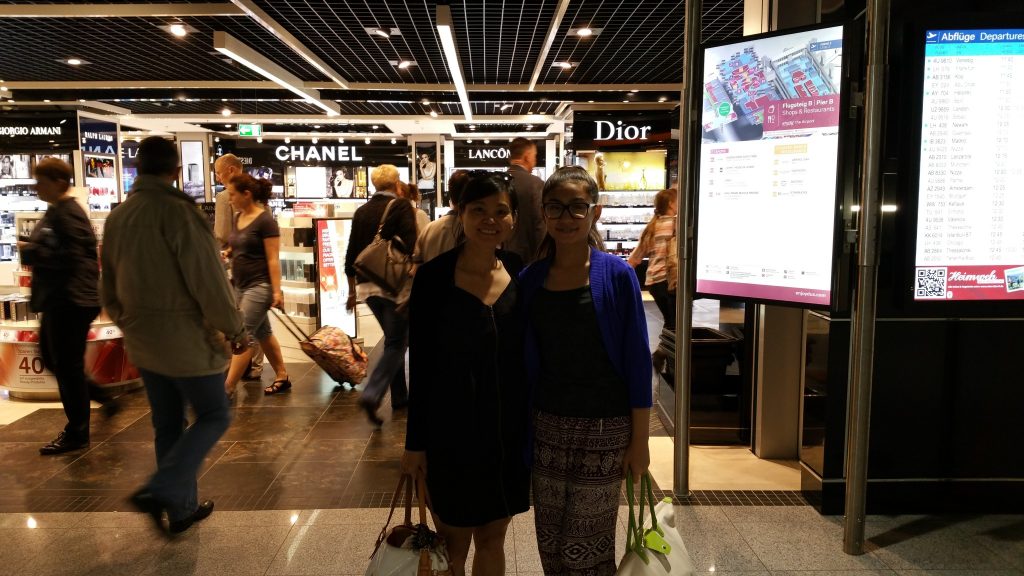 At our gate waiting to board this flight.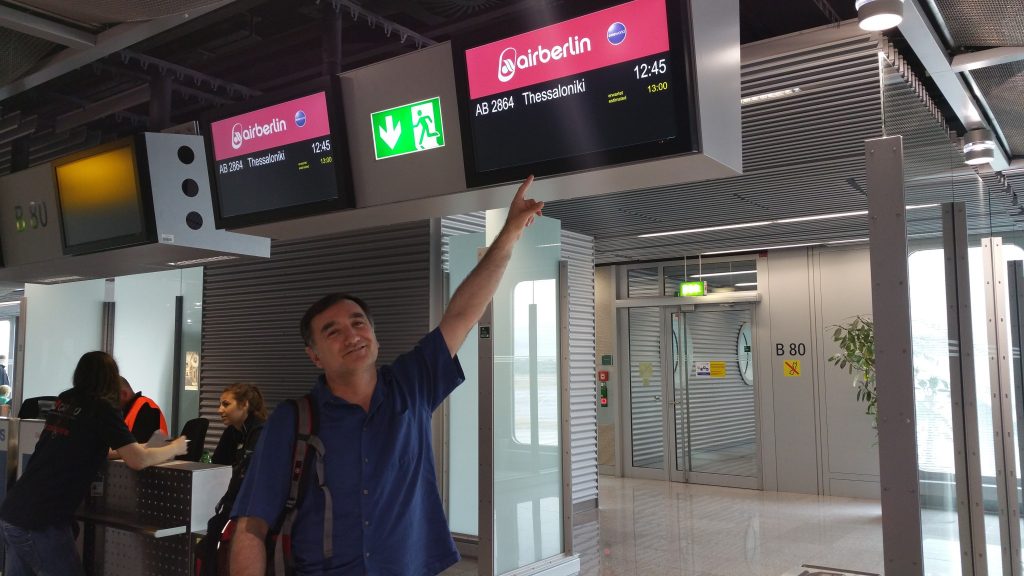 Airport entertainment I guess.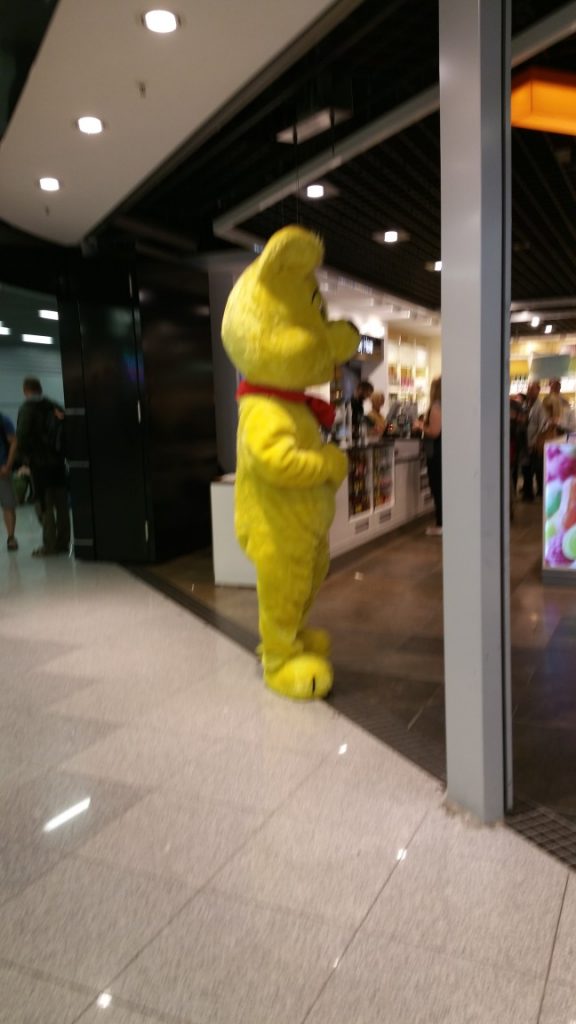 This bird will take us to Greece!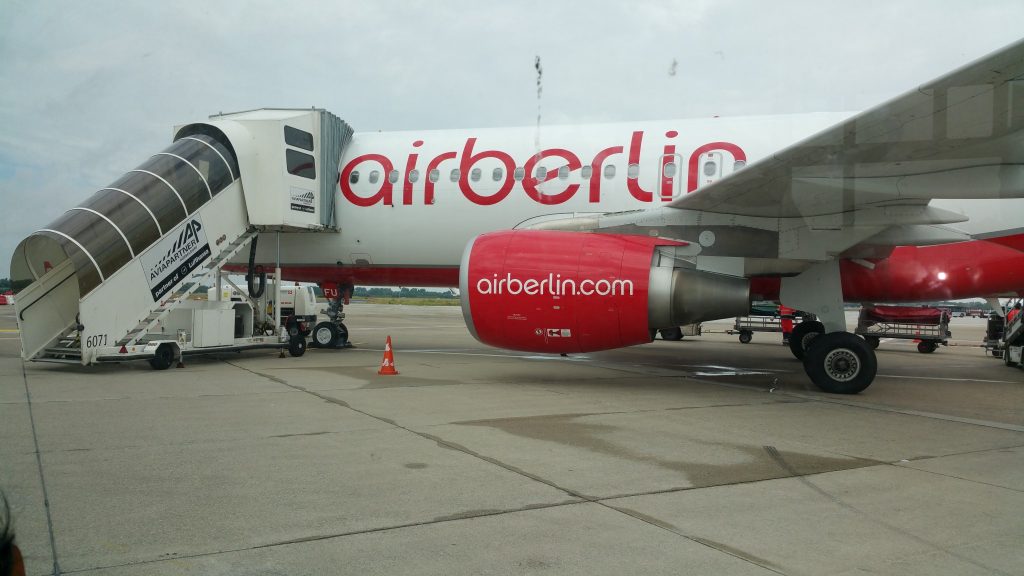 Darn it, I wanted Air Berlin to be in the picture. Oh well…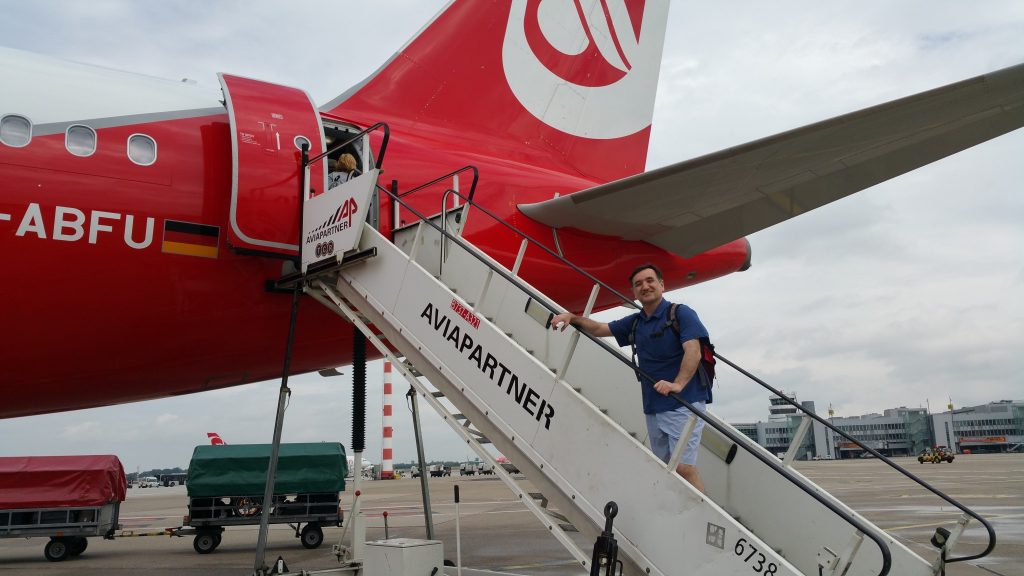 Welcome to Thessaloniki in northern Greece. Airport code is SKG. Small, nice airport.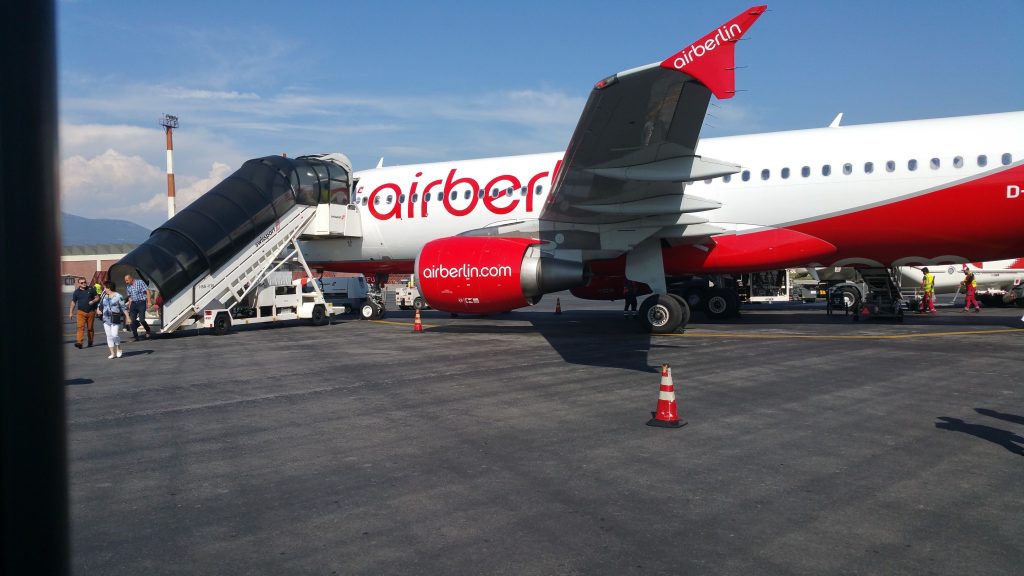 As usual, every time I go through this airport I try to stay at my favorite Greek hotel, the Thessaloniki Hyatt. I did a review of it some time ago and you can find it HERE. We usually get picked up and driven by a nice Mercedes Benz to the property which is less than 10 minutes away.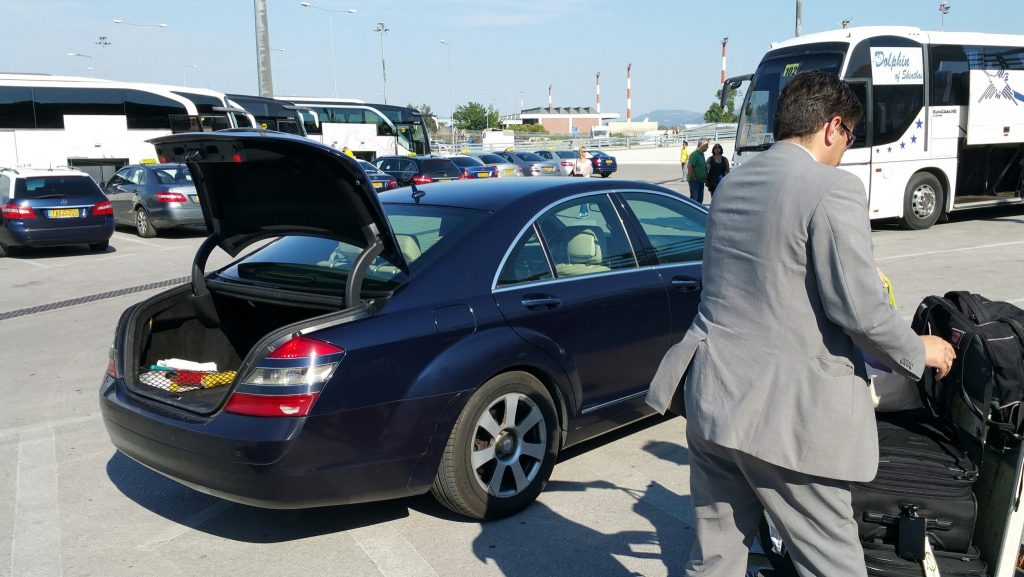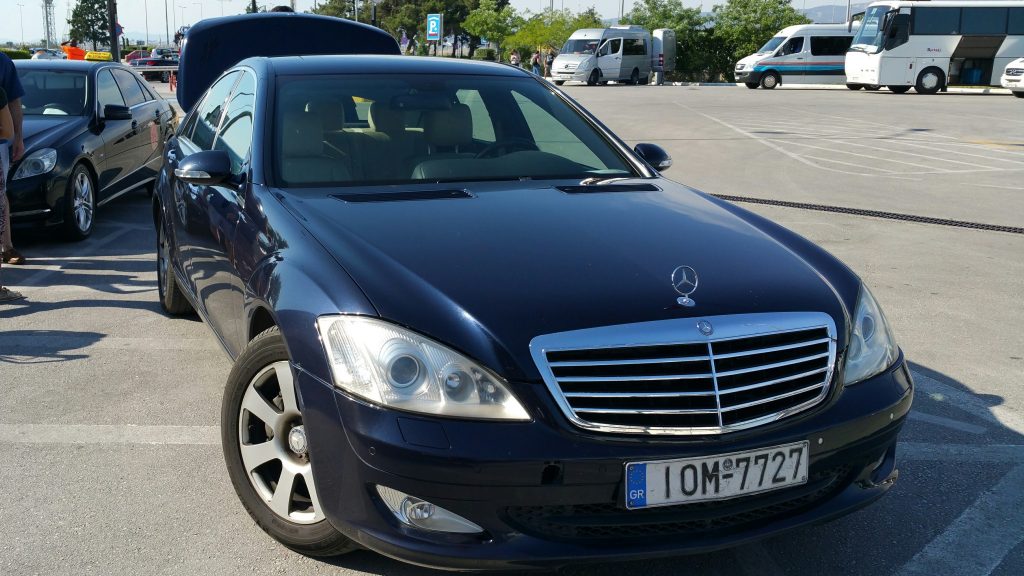 Checking in, here I am utilizing my natural charm and techniques from years of experience 🙂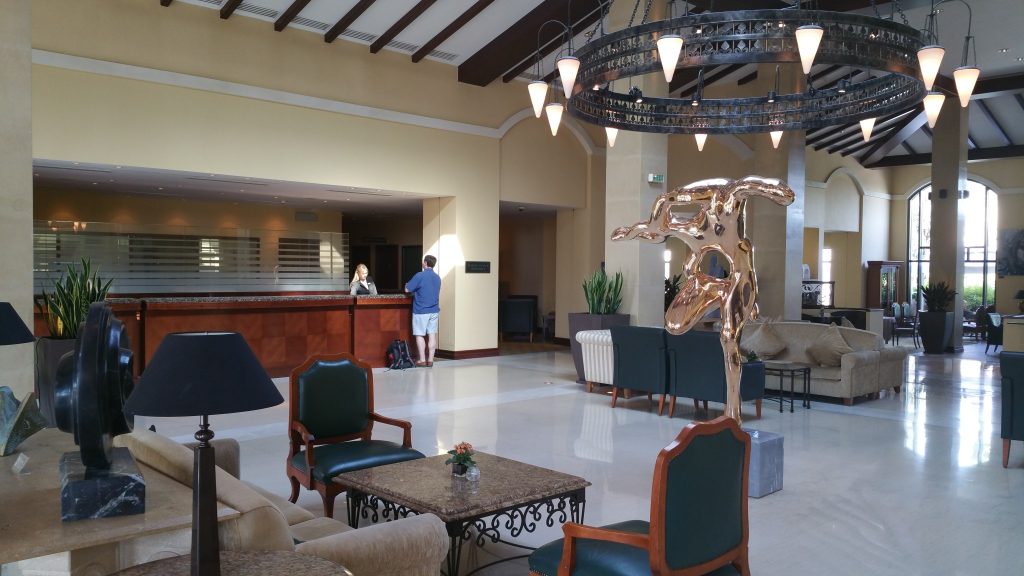 The lobby, open feel, very nice. One year I stayed here in late December. They had a band playing jazz right under that red painting. And wine happy hour. Thank the Lord my room was very close woohoo!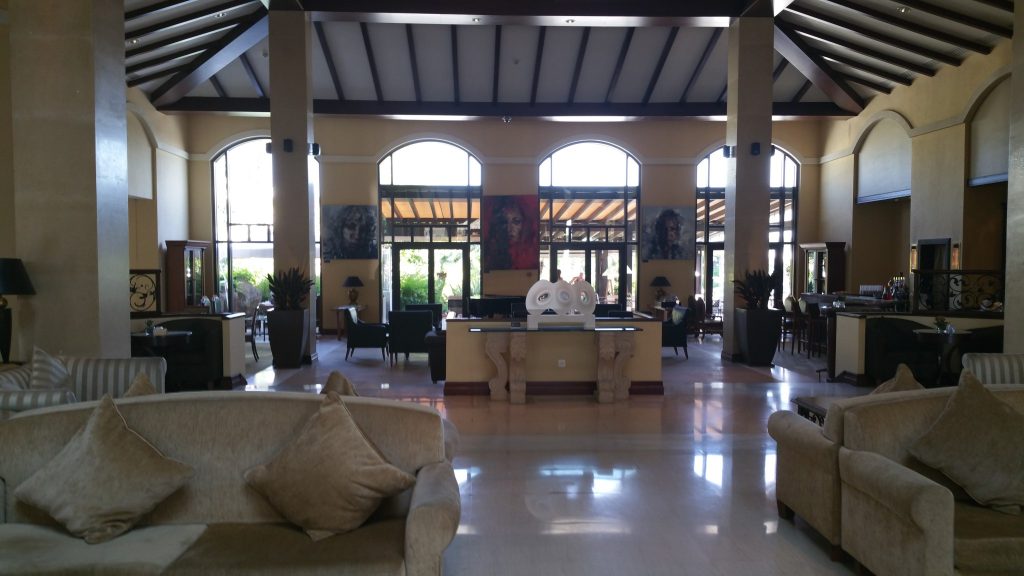 Every room is big! We got a suite this time. Remember, we are not Diamonds, just lowly Platinum!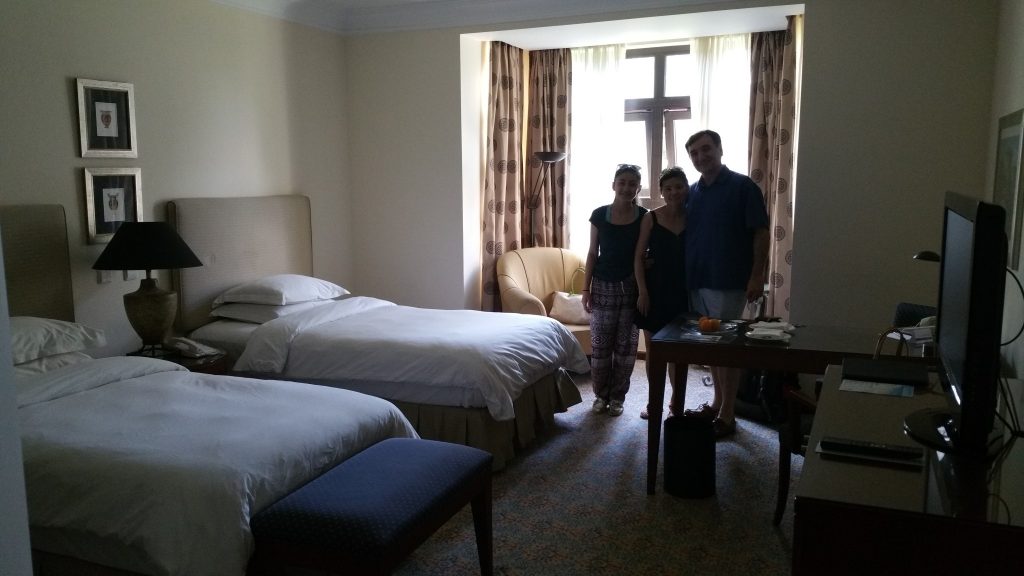 The view from our balcony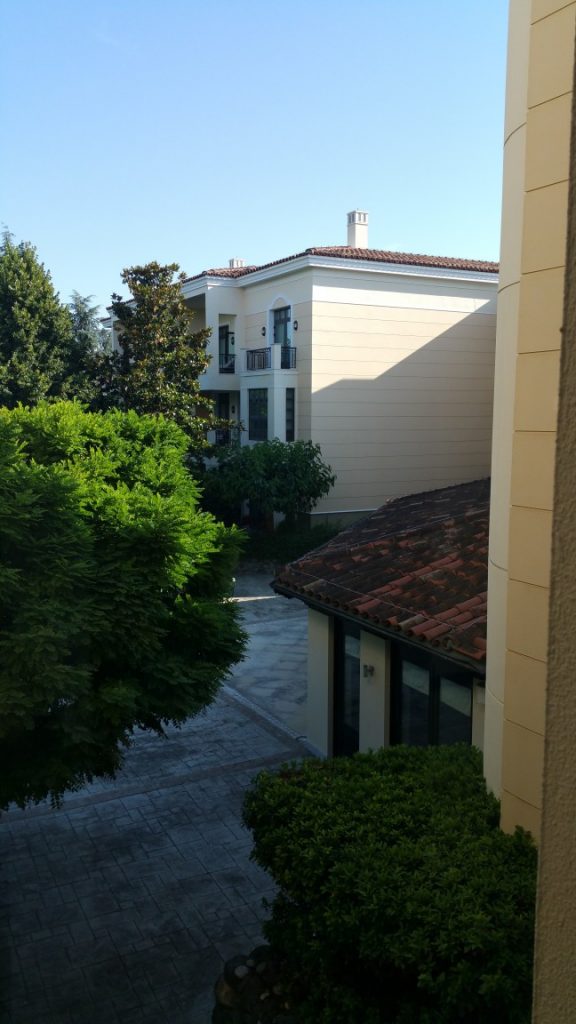 And the view from the other side of the balcony, oh the lovely pool ahead!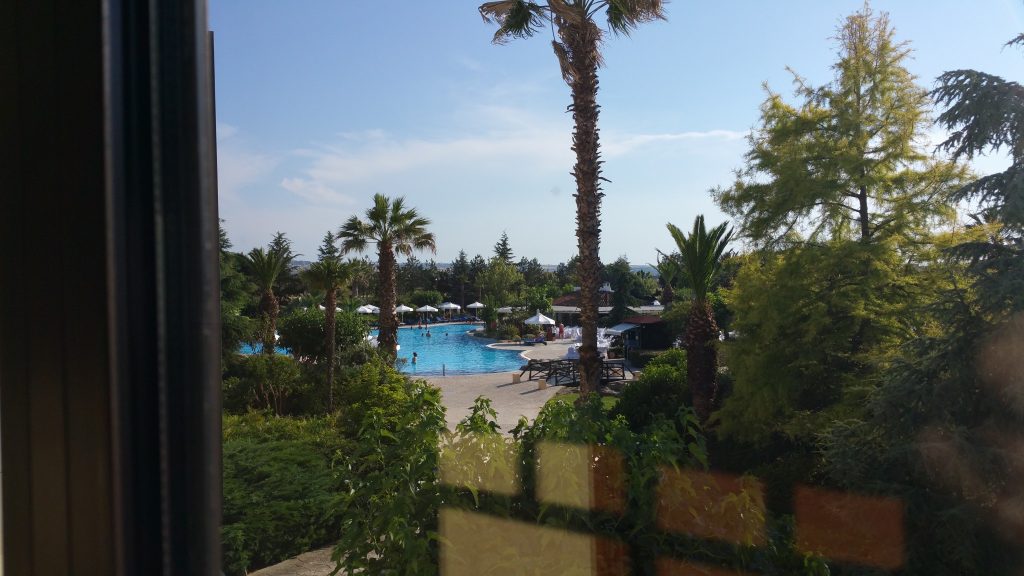 Very well kept grounds. It's a little gem!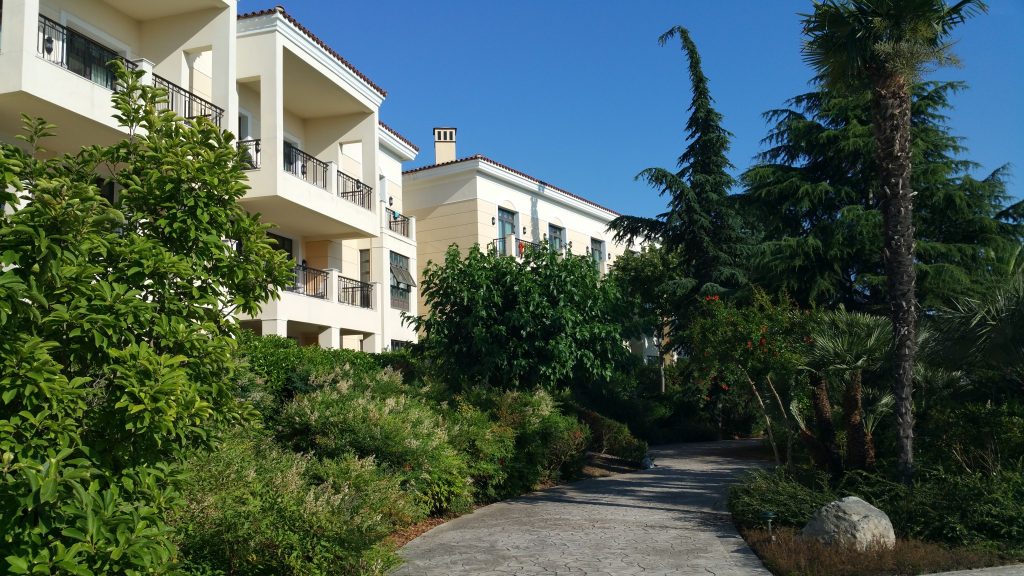 Oh, the waterfalls. Like I said…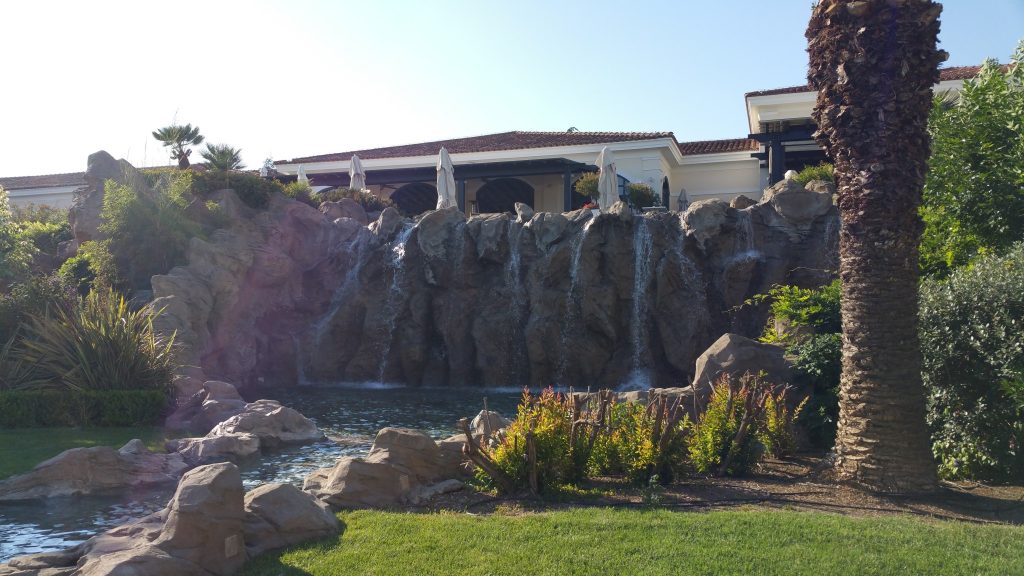 Beautiful and large swimming pool. Always great service as well.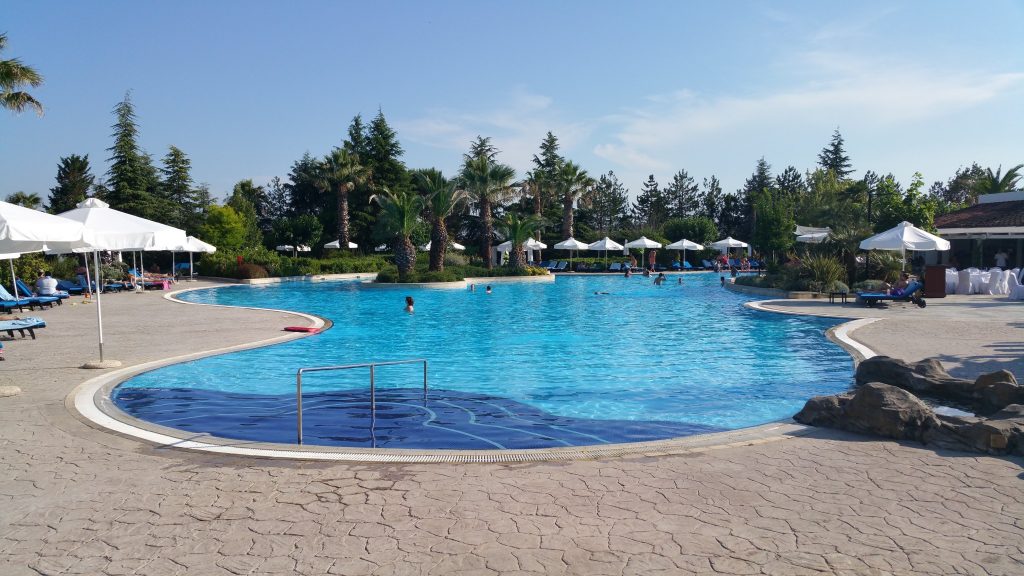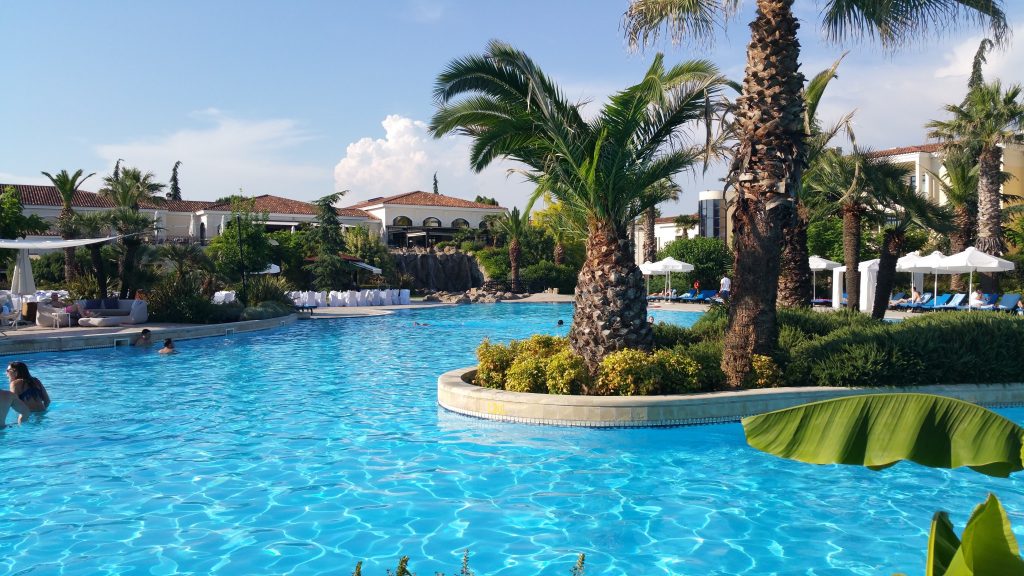 I continue the tradition of never wearing sunglasses. Obviously, my kids did not get this gene…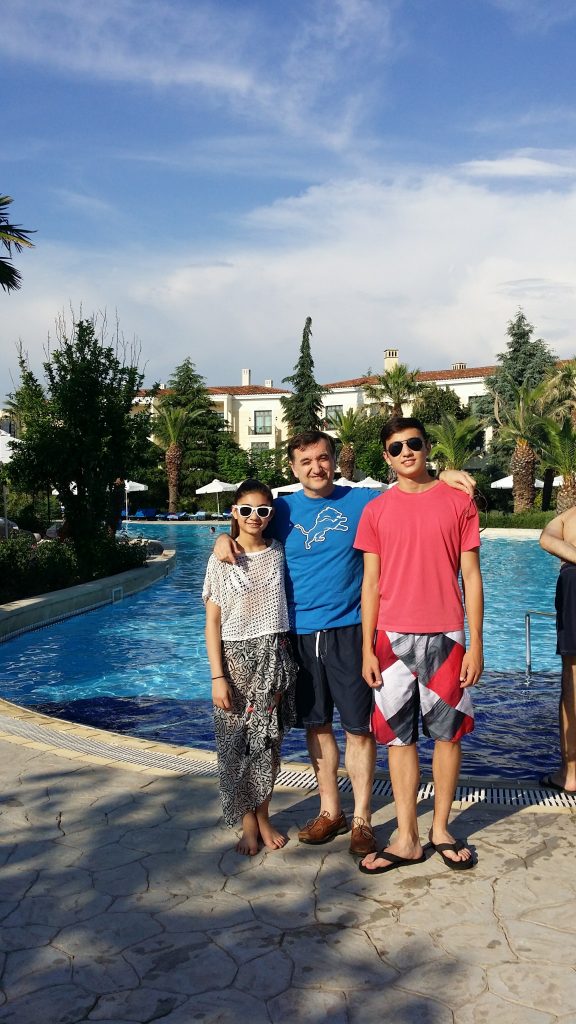 Nearby, there is one of the largest shopping malls in the Balkans. It's called, you guessed it, Cosmos which is "World" in Greek.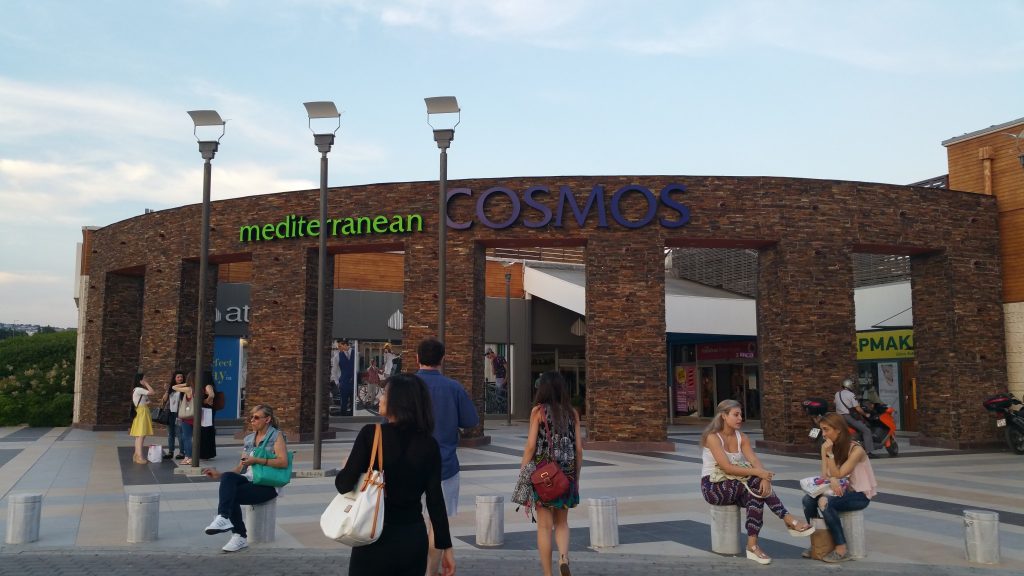 Best street food in Greece: gyros. It's even getting more popular as the economic crisis keeps rolling along and people do not have enough money to eat something more expensive. Gyros is always cheap AND good!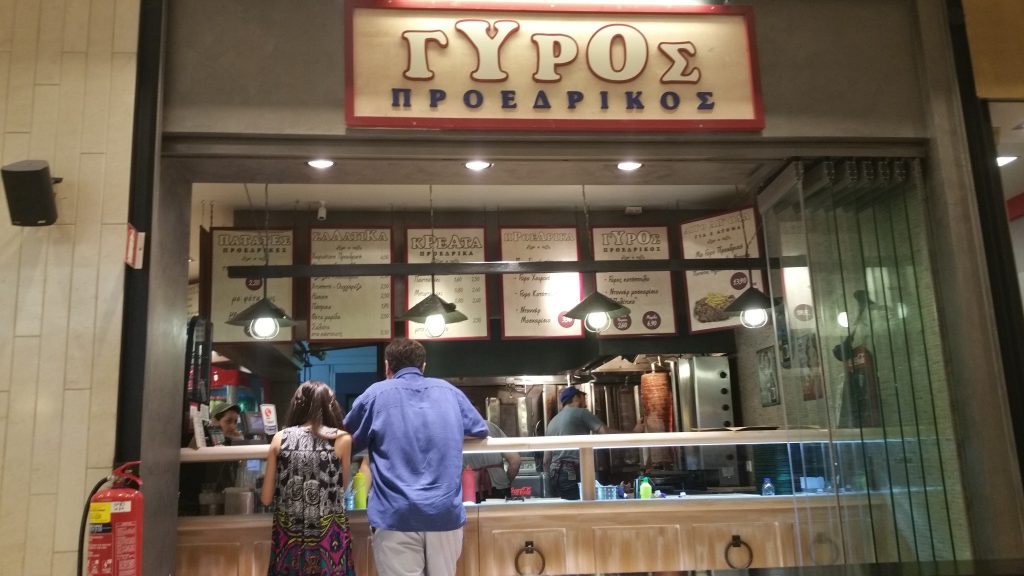 I love them!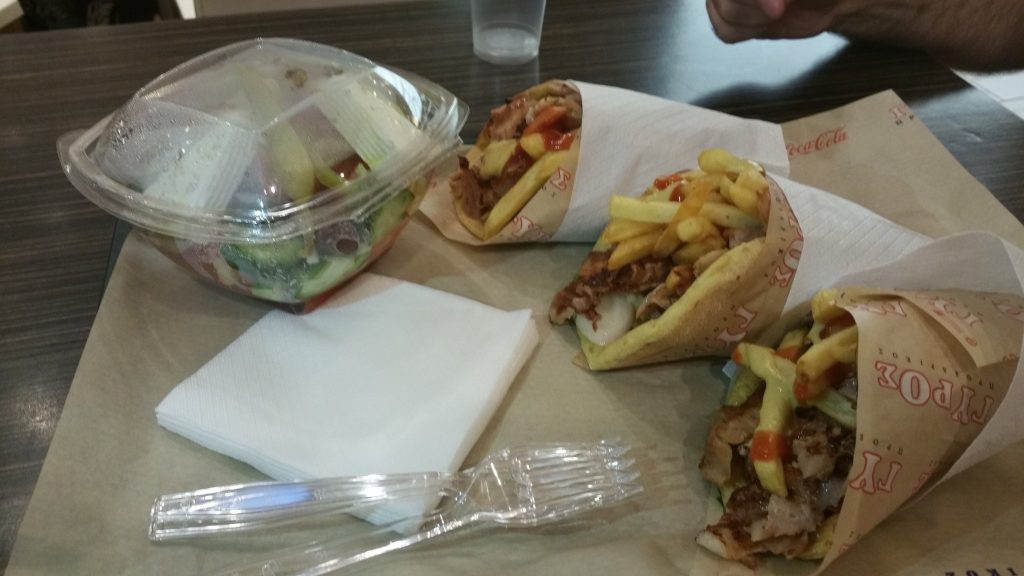 Outdoor entertainment, beautiful summer night.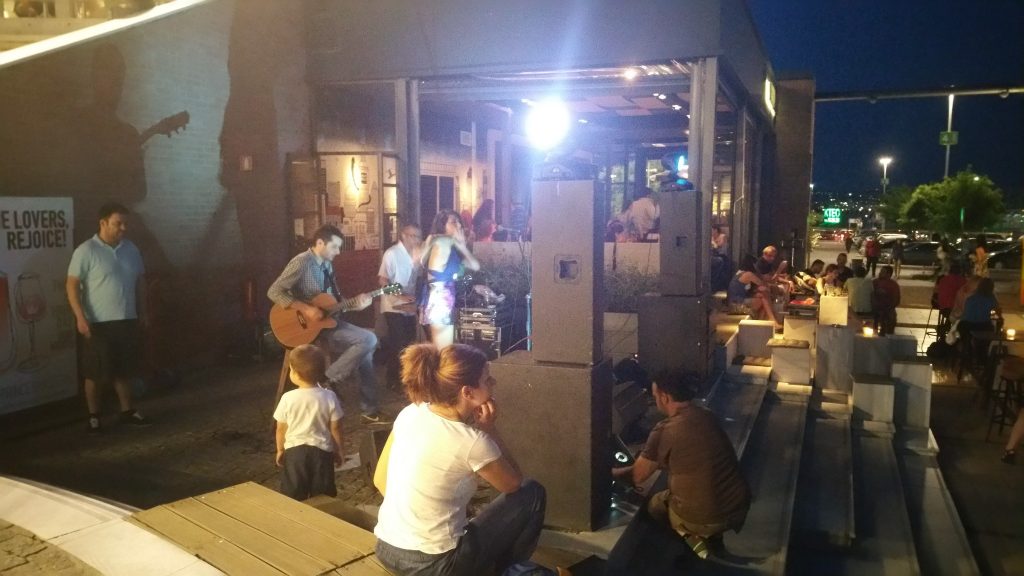 And the frape coffee, another Greek staple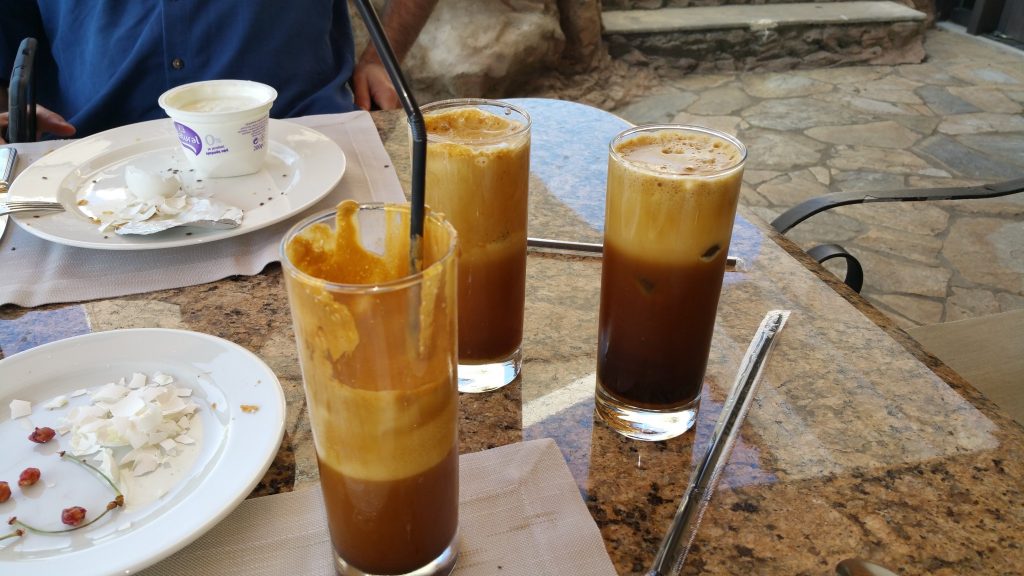 We slept very well and then we went for breakfast (included).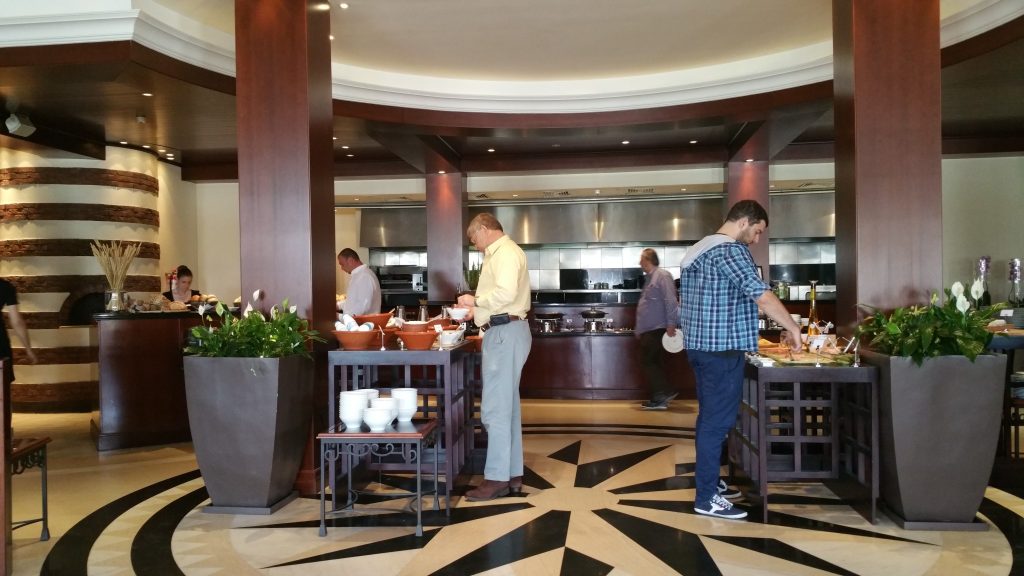 Excellent selection. I 've had better I must admit but very good overall.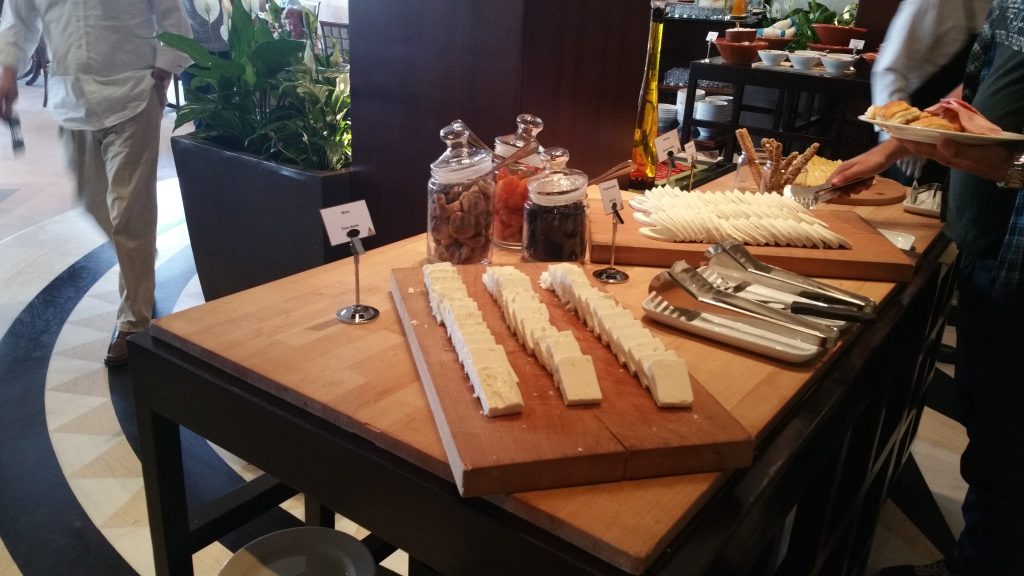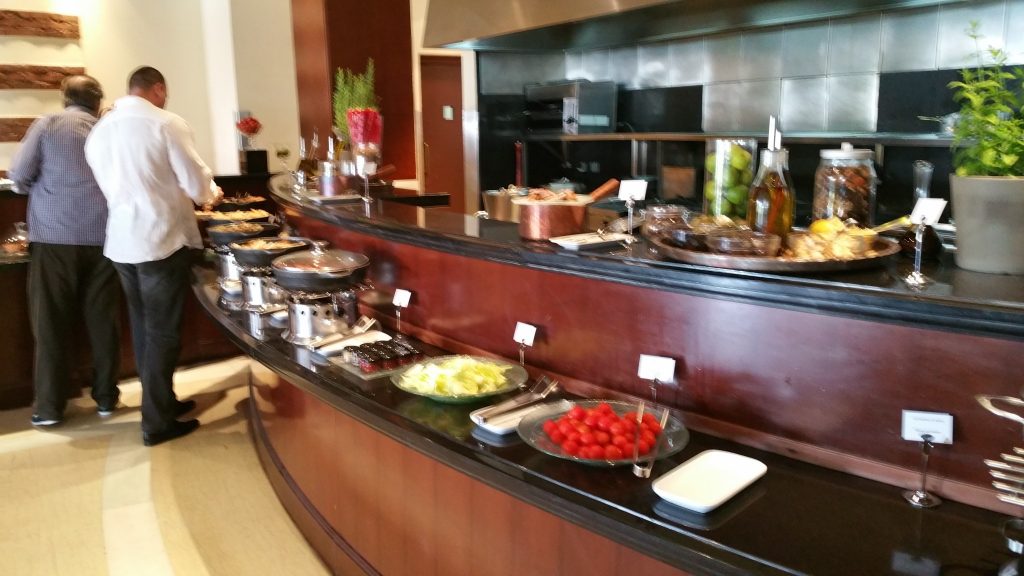 You could sit outside but it was too hot so we stayed inside with the A/C going!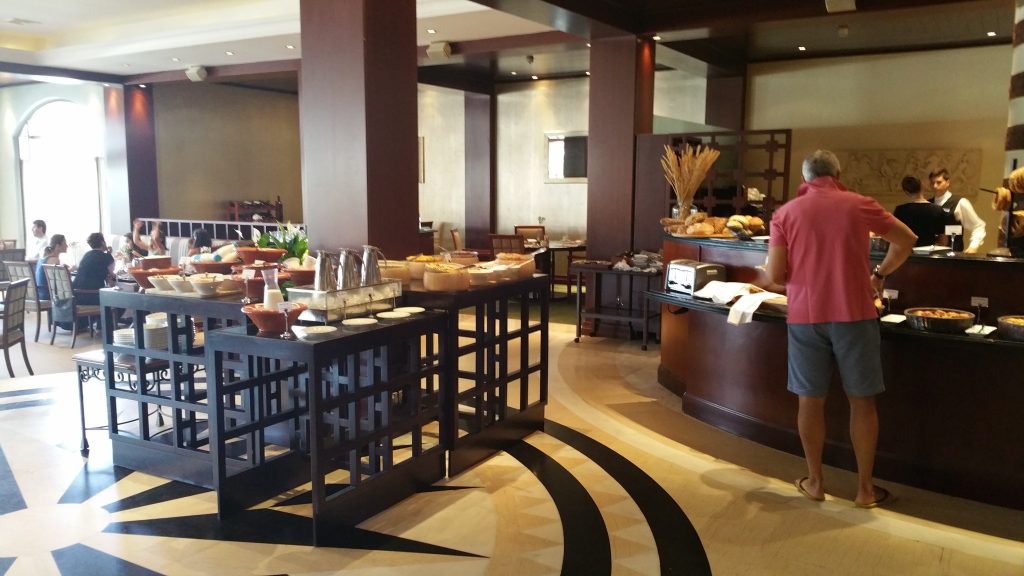 We were driven back to the airport and then I went downstairs to the Avis Rent a car office. I had reserved an Intermediate car for a base rate of $476.24. After all fees & taxes it worked out to be $657.69 for 14 days. I used a discount code I found somewhere. And of course I booked as "Avis First" all along aiming for the upgrade I was entitled to.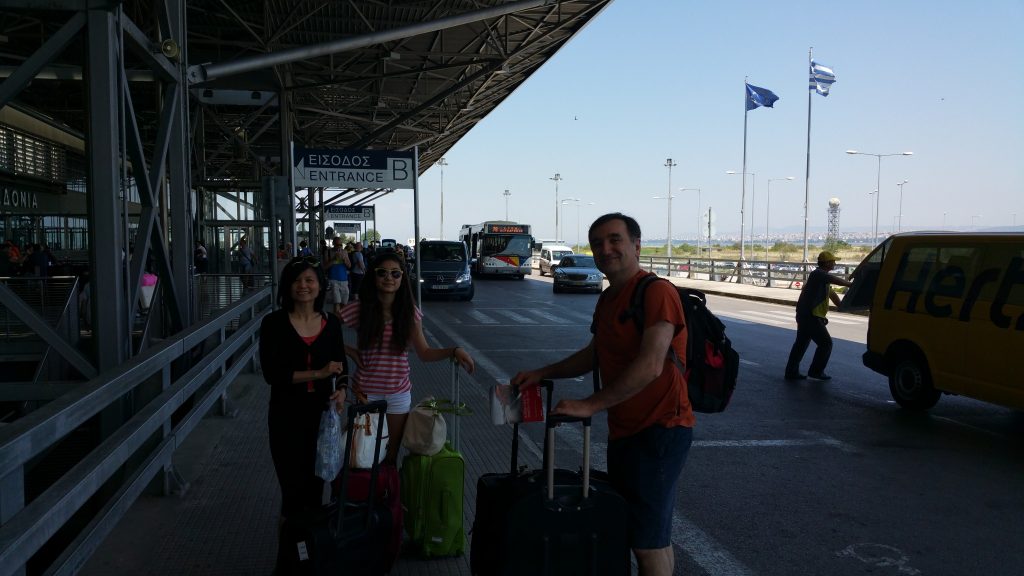 "Would you like a Mercedes?" YES I said screamed before she even finished! The plan all along was to pay with my Barclay Arrival card to get it reimbursed but at the last moment I had a change of heart and used my Fairmont Visa for the primary insurance benefit. You know, things happen and I felt I had everything else pretty much taken care of so it was okay to pay out of pocket once!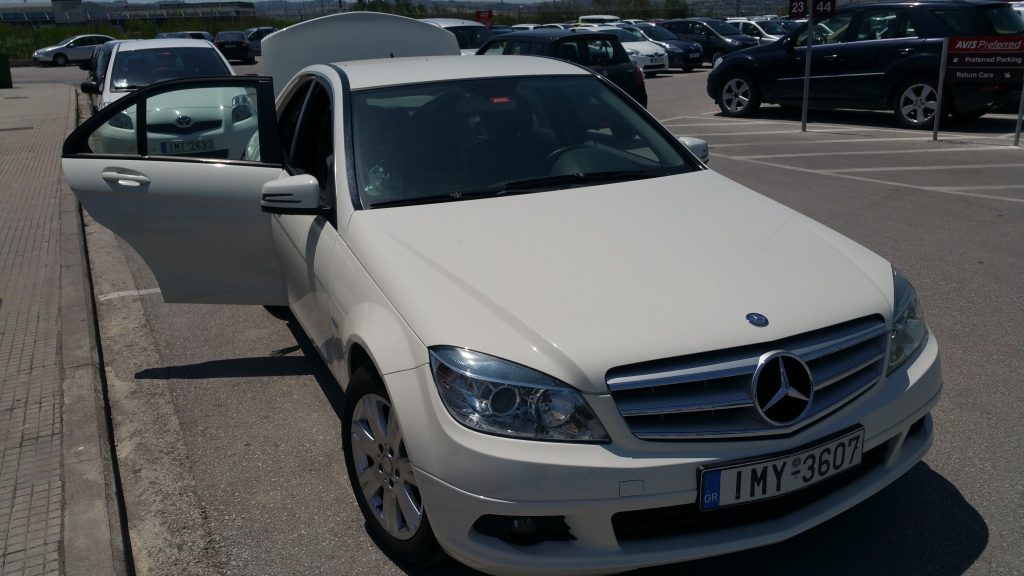 We then got on the road to my hometown Larissa. You can see the city written with one "s" as well. It's fine either way.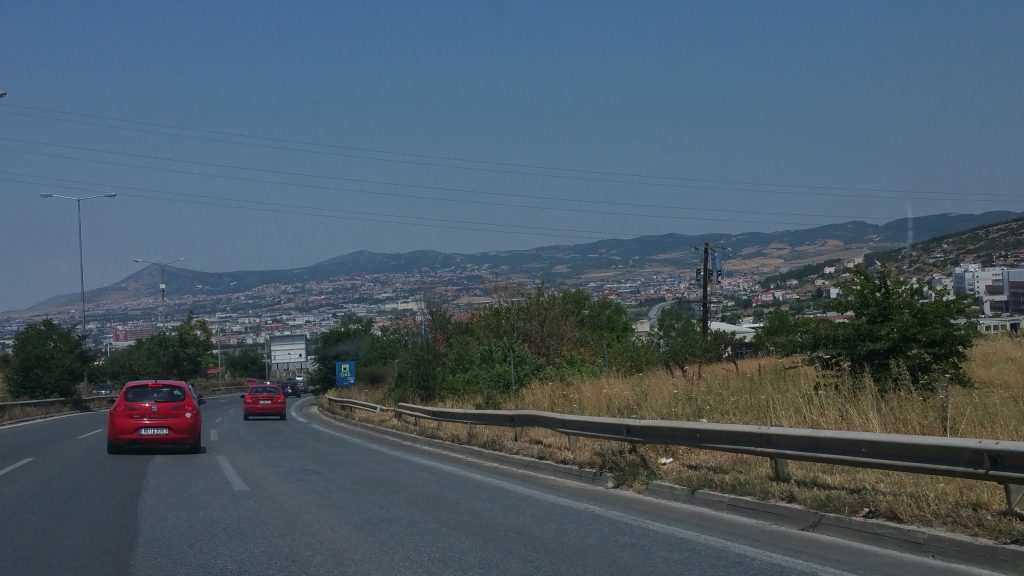 It's a nice 2 hour drive south from Thessaloniki. Nice roads now, thanks European Union!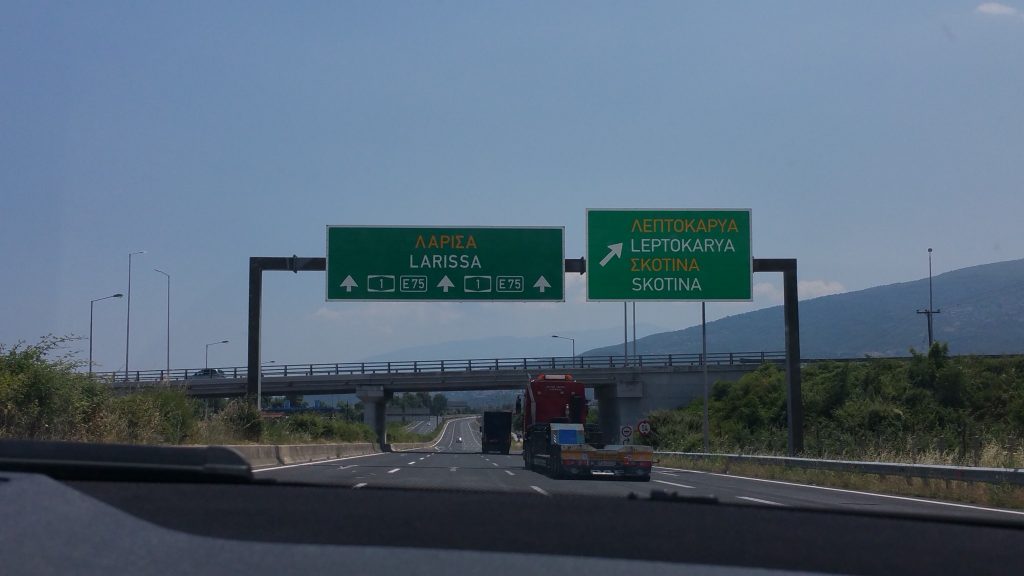 Driving by the Platamonas castle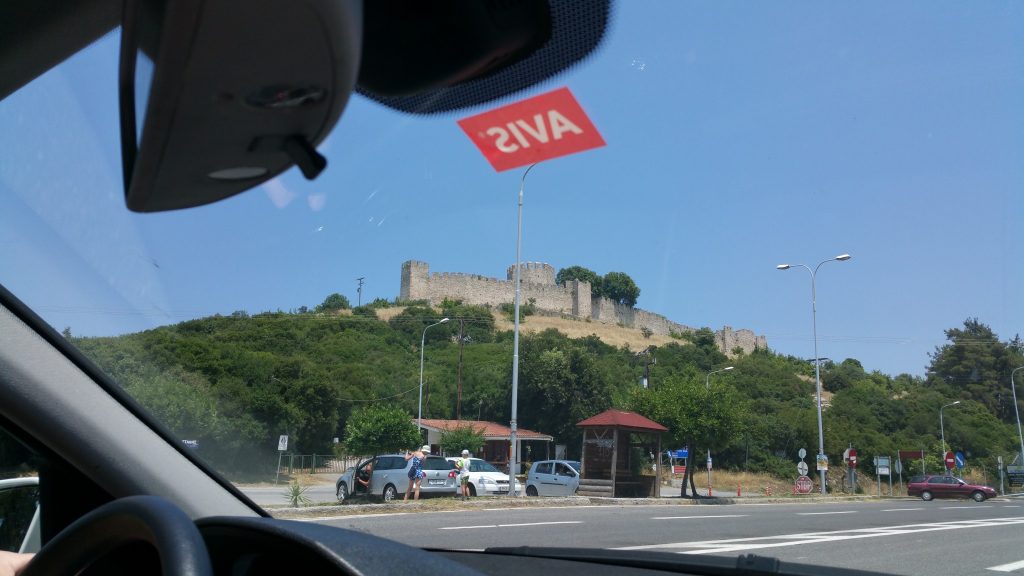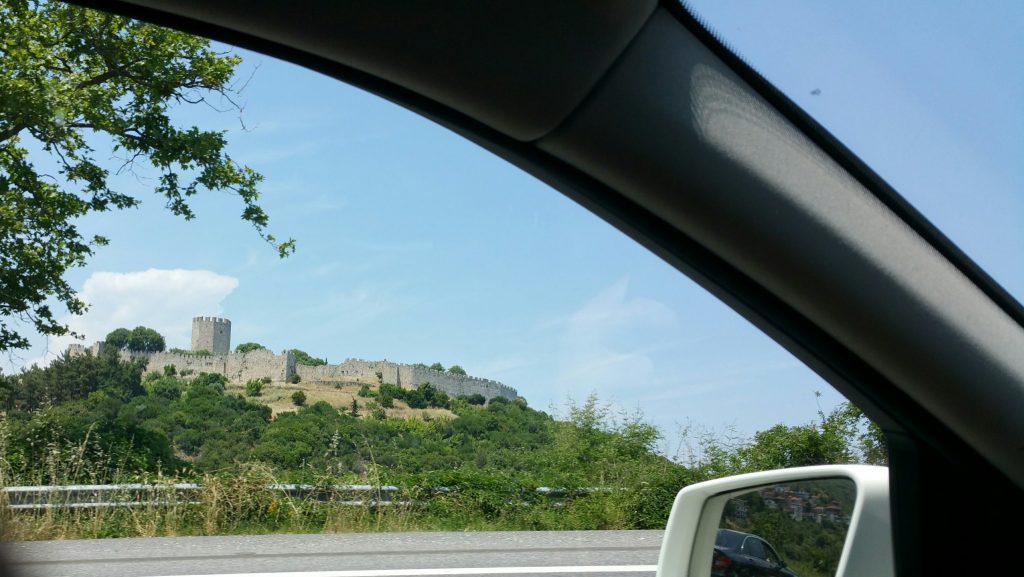 The roads take us through the Valley of Tempi Always kind of scare driving through there as rocks have come down suddenly and crashed cars! And it gets very busy in the summer weekends with people from the city escaping to the beaches near this place.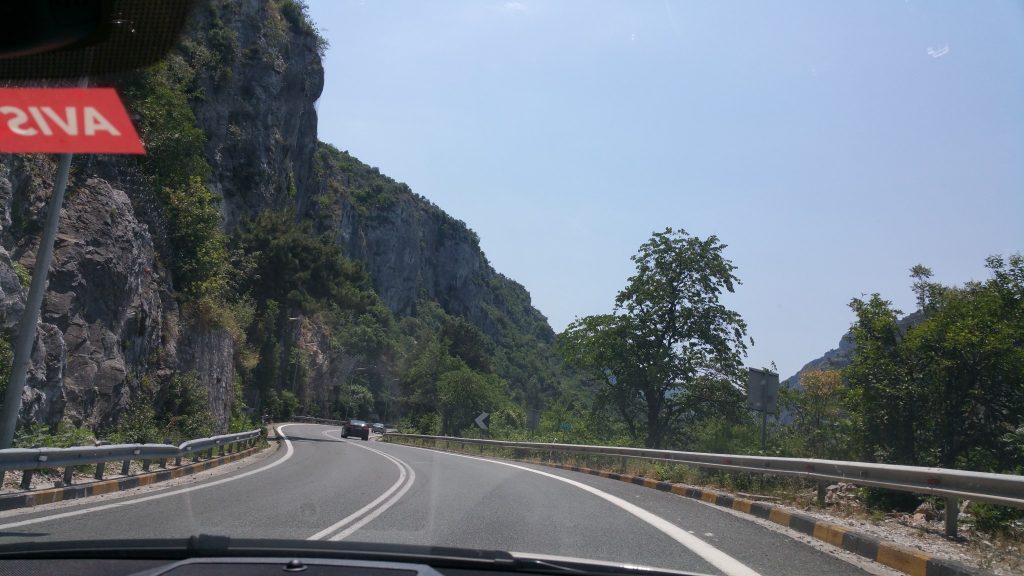 So, for many many years they have been working on a tunnel cutting through the mountain rocks bypassing the crazy roads through the valley. It is almost ready. In Greece, everything is…almost ready.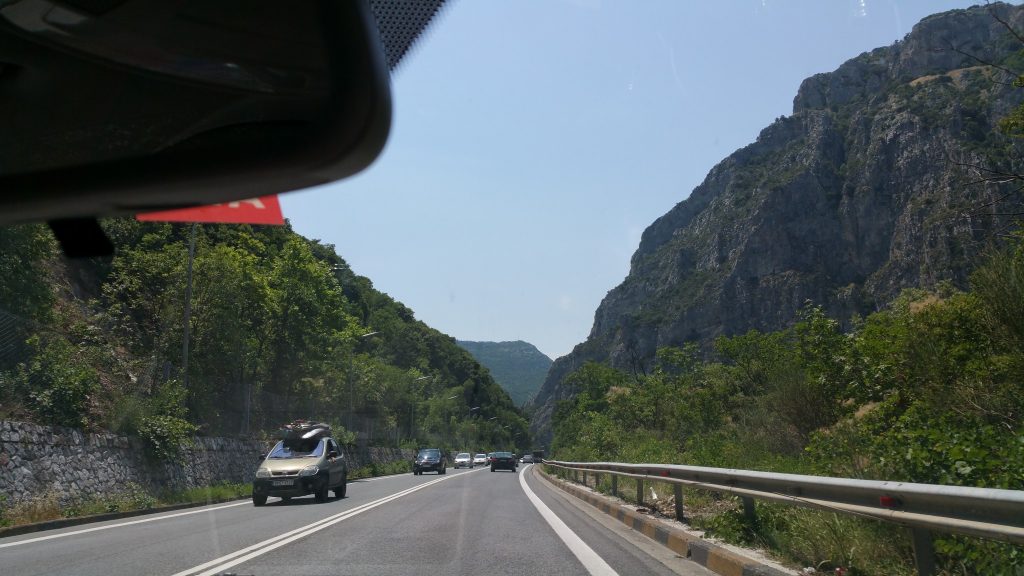 We arrived safe and well in Larissa. Some shots around the city. With economy in free fall, it never fails to see construction of yet another church, wow.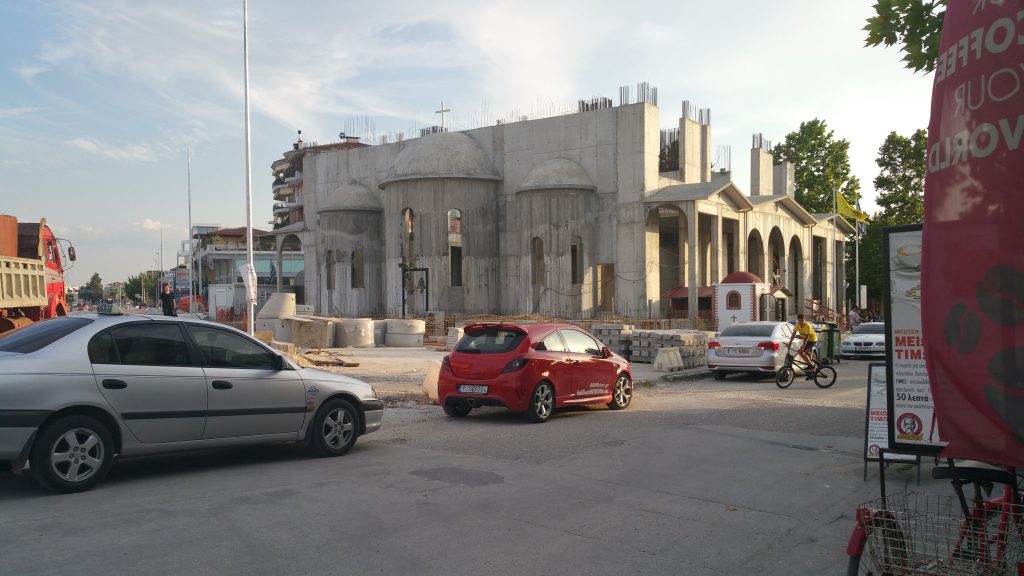 Family bonding time with coffee drinks at our favorite local coffee chain. The Panera of Greece lol.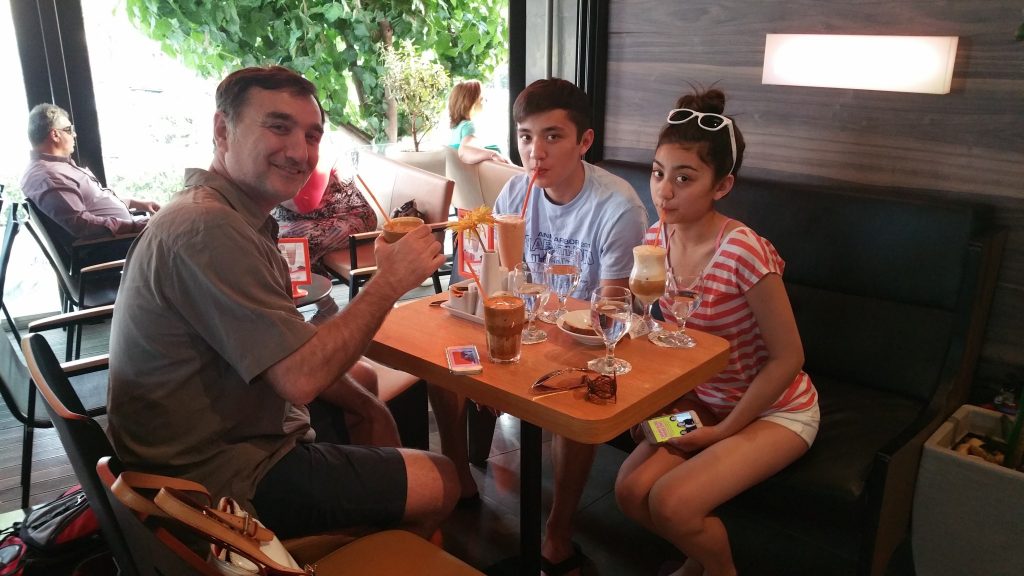 Frape time…again!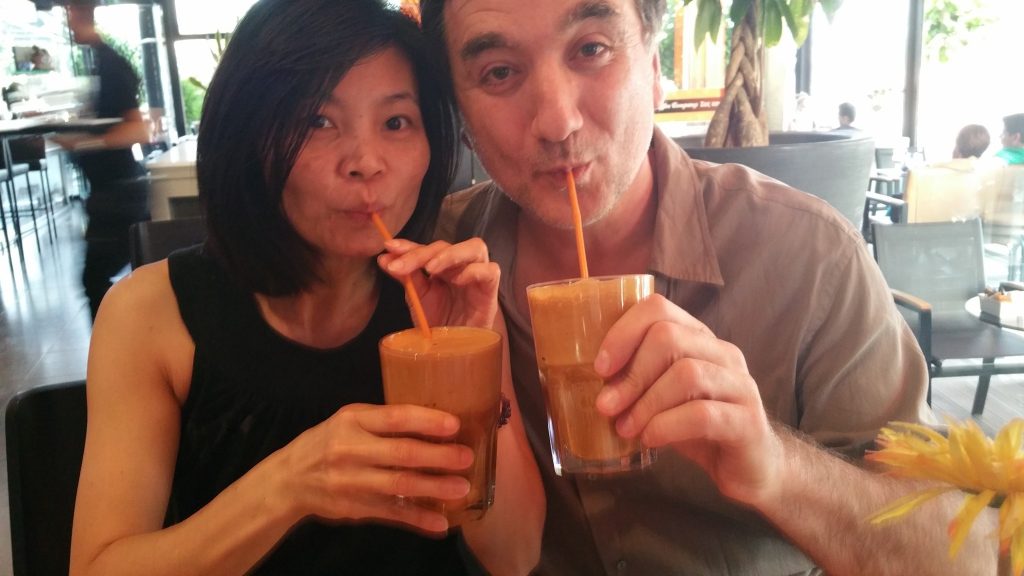 Strolling around the city at night, it's time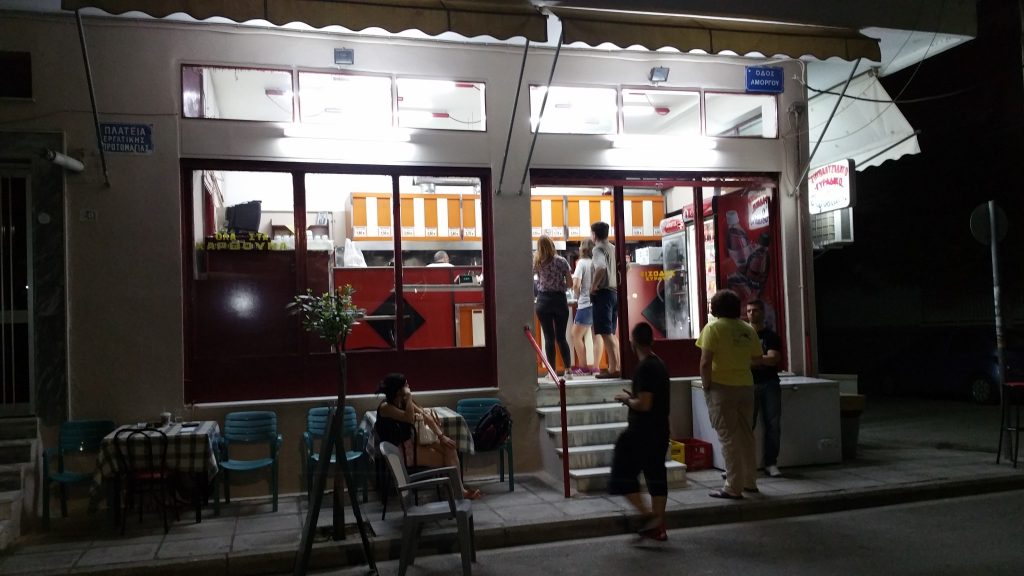 Yep, it's gyros time!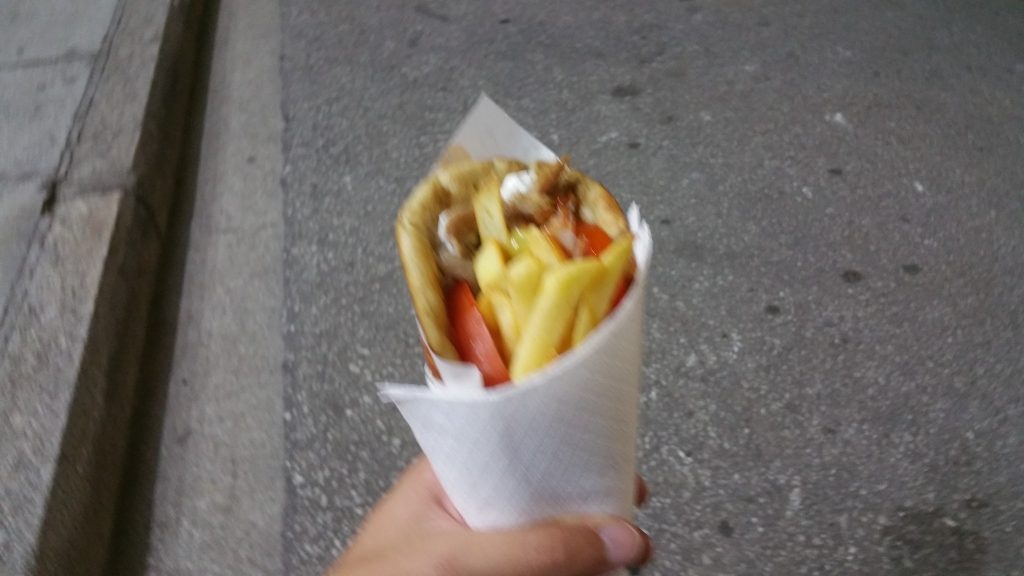 Hanging out with gyros in hand. Coolness!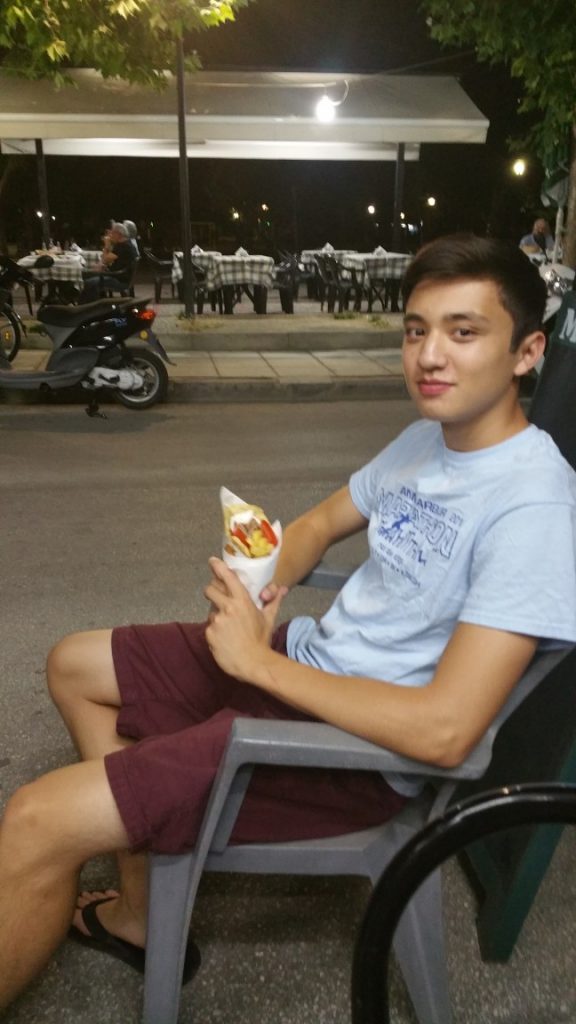 The chain is Mikel. Excellent coffee and service, try it out sometime if you are in Greece. They are expanding all over Greece. Cyprus too. "Motivation.Knowledge.Love"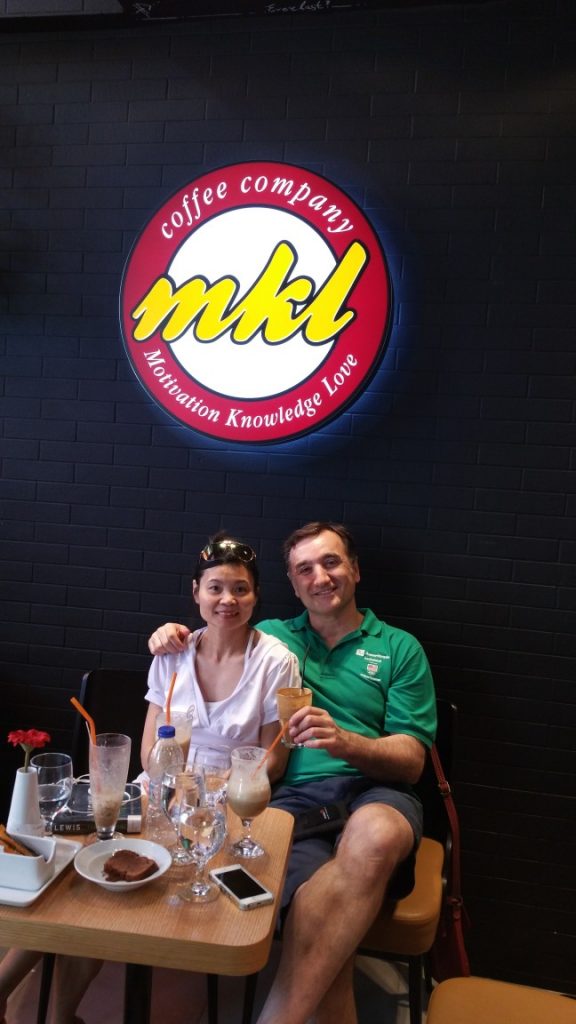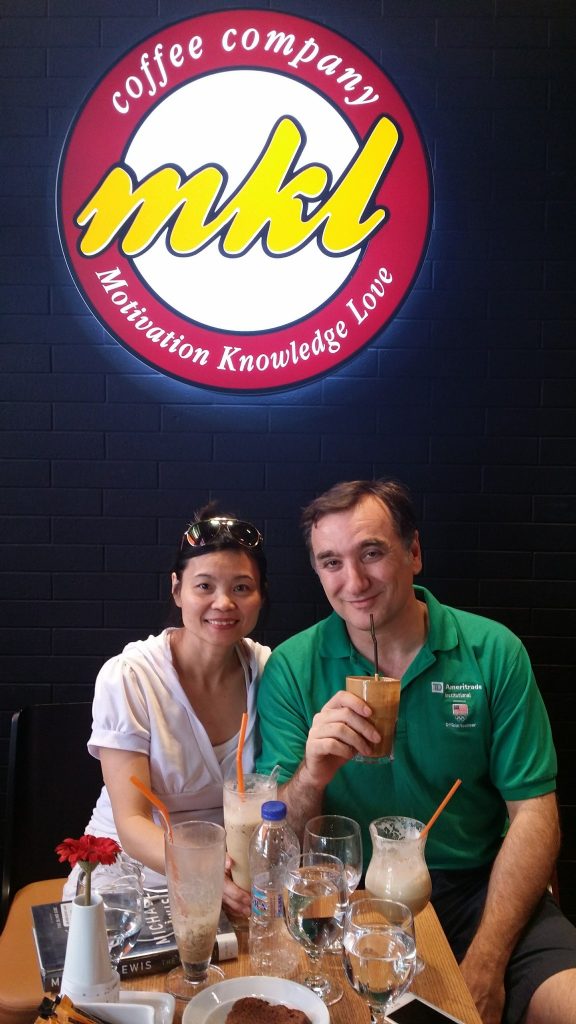 I will now take you around the streets I roamed as a kid. And I am going to show you some sights that it is still hard to believe they are real. Empty store fronts. Everywhere!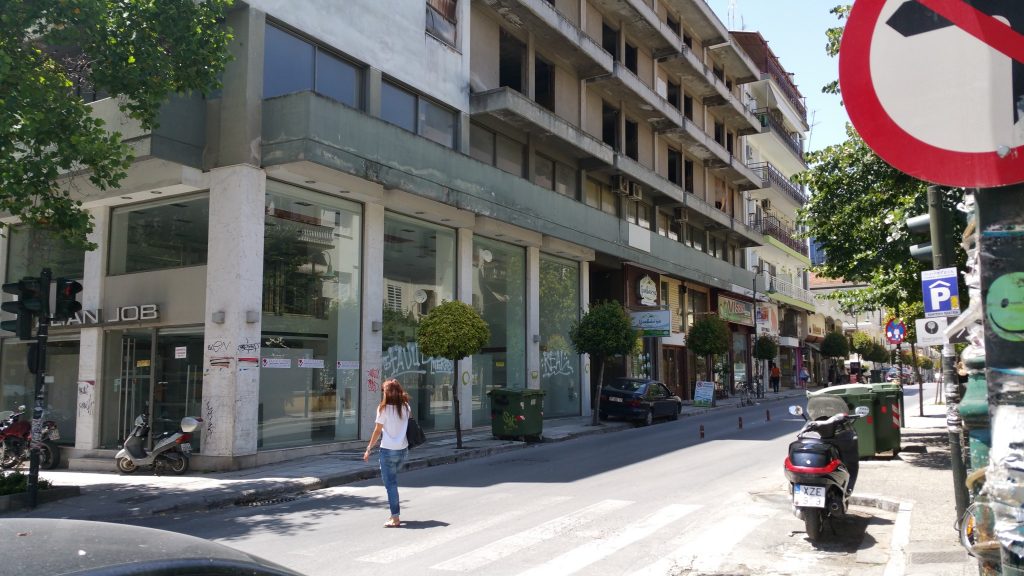 This is just off the central square near my old neighborhood.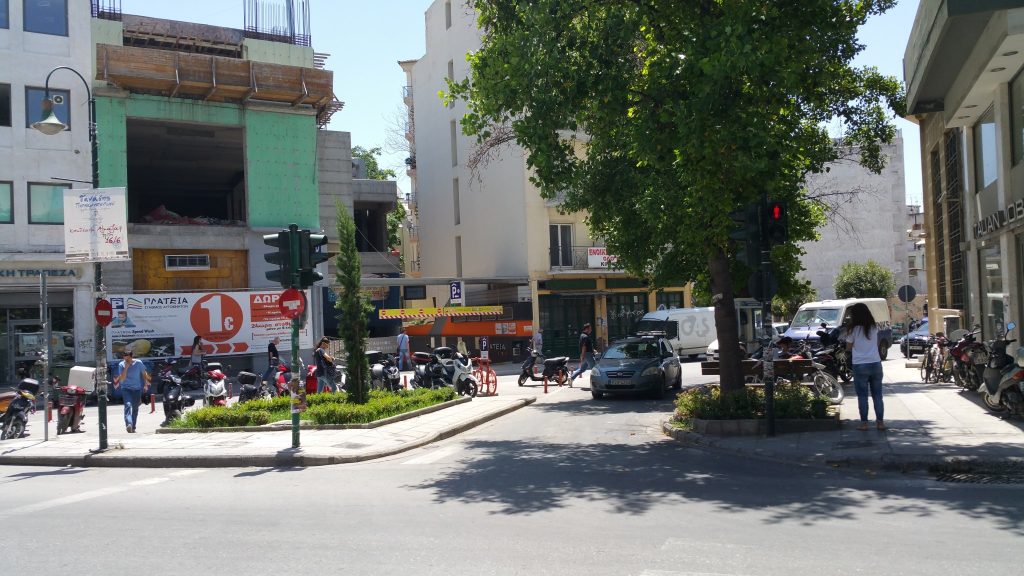 This is just a few blocks from the house I was born. Amazing how everything looks so tiny now!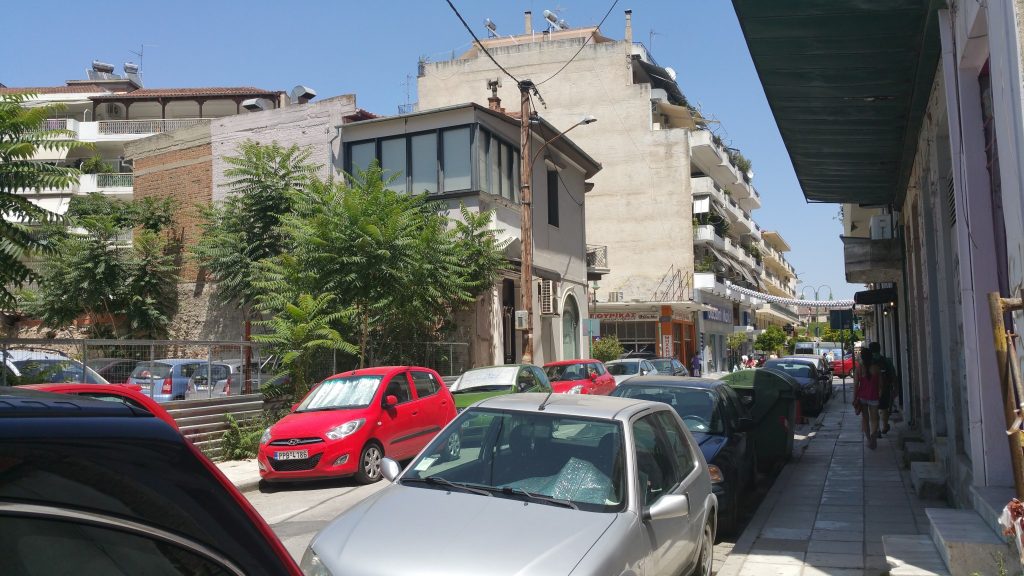 I brought my kids several years ago in this shopping complex when everything was booming. Son still remembers go karting and he crashed the car! Look at this place now #sad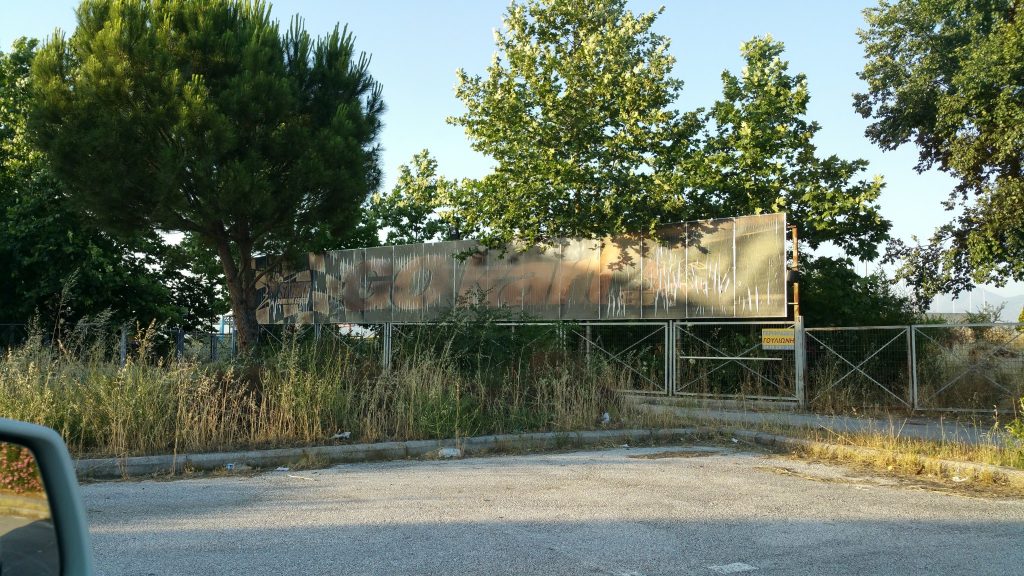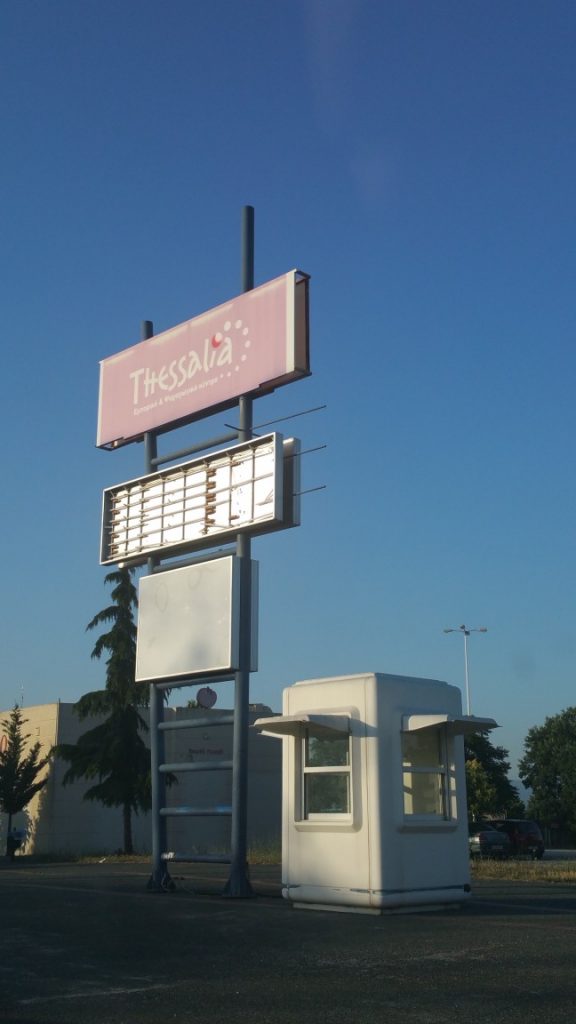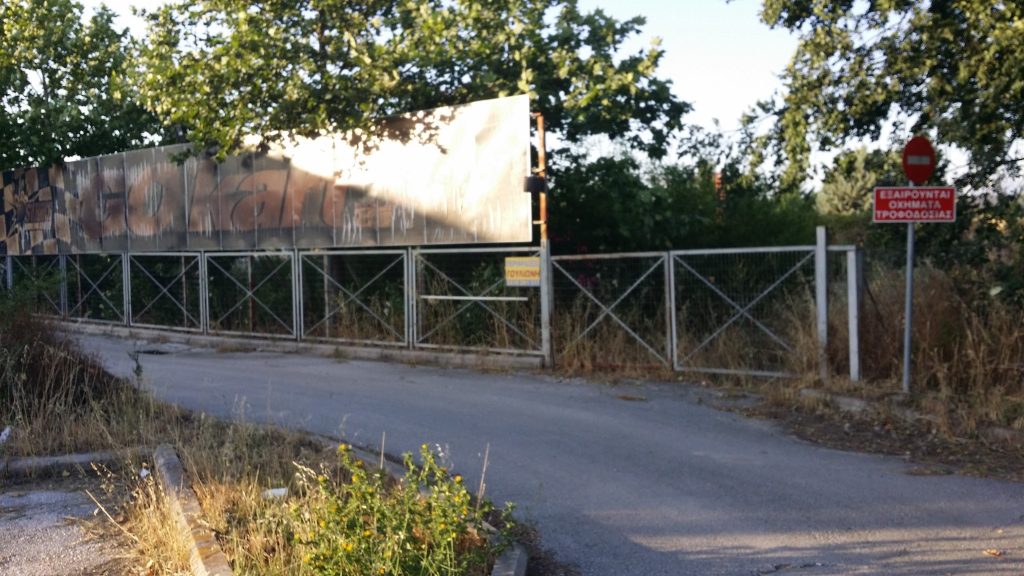 Every store in the complex closed.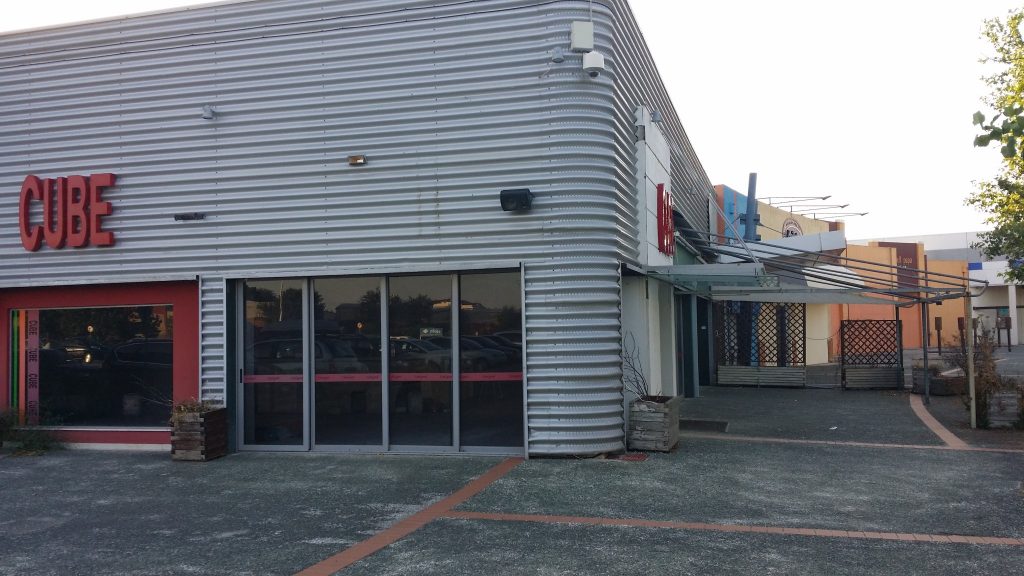 We saw a couple movies in this place last time. No more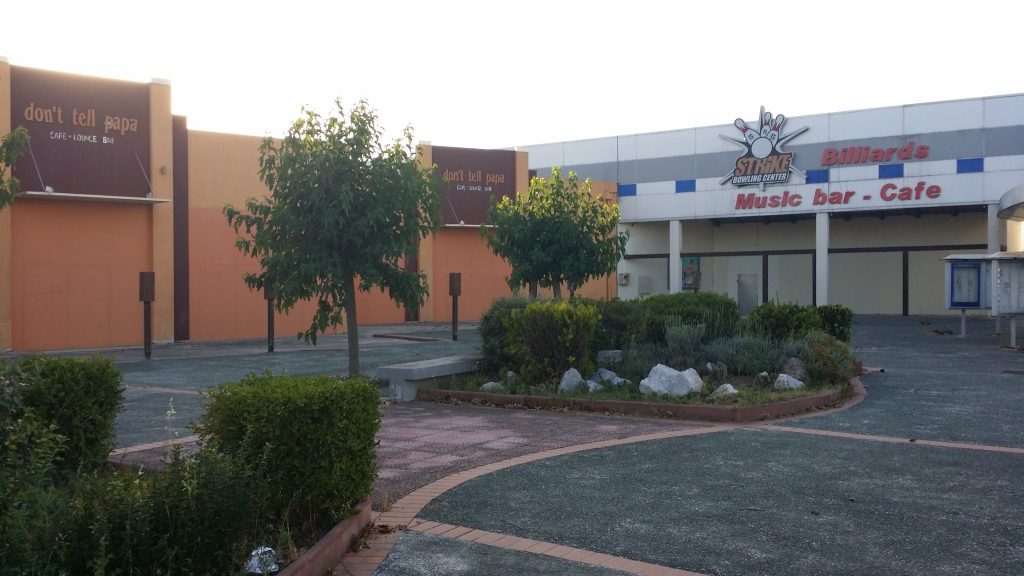 The biggest church of city. Saint Achillius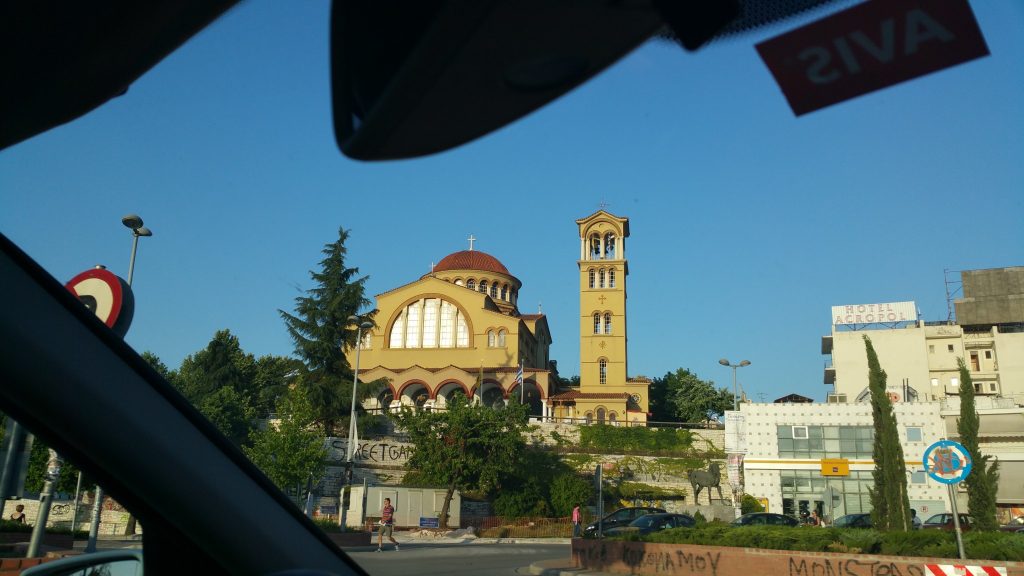 Another shot near downtown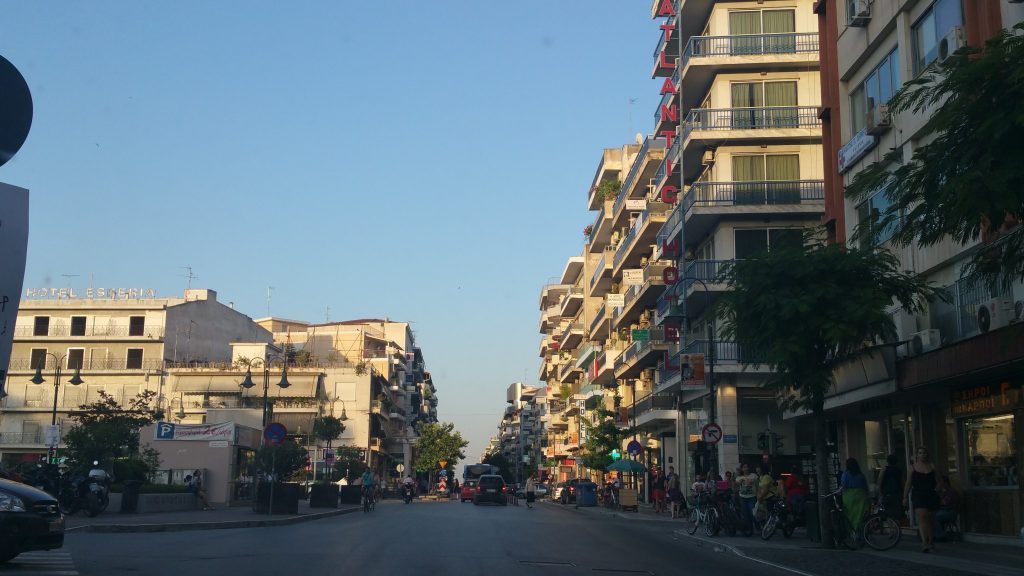 There is a hill in the center of town where you can see some of the old town characteristics. Lots of history.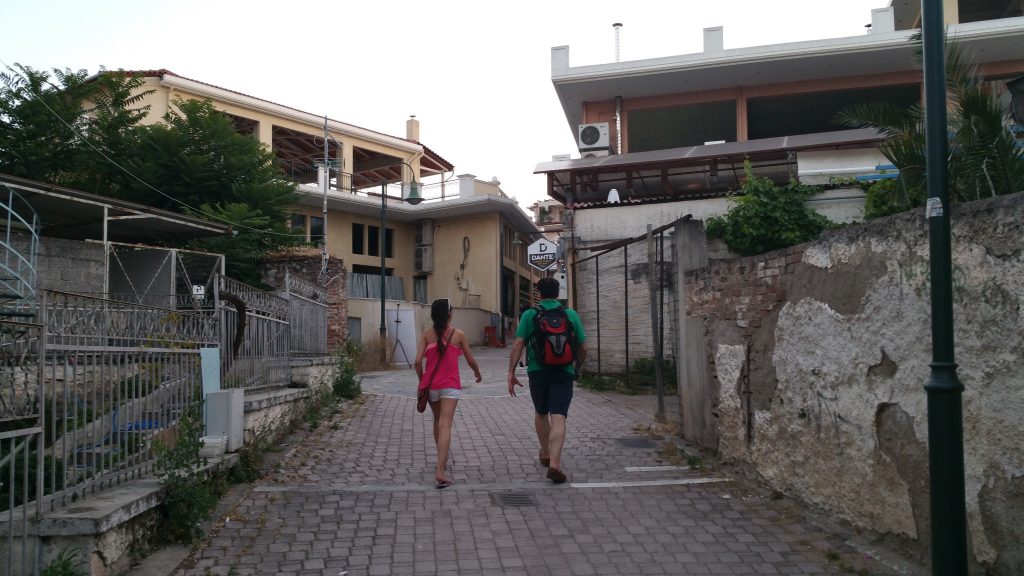 More empty store fronts.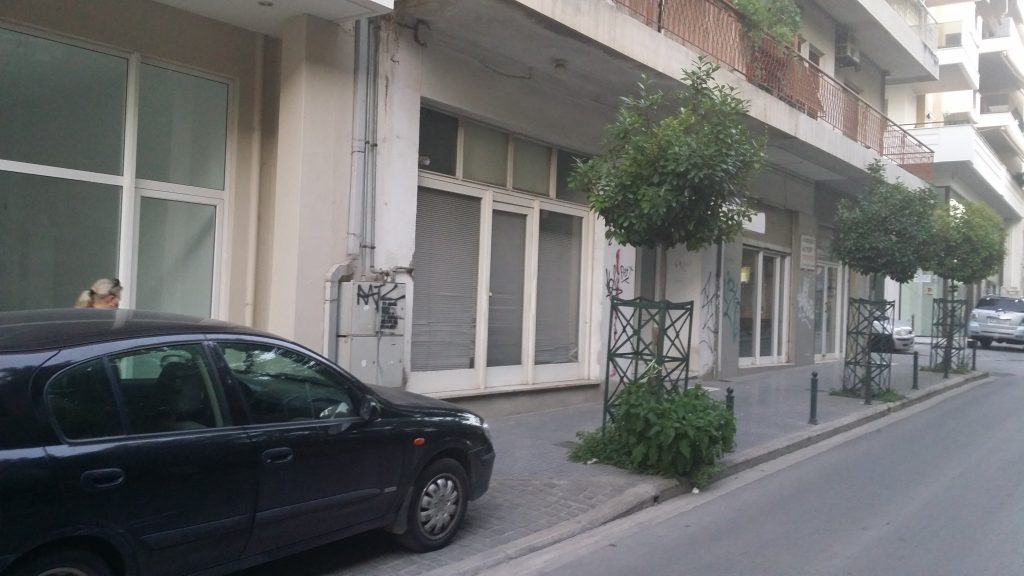 Up here there have been many hugely important archaeological discoveries. But the city does not get much tourism. They are trying to get it together. They never needed the tourists as the whole Larissa valley is one of the most productive agricultural areas of Southern Europe. Yeah, I am from a city with lots of farmers all around it!
What follows are some pictures of these archaeological finds. Finally, they opened the ancient theater to the public in 2016!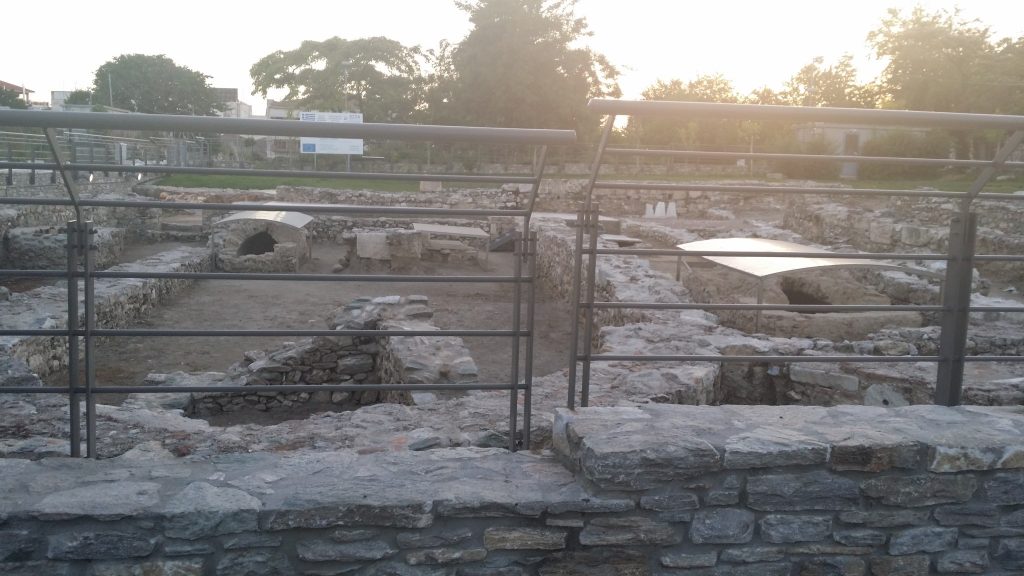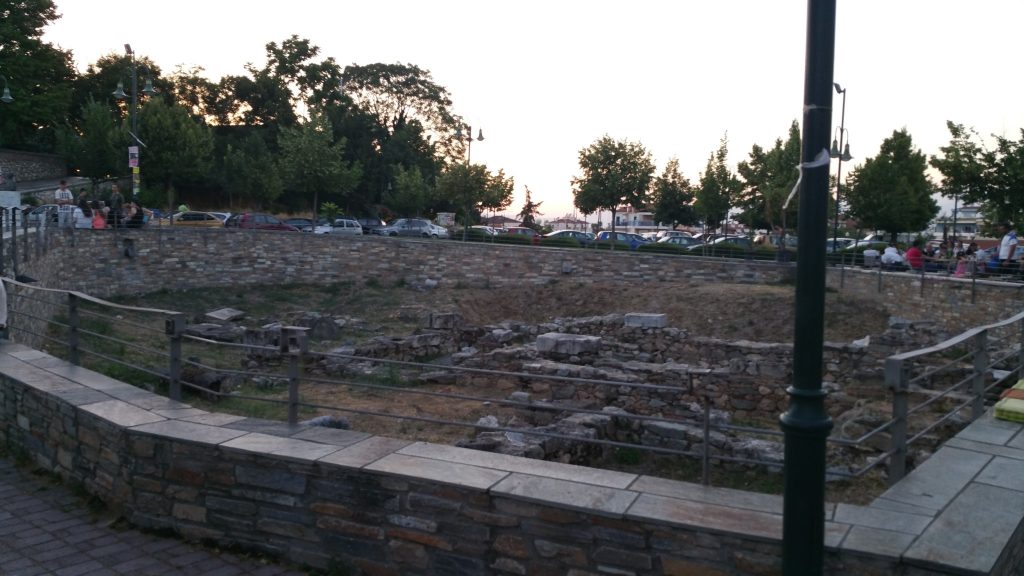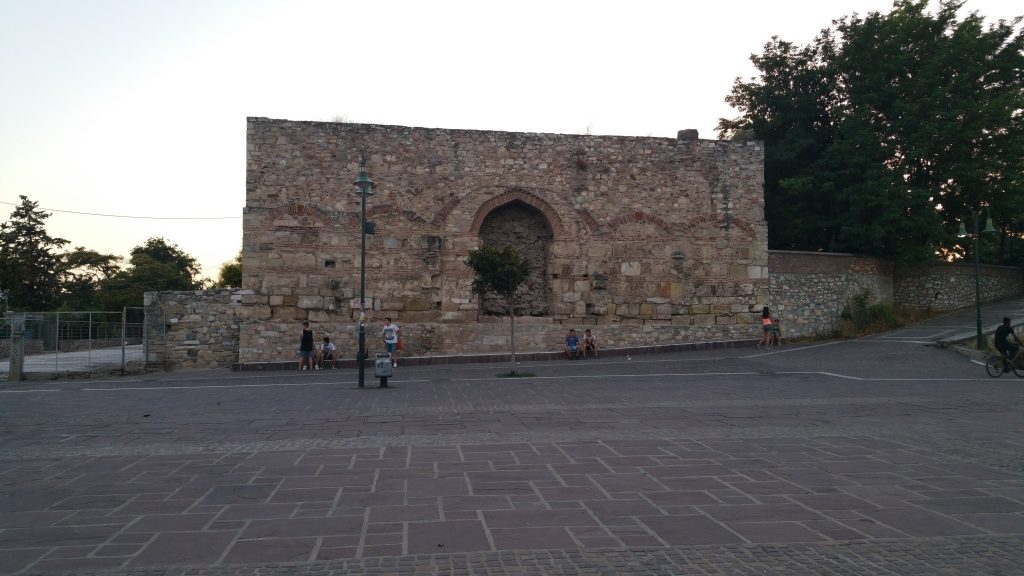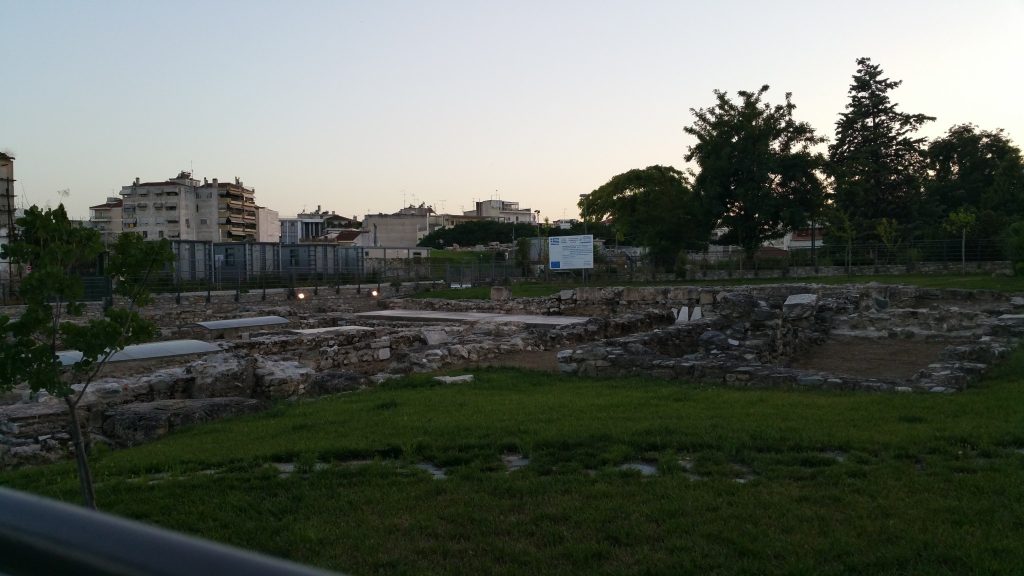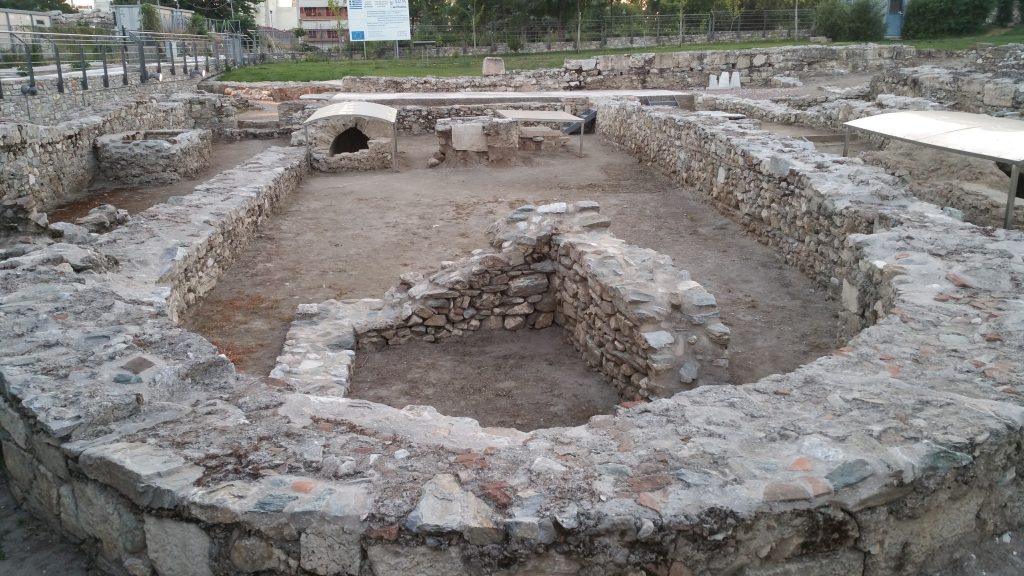 The area around here in the Old part of town has many traditional tavernas and bars and it is beautiful.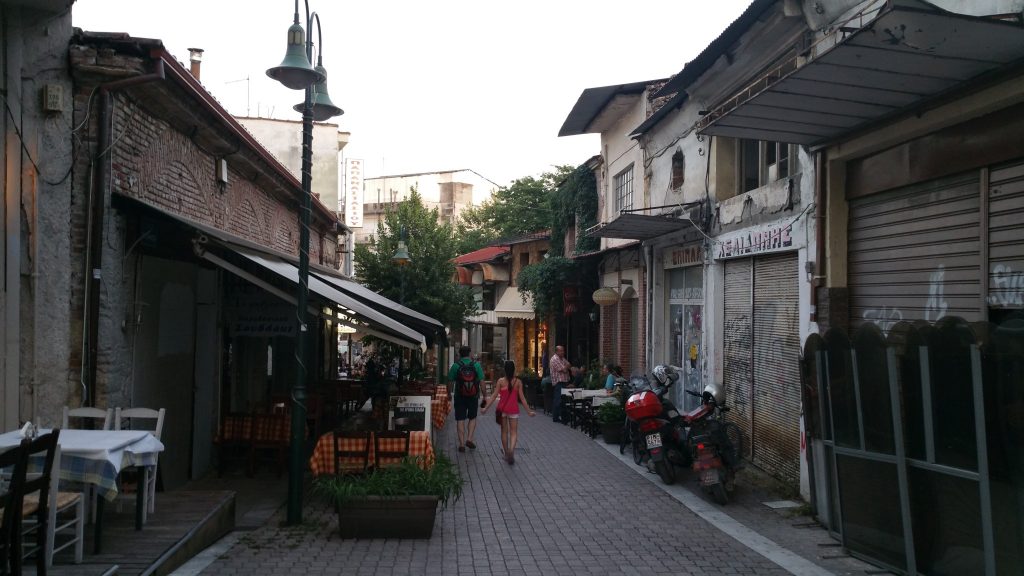 The former glory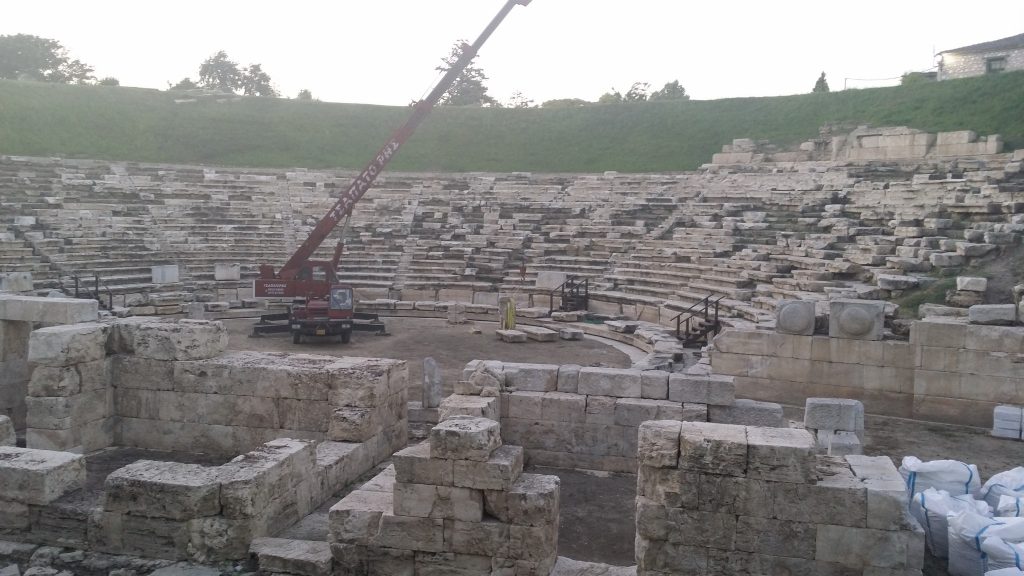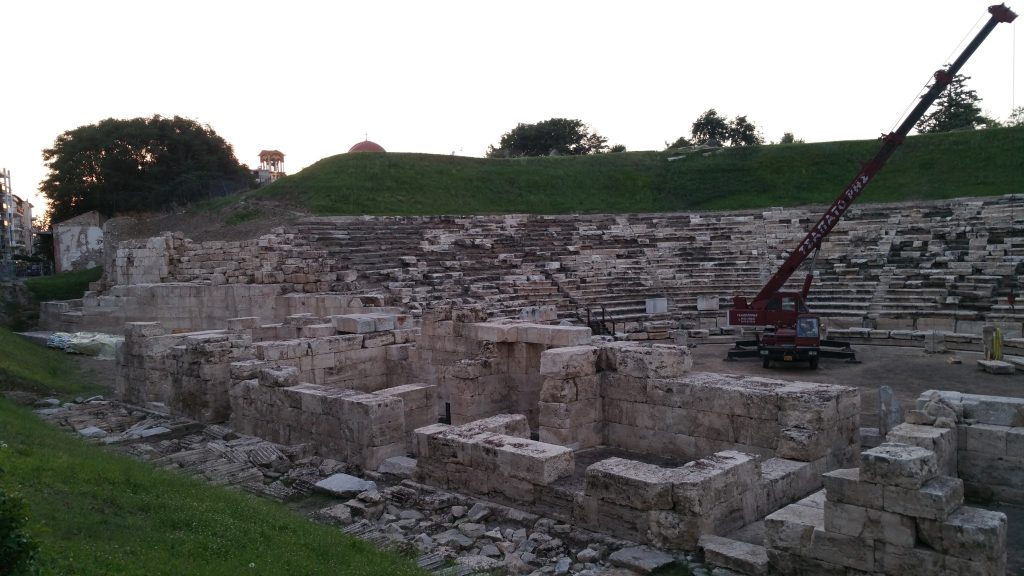 And the current mess….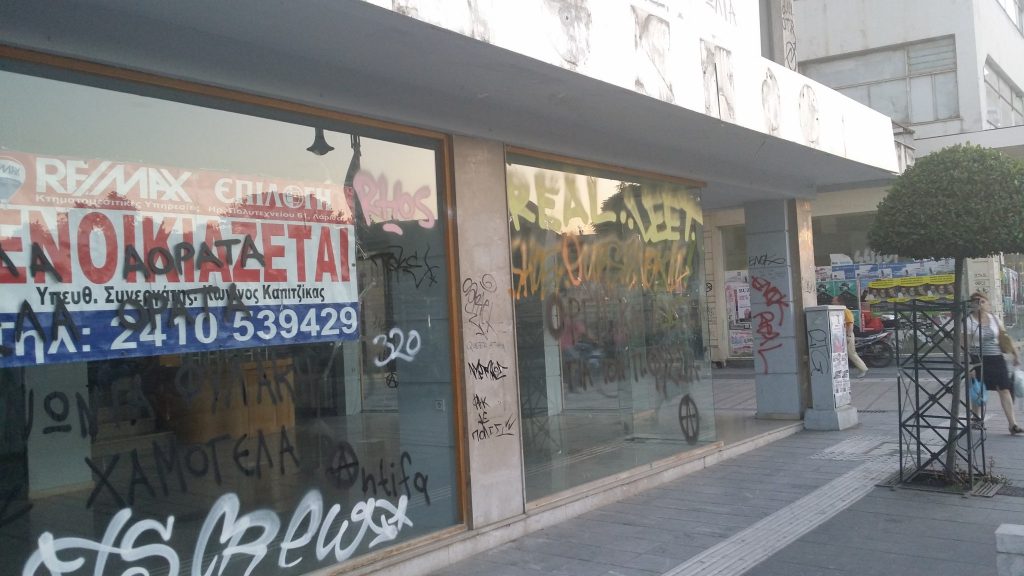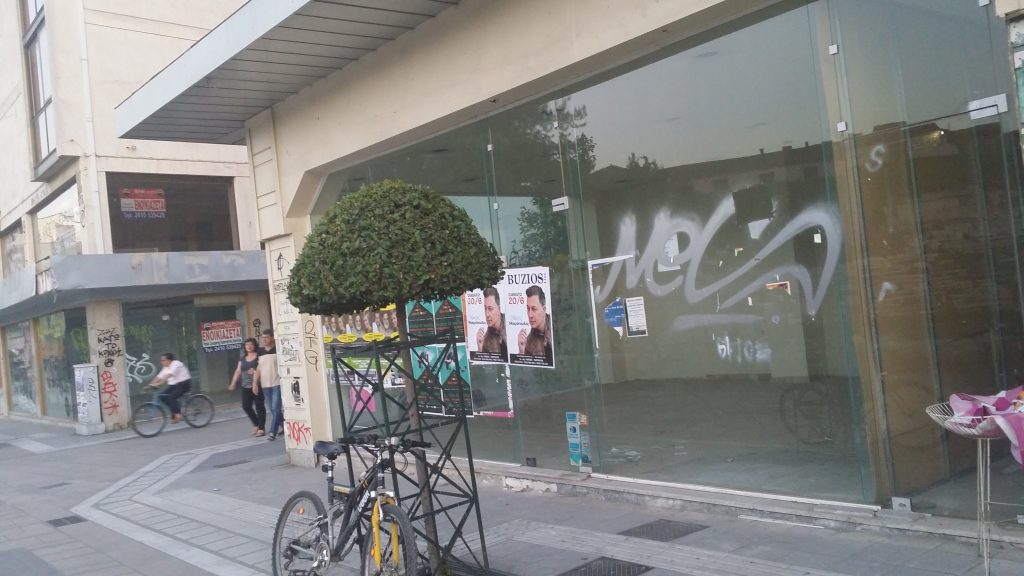 This little mall is near my home. A local agricultural something decided to invest in a mall. And they borrowed like everyone else. And then it crashed. There are only a few tenants left in here.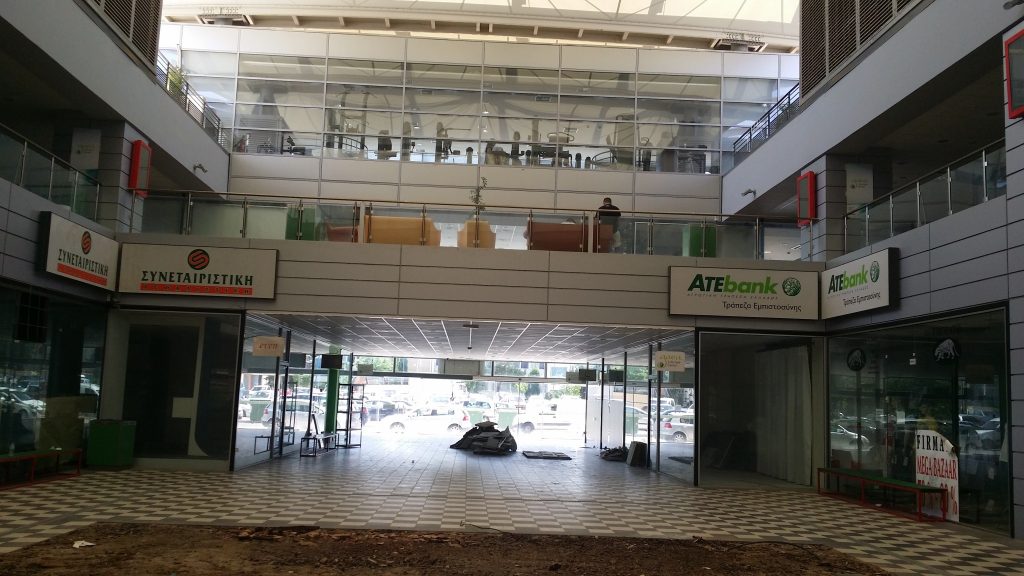 Okay, now we visit my former high school. Number 6. The best. Lol. The graffiti at the left corner says "Down the Government". It is in my DNA to do rebellious things haha.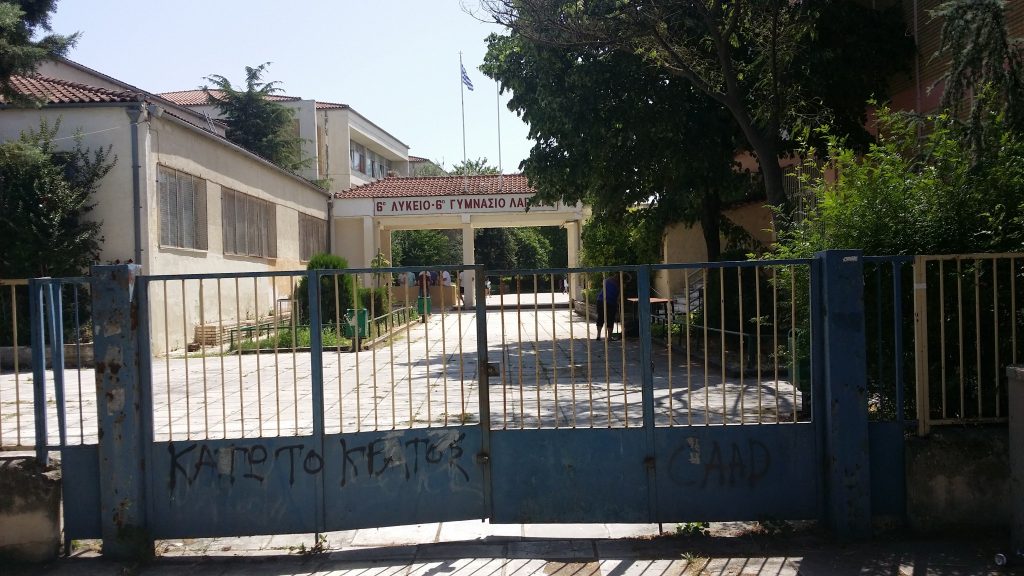 To rent signs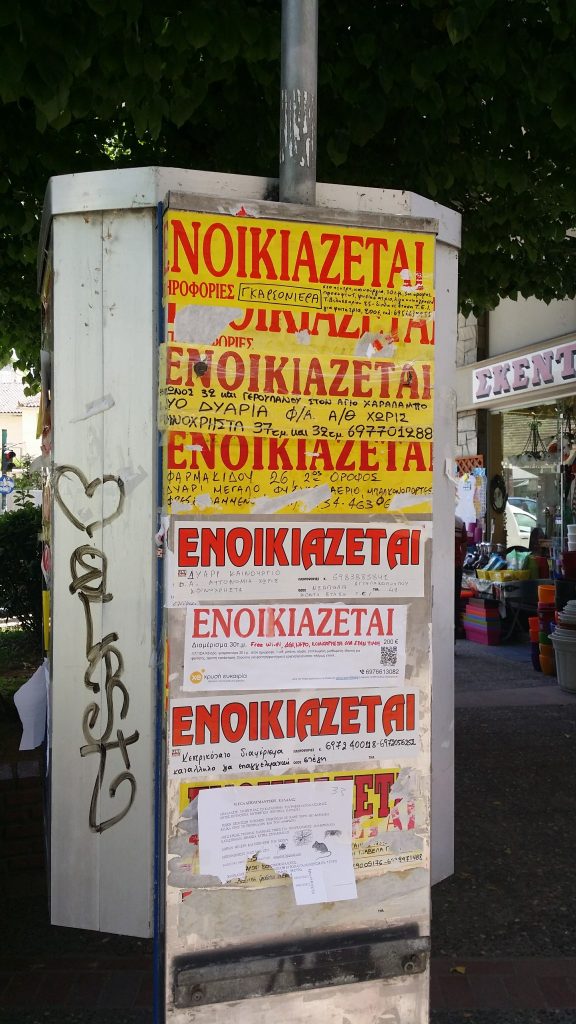 The local bus from downtown to home, because walking it during the afternoon is too hot!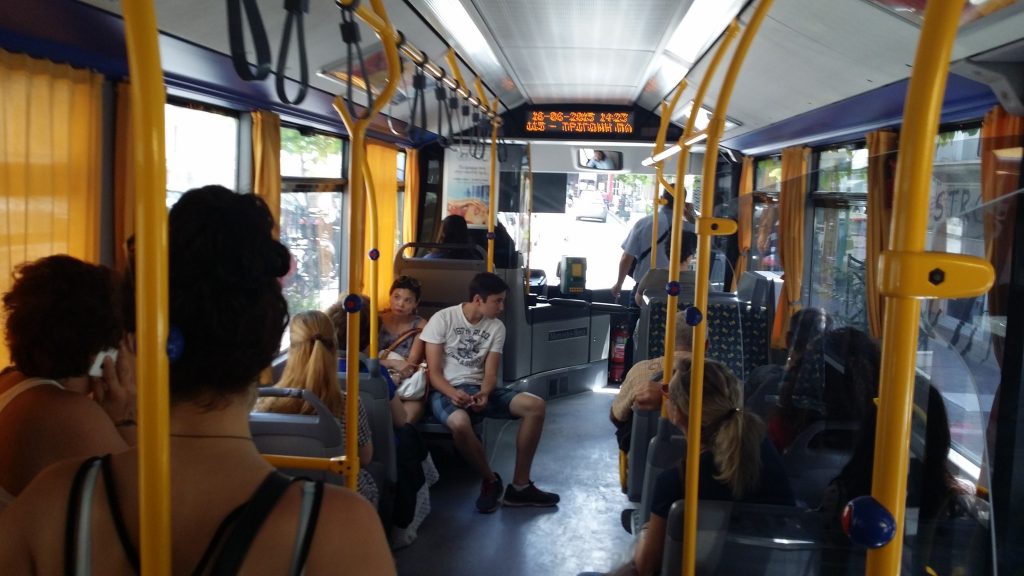 Another lunch out…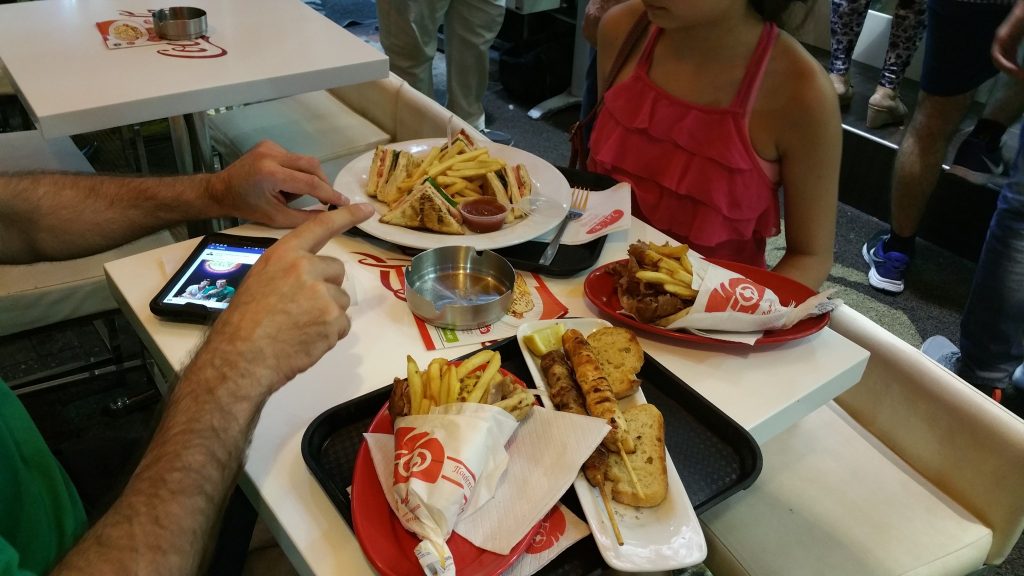 This was the house I was born. In 1967. Well, the neighborhood has changed…a little since then. Me and my brother own this land now, we are waiting for the turnaround. We are resigned we may wait for a very long time.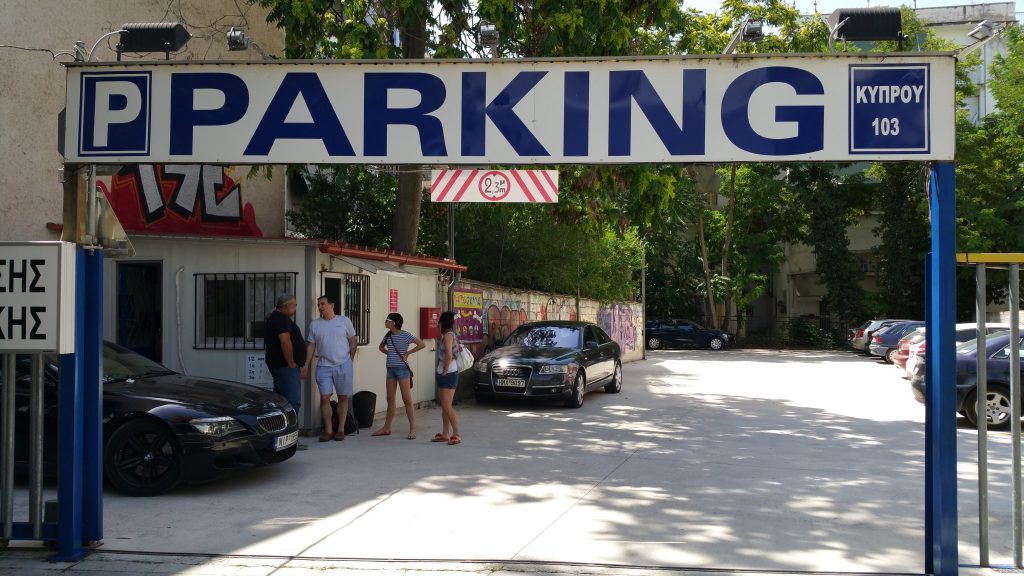 Oh yes, there is an IKEA just outside the city. Amazingly, it has not closed! It attracts shoppers from all over central Greece.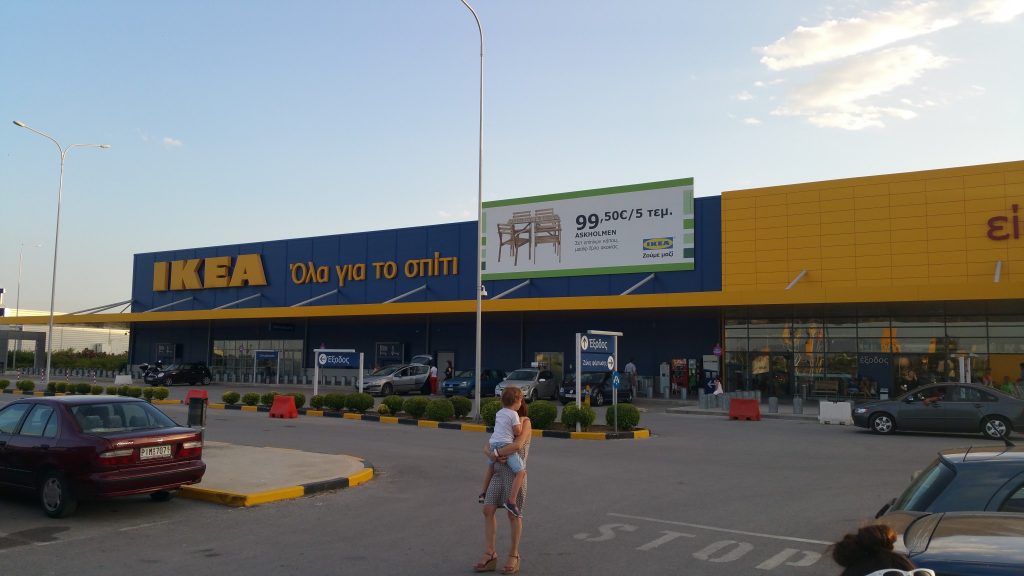 We visited another mall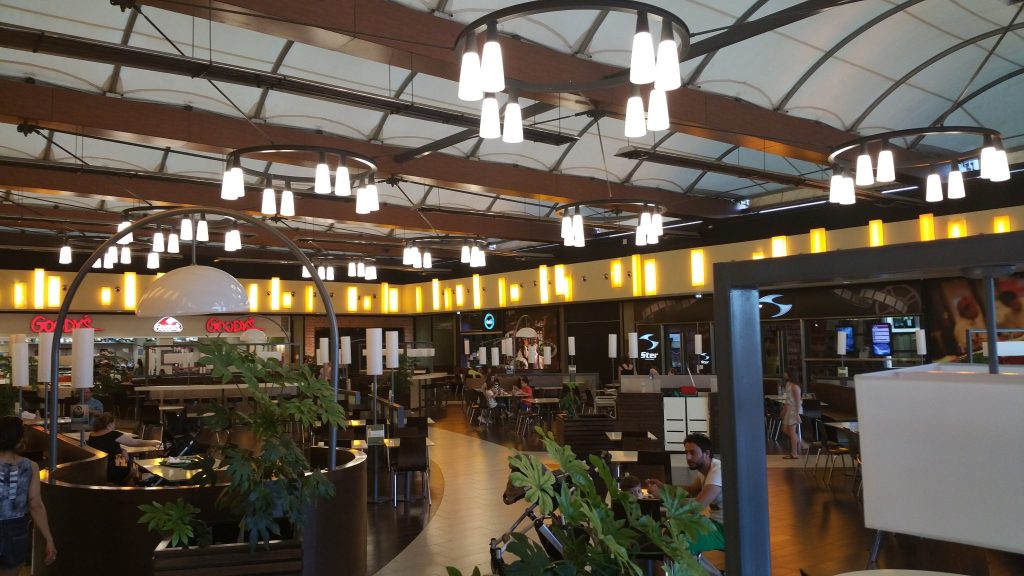 Back inn the old part of town, where the city band was practicing before the outdoor movie theater opened for the season.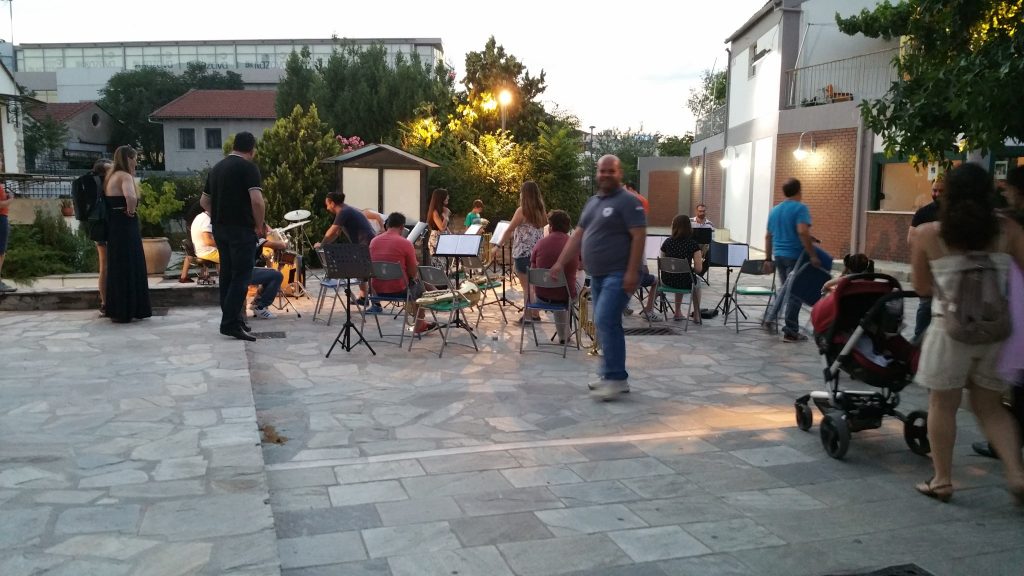 Whenever I visit in the summer I always try to catch the movies here…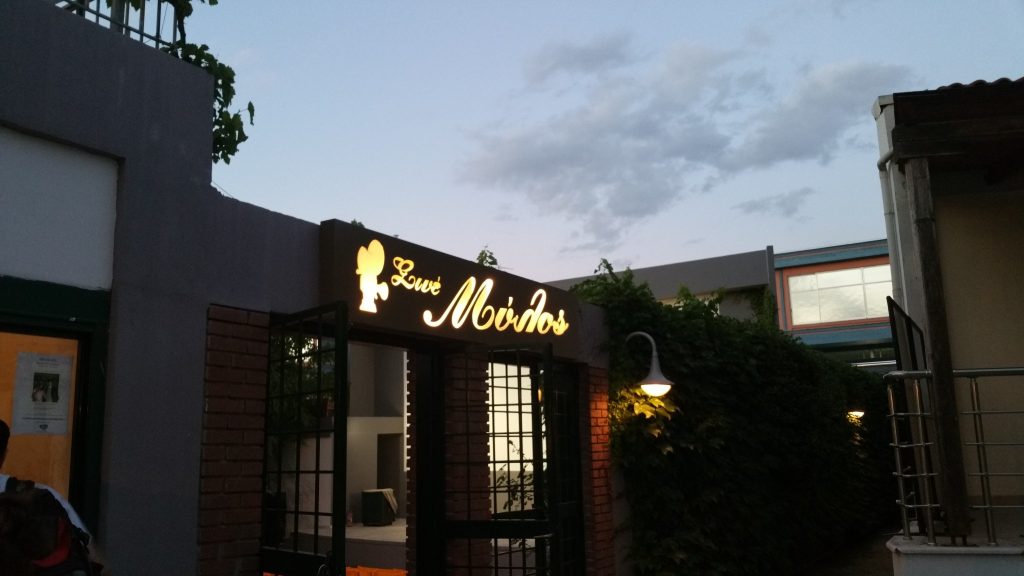 It is probably one of my favorite places in the world. Watching a movie under the stars with pop corn and drinking some drink with vodka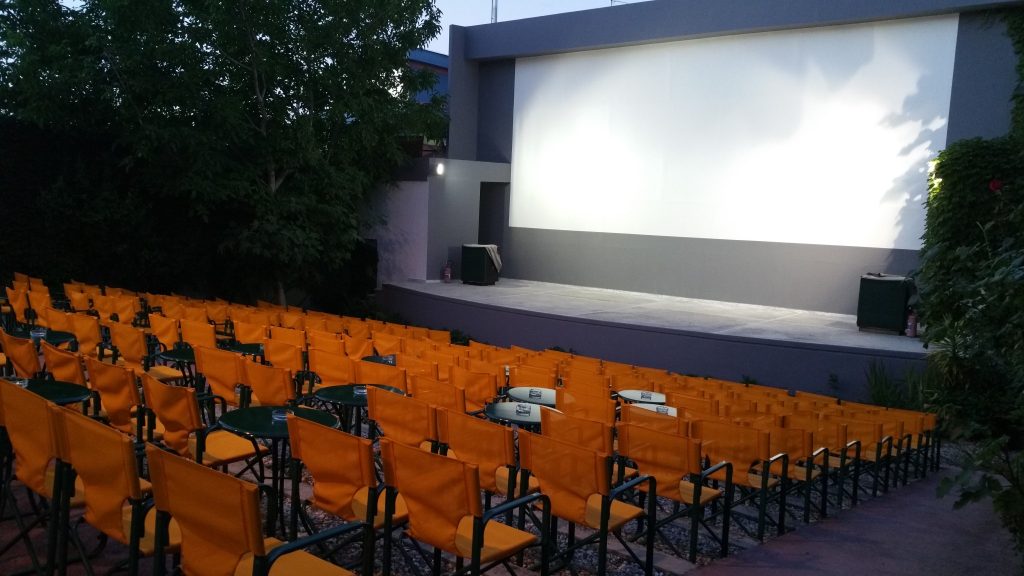 I do not remember what movie we saw that night…
Well, of course, the girls in the familia had a great time shopping around for bargains. And oh boy there are so many more now as the prices have fallen so much! Surprisingly, several retail clothing stores are owned by Chinese immigrants so it was interesting to say the least to see us.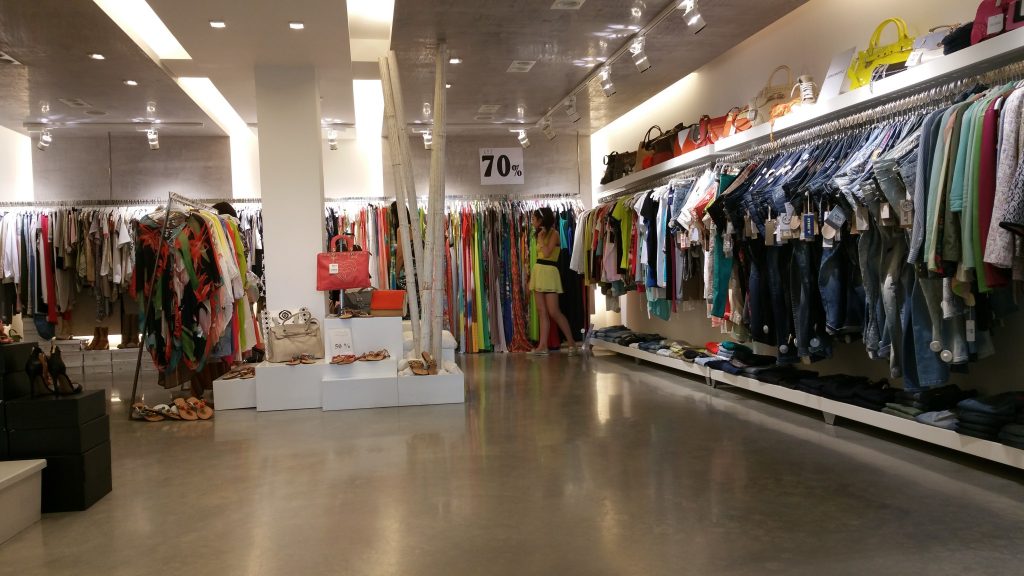 The princess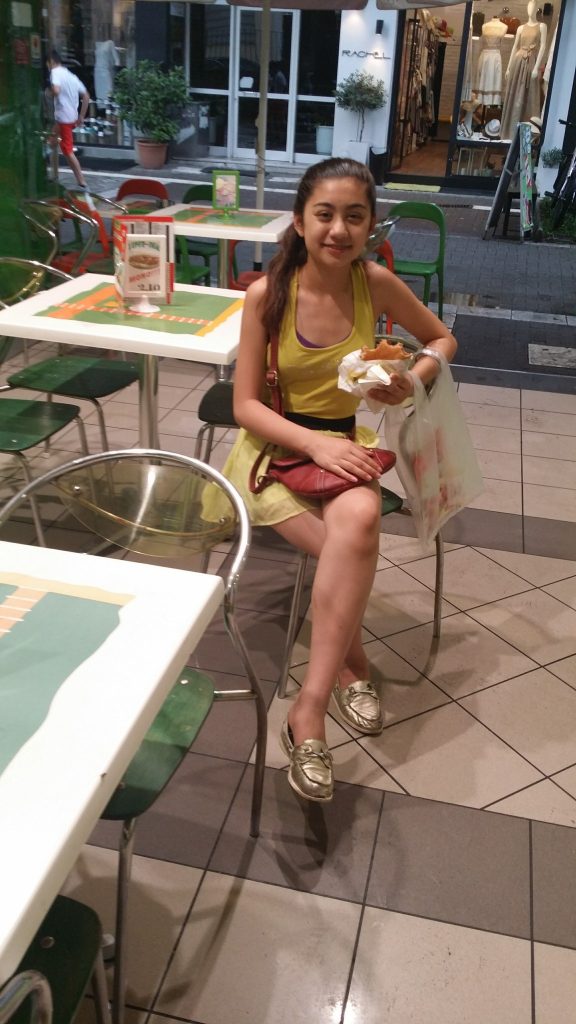 Another Mikel, best coffee and wifi!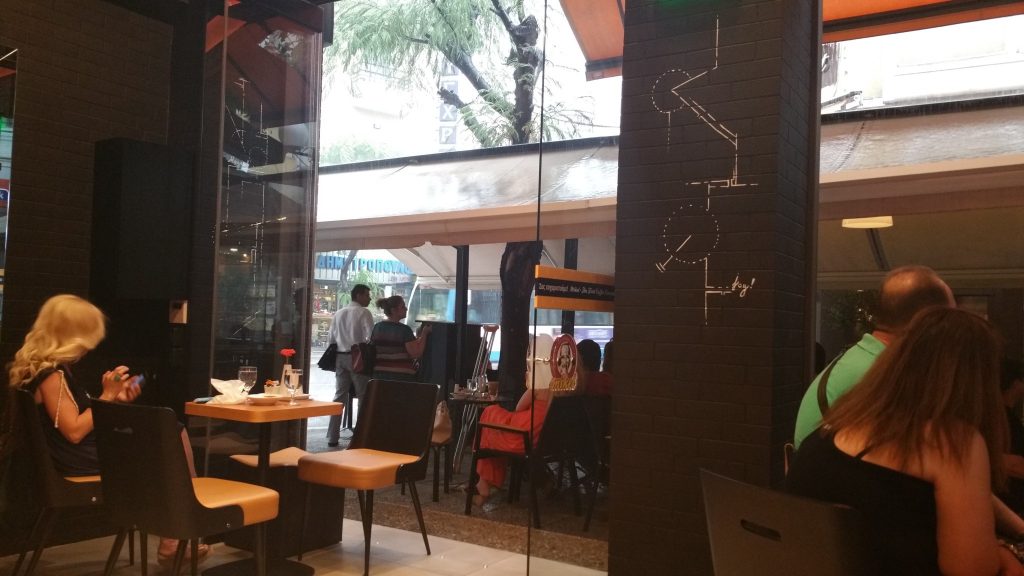 Ok, then it was time to take my mother to the beach to an Airbnb place!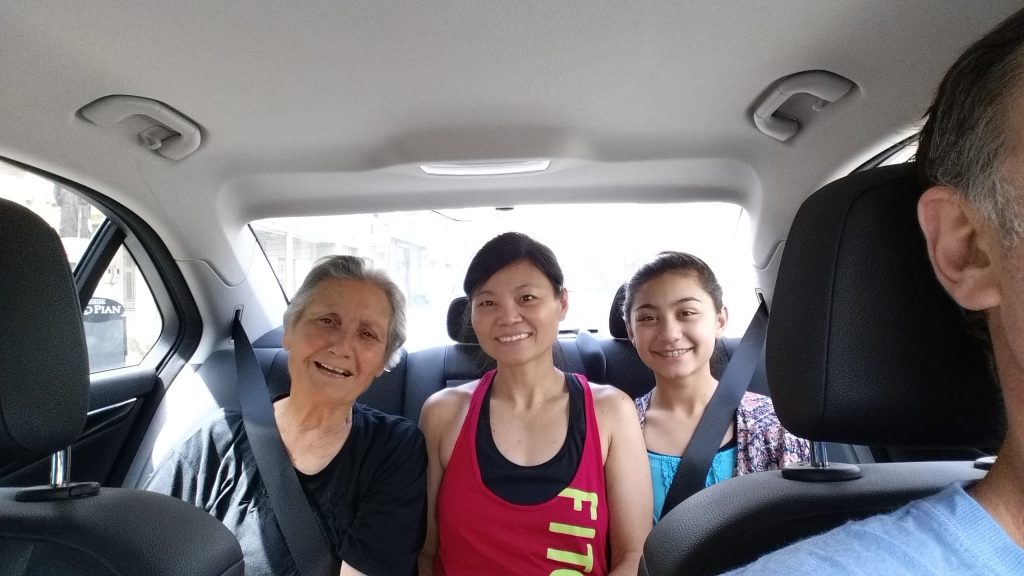 Less than an hour away we have several beaches. Mostly known as Larissa beaches. The stretch of beach here is 14 kms. The main two beaches are Agiokampos and Velika. There are many other smaller beaches here, including my favorite Papakosta beach. Go ahead, click on these links and check out the pictures. You must be aware the area is primarily catering to Greek citizens, mostly residents of Larissa who escape the oppressive summer heat in the city. Sometimes you see some tourists from nearby Balkan countries and the occasional German. The quality of the hotels and tourism infrastructure is lacking to say the least. There has been only one semi decent hotel at the end of Agiokampos beach where my parents paid for us to stay after we got married. Guys, this was before I discovered this miles and points hobby 🙂
There have always been many apartments and rooms for rent. And more Airbnb properties are appearing. So, being an Airbnb virgin, I decided to just go for it as the listing looked good, it was just off the street separating it from the beach and I knew the area very well. Heck, it was only 36 euros per night which was a fantastic rate. The listing can be found here and it was just great for us. Small room, easily fit four of us in two double beds and my mother in the couch, cute kitchen, good warm shower and strong wifi throughout that never failed. Here are some pictures from it:
Plenty of parking as well and beautiful garden grounds.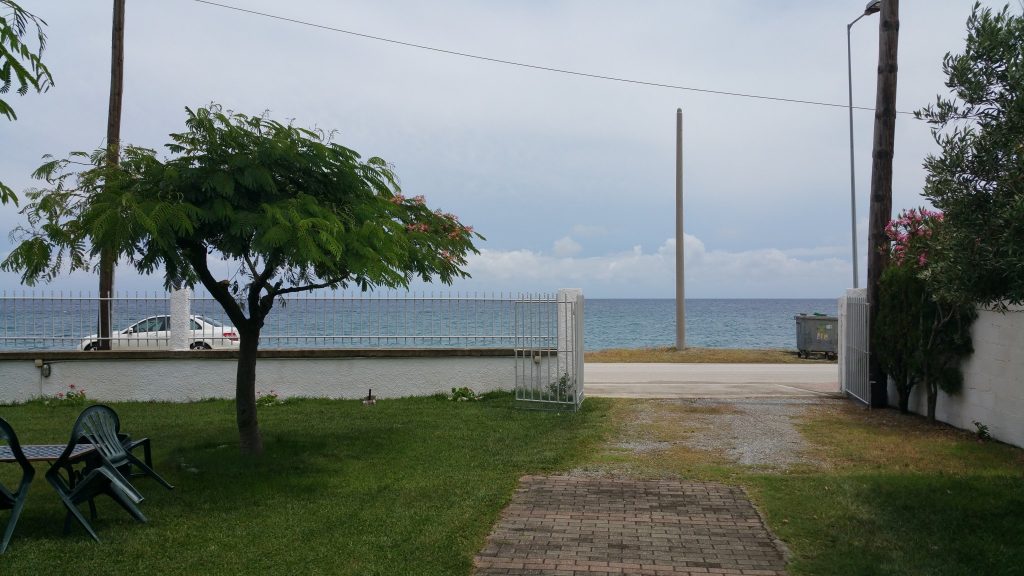 I believe there are 12 units or so in the building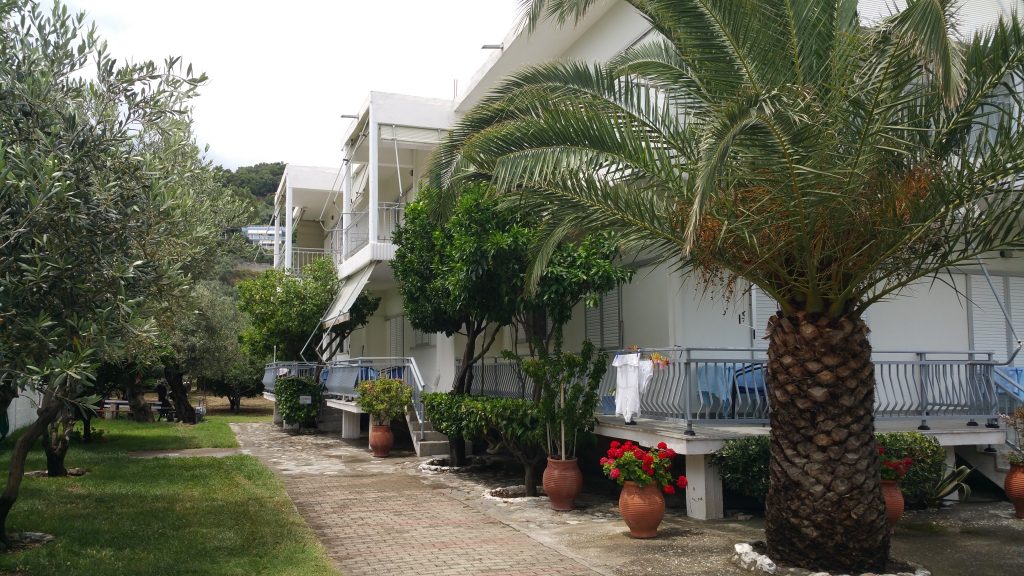 This road goes all across the beaches here for a long long way…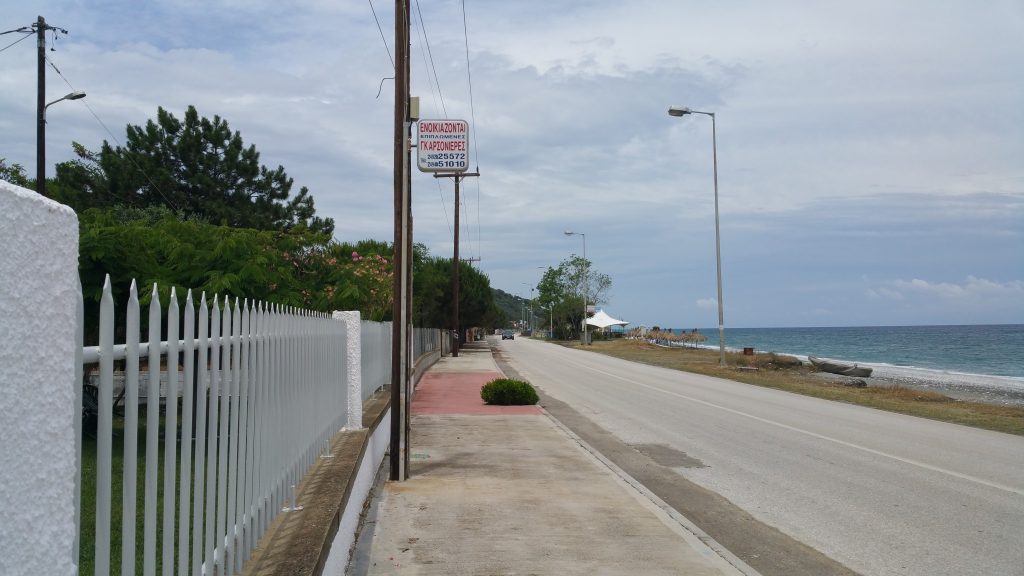 Settled in and then took the whole familia to our favorite restaurant in the Agiokampos side of the beach. The owners had not seen my mother since my father passed away in 2009 so it was good to finally show up with her son's family. The two Sophias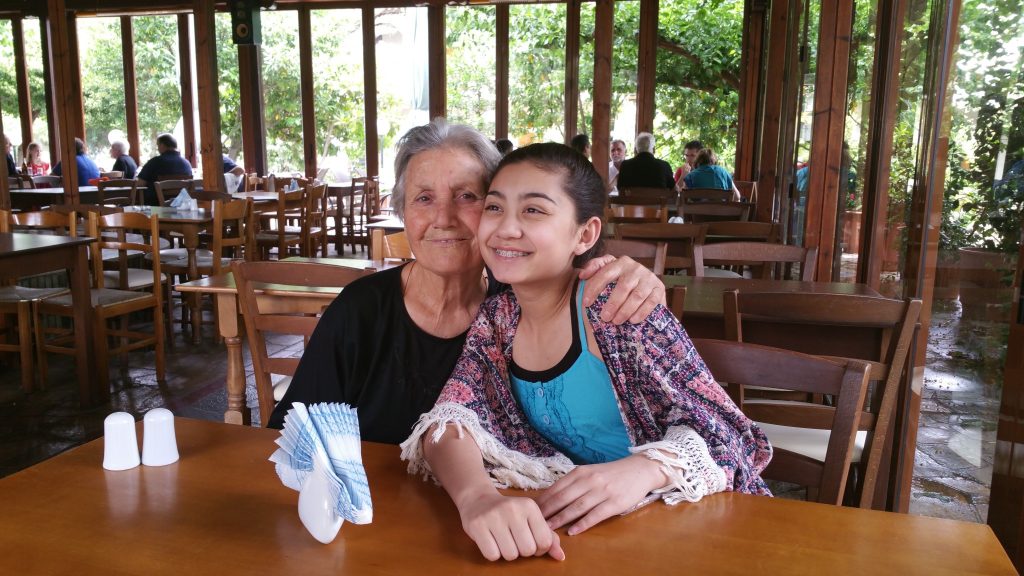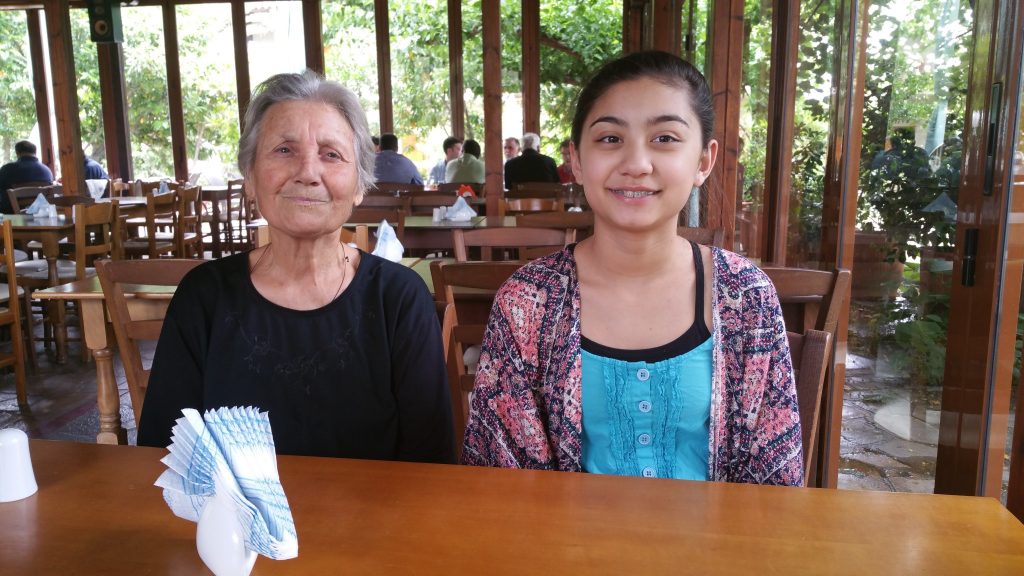 Whenever I come here it is so so hard to control eating…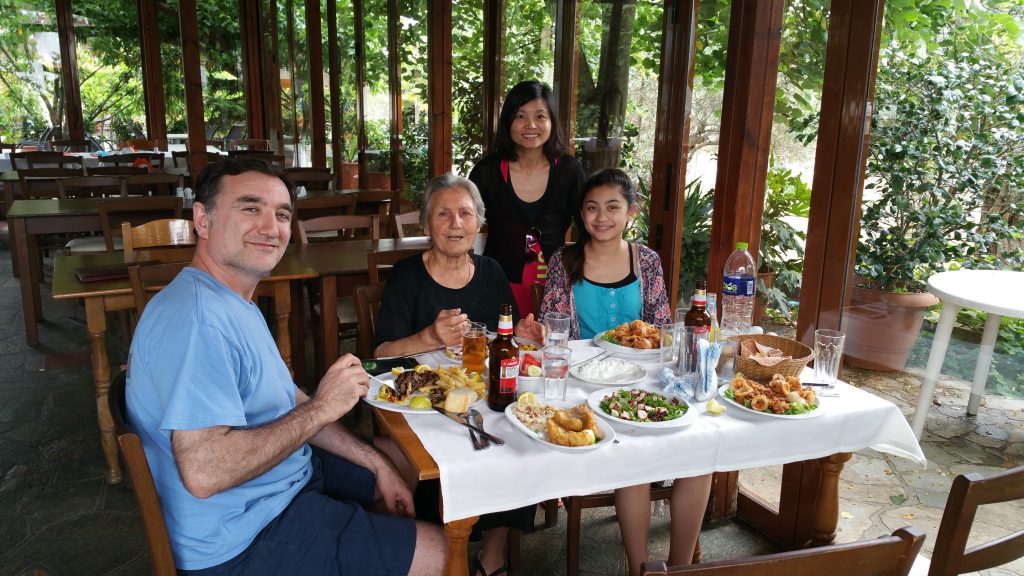 I always tilt my head….been tilting the big head since…birth, WTF!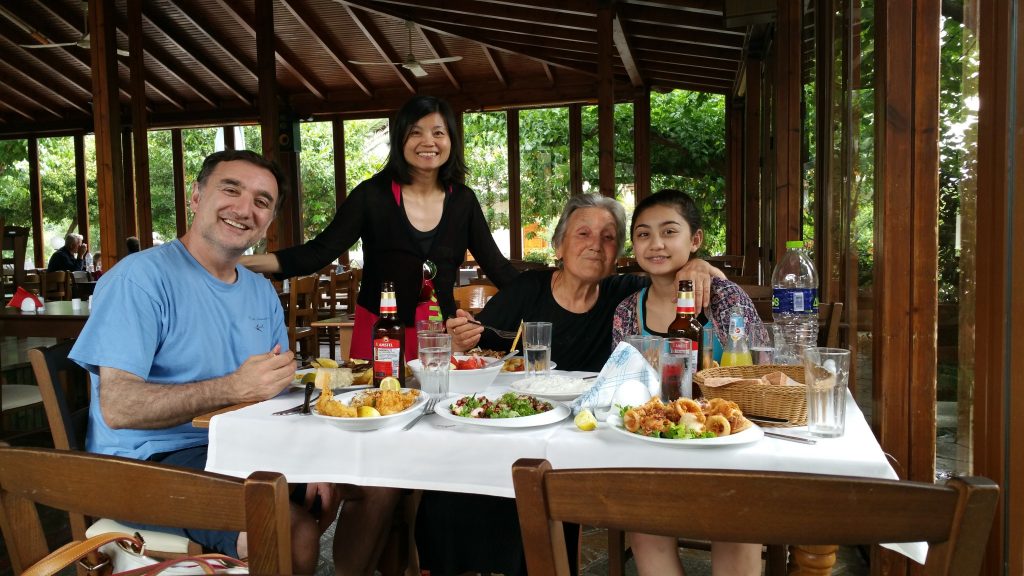 This is our little balcony in our unit…Loved waking up early in the morning and drinking coffee chilling out…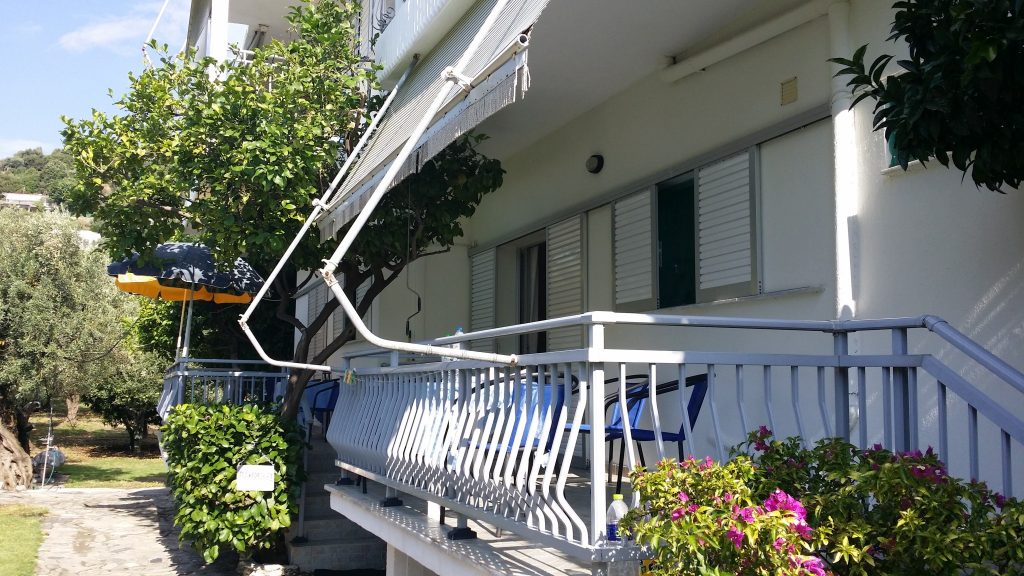 Check out the sea…I have been to many beaches and the quality of the water here does not compare. Okay, maybe Moorea in Tahiti was better…in spots lol.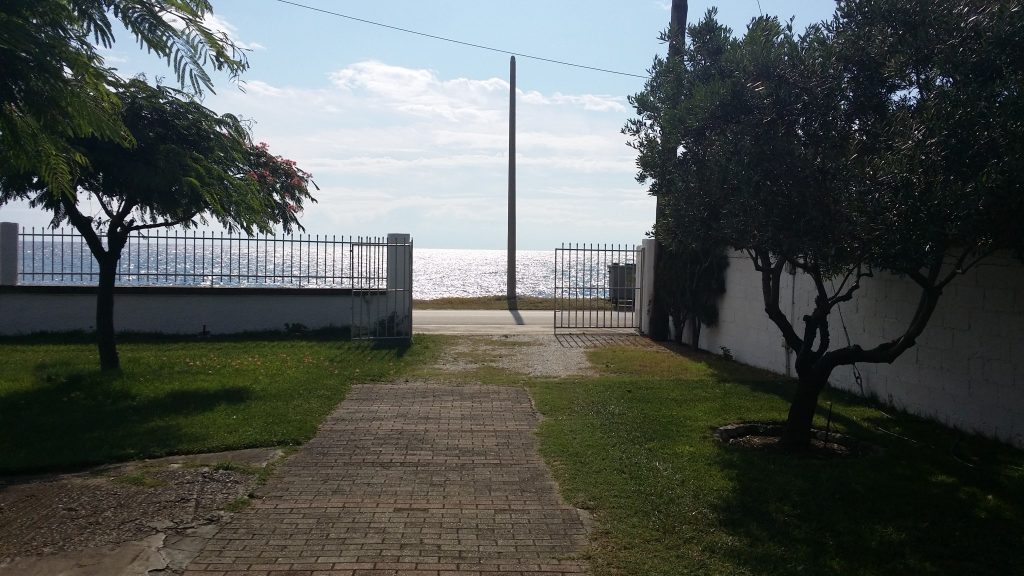 Some more shots of the Airbnb place…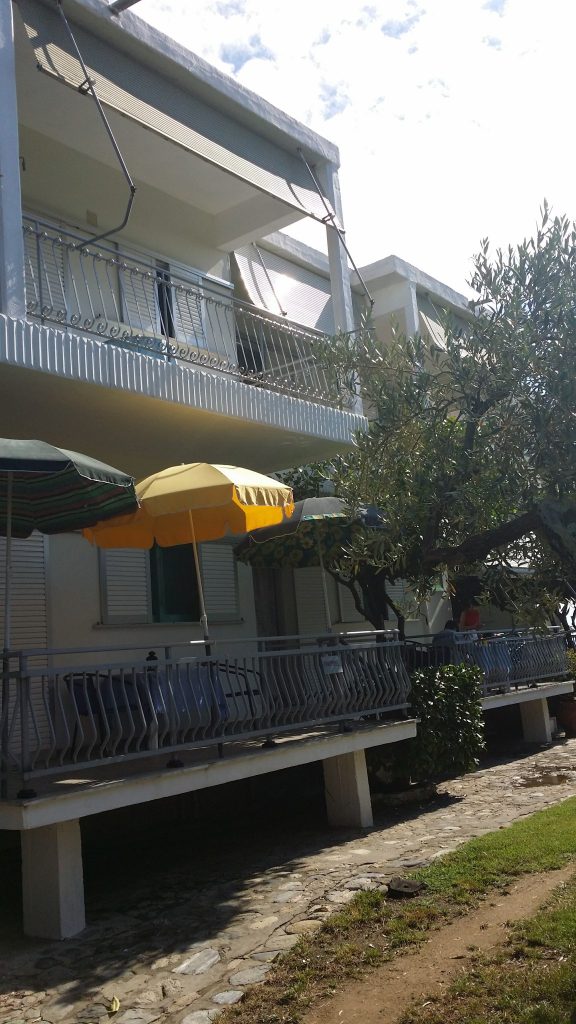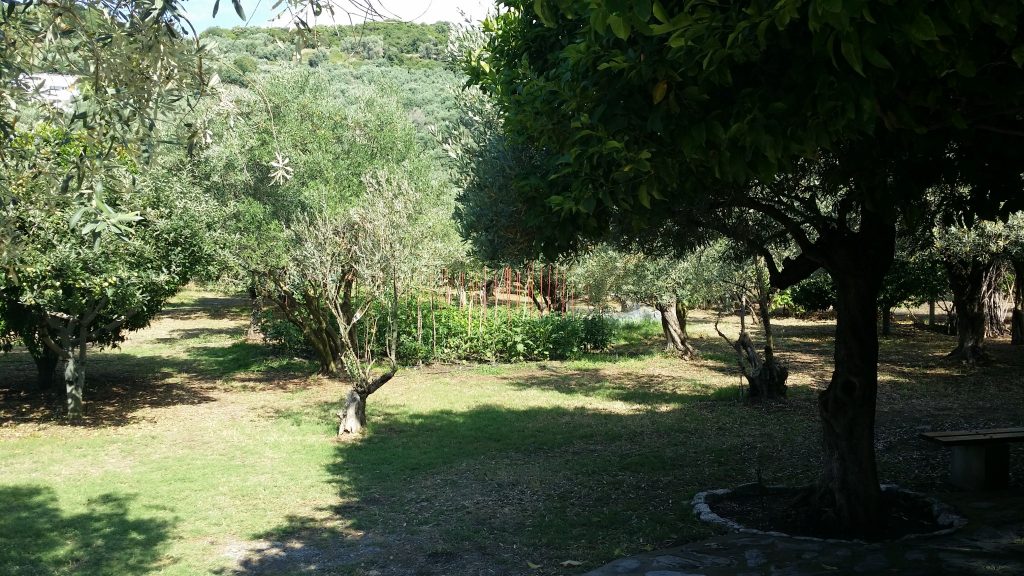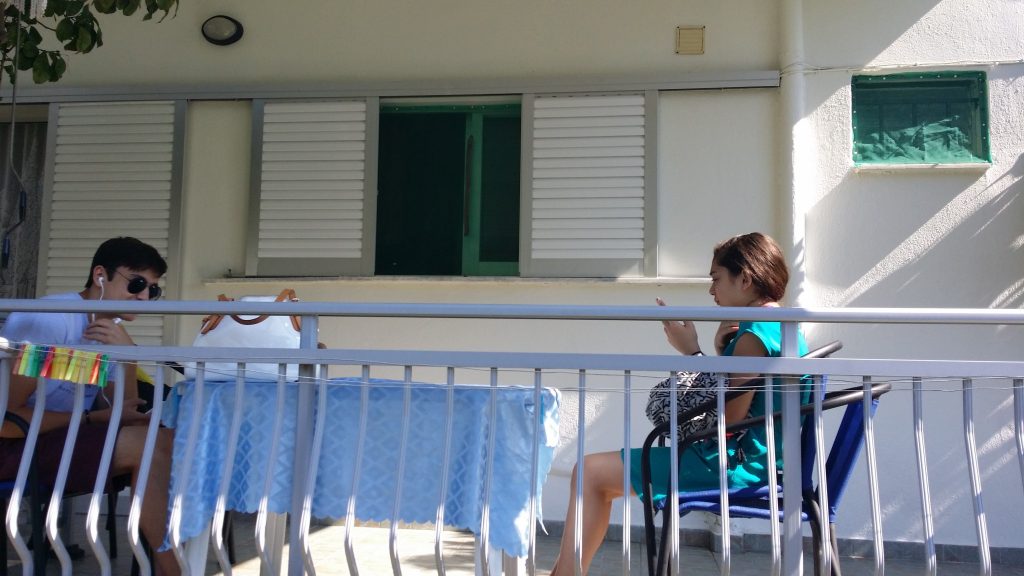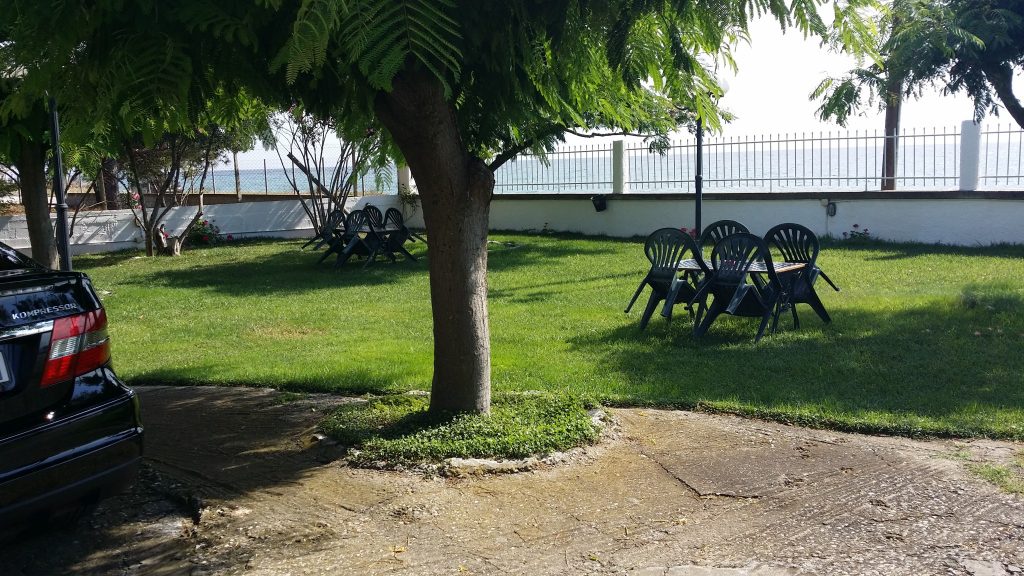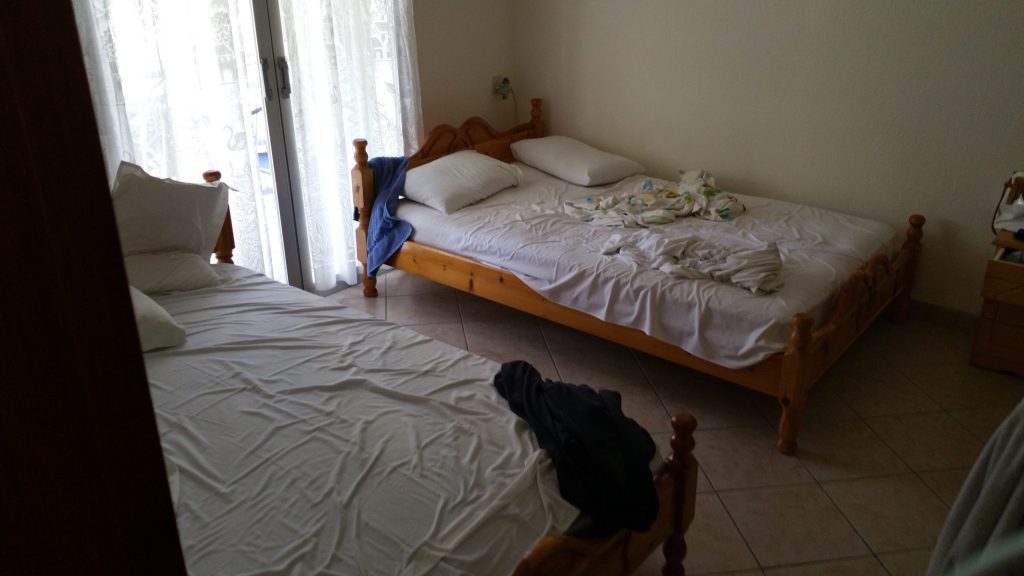 Back on the road…I was surprised to see the place empty during the weekdays…Several stores have also been closed. You feel the effects of the economic crisis everywhere in this country!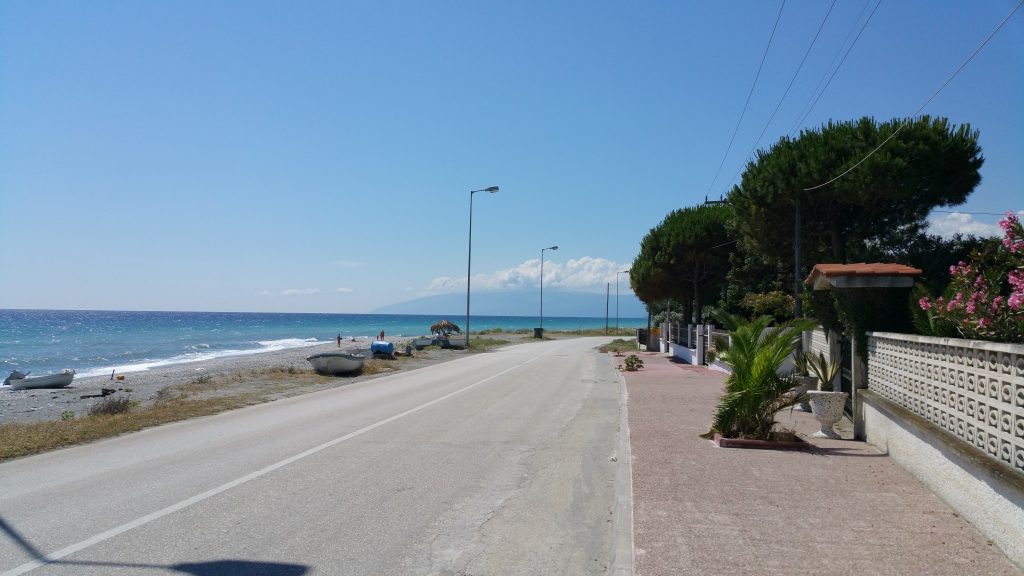 This store is right next to the Airbnb place, perfect location!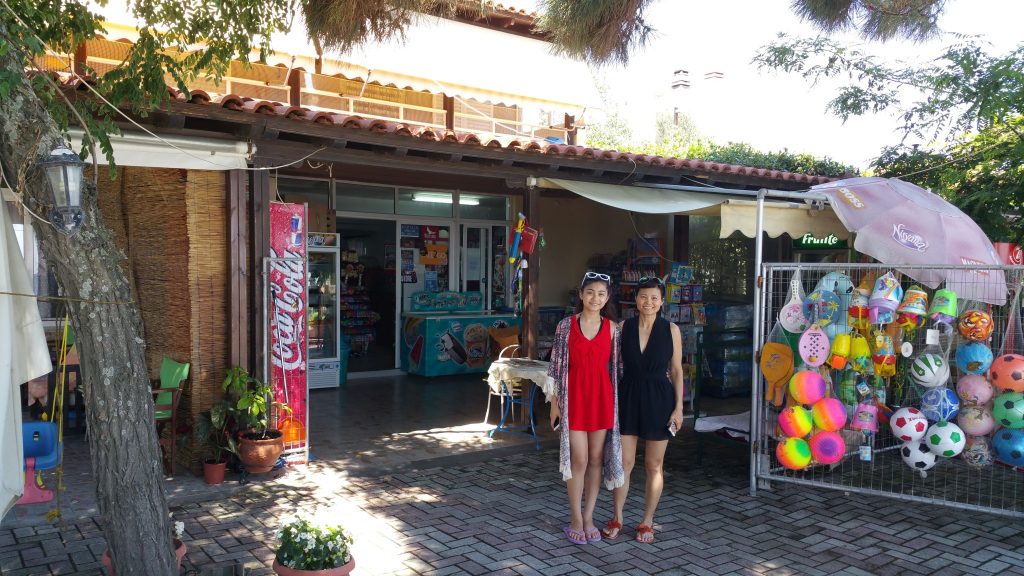 Deserted beaches…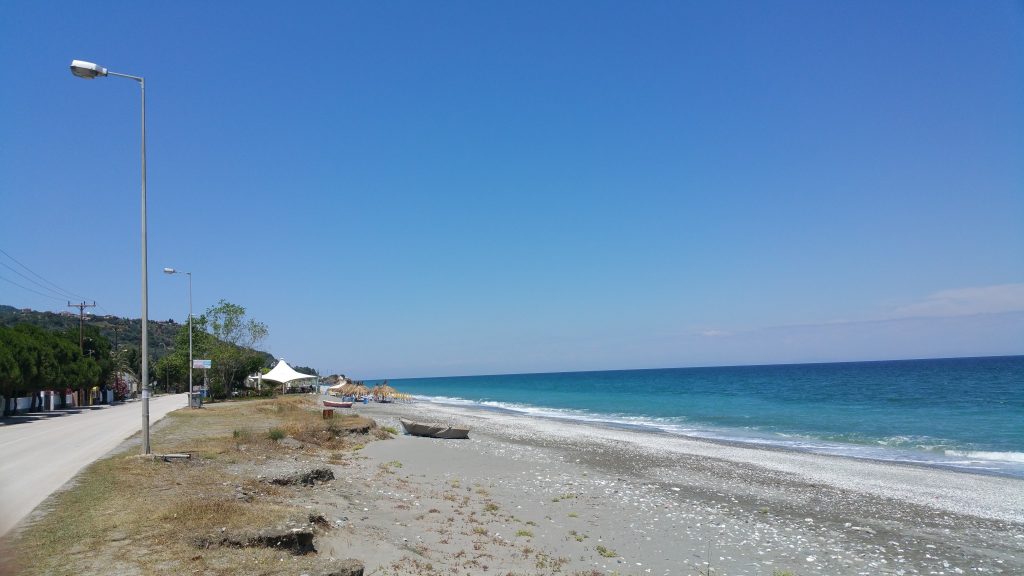 Fish tavern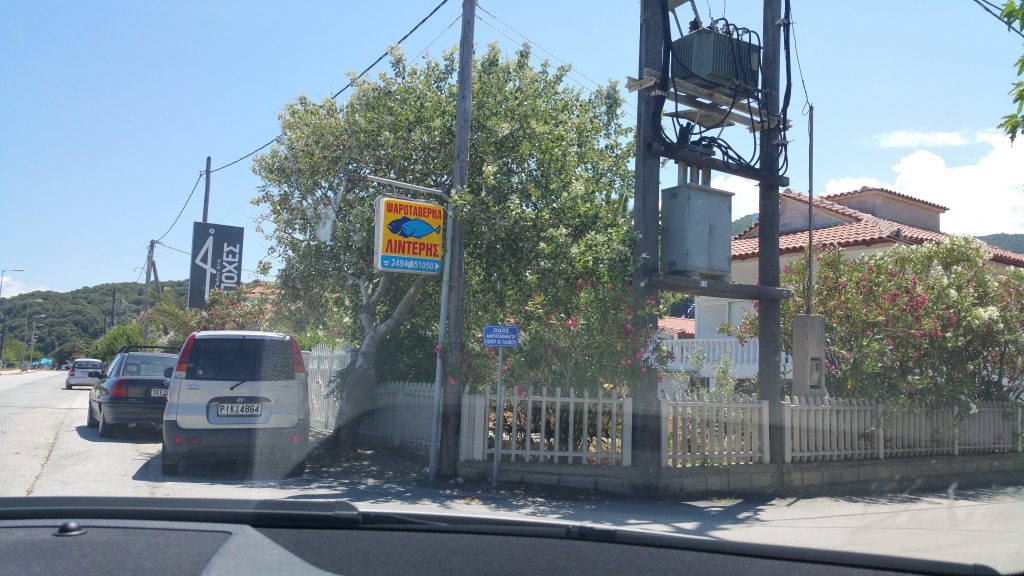 Goofing around…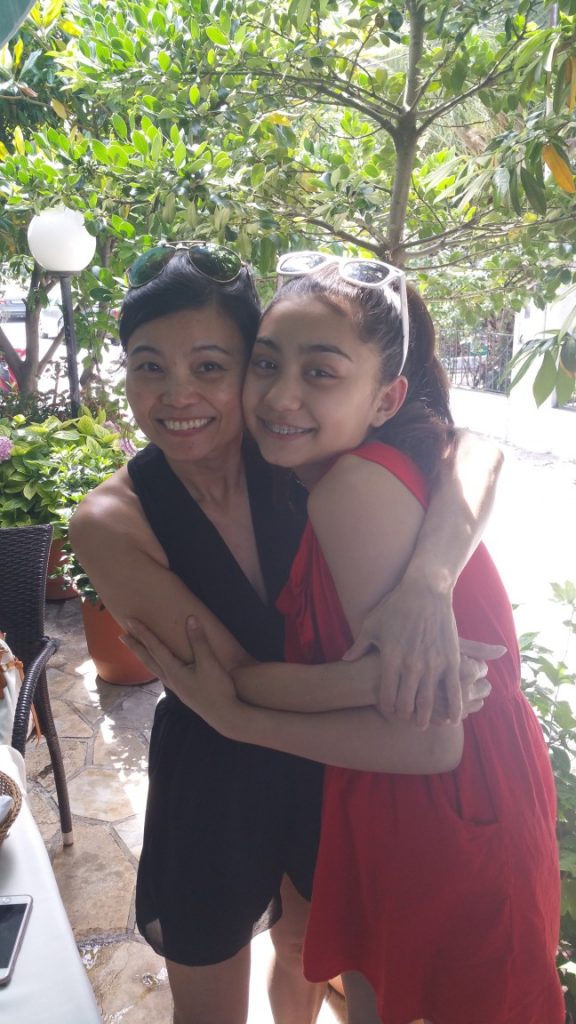 At the end of Velika, it is another one of my favorite hidden beaches. Well, not so hidden anymore…some business it appears got a hold of it and now sells umbrellas and overpriced drinks, ruins the natural beauty. I have some pictures back before it was discovered, so picturesque!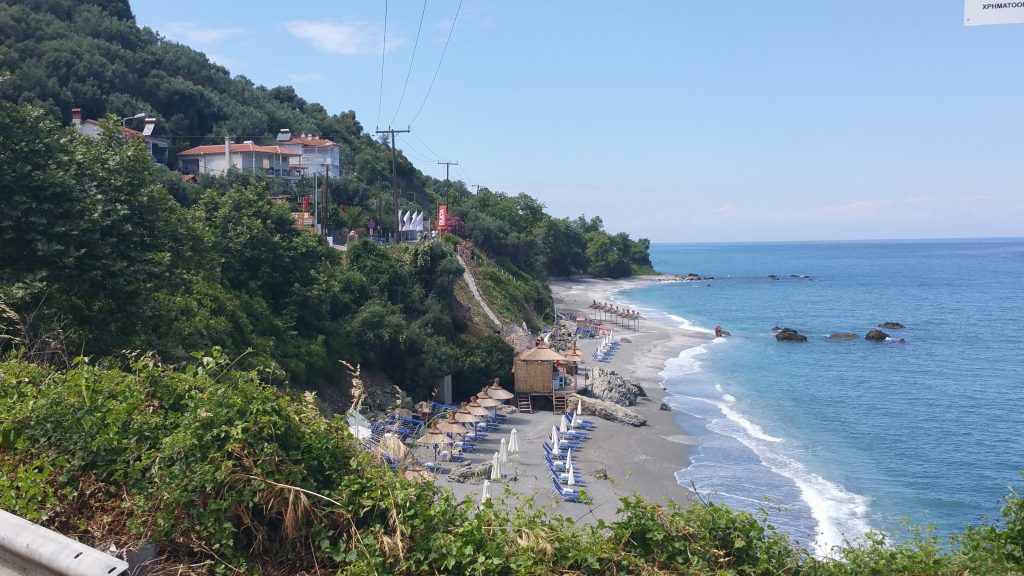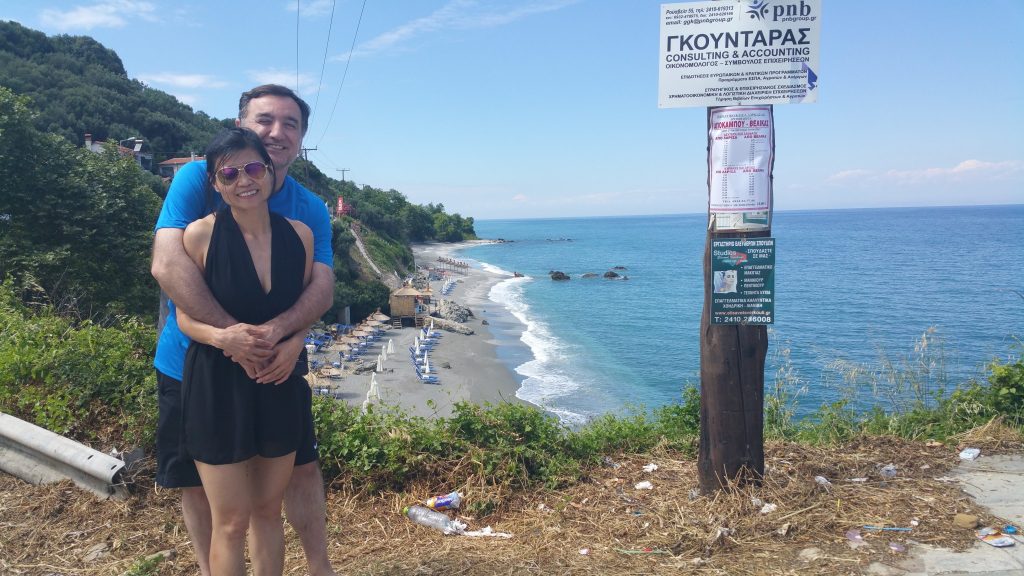 This is overlooking the opposite side facing Agiokampos at the other end of the beach from the end of Velika beach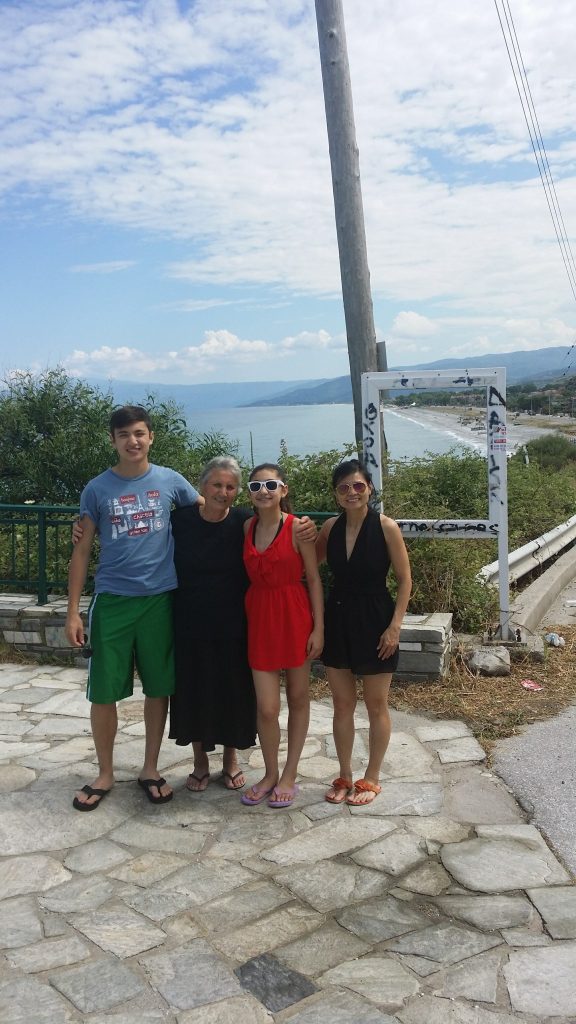 Life is so hard sometimes…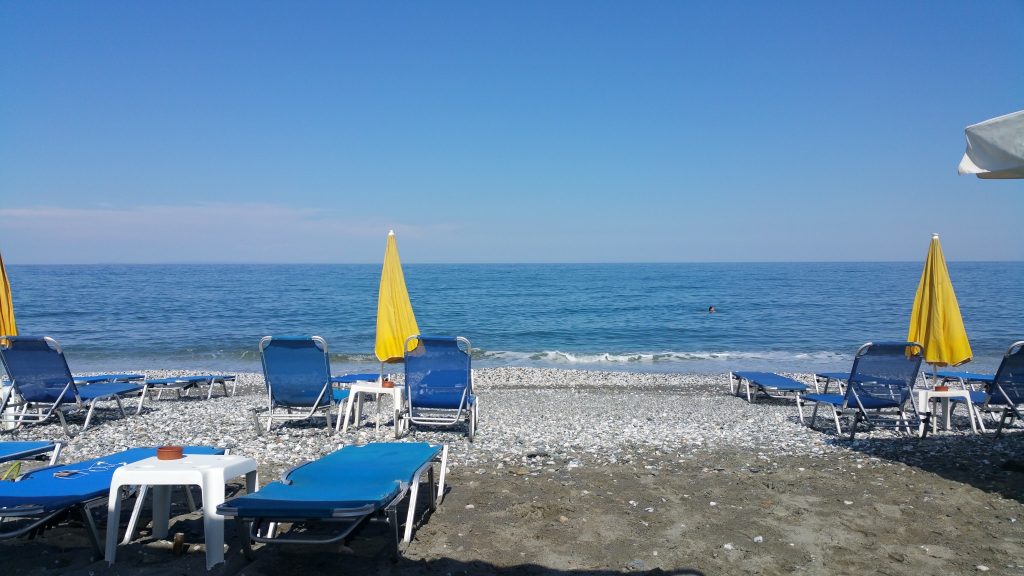 U face straight, you look at the magnificent sea. You turn right, you look at the two beauties. I kept facing straight and right, I did not want to turn left to face son lol.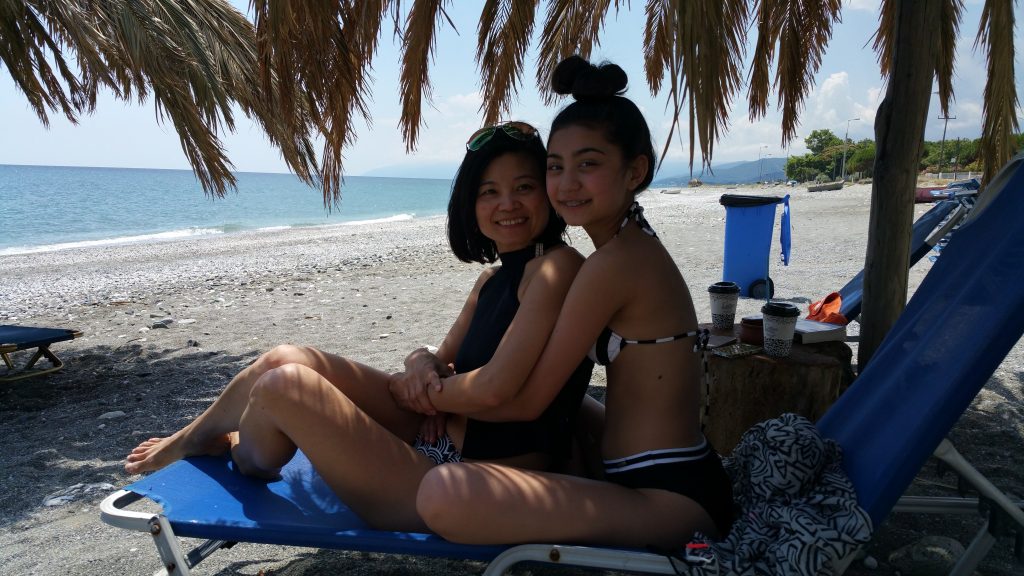 Who needs Panera, woohoo!
It's about the water…Every time I go to a lake in Michigan or visit Florida and look at the water and I go…pffffft!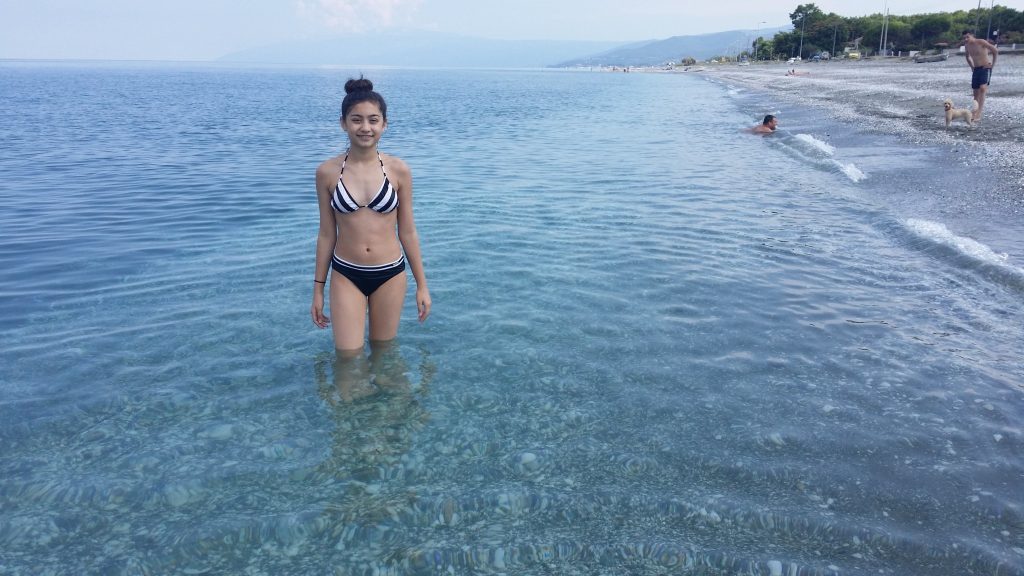 TBBon!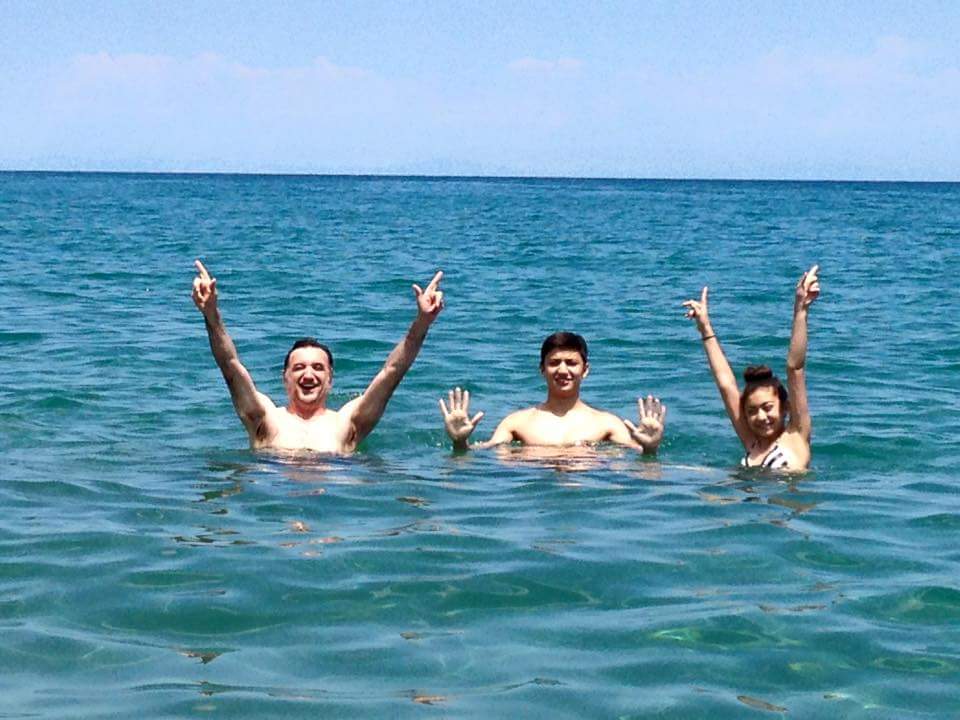 Strolling around in the evening…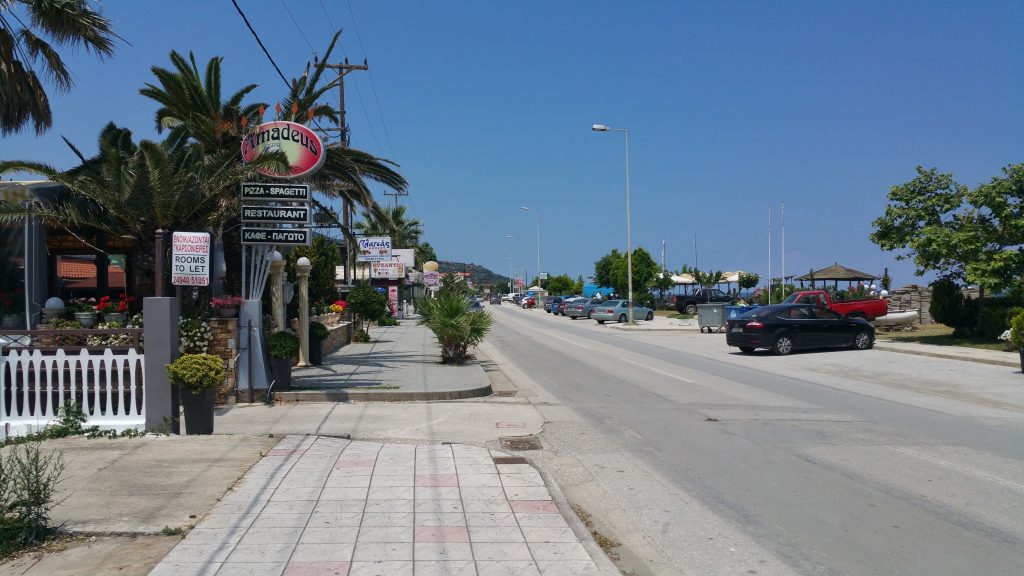 Another one closed…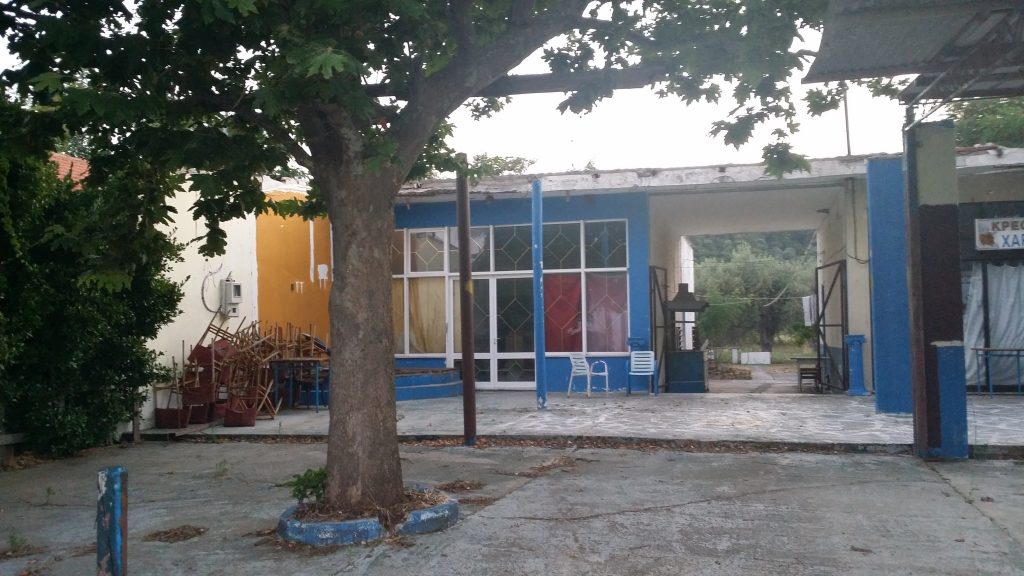 The small super market early morning going to get my coffee, watching the news and bitching at the politicians…happens a lot!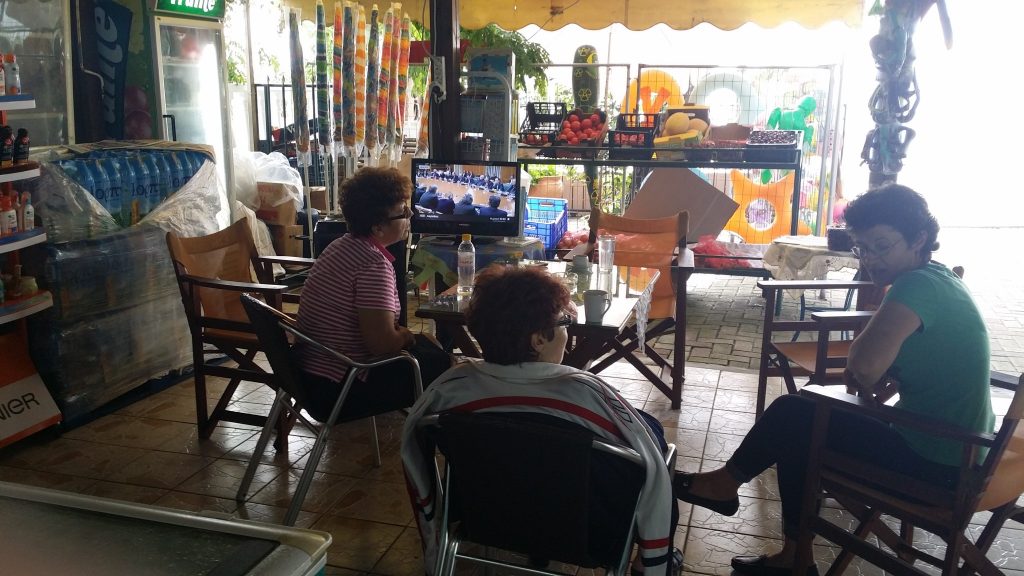 Another glorious meal by the sea…Prices have come down a lot. The surviving restaurants try so hard to distinguish themselves to…survive. We customers benefit. I must admit, from a purchasing power point of view, due to the strong rise of the dollar…we have been very lucky!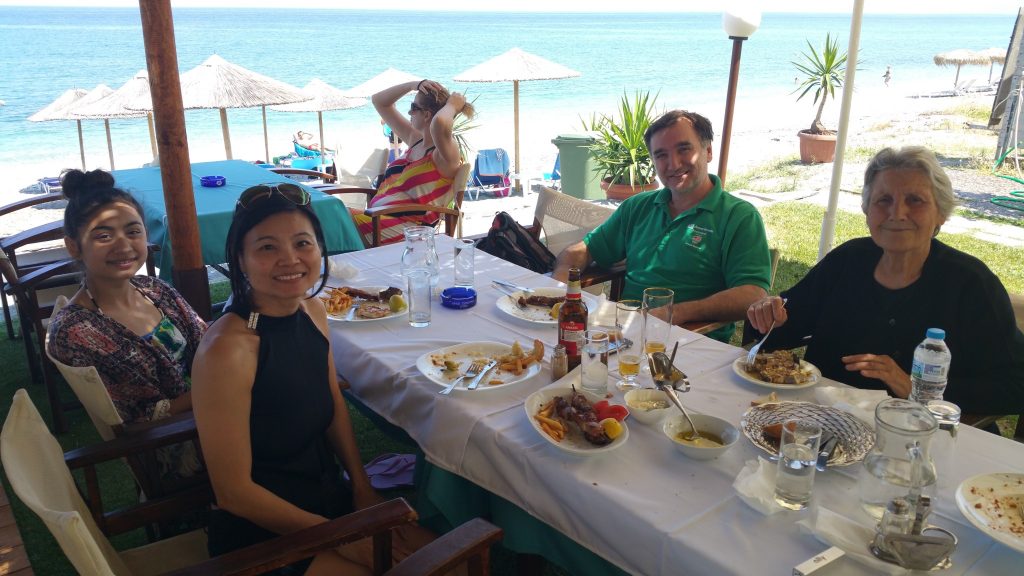 Complimentary from the owner, fresh cherries! We are located in one of the largest cherry growing areas of Greece. Yummy!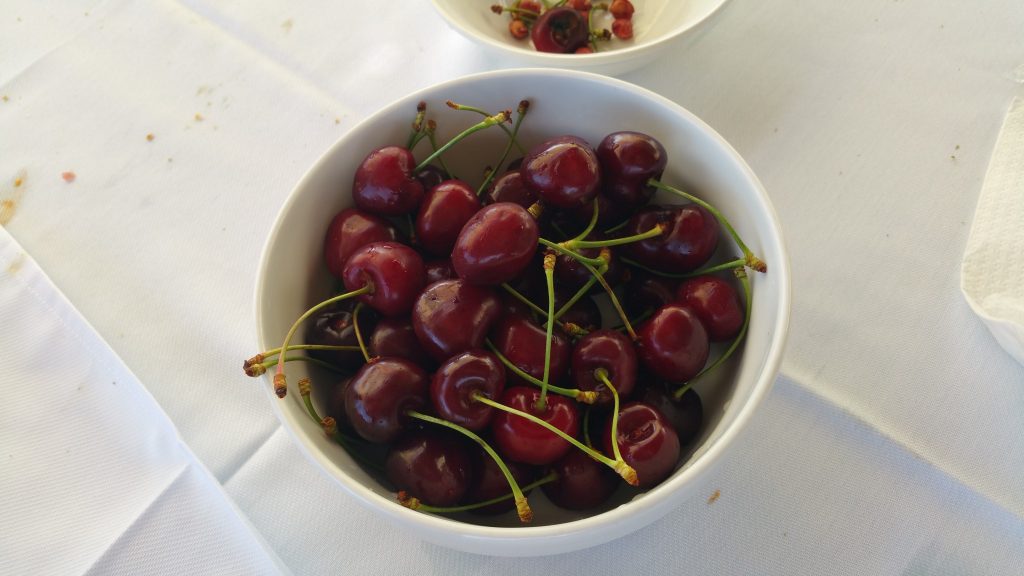 Back to the other side. At Agiokampos there is a small port. One day there will be ferries coming from all over the world my father used to say. Still waiting…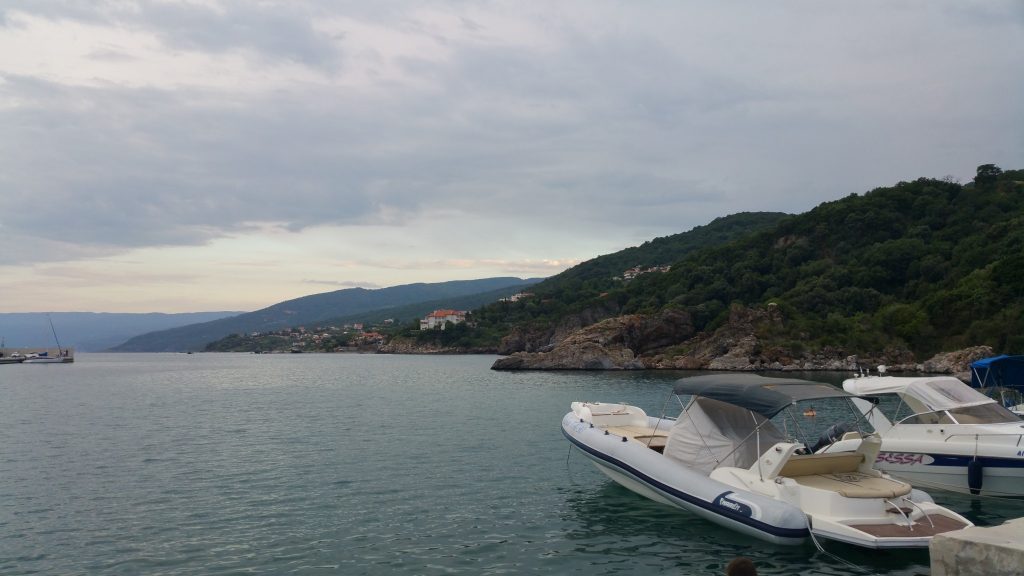 There has always been a small community of fishermen who lives here year round. Not many as the place is too cold and waves/storms so strong during the winter that you hardly see anyone!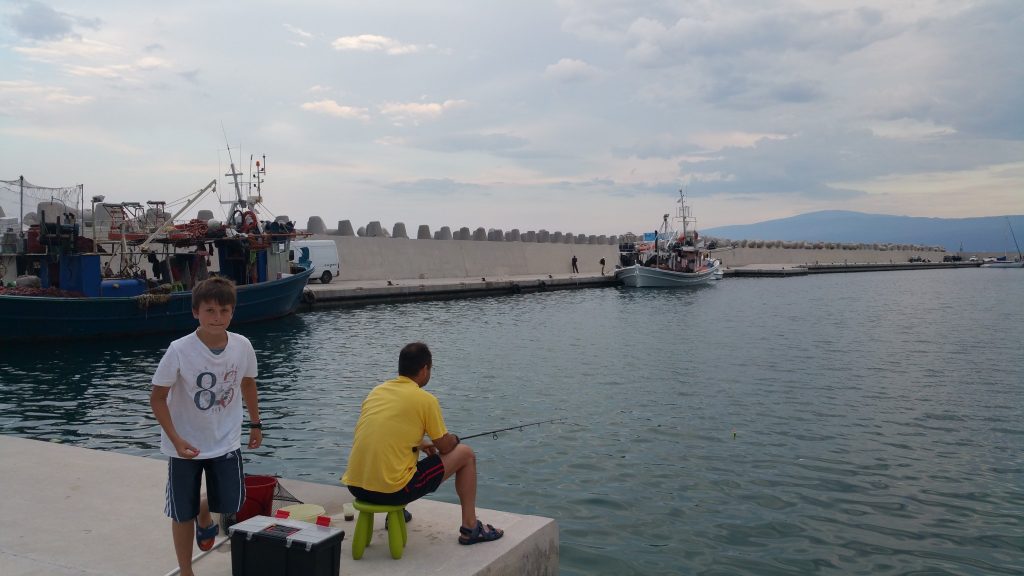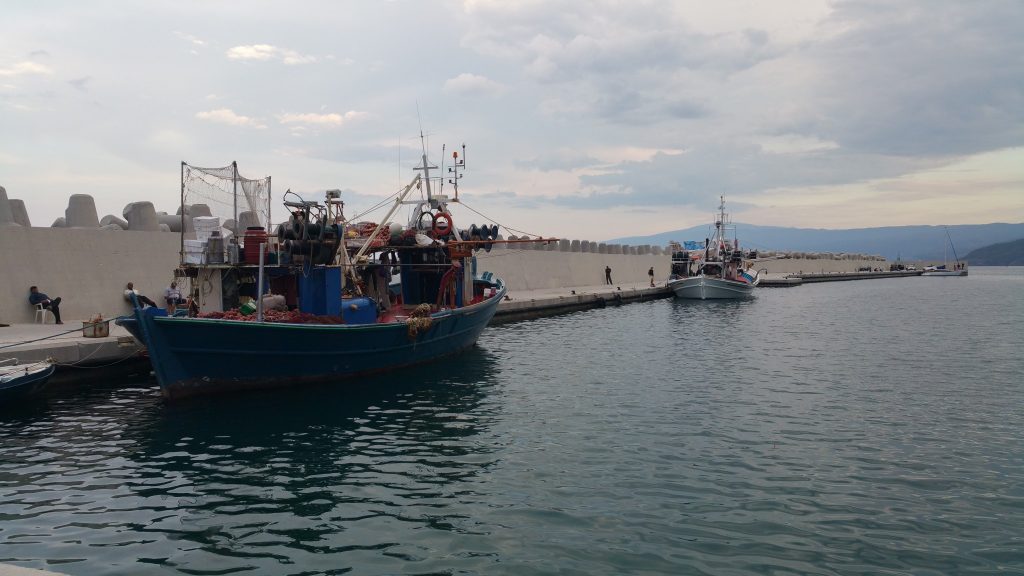 Another beautiful shot from the end of the Agiokampos beach at the port…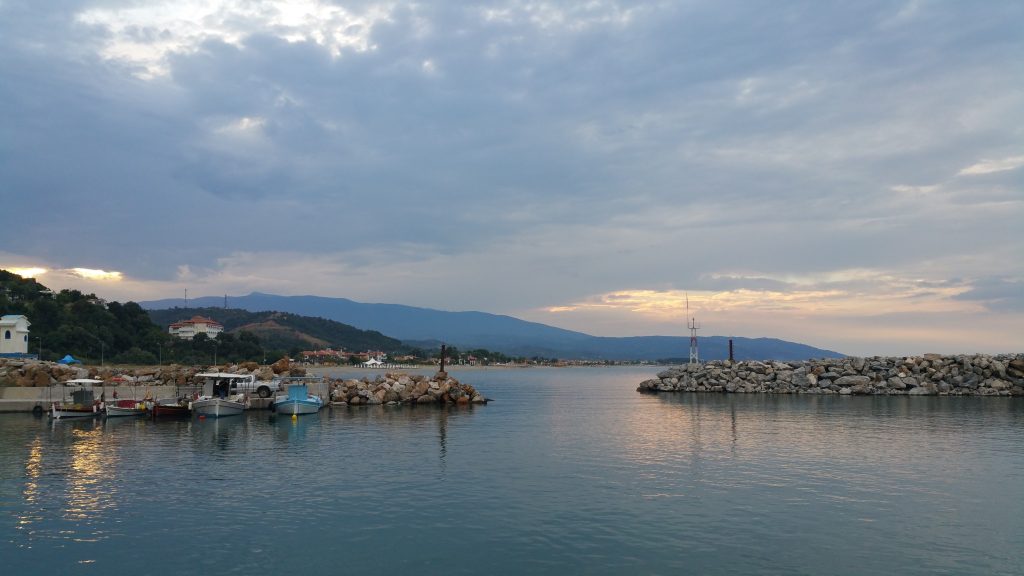 You see this beach right here? TBB has probably walked every inch of it, been coming here since…birth up to about 17 years old when I left for the US.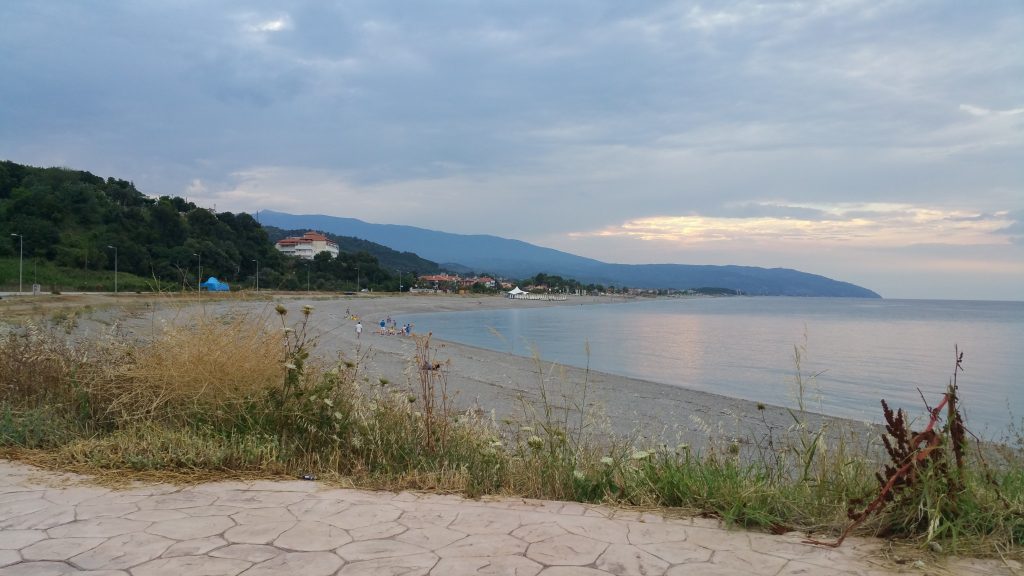 We always try to have a meal with….noodles at home! Noodles and cherries, yeah baby!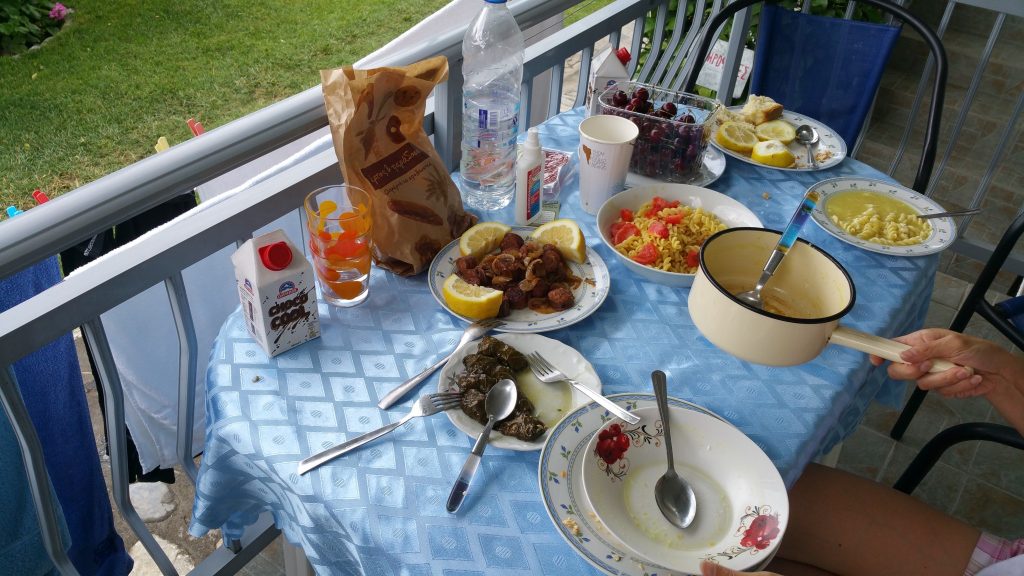 Next day we decided to go on a drive north (towards Thessaloniki) following the main coast road. Prepare to see places you never see in any trip report because most tourists go to the famous Greek Islands! Well, you can get there I guess but this area is soooooo much more affordable and you mostly never see any other tourists!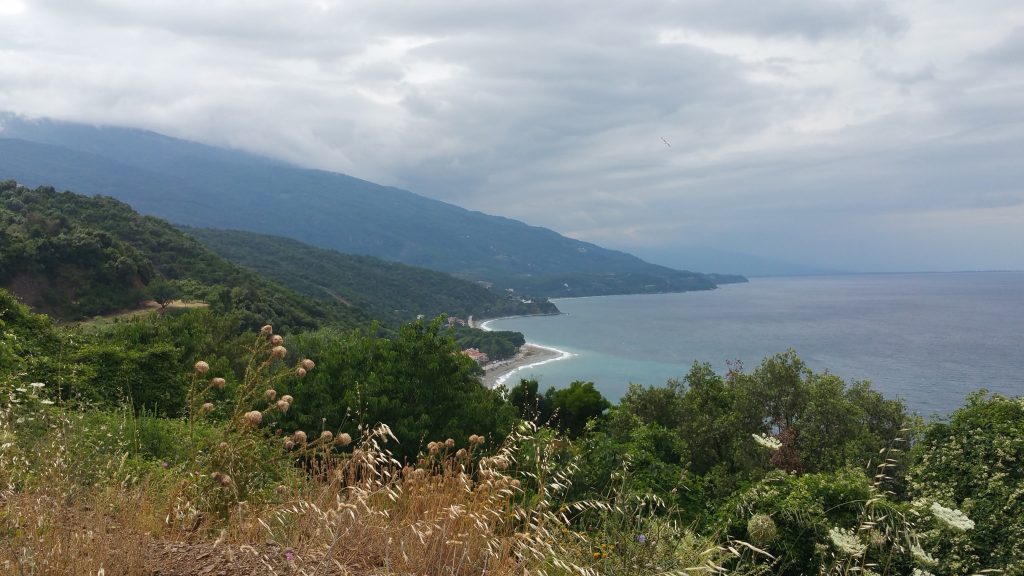 So many of these beach gems…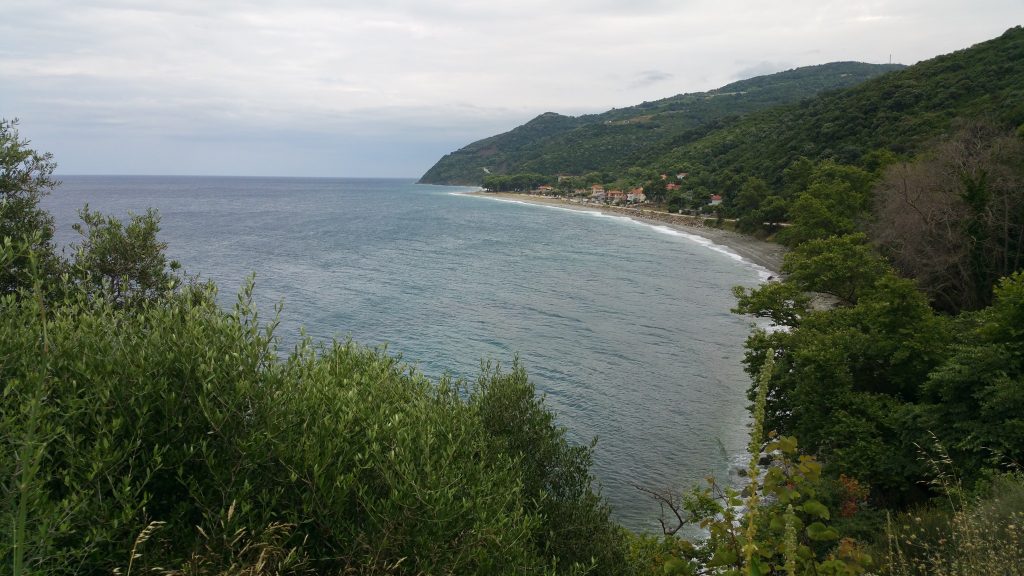 Look at the camera man!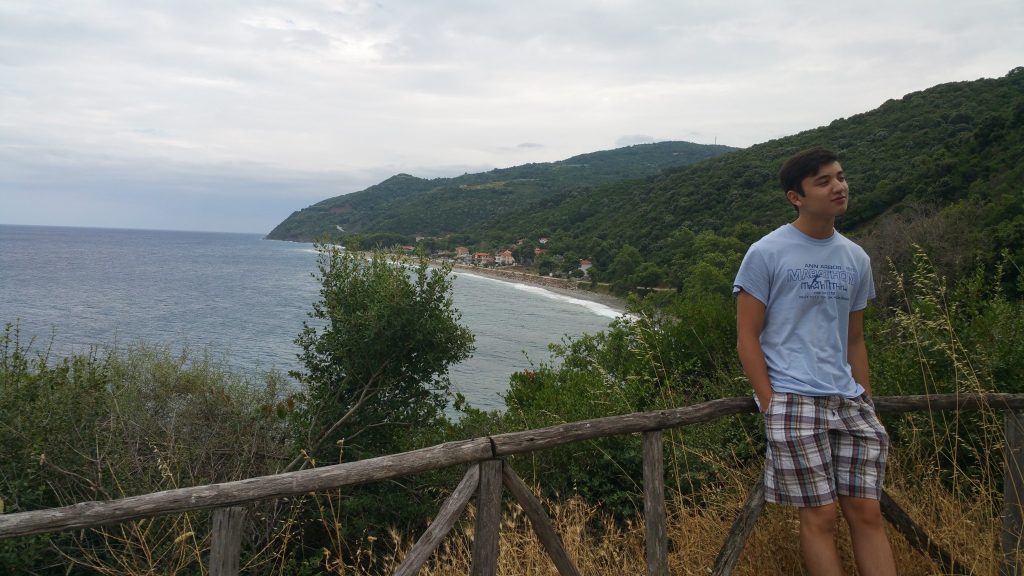 Okay guys, I am not suffering. My blog may not be killing it with Alexa rankings…but I dig it! #winning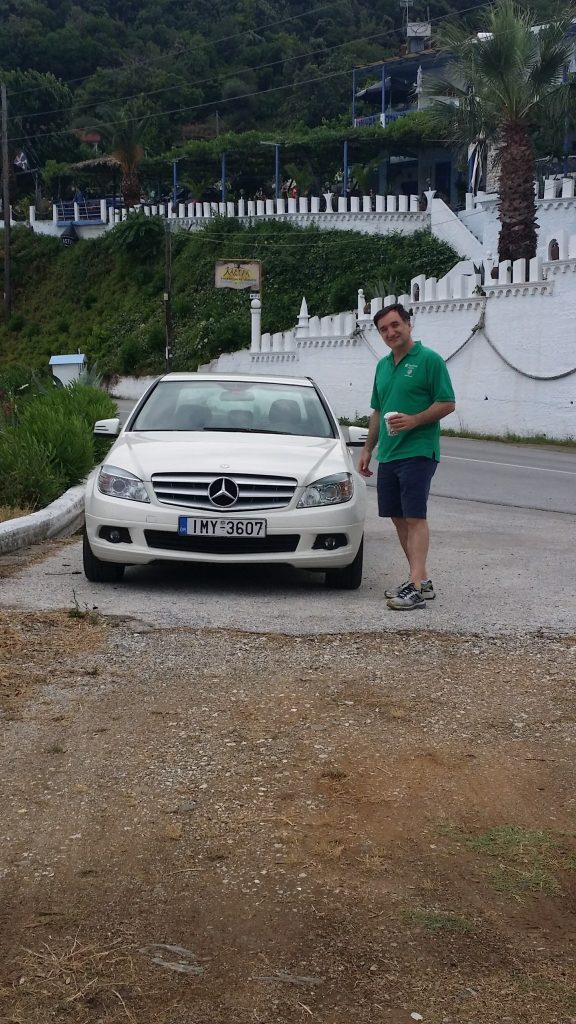 I decided to drive all the way back to the main highway and get back to the Tempi Valley and stop this time…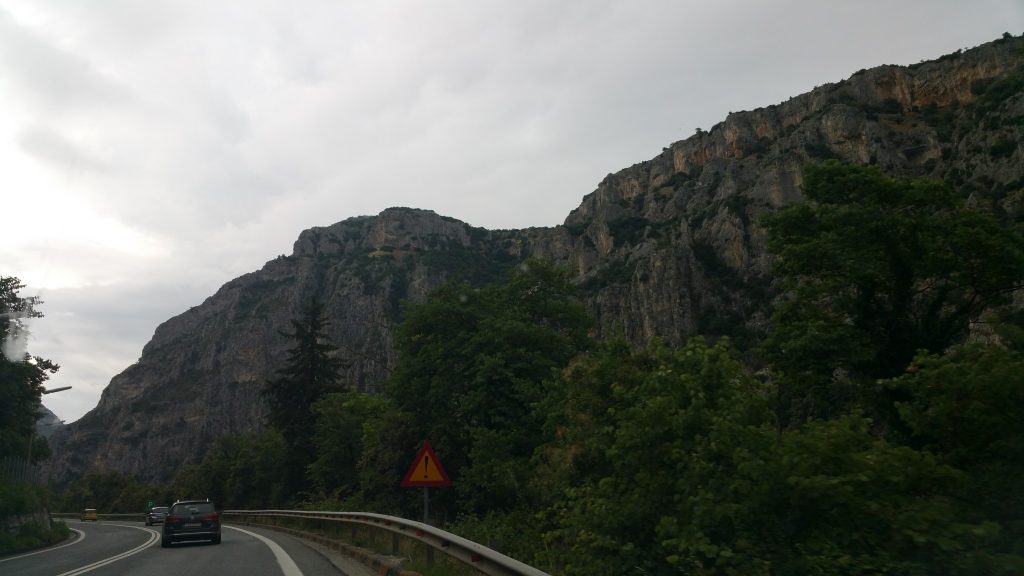 As a kid my parents took me here several times. It is astonishing how tiny this place is and how huge it seemed when I was a kid, wow!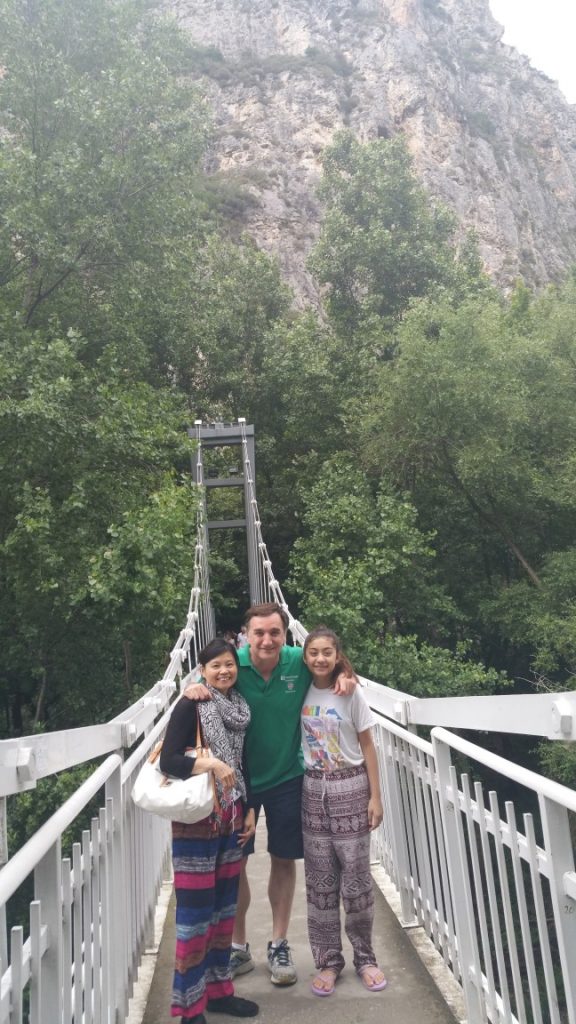 There are some monastery type structures built inside the rocks here.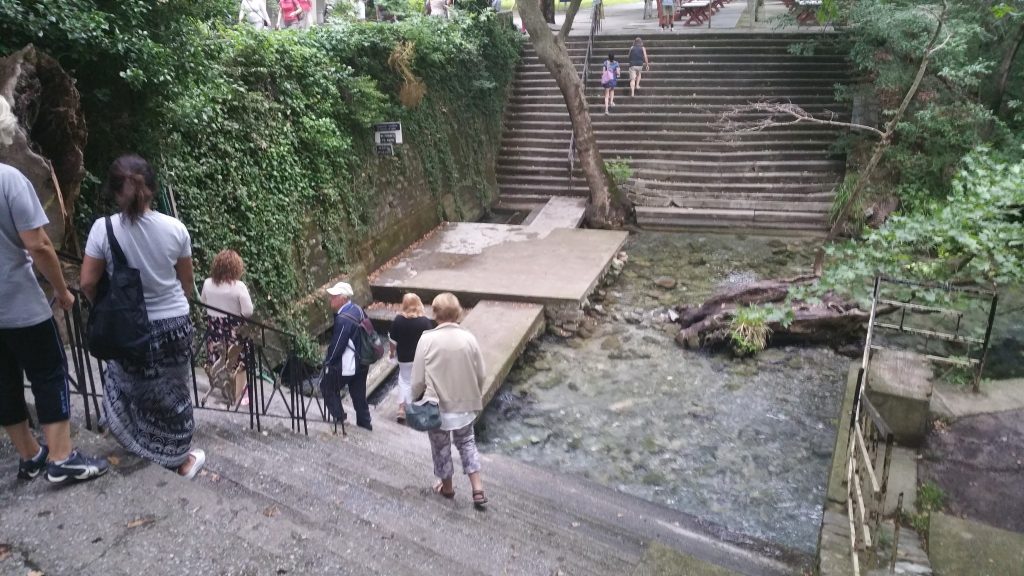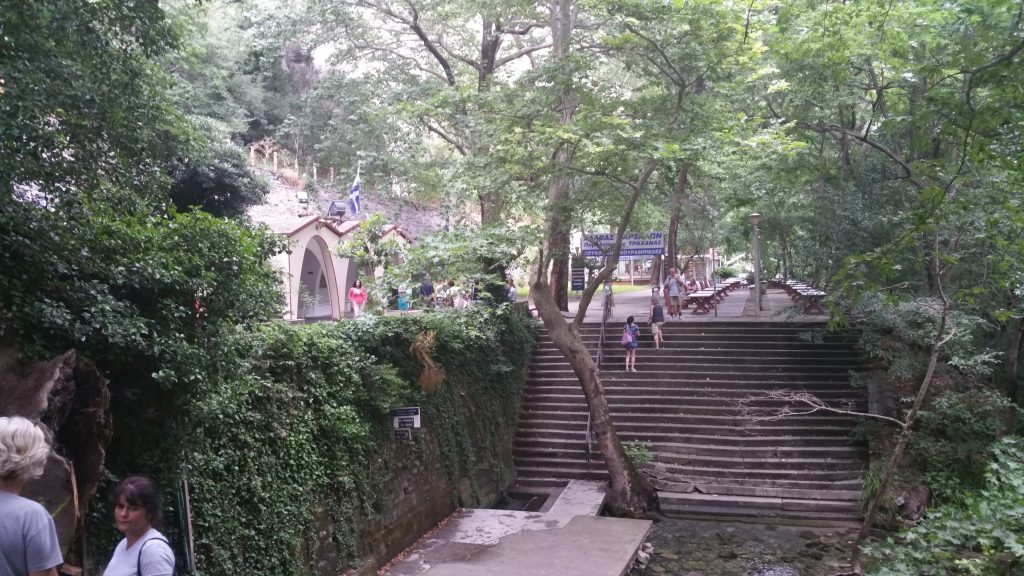 There is also St. Paraskevi church.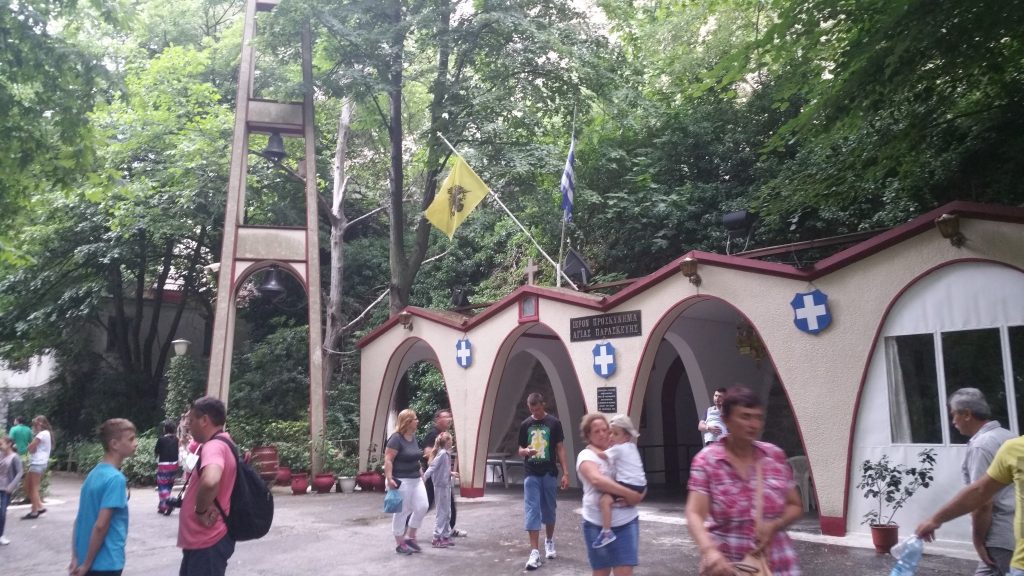 I found the place looking depressive and run down. Only one semi functioning toilet. Most of the souvenir shops closed or not doing much business at all. I remember as a kid this place so full of people picnicking, playing in the water and so many food trucks…It was hard to watch, felt gut wrenching actually. I should dig out my family pic when I was kid, okay here it is, oh my!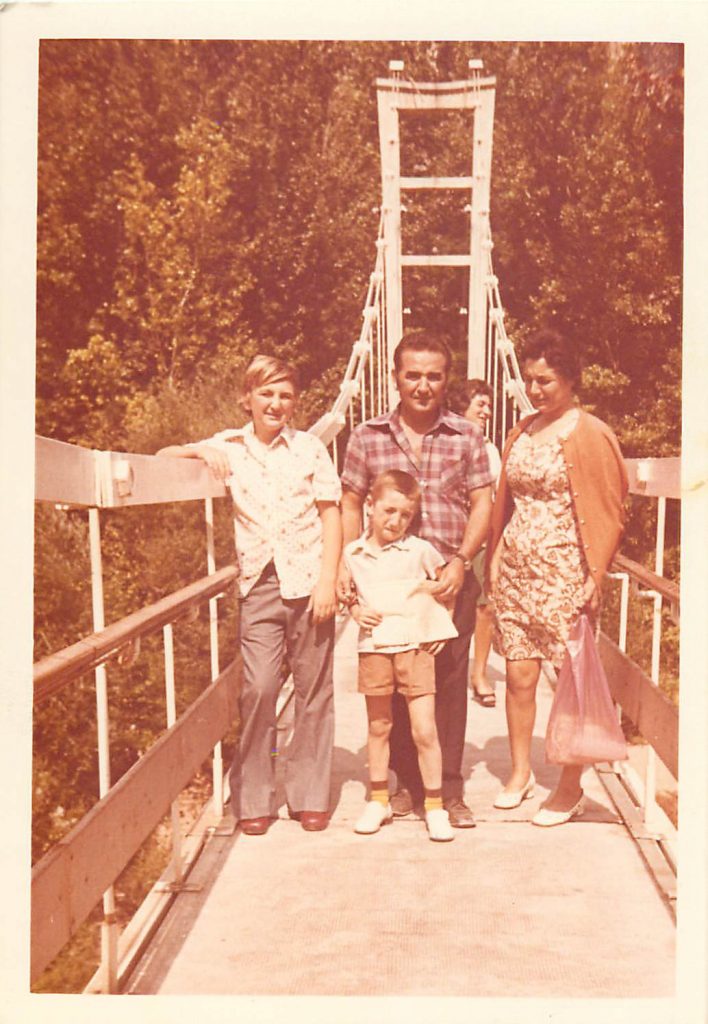 Amazing what 40 some years can do to your physique, lol.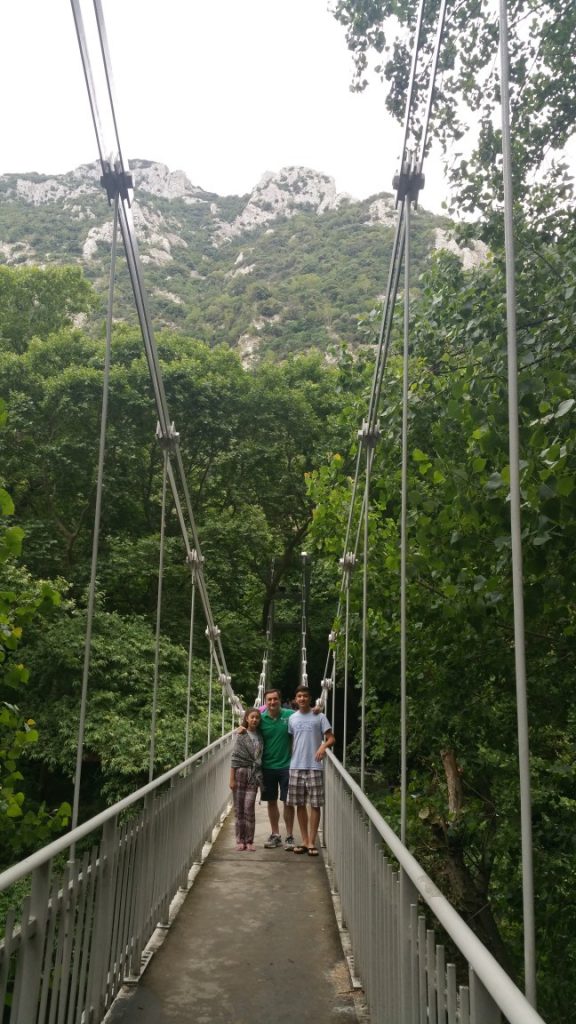 I think we stayed five nights total. My mother really enjoyed chatting every day with the owner's mother and got along so well. It was time to drive back to Larissa and….wait, must stop for some cherries of course!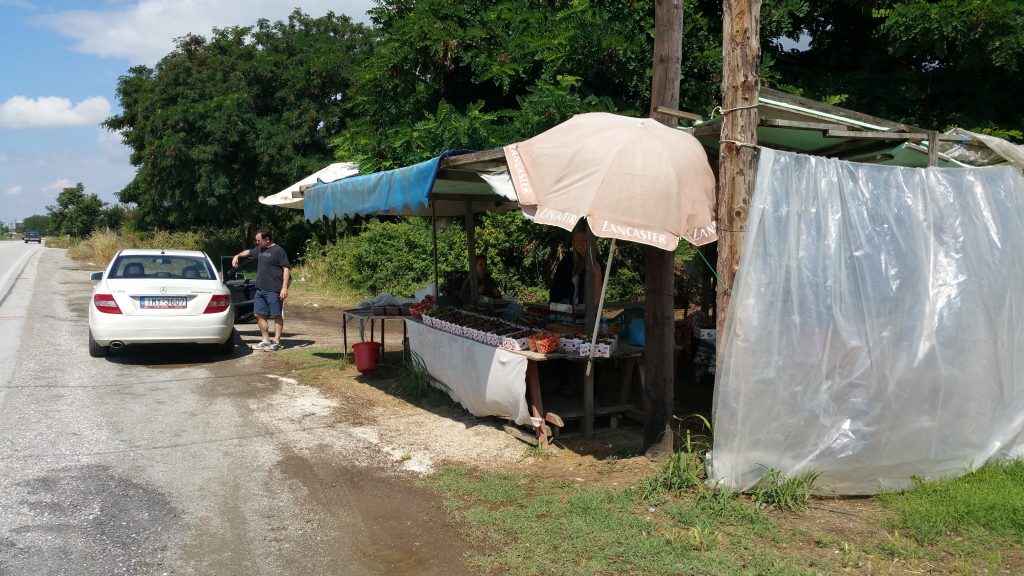 Back to Larissa for one night, just strolling along enjoying the beautiful night…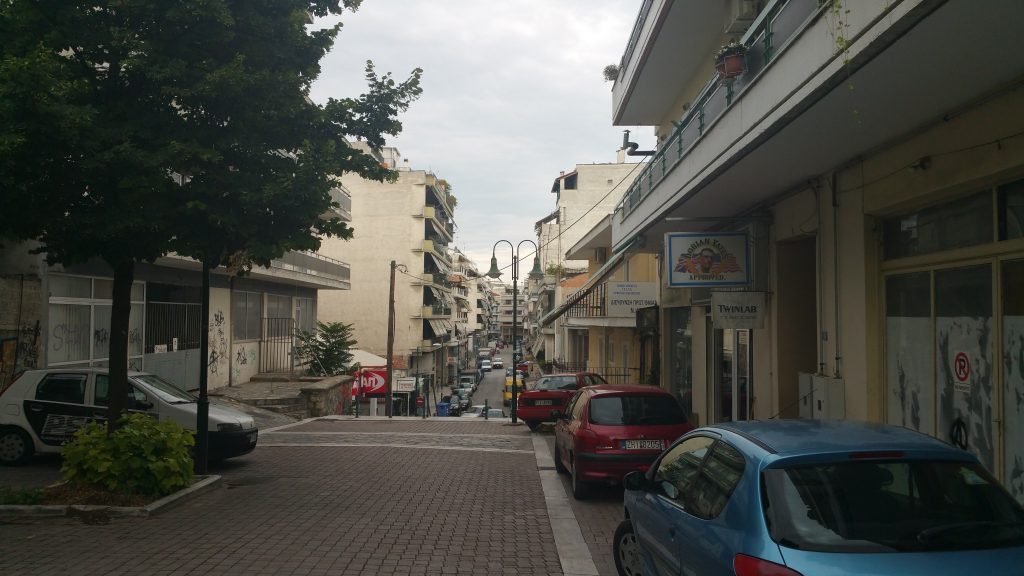 and the smells and sounds…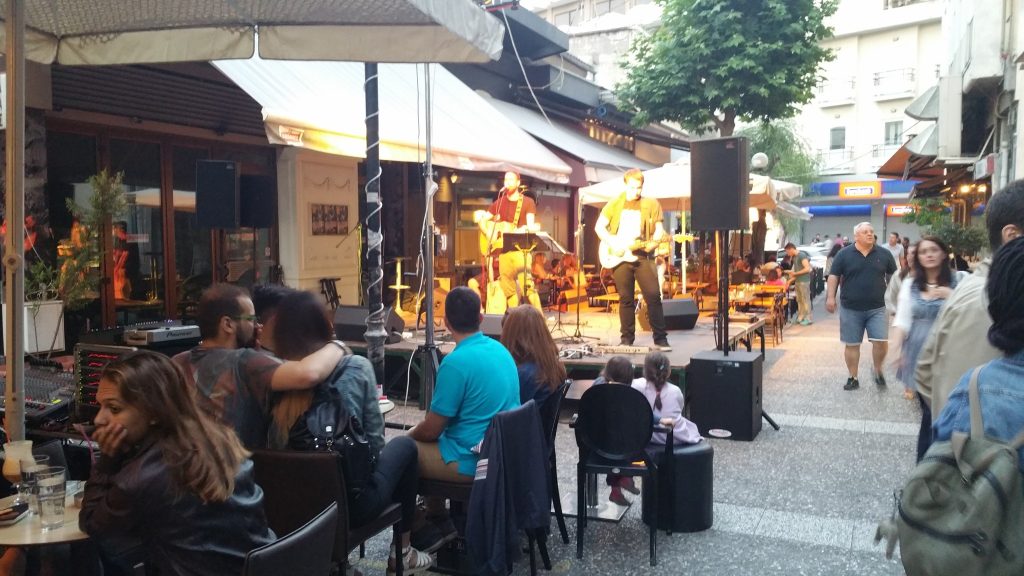 We had an awesome BBQ meal at a taverna in the old part of the town, it was…epic! Next morning we are going to drive to Meteora!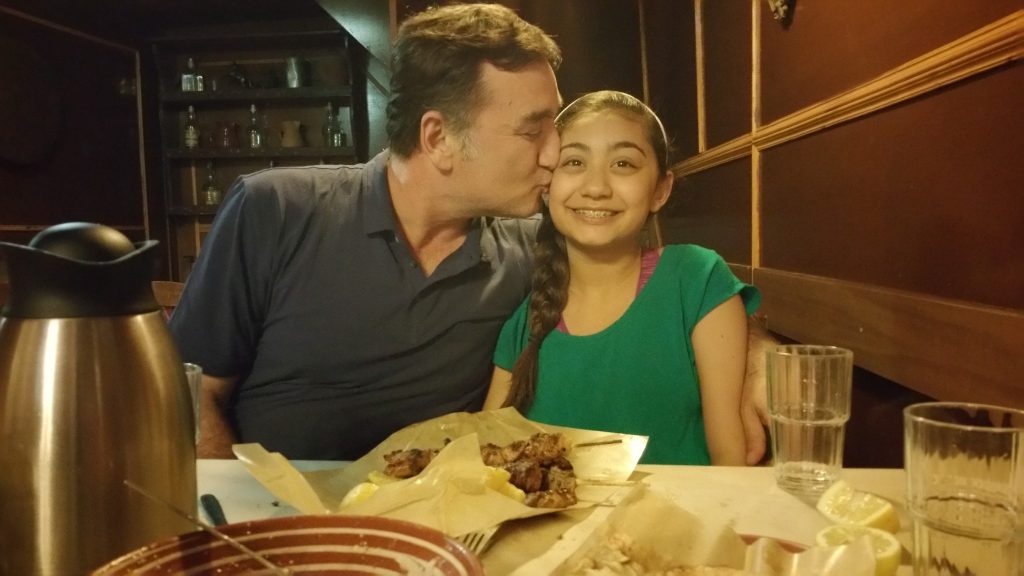 The next day we drove to Meteora.  This is an area about one hour west of Larissa. Per Wikipedia, it "is a formation of immense monolithic pillars and hills like huge rounded boulders". With a bunch of Orthodox Christian monasteries on top. It was another hot day in the homeland and it only got hotter by the time we were near…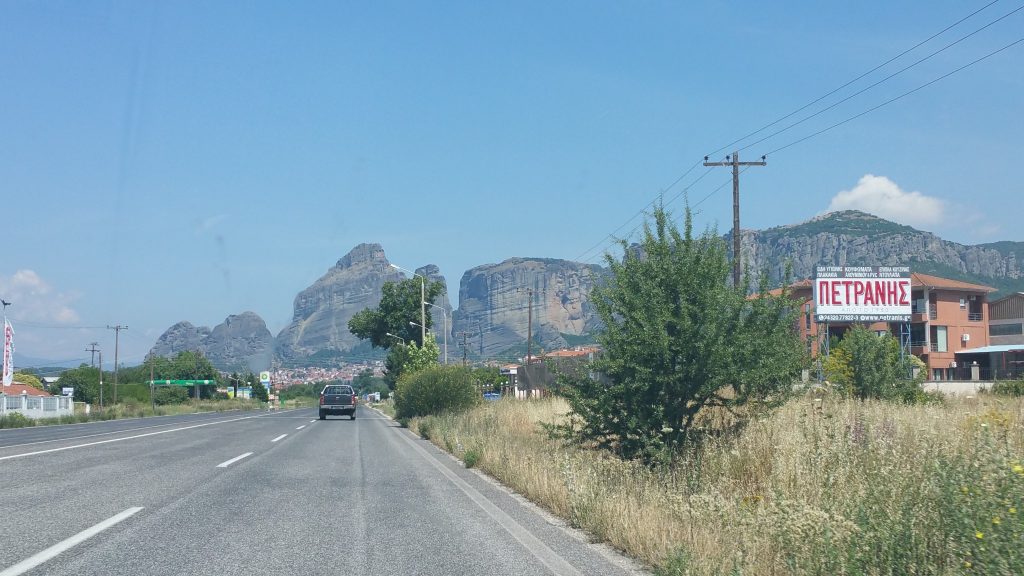 As we started driving to get up to them rocks, we see….goats!
The Mercedes handled the steep drive up as expected of course, beautifully! The whole time this car never let us down! I will let the pics do most of the talking…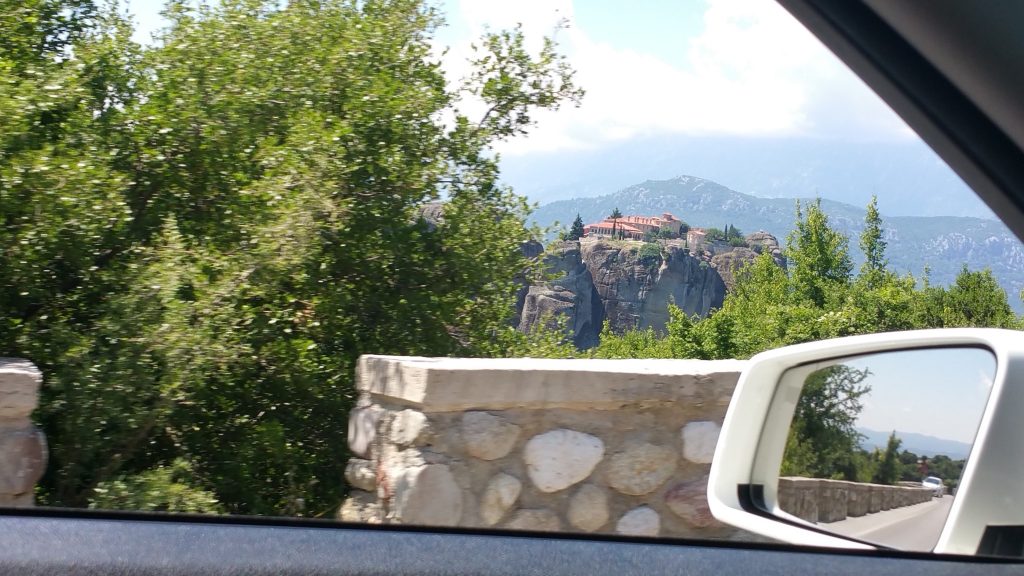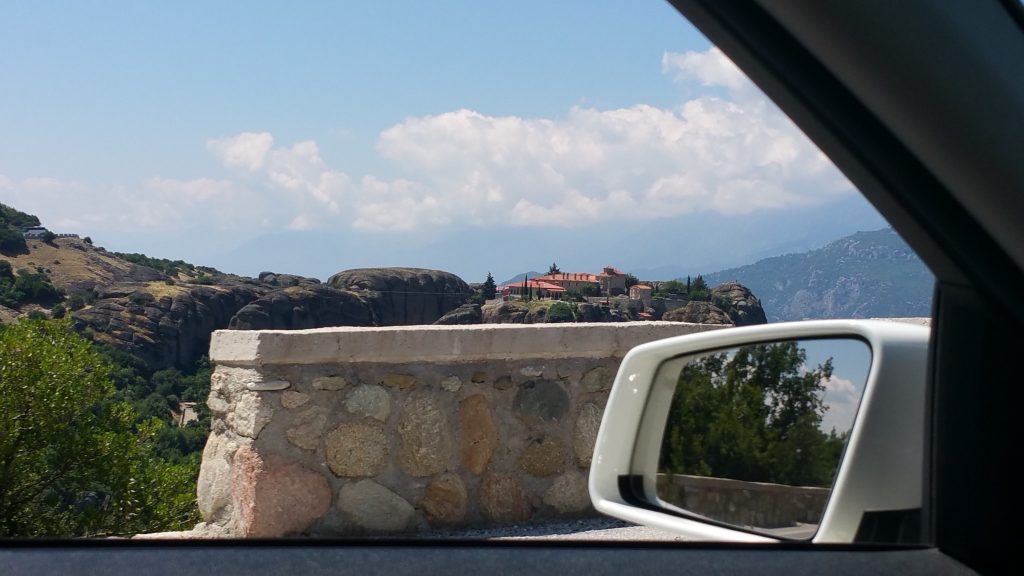 Like I said, these monastery buildings are very unique…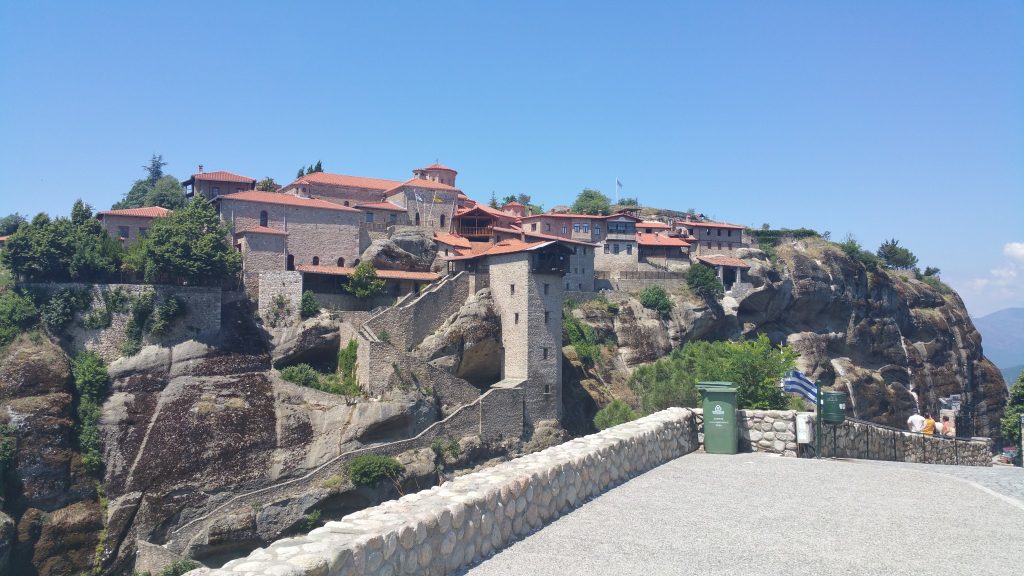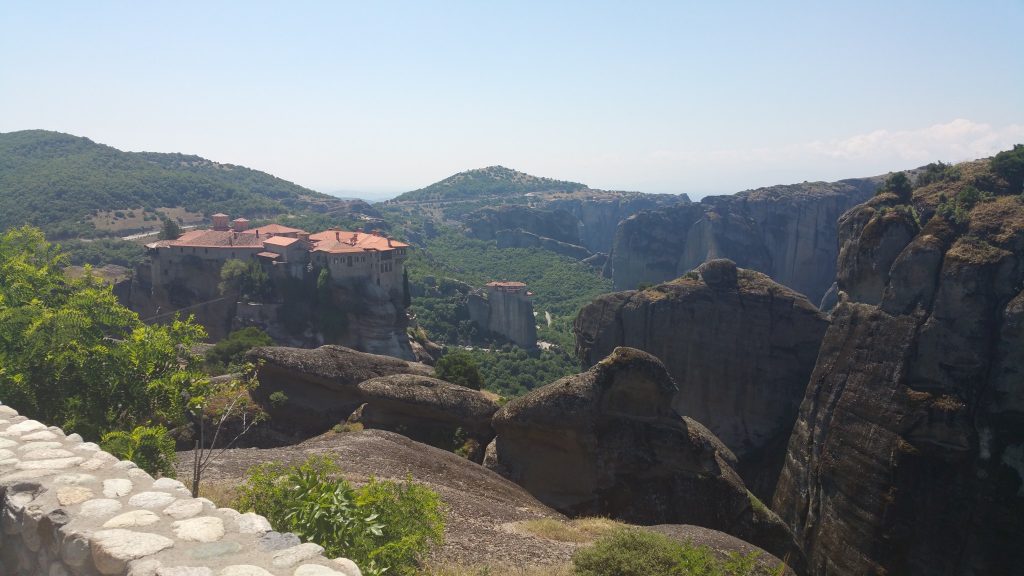 Expect tourists, lots of them. Many come now from other Christian Orthodox countries, including Russia!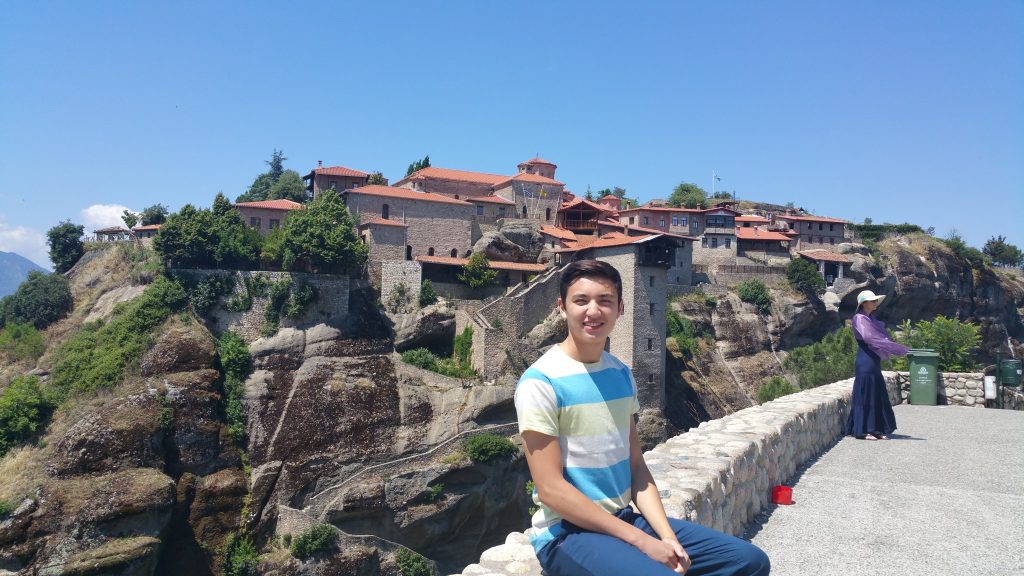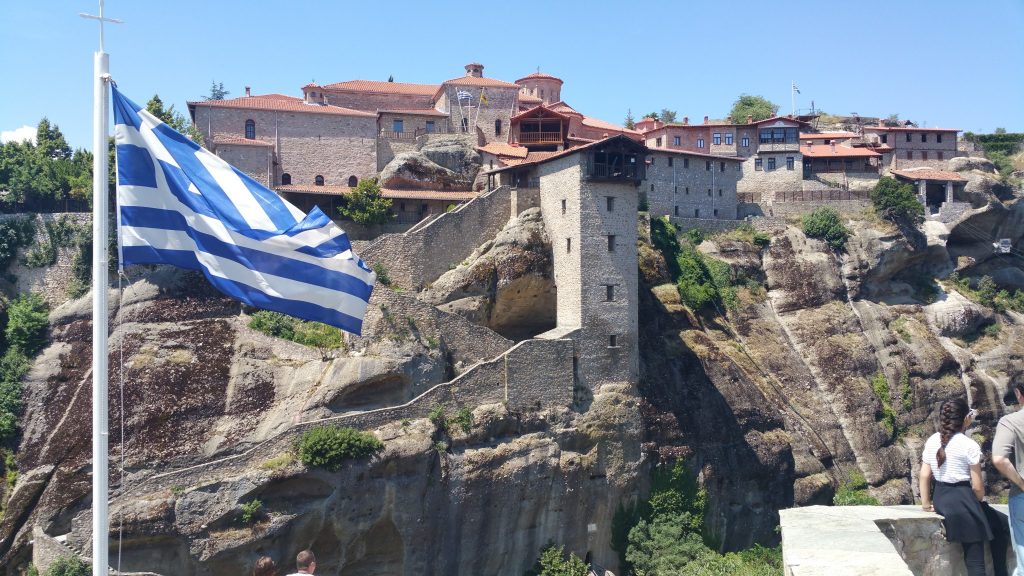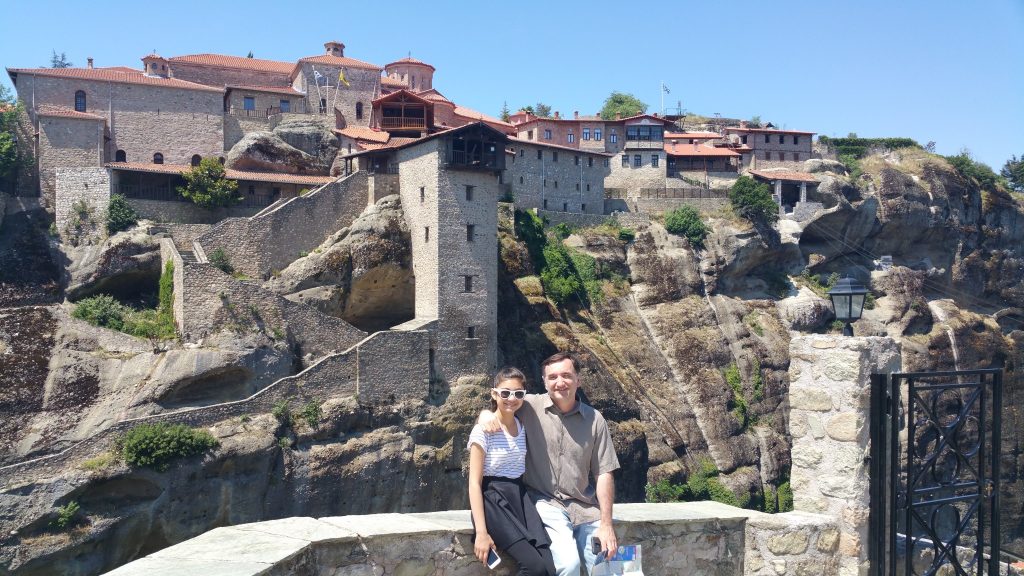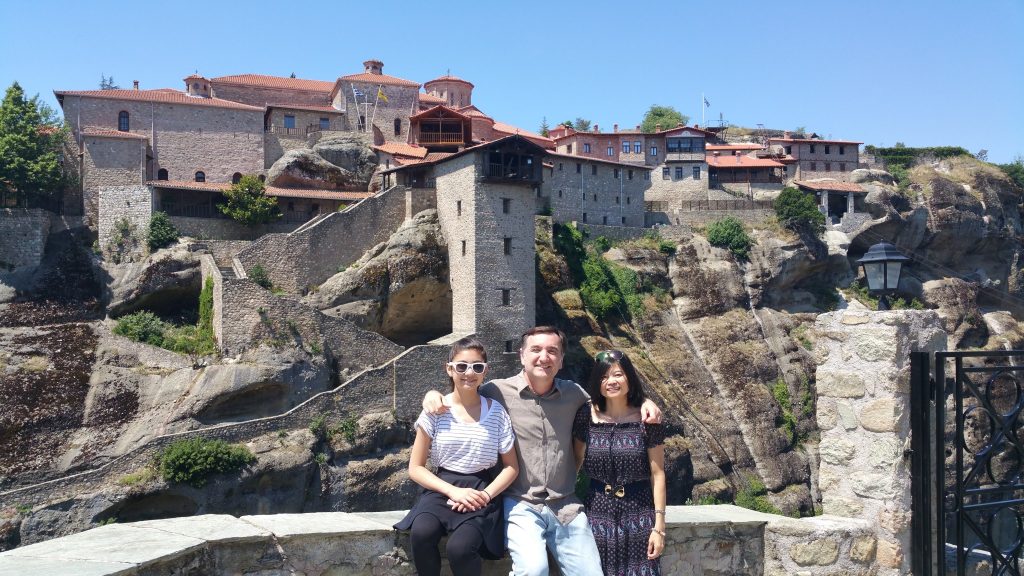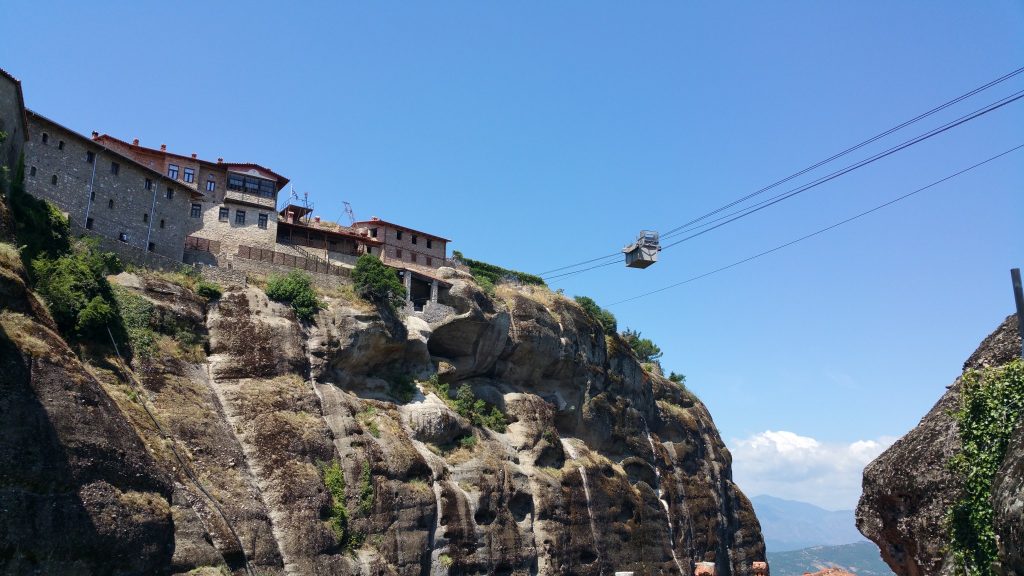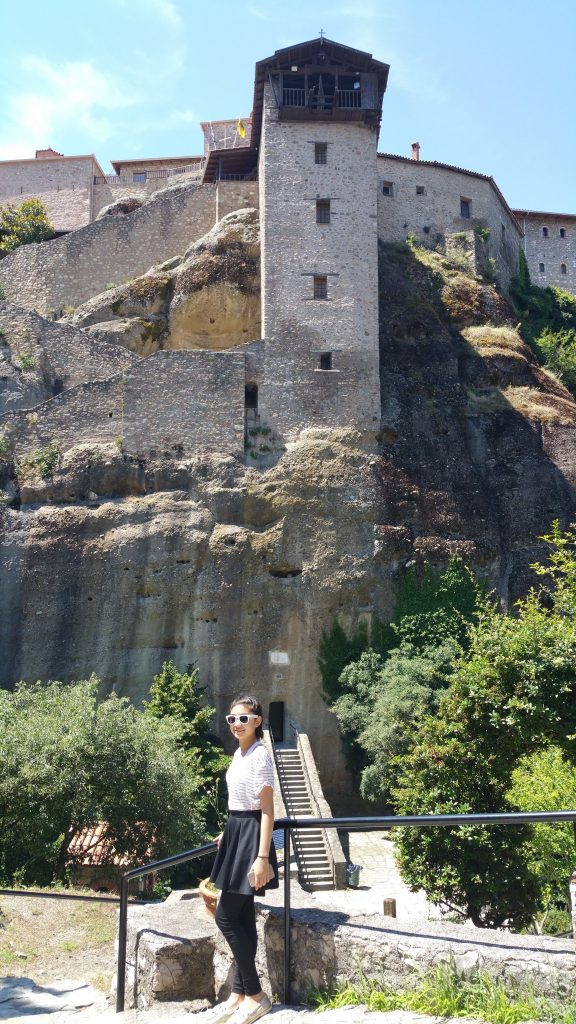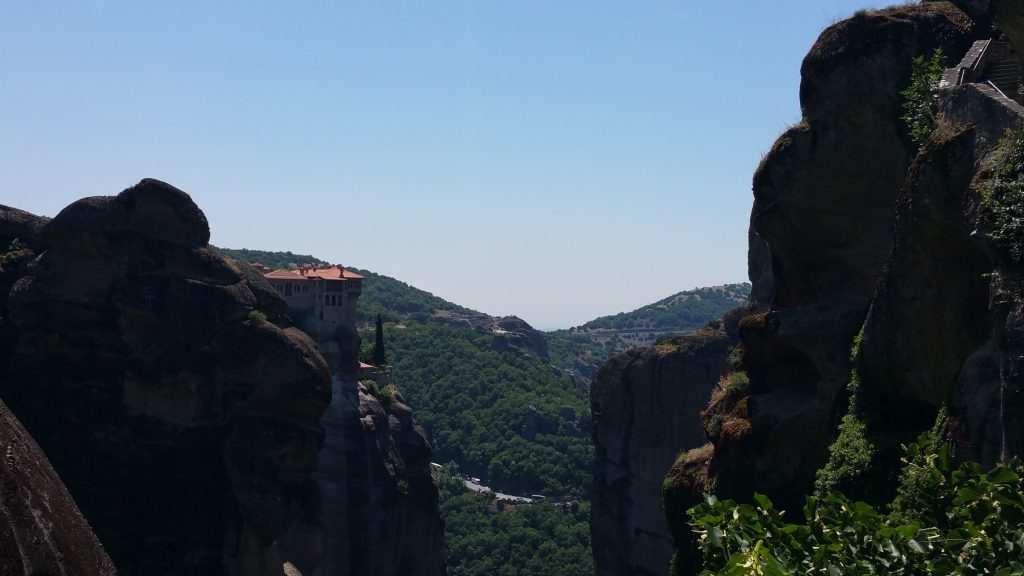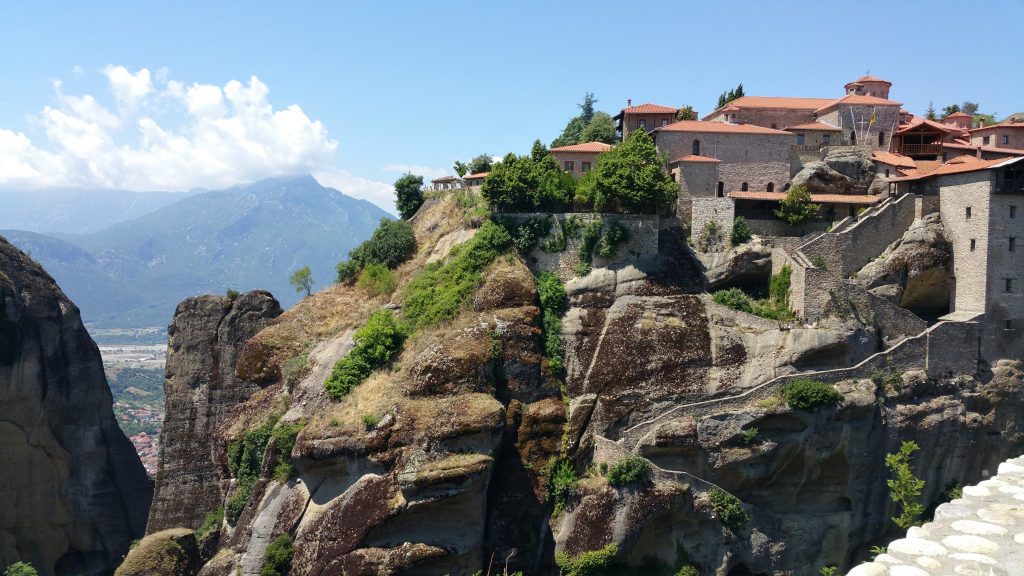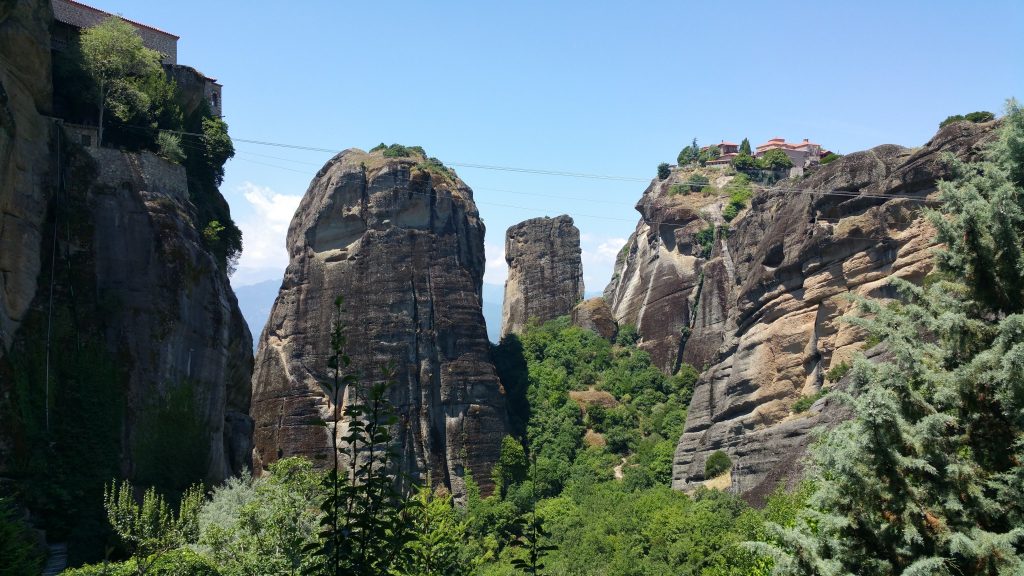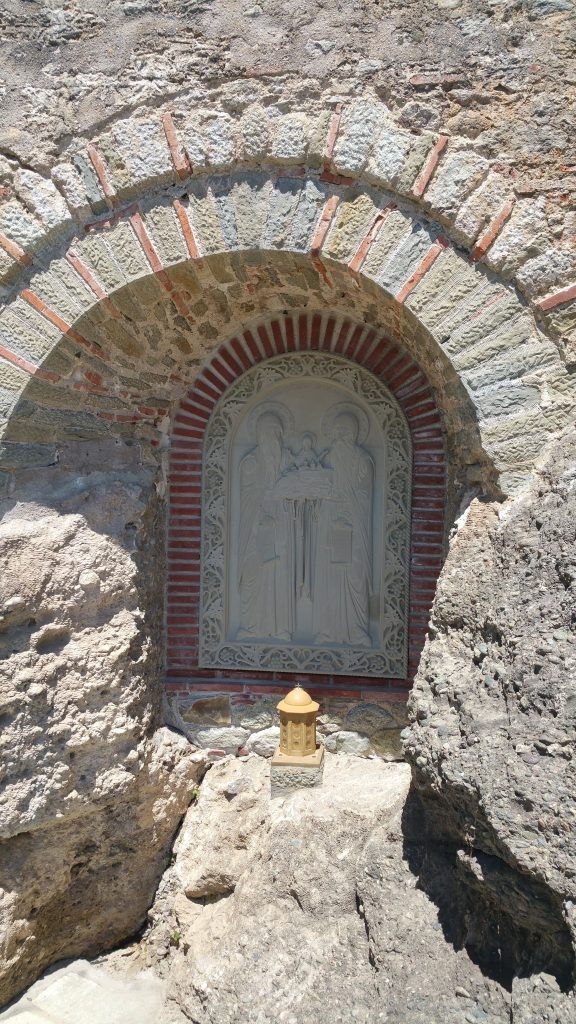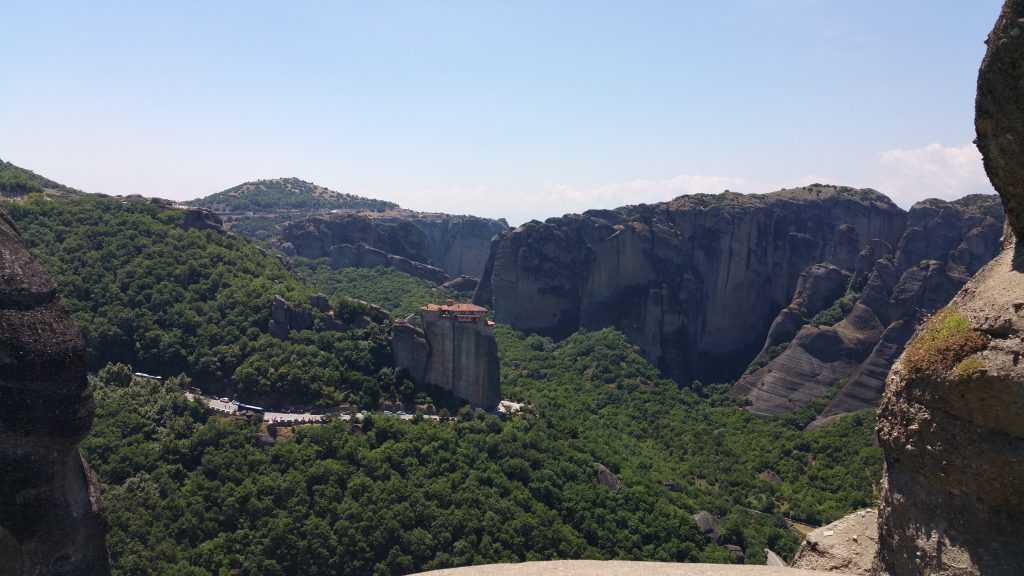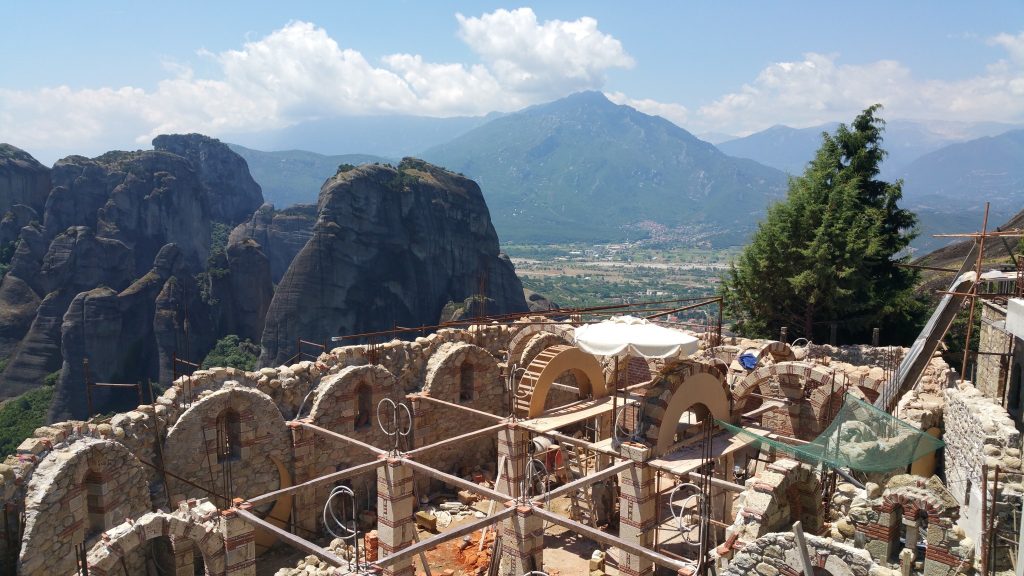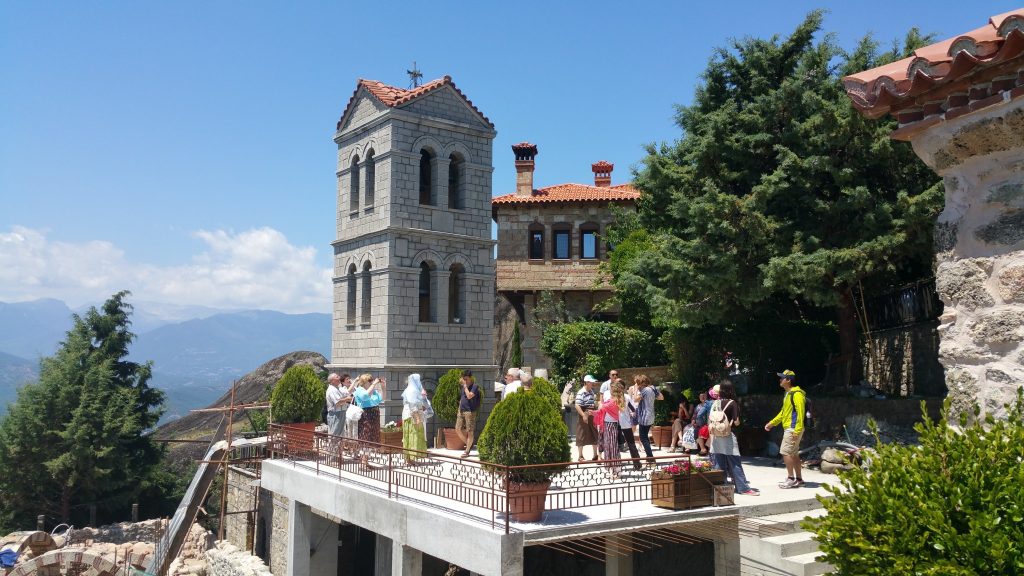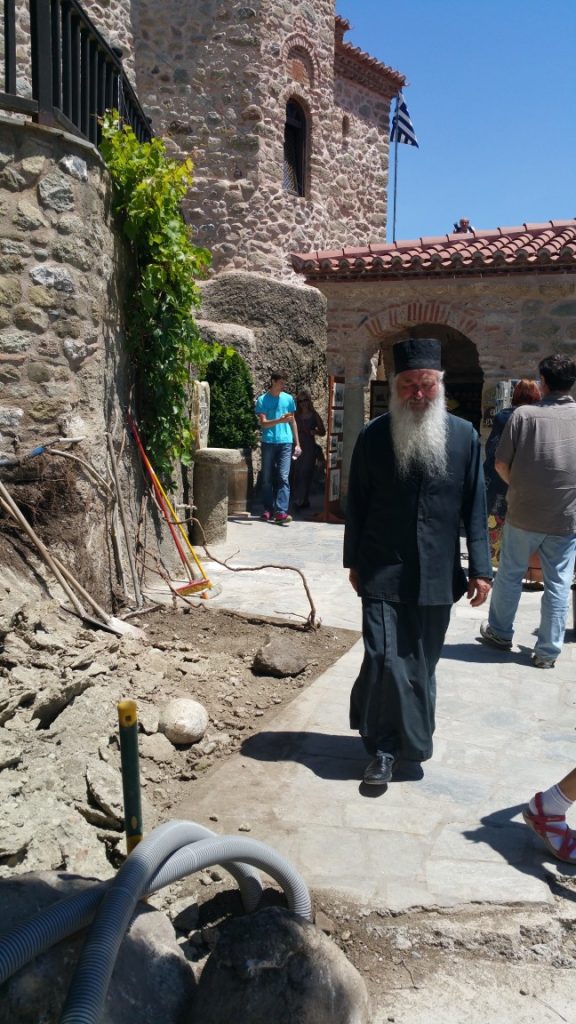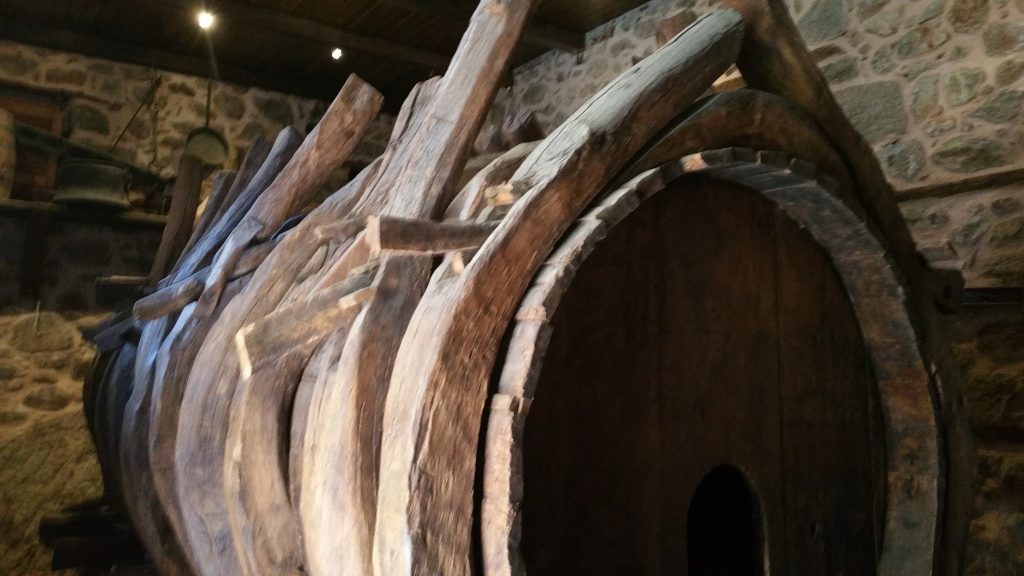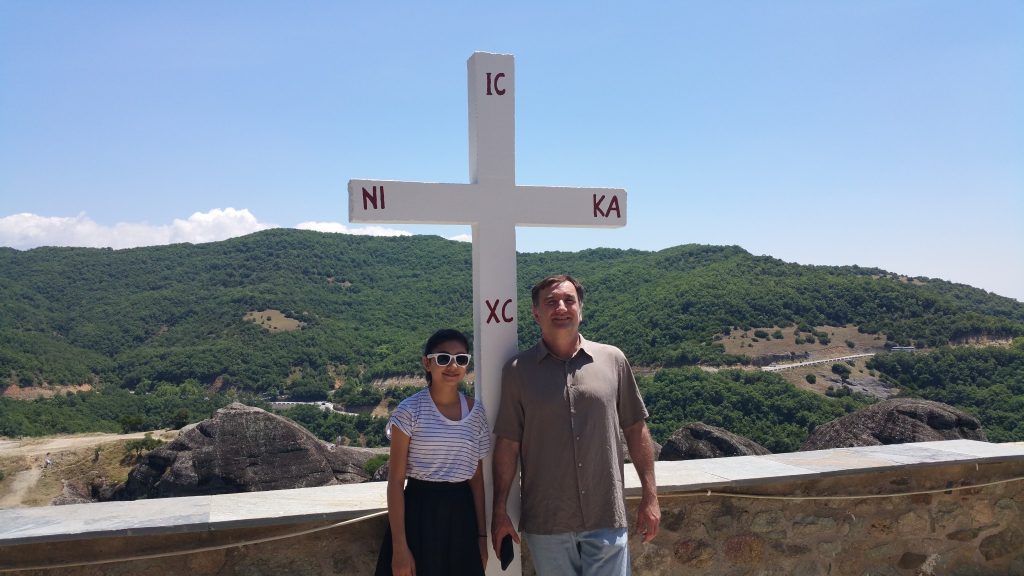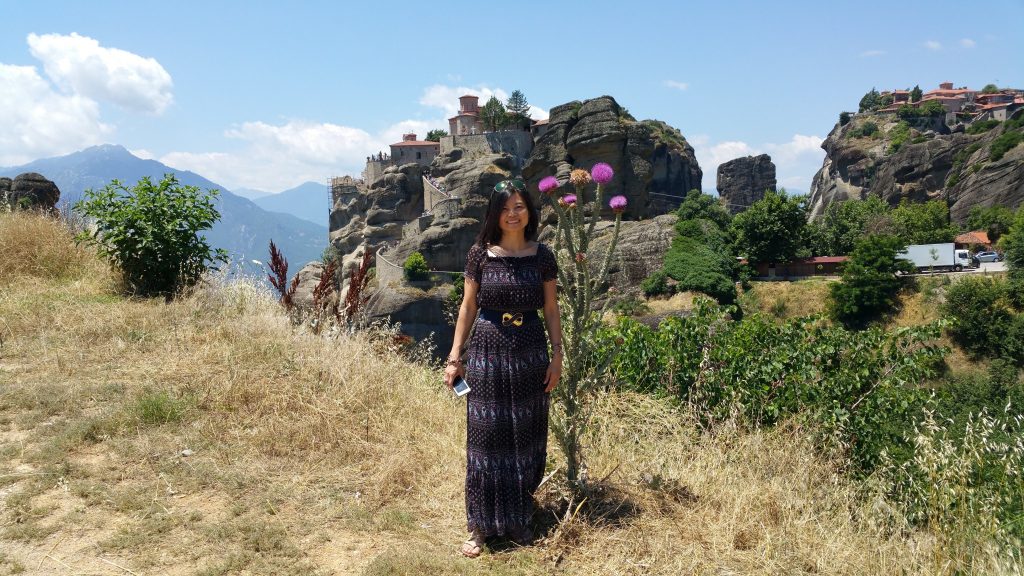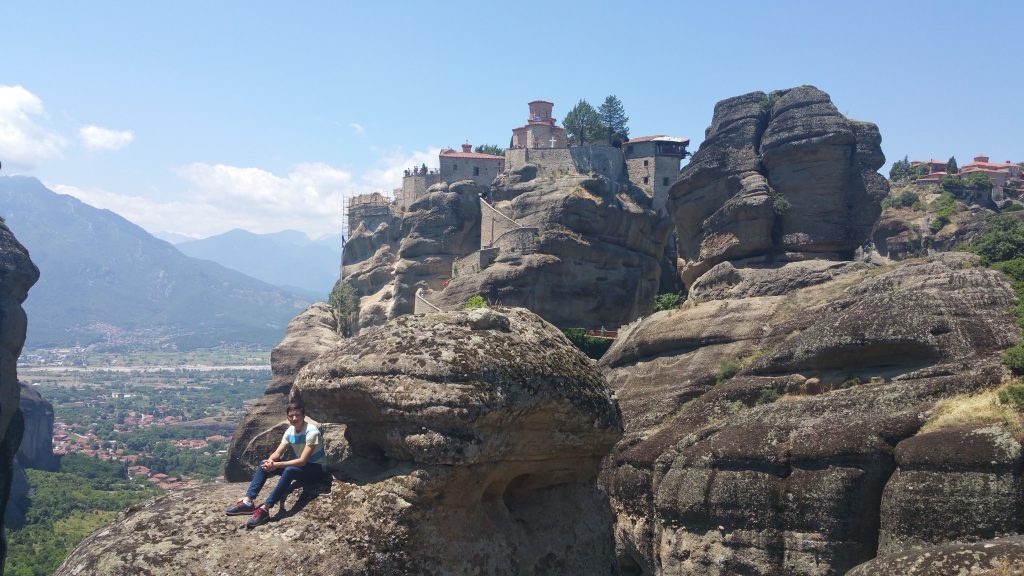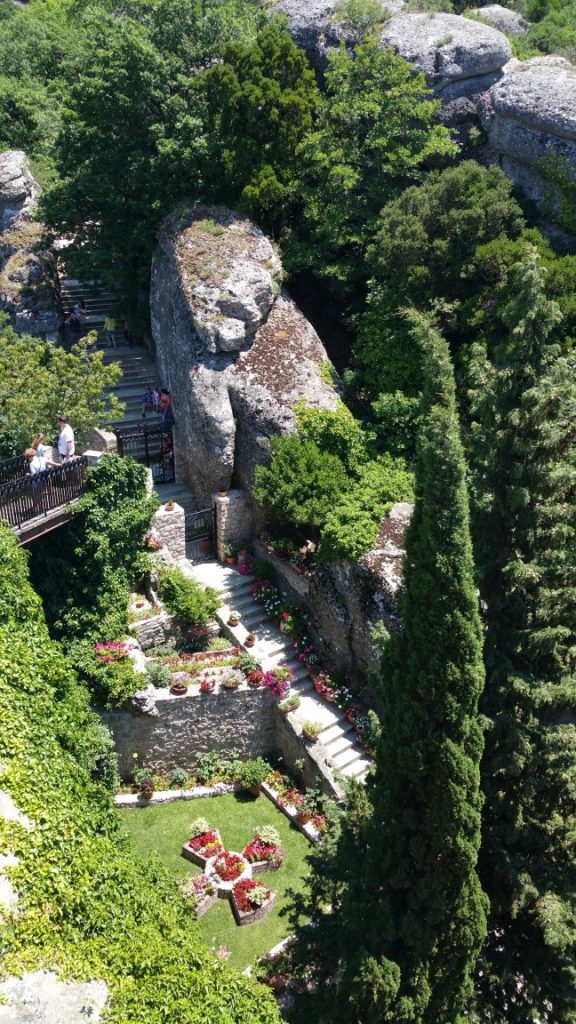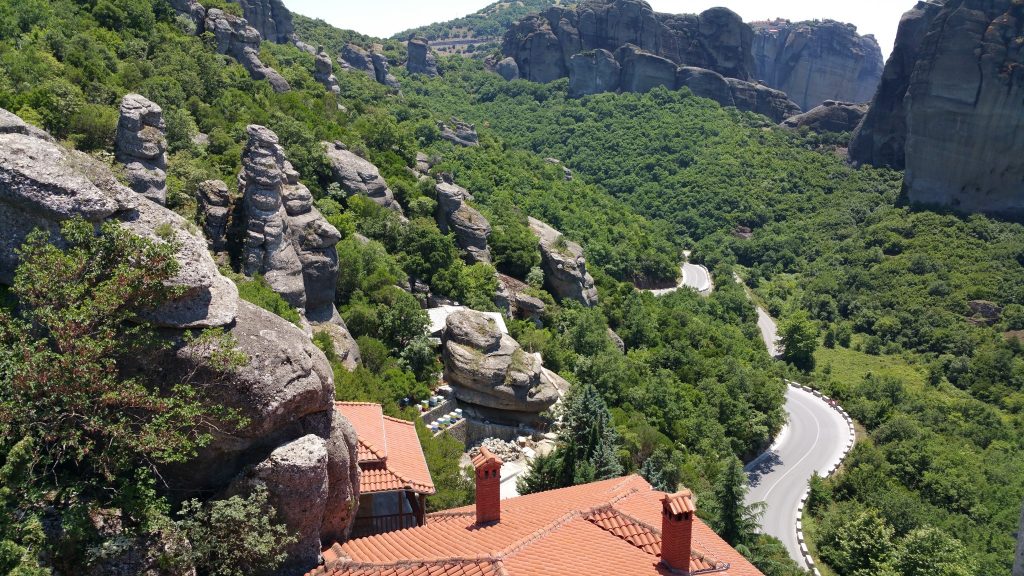 Like I said, it is a very easy drive to see Meteora from Larissa. It could be done from Athens but it will be a very long day if you drive back, definitely not recommended. There are now plenty of Airbnb properties at the Meteora area.
Got back to Larissa and took a stroll to the neighborhood square. They now have 24 hour self-serve fresh milk bottle service, kind of cool.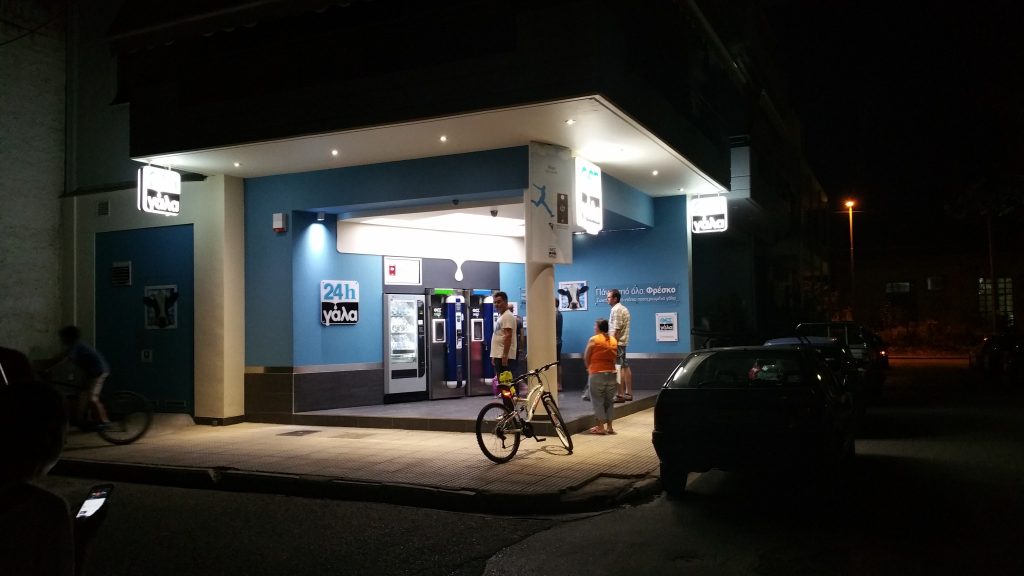 Too much heat in the city, so I took them to the other side of nearby Larissa beaches, north of Tempi where traditionally this area has always been more developed but the sea water quality does not compare to the Agiokampos Velika area blogged previously.
We stopped at the Neoi Poroi beach area for a swim.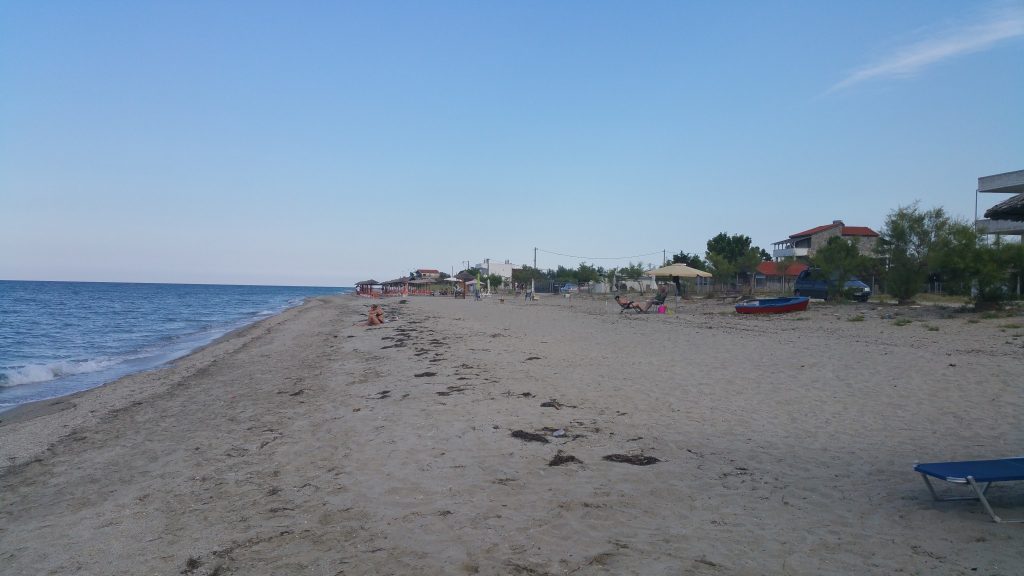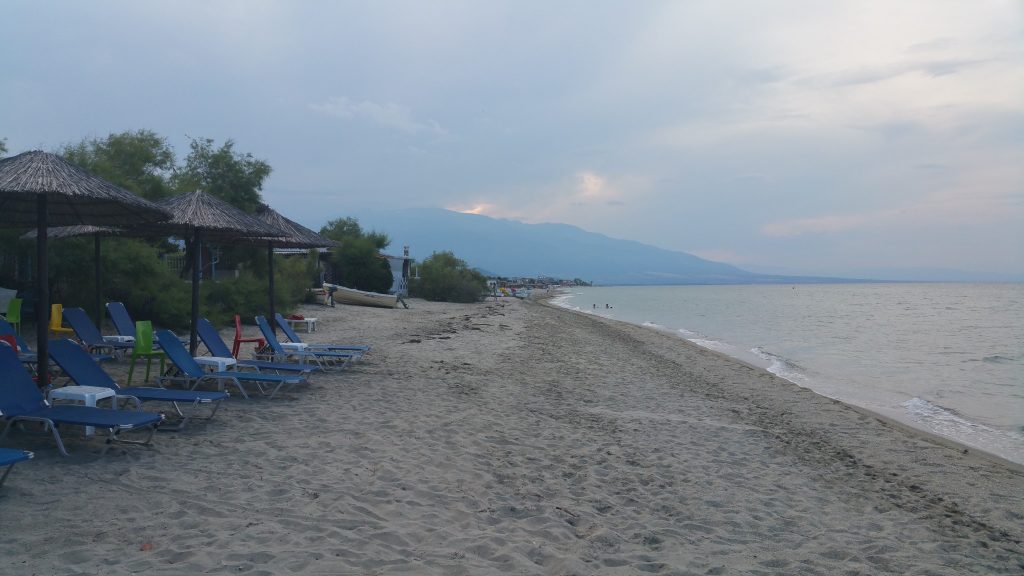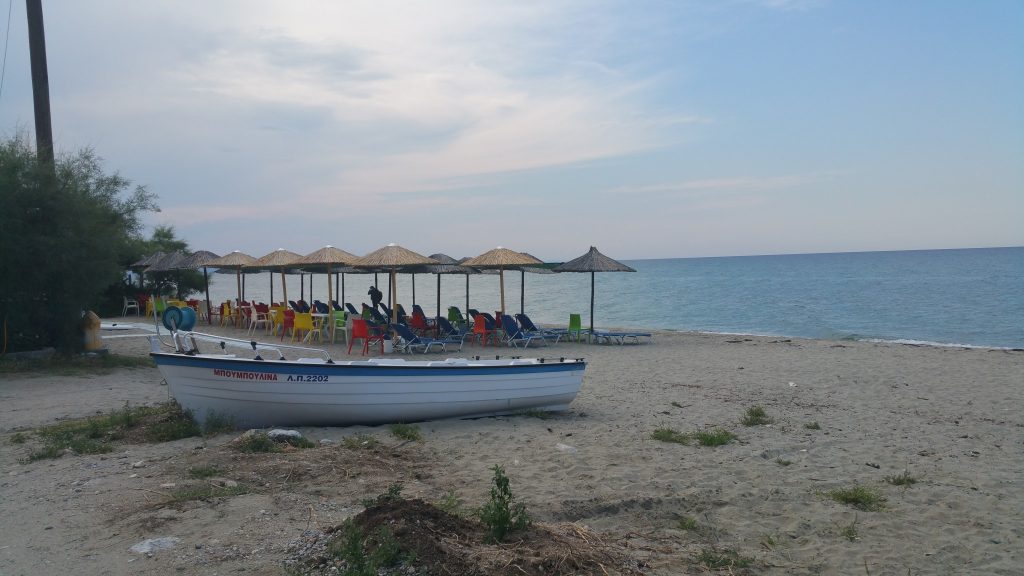 After a nice swim, we drove to the nearby beach town of Platamonas. This was the beach to be when we were kids because it had tourists and as young boys we were fond of young tourist girls hehe.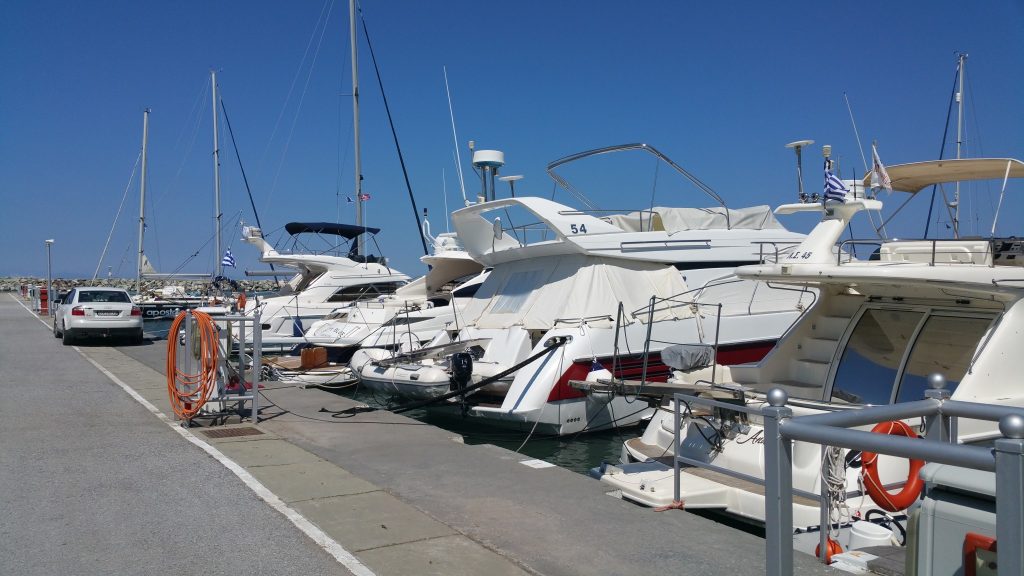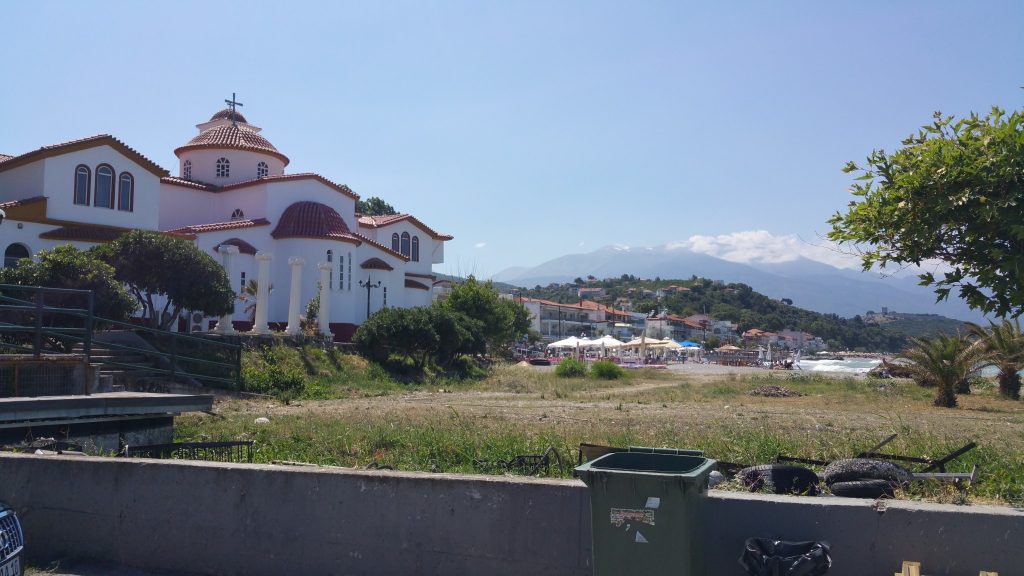 You really do not want to swim here…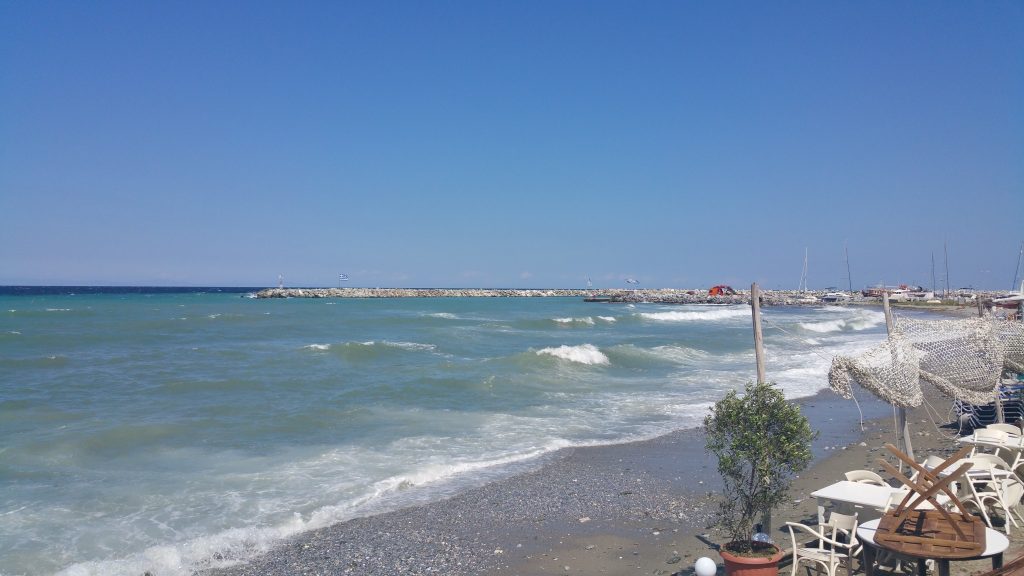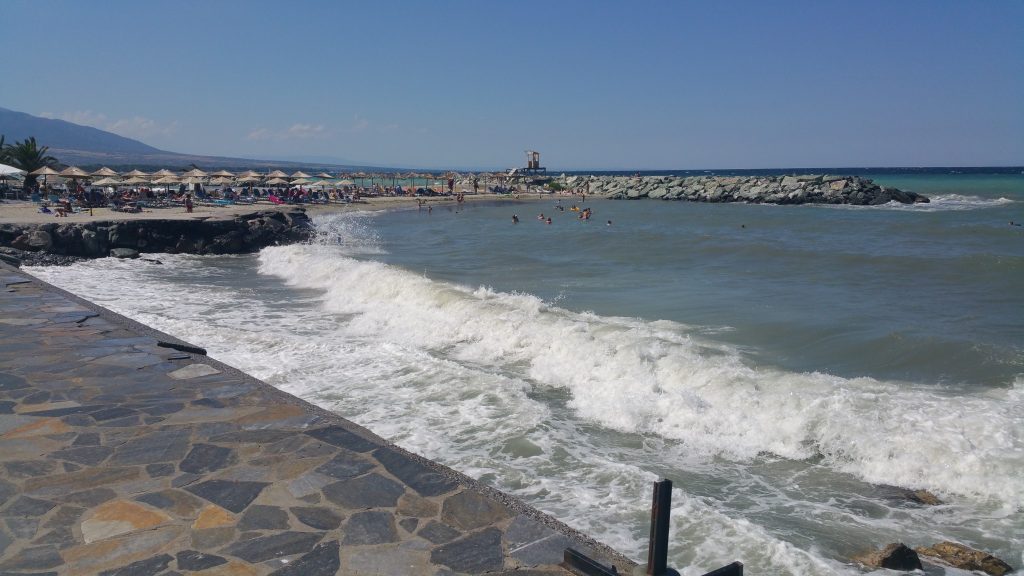 A cat doing her thing…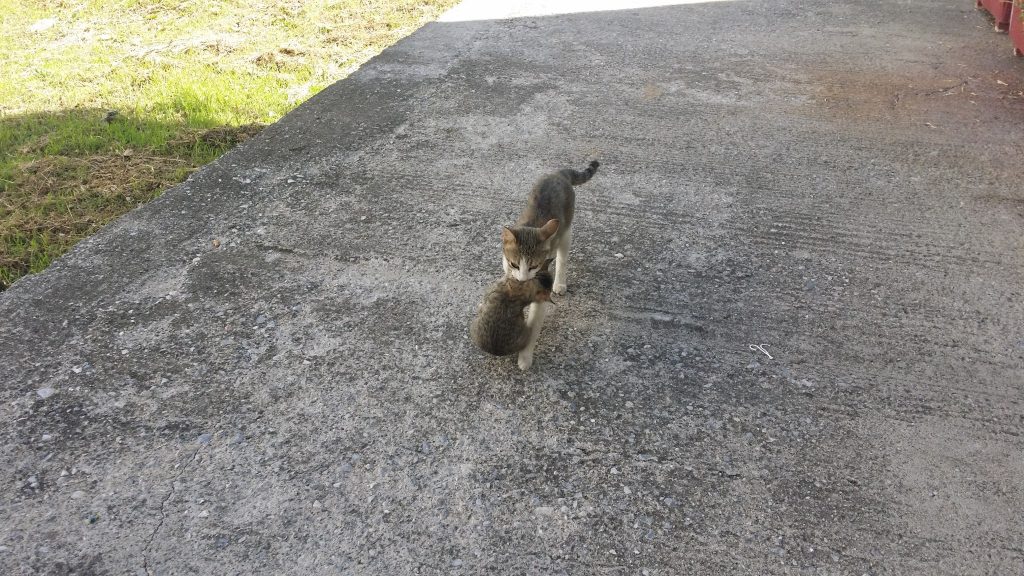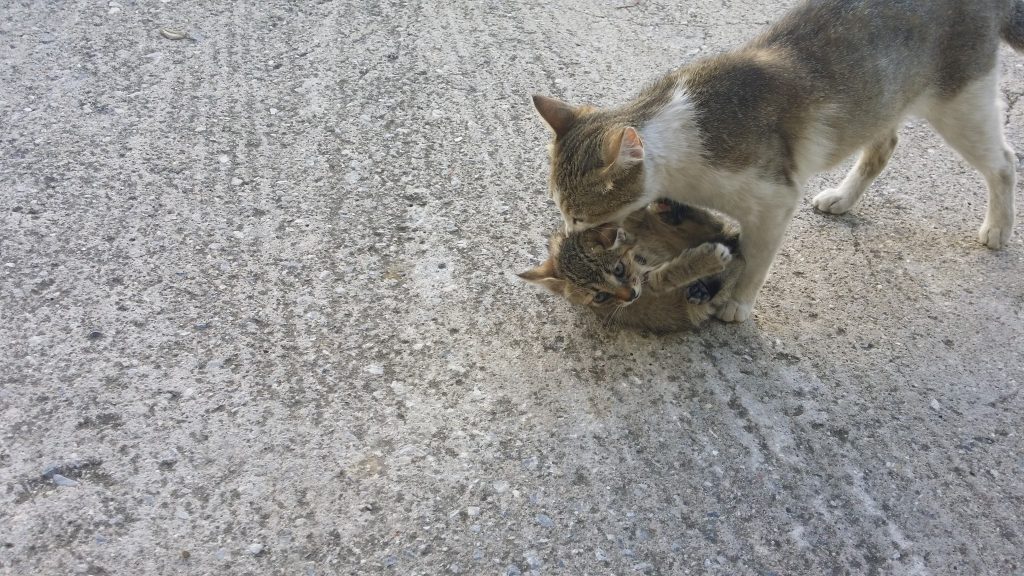 Having  more fun in Larissa. This was a huge donut!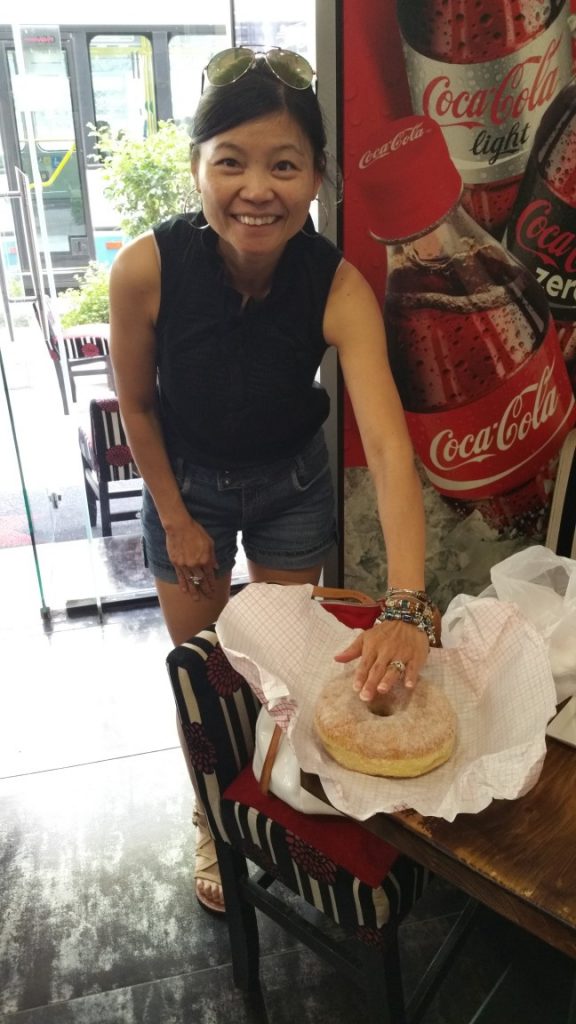 Another nightclub closed…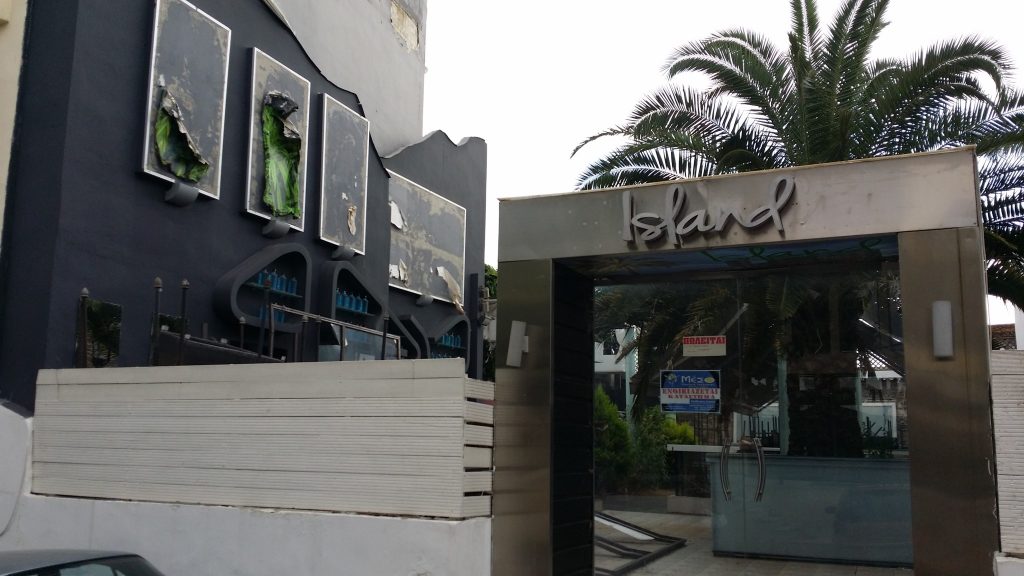 This was my dad's first gas station in Larissa, our old home was a block away. I remember this very well…before we moved to the (what was then) the outskirts of town to a new house with a much bigger gas station.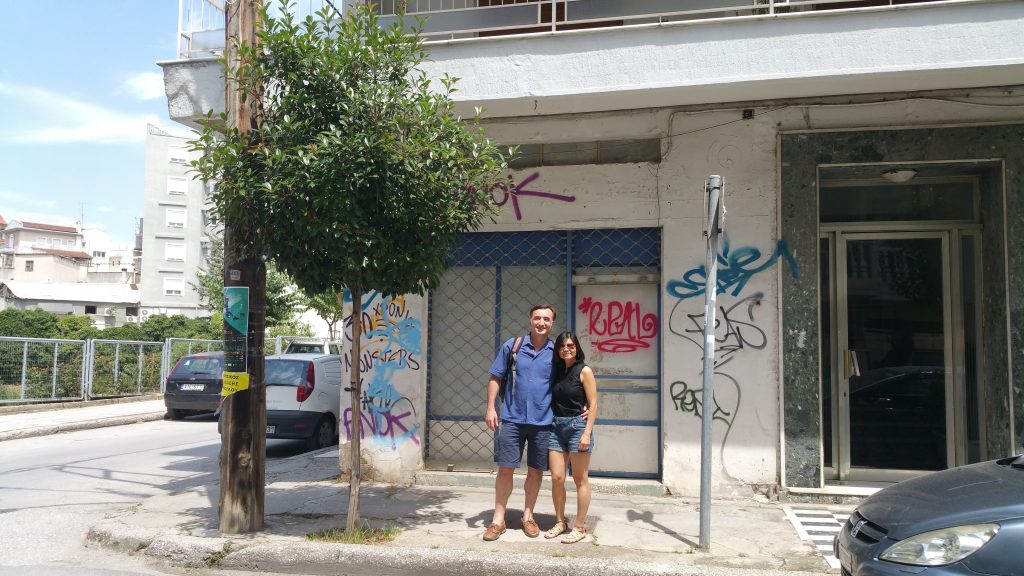 Just across the street from it, they dug up the whole neighborhood to uncover this…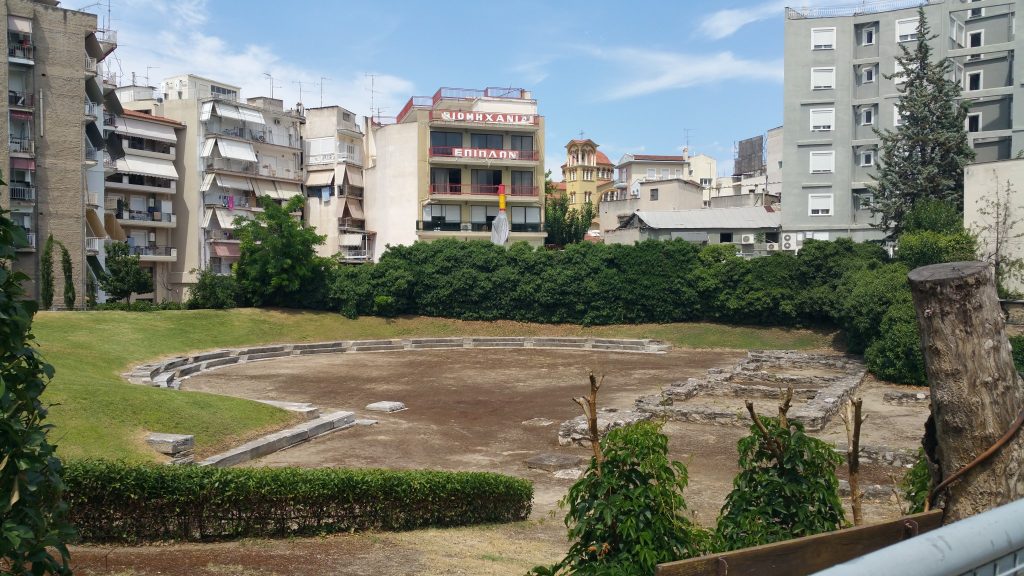 Just a block away, oh Lord, a Chinese restaurant! Peking in Greek.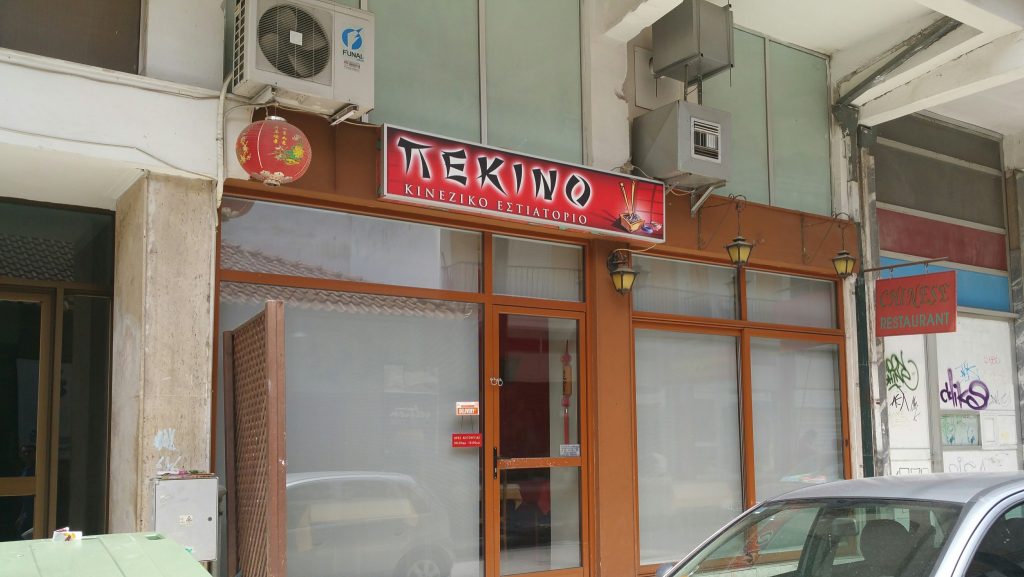 We visited friend's farm about 15 minutes away from the city…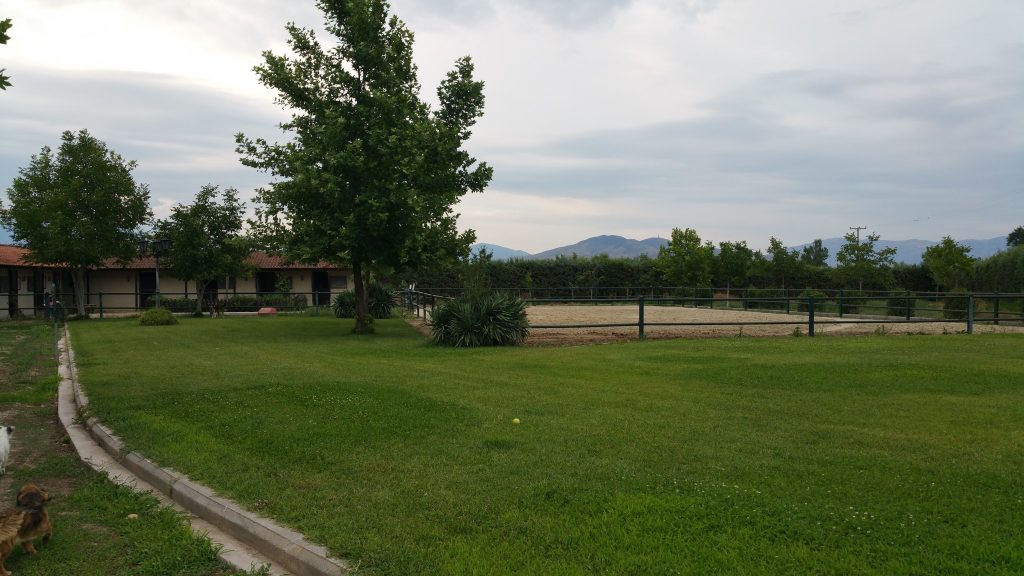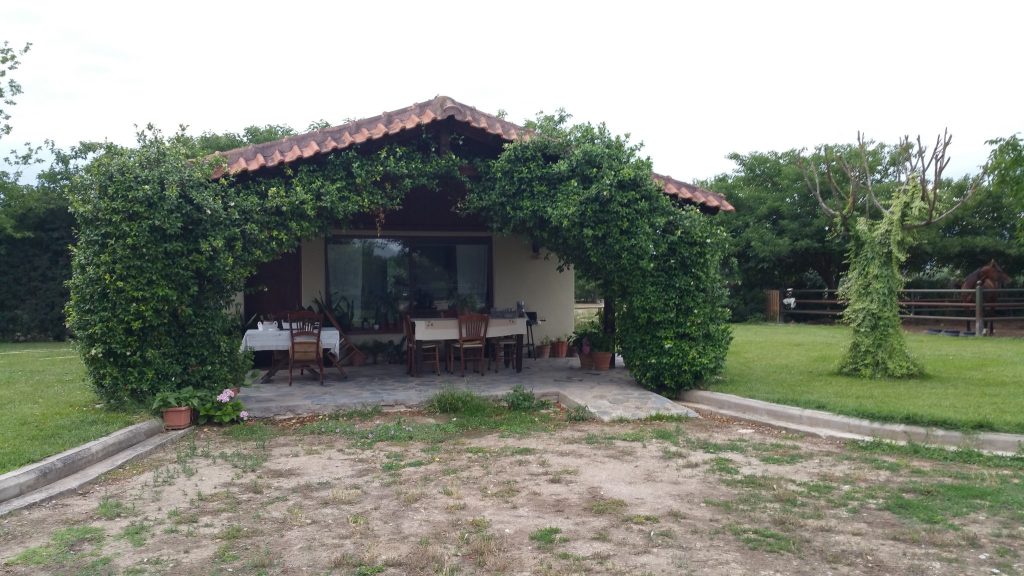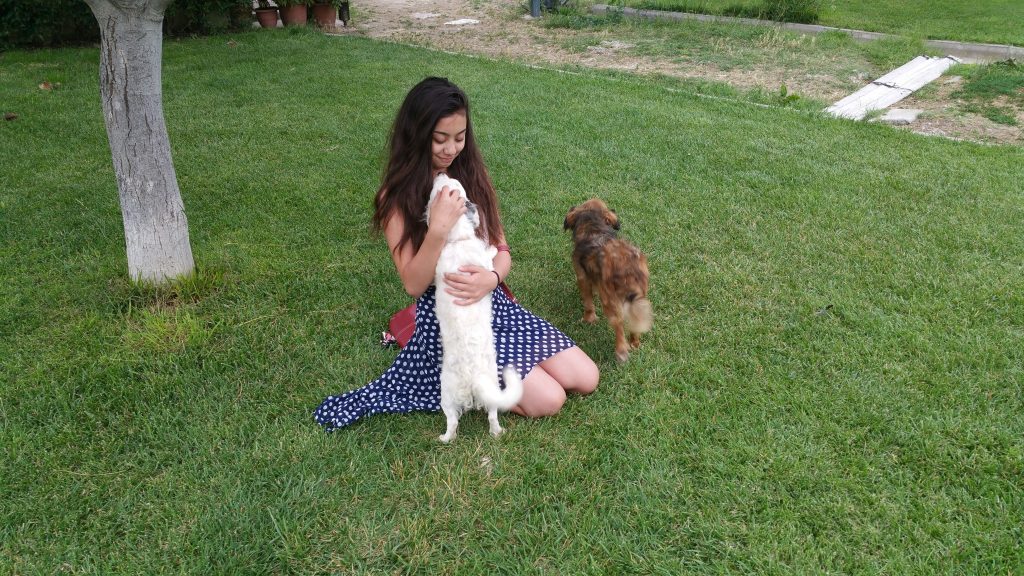 They raise a rare breed of horses. They are much smaller than the regular sized horses.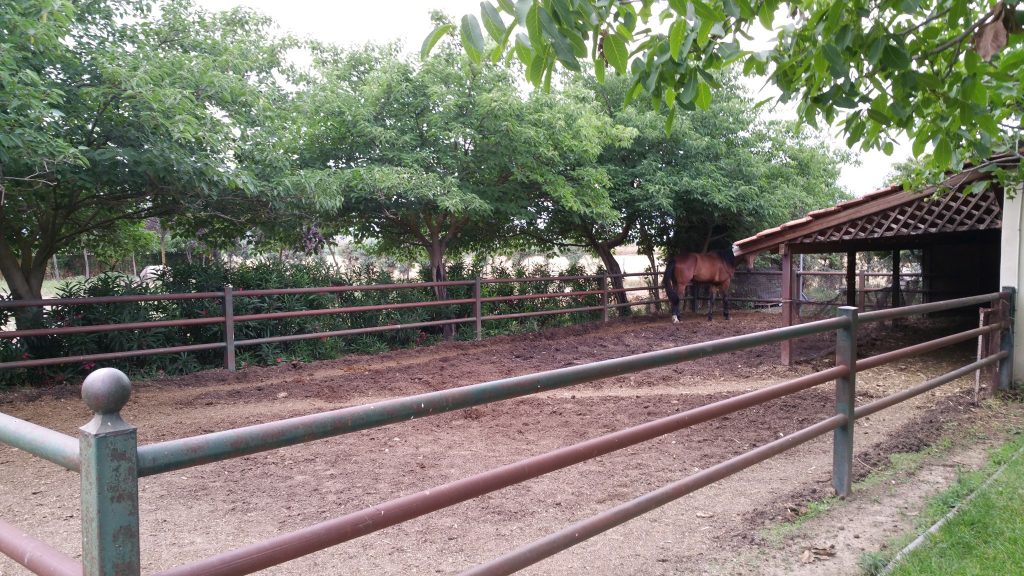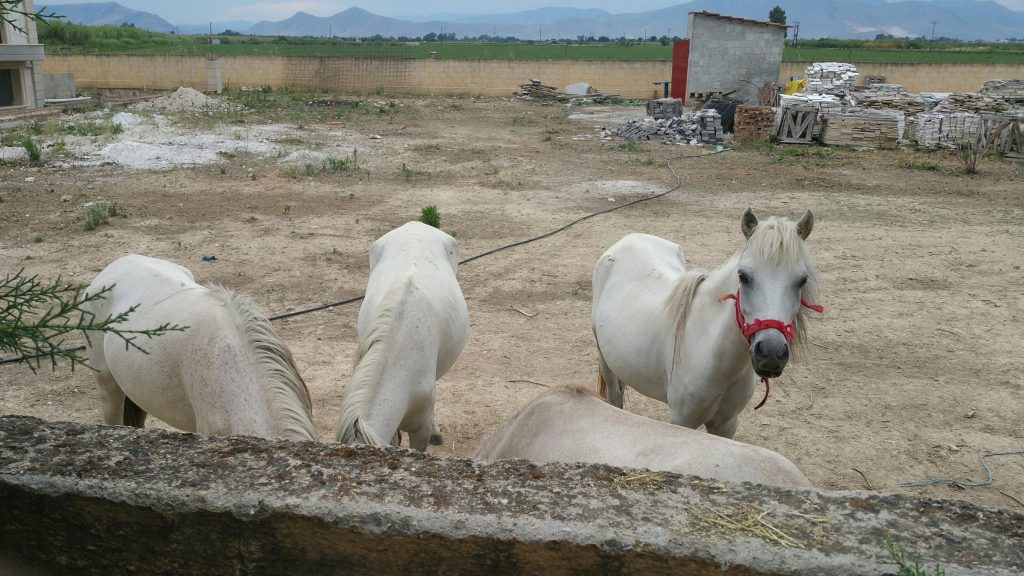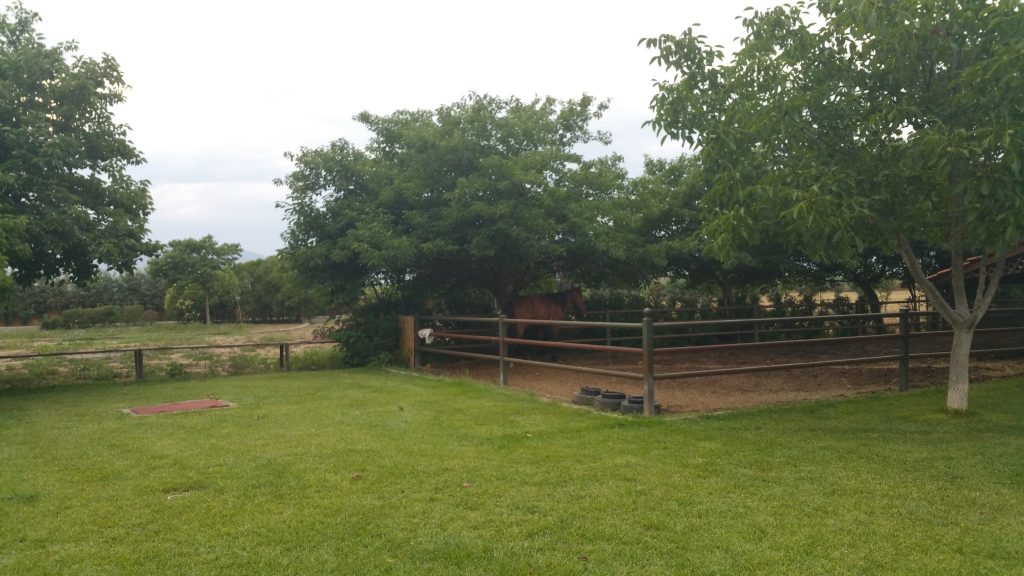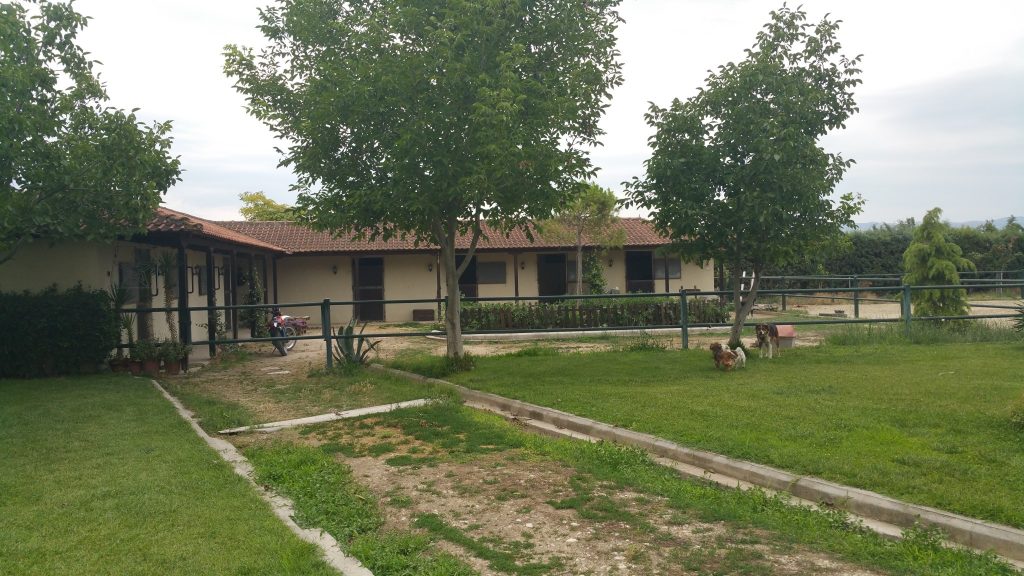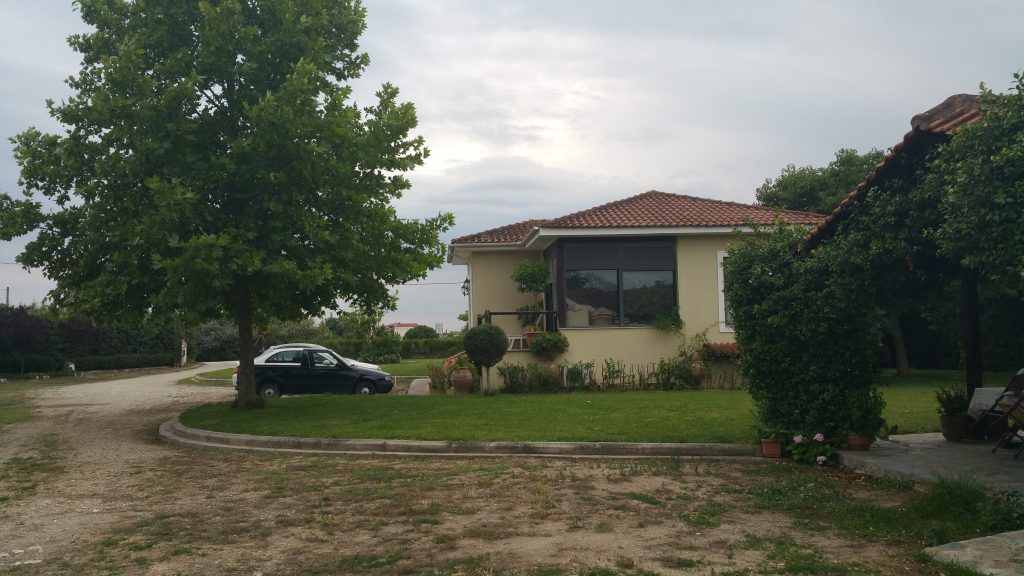 Then I treated them all to a nice BBQ dinner in the old part of Larissa.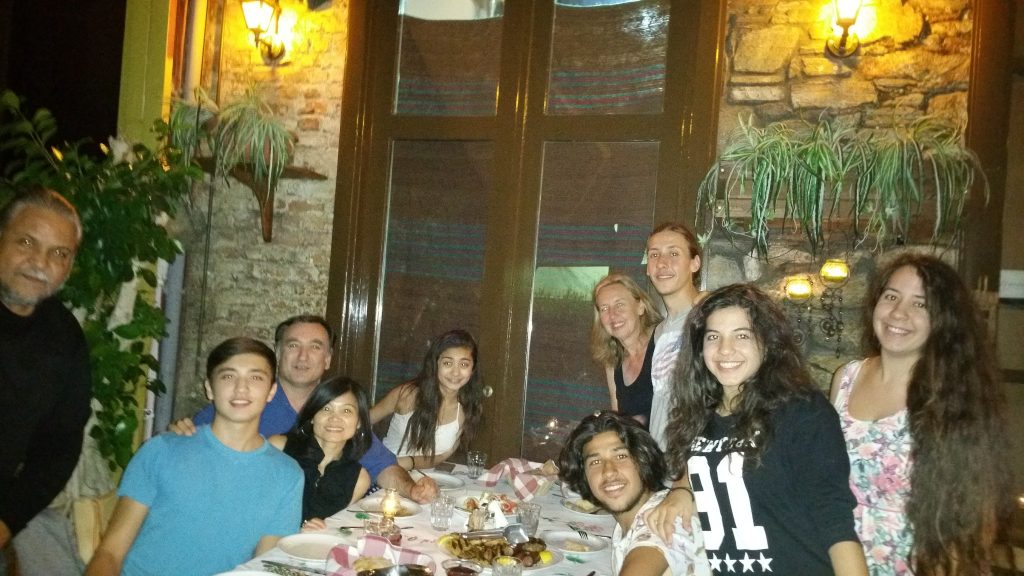 The next day we drove to the Lake of Plastiras. A place where my Dad had promised to take my mother but always kept putting it off. Well, no more. It was time to do this! It is an artificial lake used as a reservoir built high up in the mountains and it is a popular resort for Greeks. Amazingly, I had never been there as well!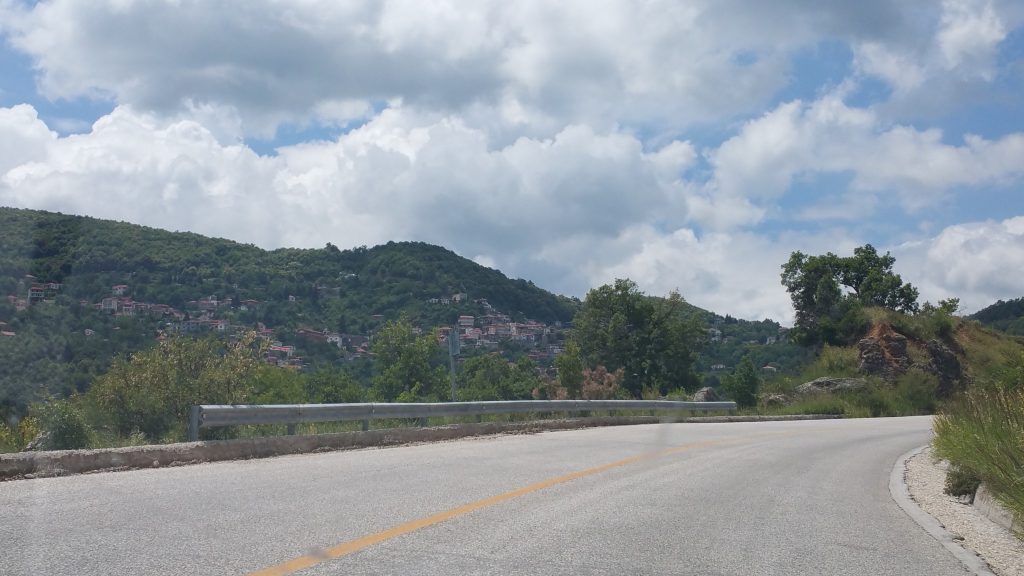 Easy drive near the city of Karditsa. And then the climb began.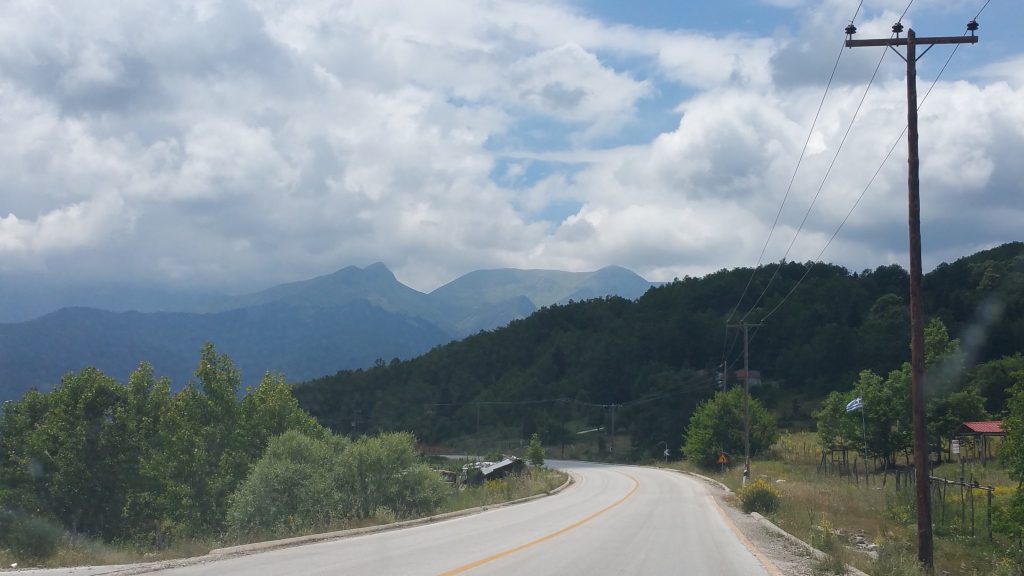 This scenery reminded of Preikestolen, Norway!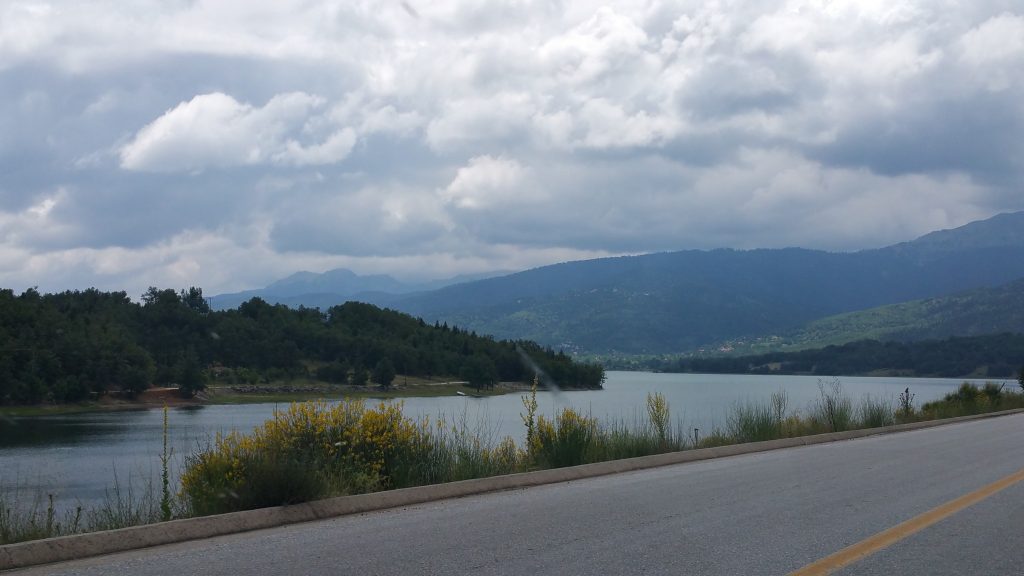 It got more beautiful the higher up we drove…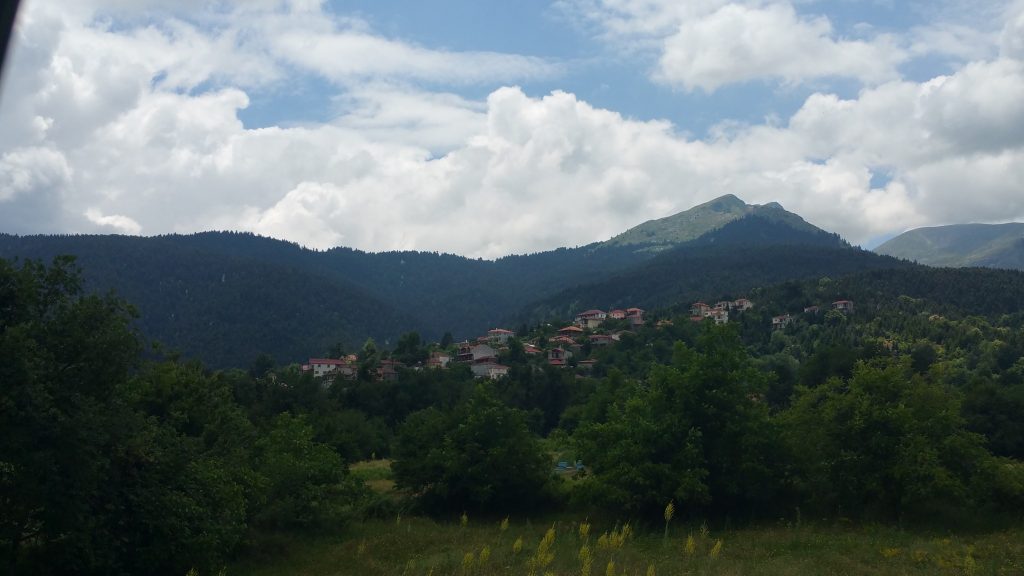 The higher we drove, the road got even narrower. Some locals were riding horses…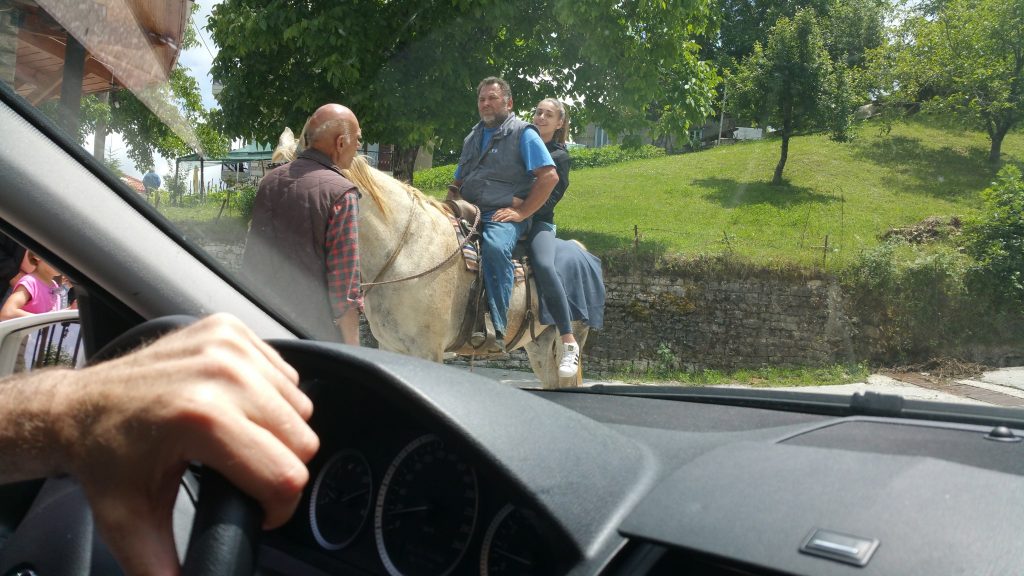 Lake Tahoe, Greek style!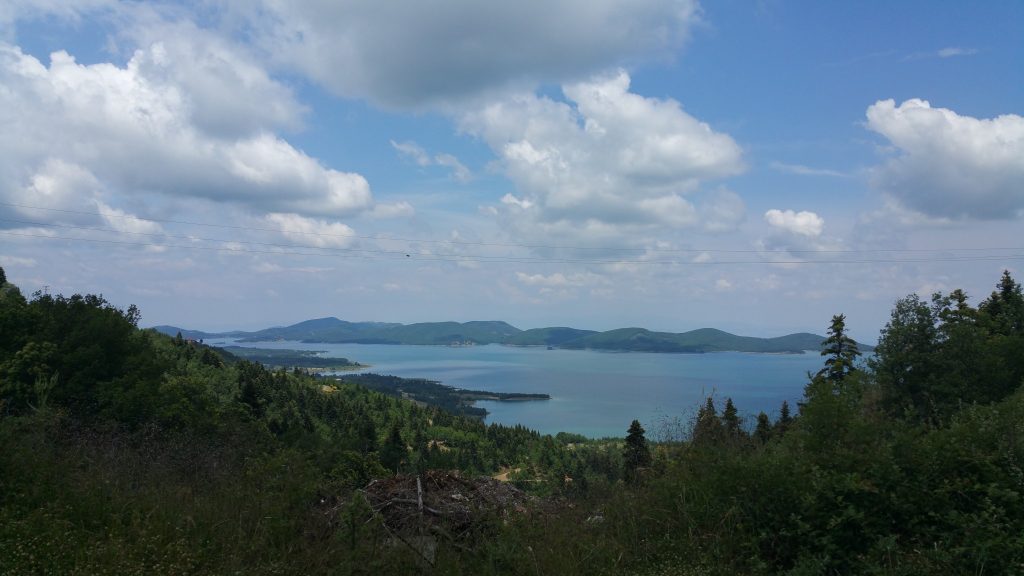 Traditional Greek mountain villages. Road got scarier, down to one lane at stretches! And long cliffs, think Maui Northwest side type drive, not recommended!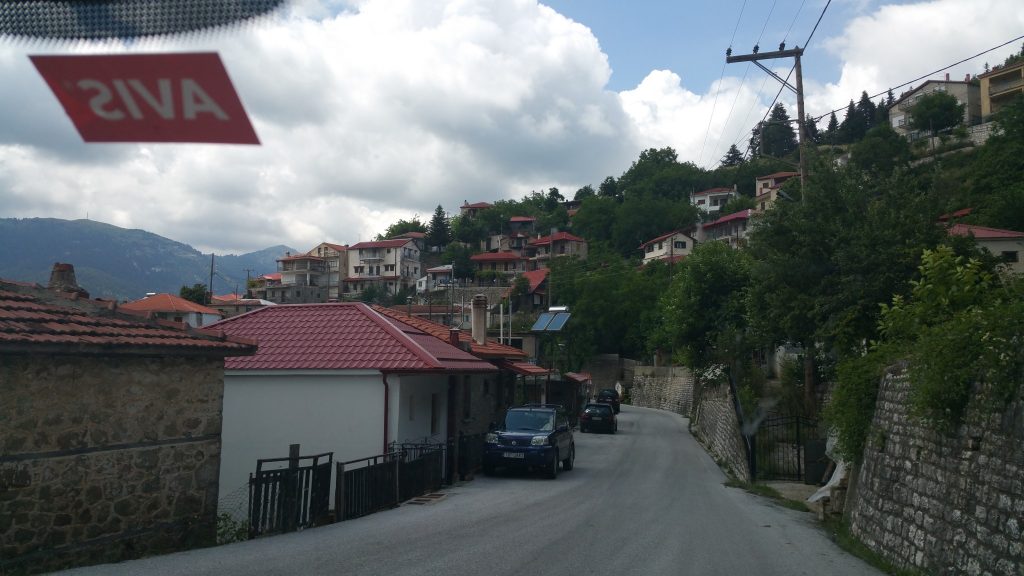 You are in Greece, what do you expect? It's goats!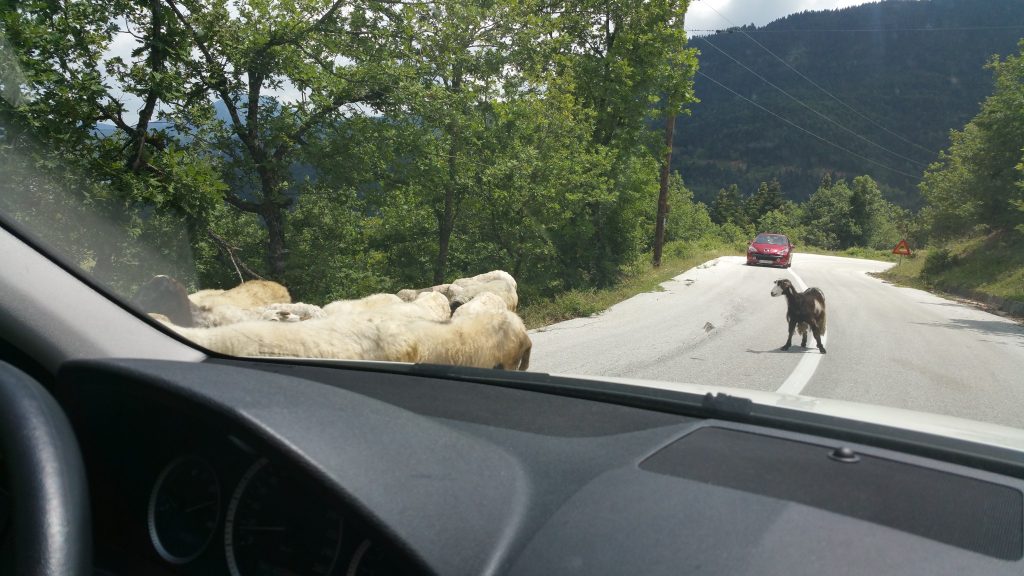 Blown away by the natural beauty of this place, wow!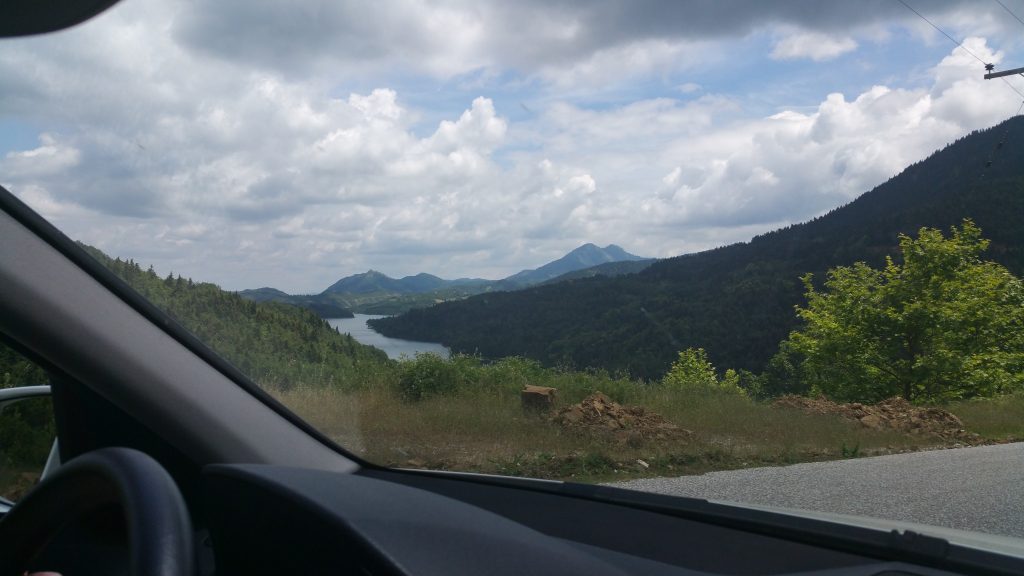 This is the dam built in 1955. I had heard of this as a child…I finally made it! I could tell my mother was taking it all in…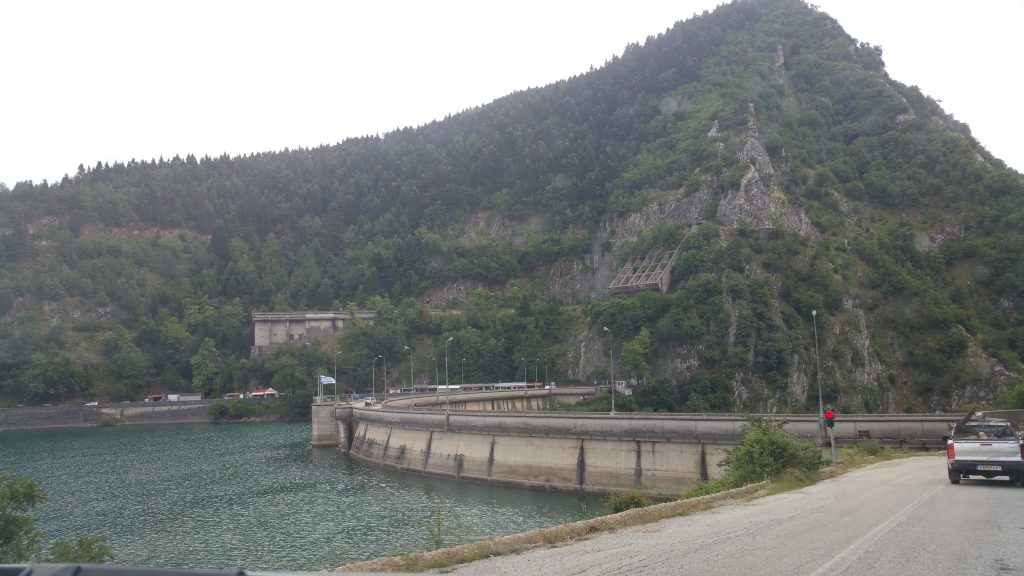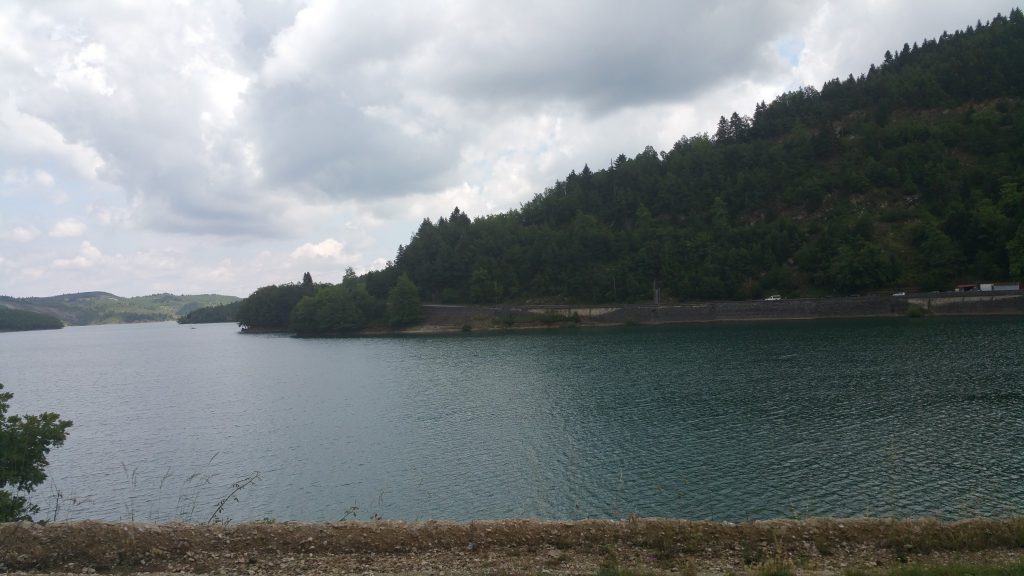 Crossing the dam bridge, one lane.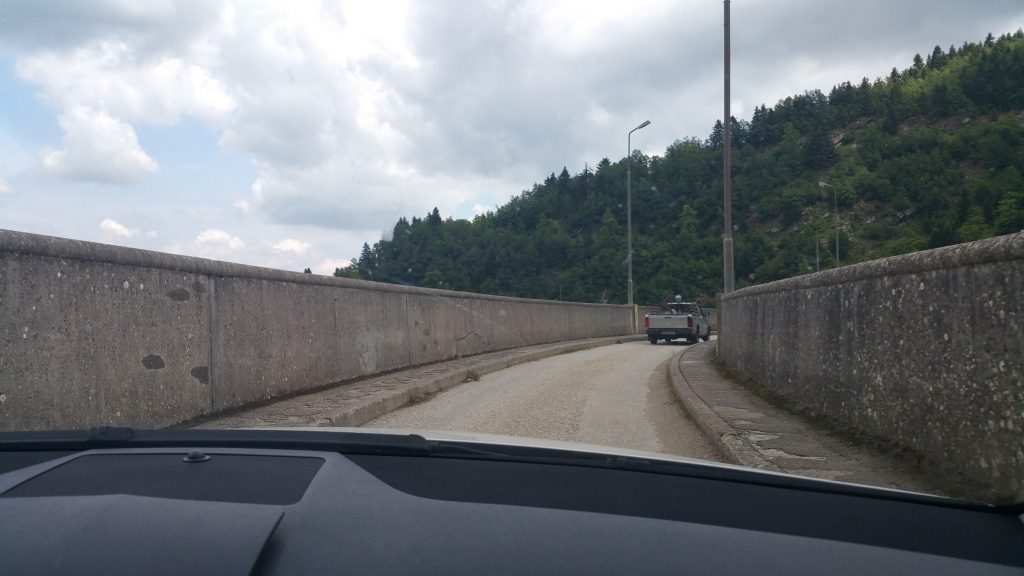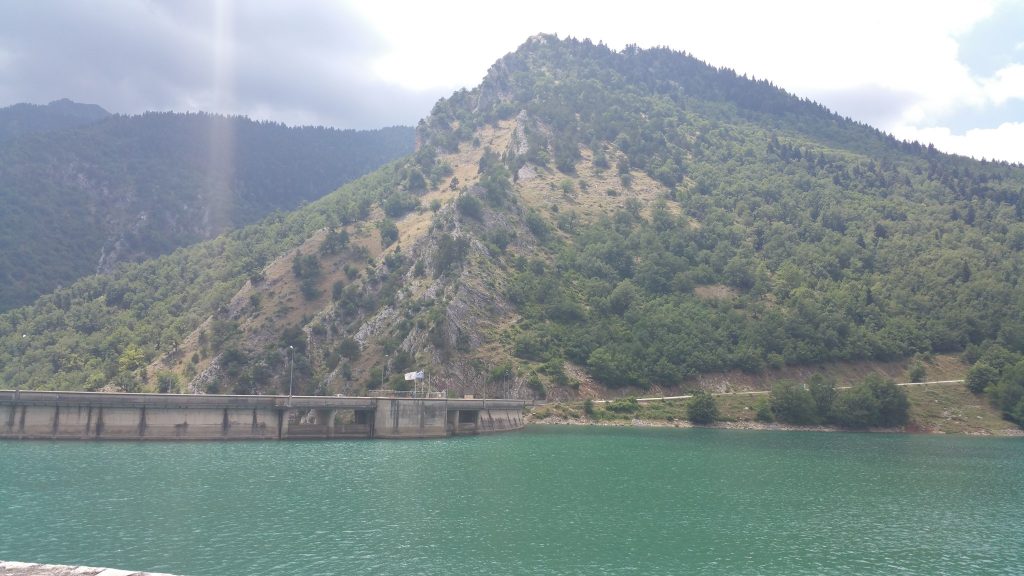 We were about to drive down and decided to stop in this restaurant after we saw a sign and took a turn. It had this nice map of the area and you can see the lake clearly.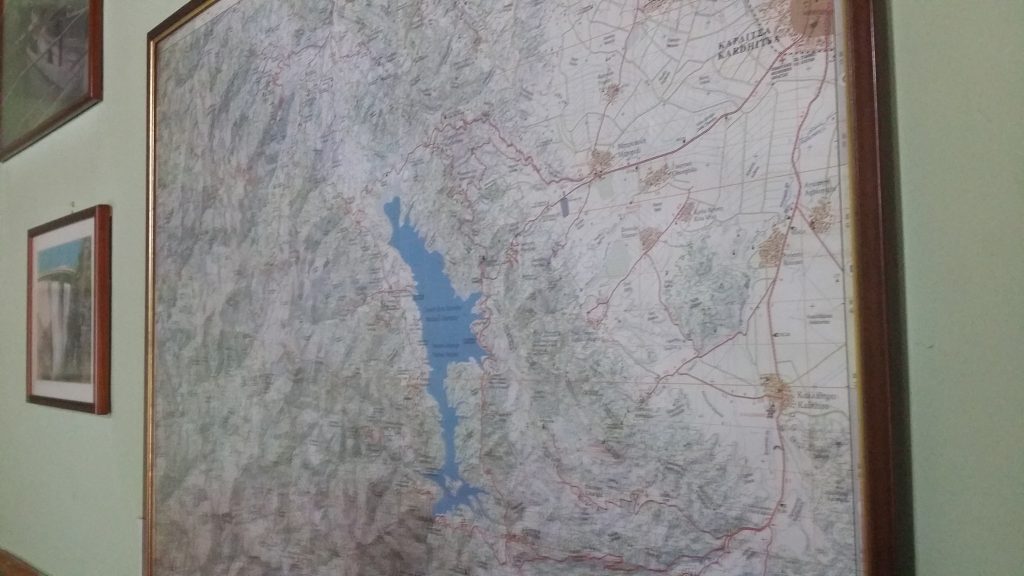 It even had the former currency notes, the drachma on the wall!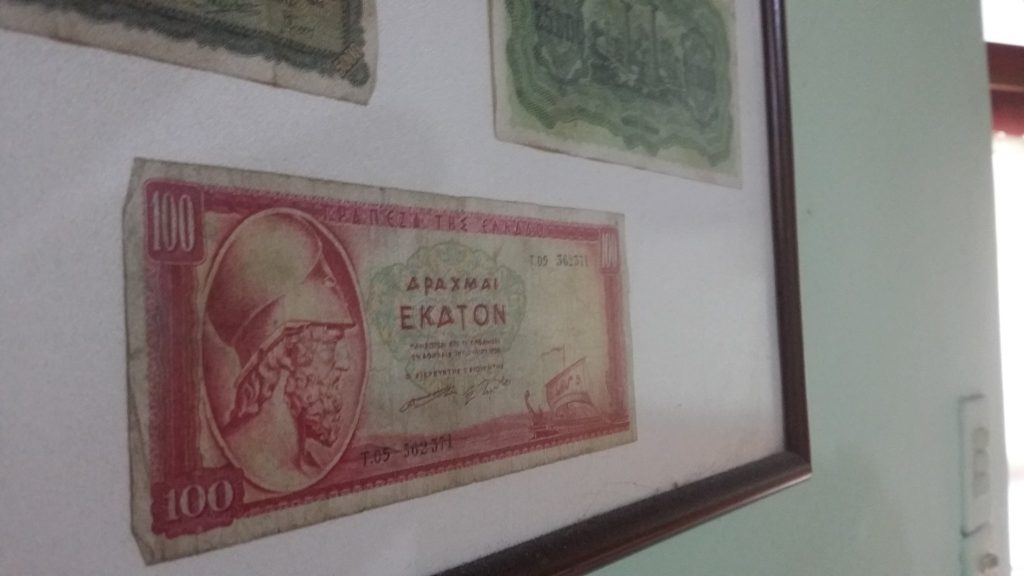 The owner was sitting alone as we drove in, apparently not many customers these days…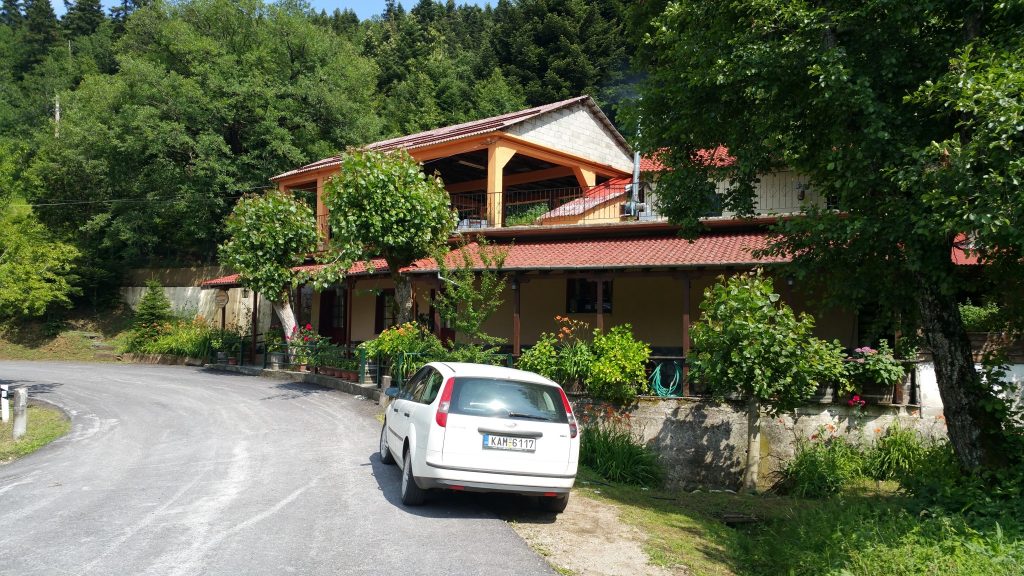 It was a beautiful place…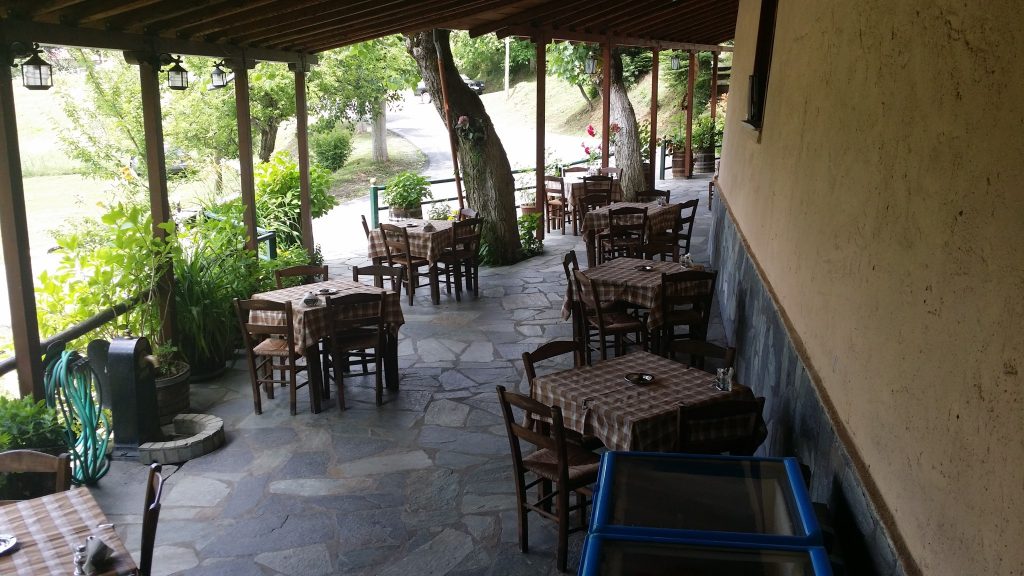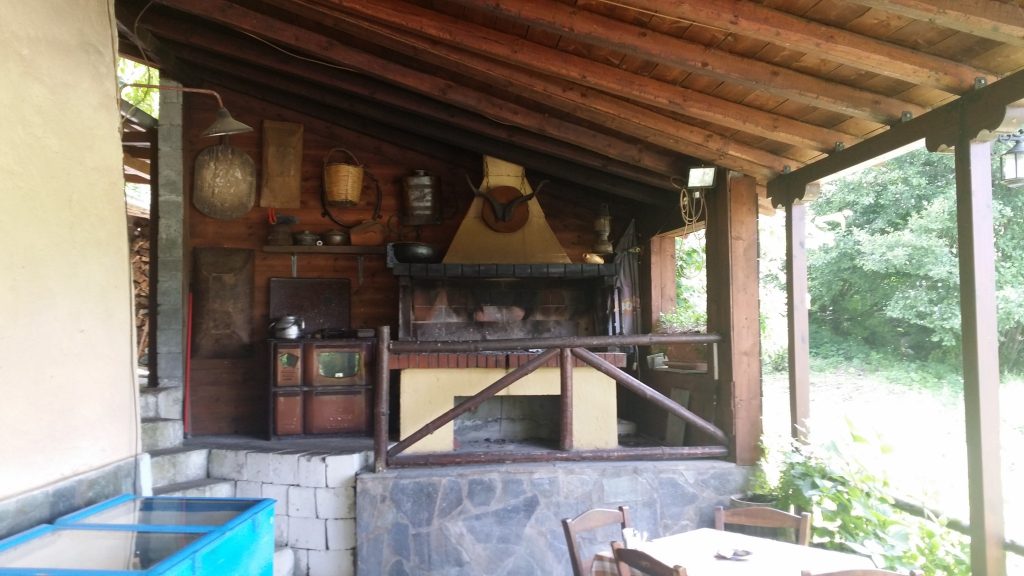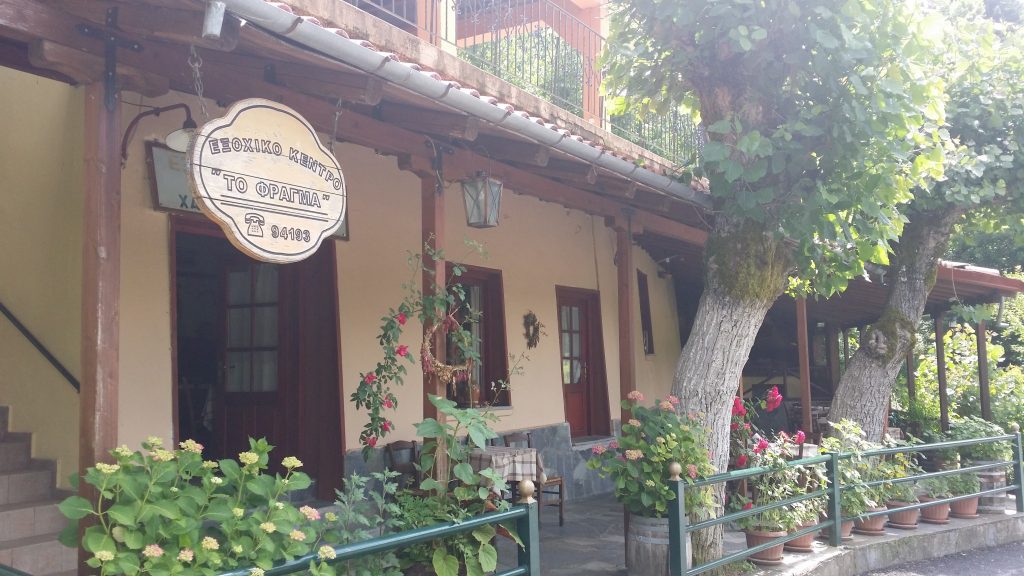 And the food was totally amazing, everything so fresh!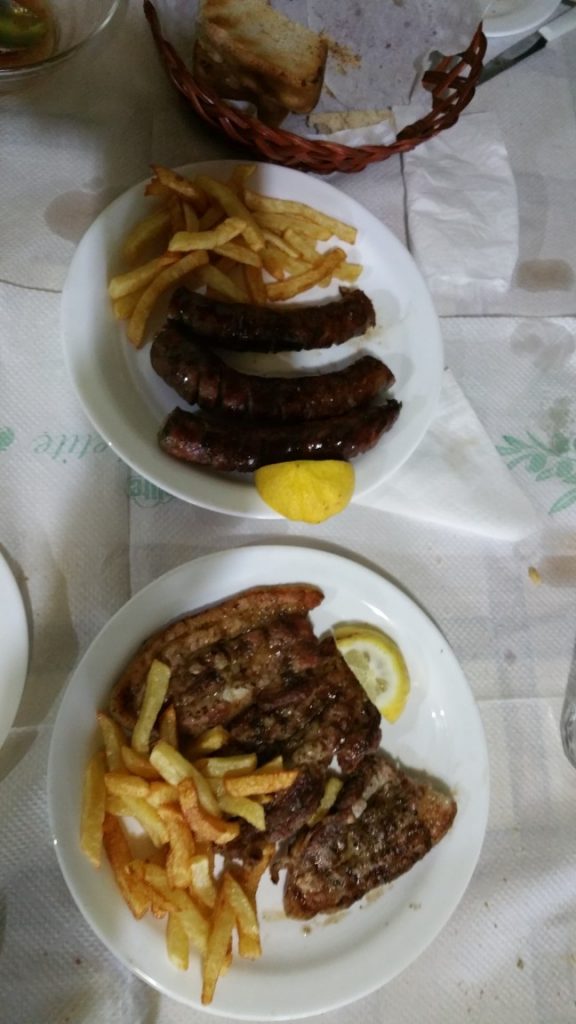 Stopped to take more pics…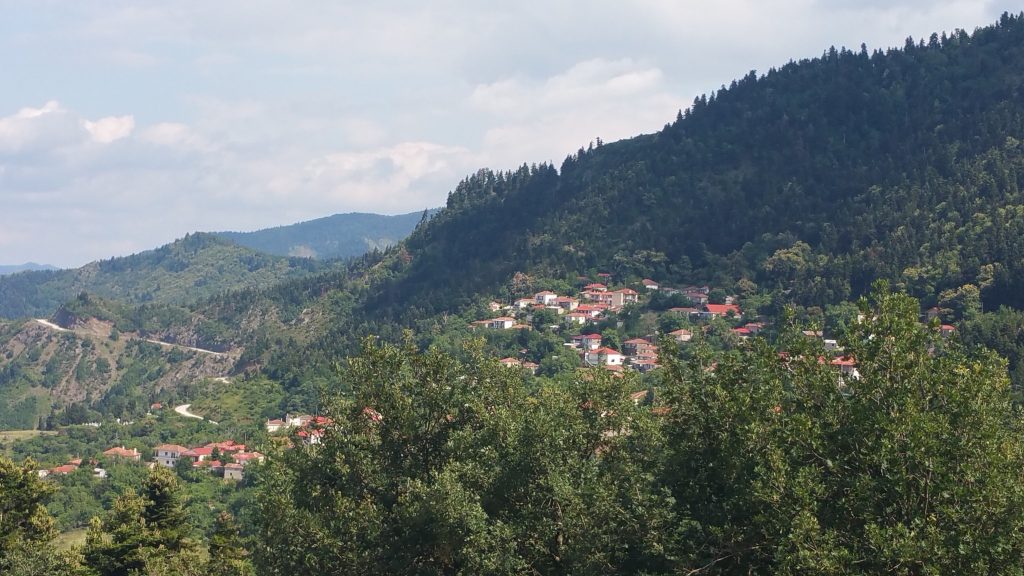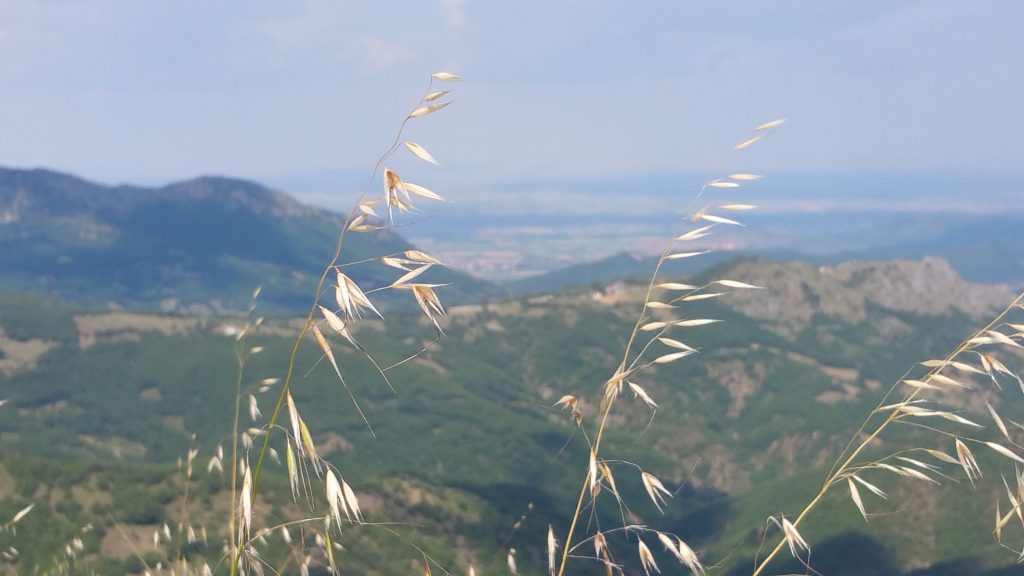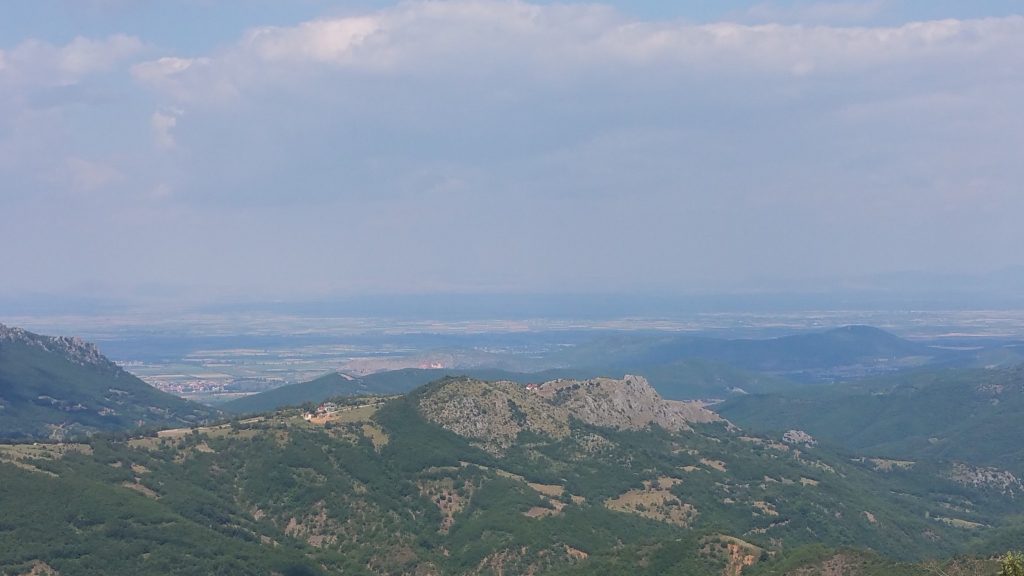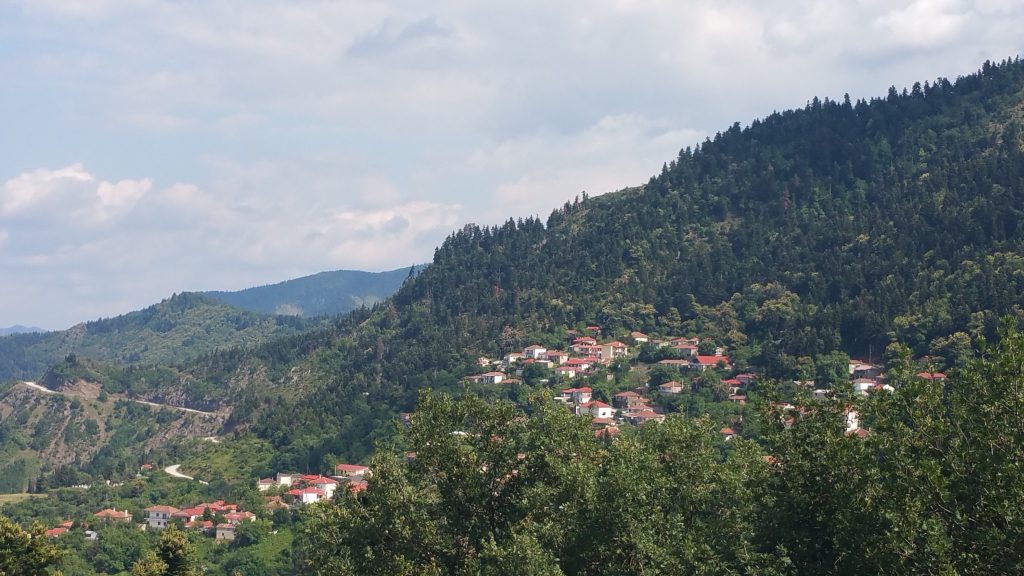 Nearing the bottom of the mountain, we stopped for refreshments.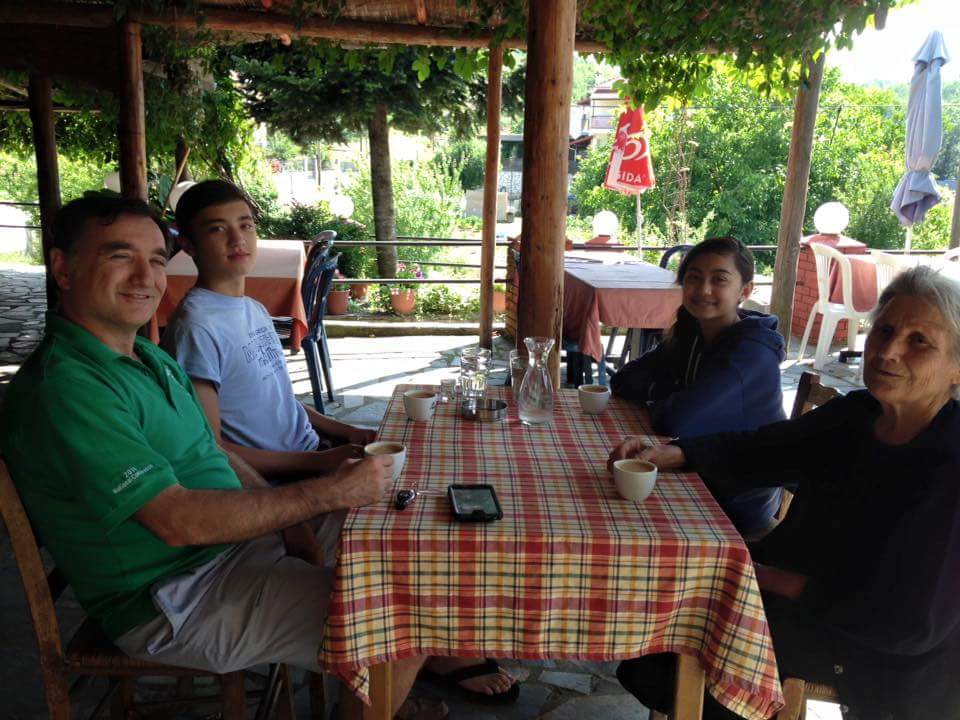 More photo opps…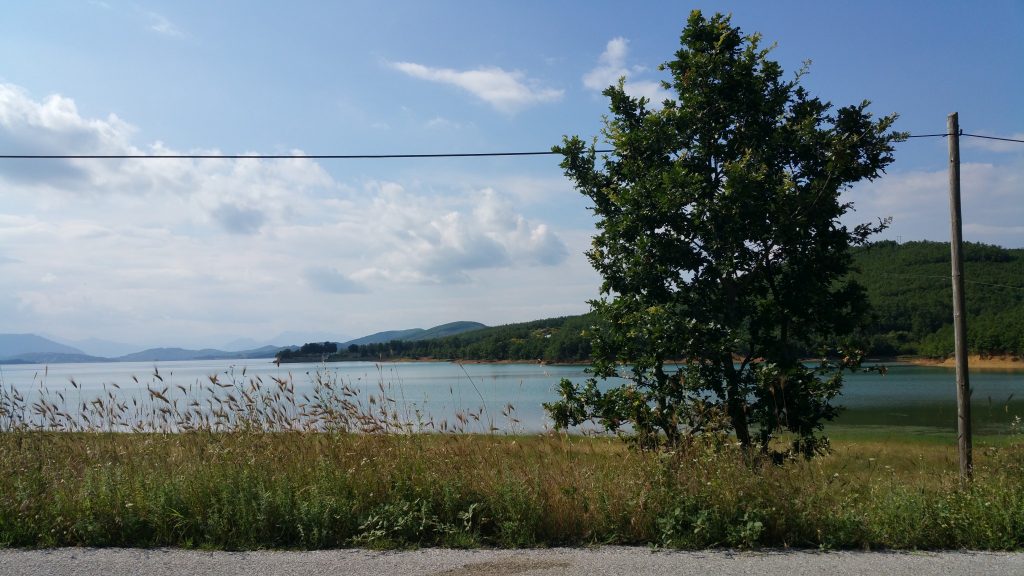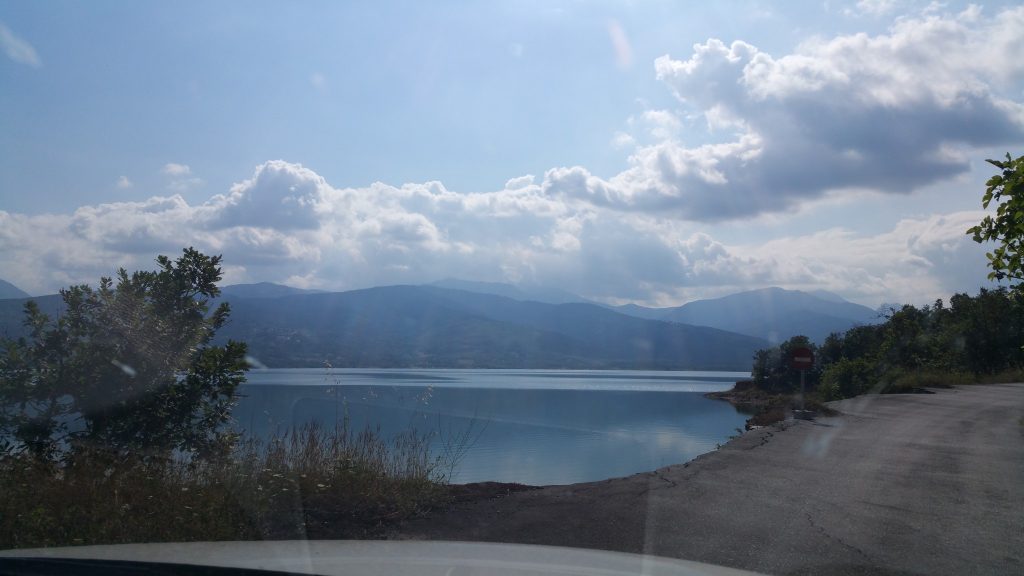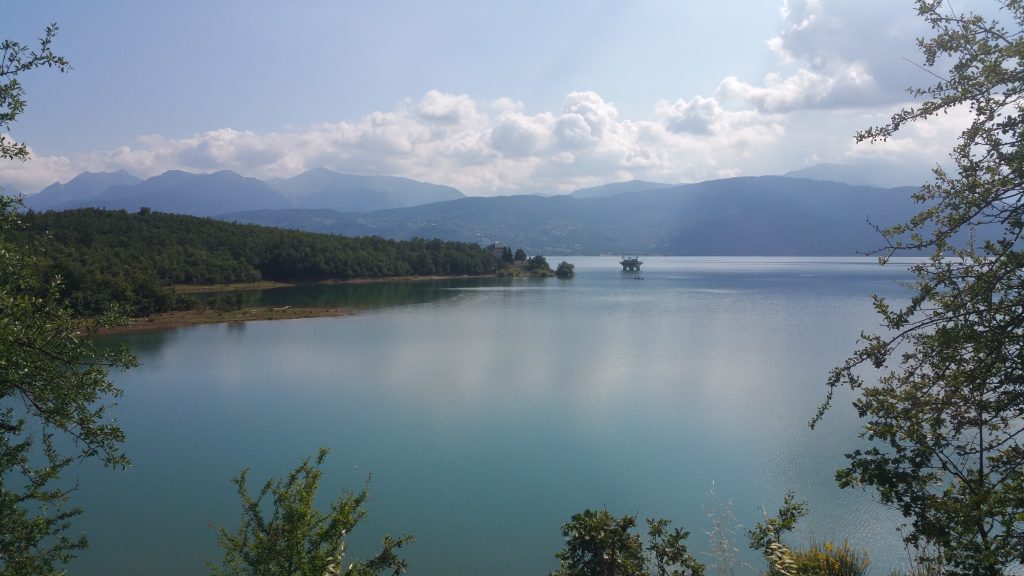 Wow, just wow!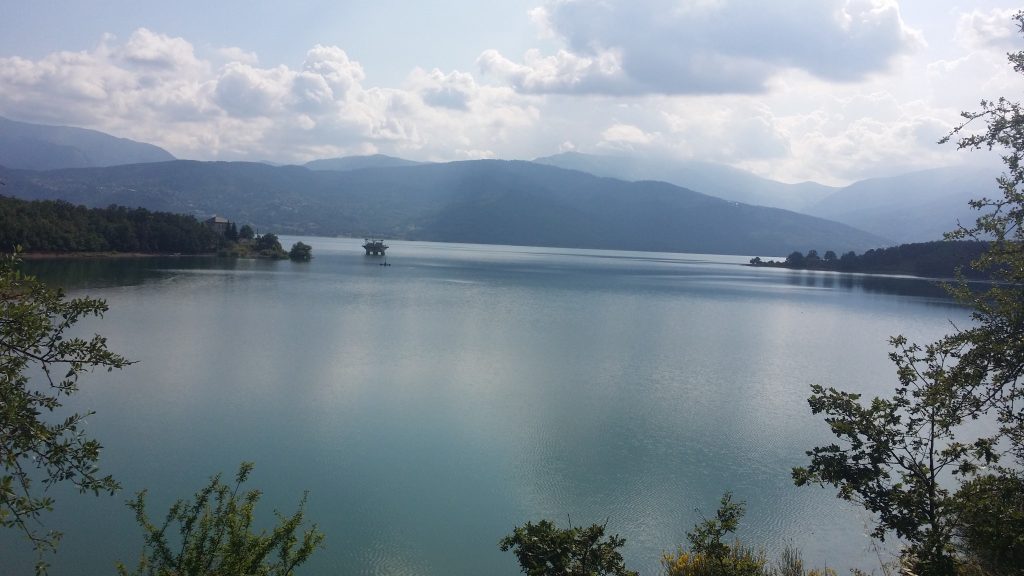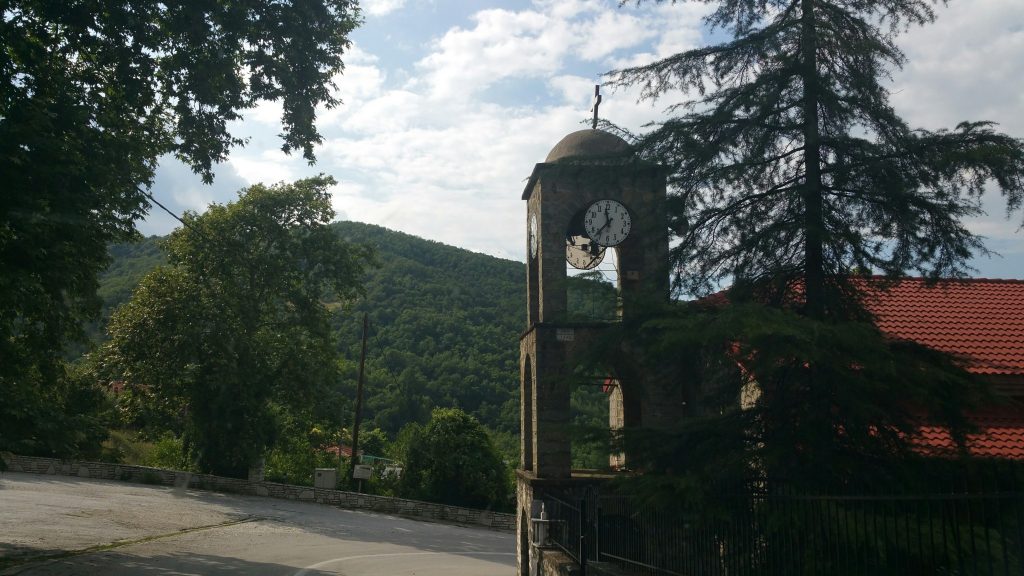 As soon as we got back to Larissa, about an hour later, everything changed…The banks closed, capital controls were imposed that, as of June 2016 were still in place and will be around for a while. So, I took my daughter to the main square to see the lines in the biggest branch to get money cash out of the ATM machines.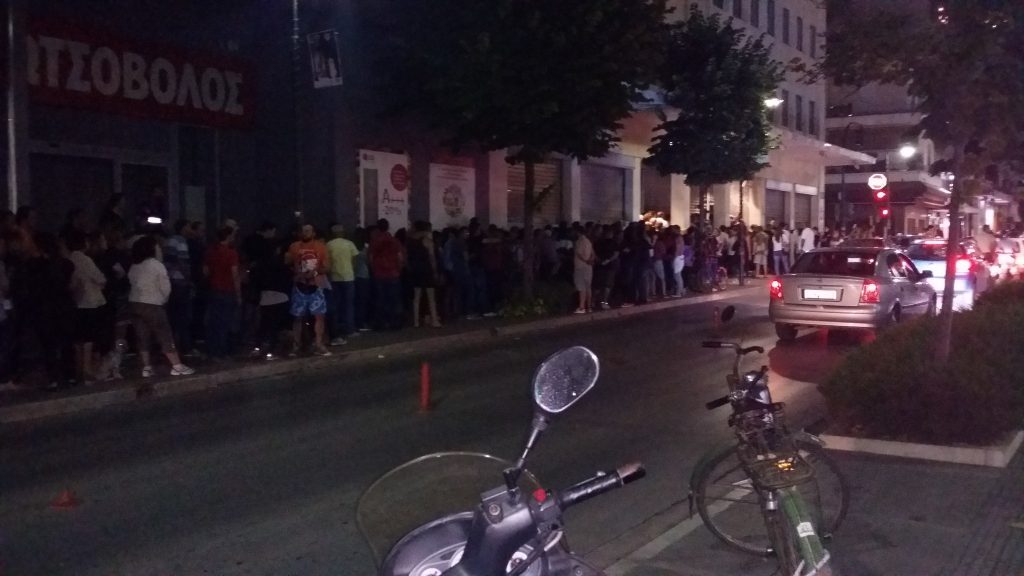 And spectators were looking at the lines…Probably one of the weirdest moments in my life. We all talked about this happening one day and it was now…here!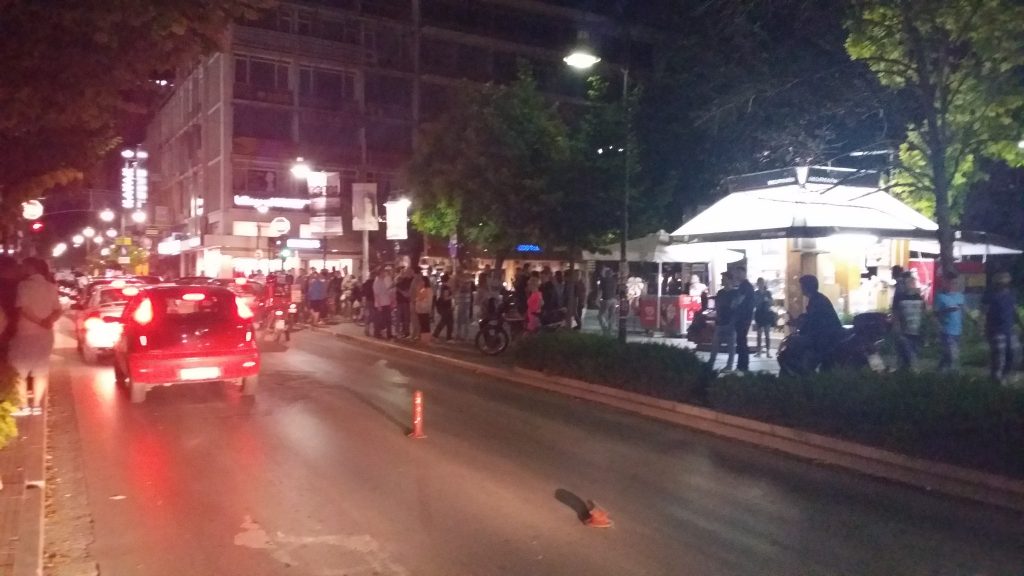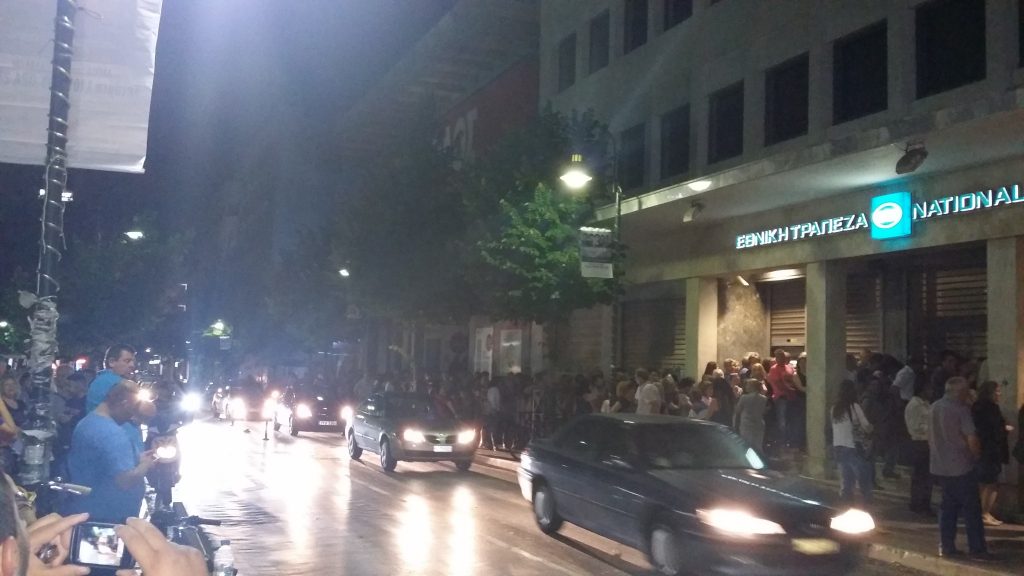 Next day we started our return. First stop, Thessaloniki. You need to drive through it in this very busy coastal road to get to the airport area where we dropped off the car to Avis.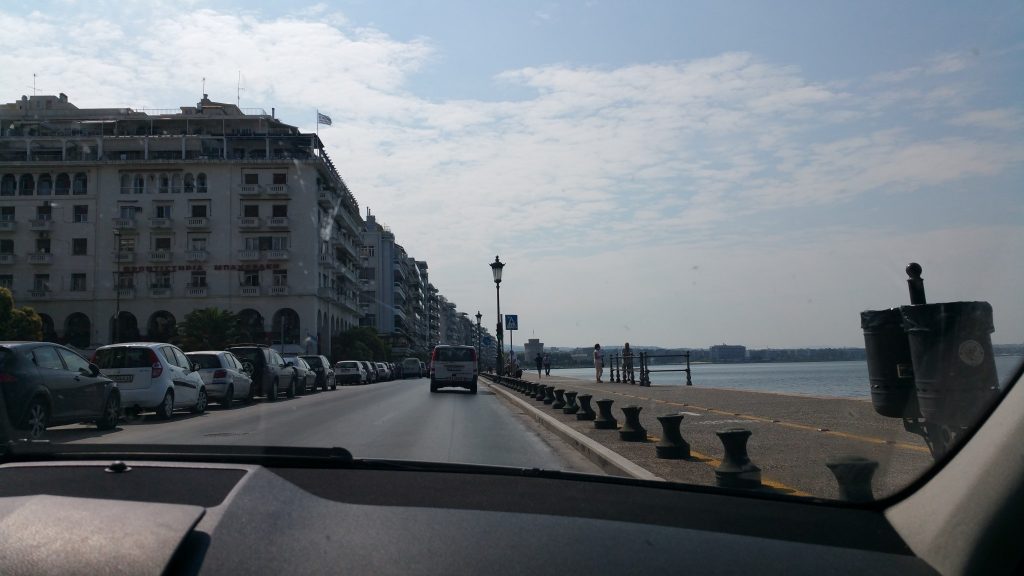 We of course stayed at the Thessaloniki Hyatt one more night before our flights out the next day. Nice little suite upgrade. It doesn't matter, all rooms are big!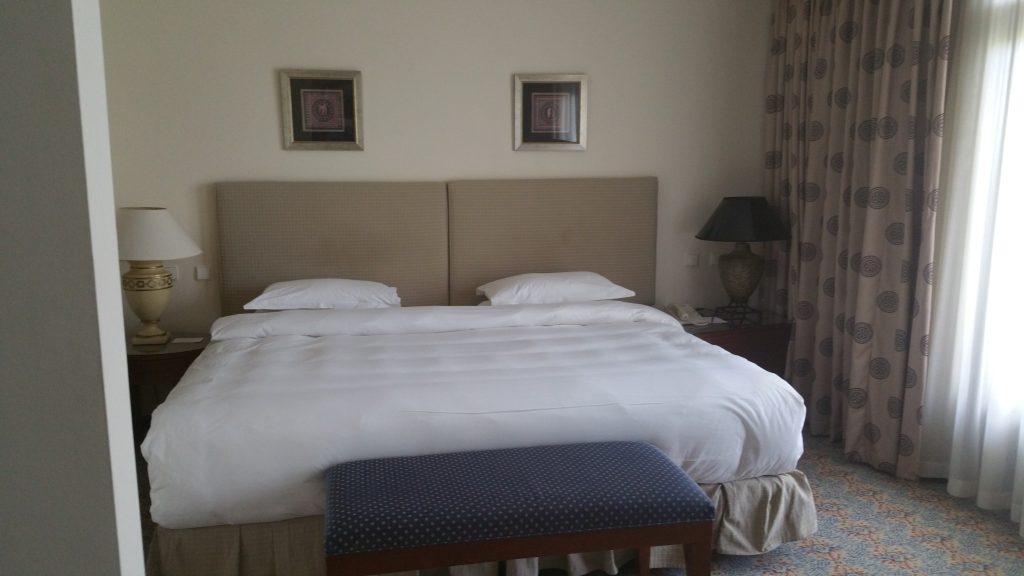 Love the spacious balcony!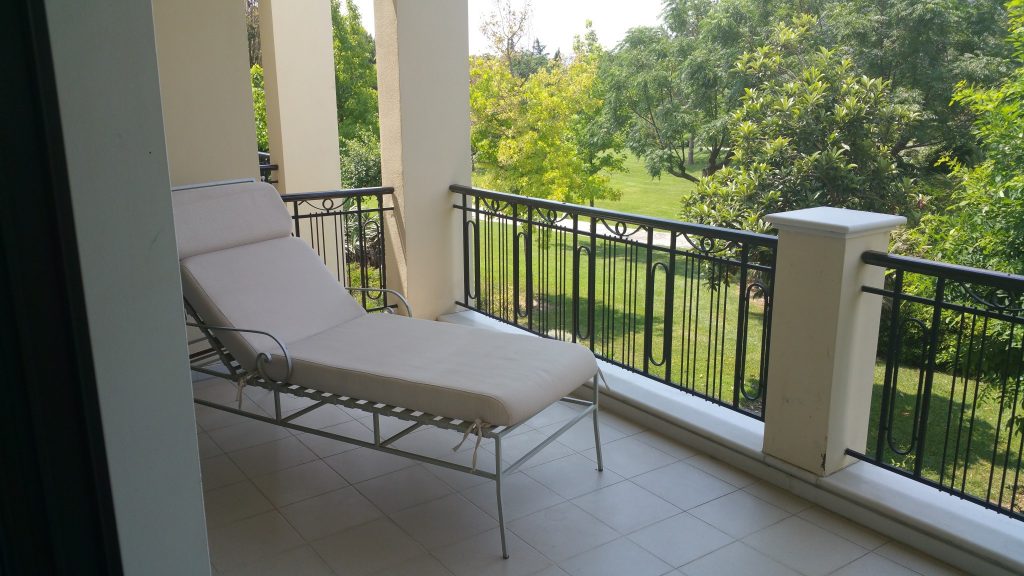 Bathroom is great too…
Very comfortable, like I said.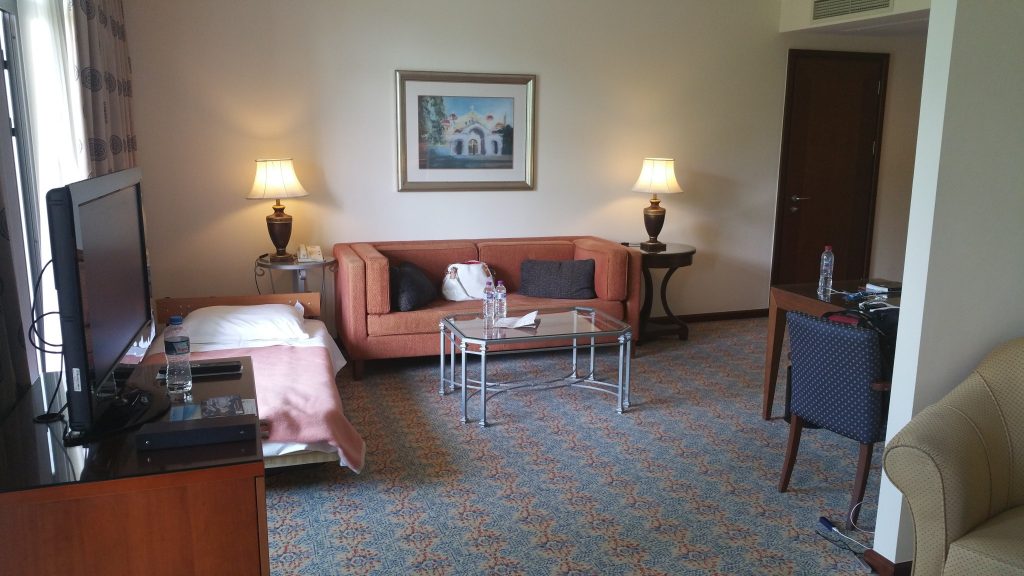 View from our balcony, it does not suck.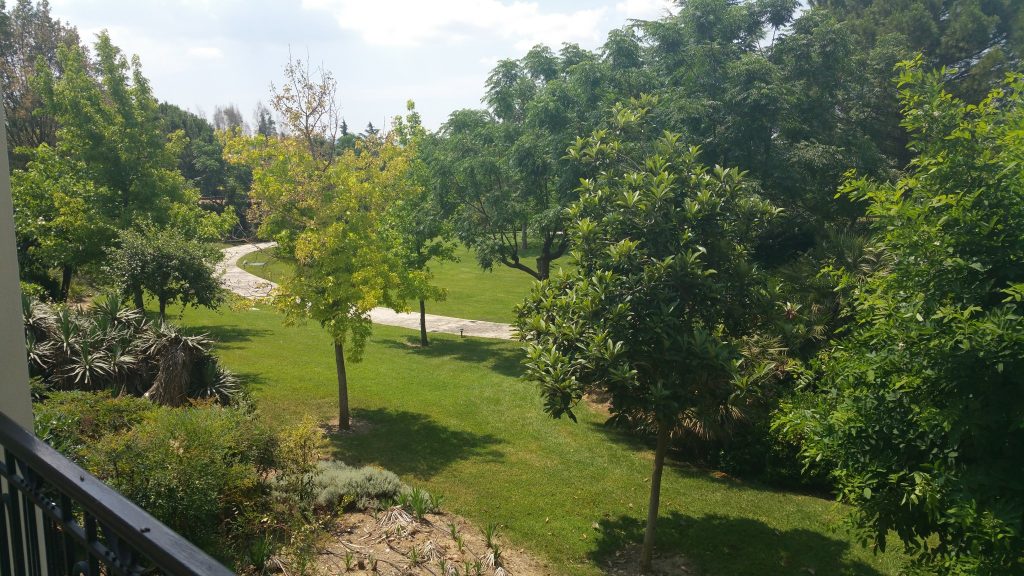 Had a greek salad by the bar at the swimming pool…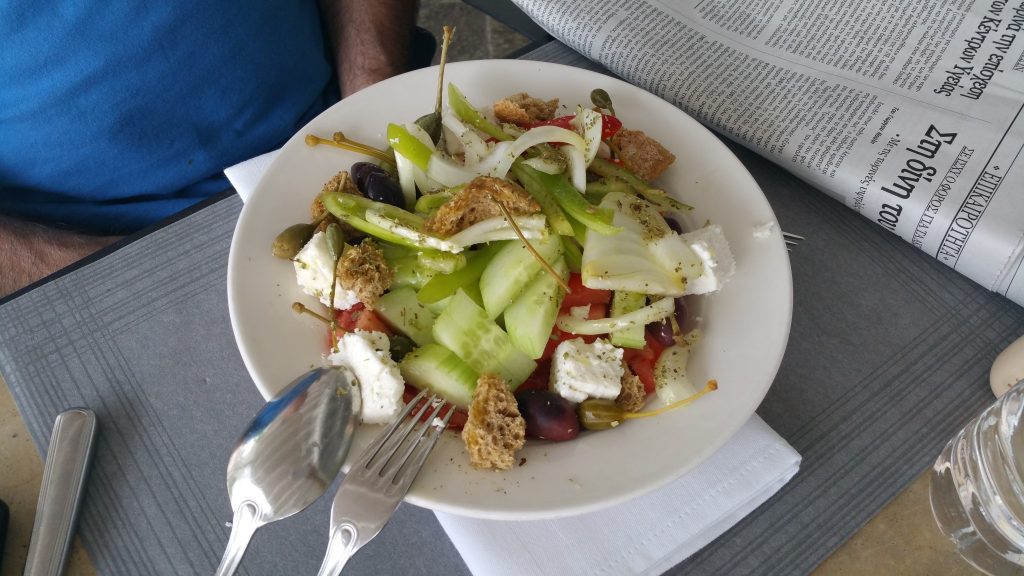 with a club sandwich. Very well done!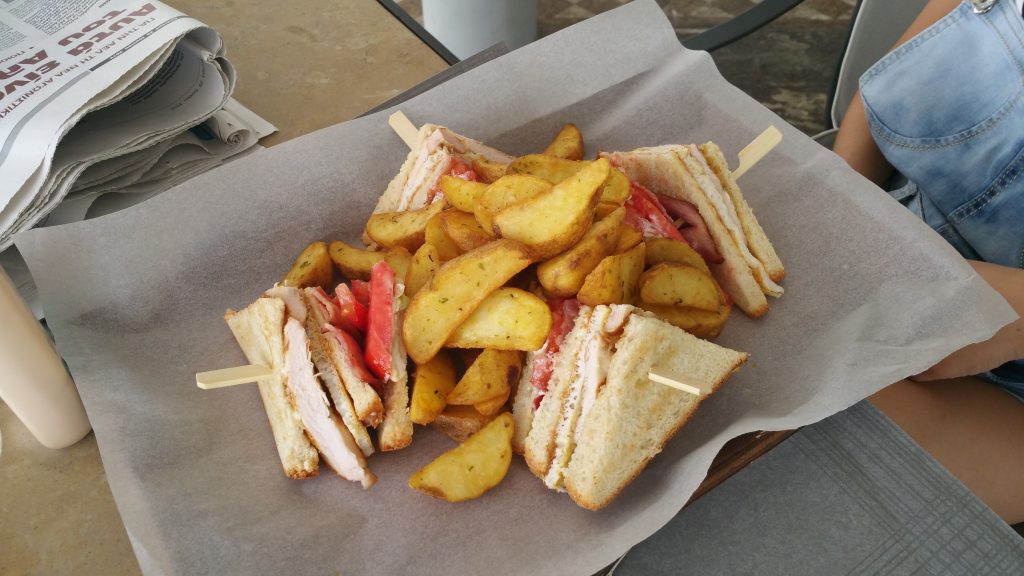 Then we took the hotel shuttle bus to Thessaloniki. The bus runs about 4 times a day with set times to depart and return. Use it if you can to avoid paying for a taxi. What follows is a series of pictures around Thessaloniki bustling downtown.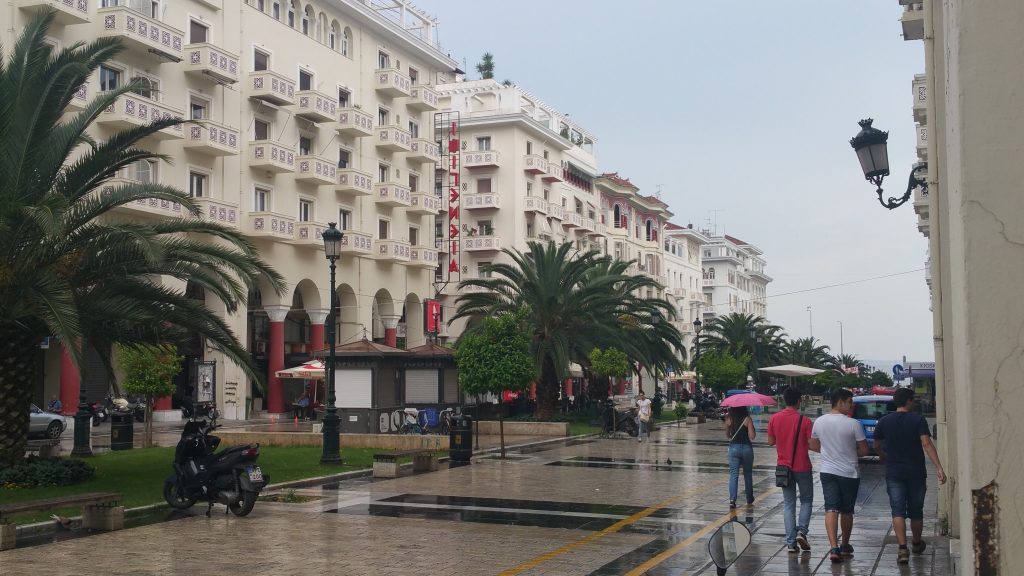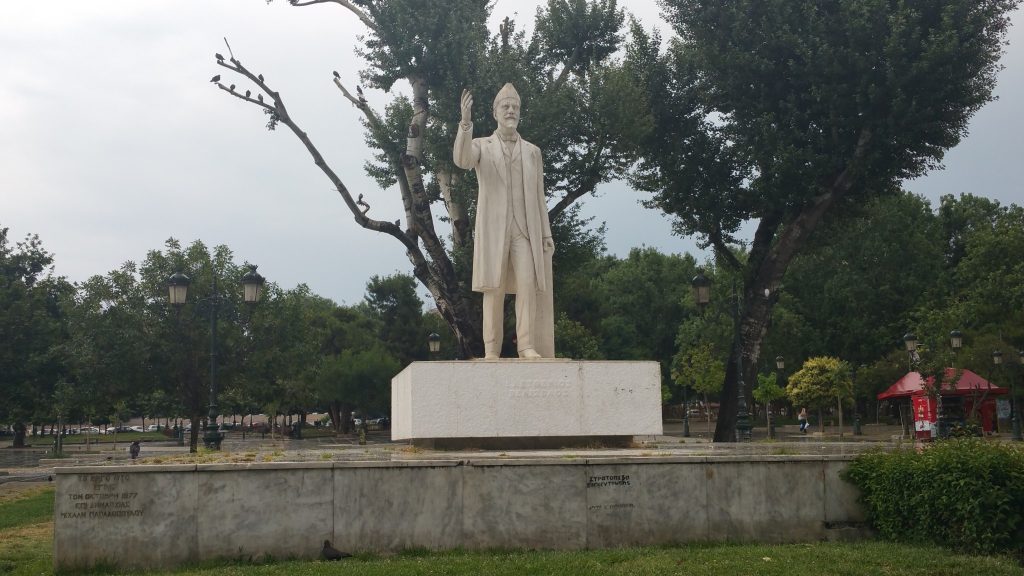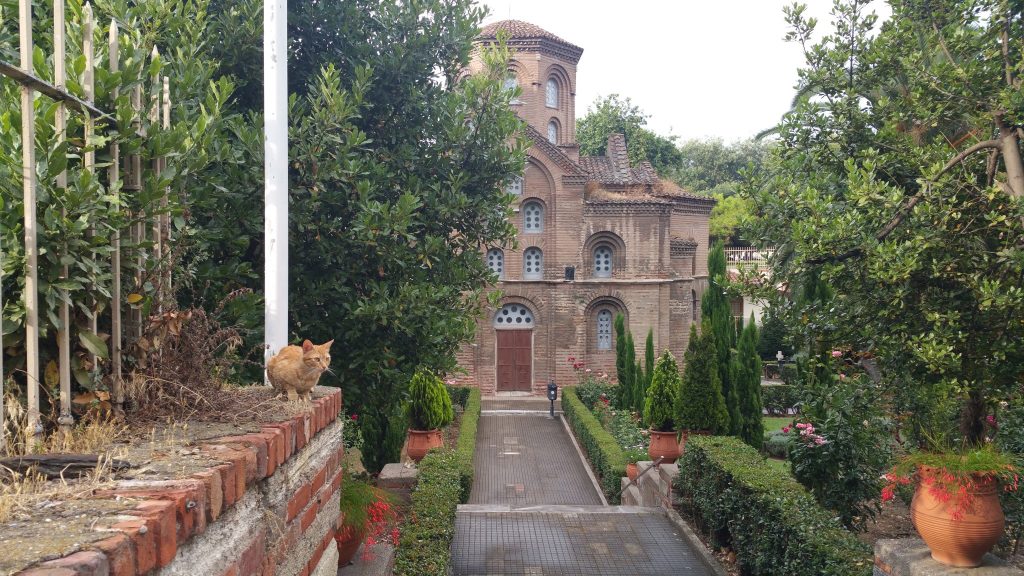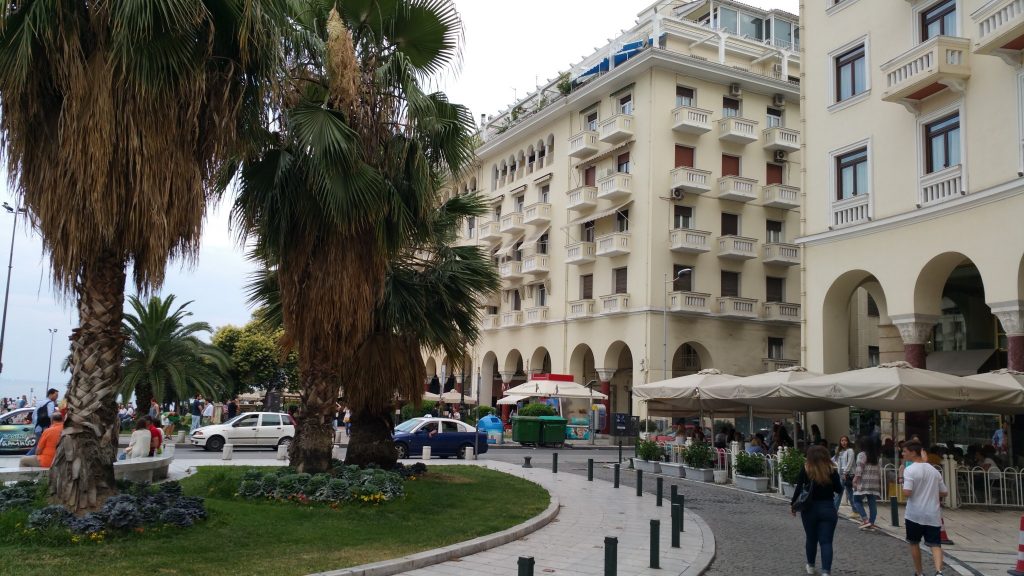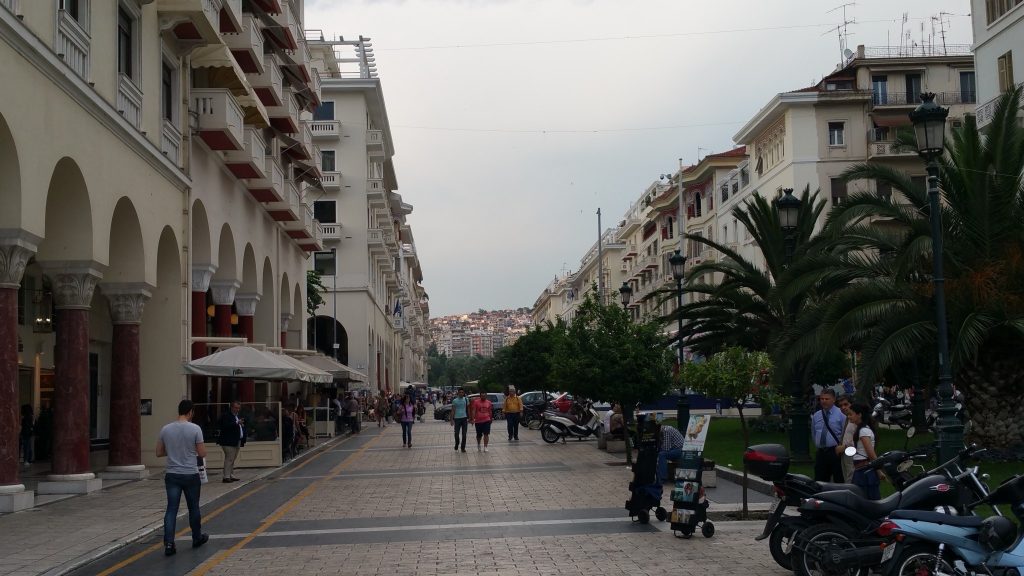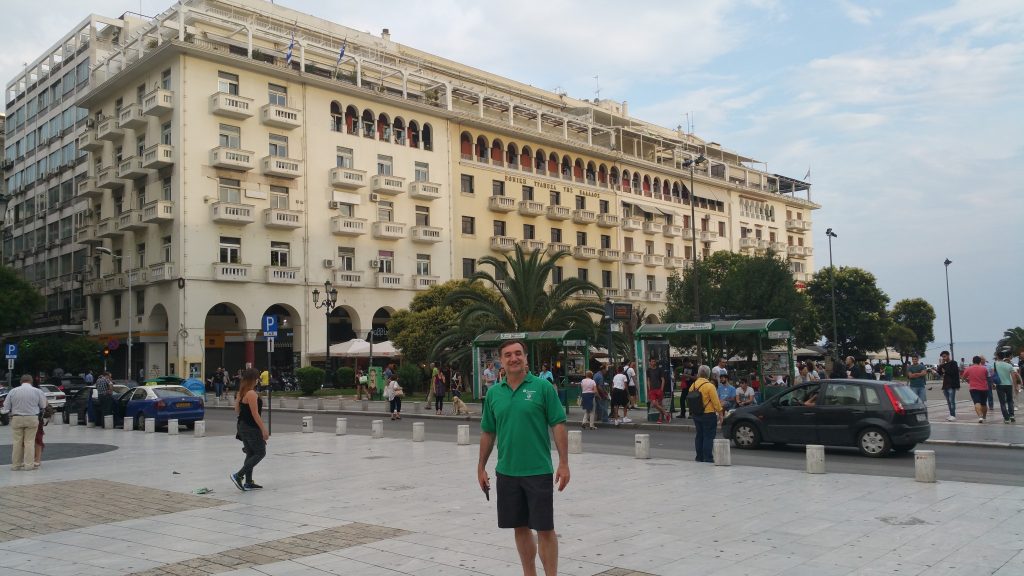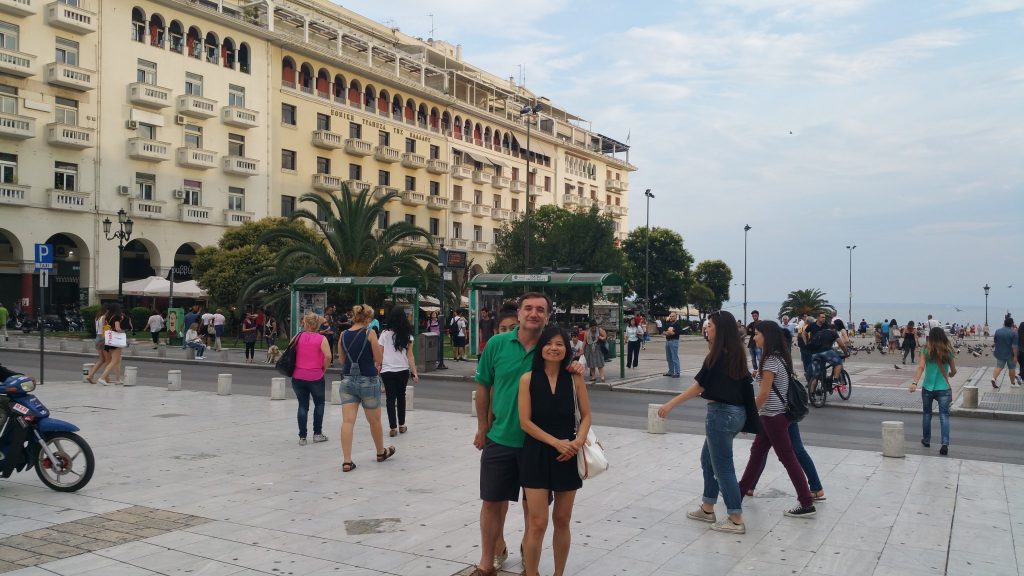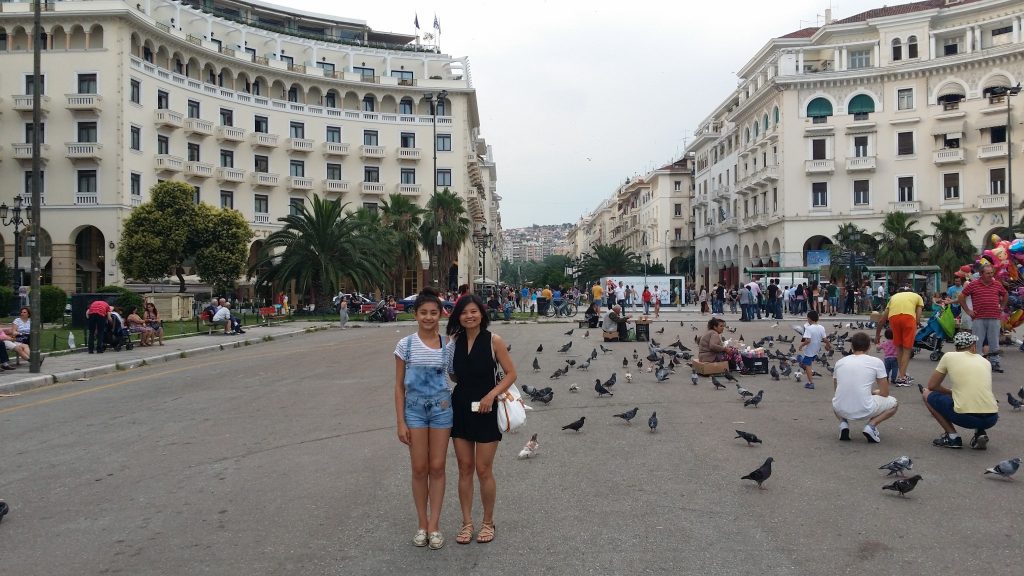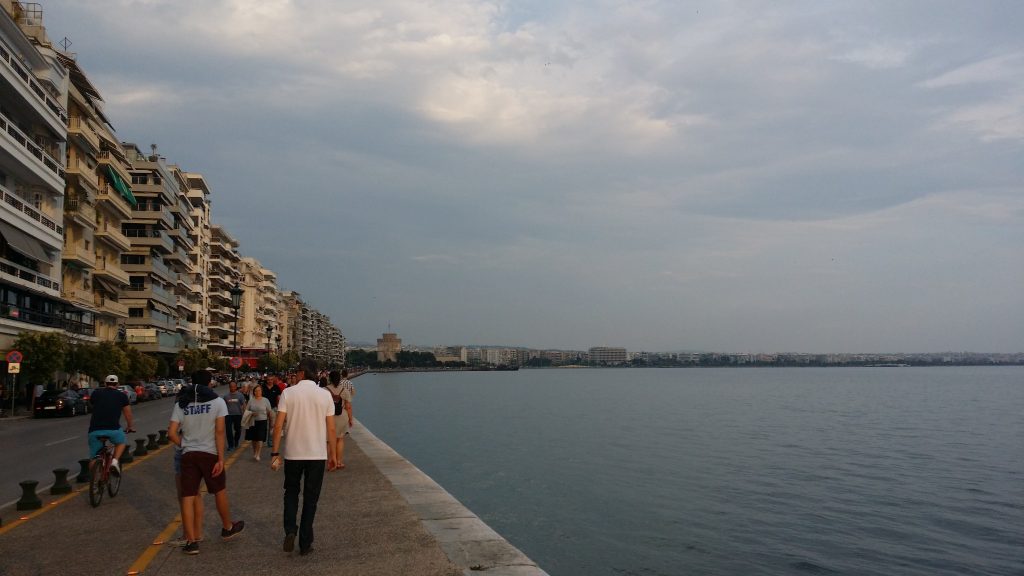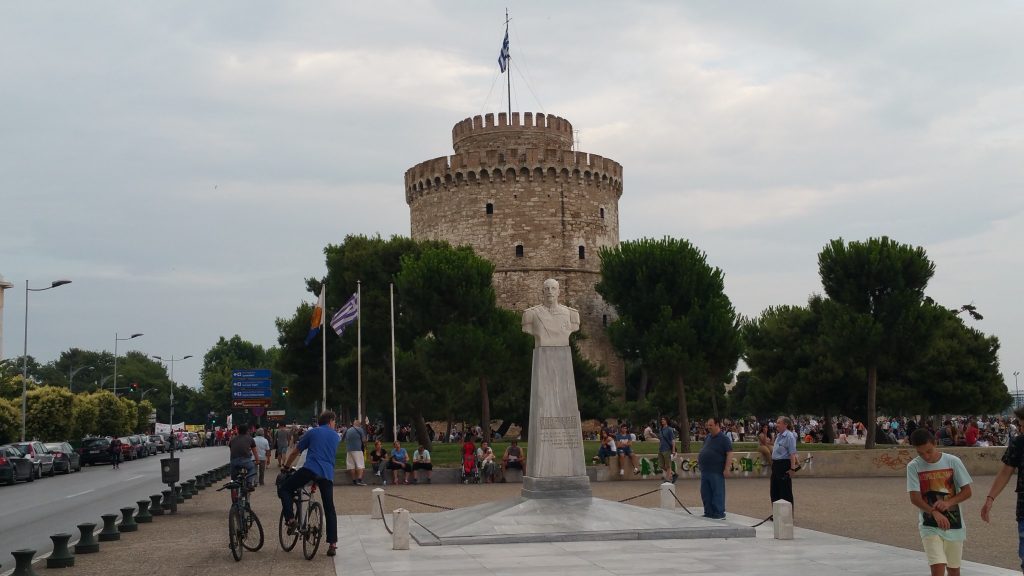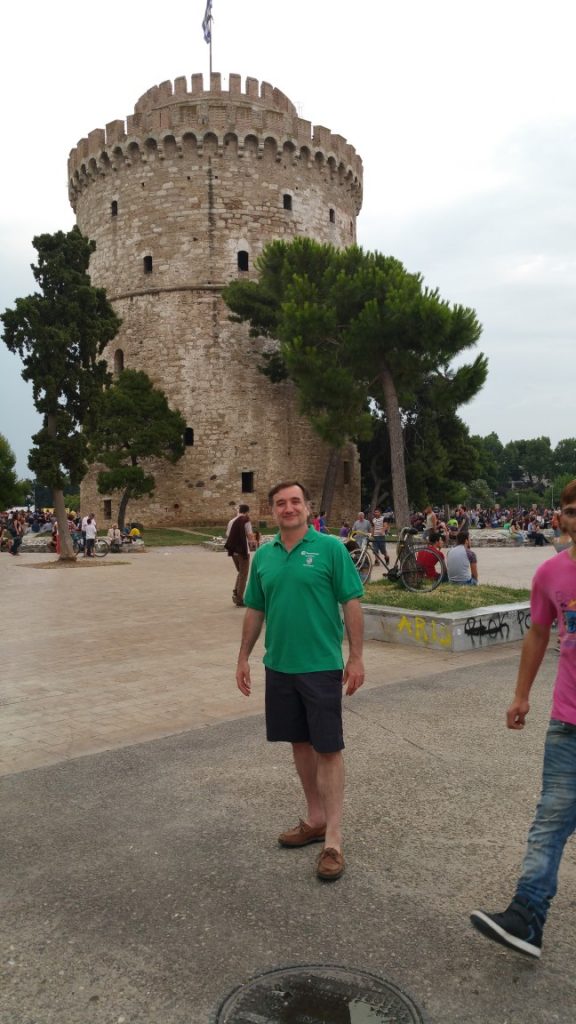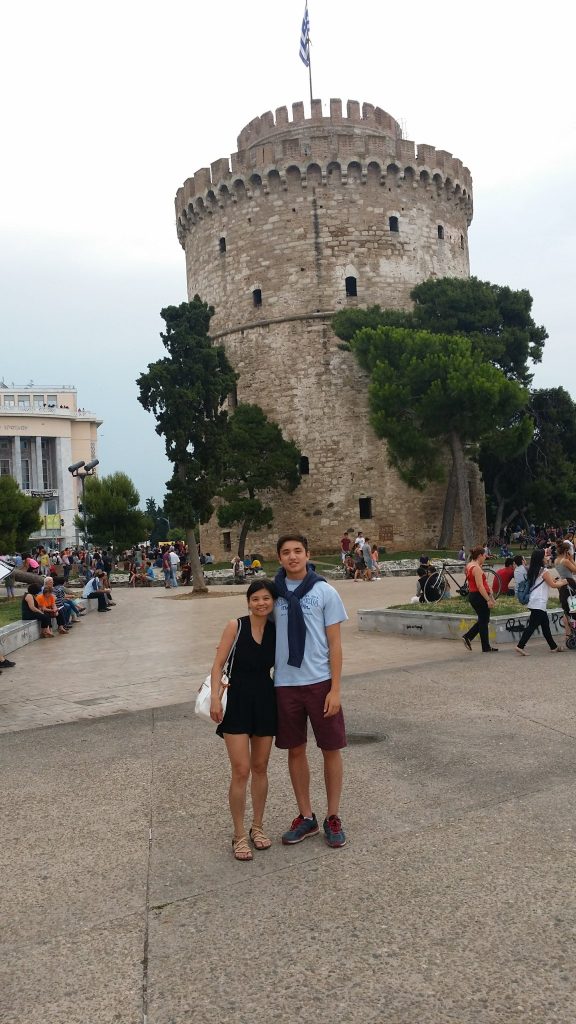 And guess what? We ran into a demonstration by the governing left idiot party Syriza. It was before the referendum they called to get the people to decide Yes or No to the measures prescribed by the loans given out to sustain this country.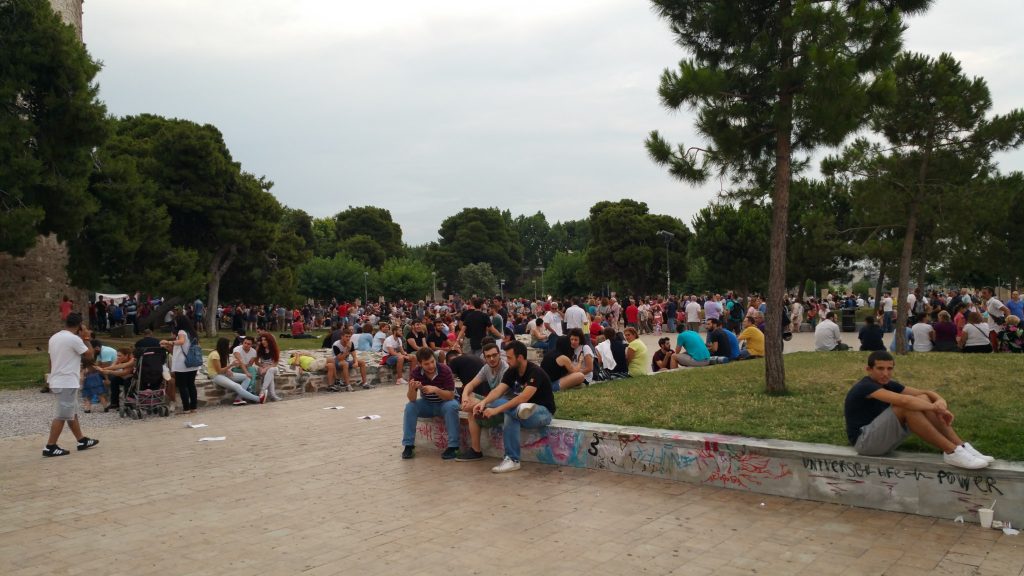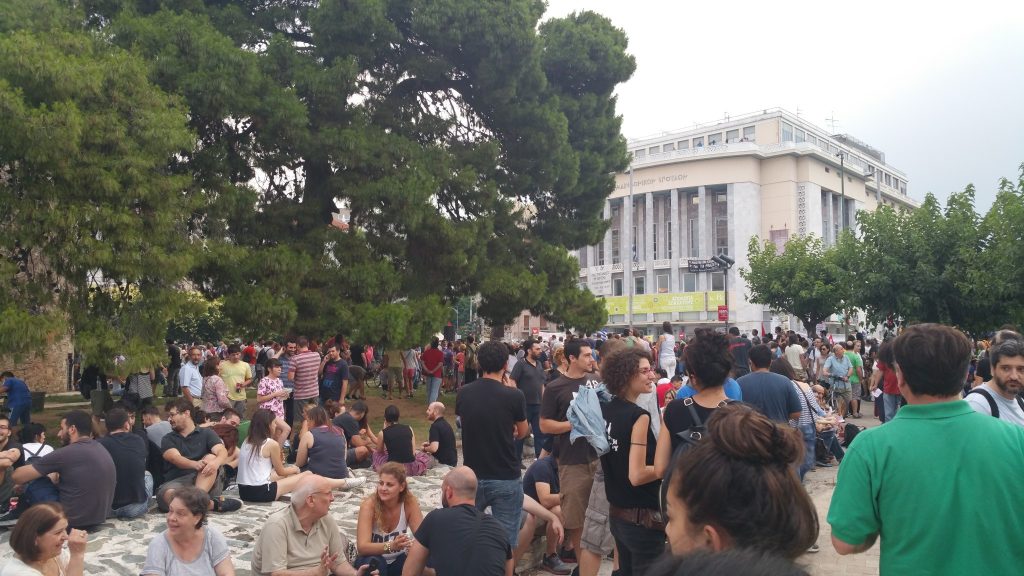 "On July 5 we say No to memorandums, austerity, fear and blackmails". So, the creditors said. Ok, you go ahead, make your next move. So, the "rebels" flipped to stay in and get financed to stay afloat by signing the harshest memorandum BY FAR. LOL. #sad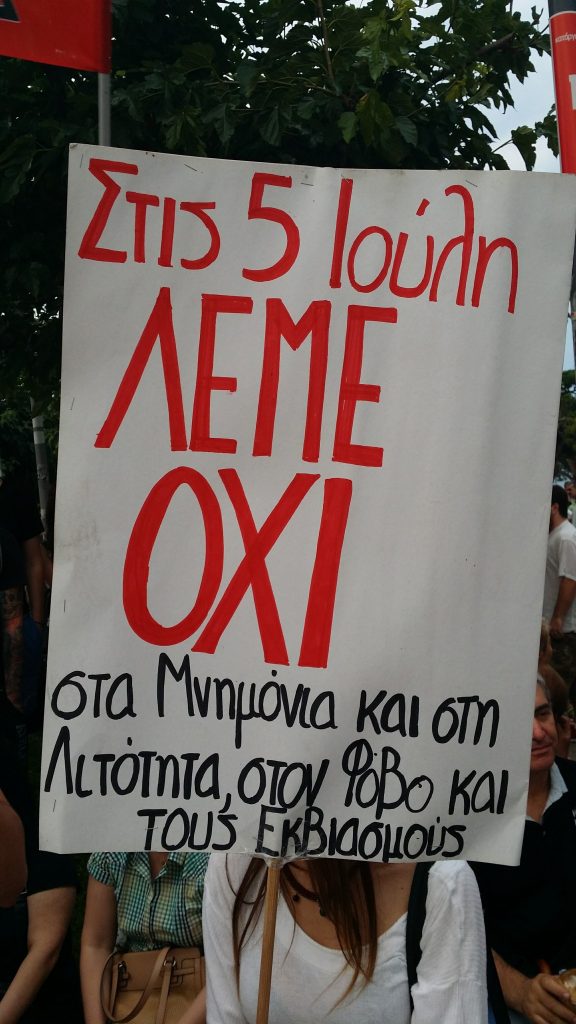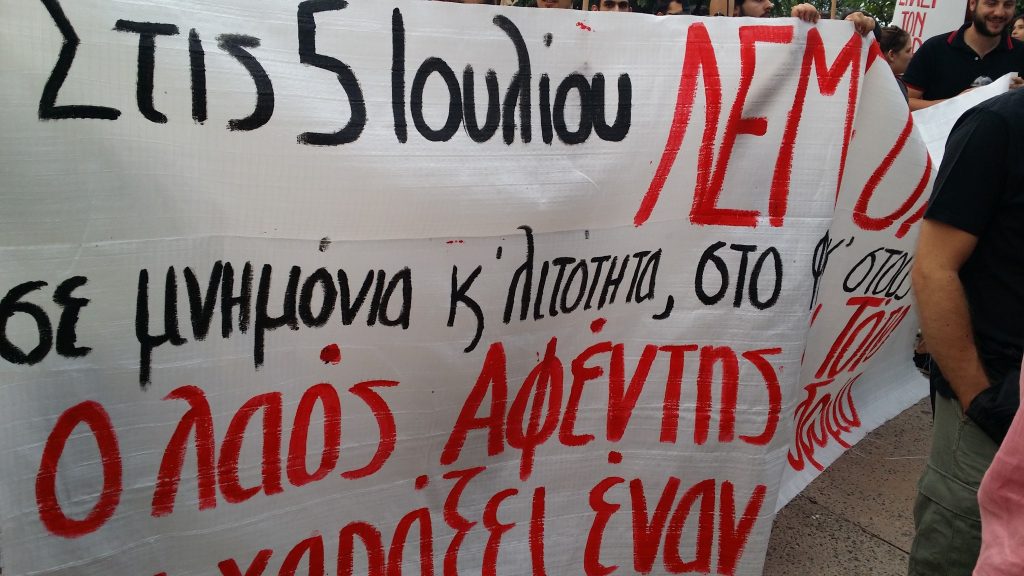 "Common struggle, so we vote down the anti people agreement, break with EU-Euro-IMF. This is an offshoot of the party called "Resistance". I am telling you guys, this country has too many of these pseudo rebels who never actually worked or hired anyone in their lives and live on handouts from grandparents/parents/state eetc.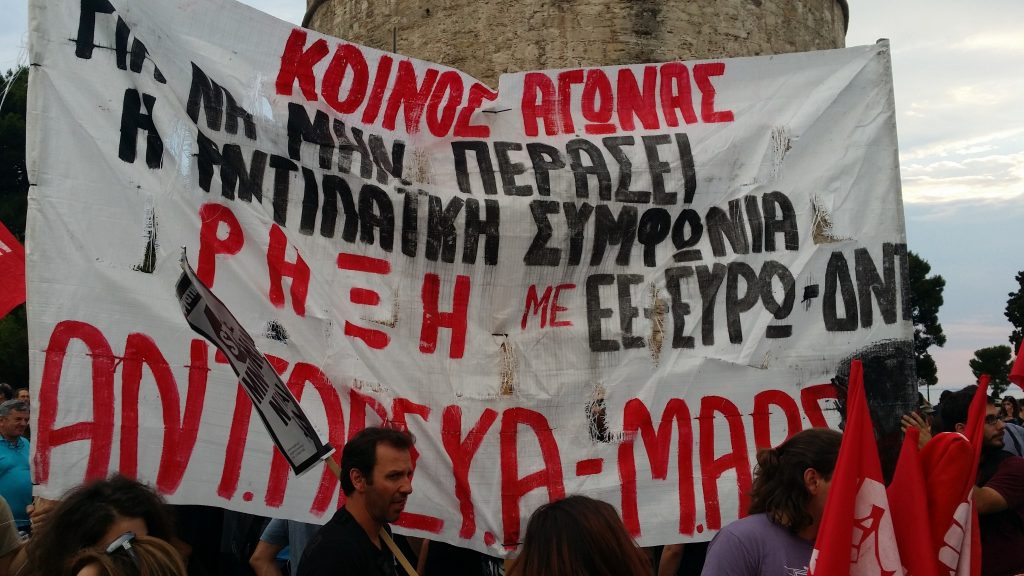 "Vote No. Do not fear them. It is time to break them". La la land…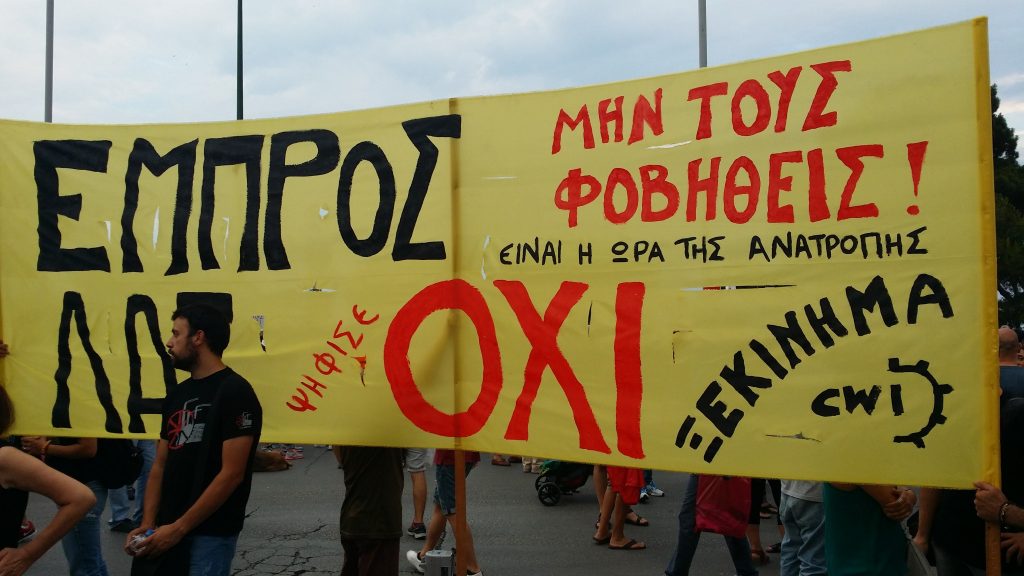 "The youth breaks the fear". Oh shit, be afraid, be very afraid!
For a Europe of solidarity, for Greece to be respected, Say no to fear & austerity, Vote NO!' In other words, we just want your money for free and don't want to abide by the rules ok?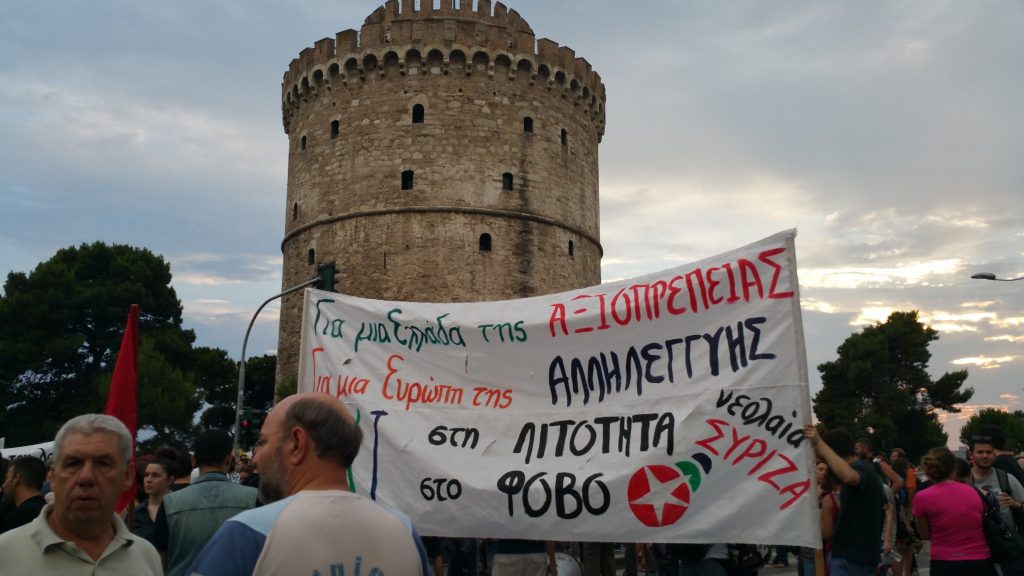 We went to bed early for our morning flight and then were driven by the hotel shuttle bus to the Thessaloniki SKG airport. We flew first Aegean Airlines to Munich.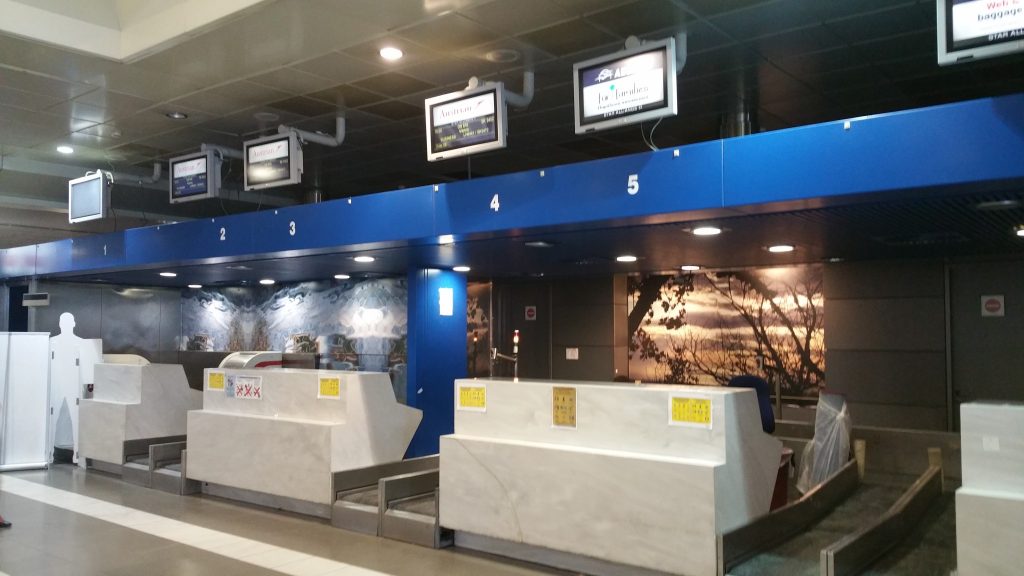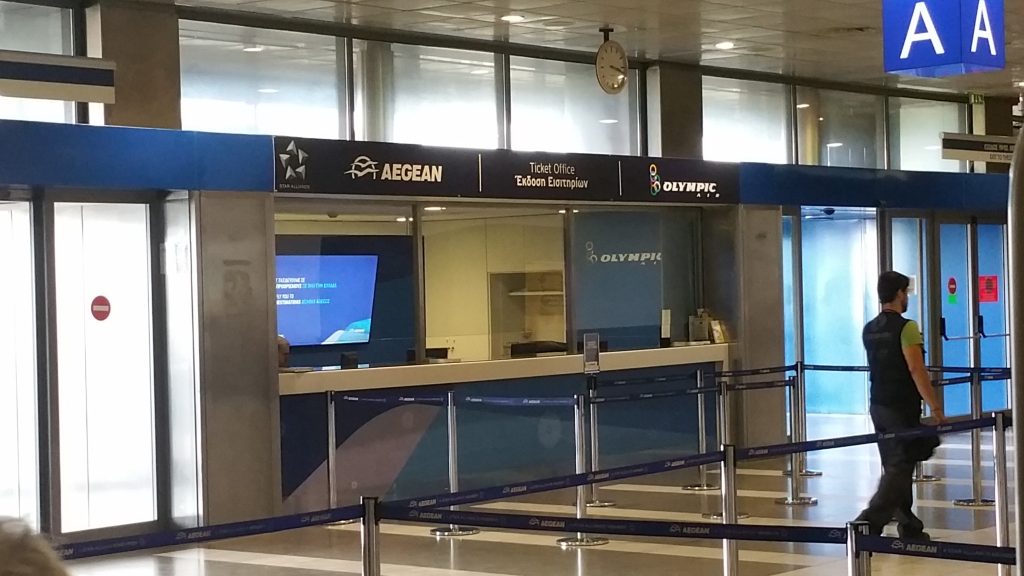 This is one of the big sandwich and coffee chains in Greece. They have decent cheese pies too!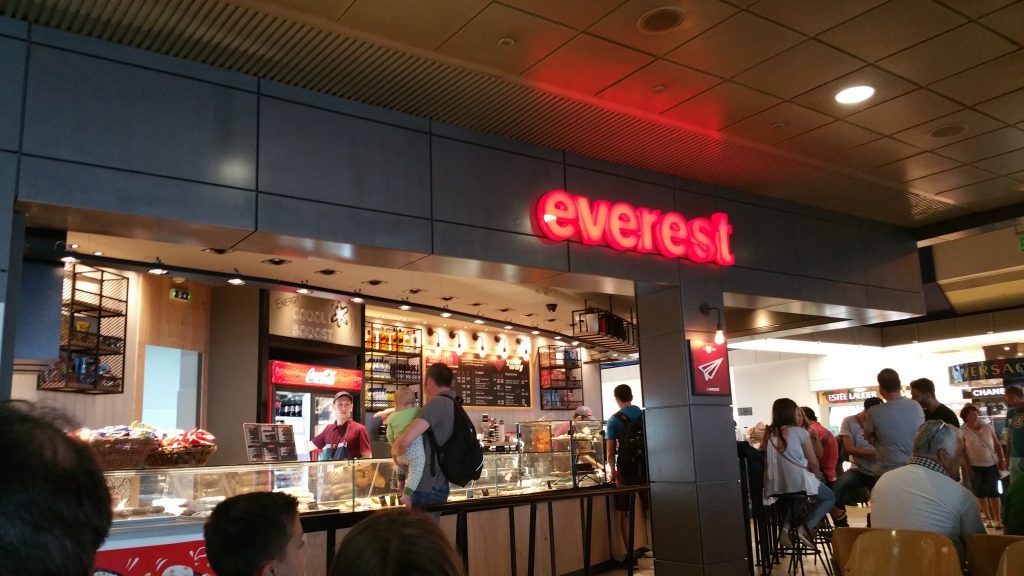 Plane full of Greek immigrants to Germany.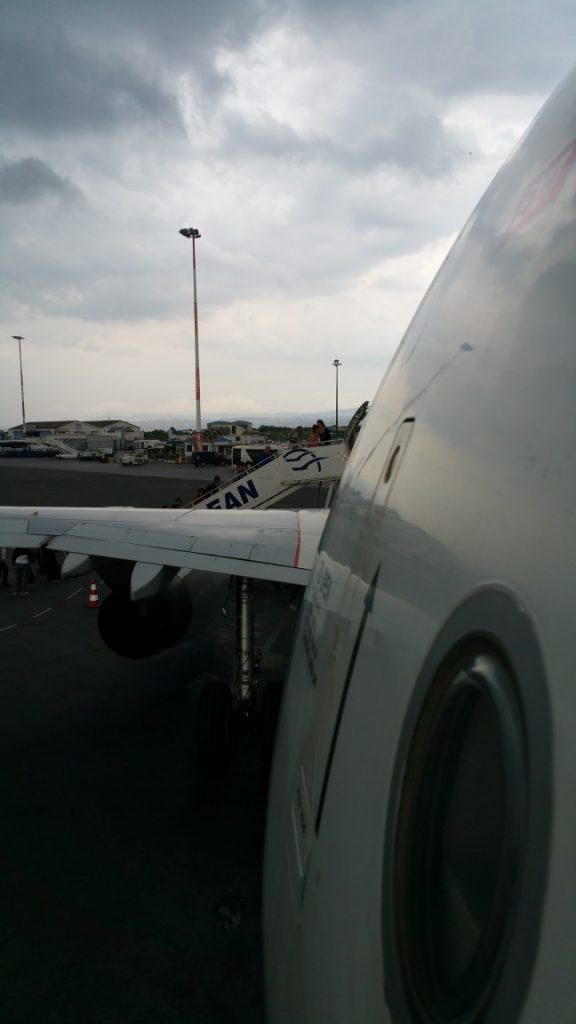 Aegean Airlines does a good job overall. But there was a severe thunder storm and we had to postpone our take off for a while…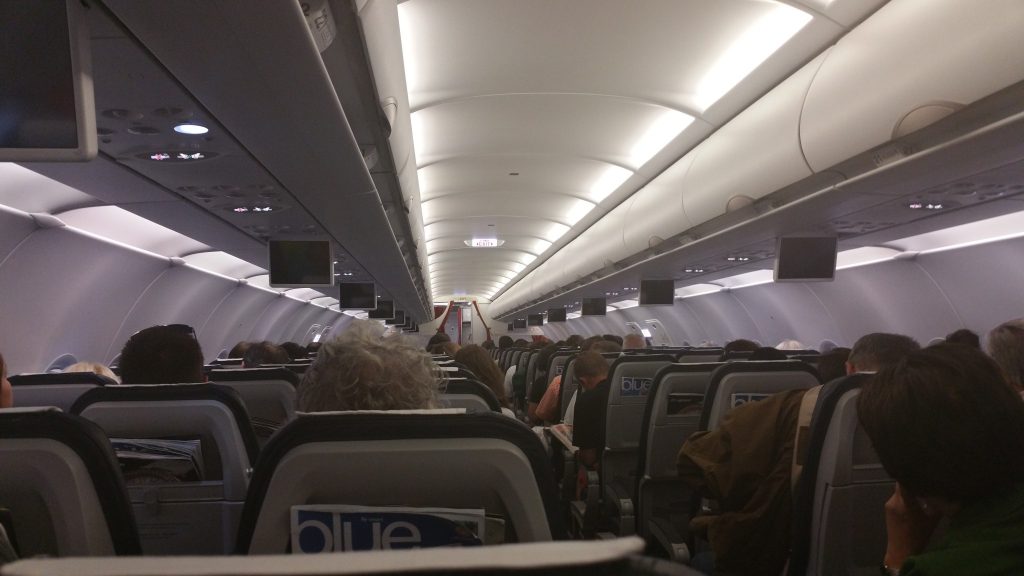 By the time we landed in Munich we had just minutes to connect to our Lufthansa bound flight…oh no!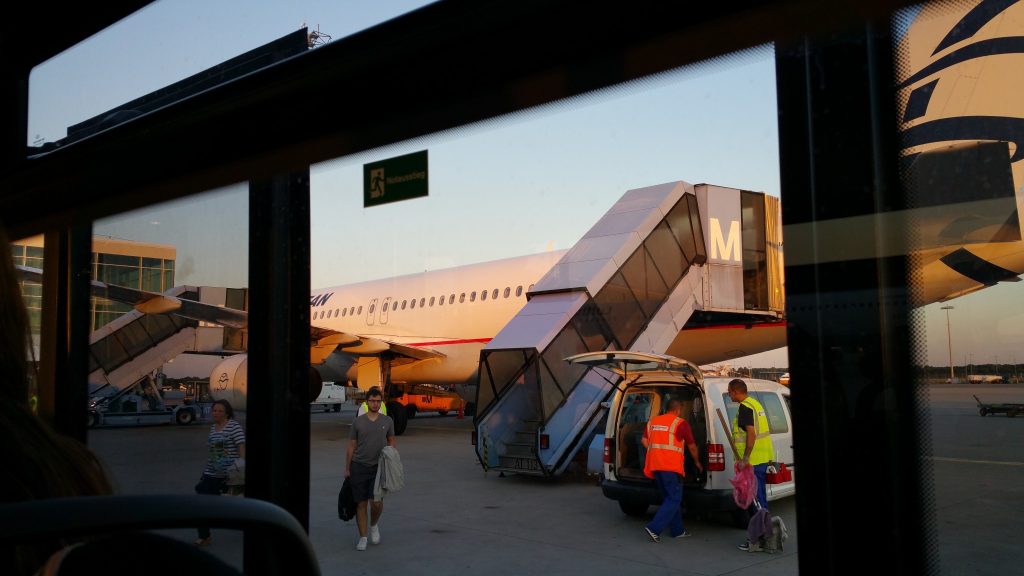 We were in distress…there was no way to make it…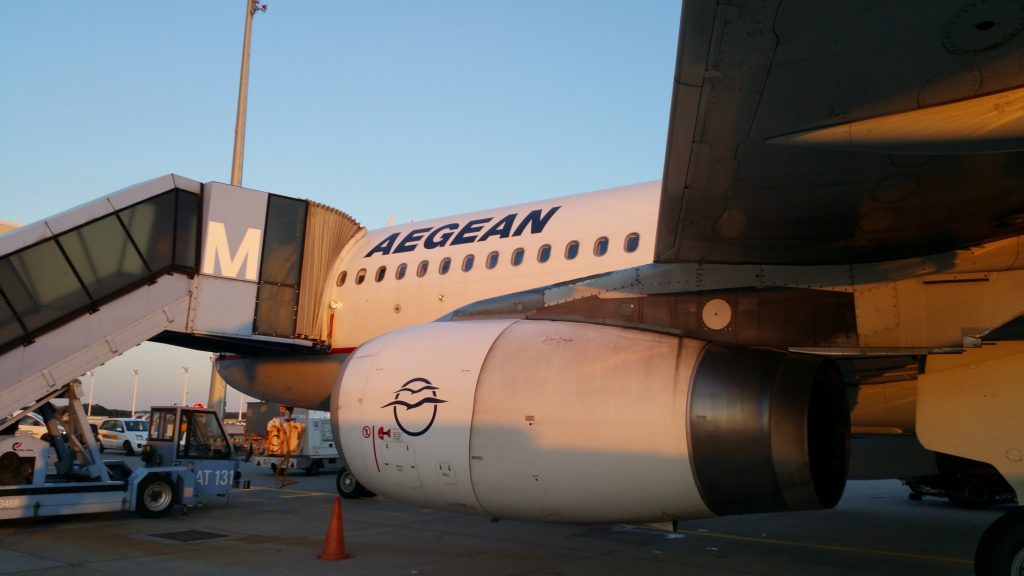 And then a German Lufthansa staff person was looking intently through the windows of our bus. He stops. He scores asks my name and says come with me now. And he takes in this small bus while speaking with his colleague on the phone…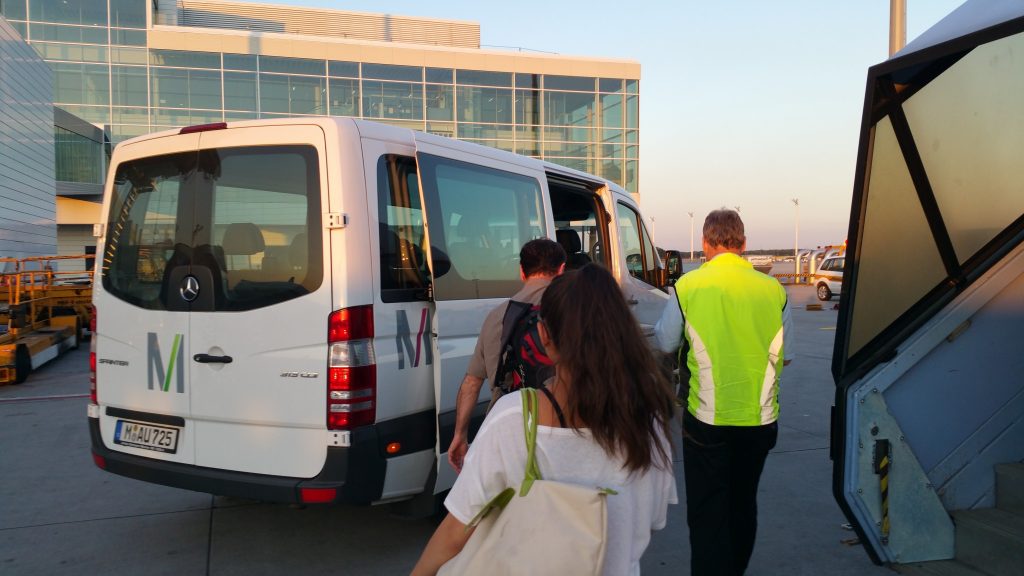 "I am taking you to your flight, don't worry". We love you man!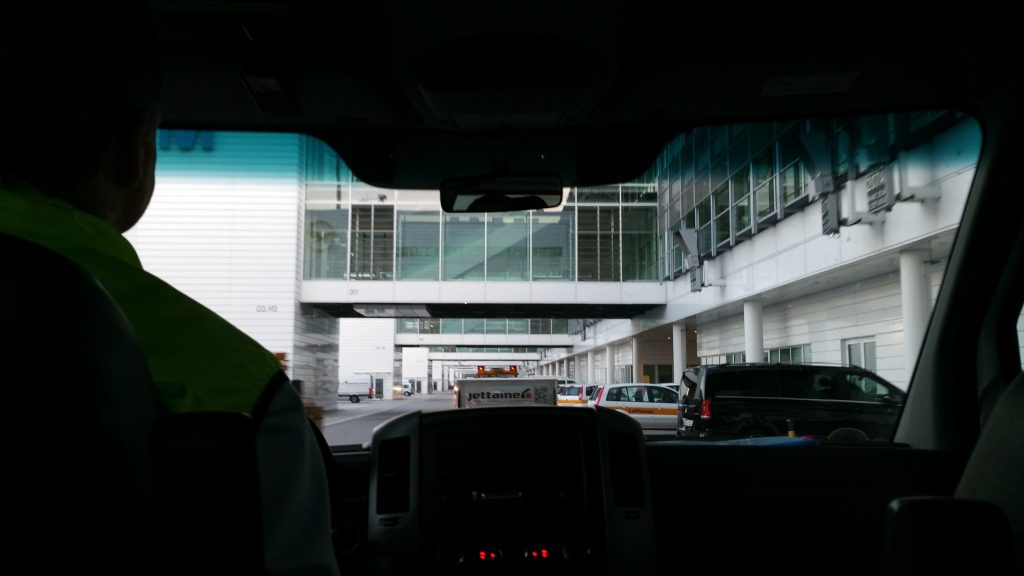 Short uneventful flight, welcome to Frankfurt.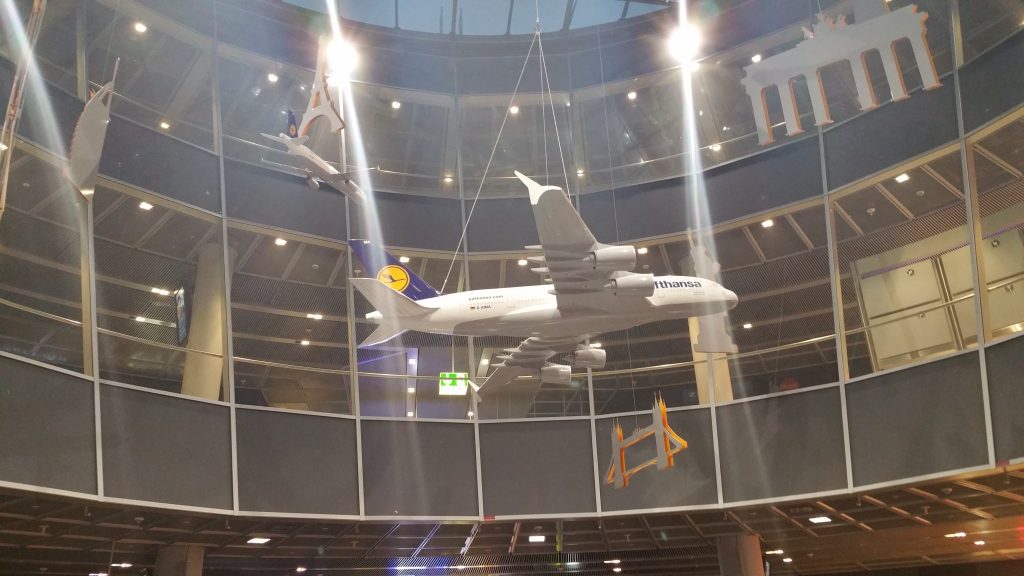 We walked over to the nearby Hilton.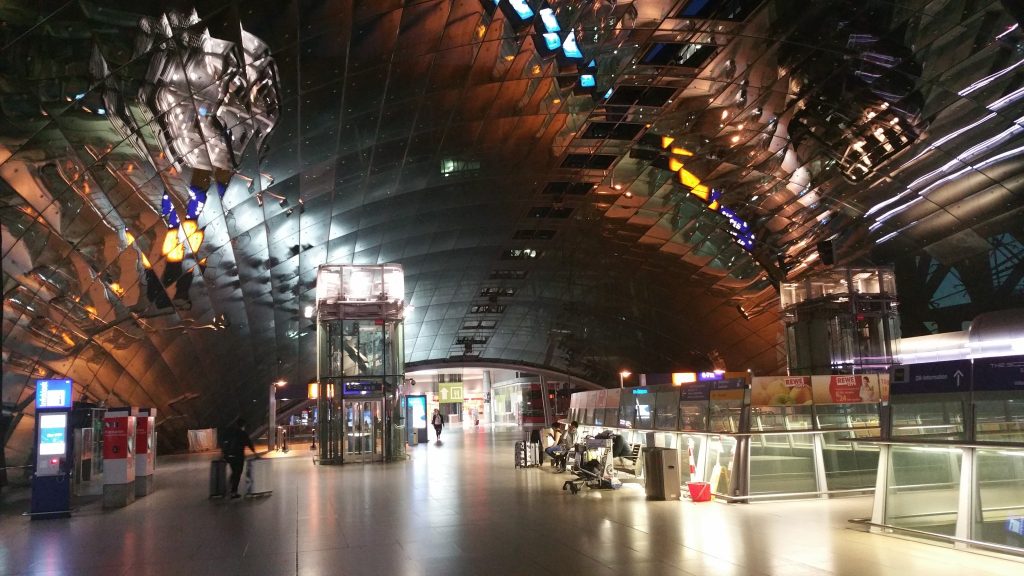 Love this hotel, fantastic very modern feel to it, wow!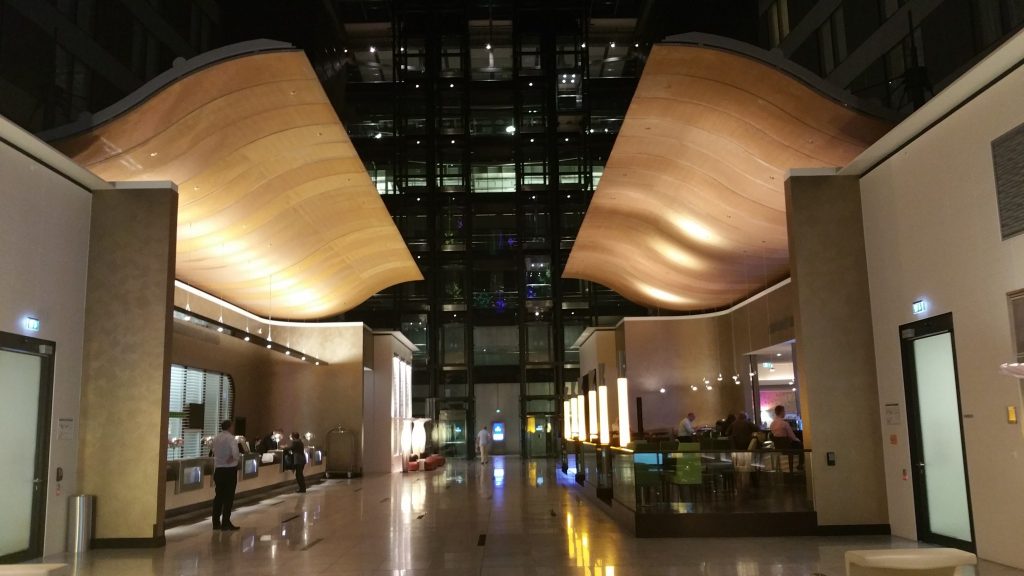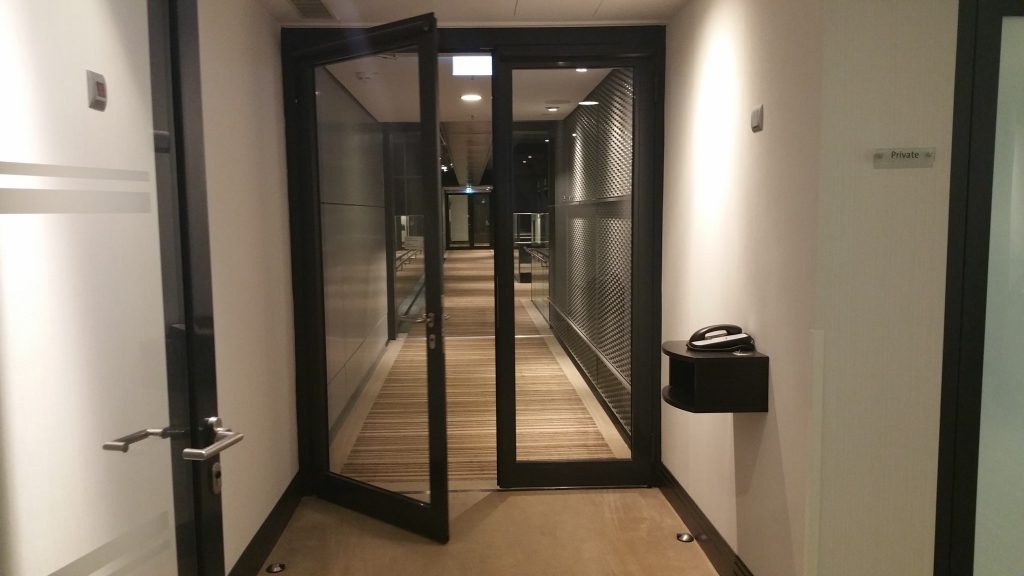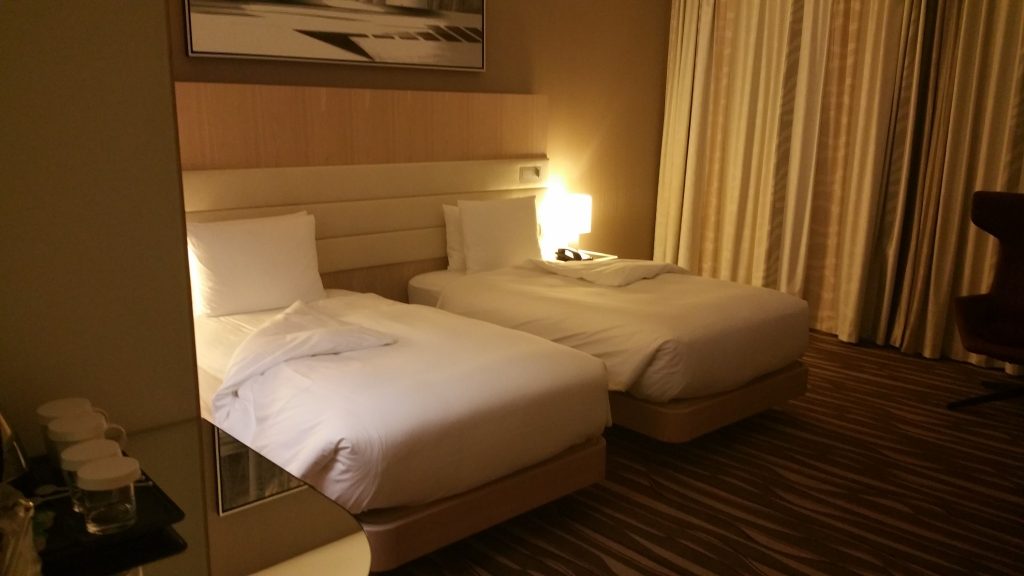 Huge lounge, very well kept and supplied with food and beverages often.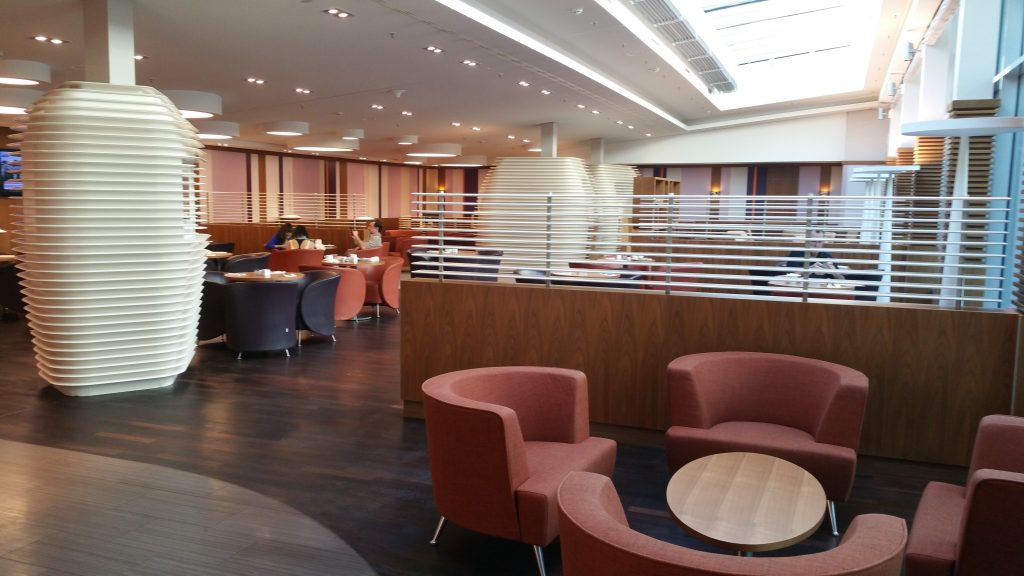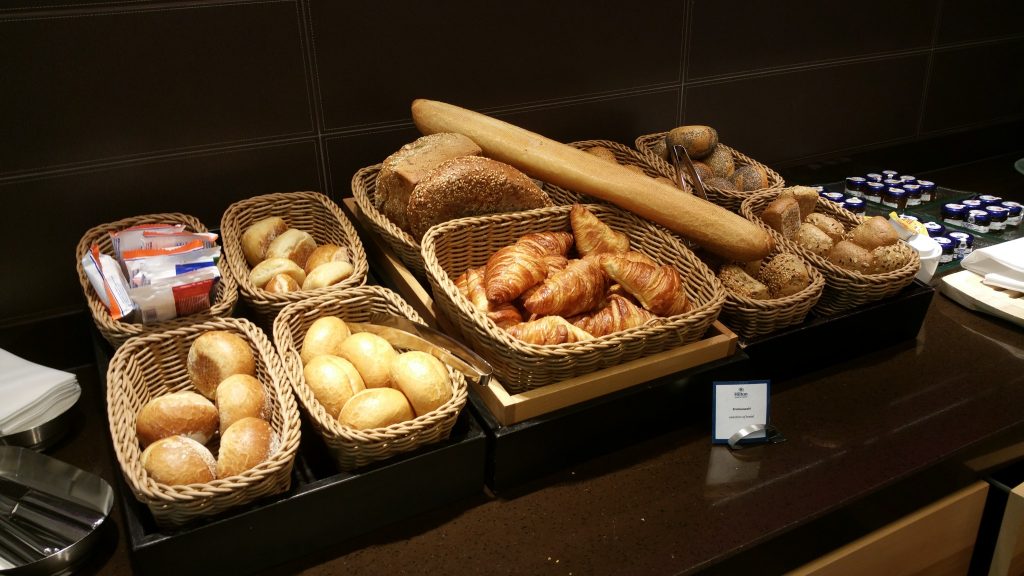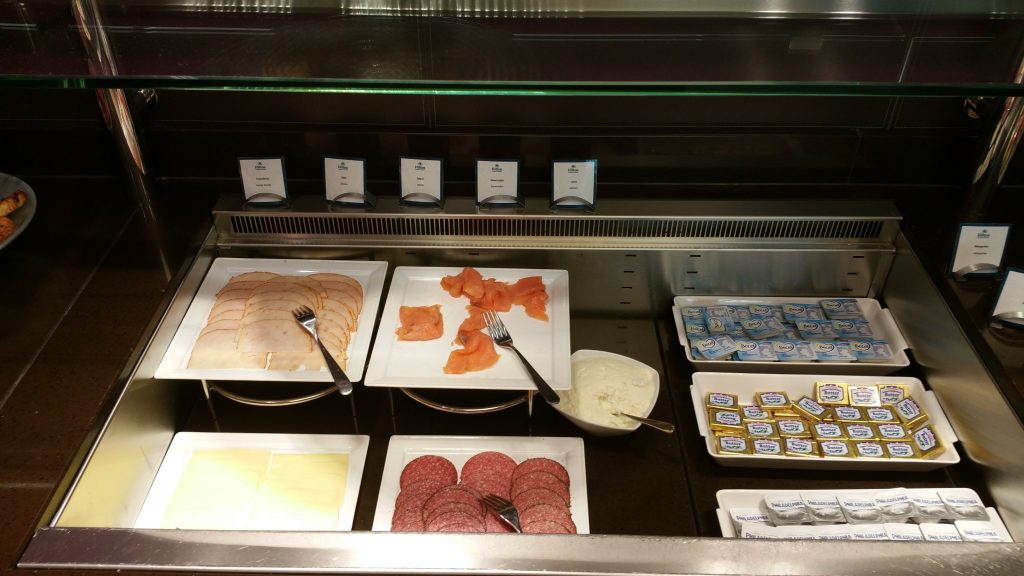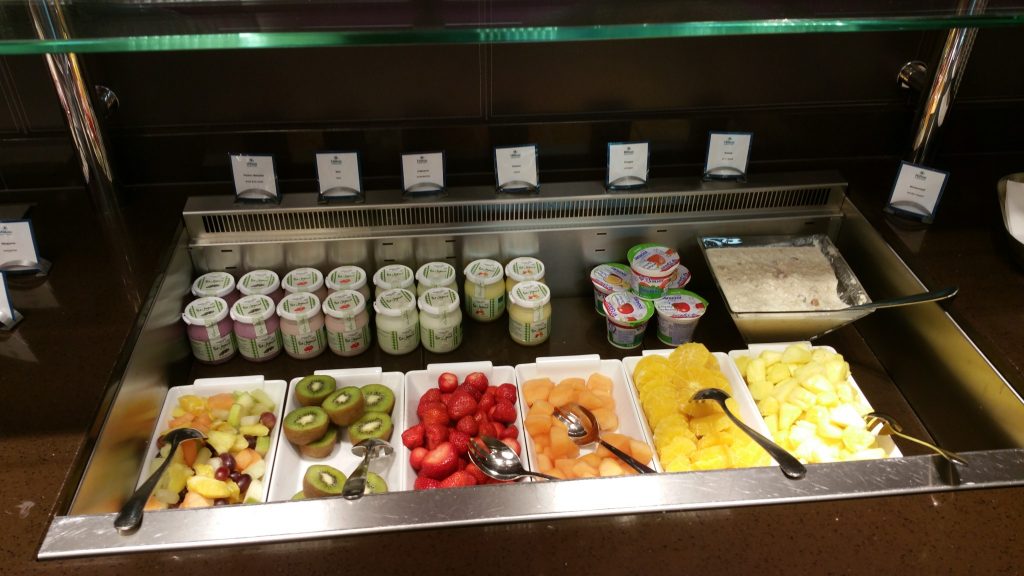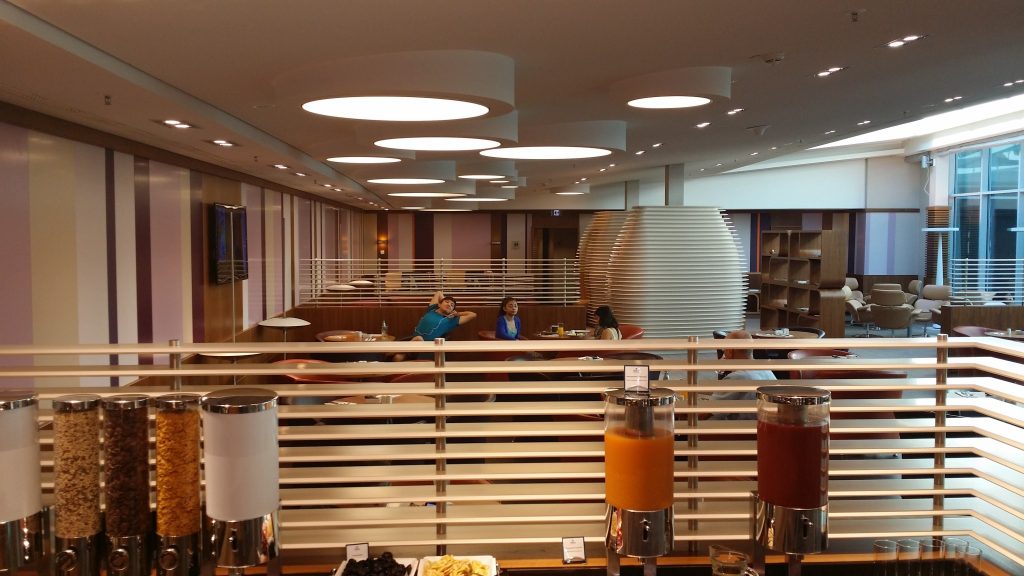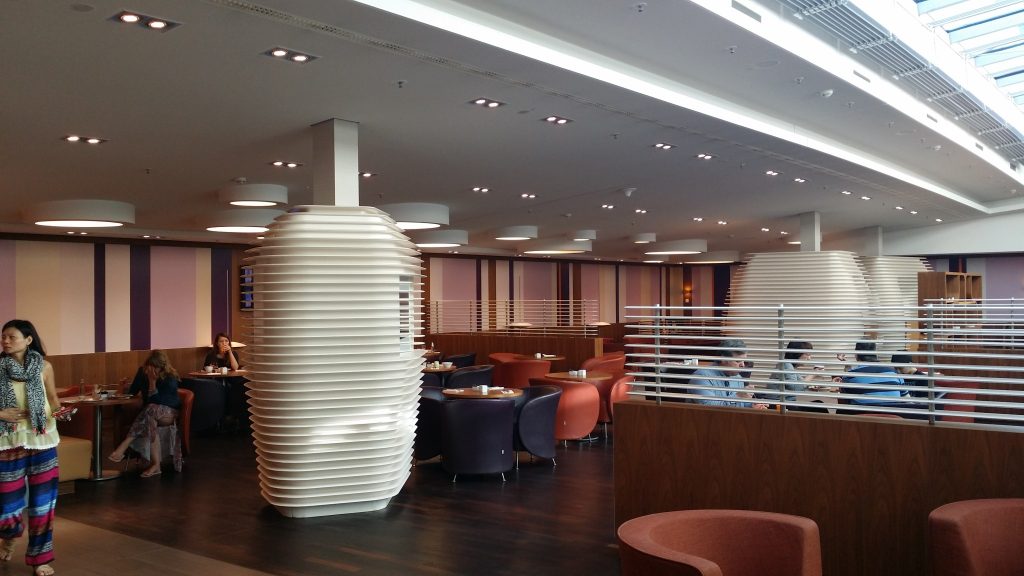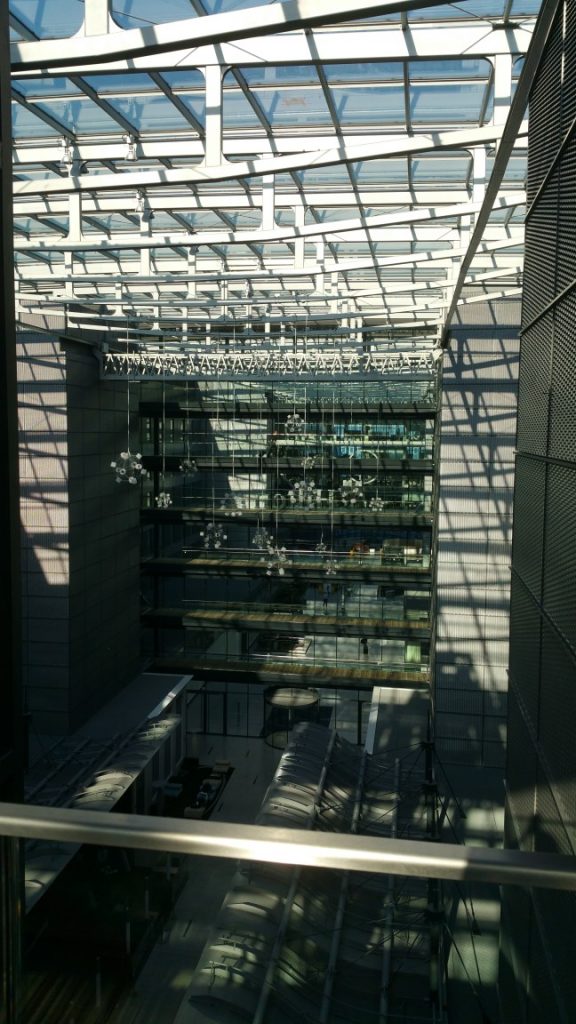 Ever since I was a child….I loved these!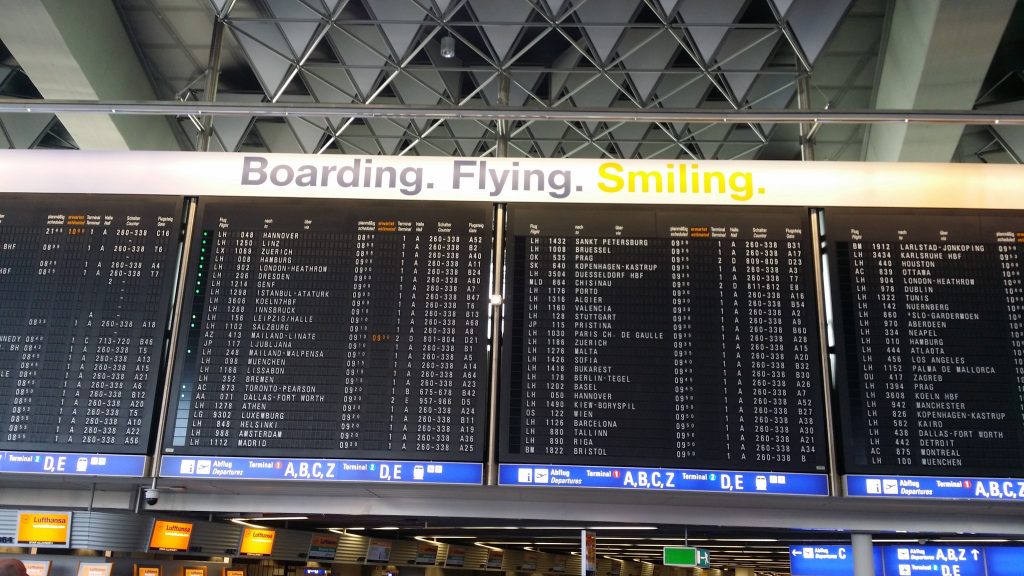 Our gate, no comment.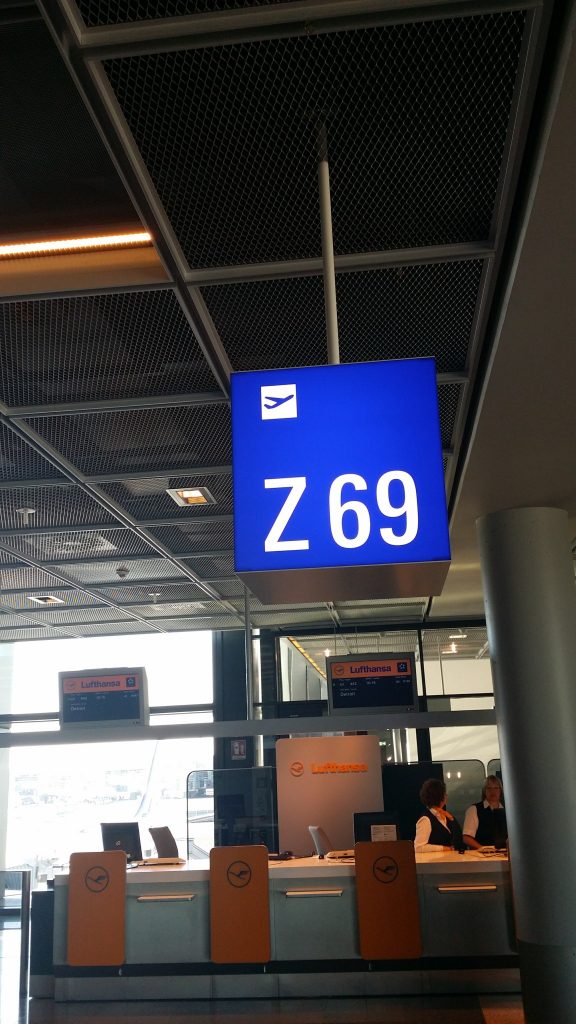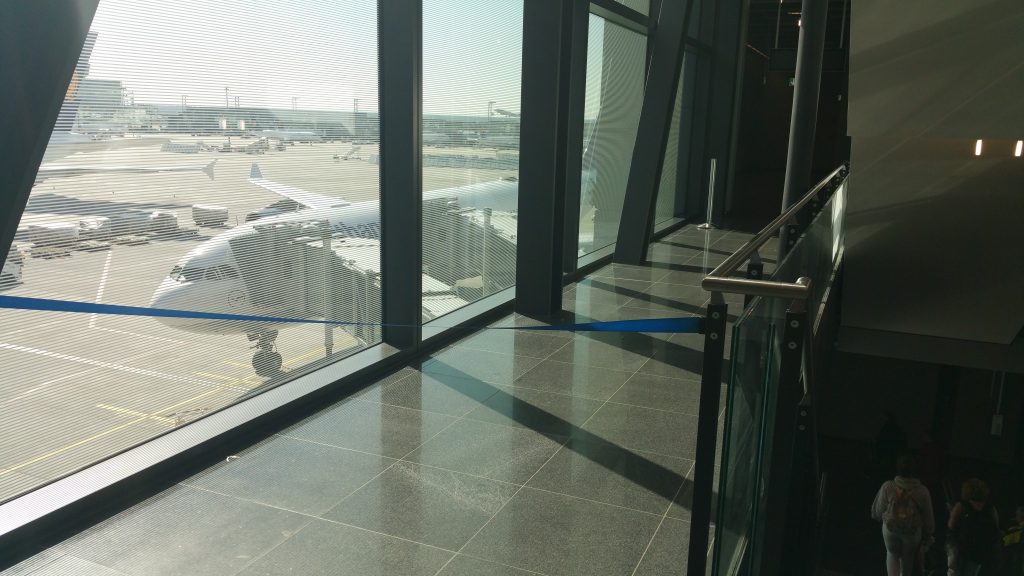 We had another uneventful Lufthansa direct flight from Frankfurt to Detroit. In economy and we enjoyed it!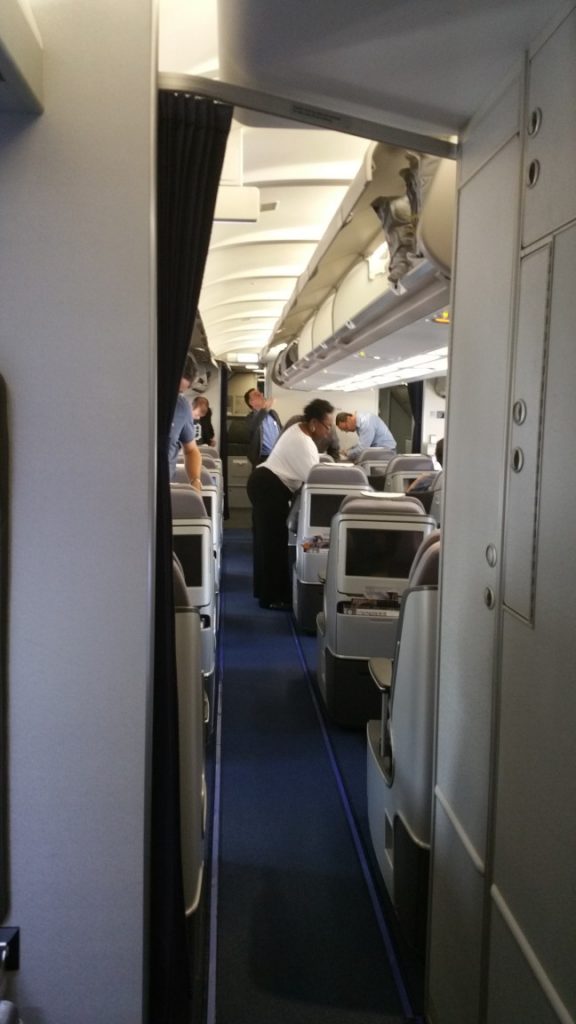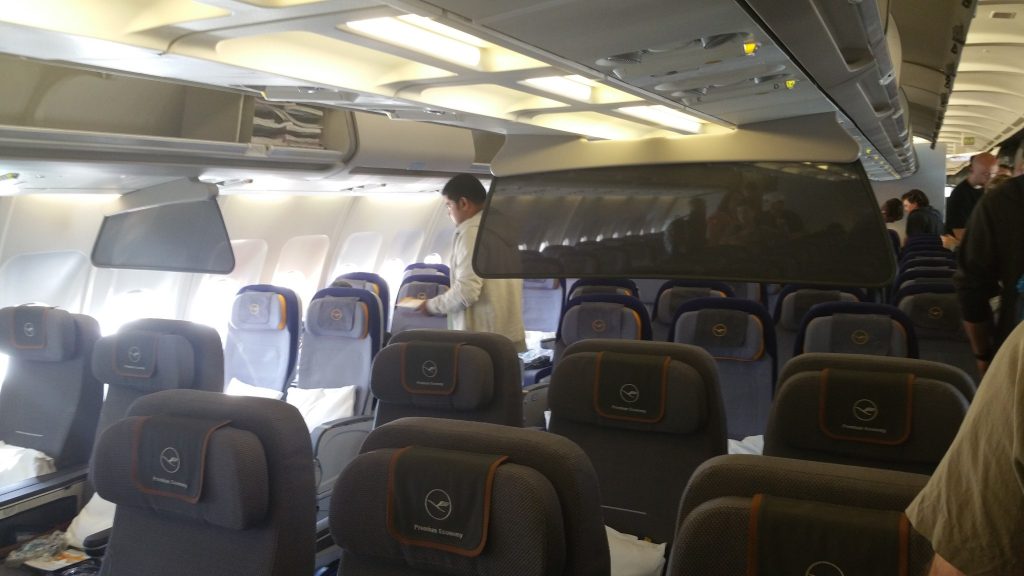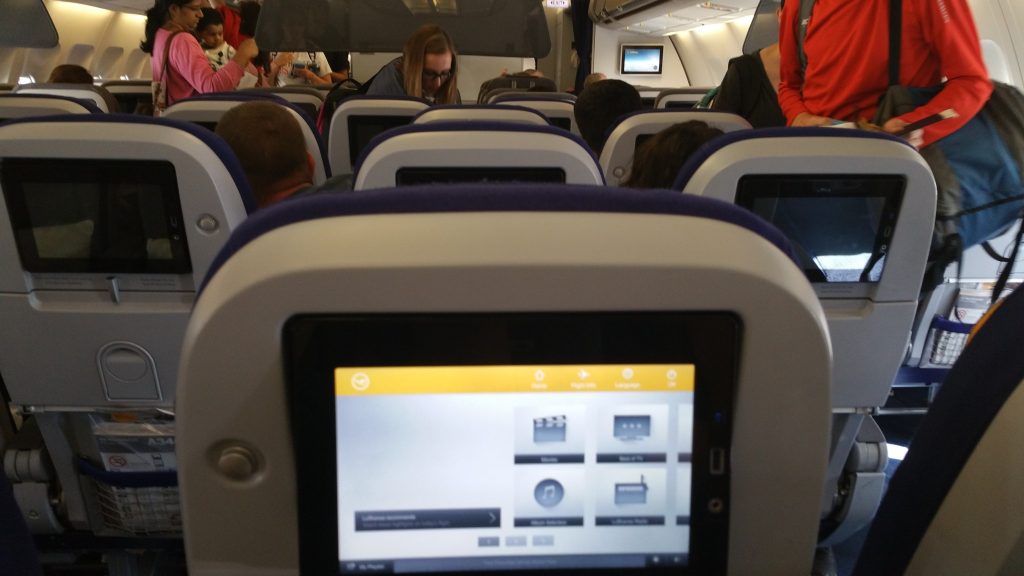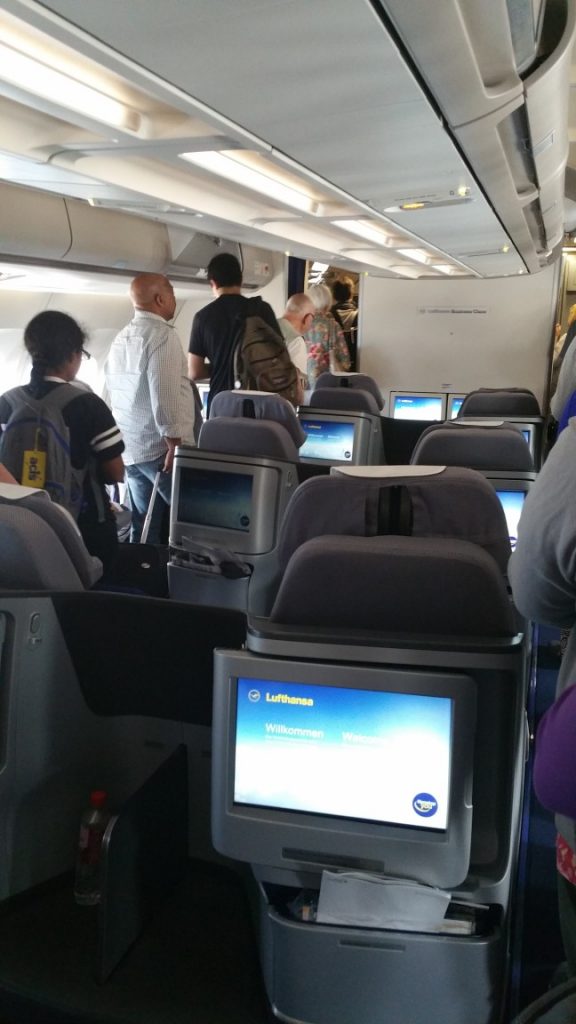 At Detroit airport. Obligatory family pic. More lasting memories were created. What it's all about!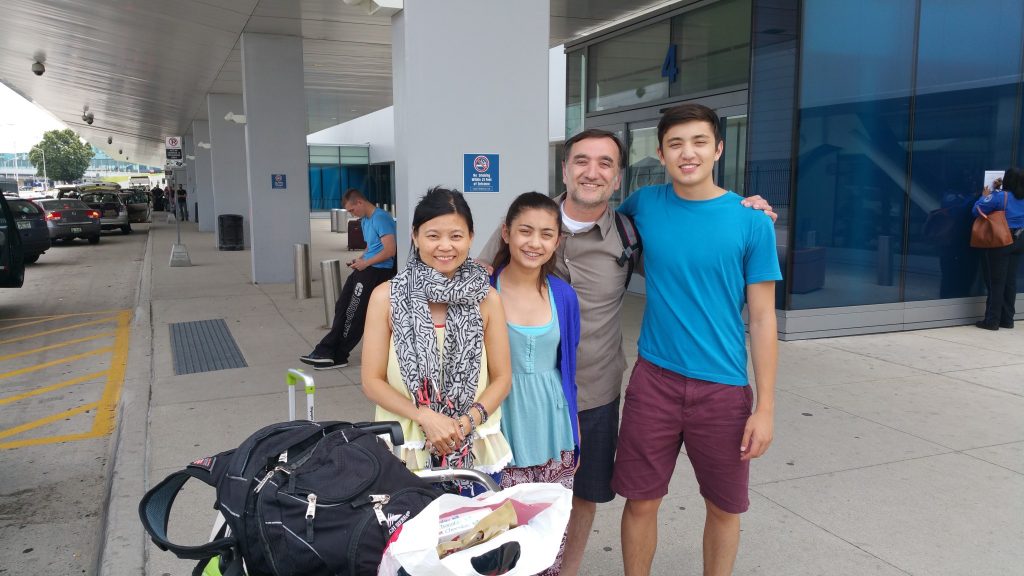 TBB
travelbloggerbuzz@gmail.com
Follow TBB on Twitter @FlyerTalkerinA2
You can subscribe to TBB below, winners only!