April 16 – 23, 2013
BACKGROUND
Back in December 2012 Virgin Atlantic Airlines held a contest on Twitter with several prizes. I believe all we had to do was retweet RT one of the tweets; definitely something very easy to do. The prize was ONE ticket from New York City JFK to London Heathrow, that's all! So I resisted entering it daily. I believe I must have entered the contest no more than five days out of the whole month! Well, guess what? I was a winner!
My initial concern was the $2,700.00 approximate fair market value indicated. After a few phone calls to the nice folks at Virgin Atlantic's Marketing Department I found out that the FMV of the prize will be about $975 as it is an Economy class ticket. Furthermore, it is a "positive-space ticket; meaning that, if space available, the passenger will be upgraded to Upper Class (equivalent to First Class). I had some flexibility to determine before hand how the inventory looks like to maximize my upgrade opportunities. Initial thought was to bring along Mrs. TBB (and pay for her ticket) and then we connect to Paris out of Heathrow. But prices and putting it all together appeared to be a great impediment to accomplishing this feat so I quickly let it go. I sweet talked the VA folks to allow me a pass into the JFK and (magnificent) Heathrow Clubhouses/lounges (in case my upgrades did not clear).
I quickly started looking into potential destinations as I did not want to travel to London. I do not like going to places I have been before and London is certainly not a place I would want to spend on a freebie trip! After considering several destinations I settled into Stavanger, Norway. Why? Because I always wanted to climb Preikestolen/Pulpit Rock ever since I first laid my eyes on it. Yes, bucket item list!
MILES/POINTS AND $$ COSTS
I burned 9,000 British Airways Avios points and $5 for a round trip coach ticket on partner American Airlines from Detroit to New York City's La Guardia airport.
I burned another 9,000 British Airways points and $45 for a round trip coach ticket from London Heathrow to Stavanger, Norway (SVG)
Yep, gotta love the short distance awards burning British Airways Avios points! All the hard work earning the Avios points with Vanilla Reload cards via Bluebird always pays off handsomely!
I stayed three nights at the Radisson Blu Royal Hotel in Stavanger. It costs 50,000 Club Carlson points per night. With the Club Carlson Visa and the one free night benefit the three nights cost me 100,000 Club Carlson points.
I spent one night in the Doubletree Hotel at Heathrow in order to spend many hours in the Virgin Atlantic Clubhouse the next day before flying back to JFK. I was going to burn some Hilton Honors points but I found an amazing 43 British pounds advance purchase rate all-in!
In New York I stayed one night at the Sheraton LaGuardia East Hotel for 10,000 Starwood points.
 TO NEW YORK CITY
The trip did not start very well. The night before I had to stay up very late getting things done and preparing everything. I went to bed around 2.30 am and I was so tired I chose the wrong set of stairs! First time I did this in my house….Well, instead of going up, I went down and down and after going down about eight stairs clumsily trying to stop myself and grab the rails…I crashed into the wall. Cursing myself for my ultimate clumsiness and my shoulder in extreme pain I spent the next several minutes icing it up! Anyways, I thought maybe this was a message from God that this trip was probably not a good idea so I went to bed with an ice pack.
I usually print out all my trip itineraries and other trip related information and insert them all in a manilla folder. Just before I went to bed (and right before my shameful fall down the stairs!) I remembered I had not done the online checkin at the American Airlines website for my flight to JFK. So I did and left my folder next to my computer keyboard. Well, fast forward, with hardly any sleep Mrs. TBB gave me a ride to the airport and I go to check in and cold sweat hit instantly….I had forgotten the manila folder!! I frantically called Mrs. TBB and she had to return and then I drove raced back home to get the manila folder. Another uncharacteristic thing done by me and then I really wondered if God was trying to tell me something! Remember, my shoulder is still in pain (but much more tolerable, it was clearly just a bruise). So, moral of the story, is: Make sure you ALWAYS allow plenty of time to get to your flight!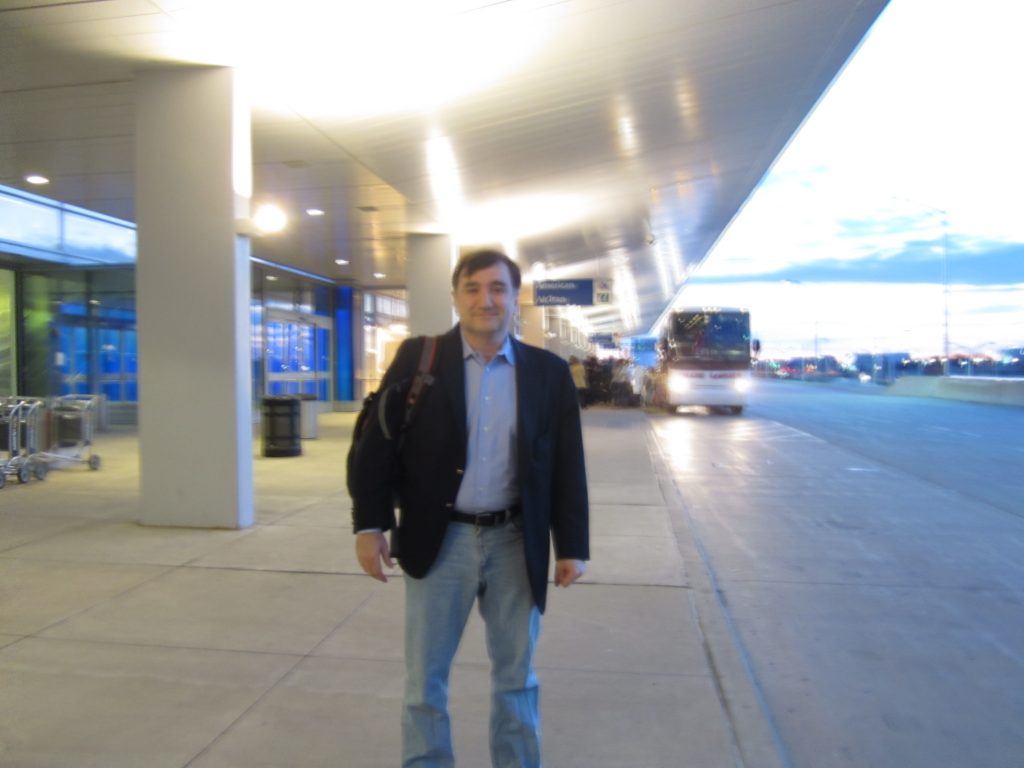 Flight AA4563 to NYC LaGuardia airport was just like all the others. Plane was 1/3 full so I quickly grabbed one of the exit row seats and tried to catch some sleep. A quick ride for $13 with NYCAirporter delivered me to the JFK Airport.
JFK VIRGIN ATLANTIC CLUBHOUSE
My intention had been to maximize my time in the Virgin Atlantic JFK Clubhouse. I got to JFK around 11 am and proceeded to get to the Clubhouse. I passed by the Virgin Atlantic ticket counters only to find out that the Clubhouse does not open until 2 pm! Rats. Well, I found an area to have some coffee and catch up on some work online. At 2 pm sharp I was on my way to the Clubhouse! My flight was not departing until 7.25 pm:-)
At checkin I showed them the prize letter and the attendant saw in the notes that I was allowed to enter. I asked how the upgrade chances looked and I was told not very good at all. I asked if the next flight (leaving late at night) upgrade chances looked better and I was told "Yes". So I told her I will check back near departure time to see if anything has changed. I had chosen the earlier flight specifically for this purpose to allow me another crack at the upgrade!
The Clubhouse is very nice! Smaller than I had anticipated. But a very modern look throughout and excellent service. Yes, I was the first one in!
I was determined to experience as much as I can so I can write a review comparable to One Mile at a Time's:-) So, it pains me to do this, here are the menus. Boos are expected. Yes I have become  like the other bloggers. But cut me some slack here all right? Still no toilet pics lol.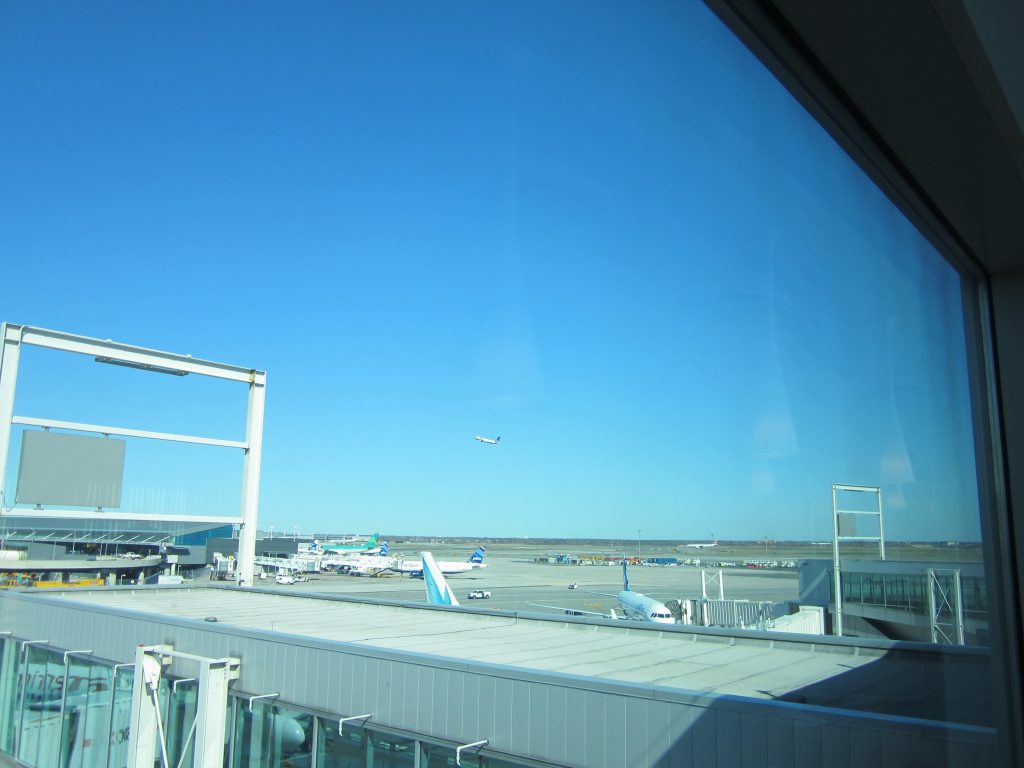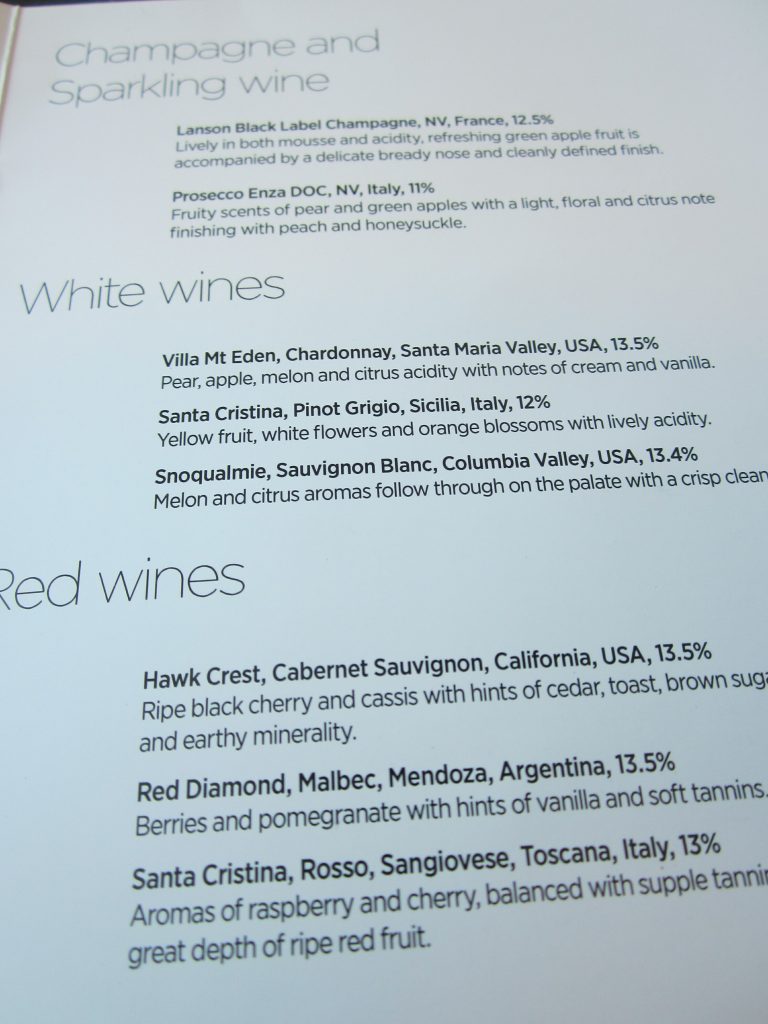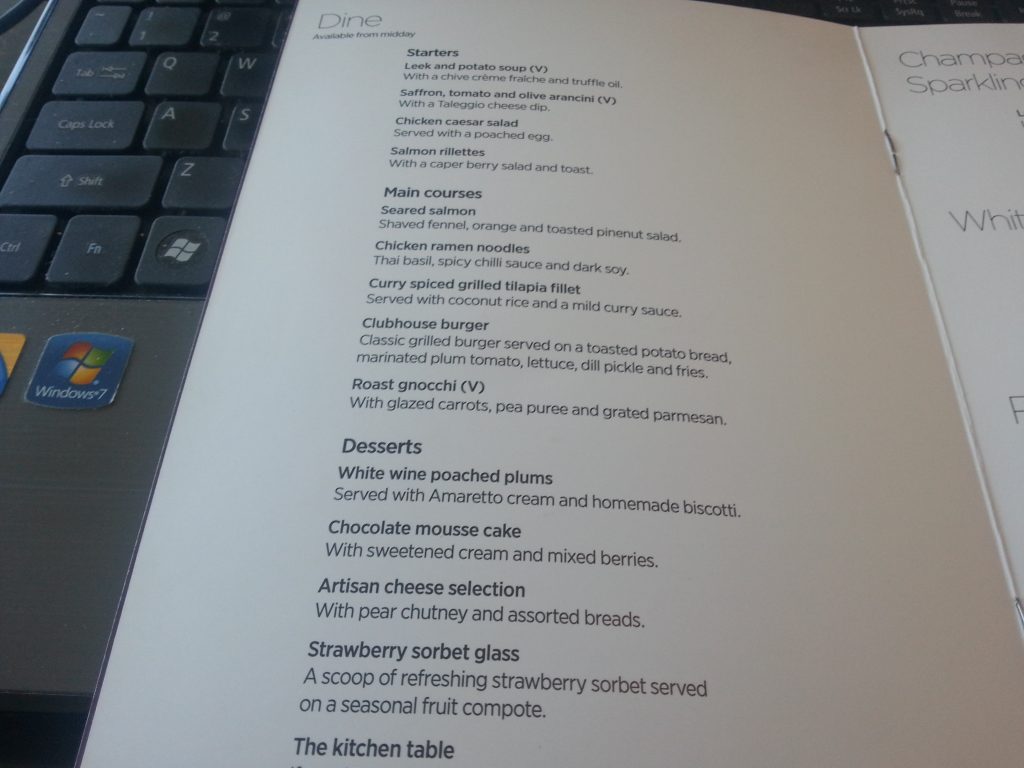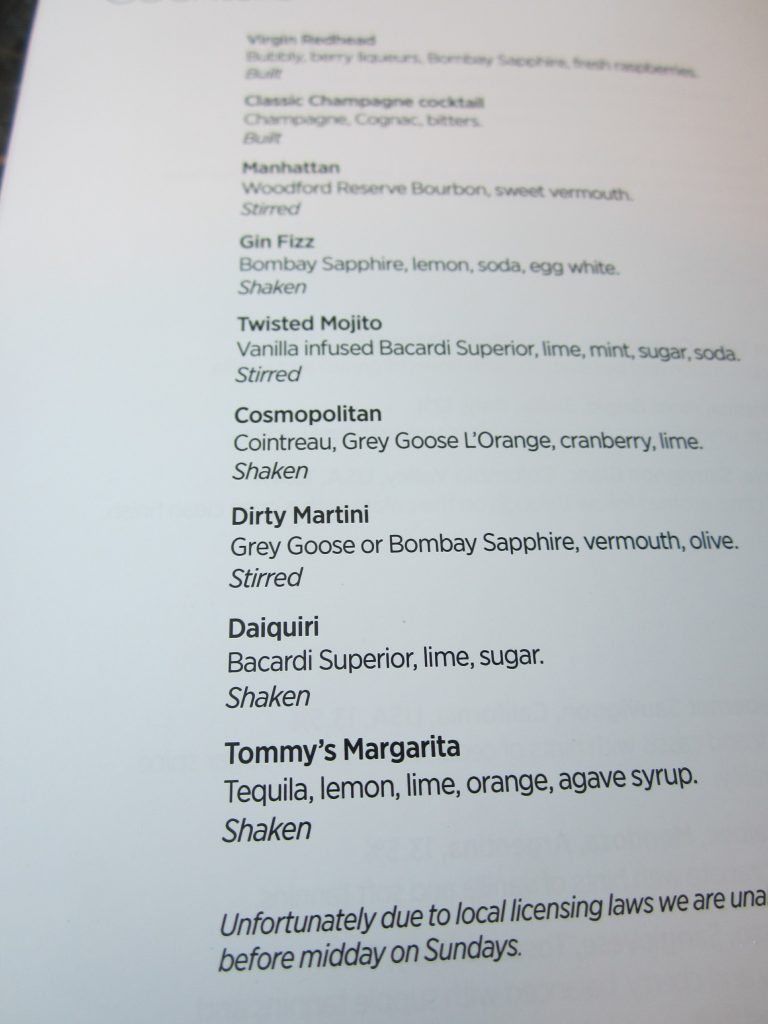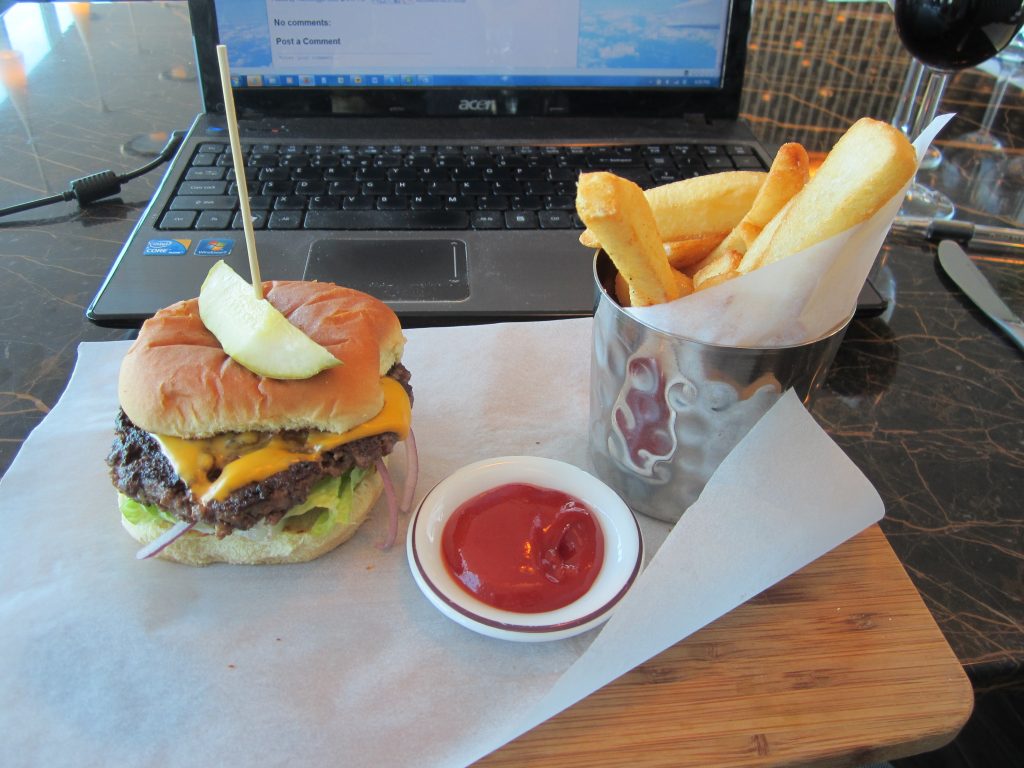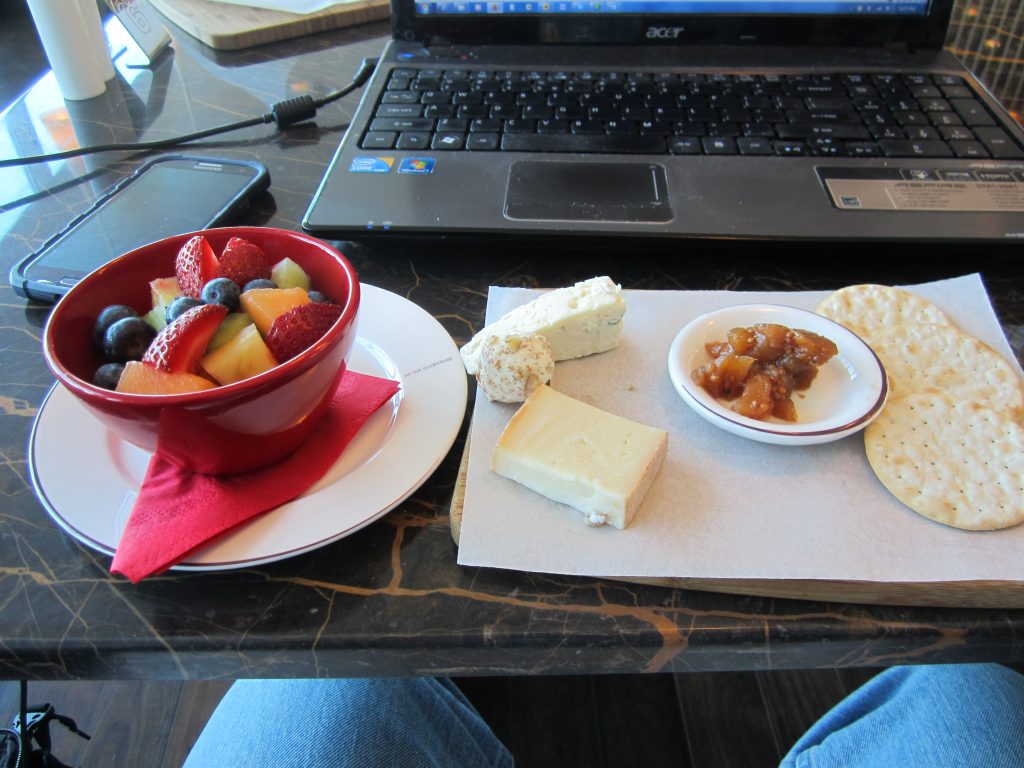 As a Clubhouse guest, you are entitled to one complimentary service. I chose to have a head massage. I should have tried the back massage or the hair cut.
This baby was going to take me to Heathrow. After checking in with the front desk Clubhouse attendant I was told that there will be no upgrade to Upper Class. Without hesitation, I told the attendant to change my flight to the one leaving three hours later! Besides, I told her, I like this Clubhouse, you guys are taking good care of me:-)
So, I stayed in the Clubhouse using the fast wifi and eating and drinking. This is the plane that was going to take me to Heathrow no matter what. About an hour or so before departure the attendant tells me my upgrade has cleared. Hallelujah I said! With my Upper Class ticket in hand I proceeded to board the plane.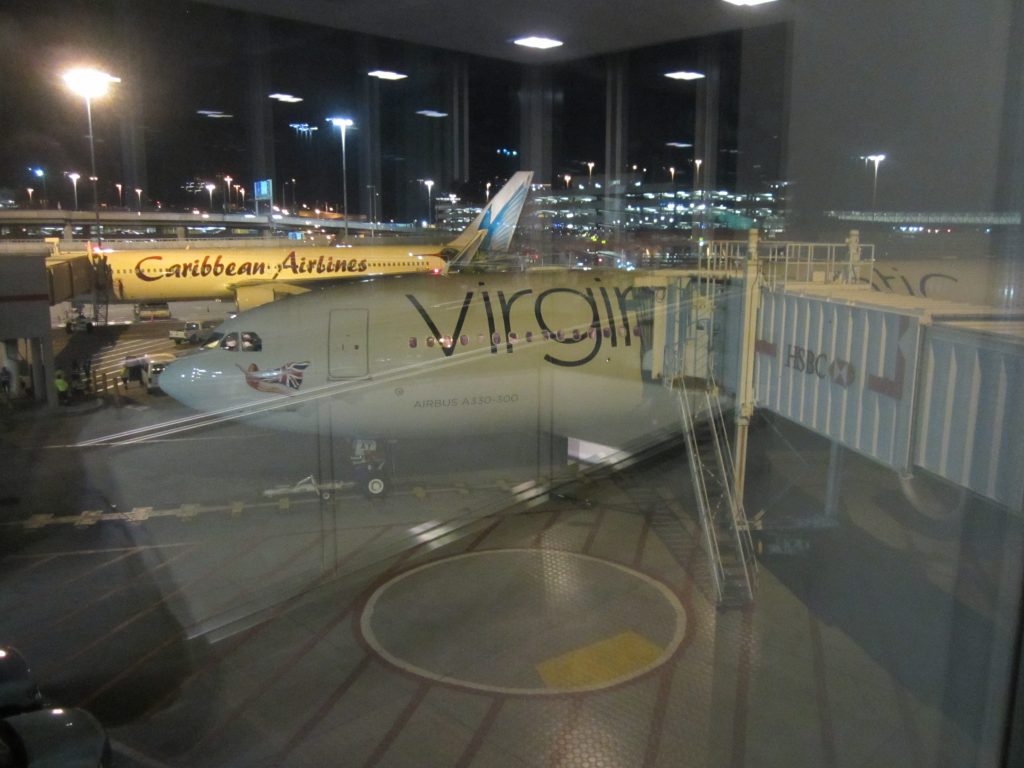 This was my first time experiencing Virgin Atlantic's Upper Class. If it was not for the prize I won it would probably never happen. So I was a bit shocked with the colorful lights in the Upper Class cabin. I expected a huge disco ball or two to appear in the ceiling any time.
I had seat 1k. I am no First Class connoiseur. And I definitely appreciated this opportunity. Well, I found the seats and the whole experience a bit awkward. The seats are diagonal and I did not like the feel as it felt a bit cramped. I would take Lufthansa's Business Class anyday as it felt more spacious. Or maybe I am getting too fat! In flight entertainment was fine. I did not watch any of it, I went straight to sleep!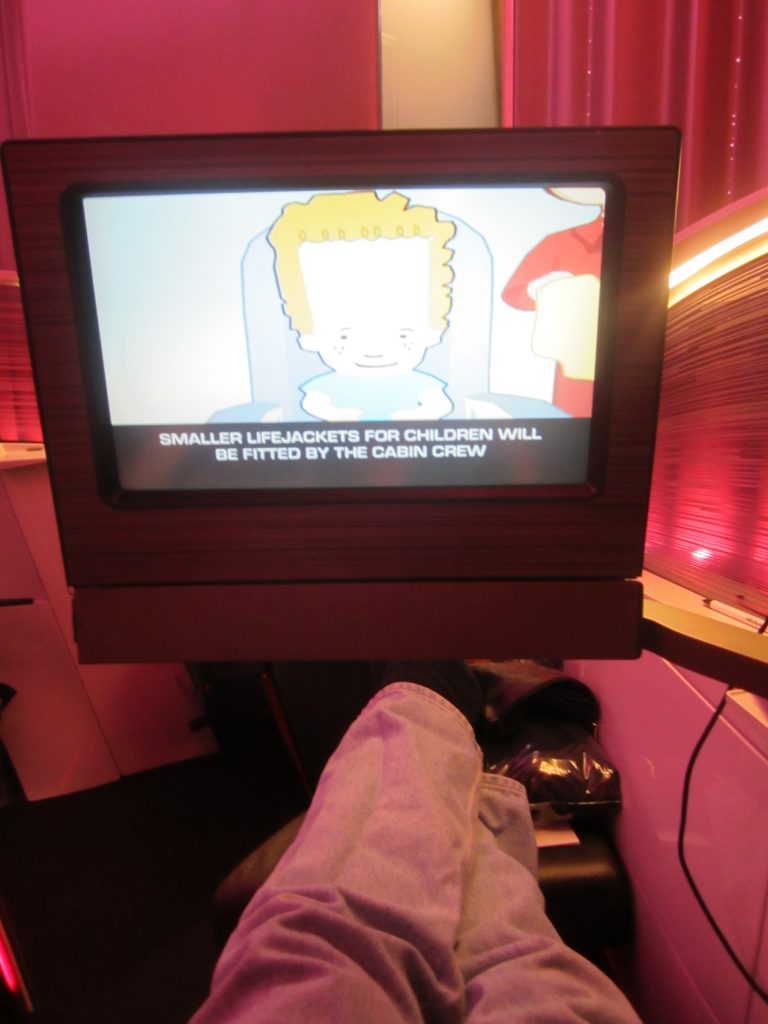 Well, I lied. Before I went to sleep I could not say no to some dinner even though I was stuffed from several hours at the JFK lounge. Food and service was fine. Definitely with a bit of British efficiency and attitude. Only one flight attendant was fantastic, the others were definitely working because they had to do it (no passion).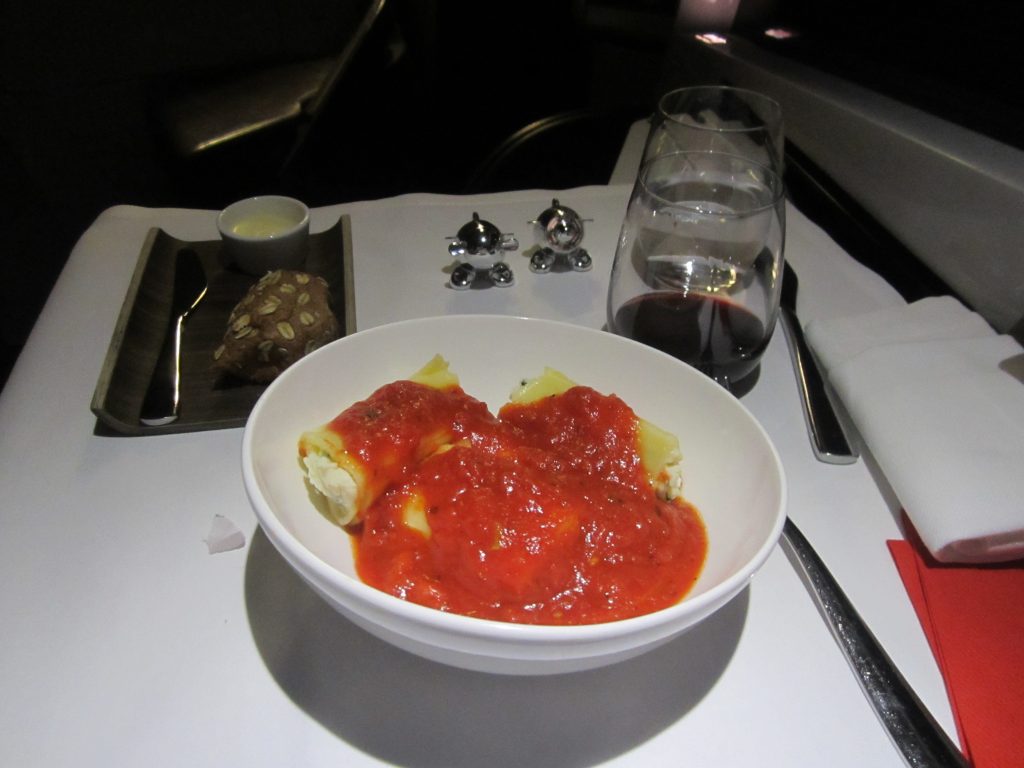 This is my super lame attempt to photograph my lie flat bed. Can you tell I am no trip report kind of blogger or what? No ridiculous pics from me in the lavatory, I have standards:-)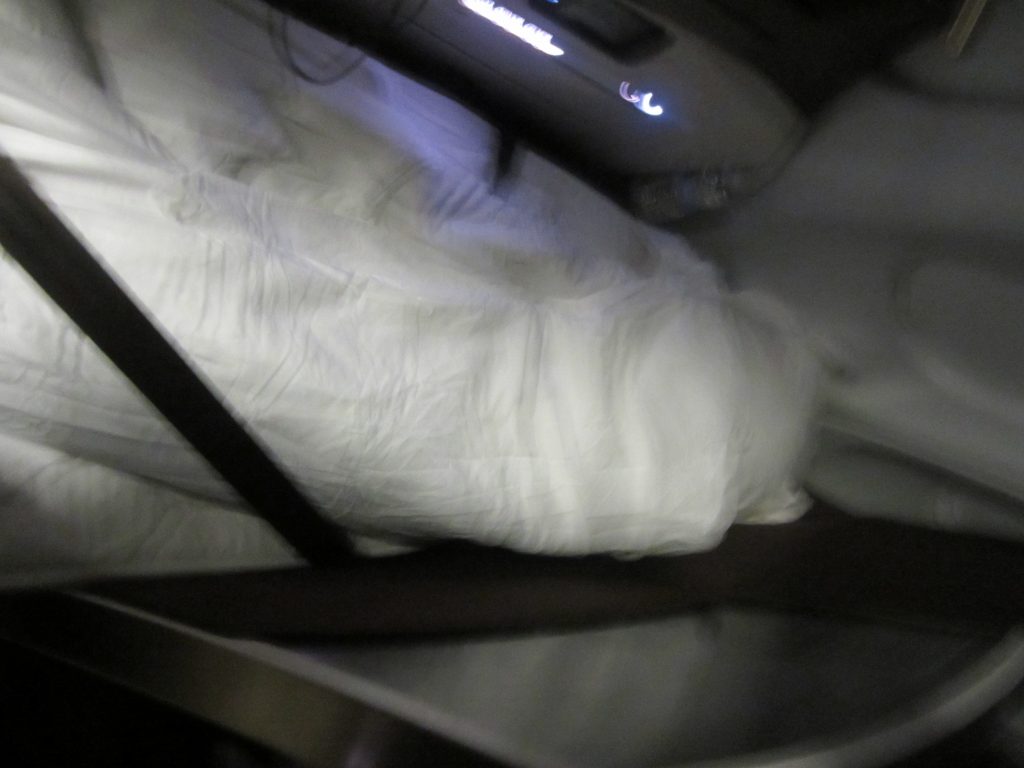 LONDON HEATHROW VIRGIN ATLANTIC REVIVALS LOUNGE
When you arrive at Heathrow in the morning Upper Class passengers can visit the Virgin Atlantic Revivals lounge. I had a quick shower there.
Then I spent about two and a half hours at the lounge catching up with email, reading and hanging out before it closed at 1.30 pm.
This Lounge is nothing special. Very small but good wifi and decent food. I think I could have had another complimentary service but just never bothered.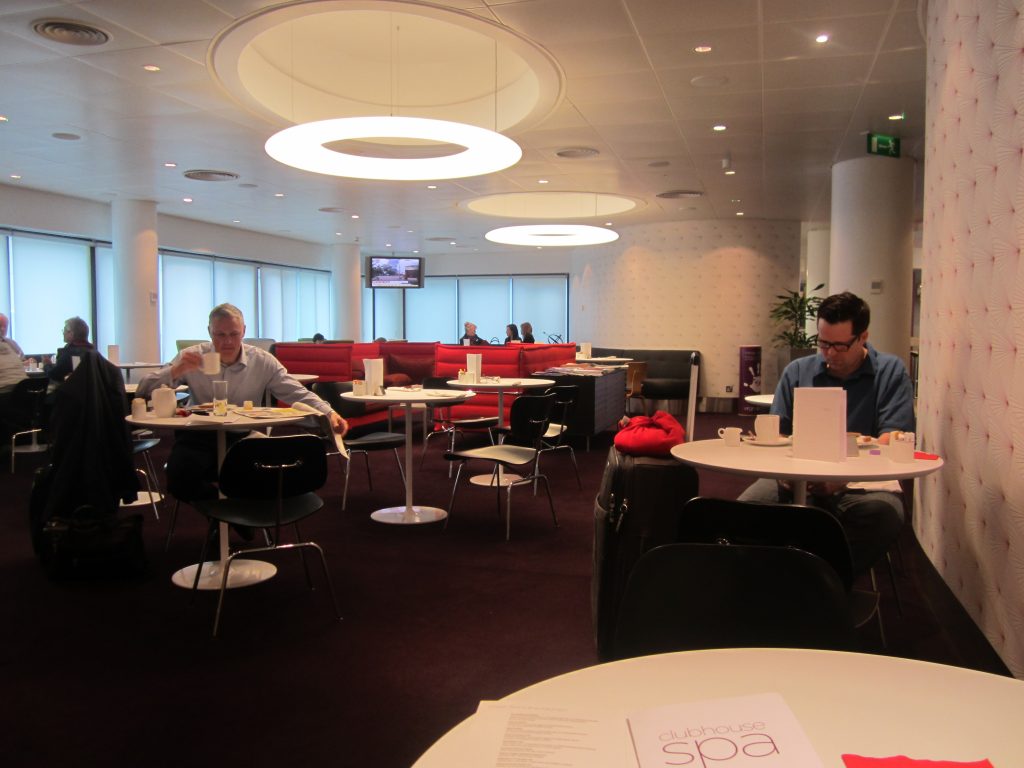 Then I had to transfer from Terminal 3 to Terminal 5 to catch my British Airways flight to Stavanger.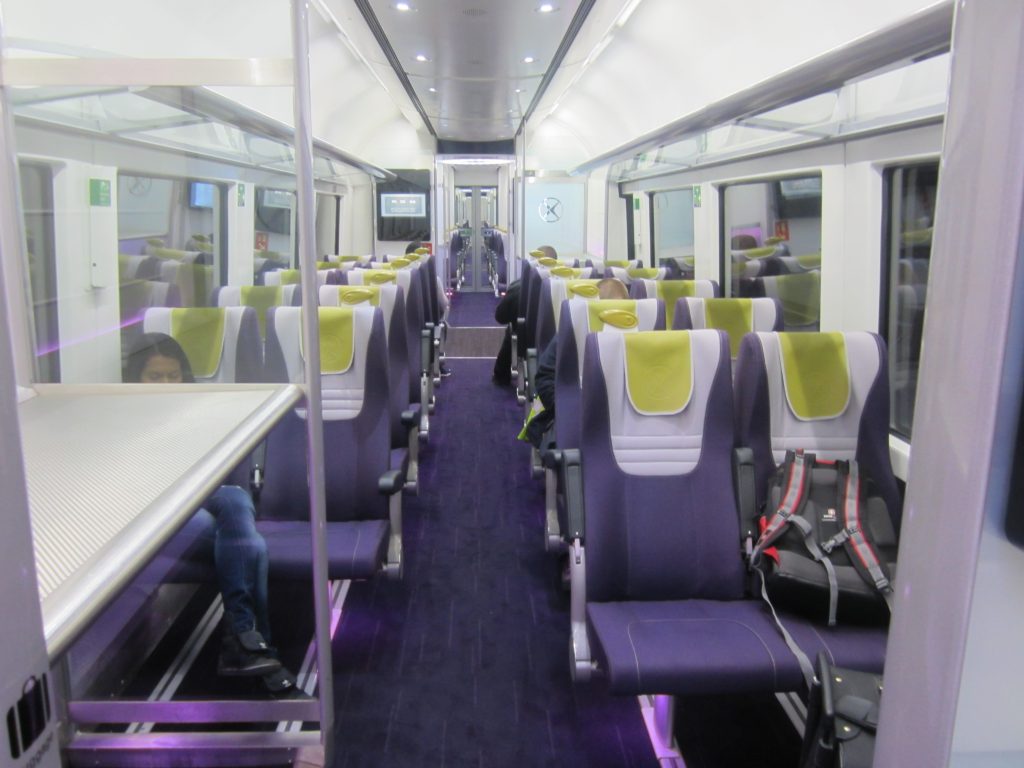 Terminal 5 is all British Airways. No lounges other than British Airways. Very very busy and crowded!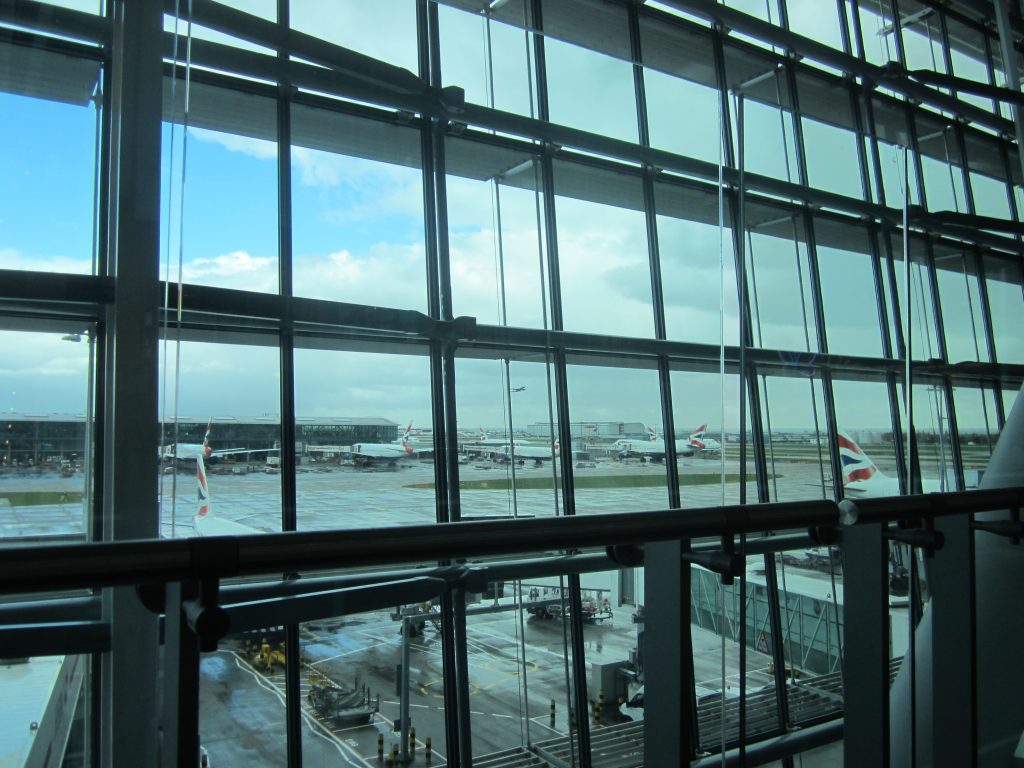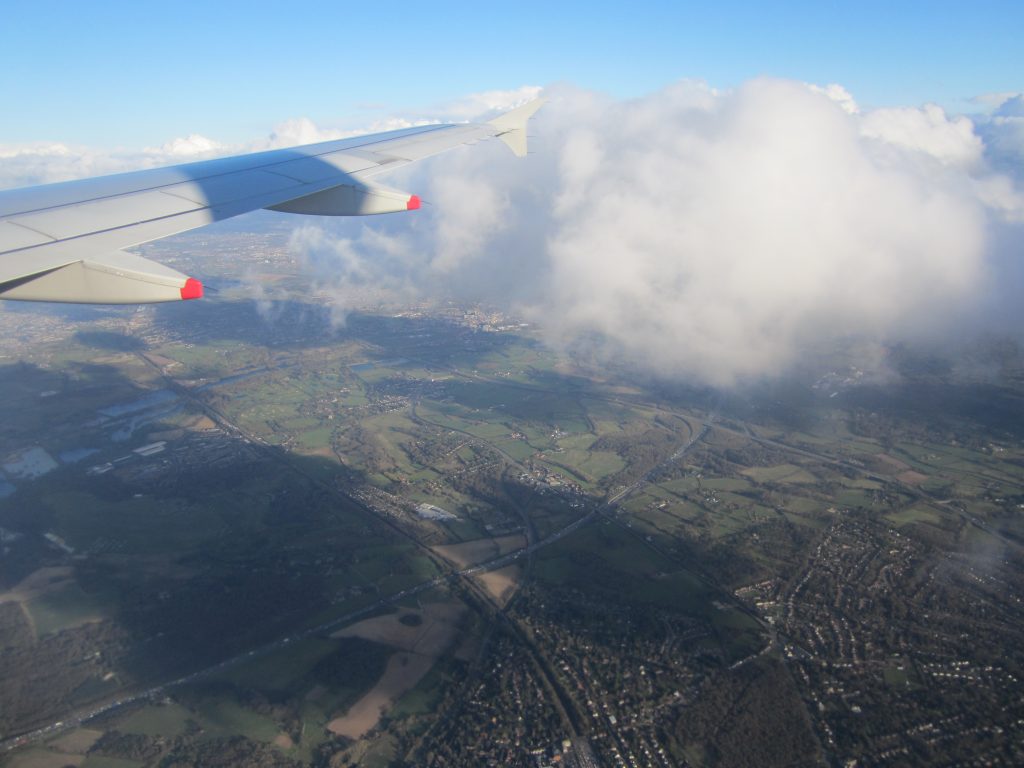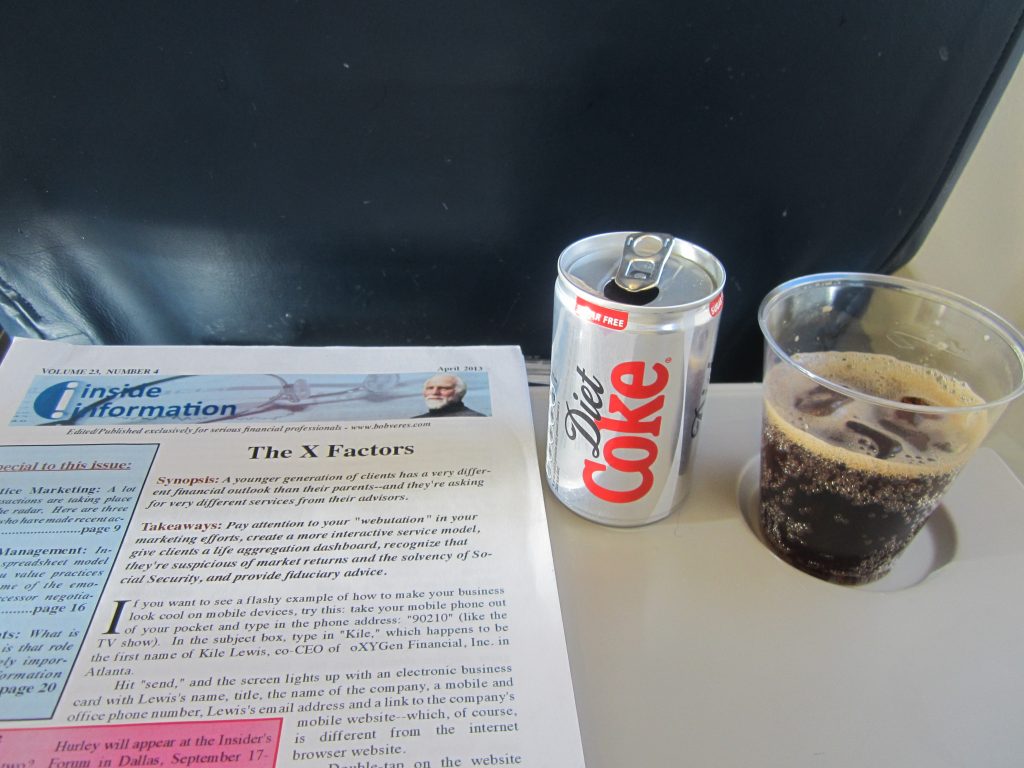 BA 746 to Stavanger was about one hour late. Plane was half full. I moved to a row all by myself. Indifferent service.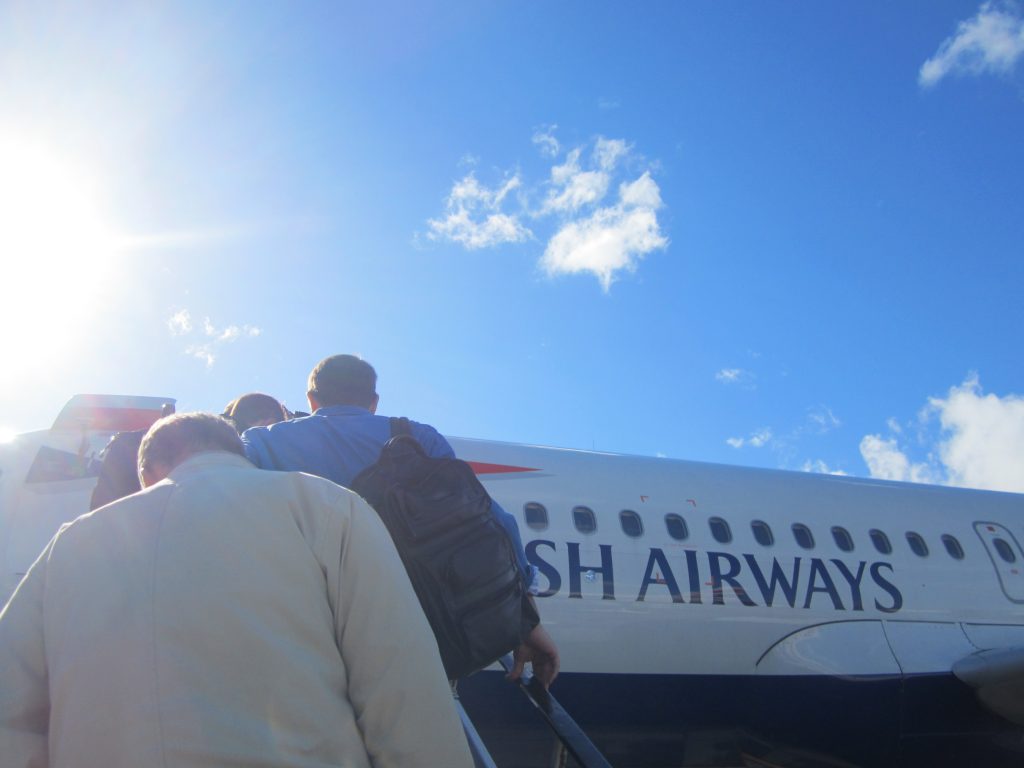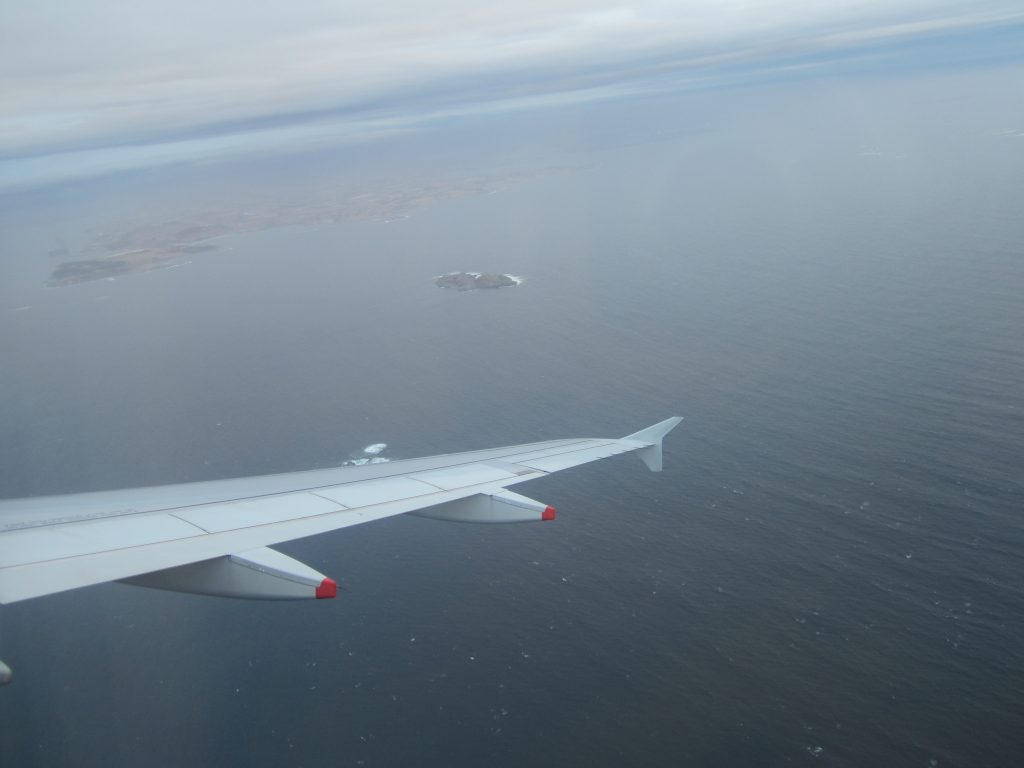 ARRIVING IN STAVANGER, NORWAY
Krona is the national currency of Norway. $1 US Dollar is about 6.7 Kronas.
It's always so cool arriving in a country I have never visited before! The heartbeat beats a little faster. It's a rush indeed!
Stavanger airport is on the smaller side. Norwegians drink a lot.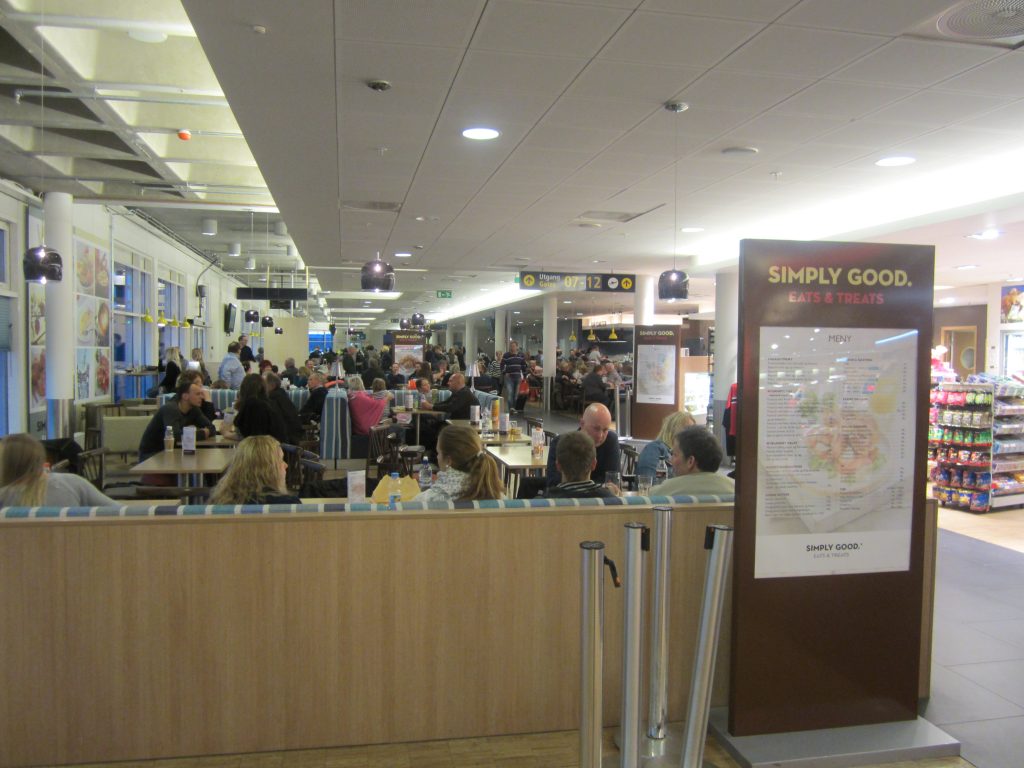 There is a very modern bus that takes you to the City of Stavanger. Boreal Trasport Sor. I bought a Round Trip ticket for 150 Kronas. I told the driver I am staying at the Radisson Blu Royal Hotel and he made a special stop for me in front of the hotel! Very nice gesture. Saved me a walk uphill as the regular stop is in the center of Stavanger in front of the other Radisson Blu hotel in town (yes two of them very close to each other!)
As a Gold Club Carslon member I was expecting an upgrade. But no suite, boo! Instead I got an upgrade to Business Class room. No welcome gift. Room was tiny but comfortable. Very good wifi. Great location.
I took a short walk at night around town to find something to eat. You quickly get sticker shock, this is NOT a cheap place to live! It was raining. I must have walked to a nice area as I was proposed by a few prostitutes "you wanna have a good time". Not really ladies. I found a 711 and had a dog for about 20 kronas. And it was really tasty!
STAVANGER FULL DAY ONE
I had a pretty good night sleep and got a quick bite from the hotel restaurant and was out strolling through Stavanger. This city is the fourth largest in Norway with approximately 120,000 residents.  It is considered to be the oil capital of Norway. Before oil was discovered it was all fish, specifically sardines!
I made my way to the small port to board the boat to tour the Lysefjord.
I had some time before the board started boarding so I took some pictures around the port
Get on the boat! The tour cost 420 Kronas and it was absolutely worth it! This fjord is 42 km long.
I will just let the pictures tell the whole story about Lysefjord:
The boat crew giving us water samples from the falls, no ice cubes needed!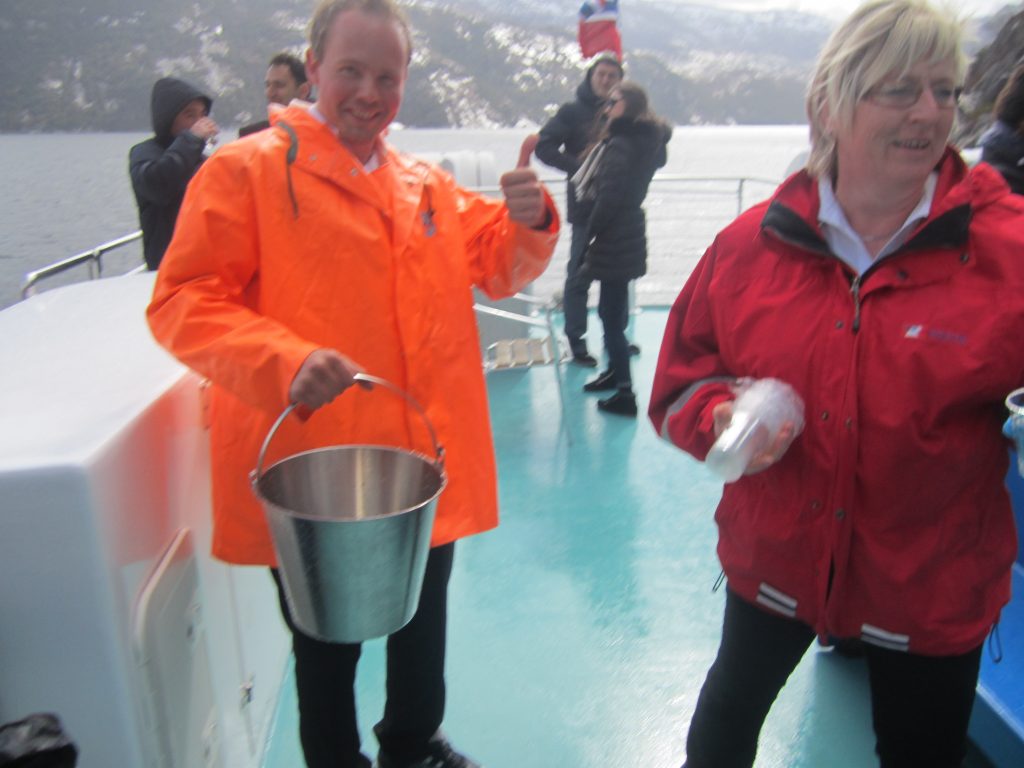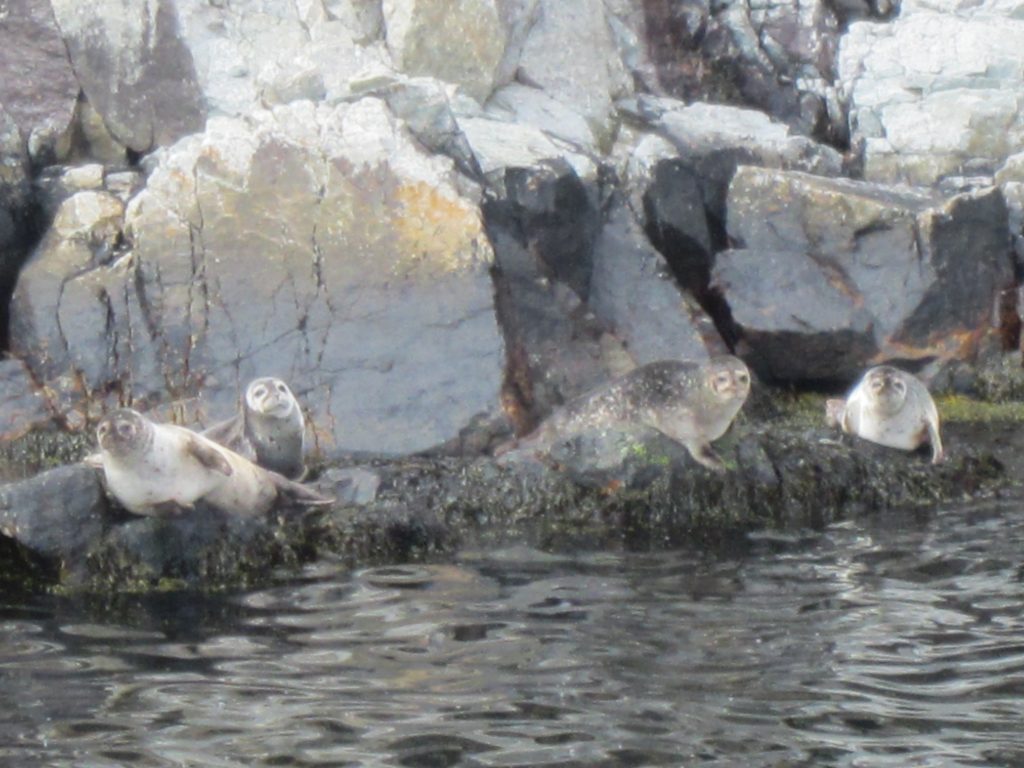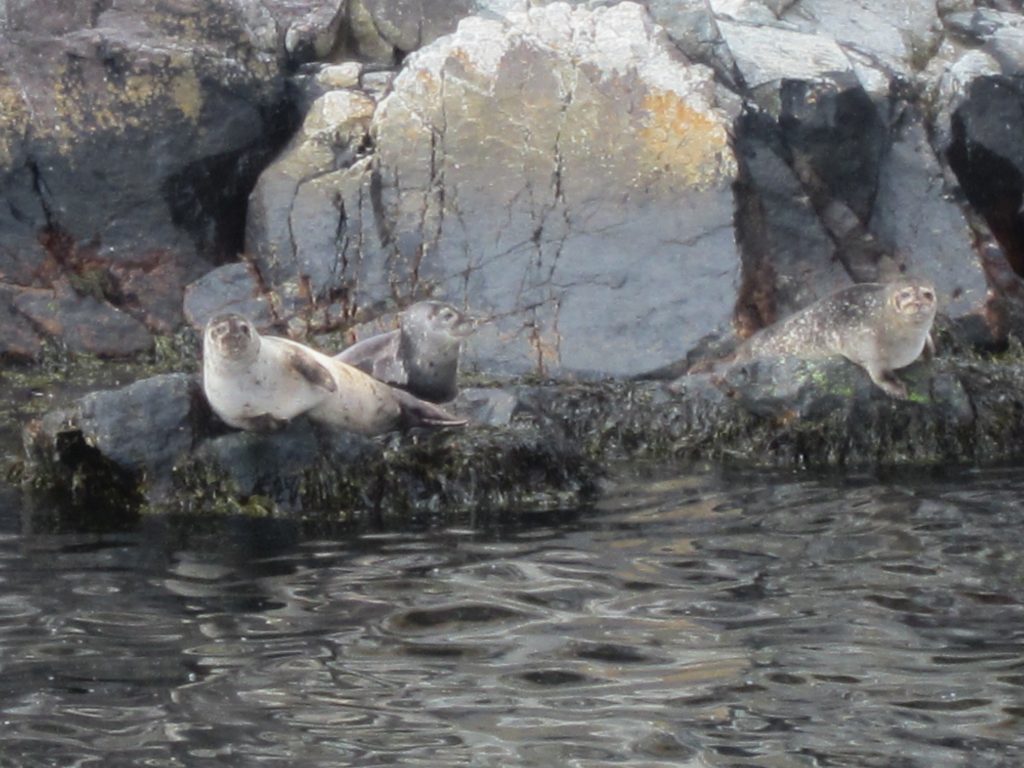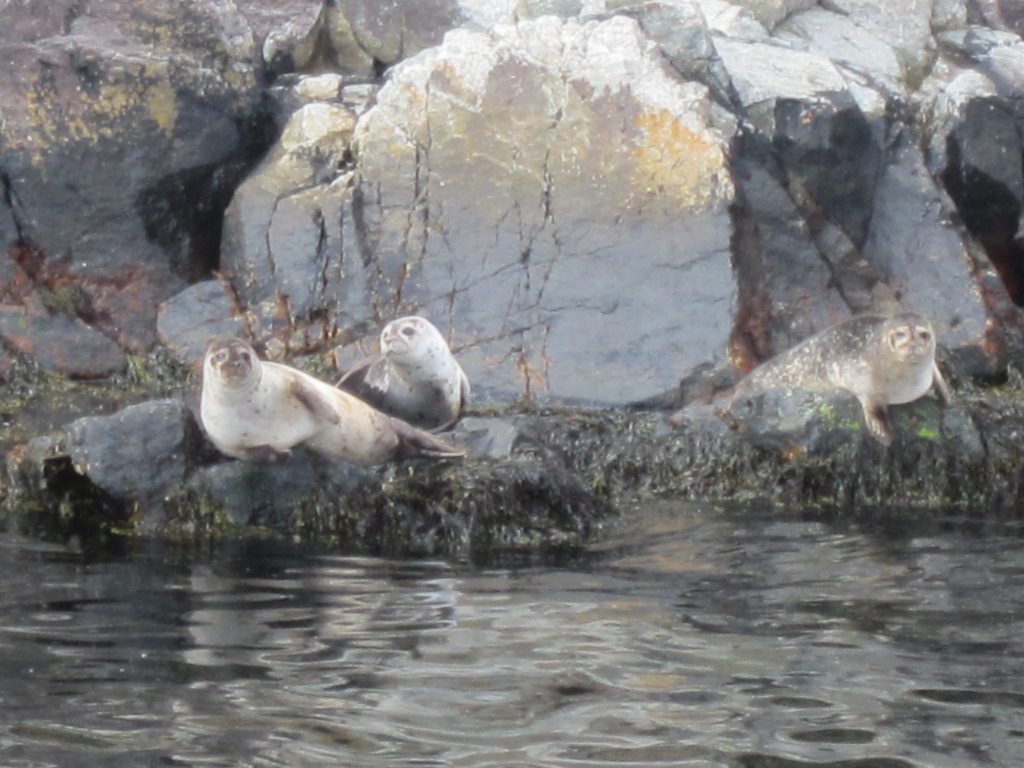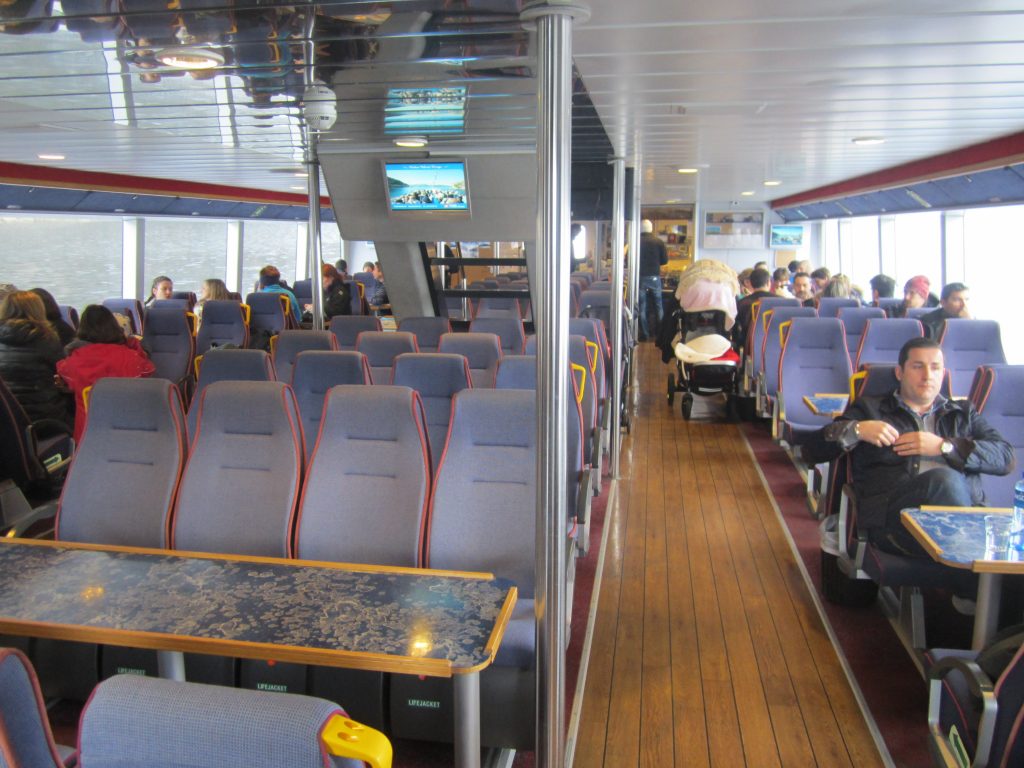 The above pic is from the inside of the tour boat. It gets very windy outside going through the fjord!
I then continued to do some more sightseeing.
This was probably the most affordable food to eat while in Norway. 3 delicious type buns and coffee for 30 Kronas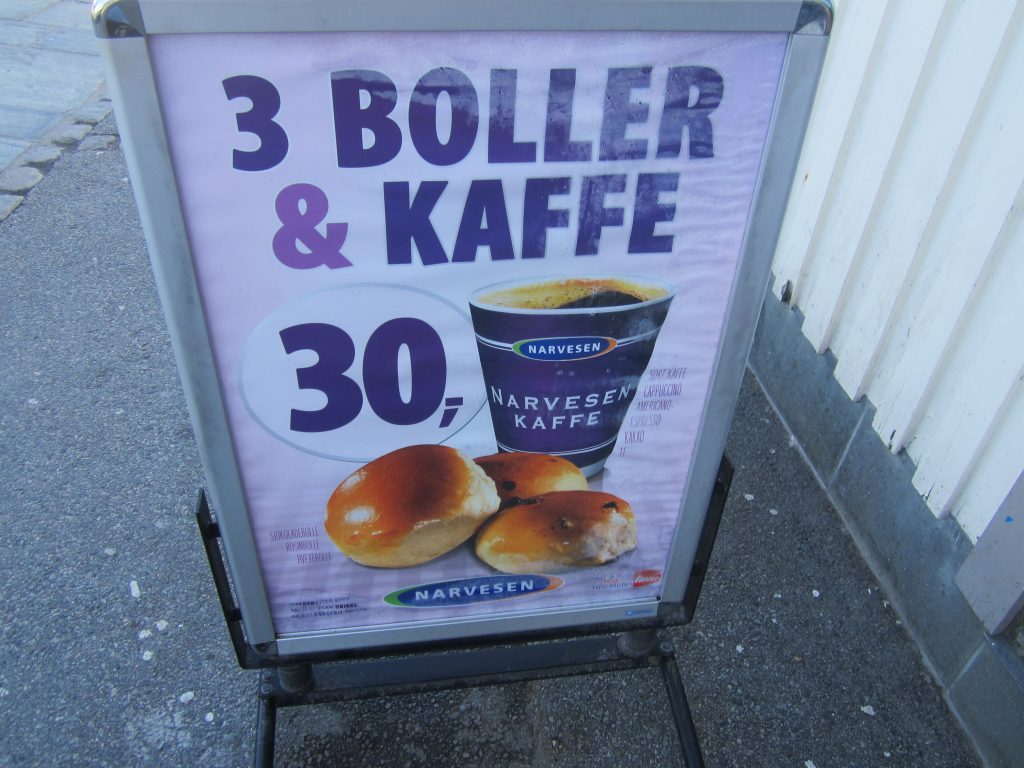 Local fishermen selling their catch!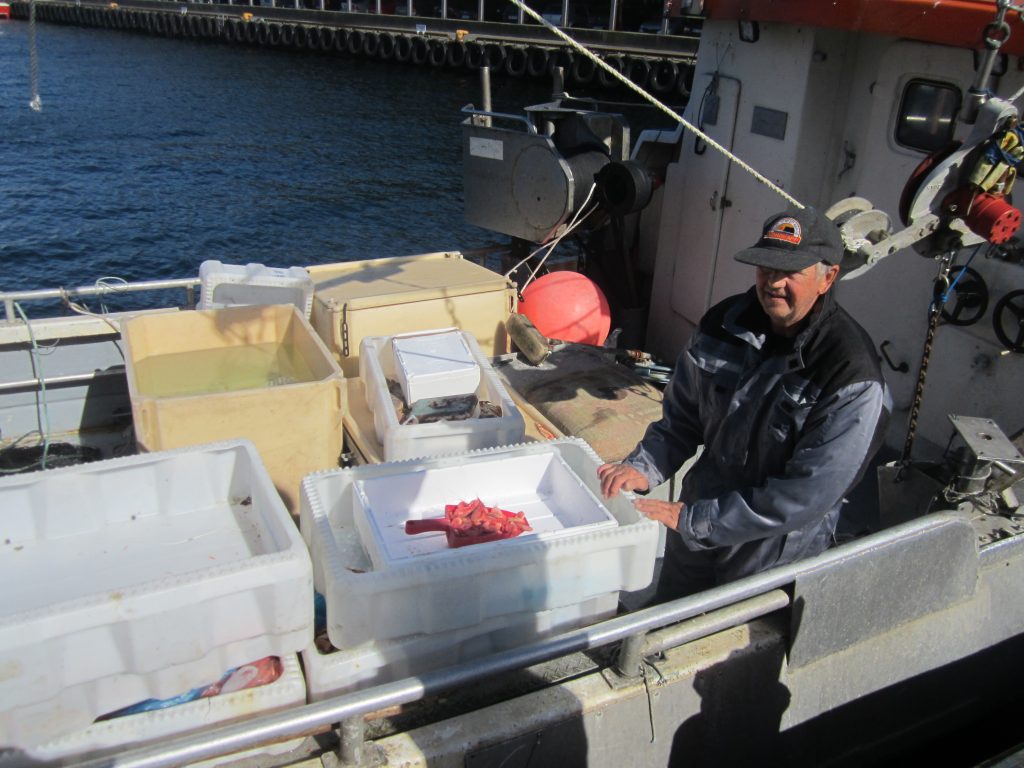 Wow!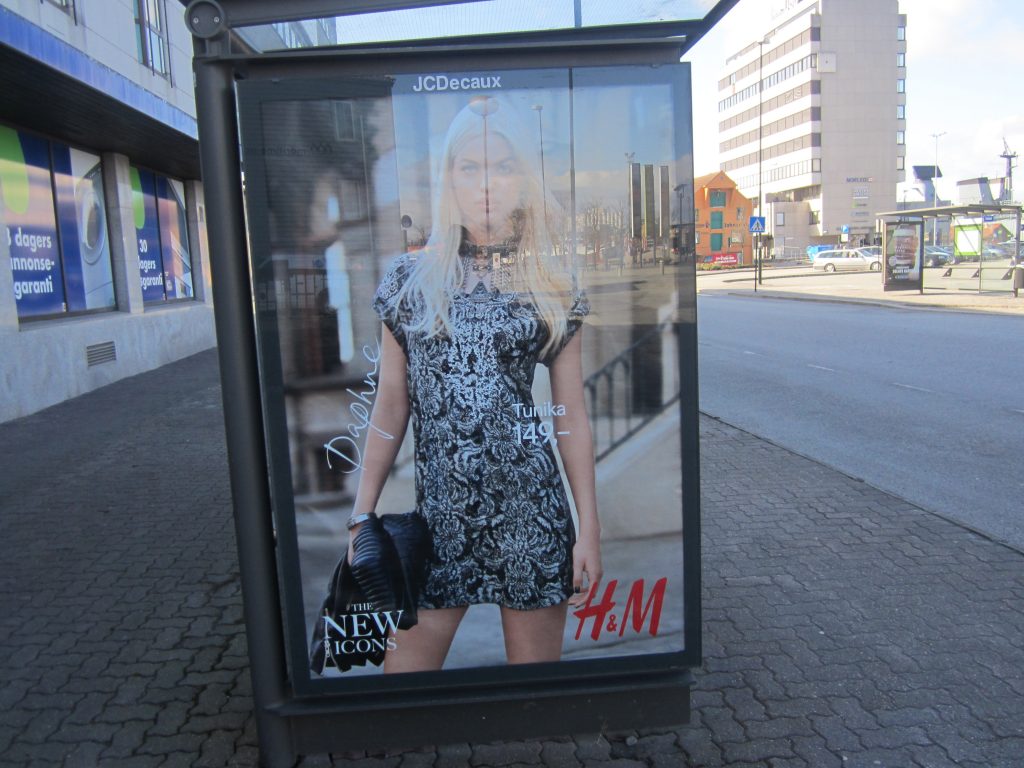 Some pictures from the Radisson Blu Royal Hotel. Lobby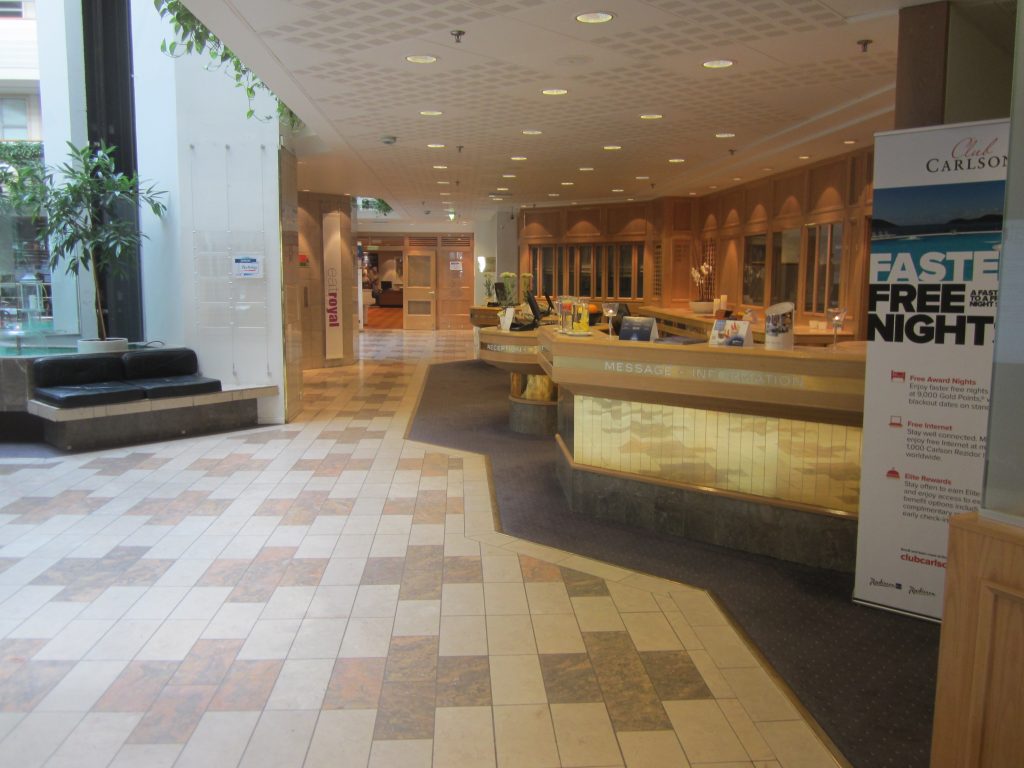 Main breakfast buffet area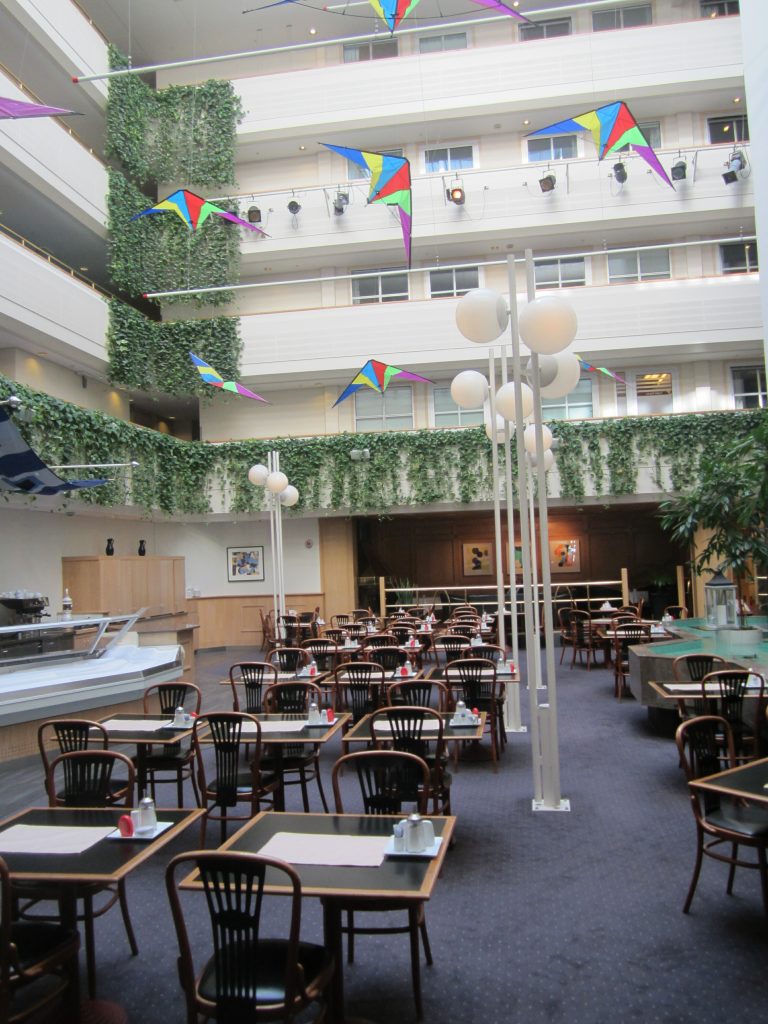 Restaurant. I did not eat or drink there.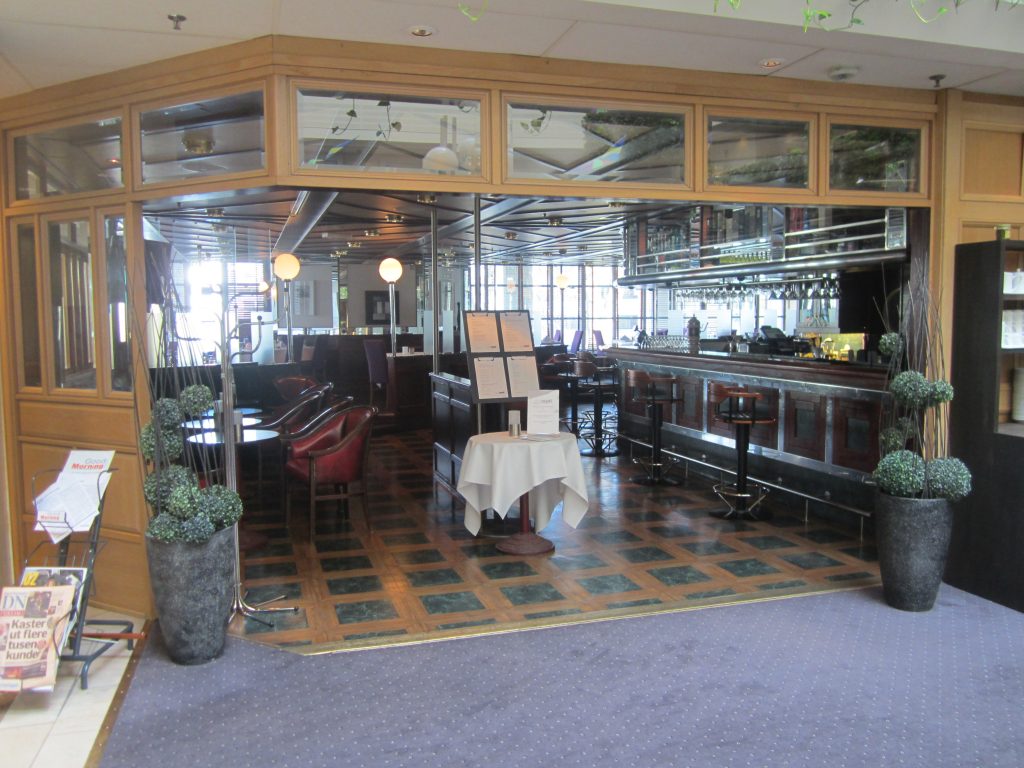 Hotel interior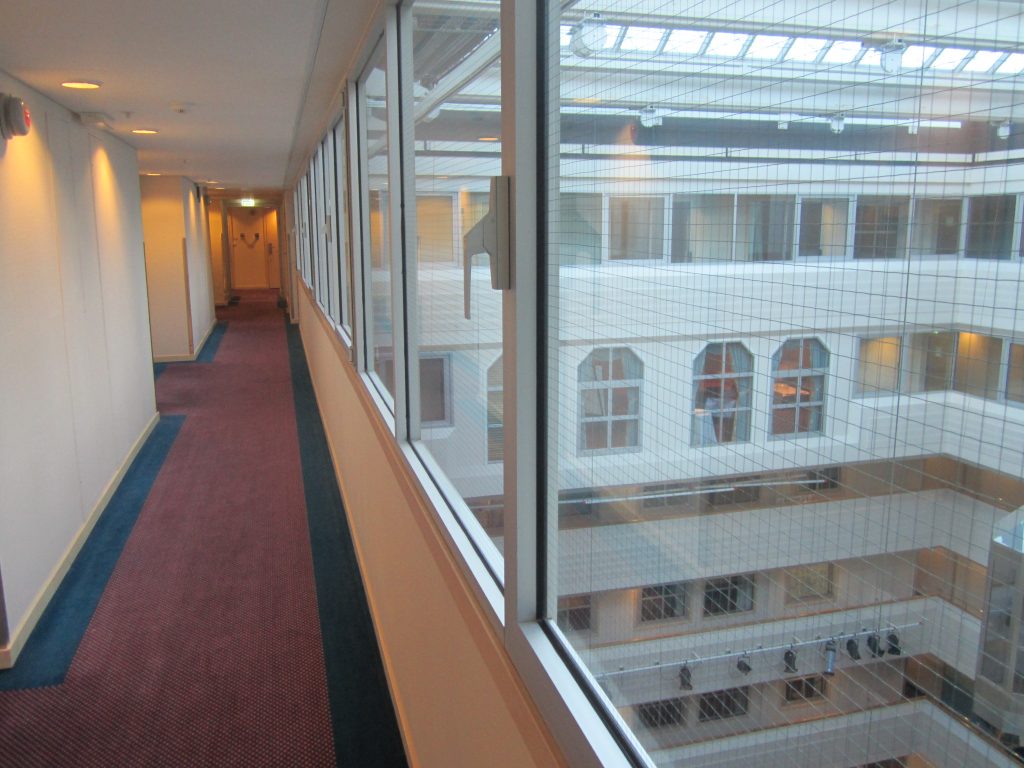 Some more pics around Stavanger
Entering the Old part of town.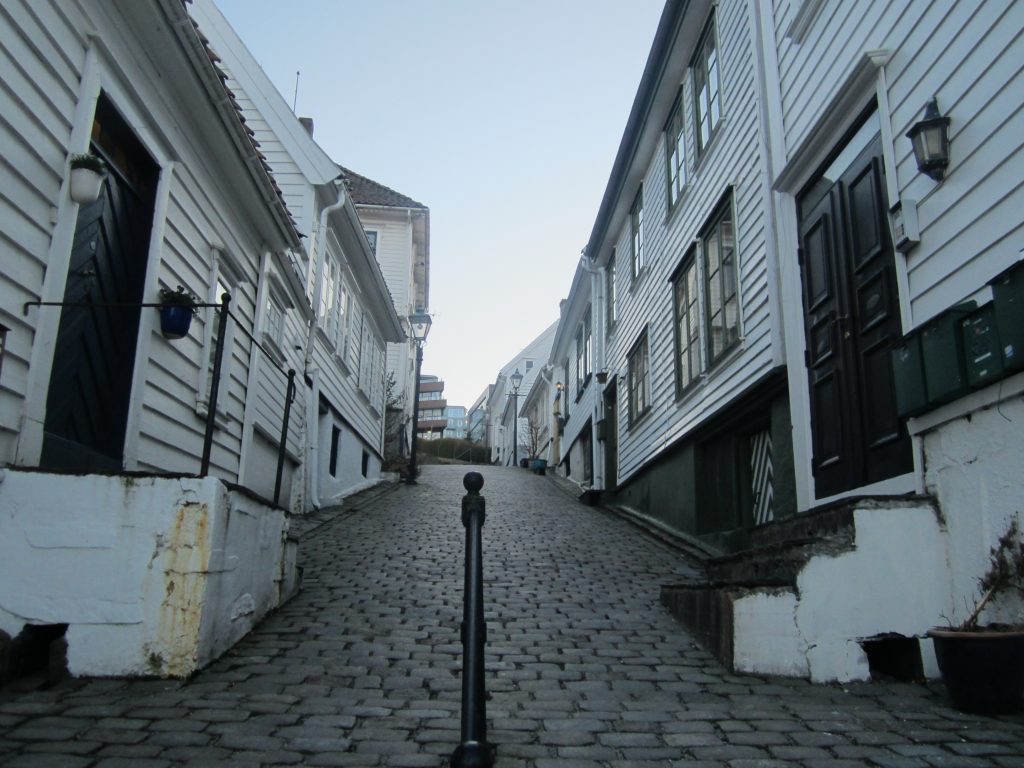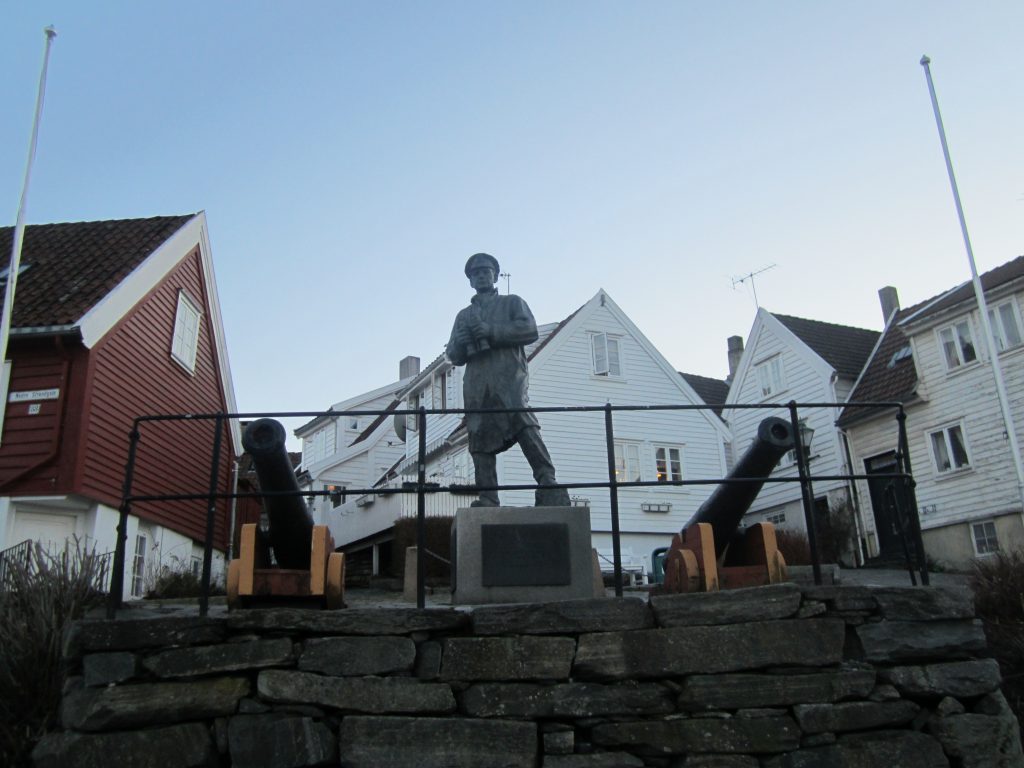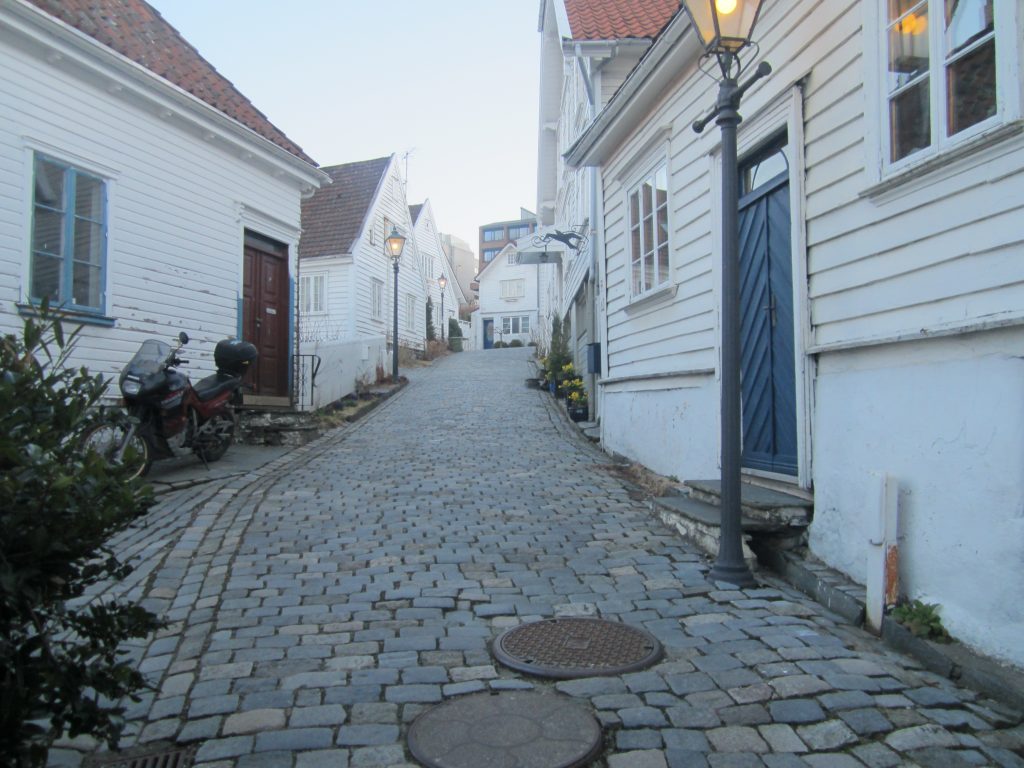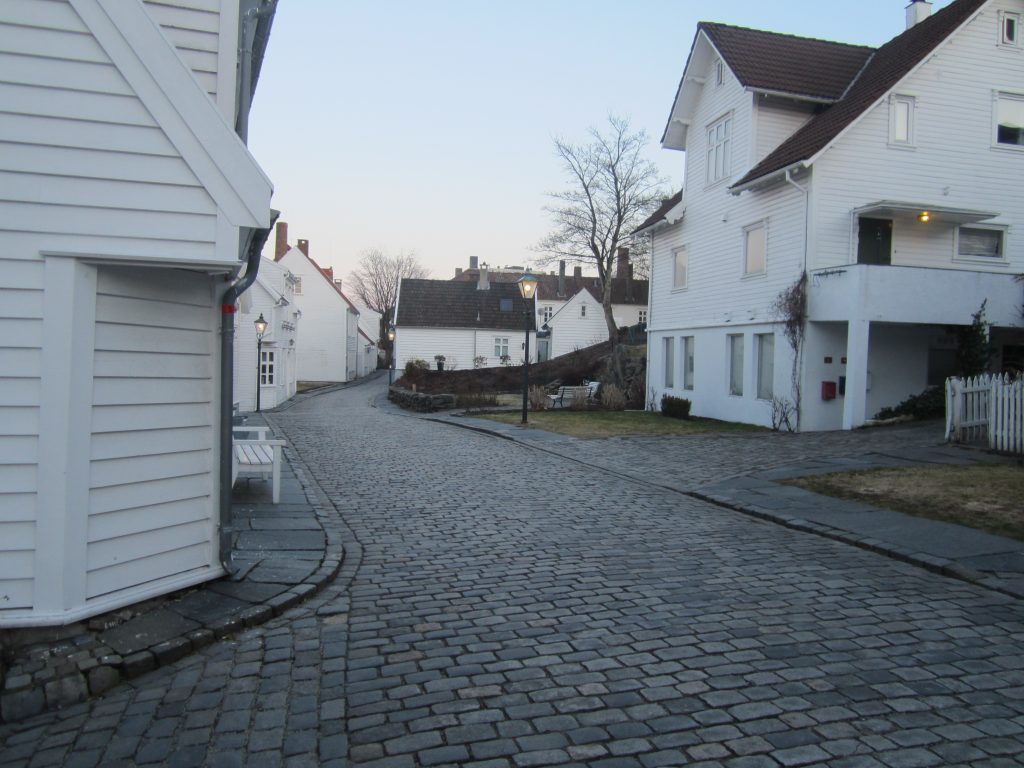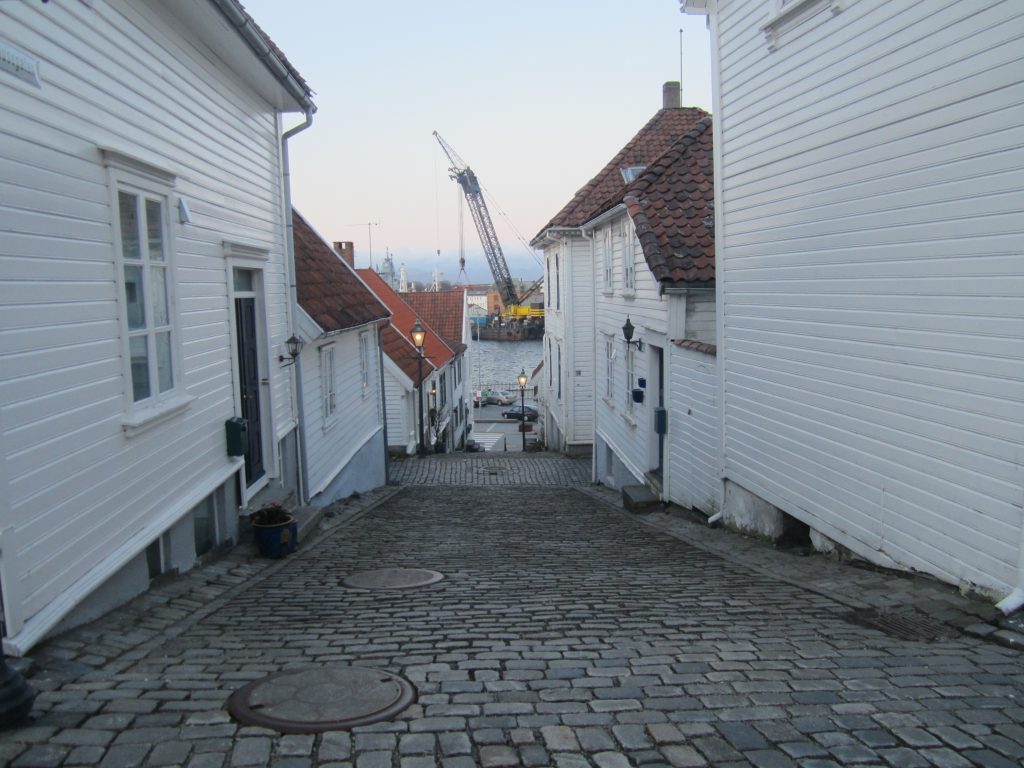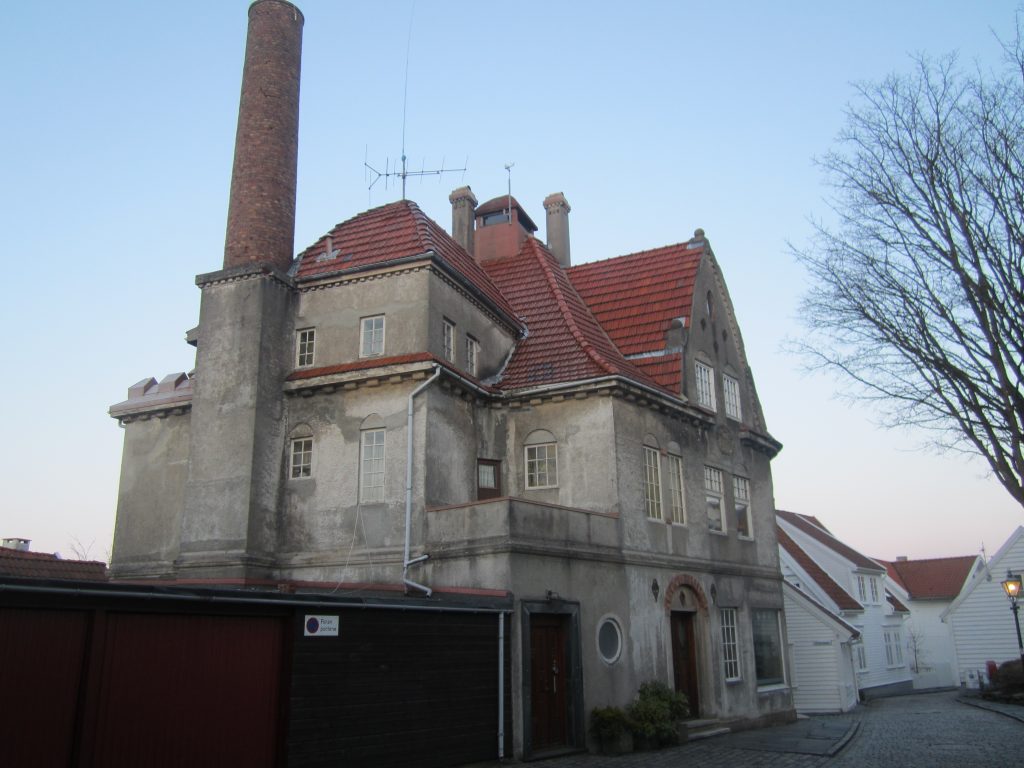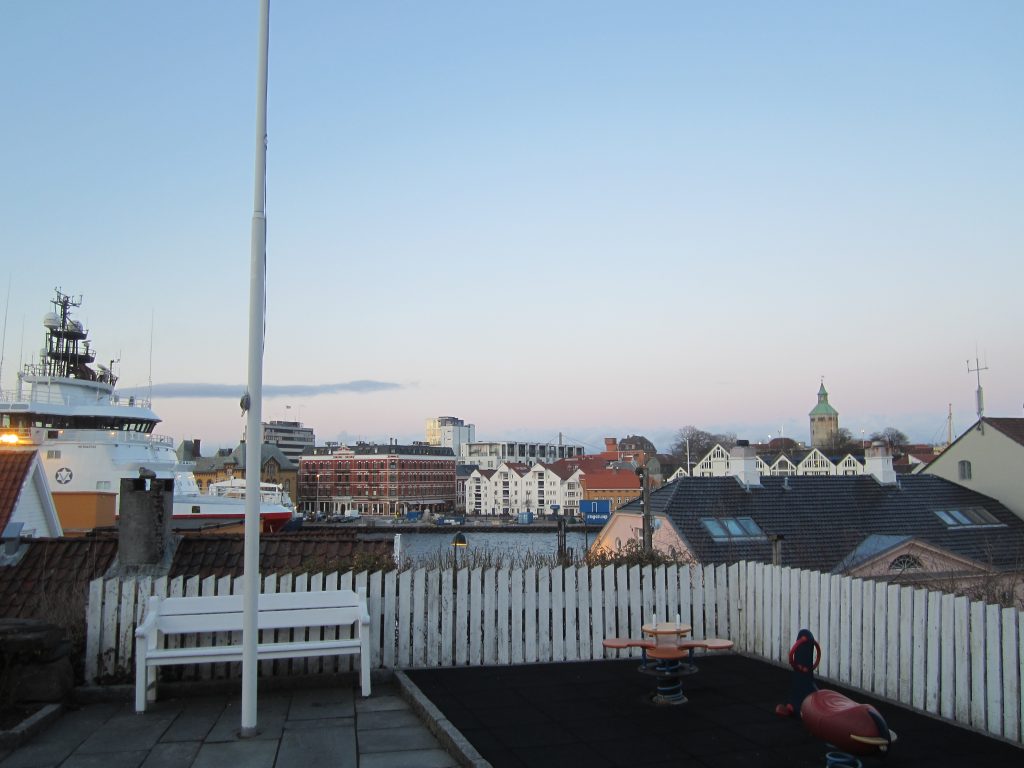 Pita kebab with Coke about 13 USD. Delicious. Filling. And a good deal for Norway standards!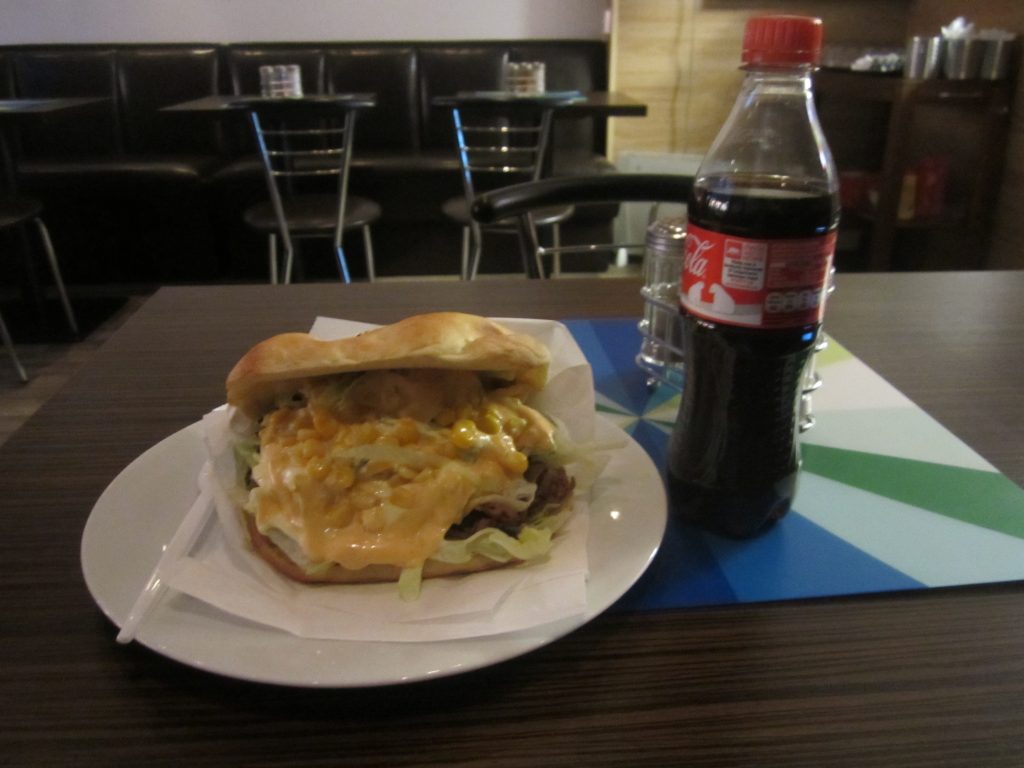 STAVANGER FULL DAY TWO:
The reason I came to Norway (to climb Preikestolen) was to become a reality today and I was super excited! I had trouble sleeping the night before from the adrenaline anticipating standing on top of it! After a quick breakfast at the hotel, I made my way to a different part of the Stavanger port to board the ferry boat to Tau. 46 Kronas each way.

Quick ride over to Tau. Boat full of locals and some tourists. Food and drinks on board available.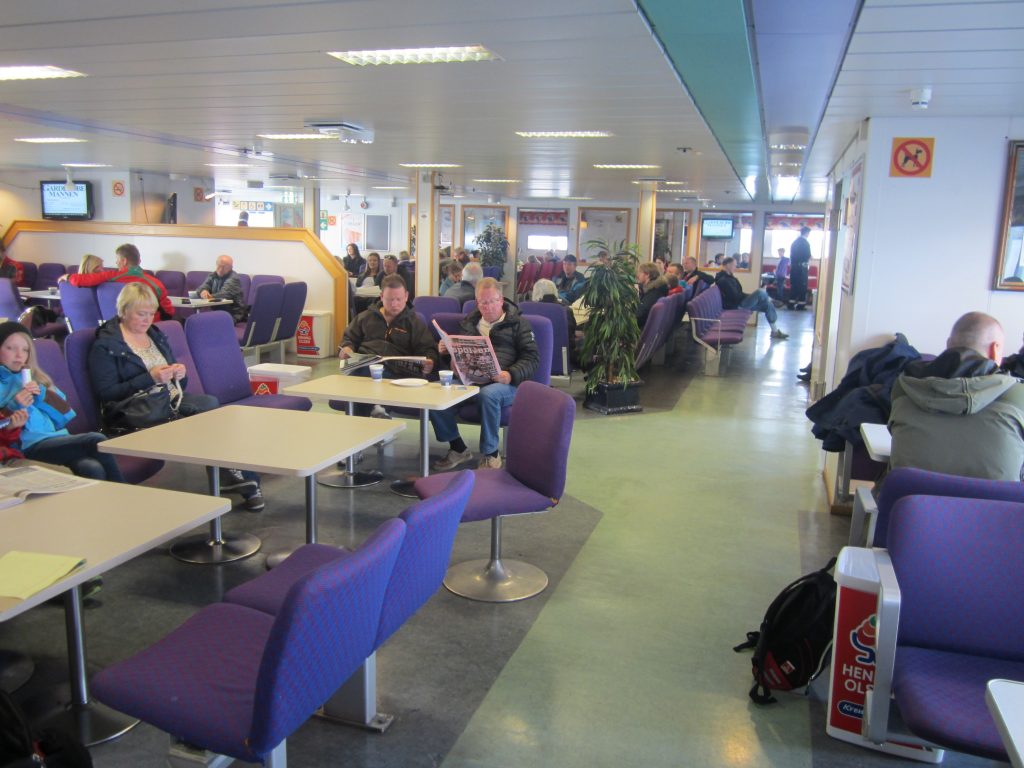 See this scene carefully. This is the reason the European Union is in such a big mess! What are you talking about George? The ticket guy went around with a handheld computer selling tickets. Then an announcement came for passengers not having purchased a ticket to go purchase one at the ticket booth. This will never happen in Greece (or another Southern European country)! This is why the North is tired bailing out the ones at South Europe🙂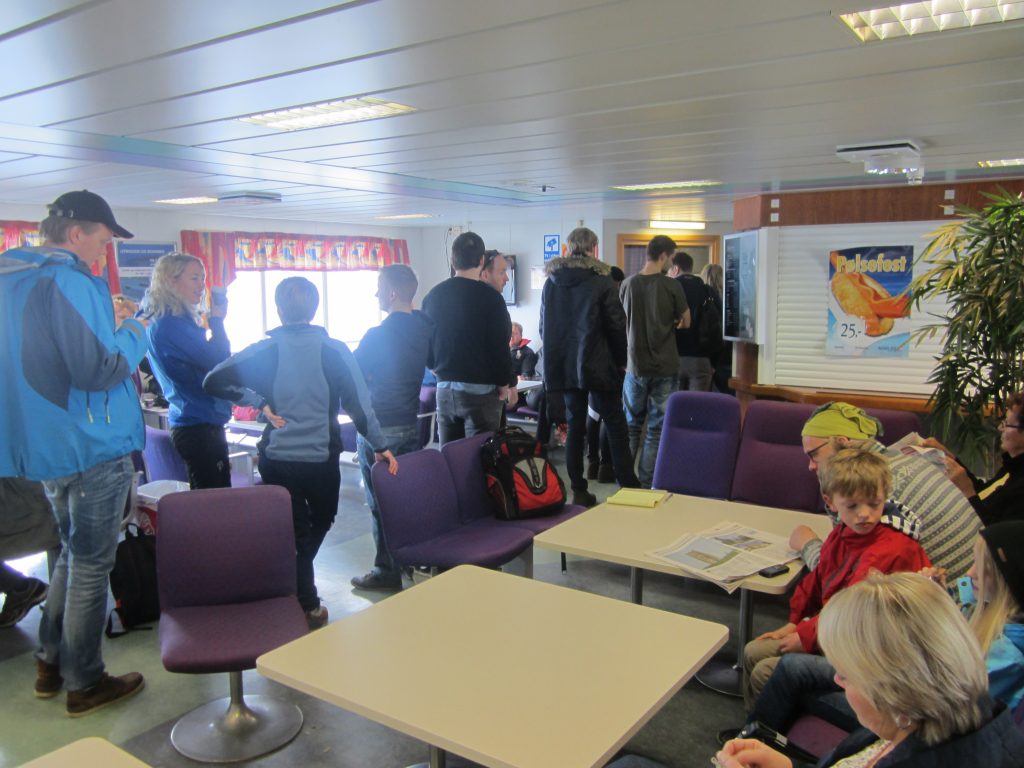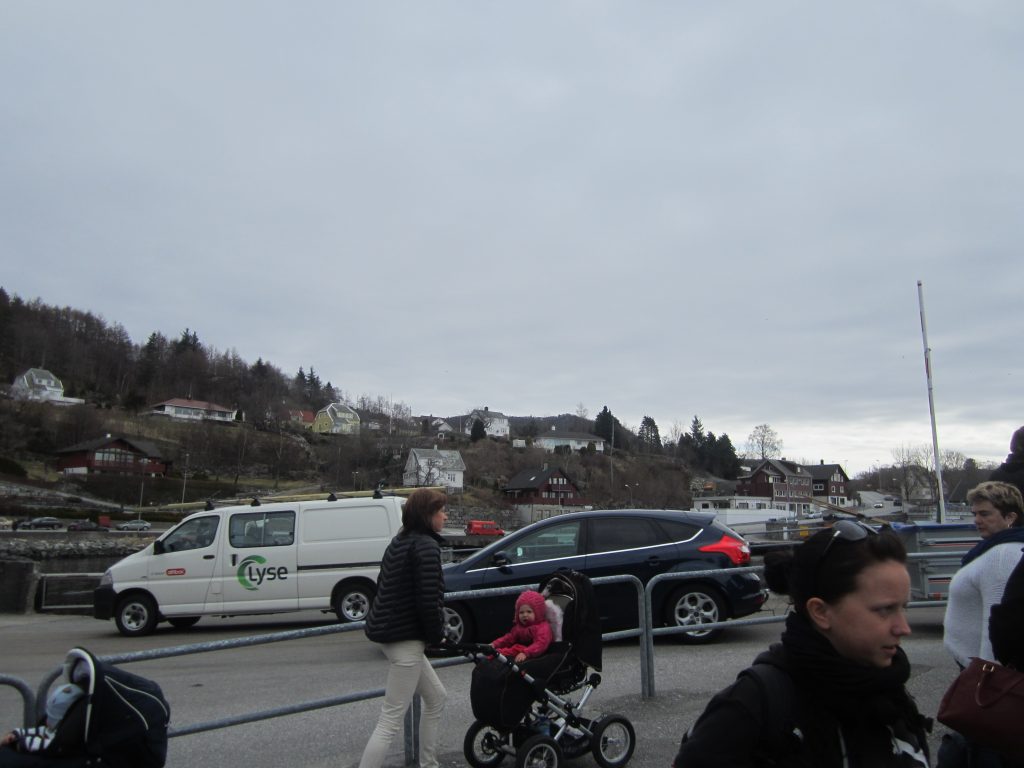 A bus waits for the tourists to take us all up to Preikestolen. Round trip fare is 140 Kronas. Make sure you specify Round Trip as you save quite a bit!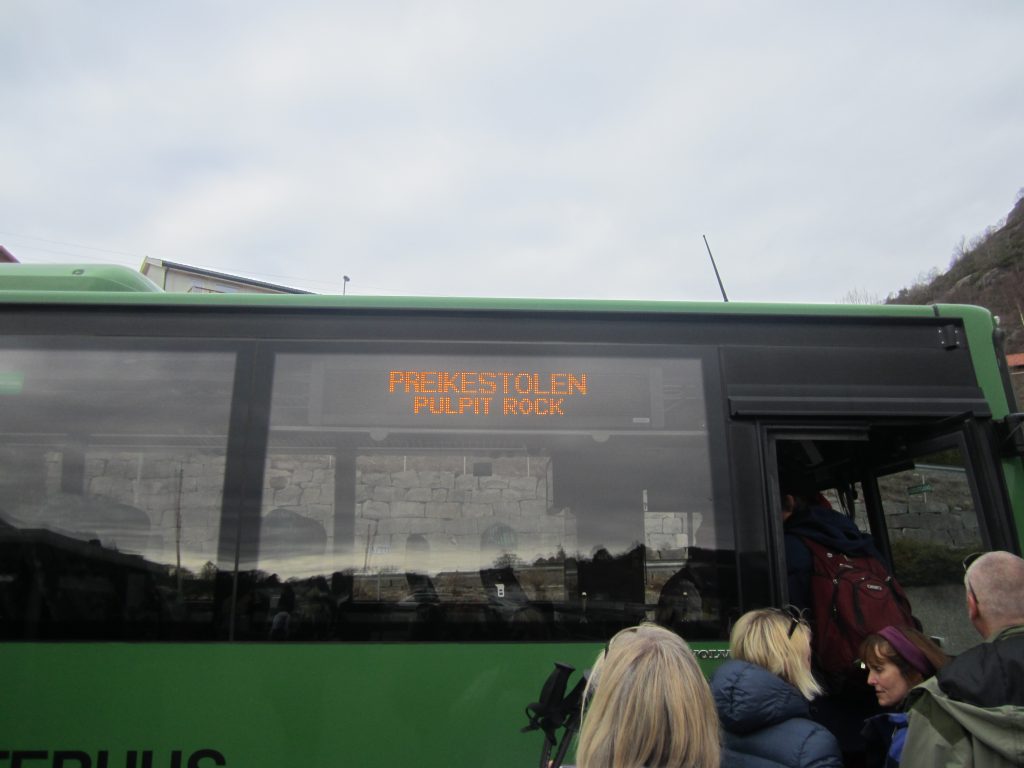 Very nice smooth ride to the base camp.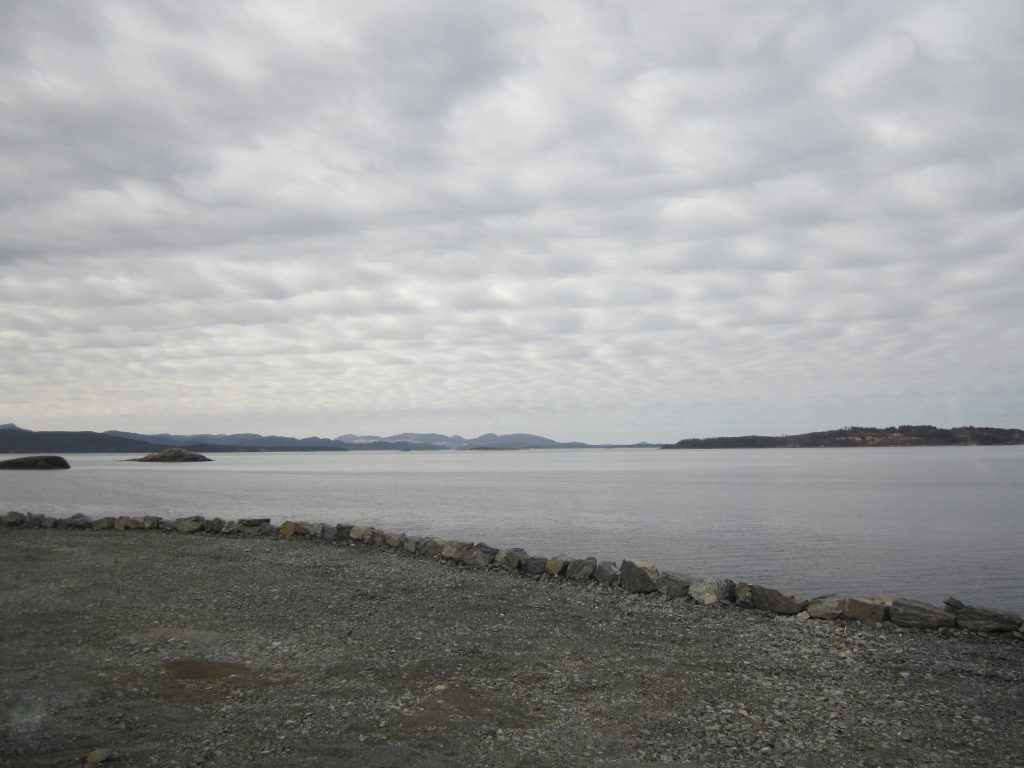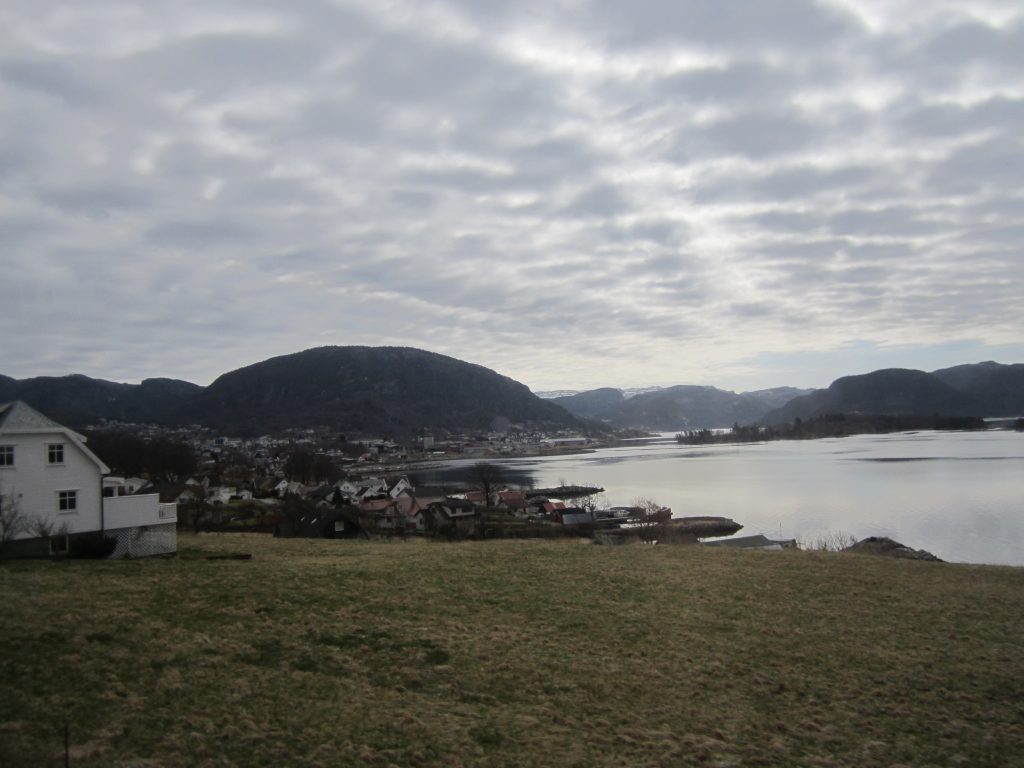 Preikestolen base camp bathroom sign. About to become dream no more!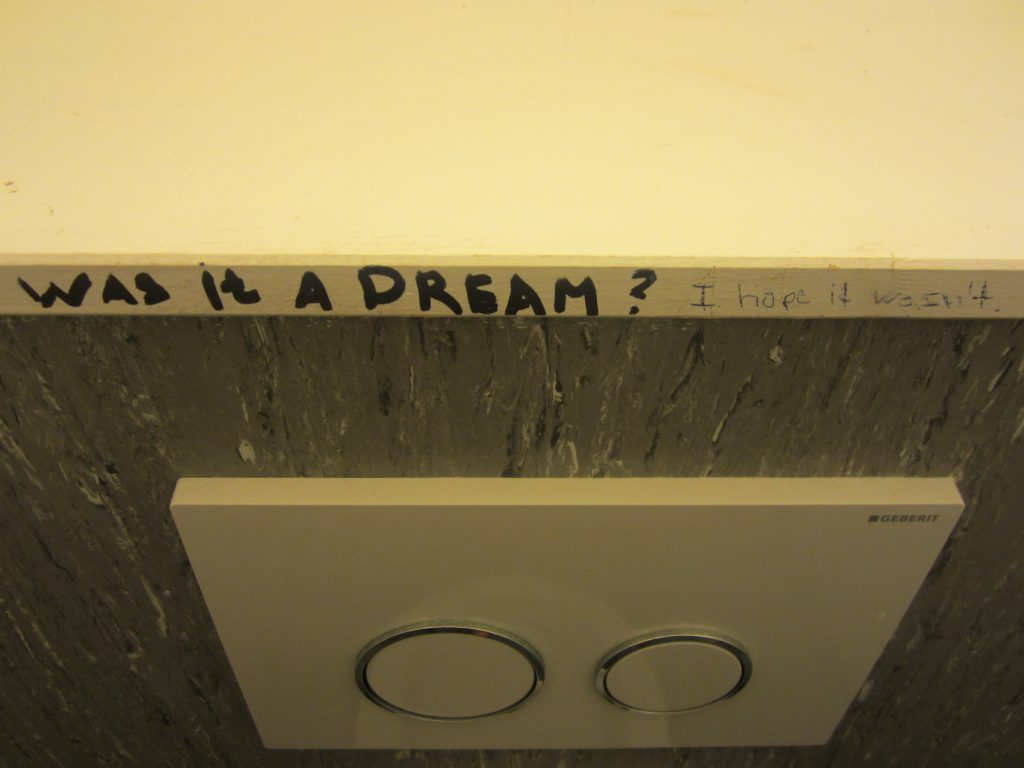 The hike is NOT easy. What made it harder was that there was still some snow in some parts and it got wet and muddy in some other parts. It should be easier in the middle of the summer. But if you are not in shape this may prove a bit much for you. Or you can take your sweet time. The end is worth it!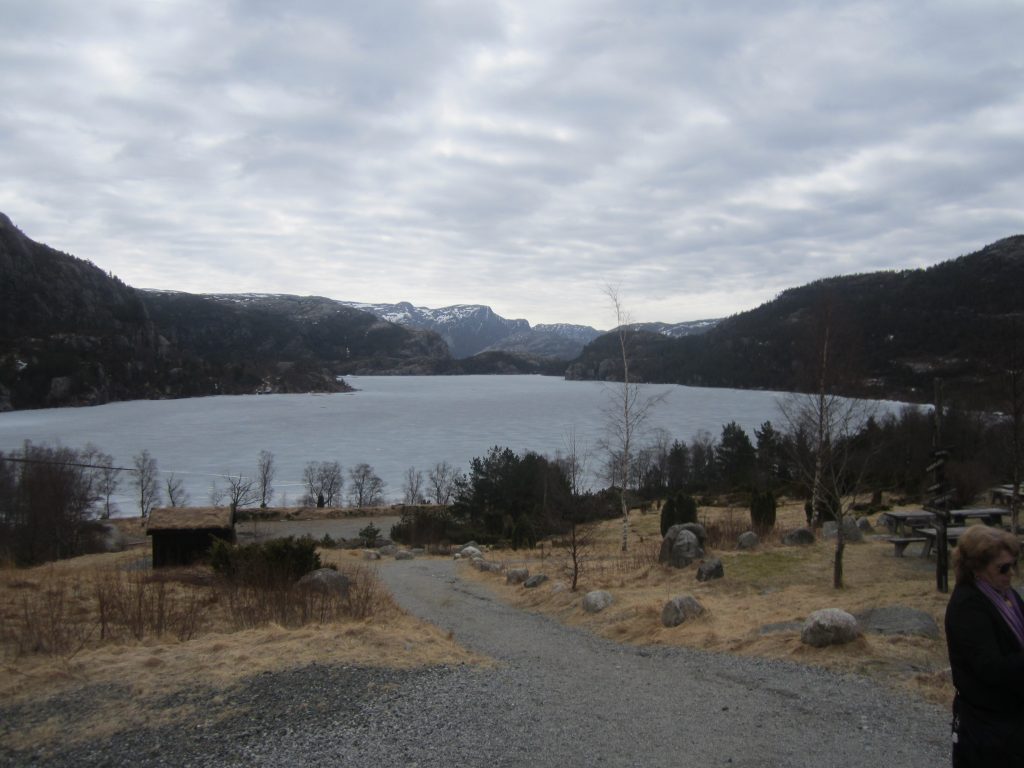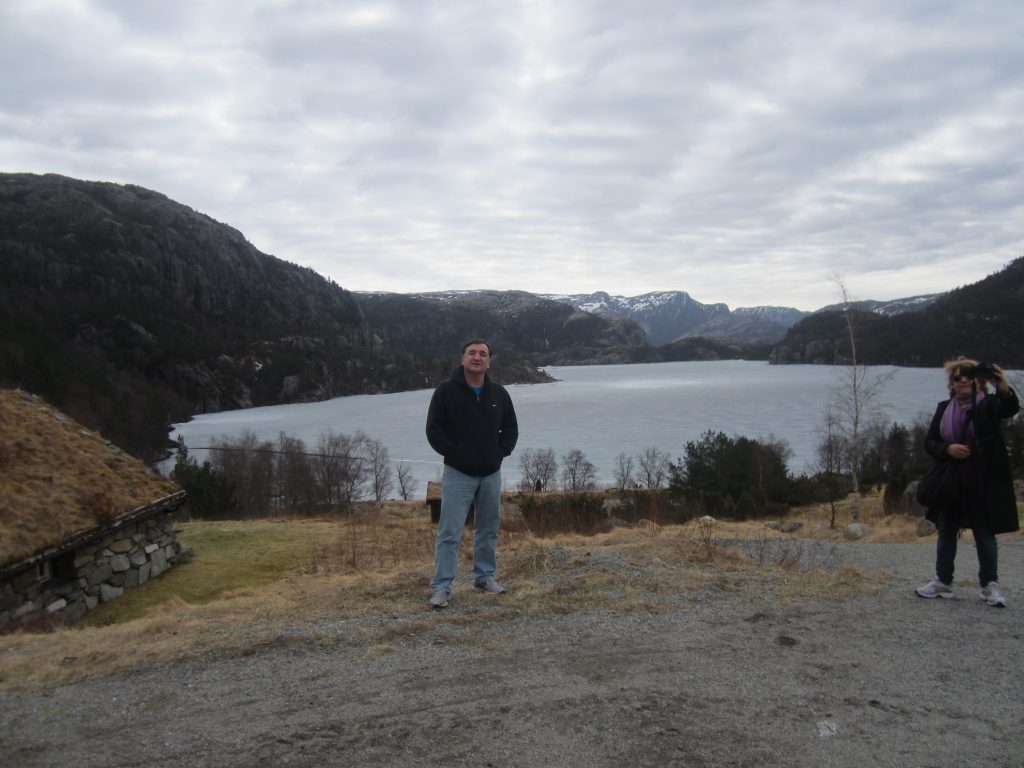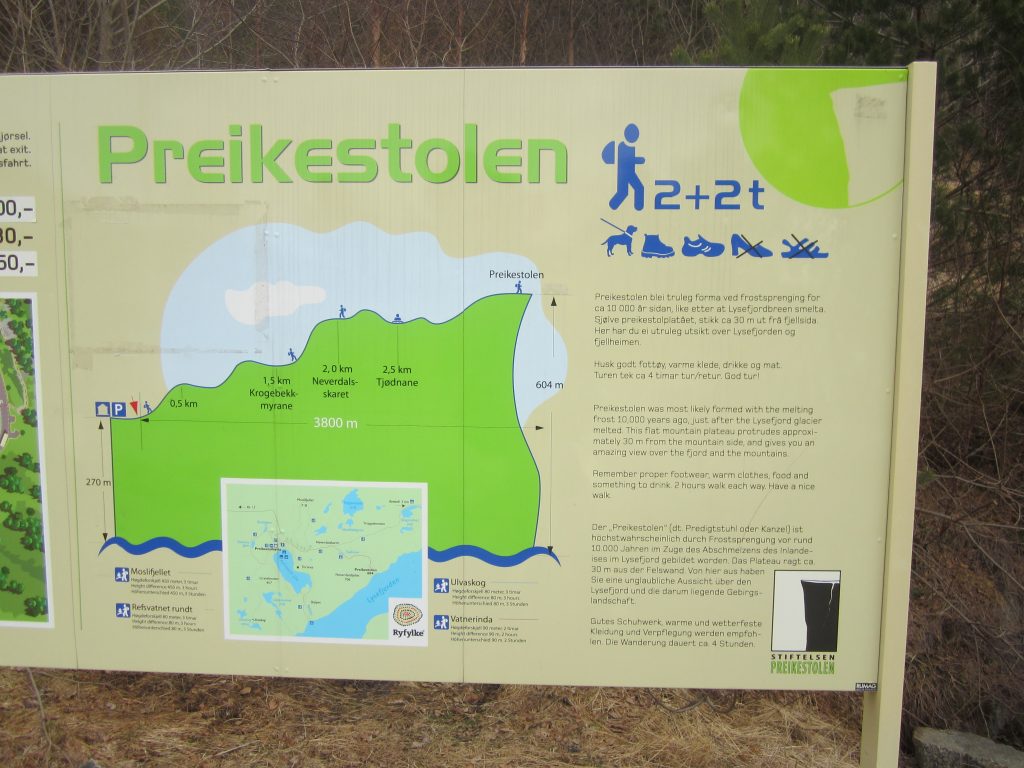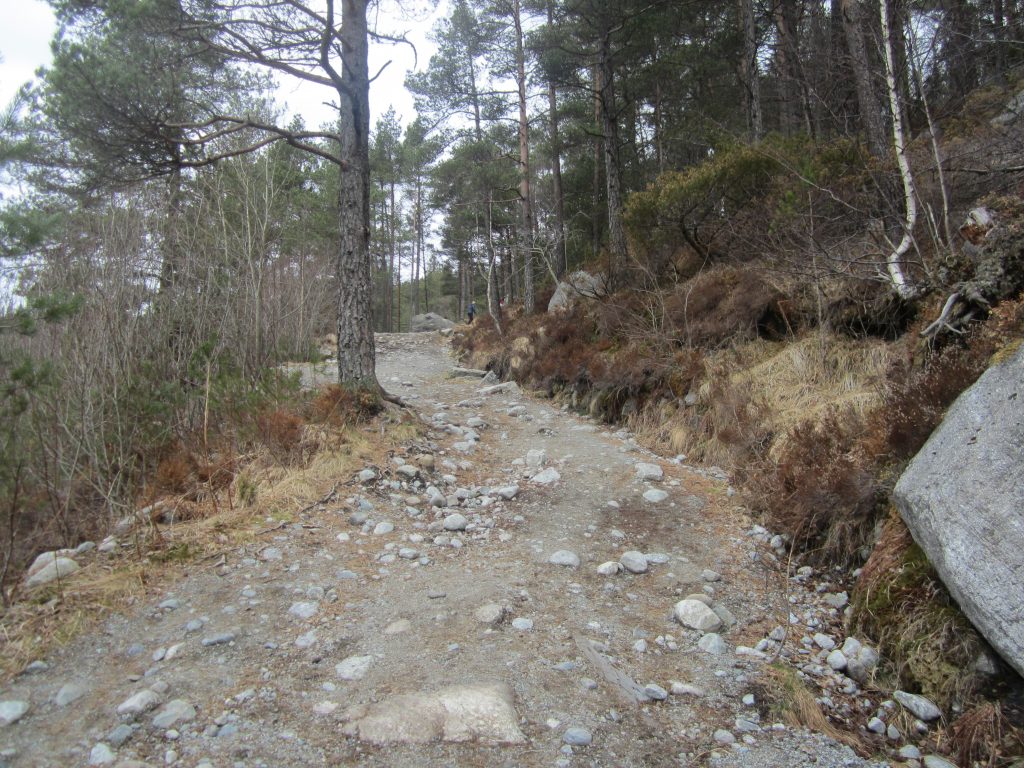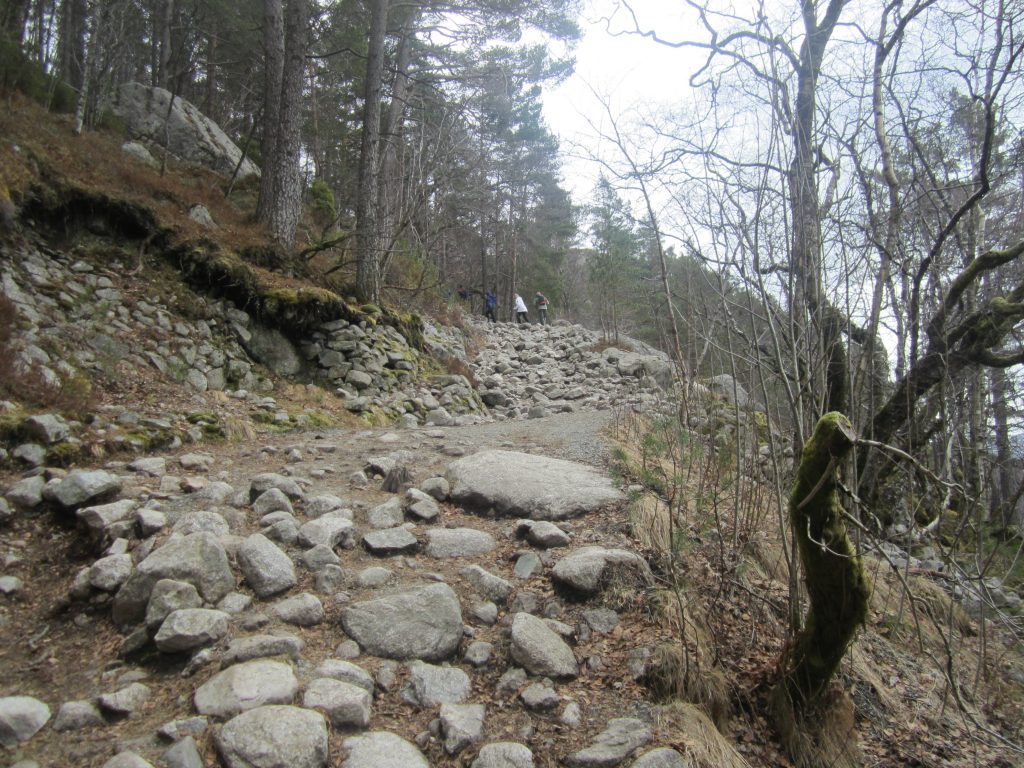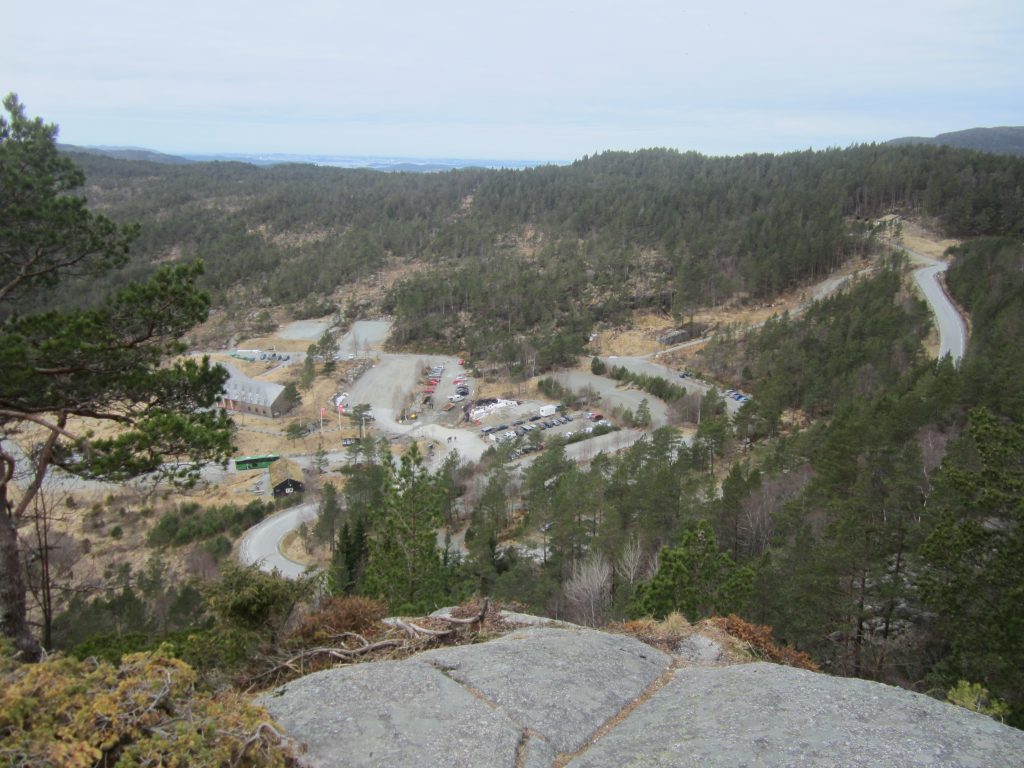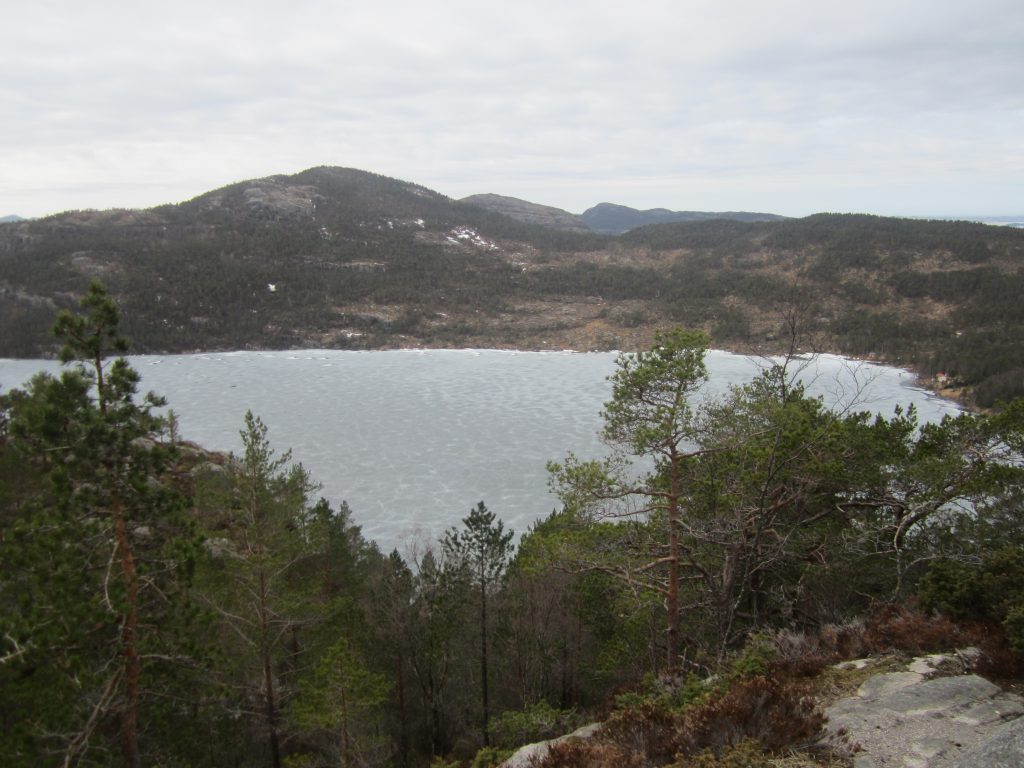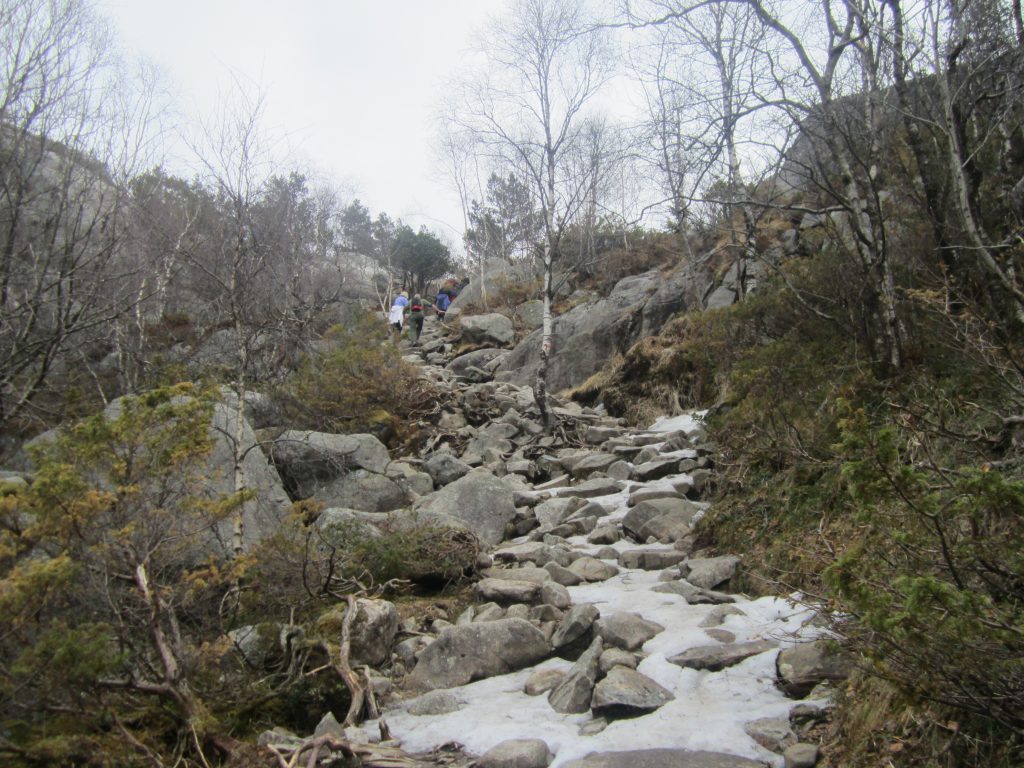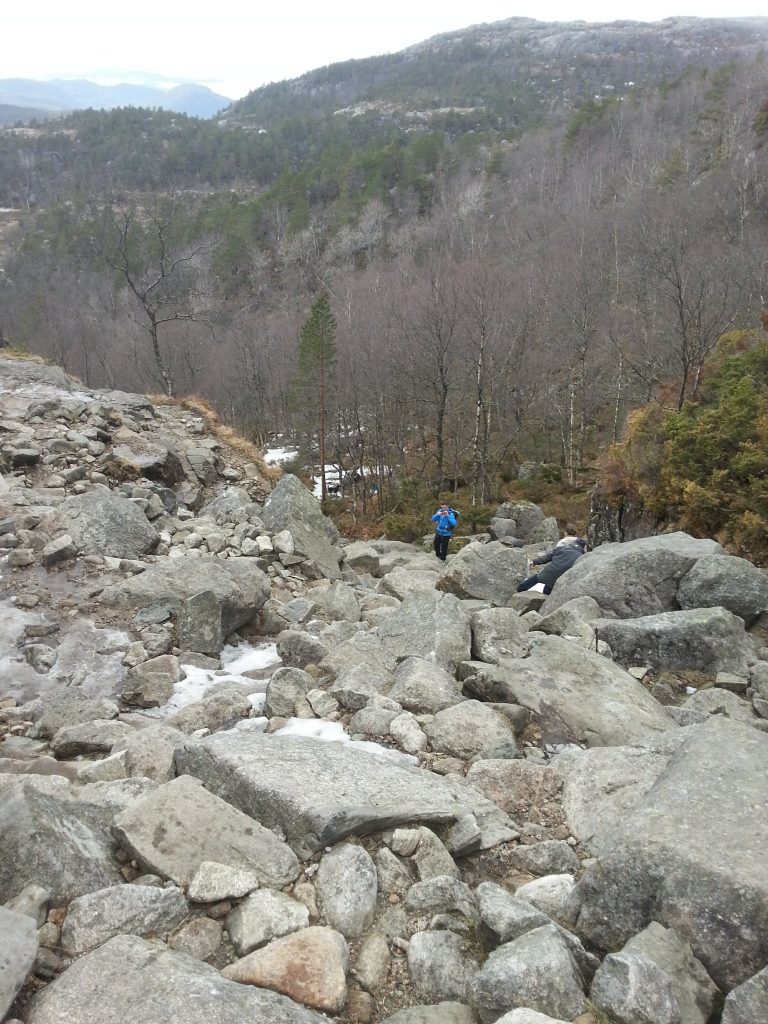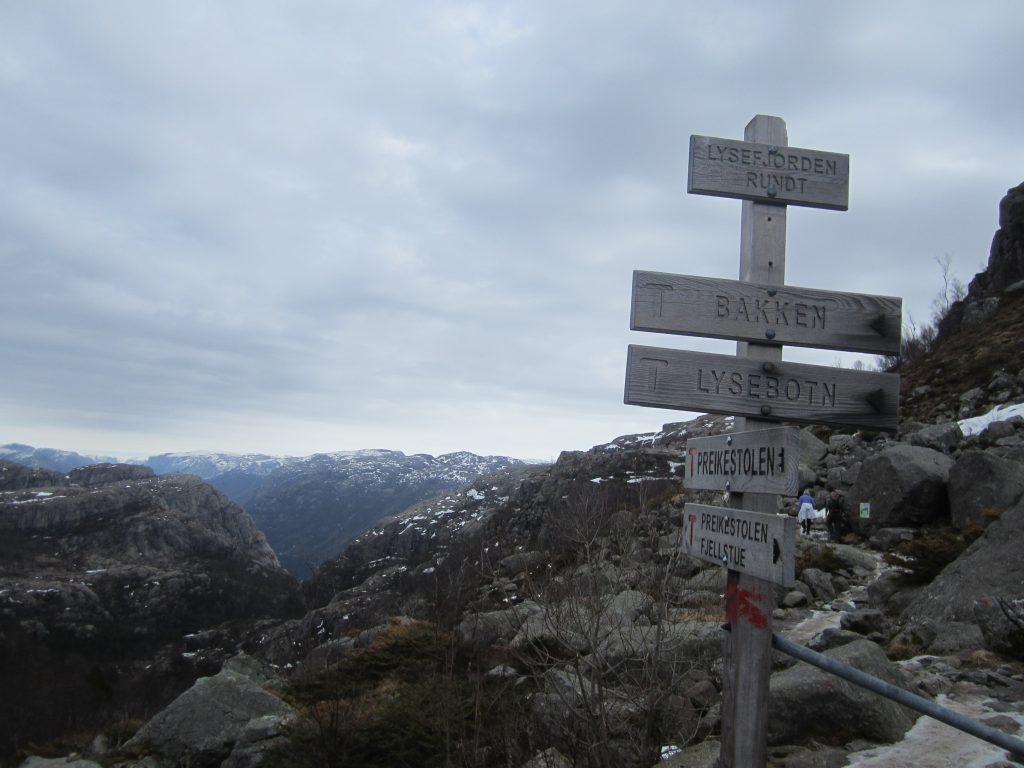 My soccer team from my Greek hometown. Born a fan, always a fan!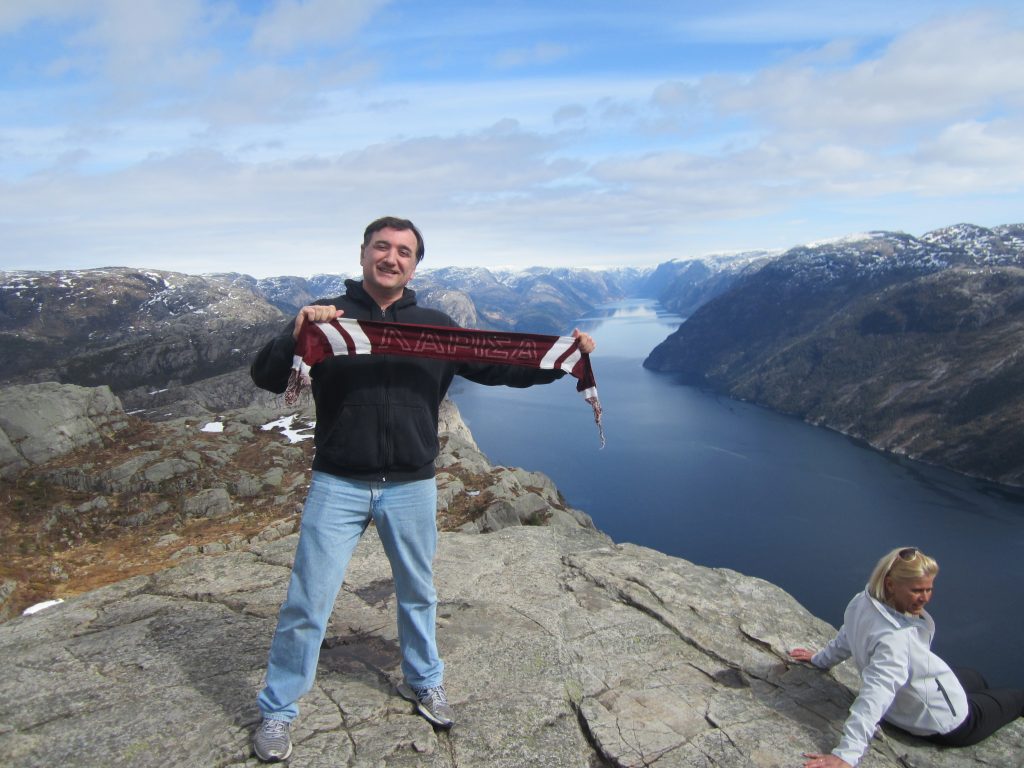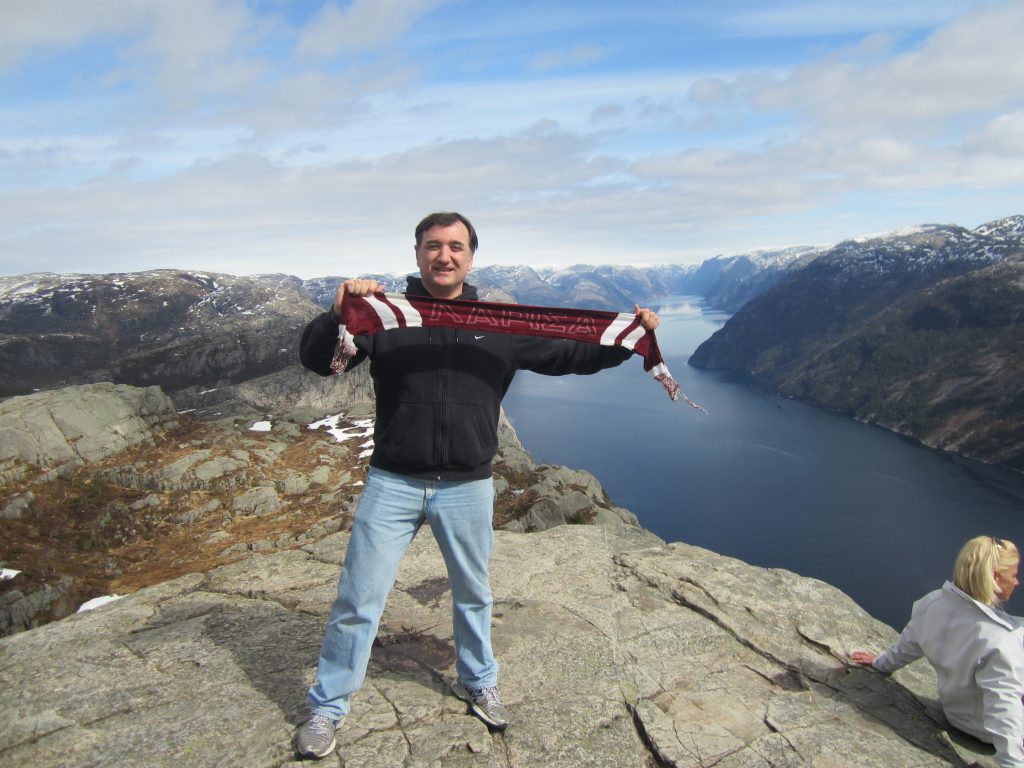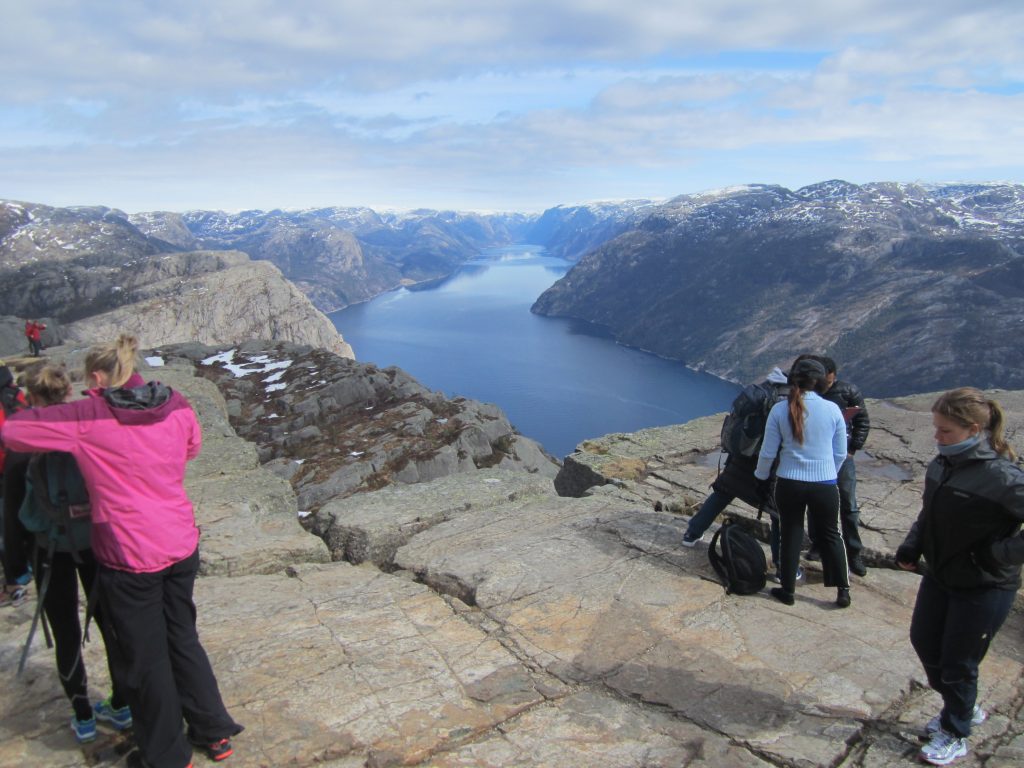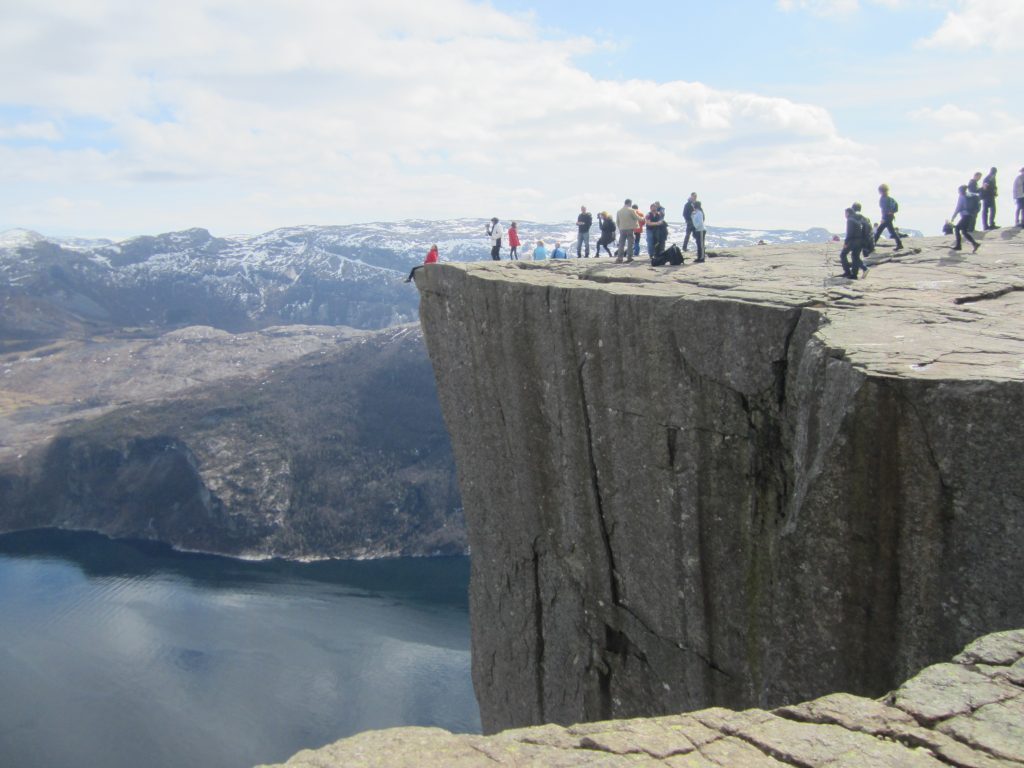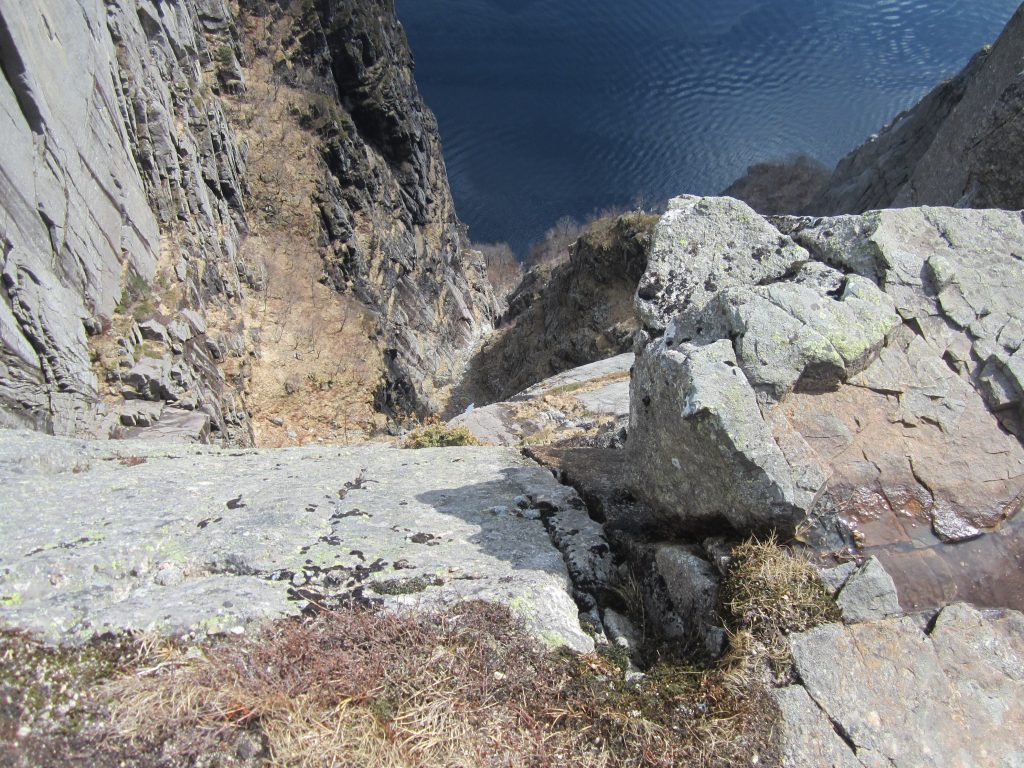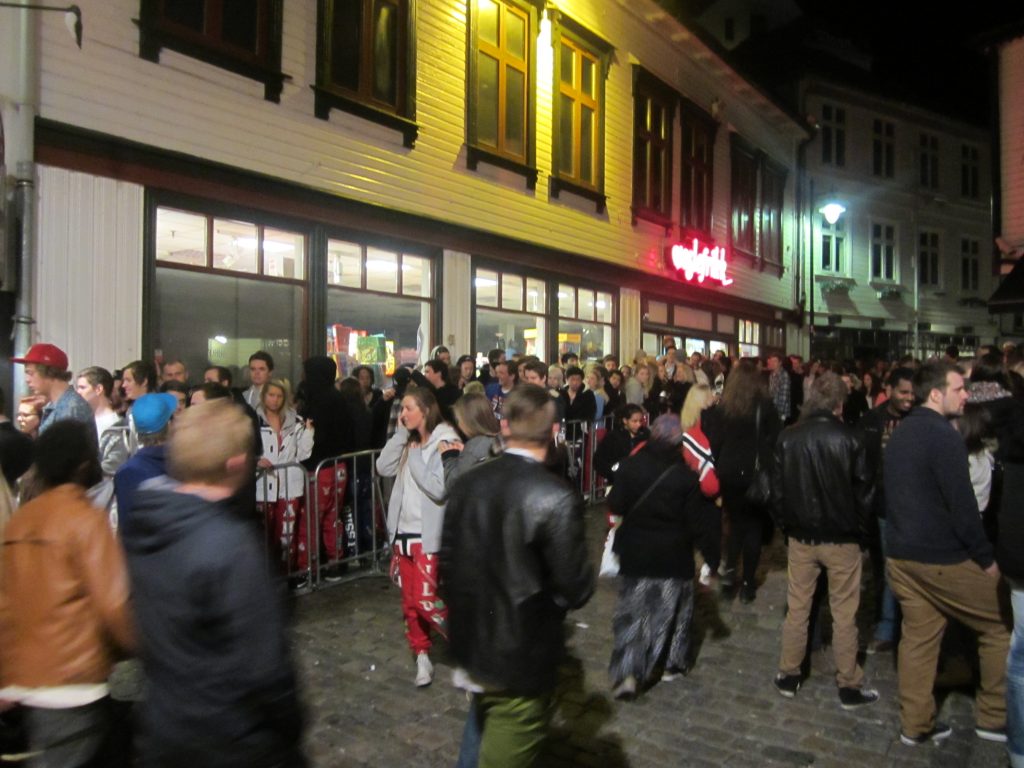 A few pics you can see Stavanger main square at night. Above me Norwegians partying at night. They drink… a lot!
STAVANGER DAY THREE
Below is a pic of the breakfast buffet in the Radisson Blu Royal hotel. Nice selection, uninspiring food, forgettable service.
I visited the Stavanger Oil Museum and loved it! I learned so much about their oil industry and the history of it!
Time has come to say goodbye. Back in Stavanger airport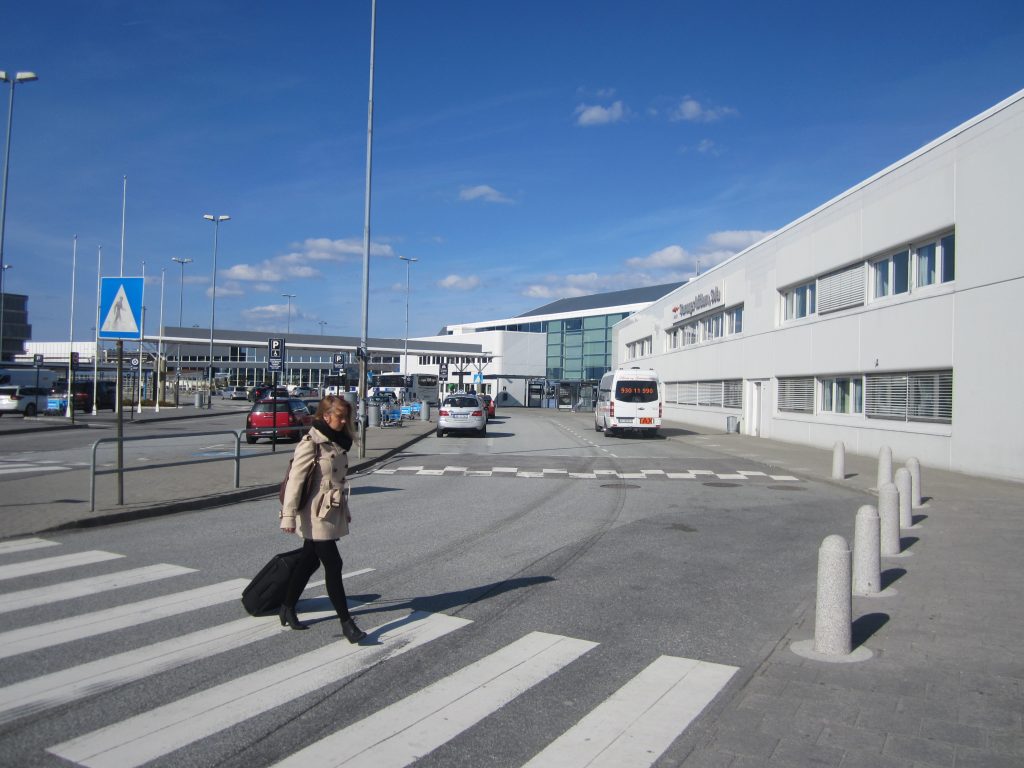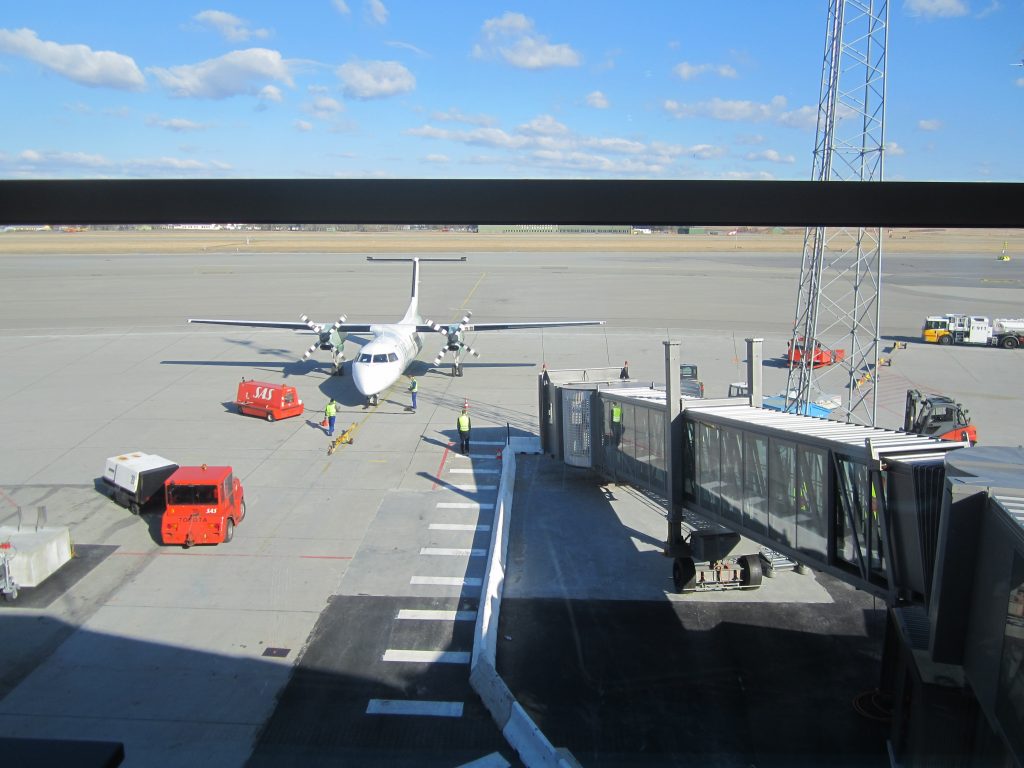 Uneventful flight again to London Heathrow on British Airways.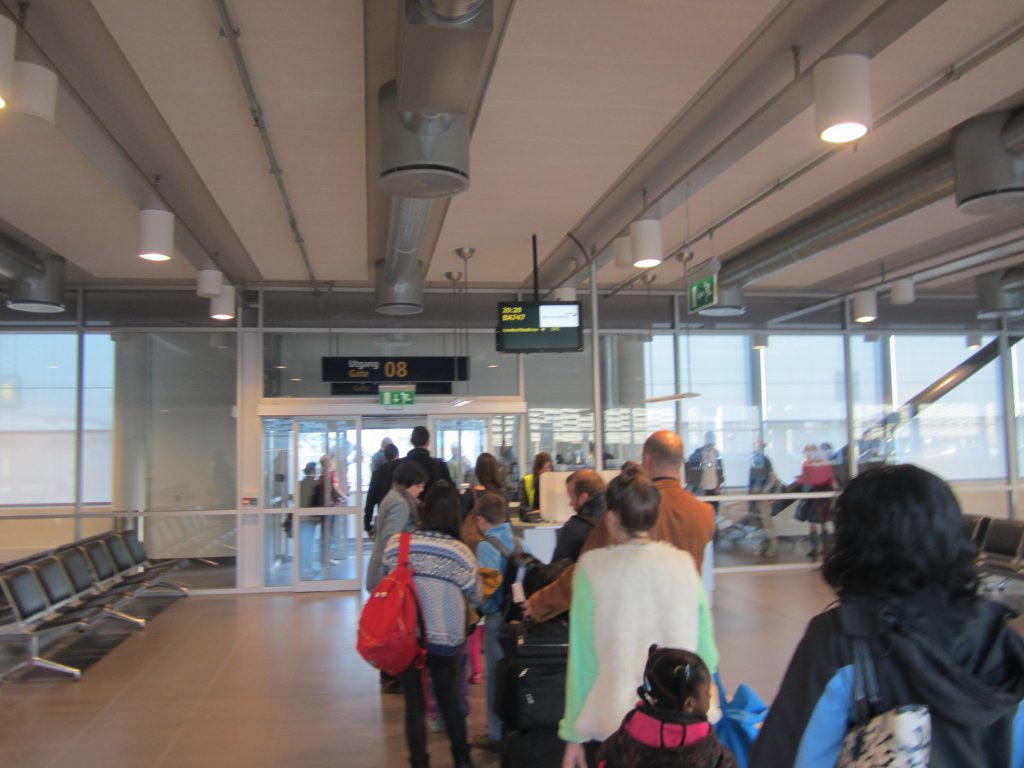 Back in Heathrow. Waiting for the bus to the Doubletree hotel just outside Heathrow.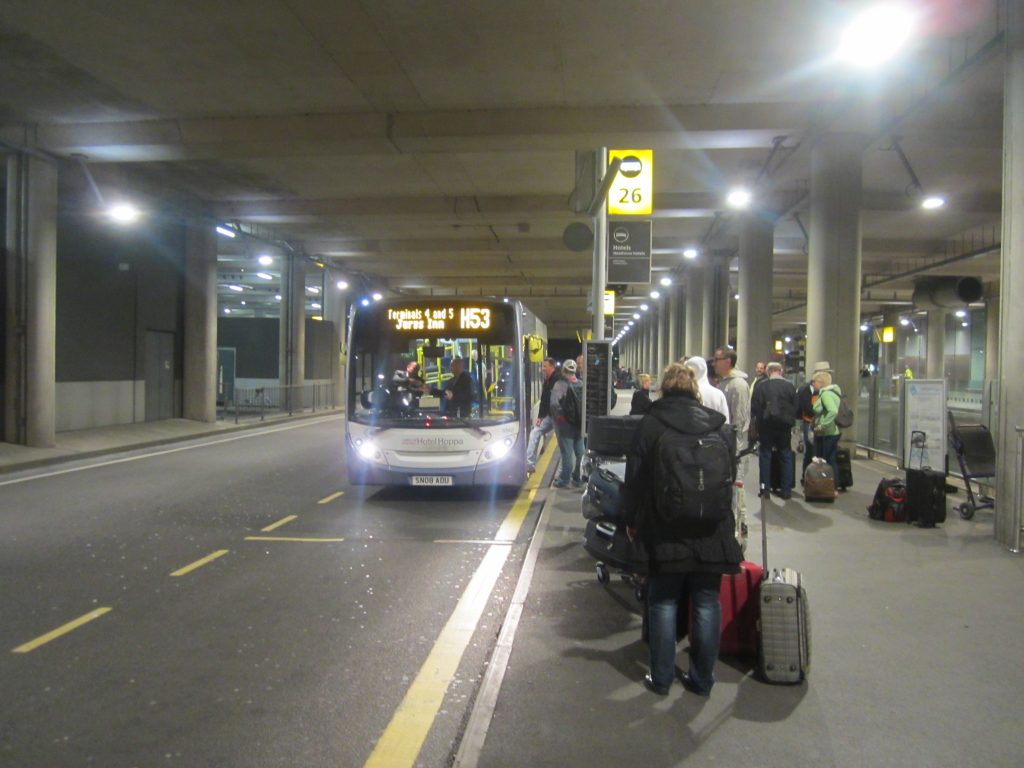 Excellent hotel. Only 43 British pounds prepaid rate.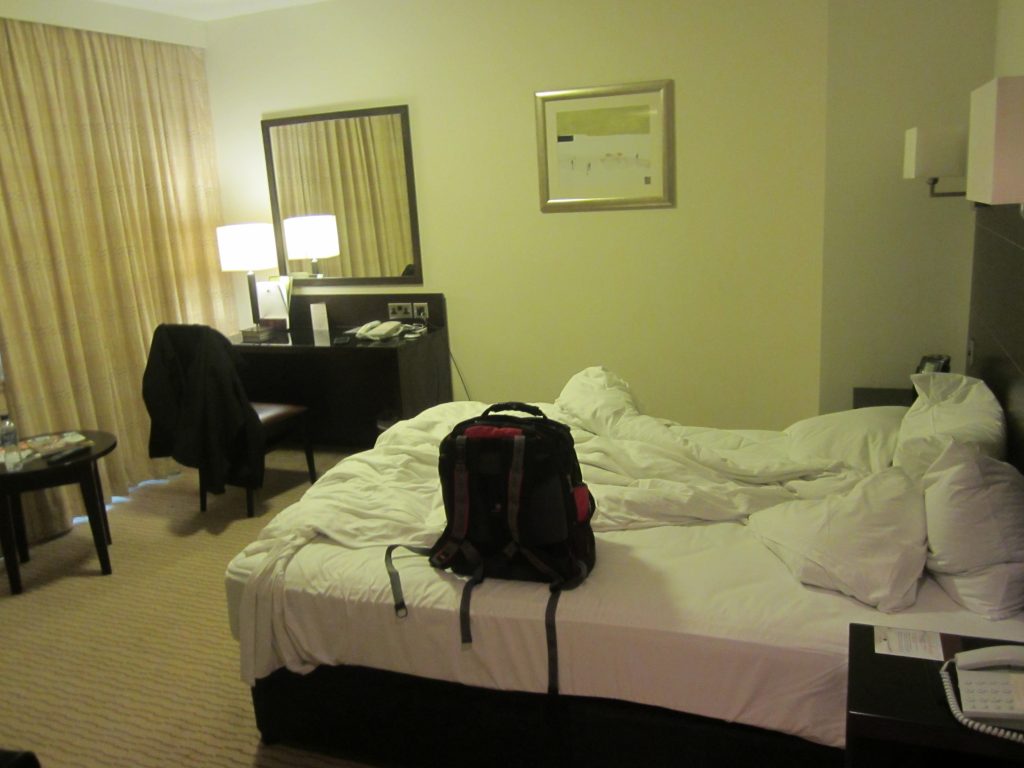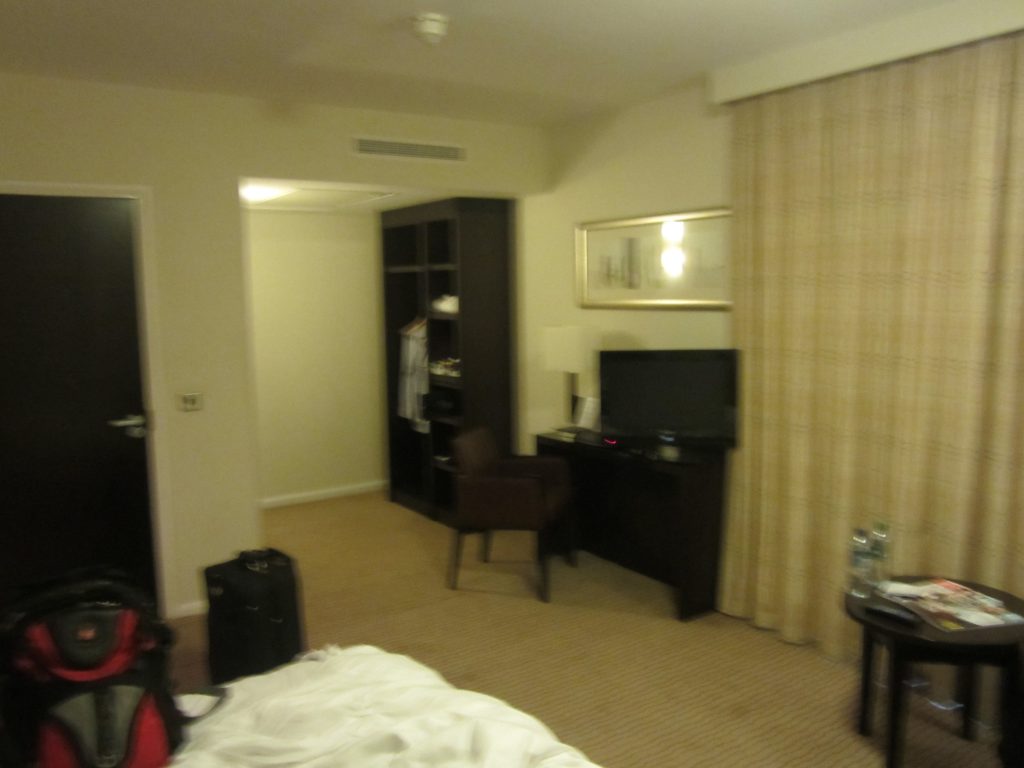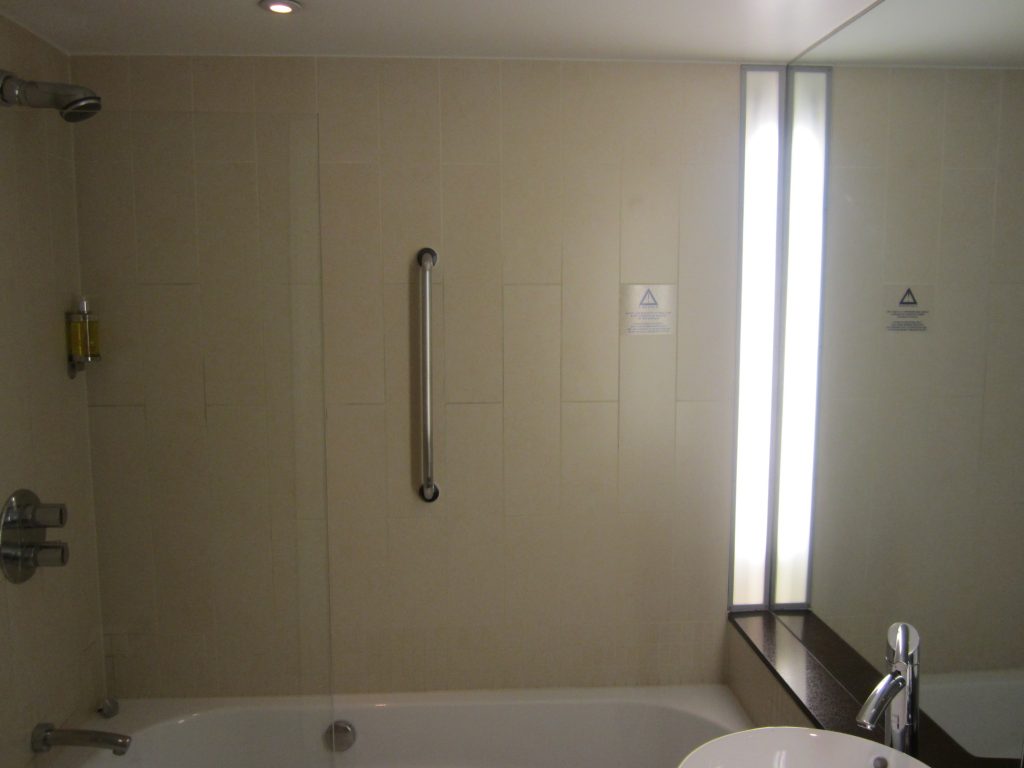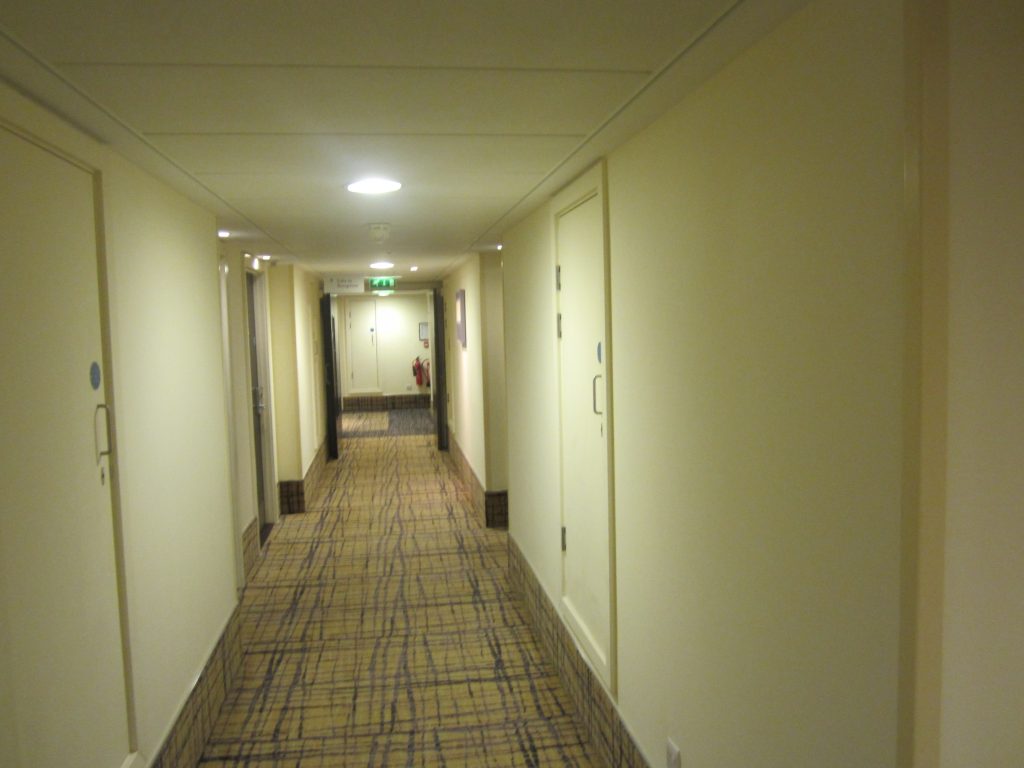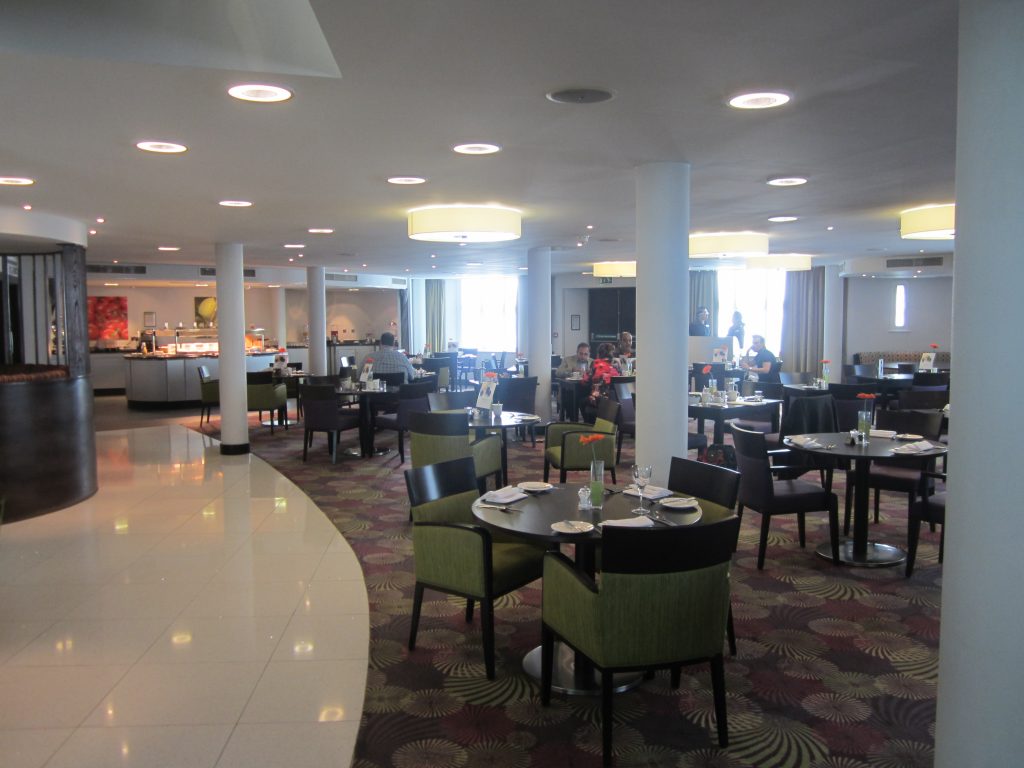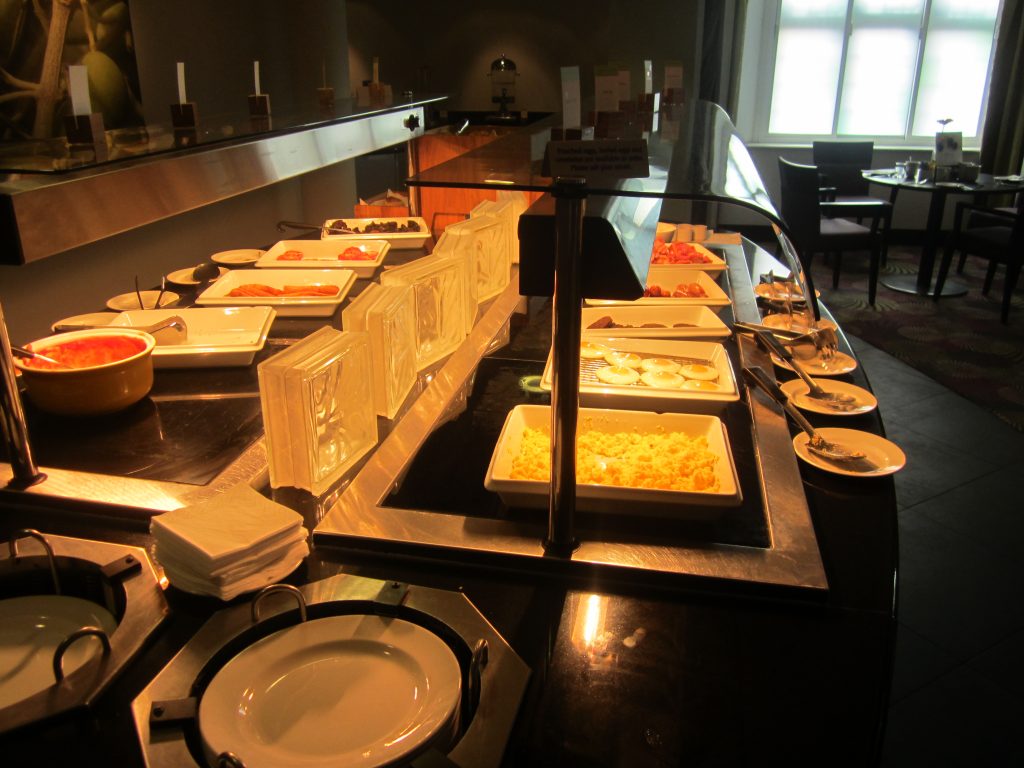 I had a very nice stay at this Doubletree.
VIRGIN ATLANTIC CLUBHOUSE LONDON HEATHROW
Then on to the highlight of the stay: The visit to the Virgin Atlantic Clubhouse in London Heathrow. Huge, awesome food, huge bar with drinks, had a complimentary haircut, stayed here for hours! And the upgrade to Upper Class cleared much sooner this time. Same flight again. I did not finish that western movie Djurango or something…it was very good. It still bothers me:-)
Shuttle to La Guardia. Stayed at the Sheraton East at La Guardia, felt like Chinatown! Above is the fitness center and below my room. Very nice stay, excellent service.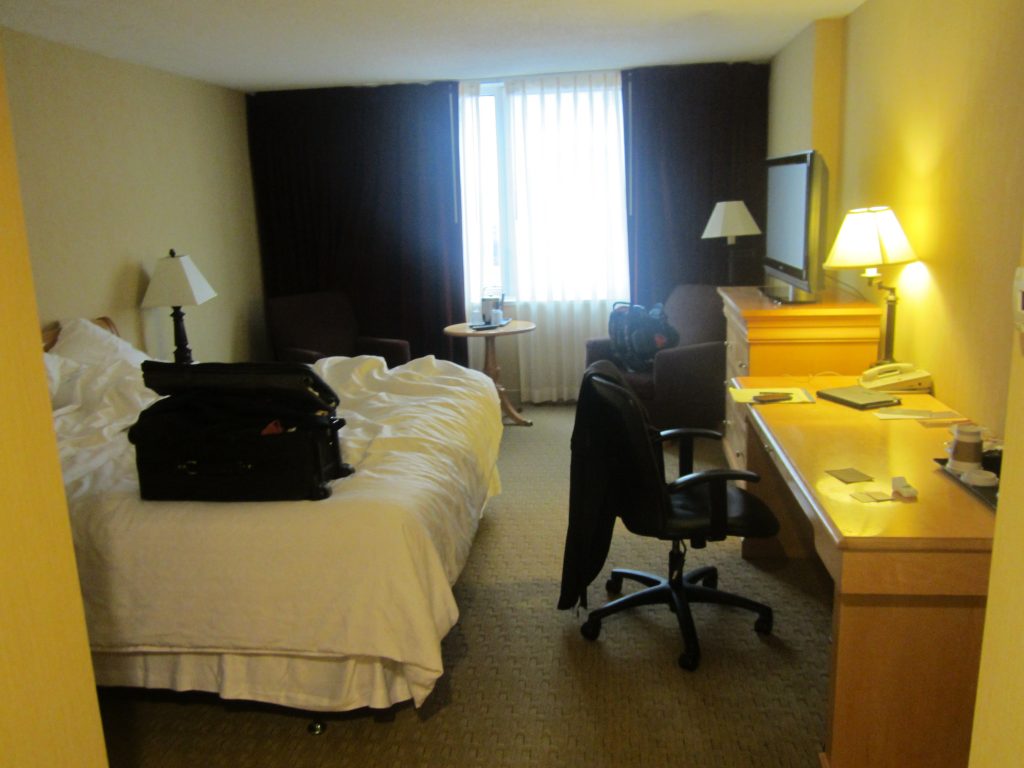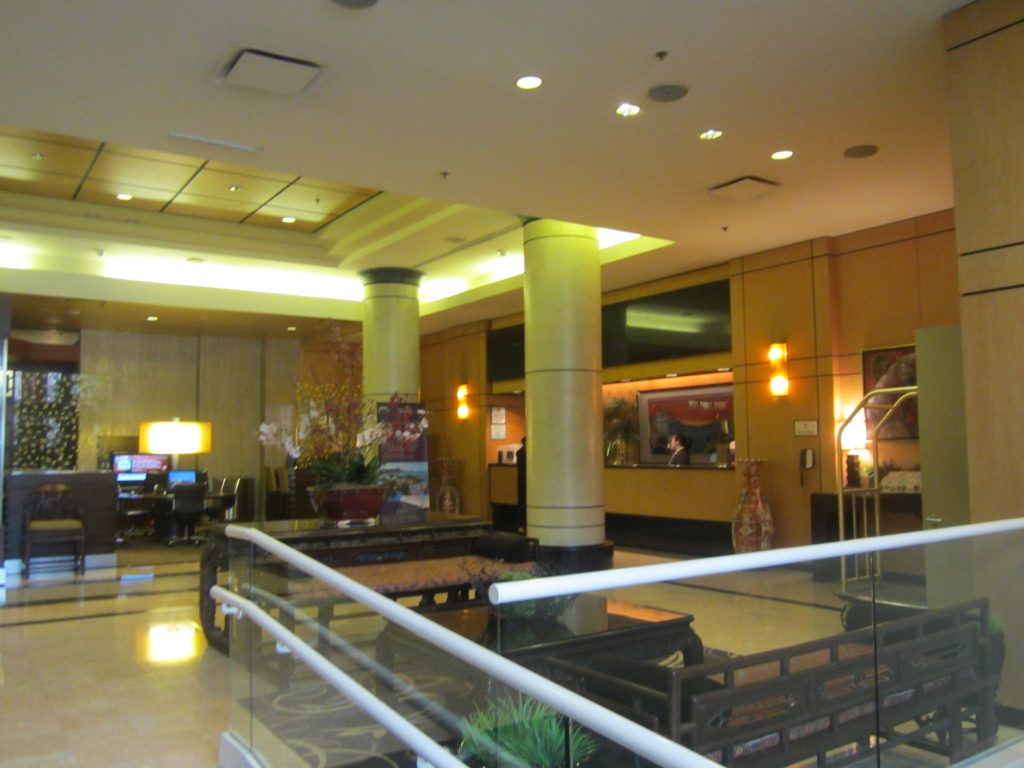 And then back to Detroit on another American Airlines flight with just 4,500 British Airways Avios points!