We decided to burn some miles & points in Maui during the 2014 Spring Break. This is our third Hawaii island. We will visit Kauai next.
We loved the Maui Revealed Guide Book (Amazon Affiliate Link) and highly recommend it!
TALLY OF MILES & POINTS BURNED FOR THIS TRIP:
4 award tickets on Southwest from Detroit to Oakland (via Chicago Midway) for 62,400 points (15,600 each) and $20 fees total
1 night at Hampton Inn Alameda at Oakland airport for $101.92 all in. Fully reimbursed by Barclay Arrival points. Earned 2,620 Hilton HHonors points
4 award coach tickets flying on Hawaiian Airlines from Oakland to Maui for 90,000 American AAdvantage miles and $10 fees total
2 free nights at the fantastic Andaz Maui with full buffet breakfast for four (as Hyatt Gold Passport Diamond with Diamond Elite Status trial, no longer offered in this manner!) due to the 2 night at any Hyatt benefit for its Visa card. Mandatory Valet Parking fee for 2 nights of $60 was fully reimbursed by Barclay Arrival points. Earned 1,374 Gold Passport points (1k was the Diamond Amenity bonus)
3 free nights at the incredible Fairmont Kea Lani (1 complimentary Platinum night, and one complimentary night each for spending $12k on our two Fairmont Visa cards after paying the $95 annual fee per card). Ate about $300 of amazing food using Platinum/Premier dining certs and some gift cards by cashing in Fairmont Visa points. $30 daily resort fee was taken care of by such Fairmont gift cards. An additional Platinum benefit was the BEST meal for two we ever had at the Ko restaurant!
4 door Jeep Wrangler rental car by Thrifty was total (after taxes) $475.58 (after a confiscatory charge of $100 for getting the 4 door as the 2 door was too tiny after looking big enough in the pictures!). FULLY reimbursed by Barclay Arrival points
4 coach tickets flying Island Air from Maui to Honolulu for 20,000 United miles (5,000 miles each ) and $10 fees total
4 coach tickets flying on Alaska Airlines from Honolulu to San Jose for 90,000 American AAdvantage miles and $10 fees
1 day full size Budget rental car picked up at San Jose airport for $29.39 (Ford Fusion). Fully reimbursed by Barclay Arrival points
2 nights at the Hampton Inn Alameda $203.83 all in. Fully reimbursed by Barclay Arrival points. Earned 10,241 Hilton HHonors points
4 award tickets on Southwest from San Francisco to Detroit (via Denver) for 40,560 points (10,140 points each) and $20 fees
The obligatory pic at the Detroit airport at departure, it was cold!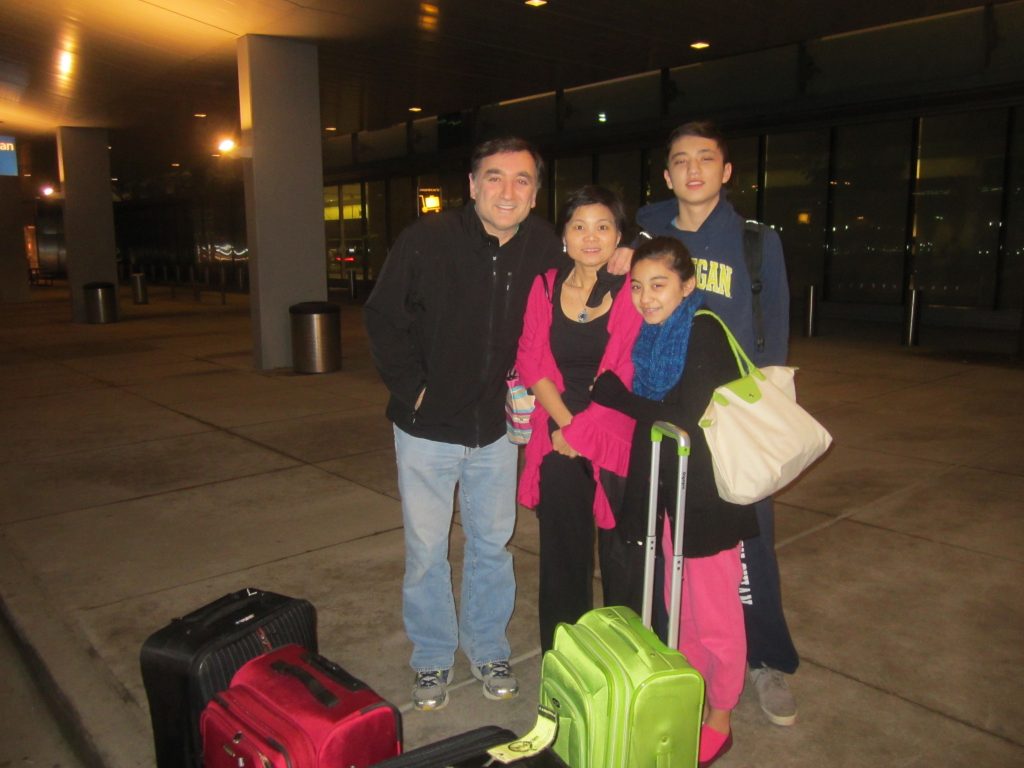 Southwest flights always go very smooth, I did not miss riding First Class. Ok, maybe a little 🙂
Got in very late and spent the night at the Hampton Inn Alameda hotel next to the Oakland airport. I don't do the hotel reviewing thing and certainly no toilet pics. We found this to be a great airport hotel!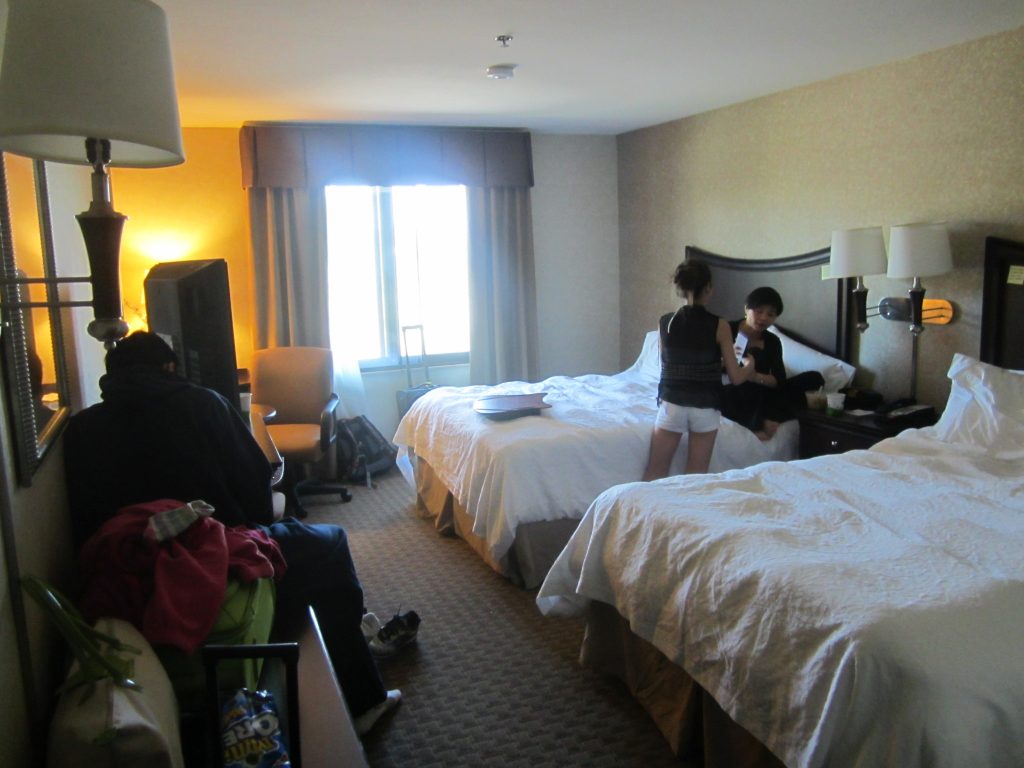 We had some time before our flight to Maui so we ventured out to Oakland on a very beautiful sunny day…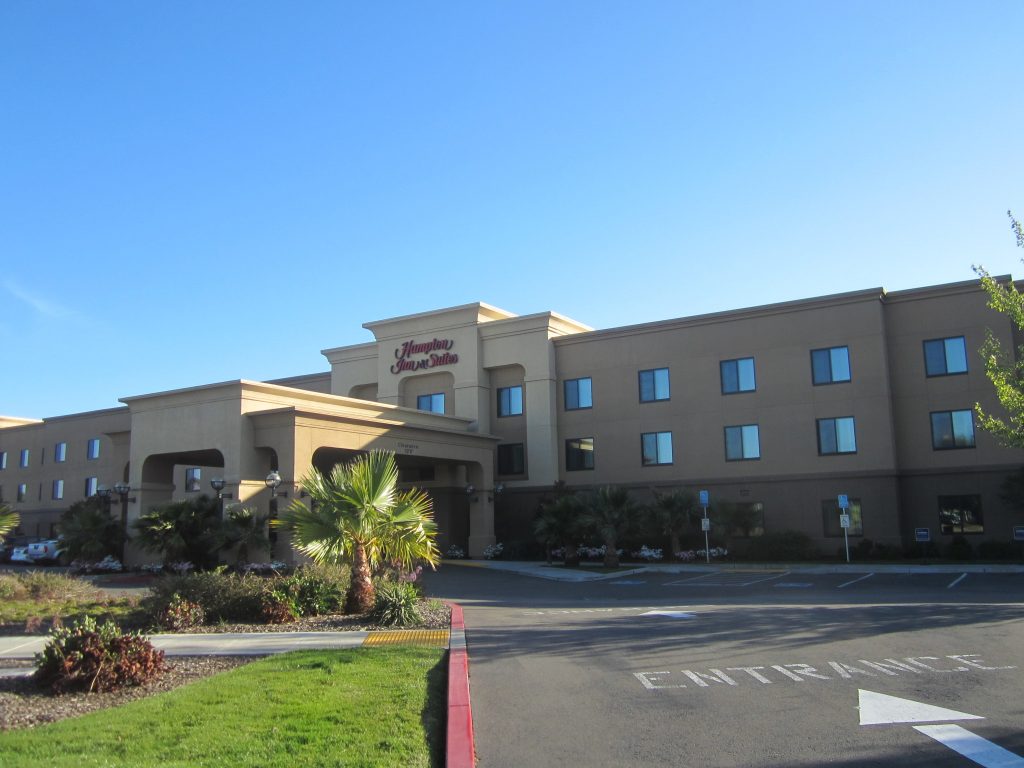 The fine staff at the Hampton Inn Alameda arranged for a shuttle bus ride to town…We had a nice walk…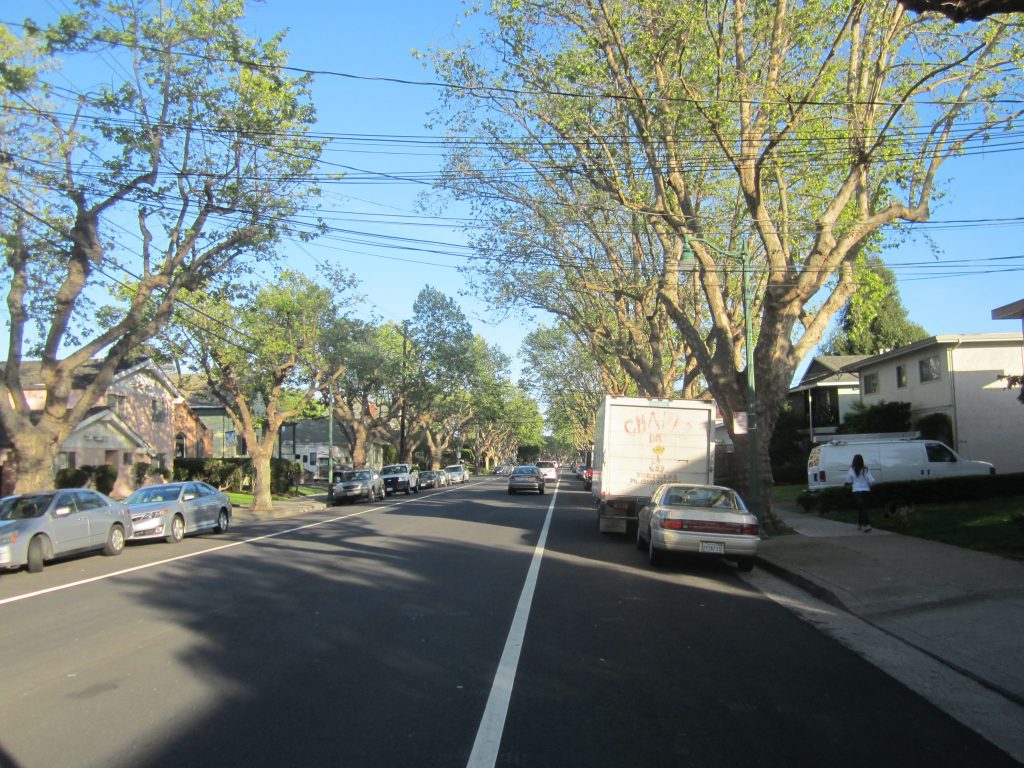 Back to the hotel we kind of settled in lazily for a few hours and then got some good much needed sleep…
Up very early in the morning to catch our 8.30 am flight to Kahului airport (OGG) in Maui. Smooth shuttle bus ride back to Oakland airport (OAK). Really nice airport, much nicer than expected!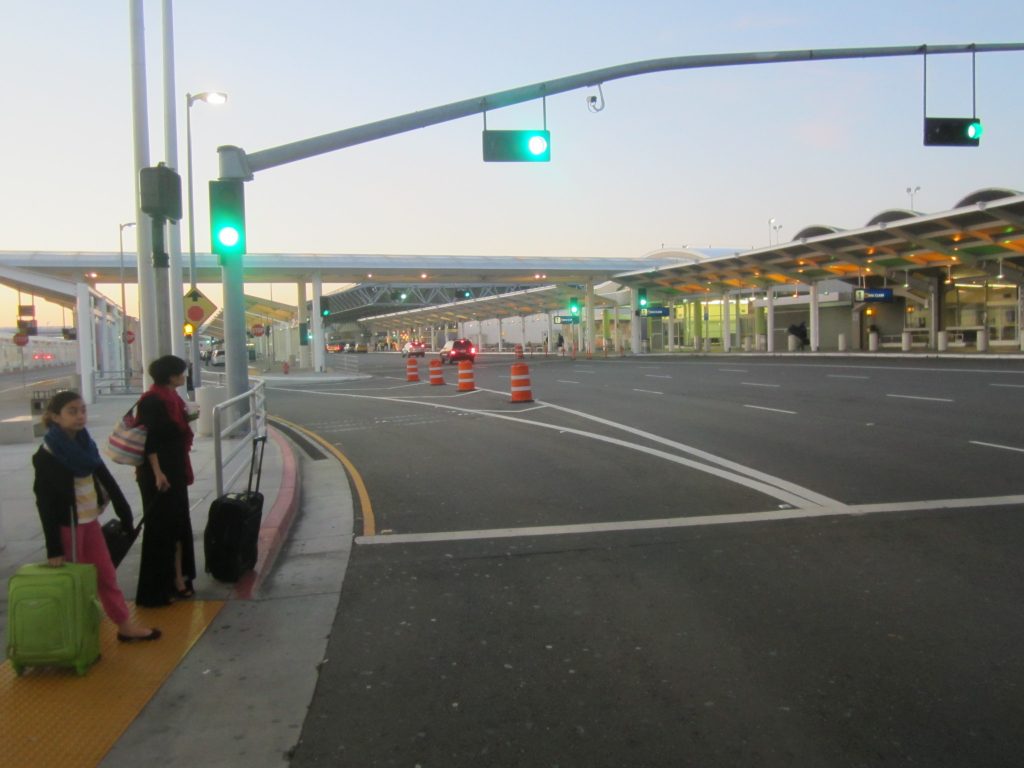 And we were off on Hawaiian Airlines direct flight to Maui!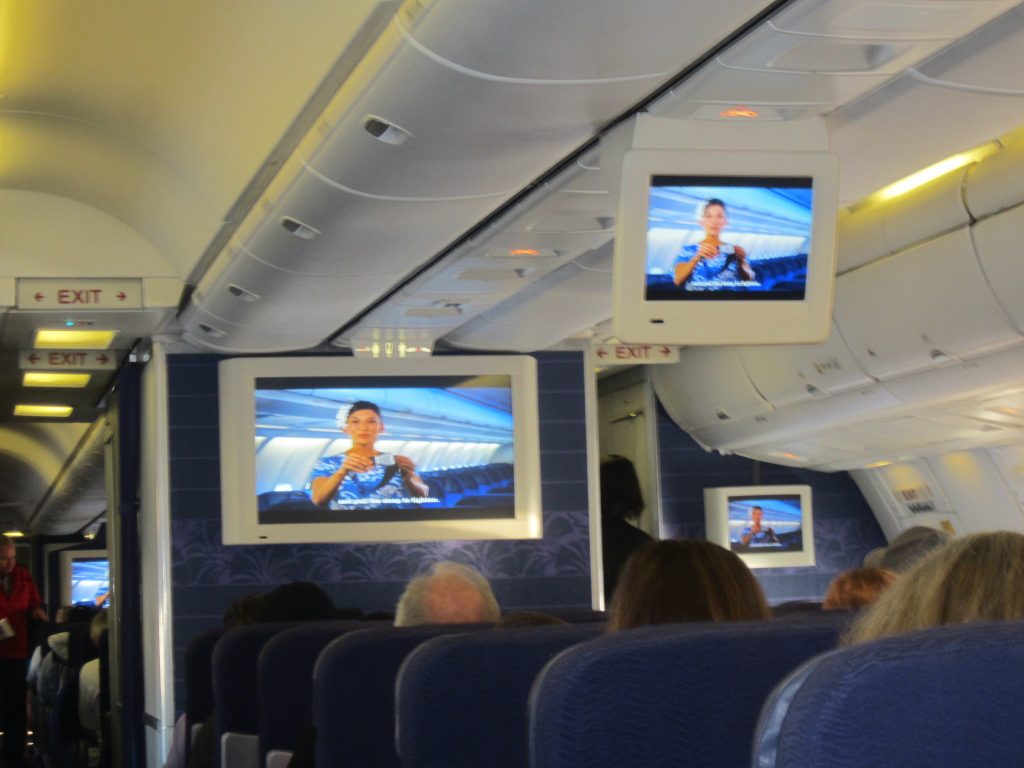 We really enjoyed our flight and we even got to eat in coach, hooray! Pretty uneventful flight as usual.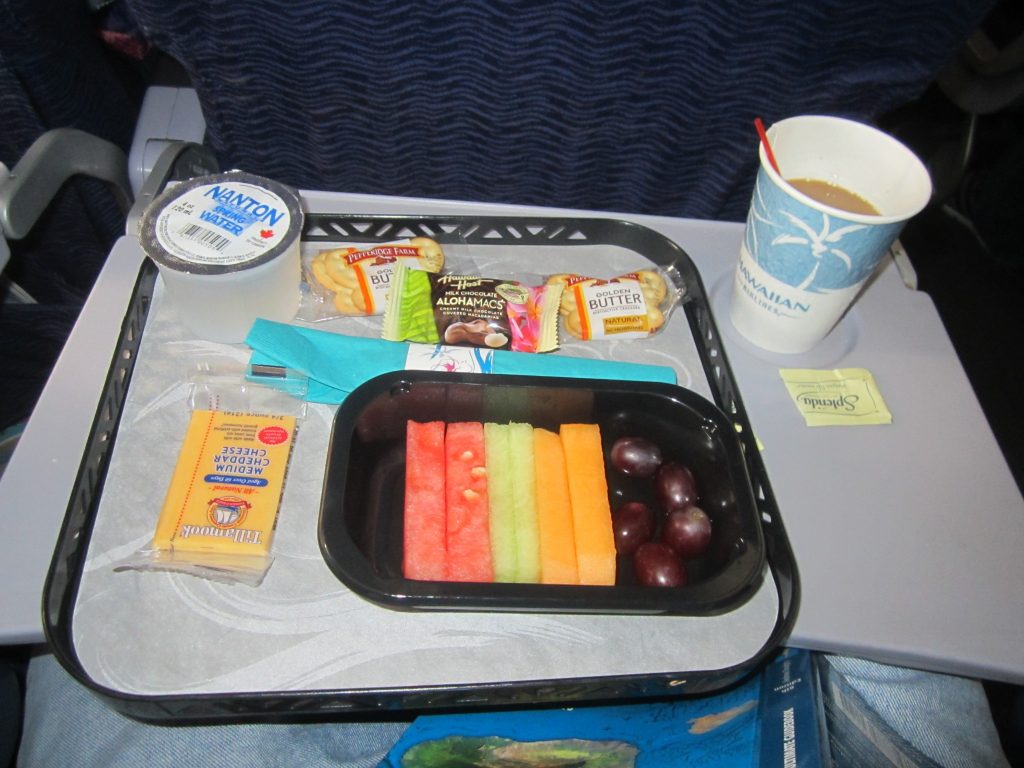 At Thrifty Car Rental, it was quite a zoo. The car I reserved was tinier than the pictures of it on the website so I finally relented to the blackmailing blood sucking Thrifty staff and ponied up for an upgrade to this Jeep. Oh boy, in retrospect, that was a brilliant move as we beat it up pretty good! Still, that experience dealing with Thrifty and the long lines left a very bitter taste.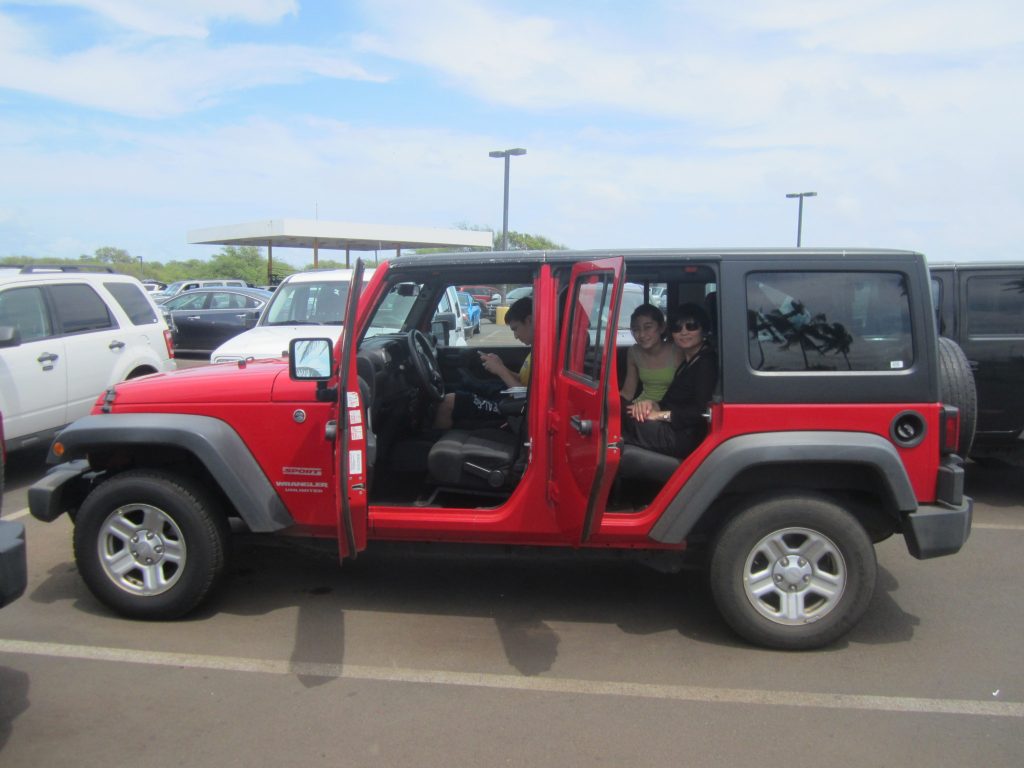 We drove straight to the Andaz hotel. Very nice open reception lobby and pleasant check in experience.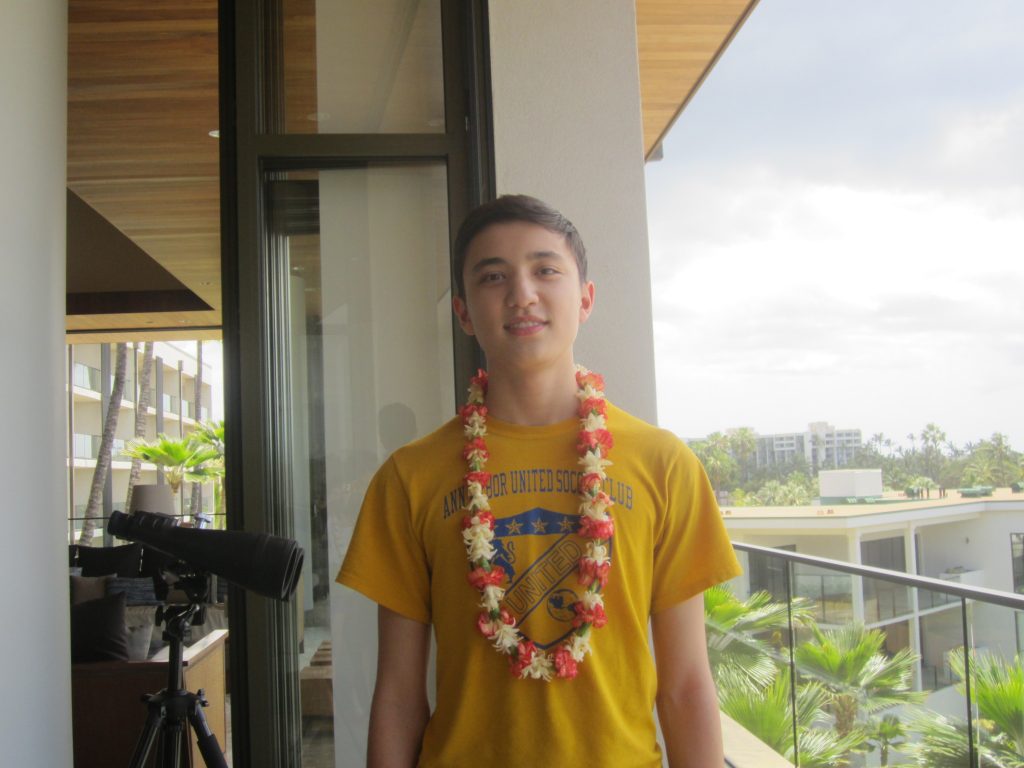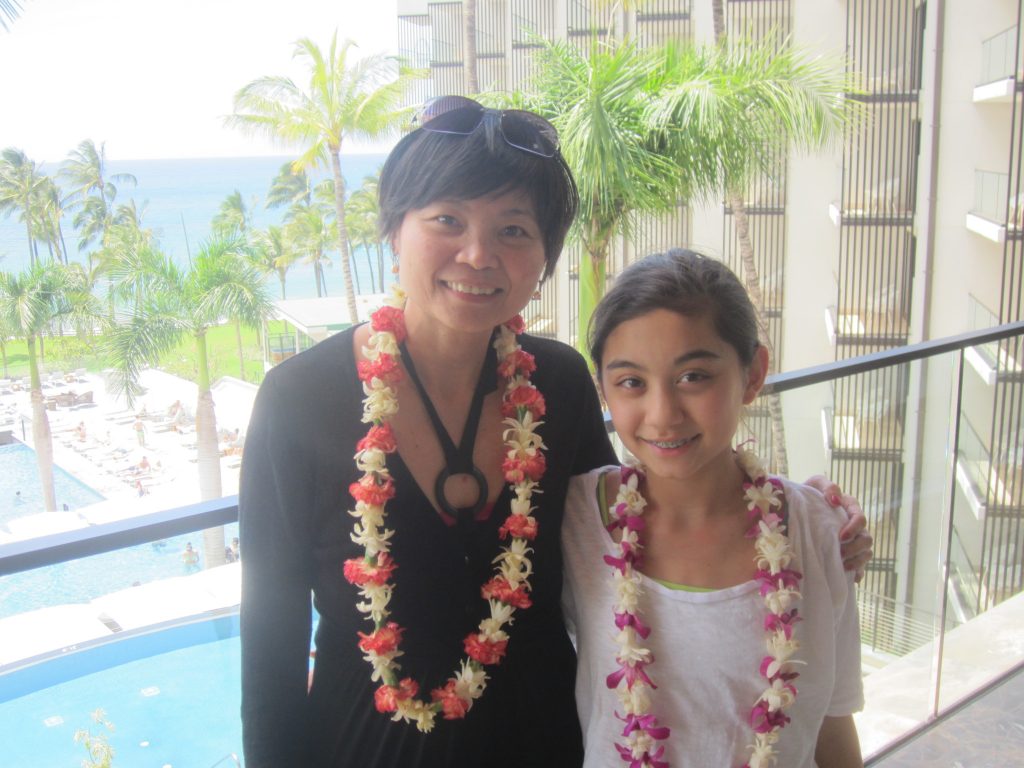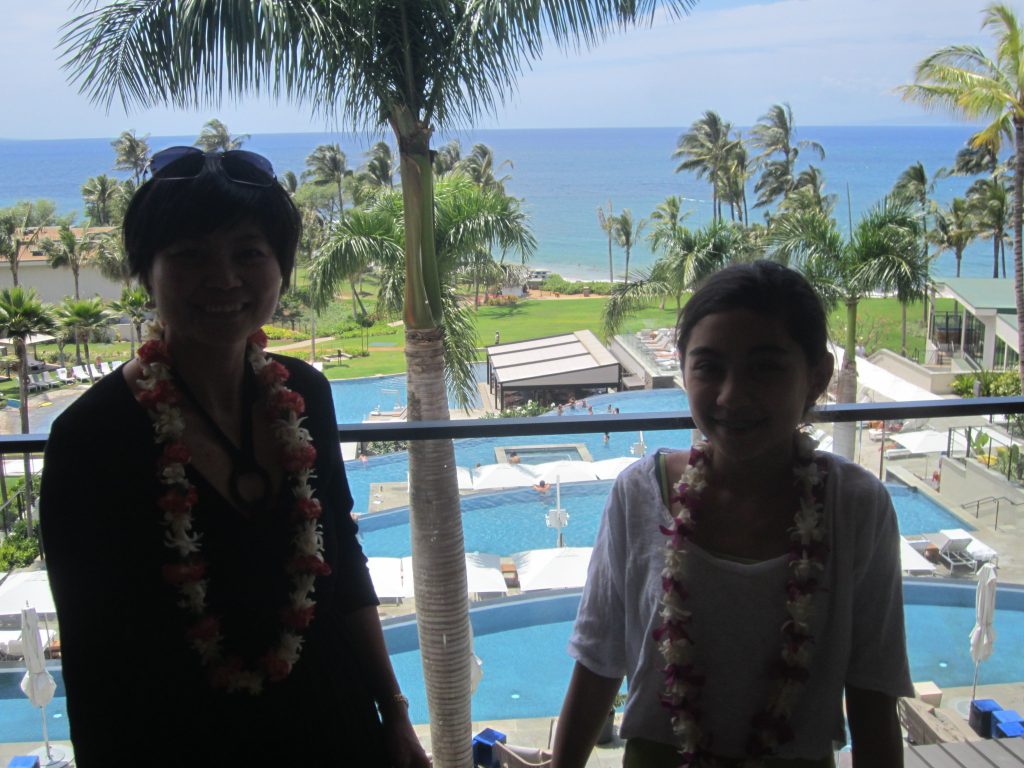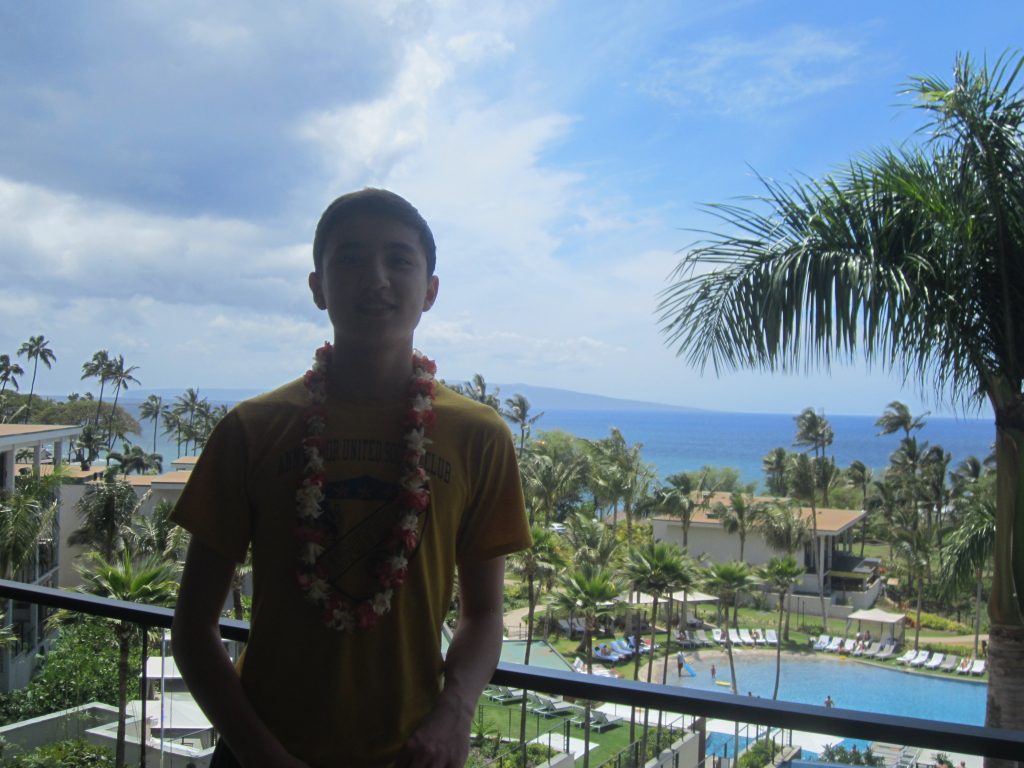 Like I said, it was a pleasant check in experience. They come to you, we sit down all together like a family and get it all done while we are served lemonade or whatever.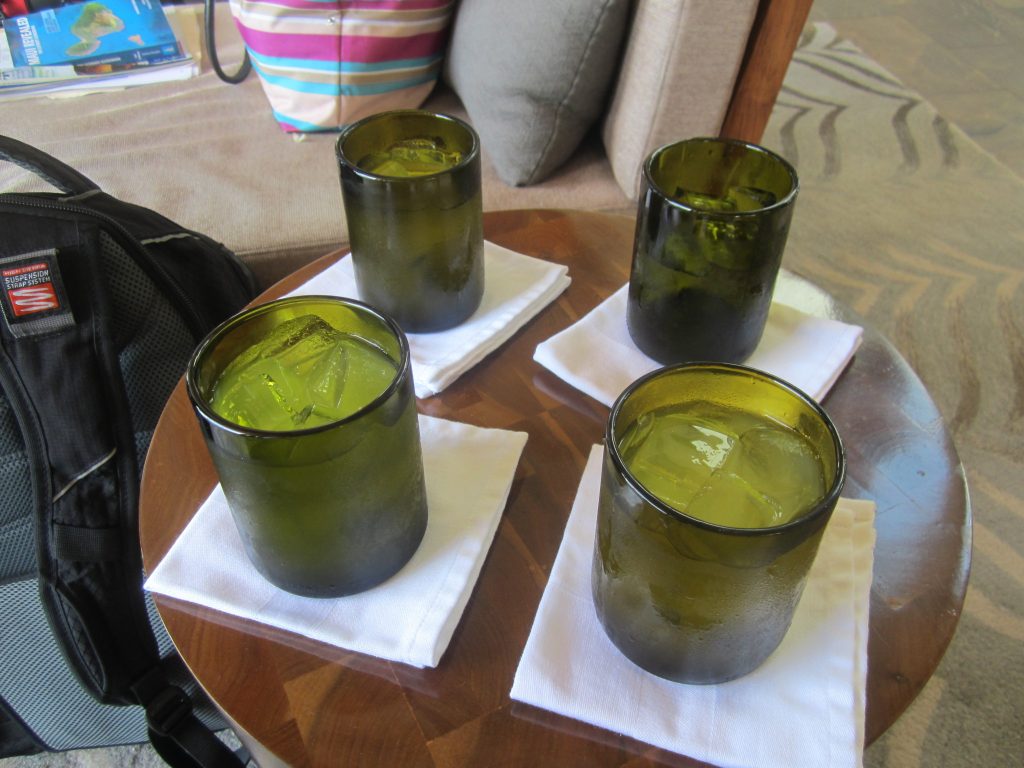 Our dad is TBB and we dig it!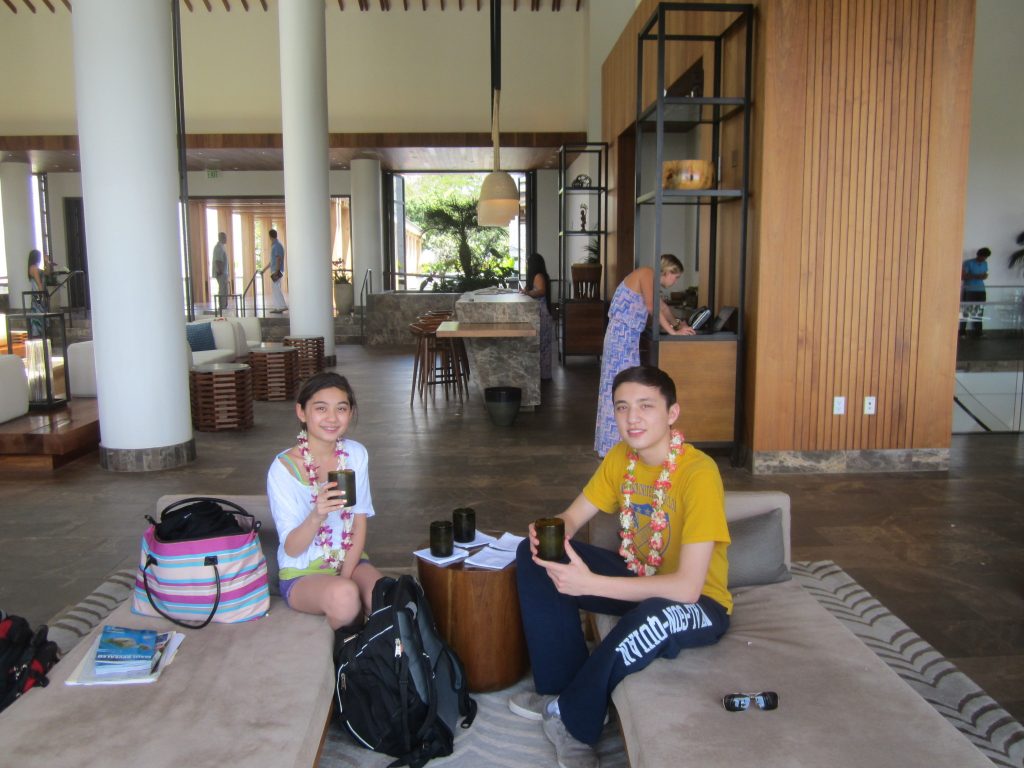 This is how we roll in The Hobby: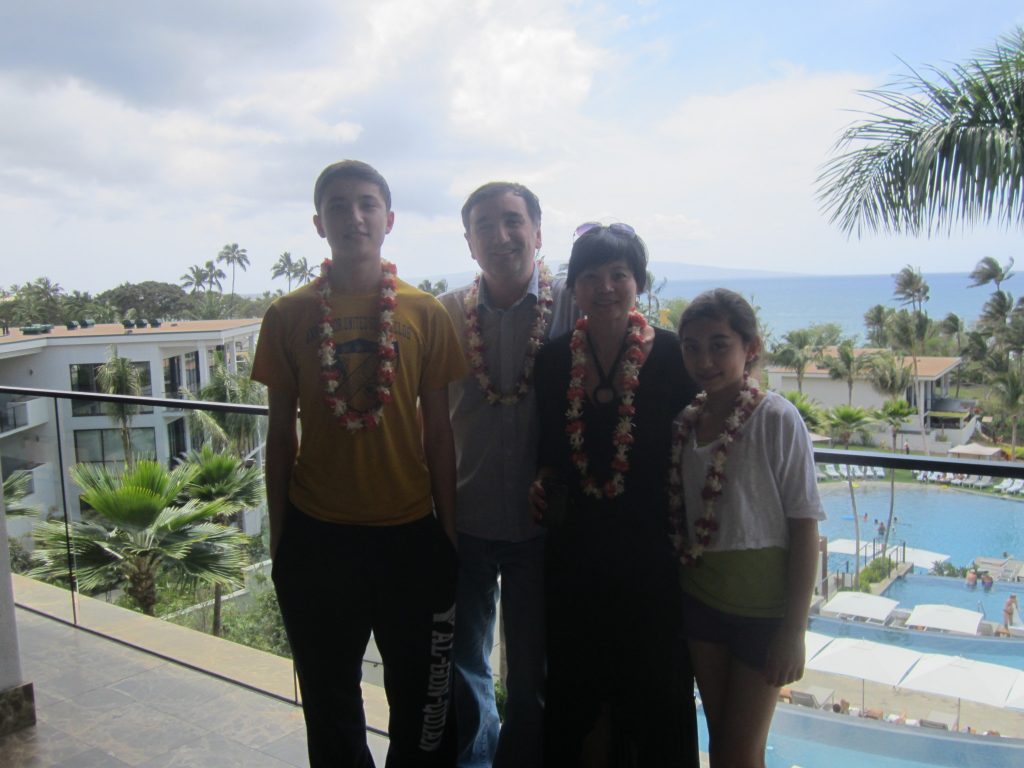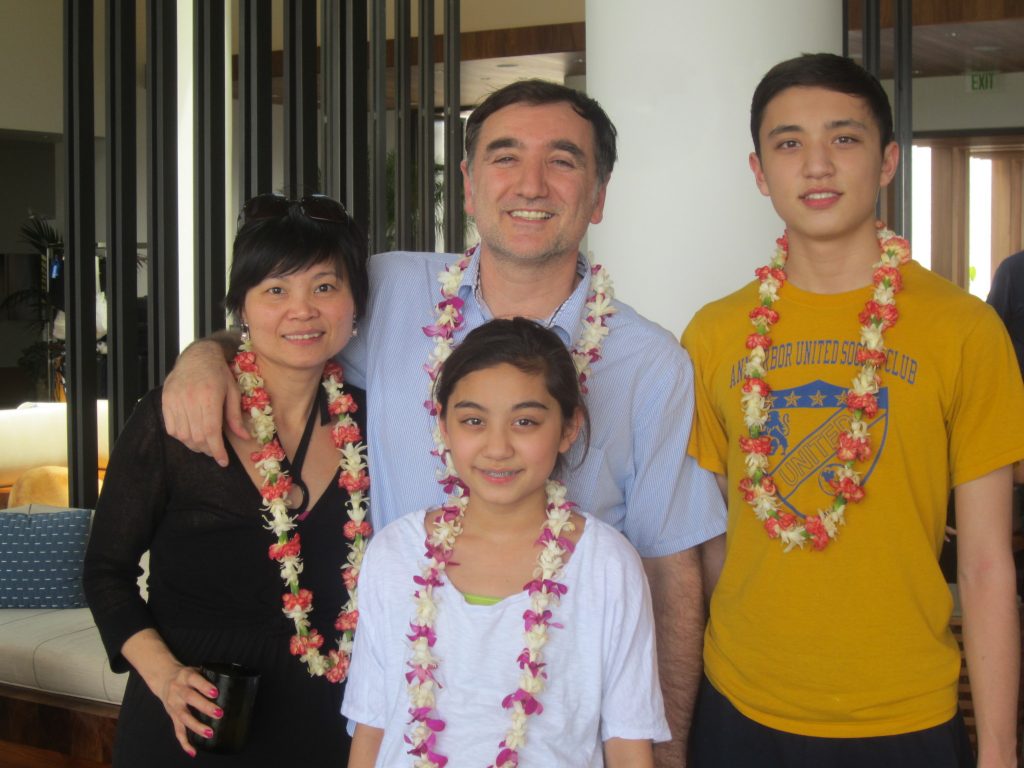 There is a long path from where you stop with the car (valet only) and the reception lobby and it looks like this, pretty impressive at night.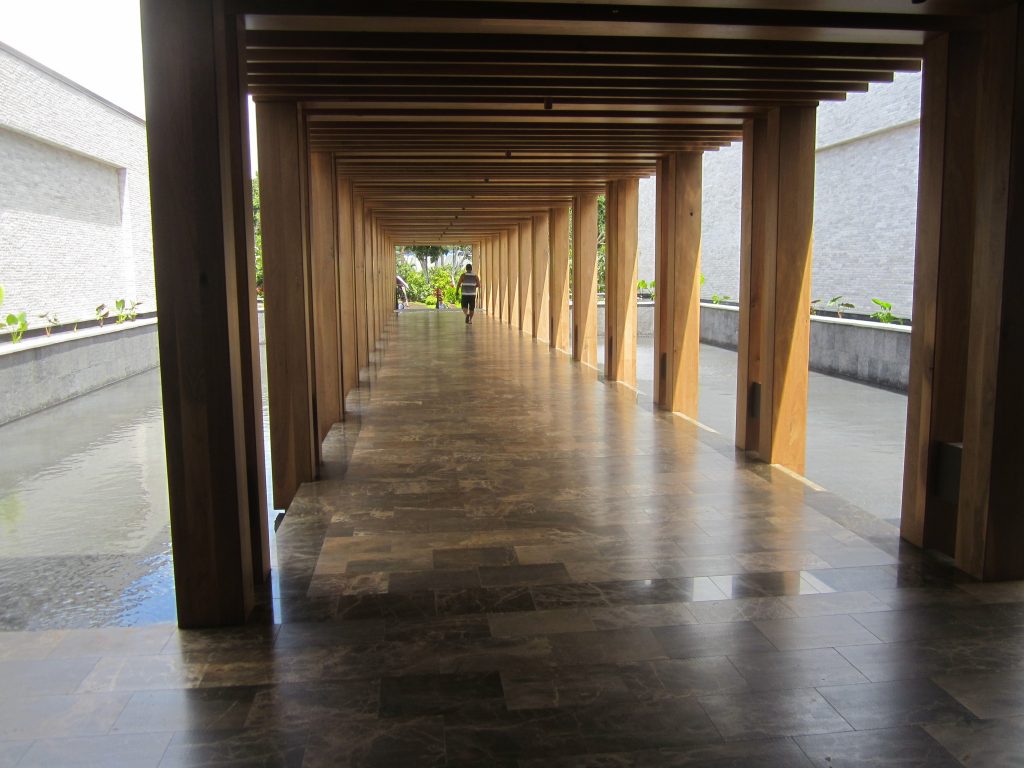 This is at the end of that long path facing the reception lobby area.
The hotel looks great, this is a shot from the beach area in front of it.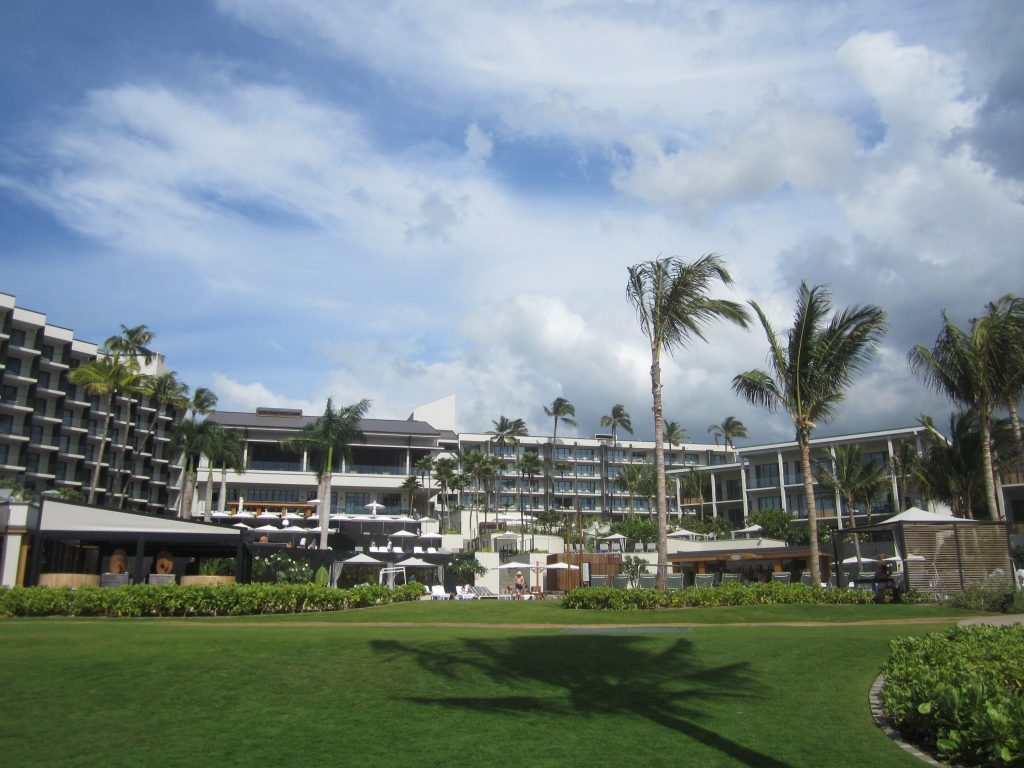 This was the view from our room. We were told we were upgraded but I think it was one of those BS "upgrades". TBB reader was at the hotel and he got a real upgrade. If you are not going to upgrade due to a valid reason, don't give me the cheery "you got upgraded" speech, all right? I wanted to do my thing but wife and kids liked the room and were tired so…I listened & was held back from claiming the upgrade we deserved  🙂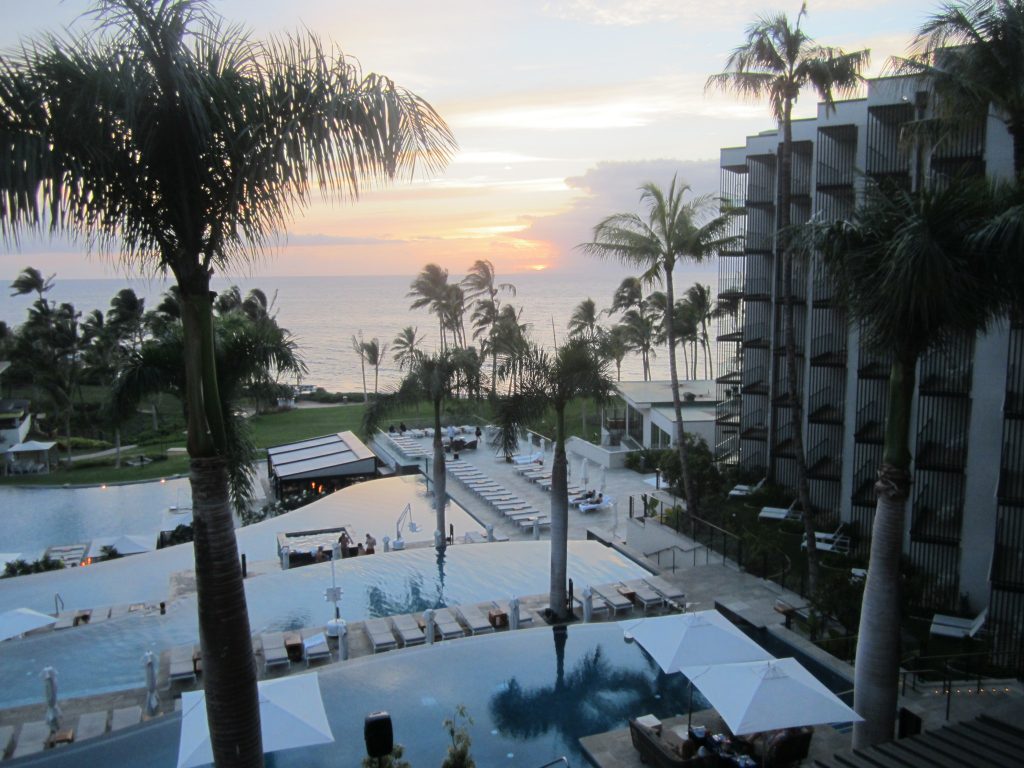 We were told to Coconut's Fish Cafe to try the best fish tacos. So we did and they were AMAZING!  The owner serves the customers, it's in a small shopping strip in Kihei.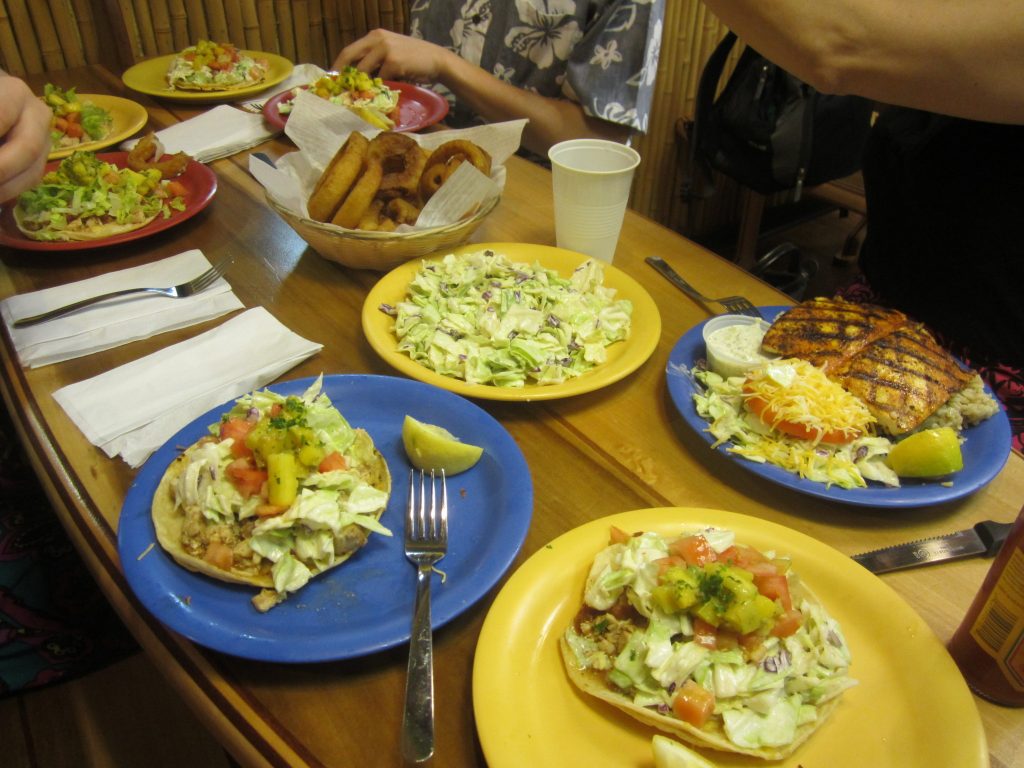 We did some driving around up and down in the West Maui area…From Wailea to Kihei to Lahaina to Ka'anapali up to Kapalua.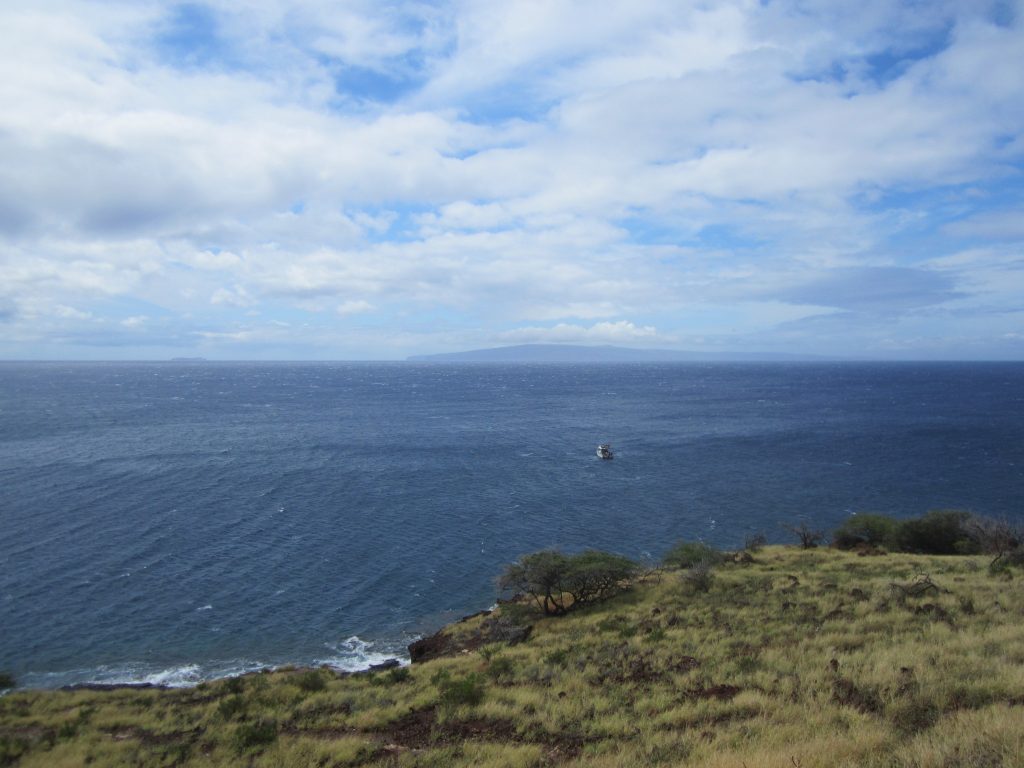 I always love stopping at these stalls by the road, especially in Hawaii!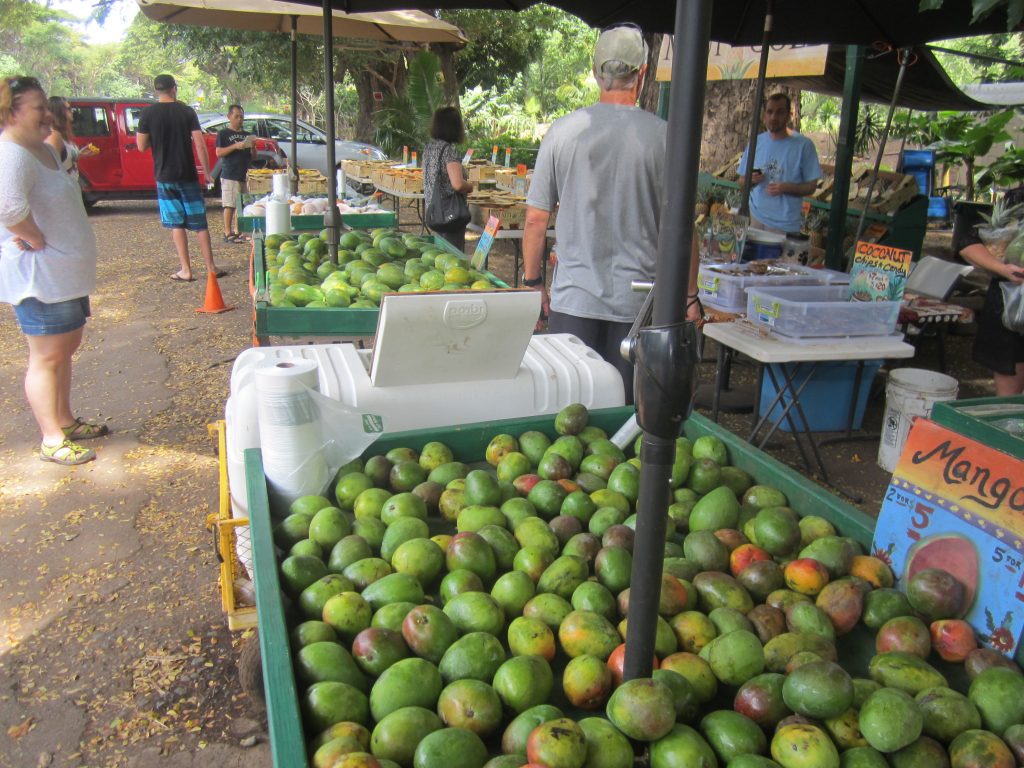 And I decided to take a drive all around the northwest part of the island. I do not have many pictures from this drive because I WAS SCARED, the scariest drive I have ever done in my life. I remember driving in the one lane dirt road and seeing the cliffs with rocks at the bottom. And then in some spots I was faced with another car coming. One time it was a local crew truck fixing some part of the road and I had to back out of their way so it can pass….I was sweating, I think we were all praying. Screw pictures, I just wanted to get to the flat land and normal road again asap, so excuse the lack of pictures. If you have kids or your car is iffy I would definitely NOT recommend it. If you are going to do this, you should drive it from West to East which will minimize any traffic coming AT you (believe me, you do NOT want that!). Plus, it ensures you are driving in the inside lane…hard to describe how comforting this is! It did not help that a client told me one of his friends got killed there as he went off a cliff with his car. This road makes the Road to Hana a walk in the park. REALLY!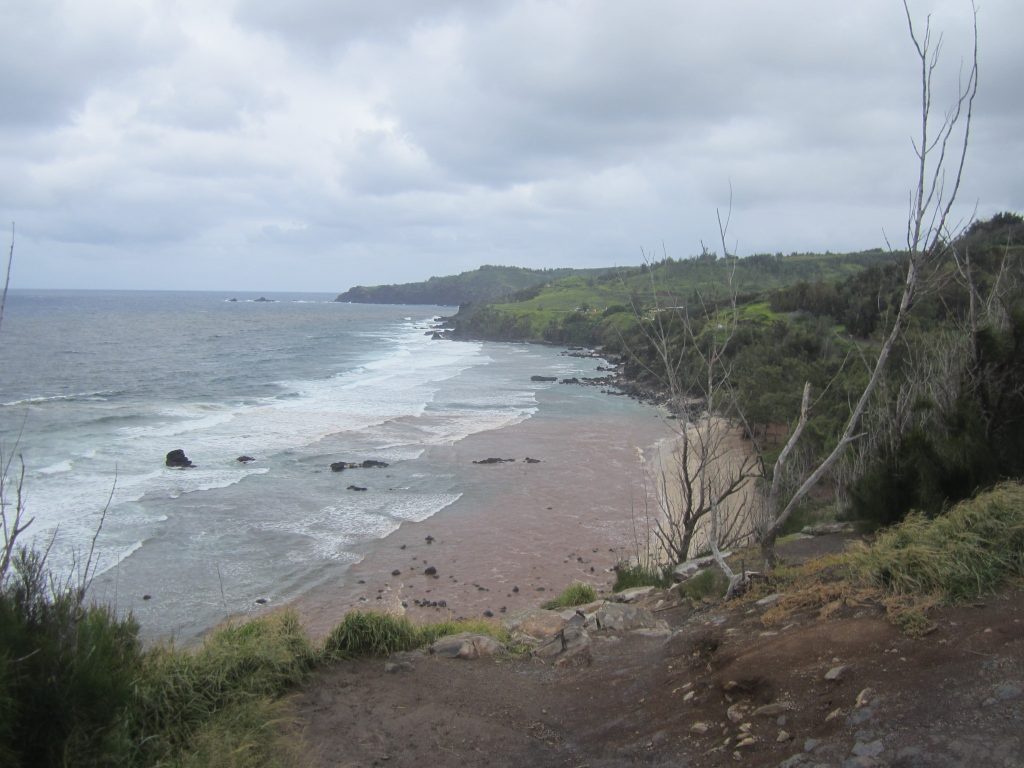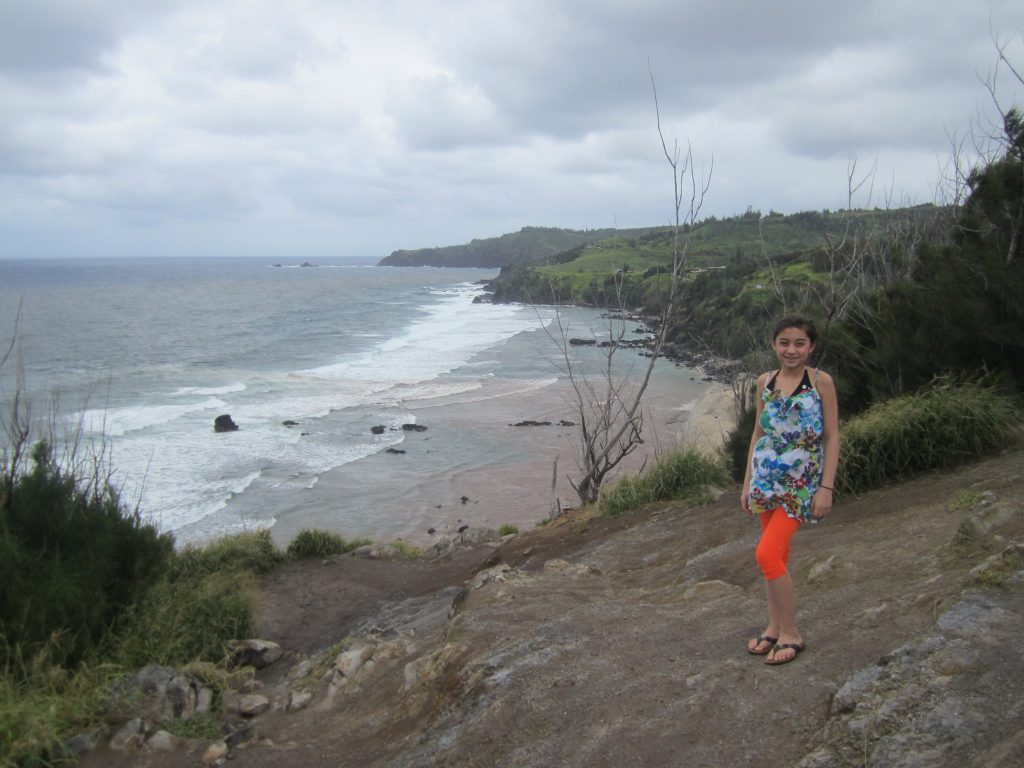 Last pic before the "OMG, is this for real?" & many other "nice" words started! Watch the turn at the 11 Mile marker! It is the sharpest turn you will ever experience, I guarantee it, wow!
When you make it to Wailuku you can relax, you made it alive! The drive down to Ma'alaea and down to Wailea was smooth sailing. We made it back to the hotel and retired to the bar to drink and pinch myself that I did not kill us all…
My favorite thing to do in the morning is to make some coffee in the room and then enjoy it at the balcony before everyone else wakes up in peace and quiet.
We ran into our Ann Arbor neighbors who live about five houses down the street from us, what a coincidence! We went out to dinner…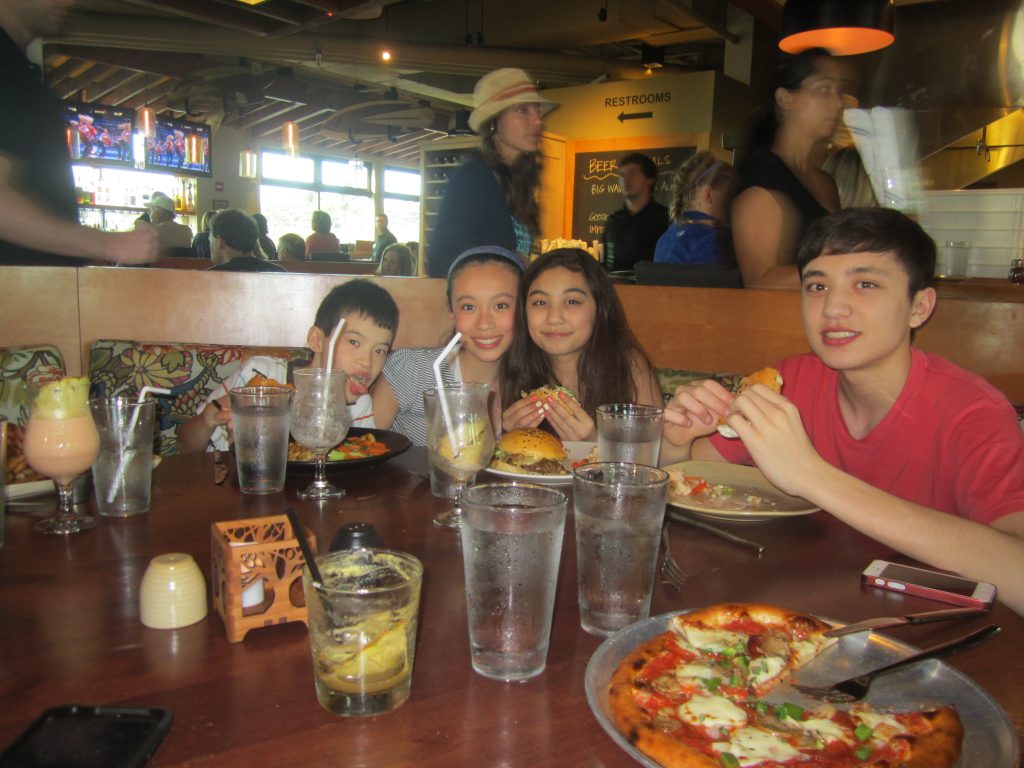 Andaz hallway…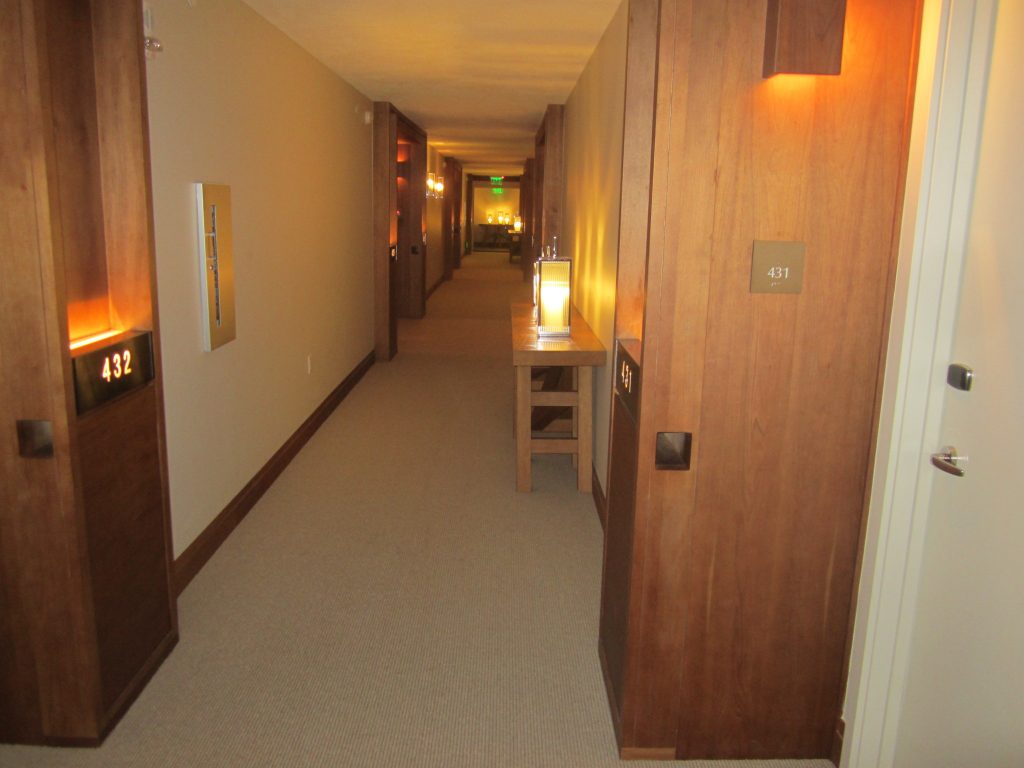 The desk all the way at the back is the front desk…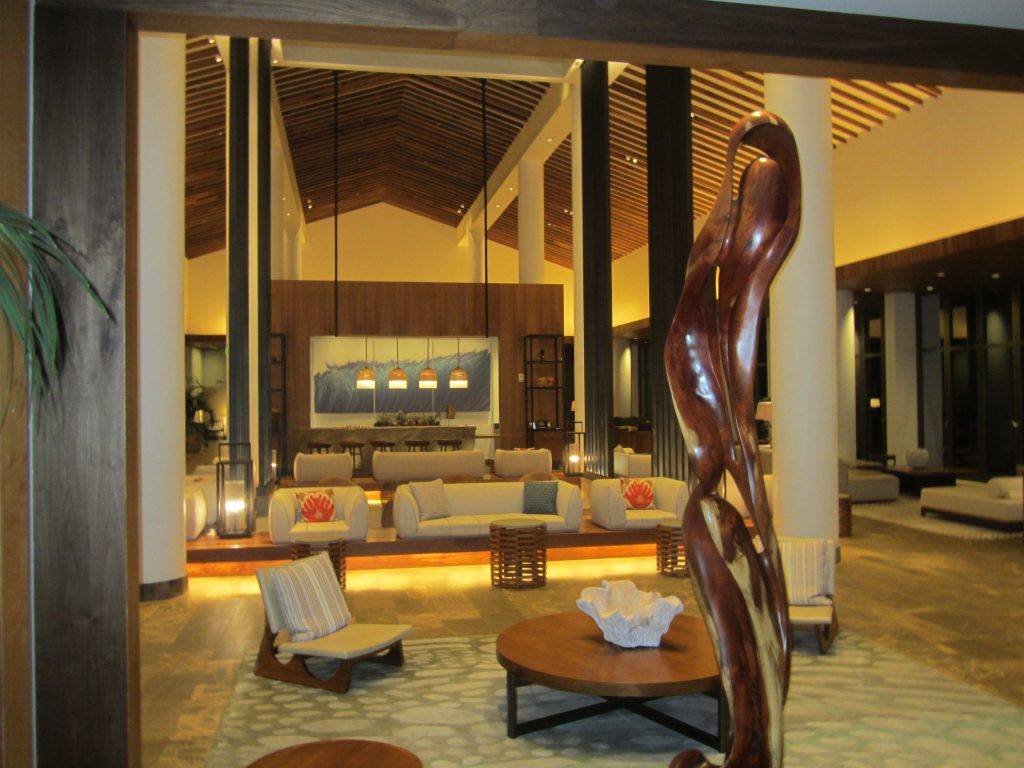 There is a very nice gym, yes we used it!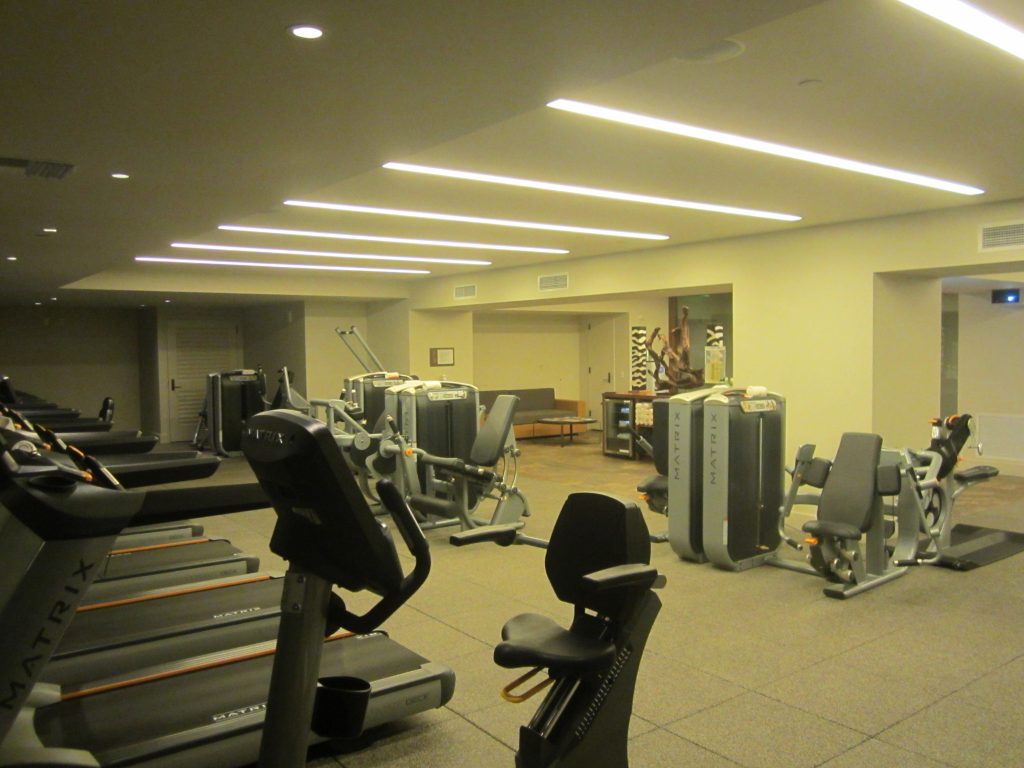 Time for our free breakfast, hooray!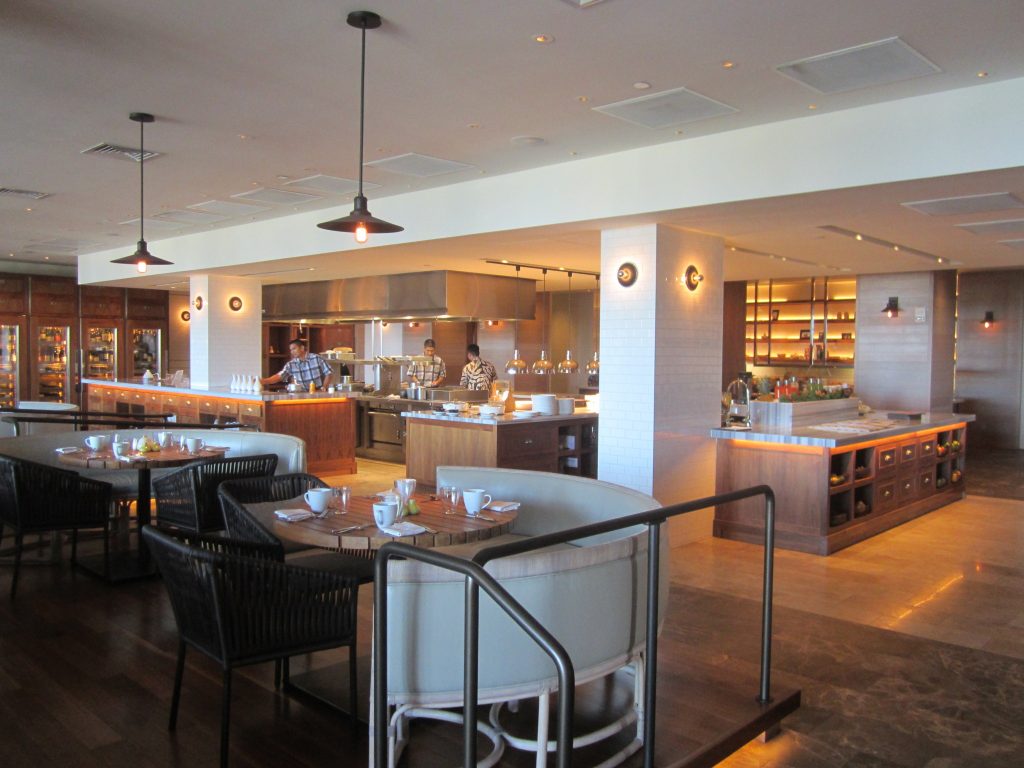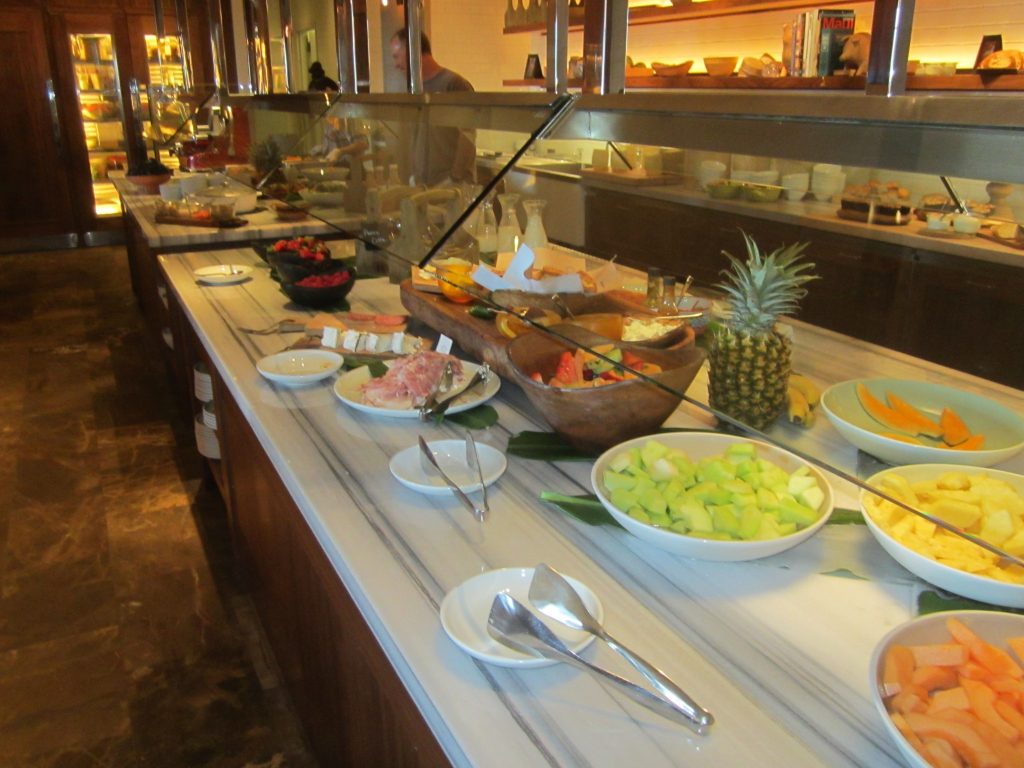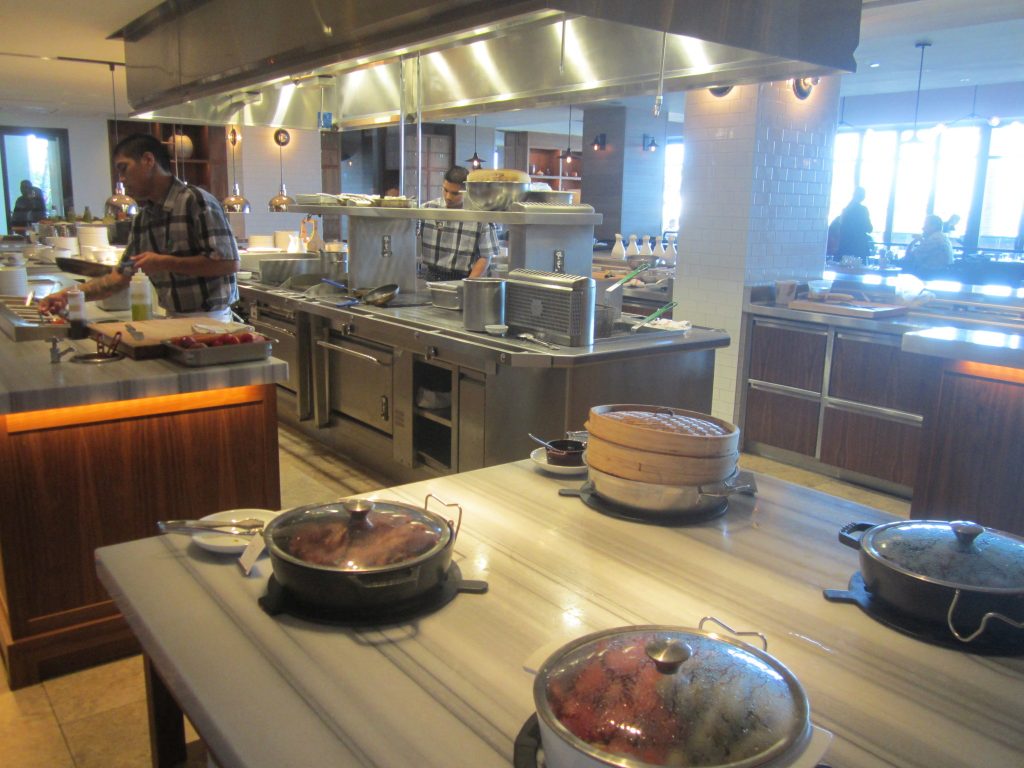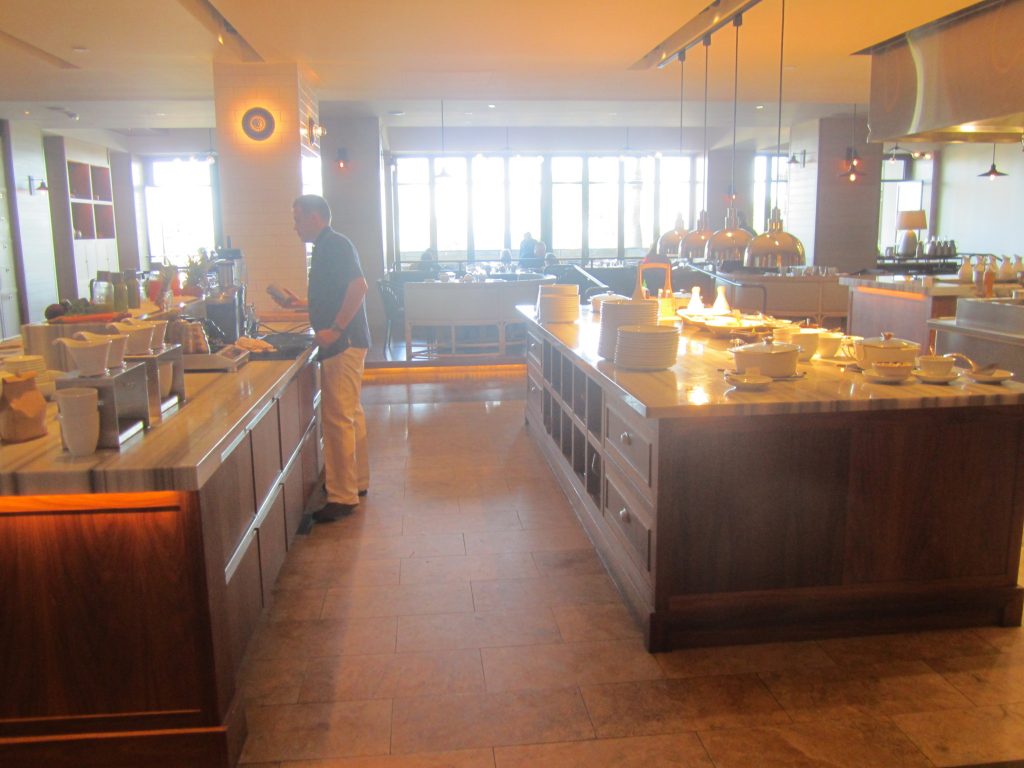 Next morning we were off to Haleakalā, a massive shield volcano with some incredible views from its peak the Puʻu ʻUlaʻula (Red Hill) at 10,023 feet (3,055 m). Many make this trek at VERY early times to get the views of an epic sunrise but we skipped it as we did not have the proper winter clothes with us (it is freezing!) and we preferred to sleep in and enjoy the breakfast back at the Andaz 🙂  We took Haleakala Highway on 37. Near Kula you get on the dizzying road with endless switchbacks up the mountain. Watch for cows!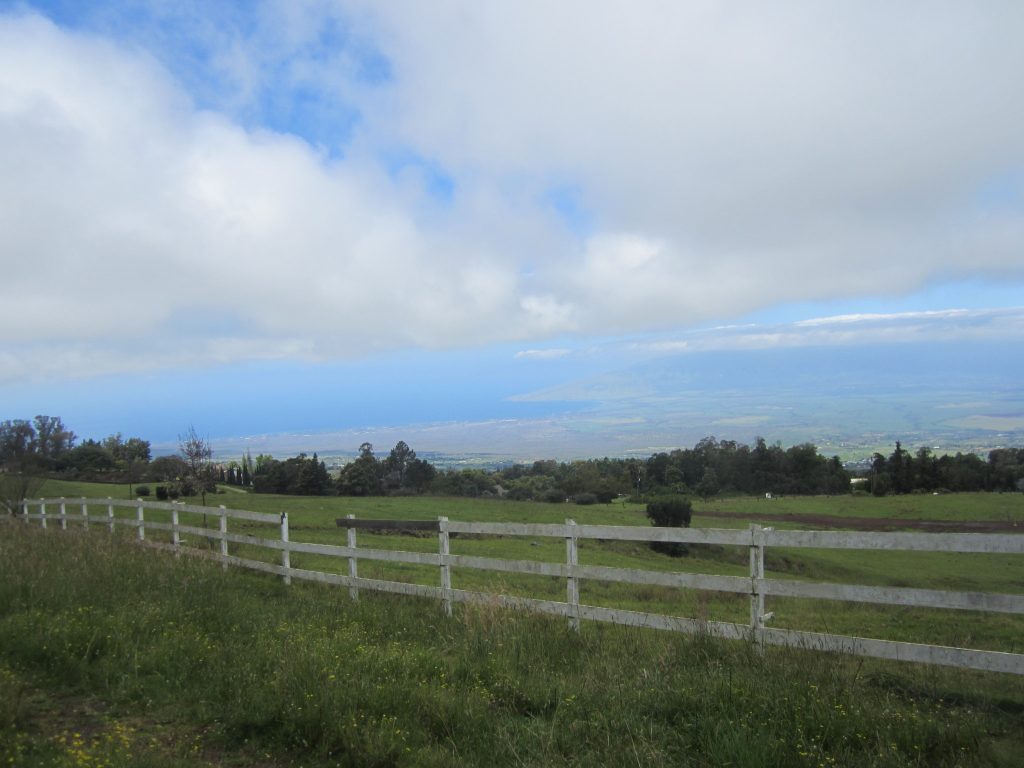 After the 10 mile marker you enter the national park after paying $10 per car entrance fee. You soon get to the visitor center at 7,000 feet and campground. SAVE your receipt if you plan to visit the Seven Sacred Pools at Kipahulu within three days. Yes, those are clouds…We are on top of the clouds, pretty cool!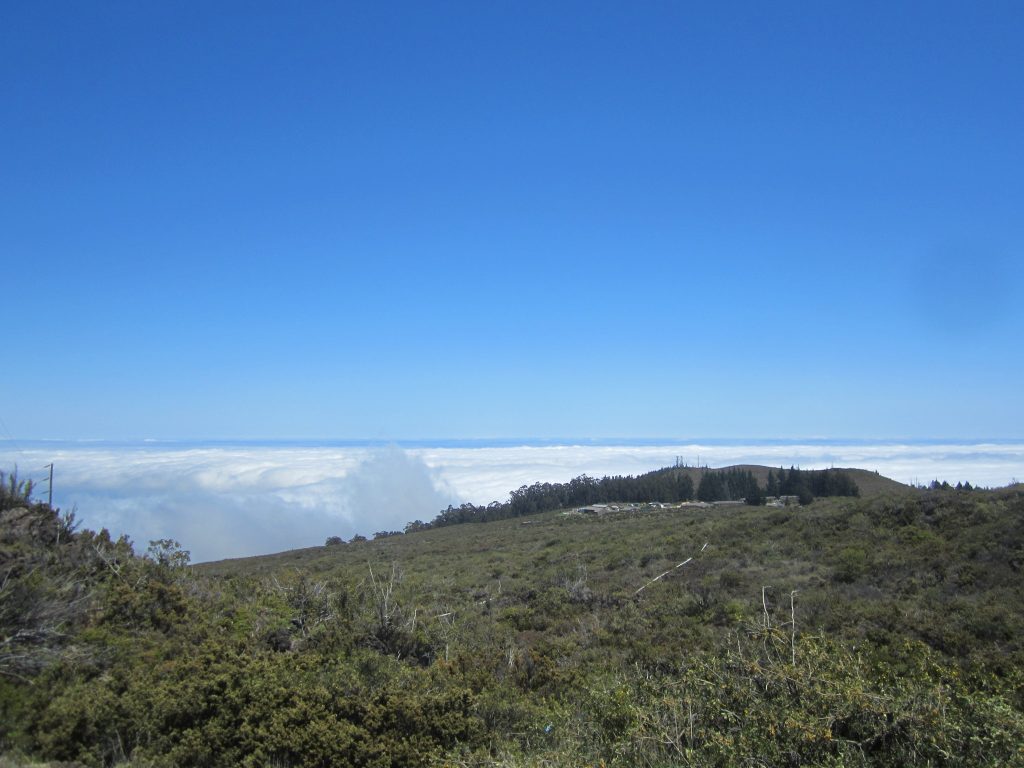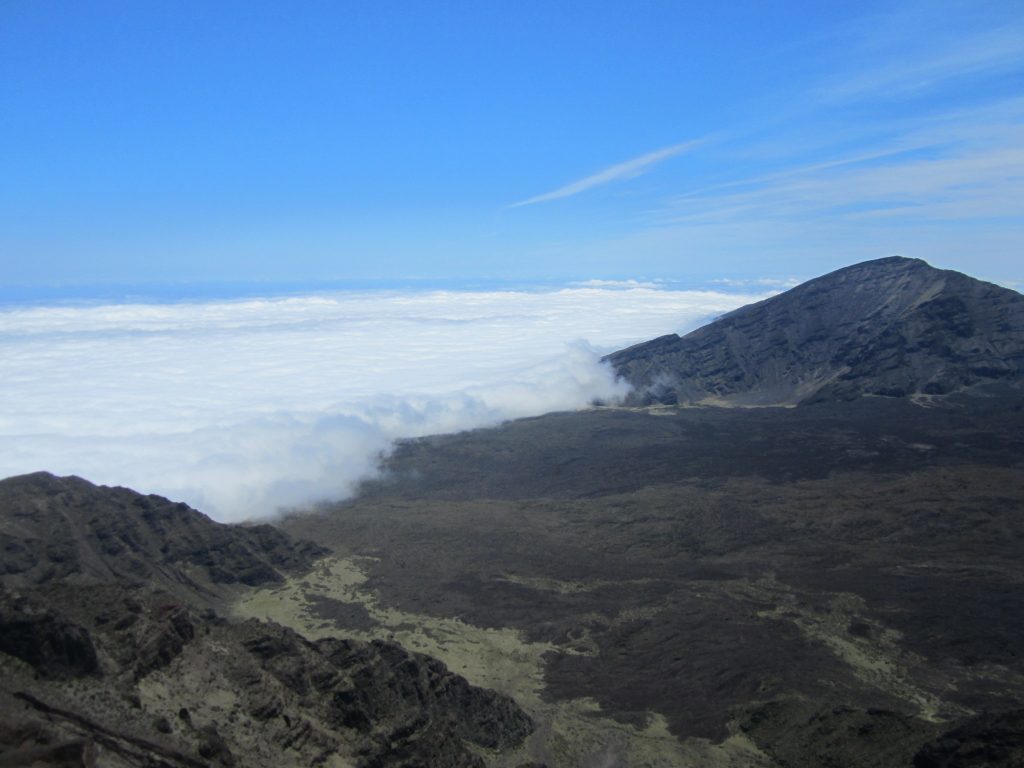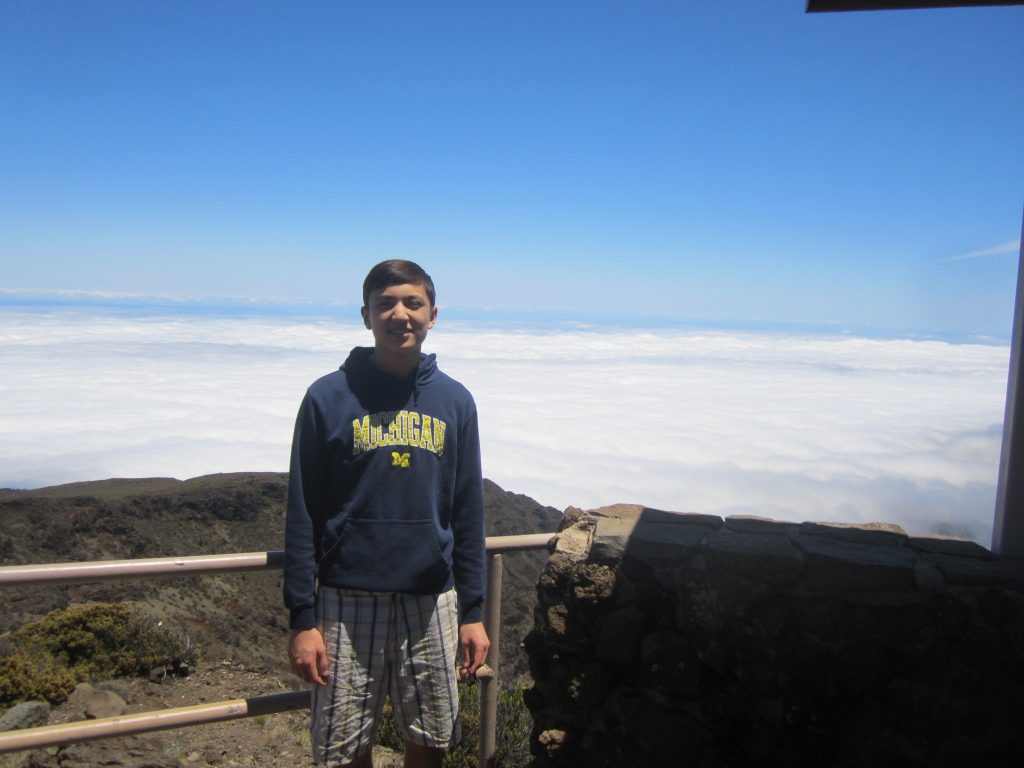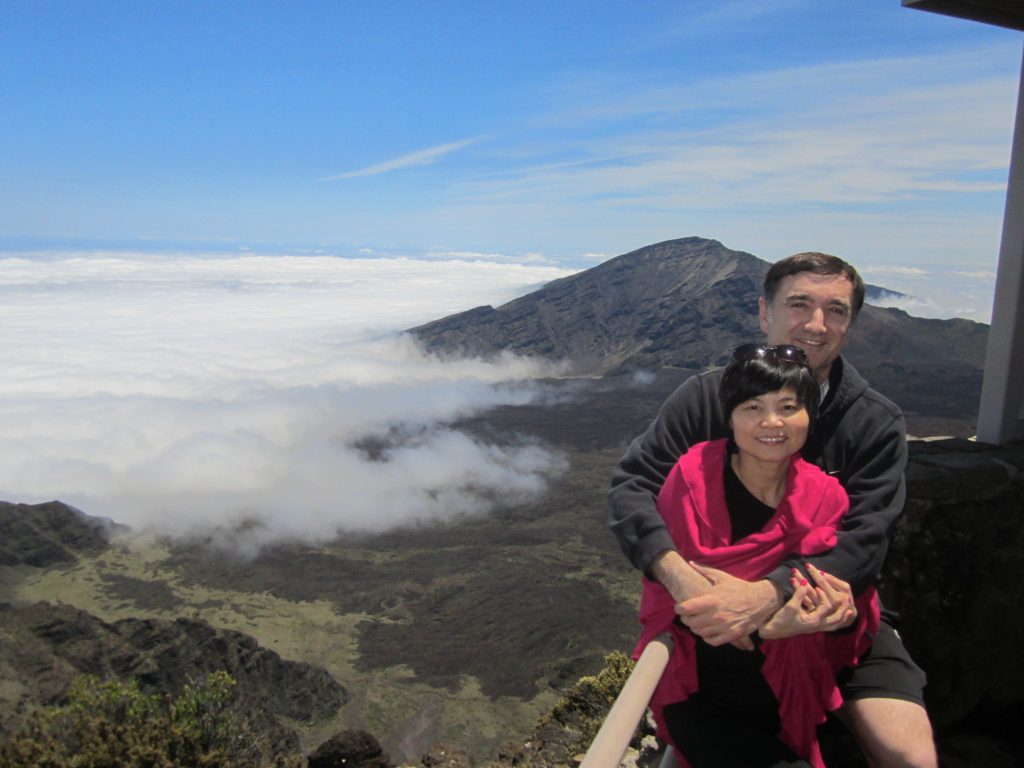 The vegetation up there changes so much. I believe the plant below is silversword, they only reproduce once then die #mindblown #wtf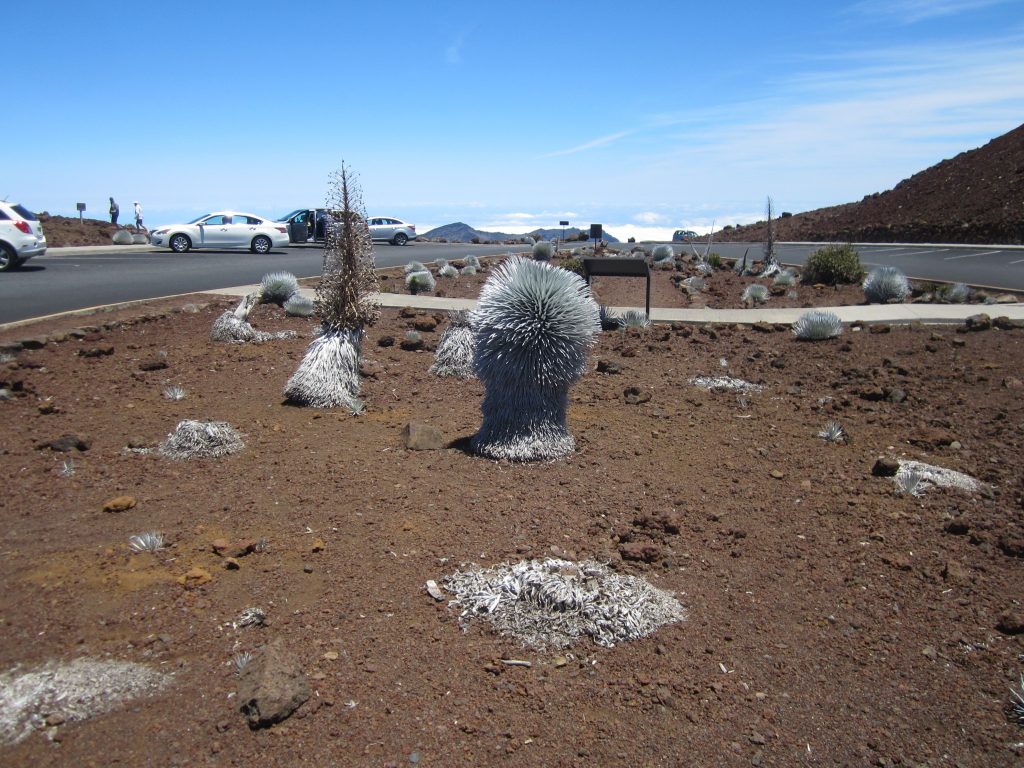 It felt like we were on Mars at the summit!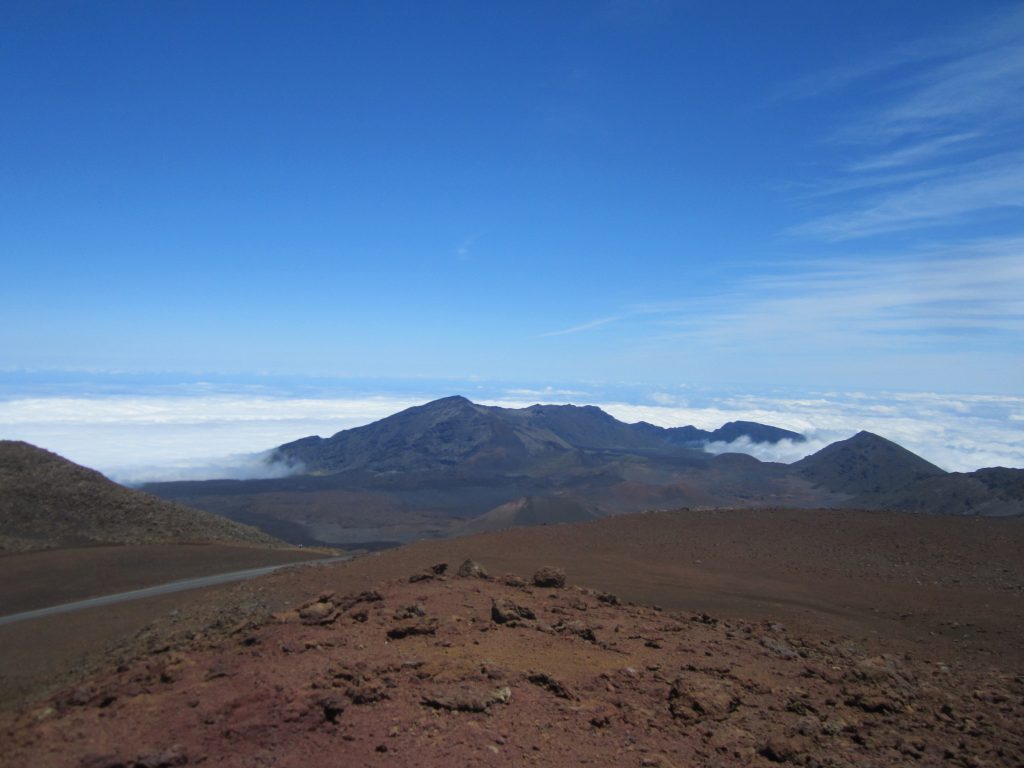 The Haleakala Crater is the largest volcanic crater in the world! Bring water up here, you will likely feel breathless. The upper visitor center after the 20 mile marker has better views, parking and restrooms. Taking photos here is a really special occasion. TBB approved! There are numerous hiking trails and you can also go down via horseback riding.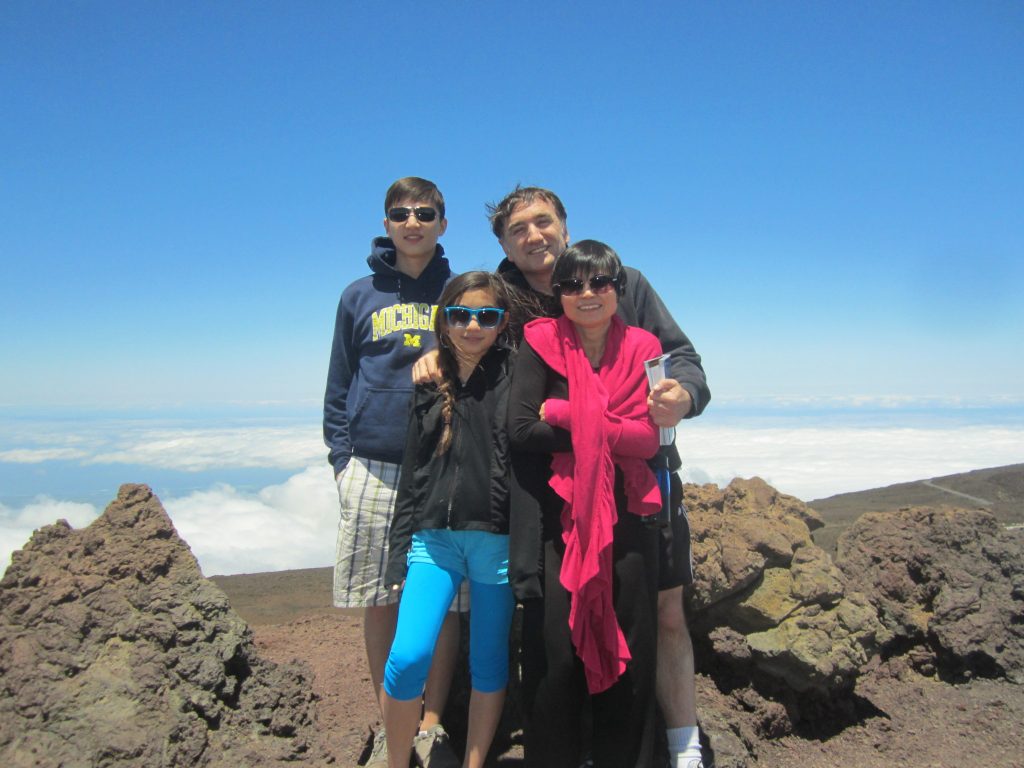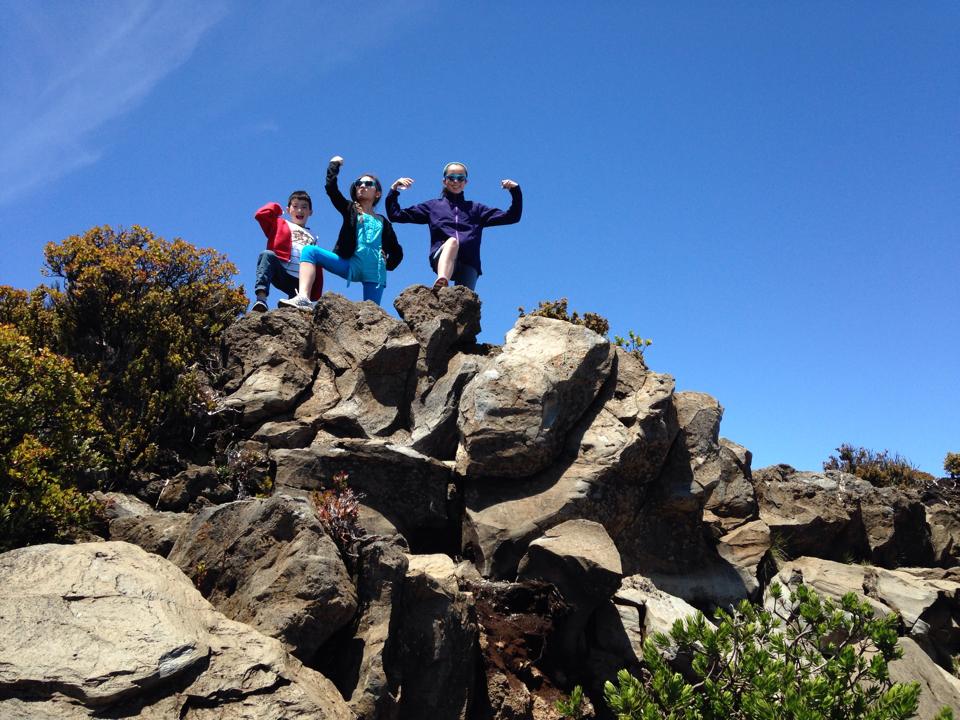 On the way back down we see cows around us. And many bikers going down FAST! If your brakes fail here you can kiss your ass goodbye!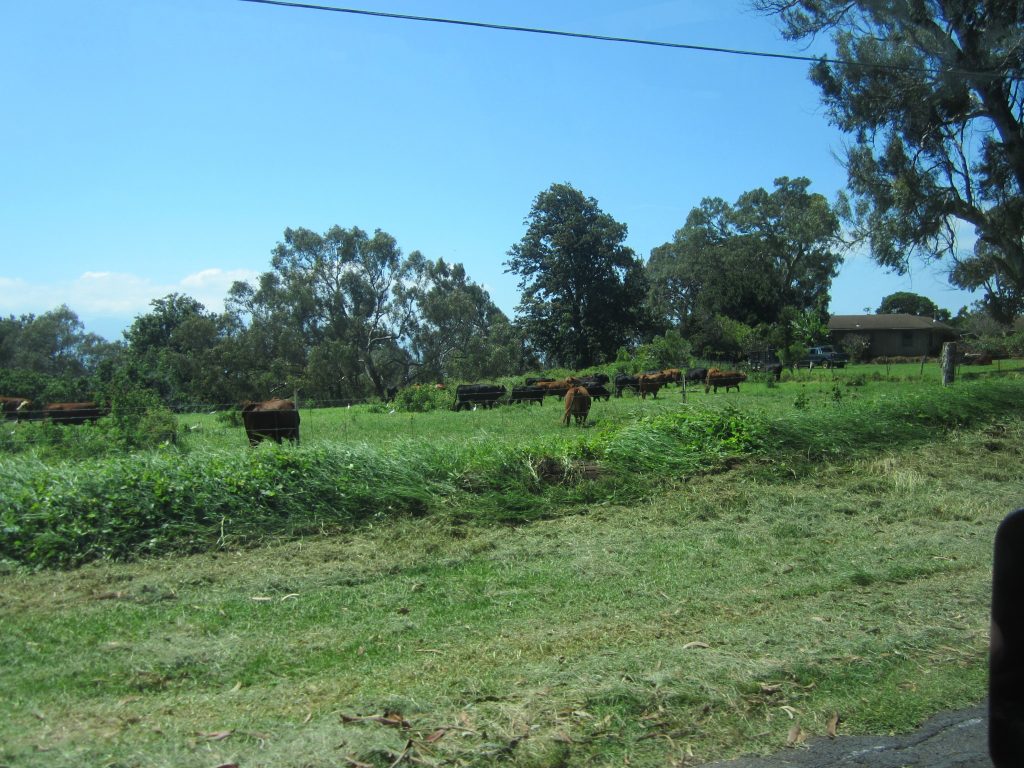 We are back at the Andaz for our final night…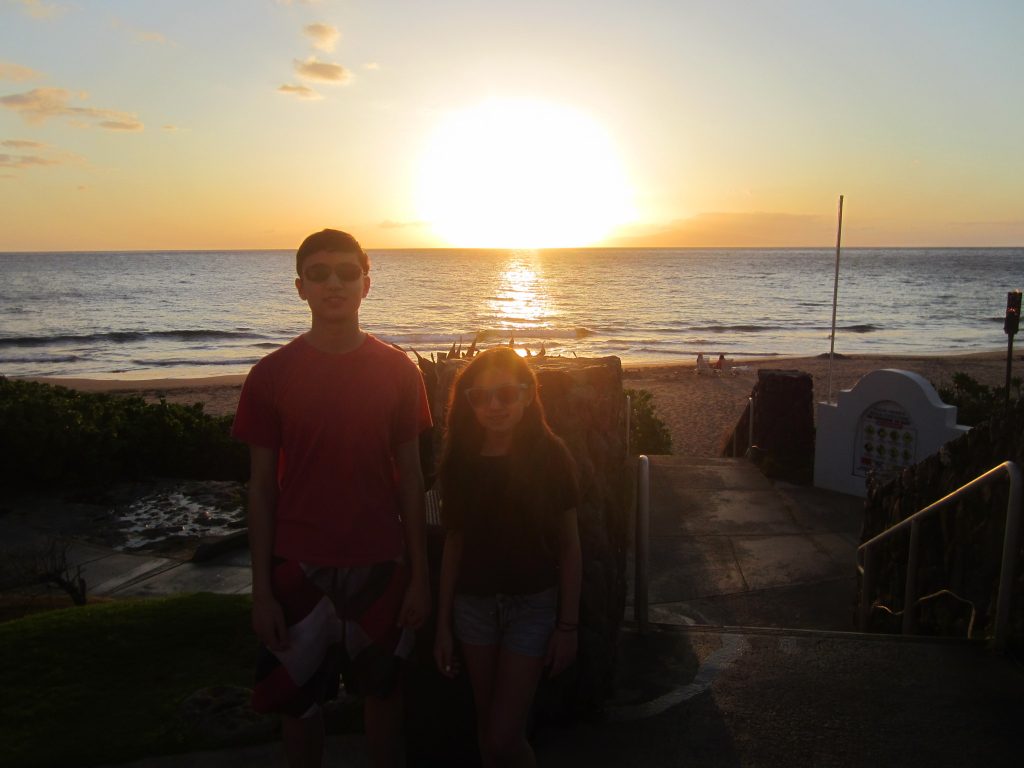 Next morning we were off on the most famous and desired drive of Hawaii, the Road to Hana! We started pretty early. Many places to stop, there is no way you can hit them all in one day! Most do this as a one day trip. If you have the time you should spend a night (or two) in Hana. It's a two lane road with many one-lane bridges. There are about 600 turns. But, let me tell you, if you drove through the northwest part of Maui like we did, the Road to Hana is something you just never sweat it…TOO easy! And yes we drove all the way around it, we did not turn back!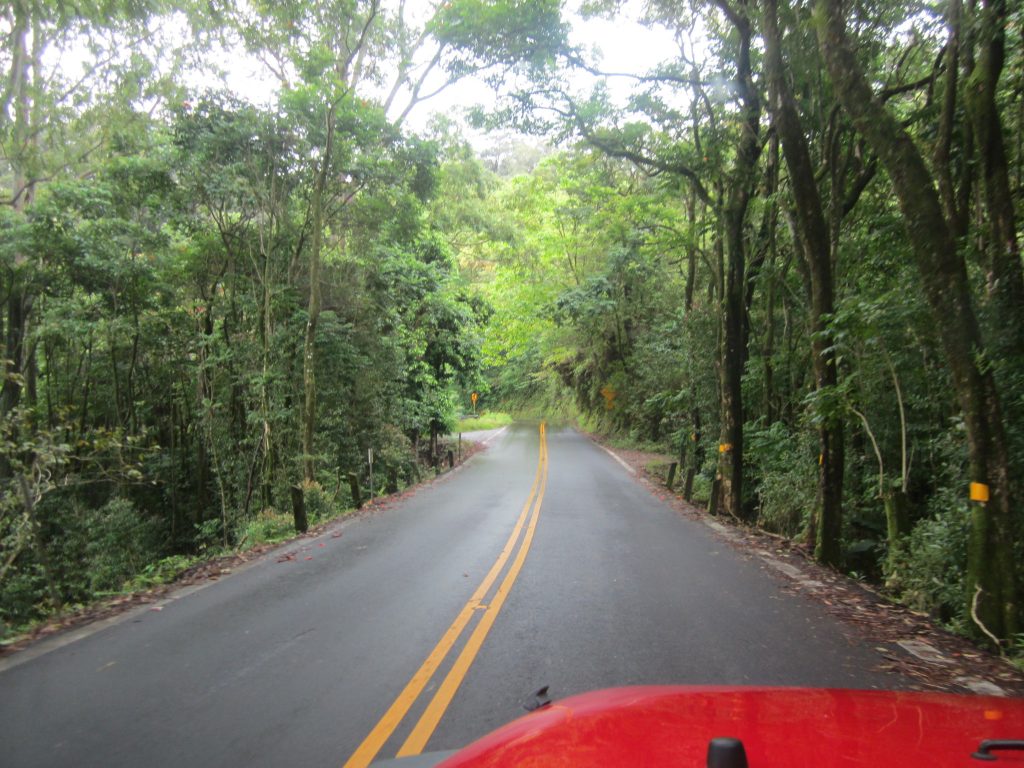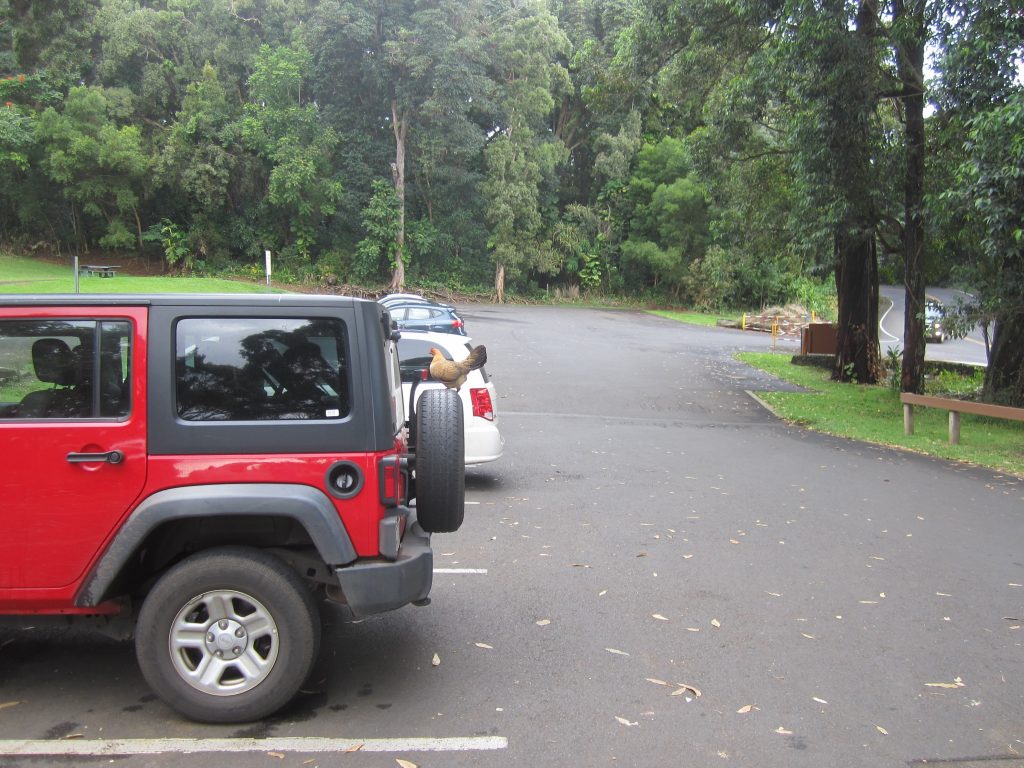 We made some quick stops along the way until we decided to take the road into Ke'anae Penisula and village. The road ends near a park.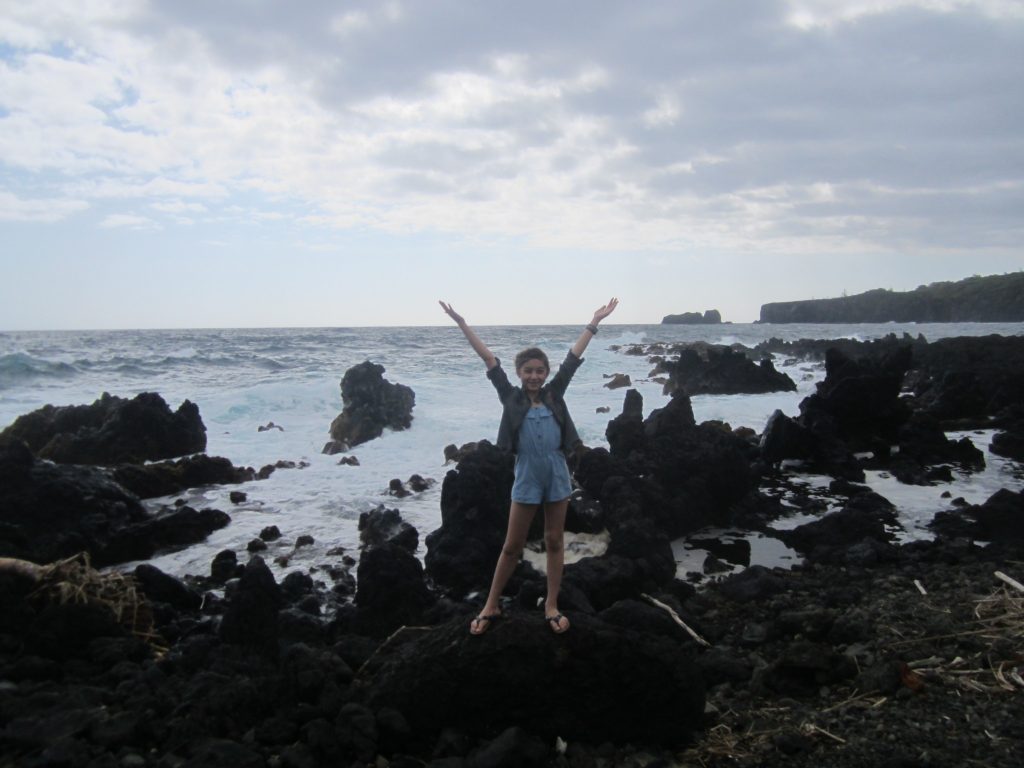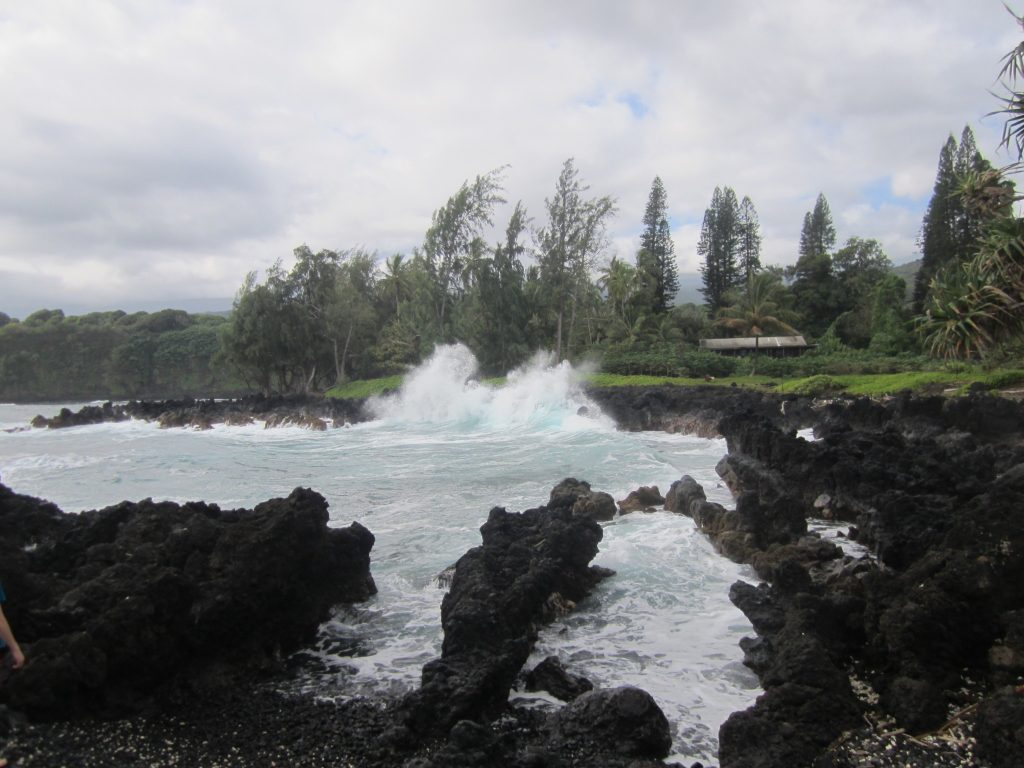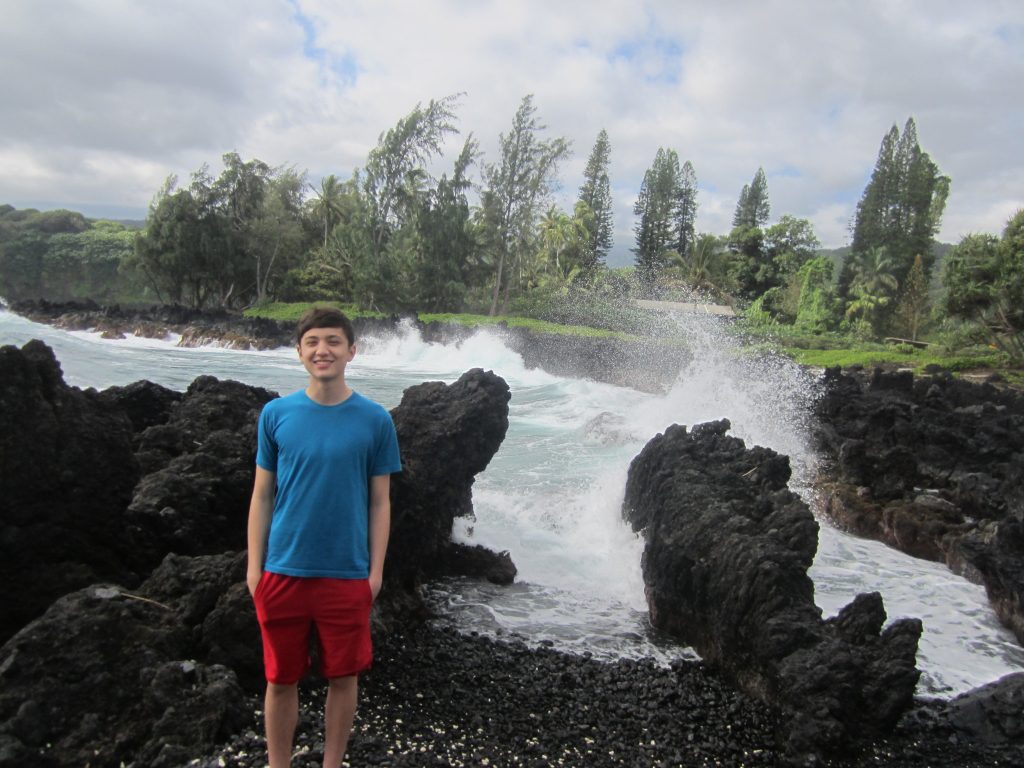 On the way out we decided to stop at Aunty Sandy's to eat its famous banana bread. This beautiful bird said hello! Per Tara of Miles to the Wild, the bird is a red-crested cardinal, an introduced species to the island, originally from South America.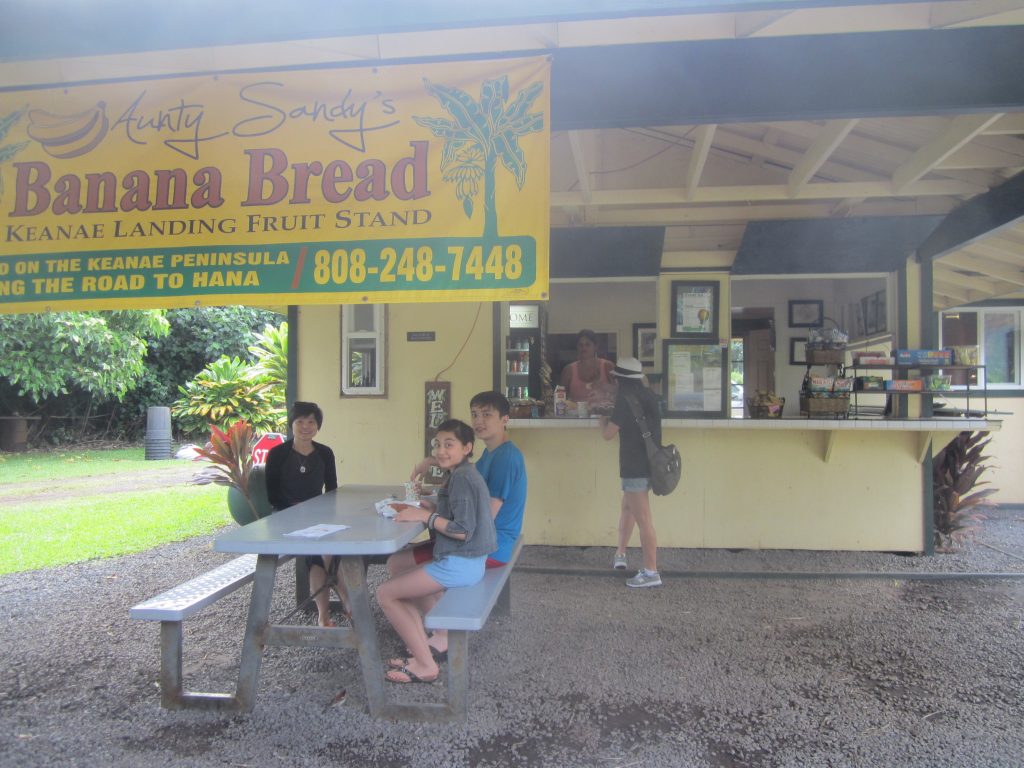 Back on the road…Waterfalls…so many of them left and right!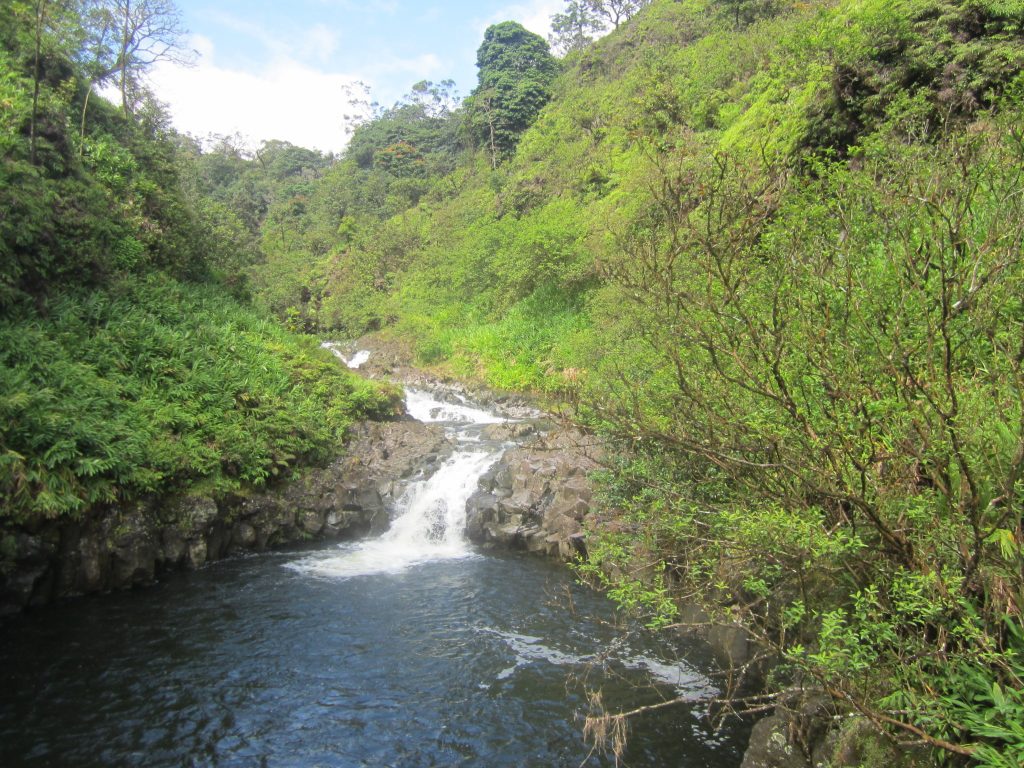 Ching's Pond, just before the 17 Mile marker…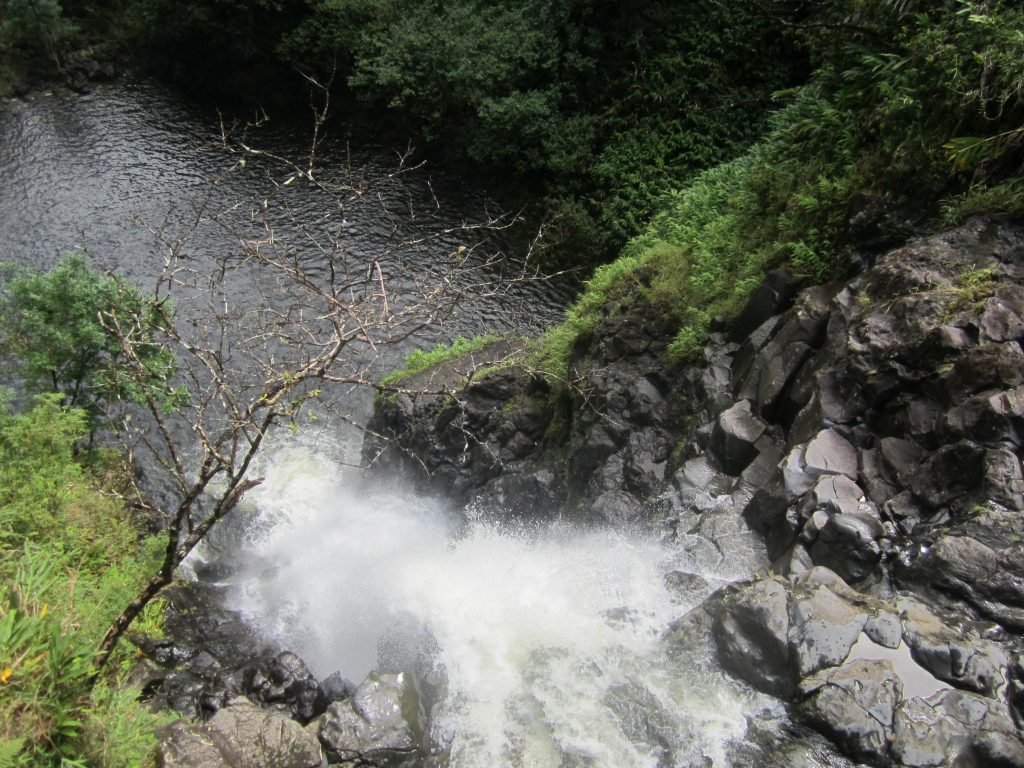 Hanawi Falls.  Beware of the shorter than it looks guard rail if you take a photo from the bridge!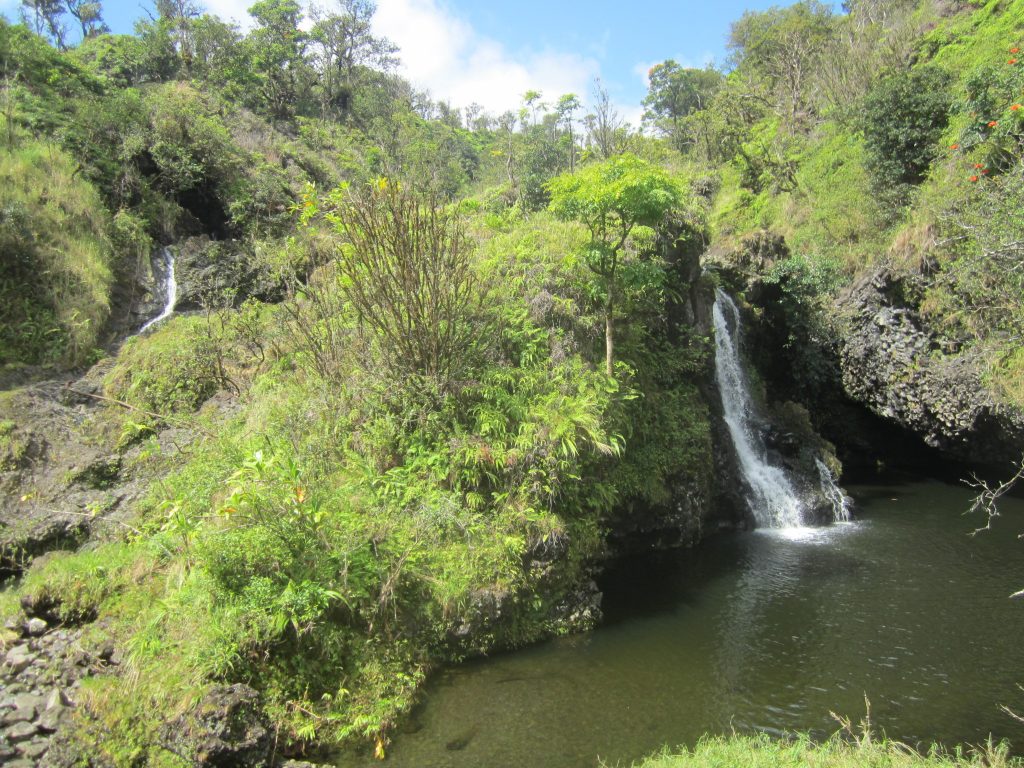 Past the 25 Mile marker, you can stand directly above this spot where Makapipi Falls plunges into a large pool.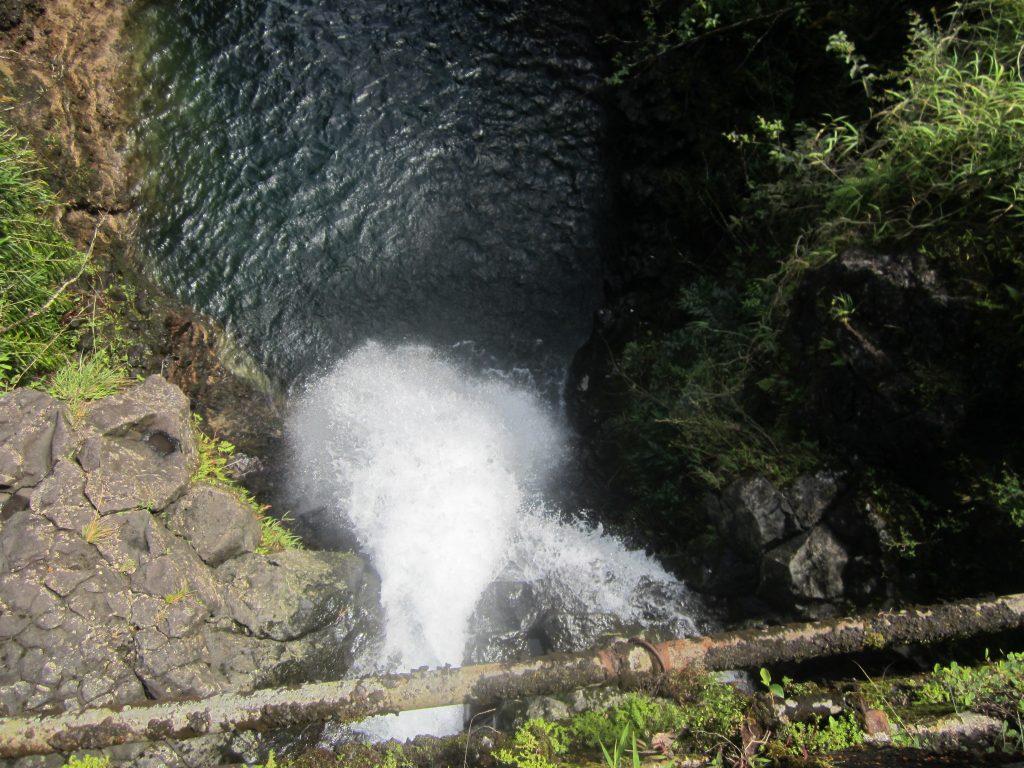 We kept driving through and decided to take the road to Nahiku. Green everywhere!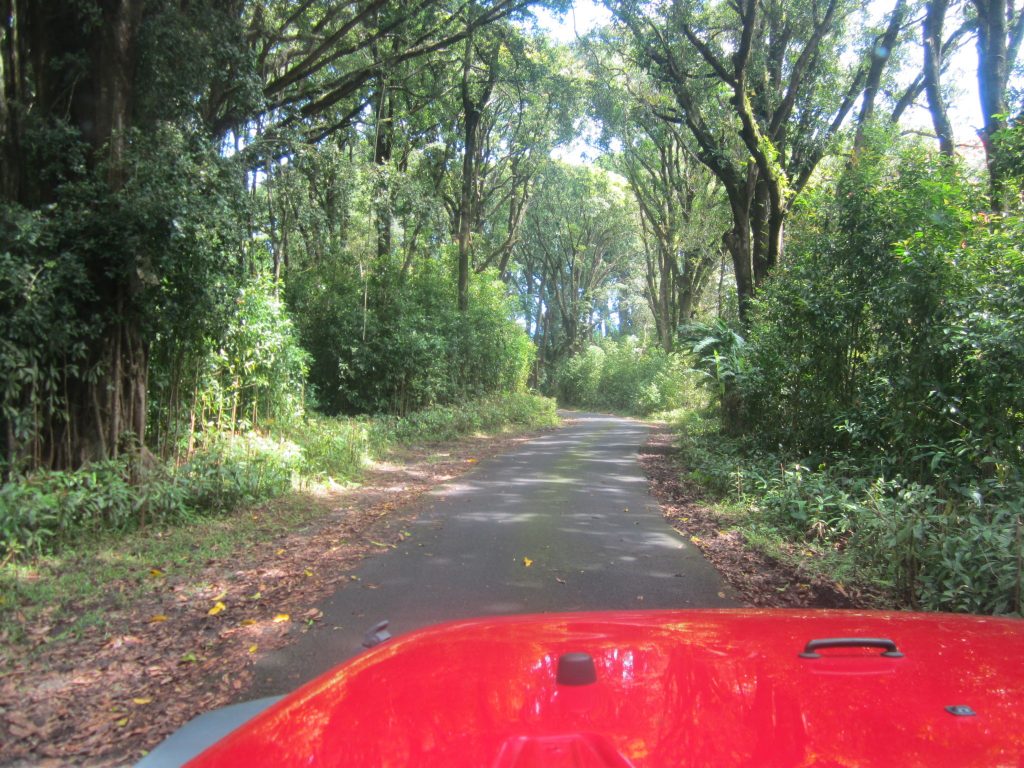 Great spot at the bottom of Nahiku Road, almost no one around!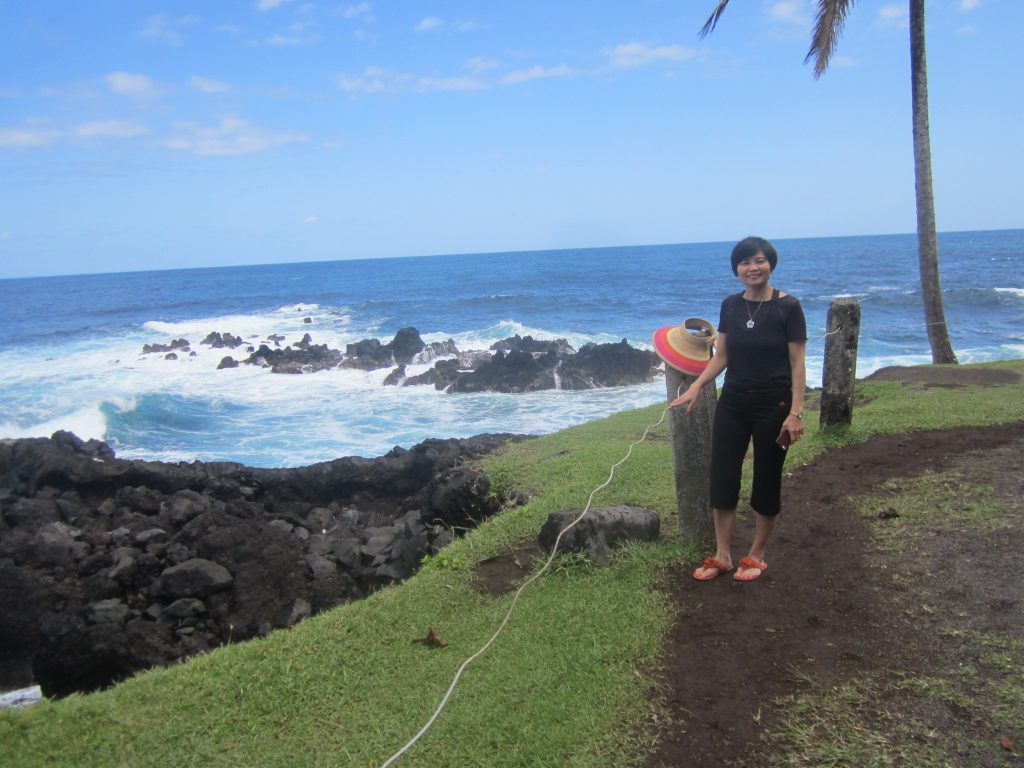 Back on Highway 360 and now stepping it to Hana! Just past the 32 Mile marker we took the road to Wai'anapanapa State Park. There are two spring-fed freshwater caves here.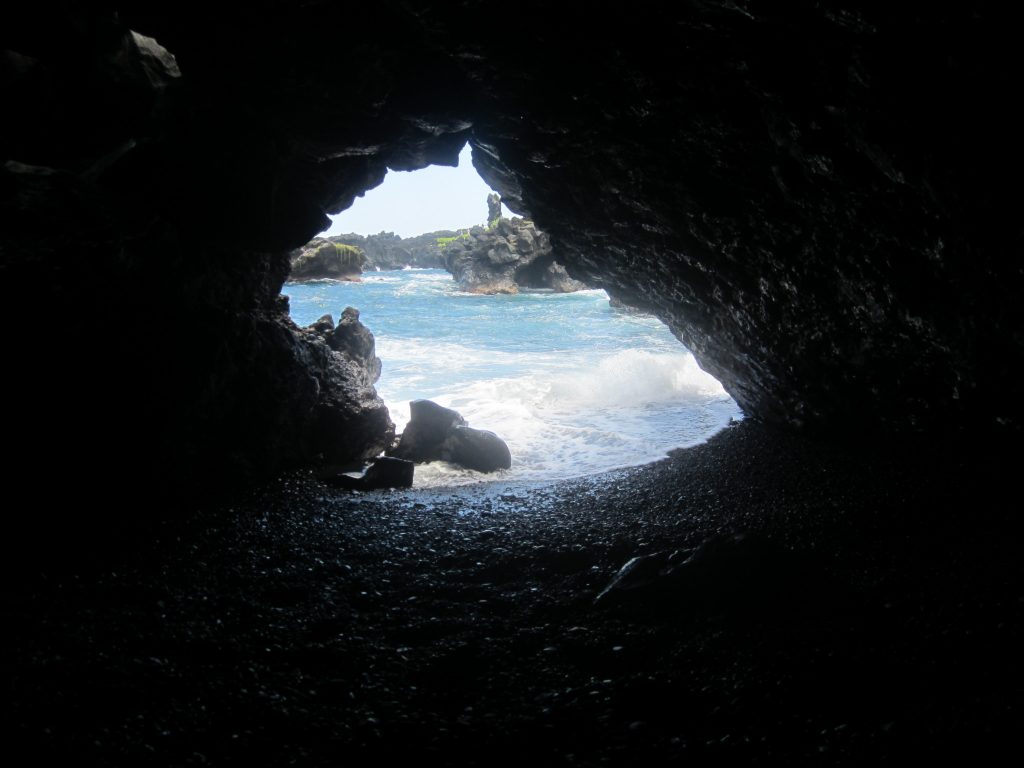 At last, we reach Pa'iloa Beach, better known as the Black Sand Beach.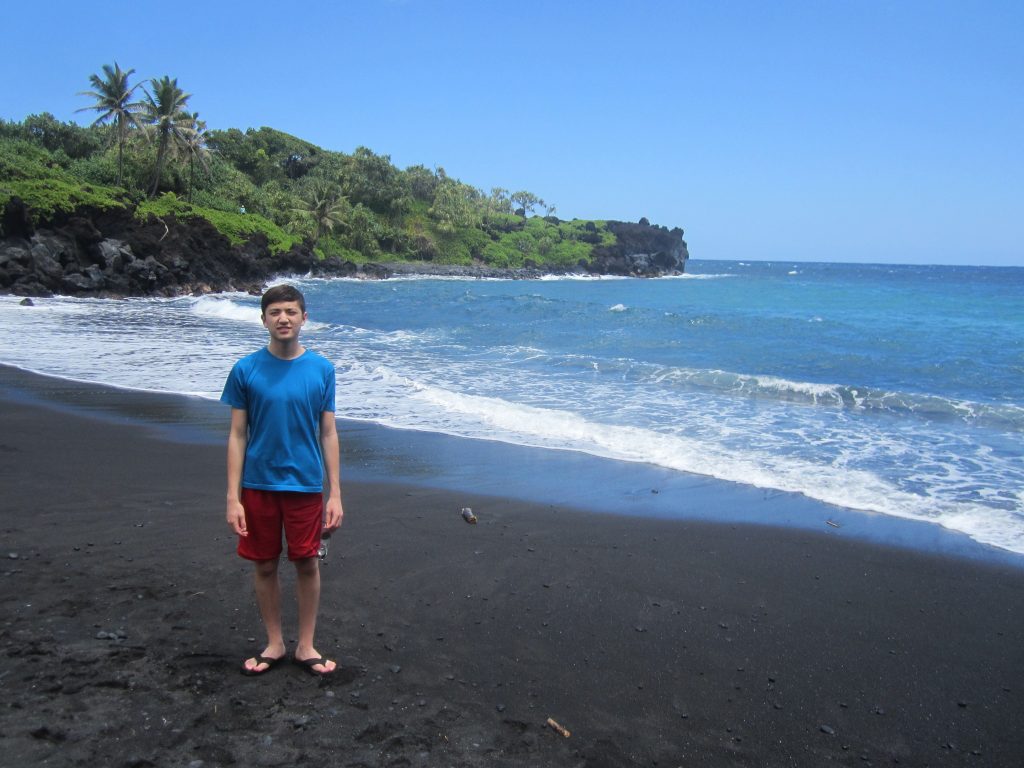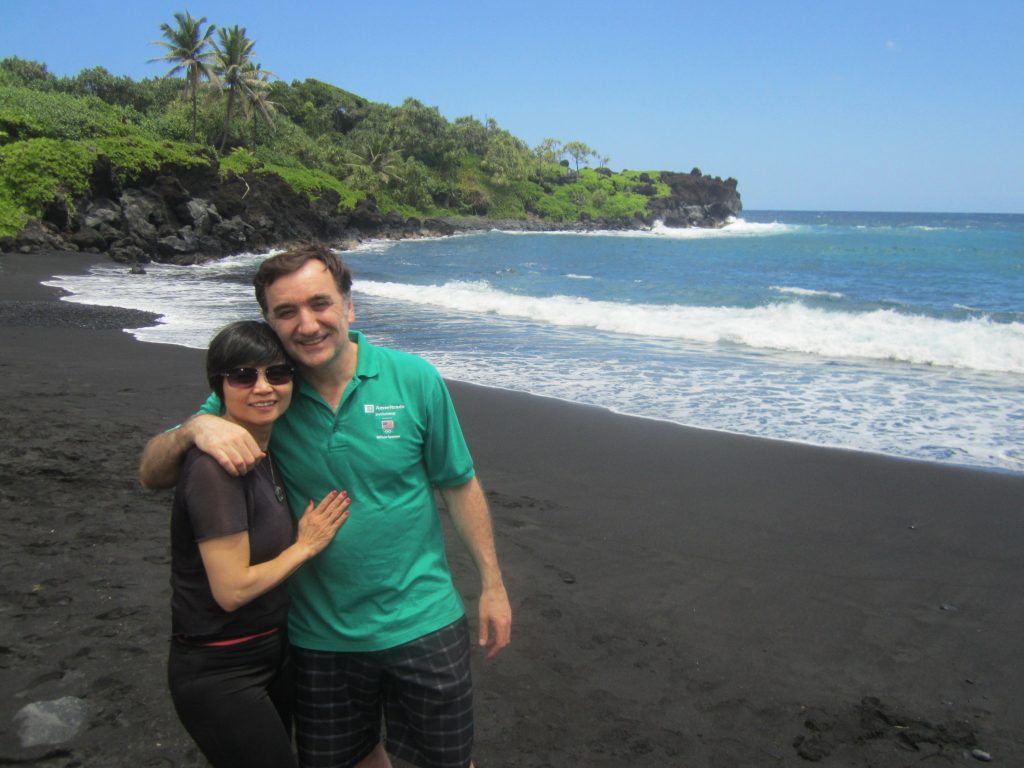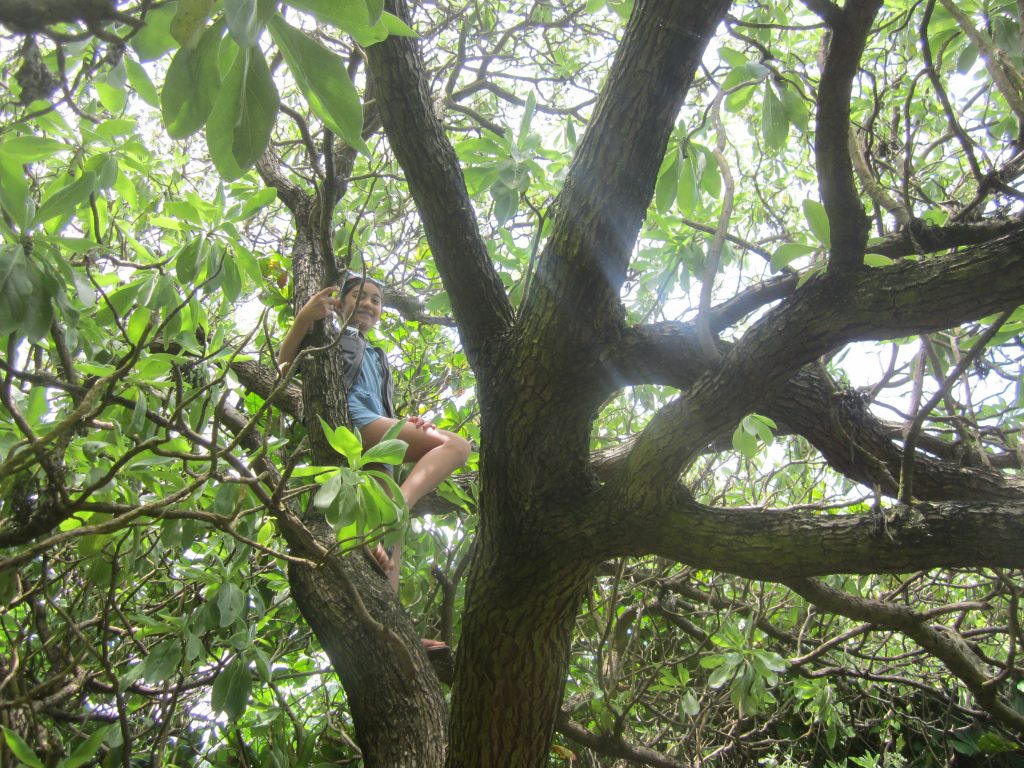 Other than the novelty of it, I am not sure this place deserves its hype.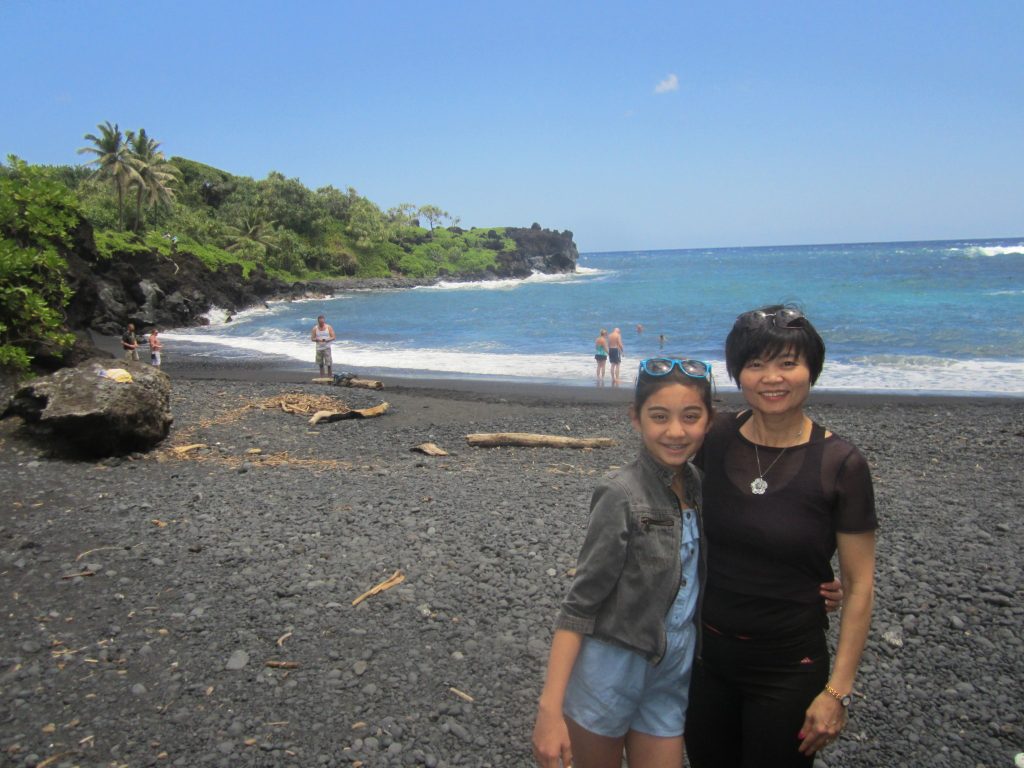 I love this picture of TBB familia. And I took it! #highfiveme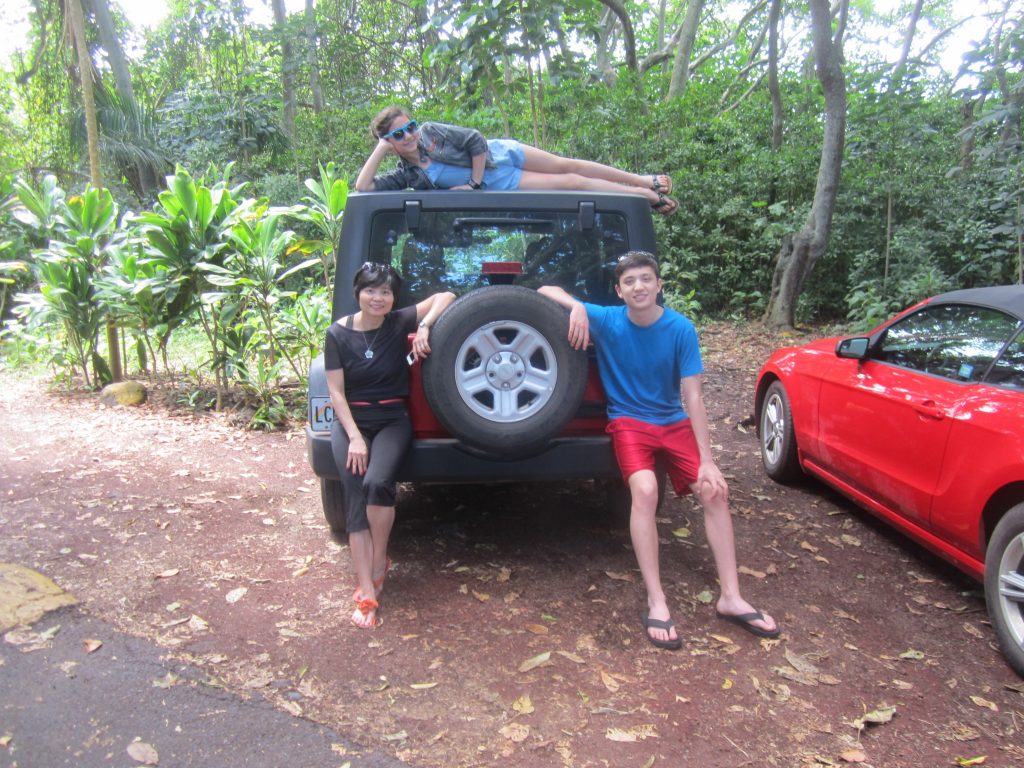 We drove into Hana.  It rains a lot here and everything moves slow. We stopped in the Hana Pier.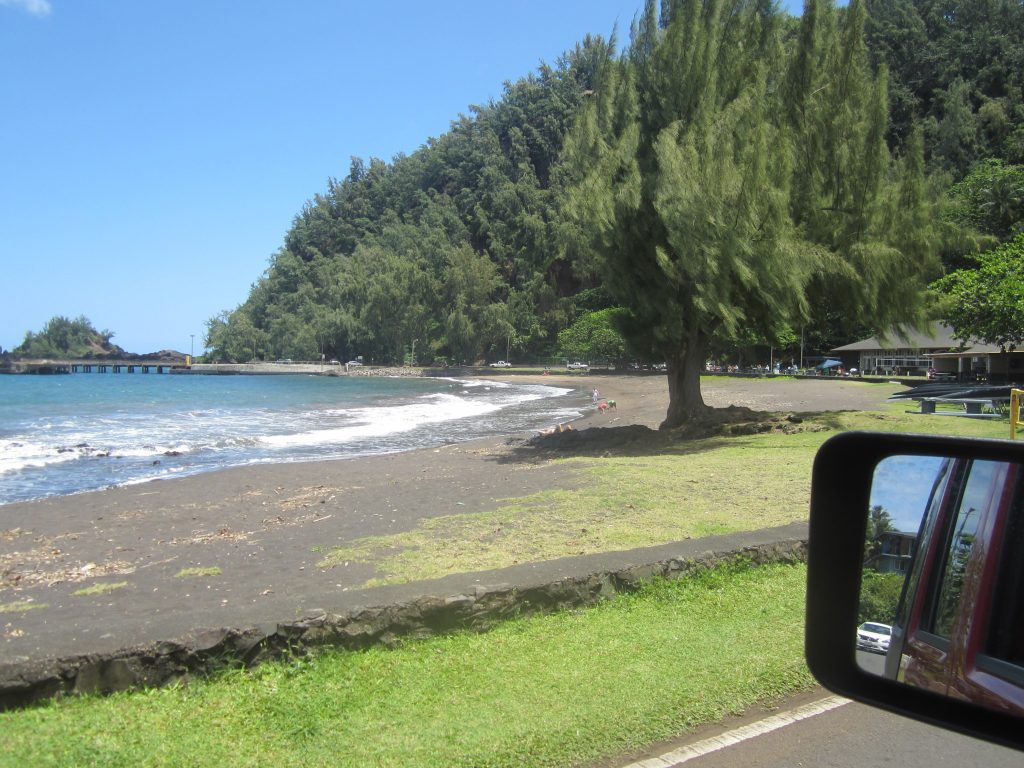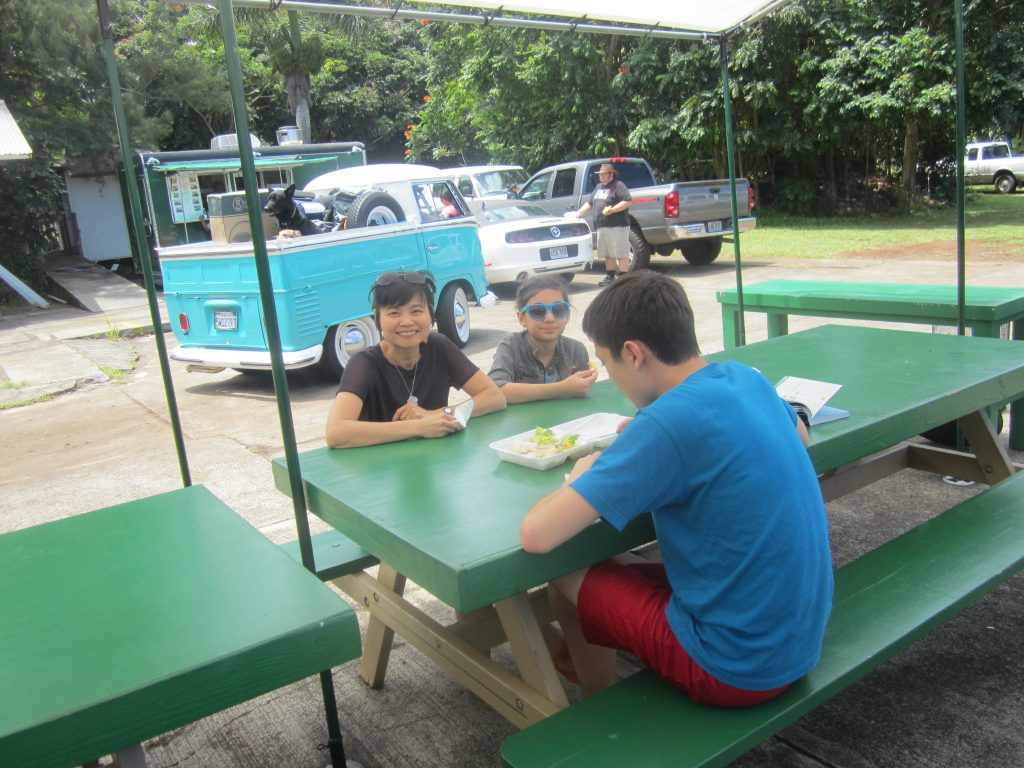 There are some nice beaches around Hana but we just did not have the time as we aimed to be back at our hotel by night fall. So we drove on past Hana through Southeast Maui…At this point I am starting to lose track of which Falls I took pictures of!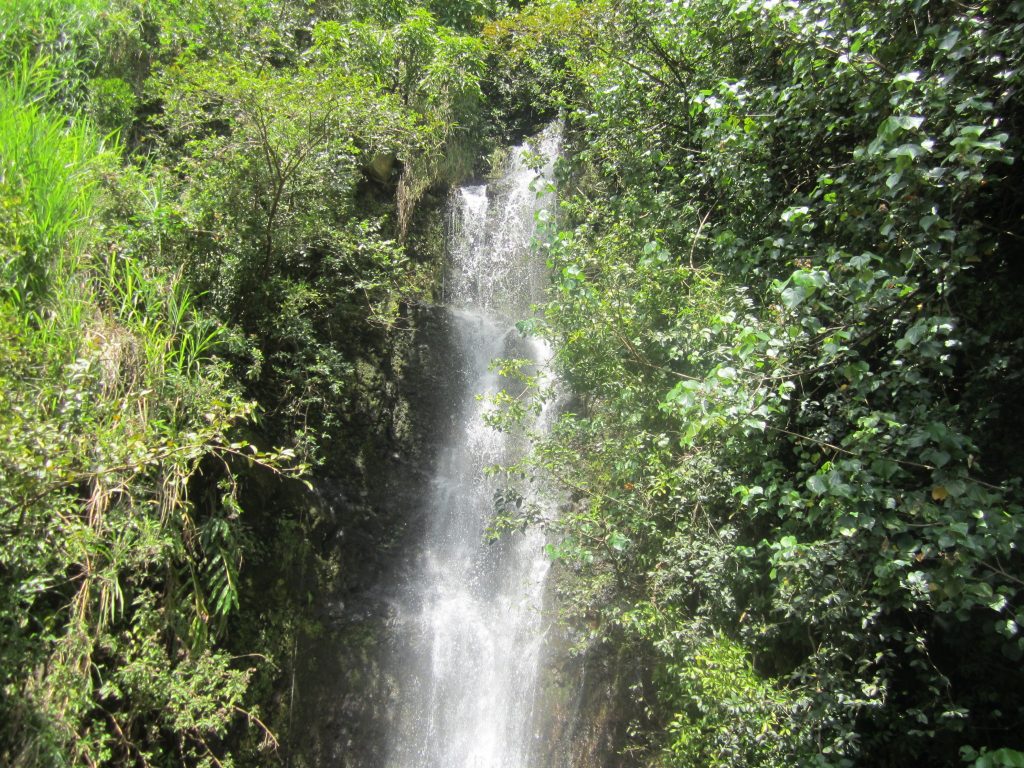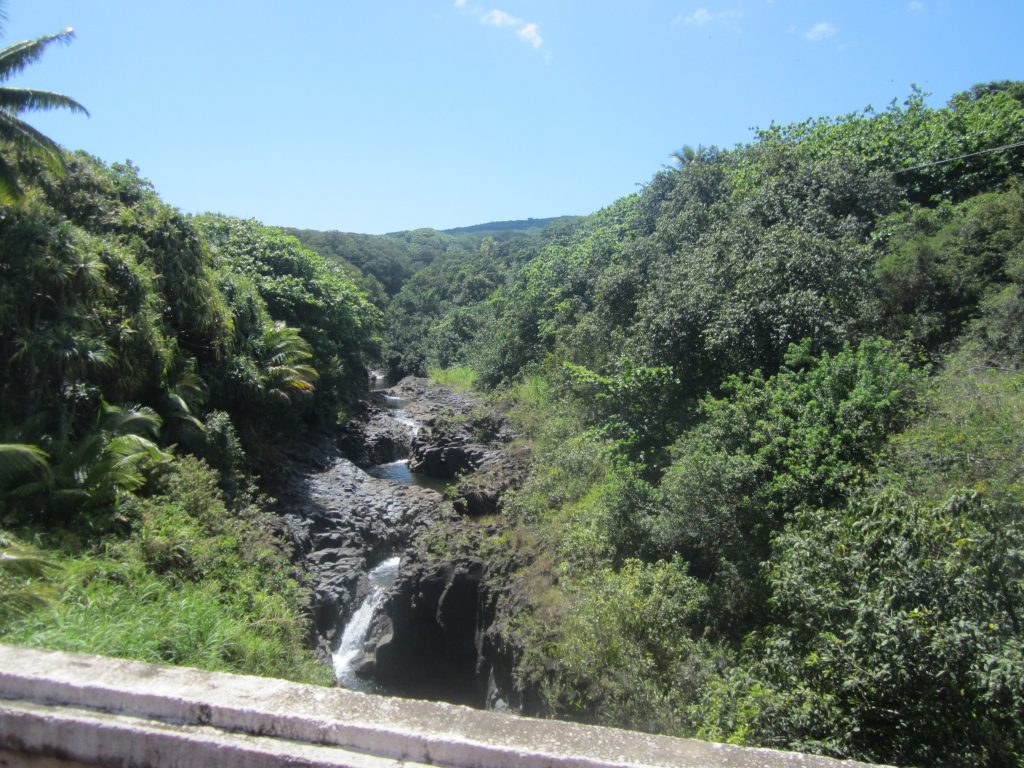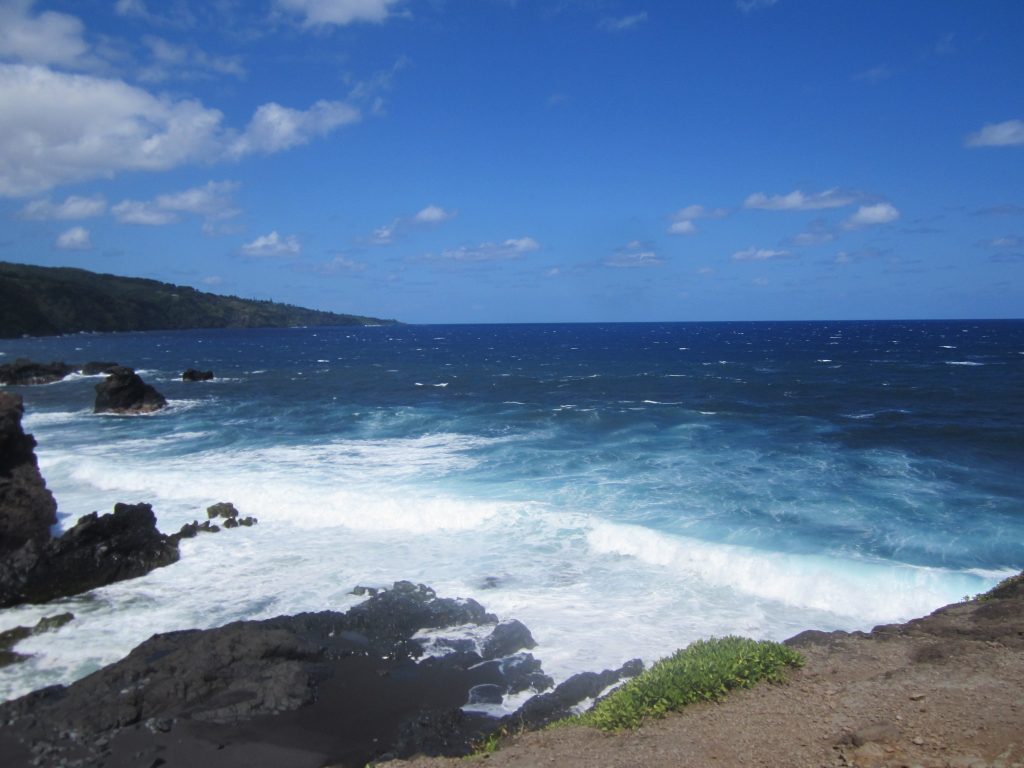 The Seven Sacred Pools, another must stop attraction…Above the pools lies one of the best island hikes: The Pipiwai Trail. But since it takes 2.5 to 5 hours to do it, we passed!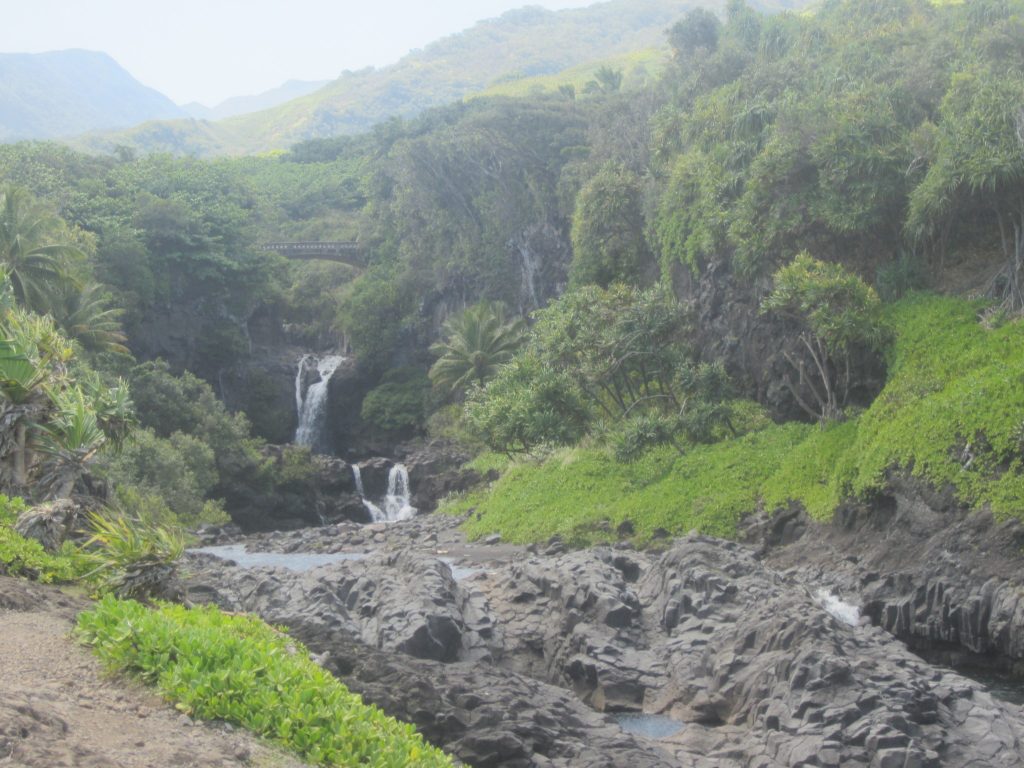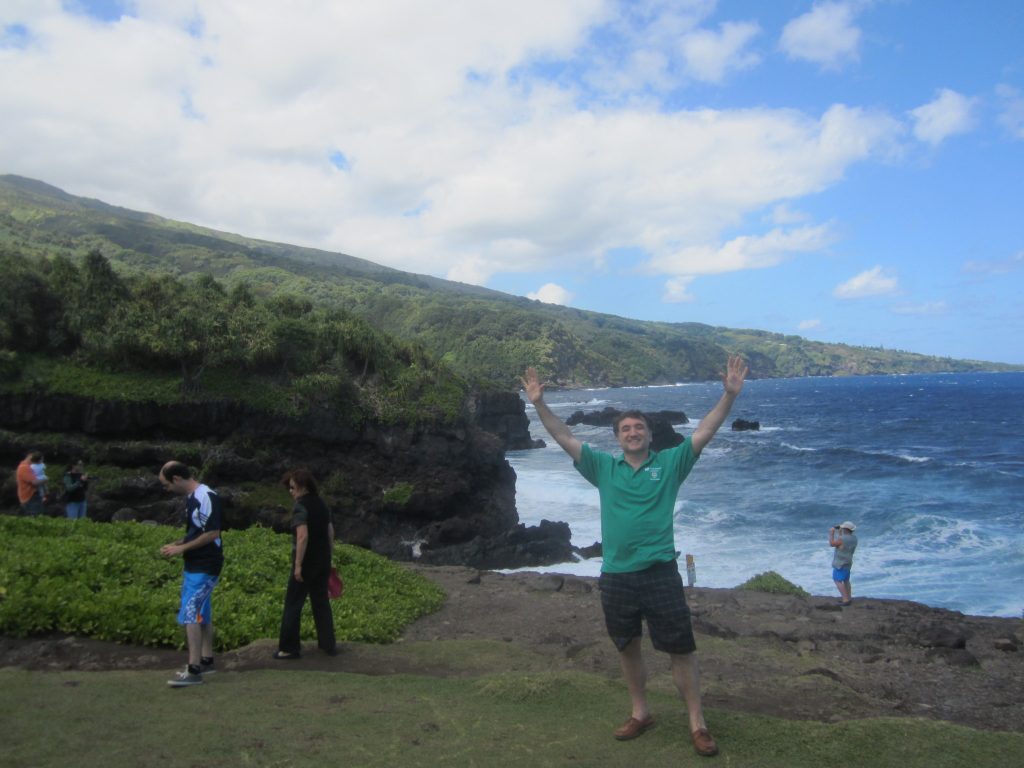 We drove on…Past the 41 mile marker you see this old FX London Taxi, wtf!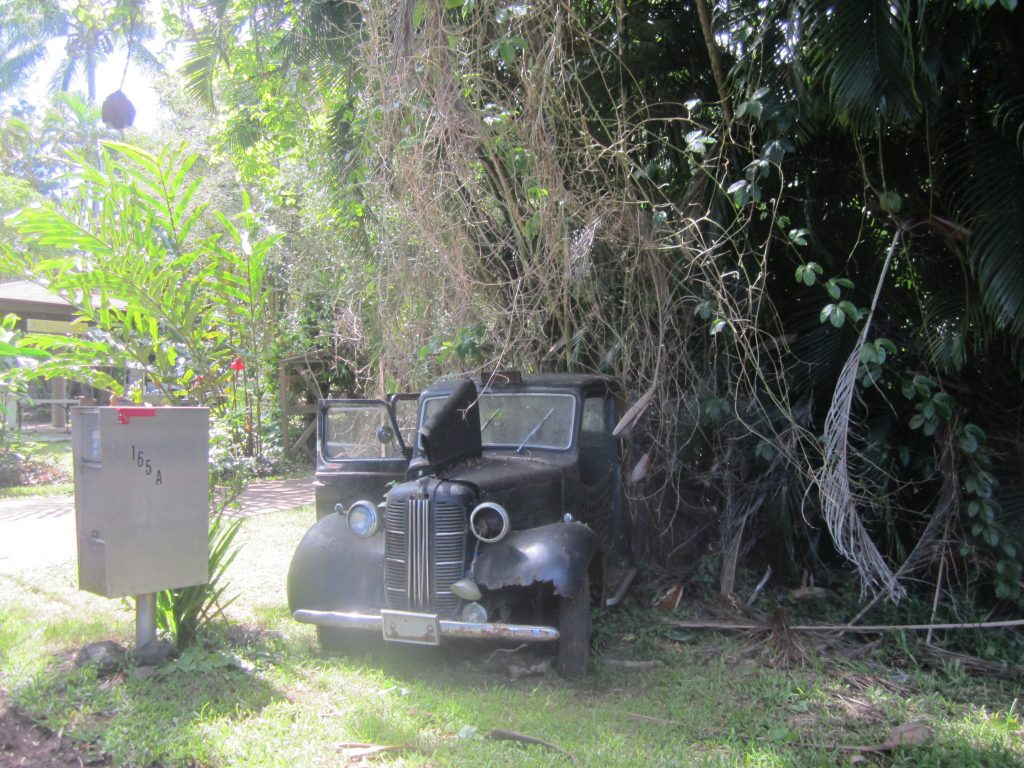 I let the familia at a nearby food stand to enjoy some food and refreshments and then I went for a search to find the grave of Charles Lindbergh, the world's greatest aviator. It is NOT easy to find. It is past the Palapala Ho'omau Church…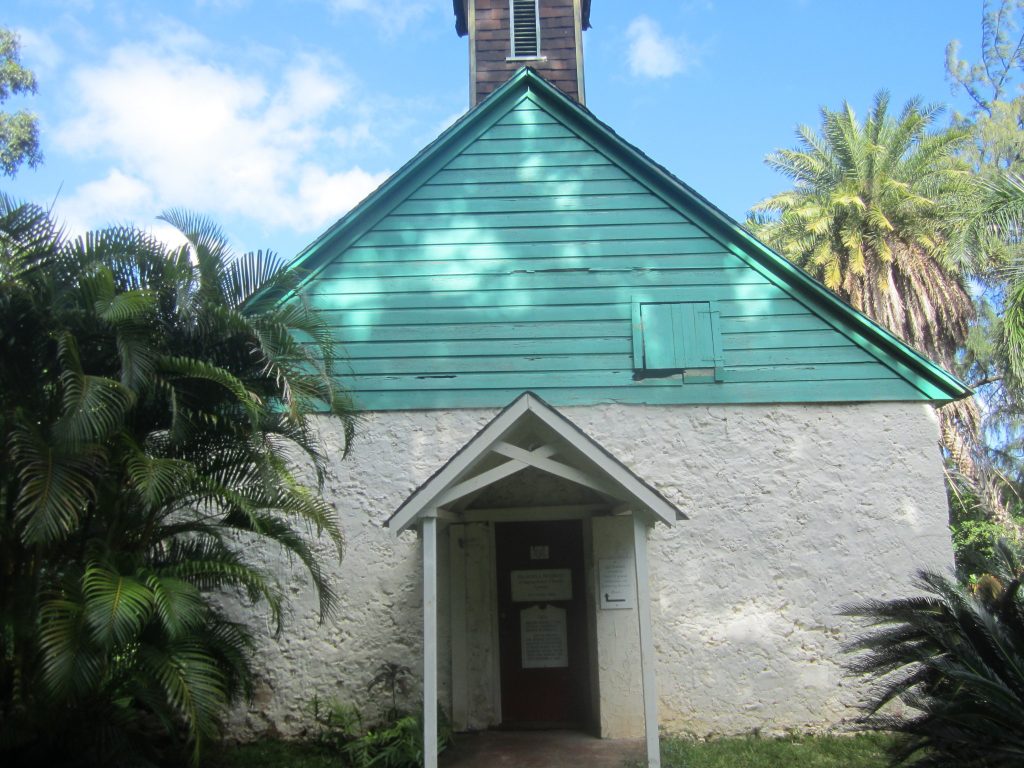 I did not know he was born in Michigan, you learn something new every day!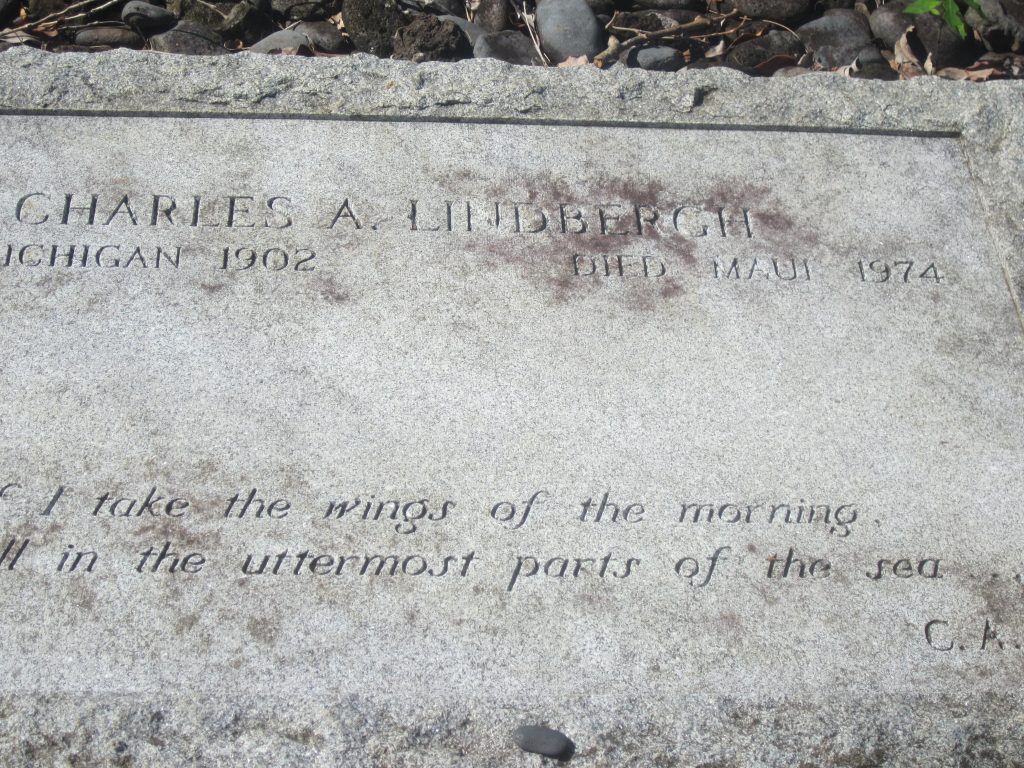 It's one of the most serene grave sites I have seen…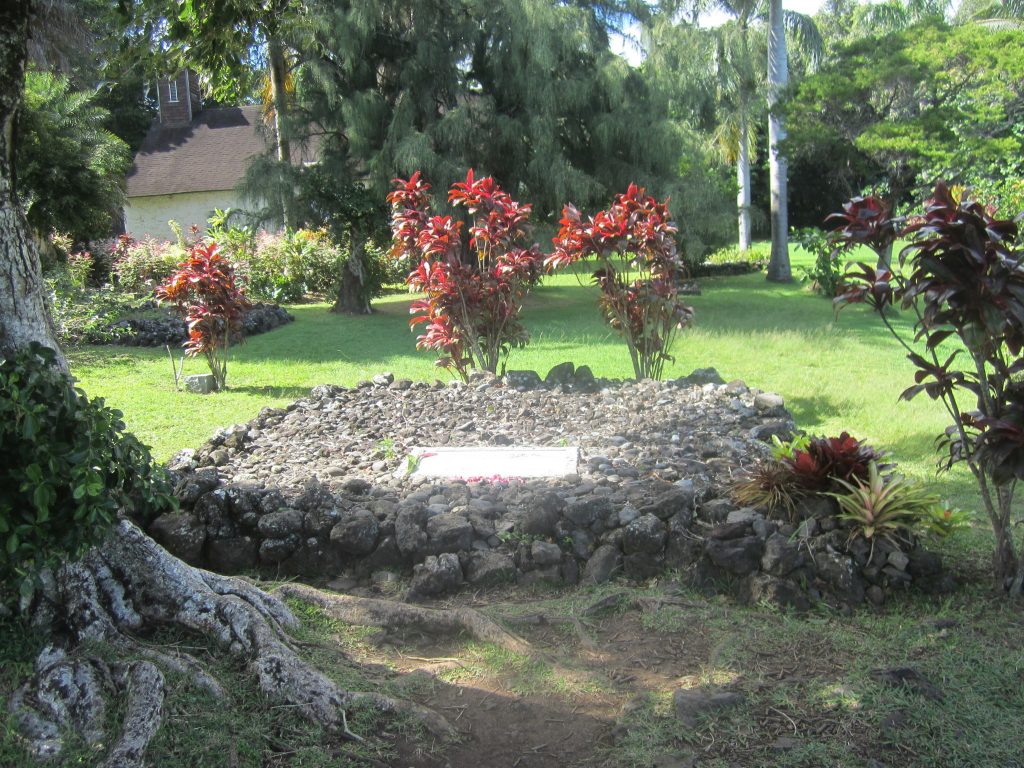 Picked up the familia…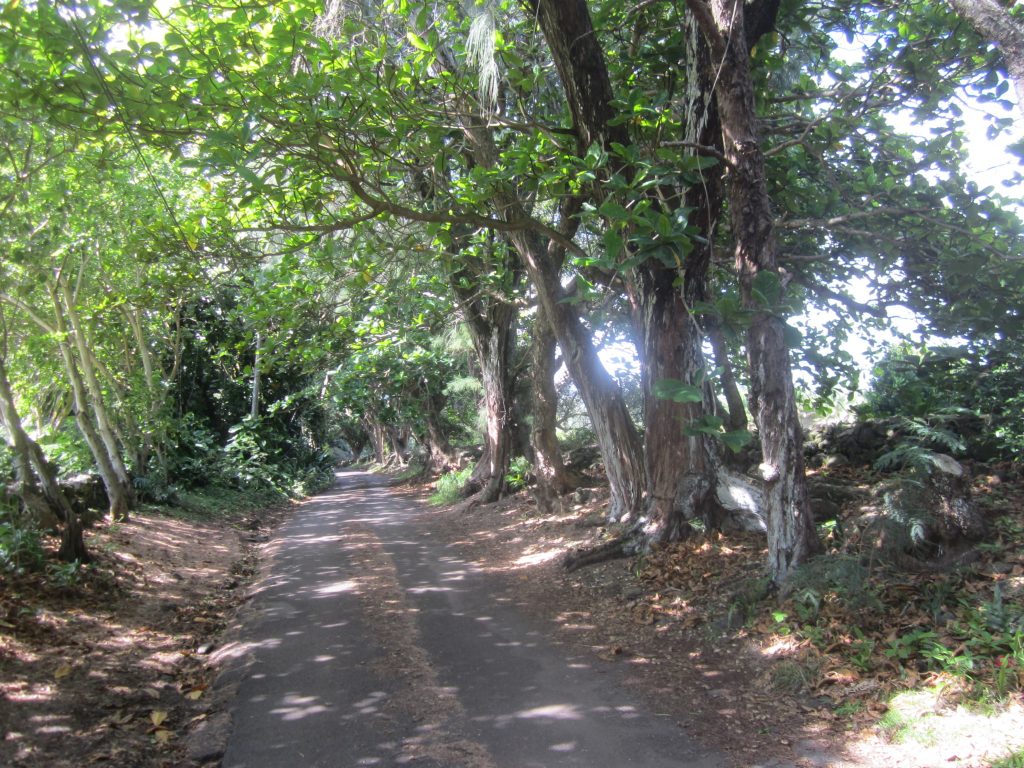 And we drove on…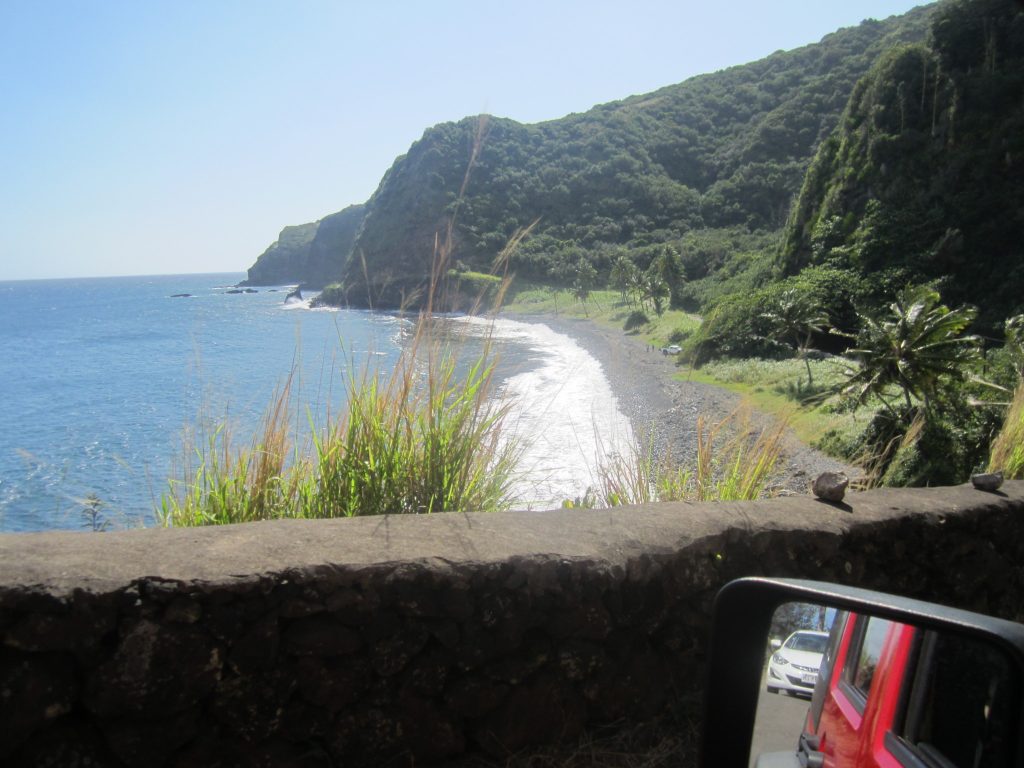 Not much development at all in the southeastern part of the island…
We then moved on to the Fairmont Kea Lani, an all suite hotel in the same area of Maui.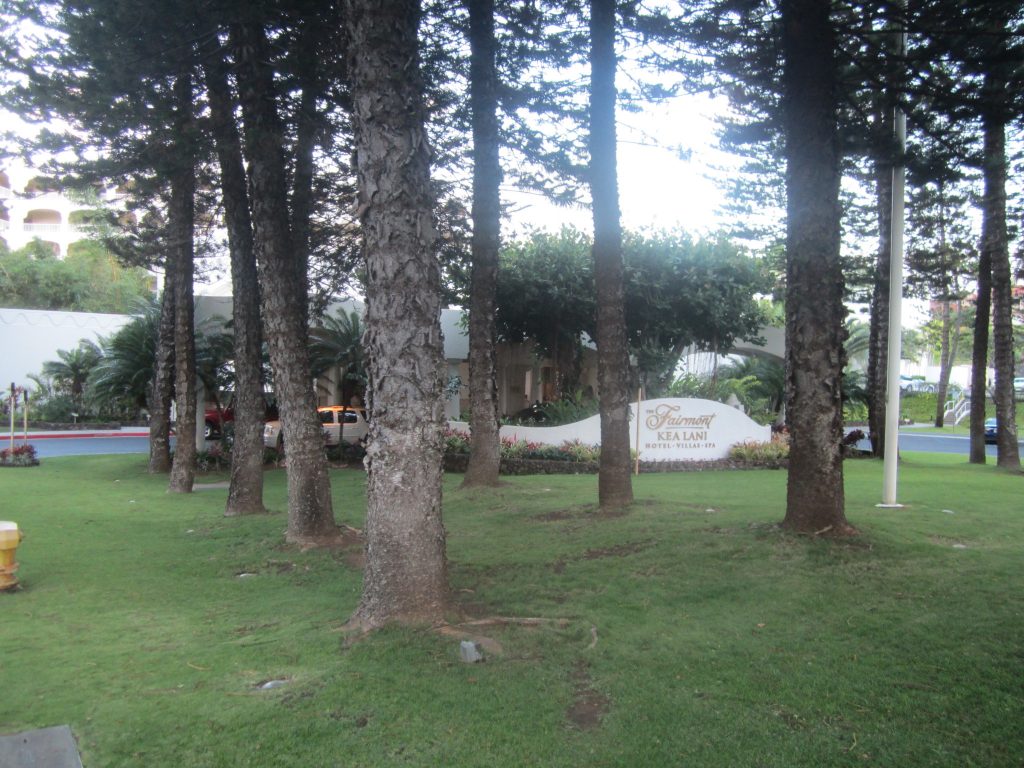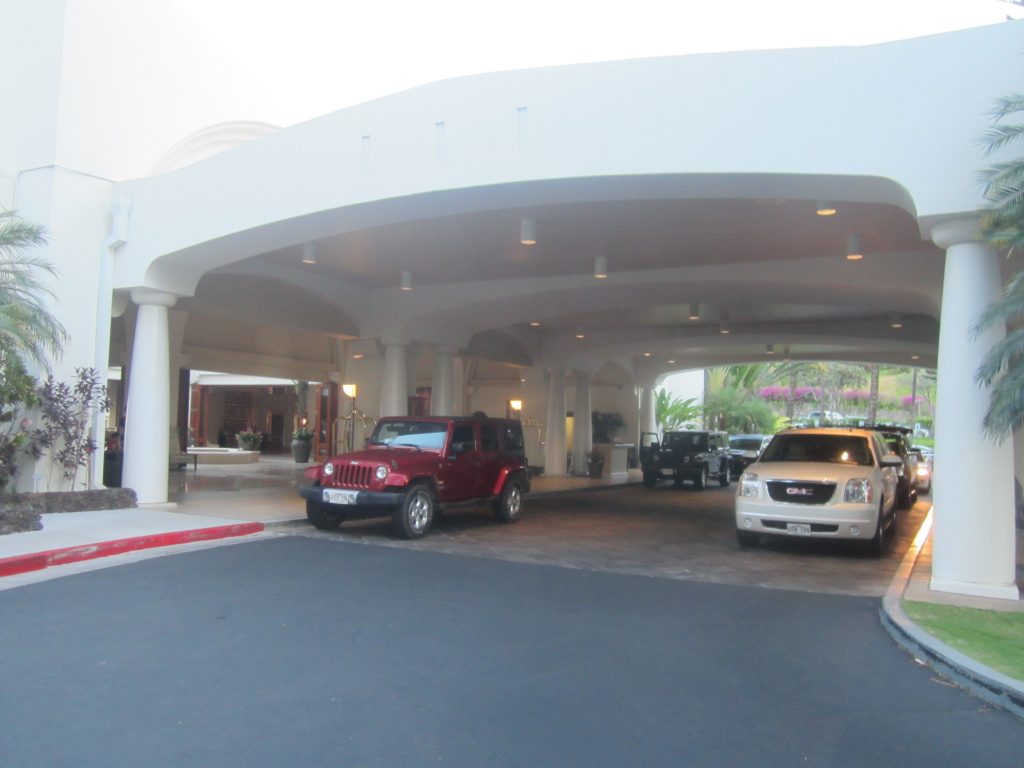 Hotel is older, completely renovated and has that Fairmont resort feel. The Andaz is just more modern and I think it is way over rated. Get me to the Fairmont with my Platinum status any day 🙂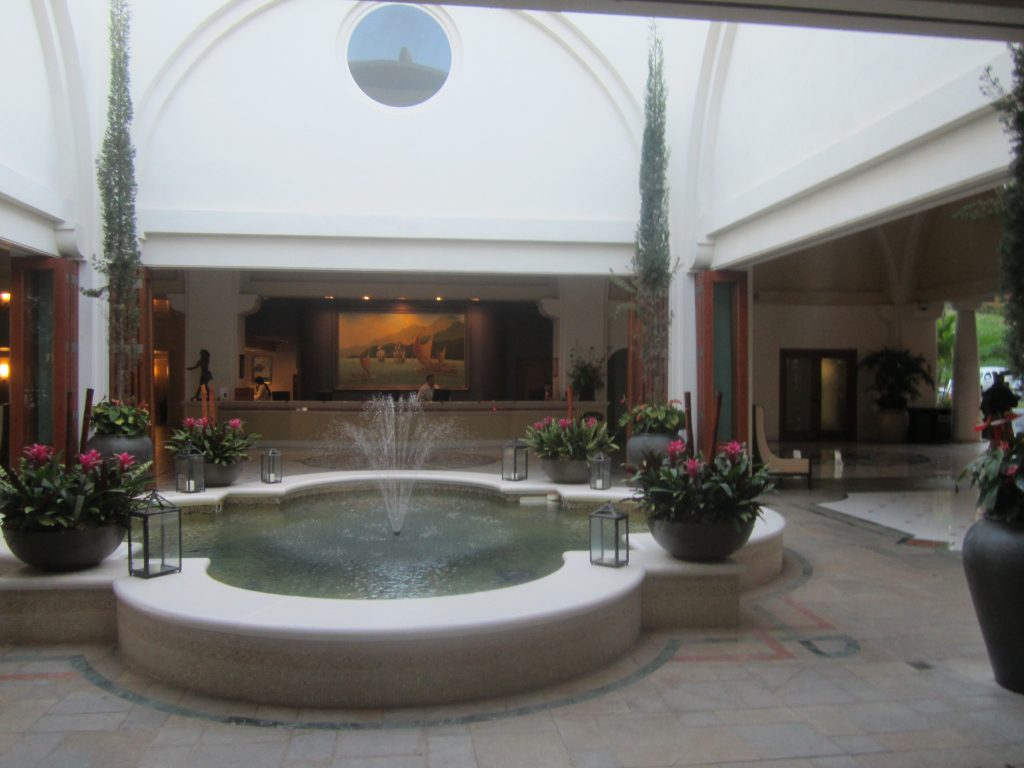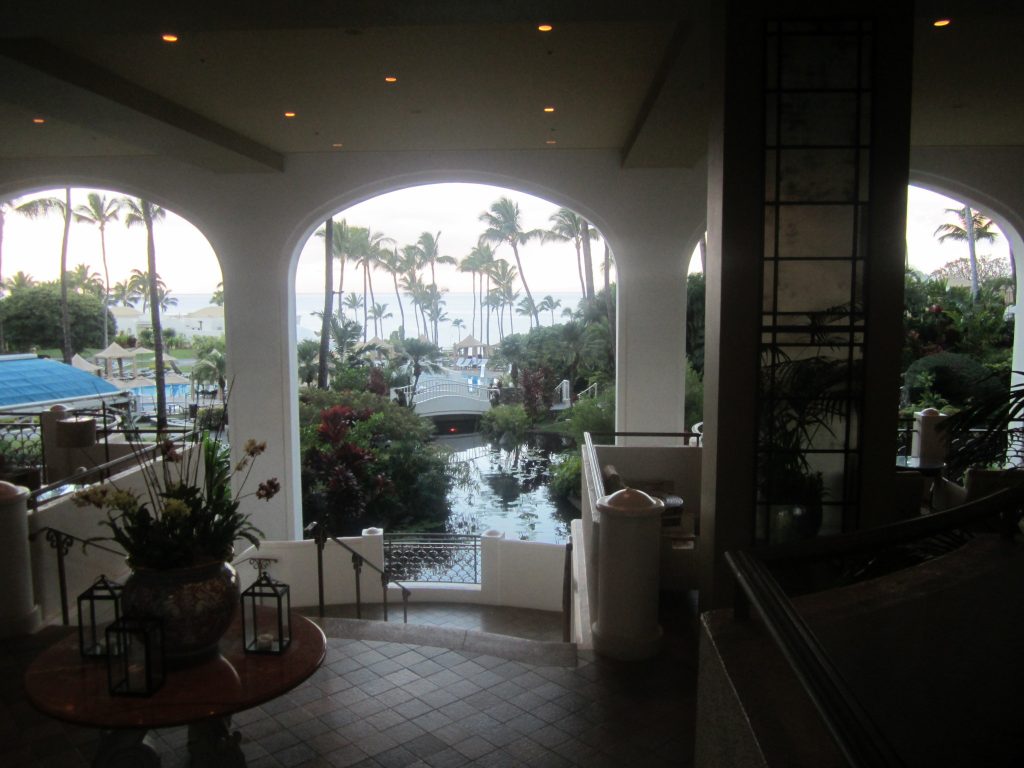 Our suite was lovely, including our balcony!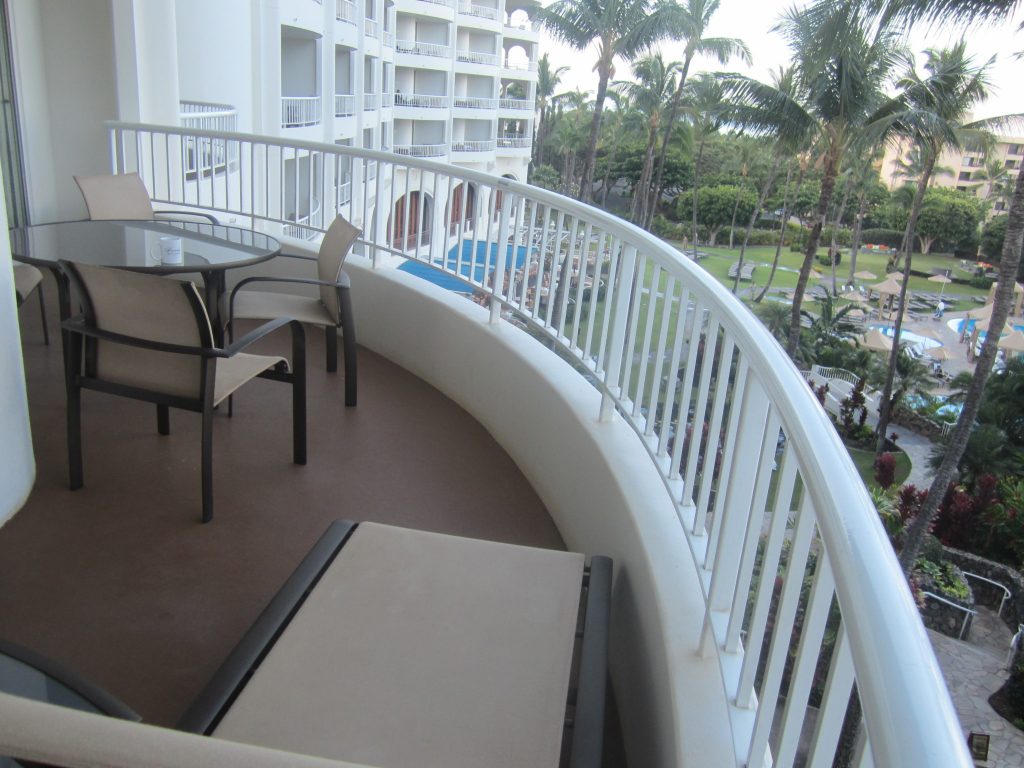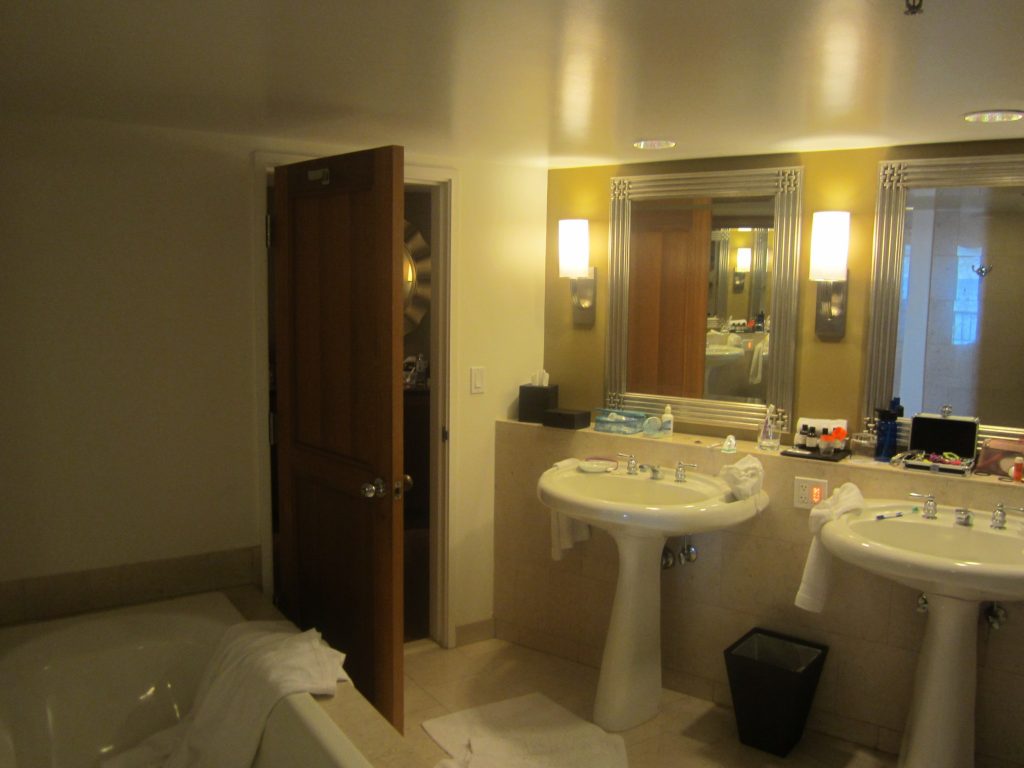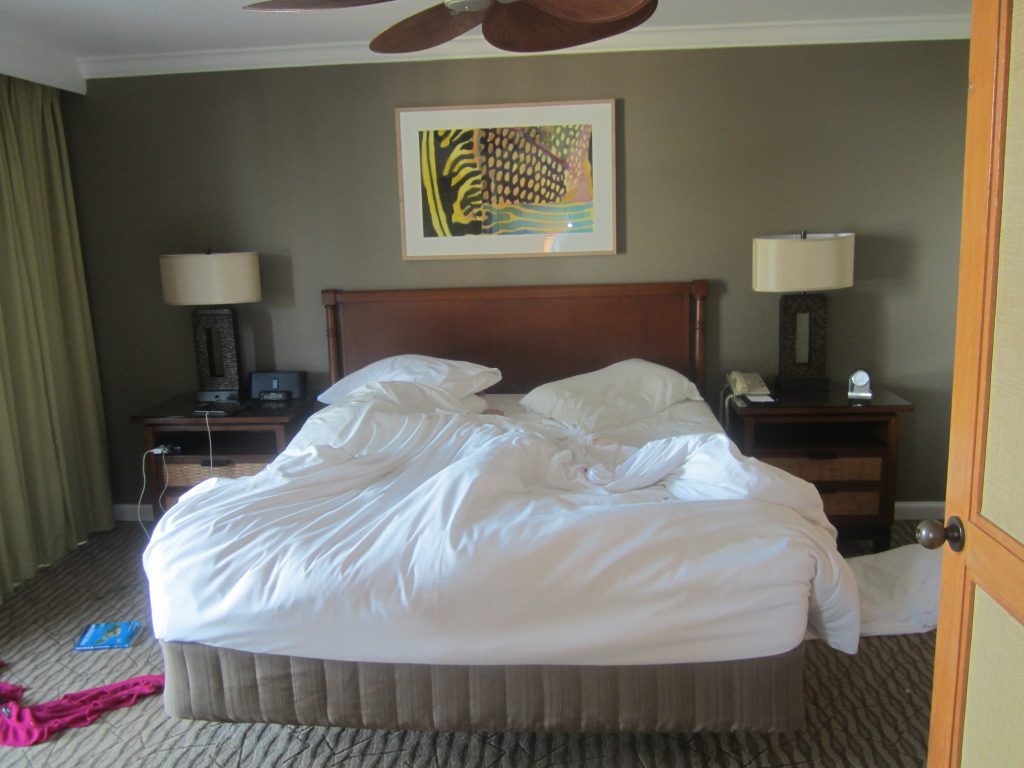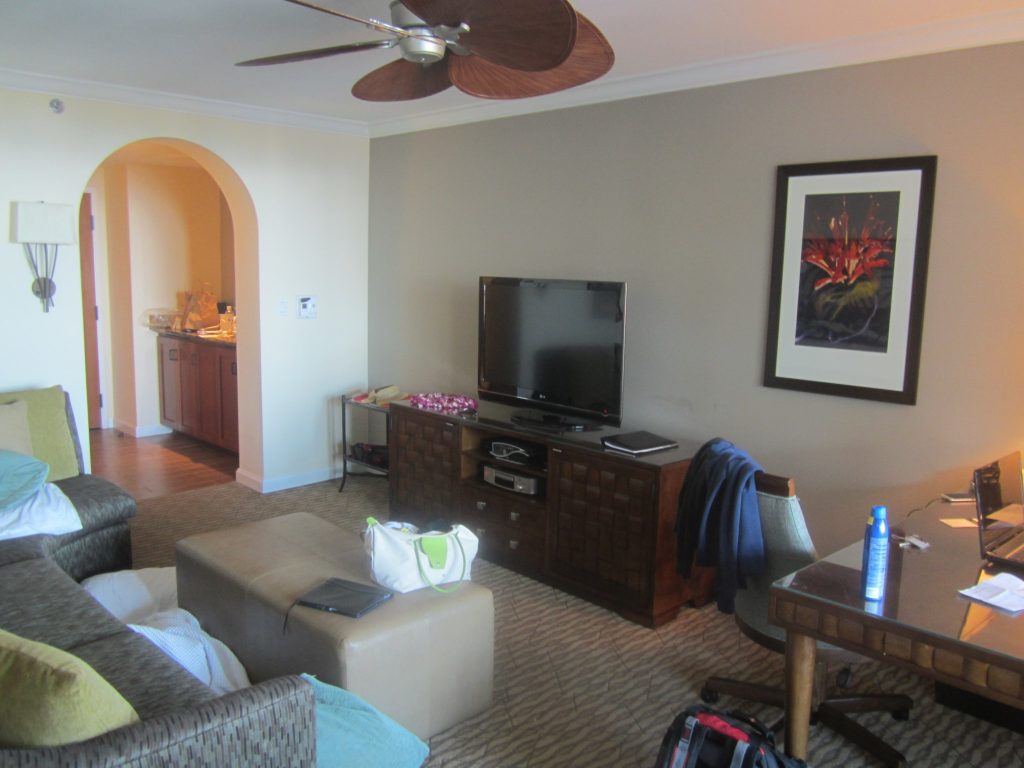 And the beach in front of the hotel is great!
We get a free activity as Platinum guests, a boat ride! A couple of staff helped us row out in the sea but we did not get to see any whales…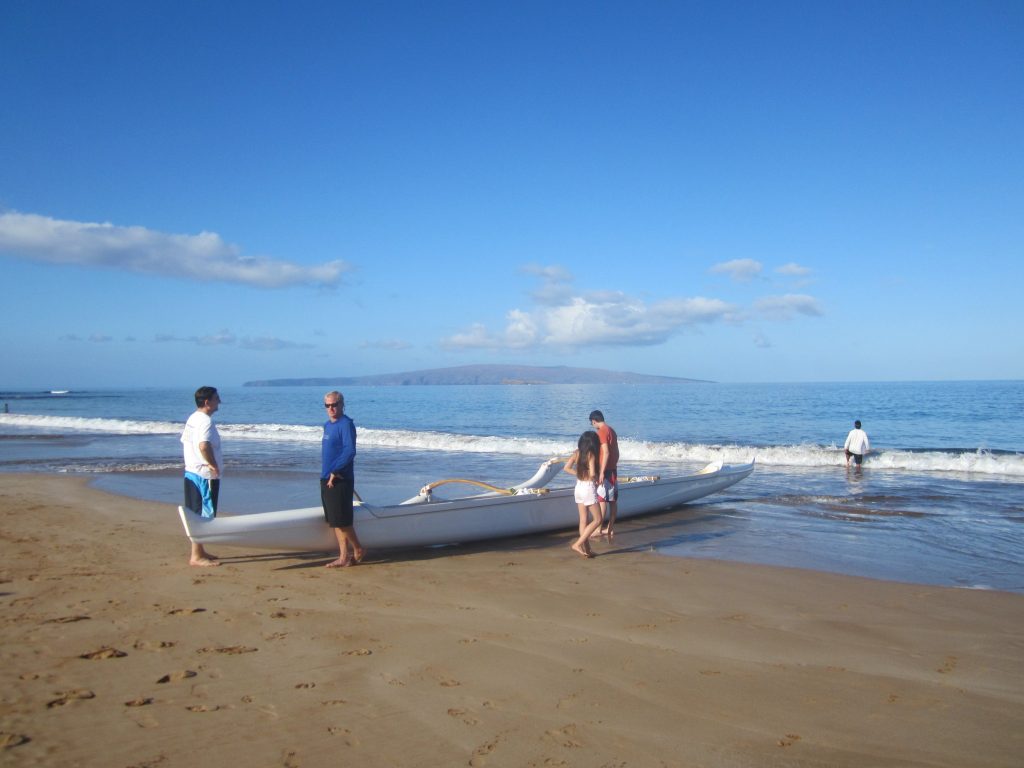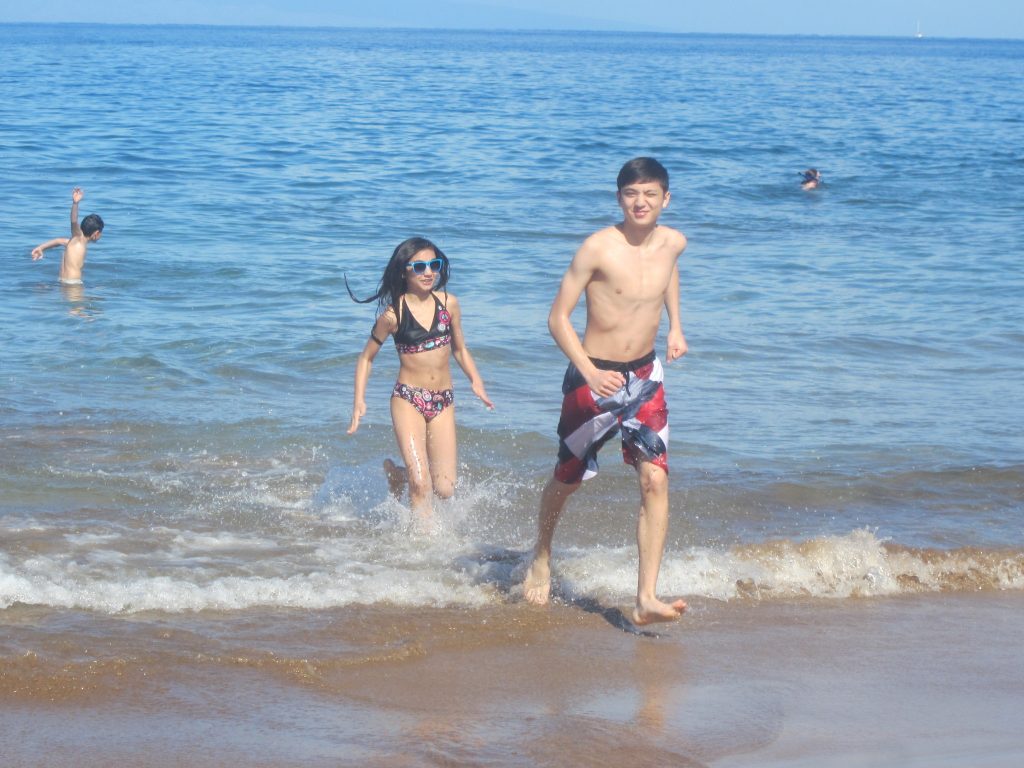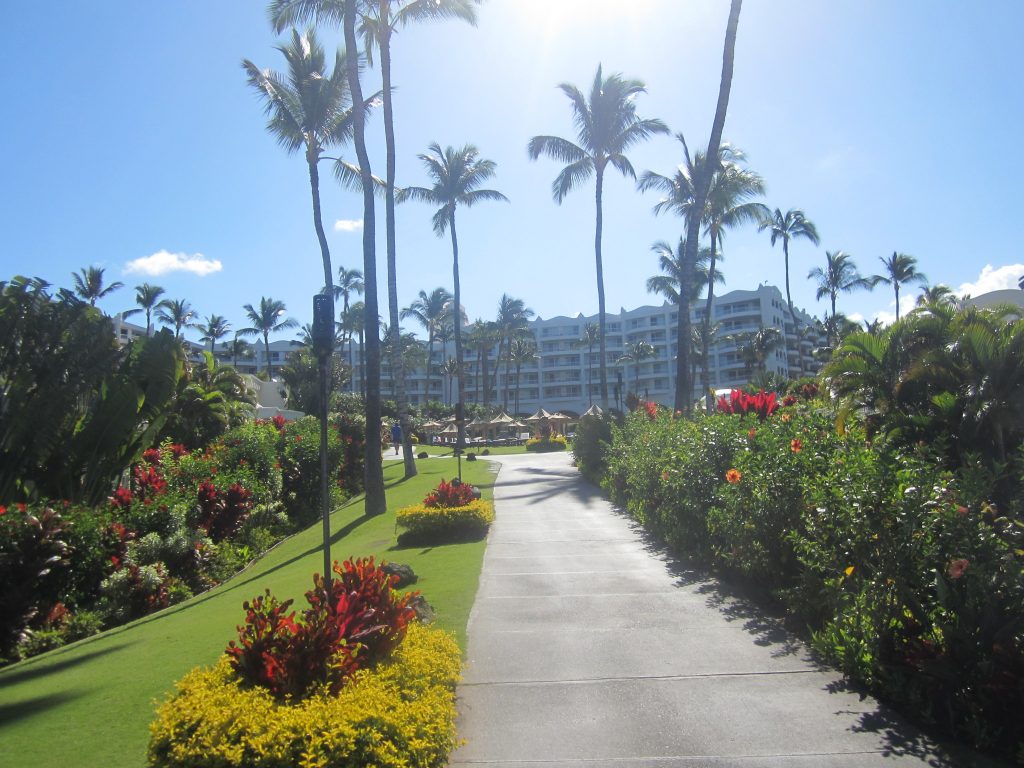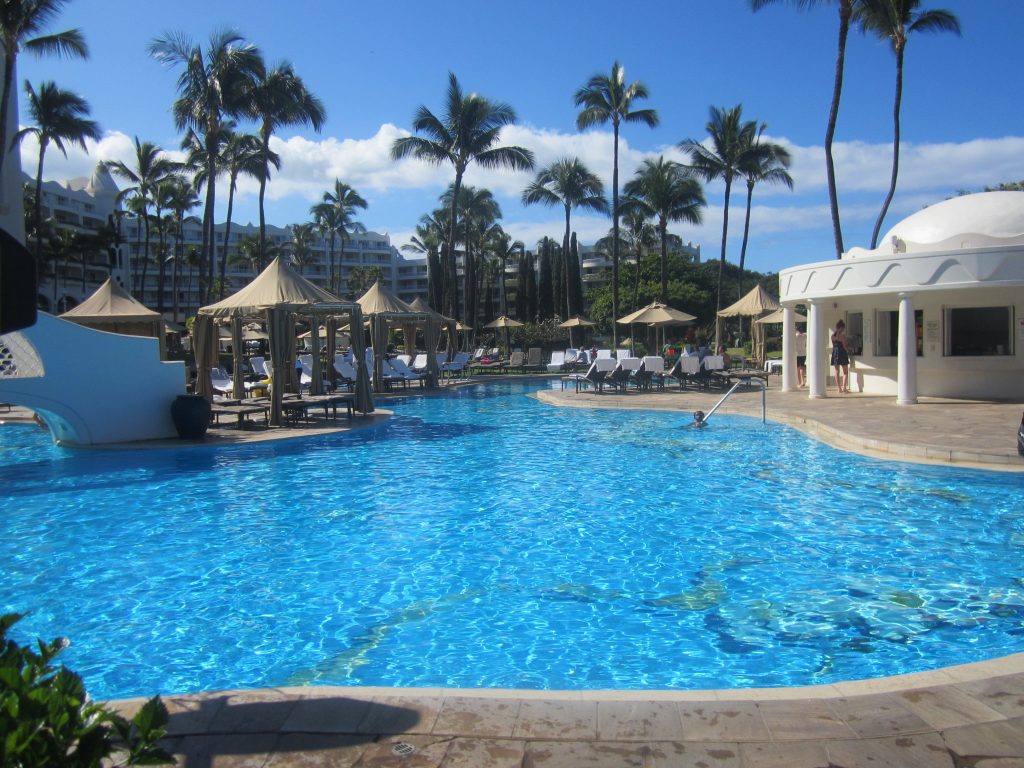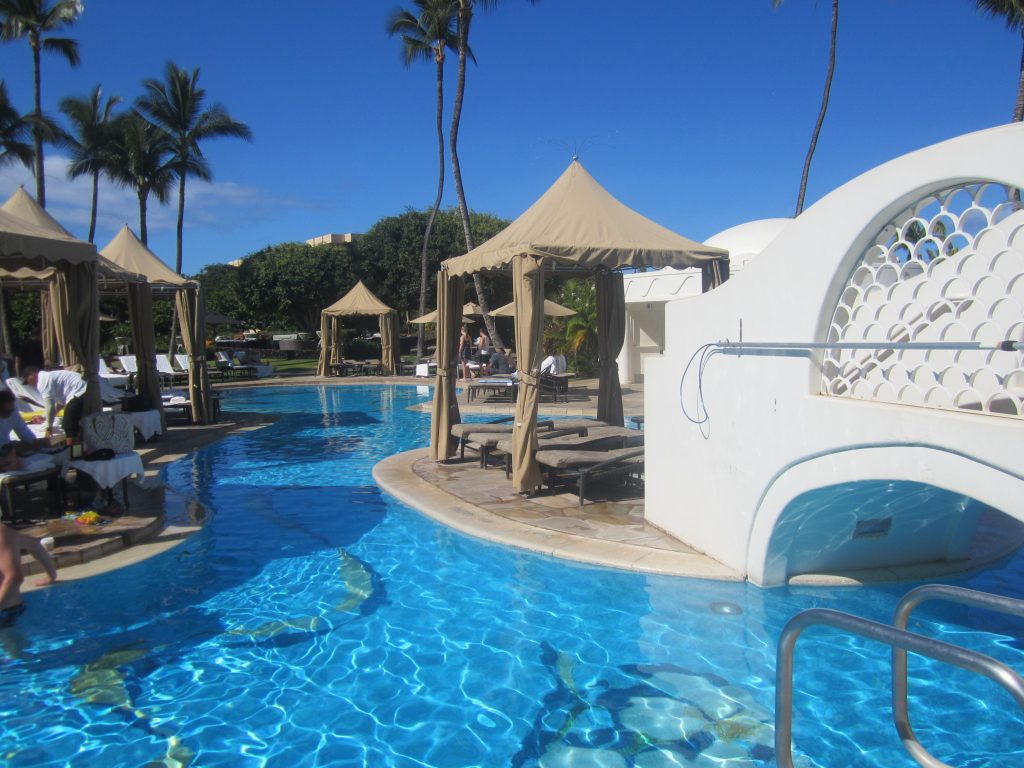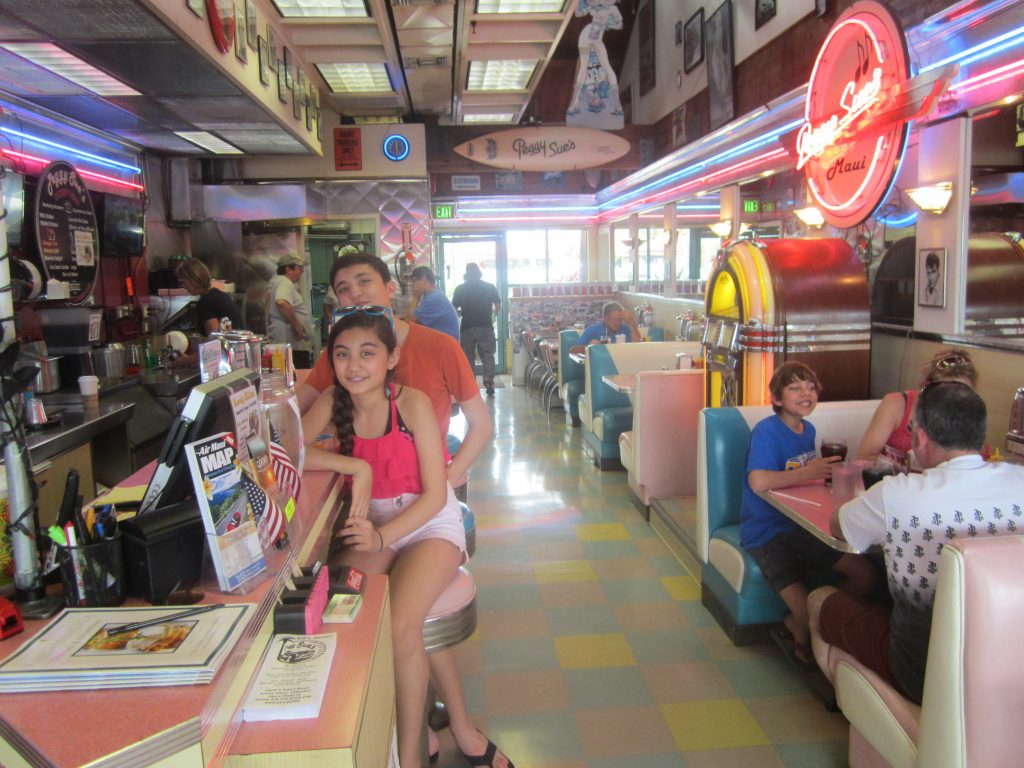 South of the Fairmont there are some nice beaches we checked out…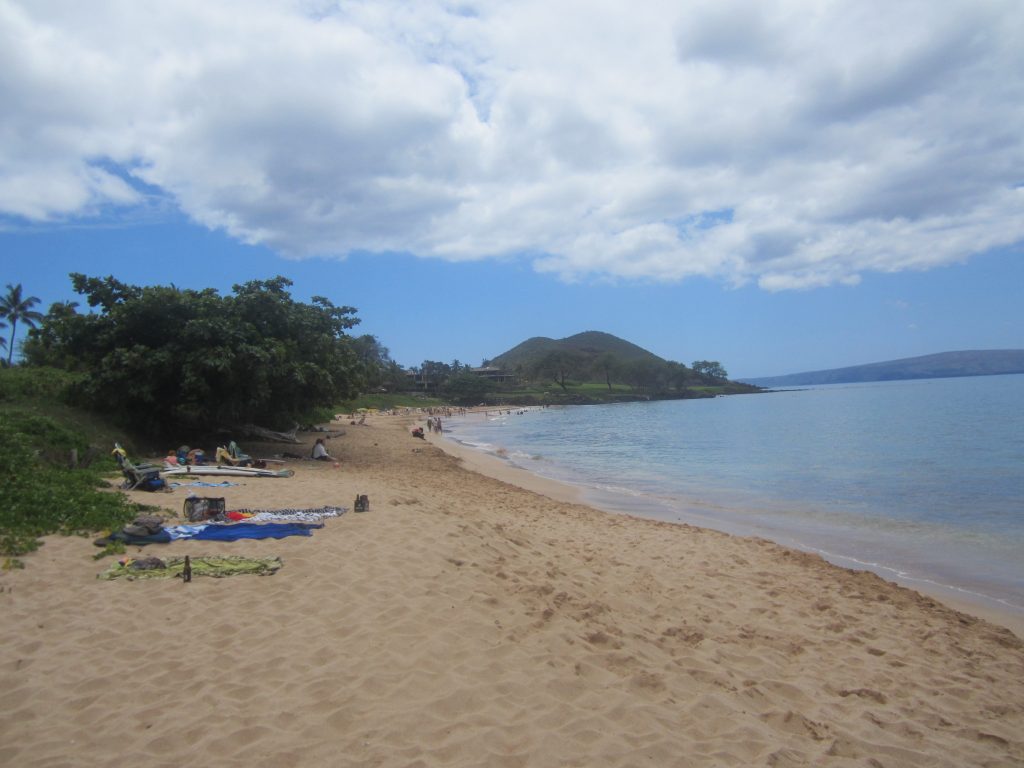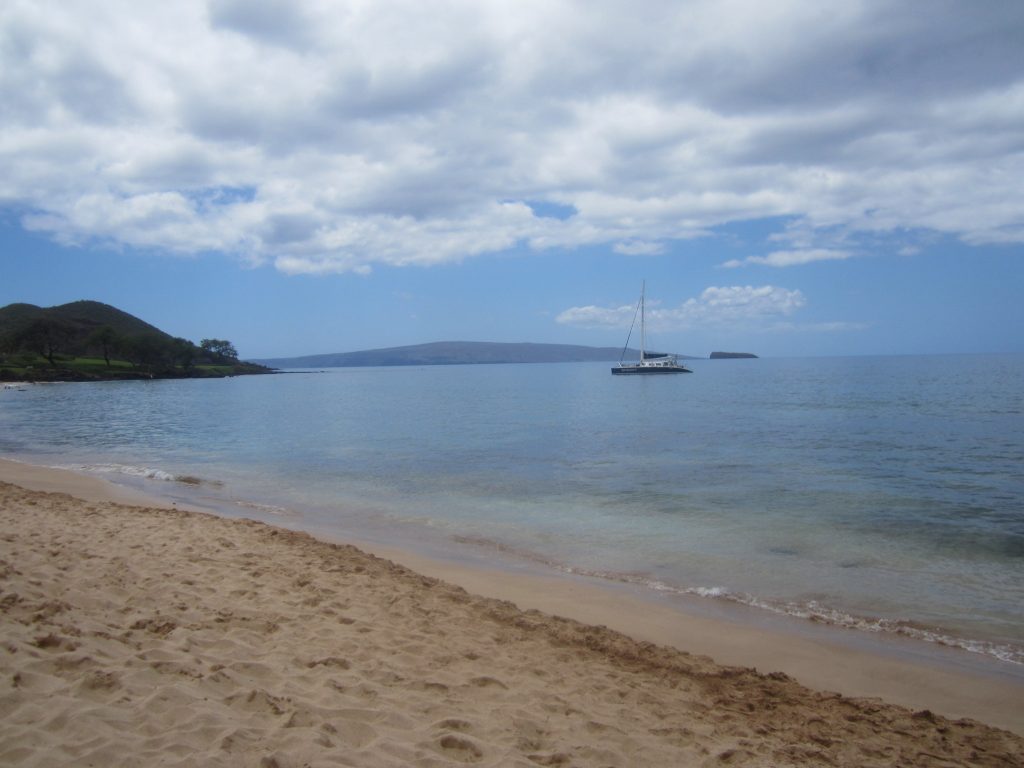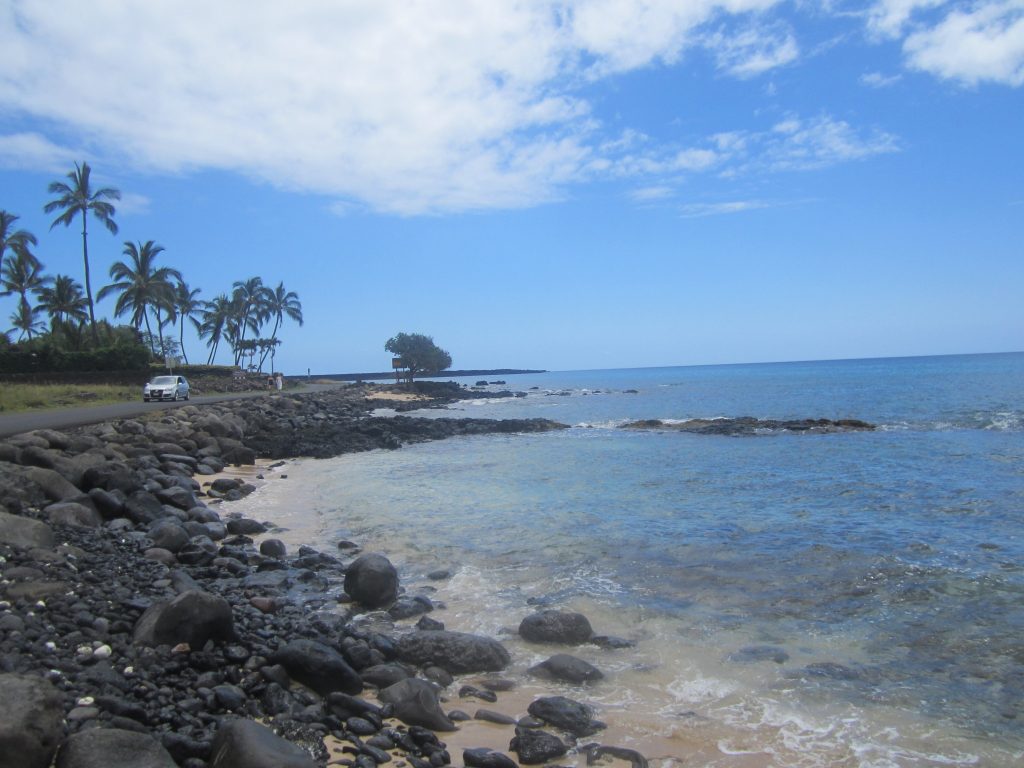 Sometimes I pinch myself what this hobby The Hobby has helped us experience….I mean, look at this!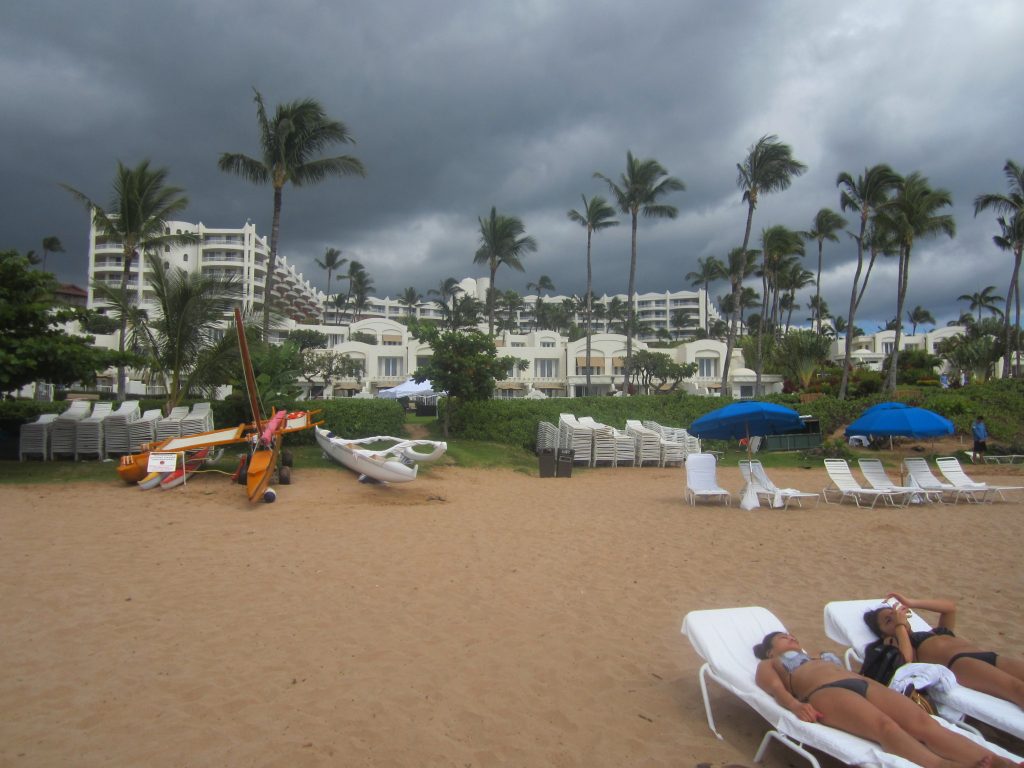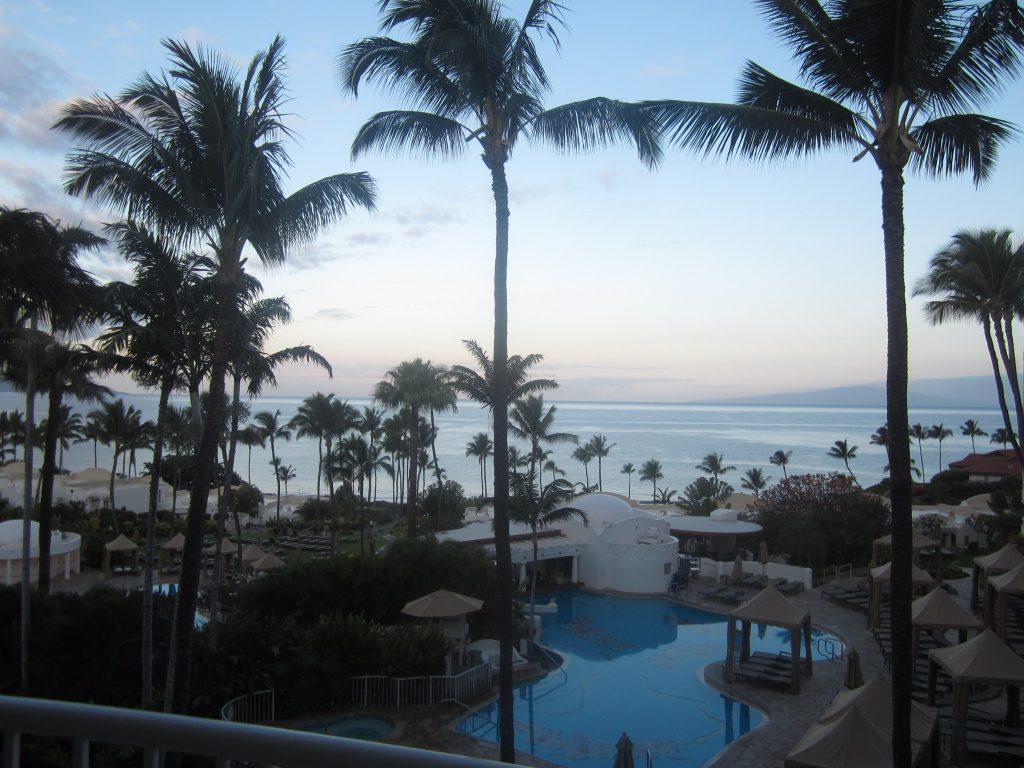 We spent lots of time in the Fairmont just chilling out. We had an AMAZING dinner in the Kō Restaurant as part of the Platinum Passion Benefits each year.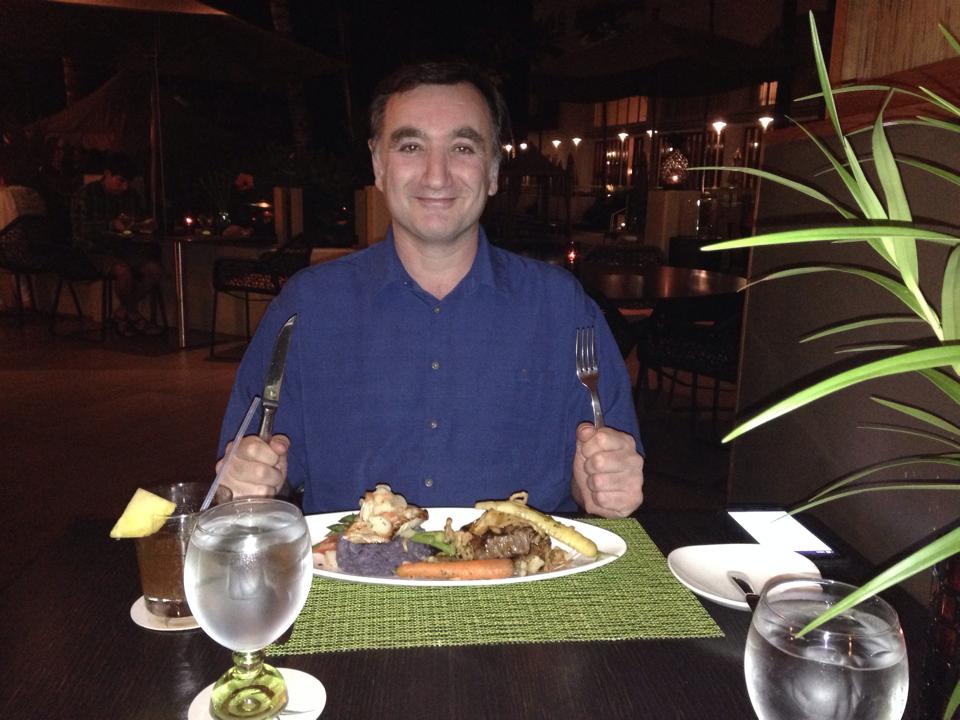 And great bargains in food and drinks at Happy Hour every day in the restaurant off the bar lobby to the left.
Sadly, it was time to return. First flights on Island Air taking us to Honolulu. There was a delay and got us to pay for one bag that was a bit overweight.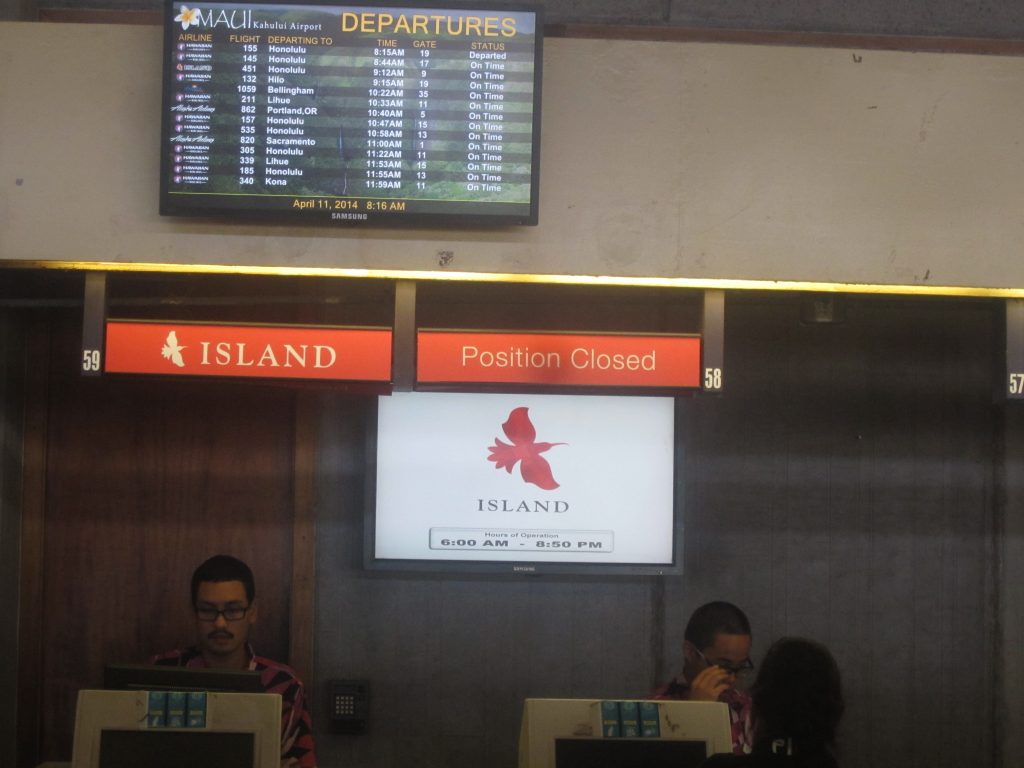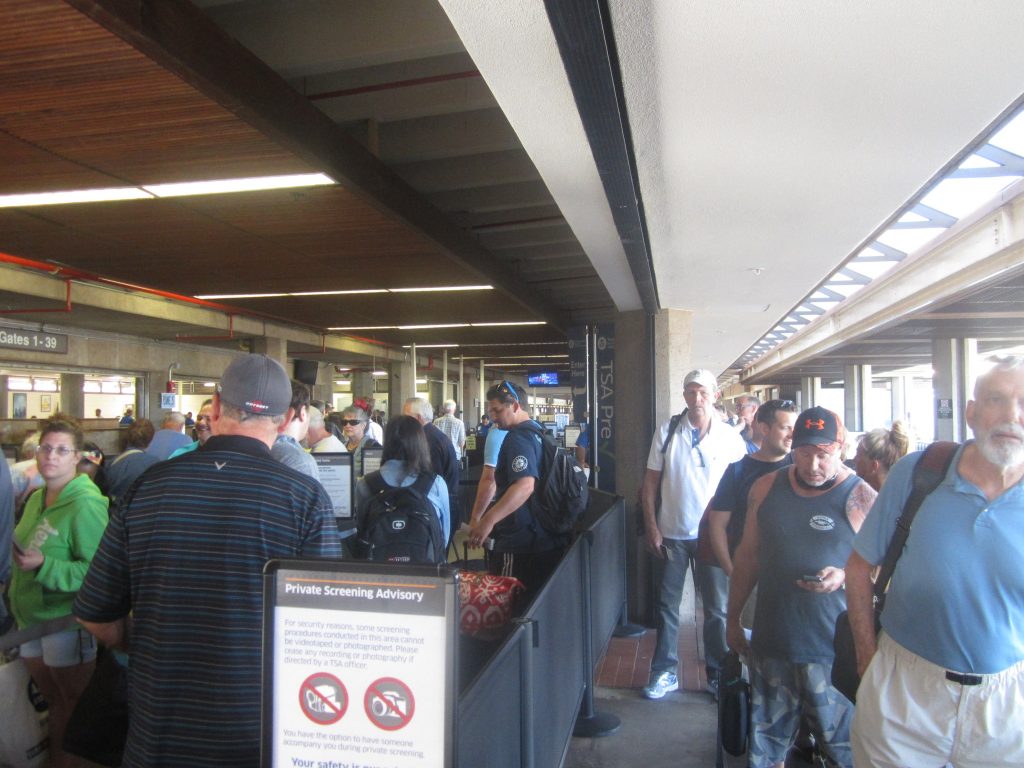 Yep, this was an ATR 72 airplane, I always wanted to fly it, check!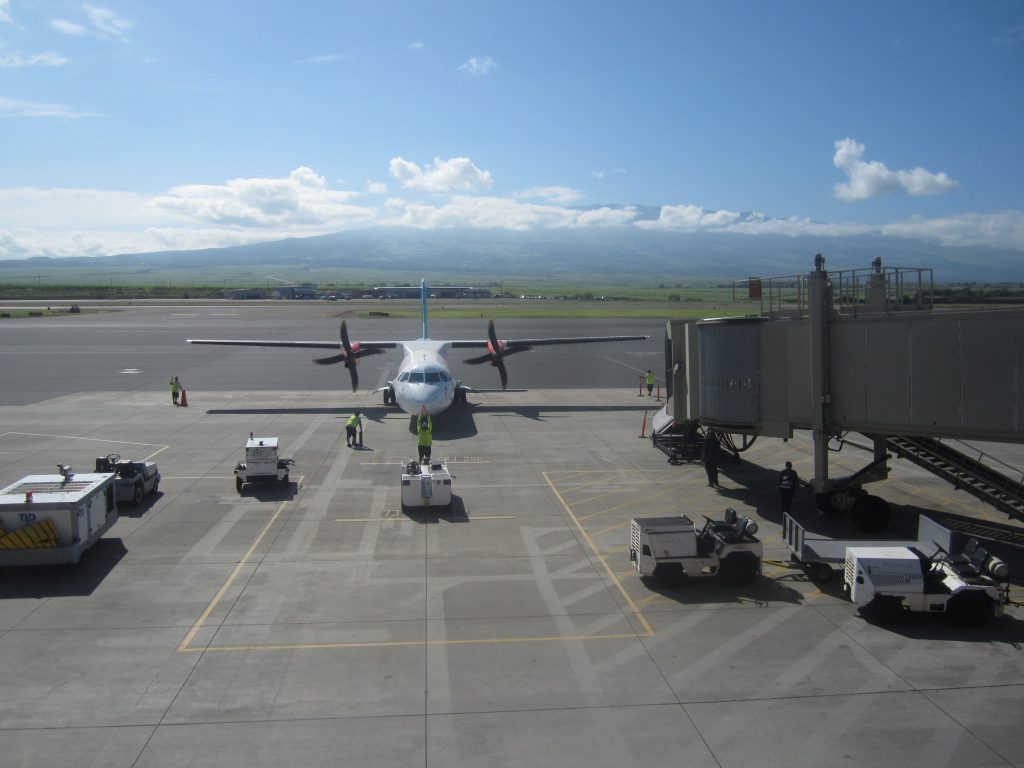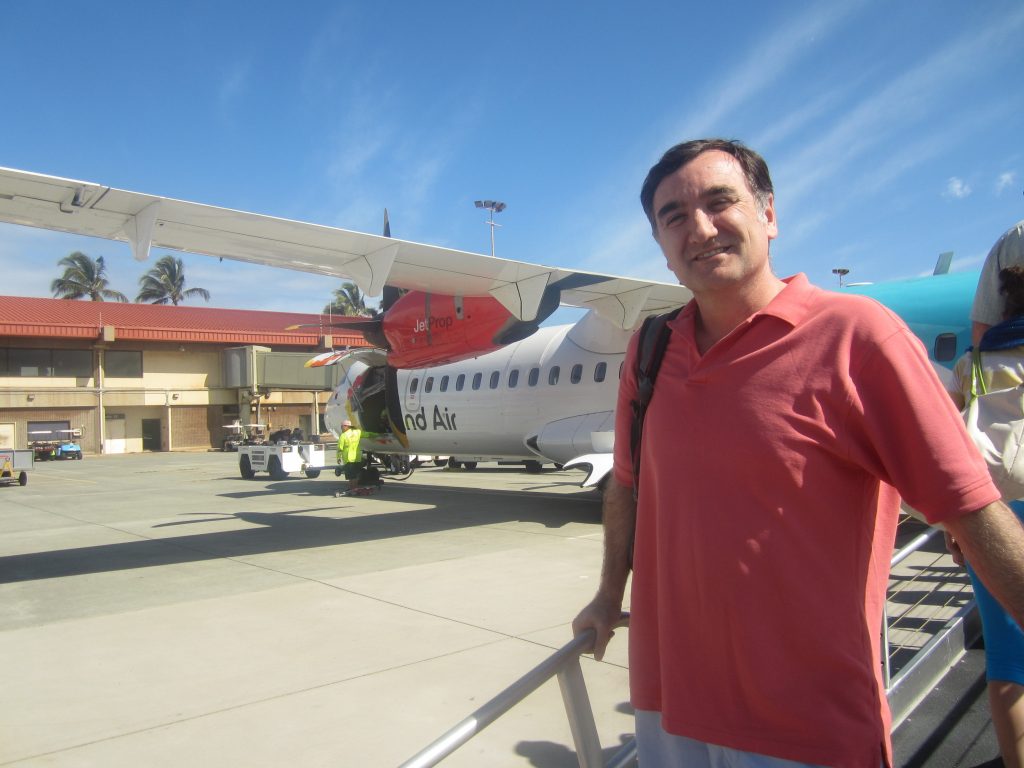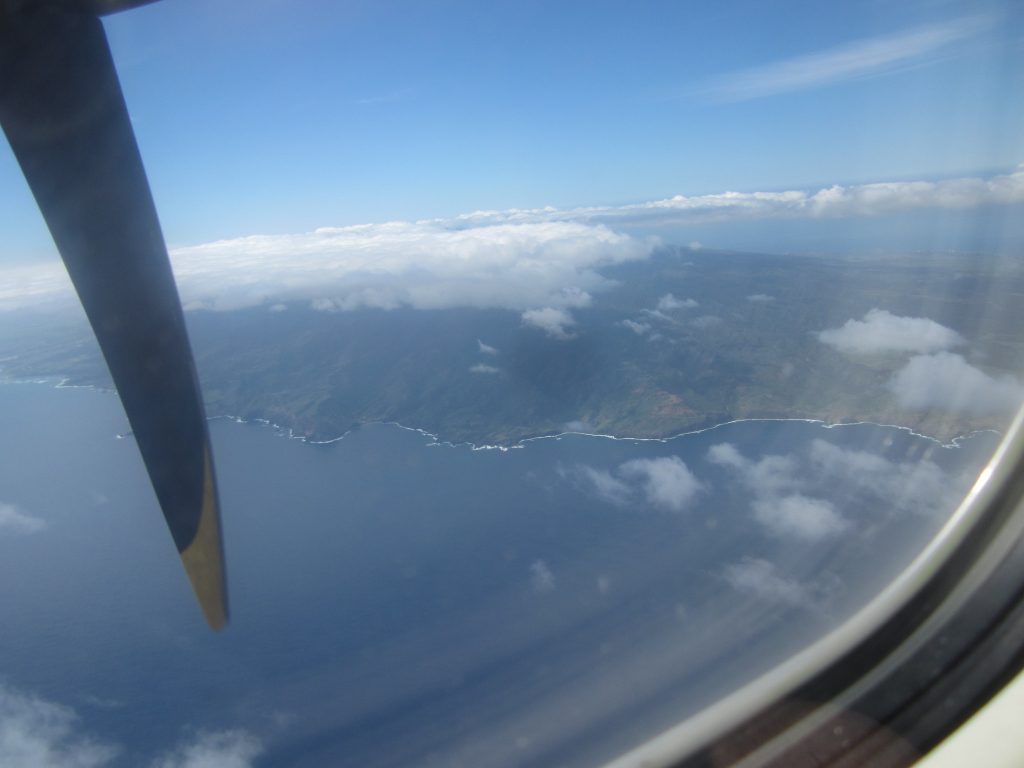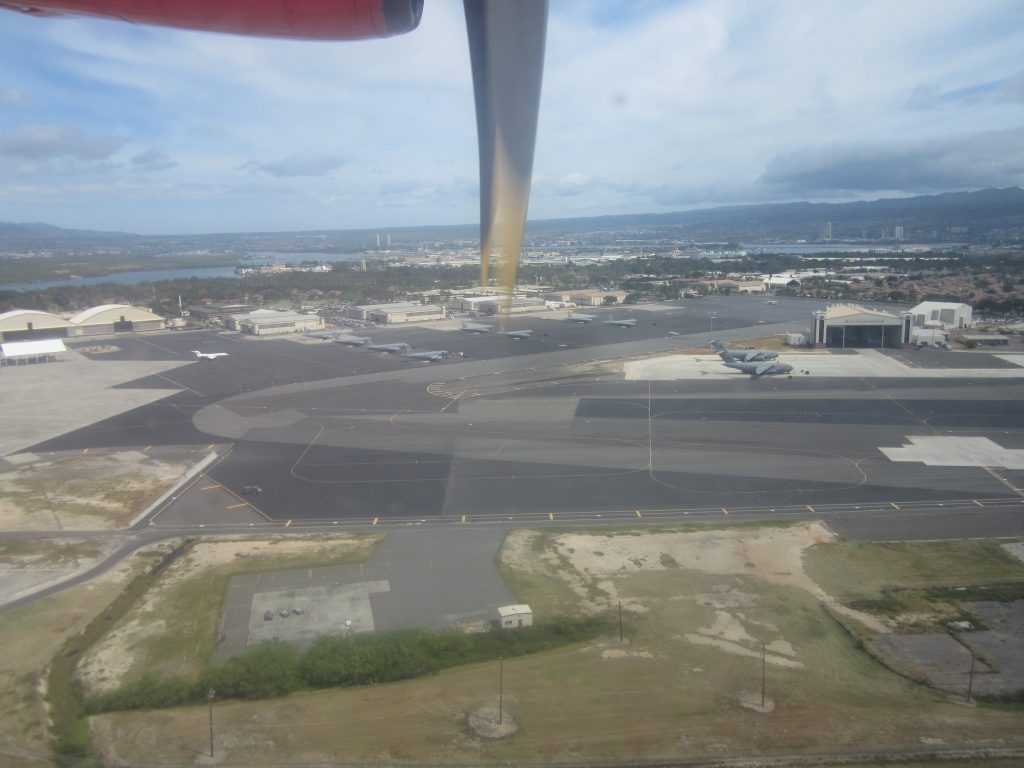 Flight to San Jose from Honolulu on Alaska Air was fine. Picked up a Ford Fusion at the airport and drove back to the Hampton Inn Alameda very late at night and we crashed.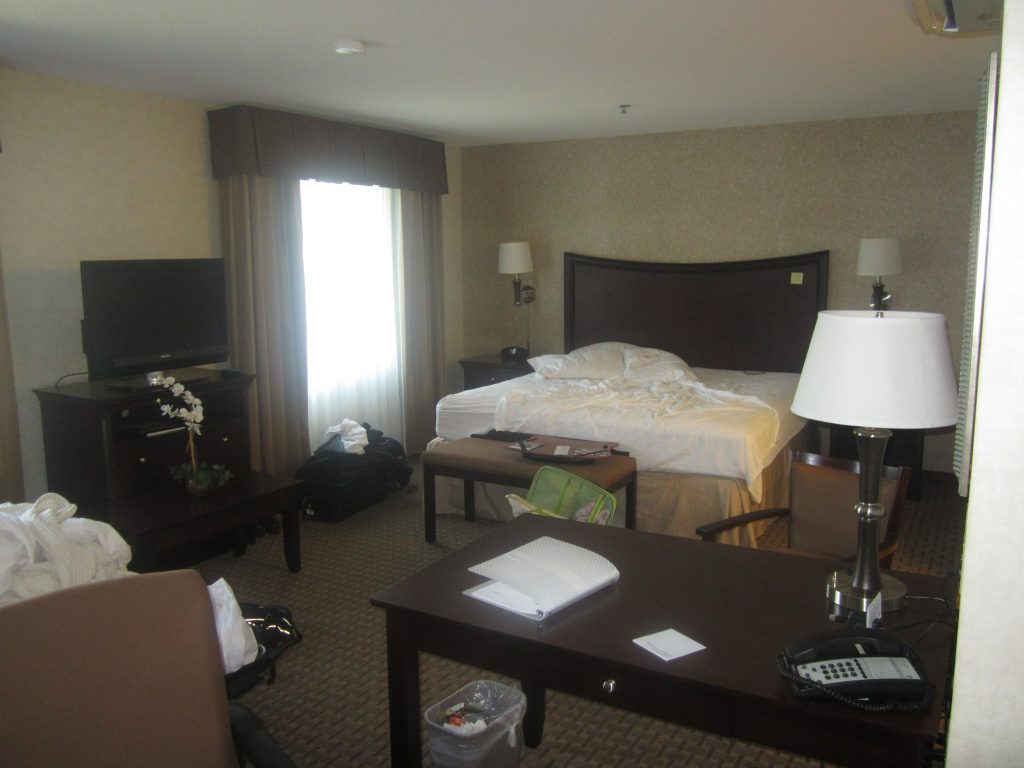 We then spent the next day in San Fransisco…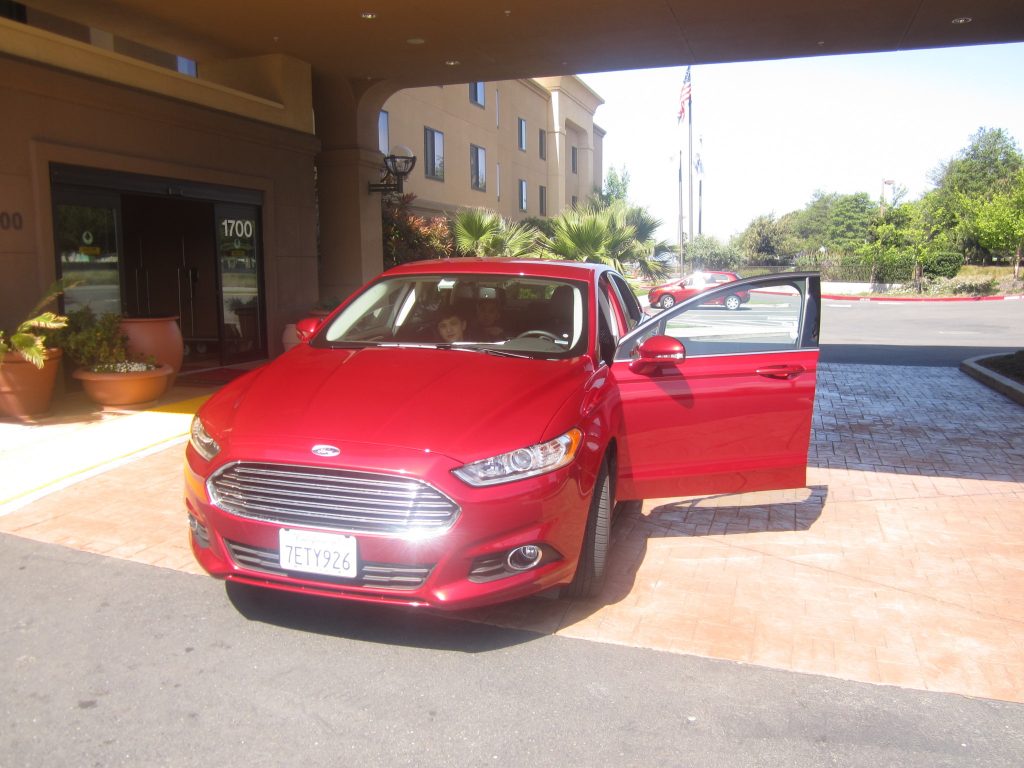 Yep, traffic…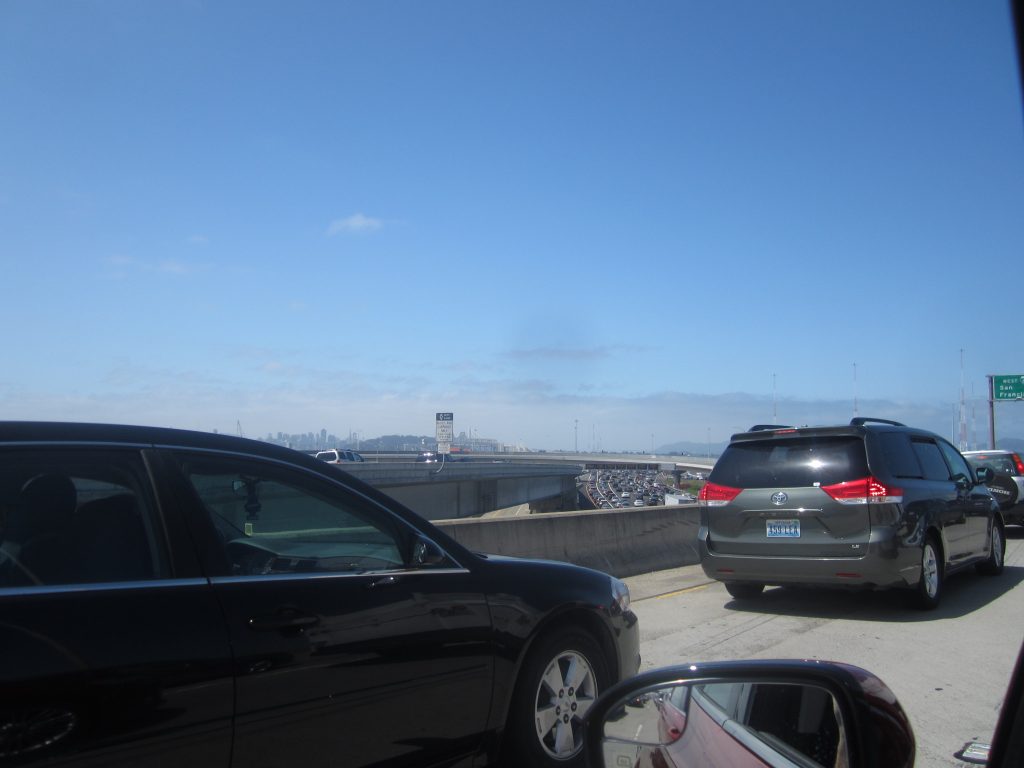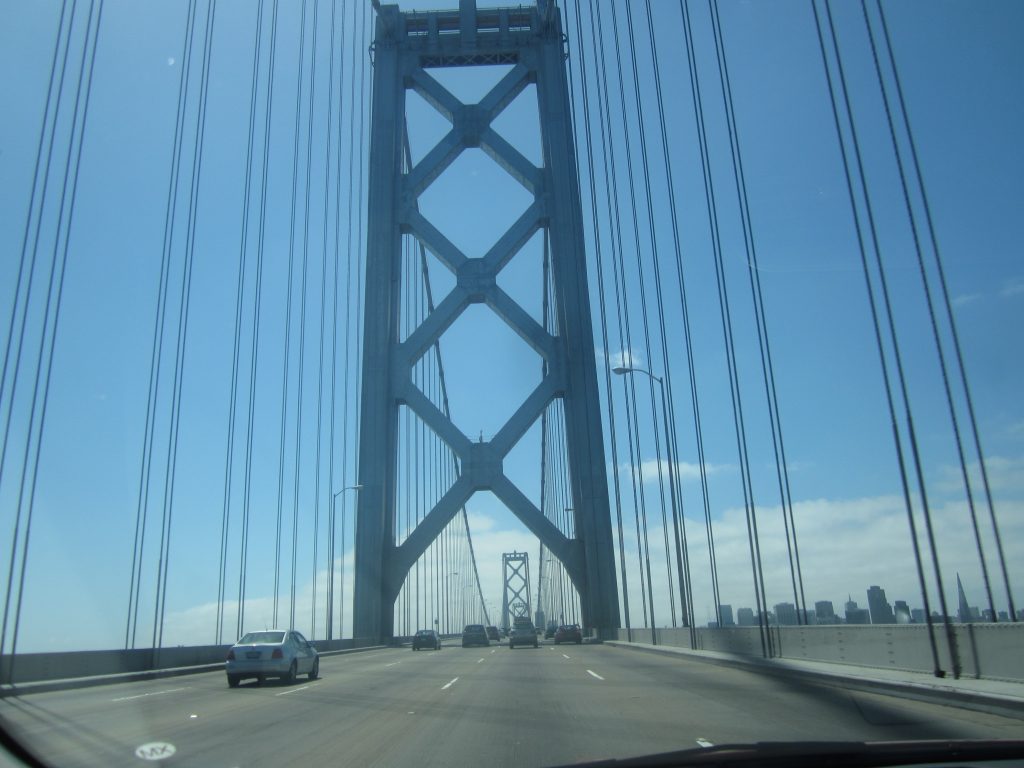 Of course we had to experience Chinatown…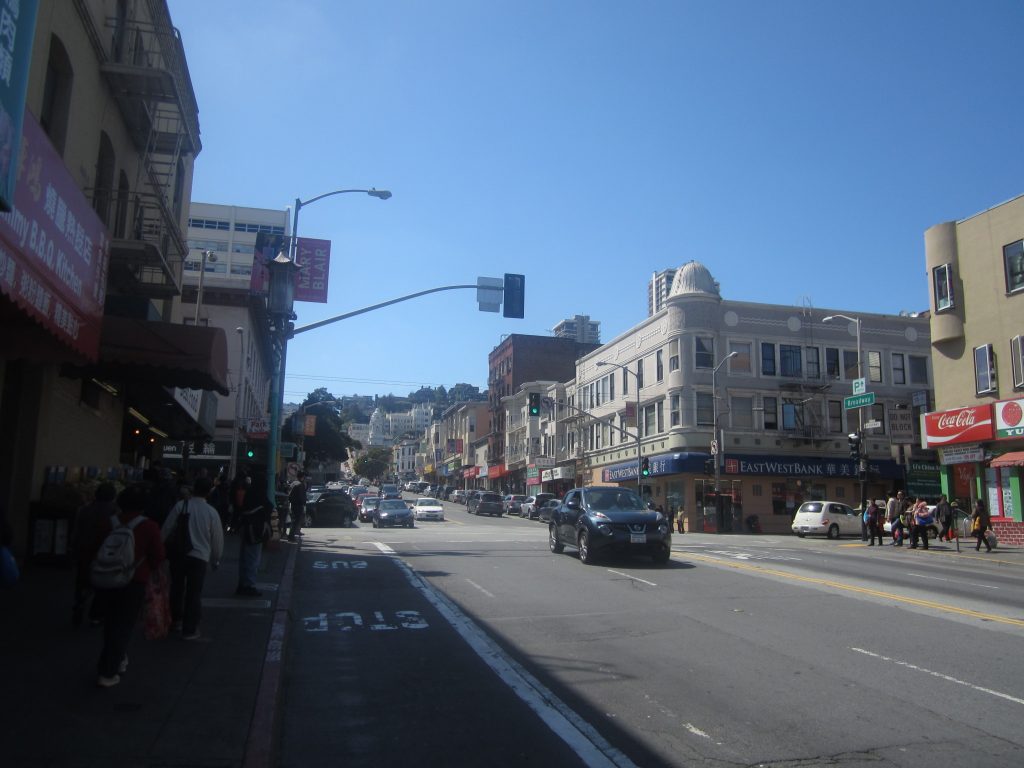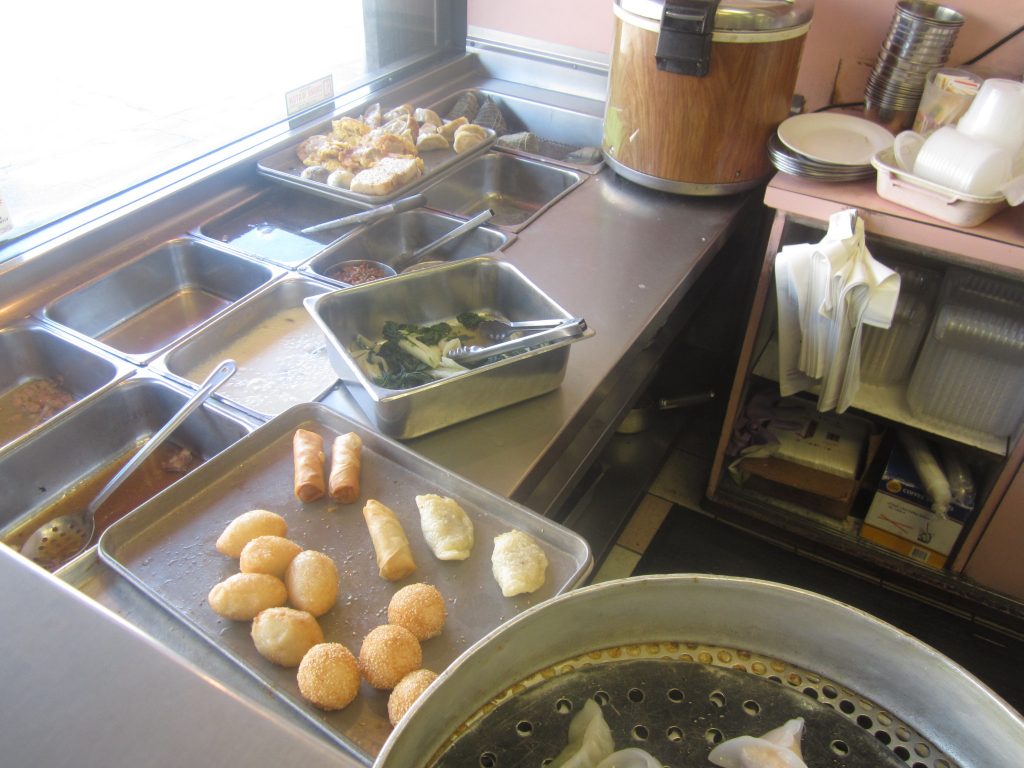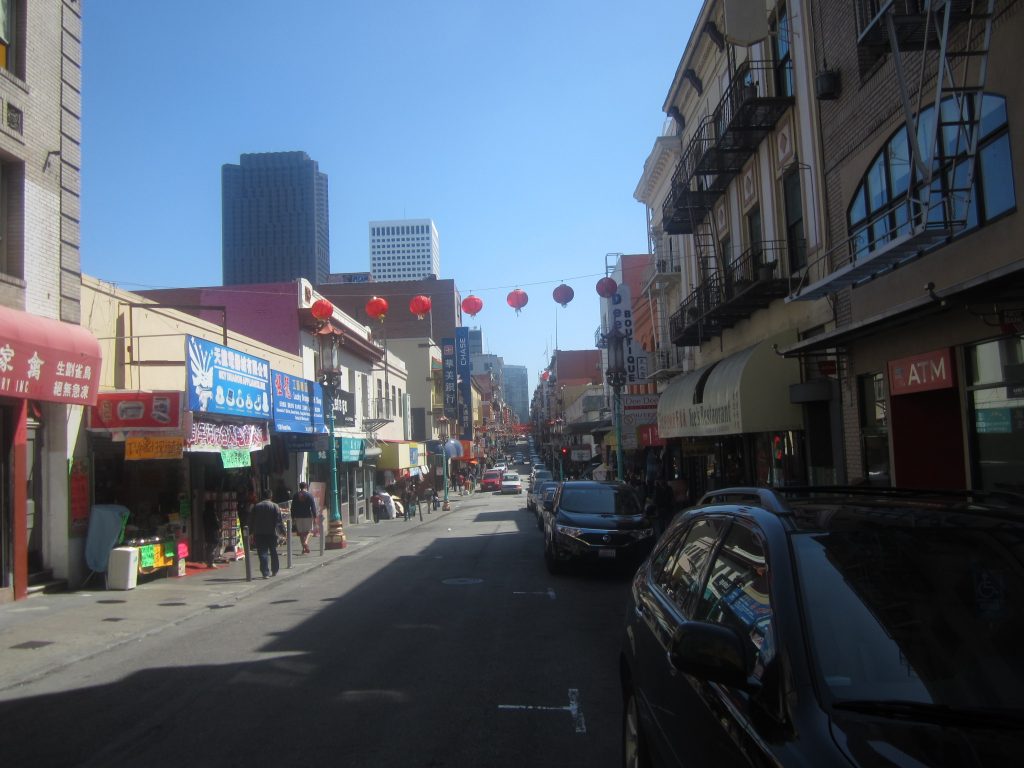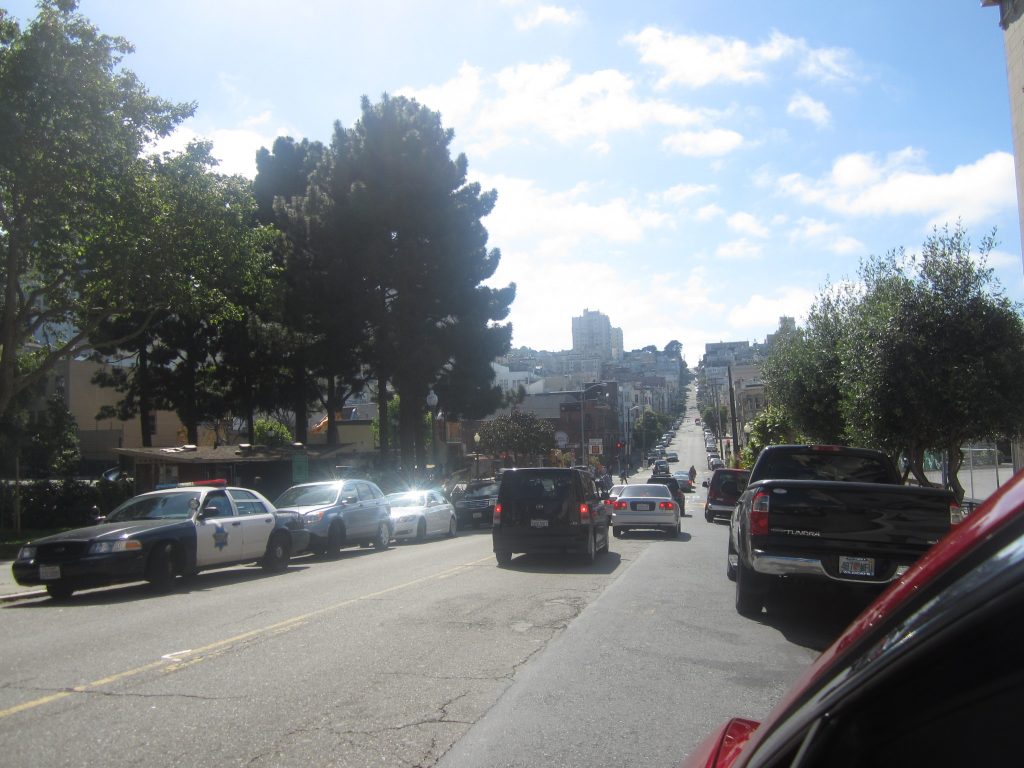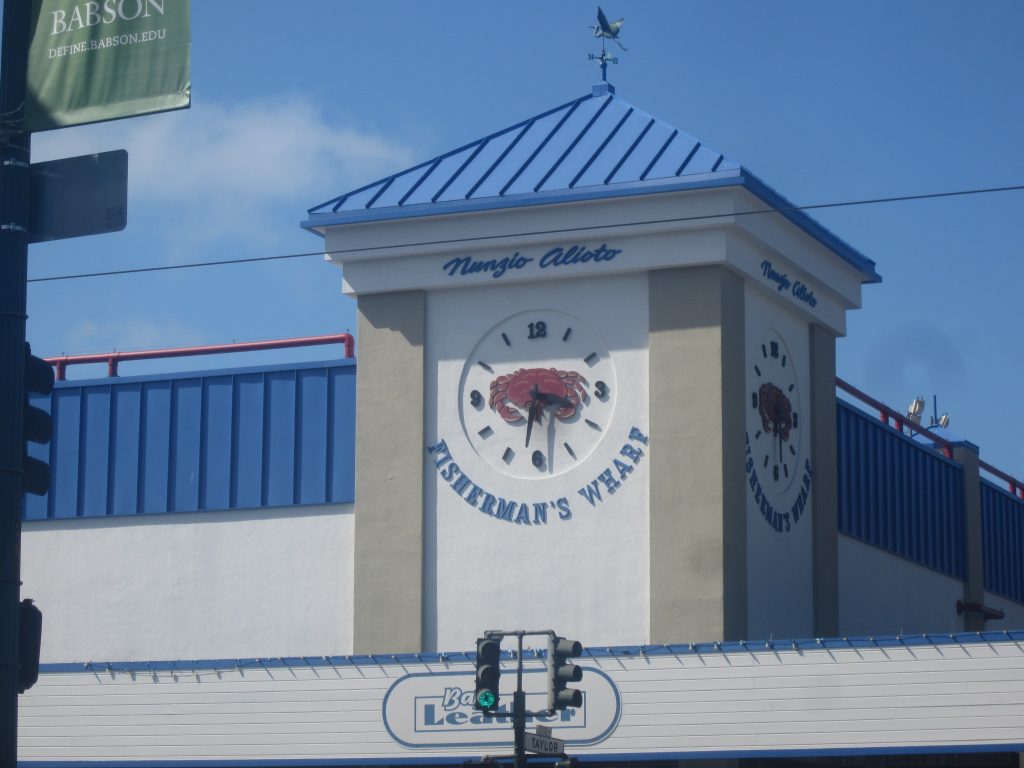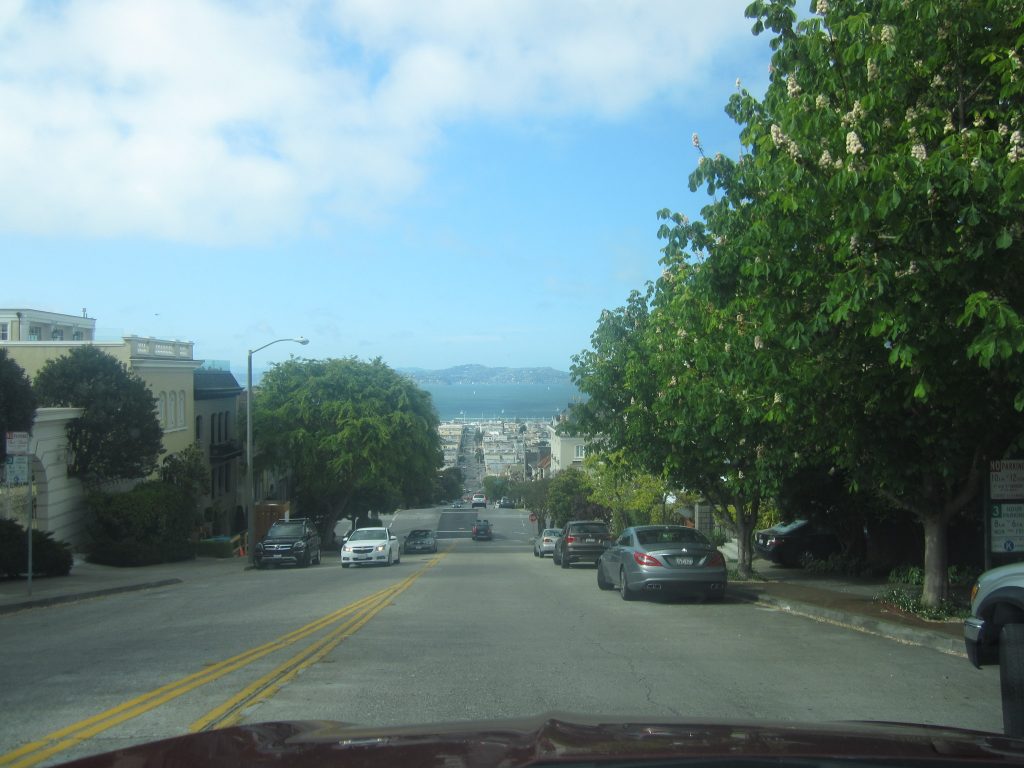 and of course had to go by the Golden Gate Bridge…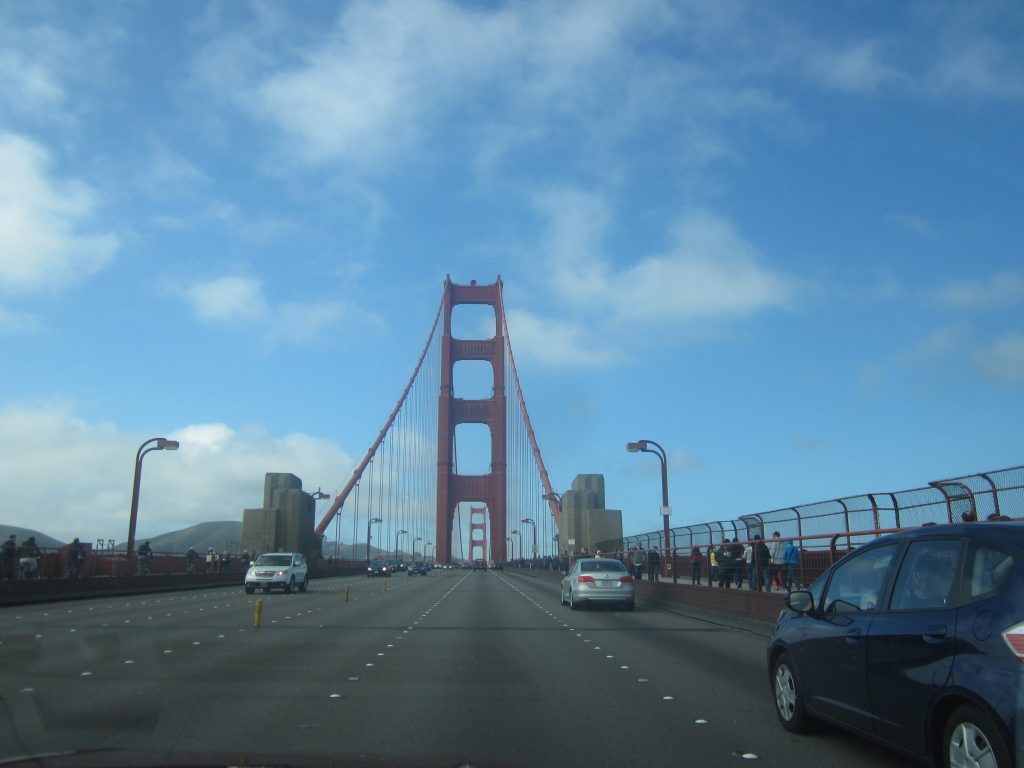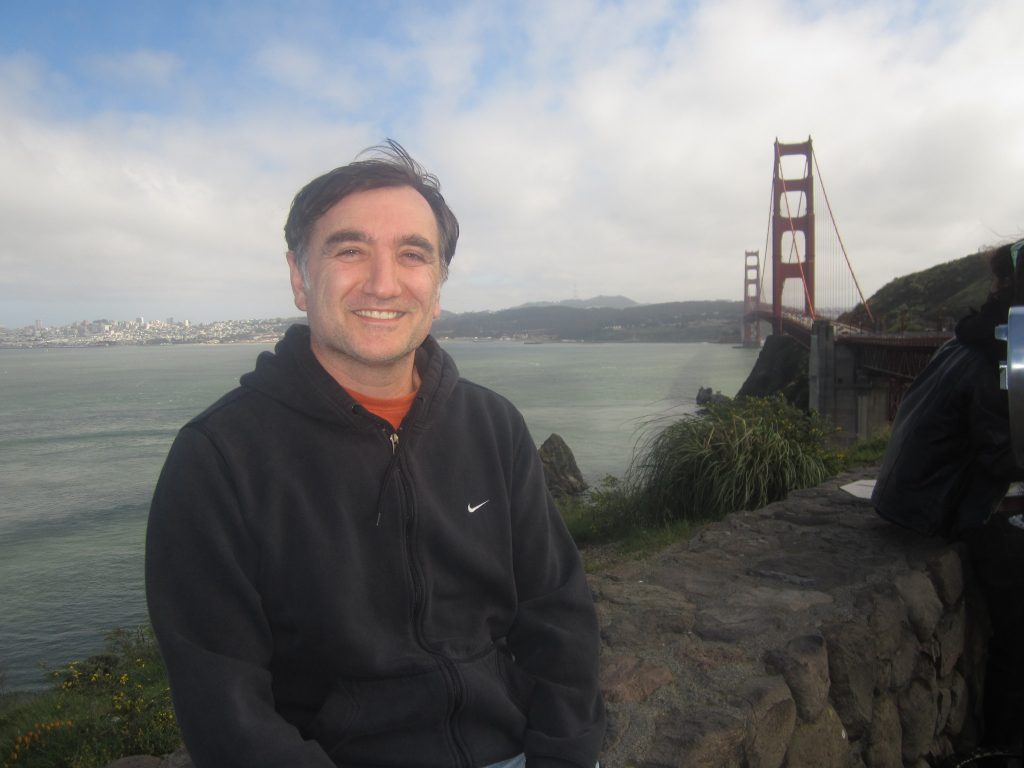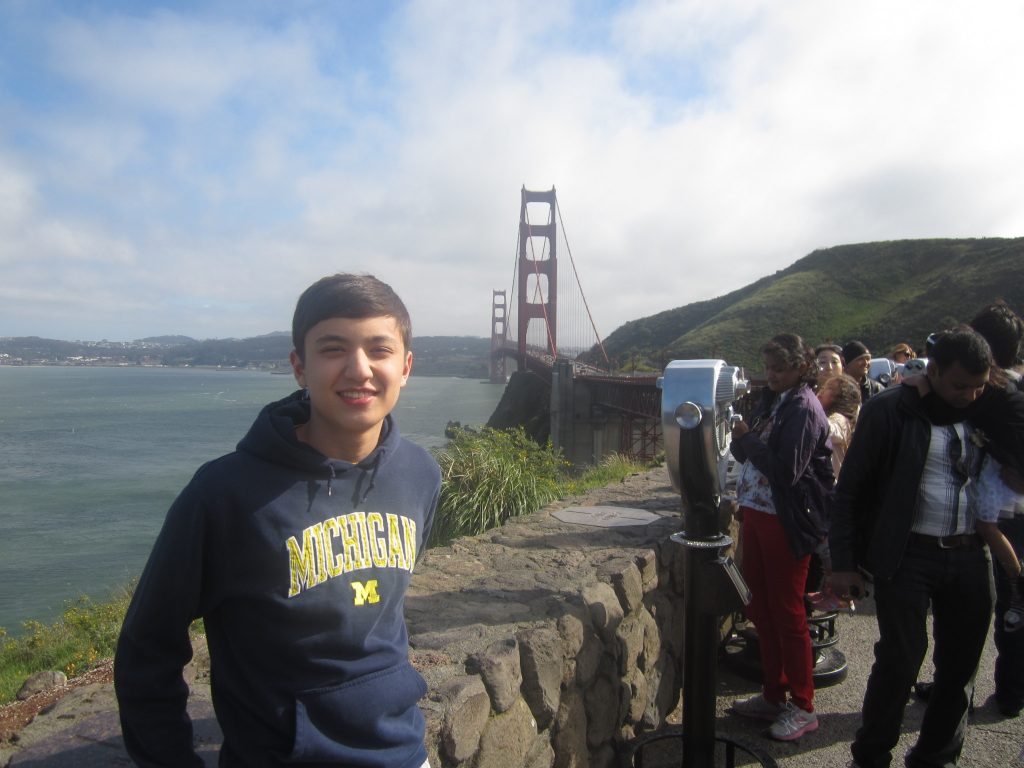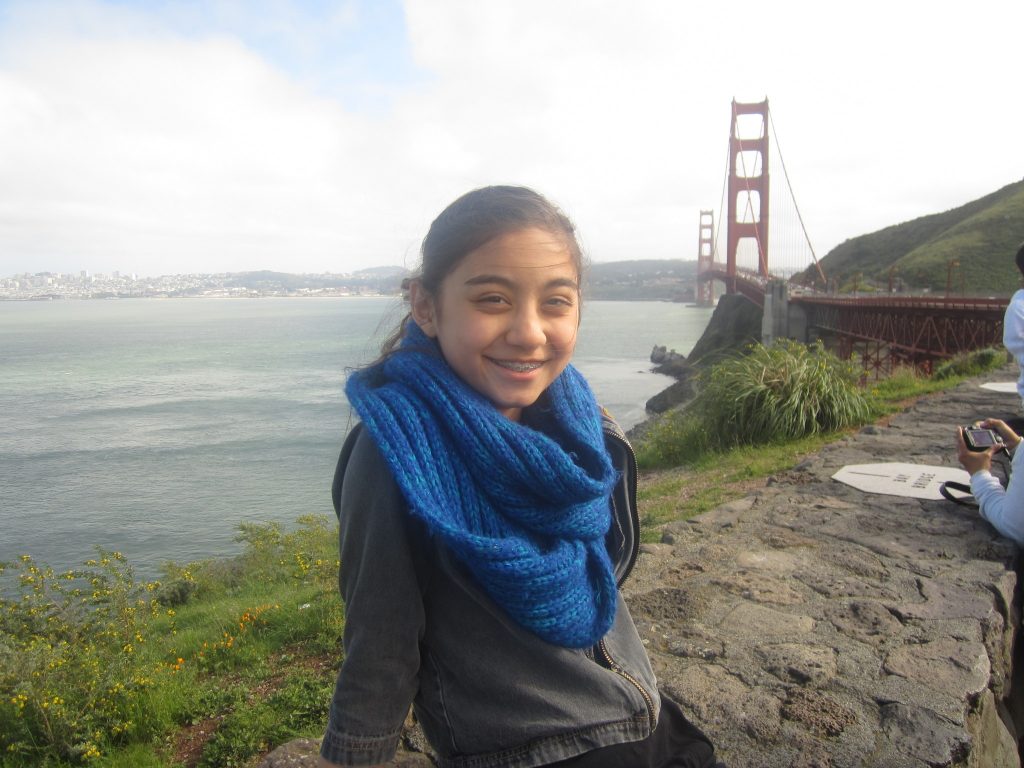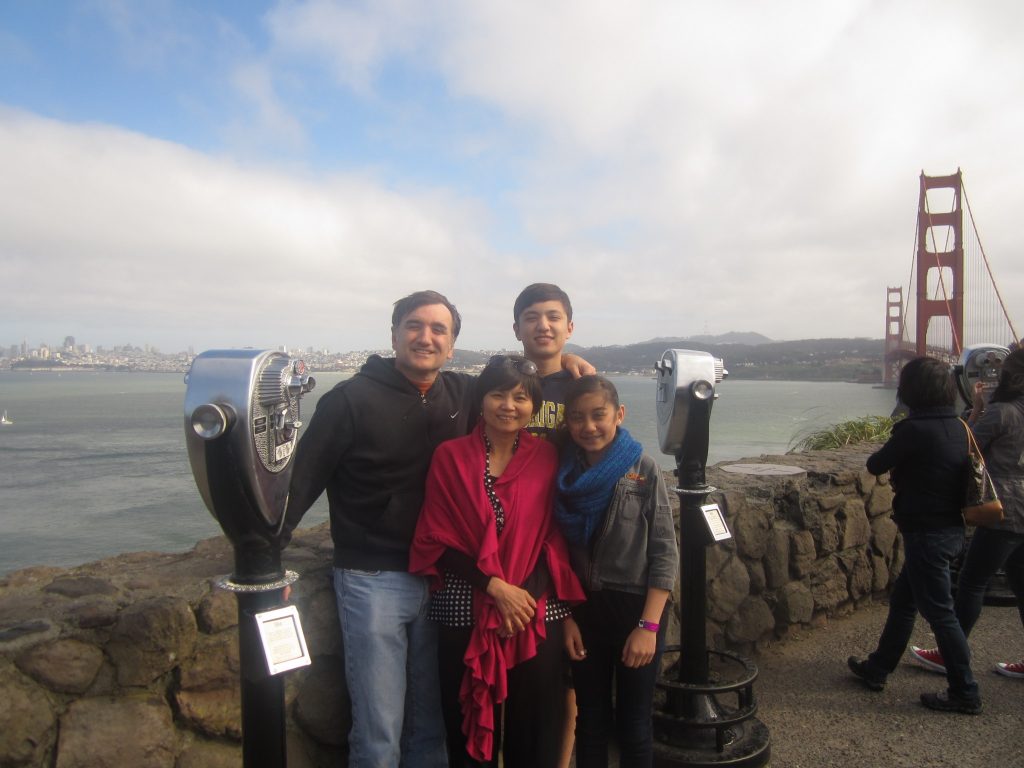 Southwest flights back to Detroit via Denver were fine. And another adventure is over, so sad. Need to work on Kaui soon!