This trip report consists of parts in the following order:
A detailed look on how I used my frequent flier miles and hotel points, along with Elite statuses to maximize the value of my trip.
Detailed trip report from Detroit to Fairmont Banff Springs
Detailed trip report in and around the Fairmont Lake Louise
Detailed trip report of Jasper National Park
TBB Blog Mission: To Entertain. Educate. Inspire. In That Order!
You can support TBB by applying for CREDIT CARDS and clicking/forwarding any of our REFERRAL LINKS.

July 14 – August 3, 2013
I get hooked on some sights that impress the hell out of me. As soon as I first saw Preikestolen (or Pulpit Rock) I knew one day I will climb it. So I did, here is my trip report from my trip to Norway in April 2013.
I have heard of the Canadian Rockies and how beautiful they are for many years. And ever since I saw this picture below it has been implanted in my brain to visit it!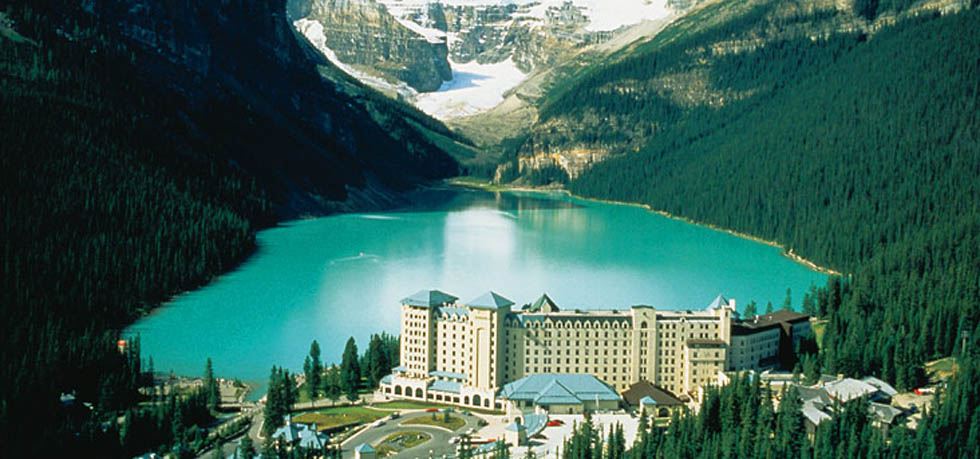 And you can say I have been plotting this trip in my mind for a very long time!
AIRFARE:
4 One Way United award tickets: Detroit-Chicago-Calgary 12,500 miles each plus $5 fee = 50,000 miles and $20 fees.
4 One Way United award tickets: Calgary-Toronto-Detroit (on Air Canada) 12,500 miles each plus $65 taxes/fees = 50,000 miles and $260 fees/taxes.
I did not bother looking at Delta. Times were just not that convenient with American Airlines. Thank you United, may all the other airline websites be as easy to use as yours when we want to use our cherished miles!
The 100,000 United miles were acquired by transferring 100,000 Chase Ultimate Rewards points to my United Mileage Plus account. We both have a Chase Ink Plus card and it is our go to card as Chase Ultimate Reward points are, in my own opinion, the most valuable mileage/points currency out there. Go to card means we use the crap out of it every chance we can! You can get the Chase Ink Bold or Chase Ink Plus cards and get 50,000 Chase Ultimate Rewards points as signing bonus! They are business cards. Use credit cards responsibly please and ALWAYS pay them off. If not, you are the sucker allowing my family to travel for free. If you are new in this game please do NOT be a sucker and start slow, this hobby can get very addictive!
11 OUT OF 11 HOTELS NIGHTS FOR FREE:
Night 1: July 24: Hilton Garden Inn Calgary Airport – $0 Stayed with complimentary night certificate I won in late 2012 in an online Hilton promotion! It was expiring July 30, phew! Earned 4,131 HH points as Gold HH elite.
Night 2-3: July 25-26: Fairmont Banff Springs Mrs. TBB's two Fairmont Visa complimentary nights.
Night 4: July 27: Holiday Inn Canmore 25,000 IHG Rewards points [Rebate 2,500 points —–> Final cost: 22,500 points]
Night 5-7: July 28-30: Fairmont Chateau Lake Louise My 2 Visa and 1 Platinum complimentary nights
Nights 8-9: July 31 – Aug 1: Holiday Inn Hinton 10,000 IHG Rewards points on Pointbreaks rate (5k each night) [Rebate 1,000 points—–>Final cost: 9,000 points]
Nights 10-11: Aug 2-3: Country Inn & Suites Calgary Airport 44,000 Club Carlson Gold points (2nd night free!)
This is how we acquired the hotel certs/points:
Fairmont: See next section below for detailed discussion
Holiday Inn: Mrs. TBB got 80,000 IHG Rewards points after getting the Chase IHG Rewards Visa credit card. Yes, you can stay for 16 nights if you book only 5k/nt Pointbreaks hotels! It has no annual fee the first year and you get automatic Platinum elite status as long as you hold the card. And 10% points rebate on every redemption. If you keep the card, the annual fee is only $49 per year and you get one free night in ANY IHG hotel! Check the link in Post #1 in this FlyerTalk discussion.
Country Inn & Suites: This is part of the Club Carlson family of hotels. We both got a US Bank Club Carlson Premier Rewards Visa Signature card (non-affiliate link) and each received 85,000 Club Carlson Gold Points in our accounts. Gold elite status as long as you keep the card. And, the jewel of all hotel benefits, you get a FREE award night when you make any award reservation! So our two nights at the Calgary Airport Country Inn & Suites cost us only 44,000 points which was the rate for ONE night, the second one was FREE!
PLANNING FOR FAIRMONT LODGING

Fairmont hotels have two fantastic hotels in this region: Fairmont Banff Springs and Fairmont Lake Louise
With the introduction of the Fairmont credit card by Chase Bank my mind started spinning how to make the best out of it and finally get to visit this place and stay in style. We are okay not seeing it in style but we highly prefer it when cash is not coming out of our pockets! Guess what? The credit card is STILL out there (non affiliate link) and for no annual fee in the next year you get 2 TWO complimentary nights after spending just $1,000 on the card, Premier elite status , breakfast for two for each night, etc. The card has no foreign transactions fees, a complimentary night is also earned each year at anniversary of the card with $12,000 of spend during the previous card year (NOT calendar year) at the time of payment of the annual $95 fee (it is still free for the first year and yes the two free nights are yours!). The points earning rate on the card is really not that good but you can still cash out for Fairmont gift cards. No reason to put too much spend on the card other than perhaps just hitting the $12k mark to generate the free (well, not free) Visa night (which really costs you just the annual fee of $95 which is a great rate for any room at a Fairmont hotel!)
Needless to say me and Mrs. TBB got the cards so we had four nights between us. In addition, I am a Lifetime Platinum Fairmont Presidents Club member and one of the benefits I receive each year is one complimentary night. How did I become a Lifetime Platinum Presidents Club member? It was a great story indeed, USA Today even wrote a story about this legendary Living Social deal. And thank you to Fairmont for honoring it, I became a fan!
I was aiming to get two more nights (for a total of 7 instead of 5 in the two Fairmont properties) based on the $12k spend per card but my timing was off. We both got the cards in July 2012 and was hoping the complimentary nights will be credited to our accounts by late August. Well, some scheduling conflicts arose with Mrs. TBB's job so we moved up our vacation start to end of July. We did not get the two nights credited in time. Actually, we believe we got a great feel for these two properties in five nights. And we still have the two free night certs and we spent them at Fairmont Maui Kea Lani (read our Maui trip report).
UPGRADES & DINING CERTS BANG!
We cashed in our Fairmont points and among my Platinum certs, her Premier certs and Visa certs we ended up with about $500 in dining certs among us! Oh, I forgot to add. As Platinum, I am entitled to a free session at the Spa. Mrs. TBB sure enjoyed it! We managed to eat very well and still have $200 at least in gift cards to use next year in Maui! And I intend to get more Fairmont gift cards as we will be keeping these cards as we aim to hit a Fairmont hotel three nights every year!
We used suite upgrades of course. I arranged them with the Platinum Presidents Club line which tends to be a bit stingy. Dan of DansDeals strongly suggested to book directly with the hotel. Anyways, I am not that pushy to prearrange the Presidential suites every time I travel, we are fine with most Fairmont suites. Well, the Banff Springs suite was just awful; its location was at a corner with traffic right next to our windows, yikes. I immediately called and asked for a different suite. Second suite was much better. Could we have done better? Perhaps. Were we satisfied? Yes! Moral of the story: If you do not like the room, call the front desk pronto!
I was more concerned with the Lake Louise suite upgrade. I absolutely wanted to get a Lakeview room which I managed to pull off. There is no better view in my opinion, Lake Louise is magical!
RENTAL CAR
I neglected planning for the car as well as I did with the airfare and hotels, boo me! This is where a Barclays Arrival card would come in very handy. But I was too busy handling the other cards I have, tracking signing bonuses and minimum spend juggling, let alone keep producing a quality blog here! So, (this is going to hurt my reputation!) I ended up paying about $784 USD for a pretty nice Jeep Compass SUV for the duration of the trip. At least I got some Hertz points out of it. Friends were there a week earlier and paid similar rates. Hey, experts make mistakes, we are all human 🙂 By the time I got serious in shopping for it , price kept going higher so I just booked it and tracked it…yep, prices never came down!
The full detailed trip report follows. Warning: VERY long!
And off we go again! Obligatory family pic at the Detroit Airport!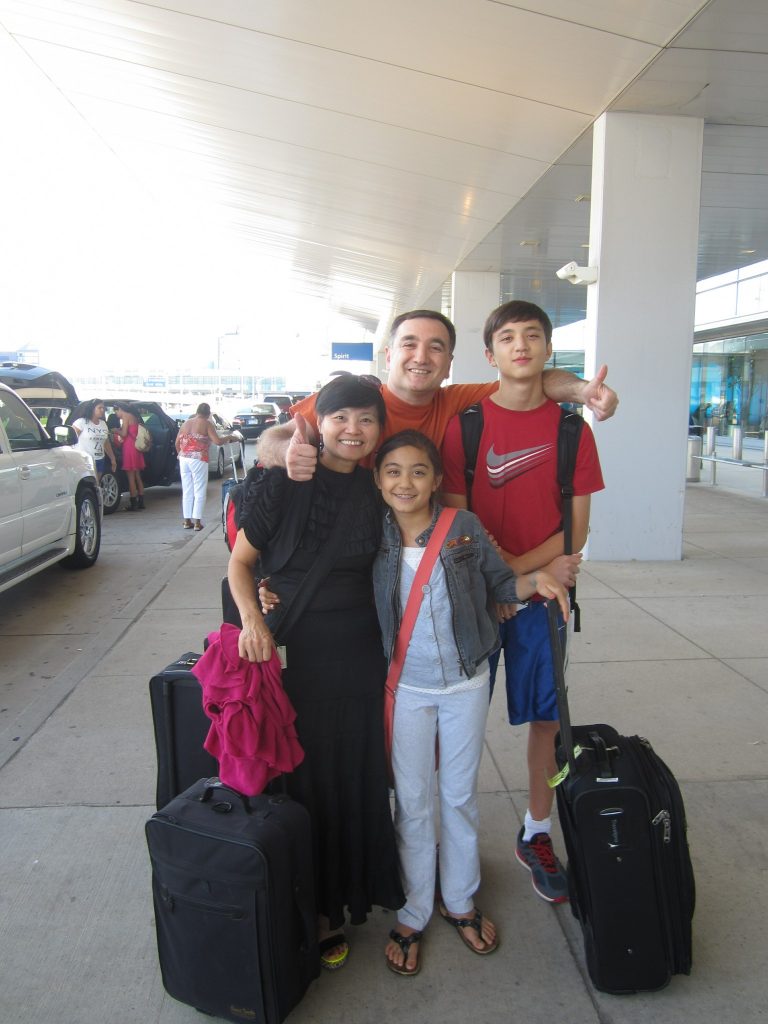 I don't do the flight reviews at all. I am just not going to look like a dumb ass taking pics of the seats, the meals or, heavens sake, the lavatory! Short flight to Chicago on United and then to Calgary. Flights were just fine, nothing to report.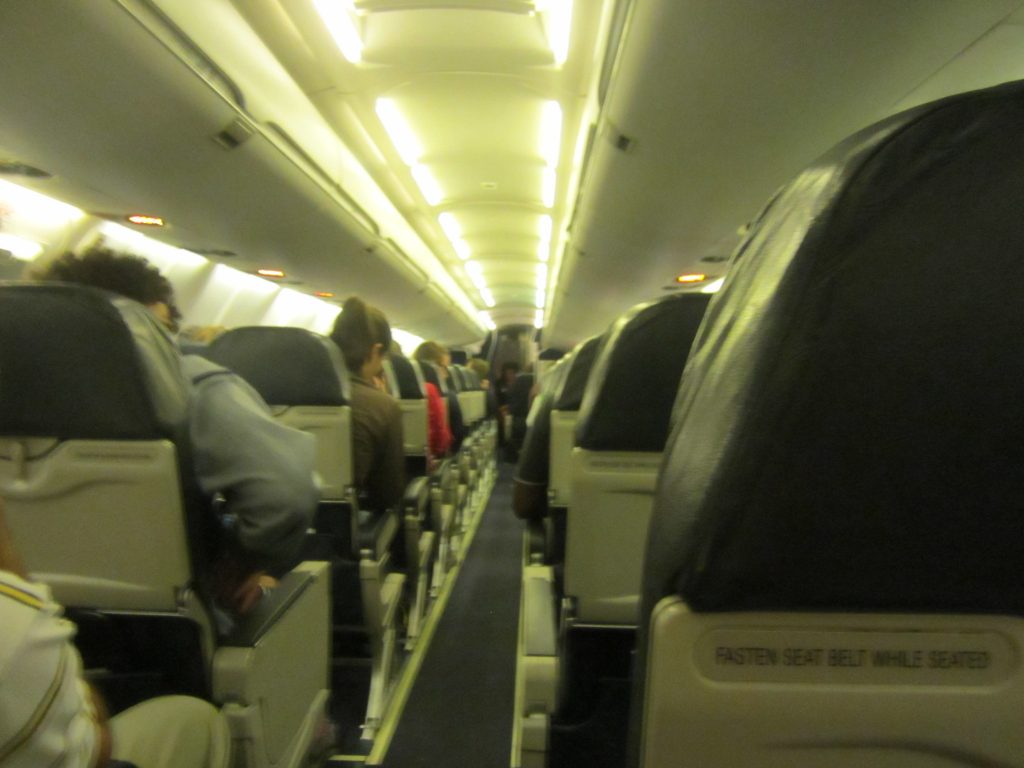 First time in Calgary, very nice airport.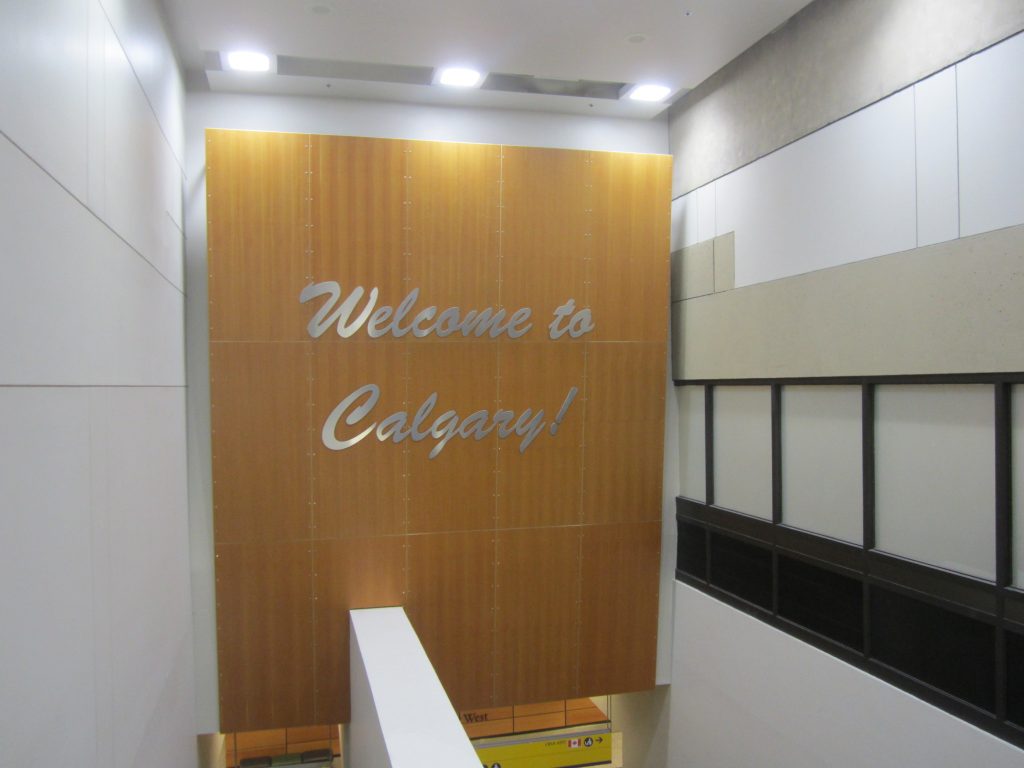 First night at the Hilton Garden Inn airport, we checked in late at night. Very nice hotel rooms.
As Hilton Gold Elite, we all had a fantastic breakfast. I have always found the food at Hilton Garden Inns to be pretty good.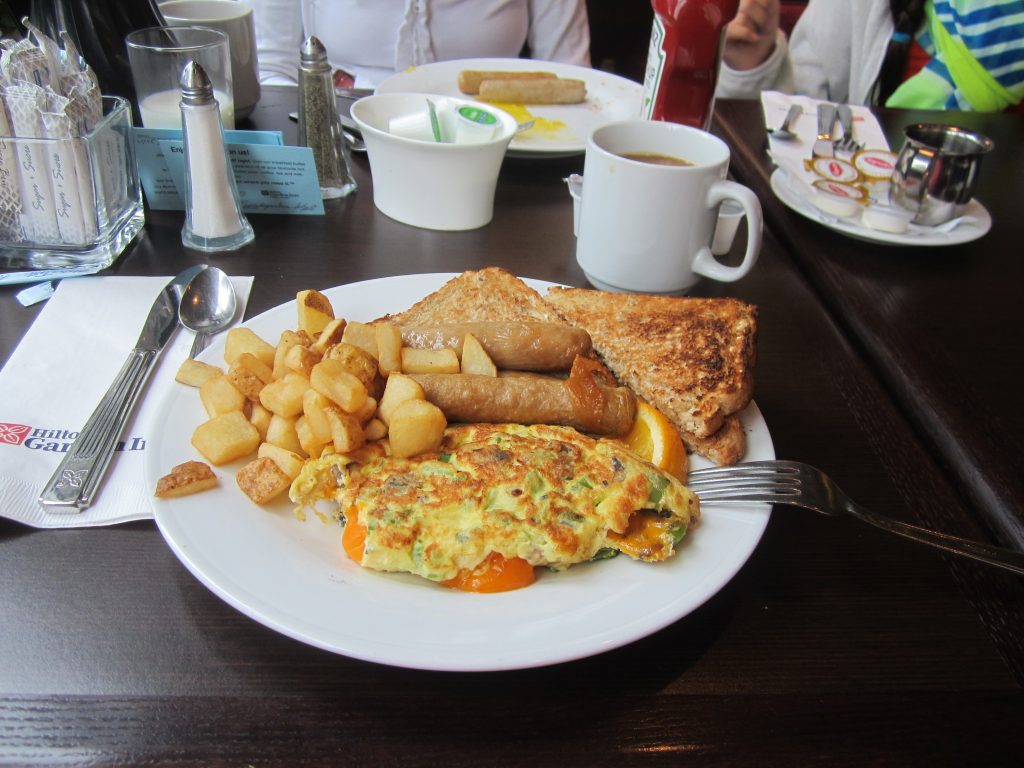 Hotel was super clean, I do remember that!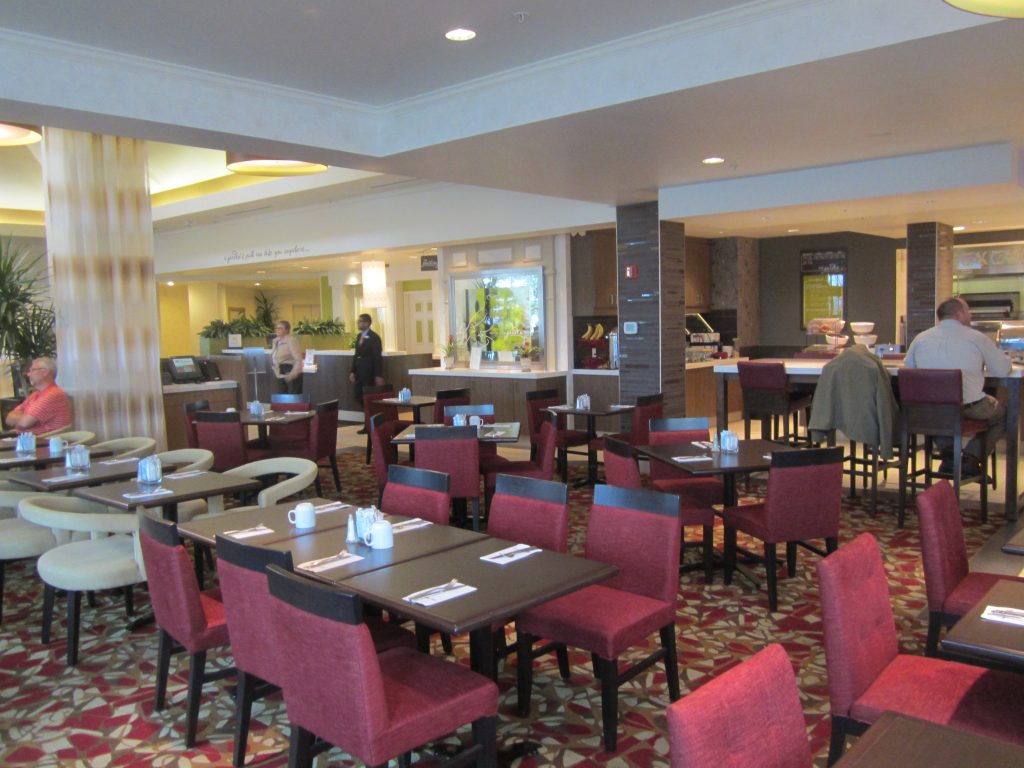 After breakfast we took the hotel shuttle back to the airport to pick up the rental car at Hertz with my daughter.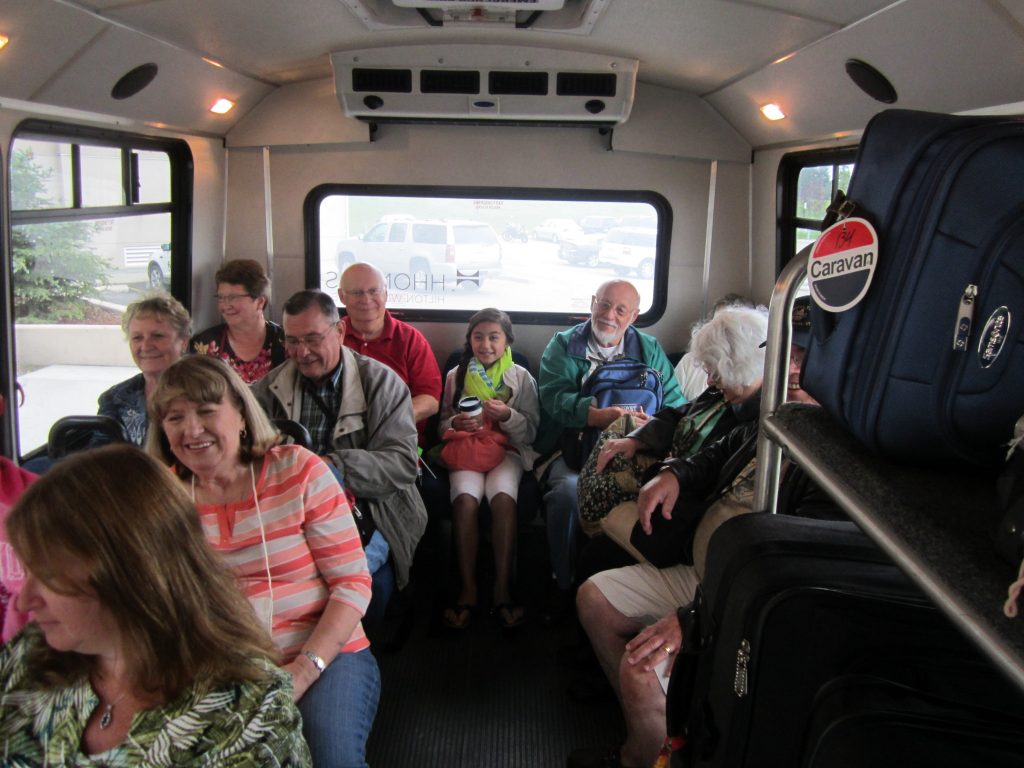 We returned to pick up wife and son who stayed behind to continue their breakfast. Our car was a Jeep Compass SUV and the rental car experience at Hertz was NOT good, long line and severely understaffed.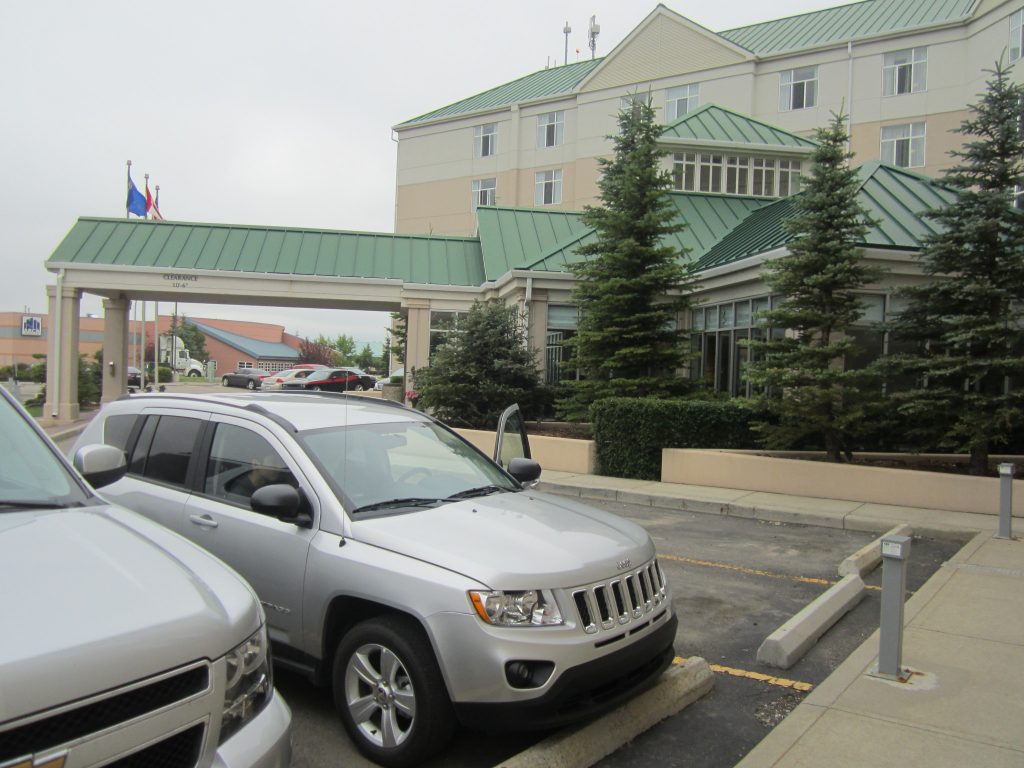 We drove straight on Highway 1 to Banff. Nice but very boring drive, not much to see until you enter Banff National Park where the magnificent sights start and continue west and north from there!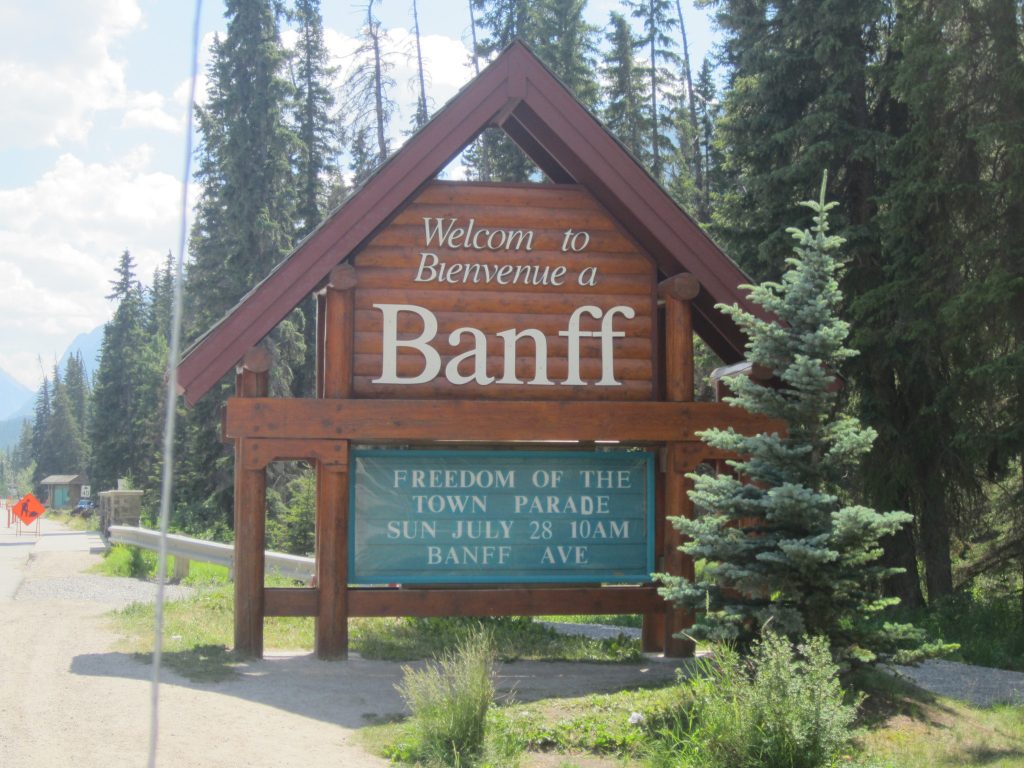 We checked into the Fairmont Banff Springs Hotel. The first suite we got was very small and located right at the corner of a street so I immediately called the front desk and told them this was not acceptable and how did they dare treat a Fairmont President's Club Platinum member this way and didn't they know who I am? No, I didn't. I was very polite of course. So, they gave us another suite which was much better.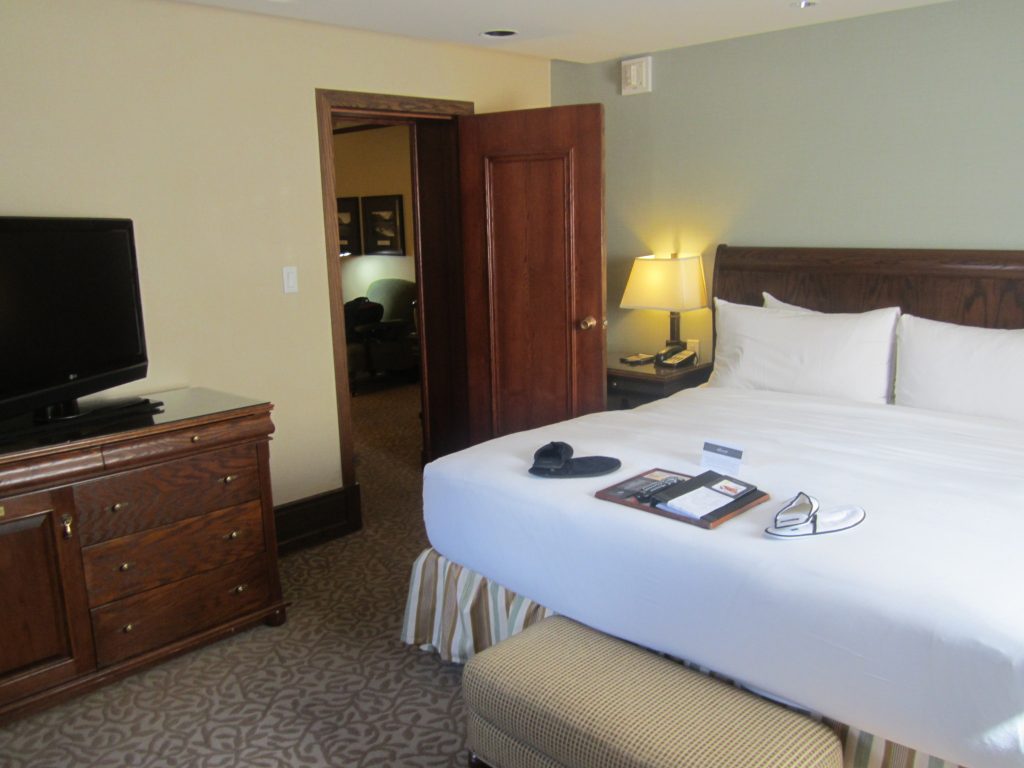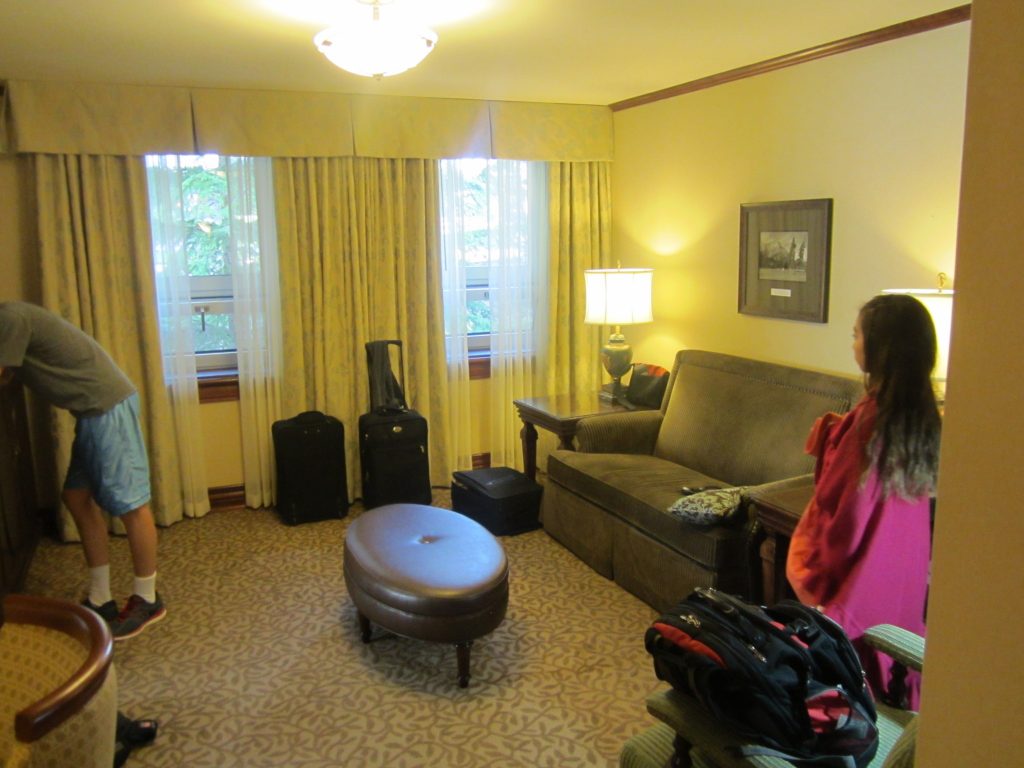 We took a nice stroll to the picturesque town of Banff.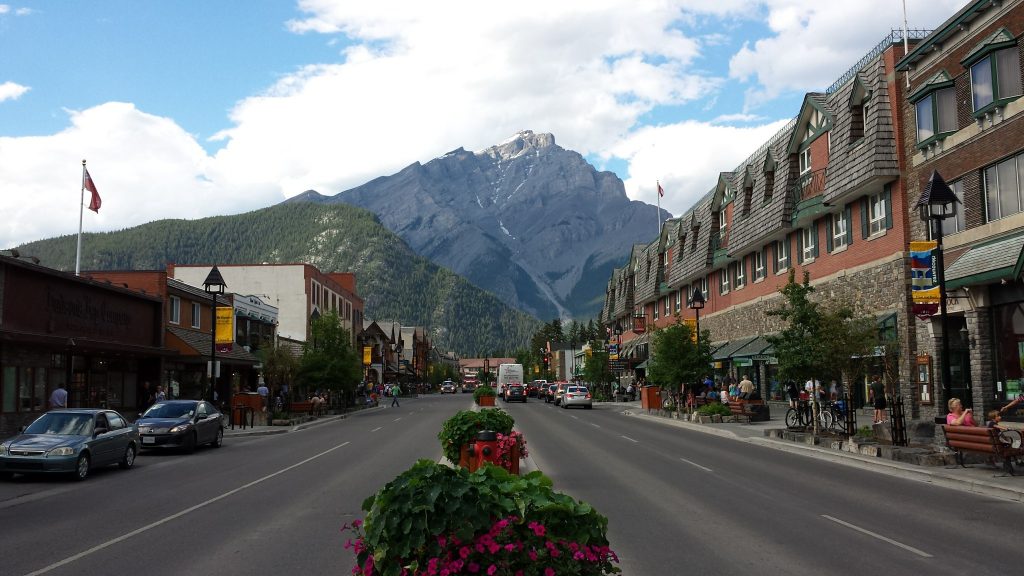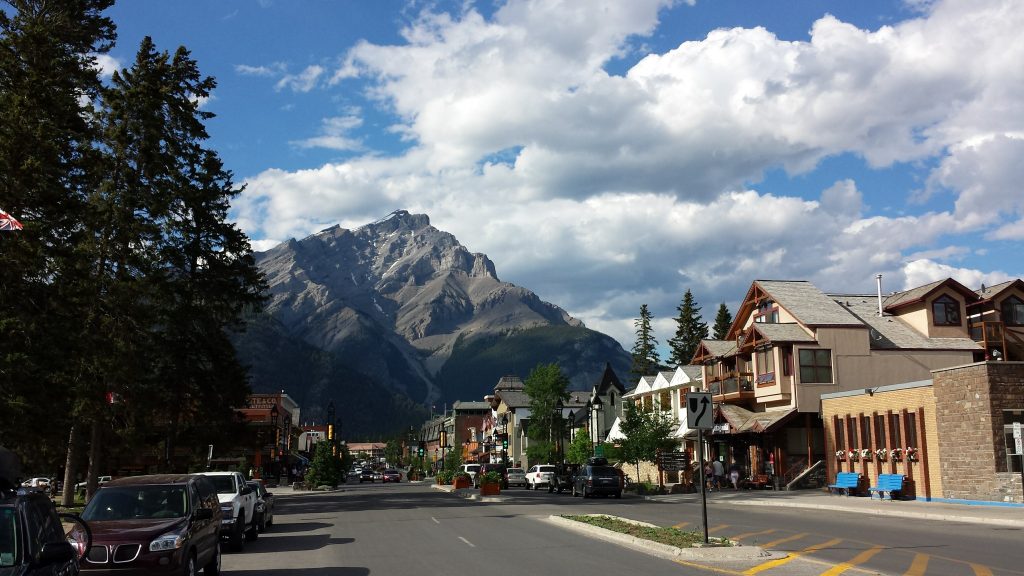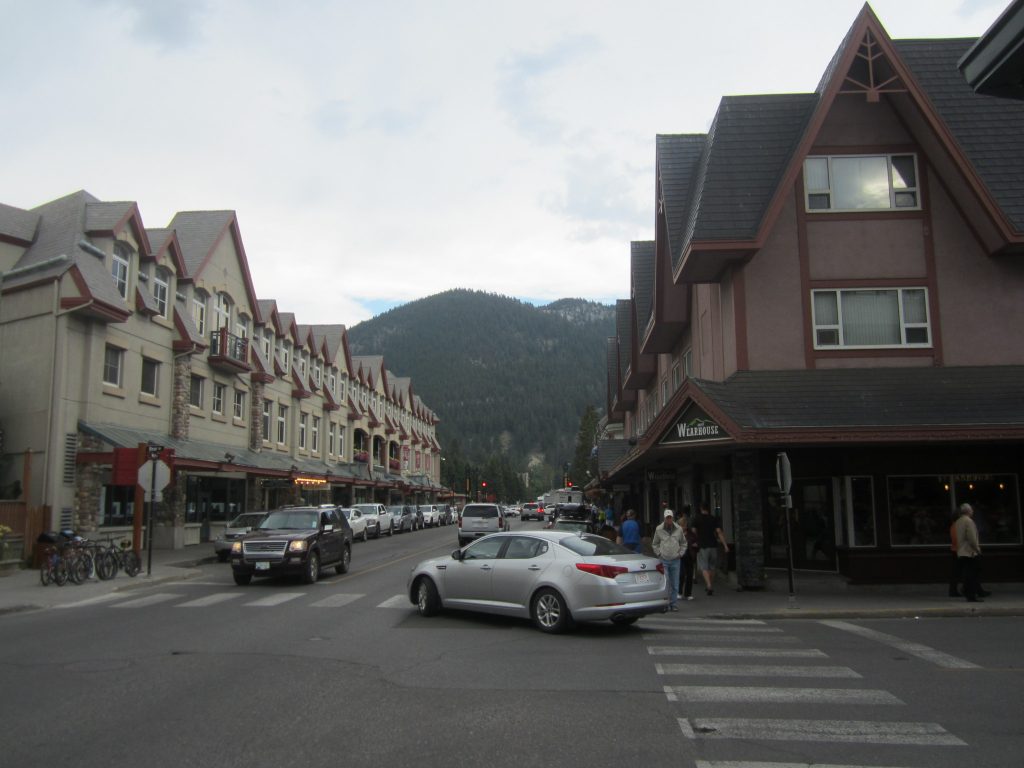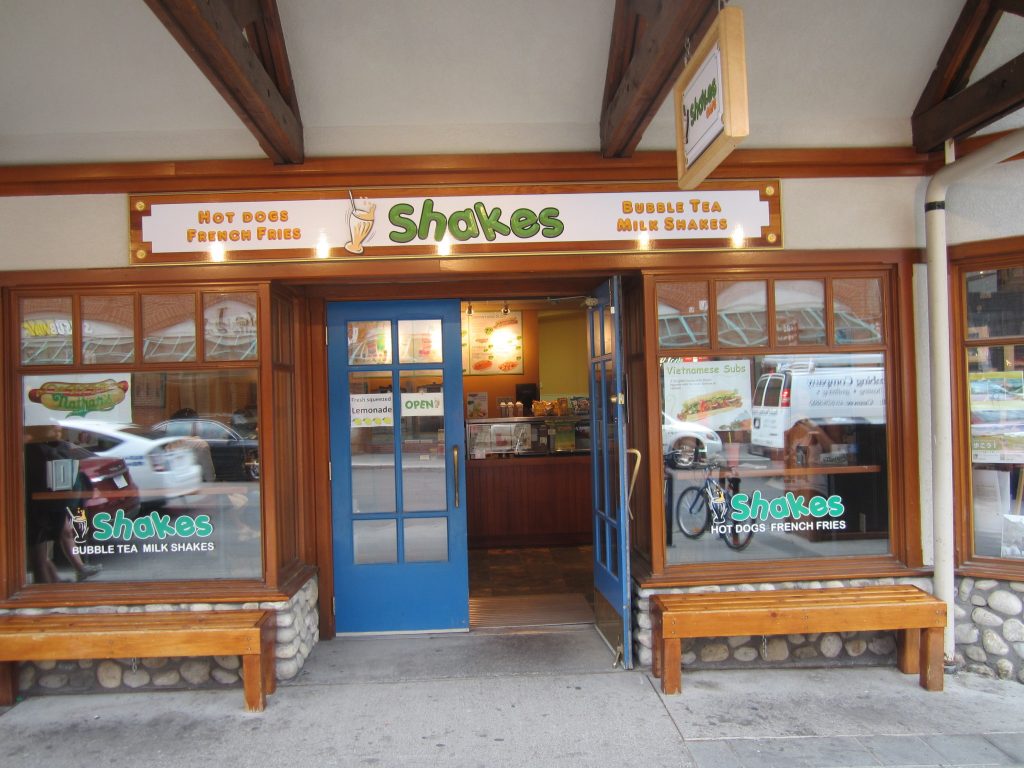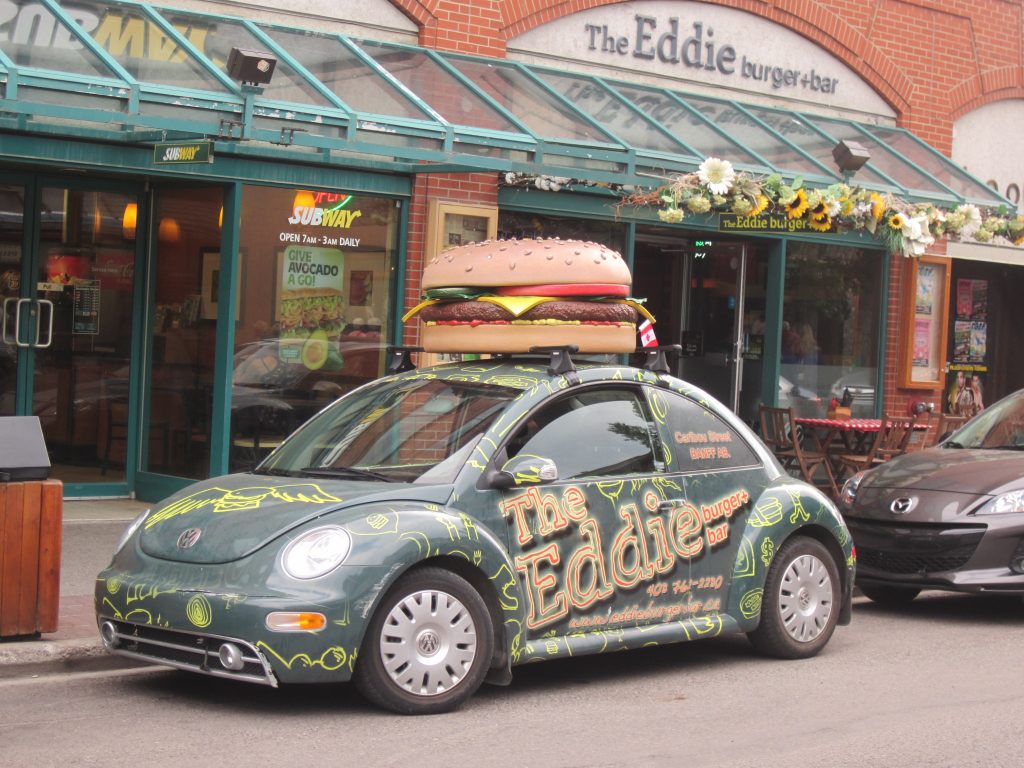 We then started exploring the areas around the Fairmont hotel.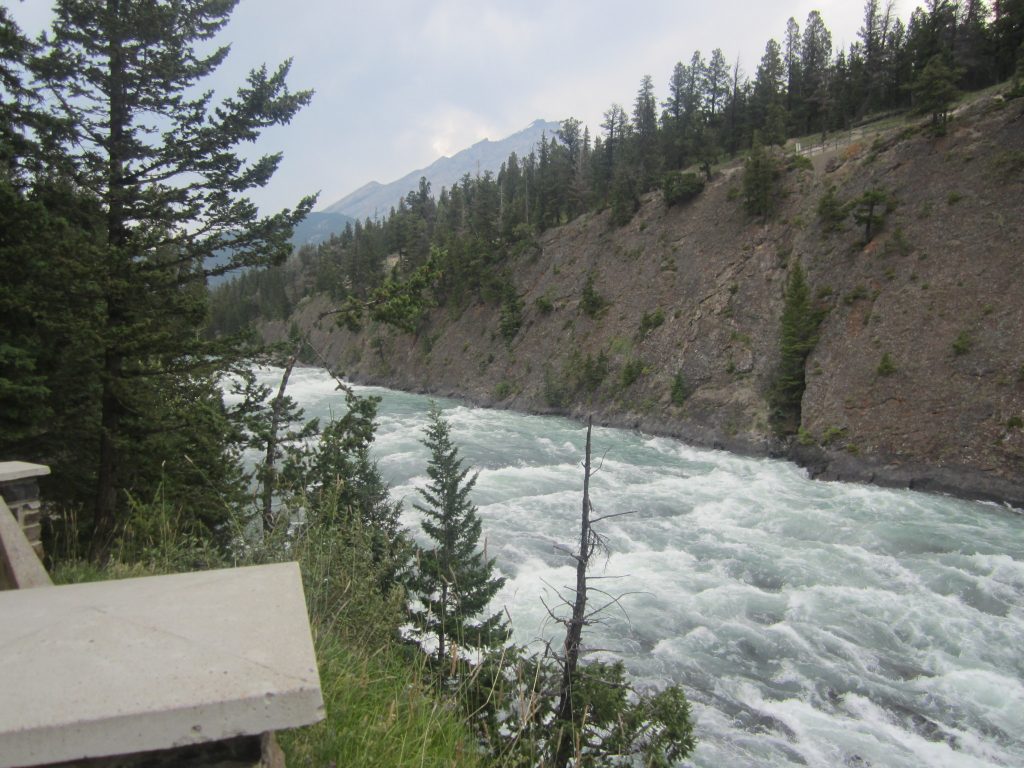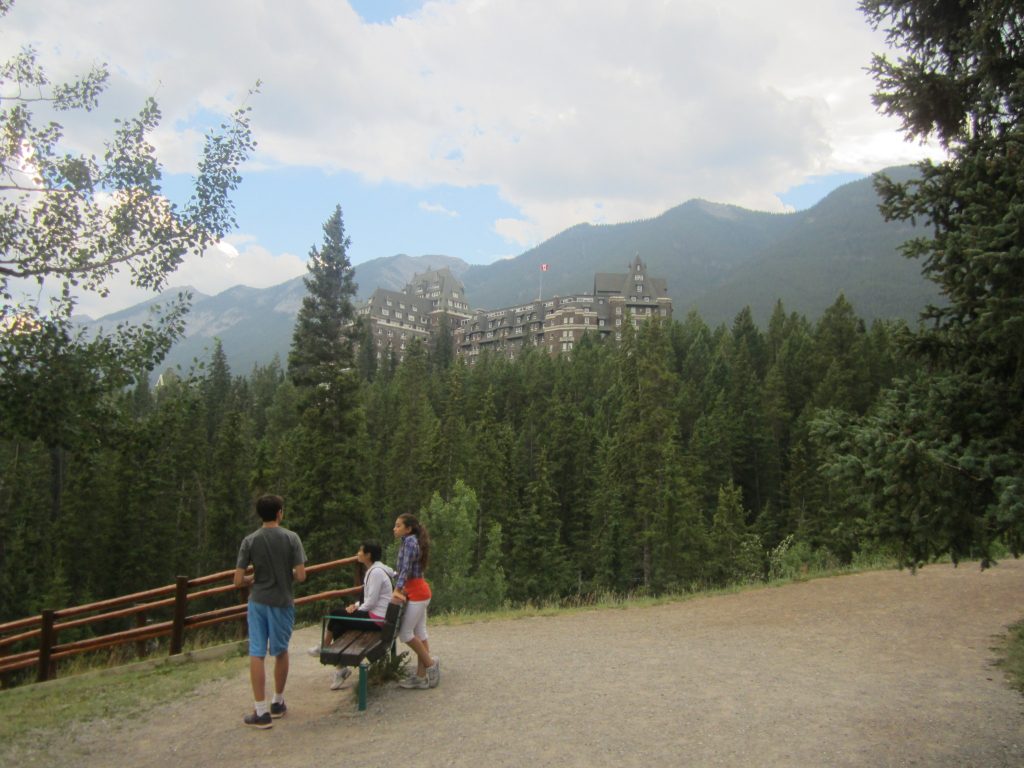 The Fairmont looks amazing from afar. I told son this is where the movie "The Shining" was filmed and he fell for it #wellplayed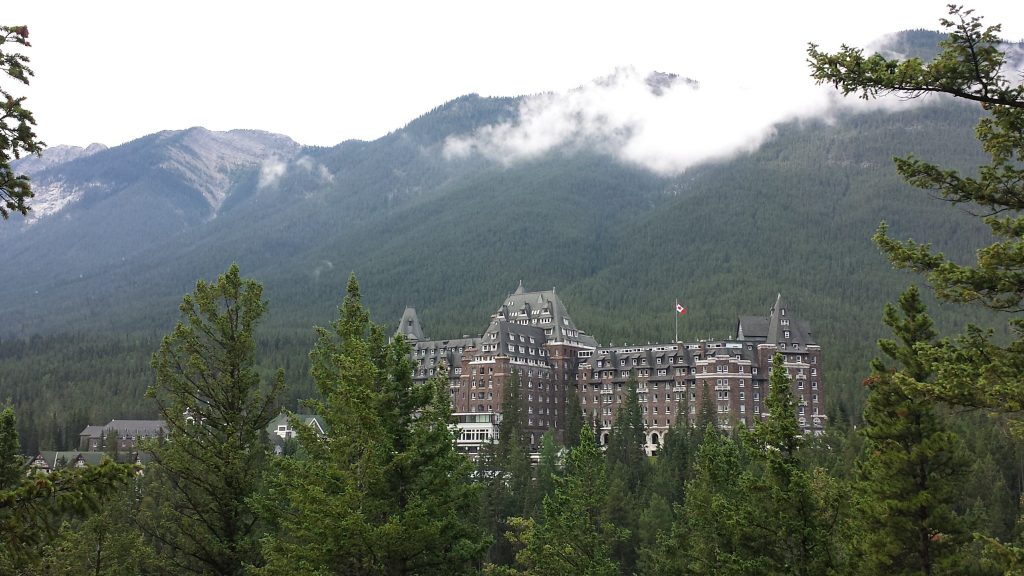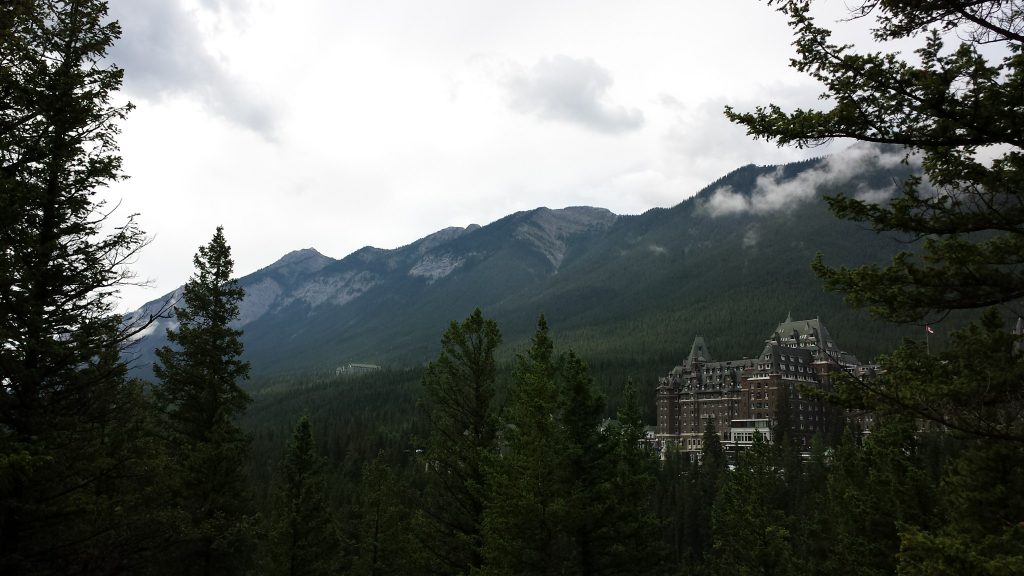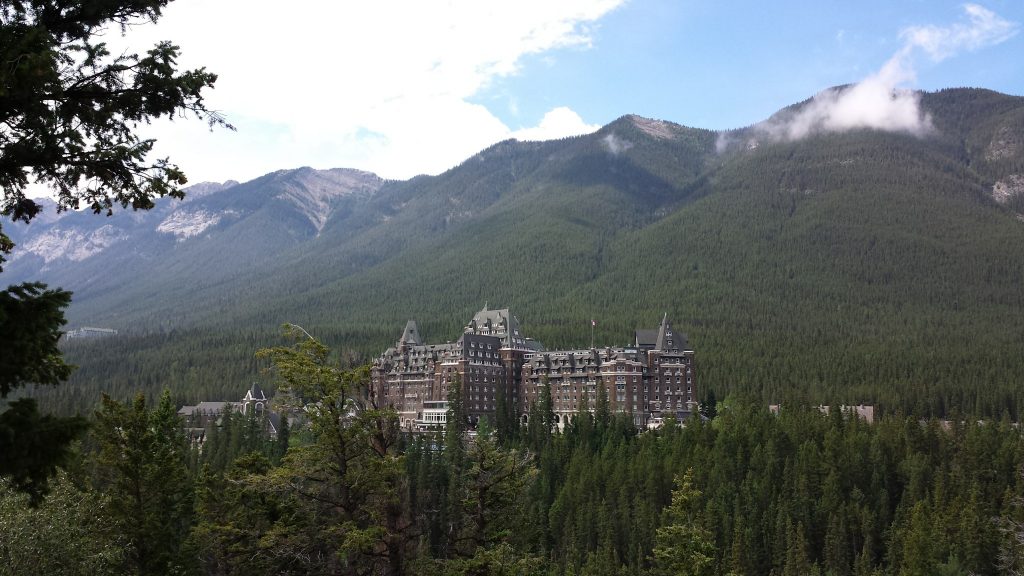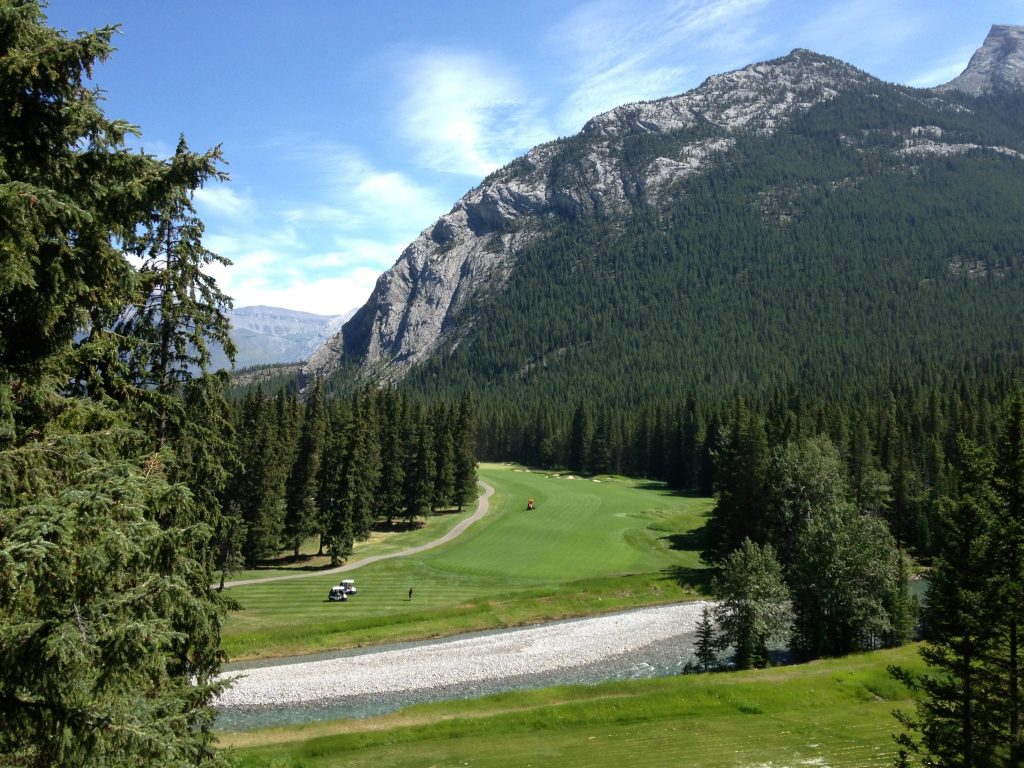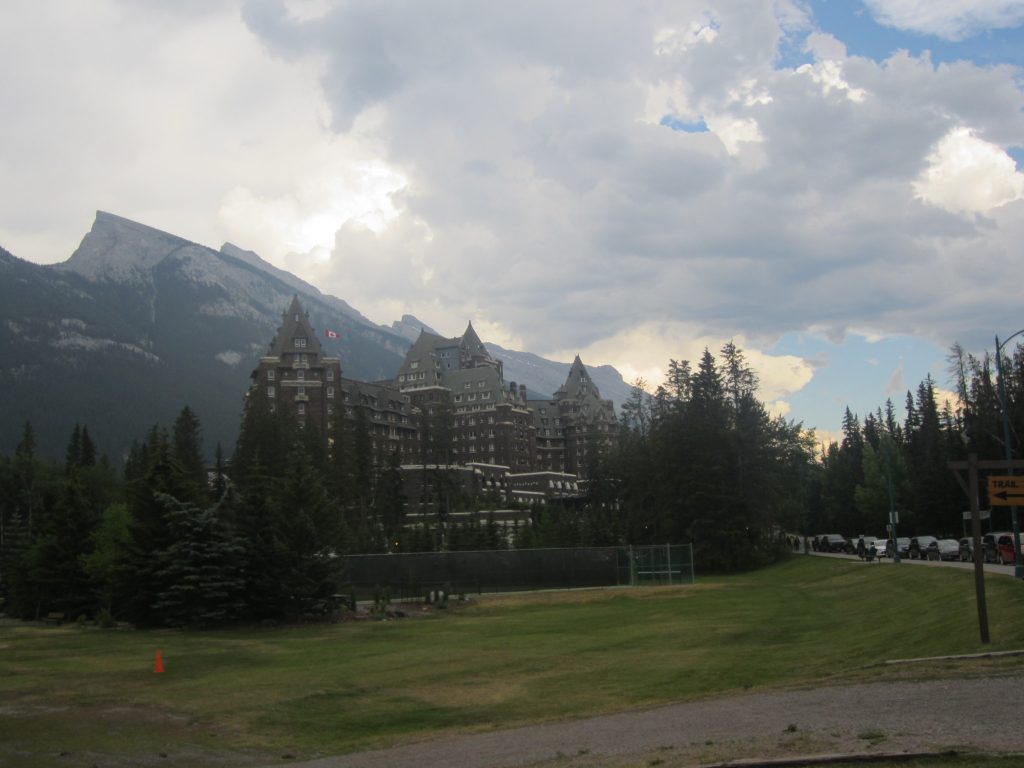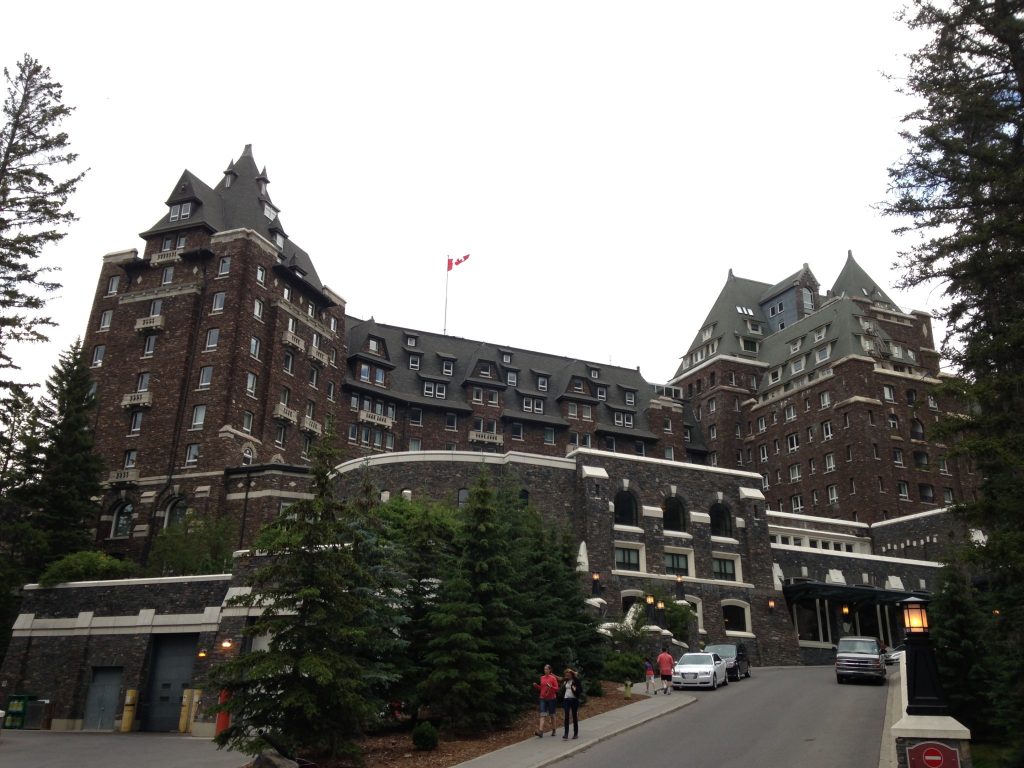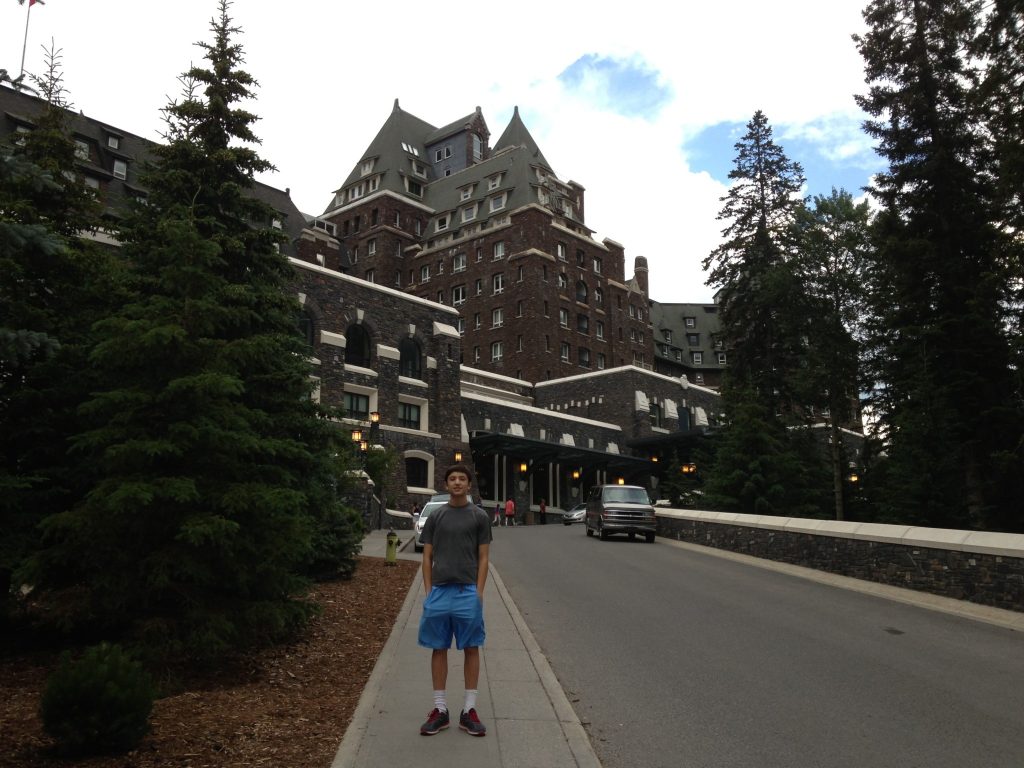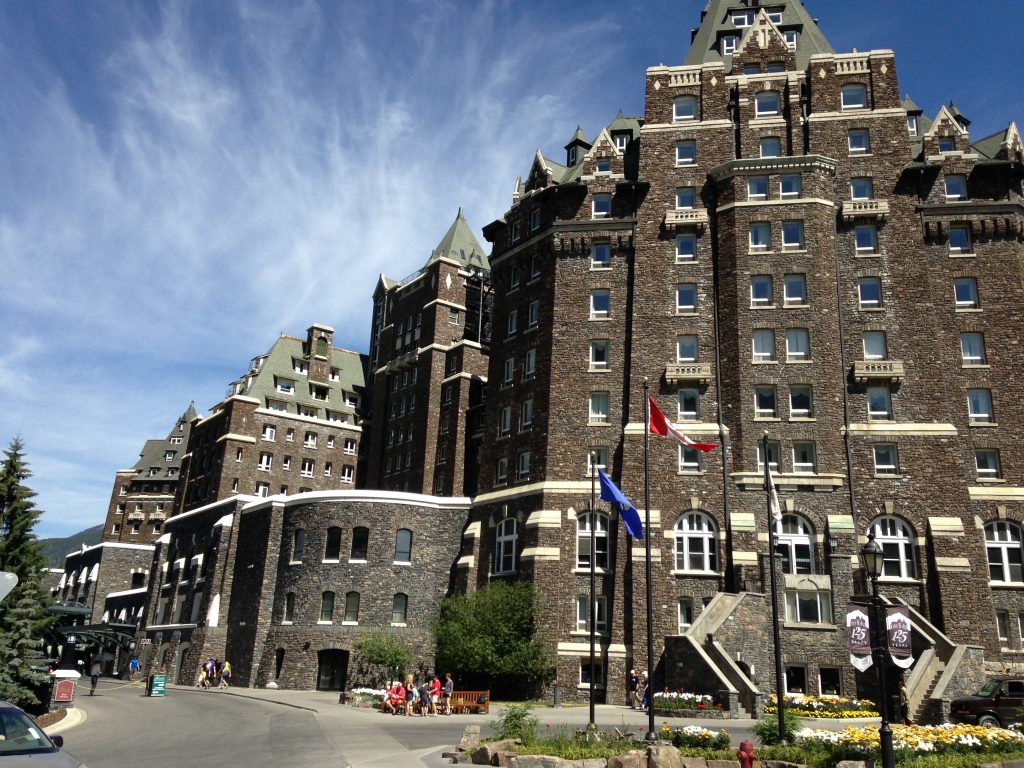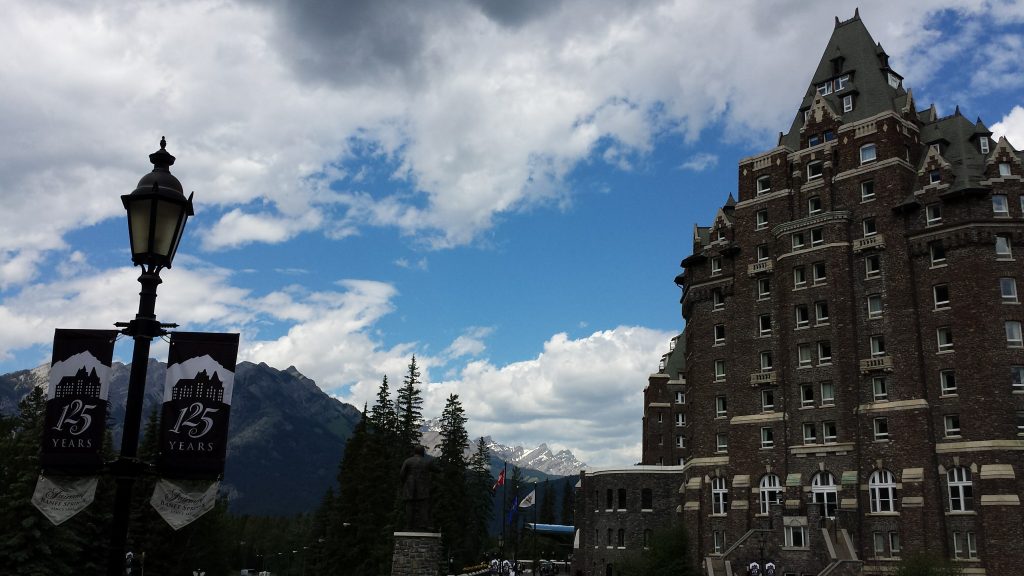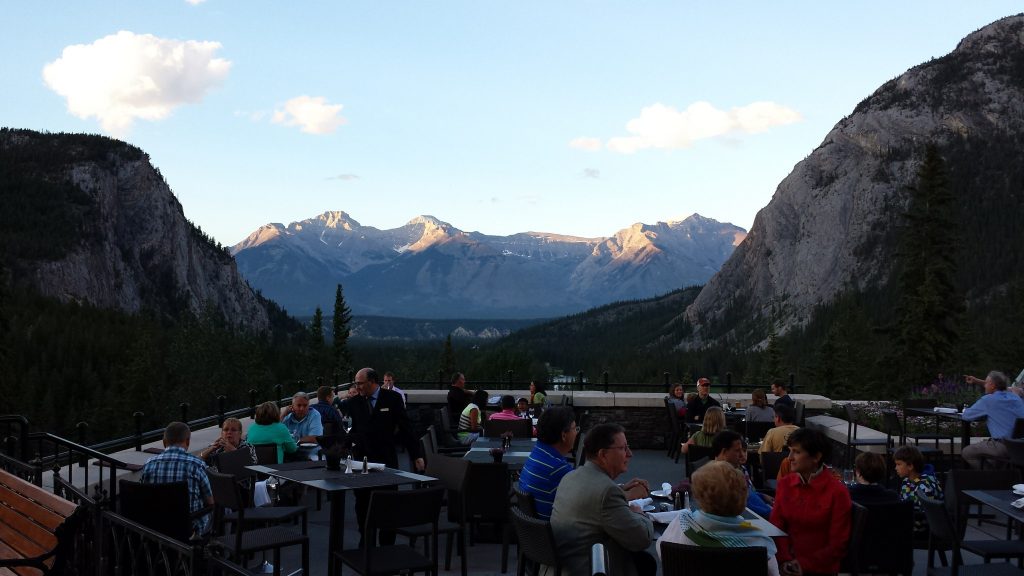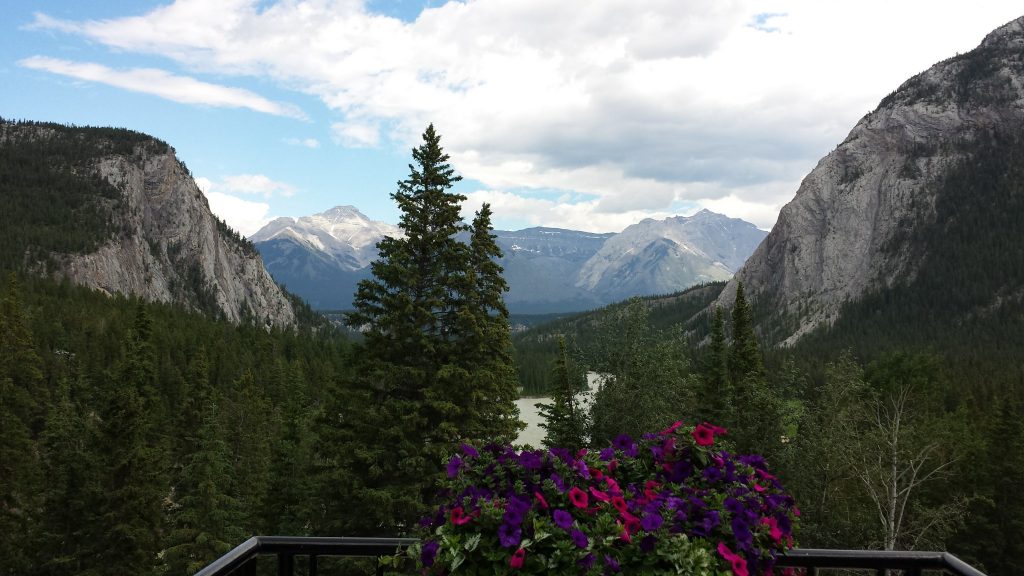 The hotel is very nice, what else can I say? The pictures speak for themselves!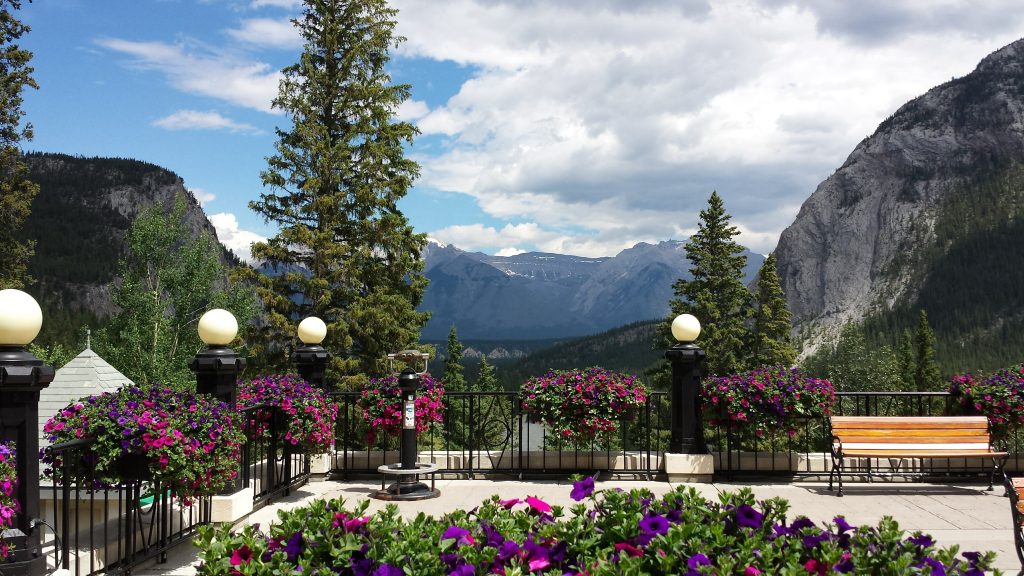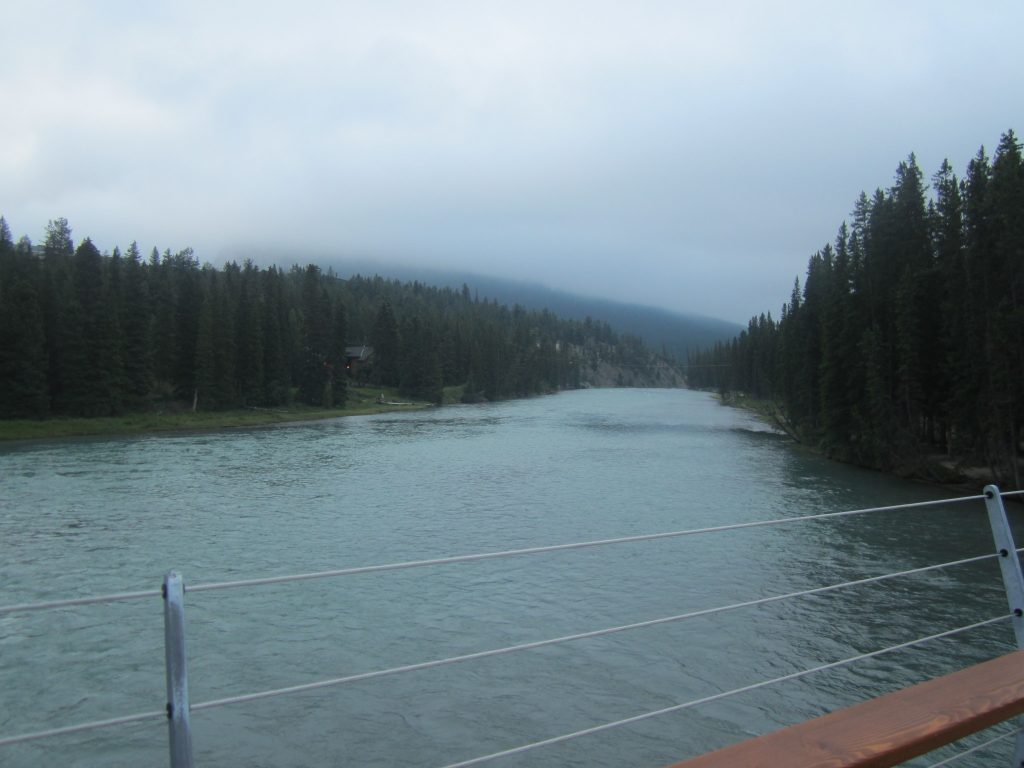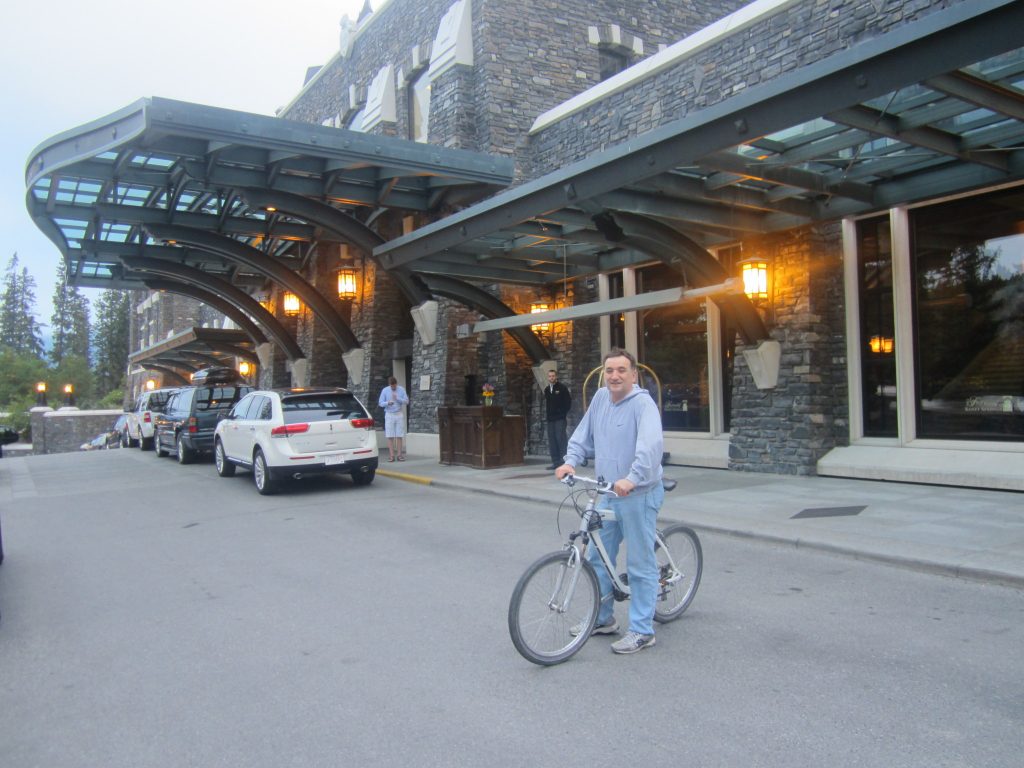 Free breakfast time, thanks to Fairmont President's Club Platinum certs and gift cards from the Chase Fairmont Visa card! Very busy place, quality was okay, I have had better.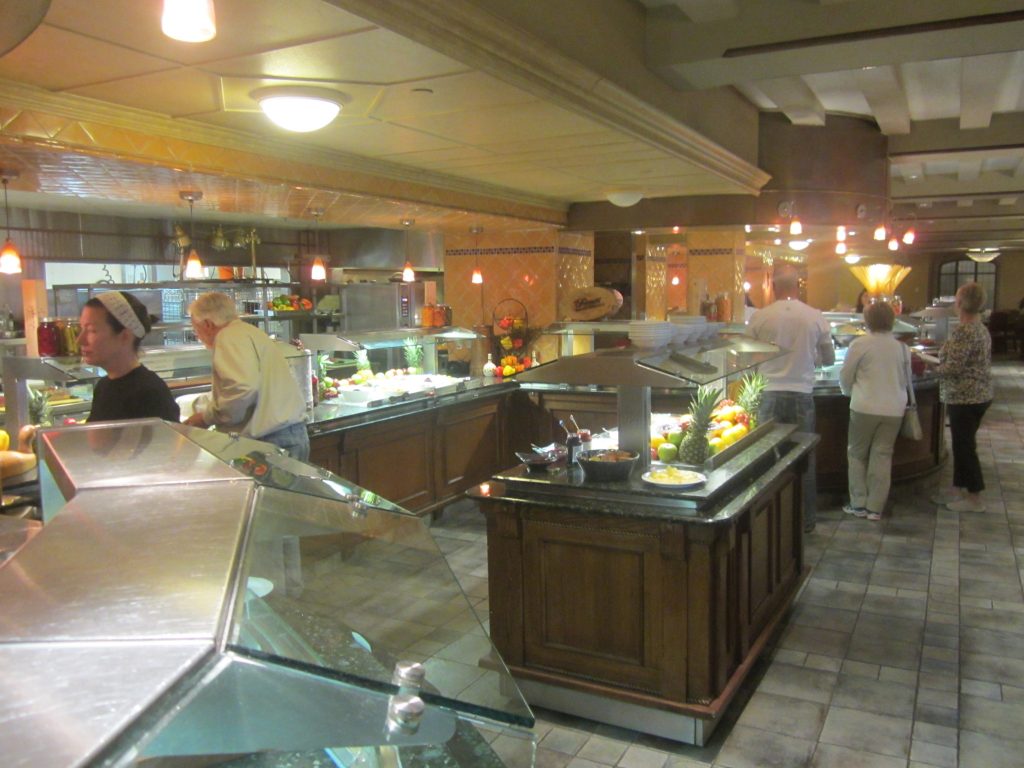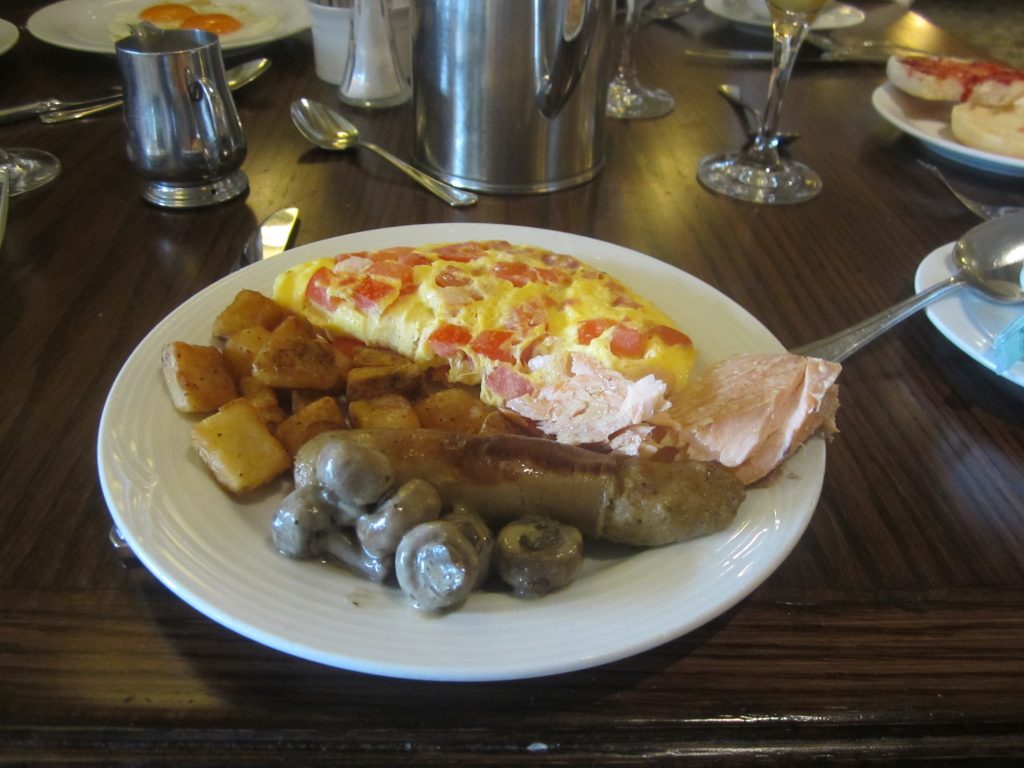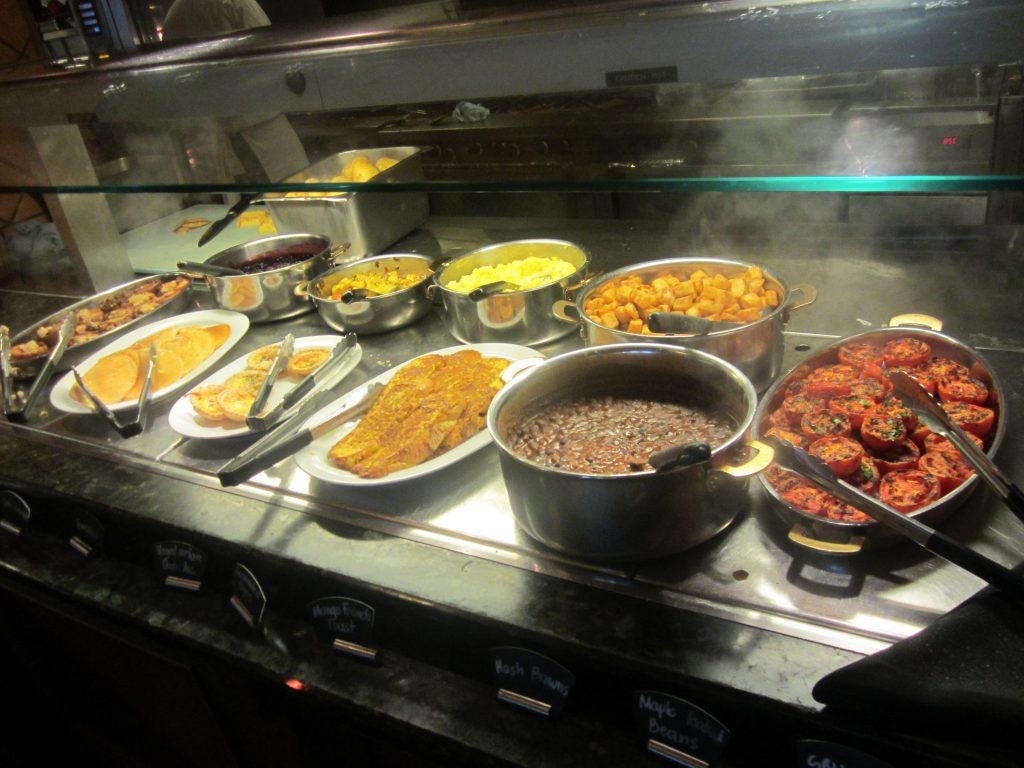 Some pictures of our suite: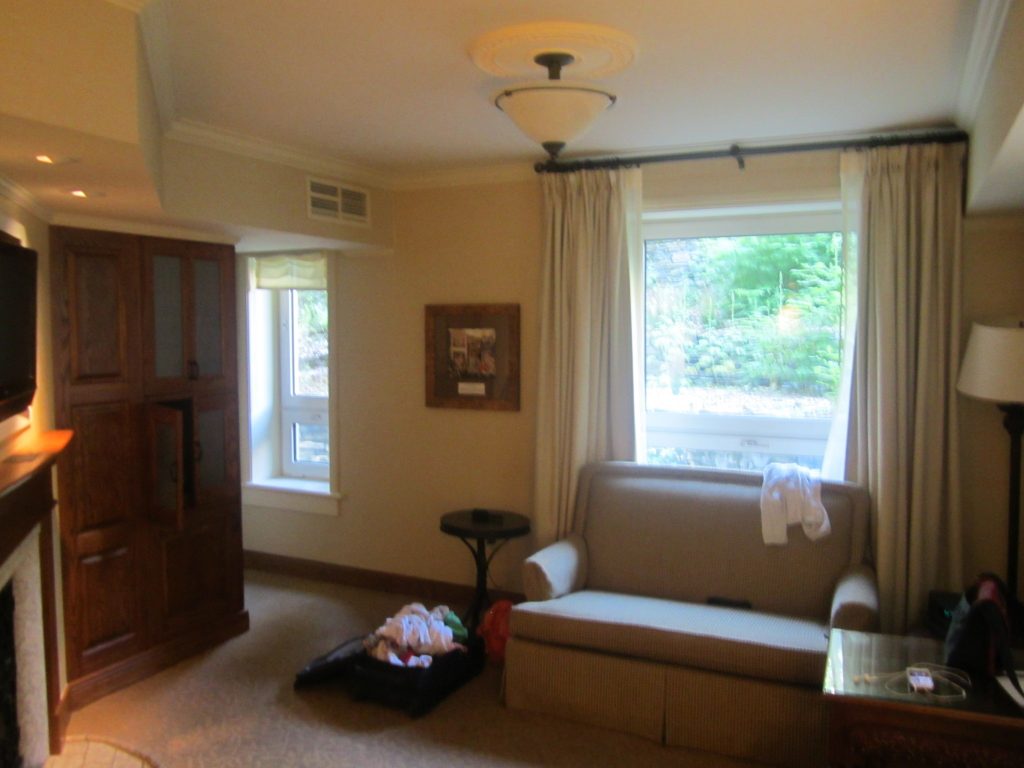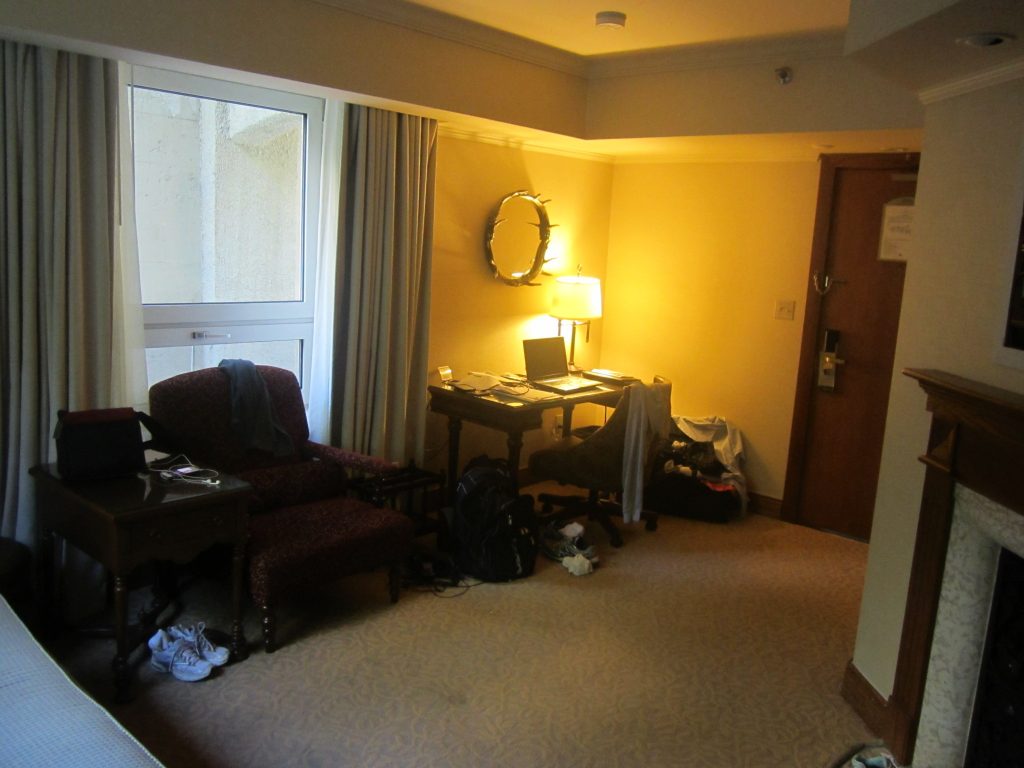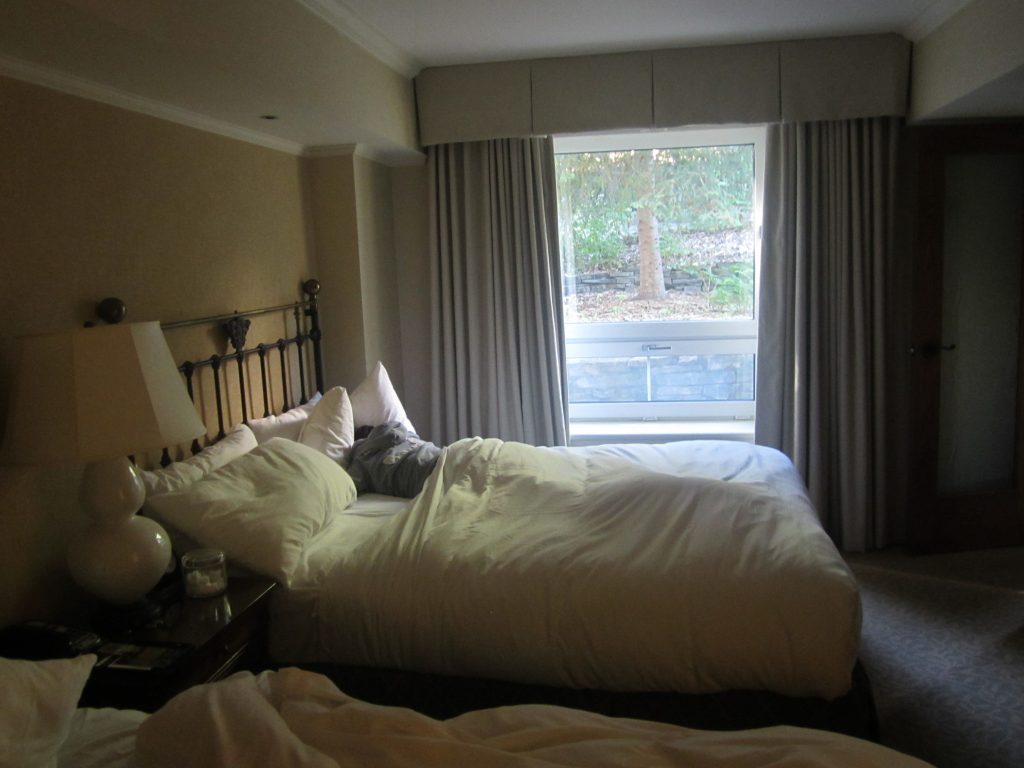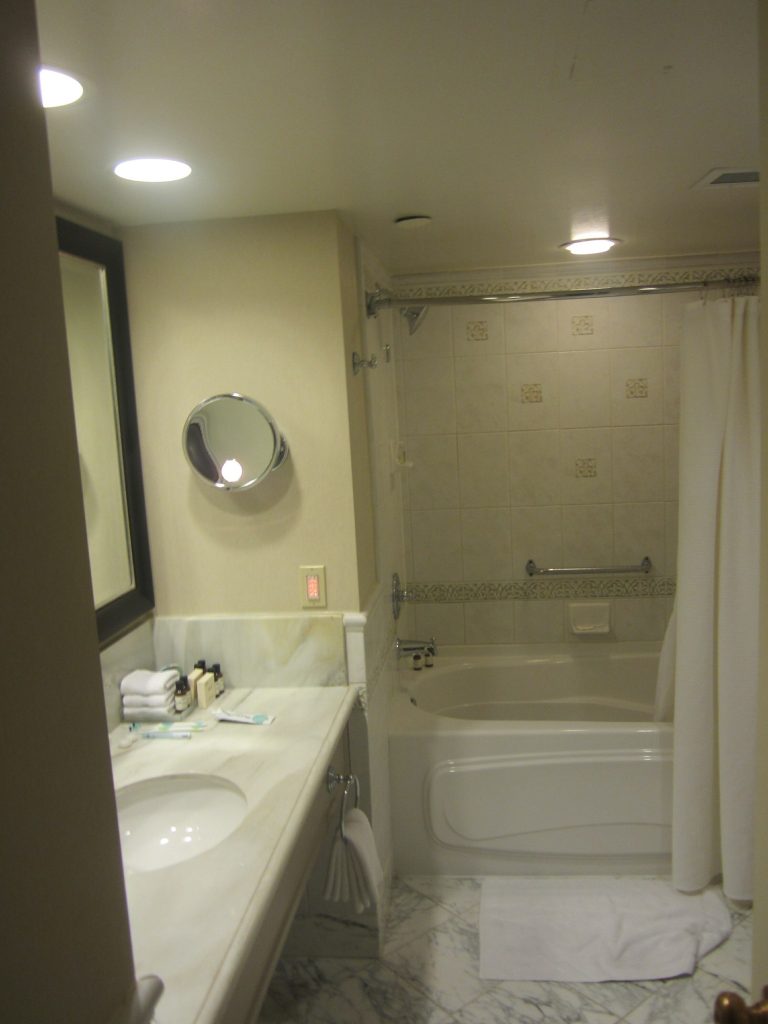 The indoor swimming pool is magnificent!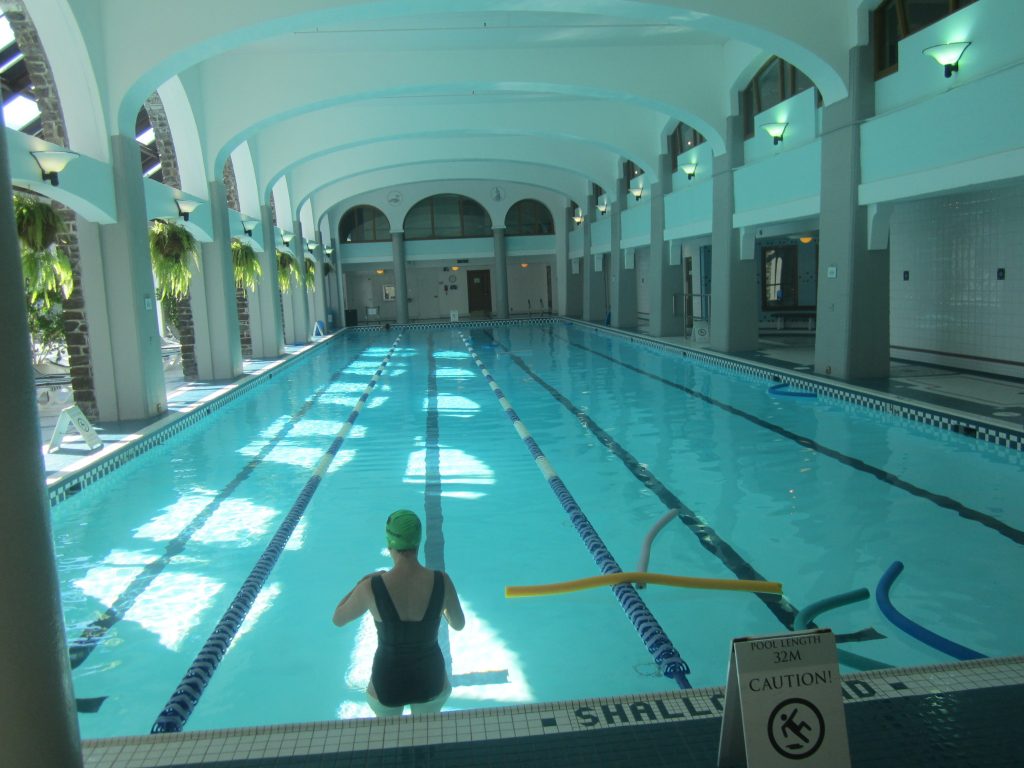 The outdoor pool is considerably smaller but very nice, so lovely with all the trees and mountains around it.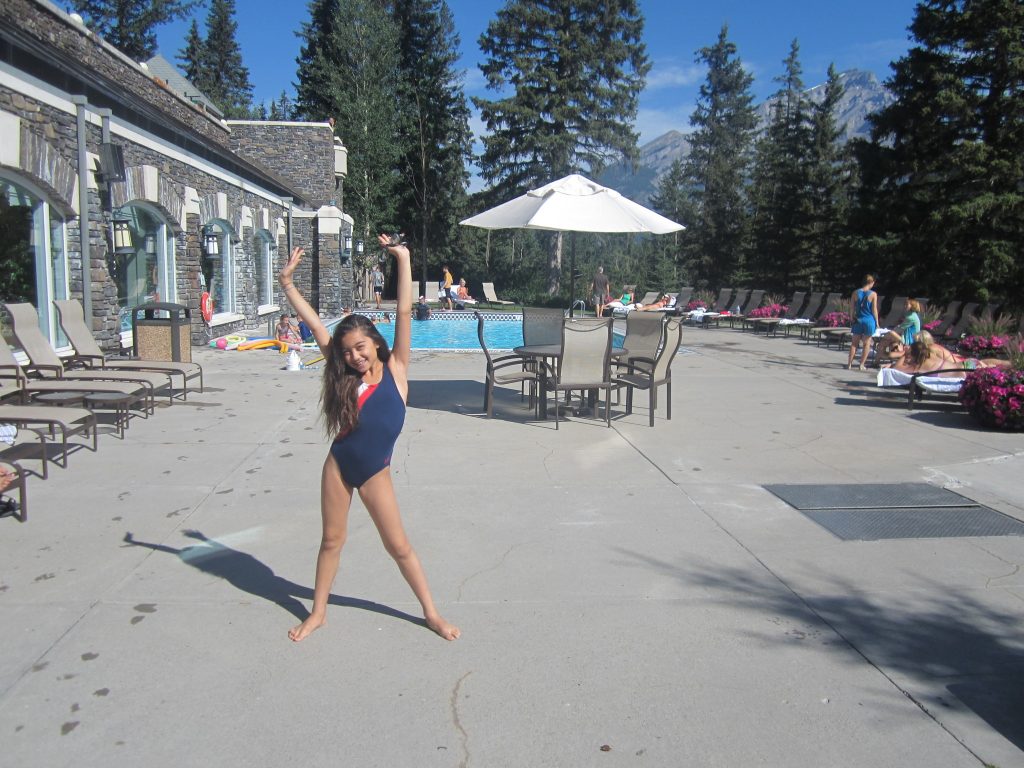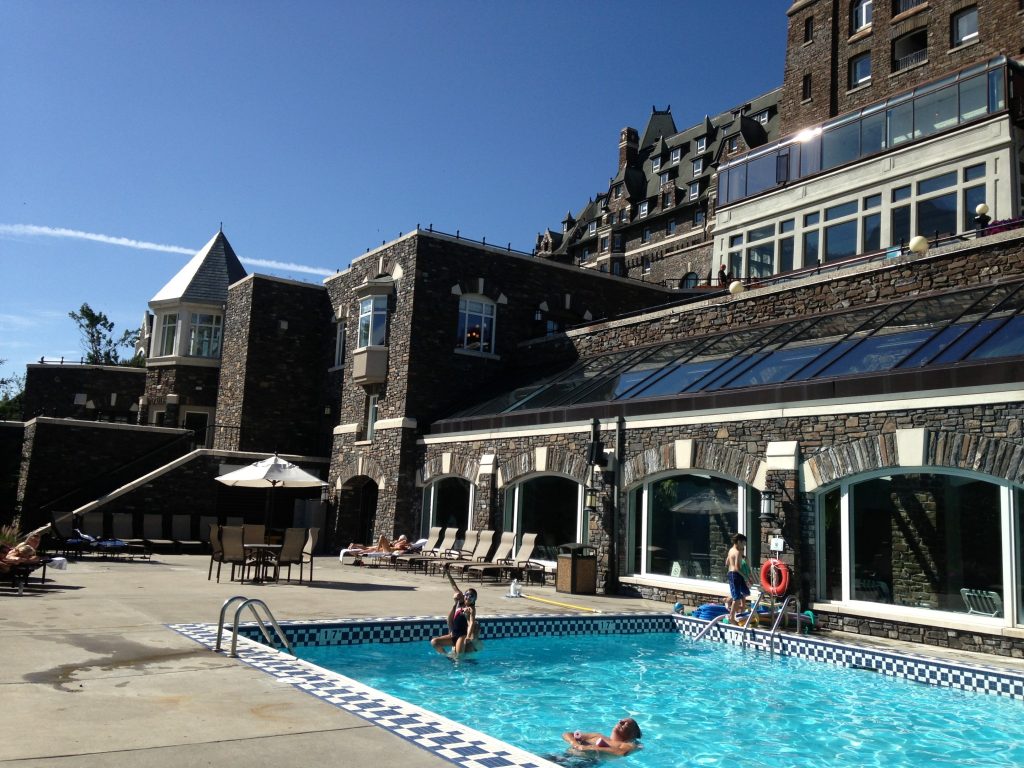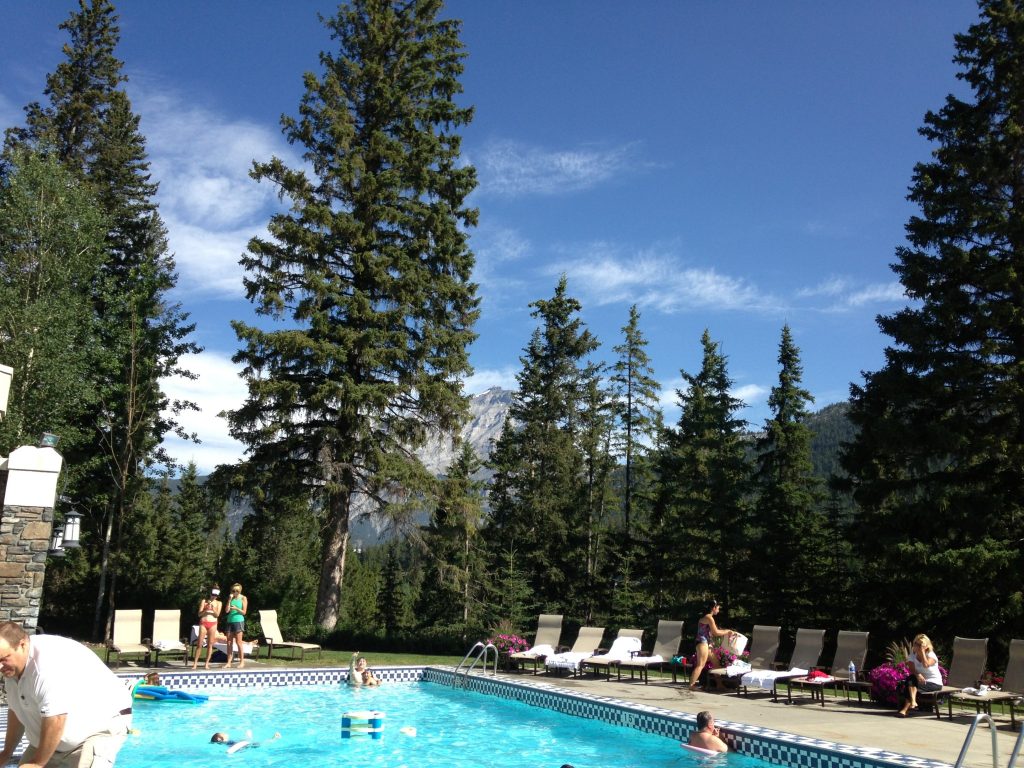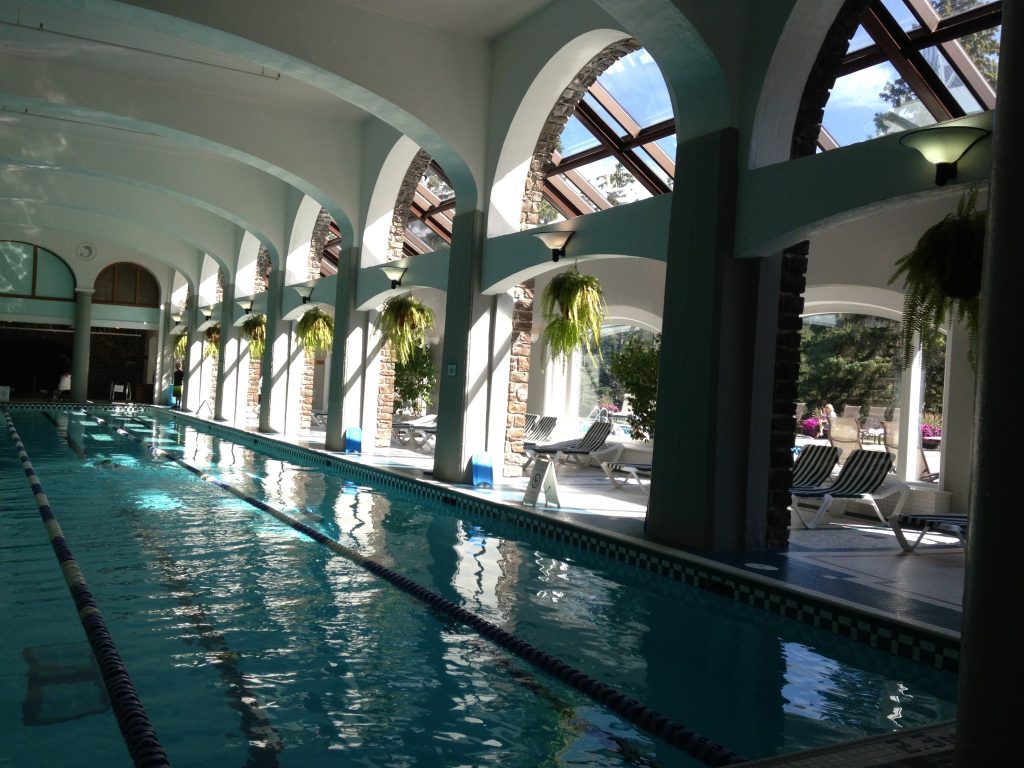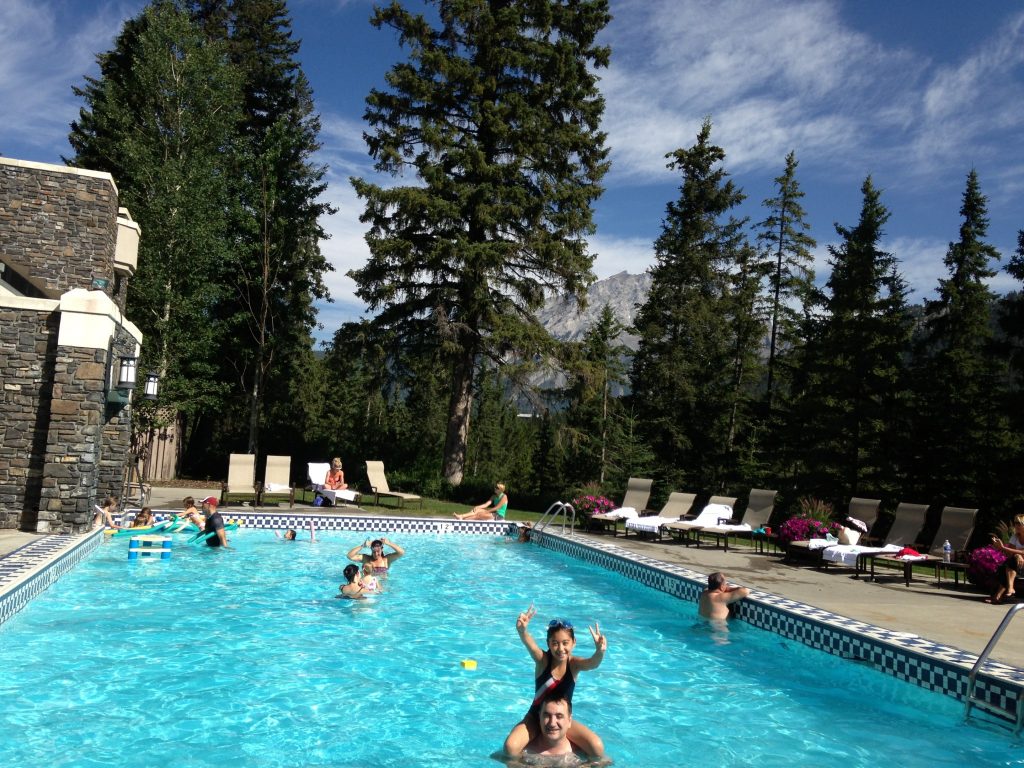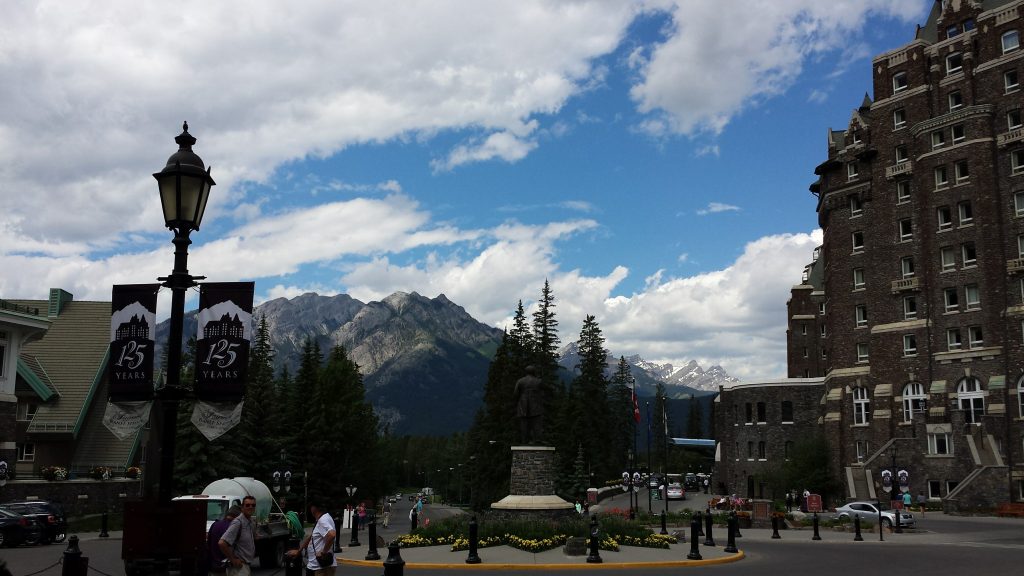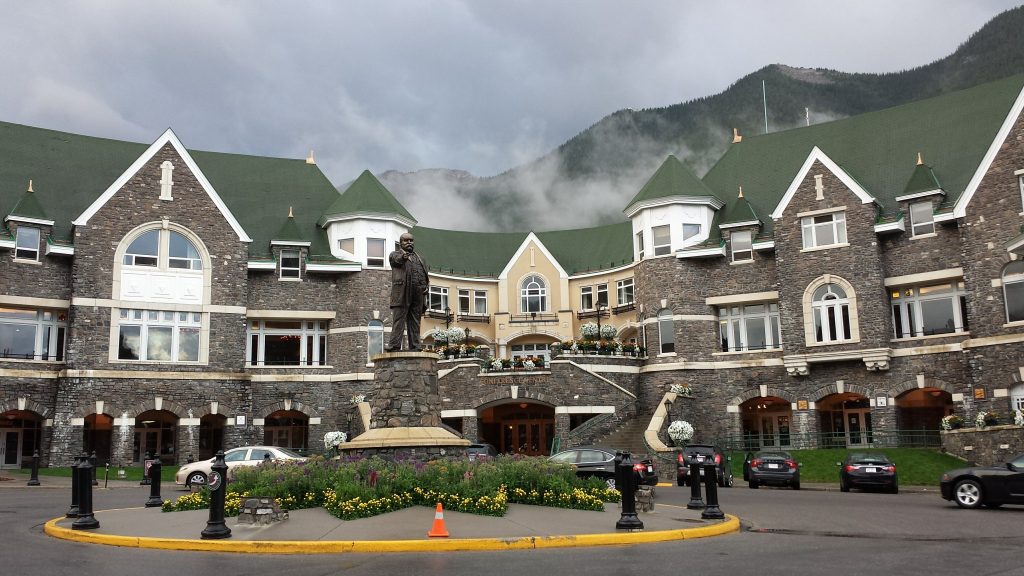 First one we see. I think it's an elk. Or a deer. Or a moose. How in the hell am I supposed to distinguish among these things, I always lived in a city! Whatever it was, it was very impressive! There will be more…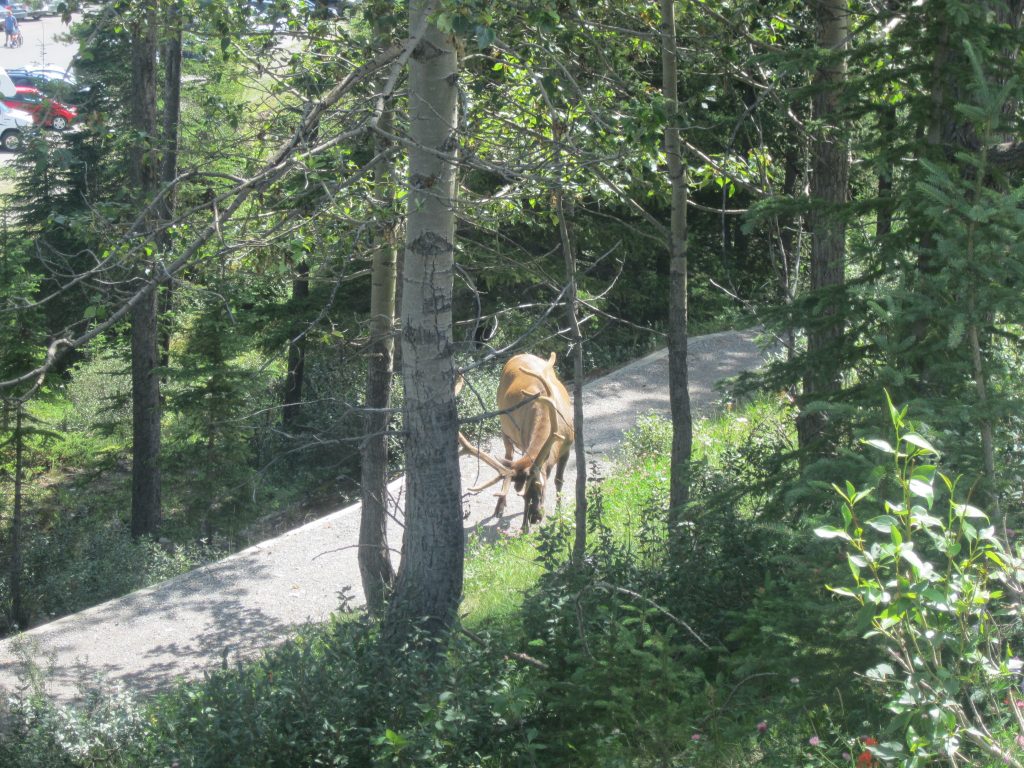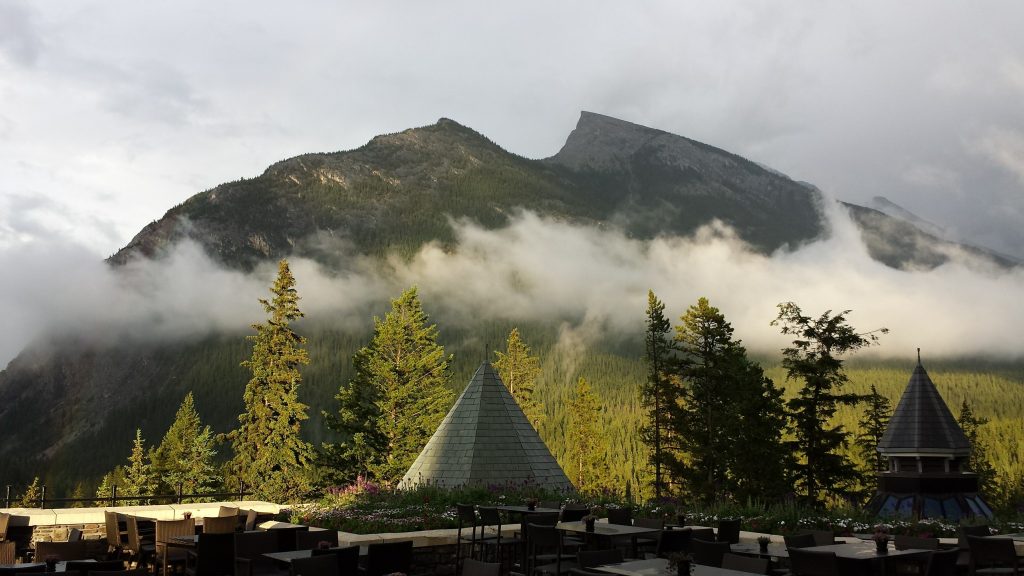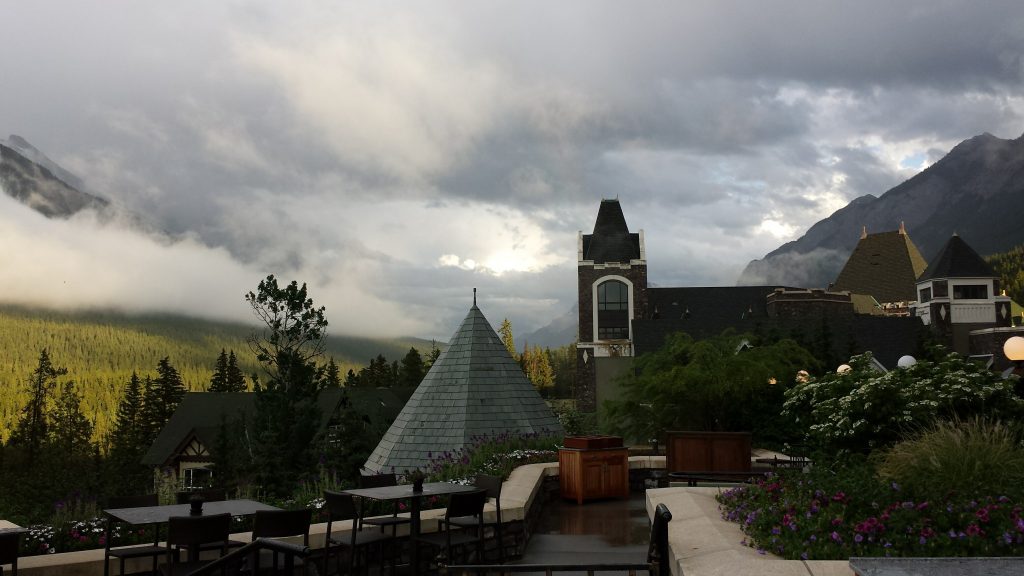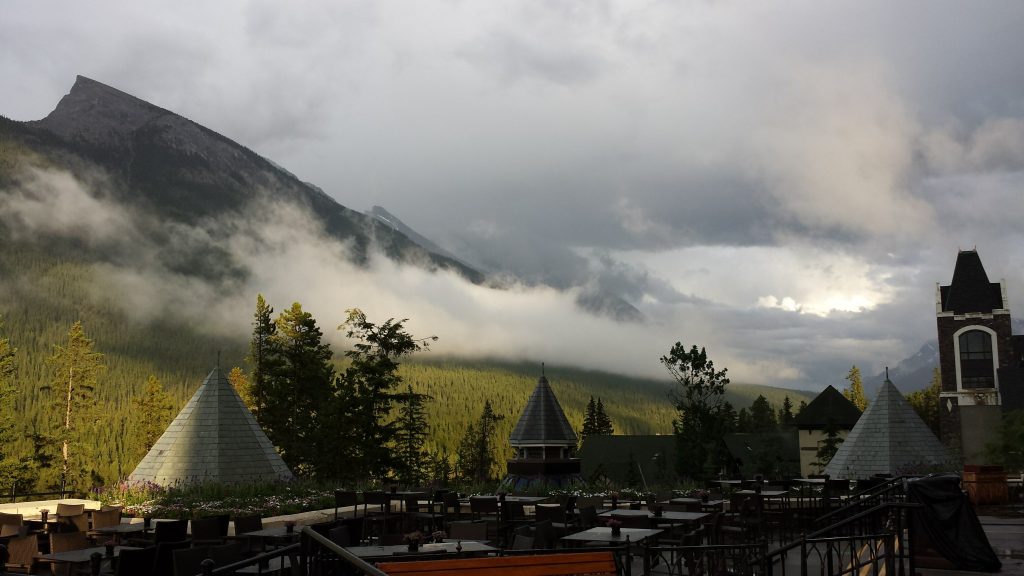 I told you there would be more….This looks like a deer…I think.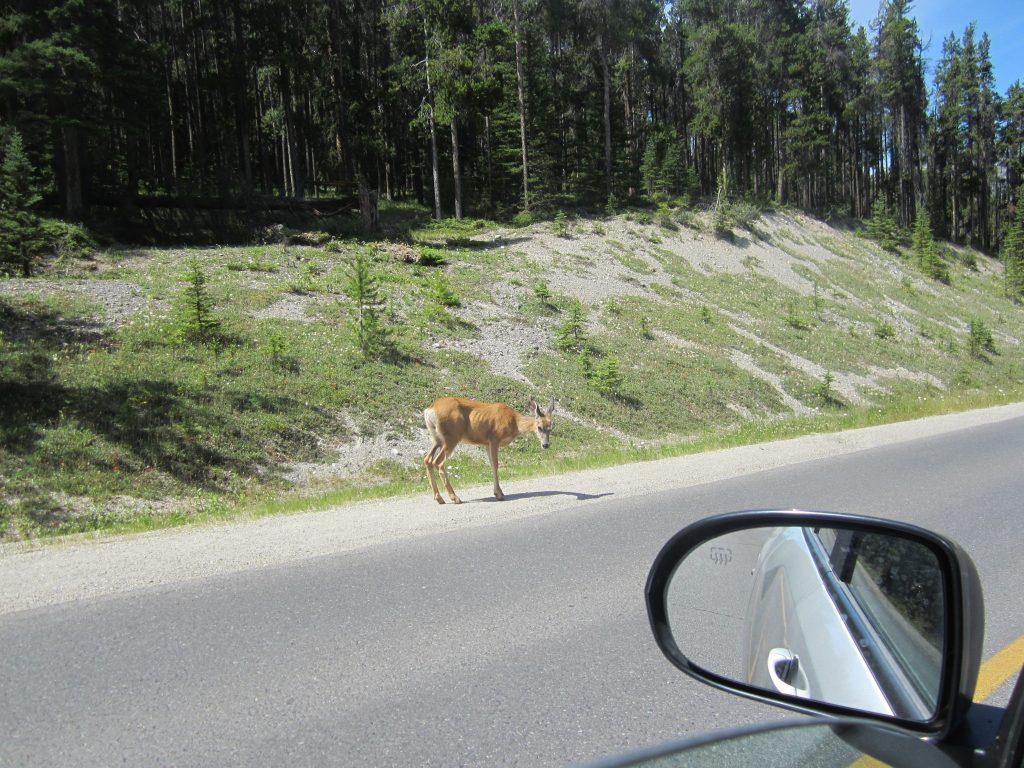 We visited the Banff Hot Springs. Supposedly hot mineral water is involved. Looked like a tourist trap to us so we did not pay to get in, just took a few photos and we were off to the next destination. What cheapskates!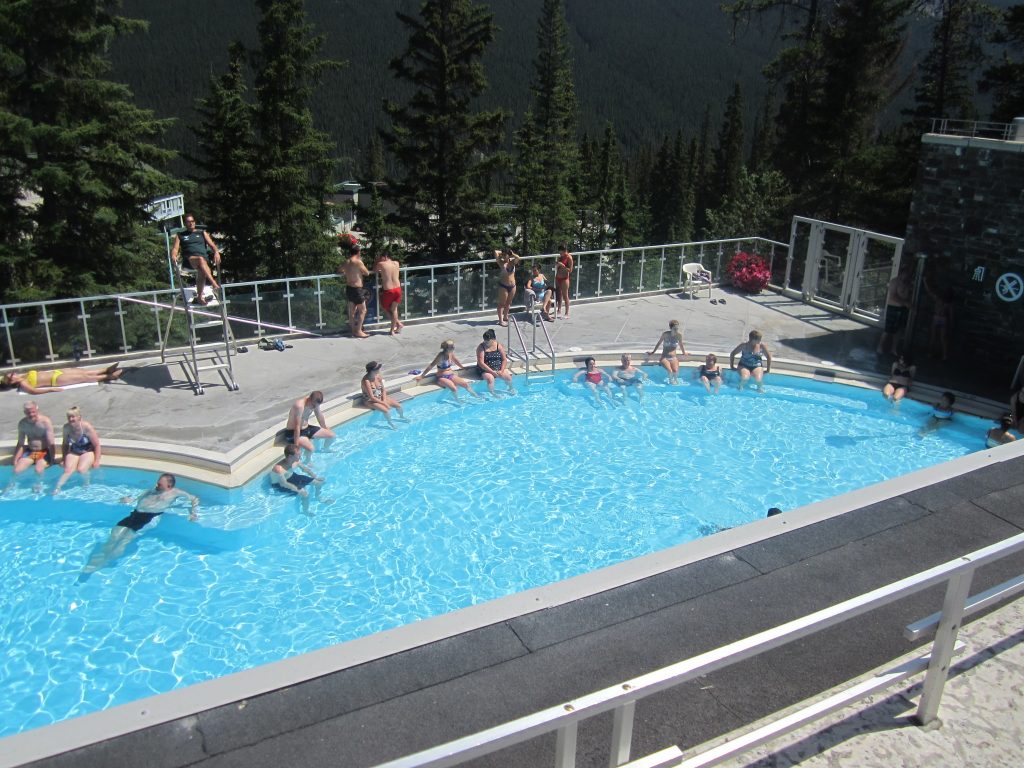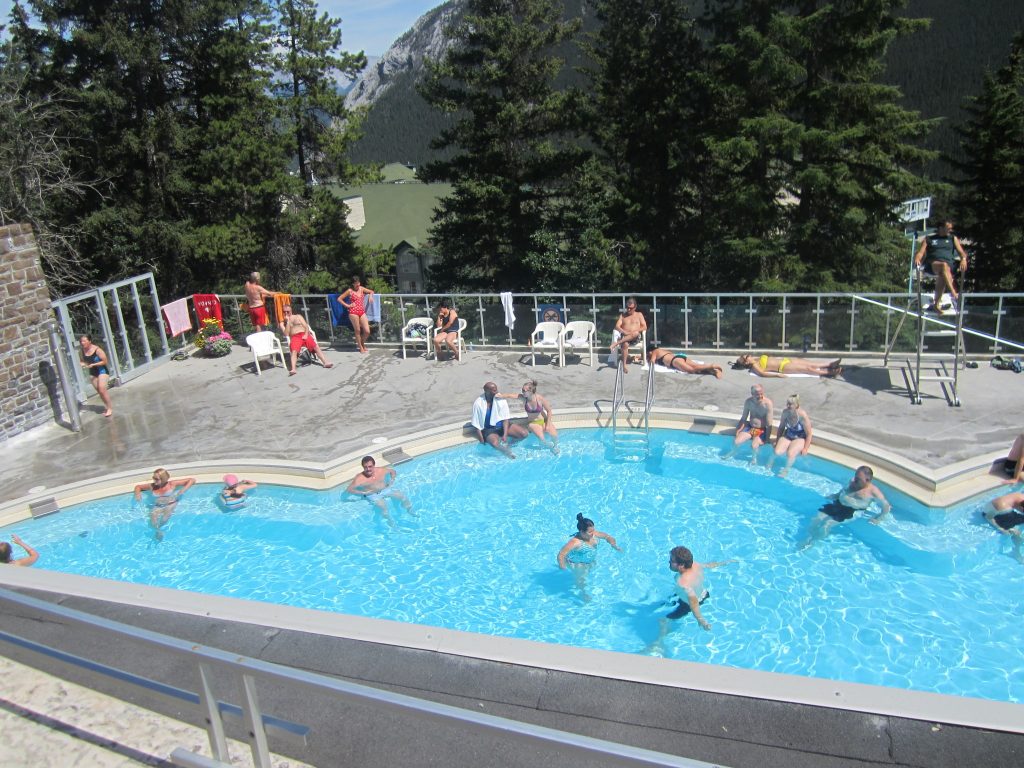 We stopped at a tiny burger place in town owned by Greeks. Food is amazing.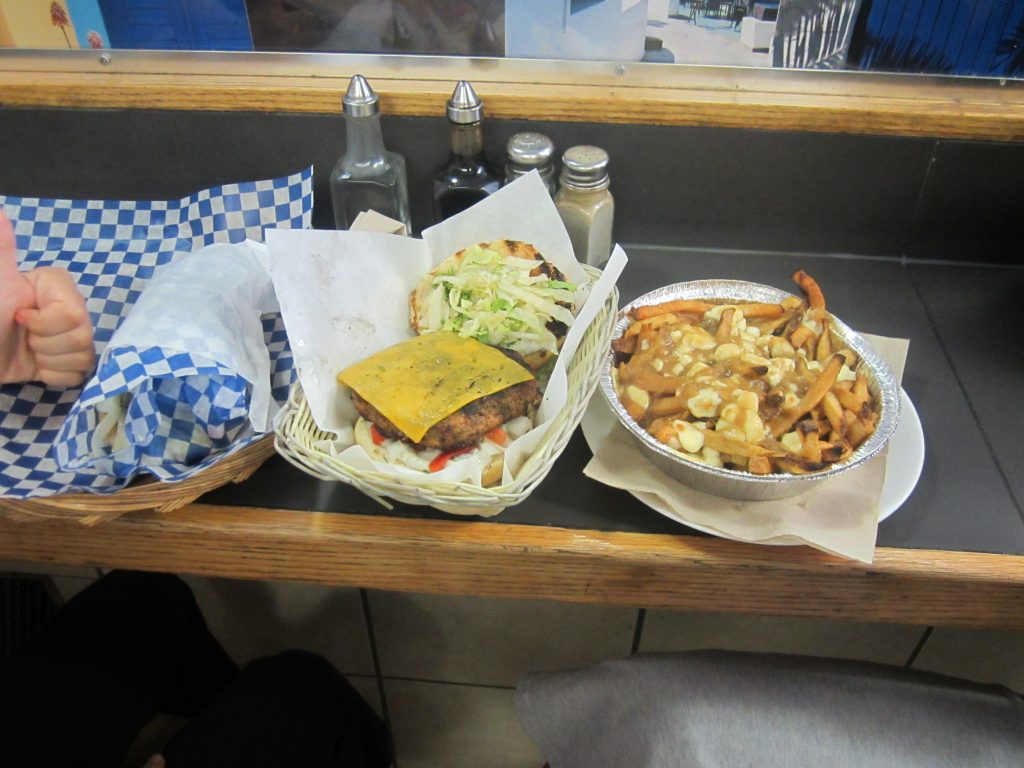 Then we just went hiking…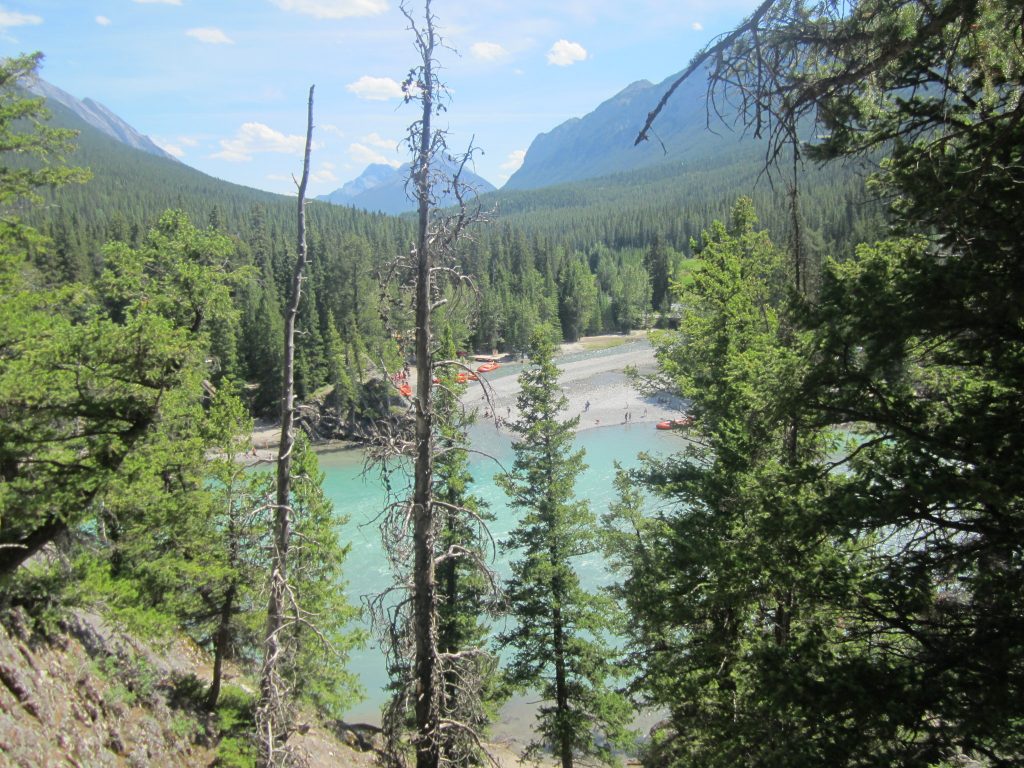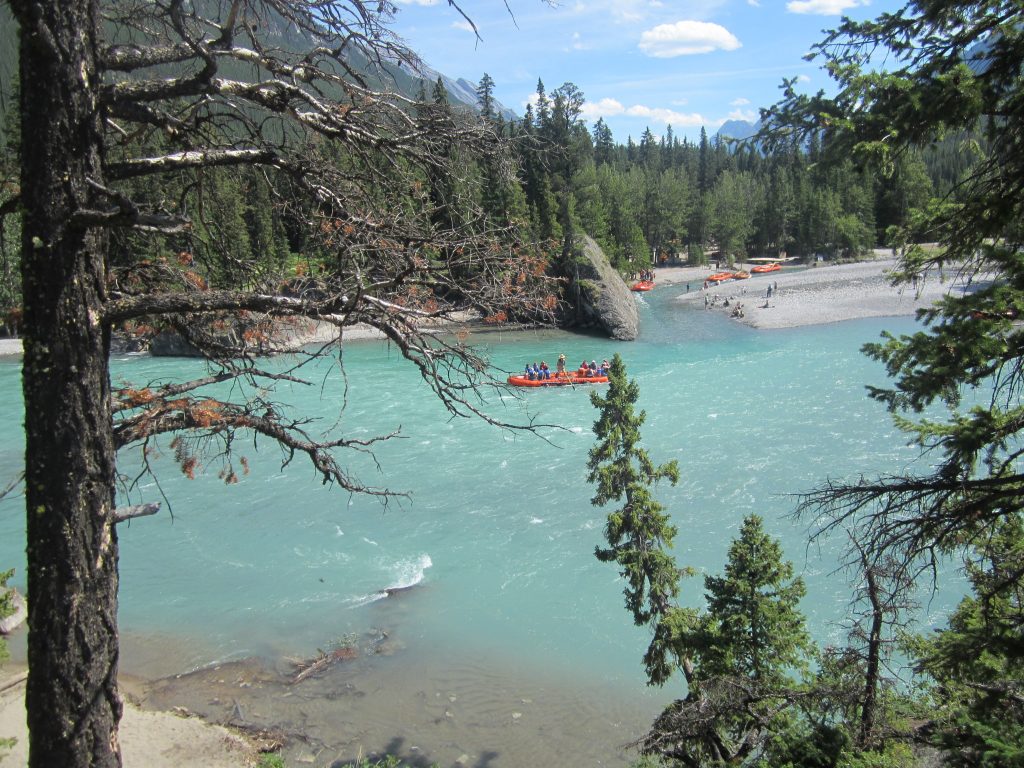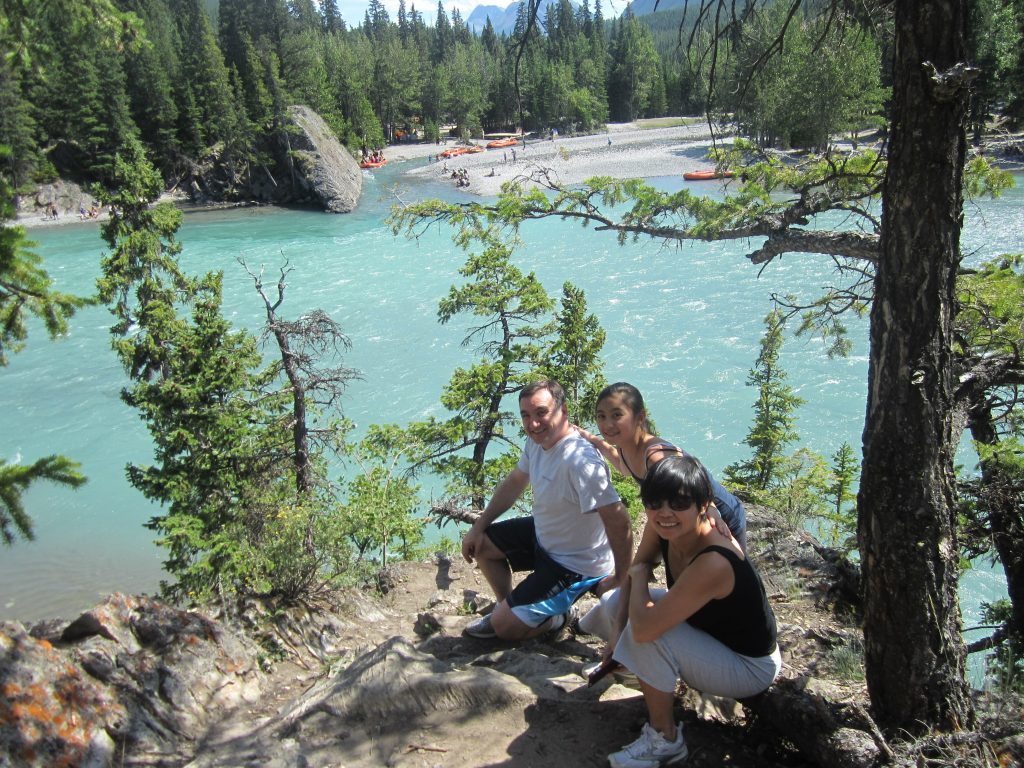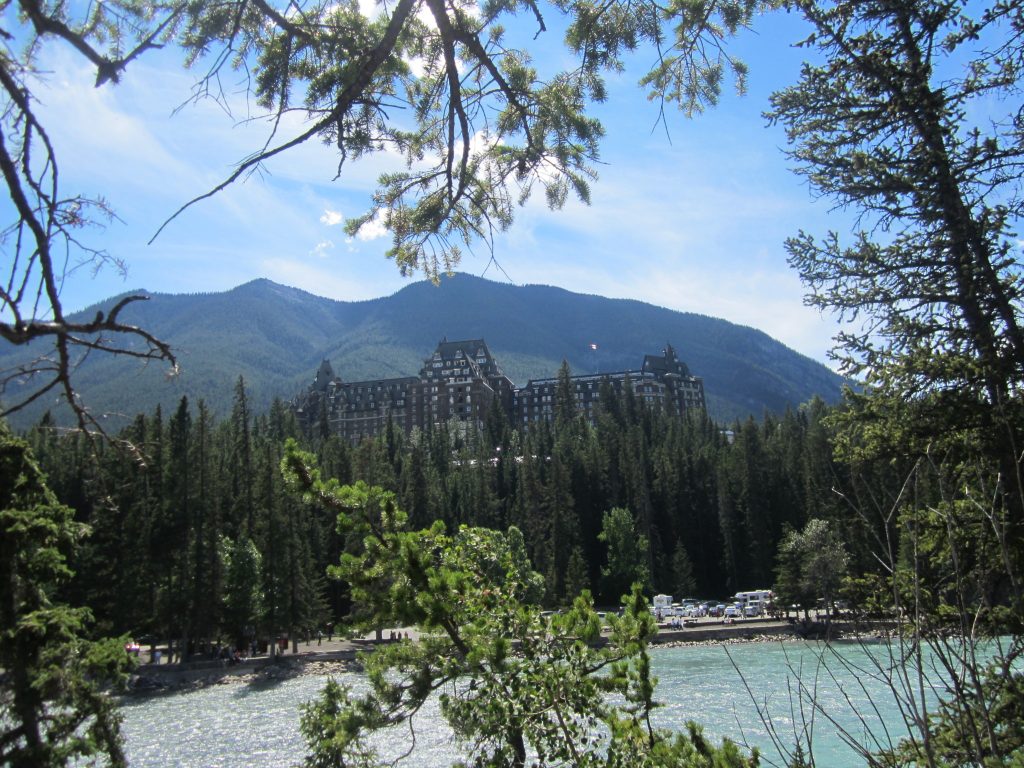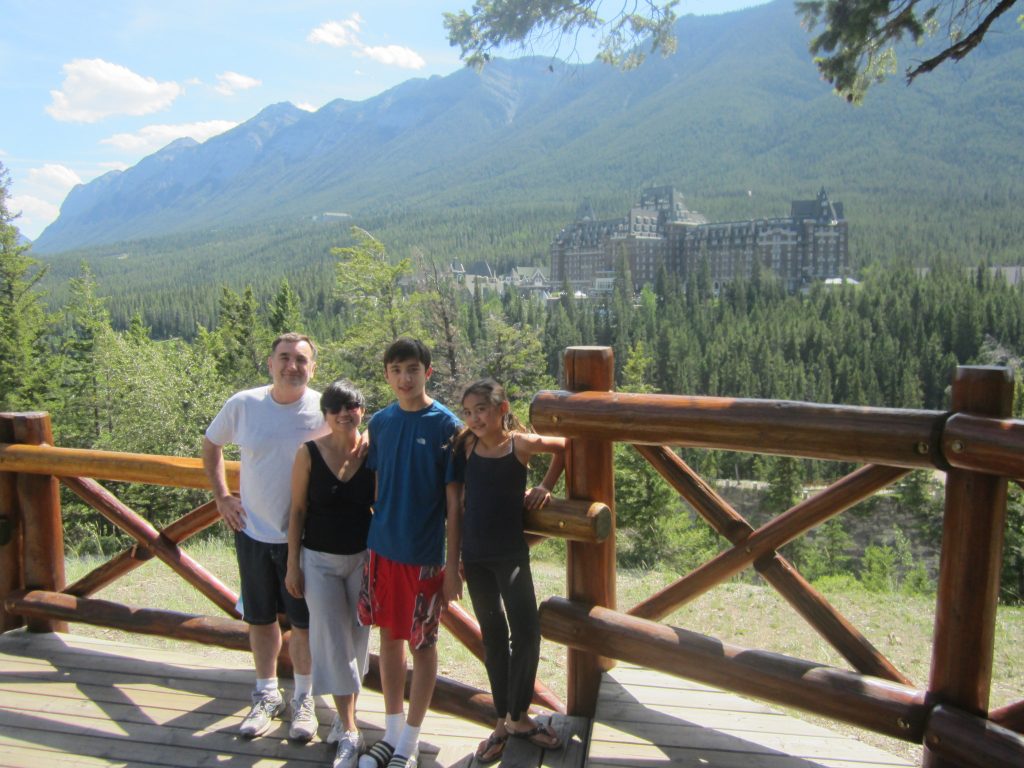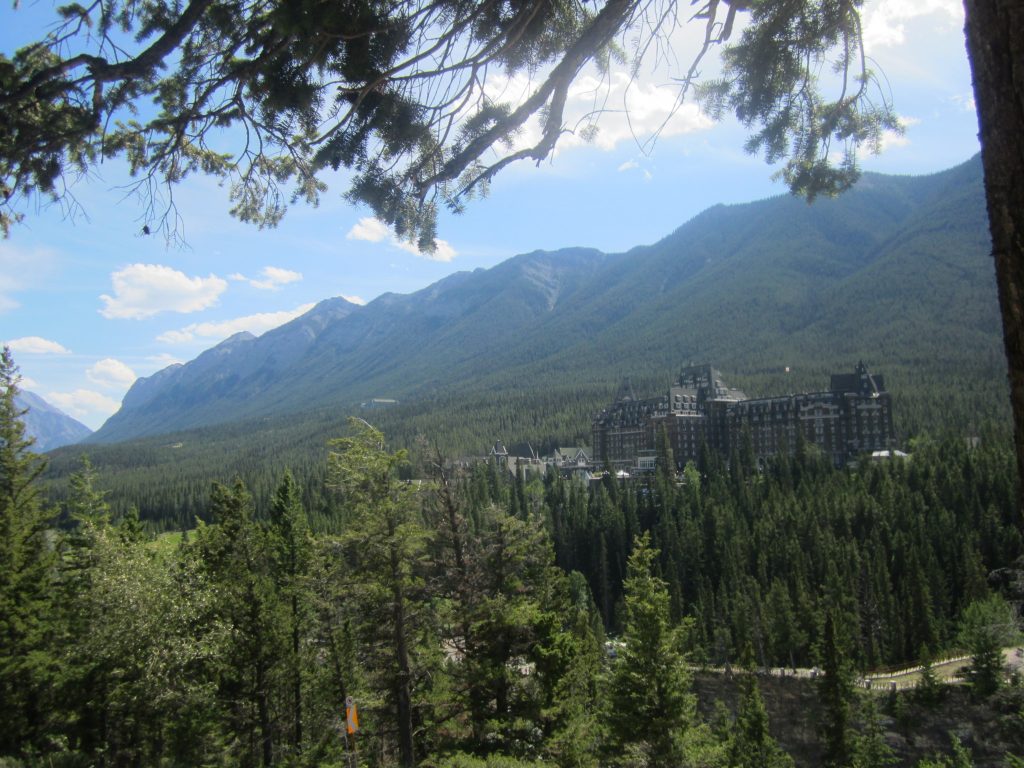 We came back exhausted and we went to the hotel's small activity for guests involving cooking some white stuff (not cocaine) while Mrs. TBB had her treatment at the Spa. Yep, annual benefit for FPC Elites, please don't judge, she leaves a good tip!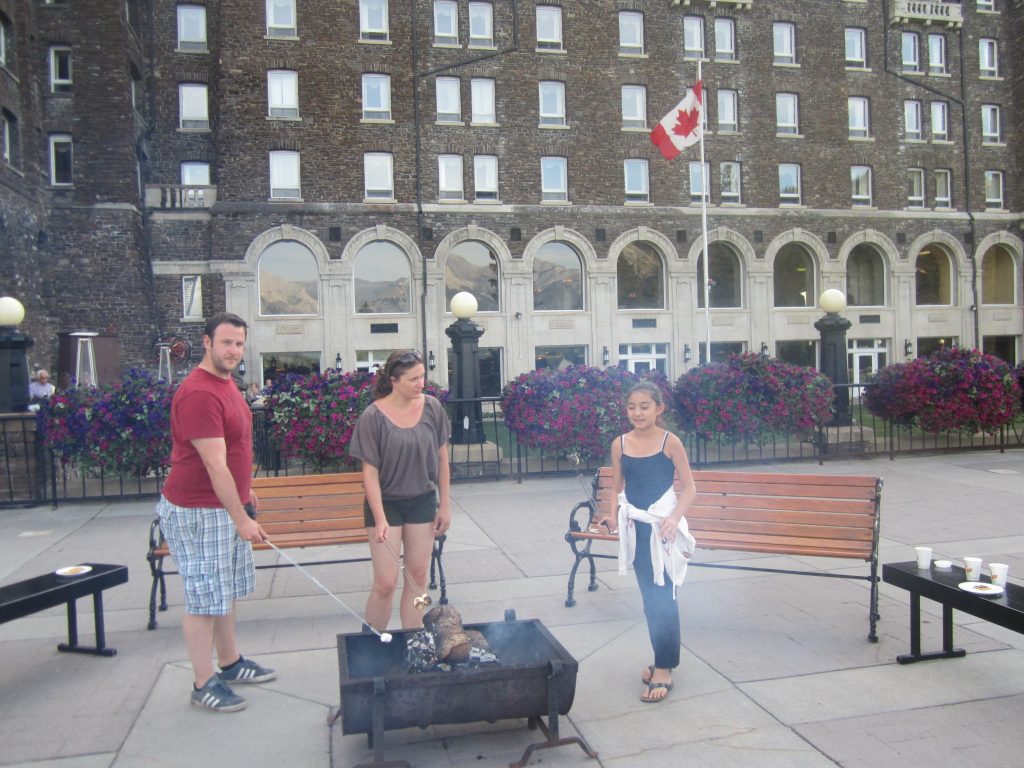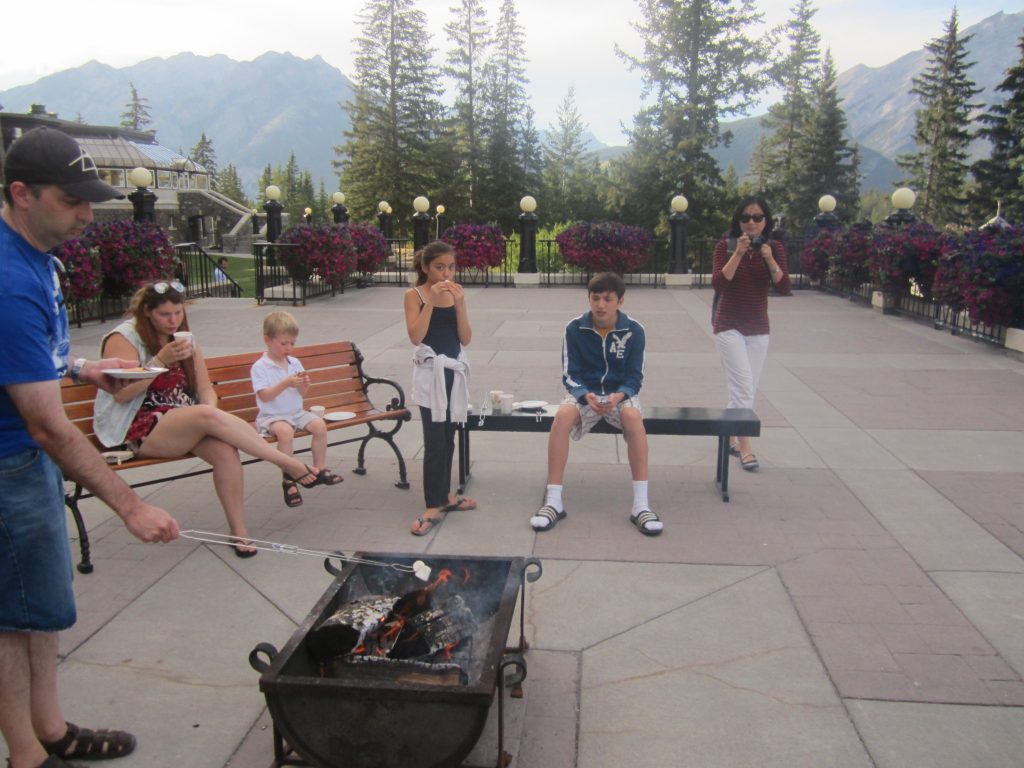 More pictures of the hotel…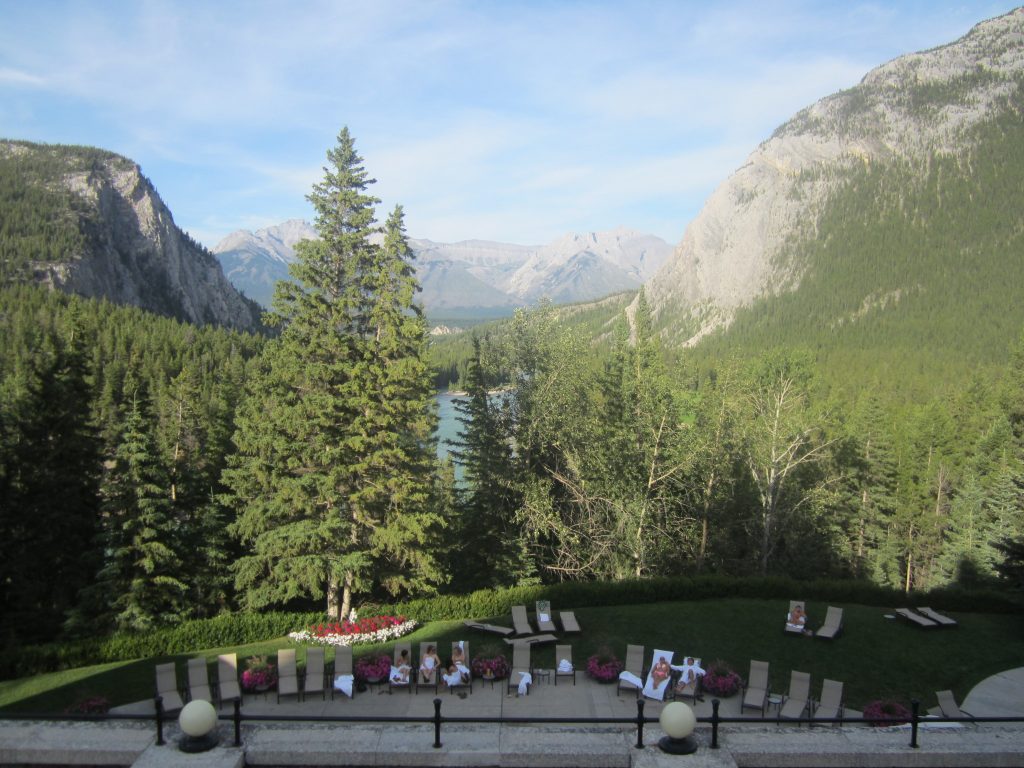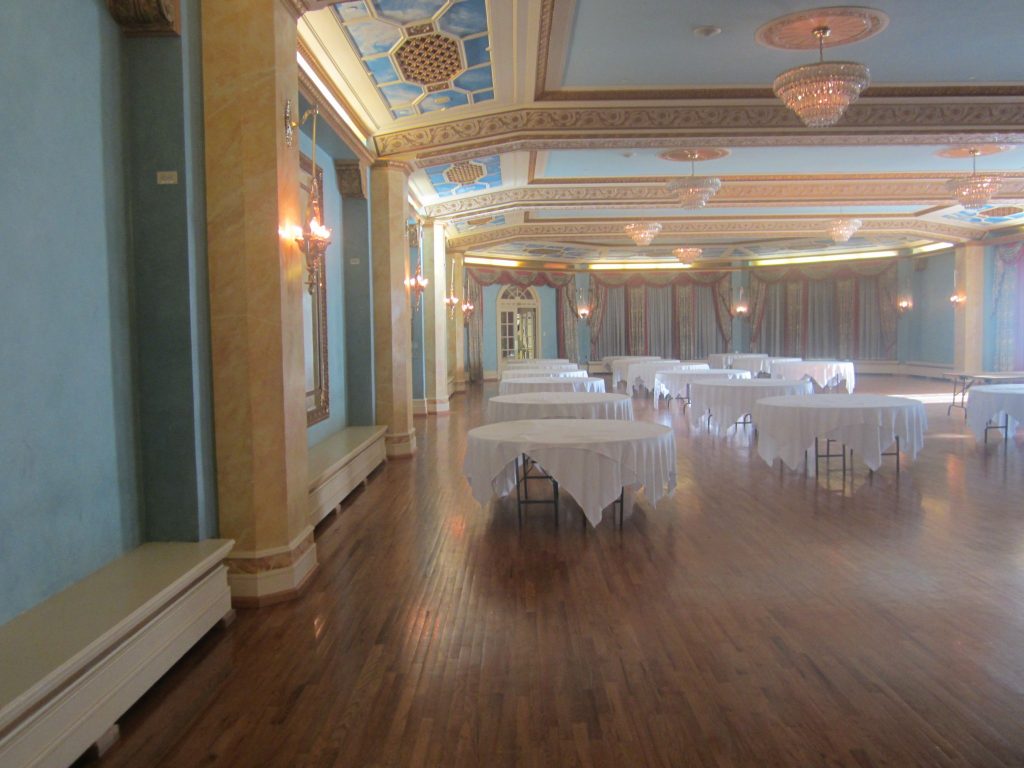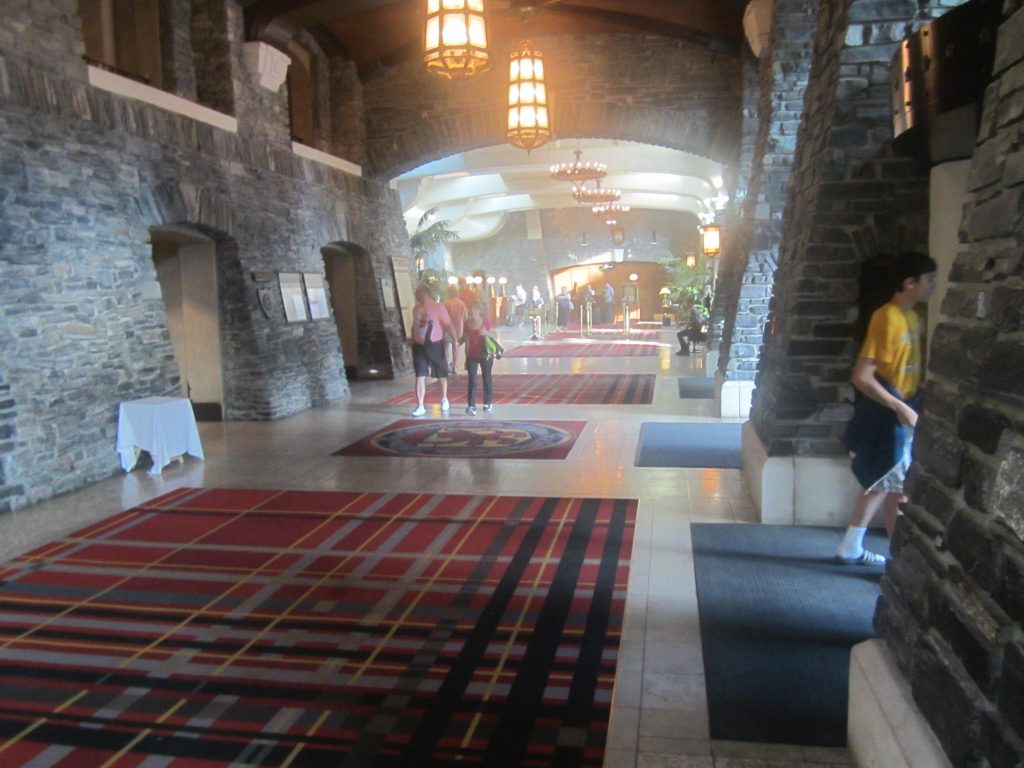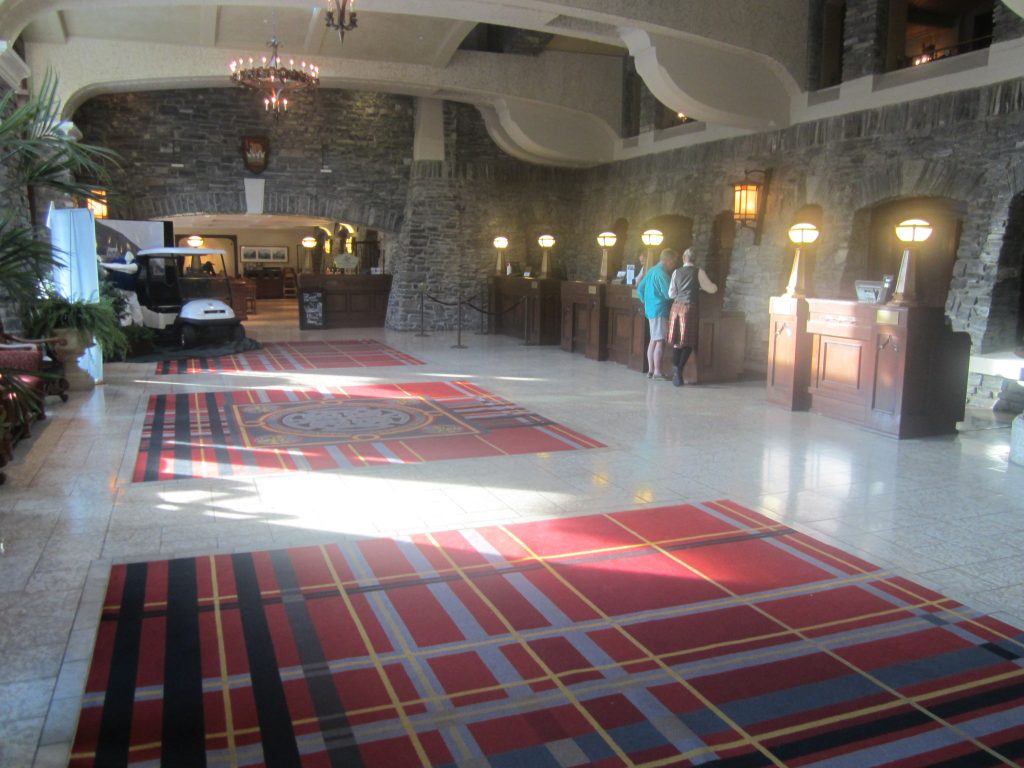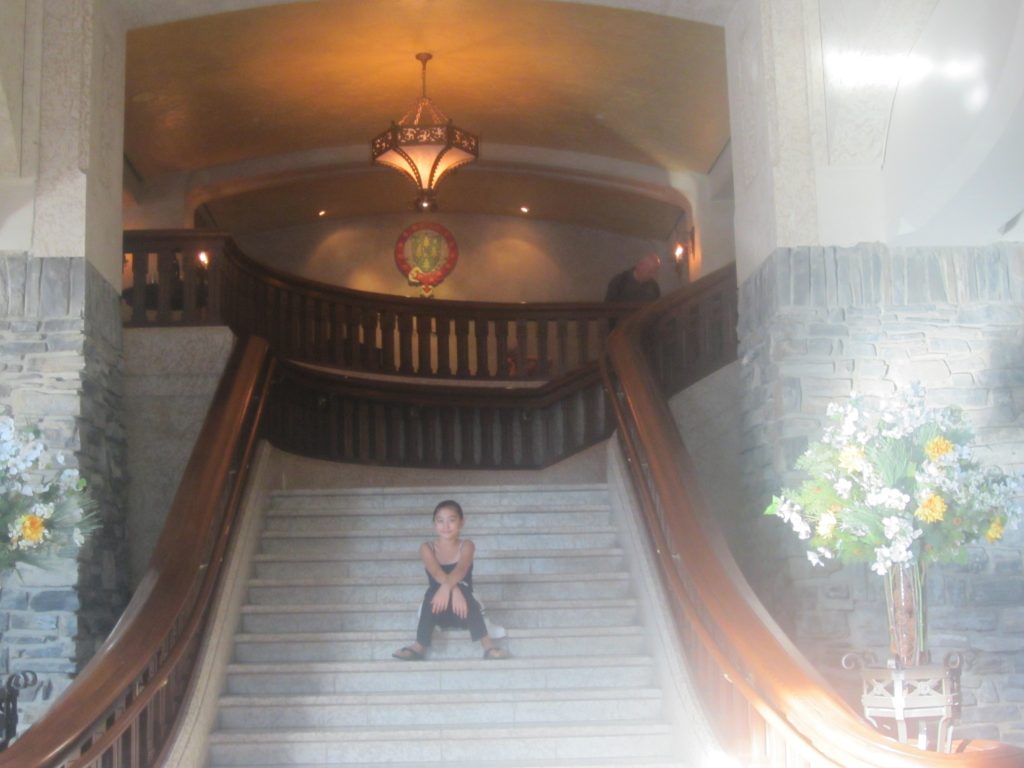 I think we ate at the hotel again…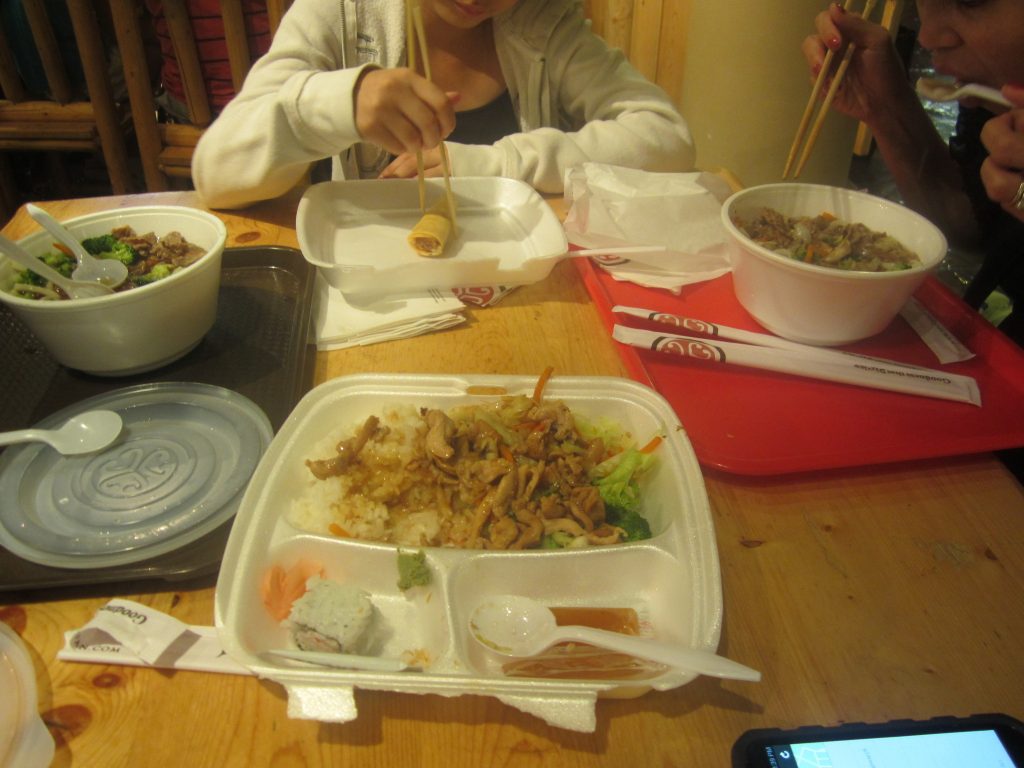 Woke up early to take some sun rays in…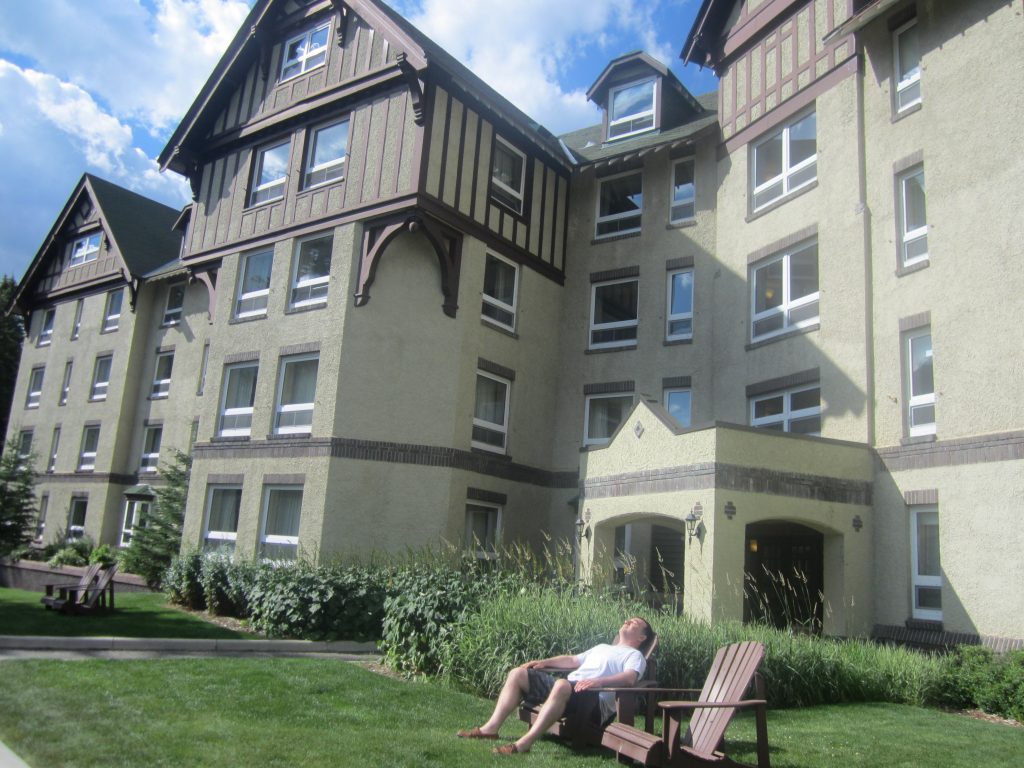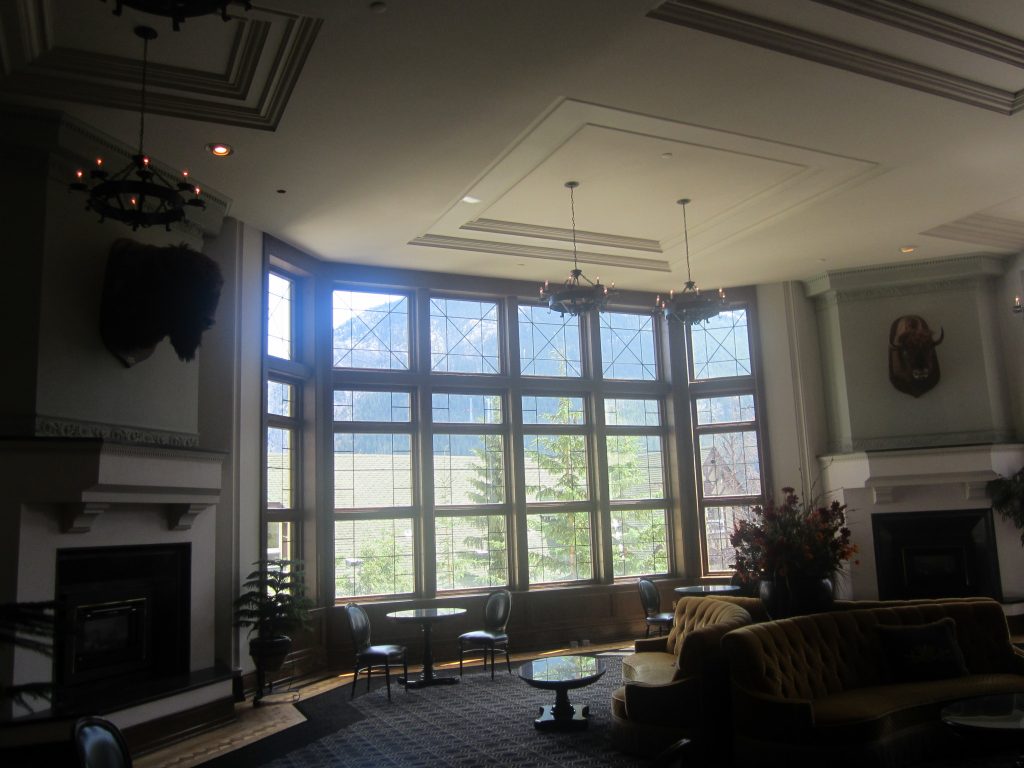 After an awesome breakfast we checked out early in the morning.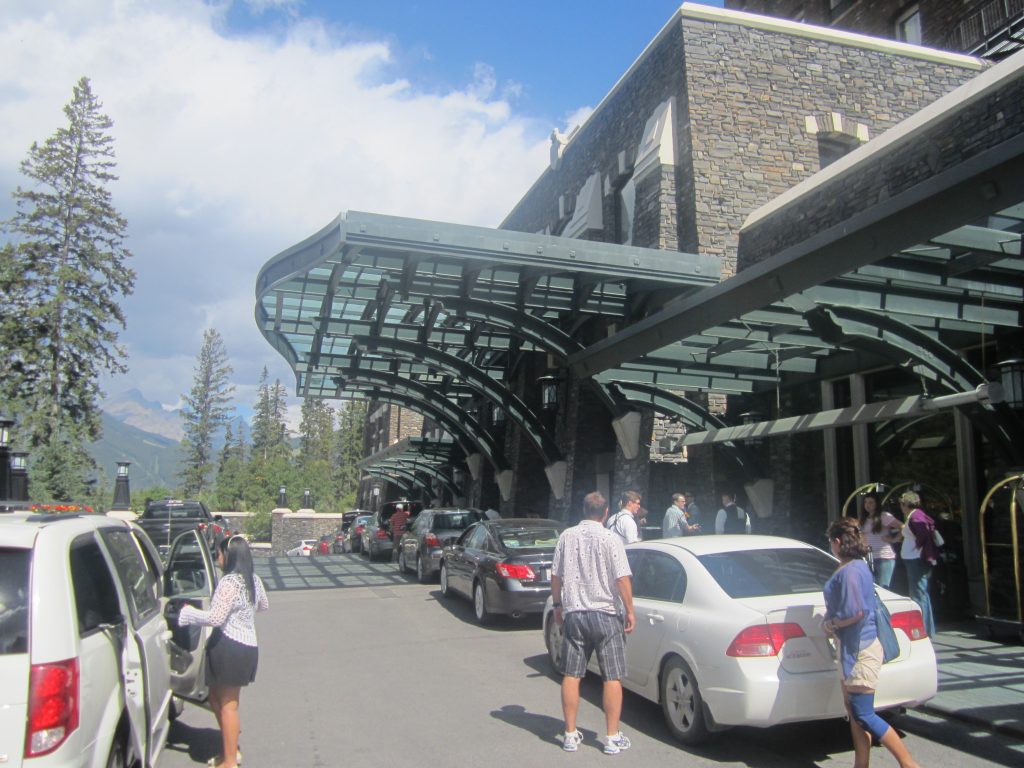 So we can go hiking again, hooray!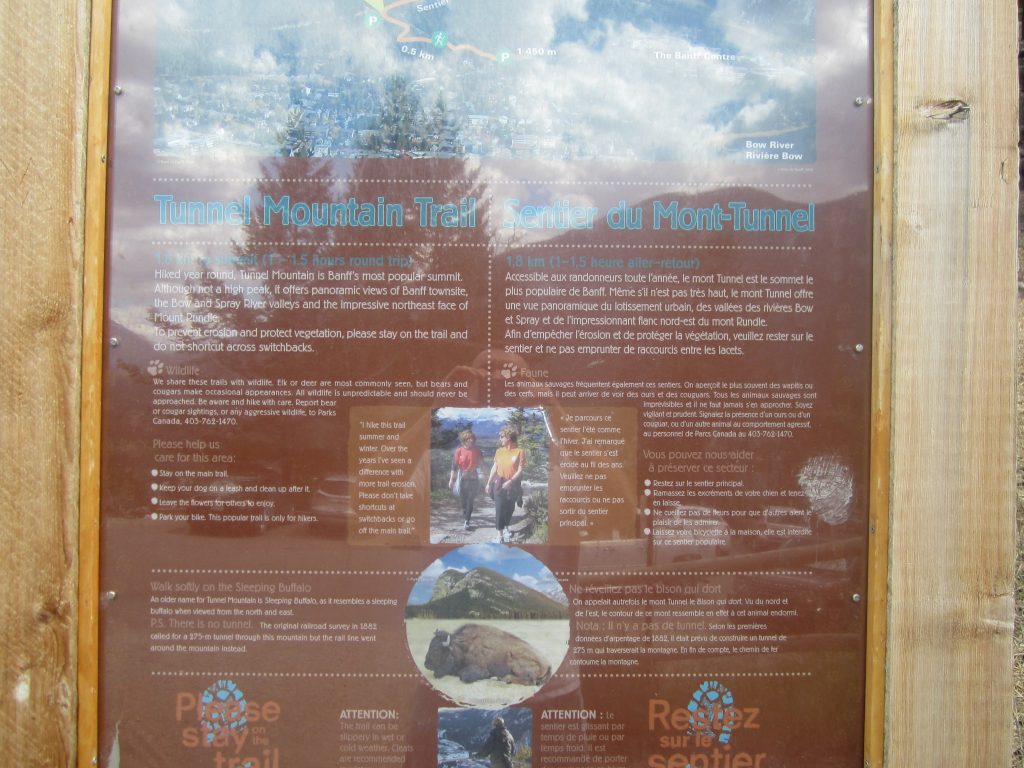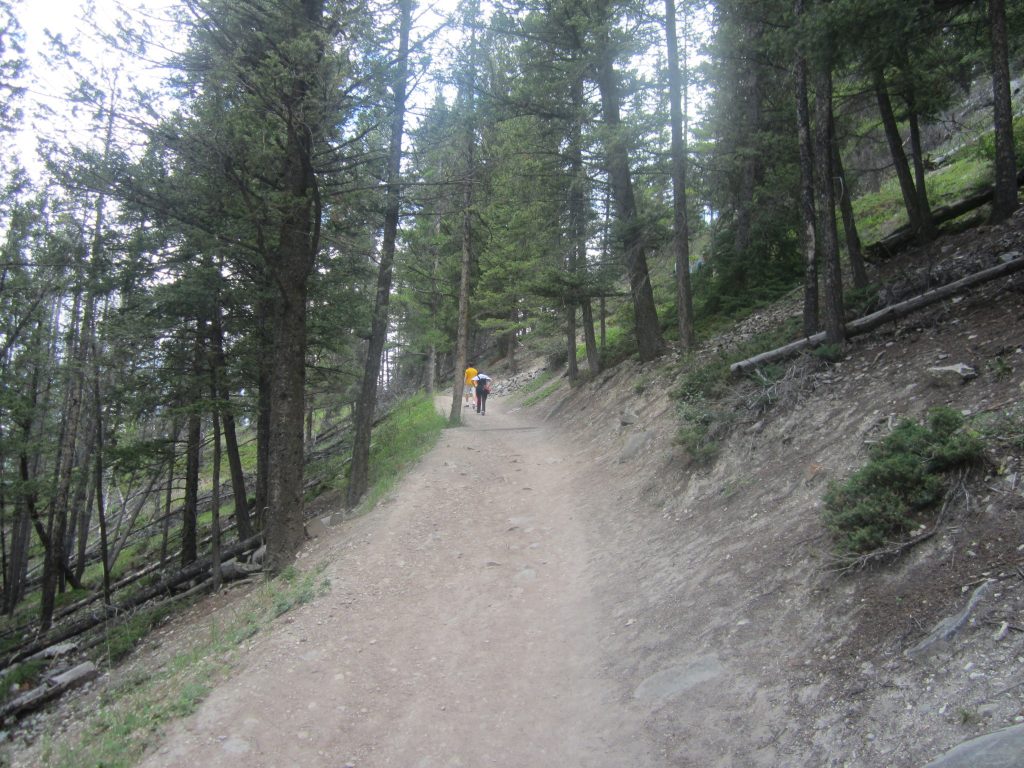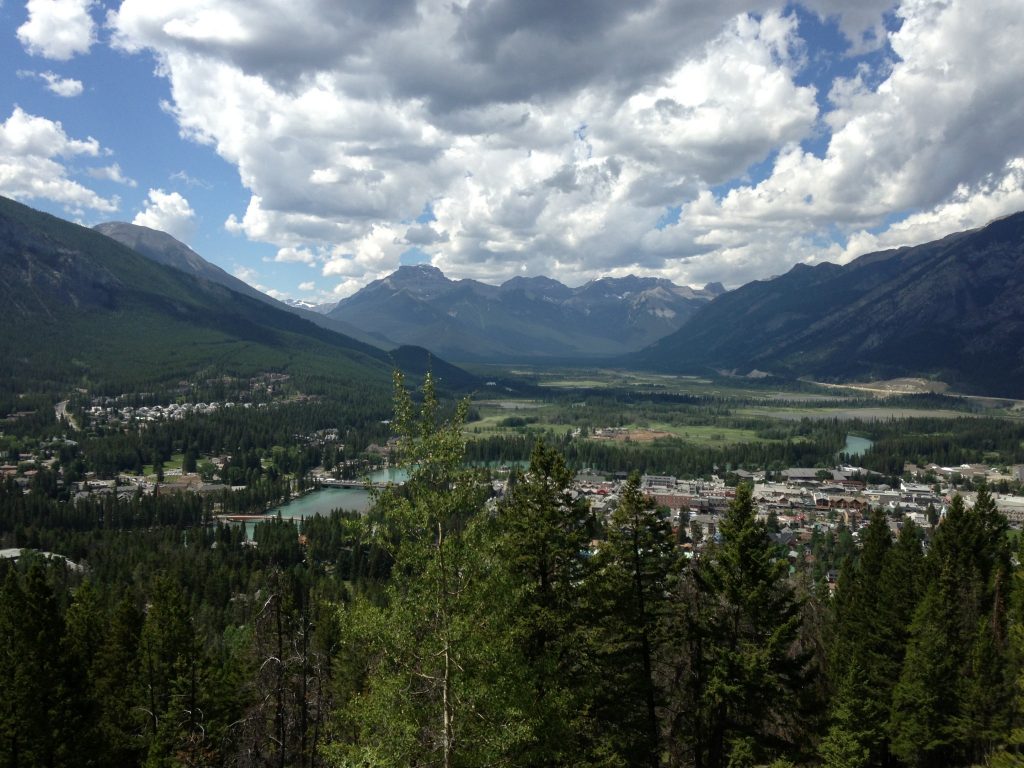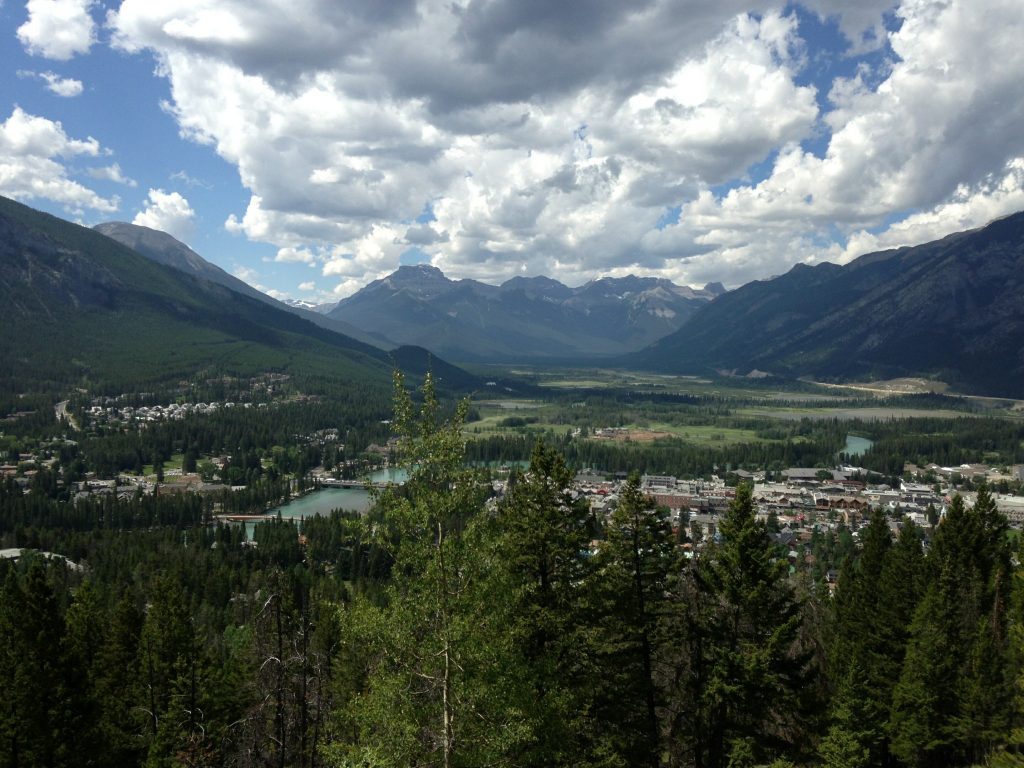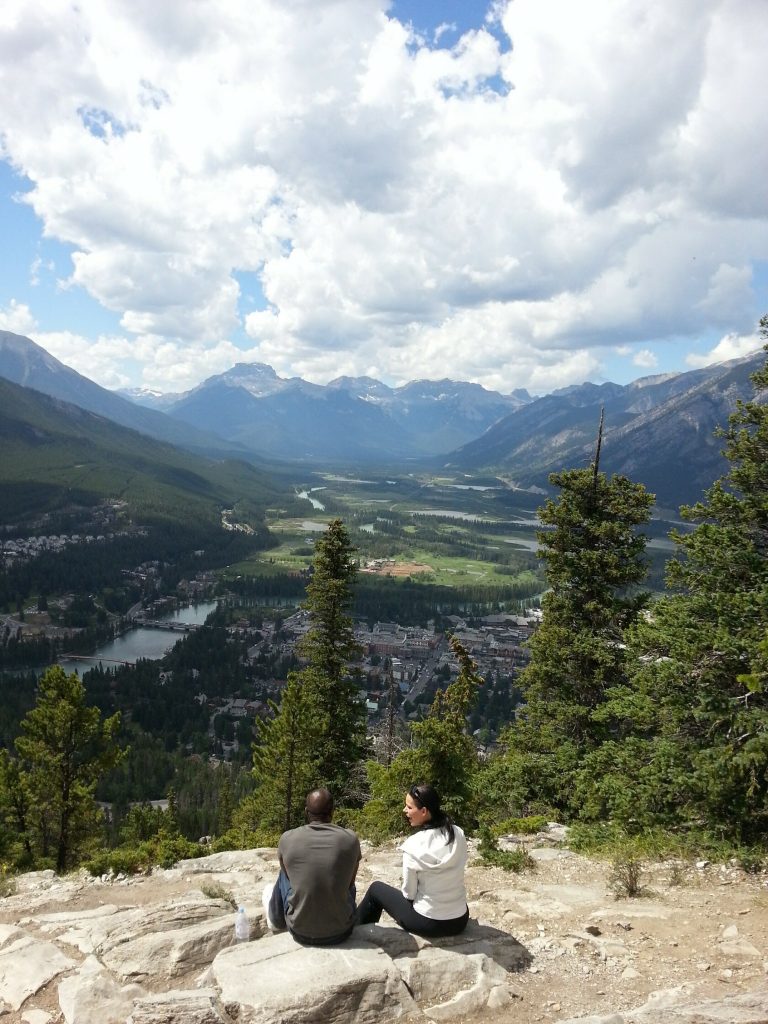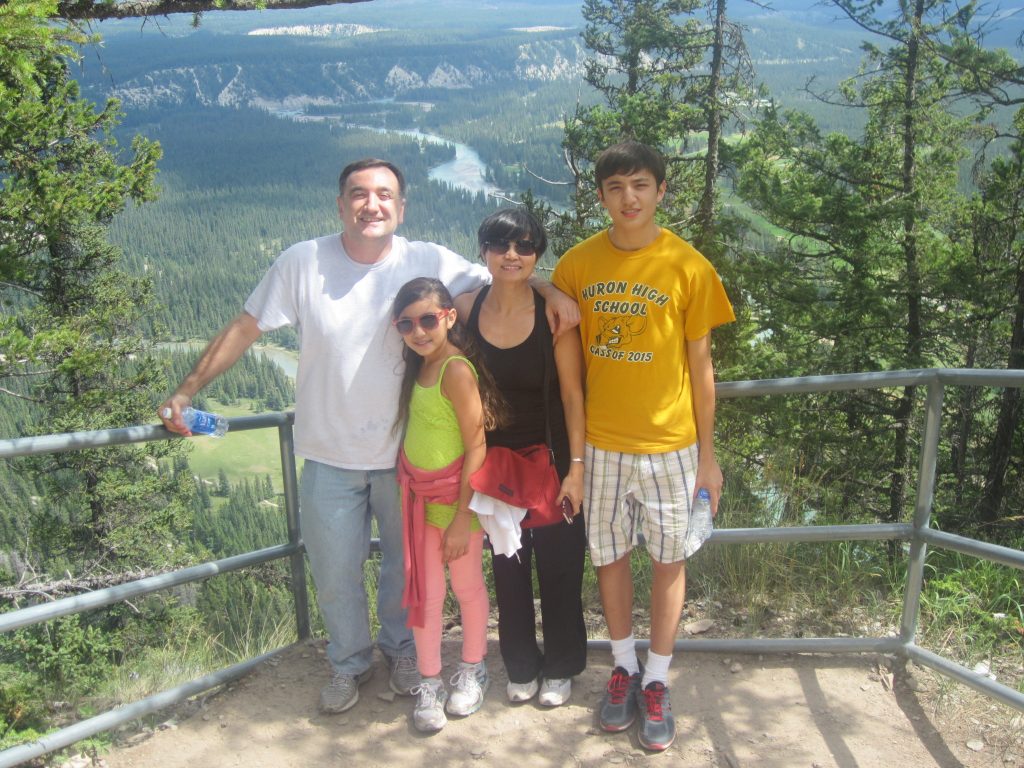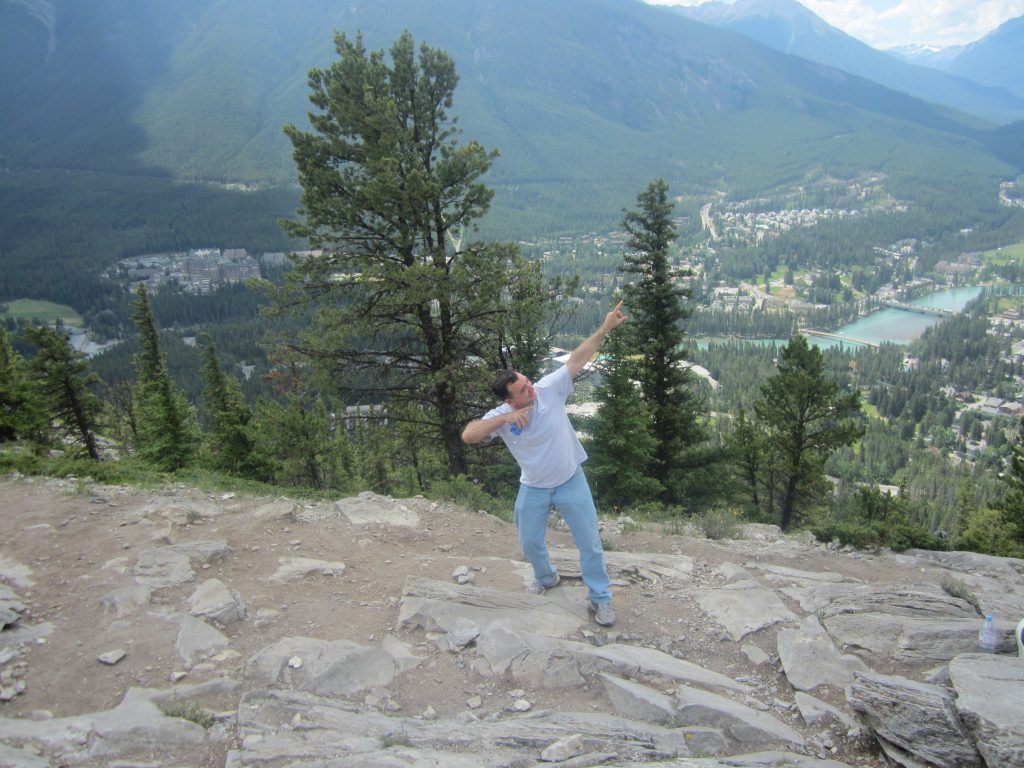 Yep, magnificent views…again! They are everywhere around you here!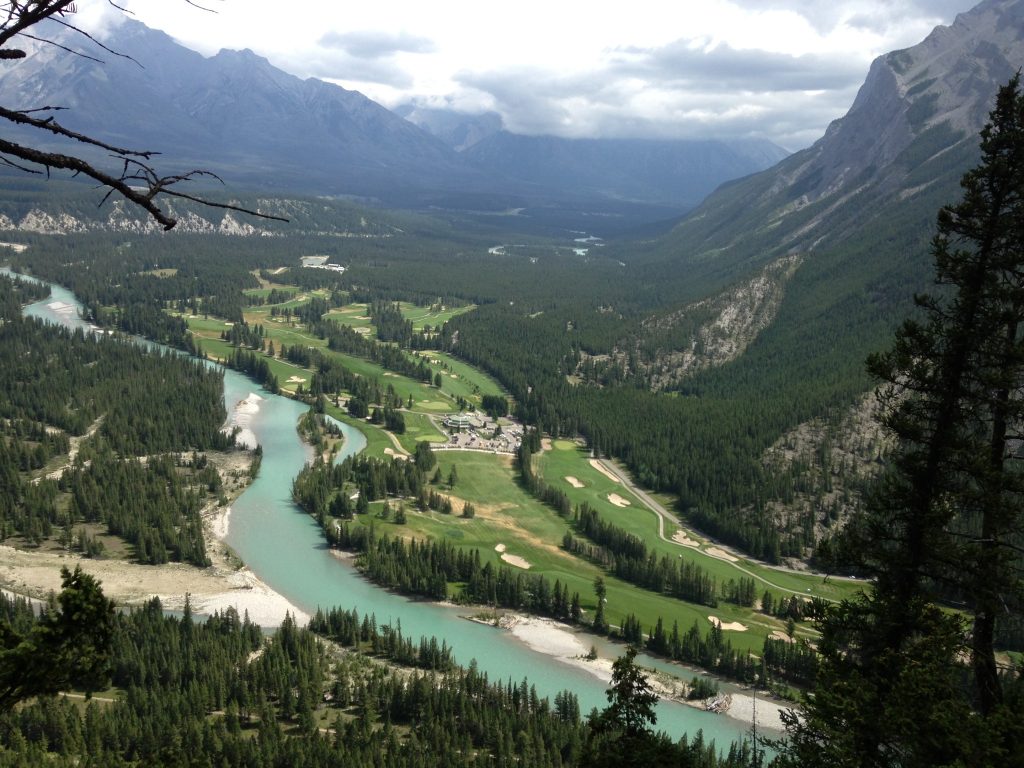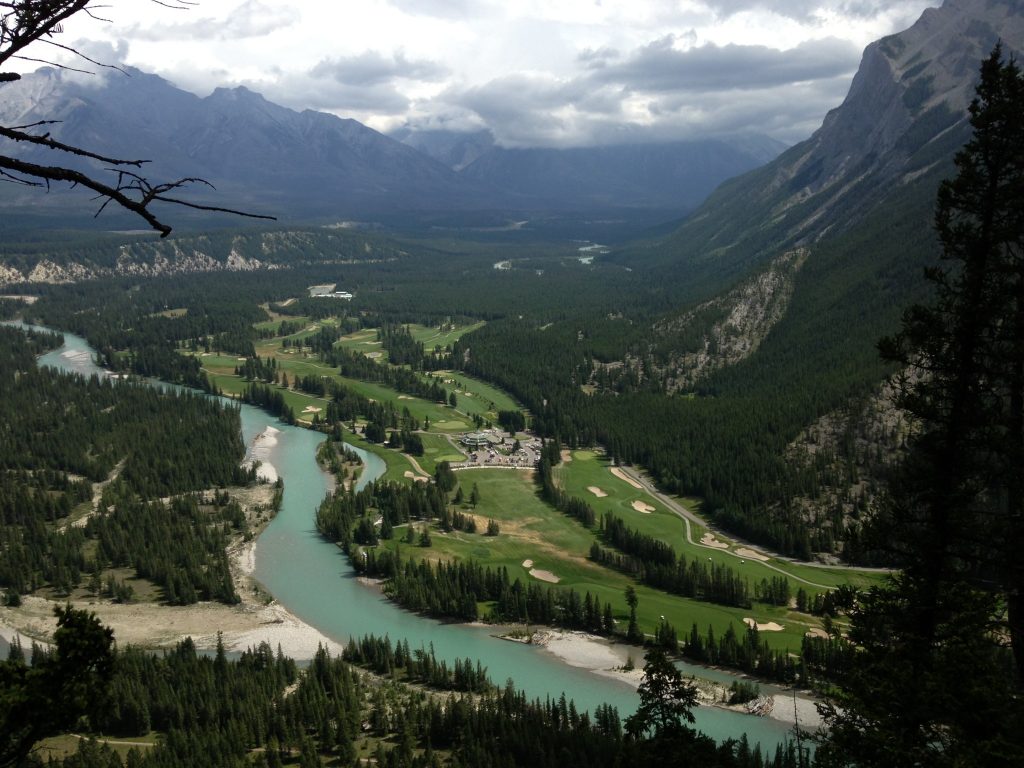 Son likes to be funny and do…weird things. I wonder whose genes he has, WTF!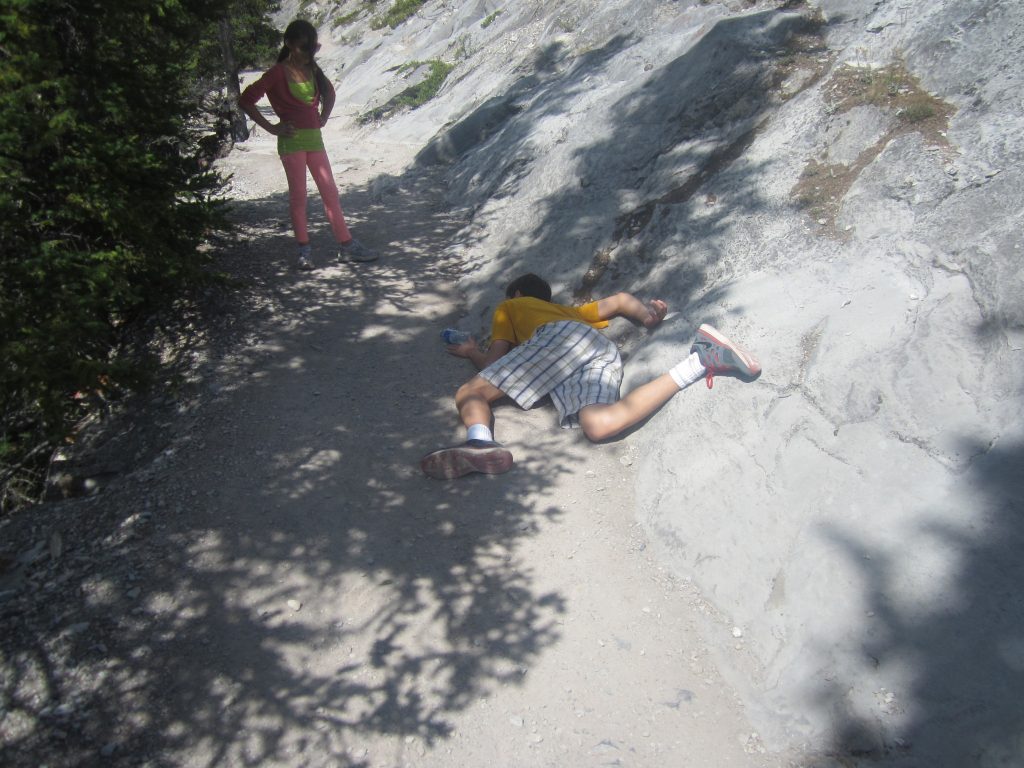 We had to back track a bit and drove east to Canmore where we stopped at a very nice pizza place to eat.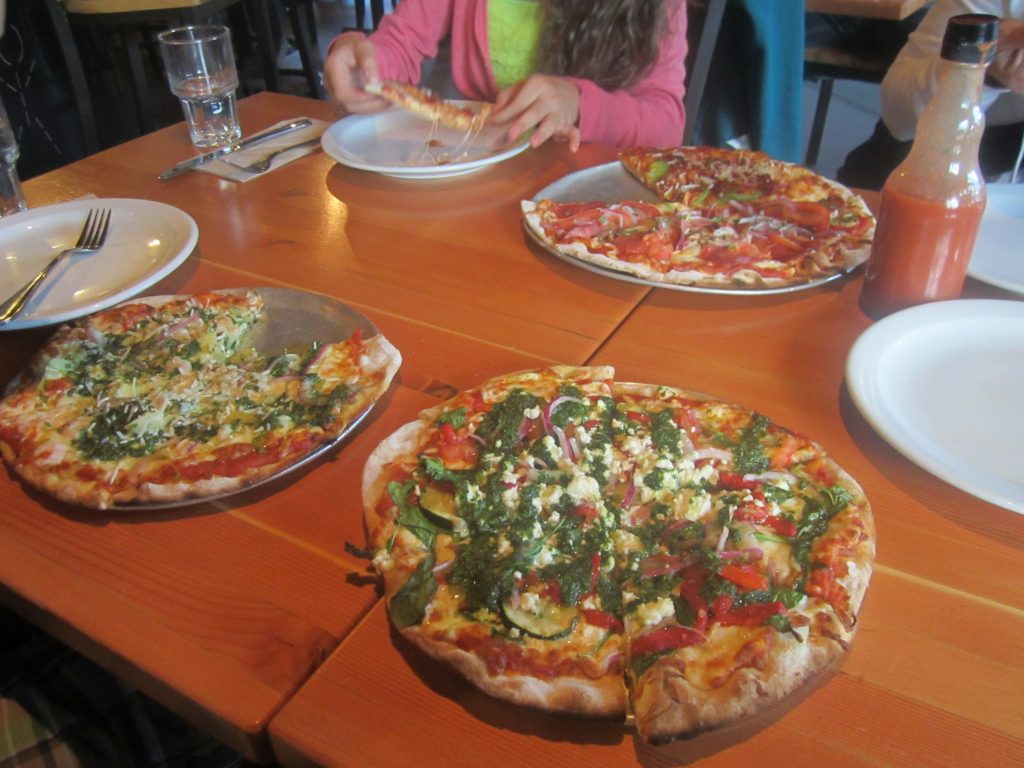 Then we checked into the Holiday Inn Canmore for a night. Hotel was just fine.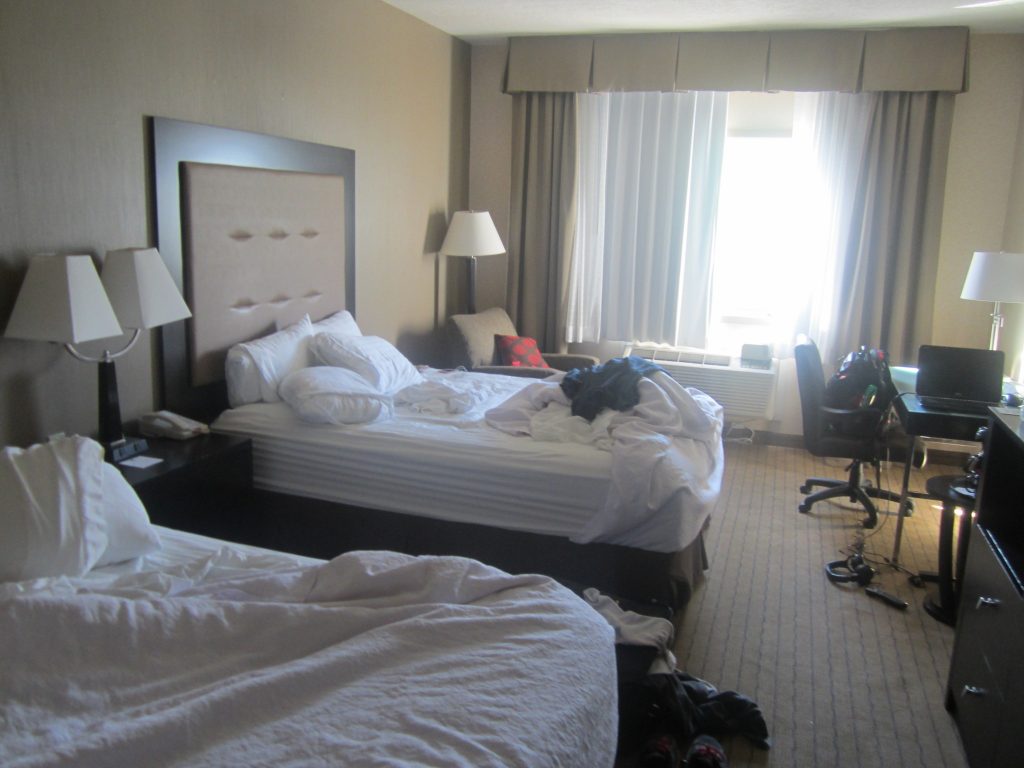 What I noticed was the hotel was full of Chinese guests AND staff, even the front desk attendants were speaking fluent Chinese to us first. It was kind of weird and unexpected in the heart of Canada. So far from Vancouver!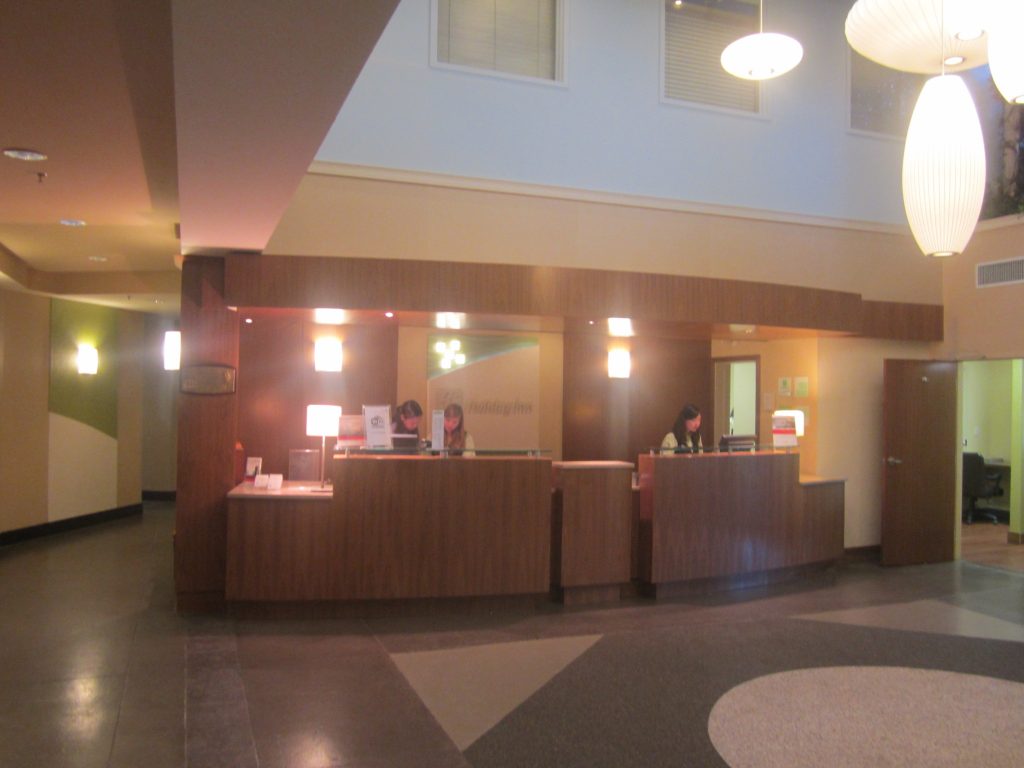 Hotel had a breakfast area. It was nice. Wow.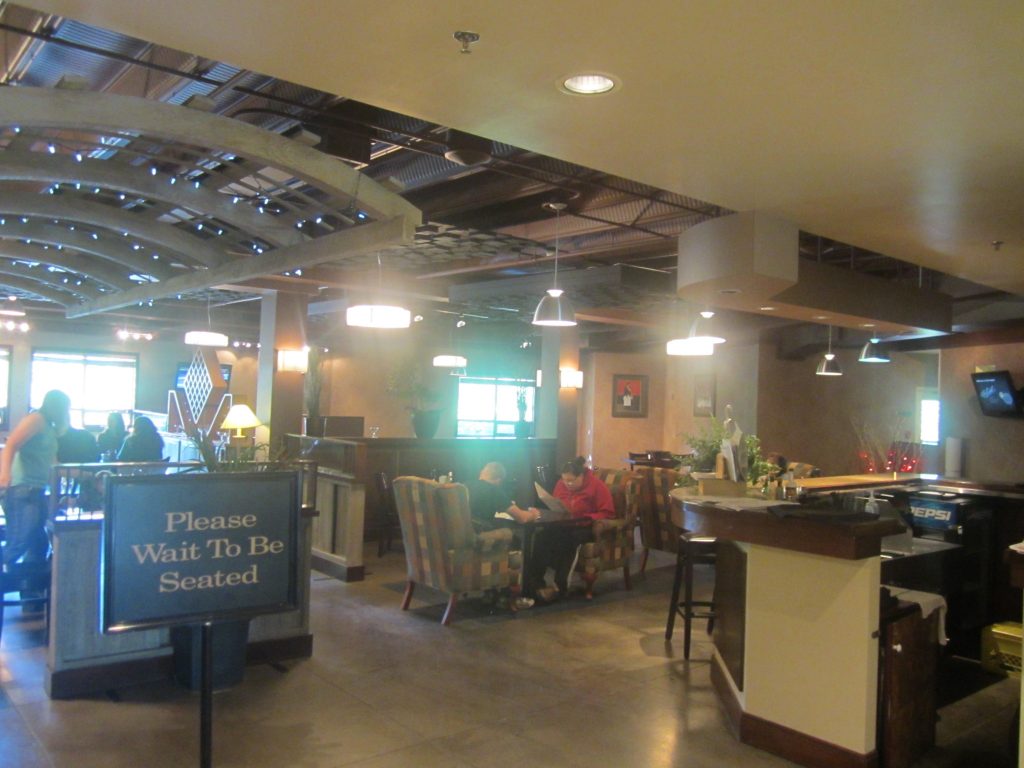 Nice beds, great sleep. Up early to go, I let you figure that out.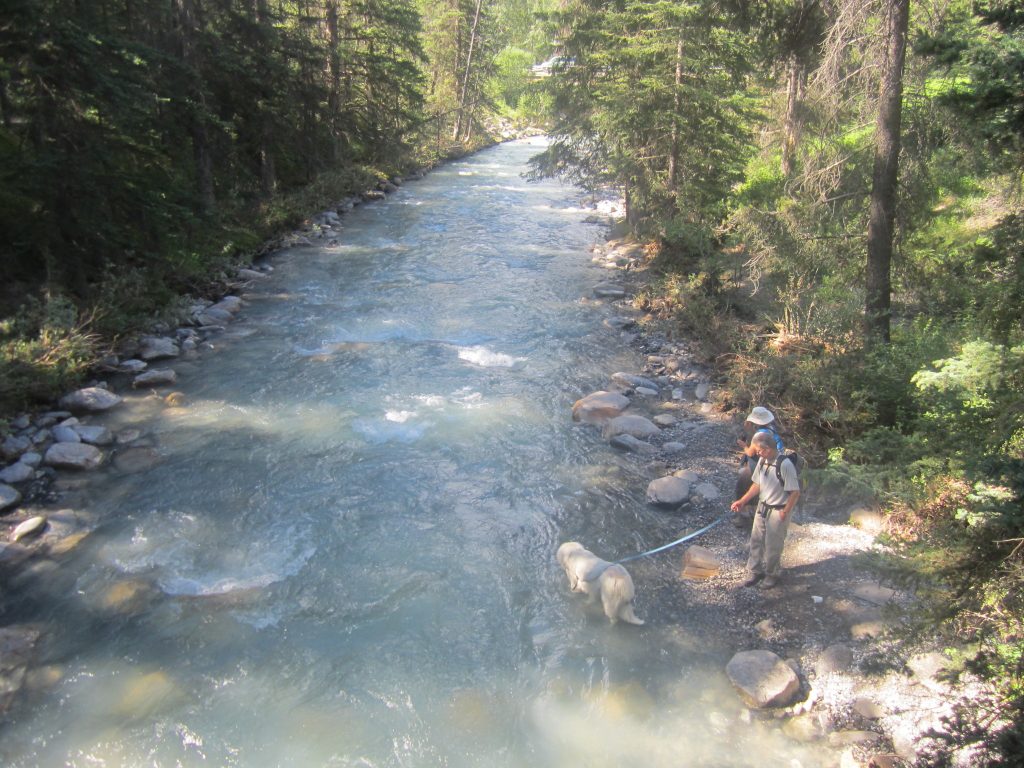 This hike was great, not challenging at all.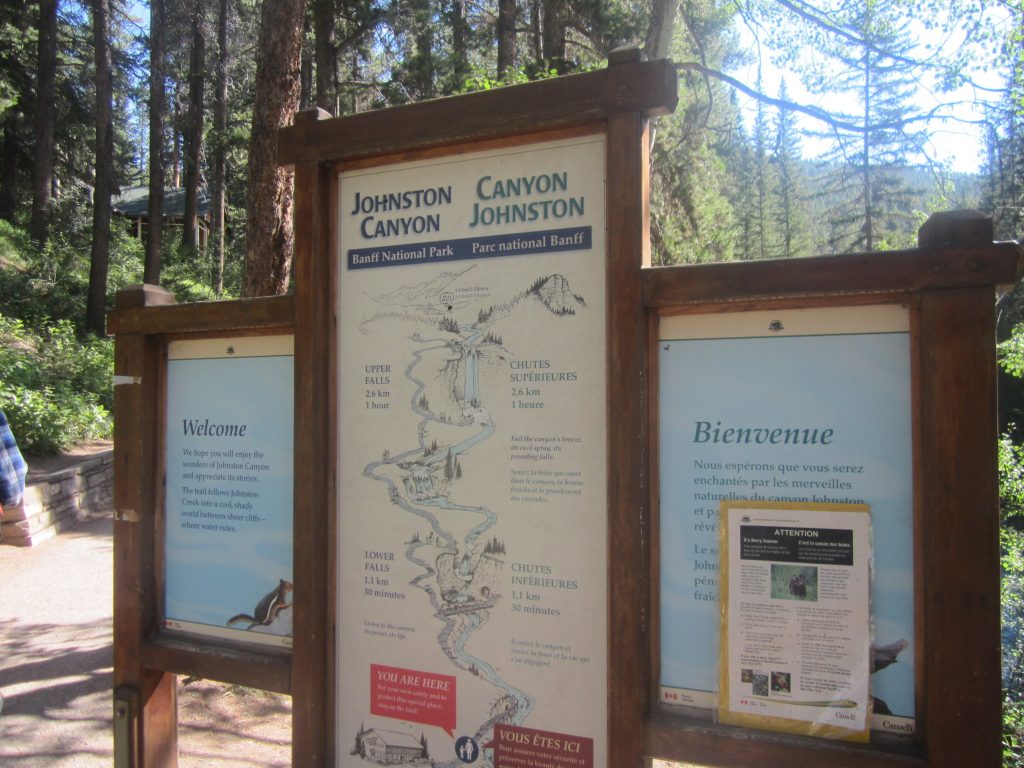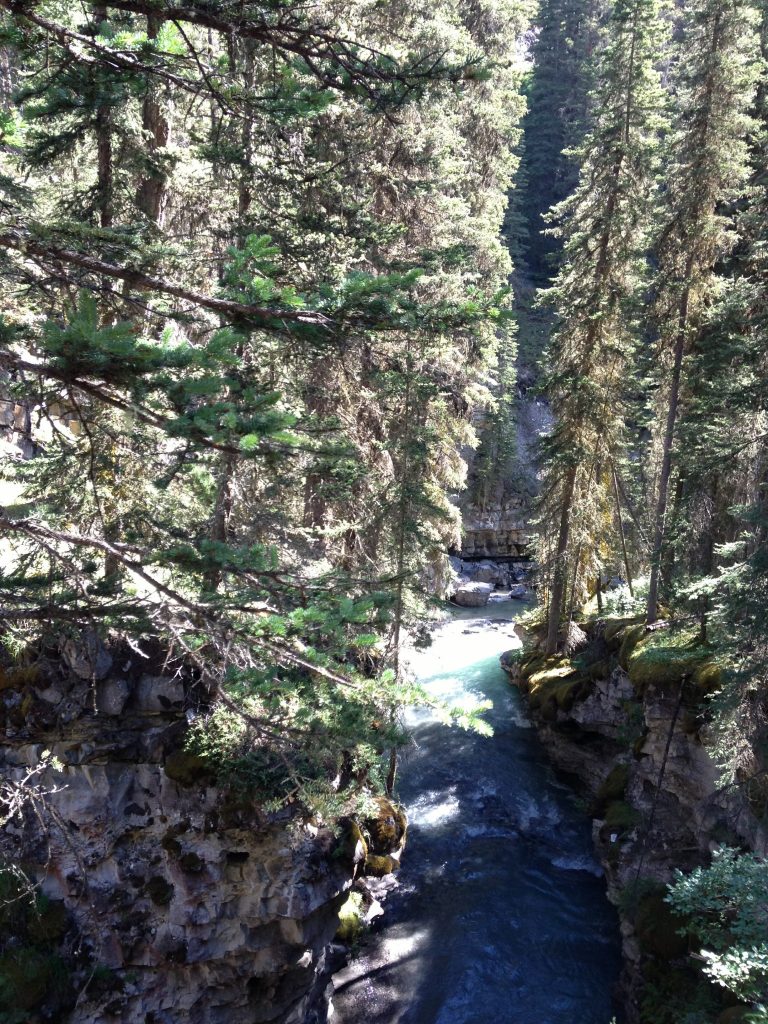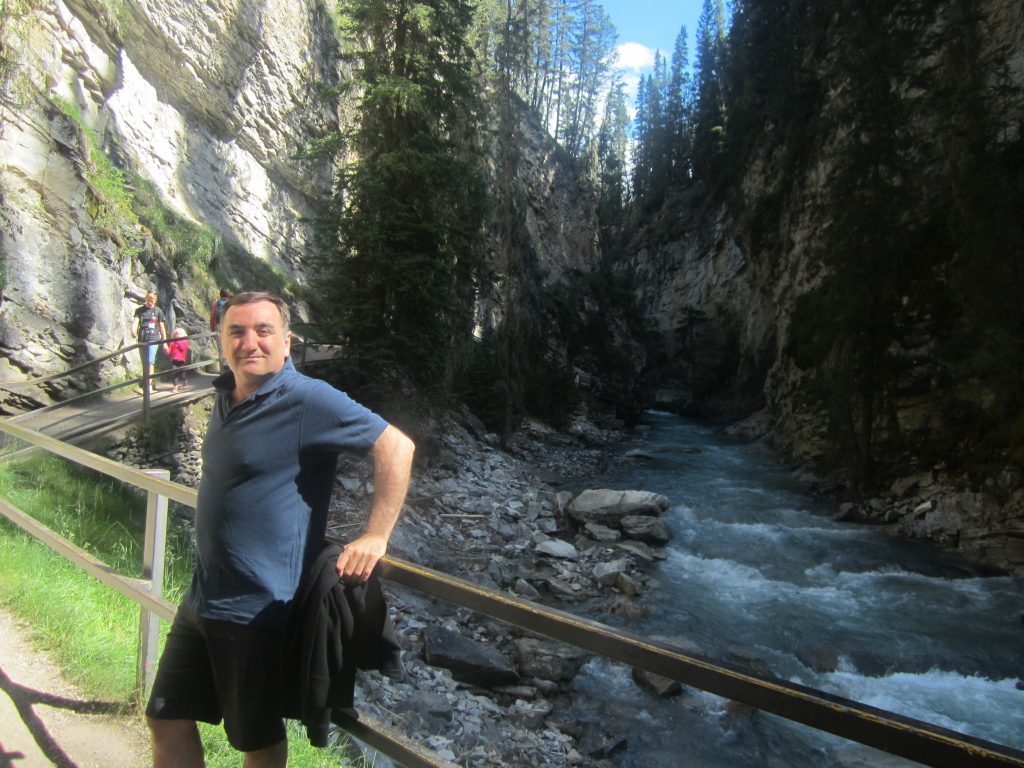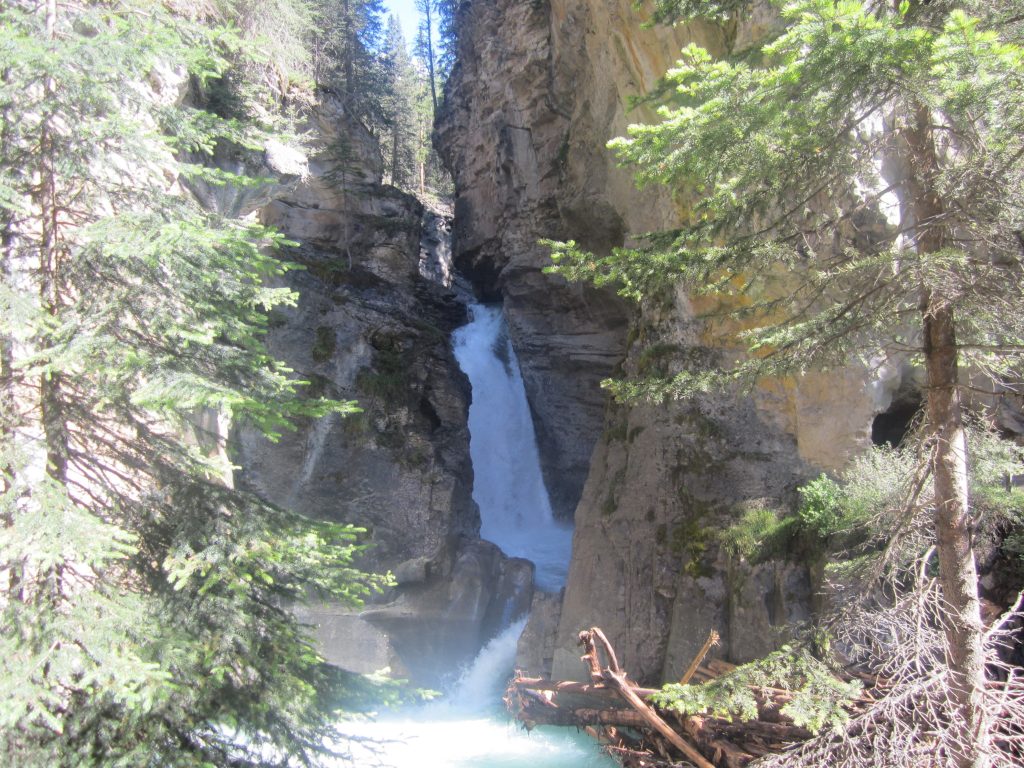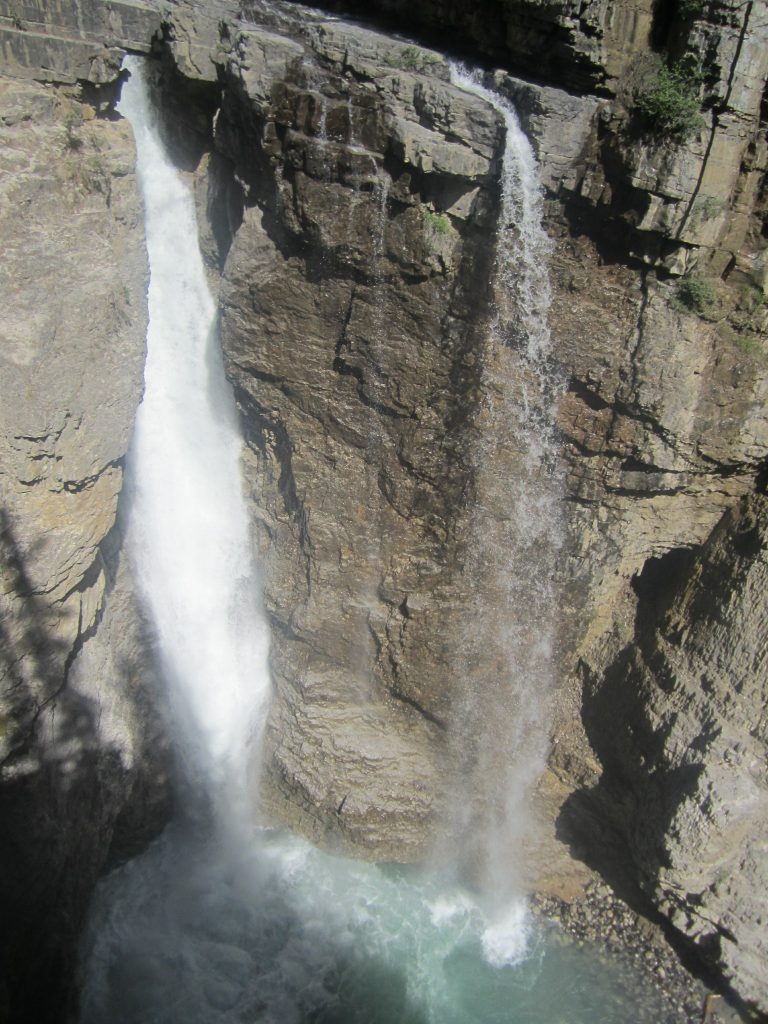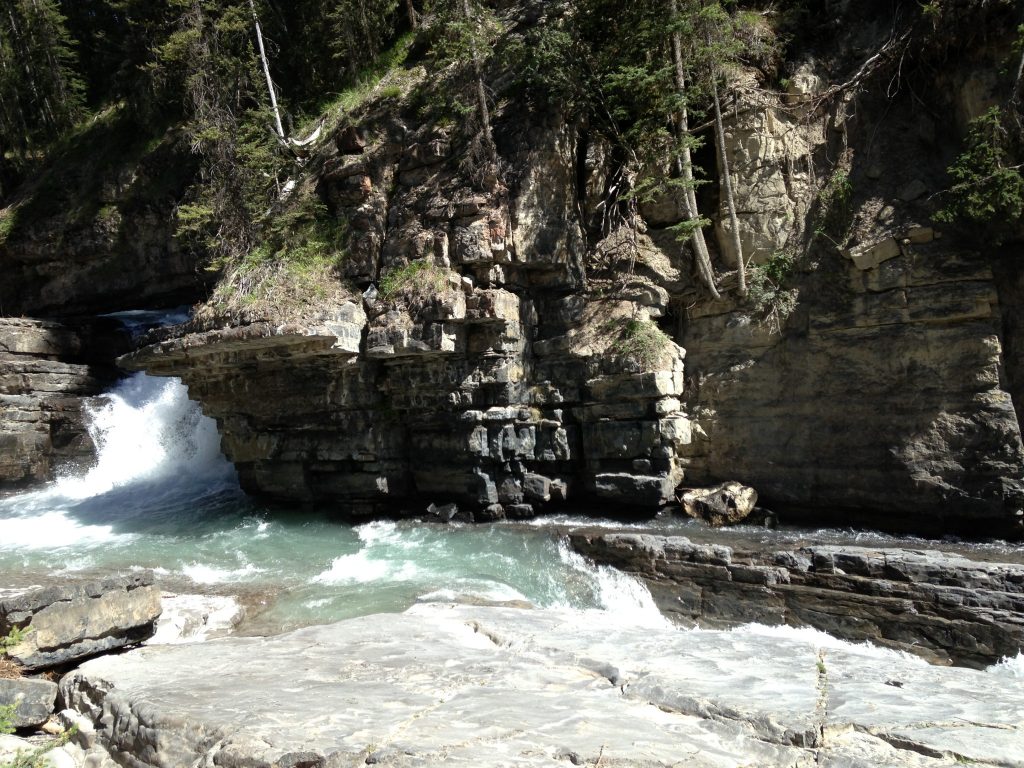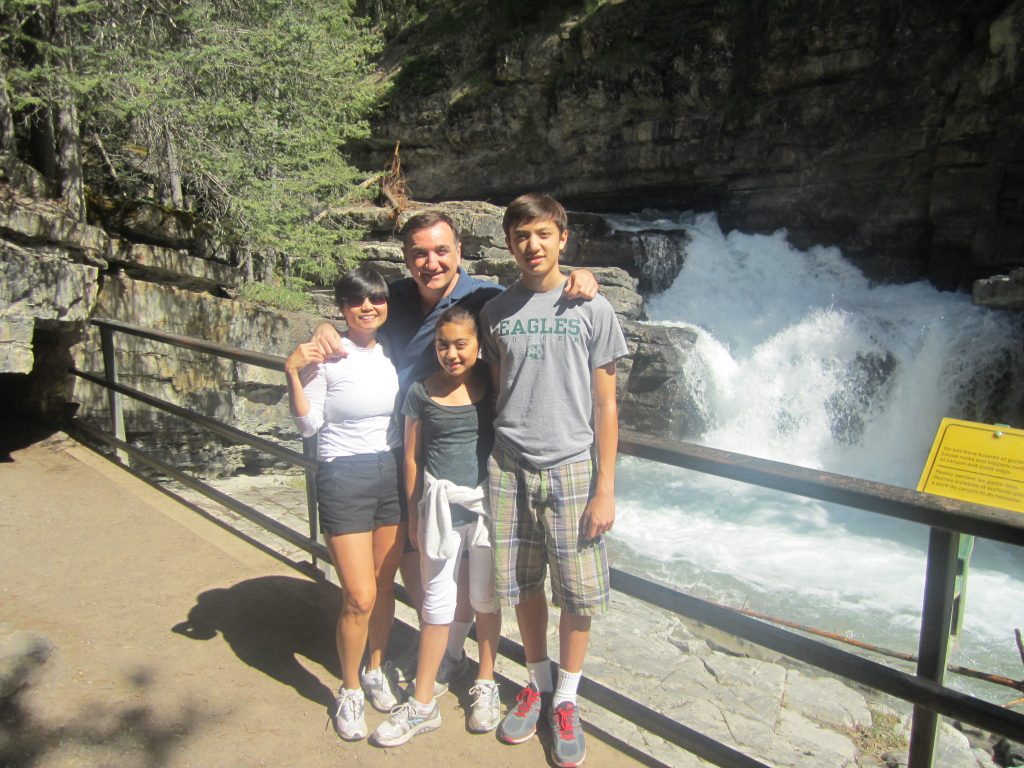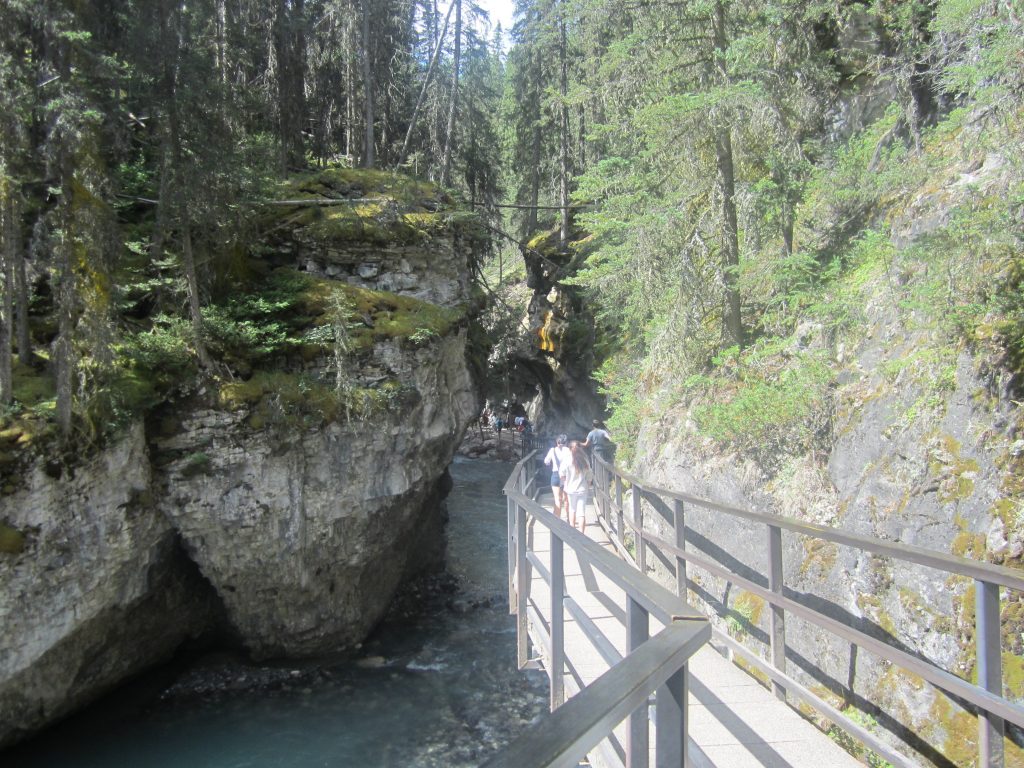 We then continued our drive towards Lake Louise. When you see cars stopping ahead you know there is some wildlife to see, how exciting! This time we got lucky as we saw a bear with a little one just doing their thing while tourists were clicking away. I think this was the first time I come so close to a bear with no cage separating us. What a great moment indeed!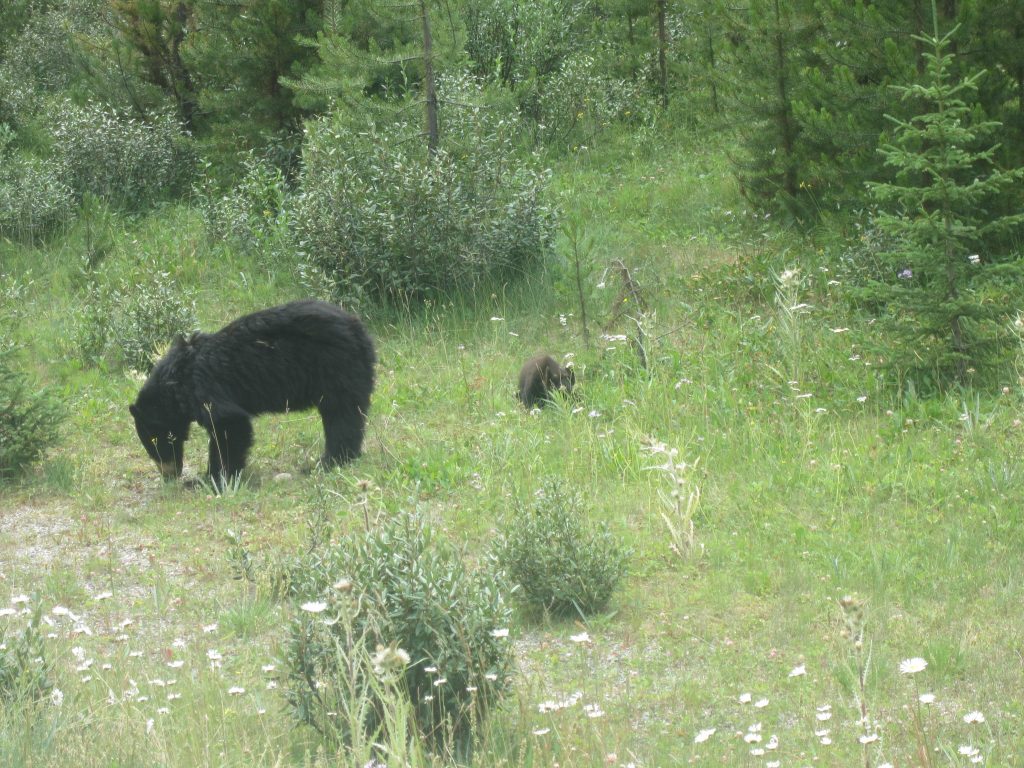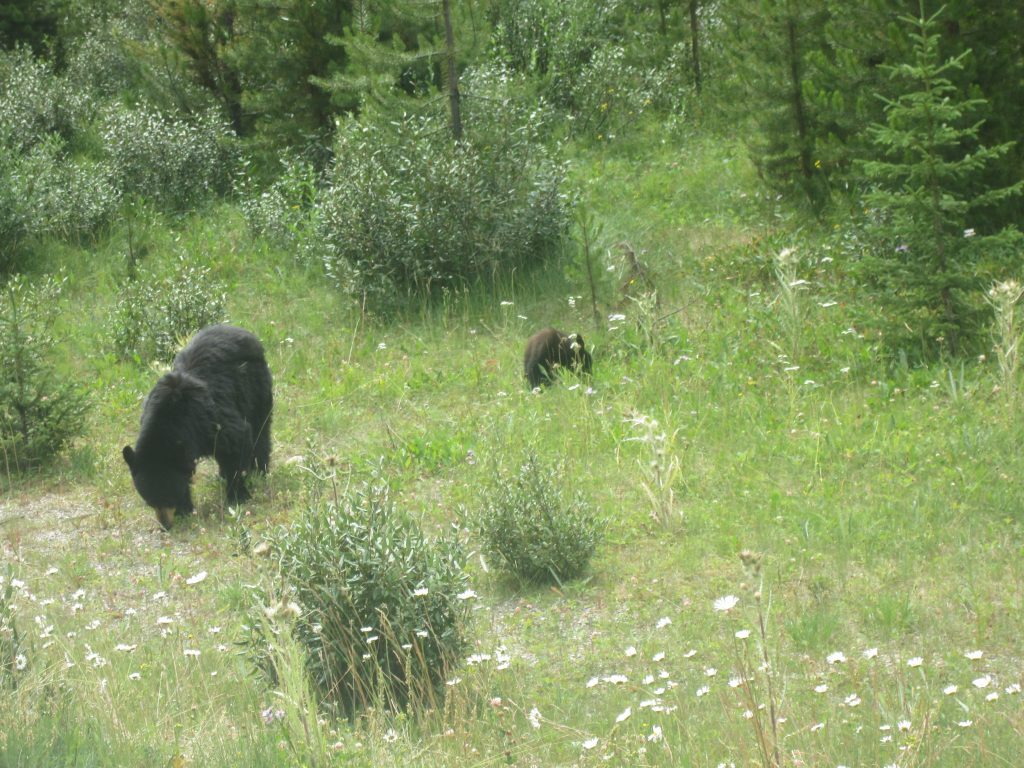 And here we are baby. There is not much in the "metropolitan" city of Lake Louise. Just some building structures, one main shopping area and a few gas stations. It is the base where many outdoor activities embark from! You very soon realize that there are NUMEROUS places to see and things to do around here. I wish we had at least a month to explore this heaven on earth!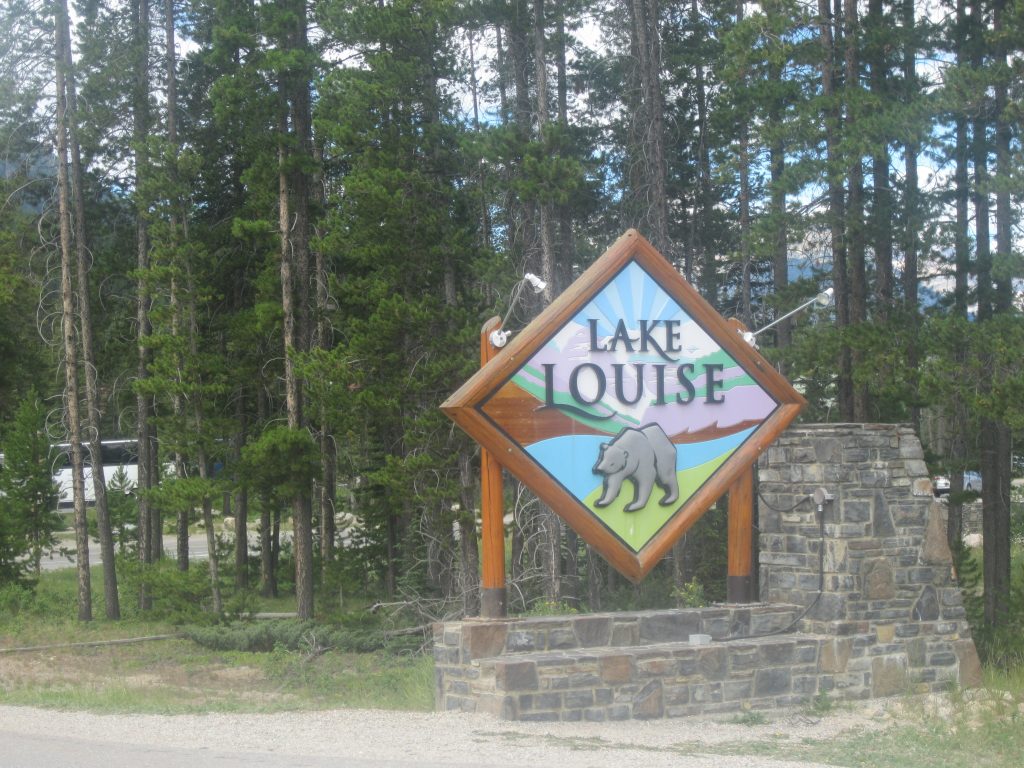 The reason we decided to come here was of course because of Fairmont Louise.
I fell in love with it the moment I laid my eyes on it towering over this small lake with the weird water color. I made sure I got us a room with a lake view. It would be awful if you come here and NOT get a lake view room. Trust me on this. I repeat. You must get a lake view room, not mountain view. Understand? Our room was very nice but I have had better I must admit lol.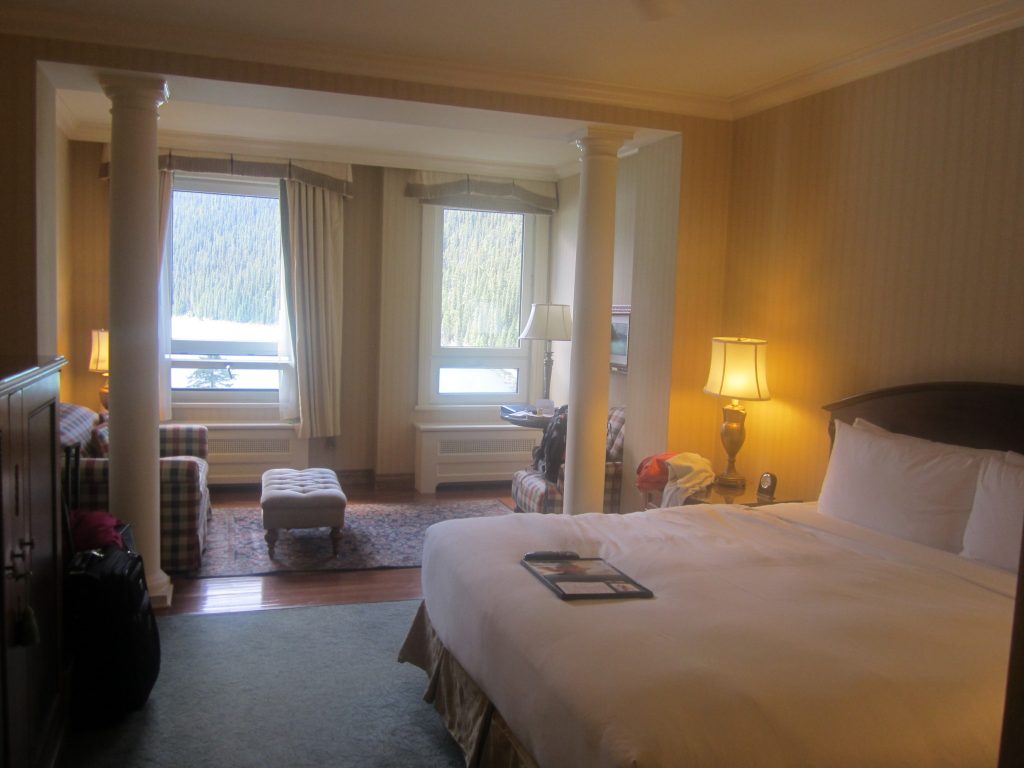 The Fairmont President's Club Platinum amenity. There was more but we ate it before I remembered to snap a picture. Hey, this is no professional travel blog here you guys!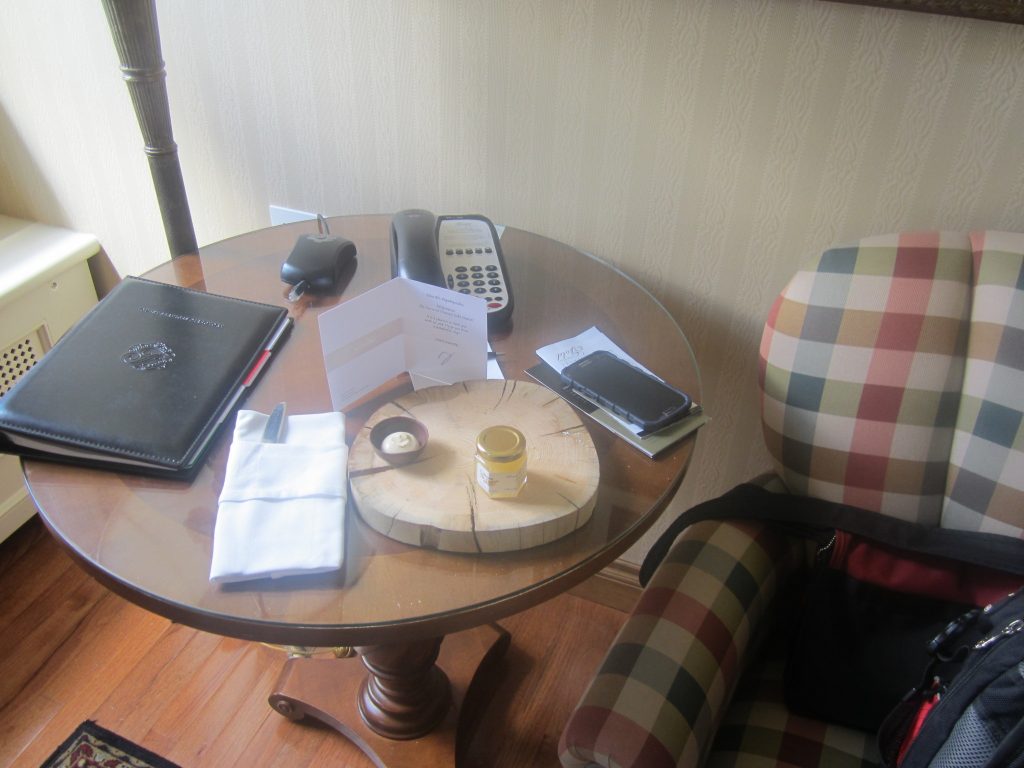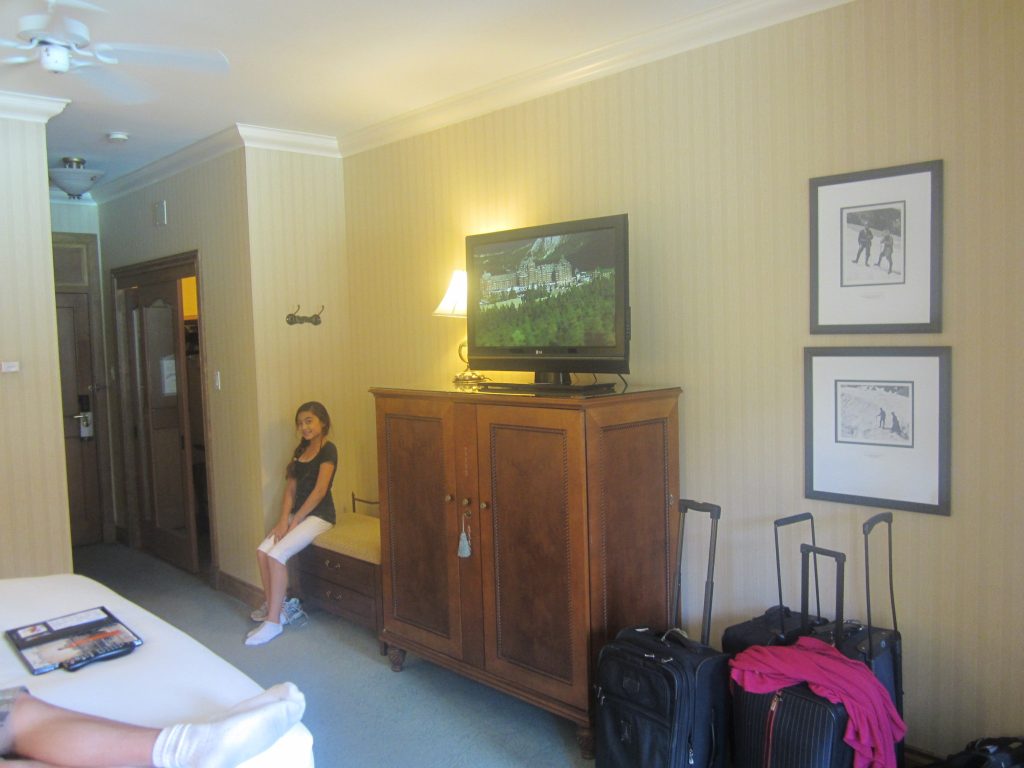 But the view, ooooh the view. There is one word to describe it: Orgasmic!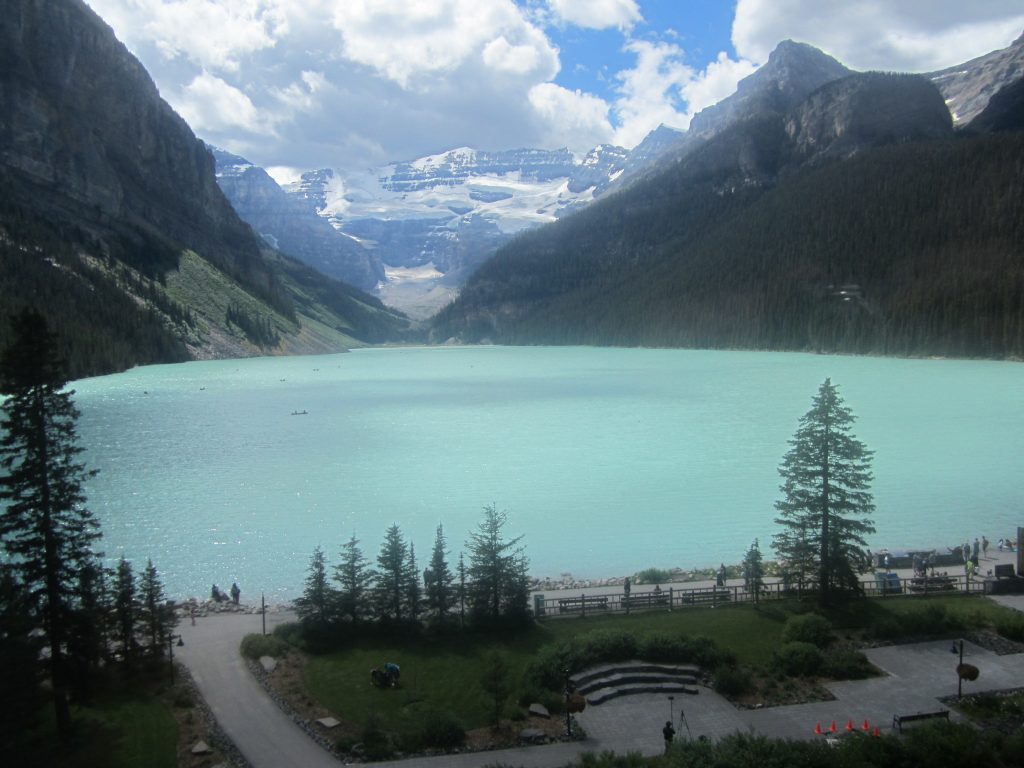 Woke up very early to drink my coffee and take it all in…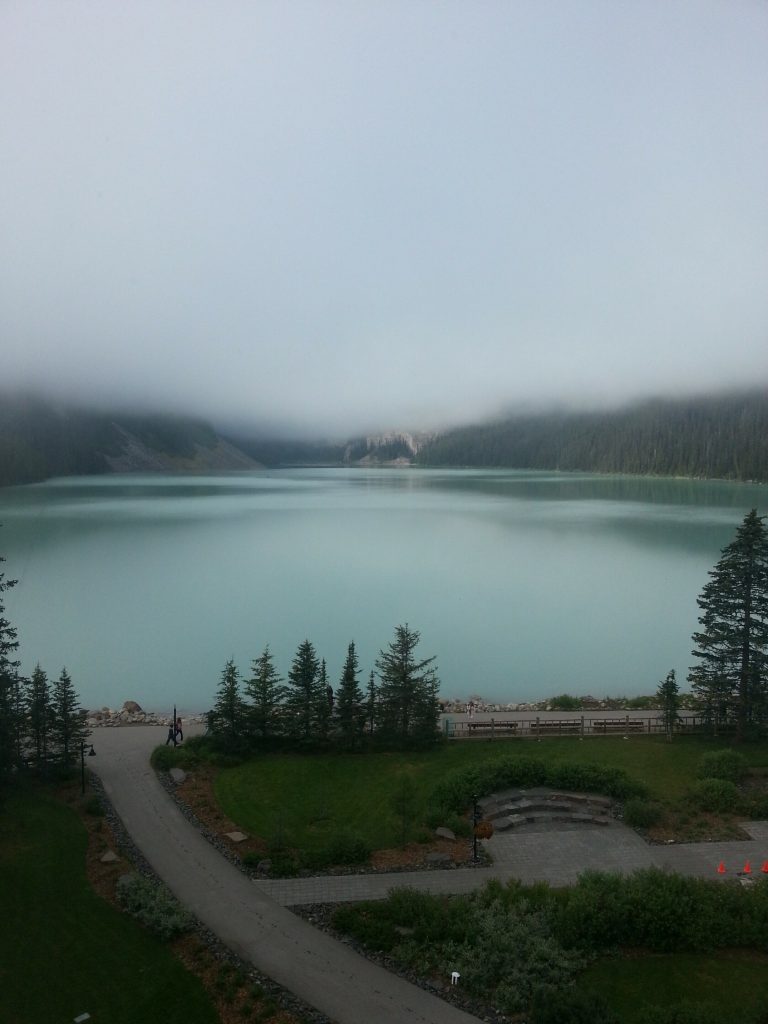 Words do not begin to describe…I am getting emotional now…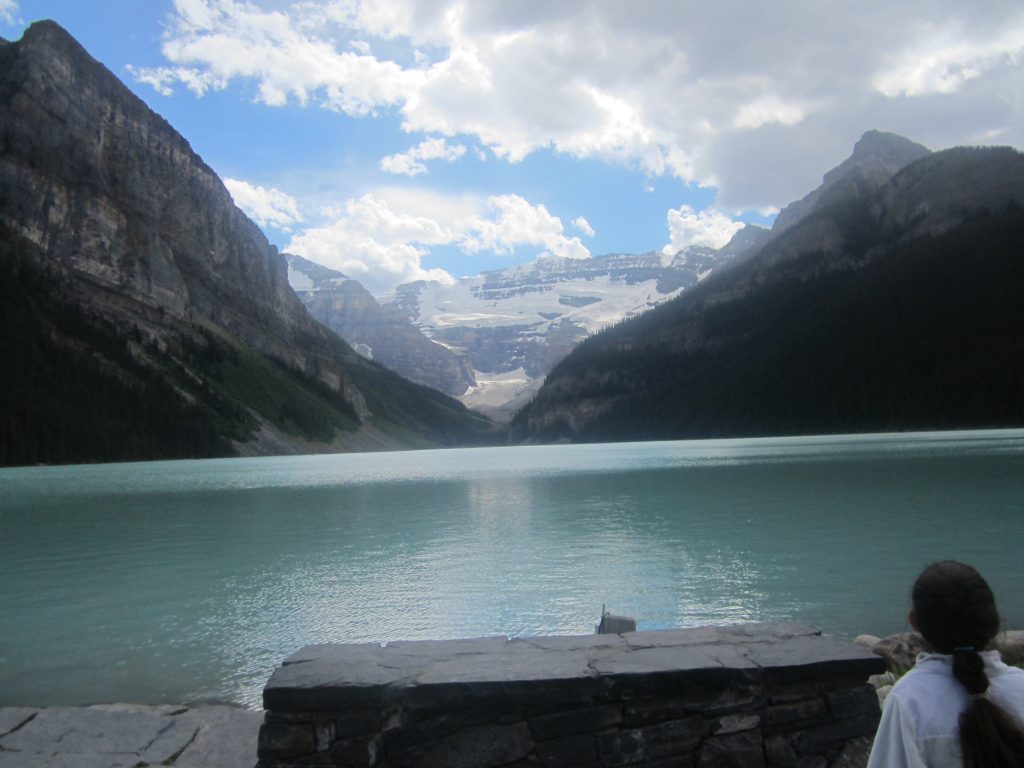 Holy mother of…Views!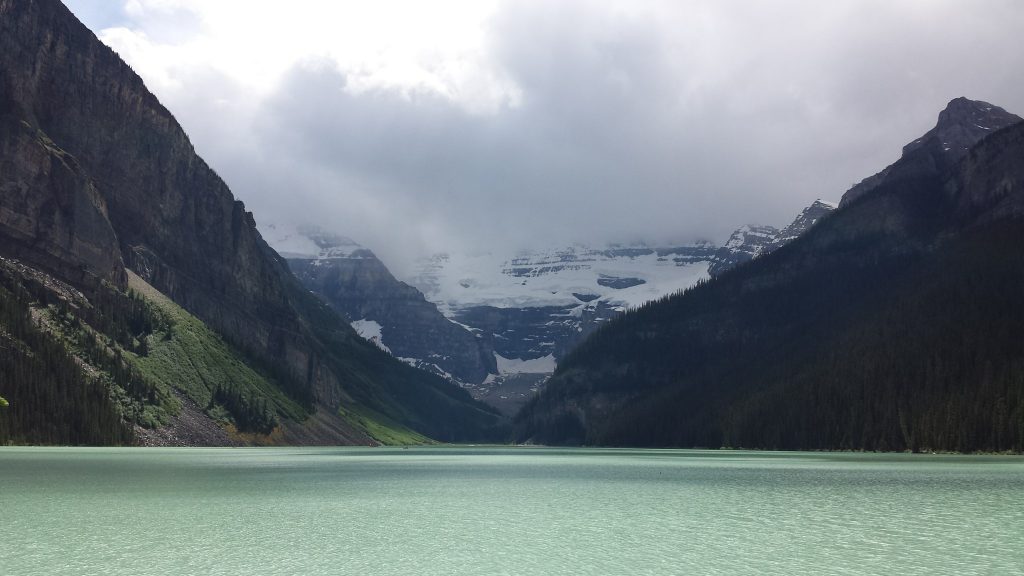 From our room, yes yes yes!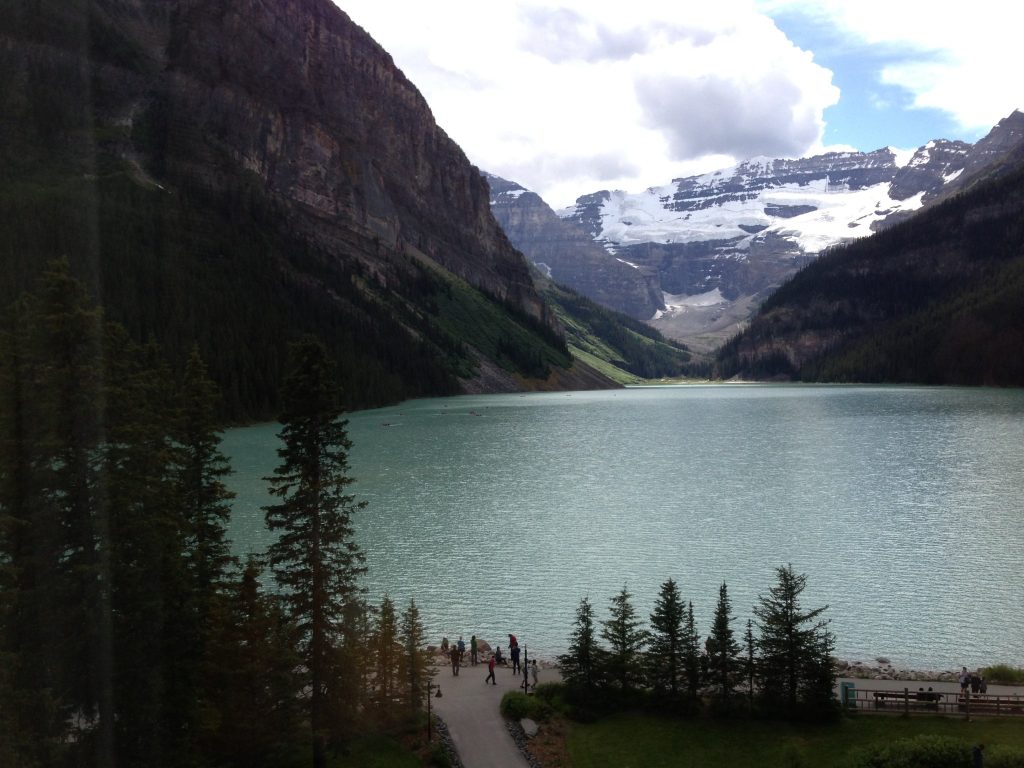 From the main floor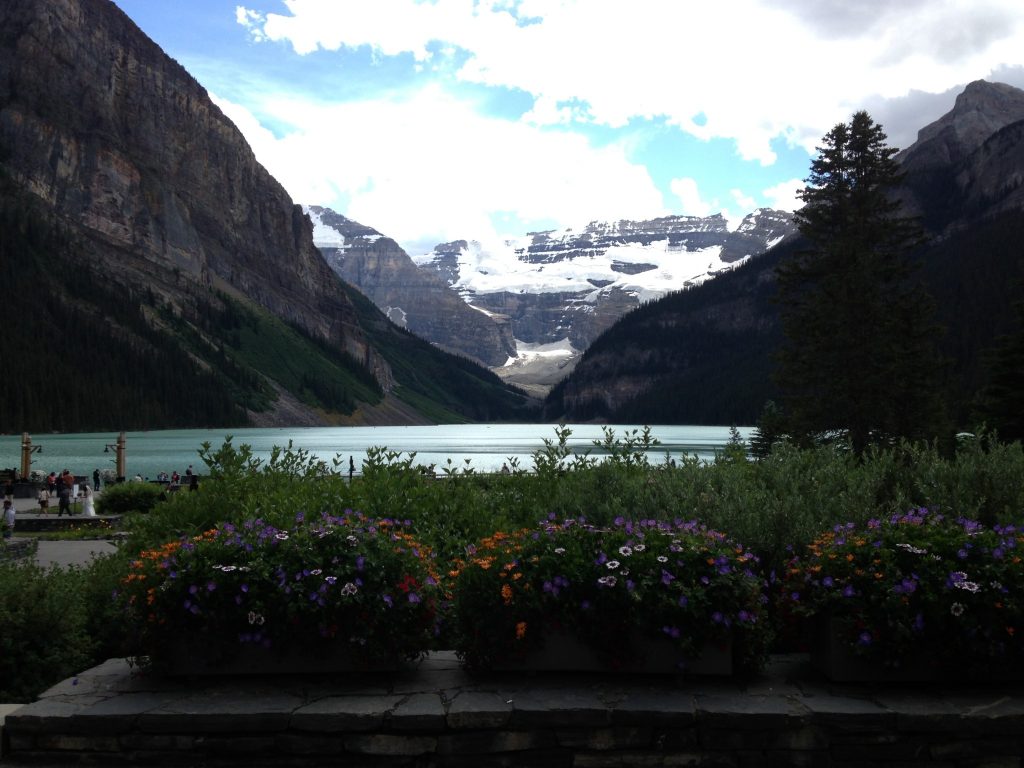 You know when you get the feeling of being in total peace with yourself and everything around you by just…being here. Cherish these moments.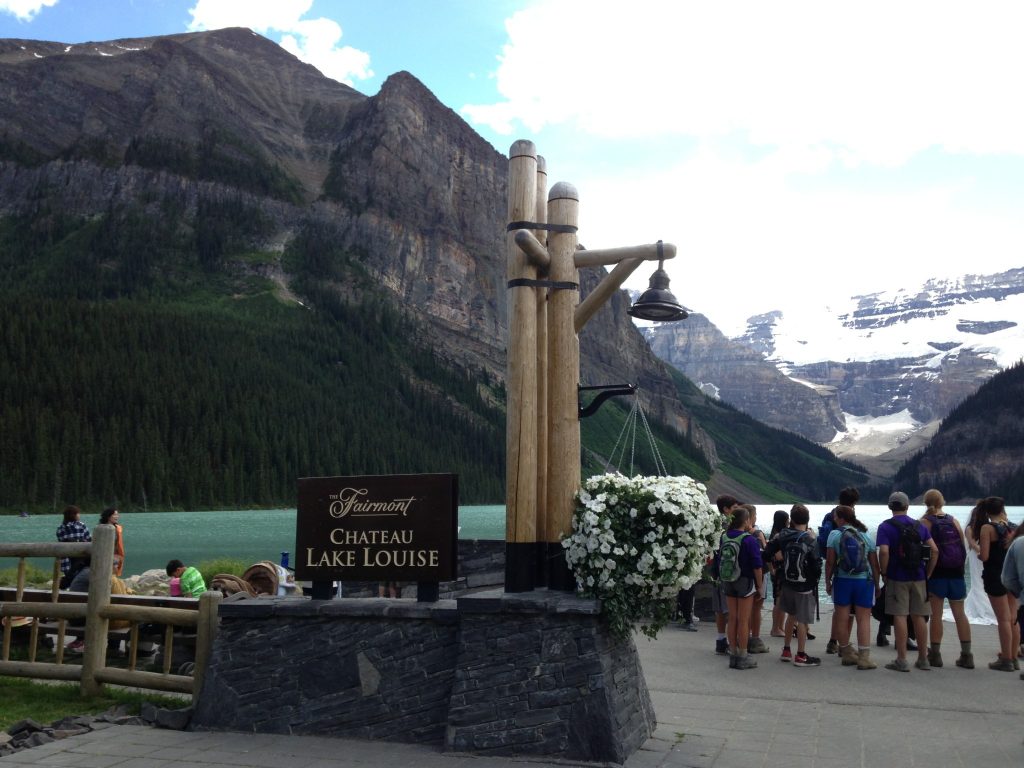 I am tired of saying wow, your turn!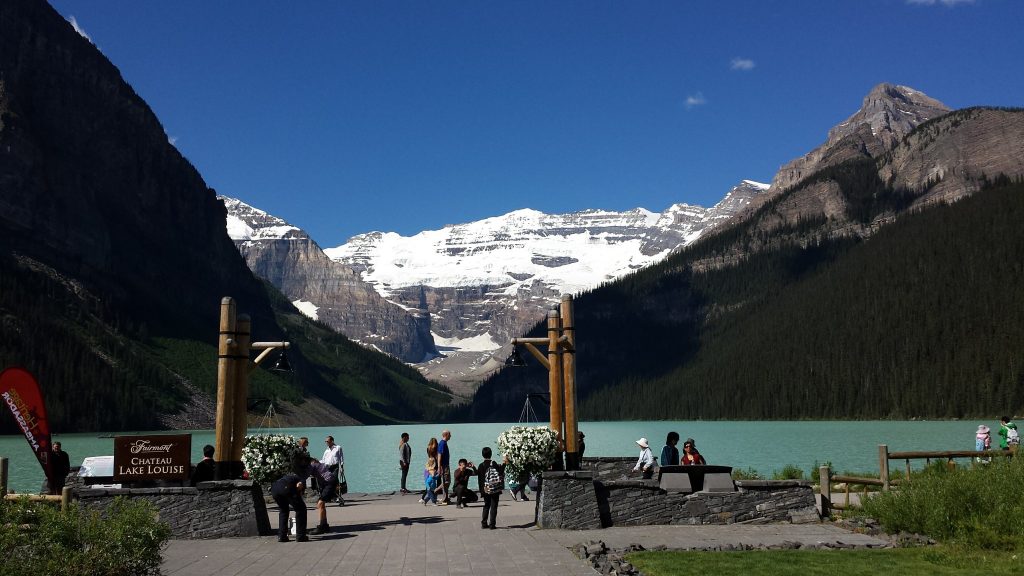 I want to go back so bad!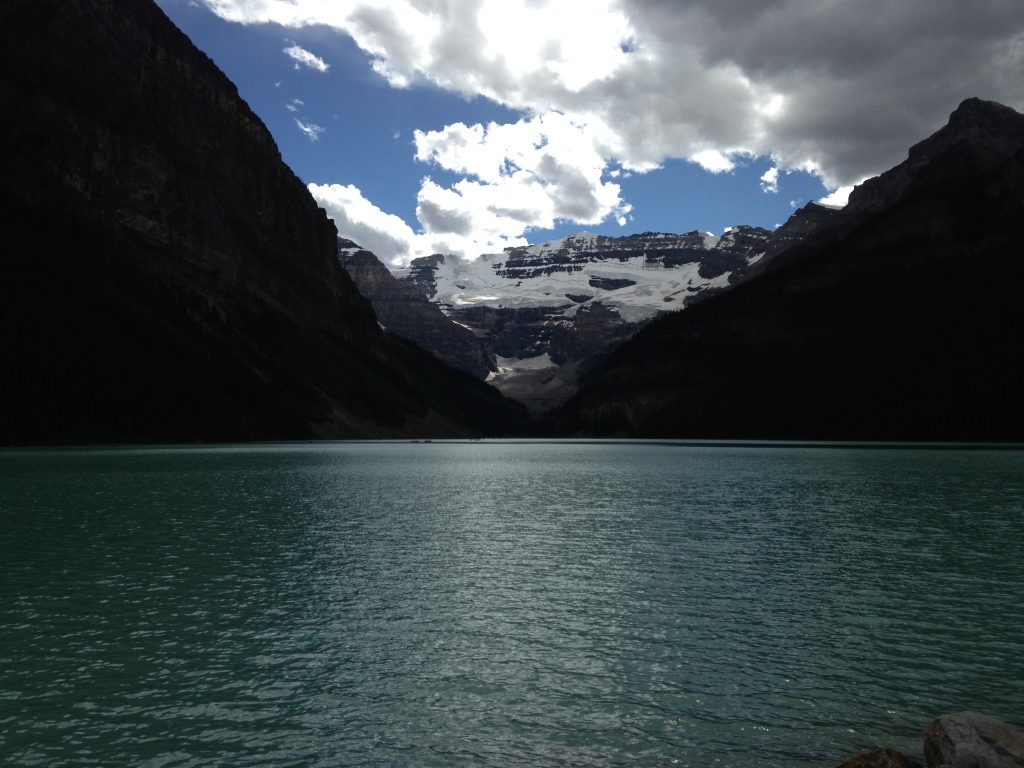 I need to go back to achieve that zen like status…I mean, look at that below!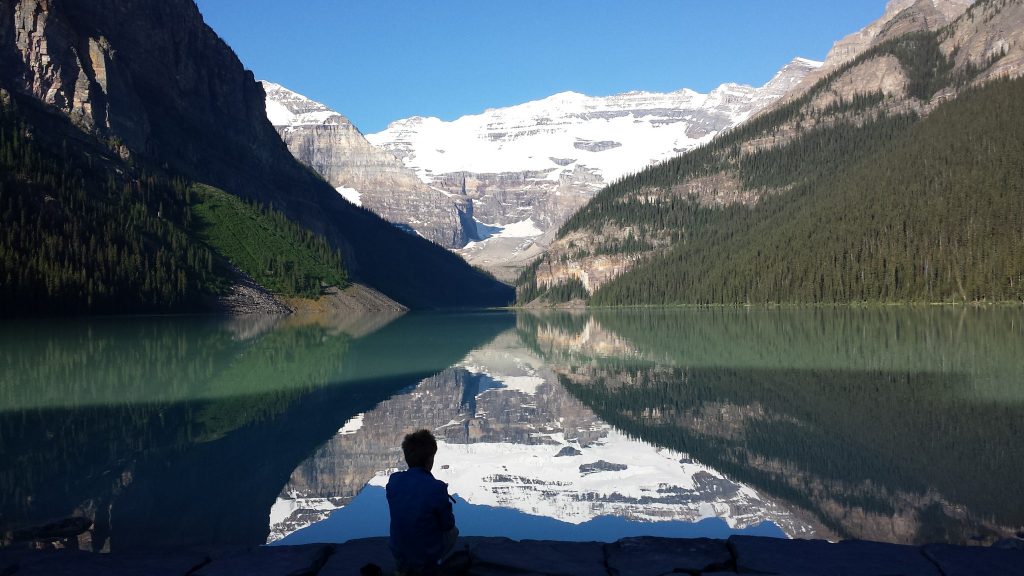 Brother-sister quality time! Little brats they don't know how good they have it!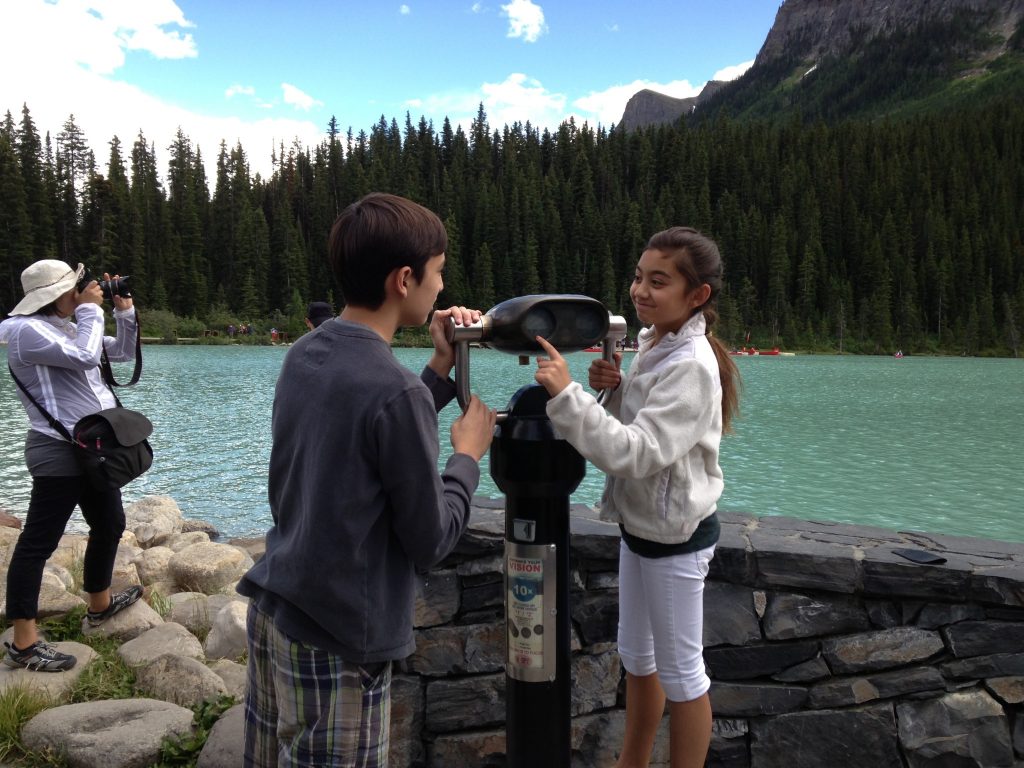 Good looking kid, it's all his mother's genes obviously.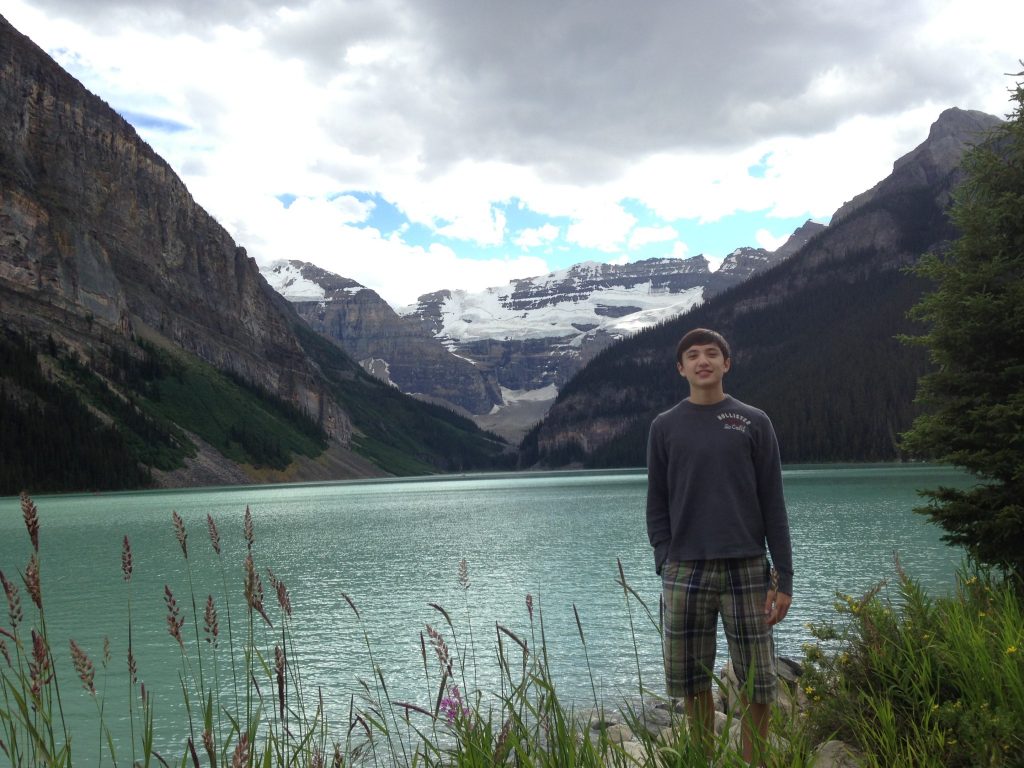 There is a nice walking path all around most of the lake.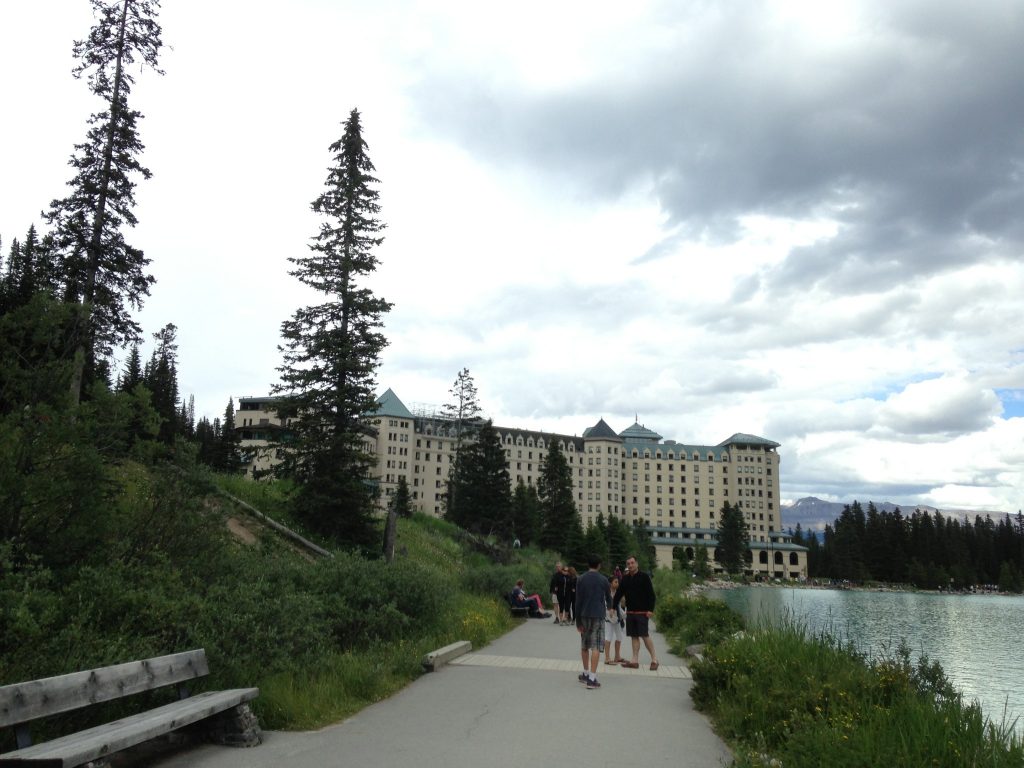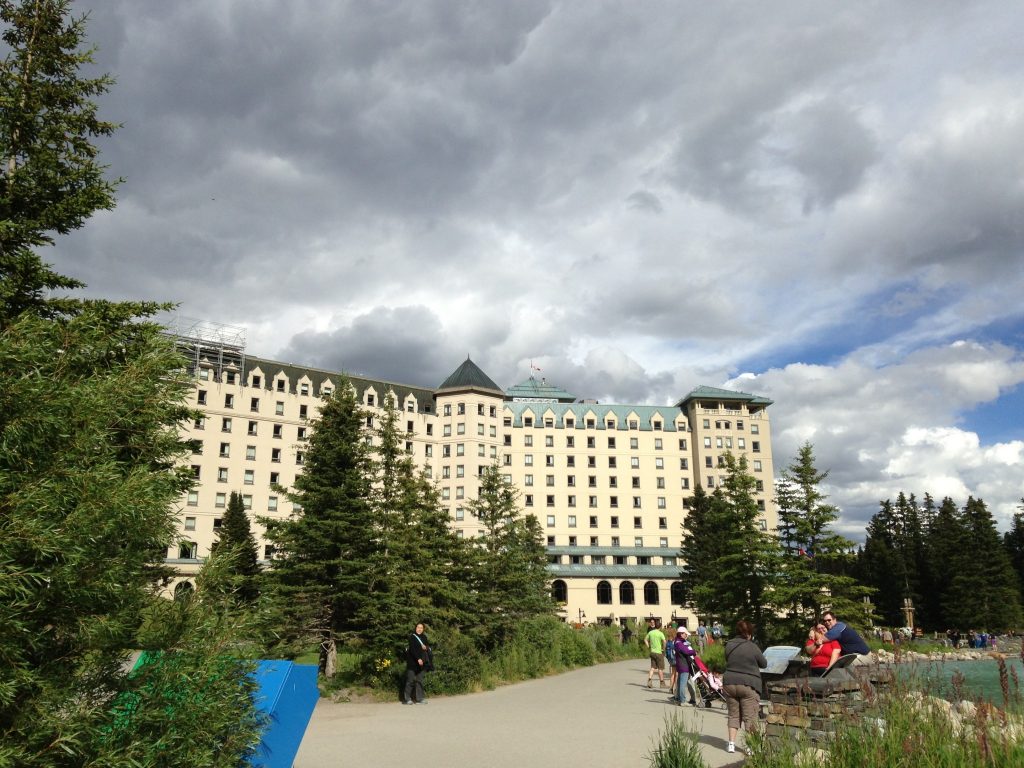 I love this picture for obvious reasons.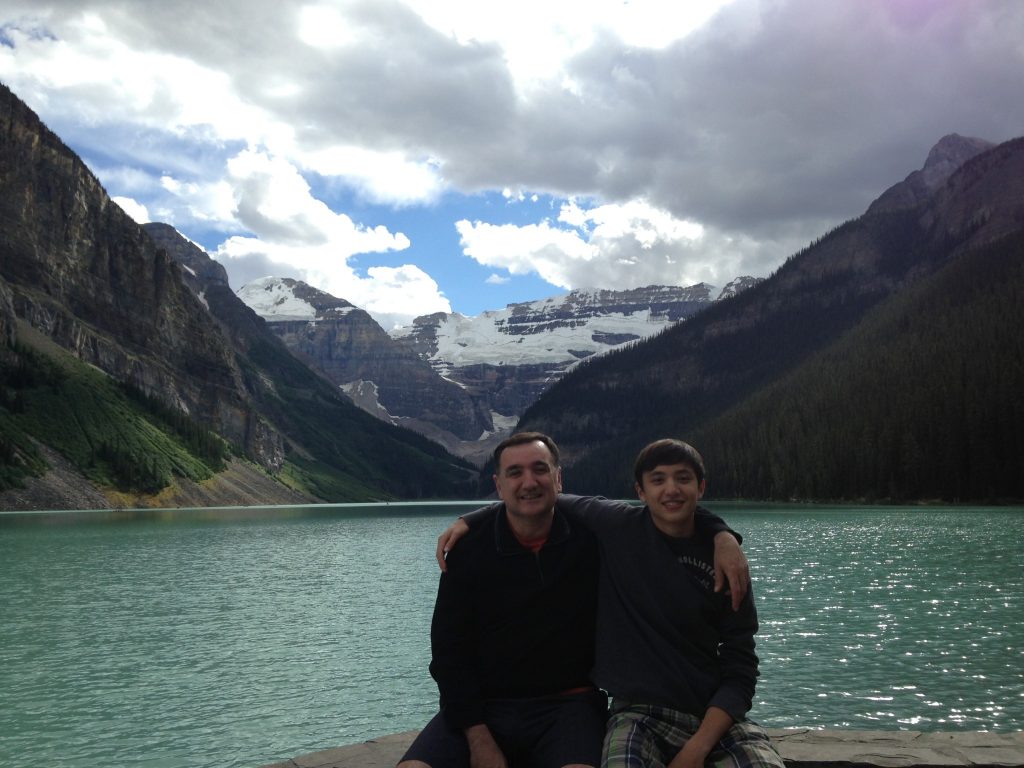 Can't believe this guy will be attending University of Michigan in the Fall of 2015!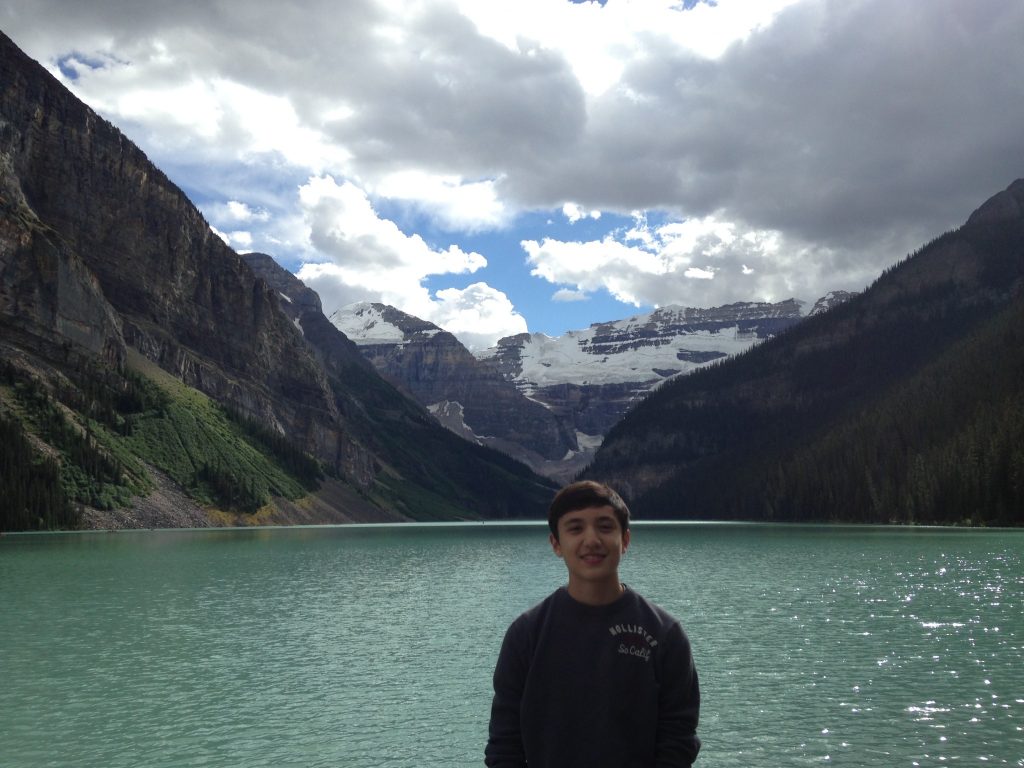 The princess
This is at the end of the lake directly opposite the hotel.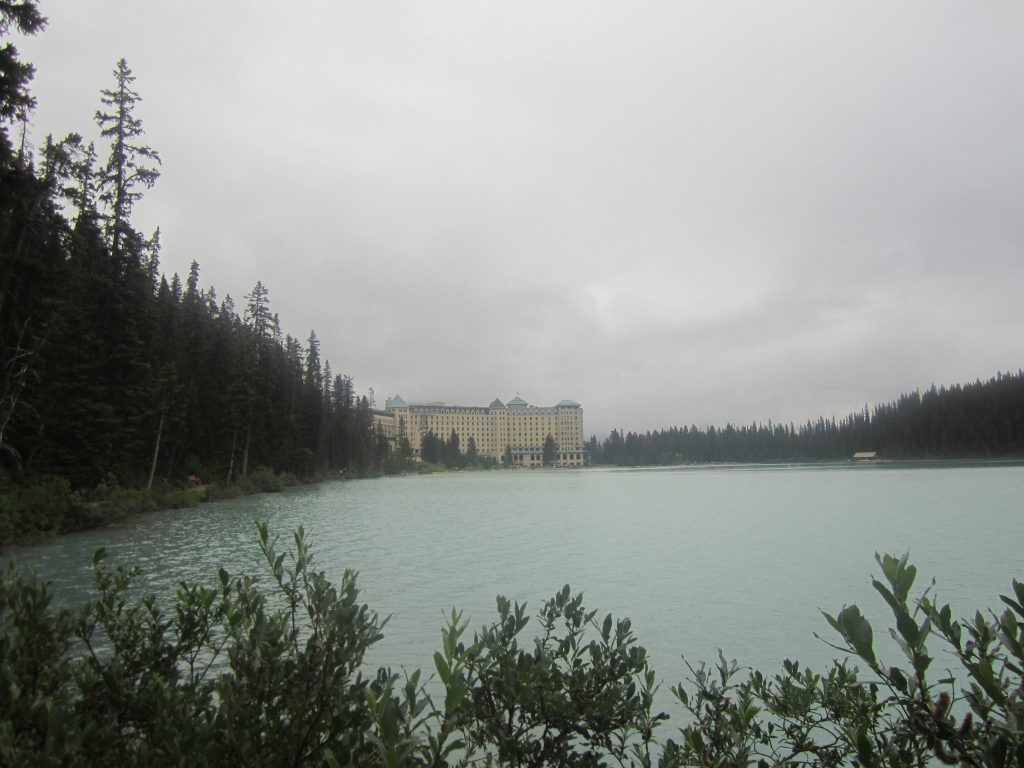 The main lobby of the Fairmont Lake Louise.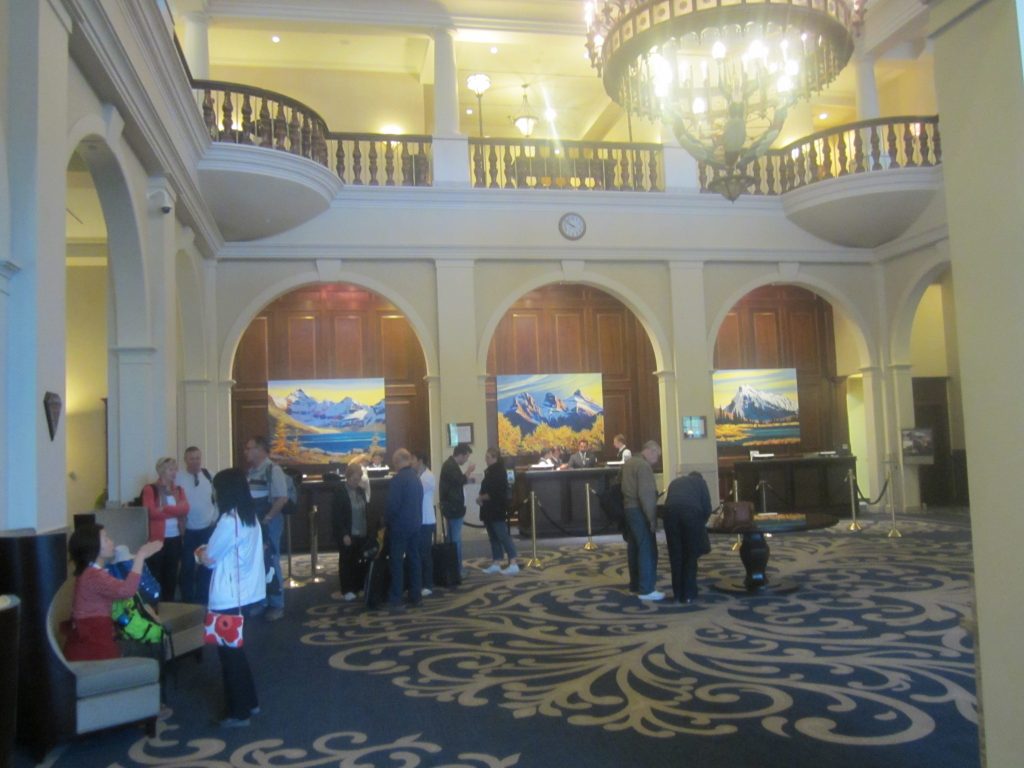 Next morning we were off to see places. Of course we were lucky again to see more bears!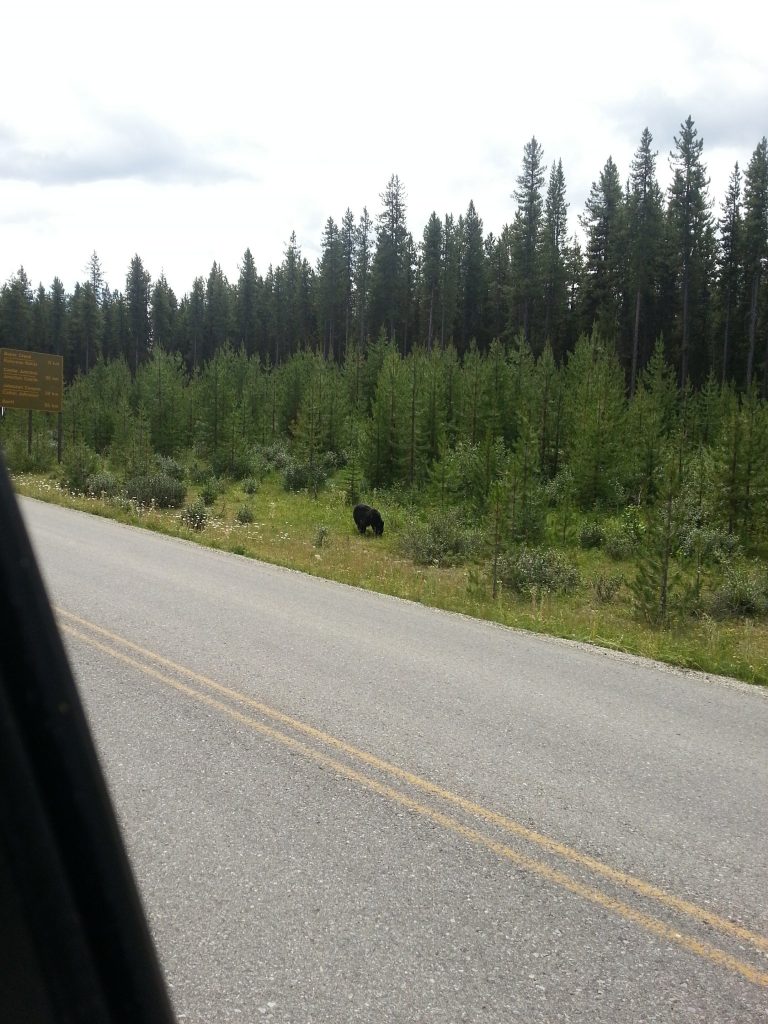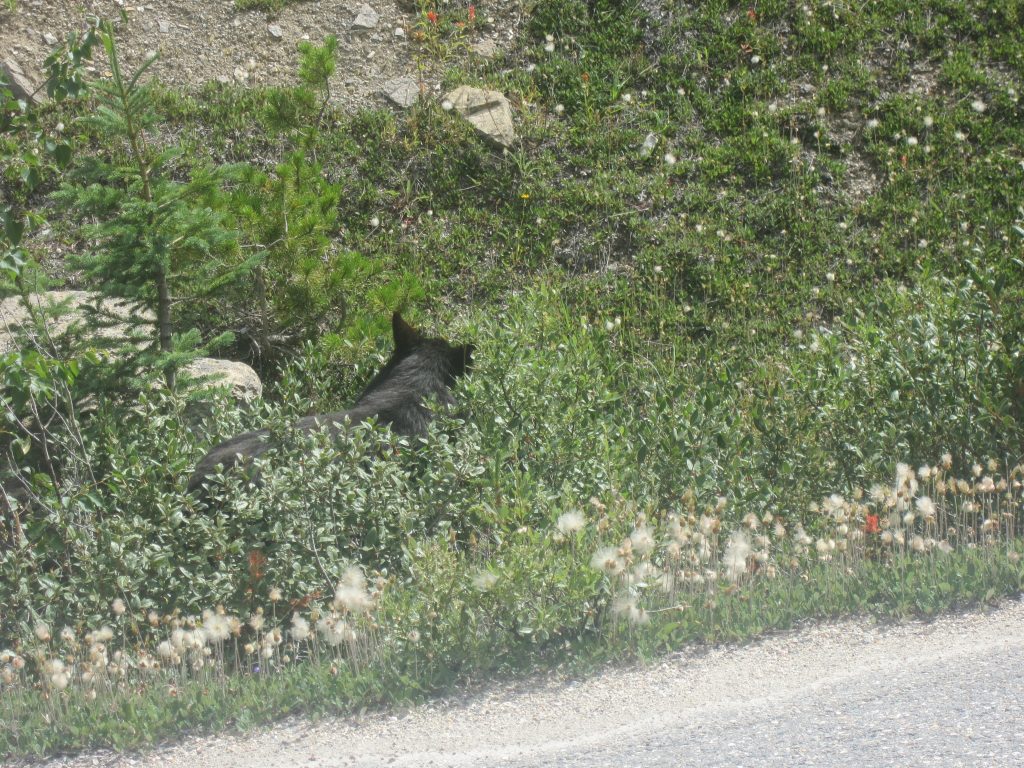 We went to Moraine Lake. Yes it is a must see. Friends told us it is more beautiful than Lake Louise. Don't believe them.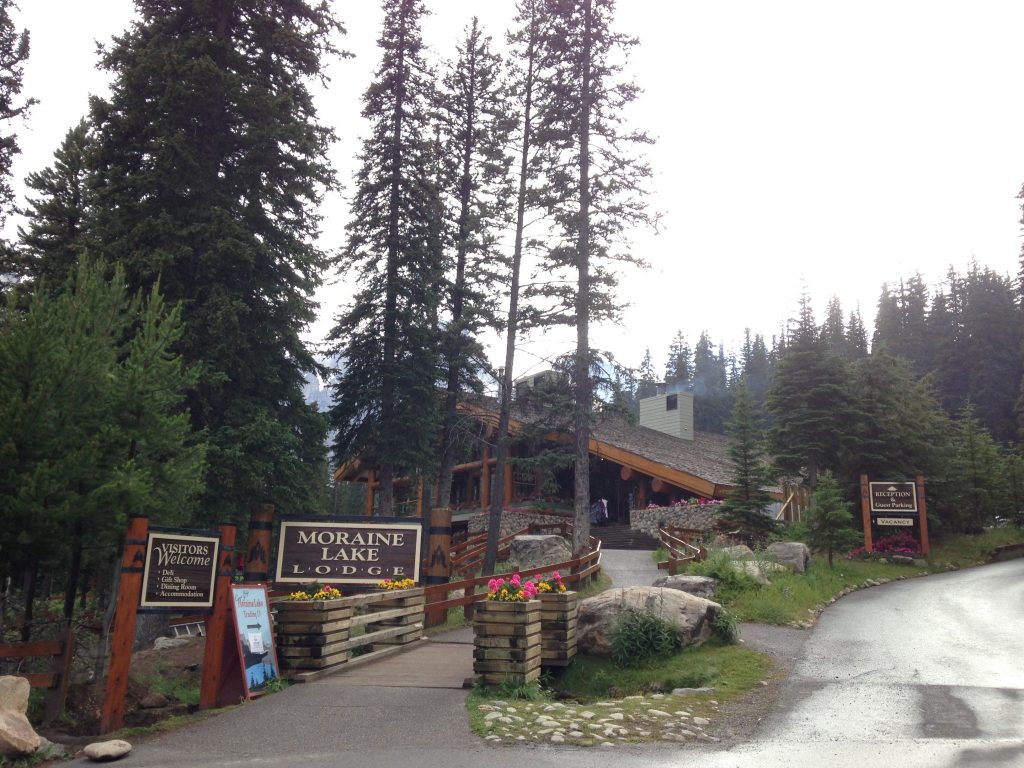 This type of cloud views are very common around here…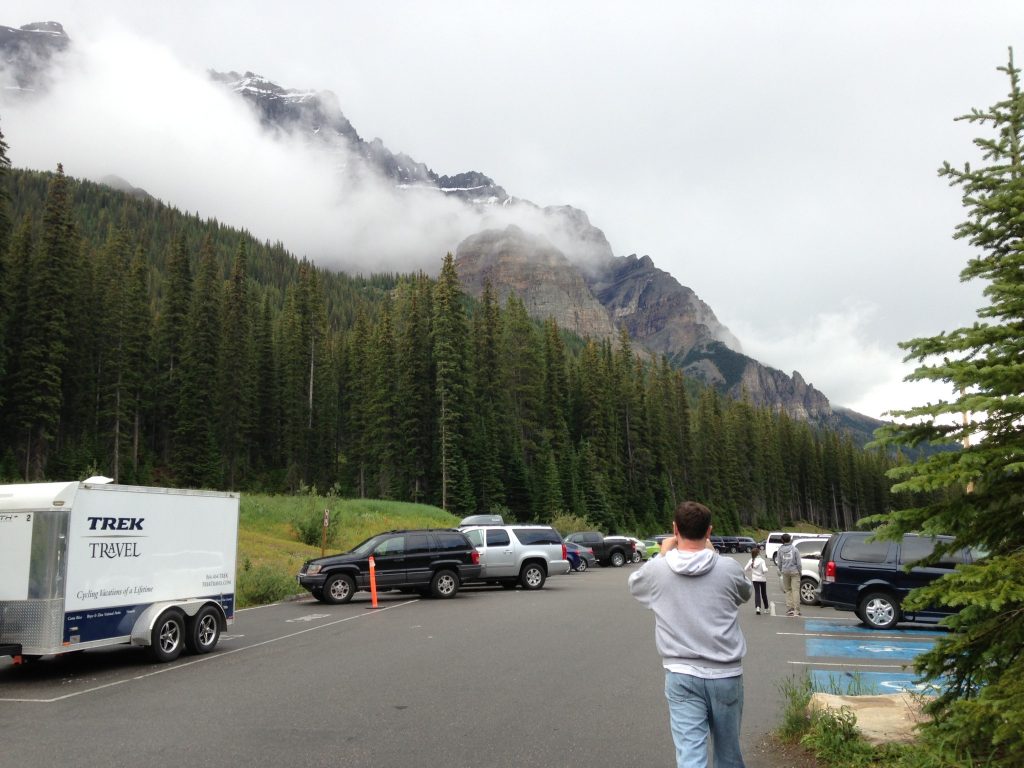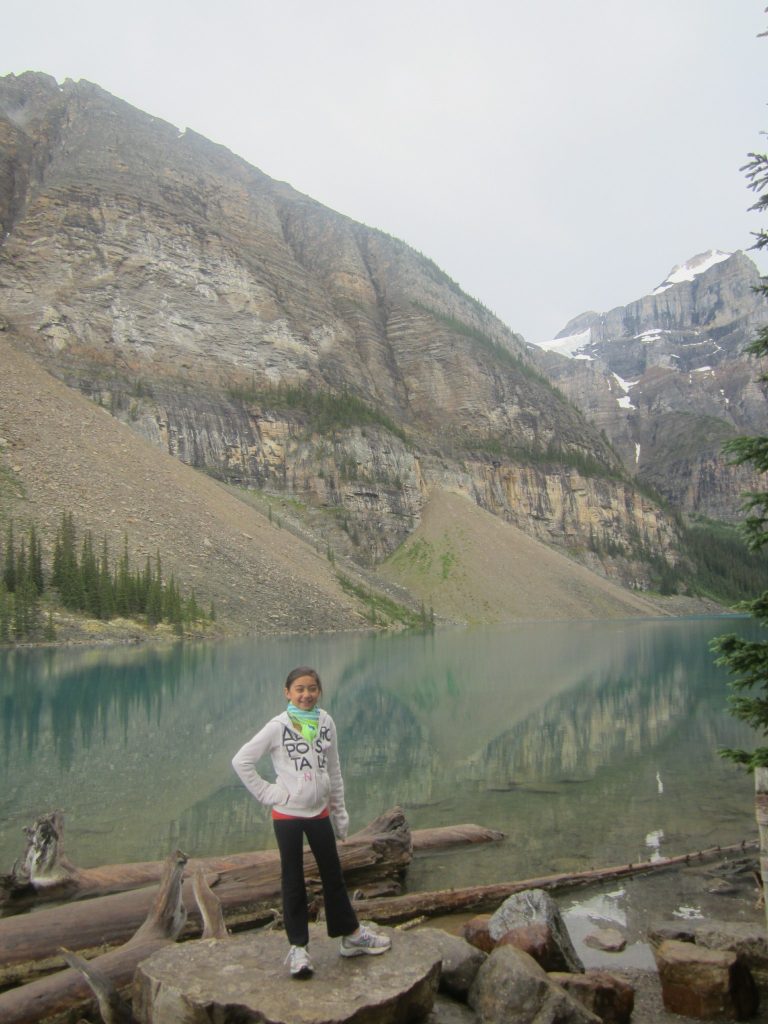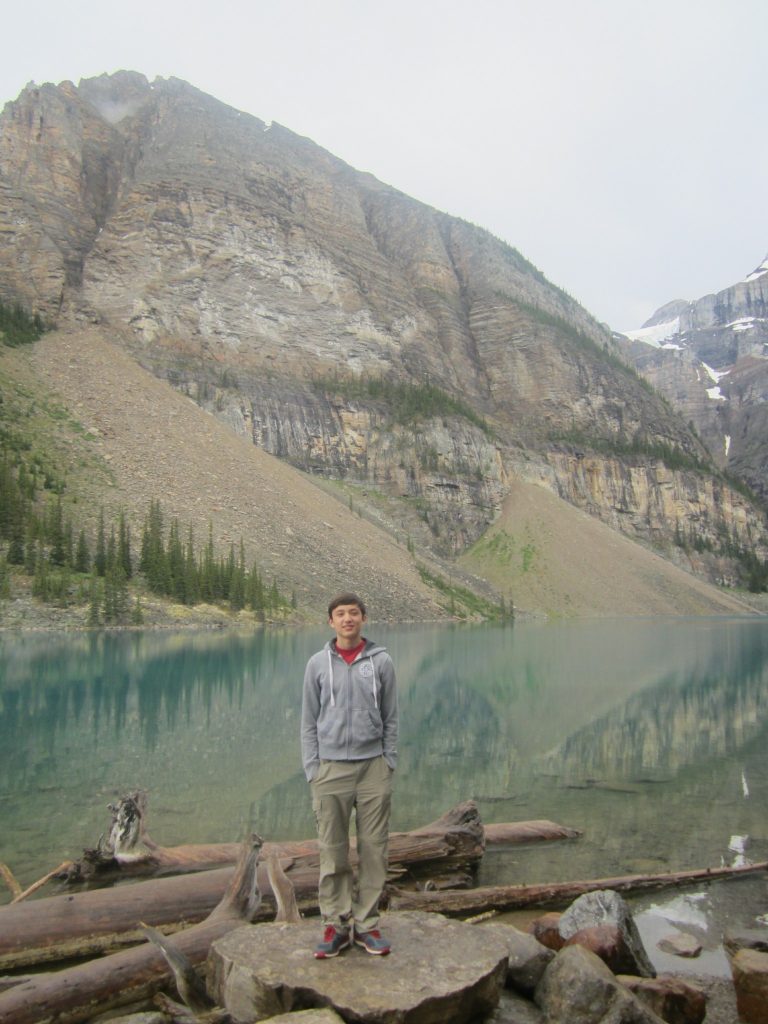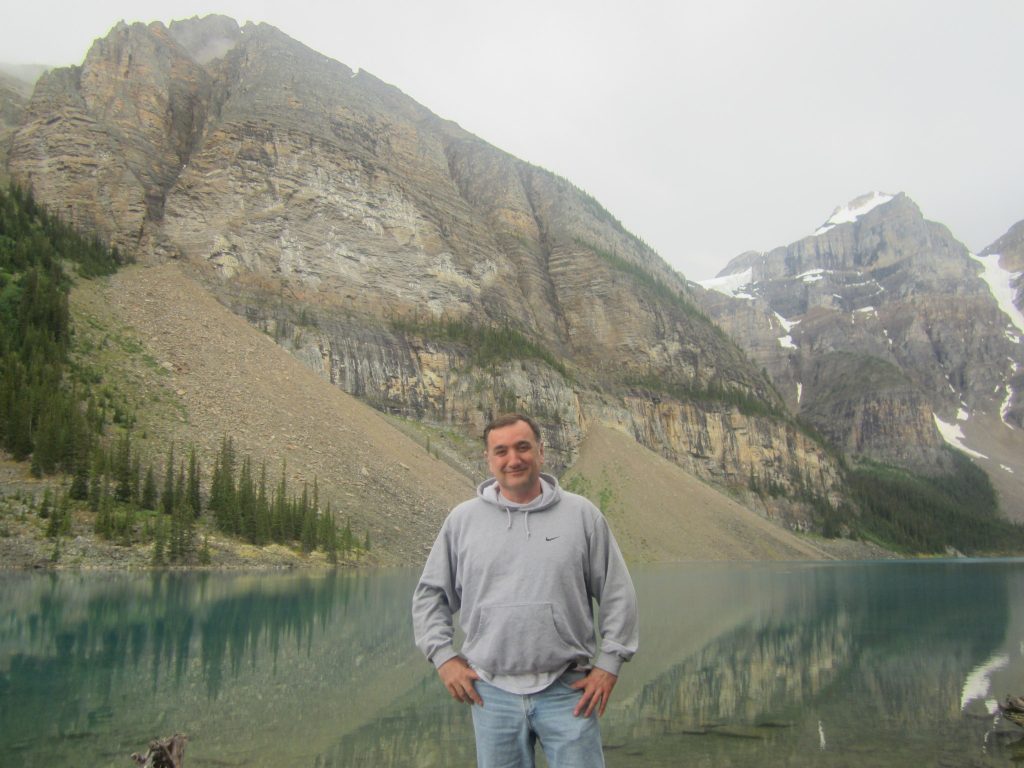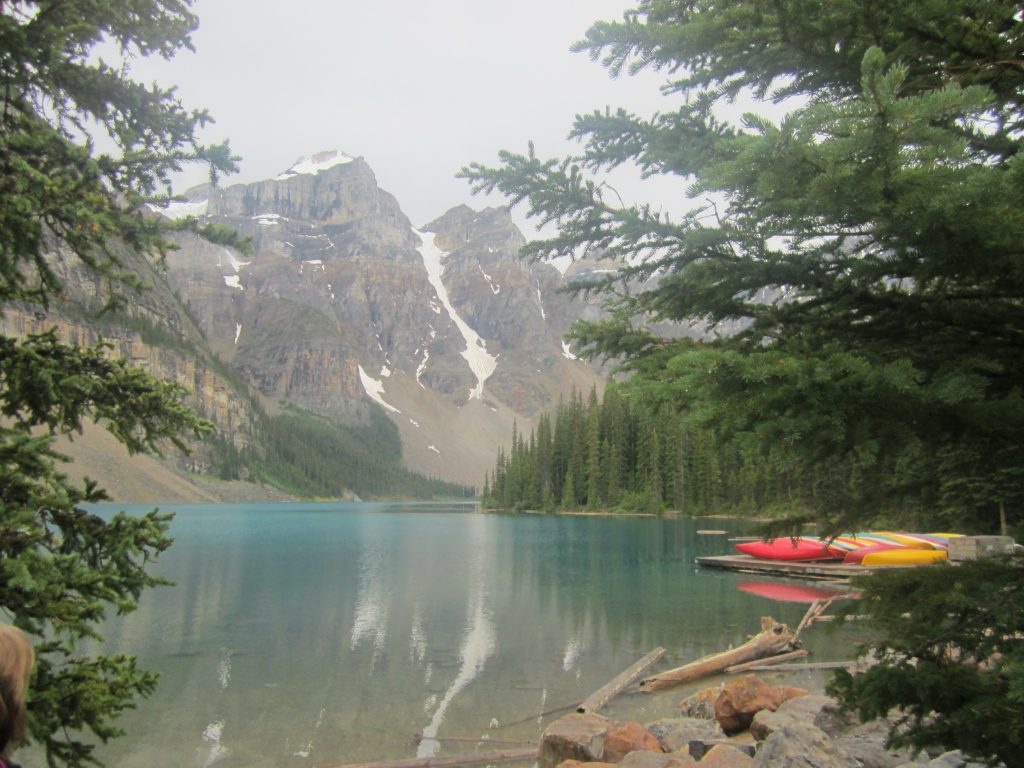 We walked the path all the way to the end…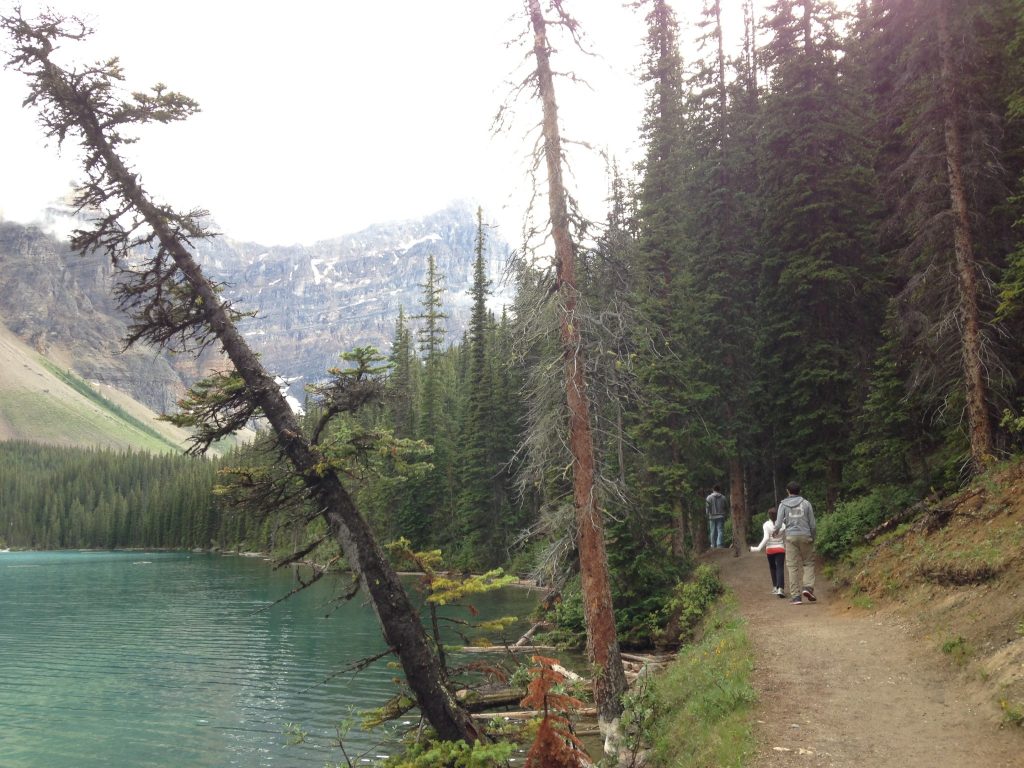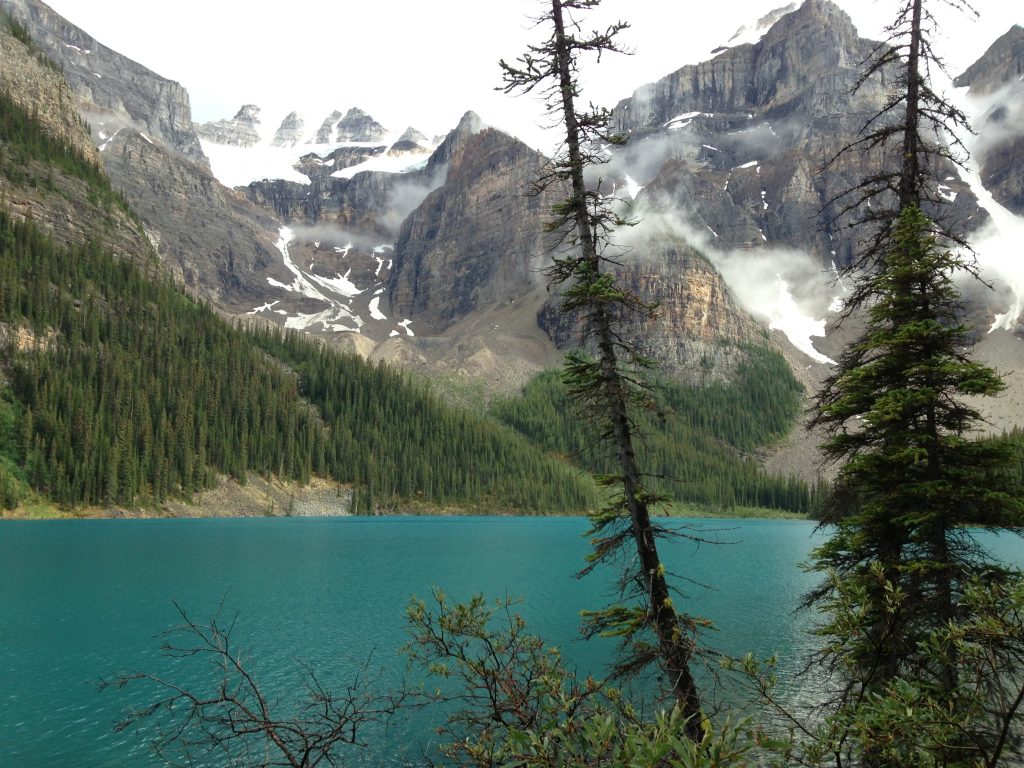 All right, this is one of my favorite pictures of my son searching to find himself.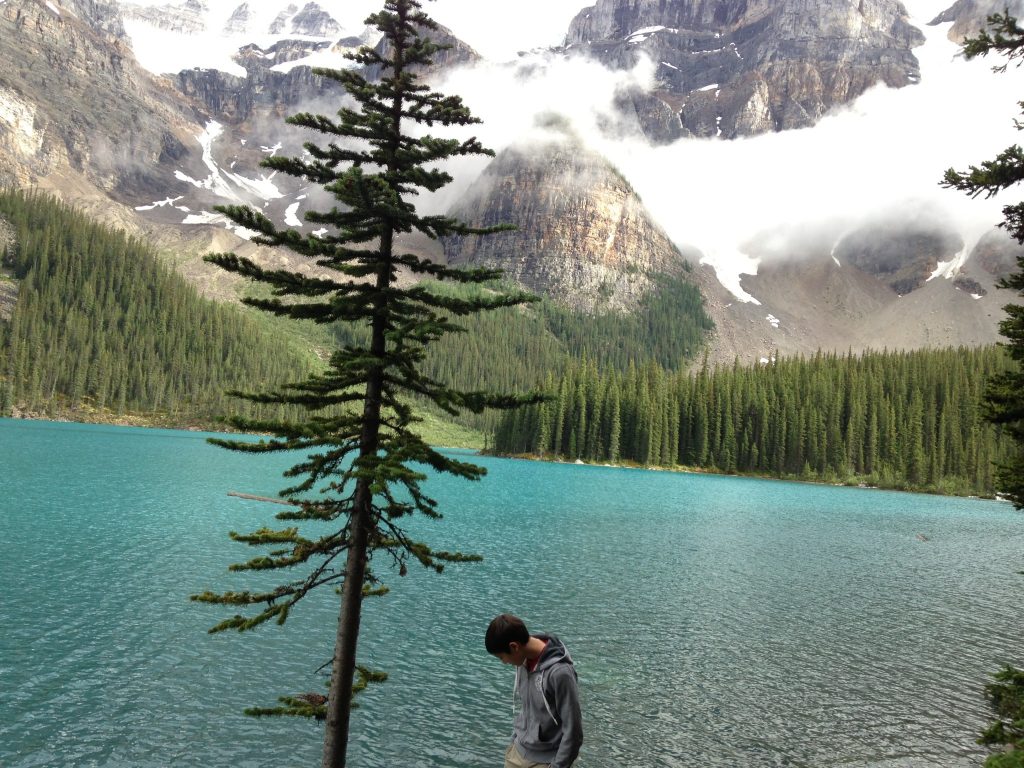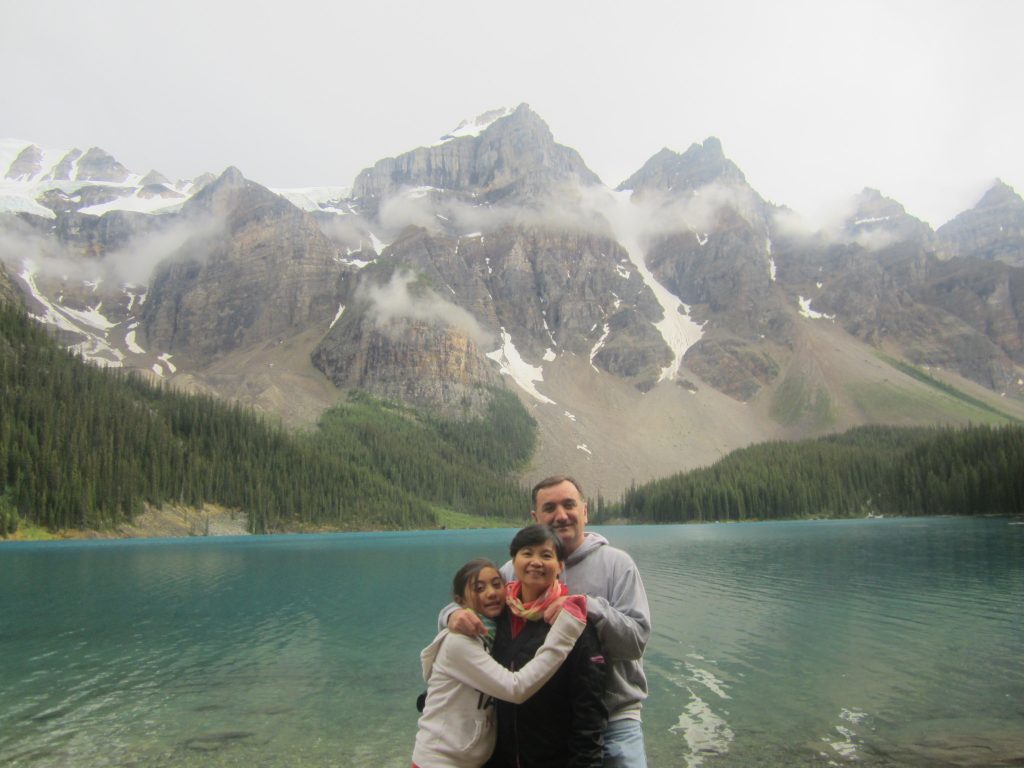 This is at the end of the path around Moraine Lake.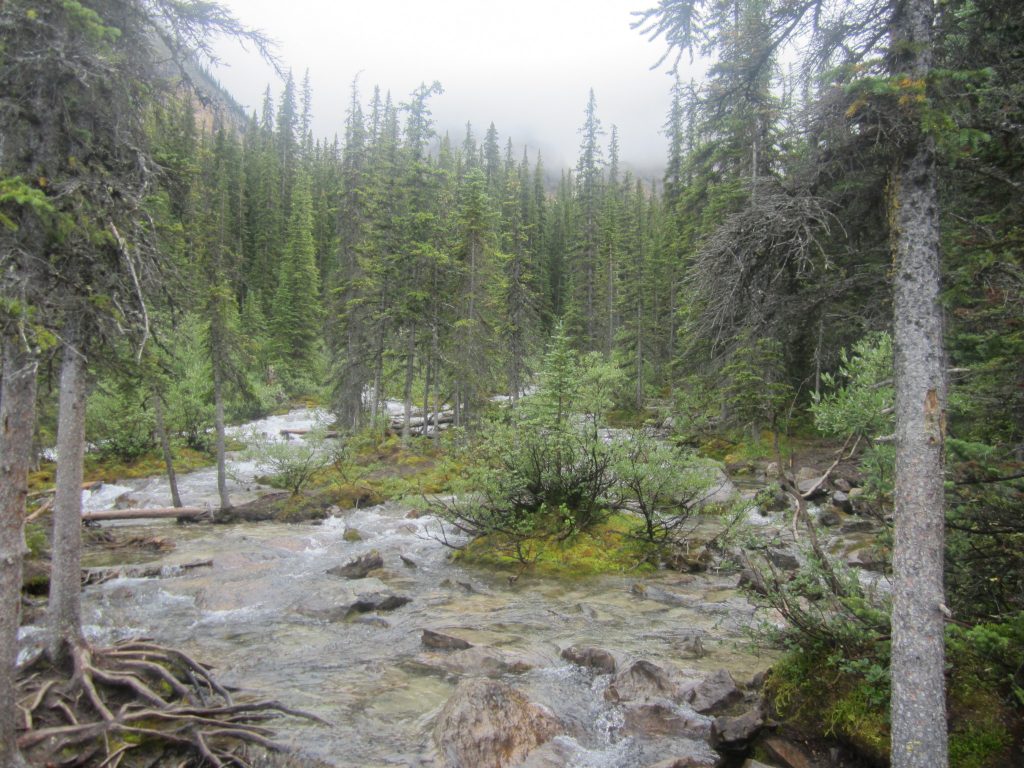 Time to leave Moraine Lake, it had started raining.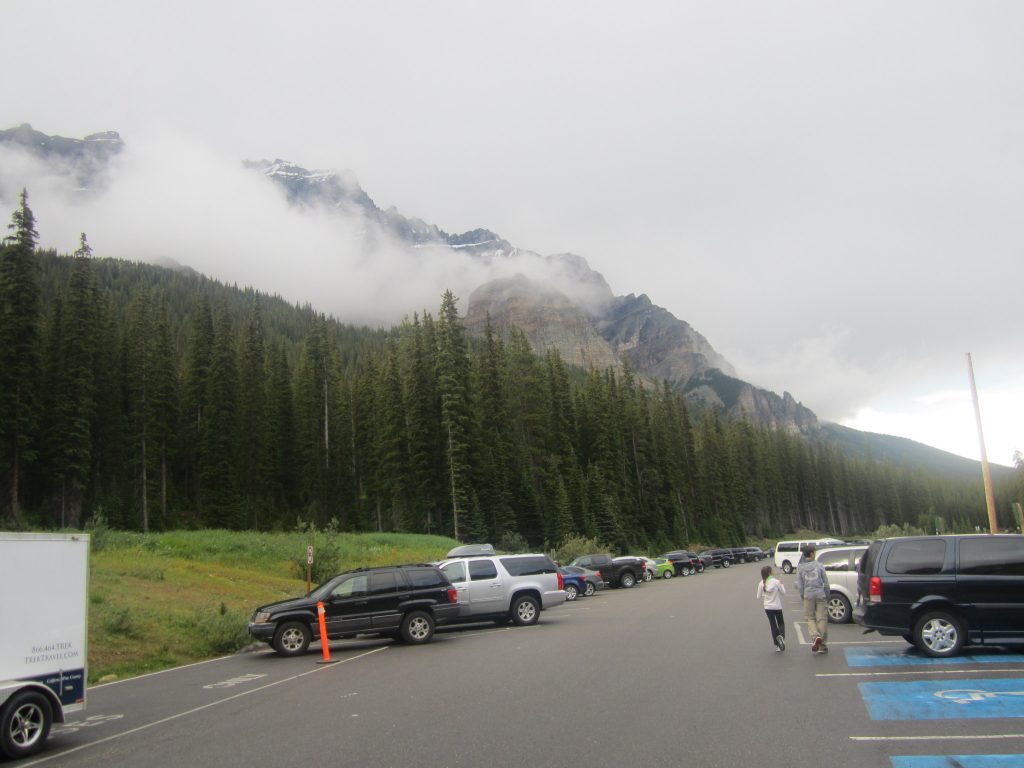 Talk about a magical place, a sign from God!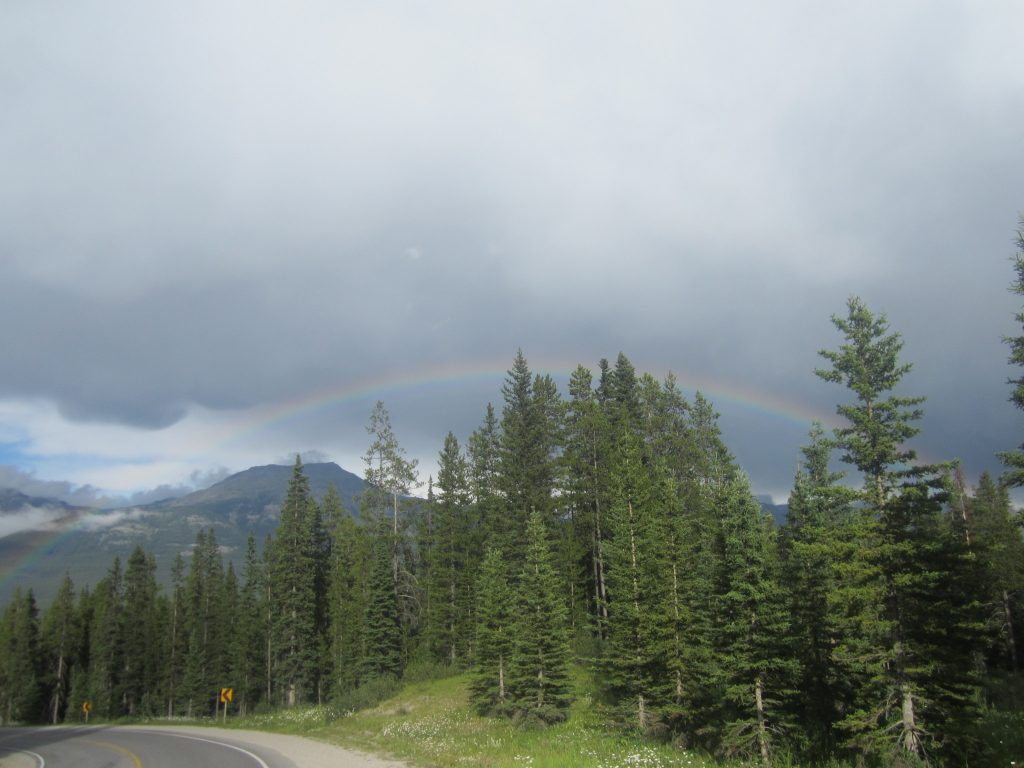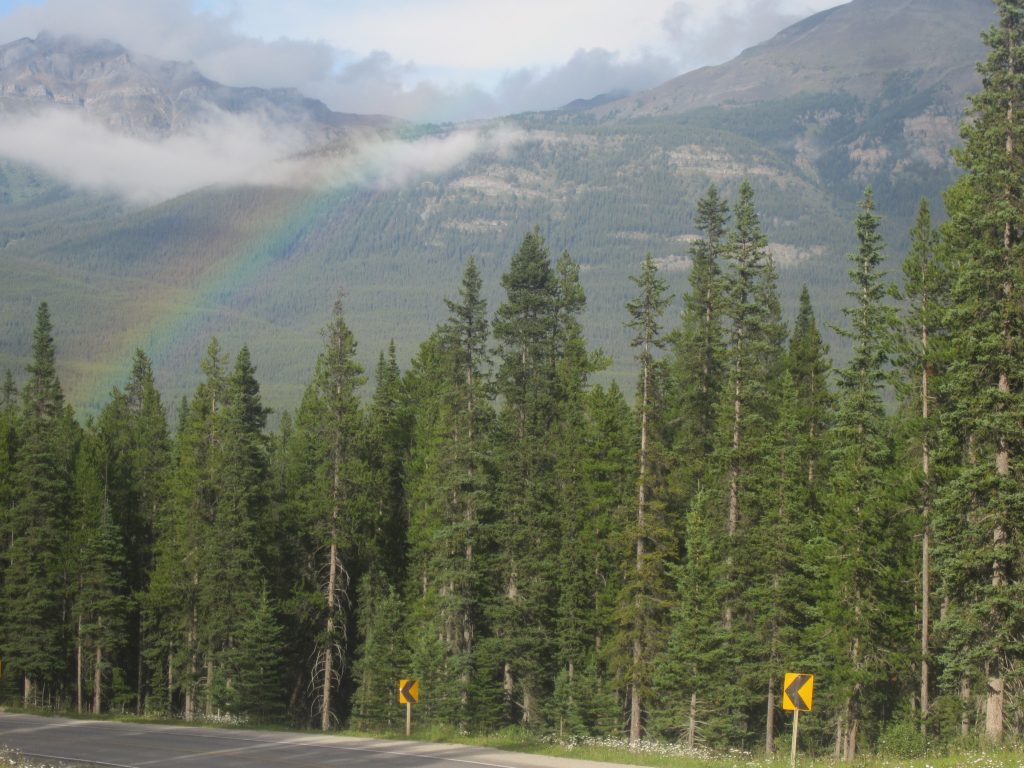 Back to my favorite hotel room view…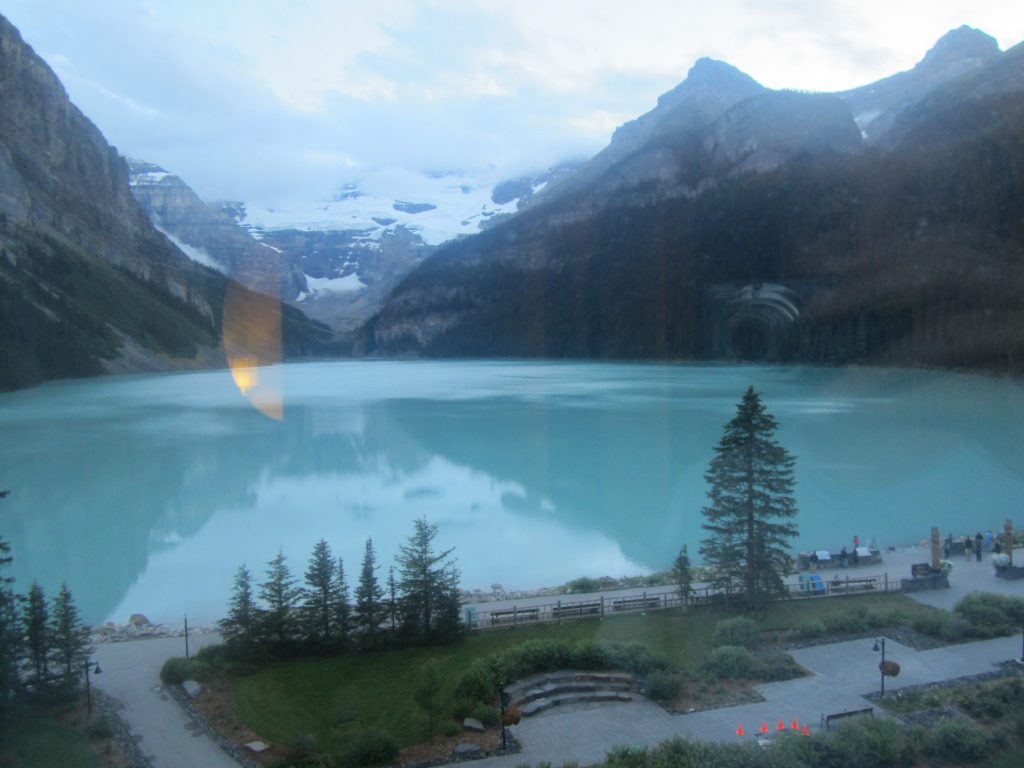 Yes we had breakfast and many gift cards to pay with…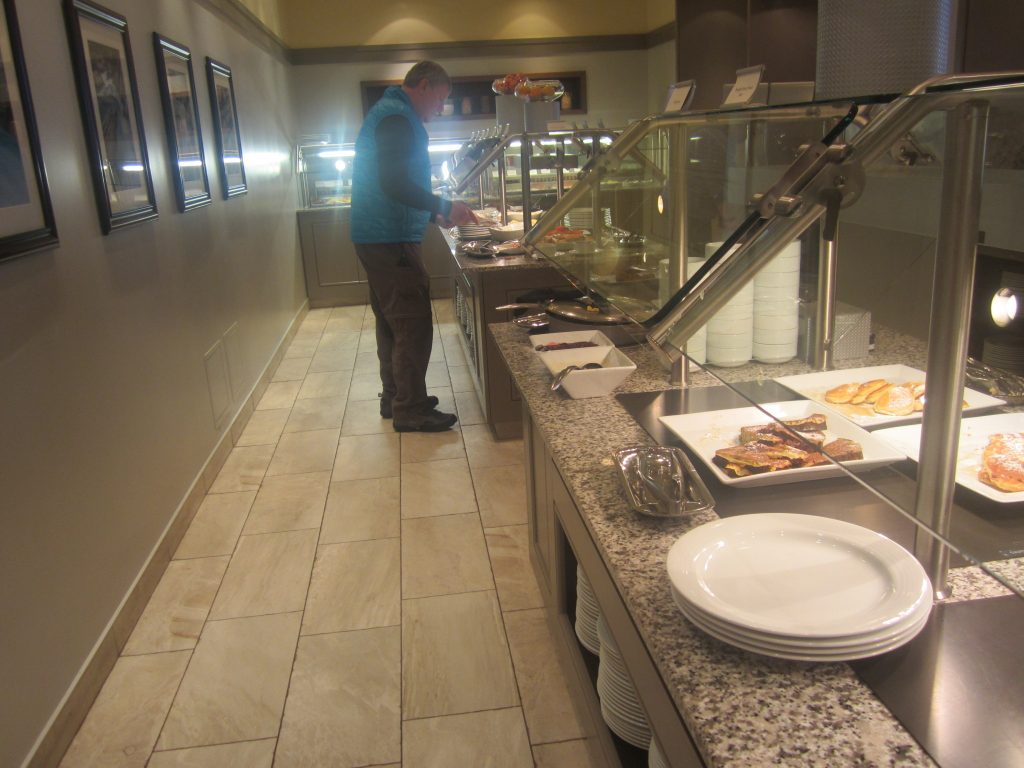 The restaurant where the breakfast was served was on the smaller side, unlike the huge one at Banff.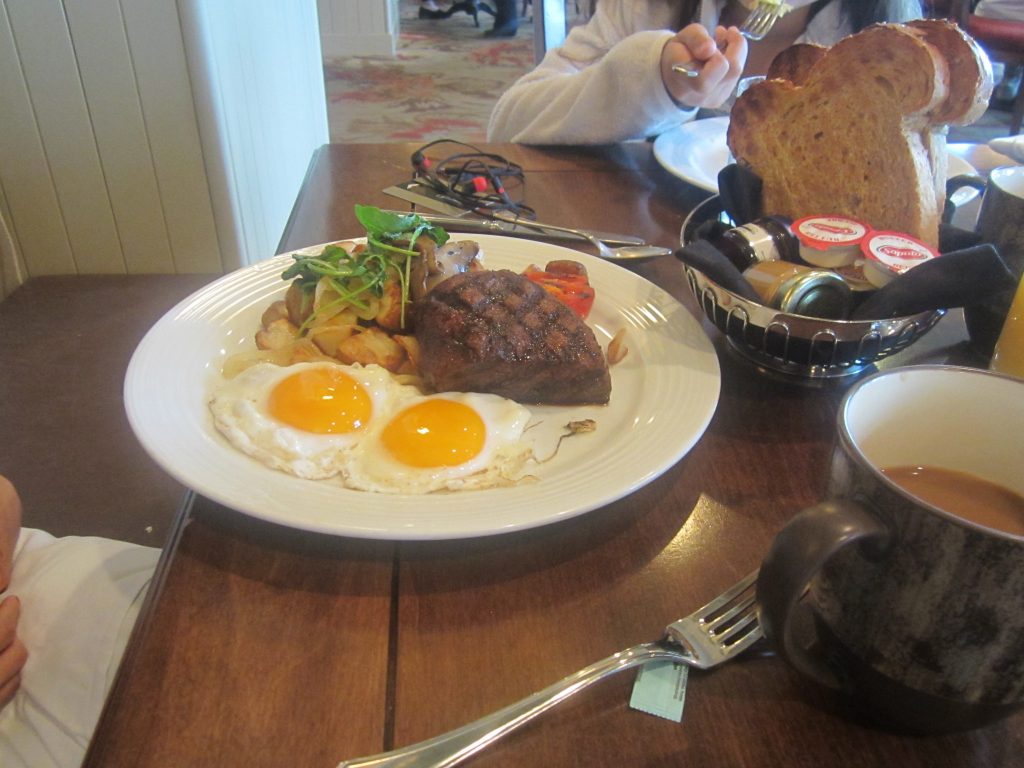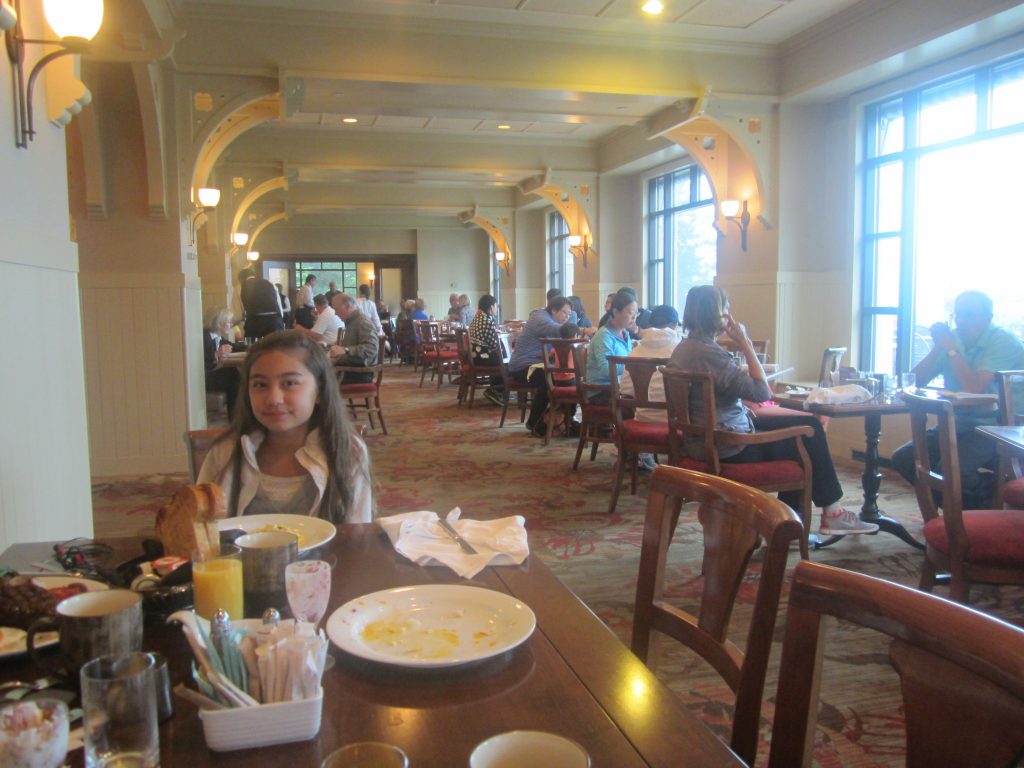 Are you tired of this view? I am not!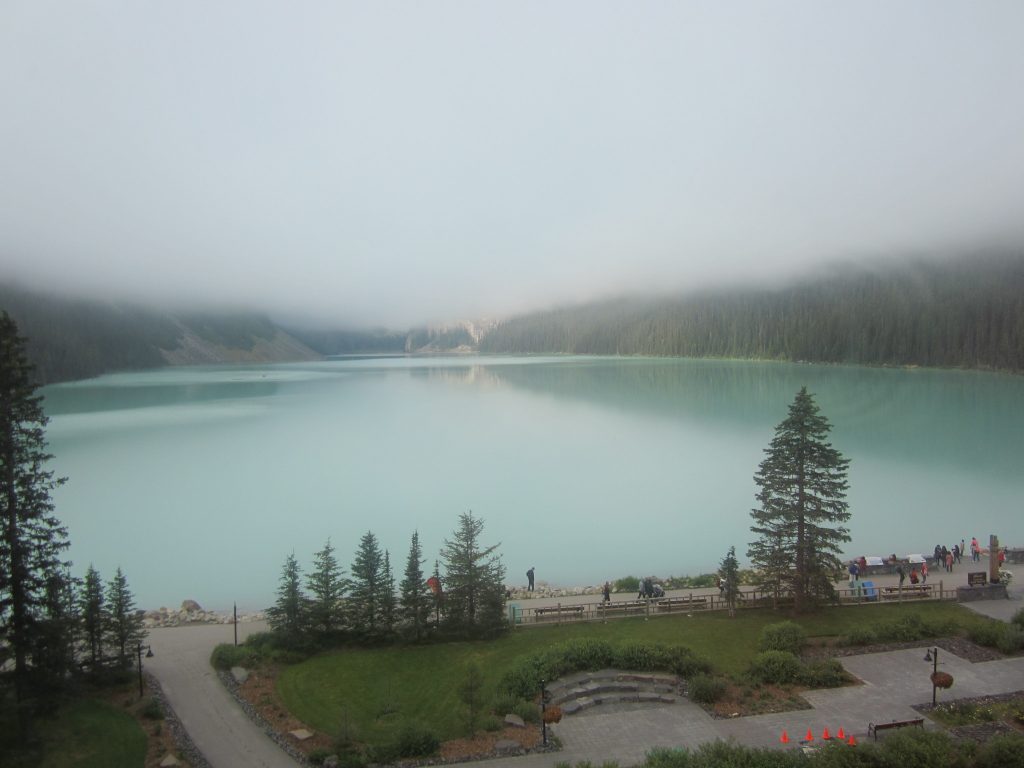 Fairmont hotels usually have a resident dog. Here is the one for this hotel. Must be very old, was not moving around very much.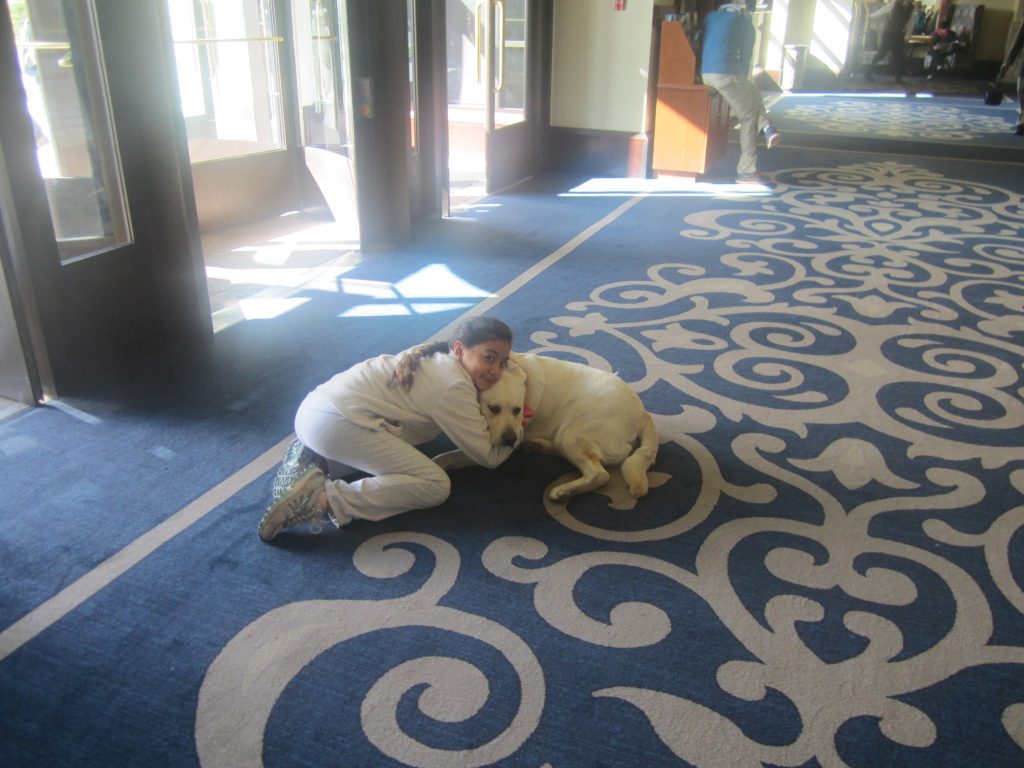 View of the lake from a lobby restaurant in the main floor.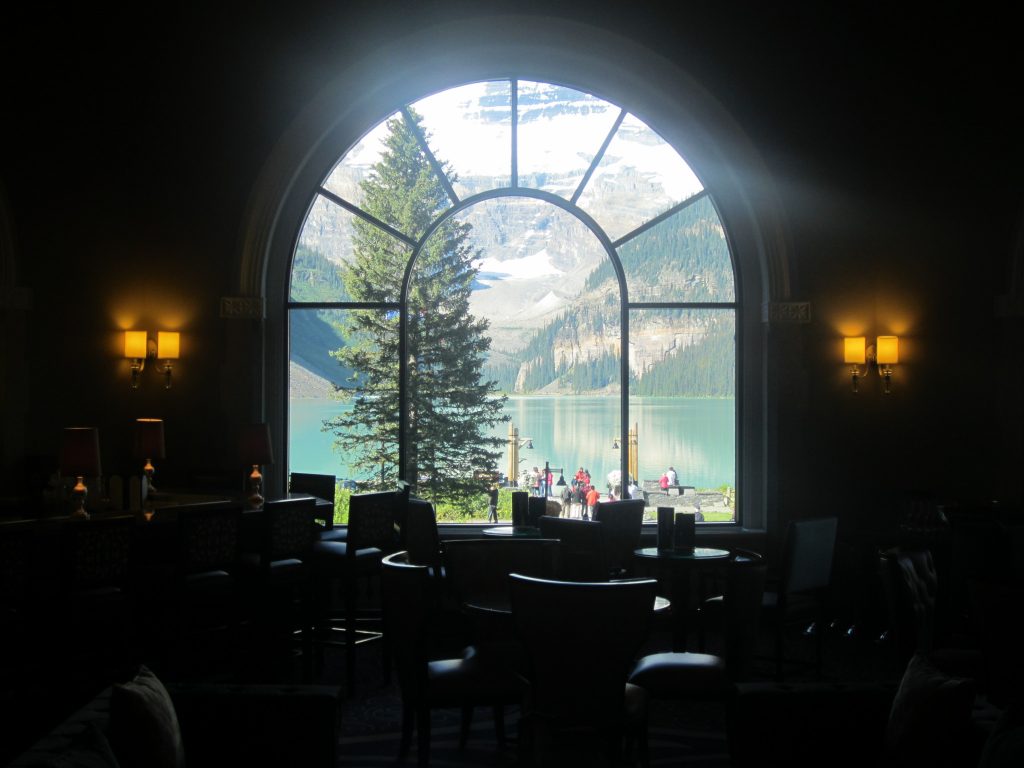 Same view, just better picture.
One of the very few pictures of me I don't look like a moron.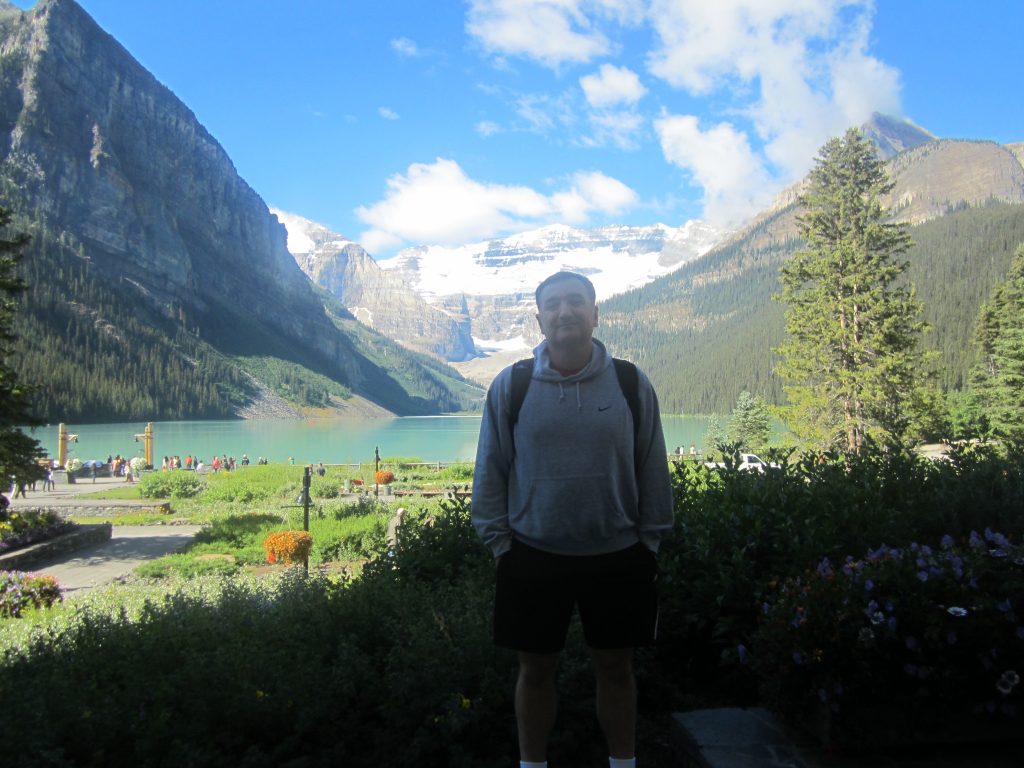 And now it is hiking time baby. There are several hike trails all around Lake Louise. Of course I picked the longest trails without telling la familia. I have done it before hehe.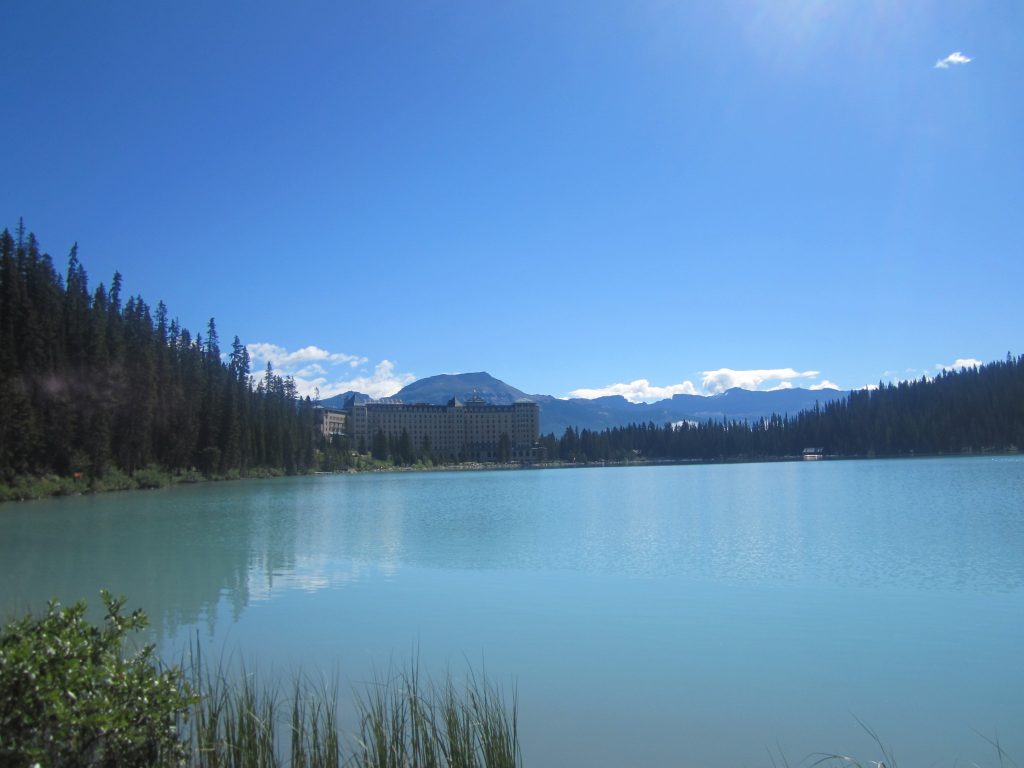 Hey what's up buddy, you ready to hike?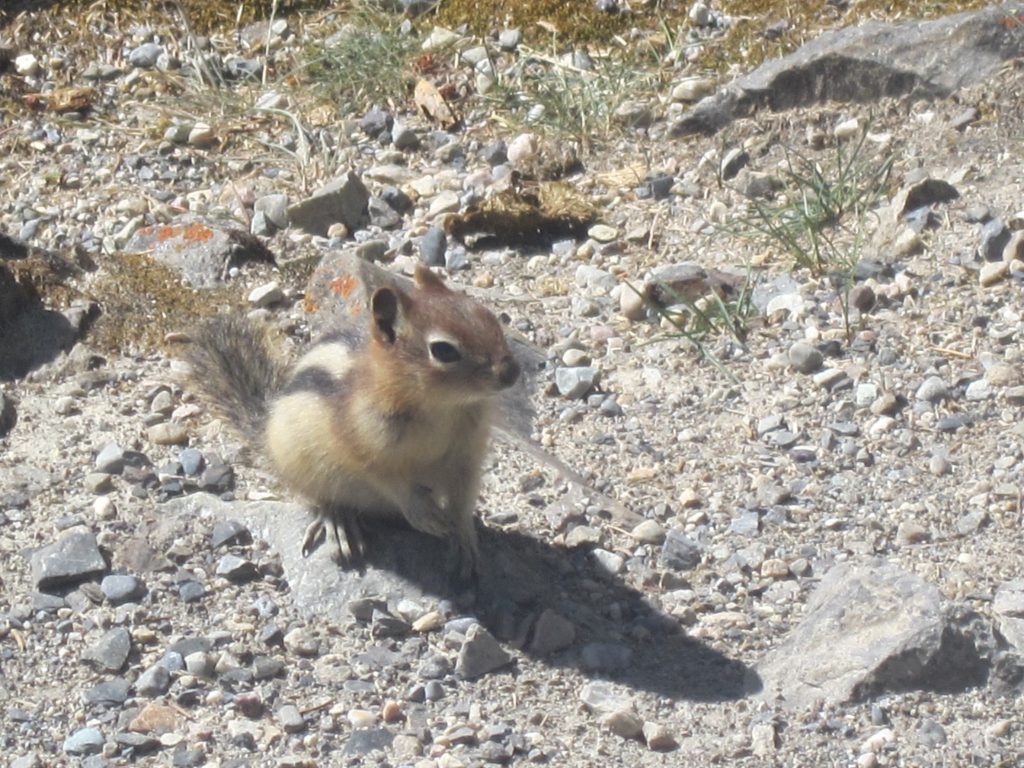 We are off…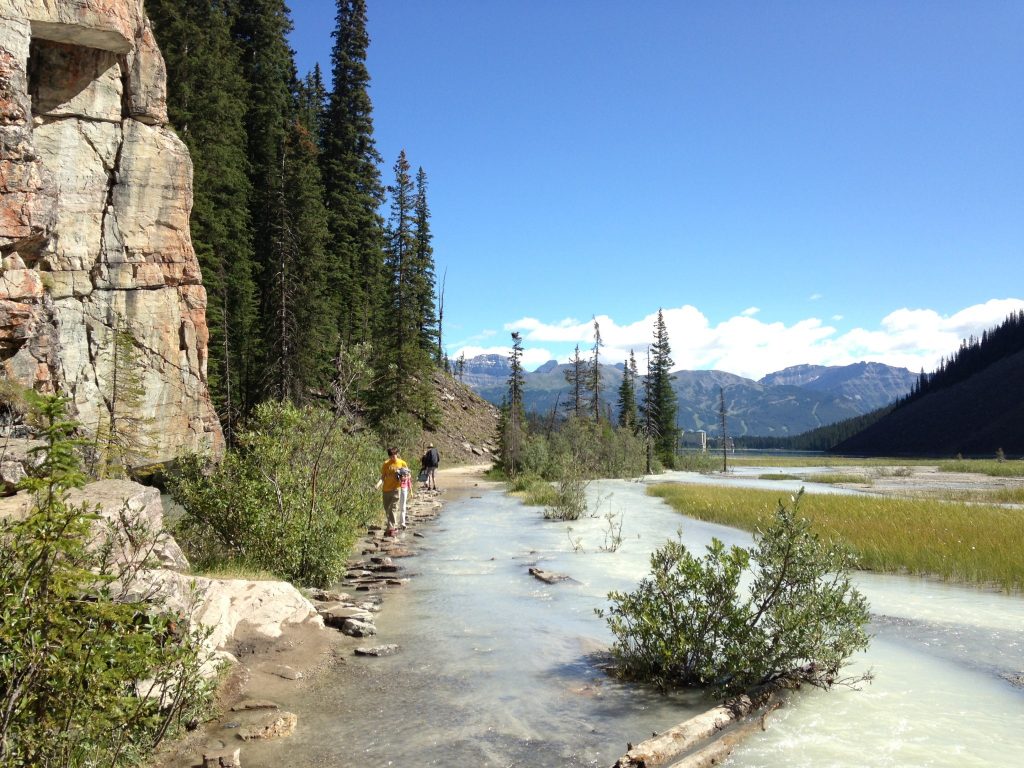 It gets better…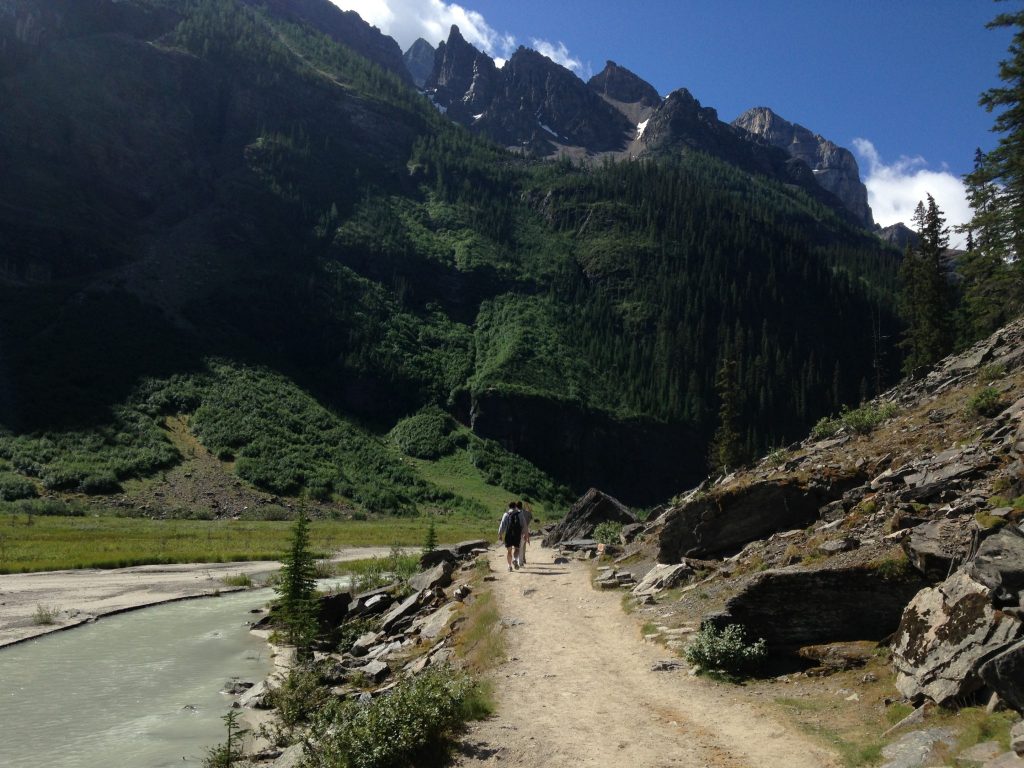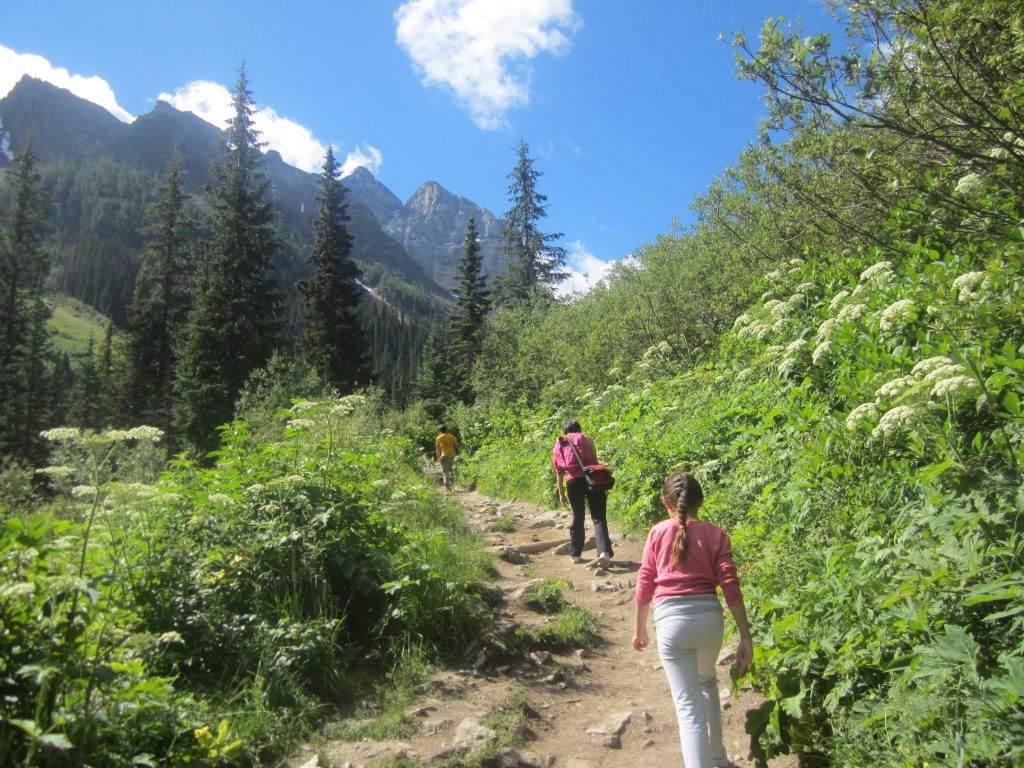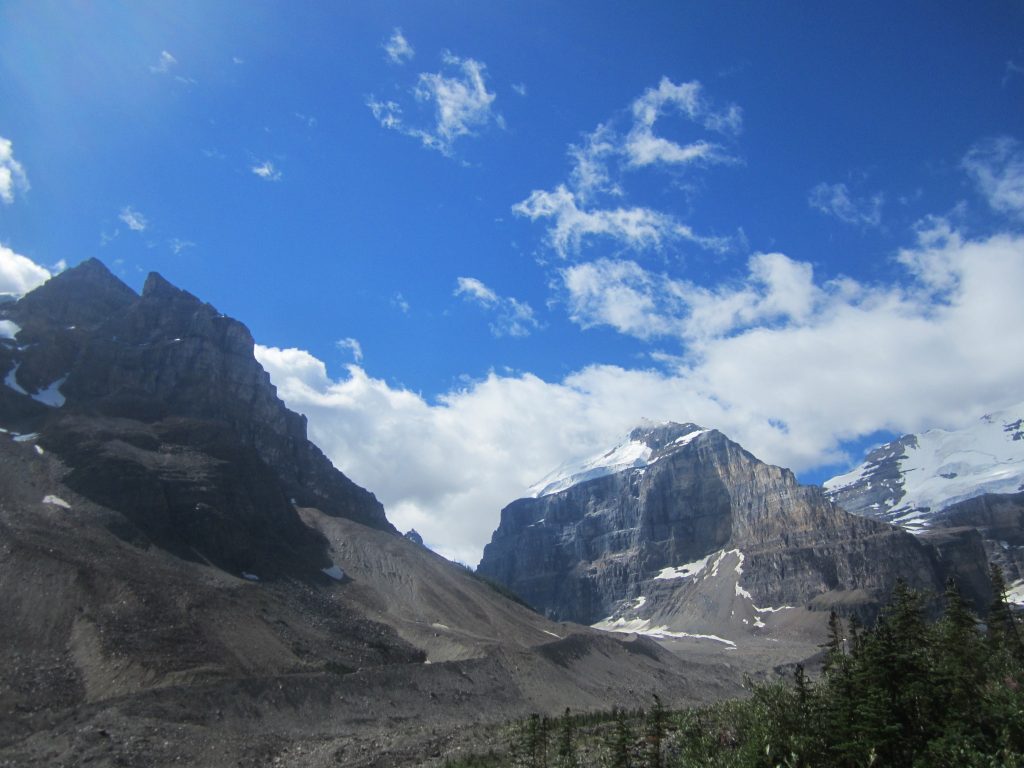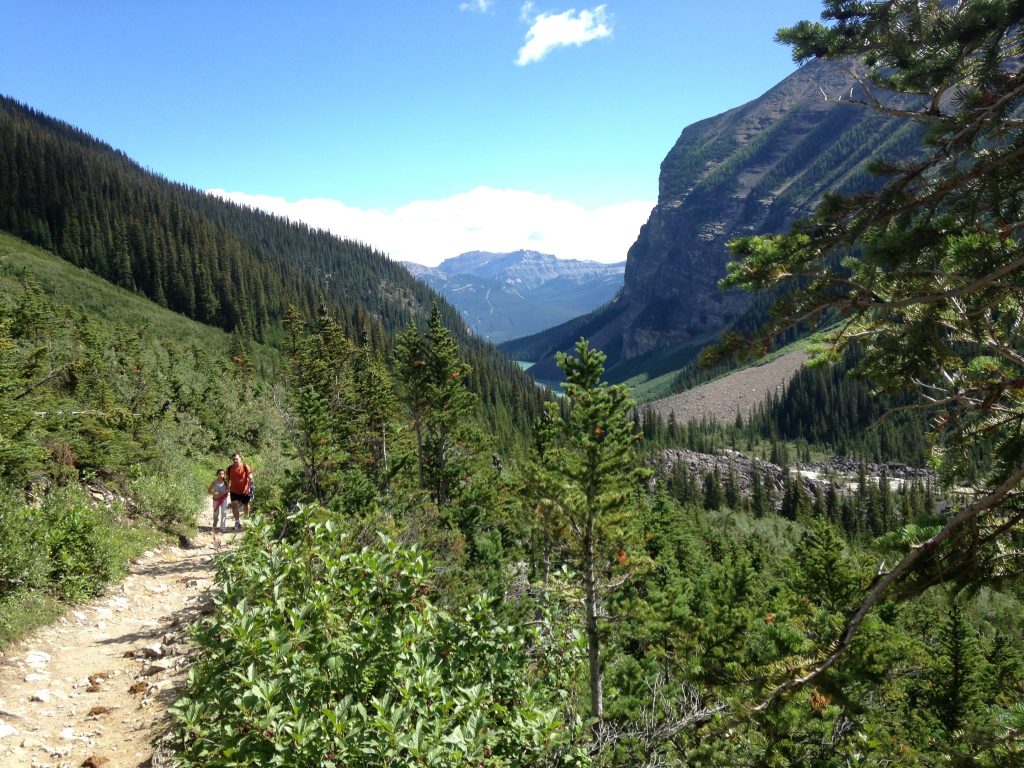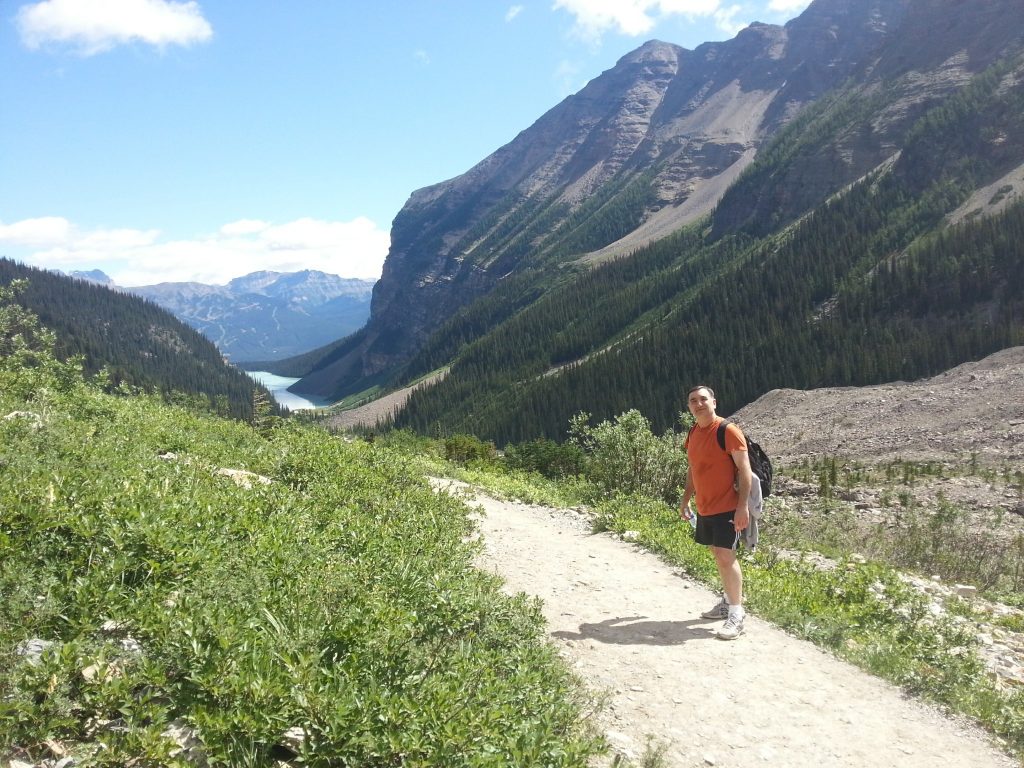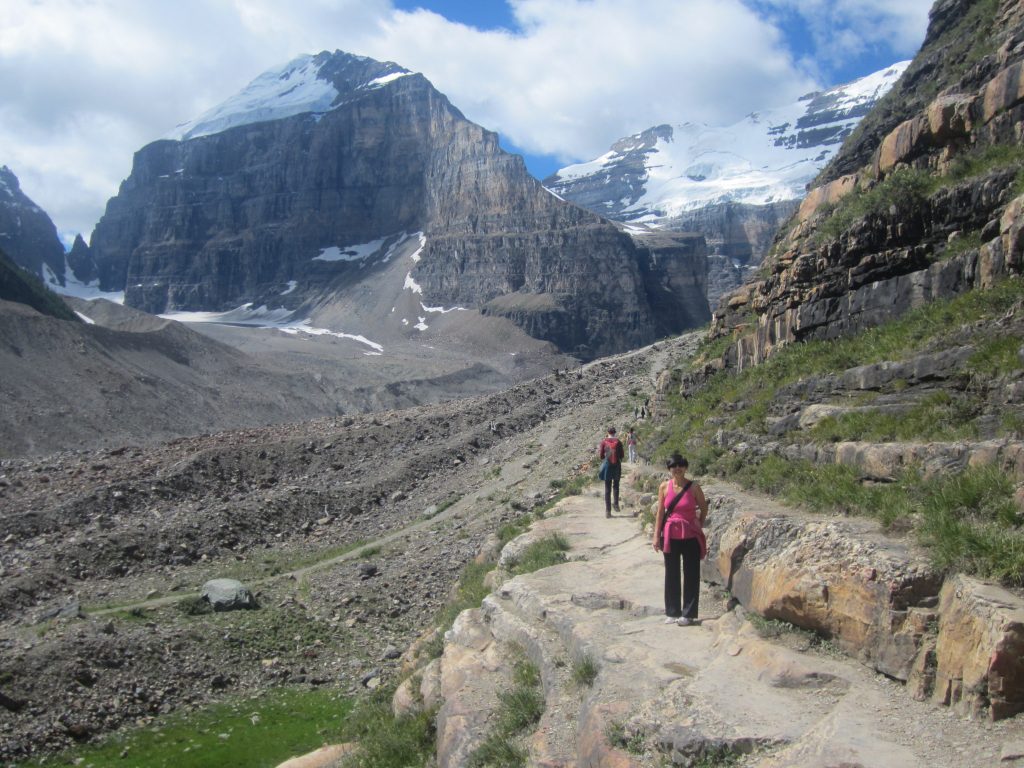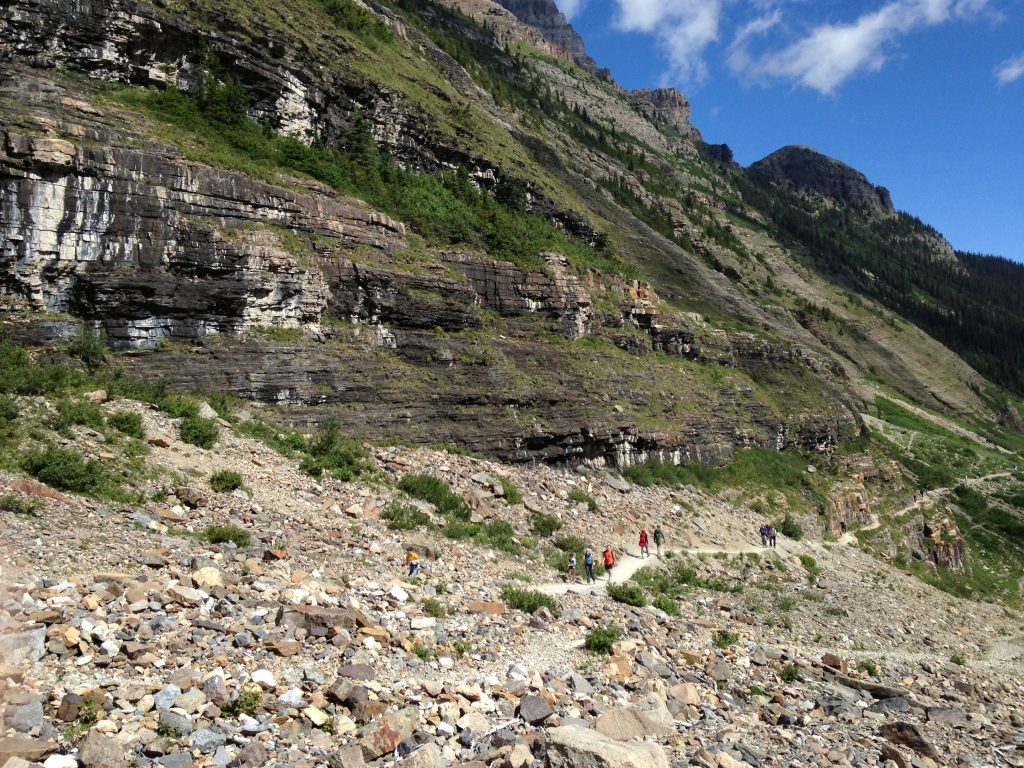 Is he following us?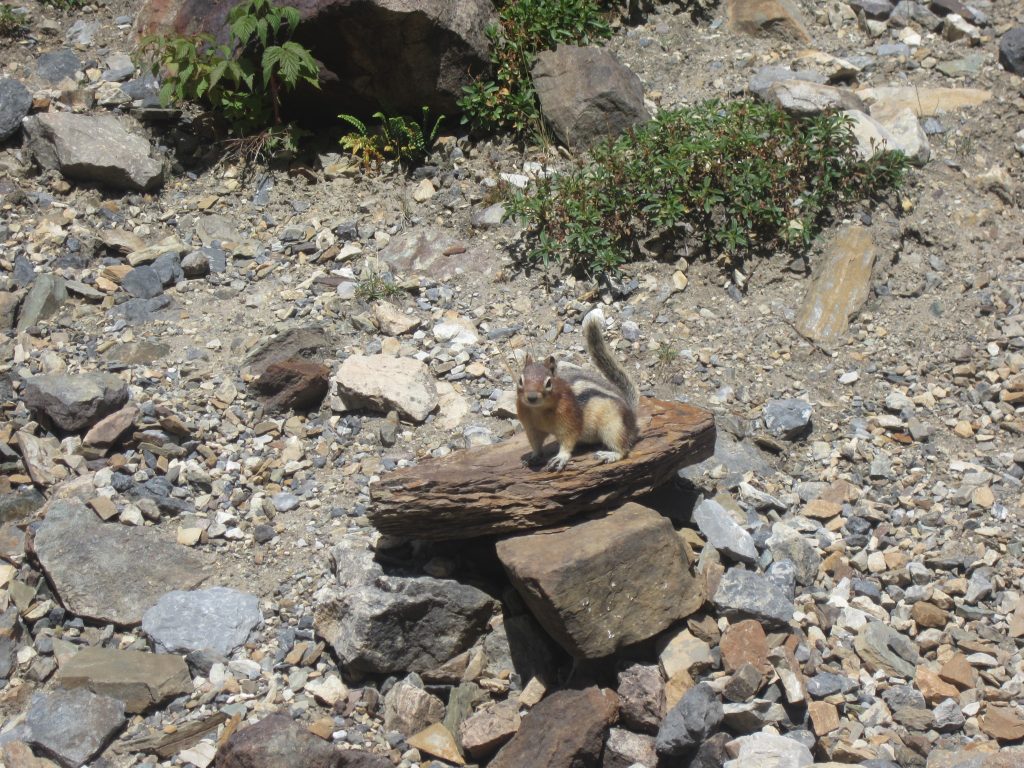 Lake Louise is in the background…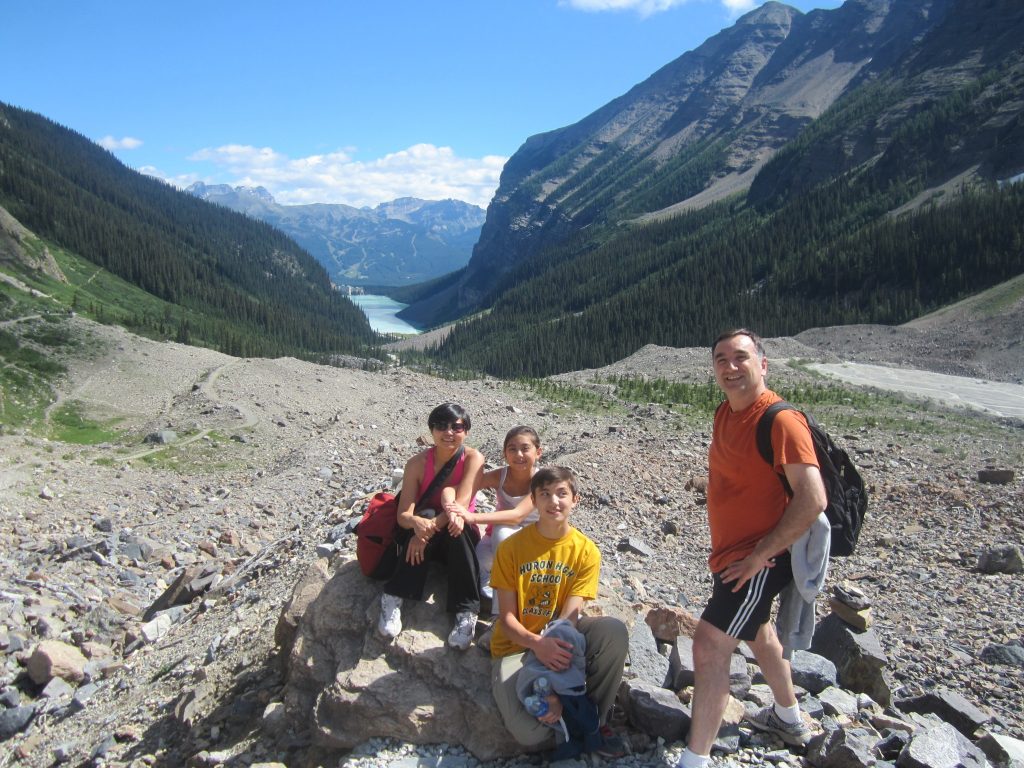 Have miles, will travel!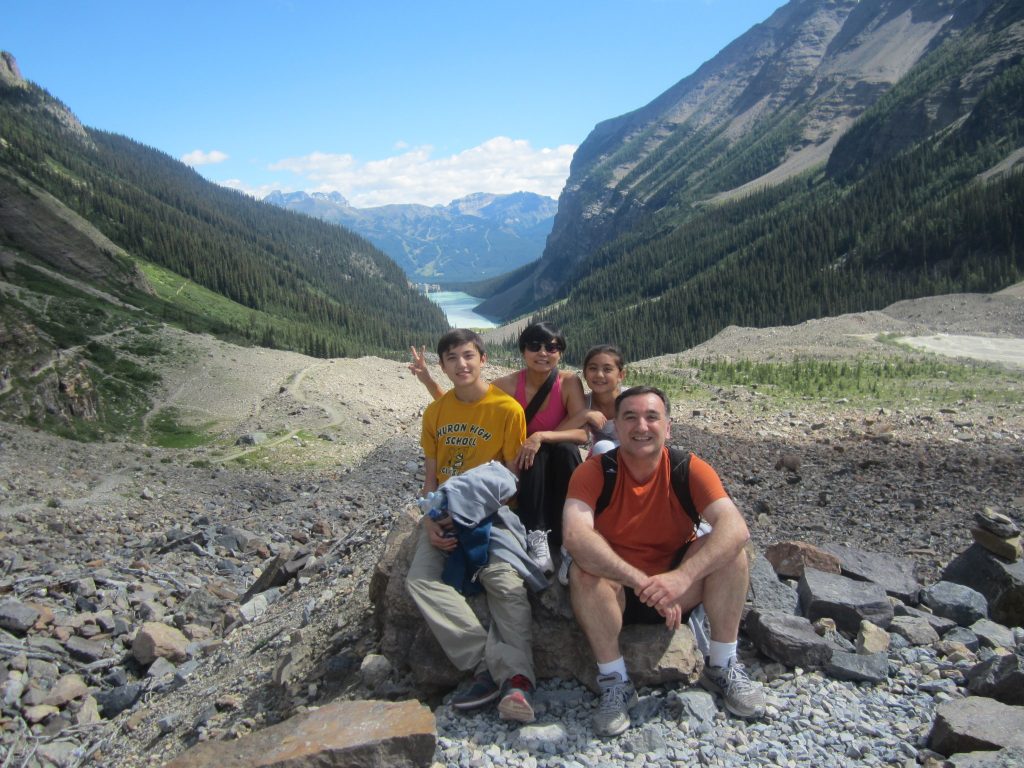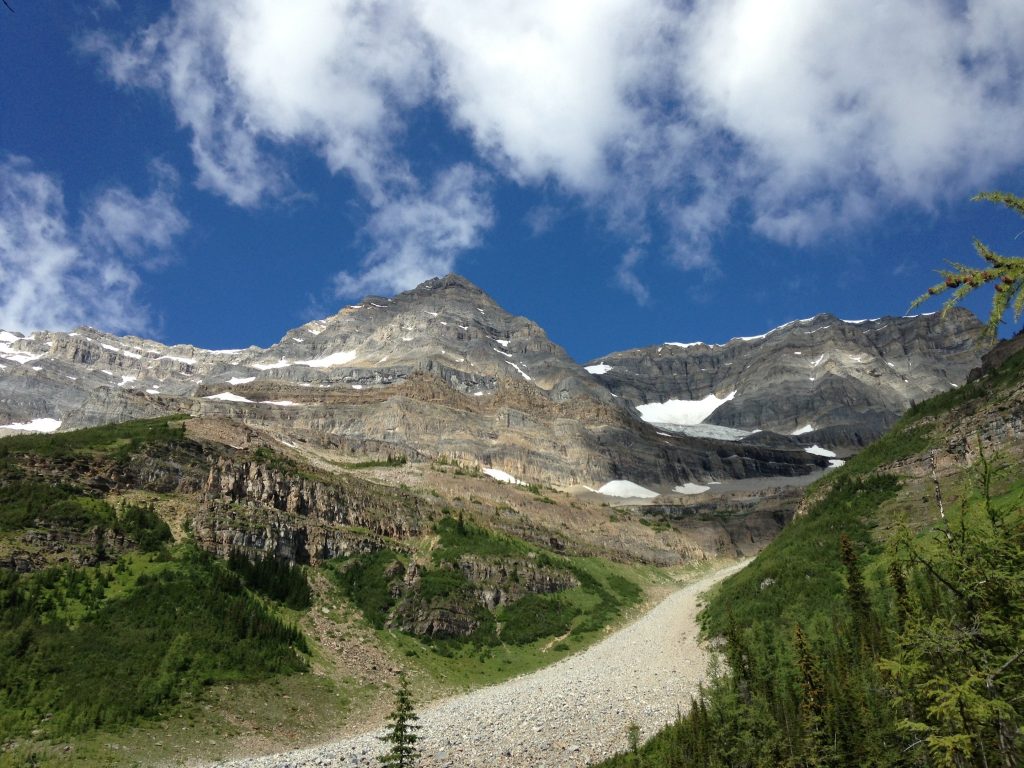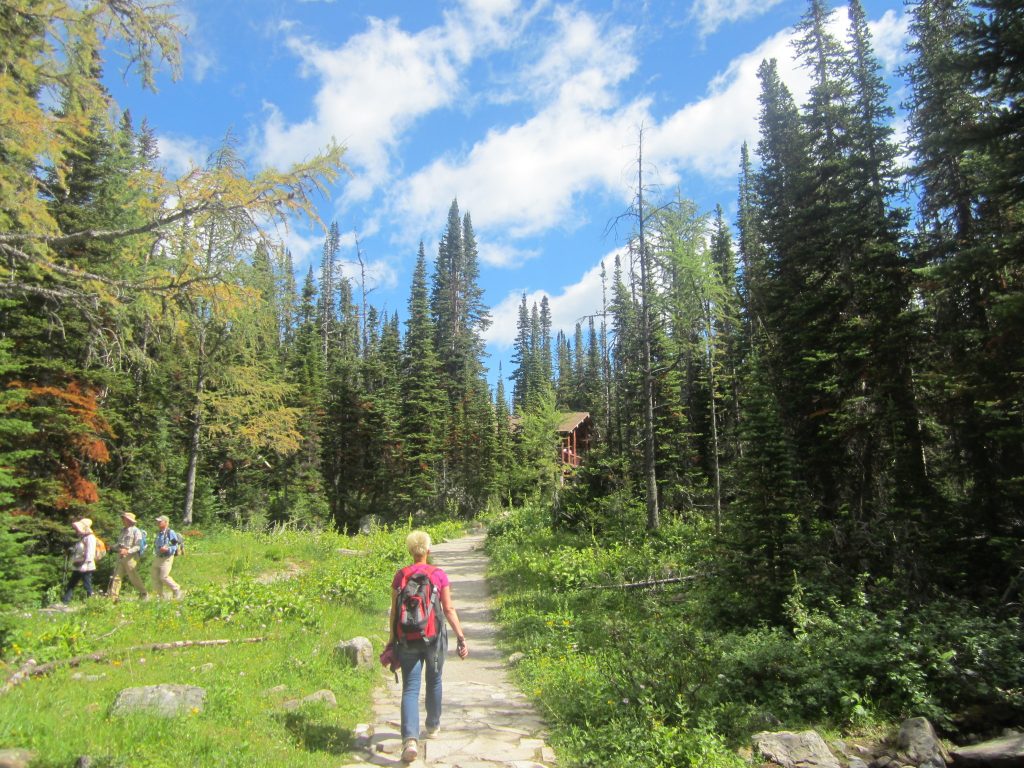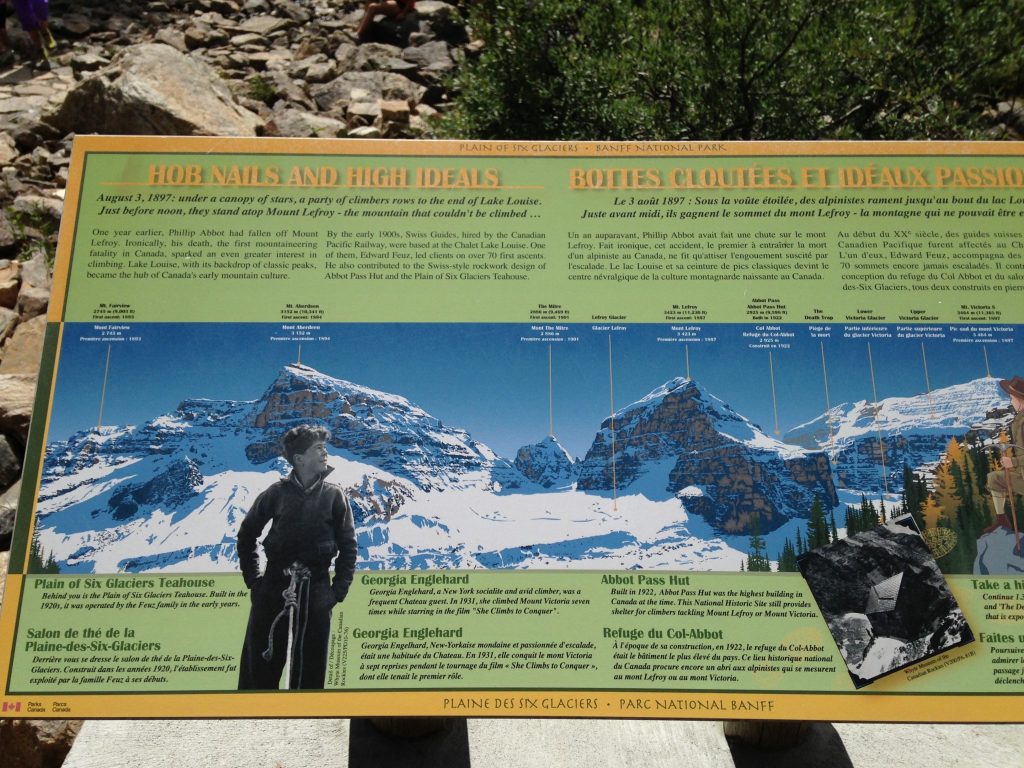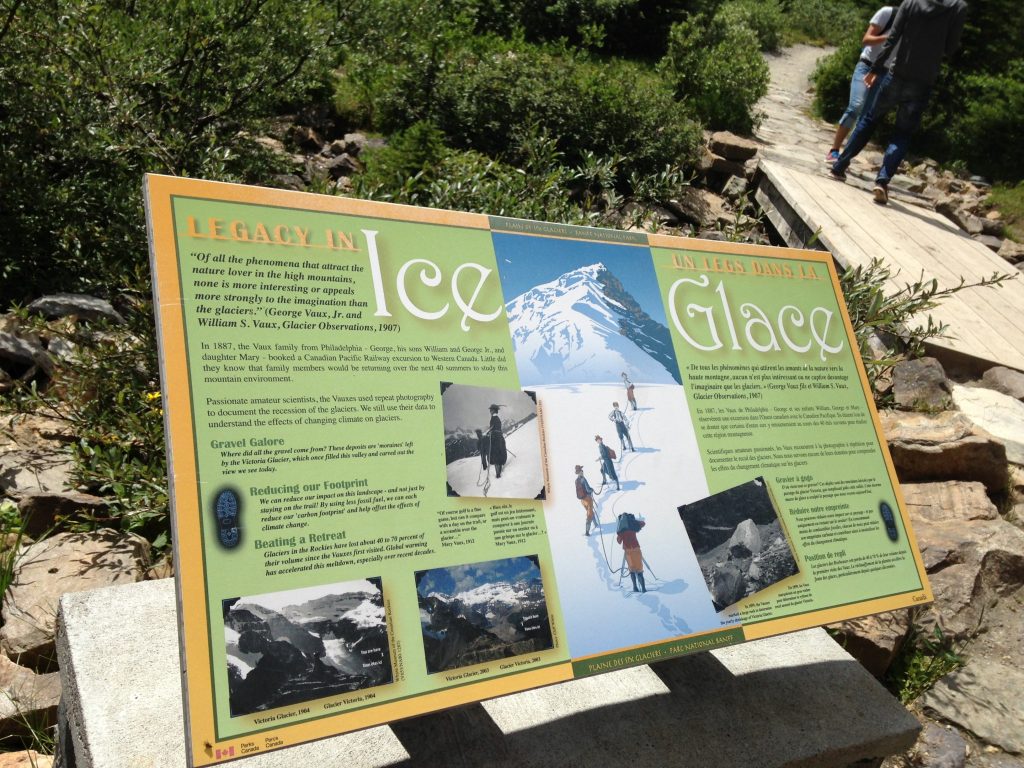 Up there somewhere we finally reached this lovely tea house. It is owned by a German family for generations. It is a long way to get here but absolutely worth it!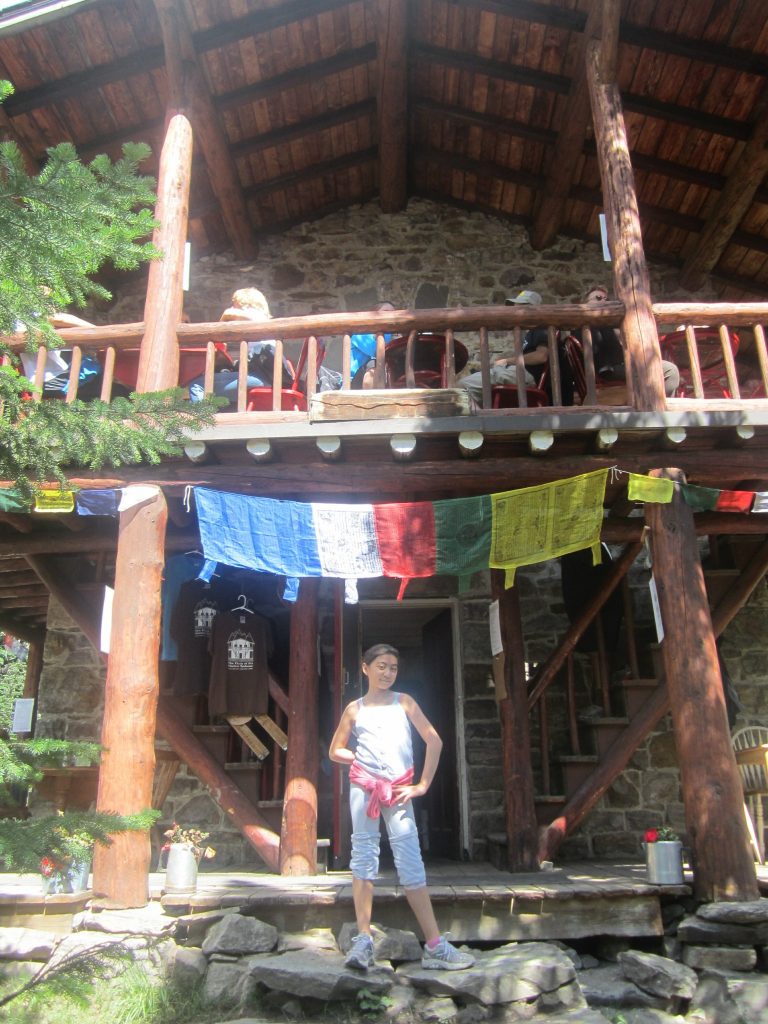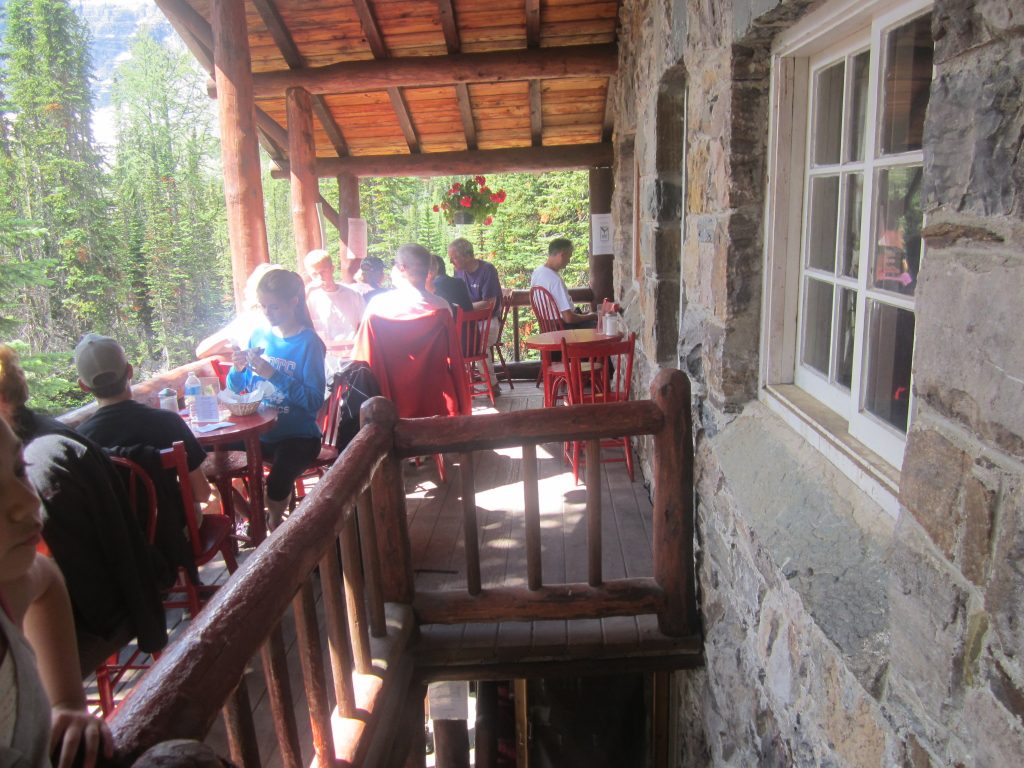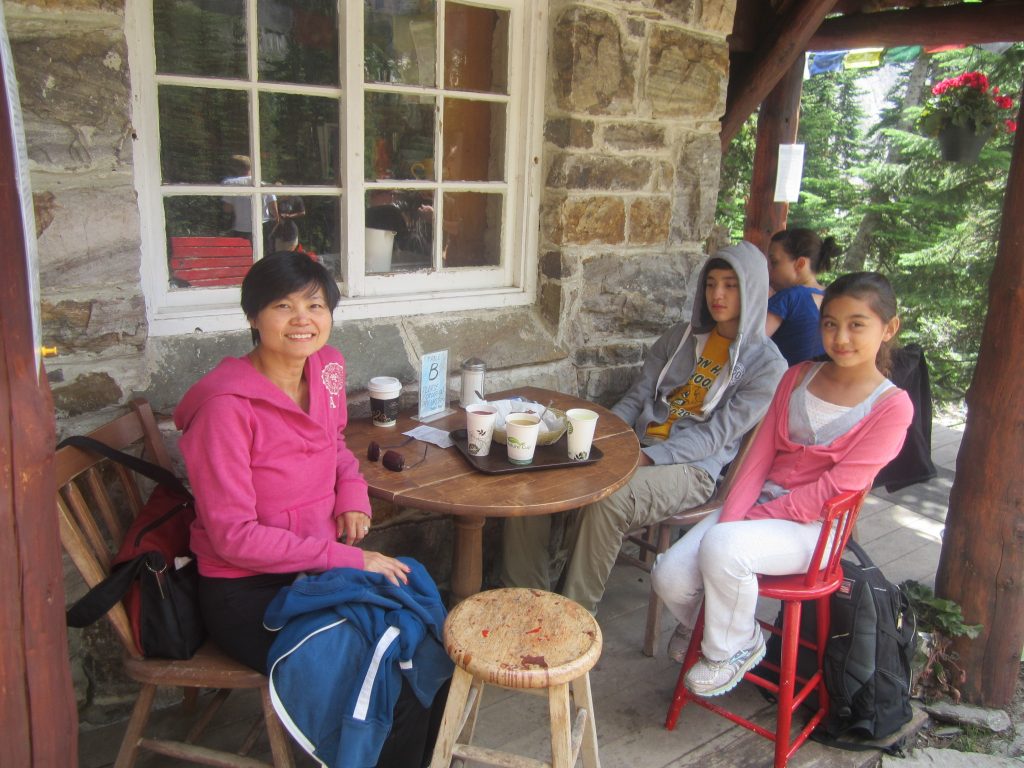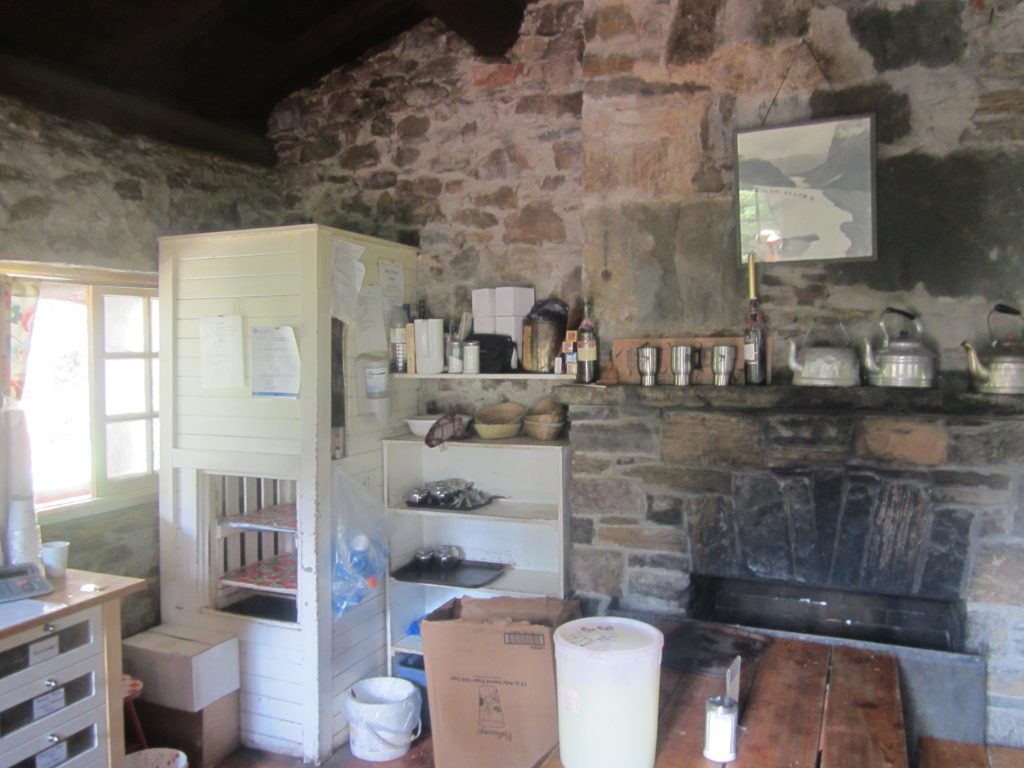 And we are off again….I know this path…Oh oh the first complaints start "oh my feet hurt so much" blah blah blah.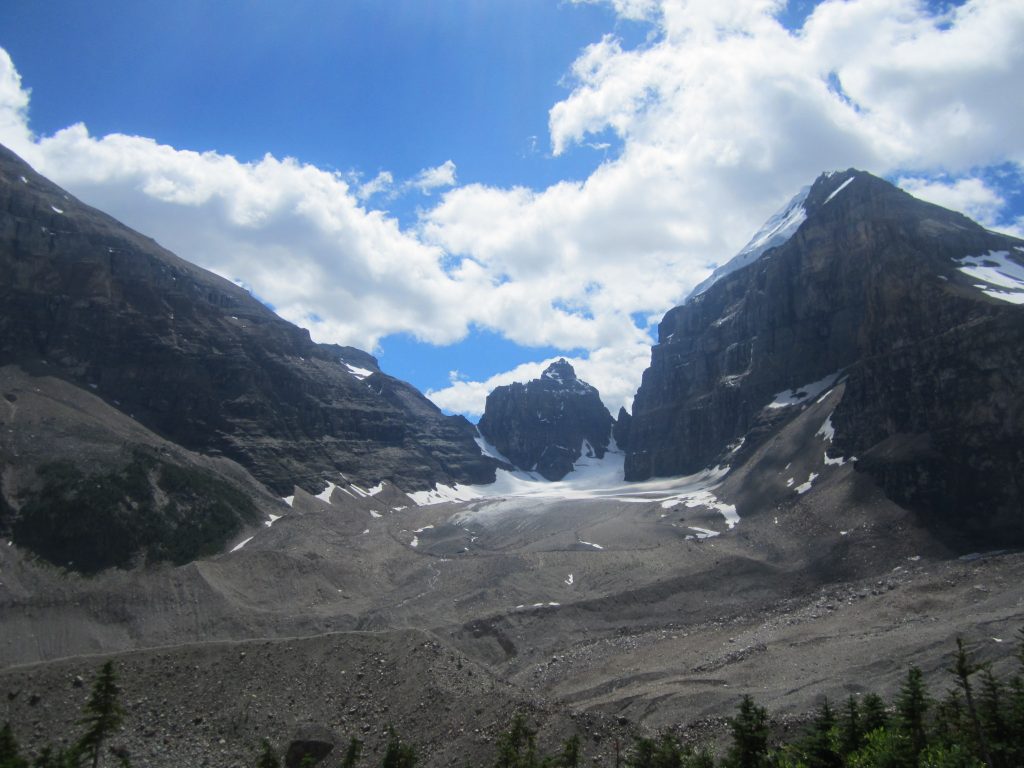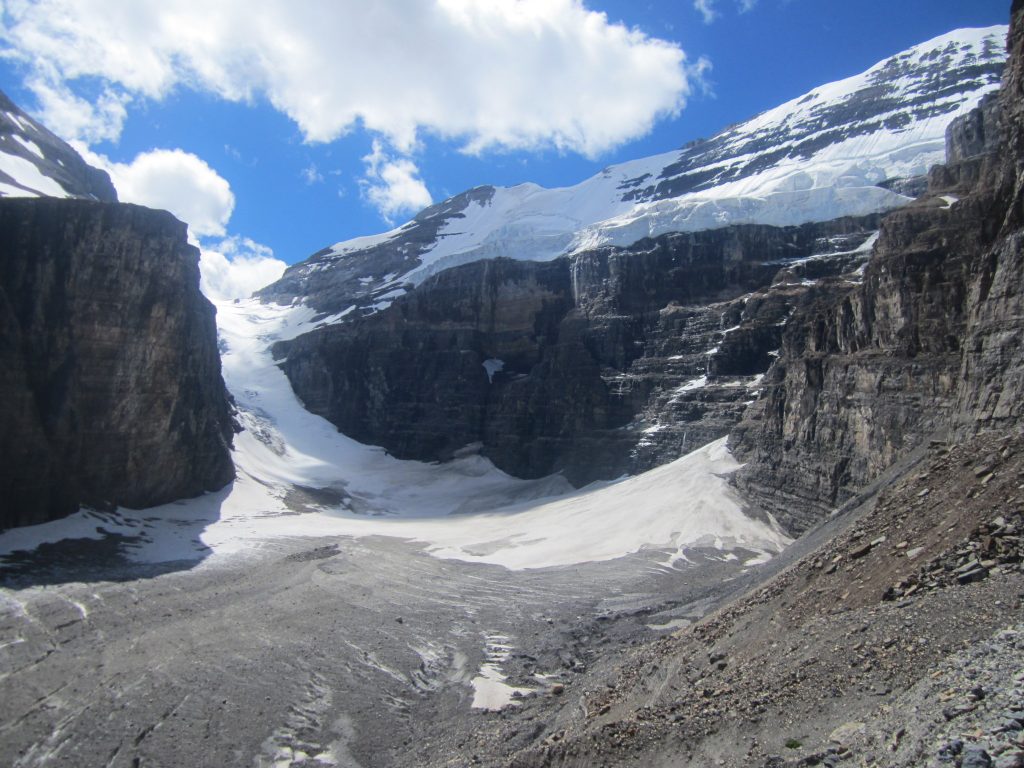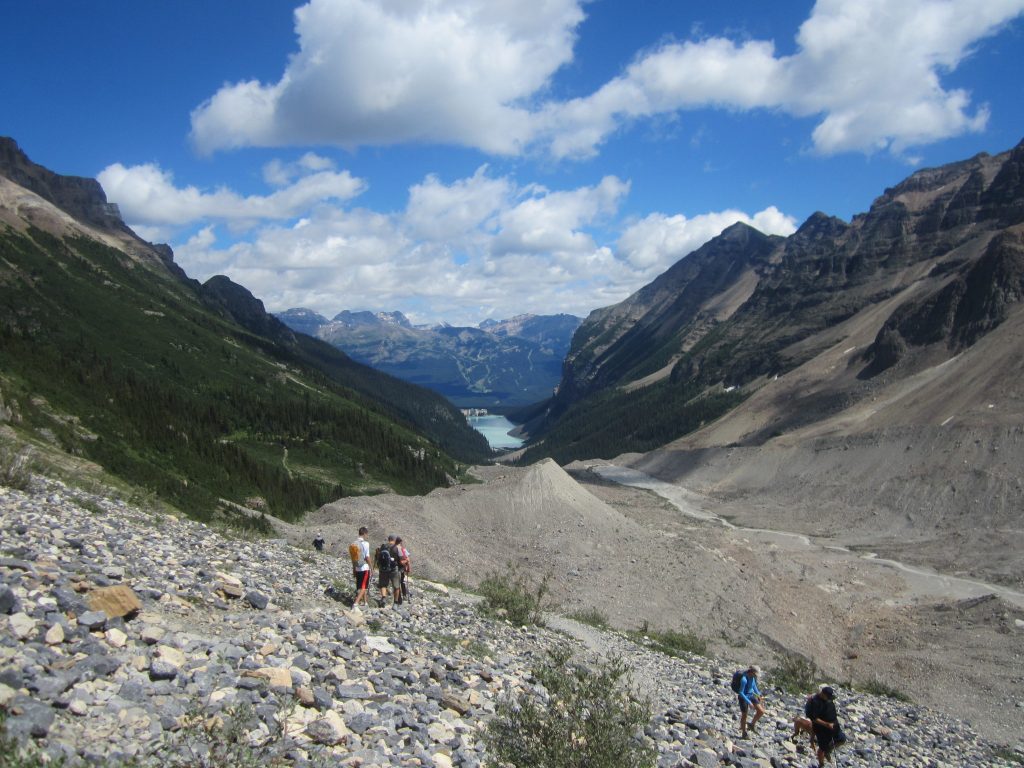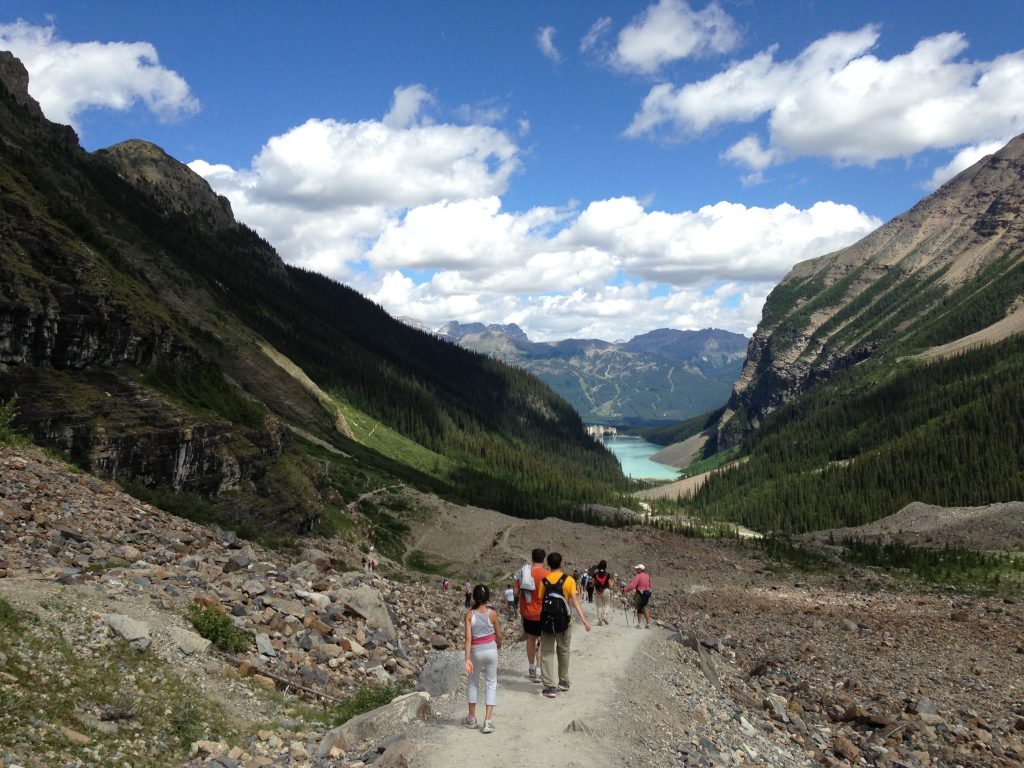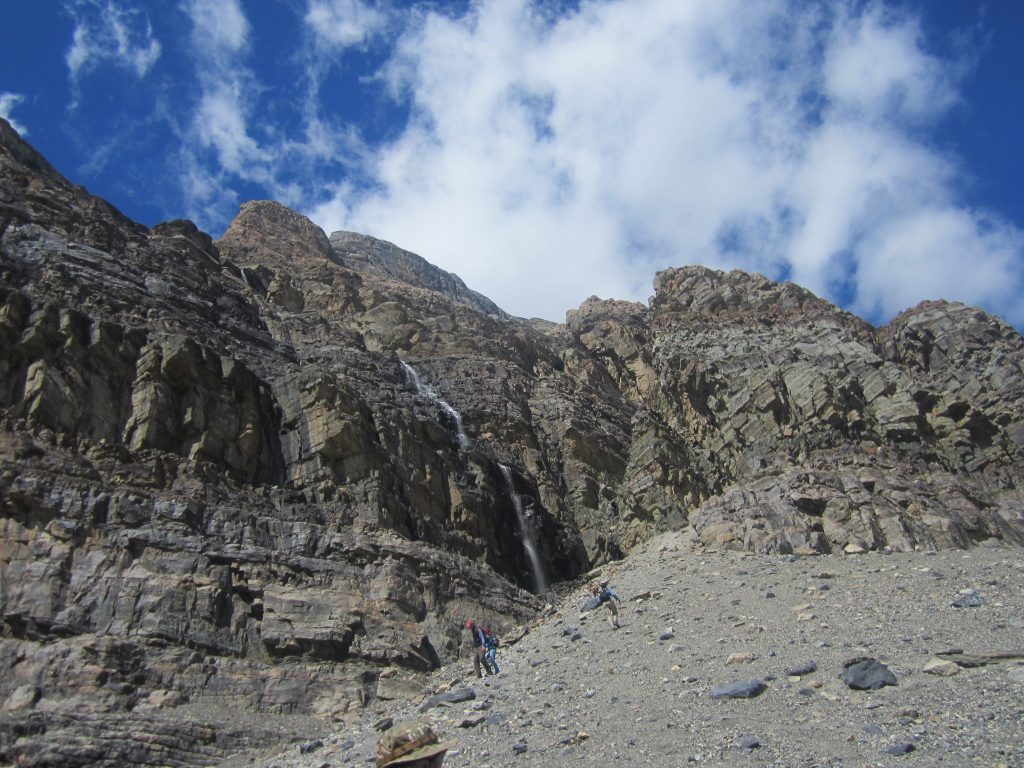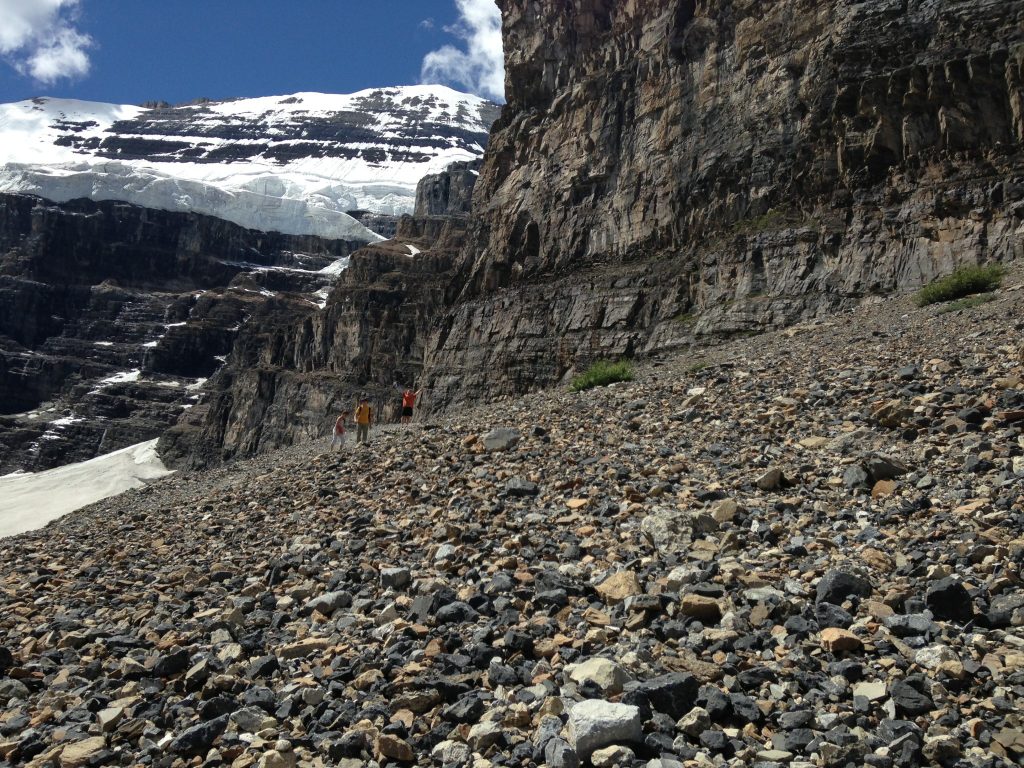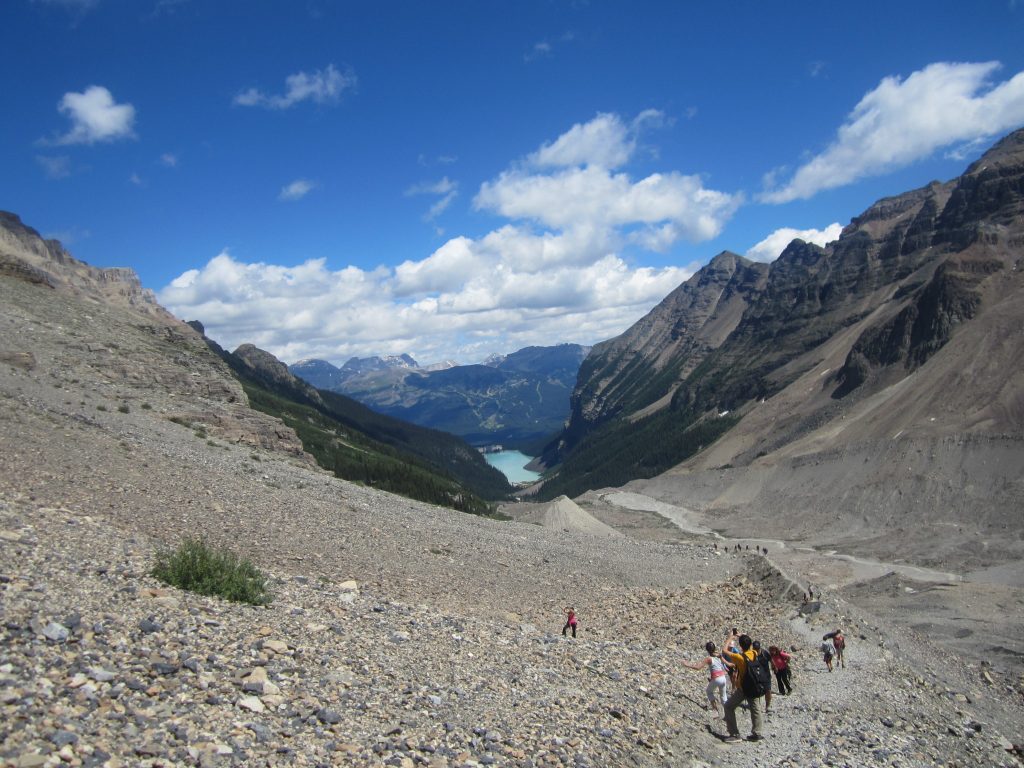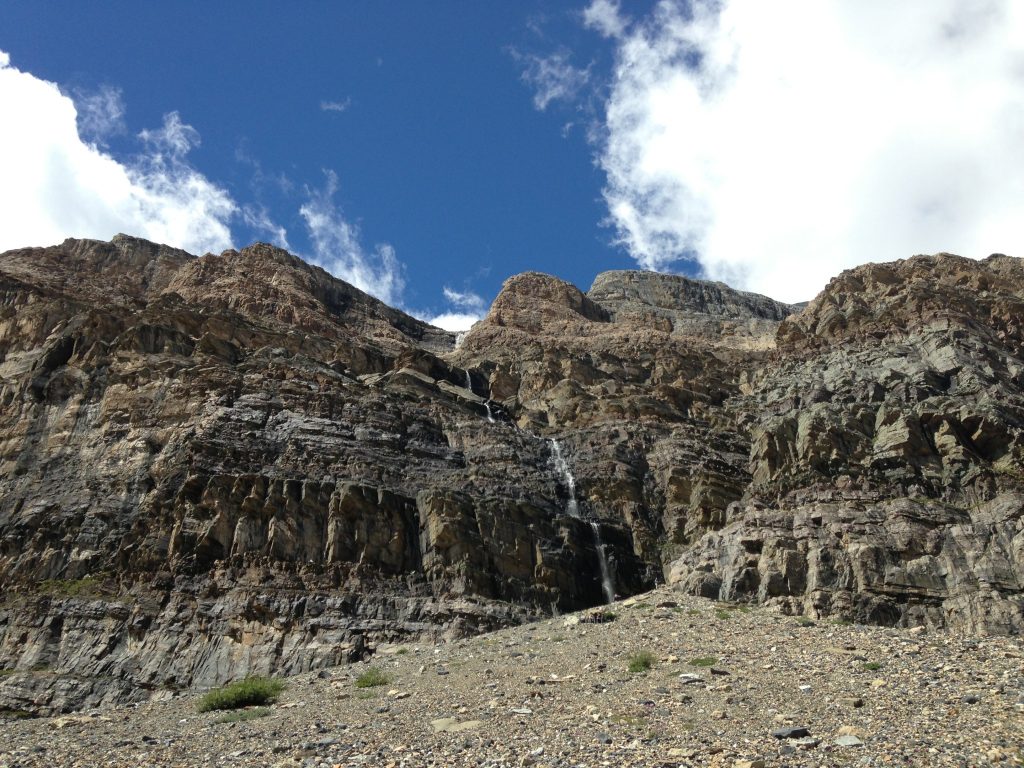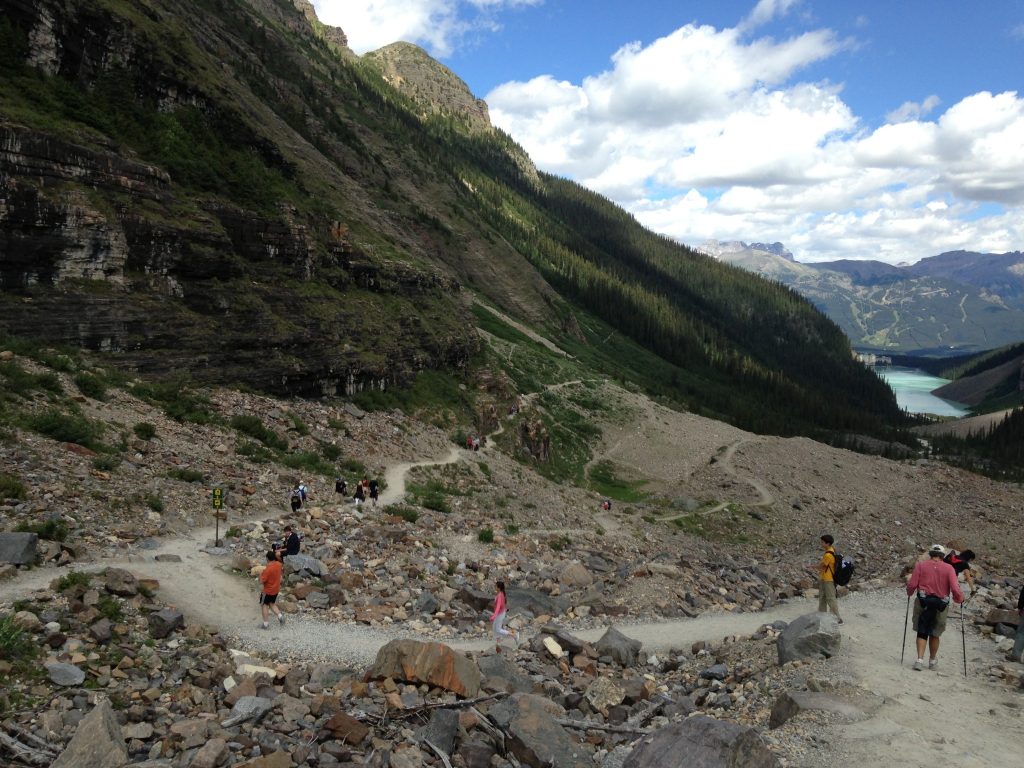 You can pay to go horseback riding. We passed.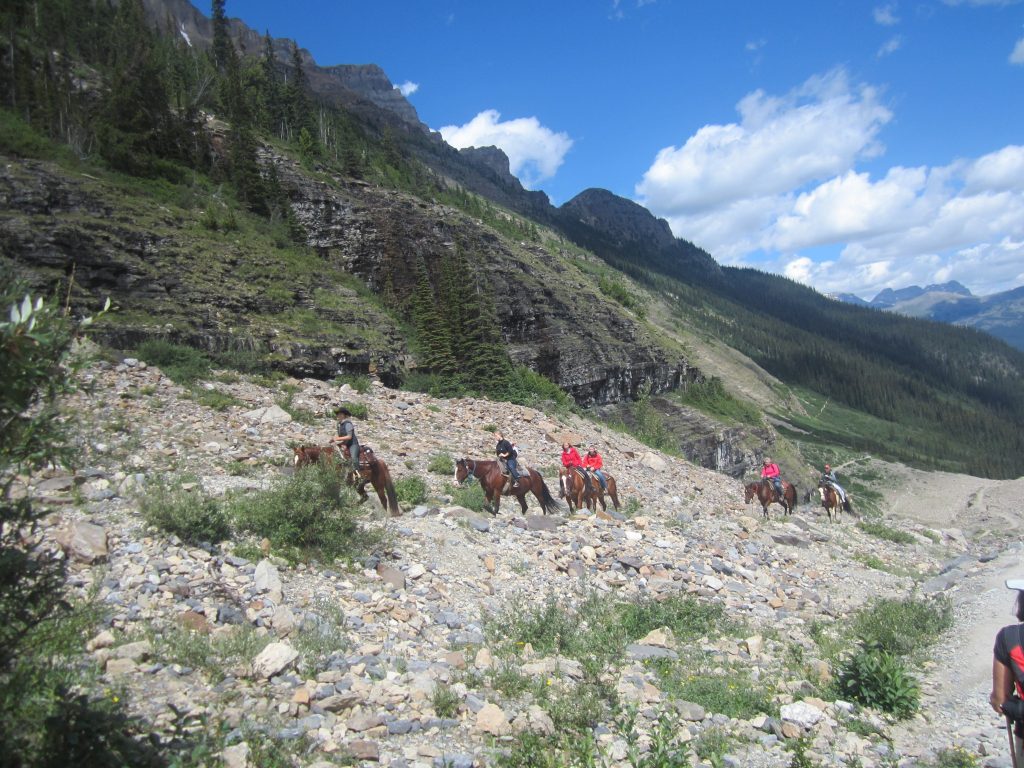 This is the "turn" where I tricked them to follow the longer trail. "Come on you guys it is not that far, we came all the way here, let's just do it". "But Dad, our feet hurt so much". Kids.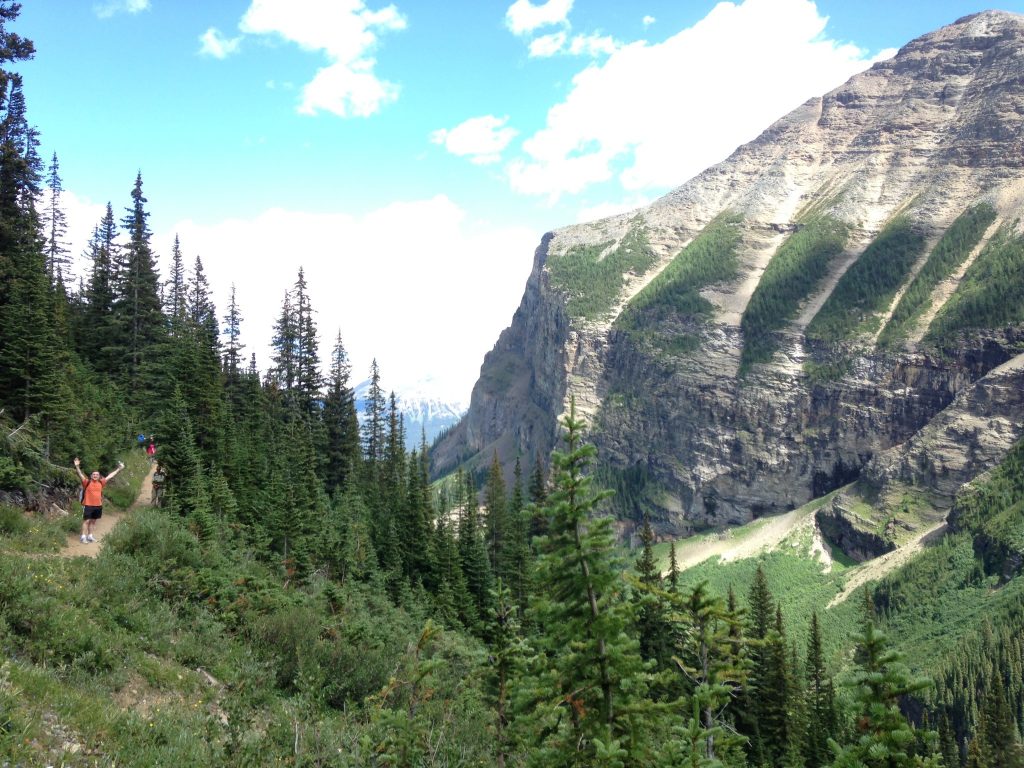 Look at this, look at this!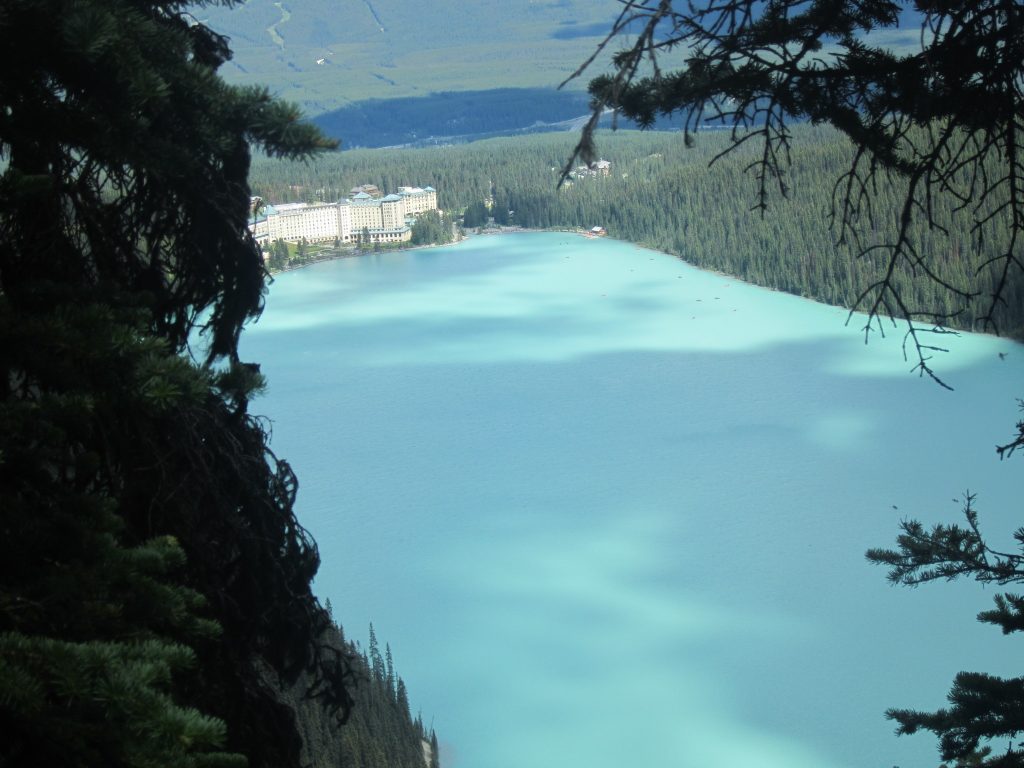 I live for moments like this, you can have all the Krug you want in a metal tube!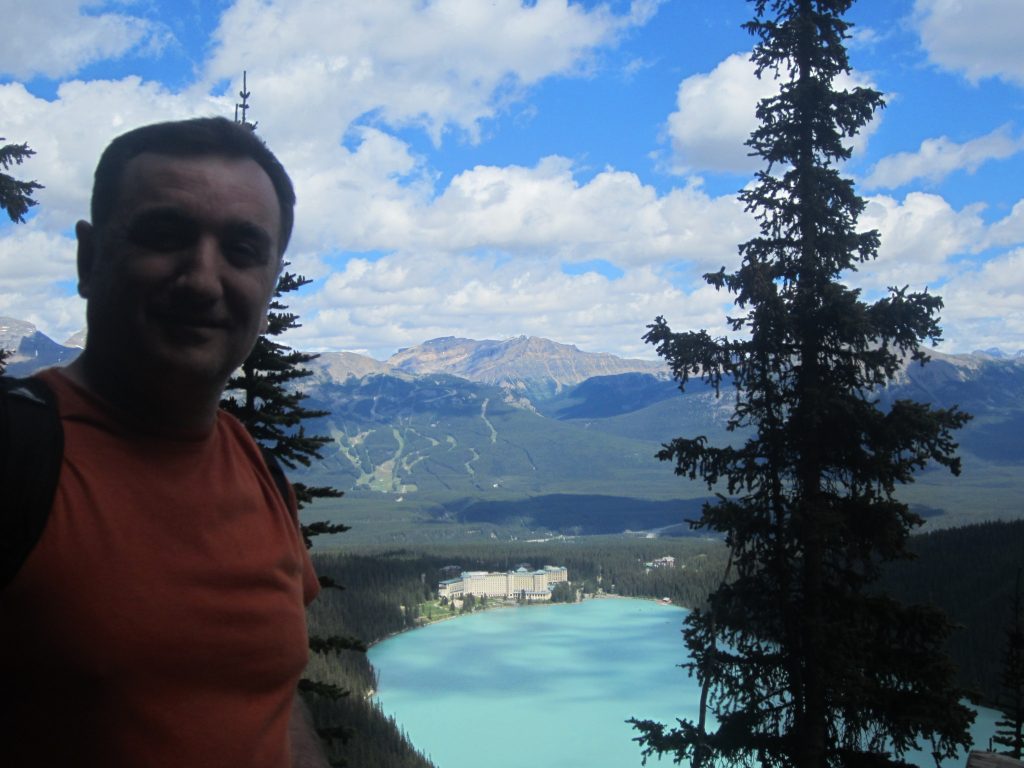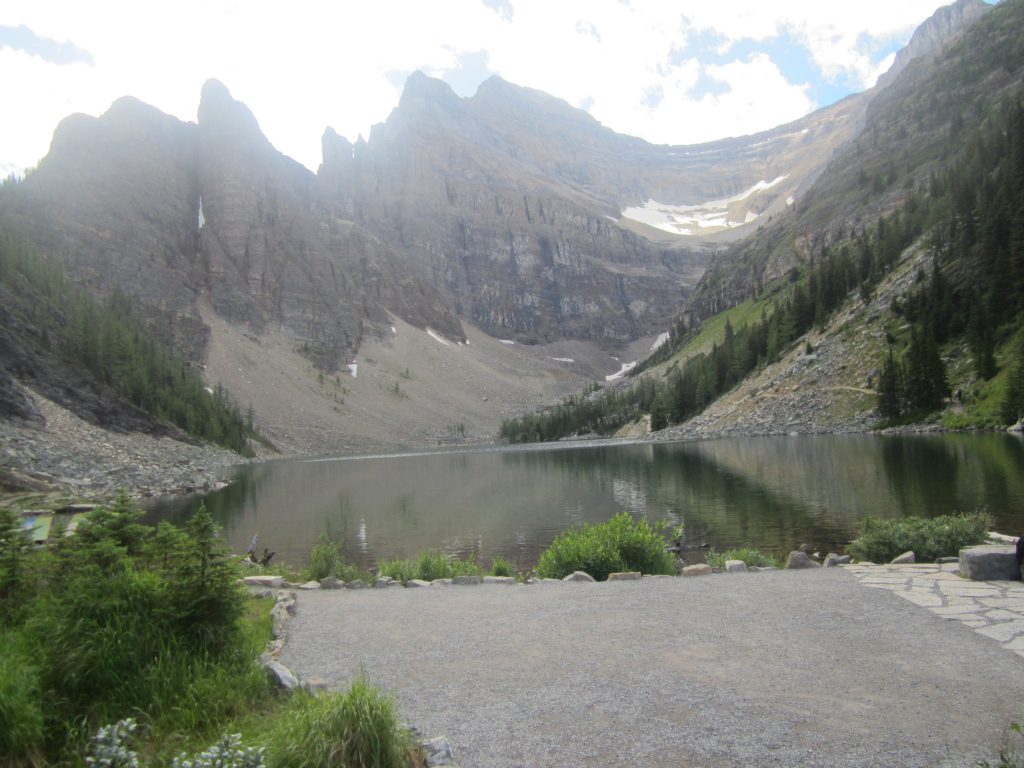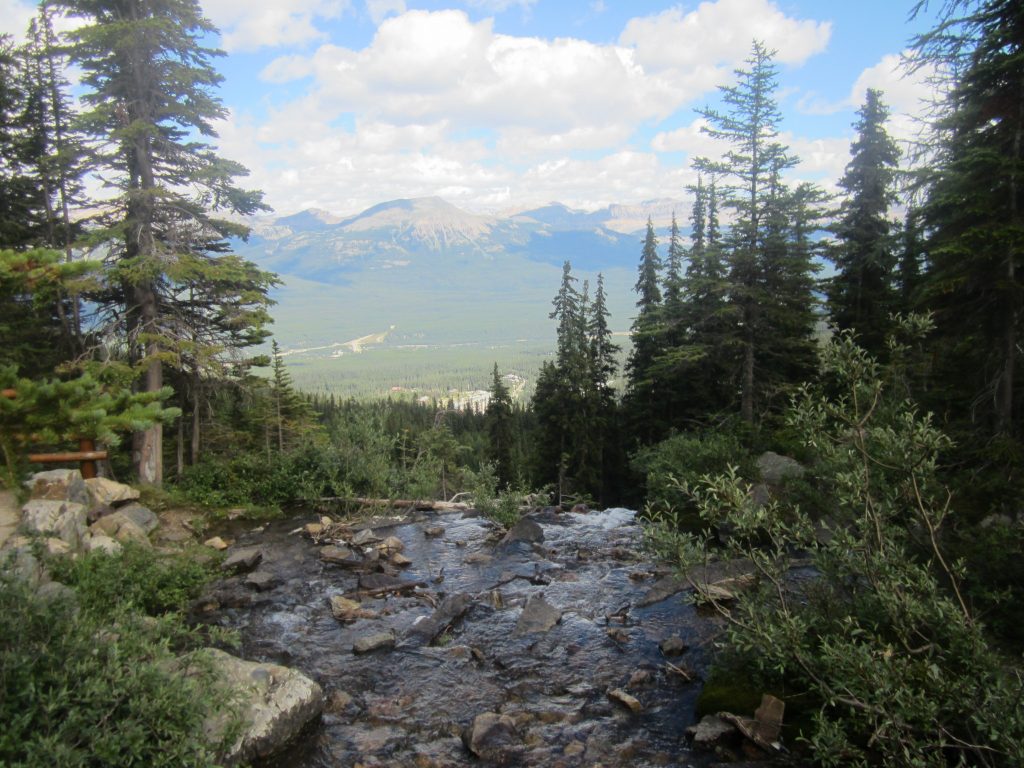 Tea house #2, check!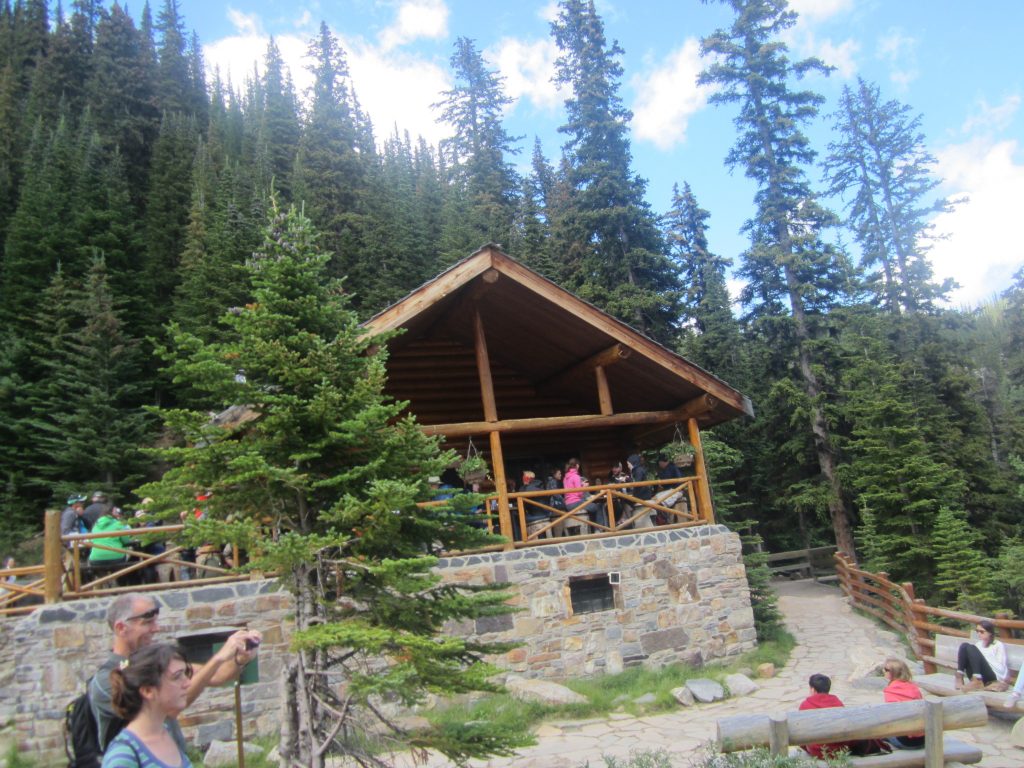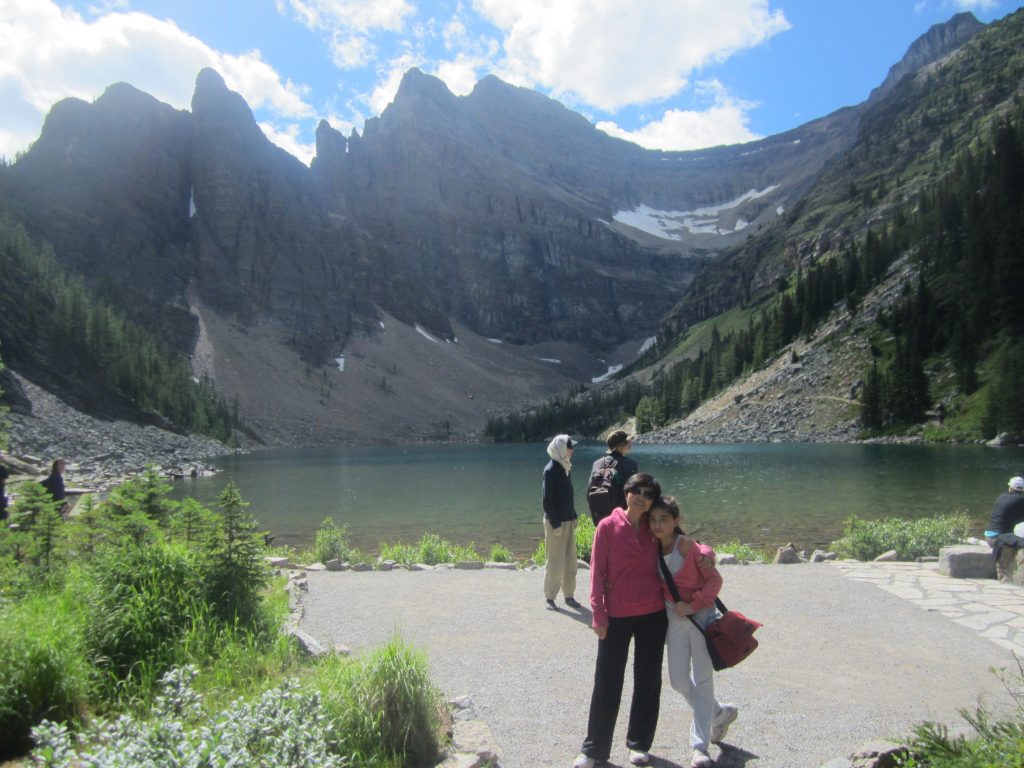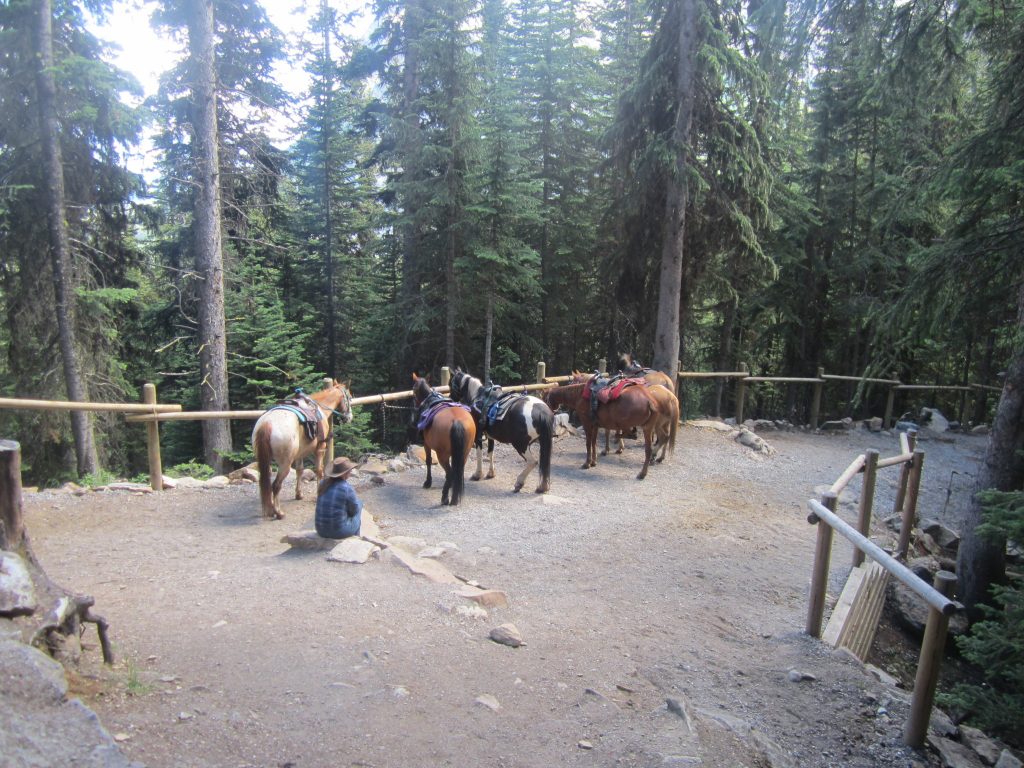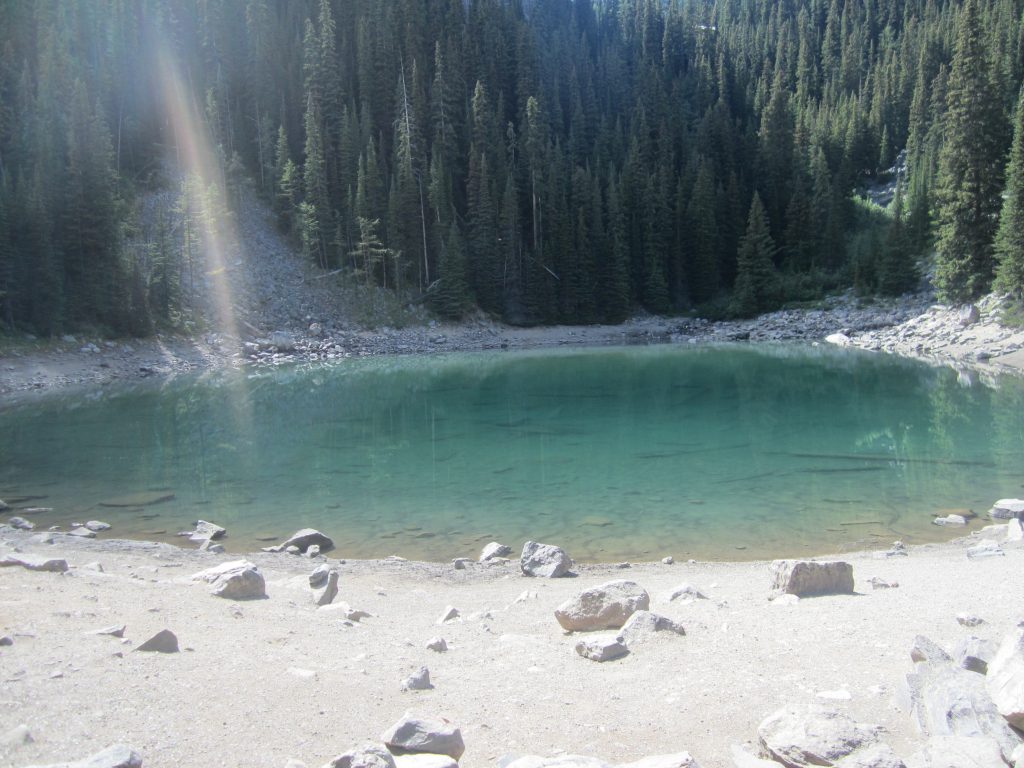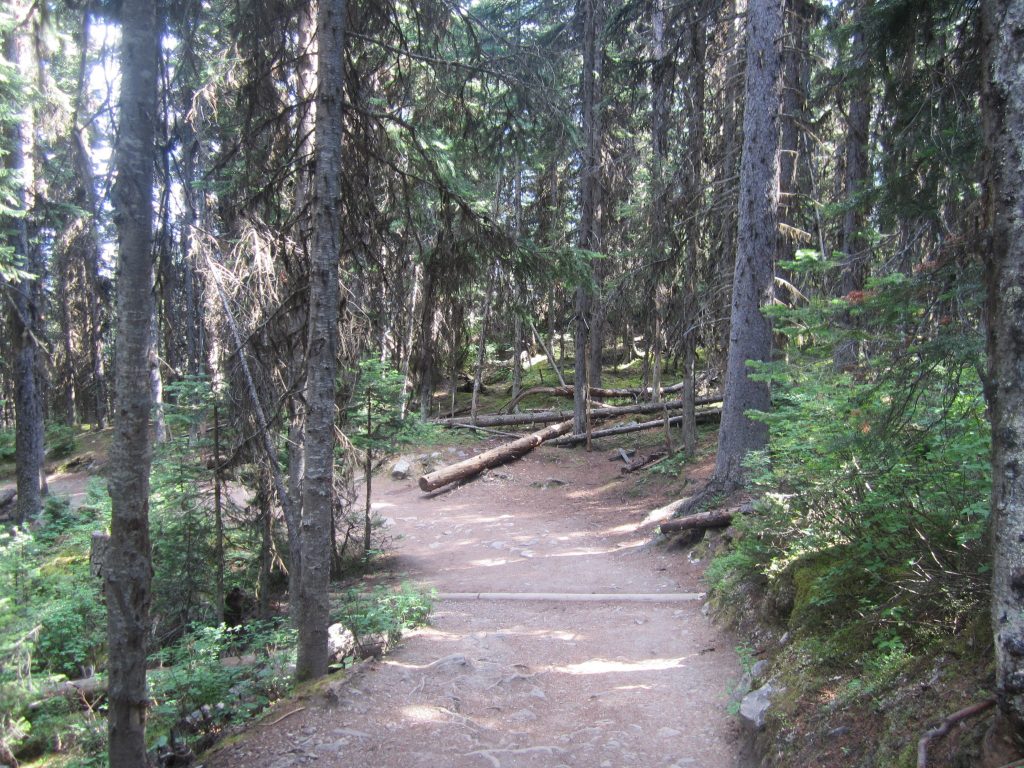 We finally made it back. Exhausted, blisters you know. So I had to treat them ice cream!
A few pictures around the hotel…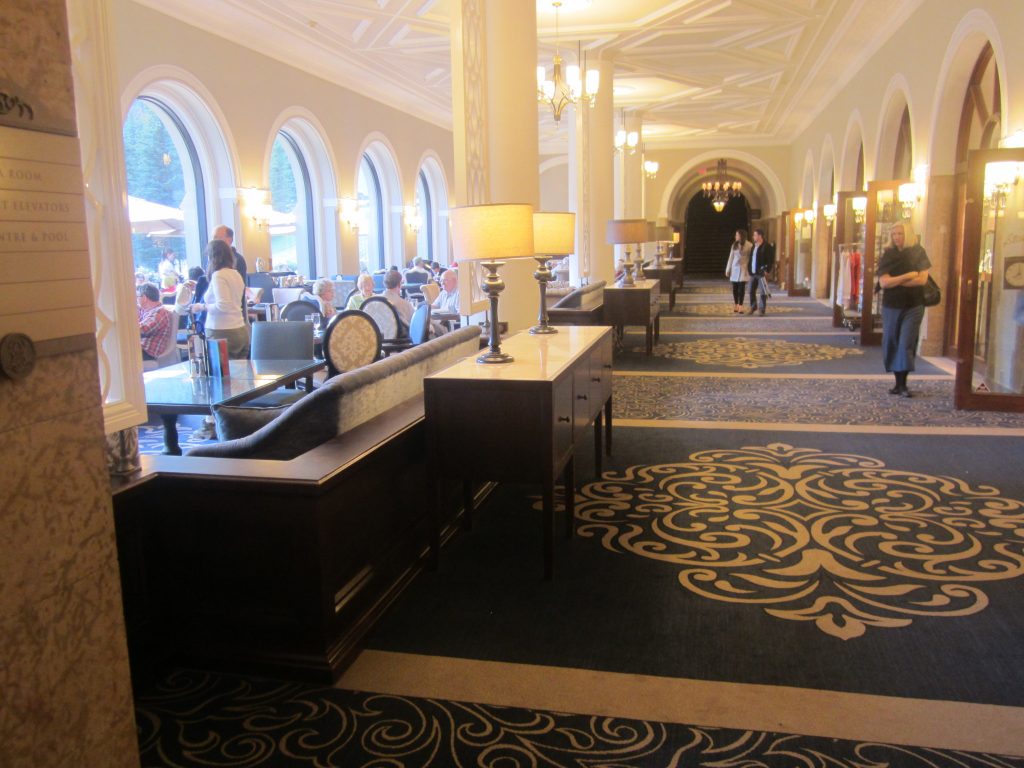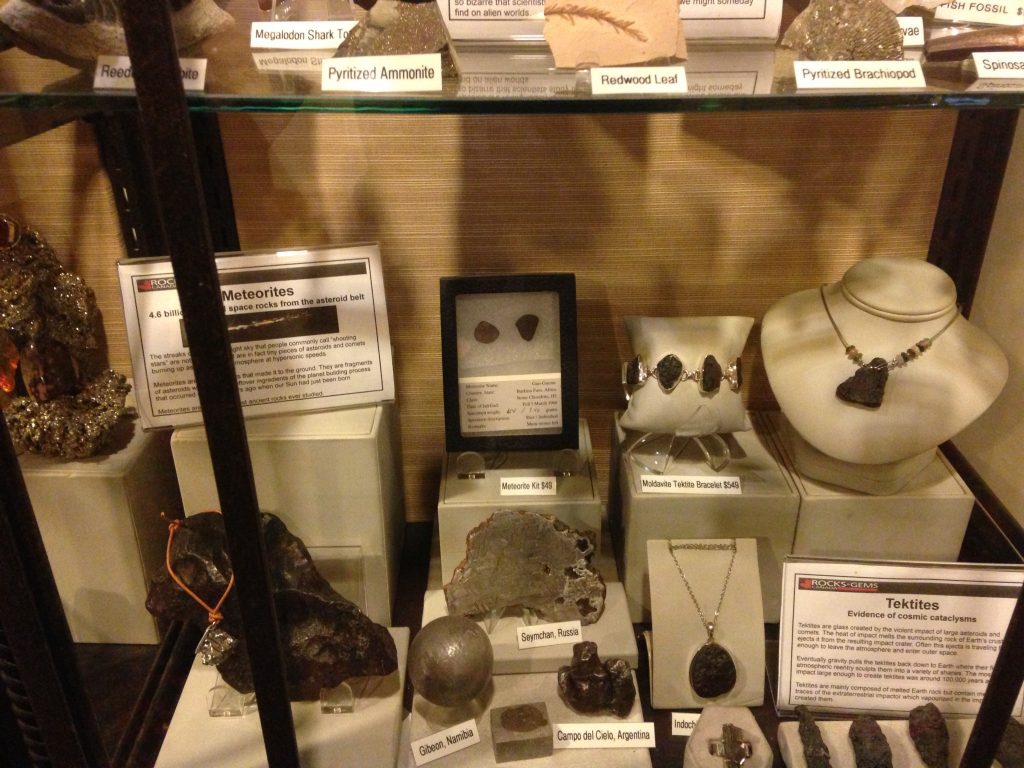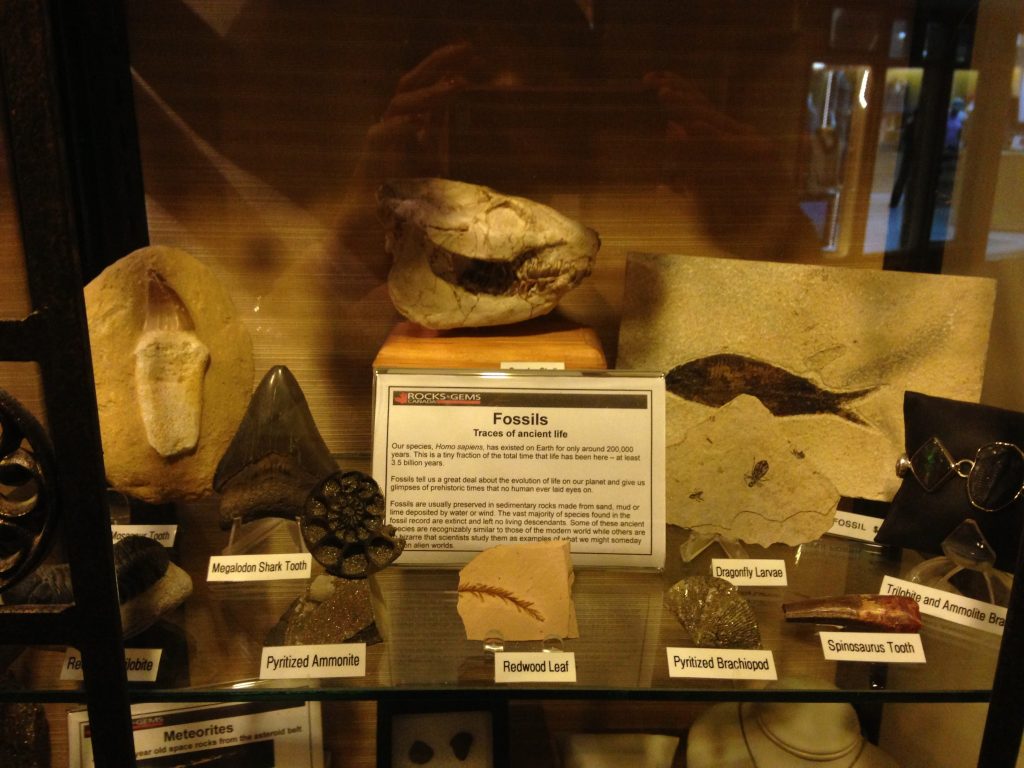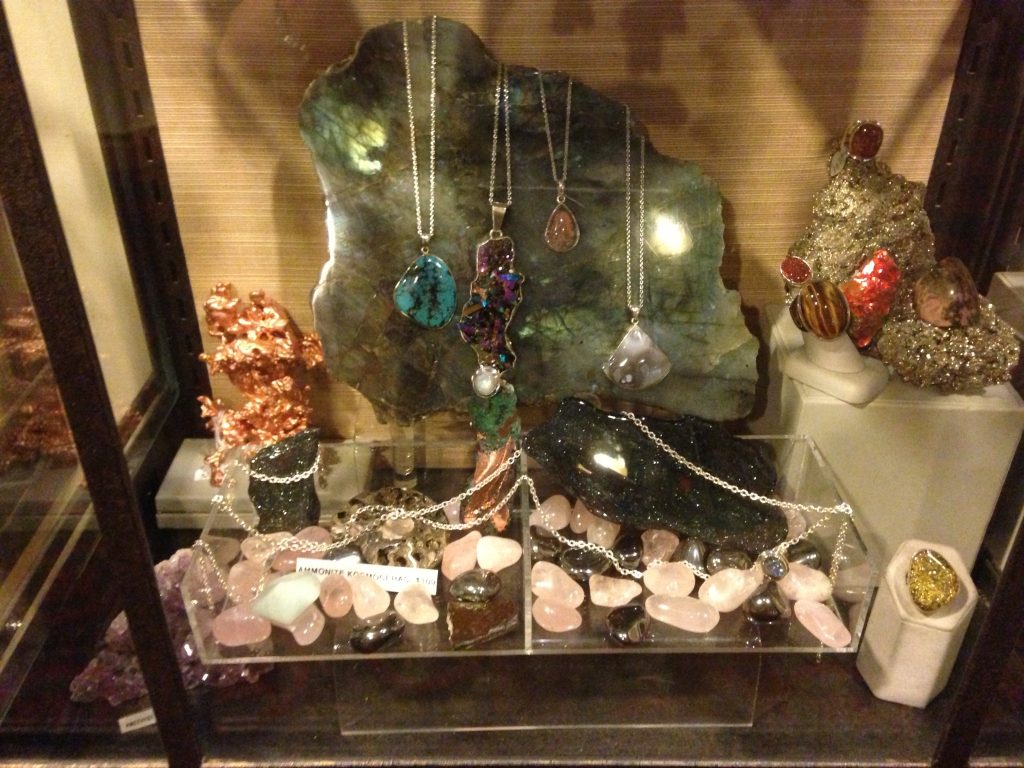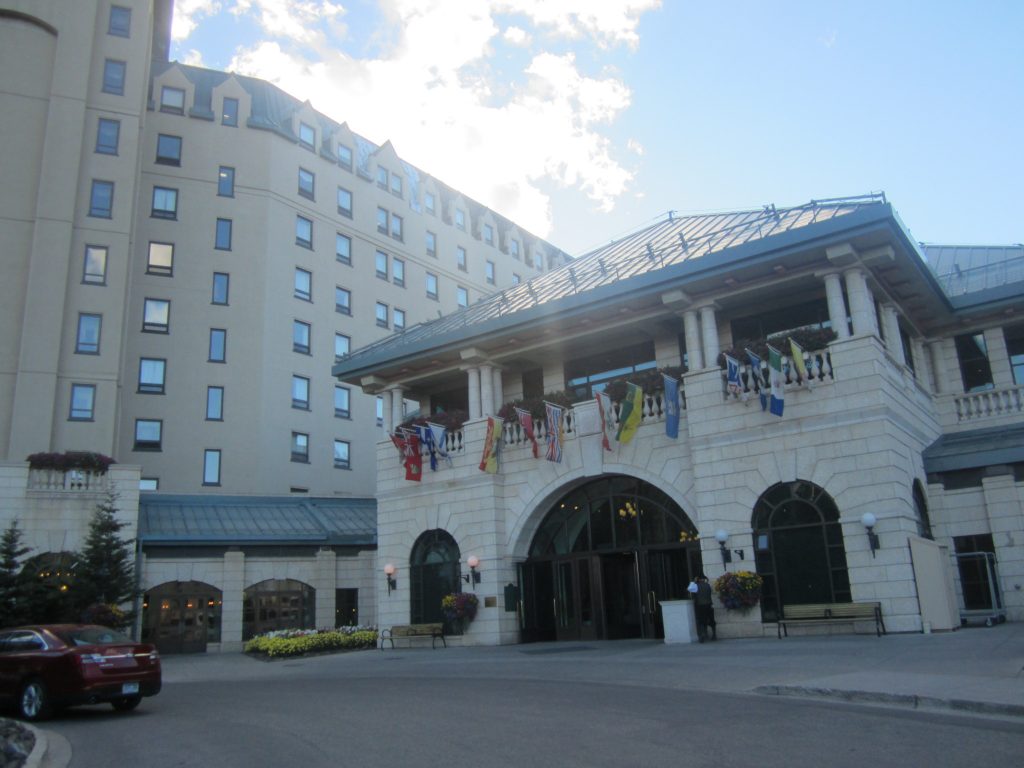 Last meal at the hotel…Thank you Chase Bank!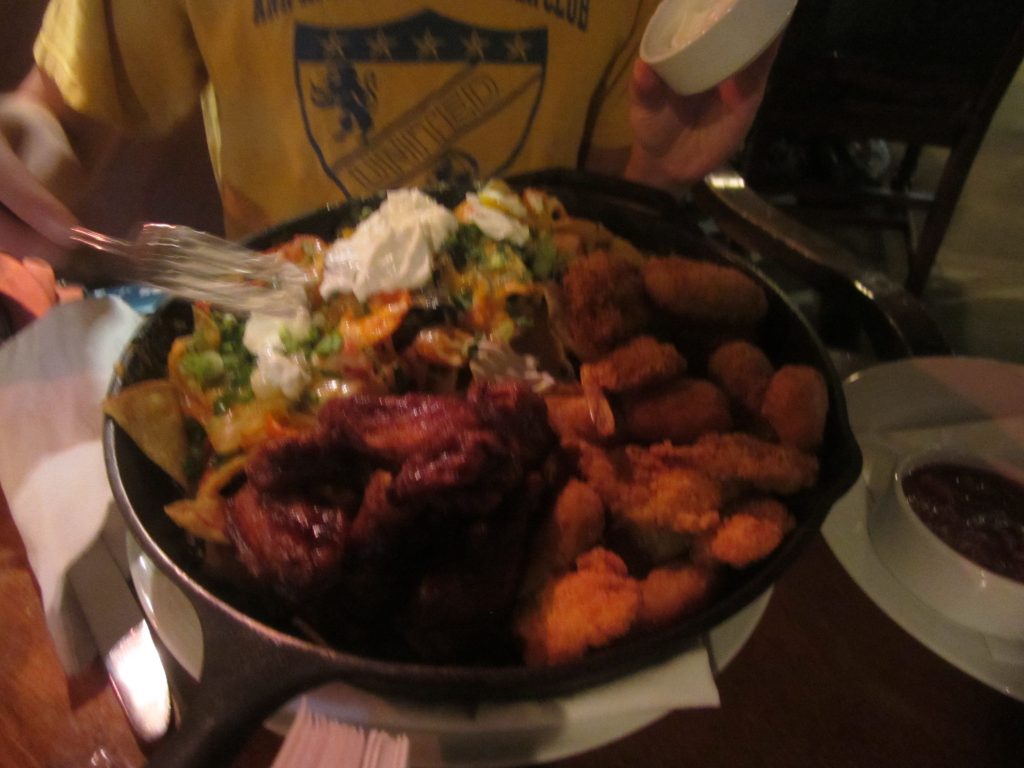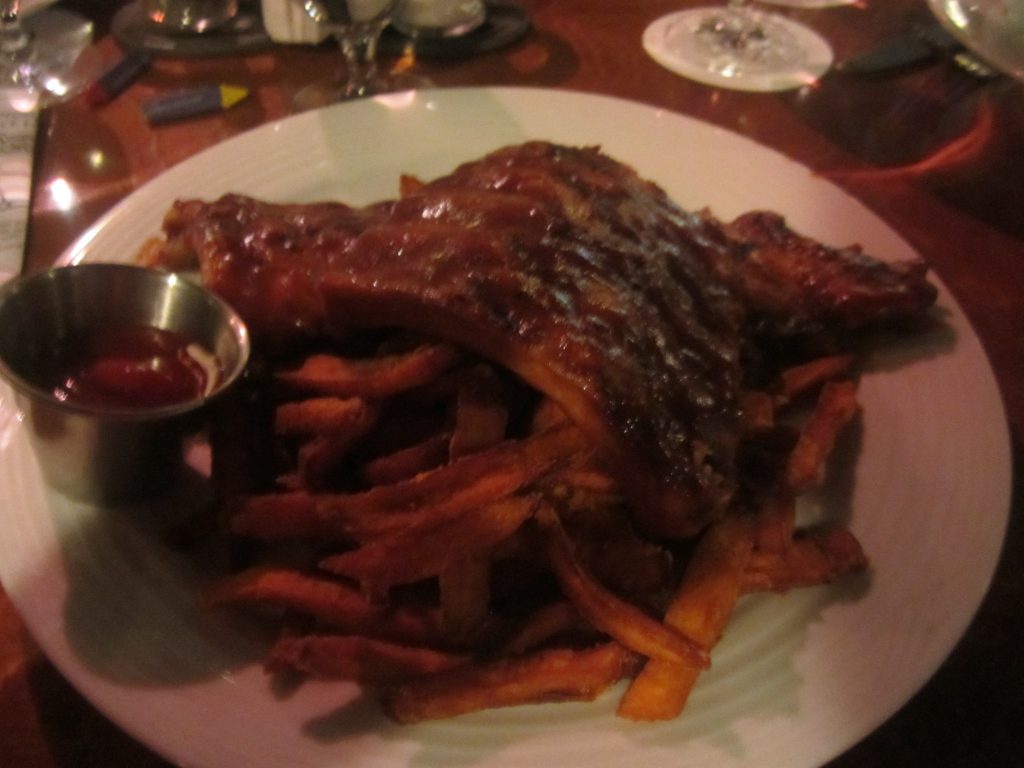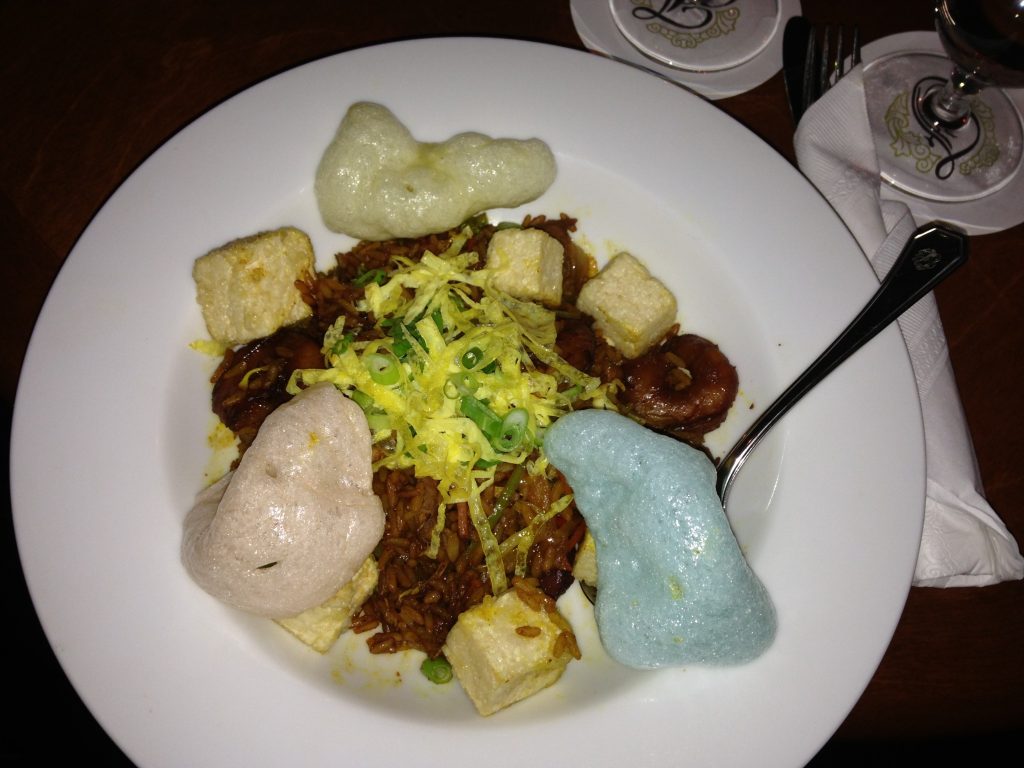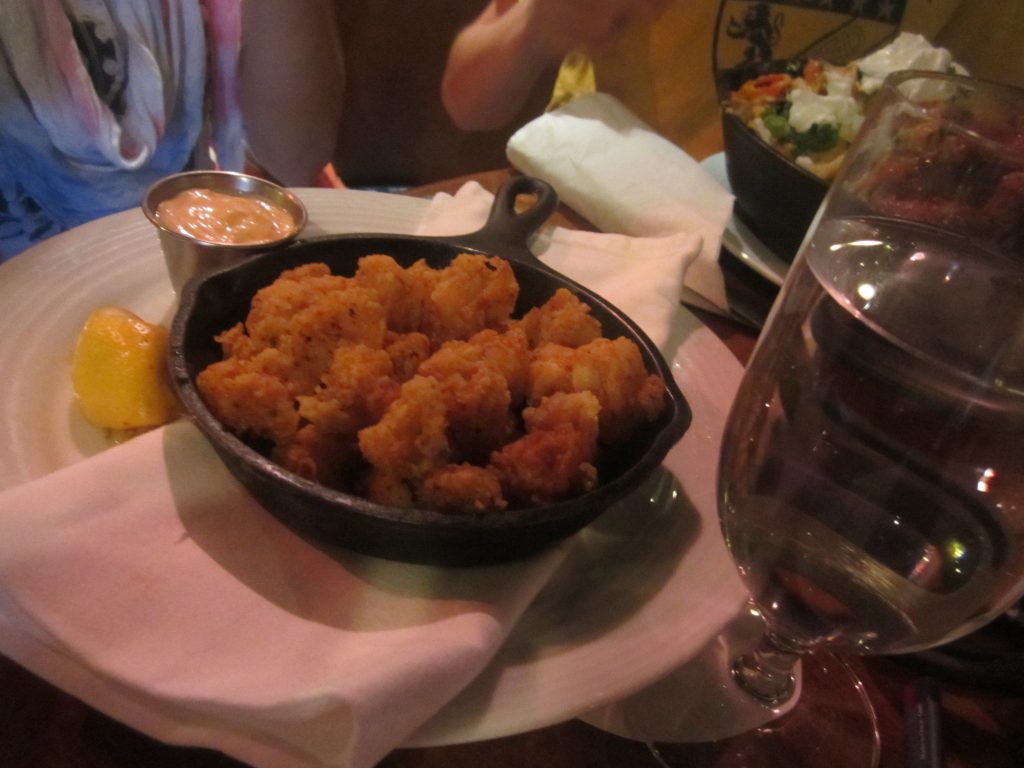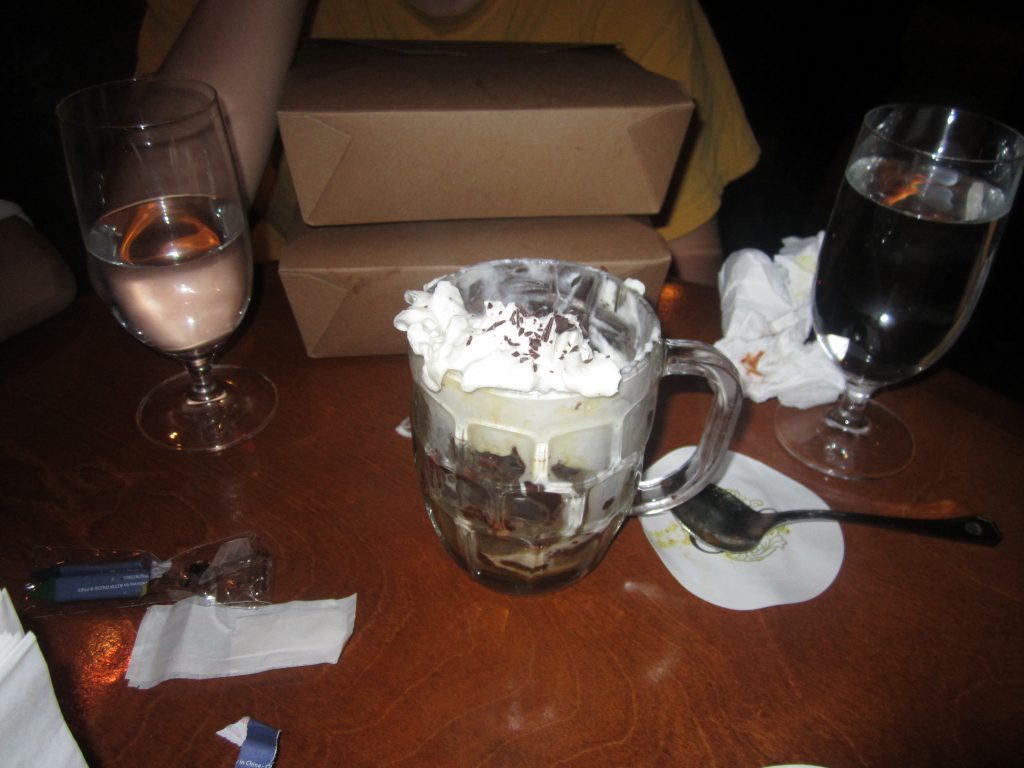 And then this is a MUST do activity. The hotel has a canoeing activity. Each boat is about $55 or so (holds up to four). It includes breakfast and hot coffee or hot chocolate. Must wake up very early of course.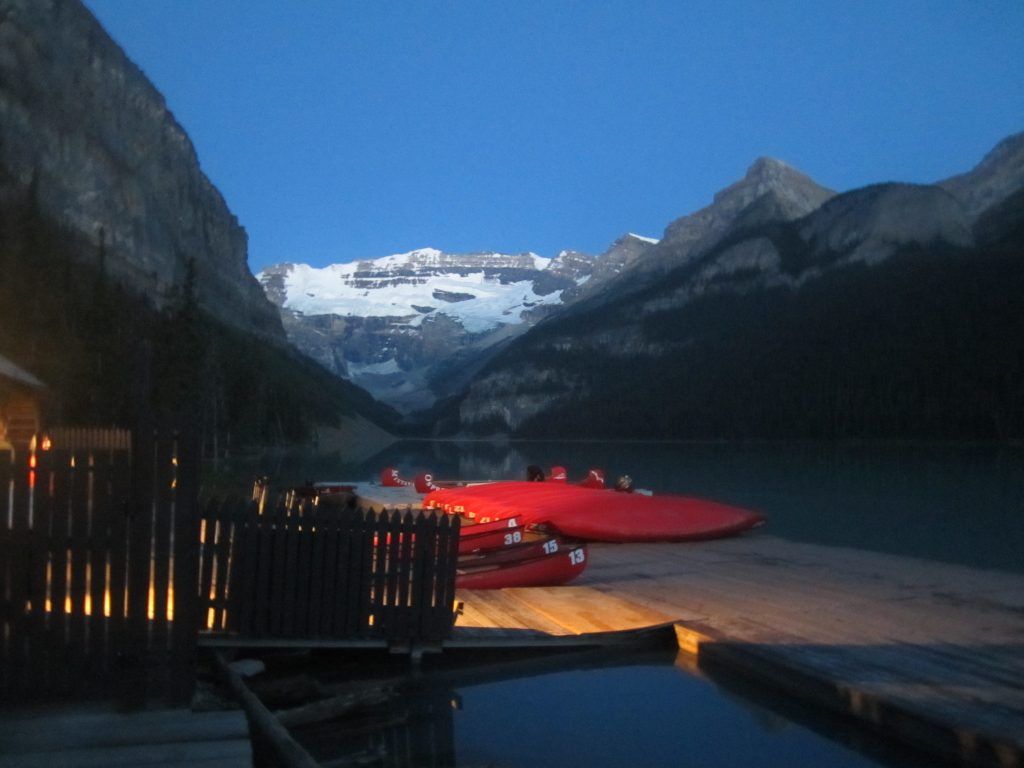 And you must dress warm, it is freezing even in early August!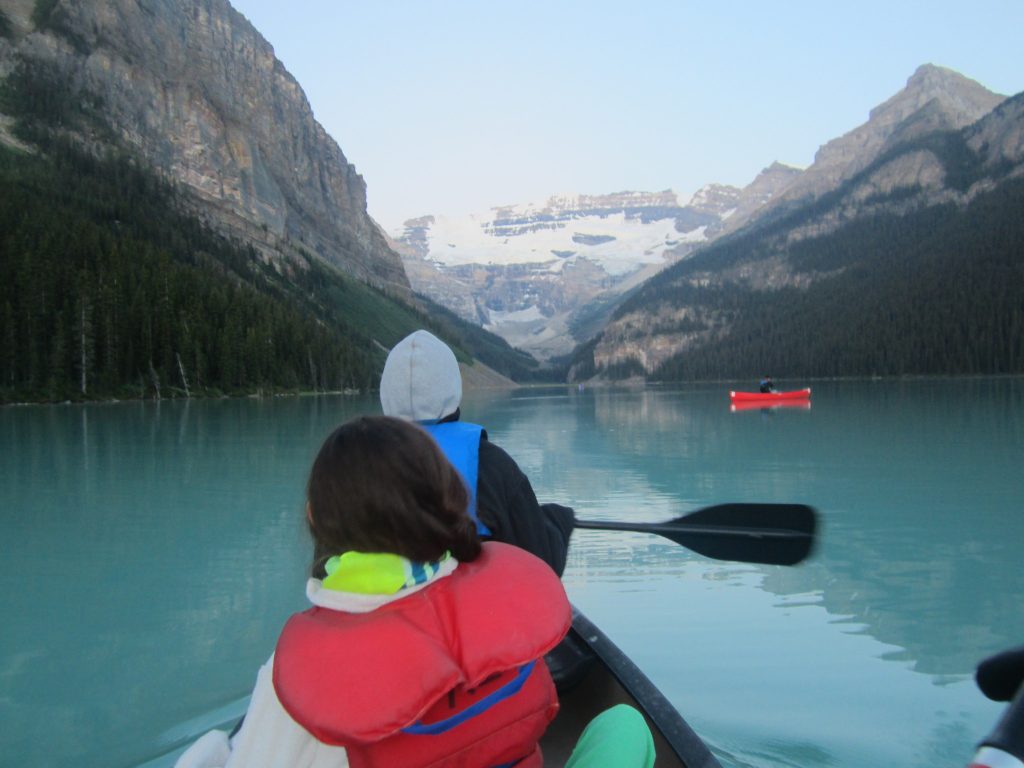 Canoeing in the silent lake as the sun rays are starting to appear. What a surreal moment!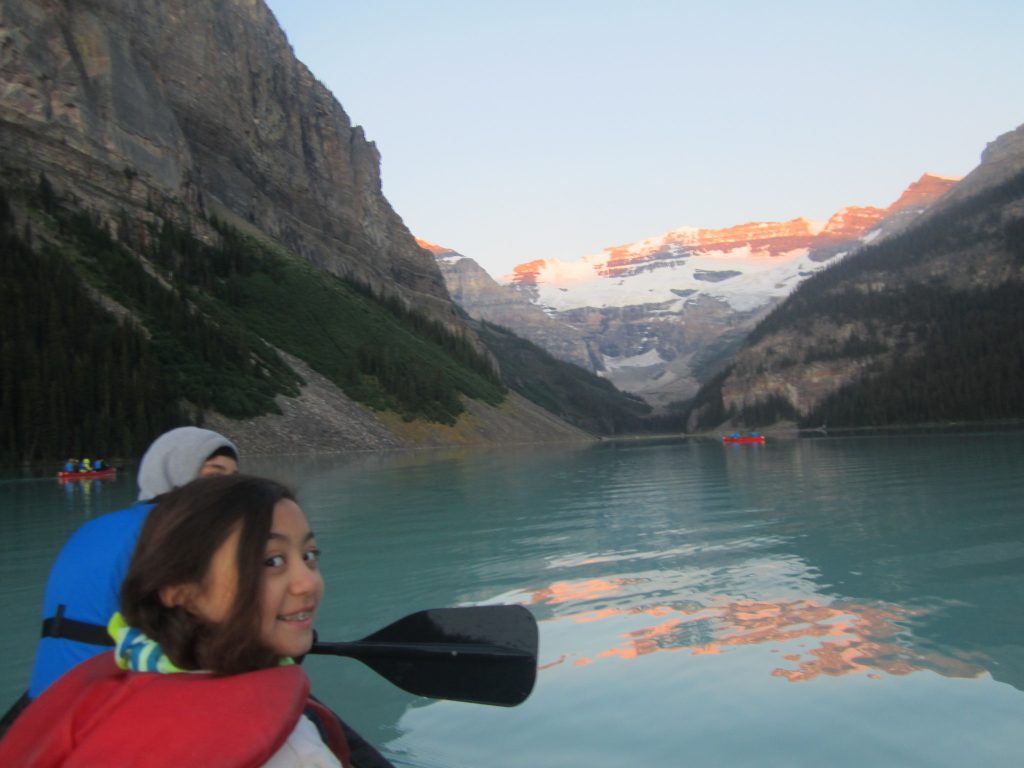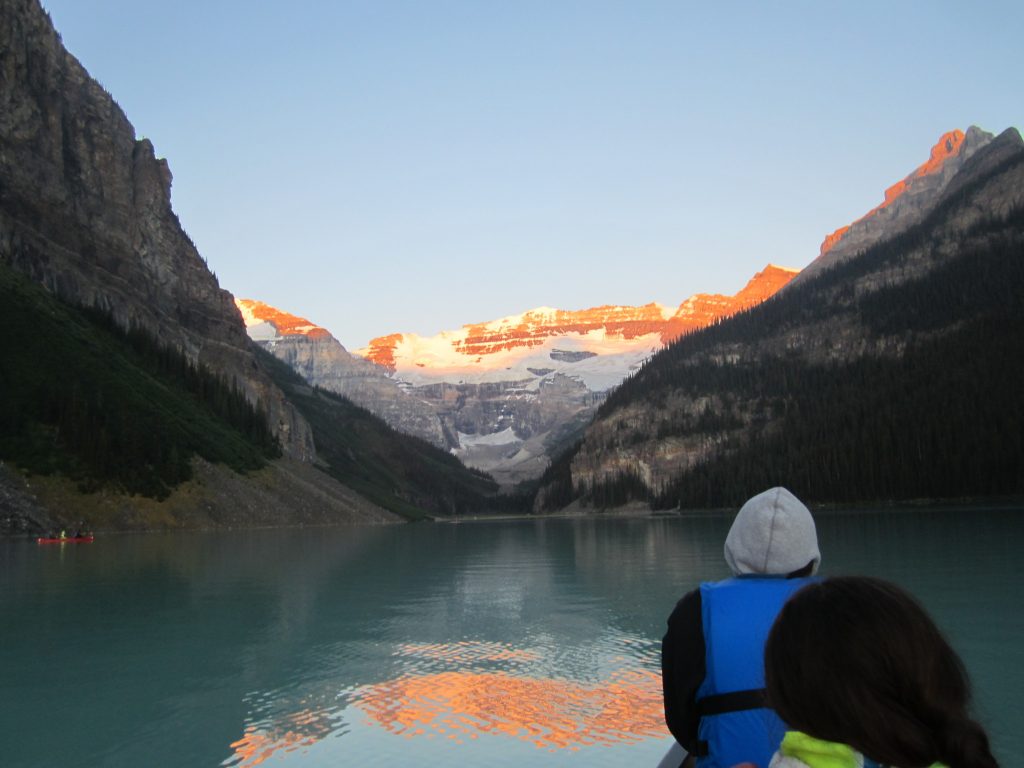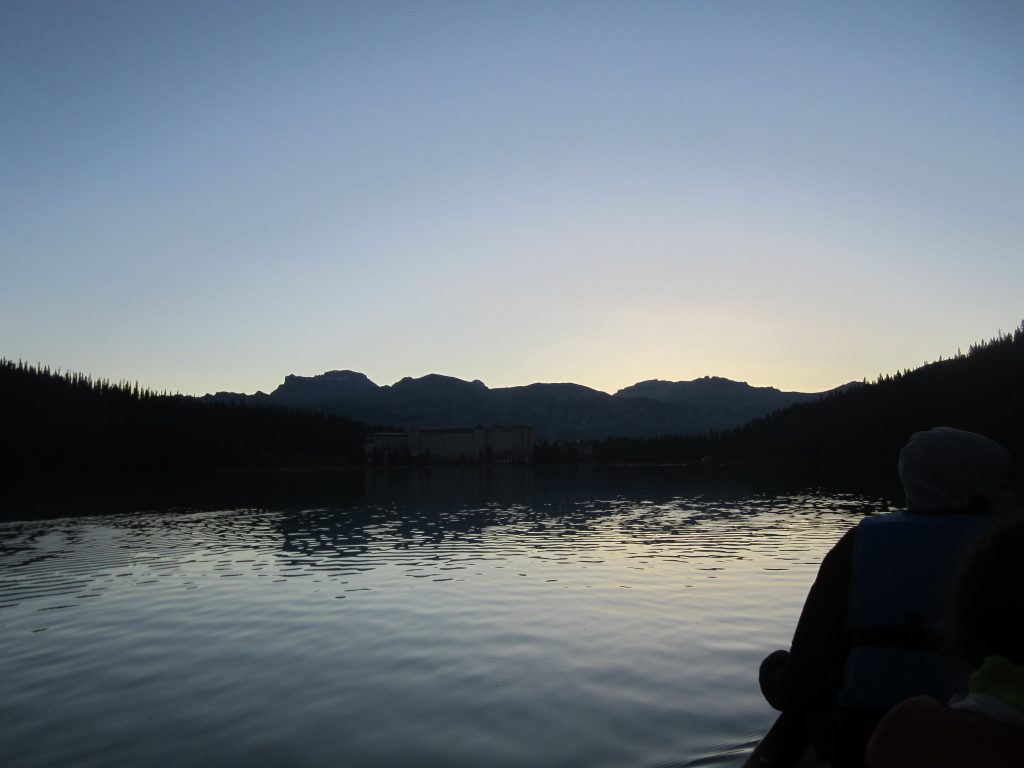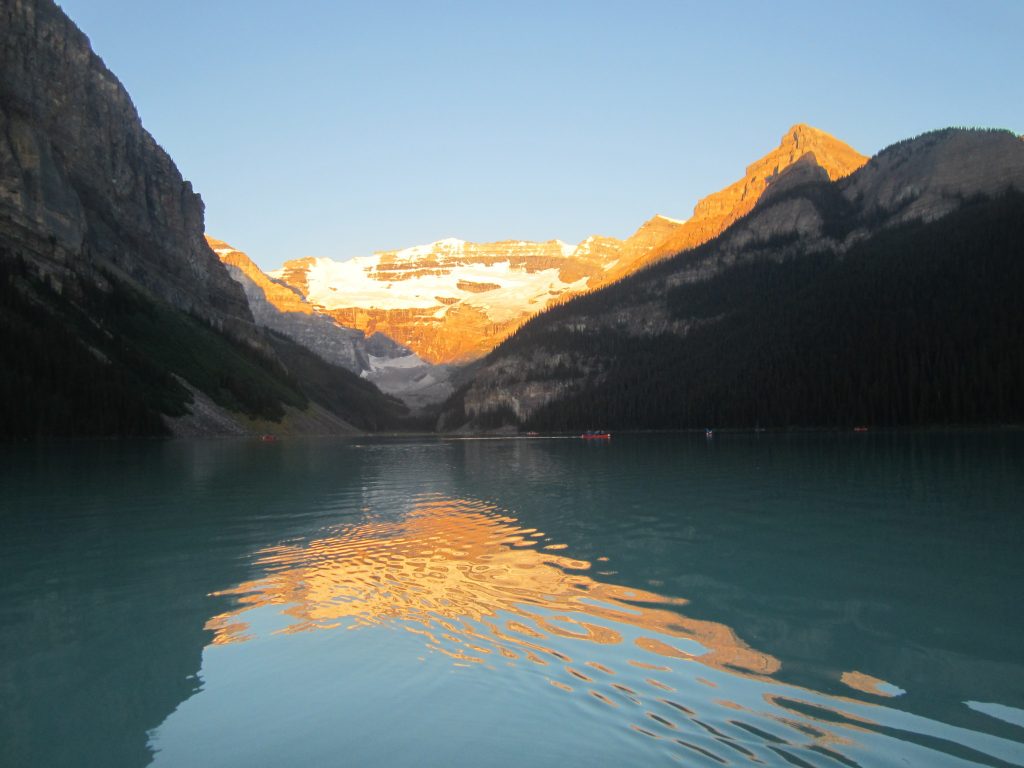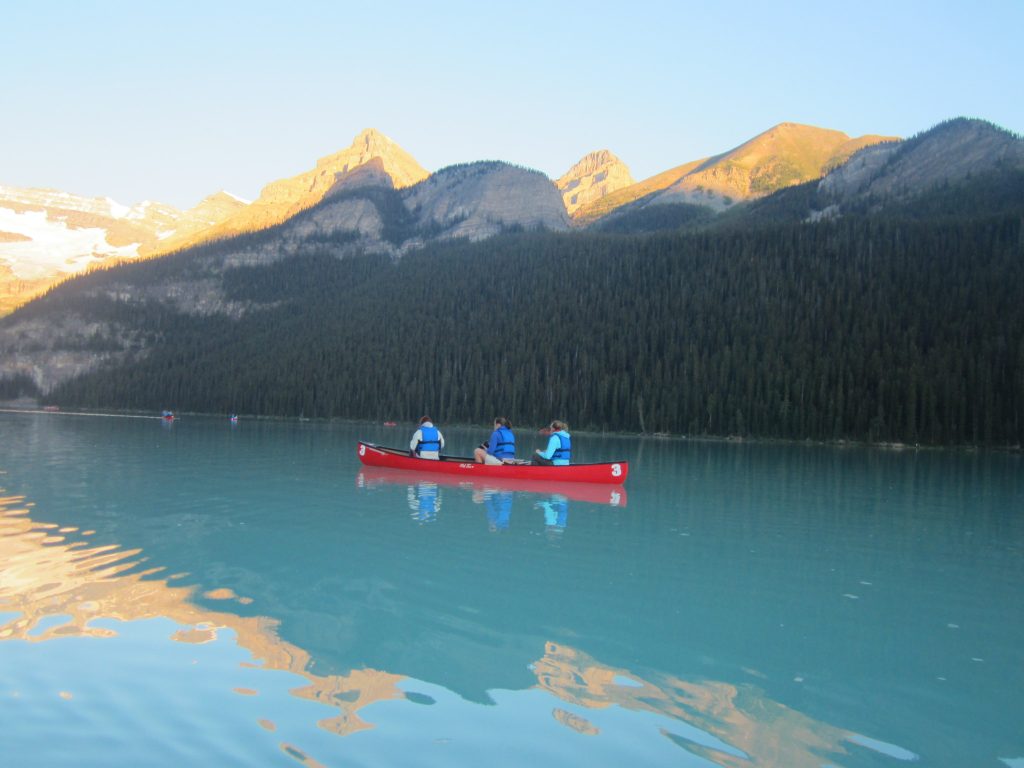 Yes I love this one too!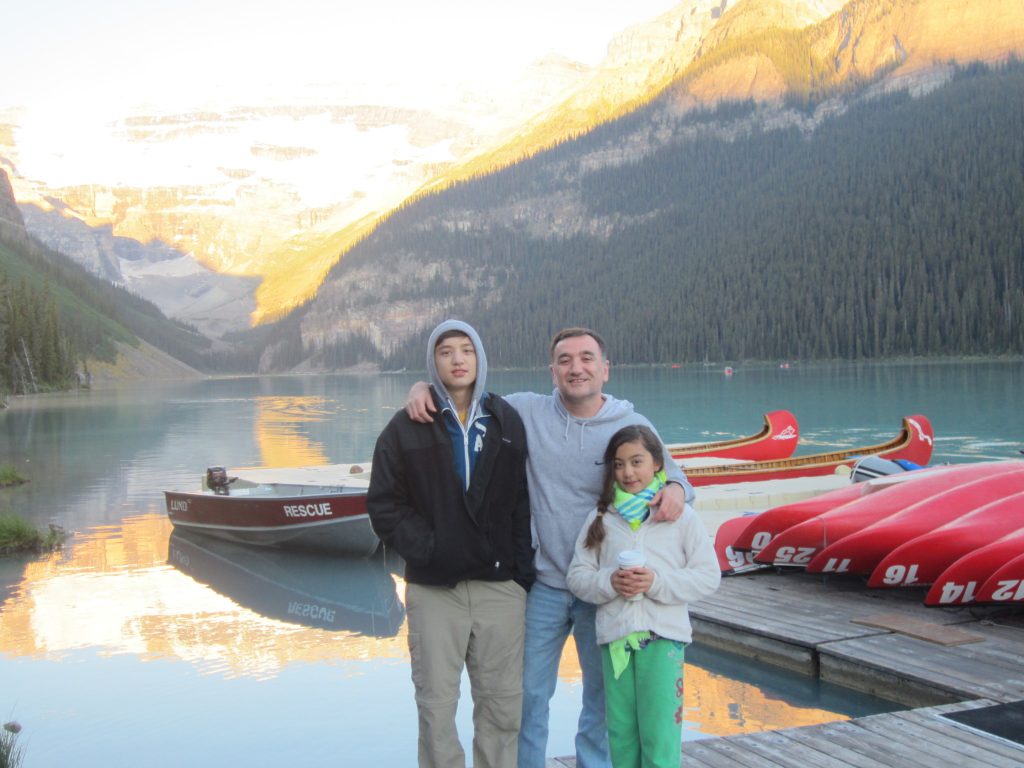 You see many photographers here clicking away!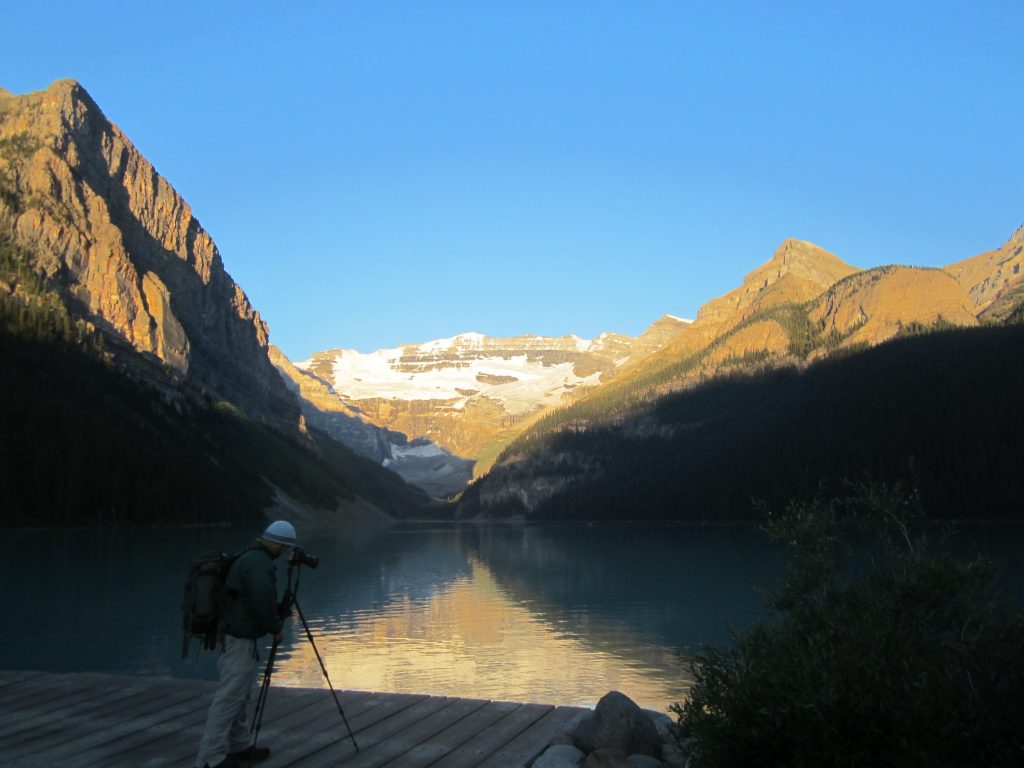 Sadly no Panera coffee around here. It's okay, I managed 🙂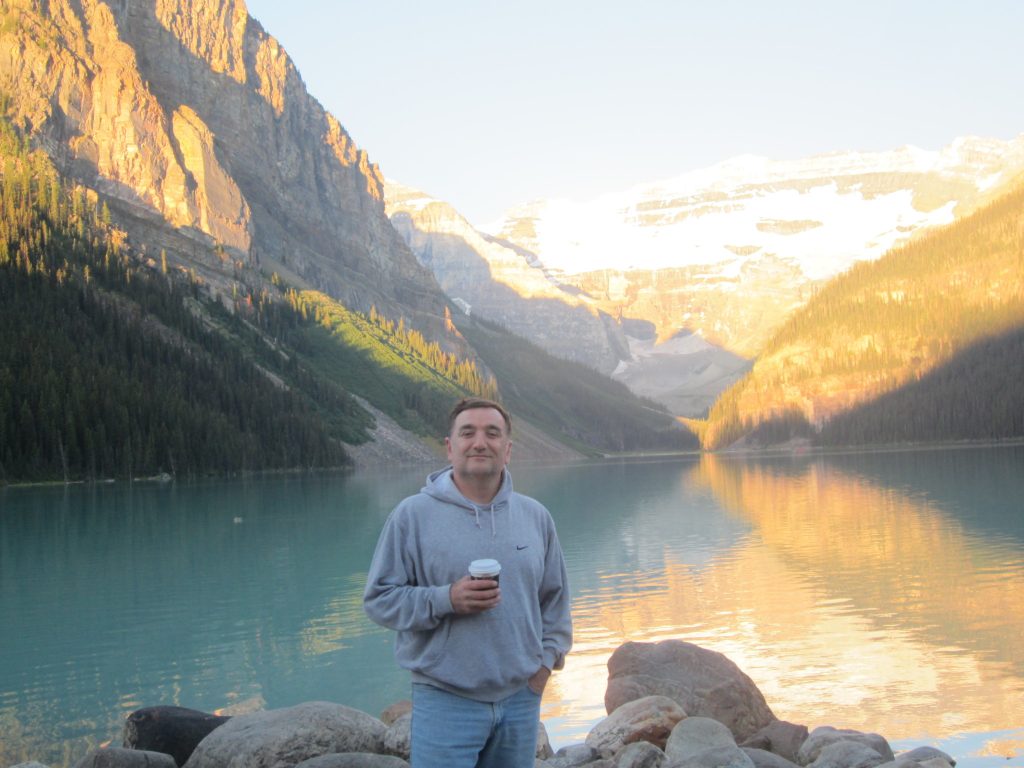 As we were leaving, guess what, more bears!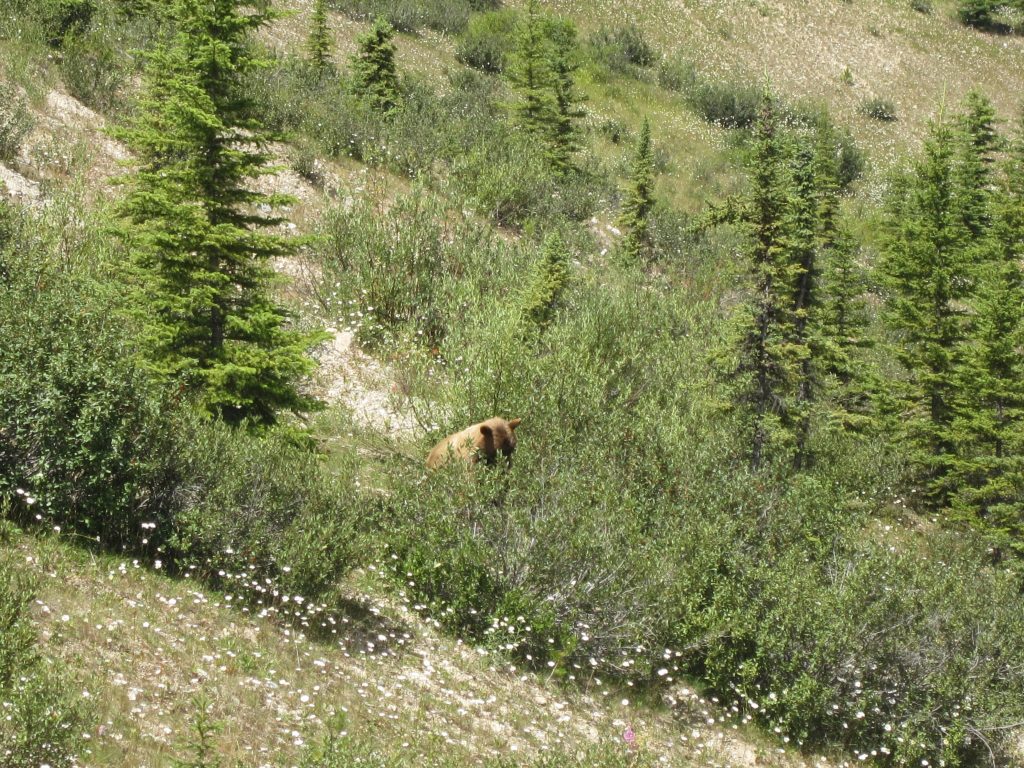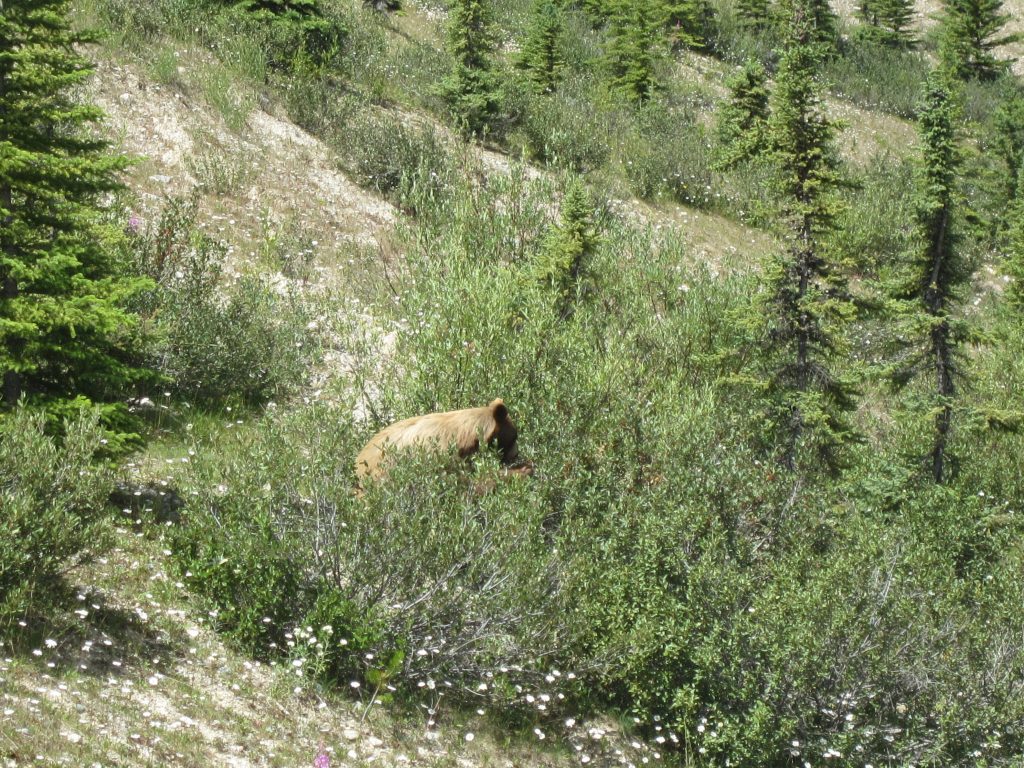 In the previous day, we left after breakfast to visit the Icefields Parkway.
It is a 144 mile journey cutting through the Canadian Rockies. Yes it is a spectacularly scenic drive. But we had in mind the Columbia Icefield, the largest icefield in North America. This is a major tourist attraction and there can be long lines. It wasn't cheap but it was definitely worth it.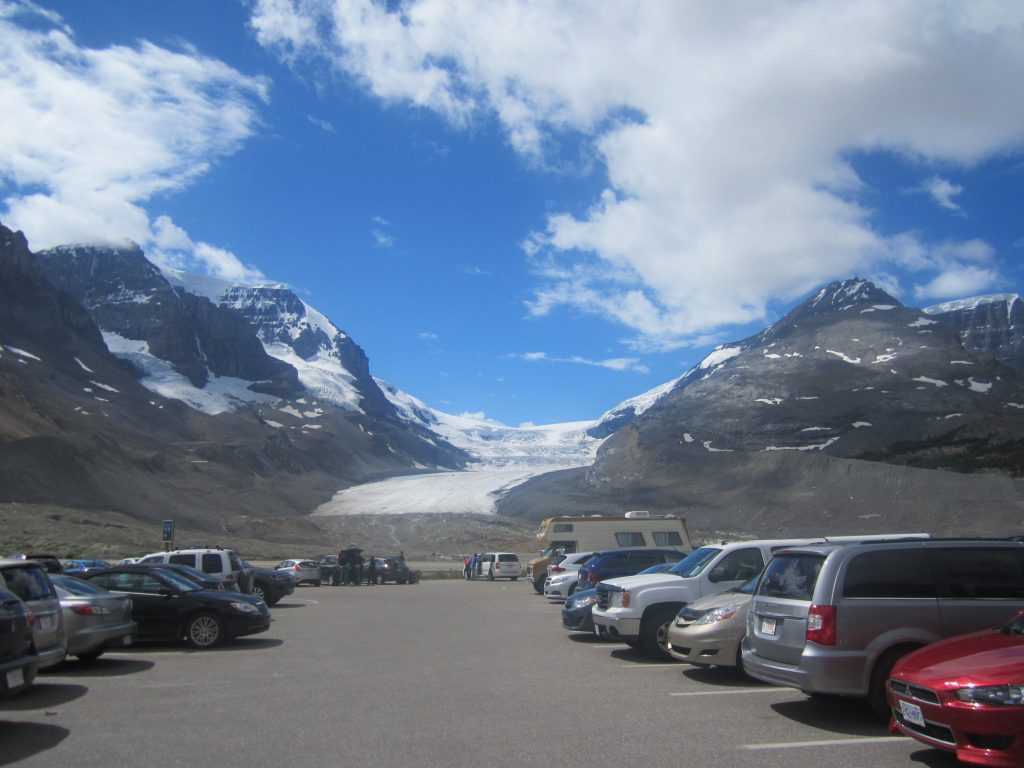 Spent some time waiting around until our ticketed time arrived…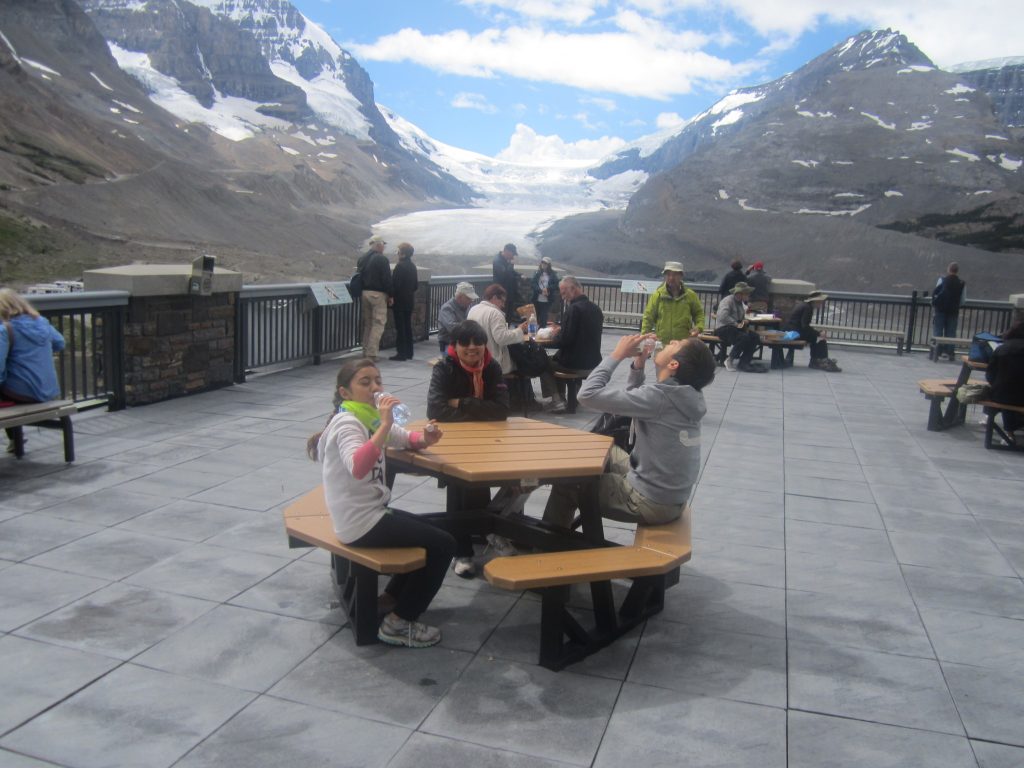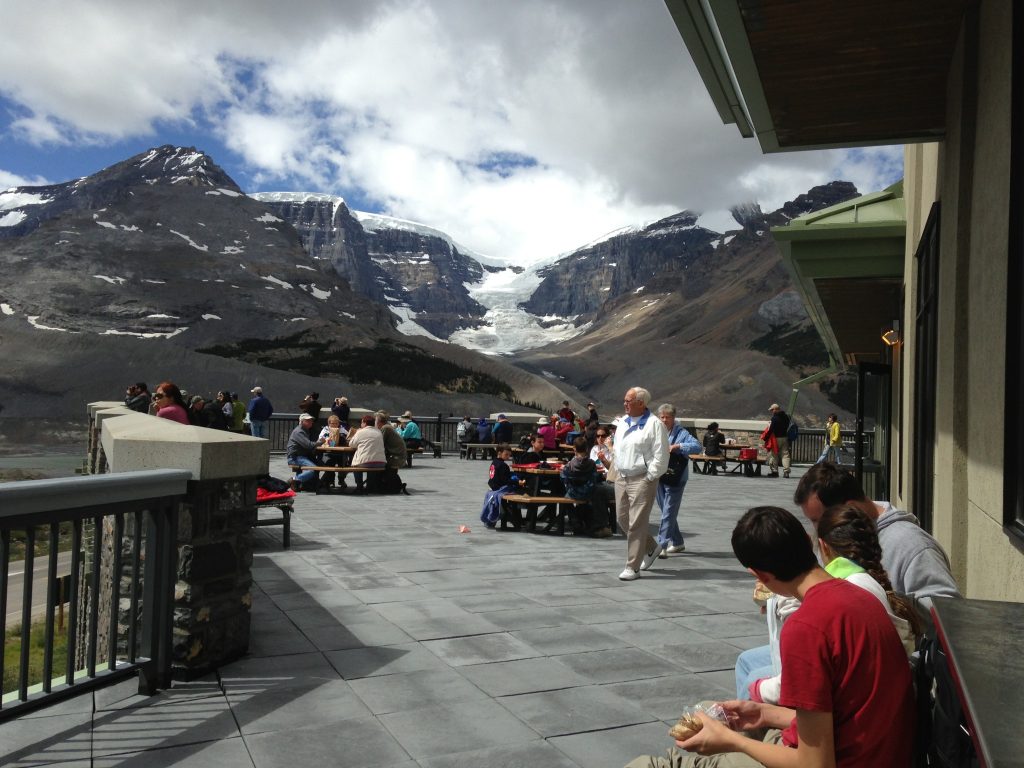 We got on these huge trucks that are built for terrain like this. The ride has extreme steep hills to go up and down, it was fun.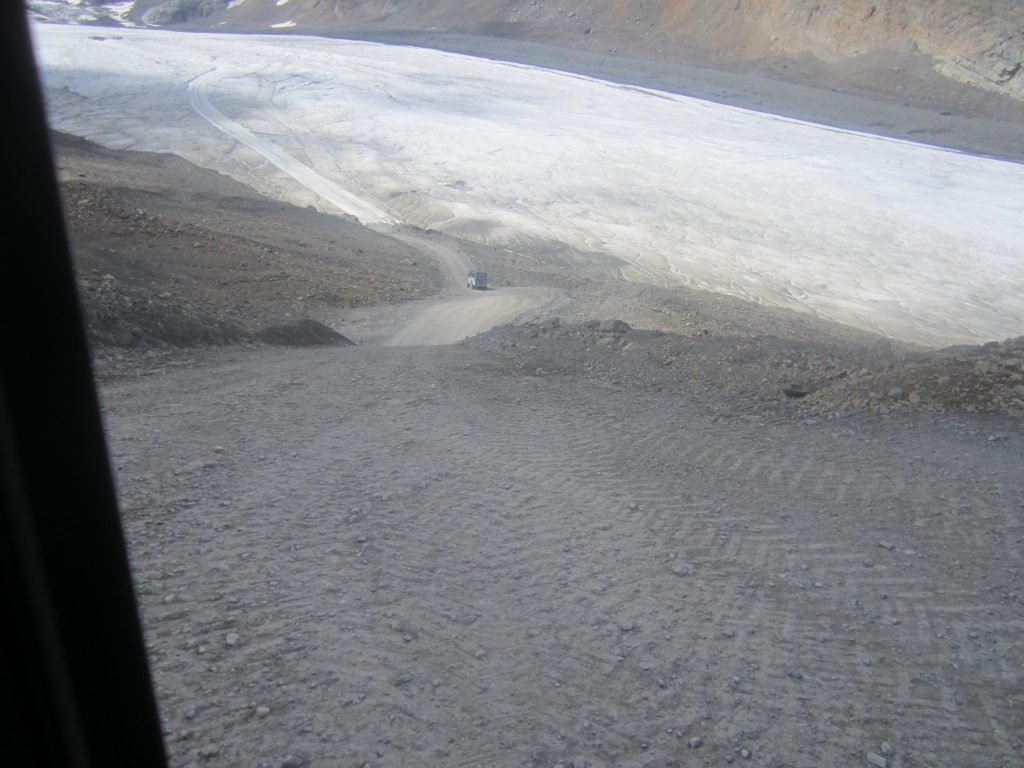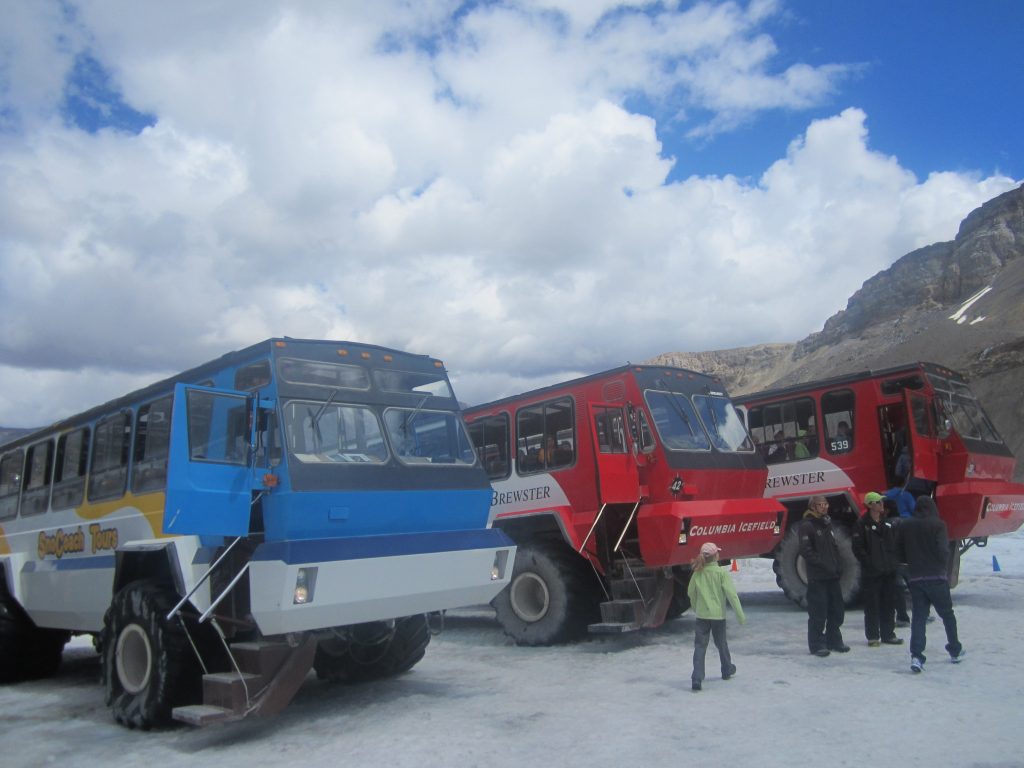 They let us to goof around for a while, you know, the tourist thing, take pics and stuff like that.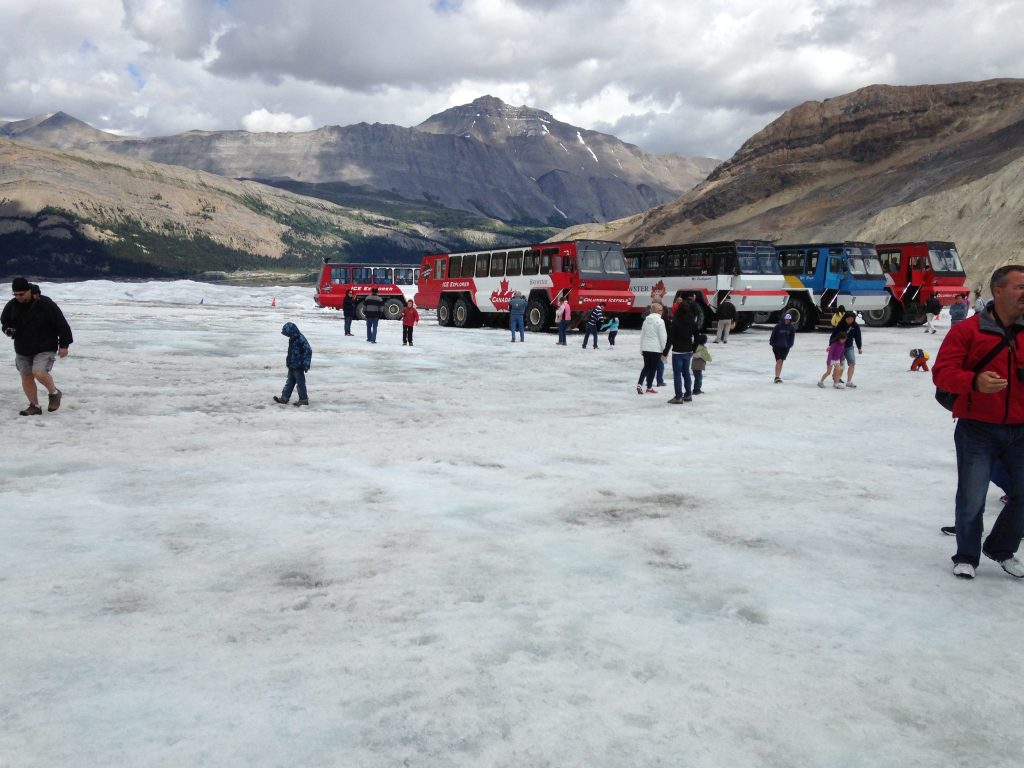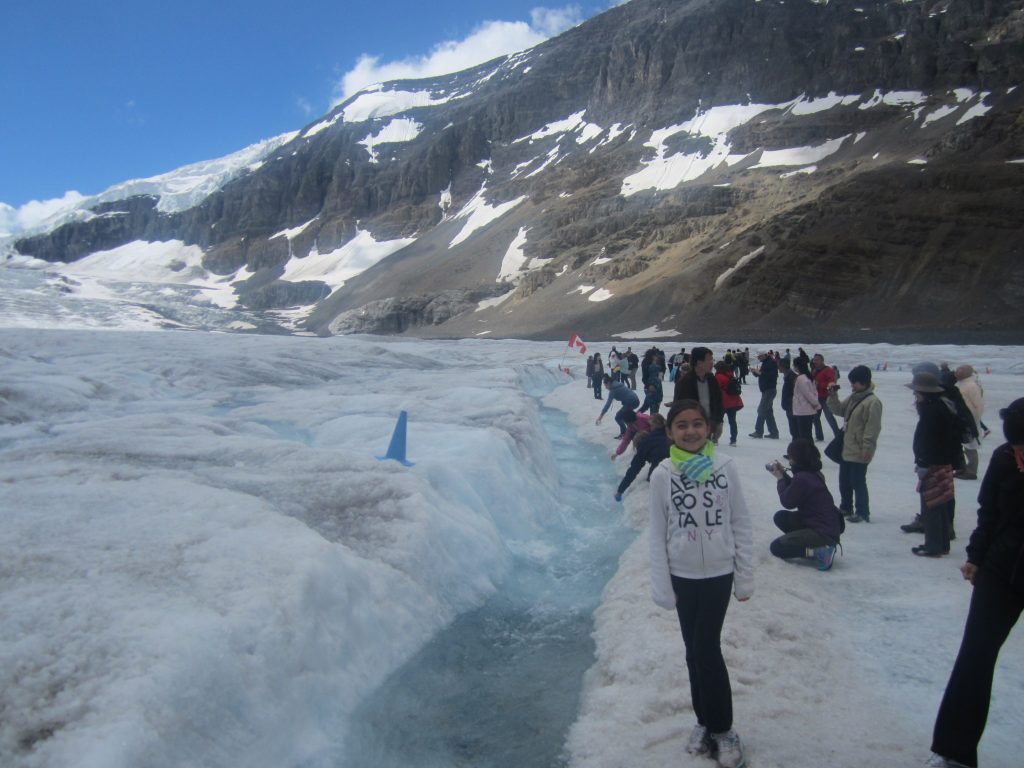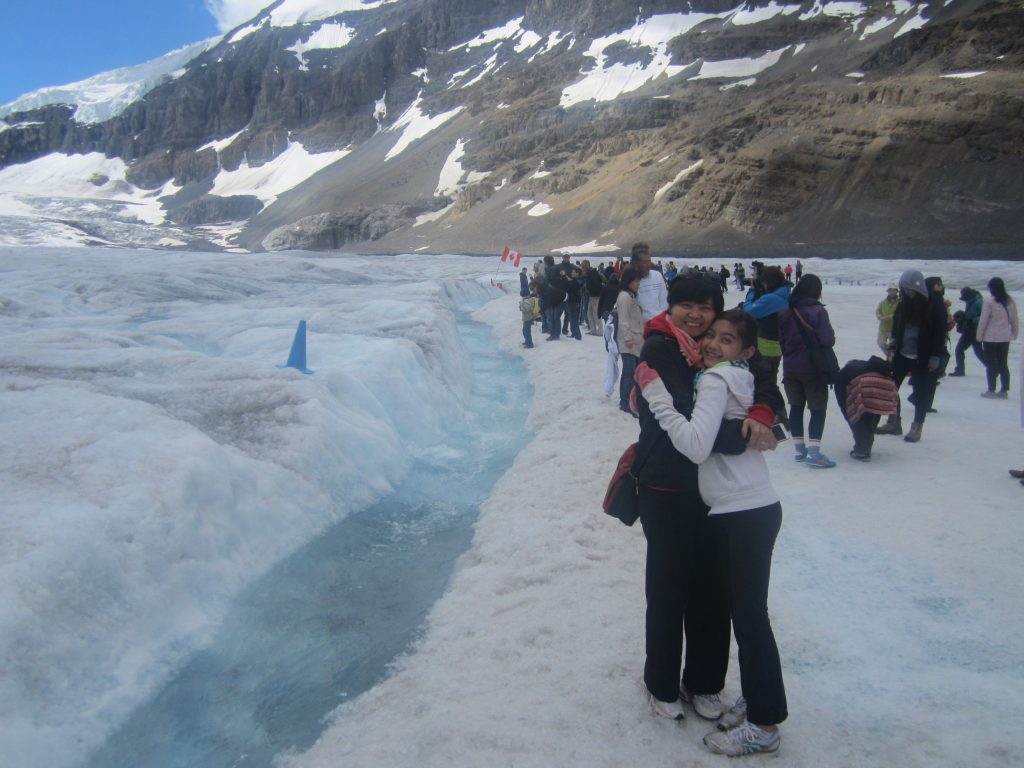 TBB conquers Canada, who is next? Coming for you!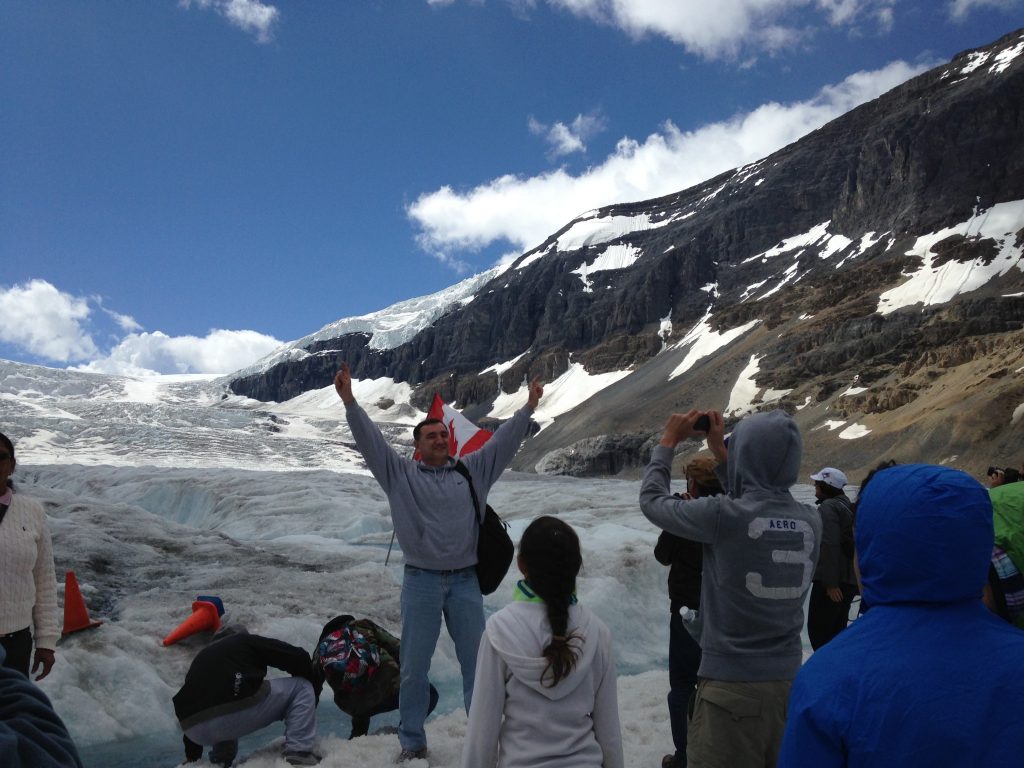 Still coming…just take the damn picture, come on!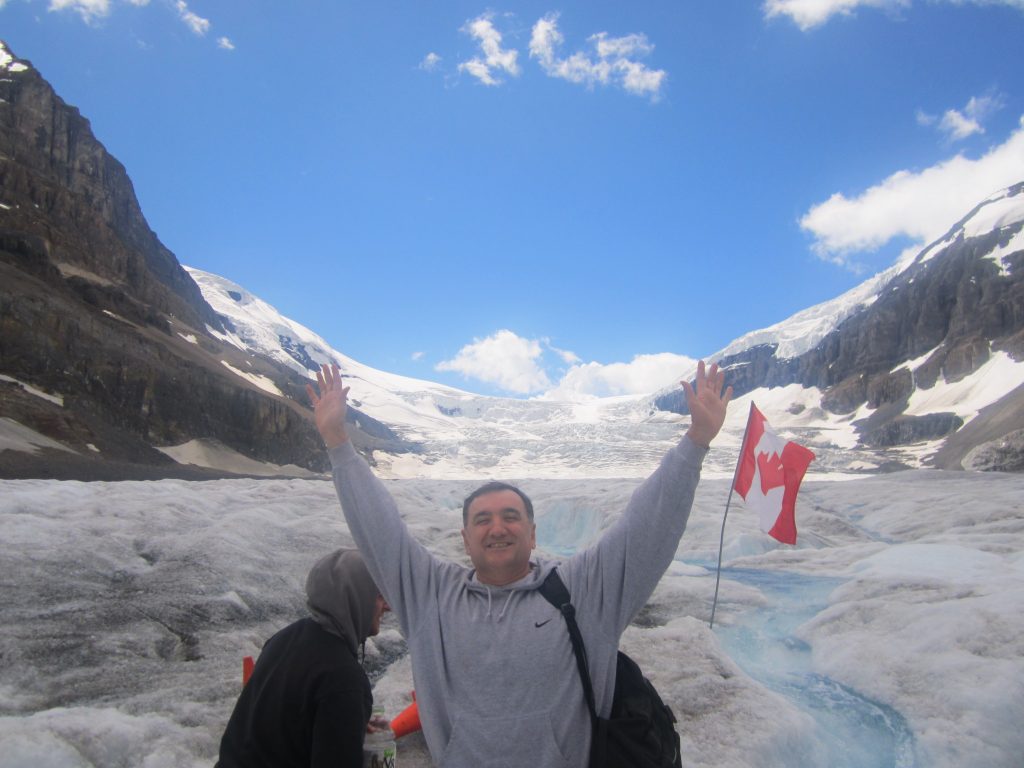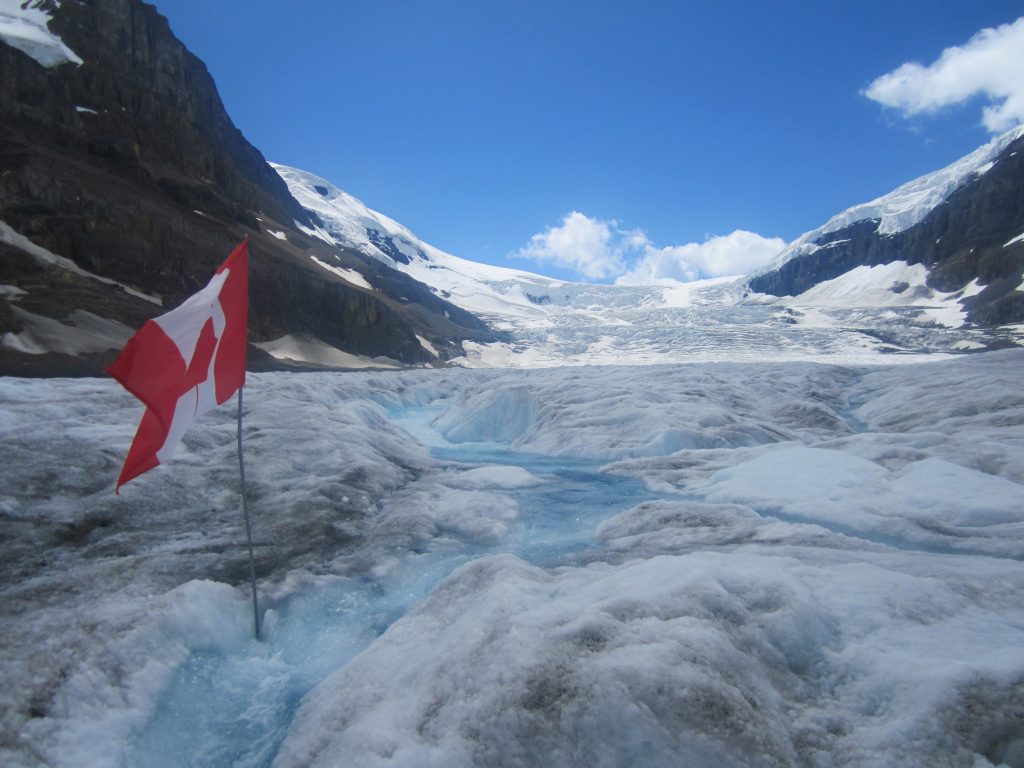 We witnessed global warming at its finest!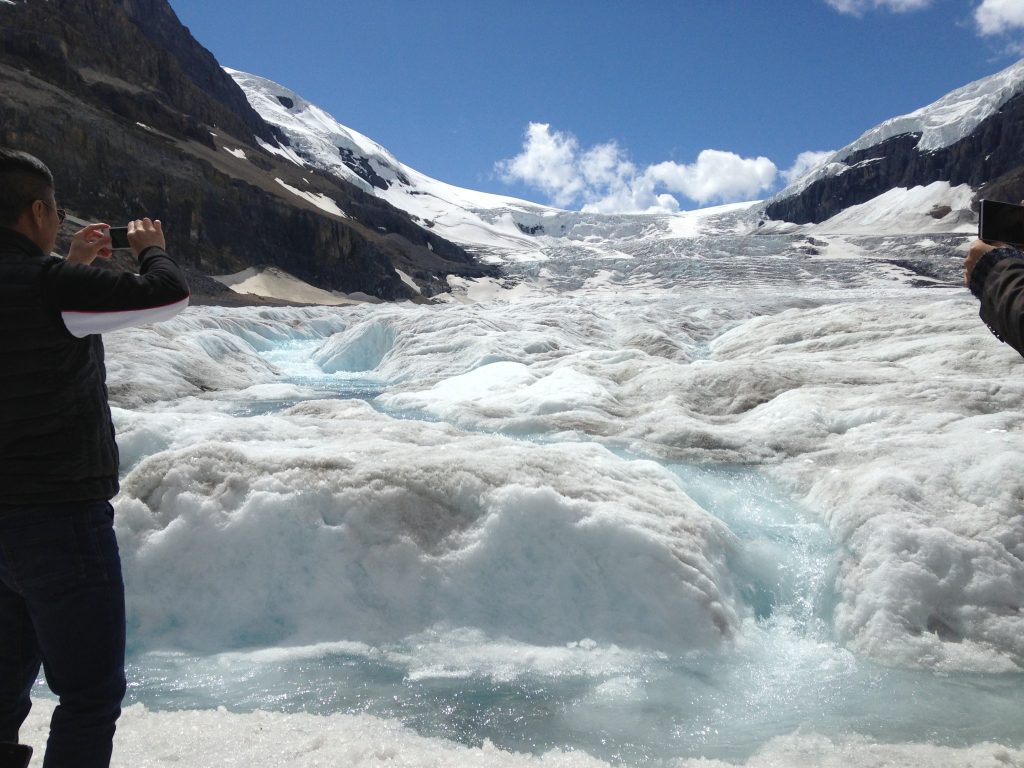 First family picture in a glacier…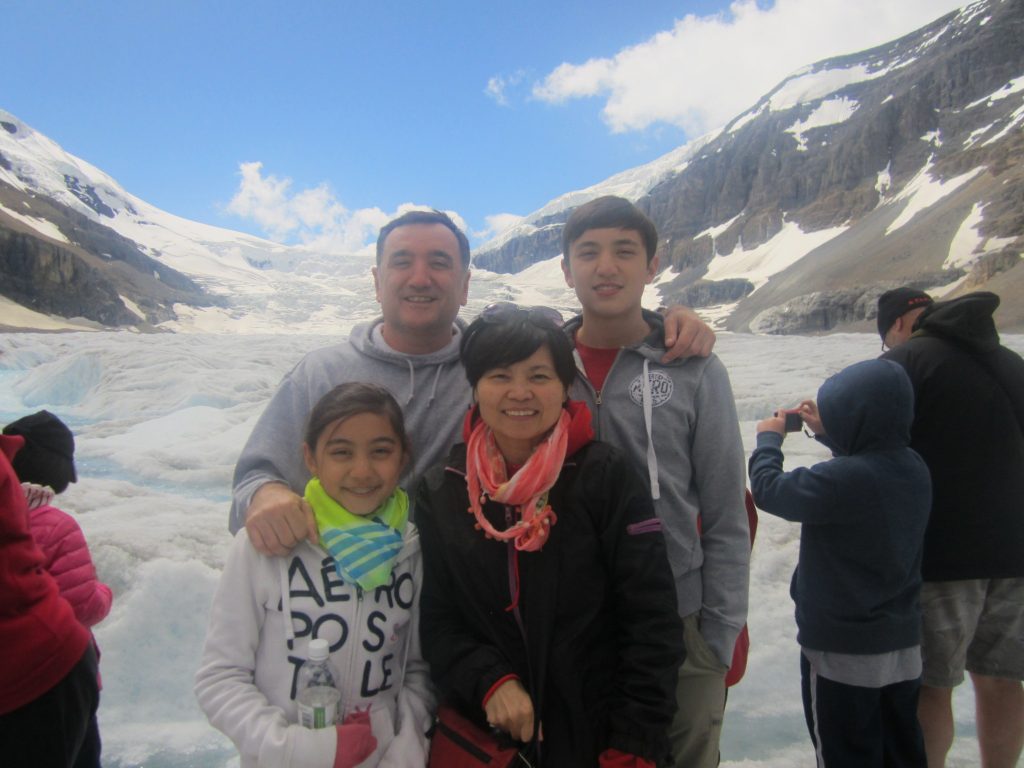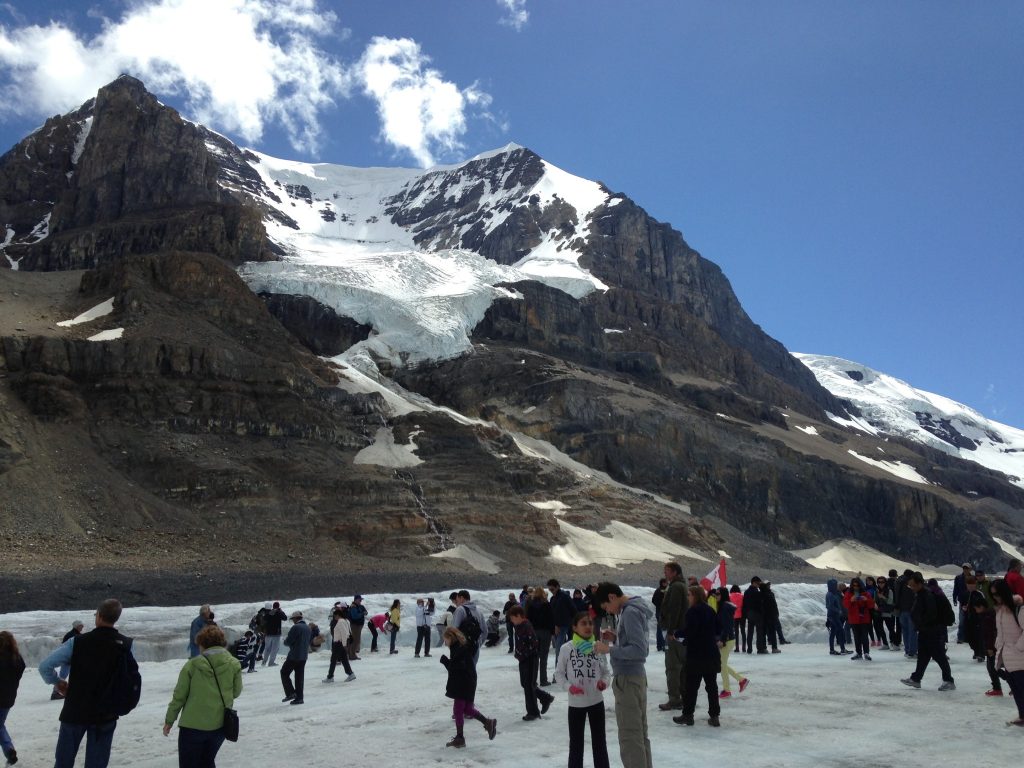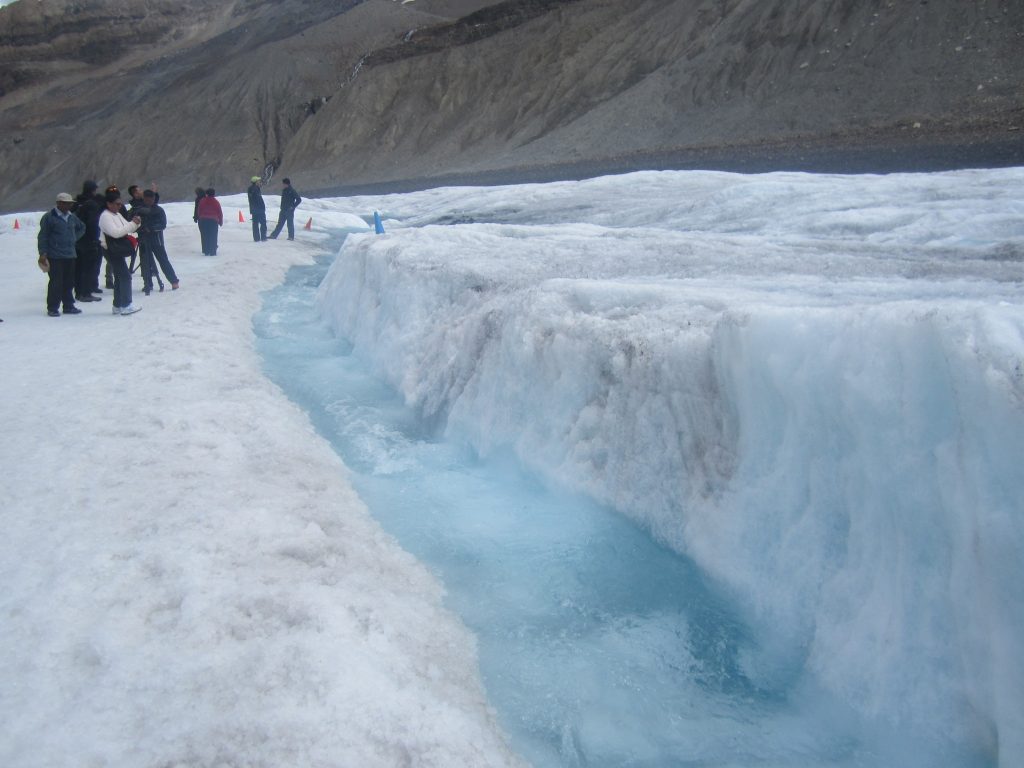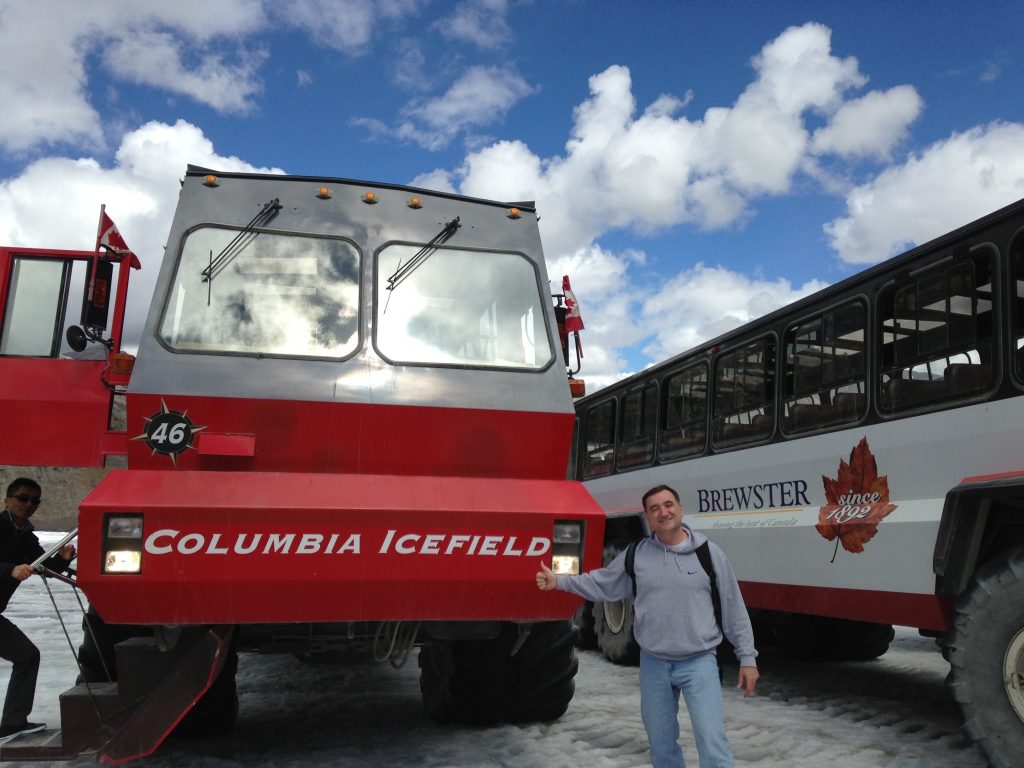 Tires are huge!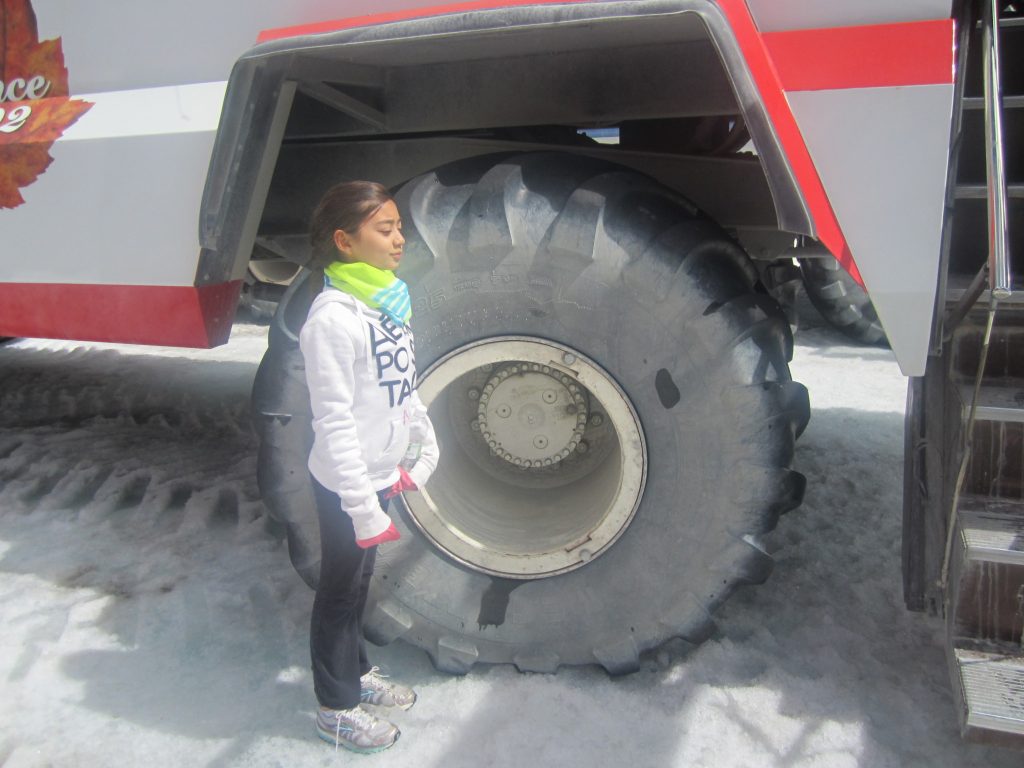 Time to go soon…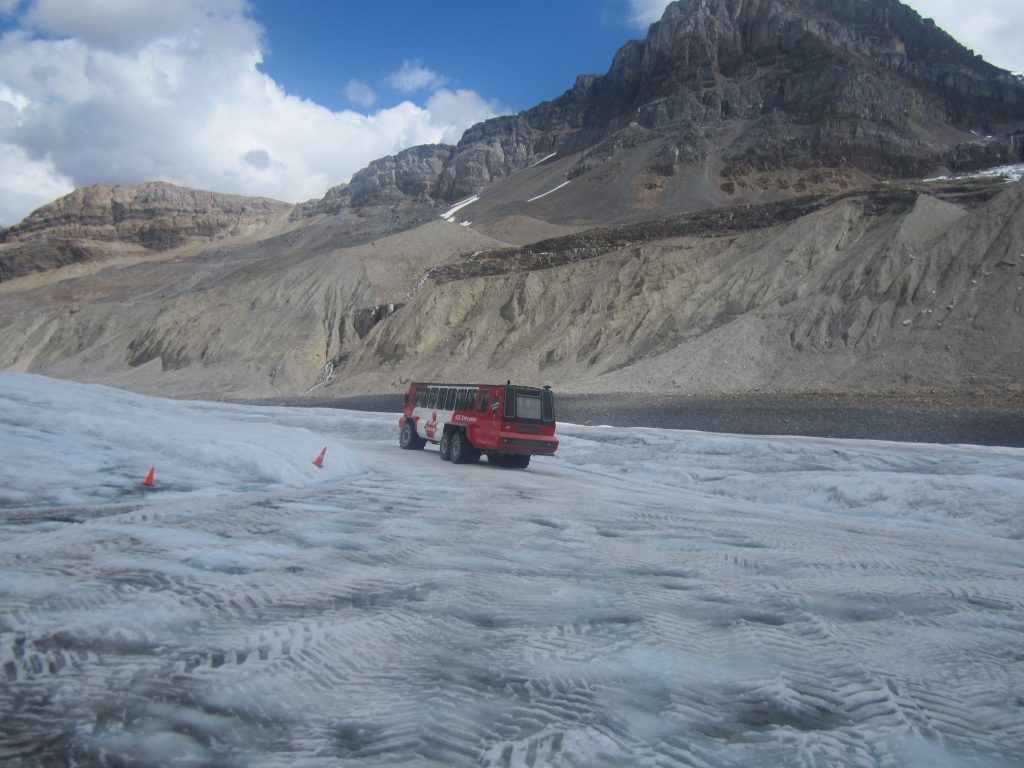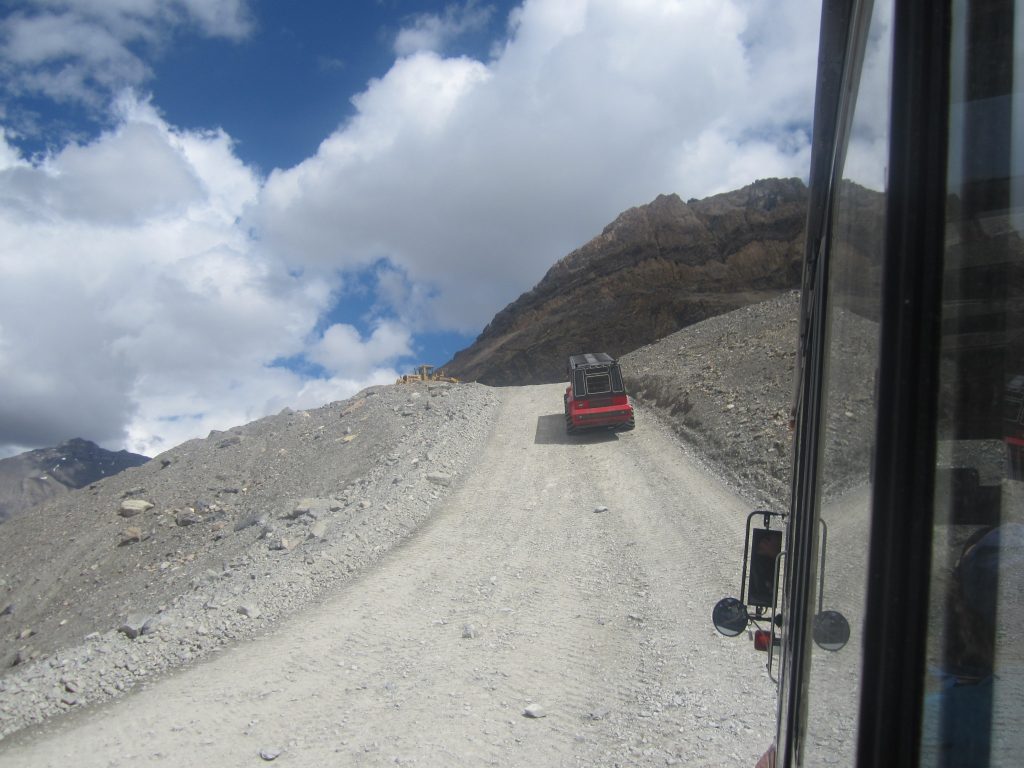 Back at the tourist center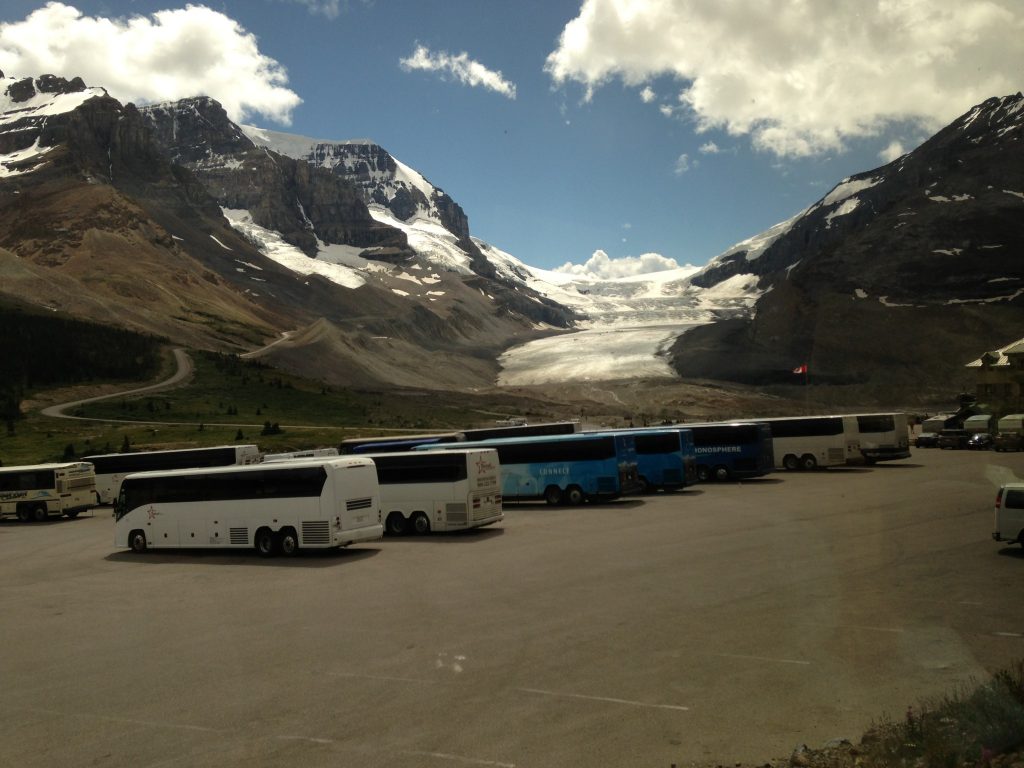 The big trucks we rode on replaced these trucks…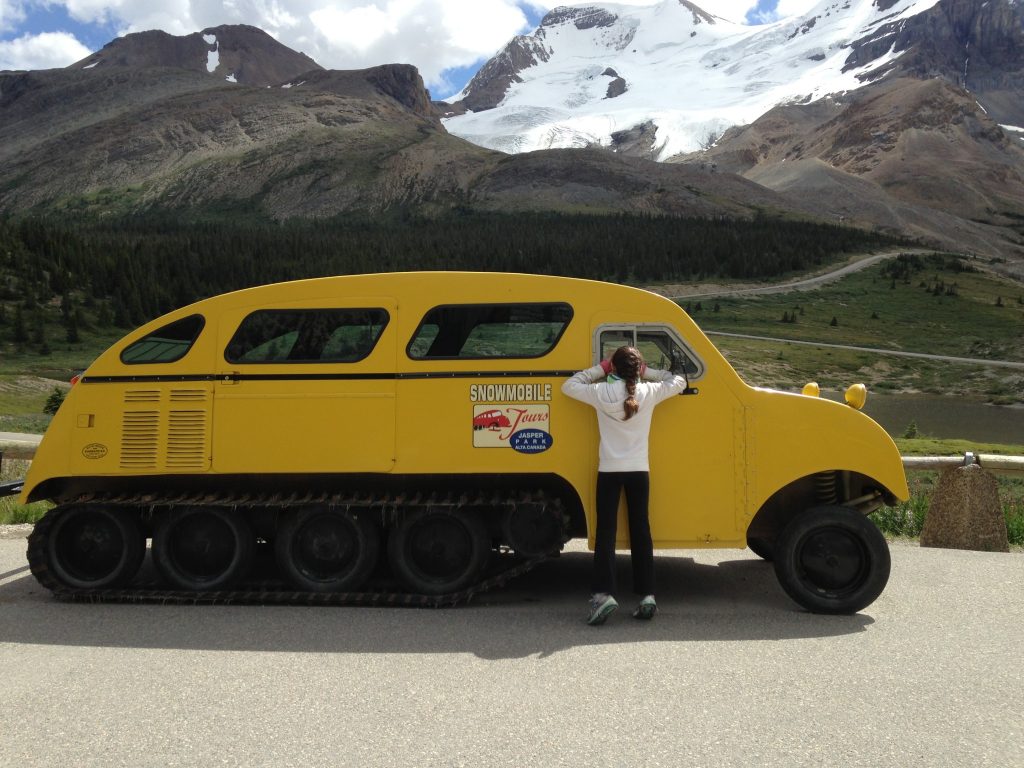 What follows are some pictures along the Icefields Parkway on our way up to Jasper…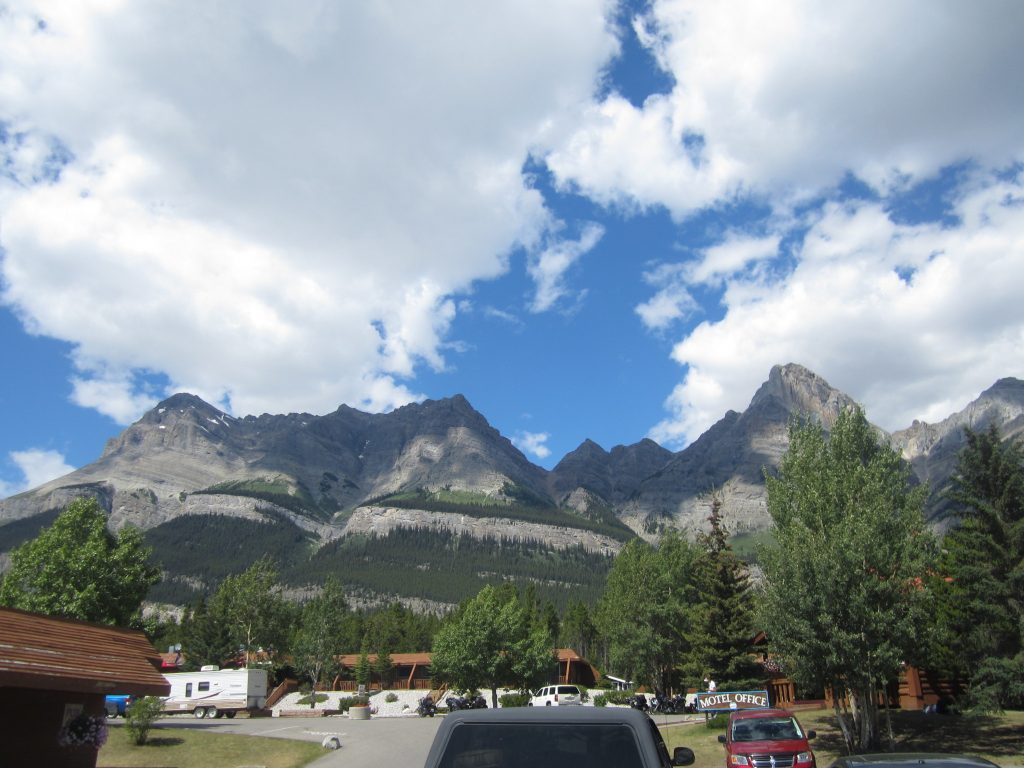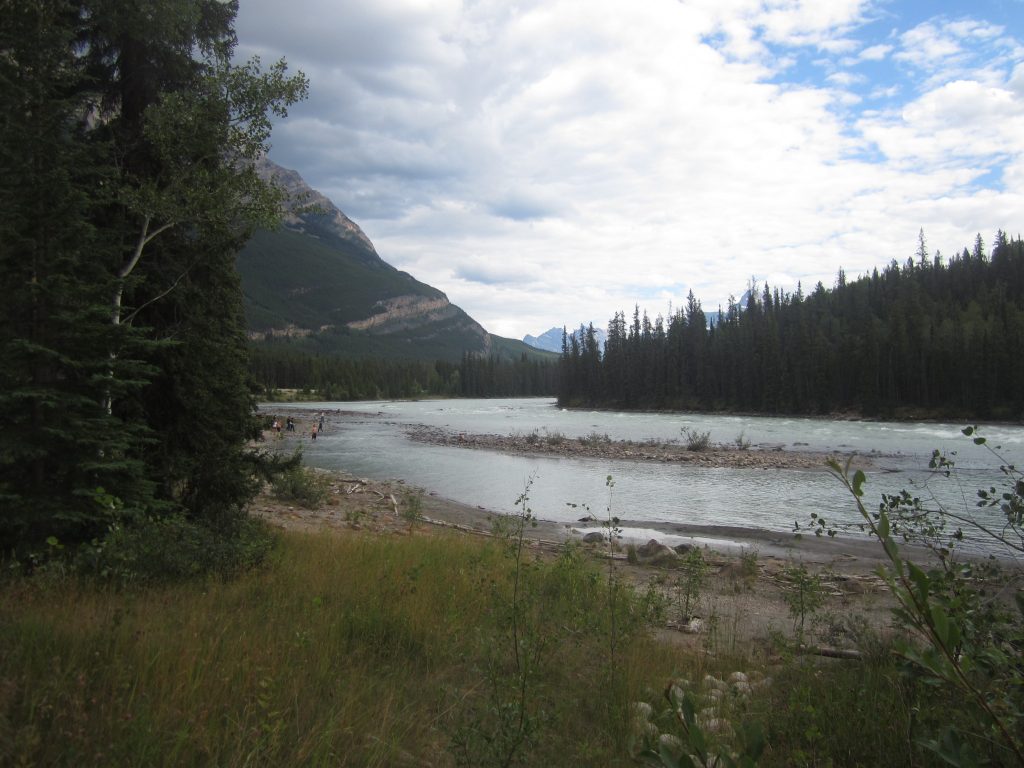 You can stop at several attractions. Too many actually. We picked some…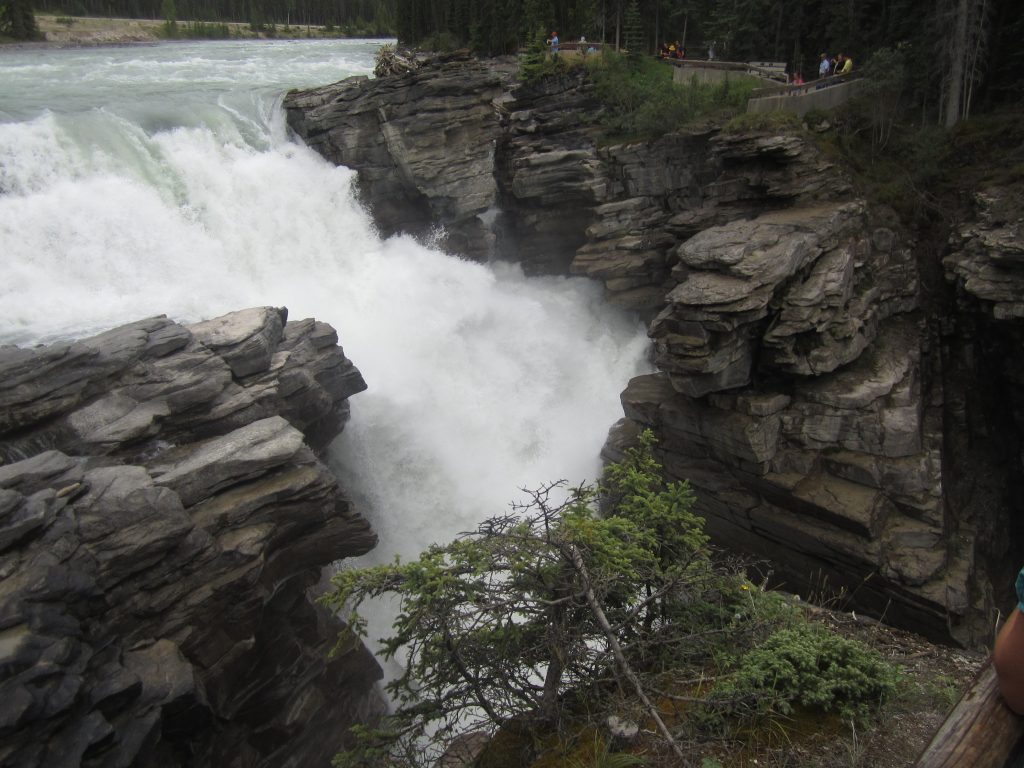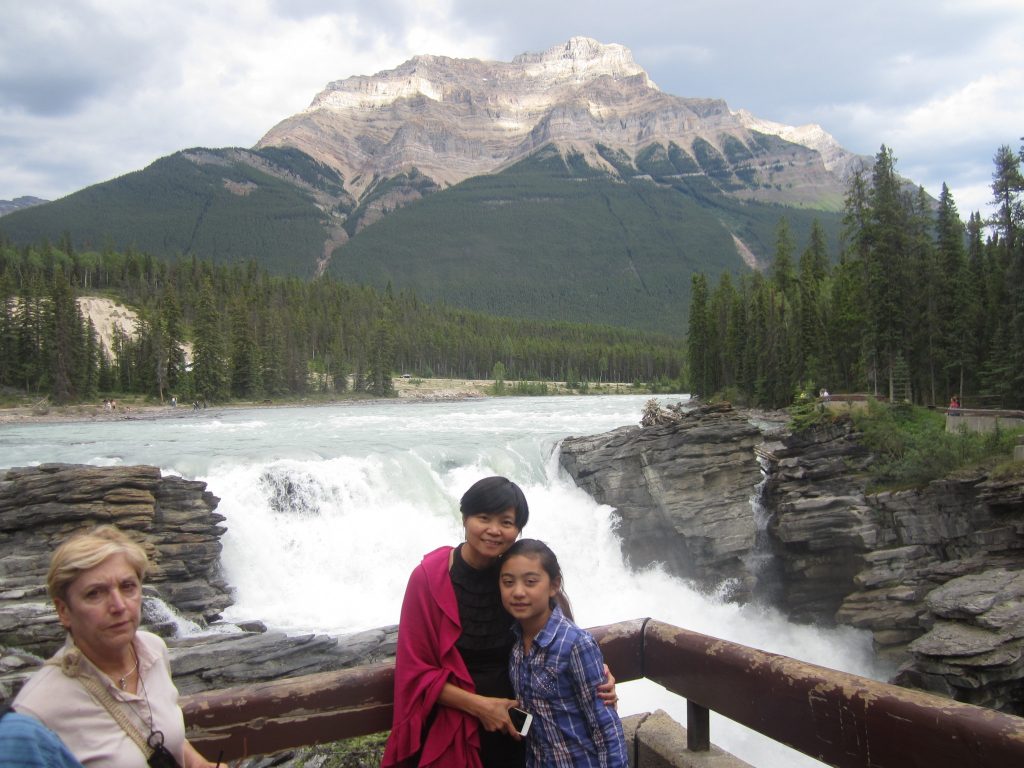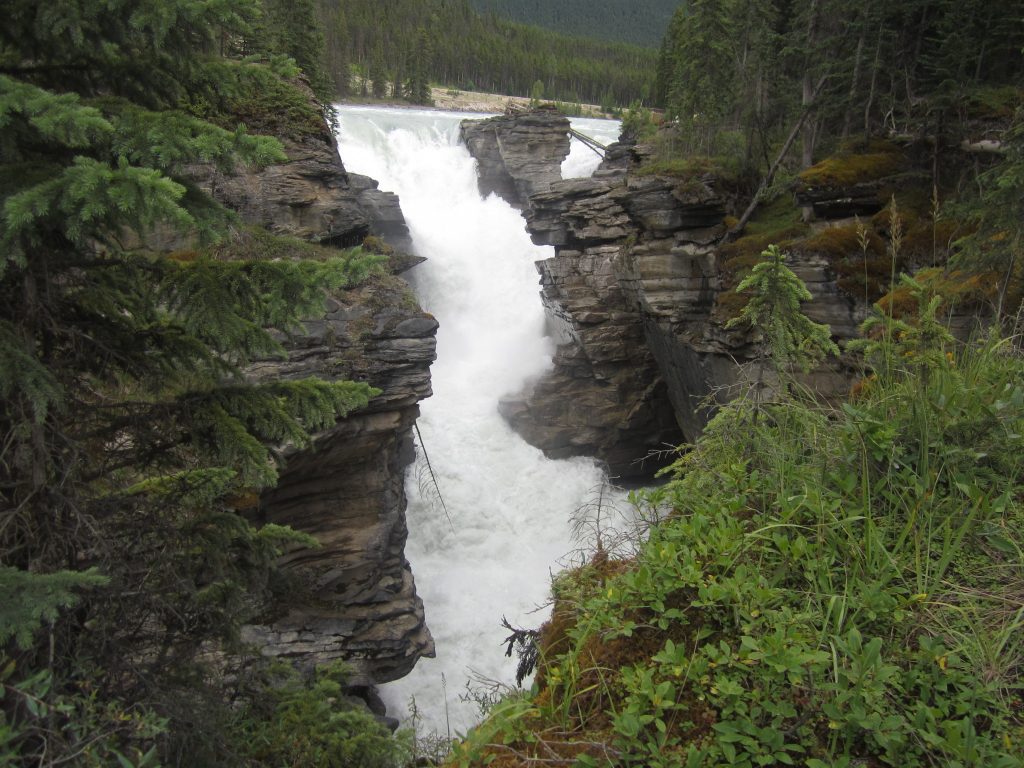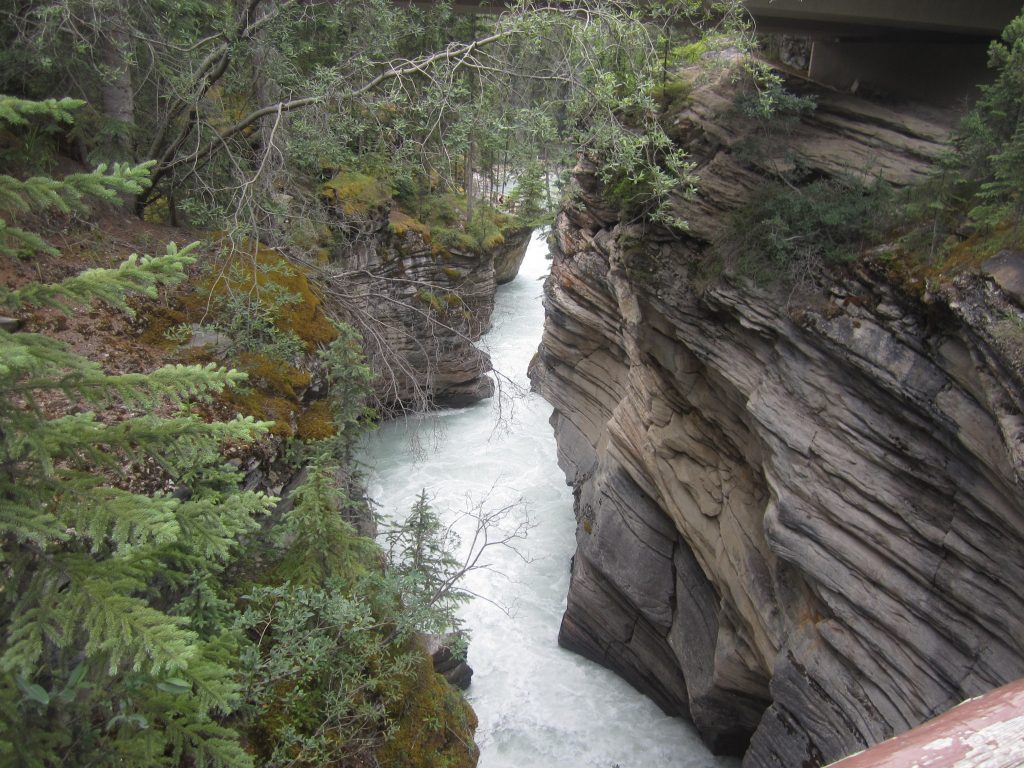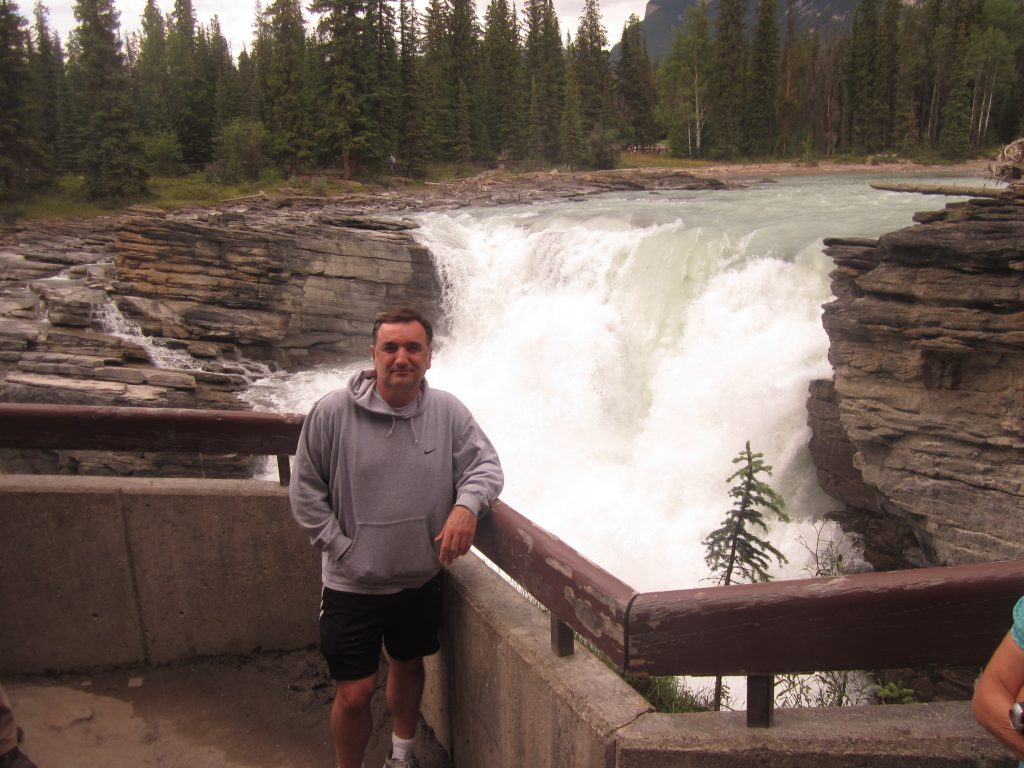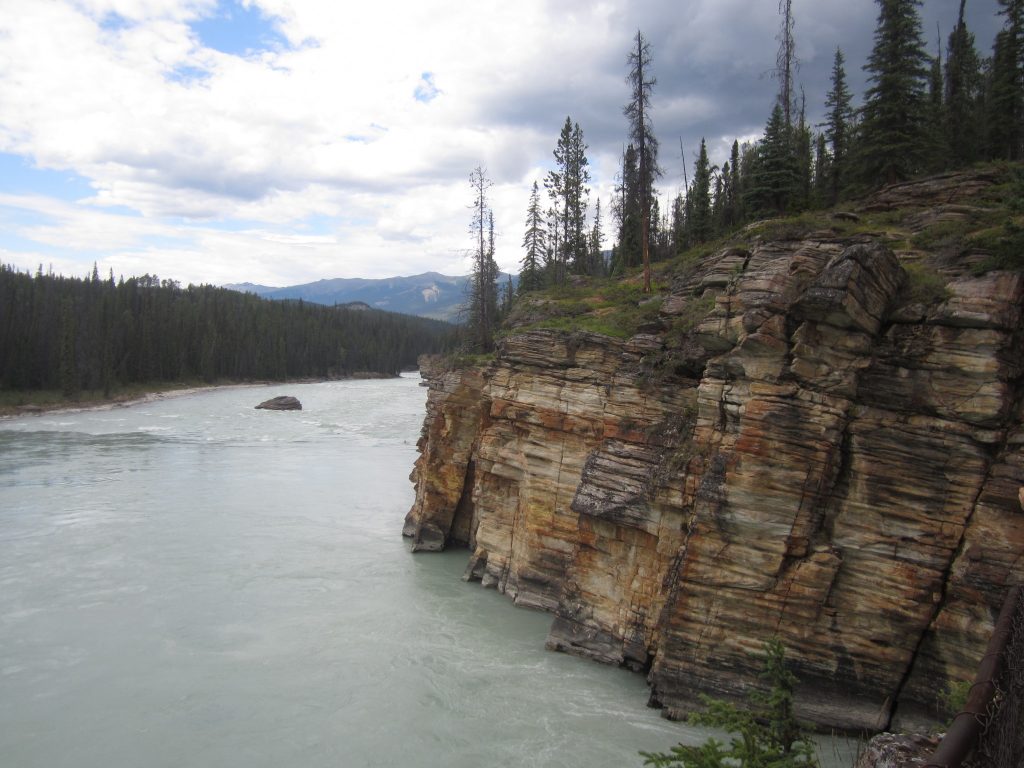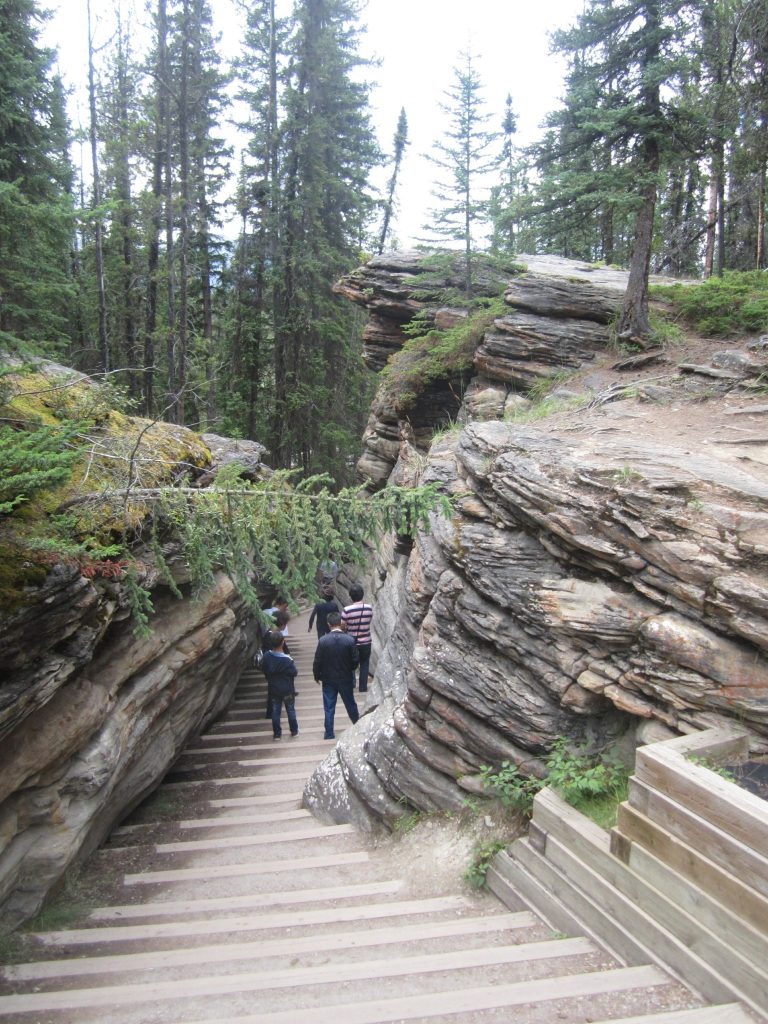 Animals seen from the car is very common…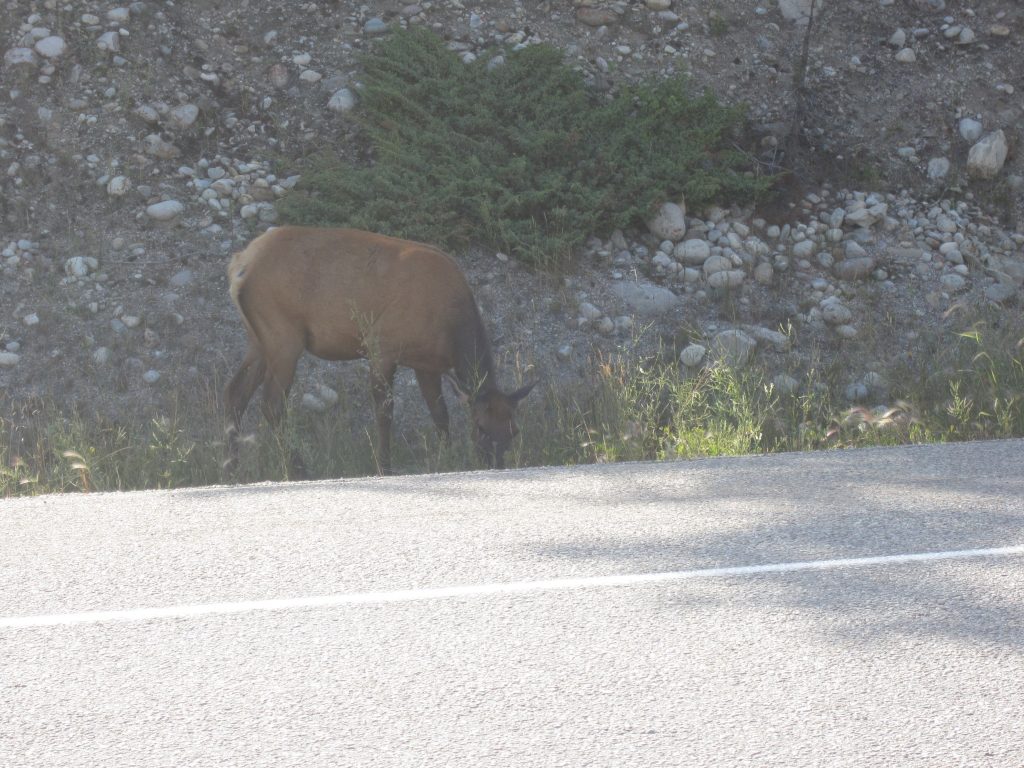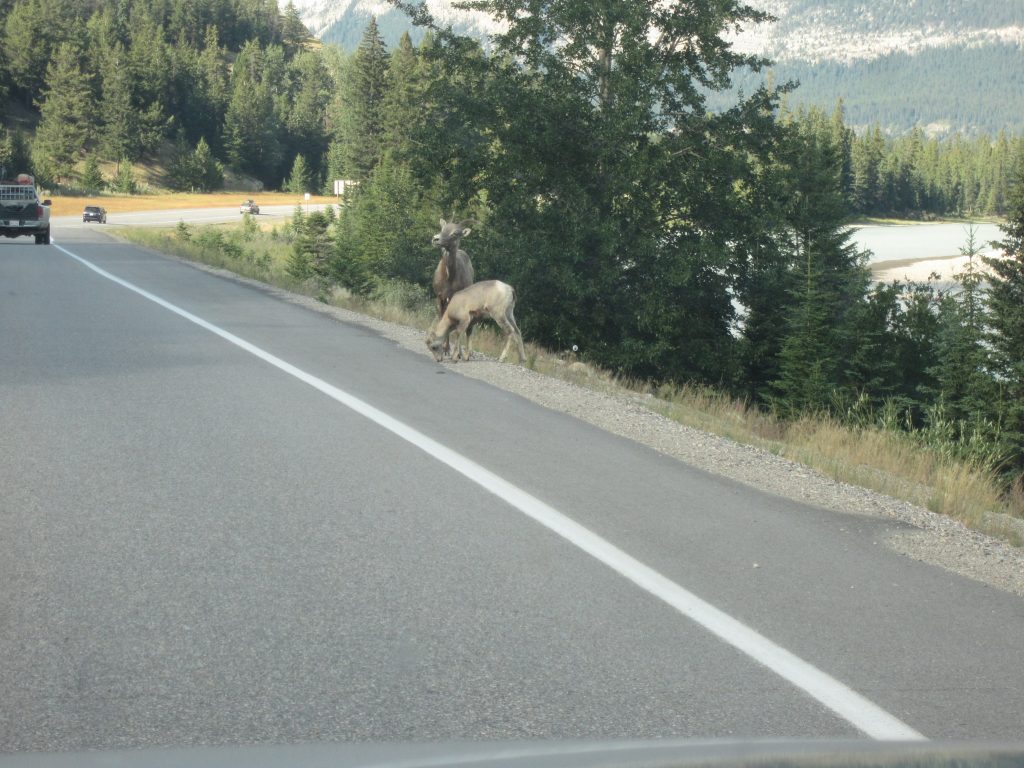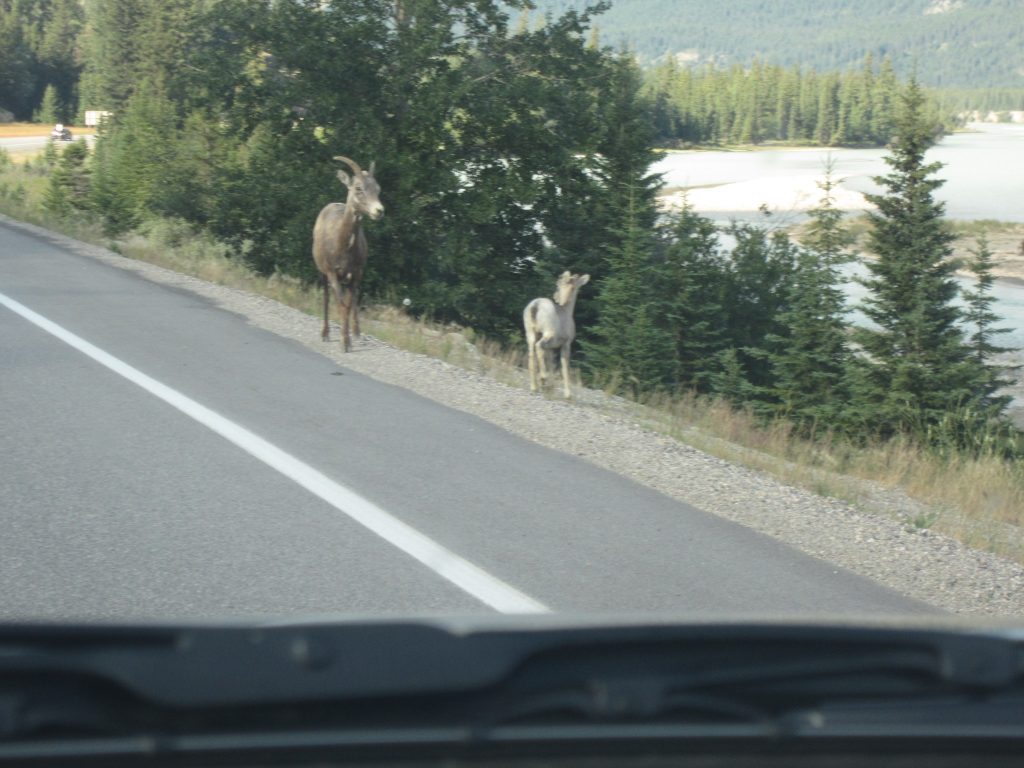 It was getting late so we decided to hit the gas and save more of these attractions on our return south from the Jasper area. Actually I had booked a Holiday Inn at Hinton on a Pointbreaks rate for two nights which is almost an hour past Jasper! Here are a few pictures from this hotel which was perfectly adequate for this ridiculously low points price!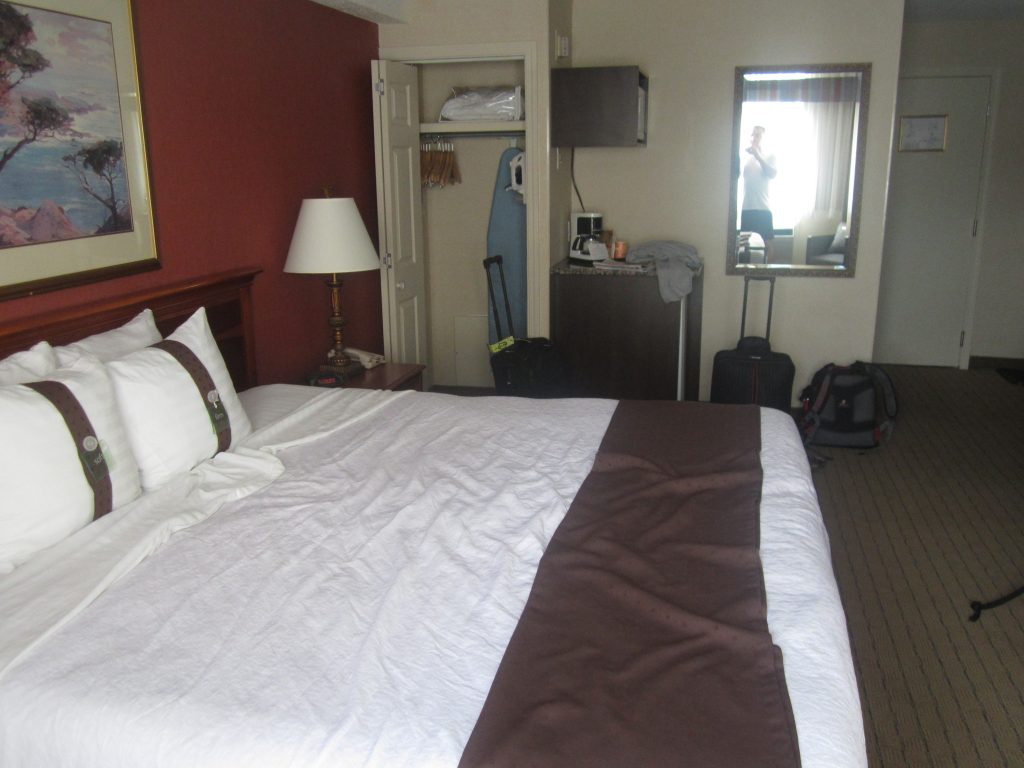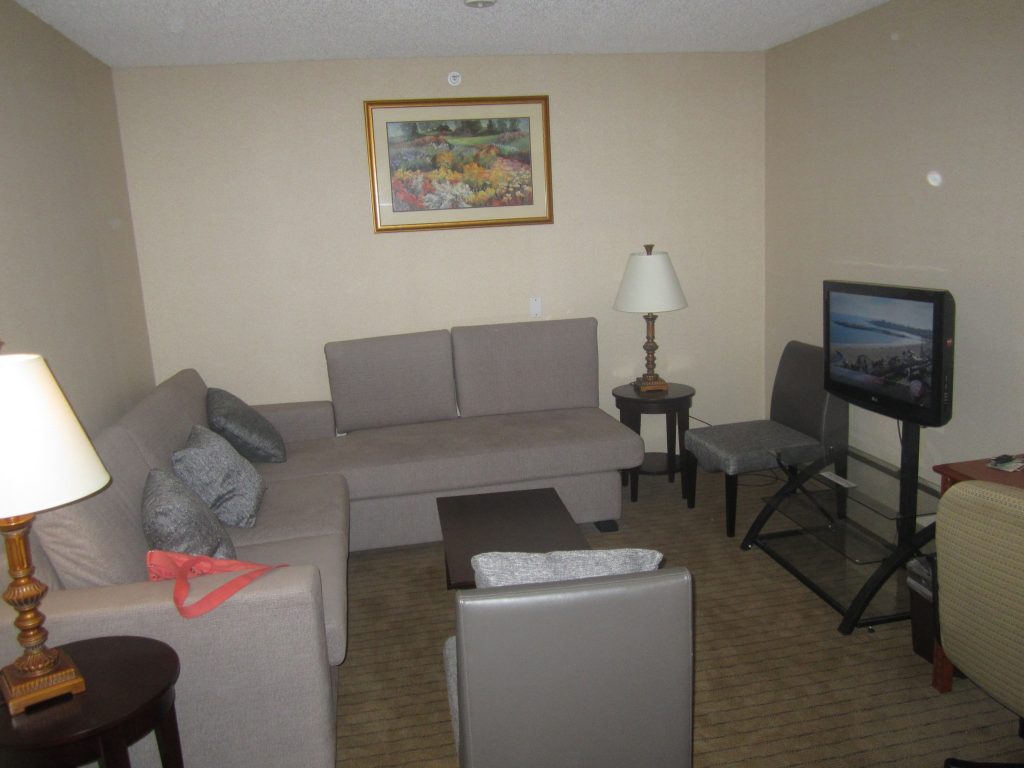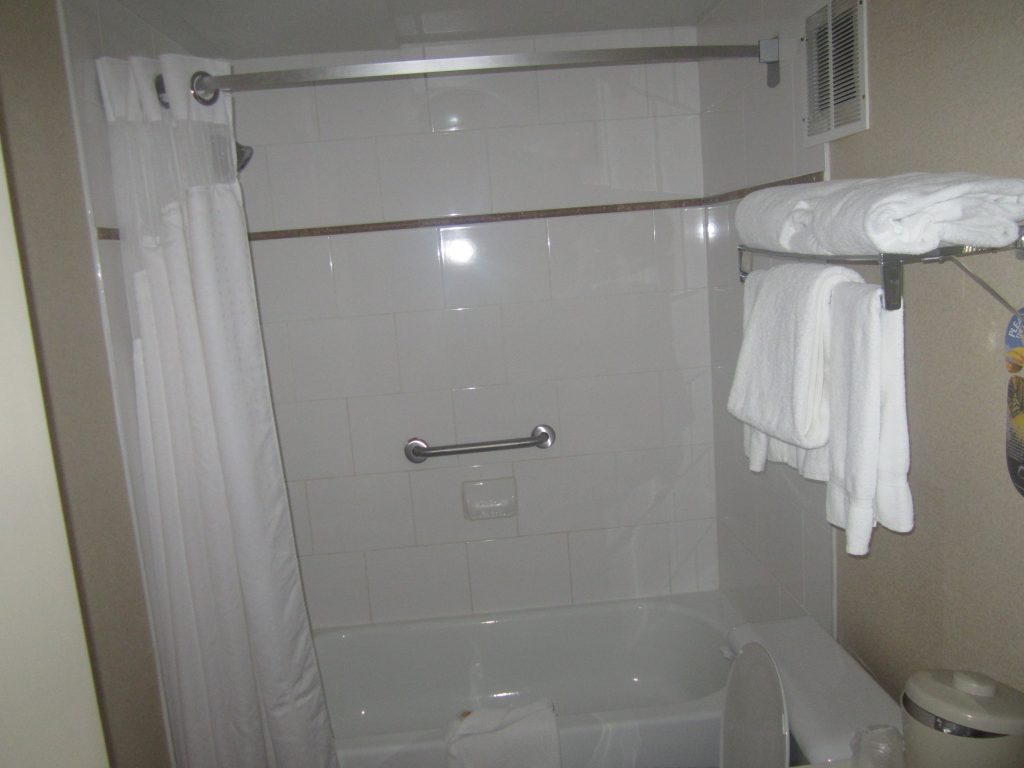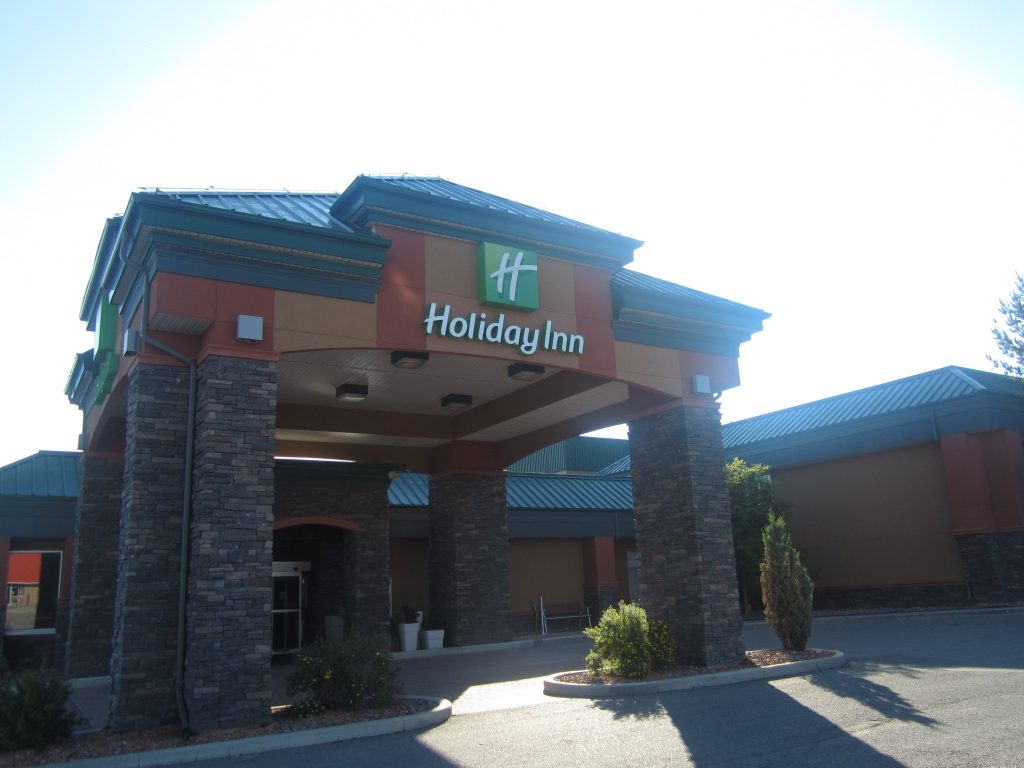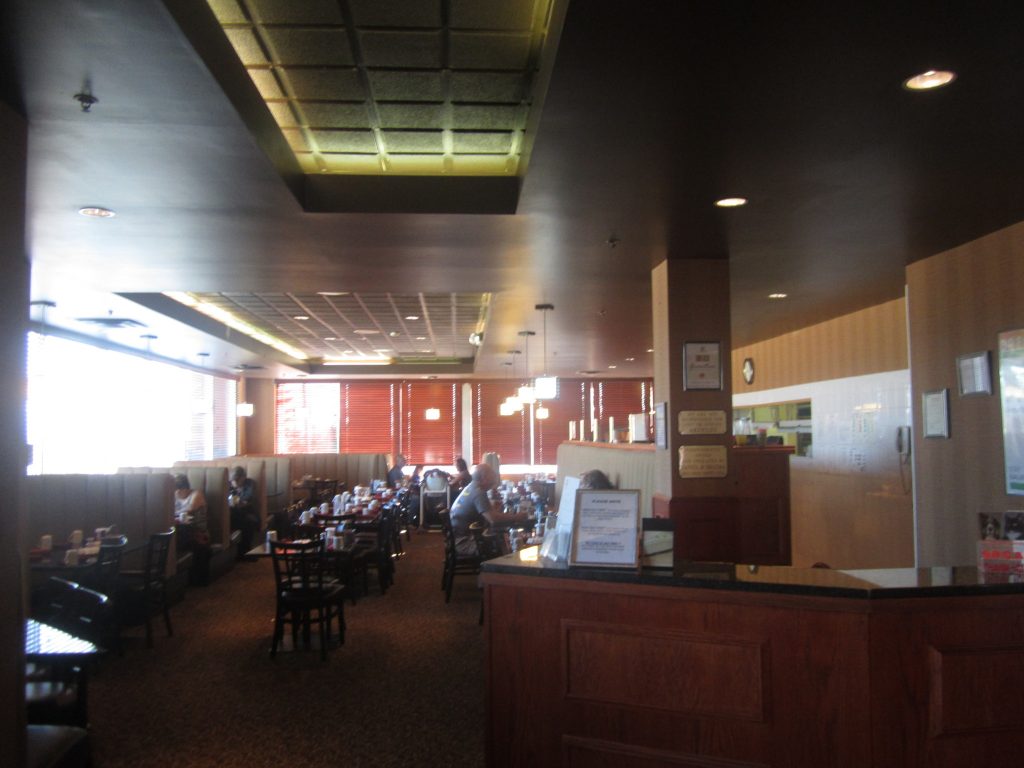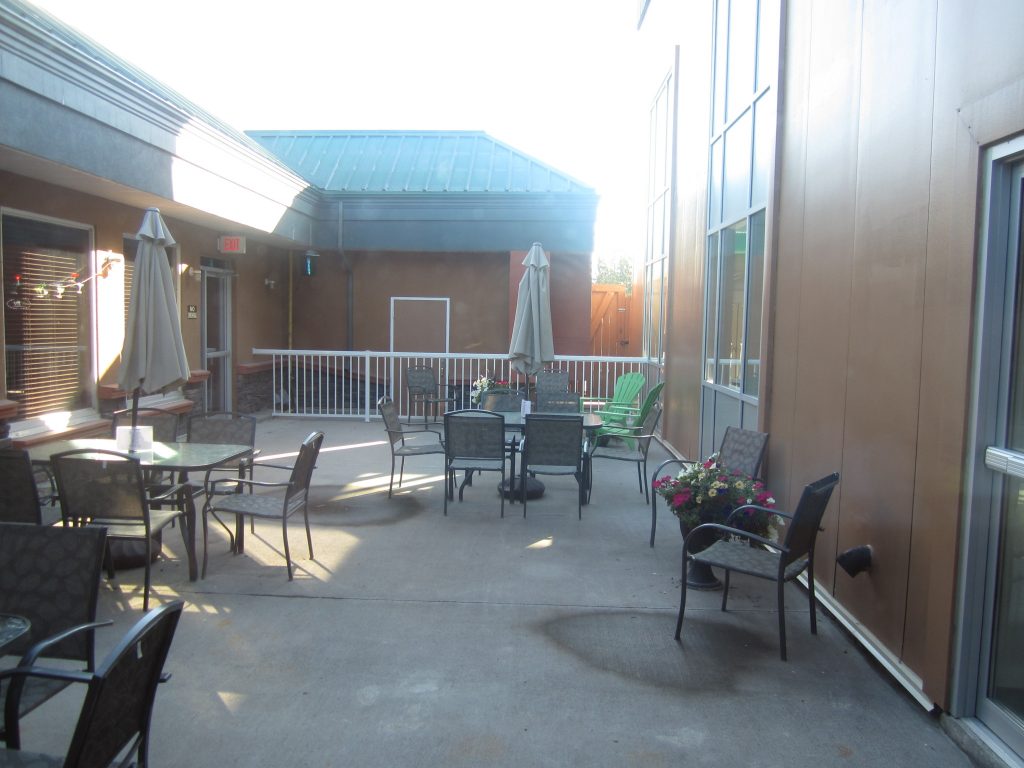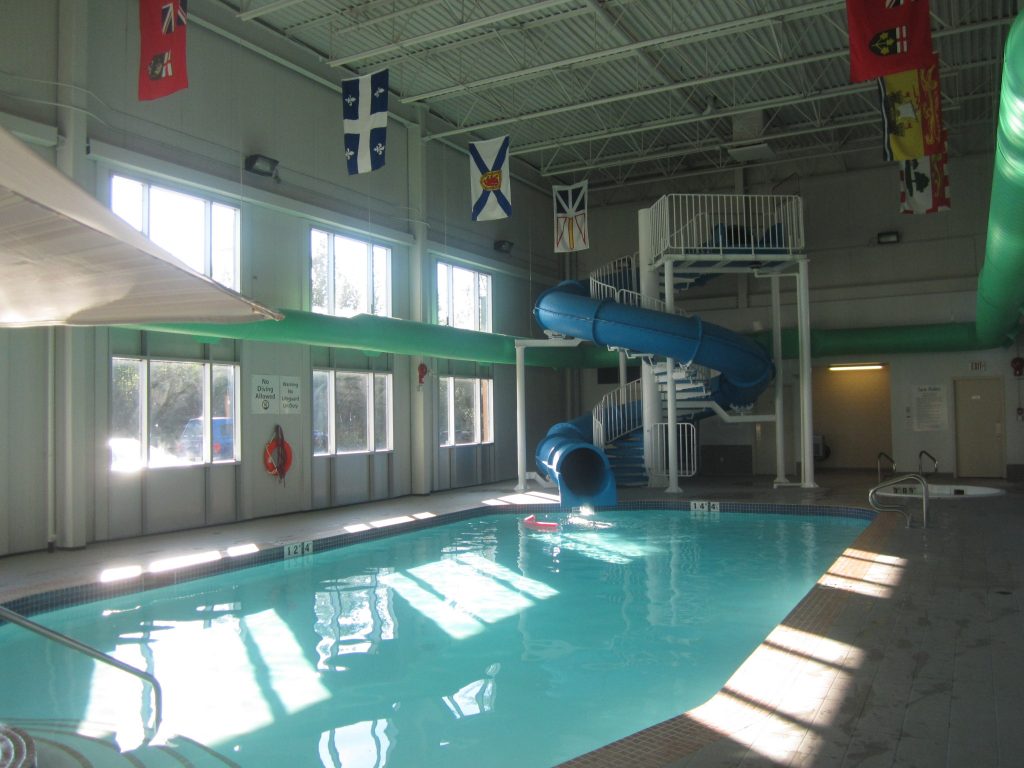 Next day we just started exploring Jasper National Park. This was a great sighting midway from Hinton to Jasper.
More wildlife. Pure awesomeness!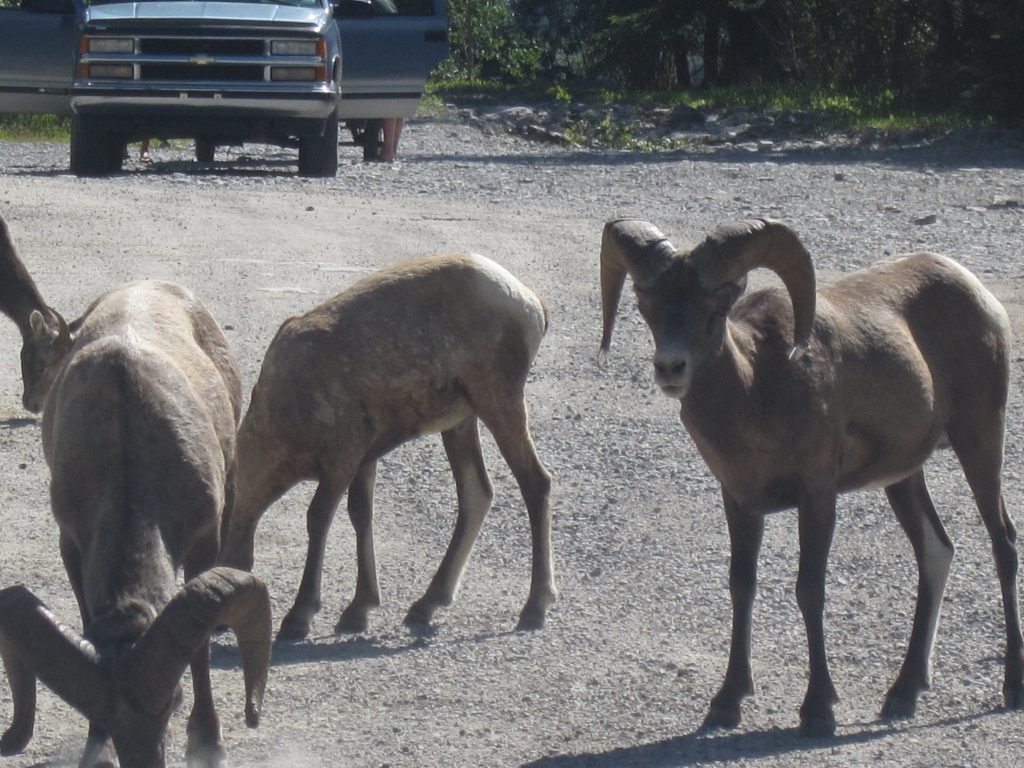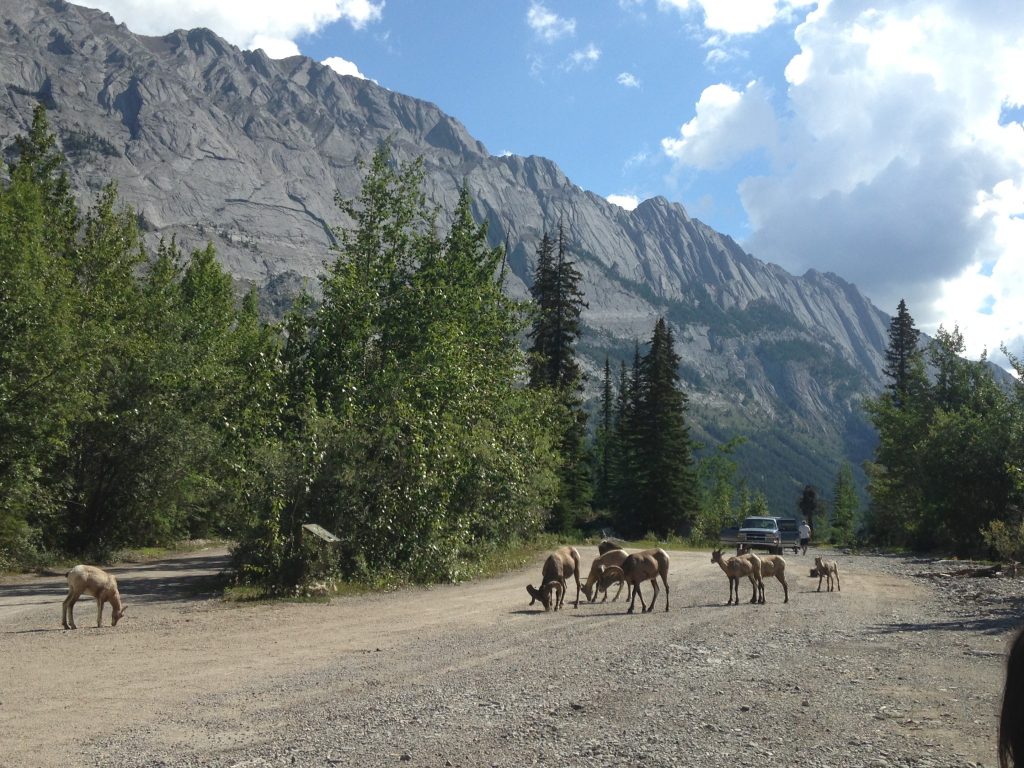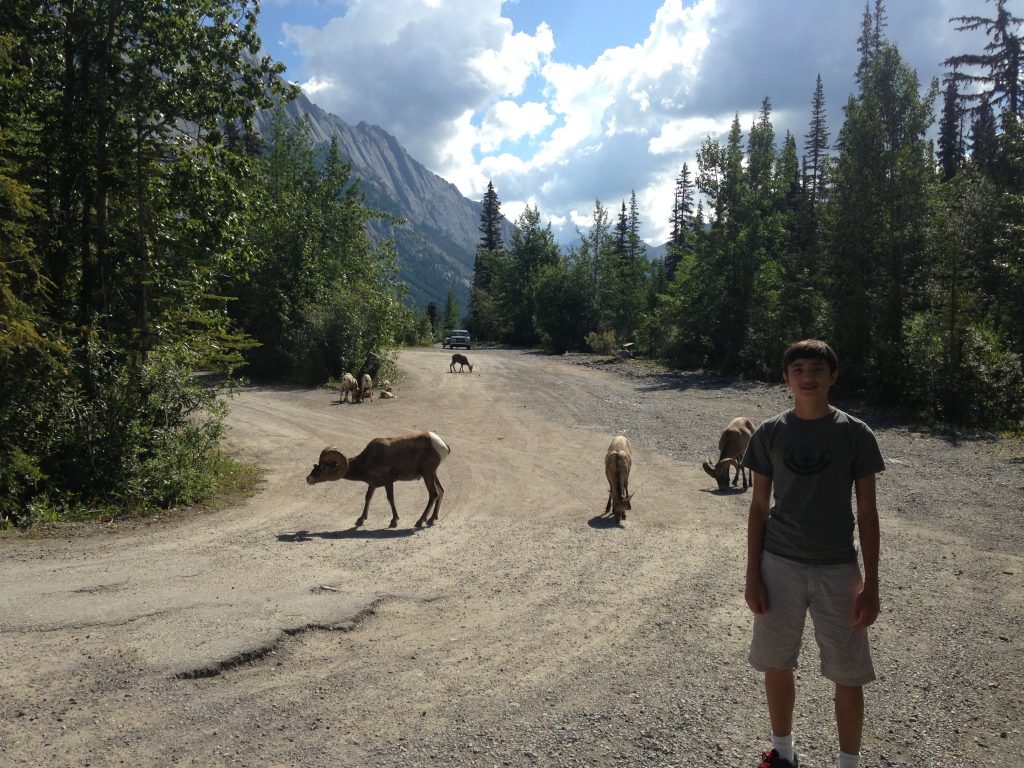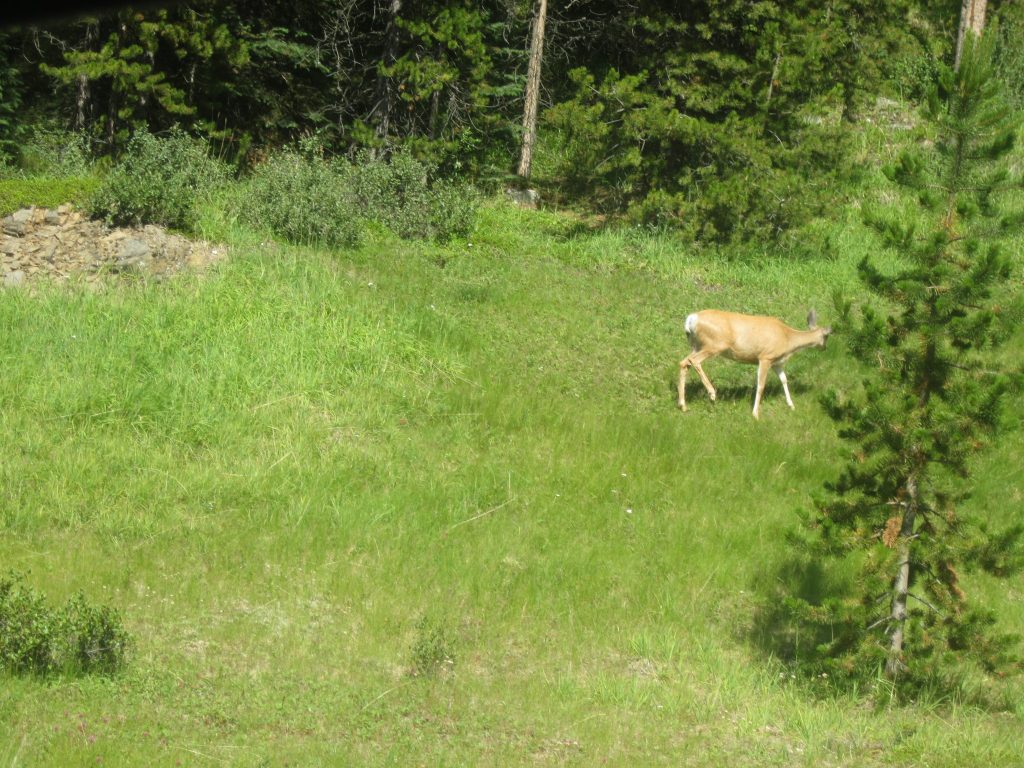 If you make it up here, you MUST see Maligne Lake! I found it to be the second most beautiful lake (after Lake Louise of course).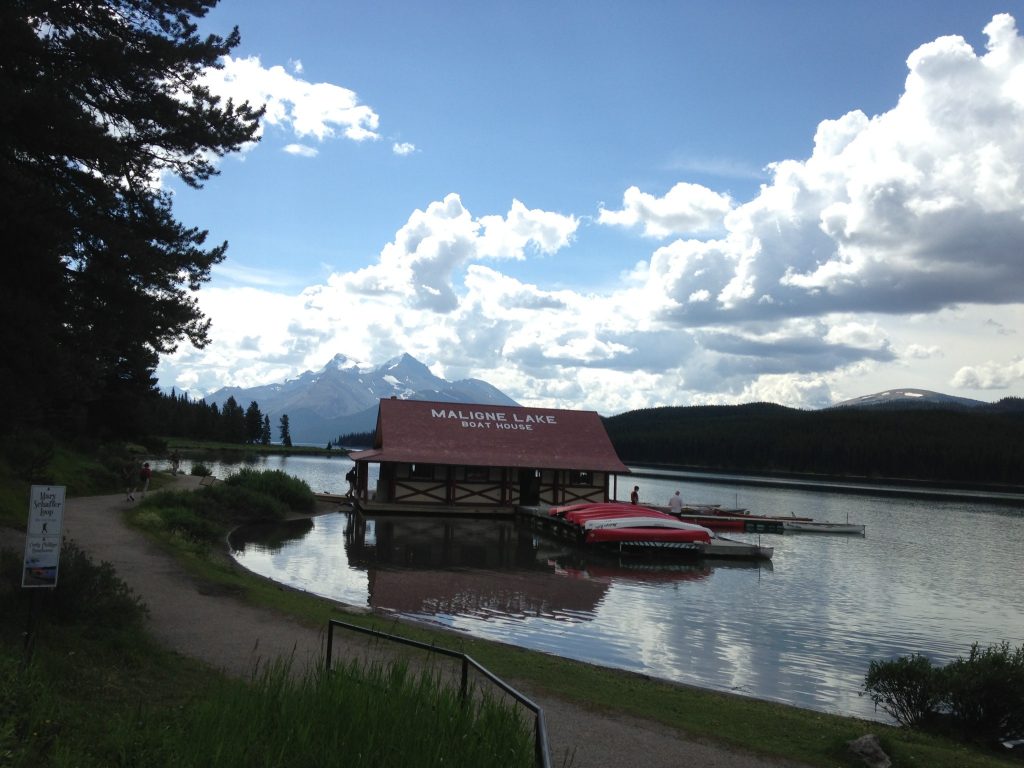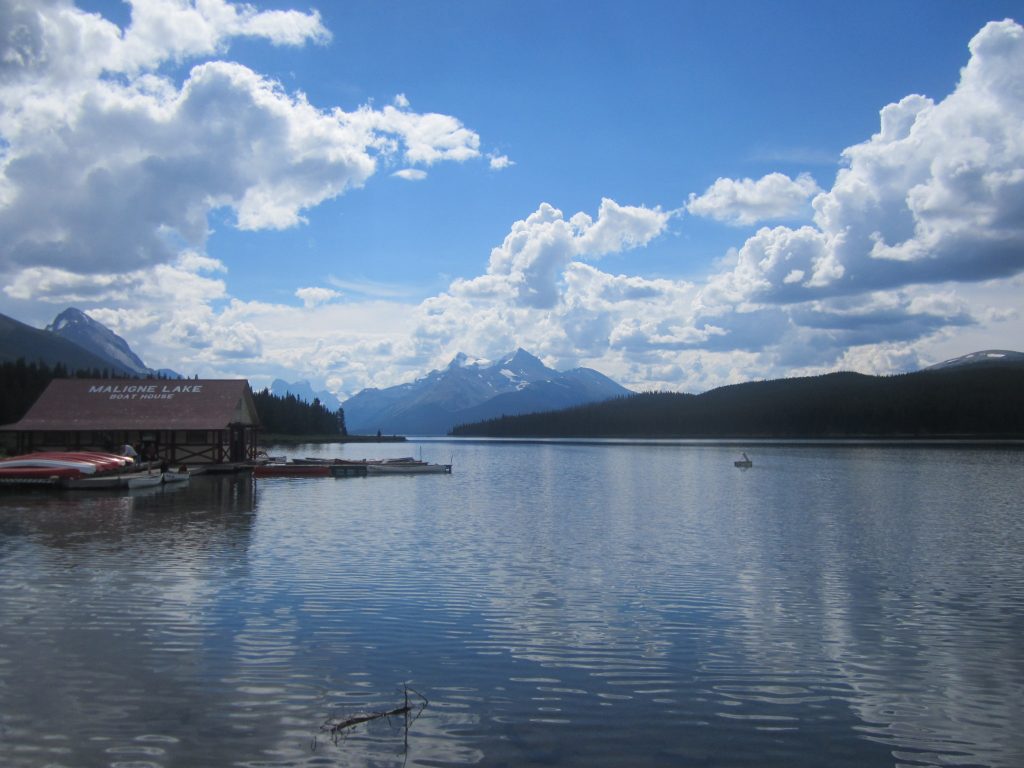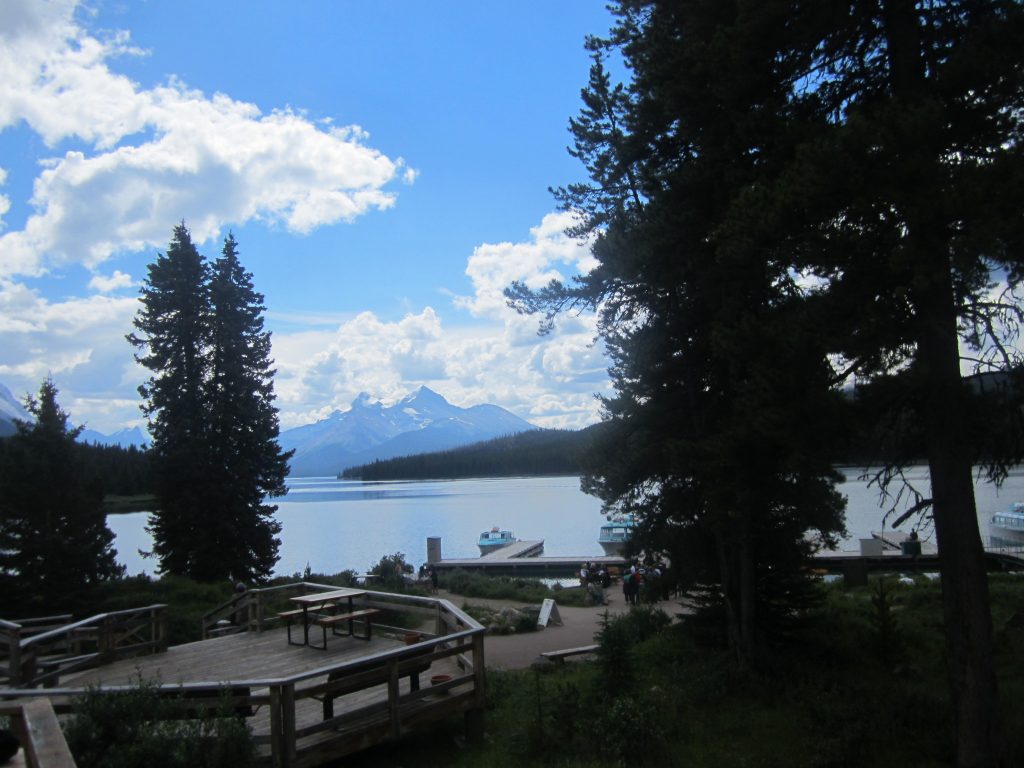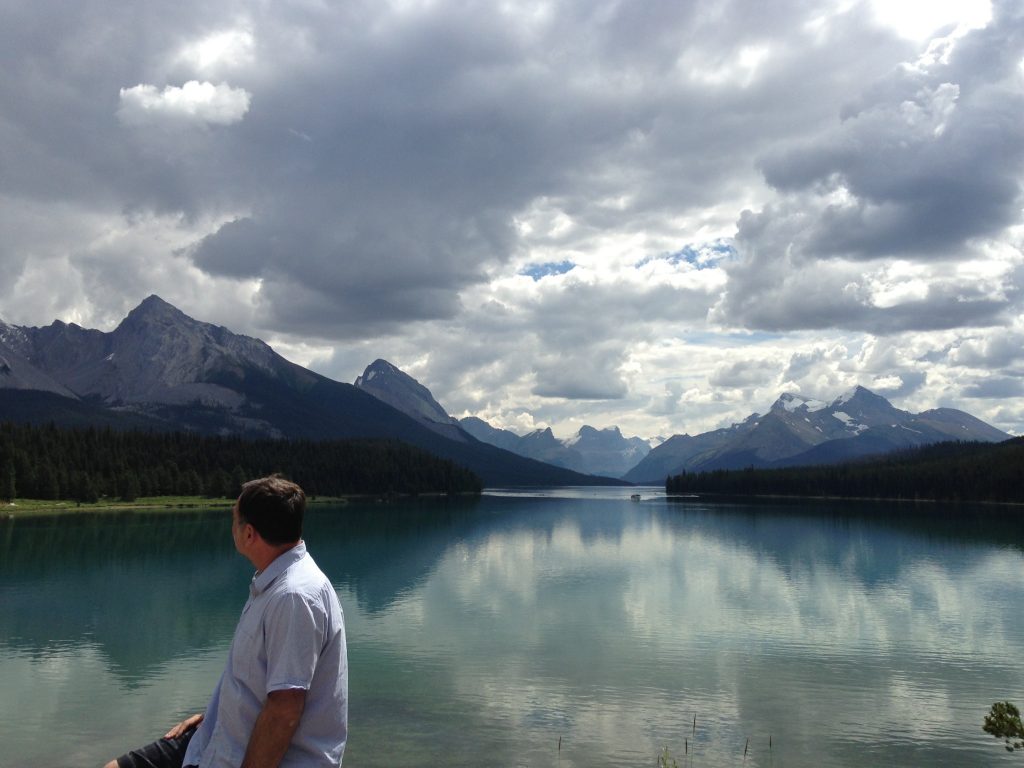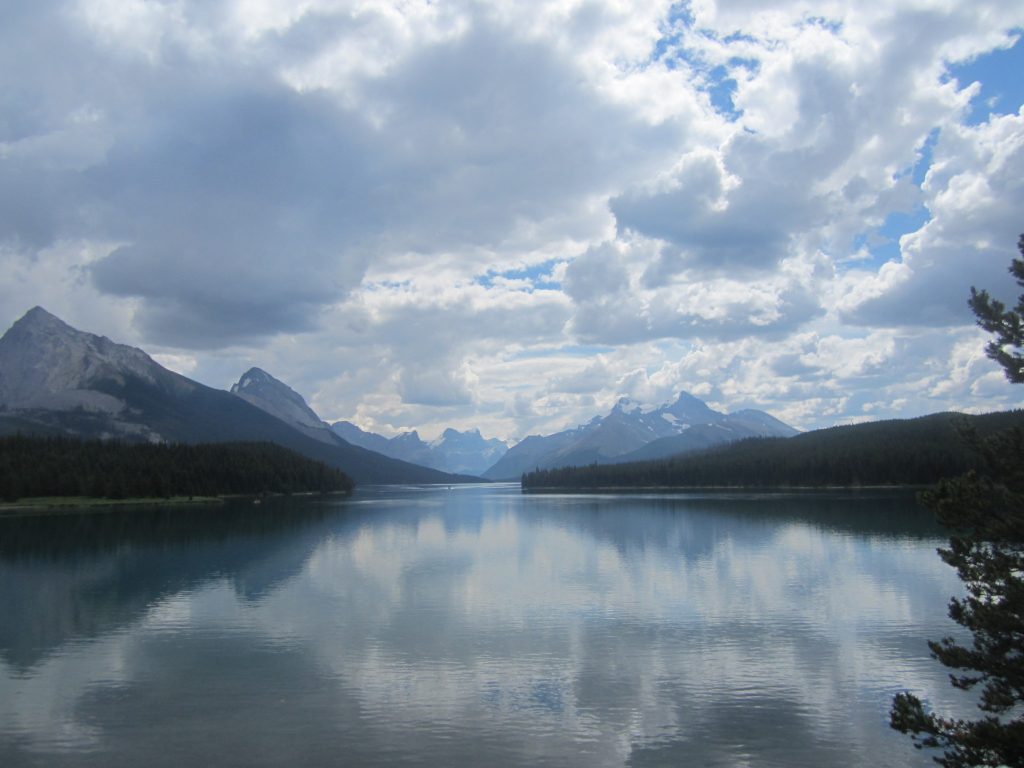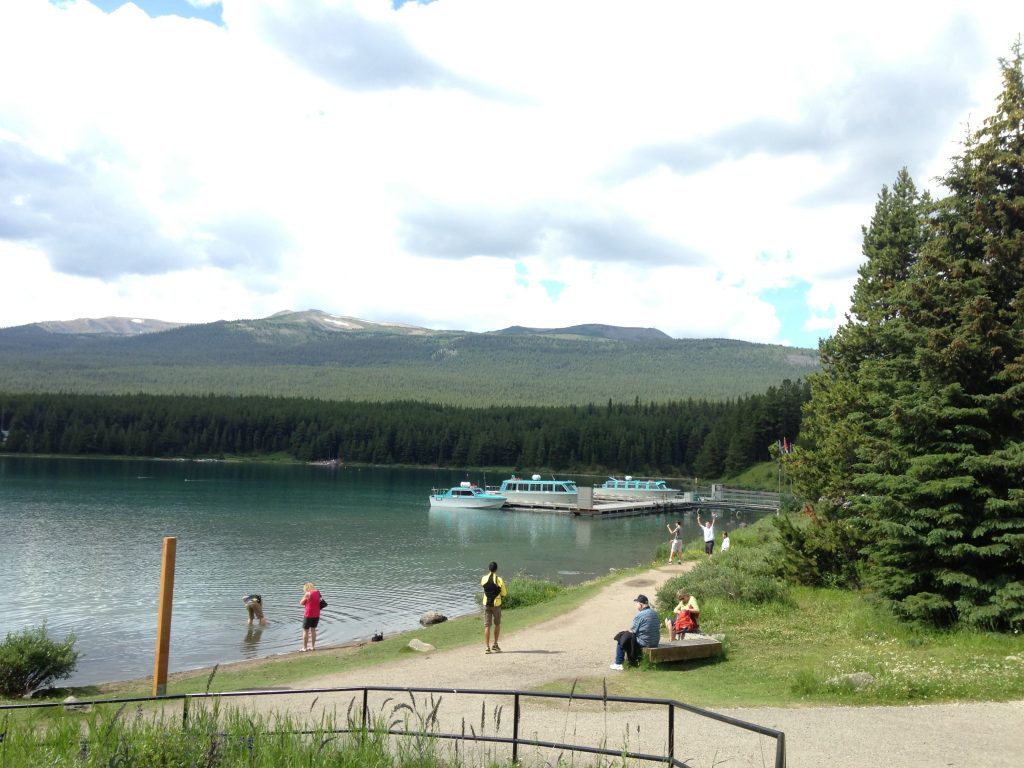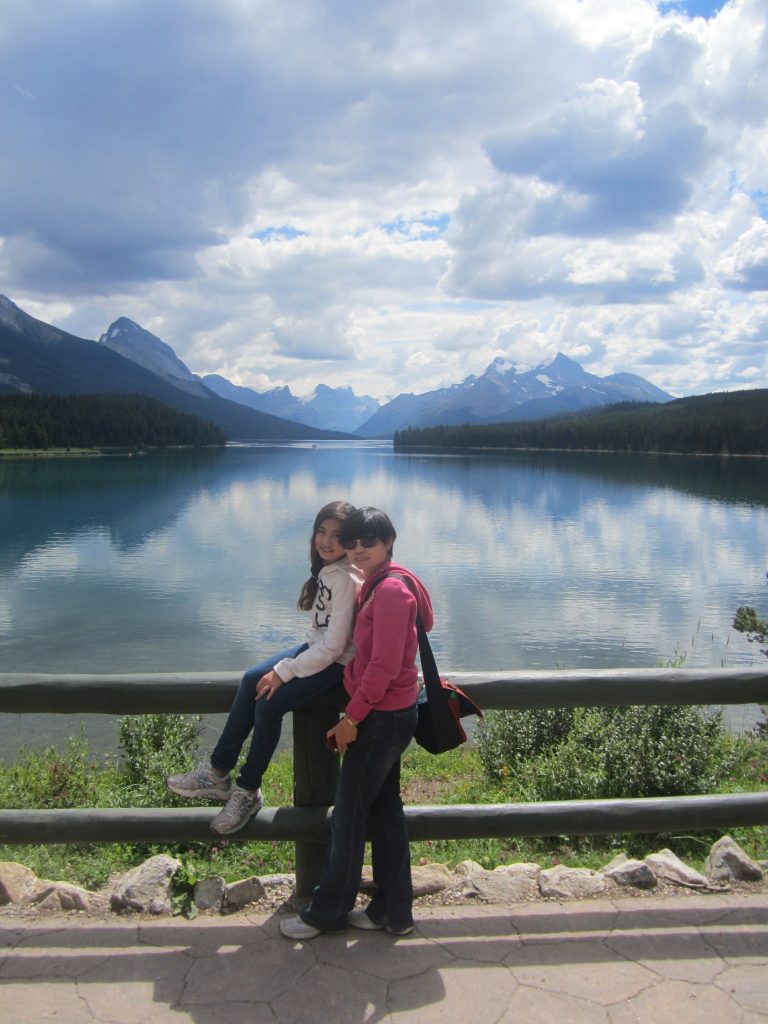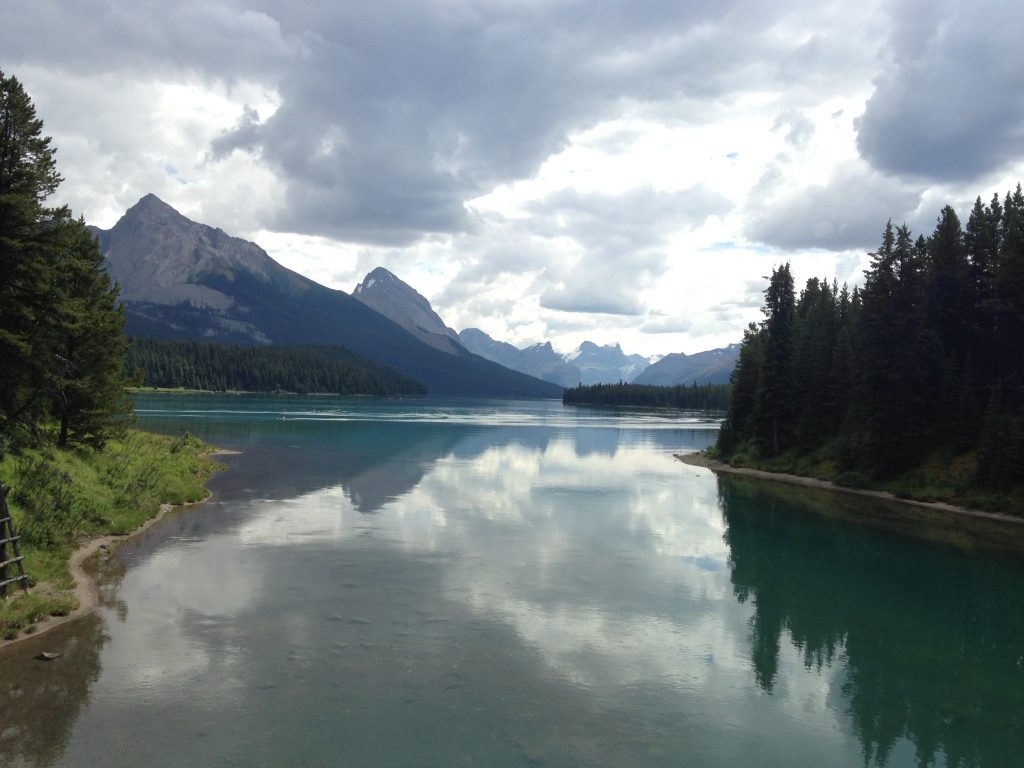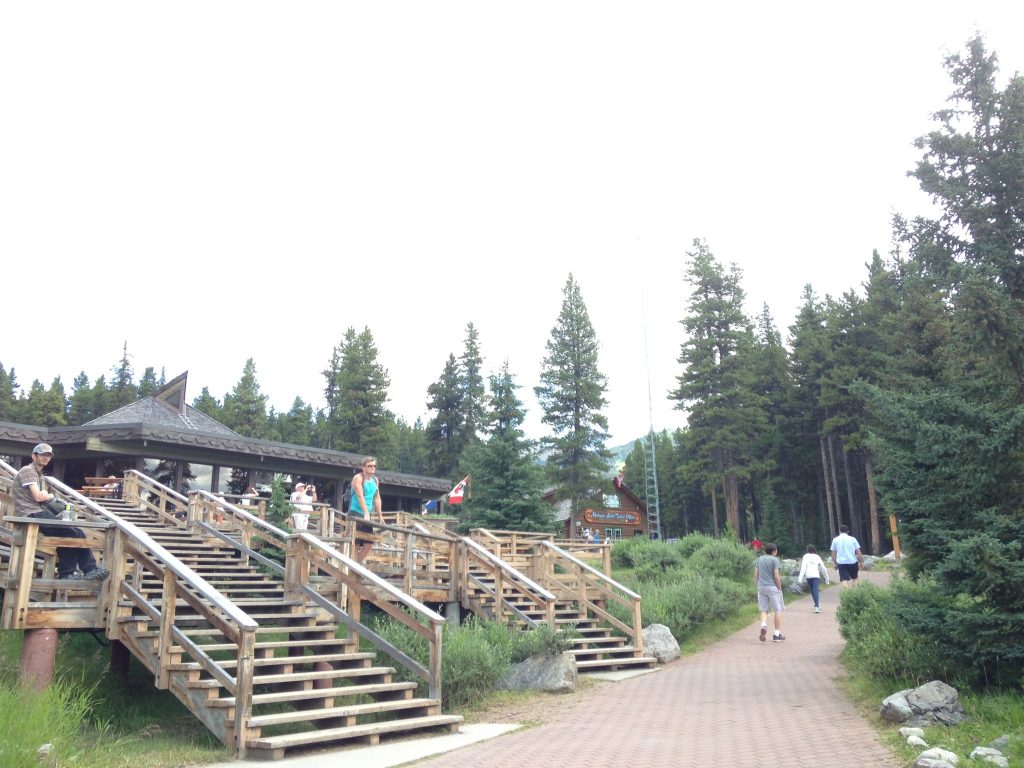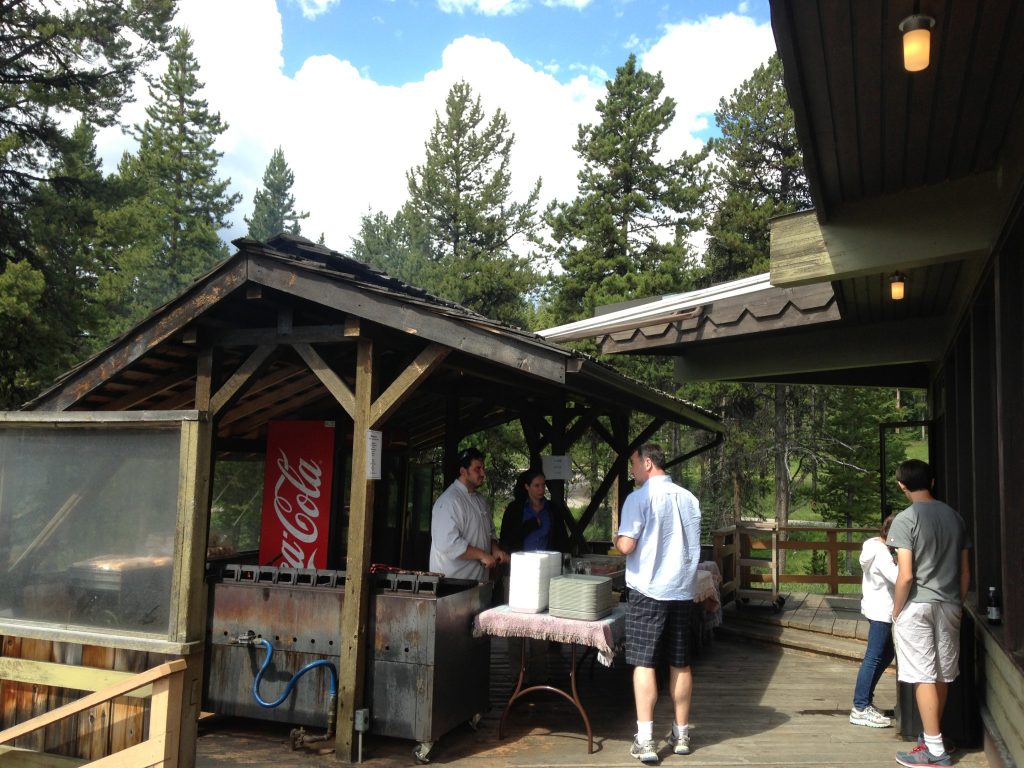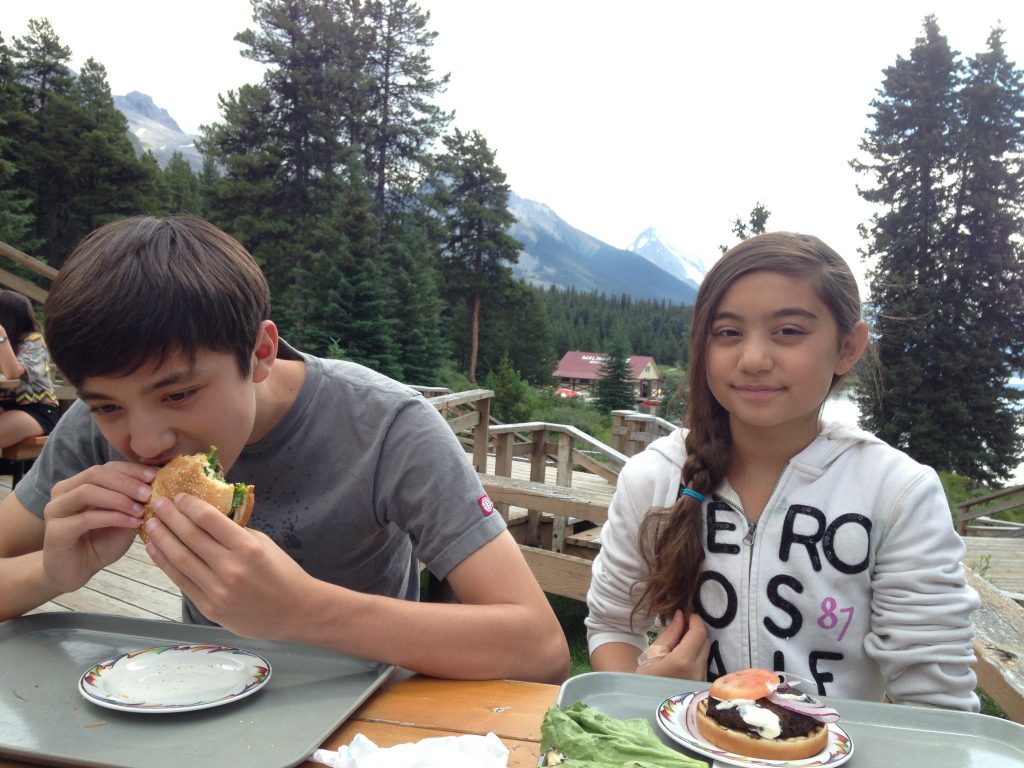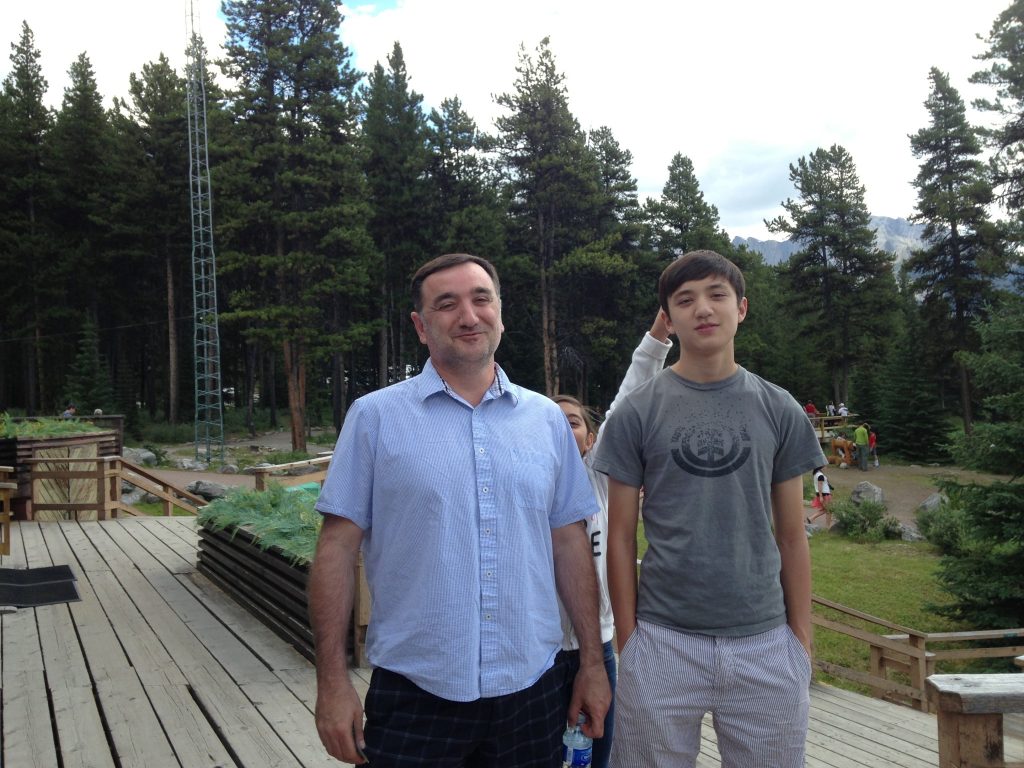 Off to somewhere else…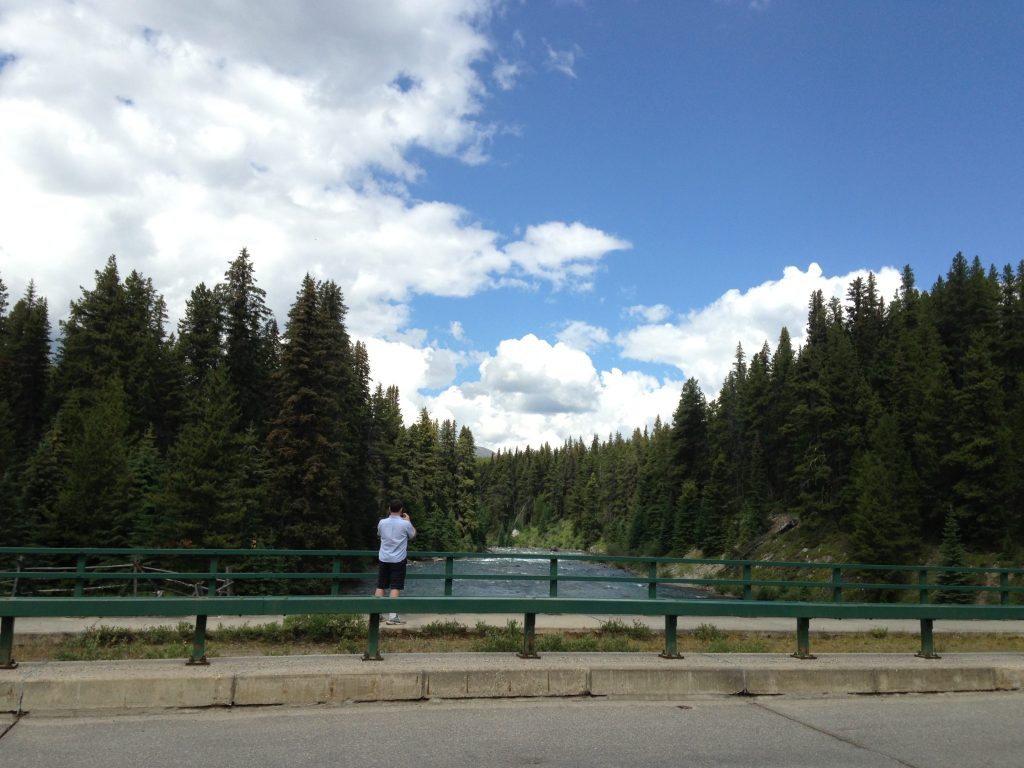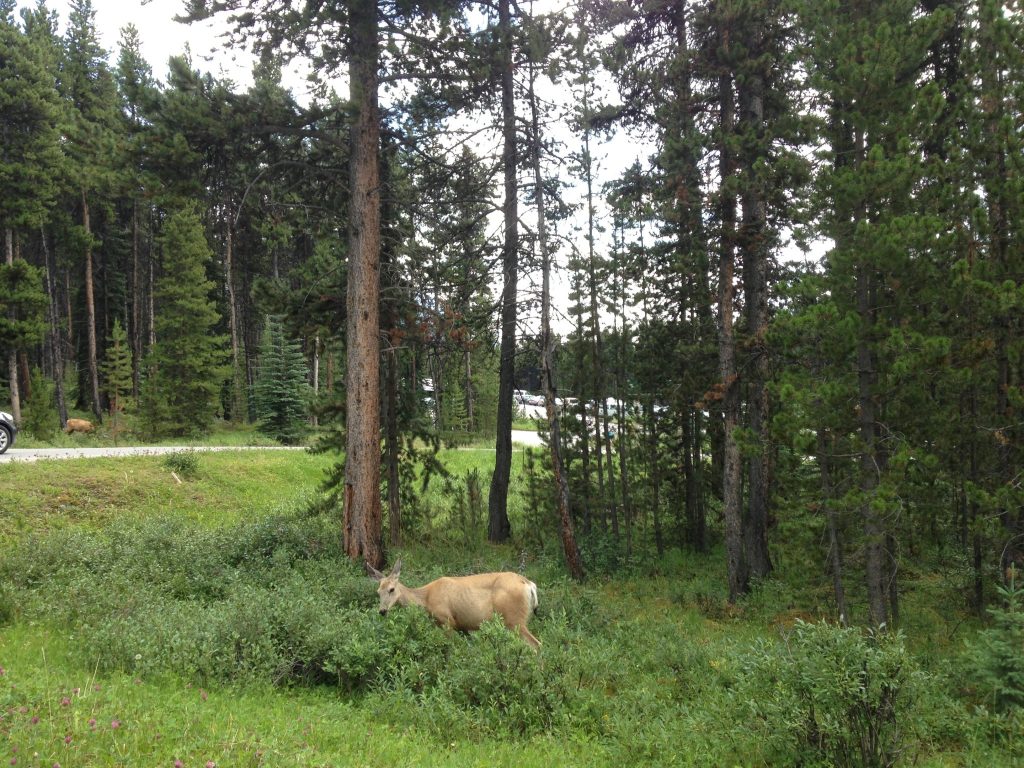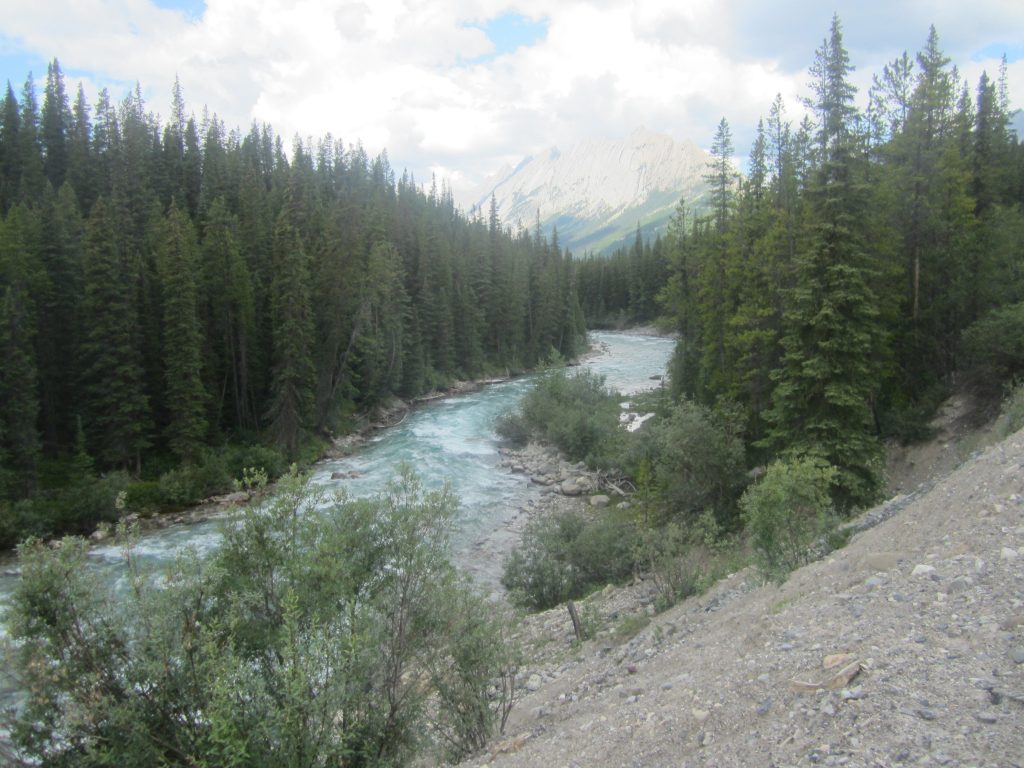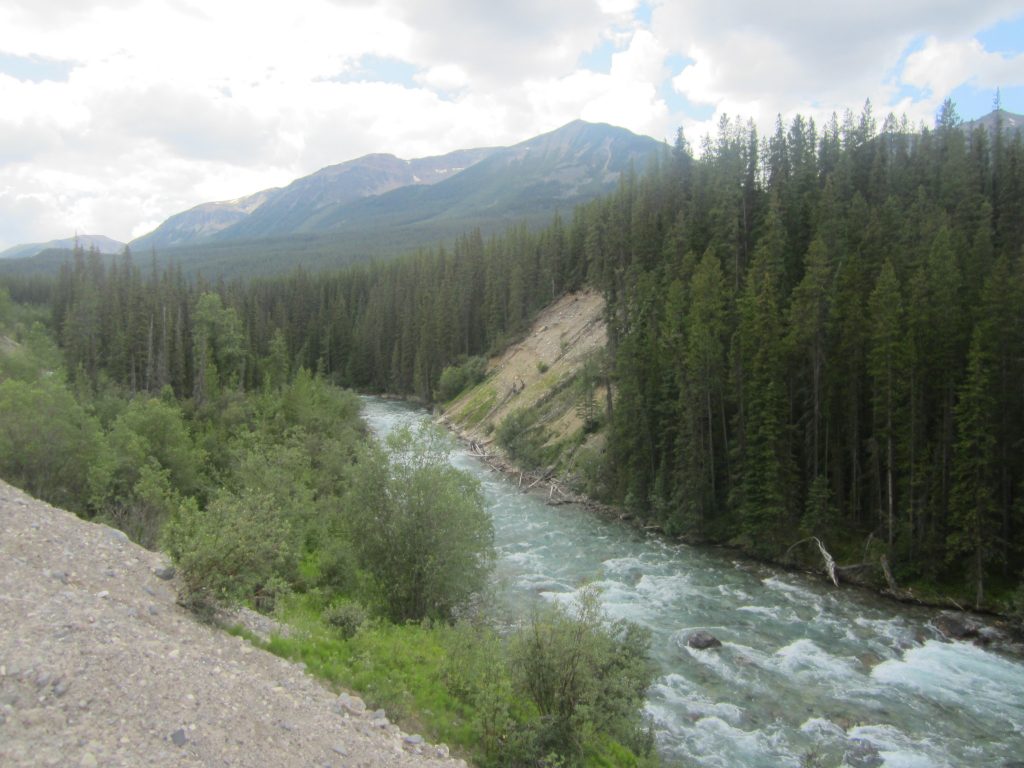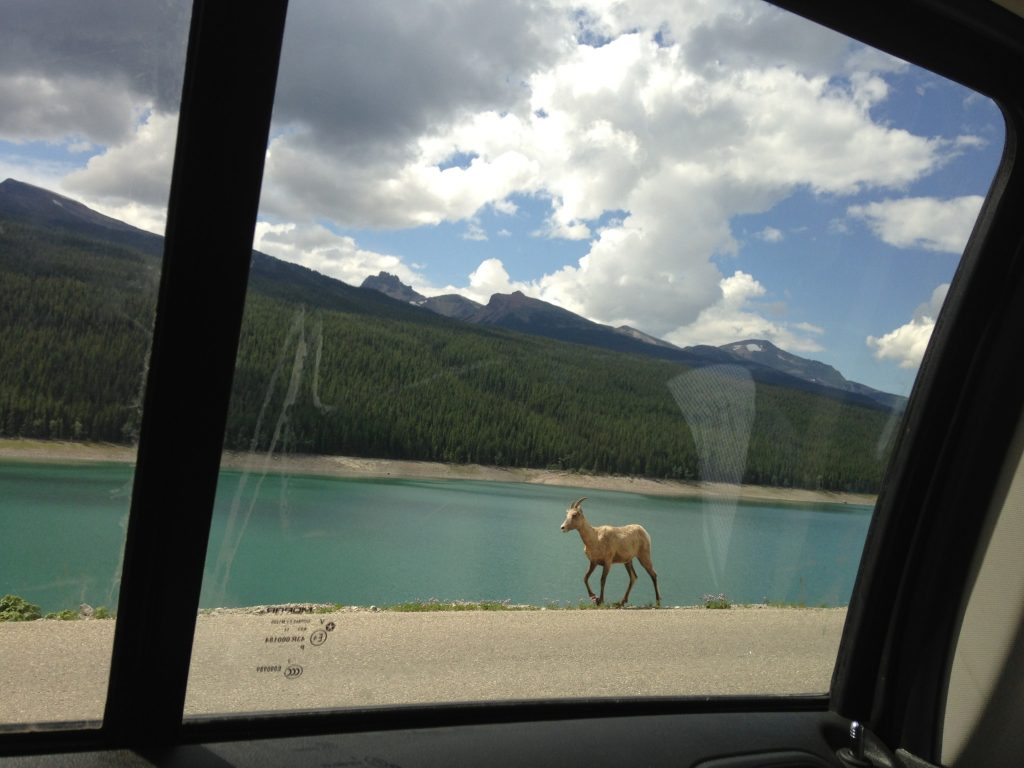 Hey buddy, you going to Tim Hortons? We are too!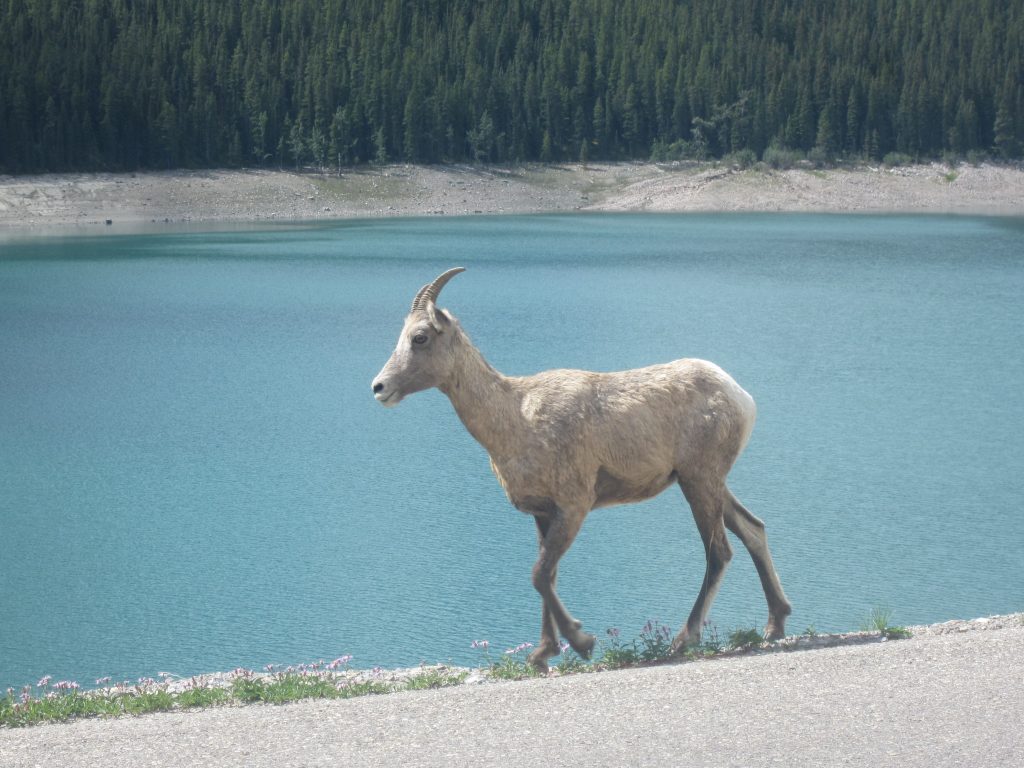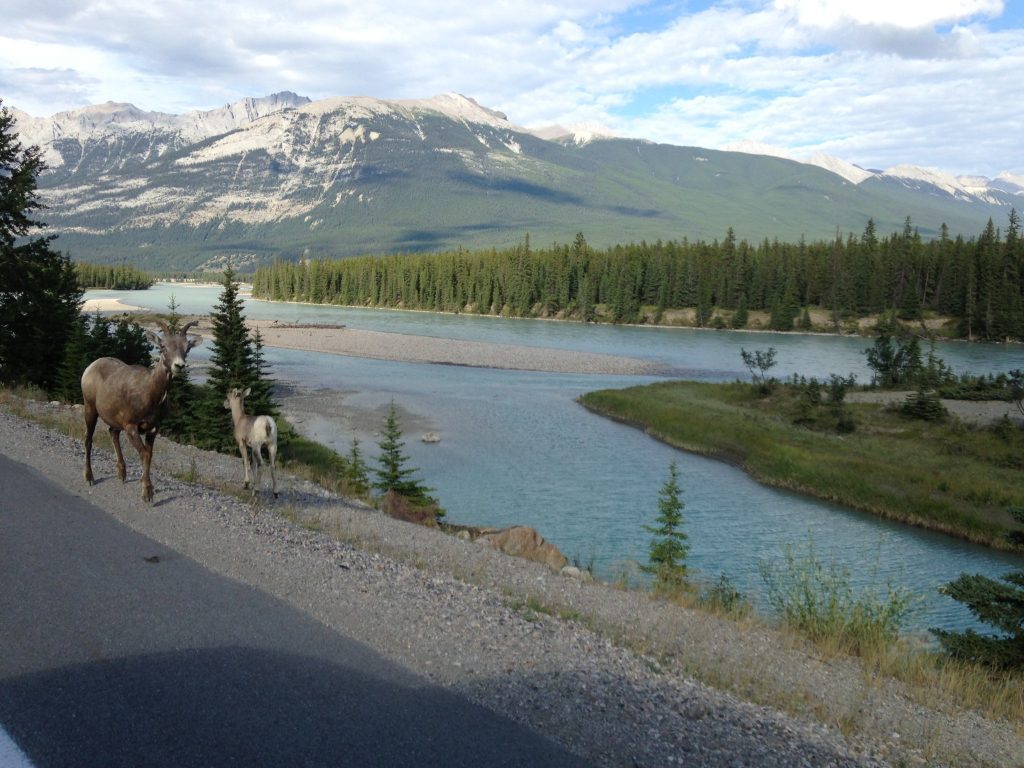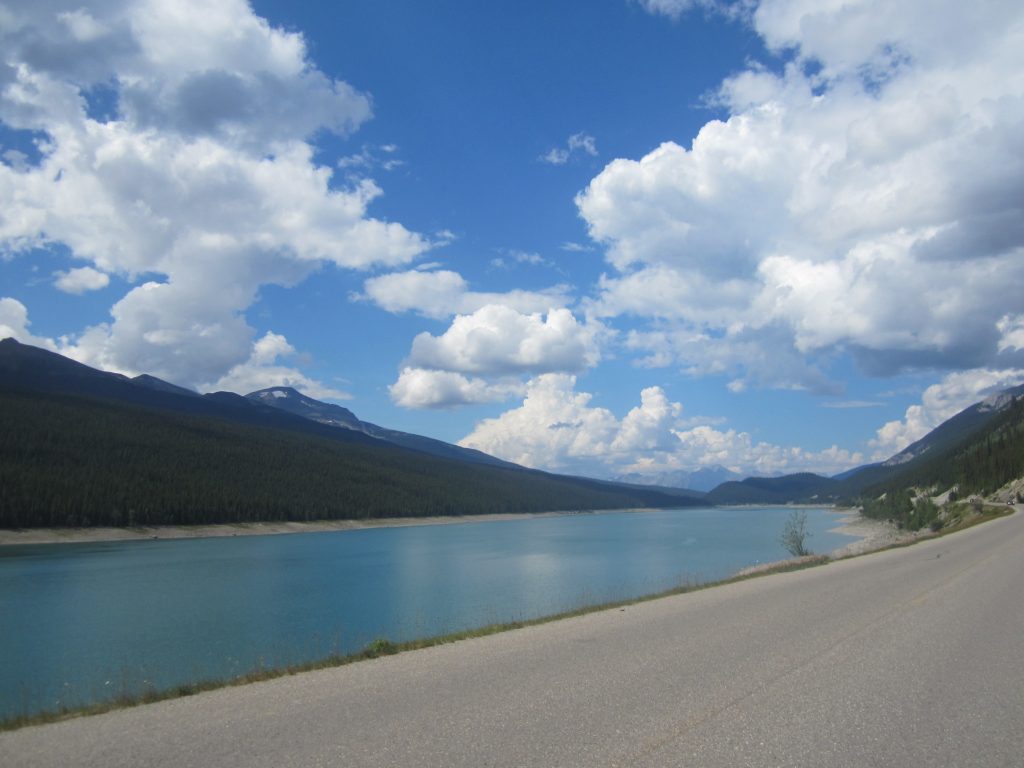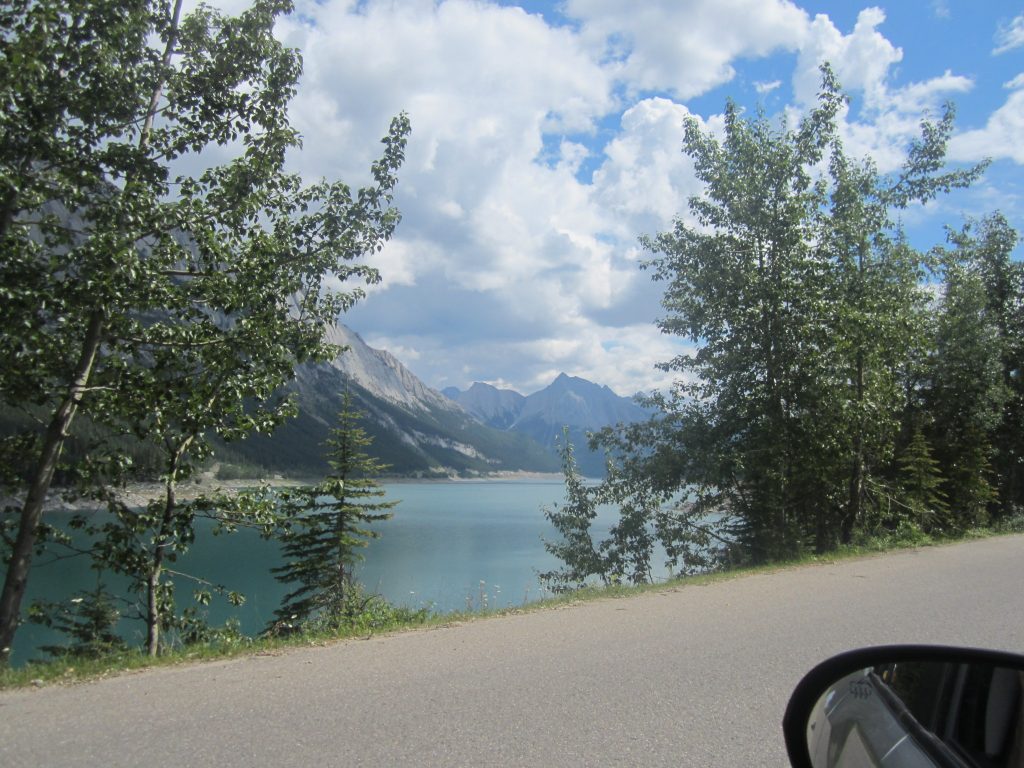 There are so many little parks and trails inside Jasper National Park you start to lose it after a while. Not sure which one is this one…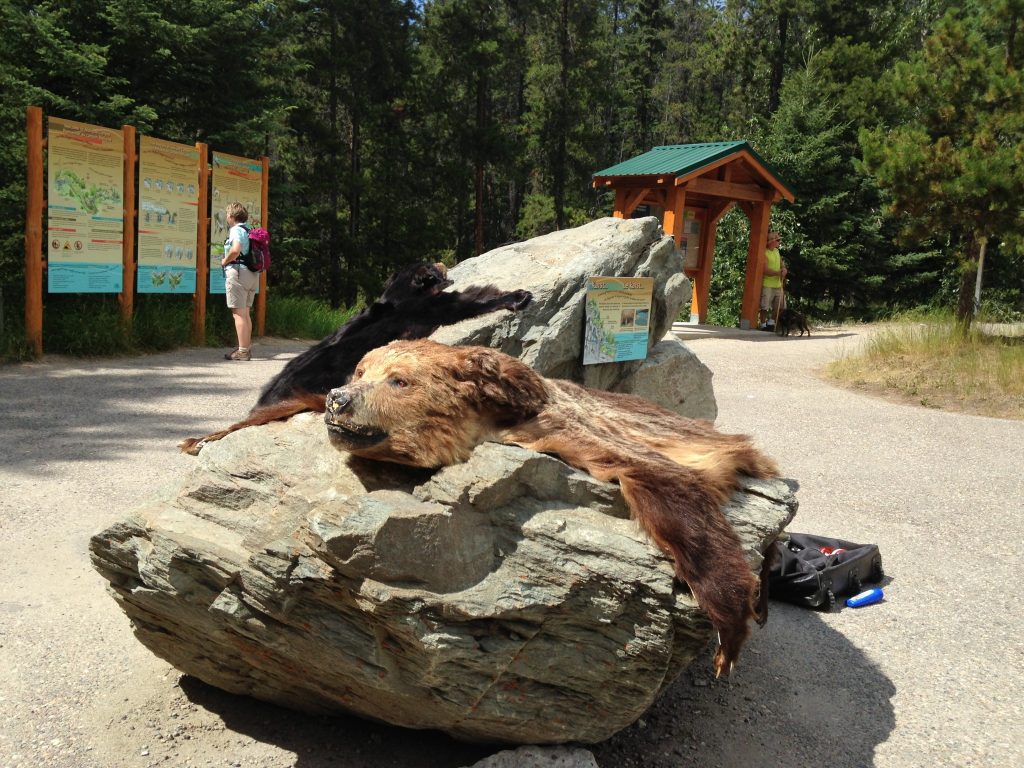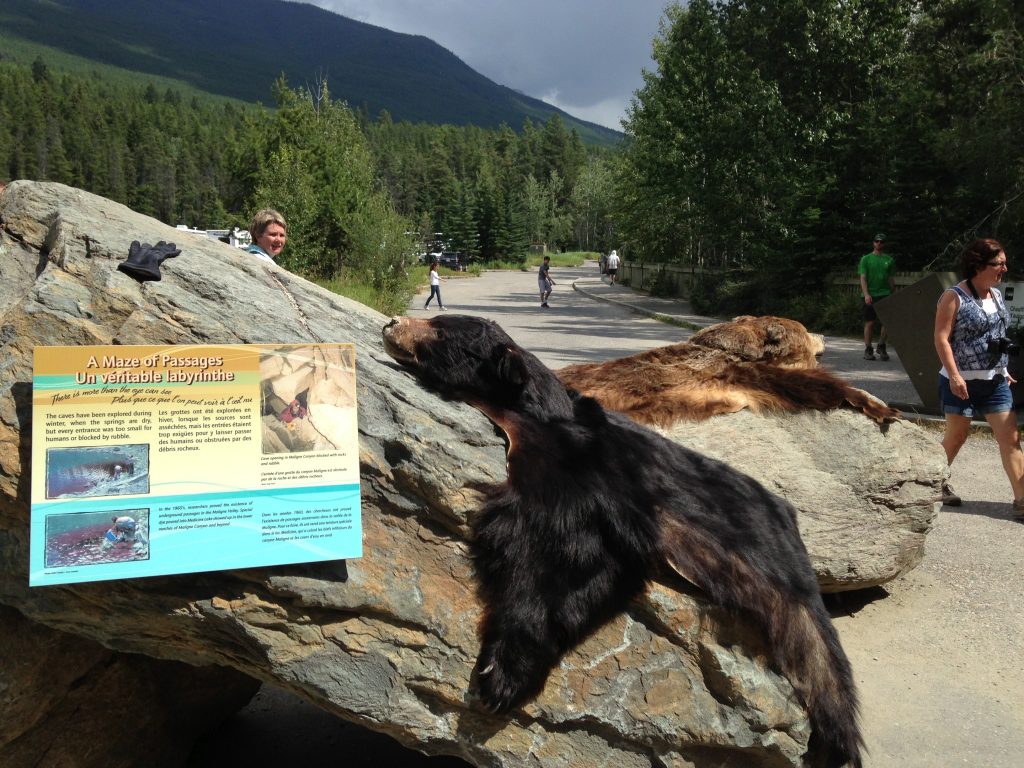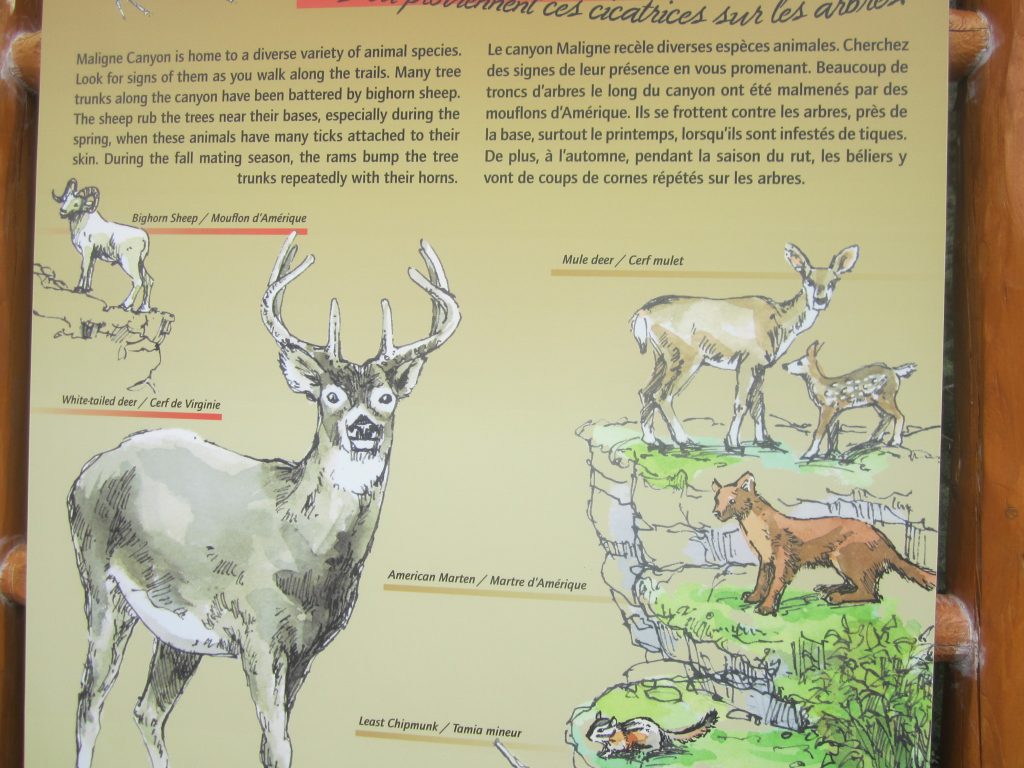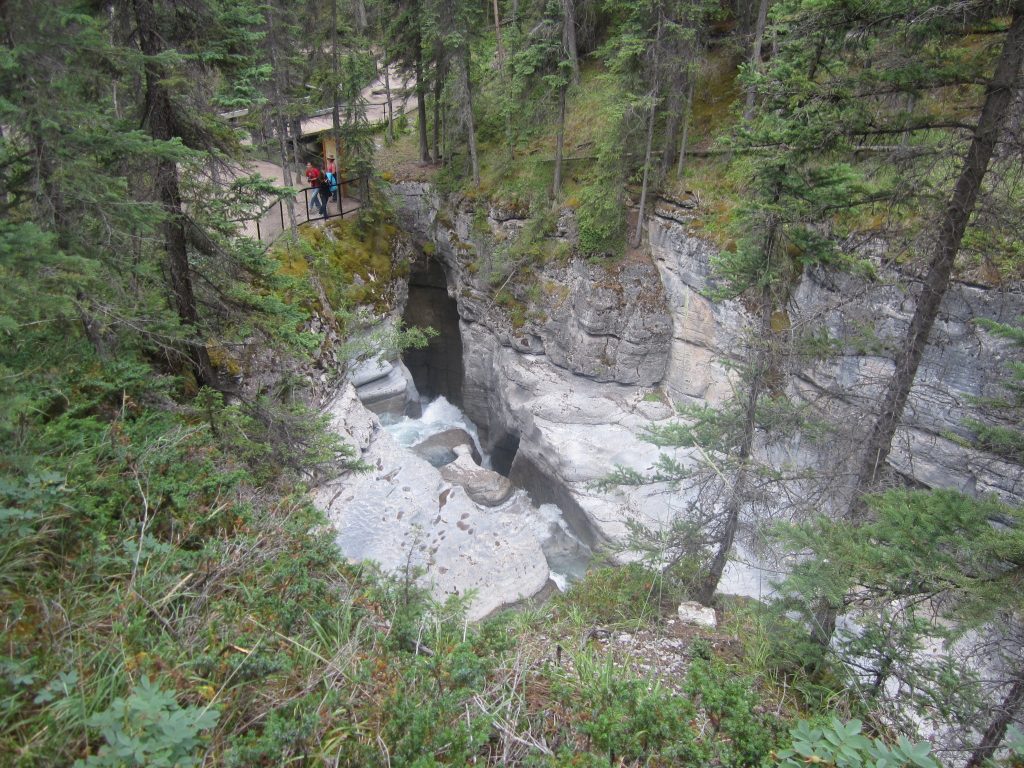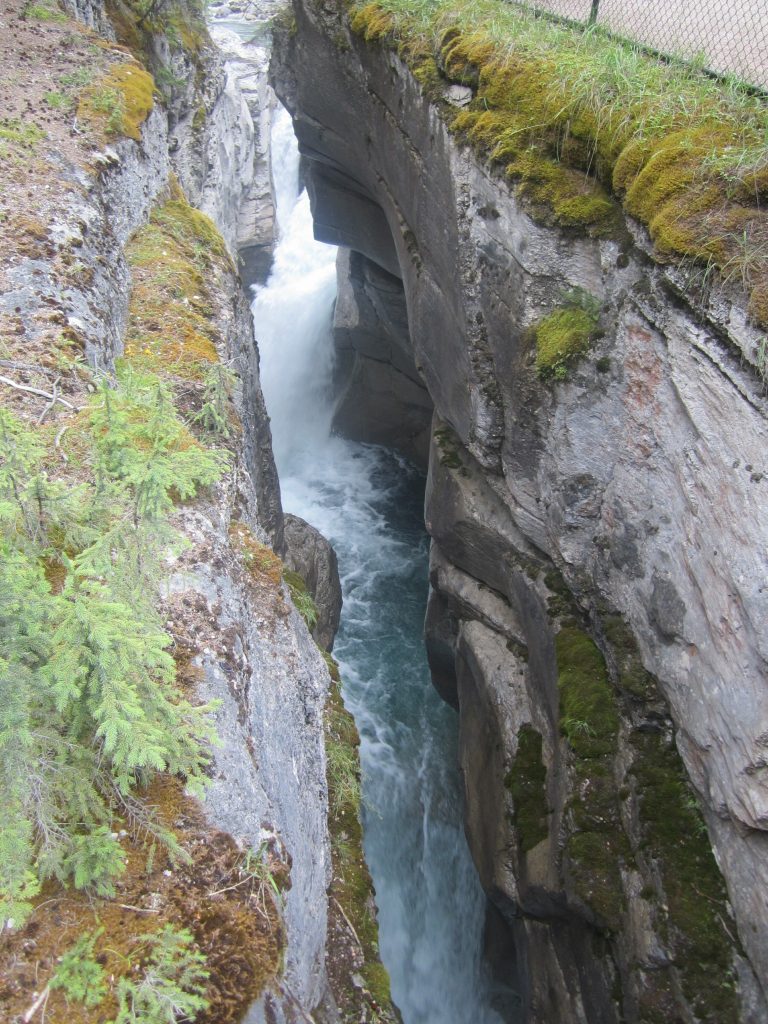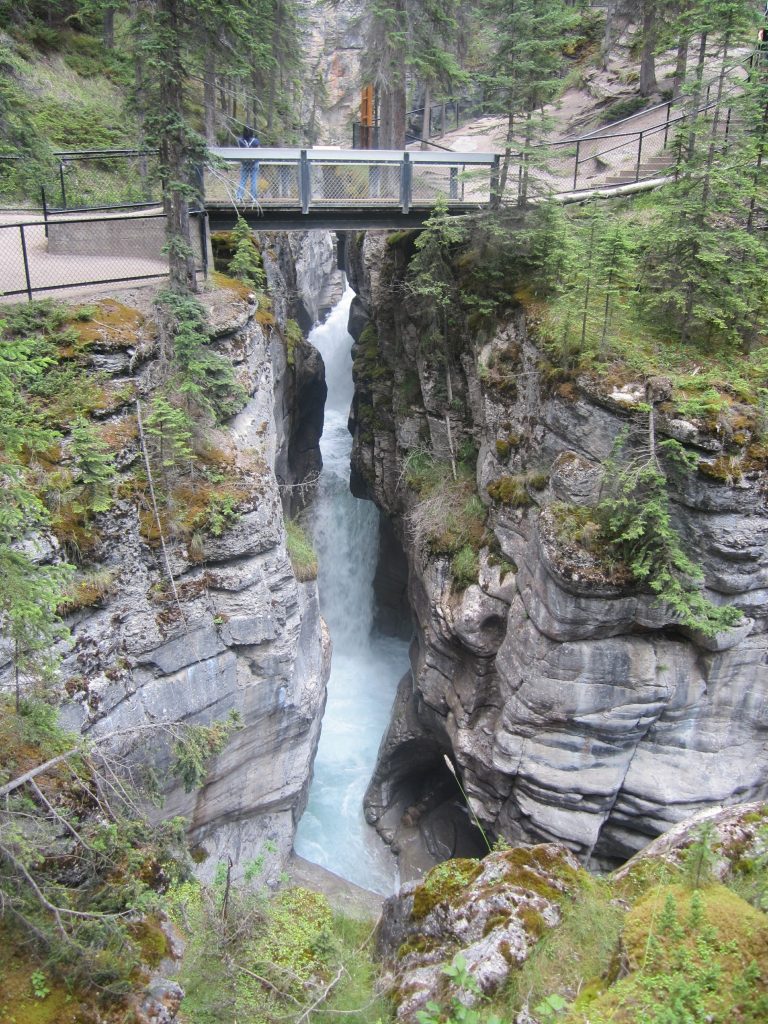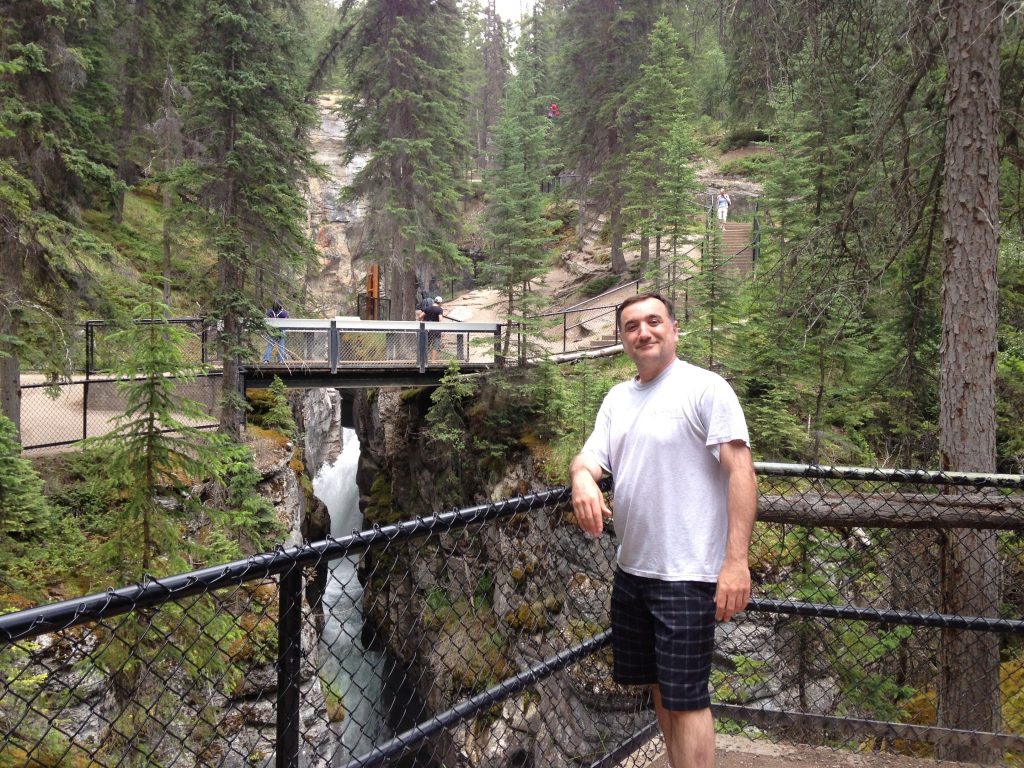 My Greek hometown soccer team scarf, sorry can't help it!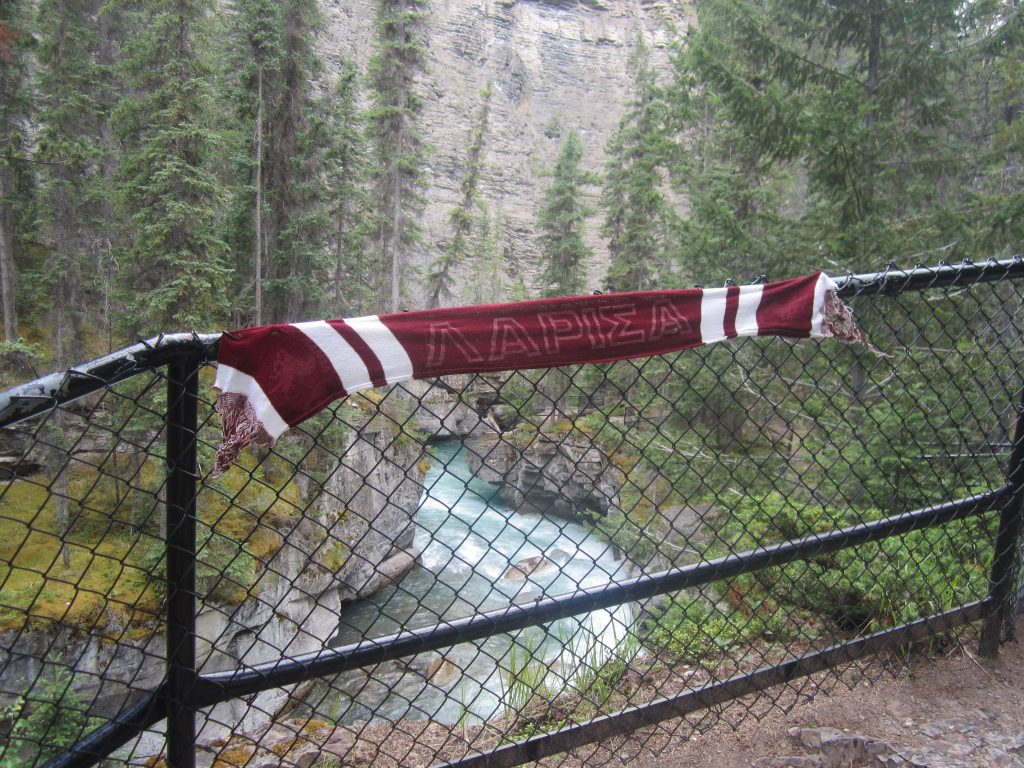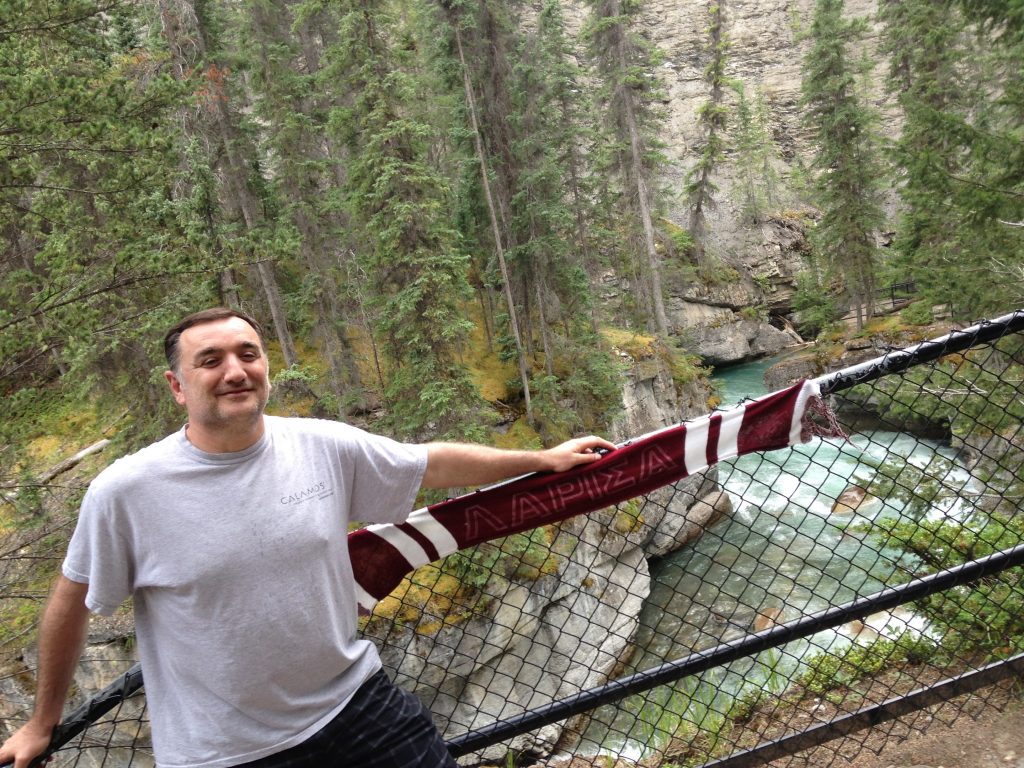 The beauty and the beast lol.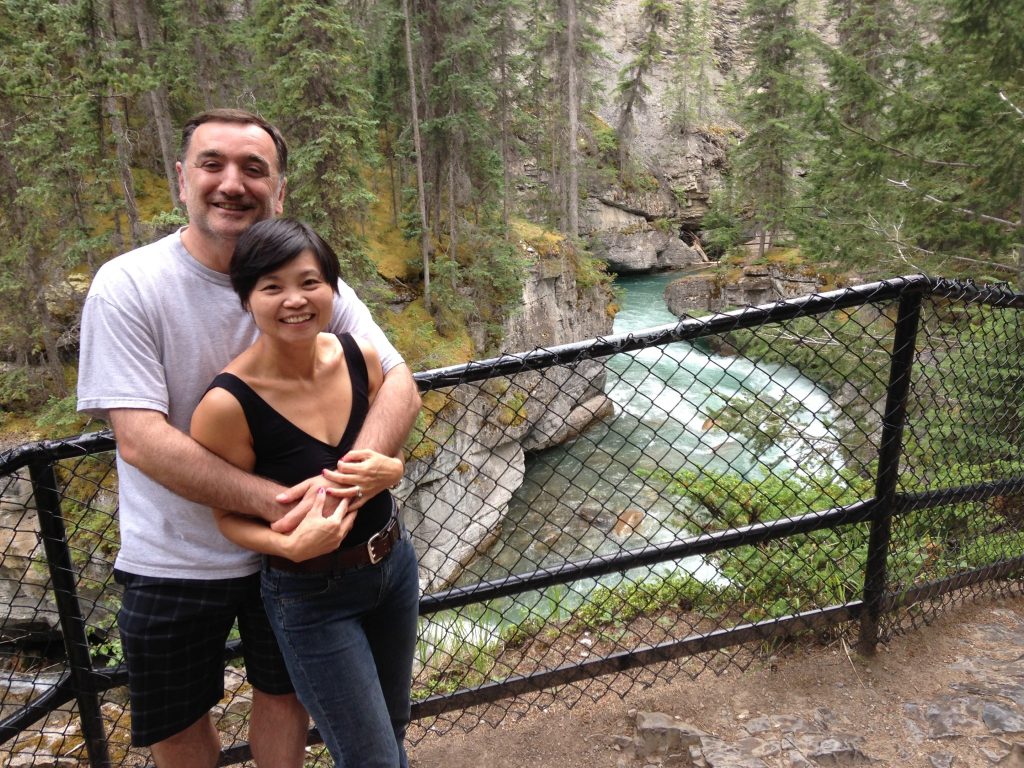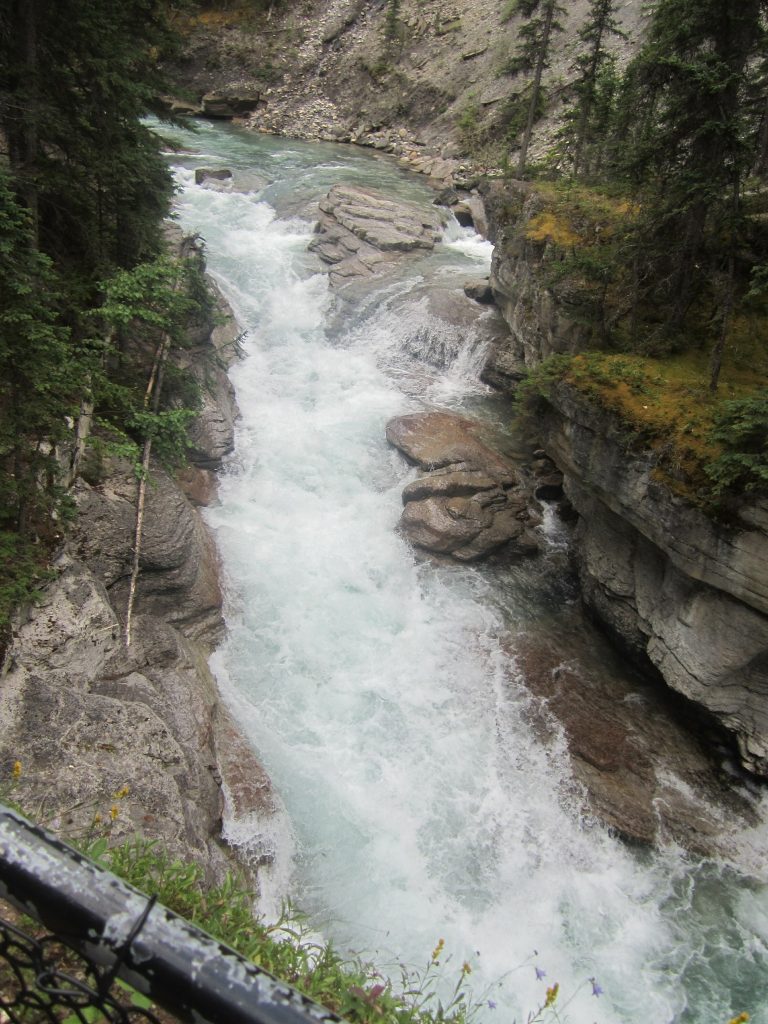 We decided to check out the town of Jasper.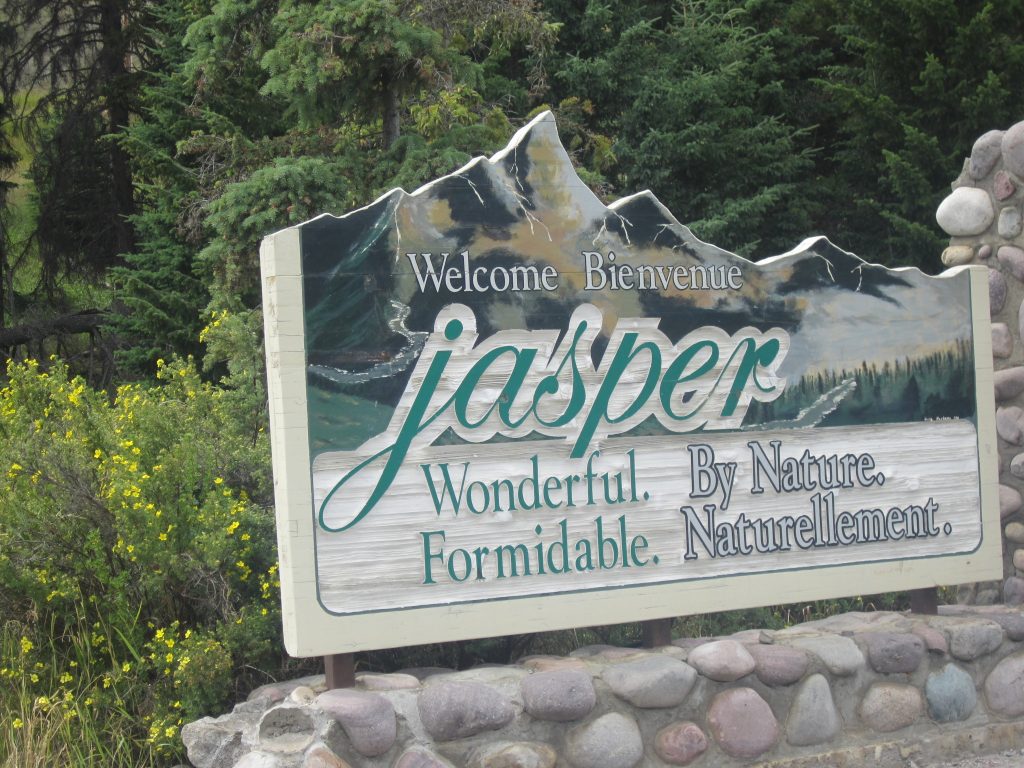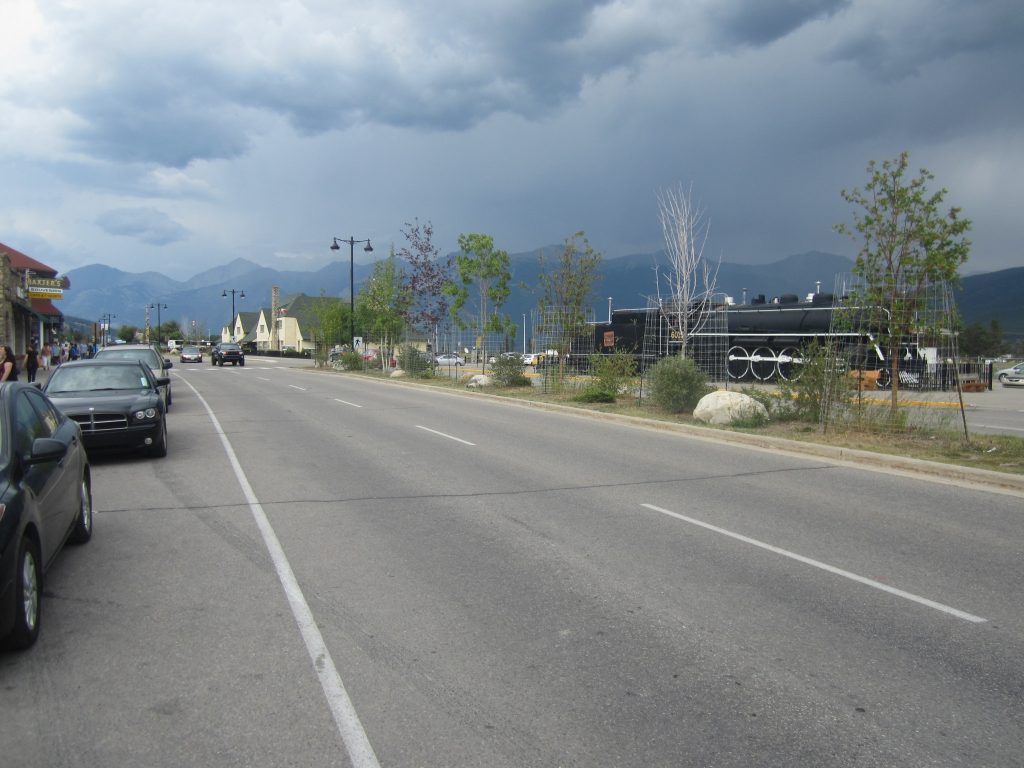 Since we were here we decided to visit the Fairmont Jasper Park Lodge property.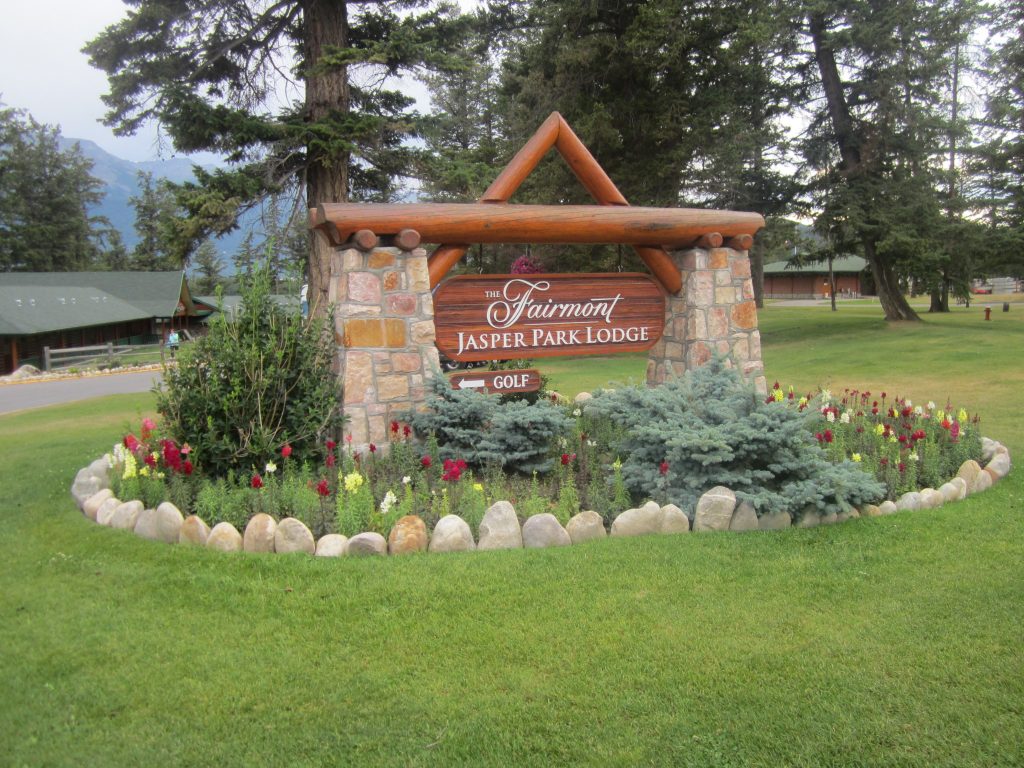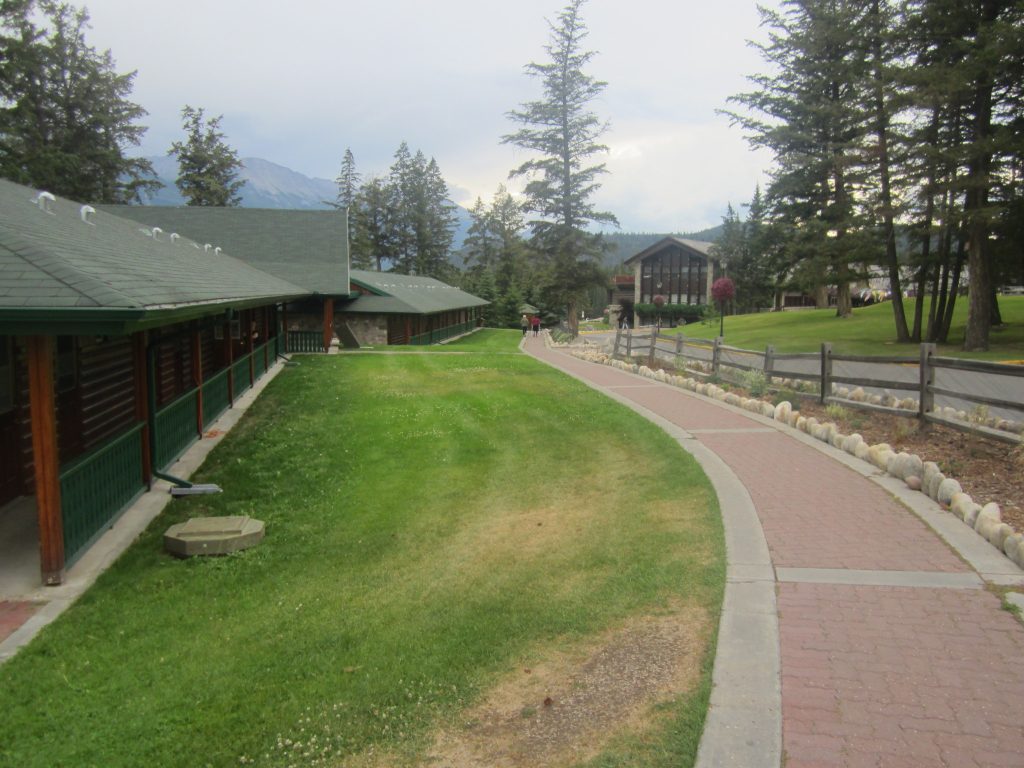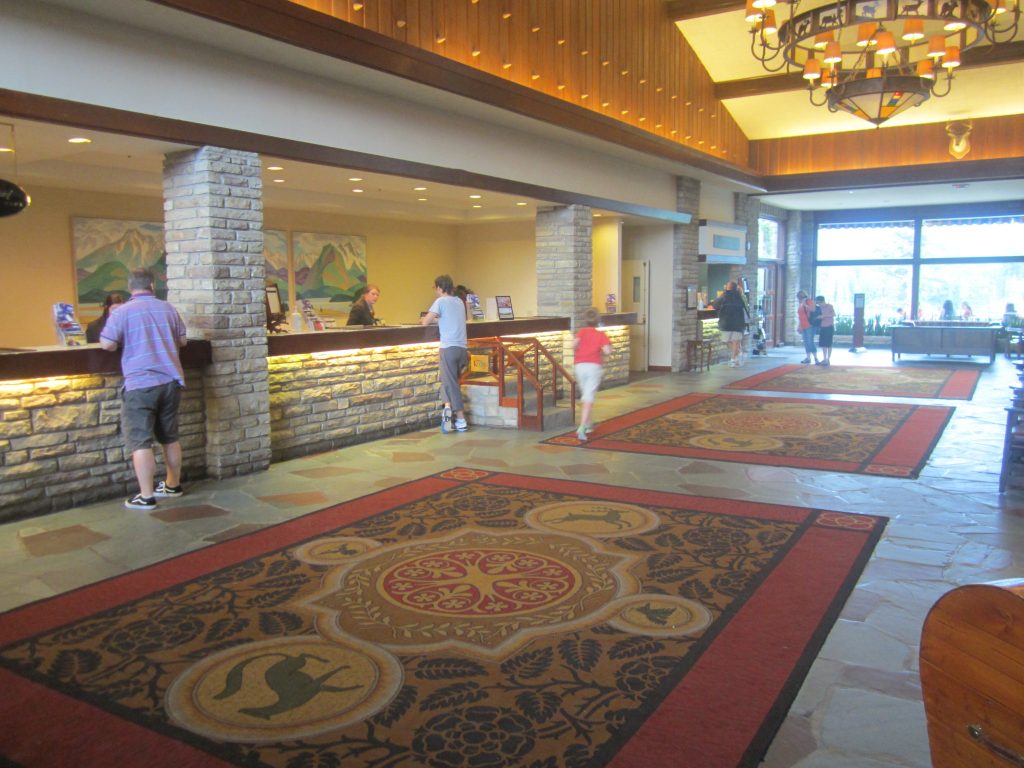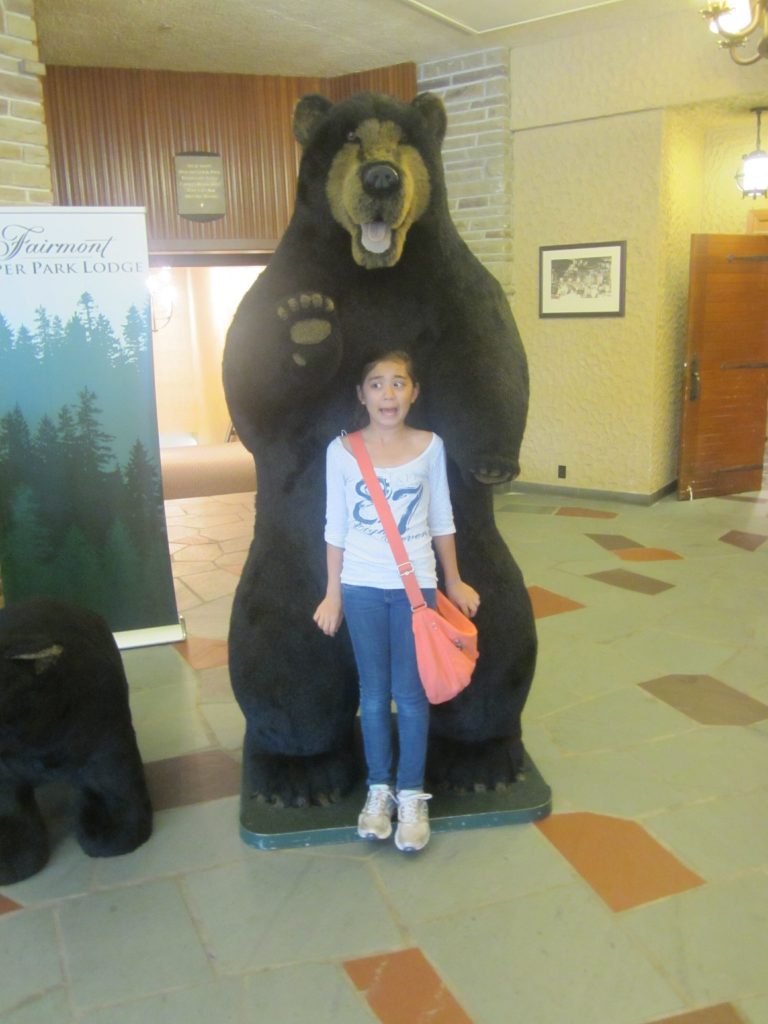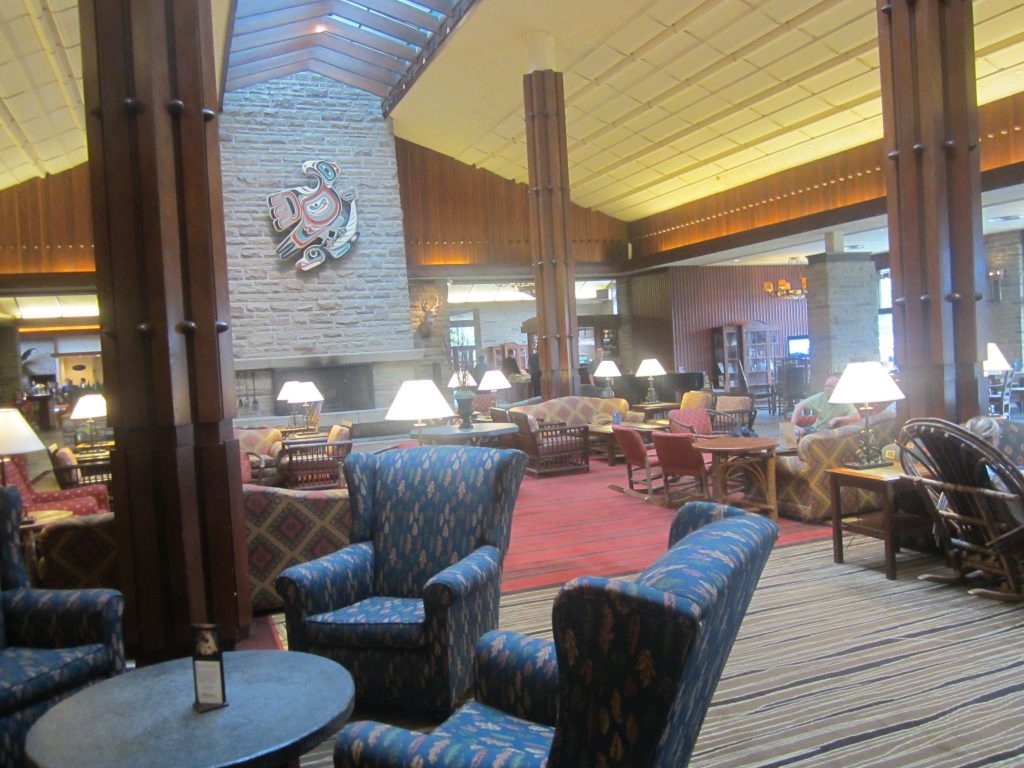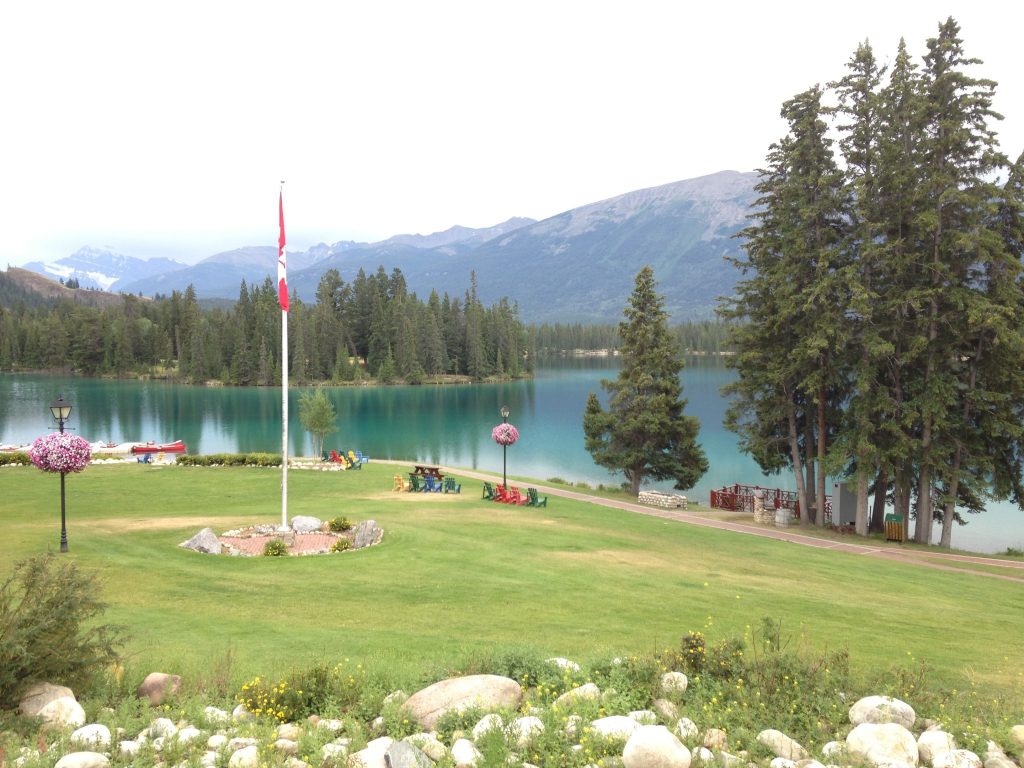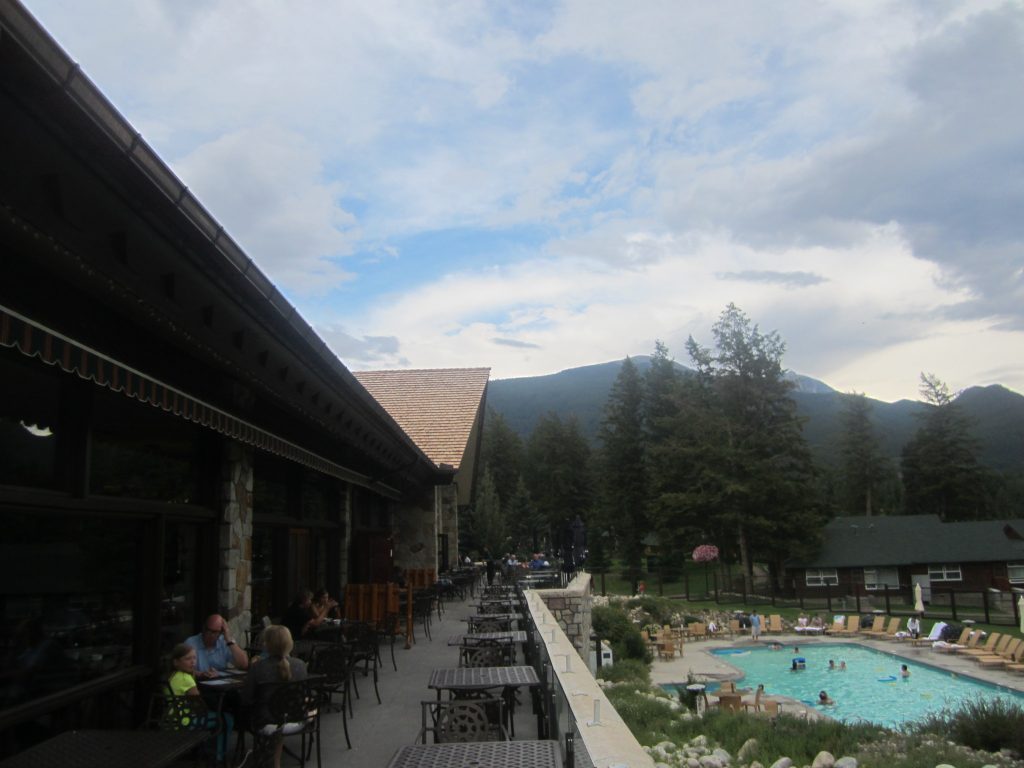 On the way back to Hinton we see more friends…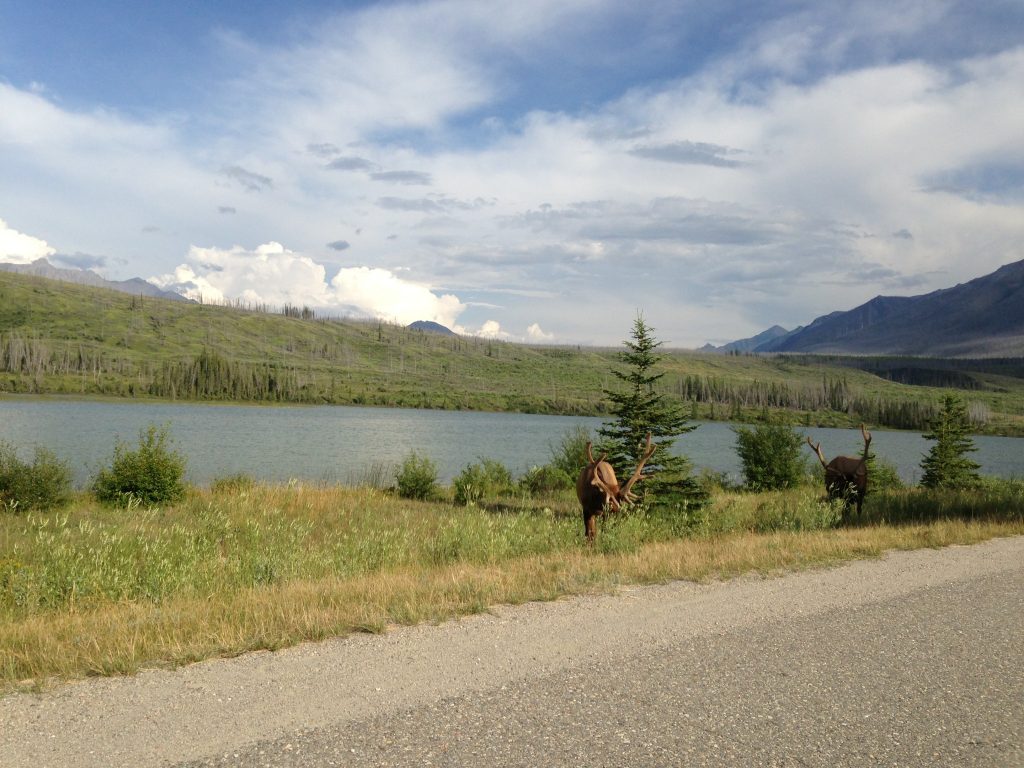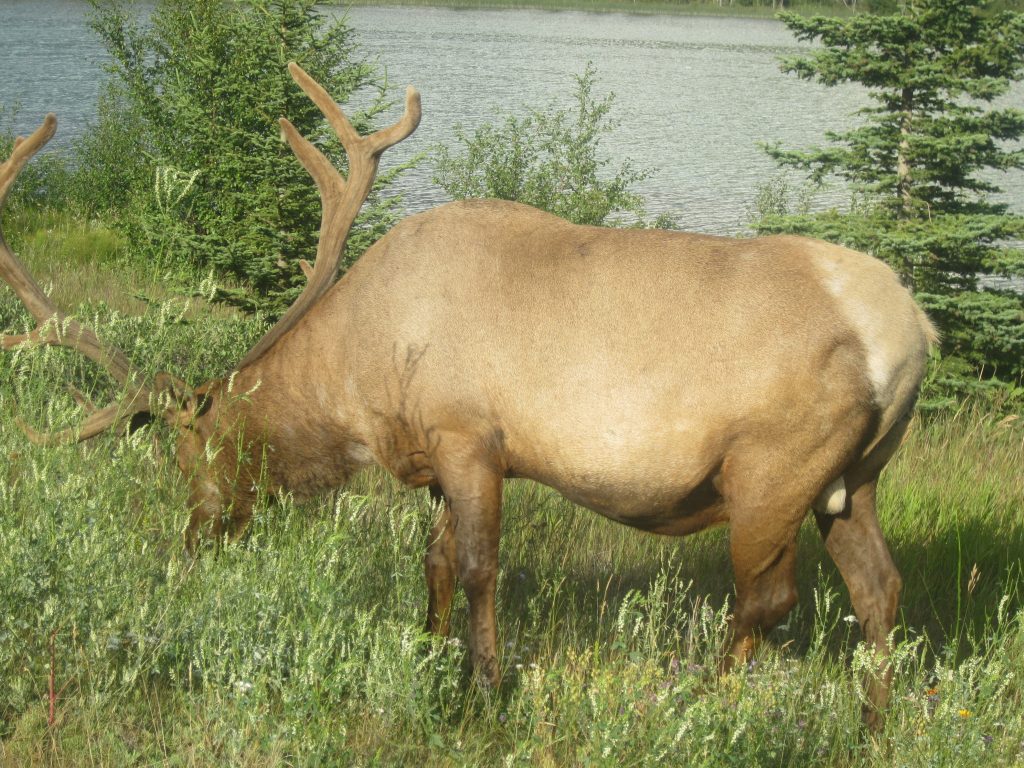 I know, I know, I am too close. I have done more stupid things. I am sorry.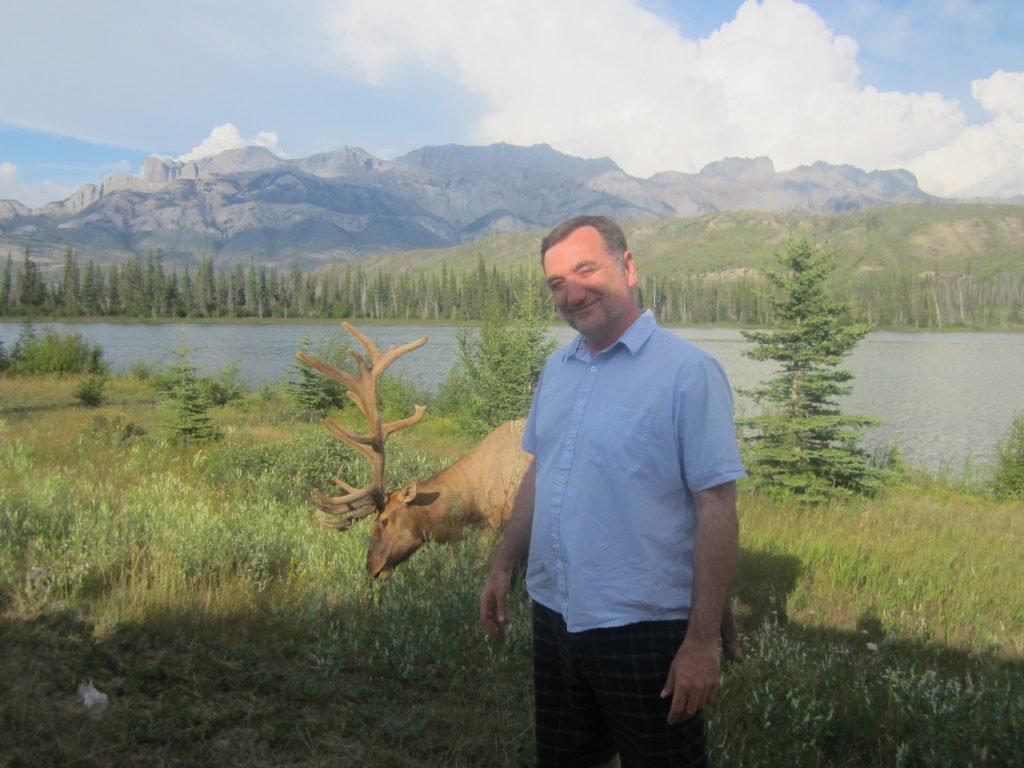 And just when you thought I could not be more stupid…I do it again!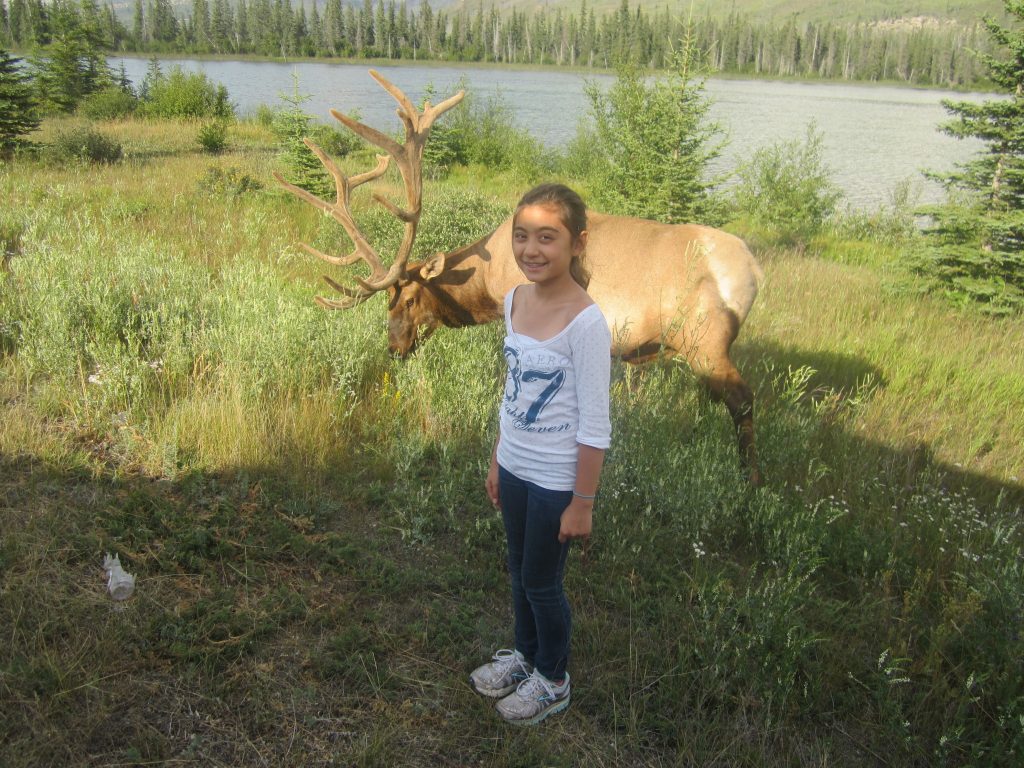 We stopped at a trail that was something about Pocahontas. No big deal, skip it.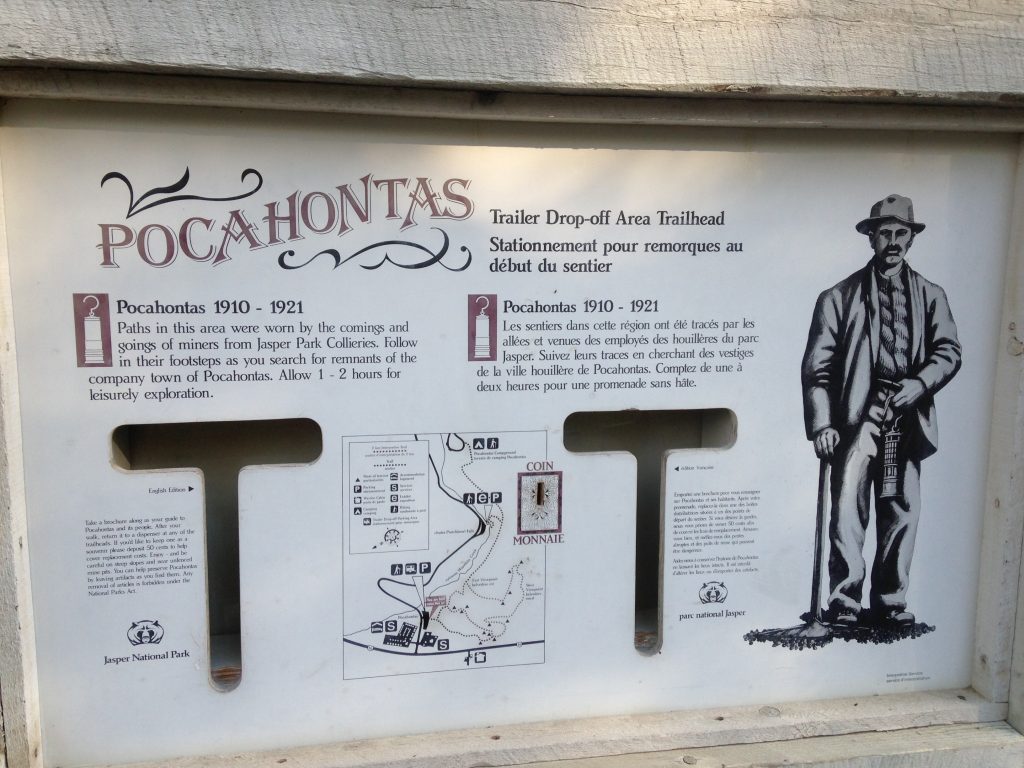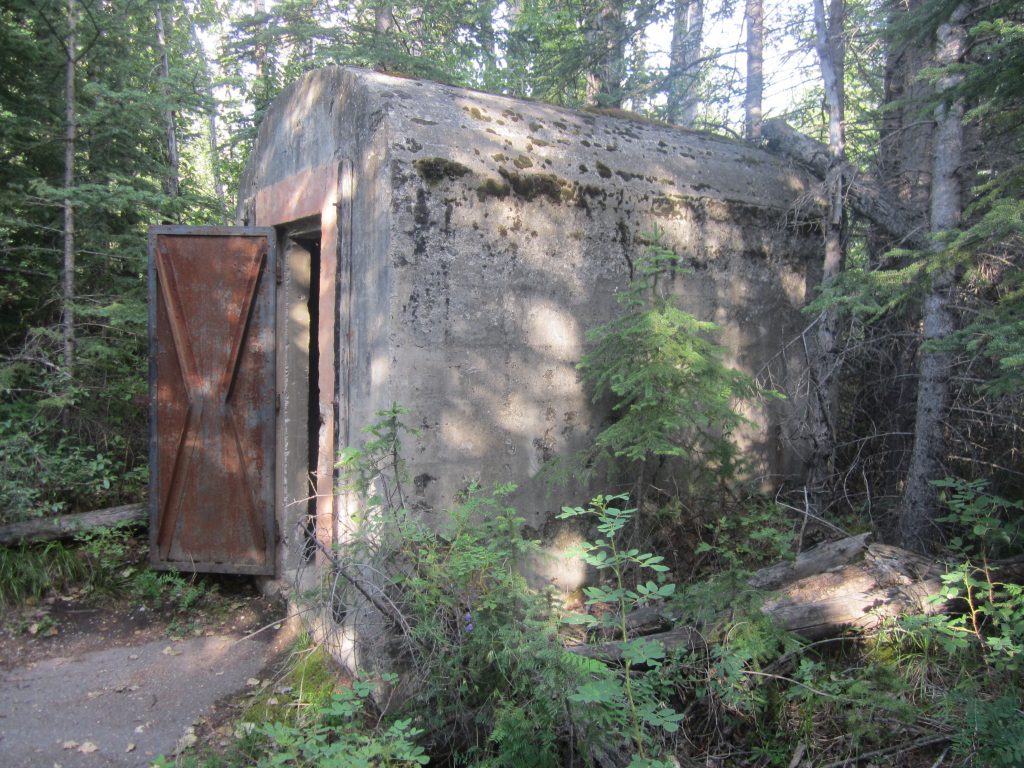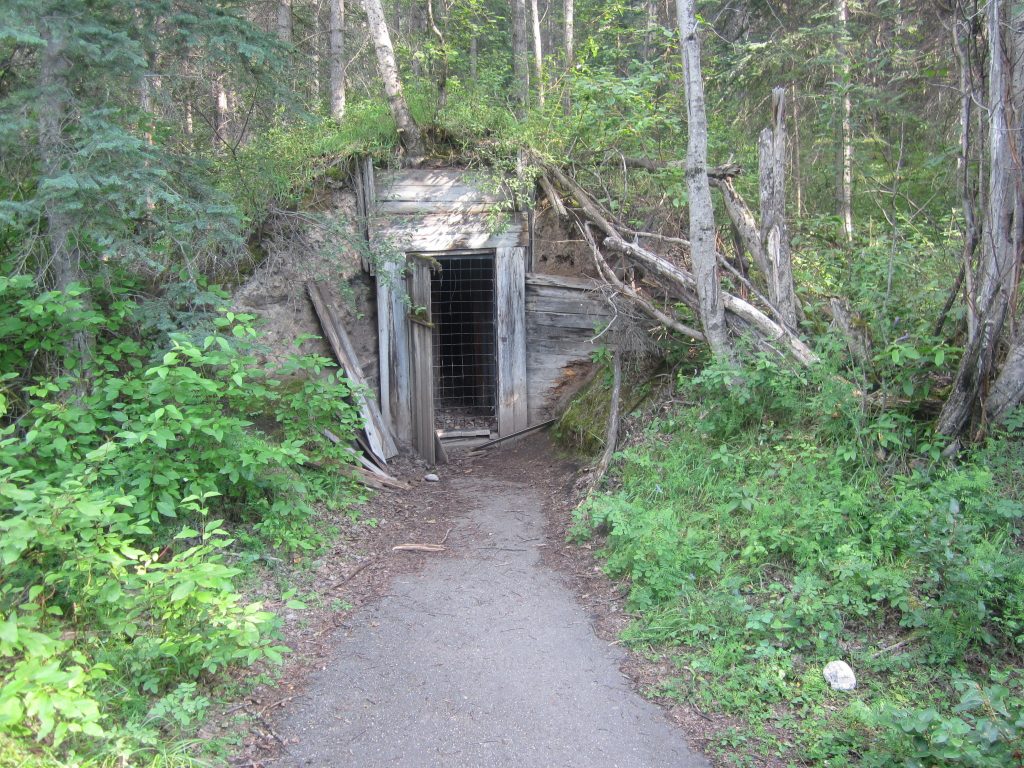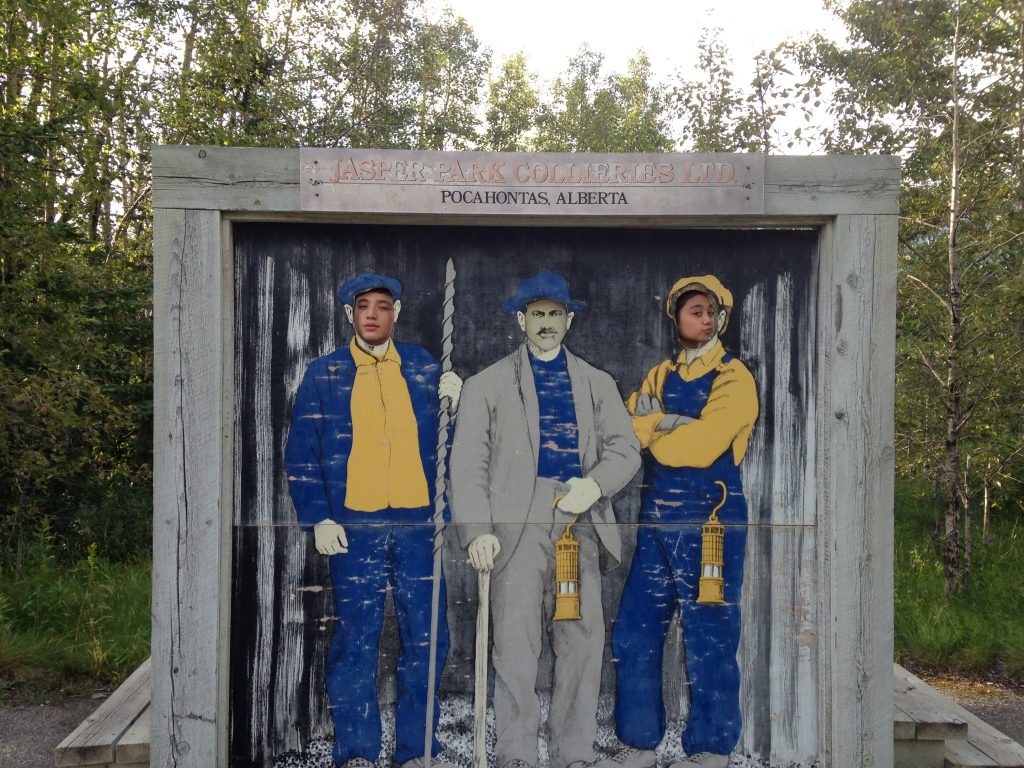 Downtown Hinton, you can tell this is a metropolitan hub lol. There is not much here…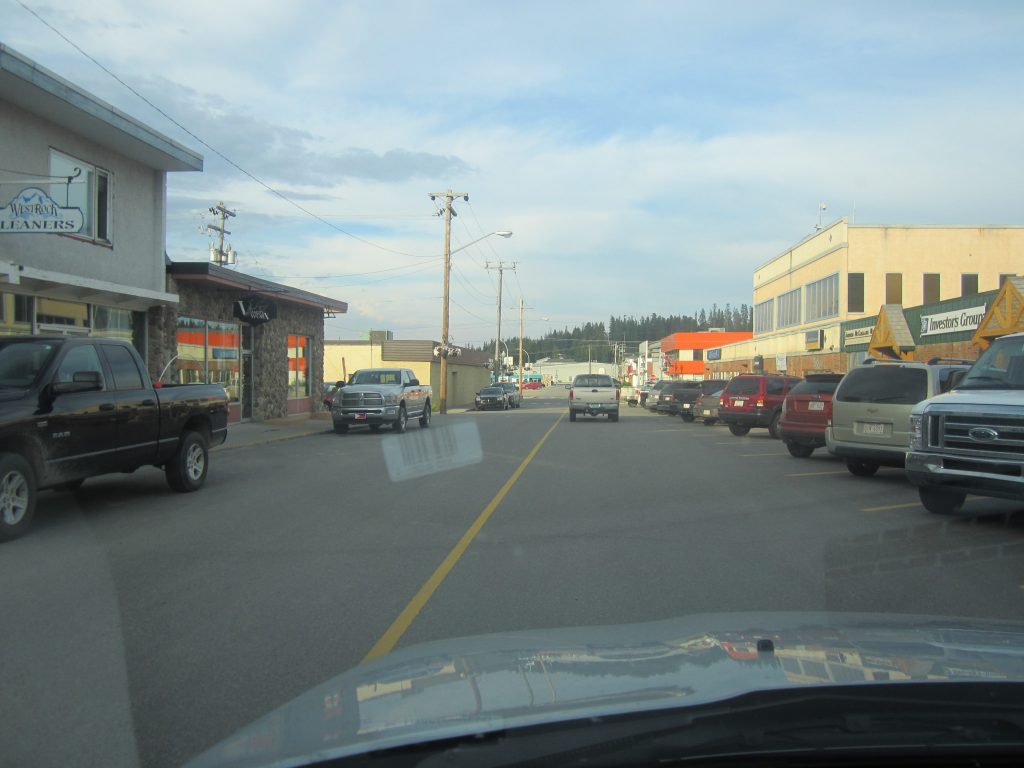 Goats up on the rocks, wow!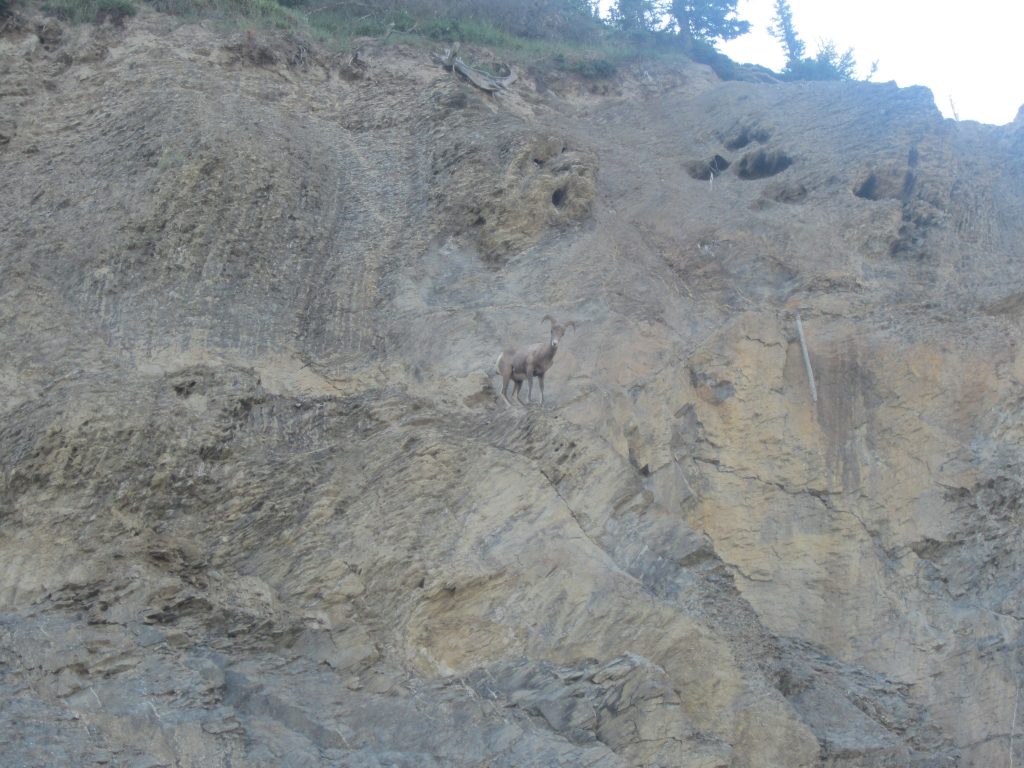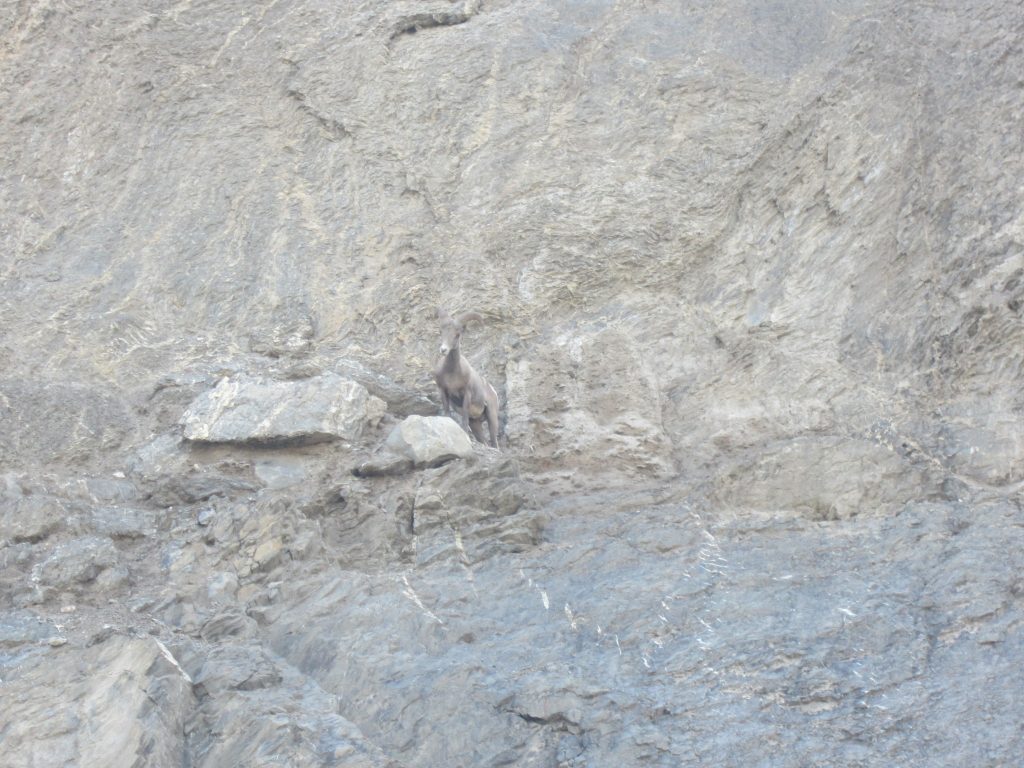 We started driving back to Calgary through the Icefields Parkway again going south.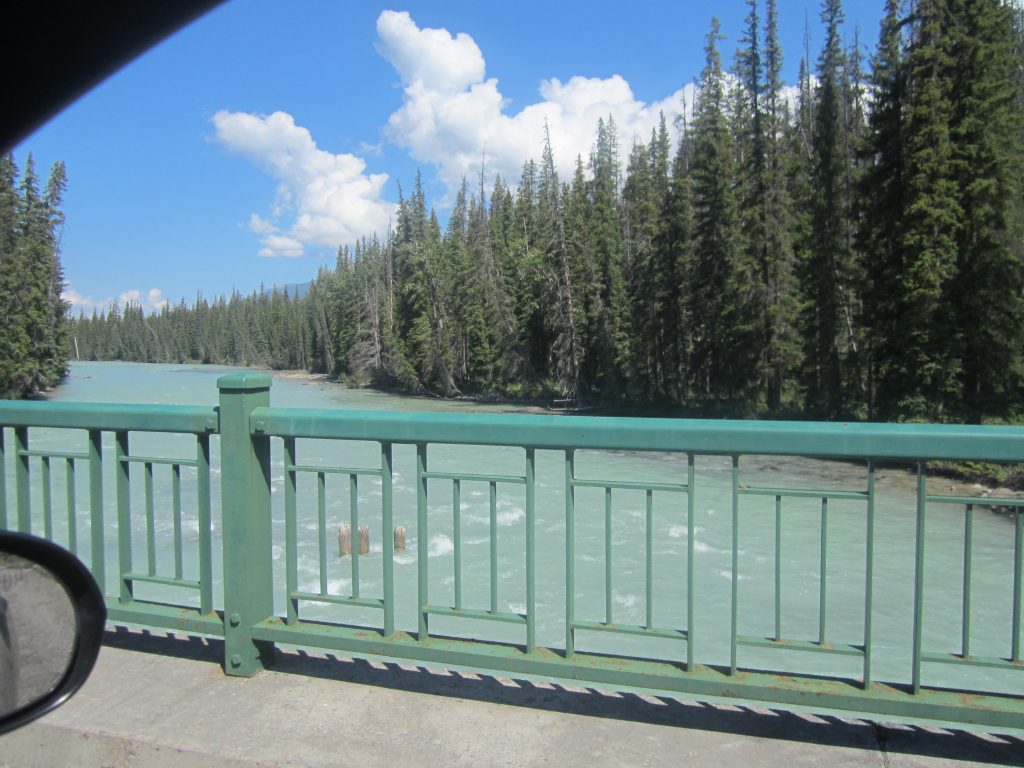 Many outdoor activities here, you will be amazed!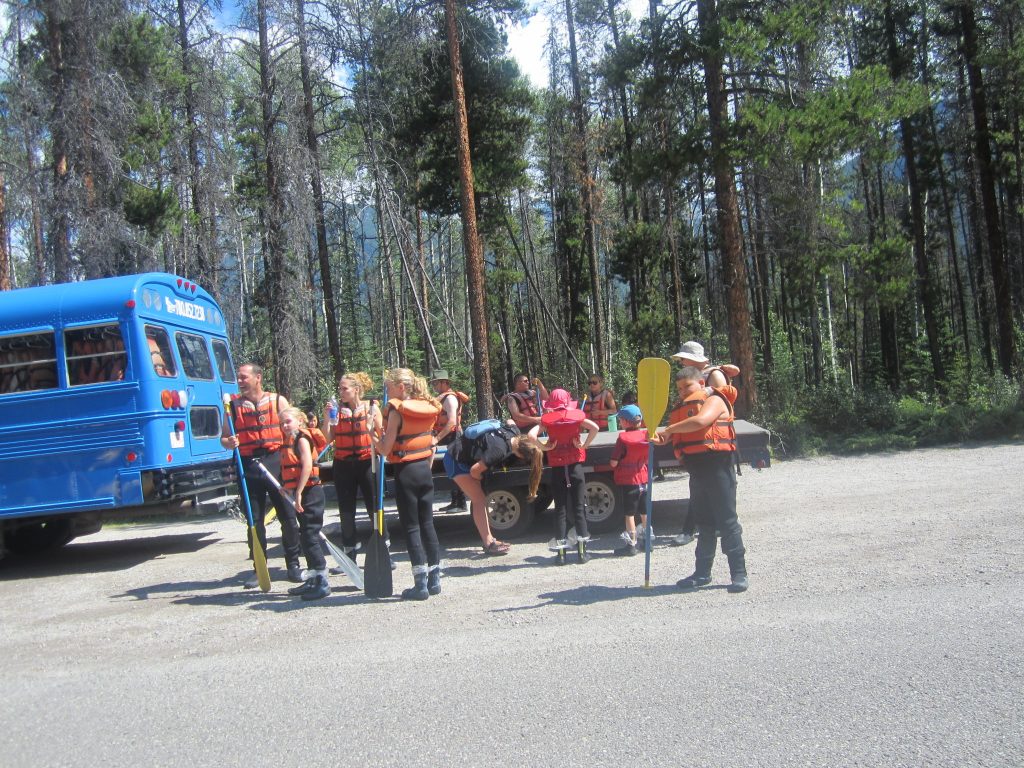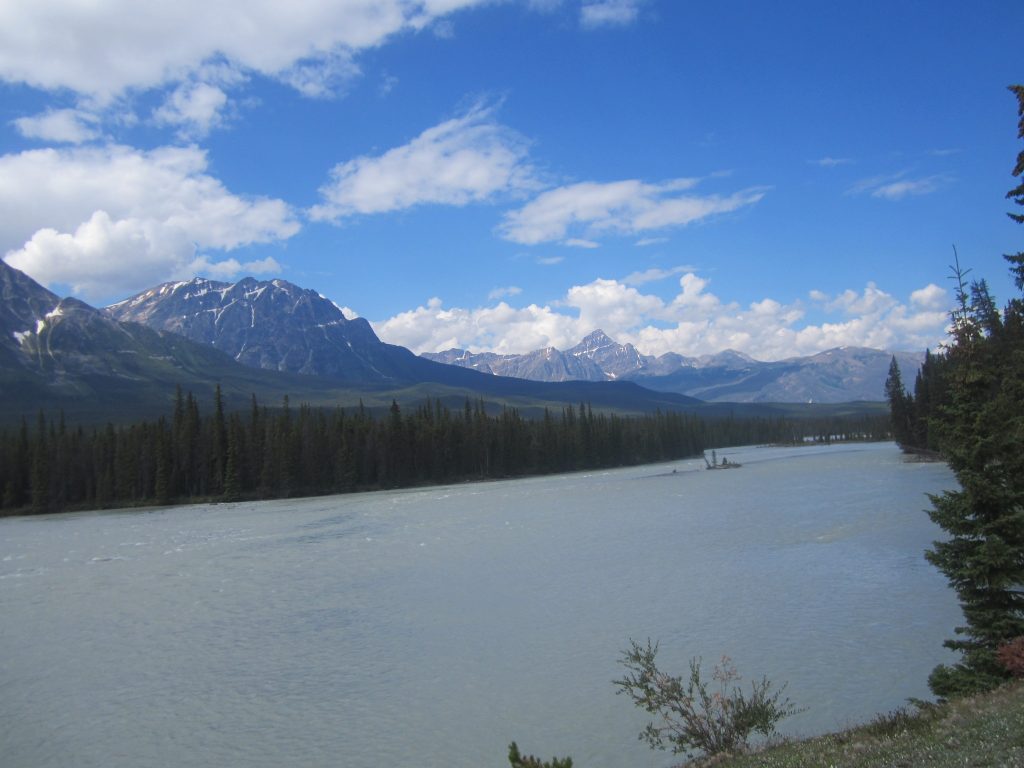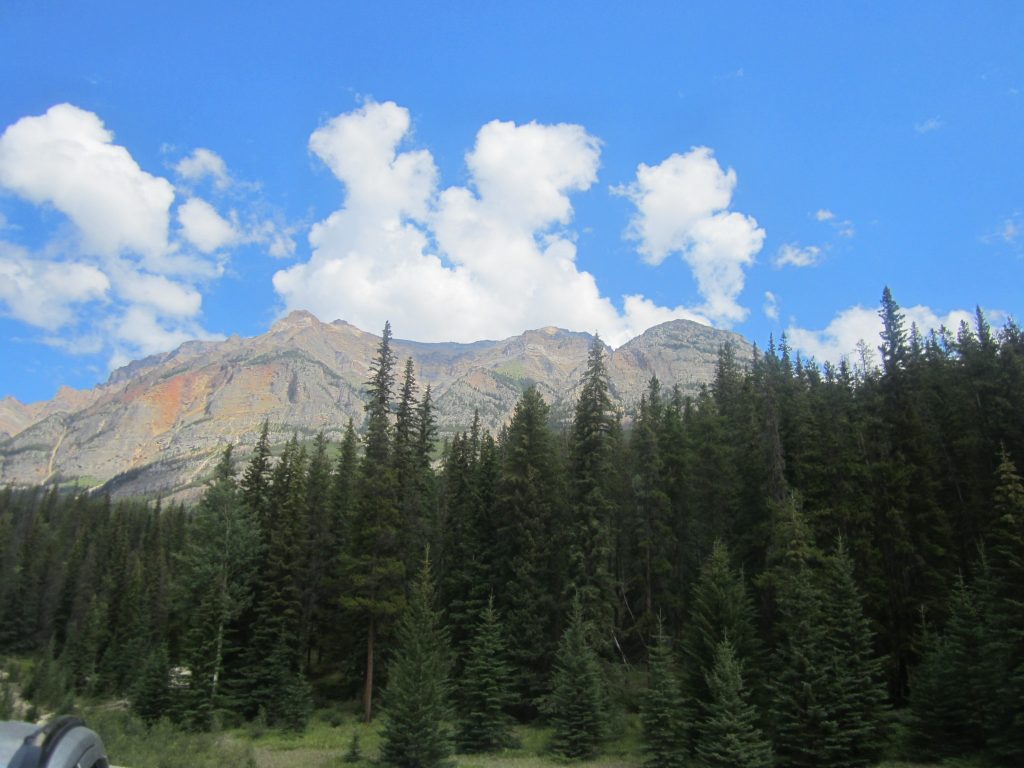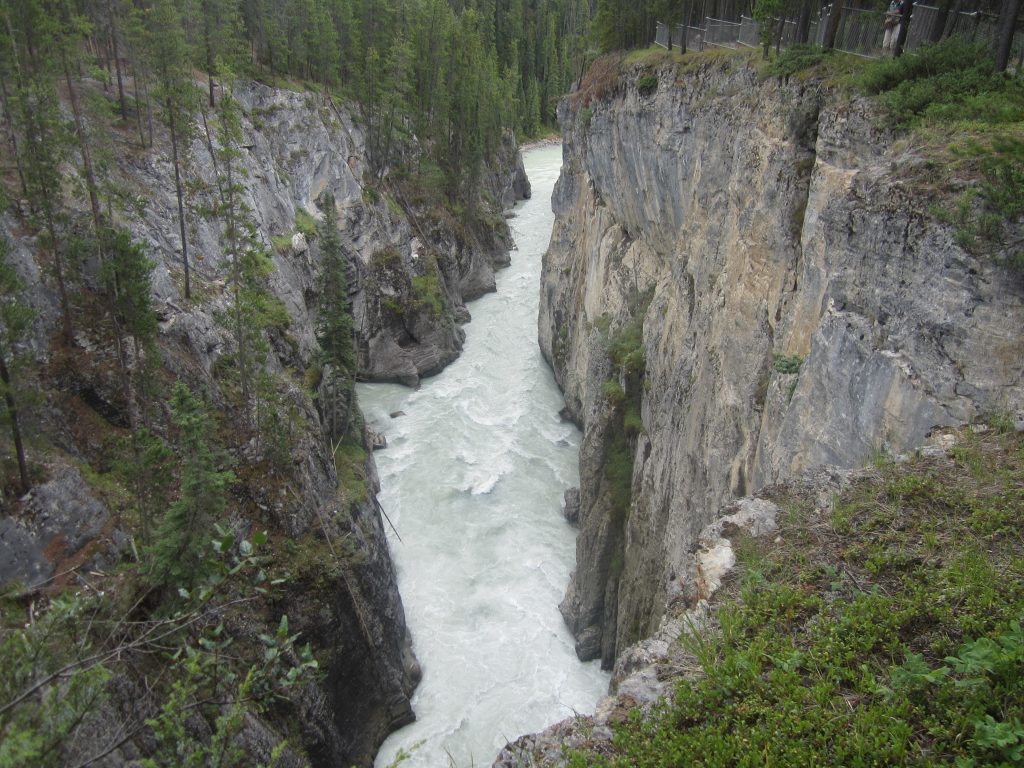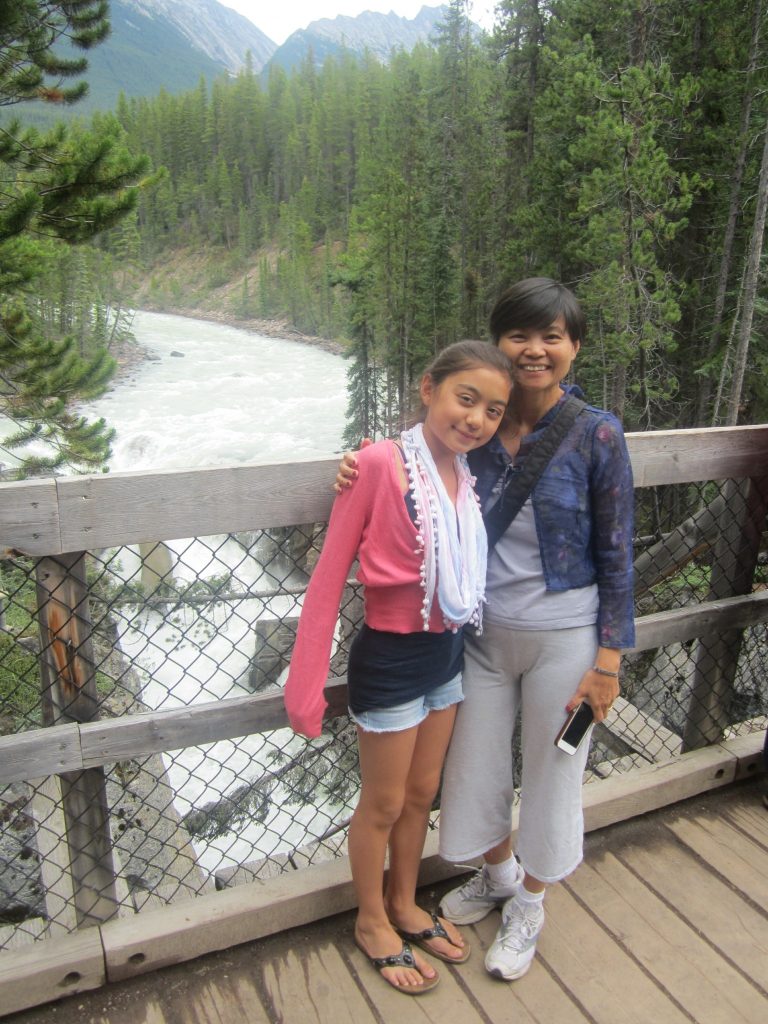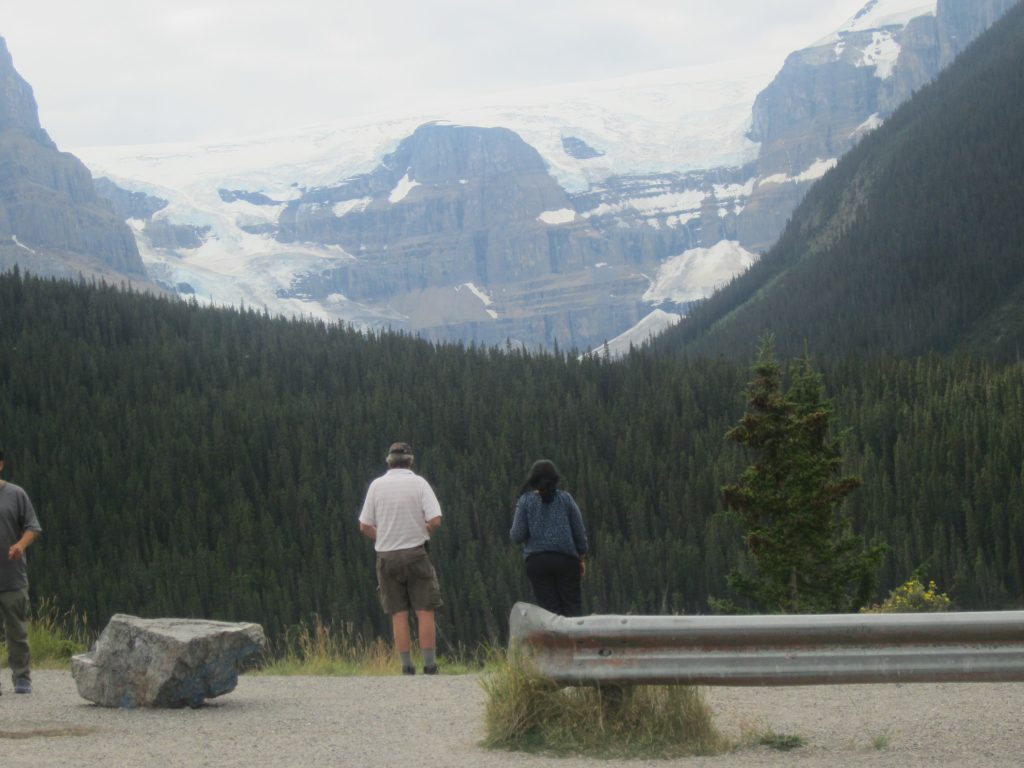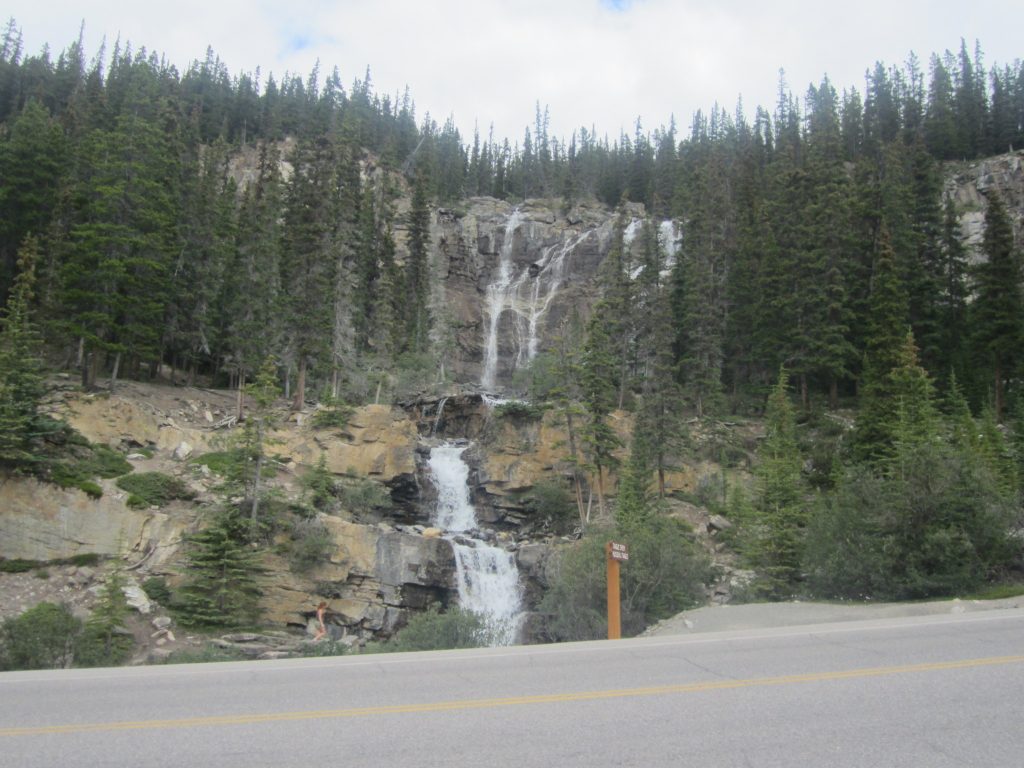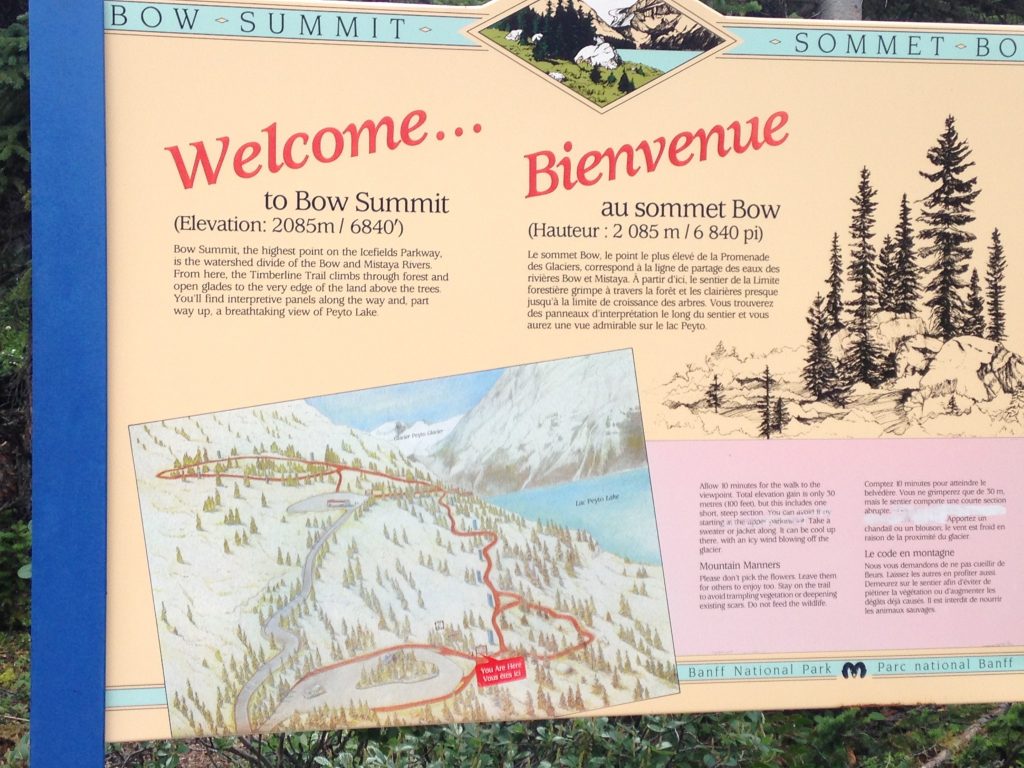 Made it to Peyto Lake, must see!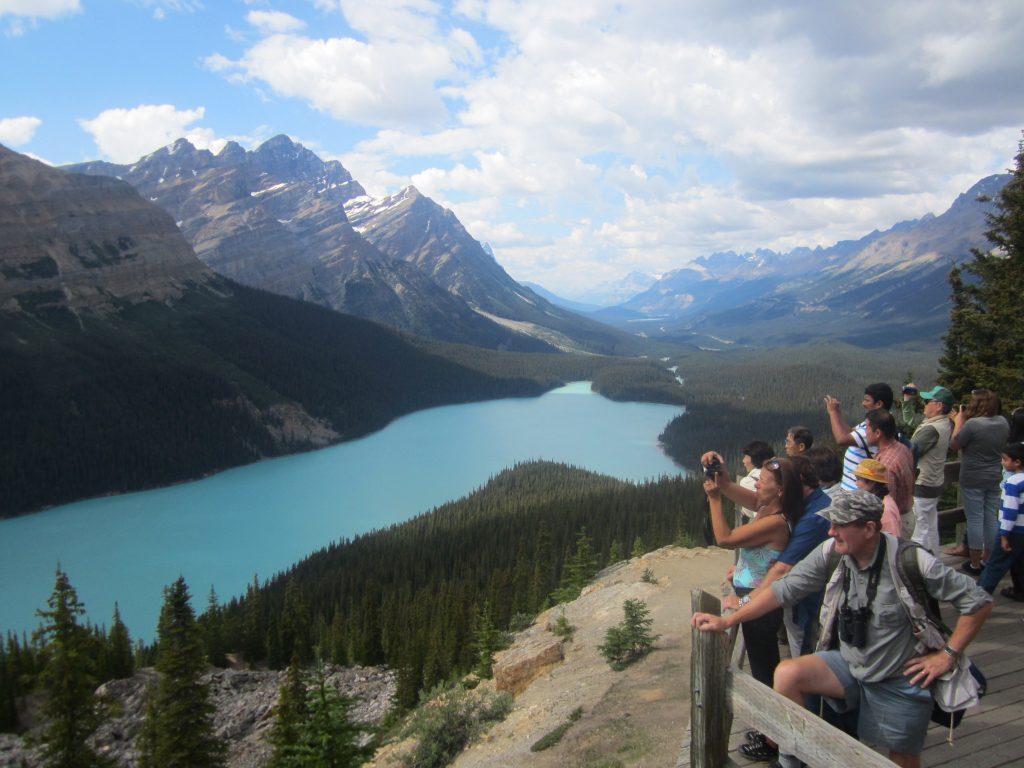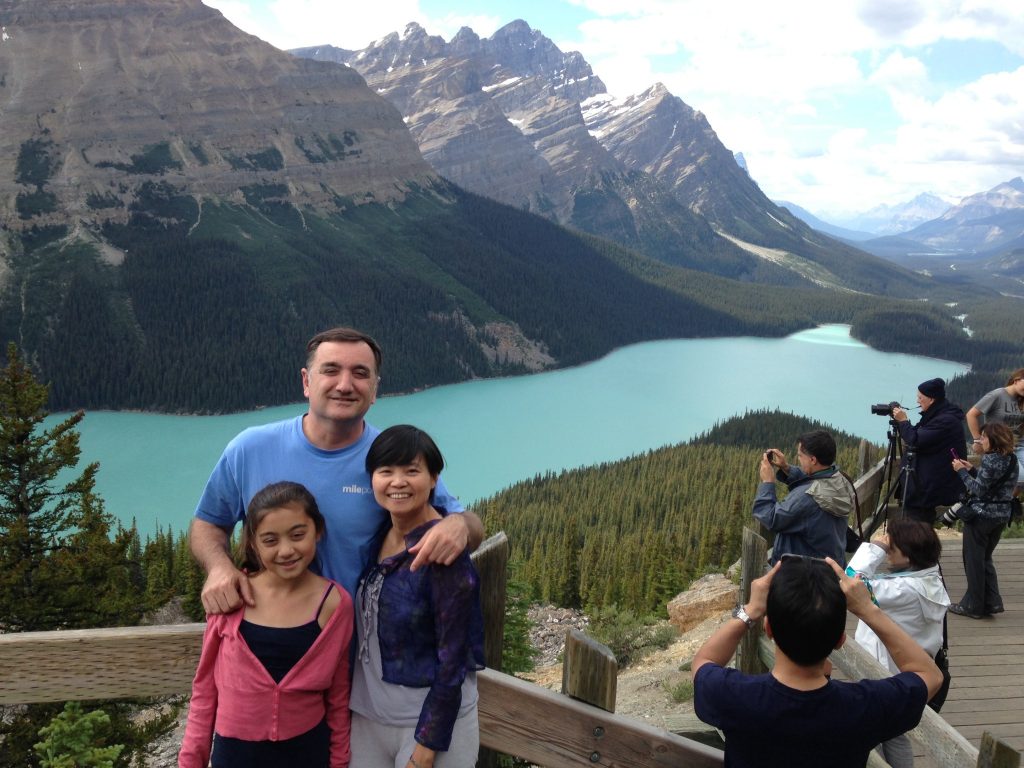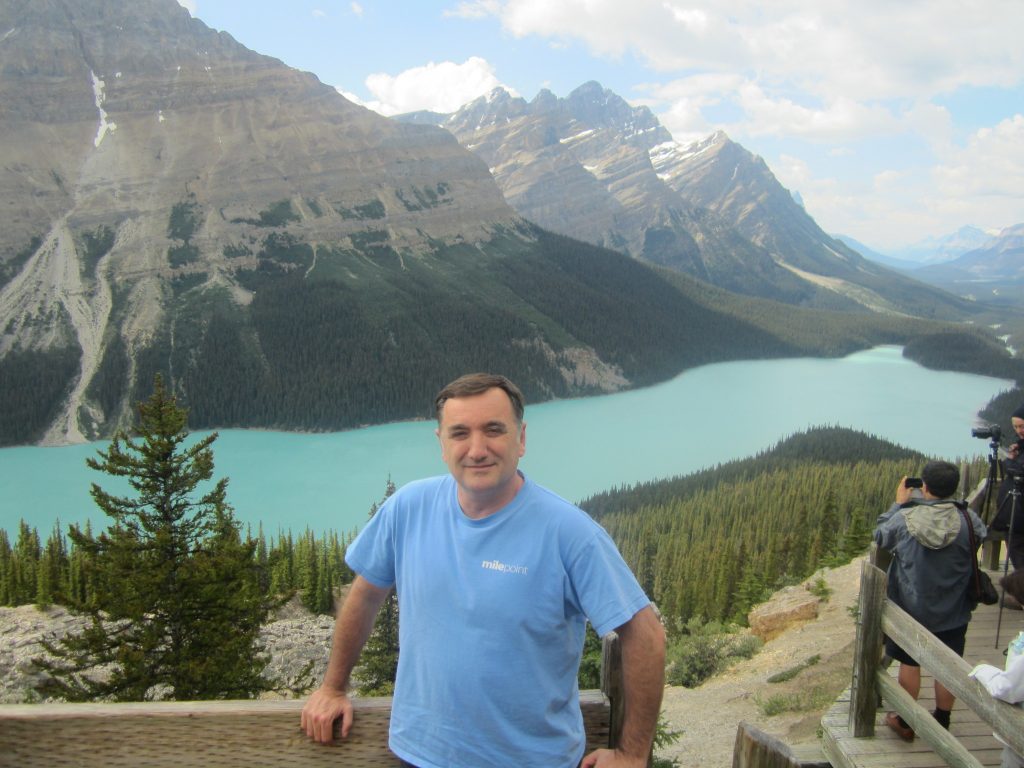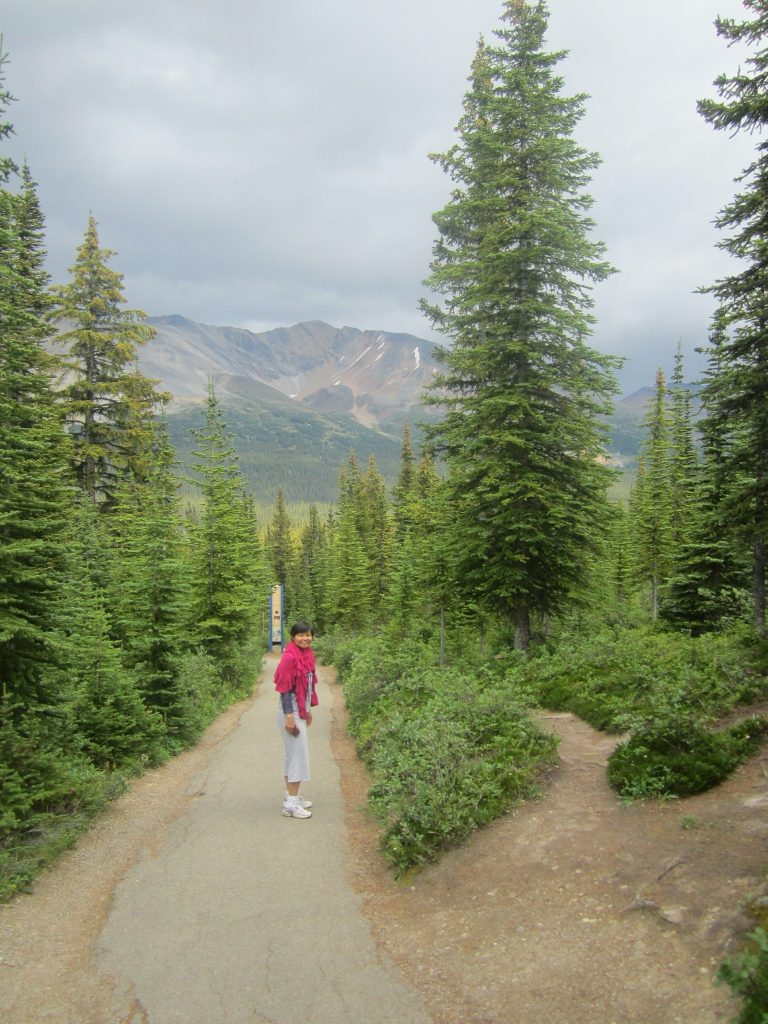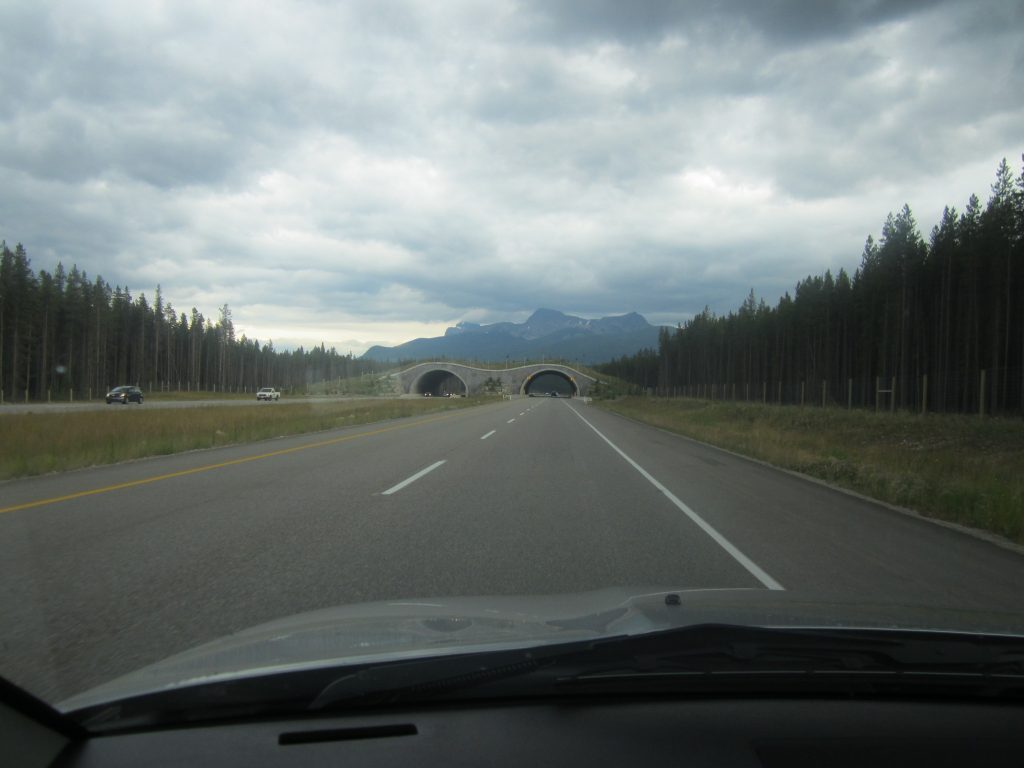 We decided to stop at Banff to hit a sushi place!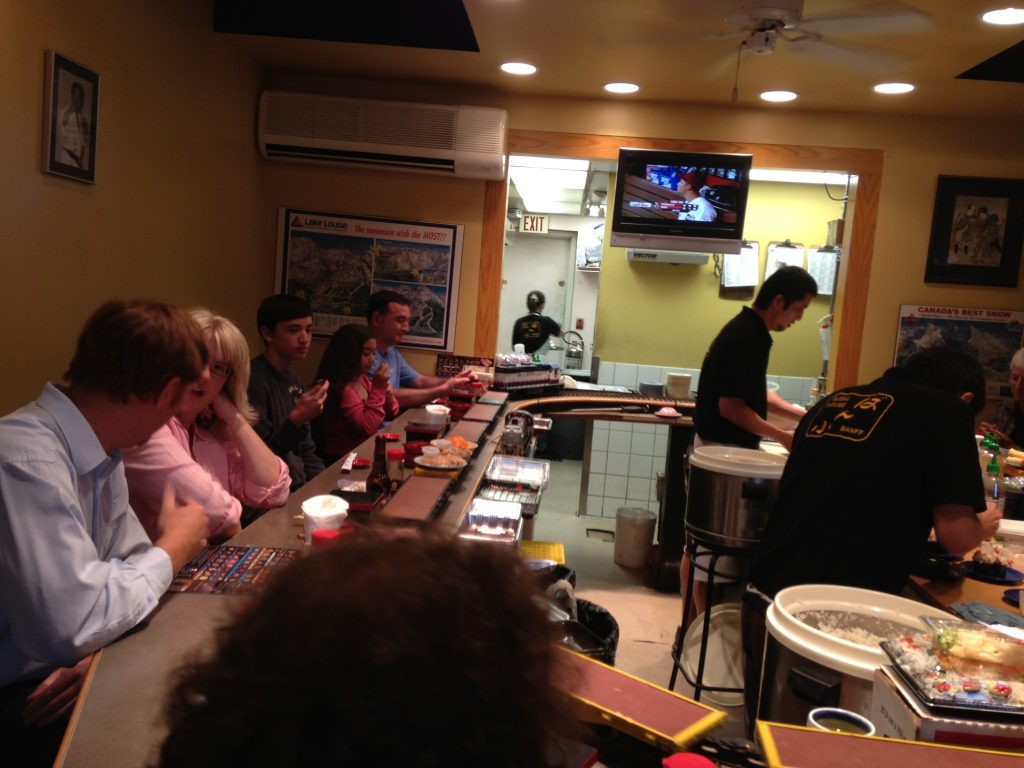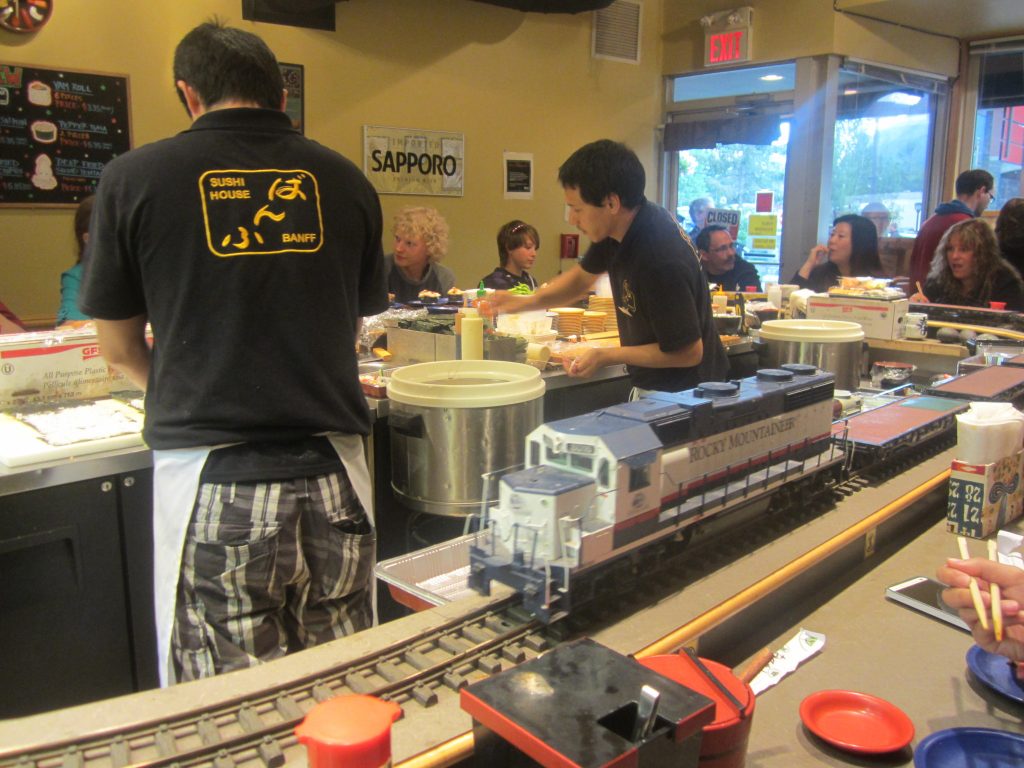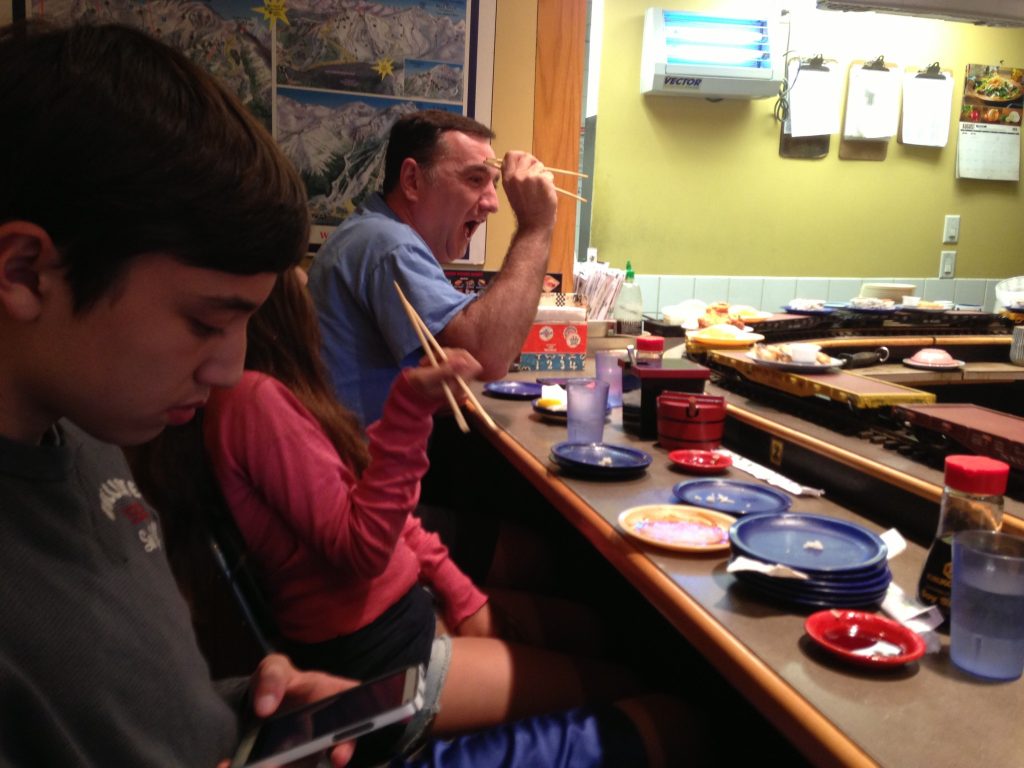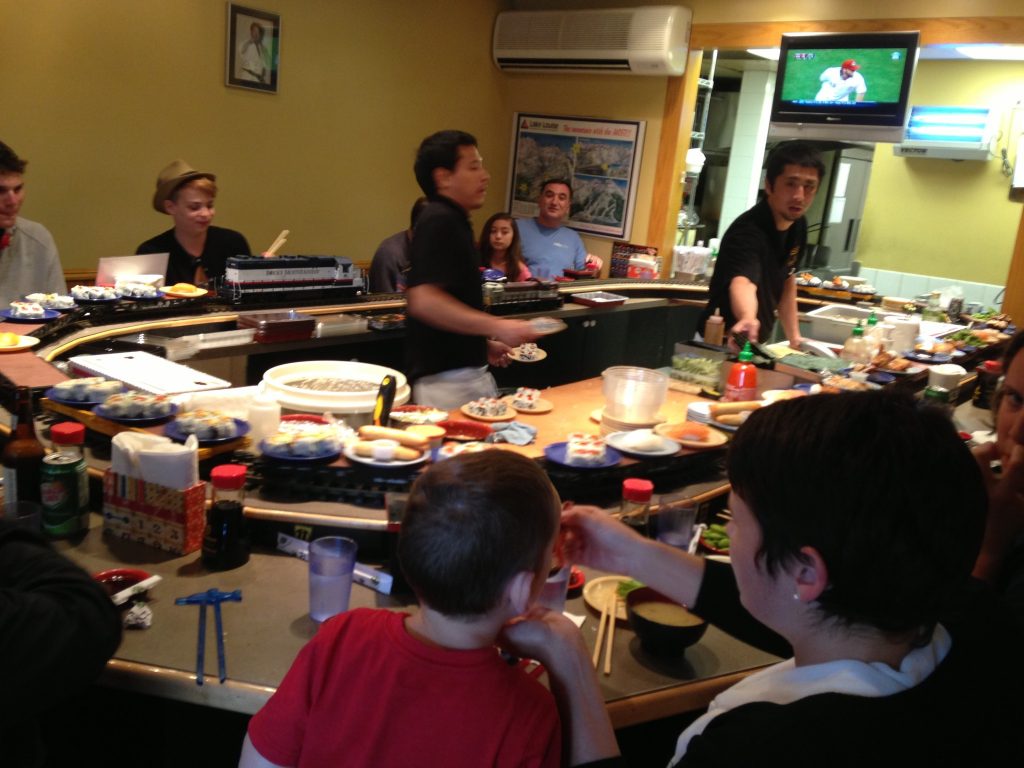 Before Calgary we decided to take a detour to go see the Kananaskis area. Well it was recently flooded so not much to see around here.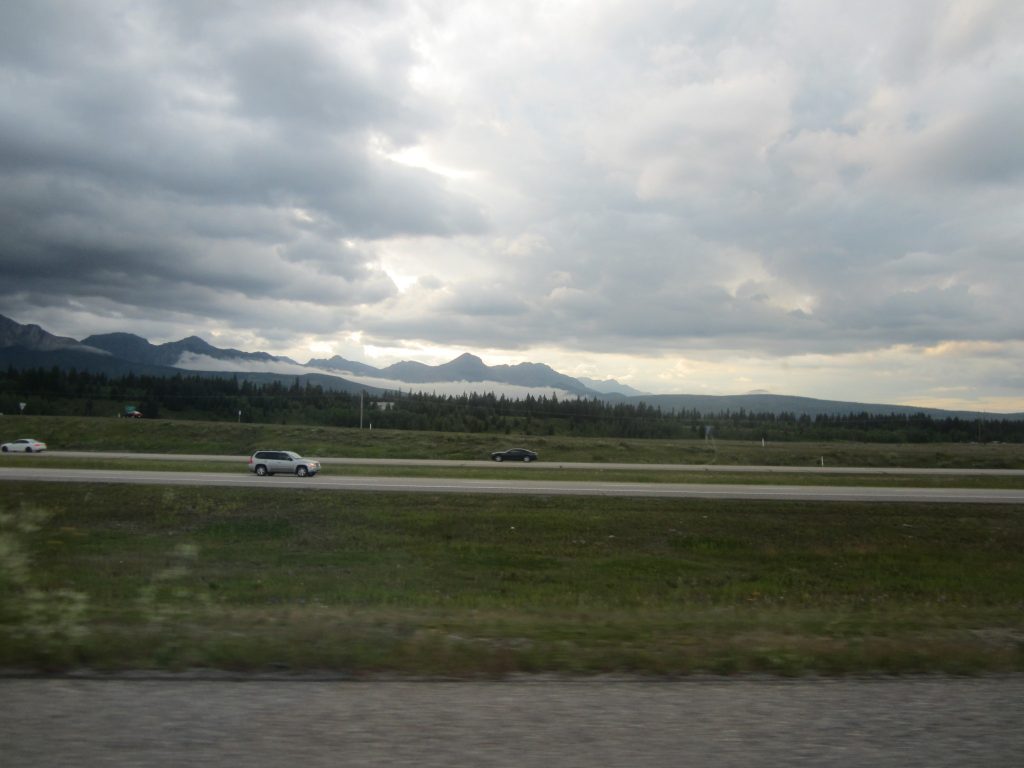 We arrived very late to the cute Country Inn & Suites at Calgary Airport for our last two nights.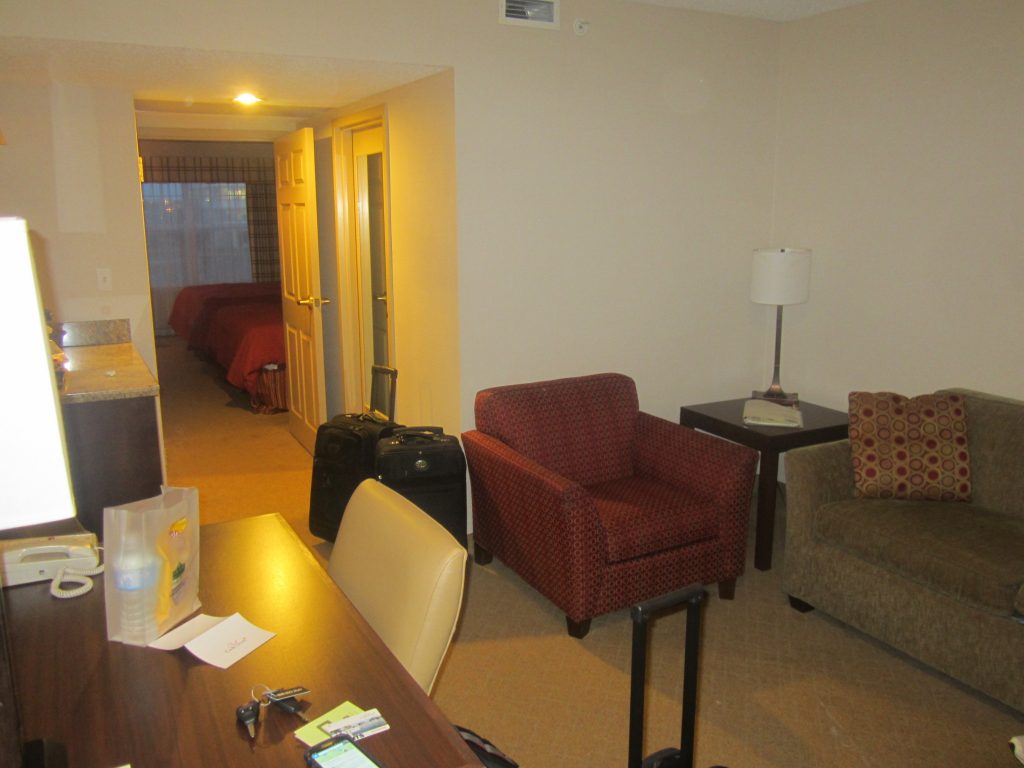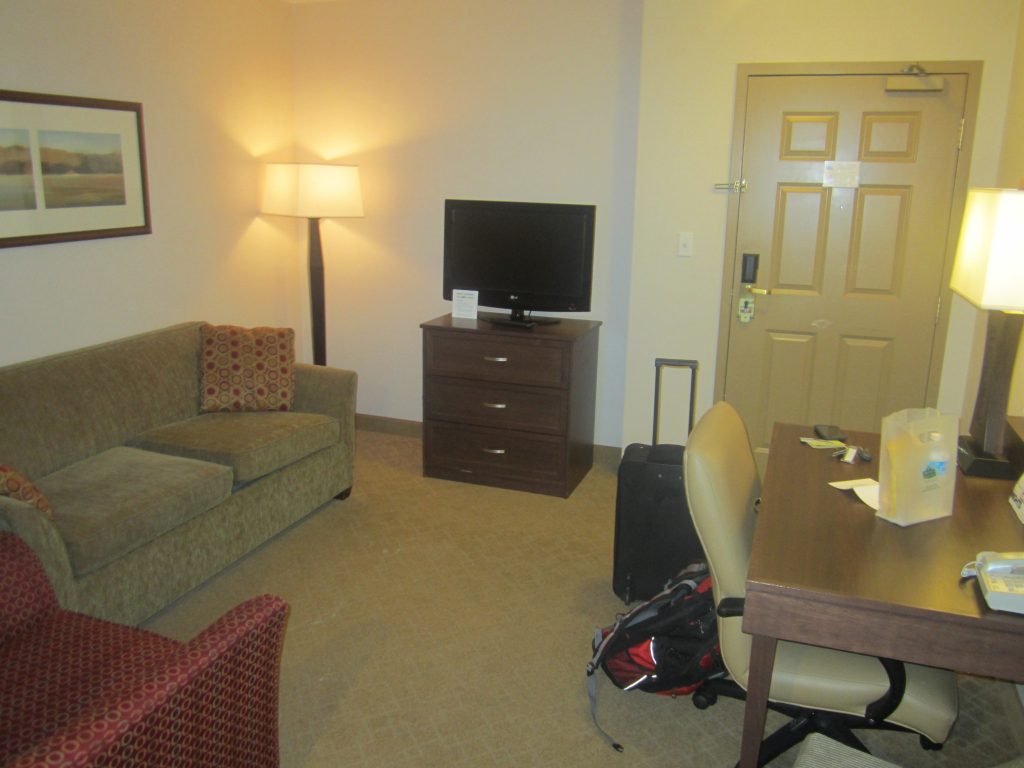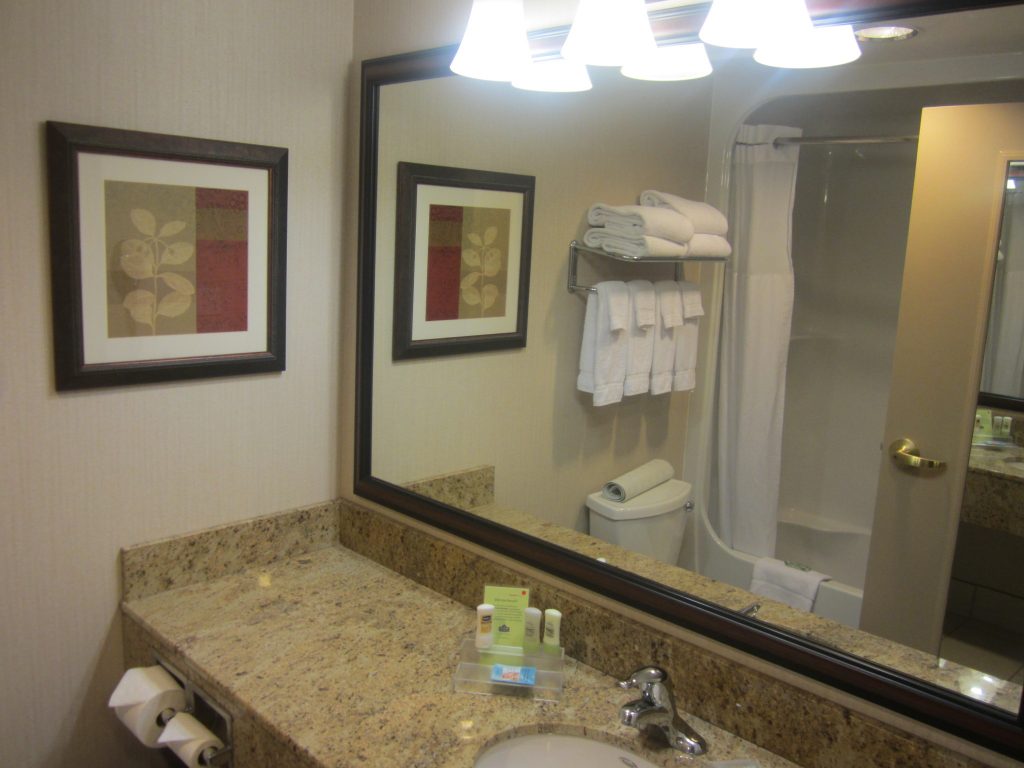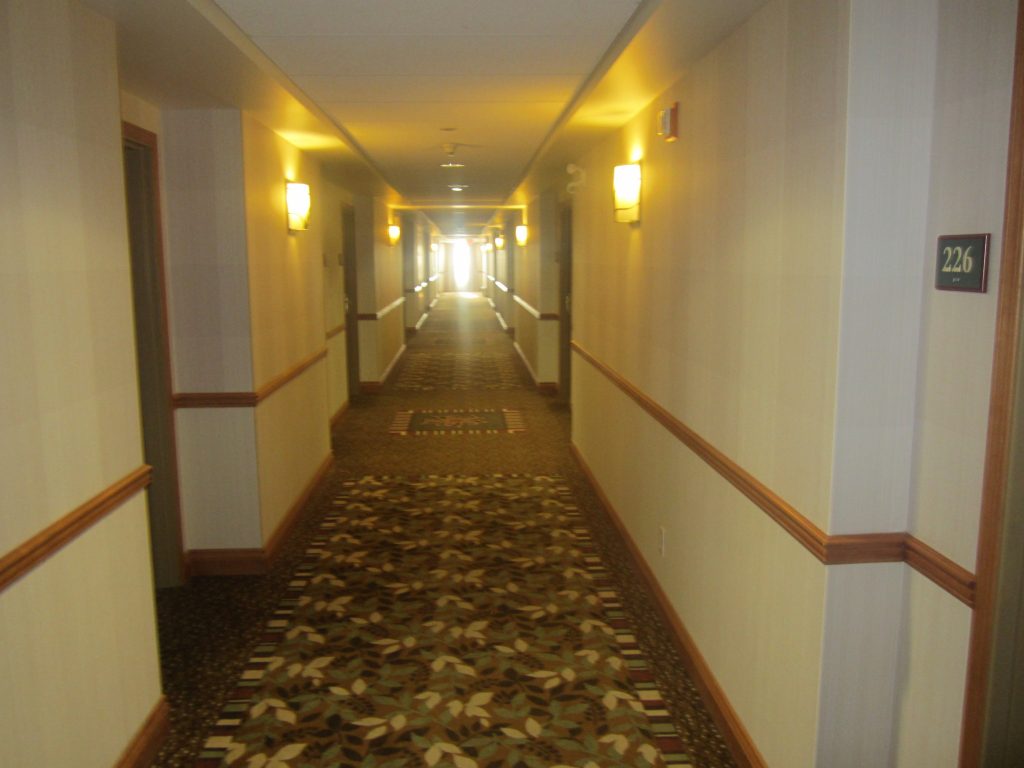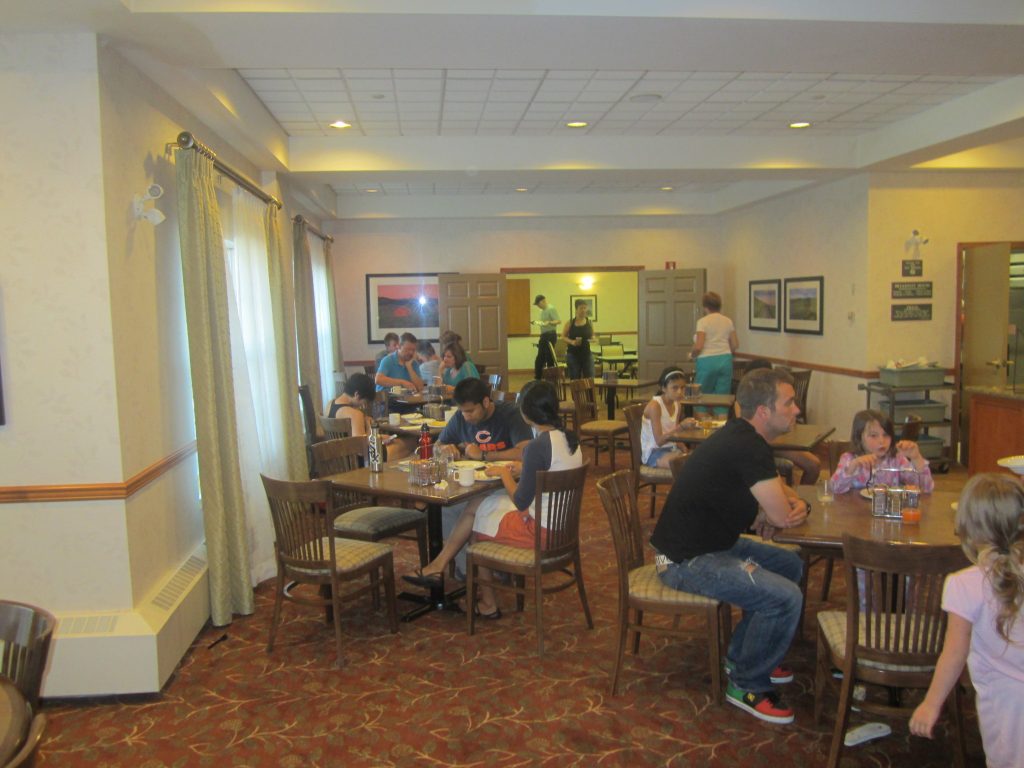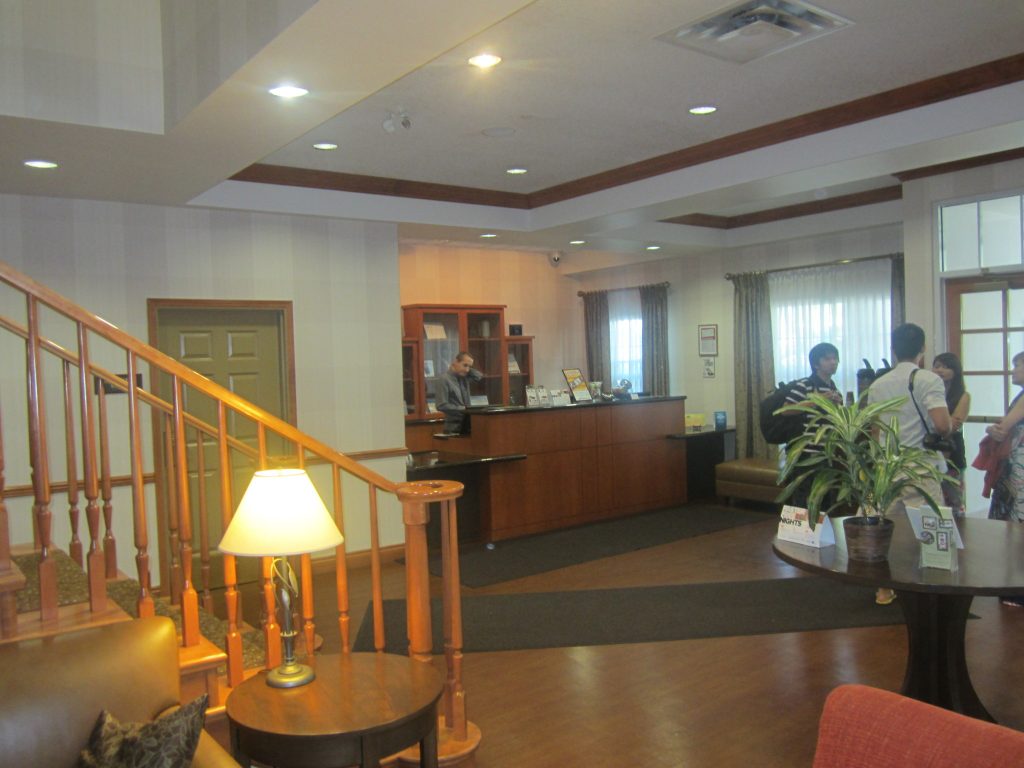 We went to check out the city of Calgary, very nice!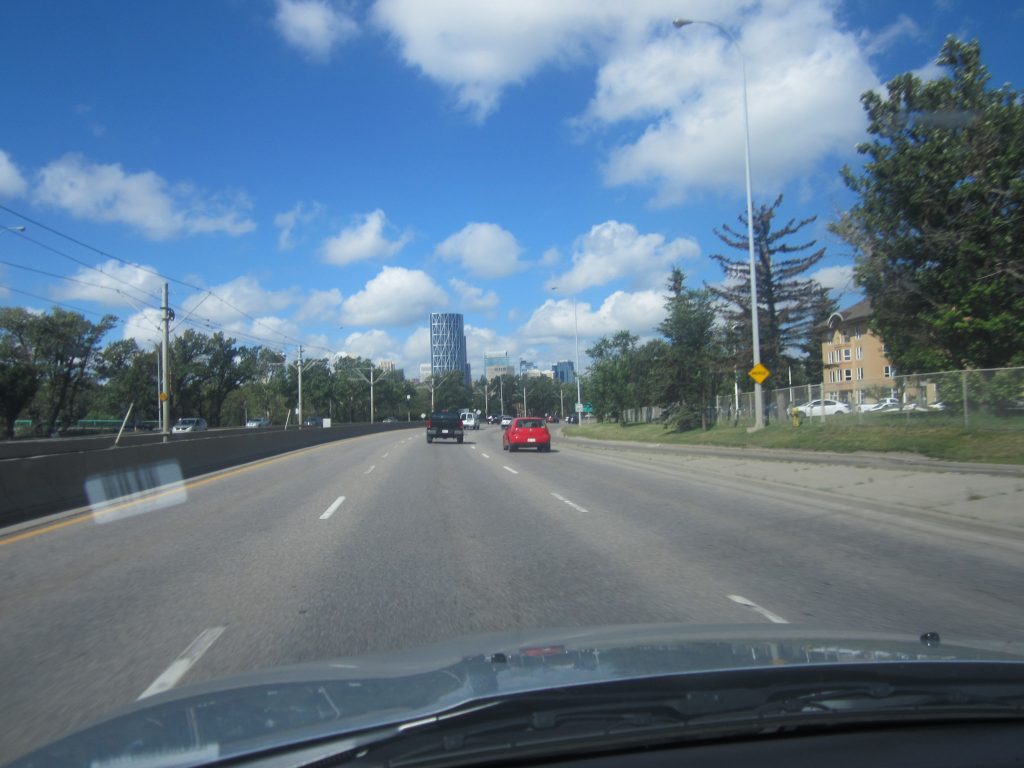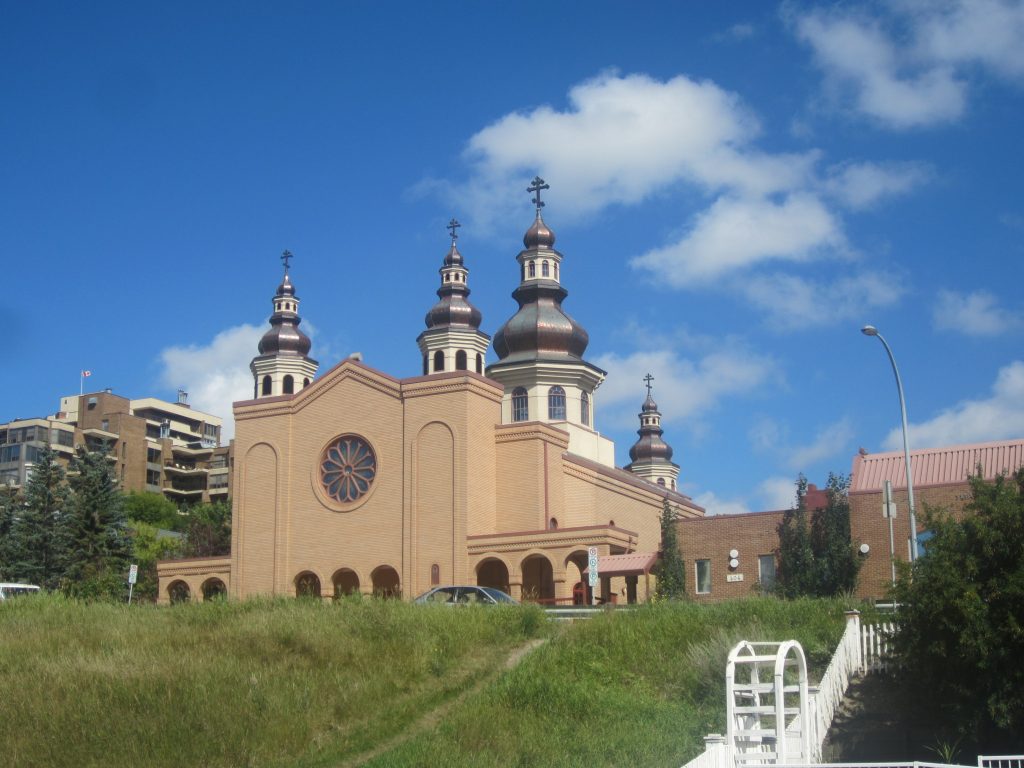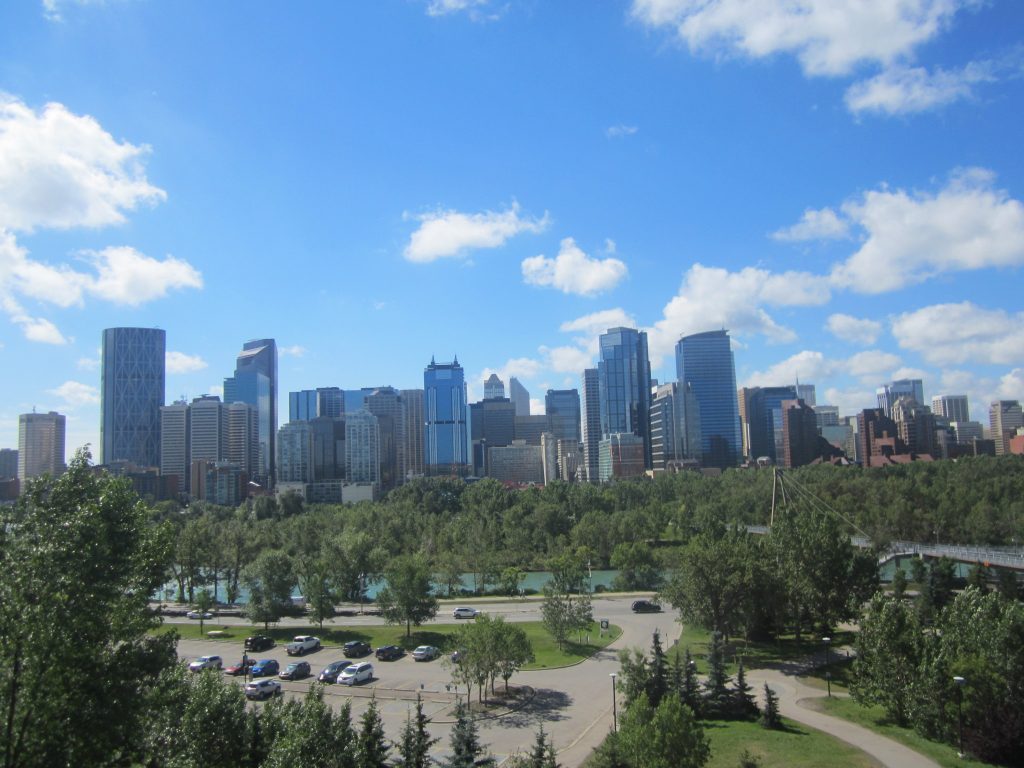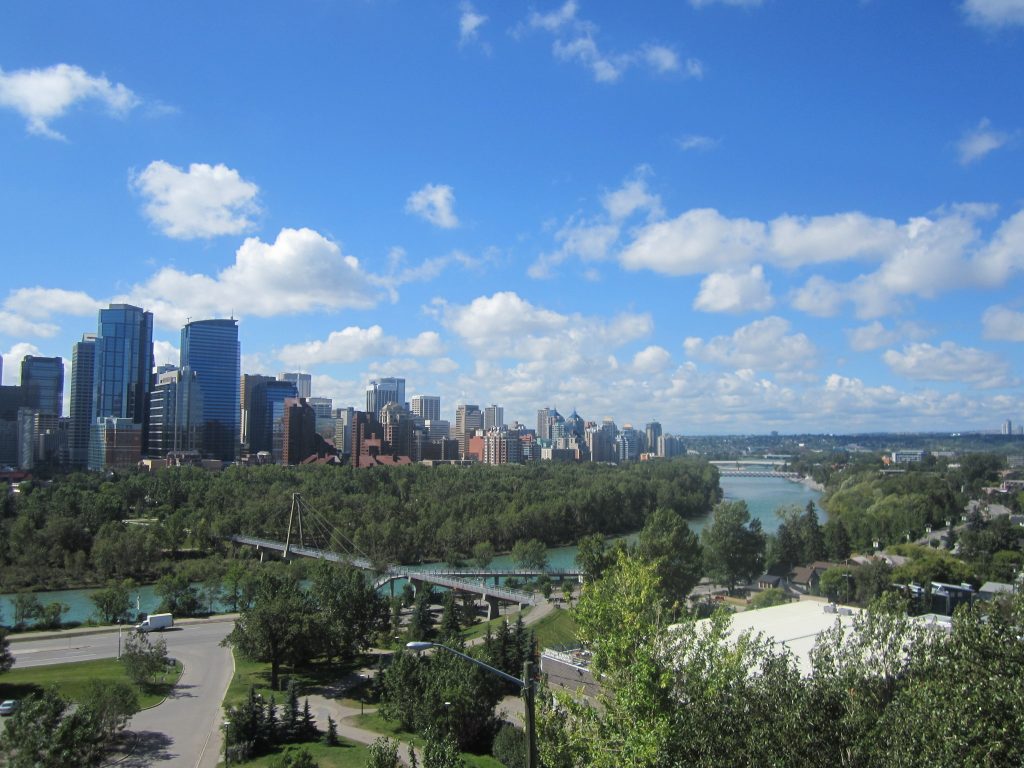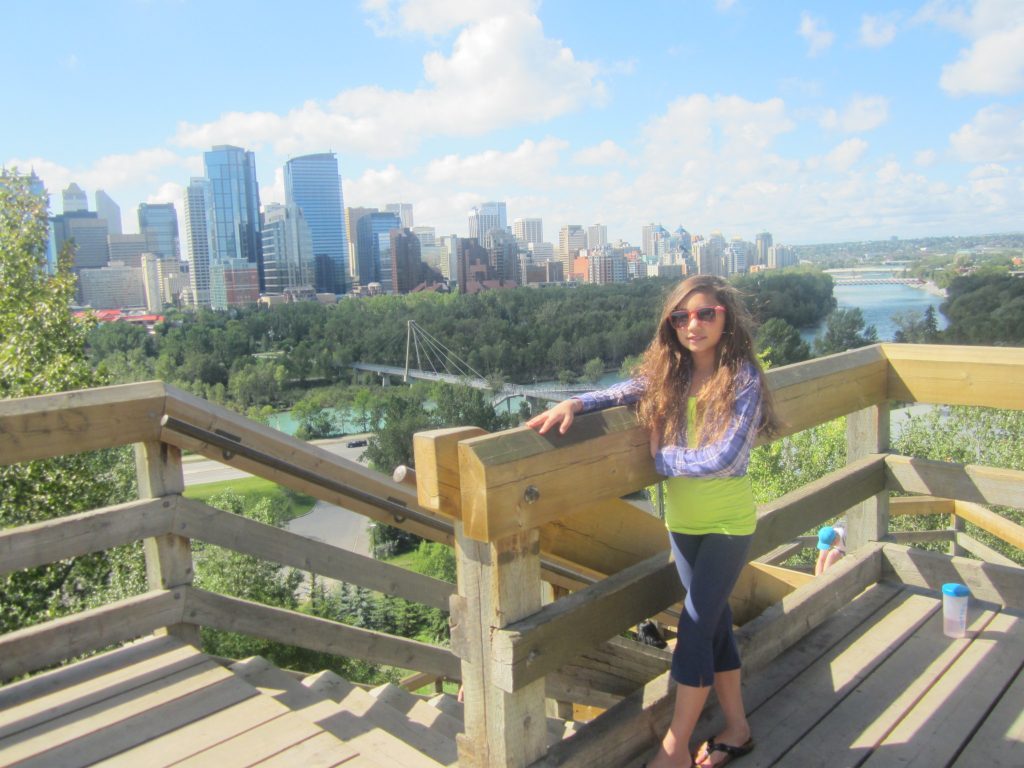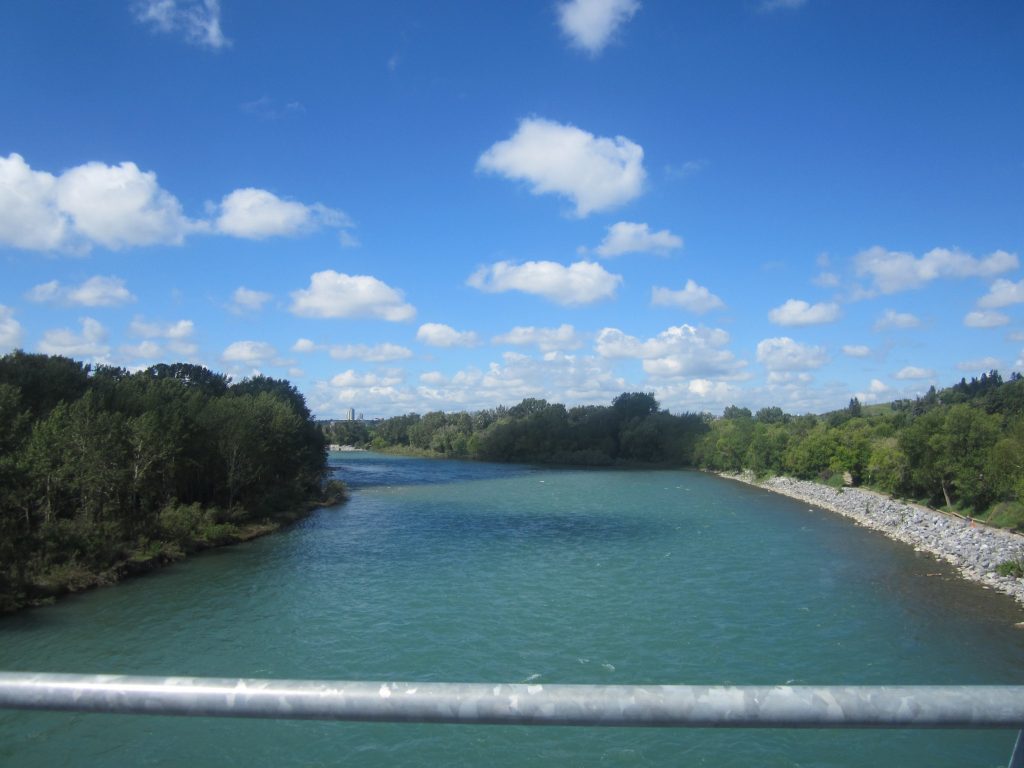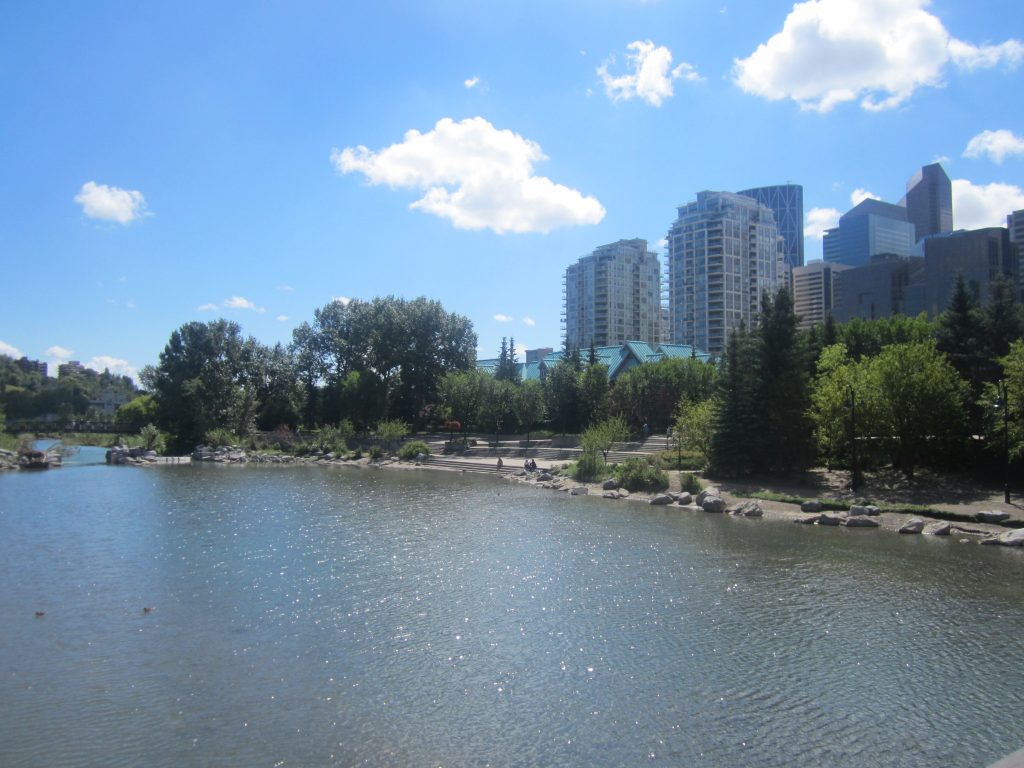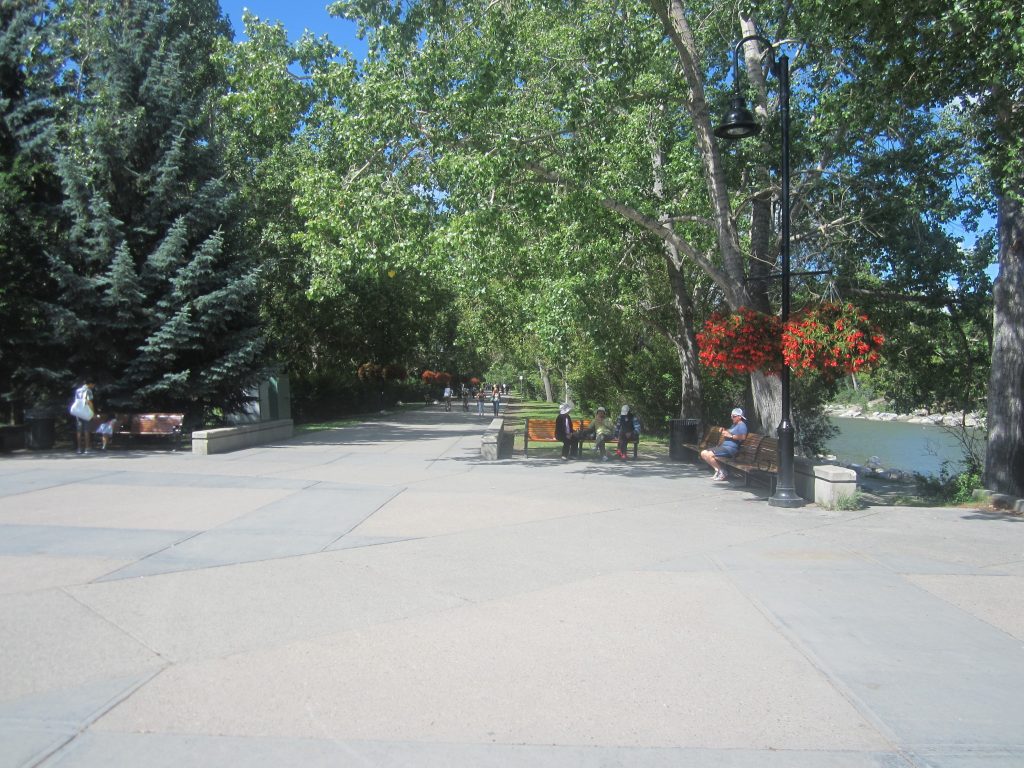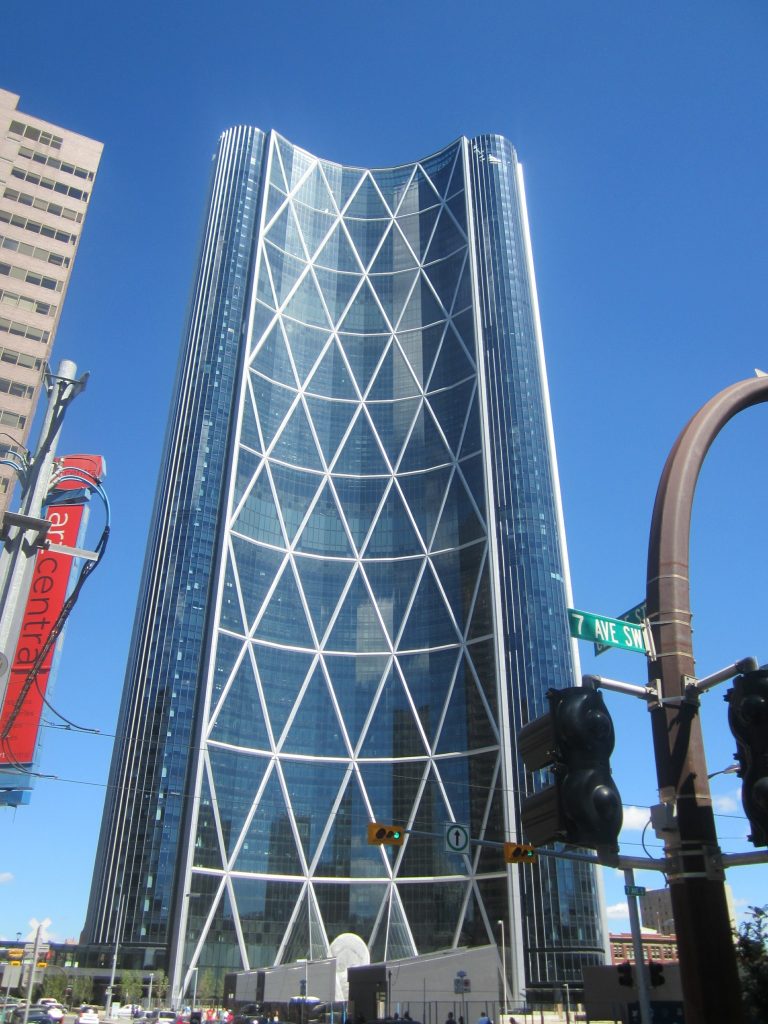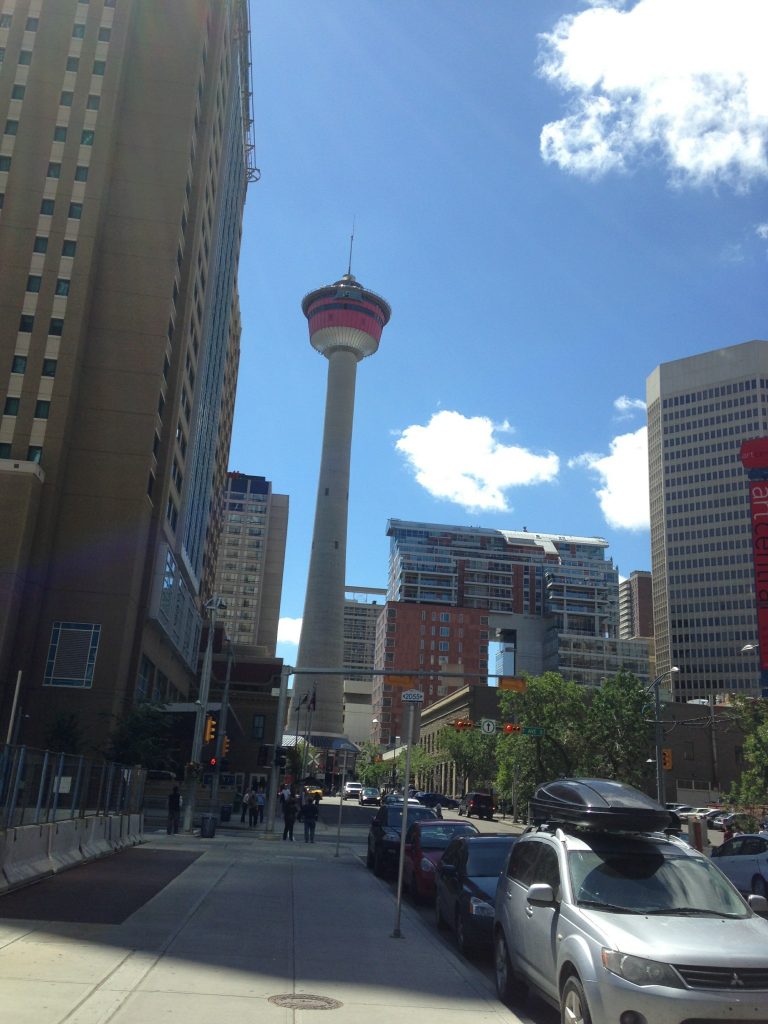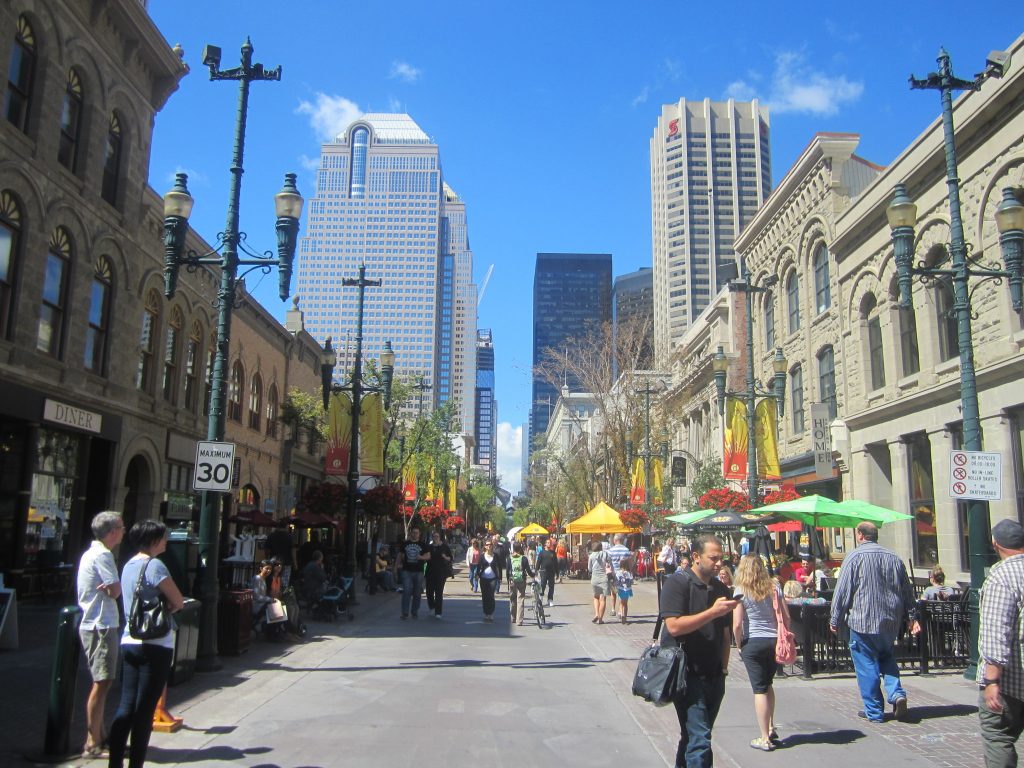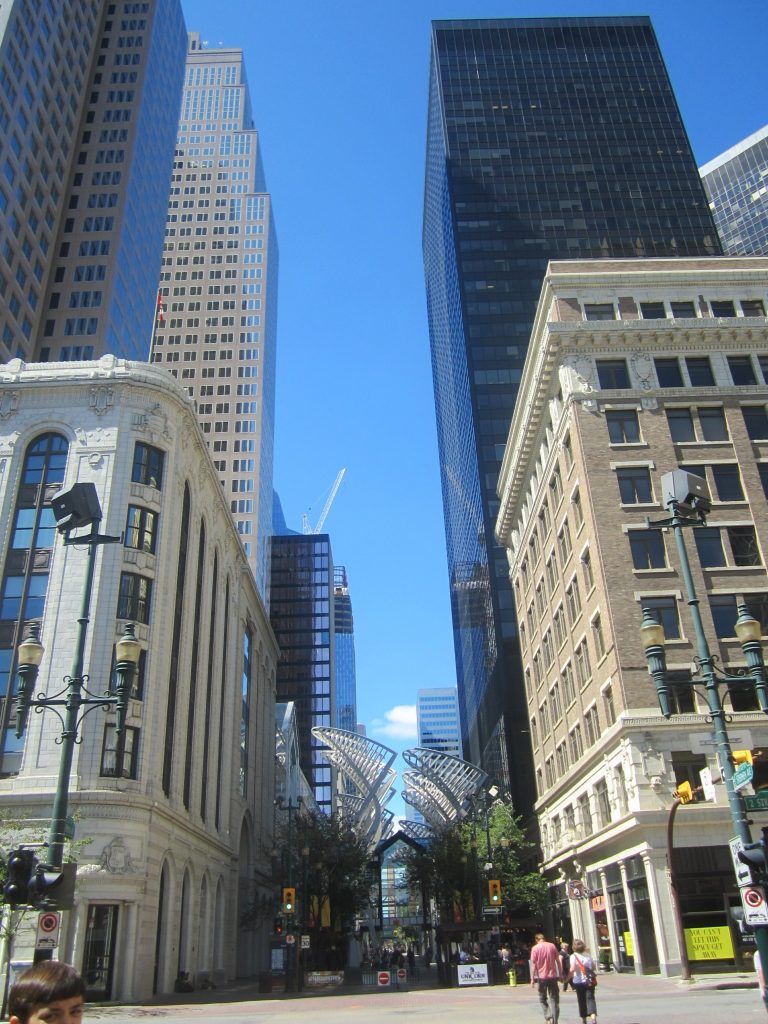 Yep, had to track down some Chinese food…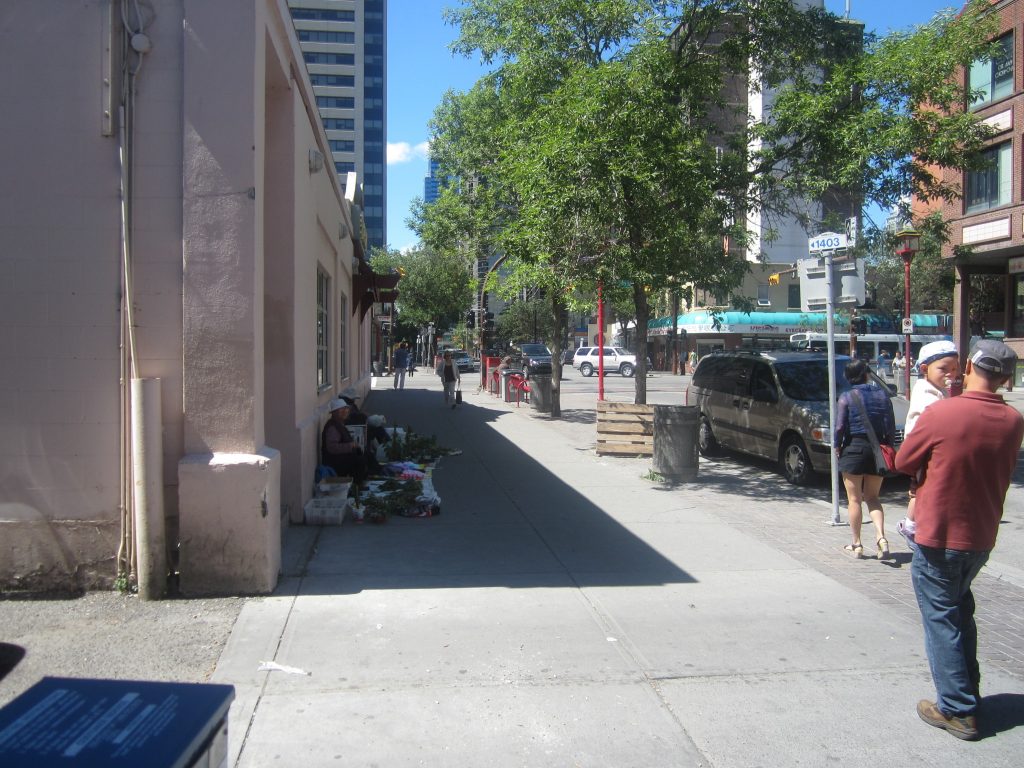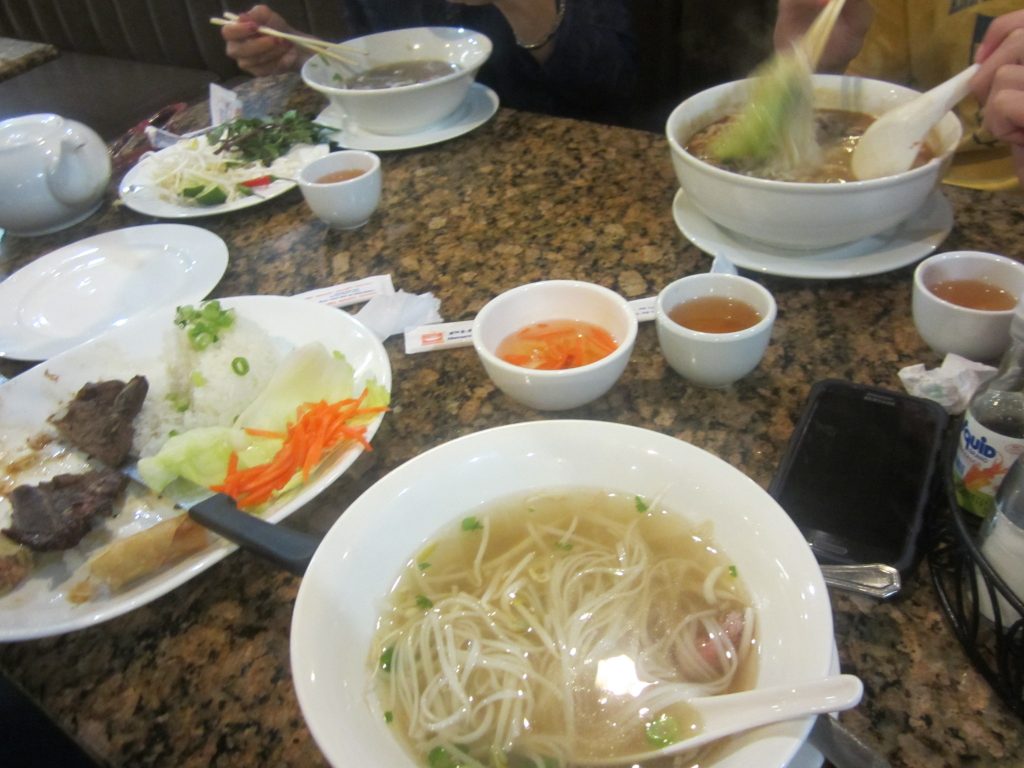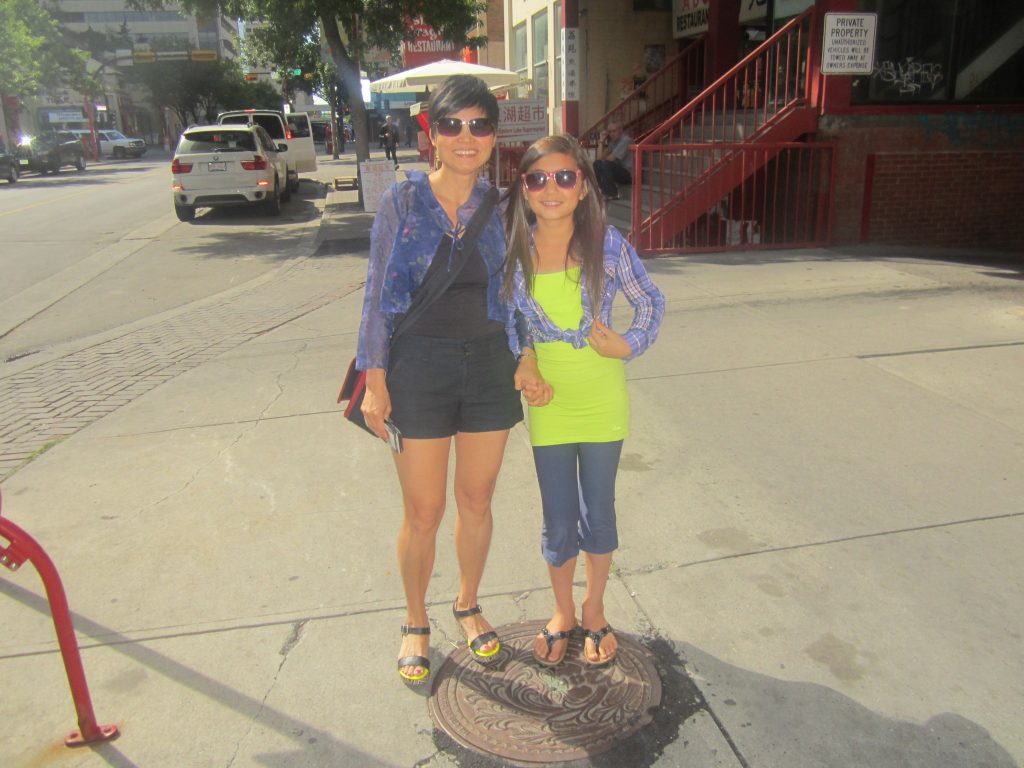 They got new haircuts, what divas!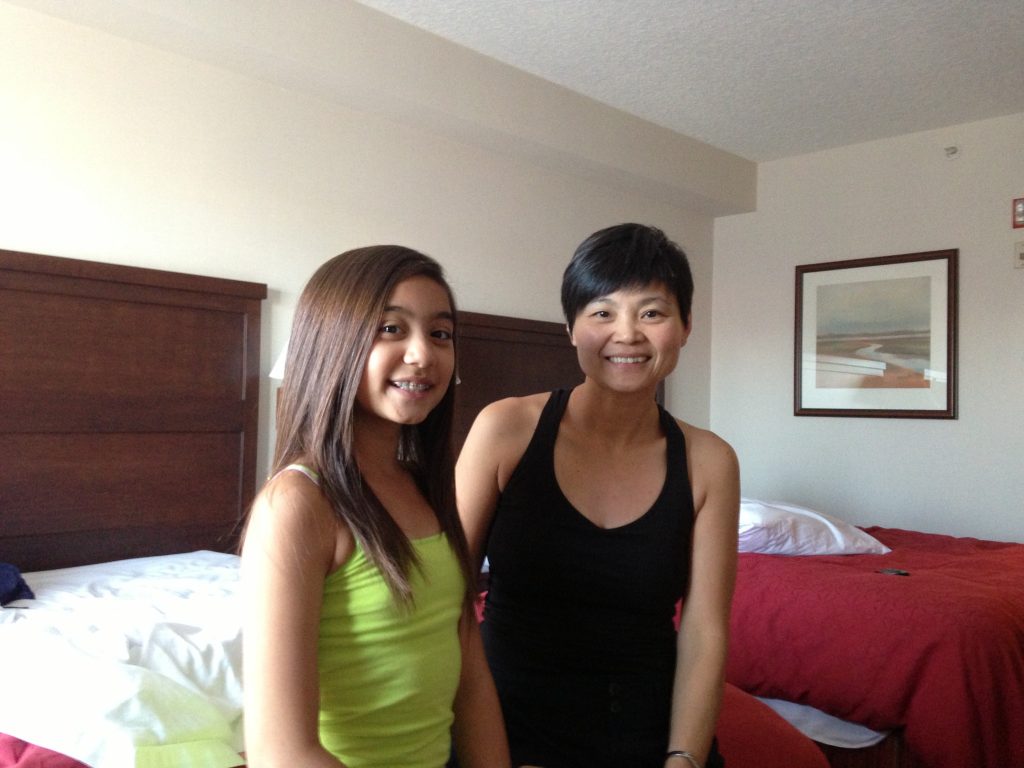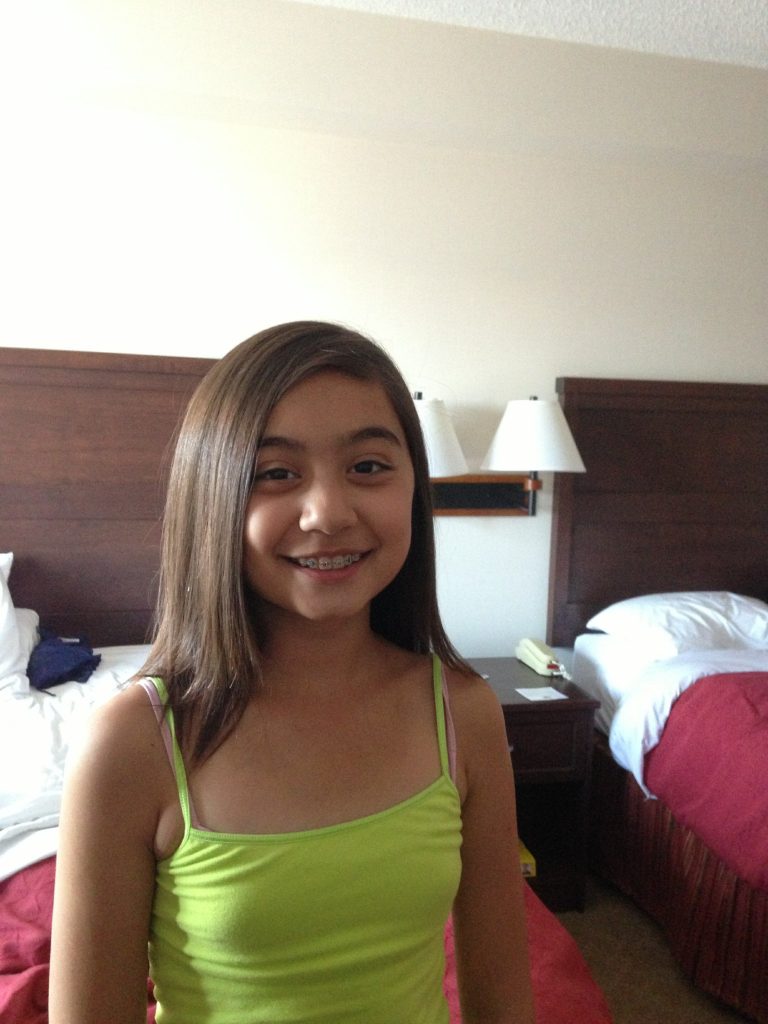 I turned the car back to Hertz. This place always has long lines, wow!
Yep, another ridiculously early morning flight…Air Canada to Toronto.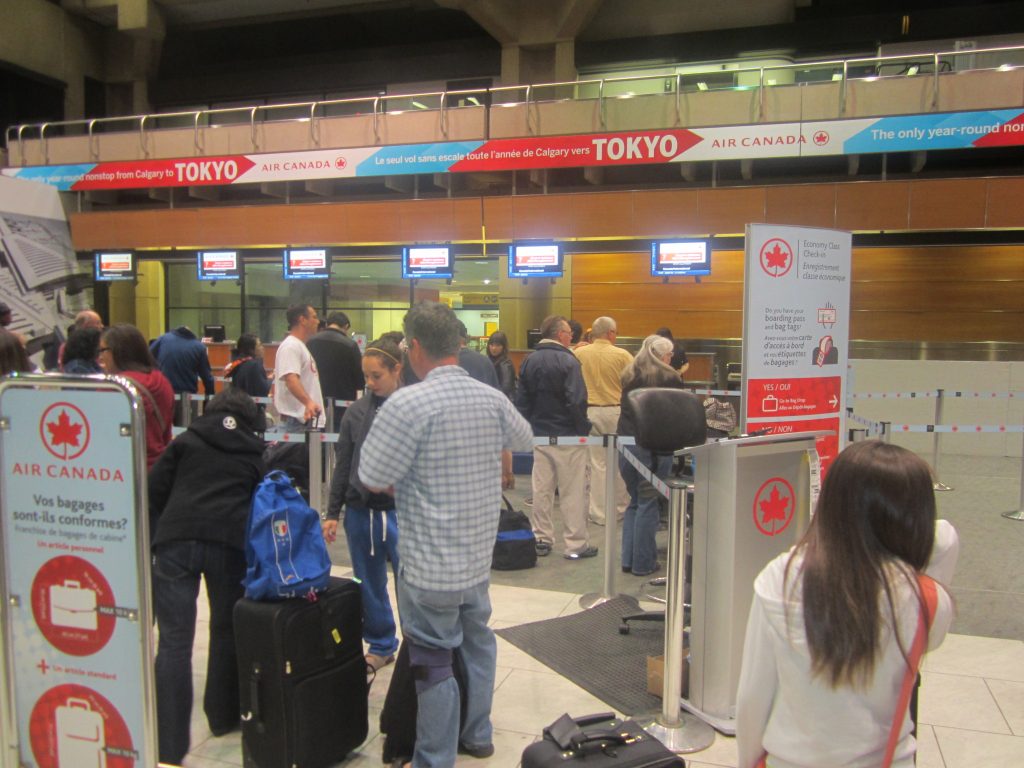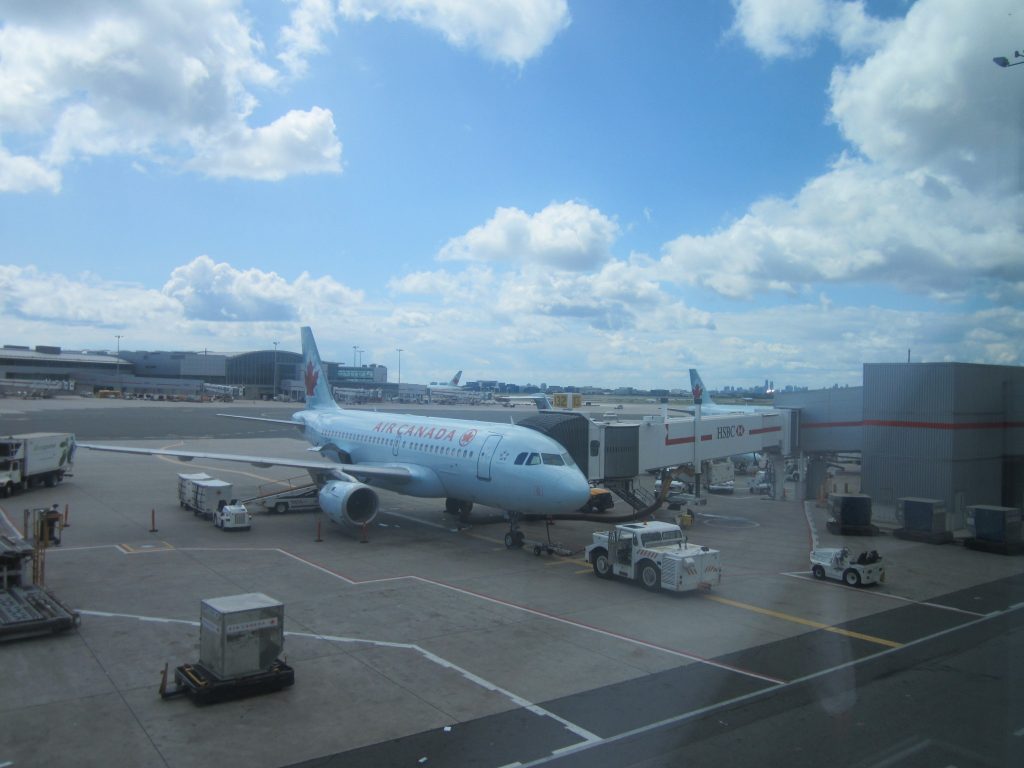 Hanged out at a nice airport lounge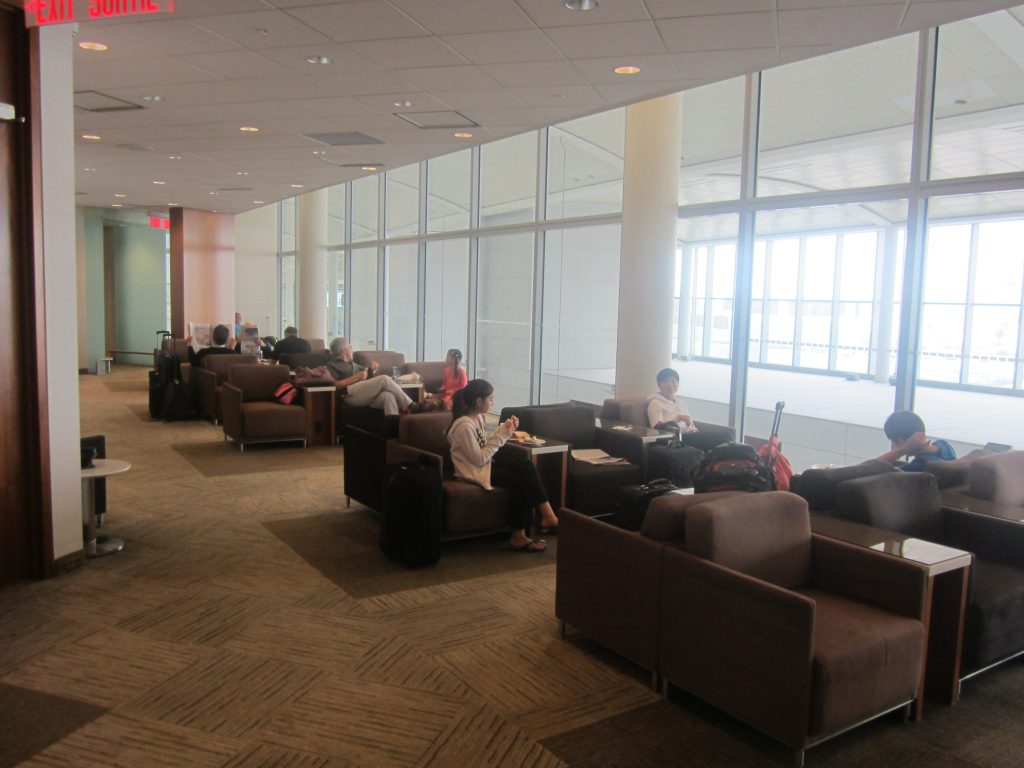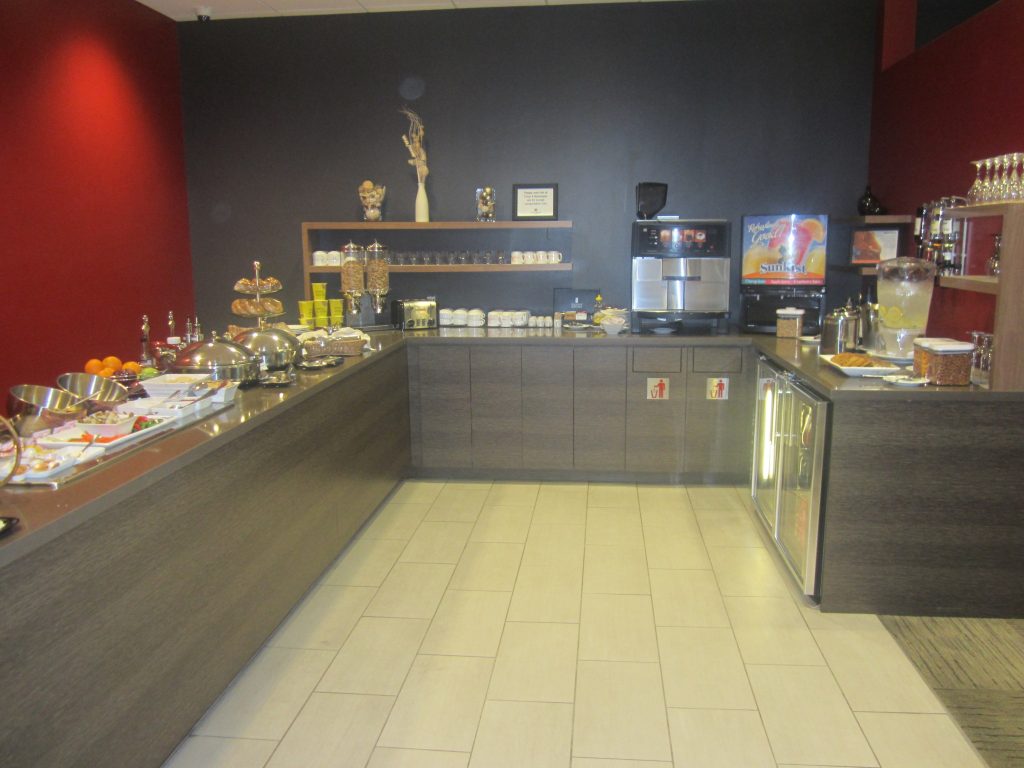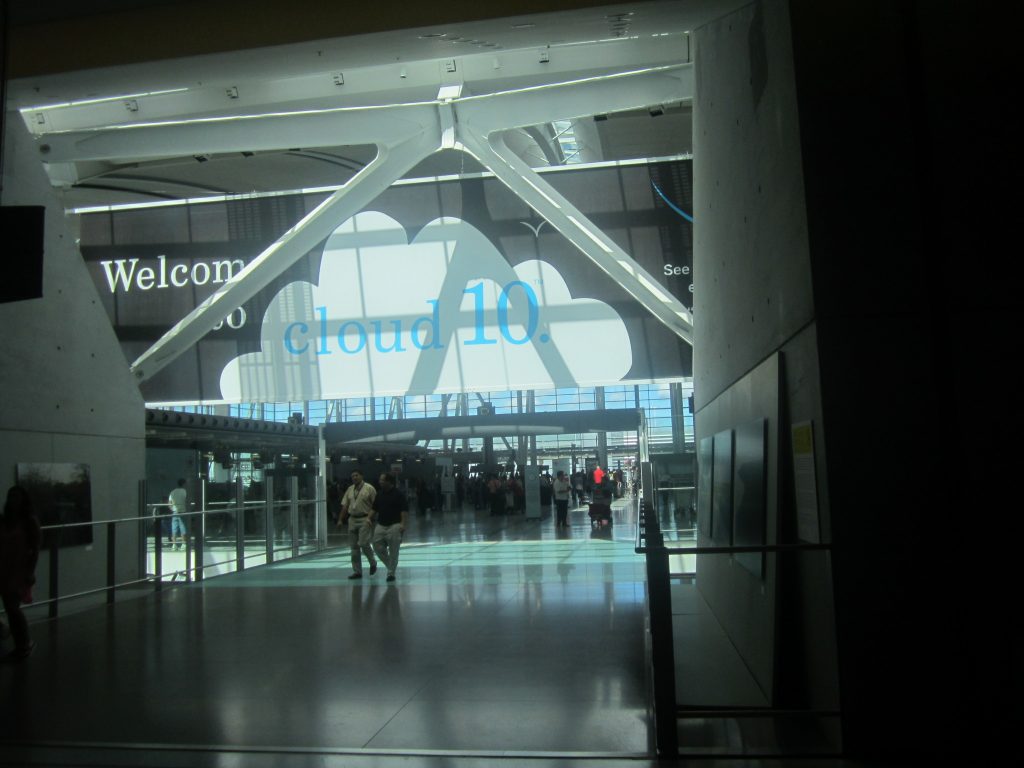 International flight Toronto to Detroit in this tiny plane…that was kind of weird!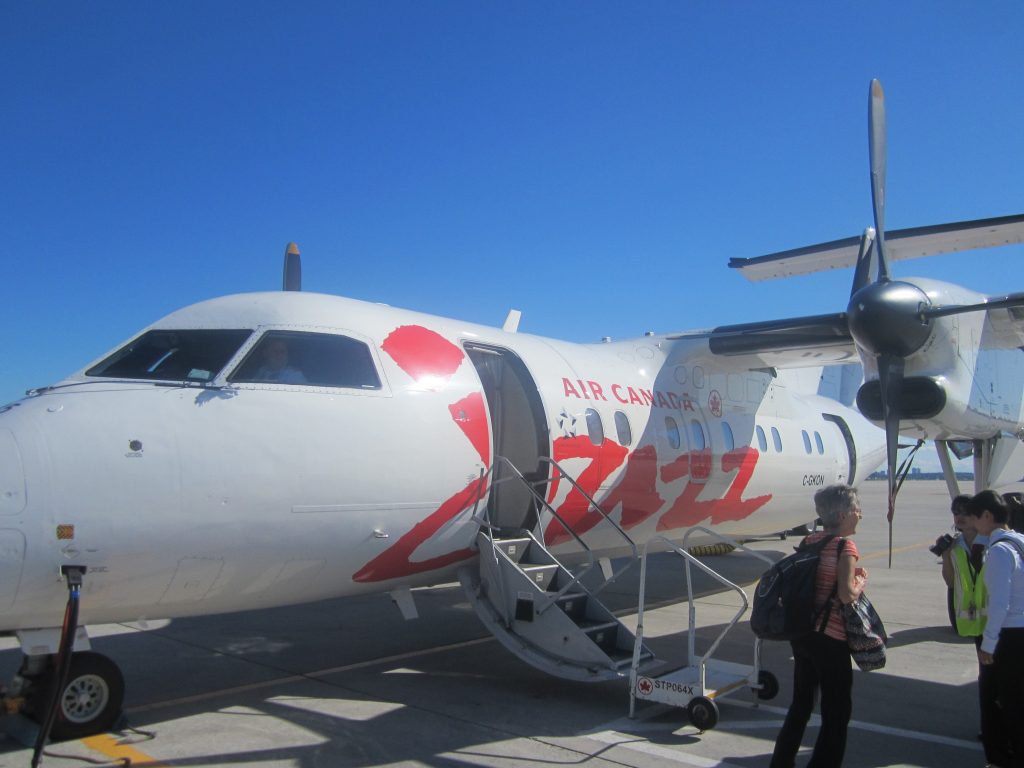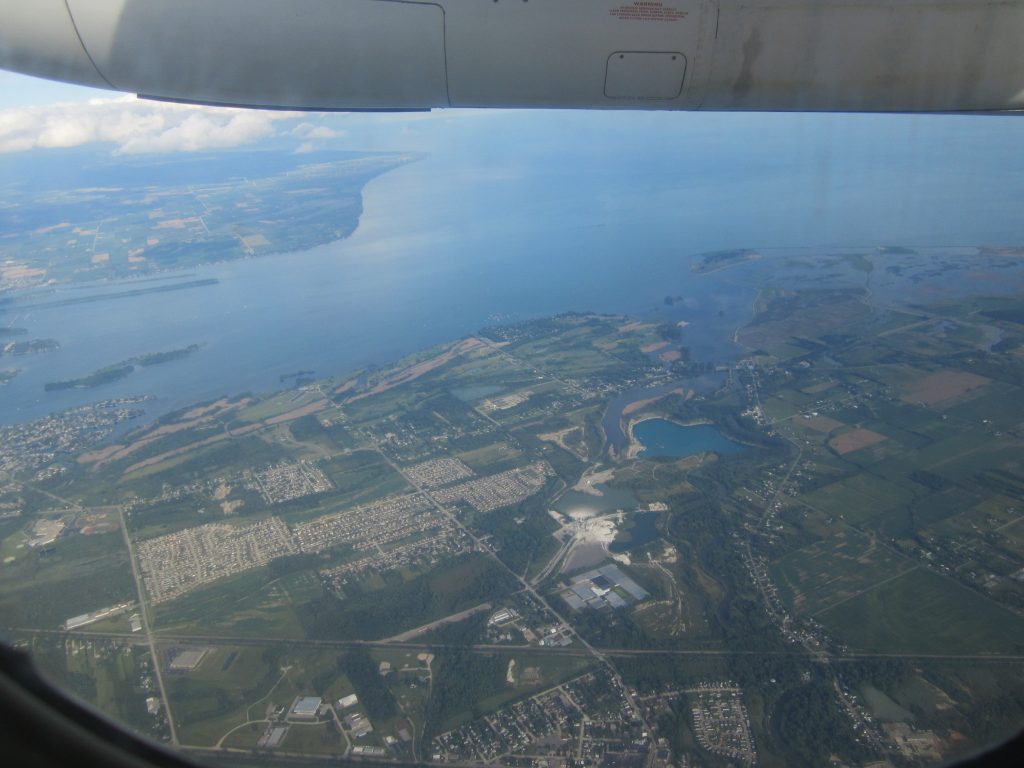 And another adventure ends! This was a special trip. They all are but this one was more so!
Thank you.