Sometimes you have so many miles & points that you simply need to book something to…lower them! So I did because I can 🙂  I decided to take me to Hong Kong…
TBB Blog Mission: To Entertain. Educate. Inspire. In That Order!
This site is

ad free

! You can support us by applying for CREDIT CARDS and clicking/forwarding any of our REFERRAL LINKS

December 2014
This is how I did it:
70,000 United Miles & $39.70 in taxes/fees for Detroit to Frankfurt on Lufthansa in Business Class AND Frankfurt to Bangkok on Thai Airways A380 in First Class AND Bangkok to Hong Kong on Thai Airways in First Class [UPDATE: Lufthansa canceled my flight due to the pilot strike! I managed to get rebooked on Air France Detroit to Paris in Business Class and then still flew on the A380 in Thai Airways First Class and on to Hong Kong as previously arranged. I earned 5,943 Delta Skymiles on the AF flight, thanks Lufthansa!]
42,000 Hyatt Gold Passport points for 2 nights in a Club room at the Hyatt Regency Tsim Sha Tsui
45,000 IHG Rewards points for 1 night at the Intercontinental Hong Kong
1 more night at the Intercontinental Hong Kong using an IHG Rewards anniversary night
60,750 AA miles (less 10% rebate due to AA card) & $63 in taxes/fees for Hong Kong to New York City JFK on Cathay Pacific in First Class and then New York City LaGuardia to Detroit on American in First Class
10,000 Starwood SPG points for one night in the New York City JFK Sheraton (late night arrival)
Layovers were supposed to be 6 hours in Frankfurt and 8 hours in Bangkok. I arranged them that long on purpose to maximize time in the lounges. Yes, one of the reasons I targeted this trip was to get my massage in the Thai Airways First Class Lounge finally in the Bangkok BKK airport!
All taxes & fees were reimbursed using BarclayArrival points by the way so, in a heavily biased way, this trip was FREE! I will conveniently neglect the time and costs involved in earning all these points but let's just assume all of them were earned with credit card signing bonuses shall we? 🙂  Which is true for the most part!
I was hoping to finally experience the Lufthansa First Class and started checking the ANA website to see when an F seat is available so I could call United to switch me to it from my Business Class seat. Only to find out from a reader that the Detroit to Frankfurt flight does not operate in F, only Business! I may be able to snag an F seat but I will only have the Business Class meals. Ok, I am not complaining you guys, I just wanted to see what the fuss was all about! I am not going to write an angry rant about it like some other bloggers, I am grateful for the opportunity to do this.
In addition, another 1,000 Shangri La Golden Circle points were used to get me a $100 voucher for a restaurant in one of their hotels. I chose the Shangri La Island property.
At the end of the day, all these miles and points we collect we do it for…this! To get away and explore the world around us. I am always so excited to be…taking off and just roaming the streets in a new city. It is incredibly invigorating and liberating. I always come back so…refreshed and ready to…replenish my miles/points balances lol.
Here we go…
The Lufthansa strike was supposed to end the midnight before the day of my flight. The Lufthansa website was showing the flight was scheduled. So, I thought it was good to go. Friend was flying to Bangkok in the morning so we got a ride to the airport with his wife who dropped us off.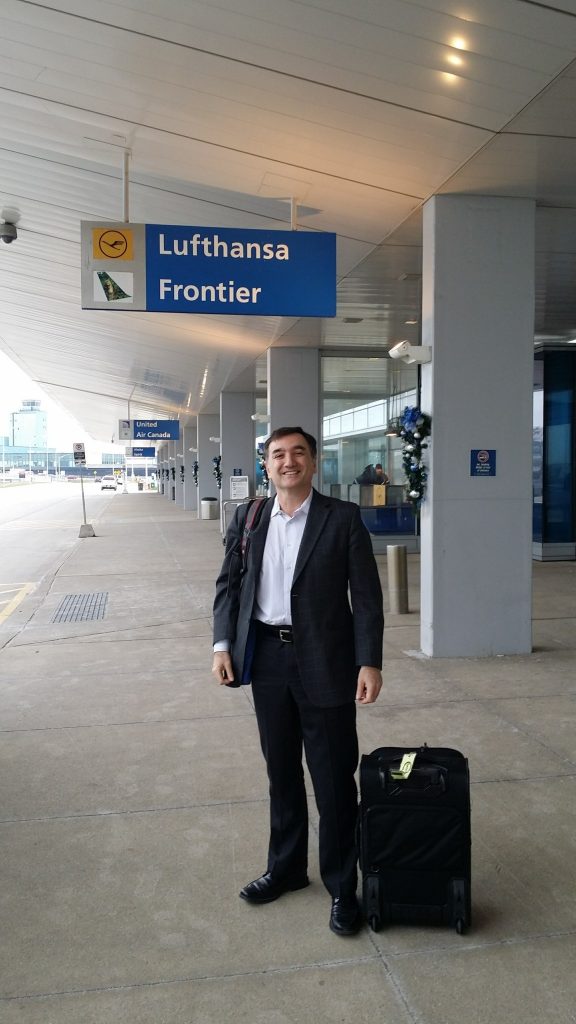 It was a beautiful day. With boarding pass on hand showing my Business Class seat expertly picked and breezing through security I was ready to settle into the Lufthansa lounge and get to work for several hours before my 4.15 pm flight to Frankfurt. So I check into the lounge. I was the first one in. Only to be greeted with "Your flight is cancelled". My heart just dropped. I think a sinkhole just opened up beneath me and swallowed me in. I am not sure what I said but my extreme disappointment was evident. I mumbled something about planning this trip for a year, meeting someone in Bangkok and just had to make the flight. A nice German guy in a suit, probably the person running things, was very apologetic, asked the nice lounge lady agent to show him my itinerary and told her to try to book me on the Air France flight to Paris and then get on the Thai Airways A380 flight to Bangkok. My next flight to Hong Kong was supposed to be unaffected.
Rays of hope started racing through my brain with visions of having to come back the next day after going home and rearranging all my hotel flights and plans. Oh God, please make it happen. I started praying and encouraging the lady typing away. After several minutes of waiting and sweating she said "I think we did it". "Get out" I said. "Yes, we got you on the Air France flight #8573 to Paris leaving tonight at 9.30 pm and then getting on Thai Airways #931 to Bangkok. There was a layover in Paris of about 2 hours and knowing that ridiculous airport I would have to sprint it. Well, I said yes, let's do it baby!
I stayed in the Lufthansa lounge and got some work done. Lounge is small and very functional I guess.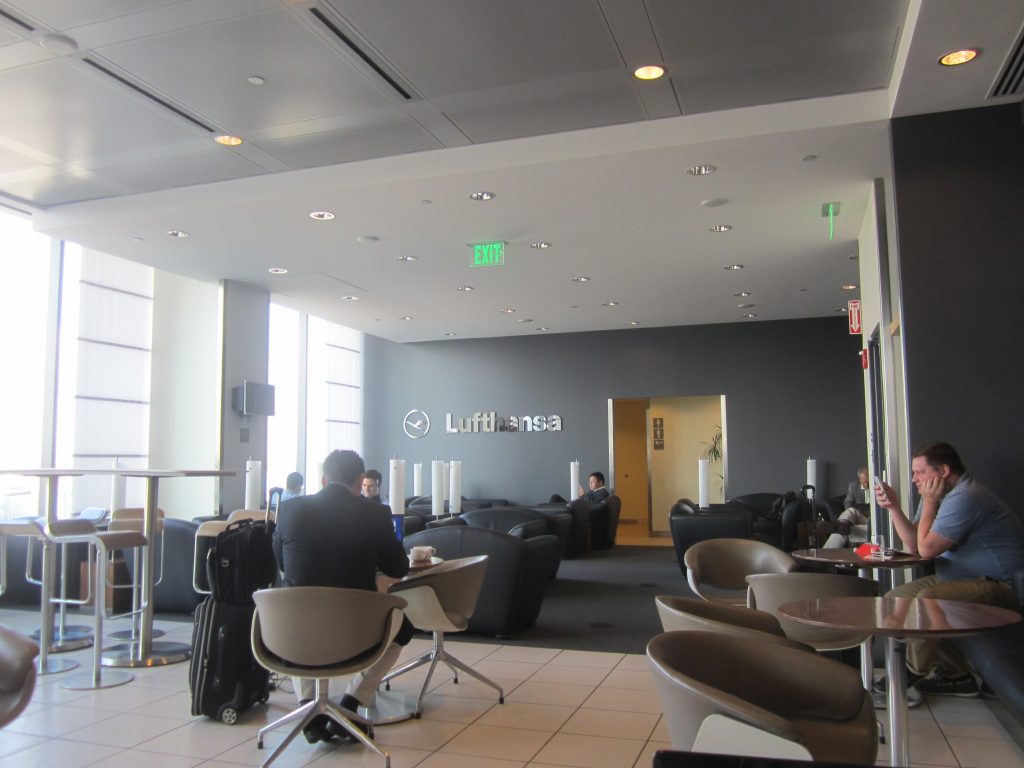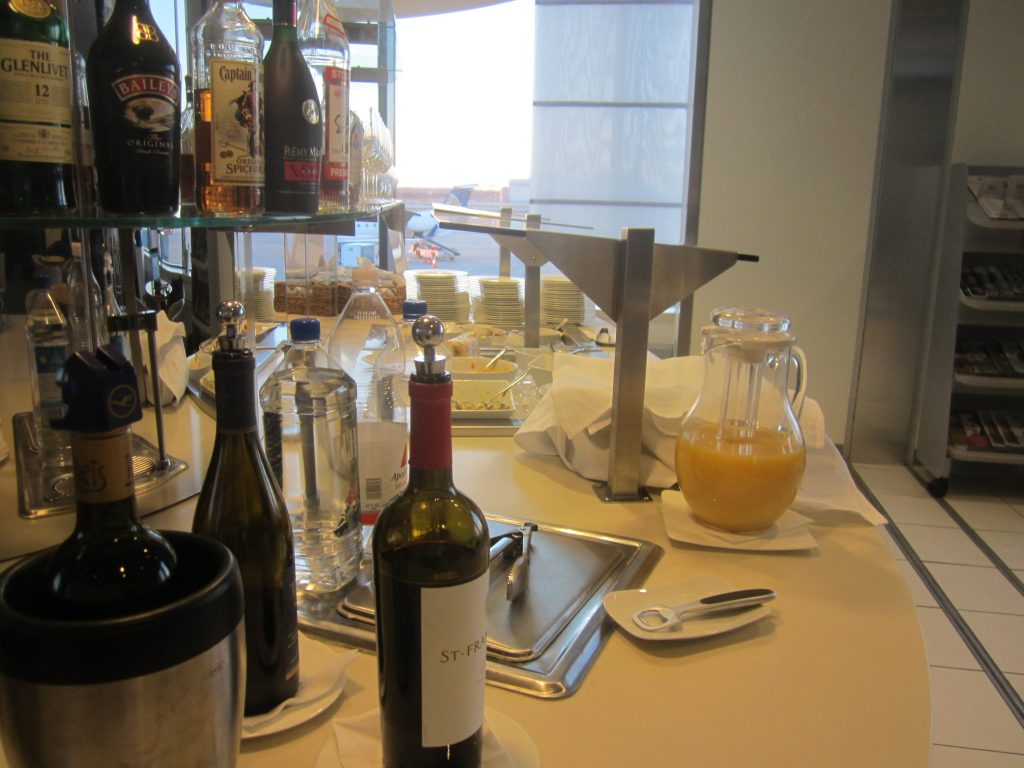 I then took the shuttle to the Delta terminal, got me my Boarding Pass for Air France business class seat 3B and spent some time in the main Delta Skyclub having visions of the old golden days spent there. I enjoyed my flight on Air France, seat was okay, service and food was very good.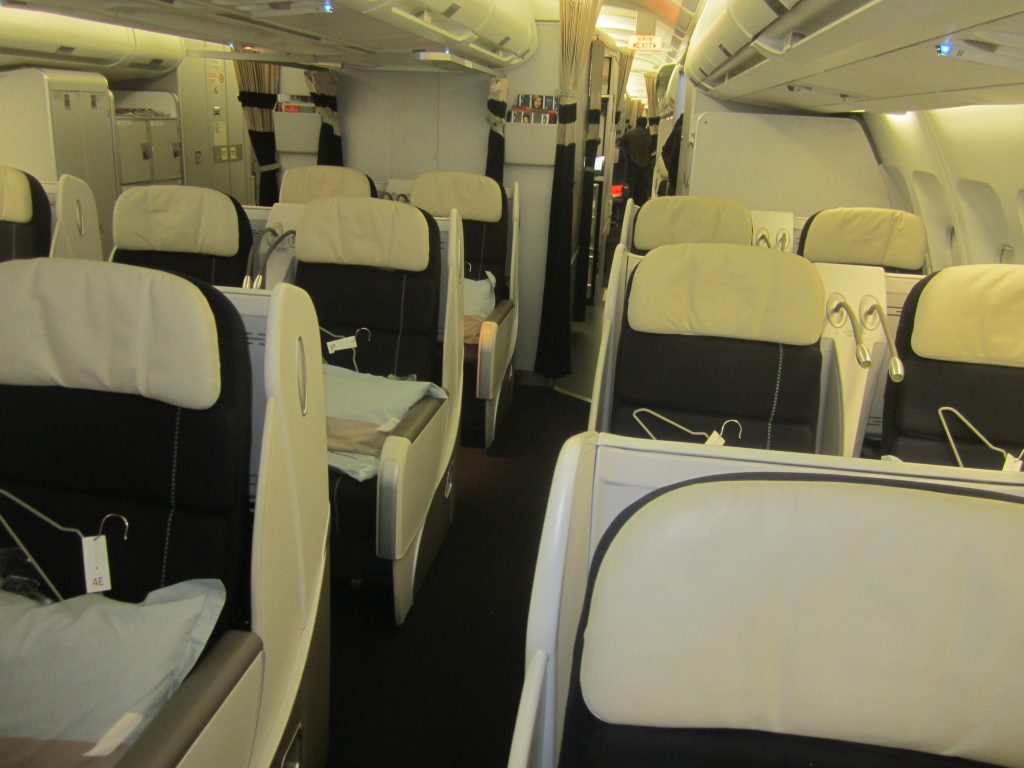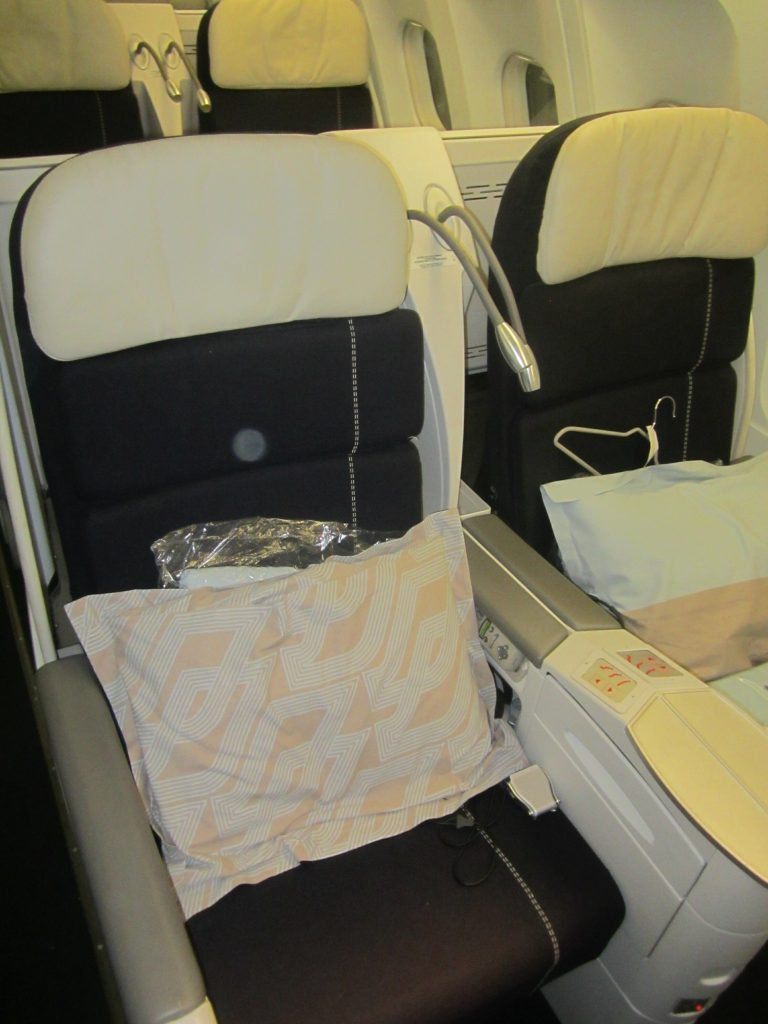 I just slept the whole way pretty much. Some food from the flight…
When I landed, the race started. Of course the Thai Airways flight was at Terminal 1.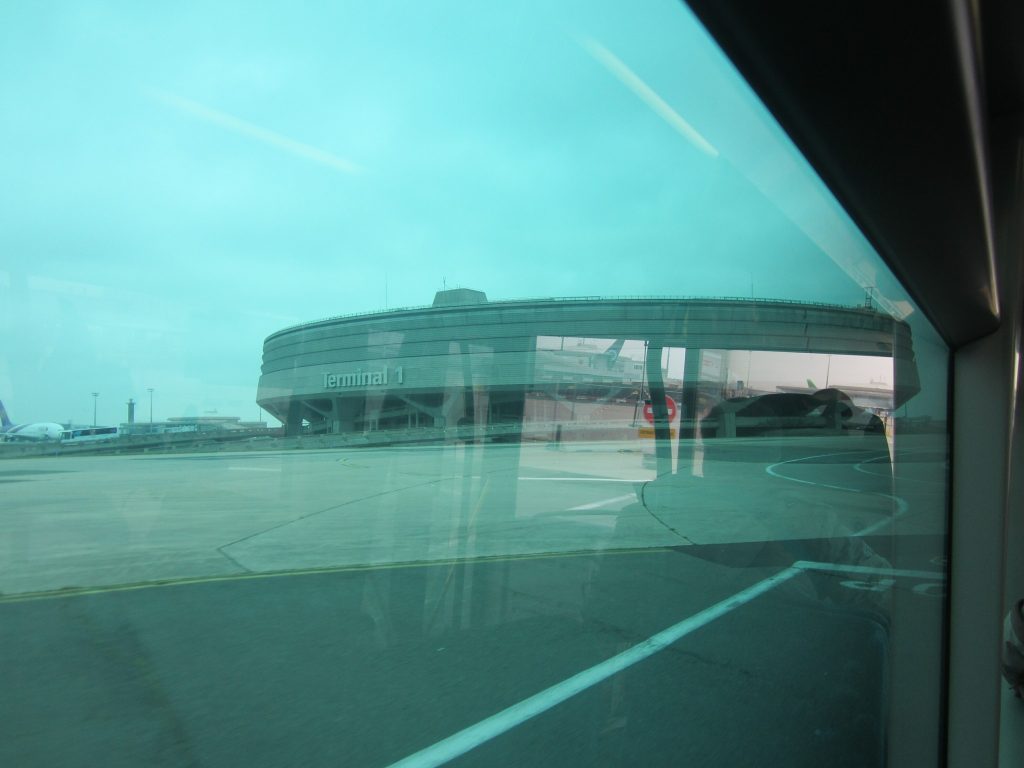 and I had to get on a bus. So I followed the signs. Oh look a security screening. And I walked. And then I had to wait for a bus. And wait. Several buses came and left. But not mine. I kept looking at my watch and now seriously starting to fear I may not make it! Finally the bus comes, hooray! And then we had to drive some distance. Finally we are in the terminal and oh look yet another security screening. And a super long line. At that moment I just panicked! There was no way I would get on the flight. And then, like the voice of an angel, I hear my name in this sweet voice but ending with a "please report to your gate immediately". So, in a panicked mode, I cut all the way to the front line telling the security guys "they just called my name, my flight is leaving, please allow me to be next". The hipster French guy mumbled something, I ignored him and put my junk on the belt and zipped through the metal detector. And then I raced to the gate and a very nice smiley agent greets me with "You must be George, we were expecting you". And I was so like "Oh I am so happy to see you!".  She hands me Boarding Pass for First class seat 3k and triumphantly walks me to the special entrance door where all loyalty enters into the First Class kingdom.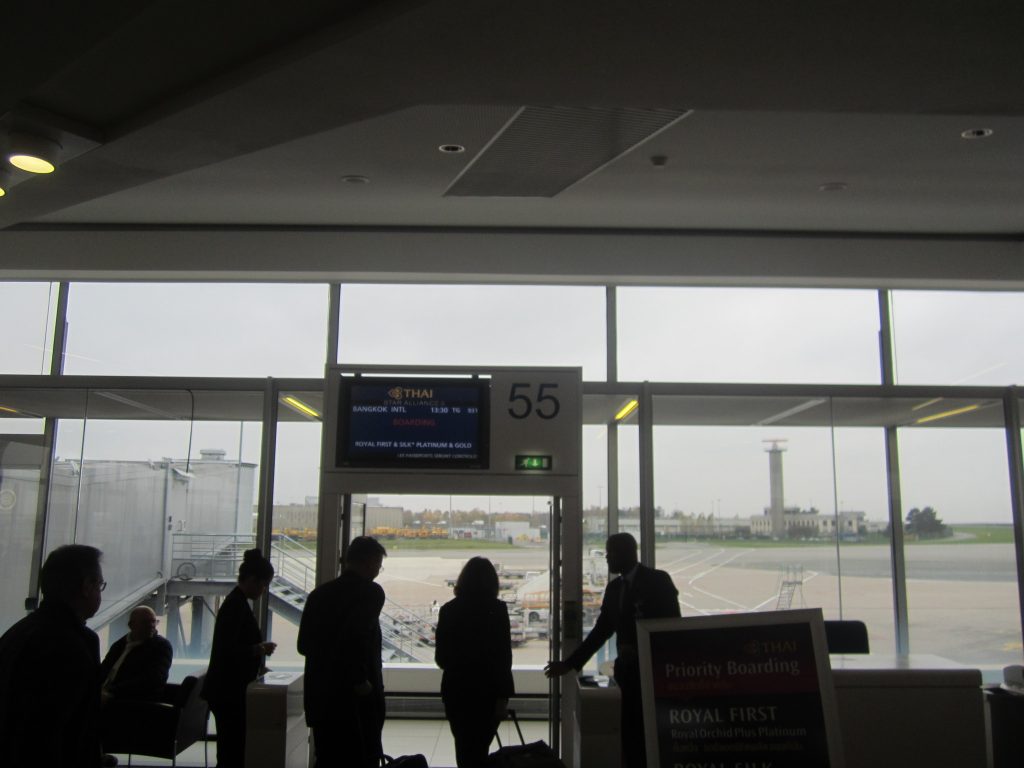 Or something like that. For a moment there I felt so important and almost slapped myself pretending to be a high five. Or whatever.
Here is the throne, I mean, the seat. 3k on the A380. I am killing it, so many firsts in my glorious travel hacking career lol.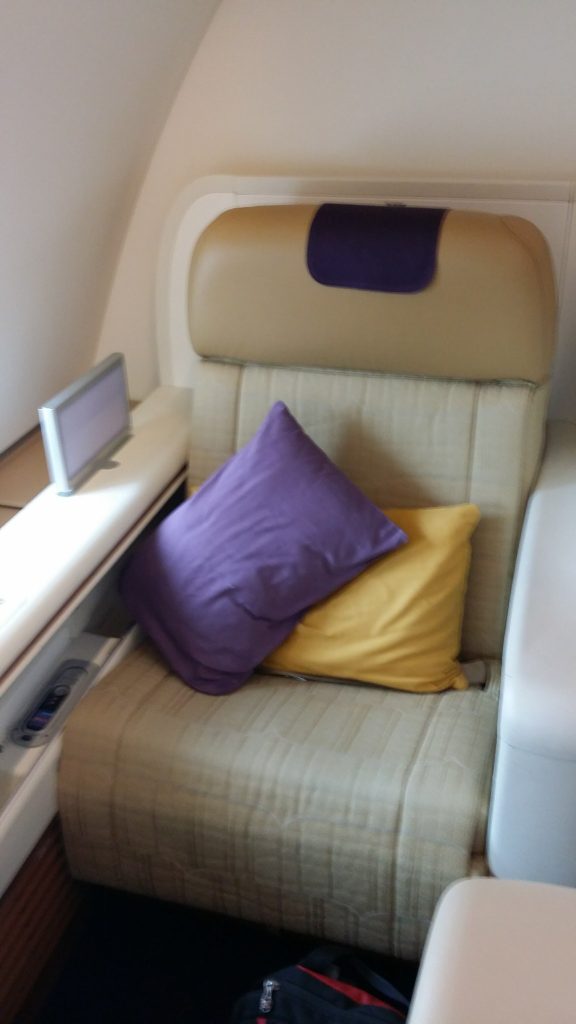 Lovely place to be you know. The flight attendants are sweet. We are upstairs, naturally. You know, First Class is higher ya know. Here are the stairs leading to the land of commoners, otherwise known as Economy Class. Before you get the wrong idea, flying First Class is not a big deal, it's a treat and that's that. I am not one of those overly entitled borderline exceeding arrogant bloggers!
Well, I took some pics of the menus. So you can see the decadence these First Class passengers feast on so you can be jealous. And then get you to click on credit cards so you can travel for free too! Hey, this is the business plan of many bozos in this space who recently discovered this Hobby and then just decided to blog to tell friends and family. Mother frackers! Okay, come down TBB, we are just going to stick with the trip report here, leave your neurotic rants behind. Ok, I am sorry.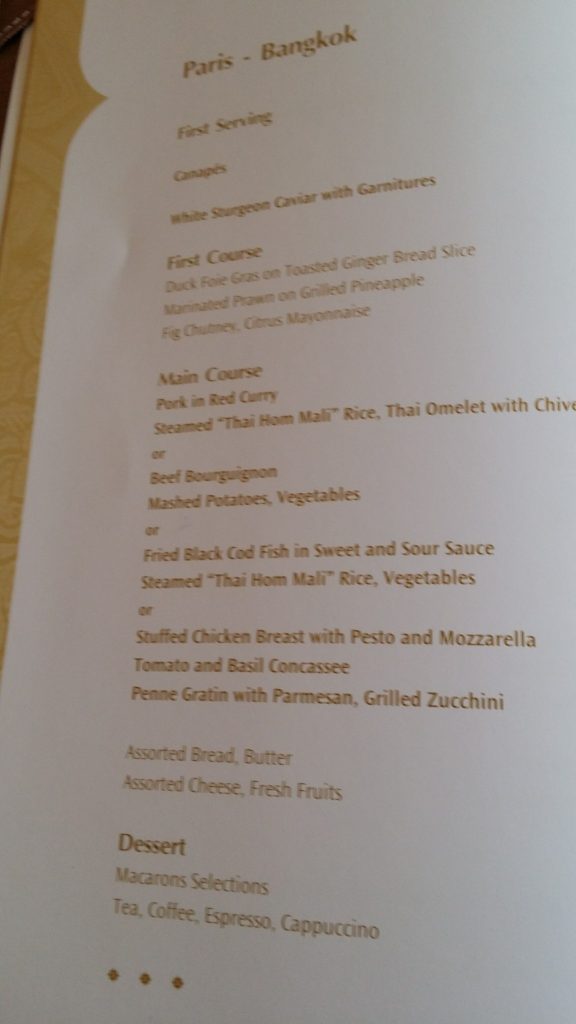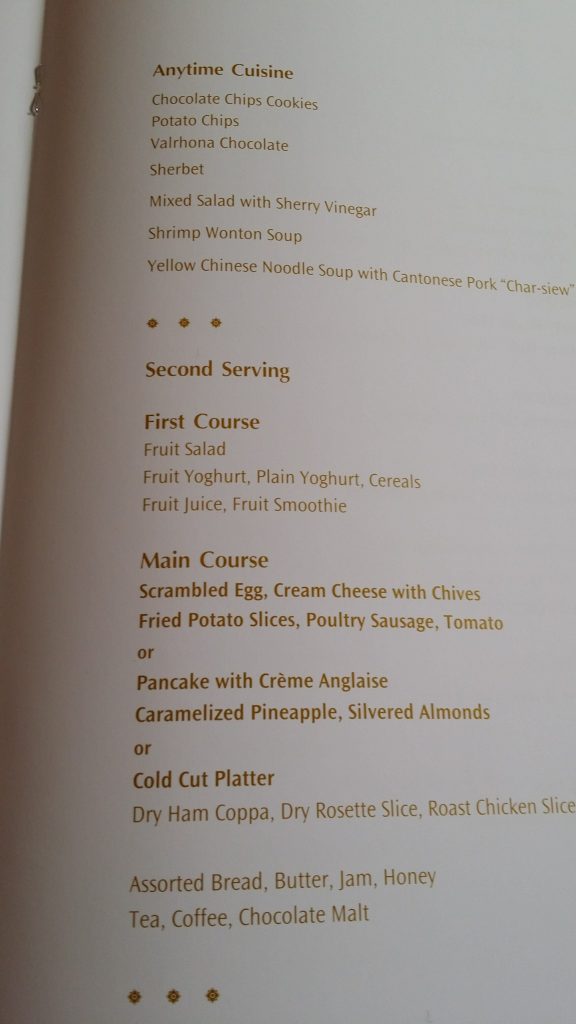 I took a picture of this plane while taxing for takeoff. It is sponsored by Magnum XL. Or it should be.
I liked my seat but then again I am easy to please. I don't want to sound like a seat expert or review the product. Its' a cushy seat and it lies flat pretty good. And I love the camera view from the back of the plane!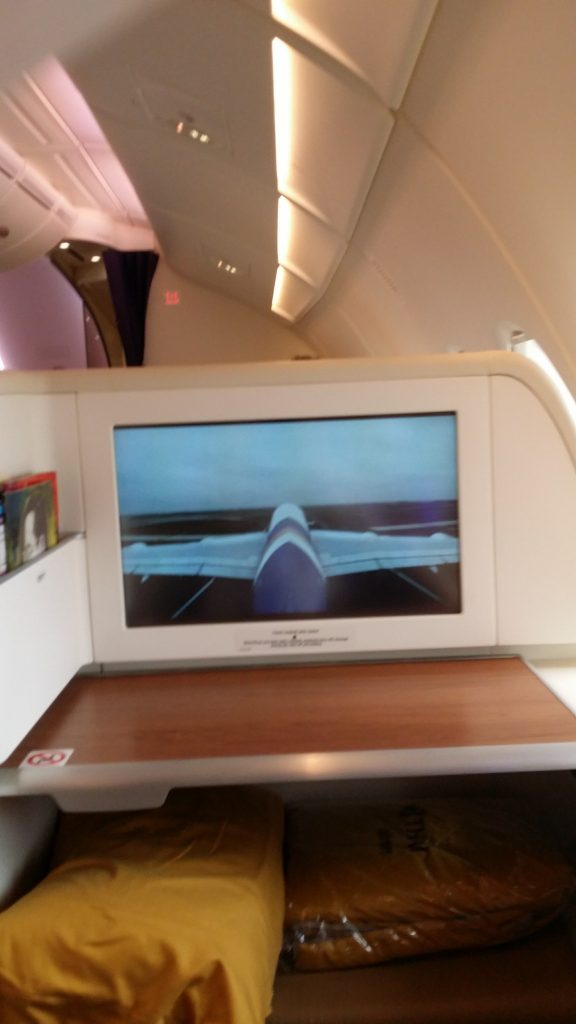 Watching the clouds while laying flat and playing with the remote eating something or drinking some red wine. Yes, forgive me, I do not drink champagne. I think it stinks actually. I am weird.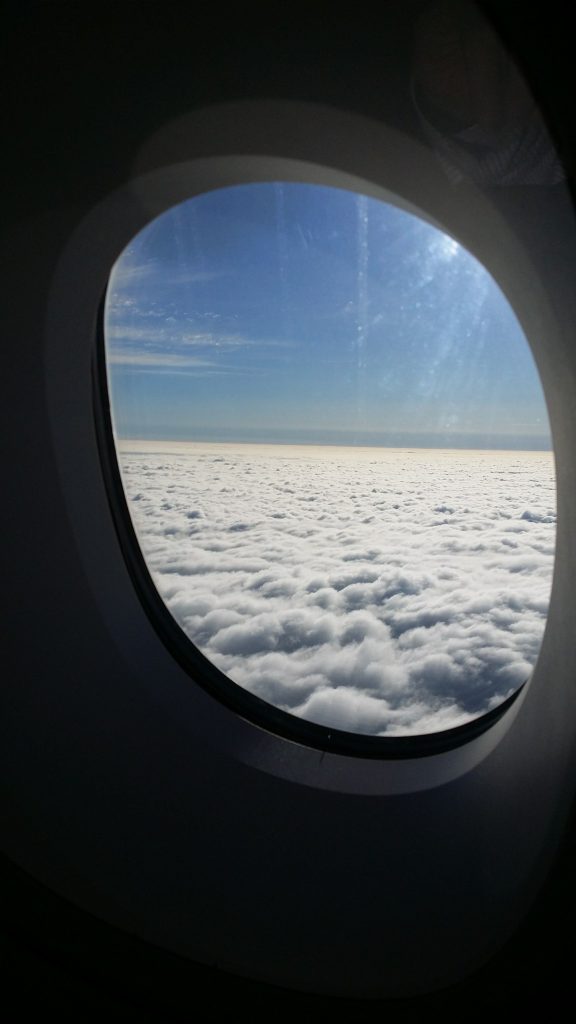 Omg, a rare selfie. Look at me, I am awesome, you can be just like me, click my links. Lol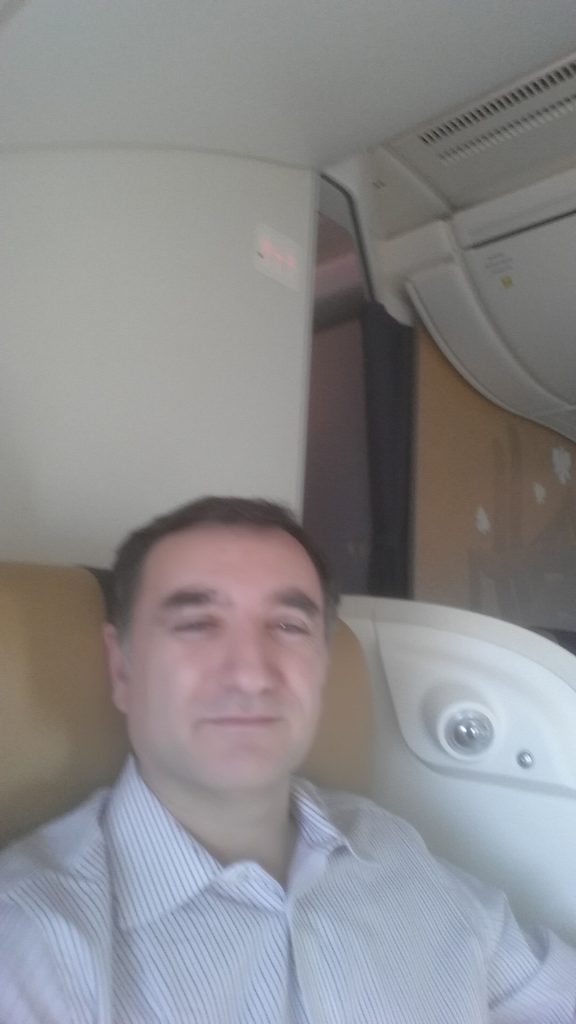 This trip probably was responsible for some weight gain. But it was so hard to resist. First and likely only time doing this so I just could not say no. How can you say no to these?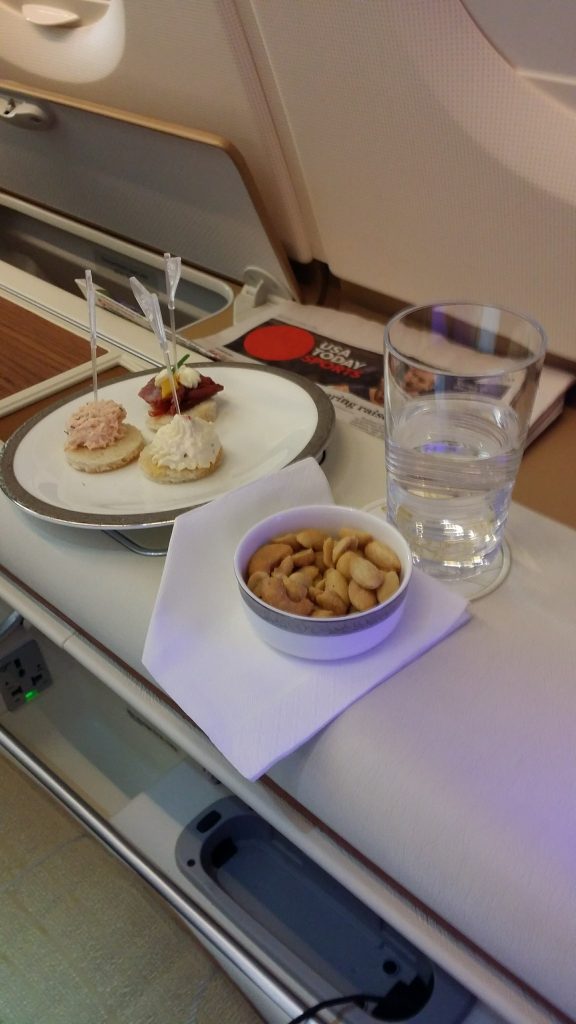 I enjoyed the entertainment system. And no, I do not remember what I watched.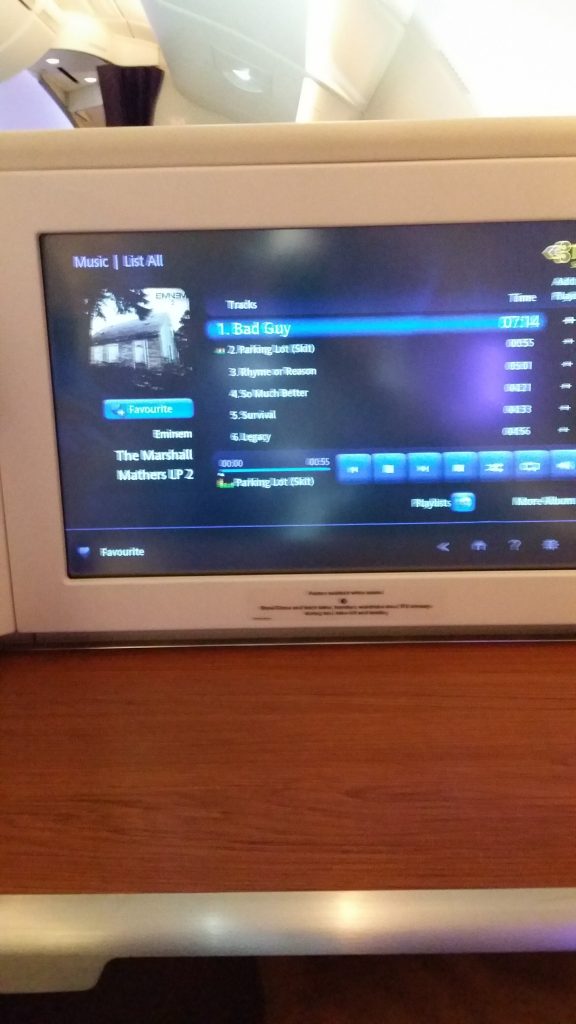 Food kept coming. When it stopped I ordered some more. Hey, I fly First Class and get what I want when I want. Lol.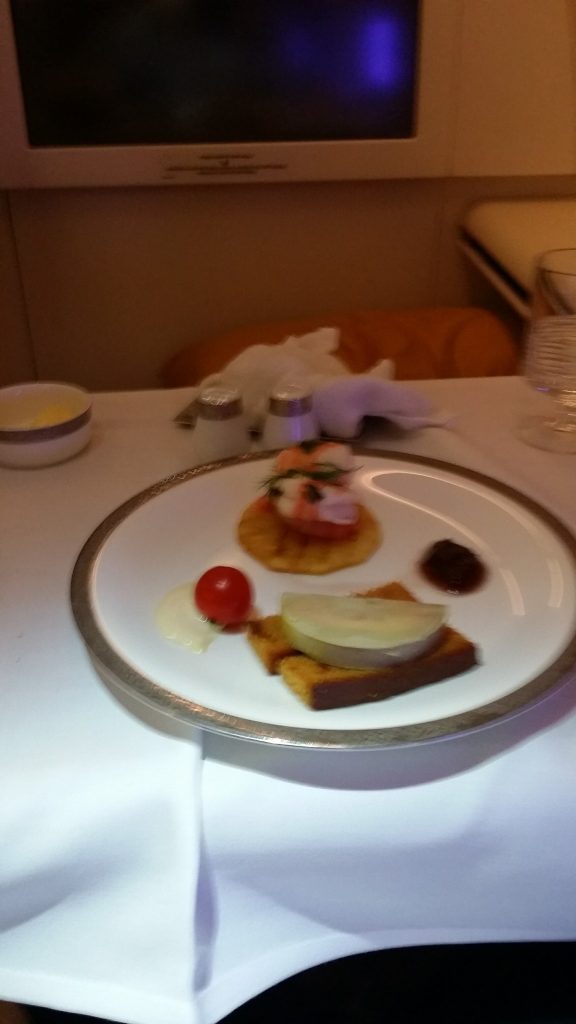 Bring it, I am ready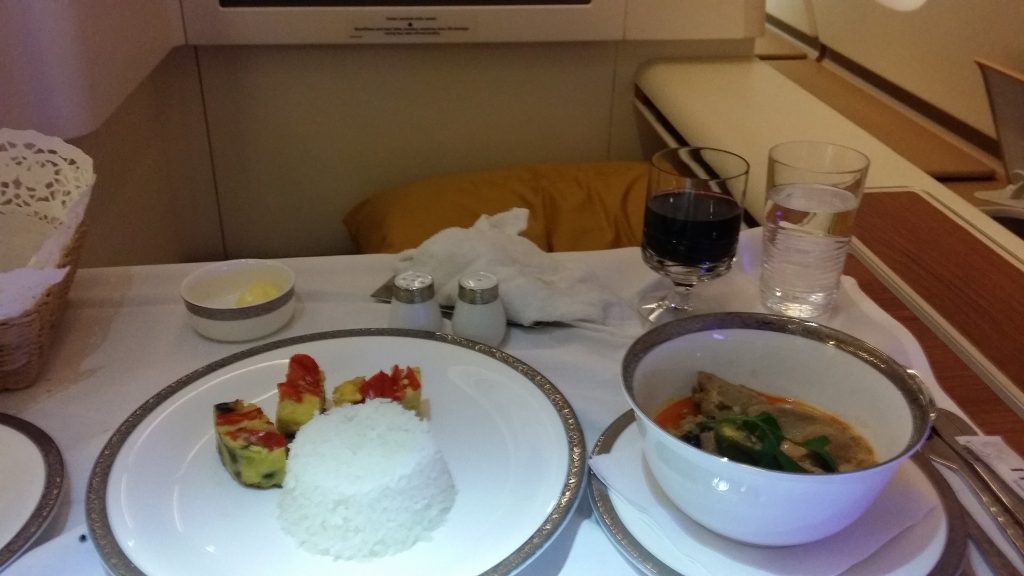 I took a walk to the back of the plane where the Business Class seats were. Very nice, I liked the lighting, I was expecting a disco ball anytime to drop! Sadly, it did not.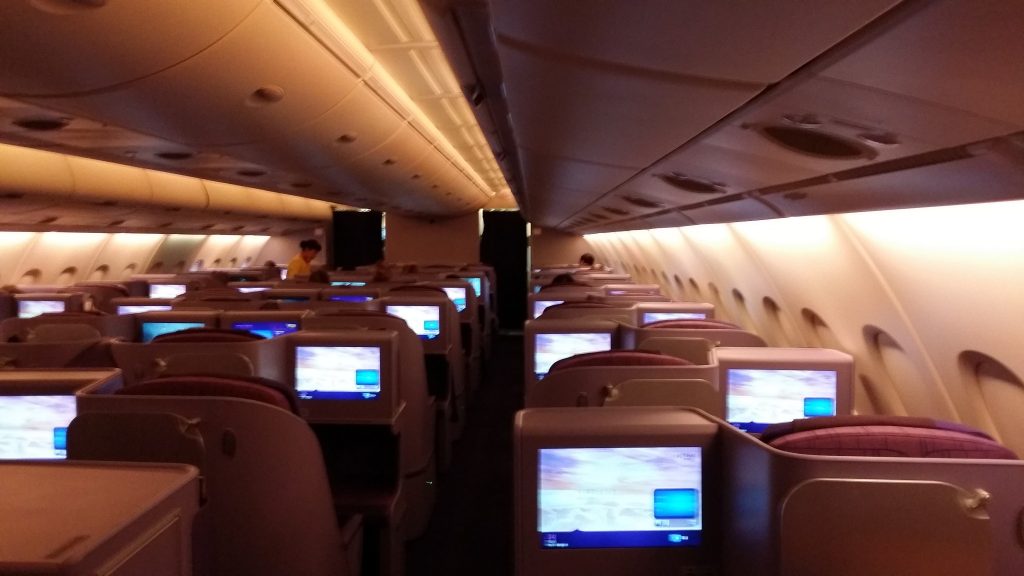 It was time to say night night to the flight attendants after they tucked me in. No they didn't. Oh so I wish they did though…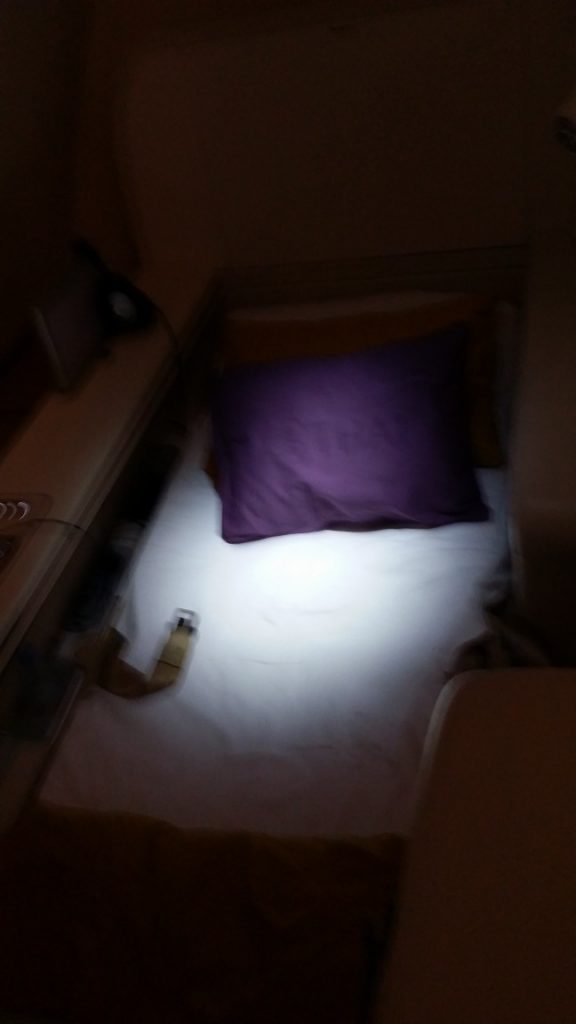 I kept this for souvenir and proof of my F mega status…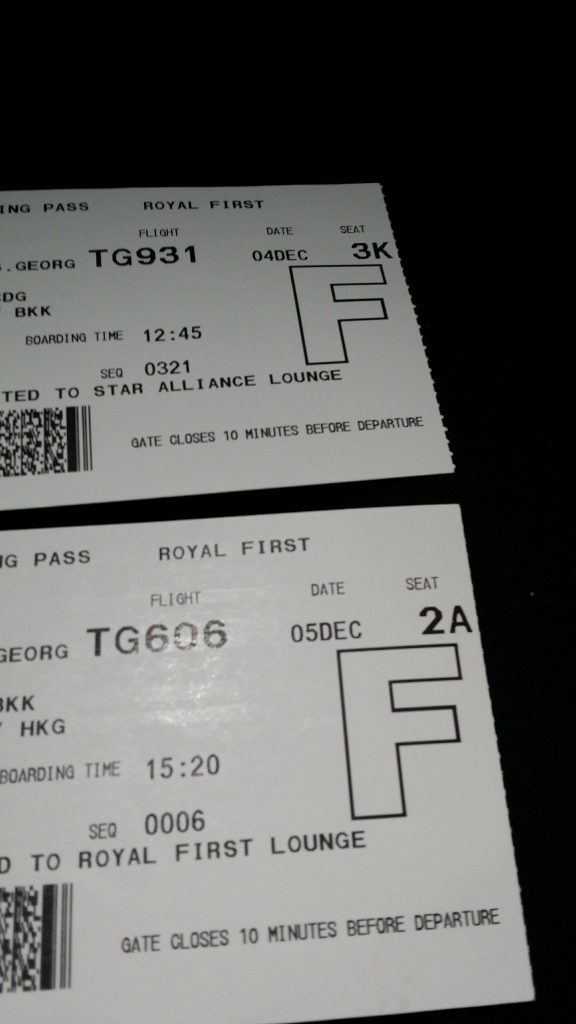 And then, after a great sleep, there was….breakfast!
Bangkok from above
I have seen so many trip reports with this Bangkok BKK buggy service where they pick up the First Class passengers and take you through security or, in my case, to the Royal First Lounge. And there I was zipping through the airport, is this a dream?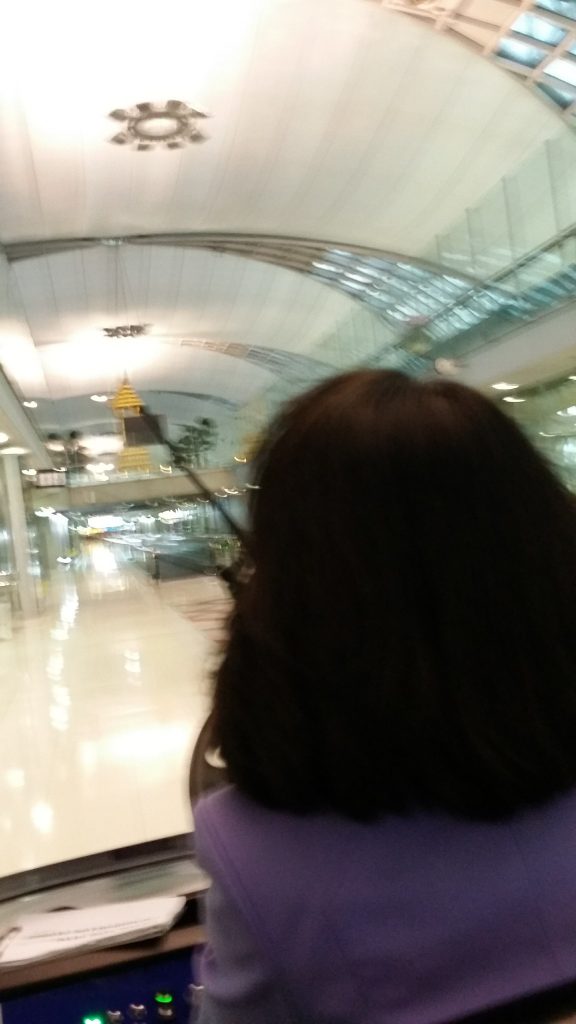 Get out of our way, this woman has a walkie-talkie and she is using it, we are important VIP material!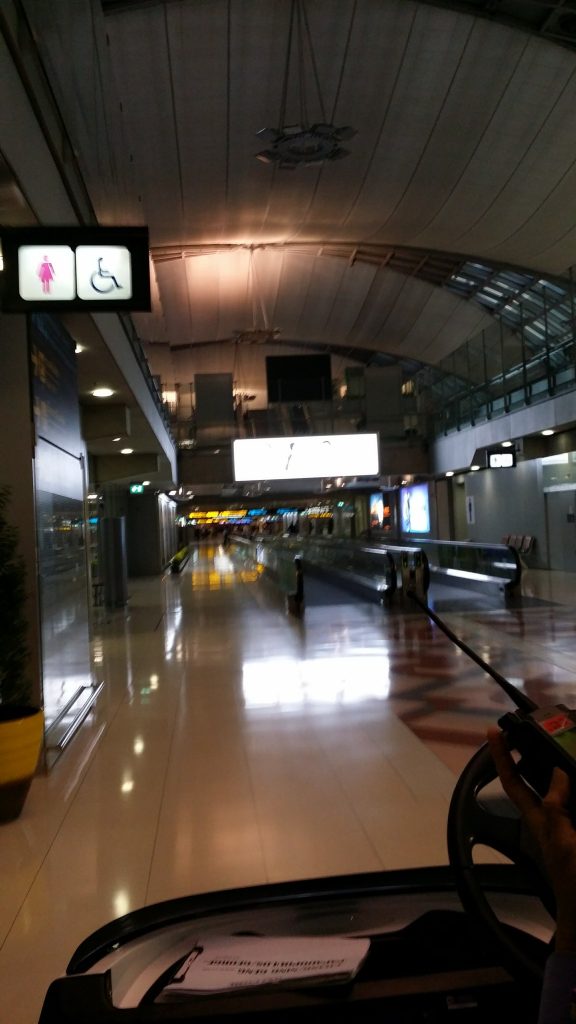 And after a short ride we entered the Royal First Lounge. A dream became reality. And I made it right away to reserve my free massage. Yep, contain your enthusiasm! A free massage courtesy of your First Class seat you paid thousands of dollars burned some miles for this experience. Again, so many trip reports about this so I had to experience for myself at least once as some haters were doubting my expertise in The Hobby. Shut up now you haters! Let me enjoy my pre massage tea, oh yes, time to relaaaaaaaax.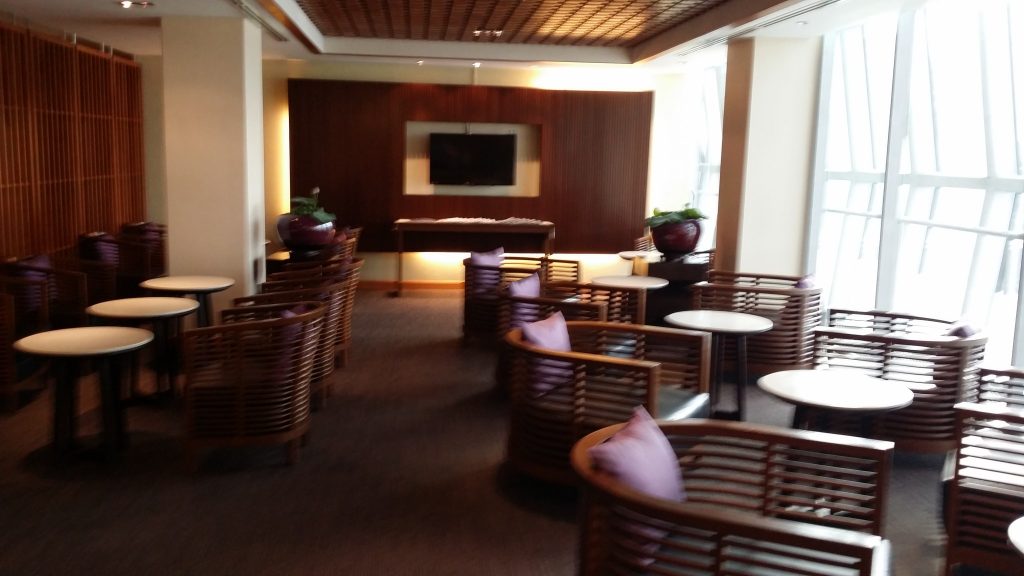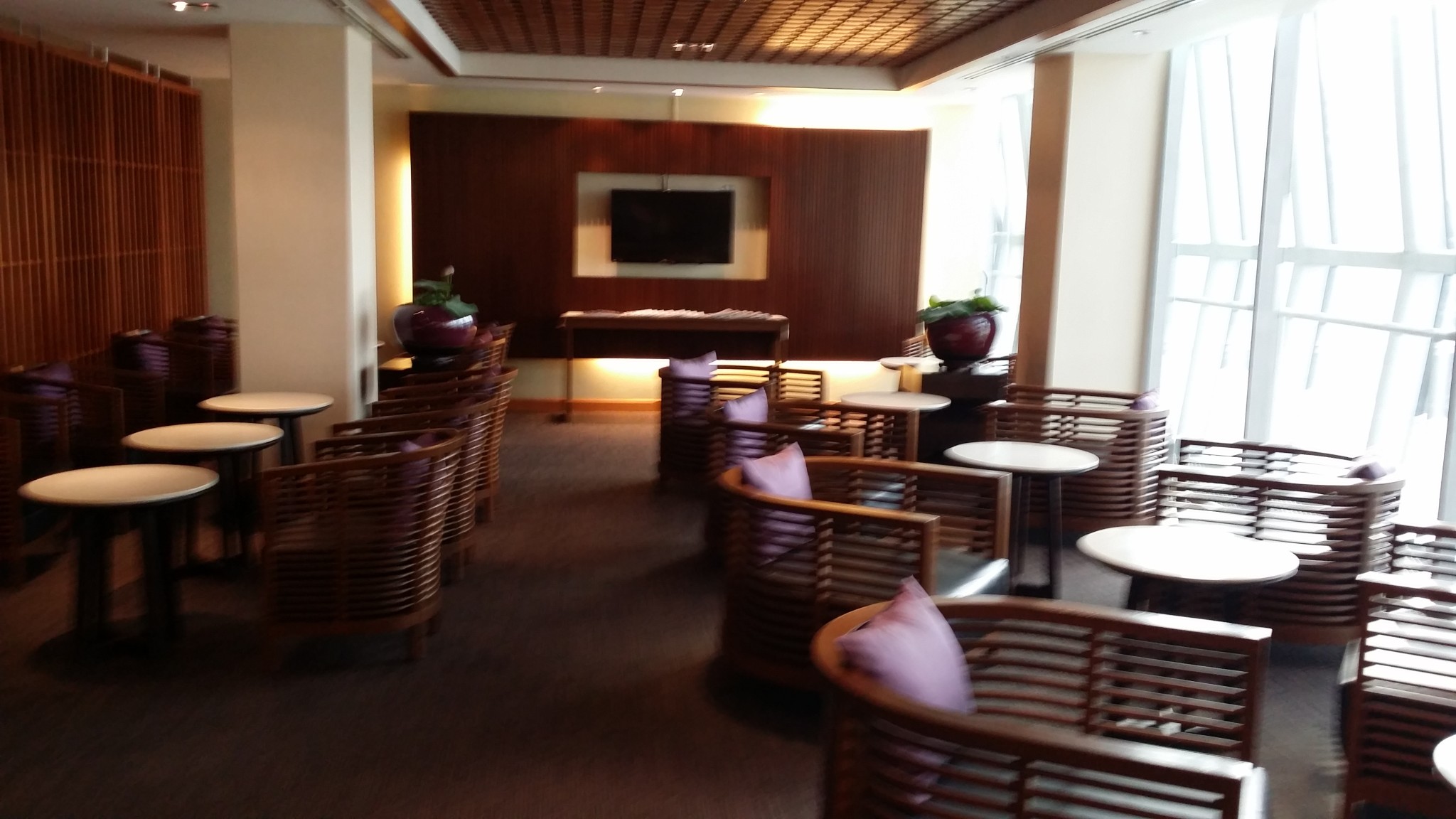 And then I was taken by each hand by two absolutely drop dead sweet Thai ladies for my massage. Actually, I lied. A massage therapist was assigned to me and she was not good looking which I think it really helped. Why? Because, after she showed me the room where the glorious massage will take place and where I can change, she points to this thing and tells me to undress all the way and magically put this thing on to replace my underwear. Exsqueeze me? I was expecting to say "I am joking" or something but she was serious! And she says I will come back, get comfortable or something to that effect. And I did…I managed to put this thing on.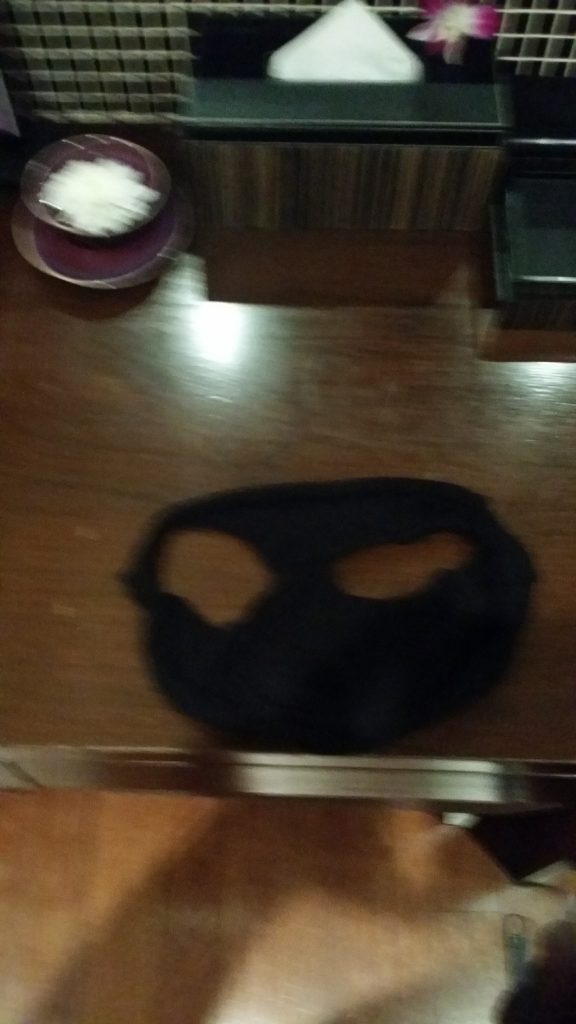 Anyways, I really enjoyed the massage but I had much better. In other words, if you come here exclusively for the massage, you are an idiot! I gave her a $20 as tip, she thanked me, I thanked her and then I went back to the main lounge (the spa is in a separate area outside of the lounge).
Some pics around the lounge and the food I kept ordering. Yeah, you can have anything anytime. So I did…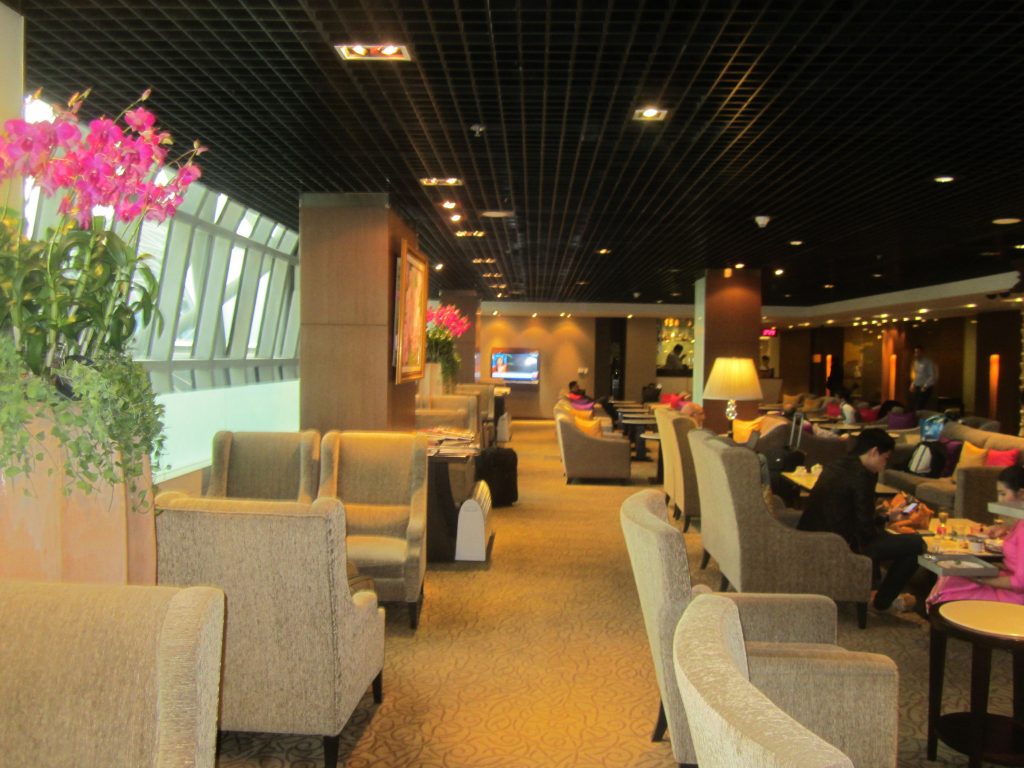 And it was time to catch the flight to Hong Kong. Which meant buggy time again, hiyyya!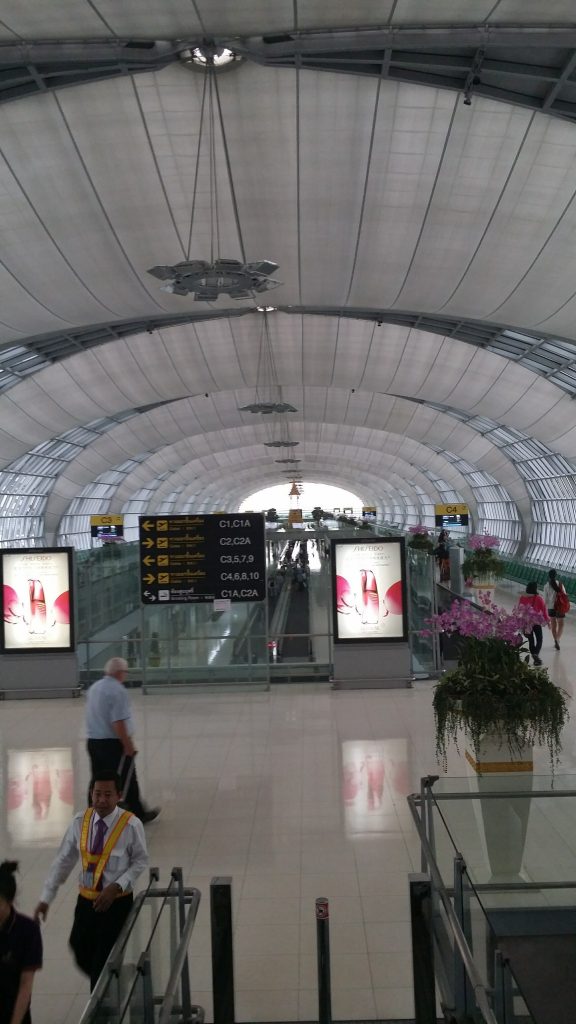 Flight to Hong Kong was on Boeing 747-400 and I really enjoyed the First Class seating layout! I have not seen anything like this before. Proof I am not a First Class snob! Loved the service on this less than 3 hour flight.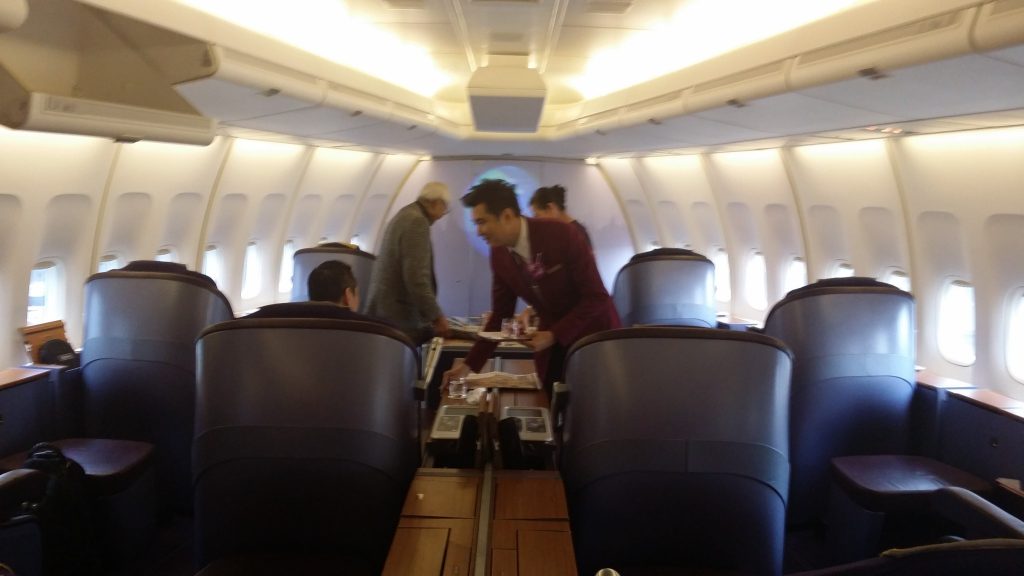 I am no photographer either, I do what I can.  Showing off, we all do in The Hobby.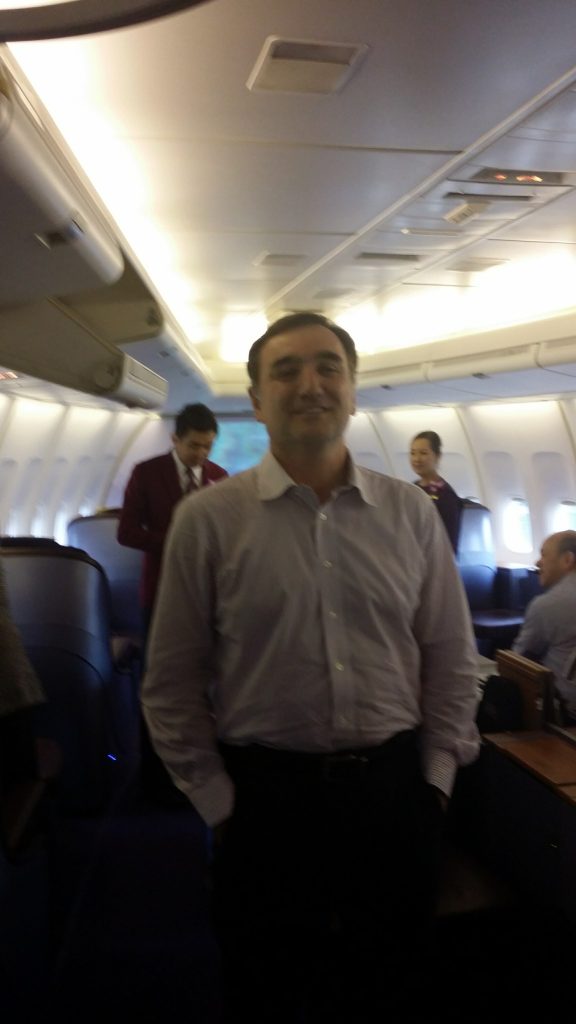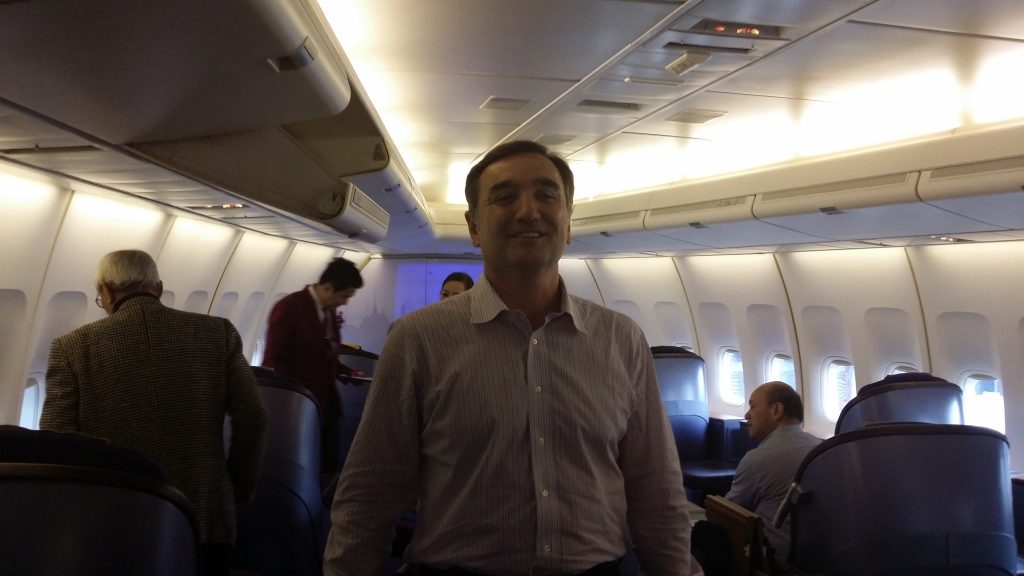 I had a window seat all to my self and they kept feeding me. Loved these nuts. No Diet Coke or Krug #noTitan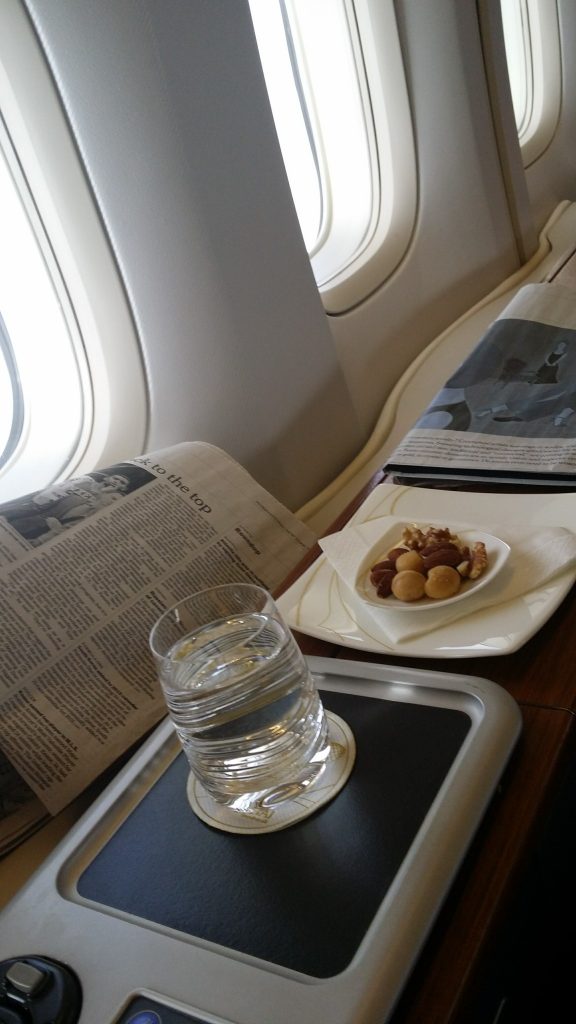 Of course never said no to some red wine to go with my dinner…
I went for the chicken. It was good. I had better.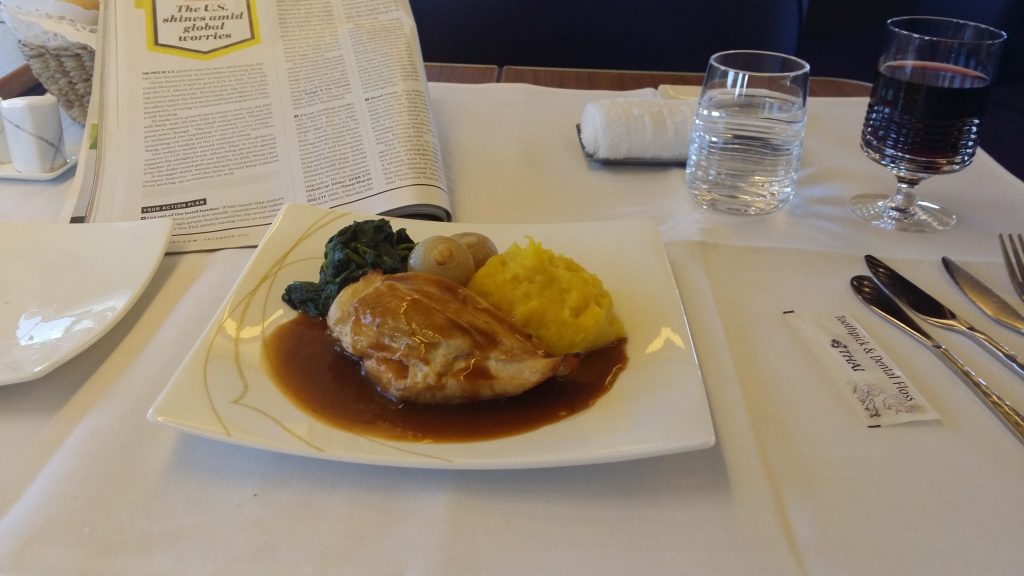 Arrived around 9 pm or so and I was again driven all the way to passport control, get out of my way suckers, I am important, look at me 🙂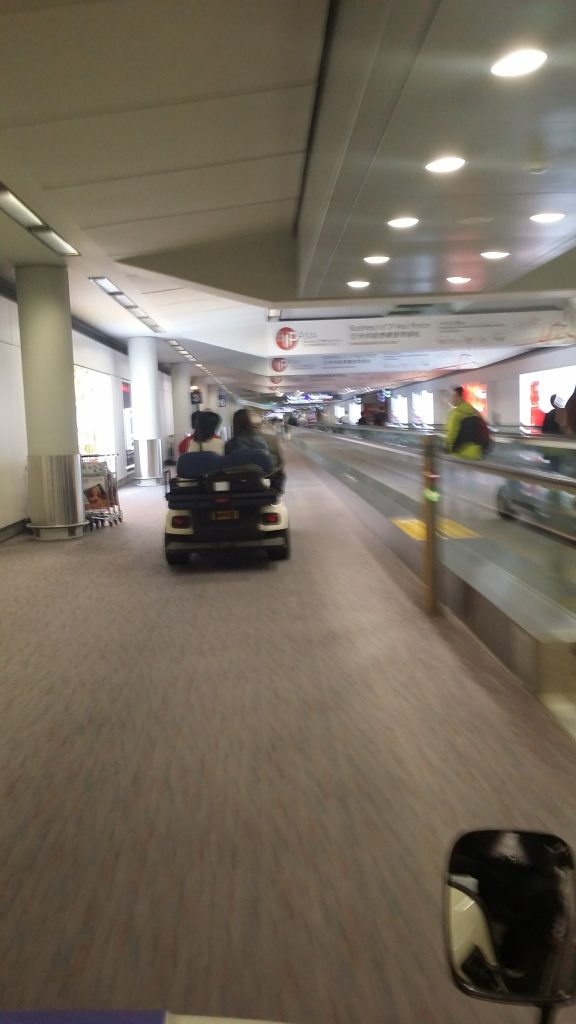 There is a Hong Kong Tourism booth as you come out of the airport area and they are very helpful. Got me some maps, including the must have subway map. I got an Octopus card which allows you to ride the comprehensive awesome public transit system (trains, buses and ferries) and loaded it and off I was on the awesome Airport Express train to the city.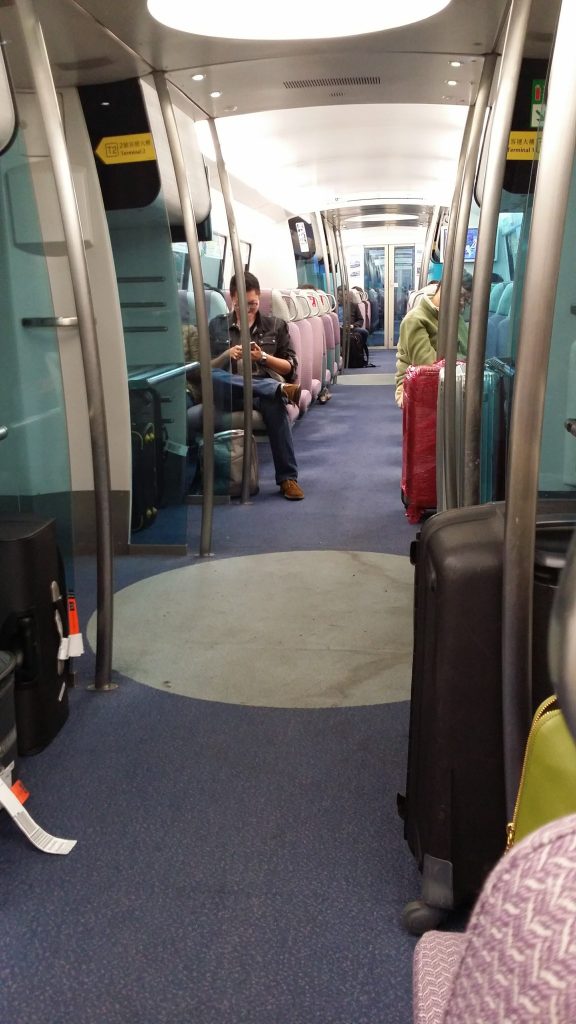 I remember I had to take a free bus transfer at a station and then the bus started dropping off passengers at hotels, including the Hyatt Regency Tsim Sha Tsui hotel. Lets just say I did not have a great stay here. I found the staff to have an attitude "we are awesome and who are you to demand an upgrade or whatever?". I skipped the front desk check in as I had cashed points for a Club Room which entitled me to check in at the Club in a higher floor.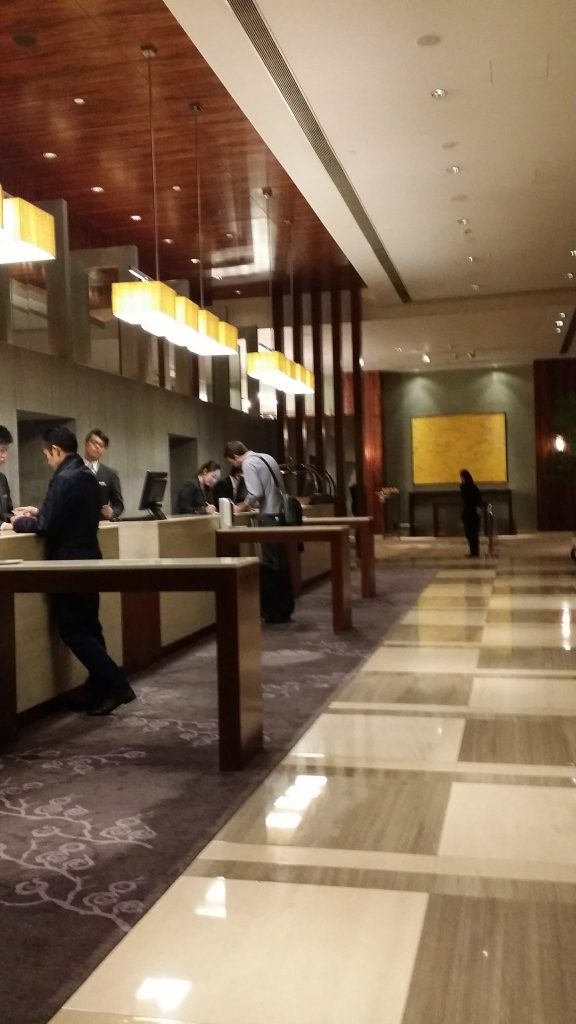 Well, let me tell you the reaction of asking for a nice upgrade in my usual charming ways was met with a look of "WTF, who do you think you are to demand such a thing? No, no, no". Well, I gotta tell you my room was ridiculously small. For a moment I thought I was in New York City! And here is my glorious view, not exactly harbor view ladies and gents! When I called them up to express my feelings and whether they can do a little better, I again was reminded me how magically they are sold out and there is nothing they can do. Ok, it happens. But the attitude is what ticked me off. From every staff member. Who the hell these guys think they are? Anyways I slept like a baby, I crashed!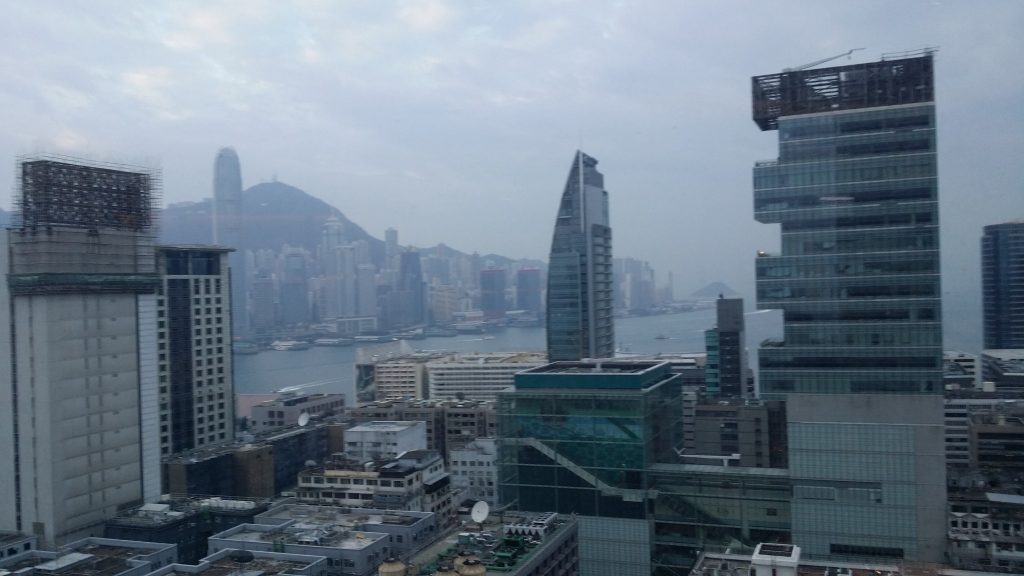 Next day I was off to see the Big Buddha on Lantau Island. The Buddha was completed in 1993 after 12 years of design and construction. Line was too long for the cable cars so I took the bus, much cheaper and a more local feel to it.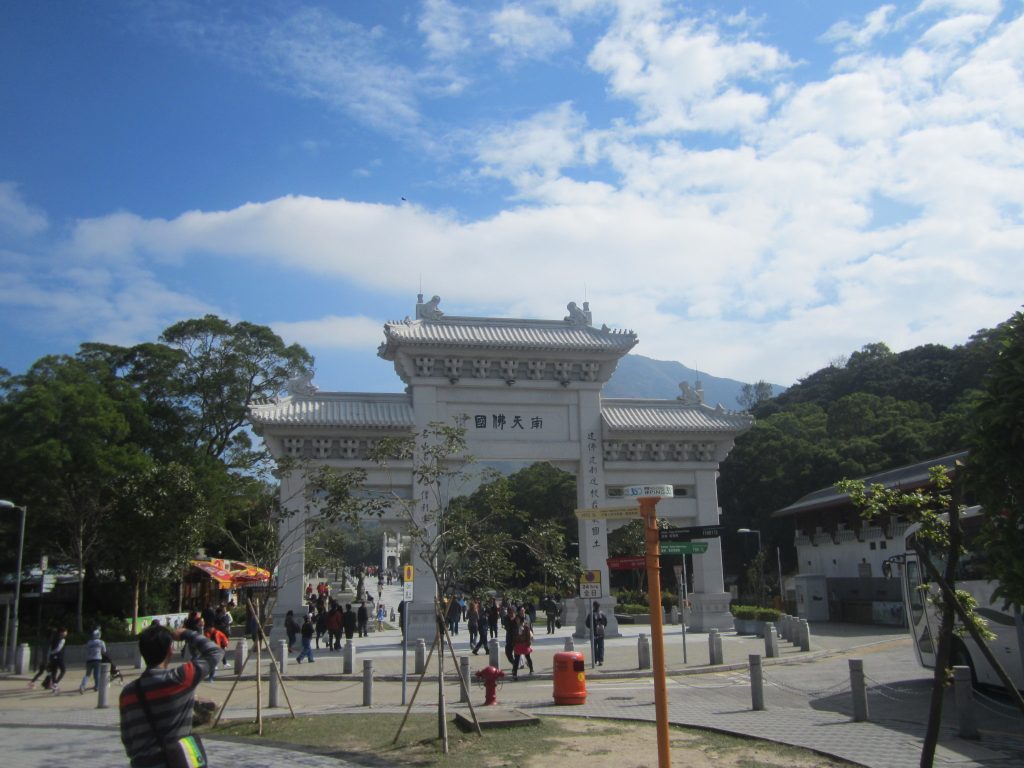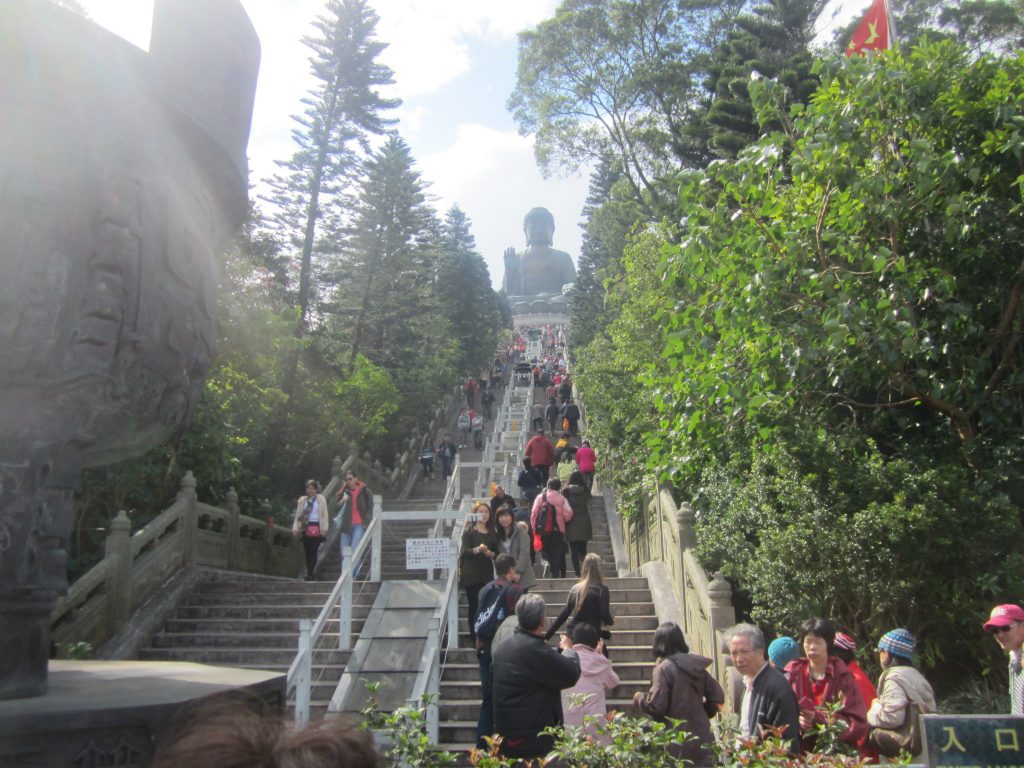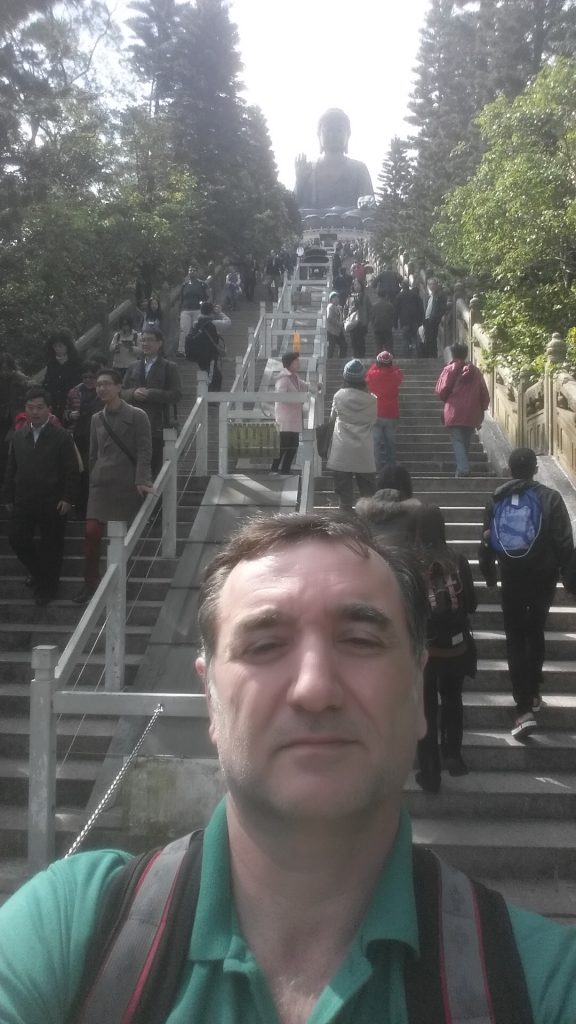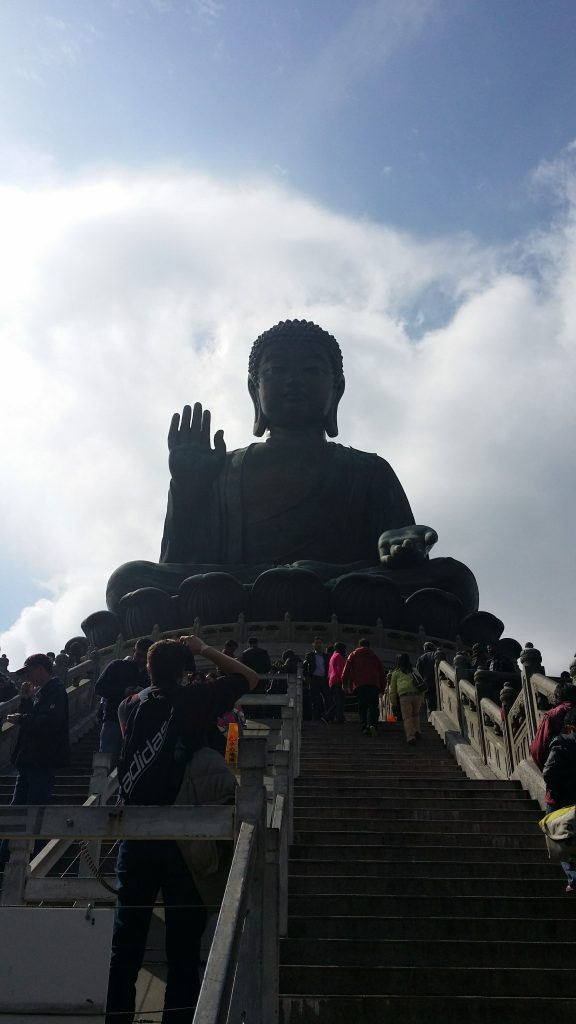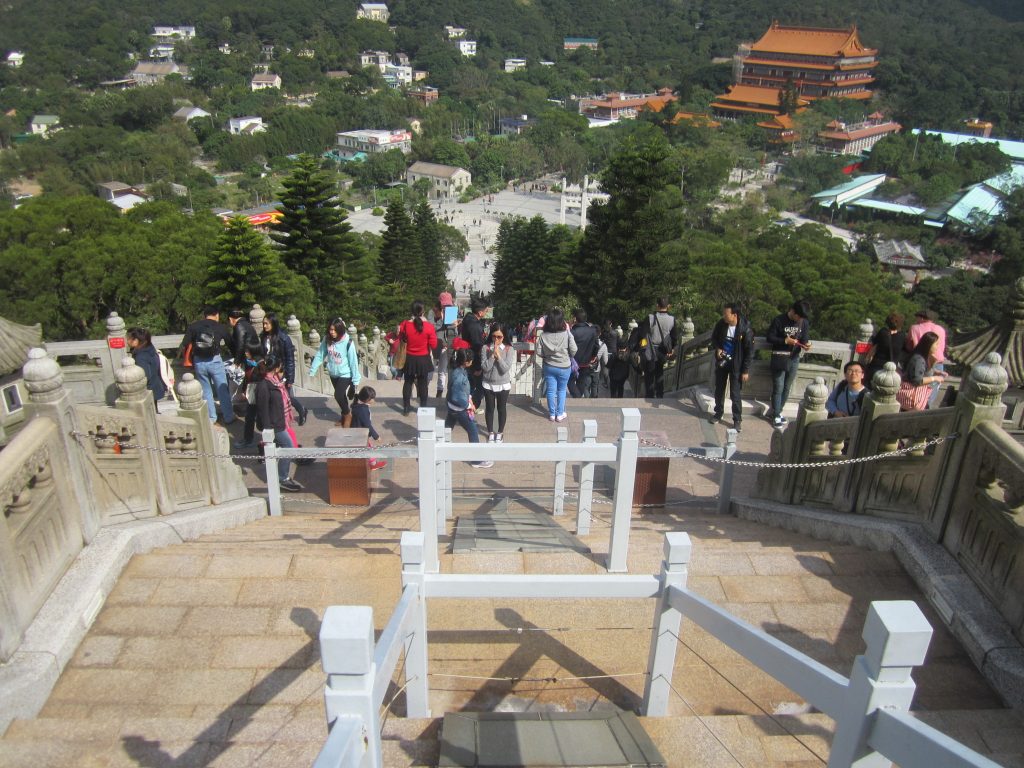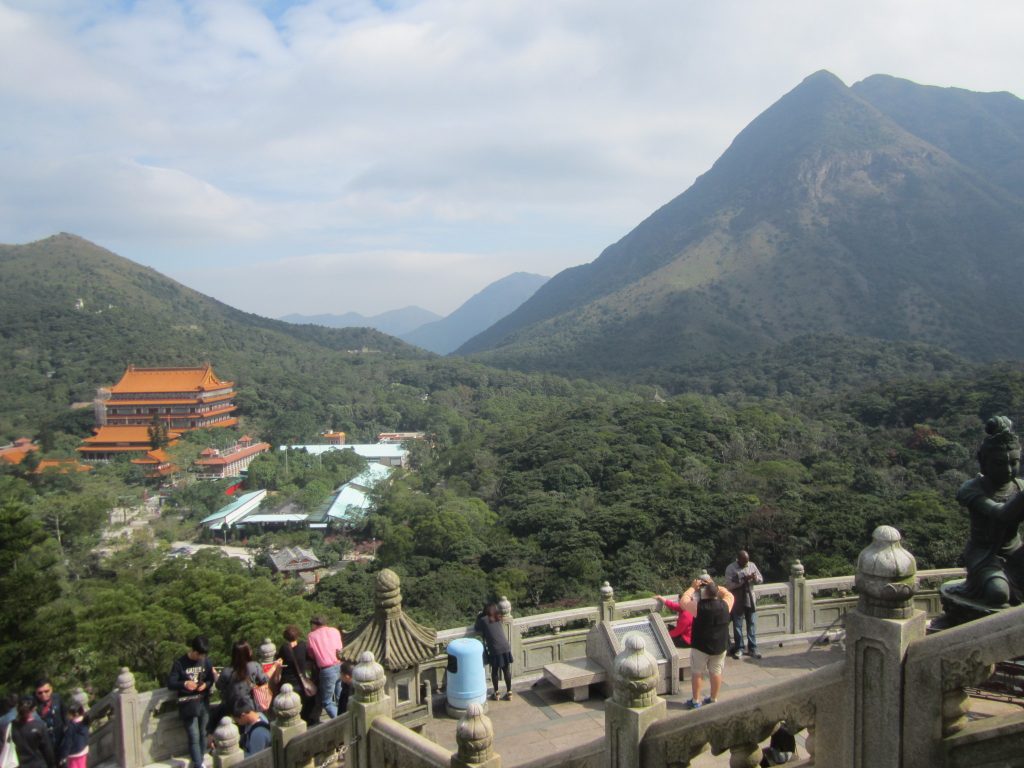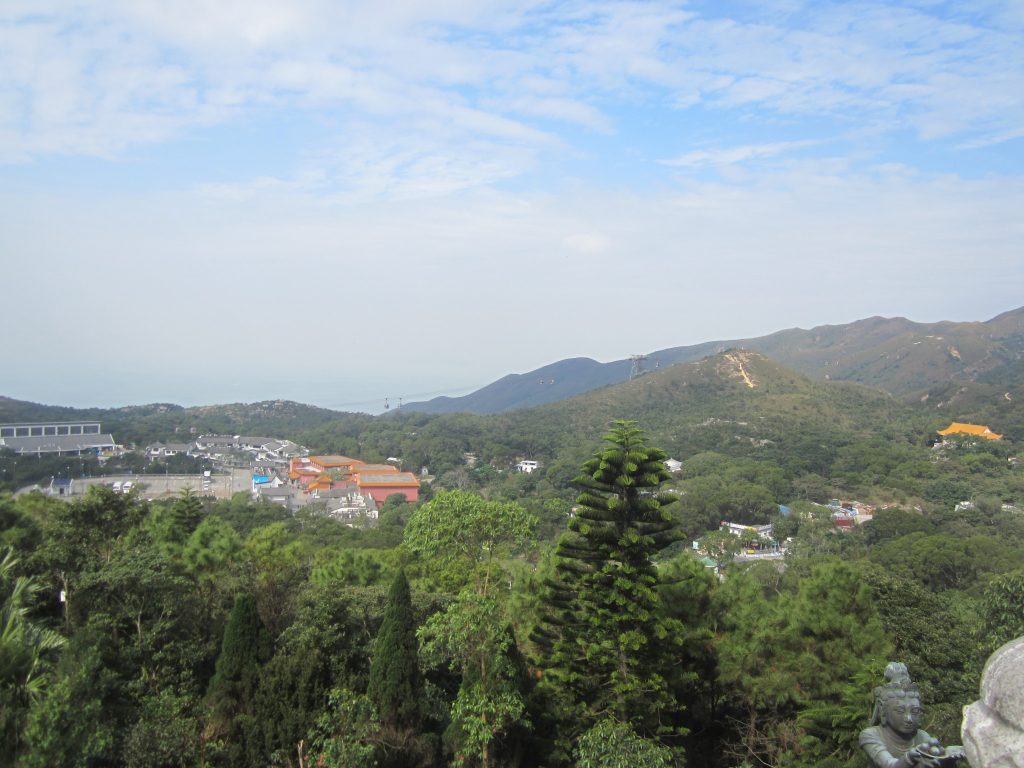 Some nice views from the bus. I was surprised to find out Hong Kong is so scenic. I thought it was all…cement!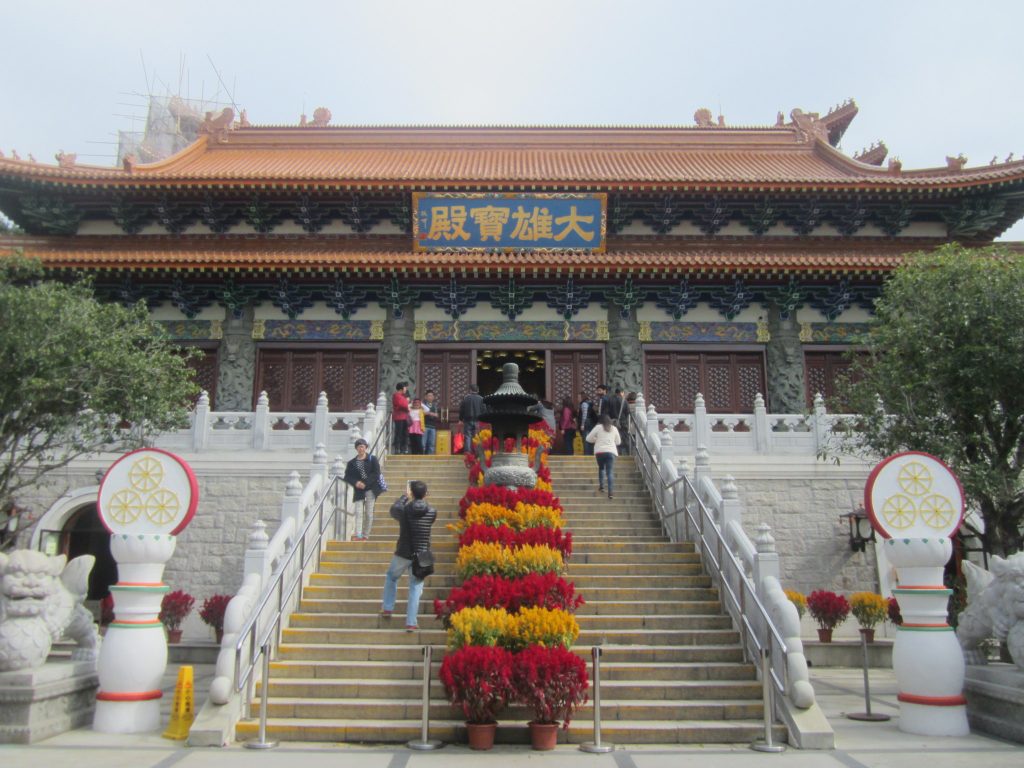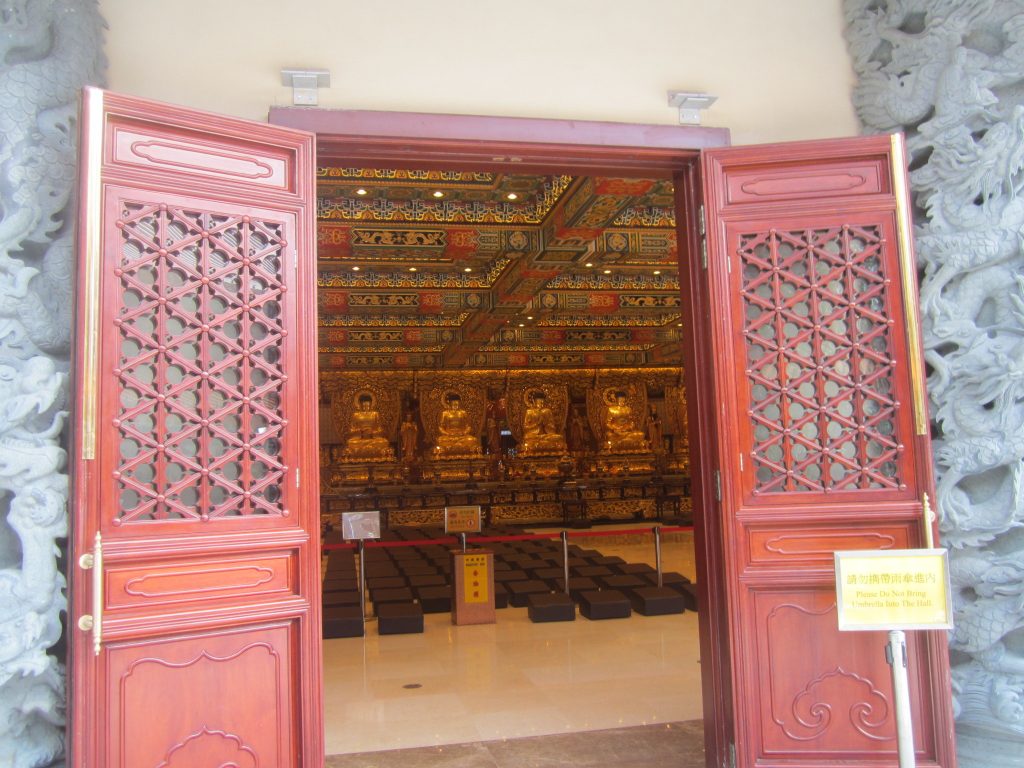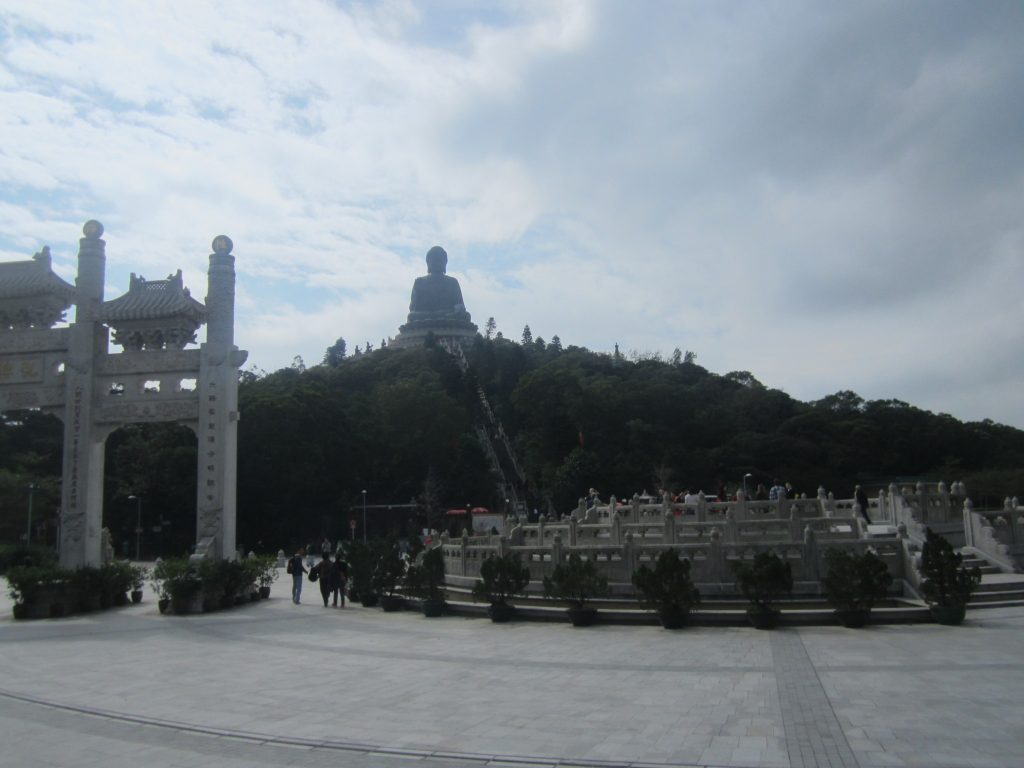 A shot from the bus, last row, middle seat among locals, I loved it!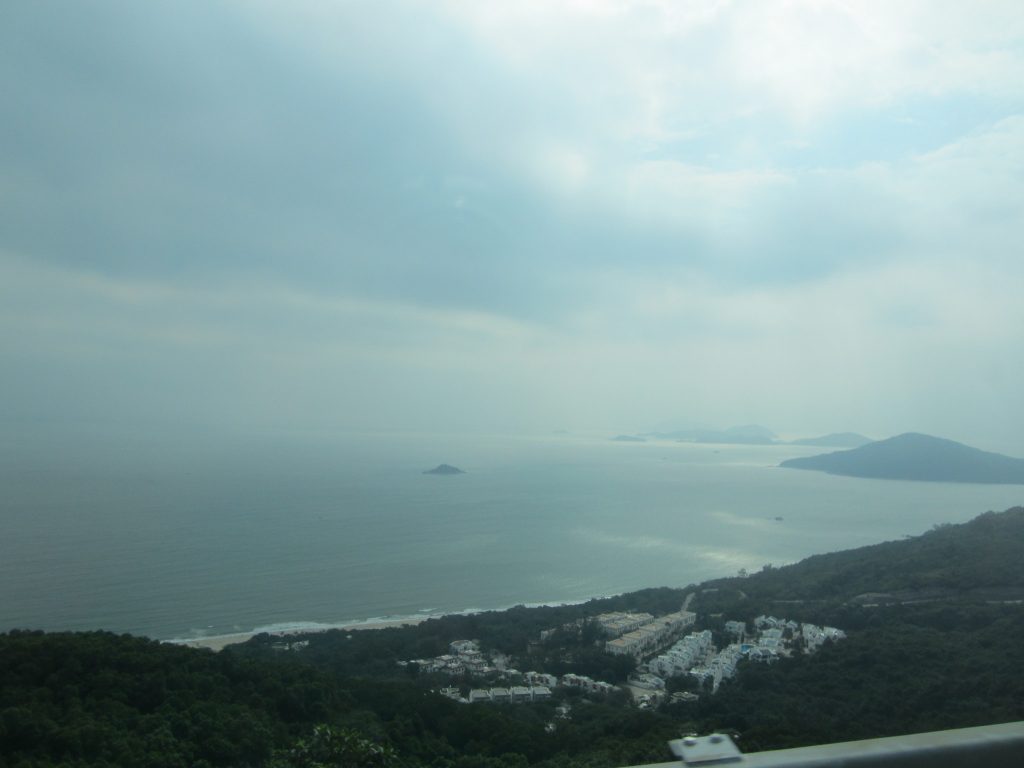 I had a late start to the day as I slept in and spend most of it to/from and Big Buddha. On the way back I snapped this picture, I love it!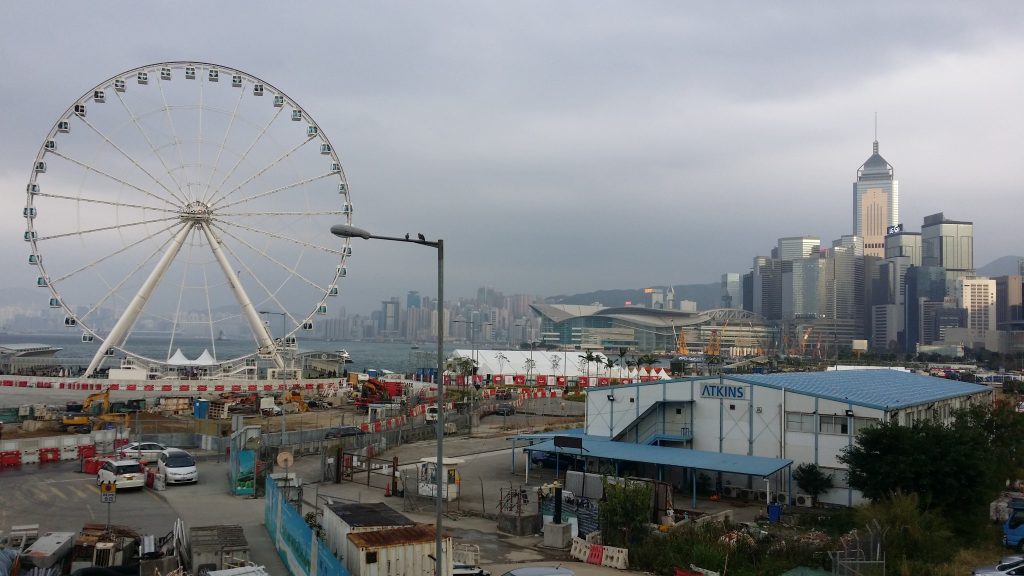 Of course I had to make a stop to the cheapest Michelin-starred restaurant in the world, Tim Ho Wan and try the signature BBQ pork buns. Among other things. Prepare to wait. My wait was not too long as I was alone and I squeezed in between a local elderly couple and two free spirit souls from Australia.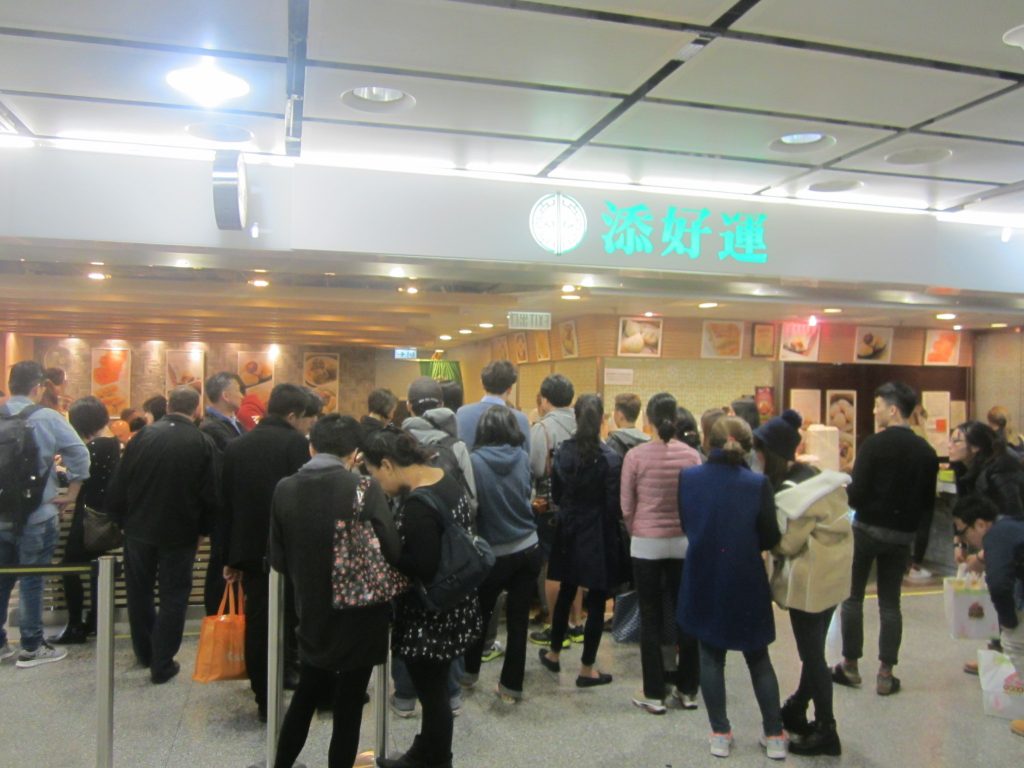 Yes it is packed here. I enjoyed the experience and I can finally say I have done this. No doubt the food was really good but not sure it is worth all the hype! Certainly very cheap!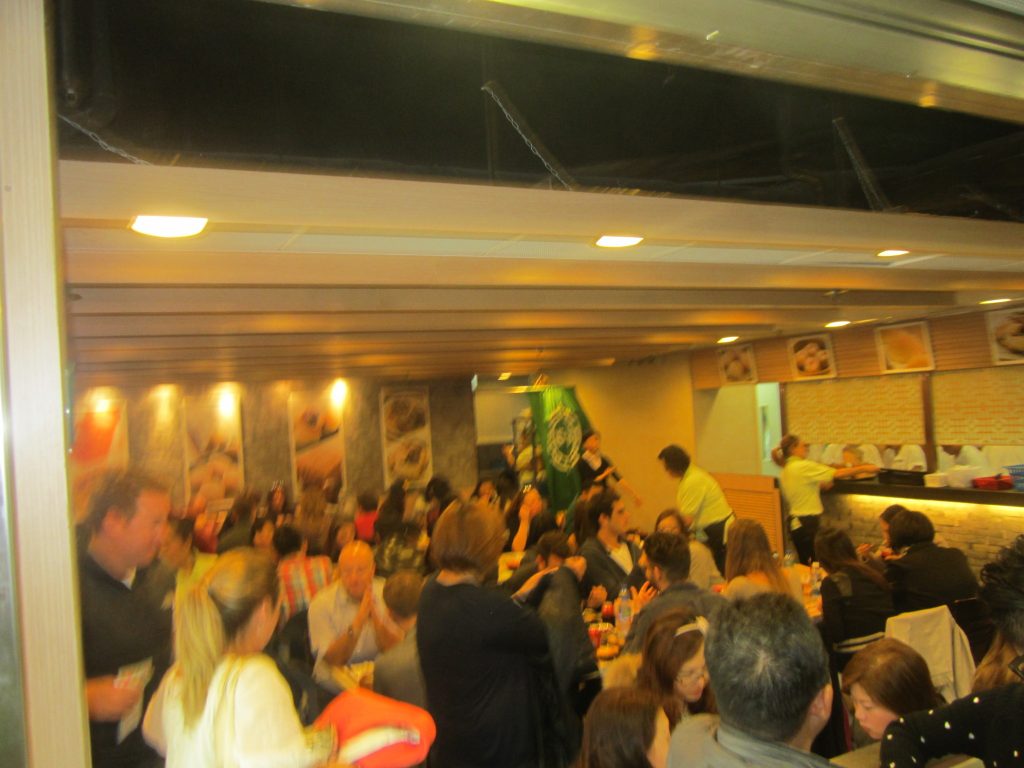 I did some walking around next…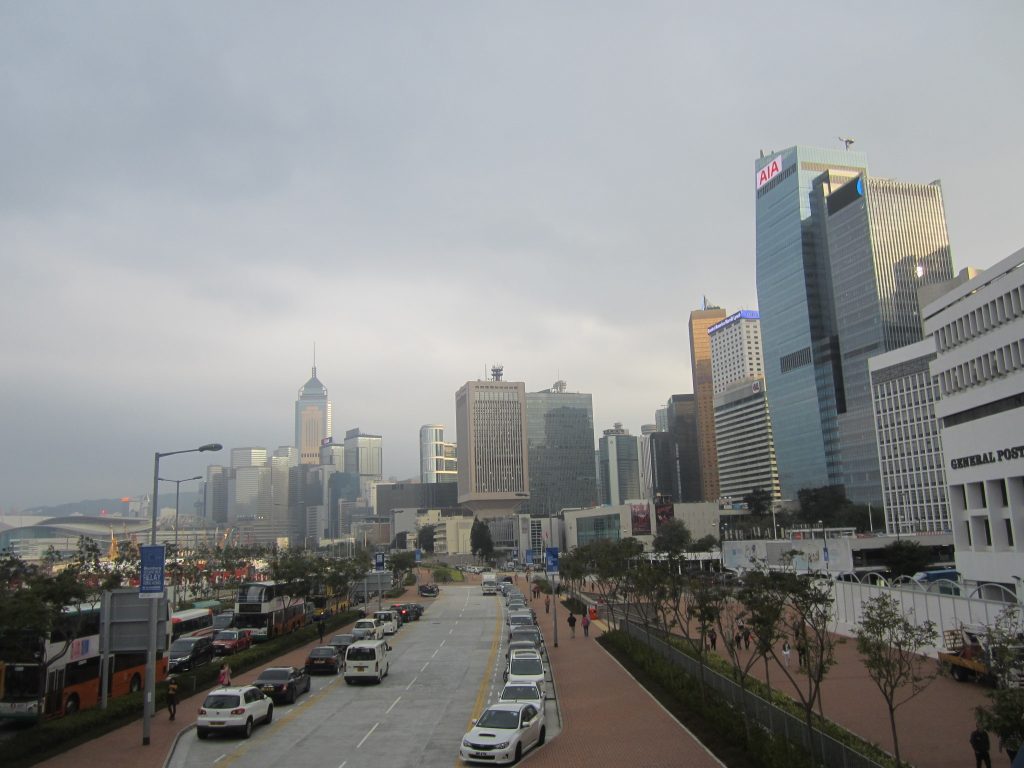 and decided to take the Star Ferry from Hong Kong Island to Kowloon.
Anyways, the Hyatt Regency TST lounge is really not that big of a deal, I would not waste any additional points for the food they serve there.There are SO many places to eat just outside the hotel or in the same building complex. Some pics from the hyped lounge: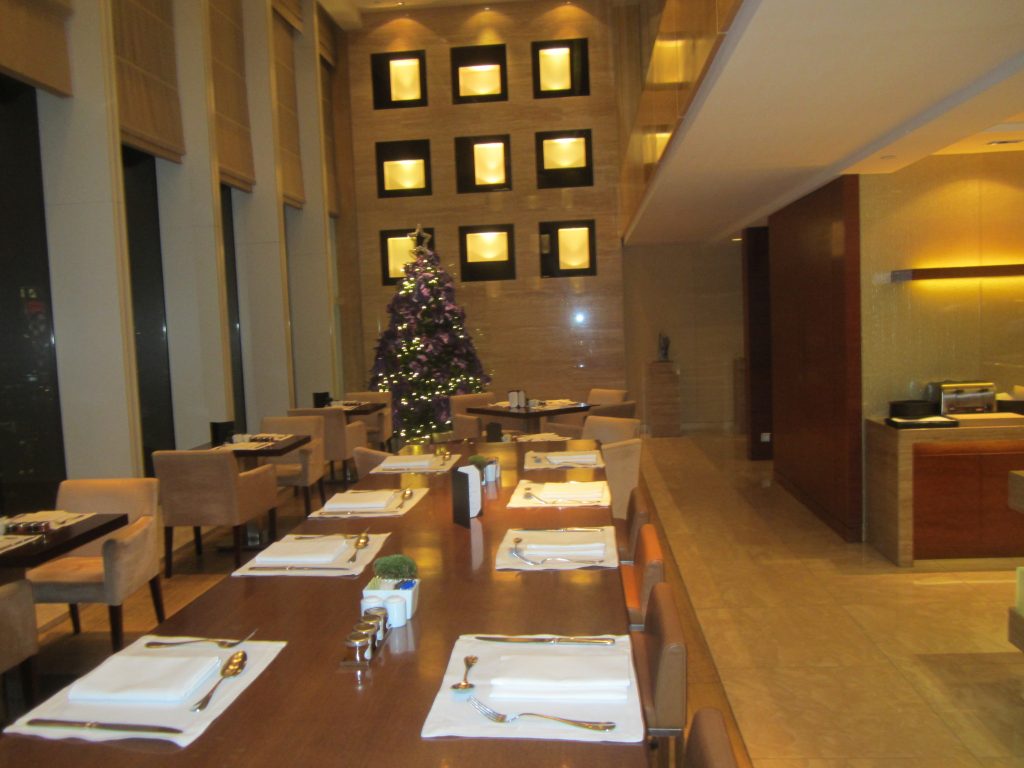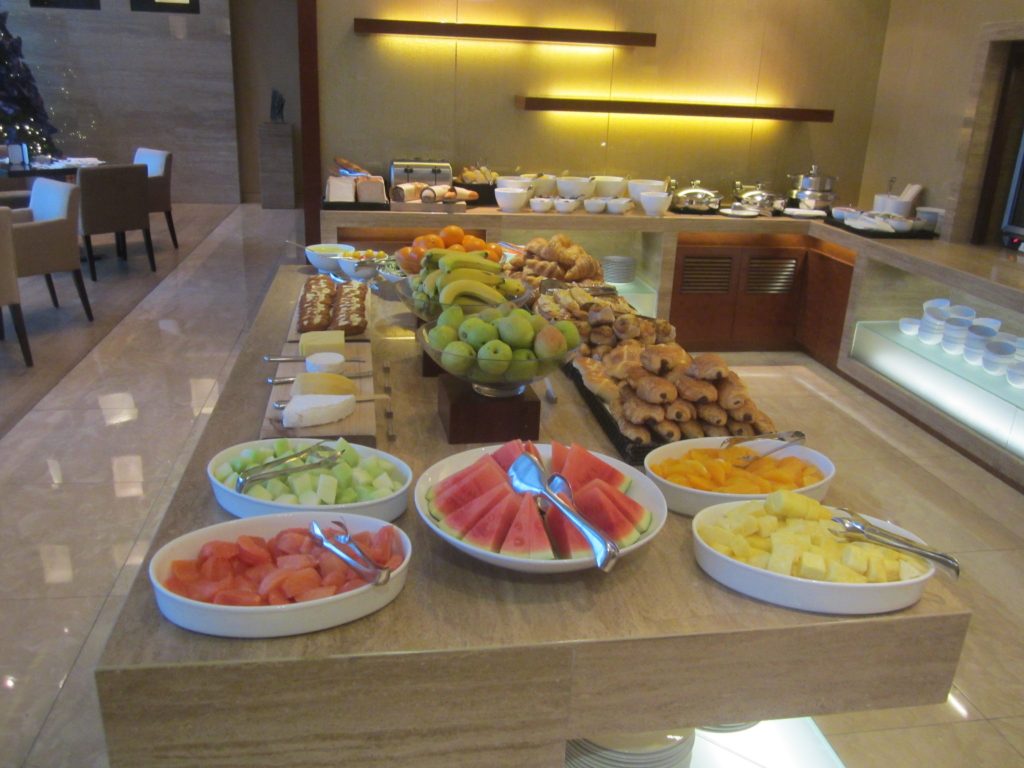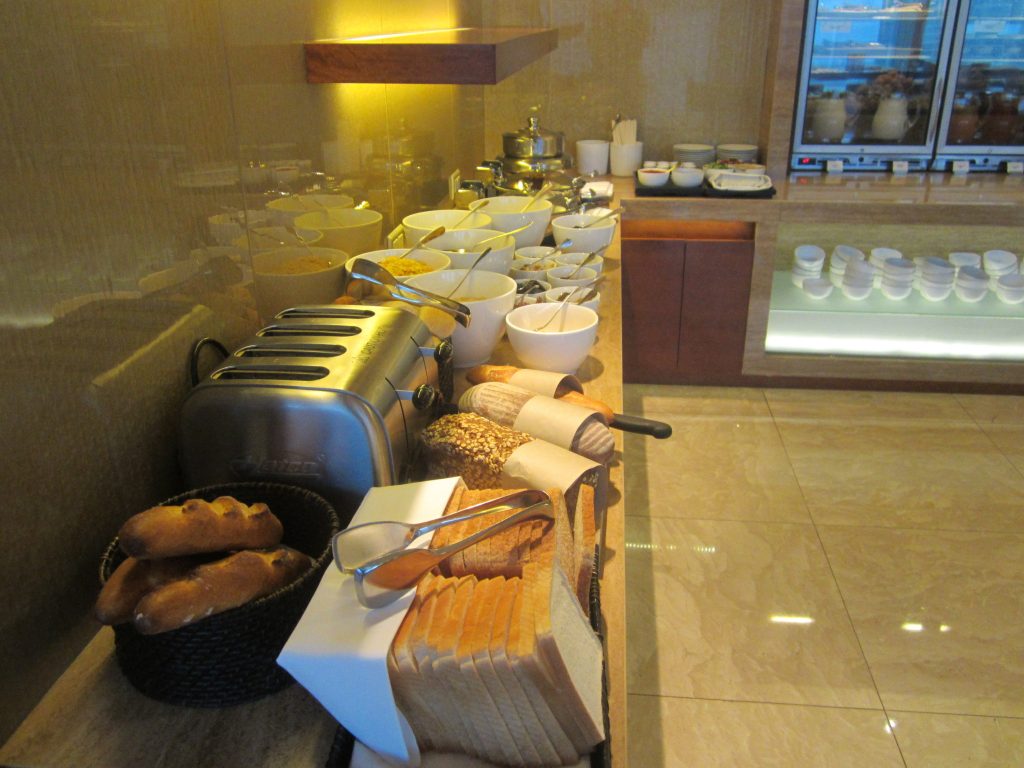 Just two pics from the uninspiring room at the Hyatt TST. All these valuable Hyatt points wasted here why!
Two nights here and I was ready to go! Looking back I have no idea how this hotel gets great reviews. The best part of it is the free cell phone they give you for the duration of the stay!
I got out early in the morning and walked over to the Intercontinental Hong Kong.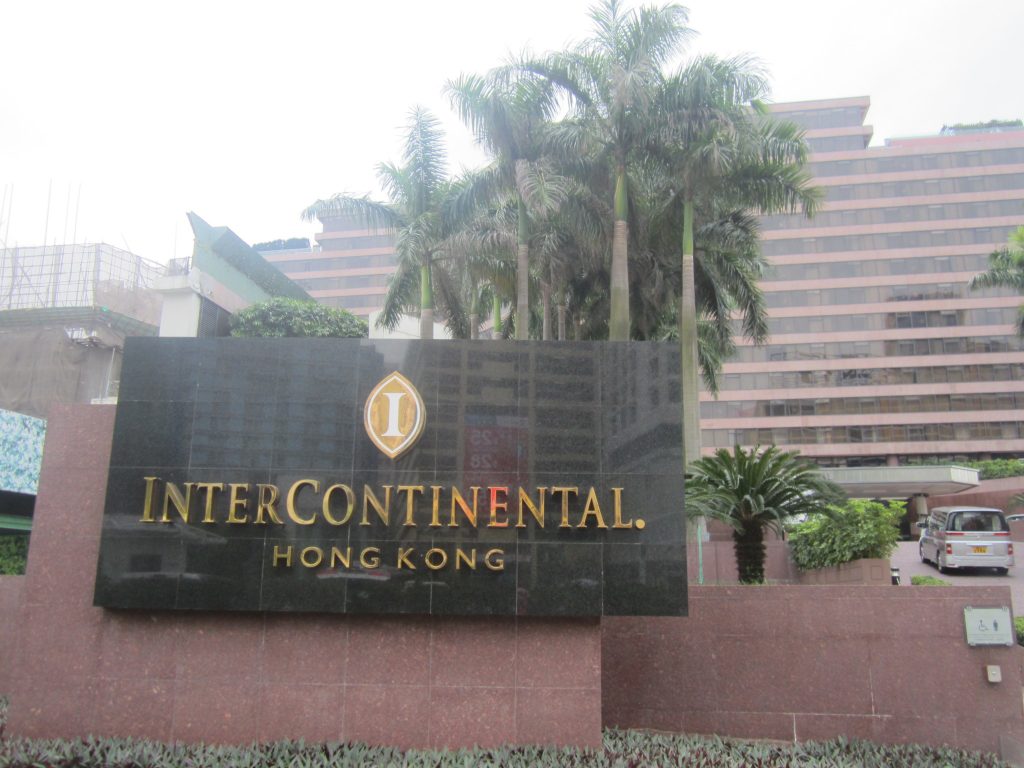 Oh, what a difference! Magnificent stay in a magnificent property. I had emailed the manager before my arrival and as soon as I checked in they had an awesome room for me. Someone walked me to my room, checked me in and served me tea because, undoubtedly, they already know that I run the most important blog in the world. Ok, joking you guys, come on!
Hey, take that Hyatt TST dim wits! This is how you make guests feel welcome!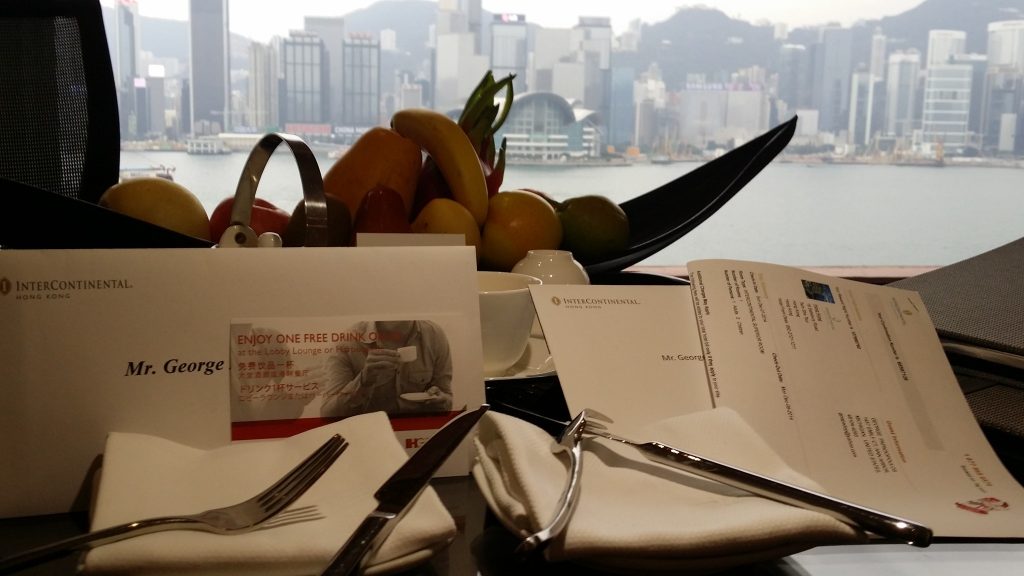 I absolutely loved the room and…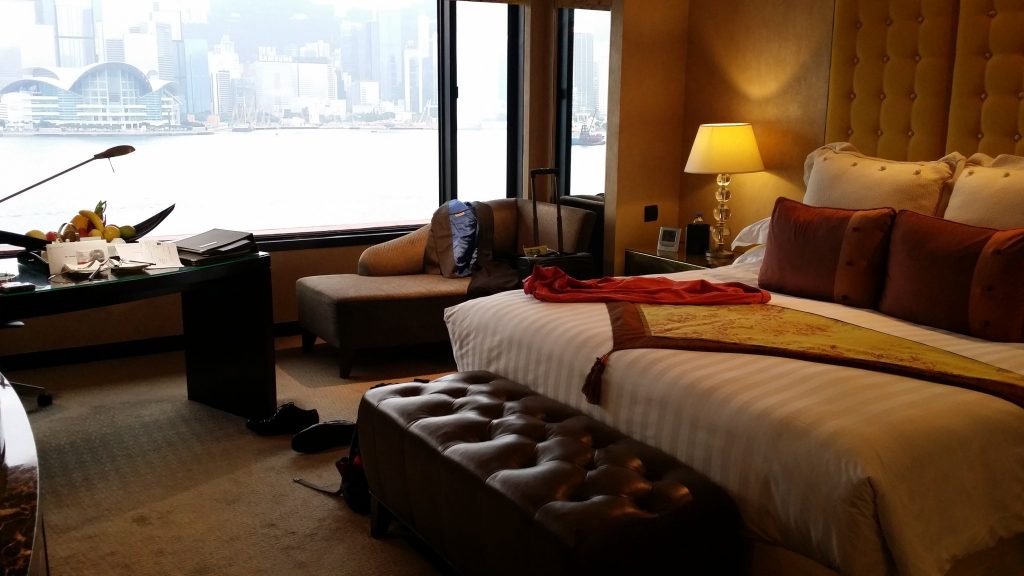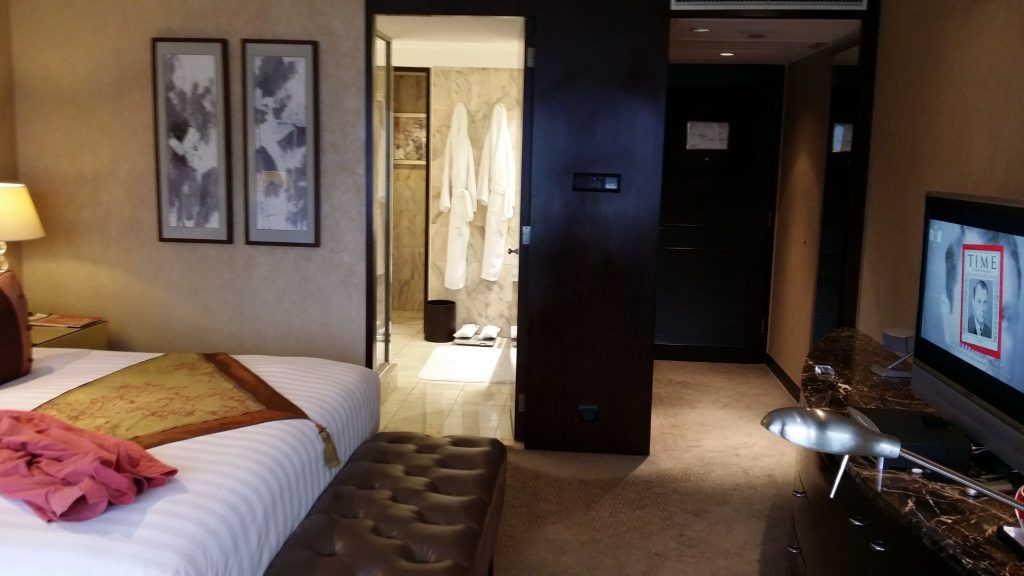 most importantly, I absolutely adored the view from my room. I loved to wake up early in the morning and drink my coffee enjoying the view. Probably the second best room view I have had after this view at the Fairmont Lake Louise.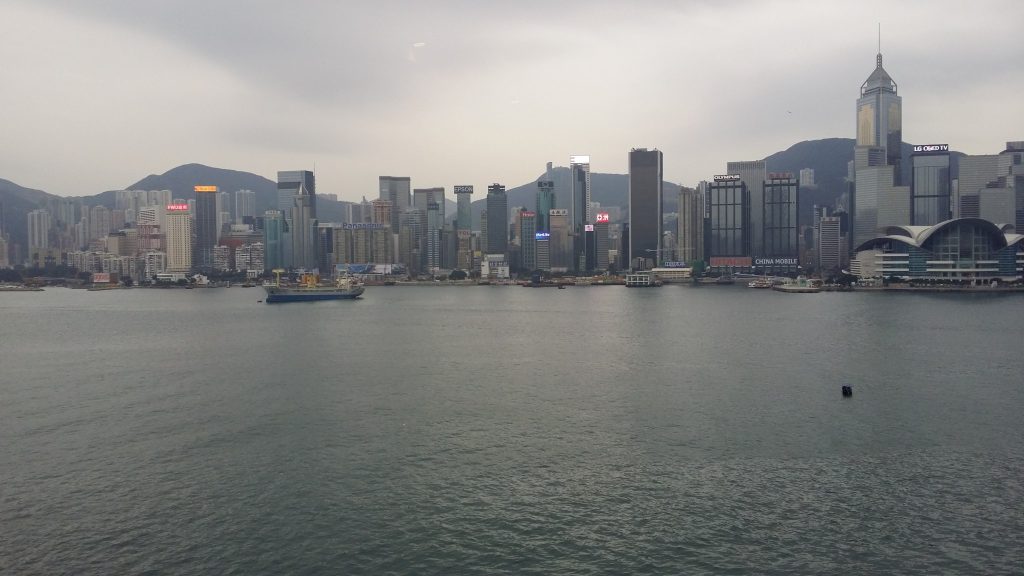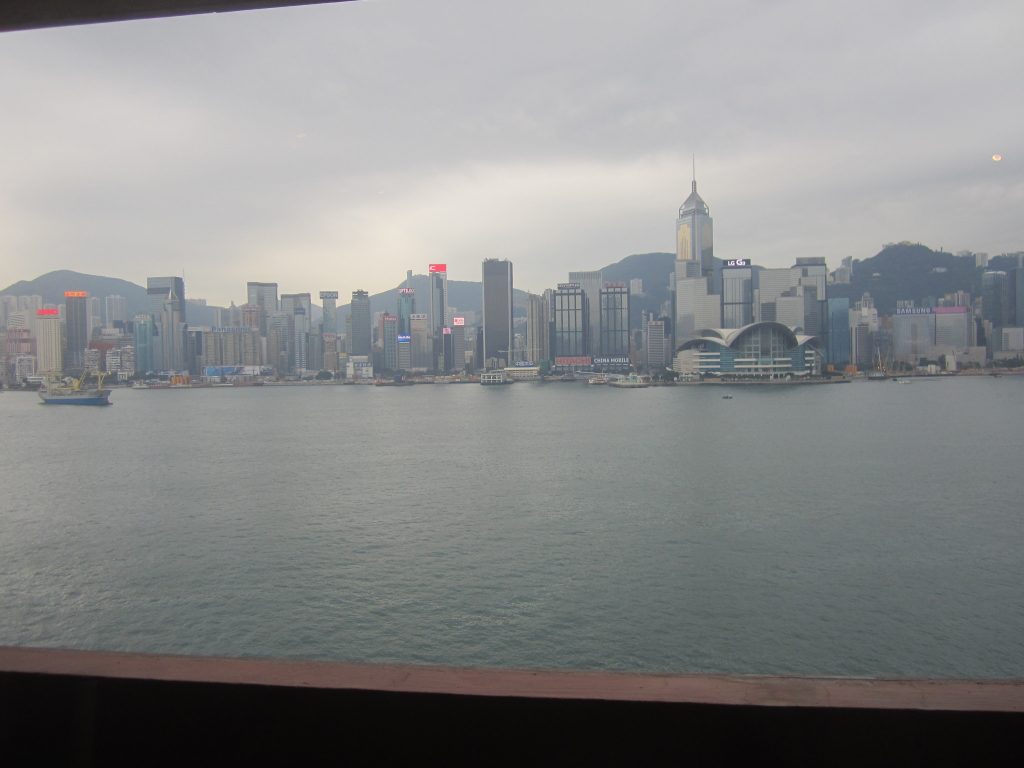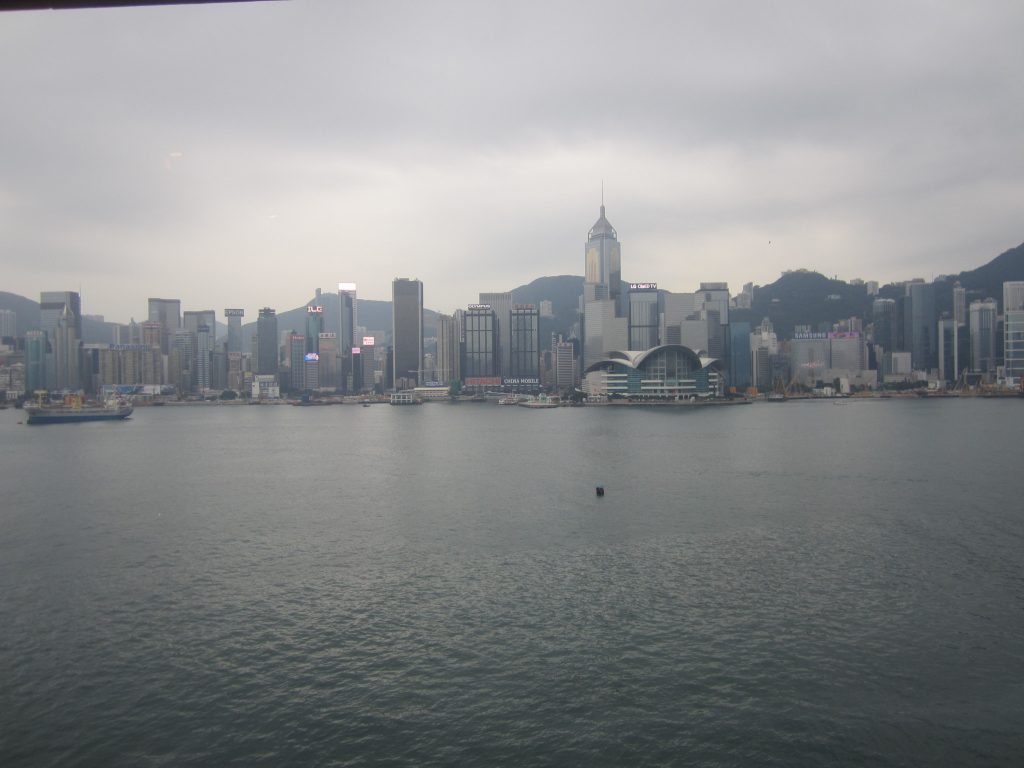 At this point I started feeling not very well so I spend the rest of the day resting and sleeping. I felt much better when I woke up and headed over the island to meet a colleague for dinner.
By next morning, I was ready to rock. So off I go on the best run subway in the world, so…efficient!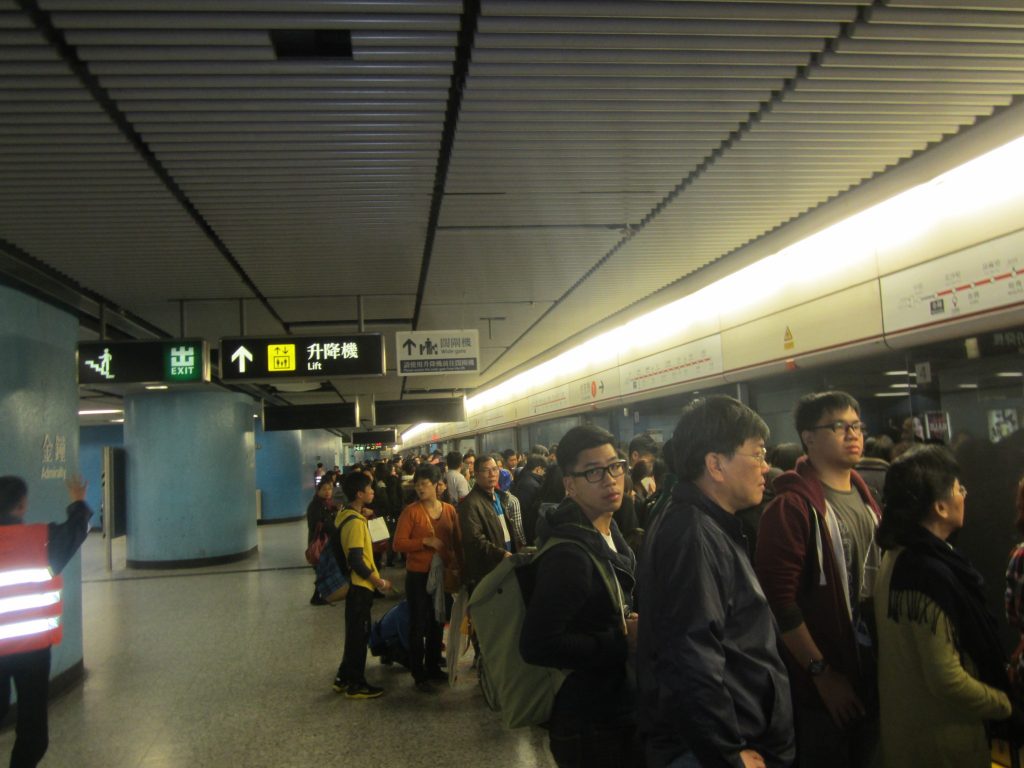 Passed some locals doing Tai Chi, which could be the next version of The Hobby after so many devaluations beatings.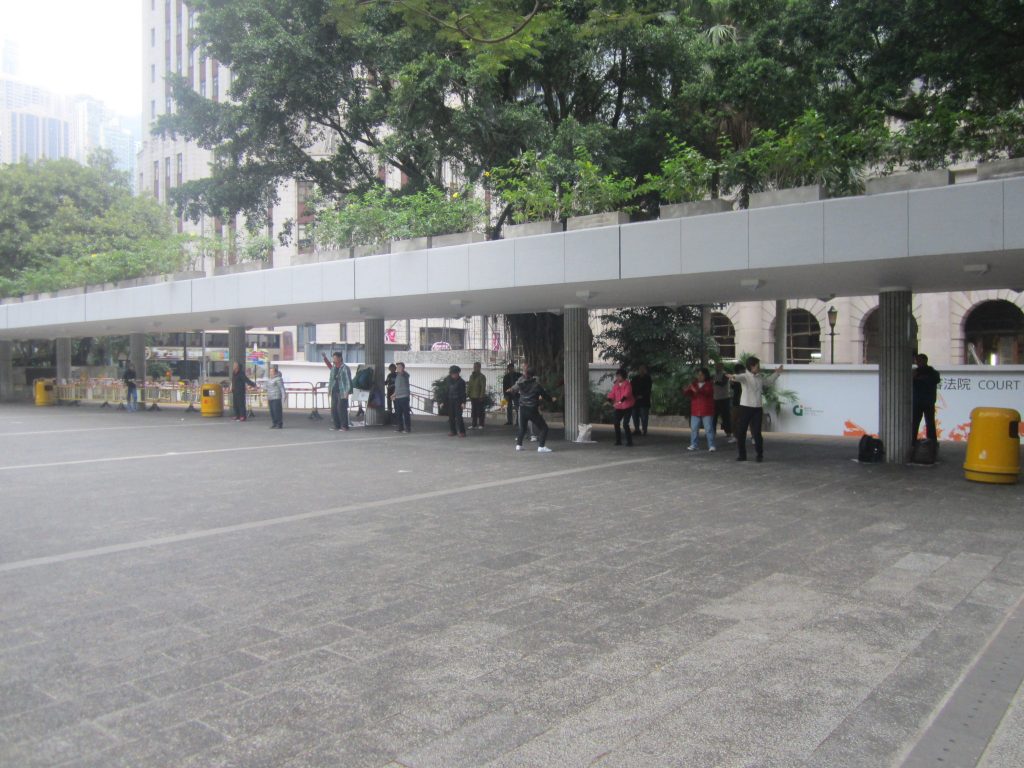 So many buildings like this…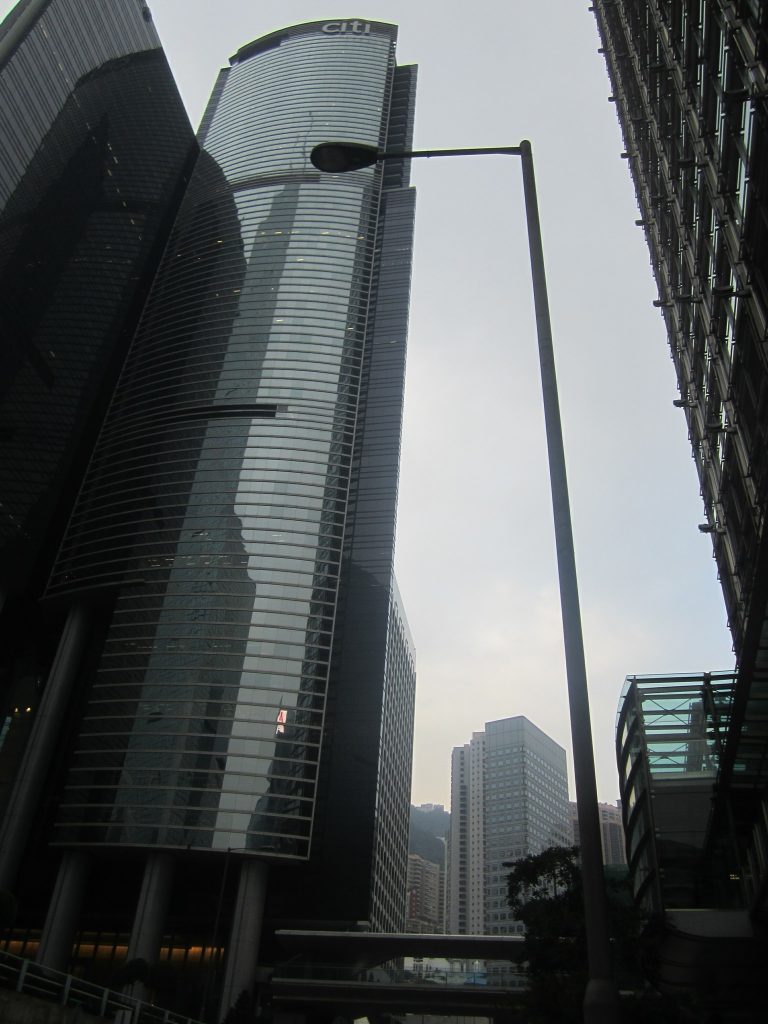 There is a whole city underground it appears, you can keep walking for hours…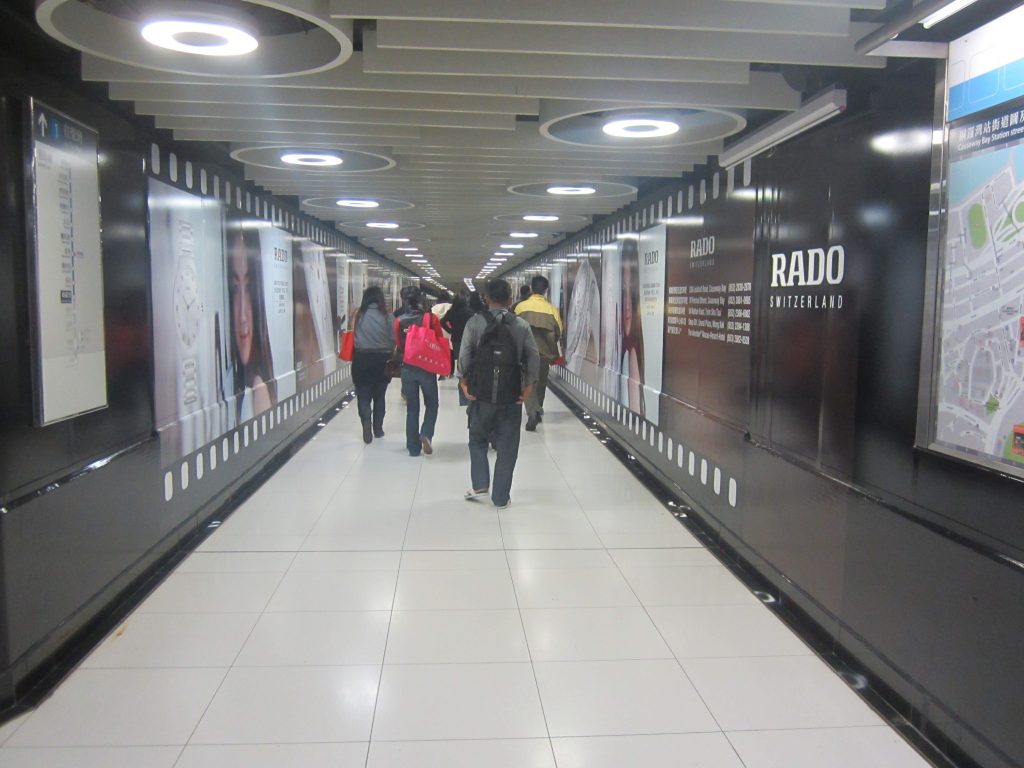 Love the smells…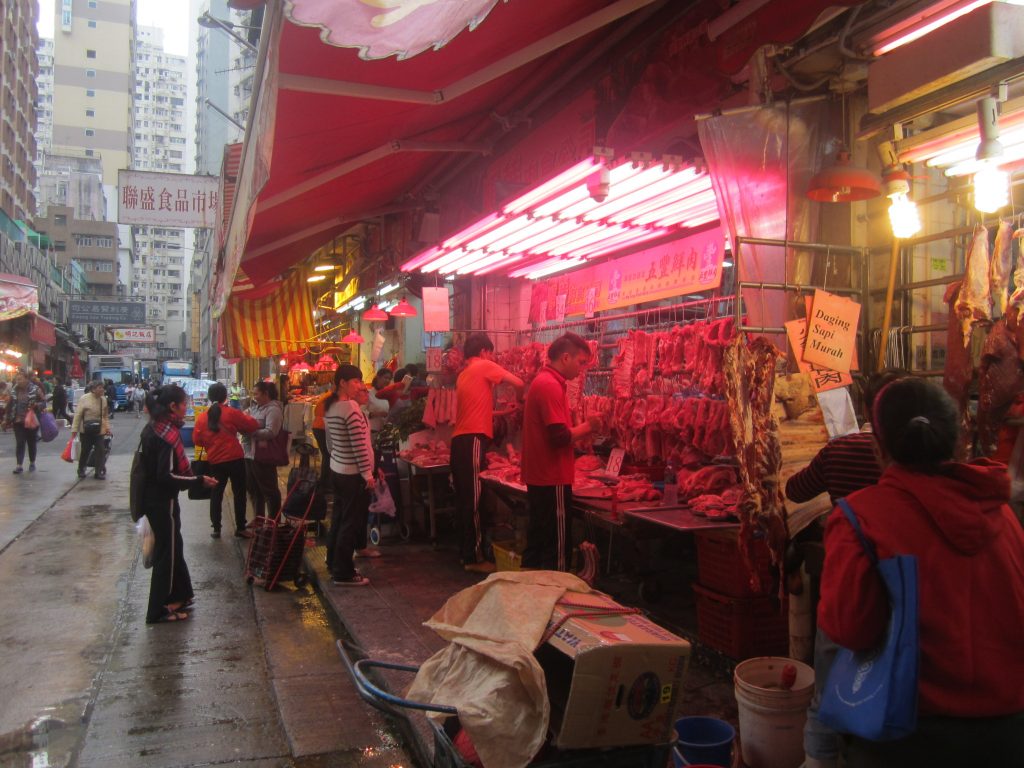 So Chinese, yet with British flavor…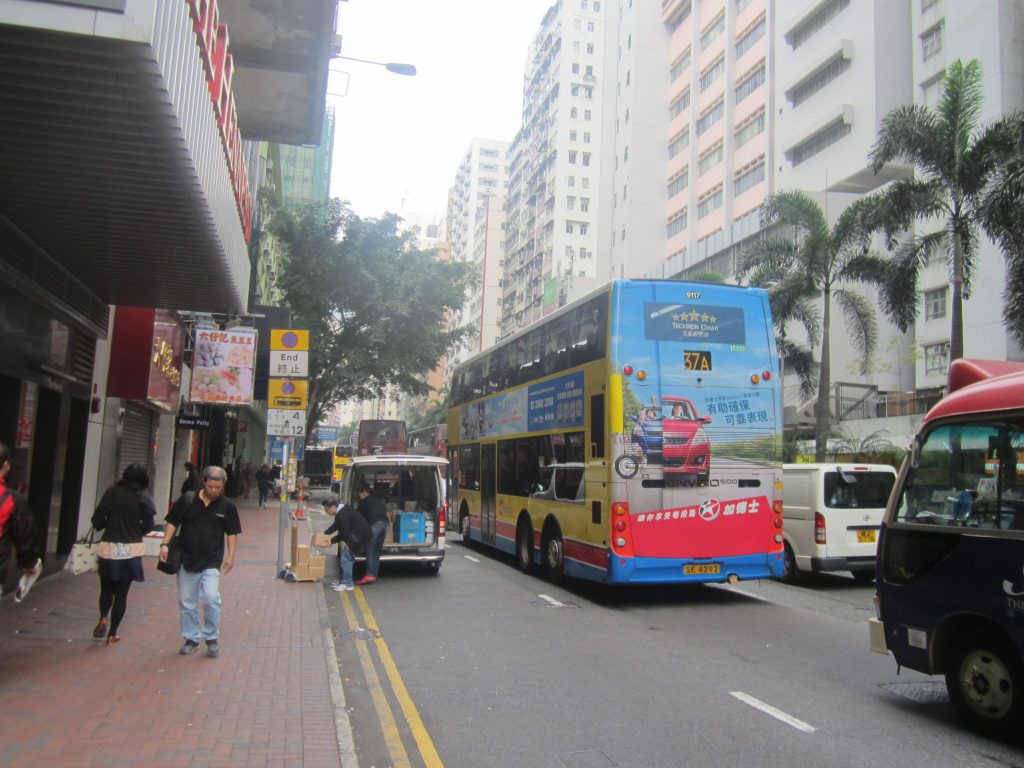 Lets go Krogering…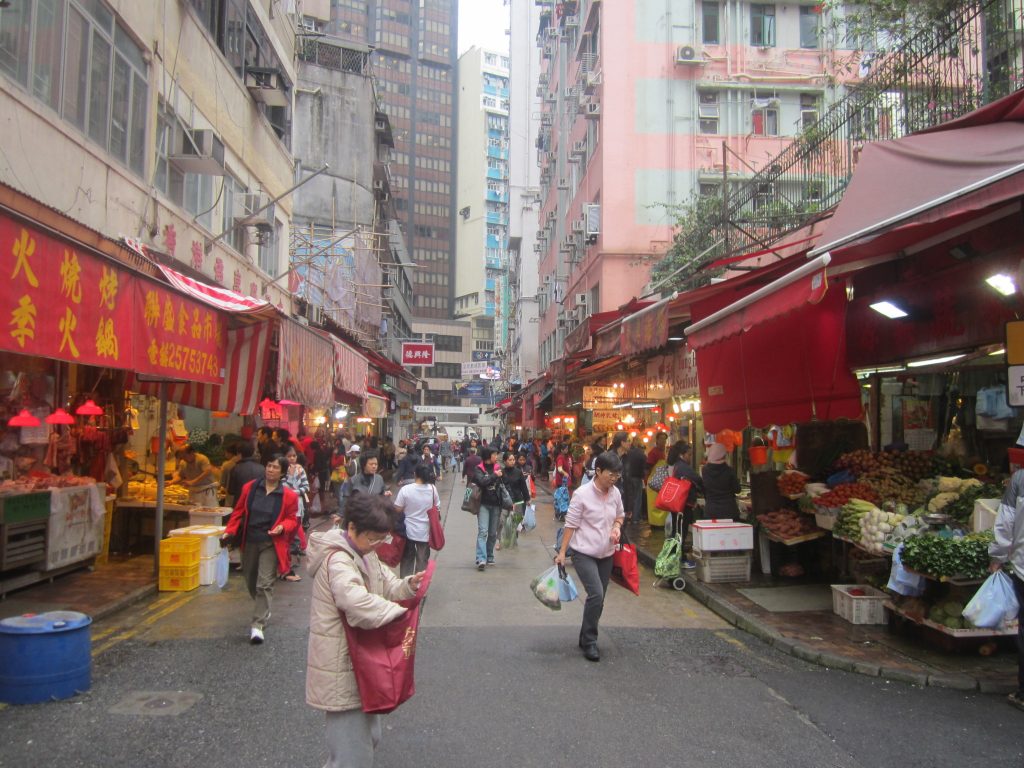 So.much.shopping.everywhere.the.ads.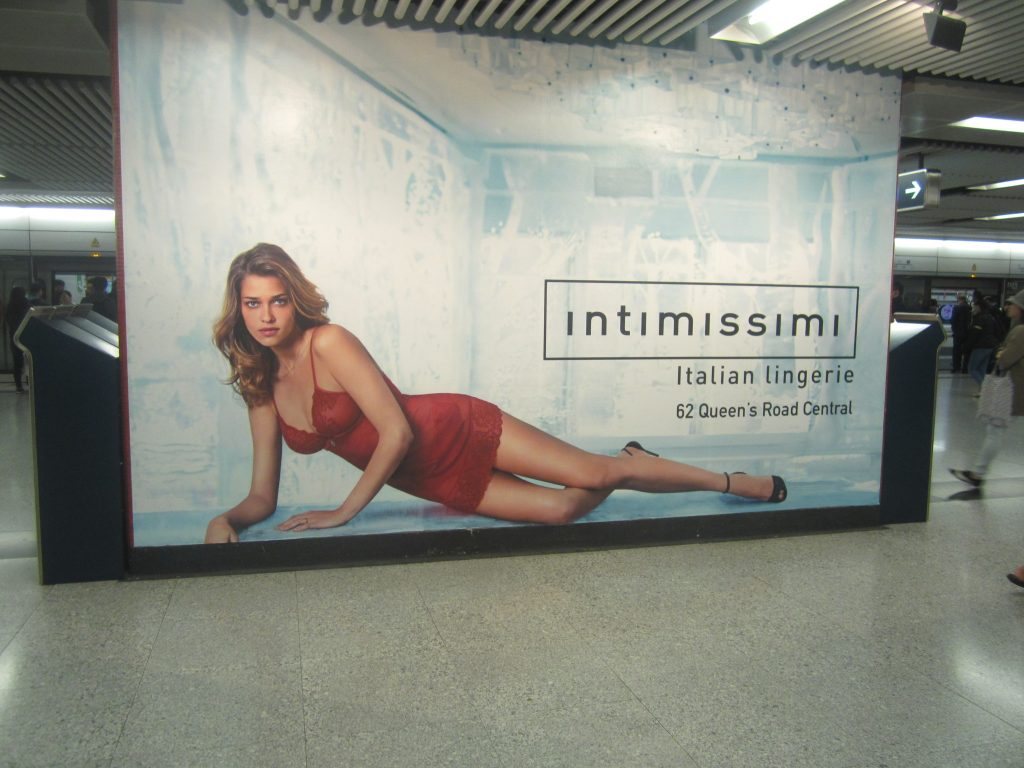 More.tall.buildings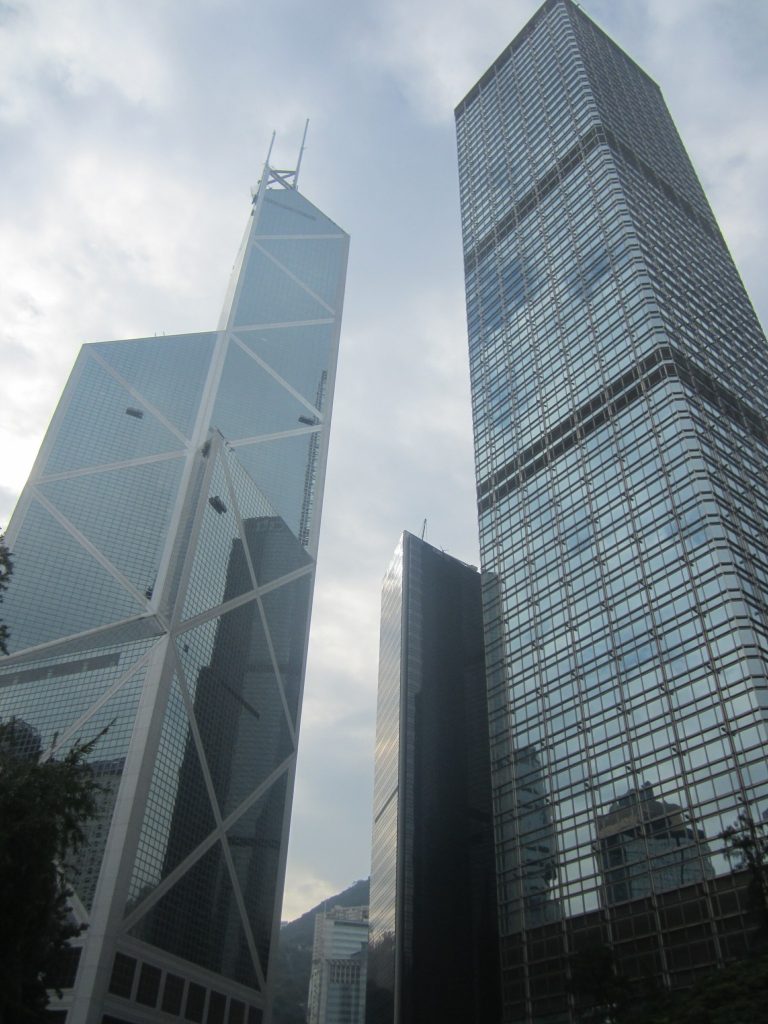 Getting close to The Peak Tram ticket booth to get me to Victoria Peak now…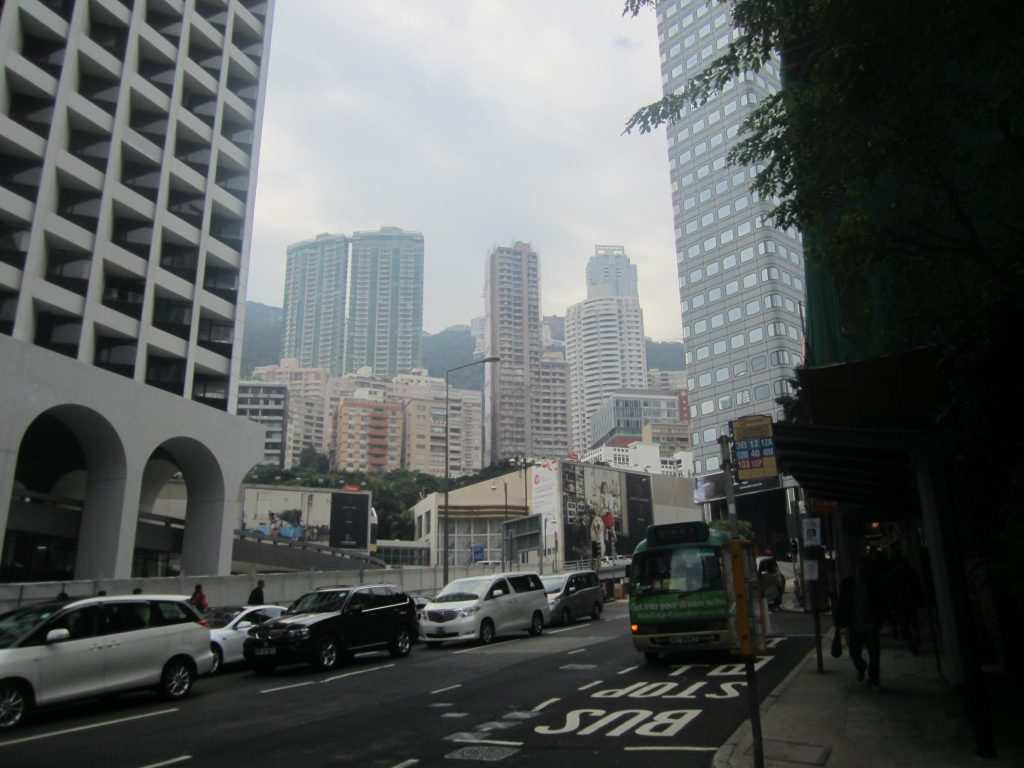 The Peak Tram is kind of a tourist trap and then the weather may not cooperate. The day I visited was cloudy but it cleared up later on.
Great views from up here…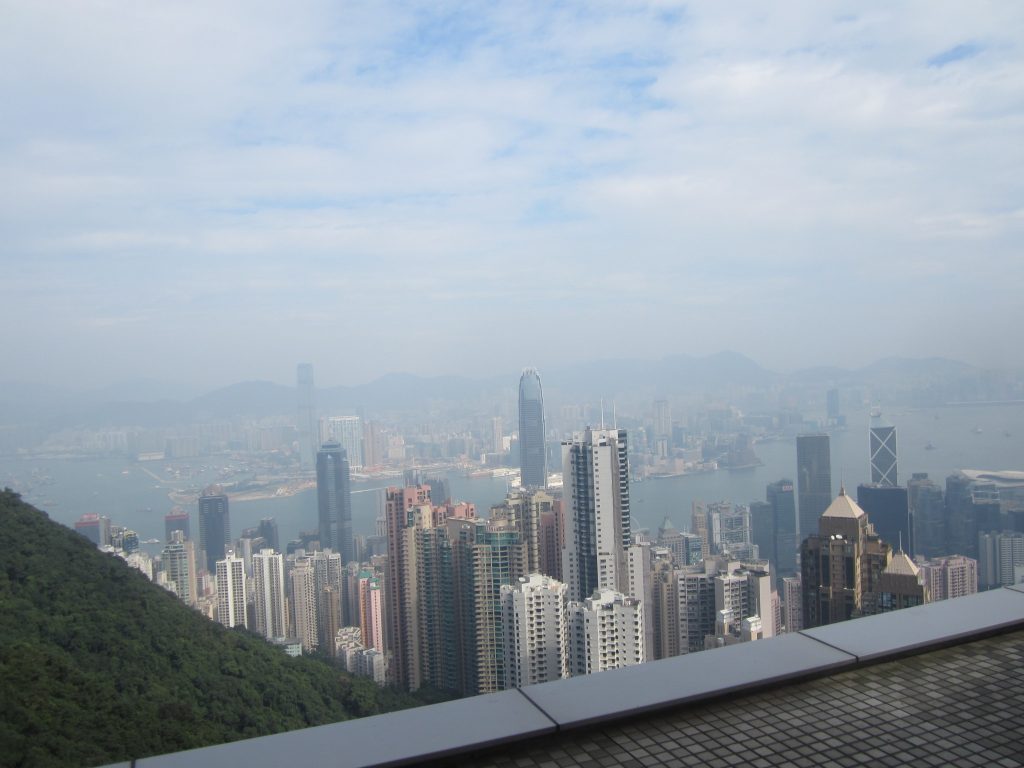 Some other shots around The Peak area…
I took the bus down, I like them better. Great ride!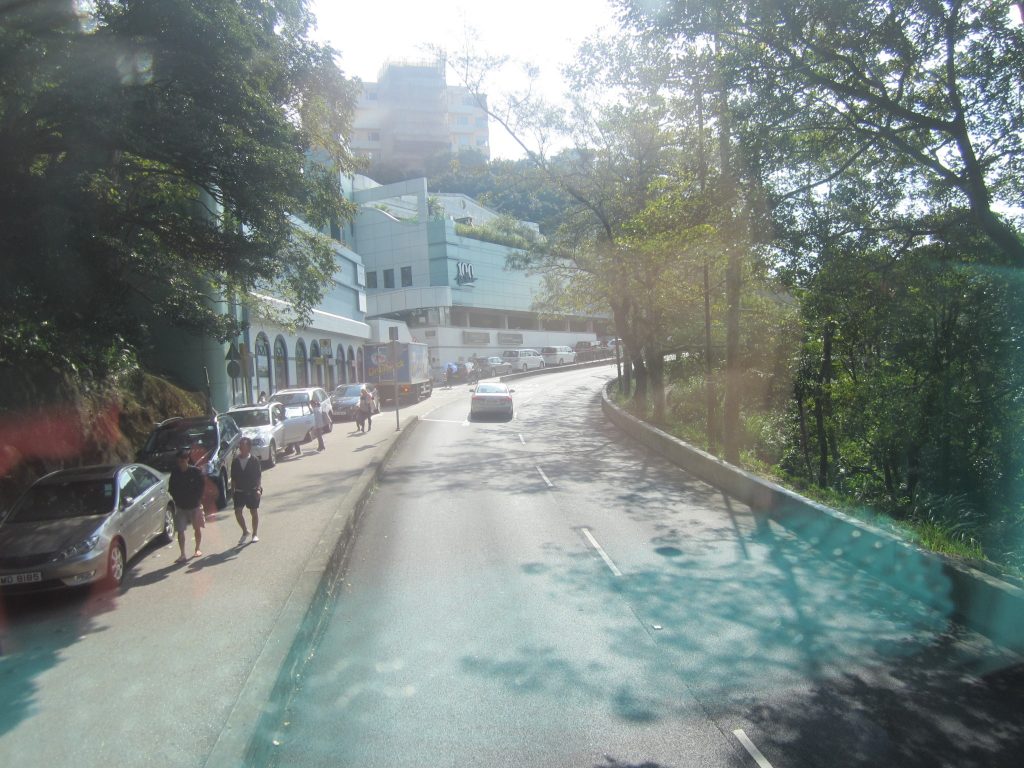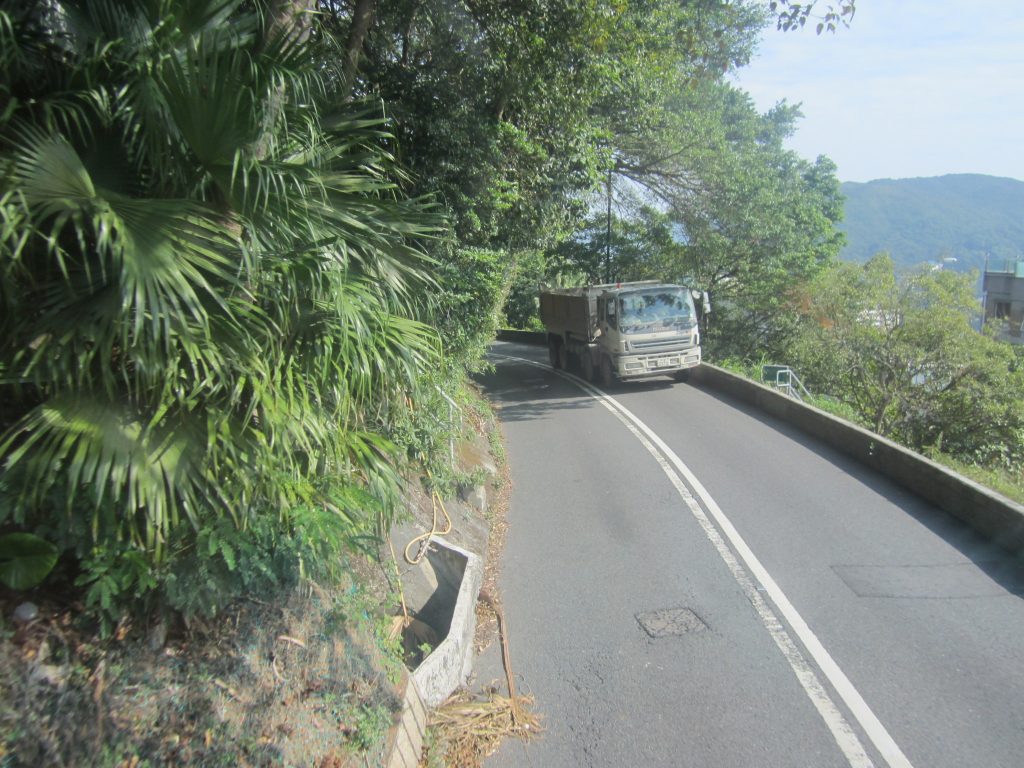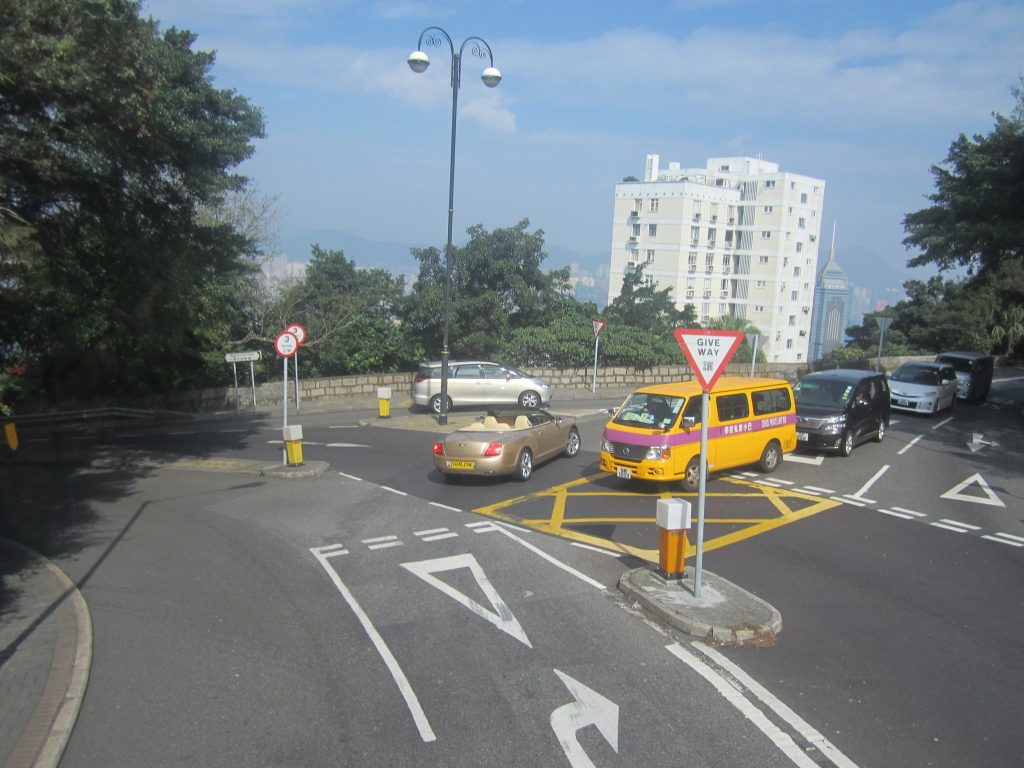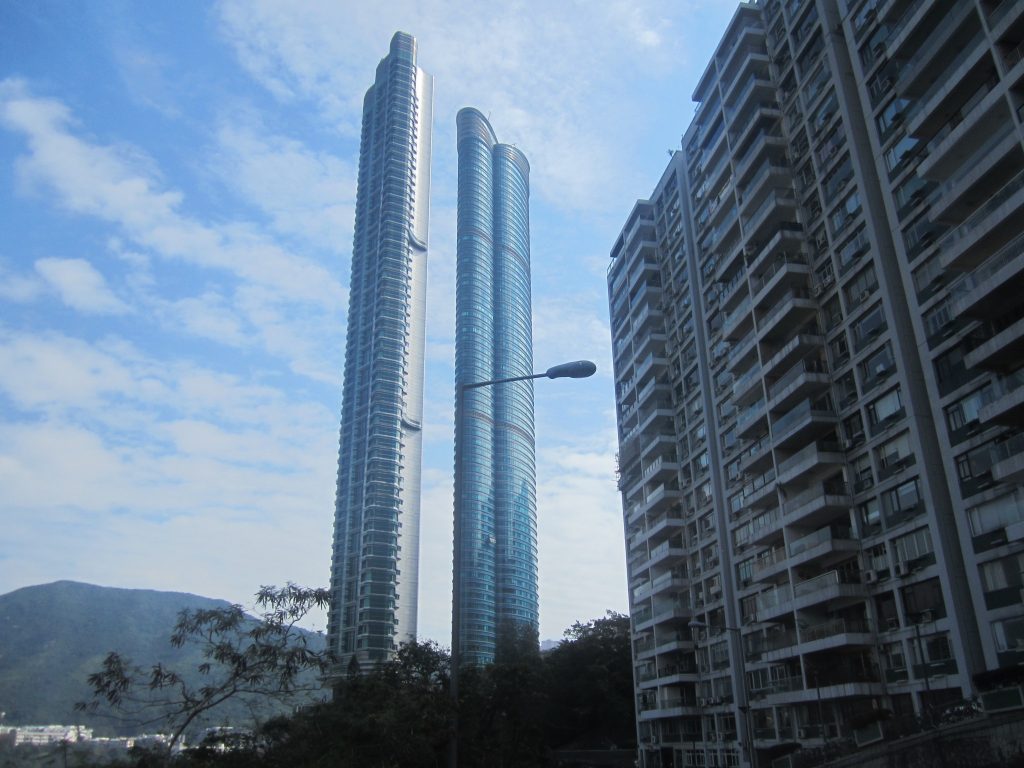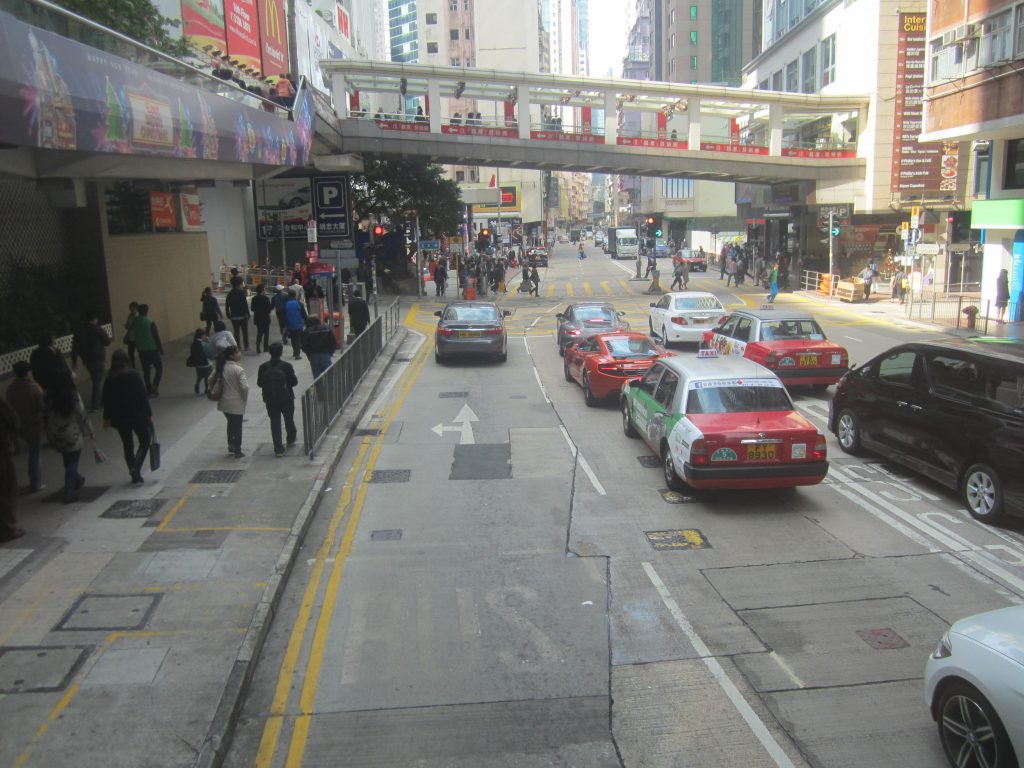 I have never seen so many people holding shopping bags, wow! Definitely not my type as I am allergic to shopping malls and they are EVERYWHERE!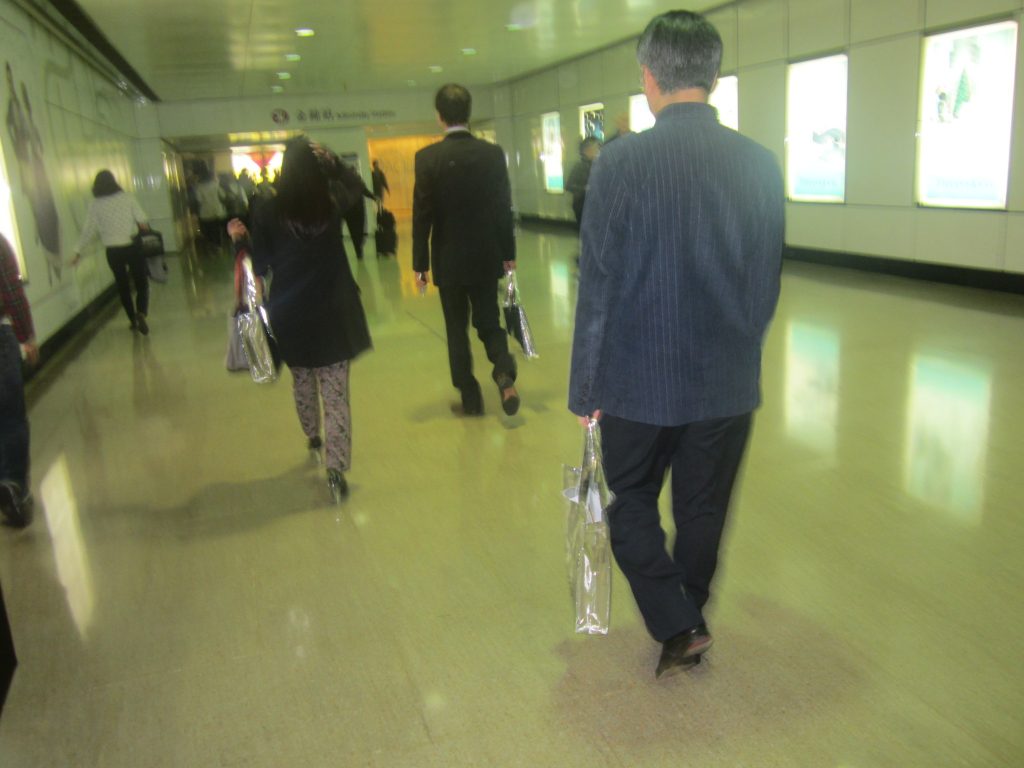 I visited local markets where I feel more at home 🙂
Love roaming around a city I visit for the first time
This is a common sight, people like to flash their wealth here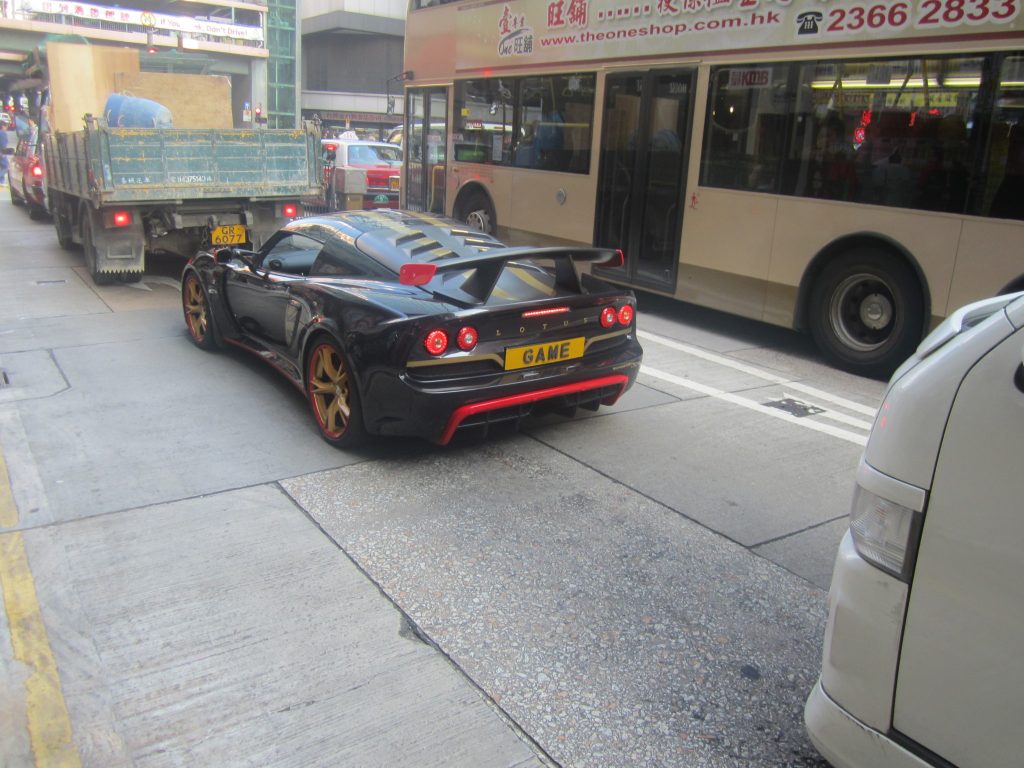 The famous Peninsula Hotel down the street from the Intercontinental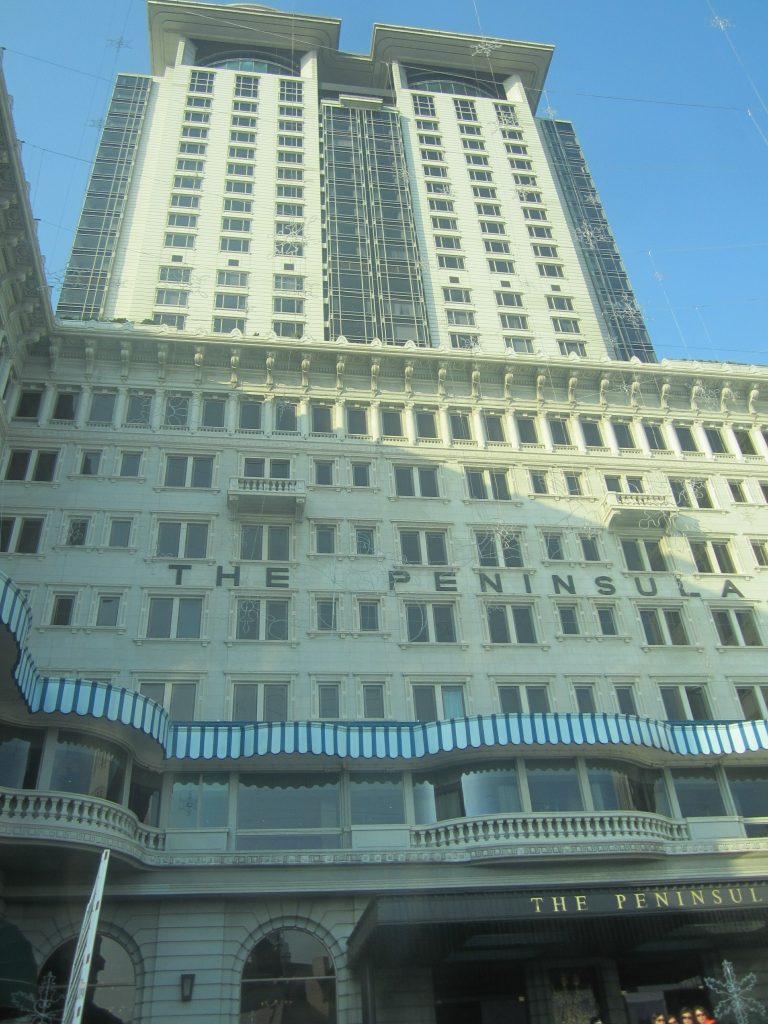 Construction everywhere you look!Only place left to build is…up!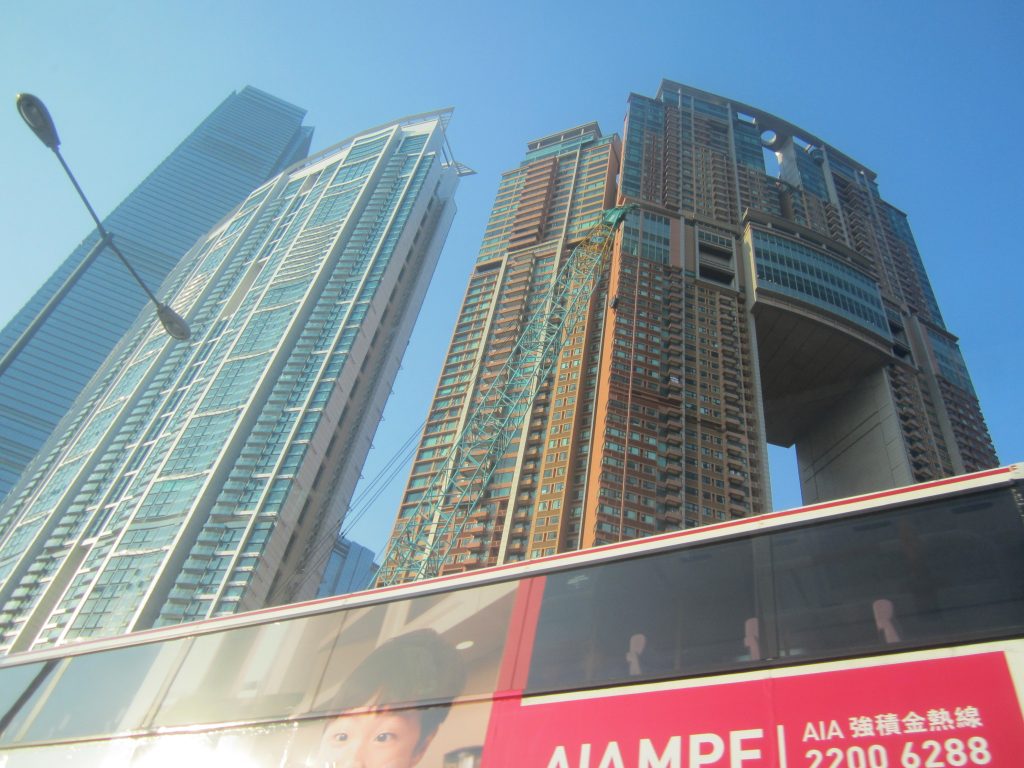 I decided to go have a drink at the highest bar in the world, the Ozone bar at the 118th floor of the Hong Kong Ritz-Carlton hotel. I had to wait around for the bar to open…
Great views, windows not too clean but understandable they are not washed very often. To think of it, these window washers are heroes!
Then it was time for another touristy thing to do, the free Symphony of Lights show, which is right outside the Intercontinental along the pier…
I was so tired by this point that I went back to the hotel and treated myself to a $45 USD hamburger. And it was so worth it. Stop yelling at me that I am a Titan, I charged to my room and then used my Arrival points to pay for it #winning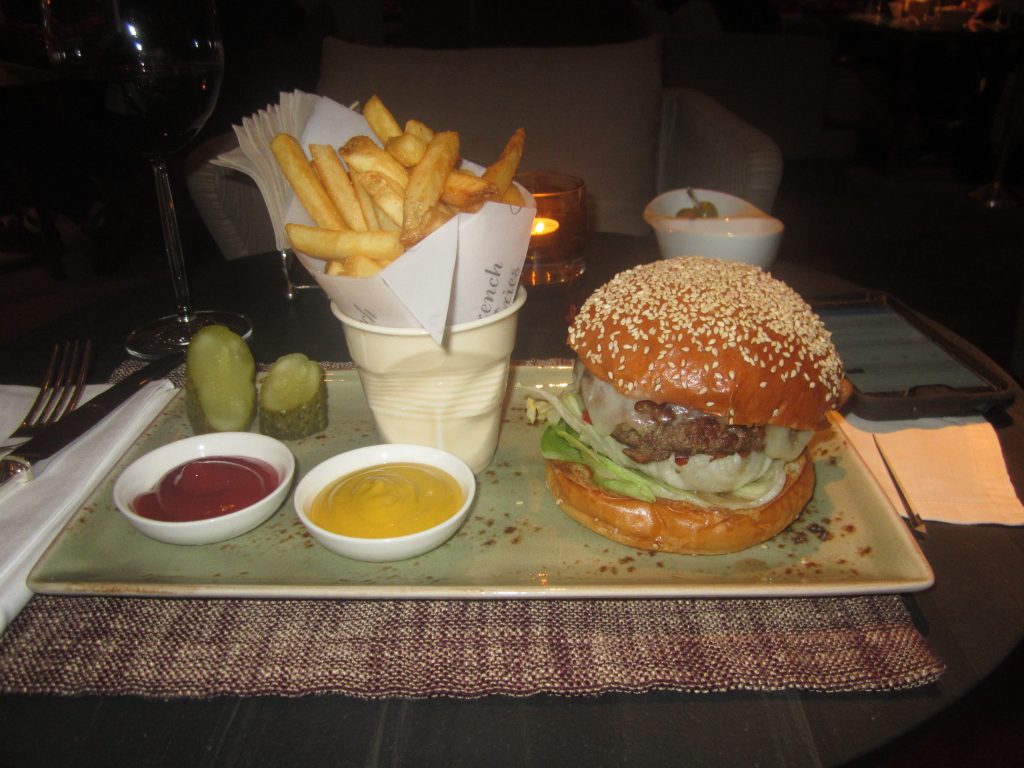 I did visit the hotel gym once very early my last morning!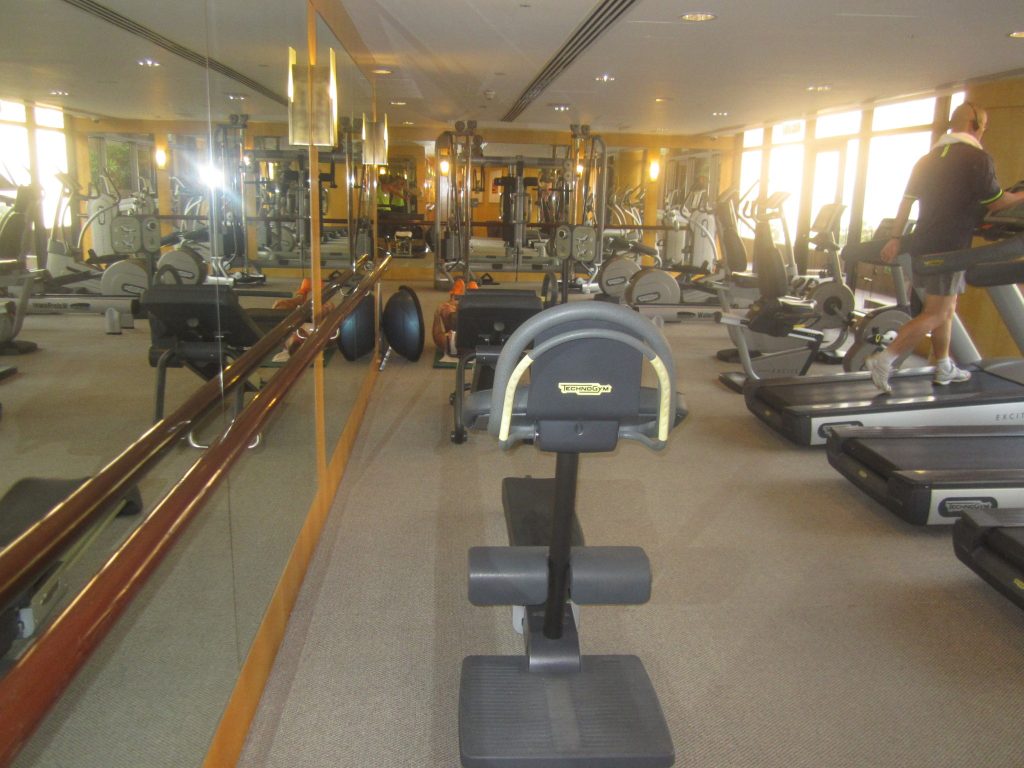 And afterwards I savored my coffee looking at this #roughingit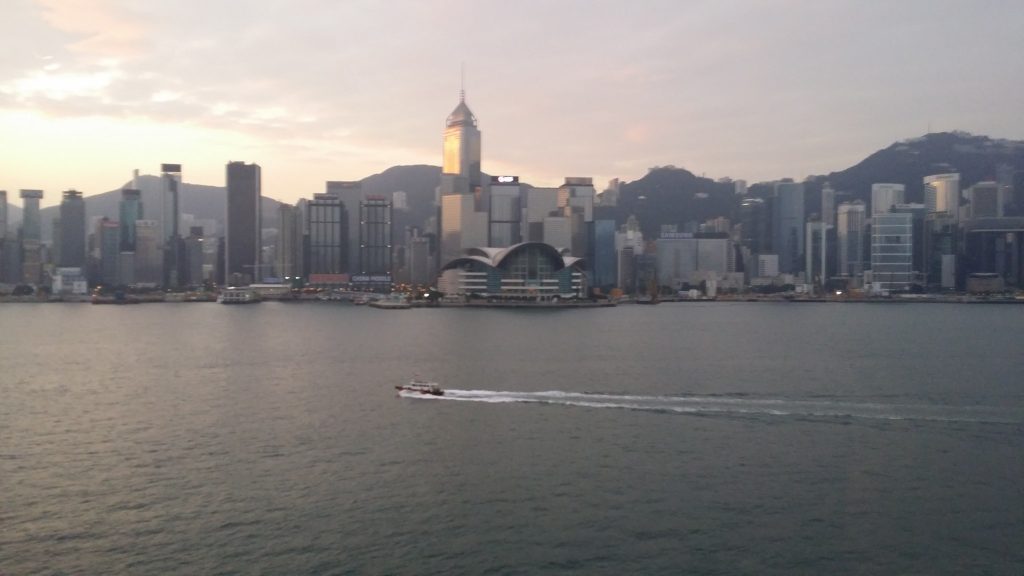 I took a few pics around the hotel next…Some pics from the outdoor pool area…
Christmas was coming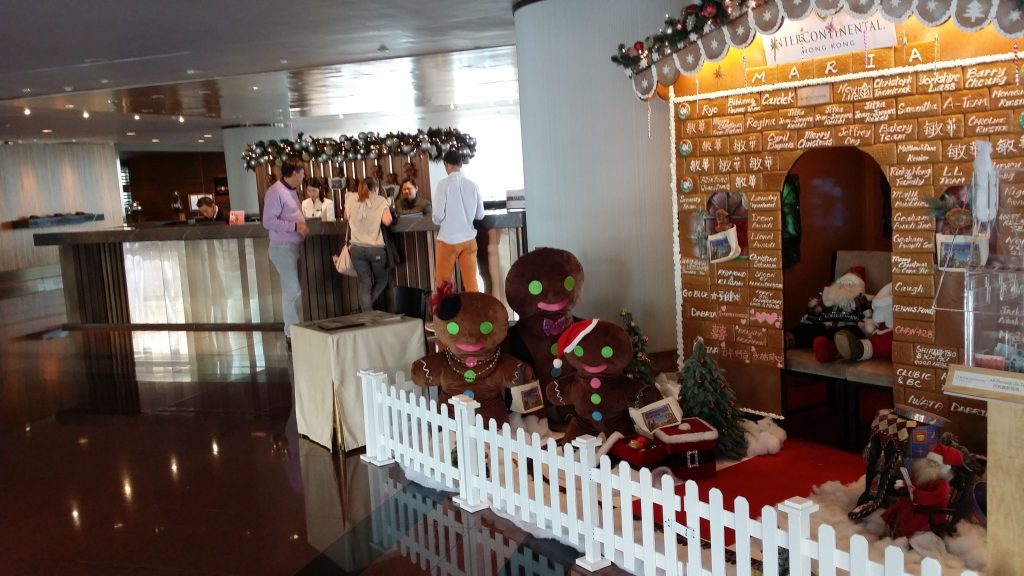 Then, as we had arranged, the hotel manager gave me a tour of the renowned Presidential Suite! Enjoy this, can you dig it?
Wow, after all these pics above no doubt you felt like a Titan! I sure felt like one walking through it, you were inspired, weren't you! So you are welcome, click my links lol.
She took me to the lounge, just a few more pics…
Just a few more from this hotel, really wonderful stay!
This was the scene of the crime, where I had that $45 hamburger lol.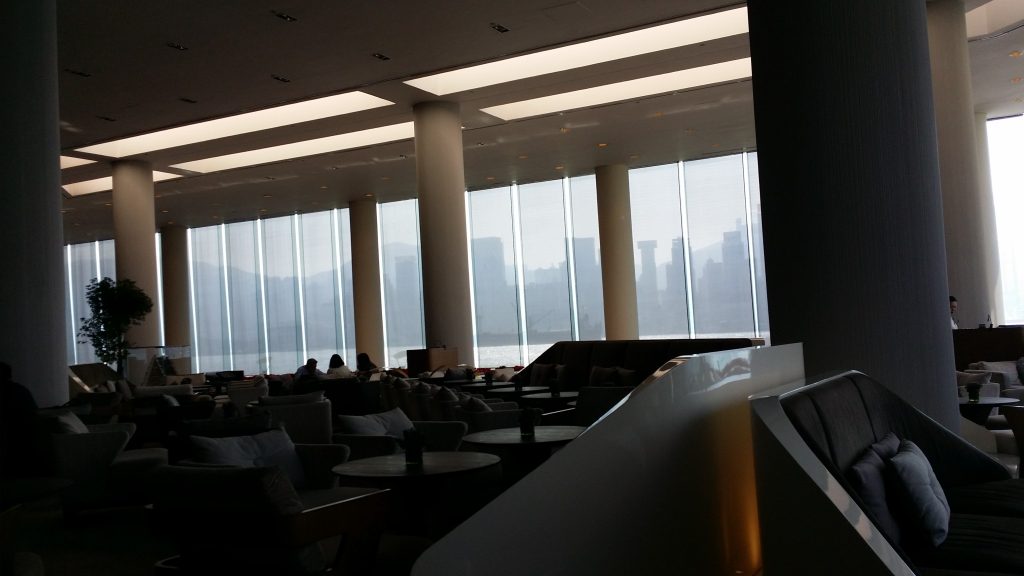 Then off to the Island Shangri-la Hotel to meet a friend of my brother from my Greek hometown who moved here. I decided to take a taxi, interesting experience, got jammed by an accident so I was running late.
Why this hotel? Well, I had some Shangri-la Golden Circle points I had won when they had run an online game. Enough points to redeem for a $100 USD voucher! So we ate it all at the renowned Summer Palace restaurant. Sorry Tim Ho Wan, your buns do not compare to the ones here! Probably one of the best dim sum meals I ever had (and I have had many!). Much more expensive but it was enough to fill us up! Needless to say, the friend of my brother was impressed lol. #winning #again
Then it was time to say goodbye and start my trek to the airport…Through malls to find the station to get on…
the Airport Express train
And of course I had to do the customary travel hacker pilgrimage to Cathay Pacific's First Class Lounge aptly titled The Wing. First it was time to eat…again! Everything was fantastic, service was exquisite!
All the private cabanas were occupied so I had to take a shower in a tiny shower room, come on! Maybe they could tell I am no real Titan?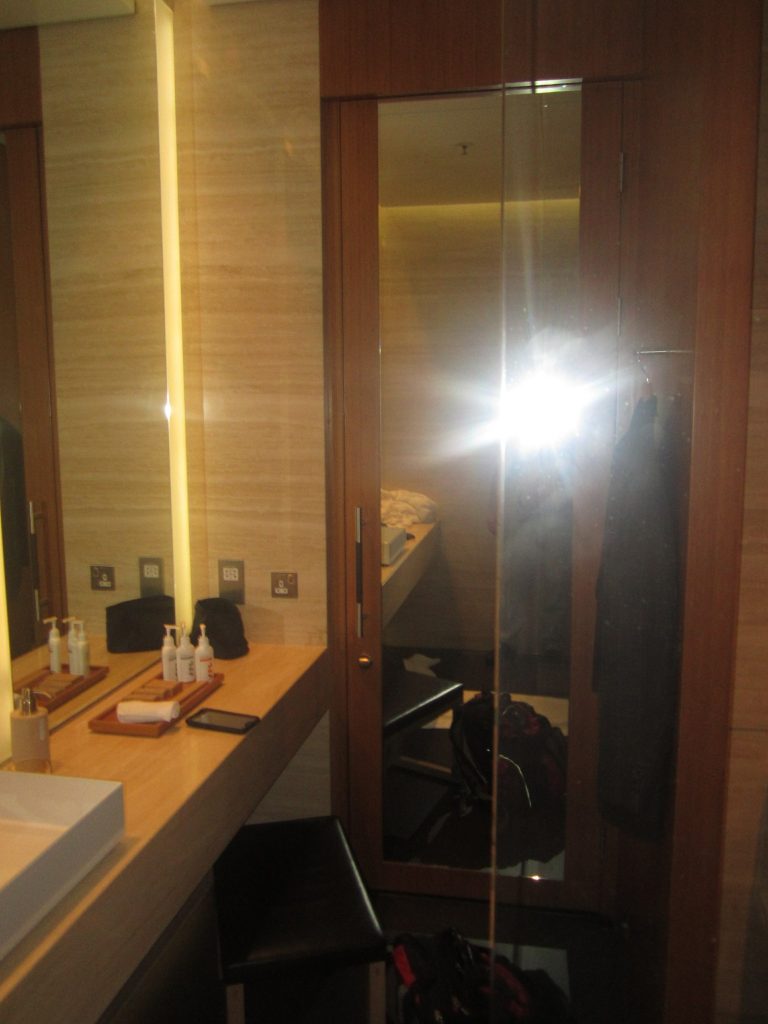 Some more pics in The Wing…
Time to board Cathay Pacific's First Class to JFK next! This flight was an absolute blast. The food was amazing, the seat awesome, the entertainment fantastic. Flight attendants were great and professional. Do this for 67,500 American Airlines AAdvantage miles before it jumps to 110,000 miles on March 22, 2016. Gosh, that just hurt typing it!
Took a peak at Business Class, looks good to me but preferred First Class. It was only me and another guy, we had a row to ourselves!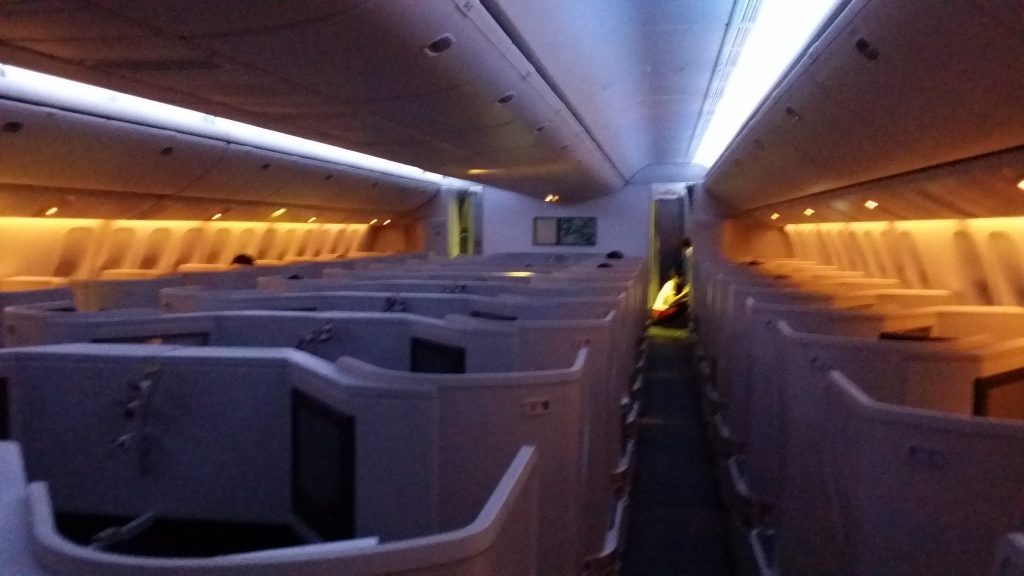 Landed in freezing JFK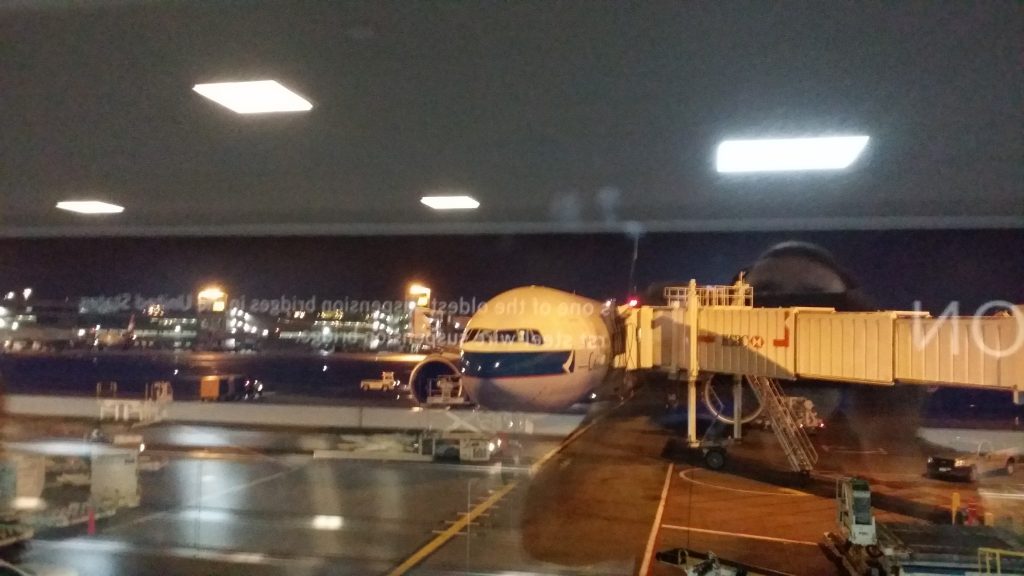 I spent a night at the JFK Sheraton and quickly got the hell out with Uber to La Guardia to have my breakfast at the Amex Centurion Lounge
And then I boarded an AA flight back to Detroit. Weird riding this small jet in "First" class, which meant warm peanuts and a real coffee cup.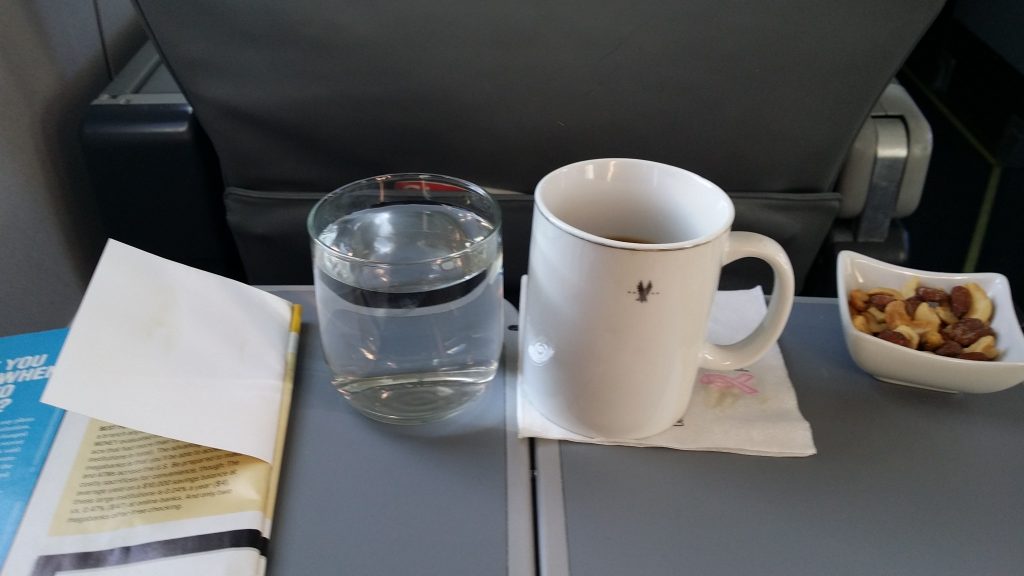 You have no idea how long these trip reports take. I guess I could split it into 35 parts. I thought about it but I just can't do it. I feel bad when I mail it in!
Thank you for making TBB a part of your life, I am honored! Help bloggers you appreciate & make a positive difference in your life by spreading the word about their blogs, emailing and commenting and using their few $ links.