This is the first installment of our way to Greece in June of 2015 to see grandma. I am the world's slowest trip report travel writer, it takes months if not years to put them up. And I have been known as the one blogger who writes the longest reports by far! Oh wait, maybe that's why!
I never split them up in 35 parts like some other so called travel credit card bloggers sellers do! Since it has been a whole year and I just got through the first part of this report I am going to blast it out to you guys. So, here I go Part I of 265, just kidding. Actually, this one just gets us to the point right before we landed in Greece! Like I said, I am SLOW! I am not sure how I am going to handle the rest, I hope I finish it before I quit. With my Asia trip coming up this may get even slower, expect that one sometime in 2019 at this pace.
This also saves me some material for next week so it's all good. We all should take a breather in the weekends and based on my Alexa rankings you do, lol.
When this is all done it will be posted in its gruesome and ridiculous length entirety in the amazing Trip Reports page.
TBB Blog Mission: To Entertain. Educate. Inspire. In That Order!
This site is AD-FREE! You can support it by applying for CREDIT CARDS and visiting our REFERRAL LINKS.

June 2015
We burned some miles and points to go see grandma in June of 2015.
120,000 AA miles for 4 economy seats flying Detroit to New York City La Guardia on American Airlines, New York City JFK to Madrid on Iberia to Dusseldorf, Germany on Air Berlin to Thessaloniki, Greece on Air Berlin.
10,000 Starwood points for one night in Sheraton Dusseldorf, Germany
12,000 Hyatt points for one night in Hyatt Thessaloniki, Greece
1 free night cert in Hyatt Thessaloniki, Greece
50,000 Hilton HHonors points for one night in Hilton Frankfurt, Germany
120,000 United miles for 4 economy seats flying: Thessaloniki to Munich on Aegean Airlines, Munich to Frankfurt on Lufthansa, Frankfut to Detroit on Lufthansa
89,424 Barclays Arrival points to cover all taxes and fees charged by American Airlines and United for 4 award tickets
That 6 am flight on American Airlines to La Guardia is always a better idea when it is booked and always a bitch getting up so early. Obligatory family pic in the Detroit airport, it could be one of the last ones as son is heading to college and we are just not as cool anymore to travel with.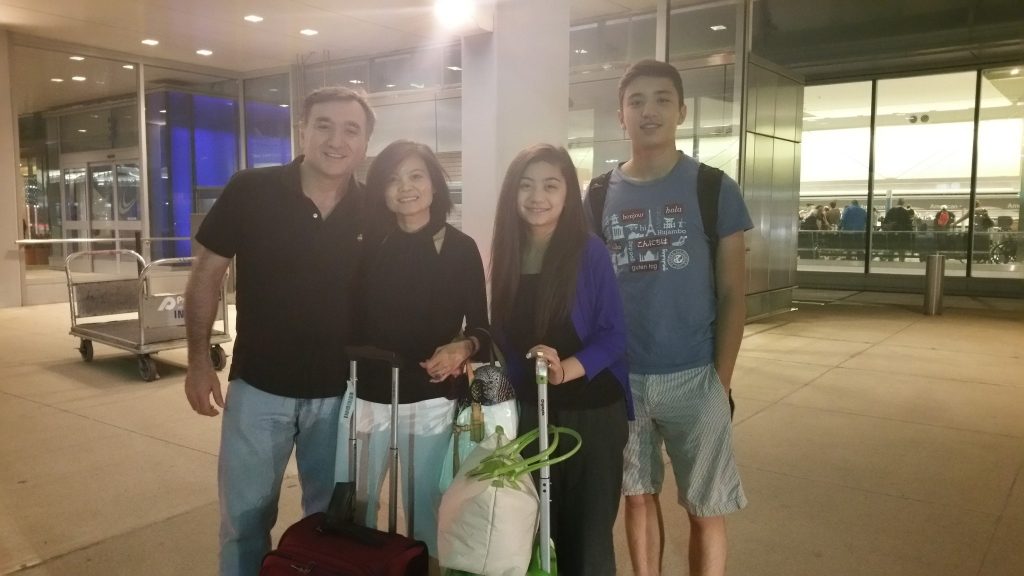 Of course, as experienced travelers we know how to fly faster 😉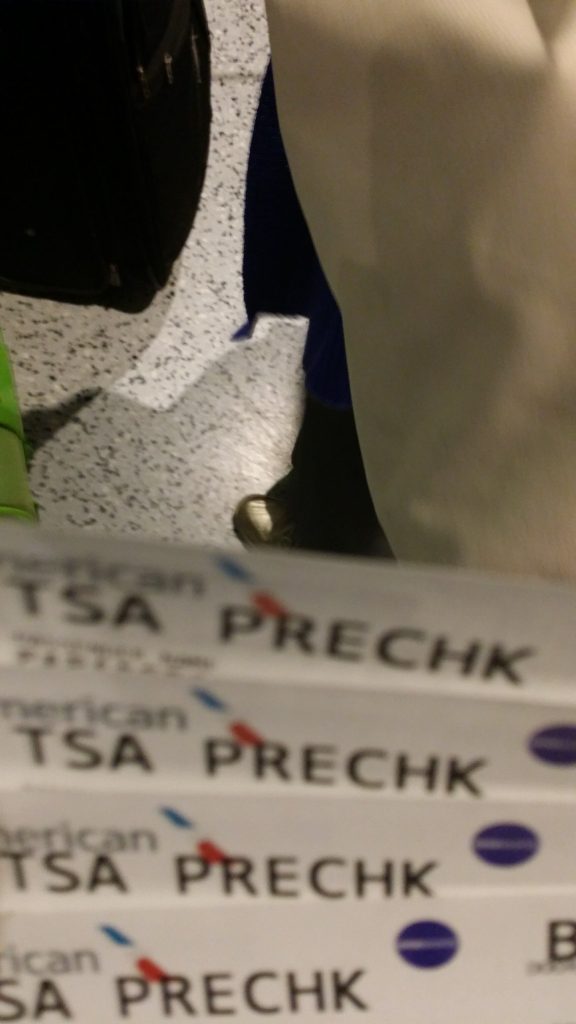 Uneventful flight as usual. We crashed in the La Guardia AMEX Centurion Lounge for several hours.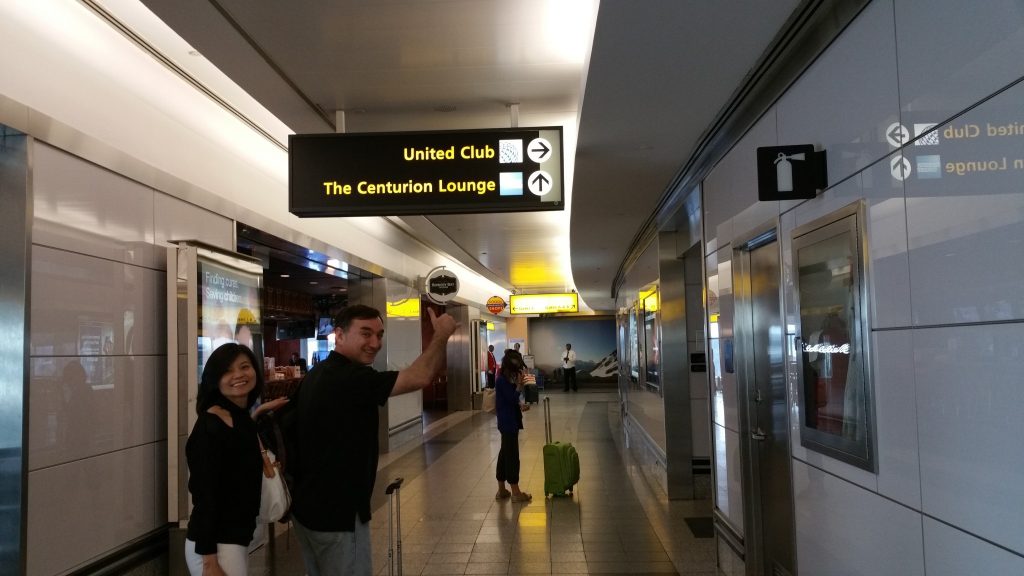 It' s a love story. You can visit too!<——–Click on my credit card links. Ooops, excuse me, I got a little carried away you guys. That Titan blogger DNA, what can I say, woohoo!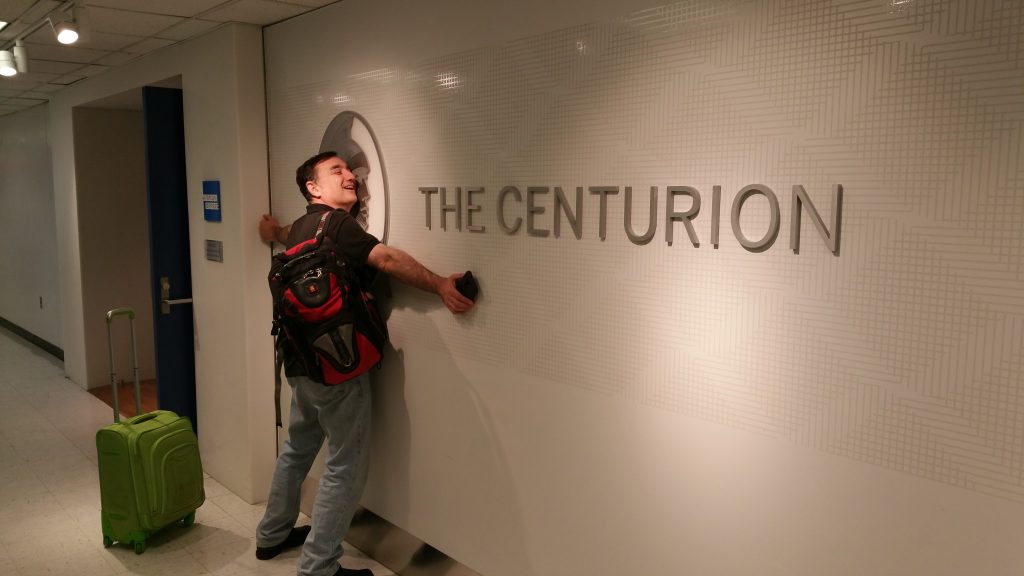 Do you call yourself a human if you have not entered the amazing luxury of this lounge? Really? Huh? I didn't think so!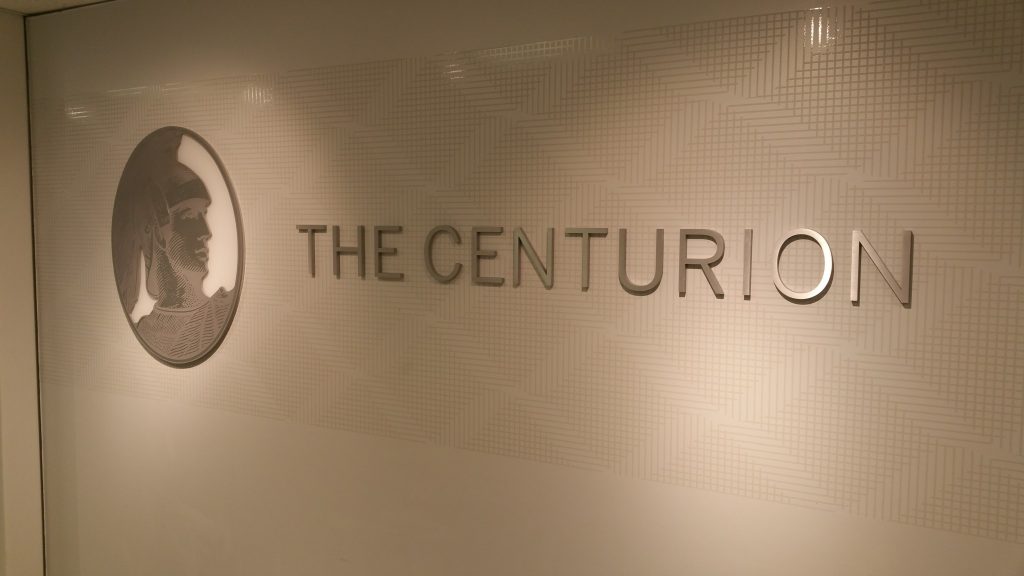 It was empty when we got there but it was soon over run by many other travelers…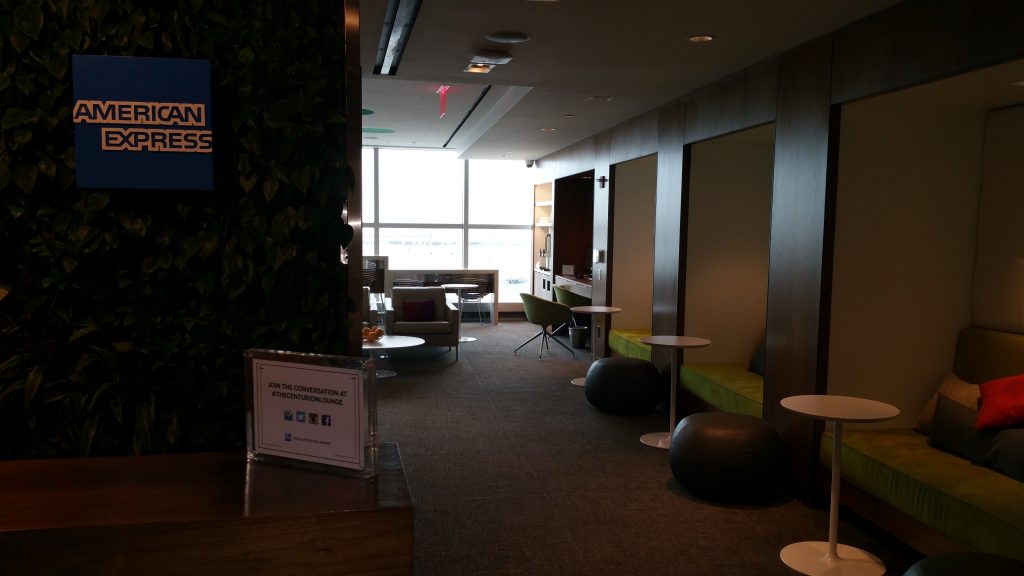 She feels important for some reason. Have I created a monster? Wait, an economy class seat awaits her. Enjoy this girl, for now!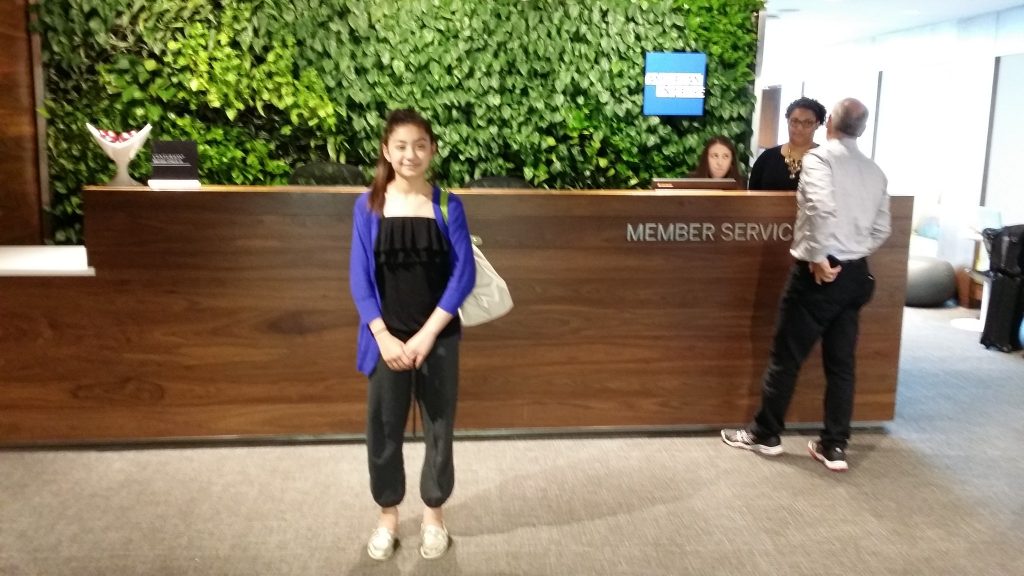 Like I said, this place was over run by more Amex Platinum card holders soon after we got there…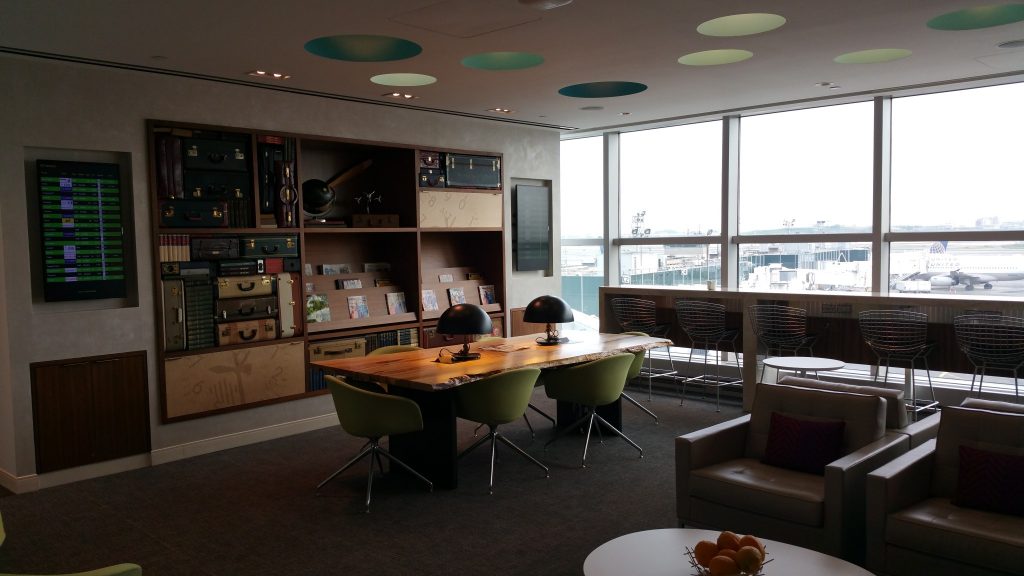 When it is empty, it is a really nice lounge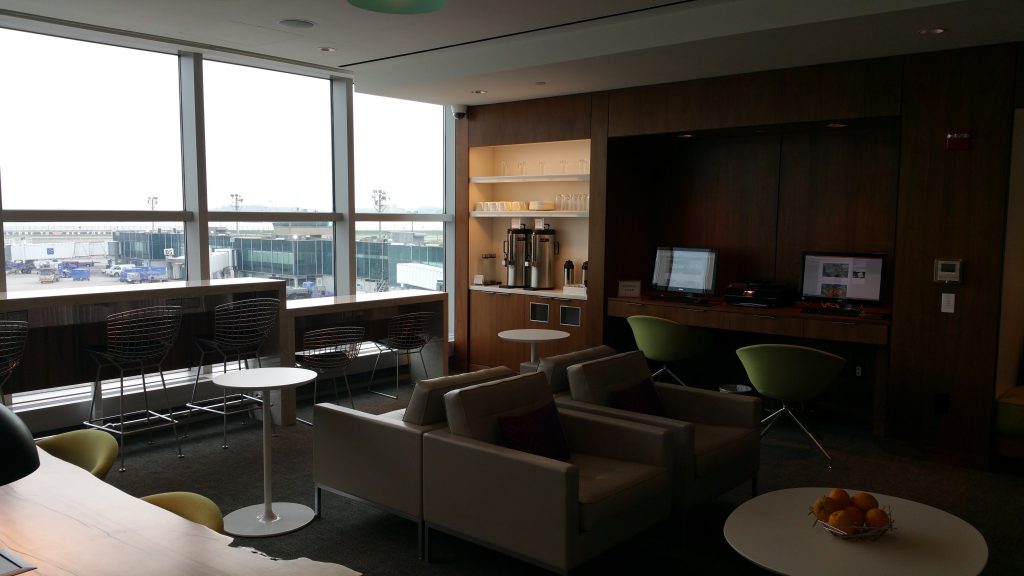 Naturally, we had breakfast…and lunch too!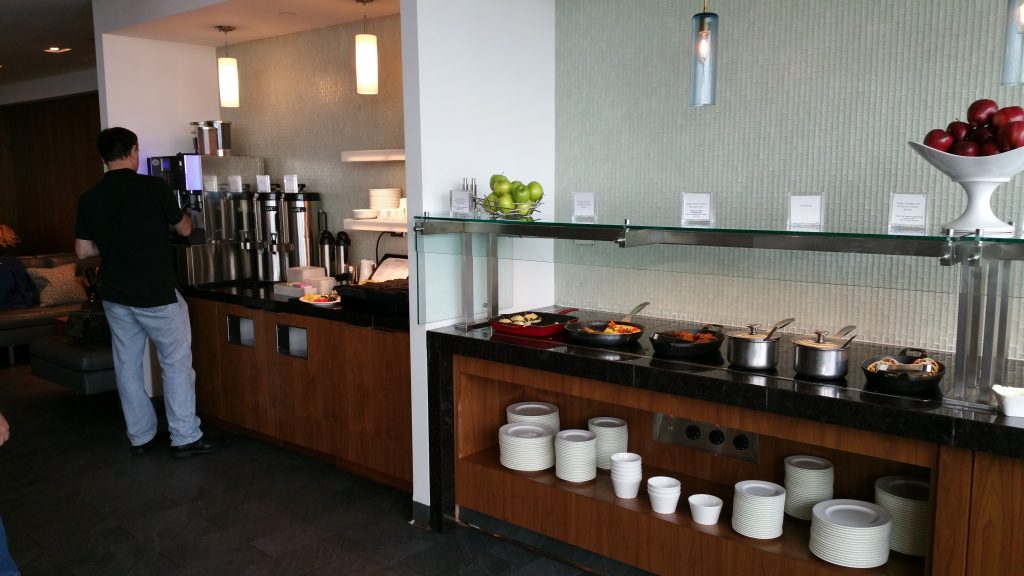 We caught up on some sleep after waking up at 4 am, phew!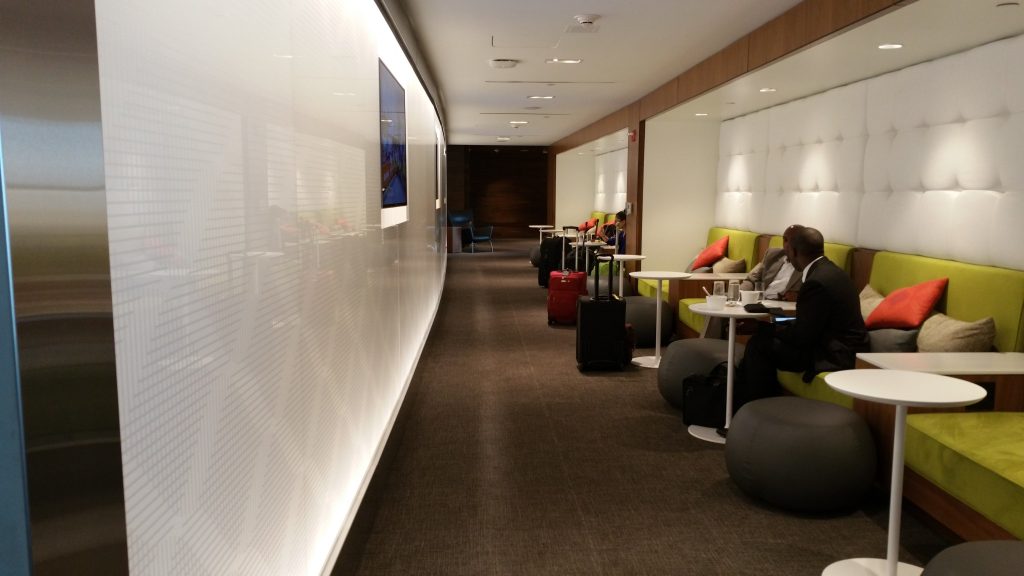 Quality family time drinking beverages and focusing on our own electronics!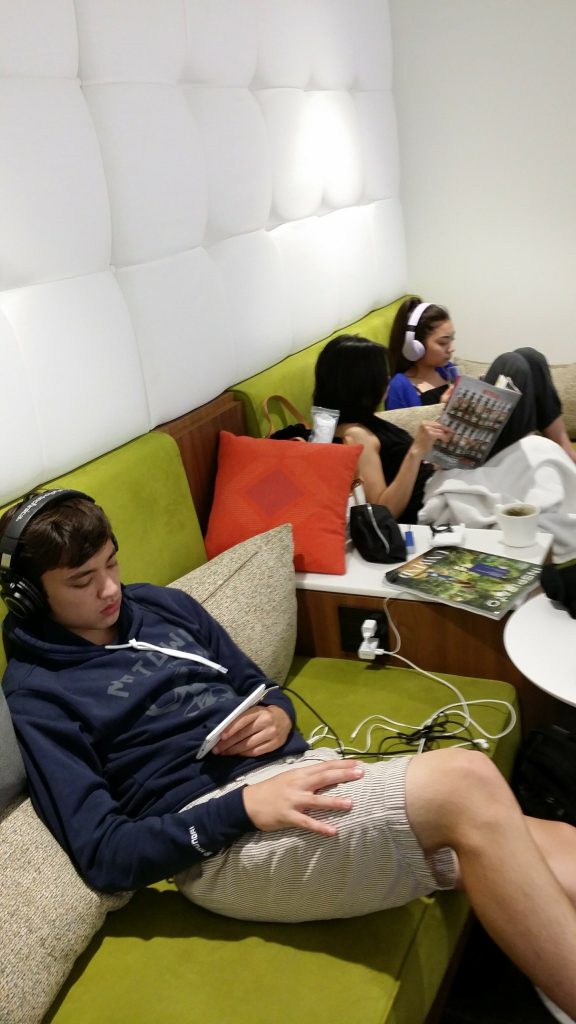 Amazingly, this is one of the few places in the world where my laptop can not connect to the wifi!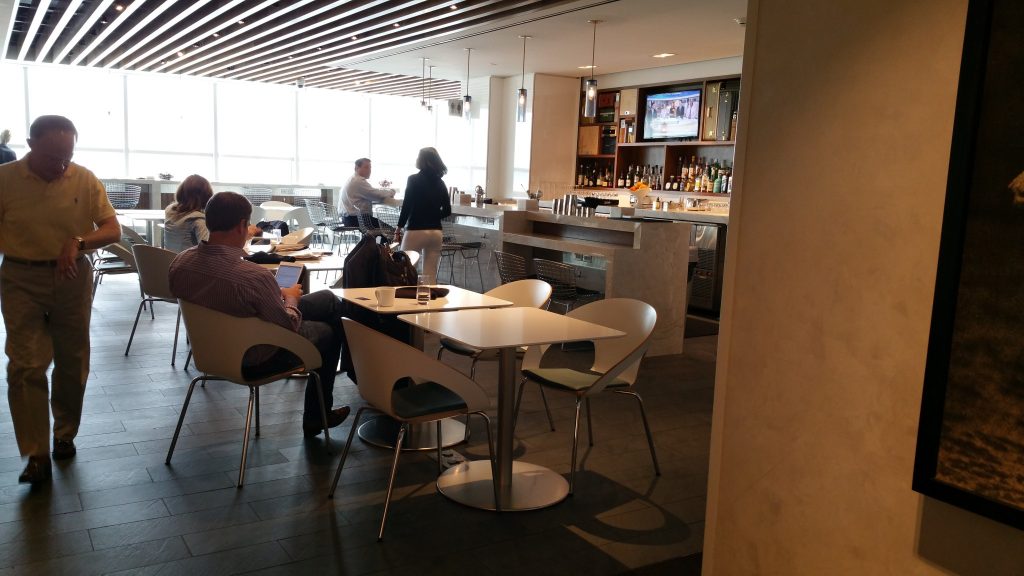 I think we ate enough for the rest of the day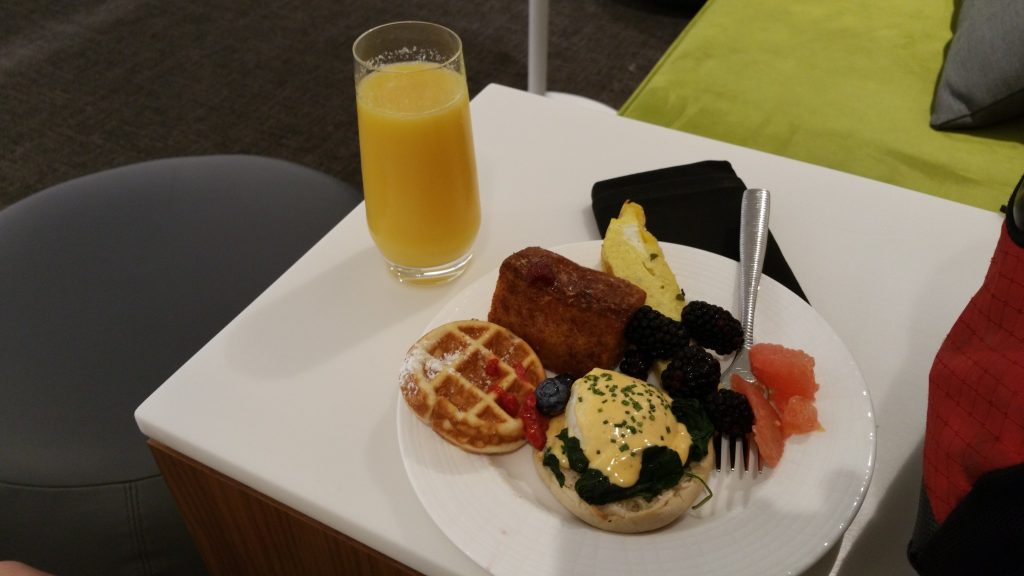 Not bad, it will do.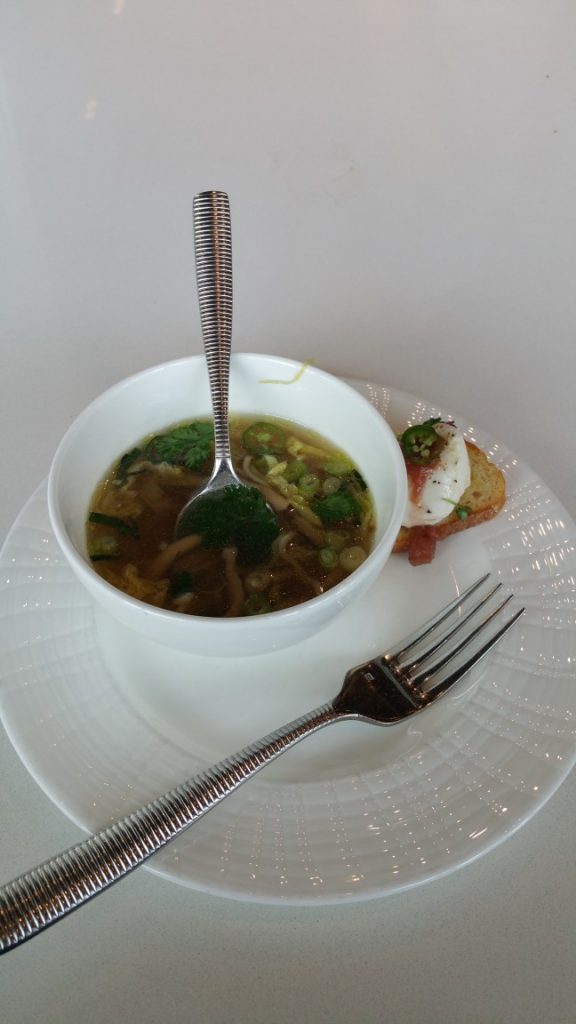 After we rested and completely full, we went outside at the NYC Airporter bus shuttle stop.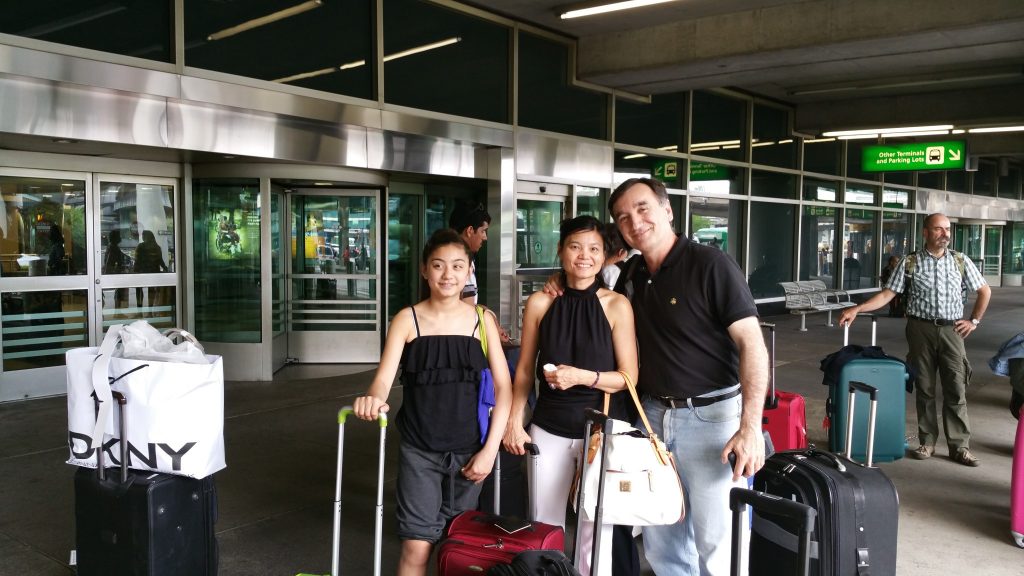 Bus ride to the JFK airport, definitely not a limo or Uber black which I could have done I guess but I had no more credits. You can change that by clicking on my Uber affiliate link, gracias!
Checking in with Iberia in JFK. I think this was our first time flying Iberia Airlines.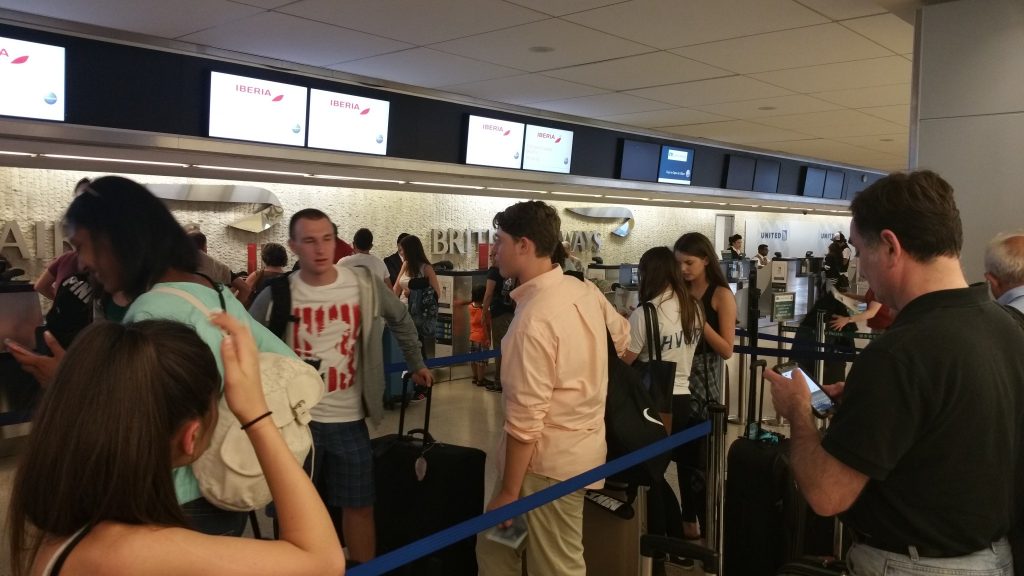 From La Guardia to JFK. It's like going from worst to just worse. Come on America, we can do better that this!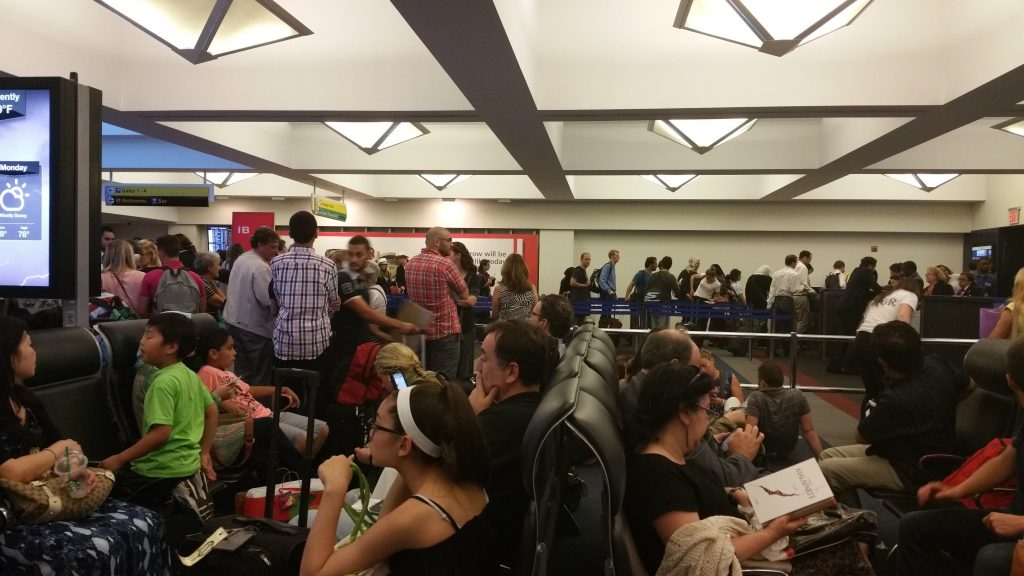 We must admit we enjoyed flying Iberia. Nice service, decent food, comfortable seats, on time.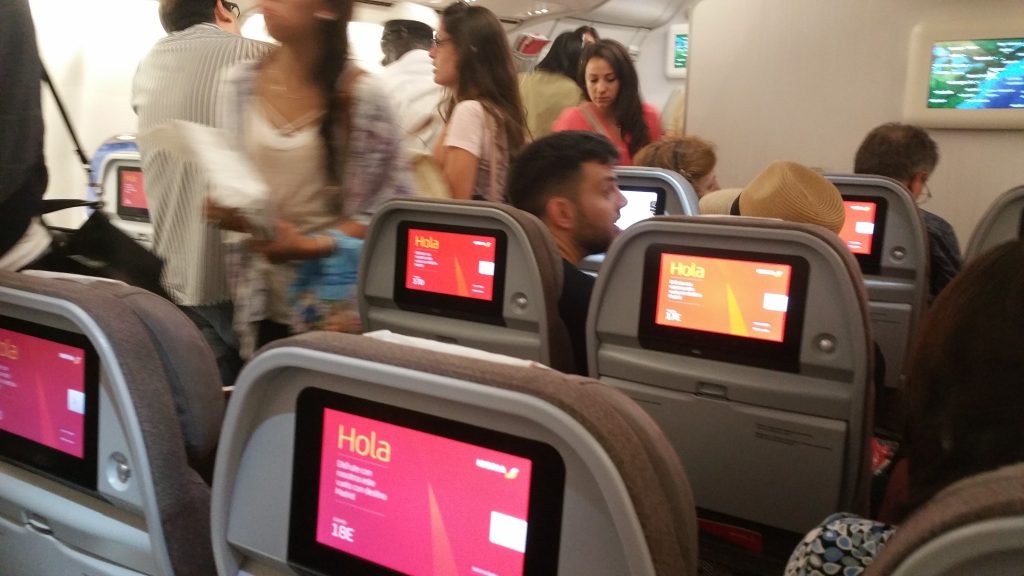 Entertainment selection was very good as well.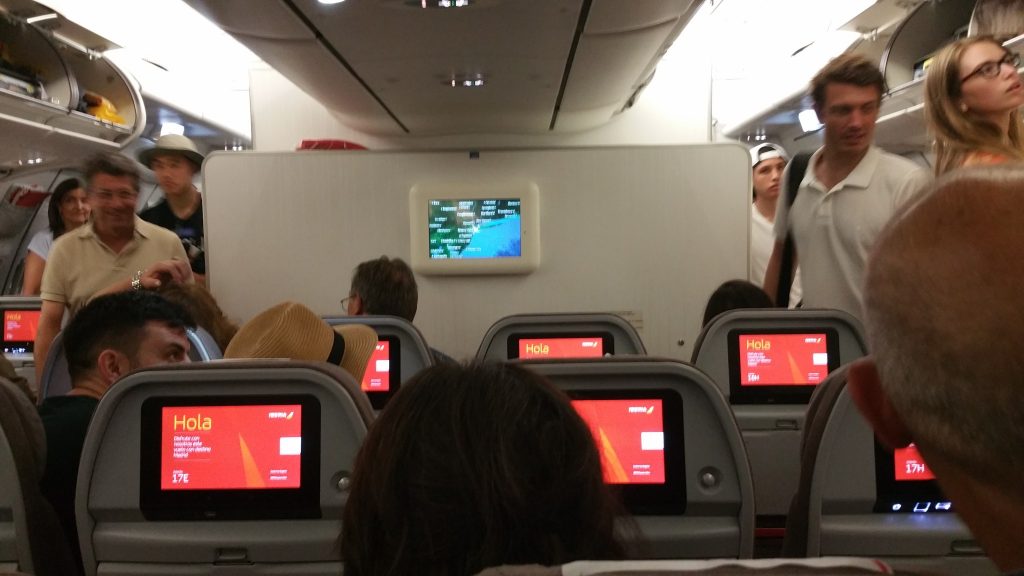 I always feel like an idiot taking pics of food on the plane. Chicken was good.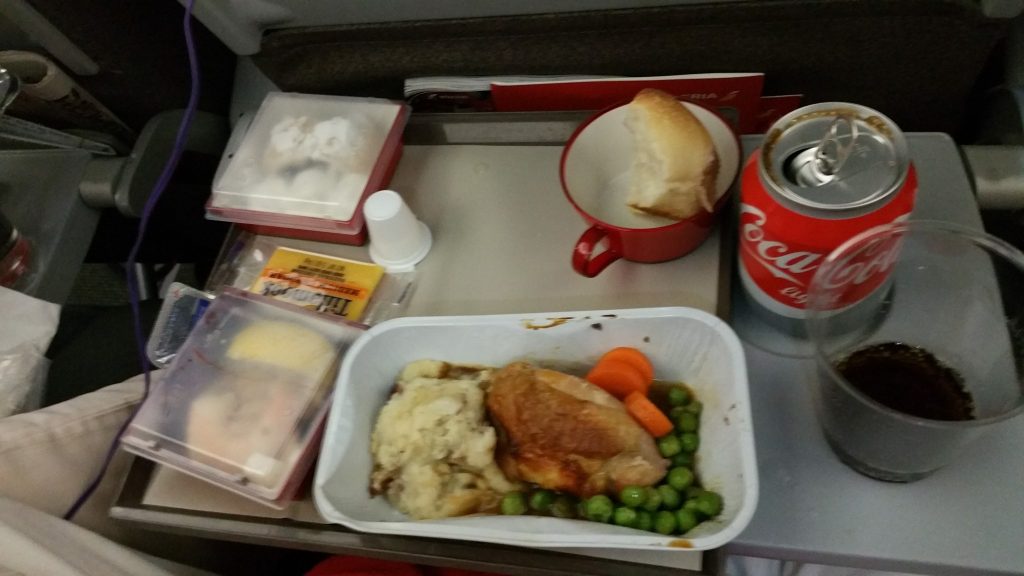 I took a pic of the business class section. With four tickets I only splurge in limited occasions. I want my kids to be normal and not snobs lol.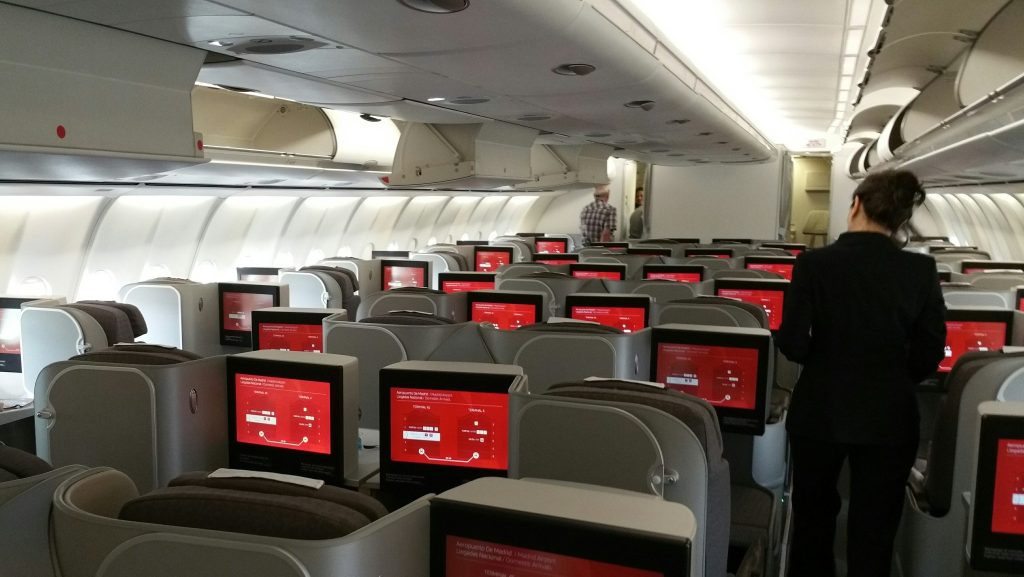 Hello Madrid Barajas airport! This was the bird that brought us here.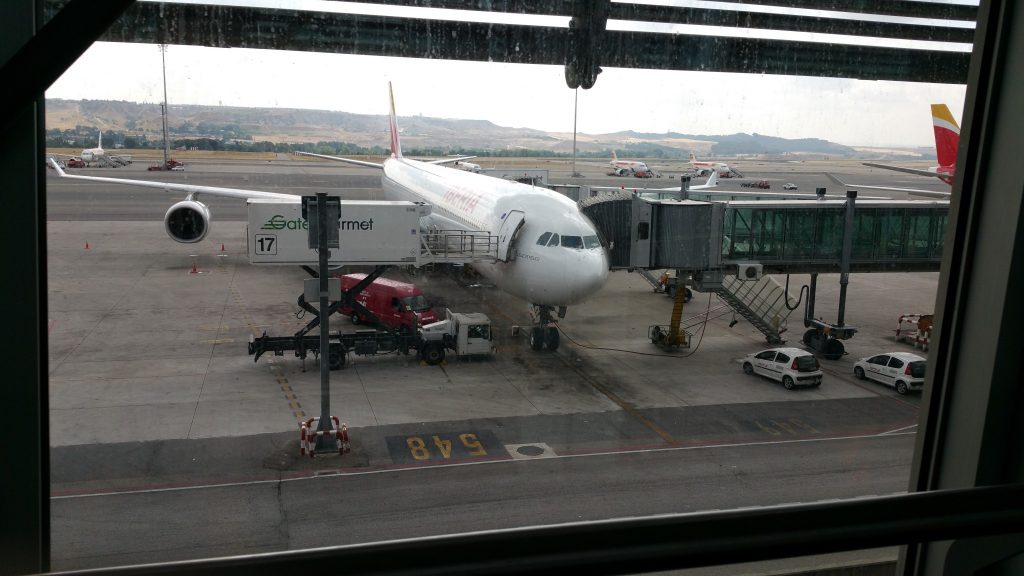 Long walk to passport control…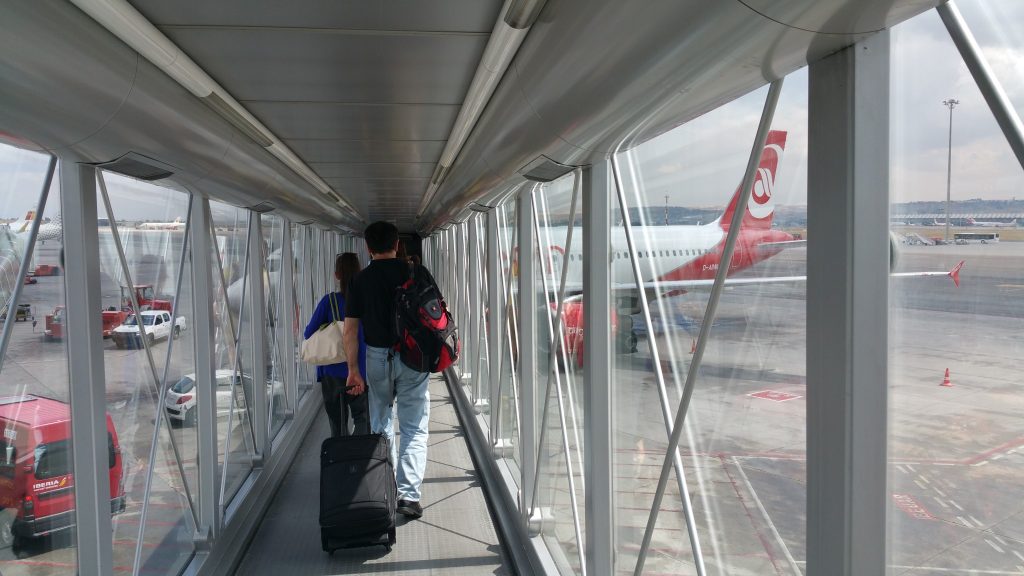 Like I said, we are still walking!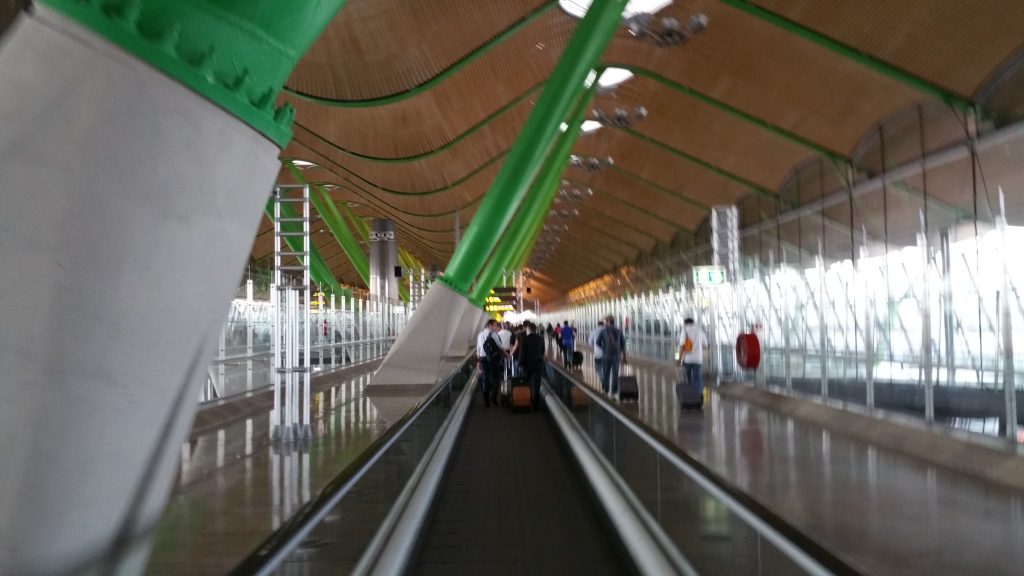 We had a few hours layover in Madrid and then we boarded Air Berlin to fly to Dusseldorf, Germany. Uneventful flight again. We also liked Air Berlin too.
Hello Dusseldorf! We have been here before in another trip to Greece. We walked across the terminal to the Sheraton where I have stayed before. Just 10,000 Starwood points for one night.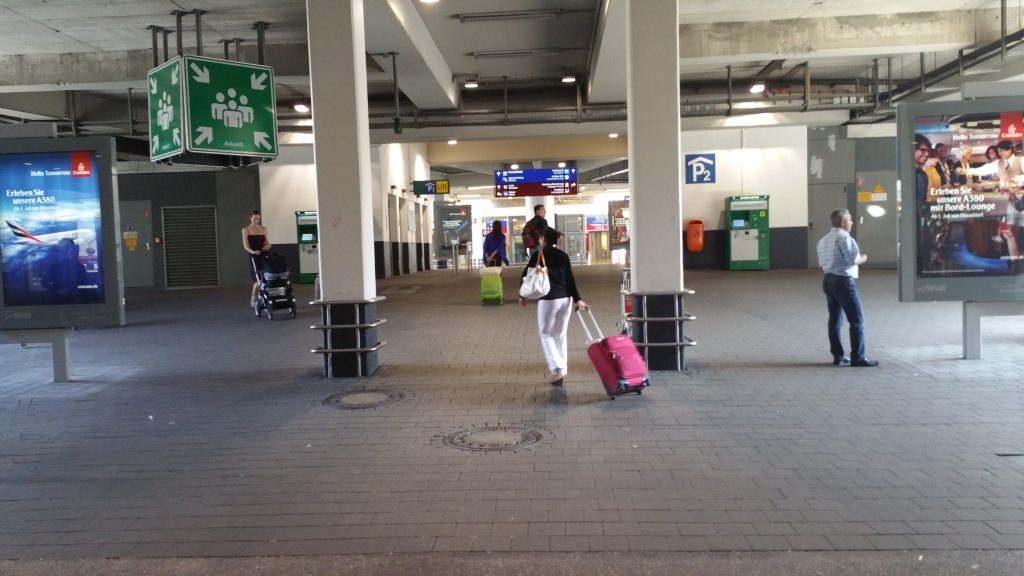 It only hit me that I stayed in this hotel before as we walked towards the entrance. Deja vu time. Always weird!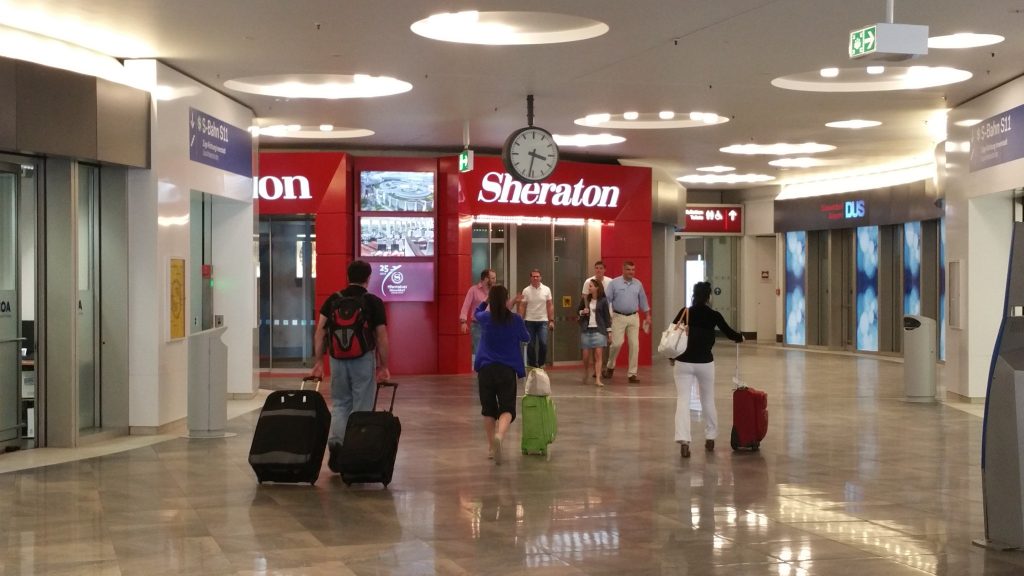 I remembered this entrance, you take an elevator up. This hotel is shaped in a kind of weird circular design.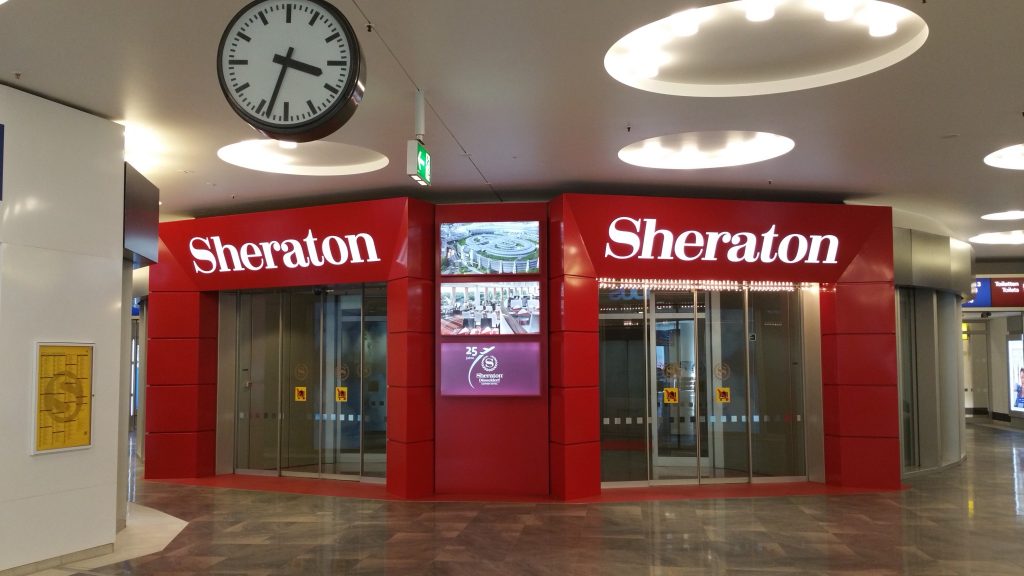 This hallway goes all the way around, in a circle. Like I said, what a weird design. Those Germans!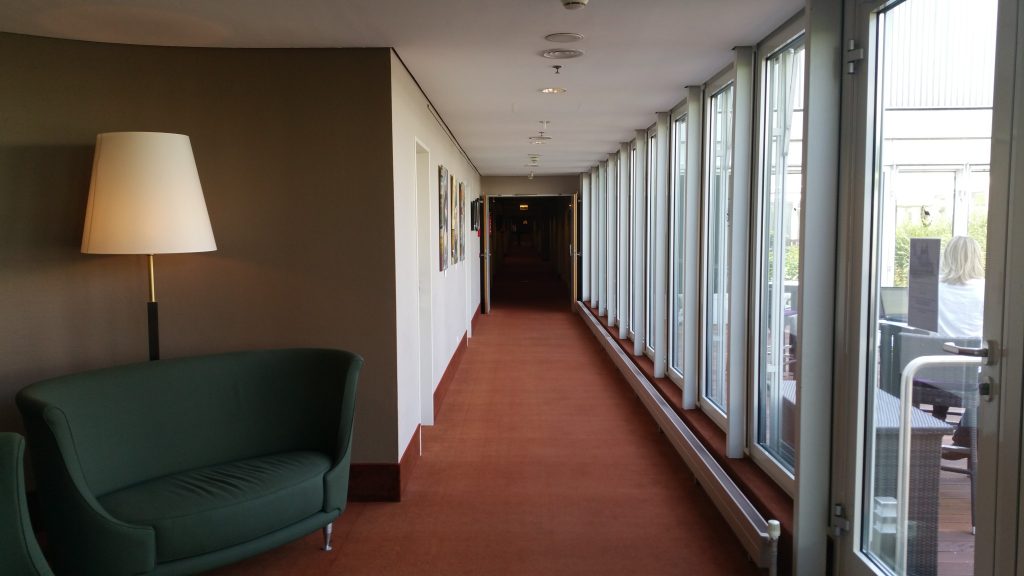 It has a small open air patio, nice.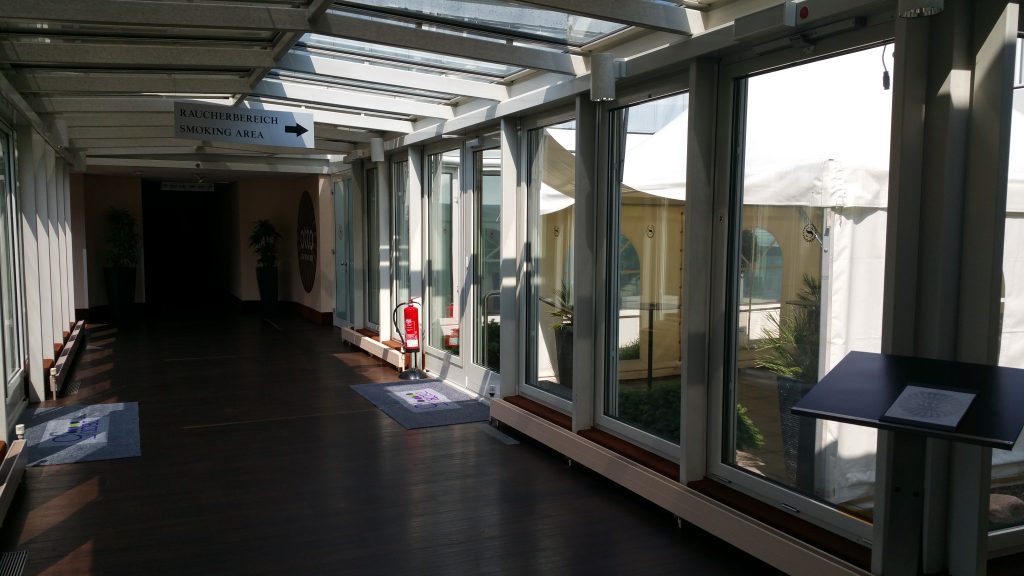 Hotel's restaurant: Otto, how German. We did not eat here, we walked across to the terminal where they had plenty of other more reasonable options.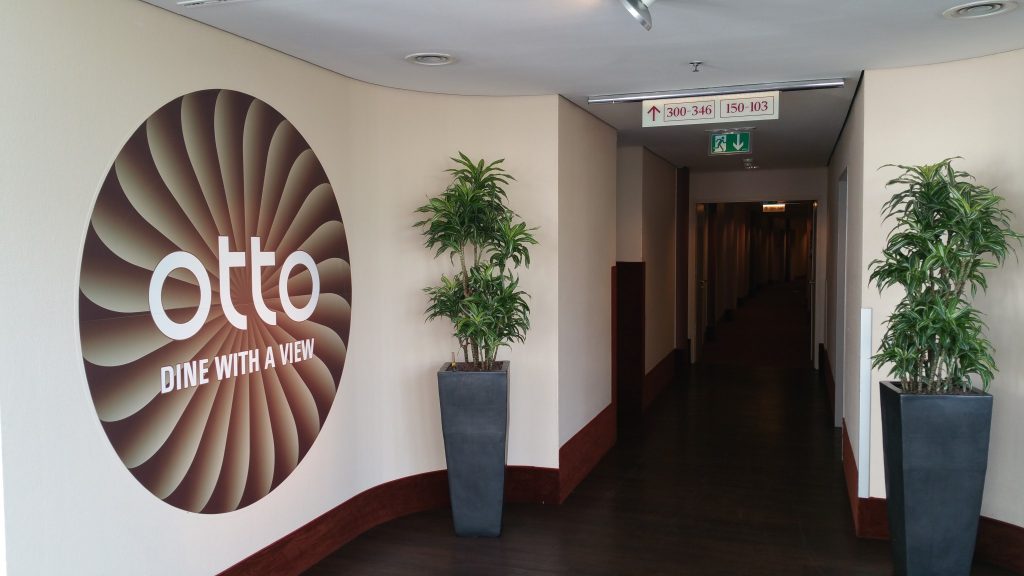 '
We slept like babies. Even found time to pay a visit to the hotel's gym #winning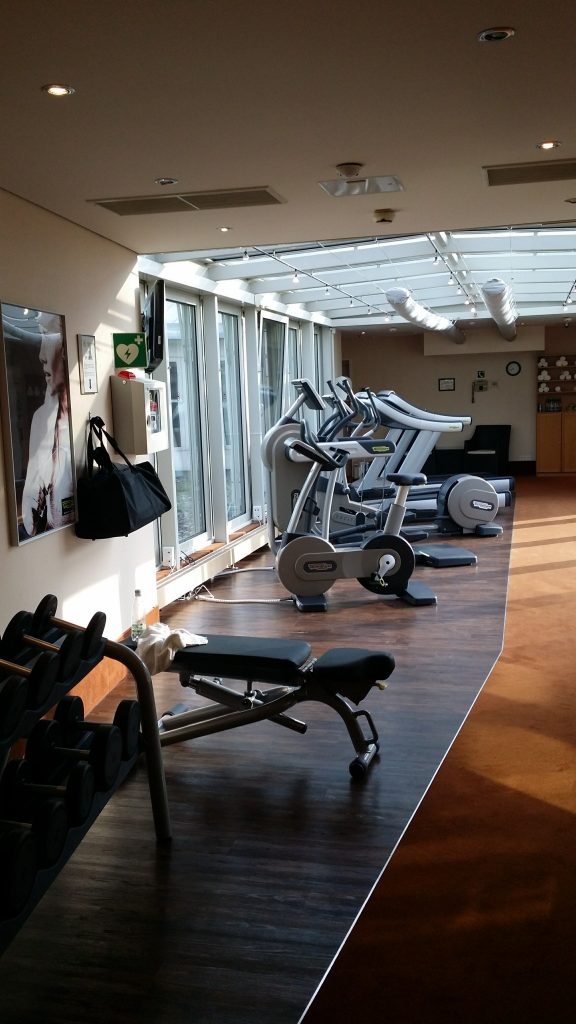 Sheraton Dusseldorf, the lobby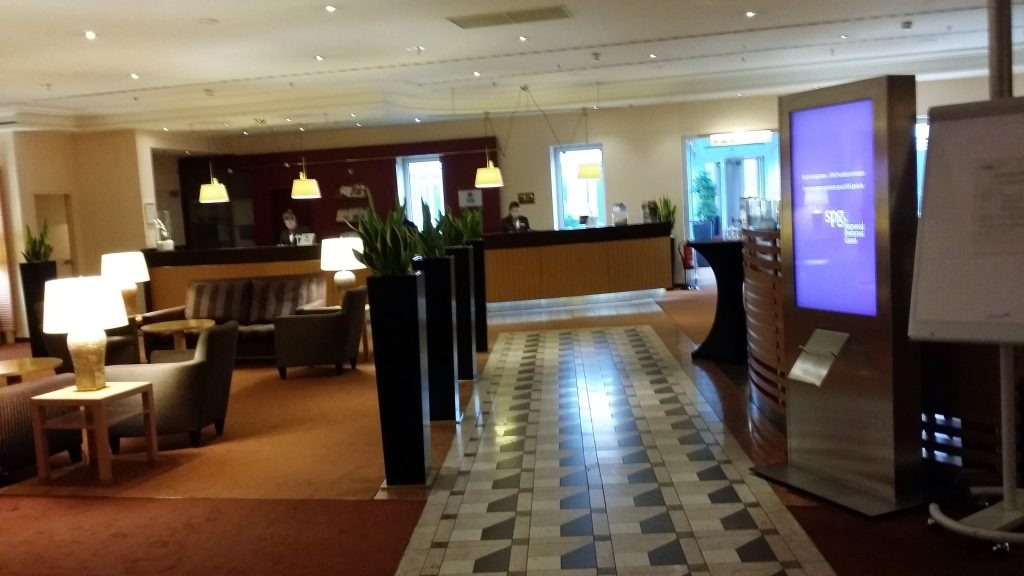 Just a few pics of our standard room. As Starwood Gold I almost never get any special treatment and they always let me know it.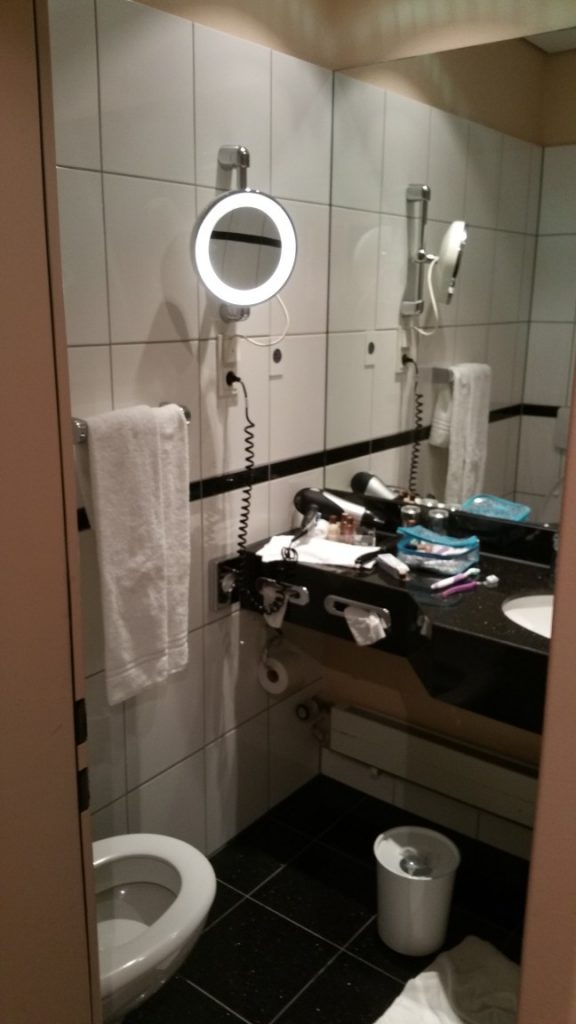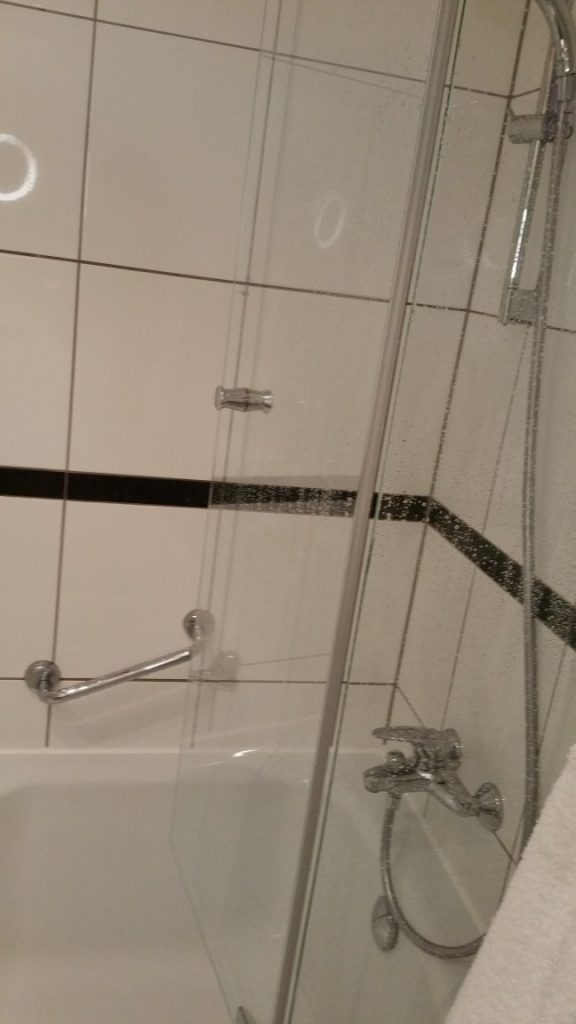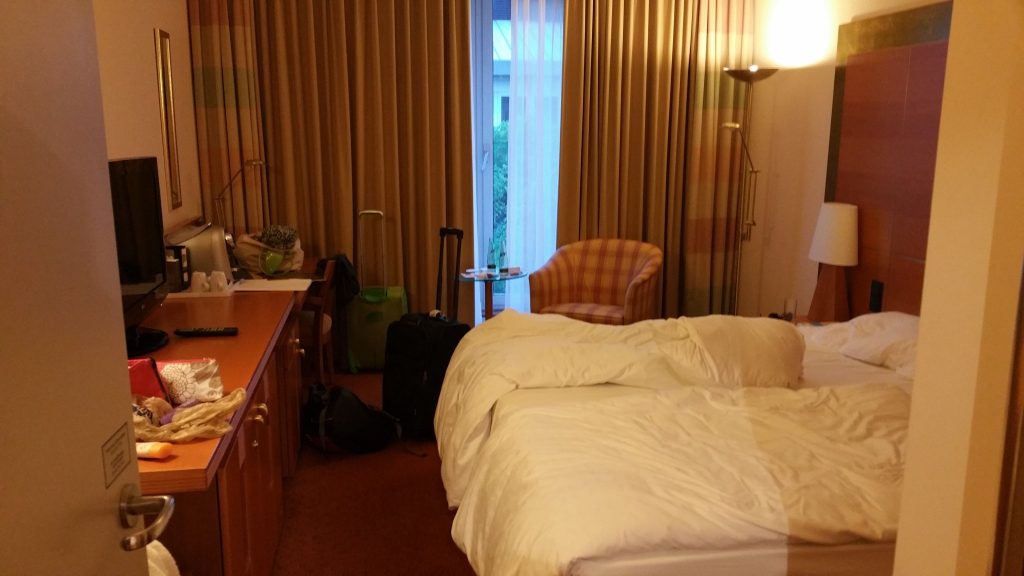 I always enjoyed the open feel of the Dusseldorf airport.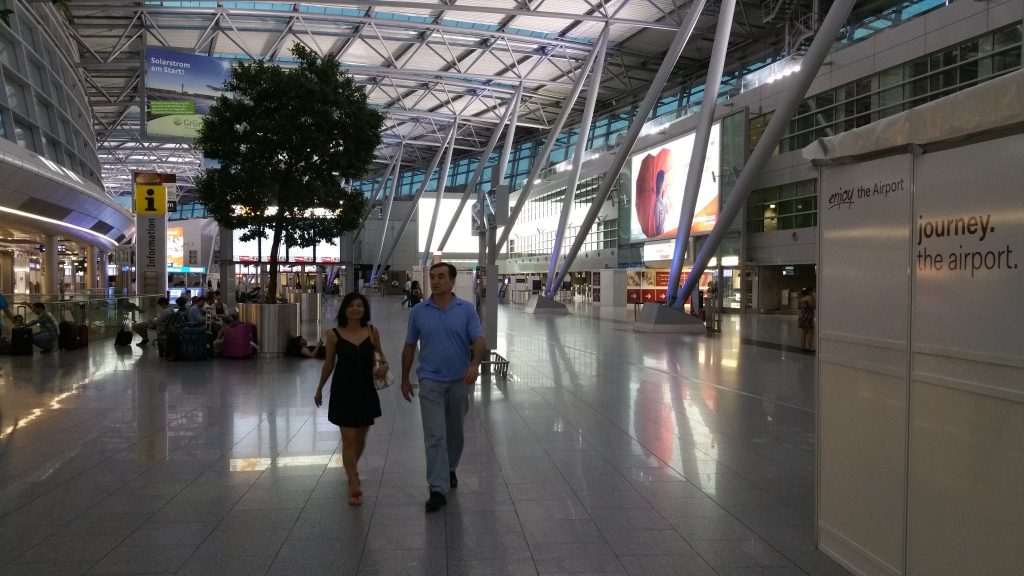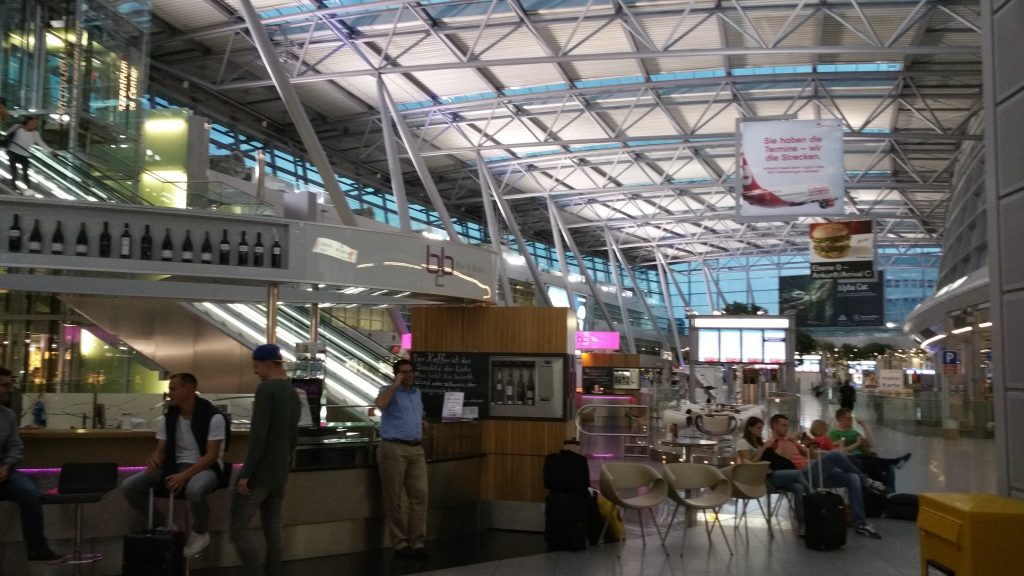 It has plenty of eating establishment choices as well. We hunted for something to eat.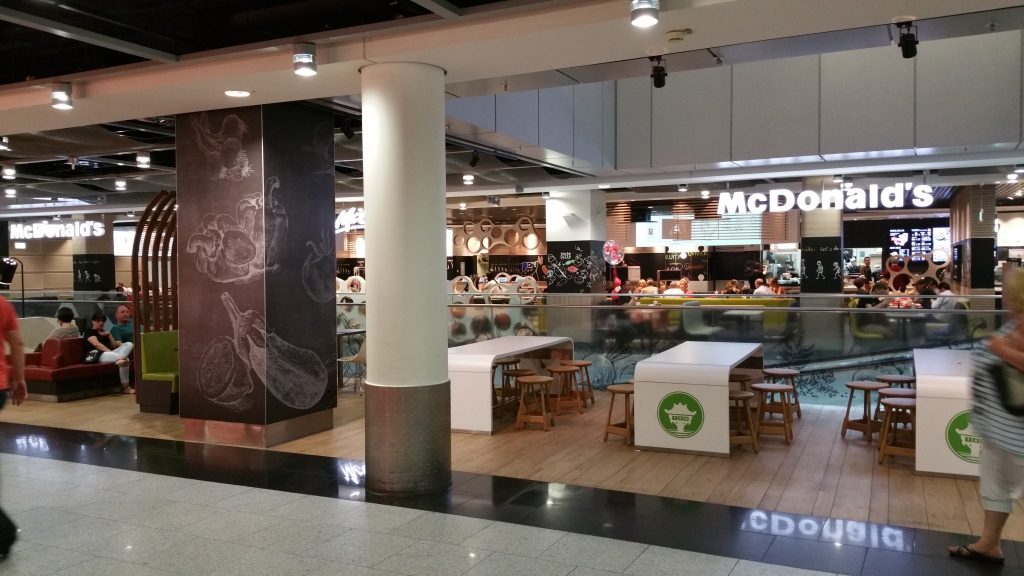 Mrs. TBB saw an Asian option. It will be a long time before she saw another one so she went at it!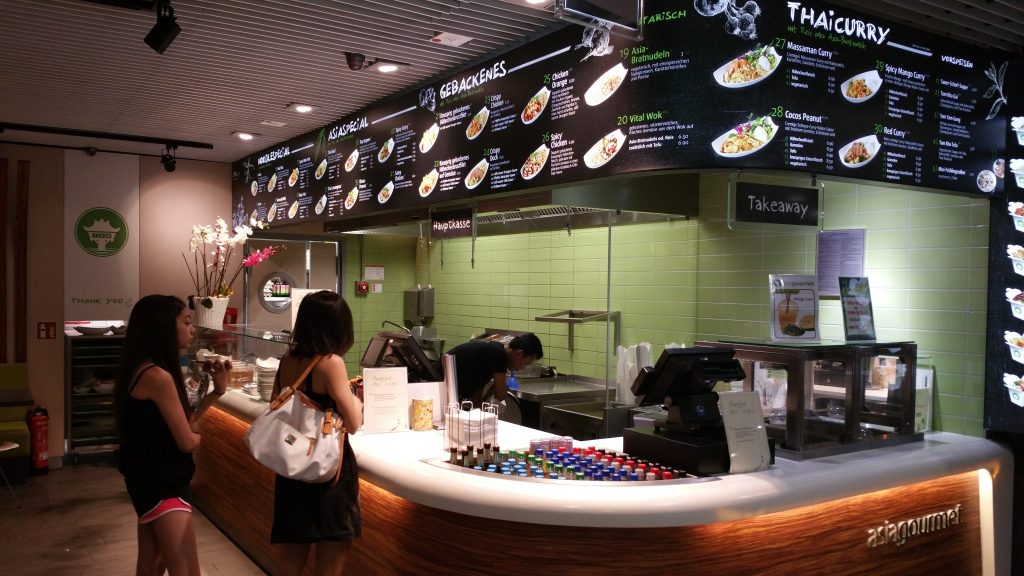 They wanted a picture with Chanel and Dior in the background. Don't ask!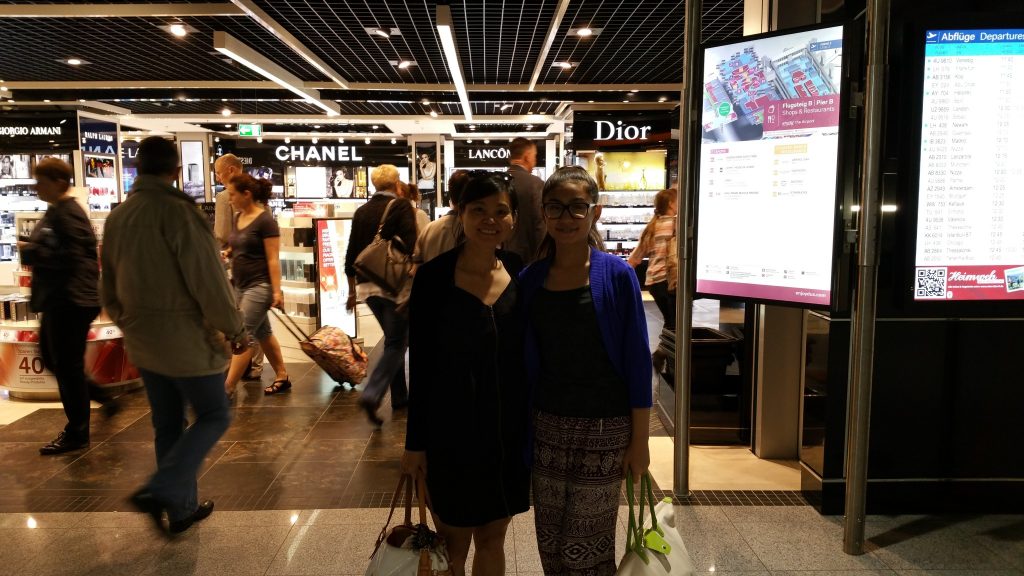 At our gate waiting to board this flight.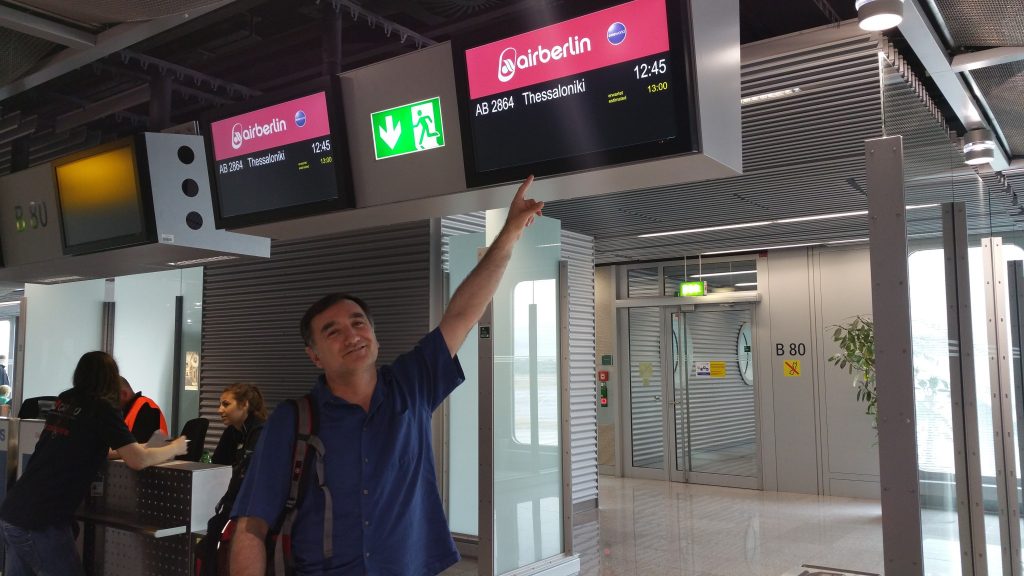 Airport entertainment I guess.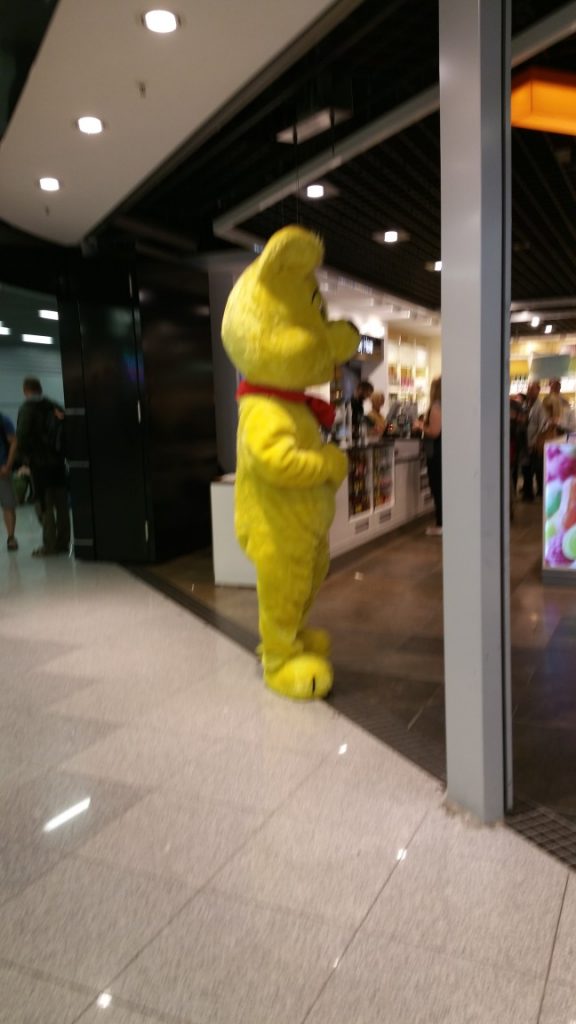 This bird will take us to Greece!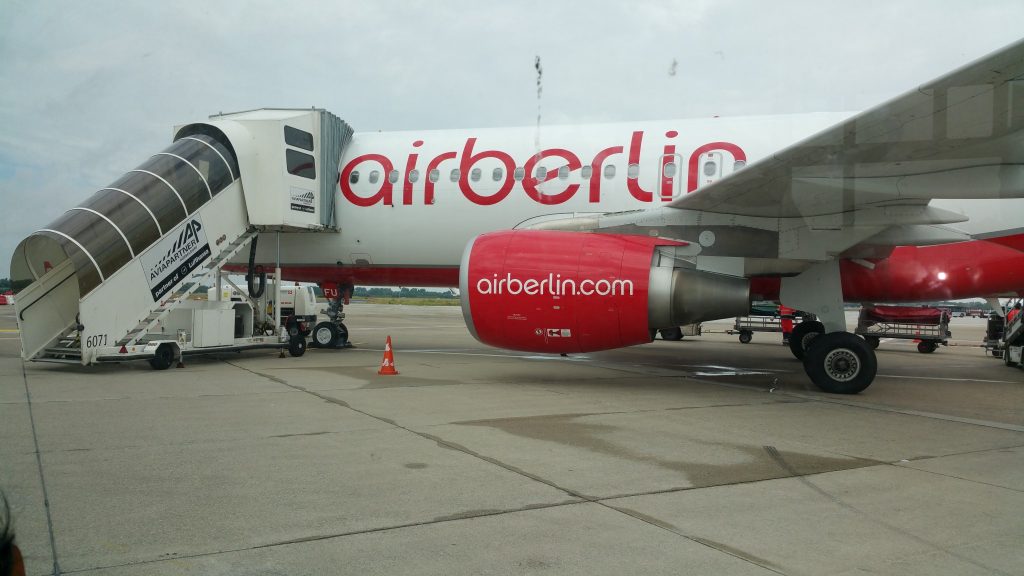 Darn it, I wanted Air Berlin to be in the picture. Oh well…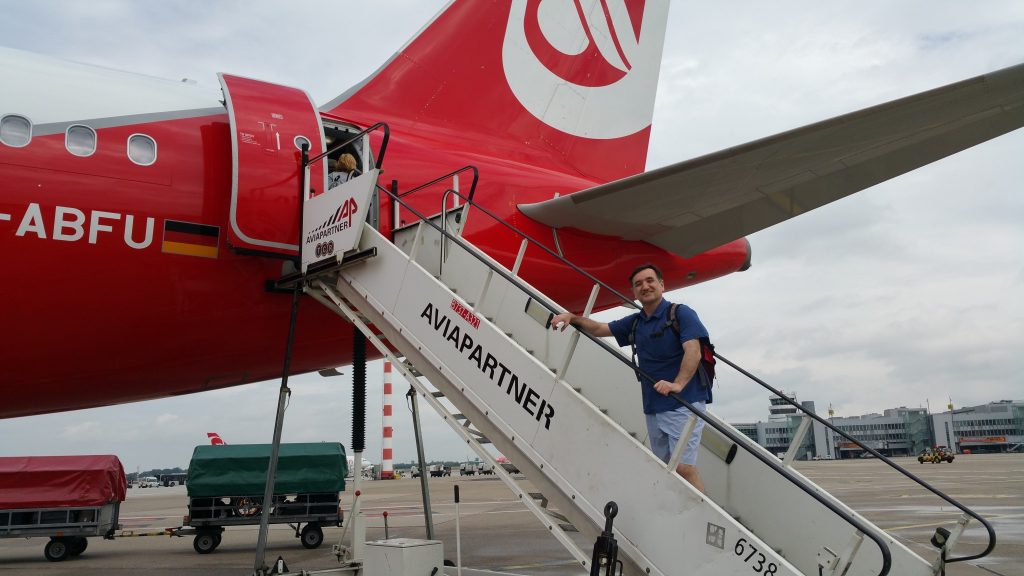 Thanks for reading. Next installment lands us in Thessaloniki and you won't believe what happens next!
Please help bloggers you appreciate & make a positive difference in your life by spreading the word about their blogs, emailing and commenting and using their few $ links, thank you!
TBB
travelbloggerbuzz@gmail.com
Follow TBB on Twitter @FlyerTalkerinA2
You can subscribe to TBB below, winners only!