Here is my review of the Amex Centurion Lounge in Dallas. Please keep in mind that my review comes from someone who is totally NOT dependent on earning any money from pushing financial products (at least not yet & proud of it!) and who has never ever received any invites to events from American Express. So, when you read how wonderful this lounge is remember that blogger who says so derives income from the likes of American Express, Chase, Citibank and other banking institutions. As long as I can keep up my independent voice I am glad to do it because, well, I enjoy it as it gives me freedom to speak my mind and HELP readers while so many other bloggers have sold out and have become an extended marketing arm of these companies whose primary motivation is to convert you (get you to apply for a credit card) and not to help you!
TBB Blog Mission: To Entertain. Educate. Inspire. In That Order
You can support TBB by clicking/forwarding any of our Referral Links and starting your online shopping at our Amazon affiliate link . Or click on the Amazon Banner on the right, thank YOU!
I have been making a conscious effort in 2014 to burn my stash of miles/points. I have actually started keeping a log, something which I had never done! I have burned 338, 374 miles/points this year (it does NOT reflect the family trip to Maui coming up as miles/points were deducted at the time of booking last year) which is not too shabby. Therefore, I decided, what the hell, to go spend a whole day in the Amex Centurion Lounge in Dallas. I burned just 15,000 British Airways Avios points for a round trip Detroit to Dallas flying American Airlines. I even got me a hotel the previous night at the Four Points by Sheraton at Detroit airport as my flight was departing at 6.30 am. The hotel night cost me just 3,000 SPG points and I left my car there. As Gold, I received 125 points back as amenity. Sadly, this hotel is now a Category 2 from Category 1, boo! Perfectly adequate airport hotel! I won't ever bore you with a review of such a hotel! I spent about $20 in tips that day. Flights were uneventful and full. It has been so long since my last bump!
My overall impression of the Amex Centurion lounge is this: Very nice lounge indeed for US standards, below to average for international standards. With the loss of all the American Admiral and US Air lounges and the imposition of fees to enter Delta Skyclub lounges for additional persons (if you are flying Delta that day) the MAIN benefit of this $450 annual fee card has been totally demolished! With just two Centurion lounges built so far and a very slow build up of new ones all I can think of is: WHAT THE HELL ARE YOU THINKING AMEX? HOW DO YOU EXPECT ME TO GIVE YOU $450? If I was flying through Dallas and Las Vegas A LOT perhaps I would think there may be some value to this card left. Of course, other bloggers would go out of their way to sell the hell out of this card because it remains the NO. 1 card in COMMISSIONS to THEM!
Ok, I am no trip report type of blogger so I will keep it brief and to the point. Excuse me I can't afford me a high end camera, I just use my Samsung Note phone camera and, as you can see, I totally suck on taking pictures! If you want a pretty review please go towards the end where I link to the recent review of this lounge by One Mile at a Time. I get to pick on it a little bit, you know me [evil smile].
This is the view from the relaxation part of the lounge facing the bar and food area. The lounge is kind of weirdly shaped. You never get the GRAND feeling you get in other lounges with huge open space (just like the Admirals Club in the D terminal I visited in desperate search for wifi—more on that below).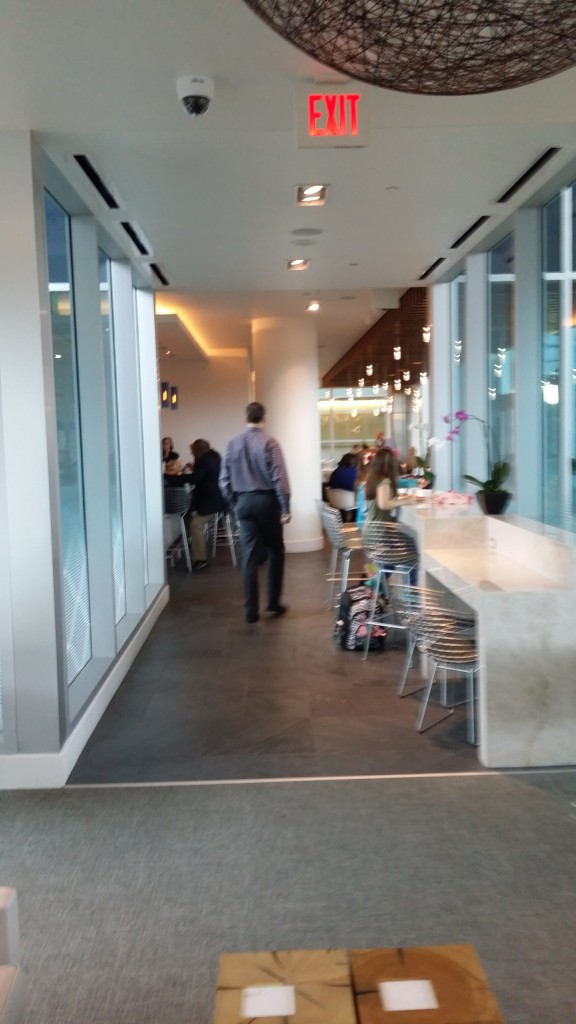 This is the relaxation part of the lounge with a big screen TV, some nice seating and magazines/newspapers and behind this there is space for three day beds you can lay down on. Again, small space. If this places gets crowded…good luck grabbing one of these spots!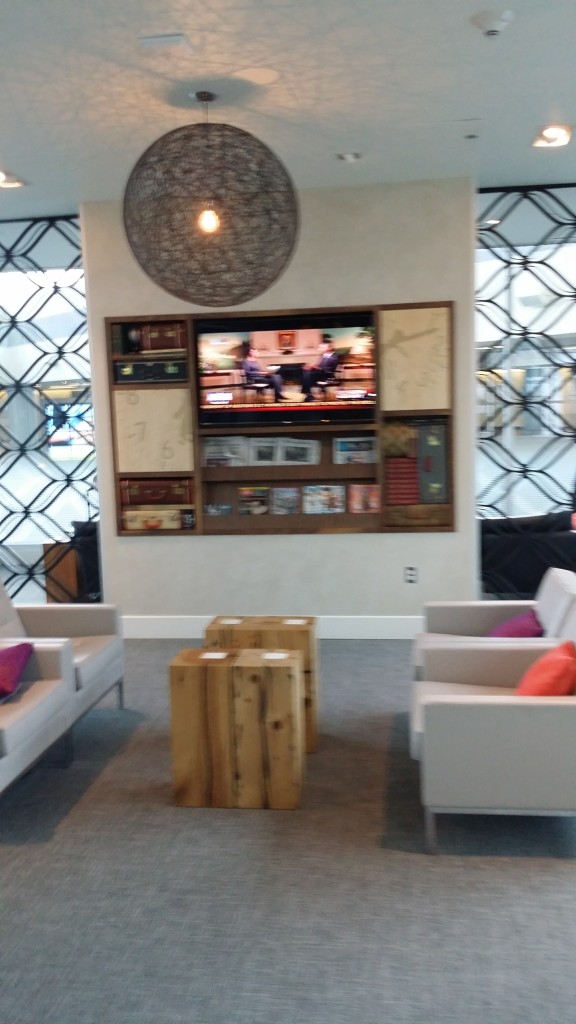 This is where I spent most of my time, eating and drinking. Ok now let's talk about what happened to me. I could not get the darn wifi to work and I could NOT figure it out. Yes, I rebooted several times. The manager tried to help me and messed with my computer for a long time but nothing worked. Talk about VERY frustrating! The only other time this happened to me was in a Panera bread store I was visiting for the first time. But on the Panera main screen there is a phone number for tech support. I called it and a techie guided me through it and I was online in less than 10 minutes. I wasted hours in this lounge trying to get this done and I was not successful. So, I went to the Admirals Club next door and my laptop could not connect to the wifi there too! What the hell Dallas Airport? Why me? Anyways, I completely gave up after wasting so much time. I will forever associate this lounge with my wasted efforts to get online! Sidenote: I came home and my laptop worked fine. Next morning at Panera worked fine. So, thanks Amex and Dallas airport for messing with me. End of sidenote.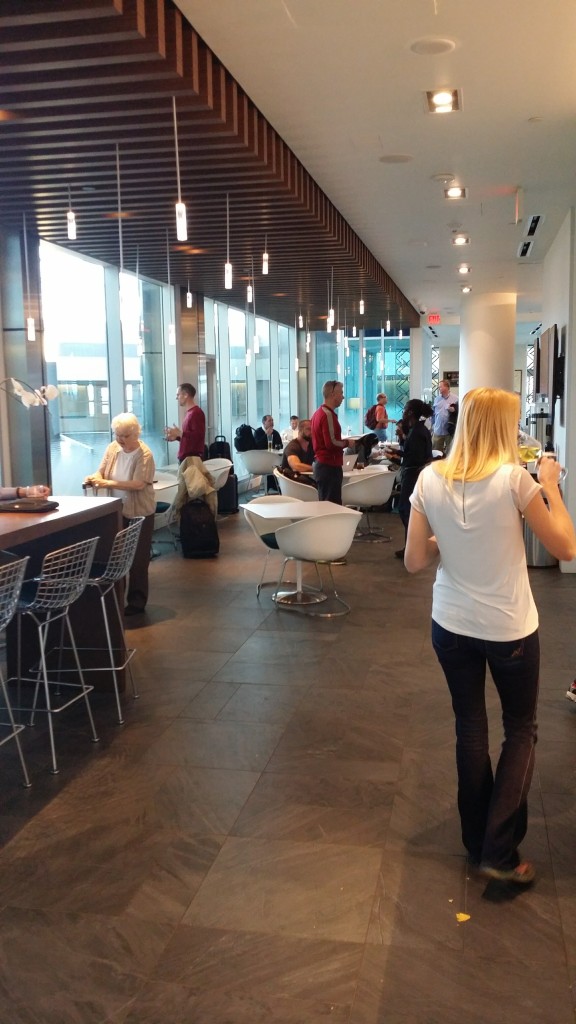 The fancy sign in front of the lounge. Zzzzzzz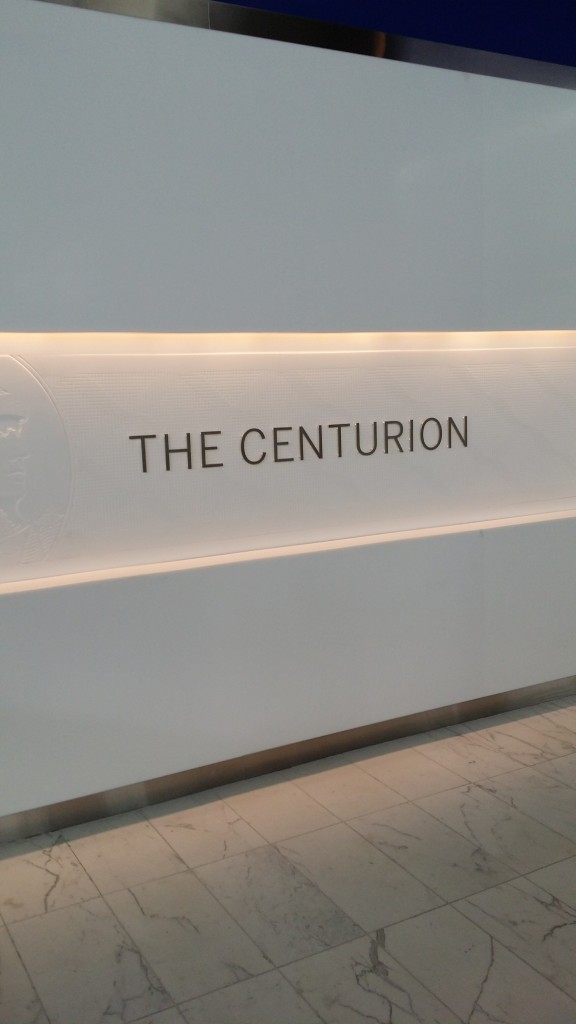 Here is the other area on the right as you enter the lounge. It is a room with a conference table, several chairs and a few small conference rooms. There are plenty of power outlets which is good.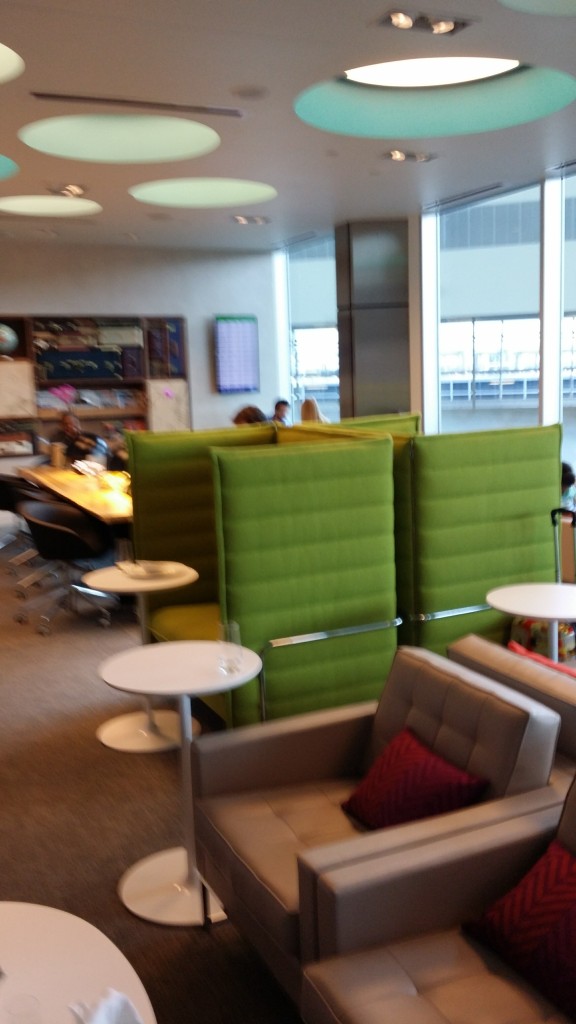 Small hallway leading to the bathrooms and showers at the back of the reception.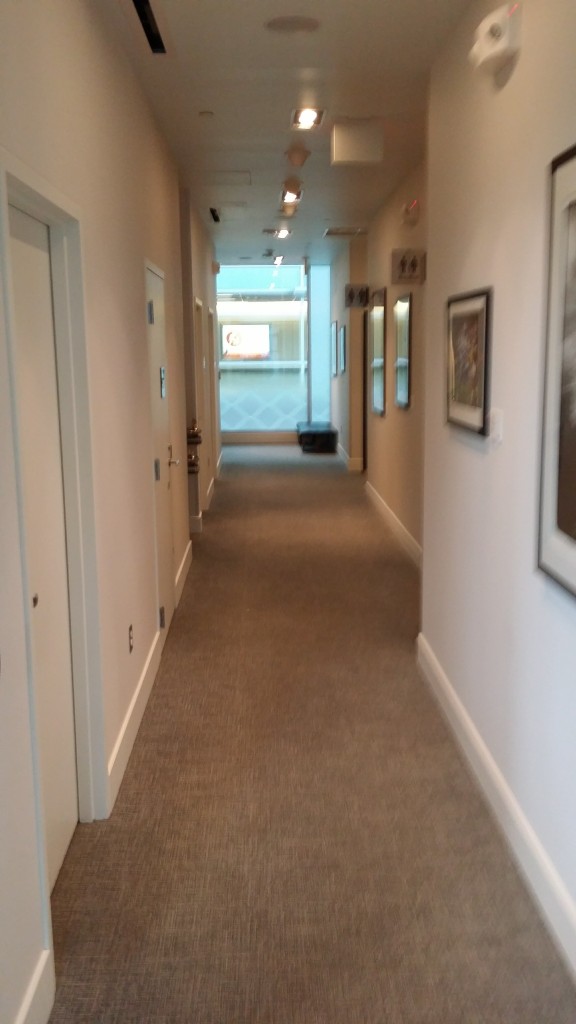 Two showers. They look very nice inside and are very spacious. But WATCH OUT FOR THE TEMPERATURE! This was probably the worst shower I have ever taken. You can NEVER set the temp to be constant! There is no other feeling than getting burned and then a stream of very cold water follows it next. I tried every combination to get it to be even but NOTHING WORKED! I thought about suing for a $1 million dollars like that McDonalds customer with the hot coffee episode but I am not that kind of person. I swear I could take some nasty pictures of burns. As I was cursing myself not believing that a hyped lounge could offer such a traumatic shower experience I heard the door knock. Well, actually I was not so sure, the whole shower was surreal. I talked to myself "Did I just hear the door knock?". Before I can answer myself, I hear the door open and I am all like "WTF!". Well, I did not say that. Before I could say anything, the person realized someone was inside and politely said "Oh excuse me" or something like that. Yes, the curtain was drawn so no harm to the eyes was done. But, come on! Don't they write down that someone is using the shower? I have had several showers in lounges around the world and this was a first for me. I told the manager about this and he said that there have been reports about the water temp and it will be fixed. I sure hope so!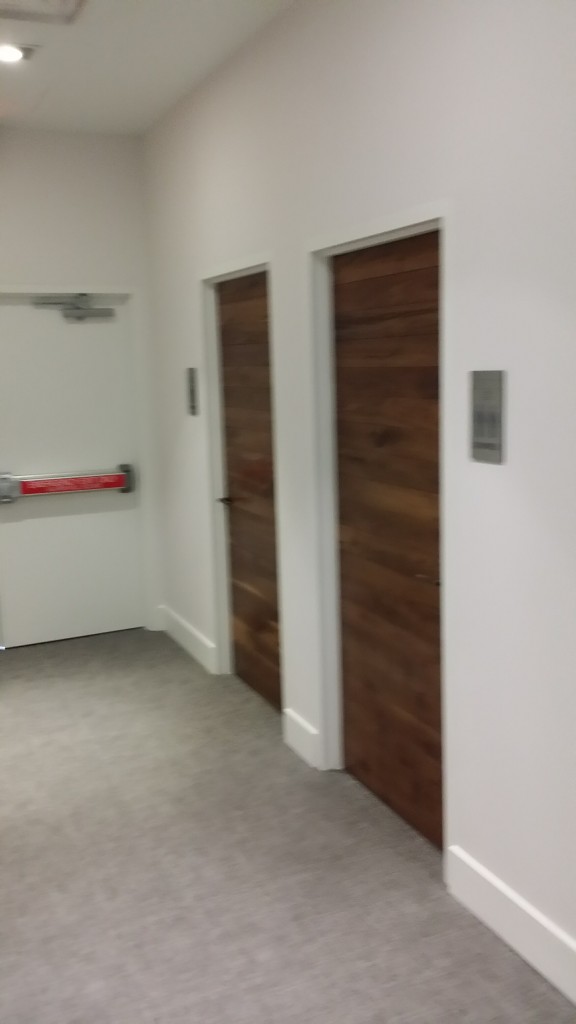 Yeah, there is some art around the place. This is in the reception area. Next to it are some lockers which I did not use as I just had my carry on (which I actually won in a blog giveaway last year).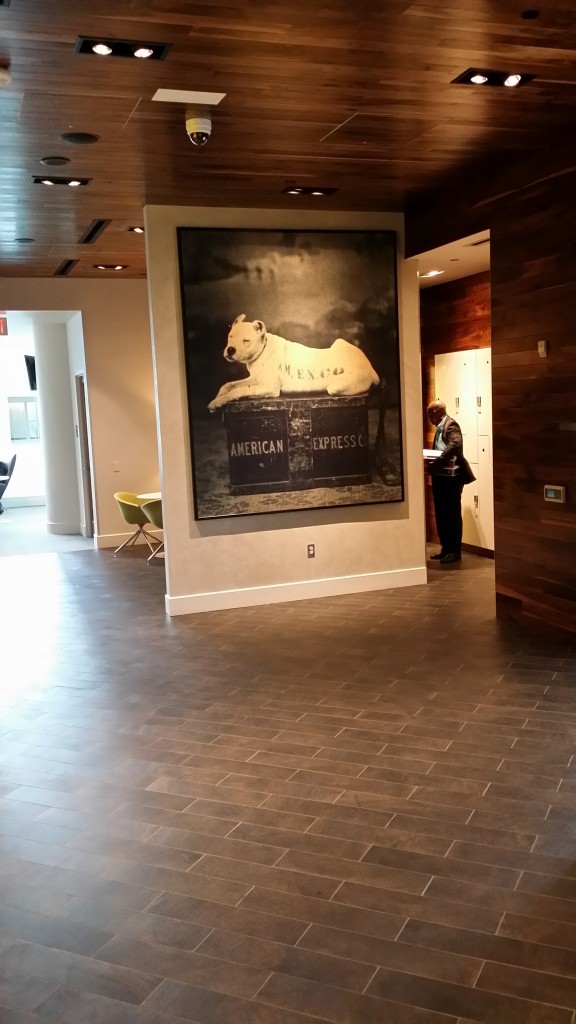 Ok, let's talk about the food. I had heard about chefs and lots of hype about the food. Well, EXCUSE ME? I was very disappointed about the food! The selection was small and the taste about average. Don't get me wrong, you get real food here instead of the crap you find in the US domestic lounges. But I again was disappointed to find out that the food is okay and nothing spectacular. And you just get two menus. The breakfast and lunch/dinner. I was hoping I could get some new entries for dinner but the answer was negative. Nothing I ate here made me go mmmmm. Naturally, there was a bias towards Mexican type foods.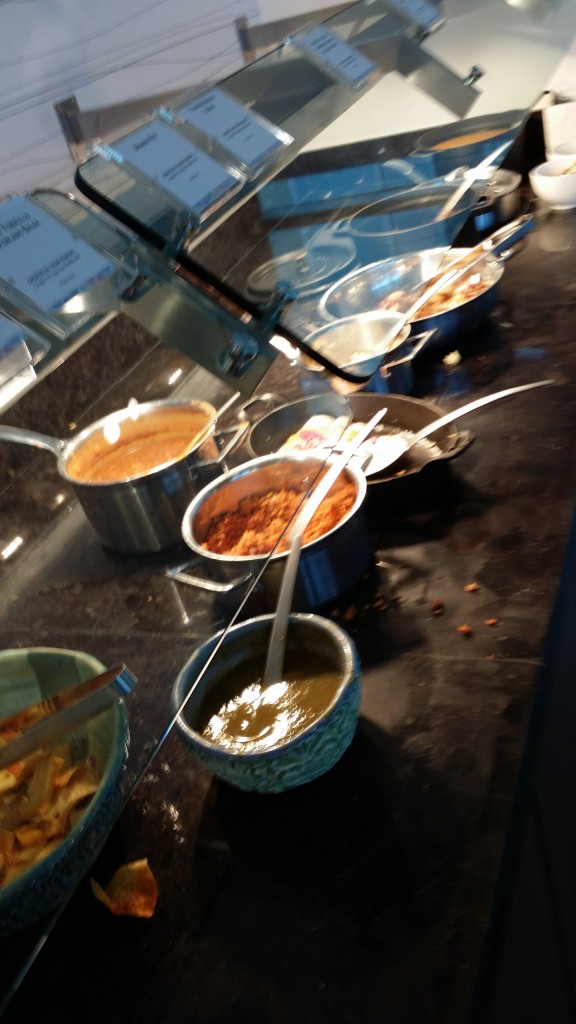 I ended up eating lots of salad. At least the olives were good. Add some more salad dressings please!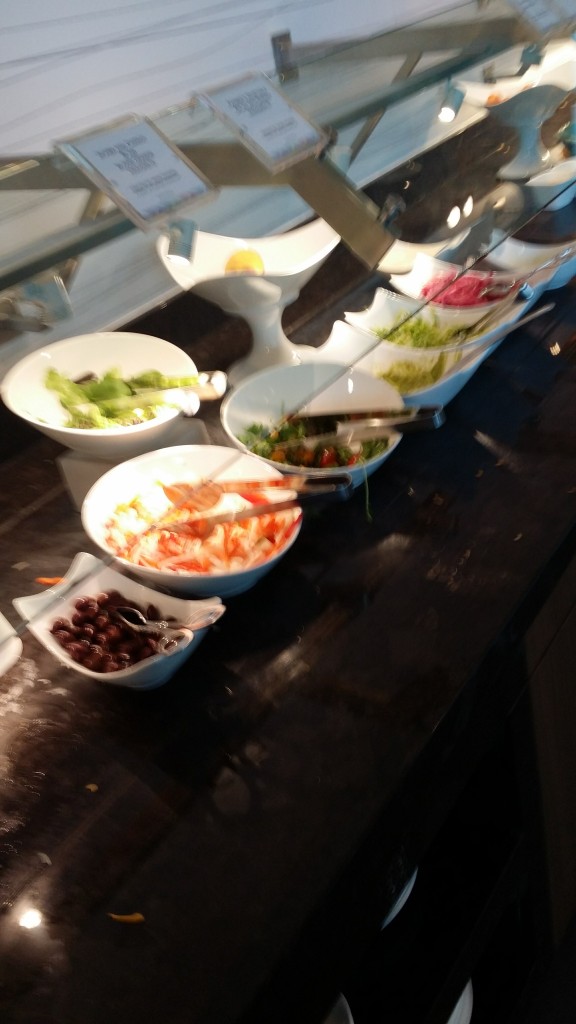 Yes, the bar area is nice and there is a staff bartender who can make you what you want. They have lots of mixed drinks. I tried more than a few and they were fine. The service of the food/bar area was very good but still a bit rough around the edges as it is obvious staff are new and may be trying too hard.
This is the first lounge I visited that there is a huge painting of…Meat Loaf! Thank God there was no meat loaf served, I hate meat loaf.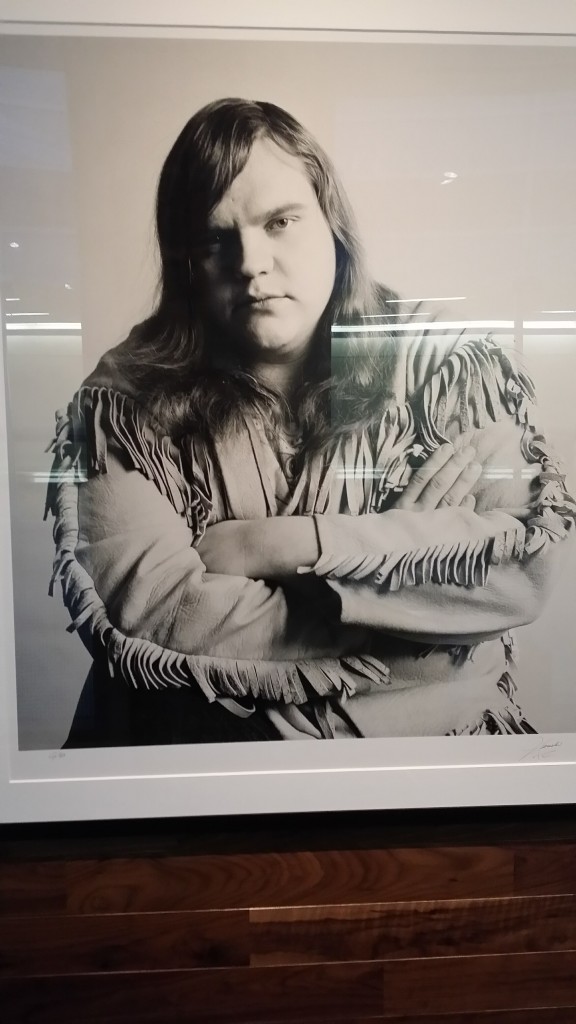 The lounge has only two stalls and one urinal. It was not crowded so I never had to wait. But what if this place gets crowded? You may be better off going outside in the terminal!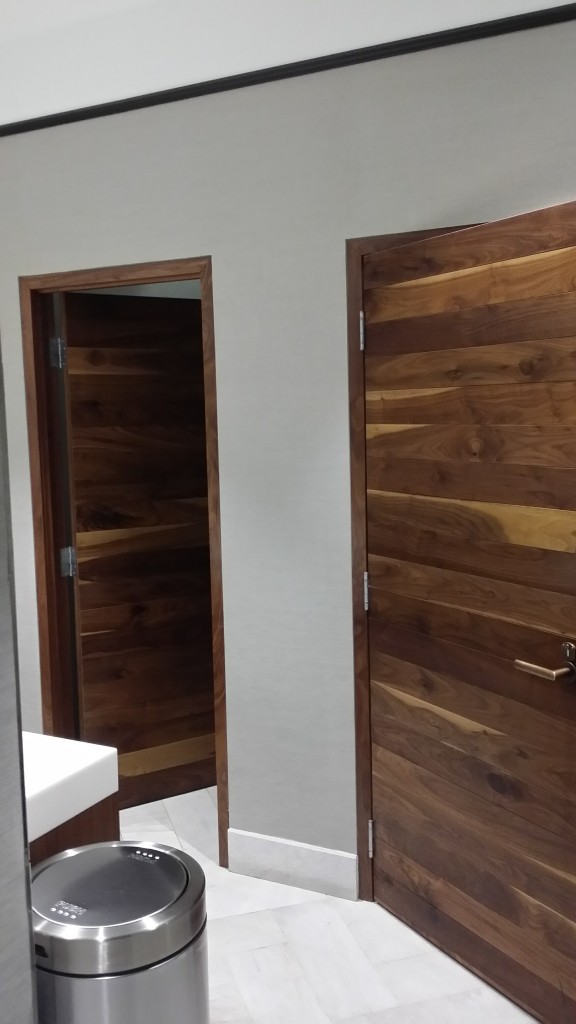 There is a spa. It is actually one room where you can have a 15 minute chair massage and another table to have your hands/nails worked on. I must admit I liked my massage by this big guy. I did not catch his name, maybe it was Sven. He made me feel it and I like that as I am no fun of softy massages. As he was going at it I noticed the cute Thai lady working on another male's hands. By this time I have had several mixed drinks and it all looked so heavenly watching her play with his hands. So, after my massage, I went back to the reception and booked me a treatment with her, no waiting! I really enjoyed her playing with my hands and she was very professional. I tipped her the same as Sven. I did not have the manicure. Actually this was my first time anyone in a spa situation played with my hands so I have no idea what I actually had; all I remember it was a very good buzz and her hands were very soft to go along with a beautiful smile 🙂
Finding the lounge is not so intuitive. Follow the signs, look around and you will eventually find it. It is upstairs and you have to take the moving walkways:
There was a big positive not being able to use my laptop!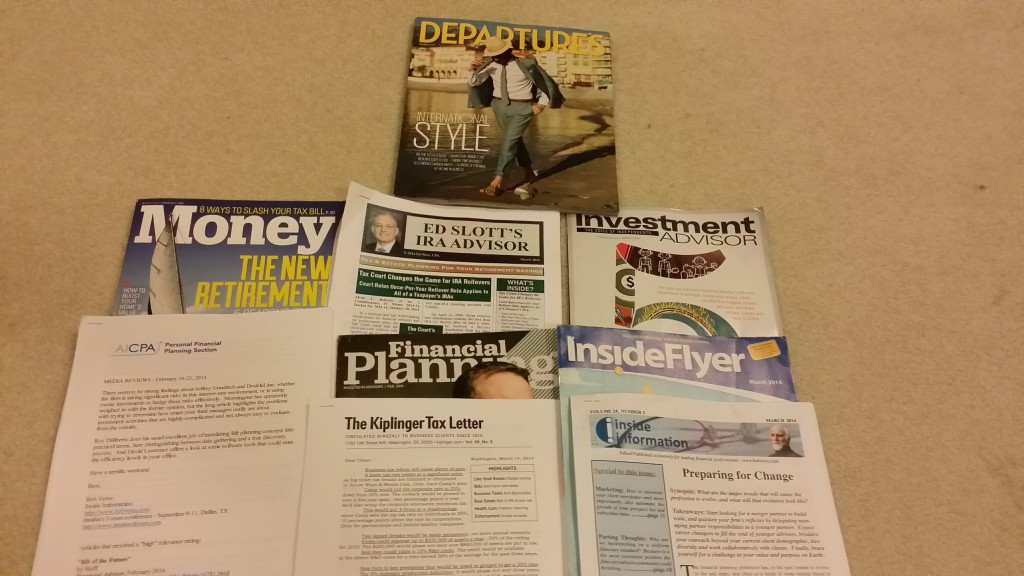 I am NOT done yet if you are still with me!  Here is the review of the same lounge by One Mile at a Time. Let me point out some differences:
"I finally had the chance to check out the Amex Centurion Lounge this past week, and all I can say is WOW!"
WTF, really?
"This is hands down one of the top lounges in the US, and in my opinion is in the same league as the Virgin Atlantic Clubhouse New York JFK…"
I call BS on that one! Get me to the Virgin Atlantic Clubhouse at JFK anytime, every time! But I guess if I was selling the Platinum Amex…
"While the chicken was extremely dry… the rest of the food was extremely tasty."
This is getting kind of ridiculous now…"extremely tasty", seriously?
"it's totally worth going out of your way to route through Dallas or planning a longer layover in order to visit this lounge."
No, it is NOT! I did and it was not one of the brightest things I have done in my life! I almost felt like a tool of my own making lol.
Now if I had at least three affiliate links for the Amex Platinum card to slip into my post, maybe I would be as excited about it too!
Bottom line, dear readers, after experiencing the lounge I am very disappointed and I would be canceling the Amex Platinum card. That reminds me I still have not used the airline credits! I think I have about $400 or $500 or so as I just don't like to spend money on airfare. And that's what we do in this hobby while others SELL cards!
THE END.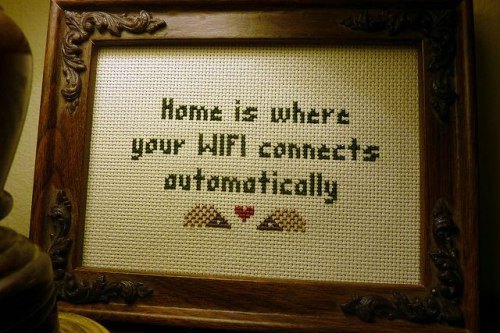 Check out my updated blog lists: Blogs I Love, Blogs I Like, Blogs I Ignore
Thank you for reading and supporting my blog!
Please pass my blog link to your friends and family if you think they will enjoy it too.
George
travelbloggerbuzz@gmail.com
Join over 2,532 TBB followers on Twitter @ FlyerTalkerinA2 and add TBB on Google+