We have too many experts, a guide on multiple hotel rooms points, we get updated with Merrill Lynch card Issues, an amazing story how someone got out of prison after 50 years, even sex workers need education, a warning on buying whole life insurance, we go on another little rant against pumping bloggers because we are on that bend right now (won't last) and of course we promote the TBB xexy links because they are so sexy without any integrity at all, wooohoo!
TBB Blog Mission: To Entertain. Educate. Inspire. In That Order!
The worthy content has really slowed down finally…This is going to be short…If I had a $ click for every time I said that and then it did not come true…Lets do this!
I had not seen a post about this yet, so here it is: Earning Points and Elite Night Credit for Multiple Hotel Rooms.
What is the best hotel loyalty scheme. This is pretty good analysis of each major program.
So many experts out there, it's time to stop letting them comment on subjects they know nothing about. Can't wait for next Friday's interview at the Million Mile Secrets blog starting with "I discovered miles and points last month and decided to start this blog to tell my friends and family how to travel for free".
Wow, what a story.  A 17 year old goes to prison and comes out 50 years later. Talk about an emotional maze.
Personal finance fix of the day: Whole Life Insurance: The Pay Day Loan of the Middle Class. Have seen this shit sold to so many people…Sad!
Education is important. How important is it? Well, even sex workers earn more if they get a college degree. So many young people in this hobby blogging/writing away when they could be learning/adding really marketable skills…
Don't get Queen's guardsmen angry, wtf!
St. Stephen's Green in Dublin, from above:
BLOG BUZZ
This section is for advanced level hobbyists and veteran blog readers & personal rants & stuff
If I knew material to blog about would be so low…I would have posted my once a month Support post. To coincide with the end of the Amex SPG 35k offers. But since I do have integrity, I did not. Or maybe I am a moron. Don't say a word, thanks.
I just can not believe my links don't get used much. I mean, do other links do what my links can do? Didn't think so!
I hinted about the recent problems with Bank of America credit card applications. And now the popular Merrill Lynch has big issues…Good luck! Can you imagine how faster this baby would be dead if there was an affiliate commission with it?
The unofficial record with a post containing the most affiliate links has been 44. By Million Mile Secrets Links. I thought another post titled "top 7 Credit Cards To Get Big Travel With Small Money" will top it.  Sadly, the record was tied again! No worries, pretty soon we'll have a new record. And remember, TBB has no integrity lol.
There are a LOT of websites out there that are under the radar of travel hackers. You know, they were developed with the only purpose, you know, to tell clueless newbies how to travel for free and then get them to click on credit cards. I do NOT mention them because, like the bow tie guy said in a panel last year, "all publicity is good publicity". And I am afraid if I mention them…you will check it out and some newish readers will, for God's sake, stick around. So I just keep my mouth shut. Besides, who wants to entertain more lawsuit threats. But it still amazes me…there is so MUCH bad crap out there it makes The Ignored Blogs actually look, gulp, good! I can't believe I just typed that…Be careful out there!
Amazing…The Points Guy finally updated the miles/points valuation and, get this, amazingly every single one stayed the same or went up! In the last year. None went down. When will its readers realize the awful conflict of interest in the site's DNA? Breathe, breathe. Serenity now.
You must be pretty desperate when sites like The Frugal Travel Guy blog stuff like this to sell more plastic, wow! "The Burlseque Circus Is Coming to L.A. (With An Amex Discount)" smh.
The ridiculousness of it all…"Last Chance" – Never fails to amaze me! (HT: Trent S.)
Just a select sample of blog posts from yesterday that primarily were posted to convert readers to click on credit cards…and you can take that to the bank…oh crap, they sure do pumping every day while I search for my integrity lol.
And I leave you with this…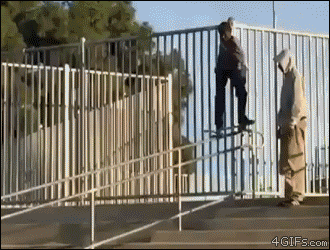 Check out my updated blog lists: Blogs I Love, Blogs I Like, Blogs To Ignore
TBB
travelbloggerbuzz@gmail.com
Follow TBB on Twitter @FlyerTalkerinA2
You can subscribe to TBB below, winners only!
Opinions expressed here are author's alone, not those of any bank, credit card issuer, hotel, airline, or other entity. This content has not been reviewed, approved or otherwise endorsed by any of the entities included within the post.