Another TBB post featuring the most eclectic links around the web such as the Best Fall Hikes, Gambling Traders, Bird Migration Maps, the new Hyatt Business Card, a list of all active volcanoes right now, city nicknames, we go deep into glacier caves, market charlatans the media loves, the Pandora Papers, a horrific slide of the Covid-19 waves, Ed Yong interviewing Dr. Fauci, amazing urban photography, important figures playing sports, five animals that will shock you and we catch up with all the miles and points important developments you should know leaving out the numerous clickbait sales pieces infesting this space. You all enjoy the weekend and thanks for the patience waiting for a new post, life got a little too busy in the past week…
TBB Blog Mission: To Educate. Entertain. Inspire. In That Order!
Support TBB by applying for CREDIT CARDS or visiting our

LINKS

or Donate

You like my blog? Send a link to someone please!
Some of the links are behind a paywall. You can try to read them using Archive.is.
TRAVEL
Are you one of those people who likes to travel dangerously? And you like visiting active volcanoes? I have the link for you: Smithsonian / USGS Weekly Volcanic Activity Report. Please don't get too close for your own sake!
Yeah, I am still savoring all the hiking memories last month at Arches and Canyonlands national parks near Moab, Utah. So, you get more hiking related content here: Best Fall 2021 Hikes. Lame blogger question: Which one is your favorite?
This was interesting, look up your own city: List of city nicknames in the United States.  Ann Arbor is listed as "Tree Town" but it is better known as the Republic of Ann Arbor lol.
This was so cool and the photography is unreal, enjoy! A Stunning Look at the Hidden Mysteries of Glacier Caves. A group of scientists and adventure athletes are venturing into icy labyrinths to study their relationships with glacial melting and climate change.
PERSONAL FINANCE
It is October, have you filed your tax return yet? Really good tax tips here, I am not looking forward to prepare tax returns next year with all the madness with the advance payments of the child tax credit: When to look for next child tax credit payment and other October tax tips.
This is becoming a major problem, we are raising a bunch of addicts speculating thinking they are investing…and then you add all the gambling crap on top of it and it is just beyond awful. I hope your loved ones are not doing this and I sure hope you don't! Traders phone up gambling helplines as game-like broker apps spread. I think a huge part of still blogging is to do my part to warn readers about shit like this! I hope the regulators wake up soon and put some brakes into these horrific practices.
"The user experience is converging and the line between gambling and investing, which was already pretty fluid, has almost been completely erased," said Keith Whyte, executive director of the National Council on Problem Gambling, among the groups reporting more calls from stock traders to their help lines.
I also like to warn about charlatans who end up doing great harm. One of them is this Robert Kiyosaki dude. You know, the Rich Dad, Keep me Rich suckers author. Who has been pretty much predicting a stock market crash ever since the last one. And when he finally gets it right the media will idolize him again, it is just absurd! Please do not listen to these people folks, come on! The Broken Clock.
This game has been around a long time because it works. It works for funds, it works for animals being promoted as oracles, and it will work for Robert Kiyosaki. There's always a market for broken clocks. Just make sure you don't get sold one.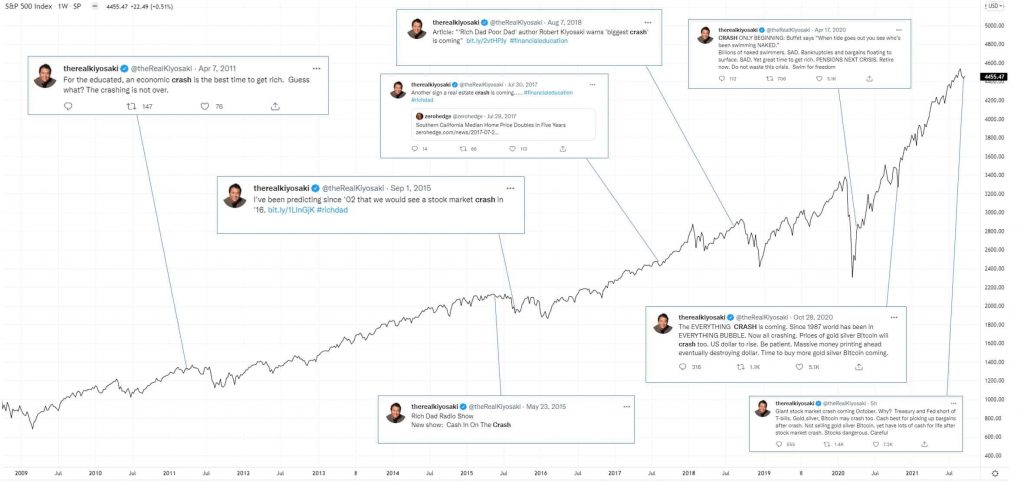 Another huge hacking scandal that makes the Panama Papers (remember those?) look like child's play. Pandora papers: biggest ever leak of offshore data exposes financial secrets of rich and powerful. We bitch about dirty money everywhere and do our best to lift the secrecy of the banking laws and go after corrupt dictators, drug dealers, etc.  And then we allow the state of South Dakota to do it better smh…Yeah, expect to read a lot about South Dakota and other tax havens in the next months….Actually, I think it is great for Pandora the streaming company, free advertising!
Very cool find: Live bird migration maps.
What a great Twitter thread: Politicians, monarchs and dictators playing sports. *(Warning: some sensitive content).
You know what kind of shocking clickbait content I like to pump? How about stuff like this: 5 Animals You Didn't Know Existed. I mean, seriously, if you don't get blown away by this I am speechless!
Amazing photography, you are used to this by now in my blog hey? The Finalists For The Urban Photo Awards 2021.
MILES & POINTS
HOT CREDIT CARD OFFERS:  75k CHASE Ink Cash, 75k CHASE Ink Unlimited, 100k CHASE Ink Business Preferred, 50k CHASE Sapphire Reserve, 80k CITI Premier, 20k CHASE Freedom Flex & CHASE Freedom Unlimited, 60k BANK OF AMERICA Alaska Business, 150K CHASE IHG Rewards Club Premier (look Under "Mastercard" for this one and not Chase, weird!) and many more, including many American Express cards, including Delta, Marriott and Hilton cards! Please check out my Affiliate links. Terms apply to American Express benefits and offers. Visit americanexpress.com to learn more.

If you do not see a credit card with my affiliate links, perhaps I could refer you? Contact me!
This section is about my hobby addiction of collecting frequent flyer miles and hotel points since the early 1990's! Feel free to skip this section and parts of the next one if this is not for you.
Newbies: The biggest blogs have become so big because they SELL a shitload of travel rewards credit cards. Sales come FIRST, not you! So please keep that in mind ALWAYS. Maybe it is better to support small independent blogs without any staff or marketing budget but know their craft with decades of experience and knowing all the "successful" bloggers who have sold their souls to the banks and have become mega greedy plastic pumping MACHINES! Anyway, if you have any questions about anything regarding this addictive hobby ask in the comments or email me, I will always put YOU first. And this is why I sell such a few cards here, mostly to me and my own family. Please don't laugh, thanks.
Anyway, the amazing 100k Chase Sapphire Preferred card offer is dead and this is why after seeing an orgy of pumping it everyone got silent. BUT, as of publishing date, the referral link is still ALIVE, so if you missed it, hurry and get it with my son's REFERRAL link!
Ignore all the blogger "rumor" posts! They were talking about a premium Hyatt card but all we got is a very boring Hyatt Business card instead: Chase Launches New World Of Hyatt Business Card: 75,000 Signup Bonus, $100 Hyatt Credits, $199 Annual Fee. To say this was a huge letdown is an understatement. Anyway, the only good thing about it is that 75,000 World of Hyatt points is, well, 75,000 World of Hyatt points! The convenient Hyatt Place in Moab, UT next to Arches National Park we stayed in was only 8,000 points per night, so do the math. After the minimum spend you can have well over 80,000 points and you can spend at least TEN NIGHTS for free at that hotel. Only extremely few should keep this card past a second year okay? I am on tapering mode with travel rewards credit cards until I return from Greece in mid December and then I am going to see if I should go for it or maybe by that time the new Aeroplan card will be out #developing. But if you can not wait and want to help the blog you can use my REFERRAL link to get this card, thank you!
Got really busy over the past week so I need to catch up with some older important developments…
The changes in the Chase "Pay Yourself Back" feature were covered in the last Buzz post. And we cried together over the killing of dining and groceries and home improvement stores reimbursements, so sad. The new categories are crap but one of them could be good for you if you use Airbnb regularly: Chase Introduces New "Pay Yourself Back" Categories, Including with Airbnb.
Big news from Capital One bank: Capital One Improves Transfer Rate To 1:1 For Most Transfer Partners. The only US airline on the list was JetBlue but they lost this partner. So it is a bunch of foreign airlines here…Rest assured that the bloggers selling Capital One credit cards will do their best to SELL them to you, don't buy…and sure don't do anything until they get back on offering 100k signing bonuses…if ever. It is a weird bank that may just shut you down because you did something only that lone dude in its Fraud department thought was shady somehow…
At this point you should be an elite when you rent a car okay? How To Get Rental Car Elite Status With Multiple Programs…For Free!
If you are into Marriott Bonvoy you may be interested in this: Marriott Week Of Wonders Returns For 2021.
If you are swimming in World of Hyatt points and you wanted to check out its Miraval properties, this is a good free night sale!
BLOG BUZZ
We are now entering BLOG BUZZ, a section for advanced hobbyists and veterans of this fast imploding hobby and also a section where I go on and on about some stuff that happens in my life because it helps me feel better about myself.
Another one in the series: Best Hyatt Points Values for Cat. 1-4 International Hotels Including Suites: Part 4 — Category 4. And  Andy does good roundups too: Best in Miles, Points, Credit Cards, Travel and More: Around the Web Sep 26 — Oct 2 2021.
I am down to less than 100k IHG Rewards points and no free night certs so I am not going for this but you may find it interesting: How to Book Holiday Inn Club Vacations Properties with IHG Points & Free Night Certificates.
Bad news for many AmericanExpress cardholders that an eager incentivized employee went all out giving away cards and racking up the commissions. For the gory details and I am sorry if you were caught up in this: AmericanExpress Scramble. You last longer in this hobby if you avoid to get shut down by the banks. So, don't be so greedy, have some fun along the way, ignore others who keep bragging about what they scored and focus on your own goals.
As I said, I am in tapering mode when it comes to my own credit card churning activities. I expect another 95k Chase Ultimate Rewards points from the sign up bonuses for a Chase Business Ink Unlimited and a Chase Freedom Flex later this month and I am slowly working on the spend for another free Hyatt night in my World of Hyatt Visa card. Other than that, I am not doing anything until I get back and survey the card world at that time.
They call it CardCon. It is a conference where big time sellers and people in the industry selling credit cards gather and learn more about how to sell more plastic for the banks and earn more. And of course in order to be in the big leagues you need to hit your numbers conversions. And toe the line of course to be kept inside the circle. And you bet I was not invited because I hardly make any sales in my blog. Sad but also proud in a way that I have not sold out. Whatever, be careful who you trust out there!
Thanks to the reader who got the 100k Chase Sapphire Preferred card with my links. You are first and the only one this month, thanks for the support! No wonder I don't get invited to these conferences lol.
TBB
travelbloggerbuzz@gmail.com
Follow TBB on Twitter @FlyerTalkerinA2.
You can subscribe to TBB below, winners only!
Opinions expressed here are author's alone, not those of any bank, credit card issuer, hotel, airline, or other entity. This content has not been reviewed, approved or otherwise endorsed by any of the entities included within the post.