We have fun with more on Chase Sapphire Preferred Week by Personal Finance Digest, get more information on why Credit Karma dropped its Affiliate Network, learn about Travel Masters, Award Wallet Hacks, IHG Rewards 80k Offer, and how to pay for college with miles if you are in Canada that is and more!
TBB Blog Mission: To Entertain. Educate. Inspire. In That Order!
You can support TBB by shopping with our AMAZON AFFILIATE LINK or click on the Amazon Banner on the right side, thank YOU!
Personal Finance Digest continued Chase Sapphire Preferred Week and the funniest post yet. A video of a cat with the card. Have not laughed as hard since The Bustle! And the CSP show goes on with a hilarious exclusive interview with D. Barrett. You know him right? That's the guy on the Chase Sapphire Preferred card! Wow!
Credit Karma Affiliate Network folded as reported yesterday. Here is the thread in Flyertalk. Hey, we are all about education too, not only entertainment! Read post #25 if you visit it.
Reader on Twitter let me know of yet another outfit wanting to teach you to fly for free after you pay them to learn how to do it. Travel Masters Academy. I never heard of them before, they are just popping out everywhere! You can get a $100 value for only $29.99 with this Living Social deal. I am NOT recommending it, I just think it's a riot!
The Free-quent Flyer wrote about the One Mile at a Time blogger, you know, the Rolling Stone rockstar. Interesting post and interesting comments as well. Hey, we are all different. I just want to fly for FREE lol. Hey, some German media picked up the sexy story too!
Loyalty Lobby reports a limited hacking job on Award Wallet. So watch out I guess. I am very afraid of these guys now that they are going to put so much energy to pumping credit cards instead of improving their software.
Travel With Grant reports on his unsuccessful Chase Sapphire Preferred application and reconsideration. Dang you Chase why be so hard about this? No goofing around it appears with the new 5 apps in 2 prior years limitation #socruel.
Matt at Saverocity Travel has some thoughts on taking a $10 gig and making it a $1,000 gig. I like how personal finance mindset is injected into it. And I agree with most of it.
Looks like the IHG Rewards 80k Visa offer is still out there but you must check your email! By Running with Miles.
Found this news article: In Canada, You Can Pay for College With Frequent Flyer Miles.
Holy macaroni, there is a LOT of miles/points stuff today. And I need to get ready to go see Mission Impossible so I will cut it off right here and leave the rest of the usual content (travel, personal finance, weird, etc) links for another day!
I just want to leave you with this, you know, for laughs. Hey all, don't be so serious! Found HERE. Hey, congrats for your engagement you guys lol!
Blogging is lonely & insanely time consuming. Help bloggers you appreciate & make a positive difference in your life by spreading the word about their blogs, emailing and commenting and using their few $$ links. If not, the Titans win. Fight back! You can get the Prestige card here and be FIRST lol!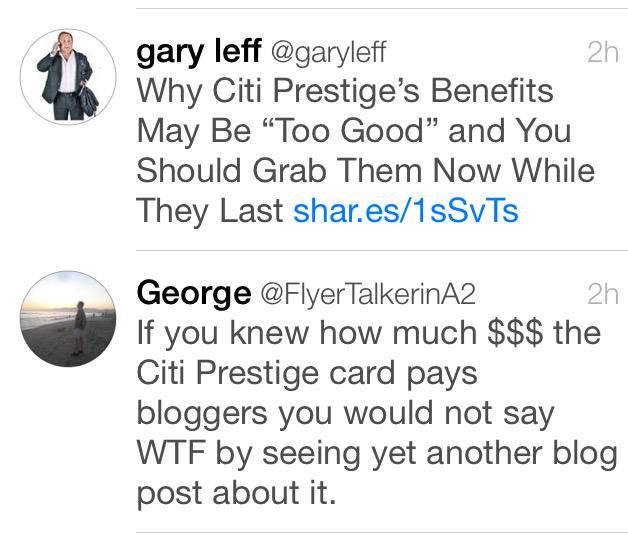 Check out my updated blog lists: Blogs I Love, Blogs I Like, Blogs To Ignore
TBB
travelbloggerbuzz@gmail.com
Join over 3,737 TBB followers on Twitter @ FlyerTalkerinA2 and add TBB on Google+
As I was signing off the media barrage goes on…Wow!