I am attending a conference in San Diego this week and I am finding it very hard to keep up with my blog. This is why I am posting a Support TBB blog post which is mostly a cut and paste job. I used to do this once a month and I had to reach way back to December 2018 to find the previous Support TBB post wow! So much for pumping my readers hey? I am not sure about Friday, I may do another repeat of another post, we shall see. San Diego weather is great!
TBB Blog Mission: To Educate. Entertain. Inspire. In That Order!
Support TBB by applying for CREDIT CARDS and visiting our

LINKS

!
You like my blog? Send a link to someone please!
The obligatory TBB pic/gif of course: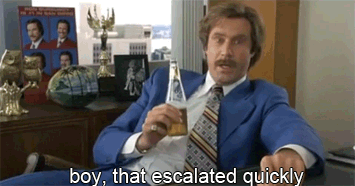 This blog makes no money from ads, NONE! Meaning, I don't do hideous clickbait crap with "shocking" videos. I am contacted constantly by outfits wishing to do guest blog posts, insert affiliate links, do sponsored posts or hawk crap I would never in a million years use myself…I delete them all!
This blog makes some money from my Amazon affiliate link you guys use. It is almost always in double digits for the month.
This blog makes more money from you guys applying and getting approved for credit cards with my links. It is substantially more than the Amazon link revenue but, at the end of the day, it is pocket money for me and I would make a hell of a lot more money if I focused my time in my own job. Translating my time spent here TBBing does not correspond to even minimum wage per hour! It is sad so I would rather not think about it so please don't remind me okay? I am also on a quota of doing ten credit card conversions per month to keep these plastic links. As long as that happens, I can keep this baby going as it has now become of who I am. But when these links go the way of Dodo (who is he?) this blog gets evolved to something you probably will not like, maybe once a week rant on Sundays and then I find something else to do with my time.
Some of you have donated via Paypal. Less than ten of you, thank you!
The other support links below get clicked maybe five times a year TOPS. Trump will call me a loser for sure lol.
Thanks for the support! Please support bloggers who add value to your life and treat you with respect and you want them to keep blogging. In other words, support good blogging practices and NOT constant salesmanship and moronic clickbait crap!
The stuff below is TBB approved!
CREDIT CARDS
You can learn more in TBB's credit card page.
DONATE
You can donate whatever you want, thank you in advance!
Please start your shopping HERE.
$20 off unlimited global wifi with this device, it works!
Best VPN! Worked flawlessly in Iran. Based on reader feedback and discussions with mega travelers, this baby just works everywhere, including China. And it is easy to use too, if I can do it you sure can too. Check it out!
The most reliable online shopping portal imho! Not the highest rates but I NEVER had an issue with them and they pay fast!
We each get $10 when you sign up with my link above after you make a $25 purchase (or higher), get it HERE.
You sign up and you get $10 credit off your first ride. Credit amount can vary! Start HERE.
When you download the app please sign up with my referral code: GEORGE705317
You get $10 off in each of your first five rides I believe for now, subject to change.
Please email me for a referral. Standard offer is now $40 off your first Airbnb booking.
We both earn $10 I think. TopCashBack has the highest cash back rates consistently. Start HERE.
Please email me for a referral. Limited US cities. Rents only Audis! In general, very good experiences. Credit off your first ride varies, usually $25.
I appreciate the support, thank you!
TBB
travelbloggerbuzz@gmail.com
Follow TBB on Twitter @FlyerTalkerinA2
You can subscribe to TBB below, winners only!