We bring you all the Hyatt big changes, AA gets back with Alaska Airlines, all the new Google Maps features, the secrets of Chick-fil-A franchises, analyze the horrendous Marriott Bonvoy changes, more hotel promos, a new airline Breeze, get you to have Mobile Passport, we travel through the deserted streets of Shanghai, new awful econ stats about credit card debt, a young person's guide to investing, we talk about white collar crime, bats and viruses, the Oscars, the online campaign to reelect Donald Trump, more info on Virgin Atlantic miles and how to use them to fly Air France and KLM and even more stuff. Hardest working blogger, who needs 100+ staff hey? Enjoy the weekend!
TBB Blog Mission: To Educate. Entertain. Inspire. In That Order!
Support TBB by applying for CREDIT CARDS and visiting our

LINKS

!
You like my blog? Send a link to someone please!
We have lots to cover today, buckle up! This blog is still a product of just one person, moi! No 100+ staff person to be pumping you non stop every day like they do at The Points Guy. I just wanted you to know that because it does make me feel better. I think…
MILES & POINTS
In a totally surprising move, Alaska Airlines goes back in bed with American Airlines to fight bully Delta Airlines. You will read many posts by "expert" bloggers pumping Citi AA credit cards. The best analysis I read was this one by Cranky Flier: The Force Awakens: American Renews Ties with Alaska As They Make a Joint Move on Seattle. Seriously, don't read any other blogger if you wanted to learn more about this. From a purely flying consumer perspective, alliances make sense as it makes things more convenient and comfortable in general. From a purely miles hobby perspective, I guess at the onset of this announcement it looks good but I am very afraid we will experience mild to severe hits (translation:devaluations) in the next several months as AA ball busters proceed to surgically "cure" some of the sweet spots afforded to us in the Alaska Airlines frequent flyer program. You have been warned. In a nutshell:
American and Alaska will renew the codeshare that they announced last October would be cut dramatically starting in March. This will eventually grow to be much more important and include codesharing on international flying in both LA and Seattle.
Alaska will join oneworld as a full member by 2021. That means the airline will now have standard shared elite benefits with all members but most importantly with American. It sounds like there's an interest in having greater benefits for American and Alaska travelers, but there's nothing to announce on that yet.
American will launch nonstop 787-9 service to Bangalore in October and 777-200 service to London in March of next year.
The other big news came from Hyatt. Hey, is it any coincidence that AA and Hyatt are close these days? Rhetorical question. Running With Miles is doing an excellent job providing coverage with detailed posts about all the changes Hyatt announced:
Major World of Hyatt Updates Are Here – Peak Info, New Properties, Award Changes, and More!
New! 48 New Luxury Hotels Now Bookable with Hyatt!
The Complete List of Hyatt Properties Changing Award Categories in 2020 (217 Hotels)
Not much to add on the Hyatt changes. I do not like the addition of peak and off peak rates but at least we still have some targets to shoot for. And we still have award charts lol. So much better than Marriott that is not even close! Even more SLH hotels are added which is welcome. Major improvement in the Points & Cash rates too now, yes!
Register for the latest Hyatt promotion: Bonus Journeys
All Members: Register to earn 2X points everywhere, starting with your second qualifying stay from February 15 to May 15.
Credit Cardmembers: World of Hyatt credit cardmembers can ALSO earn 1,500 Bonus Points with each qualifying stay, starting with the second, that includes a Friday, Saturday or Sunday night.
Hey, you can get a free night if you stay two nights at Best Western, register HERE.
Marriott Bonvoy continues to stick it to its members as warned here while other bloggers do not want to piss off a major advertiser and of course huge source of selling Amex credit cards (looking at you The Points Guy). Analysis of Marriott Bonvoy Hotel Category changes March 4, 2020.
It is amazing what conclusions you make when you have no conflicts of interest, thank you Loyalty Traveler!
Eight years of a steady creep upwards in the distribution of Marriott and Starwood hotels across reward categories has far exceeded the room rate increases for most hotels.
For Michigan residents or anyone traveling to the Detroit metro area. Marriott will have a new hotel next year. New $46M AC hotel in Midtown Detroit will include Bonstelle Theatre restoration. I did not know that there is another AC hotel in the West part of the state in Grand Rapids. I have never stayed in an AC hotel. Whenever I see AC I think of air-conditioner and wonder how many years my 20 year old AC will last me lol.
TRAVEL
Get ready to welcome new airline Breeze Airways : America's Newest Budget Airline, Promises to Make Flying to Underserved Airports Easier. Its founder David Neeleman is one of those entrepreneurs whose whole life is all about airplanes! This will be airline number 5 he starts, wow!
If you are not going to use Global Entry, do the next best thing when you enter the US: Why Mobile Passport Is the Best-Kept Secret Among International Travelers.
Google Maps is just getting better and better! Google Maps Just Released a Bunch of New Features to Celebrate Its 15th Birthday.
Nice job United! Travel Campaign Uses Inception-Like Landscapes to Conjure Wanderlust.
I hope the corona virus outbreak gets under control soon! Photographer Captures Shanghai During Coronavirus Outbreak, And The City Of 24M People Looks Haunting.
PERSONAL FINANCE
Lots of debt related stats came out recently. Here are some that stood out imho with my vitriolic commentary in brackets 🙂
Credit card debt is now at a record $930 billion [TBB and readers contribute a big fat zero towards that!]
The most delinquent group are 18 to 29 years old [The Points Guy targets this group viciously, coincidence?]
Total household debt also stands at a record $14.15 trillion [with an economy still expanding and lowest unemployment, WTF!]
More than $100 billion in student debt is held by those age 60 and over  [This just blows my mind, wow!]
This is excellent: The Young Person's Guide to Investing.
If you are interested in buying into a franchise or just curious to learn what fees are involved, I have the article just for you: Why it only costs $10k to 'own' a Chick-fil-A franchise. And you probably should not have any dreams of having your own Chick-fil-A store anytime soon as the acceptance rate is even lower than Stanford's! For full disclosure, I have not been to a Chick-fil-A yet!
ODDZ & ENDZ
This is a deep dig of what is going on in politics these days: The Billion-Dollar Disinformation Campaign to Reelect the President.
I have never watched the Oscars live. And I intend to continue lol. But here are the 2020 Oscars Winners.
I always wondered about that. But I read TBB and I get educated about stuff like that. Bats Carry Many Viruses. So Why Don't They Get Sick? Thanks TBB 🙂 Oh wait, I forgot. The answer to this question will shock you lol.
This is kind of depressing. Reader John will love it though. The Golden Age of White Collar Crime. And this is just getting worse under Trump! Not that Obama did much to punish them phuckers either, lets call it as it is/was.
Please stop bitching! (Found here)
BLOG BUZZ
We are now entering BLOG BUZZ, a section for advanced hobbyists and veterans of this fast imploding hobby and also a section where I go on and on about some stuff that happens in my life because it helps me feel better about myself.
If you recently got the Southwest Performance Business card and did NOT get 100k Southwest points, contact Chase and ask to be matched!
After the Rakuten Visa was featured so prominently in so many blogs, the expected kill of course happened. That 3x spend will now be just 1% effective February 15. Bloggers are so mad again for…killing it, SAD! Yeah….right! #sameoldstory
I am in a private group and someone prayed that Alaska Airlines does not mess with the generous stopovers. I think it is wishful thinking, it will be toast. The question is when, not if. Also kiss all your several award charts with the numerous partners this odd duckling of airlines has had. Maybe we a merger with AA by…2025. After AA gets its crap together. It will be interesting what Delta does next. Go for Jet Blue? Hawaiian? I don't think consolidation is over…but we are sure getting close!
This affects Michigan residents or whoever travels here. You can now buy $1k Simon Visa gift cards in another two malls! Twelve Oaks, Great Lakes Crossing malls bought in $3.6B deal.
Big news if you have VirginAtlantic miles:
Your complete guide to redeeming Virgin Flying Club miles on Air France and KLM (Part 1)
Your complete guide to redeeming Virgin Flying Club miles on Air France and KLM (Part 2)
Some blogger named Dan also had a good post about this but unleashed three dozen affiliate credit card links in the body of the post. Well, that was two dozen more I could tolerate in comparison to the "meat" of the post so no link for him. Also, if you have a blog post that links to one of these blogs you will not be linked to here. If I mess up doing this, please let me know so I can correct this grave injustice!
Some thoughts on the corona virus. I remember reading some stuff about it in very late November and I thought this sounds somewhat different. And the fact that it appears it is being spread even by people who do not show any symptoms is extremely disturbing. And it may be spreading even if no direct connection to China is involved! I think we may be dealing with it for a while. I feel for the people in Wuhan, what a nightmare! How do you even prepare for something like that? It is unimaginable. And all the people in the cruise ships just floating to nowhere. And the count just keeps going up, so heartbreaking! Please allow me to pivot, if you excuse me, to our little hobby. Which has been pummeled to death after repeated devaluations for the several past years. Will this be the catalyst to get the airlines and the hotels (and of course the cruise companies) to finally relent this punishing beating they have been delivering to us and try to incentivize us to get back on planes/hotels/ships? I guess time will tell. We all hope the virus gets under control soon for the sake of humanity! Maybe we should not be messing with the eco systems as much as we have lately before the next virus gets out there and screw us all!
Wife's Chase Freedom Unlimited card finally arrived at home on February 13! Applied on January 21, approved on February 5. Wow…so slow!
Marriott Bonvoy shitshow continues. Son had a 5 night stay at an Autograph Collection property, checked out January 31. Still nothing. Finally called on February 9th to ask what the hell is going on. Blah blah, it can take ten business days, blah blah. They actually show the stay (but it is nowhere on line!) and rep was nice to "send an email" to the property for them to do something to get it to post. Four to five days later….still nothing. Son did not even like the hotel which was very expensive (employed paid) and he did not get any bennies.  said he'll try some other chain next to avoid all the hassles in getting the points credited. I am sure the CEO Sorensen dude will utter some words out of his mouth that are again completely meaningless how they are exceeding guests' expectations and other BS spin…yawn. Update: The stay finally posted early on February 14. A total of 30,813 points (24,250 base points + 6,063 Elite + 500 Extra?). I miss my old corporate travel warrior days you guys lol.
And I leave you with this…TBB approves this guac message.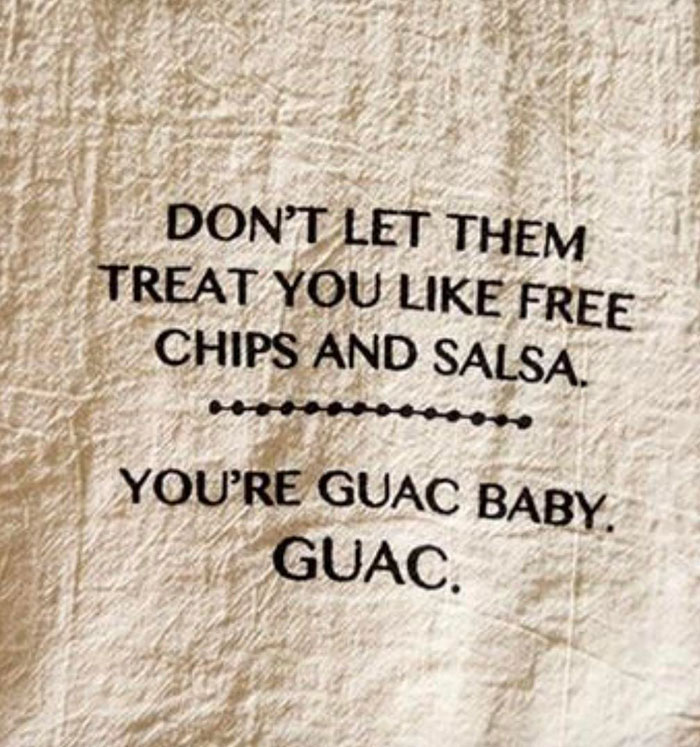 TBB
travelbloggerbuzz@gmail.com
Follow TBB on Twitter @FlyerTalkerinA2.
You can subscribe to TBB below, winners only!
Opinions expressed here are author's alone, not those of any bank, credit card issuer, hotel, airline, or other entity. This content has not been reviewed, approved or otherwise endorsed by any of the entities included within the post.