We bring you the changes of the Chase Sapphire cards, the 60k Southwest cards, dig Bitcoin mining, visit the Pon Sex festival, new Hyatt elite status challenge, airline route changes, visit Bali and India on a train, some life advice about…death, look at drone photos, most hated foods in each state, have some fun with blogs on Twitter and stuff like that.
TBB Blog Mission: To Entertain. Educate. Inspire. In That Order!
Well, the big news of the day was how Chase is going to limit the Sapphire credit cards: Chase Memo: Customers Can Only Get One Sapphire Card (e.g. CSP Cardholders Can't Get CSR) + 24 Month Wait for Bonus. Needless to say this is horrible news for our hobby. And I received an email today that my CSP (from the Fairmont card) just shipped…Most affected are the credit card salesmen at The Points Guy and Million Mile Secrets as they now can't sell as many of them, so sad #notreally. For the rest of us, just another nail in the coffin…
Hyatt announced a challenge to reach higher elite status that is doable. If your employer pays for it that is, no mattress runs for me. Anyways, my point is, I think these guys are looking a bit desperate. I still cringe when I hear the term Globalist!
The affiliate links for the 60k Southwest credit cards are back on. This is when your commercial blogs suddenly discover them 🙂
For the BEST OFFERS available in this site, please click on THIS LINK. No red arrows needed, thank you.
This is a nice summary of all the the airline route changes announced in August of 2017. I am guessing having two airlines serving Cleveland to Iceland will not last that long…
What a wonderful job by National Geographic: Life Aboard the Longest Train Ride Through India. Give this a click and thank me later!
Beautiful Bali. One day I'll get there. With my imaginary entourage…
I had no idea there is a world championship for Excel spreadsheets!
This is really great life advice: Always Go To The Funeral.
On a cold April night three years ago, my father died a quiet death from cancer. His funeral was on a Wednesday, middle of the workweek. I had been numb for days when, for some reason, during the funeral, I turned and looked back at the folks in the church. The memory of it still takes my breath away. The most human, powerful and humbling thing I've ever seen was a church at 3:00 on a Wednesday full of inconvenienced people who believe in going to the funeral.
Just so we are clear this is who Joe Arpaio is, the dude Trump pardoned on a Friday night while Hurricane Harvey was about to start its destructive path!
I never understood this bitcoin crap, what a bubbly waste! Of course in the comments I will have some genius tell me I don't know what I am talking about, that this time is different 🙂 The lives of bitcoin miners digging for digital gold in Inner Mongolia.
I had no idea about this! You see, a reason I like blogging is that I learn about a lot of stuff I would not otherwise have the opportunity to learn! So, instead of finding ways to promote/pump/market/kissass I just search for cool shit. Okay, well, this one was a little too much you guys. A festival where you can have sex with strangers. But this one is in Indonesia, a muslim country! Watching the clip (NSFW) made me shake my head so much it almost flew over to the imaginary intern's desk! I believe many (if not most) things in life can be explained by simple economics. And this definitely fits! Funny how the Muslim dude in the end says this is so hypocritical, lol. Actually, this is kind of sad…
50 stunning drone photos. Some seen here before. But some are new!
Most hated food in each state. This is funny! Michigan hates cold pizza, doesn't everyone?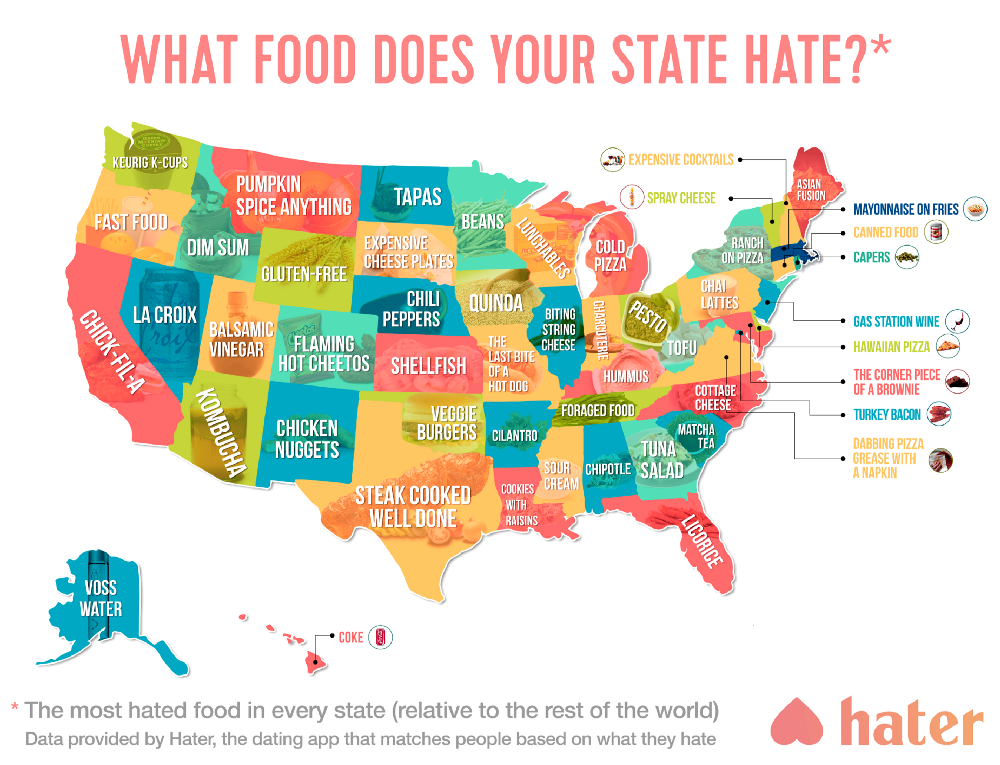 Wow...Little Jon's Cabin. In Sweden. Restored. You can visit now. And the music in the link is so smooth and wonderful.
In the early 1800s a man named Little Jon lived in this so called earth cabin (swe. 'backstuga') located in southern Småland, Sweden. An earthen cabin is built partially buried in the ground, in this case there's three walls of stone and one wall made of wood. In Sweden earthen cabins was common in the forests from the 1600s until the late 1800s and was inhabited by poor, old or sometimes criminal people. The cabins was built on the border between two landowners and stood on leasehold land where there was very little or no land to cultivate. People who lived in these cabins often worked for their landowners to make their living. Both Jon's mother and his brother had drowned themselves in the lake which shows how hard life may have been during that time.

BLOG BUZZ
This section is for advanced level hobbyists and veteran blog readers & personal rants & stuff
Unreal! The poster boys of Boarding Area in sync!
Direct link of a 60k AA Barclaycard AAdvantage Aviator Red World Elite Mastercard. Annual fee not waived.
Thanks for the chair recommendations. There is a retailer in Ann Arbor that is supposed to have the Aero chair, I will visit and take a sit…not spin, sit. This somehow just does not sound right…
Got a question. I got my 15 year old daughter an AU card with my Hilton Surpass. No birthdate or SSN was provided (optional). I have been using it with no issues. I recently got her brother to get her an AU card on his Starwood personal Amex card. We received it today. BUT we also received a letter asking for her birth date and SSN along with the caution that if it is not provided within 60 days it will be cancelled. I wonder if we do provide them…will they cancel the HH Surpass AU card since she is only 15…hmmmm.
When we have fun on Twitter 🙂
I think the biggest loser of the Chase one Sapphire card announcement must be The Points Guy. Actually, we have a shot from the fancy World HQ! #parody
And I leave you with this…
Ok, I have this funny feeling that the gif above is a repeat. Therefore, I am going to leave you with this. Really!
Check out my updated blog lists: Blogs I Love, Blogs I Like, Blogs To Ignore
TBB
travelbloggerbuzz@gmail.com
Follow TBB on Twitter @FlyerTalkerinA2
You can subscribe to TBB below, winners only!
Opinions expressed here are author's alone, not those of any bank, credit card issuer, hotel, airline, or other entity. This content has not been reviewed, approved or otherwise endorsed by any of the entities included within the post.