We bring you the expiring Hilton Honors Status match, which doomsday shelters to hide in, news about foreign transaction fees, changes in TBB comments, travel to Afghanistan and Costa Rica. learn about nukes, bike down from the Mountain of Hell, go for the gold in competitive grave kidding, get you a higher bonus with the Jet Blue card and much more. Whining too hehe.
TBB Blog Mission: To Entertain. Educate. Inspire. In That Order!
Did you miss yesterday's Sunday TBB eclectic reads post? Here it is again, enjoy: Smartphones Hijacking Us, Aziz Ansari Interview, Sex Robots Get Intimate, Trump Beating, Famous People Painting.
The Jet Blue Plus Mastercard sign up bonus has increased to 40,000 TrueBlue miles. This is a DIRECT offer.
For the best offers available with my links, please see THIS LINK, thank you.
The following two items are not new but it is good to be reminded of:
You can still do a Hilton Honors Status match. But read THIS first.
Now all three major hotel chains, IHG, Hilton and Marriott, have changed their cancellation rules.
I got 50 Marriott Rewards points by sending a tweet. You can too!
This will be good. Foreign-transaction fees on credit cards may soon be a thing of the past. But it may lead to one less excuse for credit card pumping bloggers to push more product, sad!
Holy cow, there are anti-tourism marches in Europe? First Venice and Barcelona, now more!
A look inside the world's largest doomsday shelters. Got to have one you guys, especially if you live in Guam 🙂
What to do in case of a tornado. Straight from the Storm Prediction Center. One day I am going to save a reader's life #thedream
The beginning of this video is unbelievable. Wait, it is shocking! <——Click baity, wait, I must work it into a headline somehow. The Mountain of Hell Bike Race Starts at the Top of a Glacier and All 700 Riders Go at Once.
You will not believe this new sport! Competitive Grave Digging. WTF! Check out the shocking video 😉
This is a good history lesson: This mortgage lender ignited the financial crisis 10 years ago today.
These are amazing, wow! Steve McCurry's beautiful, haunting portraits of Afghanistan.
Maybe we have the next TBB blog reader meetup here? This Abandoned CIA Aircraft Might Be The Most Unique Bar On Earth. It's in Costa Rica…
Since nukes are all over the news lately, lets learn how many are out there…
BLOG BUZZ
This section is for advanced level hobbyists and veteran blog readers & personal rants & stuff
I never got the 10k for one stay Wyndham Rewards promo, boo! So, I am in no mood to stay two nights in one of their hotels so I can have 15k points, good enough for a free night stay in a nicer property. Before they change the rules anyway lol.
I started knocking down some of the easy things in that easy Dash for Miles Alaska Airlines promotion. But I never saw any emails from that Opinion survey outfit, such a pain! I see a new restaurant participating in the Rewards Dining network in my local area, BBQ anyone?
The action in the blogs was dead over the weekend. There is more action in my blog's comments than in most places online.
So, Ben of One Credit Lobster Roll at a Time and Matthew of Live and Let's Fly with Ben are doing a trip together. And they both posted the same stuff riding a train and having an interaction with two local dudes in one of the Stan countries. The same picture too. And almost posted at the same time! Sometimes I wonder if these guys at Boarding Area all use the same ghost writers….
Any info you want to pass on to me about the blogs and what's going down? Off the record if you tell me, you have my word. I am not like that journalist who burned The Mooch lol.
I am going to take a more hands on approach in the TBB comments section. I think I let things go a little too much and I think a little intervention will go a long way to keep the overall quality that my blog strives to be known for. Moderating/censoring is not my cup of tea and I certainly don't do it proudly. But lately I cringe when people post stupid and vindictive stuff. When they cross MY line I will trash their comments. It is my blog and I can do what I want. This reminds me of a rock n roll song but I can't pinpoint it exactly. No one has to read my blog, you are responsible for your clicks 🙂
I apologize about the whining lately. Maybe it's time to get to Boarding Area and get some ad income for the blog then so I don't get that deflating feeling; I wonder if they will put me right next to Renes Points? 🙂
If you want the whining about support clicks to stop, it is EASY! Use some of my links, ok? And do that for EVERY blog you read regularly. If one day you go there and you see nothing, don't just say 'Oh, xyz stopped, so sad, I liked their blog, I wish they were still blogging, blah blah". Because, when that happens, barring some life event of course, it got to that point because not enough readers clicked on any of the blogger's links. There, I feel better, time for the funny pic you guys. Reader John is besides himself right now woohoo! And of course he will find THIS paragraph to single out to whine about lol.
I am jealous of bloggers who have family members helping out with their blogs…I asked daughter to help out and she responded with "I am a responsible student". No sushi for her next time we go out, she gets the fried rice lol.
And I leave you with this…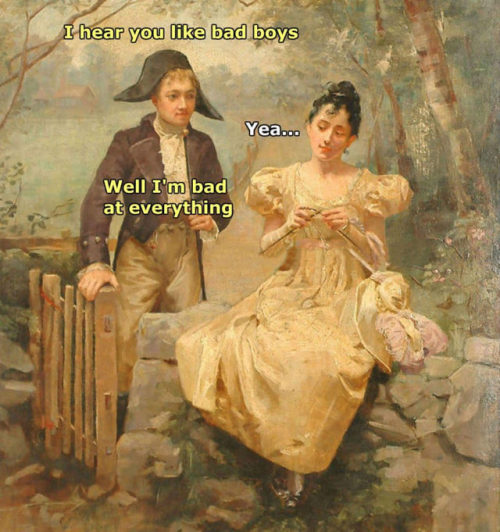 Check out my updated blog lists: Blogs I Love, Blogs I Like, Blogs To Ignore
TBB
travelbloggerbuzz@gmail.com
Follow TBB on Twitter @FlyerTalkerinA2
You can subscribe to TBB below, winners only!
Opinions expressed here are author's alone, not those of any bank, credit card issuer, hotel, airline, or other entity. This content has not been reviewed, approved or otherwise endorsed by any of the entities included within the post.