We bring you interviews about smartphones hijacking us, an Aziz Ansari interview, how sex robots get intimate, a Trump beating, a famous people painting. Of course we always finish with the best pic/gif online.
TBB Blog Mission: To Entertain. Educate. Inspire. In That Order!
As always, click on the headline to be taken to original source. Sometimes I insert my incendiary comments on article excerpts between [brackets].
I slow down blogging down in the weekends, just some selected links that made an impression to me during the past week. Now only on Sundays!
If you enjoy my blog, please pass it on to someone you care about so they can enjoy it too.
Thanks to all readers who have been supporting the site with your credit card and donation clicks, greatly appreciated. Support good blogging practices!
Before we get serious with the links, lets all applaud this comment by reader Sam yesterday telling us all about the publicity of the One Mile Conversion at a Time blogger and his lobster roll shocking incident lol. I am still laughing. And that is a joy of blogging you guys, taking the day off from whining woohoo!
You know this is becoming one of my favorite subjects lately. I have many actually (link on sex robots below hehe). The smartphones are…changing us. This dude, Tristan Harris, is on top of it imho and this is a fascinating interview he gave to WIRED after he became known from his TED talk.
Sometimes our smart phones are our friends, sometimes they seem like our lovers, and sometimes they're our dope dealers.
…the problem is the hijacking of the human mind: systems that are better and better at steering what people are paying attention to, and better and better at steering what people do with their time than ever before. These are things like "Snapchat streaks," which is hooking kids to send messages back and forth with every single one of their contacts every day. These are things like autoplay, which causes people to spend more time on YouTube or on Netflix. These are things like social awareness cues, which by showing you how recently someone has been online or knowing that someone saw your profile, keep people in a panopticon.
It's just that the premise in the war for attention is that it's going to get better and better at steering us toward its goals, not ours.
Imagine we replace the Comment button with a Let's Meet button. [Hmmm, I wonder if TBB blog readers Ramsey and John ever meet…grab your popcorn!]
I think we're going to look at the advertising model—which has an unbounded interest in getting more of people's time on a screen—and see it as being as archaic as the era when we got all our power from coal. Advertising is the new coal. It was wonderful for propping up the internet economy. It got us to a certain level of economic prosperity, and that's fantastic. And it also polluted the inner environment and the cultural environment and the political environment because it enabled anyone to basically pay to get access to your mind. And on Facebook specifically, it allows the hyper-targeting of messages that perfectly persuade and polarize populations. And that's a dangerous thing. It also gave all these companies an incentive to maximize how much time they have of your life. So we have to get off of this business model. And we haven't actually invented the alternative yet. [TBB gets no revenue from ads, none! I delete numerous emails for sponsored posts and shit like that. I am my own BS filter! Oh I so agree with this! This has caused Kardashian like click bait to carpet bomb the blogs online, sad!]
The interview veers off to topics like coming up with a new business model (good luck!), regulation (not happening in this administration) and, surprisingly to me, mentions Apple could be the company to  lead the way to the new world…Time will tell as it always does. In the meantime, control yourselves with your damn phones!
Not sure if this TBB edition should be renamed the interview edition. Because I do have another interview for you! And this one is more fun as it is with the comedian Aziz Ansari. And it gets personal, deeply introspective, provoking and, of course, it is wildly funny in parts. I hope you enjoy it as much as I did!
I was talking to a friend of mine the other day. We both have more money than we ever imagined. And I was like, Can you imagine if someone called us a few years ago and said, "All right, you're going to have this much money when you're this age. What are you gonna do with it?" You would say all sorts of fantastical things, right? No one would say, Oh, I would figure out how to make more money and keep working all the time. Everyone just buys into this, like, Oh, I need to keep making stuff, I need to go make more money. I don't need to make more stuff. I've made a lot of stuff! I'm financially okay. I'm not gonna make stuff just for the sake of making stuff. I want to make stuff 'cause I'm inspired. Right now I don't really feel inspired.
I got the world by the balls professionally. Personally, I'm alone right now. And when you have the world by the balls professionally, the balls disintegrate and then you gotta find new balls when you're inspired again. So right now, I have it by the balls, but I'm feeling it slowly going away and I'm worried about finding new balls. But another part of me is like, You don't need to find new balls. The new balls will come when they need to come. Live your life, experience things, and balls will always come your way. [TBB's balls do not disintegrate as long as the blog stays up lol]

I hope more people get very successful and then quit. Shouldn't that be the game? That you make a bunch of money and just move to Italy and live a quiet life? No one does it! You do a bunch of shit and you just want to do more shit. Tom Cruise! Look at that guy! He will not stop! [LOL]

Okay, we are now going 3 for 3 in interviews so I am officially calling this TBB edition the Shocking Interview chronicles, catchy huh? Okay, if you are a new blog reader, don't get turned off by a discussion about sex robots okay? Long time readers know my ridiculous fascination about weird things (North Korea, brutalist architecture, smartphone addiction, remote places, drones, photography, art, Trump beatings and stuff like that) so this is not new. You know, there are scientists studying the profound questions surrounding technology, ethics, sex, robots, AI, love, intimacy and…I mean, do I continue? You get the message.
This is an interview of Aimee van Wynsberghe, a professor of robotics and ethics at the Delft University of Technology in the Netherlands and co-founder of the Foundation for Responsible Robotics. She with fellow ethicist Noel Sharkey wrote the influential study titled "Our Sexual Future With Robots". I find this stuff fascinating. I am weird. Anyways, this topic fits the TBB mission to educate, entertain and…(cough) inspire perfectly, no?
In parallel to the sex robot industry, which is led by the porn industry, you have artificial intelligence exploding. The AI does the facial recognition, the voice recognition, the learning algorithms to try and pick up on how you express emotions, or to collect your physiological data: If your heart rate increases when you're talking about S&M sadism and masochism, maybe that's what you like, and the robot could react.
There are already charities that provide sexual helpers to people with disabilities. [What? Come again? WTF, really! Can we get a tax deduction to donate to them? With a travel rewards credit card. I will get the genius TBB marketing staff to work on an arrangement to get 5x on such donations…only if you get the credit cards with my links. GENIUS! TPG staff working on their resumes…RIGHT NOW!]
I'm excited by certain types of robots, and certain capabilities that robots will have. I'm worried about the concept of "moral deskilling"—that we could lose some of what it is to be human. We won't be as practiced at looking people in the eye, and trying to understand where they're coming from. Imagine someone going through a tough time is sitting in front of you crying. You're late for your appointment, but you're going to sit there and be with them. Increasingly we might not have those opportunities, and if we're suddenly confronted with them we won't know how to deal with it. [Wow, she nails it! Maybe I should fly to interview her! Deduct everything of course, legitimate business expenses baby. In a coffee shop in Amsterdam! #brilliant]
Another parallel technology is teledildonics. The "tele" part indicates that there's a telelcommunications network involved, so the idea is that partners could use devices to have sexual intercourse at a distance.  But the kind of information and the amount of information that a dildo can pick up— temperature of the vagina, length of time before getting to an orgasm, all of these things that a company has access to—that's very personal information. And right now there is no sort of policy or best practice on whether a company is allowed to collect that information, to share it, store it, use it, destroy it. There's nothing. In fact, a class action has been brought against a company in Canada for collecting data without knowledge that the data was being collected or what it would be used for. That's symptomatic of the robotics world. When you go into a store and you have a robot to show you where the hammer is; or you go into a bank and a robot asks "Are you here to see a cashier or for a loan?"—that's all very valuable information for advertisers and marketers.  We're all going to fall into this data trap, where the most valuable part of the robot is the data that it collects. [Ok, my mind is blown at this point!]
I get a lot of grief here for being anti-Trump. I dig it. Hey, get your own blog and post pro Trump stuff. But I think I post good shit here. And here is one from NATIONAL REVIEW, not your typical leftie liberal Clinton/Obama stained sources, okay? For a conservative…this is some really effing material, yikes! I see myself as a moderate, leaning conservative fiscally and liberal socially. I get along with Republicans and Democrats, I can not stand extremists in both sides. We are all different. We must work together. But this Trump dude…how did this happen?
Just a few excerpts:
Trump is the political version of a pickup artist, and Republicans — and America — went to bed with him convinced that he was something other than what he is. Trump inherited his fortune but describes himself as though he were a self-made man.
He has had a middling career in real estate and a poor one as a hotelier and casino operator but convinced people he is a titan of industry. He has never managed a large, complex corporate enterprise, but he did play an executive on a reality show. He presents himself as a confident ladies' man but is so insecure that he invented an imaginary friend to lie to the New York press about his love life and is now married to a woman who is open and blasé about the fact that she married him for his money. He fixates on certain words ("negotiator") and certain classes of words (mainly adjectives and adverbs, "bigly," "major," "world-class," "top," and superlatives), but he isn't much of a negotiator, manager, or leader. He cannot negotiate a health-care deal among members of a party desperate for one, can't manage his own factionalized and leak-ridden White House, and cannot lead a political movement that aspires to anything greater than the service of his own pathetic vanity.
He wants to be John Wayne, but what he is is "Woody Allen without the humor." Peggy Noonan, to whom we owe that observation, has his number: He is soft, weak, whimpering, and petulant. He isn't smart enough to do the job and isn't man enough to own up to the fact. For all his gold-plated toilets, he is at heart that middling junior salesman watching Glengarry Glen Ross and thinking to himself: "That's the man I want to be." How many times do you imagine he has stood in front of a mirror trying to project like Alec Baldwin? Unfortunately for the president, it's Baldwin who does the good imitation of Trump, not the other way around.
Hence the cartoon tough-guy act. Scaramucci's star didn't fade when he gave that batty and profane interview in which he reimagined Steve Bannon as a kind of autoerotic yogi. That's Scaramucci's best impersonation of the sort of man the president of these United States, God help us, aspires to be.
Some of these have been posted before in my blog but I see some new ones. I just love this one so much!
And this one is a repost because it ROCKS!
I usually have stopped by now…But this one I am afraid someone else will post. Because it is AMAZING! Click on each person and…LEARN about them, so TBBish. Check out Putin at the bottom and the LOL Cat on the left, woohoo!
You can learn about horrid lobster rolls aboard American Airlines planes or get educated and amazed here. Thanks for the clicks you guys 😉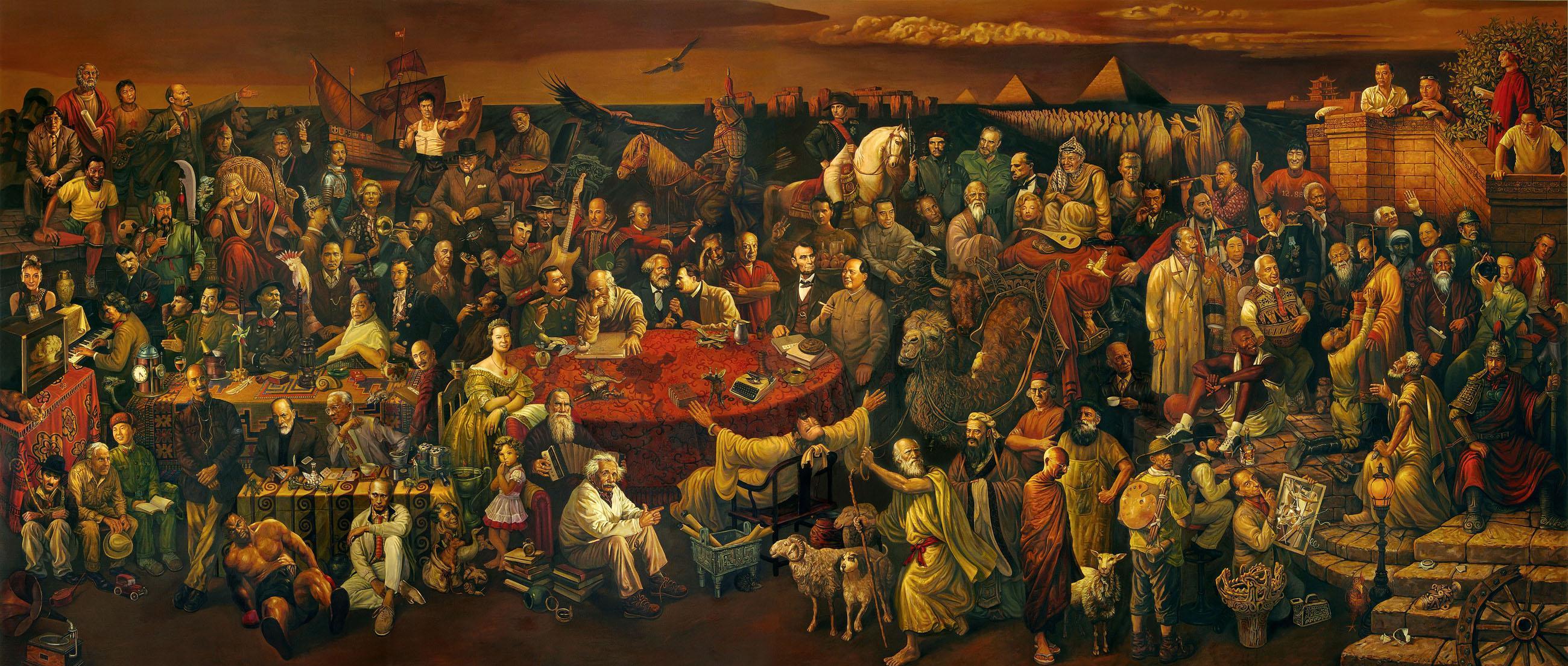 And I leave you with this…

Enjoy my blog while it lasts.
Check out my updated blog lists: Blogs I Love, Blogs I Like, Blogs To Ignore
TBB
travelbloggerbuzz@gmail.com
Follow TBB on Twitter @FlyerTalkerinA2
You can subscribe to TBB below, winners only!
Opinions expressed here are author's alone, not those of any bank, credit card issuer, hotel, airline, or other entity. This content has not been reviewed, approved or otherwise endorsed by any of the entities included within the post.