We bring you the TBB Best of Web links every Sunday: a list of the most Striking Facts of 2018, a very interesting list of how Technology Ranked, a very depressing article about how massively Fake the Internet is today, an amazing story written by a Cable Guy describing typical workdays that will shock you, an amazing US Immigration Visualization and bring you an incredible resource the Internet Archive. Enjoy!
TBB Blog Mission: To Educate. Entertain. Inspire. In That Order!
You like my blog? Send a link to someone please!
Every Sunday I pick the best reads that blew my mind in the previous week. It can be…anything! I like to be eclectic and despise salesy/clickbait/sameold content you read…everywhere else!
As always, click on the headline to be taken to the original source. Sometimes I insert my incendiary comments on article excerpts between [brackets].
One of my proudest finds I get to share with you here. Must read. Just facts, no partisan political BS!
Here is the first one: Post-Millennials – today's 6- to 21-year-olds, also known as Generation Z – are on track to be the most racially and ethnically diverse generation yet.
I look at my daughter's classmates and I would have to agree…
Ok, one more, shall we?
There were 10.7 million unauthorized immigrants in the U.S. in 2016, down from a peak of 12.2 million in 2007.
Never forget…that Mexico was going to pay for the big, beautiful wall ok? smh.
If you noticed, I don't do clickbait crap here with moronic videos and I am sure not greedy because I have not sold out and turned to a pumping greedy little blogger bitch who screws readers for the all mighty dollar.
Oh, wait. Excuse me for a sec, I lost it…momentarily. Lets get back to educating.
This is a fascinating list. And very surprising how some are ranked. And you will never guess which was ranked #1, it will shock you! See, I am starting to sound like those bloggers too lol.
The amount of narcissistic BS on social media is just too much lately. And don't get me started about so called influencers and self proclaimed thought leaders. You got to be a special breed of pompous ass to self proclaim to be a thought leader! We are all trying to figure out the meaning of life here you guys. Actually, I was offered to be paid $250 to have a guest post about some shit I forgot what it was as I almost gave myself a self finger sprain clicking Delete on that email.
Oh, wait, I got distracted again, sorry.
How much of the internet is fake? Studies generally suggest that, year after year, less than 60 percent of web traffic is human; some years, according to some researchers, a healthy majority of it is bot.
Well, I can tell you that all the traffic here is real. No bots. Based on some of you…I could easily get free Russian bot help but I can not get there because….I am a patriot woohoo!
Yeah, metrics are fake. People are fake. Businesses are fake. Content is fake. How did we phuck this thing up I wonder?
…you can buy 5,000 YouTube views — 30 seconds of a video counts as a view — for as low as $15
I could go on with more depressing excerpts. But I just love the ending, here it is:
Where does that leave us? I'm not sure the solution is to seek out some pre-Inversion authenticity — to red-pill ourselves back to "reality." What's gone from the internet, after all, isn't "truth," but trust: the sense that the people and things we encounter are what they represent themselves to be. Years of metrics-driven growth, lucrative manipulative systems, and unregulated platform marketplaces, have created an environment where it makes more sense to be fake online — to be disingenuous and cynical, to lie and cheat, to misrepresent and distort — than it does to be real. Fixing that would require cultural and political reform in Silicon Valley and around the world, but it's our only choice. Otherwise we'll all end up on the bot internet of fake people, fake clicks, fake sites, and fake computers, where the only real thing is the ads.
TBB is all real, my clicks are all real too….because I can count them with one, sometimes two, hands, sad lol!
Wow, what a read!
A glimpse of the suburban grotesque, featuring Russian mobsters, Fox News rage addicts, a caged man in a sex dungeon, and Dick Cheney.
Wild stuff! I am not sure where to start. Prepare to be shocked. Be nice to cable guys! Good luck in your next job "Larry"!
This is one of the coolest things I watched last week. Give it a click, you won't be disappointed. If you are, ask for a refund at The Points Guy lol.
Just.Click.It
You are welcome.
I am having a bit of a Best of Web links backup so here is a sixth one. I usually stop at five so consider yourself special today!
Internet Archive is a non-profit library of millions of free books, movies, software, music, websites, and more.
Bookmark it and check it out.
Remember who brought it to you! I could be doing other things with my time.
And I leave you with this…Not my car by the way, smh!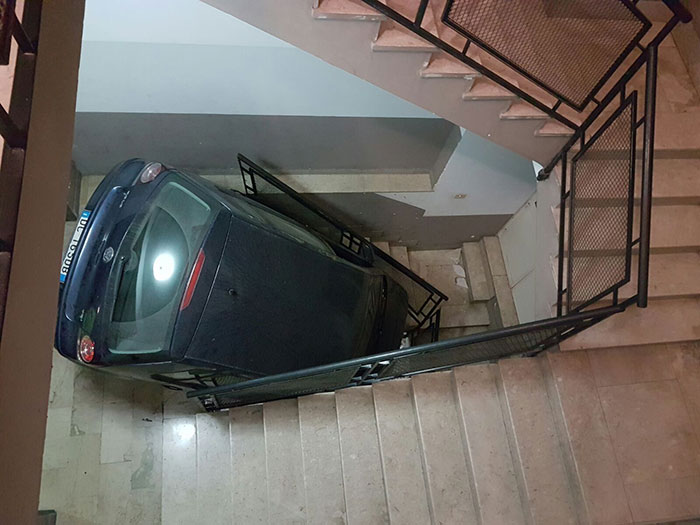 TBB
travelbloggerbuzz@gmail.com
Follow TBB on Twitter @FlyerTalkerinA2.
You can subscribe to TBB below, winners only!
Opinions expressed here are author's alone, not those of any bank, credit card issuer, hotel, airline, or other entity. This content has not been reviewed, approved or otherwise endorsed by any of the entities included within the post.