About once a month I try to bring you a guest blog post that appeals to the experienced miles and points hobbyists. Yeah, hack it way up since I never really learned how to do the pics and arrows thingie impressing newbies how to travel for free if only they could get loads of credit cards with my affiliate links like so many commercially successful blogs do. I will be back with the usual wide variety of eclectic links on Friday, I promise. As you read the amazing post below on stopovers, do not get excited and book something passing through Hong Kong's airport next week, just let the protest disturbances resolve themselves and the operations get back to normal.
TBB Blog Mission: To Educate. Entertain. Inspire. In That Order!
You like my blog? Send a link to someone please!
by Andy Shuman
Free stopovers are amazingly simple and powerful tools to see more world for less money.
If you think this is just a banality (everyone knows that, right?), you might be correct, but I genuinely get floored just thinking about that last remnant of generosity that normally stingy airlines bestow upon their customers.
Just think about it! You usually can't get a free stopover on a paid itinerary. There are exceptions, of course. I believe free stopovers on a revenue ticket are offered by Air Canada, Emirates, Qatar, and Icelandair, and perhaps some other airlines as well. But I seriously doubt that anyone would give you a stopover on a one-way revenue flight, or 4 or more stopovers per round trip. That's just crazy!
In any case, if you have serious time on your hands and want to save some miles and money, stopovers (and open jaws) can do miracles. And if you want to hack your way into something truly extraordinary, that can work too. All you need is to know how stopover rules work and, sometimes, stand your ground with an agent who doesn't know the subject matter as well as you do.
But let's agree about the terminology first.
A stopover is a connection over 4 hours on a domestic flight or over 24 hours on an international flight. When your connection is shorter than that, it's called a "layover."
A layover is a connection up to 4 hours on a domestic flight or up to 24 hours on an international flight. But there is an exception. American Airlines now allows a domestic layover of up to 18 hours but only on the itinerary it's chosen for you (married segments).
An open jaw is a part of the itinerary when your next flight departs from a city other than the one where you've previously landed.
AIR CANADA AEROPLAN
Does Aeroplan have a generous award chart? No, it doesn't. It does have OK long-haul Business Class values, though.

But Air Canada has 2 extremely attractive features. First, it allows up to 2 stopovers on a round-trip intercontinental ticket. Second, it doesn't add fuel surcharges to partners that most airlines do, like Brussels, Swiss, Turkish, Eva, and South African among others.
And get this: not only does Air Canada have a generous stopover policy, its routing rules allow you to have a stopover anywhere in the world (no limitations like hub-only stopovers on Alaska).
These features greatly increase the actual value of your redemptions in spite of the non-inspirational costs of the awards.
For example, you can fly the following route for 75,000 miles in Economy or 150,000 in Business Class.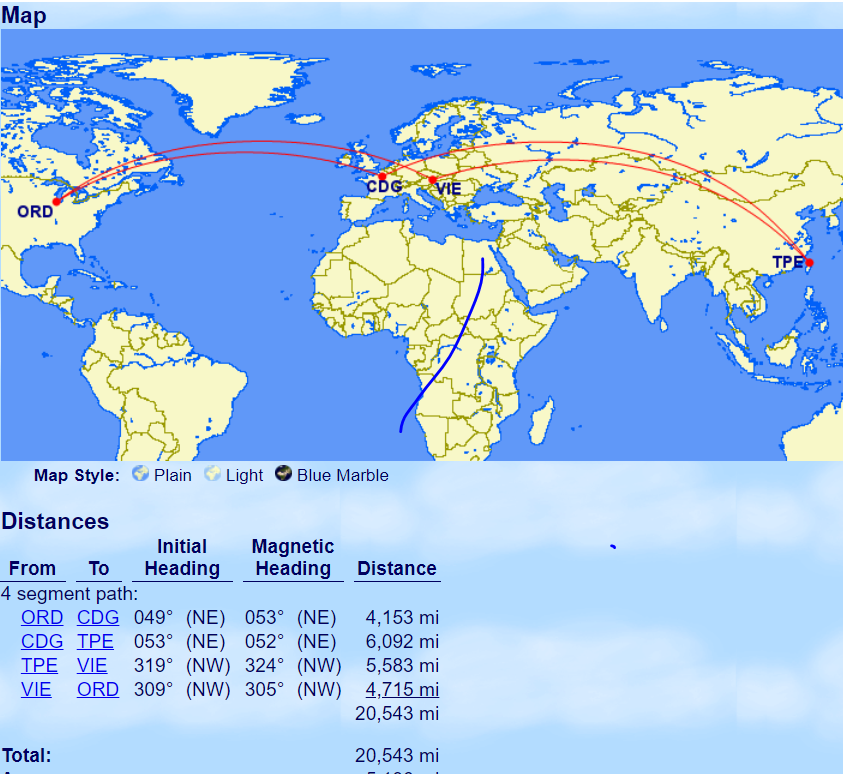 Flight 1: Chicago to Paris (United)
Flight 2: Paris to Taipei (EVA)
Flight 3: Taipei to Vienna (EVA)
Flight 4: Vienna to Chicago (United)
You will pay 75,000 miles in Economy and 150,000 miles in Business Class to book this itinerary. This would be just OK, but you get to see 3 destinations for the price of one!
Update: Aeroplan stopover allowance goes from 2 to 1 for a round-trip effective 1 September 2019.
Aeroplan World-Famous Mini-RTW
Air Canada is discontinuing its Around the World Rewards program after September 1, 2019. I say good riddance. At 300,000 miles for a Business Class seat it was (well, is, for now) too expensive anyway.
Instead, use the awesome Air Canada stopover rules to create a mini-Round-the-World itinerary. You don't have to fly back in the opposite direction. You can cross an ocean (either one) and keep flying until you get back.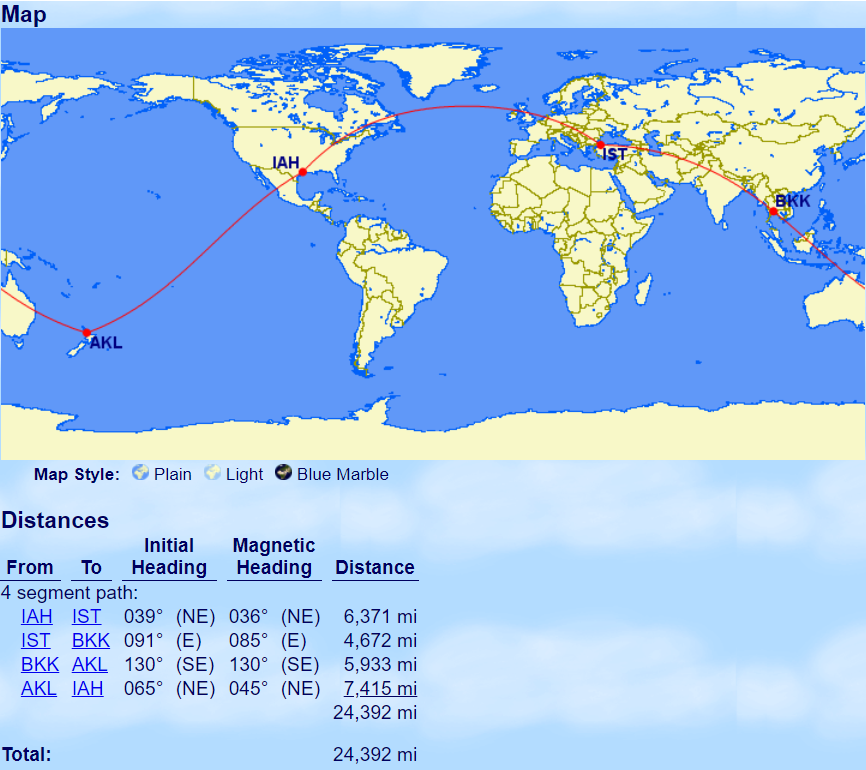 Flight 1: Houston to Istanbul (Turkish)
Flight 2: Istanbul to Bangkok (Turkish or Thai)
Flight 3: Bangkok to Auckland (Air New Zealand)
Flight 4: Auckland to Houston (Air New Zealand)
You need 90,000 miles in Economy and 160,000 miles in Business Class to book this itinerary. Of course, in the case of Business Class you'll also need a few stars to align your way. But what an awesome redemption with ZERO fuel surcharges!
This flyertalk thread has hundreds of RTW success stories. Check it to draw some inspiration.
A few notes
In order to get 2 stopovers you need to call the Aeroplan Call Center at 800-361-5373 (you can only book one stopover online) and pay a $30 fee.
You can build as many segments as you want (within reason).
You can't land in the same city more than once.
You can't exceed the unofficial MPM.
ALASKA MILEAGE PLAN
Like Air Canada, Alaska has a great stopover policy. But unlike Air Canada, Alaska also has the best premium class award charts among the airlines we're reviewing here, which makes what I'm trying to say very simple. Overall, Alaska is simply the best.
Here is what you get. You can have one stopover for each one-way flight (even domestically). For example, you can fly one-way between Orlando and Seattle with a stopover in San Diego for as long as you want.
Of course, if you are at all interested in international travel, you might be reluctant (I am!) spending your precious Alaska miles on domestic flights. There are plenty of other cheap options to get domestic flights including British Avios, Avianca LifeMiles and, recently, even Turkish. Instead, use Alaska Mileage Plan miles for Business or First Class international long-haul travel.
Now that we've established the general awesomeness of Alaska Mileage Plan (again), let's see what you can and can't do with these free stopovers.
Stopover at the end of a positioning flight
Alaska doesn't let you mix airlines for one-way travel, but it allows you to use Alaska metal for a positioning flight, and you can have a stopover at your U.S. gateway for days or even months. Example: New York to Los Angeles (Alaska) to Osaka (Japan Airlines) with a stopover in LA.
Now how do we hack it a little bit? By being creative. Do you live in LA? Are you planning a trip to Japan (or wherever Alaska partners fly)? Are you also planning a trip to the Big Apple (or wherever Alaska flies)? That's your free one-way ticket between New York and LA.
A stopover at a busy hub
Let's say you're flying between the U.S. and South East Asia and decided to use Cathay Pacific – not only because Alaska has an amazing CX redemption levels in premium classes,  but because availability seems to be better than on other airlines. Let's say, however, that you've already been in Hong Kong a million times and have no interest in exploring it again, especially in the current state of turmoil. So what? Make Hong Kong a stopover and use British Airways Avios to fly cheaply virtually anywhere in South East Asia and beyond.
Use stopovers to explore Fiji, New Zealand, and Australia
I already covered this amazing option in my previous piece for TBB, so I won't dwell on it. Just book a flight on Fiji Airways between the U.S. and New Zealand with a stopover in Nadi, and fly back home on Qantas with a stopover in Sydney. This is an unbeatable value even if you'll have to "tough it out" in Fiji's angle-flat Business Class.
CATHAY PACIFIC ASIA MILES
This is a travel hacker's wet dream. No, Cathay Pacific doesn't have a killer award chart. It never has, and since their latest devaluation, Cathay Pacific chart has become as stingy or worse as its U.S. counterparts. And yet, you can get a whole year of free travel from one CX award.
Depending on the award you choose, Cathay Pacific allows you to book up to 5 stopovers. You would have to call or email Cathay Pacific your requests for most partners, but the rewards are enormous. And if you're hesitant about hacking things, don't worry – you can still reap your benefits without having to leave your comfort zone.
Asia Miles award charts are distance-based. It has two different redemption charts:
Use the AsiaMiles Award Chart for up to 2 stopovers and 2 transfers on Cathay Pacific and its subsidiary Cathay Dragon
You can fly between San Francisco and Hanoi (Taipei) with a stopover in Hong Kong for 70,000 in Business Class, since this route is just a hair under 7,500 miles (Long, type 2).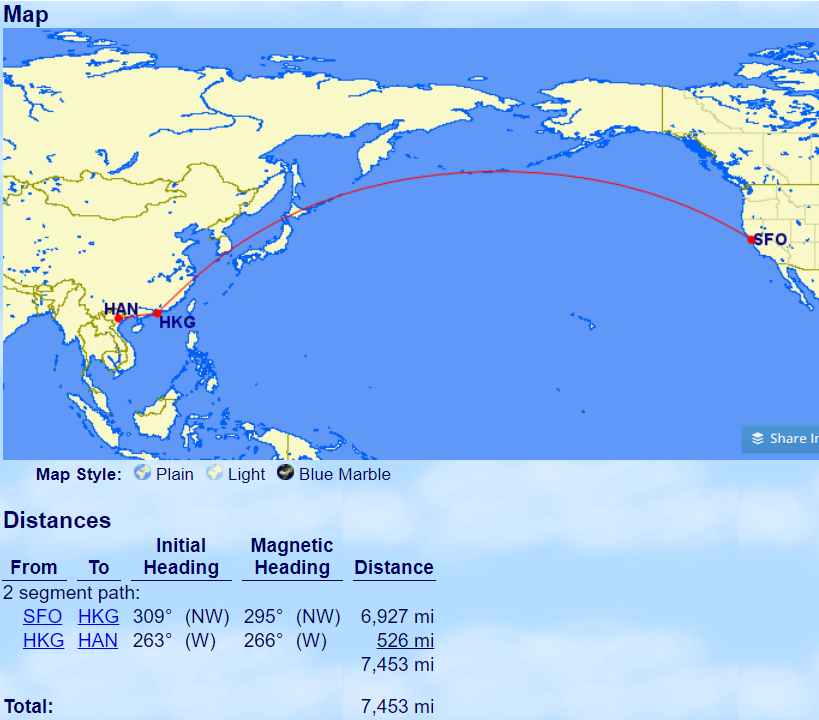 Use the oneworld Multi-Carrier Awards Chart for up to 5 stopovers, 2 transfers (layovers), and 2 open jaws
This is obviously a more expensive chart, but you can fly on 2 or more oneworld airlines when Cathay Pacific or Cathay Dragon are not included and 3 or more when they are included.
This is a fantastic opportunity to explore multiple destinations in all corners of the world. Alas, except Europe, because:
oneworld has lost Air Berlin (and Niki)
British Airways adds atrocious fuel surcharges
You can't have a stopover with Iberia
Other than that, the sky is the limit!
You can have stopovers in the same city more than once
If you don't know this already, you might want to read it again to let it sink in.
Not many frequent flyer programs allow you to return to a city you've already  flown to on the same award, and for a good reason.
In fact, I'm not aware of any such programs – although they might exist (I don't know everything).
What I do know is that this rule offers insane values if you're bold enough to use it to your advantage, and you don't need to go too far to see why.
When I say "more than once," I don't mean twice. More than once means exactly that, and the Cathay Pacific T&C doesn't have "up to." Although, while a little craziness is fine, maybe you shouldn't go completely out of your mind and try to book 5 multi-city flights on one award. Just a thought.
Even if you don't have a single hackerish bone in your body, you might draw some inspiration from how some folks have managed to pack multiple trips in one award.
Here is an example.
Rocket69 shares his experience booking a trip with 5 stopovers for 240,000 miles in Business. Sounds like a lot until you unpack this itinerary and realize there are 3 separate trips!
HKG-DOH on QR : TRANSIT 1
DOH-LGW on QR: OPENJAW 1
MAN – HKG on CX: STOPOVER 1
HKG-JFK on CX: STOPOVER 2
JFK-SCL on LA: STOPOVER 3
SCL-JFK on LA: TRANSIT 2
JFK-HKG on CX: STOPOVER 4
HKG-PER on CX: STOPOVER 5
PER-HKG on CX:END
I've taken the liberty of illustrating this itinerary. Keep in mind that the last two are round trips, as well.
And the total mileage comes to ~47,000 miles, just a tad under the 50,000-mile limit. A thing of beauty!
OK, enough said, I guess.
So why not Japan Airlines Mileage Bank?
Because it's really hard to get Japan Airlines miles. The preceding programs either have multiple transfer partners (Air Canada, Cathay Pacific) or semi-decent credit card bonuses (Alaska). Japan Airlines has only Marriott Bonvoy as a transfer partner, so despite Japan Airlines' generosity (it offers up to 7 stopovers, including up to 4 in Europe, up to 8 segments, and one open jaw), I can't help but feel that covering Japan Airlines stopovers would be a purely theoretical exercise.
And me TBB…I leave you with this…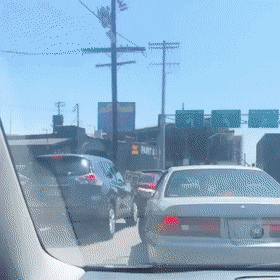 TBB
travelbloggerbuzz@gmail.com
Follow TBB on Twitter @FlyerTalkerinA2.
You can subscribe to TBB below, winners only!
Opinions expressed here are author's alone, not those of any bank, credit card issuer, hotel, airline, or other entity. This content has not been reviewed, approved or otherwise endorsed by any of the entities included within the post.