We bring you the complete A380 history, the 50 best photos of 2017, maps of every ship real time, top investing Do's and Dont's and we are back Blog Buzzing it up!
TBB Blog Mission: To Entertain. Educate. Inspire. In That Order!
Finally updated the list with the Best Offers credit cards available in my blog.
You can earn 3 JetBlue miles per dollar on your Amazon shopping, a friendly reminder. If not interested in JetBlue miles, you can use my Amazon link. Thanks for all the support, you know who you are.
Lets get back to TBBing!
British Airways Avios can be great for redeeming on Japanese domestic flights.
A complete history of the A380 airplane. Its future is murky at best.
Awesome video: Where Are the Stars? See How Light Pollution Affects Night Skies.
You come here to learn… 6 Medical Innovations That Moved from The Battlefield to Mainstream Medicine.
Learn and laugh too! What Your Penis Will Look Like When You Get Older.Oh oh, not good!
And get inspired, loved this story! Homeless Veteran Helps Out A Woman By Giving His LAST $20, Does Not Expect It Will Change His Life Forever.
Your personal finance fix: Top 5 Investing Do's and Don'ts. Must read.
Here come the 50 best photos of 2017, enjoy!
This is very cool, every ship at sea in real time.
I did not know about this hair business…The Hairy Secret Behind Indian Temples.
BLOG BUZZ
This section is for advanced level hobbyists and veteran blog readers & personal rants & stuff
Pretty good piece on Randy Petersen.
Time to apply for more credit cards in my household. I see the landscape around me and I just am not that excited…At least son has room to go for cards he can actually get. But nothing is a MUST get card these days, sad!
From the blogger who dared to do a fund me post to fly some First Class "product" some time ago. To numerous moronic childish posts about his crushes. Don't get me started on credit card selling posts. Yep, it is One Mile at a Time of course. But the super click baity post on flying with a celebrity and not revealing who it was was simply his WORST BLOG POST EVER imho! Make no mistake, the post generated numerous comments and page views, which means MONEY in Boarding Area! And so many morons fell on the click bait, including me! At least many called him out on it…only for him to post some type of apology while enjoying all the dinero. WTF to infinity you guys!
Update: I always appreciate constructive criticism, and in this case it's clear I was wrong, based on the number of comments. I can promise my intention with not giving the celebrity's name wasn't to be clickbaity, but rather I felt like it would be creepy to share who it was. Then again, maybe I shouldn't have written the post at all, though I can only blame my excitement at the time. Since just about everyone seems to disagree with me, and since he was indeed on a commercial flight between two major airports, I'll share. It wasn't Shawn Mendes, because I said "one of my biggest" and not "the biggest." 😉 It was Nick Jonas. Sorry again… I'll do better next time.
Nick Jonas….smh. Dude, you are close to thirty years old…ok, I stop smh.
And just when you thought it could not get more ridiculous selling credit cards at The Points Guy…it just did! One of the staffers did a post "Battle of the Metal Credit Cards – Which is the Strongest?". Yep, got a scale and weighed them. Oh, of course, pumped a few dozen credit card affiliate links to the morons reading that blog. And here I am not getting any clicks…Phuuuuuck! 🙂
For breaking news I read The Points Guy said no one ever…
Since the thought leader of online marketing took the high road, in less than 24 hours, he got back into selling credit cards and pushing product on Amazon…
So, I kept track of who did an individual post on the Best Western Rewards game I posted on Saturday…
And I leave you with this…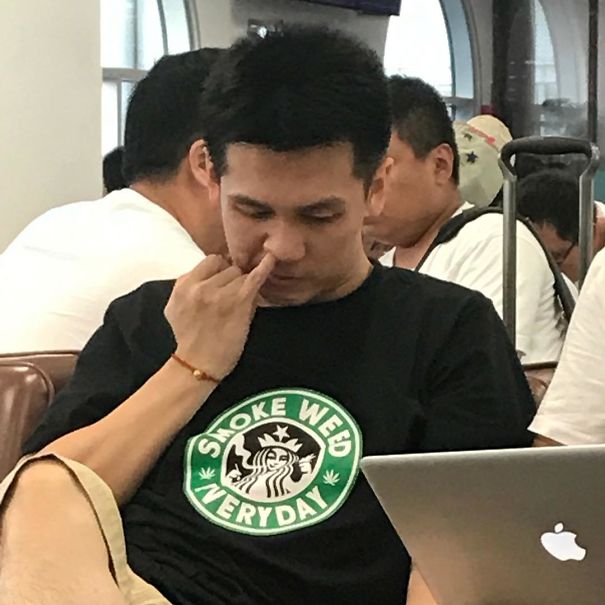 Check out my updated blog lists: Blogs I Love, Blogs I Like, Blogs To Ignore
TBB
travelbloggerbuzz@gmail.com
Follow TBB on Twitter @FlyerTalkerinA2
You can subscribe to TBB below, winners only!
Opinions expressed here are author's alone, not those of any bank, credit card issuer, hotel, airline, or other entity. This content has not been reviewed, approved or otherwise endorsed by any of the entities included within the post.