Another TBB post featuring the most eclectic links around the web such as an advance child tax credit payment FAQ, all you need to know about the Delta variant, disturbing photos from history, get more American Airlines miles by transferring your Citi ThankYou network points, travel to places to love and check out some incredible wonders, check out cute puffins in Iceland, learn about US household debt levels among generations, which countries drink tea or coffee or soda, learn how gravity works in space, we keep it very light in Blog Buzz since miles/points action in weekends goes way down and more!
TBB Blog Mission: To Educate. Entertain. Inspire. In That Order!
Support TBB by applying for CREDIT CARDS or visiting our

LINKS

or Donate

You like my blog? Send a link to someone please!
TRAVEL
If you do not have time to love all 52 how about you loving my blog instead lol: 52 Places to Love in 2021. Which one is your all time favorite?
I need to get going on these! 10 Incredible Natural Wonders to See in Your Lifetime. You will stay in a luxurious chalet surrounded by wolves… Love the first part but not that thrilled to be surrounded by wolves you guys! 🙂
This Twitter thread will educate you all about mud volcanoes in Azerbaijan, there are hundreds of them there!
Check out puffins in Iceland!
PERSONAL FINANCE
It has started…Guide to IRS online ways to get, track or change Advance Child Tax Credit payments.  And of course scammers are going nuts, be careful out there!
Podcast with Howard Marks talking about one of my favorite subjects: Embracing the Psychology of Investing. This is mostly for experienced investors.
Very interesting: Visualizing US Household Debt by Generation. You should visualize it too…as in eliminating it! —–>Freedom!
COVID-19
Must read: Delta Variant: Everything You Need to Know.
Depending on which figure you use, it would put Delta's R0 between 4 and 9, which could make it more contagious than smallpox.
But some communities in the South may prefer to chance it I guess smh: Delta Is Driving a Wedge Through Missouri. Latest by Ed Yong. Archived link.
Almost every COVID-19 patient in Springfield's hospitals is unvaccinated, and the dozen or so exceptions are all either elderly or immunocompromised people. The vaccines are working as intended, but the number of people who have refused to get their shots is crushing morale. Vaccines were meant to be the end of the pandemic. If people don't get them, the actual end will look more like Springfield's present: a succession of COVID-19 waves that will break unevenly across the country until everyone has either been vaccinated or infected.
ODDZ & ENDZ
Very cool: A 1 Kilometer "Ball Drop" On Solar System Bodies.
Very interesting: Coffee vs Tea vs Soft Drinks: What Caffeine Drinks Do Countries Prefer?
Some creepy, some disturbing, some awfully sad, click on your own risk, you have been warned! People Are Sharing Disturbing Photos That Look Normal Until You Find Out What's Really Going On.
MILES & POINTS
HOT CREDIT CARD OFFERS: 100k CHASE Sapphire Preferred, 100k CHASE United Quest, 75k CHASE Ink Cash, 75k CHASE Ink Unlimited, 100k CHASE Ink Business Preferred, 60k CHASE Sapphire Reserve, 80k CITI Premier, 20k CHASE Freedom Flex & CHASE Freedom Unlimited, 150k CHASE IHG Rewards Club Premier (& a free night) and many more, including many American Express cards! Please check out my Affiliate links. Terms apply to American Express benefits and offers. Visit americanexpress.com to learn more.

If you do not see a credit card with my affiliate links, perhaps I could refer you? Contact me!
This section is about my hobby addiction of collecting frequent flyer miles and hotel points since the early 1990's! Feel free to skip this section and parts of the next one if this is not for you.
Newbies: The 100k Chase Sapphire Preferred card is now available with my links. If you are totally new and looking for a keeper card I think THIS is the card. Apply for it, get approved, do the required minimum $4k spend, get the 100k points signup bonus, transfer the points to United or Southwest or Hyatt or just cash out for $1,250 spend for groceries using the "Pay Yourself Back" feature assuming you do eat, right? For the annual fee of only $95, COME ON, do the math! Ok, here is the math: $1,250 – $95 = $1,155. So, if a bank offers you all this money what is your problem? Just ALWAYS make sure you NEVER EVER carry a balance ok? If you currently have the card, you can refer your spouse or significant other or third cousin or travel starved friend and you the referrer can earn 20k Chase points for the referral and the referred still get the full 100k bonus. You may even get the annual fee waived if you go inside a branch if you are that brave and have that much free time.
Well, this was surprising! You Can Now Transfer Citi ThankYou Points To American Airlines, But Only For A Limited Time. It has always been tough to accumulate American Airlines miles as they are not transfer partners with any of the banks. Until now that is. Only until mid November. Who knows, this may become permanent. Well, the 80k Citi Premier card just became more valuable then, get it with my links!
If you play this game right you should never ever care what the "APR" interest rate is. We never EVER carry any balance in all credit cards we hold so we never pay any interest so it does NOT matter, period! If you ask about it, well, find another hobby please.
Today is the last day for the 100k Capital One Venture Rewards card. It is most likely not your last chance as it comes back periodically. It first started years ago when this card paid for a free family cruise trip to the Western Caribbean. Each dollar spent earns two points. You can cash out for travel expenses at one cent per dollar or transfer your points to 15 travel partners. You get 50k points when you spend $3,000 in the first three months and the next 50k after you spend a total of $20k in the first twelve months. Obviously, the amount of required spend for the second 50k batch is ridiculously high. Annual fee is $95. Obviously, not for everyone. If you can handle the high spend and have room for another card to get your ridiculously high car rentals for free maybe consider it. Always do the math. You know what to do if you decide this fits you, thanks for your support.
All Southwest credit cards are again back down at just 40,000 signup bonus territory. If a blogger sells them enthusiastically you can be self assured they don't give crap about you and only care to sell them so they can earn more money from the sales commissions. Ignore them and just know that these cards almost always come back with much higher signup bonus offers. Usually 60,000 and even recently 80,000!
BLOG BUZZ
We are now entering BLOG BUZZ, a section for advanced hobbyists and veterans of this fast imploding hobby and also a section where I go on and on about some stuff that happens in my life because it helps me feel better about myself.
I agree with this post, an AA devaluation is a sure bet at this point after the AA transfer window came into the big picture!
Thanks to TBB reader Sam for sending this one in: His Status is Preferred. If you don't laugh I don't know about you…
The Milwaukee Bucks are one win away from becoming NBA Champions. And you know I have been a fan of the Greek Freak for a while, how can you not love this guy! Here he is talking about ego, pride and humility. And here are announcers from all over the world in that amazing last play!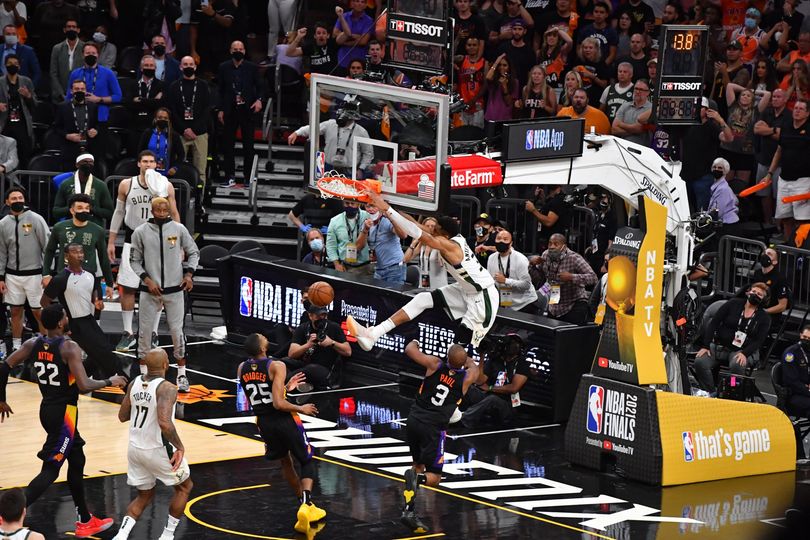 Well, you guys, I said no 🙂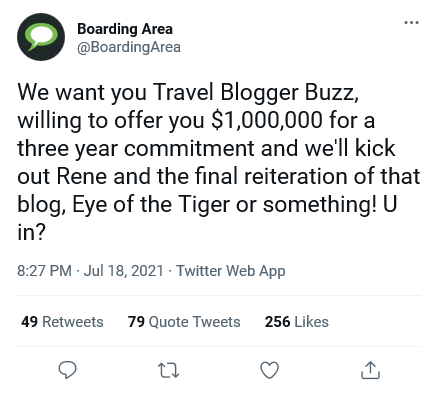 Fun day in Detroit this weekend, will try to pop in a few pics here and there when things slow down…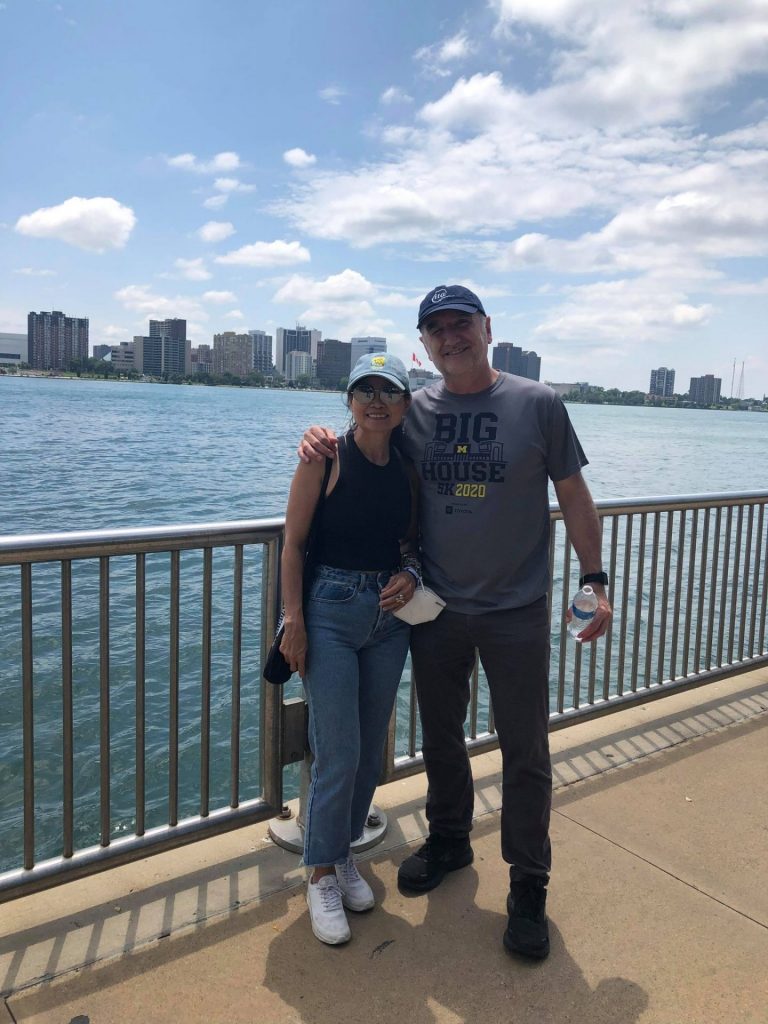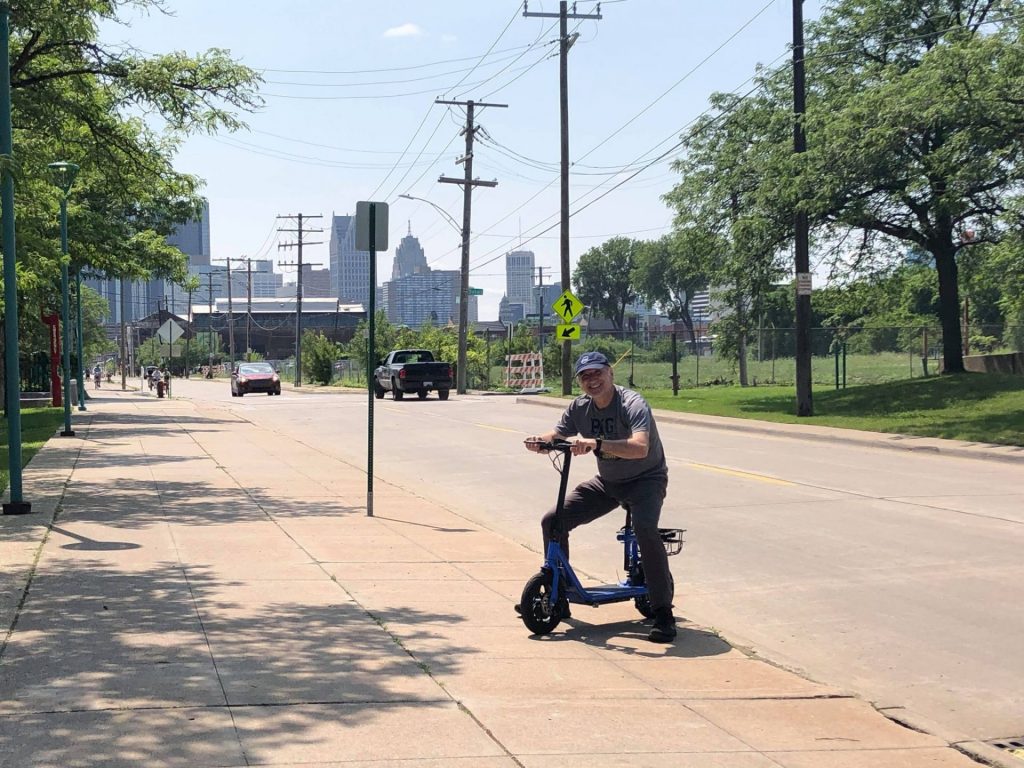 Let me leave you with this…
Thank you for reading my blog. If you enjoy it please pass it on to a family member or friend, thank you!
TBB
travelbloggerbuzz@gmail.com
Follow TBB on Twitter @FlyerTalkerinA2.
You can subscribe to TBB below, winners only!
Opinions expressed here are author's alone, not those of any bank, credit card issuer, hotel, airline, or other entity. This content has not been reviewed, approved or otherwise endorsed by any of the entities included within the post.