We learn how not to get screwed out of $100 when getting the Alaska Airlines credit card, learn all about Delta Skymiles if you are into this kinky practice, rejoice on the much improved Citi ThankYou Premier card offer, learn how to best use the British Airways Avios, visit Zakynthos and US Parks, learn about college costs and how to ruin teenagers for life.
TBB Blog Mission: To Entertain. Educate. Inspire. In That Order!
You can support TBB by shopping with our AMAZON AFFILIATE LINK or click on the Amazon Banner on the right side, thank YOU!
I think adding the blog into my life has totally re energized me and made me more mindful of how I am using my time, therefore more productive. I have put up a sign "No more new clients'. I may hire someone at some point but the thought of training, payroll taxes and delegating is freaking me out so I 'll just go TBBing instead LOL. Anyways, it is all good, hitting on all cylinders lately. I sleep walked through the first half of my forties and something happened when I hit that 45. TBB started shortly after that and since then it has all been downhill uphill! To infinity and beyond! Not sure of the timing, maybe I realized that I spent half of my life (hopefully at least) and want to leave something behind, a legacy? Sometimes I wonder how in the hell I came up with some stuff I wrote/did. Was it really me? Then again, I am my own worst critic. Maybe something growing up, trying to live up to my father who pushed me to do better and better and keep improving. Ok, that was a personal cathartic reflection from the inner whatever that word I am looking for but can't remember of TBB.
Here is some stuff I found worthy to share which I enjoyed, hope you do too. If not, click on my links to take it out on me for wasting your time, Thanks!
PSA: Don't Apply for the Alaska Airlines Credit Card Unless It Has a $100 Statement Credit  –  PointsCentric     If there is one thing I think I made a contribution to this quirky hobby is to bring the issue of conflicts of interest of credit card affiliate bloggers wide in the open naming names and speaking the truth. Now it has become so common so many are doing it and I LOVE it! So if you are pumped with the affiliate offer losing out on $100 BE ANGRY and NEVER come back to that site! And yeah don't click on mine for crying out loud, I will have trouble sleeping at night. Thankfully nobody has…I think, I remember them all. My favorite is the Prestige card 🙂
FTU DFW 2015: All About Delta SkyMiles  –  Rapid Travel Chai     This is a really great educational presentation about Delta SkyMiles. I do not like FTUs because it is dominated by Titanic salesmen of plastic proportions, see TBB Blogs To Ignore. This is my own humble opinion. I express it here without remorse and I don't care if it is bad for my blogging business.   Wait for it, wait for it. Blogging business, say whaaaaaaaaaaaaaaaaaaaat? If you are not laughing you are just way too serious!
Excellent Citi ThankYou Premier 50K Bonus that Makes It All Even Better!  –  The Lazy Traveler's Handbook     Wow, is Citibank coming back or what? Great to see it becoming competitive again! I should knock out a few in this household. But I am swimming in miles/points dear readers. Am I losing my touch? Am I getting bored? Getting a bunch more only to be angry when they devalue again shortly after they hit our accounts? Oh the tough choices we make separating miles/points from our favorite banks. Life is so hard sometimes. Just as I was creating some space in Award Wallet by knocking off all the US Air accounts…#rolleyes
How to Save British Airways Avios with Stopovers  –  Travel Is Free      This is rad.
Zakynthos, Greece – Our Favorite Island (and first Video)  –  Travel Is Free     If this is your first video, get into making a movie dude. WOW, incredible job. I think you captured the essence of the island and I have not even been there (but I can relate what is like in the Greek Isles remembering my youth having great times with Scandinavian beauties #evilsmiles).  Posts like these two featured here make this blog THE blog to learn from in this quirky hobby.
Want to get rich quick? Start a blog!  –  Personal Finance Digest     Probably one of the funniest blog posts I have read recently. I was on the floor laughing uncontrollably. Must read imho. Well done. Laughter is the best medicine.
33 Stunning Pictures of US Parks     I may have shared this before I think but run into it again and bookmarked it to share it with you because I loved these pictures!
Behind on retirement savings? Here are 3 ways to catch up     CNNMoney    Pretty good read. Hope not the case for you because you read TBB #winning
The average cost of tuition, fees and room & board at private and public colleges/universities: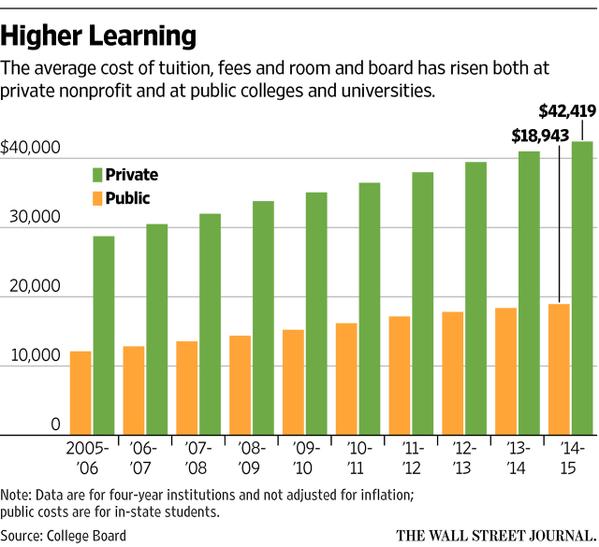 How to Ruin Your Relationship With Your Teenager   – The Mid     This is a wonderful article. I have ruined one but hoping to salvage the other one with my 12 year old daughter 🙂
Life is so much better not reading all these blogs in the Ignore list. You are not missing much I am telling you, try it!
I had an idea to lighten my load in this blog by introducing a side theme involving a person very dear to me who showed some initial interest. #Developing #LongTerm
Until next time, TBB on!
TBB
travelbloggerbuzz@gmail.com
Join over 3,556 TBB followers on Twitter @ FlyerTalkerinA2 and add TBB on Google+