We bring you the sad news of how AMEX devalues Business Platinum, greet the Altitude Reserve card launch, visit Minsk, kill bed bugs, bring you travel jobs, talk about college dropouts, check out the  photography, go on an Air Koryo helicopter tour, unleash furor against blogs that never stop selling credit cards in every post & more!
TBB Blog Mission: To Entertain. Educate. Inspire. In That Order!
TBB writes some awesome eclectic stuff over the weekend. In case you missed them:
Saturday: Ryan Leaf Letter, Renting Experiences, Change Is Not Easy
Sunday: Hard Work New Status Symbol, Crab Blood, First Sex Robot
Well, it should not have been a surprise at all. But what was surprising was how quickly Amex killed the 50% Amex Business Platinum 50% rebate feature. And replaced it with a 35% rebate and an upper 500,000 Membership Rewards points ceiling. The 50% points rebate was the most valuable feature of this card…by far! Which now makes this card a really blah card and not a standout. At all. What the hell is wrong inside Amex, are these guys in total panic and disarray or what? The different versions of the Platinum card, the different fees, the different benefits…it has become confusing as hell! But make no mistake!
The US Bank Altitude Reserve card launches today, here is a recap of it. Let me know how your experience is in the comments…
My blog is slowly turning into a curating type blog of amazing content around the internet. Not just the ever diminishing and devaluing miles and points blog space. I just wanted to throw that out there, welcome Oprah Show readers!
Midwinter Minsk: Socialist Modernism in the 'Soviet Florida'. The blogger at The Bohemian Blog keeps producing some amazing content. He does small tours too, maybe one day I can manage to go to one of them.
Highest-paying jobs for people who love to travel. Wow, glad I did not go into this out of college by following my passion 🙂  Anyway, I do not see miles and points/credit card sales representative like these guys in there!
The myth of the successful college dropout. If you needed yet another reminder that education is so worth it…And this excerpt made me laugh:
When Facebook founder Mark Zuckerberg was asked to give this year's commencement address at Harvard, he asked for advice from Bill Gates.
Zuckerberg said, "They know we didn't actually graduate, right?"
To which Gates replied, "Oh, that is the best part! They actually give you a degree!"
This year's best photography from around the world. Exactly what it says. I think the photos of the kids practicing gymnastics in China are shocking<——–apparently, this word works better in a headline…to attract clicks.
Your personal finance read of the day: Playing favorites. Love this as I can confirm it is true 🙂
Markets.If you retired in 2000, you would have struggled through a decade of lousy stock market returns, even as your own need for spending money drained your portfolio. By the time the current eight-year bull market kicked in, your savings might have been sadly depleted, thus limiting your dollar gains. None of this was your fault: It was just bad luck.
By contrast, if you had entered the workforce in 2000 and started investing regularly, you would have spent the next decade buying stocks at all kinds of prices, some high, some painfully low. But if you had stuck with it, you would have got your reward: When stocks took off in early 2009, you'd have had a healthy sum invested—and your money would have more than tripled over the next eight years, with any additional savings further padding your portfolio. None of this was due to your brilliance: It was just a lucky sequence of investment returns.
Pyongyang Air Koryo Helicopter Tour: I don't think I have seen these pictures of the city from above…
How to check your hotel room for bed bugs in 5 easy steps:

BLOG BUZZ
This section is for advanced level hobbyists and veteran blog readers & personal rants & stuff
I had a great time in Fort Lauderdale at the Westin Beach Resort. My review: Excellent location, right across the marvelous beach, view from my room was great, two great restaurants with amazing to awesome service, the almost $40 daily resort fee just sucks. Bonus: There was a "Women in HVAC" conference going on, not my type but hey…my luck I guess LOL. I also suck in selfies!
I got a great lesson in reselling at the TBB reader meetup. If I did not have a professional and blogger life, I would be all-in!
These were my third and fourth flights on Spirit. They have all been totally fine. I always had an exit row seat. And no travel interruptions. I had a shot at a bump but they were only giving out a RT ticket for a 3 hour delay and a connection. No $ vouchers. I took my chance to be DrDao'ed but I knew I had no shot at it. And oh man….they were selling their own credit card hard. Spirit's operations in Fort Lauderdale are pretty big.
For some reason I really like this picture I took from the skywalk to the beach in the Westin Beach Resort in Fort Lauderdale.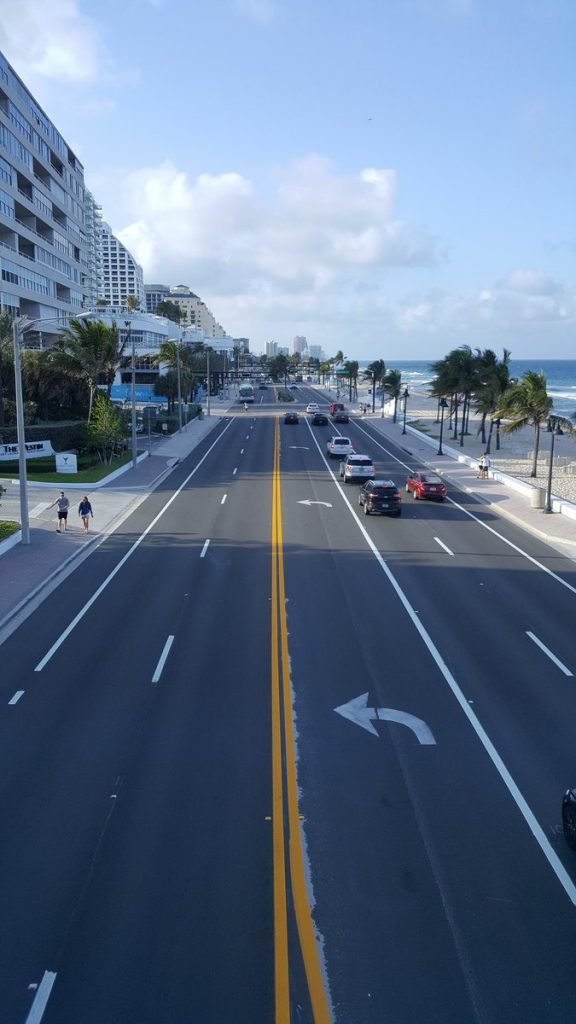 A selected sample of credit card pumping and other posts that make you shake your head and scream WTF!

Amazing how this card is still sold like…nothing happened:
Mommy Points: Not too late to get a year of 50% points return with AMEX Business Platinum
Points, Miles & Martinis: New Amex Business Platinum Card Members to Get 50% Benefit for 1 Year!
And there is always the constant credit card pumping from this outfit…smh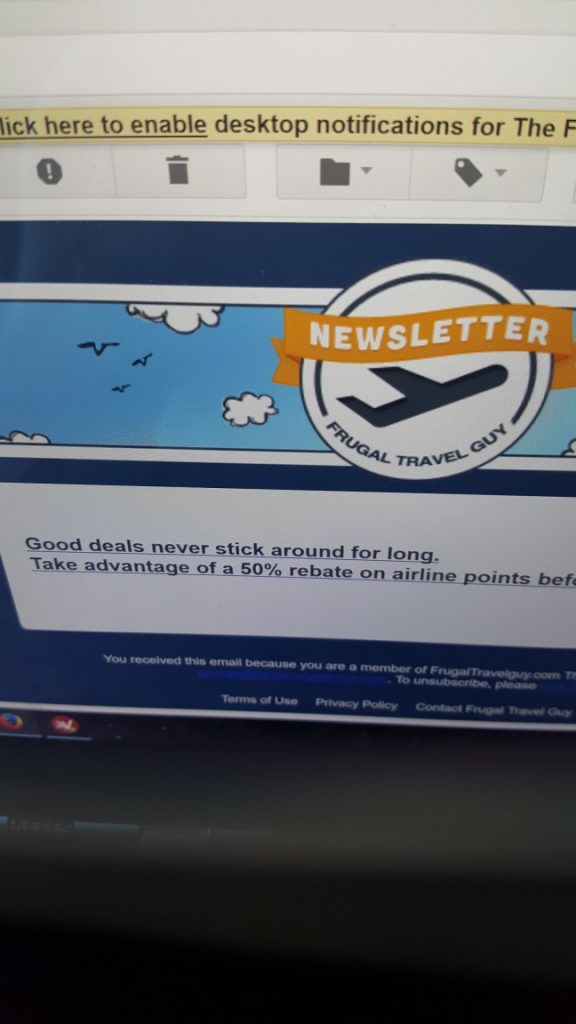 Stop clicking to buy miles & points from these bloggers, they make a nice commission every single time! Stop buying and making them rich, fly and stay for freeeeeee!
Oh, it is May 1st. Shout out to BestOffersPatrol! How about another credit card summary amigo, thanks!
And I leave you with this…
Check out my updated blog lists: Blogs I Love, Blogs I Like, Blogs To Ignore
TBB
travelbloggerbuzz@gmail.com
Follow TBB on Twitter @FlyerTalkerinA2
You can subscribe to TBB below, winners only!
Opinions expressed here are author's alone, not those of any bank, credit card issuer, hotel, airline, or other entity. This content has not been reviewed, approved or otherwise endorsed by any of the entities included within the post.