We are talking about the coming HUGE changes in our hobby and blogosphere IF the rumors are true! Well, they are pretty much more than rumors at this point. Darkness is coming…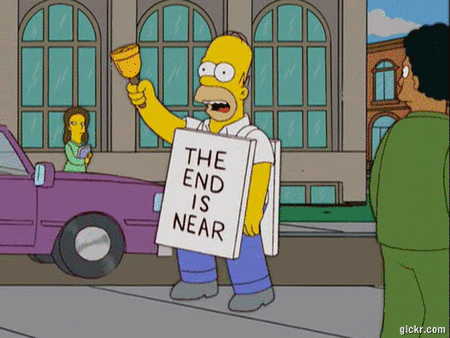 You can support TBB by clicking/forwarding any of our Referral Links and starting your online shopping at our Amazon affiliate link . Or click on the Amazon Banner on the right, thank you!
I was cranking along minding my own business concentrating in getting Uncle Sam to part with more refunds for my clients while bitching about the mega anesthetic dose my dentist delivered on me at 8 am Monday morning and I get a tweet by reader yuneeq directing me to a thread over at the DansDeals Forums and telling me "New rumors that AMEX bonuses will be only once per lifetime starting May 1st. 100% Cashback looking very likely..."  Well, I was busy and my first thought was "yeah right, just another rumor, this is just too massive to even comprehend". Later on, when I had some time I looked at that thread and I almost had a heart attack. OMG, shit just got real folks. It APPEARS it is true! After May 1st, you can NOT get the signing bonus for the same personal amex card, only once per product! And then I left for my Monday soccer game in a daze and confused (happens a lot) contemplating the future of this space! My thoughts:
-WTFAmex? Are you going to take away my rights as a US Citizen to get your signing bonuses over and over again? That is NOT fair, I have been so faithful! I mean, I left you sometimes for Chase or Barclays or Citibank or US Bank or Capital One or Discover or Bank of America and have always used your cards faithfully. I even have your Bluebird cards and have been a cardholder since 1999. If that is not loyalty I don't know what is! Your Blue Cash is my GO TO card I use it every day at drugstores (well one mostly), gas stations and supermarkets!
-You are totally going to disrupt the way I operate, come on! All the detailed records I have been keeping telling me all of your cards I had over the years and the exact dates I could apply for them again? How am I supposed to deal with this massive change? You are going to make me work harder for that darn retention bonus and lately you have been so stingy with them. I missed you like back in the good old days when you used to shower me with points for stupid stuff that happened which was likely my fault anyway.
-But it is not about ME Amex! It is all about my fellow bloggers who you have bought out and make them your bitch Amex. How are they supposed to pump your Amex cards to everyone who happened to have a good credit score? How are they going to feed their families? They may even stop blogging and telling their friends and family how to travel for free Amex, don't be so cruel! These bloggers pump your cards like there is no tomorrow, don't screw them like this. If they stick with blogging they may turn to Amazon affiliate links and cannibalize MY revenue Amex, come on now! They don't want to go back to their cubicles Amex! They just want to make up a post and work in a few Amex links (the Platinum is their all time favorite I hear) to get someone to apply. You will now make them to go even lower and dumb down their content even more to appeal to newbies who have never applied for an Amex card before. The never ending search for newbies with no Amex, is this what we are about to face in this space? Help us Lord!
You can read more at this Dans Deals Forum thread and late at night I see Dan made a post about it.
If you really sit back and think about it, we live in the greatest country in the world in the US. A part of it is for some absurd reason banks have been showering us with ridiculous high miles/point bonuses to get their cards again and again. This does NOT happen anywhere else, USA is unique 🙂  I think we have gotten so used to it this is a shock to our way of life just like Delta shocked us by changing Skymiles to an earning system based on how much you actually spend. There is no doubt in my mind that we are on our way to a full revenue based system on the redemption side.
As far as the banks go, consider yourself fortunate if you have been in the game for years and have enjoyed yourselves. If these changes do stick (and they are indeed implemented in practice) the scores we used to deliver will be less in number and scope (hello coach to Austin or Orlando or Cancun) because it will cost many more miles AND signing bonuses by credit card churning will be less. So, what I have been saying here boys and girls, I look in my crystal ball and I see:
Mileage Run? buhahahahahhhaha. Unless it is a ridiculously low mistake fare, no reason to bother anymore (unless you are a true road warrior close enough to a Diamond level Elite status)
The game in town is manufactured spending
The needle has moved over even more towards cash back cards
Earn and burn burn burn (I need to work on that!)
Bloggers who are not doing this full time should not quit their day jobs!
Bloggers who get paid to sell Amex cards prepare to sell lot less of them unless you morph into a newbie hunter
If these changes stick and you bloggers do not disclose this fact when you attempt to sell Amex cards, you have a free pass to the TBB Hall of Shame. Actually, maybe I should consider changing my "Blogs I Ignore" list name to "TBB Hall of Shame". Sounds more dramatic!
Head for Points wrote a post about his thoughts on the Delta revenue based Skymiles changes and there is one line that I think is very important: "The US airline industry is only ever one crash or one terrorist incident away from total crisis"  That is so true actually. We see what happens, time always tells.
A co-founder of First2Board, Lufthansa Flyer, has left to go back to Boarding Area!
I will do my best to bring the regular TBB Buzz post on Wednesday morning. Help me Lord and give me the strength to find the energy to entertain, educate and inform!
From yesterday's post I still can't get over the picture of the woman with the 800 condoms in a box. I laugh every time! I should learn how to do those Amazon product links and start working them in my posts. They have Ink Bold links, I respond with Durex condoms Amazon links, LOL! Every time I see an order of condoms come through I will smile and high five myself knowing that another TBB reader is just awesome…Feel free to buy 800 of them, woohoo!  Ok, I need to wrap it up 🙂
This was my idea of a filler post!
Check out my updated blog lists: Blogs I Love, Blogs I Like, Blogs I Ignore
Thank you for reading and supporting my blog!
Please pass my blog link to your friends and family if you think they will enjoy it too.
George
travelbloggerbuzz@gmail.com
Join over 2,492 TBB followers on Twitter @ FlyerTalkerinA2 and add TBB on Google+