We bring you Avios secrets, wonder around the Swedish wonderland, get details on stimulus 2.0, Delphi field trip photo discovered, the best Covid-19 coverage, we travel to Italy and Maho Beach, learn about the US federal budget, twenty personal finance laws, philanthropy, CIA and lots of great stuff brought to you by just one dude who should not be blogging for so long for so little but I do it for your love, here is to an awesome 2021, the year of the comeback!
TBB Blog Mission: To Educate. Entertain. Inspire. In That Order!
Support TBB by applying for CREDIT CARDS or visiting our

LINKS

or Donate

You like my blog? Send a link to someone please!
Shop & support the blog with the TBB Amazon link!
BLOG HOUSEKEEPING:

This goes out to subscribers via email the day it is posted at 8 am. After that I may add something new in the body of the post and I indicate it like this: Update.
If you are not into the frequent flyer miles/points game please feel free to skip the MILES & POINTS and most of the BLOG BUZZ section.
Stay positive, test negative!
TOP PICKS
Top picks are not excerpted at all. I recommend you find time to read every word!
This post has some heavy topics so I would like you to first read this and if you do not laugh non stop you probably belong at The Points Guy Inc website clicking its affiliate credit card links like sheep! I could excerpt it in the ODDZ & ENDZ section but I would not want to leave out several parts. One of the most hilarious links I have ever posted, trust me on this! Or maybe my sense of humor is too quirky lol. It is all about your "analprint"…I am loling while I just typed this word woohoo! I can assure you this would NEVER appear at The Points Guy Inc website, support independent blogs!
This Smart Toilet Will Know You by the Shape of YourAsshole
MILES & POINTS
HOT CREDIT CARD OFFERS: 75k Chase Ink Cash, 75k Chase Ink Unlimited, 70k Chase United Explorer, 100k Chase Ink Business Preferred, 60k Chase Sapphire Preferred, 80k for all three personal Southwest cards, 60k Citi Premier, 65k AA CitiBusiness Platinum Select, 50k AA Citi Platinum Select, 20k Chase Freedom Flex & Chase Freedom Unlimited, 60k AMEX Gold, 50k Chase World of Hyatt, 130k AMEX Hilton Business & Hilton Surpass, $300 AMEX Blue Cash Preferred, $300 AMEX Blue Cash Everyday, 140k IHG Rewards Club Premier, 100k IHG Rewards Club Traveler, 100k AMEX Marriott Business, 125k AMEX Marriott Bonvoy Brilliant. Please use my Affiliate links.

If you do not see a credit card with my affiliate links, perhaps I could refer you? Contact me please, thank you!
Offers that stand out are the 75,000 Chase Ultimate Rewards points for the no annual fee Chase Ink Cash and Chase Ink Unlimited business cards, the 70k Chase United Explorer card and all three personal Southwest credit cards now offer up to 80k Rapid Rewards points to sign up.
The 5x on groceries goes away on January 13, 2021! This is a short write up of the Chase Freedom Flex and Chase Freedom Unlimited cards.
The World of Hyatt credit card has a special feature ending on December 31, 2020: 10 elite benefit nights for 2021 which is 1/3 of the way towards hitting Globalist elite status! As long as you can apply before 12/31, assuming everything moves along fine in the slow Chase approval process, you should be good for the 10 elite nights. Oh, in addition you get 50,000 World of Hyatt points after you eventually spend $6k (good for 10 free nights in a Hyatt Category 1 hotel!), one free night on your annual card anniversary, automatic Discoverist elite status, another free night when you surpass $15k of spend every year, every $5k of spend adds another two elite nights, you earn 9 points on Hyatt stays, 2 points on dining out/flights/gyms/getting around and 1 point for everything else. Annual fee is $95. The card is available with my links. But if you do not want to take the time to find that specific link, here is my personal REFERRAL link, thank you!
Newbies: Blogs in this space will just keep pounding you non stop how you can travel for free, it's hogwash. This hobby takes a lot of time and attention, "mental real estate" as I like to call it. It is perfectly fine to focus on more important things. At the very least, assuming you have no credit card debt, try to be a smart consumer and at least try to get paid back on some of your regular purchases. Again, the KEY condition is that you ALWAYS pay the FULL amount due in your monthly credit card statement. If not, you are the reason some of us have been traveling for free for years! So, at the very minimum, at least get a 2% cash back card to keep things simple. Simple is good. If you are ready to take it to the next level, perhaps focus on one airline. And/or one hotel chain. Maybe there is one main airline in your city, so the decision is easy. Or your company likes to send employees to stay in one hotel chain…or you just love Hyatts for some reason or what ever. The BIG miles/points accumulator in this space are the credit card signup bonuses each of these airlines/hotels want you to get. Perhaps start with that one airline/hotel credit card, do your minimum spend, collect the signup bonus and BOOM…you should feel something more addicting than crack (not that I have ever done crack, just sayin'!)…you have a bunch of miles/points at that moment you can then spend some time to book the award of your dreams….And that is how we all got started in a sense. We were all newbies once. You got questions? Please ask!

Another list: Year-End Credit Card Checklist for 2020: Travel Credits, Spend Reset, Application Strategy & More.
For all about British Airways Avios points, I recommend this blog. I keep learning new things about them: Seven Avios secrets you probably don't know. I have been using these points for many years to fly for free on partner American Airlines direct flights from/to Detroit and New York City La Guardia for family occasions. Maybe one day I should move them to Iberia Plus to expand my award booking horizons I guess: Why you should NEVER book Avios flights on Iberia via ba.com.
In the pandemic year we in the hobby still had some big losses: Pour One Out for The Five Biggest Losses of 2020. I think the RATs in Amex made this year THE worst!
I was going to run the Athens Greece marathon in 2020. Of course it was canceled. As were all of my trip arrangements. So, it is time to do it all over again. As I had some Singapore Airline miles expiring December 31 I booked myself again a Business class award from NYC JFK to Frankfurt with 72,000 Singapore KrisFlyer miles. To get to NYC from Detroit, I "paid" for a Delta ticket. Well, I used a $50 e-gift card (not sure where this came from but I sure did not pay for it lol) and then I had to find a fare that would be offset with my expiring Delta airline credit from my Amex Hilton card so I booked myself a First Class ticket…let's see if the credit applies. If it all goes well it should be free. I then booked me a night at the Frankfurt Hilton for 55,000 Hilton Honors points and then I burned another 153,000 Hilton Honors points for three nights at the Athens Hilton (51,000 points per night). In between these two stays I plan to most likely book me the Athens Grand Hyatt…and leaning towards paying as the rate is just 109 euros per night…I have time and will likely book it after Hyatt Globalist is in the books in late January. I will still need to get from Frankfurt to Athens and will either fly Aegean or Lufthansa direct one way…I got time for that too, the  2021 Athens Marathon is on November 14. I will wait to book the return back to the US as…vaccines roll out and hopefully it is not canceled again! I am saving my six free Hyatt and Hilton certificates for now… #developing.
TRAVEL
I can watch this all day: An Incredible 4K Compilation of Planes Taking Off and Landing Above Maho Beach, St Maarten.
Many of these I did not know about: 26 Off the Beaten Path Italy Destinations to Visit in 2021.
I LOVE these photos from Sweden, wow! Wintry Scenes From a Swedish Wonderland. With his foreign assignments canceled for the year, a photographer refocuses on his homeland — and finds plenty to admire.
COVID-19
Everything Bill Gates writes these days is a must read: These breakthroughs will make 2021 better than 2020.  The latest on the innovations that will let us go back to normal. You will feel better after reading this, I sure did.
Everything you wanted to know about the different strains of this damn virus: How the novel coronavirus has evolved.
In Taiwan the dead from the virus is 7. In total. Read that again. We lose so many of our own in minutes every day! It could have been different here if we had a tiny bit of leadership. And brains. And empathy…Never mind, the national nightmare is almost over (talking about the Trump presidency, not about the tragedy in how we handled the pandemic of course). Anyway, like I said, it could have been like this: Spending 2020 in Taiwan was the best decision I made this year.
So many dead here in the US, so many super sad stories like this: A Holiday Haunted By Loss. We are becoming numb to numbers…it is not right.
Explaining the two mRNA vaccines in a Twitter thread in colorful language.
PERSONAL FINANCE
The US Federal Budget. No comment.
CURRENT EVENTS/POLITICS
God bless her! Giving Billions Fast, MacKenzie Scott Upends Philanthropy.
ODDZ & ENDZ
This is probably one of the saddest pieces I posted in a while. How Christian cults in China totally brain wash women who leave their families behind to devote their lives to the "leaders"…who live pretty well in the US: The Men Who Lost Their Wives to 'Eastern Lightning'. Also known as "Church of Almighty God," the forbidden religious group keeps attracting members, despite prosecution.
Ok, this is a long podcast. But I found it very interesting: John O. Brennan on Life in the CIA.
Soviet soldiers dancing to the "Take on me" by a-ha. Hahahahahaha!
I found this very interesting:
BLOG BUZZ
We are now entering BLOG BUZZ, a section for advanced hobbyists and veterans of this fast imploding hobby and also a section where I go on and on about some stuff that happens in my life because it helps me feel better about myself.
Andy, the guru, is back with another must read: Cheapest Miles to Asia in the Post-COVID-19 World.
Reports from the war front lol: What It's Like at Walmart After December 19th.
You should probably check this, Amex is getting really obnoxiously sneaky! Unenroll to Earn an AmEx Gift.
I walk by this place several times a day while I do my daily walks with my coffee from Panera at the other end of the strip mall. Never in a million years I would imagine a scene like this. Prayers go to the guy's family, how tragic! Driver killed, passenger extracted after car vaults from ditch into Ann Arbor Walgreens.
Someone had asked for a pic of me in my first school field trip to Delphi. I found it, here it is! My brother sent me the Michigan T-shirt and I thought I was so cool lol. You want to hear a crazy story to show you how life develops in ways we can not foresee? Me and the other guy in the photo were regularly smoking Marlboros cigarettes back in those days. He quit years ago like me and he is an ultra marathoner now…I am working to get back on my feet these days and still aiming to run full Marathon number two in late 2021. You would have never guessed this from our early days lol. I quit smoking on December 31, 2001.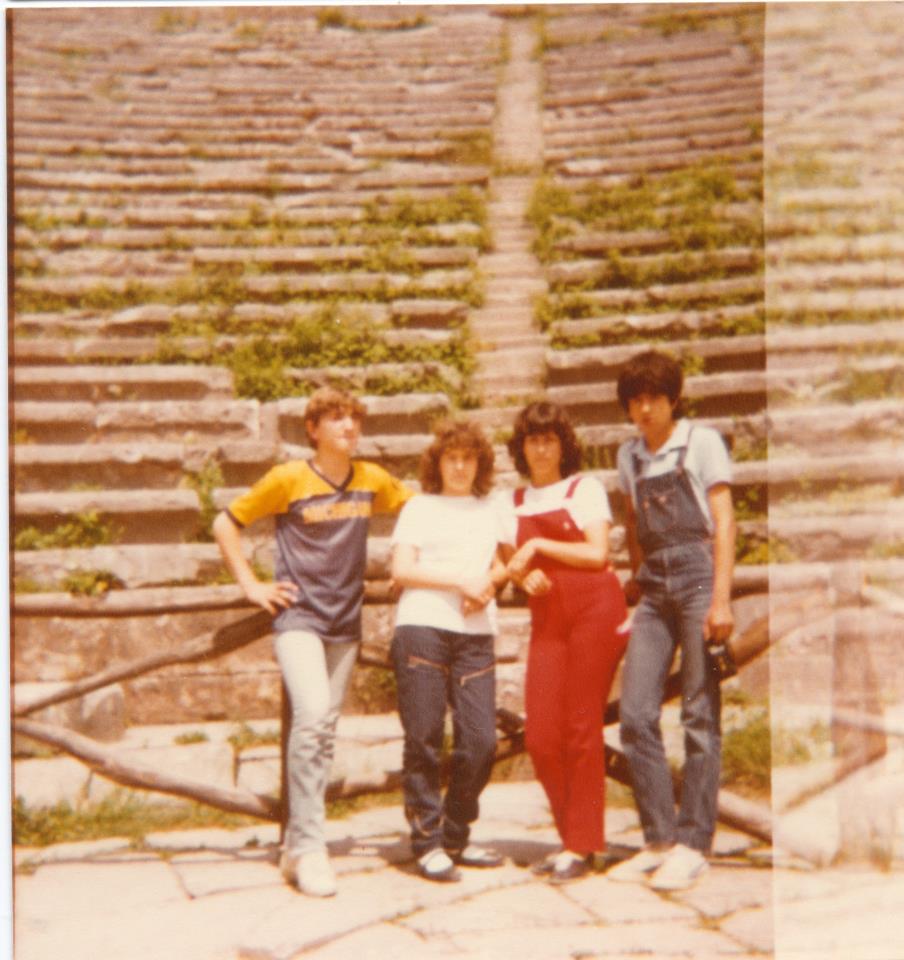 Today marks one full year from my last airplane ride! Let's get the vaccines rolling please and beat this phucking virus!
Last three days this blog brought in: Negative $1.21, $0, $0. Which is demoralizing enough. But when you get an email from a reader who never supported the site complaining how I turned to one of the full time credit card sales blogs all I can say is a string of F words. And get the phuck out of here, you know who you are. You'll probably shut up and enjoy the free content…again. You all have a great week ahead, except this hater!
And I leave you with this…
Follow TBB on Twitter @FlyerTalkerinA2.
You can subscribe to TBB below, winners only!
Opinions expressed here are author's alone, not those of any bank, credit card issuer, hotel, airline, or other entity. This content has not been reviewed, approved or otherwise endorsed by any of the entities included within the post.