We bring you ways to fly to Barcelona with miles, Basic Economy success is a reality, watch the amazing Audi electric car ad, possible Citi Double Cash changes, marvel at an octopus, see what is going on with the new Marriott Bonvoy peak and off-peak pricing, how a greedy idiot travel agent was stealing Delta Skymiles, go to Porto in Portugal, how the Taliban almost made it to Washington, a world cruise costing almost six figures, more wildlife photographs, how much artists make in streaming music sites, learn about global CO2 emissions, do some whining of course, give some hints about the next evolution of TBB and stuff like that.
TBB Blog Mission: To Educate. Entertain. Inspire. In That Order!
Support TBB by applying for CREDIT CARDS and visiting our

LINKS

!
You like my blog? Send a link to someone please!
Welcome back, hope you had a great weekend, nice to have you back. We have lots to cover, let's go!
MILES & POINTS
WTF was this guy thinking? Talk about sheer greed! A man was charged with fraudulently earning more than 42 million frequent-flyer miles worth $1.75 million.
You can fly to Barcelona for free! No, seriously! Got Avios? I would slide in my amazing sucky credit card indirect affiliate link here so you can get the travel rewards credit cards that will allow you to do so but why bother these days, it is not making much difference! Sorry, I got distracted, here we go: You Can Still Fly to Europe in Iberia Business Class for 25,000 Points; and Award Space Is Fantastic — Plus Cheap Nonstop Flights to Barcelona.
Well, the Marriott Bonvoy peak and off-peak pricing is finally here. A Look At How Marriott Is Dynamically Pricing Hotel Award Nights In Los Angeles, Miami, Israel, And The Maldives. It does not appear too bad but then…you realize how far this hobby has fallen when one hotel rewards travel card will get you at best one night in one of its luxury hotels. So, when bloggers keep blogging about these amazing hotel rewards travel cards and trying to trick you with amazing photos in luxury hotels, just CLICK AWAY!
Remember when Basic Ecconomy was introduced and self proclaimed travel thought leaders were raging about how bad it would be for the airlines? Well, nope. The Evolution of Basic Economy – an Update. The airlines are doing just fine with it!  This is a well researched article, now watch some writer at The Points Guy see it here and make a whole post about it pasting a lot more, sad!
After analyzing dozens of competitive markets, the results are conclusive. Yes, Basic Economy has been a success (although the argument could be made that Basic Economy, initially designed to combat ULCCs, no longer exists). The unabated expansion of ULCCs into large legacy markets has revealed its limits with the threat of Basic Economy. Yet the fascinating result is that the legacy carriers seem content leaving Spirit and Frontier with no more than 20-25% of the market. Balance points have been found, and while the ULCCs have been denied the opportunity of endless expansion in legacy markets, the analysis suggests they have been given a clear signal that a quarter of all other markets are fair game. This explains the continued ULCC expansion into other markets, such as Frontier's recent announcement in Newark. There is still room for a ULCC.
TRAVEL
You want to go on a cruise for eight months and visit 53 countries in 6 continents? Hey, you get business class airline tickets throw in for "free"! Viking's Ultimate World Cruise Is The Longest In The World. Oh, prices start at $93k lol.
Portugal is in these days. 25 Delightful and Tasty Things to Do in Porto, Portugal.
Can you imagine we almost had the Taliban in Washington? Think of these women! 18 Stunning Portraits Of Women In Kabul.
ODDZ & ENDZ
This will blow you away, I guarantee it! An Octopus That Billows Like a Circus Tent". WOW! Just click it!
I am not a fan of Audi cars but this ad for their concept electric off-roader car will just blow you away! Drones with headlights and stuff like that.
This Super Zoom will freak you out!
PERSONAL FINANCE
No clickbait and shocking videos here, just educational stuff like this: Don't fear, or fall for, these 13 seemingly scary tax tidbits.
3 LINKS WITH AN AWESOME PHOTO
We have more from The Wildlife Photographer of the Year Finalists!
Well, maybe the Saudis took a hit from some drone down in Yemen over the weekend! Which countries produce a greater proportion of global CO2 emissions than their proportion of the global population?
I had no idea about this, wow!
How Many Music Streams Does it Take to Earn a Dollar?
BLOG BUZZ
We are now entering BLOG BUZZ, a section for advanced hobbyists and veterans of this fast imploding hobby and also a section where I go on and on about some stuff that happens in my life because it helps me feel better about myself.
Stepped up the marathon training over the weekend, ran 14 miles on Saturday and 9 miles on Sunday. Yes, I am sore but felt good!
We may see Citi make Thankyou Network point transfers from the 2% cash back Double Cash card. If true, I think it makes the Double Cash card a great card actually! Lets see what happens…
This is good to know: Amtrak Guest Rewards Points Expire? Call Amtrak to Reinstate Points for Free (1 Time Courtesy).
Out of so many potential partnerships out there, seriously?
Half the month has gone by and we are tracking for less conversions in September after an awful August. Lets see what happens this month and then we may see something like this. 7 years in, I need to spend less time here and more time doing other things you guys…been a hell of a run! I 've been saying this for how many years now? Lol.
Another song recommendation:
DJ Shadow – Rocket Fuel (feat. De La Soul)
And I leave you with this…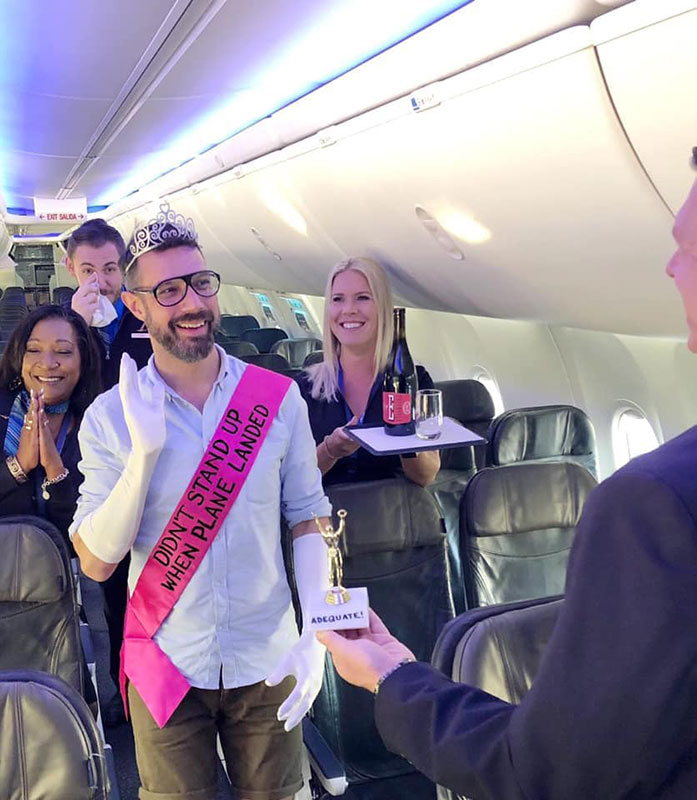 TBB
travelbloggerbuzz@gmail.com
Follow TBB on Twitter @FlyerTalkerinA2.
You can subscribe to TBB below, winners only!
Opinions expressed here are author's alone, not those of any bank, credit card issuer, hotel, airline, or other entity. This content has not been reviewed, approved or otherwise endorsed by any of the entities included within the post.