Another TBB post featuring the most eclectic links around the web such as the bear market, the crypto crash, why war fails, the everything virus, the new 80k Citi Premier card offer, the way we work has changed, some warnings about too good to be true "opportunities", Binance and Coinbase, crypto in search of the greater fool, best dining experiences, World Food Atlas, youth in Ukraine, latest on Covid vaccines, history of web timeline, amazing photography award winners and a whole lot more, good to have you here!
TBB Blog Mission: To Educate. Entertain. Inspire. In That Order!
Support TBB by applying for CREDIT CARDS or visiting our

LINKS

or Donate

You like my blog? Send a link to someone please!
This blog will publish every Friday in the month of June 2022.
Best of Web articles are truly exceptional and must reads, imho.
I use and recommend Proton VPN <——REFERRAL LINK
PERSONAL FINANCE
We are officially in a bear market. All bear markets hurt. Some of us who have seen several of them realize that bear markets are a normal and unavoidable part of investing. Without them, there would be no bull markets and new market highs. When you realize that short term anything is possible and long term you will be fine if you stick to a disciplined process…you shrug it off, you rebalance by selectively buying the most annihilated parts of the market fully realizing that you will likely miss buying at the "bottom", you stay diversified because you will never make it into the Market Timer Hall of Fame (pun intended…there isn't one!), you stick with your regular 401k plan investing, you stop looking at tickers and your portfolio/account statements and…go outside and enjoy the summer! The recovery will come and no one knows how long it will take so focus on what you can control. Again, STOP LOOKING at the market tickers and your portfolio, it messes with your brain and may lead you to moves you will permanently regret down the road.
This is an interview that sums up a lot of what I have been thinking about lately on the whole concept of retirement. I actually despise the word "retirement", I prefer rewirement because it sounds a lot more fun and energetic. This Stanford Psychology Professor Wants to Change the Way We Work. I don't agree with everything in the interview but sure agree with the following:
We need to work longer. We're living 10 to 15 years longer in adulthood than our grandparents did, and most of those years are healthy years, so why wouldn't we? Work is a primary source of a sense of purpose in people's lives.
We need more flexible models of work, where we work for fewer or more hours at different phases in our lives.
Hybrid work arrangements can be better for people's mental health and family lives.
One of the best ways to stay cognitively able to work is to work.
Exercise is the best thing you can do—for your brain, too. If you want to stay cognitively healthy, keep moving.
Be very careful with your own personal data out there, the scams are proliferating! Too Good to Be True. Which of course always extends to financial markets. Shame on all the bloggers who encouraged their readers to invest in "stable" coins…only so they can receive affiliate income!
"…earning a yield a little higher than U.S. Treasuries is plausible, but earning 20% a year in a "risk-free" stablecoin is not. There's nothing risk-free or stable about it."
Best of Web: Like Edith Sang. Over at Humble Dollar written by Jonathan Clements who drops some truths I am in agreement with, read every word!
I recommend these Personal Finance blogs/websites.
CRYPTO
It amazes me how this space attracts all these scum: How crypto giant Binance became a hub for hackers, fraudsters and drug traffickers.  Investigative journalism at its finest!
While Coinbase lays off 1,100 employees in 18% cut, never forget that the two co-founders and two execs netted $1.2 Billion in selling stock that has been completely annihilated. If this does not piss you off something is not right…
My colleague, who is also a personal finance professor, wrote this back in March trying to explain to his students the whole concept: Cryptocurrencies: Signed Pieces of Paper in Search of the "Greater Fool". If you read the example starting out like this below you may…agree?
Hearing this, I asked my students, "What is Bitcoin?"
A student replied, "It is a cryptocurrency."
"What's that?" I asked.
"It is a digital currency to make payments."
"What backs this digital currency?" I inquired.
Another student responded, enthusiastically: "It's backed by blockchain and mining."
"Really?", I replied. [And it continues…]
And then this to just shake our heads to oblivion! Convicted scammer Anna Sorokin says she is now selling NFTs.
TRAVEL
I like to eat…Thankfully, my running helps keep my weight under control and it is an ongoing battle. And then I look at articles like these and…I dream about them! 14 of the Best Dining Experiences Around the World.
And then I bookmark sites like this: World Food Atlas. Discover local ingredients, traditional dishes & authentic restaurants.
I had no idea about this! 32-Foot-Long International Bridge Connects Canadian House to U.S. Backyard. Such gimmicky tourist trap it appears…
The new discount airline Norse Atlantic is already flying JFK to Oslo, Norway with ridiculously low fares. It is also about to Fly Berlin to/from NYC and LA Starting at $120 One-Way. Great to see and…I hope they can stay in business!
I recommend these Travel blogs/websites.
UKRAINE RUSSIA WAR
This article takes a close personal look at the life of young Ukrainians pre and post February 24, the day the Russians invaded. In Ukraine, Youth Has Ended. I understand the pain of paying so much more for gas but please, let's restraint ourselves from bitching because absolutely nothing compares to what a whole nation is going through ok? Archived Link.
Best of Web: Why War Fails: Russia's Invasion and the Limits of Military Power. All Best of Web articles are must read!
Finally, Coca Cola is leaving Russia and the Russians now are pursuing business ties with the, please sit down, Taliban!
Meanwhile, in the Kremlin: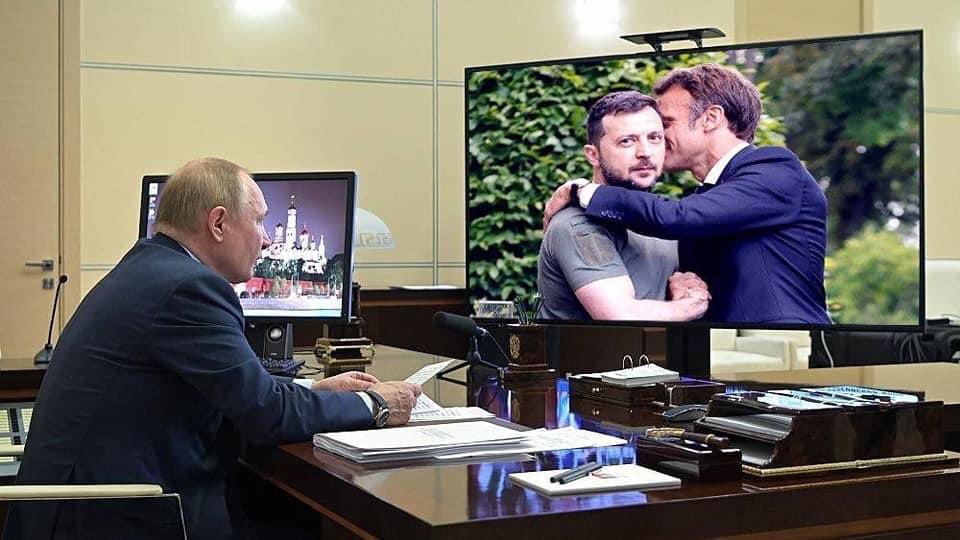 COVID-19
Best of Web: The Everything Virus. Stunning read, wow! Everything happening around us still stems from the pandemic that has changed us all and every aspect of our lives… Two years of journalists scrambling to make sense of an ever-changing pandemic. Stunning to go back and read/listen to so many mistakes we made and are still making…
Great podcast to listen to while running: What to Expect with the COVID-19 Vaccines. Damn virus just keeps mutating and still spreading fast (four times faster than the flu virus!).
As another 18 million children are finally becoming vaccine eligible, here is where we stand: US Coronavirus Vaccine Tracker
At least 257,846,006 people or 78% of the population have received at least one dose.
Overall, 220,597,701 people or 66% of the population are considered fully vaccinated.
Additionally, 102,232,228 people or 31% of the population have received a booster dose.
ODDZ & ENDZ
Best of Web: Finding a Path in a Broken System. Deep dive on gender confirmation surgery, gender dysphoria, transgenderism, medical systems, Thailand hospitals and a lot more. Thailand is a top destination for gender confirmation surgery. Its success is a symptom of Western failure. Follows several patients in Thailand and gets deeply personal.
Did you ever hear about the bizarre soccer game between Grenada and Barbados back in 1994? Own-goal football. In a 1994 qualifying match for the Caribbean Cup, both Barbados and Grenada attempted to score deliberate own goals – because it was the best strategy available.
For the final five minutes of regular time, fans were treated to a truly bizarre sight. Grenada was trying to score a goal in both directions: if they won or lost by one point, they would have the greater victory. And to stop them, Barbados was defending both goals at the same time – blocking both attempts at their goal, but also attempts by Grenada to score an own goal.
You want to get educated? Bookmark this: The Free Learning List. The Internet's Best Educational Resources.
The History of the Web Timeline. We have come a long way you guys…
Amazing shots, wow! 2022 Big Picture Competition Winners.
MILES & POINTS
HOT CREDIT CARD OFFERS: 80k CITI Premier, 60k CHASE Sapphire Preferred, 75k Capital One Venture X, 75k CHASE Ink Cash, 75k CHASE Ink Unlimited, 100k CHASE Ink Business Preferred, three 75k CHASE Southwest cards, 60k CHASE World of Hyatt Visa, 60k CHASE Sapphire Reserve, 20k CHASE Freedom Flex, up to 30k CHASE Freedom Unlimited, 70k CHASE United Explorer, 140k IHG Rewards Premier, 5 FREE Nights with Chase Bonvoy Boundless, 20k CITI Custom Cash, and many more, including many AmericanExpress cards, including Delta, Marriott and Hilton cards! Please check out my Affiliate links. Terms apply to American Express benefits and offers. Visit americanexpress.com to learn more.

If you do not see a credit card with my affiliate links, perhaps I could refer you? Contact me!
This section is about my hobby addiction of collecting frequent flyer miles and hotel points since the early 1990's! Feel free to skip this section and parts of the next one if this is not for you.
Newbies: This travel hacking hobby is mostly about getting the fat signup bonus of travel rewards credit cards while of course NEVER EVER carrying a balance. Banks have a marketing budget and are willing to give us many THOUSANDS of miles/points to travel mostly for free hoping to hook us to charge 20%+ interest rates on our balances. The poor souls who fall for their marketing paying these ludicrous interest rates to the banks for years end up subsidizing us responsible consumers who enjoy taking advantage of, cough, such bank marketing budgets! Some of us have been doing this for thirty years creating amazing travel memories…
As of today, I have burned 639,147 miles/points year to date and have 4,750,674 miles/points in the bank.
The Capital One Venture X card now offers a 75,000 point Signup Bonus after a minimum spend of $4k in the first three months. If you like simplicity and are looking for one (premium) card, I highly recommend this card (and yes, I have it myself!). It has an annual fee of $395 but it comes with a VERY easy $300 statement credit for travel booked on its excellent travel portal, essentially turning it into a $95 annual fee card. Wait…at each card anniversary you earn 10,000 points essentially making it FREE! Every dollar of spend earns 2 points and flights booked on the travel portal earn 5 points per dollar. You get a Priority Pass Select lounge membership and, this is important, you can add four authorized users FOR FREE who can also open their own Priority Pass Select airline lounge membership. No foreign transaction fees. Awesome seats at baseball stadiums for just 5k points. And lots more. Available with my Credit Card Links, thank you for your support!
NEW: 5 Amazing Ways To Maximize The 75K Capital One Venture Card Welcome Offer.
NEW: Capital One Partner Lounge Network Expands To Include Plaza Premium Lounges.
It is BACK! Citibank again increased the Signup Bonus for the Citi Premier card from 60,000 to 80,000 Thank You points. Annual fee is $95 and the minimum spend to score the Signup Bonus is $4k in the first three months. The Citi Premier card has a solid earning structure as it earns 3 points per dollar on gas/groceries/dining/travel and one point on everything else. Of course, you can transfer your points to mostly foreign airlines and JetBlue. Or, you can take $705 and run. What do you say? You can cash out at one cent per point. Therefore, 80,000 points means $800 less $95 annual fee——-> BOOM, here is $705 in your pocket, you need this $$$ to pay for gas! Read the newbies paragraph above and think…taking advantage of bank marketing budgets! To reiterate, do NOT become a victim of bank marketing budgets by paying interest TO the banks ok? To read more: The Citi Premier Card Has a Big Offer – 80,000 Points, Worth at Least $800. Yep, available HERE, thank you!
The Chase Sapphire Preferred card signup bonus is back down to 60,000 Ultimate Rewards points. Here is my daughter's REFERRAL link if you prefer not to use my Credit Card links.
Surprisingly, this offer is back! Chase Marriott Bonvoy Boundless FIVE Free Night Certificates (Up To 50,000 Points Each) Bonus. I am no fan of Marriott Bonvoy but this offer I must admit is very tempting as you can enjoy almost a week at a very nice property anywhere in Marriott's vast footprint. Available HERE under Card Category/Hotel, thank you for supporting this blog! Remember, you are NOT allowed to ever carry a credit card balance if you ever get a credit card here, ok?
Here we go again: Delta Launches Improved Welcome Bonuses. For the record, Delta miles are not very valuable other than extremely limited Flash Sales which come around…irregularly. So, don't fall for the sales pitches of bloggers glorifying them. Three personal cards and three business cards. Earning from as low as 70,000 up to 110,000 Delta Skymiles, available HERE.
Amex usually has a "lifetime" restriction in its credit cards. Meaning, once you get one you will not get the signup bonus again. Of course, there are ways around that. But let's stick with what is considered "lifetime". For a while it was deemed to be around 7+ years and recent data points show that it may be 5-6 years instead.
Time to register for this quarterly promotion again: Chase Freedom/Flex Q3 2022 Categories: Gas Stations, Car Rentals, Movies, Live Entertainment.
I registered this Hyatt promotion for my son who will be staying in one of the 150 participating hotels: 1,000 bonus miles. 10 cities. Unlimited earning.
BLOG BUZZ
We are now entering BLOG BUZZ, a section for advanced hobbyists and veterans of this fast imploding hobby and also a section where I go on and on about some stuff that happens in my life because it helps me feel better about myself.
I am committing to posting at least one comment daily in my blog, thank you for visiting.
Oh boy, the Wall Street Journal is jumping on the affiliate link bandwagon like so many entities out there (CNN, Forbes, New York Times, etc). WSJ debuts new commerce site "Buy Side". And here I am pounding sand. Ok, no comments please.
The big news in the loyalty space was Choice Hotels buying Radisson Americas. I think this is a good addition by Choice Hotels. I have about 350k points in the Radisson Americas program and now wondering if I should transfer them to the global Radisson program because, you know, Choice hotels is not high on my list and there is not much to like in the Country Inn properties in the US. What are you guys doing? Also, for some real expertise on what the transaction means, I like this Skift post: Choice's Grab for Radisson Americas Leaves These Unanswered Questions.
You have been warned: Brex Shutting Down Some Accounts, Use Rewards Now. Frankly, I am surprised Brex is still in business…
My daughter recently had a car accident during a freak rainstorm. I have been going through the insurance claim process. This is when you find out the quality of your insurance provider. I must admit everything has been going super smoothly with Citizens Insurance company (bought by Hanover). Sadly, the car is deemed a total loss and I went to the towing yard to clean it out and pay my last respects to it. The car (2018 Ford Fusion) was recently bought after it came off a three year lease and, please sit down, the check coming to us is more than $7,000 what I paid the dealer to buy it outright just a few months ago, wow! Daughter is paying the $1,000 deductible because…lessons. And right now she is being reacquainted with her bicycle for the summer lol.
So excited! World Cup 2026 host cities confirmed: What you need to know about the 16 venues.
United States: New York/New Jersey, Philadelphia, Boston, Atlanta, Miami, Houston, Dallas, Kansas City, Seattle, San Francisco/Bay Area and Los Angeles/SoFi Stadium
Canada: Vancouver, Toronto
Mexico: Mexico City, Guadalajara, Monterrey
Been crazy hot lately. You can book a swimming pool by the hour by searching at Swimply.com. I have not tried this so ymmv.
I laughed so much after watching this! What I imagine conductors do in orchestras. You know, laughter is the best medicine and "Entertainment" is part of my blog's mission.
I ran a 50.41 at the 2022 Run Royal Oak race which is at 8.10 pace. Not bad considering how hot it was that day. I placed first in my age group. Find small races if you want to achieve things like that. Follow me for more running tips! 🙂 Anyway, the training continues for the Berlin Marathon in September. I am looking for a half marathon race in mid August, any recommendations?
Song recommendation, how about some unique South Korean folk by ADG7. You most likely have not seen anything like this band!
This is a labor of love, enjoy another blog post and stay healthy my friends.
Let me leave you with this…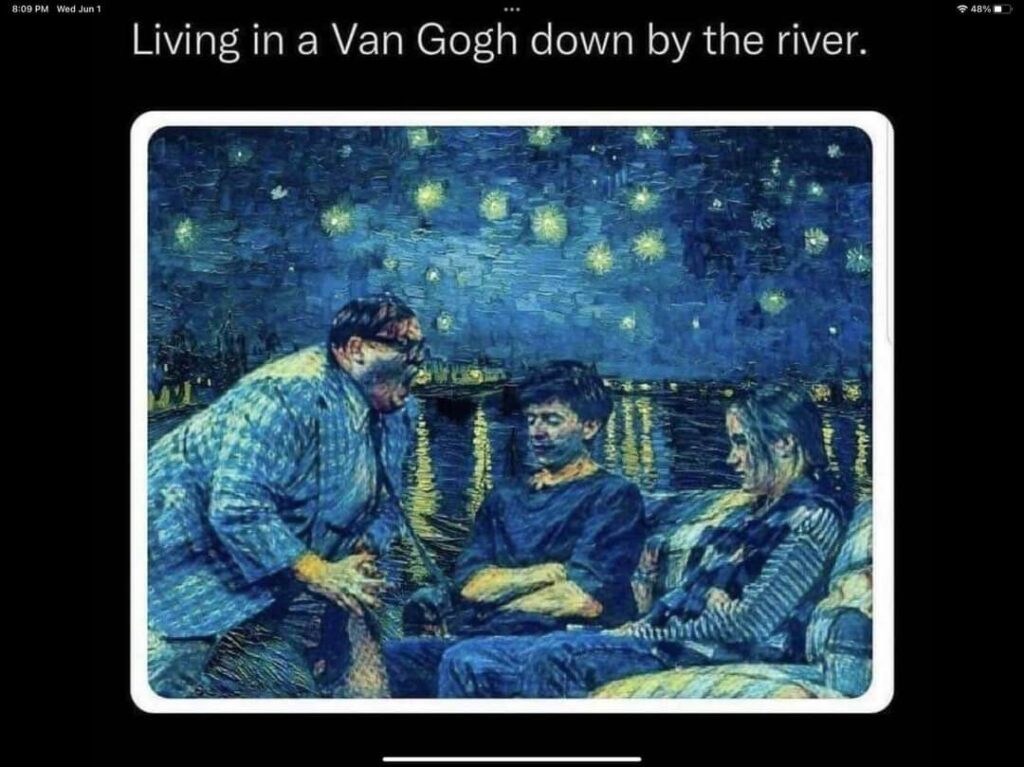 Thank you for reading my blog. If you enjoy it please pass it on to a family member or friend, thank you!
Some of the links are behind a paywall. You can try to read them using Archive.is. Or use 12ft Ladder. Or the Firefox browser.
TBB
travelbloggerbuzz@gmail.com
Follow TBB on Twitter @FlyerTalkerinA2.
You can subscribe to TBB below, winners only!
Opinions expressed here are author's alone, not those of any bank, credit card issuer, hotel, airline, or other entity. This content has not been reviewed, approved or otherwise endorsed by any of the entities included within the post.