Another TBB post featuring the most eclectic links around the web such as bear market fears and rethinking risk, more Binance Crypto hacks, haunted hotels and creepiest places, learn about Rick Roll history, I am running the Detroit Half Marathon this weekend, there will always be drawdowns in the markets, Japan is reopening, weirdest roadside attractions, travel to castles and taco joints, catch up on the latest on the Ukraine Russia war, how deep are our oceans, crazy real estate listings, amazing photography and we catch up on all the latest and most important developments in the crazy hobby of collecting frequent flyer miles and hotel points and traveling for free…
TBB Blog Mission: To Educate. Entertain. Inspire. In That Order!
Support TBB by applying for CREDIT CARDS or visiting our

LINKS

or Donate

You like my blog? Send a link to someone please!
This blog publishes every Friday these days.
Best of Web articles are truly exceptional and MUST reads in their entirety, imho.
Welcome to all new blog readers from George, your diligent curator of the BEST web content I find and share with you. No ads, no clickbait, just amazing content I discover along with my sometimes witty and seldom incendiary commentary.
PERSONAL FINANCE
I am starting the blog post with two short posts dealing with, what else, the ongoing bear market of 2022 and some selected excerpts:
Is extreme fear always followed by positive returns? No, there's no such thing as always in markets and in the short run anything can happen.
Still, if given the choice between a period marked by extreme greed or extreme fear, long-term investors should always prefer the latter. Why? Because extreme fear creates the opportunity to add capital at lower valuations and a more favorable balance between risk and reward. On the other side, extreme greed inevitably leads to poor decision making, chasing higher risk securities with little long-term reward. Which is why when it comes to investing it is not greed but fear that is good.
All news seems to be bad news and as one might expect, forecasts of impending doom are running rampant. During such times, it's hard to imagine stocks ever going up again. Which is undoubtedly leading many investors to either panic and sell or hold off on investing new money until the "dust settles." In theory, their reasoning is sound: by waiting for the market "to bottom," they'll avoid further downside and be able to buy back in at lower prices. But in practice, this strategy almost always fails. For if they're scared to invest today, what are the odds that they will be buyers if prices go down more and the news only gets worse? Not very good.
The main problem with trying to pick a bottom during a bear market is that no one knows where the bottom will be, despite the many predictions you hear in the financial news each day. But if you look at the track record of those doing the predicting, you'll soon find that many of the same people calling for a crash today were forecasting higher prices at the start of the year, and following their forecasts over the years would have led to disastrous performance. Which is why when it comes to the stock market, there's only one prediction you should ever pay attention to: there will be drawdowns.
Two steps forward, one step back, repeated throughout history has led to incredible gains for investors over time. It's how you react to those backward steps that makes all the difference.
We are continuing and extending the fear theme and taking it further: Do not be afraid: Advice to investors and other friends. Be an optimist!
Your fears are invented for the profit of others
Chronic fear is a disaster for your health
Chronic fear stops you from solving the problem you fear
I have been around investing for a long time. And it never fails to amaze me how fast the market mood can change and how market forces can scare the crap out of almost everyone! And how risk is being redefined after each rough downturn. Rethinking Risk. We went from this below to a state of affairs that appears that investing now is riskier…is it?
Everyone was making money buying anything and everything. We had self-proclaimed "growth stock" investors writing stock-picking newsletters that covered the same 50 "innovative" tech companies while conveniently ignoring any whisper of valuation concerns. No price was too high for game-changing tech, after all! Who cares if the company will never turn a profit, or if their revenue growth was pulled forward by Covid? Certainly Carvana, Zoom, and Roku were going to keep climbing by 300% per year. Cryptocurrencies, which never really functioned as "currencies", were collectively worth trillions, and Web3 startups raised hundreds of millions of dollars while still searching for "use cases."Back in the day, we called this search for "use cases" brainstorming. Dave Portnoy ran a livestream of himself day trading, some dude who's Reddit username was "DeepF*ckingValue" made $50M betting on GameStop, and Matt Damon told us that if we wanted to reach the same plane of human achievement as the Wright Brothers, the Apollo 11 team, and those who have hiked Mt. Everest, we need to buy Dogecoin on crypto.com. 
But make no mistake: It was far, far riskier investing a year and a half ago than it is today.
Yeah, pullbacks suck. Bear markets suck. But that's the cost of admission for playing in the stock market. The real risk isn't what's going on now. The real risk was getting caught up in the FOMO of 2020 and 2021. Buying into trends that were only backed by hype. But the time to buy wasn't then, when FOMO was peaking and nothing made sense. It makes much more sense to buy now, when valuations are reasonable and much of the risk has already played out. But that's not what risk feels like, because easy money is euphoric and bear markets are excruciating. And that's why this investing game is so hard.
First, I must say that I empathize if you were/are looking to buy a house. I always thought that building a house will be an incredibly frustrating process and this next link pretty much confirms it. Add the fact that the real estate market changes can be so swift and I really feel for you! Murphy's Law. The list of what has gone wrong should sure pause you from taking this undertaking imho. Also, the lessons the author learned are:
Every builder in every market will surely be different. Make sure you review your contract with a lawyer and understand your potential outs in case the market or other forces start turning against you. If you can, build in provisions into your contract for these outs. This may also force the builder to make certain concessions if the market turns against both of you.
Prepare for the worst. What happens if I go $100k over budget? What happens if interest rates go from 3 to 10%? Will I still be able to afford it? Will I be put in an uncomfortable or unattainable position? It's not to say either of these will happen but they could and it's better to acknowledge the possibility beforehand than be surprised right before closing.
Look into different type of loan options. Maybe you can get a 6-month lock that could help get you in a cheaper mortgage. Or maybe you could carry the construction loan. Talk to local banks. There are likely better options out there. Discuss them with your builder and mortgage lender before you go under contract.
Price transparency. Ask for receipts on everything. Ask for drawings on everything. Review everything. Question everything. They are working for you. They are building your dream house. Expect nothing less than perfection. Or just ignore everything and save your sanity.
To understand and, more importantly, laugh at how fast the environment has changed, click on this: Dave Portnoy's "Investing" Journey "Anybody can do this game" — Dave 3/27/2020. LOL
Looking at market tickers and checking your portfolio often is a giant waste of time and so unhealthy that you should stop. Now! Focus on the long term and stick to your plan. Assuming you have one that is. Focusing on daily market movements can really drive you insane, you have been warned. Repeatedly.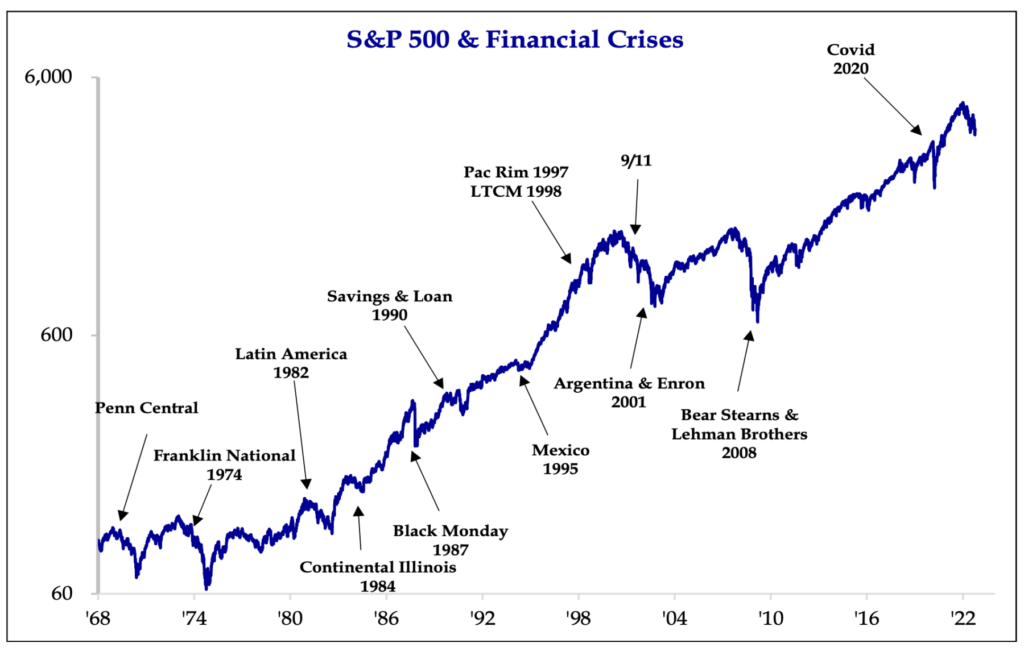 CRYPTO
Will these hacks ever stop in this space? $570 million worth of Binance's BNB token stolen in another major crypto hack.
It is really tough out there in NFT land you guys. The NFT market is down by almost every metric. You know what to do with that stupid ape NFT ok?
TRAVEL
Finally! Japan Is Reopening To Individual Tourists Effective October 11th 2022 – Here's What To Expect! Not totally wide open yet but very doable.
Halloween is coming so here we go: The Creepiest Place to Visit in Every State. Lots of cemeteries and hotels on the list! If you just wanted to stick to hotels only, I have the link for you: A Definitive Guide to the 13 Most Haunted Hotels in the US.
Another interesting link: The Weirdest Roadside Attraction in Every State.
The interesting links continue. I am intrigued by the hotel in Versailles, Kentucky on this list! 9 Beautiful Castles in America That You Can Visit.
I love tacos so I bookmarked this one: Yelp's Top 100 Taco Spots in America.
UKRAINE RUSSIA WAR
At this point I am not sure anyone can support Putin. Cornered and humiliated by the attack on the Kerch Strait Bridge, of course he unleashes almost a hundred missiles all over Ukraine for revenge hitting mostly civilian targets. What's behind Russia's unusually big missile attack on Ukraine?
The madness continues…How does the Russo-Ukrainian War End? Hope he is right…
War is ultimately about politics. That Ukraine is winning on the battlefield matters because Ukraine is exerting pressure on Russian politics. Tyrants such as Putin exert a certain fascination, because they give the impression that they can do what they like. This is not true, of course; and their regimes are deceptively brittle. The war ends when Ukrainian military victories alter Russian political realities, a process which I believe has begun.
Another great article as Putin sinks deeper: Putin's Regime Faces the Fate of His Kerch Strait Bridge. The attack on the crucial link between Russia and Crimea matters less for its tactical significance and more for what it says about the course of the war. Archived Link.
Nor will the battlefield stand still. A few more good strikes on the Kerch Strait Bridge and it will become virtually unusable. A tenuous Russian logistical system will come under greater and possibly unsustainable strain during bad weather, which may slow, but will not stop, Ukrainian attacks. A much larger psychological disaster for Russia will ensue if and when Kherson falls and the largest city that Russia has taken is lost to Ukraine, together with thousands of Russian prisoners. That would be the real inflection point, a great battle, and as Churchill also put it: "Great battles, won or lost, change the entire course of events, create new standards of values, new moods, new atmospheres, in armies and in nations, to which all must conform."
Best of Web: Ok, another one: Putin might lose the war. What would that look like for Russia, Ukraine and the world? We are on the verge of one of those truly historic moments just like when the Soviet Union collapsed. We really don't know what is coming next…
With his Ukraine invasion, and the folly of his many moves since, Putin appears to be driving the country toward another crossroads. The outcome looks every bit as uncertain and potentially destabilizing as those earlier cataclysmic events.
ODDZ & ENDZ
Best of Web: Loved this about The History of the Rick Roll. How Rick started, the three guys in the recording business who discovered him, the complete shock for everyone when the song came out and went viral, the crazy fame of Rick from that song, how he got burned out and left the business, the dude responsible for the Rick Roll meme on the internet and how gracious Rick is after all these years, enjoy!
Amazing and inspiring story of human resilience! Mike Conner v. The Pain. In 2013, a fire-sprinkler engineer fell five stories from the rafters of a church, shattered 108 bones, and almost died. Then began his battle to walk and live again.
Have you ever wondered how deep are our oceans? It will shock you…
This may make you scream numerous WTFs interrupted by frequent LOLs: 50 Of The Weirdest Real Estate Listings Shared By "The Best Of Zillow" Twitter Page.
Amazing photography: TNC 2022 Global Photo Contest Winners.
And how about this map below? Loved this comment: Sanctity of marriage! Interesting the correlations with neofascistic voting patterns and membership in evangelical"Christian" cults. Looks like communistic liberals stay married, while evangelical "Christians" don't.
MILES & POINTS
HOT CREDIT CARD OFFERS: 80k CITI Premier, 60k CHASE Sapphire Preferred, 75k Capital One Venture X, 75k CHASE Ink Cash, 75k CHASE Ink Unlimited, 100k CHASE Ink Business Preferred, 60k CHASE World of Hyatt Visa, 60k CHASE Sapphire Reserve, 70k Bank of America Alaska Airlines Business Visa, 50k Bank of America Alaska Airlines Personal Visa, 20k CHASE Freedom Flex, up to 30k CHASE Freedom Unlimited, 140k IHG Rewards Premier AND 1 Free Night, 20k CITI Custom Cash, and many more, including many AmericanExpress cards, including Delta, Marriott and Hilton cards! Please check out my Affiliate links. Terms apply to American Express benefits and offers. Visit americanexpress.com to learn more. If you do not see a credit card with my affiliate links, perhaps I could refer you?

This section is about my hobby addiction of collecting frequent flyer miles and hotel points since the early 1990's! SKIP if you are not into it!
As of today, I have burned 1,000,775 miles/points year to date and have 4,882,926 miles/points in the bank. Some do drugs, I do miles lol!
Thanks to US banks, very lucrative travel rewards credit card offers come and go all the time. This section will act as a reference point on the best CURRENT offers. I will designate new material preceded by NEW.
BEGINNERS
The Beginner's Guide to Getting Started with Credit Cards, Points & Miles
The Basics of Booking First & Business Class with Miles
BASICS: This travel hacking hobby is mostly about getting the fat Signup Bonus of travel rewards credit cards while of course NEVER EVER carrying a balance. Banks have a marketing budget and are willing to give us many THOUSANDS of miles/points to travel mostly for free hoping to hook us to charge 20%+ interest rates on our balances. The poor souls who fall for their marketing paying these ludicrous interest rates end up subsidizing us responsible consumers who enjoy taking advantage of, cough, such bank marketing budgets! Some of us have been doing this for thirty years creating amazing travel memories…Feel free to ask me questions or post them in the comments.
BASICS: Prefer credit cards from the proprietary points programs of banks, such as Chase Ultimate Rewards, American Express Membership Rewards, Citi ThankYou Network, Capital One Rewards Miles because they are a lot more flexible and are not devalued as frequently. Over pure airline and hotel travel rewards credit cards. Pure cash back credit cards may work for you best and they are getting more valuable as airline and hotel loyalty programs keep getting devalued. Sometimes, a pure no annual fee 2% cash back card works best for simplicity!
If you wanted nothing to do with these miles and points activities and just wanted a no annual fee 2% cash back card, you can not go wrong with the Citi Double Cash Mastercard. And right now it has the highest Signup Bonus ever. Ok, it is only $200 but still it is the highest ever lol. It comes in the form of 20,000 ThankYou Points which you can cash out for $200 if you decide not to transfer them to any of the ThankYou airline and hotel transfer partners. Available here under CardIssuer/Citi.
Citi Double Cash now featuring $200 welcome bonus
TOP TRAVEL REWARDS SIGNUP BONUS CARDS
Master Guide to Credit Card Applications: All the Rules You Need to Know, Bank by Bank 
Citibank increased the Signup Bonus for the Citi Premier card from 60,000 to 80,000 Thank You points. Annual fee is $95 and the minimum spend to score the Signup Bonus is $4k in the first three months. The Citi Premier card has a solid earning structure as it earns 3 points per dollar on gas/groceries/dining/travel and 1 point on everything else. Of course, you can transfer your points to mostly foreign airlines and JetBlue. Or you can cash out at one cent per point. Therefore, 80,000 points means $800 less $95 annual fee——-> BOOM! Read the newbies paragraph above and always think…taking advantage of bank marketing budgets! Available HERE, thank you!
 Citi Premier's Incredible Sign-Up Bonus Is Worth 80,000 Miles Or $800 In Cash
Your Guide to Citi ThankYou Points Transfer Partners
The Capital One Venture X card offers a 75,000 point Signup Bonus after a minimum spend of $4k in the first three months. If you like simplicity and are looking for one (premium) card, I highly recommend this card (and yes, I have it myself!). It has an annual fee of $395 but it comes with a VERY easy $300 statement credit for travel booked on its excellent travel portal, essentially turning it into a $95 annual fee card. But wait…there is more! On each card anniversary you earn 10,000 points essentially making it FREE! Every dollar of spend earns 2 points and flights booked on the travel portal earn 5 points per dollar. You get access to Capital One and Plaza Premium airport lounges and a Priority Pass Select lounge membership and, this is important, you can add FOUR authorized users FOR FREE who can also have their own Priority Pass Select airline lounge membership. You can transfer your Capital One points to up to 18 Transfer Partners. No foreign transaction fees. Free Hertz President's Circle rental car top elite status. Cell phone protection and PRIMARY rental car coverage. Awesome seats at baseball stadiums for just 5k points each. And lots more. Available with my Credit Card Links, thank you for your support!
 Why the Capital One Venture X Annual Fee Shouldn't Scare You Off
Alaska Airlines miles can be very valuable. Right now, the Signup Bonus offer for the Bank of America Alaska Airlines Visa Business card is 70,000 Alaska Airlines miles. The minimum annual spend to earn the 70k miles is $4k in the first three months. The annual fee comes to $75 and it is not waived. The card comes with a Companion Fare starting at $121 which could be extremely valuable in selected itineraries. No foreign transaction fees. The card earns 3x per dollar on Alaska Airlines purchases and 1x on everything else. Free bags for up to six people in the same reservation. Available HERE, thank you!
If you are looking to stay in Hilton hotels for free…you can not go wrong with these two Limited-Time Welcome Offers Available for Select Hilton Honors Cards. The Hilton Honors No Annual Fee card gives you 100,000 Hilton Honors points AND a statement credit for $100 after spending only $1,000 in the first three months. THINK about it, stay in Hilton hotels for free, be a taker lol. And the Hilton Honors Surpass card gives you 130,000 Hilton points after spending $2,000 in the first three months. The annual fee is $95 but it is WAIVED in the first year. I wish I could get these cards again…Available HERE.
There are now Four new offers for up to 100k Delta Skymiles are out, fyi. Available HERE. Not going to make a fool of myself trying to sell them enthusiastically. Because Delta Skymiles suck!
Barclays bank is coming back strong in this space and it is great to see! A great offer if you like American Airlines miles is the AAdvantage Aviator World Elite Business Mastercard offering 80,000 American Airlines miles AND a $95 statement credit (basically, first year annual fee is waived) after spending only $2,000 in the first 90 days. Here is a DIRECT link to it. Not the greatest card to use every day by the way…
Remember, you are NOT allowed to ever carry a credit card balance if you ever get a credit card here!
NEWS/PROMOS/MY ACTION
Hilton is out in force with 4th quarter promos. First, register to earn 2x points for stays until December 31 HERE. While at it, might as well register HERE for another promo to double every night you stay in a Hilton property until December 31. Also, airlines and hotels are finally starting to put away all Covid related policies and extensions, so beware! Here are all the 2023 Hilton Honors Policy Changes. Thankfully, they are going to make the free night certificates valid any day of the week instead of just weekends.
Please ignore all the credit card affiliate links littering this post and focus on the valuable information on How to Book Hyatt All Inclusive Resorts with Points and The Best Ways to Get to Australia with Points & Miles.
Everyone wrote how you can now get Delta SkyMiles drinking coffee at Starbucks: Delta SkyMiles & Starbucks Rewards Partnership: Earn 500 Bonus Miles & 150 Stars For Linking Accounts By December 31, 2022. I guess I'll get the 500 miles and 150 Starbucks stars (enough to redeem for a drink) for free, even though I recently stopped going to Starbucks and instead support local Ann Arbor coffee shops. Just go HERE to link the two accounts.
Proceed at your own risk! IHG One Rewards "Straight To Diamond" Offer & Fast Track To Keep It Through 2023. There is no way IHG One Rewards intended to give everyone Diamond status. Then again the IT of this company sucks so bad so…expect anything.
If you fly United, I guess you can see if you are targeted for some extra miles in its MilePlay promotion. I registered my son so he can earn 2,500 United miles if he pays for a trip on United in the next two months. I could earn 2,800 United miles if I pay for two tickets that cost more than $100 each in the next two months and we all know that this is never going to happen. Because I fly for freeeeeee lol.
Here we go again, another hotel program going totally dynamic, boo! Radisson Rewards Further Teases About Program Refresh.
I am trying to burn, going over 5 million miles and points stashed away recently acted as an extra incentive. And I am trying to book way ahead, like a whole year ahead which is something I have not done much in the past. I loved how I managed to snag on points the Grand Hyatt in Berlin, which is a hotel near the Start/Finish line of the marathon there. So, now really a fan of being able to walk from/to a hotel when running marathons…I managed to burn just 63,000 World of Hyatt points for four nights at the Chicago Hyatt Place River North during the 2023 Chicago Marathon in early October 2023. I emailed my World of Hyatt Globalist Concierge with a list of four preferred hotels which of course were not available/sold out. And he came back with a list of about six more nearby hotels and the points required for the requested nights. Three of those hotels were within walking distance so I picked one and just like that boom, done!
Also, I am running the Detroit Free Press International Half Marathon this weekend and, for giggles, I checked Hilton online to see how many hundreds of thousands of Hilton Honors points it will take to get a room at the Doubletree Detroit Downtown property, within walking distance of the Start/Finish line and one of the Marathon sponsor hotels. To my complete shock I found available rooms on Hilton points! And, please sit down, I found a 2 room suite available for just 50,000 Hilton Honors points and booked it immediately! I let the other couple running with us know about it and they managed to also book a room while canceling their $350 per night reservation at the Detroit Renaissance Marriott property. Winning!
BUZZING
A section where I go on and on about some stuff that happens in my life and anything else that just does not fit in another section above.
Not sure if you noticed I took out the COVID-19 section. Blog post is already too long and I am finding myself using my mask less and less and I think we are all ready to move on from this nightmare…Be careful out there and get your booster shot!
My marathon running journey started with the 2019 Detroit Free Press marathon. I made this post less than 48 hours after I crossed the finish line: My Running Journey to Becoming a Marathoner In Detroit October 2019. Still remains one of my proudest moments!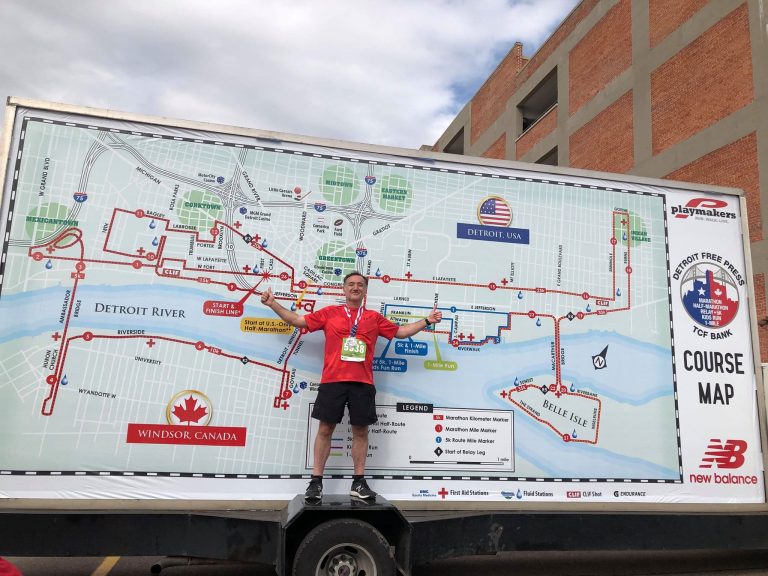 I have been listening to the band Dead Can Dance since my high school days. And every time I plan to see them live before they retire from old age…something always happens. Of course the 2020 and 2021 and 2022 US Tour concerts were canceled due to Covid. I managed to get tickets for April 2023 and then boom, canceled again for…health reasons. I hope I get to see them live one day, it is one of those things I still regret in my life…Here is one of my favorite (there are many) songs:
The greatest show on earth is starting next month and it has been so strangely quiet so far leading up to it with so much going on! FIFA World Cup 2022.
This blog is approaching anniversary Year 10. Just a labor of love. A few donors and the occasional credit card conversion to justify in my stubborn mind to keep going. Not sure why but this month, so far, there has been not even one credit card sale with my, admittedly, subpar credit card affiliate links! Spending hours on each blog post and not covering the costs of this blogging "venture" is one of the blogging aspects that makes this endeavor so hard to keep going. No wonder that the vast majority of blogs out there have quit! When this blog does not get even just three credit card sales per month, the end is near. And, you know, wtf am I going to do? This has been a part of my life in the past ten years trying to do this in a respectable way avoiding ads, relentless pimping of affiliate links and stupid hideous clickbait. Ok, this makes me feel better now, thanks for listening and reading and putting up with me all these years, see you next Friday. For now…
Let me leave you with this…
Thank you for reading my blog. If you enjoy it please pass it on to a family member or friend, thank you!
Some of the links are behind a paywall. You can try to read them using Archive.is. Or use 12ft Ladder.
TBB
travelbloggerbuzz@gmail.com
Follow TBB on Twitter @FlyerTalkerinA2.
You can subscribe to TBB below, winners only!
Opinions expressed here are author's alone, not those of any bank, credit card issuer, hotel, airline, or other entity. This content has not been reviewed, approved or otherwise endorsed by any of the entities included within the post.