Another TBB post featuring the most eclectic links around the web such as what to do during bear markets, Crypto crash is unfolding, the top international festivals, how Putin ruined Russia, a new search engine, stablecoins and Coinbase warnings, Buy Now, Pay later companies, top hotels, new Airbnb category, air traffic control towers, go deep into the biggest cave in Vietnam, the giant ripple effects of the Ukraine war, an interview of Dr. Birx that will shock you, an amazing must read investigative story about a cyclist fraudster and I could go on and on. There is A LOT here for you to enjoy over the weekend and into the next week.
TBB Blog Mission: To Educate. Entertain. Inspire. In That Order!
Support TBB by applying for CREDIT CARDS or visiting our

LINKS

or Donate

You like my blog? Send a link to someone please!
This blog publishes every Friday in the month of May 2022.
I use and recommend Proton VPN <——REFERRAL LINK
PERSONAL FINANCE
Another blog evolution…I am raising the "Personal Finance" section to be first and "Travel" relegated to second…Because I think I can educate/help more people this way. Which remains the primary mission of my blog. I welcome all feedback, thank you!
A few comments I would like to make regarding the carnage in the markets this year. First, just realize that anything is possible in the short term. There are always charlatans out there making predictions as they are a permanent feature of this landscape. IGNORE them, NOBODY knows what will happen in the short term! Investing is not easy. And in the last several years it was ridiculously easy, especially after Covid hit and everything went crazy. I used to tell clients as their portfolio values kept going up that I can not explain this and they should enjoy the higher values as long as they last. Ok let me paste here the paragraph I include in every Annual Client Letter for a few decades now:
I want to remind you that financial markets do regularly go down unexpectedly and the question is not if but when this will happen again. Seeing another up year is not common but it is possible. Seeing a decline up to 30% is also possible too! Again, anything is possible in the short term; we ALWAYS take the long term approach and stay disciplined and humbled.
A few more things to add…You should not be investing in the stock market if you can not leave your money alone for at least five years. Having a very healthy amount of boring cash for emergencies and short term goals is an amazing way to ignore the occasional and normal market drops. Stock picking is ridiculously hard and the mental bandwidth spent on it is likely going to be detrimental not only to your pocket but to your health as well. For young investors currently experiencing their first bear market, welcome this great education! It can serve you well for the rest of your life. For people currently working and maximizing their 401k contributions…you are buying more shares for the same amount of money and this is great!
Everything starts with diversification and sticking to a plan. Well, sticking to a plan is NOT easy and YOU are the problem! The more you take a peek at the markets and red tickers the more susceptible your brain becomes to…doing something that will likely hurt you. Because it is not only the decision to sell…but also the decision to get back in. For the patient investors who have seen this movie before, we go on focusing on more important things in our lives, we rebalance at some point fully knowing we will almost never buy at the bottom (unless we get really lucky), we realize this is completely normal and patience will be rewarded eventually.
I recently discovered this search engine: OldestSearch. Yes, it spits out all hits in reverse chronological order. Kind of fun to play with! So, I searched to see what is out there and I found this quote of mine in the Wall Street Journal back in 2013 (remember that short lived correction back then, no?…Of course, we all forgot it as so many others!):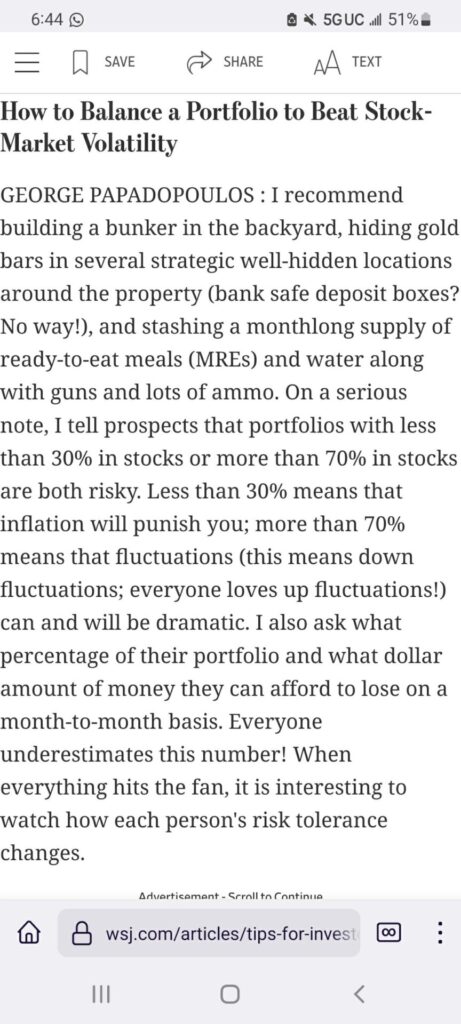 Looks like the insane bull market days are over. I like this post, short and sweet: It's Not Different This Time.
Let me give you one of the most important pieces of wisdom I know: The last durable edge in investing is arbitraging human behavior.
The ability to be patient is a superpower in a world increasingly focused on the short term. If you can just go about your life, doing the average thing, sticking to your game, and let everyone else do the panicking, you will be successful. 
Let me ask you a question:  do you want to grow and compound your wealth or do you want to keep interrupting it and falling prey to the same mistakes humans make over and over again?
Everything good compounds. Money, relationships, knowledge, love.   
If you constantly interrupt your money because "hey things seem scary right now" you will never succeed. 
Another short blog post that is very relevant to what is going on these days in the markets: When Things Break. I agree on all three points in general. In hindsight, everything always looks so easy! It now looks like the Fed sure stayed on its former accommodating ways too long and it is hurrying up to fight inflation. So easy for all us arm chair quarterbacks to criticize them doing the toughest job that exists! The other two points I fully agree about the shitcoins out there imploding and the shocking Coinbase announcement that your crypto holdings will basically be raided by the company in case of a bankruptcy wow!
Here's an alarming disclosure from CoinBase in which they explain that the Bitcoin they custody could be considered firm assets in case of bankruptcy. In other words, customers would be considered unsecured creditors and their crypto assets would not be considered theirs, but part of the firm's assets. This seems to be a legal unknown at this point because there isn't precedent for establishing how a BK court would treat the assets. This is essentially a version of the popular crypto mantra "not your keys, not your coins". In other words, if you don't personally custody your coins they're not really yours. This is wild. Imagine if Schwab came out one day and said "if we go bankrupt your personal assets will be subject to the bankruptcy settlement". They'd lose all their assets overnight. I don't know the legal aspects of this and so I am not in a position to have a strong opinion, but this seems like a very, very important matter that needs to be sorted and I certainly wouldn't want to wait around for a bankruptcy court to settle it.
I wrote this special post warning my readers: Best of Web Special on All Things Crypto, Blockchain, Bitcoin, Web3, NFTs, Metaverse, Cryptocurrencies, Scams. You are welcome!
I was ranting about these firms because, well, you know: 'Buy now, pay later' is sending the TikTok generation spiraling into debt, popularized by San Francisco tech firms. Companies bribing Tiktok influencers to sell their shit to people who fall for this and…screwing them for a lifetime smh.
It still amazes me how fast banks raise the hideously high interest rates charged on their credit cards but stay dead silent on raising the interest rates on their savings and money market accounts!
TRAVEL
These are great! Some of them I was not aware of: 20 International Parties and Festivals Worth Traveling For. I am not so sure about the "Frozen Dead Guy Days" festival in Nederland, Colorado though lol.
The list is by Trip Advisor so take that into account #hint. Anyway, I still like to browse such lists out of curiosity: The Top 25 Hotels in the World.
I love these! Awesome Air Traffic Control Towers Across the World.
The OMG category in the new Airbnb is awesome!
I would love to see the Son Doong Cave one day in Vietnam! Earth's Biggest Cave Will Blow Your Mind.
UKRAINE WAR
Excellent analysis of where Putin goes after his May 9th parade speech: A Victory Without Parades.

Putin was under no obligation to make a major strategic announcement on 9 May. The date acquired significance because of the importance of the war against Germany in the ideology of Putin's Russia and the need for decisions about what next to do in the war against Ukraine. But now that the 9 May has passed, and with it the burden of living up to the triumphs of 1945, Putin might find that instead of contemplating how to make this war a whole lot worse for everyone his time would be more usefully spent working out how to cut his losses. [I am the one who thought cooler heads will prevail and a cease fire and eventual peace agreement will happen very soon after the invasion as Russia had realized its spectacular miscalculation. But nope, never underestimate the grand stupidity of an isolated dictator! And here we are…]
At the same time, I think Putin now intends to keep at it (as in continue to degrade the Russian armed forces while inflicting as much pain as he can on the Ukrainians) while banking on the hurt his war is inflicting around the world…hoping to get the Western politicians to relent someway somehow so he can save face some way somehow. I think the world starts to rebound when…the cease fire is announced. The sooner the better for all sides! Make no mistake: The ripple effects of Russia's war in Ukraine are changing the world.
Meanwhile, it looks like Finland will be joining NATO and Sweden likely to follow. Nice job Putin, I mean, what a spectacularly horrendous gaffe by this guy wow! History will not be kind to him after this! But, you know, dictators can't help themselves, sad for everyone! How Putin's War in Ukraine Has Ruined Russia.
And so, the cycle is complete. Three decades after the collapse of the Soviet empire, Russians are being dragged back in time to when Soviet citizens lived isolated from the rest of the world, in a bubble of failed ideology and misinformation. That system fell apart under just the kind of autarky and autocracy that Putin hopes to reimpose. Just as the Soviet system collapsed, Putin is also failing Russia, erasing the gains of the postcommunist period in a feckless attempt to rebuild a doomed empire.
BREAKING: NATO to award Putin prize for its greatest recruiter LOL!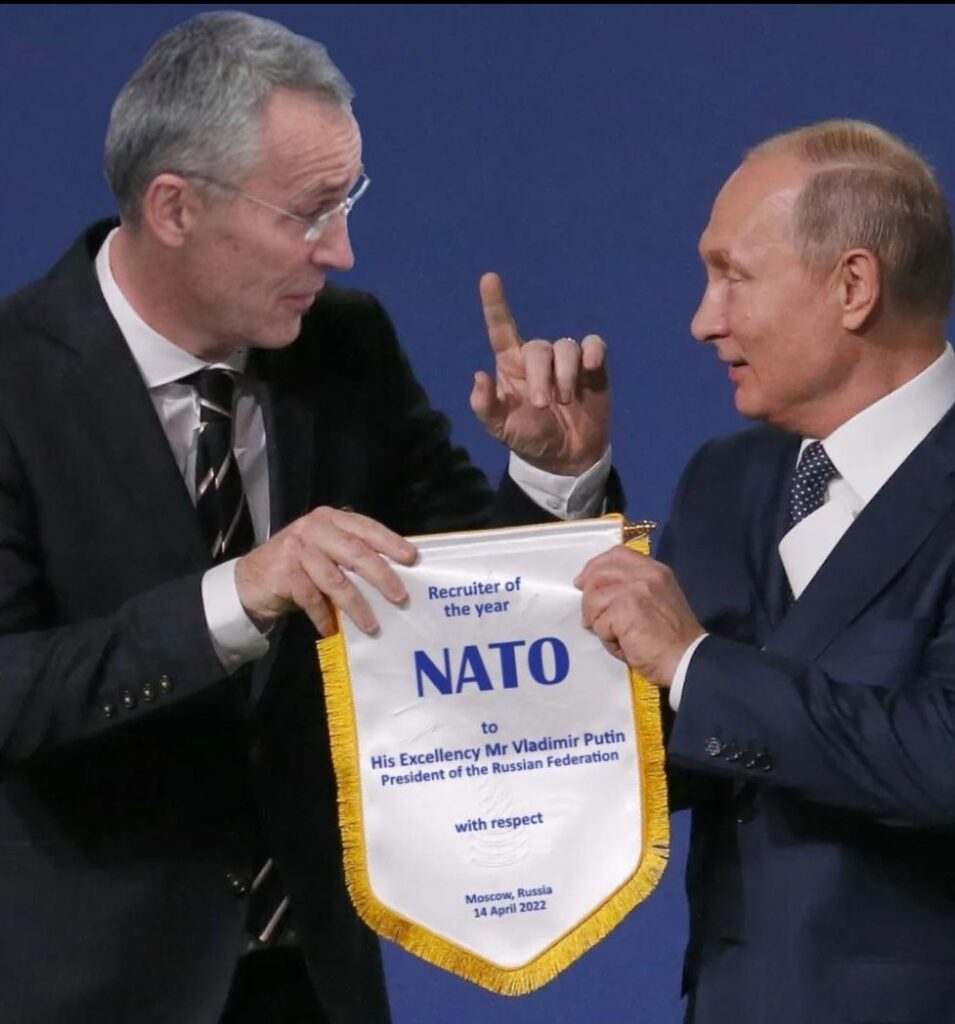 COVID-19
Andy Slavitt interviews Dr. Deborah Birx, the scientist in the Trump White House. I think he is way too kind on her. She could have resigned and spoke up to warn us all that the White House is NOT doing what is required to fight the pandemic. Instead…one million dead souls and counting. And she still believes Trump is data driven, come on!
Hope they are right! Are COVID surges becoming more predictable? New Omicron variants offer a hint.
If SARS-CoV-2 continues along this path, its evolution could come to resemble that of other respiratory infections, such as influenza. In this scenario, immune-evading mutations in circulating variants, such as Omicron, could combine with dips in population-wide immunity to become the key drivers of periodic waves of infection. "It is probably what we should expect to see more and more of in the future," says Moore.
My hometown Ann Arbor, Michigan is now in the High Alert Covid territory once again as cases shoot up (with hospitalizations and deaths not following!). As our nation mourns over 1,000,000 dead, how awful is that. Meanwhile, over in North Korea, the first case was reported a few days ago. And the next day they reported, please sit down, 18,000 cases. Will North Korea implode this time? Crazier things have happened!
ODDZ & ENDZ
Best of Web: Wow, this read! Exposed by a Strava KOM: The many lives of a fake pro cyclist. No excerpts, can't do it justice. This needs to be read in its entirety. So many fraudsters living in self absorbed and dangerous lies manipulating their life story online and the people who fall for them. I am surprised this guy did not "change" by turning into a crypto guru or something.
Educating is first in my blog mission: The 30 best educational podcasts for learning what you missed in school. And this certainly qualifies!
Warning: This link is cuteness overload! Baby Rhino and Baby Zebra Form a Unique Bond at South African Sanctuary.
A collection of amusing street photographs.
MILES & POINTS
HOT CREDIT CARD OFFERS: 80k CHASE Sapphire Preferred, 75k CHASE Business Hyatt, 75k Capital One Venture X, 75k CHASE Ink Cash, 75k CHASE Ink Unlimited, 100k CHASE Ink Business Preferred, 60k CHASE World of Hyatt Visa, 50k CHASE Sapphire Reserve, 60k CITI Premier, 20k CHASE Freedom Flex, up to 30k CHASE Freedom Unlimited, 70k CHASE United Explorer, 140k IHG Rewards Premier, 3 FREE Nights with Chase Bonvoy Boundless, 20k CITI Custom Cash, and many more, including many AmericanExpress cards, including Delta, Marriott and Hilton cards! Please check out my Affiliate links. Terms apply to American Express benefits and offers. Visit americanexpress.com to learn more.

If you do not see a credit card with my affiliate links, perhaps I could refer you? Contact me!
This section is about my hobby addiction of collecting frequent flyer miles and hotel points since the early 1990's! Feel free to skip this section and parts of the next one if this is not for you.
Newbies: If you are going to spend money…might as well get some rewards out of it? I hardly ever use cash and I try to maximize my rewards in all spending I do. It's just natural to me. I also like to have good relationships with banks, especially Chase which I consider the top choice in the bank proprietary points programs out there. Some have legitimate claims that American Express is the top bank proprietary point program out there and I will not argue with you. The point (pun intended) is that we are all different and we have different goals and personal situations to deal with. That is why I never respond to the "What is the best credit card" typical question we all veterans of this hobby get. IT DEPENDS! Coming back to Chase, you do not want to ever piss off this bank that they ban you, EVER! And I like the concept of an anchor travel rewards credit card. This is a type of credit card that you keep and use for ever to build a solid profile with its bank along with a solid credit history. In my household, we all hold the Chase Sapphire Preferred card and we have all built outstanding credit histories with it that…facilitate getting approved for more travel rewards credit cards to earn more miles and points! Right now, the Chase Sapphire Preferred card signup bonus is 80,000 Chase Ultimate Rewards after spending $4k on it in the first three months and it is available with my CREDIT CARD LINKS or you can use my REFERRAL LINK.
I consider Chase and Amex the top two bank proprietary points programs. And Capital One is rising very fast to now be very close to these top two programs. For me Citi has fallen to fourth place. The rest of the bank proprietary programs do not even register in my radar. Again, this is all based in my own humble opinion! We talked about bank anchor cards above. What is the bank anchor card with Capital One? Of course it is the Capital One Venture X card with a 75,000 signup bonus currently. It has a $395 annual fee and comes with a very easy $300 annual statement credit for travel, practically making it a $95 annual fee card (same as the Chase Sapphire Preferred card). Pretty tough to beat a premium card with such a low annual fee when the other banks' premium cards come with annual fees north of $500 and sometimes up to $695 like the Amex Platinum card! It also comes with a 10,000 anniversary point bonus in essence canceling the annual fee! Every dollar charged in this card earns 2 points which makes the mental math calculations very straight forward. And it also comes with four FREE authorized user cards who all can also get a free Priority Pass lounge membership which allows entrance to participating lounges WITH two guests! I got this card myself when it recently offered 100,000 signup bonus. I have no idea if the 100k will ever return. If you like to support this blog AFTER you decide any of the travel rewards credit cards mentioned here are suitable for you, please consider applying for them through my CREDIT CARD LINKS, thank you!
Chase limits card approvals to five (from any bank) in the past twenty four months, the infamous 5/24 rule. Therefore, if you are starting out in this hobby…it is essential that you start out with these precious five slots involving Chase cards. After getting the Chase Sapphire Preferred card (see above), you can expand to using more Chase cards that earn the valuable Chase Ultimate Rewards points and you basically launder them by transferring them all to the Chase Sapphire Preferred Ultimate Rewards points hub from where you can transfer out to airline/hotel partners. My preferred partners I transfer out when I am about to book award travel is United, Hyatt and Southwest (in that order). Which Chase cards to add to capture these precious five slots? The Chase Freedom Flex and the Chase Freedom Unlimited cards. You can learn more about them in this post: How 2 Chase Credit Cards Can Quickly Earn You 100K+ Points. You can damage yourself if you apply for credit cards and…get carried away by not controlling your spending and manage to carry balances that banks then proceed to screw you to pay for the rewards to us responsible card owners ok? Yep, again, they can be found HERE, thanks for the support!
Excellent Rakuten promotion going on right now until May 16: Rakuten/eBates: Refer A Friend & You Both Get A $40/4,000 Membership Rewards Bonus. Out of all the shopping portals out there…I have never had any issues tracking my earned points with this one, highly recommended. And here is my REFERRAL LINK, thank you.
Hyatt just continues adding properties to its program: Hyatt Adds 7 New All Inclusive Brands, 100+ Properties Coming.
Register for the latest Hyatt promotion: Earn 5,000 Bonus Points for qualifying stays of 3 or more nights at participating Inclusive Collection resorts in the Americas listed below between May 15 and September 15, 2022.
A roundup of the current hotel promos here: Hotel Promo Update: Best Western, Choice, Hyatt, Radisson & Wyndham May 2022.
What a weird merger! Avianca & GOL Merge. Good luck with your Lifemiles! Not sure what this Abra could stand for other than Awful Branded Regional Airlines?.
BLOG BUZZ
We are now entering BLOG BUZZ, a section for advanced hobbyists and veterans of this fast imploding hobby and also a section where I go on and on about some stuff that happens in my life because it helps me feel better about myself.
Wow, Kottke is taking a break from his blog after 24 straight years. Burnout. Must read for all bloggers. I am having the same thoughts. And my blog probably makes a super tiny fraction than his blog, not even covering my costs let alone make minimum wage, sad lol! Announcement: I'm Going to Miss You, But I Am Taking a Sabbatical. Most people have no idea what it takes to blog consistently for so long!
Tonight we are taking a friend couple with their young son to a Detroit Tigers baseball game in Comerica Park in Detroit. Made possible with Capital One points from the CO Venture X card mentioned above. It is all about making special memories with earned points you guys 🙂
With my new Barclay AA Aviator business card in my hands and currently working on the minimum spend to score another 80k AA miles, I have no need to keep the CitiBusiness Platinum Select card. Every time I call to wiggle out of the annual fee to get yet another retention offer and I succeed!  This time I was determined to close it and I felt bad the agent did not really try to stop me lol. Also on hand, the annual fee for the United Quest card is up next and I will call to product change to the no annual fee United Gateway card.  Because having access to increased award availability is important to me. Signup bonus was great and no way I am spending $250 annual fee on it! And this is how we roll churn.
Is this the highest bonus ever? I mean, what the hell is going on? How can AMEX do this? It is like printing free money points! I am checking my snail mail more carefully these days! American Express Business Platinum 250,000 Point Offer.
Son got another 20,000 AMEX Membership Rewards points after enrolling in this "Pay As You Go" feature. And this is how to unenroll to…wait for another promo to come back to do it again. Rinse and repeat! How To Unenroll From Amex Pay Over Time (And Why You Should).
I had an expiring Hyatt Cat 1-7 free night cert expiring on June 1 and…managed to use it for my daughter at the Grand Hyatt in Berlin as she needed a place for that first day in Berlin arriving from Copenhagen, perfect! It is the same hotel we are staying in September in a suite using a confirmed upgrade.
I am trying to pull together a reunion in New York City to celebrate a few birthdays in our family clan in early August. I had to burn 90k United miles for a direct flight Honolulu to Newark for son and girlfriend because prices are crazy high out there and they prefer direct flights. I am trying to convince him to come back to mainland because based in Hawaii is just not a friendly location for this hobby!
Miles/Points burned to date now stand at 525,807. I am trying desperately to go under 4,000,000 miles/points in my banks lol.
I really have no idea what to make of this news. Can Capital One be the bank? Don't have any high hopes…if it ever comes to fruition: Star Alliance To Launch Credit Card, Redeemable For 26 Airlines.
Last weekend we drove to Columbus to attend my wife's nephew's graduation from Ohio State University. The award stay in the Hilton Garden Inn University hotel was fine. 40,000 points for a Hilton Garden Inn was not my preference but I had to do it as wife's cousin had already booked a stay there. I could do better if I had a chance, took another one for the family lol.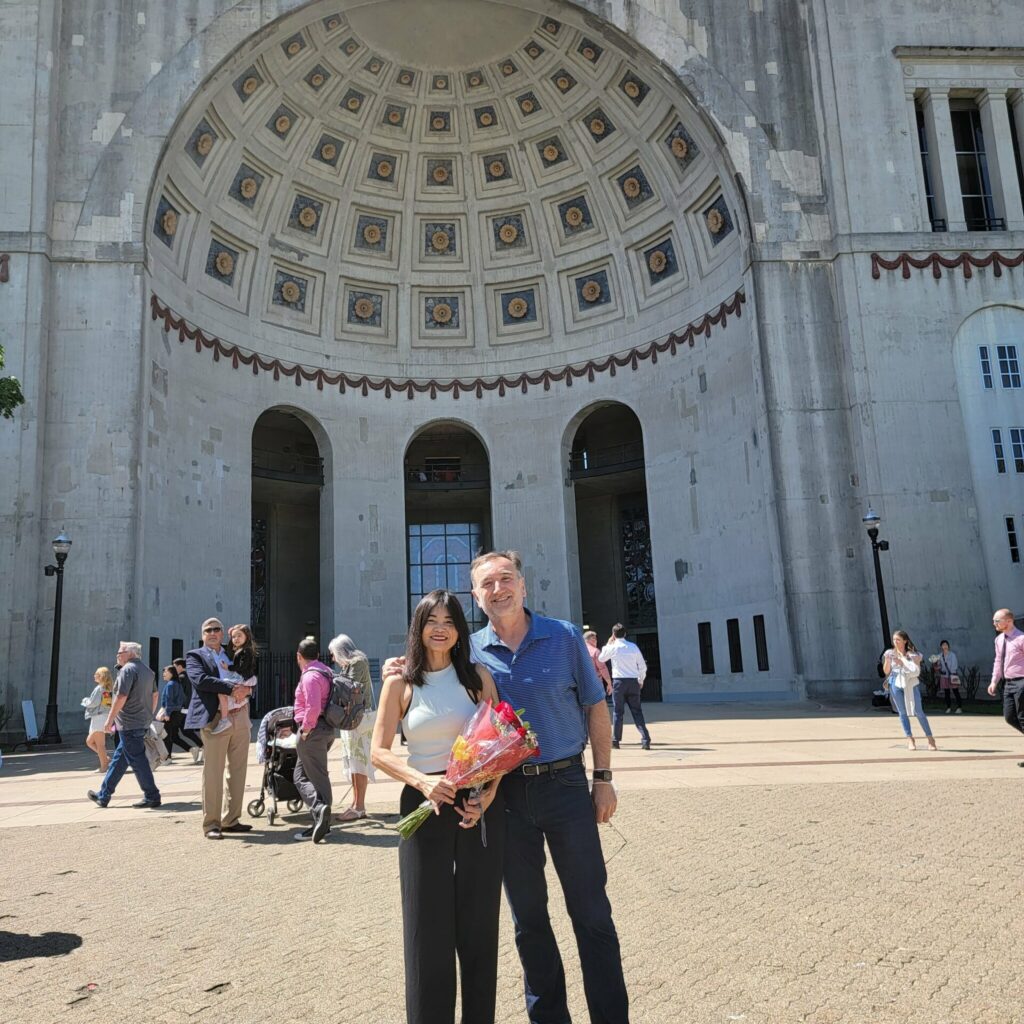 I am really proud of my blog. Thanks for the positive emails and comments I get, they mean a lot to me and really help carry on blogging!
Let me leave you with this…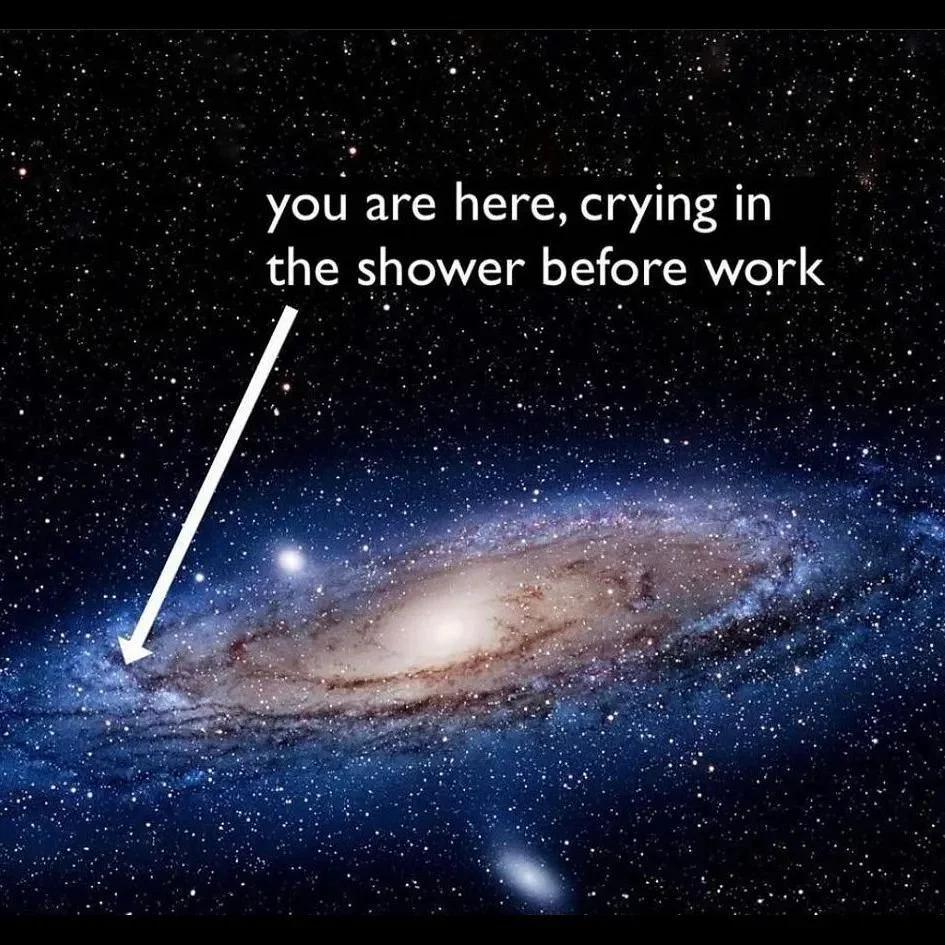 Thank you for reading my blog. If you enjoy it please pass it on to a family member or friend, thank you!
Some of the links are behind a paywall. You can try to read them using Archive.is. Or use 12ft Ladder. Or the Firefox browser.
TBB
travelbloggerbuzz@gmail.com
Follow TBB on Twitter @FlyerTalkerinA2.
You can subscribe to TBB below, winners only!
Opinions expressed here are author's alone, not those of any bank, credit card issuer, hotel, airline, or other entity. This content has not been reviewed, approved or otherwise endorsed by any of the entities included within the post.