Another TBB post featuring the fourth and final edition of 10+ links to the Best of 2022 Annual lists, a tradition around here over the holidays in the past several years. Best of 2022 Annual Lists, Edition #4: ETFs in Pictures, Best Longreads, Nature Photography, Lost Airlines, Deep Sea discoveries, good news stories, more things we learned, best movie posters and more!
TBB Blog Mission: To Educate. Entertain. Inspire. In That Order!
Support TBB by applying for CREDIT CARDS or visiting our

LINKS

or Donate

You like my blog? Send a link to someone please!
This blog publishes every Friday and some Tuesdays.
Welcome to all new blog readers from George, your diligent curator of the BEST web content I find and share with you. No ads, no clickbait.
BEST OF 2022 LISTS, POST #4

99 Good News Stories From 2022
2022 Nature Photographer of the Year Winners
2022 Deep Sea Discoveries and Sightings
Smithsonian's 96 Fascinating Findings of 2022
Kottke's 36 Things I Learned in 2022
22 Things That Made the World a Better Place in 2022
The Best Movie Posters of 2022
Doom and gloom and shocking negativity helps the clicks and making more $ from ads. Not in my blog, no ads allowed. We are making progress everywhere, from human rights to conservation to global health to decarbonisation to development to almost extinct animals rebounding. Just two that stand out from the first story are:
Most importantly of all, scientists at Oxford released results of trials of a new malaria vaccine with 'world-changing' potential, giving up to 80% protection from the bite of the Anopheles mosquito, the world's deadly animal. A deal has already been reached to manufacture 100 million doses a year, and the charity Malaria No More said it might mean children dying from malaria could end in our lifetimes.
The US Census Bureau reported that the poverty rate in America plummeted to 7.8% in 2021, and the number of children in poverty fell by nearly half. To put this in context – in 1993, one in four children lived in families living below the poverty line. 26 years later, that's fallen to roughly one in ten. The magnitude of this decline is unequalled in the history of poverty reduction efforts in the United States.
Fantastic summary of ETFs in 2022. Cathie Woods and her ARKK ETF, the big winners of 2020, instead turned around in a huge way and went down 70% in 2022 lol…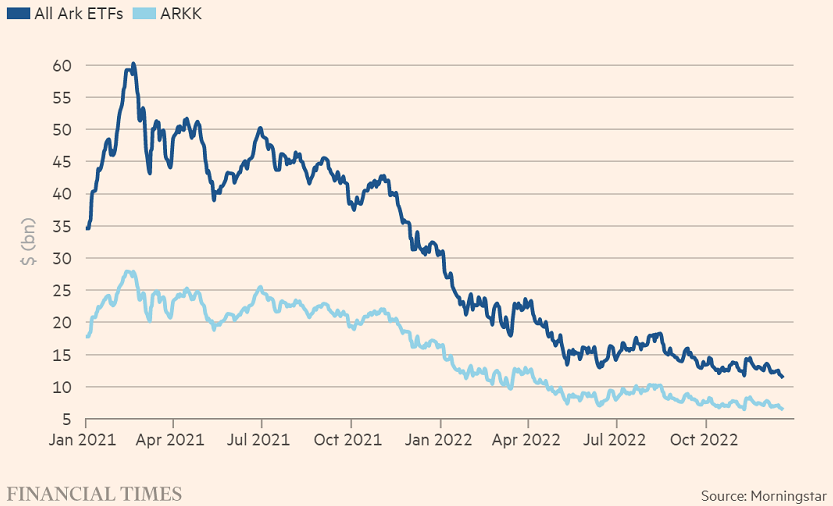 I like the variety in these "XX things I learned" posts. Here are a few from the one titled 52 Snippets…
Michael Lewis took a ten-year break after his hit book (Liar's Poker) before he wrote his next one. [I am taking a three day break before my next blog post on Friday lol].
In 1984, The energy sector made 27% of all S&P 500 earnings, today that number is 1%.
In 1967, 82.7% of Americans lived with their spouse. Today it is 37.5%.
Every single article in this is a masterpiece, enjoy.
Amazing nature photography, I had a really hard time to pick one!
The videos in the Deep Sea discoveries post are unreal!
I must admit I had never heard about some of the airlines that died in 2022…
If you dig archaeology and history you will love this Smithsonian post!
Did I say I dig these "XX things I learned" this year posts? Oh yes, I did. From Kottke's turn:
Of the estimated 1,300,000 to 1,750,000 people sent to the death camps of Sobibór, Bełżec, and Treblinka by the Nazis, "perhaps not more than 150" of them ended up surviving the war. 150. Not 150,000. 150.
"15% of the searches we see every day have never been Googled before."
In January 2022 in Norway, about 84% of new cars sold were EVs. That compares to 53% in Jan 2021.
We stay positive here taking note of things that are improving…
More than one-fifth of all electricity in the US now comes from hydropower, wind, and solar, meaning that renewables have narrowly overtaken coal and nuclear, which make up 20 percent and 19 percent of the energy mix respectively. The only other year this was the case was 2020—but back then overall power generation was reduced due to the pandemic.
Several people with severe spinal injuries were able to take some first steps within hours of neurosurgeons implanting nerve-stimulation devices into their spines. And with months of consistent training and by controlling the device using a touchscreen tablet, one patient even regained the ability to cycle and swim independently.
And I leave you with an amazing movie poster from 2022…
See you Friday!
Thank you for reading my blog. If you enjoy it please pass it on to a family member or friend, thank you!
Some of the links are behind a paywall. You can try to read them using Archive.is.
TBB
travelbloggerbuzz@gmail.com
Follow TBB on Twitter @FlyerTalkerinA2.
You can subscribe to TBB below, winners only!
Opinions expressed here are author's alone, not those of any bank, credit card issuer, hotel, airline, or other entity. This content has not been reviewed, approved or otherwise endorsed by any of the entities included within the post.