We bring you a way to pounce on the best credit card offers, educate you about the Marriott travel packages, where to go to eat the best burgers in the world, decide between two AA mile earning cards, see blackholes, proof our world is getting better, the best funeral ever and lots more! We (me) stick to the mission below, enjoy the ride, I sure am!
TBB Blog Mission: To Entertain. Educate. Inspire. In That Order!
If you enjoy my blog, you know, you can let your mother know about it. Or your mother in law if you like the #1 rule lol.
The intention is still to stay away from blogging in the weekends. Well, old habits die hard so I had to post this past Saturday with a great link about our favorite bank and the now infamous 5/24 rule. A must read for all newbies and probably you too!
This New York Times writer knows his miles and points stuff. How to Pounce on Best Credit Card Offers (Before Banks Pull Them). So I found it very disappointing he mentions The Points Guy, he should know better. But hey, Chase has a big ad budget last time I checked…
If you are trying to decide which credit card to go for, Aviator Red vs Citi AAdvantage Platinum Select, well read this post then.
I don't have and do not collect these points. But you may have been thinking about it so click if you want to learn more about the BancAmerica Travel Rewards.  Not sure about the "best deal in travel hacking" part!
Win 70,000 United Miles. One time online entry, takes a few seconds.
If you are going to send someone off, this is what a good son will do for you, send you off with a bang! A Taiwanese politician's funeral featured 50 pole dancers!  Check out the hot video! Why read the boring Titan blogs when yours truly can bring you such sizzling material huh? #bestfuneralserviceever!
Your personal finance fix: We Can't Direct the Wind, But We Can Adjust Our Sails. Some wonderful advice here, my favorite examples are:
We cannot control being laid off from our jobs for reasons we had nothing to do with. We can control having an emergency fund in place with one year's salary stashed away.
We cannot control the fact that markets do not have positive returns every year. We can control our savings rate, tax management and investment costs to help smooth the ride.
We cannot control the fact that most private sector jobs no longer offer a pension. We can control contributing enough to our 401(k) plans to, at the very least, qualify for an employer match.
We cannot control the fact that too many so-called "financial advisors" are nothing more than glorified used car salesmen pitching the product of the month. We can control choosing a real financial advisor; a fee-only fiduciary who is legally bound to look out for our best interests.
We cannot control the likely possibility we will never become a billionaires. We can control our level of happiness by valuing experiences with our family and friends and doing things for others.
NASA released this photograph with the highest concentration of black holes ever seen. Wow #blownaway
Around the World in 27 Burgers. The best from Brooklyn to Bali. Just another list. Lame blogger question: Which one is your favorite? And there is a burger joint named "Pizza Loves Emily"…WTF! Most surprising entries on the list is that there were not one but two in Bali, Indonesia!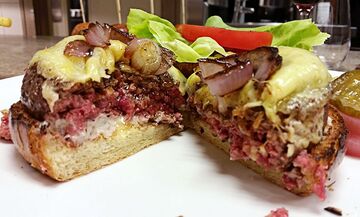 Proof that life is getting better for humanity. Stop bitching. But you can bitch about how this formerly quirky and obscure hobby is finding its ways into the mainstream lately #thinkconversionstonewbies
BLOG BUZZ
This section is for advanced travel hacking hobbyists/enthusiasts and oldtimers…
These probably will not last much longer #hint  11 Things you Need to Know about Marriott Travel Packages.
If you are running out of cards to get and not willing to take a break to work on that horribly restrictive 5/24 feature, perhaps you can maximize the Merrill+ card and its 50,000 point sign up bonus. One of the best things in life is when a client leaves Merrill and signs up with you and you see those assets leave ML #loveit
Frequent Miler, after losing Julian to The Points Guy, now is losing Shawn too. When it rains, it pours; bad break losing two good people back to back! So he is looking for someone to come aboard full time. If only all bloggers had this site's affiliate linking policy the world would be a better place and not have the pumping machine Titans be sought after as "experts" #myass. I don't want to get into discussing The Hobby here you guys 🙂
This site does NOT do weekly digest posts, I see them as a cop out to regular readers. But I hear they are wonderful for SEO stuff, Alexa rankings etc. Maybe one day I should start paying attention to these things…
So, you apply for the Chase Sapphire Reserve (with my link, thanks!) and you get the "7-10 days pending" message. Don't panic, READ THIS!
I am having lots of fun at the 2017 North American International Auto Show in Detroit attending some private events for Amex Platinum card holders with my wife. If you don't follow me on Twitter for updates, well, you lose! I may have a post about it with some AWESOME cars too…so I can justify the tax deduction 😉 #blogbenefit Oh, did you miss me in a Ferrari I bought after I got an insane buyout offer from The Points Guy Inc?
And I leave you with this…
Check out my updated blog lists: Blogs I Love, Blogs I Like, Blogs To Ignore
TBB
travelbloggerbuzz@gmail.com
Follow TBB on Twitter @FlyerTalkerinA2
You can subscribe to TBB below, winners only!
Opinions expressed here are author's alone, not those of any bank, credit card issuer, hotel, airline, or other entity. This content has not been reviewed, approved or otherwise endorsed by any of the entities included within the post.