Here is another post with five Best of Web links I have found worthy to share with you: China's war choices, how many are in space right now, we need new fight autocracy plans, the world's military personnel, the 2022 Sony World Photography Awards winners and Arnold the Terminator speaks directly to the Russian people. Enjoy the weekend!
TBB Blog Mission: To Educate. Entertain. Inspire. In That Order!
Support TBB by applying for CREDIT CARDS or visiting our

LINKS

or Donate

You like my blog? Send a link to someone please!
The Best of Web posts are much shorter in length with material that is a notch or two above what you see in the regular TBB posts.
Click on the headline for the link!
I may switch it up next week and start publishing the long Buzz posts on Fridays so you can enjoy them over the weekend instead of posting them on hectic Mondays. Will see, it depends. This continues to be the labor of love of just one guy, glad to have you here!
This was written by a Chinese foreign policy research expert. And it appeared in China. Which makes it, well, shocking. The first part of the article deals with what is likely going to happen after the end of the Russia-Ukraine war and how it is going to affect Europe. It is not going to end well for Putin and Russia it appears. Then the article deals with how this is going to affect the international landscape.
The United States would regain leadership in the Western world, and the West would become more united. At present, public opinion believes that the Ukrainian war signifies a complete collapse of U.S. hegemony, but the war would in fact bring France and Germany, both of which wanted to break away from the U.S., back into the NATO defense framework, destroying Europe's dream to achieve independent diplomacy and self-defense. Germany would greatly increase its military budget; Switzerland, Sweden, and other countries would abandon their neutrality. With Nord Stream 2 put on hold indefinitely, Europe's reliance on US natural gas will inevitably increase. The US and Europe would form a closer community of shared future, and American leadership in the Western world will rebound… The power of the West will grow significantly, NATO will continue to expand, and U.S. influence in the non-Western world will increase…China will become more isolated under the established framework…Once Putin falls, the U.S. will no longer face two strategic competitors but only have to lock China in strategic containment. Europe will further cut itself off from China; Japan will become the anti-China vanguard; South Korea will further fall to the U.S.; Taiwan will join the anti-China chorus, and the rest of the world will have to choose sides under herd mentality. China will not only be militarily encircled by the U.S., NATO, the QUAD, and AUKUS, but also be challenged by Western values and systems. [Has Xi arrested this guy yet? Lol]

Last, and most interesting, part of the article deals with what China should do next. Please sit down…
China cannot be tied to Putin and needs to be cut off as soon as possible.. Being in the same boat with Putin will impact China should he lose power. Unless Putin can secure victory with China's backing, a prospect which looks bleak at the moment, China does not have the clout to back Russia…Under current international circumstances, China can only proceed by safeguarding its own best interests, choosing the lesser of two evils, and unloading the burden of Russia as soon as possible. At present, it is estimated that there is still a window period of one or two weeks before China loses its wiggle room. China must act decisively…China should avoid playing both sides in the same boat, give up being neutral, and choose the mainstream position in the world…Given that China has always advocated respect for national sovereignty and territorial integrity, it can avoid further isolation only by standing with the majority of the countries in the world…China should achieve the greatest possible strategic breakthrough and not be further isolated by the West. Cutting off from Putin and giving up neutrality will help build China's international image and ease its relations with the U.S. and the West…The bottom line is to prevent the U.S. and the West from imposing joint sanctions on China…China should prevent the outbreak of world wars and nuclear wars and make irreplaceable contributions to world peace…To demonstrate China's role as a responsible major power, China not only cannot stand with Putin, but also should take concrete actions to prevent Putin's possible adventures. China is the only country in the world with this capability, and it must give full play to this unique advantage. Putin's departure from China's support will most likely end the war, or at least not dare to escalate the war. As a result, China will surely win widespread international praise for maintaining world peace, which may help China prevent isolation but also find an opportunity to improve its relations with the United States and the West.
I hope Xi listens…Maybe letting this be published was the first step? Meanwhile, Lavrov's airplane on the way to Beijing turned back over Siberia. We shall see what happens… #developing.
Next, let's take a mental break before we dive into another heavy article dealing with geopolitics. Have you ever thought…
Click above to find out. The answer will shock you…Well, not really. And now you know!
Author Anne Applebaum recently testified in Congress about this issue. By enabling Putin and other global kleptocrats, the West undermined democracy. It's time to change tactics.
I think all the policy recommendations are brilliant and you should read it in its entirety!
1. Put an end to transnational kleptocracy.
2. Don't fight the information war. Undermine it.
3. Put democracy back at the center of foreign policy.
And this is dear to my heart:
Currently a Russian, Angolan, or Chinese oligarch can own a house in London, an estate on the Mediterranean, a company in Delaware, and a trust in South Dakota without ever having to reveal to his own tax authorities or ours that these properties are his. A whole host of American and European intermediaries make these kinds of transactions possible: lawyers, bankers, accountants, real-estate agents, PR companies. Their work is legal. We have made it so. We can just as easily make it illegal. All of it. We don't need to tolerate a little bit of corruption; we can simply end the whole system, altogether. [AMEN!!!!!!]

These are amazing!
Amazing infographic at the Visual Capitalist.
And, a bonus link, watch Arnold Schwarzenegger talk to the Russian people, WOW!
And I leave you with this…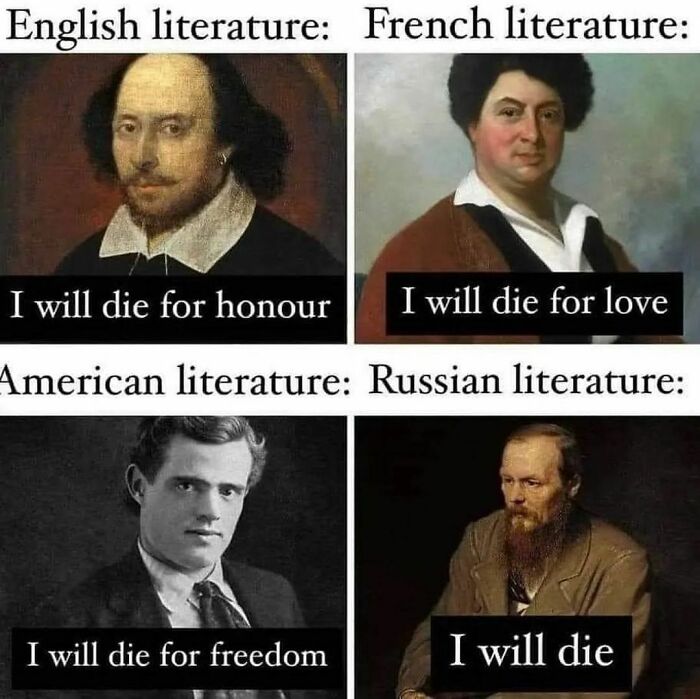 Thank you for reading my blog. If you enjoy it, please pass it on to a family member or friend, thank you!
Some of the links are behind a paywall. You can try to read them using Archive.is. Or use 12ft Ladder. Or the Firefox browser.
TBB
travelbloggerbuzz@gmail.com
Follow TBB on Twitter @FlyerTalkerinA2.
You can subscribe to TBB below, winners only!
Opinions expressed here are author's alone, not those of any bank, credit card issuer, hotel, airline, or other entity. This content has not been reviewed, approved or otherwise endorsed by any of the entities included within the post.