We bring you the Best of Web links: the longest kayak journey, a world borders map by age, laugh with tax fun facts, cry with Cartier kings and how to save yourself in ice rescue after falling in it!
TBB Blog Mission: To Entertain. Educate. Inspire. In That Order!
As always, click on the headline to be taken to the original source. Sometimes I insert my incendiary comments on article excerpts between [brackets].
If you enjoy my blog, please pass it on to someone you care about so they can enjoy it too. If you don't enjoy it and still read or troll the comments, you have issues, please seek help.

Thanks to all readers who have been supporting the site with your credit card, Amazon shopping and donation clicks, greatly appreciated.
UPDATE: The new Amex Hilton cards sign-up bonuses have been announced. Heads up…you will see a tremendous number of posts by bloggers selling these cards! Please give your clicks to blogs you want to support and help them keep going. Yes, that includes mine. Thank you.
I am amazed by what this guy did! I am even more amazed I had never heard of him. You are in for a treat…what a crazy adventure!
With Germany in tatters, his small business bankrupt, Oskar Speck got into his kayak in 1932 for what would become an epic, seven-and-a-half-year paddle—30,000 miles, packed with hero's welcomes and near-death escapes, all the way to Australia. But as Speck battled sharks, hostile locals, and malaria, Hitler rose to power and W.W. II began. This is the story of Speck's voyage, an adventure nearly lost to history.
This will blow you away. Click on the map on the link above, it gets WAY more detailed. And check out the video to see how crazily Europe's borders have changed.
I love bringing you cool stuff like this! But I can't keep doing it AND losing money at it, come on, I am not THAT stupid. Shut up Ingy 🙂

Yes, these are pretty fun. You will be entertained and educated. A few examples:
New York levies an 8 cent tax on each sliced or toasted bagels! [ WTF!]
Texas charges a $5 per customer fee on each strip club pole. [Get out!]
The easiest form, the 1040EZ, has thirty-three pages of instructions. [Lol]
For each $100 that the IRS collects, it costs them just thirty-nine cents. While you might hate them, tell me what other agency runs with such efficiency? The answer is probably none. [True, true]
In 2009, you got $250 as a stimulus check and it was HUGE news. [Lol]
I had no idea about the Cartier glasses. How horribly sad this is! I was angry when I finished reading this (HT:A.L.)
How designer sunglasses have come to represent status and violence in Detroit.
Other blogs try to monetize their readers non stop. I want to save your life one day #nojoke. Must click if you live in a cold area!
And I leave you with this…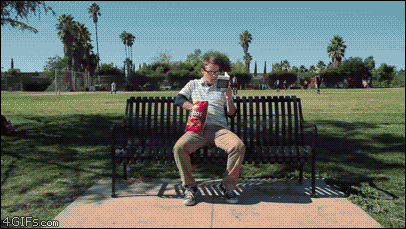 Check out my updated blog lists: Blogs I Love, Blogs I Like, Blogs To Ignore
TBB
travelbloggerbuzz@gmail.com
Follow TBB on Twitter @FlyerTalkerinA2
You can subscribe to TBB below, winners only!
Opinions expressed here are author's alone, not those of any bank, credit card issuer, hotel, airline, or other entity. This content has not been reviewed, approved or otherwise endorsed by any of the entities included within the post.