Another TBB post featuring the most eclectic links around the web such as the best small towns, day trading, Citi Custom Cash, The Confidante hotel in Miami, walk on incredible suspension bridges, suffering is needed to be a good investor, trading vs investing, anti vax morons are slowing us down, the greatest action movies, people whose job is to enter sweepstakes, more life saving advice, we catch up on the most important miles and points action that is important to you while we avoid so much unimportant "news" and all clickbait shit and more!
TBB Blog Mission: To Educate. Entertain. Inspire. In That Order!
Support TBB by applying for CREDIT CARDS or visiting our

LINKS

or Donate

You like my blog? Send a link to someone please!
TRAVEL
These look very nice: 16 Incredible Suspension Bridges Around the World. While not for the faint of heart, these aerial footbridges offer unforgettable views.
Thanks to TBB reader YR for sending this one in, many lovely towns and some I had never heard of before! The 15 Best Small Towns to Visit in 2021.
PERSONAL FINANCE
You should know the answer to this question if you know me or have been reading my blog: Is Day Trading a Good Idea?
All that new stock market enthusiasts see is people making money in day trading, and the reason they see this is because they and their enthusiasm are born only in a rising market when day traders are making money. But the fact is that, over the long run, most day traders DO NOT make money.
This is really good. You keep hearing stories how investors made so much money by investing early in Apple or Amazon but it is not easy to hold on! The Ultimate Superpower in Investing.
Every single one of the top 30 stocks has its own gut-wrenching story, proving that large drawdowns are an inevitable part of achieving high returns. If you haven't yet experienced such a decline, then you likely haven't owned something that has appreciated 10x, 20x or more. Or you simply haven't been investing for that long. I know what you're thinking. There has to be a better way. You want to own the next Netflix or Amazon without the periods of pain. We all do. The only problem: in trying to hedge or time your exposure to the next big winners, you will likely miss out on a substantial portion of the gains. Or your emotions will cause you to sell at precisely the worst time (only after a large drawdown). To reap the largest rewards, facing a high degree of pain is unavoidable. Which is why the ultimate superpower in investing is being good at suffering.
Jason Zweig wrote a great piece in the Wall Street Journal (paywall): You Can't Invest Without Trading. You Can Trade Without Investing. I agree with it of course but what I found absolutely fitting for the current insane environment around us was this excerpt below. I mean, sometimes I think if we have all gone crazy smh!
These are great! One day a reader will email me thanking me how I saved his/her life because of something I posted in my blog. Guy Shares 12 Facts That Can Save Your Life.
A lot of backpacks have a hidden built-In whistle. The actual clip on many modern day backpacks that are meant for hiking or camping have that built-In whistle. [Mind blown!]

One of these days I am going to go back to the movie theater like the good old pre Covid days! "The 30 Greatest Action Movies of All Time". We have probably watched most of these. But there is one I still remember going in not sure what to expect and, well, I have never been on such a fast wild action ride from start to finish and remember walking out of the theater TIRED wondering what the hell did I just watch! That movie was "The Raid"!
I have won some prizes in my life but I was never like this group who do this for a living it appears: The Endless Work of Trying to Win Yourself a New Life. Inside the world of sweepers—committed competitors trying to game the system or maybe just win a lifetime supply of Gatorade.
MILES & POINTS
HOT CREDIT CARD OFFERS: 100k CHASE Sapphire Preferred, 100k CHASE United Quest, 100k CAPITAL ONE Venture Rewards, 75k CHASE Ink Cash, 75k CHASE Ink Unlimited, 100k CHASE Ink Business Preferred, 60k CHASE Sapphire Reserve, 60k CITI Premier, 20k CHASE Freedom Flex & CHASE Freedom Unlimited, 125k CHASE IHG Rewards Club Premier (& a free night) and many more, including many American Express cards! Please check out my Affiliate links. Terms apply to American Express benefits and offers. Visit americanexpress.com to learn more.

If you do not see a credit card with my affiliate links, perhaps I could refer you? Contact me!
This section is about my hobby addiction of collecting frequent flyer miles and hotel points since the early 1990's! Feel free to skip this section and parts of the next one if this is not for you.
Newbies: The marketing of the big US banks is not letting up and we are experiencing one of the most generous travel rewards credit card offers lately. As long as you do not overspend (easy to say, hard to do!) and NEVER EVER carry a balance on your credit cards you can play this game and win. If it sounds like too much for you, DO NOT PLAY! Of course, you will never read this at commercial enterprises designed to sell you plastic! This is the reason that this blog hardly ever sells any plastic, sad lol!
BREAKING: Citi is NOT dead! This bank just has not caught up lately. And its tech is legendary awful. So we were all shocked that they came up with a new card. And it is a bit innovative too, wow! Citi Launches 'Custom Cash' Card: 5x Points/Cash on up to $500 Spend Per Month, $200/20,000 Signup Bonus. A bit more analysis of the card: Citi reinvents the 5x card. How will competitors respond? Good to see some innovation from a bank that has been sleeping at the wheel for a while. Could be a good card to maximize a 5% category, especially if you are in the Citi card network. But at just 20k signup bonus I am going to stay in the sidelines. The Points Guy will NEVER say that LOL! Anyway, if you go for the card please consider applying it with my links, thank you!
Some things to consider if you get into it more: Awesome credit card combos.
I remember when with each Lyft ride we can earn miles with Delta and JetBlue and points with Hilton. Then JetBlue dropped out. And starting June 30, 2021 we will no longer double dip, sad! This was fun while it lasted and the reason I preferred Lyft over Uber. But after Covid hit I have not had a single ride since then.
BLOG BUZZ
We are now entering BLOG BUZZ, a section for advanced hobbyists and veterans of this fast imploding hobby and also a section where I go on and on about some stuff that happens in my life because it helps me feel better about myself.
Fun post to contemplate burning some points in these properties: 5 of the Most Expensive Hotels You Can Book With Points.
Looks like American Airlines may be doing away with award charts. This is when credit card sales bloggers bitch momentarily and then go back to what they do best, PUMP it up. The only surprising thing about such news is why it took so long. Thank Covid for that I guess and you should be burning your points for your dream trips in 2022…I should be doing that myself! Maybe I should stop blogging and go out with a bang in 2022 and empty all my accounts and move on from this hobby which, if it was a stock, I would short it…
Writing this from my wonderful oceanfront balcony suite at The Confidante hotel in Miami. It is part of Hyatt's Unbound Collection so I am adding one more brand I have stayed in. You get one free night every five brands which is a benefit other hotel chains should imitate. Great location, a bit north of crazy South Beach but still pretty and quieter. The Suite on the 15th floor, like I said, is wonderful. All rooms and suites tend to be smaller because, well, you pay for views like this: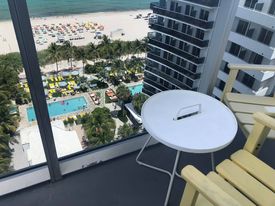 Looking forward to unwind and try to get away from the hectic pace I have been on ever since Covid hit. I have two posts scheduled for Wednesday and Friday, one of them is a repeat and the other one is a Best of Web post. Back to the Confidante: Excellent Globalist recognition with two free drinks coupon. Then a wonderful bottle of wine delivered to us for recognition of my birthday. The pools are amazing and the service has been really good so far. It is a busy hotel, especially this time of the year. The fitness area is great also. The walk/bike path area in front of the hotel goes on and on for miles across the beach we will be walking and biking on. Looking forward to four free breakfasts!
6 am flight on AA from Detroit to Miami was uneventful. It left on time and arrived early. It was weird and emotional for me being back in the air again. I must admit I was a bit rusty…I even forgot to put my seat belt on! Detroit airport was extremely busy and Miami airport not so, which shocked me. Ordered Lyft ride to the hotel and that was a first post Covid too.
The Buzzy posts will continue next week.
TBB on!
TBB
travelbloggerbuzz@gmail.com
Follow TBB on Twitter @FlyerTalkerinA2.
You can subscribe to TBB below, winners only!
Opinions expressed here are author's alone, not those of any bank, credit card issuer, hotel, airline, or other entity. This content has not been reviewed, approved or otherwise endorsed by any of the entities included within the post.