We learn about some British Airways tips, reasons to think about before doing any Manufacture Spend, check out 8 Travel bloggers, marvel at some entries in the Sony World Photography Awards, visit the best personal finance reads online, and as always we end with some laughs. Blog Buzz coming on Sunday!
TBB Blog Mission: To Entertain. Educate. Inspire. In That Order!
You can support TBB by applying for CREDIT CARDS, shopping with our Amazon affiliate link and clicking/forwarding any of our Referral Links. Or click on the Amazon Banner on the right, thank YOU!
Bet You Didn't Know: What to do when British Airways doesn't show partner availability  –  Devil's Advocate at Frequent Miler    Good information to know and very funny writing. Like calling British Airways: " Before you undertake this harrowing journey, you'll need to prepare. Set aside at least 60 minutes worth of water and provisions. Put your affairs in order. Kiss your loved ones goodbye and remind them that while the going will be dangerous, the rewards at the end will be great. Then call (800) 452-1201 between 7:30am and 10pm Eastern time and be prepared to wait. A lot. Your best bet is to put the call on speakerphone and proceed to some other task that is appropriately accompanied by endless hold music. Dancing is not recommended as overexhaustion is highly probable."  Things that make TBB laugh are very cool!
Should You Manufacture Spend?  –  Frugalhack.me    Excellent piece and right on target imho.
8 Travel Bloggers to Follow in 2015  –  Rear View Mirror – The Road Trip Travel Blog    I do not have many pure travel blogs in my Feedly list. This one lists 8 of them. Since one is Yomadic the list may be good and I keep seeing questions everywhere about pure travel blogs. Any of these listed I should add to my Feedly list?
The Blurring Ethical Lines Between Credit Card Companies and Travel Writer  –  Skift    I was going to save this for the Blog Buzz (now weekly, probably on Sunday) feature but I have had so much material for it I thought I should unload some here because my blog gets way too boring nowadays, hehe. By the way, I really like Skift, top notch site about travel. It probably belongs in the TBB Like list. I am thinking about deleting many blogs on that list that are probably there mostly due to their marketing practices (not pumping you in every post!) than the actual content quality or (lack of) posting frequency. #developing
Travel with Grant is Moving to the Bay Area this Weekend  –  Travel With Grant    Grant got a job and is moving this weekend. Wish him the best! Maybe add the good Buzz hits here and leave the weekly Buzz feature to become an all out anti pumping satire…or something like that. #evolving #nowtakesDiscover
18 Of The Best Entries To The 2015 Sony World Photography Award  –  Bored Panda    These are absolutely amazing!
It's Their Money  –  The Aleph Blog    This is by a colleague of mine and mirrors my own approach in business. This explains where I am coming from…"That's the way I would like to be treated as well — low pressure, transparency of services and fees, and alignment of interests with an ethical adviser who is a fiduciary."
7 Simple Things Most Investors Don't Do  –  A Wealth of Common Sense    The only thing to add is to say this guy nails it!
2015 IRA and Roth Contribution Limits
The Chart of the Year: The Shale Revolution
We still get threats from time to time in the TBB Headquarters so we hired a security team. Sadly, this is what we could afford…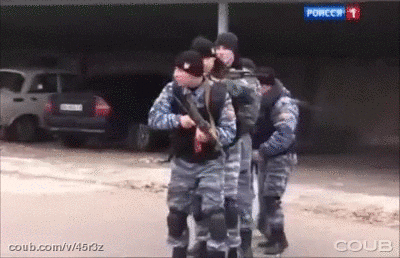 No comment on this one…
Check out my updated blog lists: Blogs I Love, Blogs I Like, Blogs To Ignore
Thank you for reading and supporting my blog!
Please pass my blog link to your friends and family if you think they will enjoy it too.
TBB
travelbloggerbuzz@gmail.com
Join over 3,291 TBB followers on Twitter @ FlyerTalkerinA2 and add TBB on Google+