Another TBB post featuring the most eclectic links around the web such as finding business  and first class deals, the new advance child tax credit payments about to start, a scary US National Debt infographic, QAnon inside the church, how to fly abroad these days, better not try to keep up with the Joneses, catch up with the Delta variant and how the non vaccinated may screw this up, a deep personal account from a traveling nurse, Milky Way photography, how to combine hotel points, how to find award flight availability, the improved Alliant cash back credit card, I wonder if anyone will get the CSP card with my links so you can be first and more!
TBB Blog Mission: To Educate. Entertain. Inspire. In That Order!
Support TBB by applying for CREDIT CARDS or visiting our

LINKS

or Donate

You like my blog? Send a link to someone please!
TRAVEL
One step back to normal with Hawaii finally opening up travel to all vaccinated with the only requirement being to upload the vaccination card or show it upon arrival. As of July 8, 2021.
Covid sure has changed travel. Here is a post of how it is done now when you are about to fly internationally, good checklists! I'm Flying To Europe Tomorrow, Here's What's On My Checklist.
I always read the Middle Street column at the Wall Street Journal (paywall): Where to Find Rare Deals in Business and First Class. Oh my, how things prices have changed: As airlines work to recover from the pandemic, they're selling some high-end seats abandoned by business travelers for 70% off. With prices like this would you burn 650,000 Delta Skymiles for that one way fare to Europe? 🙂 Archived link (may not work on your browser).

FIRST CLASS
New York-Miami American & United July and August—$535 vs. $815 (-34.4% drop in price)
New York-Kansas City, Mo. Delta in August—$407 vs. $625 (-34.9%)
Chicago-Atlanta Delta in July and August—$407 vs. $675 (-39.7%)
Chicago-Orlando United in August—$565 vs. $720 (-21.5%)
Chicago-Portland, Ore. Alaska in July and August—$608 vs. $890 (-31.7%)
INTERNATIONAL BUSINESS CLASS
New York-Barcelona American in September—$1,841 vs. $5,200 (-64.6%)
New York-Krakow, Poland LOT Polish in September—$1,944 vs. $5,325 (-63.5%)
New York-Vienna Austrian in September—$1,861 vs. $6,211 (-70%)
New York-Paris La Compagnie in September—$1,662 vs. $5,215 (-68.1%)
Chicago-London American in September—$2,389 vs. $4,925 (-51.5%)
Chicago-Madrid Iberia in September—$2,389 vs. $4,400 (-45.7%)
I love art in general but this went a little too far! hikers are not happy with this art installation by steinbrener/dempf & huber.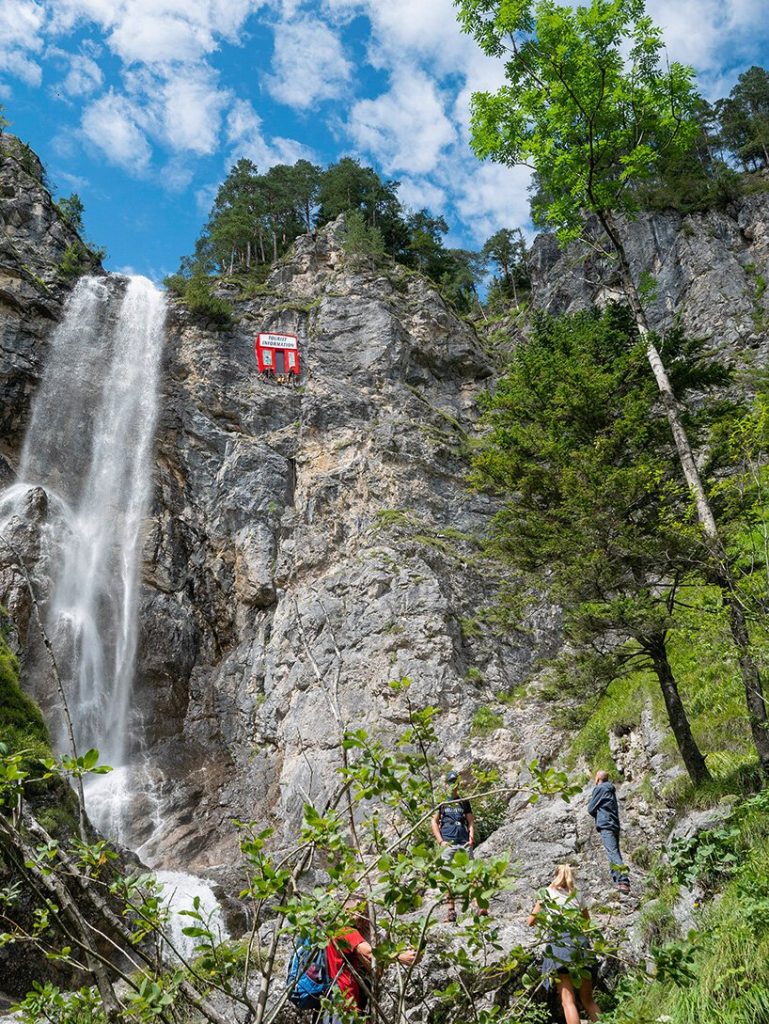 PERSONAL FINANCE
The advance payments for the 2021 child tax credit are about to start. You should read this very carefully if you have children age 17 or younger and you qualify: Taxpayers now can go online to opt out of Advance Child Tax Credit payments, verify eligibility.   I am seeing reports from tax professional colleagues that this IRS portal has major issues! More specifically, you are supposed to verify your identity and upload a picture of your driver license and also confirm a security code sent via text. Well, the picture thingie does not work in some cases and that text with the code is never sent so you have been warned. Maybe it is best to just let the IRS send you the money if you qualify, you put it away and then everything gets reconciled when you file the 2021 income tax return. My greatest fear is that the IRS gets hacked in a major/catastrophic way one of these days…
You must resist keeping up with the Joneses. It is very hard to do actually. Especially when you see others "upgrading" their lifestyle. Of course you should do some of that because never spending makes you a miser, what is the point? But, again, you must resist the temptation to, well, go overboard and hurt yourself in the process! Keeping Up.
Another reason to avoid such competitive consumption: You have no idea what's really going on over at the Joneses…What if they're in way over their heads? Perhaps they're suffering from what humorist Robert Quillen described in 1928 as, "Americanism: Using money you haven't earned to buy things you don't need to impress people you don't like." Maybe they're living off their credit cards, that summer house they refer to as theirs is owned by grandma, and their last Google search was "how to file for bankruptcy."
This to trigger the doom inflationistas 🙂 Timeline: 150 Years of  U. S. National Debt.
COVID-19
Be careful out there, especially in places with too many still to be vaccinated. I recently saw Celebrity Cruises will not require proof of vaccination to cruise with them. Well, count me out of their cruises, easy! The Delta Variant Could Create "Two Americas" Of COVID, Experts Warn. Hope we don't screw this up again, we have come so far! Still boggles the mind that a pure public health event became so politicized smh!
Low vaccine uptake across the South and in rural areas across the country makes these areas most vulnerable to the Delta variant. "I think there's a decent chance that come winter or fall there will be significant surges and they will almost exclusively strike people who are unvaccinated and strike in regions that have low rates of vaccine uptake," Wachter said.
"Somehow we have to break this idea that allegiance to conservatism and the Republican Party has to do with not getting vaccinated," Hotez said. "It's really troubling."
Hope we don't get the mother of all Covid variants from a place like Missouri! Unvaccinated Missourians fuel COVID: 'We will be the canary'.
Lisa Meeks, 49, of Springfield, is among those who haven't been vaccinated. She said that she is a Christian and that God gave her a strong immune system. "As of right now, nobody knows anything long term or short term about these vaccines because they are brand new," she said, despite months of real-world evidence that the vaccines are highly safe and effective. "And so people are now basically the lab rats." [smh]

This is raw: Breaths, deaths, and missed breaks: How counting defined my days as a pandemic nurse. We are letting the medical staff down…
Every nurse on the floor was required to carry hospital-provided cellphones so we could be readily reached by doctors, pharmacists, case managers, the lab, the emergency department, the imaging department, physical therapy, the kitchen, and patients' family members, to name a few. My work phone averaged nearly 40 incoming calls during a 12-hour shift. It rang while I calculated IV drips, drew blood for lab work, suctioned tracheostomies, and slid bedpans under patients. It rang while I held patients' hands for comfort and while I held iPads for family Zoom calls. It rang as my patients died, and while I zipped up body bags.
ODDZ & ENDZ
I could be doing posts with clickbait headlines with "shocking" incidents involving videos preferably to trick you to click on my links. But since I do not have any ads and I value your time I prefer to stick to a much smaller audience and keep educating, entertaining and rarely inspiring. So, learn something here: 40 'Facts You Probably Didn't Know That Could Save Your Life'. Yeah, I still want one day to save a life of a reader! #highgoals Most bloggers check their blog's Google Analytics daily. Me? Last time I think I logged into my GA account was in 2016! Yeah, I am weird.
If you're ever buried in an avalanche, spit. Your saliva will follow the gravity and you can simply dig the opposite way
If you ever see square waves in the ocean get out immediately. They are powerful currents that can drag you underneath the water and kill you in an instant.
Lying flat on your back is the best way to survive a falling elevator
SAD! How QAnon captured the American church. The cult has taken hold among Evangelical Christians.
On his podcast, Kubilus says the QAnon hardcore see themselves as "soldiers who have become mired in an invisible war, taking to a digital battlefield and fighting a satanic force in the world… When you are caught up in that narrative, it's just one hell of a drug." Q, he argues, "injects transcendental meaning and purpose into the lives of regular folks every day by convincing people that they are central players in the war for the soul of America."
Q's adherents aren't the only Americans suffering under that delusion. The supply side of the QAnon problem — the speed with which it has spread online and what "misinformation" censorship might be done to slow it — receives plenty of attention. But it's the demand side that is more interesting and important. Here the challenge for America's religious leaders is the same as for its secular ones: how to offer that purpose to those who are starved of it. QAnon isn't just the product of bad information hygiene but a strange and dangerous symptom of a broader American crisis; a crackpot theory with particular appeal to American evangelicals but one inextricably linked to the drift of the whole country.
These are amazing: The 2021 Milky Way photographer of the year.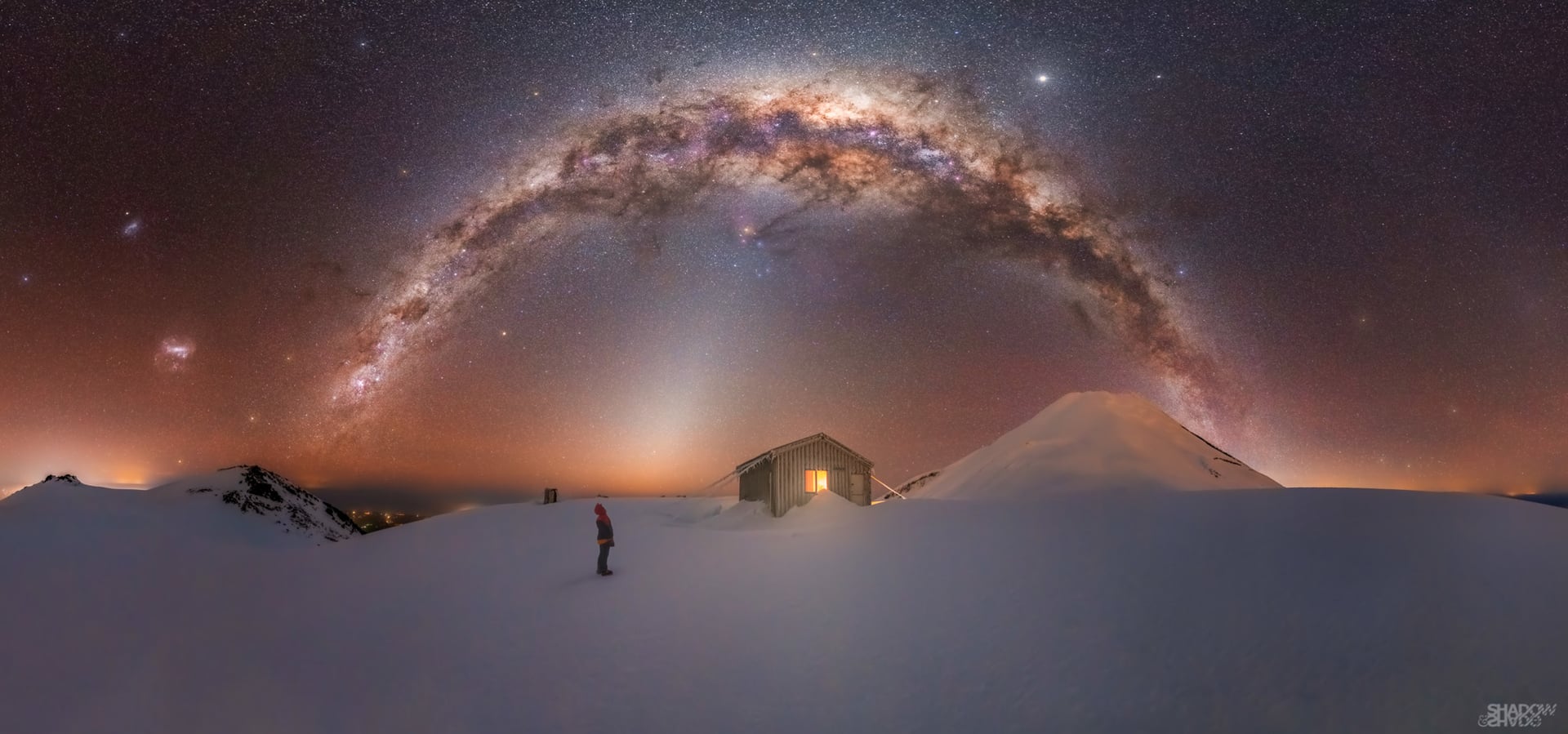 MILES & POINTS
HOT CREDIT CARD OFFERS: 100k CHASE Sapphire Preferred, 100k CHASE United Quest, 100k CAPITAL ONE Venture Rewards, 75k CHASE Ink Cash, 75k CHASE Ink Unlimited, 100k CHASE Ink Business Preferred, 60k CHASE Sapphire Reserve, 60k CITI Premier, 20k CHASE Freedom Flex & CHASE Freedom Unlimited, 125k CHASE IHG Rewards Club Premier (& a free night) and many more, including many American Express cards! Please check out my Affiliate links. Terms apply to American Express benefits and offers. Visit americanexpress.com to learn more.

If you do not see a credit card with my affiliate links, perhaps I could refer you? Contact me!
This section is about my hobby addiction of collecting frequent flyer miles and hotel points since the early 1990's! Feel free to skip this section and parts of the next one if this is not for you.
Newbies: The 100k Chase Sapphire Preferred card is now available with my links. This is a NO brainer! Get it, do the required minimum $4k spend, get the signup bonus, cash out for 1,250! For the annual fee of only $95, COME ON. Just ALWAYS make sure you NEVER carry a balance ok?
Good reference if you ever wanted to combine hotel points or transfer to other members.
Register to earn double points in Radisson Rewards Americas.
You can skip all the madness involving airline miles and hotel points and just get yourself soon the Alliant Cashback Visa Signature Card that can earn you 2.5% cash back on up to $10,000 monthly spend without an annual fee. Only new requirement will be to have a "high yield" interest checking account with a $1,000 minimum balance and one monthly deposit into it. Since there is no sales commission involved, expect not to see this card sold in these blogs. Be careful out there!
BLOG BUZZ
We are now entering BLOG BUZZ, a section for advanced hobbyists and veterans of this fast imploding hobby and also a section where I go on and on about some stuff that happens in my life because it helps me feel better about myself.
Guaranteed laugh, especially for blog reader Nick PFD. You are welcome 🙂
Hobby takes another hit: American Express Charles Schwab Cashout Option Reduced To 1.10¢ On September 1, 2021. I think this is a done deal now.
Things you learn at Milenomics: Worth Considering: Upgrading Hilton Award Stays with Cash.
Good luck to Richard Kerr with his new venture. Definitely I am not the target market. And I hope this applies to most of my blog readers. Bilt Rewards Rent Payment & Credit Card Review, Earn Points On Rent Payments With No Fees. Everyone who passes through The Points Guy (and most others who have made this a career while pretending it is just a hobby and they blog to show "friends and family" (LOL) how to travel for "free") have learned how to cultivate the mass market and milk it. Hopefully my readers are smart enough to not fall for it.
Good reference post: Best Websites for Finding Flight Availability. Two links in one post for Bougie Miles, high five!
Will start soon planning a trip to Arches/Canyonlands parks in Utah in late September. But wife's boss volunteered her department to test first the hybrid work policy…two months early and then provide feedback, grrrr.
The Atlanta Hawks are in an amazing roll right now, wow!
The building collapse in Miami, what a tragedy! Creepy to know that we stayed at a hotel just a short distance from it recently. Maybe it is all due to so much water over there, that little island may not last another generation?
TBB
travelbloggerbuzz@gmail.com
Follow TBB on Twitter @FlyerTalkerinA2.
You can subscribe to TBB below, winners only!
Opinions expressed here are author's alone, not those of any bank, credit card issuer, hotel, airline, or other entity. This content has not been reviewed, approved or otherwise endorsed by any of the entities included within the post.