We bring you a Capital One Bank miles guide, visit stunning Iran and Havasupai Falls, tackle the hardest problem in finance, legacy airlines keep expanding, read an Antarctica trip report, meet an old man living on a cruise ship, learn how desperate Venezuelans cope with the catastrophe their country is experiencing and way much more for freeeeee.
TBB Blog Mission: To Educate. Entertain. Inspire. In That Order!
You like my blog? Send a link to someone please!
These "miles" suck but just in case you were interested: Capital One "Rewards miles" Complete Guide.
Looks like United is expanding very well internationally: United Airlines to Add Multiple New International Routes from San Francisco. It should lead to some nice award space finds…theoretically at least. Wait, here comes AA too: American Airlines to add 18 routes, including new flights to Glacier National Park.
DansDeals is doing a trip report to Antarctica. You learn about Orthodox Jews and kosher stuff is a bonus. Looking forward to the next installment when they actually get to Antarctica. Meanwhile, here is Part Two.
We all learned about that Christian missionary moron who tried to visit North Sentinel island and was killed. But did you know about her? 27 Years Ago A Woman Contacted The Tribe That Killed John Chau, And Her Encounter Was Completely Different. Amazing pictures and nice video in the end too.
What a sweet story about a 94 year old man: Captain Of His Destiny: The Man Who Has Lived On A Cruise Ship For 13 Years.
Amazing twitter thread about what it is like living in Venezuela and leaving it to make ends meet.
Your personal finance fix of the day: The Hardest Problem in Finance. Author takes a shot against the FIRE folks/bloggers encouraging readers to retire young. If there was a simple way to fix this retirement distribution income problem…we would have solved it by now! So, best way to attack it is find a job you love doing every single day and keep socking money away to get to a point where you won't need to worry whether you are spending too much again! A surprising revelation in the article was that the author does not maximize his 401(k) contribution. Which I find simply unacceptable. We have done this EVERY year since we started working and I do not allow clients to not do this!
It is probably true: 13 amazing sights that prove Iran is a stunning destination. One day I will continue my trip reports from my October 2016 trip. Je suis the slowest trip report writer on the planet!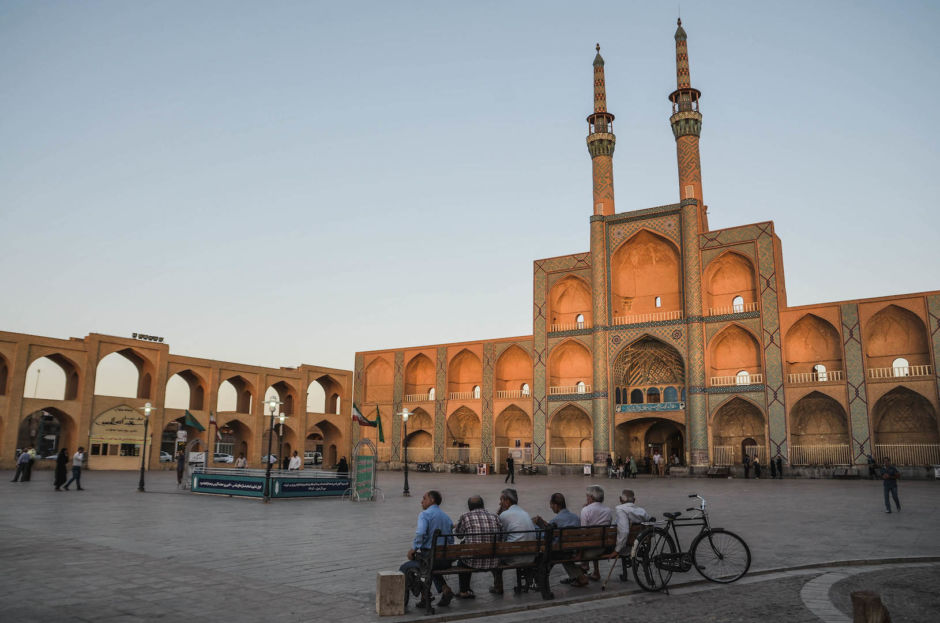 Drew of Travel Is Free is back with a nice travel post: Havasupai Falls: The Best Waterfalls I've Seen.
What a great infographic: Visualizing How Much Countries Spend on R&D. If this is too hard to read…check out the two tables in the link.
When you run out of schemes how to sell plastic, wow:
Bitcoin Value Is Evaporating. That's Why I Collect Chase Ultimate Rewards Points to Pay for First Class Flights!  – Million Mile Secrets
Drew seems to be coming back? [The Only] Flying Blue Award Chart.
Found out that TPG Inc has 50 staff. You add rent, marketing expenses, etc…and these guys either lose a lot of money or they are selling gazillions of credit cards!
I ran outside yesterday. And I had a PR time. The reason was because I was freeeezing and I just wanted to get warm and get through with it lol. I also had romaine lettuce in my lettuce. That is just living dangerously, what can I say!
And I leave you with this: I want to be part of the team you guys!
TBB
travelbloggerbuzz@gmail.com
Follow TBB on Twitter @FlyerTalkerinA2.
You can subscribe to TBB below, winners only!
Opinions expressed here are author's alone, not those of any bank, credit card issuer, hotel, airline, or other entity. This content has not been reviewed, approved or otherwise endorsed by any of the entities included within the post.