We bring you the latest travel rewards credit card sale for the Capital One Spark card, visit a floating hotel, meet the Asian El Chapo, fly on the world's longest flight, meet the new Hilton hotels, visit Norway where nobody is allowed to die, go inside the Detroit airport when you are not flying, learn about the private equity industry and about HSAs, find out about the movie theater built in the desert that never showed a single movie, see a giant squid and lots more for free and maybe, just maybe we get a click this week, come on!
TBB Blog Mission: To Educate. Entertain. Inspire. In That Order!
Support TBB by applying for CREDIT CARDS and visiting our

LINKS

!
You like my blog? Send a link to someone please!
Lets dive right in!
Blog Note: I sometimes add new material to the blog post throughout the day(s) ahead. When I do, I will have it prefaced with Updated:
MILES & POINTS
In the last purge/cleansing of blogs I follow, I wiped out the remaining blogs I used to waste time on in my notorious TBB Blogs to Ignore list. Because, if you think you are getting objective advice there and not content aimed to sell you, well, I don't know what to say. Anyway, I highly recommend it as I now almost never see their repeated carpet bombing selling you the credit card of the day. And I have no doubt you are likely seeing repeated posts trying to sell you the Capital One Spark Business credit cards screaming the $2k/200k point bonuses. If you somehow determine they are right for you the 100-99 TBB staff will certainly appreciate it if you get them with our own credit card  links, thanks! Here are the offers first shown on Reddit:
Spark Miles for Business: Earn 50,000 bonus miles when you spend $5,000 in the first 3 months and earn 150,000 bonus miles when you spend $50,000 in the first 6 months of your account opening

Spark Cash for Business: Earn a $500 cash bonus when you spend $5,000 in the first 3 months and earn $1,500 when you spend $50,000 in the first 6 months of your account opening

$0 intro for the first year, $95 after that
But you need to be aware of the following:
Capital One Bank pulls from all 3 bureaus

Capital One Bank reports biz cards to credit report and it will count toward Chase 5/24

Capital One doesn't do reconsiderations
Lets move on, I feel dirty already!
Shocking news! Hilton Honors did not increase any points on any of its properties. But it did add 61 new properties and we have the points needed for a free award night for you.
Do not ignore an email from IHG Rewards! You can click once on the registration link within it to earn 4x points in your next stays that stacks with the latest Accelerate promo!
Updated: When your scammer husband gets busted and the first thing you try to save is the Amex Membership Rewards points LOL: Wife of convicted Ponzi-scheme fraudster pleads guilty to trying to pocket $26,000 in credit-card points.
TRAVEL
Well, that's good I guess. You can now visit Detroit Metro Airport terminals beyond security without a flight ticket. I guess if you wanted to keep company to someone you are sending off or are welcoming someone flying into Detroit, it could work for you.
20 hours is a bit too long for me! I Just Took the World's First 20-Hour Flight. Here's What It Did to Me. Our plane became a flying laboratory. In the good old days we would use this baby to achieve top elite status and do it in early January!
Amazing scenery footage in the short film "Nobody Dies in Longyearbyen" in Norway, enjoy!
Did you know about the floating hotel in the Great Barrier Reef that floated to Vietnam and then to North Korea? Wow! The Great Leader dude recently visited the place and did not like its condition. And thanks to the special relationship he has with Trump he is going to do something about it. Lol!
PERSONAL FINANCE
This is a vicious beating of the private equity industry! Beware you guys! The Working Person's Guide to the Industry That Might Kill Your Company
It's that time of year again. It's Open Enrollment Season. Have You Taken a Good Look at an HSA?
ODDZ & ENDZ
Great investigative piece: The Hunt for Asia's El Chapo. This guy is much smarter than the flashy womanizer El Chapo who is now locked up in a maximum security prison in the US. What if…he escapes again? If he does, I think he should be free as he definitely earned it! #sarcasm
What a story, wow! The Unbreakable Bond. It is the story of the mother of Texans wide receiver DeAndre Hopkins. Blinded by acid, selling dope, and more wild stuff!
I had no idea squid eggs could look anything like this, wow! Divers Stumble Upon Giant Squid Egg and Capture Surreal Moment on Film.
Wild story about a movie theater built in the Egyptian desert that was abandoned never showing a movie!
Holy f**k
Shenzhen
!
If you invest in Saudi Aramco you get a free saw!
The World's Most Profitable Companies
.
BLOG BUZZ
We are now entering BLOG BUZZ, a section for advanced hobbyists and veterans of this fast imploding hobby and also a section where I go on and on about some stuff that happens in my life because it helps me feel better about myself.
Citi added Aeromexico Club Premier to its ThankYou Network partners. Does anybody care, really?
AMEX RAT personnel are getting bonuses these days. And their job is so easy, all they have to do is read blogs and then go out and kill those holes, sad lol.  AMEX RAT clawing back Saks credit after 8 months, even on a closed card.
On one of the Miles to Memories podcasts, someone on it bragged about how they managed to totally kill it using Alaska miles to Asia and the stopovers. By the time I listened to it, the deal was killed. And I stopped listening to it right at that moment.
The day after I linked to a God Saves The Points post, Gib comes out with a major love fest post for his idol over at View From The Wing. At least there was no shocking video of that, smh!
Thanks to the two readers who asked me about my SoFi referral link. Look, I really appreciate you thinking of me. If I was a normal blogger I would be all over selling it to score some big time commissions as it appears to be another company giving money away. I don't have time to test the product myself and I think this is another company looking to be bought out before….the money of investors runs out. If I had time to try it and test it thoroughly I may be comfortable referring you. But I am too busy doing other things. Like blogging about my running. Maybe this explains there has been no single click on a credit card and my Amazon link the whole week (as of publishing time), WTF!
I am so glad I did not make it to the latest MegaDO!
It's going to be neck-and-neck you guys smh!
And I leave you with this…Current TBB blog monetization strategy LOL!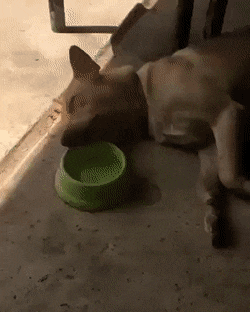 TBB
travelbloggerbuzz@gmail.com
Follow TBB on Twitter @FlyerTalkerinA2.
You can subscribe to TBB below, winners only!
Opinions expressed here are author's alone, not those of any bank, credit card issuer, hotel, airline, or other entity. This content has not been reviewed, approved or otherwise endorsed by any of the entities included within the post.