Lets go on a quick wild ride through the Mile Madness event in Charlotte!
TBB Blog Mission: To Entertain. Educate. Inspire. In That Order
You can support TBB by clicking/forwarding any of our Referral Links and starting your online shopping at our Amazon affiliate link . Or click on the Amazon Banner on the right, thank YOU!
I just got back home on Sunday afternoon and need to make this short post to express my thoughts about what I just experienced before we treat Mommy to a nice dinner she deserves.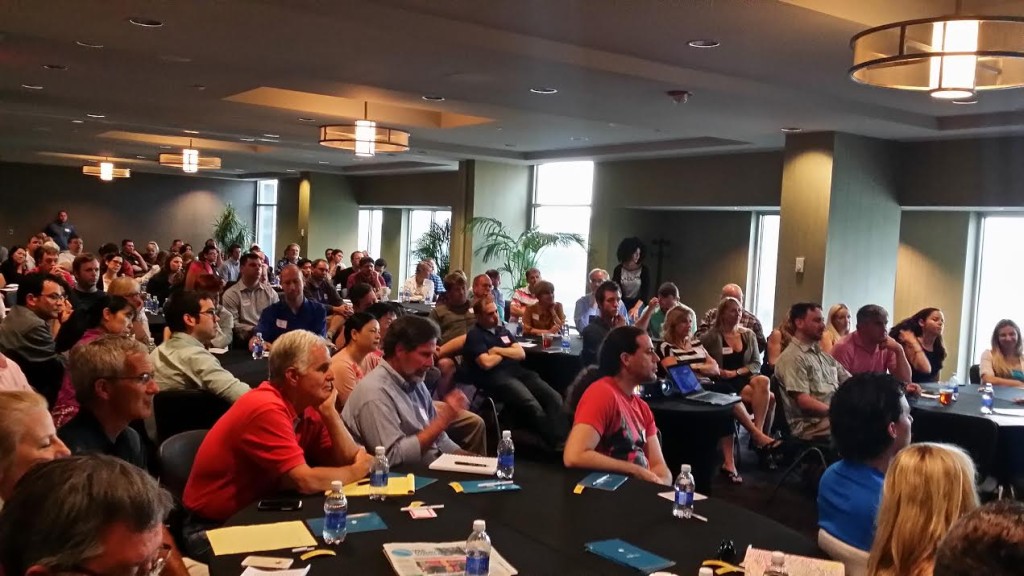 This was the best miles related meeting I have attended! Seriously, it wasn't even close. It was a combination of all the following:
Smaller size. I believe attendance was around 100 so you got to meet almost everyone and have meaningful conversations.
Speaker caliber. True expertise from people who do this every day (ok, some do this stuff 24/7!). Did I mention TRUE experts who do this EVERY day? Oh, yes I did. Sorry about that 🙂
No commercials "click my links" allowed. No freaking booths and speakers you never got to even say hello to!
The vibe was so good it brought tears to my eyes (expertly concealed from TBB fans). Taking it all in brought me a feeling of contentment #priceless.
Meeting and mingling with each other and everyone acknowledging the true spirit of our quirkiness knowing full well that pumping Chase Ink Bold credit card affiliate links in every other post just BLOWS.
Fantastic hotel and easily accessible location (with miles of course).
I am just going to post whatever comes to my mind in the same eclectic non angry manner. If I veer off and get angry a little bit, well…it happens sometimes. You all know what makes me angry by now lol. "No rhyme or flow, just go!".  Hmm, I just made that up, it rhymes pretty good!
You know you are in with fellow minded hobbyists when: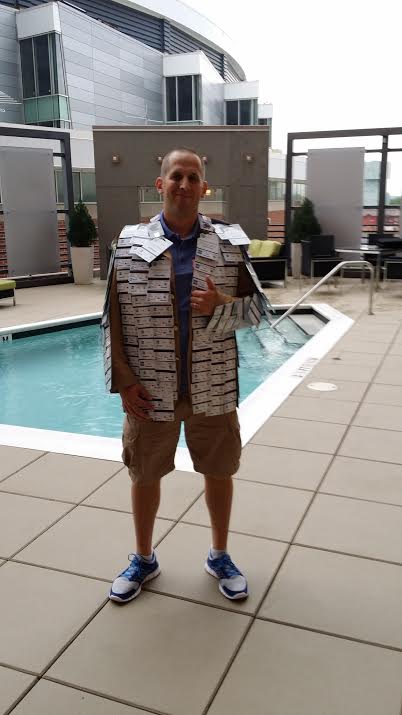 Heard in the elevator:
Attendee to Marathon Man: "I want to talk to you."
Marathon Man: " I hope you are not from the IRS."
MilesAbound: "New York City is a complete MS wasteland".
Marathon Man: "MRing to MS"  and "Ask not what you can do for your Suntrust. Ask what you can do for your Wal Mart".
"There was not one but TWO blog posts on Hawaiian Eats at Million Mile Secrets? Can you believe it?" [TBB: Yes I can].
"I know this WalMart cashier and I just tell her "load me". She knows what to do."
I am only going to single out two people I met that I have known/followed/enjoyed in Flyertalk for years. I am not going to single out everyone else I met because I can go on for hours, you know I love you! One is Marathon Man who gave the best presentation of the meeting (they were all good to great by the way!). Natural born speaker who does MS for a living. And his philosophy behind MS (which I agree with of course) and its message was heard loud and clear: "Be a good steward of MS". "Take care of the community". Some of the examples he gave how he played the game were just mind boggling and they made me feel like Georgie boy in kindergarten class! I think I need to ramp it up so I can buy a Soviet tank too!  The other person I have known for years in FT was AlohaDaveKennedy, one of the most gracious members of this community. And yes he assured me that the Cardinals are always watching 🙂
"If I read another First Friday Dining with a Chase Sapphire Preferred credit card I am going to %*&$#$"  (insert several iterations of angry words, many starting with F!).
Tahsir Bengali Miles Guru's question to the audience: "Do you have an Ink Bold card? If not, go to Hack My Trip for a link". Laughter! It was intended as a joke and it was greatly received. I thought it was funny too after I had to slap myself and realize this was indeed a joke 🙂
Tahsir and Amol (who also writes at Hack My Trip) also made me feel like I am in Elementary school. Which is strange as Tahsir looks like he goes to Elementary school! Actually he is about to graduate from college in Economics and may go on to get an MS (pun intended).
Amol: "Thanksgiving is the best time to get your family on board with MS". And I thought I was doing great handling four Bluebirds #Iamapeeon.
The whole spirit of this game was nicely expressed in the presentation of MilesAbound who talked about the "Essence of MS" and "how to think" about this stuff.
I am shocked and so grateful for all the amazing feedback I received on my blog. I really did not expect this. I am kind of overwhelmed as I was thinking to fold this baby as the time demand to produce it is something I should not be able to handle. But I can not let you down. I feel like I am contributing to improve this community and the positive feedback to me is just priceless. At the same time it feels a bit weird as I have never looked for the spotlight and fame. I have always done  what I think is right, speak my mind and contribute to something bigger than pure selfish activities while having a good time and , someway somehow, everything tends to work out. I will keep this baby as long as I can. THANK YOU for all the support.
At times I wondered if I am one of the few angry people out there having the same feelings towards blogs who have sold out and are out there pumping credit cards daily. Let me assure you that this is NOT the case and MANY are turned off by the sheer aggressive commercialism that has infected this hobby and sometimes you wonder if this cancer has spread so much that it can not be stopped. The ones who are not turned off are people new to the hobby who just don't know any better! I thought I was only having a tiny effect on just a few more people other than my friends and family. Fellow attendees proved to me that TBB IS making a difference! It IS about the love of the game, helping each other find the best deals so we can travel more and getting assaulted non stop by affiliate credit cards and revealing information to the masses by pseudo experts is NOT healthy for our dear hobby. Friends don't let friends click on credit card links in TBB's Ignore List. Let's help blogs who put readers first and add value to your life without treating you like a bozo telling you for the 867th time you can get 5x points in office supply stores with your shiny Chase Ink credit cards!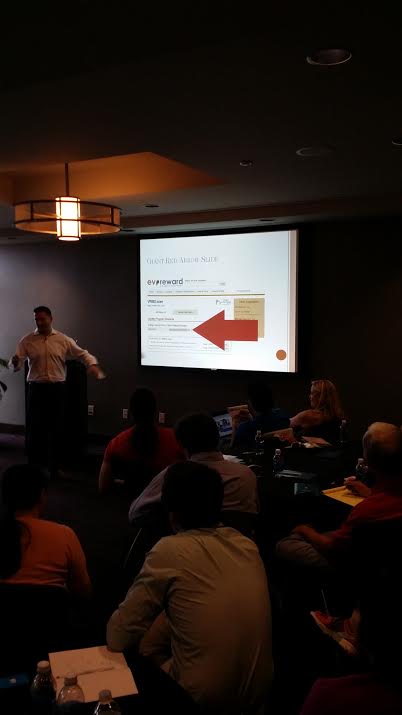 Most frequently asked question of me: "How much time do you spend on the blog?". Let's just say a lot #ifyouonlyknew #youhavenoidea #insanity
Most innovative idea given to me to monetize: Make T-Shirts with "Do not be a Tool – TBB". Hmm, interesting one. I appreciate all the ideas. And to the many who told me to get affiliate links and stick them in a separate tab like some of the blogs I support, thank you. For the time being, click the crap out of my Amazon link 🙂  I must have a mental block becoming a big bank salesman, I don't know. But thank you. As long as we are all entertained things will take care of themselves. It's only money. I am perfectly fine where TBB is at right now. It's a journey, let's focus on enjoying it.
The venue of the event, Charlotte Hyatt House, was FANTASTIC. Apparently, I was still Diamond (for two more days on the Diamond Trial) and got upgraded to a corner suite which was fantastic.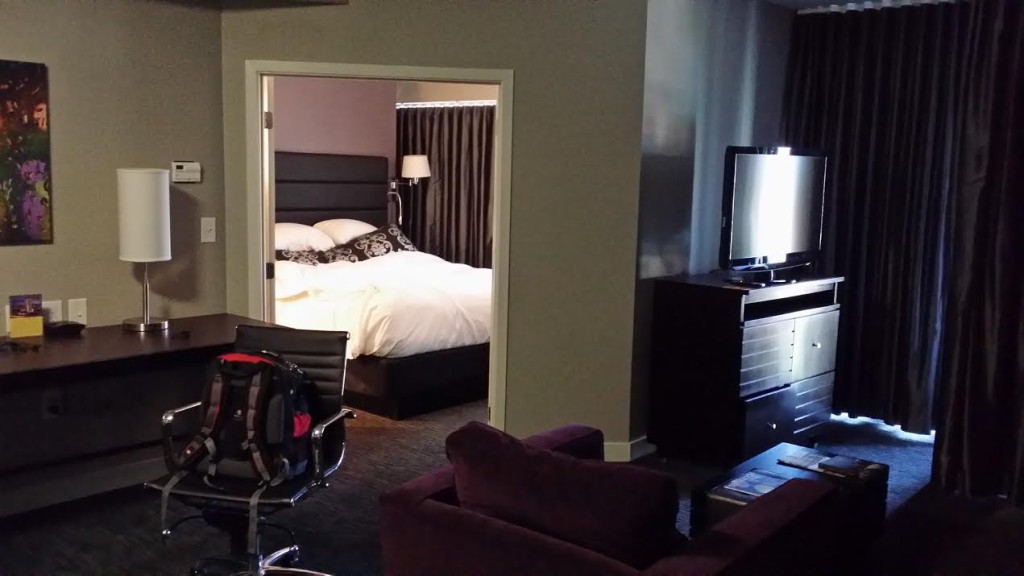 Huge room with full kitchen and refrigerator. Very modern building, spotless. Everyone gets complimentary breakfast! Two omelet stations and plenty of hot foods (this is no Holiday Inn Express crap!). All the staff were fantastic too. The reception on the 7th floor with the bar and servers with some food floating around was great too. The fitness center (yes I made it on Sunday morning even after drinking several margaritas the night before, thanks for the extra tickets!) was great. Location is downtown and we can walk to many places nearby (what's up with all the Irish pubs in this city?). Getting to/from airport is a short ride (no hotel shuttle) so thanks Pat and Mike for the rides both ways! Meeting room was big enough for our group, everything worked. Again, if every Hyatt House is like this I am more than impressed! I paid for a hotel after a long time so I can claim the expenses off my millions in earnings the Amazon link brings in (hahahaha).
There were several newbies in the audience. Smart newbies willing to learn who realize that the big commercial blogs do not have their interests in mind and they exist to primarily pump more credit cards.  Helping and embracing newbies and teaching them how to do this stuff the right way has always been a big part of this sharing community. So, we were glad to have you! Keep learning and ask questions. Do not feel intimidated about some of what you learned. We all do this at our own pace and what we are comfortable with and grow in our own way. You do NOT have to do some of what you heard. Heck, lots of what I heard is impossible for me to do anyway for several reasons. It's OKAY. #1 Rule: DO NOT CALL
I flew Delta on a "low-saver" award of 32,500 Skypesos. Delta does a fine job in in the air flying planes. I must have the longest no bump streak ever.
I was also surprised about the impact of what we bloggers (funny I still do not think of my self as a blogger…I have always had issues "fitting in" a box or square or whatever) can have on readers. How everything we blog about is a reflection of us, our values and personalities. Readers brought up some stuff I wrote about months ago which led me to wonder "Holy crap, you remembered that?". I read something a long time ago that online is all about trust. For some reason, what came through for me in this meeting is that, I think,  people trust me. I can understand how my day job clients trust me with their finances and all that. But people telling me that to my face when meeting me for the first time (after reading and interacting with me online only) was kind of a wow moment and it shows how technology has changed how we communicate nowadays. I am honored and grateful.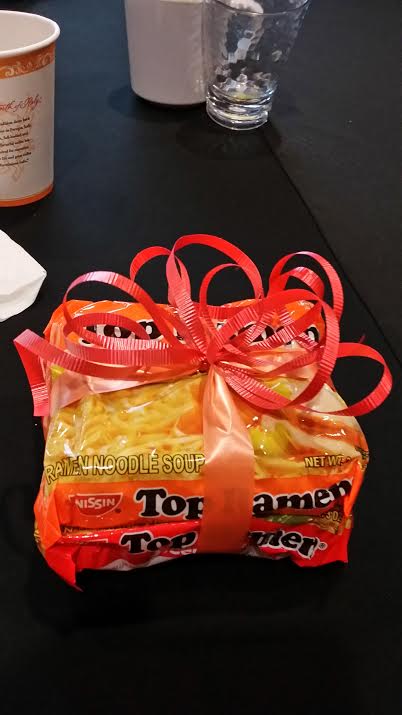 Thank you to everyone who participated in this wonderful experience. As I told Saverocity Matt, he has something really special going here and he must be careful how and where he takes it from here.  At the end of the day, the more I think about it is a question of Trust. I trust Matt. Isn't it remarkable how similar people are face to face with how you perceived them to be after interacting with them online for a long time? Interesting, huh?
I am SO behind on blog reading that it's not funny. So I need to catch up before I am able to post the next Buzz post. Maybe Monday, maybe Tuesday.
I intended to have the following links of more reviews of the Mile Madness event. I am sure there are and will be more and may add them to this post later.
PFDigest :"The Charlotte event: notes and observations"
Mileage Update: "Mile Madness Event Charlotte 5/10"
MilesAbound: "Charlotte #MileMadness DO – What a Huge Success"
The Free-quent Flyer: "Charlotte DO in review"
Saverocity: "#milemadness Charlotte Exposed!"
Giddie Points: "#Milemadness Do Best Meetup by far"
Miles, Points and Mai Tais: "Final Thoughts on #Milemadness After an Awesome Weekend in Charlotte, NC"
Quick City Visits: "CharlotteDO"
Hack My Trip: "Charlotte Milemadness Thoughts and Review"
Frequent Miler: "Mile Madness and more"
The Miles Professor: "My Charlotte Milemadness Summary: A Great Do"
You can scan the hashtag #milemadness on Twitter for more. And yes there will be a sequel.
Check out my updated blog lists: Blogs I Love, Blogs I Like, Blogs I Ignore
Thank you for reading and supporting my blog!
Please pass my blog link to your friends and family if you think they will enjoy it too.
George
travelbloggerbuzz@gmail.com
Join over 2,686 TBB followers on Twitter @ FlyerTalkerinA2 and add TBB on Google+