We bring you a FAQ on the Chase 5/24 rule, an aviation incidents map, a beer cost map, the best unknown destinations, an interview with Delta's CEO, stories about Apple's co-founder and snake orgies, visit North Korea again, catch up with Award Maximizer and action in the blogs and more!
TBB Blog Mission: To Entertain. Educate. Inspire. In That Order!
This is going to be short. Ok, I have said that many times before…Lets buzz around the blogosphere together…
The now infamous Chase 5/24 Rule Explained in Detail. If there is one bank restriction that has hit this quirky hobby that induced change in behavior (for real) among us hobbyists, I think this is the one. What I find it amazing is that it was introduced formally on May 24 a few years ago…and no blogger was in on that date linkage! Whatever.
A Continuously Updated Global Display of Aviation Incidents and Accidents. Wow, this is great!
A long interview of the Delta CEO. Preventing Cockiness, Arriving On Time More, and Viral Videos. Almost came off as a real person with not as much as the typical CEO BS…
The 23 best unknown travel destinations. Well, not to my readers. But still, a nice list.
The guy who co-founded Apple but sold his shares for just $800 has a very uplifting story. (HT:Report to TBBManagement, you know who you are). Ok, he won't be the first one to sell shares in a company that will go on to huge success, it happens. What I find incredibly sad is that he lost his life savings many years later when his home was broken into as he had everything "invested" in gold bars, WTF!
In Manitoba, Canada there is a very odd tourist attraction. Snake orgies. I kid you not. I was going to post a video but changed my mind. I am sure you can find many other shocking videos online. We like to educate around here. Learn about snakes too, so here is something for you. Focus, focus, focus. Lol…
Male snakes are so focused on reproduction, they don't eat during the mating season.
Nice interview with some losers named Buffett, Munger and Gates.
The Loyalty Lobby guest report from North Korea continues, I really like it!
Cost of beer around the world. I believe it about Oslo. Not sure about Prague!
BLOG BUZZ
This section is for advanced level hobbyists and veteran blog readers & personal rants & stuff
Award Maximizer has been updated. I use this, it's my first go to place to get an initial read on how miles I need to burn.
Why I don't plan to keep my Amex Business Platinum. Good post. I liked the beatings of AMEX management. Do you all remember how they had the best customer service reps!
Speaking of…Lol back to you Deb! (HT:Reddit)
I am so glad Daily Getaways are over, what a waste of time! But always good for bloggers to post about about the daily deal. Layup in blogging terms. I would bet not a single one took the time to actually buy one of them!
The clickbait shit continues. Videos of passengers fighting, posts about pee that of course bloggers have to blog about when they once see it, never ending credit card limited time offers and amazing excuses they keep coming up with to push credit card product out to readers. Remember, the list is in reverse chronological order. Yeah, Points, Miles and Martinis started this pee thingie, sick!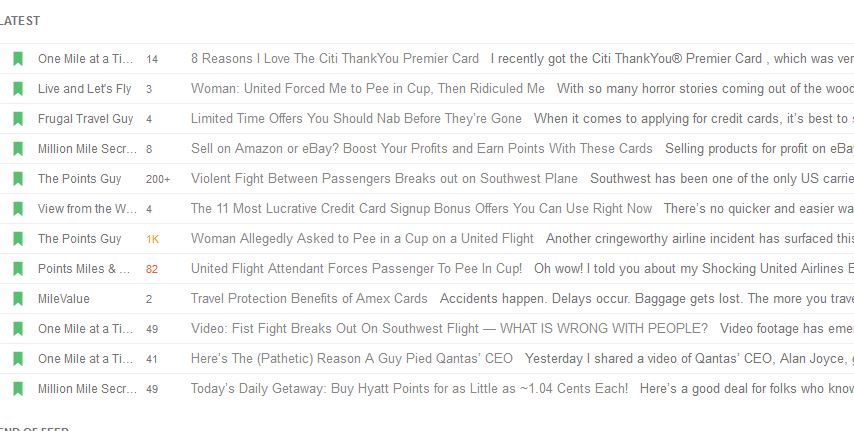 One Mile at a Time – "8 Reasons I Love The Citi ThankYou Premier Card"  [Imagine if the card did not have just a 30k bonus. This is salesmanship folks!]
Points Miles & Martinis – "United Flight Attendant Forces Passenger to Pee In Cup!"  [Always breaking some "amazing" stories in that blog, wow!]
Live and Let's Fly – "Woman: United Force Me to Pee in Cup, Then Ridiculed Me"  [Lol. look at me, I copy other Boarding Area click bait blogs too!]
Then everyone started writing about the rumor about the laptop ban in Europe flights that was to be confirmed. Of course they all wrote about the rumor when the rumor first came out. Tomorrow they will all have yet another post about the details of the new policy. Then more posts on what credit cards you can get to make you feel better about being separated from your laptop and on and on. Zzzzzzzz.
Ok, I DO hate the laptop ban. I can NOT travel without my laptop! So this just blows big time. Is it me or are we going to see international travel impacted in a BIG way going forward? Of course. Maybe this explains all the super low fare deals to/from Europe lately already? Well, I can fly out of Toronto to avoid this… #developing
And I leave you with this…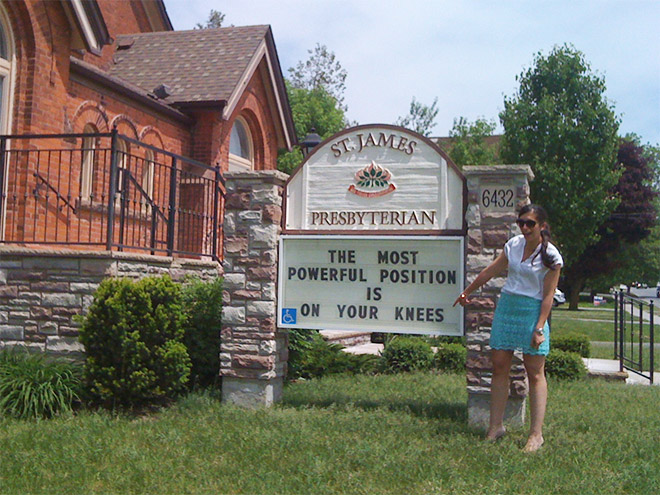 Check out my updated blog lists: Blogs I Love, Blogs I Like, Blogs To Ignore
TBB
travelbloggerbuzz@gmail.com
Follow TBB on Twitter @FlyerTalkerinA2
You can subscribe to TBB below, winners only!
Opinions expressed here are author's alone, not those of any bank, credit card issuer, hotel, airline, or other entity. This content has not been reviewed, approved or otherwise endorsed by any of the entities included within the post.