We warn you about the coming onslaught Chase Marriott Visa Promo, Wow Air comes to Chicago, we show you how pumping bloggers pump the credit cards expertly, an amazing Dow graph, great resource for our hobby, good sale on Iberia Avios awards, a tutorial on how to redeem your free Hyatt night and much more!
TBB Blog Mission: To Entertain. Educate. Inspire. In That Order!
Yesterday I posted about the public link for the Chase Marriott credit card offering its highest bonus ever of up to 107,500 points. Of course most pumping bloggers kept mum…until they got their hands on their affiliate link and then they went to work pumping it like crazy as usual. First one out of the gate: One Mile at a Time. Followed by: View From The Wing.  Followed by The Points Guy Inc. This is how you do it…when will I ever learn? For the record, this card is available with my own links. If you carry a credit card balance please go away, this game is not for you! That's all, lets move on.
If I ever did a miles/points resource page, this one would be near the top: Frequent Flyer Bonuses You Should Bookmark. Believe me trust me.
Good award sale 25% off Iberia Avios Awards. You could get to Europe for just 25,500 miles. Wow (pun intended, see below).
We are seeing more air fare sales recently.  And low cost airlines keep growing. So, and this is philosophical to a degree, "As plane tickets get cheaper, your miles may be worth less than you think". Of course do not expect the pumping bloggers to revise their  miles/point valuations any time soon as that will not be beneficial to their $$$ conversions. For more beatings on this topic dear to my heart, please see BLOG BUZZ section below.
If you have the Hyatt credit card, this post will help you redeem your free night. Unbelievable how the Hyatt website still sucks!
The Hilton Garden Inn in Singapore opens on June 15, 2017 and you can get it for 10,000 Hilton Honors points per night. That means just 40,000 pts for 5 nights (with fifth night free). In my book, this is a real deal!
WOW Air is coming to Chicago, so getting to Iceland and then onwards to many places in Europe is going to be…well, it's going to be interesting. Tell me again why we collect miles when you can fly to Europe for $99. I know, I know, it is not just $99…it's a rhetorical question 😉
Okay, this had some parts that made me lol. My Insane, Painful & Torturous Nepalese Thai Massage & Why It Has Me Questioning Myself.
And then the "fun" began. I learned what it felt like to be turned into a human pretzel. Over the next hour she kicked me, stood on me and bent me as she displayed super human strength. At times despite my best efforts to hold it back, a whiny yelp would leak out of my mouth. I would have been embarrassed, except I had other issues I was dealing with. I needed to survive this torture to get back home to my family!
This short video will blow your mind. I have shared with you here all the ways how the octopus is just an amazing creature. And then you won't believe what it did next! Octopus Squeezes Through Impossibly Small Hole.
This is now my favorite chart found in "The Dow's tumultuous 120-year history". You may need to click on the image a few times to read it better…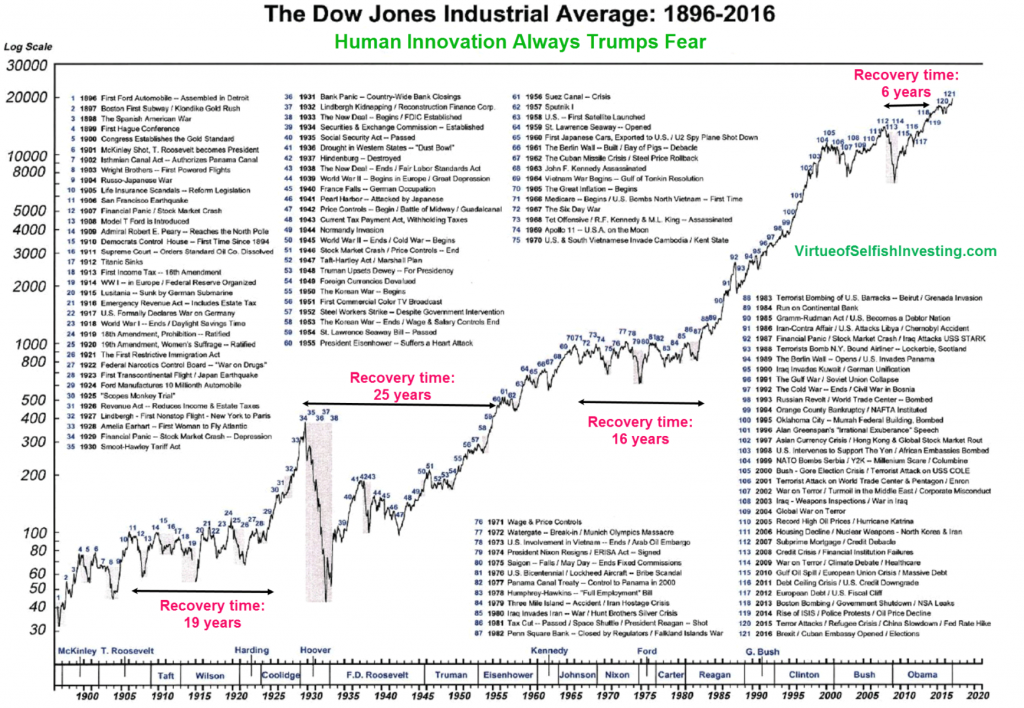 Oh shit indeed! Found here.
BLOG BUZZ
This section is for advanced level hobbyists and veteran blog readers & personal rants & stuff
If you were interested in the issue of taxes in this hobby, Doctor of Credit has his take on it.
Maybe a new feature, maybe not. I think it is going to get to a point that I will delete them all again from my new Feedly IgnoreBlogs folder…because the BS just gets too much. But I am in a ranting mood again so I will make a few comments below this awesome pic…

There was an incident about leggings on United flights. A total non story as former flight attendant Ramsey explained in the comments. And the whole internet went ballistic. Numerous posts about leggings, The Points Guy Inc even did a #LeggingsGateSpecial Report (yeah, please stop laughing) and One Mile at a Time even went on a local NBC affiliate to show his expertise on leggings. Mommy Points posted pictures of her daughters in leggings. So much bandwidth to make you puke. I tried to convince my wife to wear leggings and let me post a few photos of her in my blog just as a parody…but I think she is getting a little tired of my funny requests lately "I am NOT Emily"…When she gets mad I am scared lol.
I am learning how this shit works. Get the banks to have a credit card promotion and then unleash the pumping bloggers to sell the crap out of it. Right now, it is the Amex SPG cards that are going strong due to the 35k bonus that ends in a week or so I think. And of course the 107.5k Chase Marriott Visa I showed in the opening  paragraph. So, you have been warned, watch the shitshow unfold!
The Points Guy Inc. does these "Deal Alert" posts. I counted 22 affiliate links in the post. Because…never underestimate how many morons are out there who fall and click on this crap that you can find elsewhere MUCH quicker!
Mommy Points selling her readers the 40k Amex Platinum card. Enough said…
I can't believe Miles, Points & Martinis is still around unleashing every affiliate link they can get their hands on along with Rene's Points selling yet another credit card. Please don't click on the click-bait title…it was the SPG card.
This is how team communicate with each other at Million Mile Secrets…Things you find in Feedly…smh. I mean, people still think the two founders write? One day I will have staff here #dreaming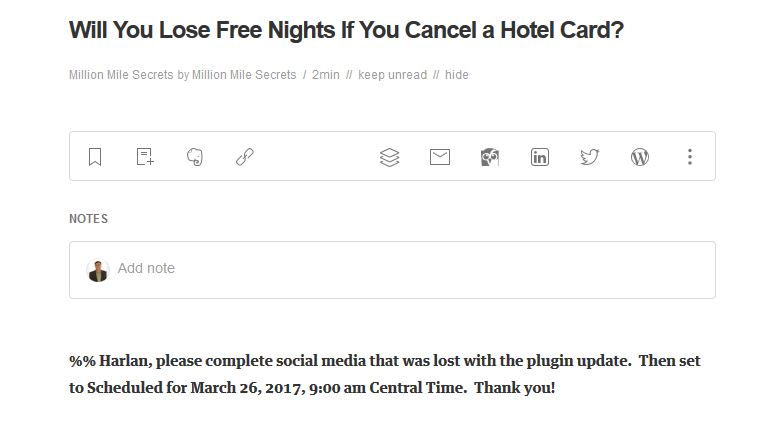 I mean, I could do this all day…I closed the doors to new clients to do this for peanuts. Something is really wrong with me, please click my links so I can afford a better therapist lol.
Thanks to the two readers who got an Amex SPG card with my links. This special post is for you!
Help me stop whining, click my links and I shut up with my prison labor/minimum wage "job" here for our entertainment, thanks! I think I like the trolls who come out to bash me a lot as traffic explodes #wink. If I was at Boarding Area I could collect a decent check every month and I would not be…whining 😉
Refer to the mission in red at the very top of this post. Did I accomplish it? If yes, great! If not tell me I suck but before you do that…tell me how I can stop sucking, thanks!
And I leave you with this…This is a PSA: Put Down Your Phone, read TBB later 🙂
Check out my updated blog lists: Blogs I Love, Blogs I Like, Blogs To Ignore
TBB
travelbloggerbuzz@gmail.com
Follow TBB on Twitter @FlyerTalkerinA2
You can subscribe to TBB below, winners only!
Opinions expressed here are author's alone, not those of any bank, credit card issuer, hotel, airline, or other entity. This content has not been reviewed, approved or otherwise endorsed by any of the entities included within the post.