Another weekend edition of the Three Links I Love series. Which are never three. We have a college wish list, a graph for peak age for everything, how to save your marriage and lets meet masturbation coach Ed woohoo!
TBB Blog Mission: To Entertain. Educate. Inspire. In That Order!
In the weekend we like to take it easy around here, share some truly excellent content found during the week, perhaps something that is deeper. Of course, TBB never forgets that entertainment is a primary outlet of what the site is about. Ok, enough BS intro, here we go…
This blogger is in one of those blogging zones, I swear! Another fantastic piece, must read. If you are too lazy, I can give you the specific things he outlines:
Passion is overrated
Learn about behavioral psychology and human nature
Don't just send out a bunch of resumes
Avoid defeatism at all costs
Think in terms of systems over goals
Avoid lifestyle creep
Start those 401k contributions right away
Become a lifelong learner
Understand the difference between being productive and being busy
Ask questions
Take care of your health
Learn how to sell
Take some risks
And finally, have fun and don't take yourself too seriously
Great, my salary peaked and my arithmetic skills are about to go…so the next age to look forward to is…69, wtf! But I do like the number hehe. And it looks we will all finally be happy at age 82…great!
In my never ending quest to find a reader who will one day email me and say you saved my life/marriage/friend/body/pet/whatever, this is a fantastic read to help you on this relationship thingie. I think getting married is easy but staying married is so darn hard! You are welcome.
You know I like quality content. And I do love to laugh. A lot. And this one is probably one of the funniest reads I can remember. So, find a good setting where you can laugh to your heart's desires. To long time readers of my blog, you know my edgy, quirky and off beat type humor. To new readers, if you are offended, this is not the blog for you. You have been warned! Just a few excepts:
The second page of search results, though, revealed exactly what I was looking for: Masturbation coach Ed Ehrgott, the middle-aged, dual-nipple-ringed owner of Sacred Touch for Men who asks on his website, "Could your solo sexual practice use some juice?"
You bet it could, Ed.
Yes a photo of Ed follows…I am laughing as I type this.
…"That's where masturbation coaching comes in," he continues, extending the legs of a massage table. "It's about taking something you began doing as an adolescent and adapting it to fit your values and needs as an adult."
Ed explains mindful masturbation is simply being present in your body and savoring every sensation, which can lead to profound ecstatic states typically achieved after a lengthy "edging" session.
Ed says the biggest misconception is that this is just a wank party. "I take this very seriously and look at it as a mission. It's something I'm passionate about. It's fun. And it sure beats selling computer systems for a living."
And it just goes down after that…
And I leave you with this…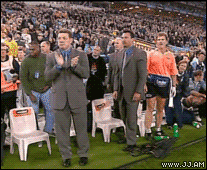 Check out my updated blog lists: Blogs I Love, Blogs I Like, Blogs To Ignore
TBB
travelbloggerbuzz@gmail.com
Follow TBB on Twitter @FlyerTalkerinA2
You can subscribe to TBB below, winners only!
Opinions expressed here are author's alone, not those of any bank, credit card issuer, hotel, airline, or other entity. This content has not been reviewed, approved or otherwise endorsed by any of the entities included within the post.