We bring you how Covid cases soar, trash airline credit cards, how travel will never be the same, check out gay mapping guides, travel to Bermuda and Crete, the best Covid-19 coverage online, estimated taxes and bonds, the official cars of world leaders, the rise and death of Blockbuster, the fast food king and the death of Segway, more anti MS policies, bank pumping sites morphing to personal finance sites and lots more for free for you and me…If you build blog it they will come the gurus said. Not happening around here, maybe it is because I spend ZERO time in promoting, so sad!
TBB Blog Mission: To Educate. Entertain. Inspire. In That Order!
Support TBB by applying for CREDIT CARDS or visiting our

LINKS

or Donate

You like my blog? Send a link to someone please!
Brought to you by the amazing TBB Amazon link! This blog is published every Monday and Friday. For now…
I'll see you Monday.
MUST READ MVP PICK
A must read. Not going to excerpt anything, you should probably take some time to read the whole thing, it is THAT good! What do Covid-19, Ebola, Lyme and AIDS have in common? They jumped to humans from animals after we started destroying habitats and ruining ecosystems.
How Humanity Unleashed a Flood of New Diseases
COVID-19
We are how many months into this, we have all sacrificed a lot and…the phucking pandemic here in the US has no end in sight! Covid Cases Soar in US. Beyond SAD!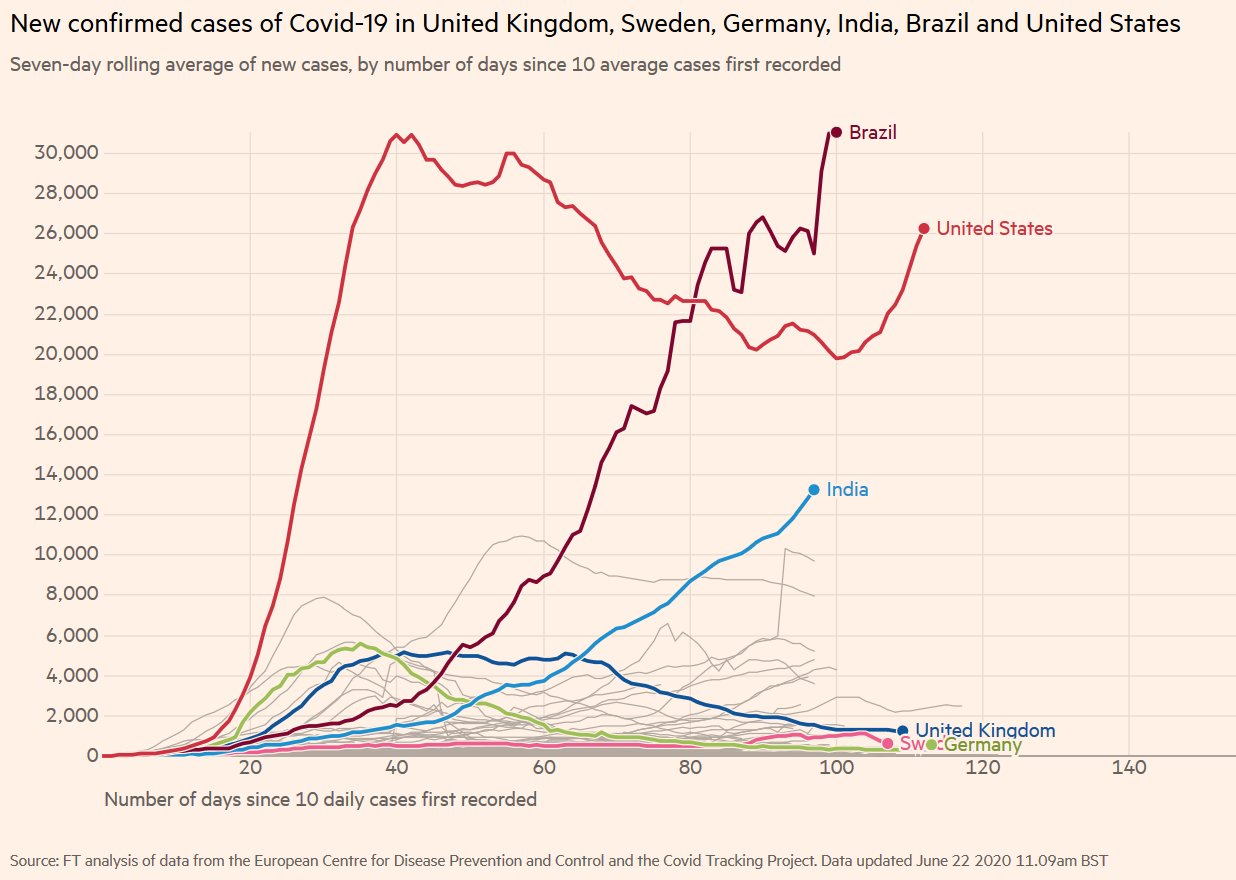 We have the biggest crisis this nation has faced and this administration is doing its best to pretend there is no public health crisis at all, it is criminally insane! You know it is bad when you see this: CDC director: Covid-19 has 'brought this nation to its knees'. Yikes! He also said this: "We've all done the best that we can do to tackle this virus." No you jackass, you did not! Ok, this is a must read. If only we were warned, the "experts" are probably not reading my blog, WTF!
Cutting the flights from China was WAY too late: How The Virus Won.
Let's see where U.S. coronavirus cases are on the rise.  Before you take a look, can you take a guess? Come on, THINK! Let me give you a hint in the form of a link of course! Coronavirus cases rise in states with relaxed face mask policies.
If the EU does this…it would be so embarrassing. But would you blame them? Governments' MAIN responsibility is to protects their own citizens! E.U. May Bar American Travelers as It Reopens Borders, Citing Failures on Virus.
We could have been like so many countries that handled the pandemic so well. You know, we could have had a border with China and NOT let anyone die like in Vietnam! Or, at this point we would all settle for any European country!
We now have it in reverse! Q&A: What to know about the quarantine order if traveling to New York, New Jersey or Connecticut. To me, for these measures to be effective…they have to be enforced. But when people go batshit crazy when they are being told to wear a simple mask…well, this is NOT happening over here. So, buckle up for a while…You want an example of people going batshit crazy? How about these people in Palm Beach County who dared to mandate mask use to save their sorryasses! And, you know, these people ALL vote!
You know, if you have been reading my blog for a while, I have stated that something tells me the virus was here way earlier than thought. And articles like this makes me to, well, not change my mind: Mysterious deaths of infants and others raise questions about how early coronavirus hit California.
MILES & POINTS
HOT CREDIT CARD OFFERS: The Citi Business American Airlines AAdvantage Platinum Select Mastercard offer is 65,000 AA miles. The IHG Rewards Club card offering 140k points too, highest ever. For a standard workhorse card I recommend the 60k Chase Sapphire Preferred card. For a standard premium card I recommend the 50k Chase Sapphire Reserve card. For a standard 2% cash back card I recommend the Citi Double Cash card. Available with my links. Lets move on!
I have added above the 65,000 AA miles offer for the Citi Business American Airlines AAdvantage Platinum Select Mastercard. If you decide to get it, please support the blog by using my links, thank you. Ask in the comments or email me with questions.
Wall Street Journal's The Middle Seat Column posted this: It's Time to Decide What to Do With Your Airline Credit Cards. It is behind the WSJ paywall. Perks that travelers love don't do much good when few are traveling—it's worth analyzing whether the added bonuses temporarily on offer are worth the annual fees. Not going to excerpt anything here, all I gotta tell you is they are recommending that pure airline credit cards are not worth the annual fee. And is the author recommending credit card churning with this advice? 🙂

If you use basic airline-related credit cards—which typically cost about $100 a year—to get baggage fees waived plus some earlier boarding benefits, you may want to consider dropping those cards for a time if you aren't traveling. If you wait two years, you can go back to them with big sign-up bonuses. That timetable may reflect when you'll be traveling frequently again. [Dude, there is no way I can wait another two years around here!]

Bermuda is opening. You can burn some miles to get there or, based on the prices, it is better to pay cash. Bermuda Travel Will Resume on July 1, 2020: Here Is What You Want to Know.
Remember when a few weeks ago we talked about how Lufthansa had a bailout from the German government ready to go. And at the final moment they backed out. And I told you they will come around. Lufthansa Shareholders Vote Yes to $10 Billion Bailout. And I don't even hold out myself as a travel thought leader who keeps finding reasons to love credit cards that pay me, smh.
I can not believe I am posting this here, sad! Register HERE to get a $25 Best Western Gift Card after your first stay.
TRAVEL
This is a must read by Nomadic Matt: Travel Is Never Going To Be The Same Again. He writes a lot of what I was thinking. Many in the industry are living in an alternative reality world thinking we will go back to normal anytime soon. But then again, me the ever optimist, what if…we get a miracle vaccine soon? Just a few excerpts for you to ponder:
The sky is falling – and this industry is about to see a massive shakeup. Because people make travel happen. Without people, travel doesn't exist.
And the more I talk to readers, friends, and other travelers, the more I realize people will not travel again in large numbers until there's either a vaccine, treatment, or a decline in cases after reopening.
Twenty percent of people will go traveling the second they can and another twenty are so risk-averse they are probably going to wait for some vaccine. Everyone else? They want to see what happens to the first 20%.
I think this fall we're going to see many tour operators, hostels, independent hotels, magazines, creators, and other businesses in this space go under. A bloodbath is coming. (And this site is not immune. We're barely treading water. At our current spend, we'll be bankrupt by Feb 2021 if something doesn't change.)

What is coming is a seismic shift as large as when the Internet transformed how we book travel and get information.  And I don't think we're prepared for that.
I still have not been to Crete! The Ultimate Crete Itinerary: How to Spend 7 Days in Crete.
I did not know bungee jumping was invented in Pentecost Island! Now I know and you do too!
I had no idea there were Gay Mapping Guides back then, the first one came out in 1964! See the stuff I find for you? I could be doing other things with my time…
PERSONAL FINANCE
Yeah, many different things are making 2020 taxes a bit different: Estimated Taxes Due July 15: Tax Return Pros Warn About Special Issues For 2020.
Yeah, we are in a whole different world right now with so much money being injected into the system. It still amazes me how these days nobody is screaming at the administration for, you know, being socialists, sad lol. Never The Same.
They started to change in 2008, when Congress and the Federal Reserve threw unprecedented money at the economy to keep it from collapsing.
They've done it again this year with even more money. Trillions and trillions of dollars. It was a huge debate in 2008. It's much less controversial today.
My theory is that once a new kind of stimulus is tasted it becomes a permanent feature of how downturns are handled.
CURRENT EVENTS/POLITICS
I am no NASCAR fan but the organization (after banning the confederate flag) and watching the drivers do this to Bubba Wallace is changing my feelings toward it. I still would not watch cars go round and round though, just not my thing! And I really don't care if there was no hate crime in the first place but the reaction was just beautiful to watch.
Colbert interviews Bolton. Serious stuff. You know it is bonkers when Bolton appears to be a normal person. But let me put this out there for the hate mail…he is right about what he said why he did not show up in the impeachment hearings.
ODDZ & ENDZ
This is just amazing to watch! Blockbuster Video Locations in the US from 1986 to 2019.
Another mesmerizing picture showing The Official and Ceremonial Vehicles of 45 World Leaders. Click to enlarge. Check out Uruguay, lol.
Can't believe this one guy was responsible for so much crappy food, wow! The Da Vinci of Fast-Food: The One Guy Behind a Huge Number of Staple Fast-Food Items Everyone Loves.
Remember the era before the Segway came out? It was the MOST ridiculous hype of a product ever! Good riddance then finally! Segway ends production.
I am no Apple fan boy but this is important: Everything You Need to Know from Yesterday's Apple Keynote Presentation (WWDC 2020).
Stop swallowing coins, WTF!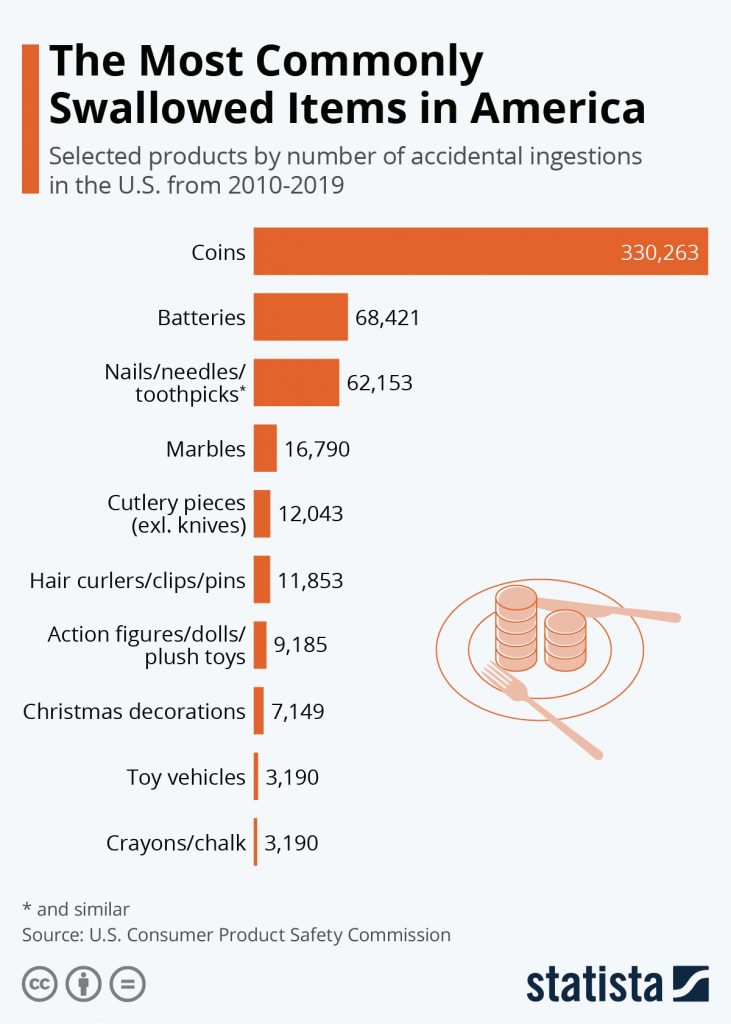 BLOG BUZZ
We are now entering BLOG BUZZ, a section for advanced hobbyists and veterans of this fast imploding hobby and also a section where I go on and on about some stuff that happens in my life because it helps me feel better about myself.
Oh boy, I expect a lot of travel rewards to be sold in the name of personal finance, sad lol. TIME and Red Ventures Partner to Launch NextAdvisor, a New Site for Trusted and Accessible Personal Finance Content. Fyi, Red Ventures Partners owns The Points Guy, enough said! Can't wait for Suze Orman to say something stupid…only to be followed up with how amazing the travel rewards credit cards with the highest sales commissions are! And here I am basically busting my butt to keep up a quality blog when I could be doing other things with my time…Staying independent and focusing on quality while doing nothing at all for marketing…sure does not pay! Maybe I should go back to personal finance full time…as it appears outfits are leaving the travel related industry.
There goes another one, being an MSer is so hard these days…Ouch – GiftCardMall Reducing Monthly Cap From $60k To $2k Per Month.
When it rains it pours: Another Hit To MS: Plastiq Fees Increasing To 2.85%. If I had only fallen for the bribes from this company and started pumping you my affiliate links I could have…oh, never mind.
I am very mindful of "mental bandwidth". Hey, I came up with this term. I love simplicity as it gets you to focus on things that matter the most. There are many in this hobby who chase every little deal that comes out. Who gives a crap of that Amex offer that saves you $5 if you buy some shit costing hundreds that you would never even think about even considering it? Same with tiny MS deals that get you to drive around to establishments to annoy cashiers and likely pick up some viruses to bring back to your loved ones. Anyway, I have had a Capital One 360 money market account for many years (former ING Orange) and just did an easy deal to get a $450 bonus for adding $50,000 cash into it that was sitting in an investment account earning nothing. Three months later I will send it back. No new accounts to open, no new 1099 tax forms to gather, no closing fees, not yet another set of login and password info to keep track of, not closing accounts and possible hassles…Easy. I guess I could open a Bask account to earn AA miles and then pump you guys with my affiliate link with ridiculous posts but I guess I am not that type of blogger…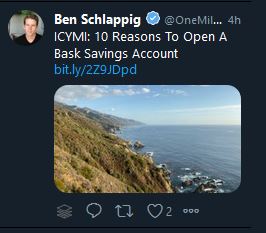 As mentioned above and as you have likely noticed, all "travel" bloggers are suffering these days. Including moi. I spend way too many hours to bring you a quality read. Thank you to all readers who have supported the blog over the years. To everyone who has enjoyed the fruits of this labor of love/passion, well, when this blog quits (something a normal person would have done many years ago, this was started as a three month joke, remember?) you will likely move on but before you do you will say something like "too bad George quit". Something you have done many times when seeing your favorite coffee shop/retailer/restaurant/magazine/blog/newspaper/radio station/etc just go away..It is becoming apparent that this blog will never reach even minimum wage type compensation and I am just completely exhausted. So, changes are coming. Again. What I struggle with is…saying goodbye and how to do it. Do I just stop? Do I just go on a once a month posting like Mile Nerd? Do I go down to once a week? I MUST stop spending so many hours educating/entertaining/inspiring..but if I do…the quality will go down and I just absolutely hate that! For new readers: I have been whining like this for years…as we are approaching Year 8. Ocho!!! Wow. I feel better now, thanks for listening. 🙂
Update: This just in…How Frequent Miler (the business) is surviving COVID-19. I told you things are really bad out there. For the record, I have no employees. I did not get a PPP loan because many others needed it more than me. I don't do SEO, I don't know what tags are all about, I do have a youtube channel I have not logged into for a couple of years at least, I killed the blog Instagram account because of way too many influencers hanging out there and hell no I won't be doing a podcast…Like I said, this is a labor of love and the little money that was earning before Covid is dropping like a rock too making it extremely unlikely this labor of love will continue at the pace that produced yet ANOTHER post like the one you just read. Enough whining for today, enjoy the weekend.
And I leave you with this…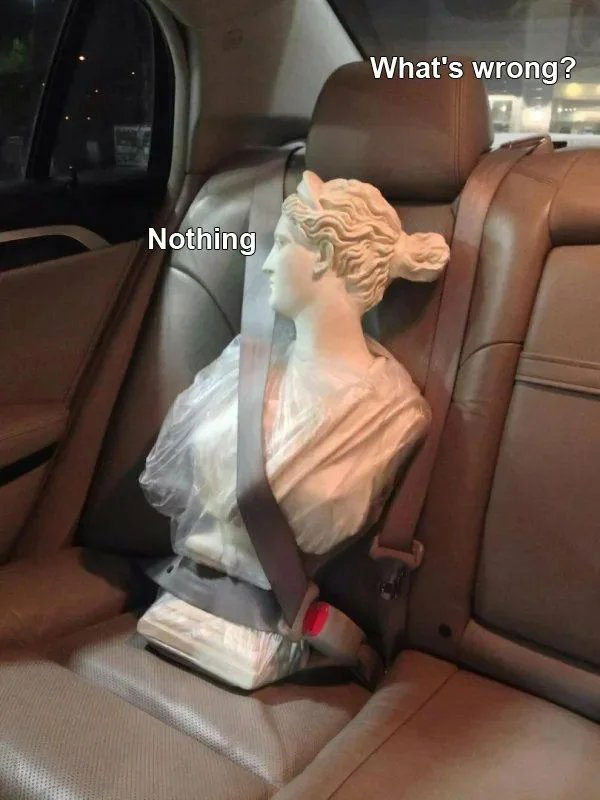 TBB
travelbloggerbuzz@gmail.com
Follow TBB on Twitter @FlyerTalkerinA2.
You can subscribe to TBB below, winners only!
Opinions expressed here are author's alone, not those of any bank, credit card issuer, hotel, airline, or other entity. This content has not been reviewed, approved or otherwise endorsed by any of the entities included within the post.