We bring you the sad news of a horrendous Ebay Bucks devaluation, Amex freezing accounts again, admire fog waves, go to Nepal for paragliding, Wyndham expands some more, look at the 13 most dangerous countries in the world and more!
TBB Blog Mission: To Entertain. Educate. Inspire. In That Order!
Not much happening…
The hits keep on coming, wow! ebay Bucks got cut in half, ouch!
If you got the 100k Amex Platinum card recently, you were warned. So, it appears, Amex is freezing MR accounts again. You should read the comments if this applies to you. And good luck. Fight, fight, fight for your right to party fly free!
Crazy laptop theft story aboard a Delta flight. I am not sure I can leave to go to the bathroom without taking my laptop bag with me from here on, wow! I hope this asshole got locked up!
What you can do with the new 60,000 Avianca LifeMiles Visa bonus. You will hear so much about this card when/if an affiliate link appears.
Wyndham just keeps buying! It just bought Fen Hotels, which manages the Esplendor Boutique and Dazzler hotel brands in the US. If you are keeping count, Wyndham now has 18 brands in its portfolio. Still has some ways to go to catch Marriott with its 30 brands.
At last, hotels are ditching nightstand bibles. The new religion is Wi-Fi! There is a great chart showing this in the article. With Marriott taking over SPG properties, I think the trend will…reverse!
Great personal finance post: Animal Spirits Can't Be Modeled.
Over the last five months, small cap stocks are up 15%. The stocks of oil and gas producers are up 23%. The stocks of regional banks are up 40%. Do we believe that the fundamentals of thousands of small cap companies or hundreds of energy companies and banks have improved by 15, 23 or 40%? Of course we don't. This is the role that sentiment plays in the stock market. There's no equation. No formula.
Animal spirits cannot be modeled.
They can't be foreseen or managed either. We cannot know for how long they'll run on for or what might dissipate them. We can only accept that they are a part of the game, coming and going at uneven intervals, spreading joy and pain in their path.
Fellow hobbyist friend and blog reader Dima went paragliding in Nepal. What an epic pic!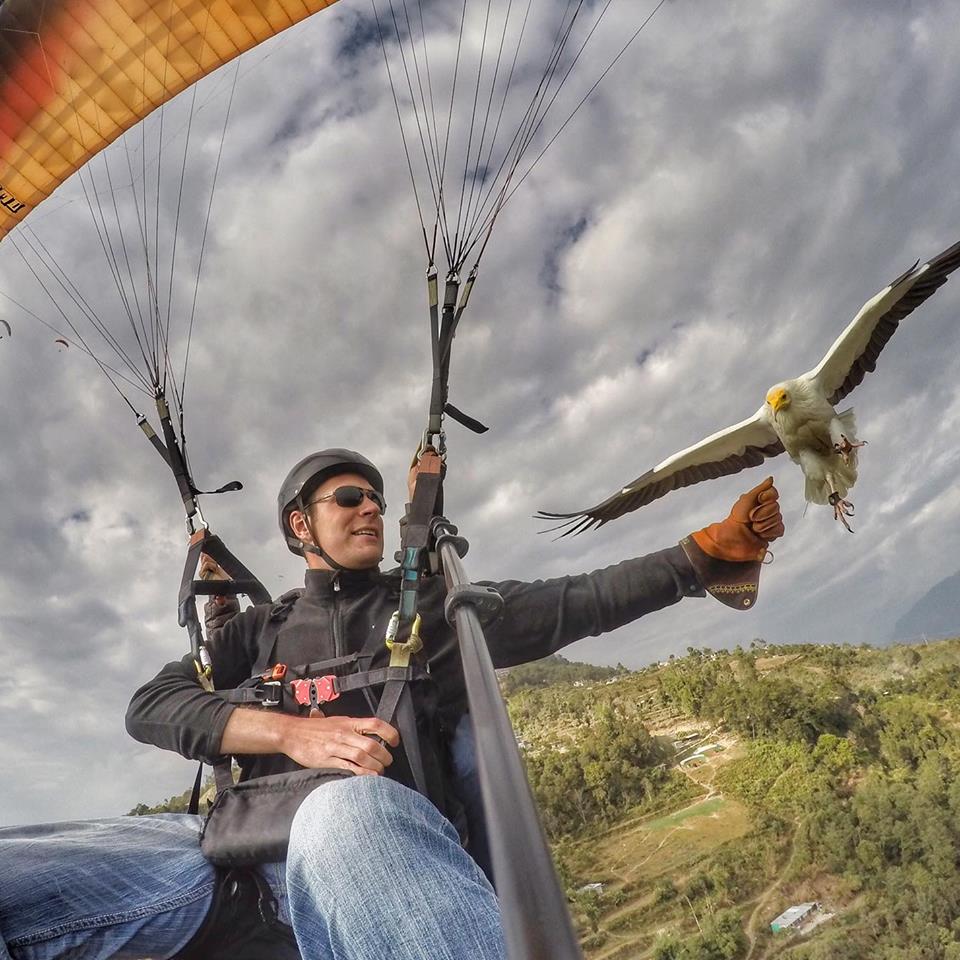 Fog Waves for you. Because they are awesome. And you are awesome too. Photos by Nick Steinberg, check out his awesome photography HERE.
The 13 most dangerous countries in the world.
Wish me luck as I fly Spirit for the first time today! From Northwest Platinum Elite for several years…to flying Spirit…oh Lord, how far the mighty have fallen…lol!
And I leave you with this…
Check out my updated blog lists: Blogs I Love, Blogs I Like, Blogs To Ignore
TBB
travelbloggerbuzz@gmail.com
Follow TBB on Twitter @FlyerTalkerinA2
You can subscribe to TBB below, winners only!
Opinions expressed here are author's alone, not those of any bank, credit card issuer, hotel, airline, or other entity. This content has not been reviewed, approved or otherwise endorsed by any of the entities included within the post.